We've lived the majority of our lives in Asia so naturally, it's the region of the world we're most familiar with. Southeast Asia is our backyard and East Asia is our closest neighbor so we're very familiar with the Asian food in the region.
Like anyone who enjoys traveling for food, we love experiencing different cuisines but for me personally, I think the food in Asia is the best. I love it for its diversity, its color, its bold flavors, and its heavy use of different spices, herbs, and condiments.
Asian cuisine is what I'm most passionate about which is why I decided to compile this list of the best food in Asia. Represented in this guide are must-try food experiences in East Asia, Southeast Asia, South Asia, and West Asia.
If you're visiting Asia and travel for food like we do, then listed below are 25 Asian food experiences that you absolutely cannot miss.
Save This on Pinterest!
No time to read this Asian food guide now? Click on the save button and pin it for later!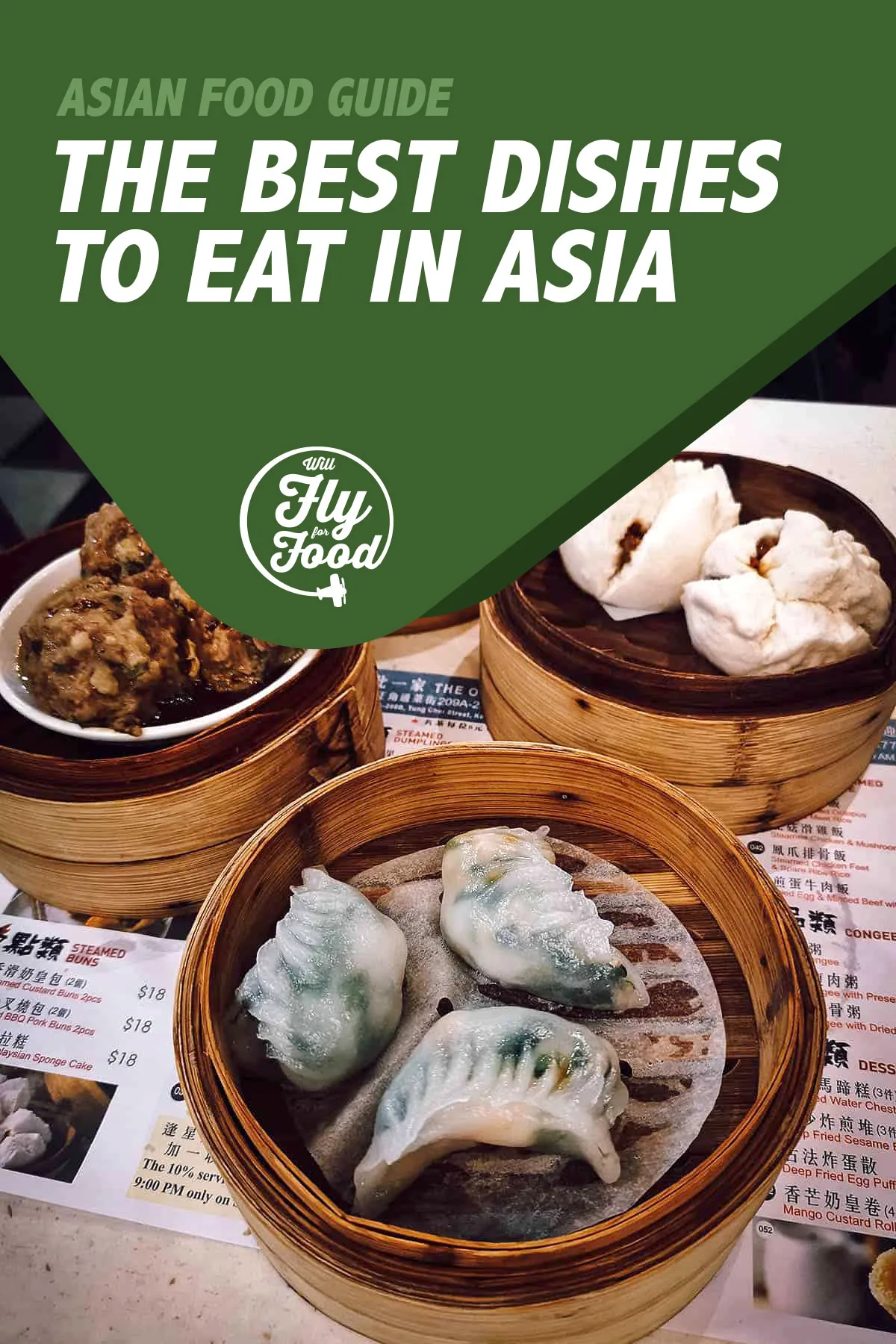 WHAT IS ASIAN CUISINE?
Asian cuisine pertains to the cooking practices and culinary traditions of countries located in East Asia, Southeast Asia, South Asia, Central Asia, West Asia, and North Asia.
Because Asia is the largest and most populous continent on the planet, it's home to an incredibly diverse range of cuisines, each boasting ingredients and cooking methods that can vary greatly from region to region.
East Asia
East Asian cuisine describes the cuisines of China, Japan, North Korea, South Korea, Taiwan, and Mongolia. Stir-frying, steaming, and deep-frying are popular cooking methods while rice, noodles, soybeans, beef, pork, chicken, and seafood are common staple ingredients.
Southeast Asia
Southeast Asian cuisine encompasses the cuisines of eleven countries – Thailand, Vietnam, Malaysia, Indonesia, Singapore, the Philippines, Cambodia, Laos, Myanmar, Brunei, and Timor Leste.
Broadly speaking, common ingredients include rice, vinegar, fish sauce, shrimp paste, chili, and fresh herbs. The most popular proteins include pork, chicken, beef, fish, and shrimp.
South Asia
South Asian cuisine describes the cuisines of the countries within the Indian subcontinent – India, Sri Lanka, Pakistan, Nepal, Bhutan, Bangladesh, Afghanistan, and the Maldives.
Generally speaking, ghee, chili, lentils, chickpeas, and a multitude of spices make up a large part of South Asian cuisine. Curries, biryanis, and flatbreads are common dishes while chicken, lamb, goat, and fish are the most popular proteins. Due to religious and cultural reasons, beef and pork are less common.
West Asia
West Asian cuisine describes the cuisines of the countries within the Middle East – Iran, Iraq, Israel, Jordan, Kuwait, Lebanon, Palestine, Qatar, Saudi Arabia, Syria, Turkey, the United Arab Emirates, Yemen, Armenia, Bahrain, Cyprus, Egypt (only Sinai Peninsula), Oman, Georgia, and Azerbaijan.
While the cuisines of West Asian countries are diverse, they share a degree of homogeneity as well. Olives, olive oil, pita bread, dates, sumac, and chickpeas are common ingredients while kibbeh and shawarma are among the most popular Asian dishes.
Wheat and rice are staple ingredients while lamb and mutton are the most commonly used proteins. They're typically grilled in kebabs and often prepared in stews.
Central Asia
Central Asian cuisine describes the cuisines of Kazakhstan, Uzbekistan, Turkmenistan, Kyrgyzstan, and Tajikistan. It takes on many of the characteristics of its neighboring Asian cuisines, most notably Mongolia.
Horse meat and mutton are the most common proteins in a cuisine that's evolved to meet the needs of a largely nomadic lifestyle. Yogurt is said to have been invented in the region.
North Asia
North Asian cuisine pertains to the cuisine of Siberia. Being part of the Russian Federation, North Asian cuisine is synonymous with Russian cuisine, with one of its most popular dishes being pelmeni or Russian dumplings.
THE BEST FOOD EXPERIENCES IN ASIA
To be clear, we haven't visited every country in Asia so this list includes some of our favorite food experiences from thirteen countries in East Asia, Southeast Asia, South Asia, and West Asia. You can click on a country to jump to that section.
JAPAN
Japanese food is my favorite Asian cuisine so it's only fitting that I start this list with unforgettable food experiences in Japan. Not only is Japan home to some of the best food in Asia, it's one of the world's best countries to visit for food.
1. Kaiseki in Kyoto
Kaiseki doesn't refer to a specific dish, but to a Japanese dining experience. It refers to a traditional multi-course dinner consisting of several small artfully prepared dishes. You can think of it as the Japanese equivalent to western haute cuisine.
Traditional kaiseki meals typically consist of appetizers, a soup course (suimono), seasonal courses, cooked dishes, a rice course (shokuji), and dessert and tea. Each course is meticulously prepared using fresh seasonal and mostly local ingredients that are carefully plated and arranged to enhance both the appearance and seasonal theme of the meal.
Kaiseki meals are typically served at ryokans (traditional Japanese inns) or ryoteis (traditional Japanese restaurant). You can enjoy kaiseki anywhere in Japan but it's probably best to have it in Kyoto where it's originally from. Kyoto was home to the imperial court for over a millennium which helps explain the development of this style of dining. Kaiseki-style cooking is often referred to as Kyoto cooking.
As incredible as it is, just know that kaiseki meals don't come cheap. At ryokans and good restaurants in Kyoto, expect to pay anywhere between JPY 10,000-40,000 for kaiseki.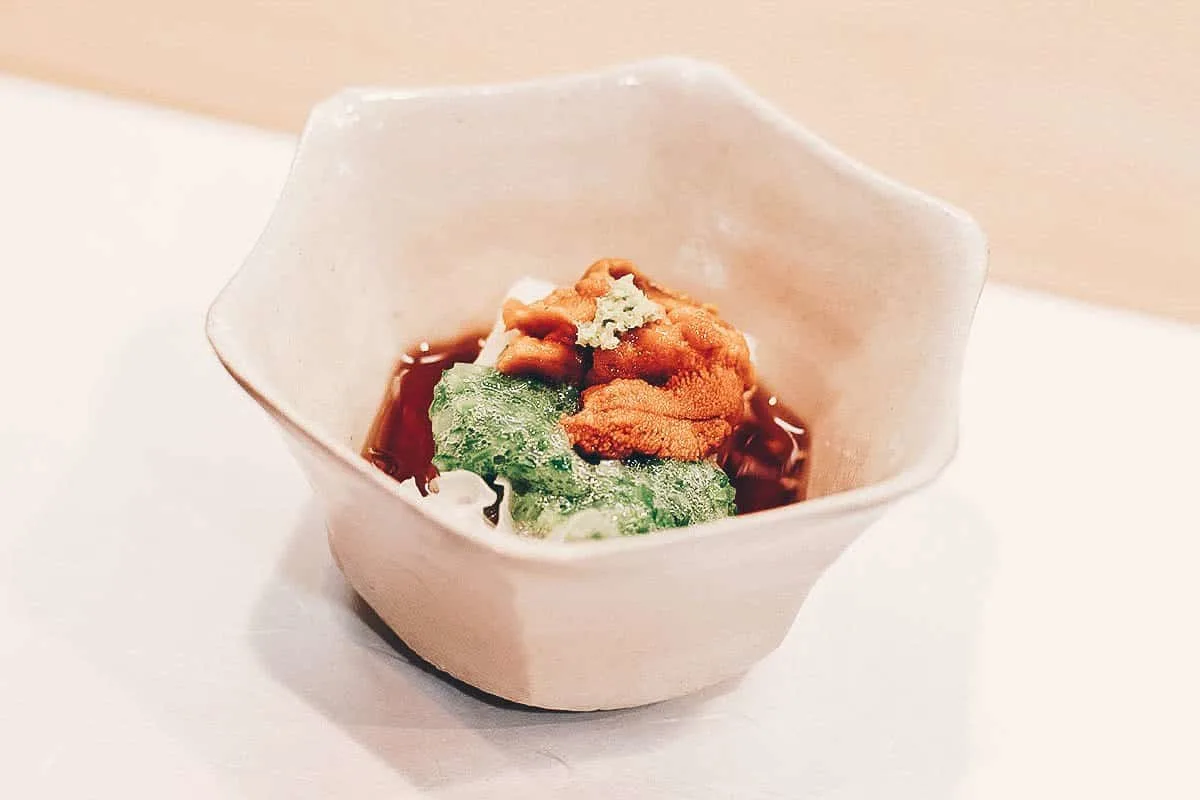 2. Hitsumabushi in Nagoya
If you like unagi, then you're going to love hitsumabushi. It's a specialty of Nagoya which is considered one of the best food cities in Japan.
Unagi donburi refers to a beloved Japanese dish of grilled freshwater eel served over a bed of steamed rice. Hitsumabushi is similar to unagi donburi and in my opinion, a more interesting version of the dish.
The eel is cooked in the Nagoya-style of preparing eel, by slitting it open along the belly and grilling it whole without steaming. It's also sliced in narrower strips to make it easier to eat.
Unlike unagi donburi which is pretty much just grilled eel over rice, hitsumabushi is served with a variety of condiments like wasabi, grated radish, nori, and Japanese pepper. You're meant to eat the eel in three stages – the first on its own with rice, the second with the condiments mixed in, and the third with some dashi broth poured into your bowl.
It's a unique and interesting way of having unagi which you can't find just anywhere in Japan. If you like grilled eel, then you absolutely must try hitsumabushi in Nagoya.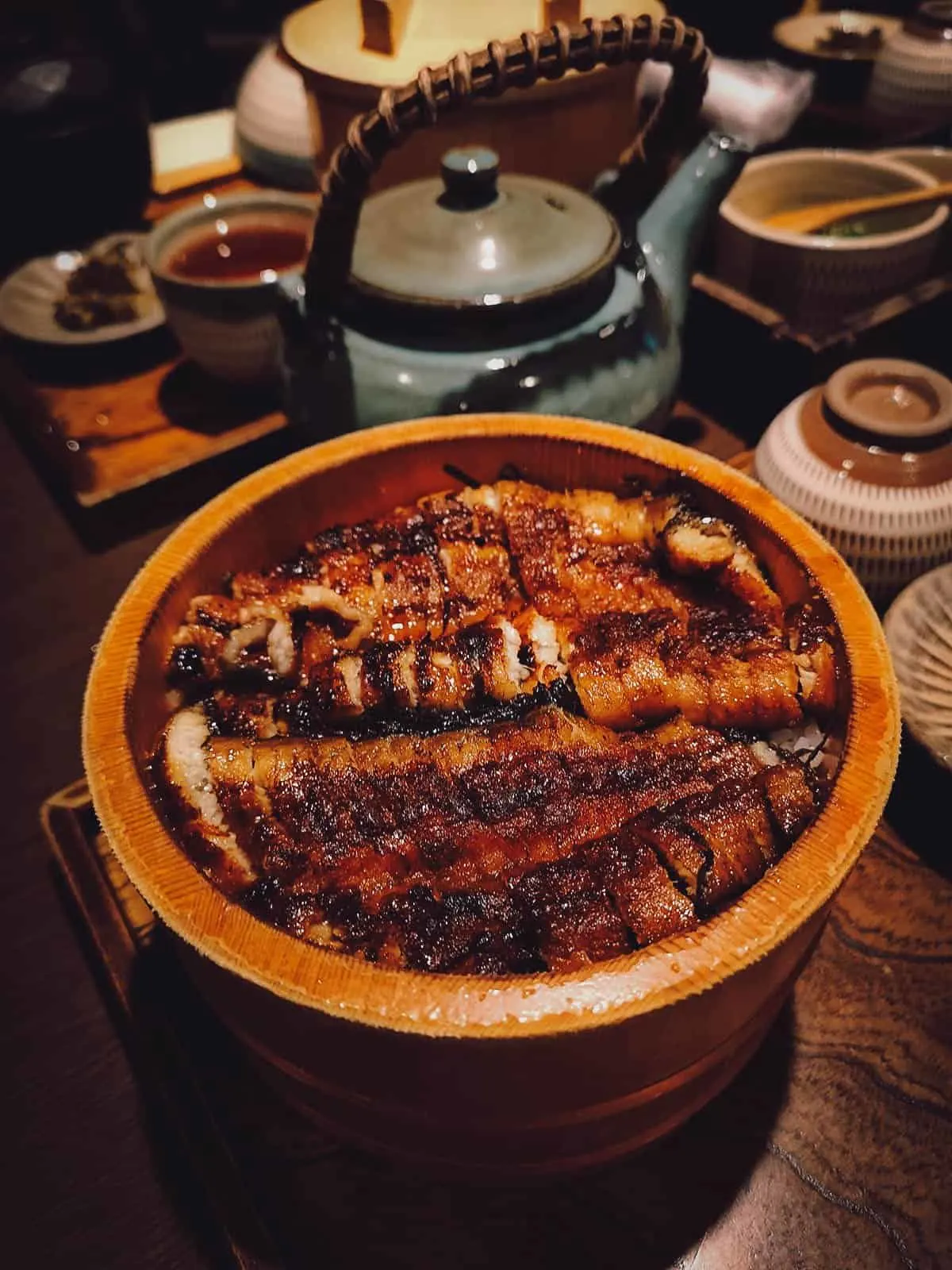 3. Hida Beef Sushi in Takayama
You've probably heard of Kobe Beef. It's one of the most prized and famous wagyu beef brands in Japan. But ask the Japanese and some may tell you that Kobe Beef isn't the best brand of Japanese wagyu. That distinction may go to Hida Beef.
Hida beef refers to wagyu produced from black-haired Japanese cattle raised in Gifu prefecture. Like Kobe Beef, it's known for its intense marbling and juiciness. But unlike Kobe Beef that tends to be more balanced in its meat and fat distribution, Hida Beef has more fat, giving you a truer melt-in-your-mouth experience.
Takayama in Gifu prefecture is a popular stop for people making a trip to Shirakawa-go. You'll find all types of Hida Beef dishes in Takayama – from burgers to croquettes to grilled beef skewers and onigiri.
But to truly appreciate the fattiness and superior marbling of Hida Beef, you need to have it raw. Hida Beef sushi may sound odd to some but it is incredibly delicious. The meat really does start to dissolve the moment it hits your tongue. It's so good.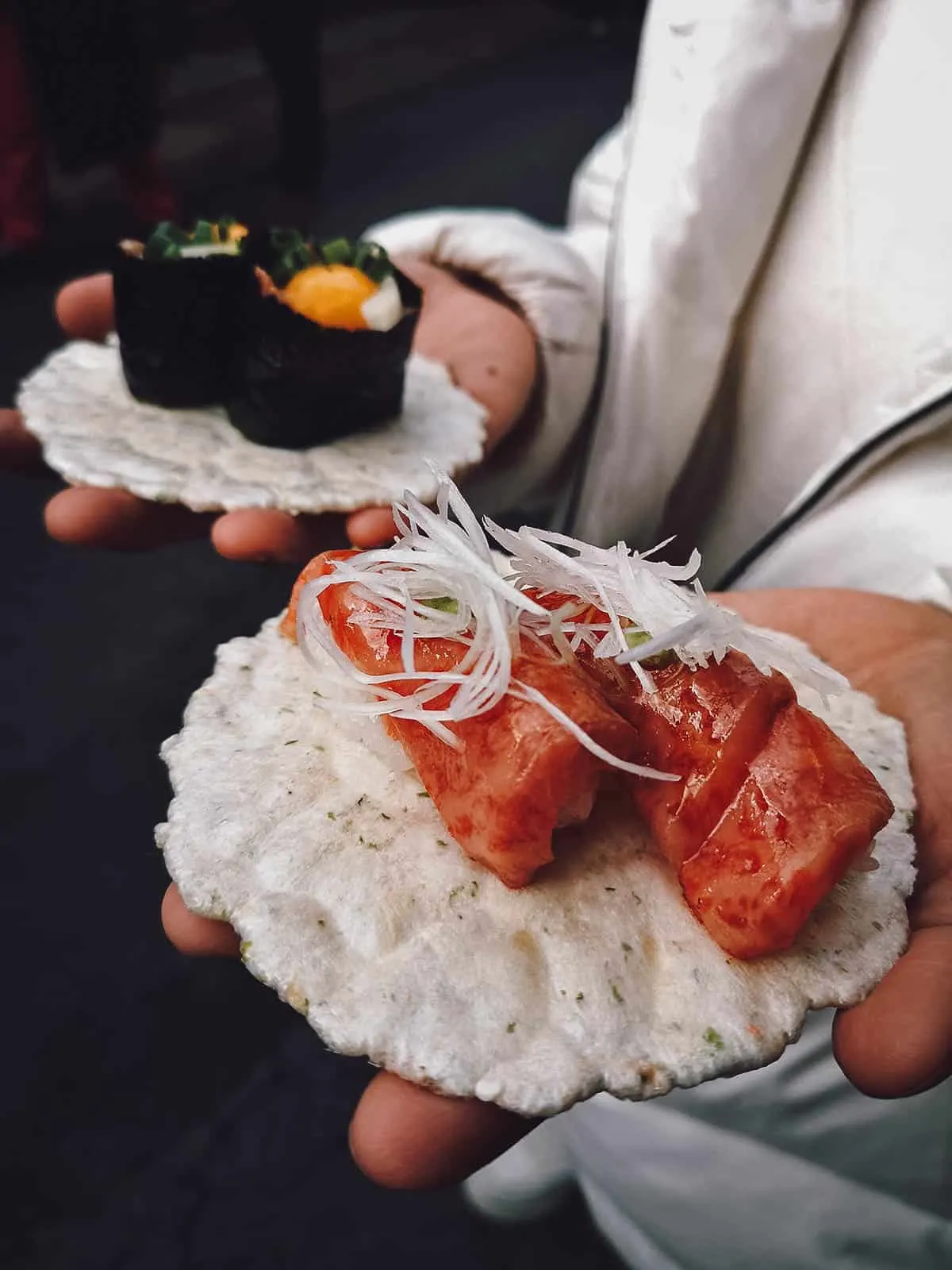 SOUTH KOREA
Thanks in part to its hugely successful music and film industries, South Korea is booming. Many people are obsessed with K-Pop, K-Dramas, Korean electronics and cosmetics.
Personally, we enjoy all things Korean but what we love most is Korean food. For me, South Korea is home to some of the best food in Asia. Thanks to universally appealing dishes like Korean barbecue, Korean food is easy to like and great for people who are just starting to explore Asian food.
4. Ganjang Gejang
Ok, so this dish may not be as universally appealing as Korean barbecue but ask Koreans what their favorite Korean dish is and many may tell you that its ganjang gejang. In fact, this supremely delicious and interesting raw crab dish is often referred to as the ultimate South Korean food.
Ganjang gejang refers to a Korean dish of raw crab marinated in soy sauce. To prepare, crabs are cleaned thoroughly before being placed in an earthenware crock where they're salted for a period of about six hours.
A marinade of soy sauce, sugar, scallions, ginger, garlic, red chili pepper, and sesame oil is then boiled before being poured over the salted crabs. After about an hour, the marinade is removed and reboiled before being poured over the crabs again. This process is repeated several times before the crabs are chilled. They can be preserved like for several weeks, even months before being consumed.
I adore crab and I've enjoyed it cooked in many different ways, but this is one of the few times I've had it raw. Served cold, it's absolutely delicious, especially when paired with steamed white rice and ssam (leafy vegetables used as wraps).
If you're fond of crab, then trying ganjang gejang is a must when visiting Seoul. Check out our Seoul restaurant guide for suggestions on where to try it.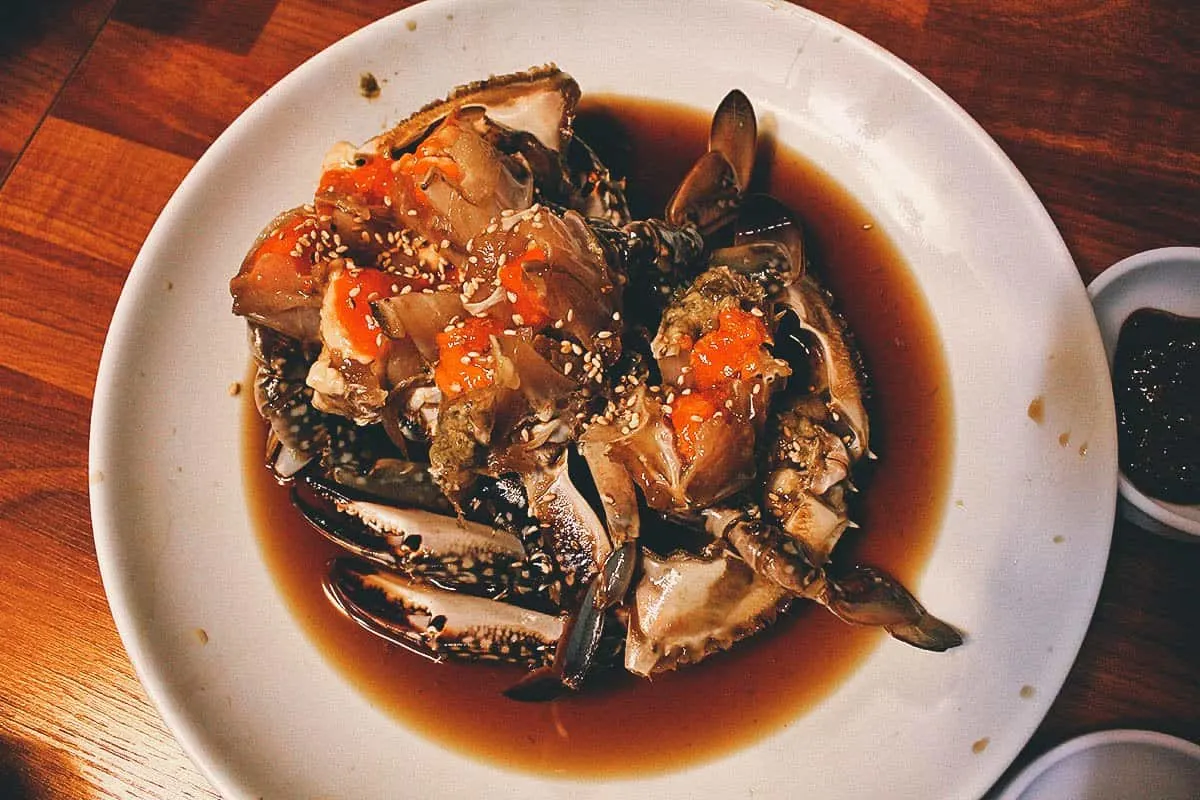 5. Jajangmyeon
When I asked my Korean sister-in-law what dishes we should try on a previous trip to Seoul, one of the first dishes she recommended was jajangmyeon. It's one of the tastiest and most popular examples of Korean-Chinese food. In fact, it's a dish that's often mentioned in Korean dramas and television shows.
Jajangmyeon refers to a dish of thick, handmade (or machine-pulled) wheat noodles topped with a heavy sauce made from fried chunjang (sweet bean sauce), soy sauce, diced pork, and vegetables. It dates back to the early 20th century, to a Korean-Chinese restaurant in Incheon's Chinatown that now functions as a Jajangmyeon museum.
Jajangmyeon is an interesting Korean dish with a unique nutty taste. I can't think of another noodle dish that tastes like it. People love it for its flavor but jajangmyeon owes some of its popularity to Black Day – an unofficial holiday celebrated on April 14 by unattached people in Korea.
I don't know how the tradition started but people who don't receive gifts on Valentine's Day or White Day drown their sorrows in a black bowl of jajangmyeon.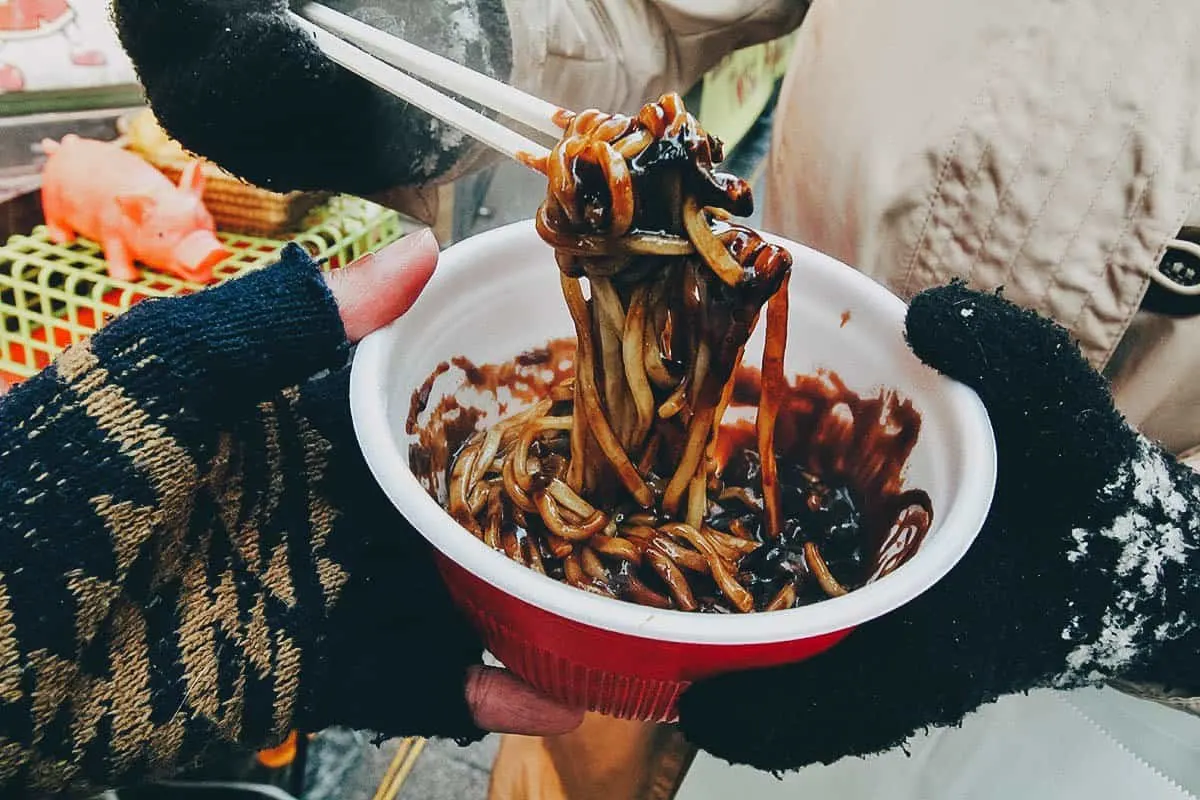 TAIWAN
In our opinion, Taiwanese food is generally milder in flavor compared to other Asian cuisines. But what makes Taiwan an Asian food lover's paradise are its night markets which you can find in pretty much every major city in the country.
If you like the street food in Asia, then you're going to love Taiwan.
6. Explore a Night Market
As described, Taiwan is synonymous with night markets. It's one of the biggest reasons why food-obsessed travelers like us keep going back to Taiwan.
A Taiwanese night market is essentially an open-air gathering of vendors selling a plethora of Asian street food, clothing, accessories, and other knick-knacks. If you're into shopping, then you can find good bargains at night markets but people come mostly for the food.
Night markets are such an important part of local life and culture that you'll find at least one in every major city in Taiwan. In the biggest cities like Taipei, Taichung, or Kaohsiung, you'll find two or three, often more. We've explored many parts of the country and have written this guide of the best night markets in Taiwan.
As the term suggests, night markets are open only at night, usually from around 5PM till midnight. They're such a fun source of cheap food and entertainment that we often find ourselves forgoing restaurants and having dinner at night markets in Taiwan. It's like a DIY Asian street food degustation experience.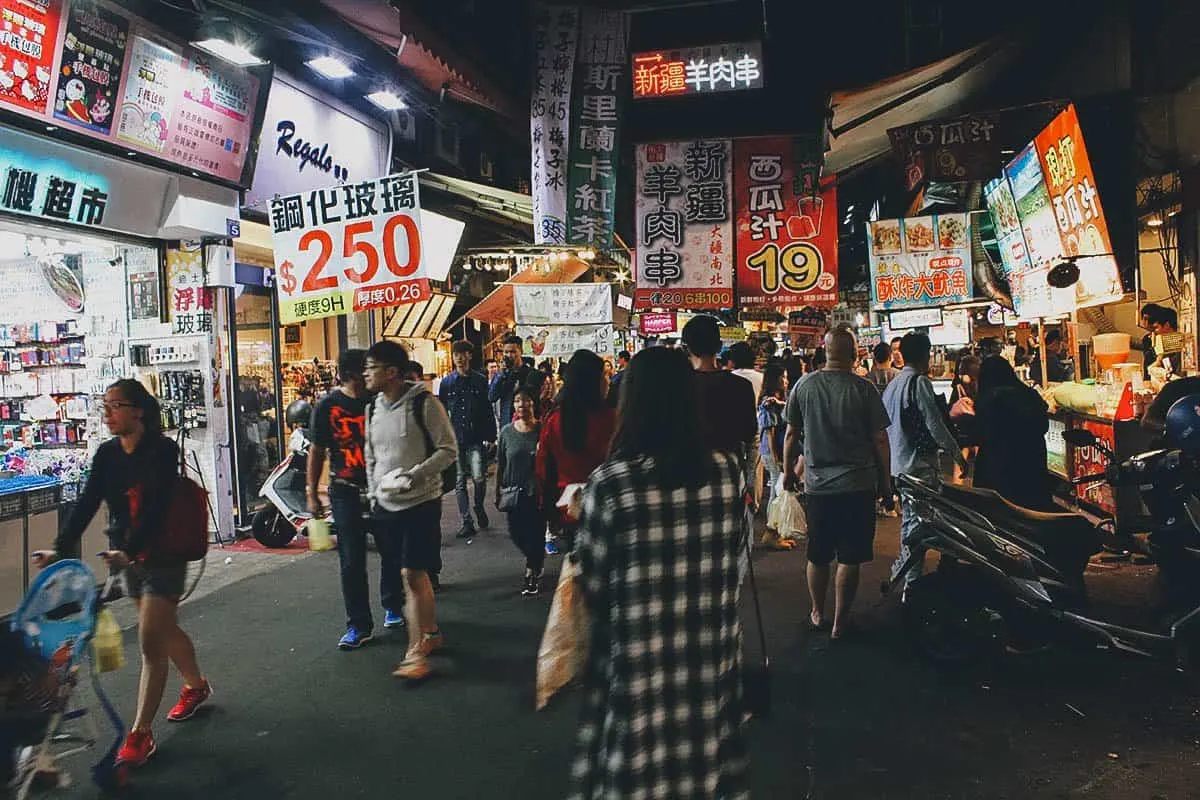 One of our favorite dishes to eat at night markets is this flame-torched beef. Cubes of tender beef are cooked over a grill before being blowtorched and sprinkled with your choice of seasoning like salt, pepper, teriyaki powder, or cumin. It's so good.
We had this at Raohe Night Market in Taipei but you can find flame-torched beef at any night market in Taiwan. Be sure to try this and other Taiwanese night market favorites like pepper buns, fried chicken chops, qq balls, and tanghulu.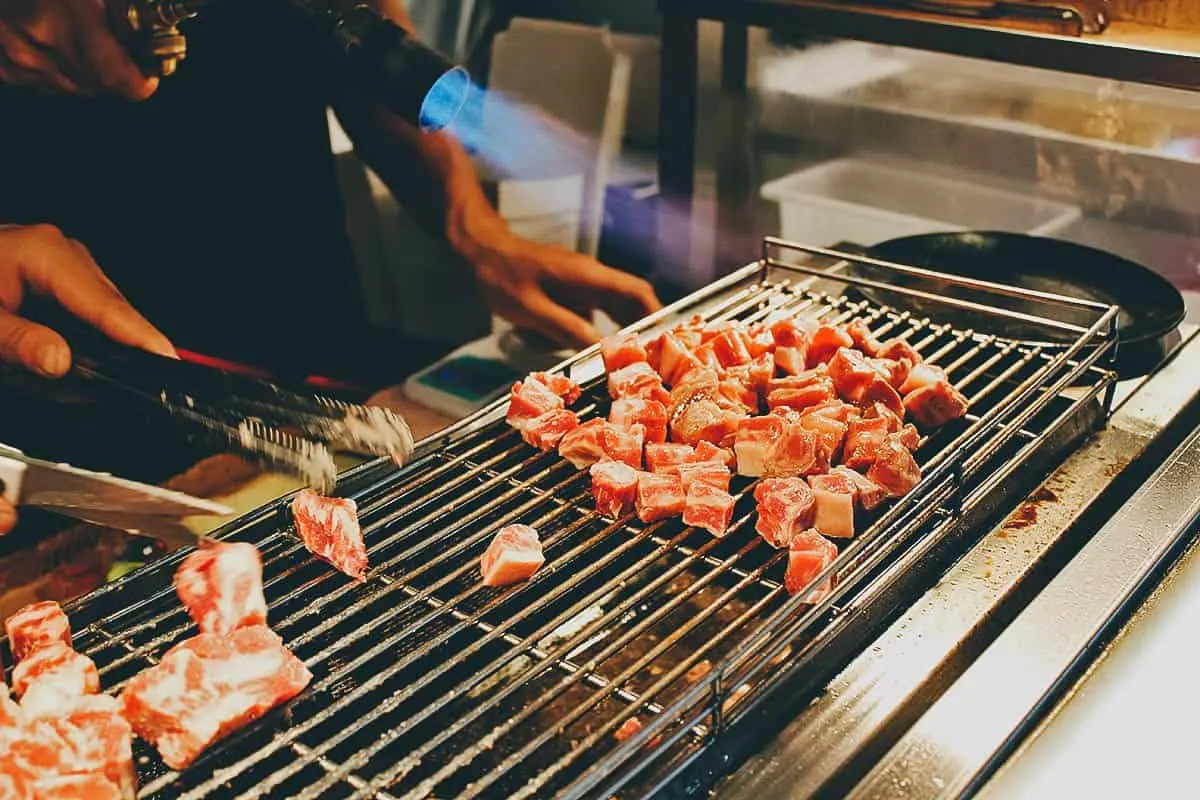 7. Xiao Long Bao at Din Tai Fung
Xiao long bao is actually a Shanghainese dish but this Taiwanese restaurant perfected it. Din Tai Fung has become so successful that they've branched out to many countries around the world, including China. In fact, ask a Shanghainese local where they like to go for xiao long bao and many will say Din Tai Fung.
Xiao long bao refers to a Chinese dumpling traditionally filled with pork and a solid meat aspic that melts into soup when heated. As palatable as it looks, it's important to eat the dumpling correctly so you don't burn your mouth.
To eat, you take a small bite from the top of the xiao long bao, just enough to tear the skin, so you can slurp out the hot soup before plopping the dumpling in your mouth. It's a ritual that makes eating xiao long bao different from other dumplings.
Aside from the flavor, what makes Din Tai Fung stand out is their consistency. They consistently make the most perfect dumplings using the thinnest of wrappers. Every dumpling that comes out of their kitchen weighs exactly 21 grams and has 18 pleats.
My sister and a few friends of ours live in Shanghai and they all say that only Din Tai Fung can make perfect xiao long bao every time. You'll find several Din Tai Fung outlets in Taiwan, including one at the basement of Taipei 101.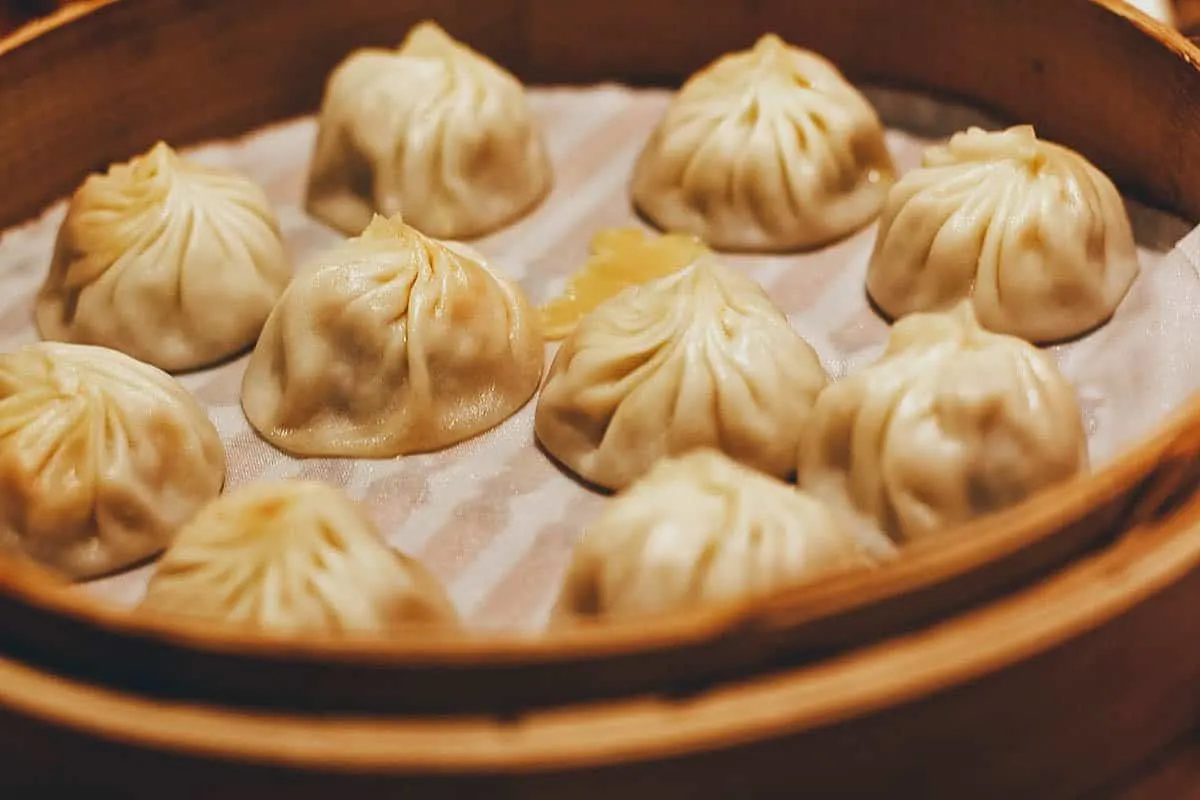 8. Boba at the Original Chun Shui Tang
Boba has to be one of Taiwan's greatest culinary contributions to the world. Just scroll through Instagram to see what I mean. It's fun and photogenic and one of the most delicious drinks you can have in Taiwan.
Also known as bubble tea or pearl milk tea, boba refers to a Taiwanese drink which at its most basic, is made with black tea, milk, sugar, and tapioca pearls. Countless variants exist these days made with fillings like coconut jelly, konjac, grass jelly, fruit, azuki bean, and egg pudding, but I suggest trying the original version at Chun Shui Tang in Taichung.
No one knows for sure who created bubble tea but Chun Shui Tang is just one of two establishments with a legitimate claim to its invention. They have many outlets throughout Taiwan but if you're visiting Taichung, then I suggest trying it at the original Chun Shui Tang branch.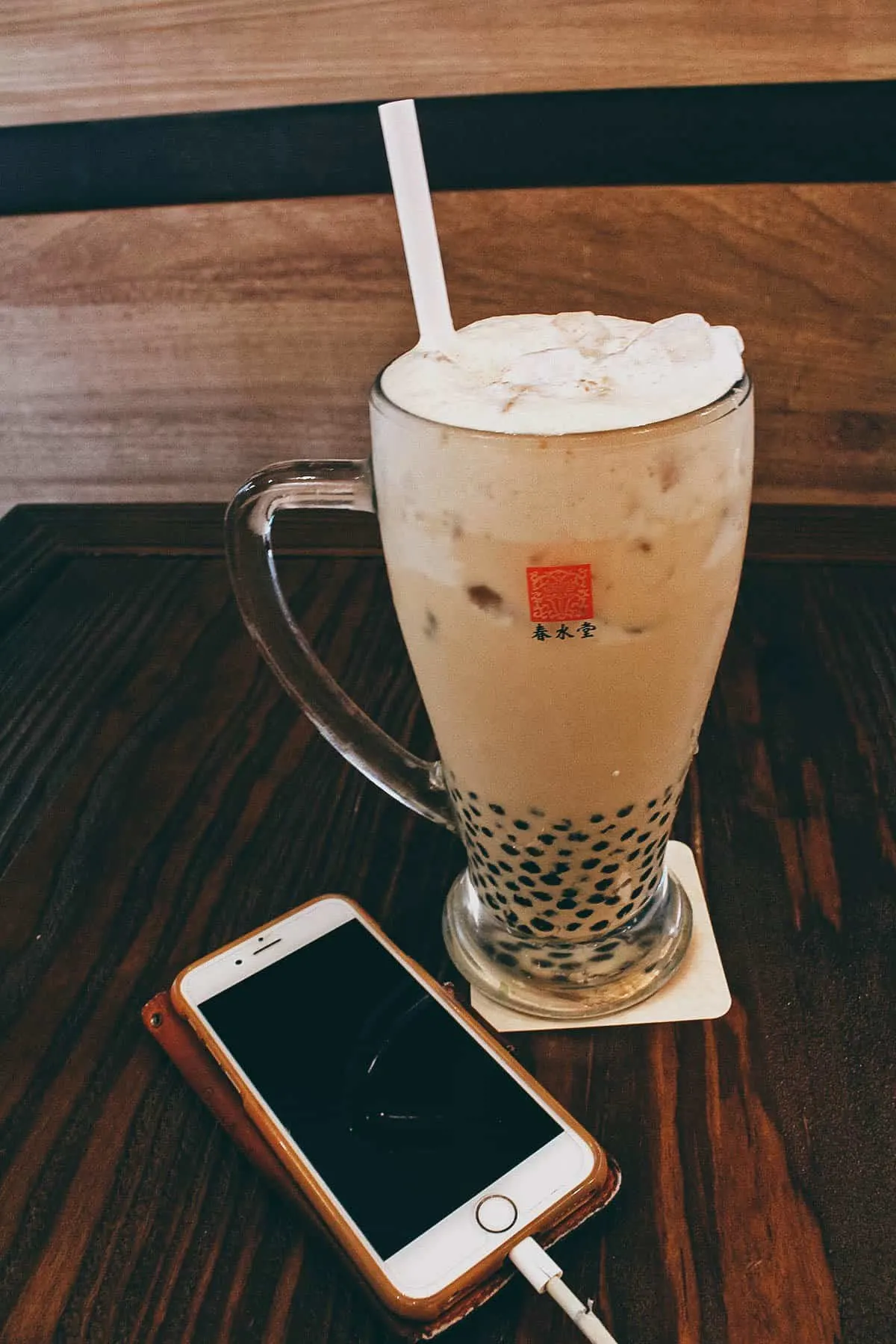 CHINA
No article listing the best food in Asia can be complete without including a few dishes from China. We haven't been to mainland China yet (shameful!) so I consulted with my Shanghai-based sister and our friends living in Beijing to suggest some of the top food experiences in China.
9. Steamed Hairy Crab in Shanghai
My sister's been living in Shanghai for almost 20 years so you can say she's become an expert on Shanghainese food. I asked her to write a Shanghai food guide and she described steamed hairy crab as one of three food experiences you need to have in Shanghai.
Also known as Chinese mitten crabs, Shanghai hairy crabs are medium-sized burrowing crabs that are named for their furry claws resembling mittens. They're native to the rivers and estuaries of East Asia from Korea in the north to Fujian, China in the south.
During hairy crab season, which is around late September / early October, the city becomes abuzz with these crustaceans that are sold at seemingly every market and restaurant in Shanghai. Oddly enough, they're even sold in vending machines!
The best hairy crabs are said to come from Yangcheng Lake but if you're willing to spend enough, then you can enjoy these prized specimens at the top seafood restaurants in Shanghai. They can be served in mixed dishes but it's best to eat them steamed with a dipping sauce made from rice vinegar, sugar, and ginger.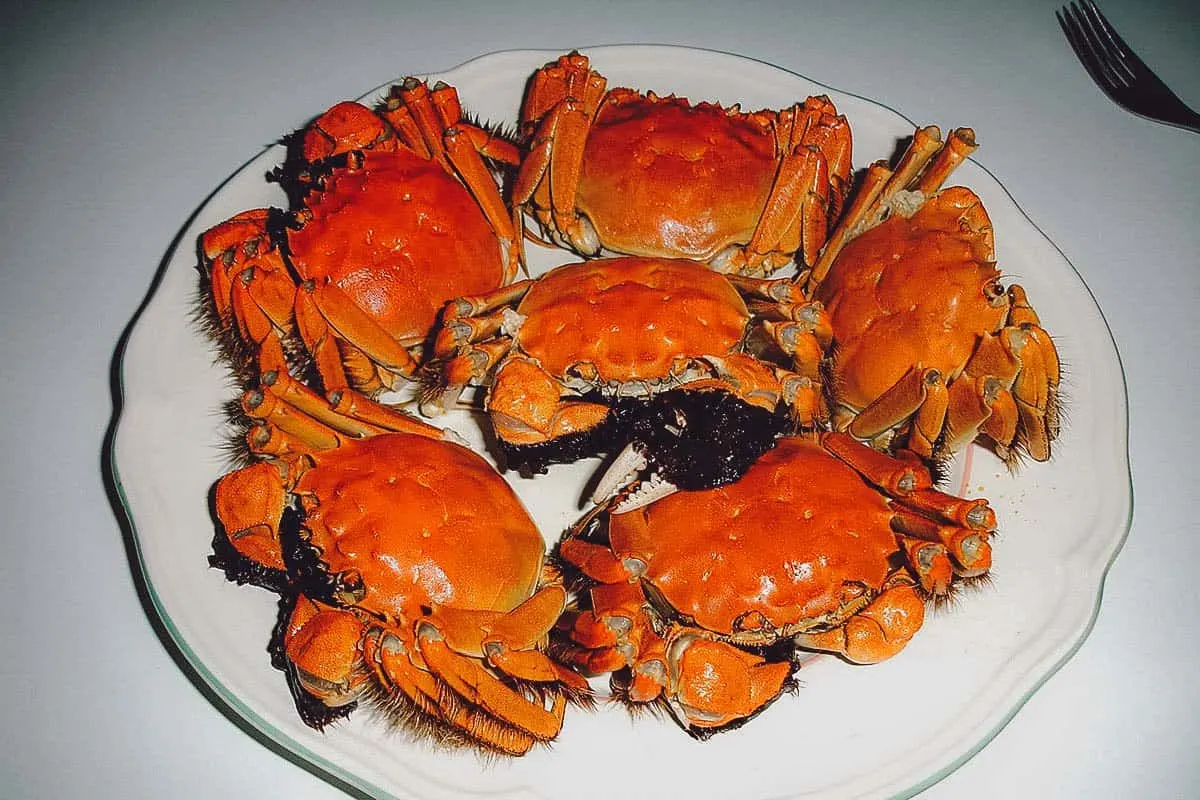 J. Patrick Fischer / CC BY-SA / Processed in Photoshop and Lightroom
10. Peking Duck in Beijing
We've been eating peking duck almost all our lives but never in China. According to our Taiwanese friend who's married to a Beijing local, you haven't truly eaten peking duck until you've had it in Beijing. According to him, it's worlds apart different and that much better.
If you've never had it, peking duck is an imperial-era Chinese duck dish known for its delicate but thin and supremely crisp skin. Ducks bred specifically for this dish are slaughtered after 65 days and seasoned before being roasted in a closed or hung oven.
When ready, the duck is carved into slivers in front of the diners, ideally with mostly skin and just a little bit of meat. To eat, the duck is wrapped in palm-sized pancakes with spring onion, cucumber, and a sweet bean sauce. It's crispy and fatty and supremely delicious.
Peking duck is one of our favorite Chinese dishes. What we've had is already delicious so I can only imagine what it must be like in Beijing. When we do finally eat our way through China, peking duck in Beijing will be at the very top of our must-eat list.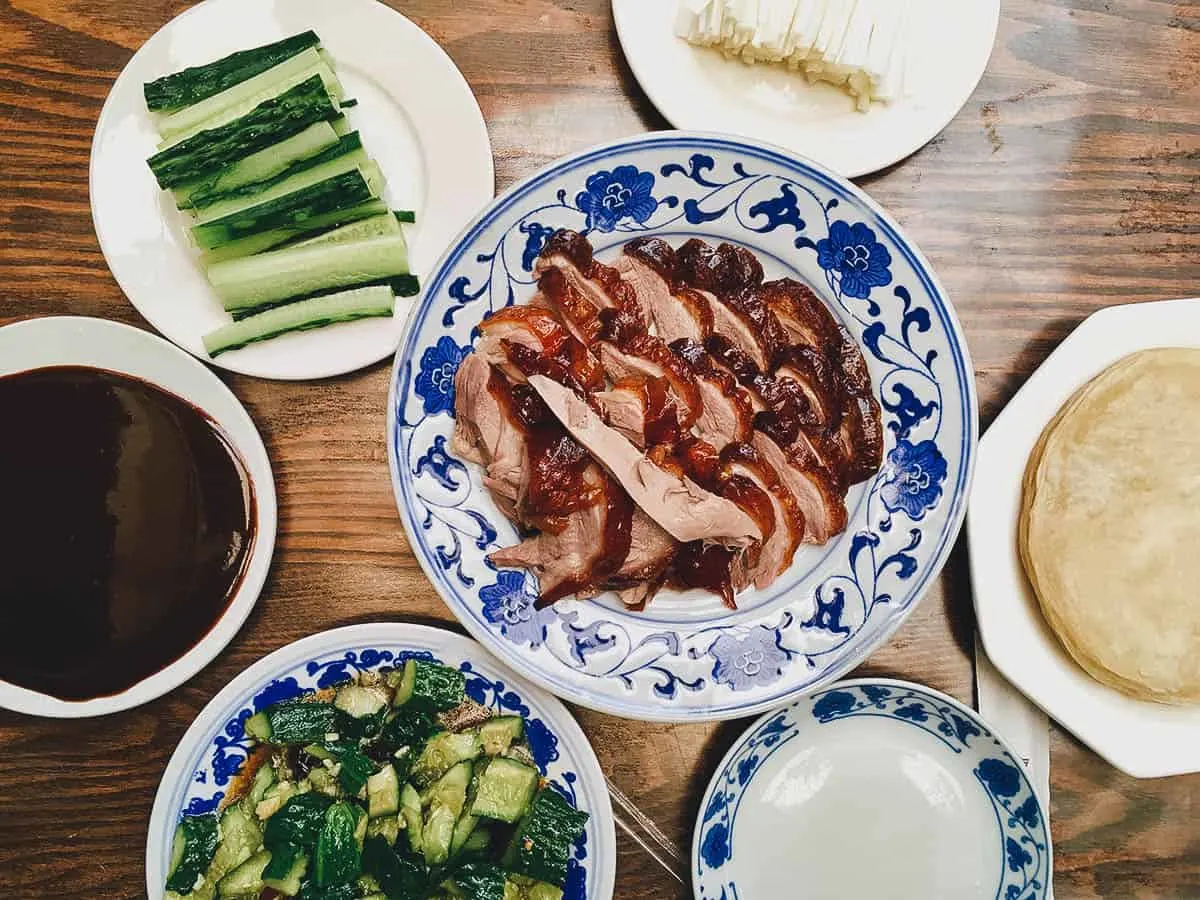 Photo by Michael Evans
HONG KONG
Like Singapore, Hong Kong isn't that big but square meter for square meter, it offers some of the most delicious food in Asia. Thanks to its proximity, we've been to Hong Kong numerous times and the one thing that always gets us excited to go is the food.
11. Eat at a Dai Pai Dong
Dai pai dong doesn't refer to a specific dish or restaurant but a type of Chinese eating establishment. You can think of it as an open-air food stall in Hong Kong, similar to a yatai stall in Fukuoka or a hawker stall in Singapore.
Dai pai dong began cropping up as unlicensed food stalls in Hong Kong during the late 19th century. They provided cheap wok hei dishes on folding tables and chairs by the side of the road. Like any street food stall, they were characterized by their lack of air-conditioning and generally untidy atmosphere.
After World War II, the government began issuing licenses to operate these food stalls, giving rise to the term dai pai dong which literally translates to "big license stall". This was in reference to the size of the license plates which were much larger than those of typical street food vendors.
Since 1975, many dai pai dong have been moved to indoor markets and cooked food centers. You'll find many of these more modern versions of dai pai dong throughout Hong Kong, but one particularly famous one is the Tung Po restaurant in North Point (pictured below). It was featured on the Hong Kong episode of No Reservations with Anthony Bourdain.
We loved Tung Po but if you're interested in a more traditional dai pai dong experience, then you can still find a few operating in Sham Shui Po.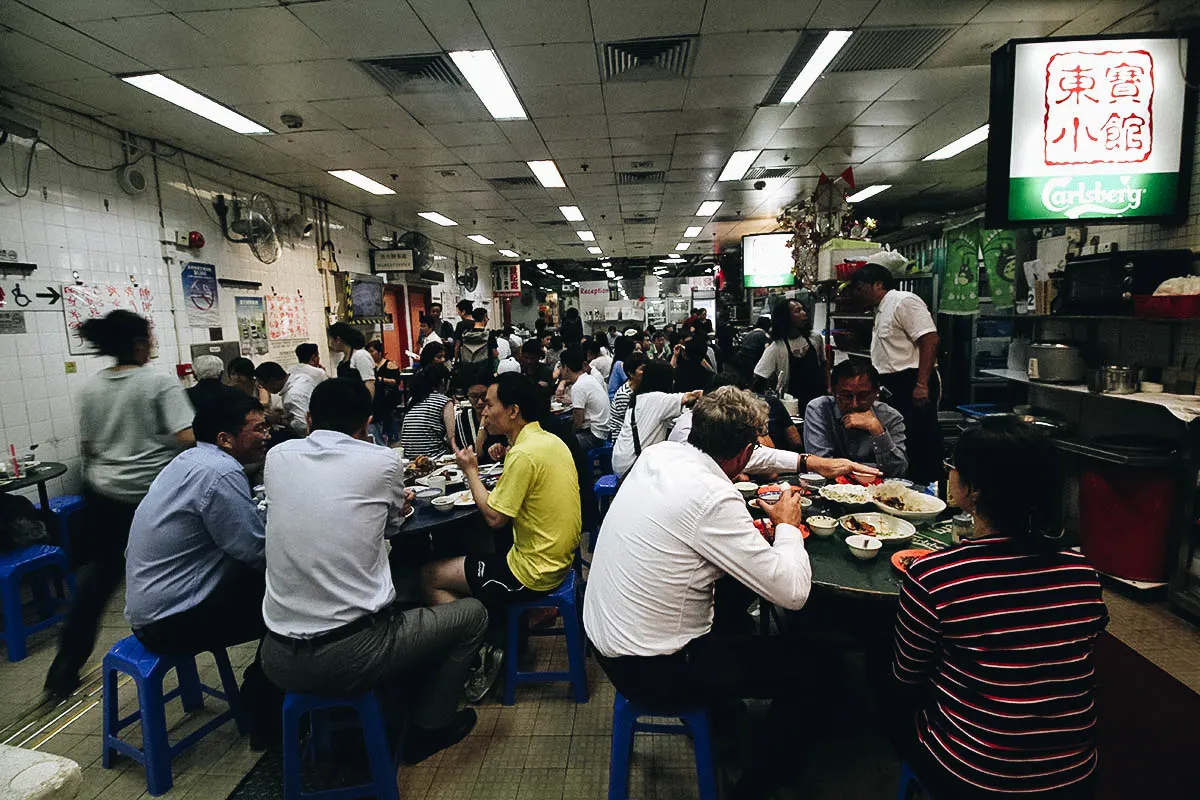 The dai pai dong has come a long way since its humble beginnings. The very first stalls offered simple everyday meals like congee, rice, and noodles but these days, you can order pretty much anything at a dai pai dong.
Pictured below is a delicious plate of razor clams with vermicelli noodles from Tung Po. Tung Po may not fit the description of a classic dai pai dong anymore but it's a fun and lively restaurant offering fantastic food.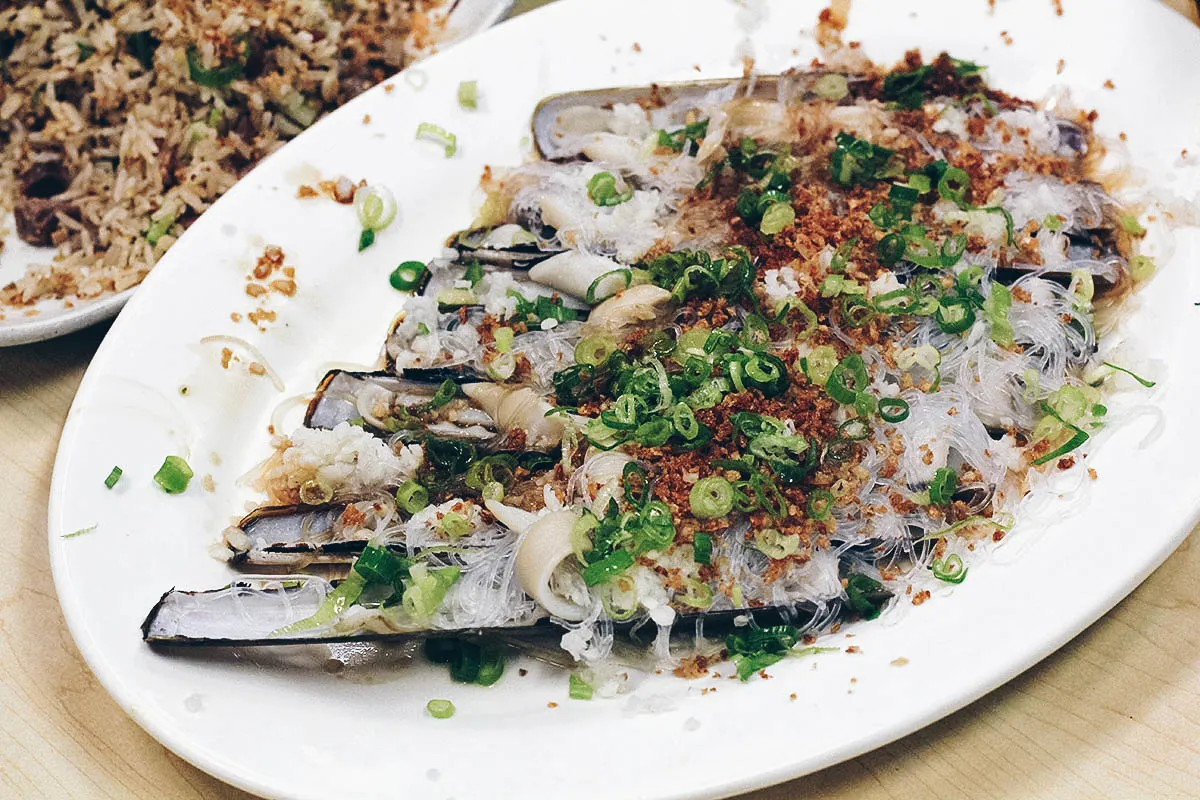 12. Enjoy Yum Cha
A trip to Hong Kong can never be complete without eating dim sum. Dim sum refers to the wide range of small Cantonese dishes like siu mai, har gow, and char siu bao, while yum cha describes the brunch tradition of eating dim sum with Chinese tea.
Traditional yum cha is a communal meal featuring bamboo steamers filled with a collection of steamed, pan-fried, and deep-fried dim sum dishes. They'd be piled high on push carts that would make their way from table to table.
Once the push cart reached your table, you could grab whatever you wanted and the server would jot down your order on a piece of paper. It's an eating tradition beloved not just in Hong Kong, but in other Cantonese-speaking regions and communities around the world.
With the popularity of social media and Instagram, yum cha is becoming increasingly modernized in Hong Kong but there are old-school teahouses that still serve it in its most traditional forms. I suggest trying both.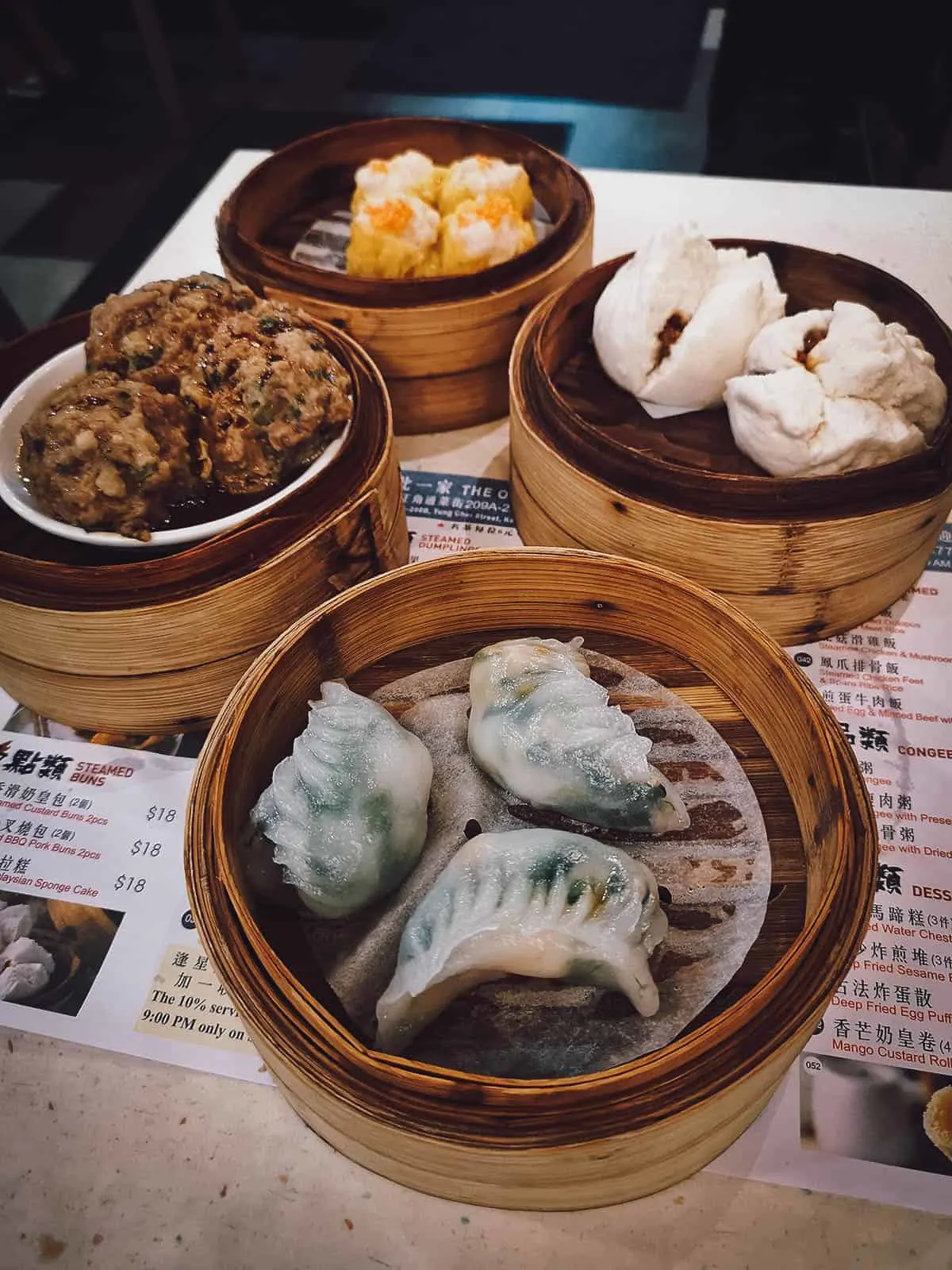 VIETNAM
For me, Vietnam serves the best food in Southeast Asia. Like Japanese food, I adore Vietnamese food so it was hard for me to narrow it down to just a few dishes!
I could go on and on about Vietnamese food but in the spirit of diversity and well-roundedness, listed below are three of my favorite food experiences in Vietnam.
13. Bun Bo in Hue
As described, I love Vietnamese food. But if I had to narrow it down and pick a favorite, then that one dish would probably be bun bo hue. At least on most days.
As its name suggests, bun bo hue is a Vietnamese noodle soup that's originally from Hue in central Vietnam, where it's known simply as bun bo. It's made with rice vermicelli, thin slices of beef, and hefty chunks of beef shank.
To prepare, pork and beef bones are simmered for several hours with lemongrass. They're then seasoned with annatto, sugar, fermented shrimp paste, and chili oil before being garnished with chopped green onion, raw onion, and cilantro.
Bun bo hue is typically made with brisket, beef shank, and rice vermicelli but some cooks may add other ingredients as well like pig's trotters, oxtail, and congealed pig's blood. Like many Vietnamese noodle soups, it's usually served with a basket of fresh greens like mint, perilla, bean sprouts, banana blossom, and fish wort.
Pho may be the most popular Vietnamese noodle soup but for me, bun bo hue is the best. It's so incredibly flavorful and a must-try when visiting Hue. Check out our Hue food guide for recommendations on where to try it.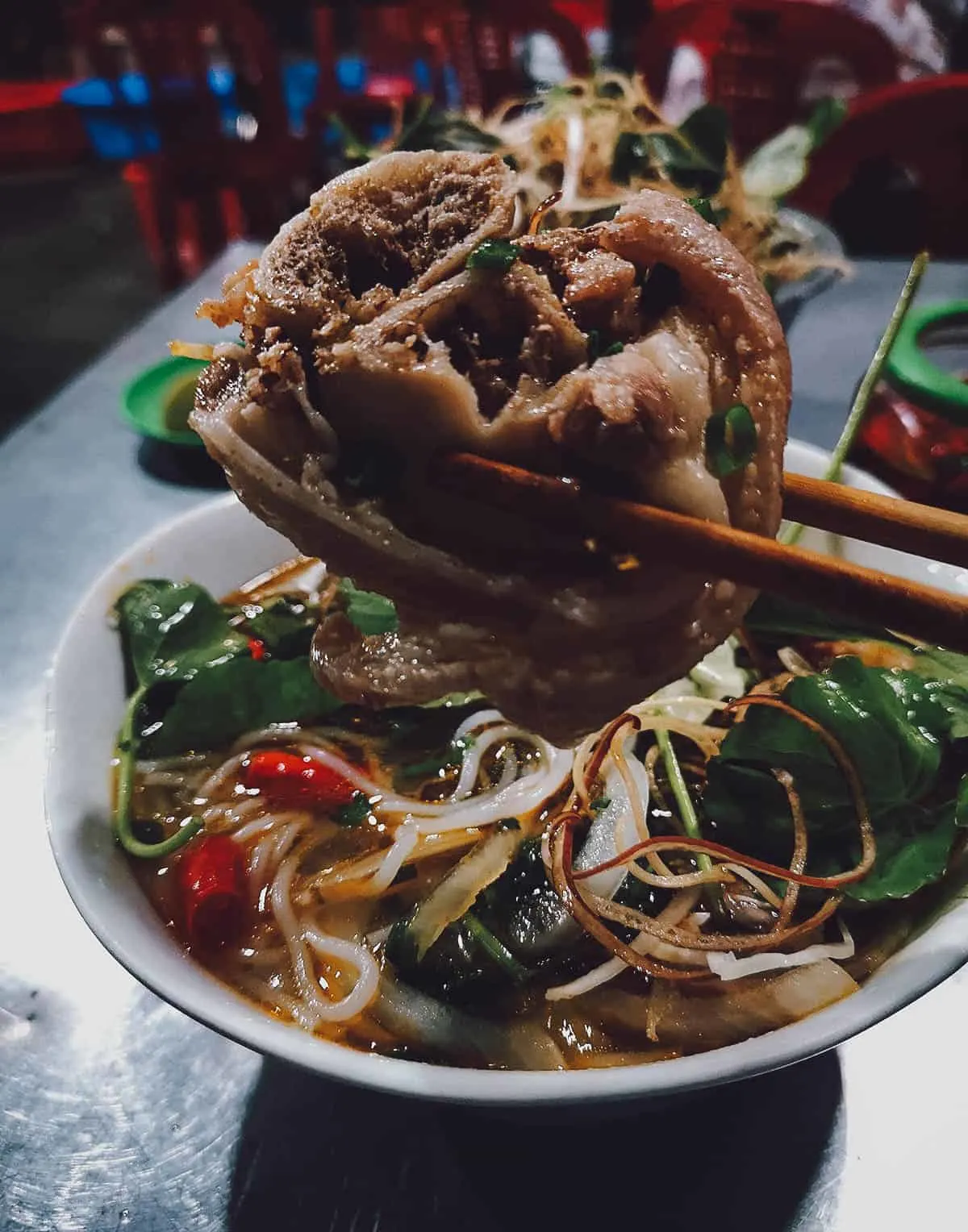 14. Bun Cha in Hanoi
If bun bo hue is my favorite central Vietnamese dish, then bun cha would be my preferred northern Vietnamese delicacy. In fact, it's the main reason why a similar dish called bun thit nuong is popular everywhere else except in Hanoi where bun cha is king.
Bun cha refers to a charcoal-grilled pork dish served with cold vermicelli noodles. The pork comes in two forms – meatball patties and pork belly – which are grilled then served in a soupy bowl of pickled vegetables. The dish is typically eaten with a side of nem cua be (deep-fried crab spring rolls) and a basket of fresh greens like perilla, coriander, lettuce, and mint.
Smokey, tangy, spicy, and savory-sweet, bun cha is absolutely delicious and something I can't get enough of when visiting Hanoi. Check out our Hanoi food guide for recommendations on where to try it on your next visit to Vietnam's capital.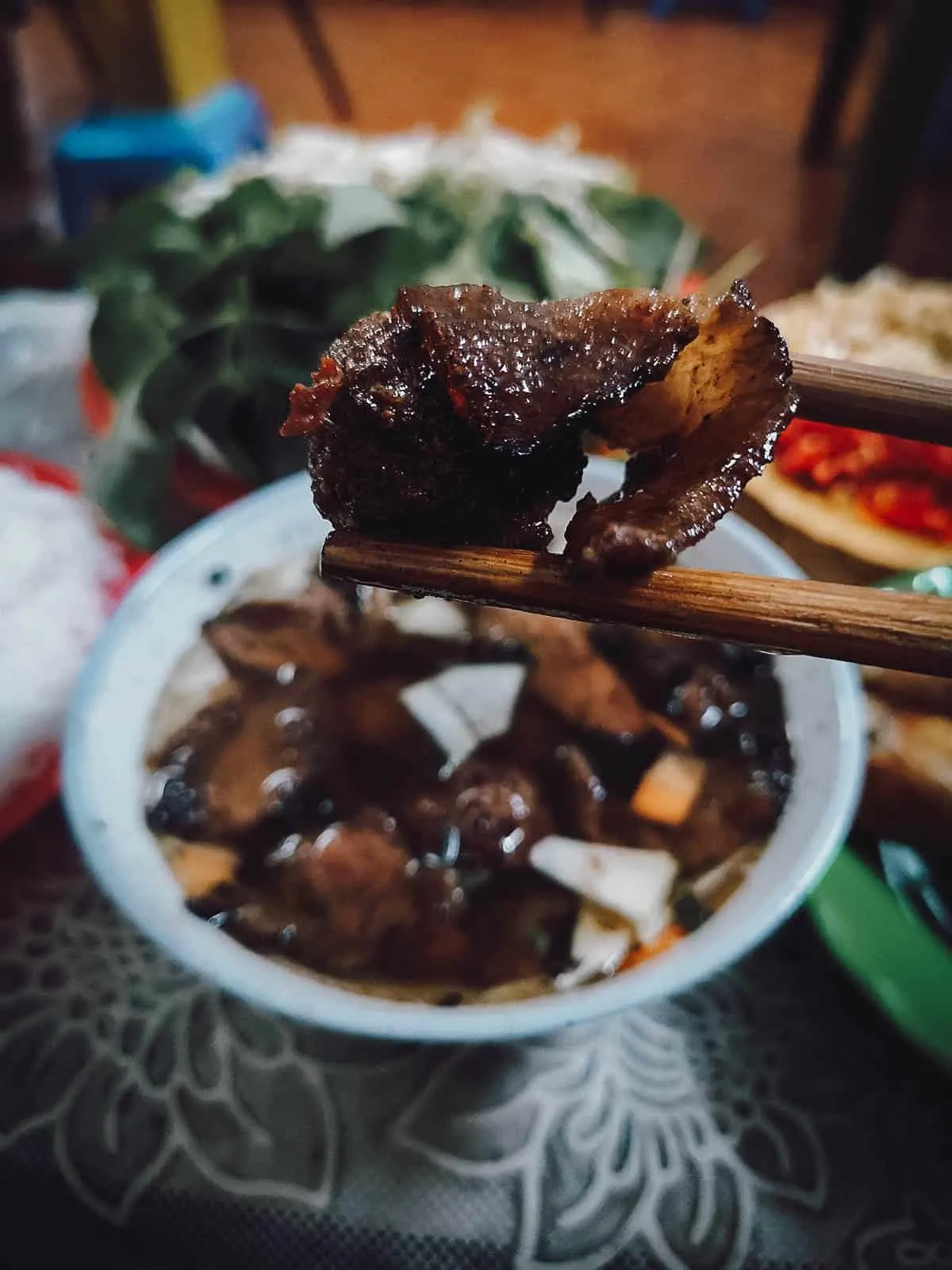 15. Enjoy a Seafood Street Food Feast in Saigon
I'll never forget the first time we went to Vinh Khanh Street in Saigon. We were taken there by a local who wanted to show us the best of Vietnamese street food. We instantly fell in love with its energy and its many stalls featuring a wide range of seafood.
Vinh Khanh Street is located in Ho Chi Minh City's District 4. It's a long street with restaurants on either side selling many different types of seafood and Vietnamese street food.
Most of the restaurants are open-air establishments facing the street so you get to enjoy dishes like grilled octopus, oysters, crab claws, and snails while watching a steady stream of motorbikes flowing up and down the street. For me, Vinh Khanh Street is the embodiment of the Vietnamese street food experience and a must-do when visiting Saigon.
There are many restaurants to choose from along Vinh Khanh Street but one of the best and most popular is Oc Oanh. Check out our Saigon food guide for more information.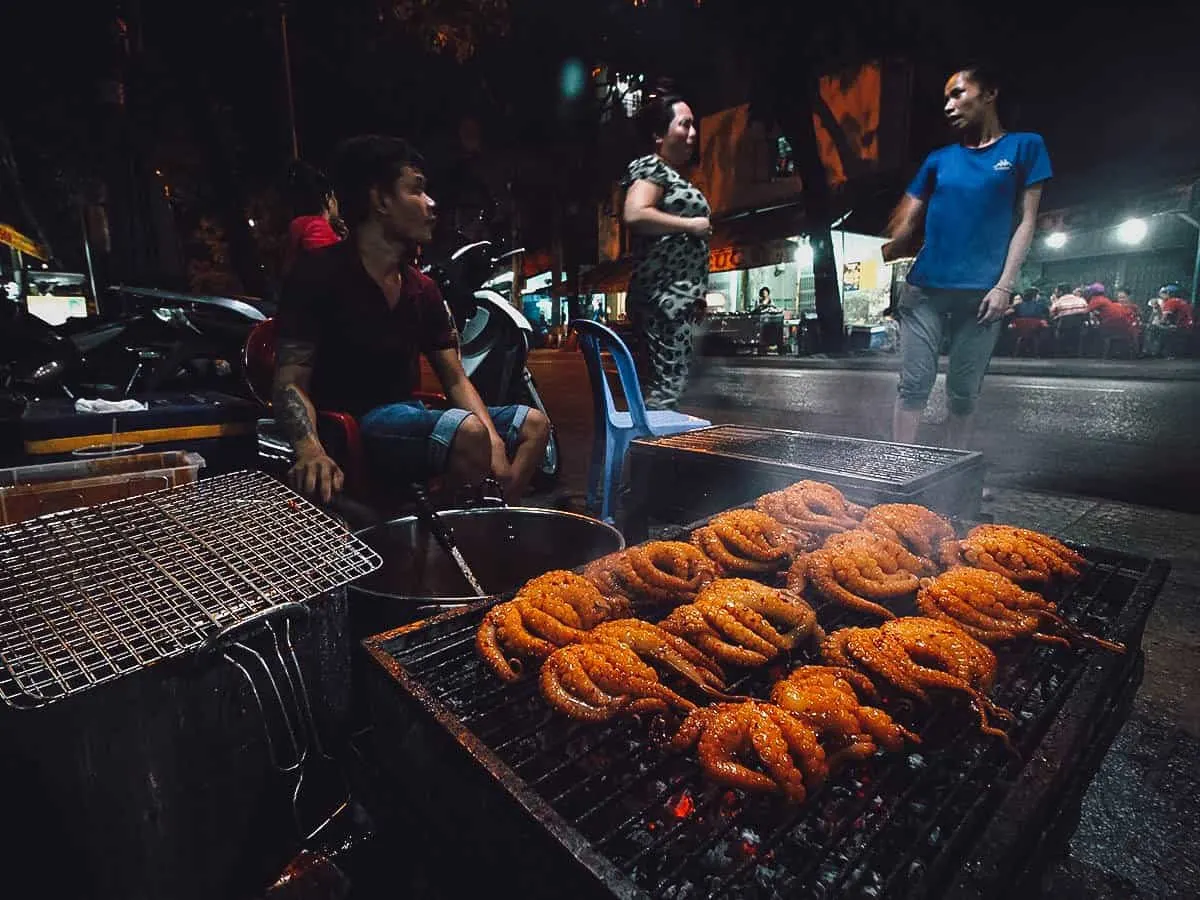 Mud creepers in coconut milk are a popular snail dish in Saigon. Enjoying a snail feast is one of my absolute favorite things to do in Ho Chi Minh City.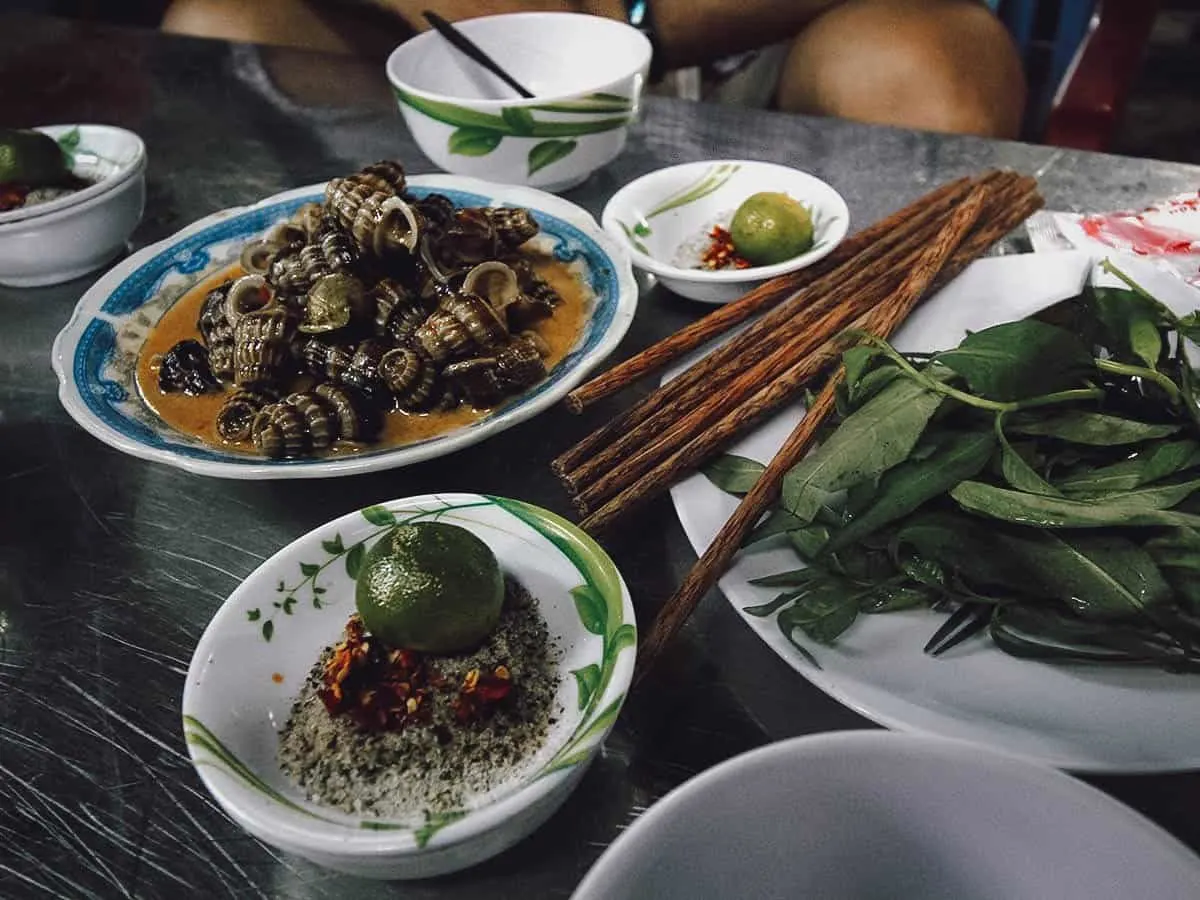 THAILAND
Thailand is home to one of the most delicious cuisines in the world, not to mention some of the best street food in Asia. In fact, Thailand is so renowned for its street food that CNN once named Bangkok as the best city in the world for street food.
It would be a crime to compile a list of the best food in Asia without including at least a couple of entries from Thailand.
16. Tom Yum Goong
Pad thai is arguably the most famous Thai dish but many Thai food lovers may tell you that tom yum is the best. In fact, it's the Thai dish that ranked highest on CNN Travel's reader's poll on the World's 50 Best Dishes.
Tom yum refers to a family of Thai hot and sour soups made with a host of ingredients like lemongrass, galangal, kaffir lime leaves, fish sauce, and crushed red chili peppers. It can be made with other proteins like chicken or fish but the most popular version is tom yum goong which is made with prawn.
Tom yum goong is made with a stock of boiled shrimp heads and a soup base made with nam prik pao or roasted chili paste. This is what gives the soup its strong prawn flavors and its notably spicy and sour character.
Get a spoonful of that broth and you'll realize that tom yum goong is one of the best soups in the world. It's so nuanced and flavorful.
You can have tom yum anywhere in Thailand but if you're visiting Bangkok, then I suggest trying it at Pe Aor Tom Yum Goong. Check out our Bangkok food guide for more information.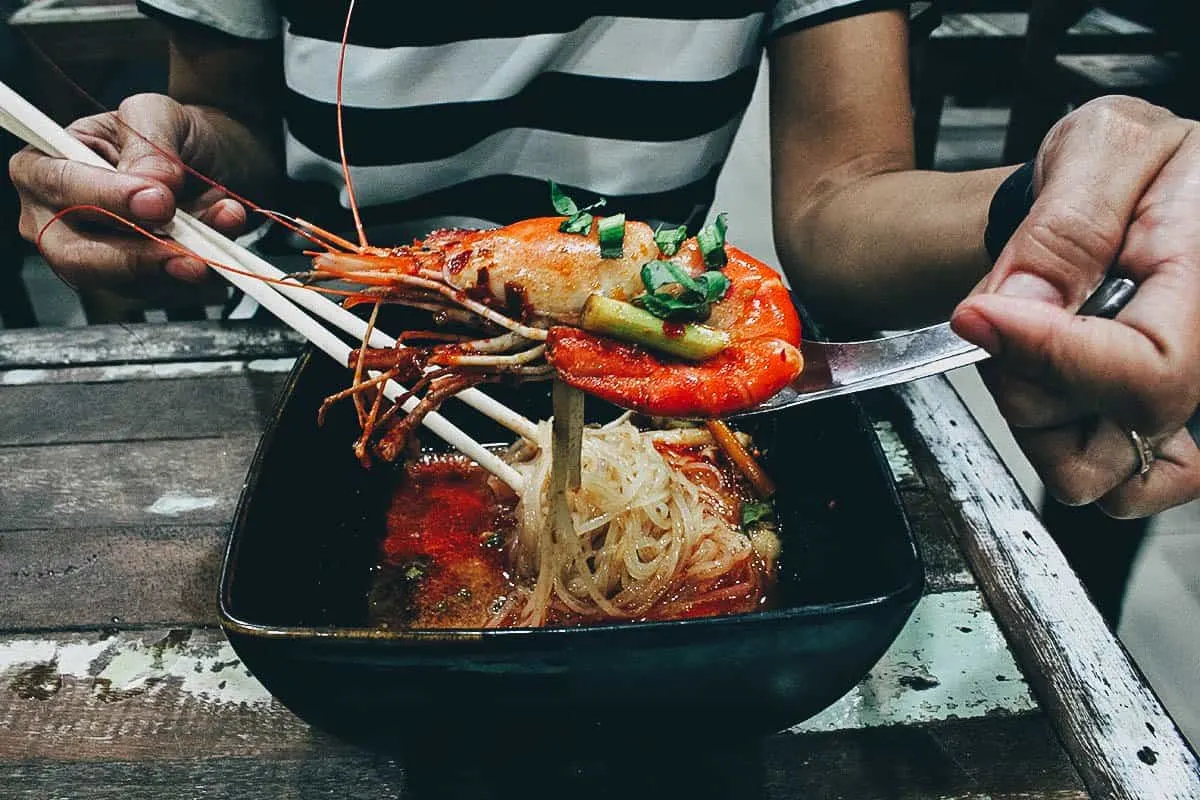 17. Khao Soi in Northern Thailand
I'll be honest, I'm not the biggest fan of northern Thai food. I much prefer central and southern Thai cuisine but the one northern Thai dish that I absolutely cannot refuse is khao soi.
Khao soi refers to a noodle soup dish made with both crispy and soft egg noodles in a creamy, curry-like sauce thickened with coconut milk. It's typically made with chicken or beef but you can have it with pork, shrimp, or fish as well. It's usually served with a side of pickled cabbage, red onions, and lime.
Creamy, crunchy, and delicious, khao soi is a must-try when visiting northern Thai cities like Chiang Mai or Chiang Rai. Just be aware that it's typically served for lunch so few restaurants will offer it at night.
We had khao soi a few times in northern Thailand and the best was at Khao Soi Khun Yai in Chiang Mai. Check out our Chiang Mai food guide for more information.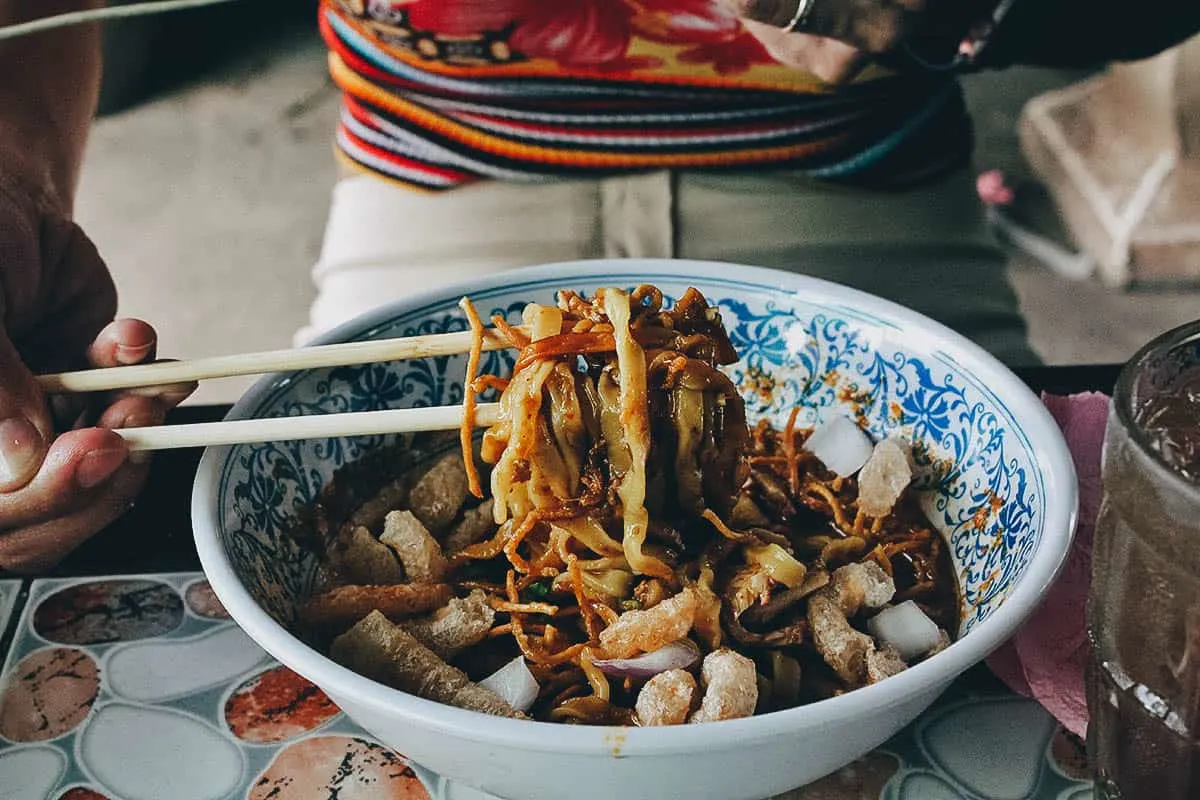 SINGAPORE
Singapore may be the smallest country in the region but it's home to some of the best food in Southeast Asia. Beloved for its storied hawker tradition, it's one of the most delicious destinations we've visited so far, not just in Asia but anywhere.
18. Chili Crab
If you were to eat just one dish in Singapore, then it should definitely be chili crab. It's a national dish and regarded by many as Singapore's greatest culinary invention. In fact, it's one of just two Singaporean dishes on CNN Travel's list of the World's 50 Best Foods.
Chili crab is prepared by stir-frying crabs, preferably mud crabs, in a tomato- and chili-based sauce. Egg is often used to thicken the sauce which you can mop up with a side of fried mantou bread.
In spite of its name, chili crab isn't very spicy at all. Instead, it tastes tangy and a little sweet with just a hint of spiciness.
Visit a good chili crab restaurant in Singapore and it becomes apparent how abundantly proud Singaporeans are of this dish. I can still remember the look of pride on our server's face when he served us this overflowing bowl of chili crab. It was like he was showing off his baby.
As described, be sure to get it with a side of fried mantou as the bread works really well with the rich tomato-ey sauce. It's absolutely delicious and a must-try when visiting Singapore.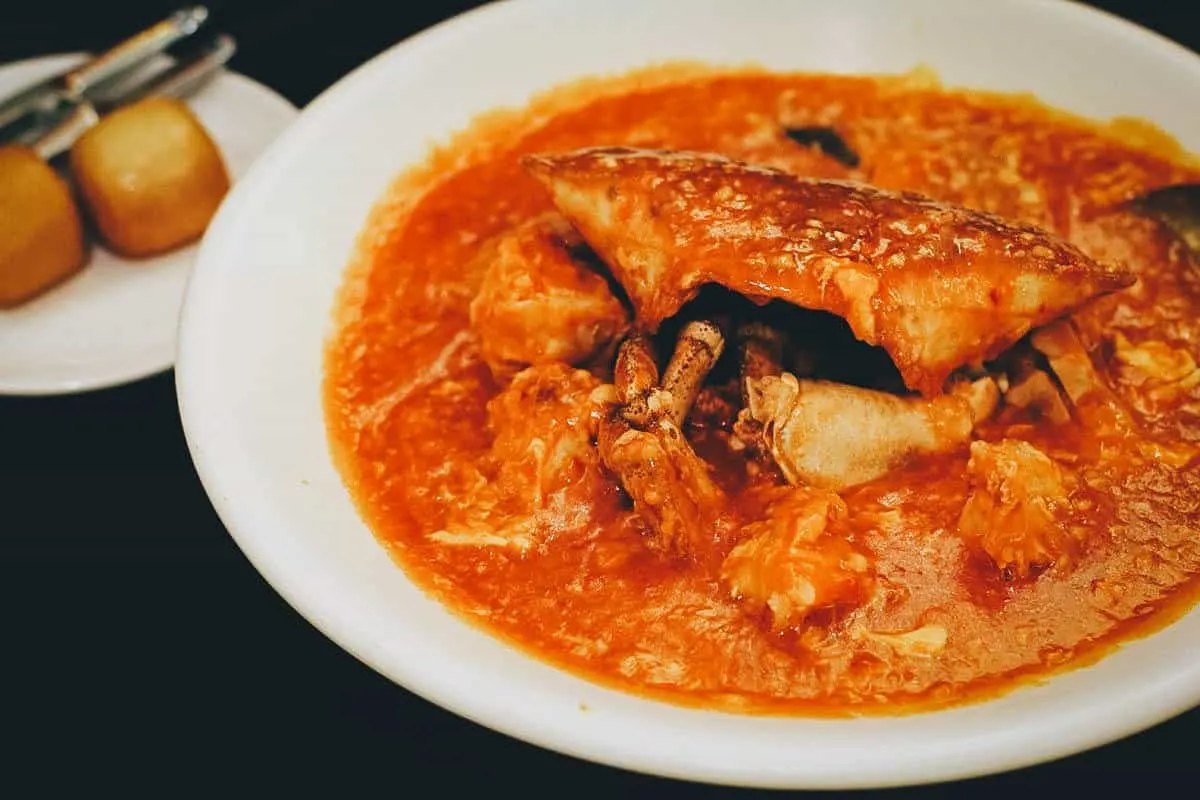 19. Sup Tulang
Sup tulang isn't nearly as well-known as chili crab but it's just as noteworthy and delicious. It refers to a Singaporean dish made with mutton or beef bones stewed in tomato paste, chili, and spices.
Like chili crab, sup tulang is considered a true Singaporean food invention. It was created and made popular by an Indian Muslim food stall along Jalan Sultan in the 1950s.
And like chili crab, it looks spicier than it actually is. It's more savory-sweet than spicy and is served with soft bread which you can use to mop up the sauce.
As delicious as it looks in this picture, the best part about this dish is what you can't see. Scroll down to see what I mean.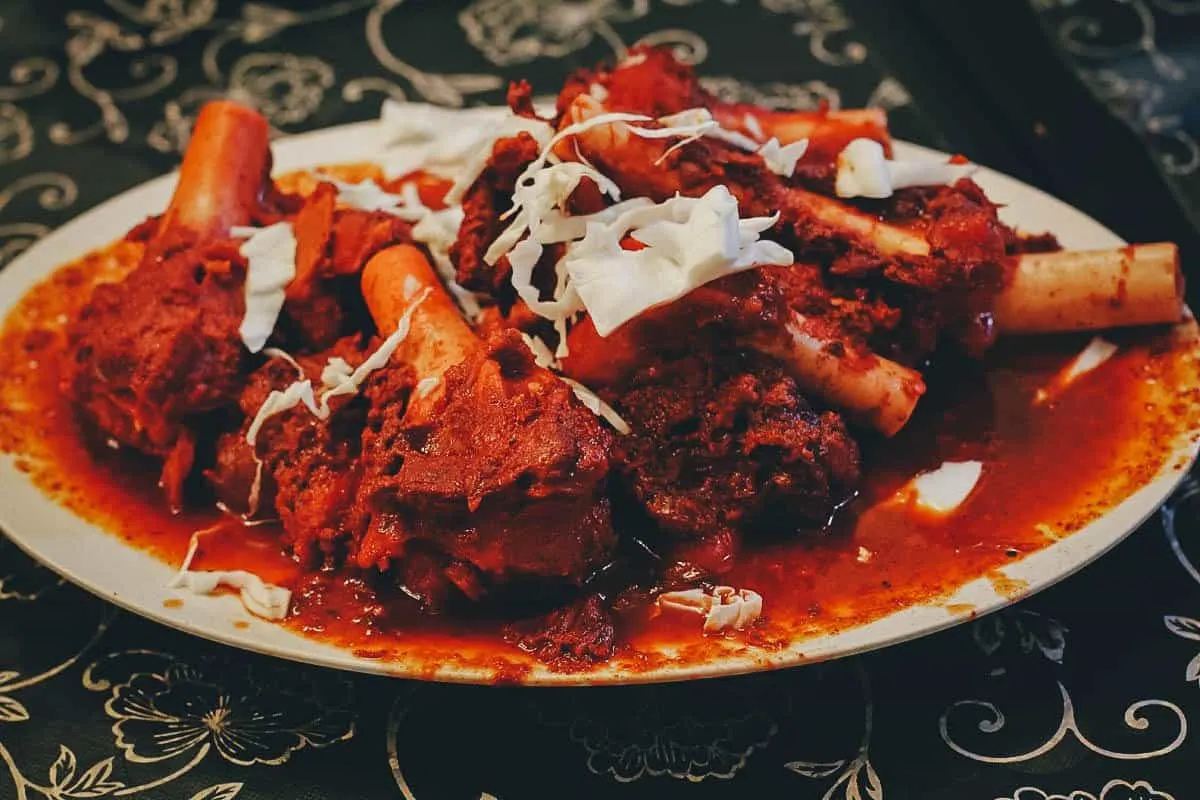 There isn't much meat in sup tulang because the real star is what's inside the bones, namely the marrow. They give you straws so you can suck out all that rich unctuous bone marrow. Have you ever enjoyed a dish like this?
If you're a fan of bone marrow, then you absolutely need to try this dish in Singapore. Check out our Singapore restaurant guide to learn where you can try it.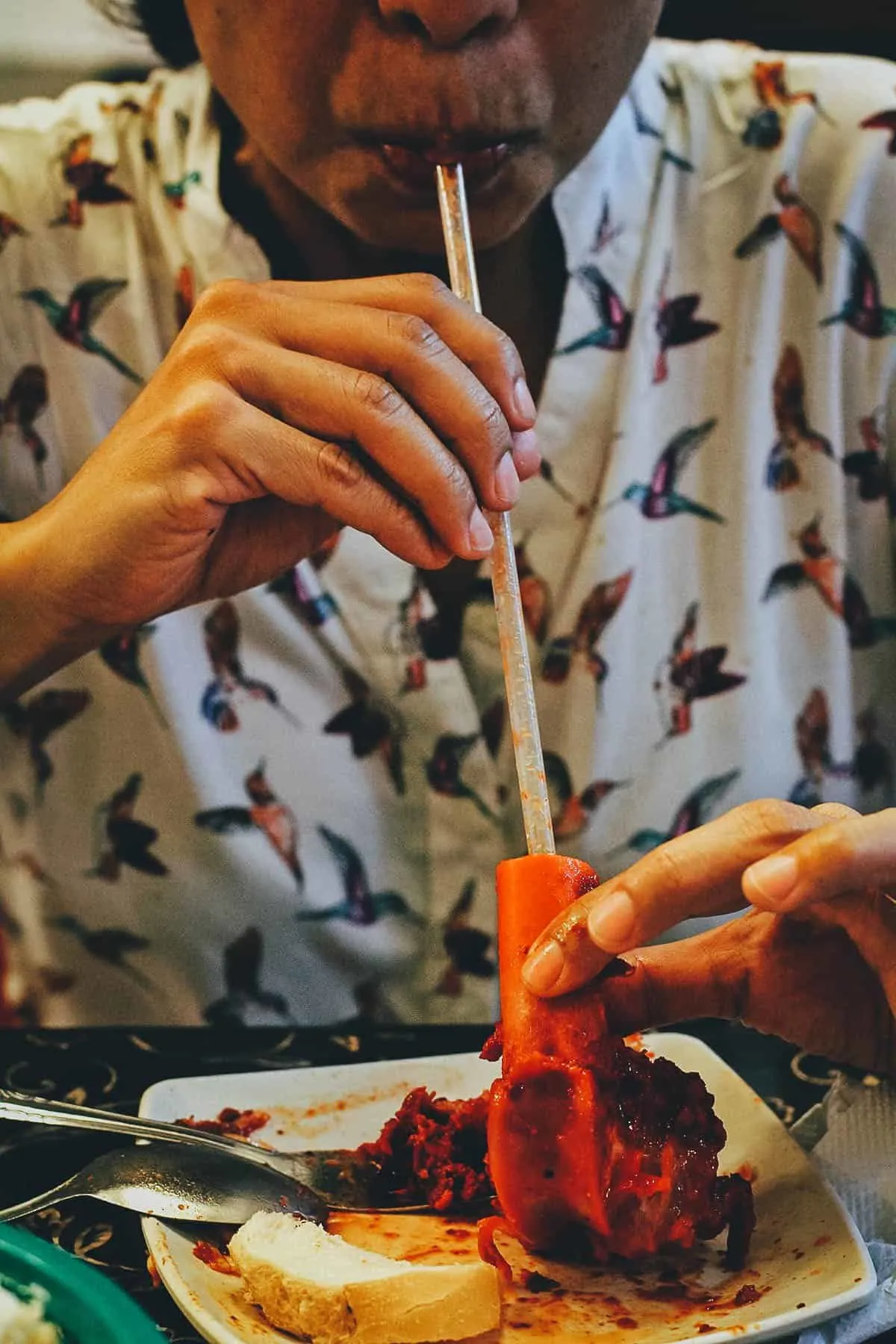 PHILIPPINES
We're from the Philippines but we're willing to admit that Filipino food isn't the most universally appealing. It lacks the complexity and balance of other Asian cuisines but that doesn't mean it isn't without its gems.
When thinking of the best Filipino dishes, pork sisig comes to mind, as does lechon from Cebu. But the one dish I'd love for you try in the Philippines is halo-halo.
20. Halo-Halo
Isn't this pretty? Not only is halo-halo refreshing and delicious, but in my opinion, it's a fitting representation of Filipino culture. It's colorful, it's got a little bit of everything, and one taste will leave you wanting for more.
Meaning "mixed up" or "mixed together", halo-halo refers to a festive-looking Filipino dessert made with shaved ice, evaporated milk, and a hodge podge of ingredients like boiled kidney beans, garbanzos, kaong (sugar palm fruit), macapuno (young coconut), ube, leche flan, and plantains sweetened with sugar, among many others.
There's technically no correct set of ingredients to a halo-halo but the more the merrier. The more colorful it is, then the happier many Filipinos will be.
Personally, I enjoy more restrained versions of halo-halo but if it's your first time trying it, then it's best to go with these traditional versions with the million ingredients. They're fun and make for great Instagram pics.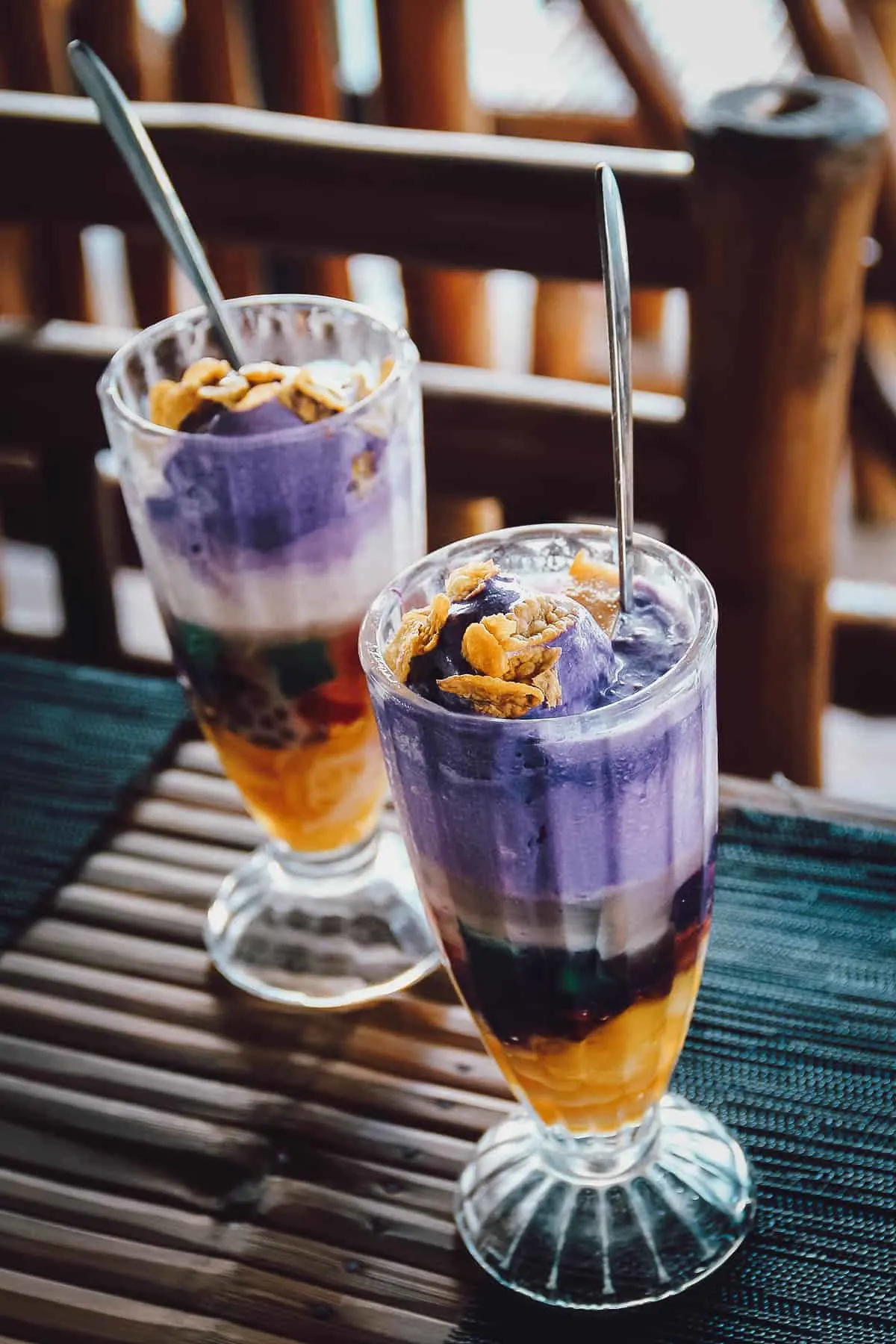 Photo by Kayea29 via Shutterstock
INDONESIA
From its landscape to its food, Indonesia shares many similarities with both the Philippines and Malaysia. If you like big plates of steamed rice surrounded by smaller portions of meat, seafood, and vegetables, then you're going to love Indonesian food.
21. Babi Guling in Bali
Bali, and especially Ubud, has become a favorite yoga destination for many travelers. With its plethora of vegetarian and vegan options, it's one of the easiest places in the world to abstain from meat, if only babi guling weren't so tempting.
Babi guling is one of Bali's most famous dishes. Similar to Filipino lechon, it refers to a suckling pig stuffed with a spice mixture called basa gede, which is then roasted on a hand-churned spit over an open fire.
When ready, the suckling pig is chopped up and served over steamed rice with sambal and a host of side dishes like vegetables, pork satay, blood sausage, and a crackingly crisp shard of pork skin. It's absolutely delicious and a must when visiting Bali.
Babi guling is one of the dishes Anthony Bourdain popularized on an old episode of No Reservations. The babi guling pictured below is from the warung (traditional Indonesian restaurant) featured on the show – Ibu Oka. It's pretty good though others are better. Be sure to check out our Bali food guide for recommendations.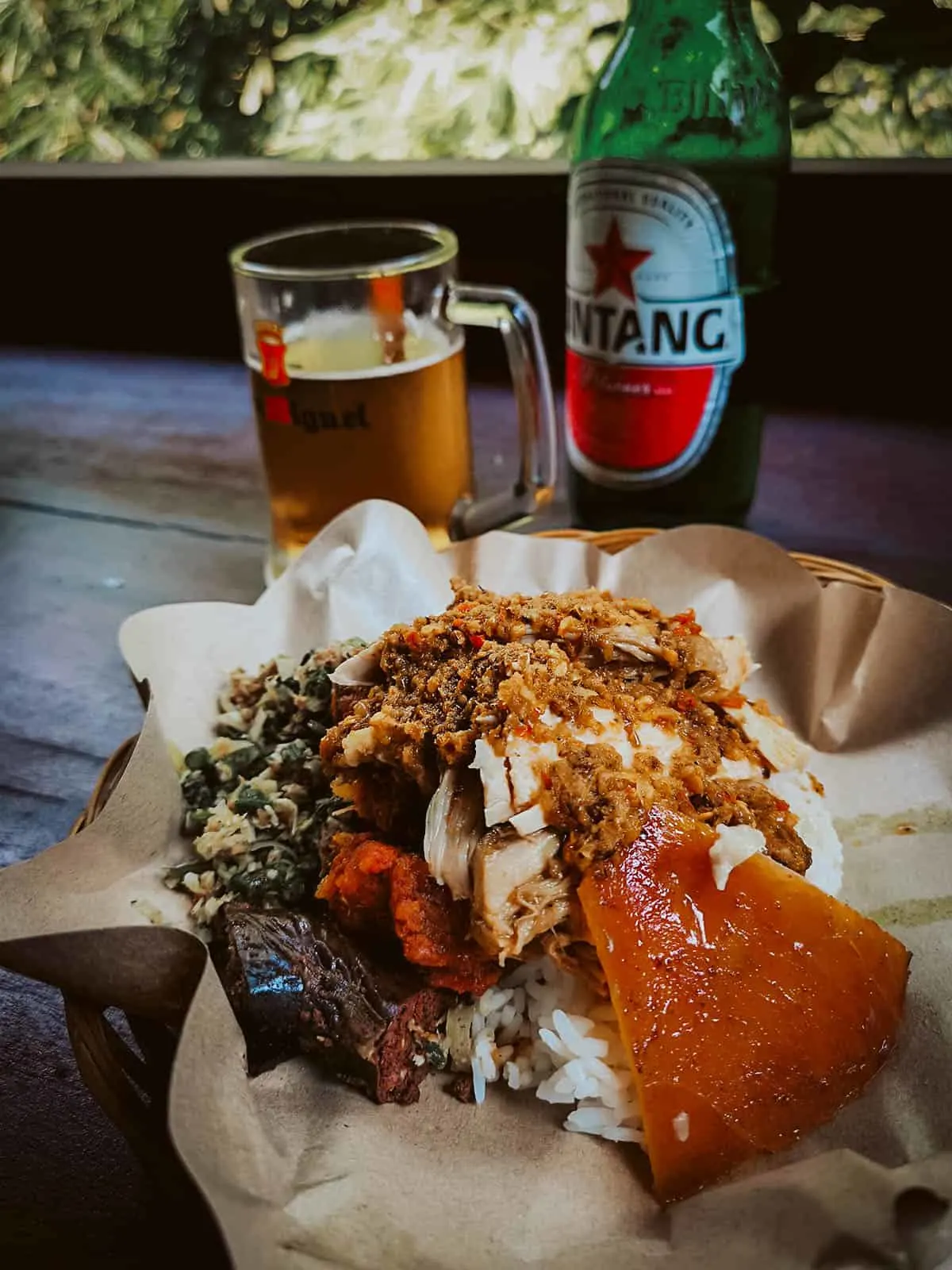 MALAYSIA
As described, Malaysia is quite similar to Indonesia and the Philippines so you can expect parallel food experiences in these three Southeast Asian countries. Many dishes cross over and plates of rice surrounded by a slew of vegetables and viands are popular.
22. Durian Cendol
Cendol refers to a popular dessert made with shaved ice, coconut milk, jelly noodles, and palm sugar. It's usually topped with a mix of ingredients like red beans, glutinous rice, grass jelly, and creamed corn. I like to think of it as the Malaysian / Indonesian version of Filipino halo-halo.
Cendol is amazing enough on its own, but throw in some fresh durian and it goes to a whole other level of deliciousness. As one Malaysian chef told me, it's the ultimate bowl of cendol.
Cendol is just as popular as a street food dish as it is at proper sit-down restaurants. Be sure to look for it on your next trip to Kuala Lumpur, Penang, or any other city in Malaysia.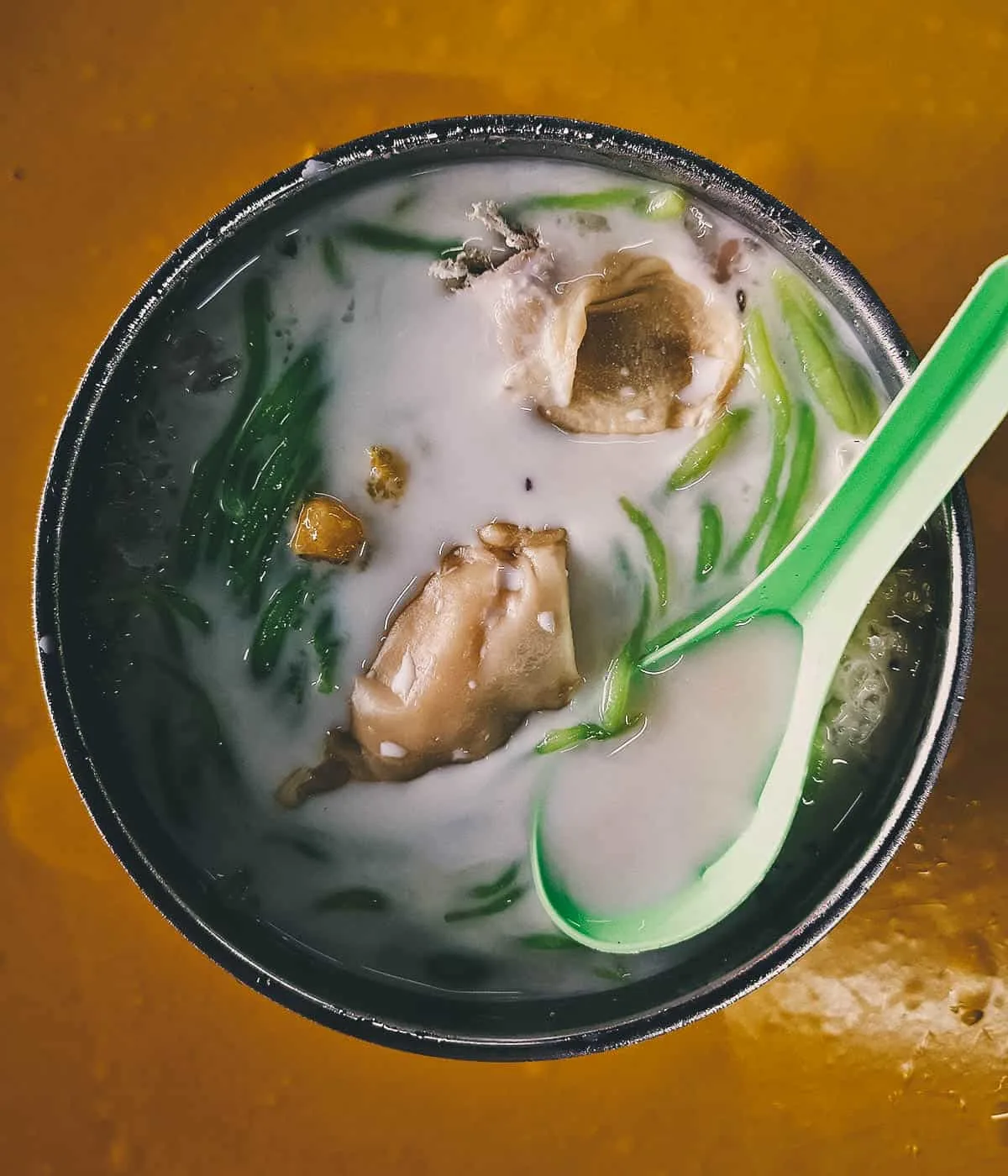 INDIA
Any conversation about the best food in South Asia has to start with India. Like China, it's one of the best and most highly regarded countries in the world for food. Personally, it's in my top three favorite cuisines.
23. Murgh Makhani in Delhi
Ask me what my hypothetical last meal would be and on most days, I'll say sushi. But on the other days, I'll say murgh makhani with basmati rice and garlic naan bread.
Murgh makhani or butter chicken has been one of my all-time favorite meals ever since I first got a taste of it in college in the US. I had been wanting to try it in India for the longest time so when I finally got my chance, I didn't waste an opportunity. All but one meal I had in Delhi was butter chicken, basmati rice, and naan bread. I couldn't get enough of it.
Murgh makhani is a north Indian dish and is said to have been invented by the Moti Mahal restaurant in Delhi. I had it there and at several other restaurants and it was terrific every time.
For me, dipping freshly baked naan into a pot of butter chicken gravy is one of life's greatest pleasures. Be sure to try it on your next trip to Delhi.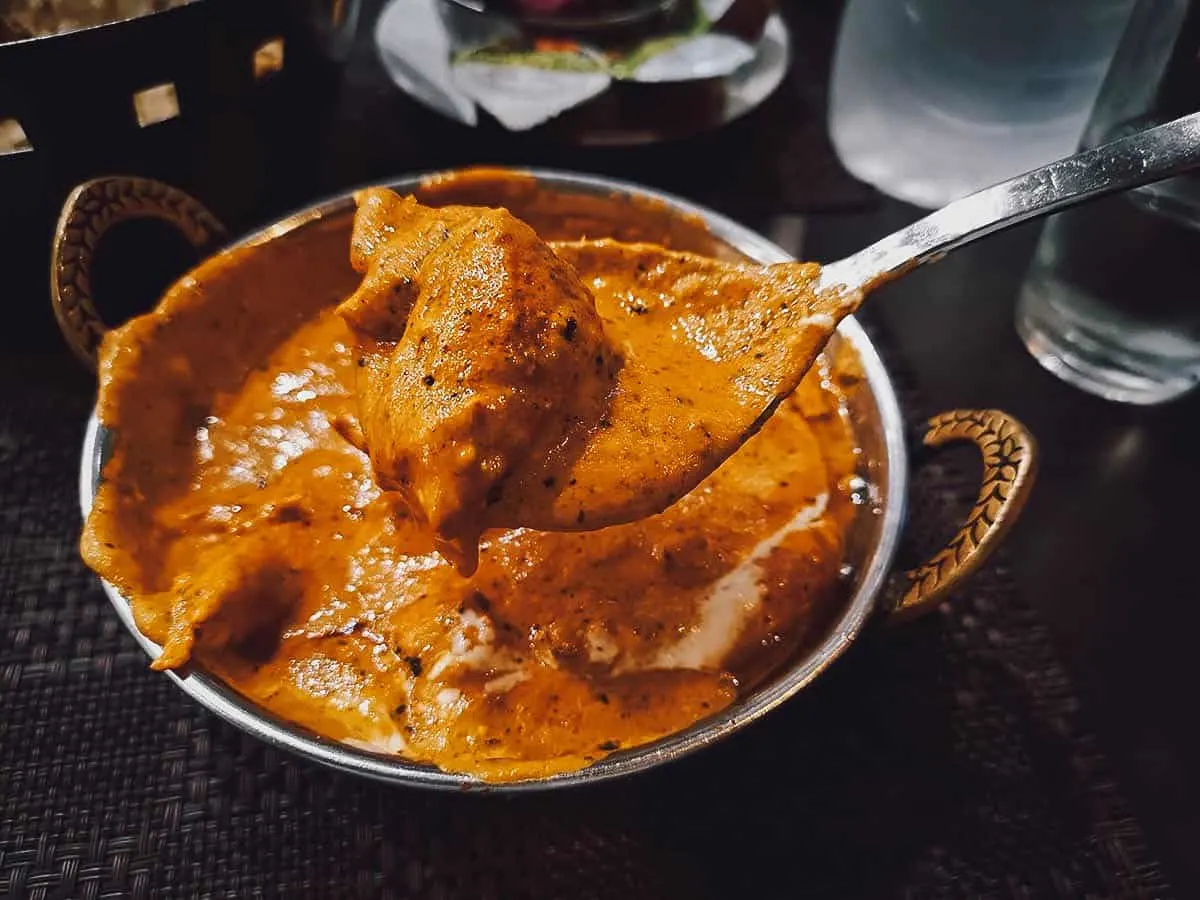 24. Butter Garlic Crab in Mumbai
Unlike landlocked Delhi, Mumbai is surrounded by the Arabian Sea so it's home to a wealth of delicious seafood. One of the seafood dishes the city is best known for is butter garlic crab.
As its name suggests, butter garlic crabs are prepared by cooking mud crabs in a mixture of sauteed onions, garlic, black pepper powder, and loads of butter. The crab shell is cracked and cooked for about 10-15 minutes so the meat is imbued with that rich, buttery, garlicky flavor.
As you can see in the picture below, the crab is literally oozing with melted butter. Enjoy it with some flatbread like naan and you've got a meal made in heaven. It's seriously delicious.
A great place to try butter garlic crab in Mumbai is at the Trishna restaurant in the Fort / Kala Ghoda area. It's one of the most famous seafood restaurants in the city, known for serving some of Mumbai's best butter garlic crab.
I wish I used something for reference in the picture below because the mud crabs they use are massive. Check them out on your next trip to Mumbai.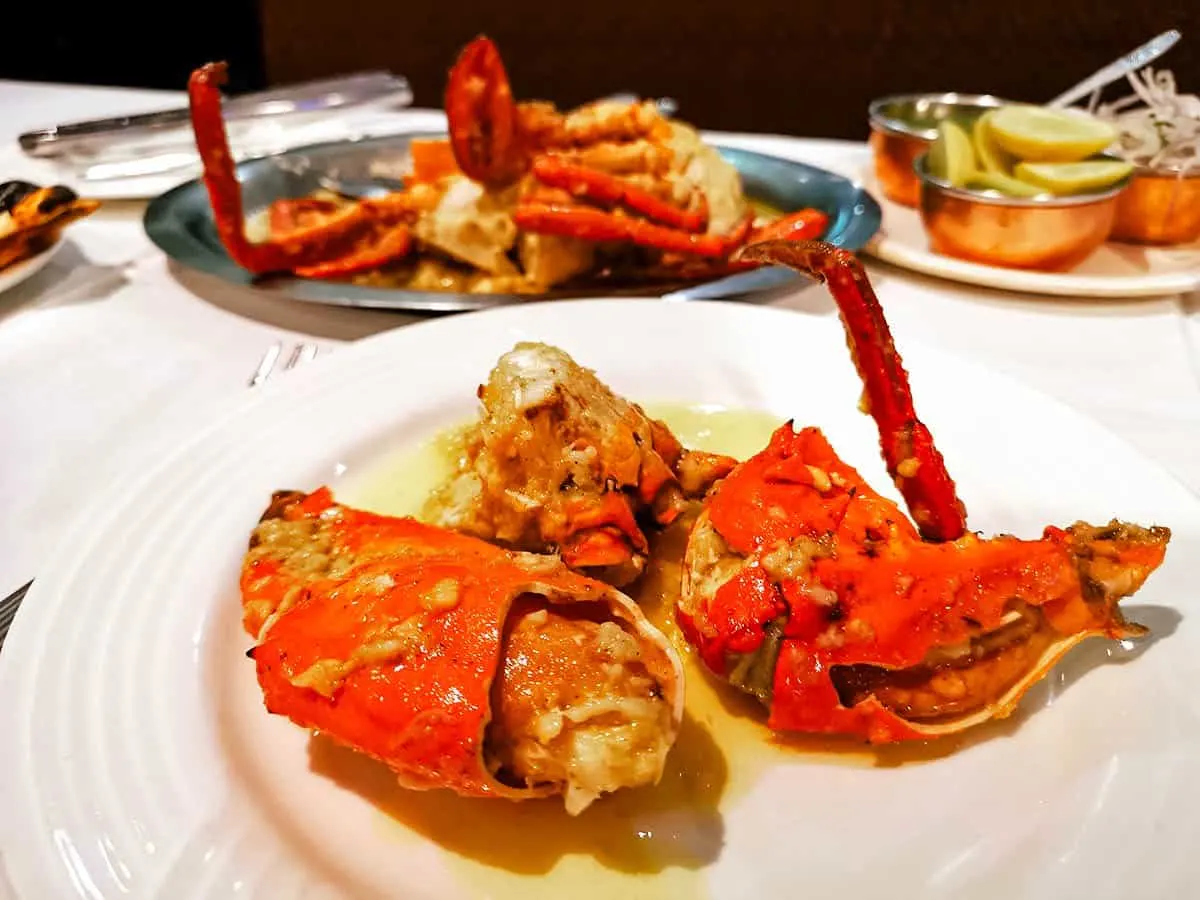 TURKEY
Turkey is one the best countries we've visited so far. We love it for its unique landscape, its warm people, its fascinating culture, and most of all, its amazing food.
Turkish food is essentially a fusion of Central Asian, Middle Eastern, Mediterranean, Eastern European, and Balkan cuisines. It has a long and storied history and is known for being one of the world's most diverse and influential cuisines.
25. Durum
It was hard picking just one dish to represent Turkish cuisine in this article. In the end, I went with durum for the following reasons: A) It's delicious; B) It's one of the most popular Turkish street foods; and C) it's made with doner kebab which is a highly influential dish.
The word durum means "roll" and is used to describe wraps filled with doner kebab ingredients. Made with lavash or yufka flatbreads, it's popular as a street food snack or restaurant dish and can be found pretty much anywhere in Turkey.
We had this terrific lamb durum at Durumzade in Istanbul, the durum shop featured on the Istanbul episode of No Reservations with Anthony Bourdain. It's incredibly delicious and a must-try when you visit Istanbul.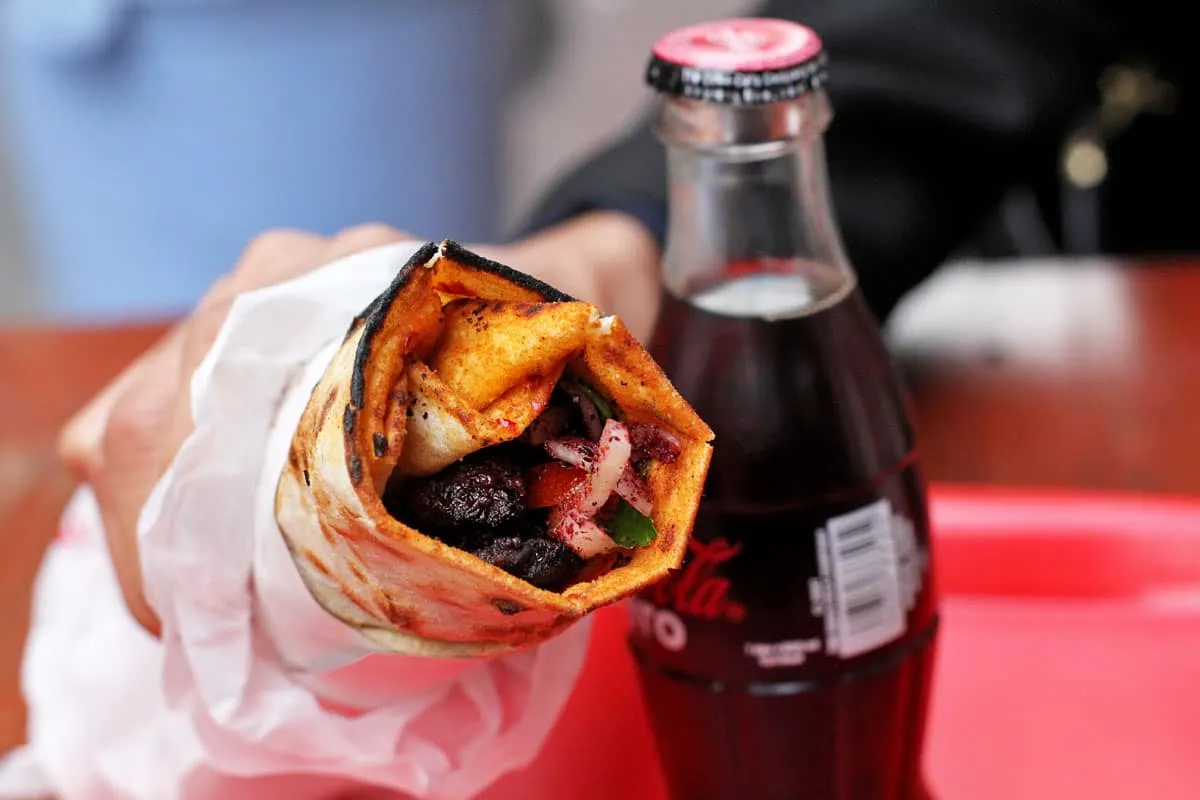 As described, a durum is often made with doner kebab ingredients. A doner kebab is a type of kebab made with meat cooked on vertical rotisserie. As it turns and gets grilled by a vertical cooking element, the outermost layer is shaved off and used as fillings for the durum.
I didn't know this at the time of our trip but it was fascinating to learn that the doner kebab may very well have influenced similar dishes like Greek gyros, Arabic shawarmas, and Mexican tacos al pastor.
The dish made its way to the Middle East where it took root and became known as shawarmas. It was later brought to Mexico by Lebanese immigrants where it evolved into tacos al pastor. Around the 1920s, exchanges between Turkey and Greece led to the birth of gyros.
The next time you bite into a tacos al pastor or gyros, just remember that none of those dishes would probably exist today if it weren't for the doner kebab. Food can be so fascinating.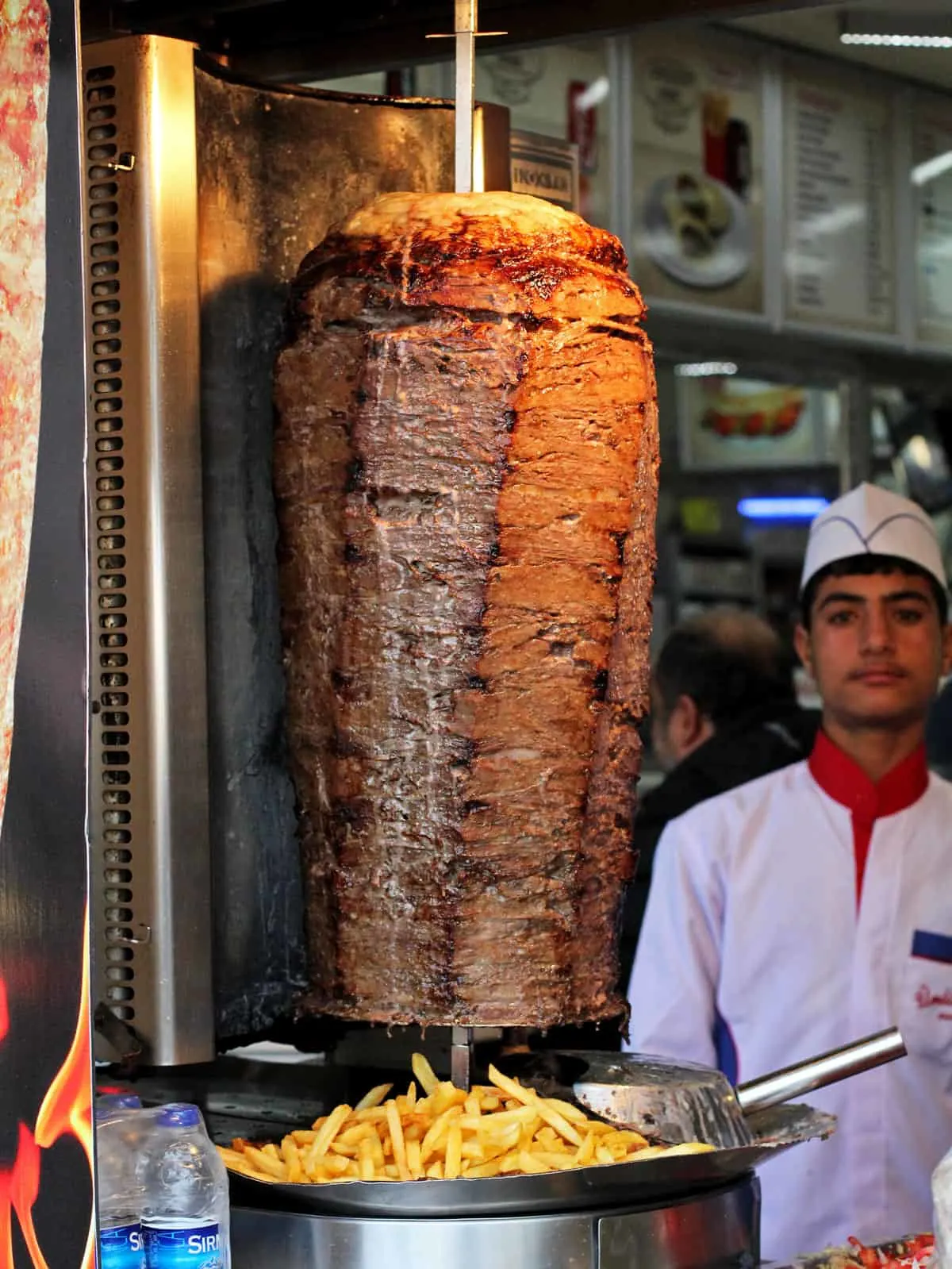 FINAL THOUGHTS ON THE BEST FOOD IN ASIA
Asian cuisine is colorful and diverse so narrowing it down to just 25 was very difficult. I could easily come up with 25 just for Japan alone!
These favorite food listicles are entirely subjective so everyone's top 25 will be different. Plus, we haven't explored all of Asia yet so this list will continue to grow and be improved upon after exploring more of the region. But to be honest, it'll be hard editing this list because I seriously love all these Asian food experiences!
We love Middle Eastern food but aside from Turkey, we're yet to explore Western Asia so eating our way through that part of the world is a priority. The 'stans of Central Asia sound interesting as well.
Until then, I hope you enjoyed this list of the best food in Asia. At the very least, I hope it gives you new ideas on what food experiences to look for on your next trip to the region.
Disclosure
Some of the links in this article on the best food in Asia are affiliate links. We'll get a small commission if you make a purchase at no additional cost to you. We only recommend products and services that we use ourselves and firmly believe in. We really appreciate your support as it helps us make more of these free travel guides. Thank you!