Ren and I are enamored with Taiwan. We love everything about this country. We love how organized it is, we love how green it is, and we love how kind and respectful its people are. A place like Taiwan gives me hope about what we can achieve as a society with some discipline and more mindfulness of others.
Among all the countries we've been to so far, Taiwan is just one of two that we could realistically see ourselves moving to (the other is Turkey). On our most recent trip to Taiwan, we spent two weeks exploring as much of the country as we could.
We traveled in a loop around Taiwan's perimeter, going from city to city, all the while imagining which city we could most see ourselves living in. And as you can probably guess by now, that city turned out to be Kaohsiung, with Taichung a close second.
Taiwan is pleasant and liveable throughout but if we could pick one city we'd be happy to call home, then it would be the Harbor City of Kaohsiung.
VISIT KAOHSIUNG QUICK LINKS
This Kaohsiung travel guide is long. For your convenience, I've compiled links to top-rated hotels, tours, and other travel-related services here.
HOTELS
Recommended hotels in Xinxing District, one of the most convenient areas to stay for first-time visitors to Kaohsiung.
TOURS
OTHER SERVICES
Save This on Pinterest!
No time to read this Kaohsiung travel guide now? Click on the save button and pin it for later!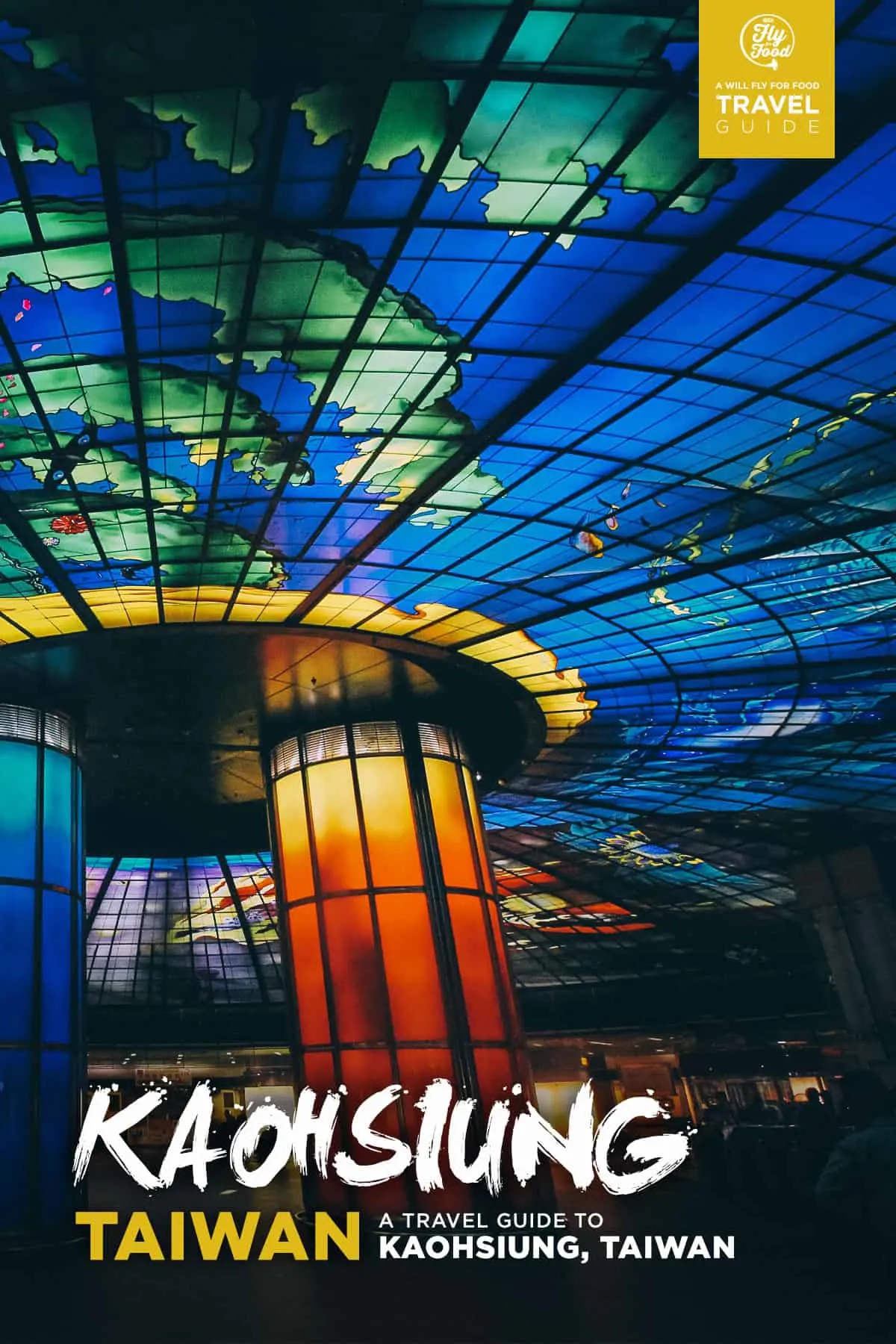 GUIDE TABLE OF CONTENTS
KAOHSIUNG TRAVEL RESTRICTIONS
Kaohsiung travel guidelines have been changing often in the last couple of years. To help you with your travel planning, our friends at Booking.com created a website that lists detailed information on travel restrictions around the globe.
Before planning a trip to Kaohsiung, be sure to check Booking.com for information on travel restrictions to Taiwan. If you do decide to visit Kaohsiung, then it's strongly recommended that you get travel insurance with COVID coverage.
TAIWAN VISA
You may need to secure a visa and other travel documents to enter Taiwan depending on your passport. Check out iVisa.com to learn about the requirements and to apply for a visa (if necessary).
If you're from the Philippines, then we're happy to announce that Taiwan has reinstated its visa-free program. Holders of a Philippine passport can stay in Taiwan visa-free for up to 14 days from 29 September 2022 until 31 July 2023. You can read our article on the Taiwan e-visa for more information.
KAOHSIUNG AT A GLANCE
Kaohsiung (pronounced gow-shung or cow-shung) is the biggest port in Taiwan and one of its largest cities. It's located in Southwestern Taiwan about an hour south of Tainan. Kaohsiung is often referred to as Taiwan's Harbor Capital because of its connection to the ocean and its reputation for being one of the world's largest cargo-container seaports.
One of the things I loved most about Kaohsiung is its vibe. It may be a big cosmopolitan city but it's more laid back than its counterparts in the north, like Taipei or Taichung. Apart from being the only city in Taiwan other than Taipei to have its own metro rail system, Kaohsiung is also known for being one of the country's most bicycle-friendly cities, boasting numerous designated bike paths running through the city's many parks.
If Taipei were New York, then Kaohsiung would be more like the Bay Area. It has all the conveniences of a modern metropolis minus the pace.
BEST TIME TO VISIT KAOHSIUNG
Kaohsiung is located in Southern Taiwan so it doesn't get as cold there as it does in Taipei. We went in mid-March and it would get a little hot walking around during the day. This was in contrast to Taipei or Taichung which were still relatively cold during that time. The weather in Kaohsiung is mild year-round so there really is no best time to go, but based on weather averages, November till April seems ideal.
NOV-APR: The weather in Kaohsiung is best from around mid-November to the first week of April. Temperatures are cool and it doesn't rain as often. This is the best time to go if you don't like hot or humid weather.
MAY-OCT: It's rainier and warmer during these months so it's best to avoid them if you don't like too much heat and humidity. Both the hottest and rainiest months in Kaohsiung are from June till August so that may not be the best time to go.
Climate: Annual Monthly Weather in Kaohsiung
Check out weather-and-climate.com for more on Kaohsiung's weather. To make it easier to visualize, I've created average temperature and annual rainfall graphs below. Suggested months to visit are colored in orange.
Average Temperature

Annual Rainfall

TRAVELING TO KAOHSIUNG
We've visited Kaohsiung twice, the first time by train from Tainan and the second by direct flight from Manila. You can use the widget below to search for route options available to you.
By Air
AirAsia launched a direct flight from Manila to Kaohsiung International Airport (KHH) which made it super convenient to travel to southern Taiwan from the Philippines. With a flight time of around 1 hr 20 mins, it's faster to go to Taiwan now from the Philippines than it is to go to Hong Kong. I suggest checking on Skyscanner to find flights to Kaohsiung from wherever you are. From the airport, there are a few ways to get to your hotel in downtown Kaohsiung.
METRO: This is the cheapest and perhaps the fastest way to get to your hotel. The fare from Kaohsiung Airport to Formosa Boulevard Station is just NTD 30 and the journey takes about 15 mins. This is the ideal way to get to your hotel if you're on a budget and don't have large pieces of luggage.
TAXI: Taxis are trustworthy in Taiwan but there is a language barrier so it's best to have your hotel's name and address written in traditional Chinese characters. Depending on your hotel's location and traffic, the ride can take around 30-60 mins and will cost you between NTD 250-350.
UBER: We used Uber a few times in Kaohsiung. It's easier than taxis because it allows you to circumvent the language barrier. Depending on traffic, the fare may be more or less than a taxi but not by much.
PRIVATE TRANSFER: This is the most expensive option but if you'd like to book a private transfer in advance, then you can do so through Klook.
By Land
Traveling by train between cities is so easy in Taiwan. We visited five major cities in two weeks in 2018 and traveled almost entirely by train.
There are two rail operators in Taiwan – Taiwan High Speed Rail (HSR) and Taiwan Railways Administration (TRA). They're two different companies with their own set of tracks and train stations. Enumerated below are the main differences between the two:
TRA trains are much older and slower. Travel times on TRA trains are often twice as long as HSR trains.
TRA trains are much cheaper, about half the price of HSR trains, though discounts to HSR trains are available.
The earliest you can buy TRA tickets is 2 weeks before your intended date of departure. HSR tickets can be bought as early as 4 weeks before.
TRA trains service cities on both the western and eastern halves of Taiwan. HSR trains only service cities in the west at this time.
TRA stations are located closer to the city center so they're more convenient location-wise. Most HSR stations are a little farther away from downtown areas.
Though trains are the most convenient, you can travel to Kaohsiung by bus as well. I've created the comparison chart below to help you visualize the differences in cost and travel times. For the sake of this guide, let's assume you'll be traveling to Kaohsiung from Taipei.
| | | |
| --- | --- | --- |
| From Taipei | Fare | Travel Time |
| TRA TRAIN | NTD 843 | 4 hrs 50 mins |
| HSR TRAIN | NTD 1,490 (undiscounted) | 2 hrs |
| BUS | NTD 500-750 | 4-5 hrs |
TRA Train
We traveled only by TRA train to get from city to city in Taiwan. Unless you're in a rush, then there's no reason to go by HSR train since TRA trains are perfectly fine and comfortable. You can refer to the TRA website for train timetables and to purchase tickets.
As advised, the earliest you can purchase TRA tickets is 2 weeks before your trip. I suggest booking tickets as early as you can because they're known to run out, especially during peak seasons. You can consult the TRA website for more information.
HSR Train
HSR trains are considerably newer and faster than TRA trains, but they're also more expensive. If you're in a rush, then this is the best way to get from one city to the next. As advised, HSR tickets go on sale 4 weeks before your departure date so I suggest booking them as early as you can. If you book early enough or travel during off-peak hours, then you may get up to 35% off.
You can refer to the Taiwan High Speed Rail website for a schedule of trains to Kaohsiung from wherever you are. If you're visiting Kaohsiung from Taipei or Taoyuan City, then you can purchase train tickets on Bookaway.
If you're traveling extensively by HSR train in Taiwan, then Klook offers discounted single-journey HSR tickets to Kaohsiung (Zuoying) from different cities in Taiwan.
Highway Bus
Highway buses are cheaper than trains. Fares may vary depending on the bus company, so you can check Klook for more information and to book bus tickets.
WHERE TO EXCHANGE CURRENCY
Taiwan's unit of currency is the New Taiwan Dollar (NTD or TWD).
The best place to exchange currency anywhere in Taiwan is at a bank. Currency exchange is regulated by the government so you don't have to worry about getting a poor rate. The only thing I suggest is changing your money at bigger banks like Bank of Taiwan because smaller banks might charge you a transaction fee.
Another option is to withdraw NTD from an ATM. It's faster than changing currency at a bank and the rates are comparable. Just be sure to advise your bank that you'll be using your ATM card abroad so you don't have any problems. In my experience, my ATM card works in some machines but not in others.
TIP: When withdrawing NTD from an ATM, some machines may ask if you'd like to proceed "with or without conversion". Always proceed WITHOUT conversion so your local bank does the conversion. If you proceed WITH conversion, then that authorizes the foreign bank operating the ATM to do the conversion for you, usually at terrible exchange rates. According to this article on Medium, the difference between rates can be 10% or more.
BEST AREAS TO STAY IN KAOHSIUNG
We traveled by TRA train between five major cities in Taiwan, so I made sure to always find accommodations near the train station. That way we wouldn't have to wake up so early to catch our train in the morning.
In Kaohsiung, one of the most convenient areas to stay for TRA train travelers is Xinxing District. Other popular neighborhoods include Yancheng, Sanmin, and Zuoying districts. I'll include links to each recommended district below but you can search for accommodations in Kaohsiung on Booking.com and Agoda.
I've created the color-coded map below to help you understand where all these recommended areas are. Click on the link for a live version of the map. (Please note that marked areas are approximations only)
YELLOW – Xinxing
GREEN – Yancheng
RED – Sanmin
BLUE – Zuoying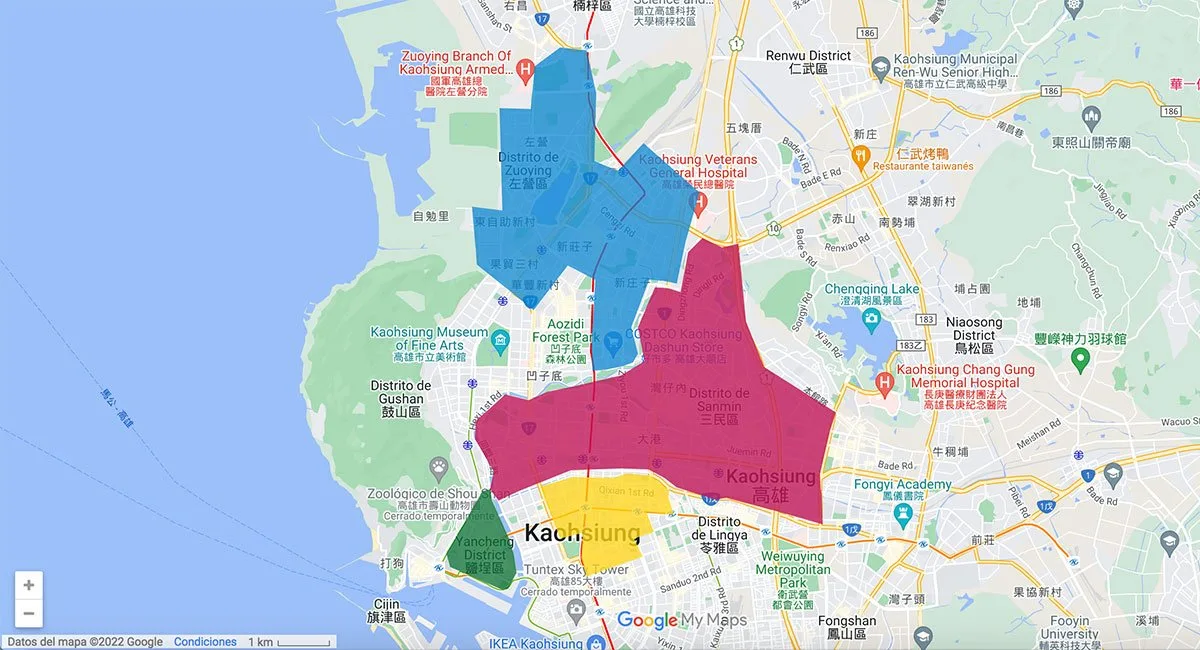 XINXING
If you'd like to be near the TRA Station, then Xinxing District is one of the best areas to stay in Kaohsiung. Also known as Sinsing District, it's a central area that has a little bit of everything – night markets, restaurants, boutique shops, cafes, etc.
As described, we've been to Kaohsiung twice and both times, we stayed in Xinxing District – the first time right next to the train station and the second time just off Liouhe Tourist Night Market. It's a great area to stay in Kaohsiung.
You can search for accommodations in Xinxing District on Booking.com or Agoda. Check out some of the most highly recommended hotels in the area.
YANCHENG
Yancheng is another great area to stay in Kaohsiung. We actually spent a lot of time in this district because it's home to Pier2 Art Center and the ferry that takes you to Cijin Island. It's home to a number of good restaurants as well, including Gang Yuan which has a reputation for serving some of the best beef noodle soup in Taiwan.
You can search for accommodations in Yancheng District on Booking.com or Agoda. Listed below are a few highly-rated hotels in the area.
SANMIN
We didn't spend too much time in Sanmin District but from what I understand, it's a mostly residential neighborhood with fewer tourist attractions and commercial areas. If you'd like a quieter stay in Kaohsiung but still have easy access to the downtown area, then this may be a good place to stay.
Sanmin District is huge so I suggest looking for a hotel near an MRT station. You can search for accommodations in Kaohsiung on Booking.com or Agoda. Here are a few recommended hotels in the area:
ZUOYING
If you're traveling by HSR train, then staying in Zuoying District will put you closest to the station. The area is also home to some of the city's most popular tourist attractions like Lotus Pond and the Dragon and Tiger Pagodas, not to mention our favorite night market in Kaohsiung – Ruifeng Night Market.
You can search for accommodations in Zuoying District on Booking.com or Agoda. Listed below are some of the most highly-rated hotels in the area.
You can also book hotels and homestays in Kaohsiung using the handy map below.
THINGS TO DO IN KAOHSIUNG
1. Reverse Your Fortune at the Dragon and Tiger Pagodas
Lotus Pond is a picturesque artificial lake located in Zuoying District, not too far from Ruifeng Night Market. It's a popular tourist destination known for its lotus plants and many temples surrounding its perimeter, none more interesting perhaps than the Dragon and Tiger Pagodas.
A twin pair of 7-story pagodas with giant dragon and tiger statues, it's believed that entering from the dragon's mouth and exiting through the tiger's jaws reverses your fortune and turns bad luck into good luck. Don't forget to try it when you visit Lotus Pond.
We visited Lotus Pond and the pagodas on our own but you can also go as part of a guided tour.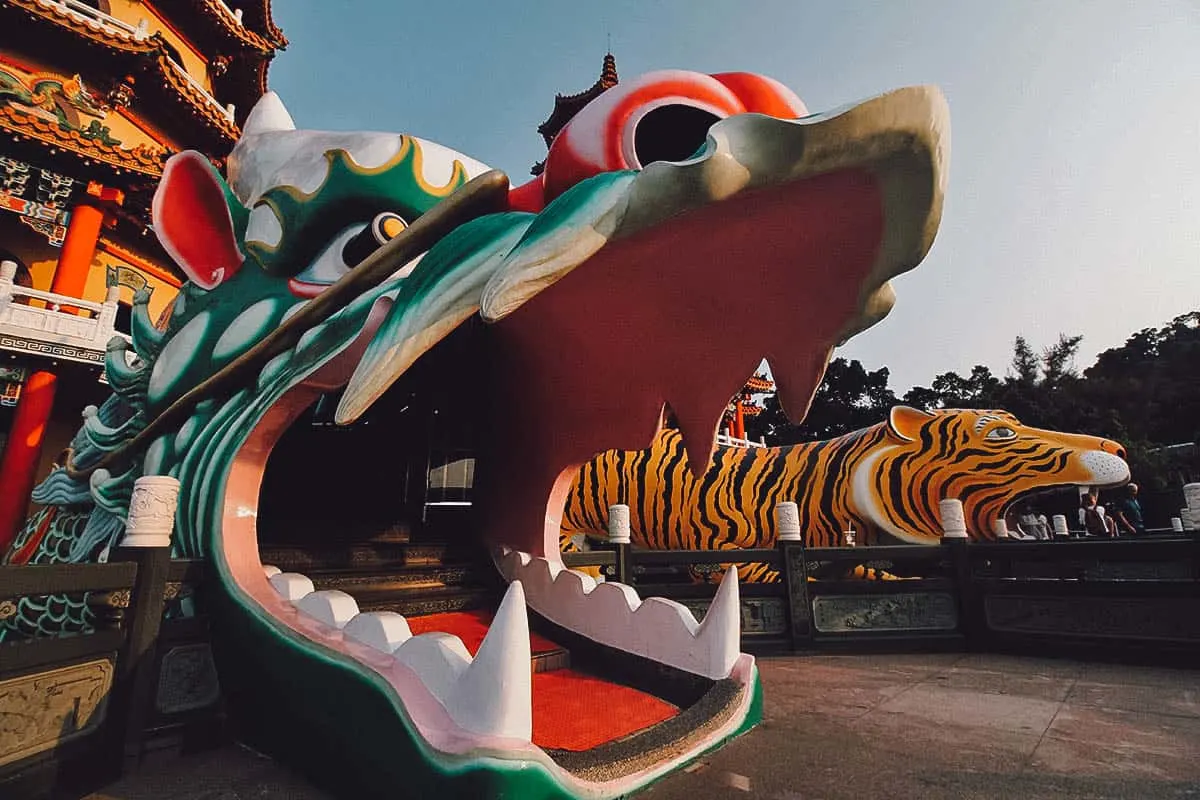 Estimated Time to Spend: 30 mins at the pagodas, 1-2 hrs at the lake
Admission: FREE
2. Take Selfies at Pier-2 Art Center
We visited many creative parks and museums throughout Taiwan, and the biggest murals and sculptures we found were here at Pier-2 Art Center, most notable of which was a giant 20-foot robot.
The creative park is spread out over several buildings and warehouses by the wharf, making for a good 1-2 hours of mural hunting and selfie-taking. You'll find a few interesting shops and cafes here as well.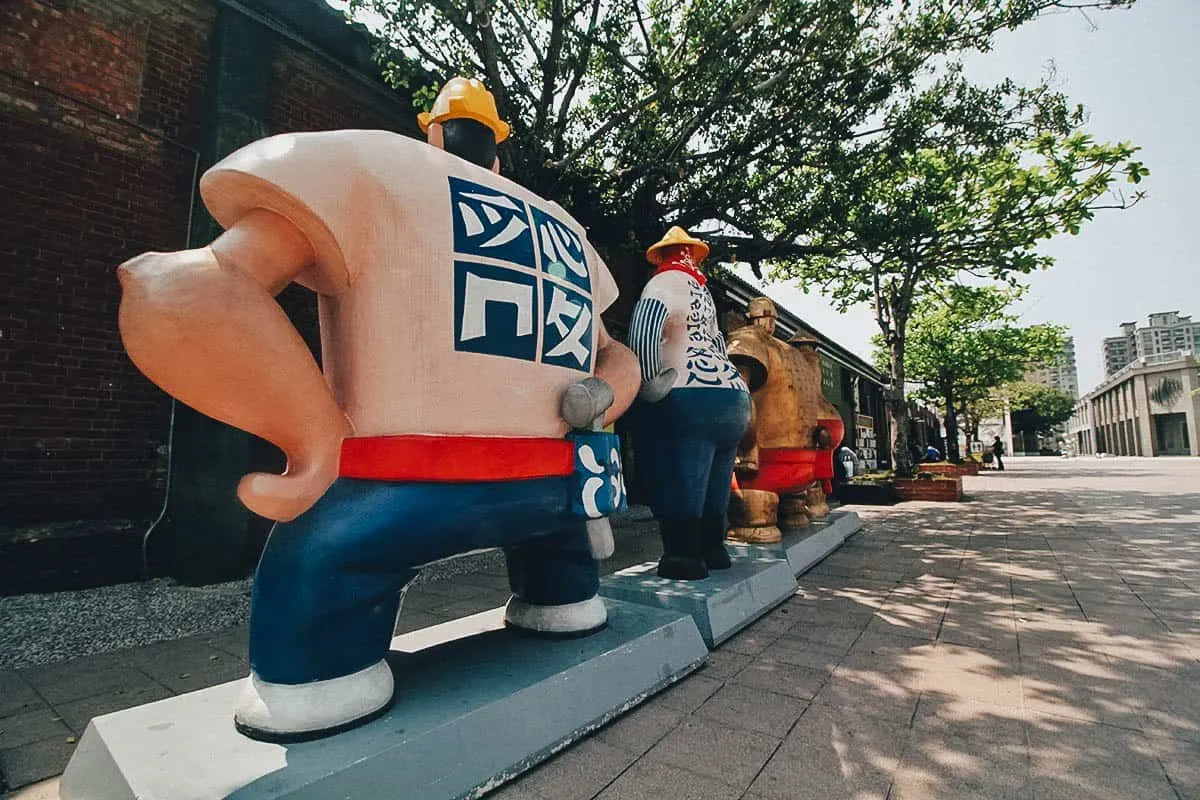 Estimated Time to Spend: 1-2 hrs
Admission: FREE
3. Rent Bikes and Explore Cijin Island
Cijin or Qijin Island is a small, narrow strip of island just a short ferry ride away from Kaohsiung Harbor. It's a popular day trip destination known for its black sand beach, a few historical and religious structures, and the best seafood in Kaohsiung.
If you have enough time, then I suggest renting a bicycle or electric scooter and spending the whole day exploring the island. That's what we did and it turned out to be my favorite day from our two weeks in Taiwan. Families can even rent electric trolleys that can seat four or more.
Check out my article on Cijin Island for more pictures and information.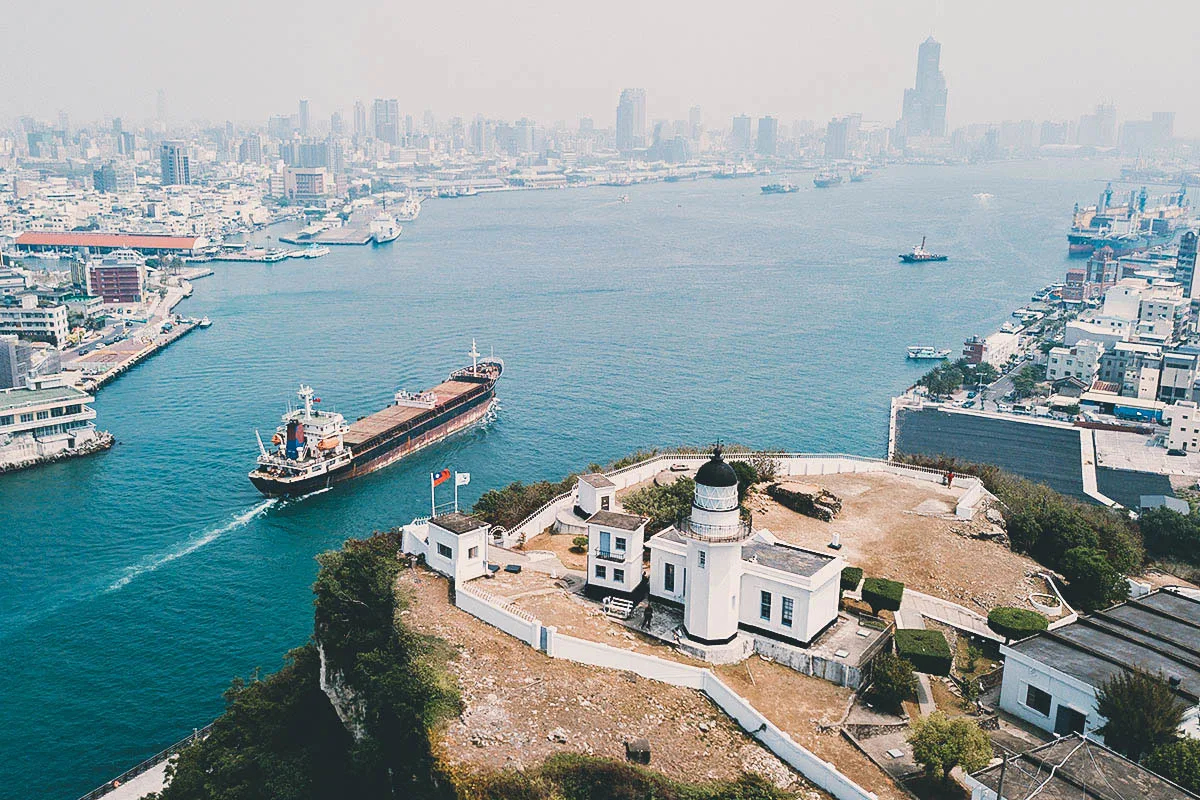 Estimated Time to Spend: At least half a day
Ferry Ticket Cost: At least NTD 25 each way
4. Make a Stop at the Dome of Light
The Dome of Light is a stained glass installation piece located within the Kaohsiung MRT's busiest stop – Formosa Boulevard Station. Standing an impressive 30 meters (98 feet) in diameter, it's made up of 4,500 glass panels, making it the largest work of glass art in the world.
It was created by Italian artist Narcissus Quagliata, a feat that has led many to call Formosa Boulevard Station one of the world's most beautiful subway stations. If you'll be traveling at all by MRT in Kaohsiung, then chances are you'll transit through this station so be sure to make a quick stop here before going on your way.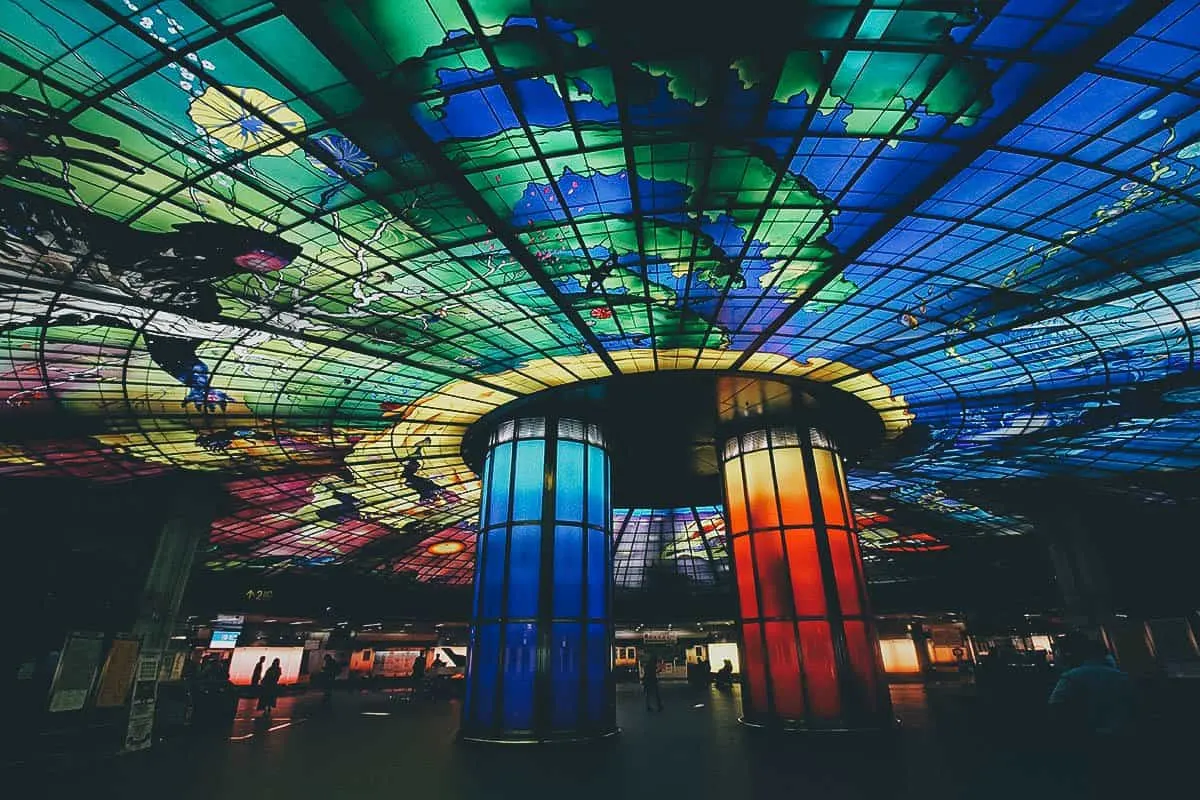 Estimated Time to Spend: 15 mins
Admission: FREE
5. Visit the Fo Guang Shan Monastery
Fo Guang Shan is the largest Buddhist monastery in Taiwan. It covers an area of over 30 hectares and is comprised of university buildings, shrines, a cemetery, and a 36-meter tall statue of Amitabha Buddha.
Fo Guang Shan is located about 40 minutes north of central Kaohsiung so we decided to skip it, but based on what I've read, the place is massive with much to see so you can easily spend the whole day here if you have a particular interest in Buddhist monasteries.
You can get to Fo Guang Shan Monastery by public transportation, but you can also visit as part of a guided tour.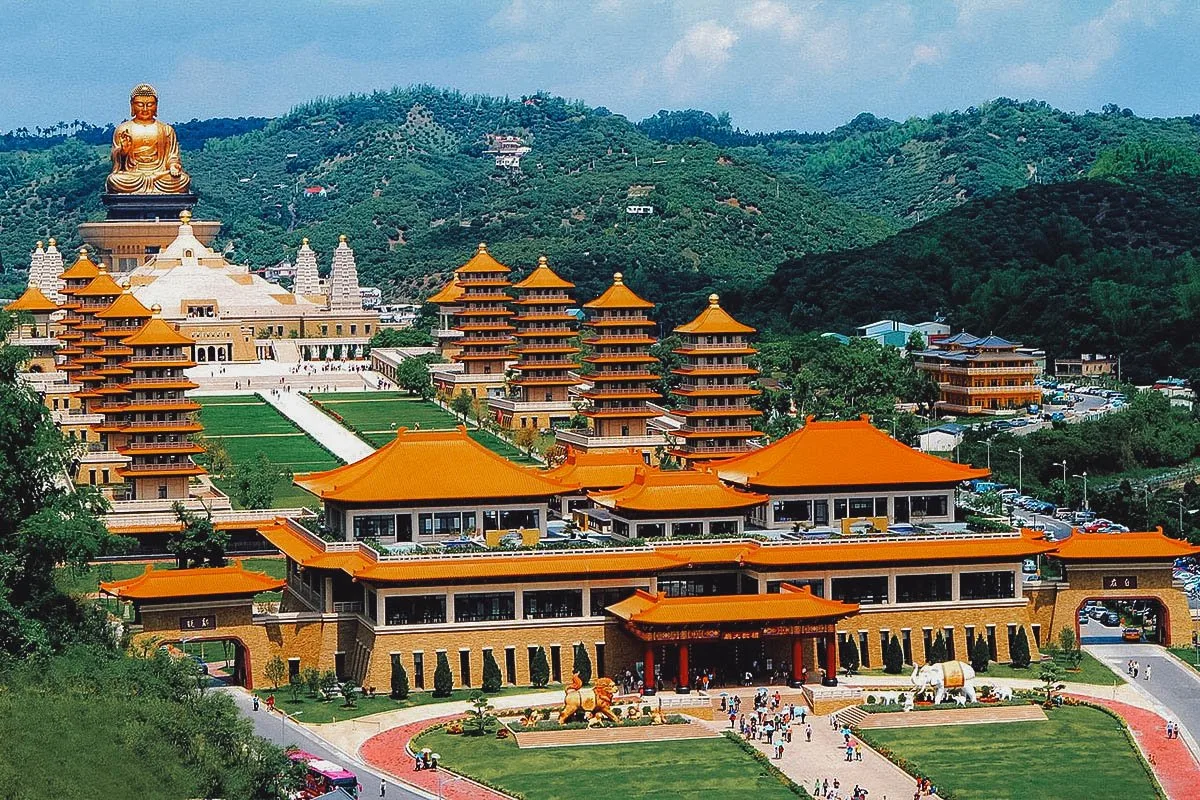 Huicheng1967, CC BY-SA 4.0, via Wikimedia Commons / Processed in Photoshop and Lightroom
Estimated Time to Spend: 2-3 hrs
Admission: FREE
6. Spend the Day at a Theme Park
If you're visiting Kaohsiung with kids, then you may want to spend the day at E-Da Theme Park. Located in Dashu District, near Fo Guang Shan Monastery, it's an Aegean Sea-inspired theme park (think Santorini) featuring roller coasters, a ferris wheel, and many other theme park attractions.
E-Da Theme Park can be reached via the E-Da bus (8501) from HSR Zuoying Station. You can purchase tickets at the gate or in advance through Klook.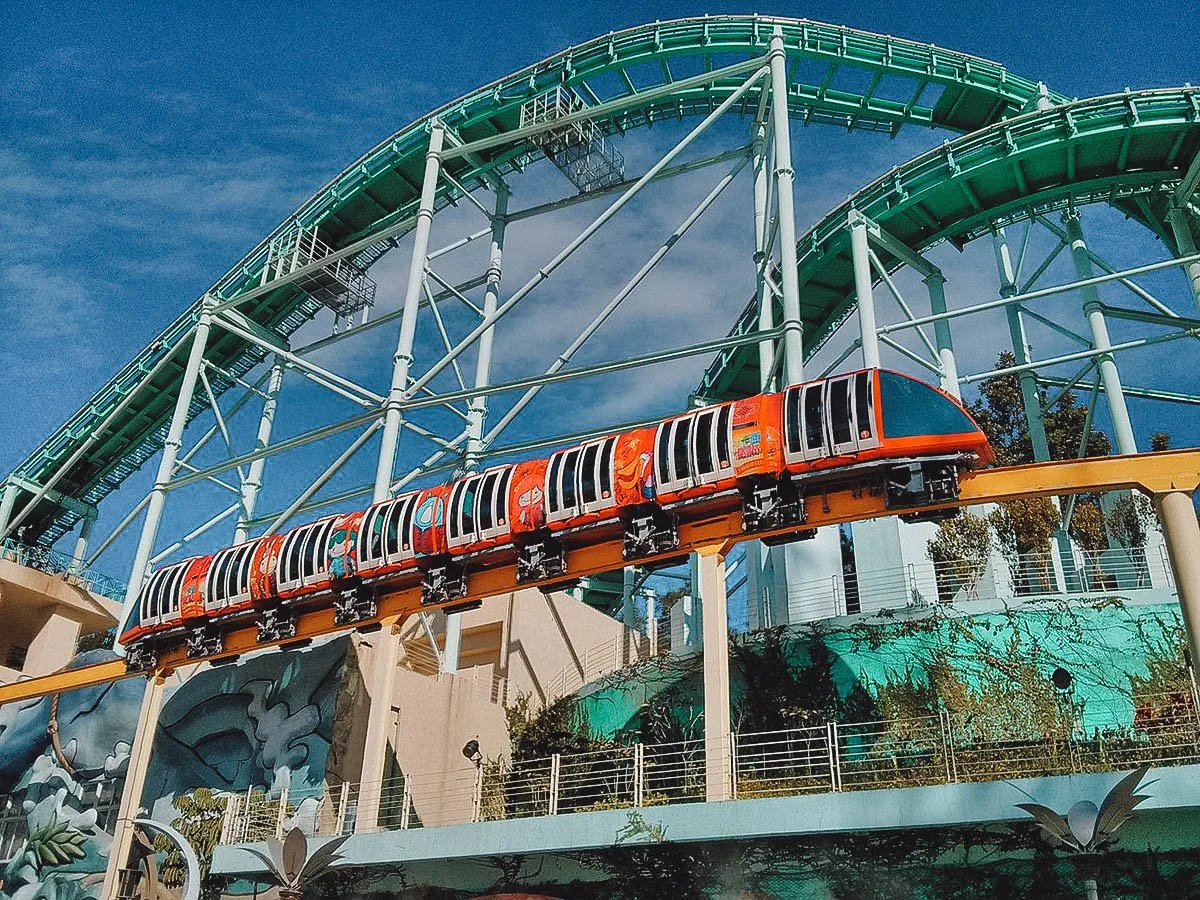 SSR2000, CC BY-SA 3.0, via Wikimedia Commons / Processed in Photoshop and Lightroom
Estimated Time to Spend: At least half a day
Admission: NTD 899 (adults), NTD 799 (kids aged 13-19), NTD 580 (kids aged 6-13), NTD 450 (kids aged 3-6)
DAY TRIPS FROM KAOHSIUNG
1. Spend the Day in Tainan, Taiwan's Oldest City
Tainan is only about 40 minutes away by TRA train (15 minutes by HSR), so it makes for an ideal day trip if you're spending enough time in Kaohsiung.
Recognized as the oldest city in Taiwan, Tainan served as the country's capital for 200 years. There you'll find historic Anping District which is home to several attractions like Anping Tree House, Anping Old Street, and Fort Zeelandia. Check out our Tainan travel guide for more information.
As described, you can get to Tainan from Kaohsiung either by TRA or HSR train. You can check the TRA or HSR website for a timetable and ticket prices. If you decide to travel by HSR train, then be sure to select "Zuoying" as the departure station. You can get a discount on the HSR ticket as well if you purchase it through Klook.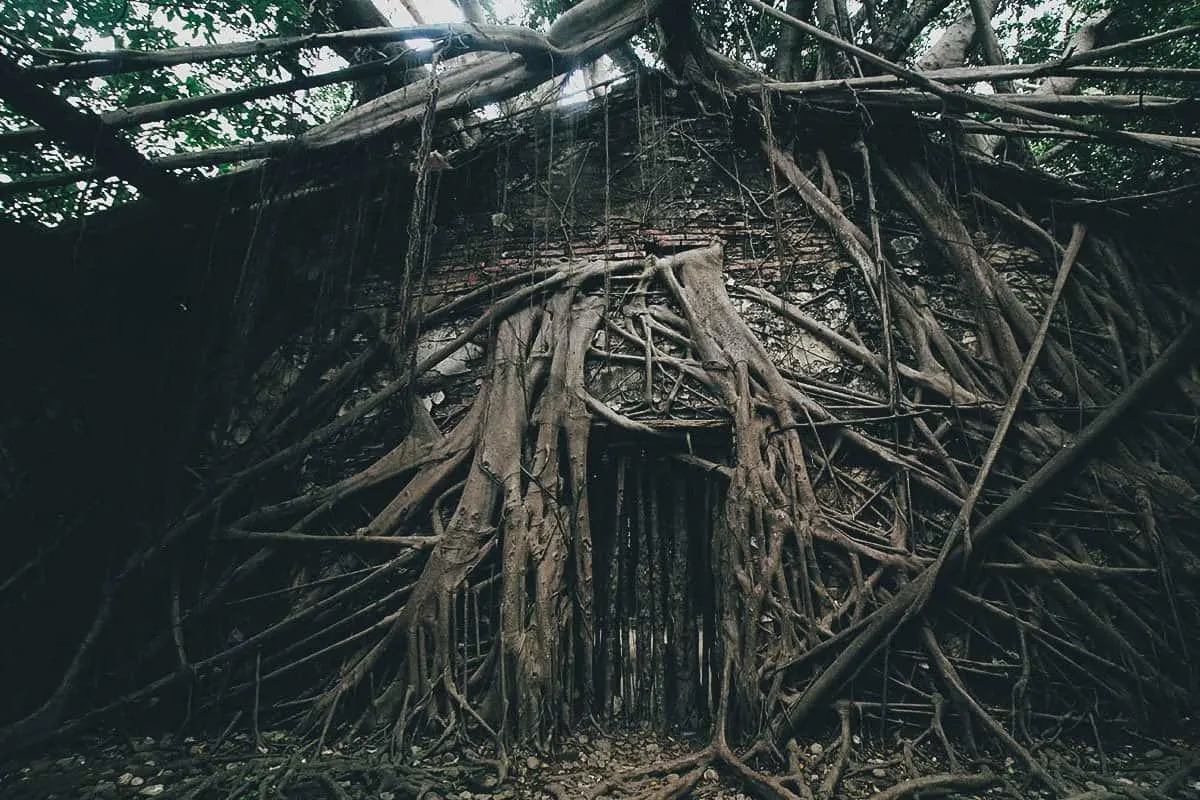 2. Explore Kenting National Park
I wanted to do this but we didn't have enough time. Kenting National Park is Taiwan's oldest and southernmost national park, covering an area of about 181 square kilometers (70 sq mi) of land and 152 square kilometers (59 sq mi) of sea. It's famous for its beautiful beaches and stunning ocean views. Located about 2 hours south of Kaohsiung, it's a little harder to visit on a day trip but it is possible.
The easiest way would be to hire a private charter from Kaohsiung to Kenting and back. Klook offers a private Kaohsiung-Kenting car charter that can accommodate up to eight people.
Otherwise, you can take a shuttle bus to Kenting from Kaohsiung.
Though it is possible to visit Kenting on a day trip from Kaohsiung, it looks like such a beautiful place so you may want to spend at least a night there.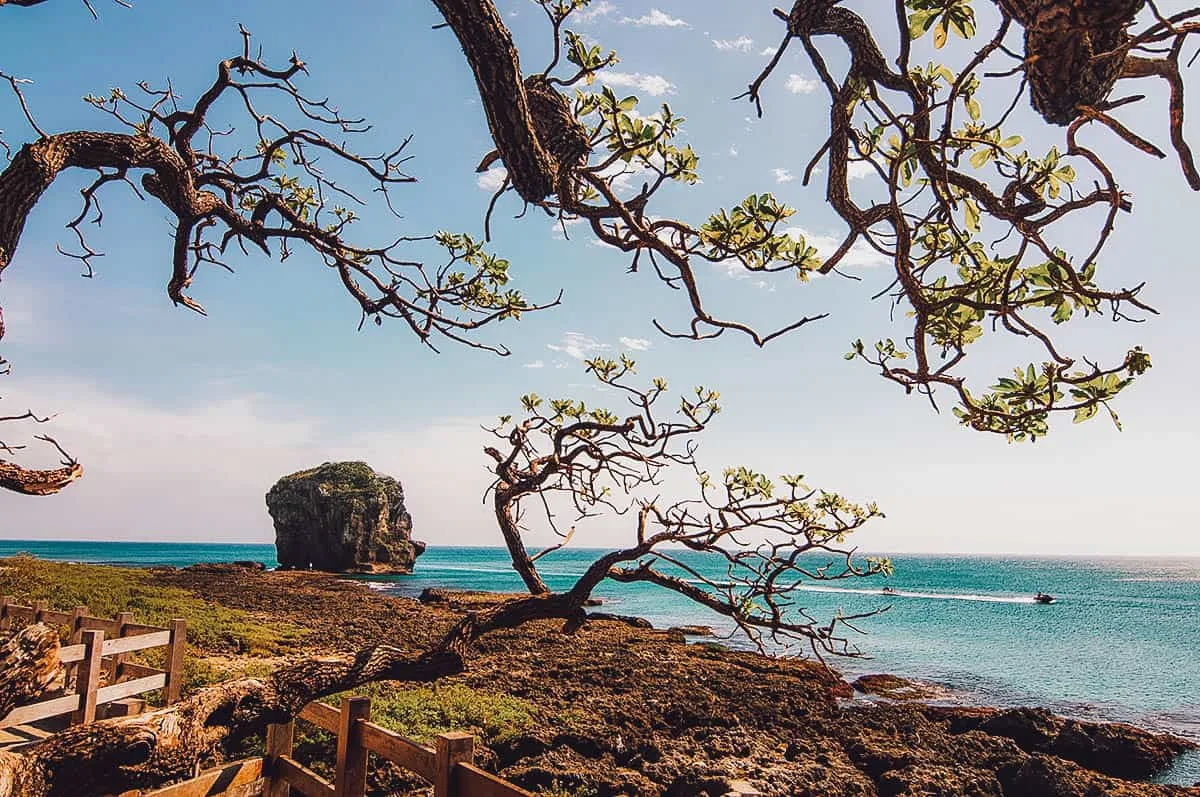 Photo by Hang Dinh via Shutterstock
TAIWANESE FOOD GUIDE
Your Taiwan experience can't be complete without a visit to one or more night markets. There are so many fun and delicious things to eat in this country! If you're wondering what to eat in Kaohsiung, then check out our list of must-try dishes in Taiwan.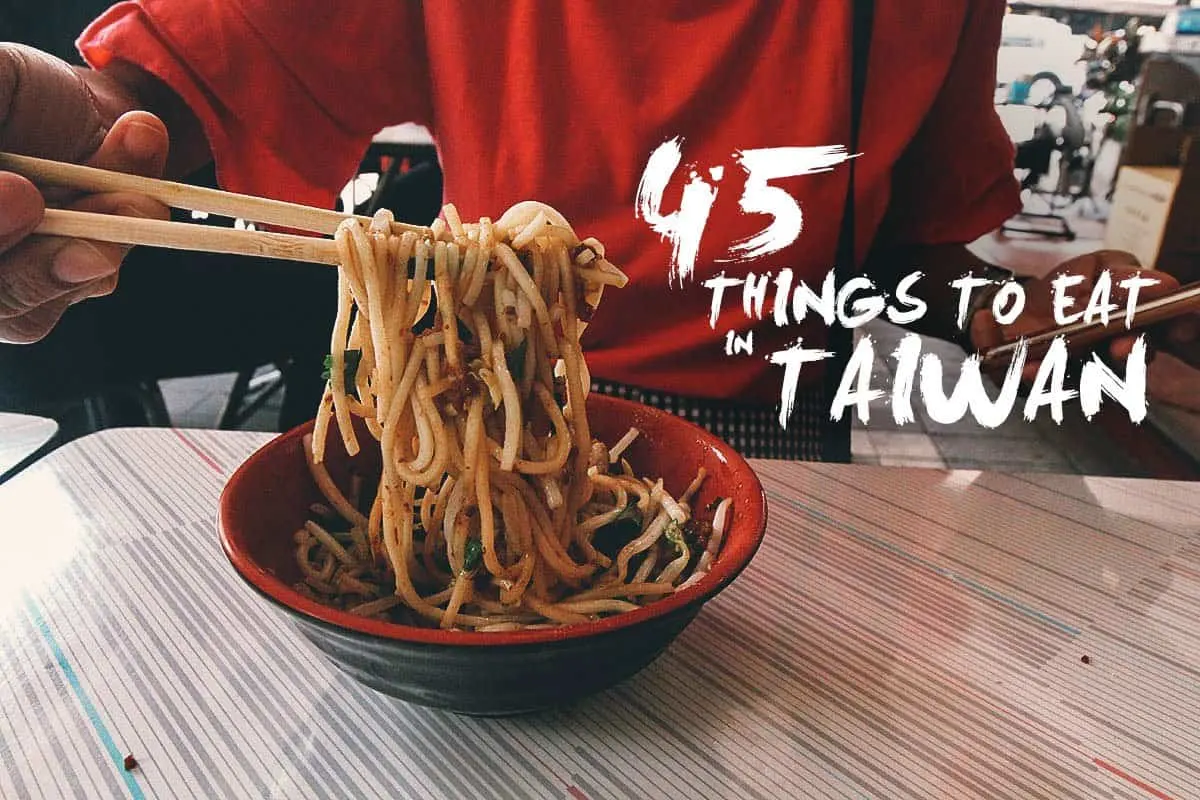 TAIWANESE DESSERTS
There seems to be a never-ending array of delicious street food in Taiwan. The same can be said about its desserts. If you've got a sweet tooth, then check out our list of the most delicious Taiwanese desserts.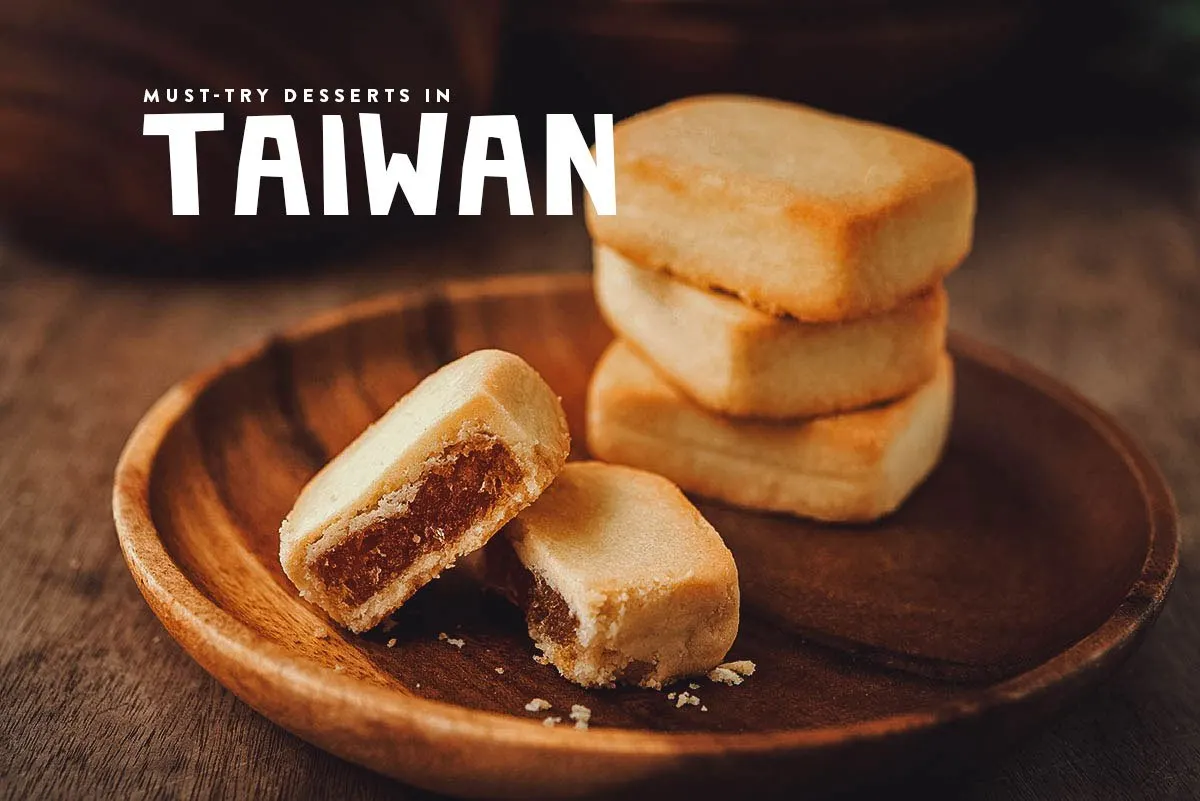 Photo by PantherMediaSeller via Depositphotos
WHERE TO EAT IN KAOHSIUNG
1. Ruifeng Night Market
Of all the night markets we visited in Taiwan, Ruifeng Night Market was my favorite. It wasn't the biggest but for me, it had the best combination of size, layout, and food selection.
Pictured below is one of the night market's most popular stalls – a vendor selling giant takoyaki balls filled with octopus, shrimp, mushroom, and vegetables. Don't miss this!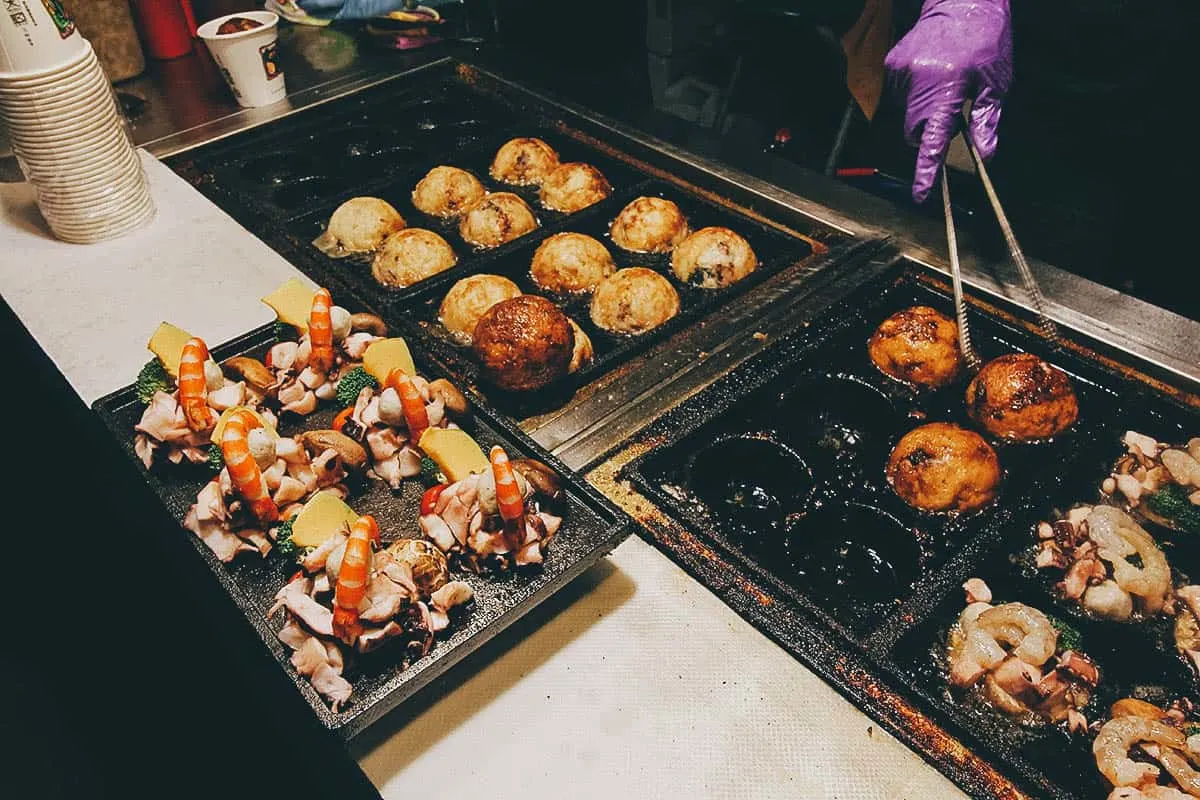 Unlike many other night markets, Ruifeng Night Market is completely closed off to traffic, including motorbikes, so it makes for a much more pleasant experience. It's laid out in an easy-to-navigate grid as well with a good mix of food and shopping stalls.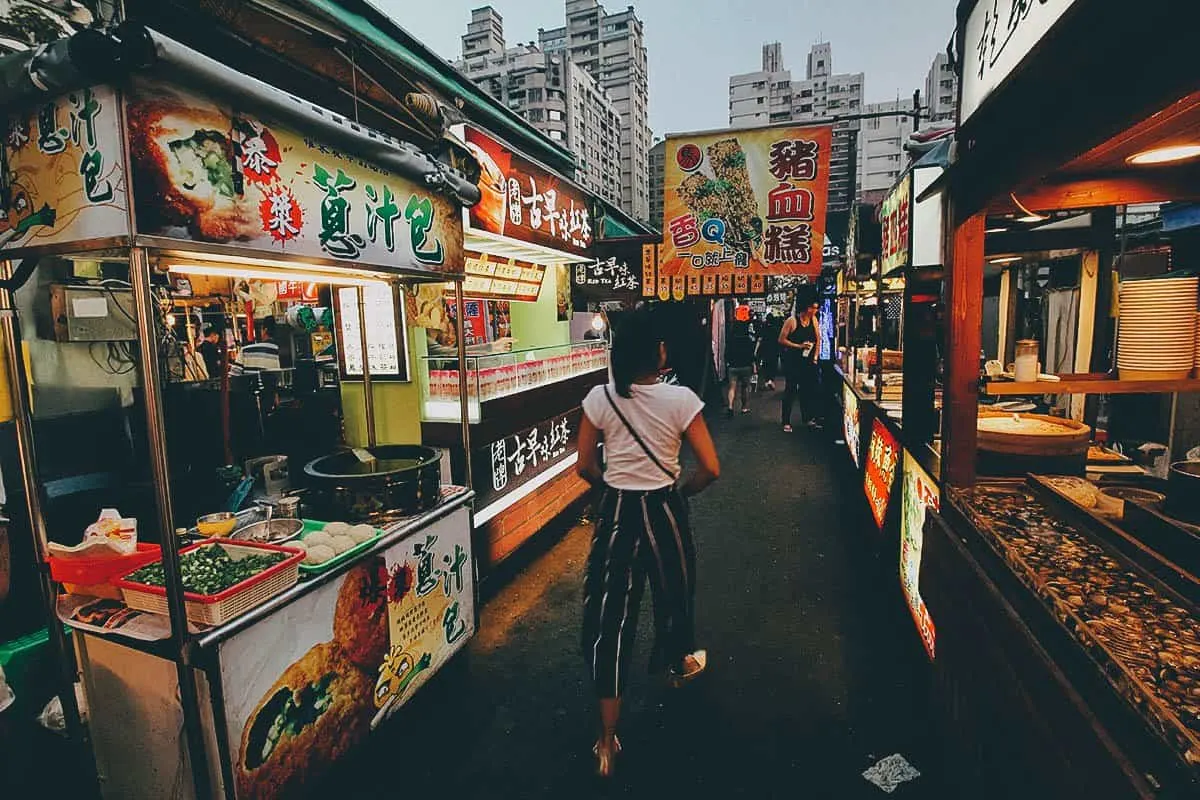 2. Liouhe Tourist Night Market
Liouhe is another pleasant night market in Kaohsiung. There are food stalls on either side of a street spanning about two blocks with tables and rubbish bins in the middle. Many night markets don't have either so we thought that was convenient.
One of the best things you can get at Liouhe Tourist Night Market is this cup of papaya milk sold by that stand in the background. You'll know it from all the pictures (presumably of celebrities) plastered all over its cart. Absolutely delicious!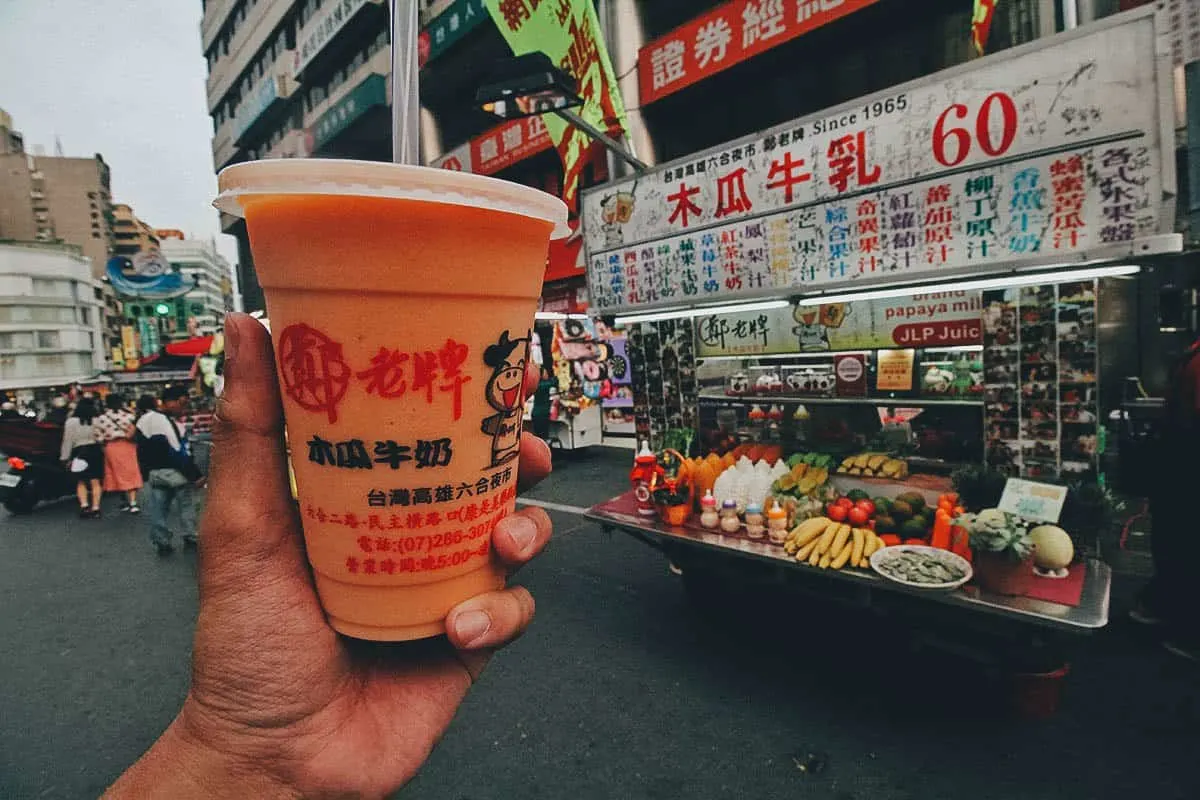 The atmosphere at Liouhe Tourist Night Market isn't as much fun as Ruifeng but it's a must-visit as well, especially if you'll be spending more than one night in Kaohsiung.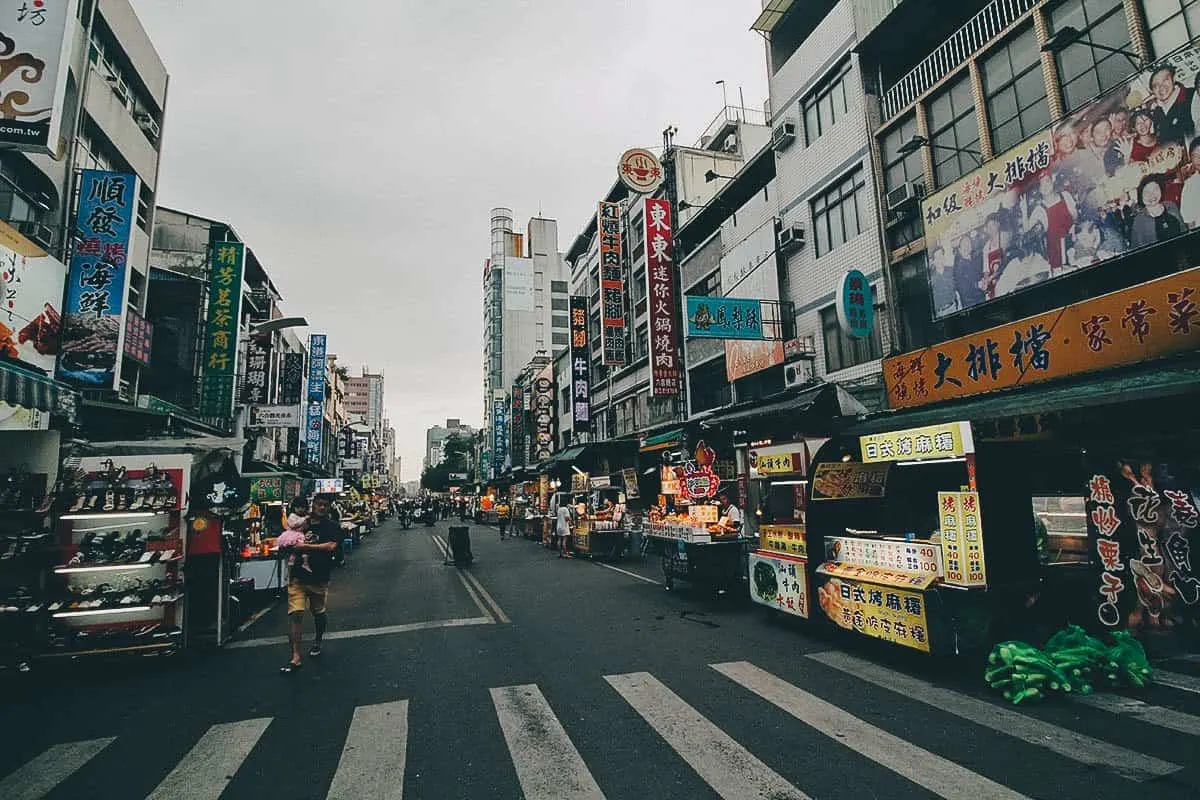 3. Gang Yuan Beef Noodles
When I was doing research for must-eat restaurants in Kaohsiung, this place was at the top of nearly every list. Beef noodle soup is the single most beloved dish in Taiwan and Gang Yuan Beef Noodles is described as having some of the best.
People who've eaten this dish throughout Taiwan, including Taipei, swear that the beef noodle soup at this shop was the best they've ever had. We can understand why. Available in wet or dry versions, the noodles here were noticeably chewier and springier in texture than at other places we visited. Definitely a must.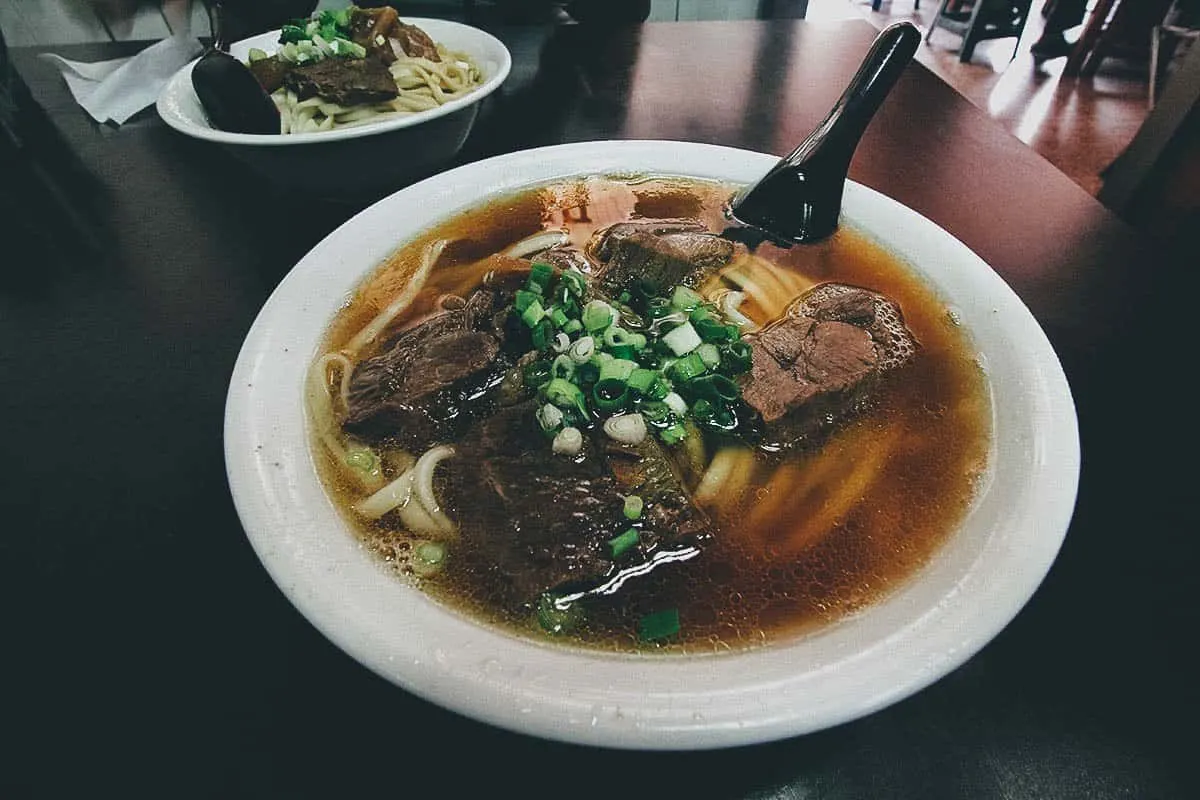 Gang Yuan Beef Noodles is located amidst a row of similar-looking shops, so be sure to look for the one with all the beef noodle awards proudly displayed in their window. It's a popular place so be prepared for a wait.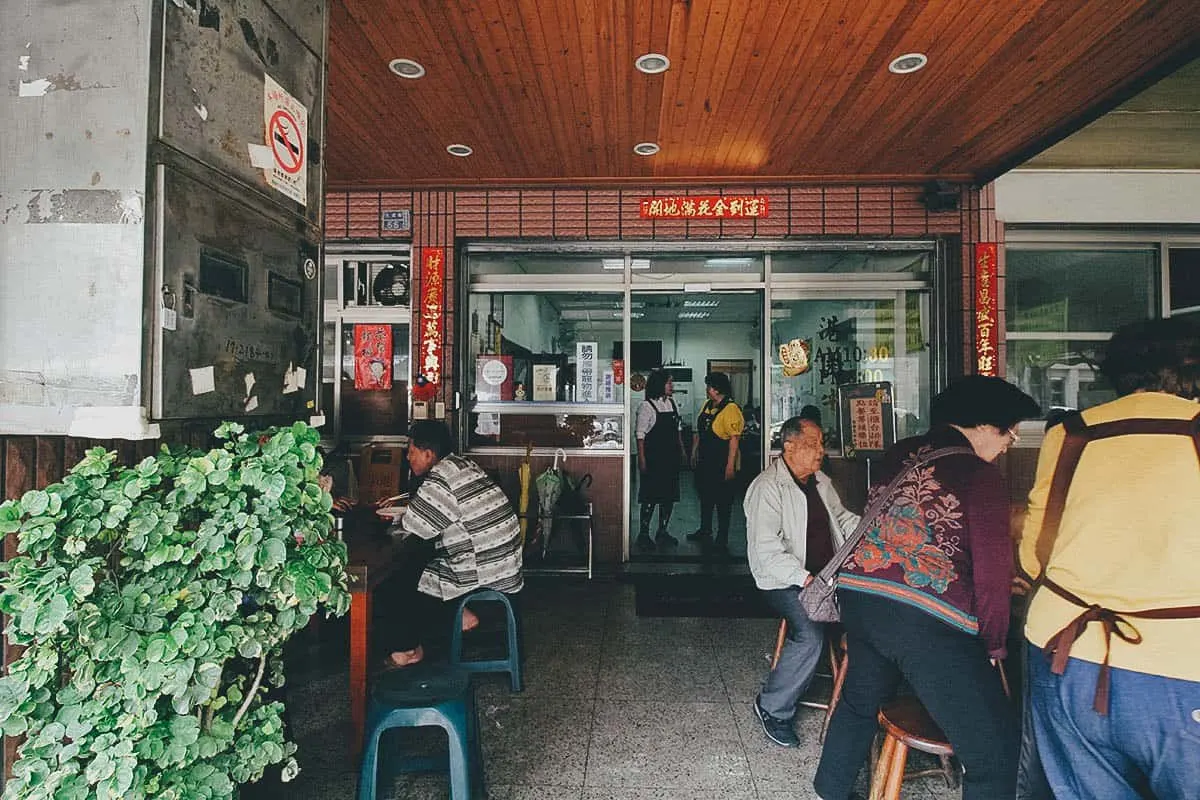 What We Paid: Around NTD 220 with drinks
4. Duck (Ya Rou) Zhen
I learned about this local favorite when I chanced upon an article from the Singapore Michelin Guide. In the article, Chef Lanshu Chen of Le Mout lists her favorite places to eat in Kaohsiung and proclaims Ya Rou Zhen as her go-to place for duck.
Chef Chen always orders sliced duck with rice and a bowl of duck innards soup. Being the head chef of one of the world's best restaurants, she clearly knows what she's talking about so we followed her lead, dish for dish. You may want to do the same because it was awesome.
The sliced duck was tender, juicy, and smokey with a nice layer of fat beneath the skin. But as good as it was, what we enjoyed most was the innards soup which was swimming with duck parts like intestine, liver, and gizzard. It tasted clean and flavorful with that wonderful gummy texture characteristic of offal. Really delicious!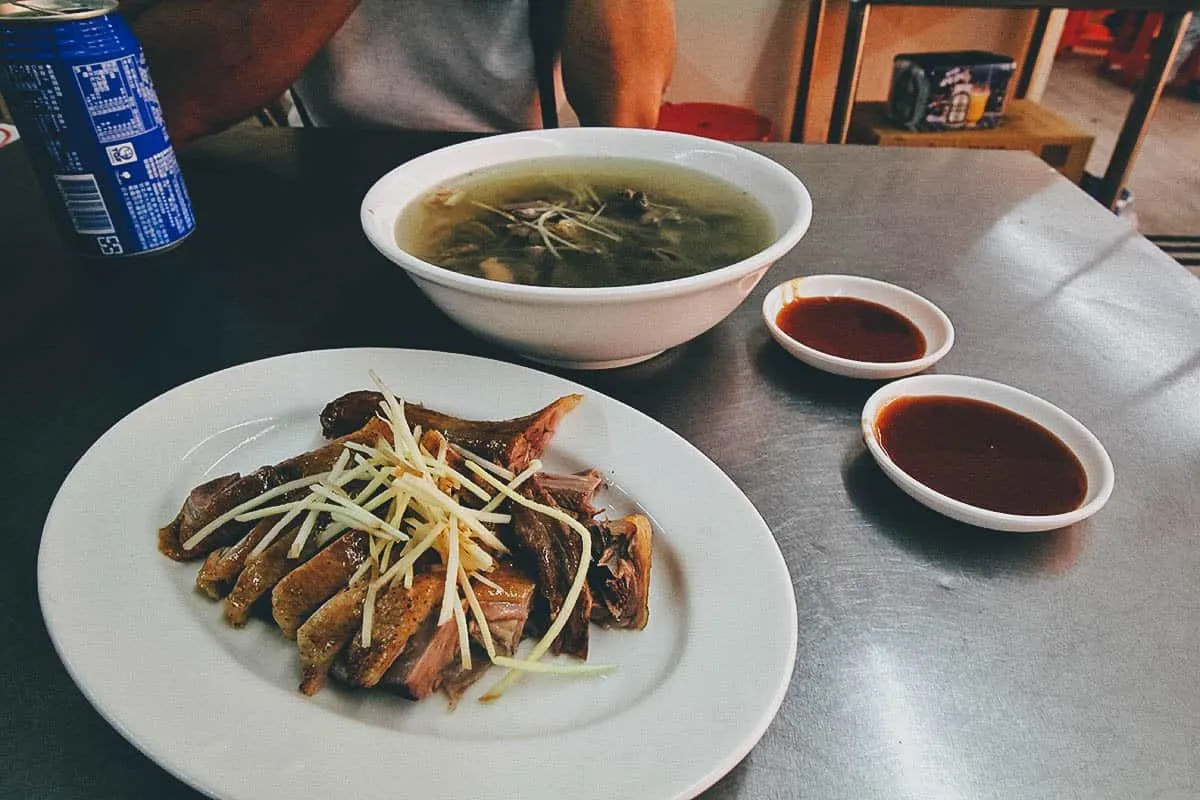 Ya Rou Zhen is easy to spot. Just look for the restaurant with the yellow awning and all the red-orange stools outside.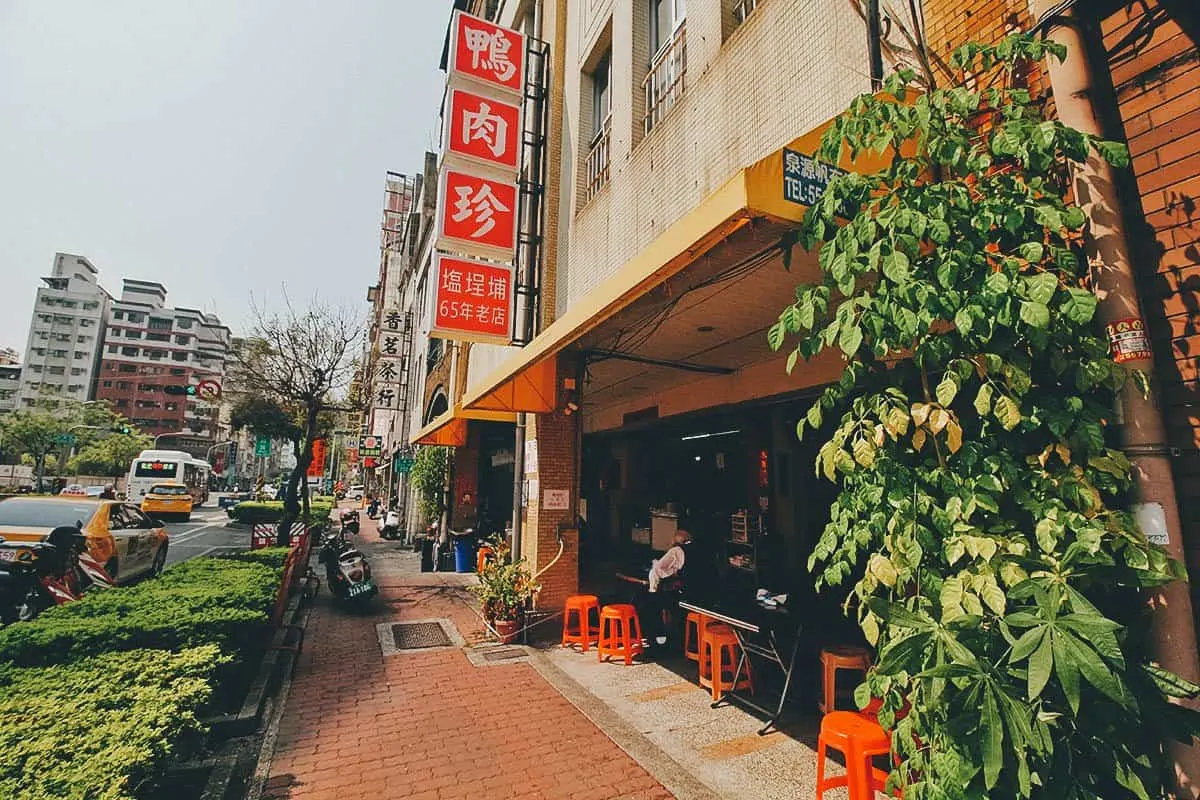 What We Paid: Around NTD 200 with drinks
5. Gao Xiong Po Po Shaved Ice
If I were to make a list of dishes that gave me the most pleasure in Taiwan, then this mango baobing from Gao Xiong Po Po Shaved Ice would be close to the top.
Made with shaved ice topped with fist-sized hunks of the sweetest fresh mango, condensed milk, and scoops of mango ice cream, this mango baobing was ravishingly delicious, especially after a day of walking under the hot Kaohsiung sun. Ren and I just shared one but I kinda wish we hadn't. DO NOT miss this.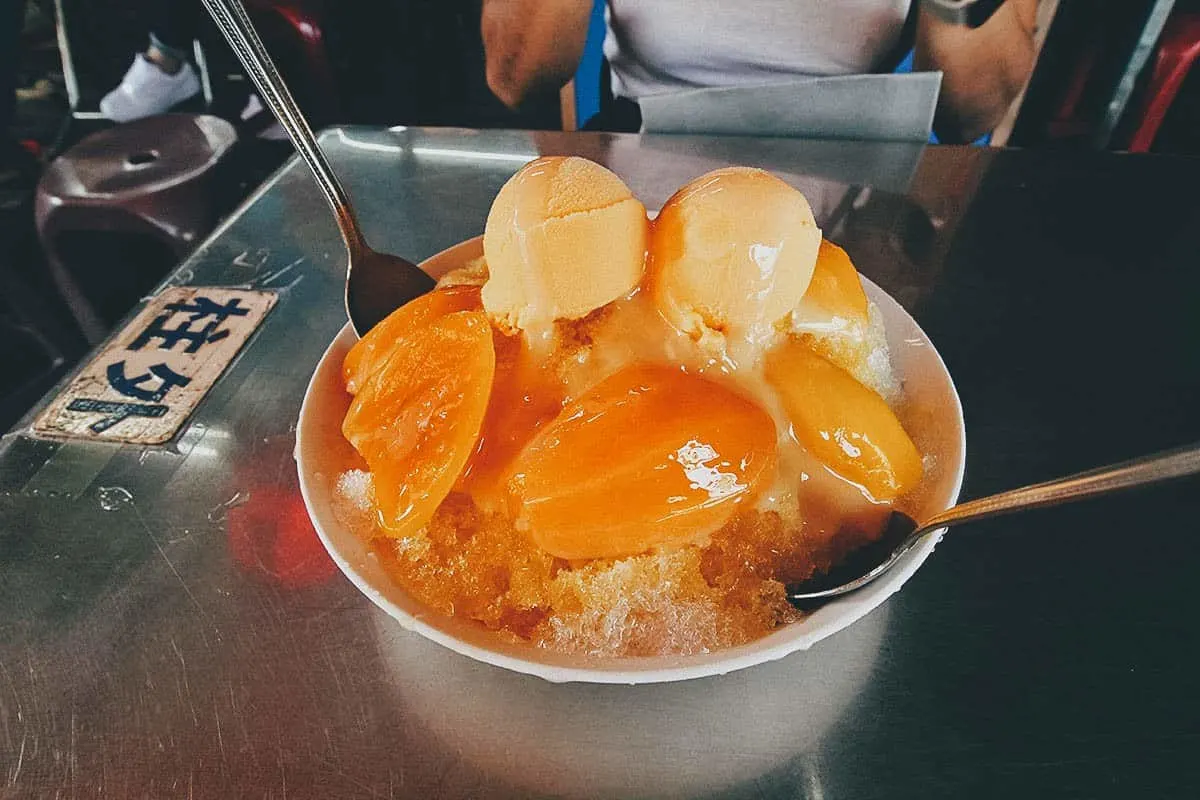 Gao Xiong Po Po Shaved Ice offers many types of shaved ice desserts but mango baobing is one of their specialties.
What We Paid: Around NTD 100 per order of mango shaved ice
6. Wu Pao Chun Bakery
Like Gang Yuan Beef Noodles, this is another place that you'll find on every "must-eat in Kaohsiung" list. And understandably so, because this bakery is owned by Wu Pao-chun, a Taiwanese baker renowned for his sourdough bread. He's won several baking competitions in Europe and was awarded the title of Master Baker in the bread category of the 2010 Bakery Masters competition in Paris.
As you can see below, they offer many types of bread but none are more famous than his Taiwan Litchi Rose Champion Bread which was crowned the champion at the Bakery Masters in 2010. It's made with mullet wine, lychee, walnuts, and rose petals. If that isn't interesting enough for you, then another renowned loaf is his Taiwan Longan with Red Wine Bread which won second place at the Coupe Louise Lesaffre in 2008.
We bought many different kinds before spending the day on Cijin Island and everything we got was delicious. If you like bread, then you have to make a stop at Wu Pao Chun Bakery.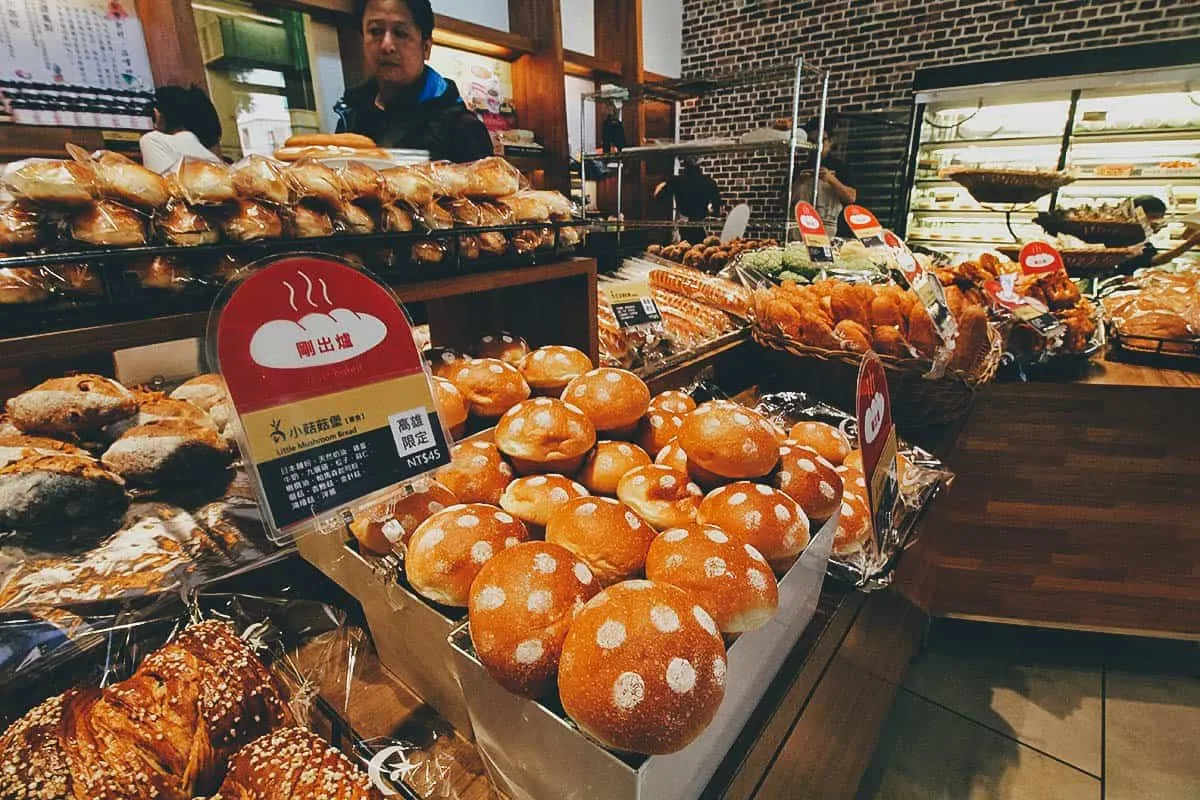 We arrived just before opening so we were the first in line. Wu Pao Chun Bakery presently has two branches in Taiwan – one in Kaohsiung and another in Taipei.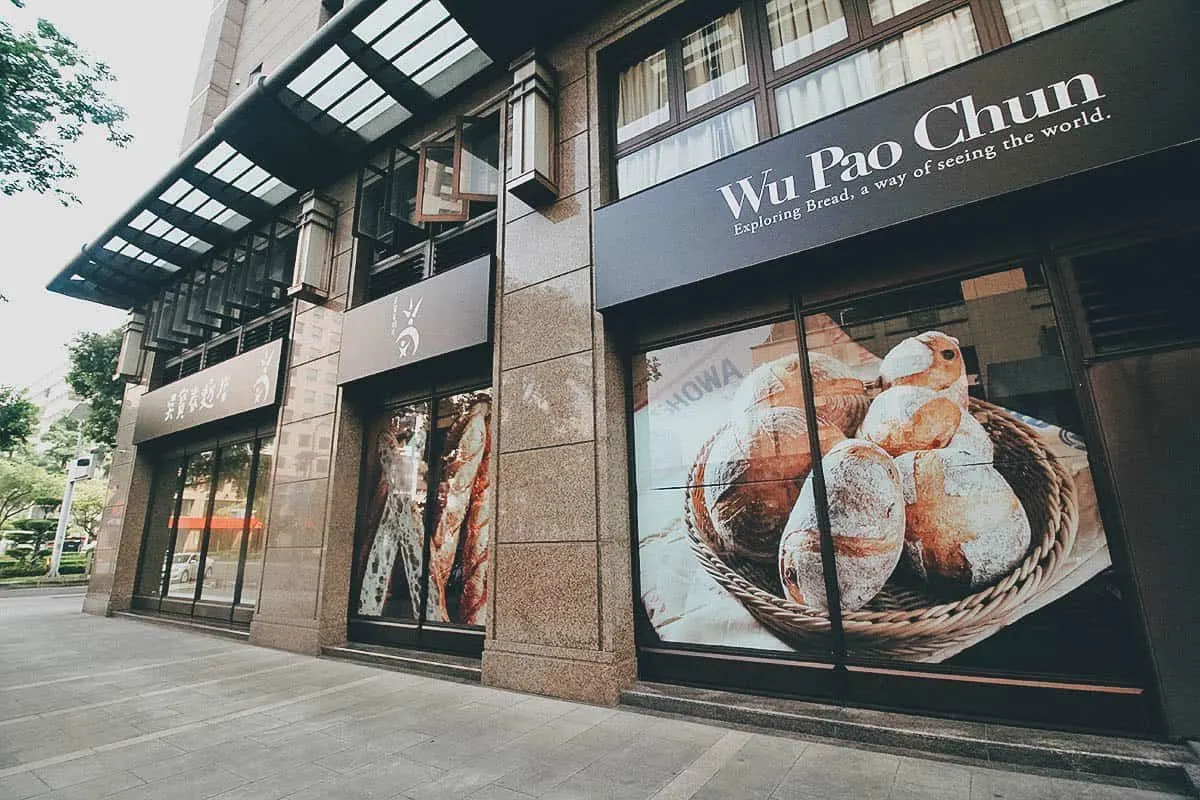 What We Paid: Breads start at around NTD 40
POINTS OF INTEREST IN KAOHSIUNG
I created this map to give you a better sense of where everything is. All the places recommended in this Kaohsiung travel guide are pinned on this map. Click on the link for a live version of the map.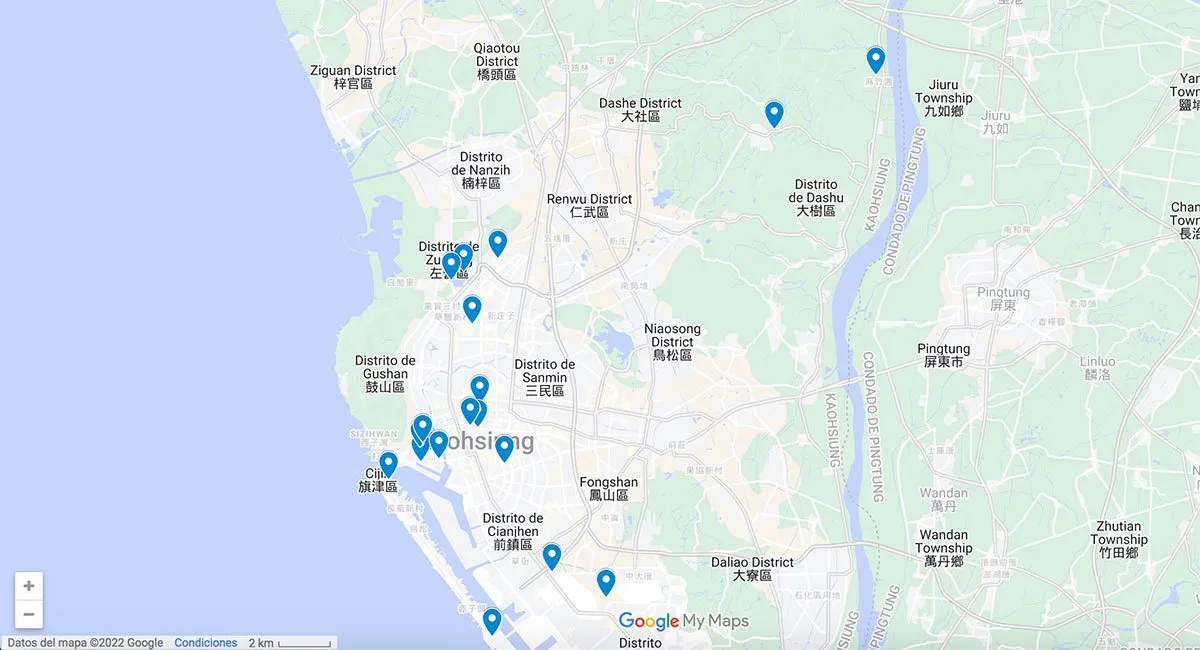 HOW TO GET AROUND IN KAOHSIUNG
It's super easy to get around Kaohsiung using public transportation. Other than Taipei, it's the only city in Taiwan that has its own metro system. You can get to most of the places recommended in this guide using the Kaohsiung MRT. For everything else, there's the public bus system which is almost as easy.
In some instances, you may not want to take public transportation so you'll be pleased to know that Uber is available in Kaohsiung. We took it a couple of times when we were too tired to walk and the most we paid was NTD 166 to go from Kaohsiung TRA Station to Lotus Pond (about 7.2 km).
Regardless of which method of transportation you use, be sure to download the Google Maps app (iOS | Android) before your trip. It'll tell you how to get from point A to point B using any city's public transportation system.
If you do decide to get around in Kaohsiung using public transportation, then there are a couple of transportation cards that you should know about.
EasyCard
If you plan on taking public transportation a lot in Taiwan, then an EasyCard will be very useful to you. Not only does it eliminate the hassle of having to buy single-journey tokens every time, but you'll get 15% off on the Kaohsiung MRT and 20% off on the Taipei MRT with every ride. It works on public buses too.
You can purchase an EasyCard from any MRT station and top it up in multiples of NTD 100. It's good for use throughout Taiwan, meaning if you bought one in Kaohsiung like we did, then you can use it on the Taipei MRT and vice versa. At the end of your trip, any unused amount can be refunded minus a service charge of NTD 20.
We never used it for anything but transportation but you can use it for other things as well. Click on the link to see the full scope of use of an EasyCard.
Unlimited MRT Pass
If you're visiting Kaohsiung for just one or two days and skipping Taipei, then the Unlimited MRT Pass may be the better option. It'll give you unlimited access to the Kaohsiung MRT for 24 or 48 hours.
You can purchase a Kaohsiung Unlimited MRT Pass at any metro station or in advance through Klook.
HOW MANY DAYS TO STAY / KAOHSIUNG ITINERARY
By population, Kaohsiung is the smallest big city in Taiwan so you probably won't need as much time there as you would in Taipei or Taichung. We spent two nights and we thought that was perfect for a first-time visit. If it's your first time traveling to Kaohsiung, then here's a sample two-day Kaohsiung itinerary to help you plan your trip.
DAY ONE
• Dome of Light
• Fo Guang Shan Monastery
• Lotus Lake
• Dragon and Tiger Pagodas
• Ruifeng Night Market
DAY TWO
• Pier-2 Art Center
• Cijin Island
• Liouhe Tourist Night Market
KAOHSIUNG TRAVEL TIPS
1. Plan your Trip with Sygic Travel
What's the hardest part about planning a trip? For me, it was figuring out on which days to do what. It's easy enough to find a destination's most interesting attractions, but not knowing where they are in relation to one another makes it difficult to come up with an efficient itinerary. Sygic Travel solves that. Check out my post on the free Sygic Travel app to learn how it works.
2. Stay Connected
Besides my passport, the three most important things to bring on a trip for me are money, my smartphone, and a pocket wifi device. Visiting a foreign country without access to the internet scares me. I need it to navigate, do research, and find the best stinky tofu in Kaohsiung. We never go anywhere now without renting a pocket wifi device first.
Personally, we prefer pocket wifi devices but sim cards are just as good. They're cheaper too. You can rent a pocket wifi device or buy a sim card through Klook and pick them up from various airports in Taiwan.
3. Rent Bicycles from the Mainland
If you plan on renting bikes and visiting Cijin Island, then I suggest renting one from the mainland and taking it with you onboard the ferry. The reason for this is that there are two separate lines for ferry passengers – one for pedestrians and another for people on bikes/scooters. In our experience, both going and coming back, the line for pedestrians was significantly longer.
If you'd rather not risk having to wait for the next ferry, then I suggest renting your bicycle from the mainland instead of Cijin Island. The ferry cost is just a little bit more, just NTD 35 for cyclists as opposed to NTD 25 for pedestrians. In my opinion, it's worth the shorter wait. Plus, you'll feel more like a bonafide local, even if you aren't.
4. Check for Kaohsiung Travel Deals
There are many e-commerce travel platforms out there but my favorite for Taiwan is Klook. They're both reputable travel booking platforms that offer plenty of tours and activities in Kaohsiung. If you're looking for deals on tours, transfers, pocket wifi rental, etc, then you might want to check out Klook.
5. Get Travel Insurance
Whether or not you should get travel insurance is something to consider before every trip. We don't always get it. If we're going to a familiar city to do little more than shop and eat for a few days, then we probably won't get it. But if we're planning on doing outdoorsy things like skiing or horseback riding, then we'll definitely pick up a policy.
We buy travel insurance from SafetyWing or Heymondo. They're popular travel insurance providers used by many long-term travelers. Click on the links to get a free quote from SafetyWing or Heymondo. Get 5% off on Heymondo if you pick up a policy using our link.
6. Bring the Right Power Adapter
Taiwan has Type A and Type B electrical outlets so be sure to bring the right power adapters for your devices. Electrical voltage is 110V and the standard frequency is 60Hz.
Have Fun!
By no means am I an expert on Kaohsiung but I do hope you find this post useful. I'm merely sharing some of the things I learned from our trip. If you have any questions, then please feel free to ask in the comment section below. You're welcome to join our Facebook Travel Group as well.
Thanks for stopping by and have an awesome time in Kaohsiung!
OUR GEAR
These are some of the things we brought with us to Kaohsiung. Have a look inside our backpack to see what other gear we use. (NOTE: The following links are Amazon affiliate links.)
Disclosure
Some of the links in this Kaohsiung travel guide are affiliate links, meaning we'll earn a small commission if you make a booking at no added expense to you. We only recommend products and services that we use ourselves and firmly believe in. We really appreciate your support as this helps us make more of these free travel guides. Thank you!