Before our trip to Hong Kong, I consulted local food blogs for restaurant recommendations. Every blogger had his list of personal favorites but Tung Po was one of the few constants. It stood out because it was literally on everyone's list. So popular is this place that it was one of Anthony Bourdain's stops in the Hong Kong episode of No Reservations. If you watch it, you'll see just how much he enjoyed Tung Po not just for its food, but for the whole experience.
Tung Po is what you'd call a dai pai dong, a type of open-air food market in Hong Kong that's similar to a hawker center in Singapore or Penang. It's basically Hong Kong street food. Located indoors, Tung Po isn't a dai pai dong in the strictest sense but it does embody that same communal street food vibe.
To me, this is what Hong Kong dining is all about.
Dai Pai Dong
Anthony Bourdain was right. From the outside, the building that houses Tung Po looks like a nondescript car park or government building. But go up to the second floor and you'll discover this market-like atmosphere with hundreds of diners eating the most amazing food. People sit on plastic stools and the place is dirty but no one seems to give a shit. It's noisy, Cantopop is blaring from the speakers, and everyone is drinking beers from porcelain bowls. If you're lucky, you may even see chef and owner Robby Cheung moonwalk from table to table taking orders and busting out some funky dance moves. From what I've read, he's a ball of energy and is the heart and soul of Tung Po.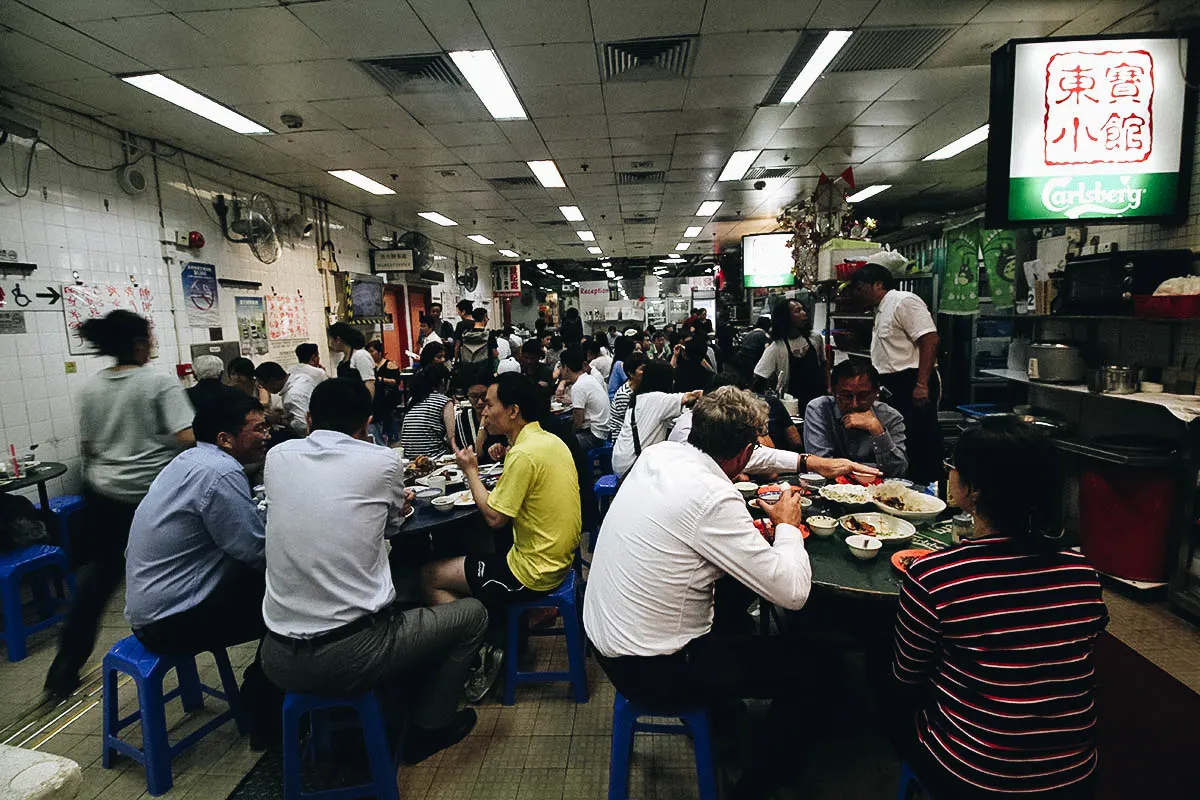 Burn baby burn! We were seated right outside the kitchen so I had a great view of the chefs in action. That wok just screams wok breath. 😈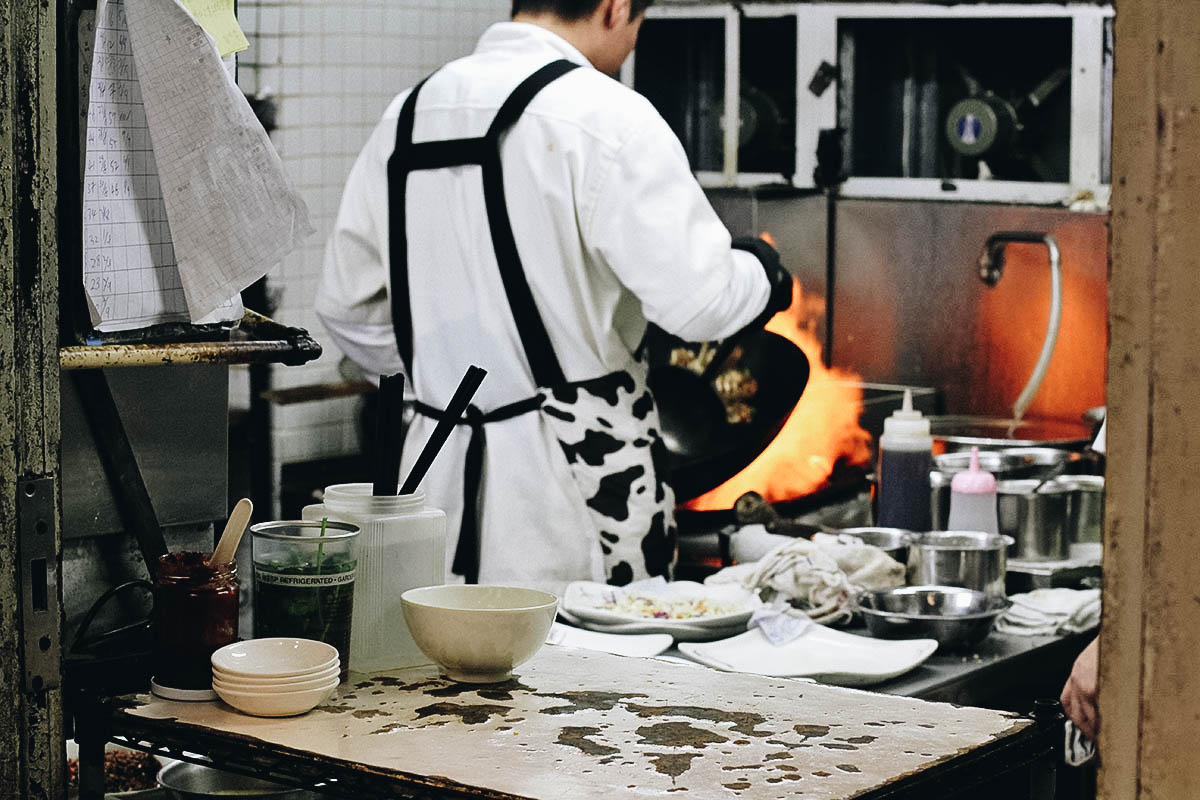 I've never had beer in bowls before but that's how they roll here at Tung Po. I liked it. It made me feel like a Chinese gangstah. 😎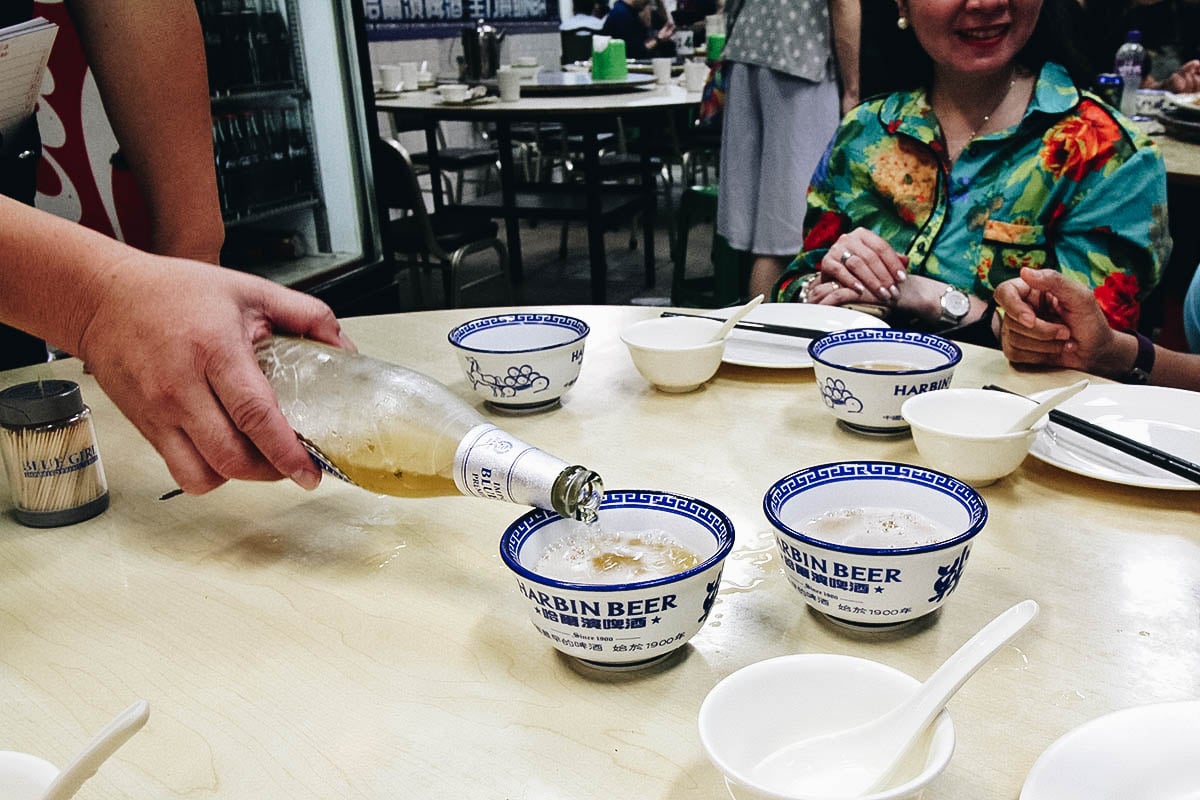 Deep Fried Pork Knuckles — HKD 118
This was really good — crunchy, cartilage-y, and super tasty. Chef Cheung served this to Anthony Bourdain so I'm guessing it's one of Tung Po's most popular items.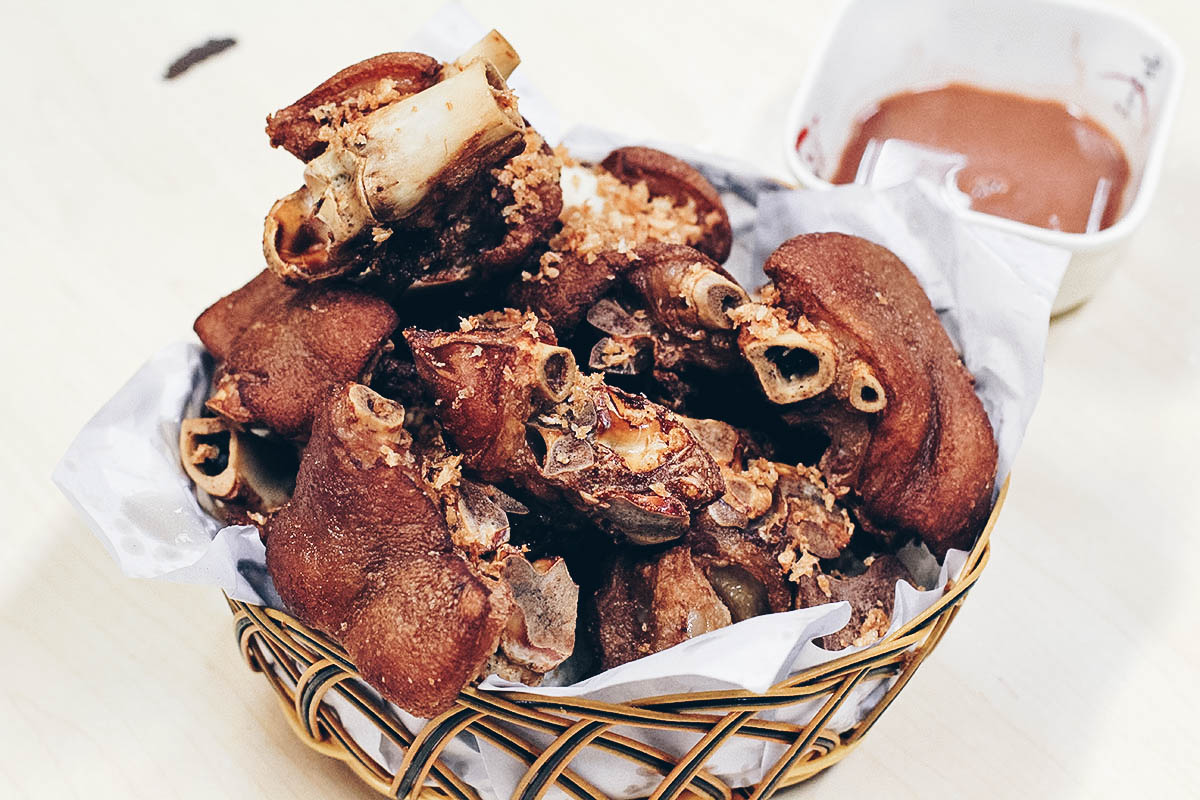 Salted Duck Egg Yolk Shrimp — Market Price
This was an interesting shrimp dish made with duck egg yolk. It's really crunchy and you can see the orange egg yolk between the shrimp and the batter when you take a bite.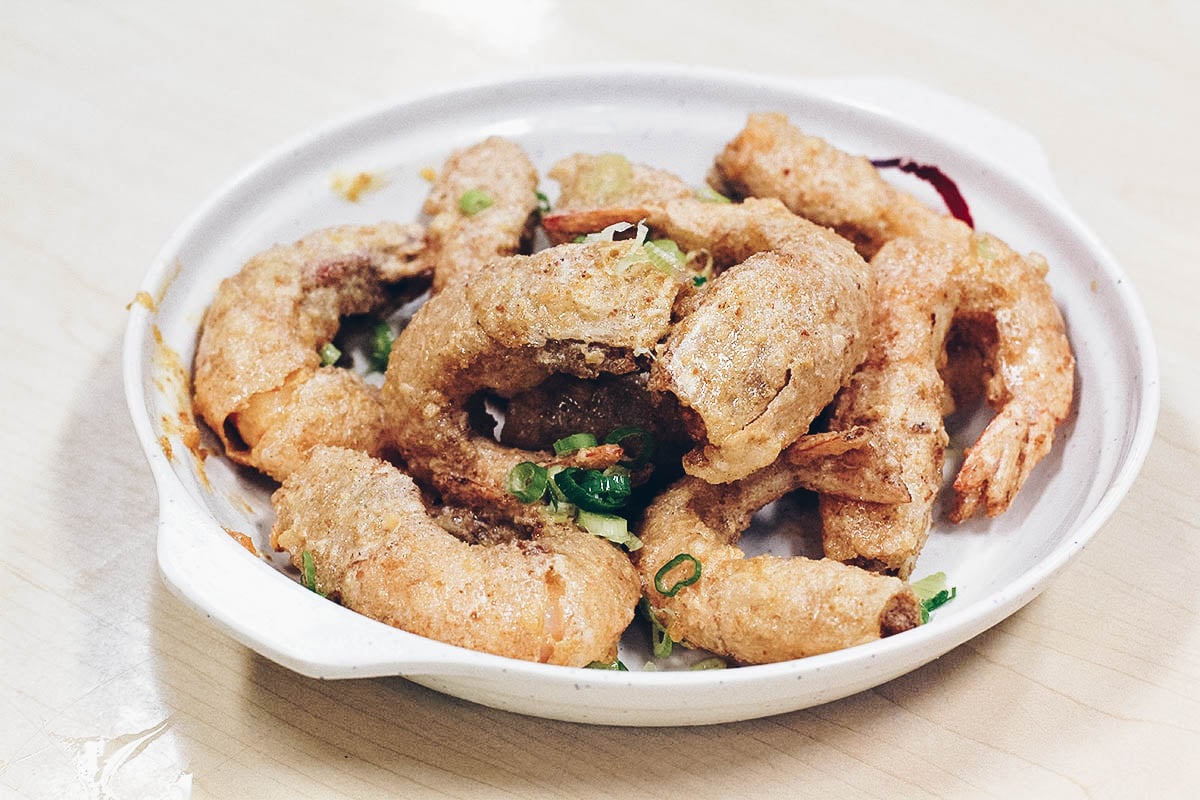 Razor Clams Steamed with Chopped Garlic and Chinese Wine (with bean vermicelli/white gourd) — Market Price
Everything we had tonight was delicious but this platter of razor clams was my favorite. It was so good! You can't tell how big they are from this picture so scroll down to the next one.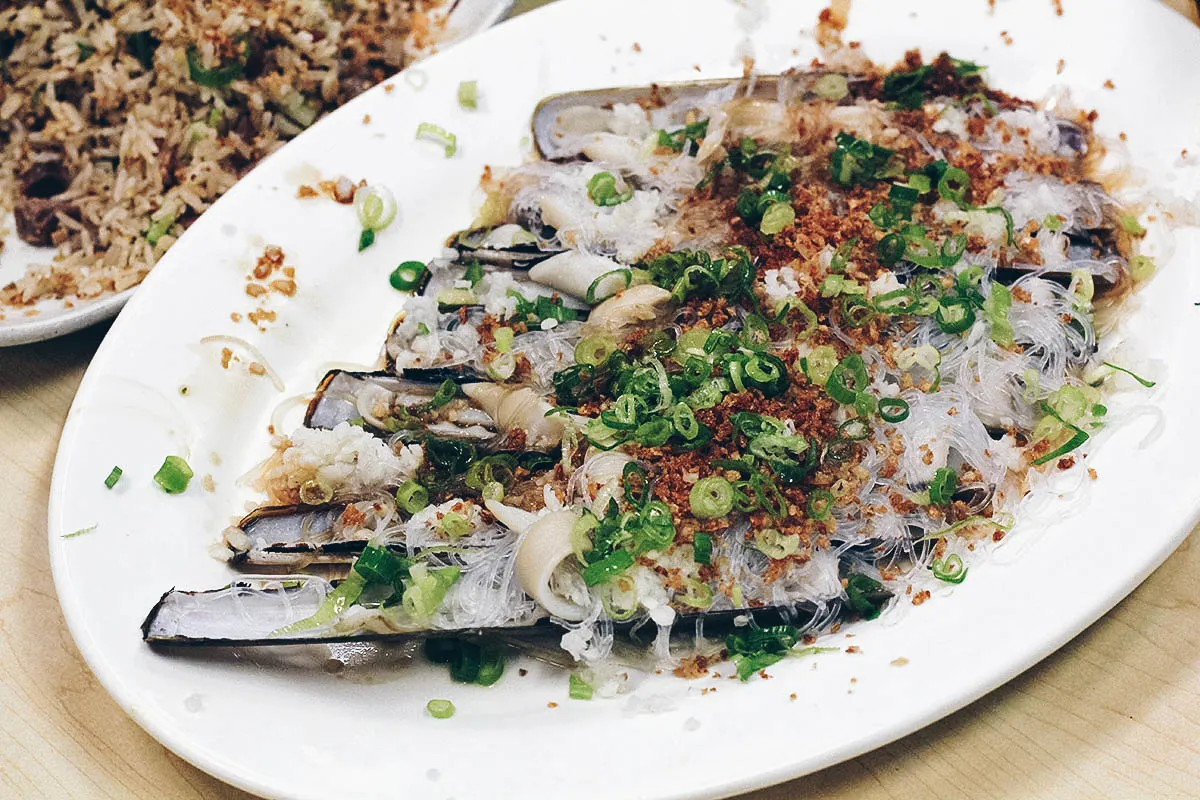 What did I tell you?! 😯 The razor clams I'm used to are about as long as my finger but these were like mini skis. They were huge! Despite being massive, the clams were still tender and oh so tasty. You have to get the razor clams if you eat here.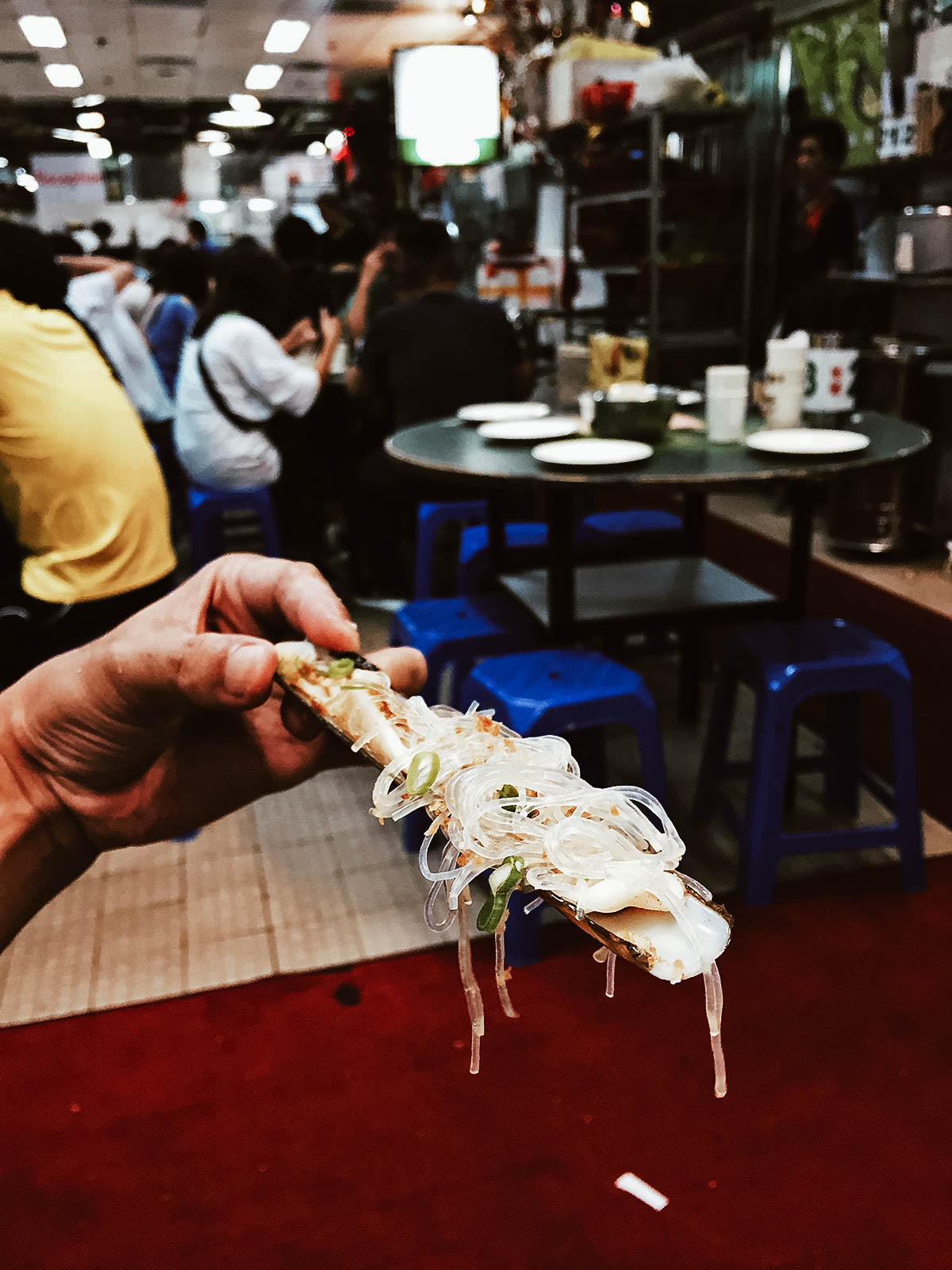 Deep Fried Oyster (10 pieces) — HKD 188
Juicilicious deep fried oysters. It's funny, we didn't even order these. We asked our server if they had any ox tongue dishes and he said they have deep fried ox tongue. Intrigued, we had never tried deep-fried ox tongue before so we agreed. They bring out this dish and we start eating it but were like: "This is delicious, but it tastes like oyster!" We told our waiter that there may have been a mix-up because we ordered deep fried ox tongue, and he said: "Ya! Das whut you odah. Dee fry os ta!" "No, not oyster. Ox tongue!" we insisted. "Ya! Os ta. Dee fry os ta!" 😆 These "dee fry os tas" tasted damn good so we just left it at that. 😆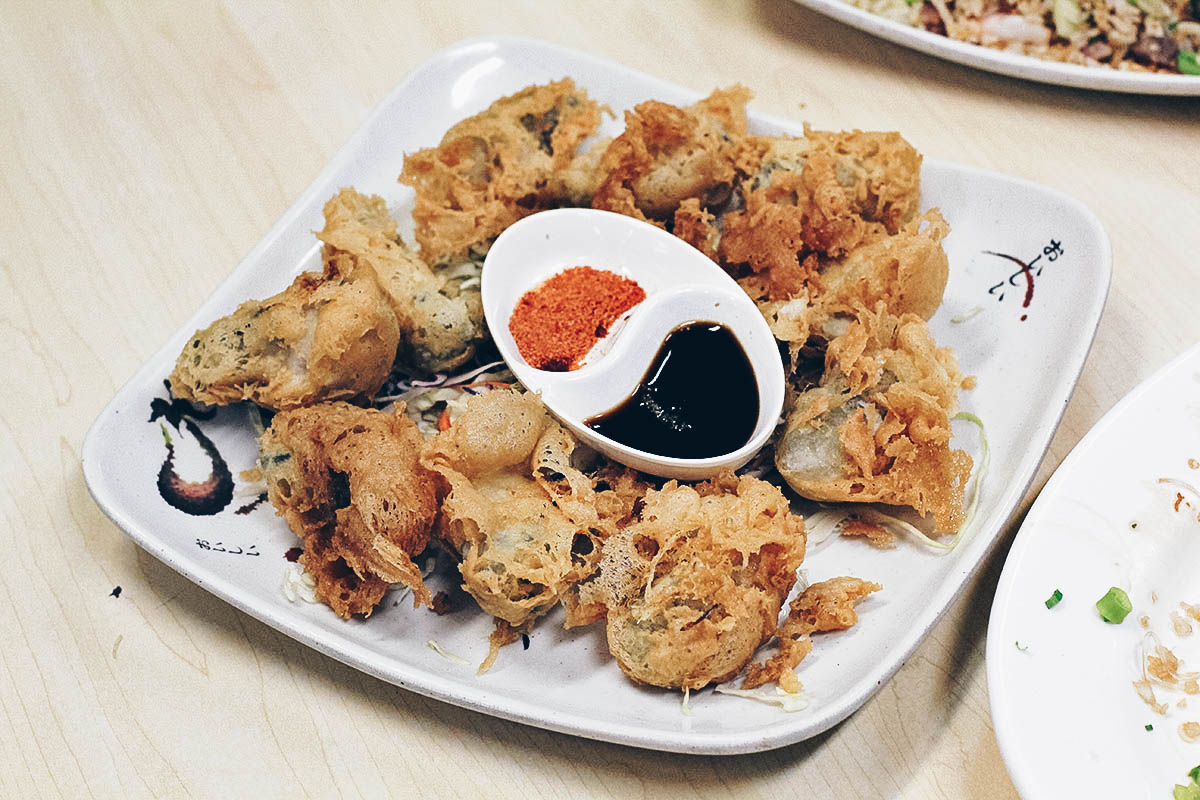 Big Belly Fried Rice — HKD 88
Delicious plate of fried rice to temper all that flavorful food. You could really taste the wok breath in the rice.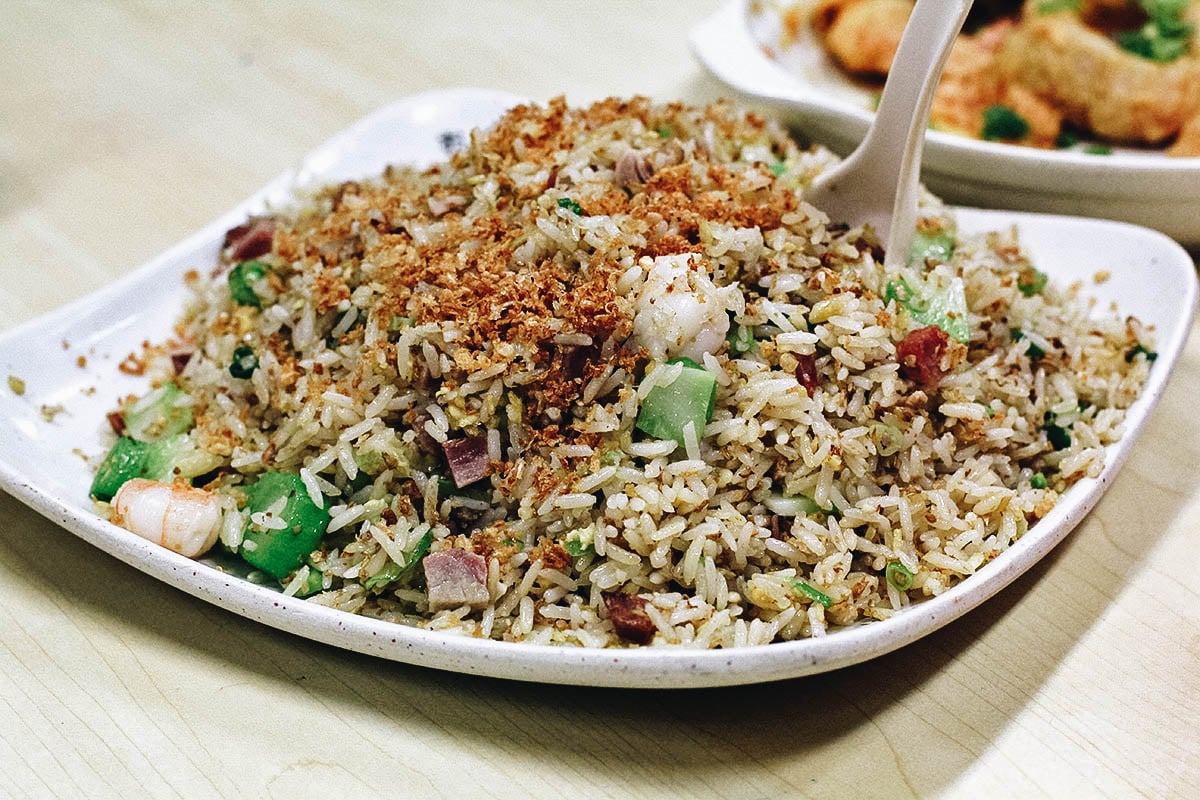 We enjoyed many fantastic meals in Hong Kong but this one was easily my favorite. I loved Tung Po and would happily eat here on every return trip to Hong Kong. Fine dining is nice from time to time but this is my kind of restaurant — relaxed, fun, and just all about good food.
Our bill between four people came out to HKD 952 with drinks. It's a little pricey but we did have mostly seafood. If you decide to eat here, then it's best to go in a big group of people so you can order as many dishes as you can. Seafood is a specialty at Tung Po. We didn't order any but they have plenty of crab and mantis shrimp dishes on their menu. Anthony Bourdain had this wicked-looking black ink cuttlefish balls with spaghetti dish that I'll definitely be ordering on our next visit. 😈
Tung Po, North Point, Hong Kong
2/F Java Road Municipal Services Building, 99 Java Rd, North Point, Hong Kong
Tel: +852 2880 5224
Operating Hours: 5:30PM-12:30AM daily
What we paid: HKD 952 with drinks (between 4 people)
HOW TO GET THERE:
Take the MTR to North Point station (Exit A1). Walk west on Java Rd and the Municipal Services Building will be on your right. Take the escalator to the second floor.
Check out our Hong Kong food guide for more food recommendations.