We didn't know much about Turkish food before our first trip to Turkey. Now, we're convinced it's one of the world's best countries for food, its greatness measured by its diversity, longevity, and the legacy left behind by an imperial kitchen.
We ate our way through multiple regions in the country and everywhere we went we found amazing Turkish food. Interesting dishes like testi kebap, börek, cig kofte, and kunefe opened our eyes to the diversity of Turkish cuisine. It also made us realize that we were just beginning to scratch the surface of all the delicious things this country had to offer.
Food-wise, there is still so much more to explore in Turkey. Looking at a map, I almost don't know where to begin. If it's your first time visiting Turkey, then this list of 35 traditional Turkish dishes gives you a good place to start.
FOOD IN TURKEY QUICK LINKS
If you're planning a trip to Turkey and want to learn more about Turkish cuisine, then you may be interested in joining a food tour or taking a cooking class.
TOURS
Save This on Pinterest!
No time to read this Turkish food guide now? Click on the save button and pin it for later!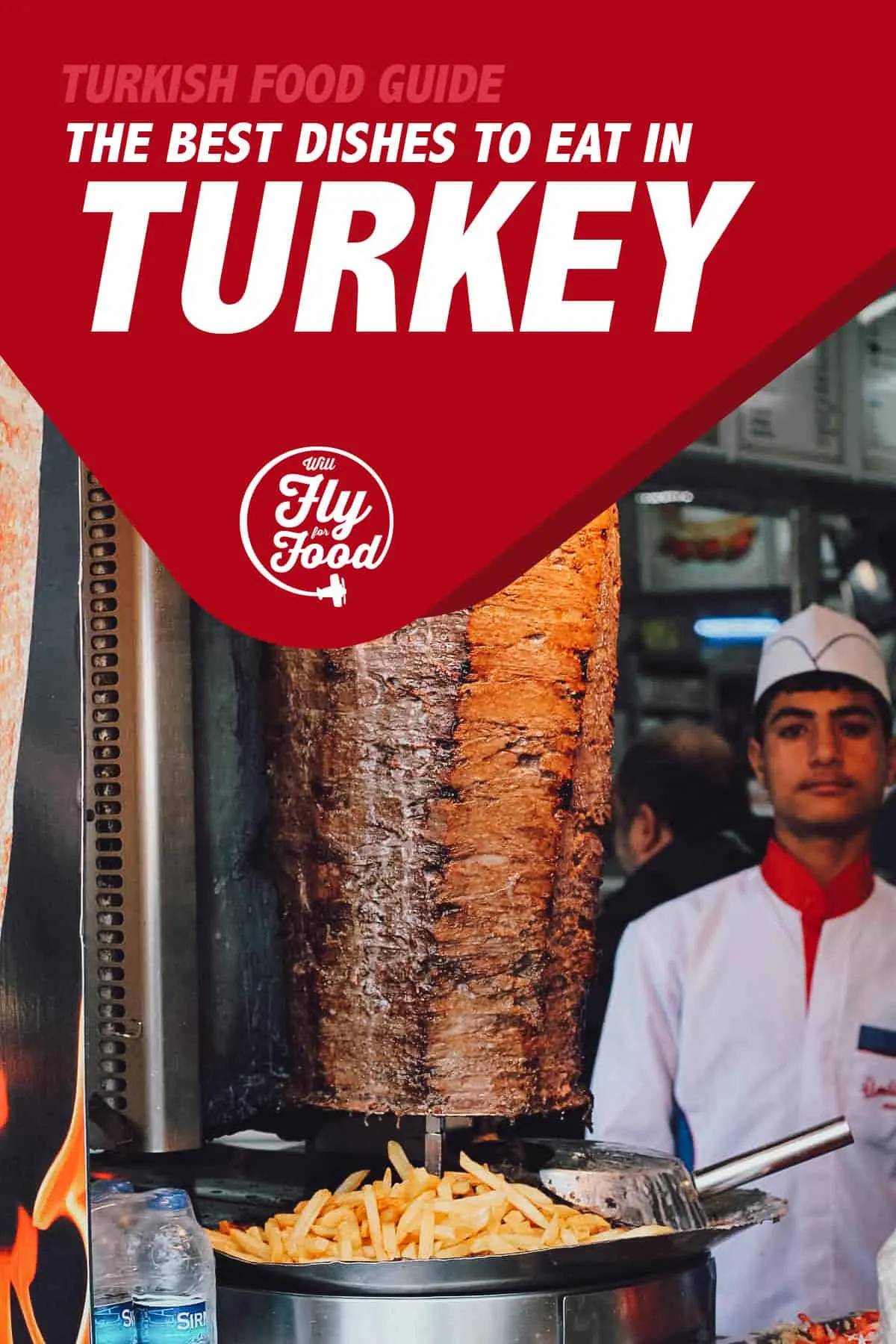 WHAT IS TRADITIONAL TURKISH FOOD?
Traditional Turkish food is described as the continuation of Ottoman Empire cuisine. The Ottomans fused Central Asian, Middle Eastern, Mediterranean, Eastern European, and Balkan cuisines to create one of the world's most diverse and influential cuisines.
Kebabs and dishes made with lamb figure prominently in Turkish food, but the cuisine varies by region. The western coast is noted for its many olive-oil-based dishes, Central Anatolia for its hearty pastries, and the cities and towns by the Black Sea for their abundance of fresh fish.
If you're visiting Istanbul, then you need to have a meal at Ciya Sofrasi. It's helmed by Chef Musa Dagdeviren who serves obscure but traditional Turkish dishes from different parts of the country. Eating at his restaurant is like taking a culinary journey through Turkey.
MUST-TRY TRADITIONAL TURKISH FOODS
To help organize this Turkish food guide, I've divided it by section. Some dishes fall in multiple categories but I've tried to organize it as best I could. Click on a link to jump to a specific section.
TURKISH BREAKFAST
1. Menemen
Menemen is a traditional Turkish breakfast dish of scrambled eggs cooked in olive oil with tomatoes, green peppers, and spices. It's similar to shakshouka – a popular Maghrebi dish commonly eaten in North African countries like Tunisia, Egypt, and Morocco.
Menemen can also be made with onions though this is a point of contention in Turkey. Some people prefer it with onions while others believe that onions can only be added when it isn't eaten for breakfast.
Like shakshouka, menemen is typically served with bread.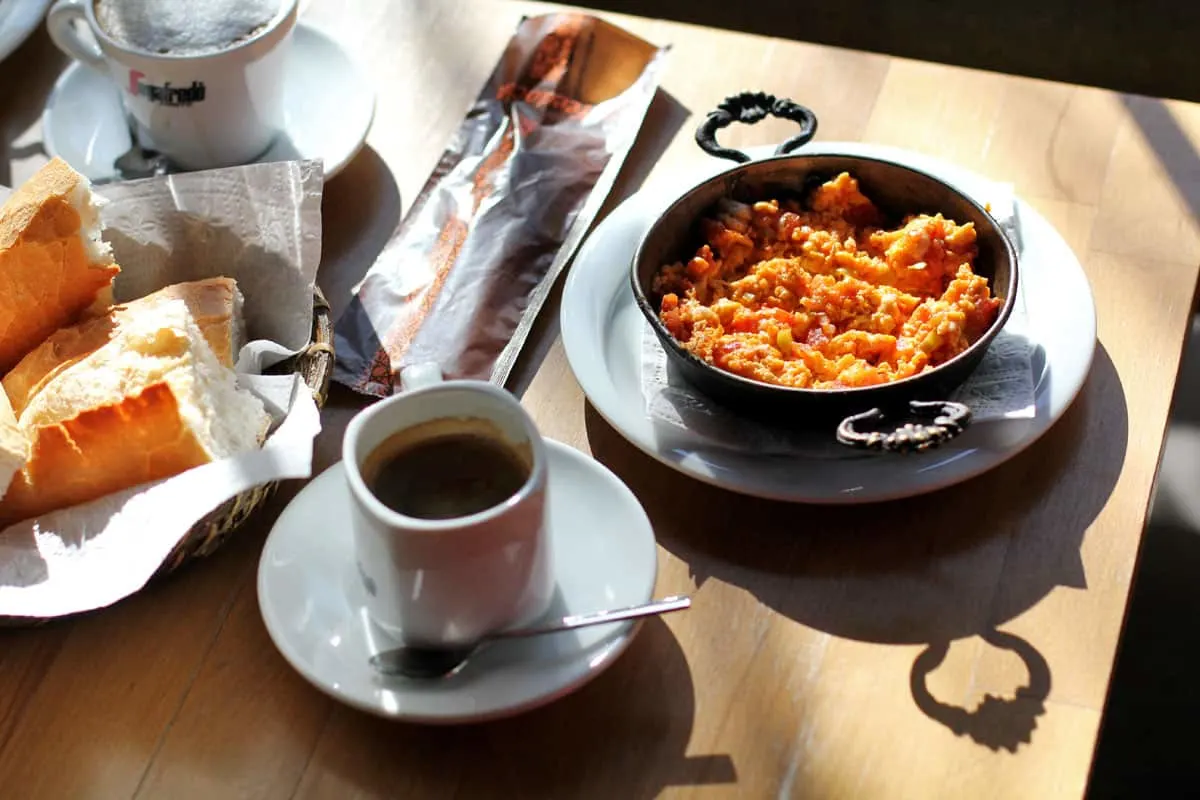 2. Katmer
Katmer refers to a tasty Turkish pastry dish originally from Gaziantep. It's a type of sweet börek made with crispy phyllo dough, pistachios, melted butter, and clotted cream.
Though katmer can also be eaten for dessert, Gaziantep locals prefer to consume it for breakfast. They believe that the pistachios in the dish increase energy levels and help reduce morning fatigue.
Katmer also plays a symbolic role in Turkish weddings. Traditionally, the father of the groom sends katmer to the newlyweds and to the bride's parents the morning after the wedding. It signifies his wishes for them to have a sweet marriage and to recover quickly after a tiring ceremony.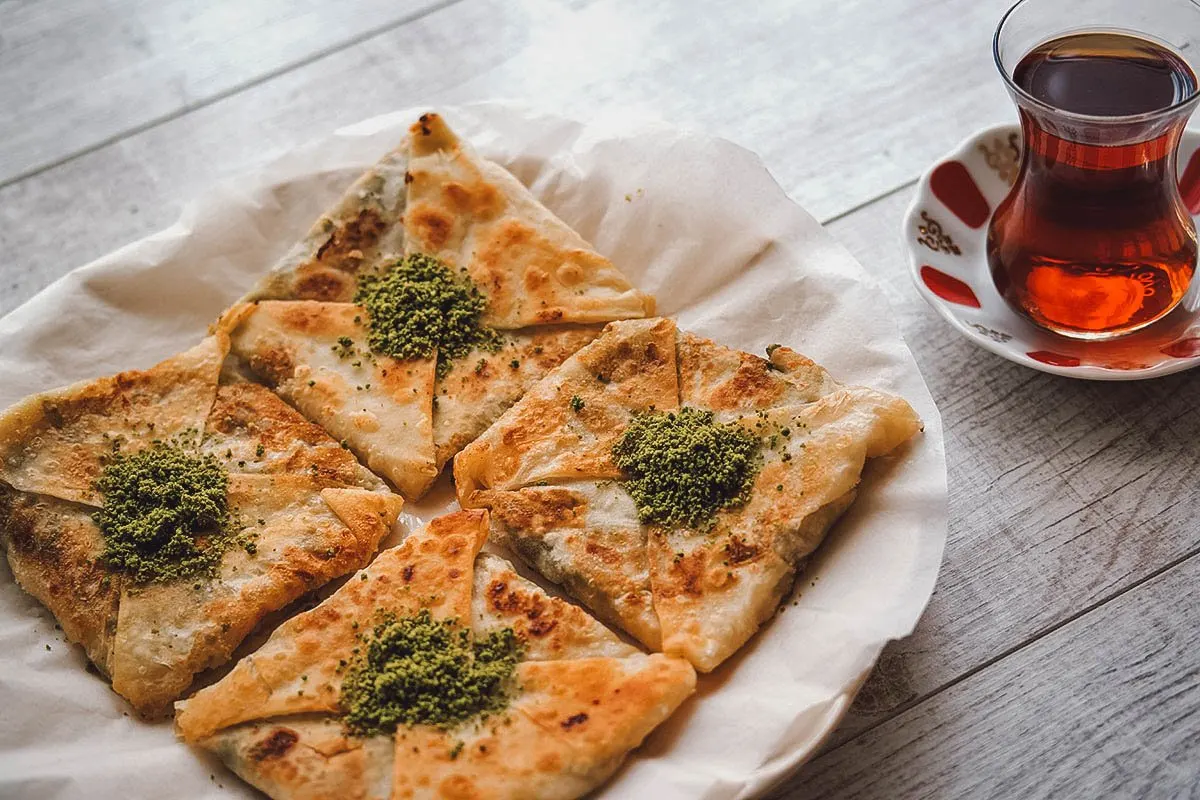 Photo by Alp_Aksoy
TURKISH BREAD
3. Simit
Simit is one of the most popular Turkish foods in Istanbul. You'll find it sold from these red street food carts everywhere in the city.
Simit refers to a type of bagel-like Turkish bread encrusted with seeds. It's commonly made with sesame seeds though it can also be encrusted with poppy, flax, or sunflower seeds. It's a crunchy and chewy snack that can be eaten on its own or as part of a larger Turkish breakfast with fruit preserves, cheese, and traditional Turkish tea.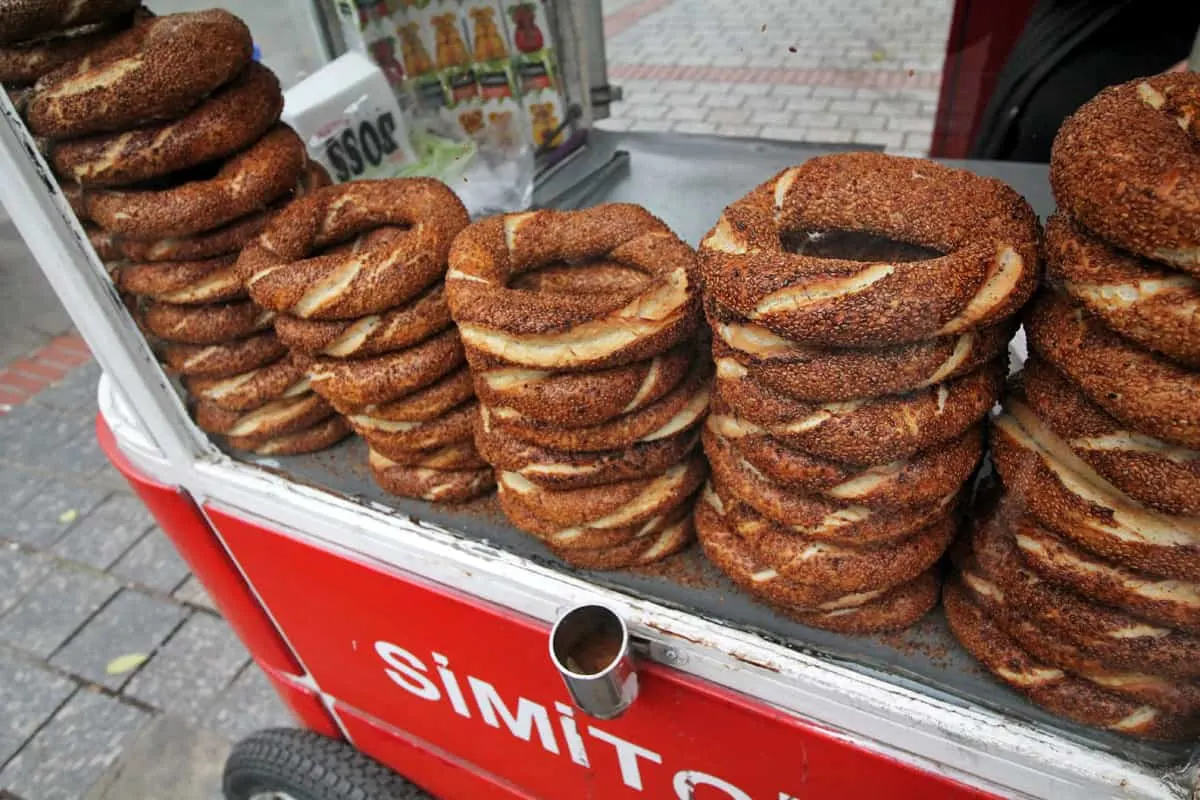 4. Acma
If simit sounds appealing to you, then you'll definitely want to try acma as well. It refers to another ring-shaped Turkish bread encrusted with sesame, cumin, or nigella seeds. Softer in texture than simit, they're brushed with beaten egg yolks before baking and often enjoyed for breakfast with hot Turkish tea.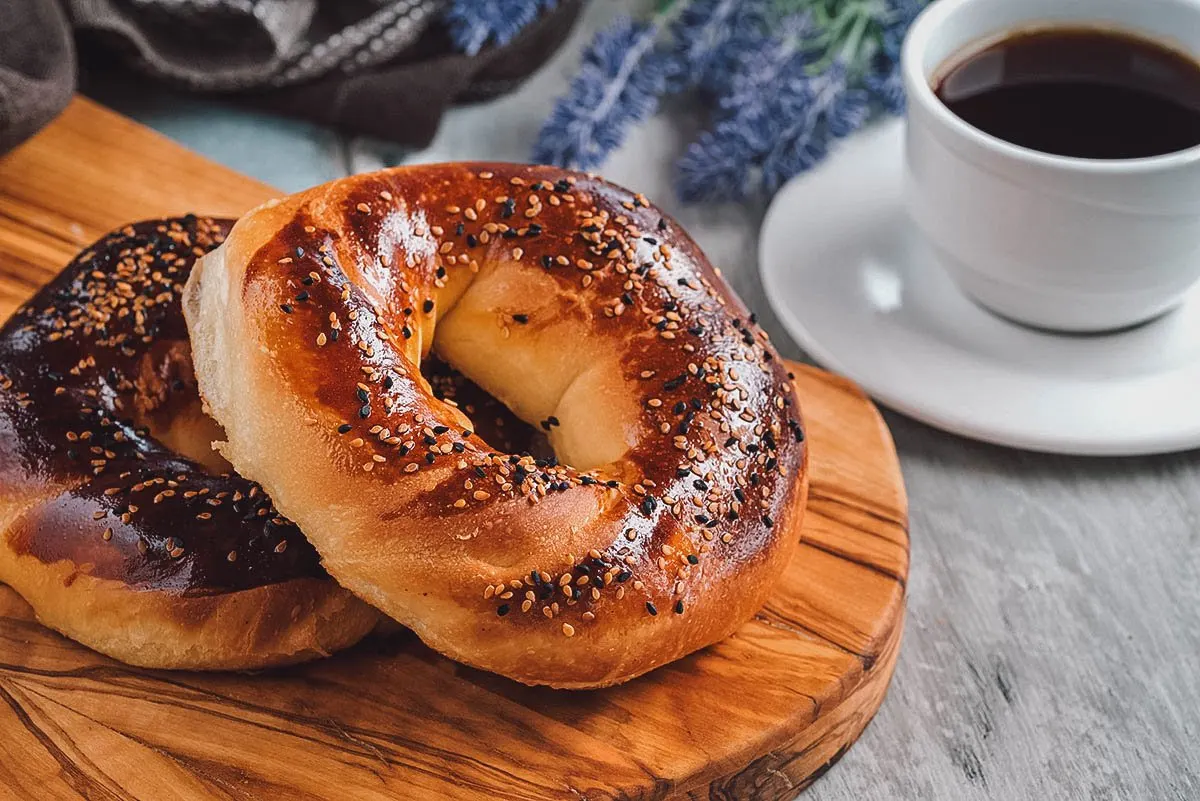 Photo by yalcinsonat1
5. Bazlama
Bazlama is a type of soft, leavened Turkish flatbread. Also known as "village bread", it's traditionally cooked on a heavy pan over an open wood fire. It's similar to naan bread but thicker and heavier, sort of like a big crumpet.
Bazlama is typically eaten fresh. It can be enjoyed for breakfast with butter or olive oil or it can be stuffed with various ingredients like fresh vegetables and cheese and eaten like a sandwich.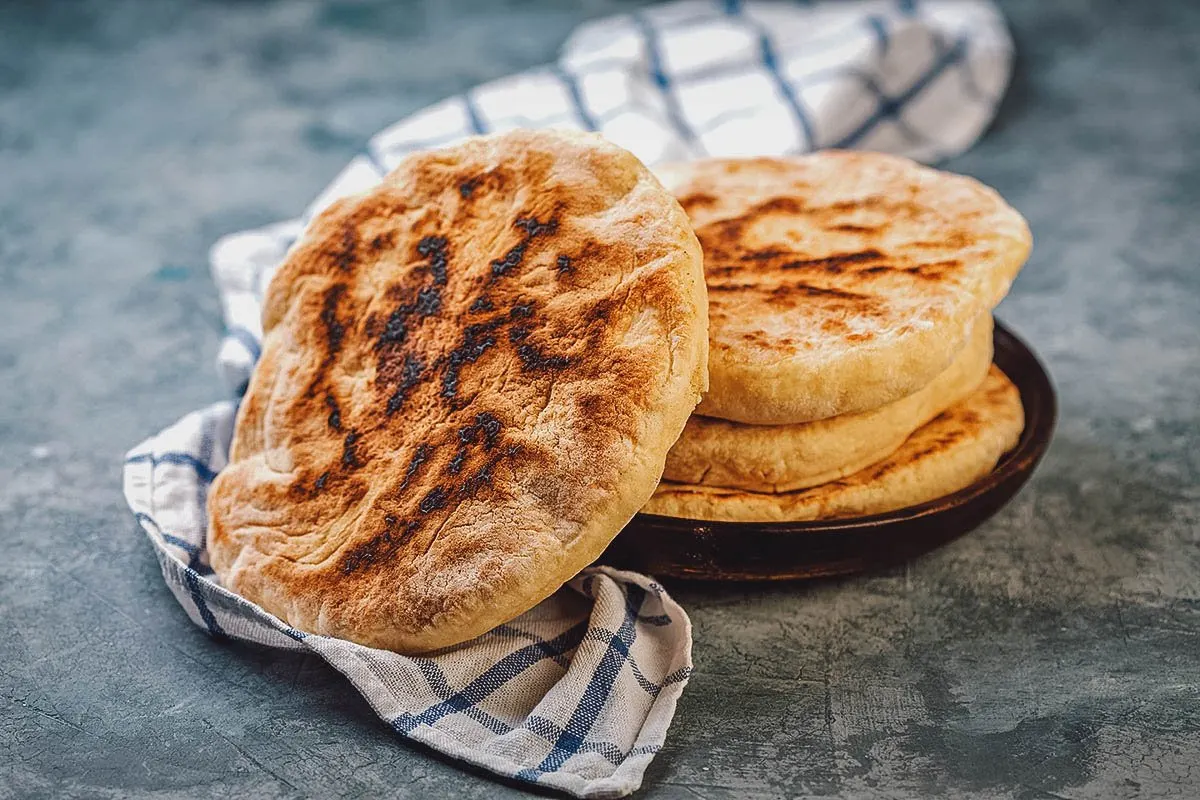 Photo by sriba3
TURKISH SNACKS / APPETIZERS / PASTRIES
6. Leblebi
Leblebi is a Turkish snack made with roasted chickpeas. They can be eaten plain or seasoned with salt, hot spices, and dried cloves. In some cases, they can even be candy-coated.
Leblebi is a popular snack in Turkey and in other countries throughout the Middle East like Iran, Syria, Lebanon, and Afghanistan.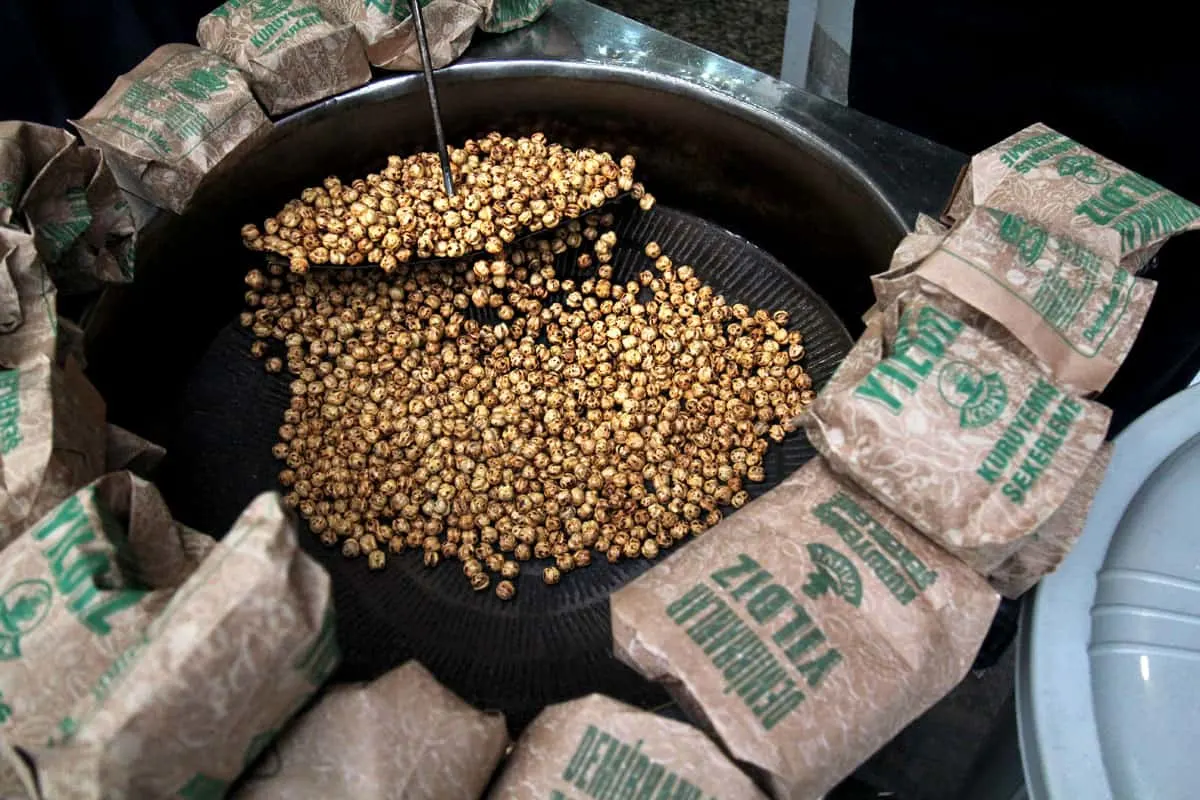 7. Meze Platters
No discussion on traditional Turkish food can be complete without talking about meze.
Meaning "appetizer", meze (or mezze) doesn't refer to any specific dish but to a family of small dishes traditionally served as starters or appetizers in Turkey, Greece, the Balkans, North Africa, and parts of the Middle East.
Depending on where it's from, meze can be prepared with different dishes but in Turkey, it typically consists of vegetarian and non-vegetarian dishes like purees, salads, meatballs, stuffed vegetables, pastries, dips, and cheeses.
Meze platters are often enjoyed as snacks or appetizers and can be found pretty much anywhere in Turkey. Most traditional Turkish restaurants serve it.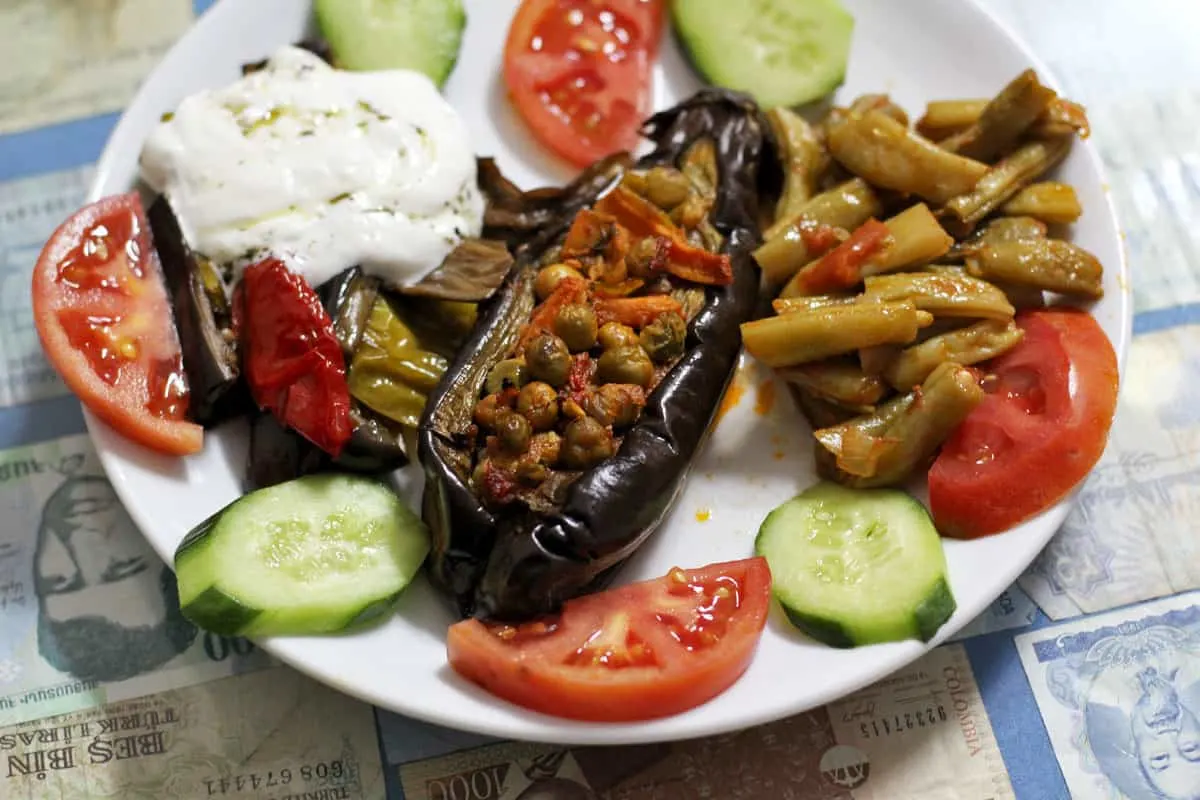 8. Pide
Pide refers to a type of boat-shaped Turkish flatbread that's baked in a brick or stone oven. Sometimes referred to as Turkish pizza, it can be topped with any number of ingredients like cheese, onion, pepper, tomato, sucuk (spicy Turkish sausage), and egg.
Pide is considered an important component of Turkish cuisine and can be found everywhere, from sit-down restaurants to street food carts. Personally, it's one of my favorite Turkish dishes.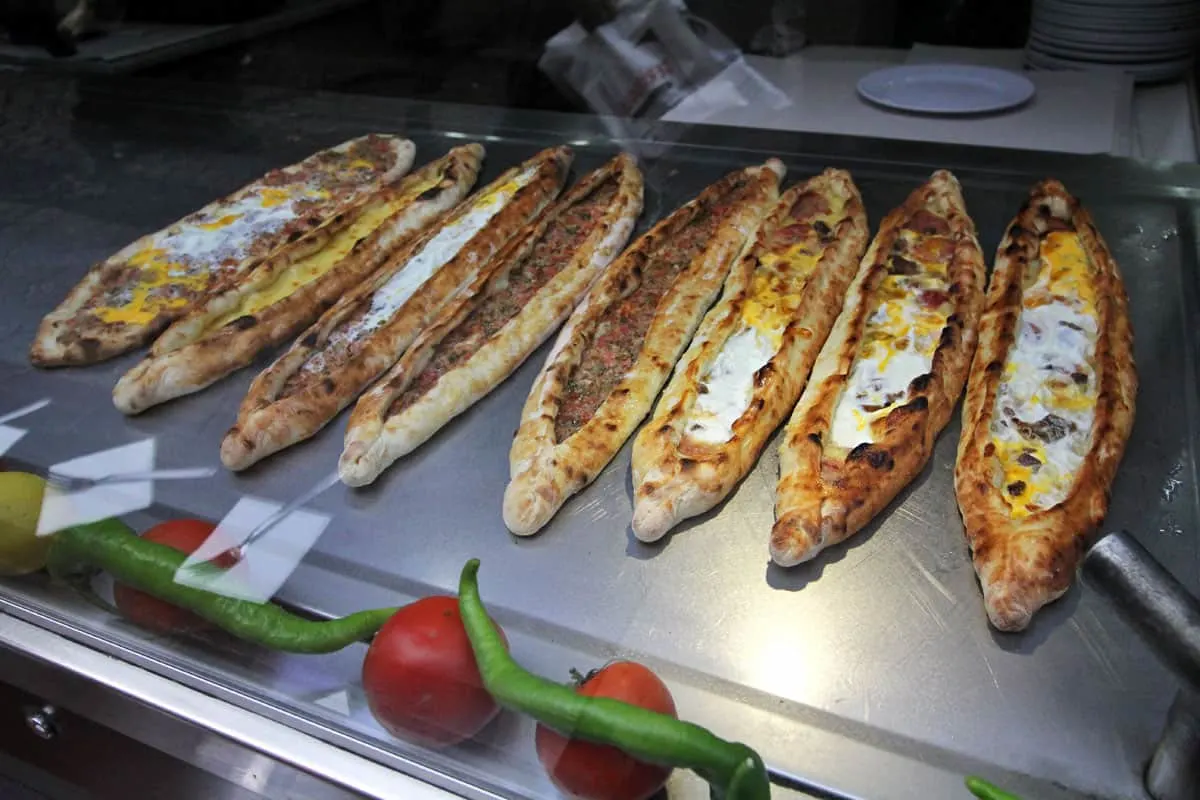 9. Lahmacun
Like pide, lahmacun is one of my favorite Turkish foods. Although it looks like a thin cheese-less pizza, it's actually a type of flatbread/wrap topped with a variety of different ingredients like minced meat (commonly lamb or beef), vegetables, pickles, herbs, onions, tomatoes, and spices.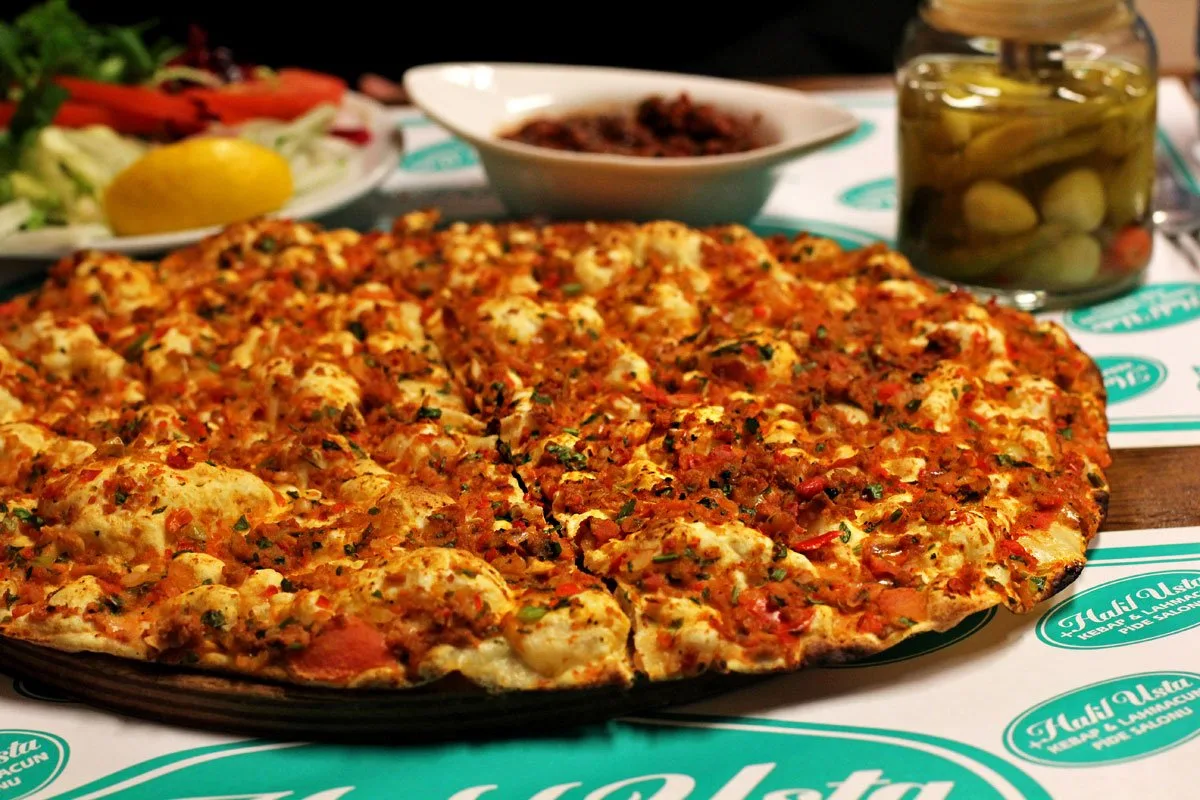 To eat, you roll up the lahmacun with vegetables like pickles, peppers, tomatoes, onions, lettuce, and roasted eggplant. It's baked so it's crisp around the edges and chewy towards the center, like a pizza. When done well, it's incredibly delicious.
Lahmacun is equally popular in Armenia where it's known as lamadjo.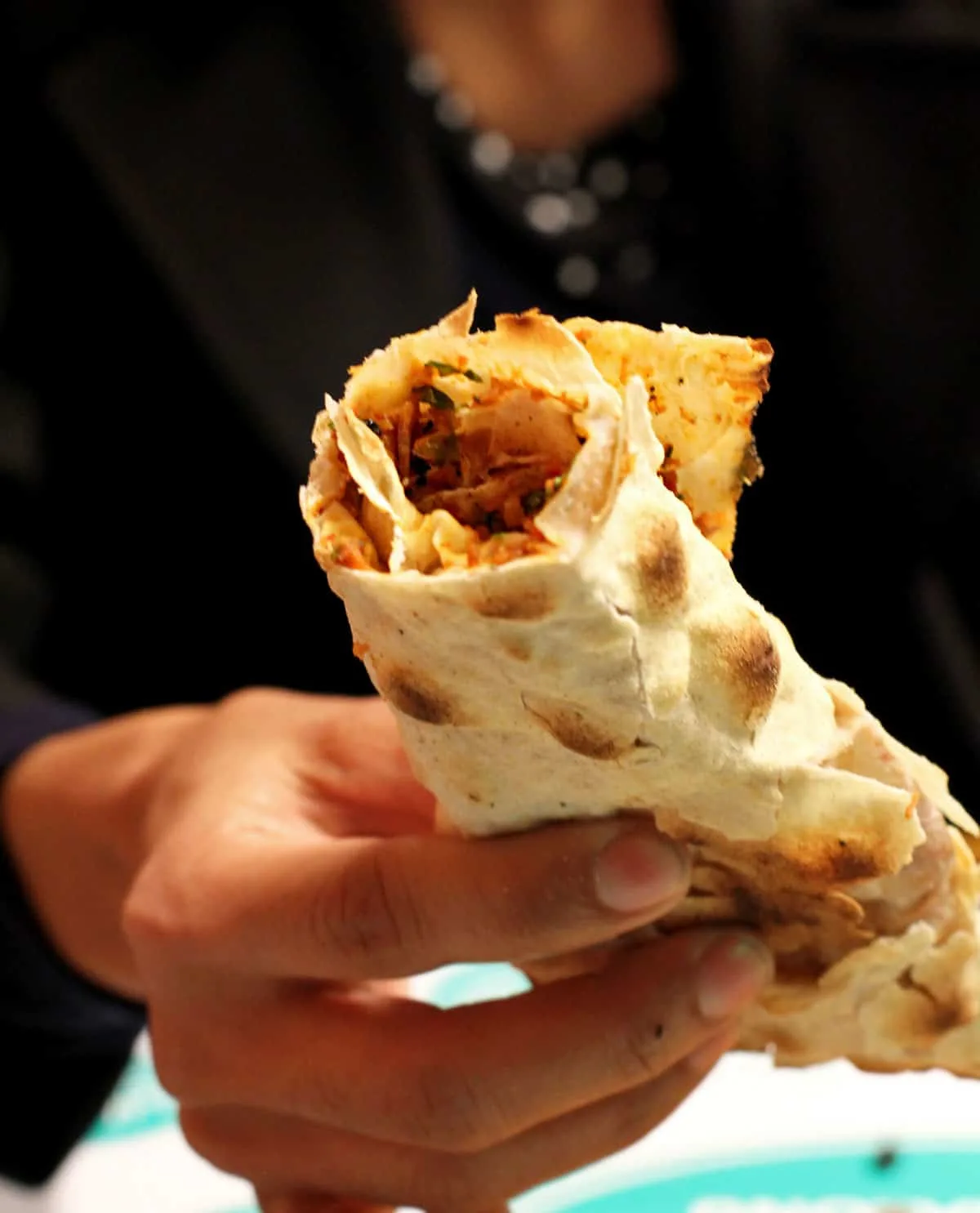 10. Börek
Börek refers to a family of stuffed pastries popular in Ottoman cuisine. Made with a thin flaky dough like phyllo or yufka, it exists in many forms and can be filled with a host of different ingredients like meat, cheese, potatoes, and vegetables. It's typically baked though some versions can also be fried.
Like lahmacun, börek was one of our favorite Turkish foods. It comes in many regional varieties like water börek, pen börek, rose börek, and palace börek. Pictured below is a patatesli or potato börek.
Börek is popular in many countries throughout the Balkans, the Caucasus, and North Africa like Croatia, Armenia, Bosnia and Herzegovina, Albania, and Tunisia.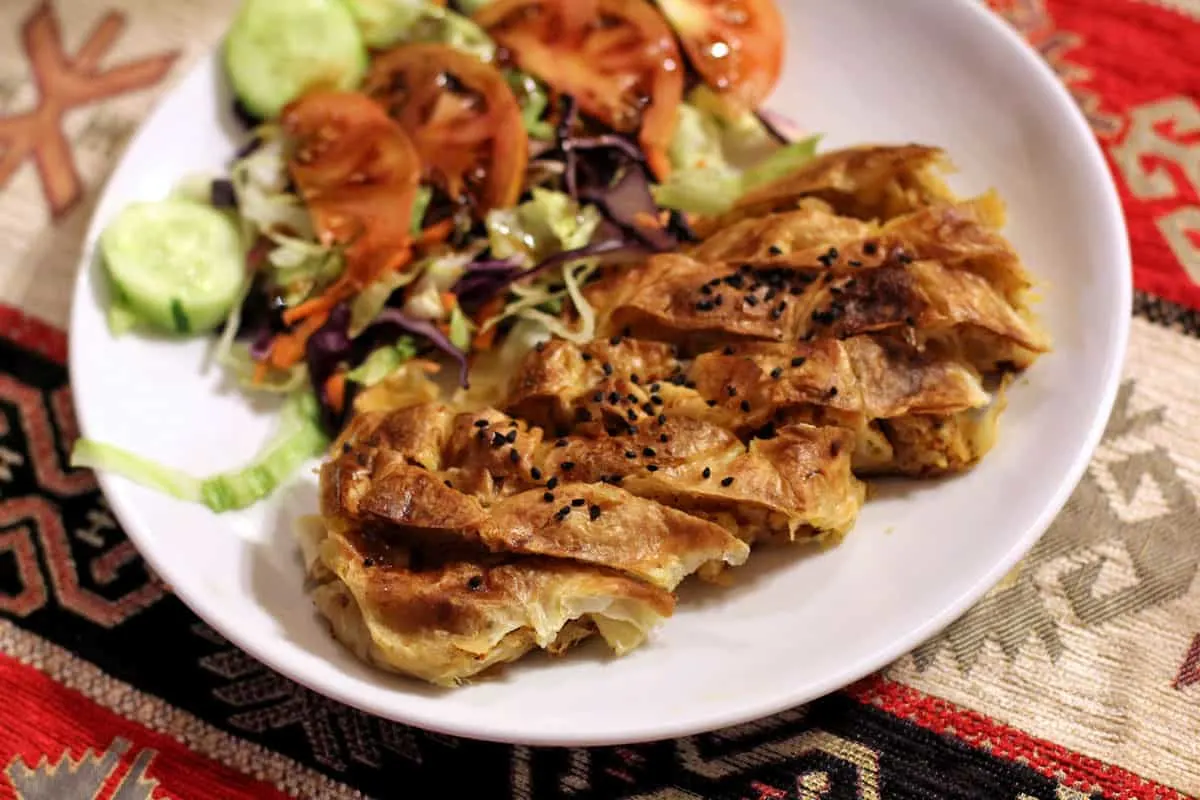 11. Gozleme
Gozleme is a savory Turkish pastry made with thin unleavened dough. It's similar to bazlama, except it's rolled thinly and lightly brushed with butter or oil. It's a popular breakfast dish or snack that can be filled with various ingredients like meat, vegetables, mushrooms, and cheese before being sealed and cooked over a griddle.
Like börek, there are many varieties of gozleme that differ from region to region. Pictured below is a type of gozleme filled with minced meat called kiymali.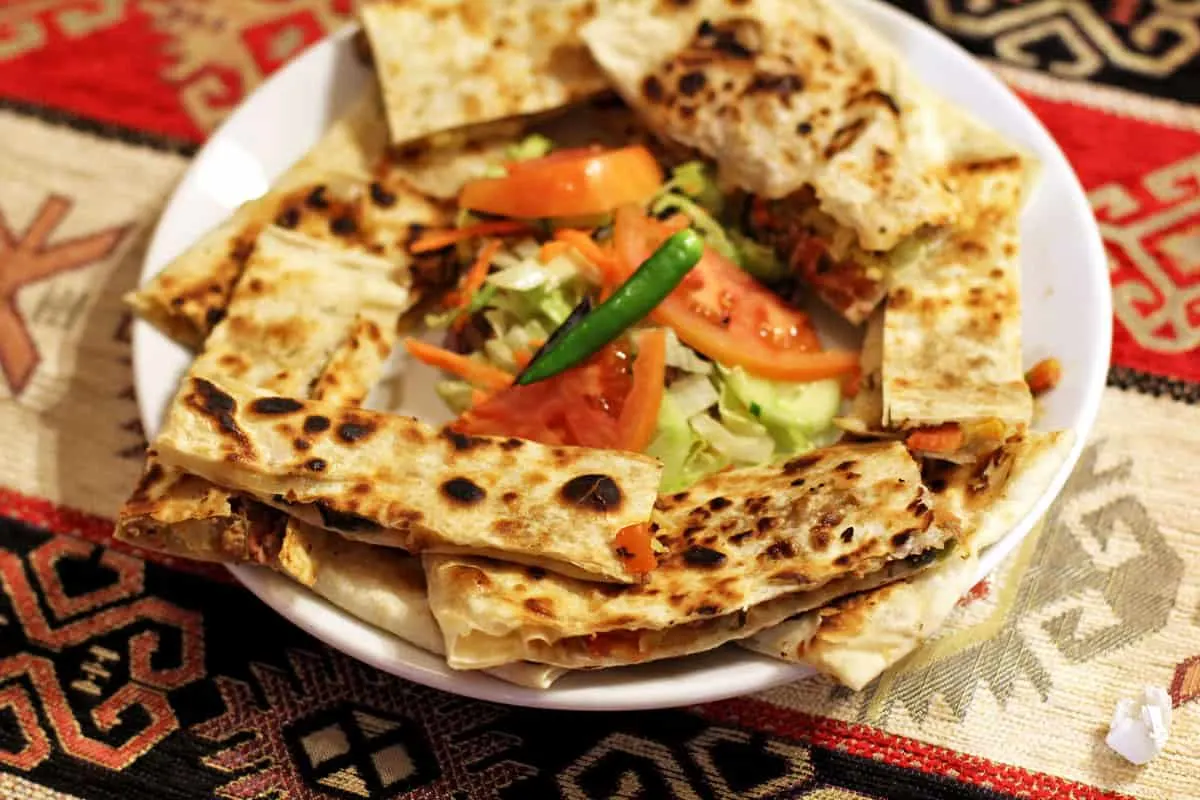 TURKISH SANDWICHES / WRAPS
12. Dürüm
Dürüm means "roll" and refers to Turkish wraps made with lavash or yufka bread commonly filled with doner meat. It's one of the most popular types of Turkish street food and can be found pretty much anywhere.
The dürüm was one of our favorite things to eat in Turkey. We enjoyed it on multiple occasions but the best dürüm we had was from the popular Dürümzade shop in Istanbul. It was featured on the Istanbul episode of No Reservations with Anthony Bourdain.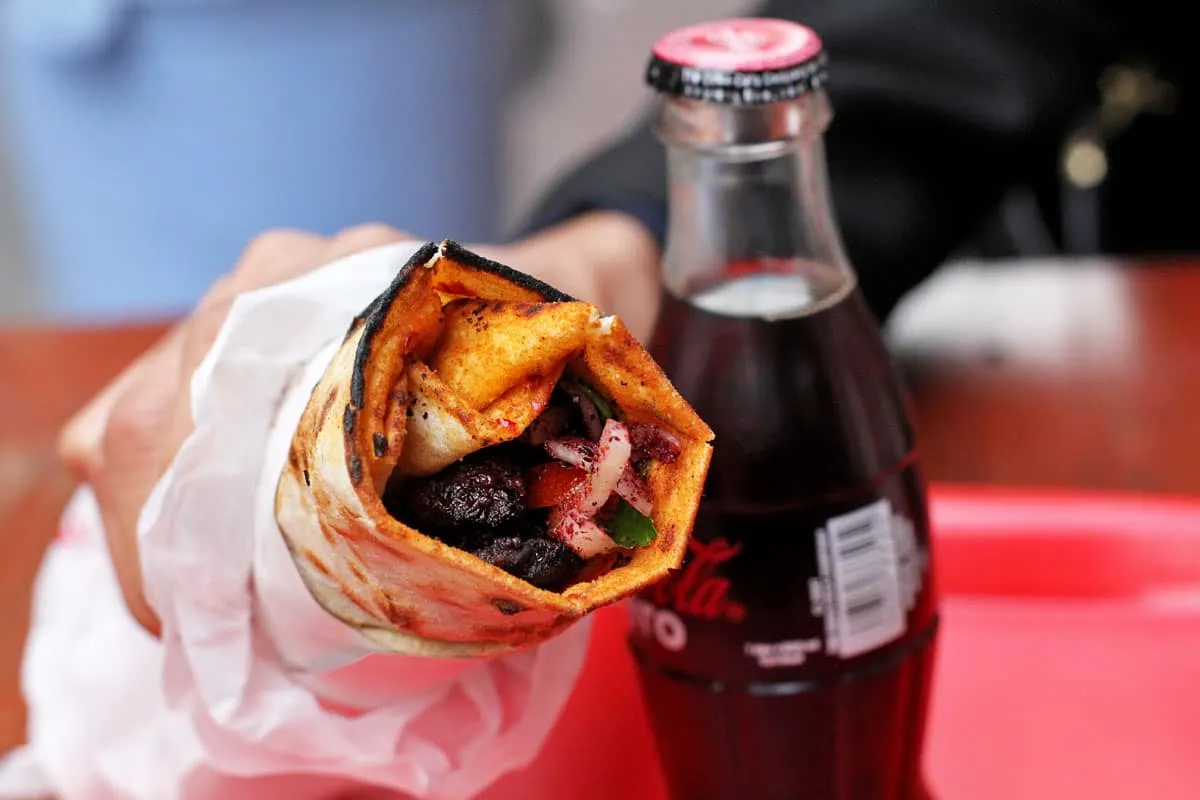 These doner kebab vertical rotisseries are ubiquitous in Turkey. Seasoned meat (typically lamb, beef, or chicken) is stacked in the shape of an inverted cone and turned slowly next to a vertical heating element. When cooked, the outermost layer is shaved off in thin pieces and served on a plate or wrapped in a dürüm.
The doner kebab is one of the most important and influential dishes in Turkish cuisine. It's said to be the inspiration for similar dishes like Greek gyros, Arab shawarmas, and Mexican tacos al pastor.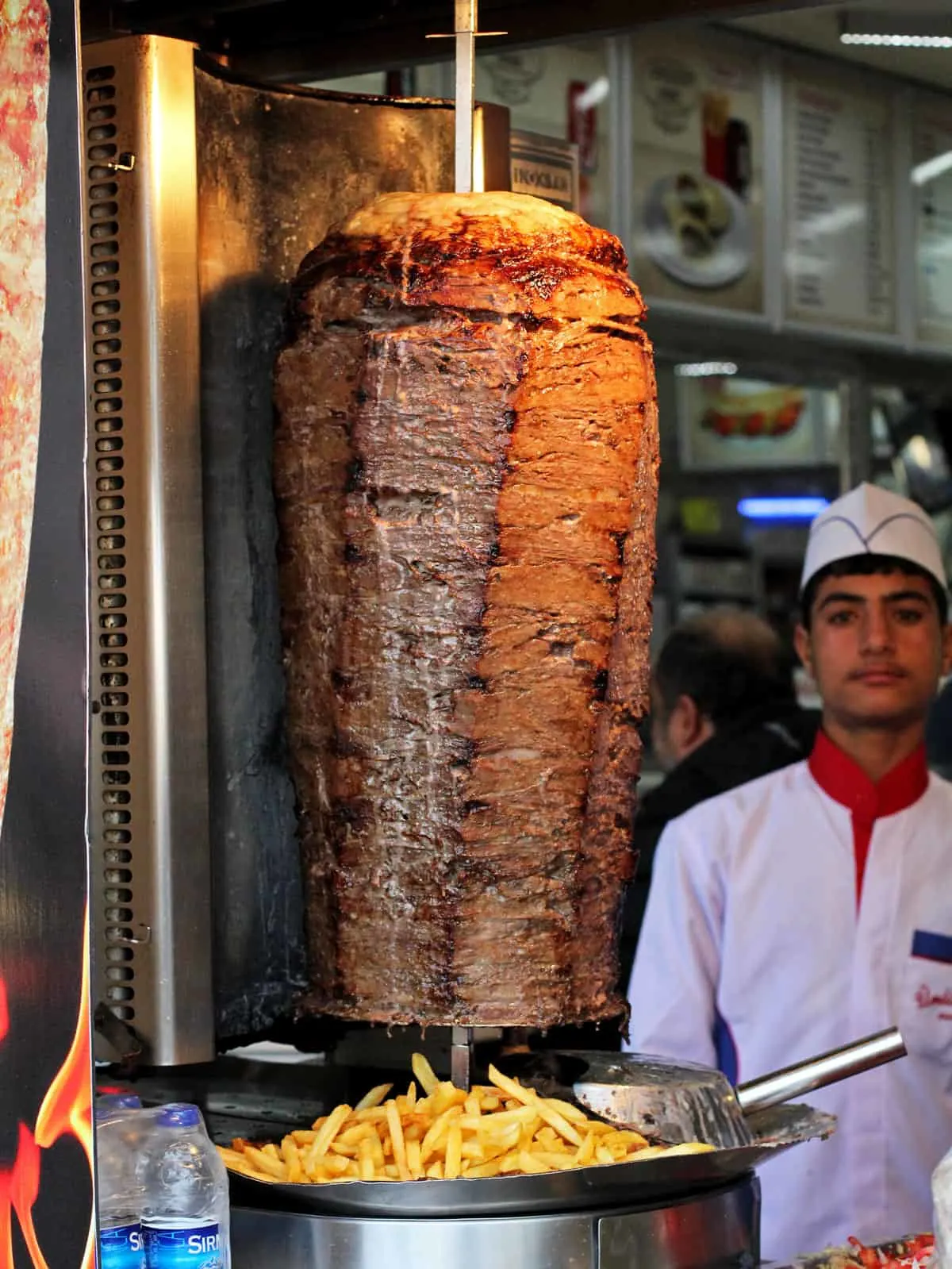 13. Islak Burger
The unattractive islak burger represents Turkish drunk food at its ugliest and most delicious. Meaning "wet burger", these soggy and greasy orange-tinged burgers are dunked in a garlicky tomato sauce before being left to steam in a hamam-style glass box, hence the name.
Islak burgers are moist, chewy, and garlicky. They don't look all that appetizing but they're oddly delicious, especially after you've had a few beers. It's impossible to eat just one.
Kizilkayalar in Taksim Square is one of the most popular places to have islak burgers in Istanbul. A favorite among late-night boozers, it was also featured on the Istanbul episode of No Reservations.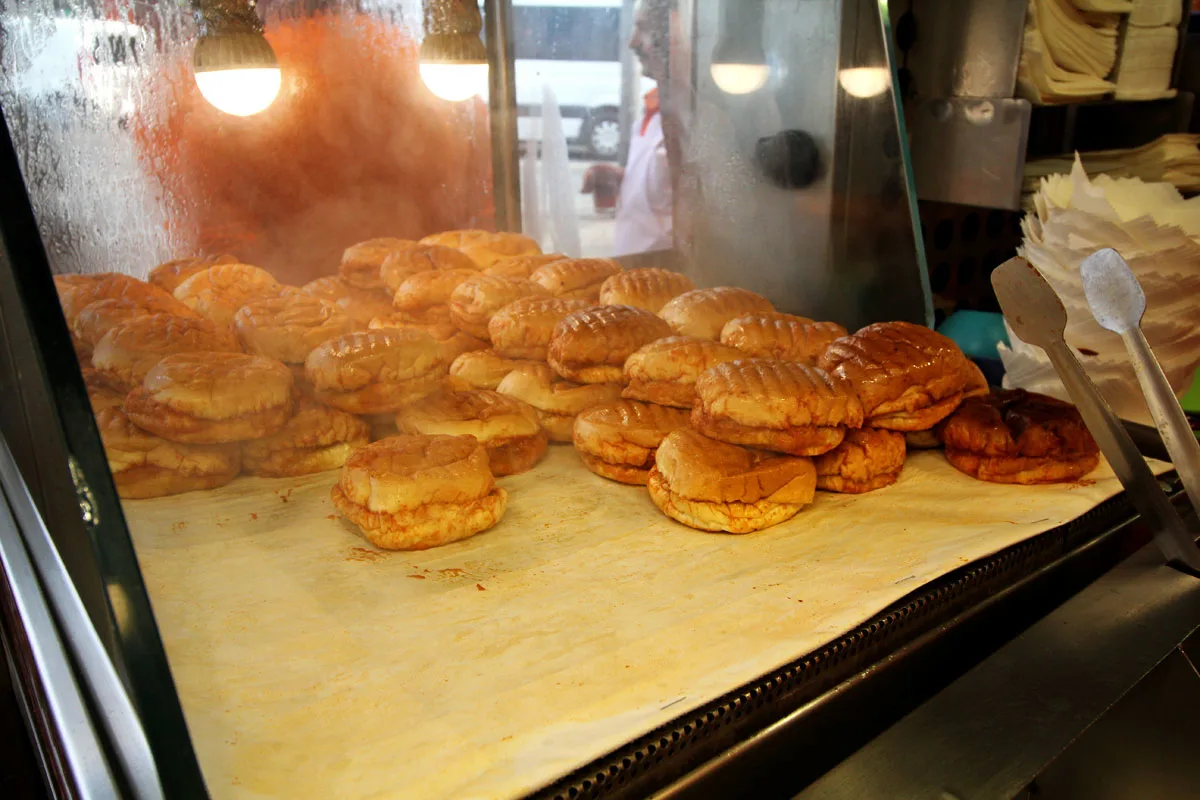 14. Balik Ekmek
Balik ekmek translates to "fish bread", which describes exactly what it is — a Turkish fish sandwich. It consists of a grilled mackerel fillet sandwiched in a bun with onions, lettuce, tomatoes, and a spritz of lemon.
Balik ekmek is a sandwich best enjoyed by the ocean. You'll find several balik ekmek stalls on either side of Galata Bridge in Istanbul.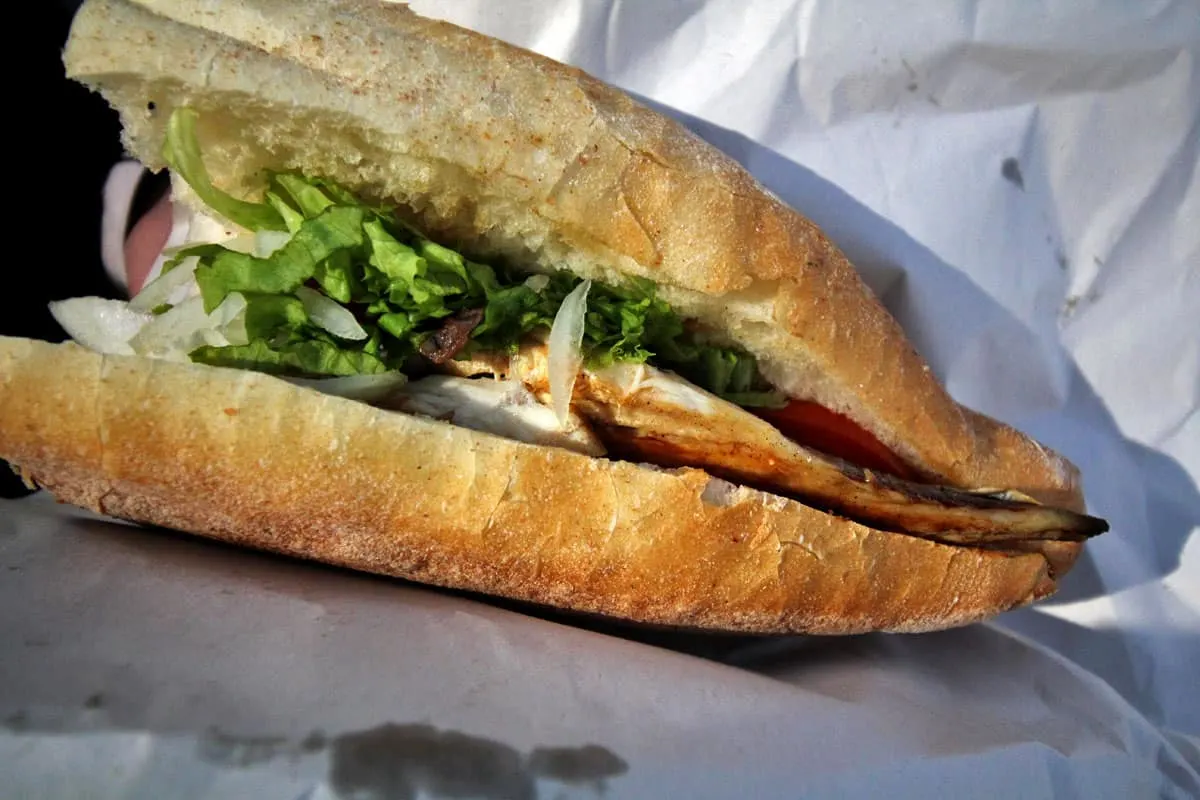 TURKISH MEAT / SEAFOOD DISHES
15. Kofte
Kofte refers to a family of meatball or meatloaf dishes popular in many countries throughout Central Asia, India, the Balkans, and the Middle East. In its simplest form, it's made with minced or ground meat (typically beef, lamb, or chicken) mixed with onions, herbs, and spices.
Kofte is an important dish in Turkish cuisine. You can find almost 300 varieties of kofte in Turkey, some of the most well-known being kuru kofte (dry), sulu kofte (soup), cig kofte (raw), and sis kofte (skewered).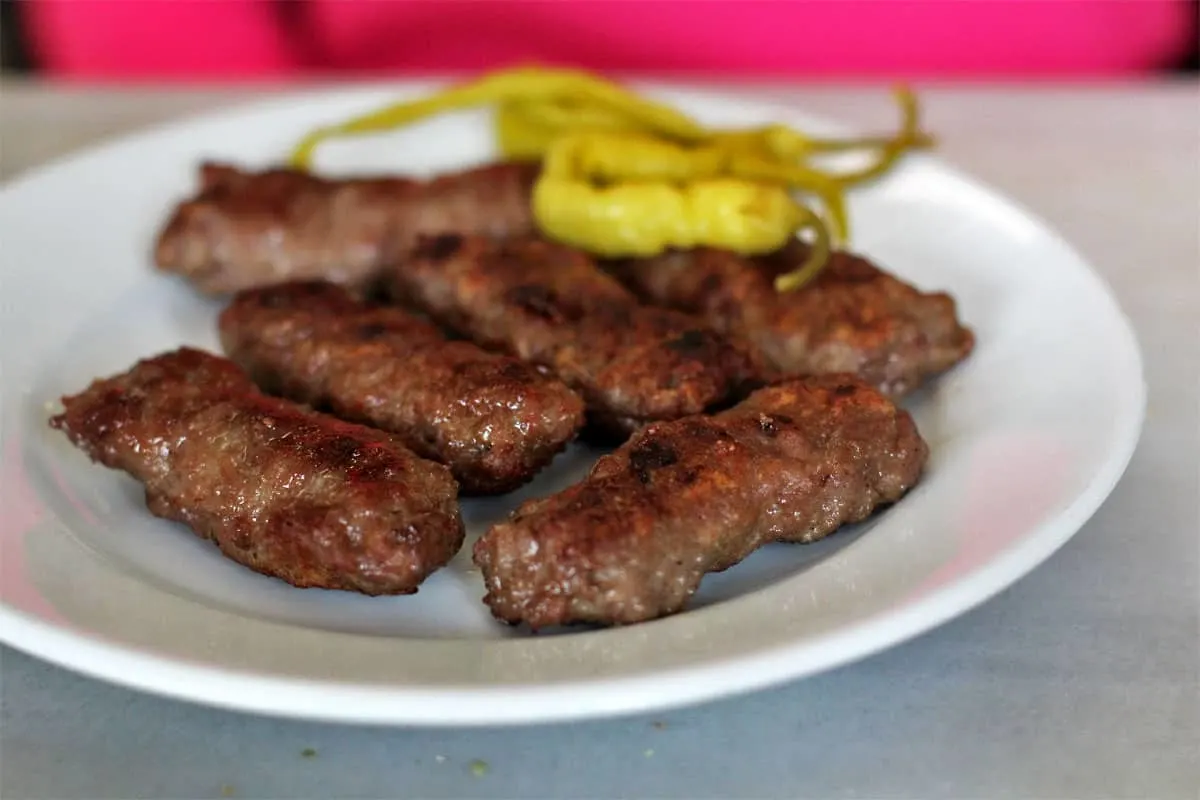 16. Lamb
Lamb is the most popular type of meat used in Turkish food. When someone says "meat" in Turkey, more often than not they're referring to lamb. Turkish people eat a lot of lamb so you'll find it in many meat dishes like kebabs, kofte, lahmacun, pide, ragout, and casserole.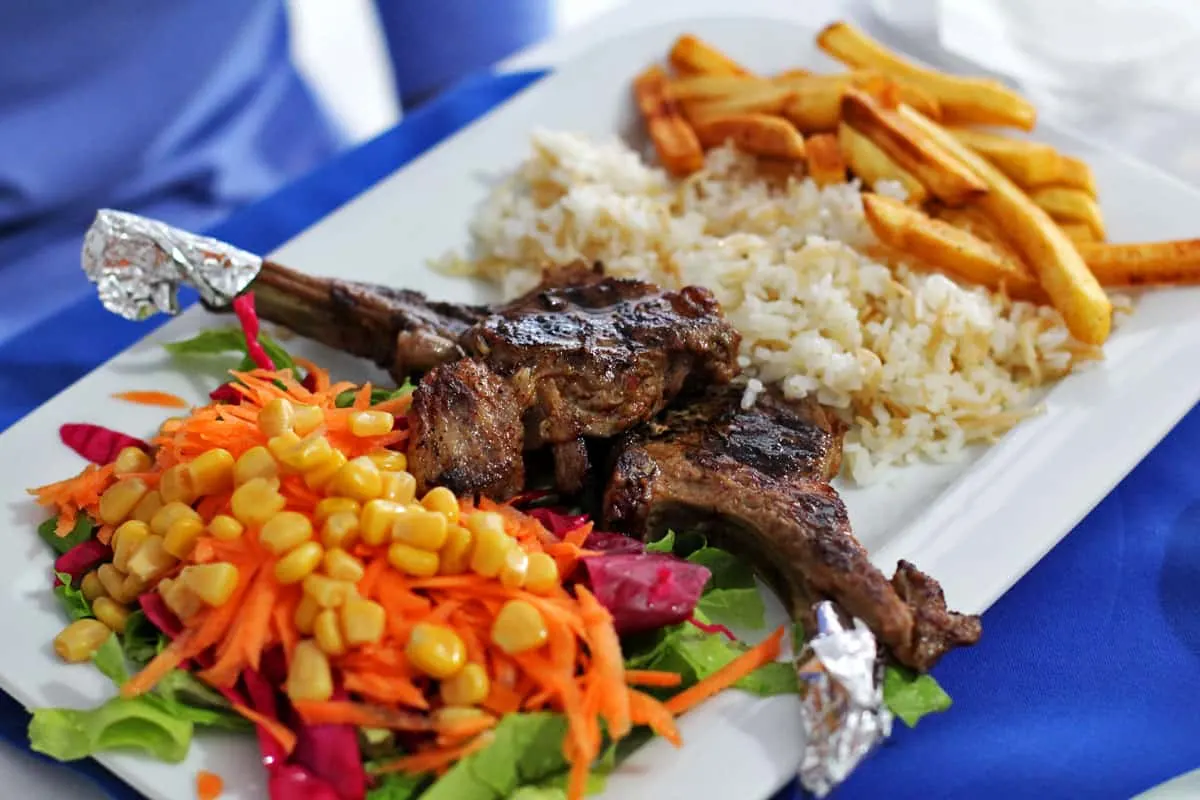 Earlier in this Turkish food guide, we showed you a picture of doner kebab. Here's an interesting horizontal variation called cağ kebabı or yatik döner. It's a specialty of Erzurum Province and made exclusively with lamb.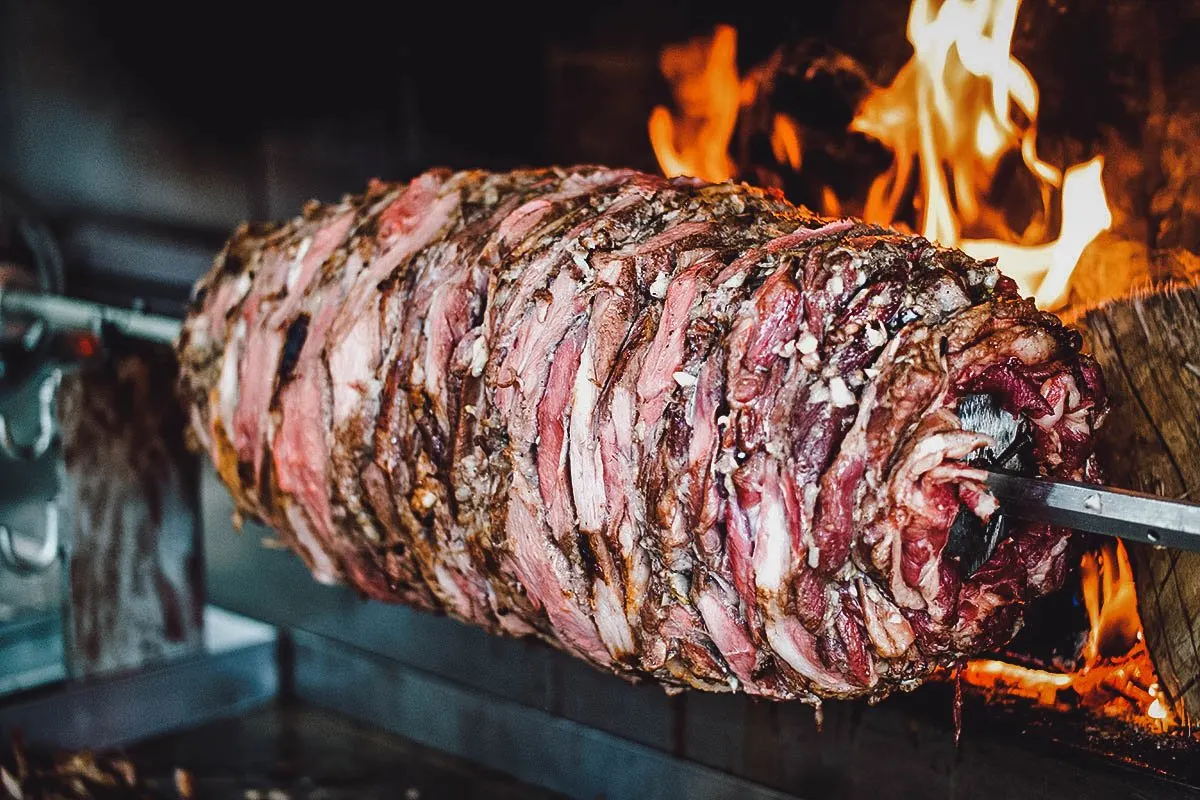 Photo by Alp_Aksoy
17. Testi Kebap
Testi kebap was the most interesting Turkish dish we had in Cappadocia. Testi or pottery kebab is an Anatolian speciality prepared in a clay pot or jug. It's usually made with lamb, beef, or chicken mixed with vegetables, potatoes, and garlic.
The ingredients are placed in the pot and sealed with bread dough before being left to cook in its own juices for several hours in a tandoor or clay oven. When ready, the jug is brought out and cracked open at your table.
If you were to have just one Turkish dish in Cappadocia, then it should definitely be testi kebap. You can refer to my article on pottery kebab for more pictures and information.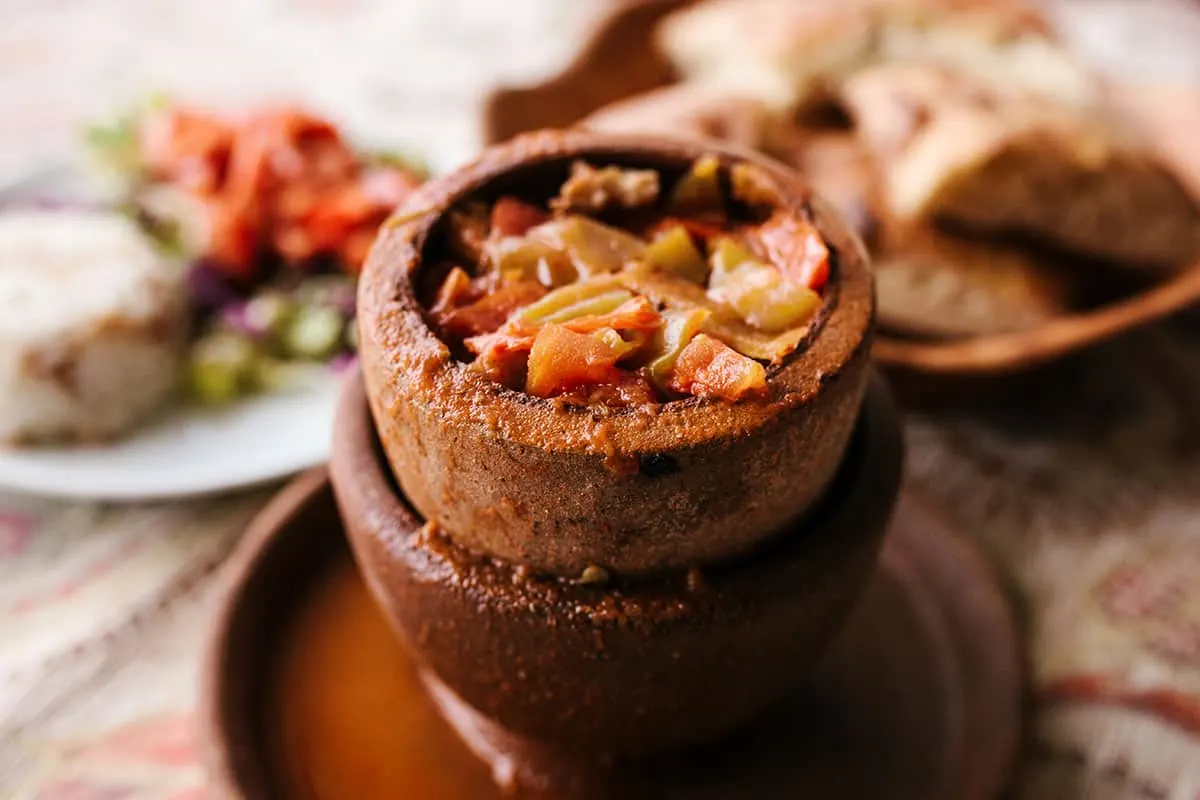 Photo by franz12 via Shutterstock
18. Hunkar Begendi
Hunkar begendi refers to a type of Turkish lamb stew made with meltingly tender pieces of lamb leg served over an eggplant bechamel sauce. Commonly known as "Sultan's Delight", it's a delicious meat dish with an interesting backstory.
Hunkar begendi literally means "Sultan liked it" or "Sultan is pleased". It's said to have been created in the kitchens of Dolmabahce Palace for the French Empress Eugenie, who came to Istanbul to visit Sultan Abdülaziz. The common misconception is that the Sultan enjoyed the dish, hence the name, but according to this Turkish cooking website, it was actually Empress Eugenie who liked it.
In any case, there's more to the story which you can read about via the link above. It's a classic tale of scandal, sex, royalty, and really good food.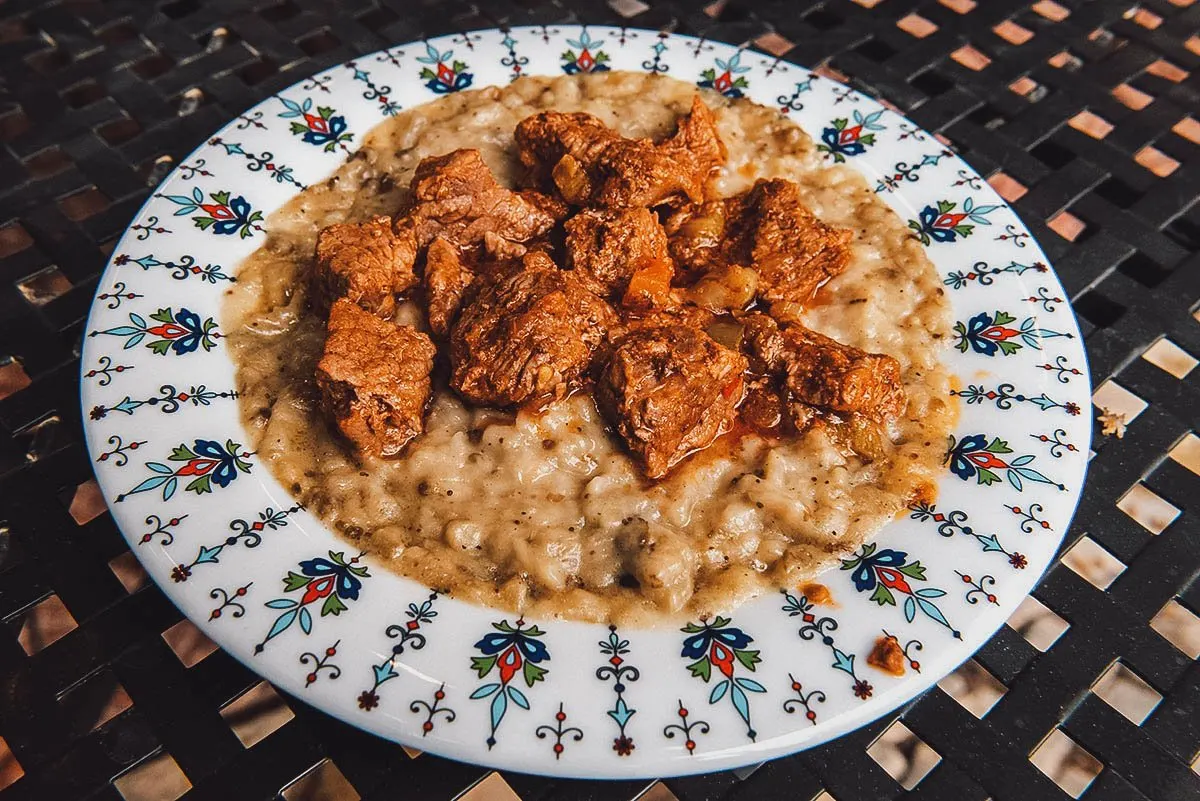 Photo by alizadastudios
19. Fresh Fish
Turkey is surrounded by four seas so its coastal areas are known for their abundance of seafood. Lamb figures prominently in Turkish cuisine but so does fresh fish.
People visiting Istanbul will have plenty of seafood restaurants to choose from. It's surrounded (and divided) by water so you'll often find many types of fish being offered at different times of the year.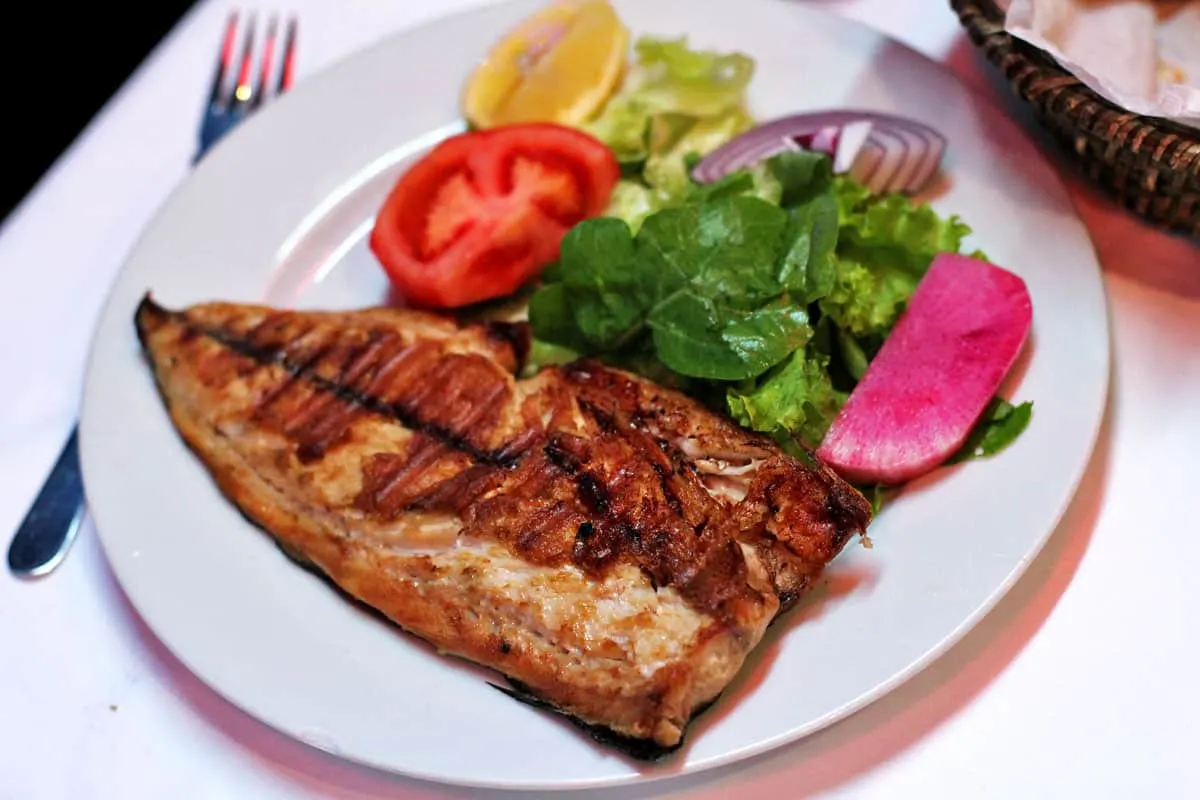 If you go on a Bosphorus cruise, then you can enjoy seafood dishes at one of the many seaside restaurants in Anadolu Kavagi. It's the last stop on the cruise and where most tourists get off to have lunch or dinner.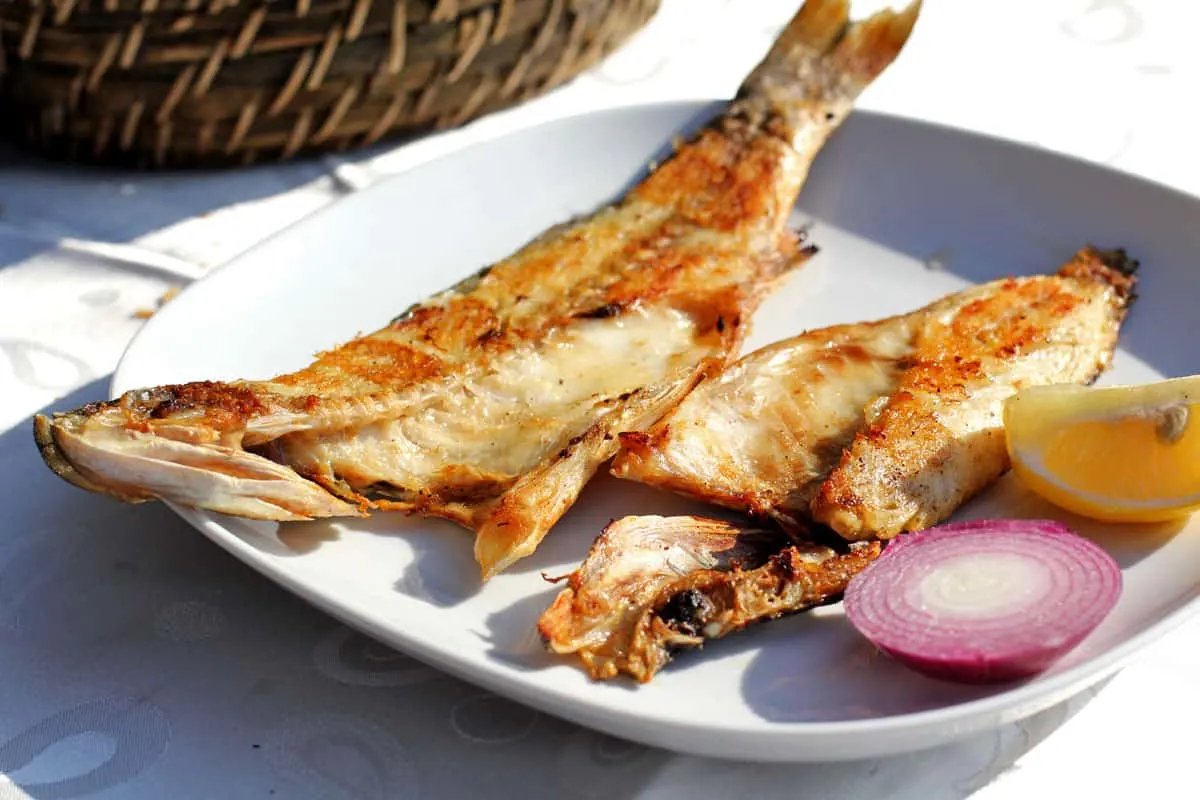 20. Hamsili Pilav
Don't you just love meticulously prepared food? Popular in the Black Sea region of Turkey, hamsili pilav refers to an oven-baked pilaf dish made with long-grain rice, pine nuts, raisins, lemon juice, herbs, and spices encased in anchovies.
It's made by layering a baking dish with anchovies, topping it with the rice mixture, and then folding the anchovies over the rice so it's completely encased. The dish is then baked in an oven and served with lemon wedges and sprigs of fresh dill.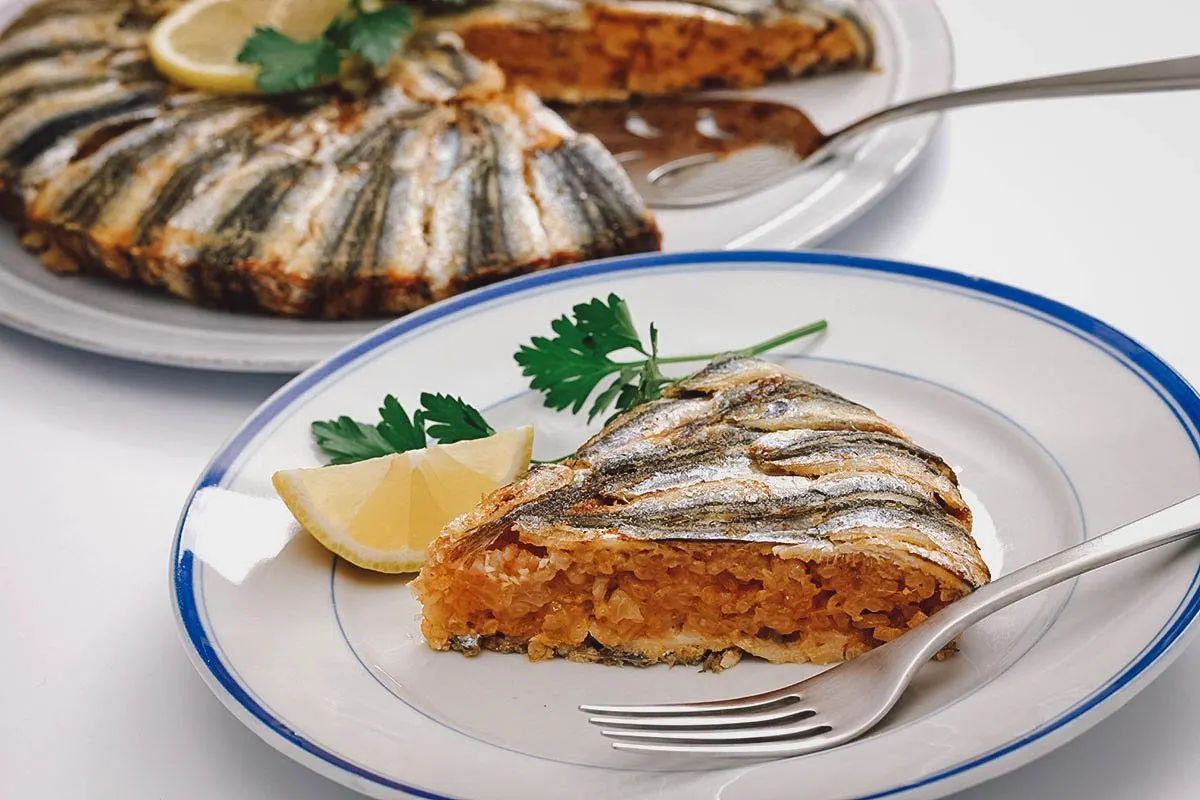 Photo by asimojet
21. Midye Dolmas
If you're a fan of Balkan food, then you're probably familiar with dolma. It refers to a family of stuffed dishes typically made with hollowed-out vegetables filled with rice, meat, and other ingredients. In Turkey, there's a popular version made with mussels called midye dolmas.
Midye dolmas is a popular Turkish snack made with mussels stuffed with herbed rice, pine nuts, currants, and spices. They're spritzed with lemon and commonly sold as street food in coastal cities like Istanbul and Izmir.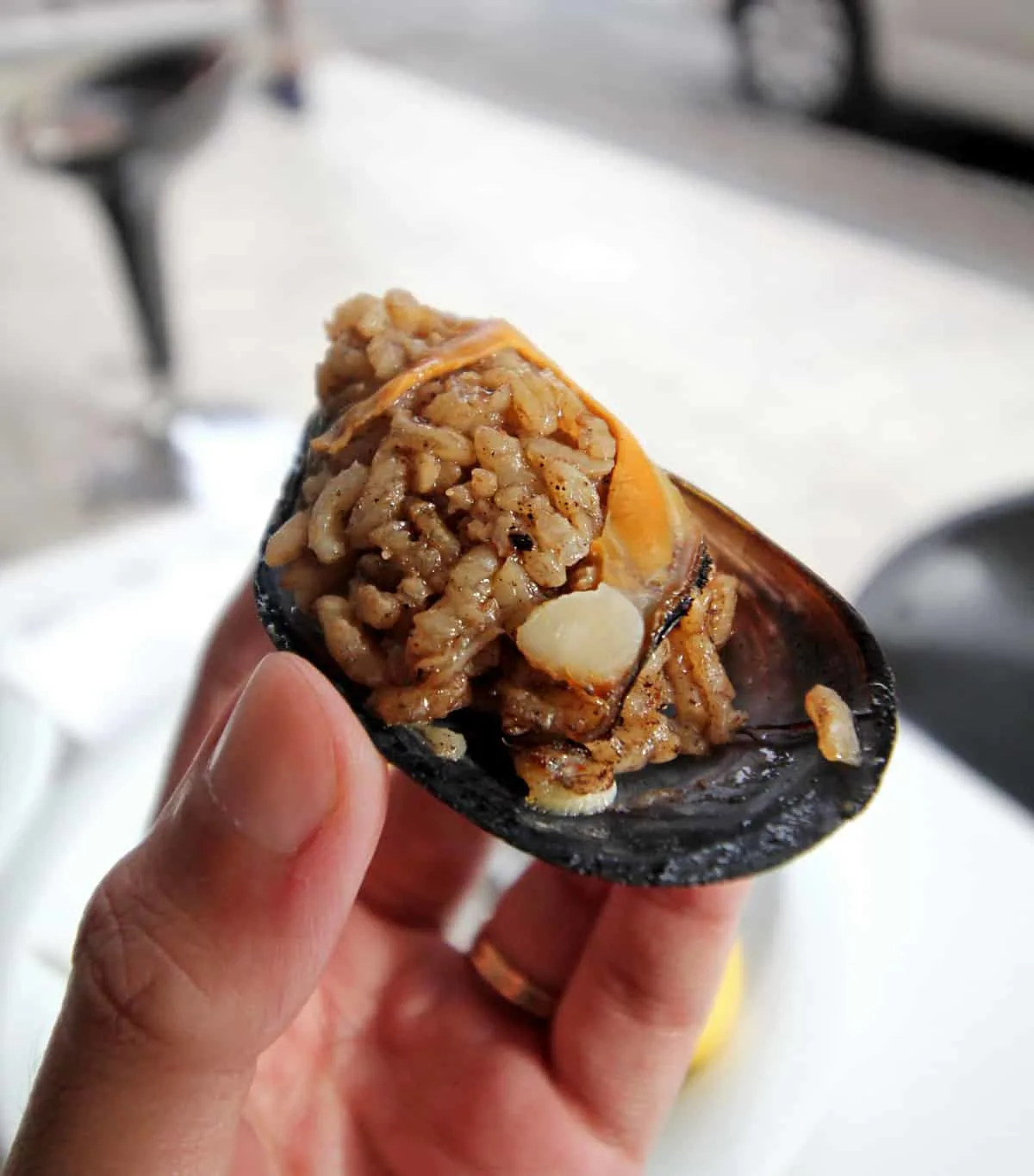 TURKISH VEGETARIAN / VEGETABLE DISHES
22. Imam Bayildi
Imam Bayildi refers to a whole eggplant that's been stuffed with onion, garlic, and tomato and then simmered in olive oil. It's served at room temperature and often made with a good-sized eggplant so it's substantial enough to be eaten as an entree.
Interestingly, imam bayildi literally means "imam (Islamic leader) fainted". There are several theories as to how it got its name, one of the most humorous being that the imam fainted after learning of the cost of the ingredients and the amount of olive oil used to make this traditional Turkish dish.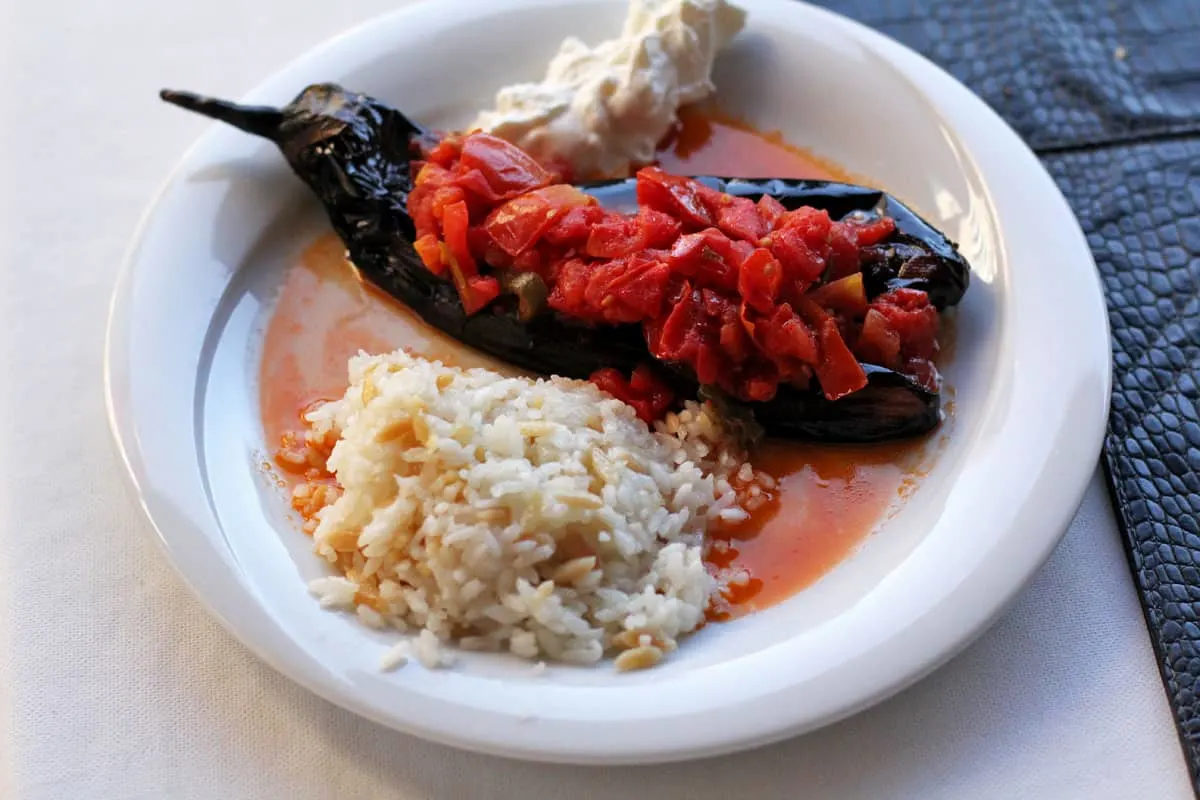 When made with minced meat like ground lamb or ground beef, imam bayildi becomes known as karniyarik.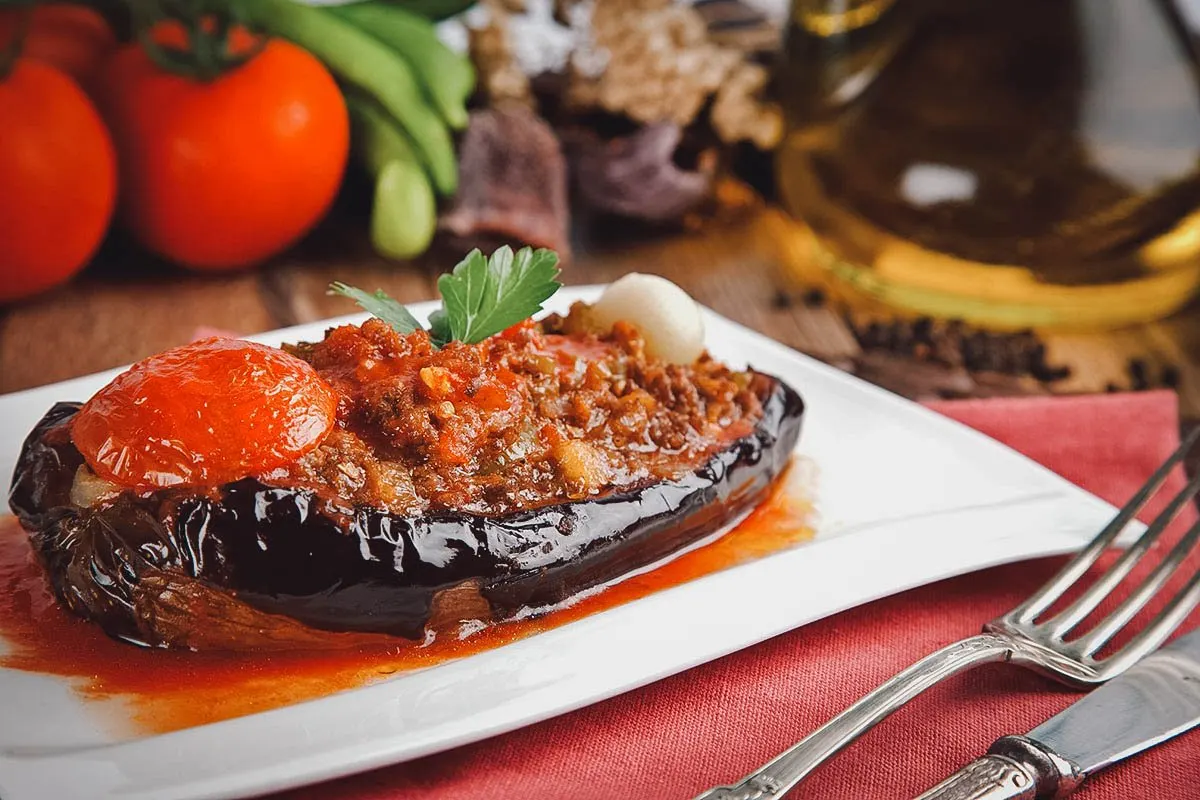 Photo by gorkemdemir
23. Kisir
Kisir refers to a Turkish bulgur salad made with finely ground bulgur, parsley, tomato sauce, and other ingredients like onions, garlic, olive oil, lemon, juice, and spices. You can think of it as the Turkish version of Lebanese tabbouleh or Armenian eech.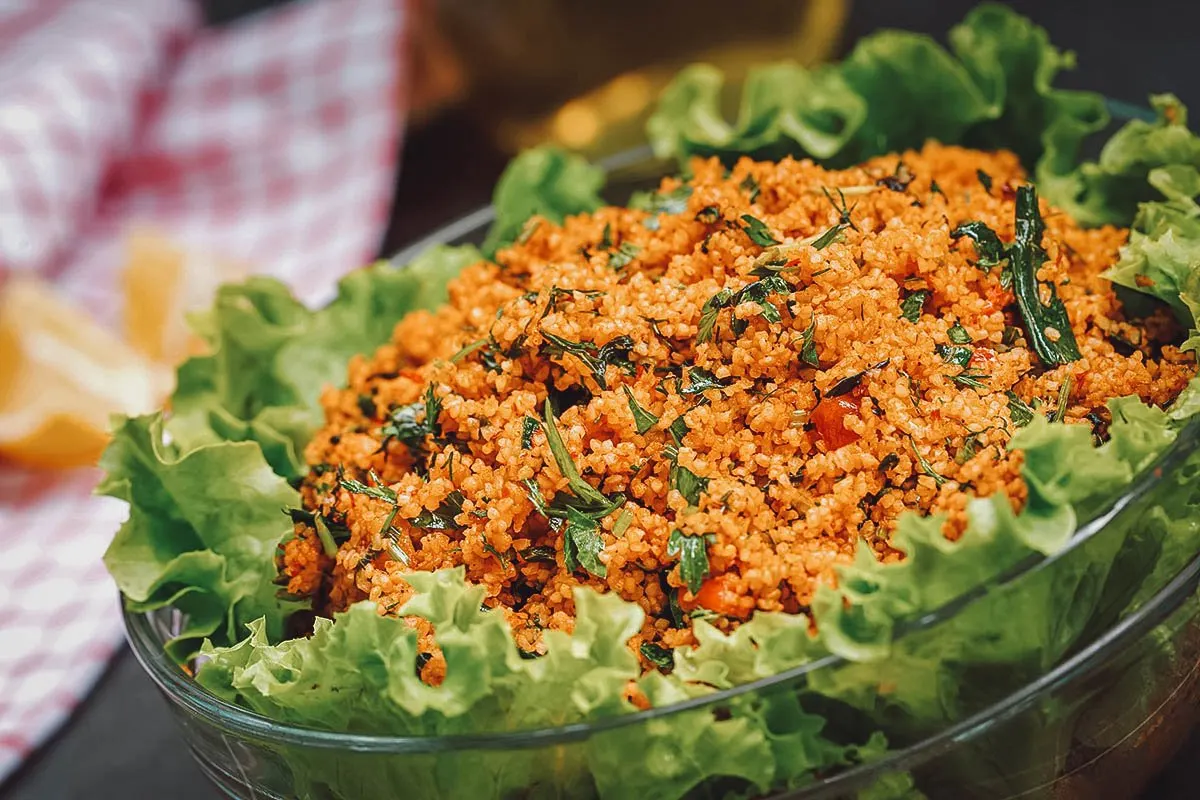 Photo by EsinDeniz
24. Ezogelin Çorbası
Ezogelin çorbası is one of the most popular Turkish foods. It refers to a hearty soup made with bulgur and red lentils as its main ingredients.
The recipe for ezogelin soup is attributed to a woman named Ezo Gelin who lived in the village of Uruş in Gaziantep. It's often prepared at home and served at many Turkish restaurants throughout the country.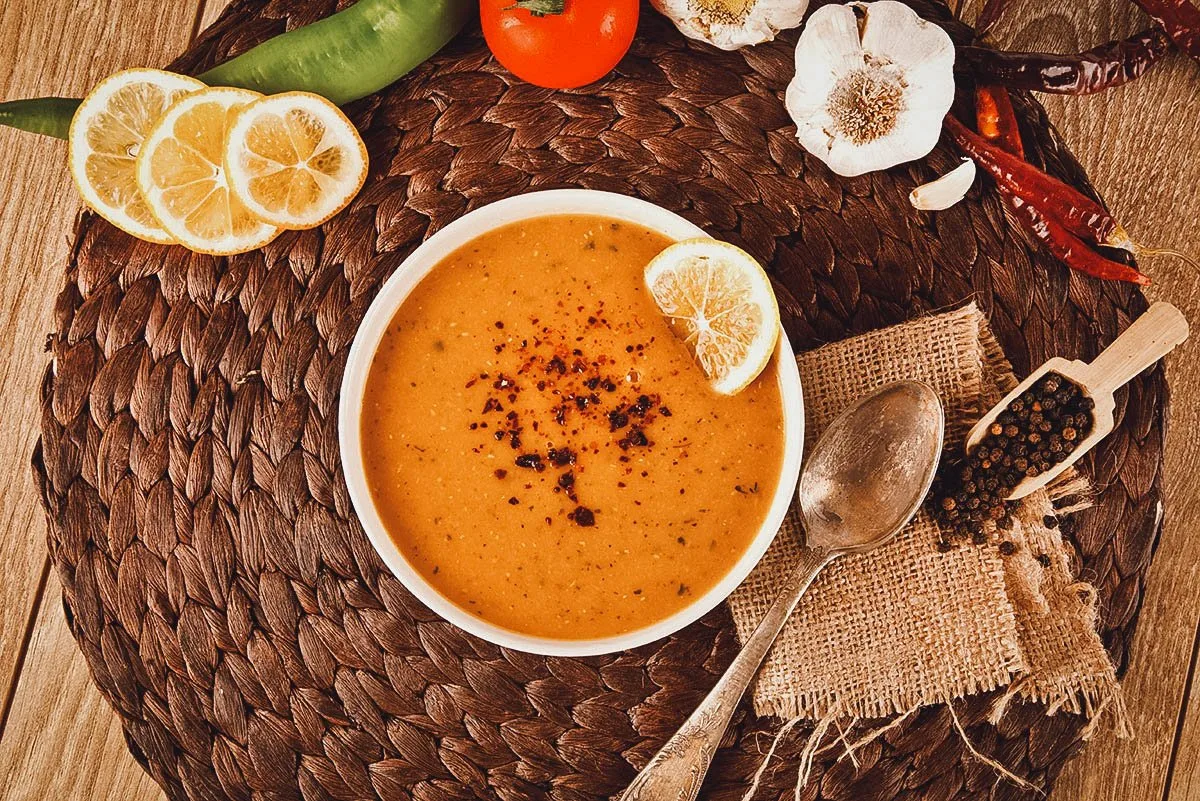 Photo by gorkemdemir
25. Cig Kofte
Çiğ köfte was one of the most interesting dishes we had in Turkey. It's a Turkish raw meat dish made with either beef or lamb commonly served cold as a meze or in a dürüm.
In its traditional form, çiğ köfte is made with finely ground fatless raw beef kneaded into a thick mixture with bulgur and a host of other ingredients like onions, tomatoes, fresh mint, parsley, and spices.
Unfortunately, the sale of authentic çiğ köfte — the kind made with actual raw meat — has been banned since 2009 as a health precaution. Most commercially available çiğ köfte is now made without meat, mostly with bulgur as a substitute.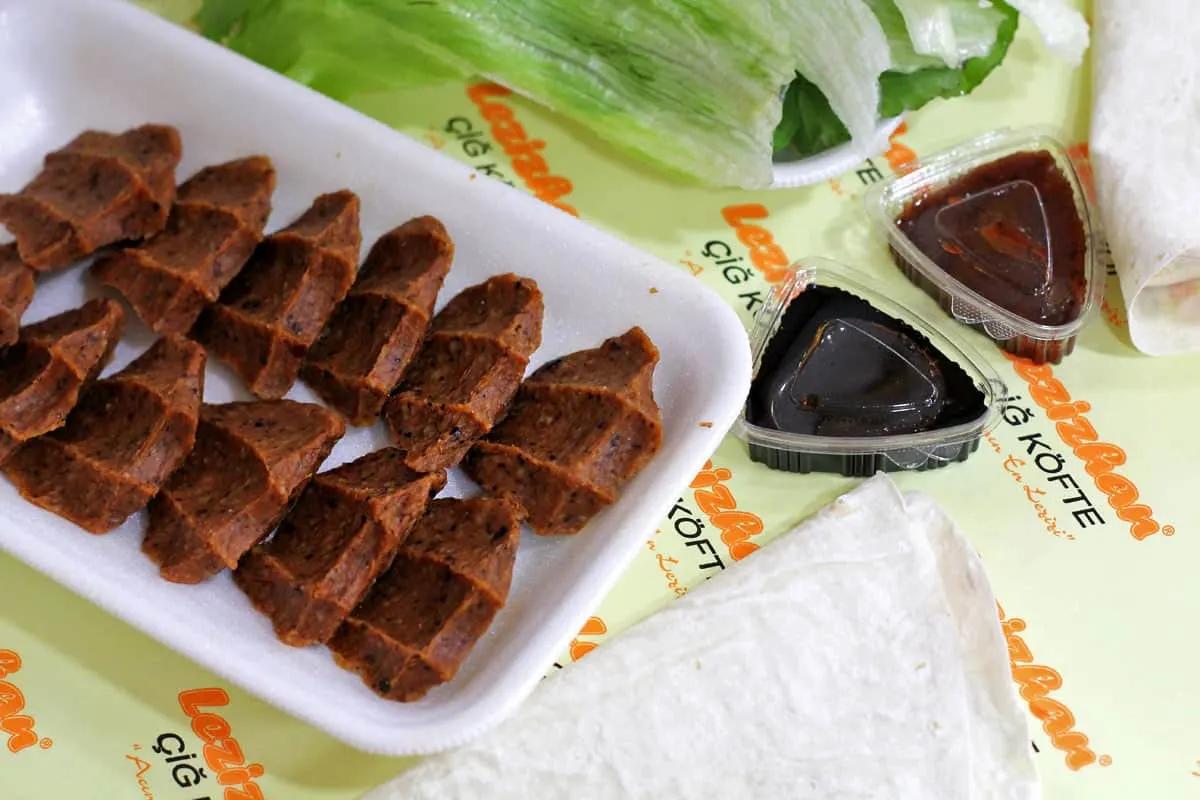 When made with lentils, the dish becomes known as mercimek kofte.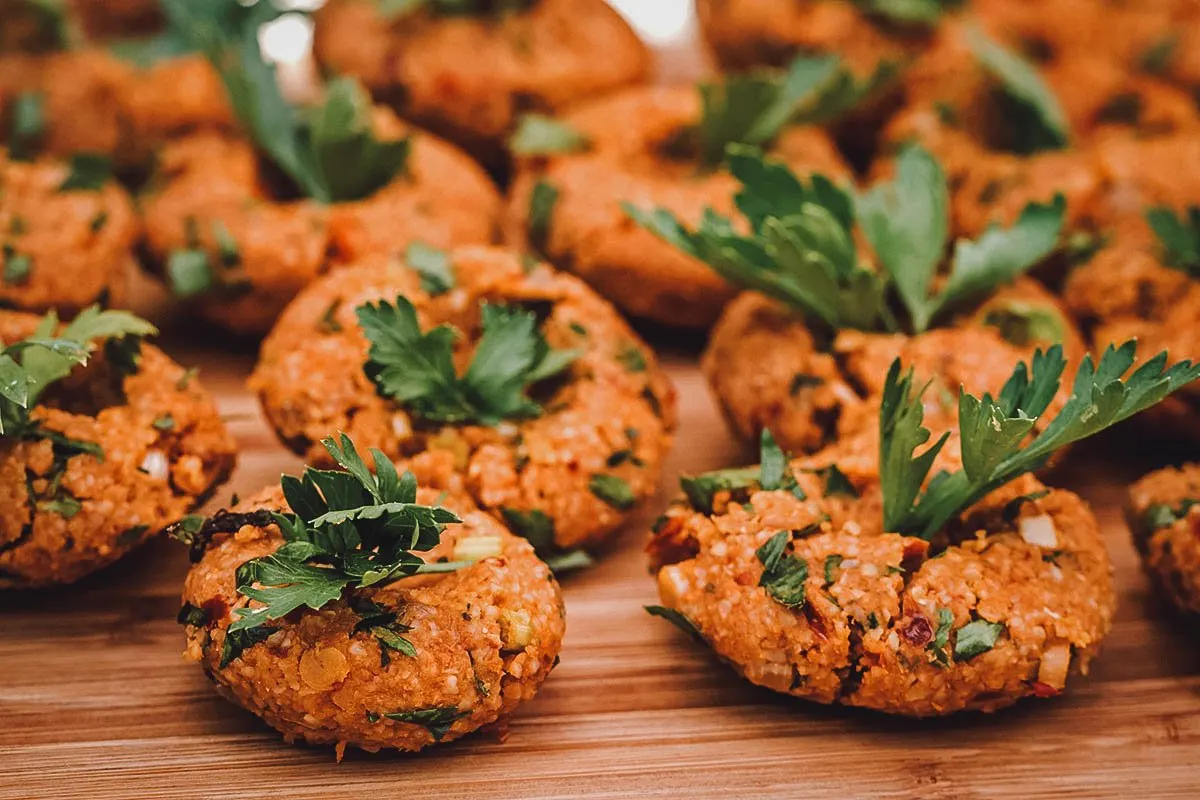 Photo by hskoken
TURKISH DESSERTS
26. Kunefe
This was one of the best desserts we've ever had. Kunefe refers to a crisp cheese-filled dessert made with shredded kadayif dough soaked in sweet syrup and topped with clotted cream. It's a traditional Middle Eastern dessert that's popular in Turkey, Greece, the Balkans, and the South Caucasus region.
When served piping hot from the oven, the cheese comes away in these stretchy gooey strings. It's absolutely delicious and easily one of my favorite Turkish dishes.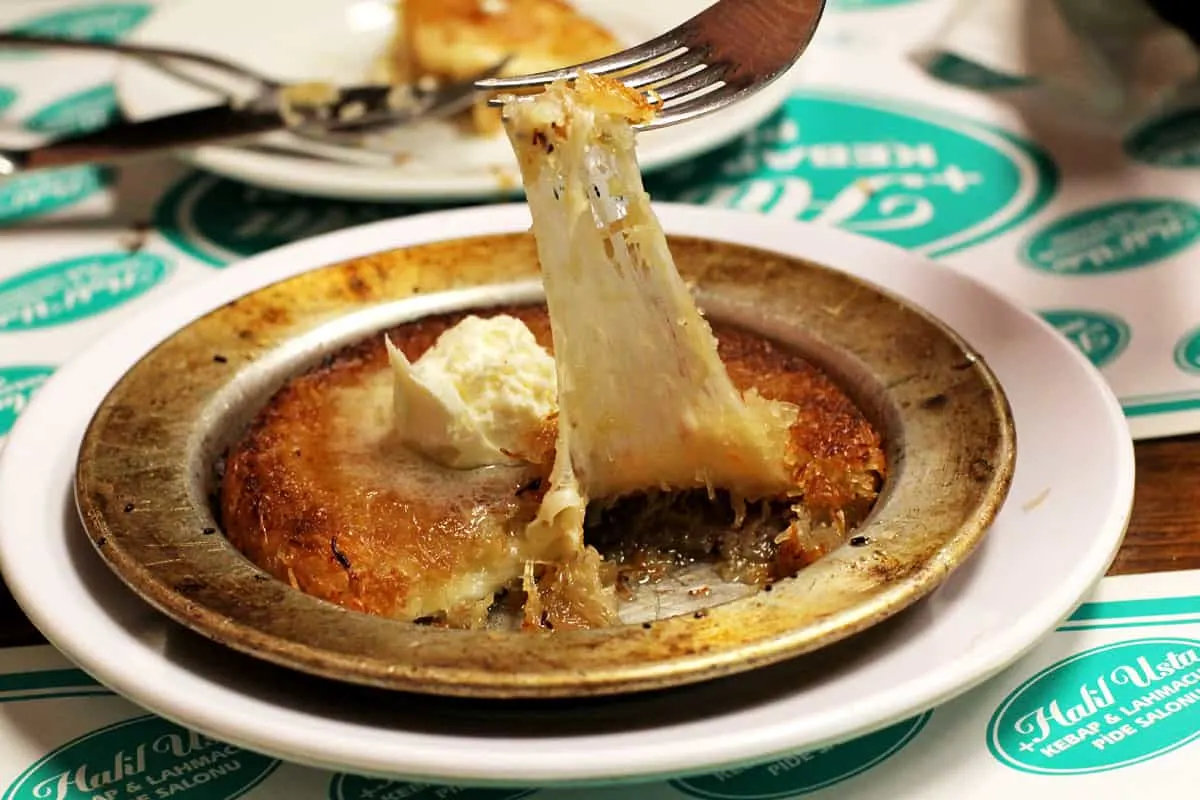 27. Baklava
I've always wondered where baklava comes from and it's interesting to learn that it may have its origins in Turkish Ottoman cuisine. According to this article, its current form may have been perfected in the imperial kitchens of Topkapi Palace.
Baklava is a rich and sweet pastry made with layers of phyllo dough filled with chopped nuts and held together with syrup or honey. It's popular in Turkey and in many other countries in Central Asia, the Middle East, the Balkans, the South Caucasus, and Egypt.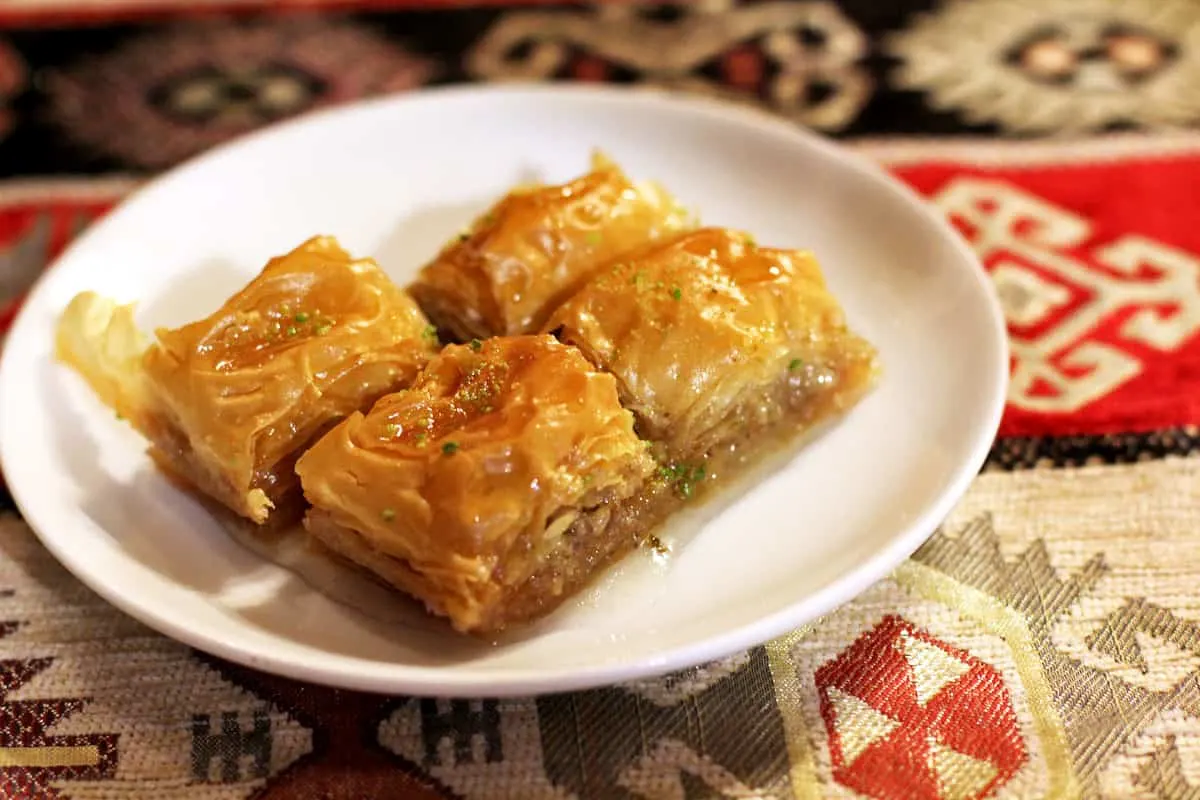 28. Şambali
Şambali refers to a rich and sticky type of semolina cake made with milk or yogurt, molasses, sugar, almonds, and lemon juice. We tried it off a street food cart in Selcuk but I think it's available at many Turkish pastry shops.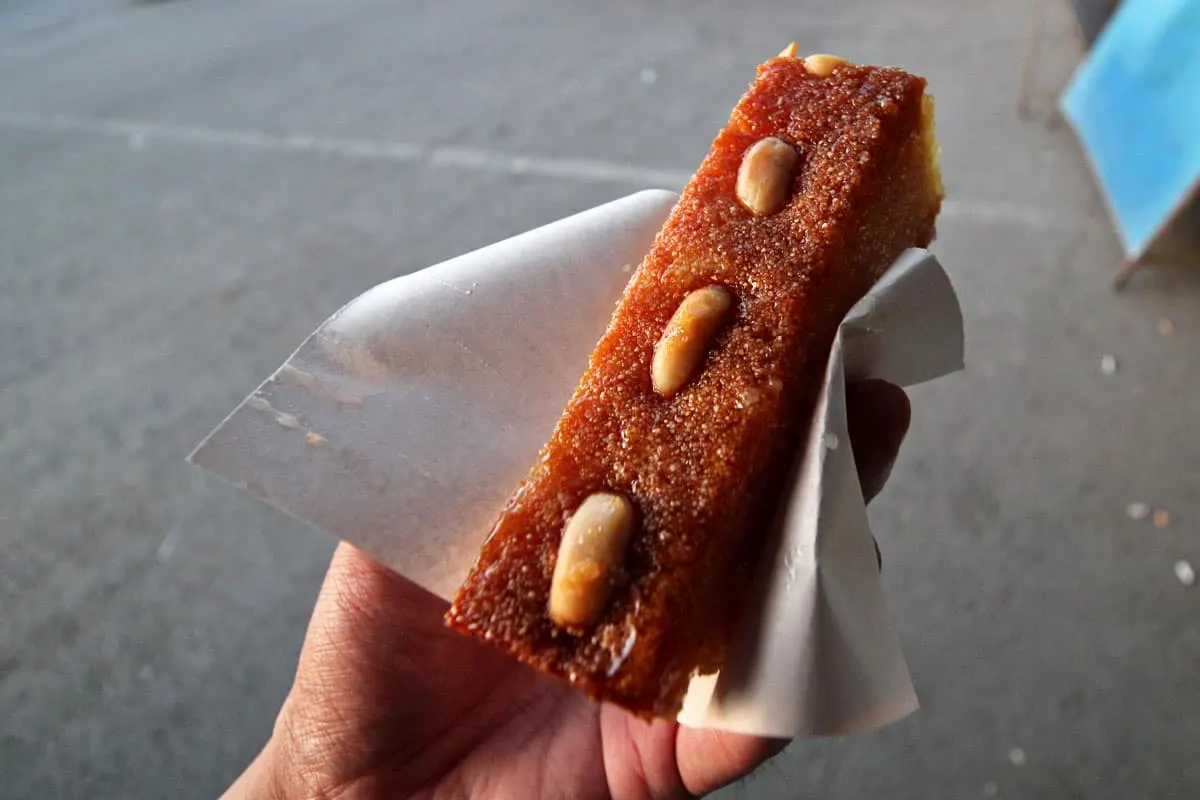 29. Halka Tatlisi
Halka tatlisi refers to a fried Turkish dessert dipped in sweet syrup. It's like a Turkish version of churros that's often served as street food. You'll find halka tatlisi vendors everywhere in Istanbul.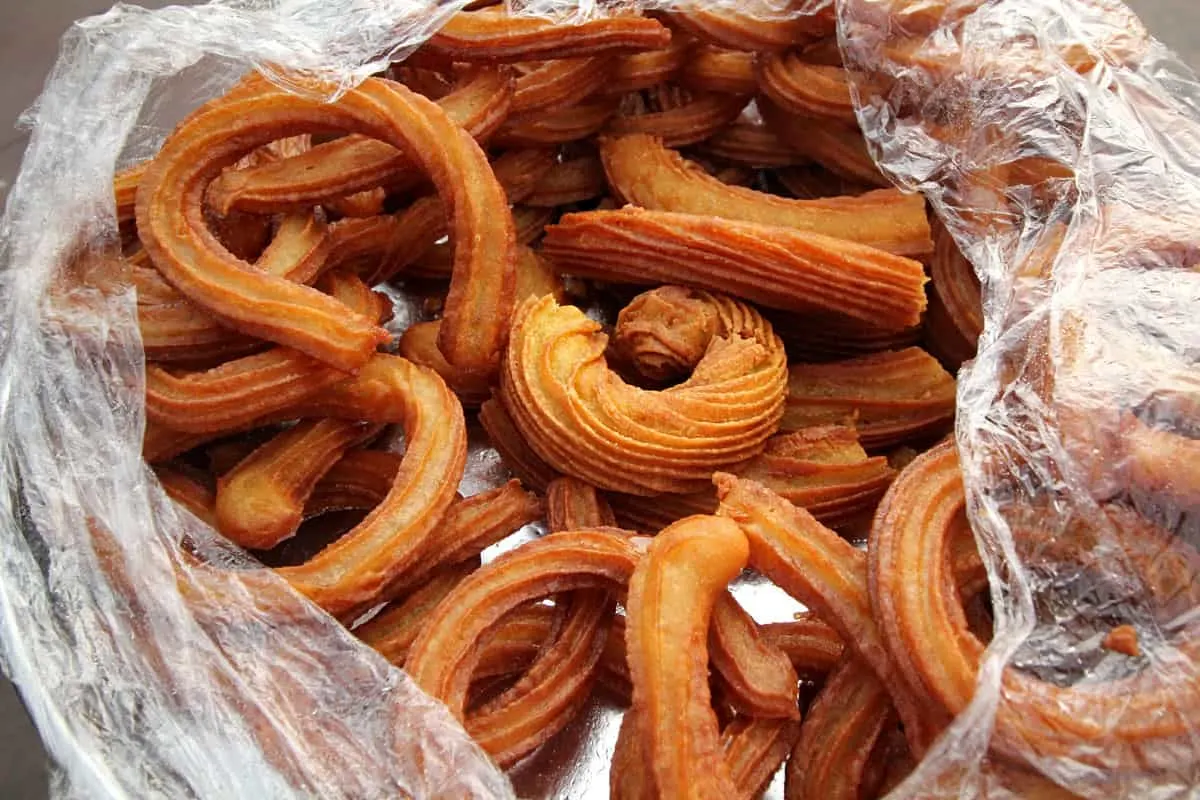 30. Dondurma
Dondurma is Turkish ice cream. It's a sticky type of ice cream that's made with salep (ground-up orchid tubers) and mastic (plant resin) which makes it chewier in texture and more resistant to melting. It's delicious and one of the best ice creams I've ever tasted.
Dondurma is believed to have originated in the city of Maraş hence the alternate name Maraş ice cream.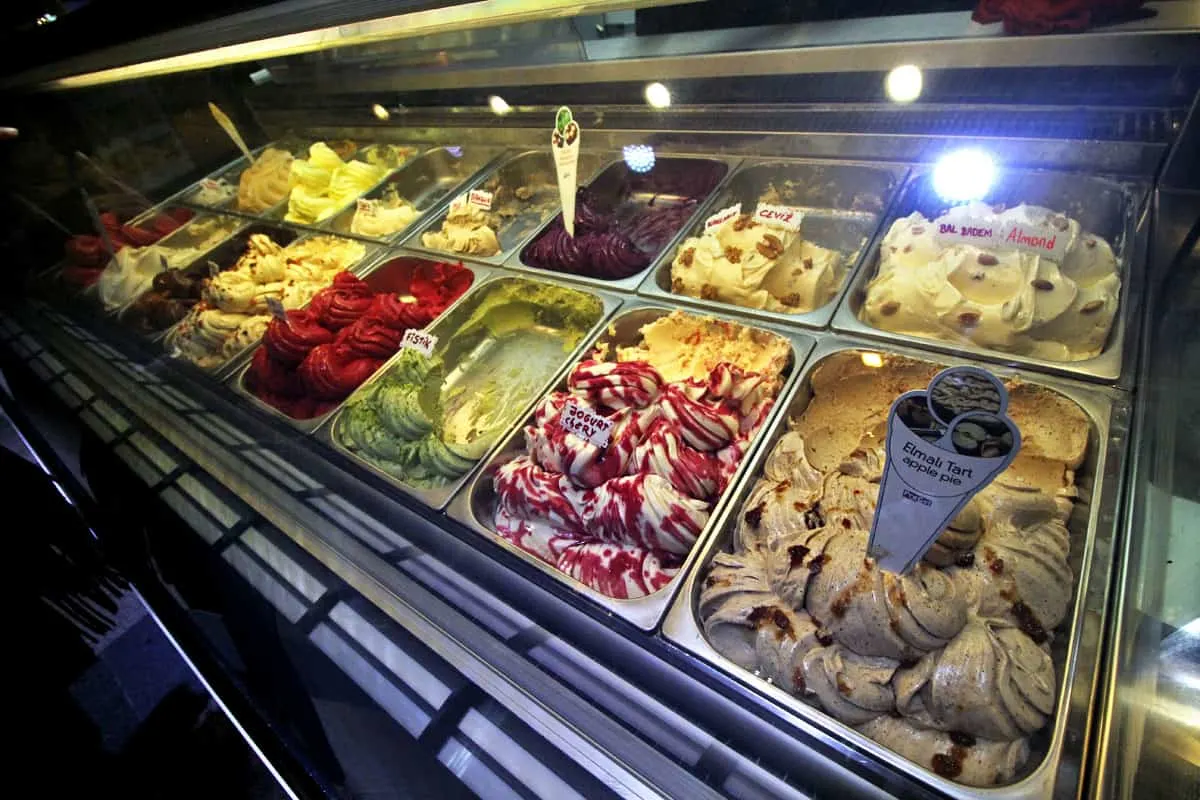 Like chestnut or simit carts, dondurma shops are everywhere in Istanbul, which is hardly a bad thing.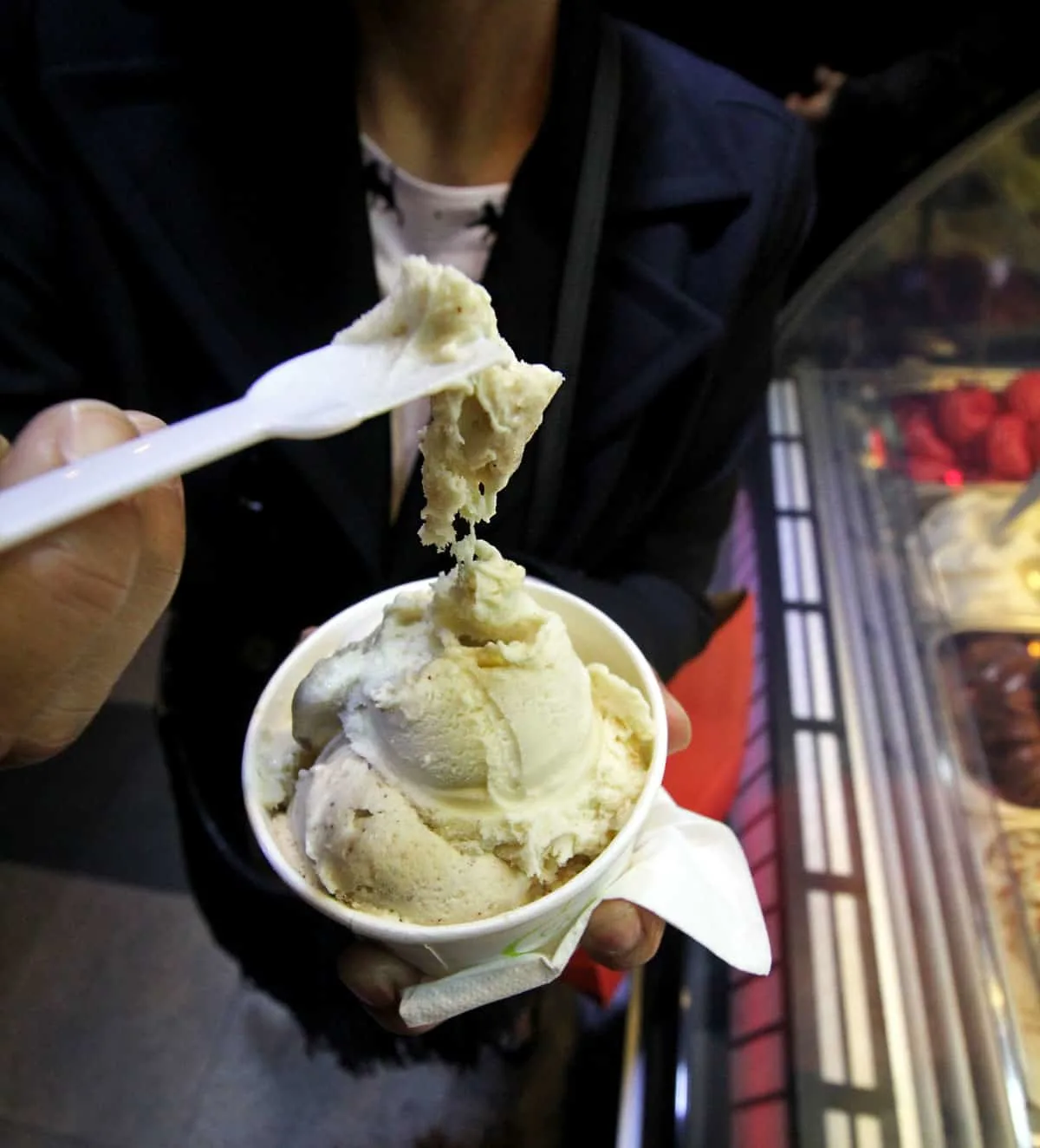 31. Turkish Delight (Lokum)
Turkish delight or lokum refers to a family of gelatinous confections commonly enhanced with different flavorings like rosewater, mastic, bergamot orange, or lemon. It's an iconic dessert or candy in Turkish cuisine that's typically cut and eaten in small cubes dusted with powdered sugar to prevent clinging.
As you can see below, premium varieties have other ingredients bound to the gel like chopped dates, pistachios, hazelnuts, and walnuts. Lokum is one of the most popular Turkish souvenir food items and can be found at many shops and markets throughout Istanbul.
TURKISH DRINKS
32. Turkish Coffee
No article on traditional Turkish foods and drinks can ever be complete without mentioning Turkish coffee. It refers to a well-known style of coffee made with very finely ground coffee beans prepared in a cezve without a filter. The coffee grounds are served with your coffee, resulting in a robust cup with a somewhat grainy texture.
Turkish coffee is typically served in small porcelain cups called kahve fincanı. It can be sweetened or unsweetened and is usually consumed with small sweets or desserts like Turkish delight.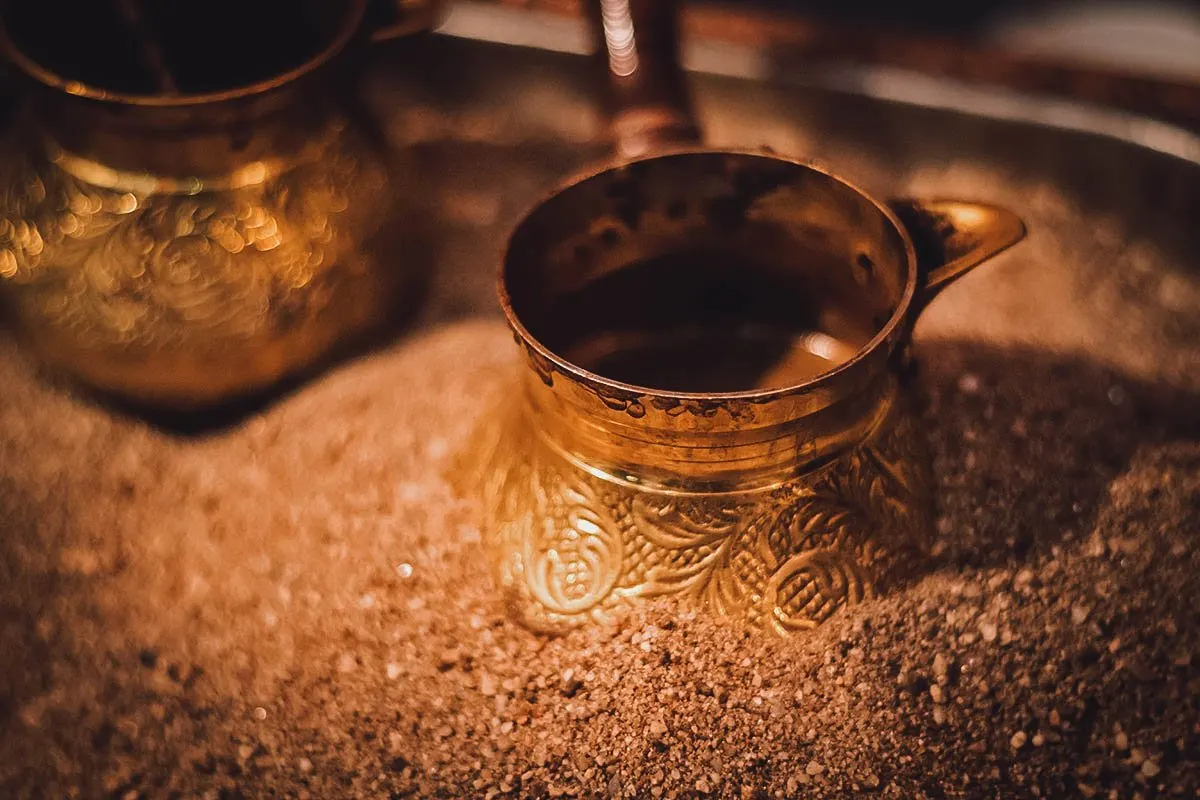 Photo by furo_felix
33. Turkish Tea
If coffee isn't your thing, then perhaps you'd be more interested in a cup of traditional Turkish tea. Tea drinking has a long history in Turkey with the average person consuming almost 3.2 kg (7 lbs) annually. It's the highest per capita tea consumption in the world.
Turkish tea is traditionally prepared using two stacked teapots known as çaydanlık. It's served in these small tulip-shaped glasses called ince belli, usually with cubes of beet sugar. Unlike in other cultures, Turkish tea is never taken with milk or lemon.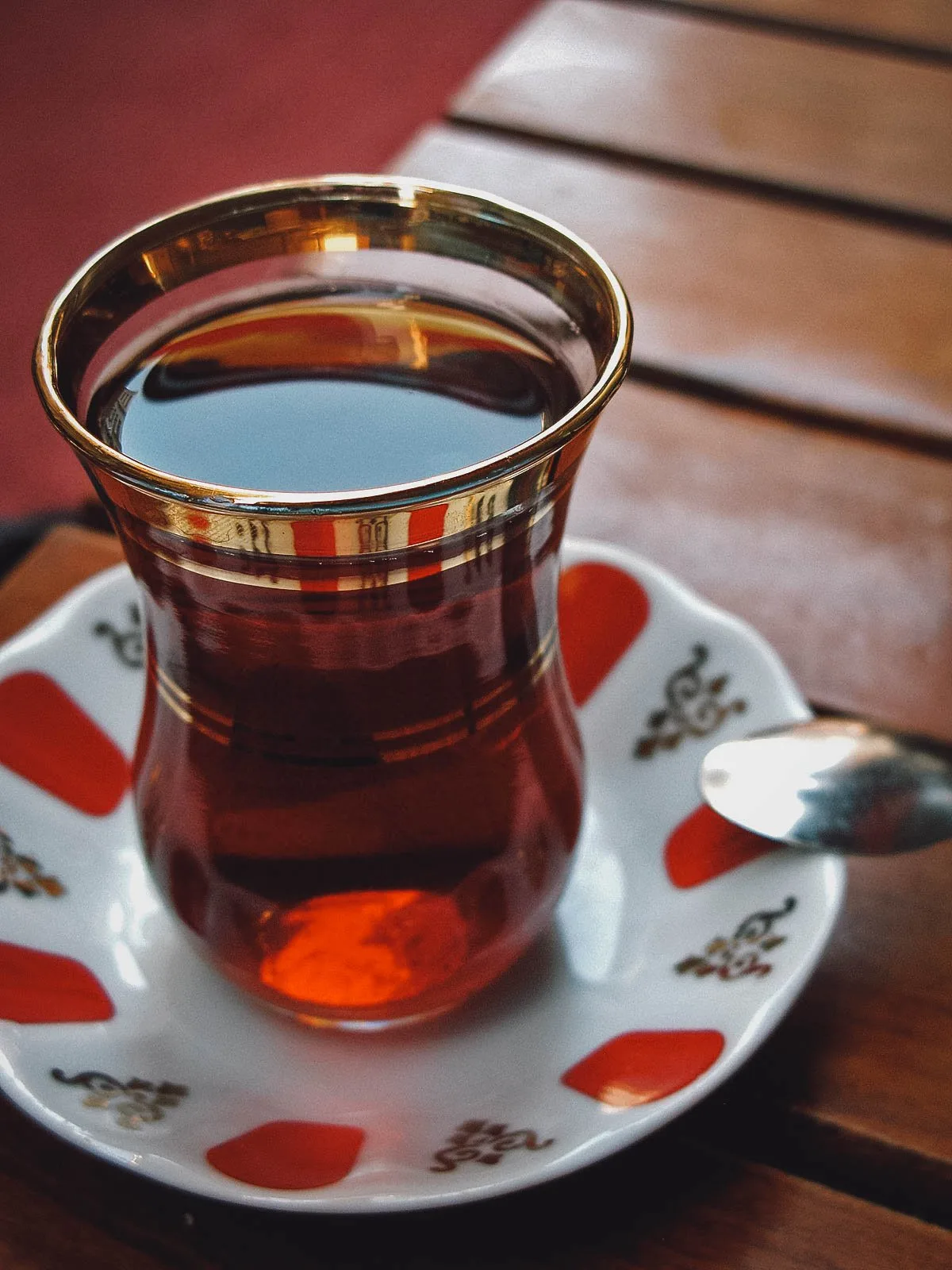 Photo by henribergius, CC BY-SA 2.0, via Wikimedia Commons / Processed in Photoshop and Lightroom
34. Fresh Pomegranate Juice
Turkey is one of the world's largest producers of pomegranate so you'll find fresh juice stands everywhere. Tart and sweet, they were particularly ubiquitous in Selcuk and made for a refreshing drink after visiting the Ephesus ruins.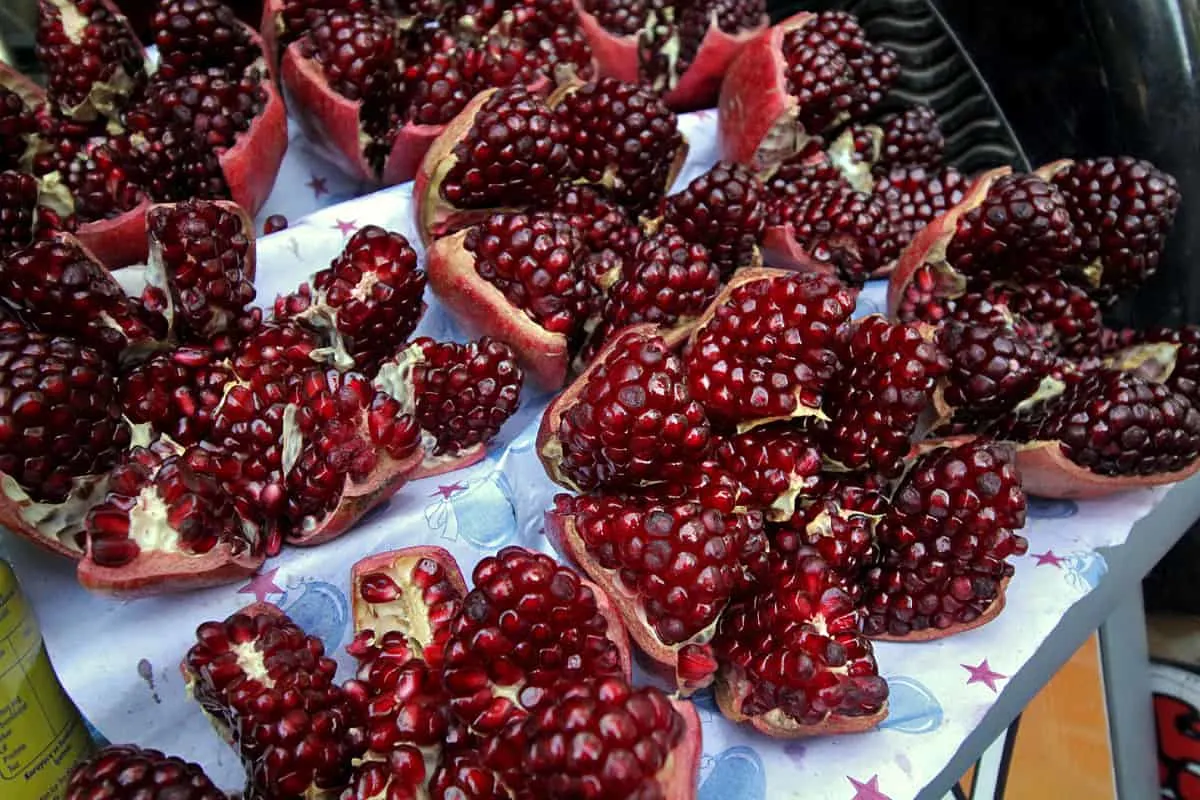 35. Salep
Salep is an interesting Turkish drink. It refers to both the drink and the flour used to make it. Salep flour is made from orchid tubers containing a nutritious, starchy polysaccharide called glucomannan.
Dusted with cinnamon and enjoyed as a dessert beverage, the salep drink is sweet and intensely rich with a unique, somewhat floral flavor. It was almost like drinking a milky, watered-down porridge infused with orchid.
We tried salep in Sirince, a rural hill town near Selcuk, but many places offer salep in winter. It's usually served piping hot so be careful when you drink it.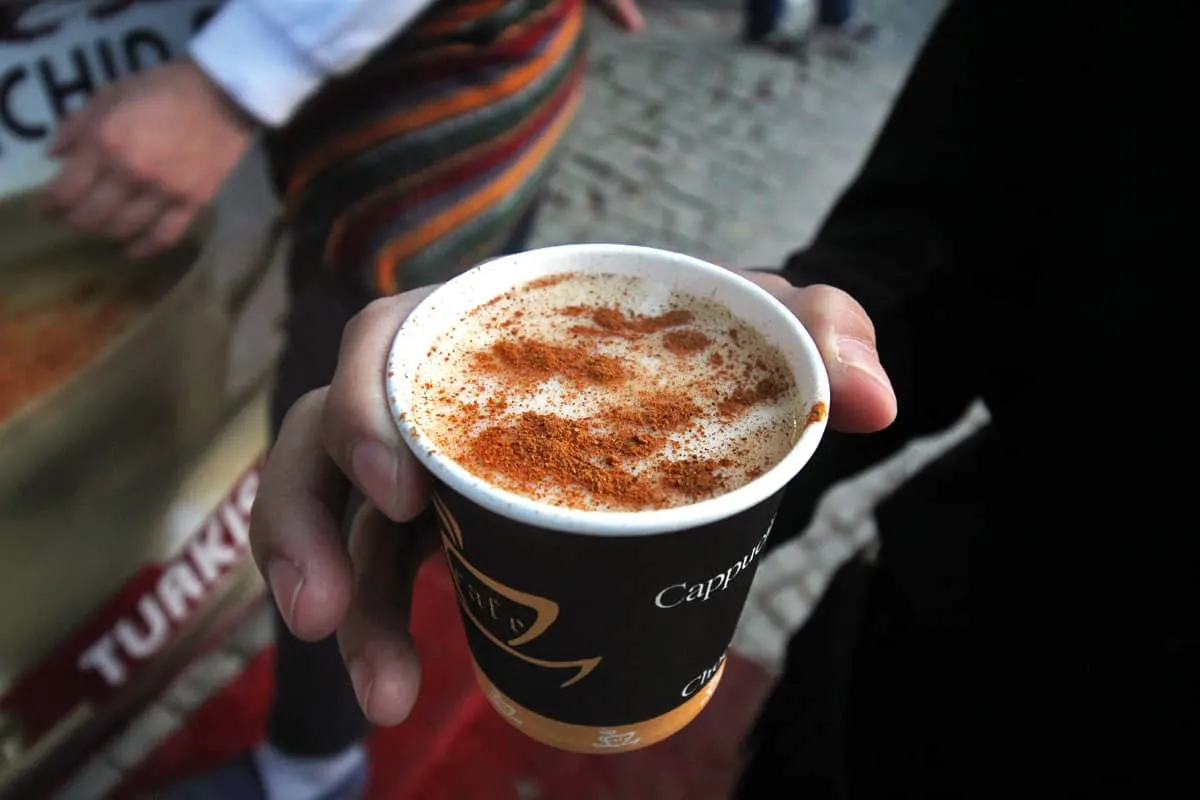 FINAL THOUGHTS ON TRADITIONAL TURKISH CUISINE
As big and diverse as Turkey is, this list barely scratches the surface of what Turkish cuisine has to offer. There is so much delicious Turkish food to be had in this vast country that you'll need to stay for several months to really do it justice.
Apart from having fascinating food, Turkey is a stunningly beautiful country and home to some of the kindest and warmest people we've ever met. We enjoyed it so much that we could really see ourselves living there.
To be honest, we haven't felt that way about many countries and a lot of that has to do with the allure of Turkish food.
Disclosure
Some of the links in this article on Turkish food are affiliate links. If you make a booking, then we'll earn a small commission at no additional cost to you. As always, we only recommend products and services that we use ourselves and firmly believe in. We really appreciate your support as it helps us make more of these free travel and food guides. Thank you!
Stock images via Depositphotos.