When it comes to food, Hanoi is our favorite city in Vietnam. That's saying a lot considering how good Vietnamese food is throughout the country.
We enjoy the food in Hanoi so much that staying for just a week or two isn't enough anymore. We want to stay for at least a couple of months on our next trip. The thought of having Hanoi food favorites like bun cha, pho, cha ca, and bun bo nam bo everyday for several months sounds incredibly enticing to us. And let's not forget about ca phe trung or egg coffee!
It's important for us to find the best versions of each dish so we consulted with locals, Hanoi food blogs, and crowd review websites to come up with this list of 25 restaurants and street food stalls offering the best food in Hanoi.
If you're visiting Hanoi and enjoy Vietnamese food as much as we do, then this Hanoi restaurant guide will be very useful to you.
Taste is subjective so we won't always agree, but I've listed my personal favorites below. You can click on the links to jump down to pictures and information about that specific restaurant.
BANH MI: Banh My P
PHO: Pho Hang Trong
BUN CHA: Bun Cha 74 Hang Quat
BANH CUON: Banh Cuon Gia Truyen Thanh Van
CHA CA: Cha Ca Thang Long
BANH MI
Banh mi is arguably the most well-known Vietnamese dish outside of the country. Strictly speaking, it's the Vietnamese word for bread but people use it to refer to the sandwich.
A small French baguette is split lengthwise and filled with a variety of ingredients like liver pate, cold cuts, pickled vegetables, cucumber slices, and cilantro. It's a light sandwich that's typically eaten as a snack.
This is just my personal opinion, but as good as the banh mi was in Hanoi, I felt that it was better in Hoi An and Saigon. With that said, I'm willing to wager that any banh mi in Hanoi is superior to most banh mi found outside the country. It's something that you should definitely still try while you're in Hanoi.
1. Bánh Mì 25
Google "best banh mi in hanoi" and this place often pops up. Based on its 5,100+ TripAdvisor reviews, Bánh Mì 25 is one of the most popular banh mi shops in Hanoi, especially among tourists.
But that doesn't mean it's touristy and inauthentic. Filter reviews by language and you'll find that most Vietnamese reviewers give it an "Excellent" rating as well.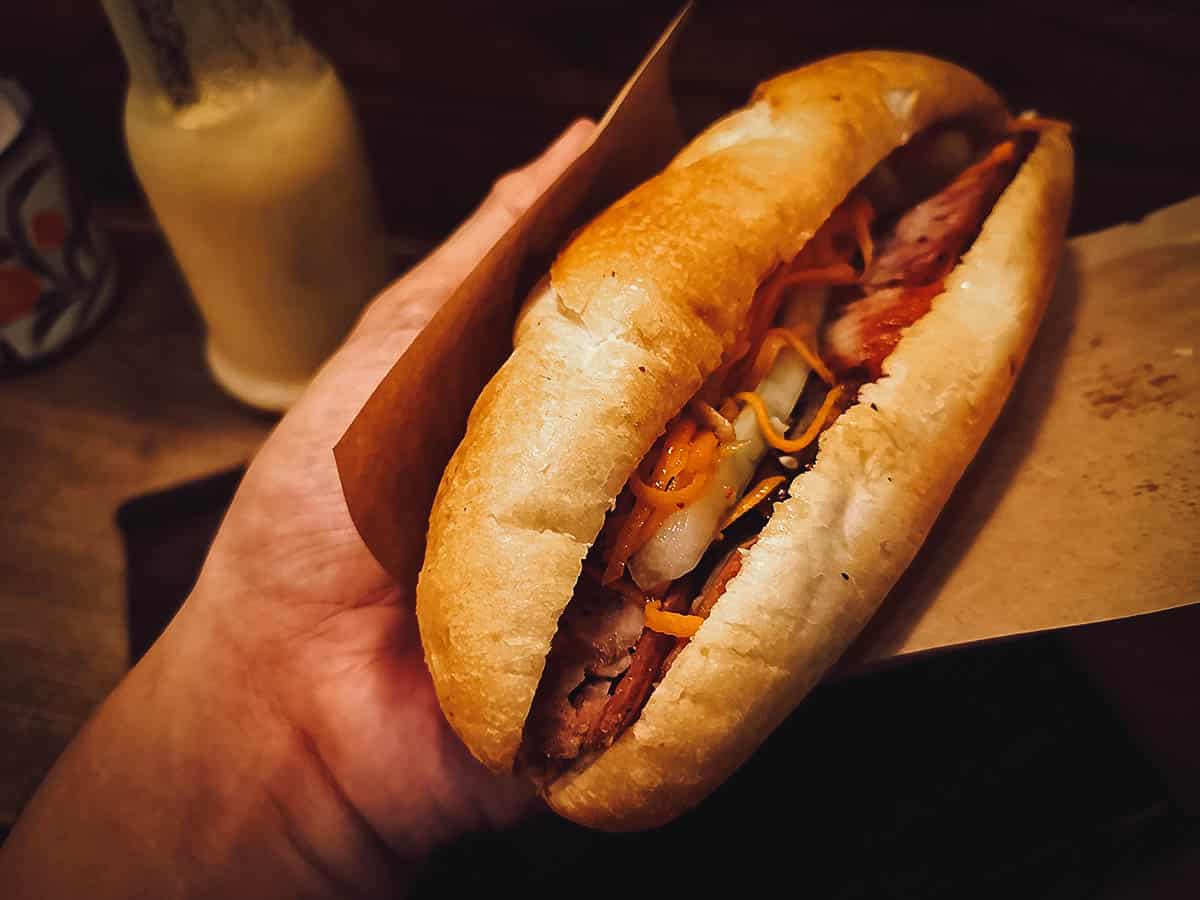 This was my very first meal not just in Hanoi, but in Vietnam. I wasn't completely satisfied with the banh mi we had two years ago so finding better banh mi shops was a priority. Hearing that crunch again from the baguette was like music to my ears!
I asked my server for recommendations and she suggested I get this mixed banh mi with pate, barbecued pork, ham, and sausage. The fillings were delicious – sweet, smokey, savory, and crunchy all at once.
For me, a sandwich for me can only be as good as the bread it's on and this baguette was fantastic. Served warm and toasty, it was crunchy on the outside and soft and pillowy on the inside, so it would sort of crumble in on itself every time I took a bite. It was delicious and a great start to this Hanoi food trip.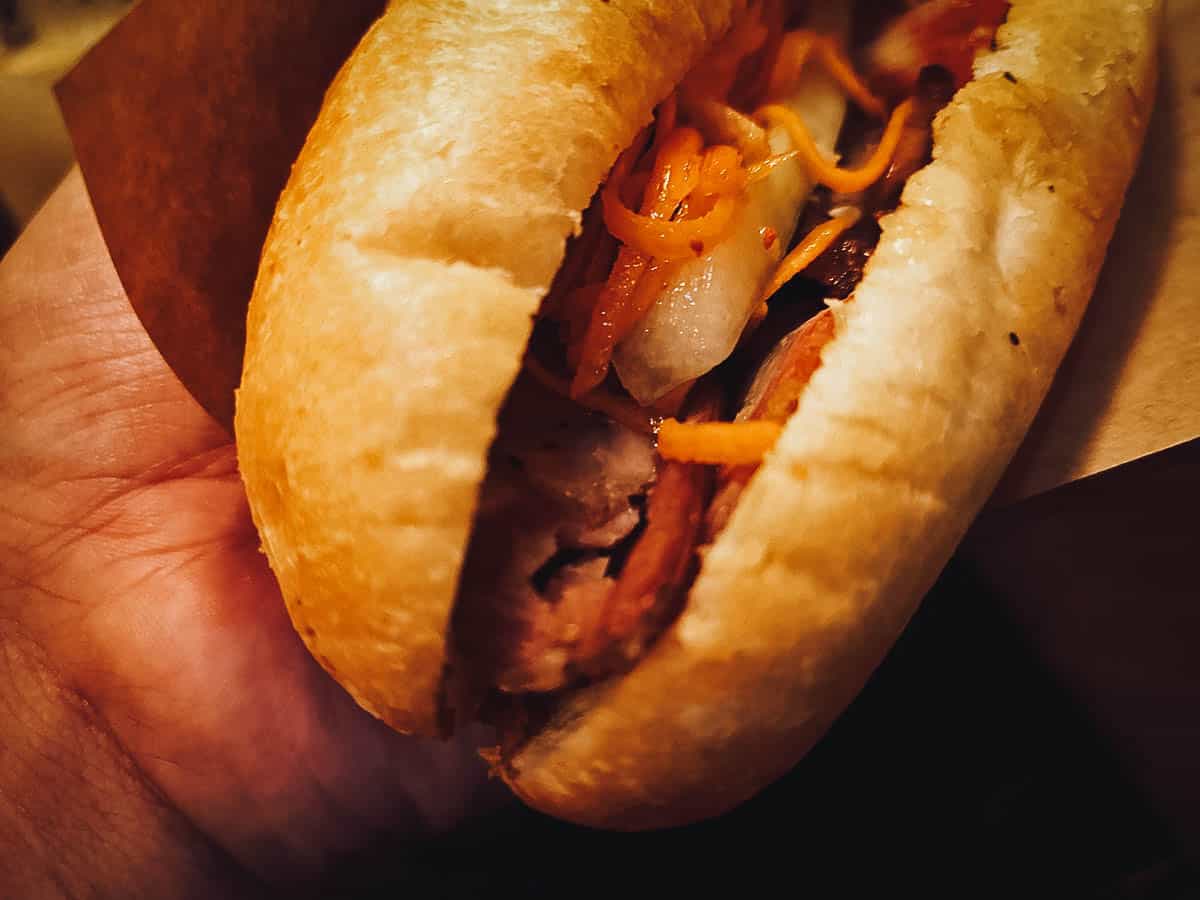 Bánh Mì 25 is located along Hang Ca street in the Old Quarter. Pictured below is the takeaway stall but they have a sit-down restaurant across the street.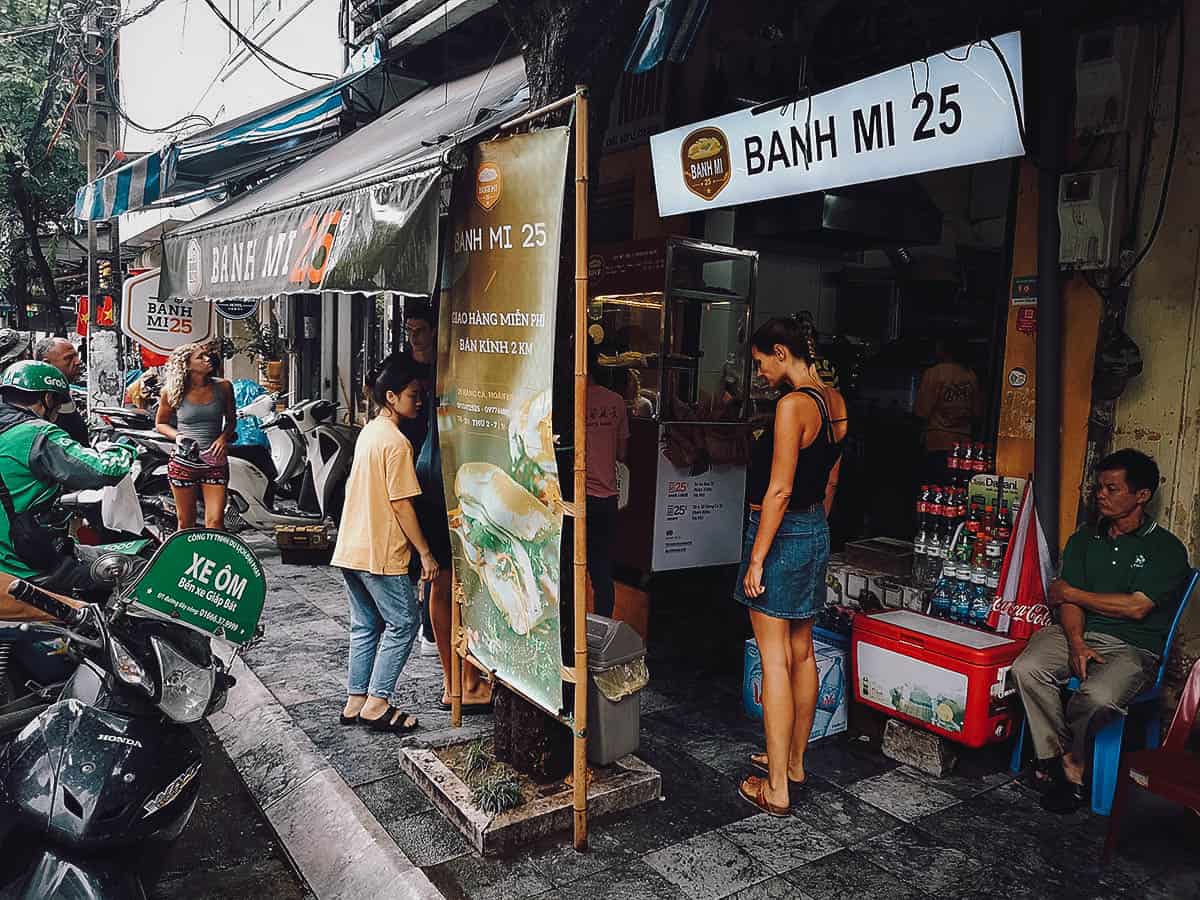 I didn't see this sit-down restaurant at first so I ordered my banh mi from the takeaway stall and they brought it here.
2. Bami Bread
I already knew about this place from my research, but my homestay host recommended it as well. It was confirmation that Bami Bread really does serve some of the best banh mi in Hanoi.
They market their sandwiches as "Hoi-An-style" banh mi, which says a lot because the best banh mi I had in Vietnam was in Hoi An. Based on what I've read, banh mi was invented in Hoi An.
Bread baked in Hoi An is said to be different than in other parts of the country. They're thinner, crispier, and lighter, and make for better sandwiches.
Looking at Bami Bread's menu, the choice was clear. I went with the Hoi An Special made with pate, slow-roasted pork, pickled vegetables, coriander, and a secret sauce.
Juicy and succulent with good snap from the pickled vegetables, the fillings were terrific but the bread as always, was the star. Nicely soaked-in with the juices from the roasted pork, it held the sandwich together literally and figuratively.
I'm not sure if it's on par with the bread in Hoi An but it did seem lighter and more delicate.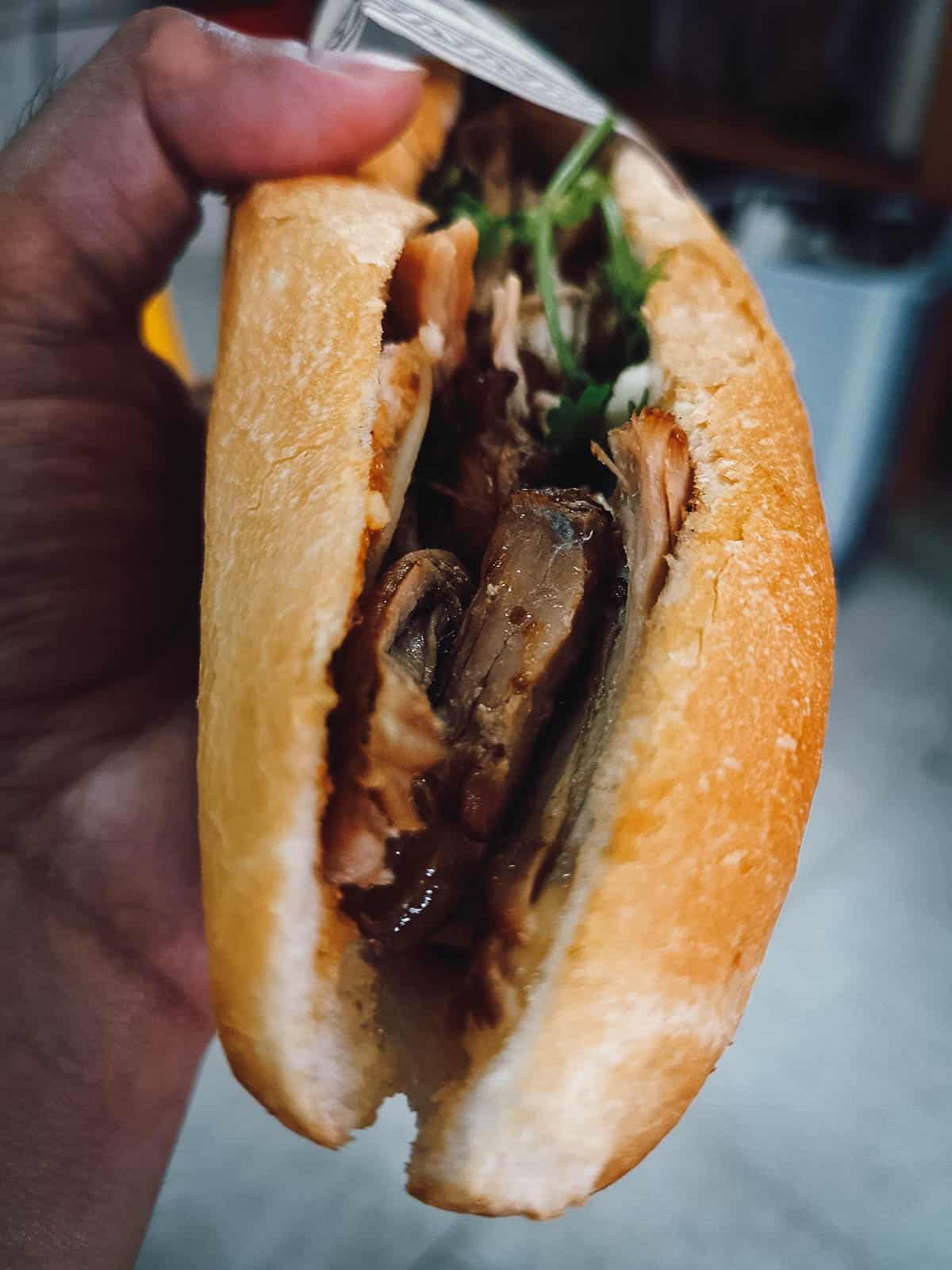 3. Banh Mi Pho
Banh Mi Pho is a chain of banh mi shops in Hanoi. I was working on a video in my homestay and I needed a quick bite to go. Thankfully, I found a Banh Mi Pho branch nearby.
Of the five banh mi shops listed here, this was my least favorite. The bread was good but I thought the ingredients were lacking. I got the Banh Mi Hanoi made with pate, ham, sausage, pickled vegetables, cucumber, coriander, and a special sauce.
As you can see below, the ingredients were a bit sparse. As a result, it lacked the balance of flavors and textures that I've grown accustomed to in a well put-together banh mi. Perhaps I ordered the wrong thing.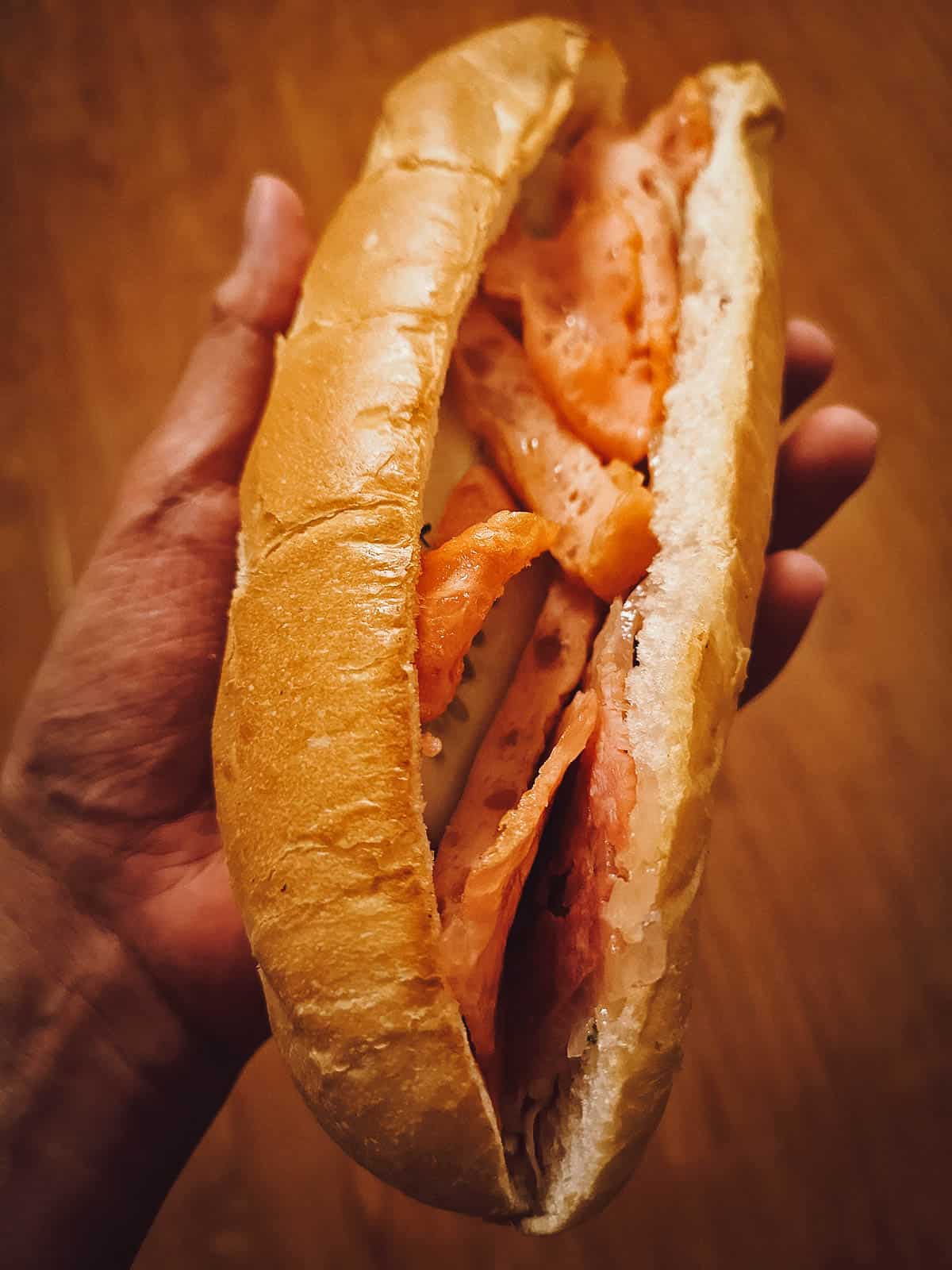 4. Bánh Mỳ Trâm
I read about this place on several articles listing the best banh mi shops in Hanoi.
For the past twenty years, Bánh Mỳ Trâm has been one of the most popular sandwich shops in the city, known for their deconstructed banh mi served with a signature house-made sauce.
Most locals opt for the deconstructed version but I wanted mine to go so I got it in sandwich form. As always, I asked my server for recommendations and she made me this classic banh mi pate with cold cuts, coriander, pickled vegetables, and their famed secret sauce.
This was about as well-balanced a banh mi as you can make. The bread was toasty and terrific and filled with a perfect balance of ingredients. It was crunchy, sweet, savory, and just a little bit spicy.
I'm not sure why the locals prefer to have the ingredients separate. Perhaps to maintain the crispness of the bread? Whatever the reason, I'd love to try it on our next visit to Hanoi.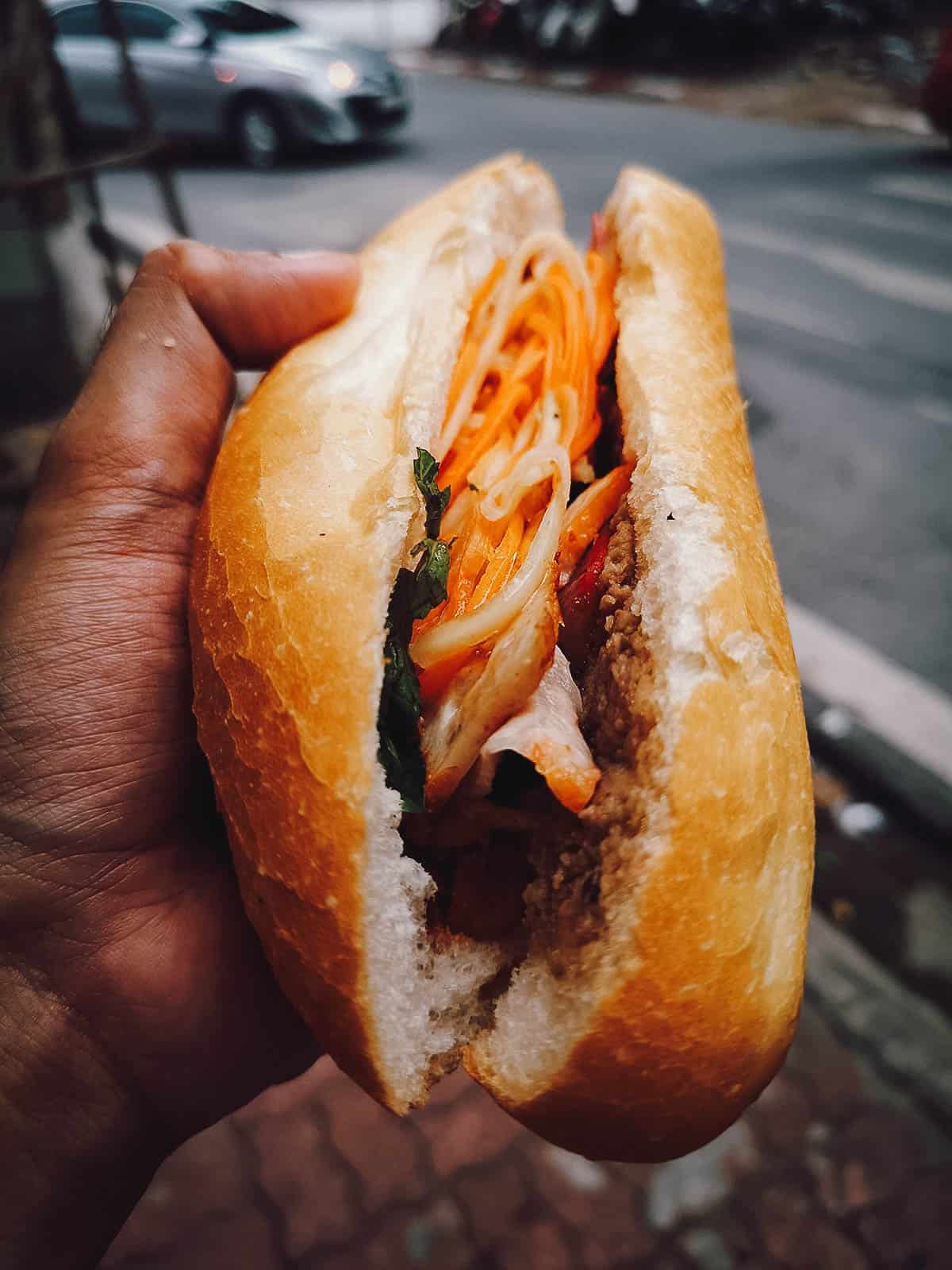 5. Bánh Mỳ P
This was easily my favorite banh mi in Hanoi. By coincidence, it was the last shop I visited so it felt as if all previous banh mi experiences were leading up to this one. Everything just came together so beautifully in this sandwich.
Located a few blocks north of Hoan Kiem Lake, Bánh Mỳ P is a hole-in-the-wall known for serving some of the best banh mi in the city.
I read that they're known for their lemongrass beef but when I asked my server for recommendations, he confidently suggested the grilled chicken so I went with that. It was phenomenal – perfect bread paired with juicy grilled chicken and crunchy pickled vegetables.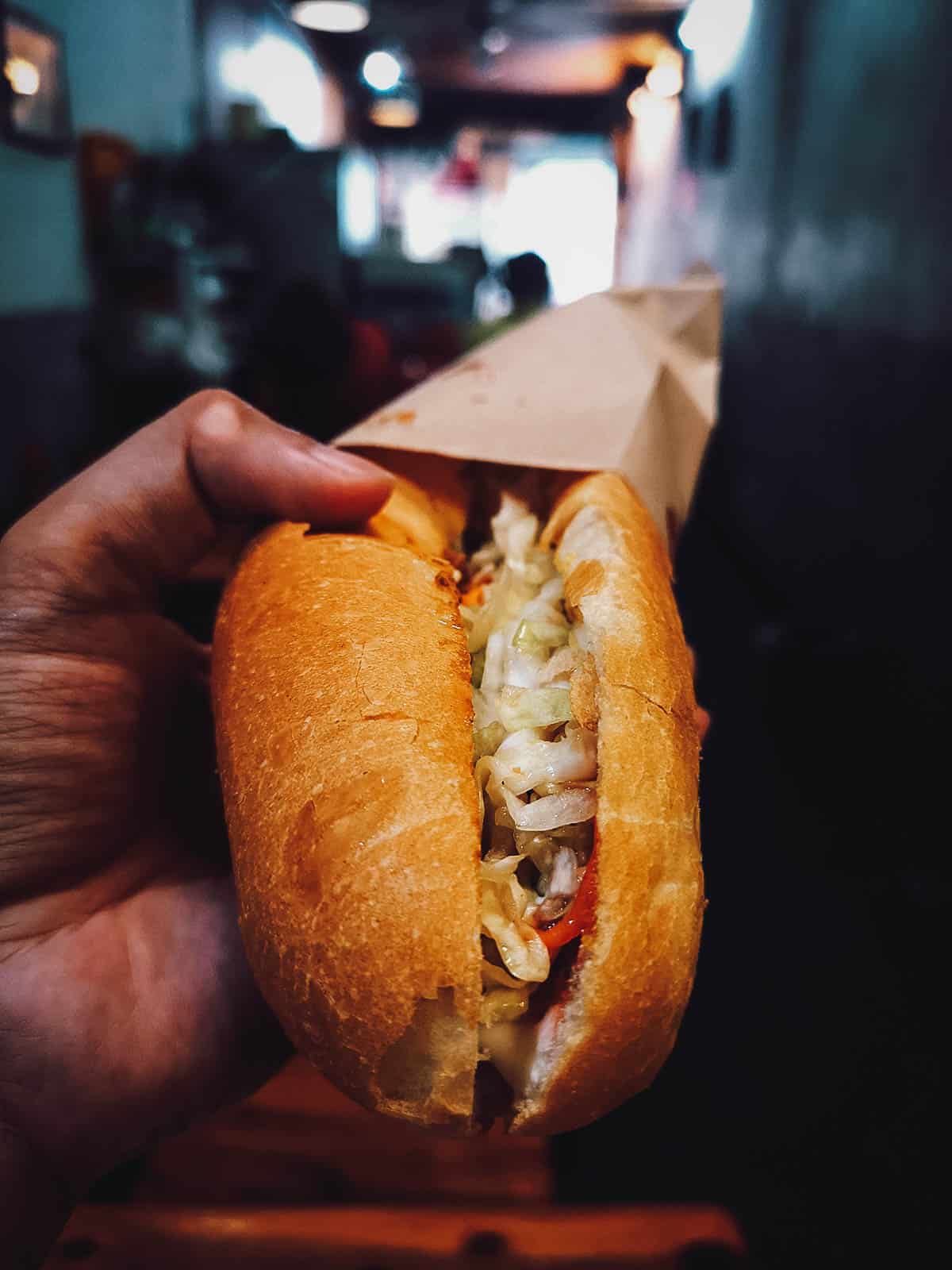 Notice how deliciously soaked-through the bread is from the juices of the grilled chicken? Absolutely delicious.
The chicken was on the sweet side but it was tempered nicely by the pickled vegetables. I found myself doing the happy dance while I was eating this. It was the only time I had to keep myself from ordering a second sandwich.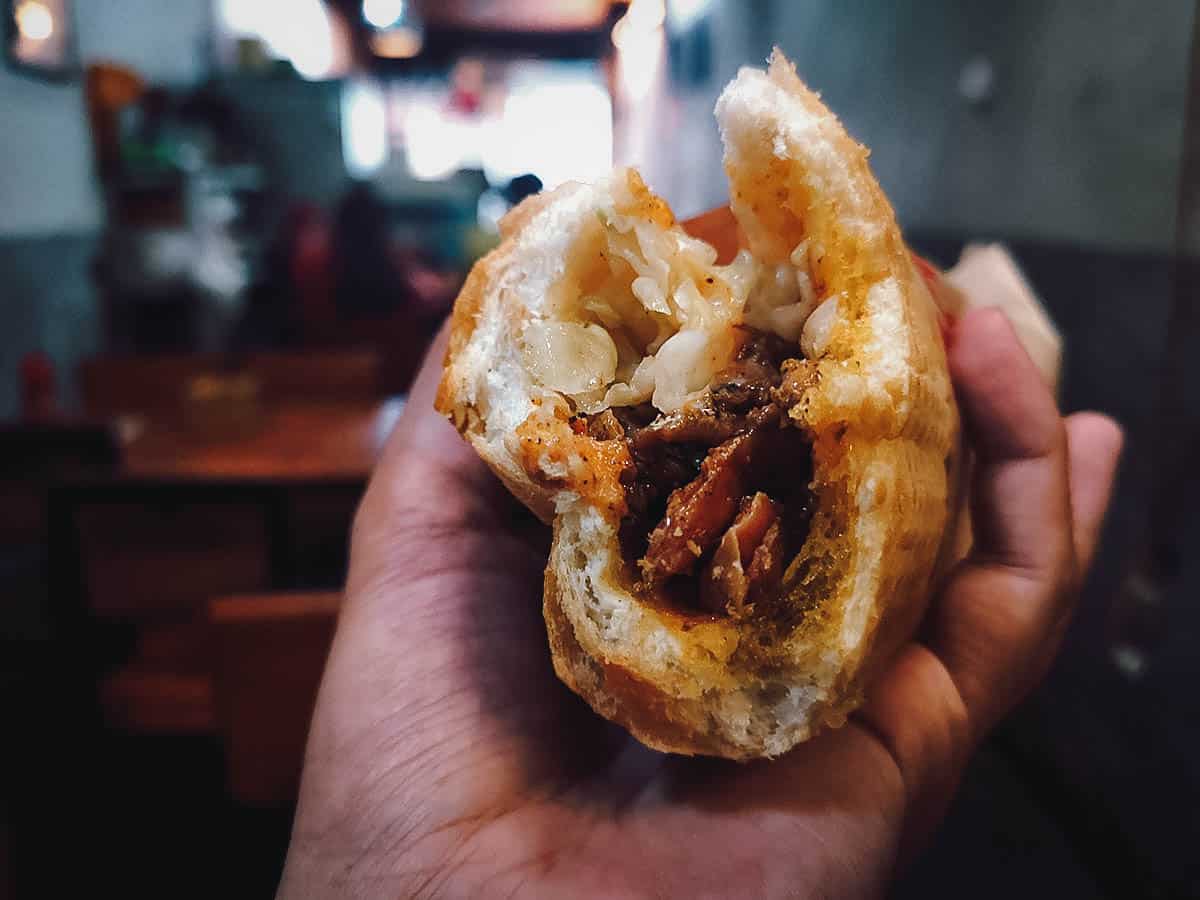 Appearances can be deceiving. Together with Bánh Mỳ Trâm, Bánh Mỳ P has the most unattractive storefront among all the banh mi shops listed in this guide. It really does rock that "hole-in-the-wall" look!
PHO
Like banh mi, pho is a Vietnamese national dish and a Hanoi food favorite.
It's a noodle soup that originated in Nam Định Province in northern Vietnam, but is now enjoyed throughout the country. It's typically made with four basic ingredients – a clear stock, rice noodles, meat (typically beef or chicken), and herbs.
Some of the country's best pho can be found in Hanoi, so it's definitely something you should have at least once. Many people love it, including Ren.
Personally, it isn't one of my favorites. I prefer more potently flavored noodle soups like hu tieu, banh canh, and bun bo hue, but pho has a following that exceeds all other types of Vietnamese noodle soup.
6. Phở Gia Truyền Bát Đàn
This place was on every "must-eat pho" list in Hanoi. As soon as you arrive, you'll realize how popular it is from the long queue of people waiting to have their pho. A Hanoi institution, Phở Gia Truyền Bát Đàn has been serving some of the city's best pho since the 1960s.
There are just three items on the menu here – pho chin, pho tai, and pho tai nam. Pho chin refers to pho with fully cooked brisket. Pho tai refers to pho with lightly cooked meat while pho tai nam is a combination of both. I wanted the best of both worlds so I went with the pho tai nam.
As described, classic pho is served with four basic ingredients – soup, noodles, meat, and fresh herbs. You'll find various condiments on your table like chopped chili, chili sauce, pickled vegetables, fish sauce, and hoisin sauce so you're free to add as much as you like.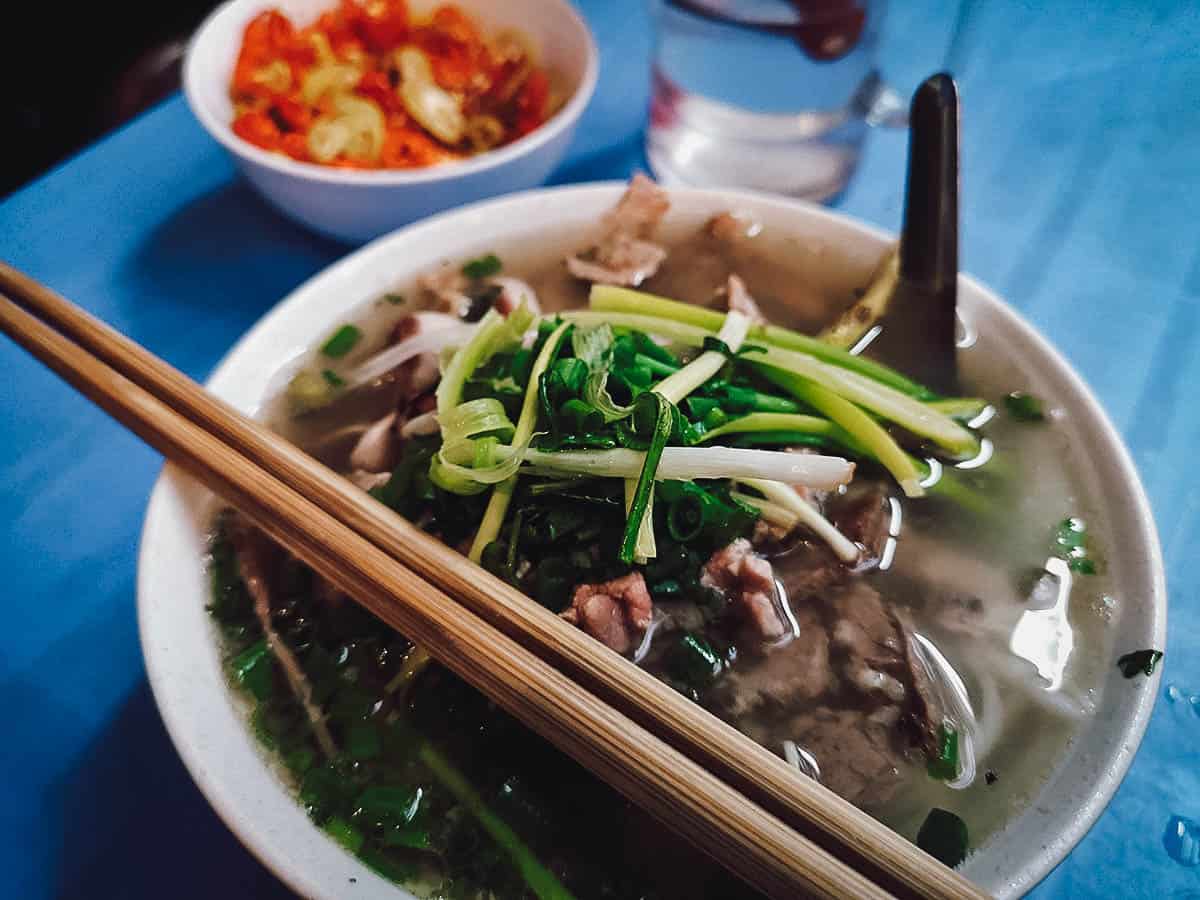 Phở Gia Truyền Bát Đàn loads their bowls of pho tai nam with these tender cuts of beef. I read that what makes their pho truly special is the broth. They stew beef bones for hours, resulting in a mildly sweet and clean-tasting soup.
Compared to more robustly flavored soups, pho is relatively mild and delicate in flavor. I think it takes a lot of experience to truly understand and appreciate the nuances of a good pho. Some people like the broth as is so you may want to try it on its own first before adding any condiments.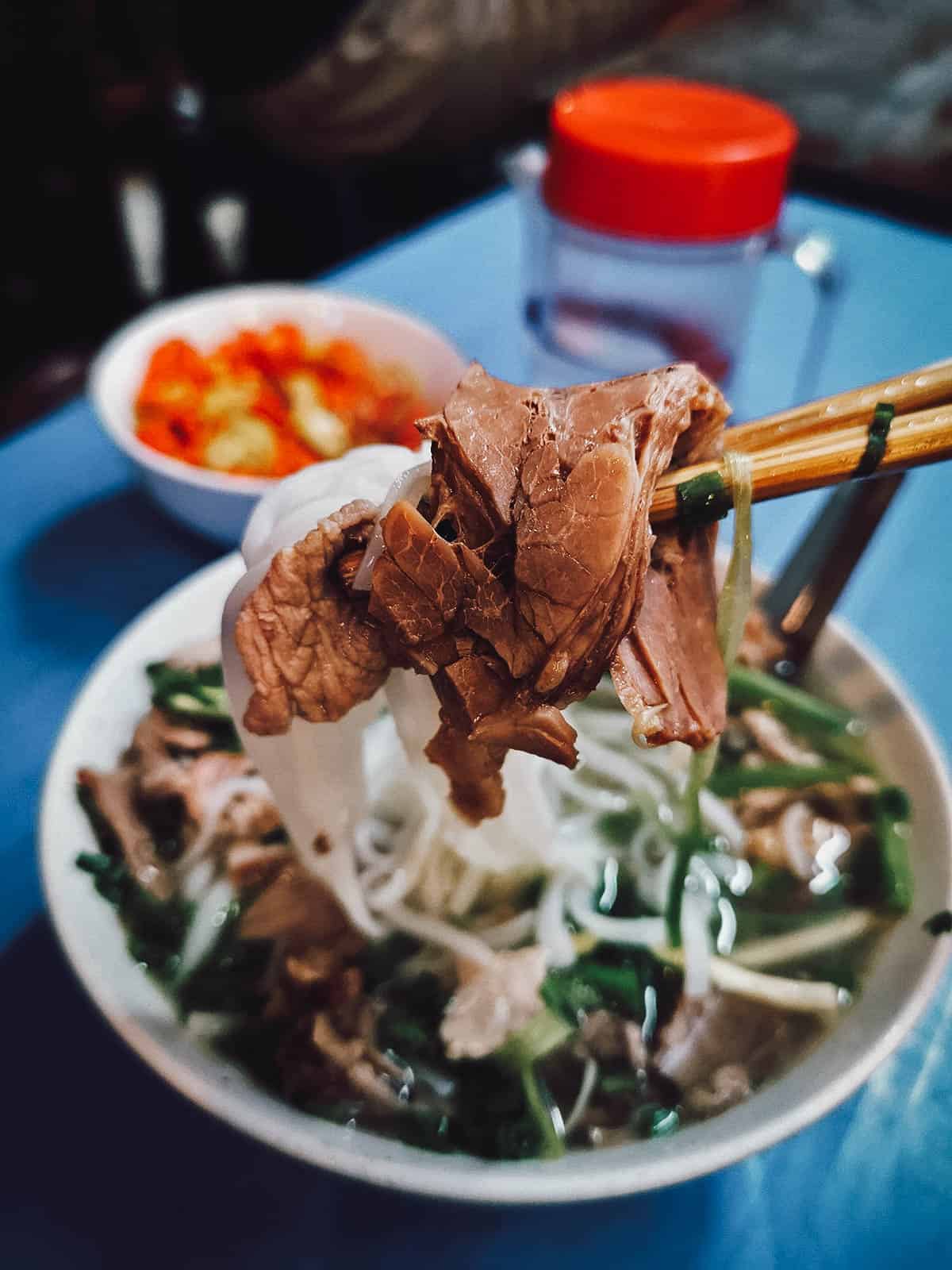 Phở Gia Truyền Bát Đàn is popular so expect a line at any time of day. I went here twice. They ran out of pho the first time I went for breakfast so I came back later that night.
7. Phở Thìn
We visited this place on our first trip to Hanoi two years ago. Phở Thìn has long been considered as one of the best places to have pho in Hanoi, a reputation it maintains to this day.
Opened in 1979, the restaurant's owner Nguyen Trong Thin found a novel way to add flavor to classic pho bo (beef pho). Instead of simply boiling the beef, he decided to stir-fry it with garlic before adding it to the soup.
This minute innovation added new flavor components to the dish, turning a traditionally gentle stock into a more richly layered broth.
Here's our beautiful bowl of beef pho smothered in green onion. This is typical of northern pho, though Phở Thìn puts more than any other place I visited. I enjoyed it because it added texture to the dish.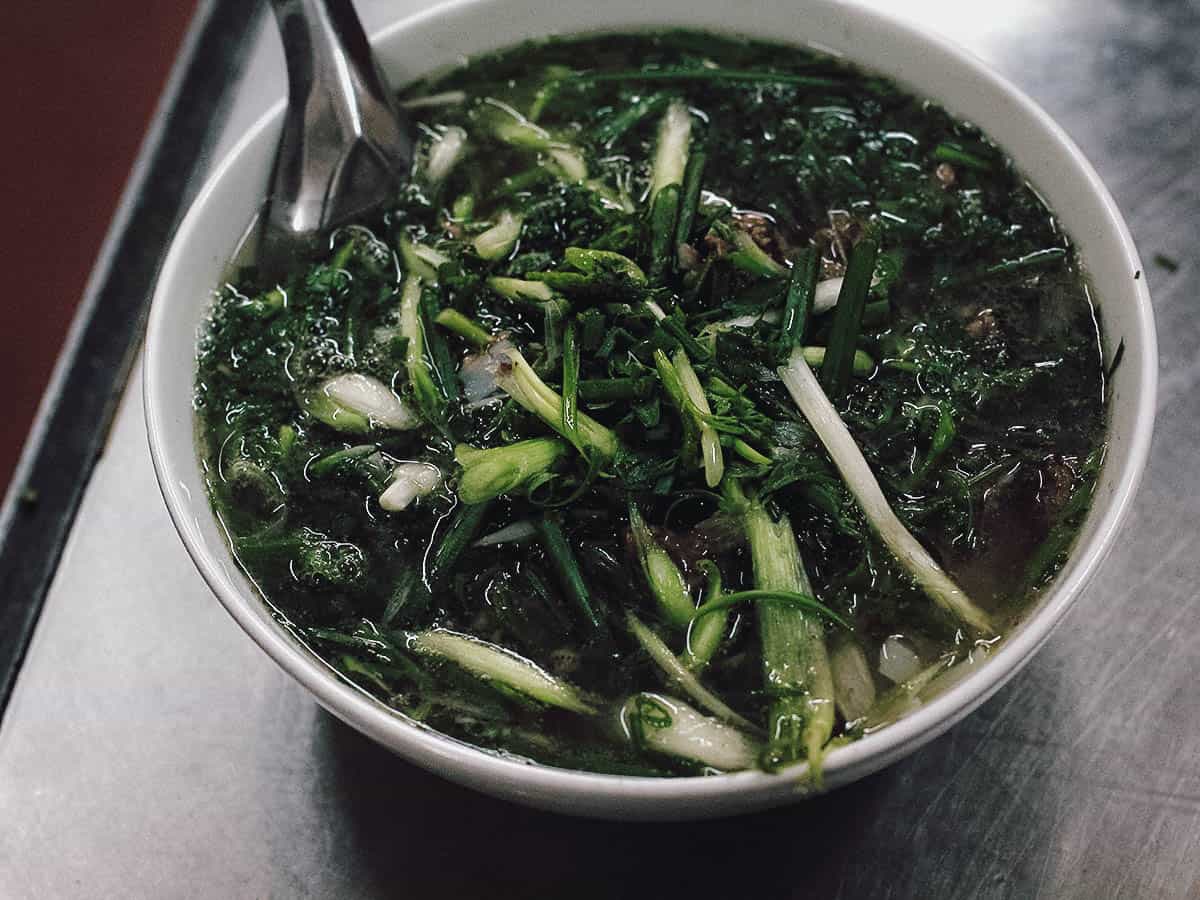 The beef in this pho is noticeably different. It's more flavorful – garlicky and smokey with hints of caramelization from the stir-frying process.
Just from looking at this picture, you can get a sense of how crunchy this bowl of pho is from all the green onions they put in it. It's still one of the best bowls of pho I've ever had.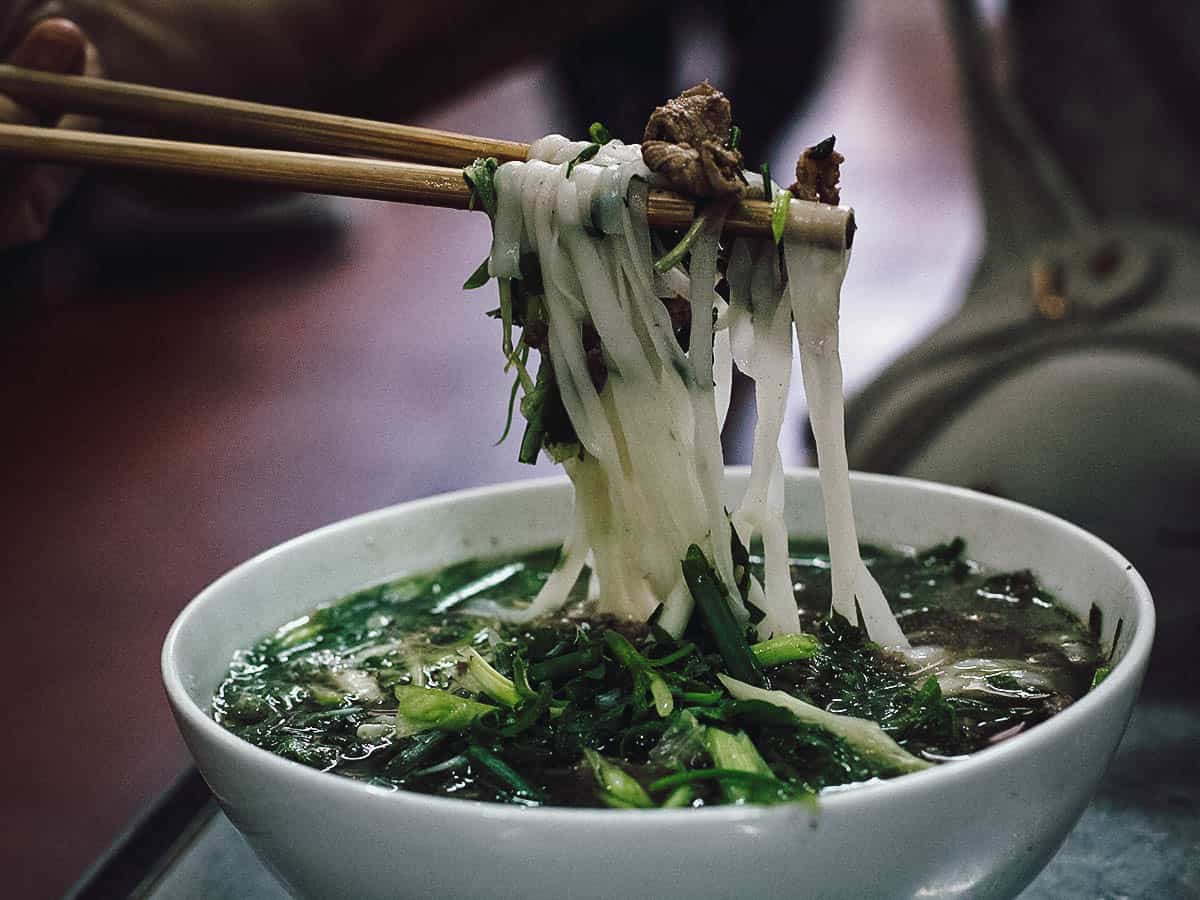 Phở Thìn is located farther south so it's a bit of a walk from the heart of the Old Quarter. Their pho goes for VND 60,000 per bowl, which is pricier than most.
8. Pho Hang Trong
This was my favorite bowl of pho in Hanoi, served in a place you'd never find on your own unless you already knew about it. I learned about it from this Saveur article describing the best bowl of pho in Hanoi.
Looking at this picture, can you tell where this pho restaurant is? It's through that dark alleyway between the souvenir shops, where the man is emerging from.
I knew how to find it because I had its precise location pinned on my map, but as far as I could tell, there are no signs from the street clueing you in to the location of this secretive shop, one that could very well be serving the best bowl of pho in Hanoi.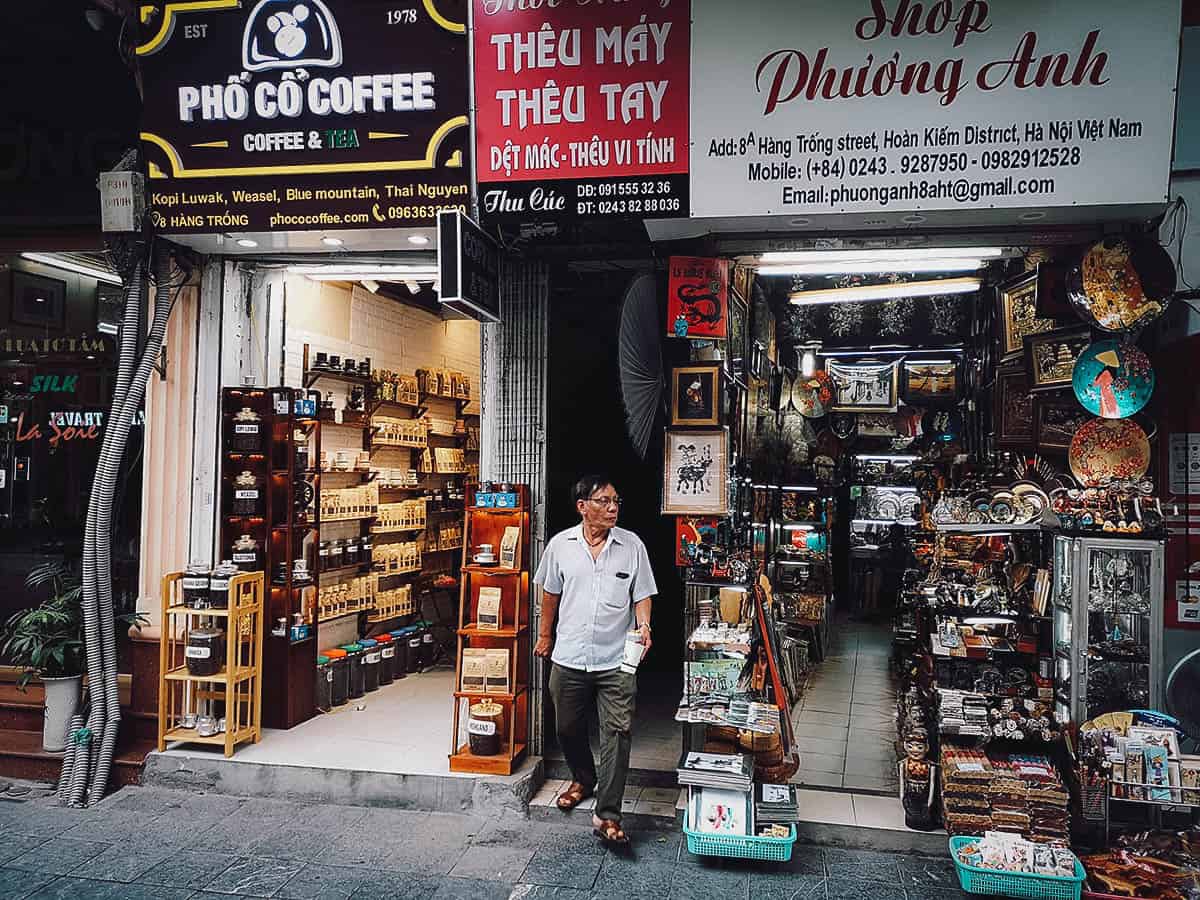 Enter the alleyway and you'll find this sign telling you to go up the flight of stairs. The sign reads: "Looking for pho? This way —>"

The stairs leads you up to what looks like someone's home, where they have these plastic tables and stools set up in what appears to be a living room. You have to remove your shoes before entering this room.
You can't see it in this picture but behind those two customers is a bed where two kids were playing. This was clearly some family's living space.
According to the Saveur article, the elderly woman who makes the pho – Ms. Minh – had been selling pho on the street for nearly fifteen years until the police forced her to relocate indoors, perhaps in a countrywide effort to eradicate street vendors. So she moved her business inside her home, where she continues to serve pho from 3-8PM daily.
In fact, on the dark wooden cabinet below are framed pictures of Ms. Minh's late ancestors, watching customers devour bowl after bowl of her delicious pho.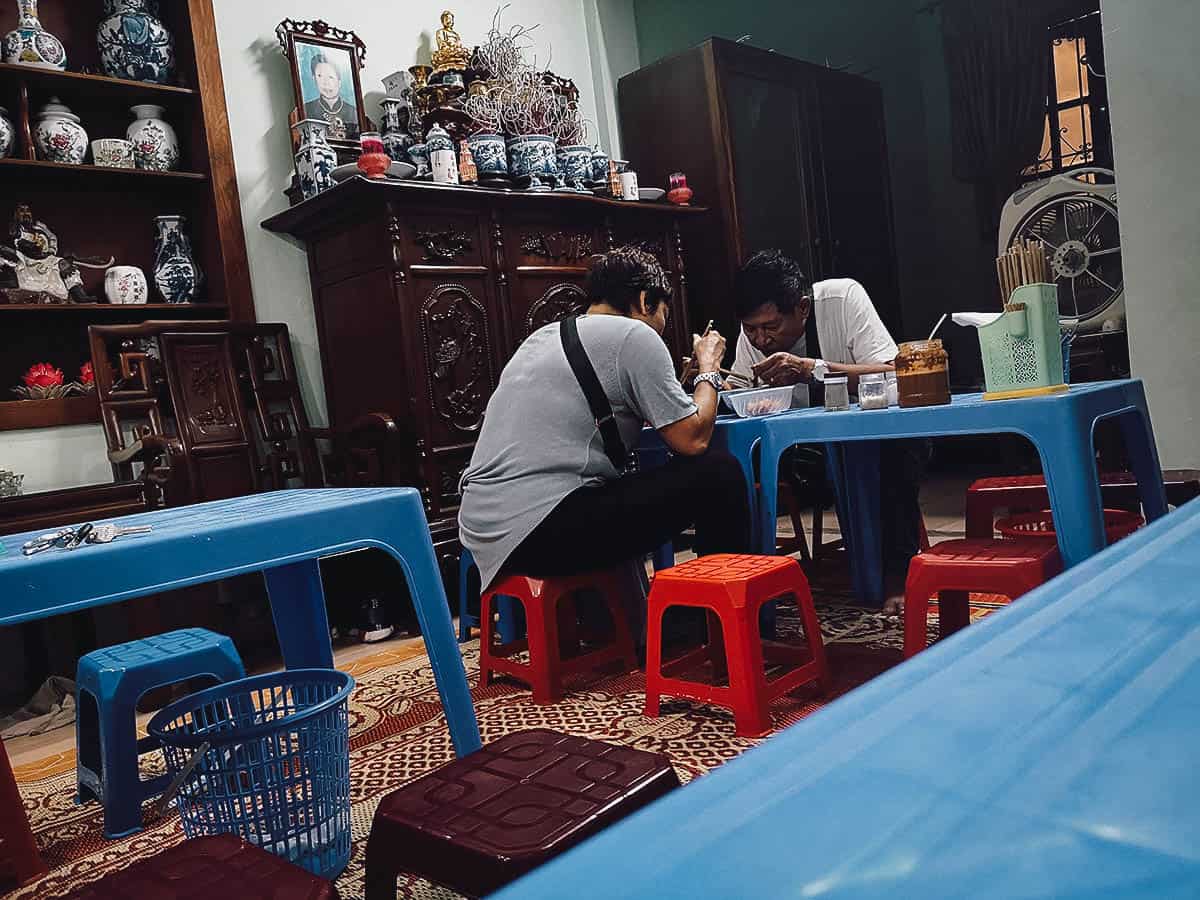 Like Phở Thìn, Ms. Minh's bowls of pho are swimming with green onions. The cuts of beef are thin and lean, and the broth perfectly clear.
Ms. Minh follows a secret family recipe that involves simmering beef bones for 24 hours while skimming off all traces of fat to keep the broth as clear as possible and preserve its meaty flavor.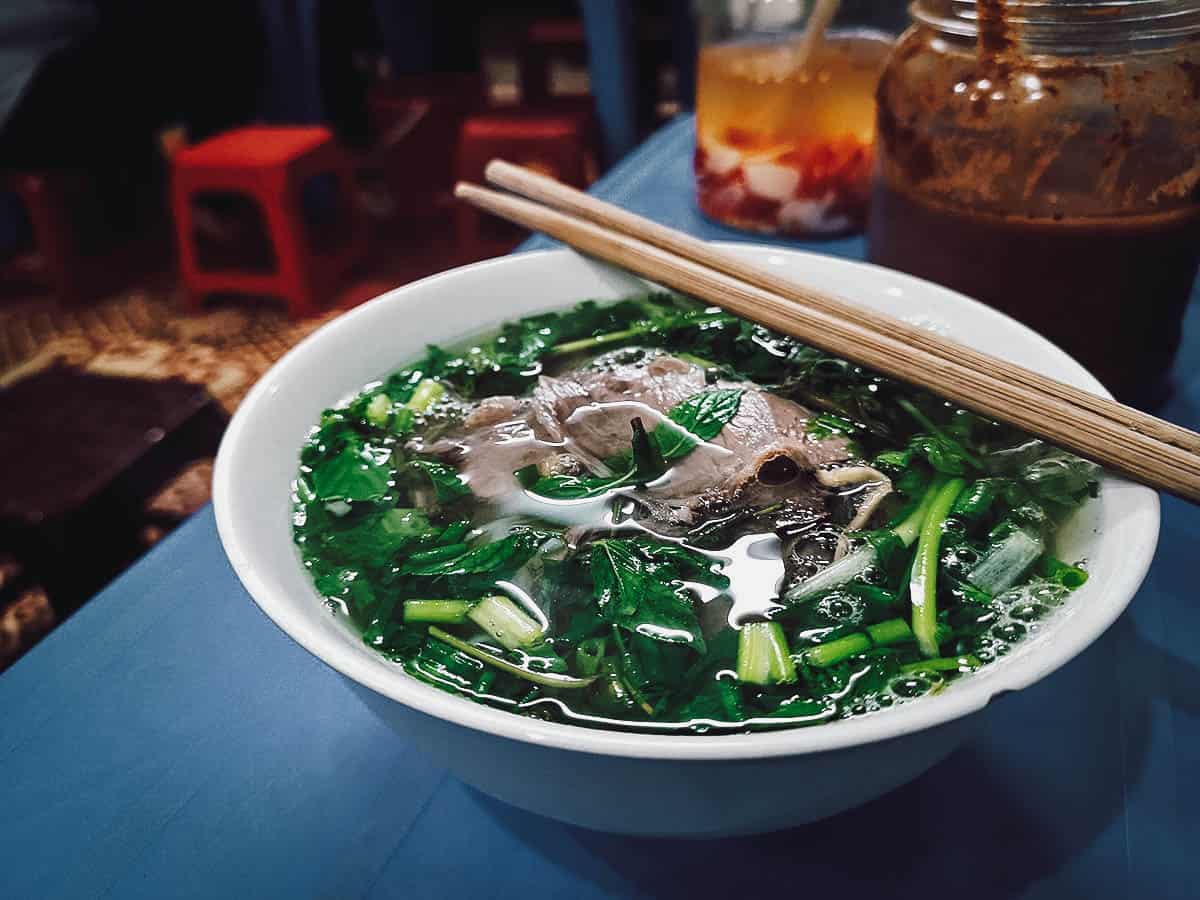 Like any streetside vendor, tables are stacked with various condiments. I took a few sips of the broth before adding in some chili sauce, chopped red chilis, and pickled vegetables.
I enjoy spicy food and these condiments had my nose running and beads of sweat dripping down my shaved head. Very nice.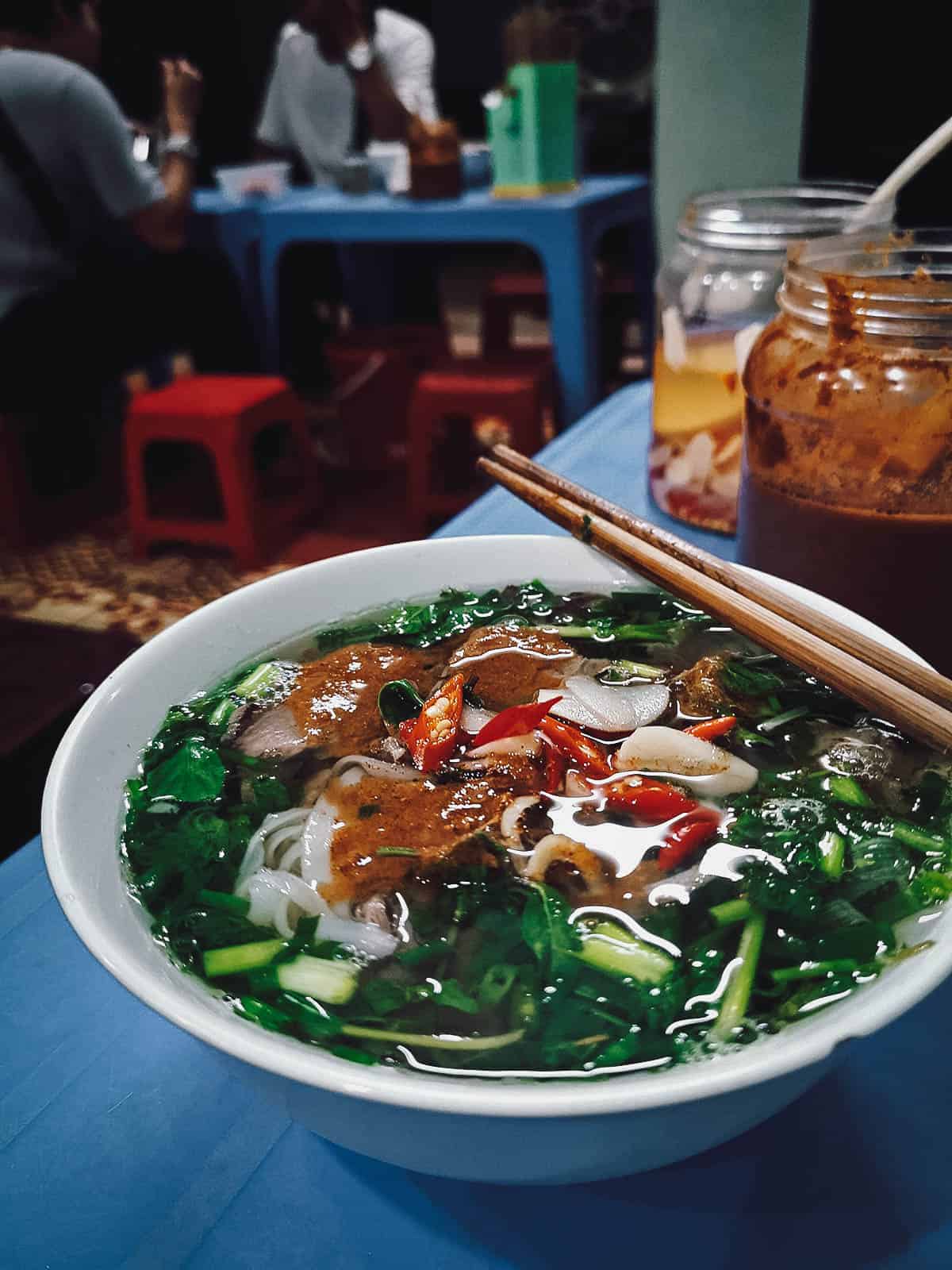 Here's a closer look at those soft and silky pho noodles and thin slices of tender beef. Clearly, this bowl of pho was made with much care and love.
BUN CHA
Bun cha is one of Hanoi's core regional dishes. It's a must-try Hanoi food classic and the reason why a similar dish called bun thịt nuong exists everywhere else in Vietnam except Hanoi, where bun cha is overlord and ruler.
It's a dish consisting of charcoal-grilled fatty pork served in a soupy bowl with pickled vegetables, along with a side of sticky rice noodles and fresh leafy greens like lettuce, perilla, coriander, and mint.
If I could eat just one Vietnamese dish for the rest of my life, then it would definitely be bun cha. I love this dish and ate it as often as I could in Hanoi. It's commonly eaten with nem cua be which is a type of fried spring roll made with crab.
9. Bun Cha Dac Kim
This was where we had our first taste of bun cha two years ago. Open since 1965, Bun Cha Dac Kim has long been considered one of the best places to have bun cha in the city. In fact, when my brother and sister-in-law took a Hanoi food tour, their local guide took them here.
As described, bun cha and nem cua be are often eaten together so you should definitely get a side of these crab spring rolls to enjoy with your bun cha. They go perfectly well together.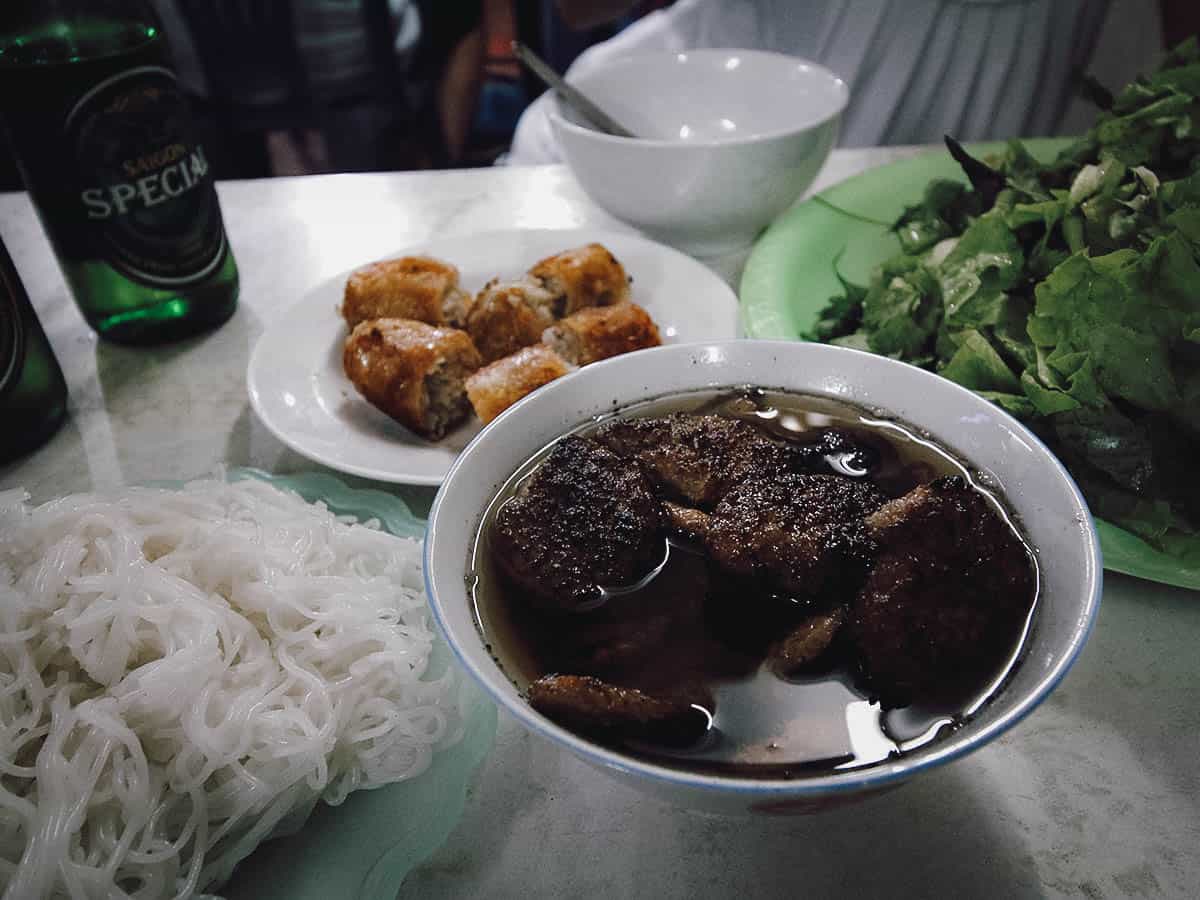 Every order of bun cha comes with two preparations of pork – seasoned pork patties and pork belly. Both are grilled over charcoal so they're smokey, savory, and a little sweet.
They're served in a thin soup that's basically a watered down version of nuoc cham or Vietnamese dipping sauce. It's made with nuoc mam (Vietnamese fish sauce), rice wine vinegar, lime juice, sugar, garlic, and chili, and may or may not contain slivers of pickled vegetables.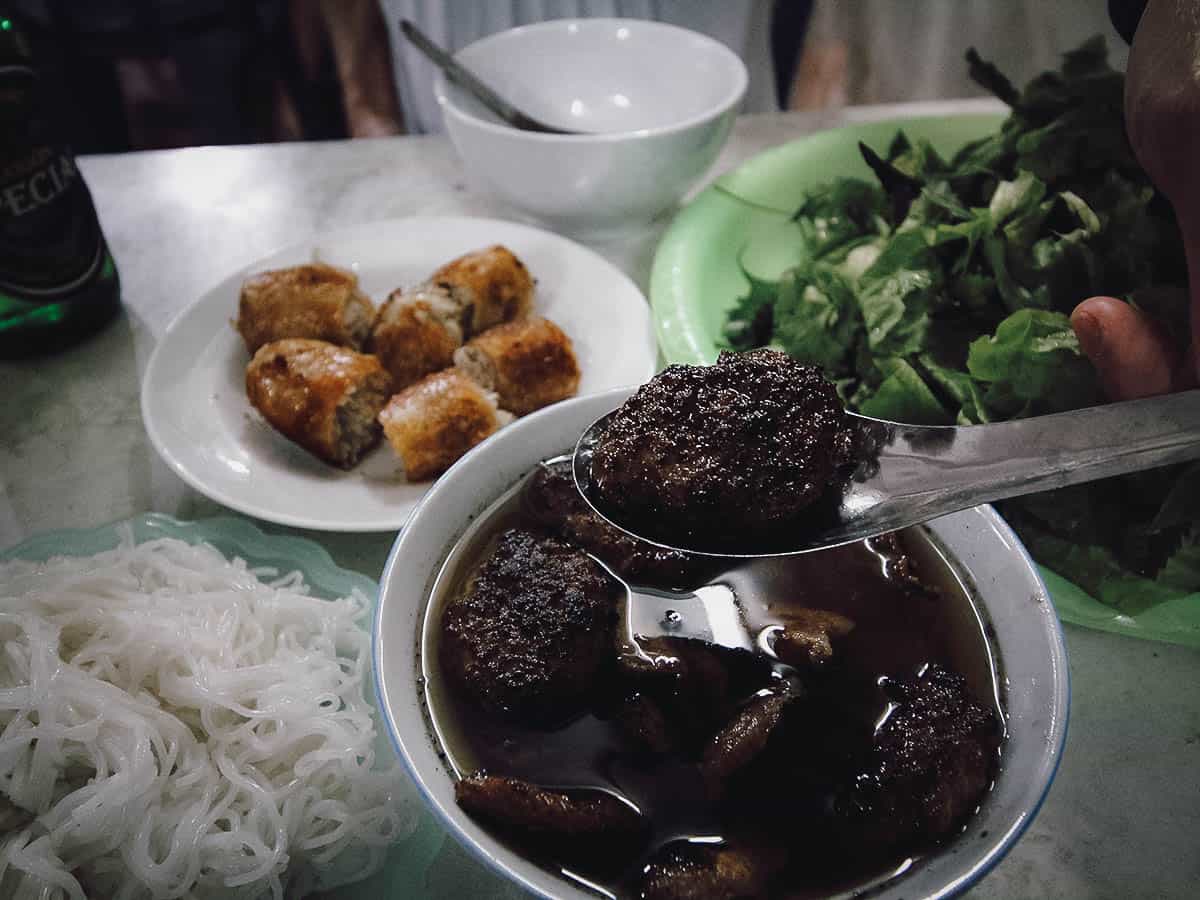 I can't stress enough what a perfect pairing this is. Nem cua be is like the Robin to Bun Cha's Batman.
Deep-fried and redolent with crab flavor, it has a crisp but delicate coating and is the ideal sidekick to the smokey caramelized grilled pork.

To eat, you heap a generous serving of greens and rice noodles into your bowl along with a few pieces of pork. The noodles are sticky and clump together but quickly loosen up when you add in the soup from the bowl of pork.
Bun cha with the noodles and greens are already perfect, but you're welcome to add chili and garlic to impart even more flavor to the dish.
For me, bun cha with nem cua be is the perfect balance of flavor and texture. It embodies everything I love about Vietnamese food.

10. Bún Chả 34 (Bún Chả Tuyết)
Bún Chả 34 is another often-recommended bun cha restaurant in the Old Quarter. It was the first bun cha place I went to on my most recent trip, and arguably my second favorite in Hanoi.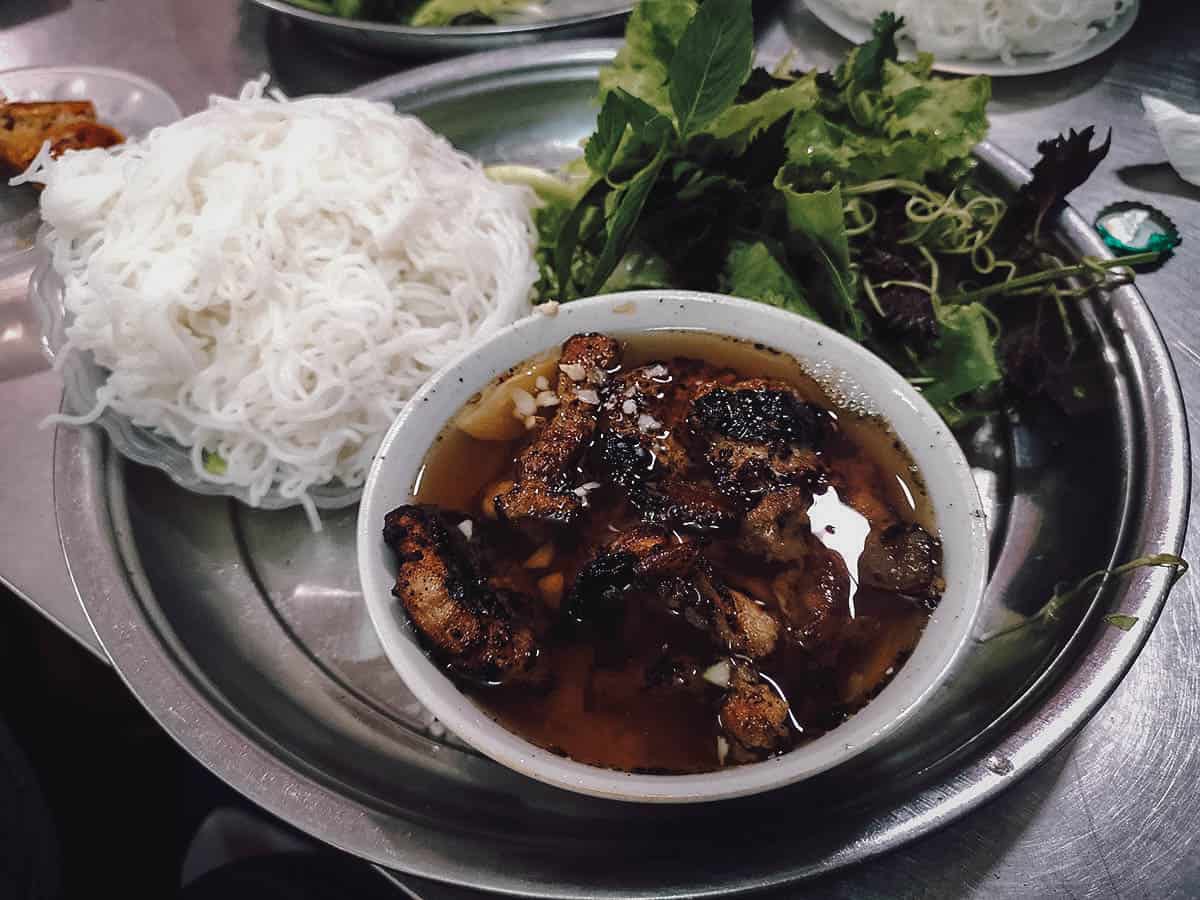 I just love these caramelized pieces of grilled pork swimming in that soupy bowl of nuoc cham. They're redolent with sweet and smokey flavor, the fattiness cut by the acidity of the soup.
They aren't at all unctuous so you don't tire from eating the fatty pork. Vietnamese food is all about balance which is a big reason why I enjoy it so much.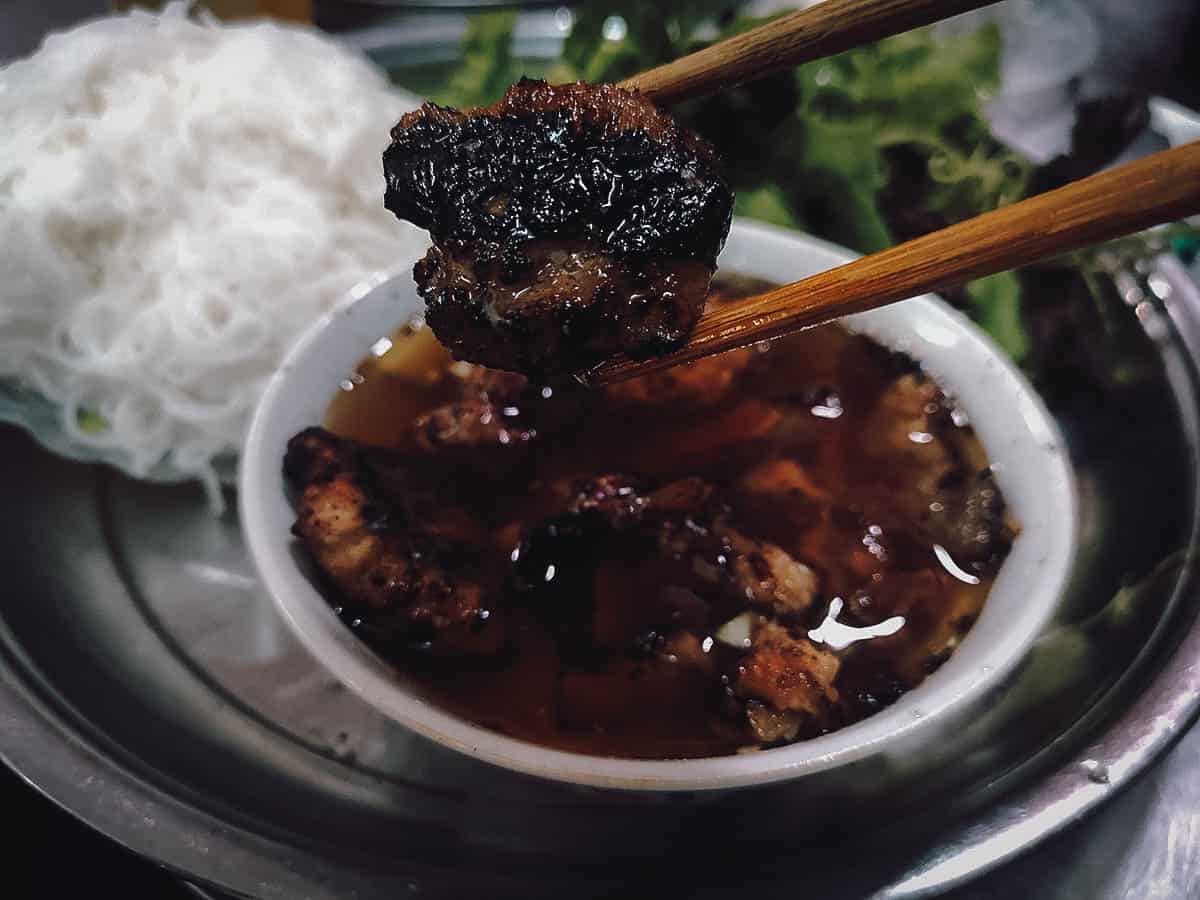 I think it's customary to eat two pieces of nem cua be with every order of bun cha. My server looked confused when I told her I only wanted one. It wasn't enough.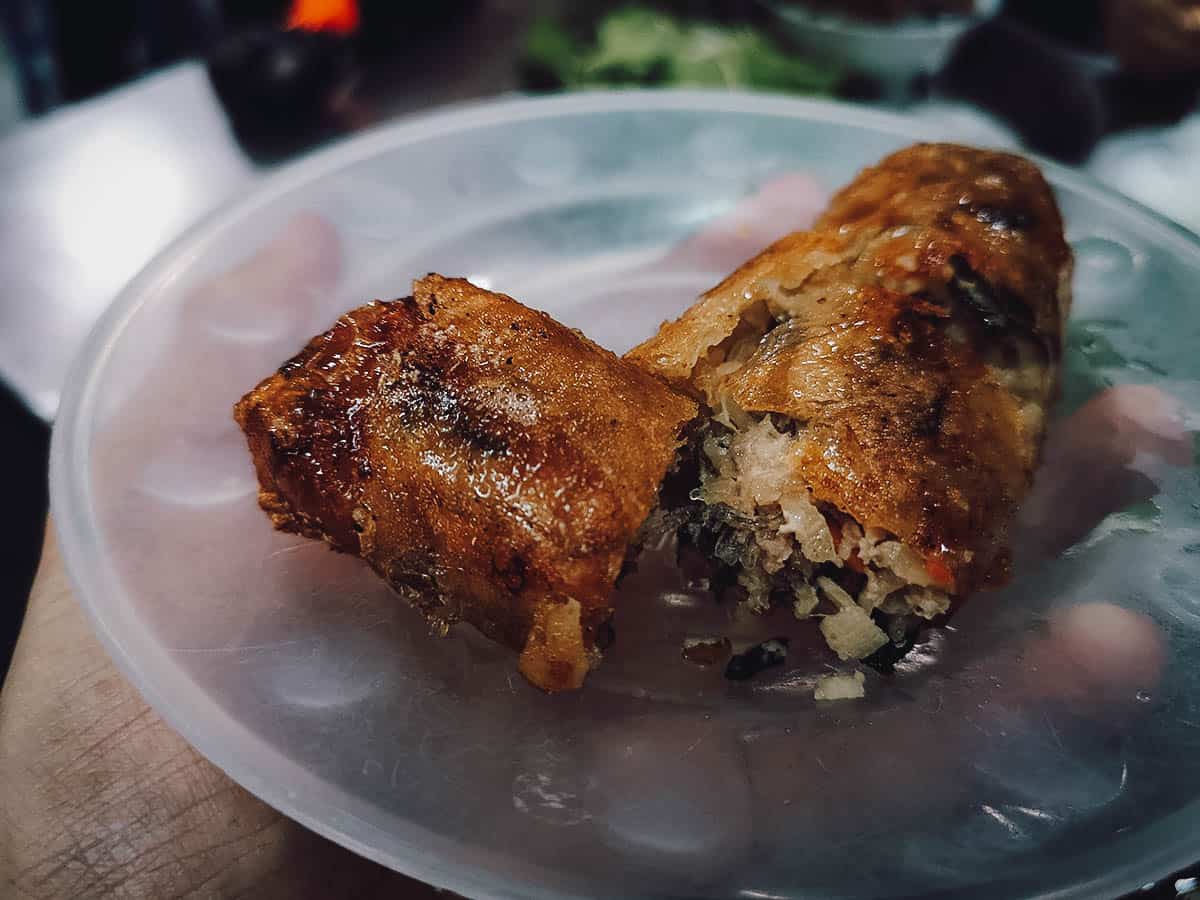 11. Bún Chả Hương Liên
This is that bun cha restaurant made famous by the Hanoi episode of Parts Unknown, the one where the late great Anthony Bourdain was teaching former US president Barack Obama the fine art of slurping over bun cha and beer.
Because of the popularity of that episode, I expected this place to be more crowded and touristy than it was. Surprisingly, there were a good number of local customers here along with fans of the show like me.
I ordered the "Combo Obama" which came with bun cha, nem cua be, and a can of Hanoi Beer (Bia Hà Noi).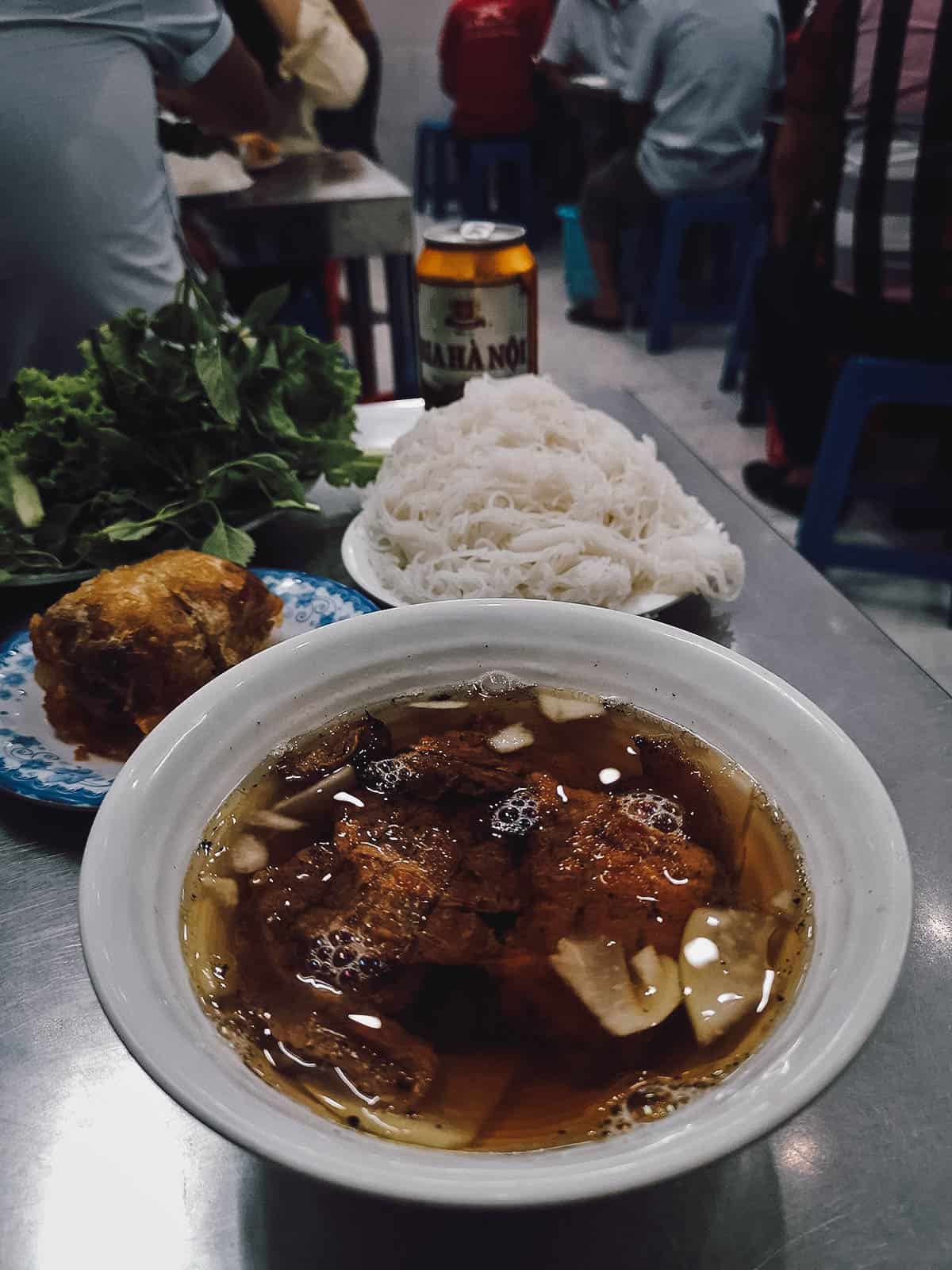 Check out this beautiful fatty piece of pork belly. It didn't have as much caramelization as the other places on this list, but it was still pretty good.
To be honest, the bun cha at Bún Chả Hương Liên was my least favorite, which is something I was sort of expecting. It was decent but clearly a step down from the other places on this list. It wasn't as smokey nor as well-developed in flavor as the others. However, they did serve the best nem cua be.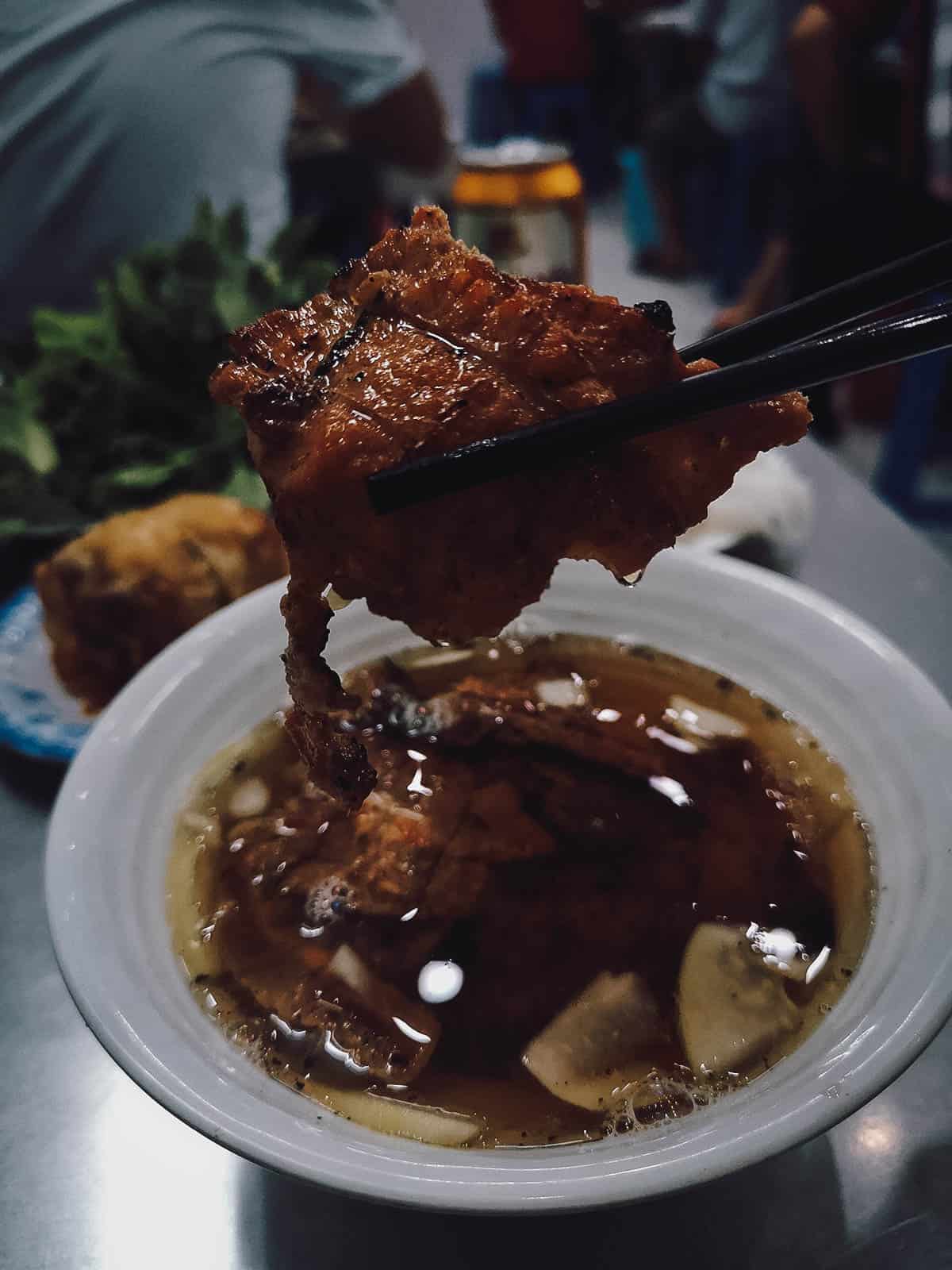 The nem cua be at Bún Chả Hương Liên was my favorite. The coating wasn't as delicate as some of the others but it was the most redolent with crab flavor.
It was rounder and considerably larger than the others as well, which is why they give you just one piece. It was delicious.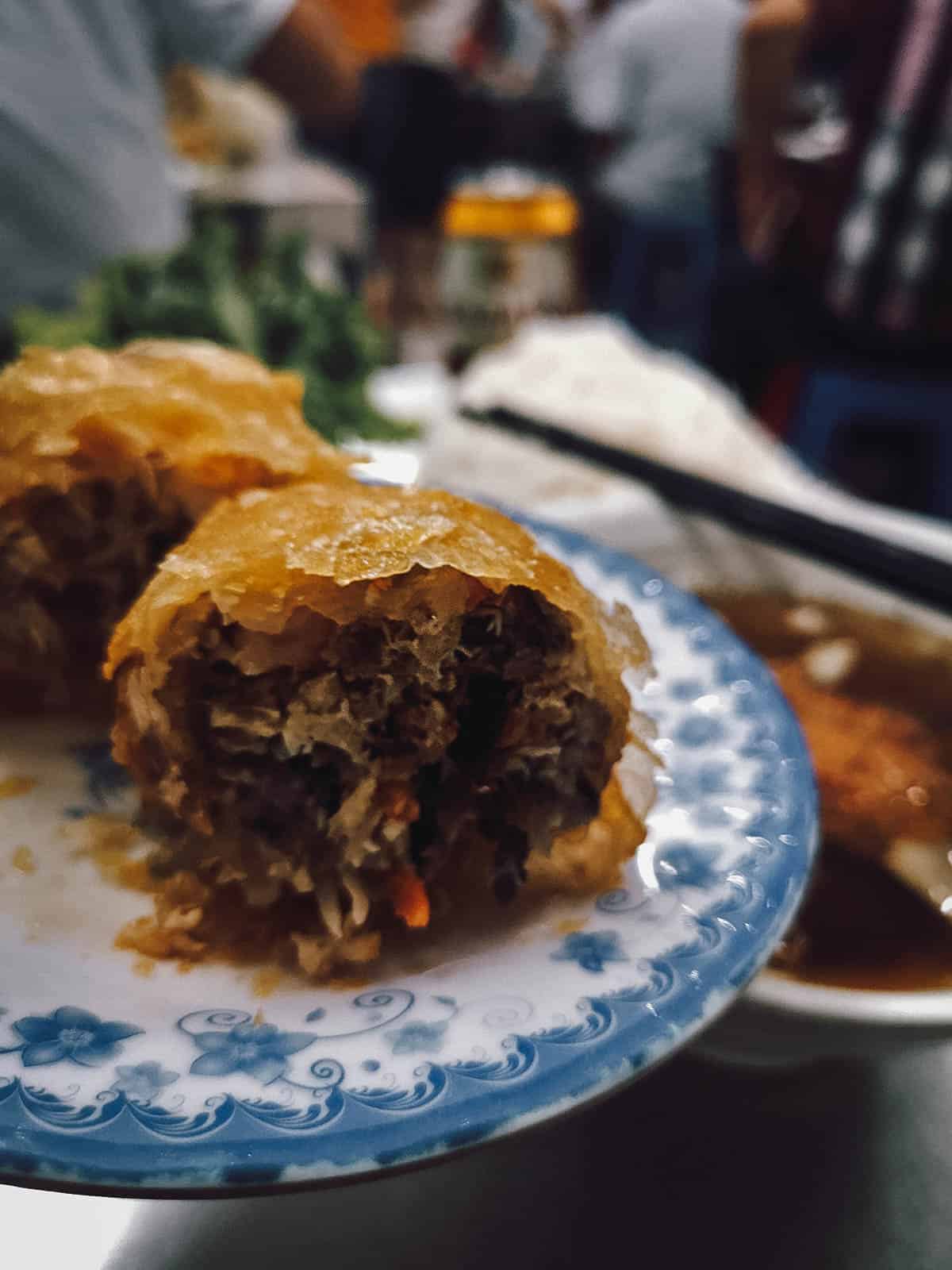 I admire both men so this was my fanboy moment in Vietnam. Encased in glass, this is the very table where Bourdain and Obama sat down to bun cha and beer.
Bún Chả Hương Liên is a big restaurant with two (or more) floors. You'll find this on the second floor. Just walk up the stairs and turn right.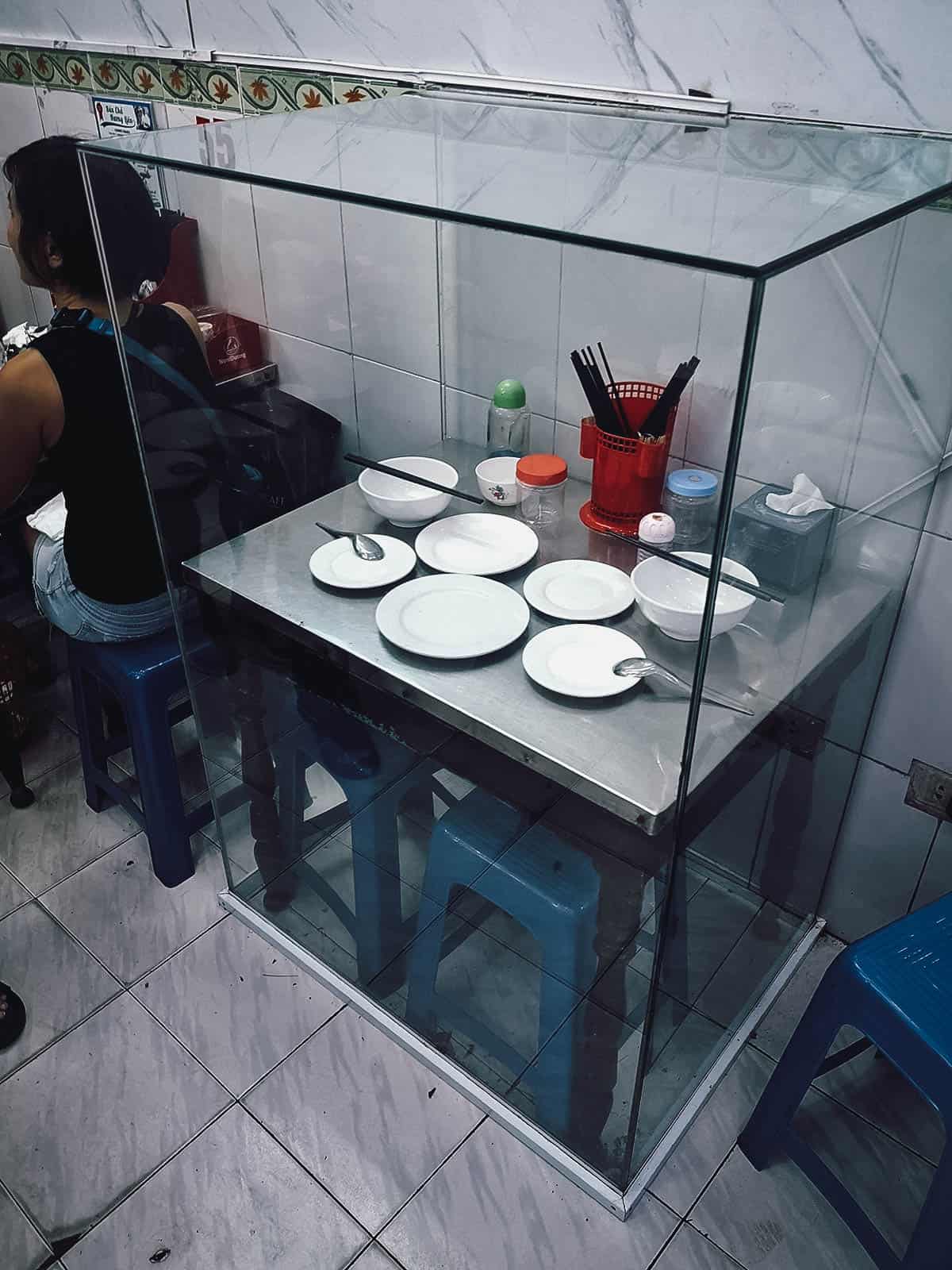 Bún Chả Hương Liên is located pretty far south of the Old Quarter. It took me about half an hour to get here on foot.
It was awesome seeing Obama and Bourdain's table but in my opinion, you can find better bun cha elsewhere. I suggest making the trip here only if you're a fan of the show.
12. Bun Cha 74 Hang Quat
Bun Cha 74 Hang Quat was far and away my favorite bun cha restaurant in Hanoi. Open only for lunch, my homestay host highly recommended this place to me as well. It's exceedingly popular among locals and has been serving some of the best bun cha in Hanoi for over twenty years.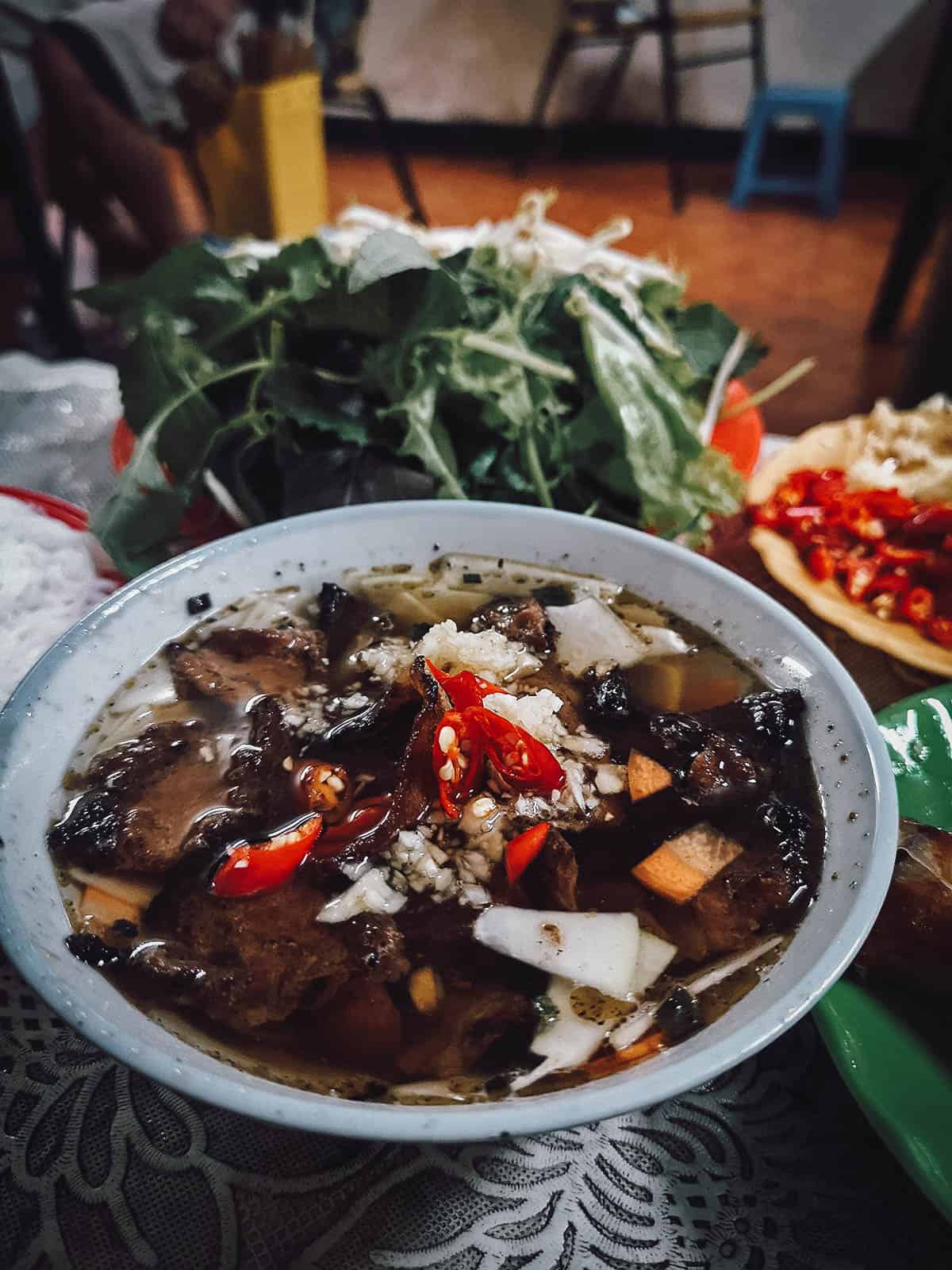 I am seriously salivating just looking at this picture right now. You'd think grilled pork was just grilled pork, but I went on a Hanoi food and market tour led by a chef and she told me that bun cha can vary greatly between cooks. It's all in the seasoning. Eat here and you'll quickly understand that not all bun cha are created equal.
With the perfect combination of sweet, fatty, smokey, and savory, the bun cha at Bun Cha 74 Hang Quat may well have been the single best thing I ate in Vietnam. It was effing delicious.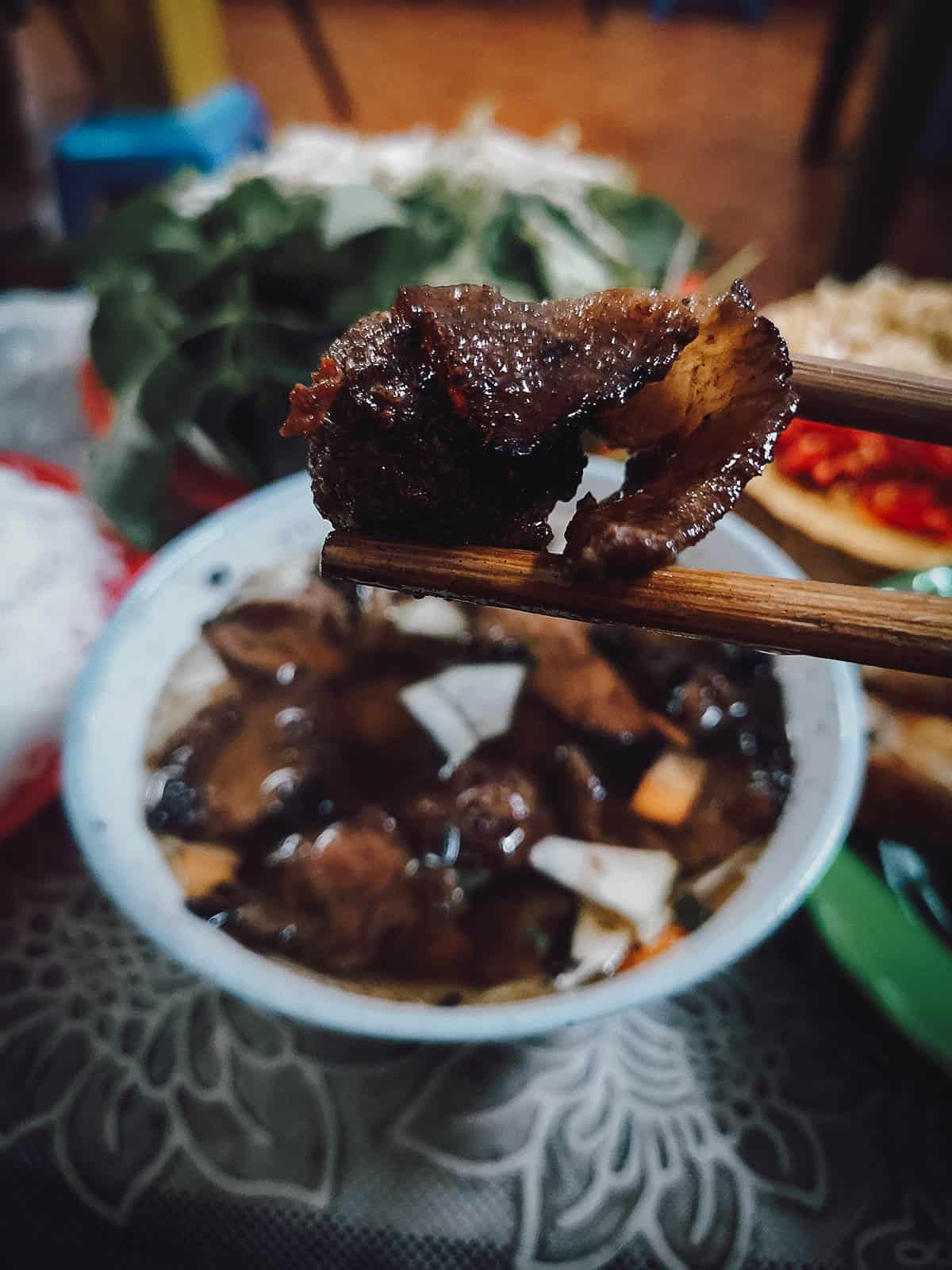 Their nem cua be was pretty darn good as well. Not quite as good I thought as Bún chả Hương Liên's spring roll, but pretty darn close. It wasn't as flavorful but it was crisp and super delicate, giving way and crumbling between your teeth with little effort.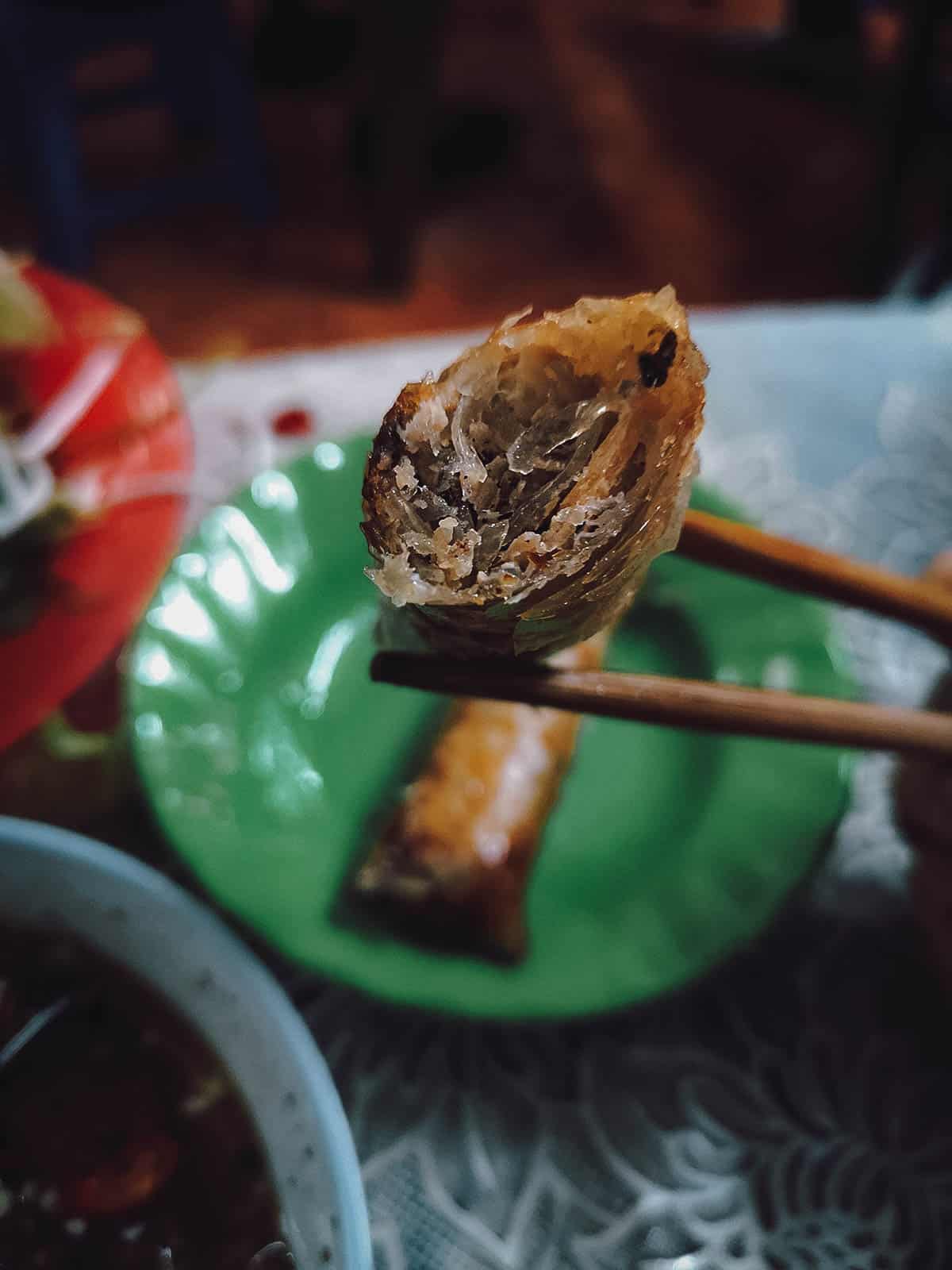 Bun Cha 74 Hang Quat is located at the end of this alley. It's one of those well-established Hanoi street food restaurants that doesn't seem to have an actual space. You'll see what I mean in the next few pictures.

Enter the alley and you'll find these cooks busily grilling up the most mouth-watering medallions of pork. The smells wafting from this charcoal grill were ridiculous.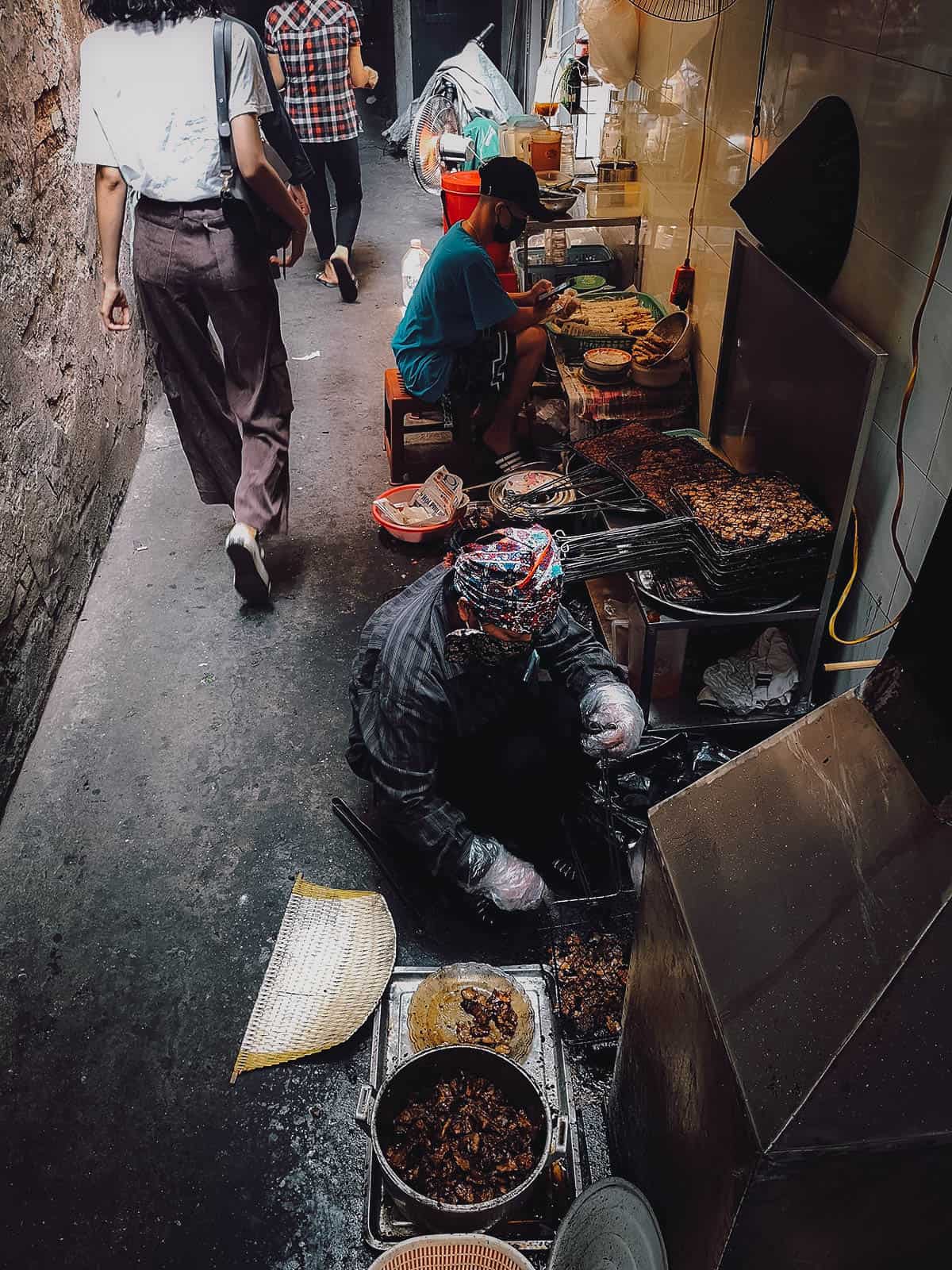 I don't know what you call them but this is how they grill bun cha. They sandwich a layer of pork between these wire tools then place them over hot coals to grill. They turn them over after a few minutes so the meat grills evenly on both sides. You'll find Hanoi street food vendors grilling meat like this everywhere in the city.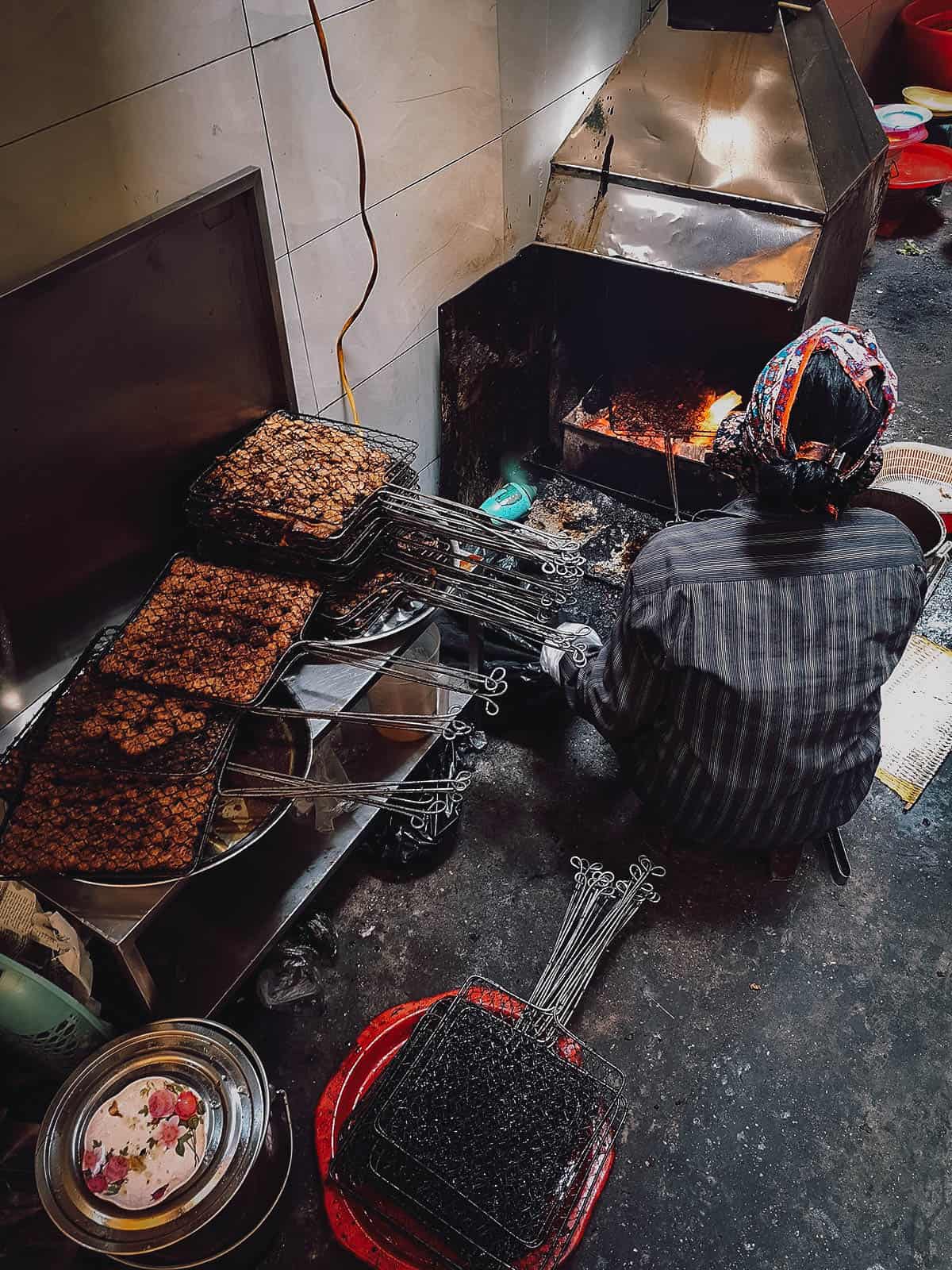 BANH CUON
Another Hanoi food favorite is banh cuon. It's a type of rice roll made from thin sheets of steamed fermented rice batter filled with seasoned ground pork and wood ear mushrooms.
The rolls are topped with fried shallots and typically served with a side of fresh herbs, gio lua (Vietnamese pork sausage), sliced cucumber, bean sprouts, and nuoc cham.
13. Bánh Cuốn Bà Xuân
I had time for just one banh cuon shop on my most recent trip to Vietnam. The place on my radar was closed that night but I was lucky to find Bánh Cuốn Bà Xuân.
It's located farther north, closer to Truc Bach Lake, so it doesn't seem to get as many tourists. But it was packed with locals at the time which is always an encouraging sign.
No one could speak English so I had trouble ordering. I basically had to point to the rice rolls steaming over pots of boiling water for them to understand what I wanted. Thankfully they did, and brought me back this heaping plate of banh cuon topped with crispy fried shallots and a side of gio lua.
Banh cuon is similar to cheong fun or Chinese rice rolls. They're soft, slippery, and a little gummy, which is probably why they top them with fried shallots, to give them texture.
They're great with the fresh herbs and nuoc cham dipping sauce. Banh cuon isn't substantial enough for a full meal but it makes for an interesting snack in Hanoi.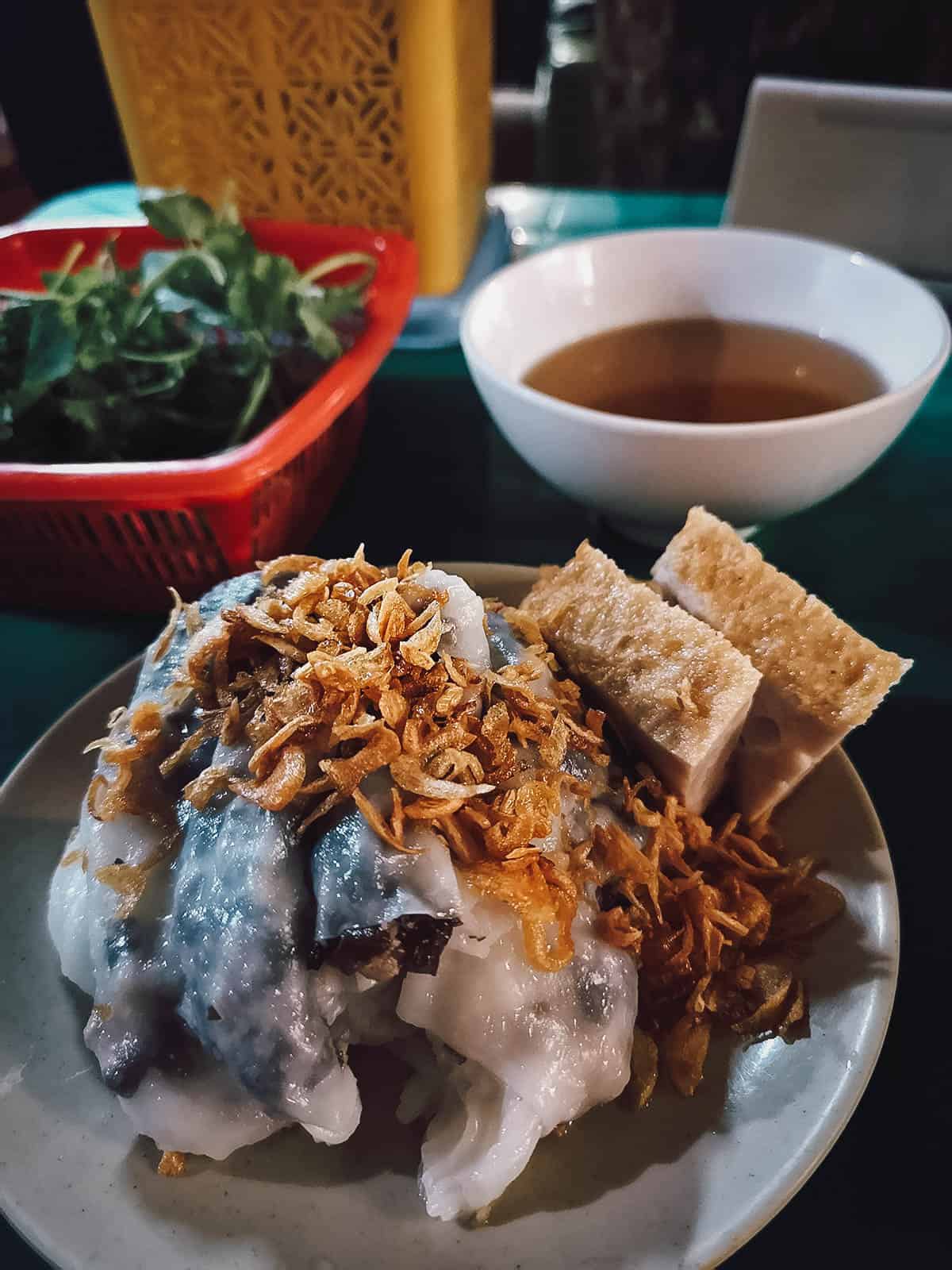 Based on a reviewer's comments, Bánh Cuốn Bà Xuân is named after its owner, a Mrs Xuan. She operated the restaurant for many years before her death.
It was taken over by her daughter who was probably the woman making banh cuon at the front of the shop, the one I was signaling to when I was trying to put in my order.
14. Bánh Cuốn Gia Truyền Thanh Vân
We visited Bánh Cuốn Gia Truyền Thanh Vân two years ago. It's still my favorite banh cuon shop in Hanoi, largely because they offer more variety.
Servers making roll after roll seems to be a standard at every banh cuon shop. I read that banh cuon rice sheets are traditionally made by steaming rice batter on a cloth stretched over a pot of boiling water, but that wasn't the case here.
Instead, they'd ladle scoops of batter onto a convex metal surface. It would quickly solidify into a thin delicate sheet that they'd scoop up and stuff with fillings before rolling up and cutting with scissors. You can tell they've been doing this for a long time by how quickly they were working.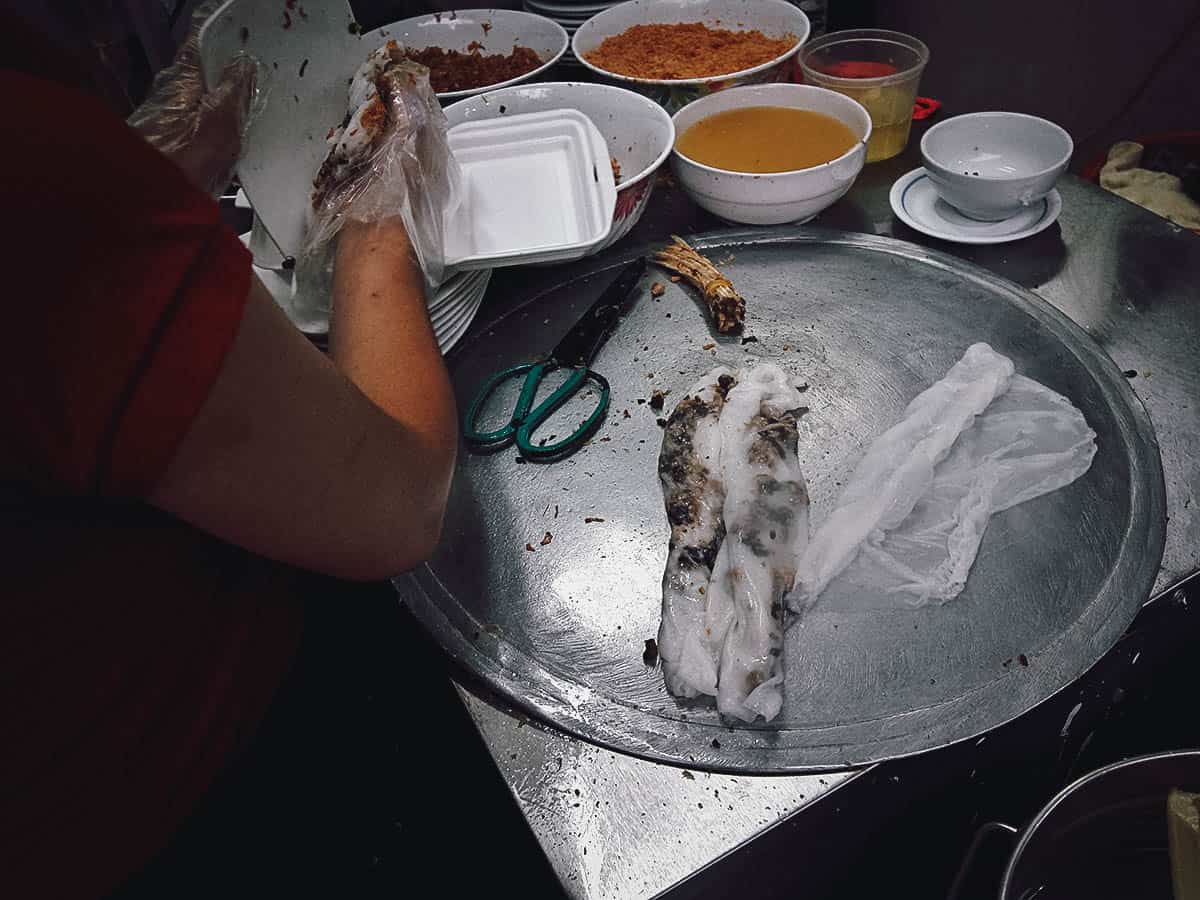 As described, banh cuon is commonly made with pork (bánh cuốn nhân thịt), but this restaurant offers other varieties as well like shrimp (bánh cuốn nhân tôm tươi). We had the pork and shrimp, both of which were delicious.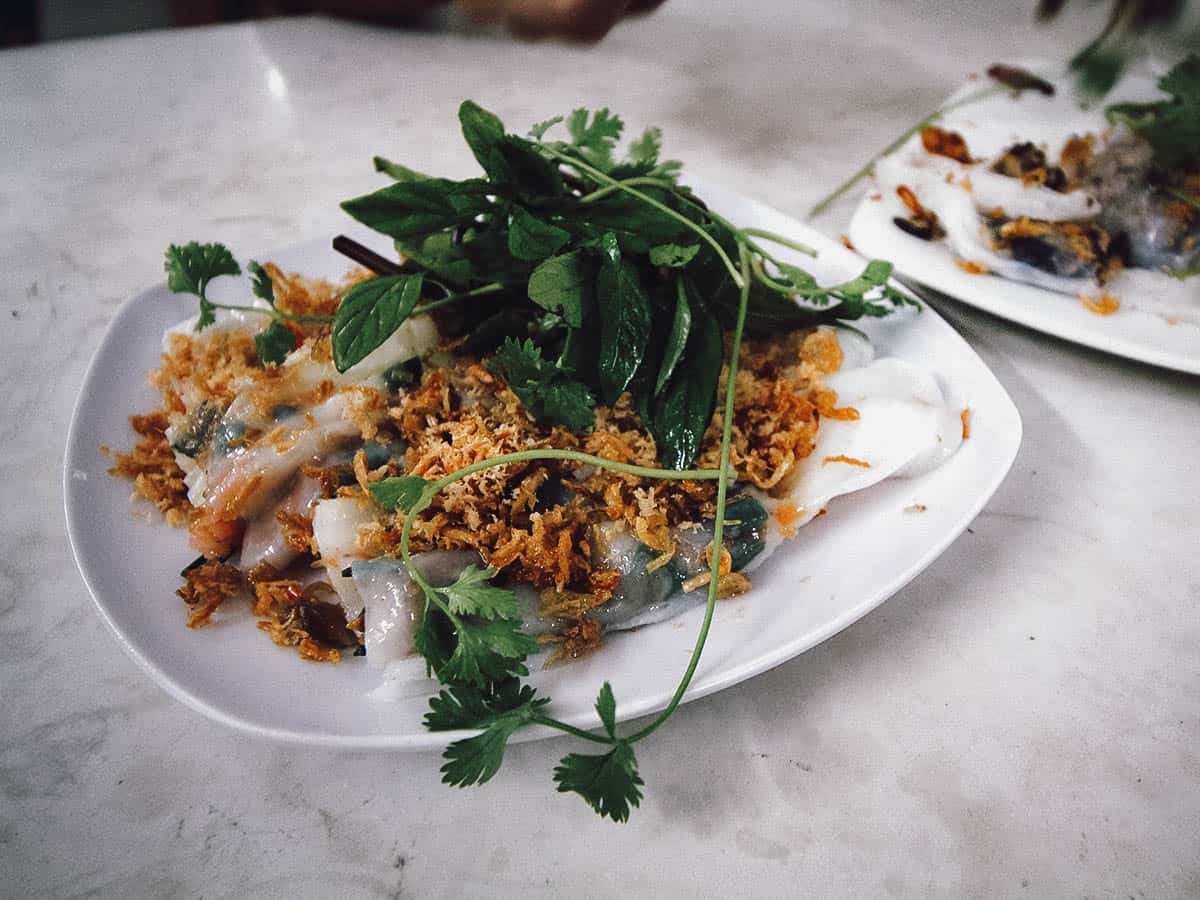 CHA CA
Like bun cha and banh cuon, cha ca is another must-try Hanoi food classic. It refers to grilled turmeric-marinated catfish served with a mountain of fresh dill.
It was invented by the Chả Cá Lã Vọng restaurant over a hundred years ago. That restaurant still exists in Hanoi today, though it's best days appear to be behind it. People often complain about the service, hygiene, and poor value for money.
Today, there are far better cha ca restaurants in the city. Like bun cha, it was one of our favorite dishes in Hanoi and something we'd look for on every return trip to Vietnam.
15. Chả Cá Lão Ngư
Chả Cá Lão Ngư was the restaurant I went to on my most recent trip to Vietnam. It wasn't my first choice but it was delicious nonetheless.
For me, cha ca is one of the most visually appealing Vietnamese dishes. What looks like a bushel of forest green dill is heaped onto a frying pan with golden orange nuggets of breaded catfish. It's pan-fried on your table using a small burner, so you can hear it sizzling and popping as it cooks.
The fish typically used to make cha ca is the hemibagrus catfish, a genus of catfish caught in the rivers of northern Vietnam. It's cut into matchbox-sized nuggets and marinated in galangal, turmeric, and other spices.
The fish is initially grilled on charcoal before being brought out to pan fry on your table with spring onions and what appears to be too much dill. The pan-frying process cooks it all down so what seemed like an excess of dill turns out to be just right.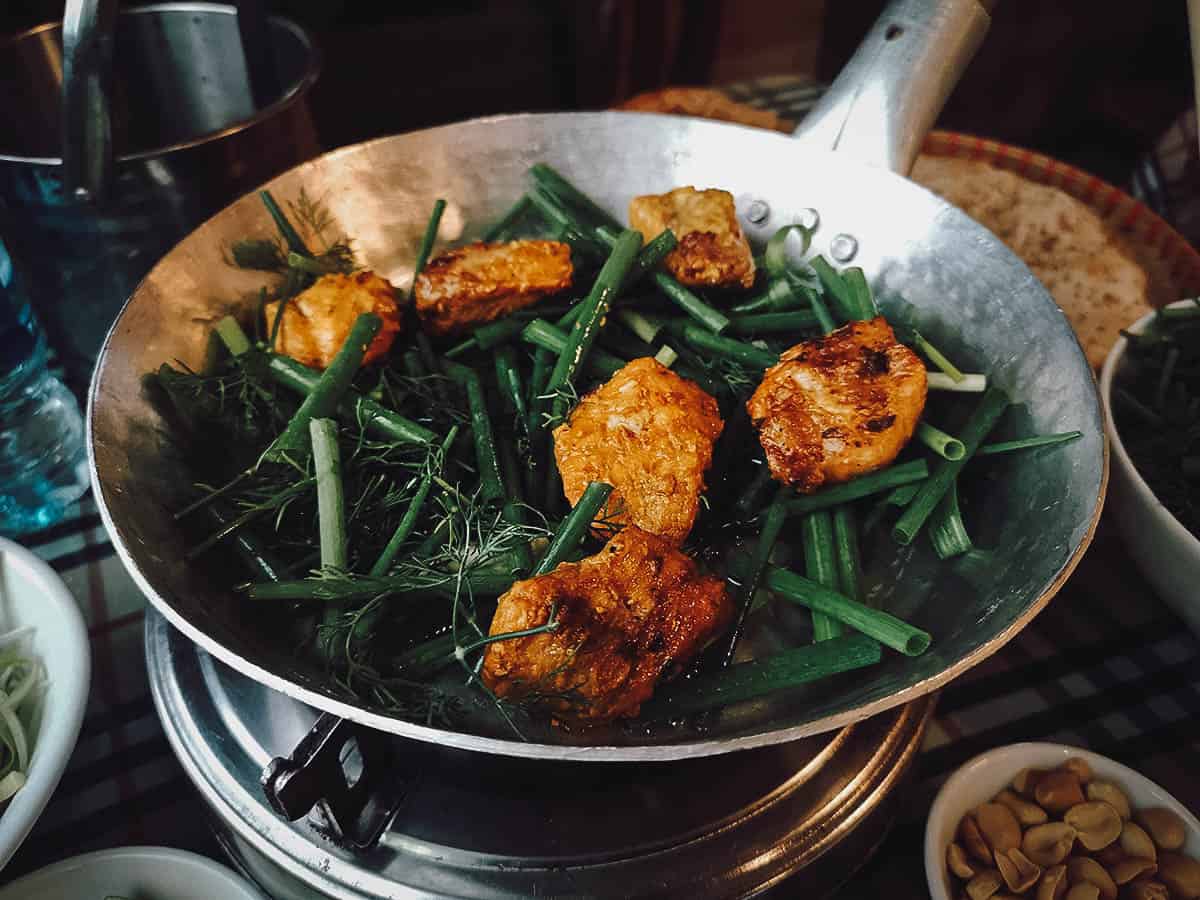 Cha ca is so good that Cha Ca La Vong was included in the bestsellling book 1,000 Places to See Before You Die. If you like fish, then you absolutely need to try this.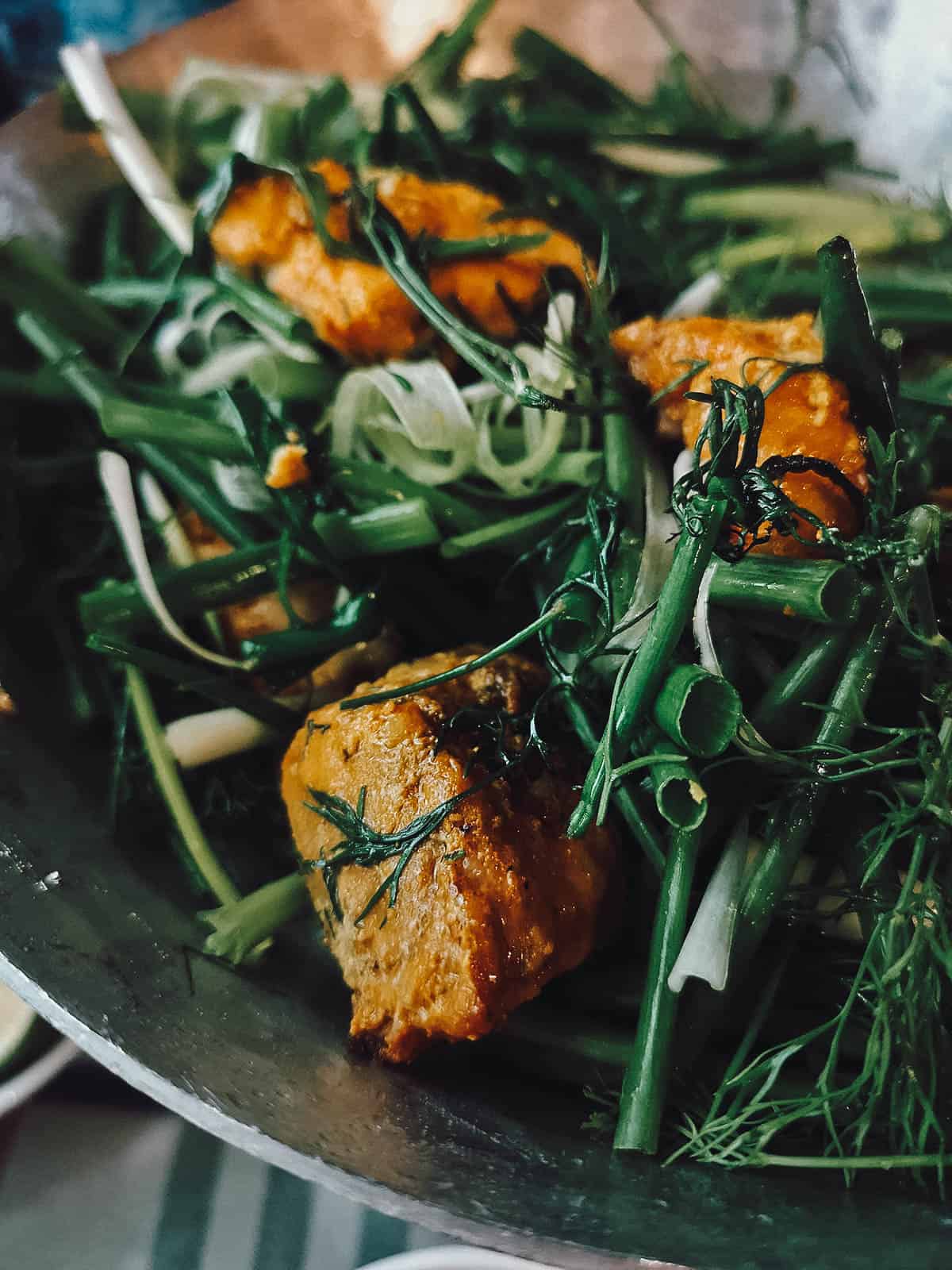 When ready, the cha ca is served with rice vermicelli, roasted peanuts, and coriander, along with a dipping sauce made with nuoc cham, vinegar, and garlic.
If you like, you can also add a bit of mam tom or Vietnamese shrimp paste mixed with lime juice. Mam tom has a strong pungent odor and flavor so it may not be for everyone, but we love it. It's similar to Filipino bagoong.
The flavors and textures of cha ca are wonderful so it's easy to see why this dish is so highly regarded. The fish is tender and flaky on the inside with a slightly charred, caramelized coating. That's probably why the fish is grilled first before being pan-fried, to give it smokiness and texture.
The dill imparts a wonderful aroma to the dish while the spring onions give it freshness and crunch. It's so damn good and an absolute must-try in Hanoi.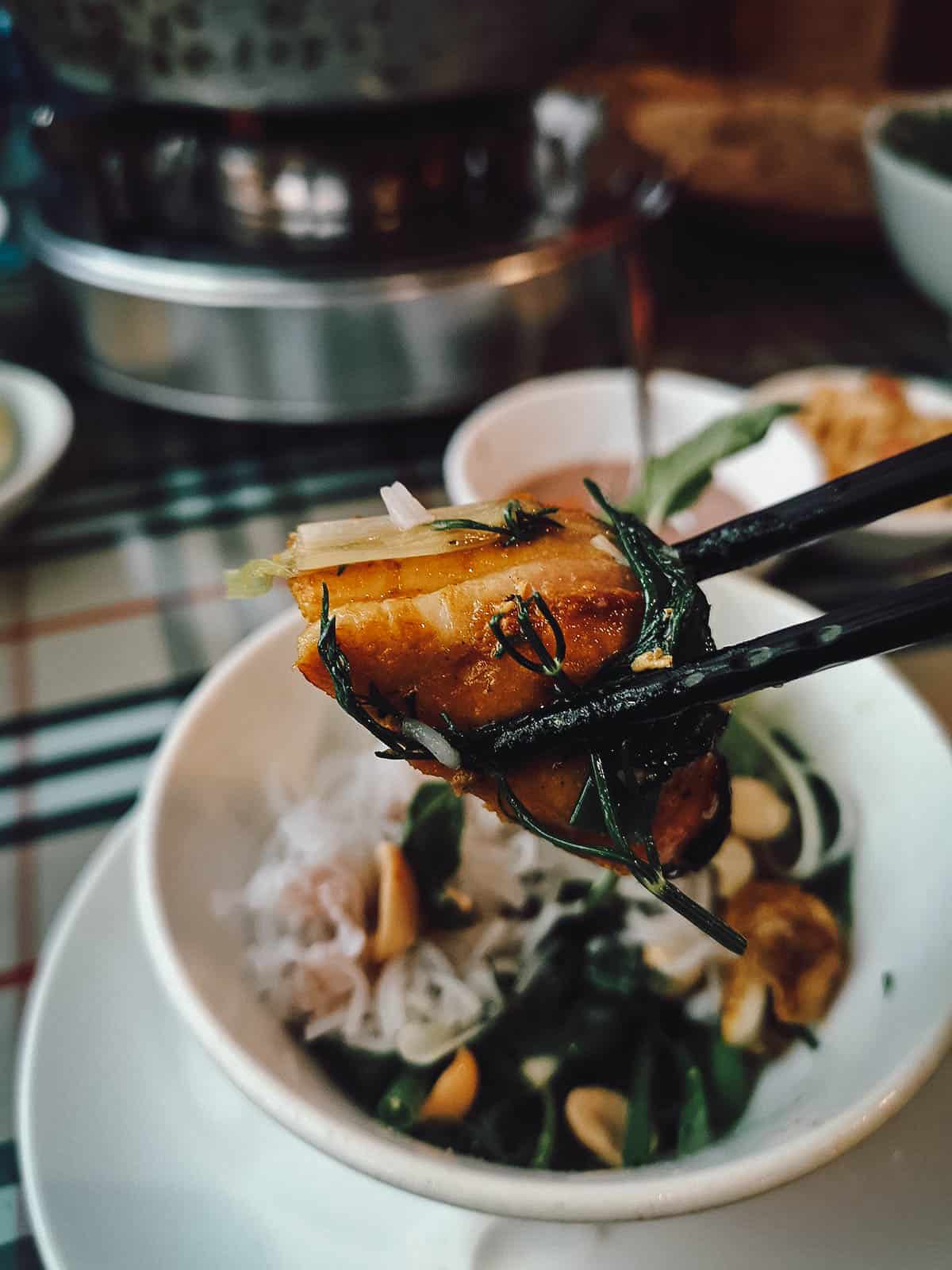 16. Chả Cá Thăng Long
Chả Cá Thăng Long was where we got our first taste of cha ca two years ago and it's still my favorite. It's located in the heart of the Old Quarter as well so it's easy to get to.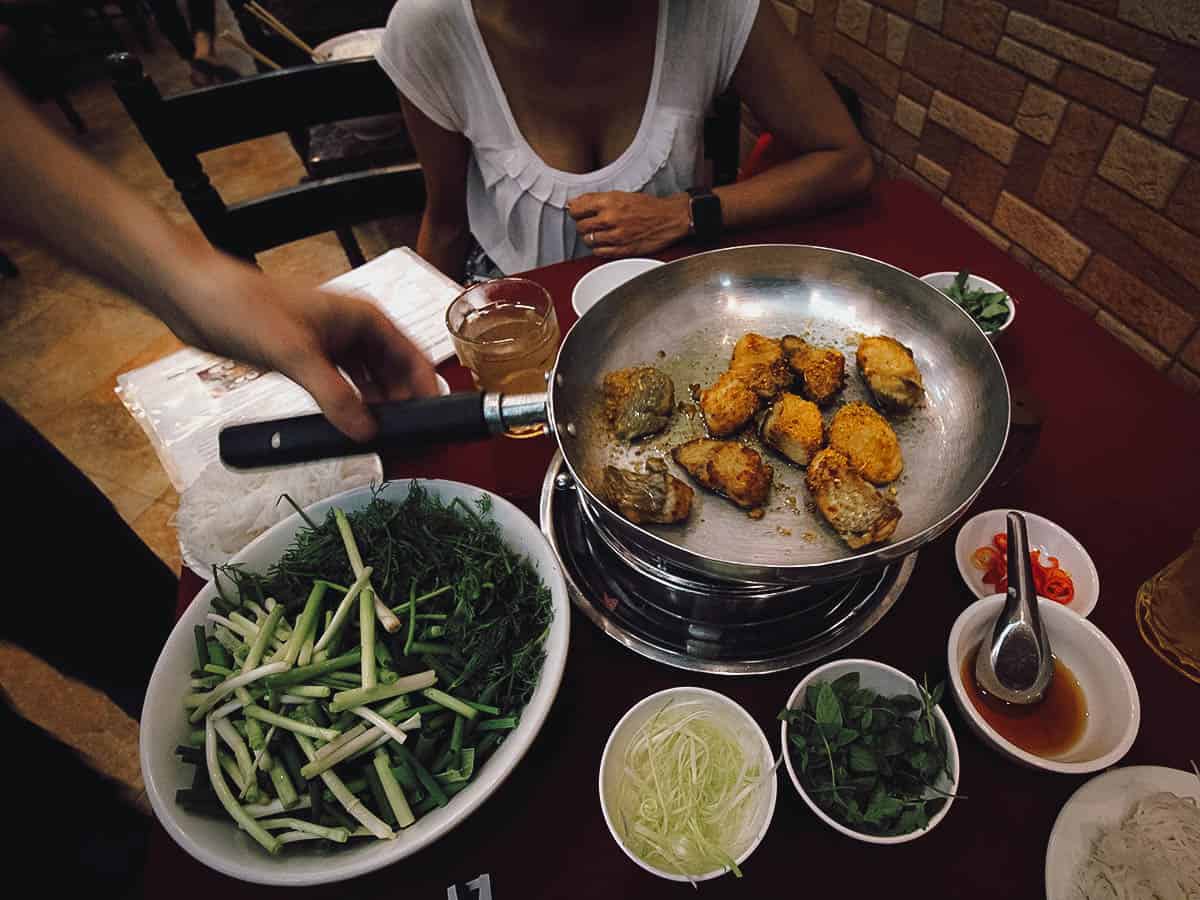 To be fair, the differences between restaurants were subtle, but they were just noticeable enough for me to prefer Chả Cá Thăng Long.
It may have something to do with how long they were kept on the burner, but the catfish here seemed more moist and succulent. The convenient location was a big plus too as we didn't have to go far to enjoy it.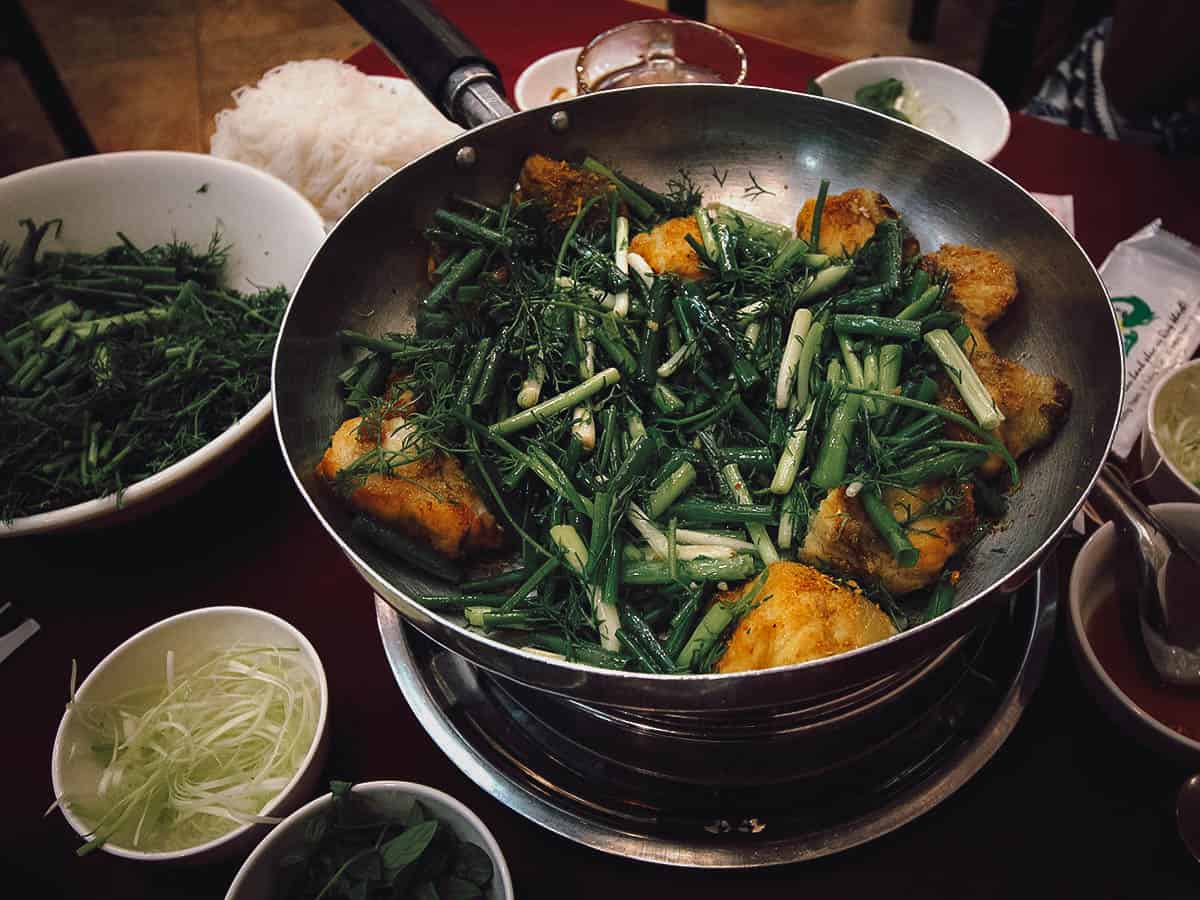 OTHER DISHES & RESTAURANTS
17. Bún Riêu Cua Hàng Bạc
We ate at Bún Riêu Cua Hàng Bạc two years ago but still remember it well. They specialize in bun rieu which is a traditional Vietnamese rice vermicelli soup.
There are different types of bun rieu, but what we had here was bun rieu cua, a popular version made with crab, tomatoes, pork, and tofu.
It's served with tomato broth and topped with freshwater crab, specifically rice paddy crabs, which are pounded with the shell into a fine paste before being strained. The crab liquid is then used as a base for the soup with tomatoes, giving it a wonderful tangy flavor.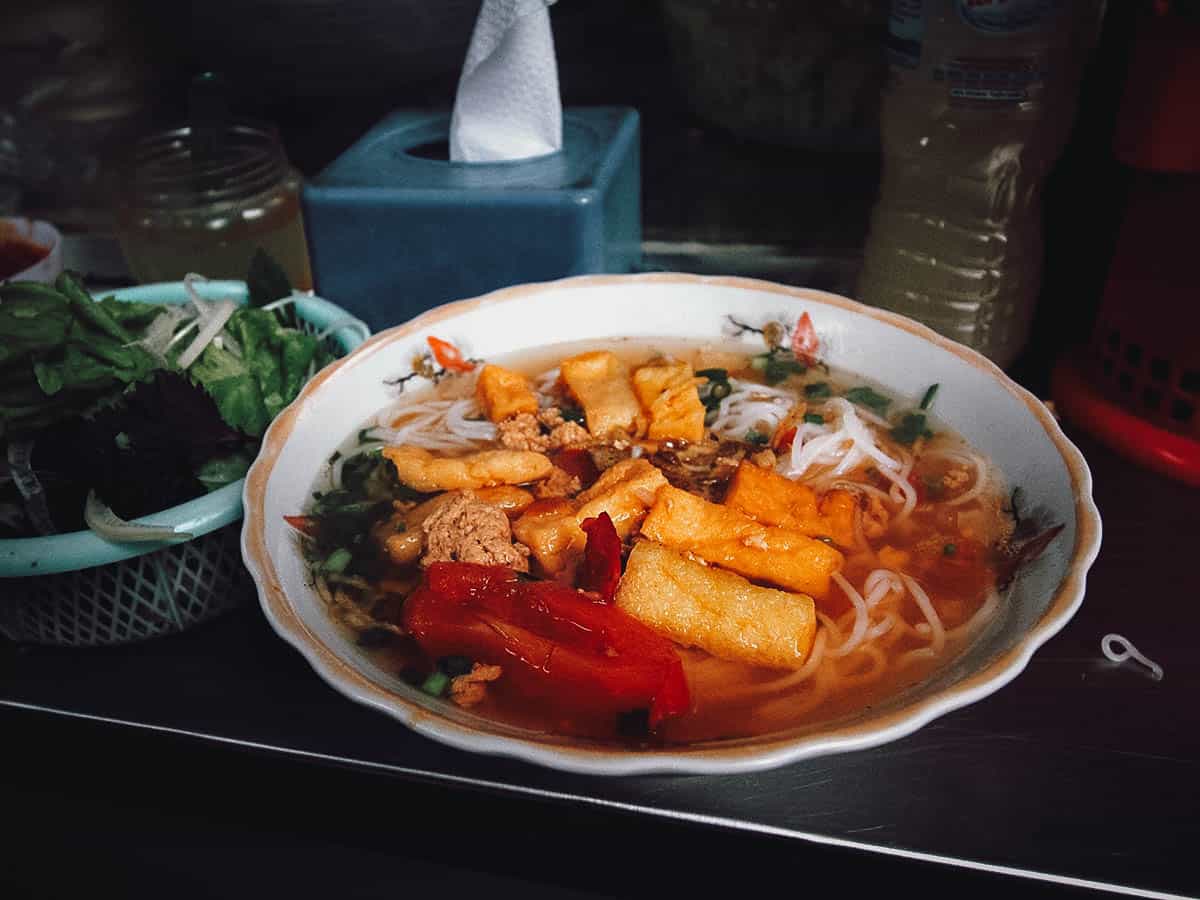 The rice vermicelli is shaped like spaghetti and firmer than pho noodles. The soup is flavorful enough as it is, but you can spruce it up with a host of condiments like chilies, lime, and shrimp paste.
The bun rieu is served with a basket of fresh greens like perilla, mint, lettuce, and water spinach, which you add freely into the soup.
Bun rieu cua is a bright and tangy dish that's great to have for breakfast. The acidity from the soup really wakes you up.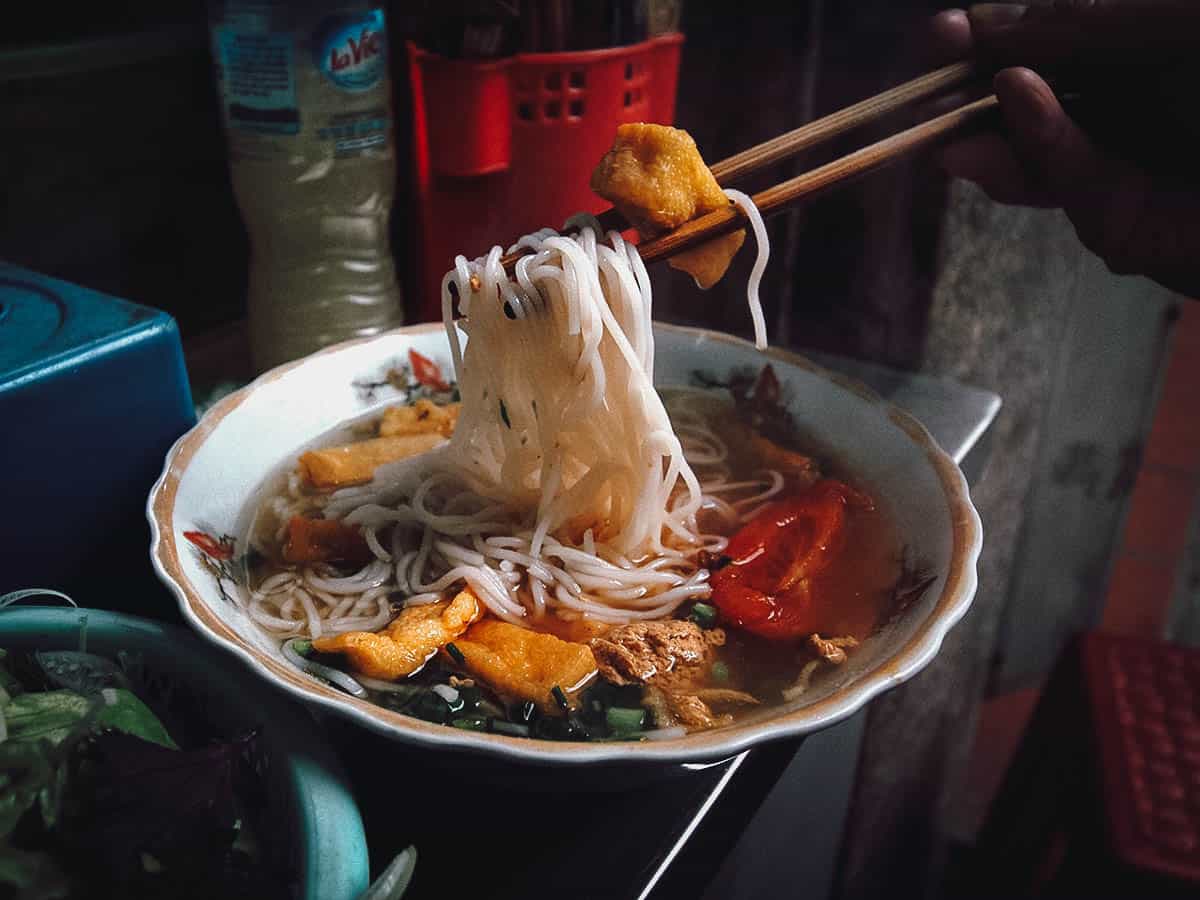 Bún Riêu Cua Hàng Bạc is located at 11 Hang Bac Street, underneath that blue awning. I'm not sure if they have indoor seating but we enjoyed our bun rieu cua on stools along the sidewalk.
18. Quán Bún Thang Bà Đức
We went to Quán Bún Thang Bà Đức two years ago. It was our first secret Hanoi restaurant/cafe experience. I remember that day well because we were so confused trying to look for this place!
The restaurant was listed at 48 Cau Go Street which took us to this corner. As you can see from that sign on the wall, we were at the right place.
We kept walking back and forth, even peeking into that jewelry shop on the left, but we couldn't find anything that resembled a restaurant. Only when they saw the puzzled looks on our faces did these two ladies point us into the dark alley.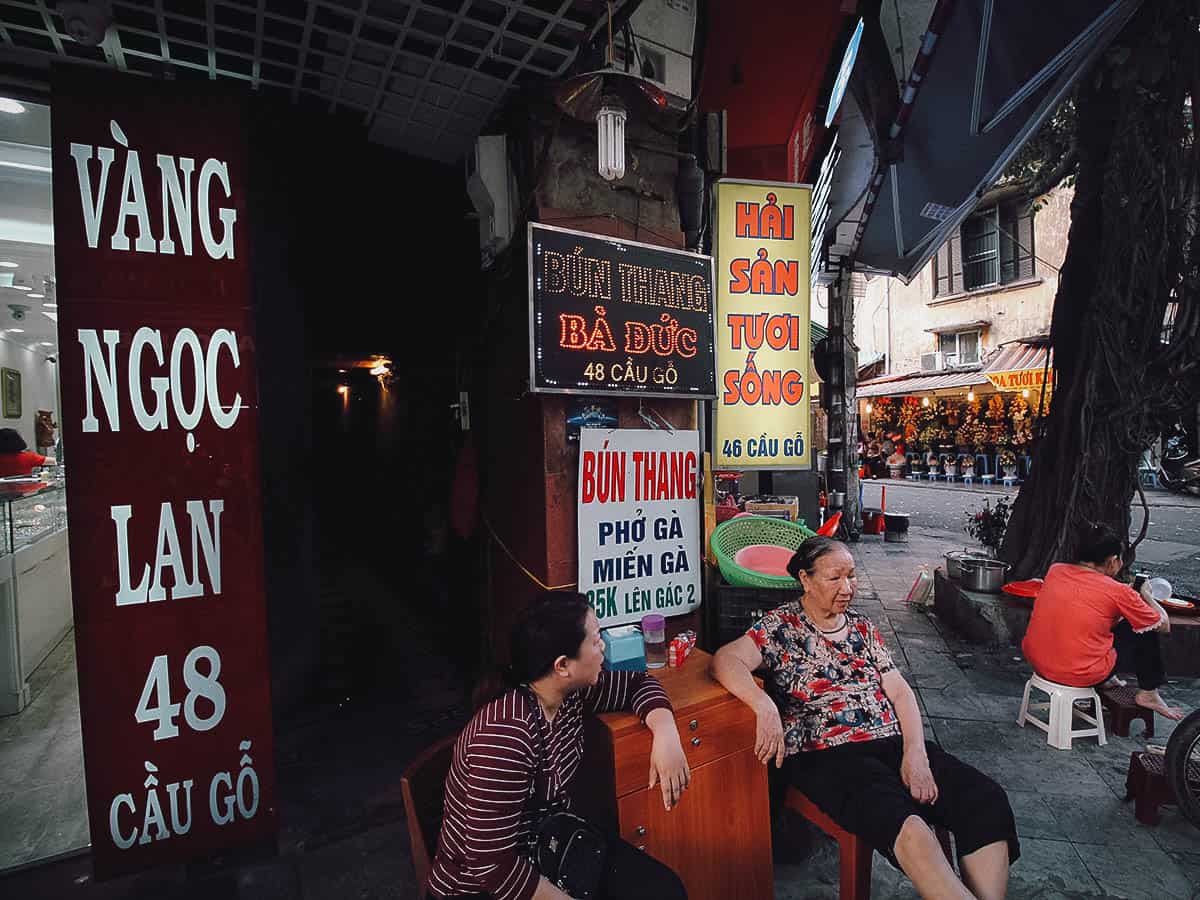 Like Pho Hang Trong, Quán Bún Thang Bà Đức is hidden in plain sight. It's through this alleyway and up a flight of stairs.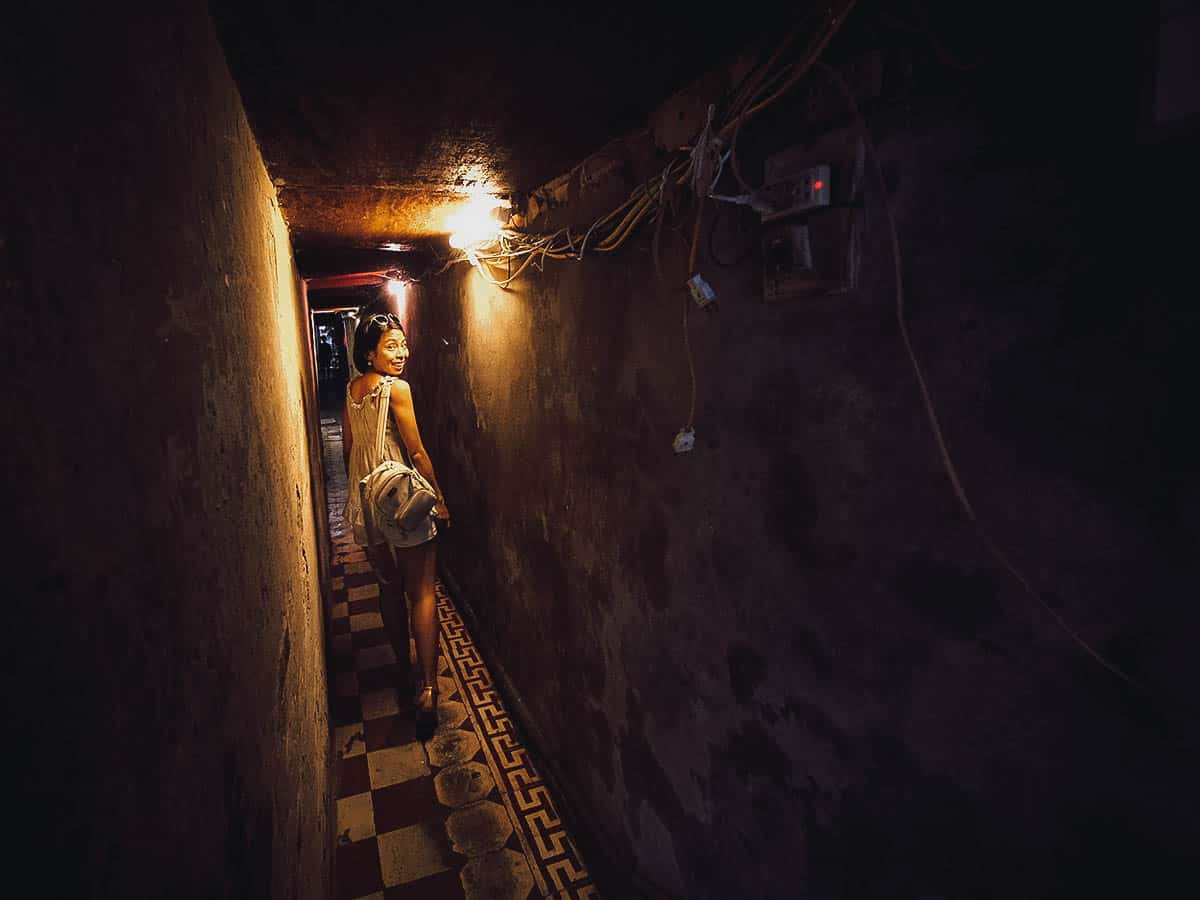 Just follow the signs to find another Hanoi original.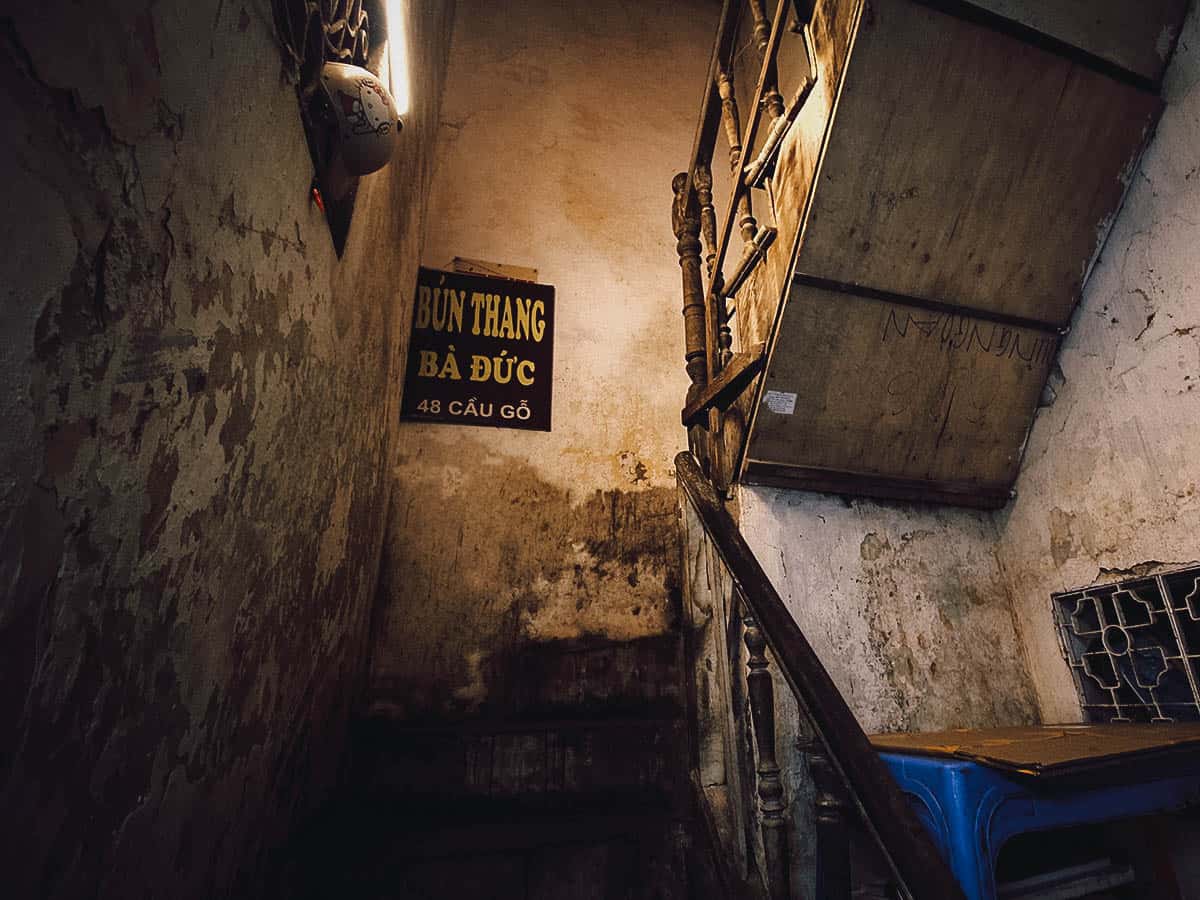 Quán Bún Thang Bà Đức specializes in bun thang, an interesting type of rice noodle soup that originated in Hanoi. I read that it's a fussy dish to make, one that's typically reserved for special occasions.
Authentic bun thang requires a specific set of ingredients like ga mai dau, which refers to hens of a precise age, and ca cuong, which believe it or not is pheromone extracted from a male belostomatid beetle. Yes, real-life beetle juice.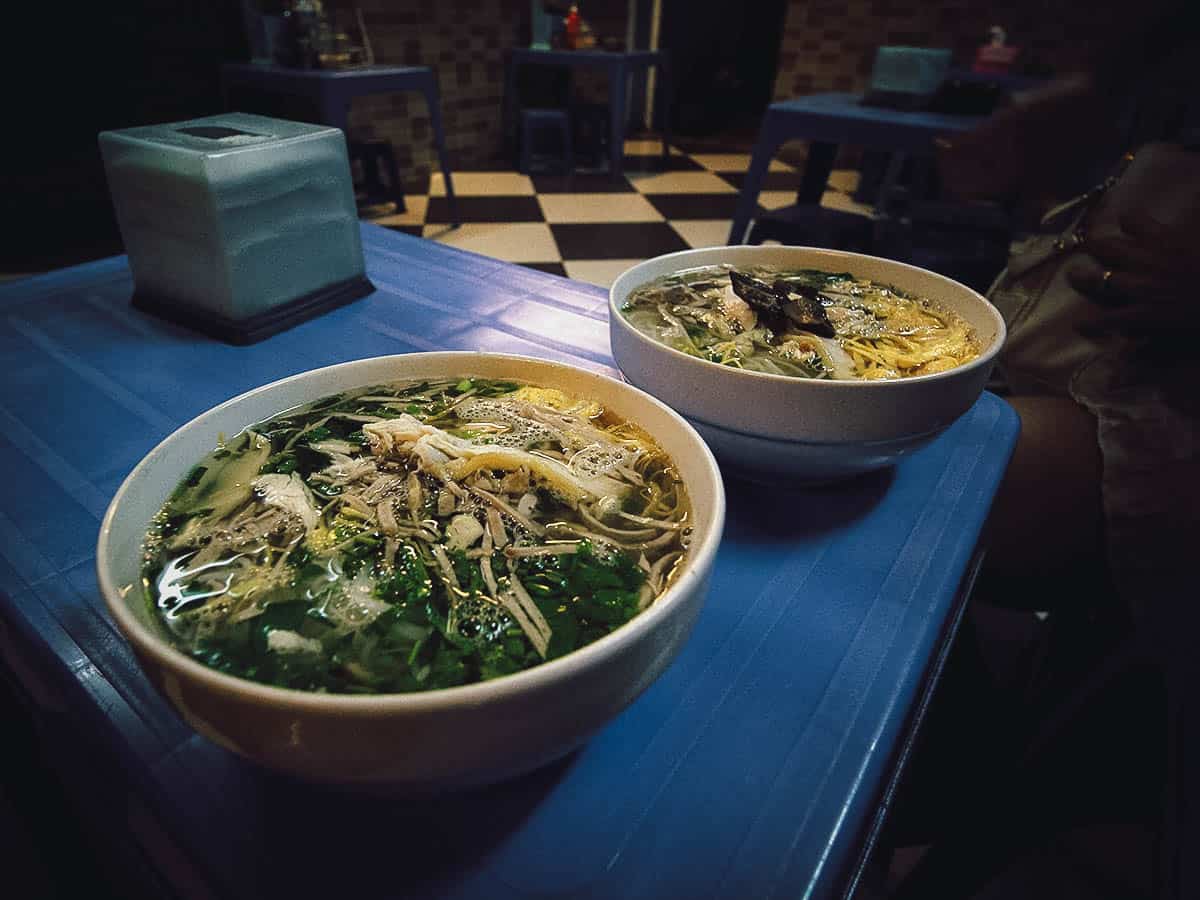 The ideal hens used to make bun thang must only be old enough to have laid eggs for about a week. Any older or younger and the chicken meat isn't ideal.
As for the beetle extract, an infinitesimal amount is added via the tip of a toothpick to give the dish a unique fragrance. Unfortunately, we weren't aware of this at the time, so we didn't pay attention to any unusual aromas. I don't remember noticing any smells that stood out.
Apart from those two unconventional ingredients, bun thang typically contains chicken, pork, and dried squid or shrimp, both in the broth and as toppings, in addition to thinly sliced egg shreds and gio lua.
Ours had fresh herbs and mushrooms as well. If you like, you can add chilies, shrimp paste, and lime for even more depth of flavor.
19. Bún Bò Nam Bộ Bách Phương
This was another restaurant that my homestay host recommended to me. They specialize in bun bo nam bo, a type of beef noodle dish that may or may not be from the south of Vietnam.
Though the name of the dish seems to indicate that it's from the south – bun means "noodle", bo means "beef", and nam bo means "the south" – some believe that it actually originated in Hanoi, with the nam bo in its name merely suggesting that the dish was made in the southern-style – ie dry noodles without broth.
Whatever its true origins, it's an absolutely delicious dish and something you need to try while in Hanoi.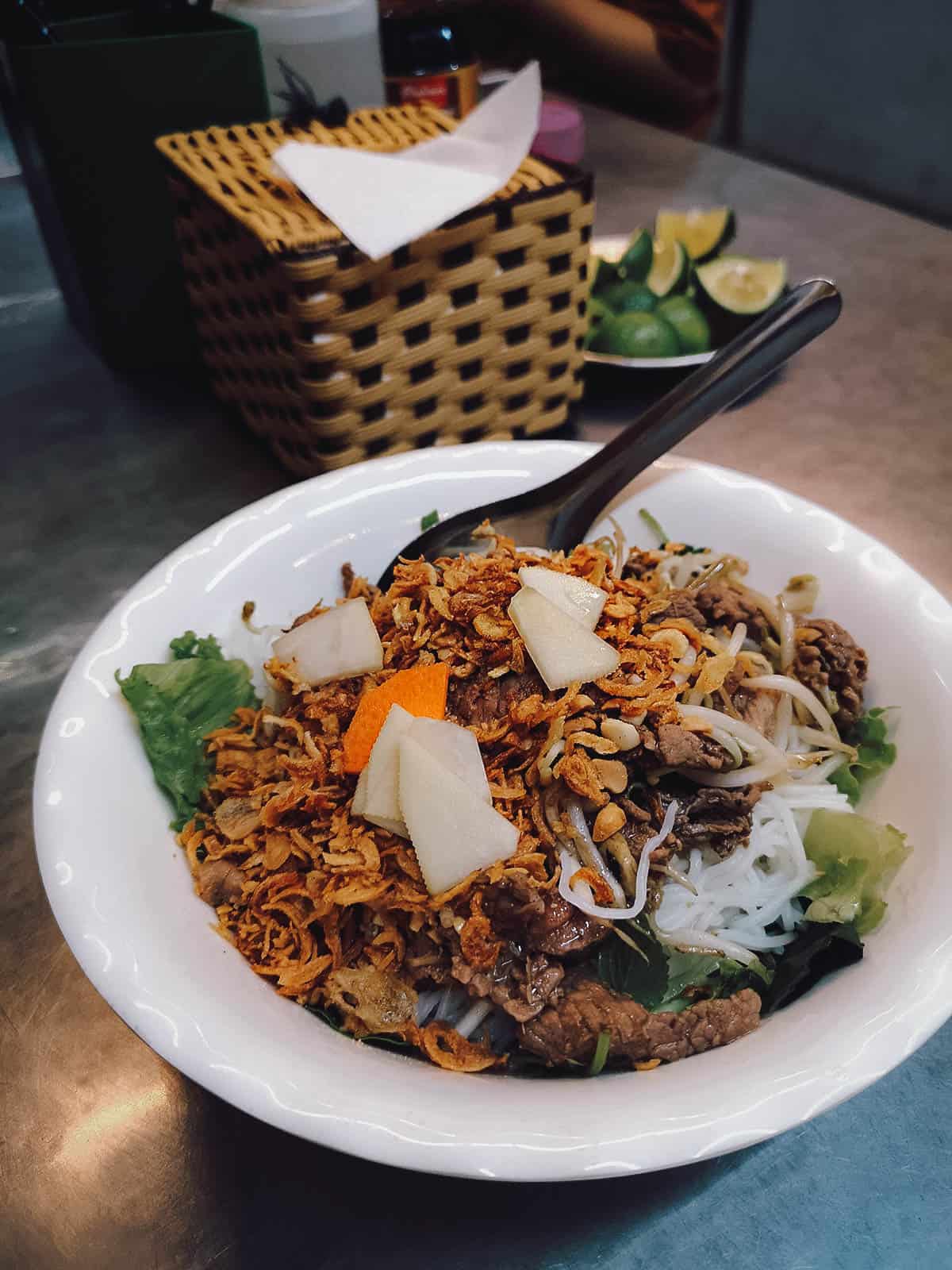 Bun bo nam bo looks dry at first but mix the ingredients and you'll find a shallow layer of broth at the bottom, similar to cao lau or mi quang in central Vietnam. It's less of a broth and more like a sweet and sour dipping sauce made with nuoc mam, sugar, lemon, and chili.
Thinly sliced beef is marinated then stir-fried on high heat, before being added to a bowl with rice noodles and lettuce. It's then topped with fresh herbs, fried shallots, pickled vegetables, bean sprouts, and roasted peanuts.
We had actually learned how to make bun bo nam bo when we took a cooking class in Hoi An, but this was my first time trying it at a restaurant.
It was delicious – sweet, savory, soft, crunchy, and a little tangy. I imagine this to be the type of universally appealing dish that most people will enjoy.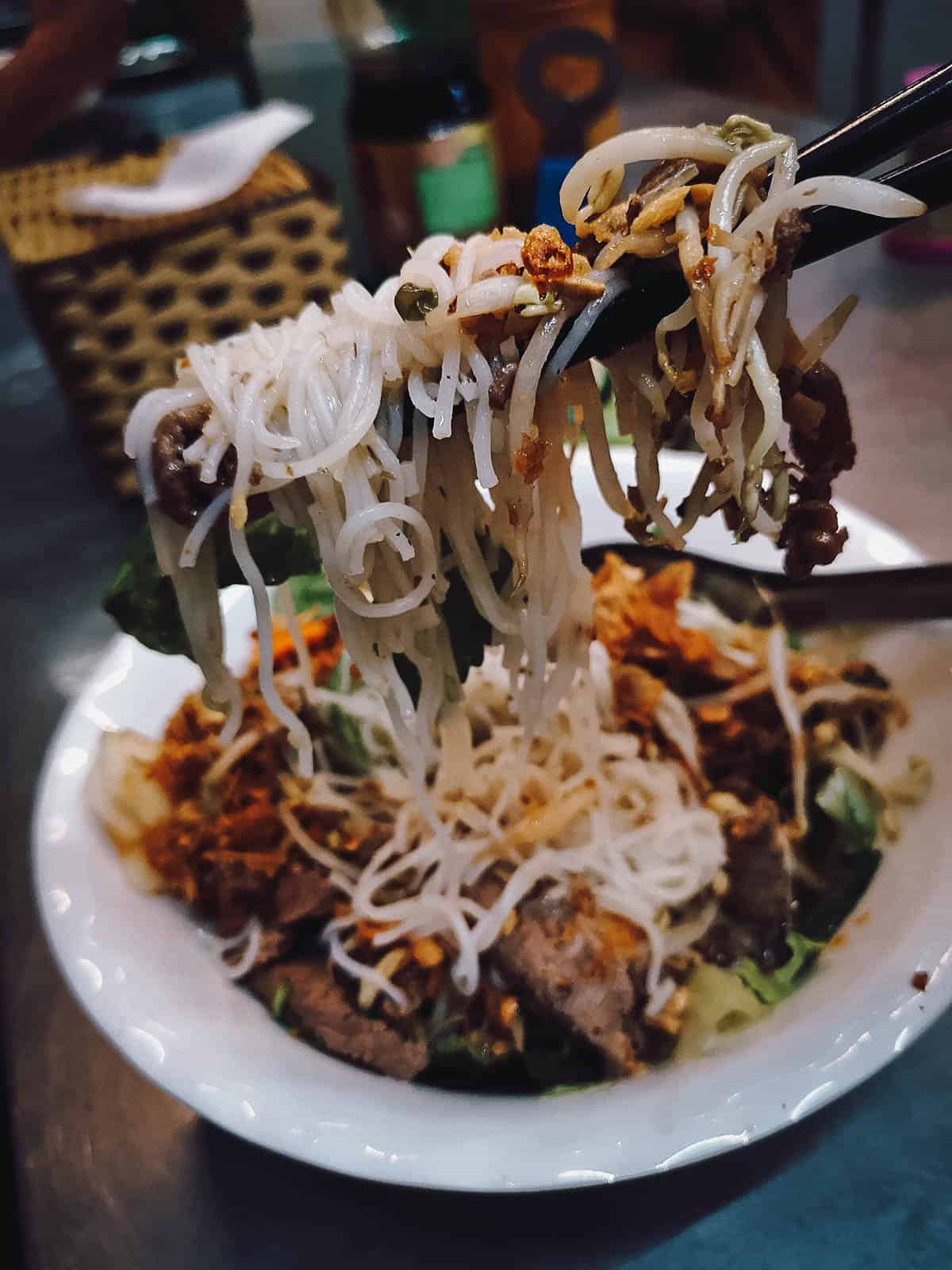 20. Quán Gốc Đa
Quán Gốc Đa is the street food restaurant that really turned me on to Vietnamese cuisine. We first ate here two years ago and I was taken here again on a Hanoi street food tour.
I don't know if there's a collective word for these types of dishes but Quán Gốc Đa is known for many varieties of deep-fried street food like nem cua be, banh goi, and banh tom.

On this plate are banh goi and banh tom. Banh goi is like a Vietnamese empanada filled with minced pork, mushroom, glass noodles, and a quail egg. The filling is placed in the center of the pastry skin which is then folded and pinched closed in a half circle before being deep-fried to a golden crisp.
Banh goi literally means "pillow cake". It gets its name from its shape which is said to resemble a pillow. The ones with shrimp are the banh tom, which are sweet potato shrimp fritters.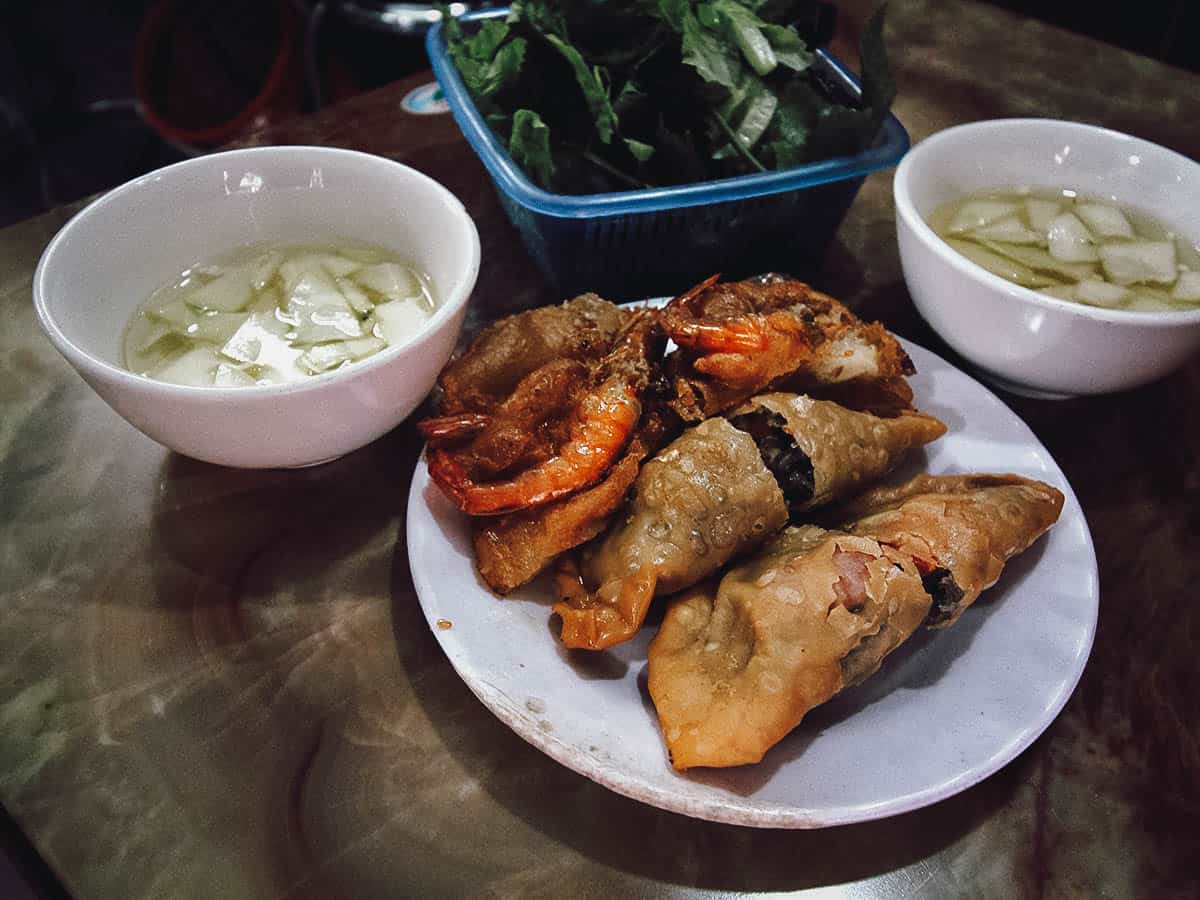 Here's a closer look inside the banh goi. This was fantastic and probably the single best fritter we had at Quán Gốc Đa.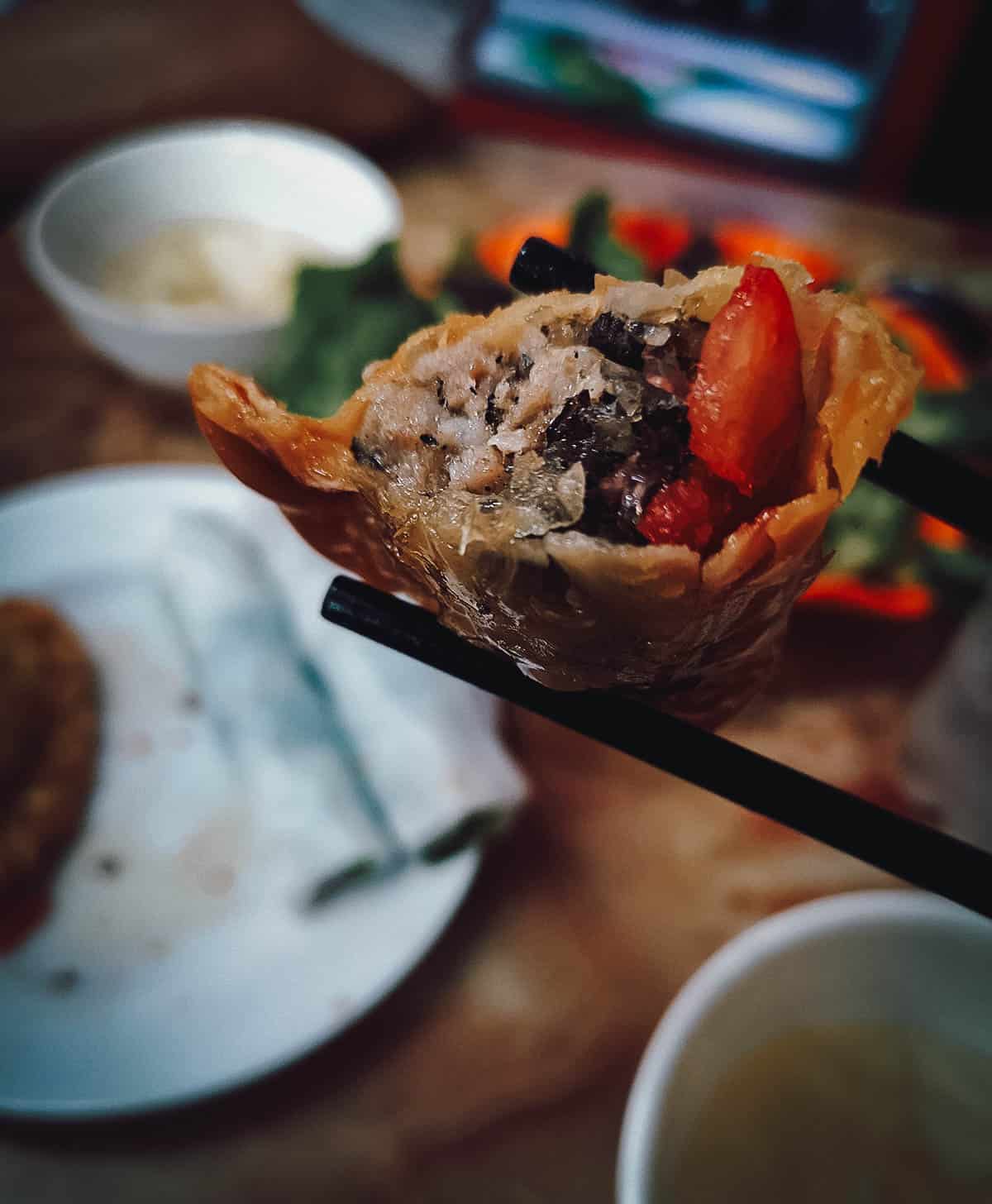 Quán Gốc Đa also makes a mean version of nem cua be, which more than one blog has crowned the best in Hanoi. It was good but I'm not sure I'd agree.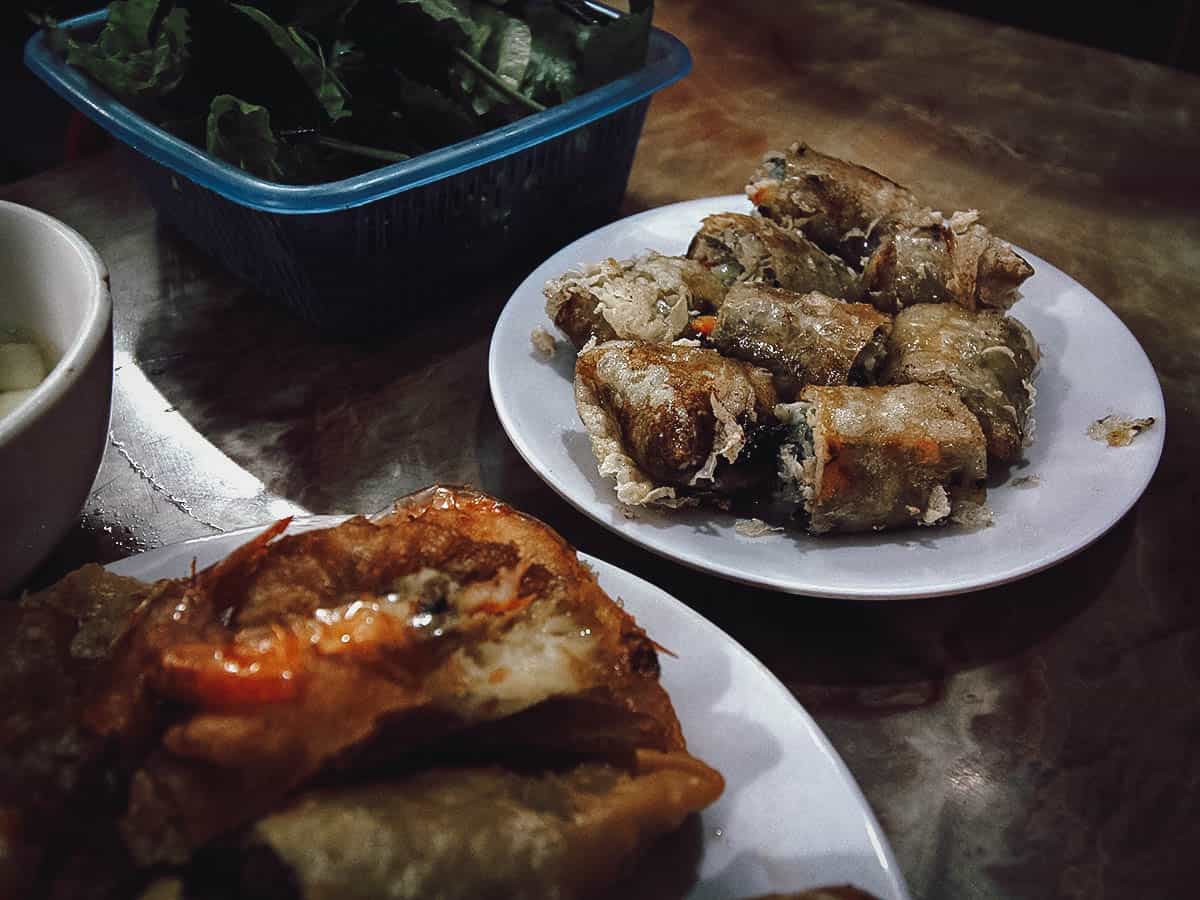 The picture below was from my most recent Hanoi food tour. My guide ordered this plate of banh goi, banh ran ngọt, and pho cuon.
Pho cuon are basically noodle rolls filled with beef and fresh herbs. They're similar to banh cuon except the rolls are made with sheets of pho noodles.
As you can see below, the fritters are served with fresh greens and a nuoc cham dipping sauce made with garlic, chili, sugar, lime juice, fish sauce, cucumber slices, and water.
There are condiments on the table as well like vinegar and chili sauce that you can add to the nuoc cham. You dunk the fritters into the bowl along with some greens to temper their oiliness.
This is the dish that made me realize how important balance is to Vietnamese food. Oily is tempered with acidic, soft with crunchy, savory with sweet to achieve a balance of flavors and textures.
When your food is well-balanced, it leads to a much more interesting and enjoyable dining experience.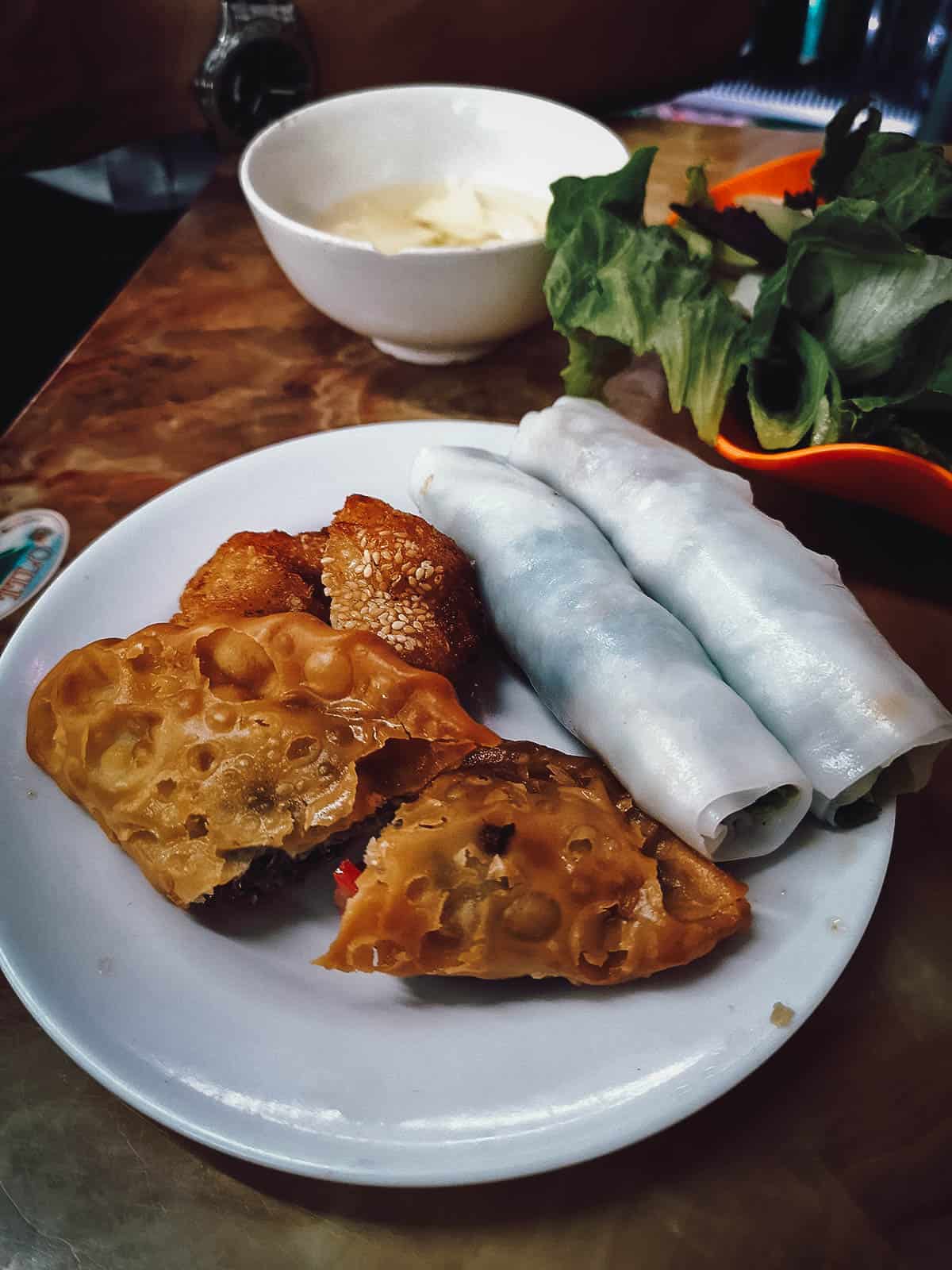 For dessert, we had the banh ran ngọt which is a sesame-covered glutinous rice ball filled with a sweetened mung bean paste. It's basically the same thing as buchi balls served at Chinese dimsum restaurants.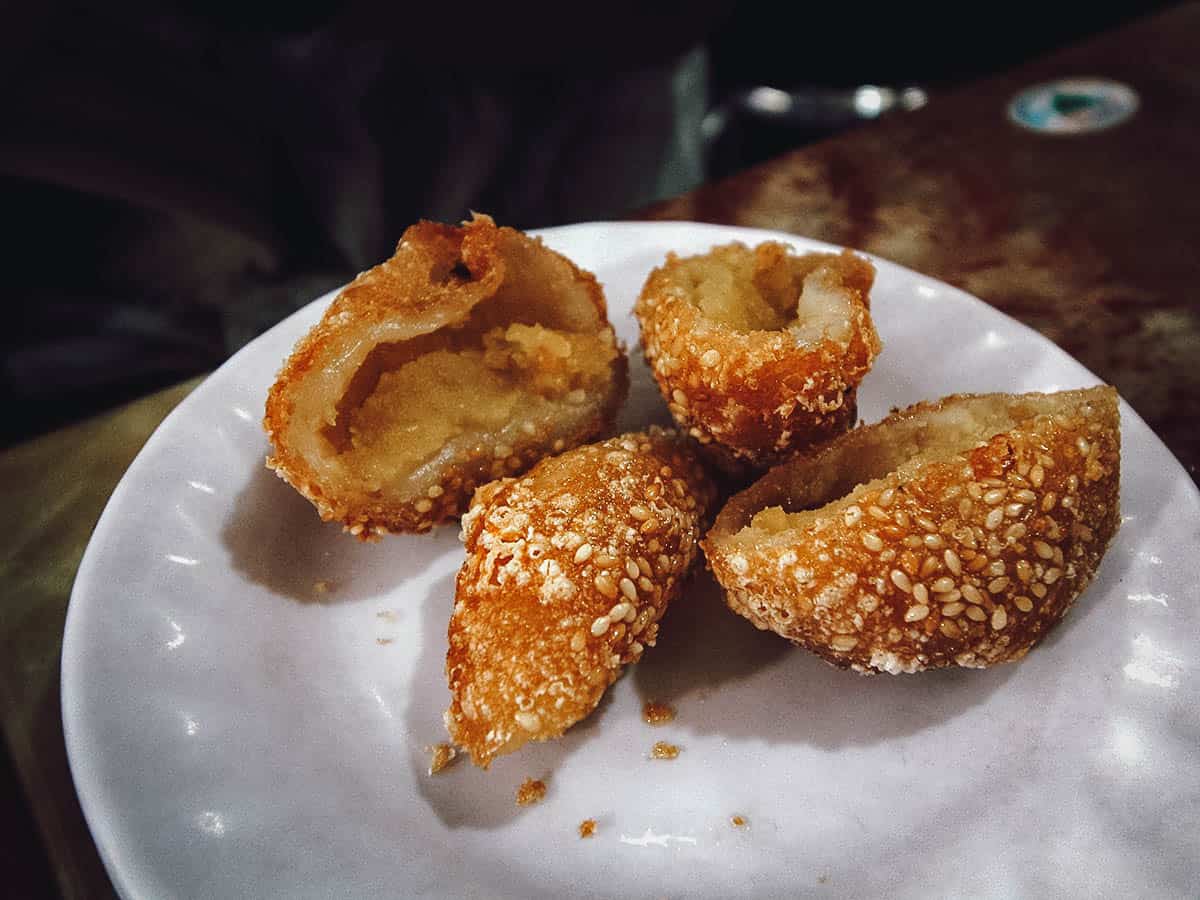 21. Dong Thinh Nha Hang Mien Luon
We ate at Dong Thinh Nha Hang Mien Luon two years ago. I had read that they're known for being one of the best places in Hanoi to have luon or eel.
If I remember correctly, they serve eel in six different ways here. We ordered two dishes, the first being this eel with vermicelli called mien luon tron. You can't see them that well in this picture but the dark strips are the slivers of eel.
We're used to having barbecued eel or unagi in Japan, but in Vietnam, eel is usually dried then deep-fried so it's crispy like dried anchovies.
We had never tried eel like this before so it was an interesting experience. They were very crunchy but still had that familiar sweetness that I love from eel.
The luon was served with glass noodles (mien), fried garlic and shallots, cucumber slices, chopped peanuts, and fresh herbs and greens with just a shallow layer of broth made from eel bones and ginger.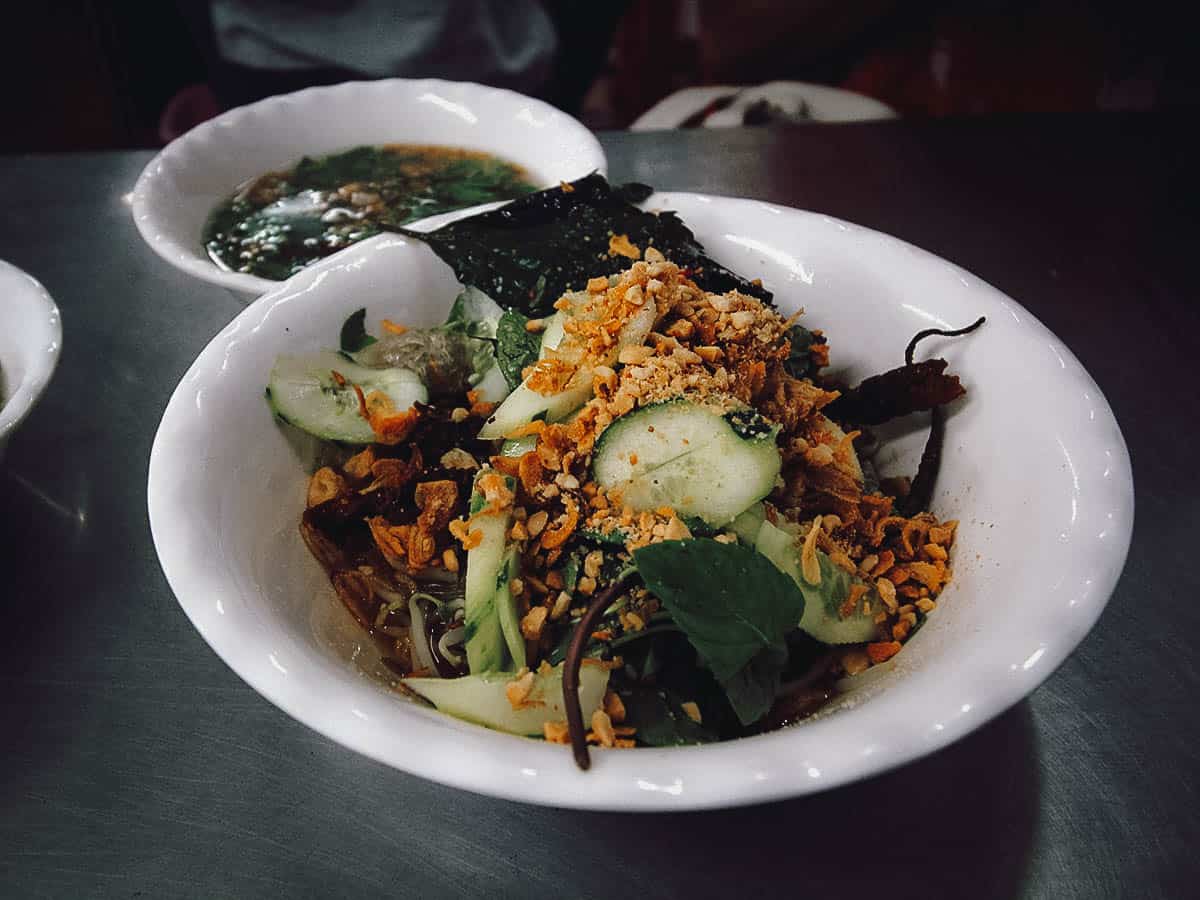 The second dish we ordered was this mien xiao luon or eel with fried vermicelli. The pieces of deep-fried eel are more noticeable here.
It's pretty much the same as the previous dish except the vermicelli is fried and served dry without any broth.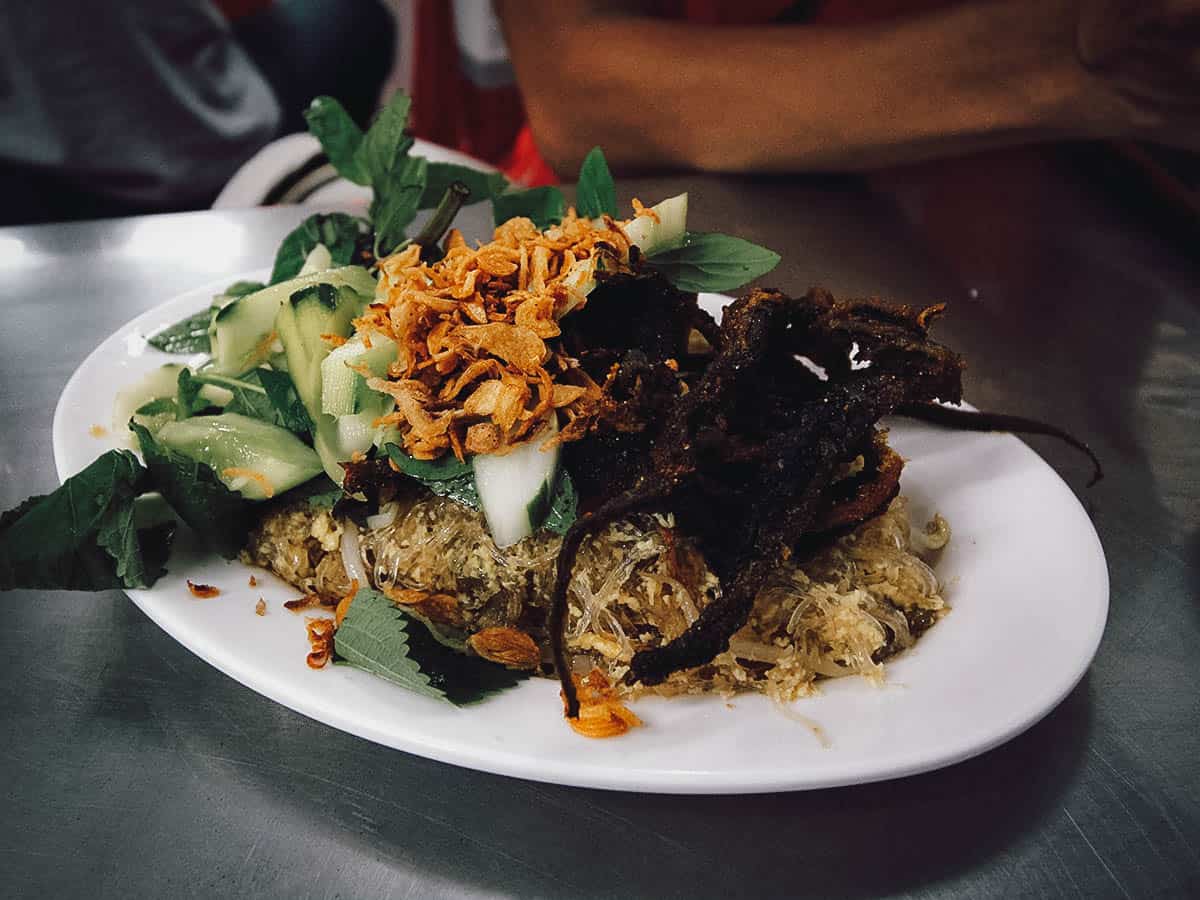 Both dishes were great but the vermicelli in the fried version had a subtle smokiness that was missing from the other. Either way, the deep-fried eel is fantastic.
It starts off really crunchy then softens up after a bit of chewing. That's when you start to notice the natural sweetness of the eel.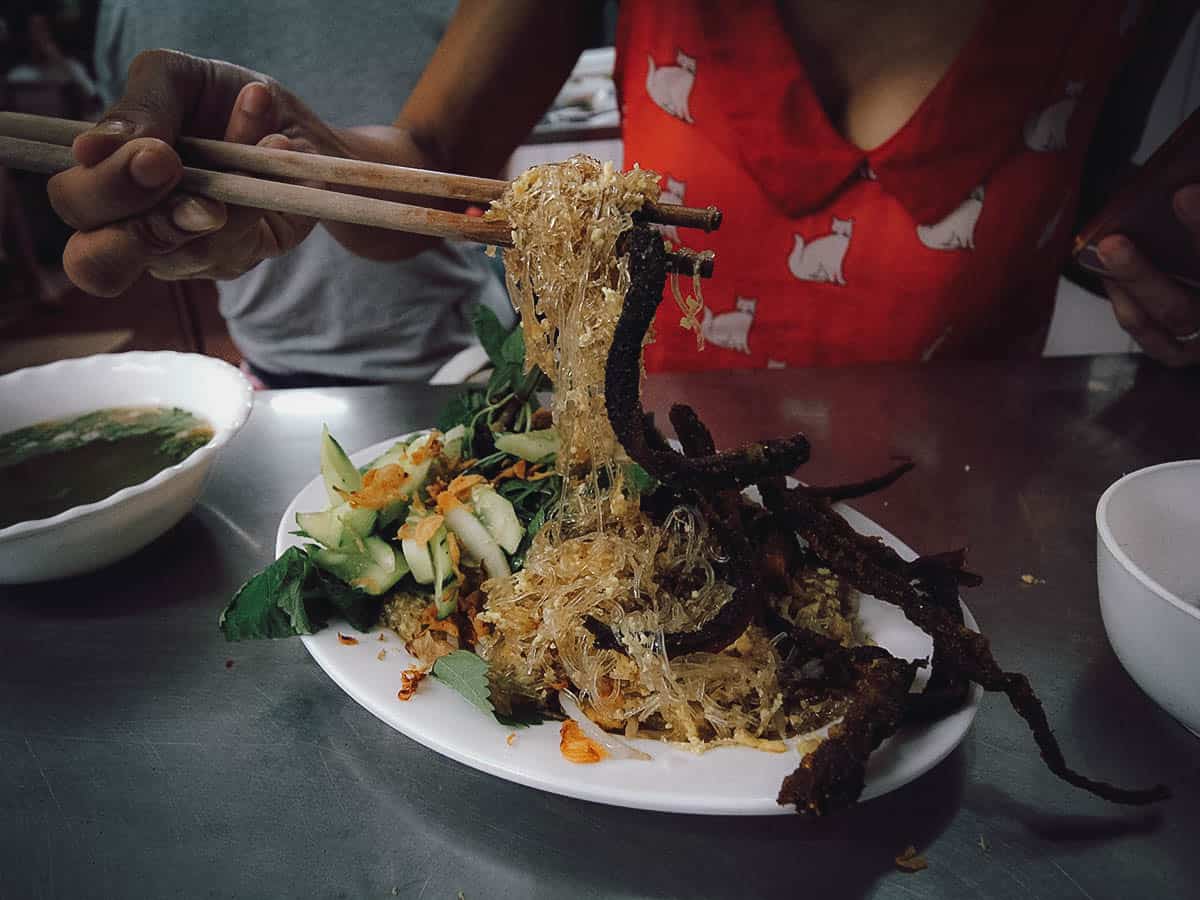 22. Xôi Yến
If you're really hungry and want value for your money, then one of the best things you can have is xoi or sticky rice. Xôi Yến is known for making great bowls of xoi xeo, which is sticky rice with mung beans and fried shallots.
More than one blog has proclaimed the xoi xeo at Xôi Yến to be the best in Hanoi. One expat who's lived in the country since the late 1990s even called it the best she's ever had in all of Vietnam.
We ordered the "varied" xoi xeo which looks like it came with everything but the kitchen sink. For VND 50,000, this overflowing bowl will fill up all but the biggest eaters. Ren and I shared one bowl and we couldn't even get through the whole thing!
Xoi or sticky rice is very heavy and makes for an exceedingly filling meal. Maybe not the smartest thing to eat when you're on a multi-stall Hanoi food crawl!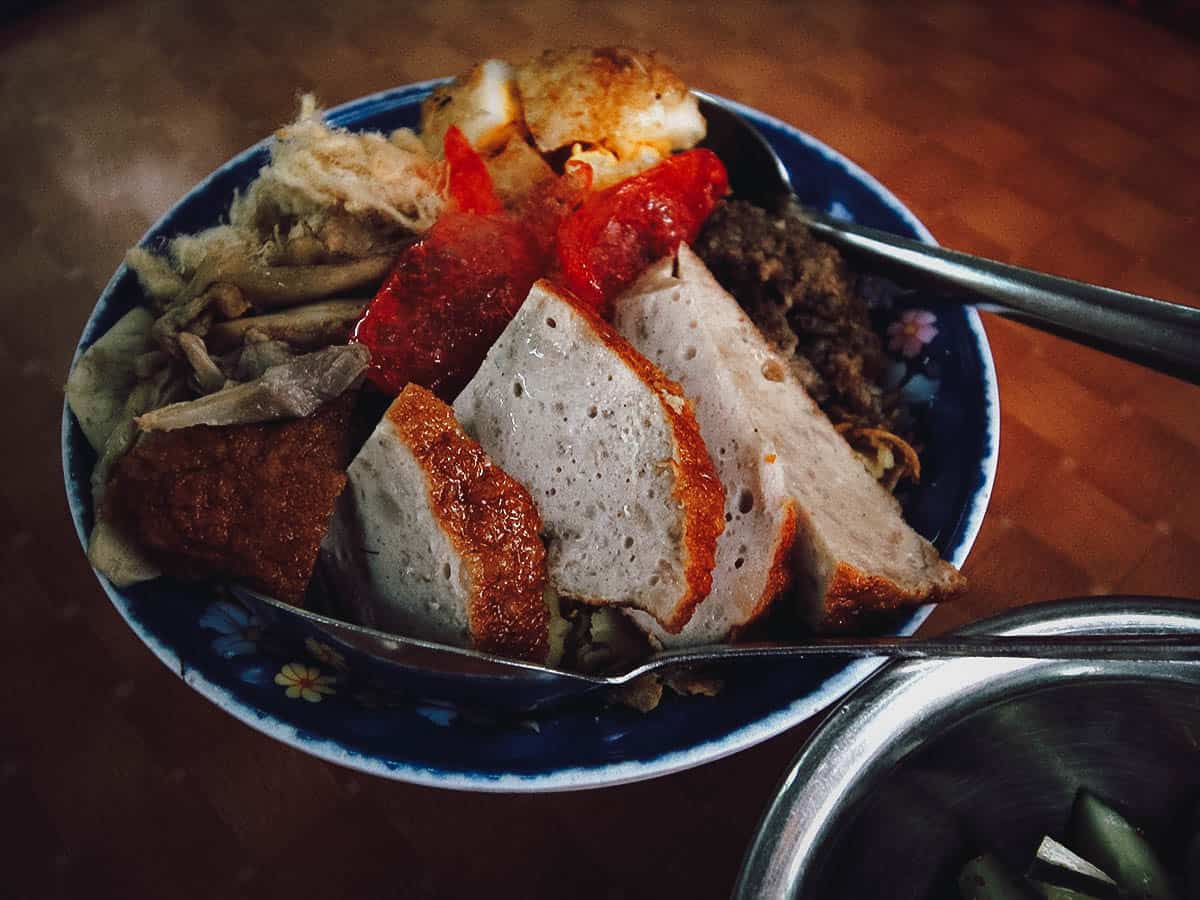 Underneath that blanket of toppings is the xoi. The rice's yellow tint comes from turmeric which is mixed with water and glutinous rice. Mung beans are then peeled, steamed, pummeled, and rolled into balls before being mixed into the rice and topped with fried shallots and a tablespoon of liquid fat. See what I mean about this dish being so filling? And we haven't even gotten to the toppings yet!
I'm not sure exactly what the varied bowl comes with but it looks to have pork floss, gio lua, Chinese sausage, egg, roasted pork, chicken, and maybe a few other ingredients. It's served with a side of Vietnamese cucumber salad.
If you're stumbling to your hotel from bia hoi corner one night and want something to soak up all that cheap beer, then you may want to stop at Xôi Yến and smash your face into one of these bowls of xoi xeo.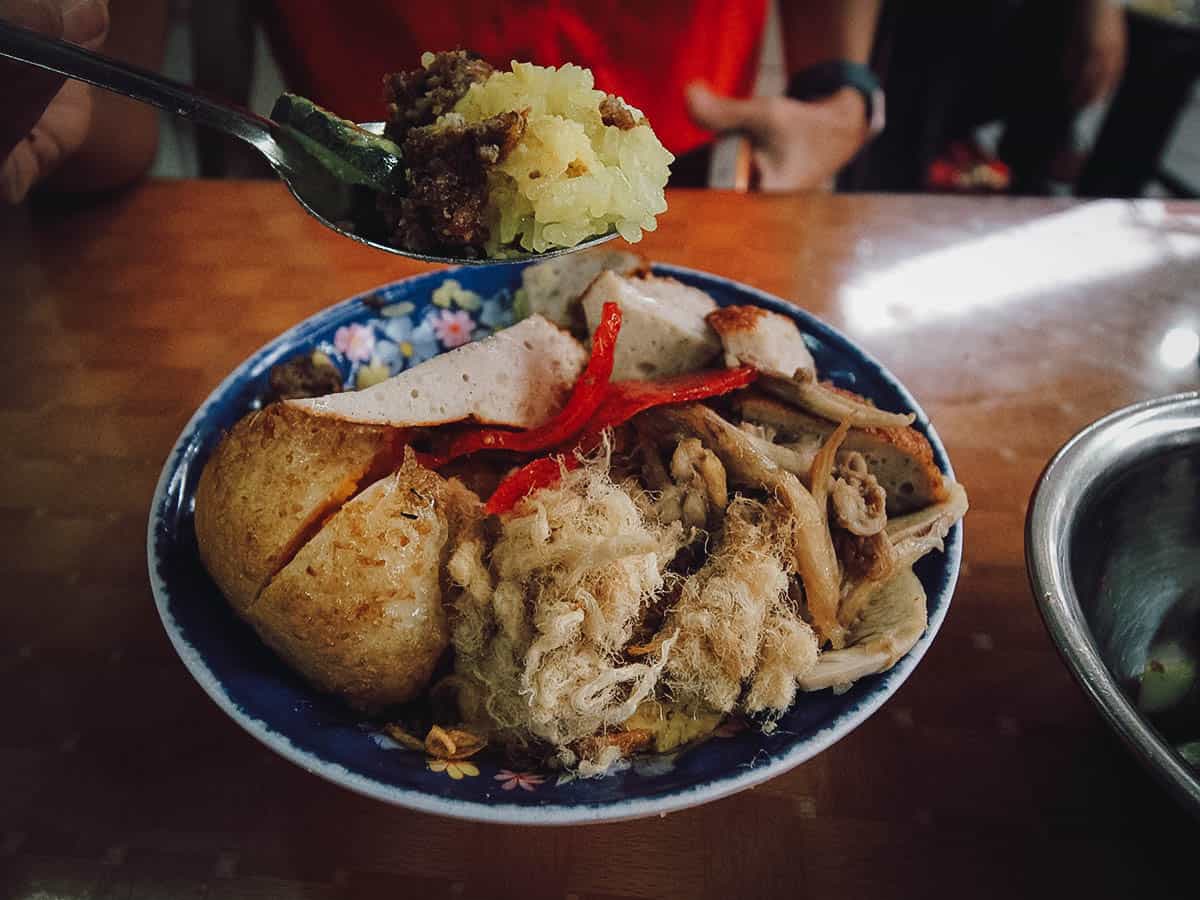 23. Chim Sao
I'm perfectly happy with street food, but I thought it might be nice to include one nice restaurant on this list.
I got the idea when someone reached out to us on Instagram and asked if we wanted more restaurant suggestions in Hanoi I said yes, of course, and one of the places she recommended was Chim Sao. She described it as one of the best restaurants in Hanoi. I was impressed with their reviews so I went.
Poring over their menu, I was intrigued by more exotic offerings like fried pig's stomach and frog hotpot. I asked my server for recommendations but he quickly pointed out less adventurous dishes like this nem thit ran or fried spring rolls with pork.
Turns out he knew exactly what he was doing because these fried spring rolls were the best spring rolls I have ever had in my life. And I'm not just talking about Vietnamese spring rolls either, I mean any spring roll!
They were tasty and so delicate that it felt as if they were dissolving between my teeth while I was taking a bite. So incredibly delicious.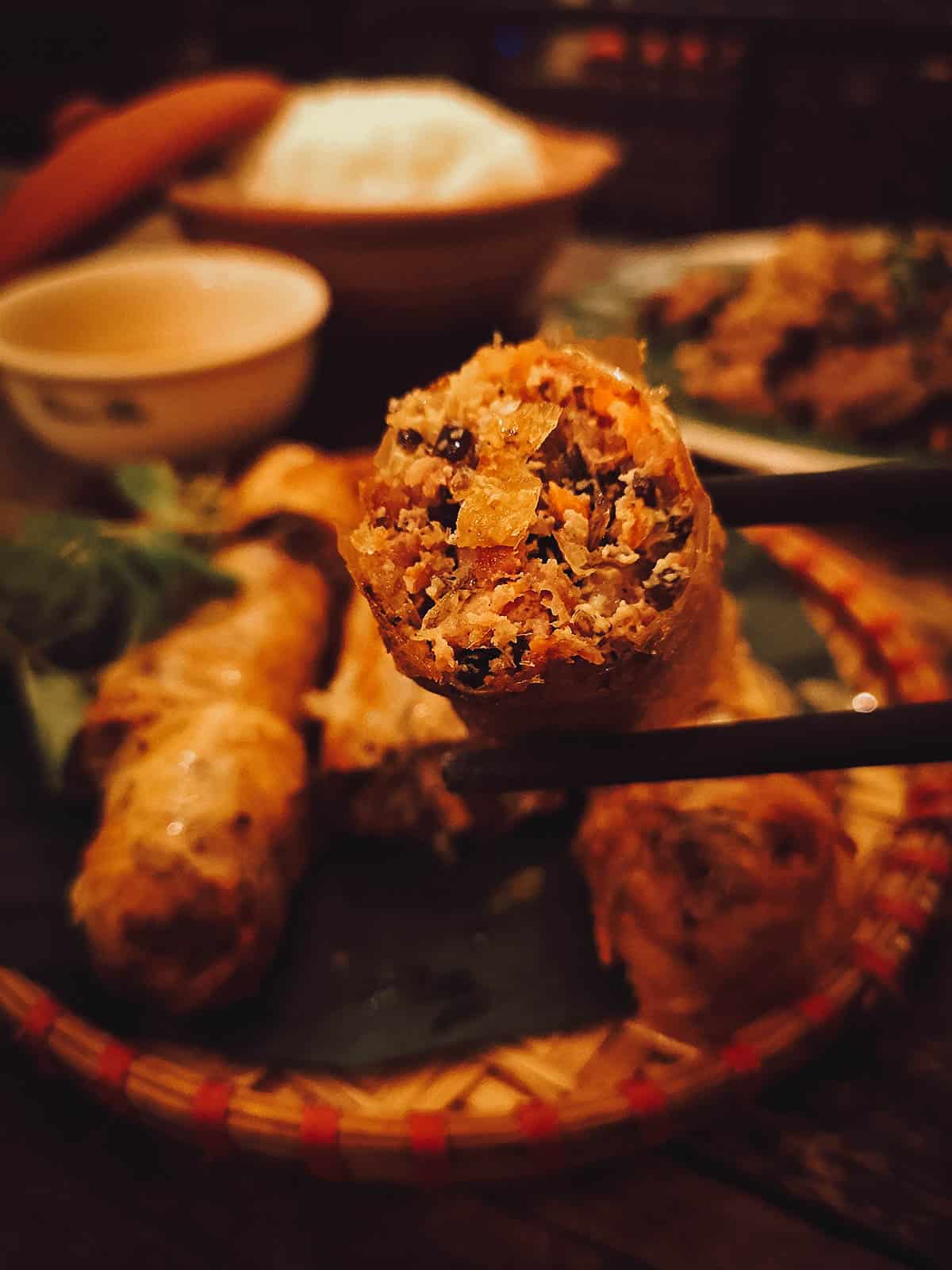 Unfortunately, the second dish he suggested wasn't as great. He recommended I get this vit xao rau hung or sauteed duck with basil leaves. It was tasty but the meat was a little dry, perhaps from overcooking.
I came across this article from Conde Nast Traveler and they mentioned that Chim Sao "highlights the cuisine of Vietnam's ethnic minorities". They recommended getting the grilled pigeon with sauteed young bamboo, garlicky molten eggplant, or lap suon (smoked pork sausage).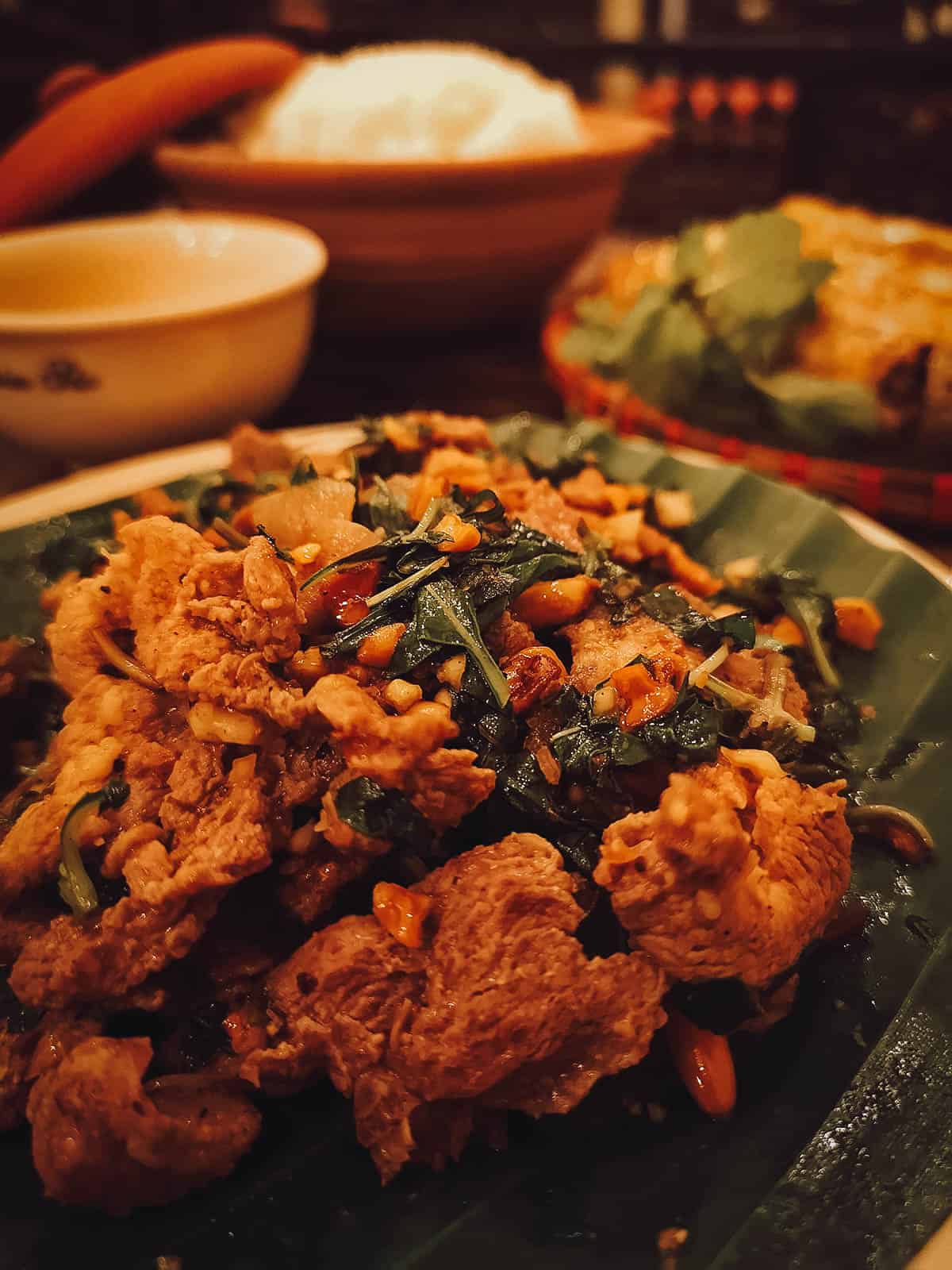 Chim Sao is a lovely restaurant set in an old French-style house towards the south of the city. It took me about 20-30 minutes to walk here from the Old Quarter so you may want to book a Grab instead.
It's pricier than street food but still surprisingly cheap. The two dishes I ordered above amounted to just VND 205,000, or about USD 8.80.
24. Lutulata Desserts & Drinks
Lutulata was where we first discovered che two years ago.
Chè refers to a family of Vietnamese dessert soups or pudding made with coconut milk and an endless combination of ingredients like beans, tapioca, jelly, fruit, tubers, and glutinous rice. It's like the Vietnamese version of halo-halo, a beloved dessert in Filipino cuisine.
We didn't know what to order so our server recommended two of their most popular varieties – che khuc bach and che Lutulata. The menu didn't indicate what was in them but they looked to have a combination of beans, fruit, tapioca pearls, and jelly.
If I remember correctly, the one pictured below was the che Lutulata. Sitting on top I think are dried jackfruit chips.
This was actually the prettiest presentation of che I've ever had. It's commonly sold as street food so you'll typically find it in a tall glass with the shaved ice already mixed in. At Lutulata, they serve the che in a bowl with shaved ice on the side.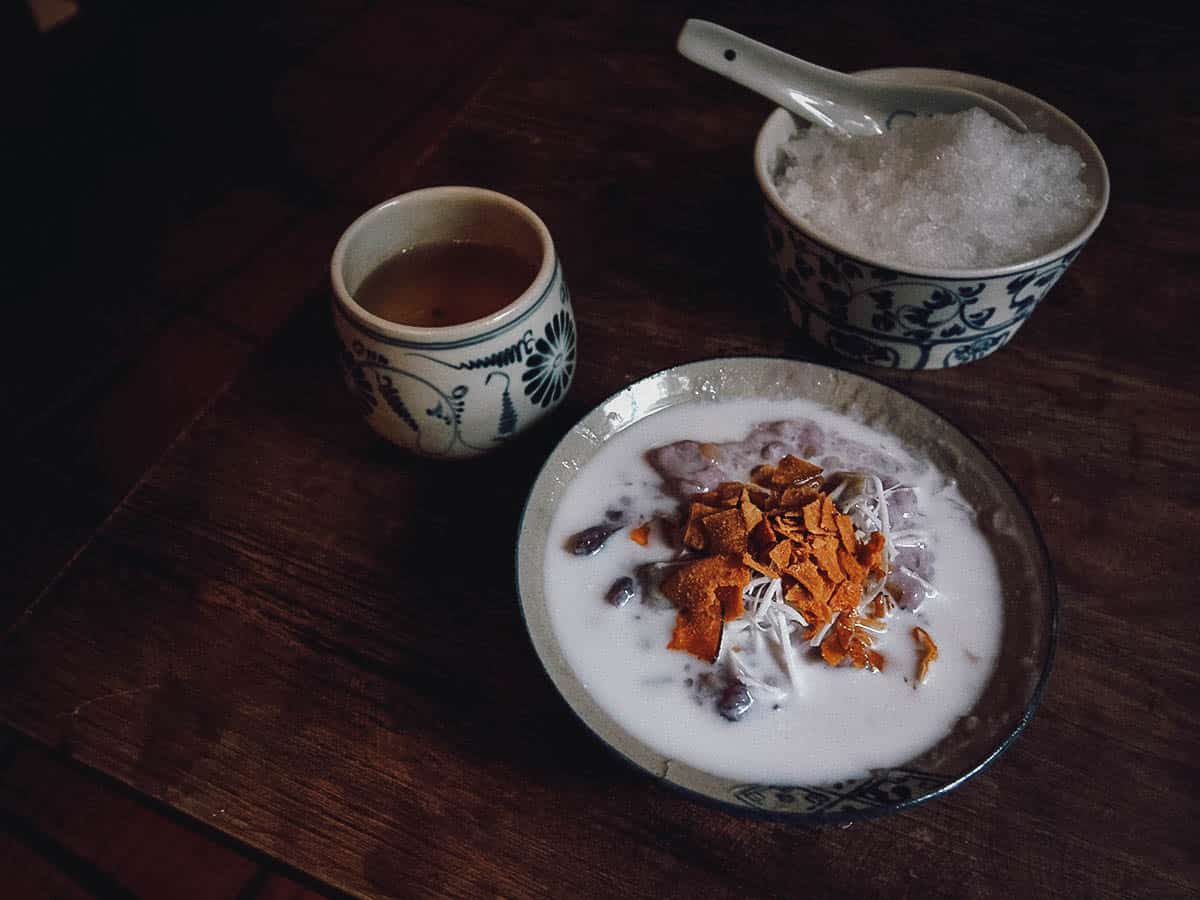 25. Bia Hoi Corner
Bia hoi corner isn't a restaurant or a street food stall, but a junction in the Old Quarter that turns into the happiest place on earth every night.
It looks like any other street corner during the day but at night, it transforms into a lively mix of locals and tourists sitting on low plastic stools and enjoying cheap beer over plates of tasty street food.
If you like to drink beer, then you absolutely need to experience this.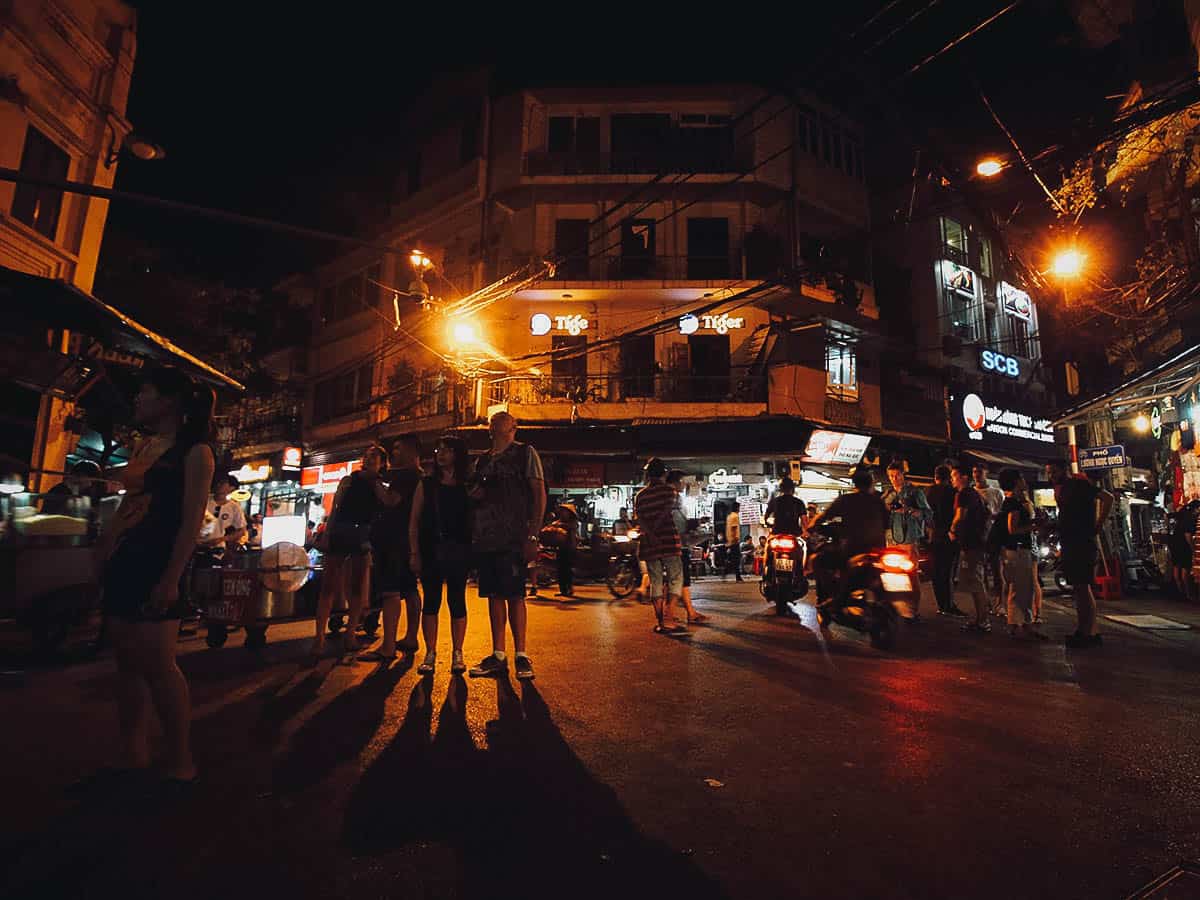 The term bia hoi refers to Vietnamese draft beer. It's a cheap type of draft beer that costs anywhere between VND 3,000-7,000 (around USD 0.13-0.30).
Brewed daily and without preservatives, freshly made batches are delivered in steel barrels and typically consumed that same evening.
Bia hoi can be consumed in bars throughout Hanoi but it's best enjoyed at the corner of Ta Hien and Luong Ngoc Quyen Streets, aka "bia hoi corner" or "bia hoi junction". There are many bars in and around this junction serving bia hoi and other brands of bottled beer.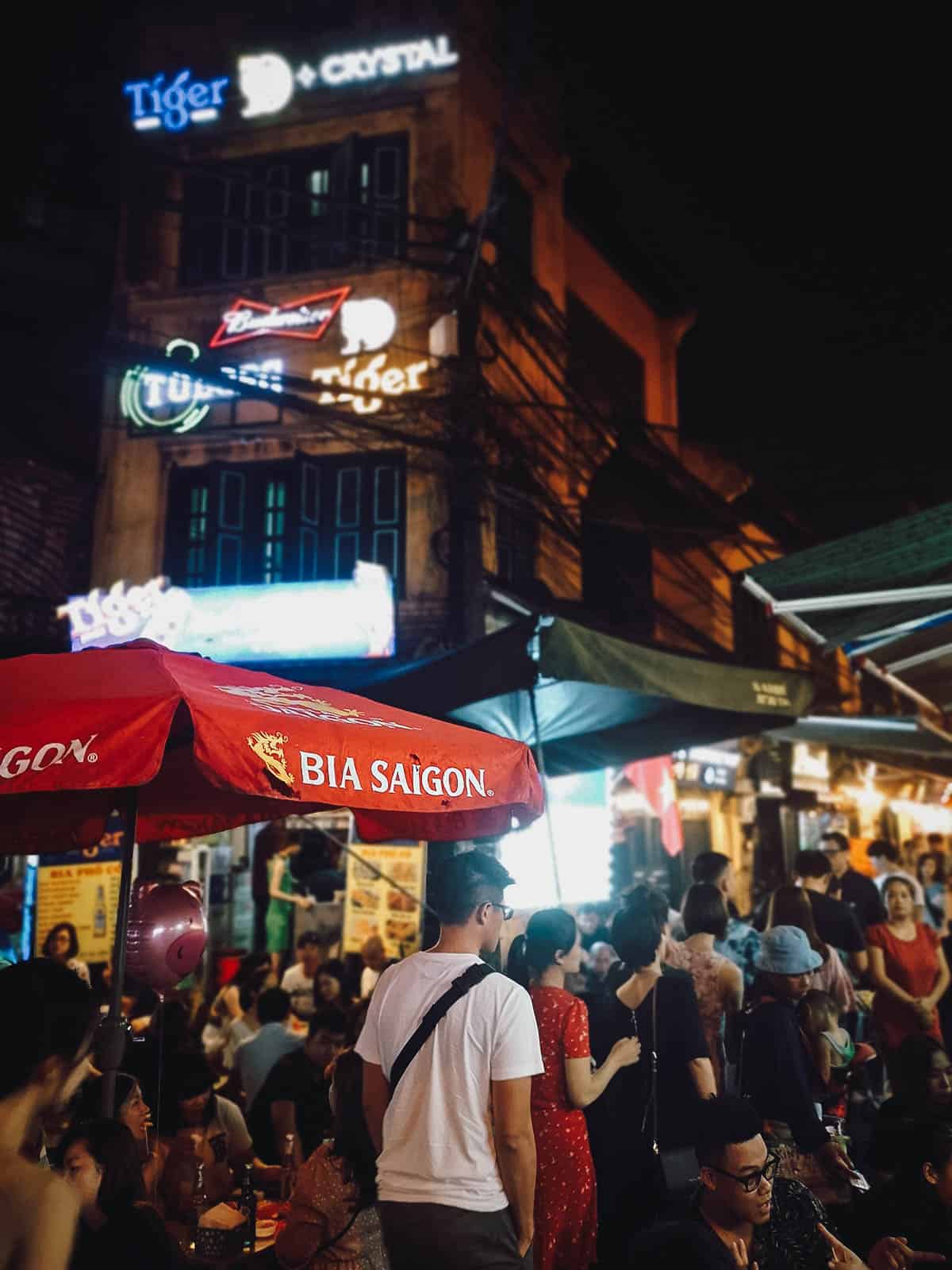 It's funny, we were sitting on the curb drinking beers when the bar girls started yelling something in Vietnamese. Everyone went scrambling while the bar girls quickly hid our drinks and stacked away the plastic stools.
We were left standing and wondering what the heck was going on. Should we run? None of the locals left so we didn't see any reason to. Even the customers who ordered food were left standing with plates in hand and still eating!
Moments later, a patrol car came driving by. I'm not sure what the commotion was but I guess it's illegal for customers to be sitting too far out into the street?
Whatever the reason, things quickly returned to normal and we were back on our stools drinking beers like nothing happened. That's the kind of excitement you can expect from bia hoi corner!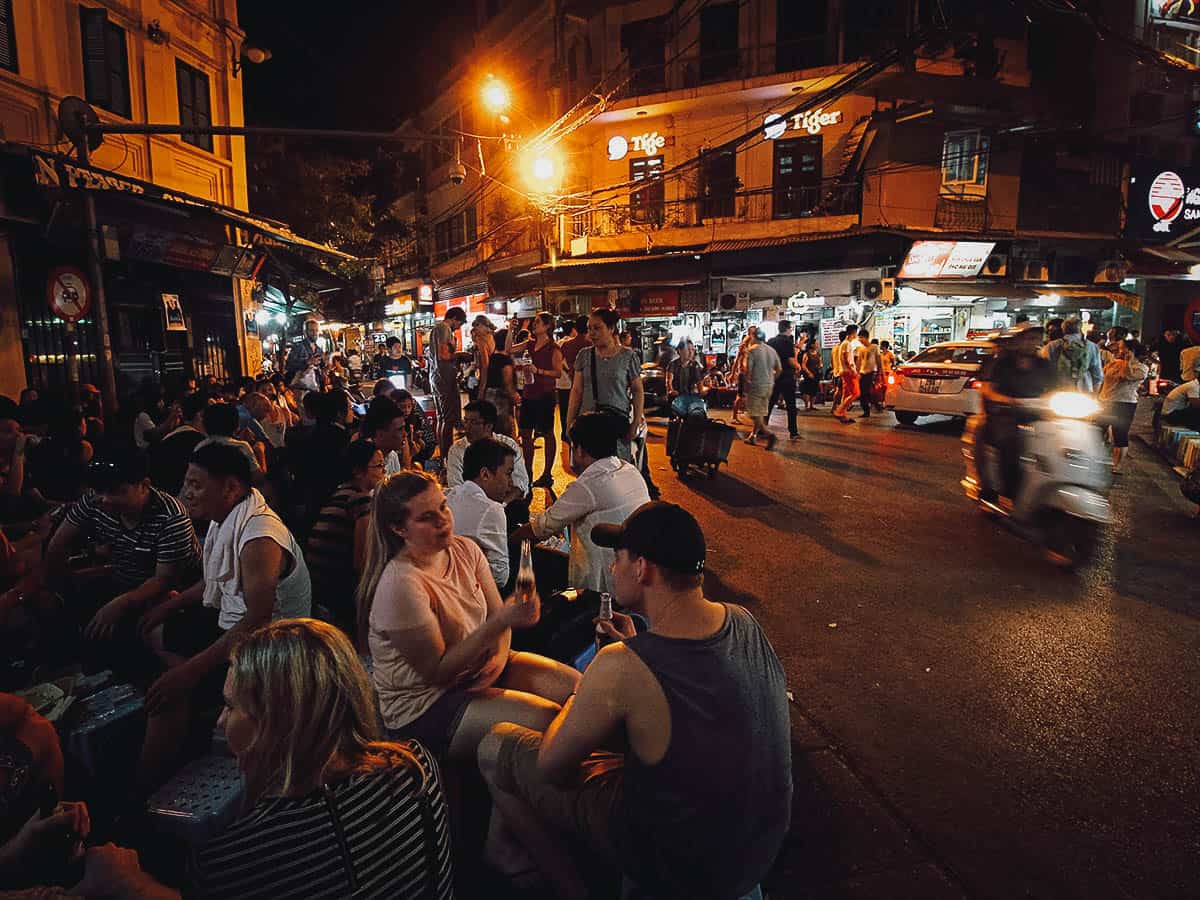 I tried one glass of draft beer but I didn't like it so I went with local bottled beer instead. If I remember correctly, a bottle of Saigon Special went for VND 20,000.
LOCATION MAP
To help you navigate, I've pinned the restaurants and street food stalls recommended in this guide on a map. Click on the link to open the interactive map in a new window.
IN SUMMARY
Not to toot my own horn, but this may be one of the best city food guides I've written so far. I say that only because it was compiled after two lengthy stays in Hanoi, the second visit focusing almost entirely on food and coffee and nothing else.
It's worth pointing out that we rarely walk into random restaurants. Nearly every place we visit is researched or crowdsourced beforehand, to make sure that we consistently find the best and most authentic.
Speaking of coffee, Vietnamese coffee is some of the best in the world. Hanoi has many interesting cafes, some of which are hidden in plain sight like Pho Hang Trong and Quán Bún Thang Bà Đức. If you'd like to visit some of the city's best and most Instagrammable cafes, then you can check out our Hanoi coffee guide.
Again, this Hanoi food guide was a lot of fun to put together and even more fun to research. If you have any questions or comments, or have restaurant suggestions of your own, then please let us know in the comment section below. Taste is subjective so we're always open to hearing other people's opinions.
Thanks for reading guys and have an awesome time traveleating in Hanoi!
Disclosure
This article contains affiliate links, meaning we'll earn a small commission if you make a booking or reservation at no extra cost to you. We really appreciate your support as it helps us keep this website going. Thank you!