To be honest, Kuala Lumpur was never one of my favorite cities. It reminded me too much of Manila. It's big, it's hot, it's crowded, and it can often be overwhelming. For us, it was always a point of entry and quick stopover on our way to more interesting destinations in Malaysia.
But something happened on a recent trip. I was in Malaysia to do a project in KL and it forced me to look at the city in a different light. Instead of seeing all the things I didn't like about Kuala Lumpur, I started noticing all the things I did.
Like its extensive and efficient metro system, its modern shopping malls, colorful neighborhoods, and adhan. I was at Masjid Jamek during a heavy downpour and was moved by the sight of latecomers kneeling and praying at the metro station. The floors were filthy and wet from the rain but that didn't stop devotees from getting together in prayer. It was a moving sight.
I was always too excited to move to my next destination that I never really gave KL a chance. But I'm glad I finally did, and after reading this guide, I hope you do too.
VISIT KUALA LUMPUR QUICK LINKS
This Kuala Lumpur travel guide is long and detailed. For your convenience, I've compiled links to hotels, tours, and other services here.
HOTELS
Top-rated hotels in KLCC, one of the best areas to stay for first-time visitors to Kuala Lumpur.
TOURS
OTHER SERVICES
Save This on Pinterest!
No time to read this Kuala Lumpur travel guide now? Click on the save button and pin it for later!
GUIDE TABLE OF CONTENTS
KUALA LUMPUR TRAVEL RESTRICTIONS
Because of the current global situation, travel guidelines can change overnight. Our friends at Booking.com created a website that lists detailed information on travel restrictions and guidelines around the world.
Before planning a trip to Kuala Lumpur, be sure to check Booking.com for information on travel restrictions to Malaysia. If you do decide to visit Kuala Lumpur, then you may want to seriously consider getting travel insurance with COVID coverage.
MALAYSIA VISA
Depending on your passport, you may need to get a visa and other travel documents before being allowed entry into Kuala Lumpur and Malaysia. Check out iVisa.com to learn about the requirements and to apply for a visa (if necessary).
KUALA LUMPUR AT A GLANCE
Kuala Lumpur is Malaysia's capital and its largest city. The country is comprised of thirteen states and three federal territories. Kuala Lumpur is one of those three federal territories.
From a tourism standpoint, Kuala Lumpur's biggest attractions are the Petronas Twin Towers. Standing at over 452 meters (1,483 ft), they're literally the city's biggest attractions and were recognized as the tallest buildings in the world from 1998 to 2004. They were surpassed by Taipei 101 but remain the tallest twin towers in the world.
Other highlights include Kuala Lumpur Tower, Merdeka Square, Jalan Alor, Petaling Street (Chinatown), Central Market, KL Bird Park, and Masjid Negara.
BEST TIME TO VISIT KUALA LUMPUR
Like many destinations in Southeast Asia, Kuala Lumpur has two seasons – wet and dry. Temperatures fluctuate little throughout the year so it's best to go during the dry season, ideally between May and July. Weather-wise, this is the best time to visit KL.
OCT-APR: Kuala Lumpur's rainy season is characterized by two monsoon seasons, the east monsoon from October till January and the west monsoon from March to April. The city experiences the heaviest rains during these months.
MAY-SEPT: May till September is the dry season in KL and considered the best time to go. It's the driest and least humid time of the year.
I've been to Kuala Lumpur three times, all in the second half of the year. My last trip was in early December. It rained everyday, sometimes quite hard and for prolonged periods of time. As described, this is not the best time to visit KL.
Climate: Annual Monthly Weather in Kuala Lumpur
For more on KL's weather, check out these climate graphs from holiday-weather.com. I've also created average temperature and annual rainfall graphs with the most ideal months to visit marked in orange.
Average Temperature

Annual Rainfall

TRAVELING TO KUALA LUMPUR
If you're flying to Kuala Lumpur, then you'll be landing at either KLIA (Kuala Lumpur International Airport) or KLIA2, depending on your airline. KLIA is the main terminal while KLIA2 replaced the LCCT (Low Cost Carrier terminal) and services budget airlines like AirAsia, Cebu Pacific, Scoot, and JetStar Asia.
There are several ways to get to the city center from either KLIA or KLIA2.
BY TRAIN: The fastest way to get to the city center from the airport is by the KLIA Ekspres train. It's a non-stop train that takes you to KL Sentral train station from KLIA1 and KLIA2 in 28 minutes and 33 minutes respectively.
Tickets cost the same from either terminal and you can purchase them in advance on Bookaway (from KLIA1 | KLIA2). From KL Sentral Station, you can then take the metro or Grab to your hotel.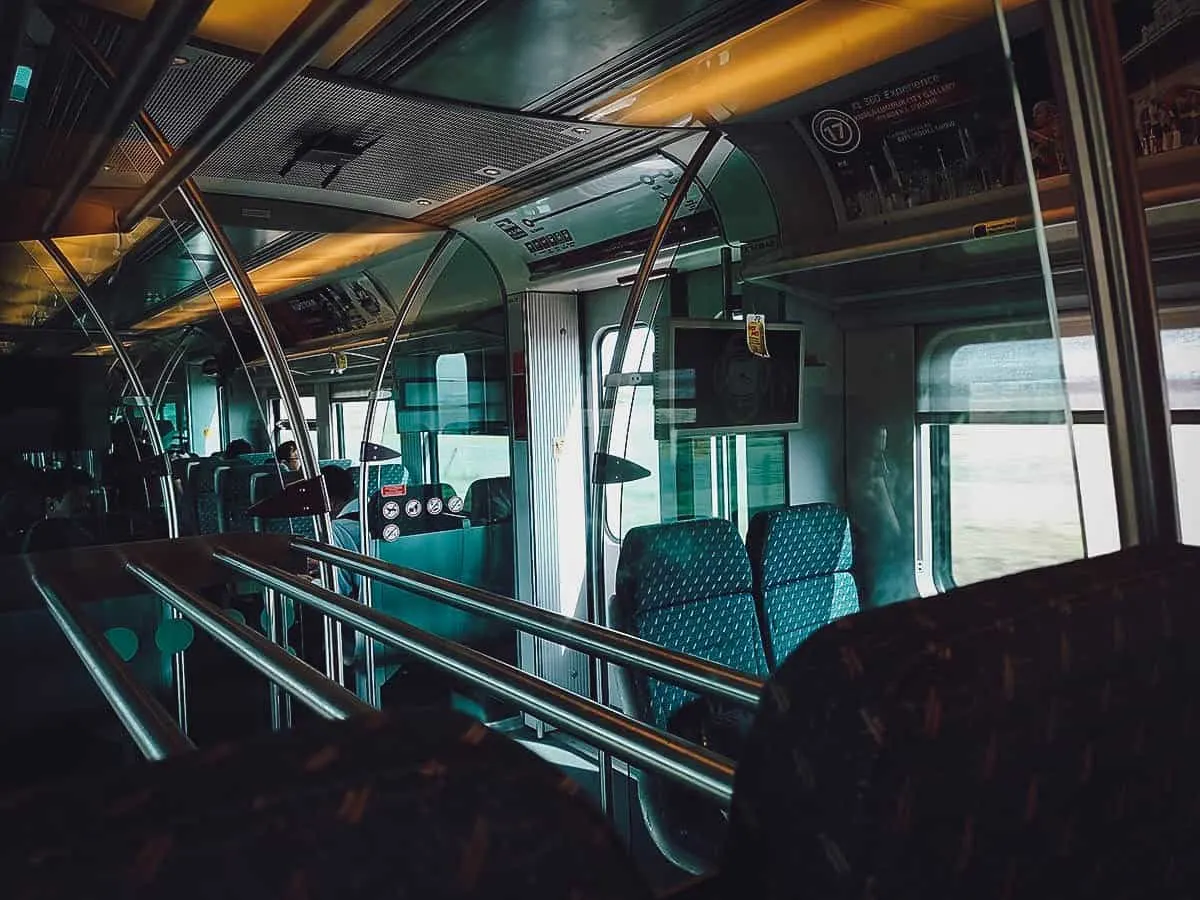 BY BUS: The cheapest way of getting from either terminal to the city center is by bus. Travel time is about an hour and costs about RM 12 each way. You can purchase tickets in advance through Bookaway (from KLIA1 | KLIA2).
BY PRIVATE TRANSFER: This is the most convenient option but one of the more expensive. However, if there are enough people in your group, then you can split the cost and it may turn out even cheaper than the KL Eksrpes. You can check out private transfer options on Bookaway (from KLIA1 | KLIA2).
BY GRAB / TAXI: Going by Grab or by taxi may be cheaper than booking a private transfer. We haven't tried it personally but based on what I've read, it should anywhere between RM 70-100. If arranging for a taxi, then be sure to do it at the airport taxi counter. You'll have your choice of either coupon or metered taxis.
I flew to Kuala Lumpur but there are other ways to get there depending on where you are. I suggest checking Bookaway to find route options available to you. You can click on the link or use the widget below.
WHERE TO EXCHANGE CURRENCY
The unit of currency in Malaysia is the Malaysian Ringgit (RM).
I withdrew all my RM from an ATM but if you plan on exchanging currency, then it's best to do it at established money changers like UAE Exchange, Vital Rate, or Max Money. You can refer to this article on KL money changers to find a currency exchange office near you.
I used to exchange currency all the time but these days, I find myself withdrawing more and more from ATMs. Rates are comparable and I don't have to bring so much foreign currency with me. Just be sure to let your local bank know that you intend to use your ATM card overseas so you don't run into any issues. In my experience, my ATM card works in some machines but not in others.
NOTE: Some ATMs may ask if you'd like to proceed "with or without conversion". Never proceed with conversion because doing so authorizes the foreign bank to do the conversion for you, usually at terrible rates. Choose WITHOUT conversion instead. According to this article, the difference in rates can be as high as 10%.
BEST AREAS TO STAY IN KUALA LUMPUR
So far, we've stayed in two areas in Kuala Lumpur – KLCC and KL Sentral. If you're only transiting through KL, then it's probably best to stay near KL Sentral. But if you're staying longer and really want to experience the city, then it's best to stay in Bukit Bintang or KLCC.
Listed below are some of the most convenient areas to stay in Kuala Lumpur, along with a color-coded map to help you better understand where each of these areas are. Click on the link for a live version of the map. (Please note that marked areas are approximations only)
BLUE – Bukit Bintang
RED – KLCC
GREEN – Chow Kit
ORANGE – KL Sentral
I'll provide targeted links under each description but you can book accommodations in Kuala Lumpur through Booking.com or Agoda.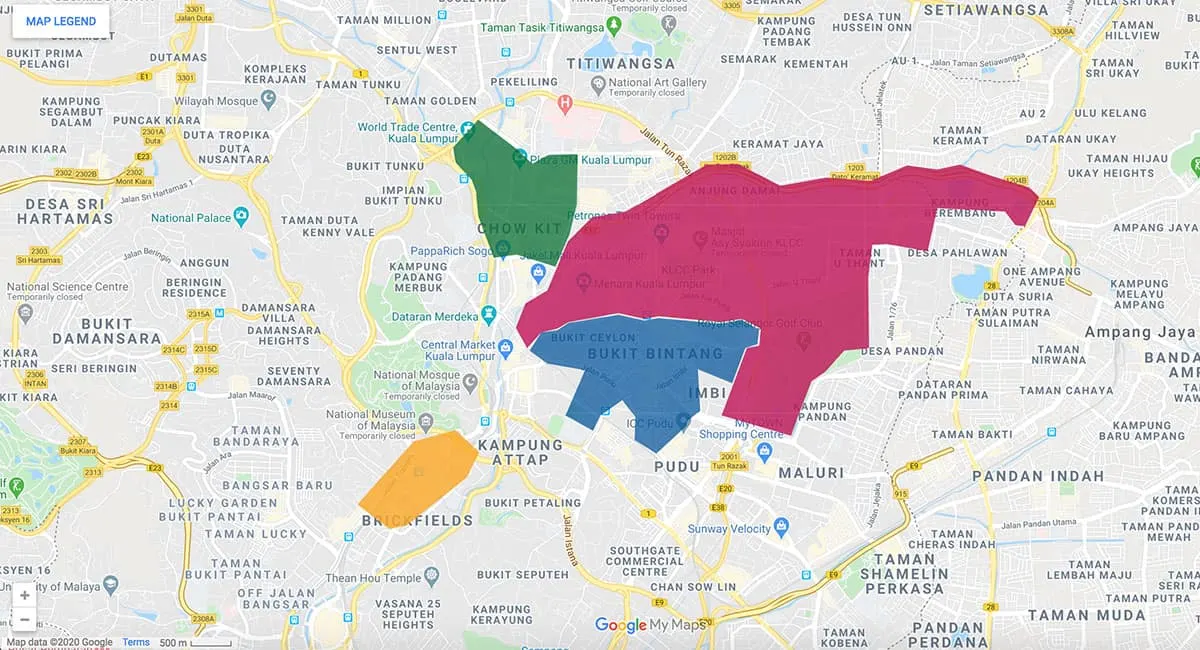 BUKIT BINTANG
Bukit Bintang is KL's main shopping and entertainment district. Here you'll find plenty of shopping malls, restaurants, and nightclubs. It's one of the best and most convenient places to stay in the city. This is where we'll probably stay on our next trip to Kuala Lumpur.
You can search for hotels in Bukit Bintang on Booking.com or Agoda. Check out some of the top-rated hotels in Bukit Bintang:
KLCC
This is where I stayed on my most recent trip to KL. It's the area just north of Bukit Bintang and home to the iconic Petronas Towers. For me, these two areas are on par with each other and offer many of the same conveniences. You'll find plenty of shopping and dining options here as well.
I stayed at Vortex KLCC apartments which is at the cusp of KLCC and Bukit Bintang. Bukit Nanas Monorail Station was just down the street and the Petronas Towers was about a 10-minute walk away.
If you'd like to stay in the KLCC area, then you can search for hotels on Booking.com or Agoda. Listed below are some of the top-rated hotels in KLCC:
CHOW KIT
Chow Kit is home to the city's biggest wet market and it's unofficial red light district. I visited the area on a food tour and enjoyed its gritty atmosphere. The neighborhood isn't as nice as Bukit Bintang or KLCC (and perhaps less safe) but if you're looking for cheaper accommodations with great street food, then you may want to consider staying here.
You can search for hotels in the Chow Kit area on Booking.com or Agoda. Check out some of the top-rated hotels in Chow Kit:
KL SENTRAL
As described, this is where you'll want to be if KL is just a stopover for you. It's where we stayed on our first two trips to Kuala Lumpur. KL Sentral is the main transportation hub in the city and will give you the quickest access to the airport and to other destinations in Malaysia, as well as Singapore and Thailand.
We stayed at My Hotel @ KL Sentral which is a very basic hotel less than a 10-minute walk from KL Sentral. The area does feel a bit more chaotic but you'll be close to plenty of dining and shopping options.
We booked a room at My Hotel on Booking.com but you can reserve it through Agoda as well. If you'd like to stay near KL Sentral but don't feel this is the right hotel for you, then you can search for alternate listings on Booking.com or Agoda.
You can also book hotels and homestays in Kuala Lumpur using the handy map below.
THINGS TO DO IN KUALA LUMPUR
1. Take Selfies with Giants
These towering twin giants need no introduction. Standing over 452 meters (1,483 ft) tall and visible from almost anywhere in the city, the Petronas Towers have become the most recognizable and iconic symbols of Kuala Lumpur.
I was happy taking a selfie from the street but if you'd like bird's eye views of the city, then you can take a lift to the observation deck on the 86th floor and/or take a walk on the Skybridge on the 41st and 42nd floors. You can purchase tickets at the gate or in advance through Klook or Get Your Guide.
Shopaholics will be pleased to know that at the feet of the Petronas Towers is Suria KLCC, a high-end shopping mall with over 300 boutiques. There's also a pleasant 17-acre green space at the base of the towers. There's lots to see and do here so you can spend an entire day at the Petronas Towers, especially if you're traveling with kids.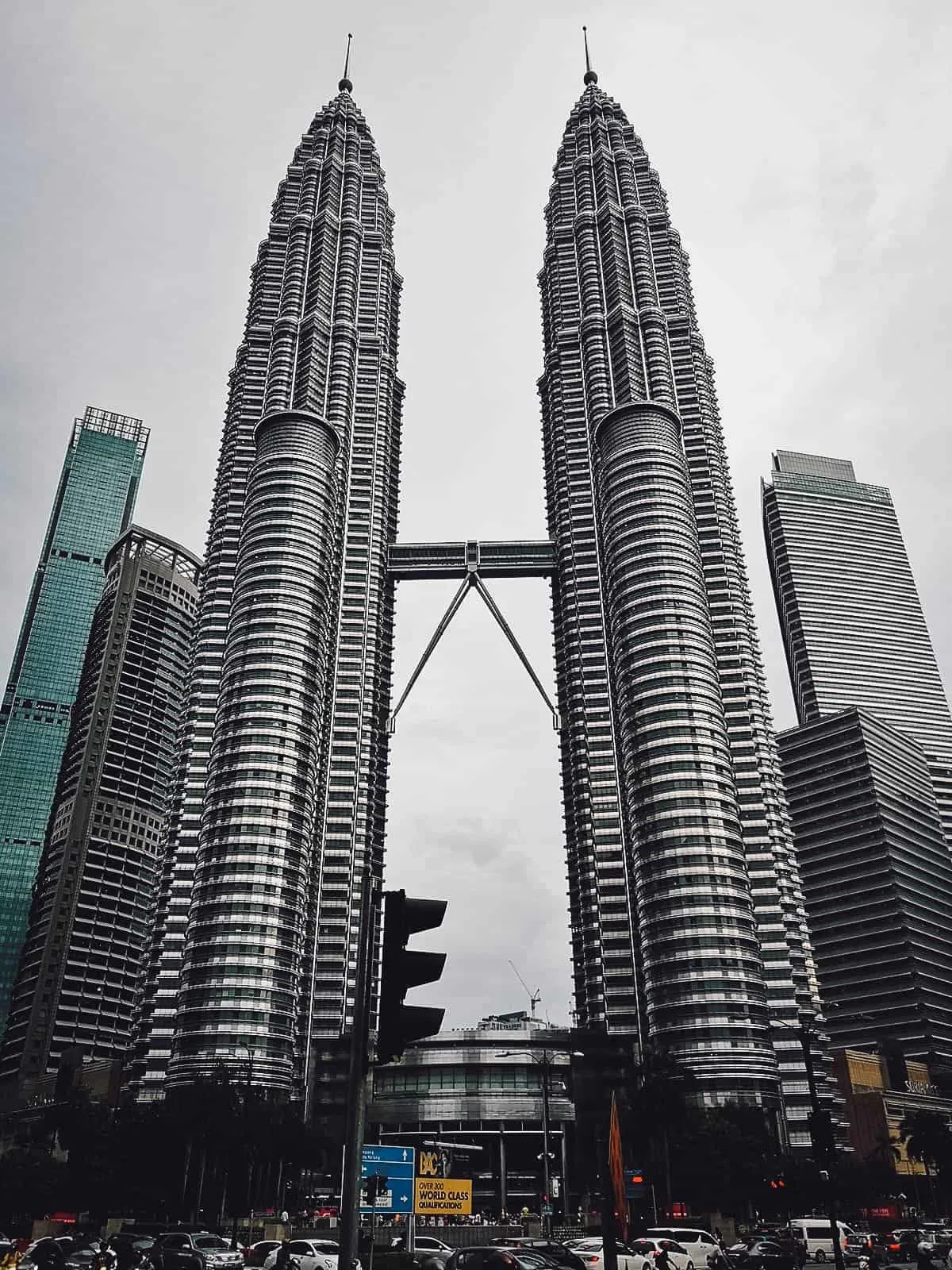 If a pair of towering structures isn't enough for you, then you may want to check out KL Tower as well. Located about 2 km southwest of Petronas Towers, Kuala Lumpur Tower is a communications tower recognized as the 7th tallest freestanding tower in the world.
Like the Petronas Towers, you can get sweeping views of the city from the tower's Observation and/or Sky decks. You can purchase tickets at the gate or in advance through Klook or Get Your Guide.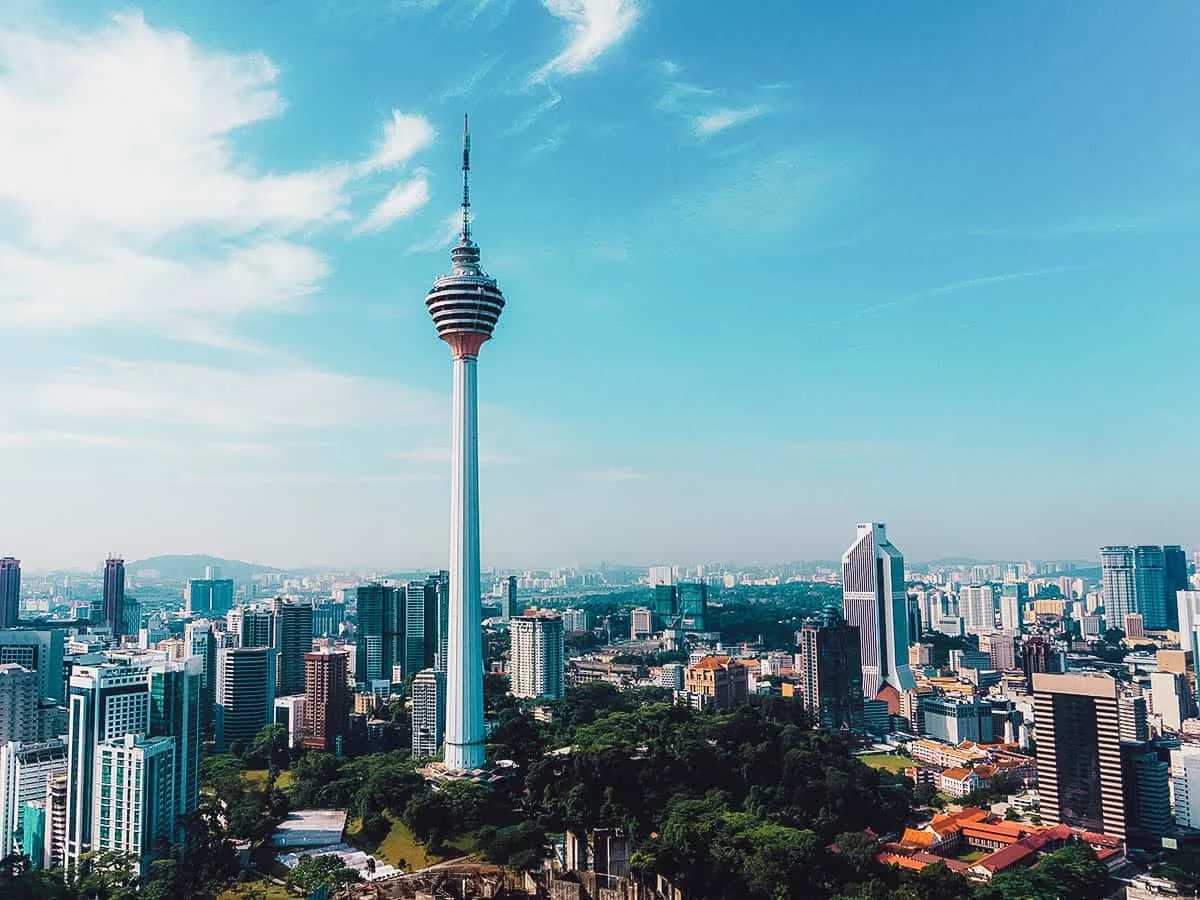 Photo by Leonid Sorokin via Shutterstock
Estimated Time to Spend: About 1-2 hrs per attraction
Admission: RM 80 (Petronas Towers) / RM 49 (KL Tower)
2. Heed the Call to Prayer
I know next to nothing about Islam but as described at the top of this article, I was moved by the sight of devotees heeding the call to prayer at Masjid Jamek. I was there in the afternoon when it started raining heavily. Either the prayer halls were already full or they didn't want to cross under the downpour, but a large group of latecomers stranded at the metro station knelt right then and there to join in prayer. It was a powerful show of community I had never witnessed before.
I visited Istiqlal Mosque in Jakarta and found it to be one of my favorite sites in the city as well. If you have an interest in religious sites, then you may want to visit Jamek Mosque.
Jamek Mosque is one of the oldest mosques in Kuala Lumpur and can easily be accessed via Masjid Jamek Station. It's one of the stops on this self-guided KL audio tour.
If you'd rather visit with a guide, then you may be interested in this religious and cultural KL tour. Just know that Masjid Jamek is closed on Fridays.
Pictured below are the prayer mats soaking wet after the rain. I guess that's why the devotees had little choice but to pray at the station. All the mosque's covered areas were already taken.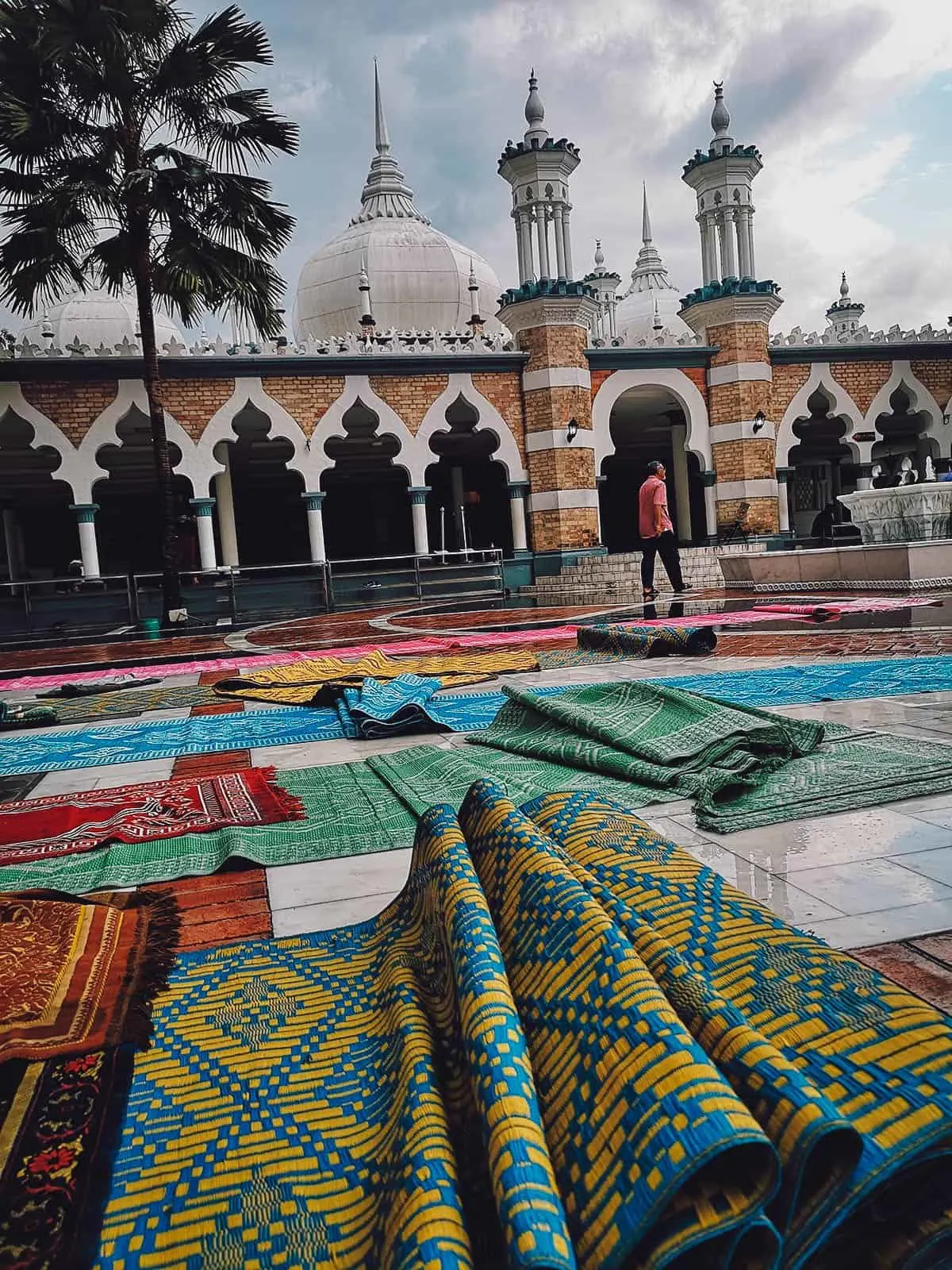 The National Mosque or Masjid Negara isn't as pretty as Masjid Jamek but it's much bigger, with a capacity for about 15,000 people. It's main features are this 73-meter-high (240 ft) minaret and a 16-pointed star roof.
Masjid Negara is just a short walk from Kuala Lumpur Station, but if you'd rather go with a guide, then you can book a KL sightseeing tour through Klook (Option 1 | Option 2) or Get Your Guide.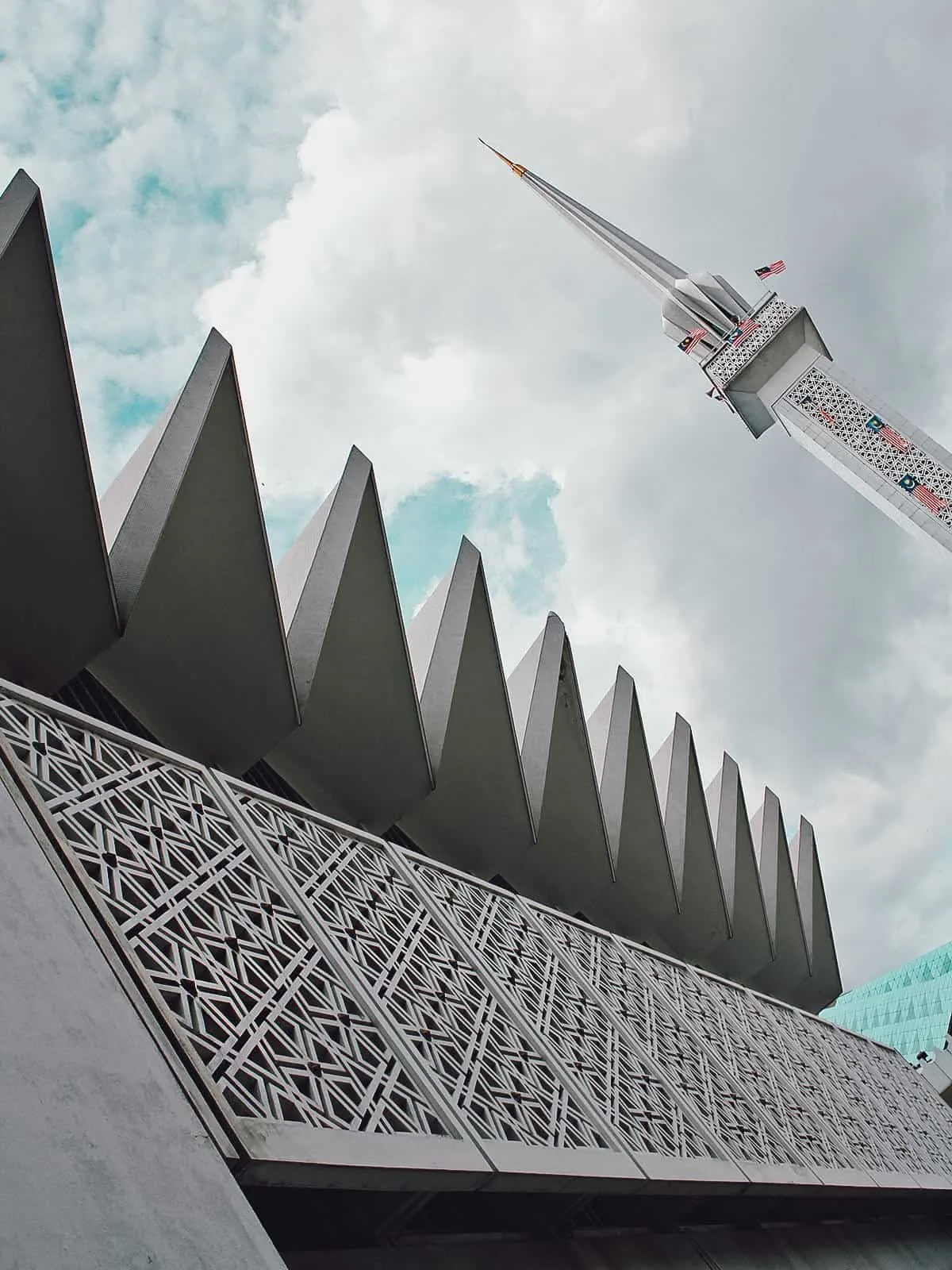 Estimated Time to Spend: Around 30 mins – 1 hr at each mosque
Admission: FREE
3. Go on a Food Tour
Going on a food tour is one of the best ways to discover interesting hole-in-the-walls, the types of places that only locals know about.
In KL, I went on a chef-led food tour with A Chef's Tour that took me to some great spots in Chow Kit and Kampung Baru, two off-the-tourist-trail areas with terrific street food.
You can check out my post on this KL food tour for more pictures and information. You can book the tour on Get Your Guide.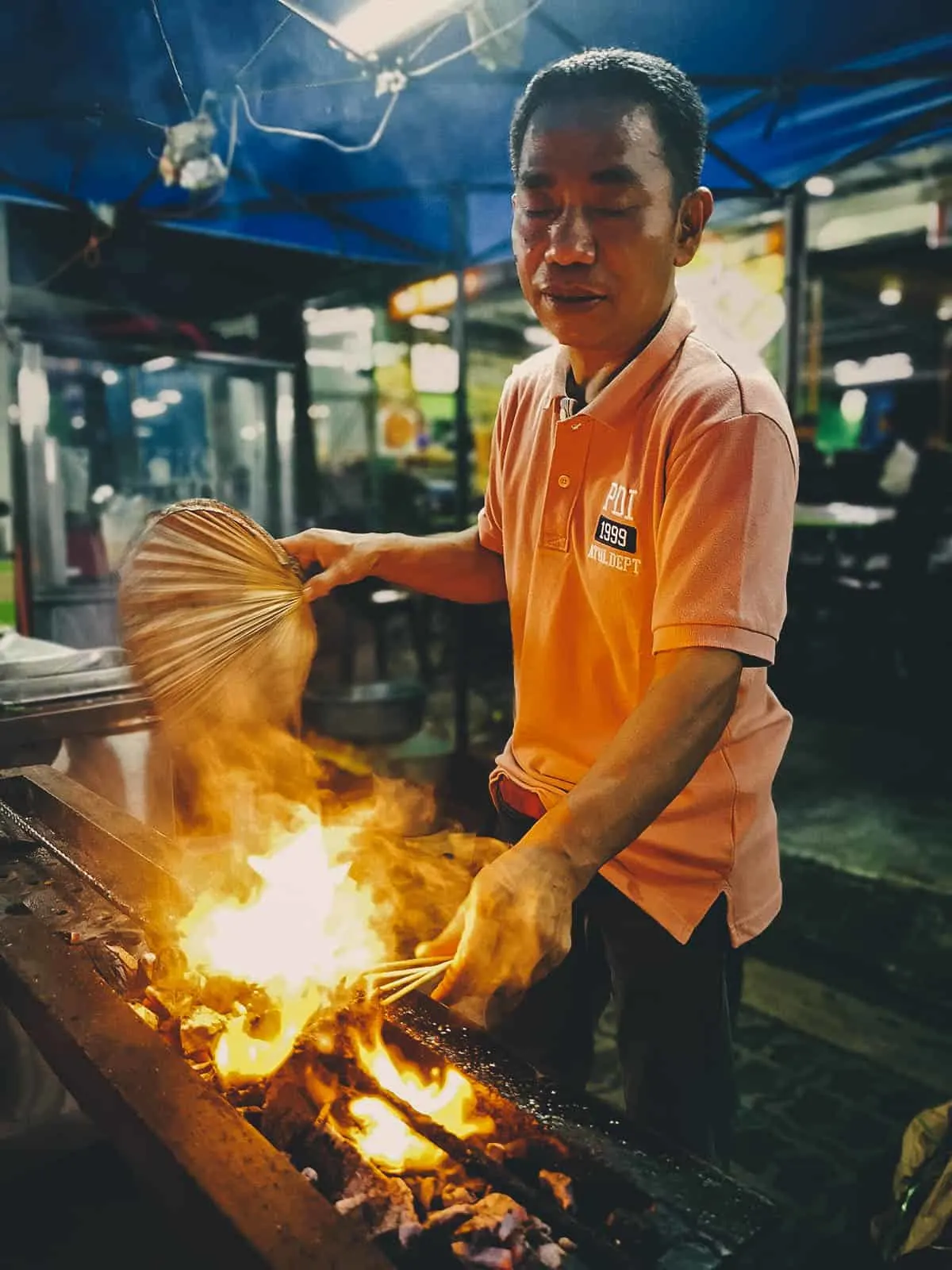 Length of Tour: 4 hrs
4. Go Birding at KL Bird Park
I visited this large aviary a few years ago and still remember it fondly. Spread out over 21 acres, KL Bird Park is said to be the biggest walk-in free-flight aviary in the world. It's home to over 3,000 birds across 200 species so if you have a fondness for birds or are traveling with kids, then this is a great place to spend a couple of hours. You can check out my post on KL Bird Park for more pictures and information.
You can easily visit KL Bird Park on your own and purchase tickets at the gate, or you can buy them in advance through Get Your Guide.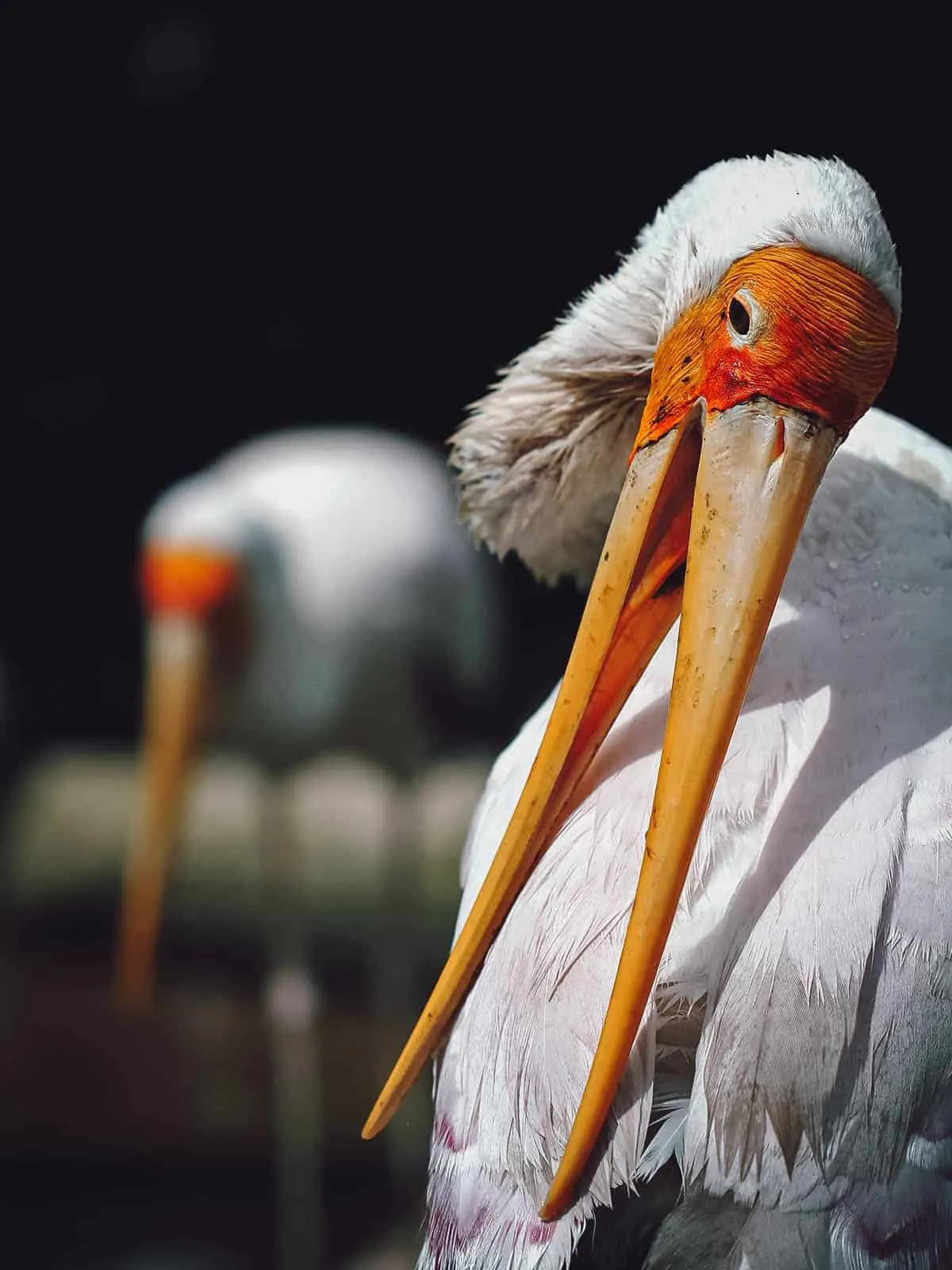 Estimated Time to Spend: 2-3 hrs
5. Go Shopping
If you like shopping, then you're going to enjoy Kuala Lumpur. Like many large Southeast Asian cities, shopping centers and street markets seem to be everywhere. In fact, according to Wikipedia, it's home to three of the world's biggest shopping malls.
The Central Market isn't one of the biggest or most modern but it's one of the most iconic. It's a KL landmark noted for its powder blue exterior and art deco design. Get Your Guide offers a few tours that make stops at the Central Market.
We visited Central Market a few years ago and inside you'll find shops selling mostly arts- and crafts-related products like paintings, carvings, souvenirs, and batik prints.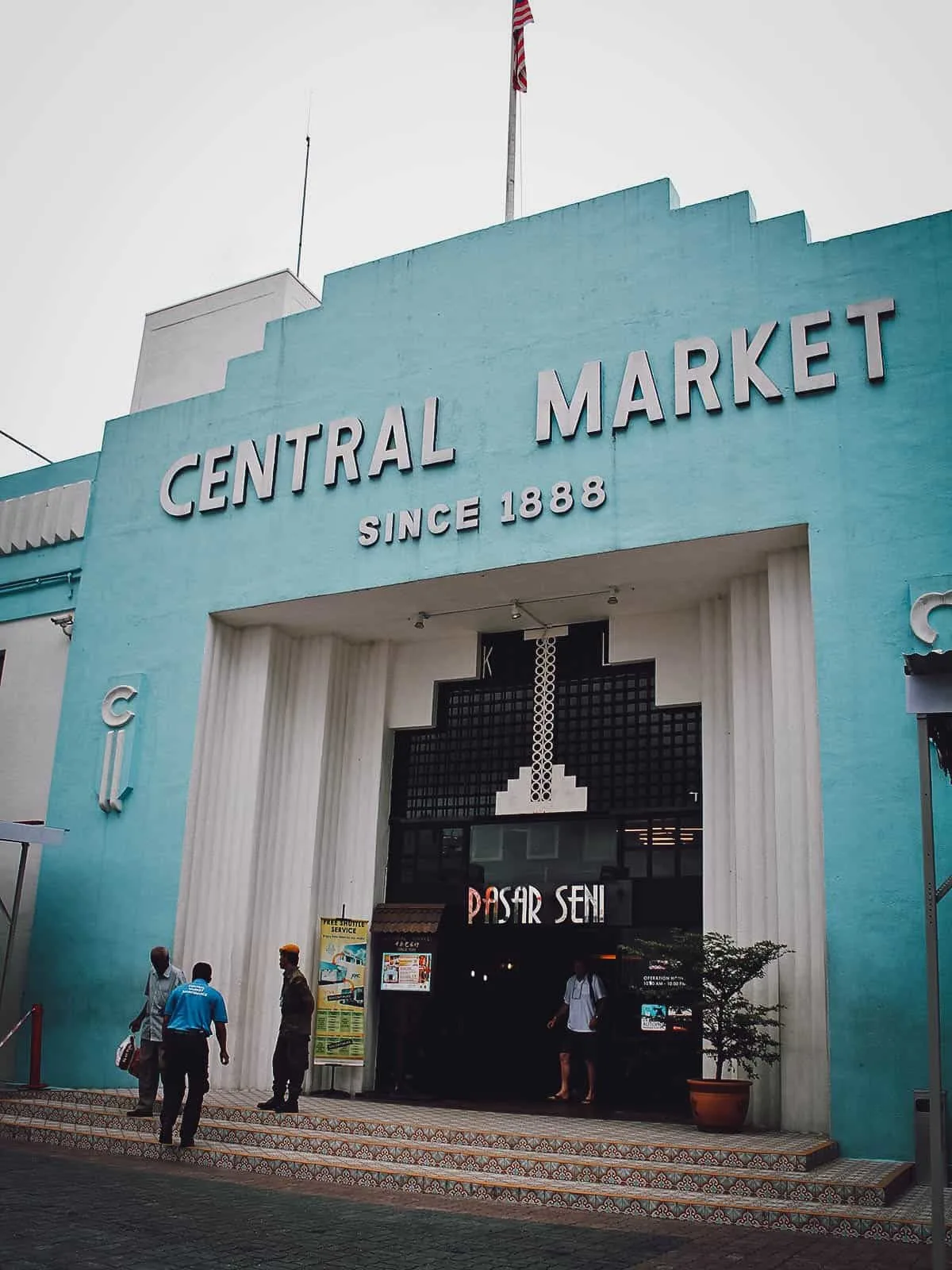 For a more modern shopping experience, head over to Suria KLCC or any of the big shopping malls in Bukit Bintang. I don't remember which mall this was but I randomly walked into this one on my last trip. They had a Christmas display with dozens of handpainted Mickey Mouse figures highlighted by this giant tree of smaller figurines.
Bukit Bintang and KLCC are great areas to go mall hopping. Lot 10 has a pretty awesome food court as well.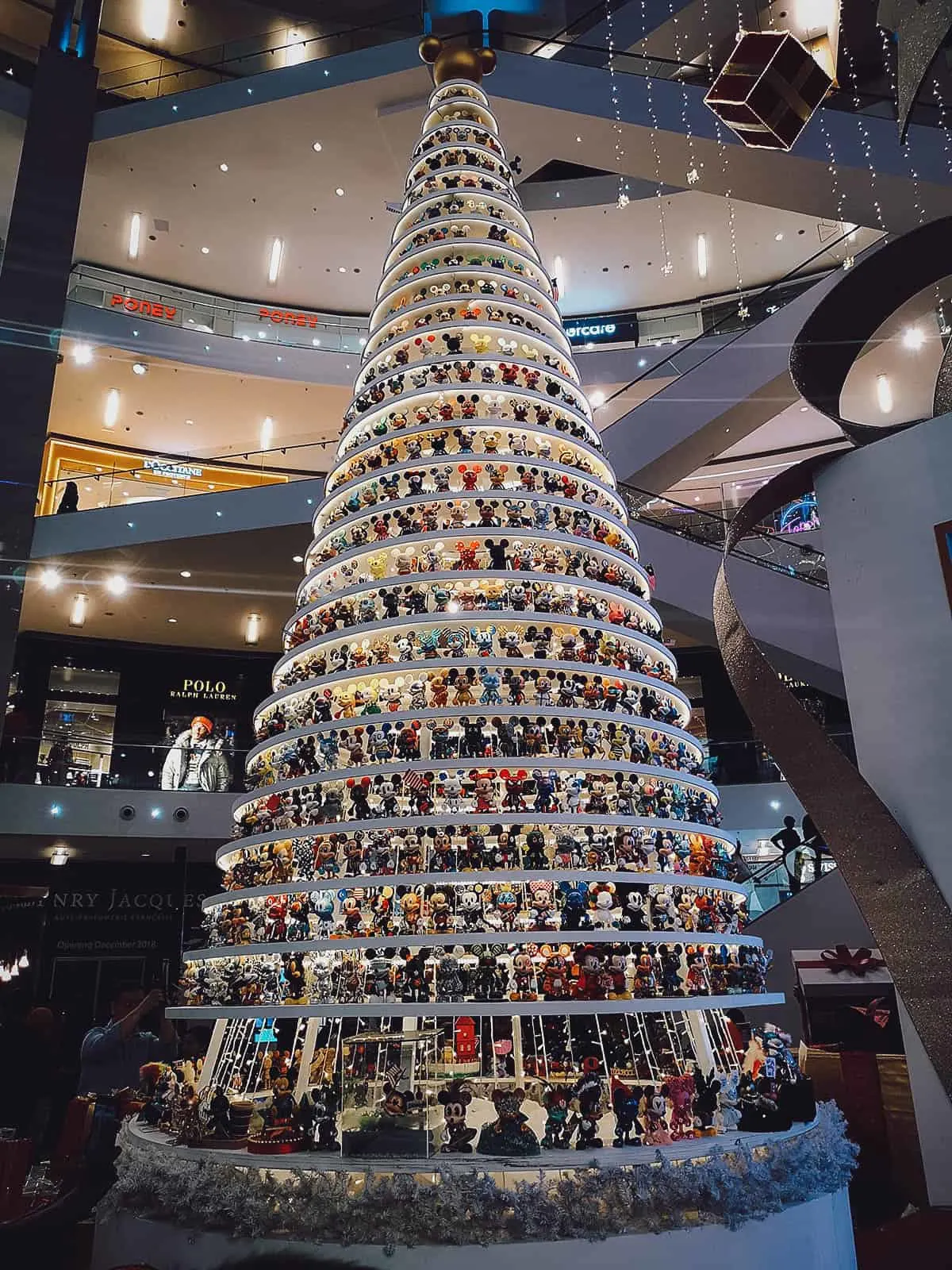 6. Take a Cooking Class
Ren's a great cook so we try to make time for a cooking class on every trip. So far, we've taken classes in Hoi An, Phuket, Bali, and Chiang Mai, and we're taking one in Tokyo soon. The way we see it, there's no better way to learn about a new cuisine than by taking a cooking class. It's like looking under the cuisine's hood.
Cookly is an online booking platform that focuses solely on cooking classes around the world. For me, there's no better place to find one-day cooking classes while traveling than on Cookly. Check out their website for a list of cooking classes in Kuala Lumpur.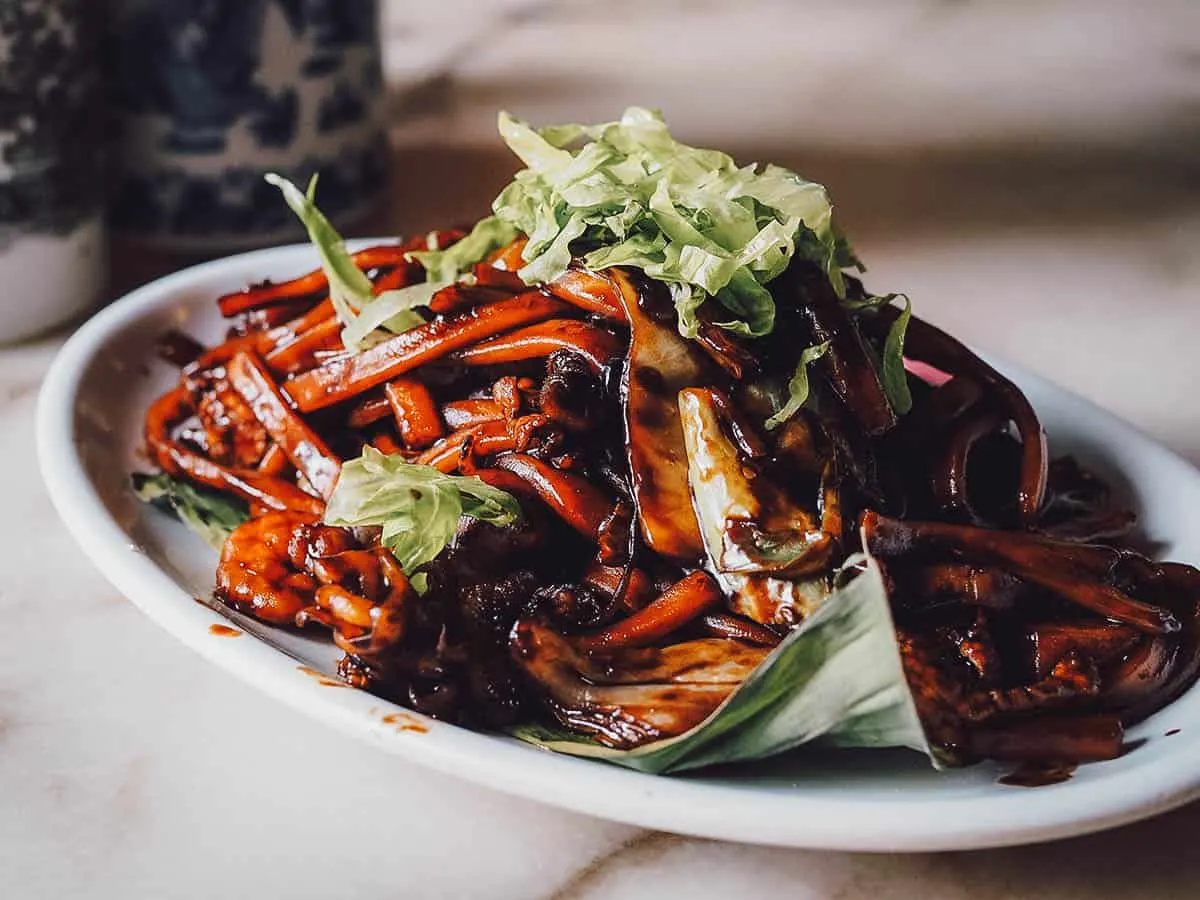 Photo by Freedomkim via Shutterstock
DAY TRIPS FROM KUALA LUMPUR
1. Batu Caves
Google "what to do in kuala lumpur" and there's a good chance Batu Caves will appear on every list. It's by far the most popular day trip you can make from Kuala Lumpur. I'm not even sure it can be considered a day trip considering it's only about 15 km north of KL Sentral and easily accessible by commuter rail.
Batu Caves is a limestone hill with a series of caves and cave temples in Gombak. Dedicated to Lord Murugan, it's one of the most popular Hindu shrines outside of India. To enter the biggest cave in the complex, you'll need to climb up 272 colorful steps that have become a hugely popular backdrop for Instagrammers. Batu Caves was already popular before then but all the more after the steps were painted in every color of the rainbow in 2018.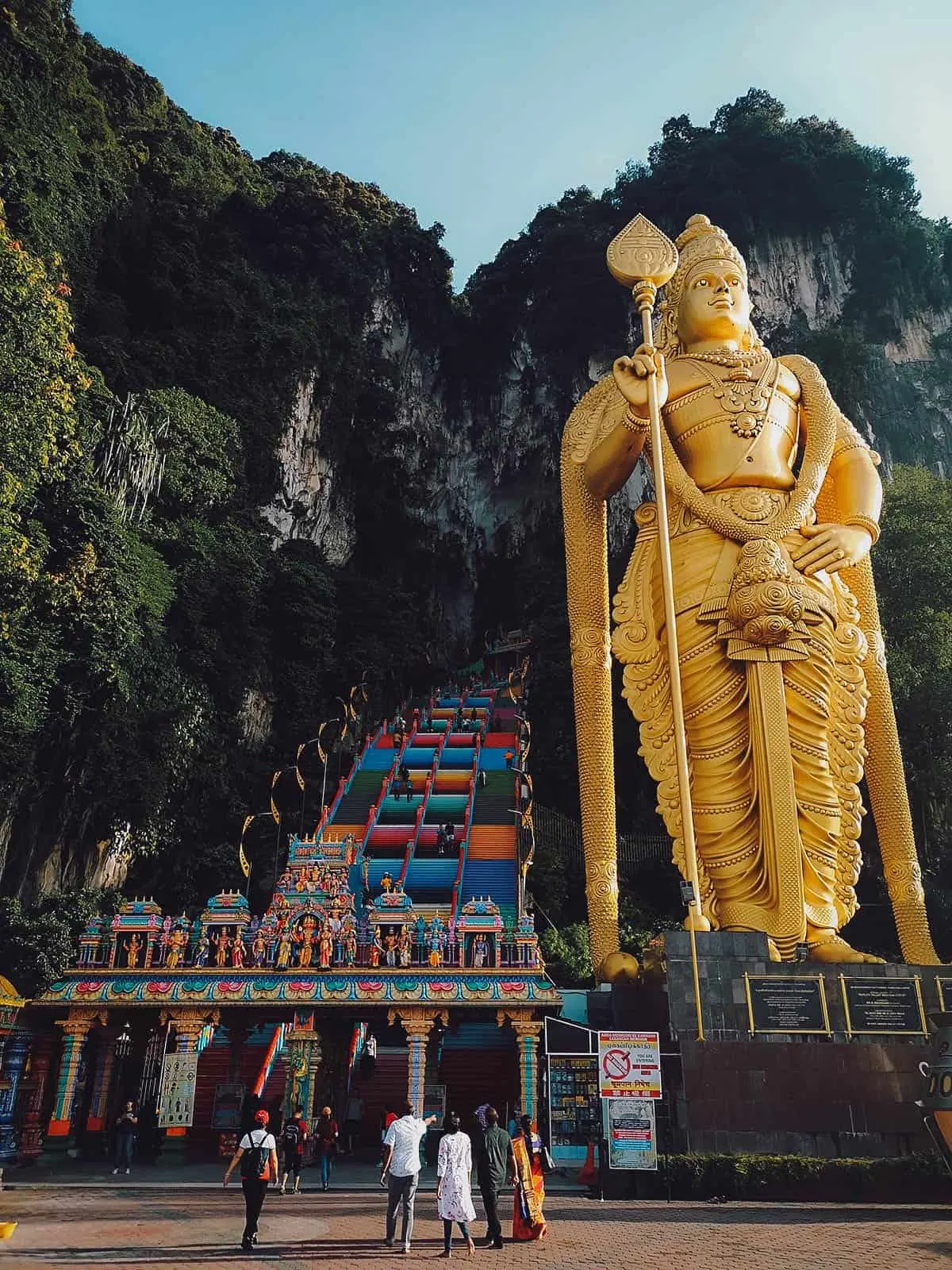 The steps get all the attention but the cave itself is impressive as well. Known as Temple Cave, this main cave is home to multiple Hindu shrines. It's amazing to think how all the tools and materials used to build these shrines were carried up and into the cave by hand.
As described, it's easy to get to Batu Caves on your own from KL Sentral. Just look for the KTM Komuter Line window and buy a ticket to Batu Caves. The fare is RM 2.60 each way and the journey takes around 40 minutes. Trains run every 30 minutes to 1 hour.
If you're rather go with a guide, then you can book a tour through Klook or Get Your Guide.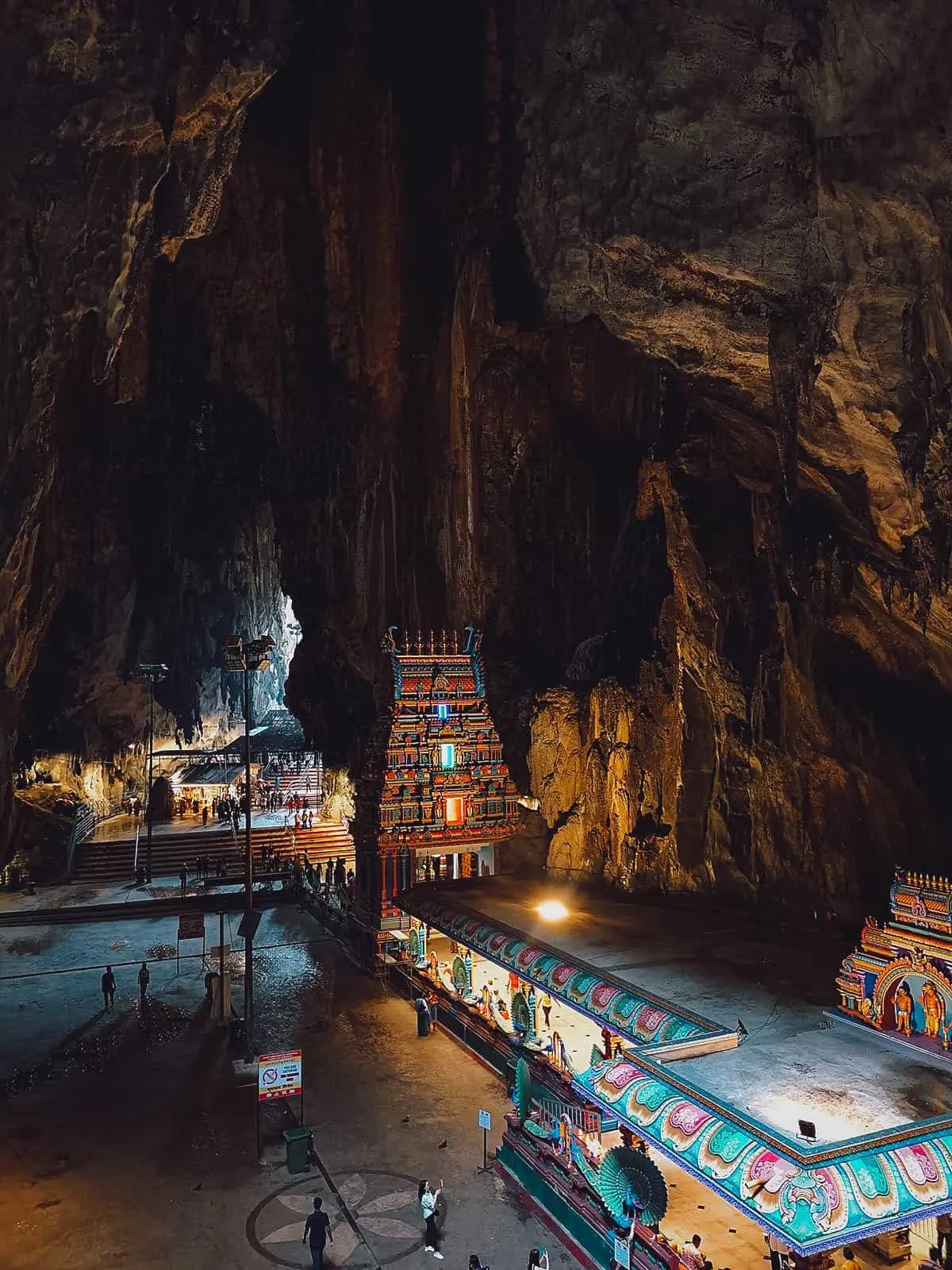 2. Genting Highlands
Genting Highlands, also known as Resorts World Genting, is a cool mountain getaway located about an hour north of Kuala Lumpur.
As you can expect from any Resorts World development, it's a hospitality and casino complex featuring hotels, shopping malls, theme parks, and casinos perched 1,800 meters above sea level on the peak of Mount Ulu Kali. One of its most popular features is the Awana SkyWay which is recognized as the fastest and longest cable car ride in Southeast Asia.
If you'd like to spend the day at Genting Highlands, then the easiest way would be to book a day trip through Klook or Get Your Guide.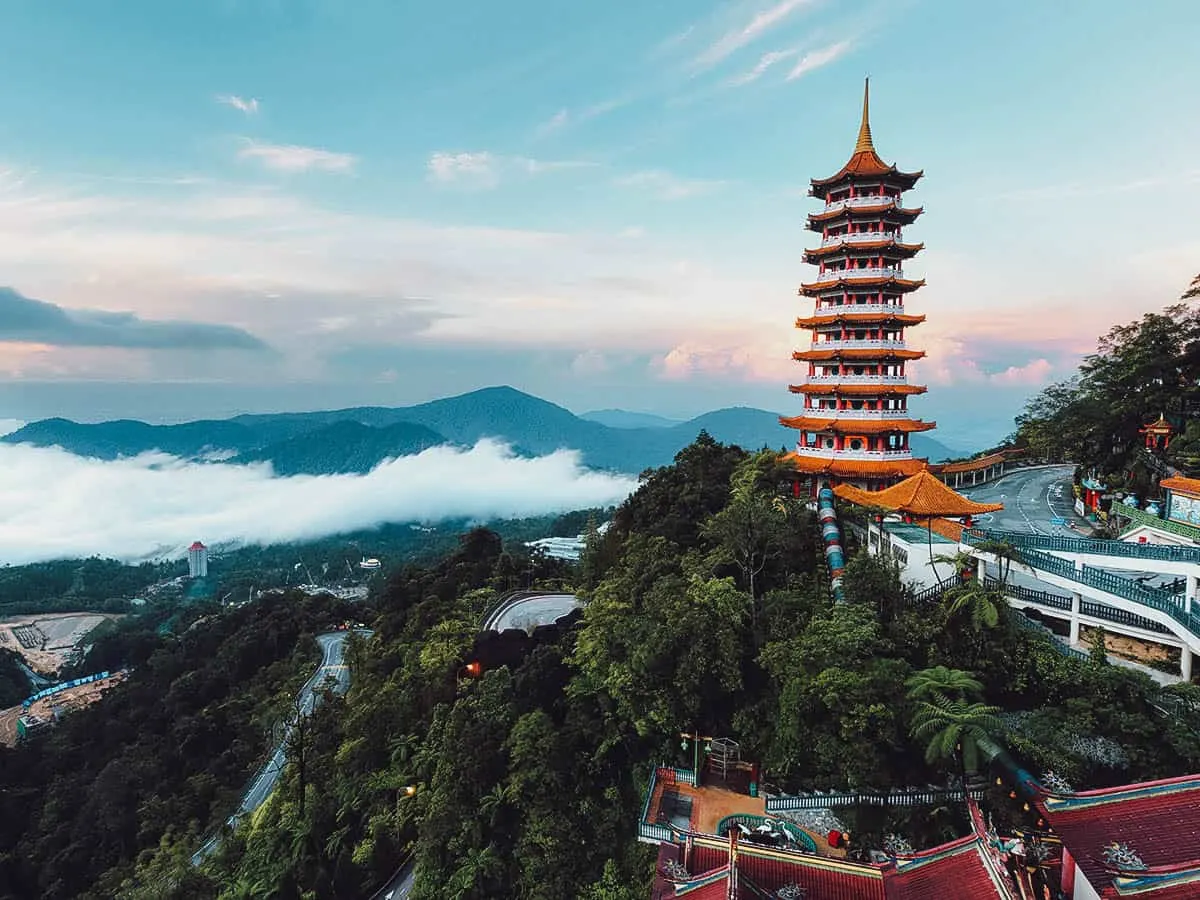 Photo by Raymond Choong via Shutterstock
3. Melaka
I haven't been but Melaka (Malacca) and Ipoh are two Malaysian destinations on my radar, largely because of their reputation for having great food. They're about 146 km and 205 km away from Kuala Lumpur respectively so I didn't think they were possible to visit on day trips, but it looks like Melaka is.
Klook and Get Your Guide offer a few Melaka day tours from Kuala Lumpur. For us, Melaka is a trip on its own but if you don't have enough time in Malaysia, then you may be interested in going on a day tour.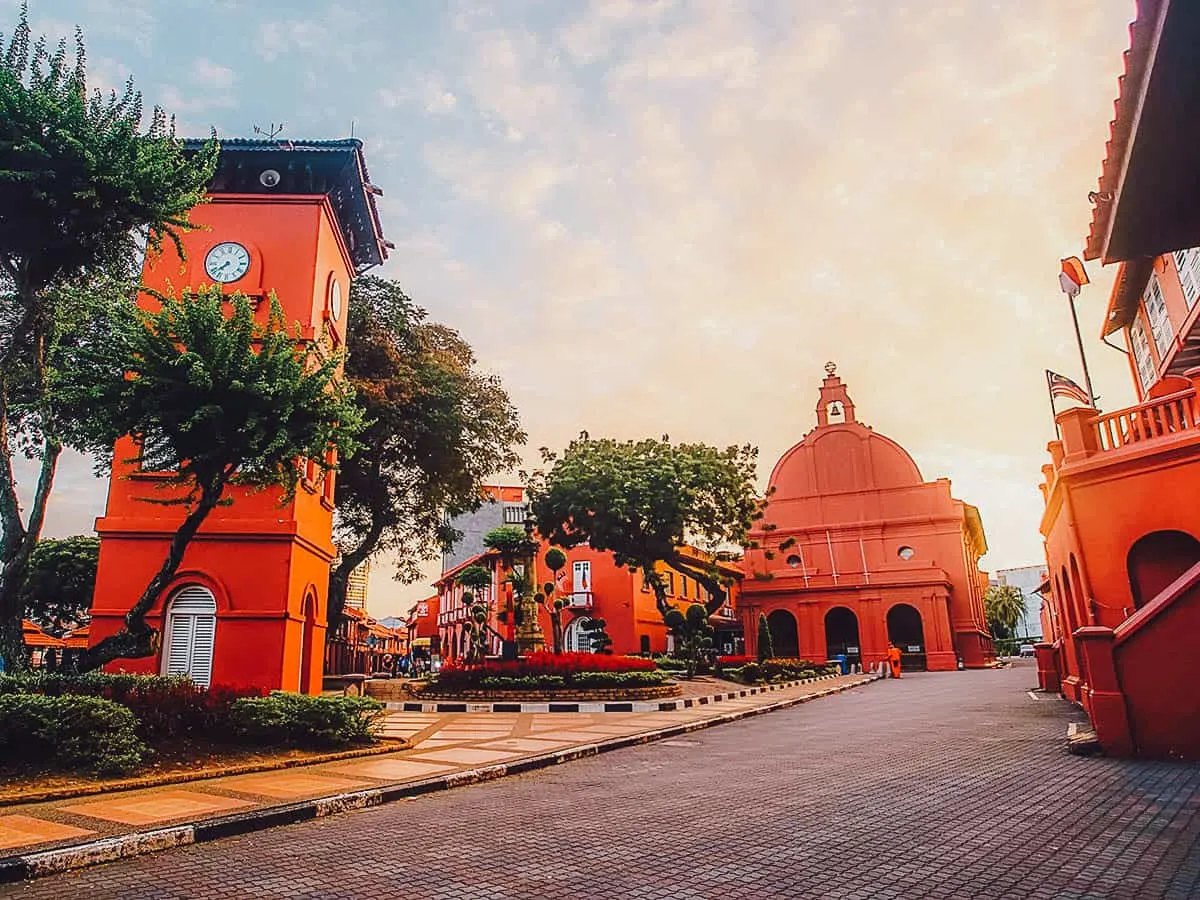 Photo by nelzajamal via Shutterstock
MALAYSIAN FOOD GUIDE
If you'd like to experience some of the best dishes that Malaysian cuisine has to offer, then check out our Malaysian food guide for a list of 35 must-try dishes in Malaysia.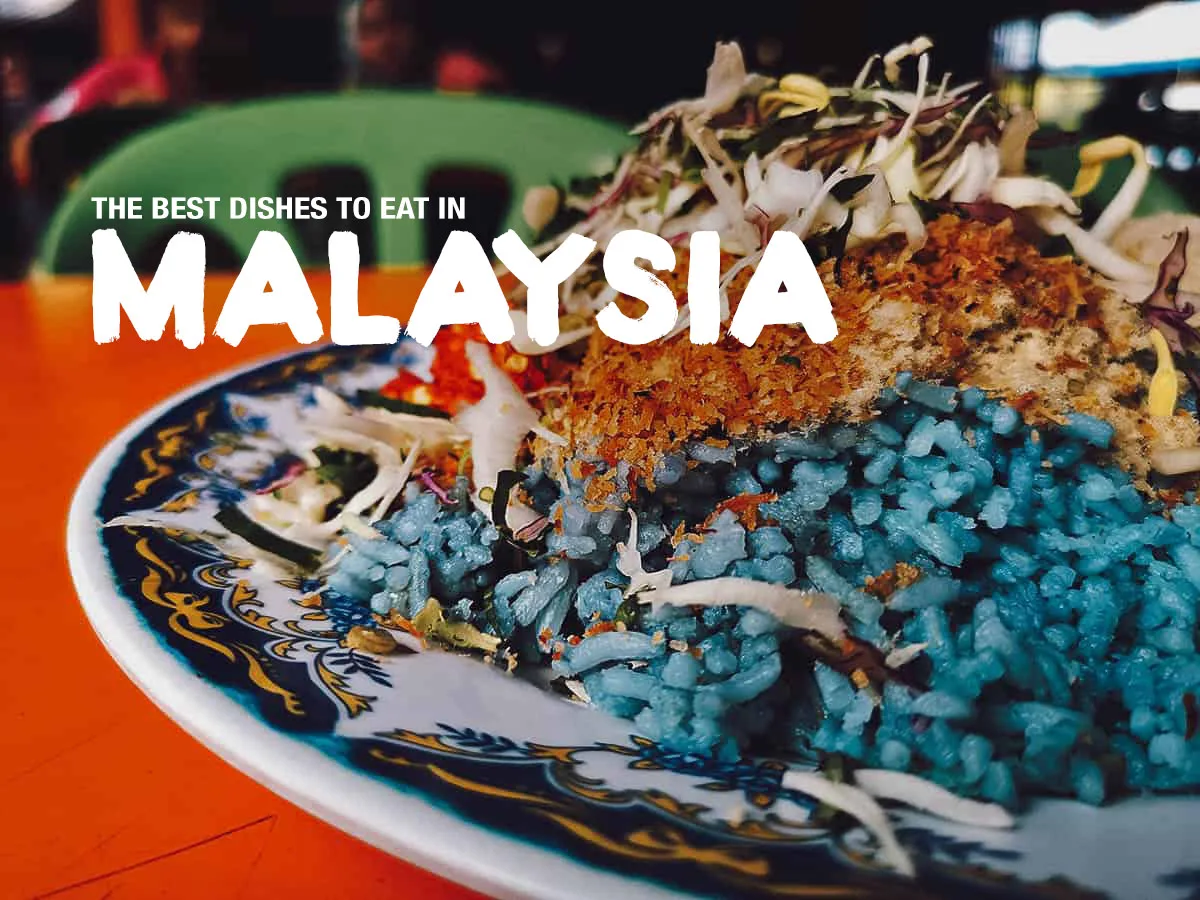 MALAYSIAN DESSERTS
If you have a soft spot for the sweeter things in life, then you'll definitely want to check out our list of the most delicious Malaysian desserts.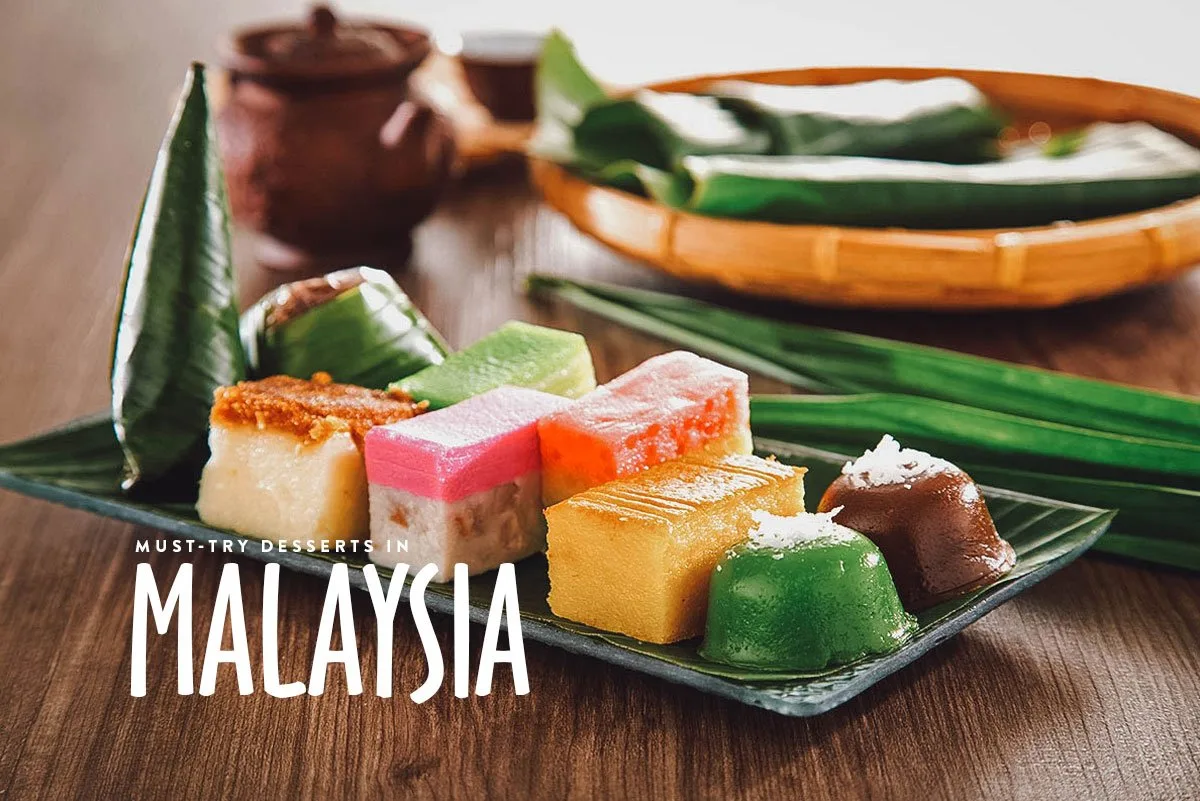 WHERE TO EAT IN KUALA LUMPUR
If I had to use just one word to describe Malaysian food, then it would be "multi-ethnic". Like Singapore, Malaysia's population can be divided into three major ethnic groups – Malay, Chinese, and Indian – and their food is definitely a reflection of that.
1. RA Nasi Lemak
What better way to start this list than with a humble roadside stall offering Malaysia's national dish of nasi lemak? It's one of my favorite Malaysian dishes and something I looked forward to having again in Kuala Lumpur.
I became intrigued about RA Nasi Lemak after reading about it in a Malaysian food blog so it was the very first place I went to shortly after arriving in KL.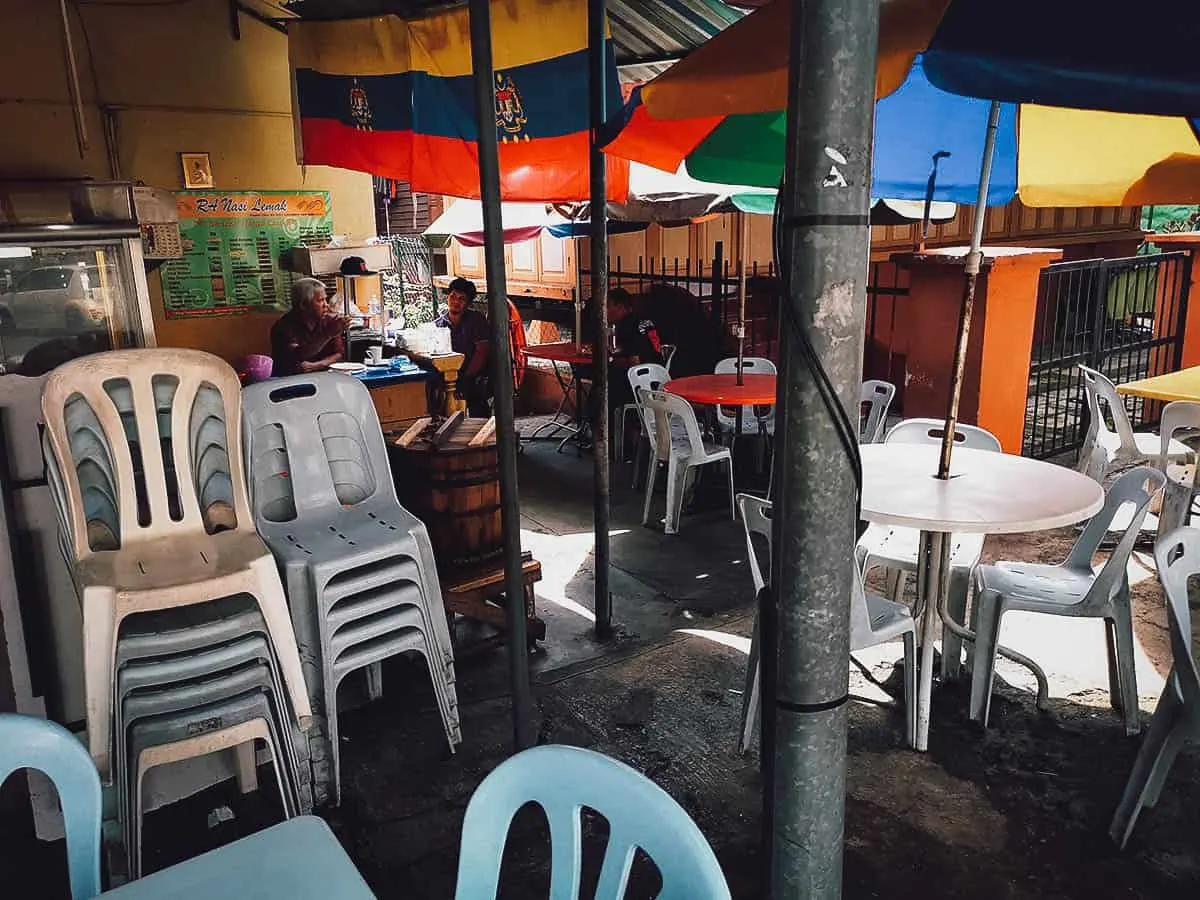 If you've never had nasi lemak, it refers to fragrant rice cooked in coconut milk and pandan leaf. There are many variations of nasi lemak but the most traditional Malaysian version is served with sambal (chili paste), ikan bilis (anchovies), peanuts, and a hard-boiled egg. However, the heart of nasi lemak is the coconut rice so it can be served with any number of toppings and side dishes.
RA Nasi Lemak serves their food buffet style. There's a big wooden bucket of nasi lemak which you help yourself to then top with as many of these viands as you like. They'll then price your plate based on what and how much you got. This is common in Malaysia.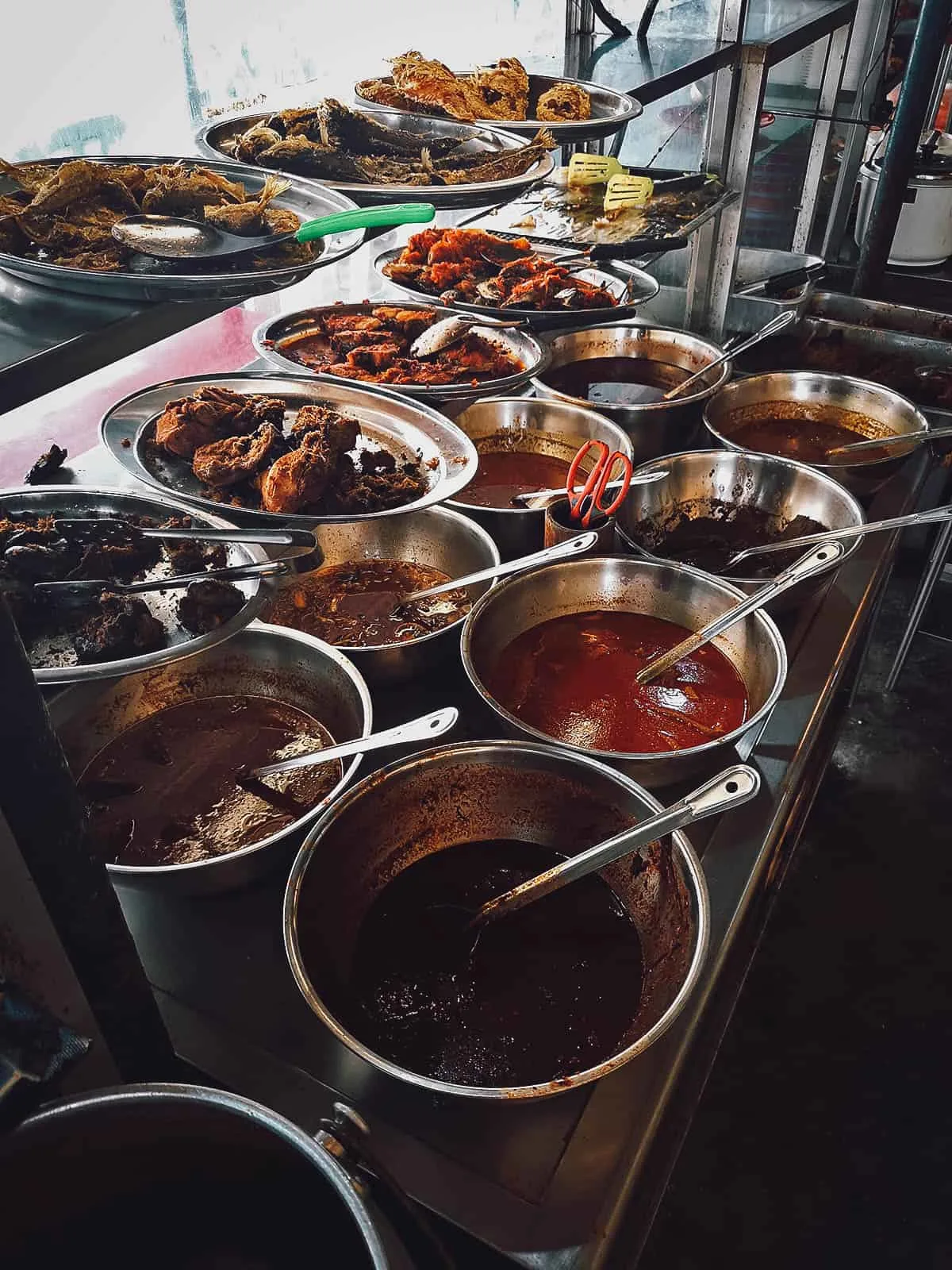 This heaping plate of nasi lemak with sambal, peanuts, fried egg, tripe, chicken, and fried fish came out to just RM 15 with a drink. Everything on my plate was good, though some of the components were already cold from sitting out too long. As much as I love nasi lemak, that's always been my problem with these types of meals in Malaysia and Singapore – I never know if what I'm going to get is fresh and still hot.
The rice and sambal were great. They're the cornerstones to any successful nasi lemak. Some sambals tend to be a bit sweet but this one was nice and spicy, just the way I like it.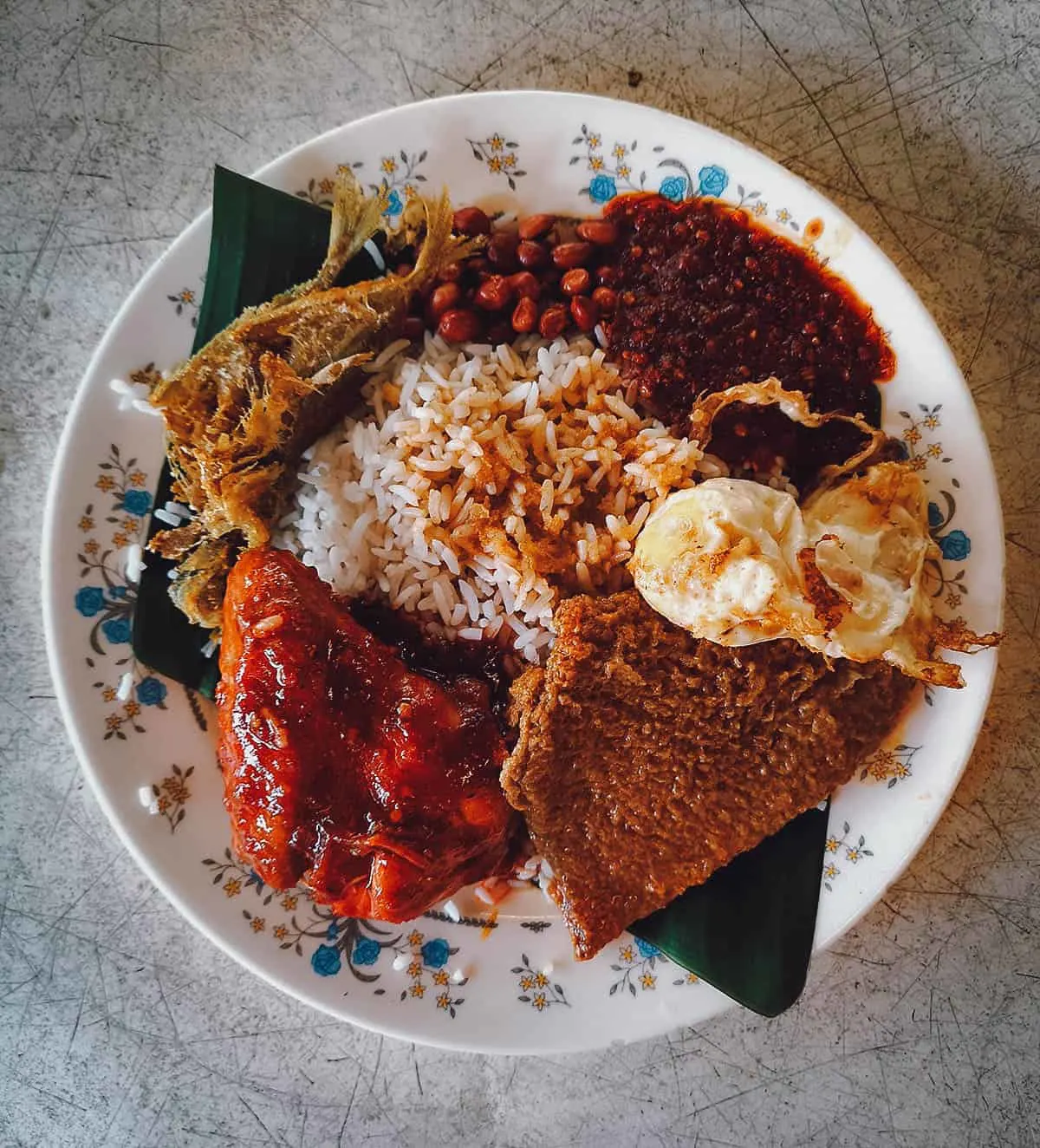 2. Chunburi Seafood
I wanted to have nasi kerabu and my research led me to this place in Kampung Baru – Chunburi Seafood. Nasi kerabu is a rice dish typically served with keropek (deep-fried crackers), fish or chicken, salad, and solok lada (stuffed peppers). What makes this dish particularly noteworthy is the blue color of the rice.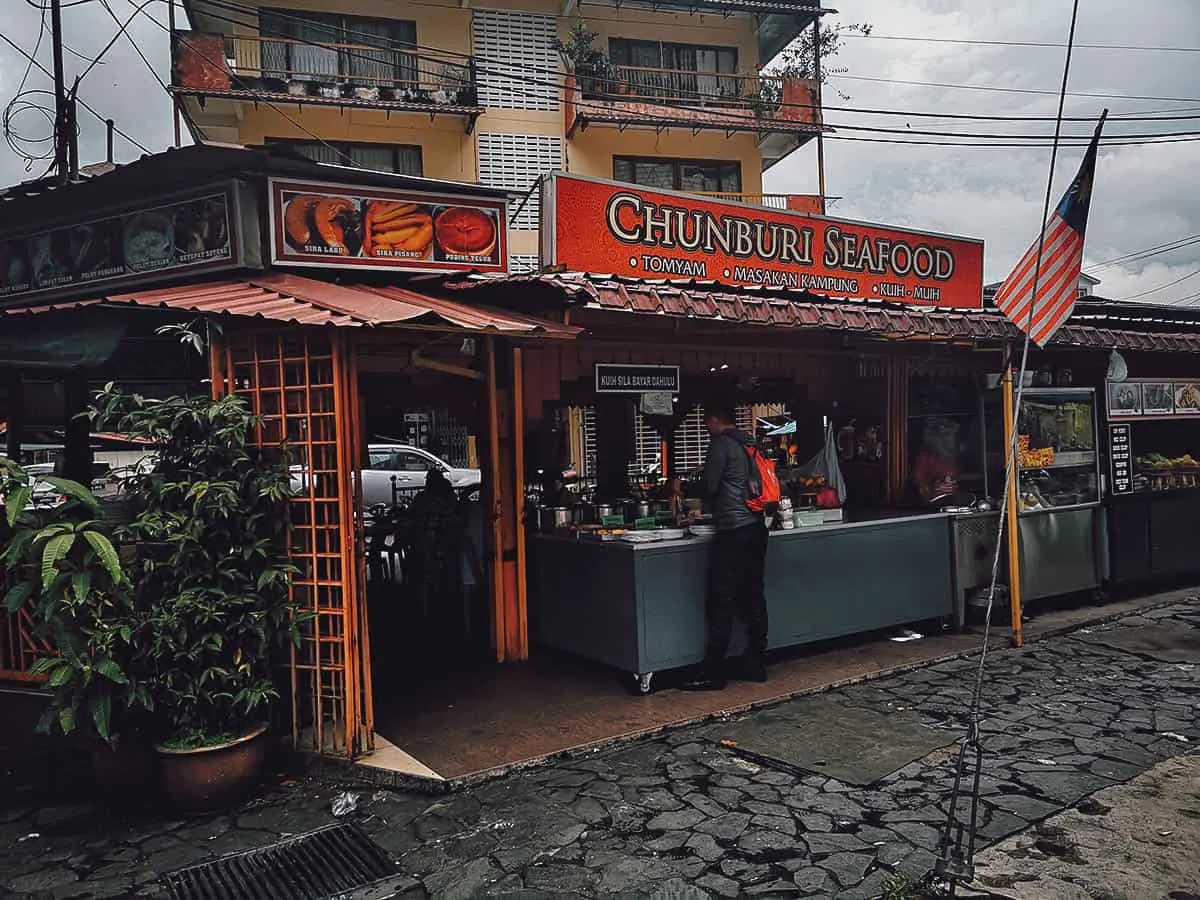 Chunburi Seafood has one of the most impressive spreads of any restaurant I visited on my most recent trip to KL. So many of these dishes looked delicious but I was here specifically for one thing. I said just two words – "nasi kerabu" – and my server took care of the rest.
Here you can see her topping my plate of blue rice with a variety of sides. Like nasi lemak, I believe there's a specific set of toppings that make up a traditional nasi kerabu, though these can change from place to place. I had it twice on this trip and the only constant was the blue rice and salad, which makes sense because "nasi" means rice while "kerabu" refers to the raw salad.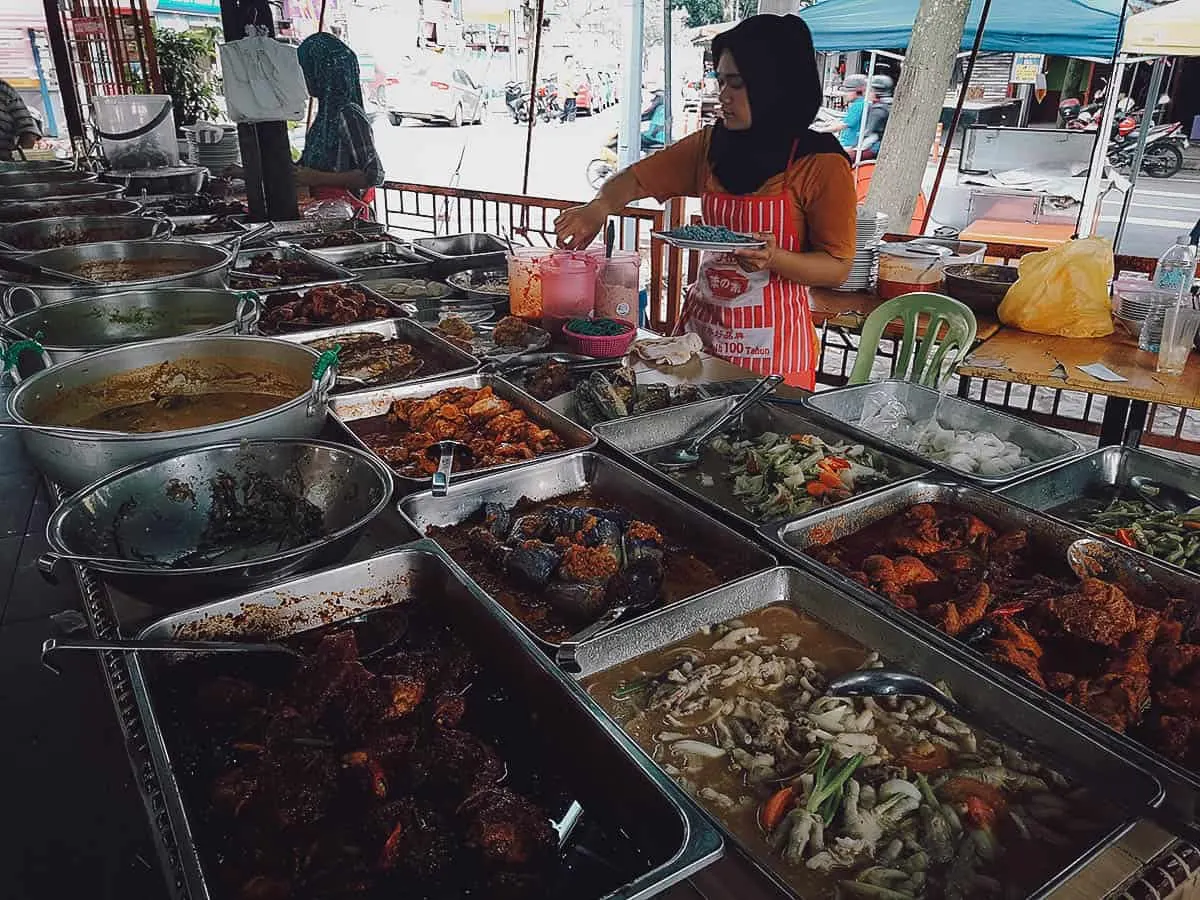 And there she is, my colorful plate of nasi kerabu topped with salad and served with a side of salted egg, solok lada, and some type of protein. It looks like pork but I don't think it is.
I read up on nasi kerabu and was surprised to learn that it's a Peranakan dish from the Kelantan state of Malaysia. From what I understand, Peranakan cuisine can vary greatly depending on the region and Kelantanese Peranakan food is described as having a strong Thai influence. The blue rice is a Kelantanese preference.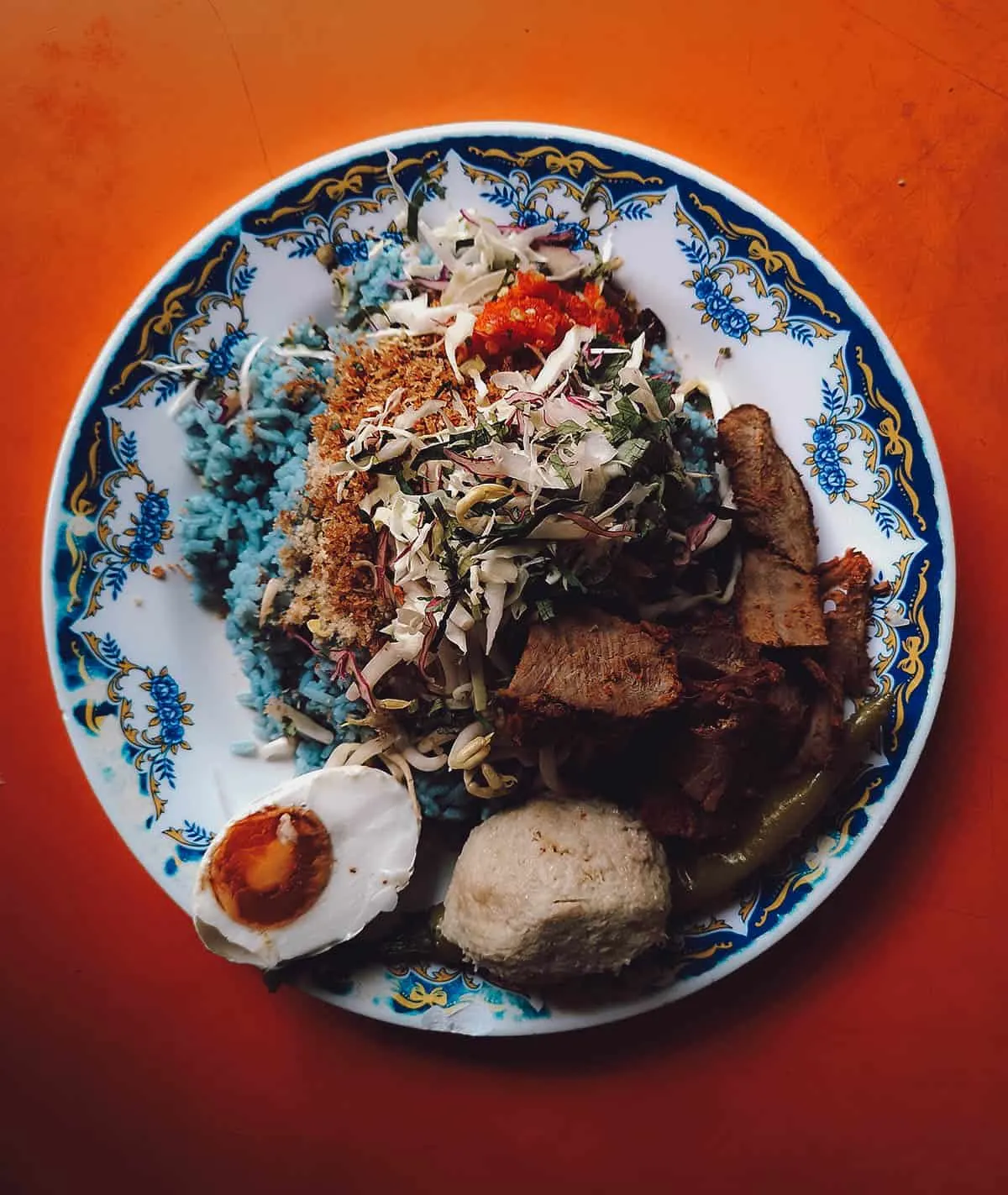 Here's a closer look at the blue rice. It gets its color from the butterfly pea flower. The rice is interesting but I didn't find it to taste much different from regular rice. I believe the blue color is mostly for presentation as many cooks these days prefer to use a few drops of artificial coloring. It really is quite pretty to look at.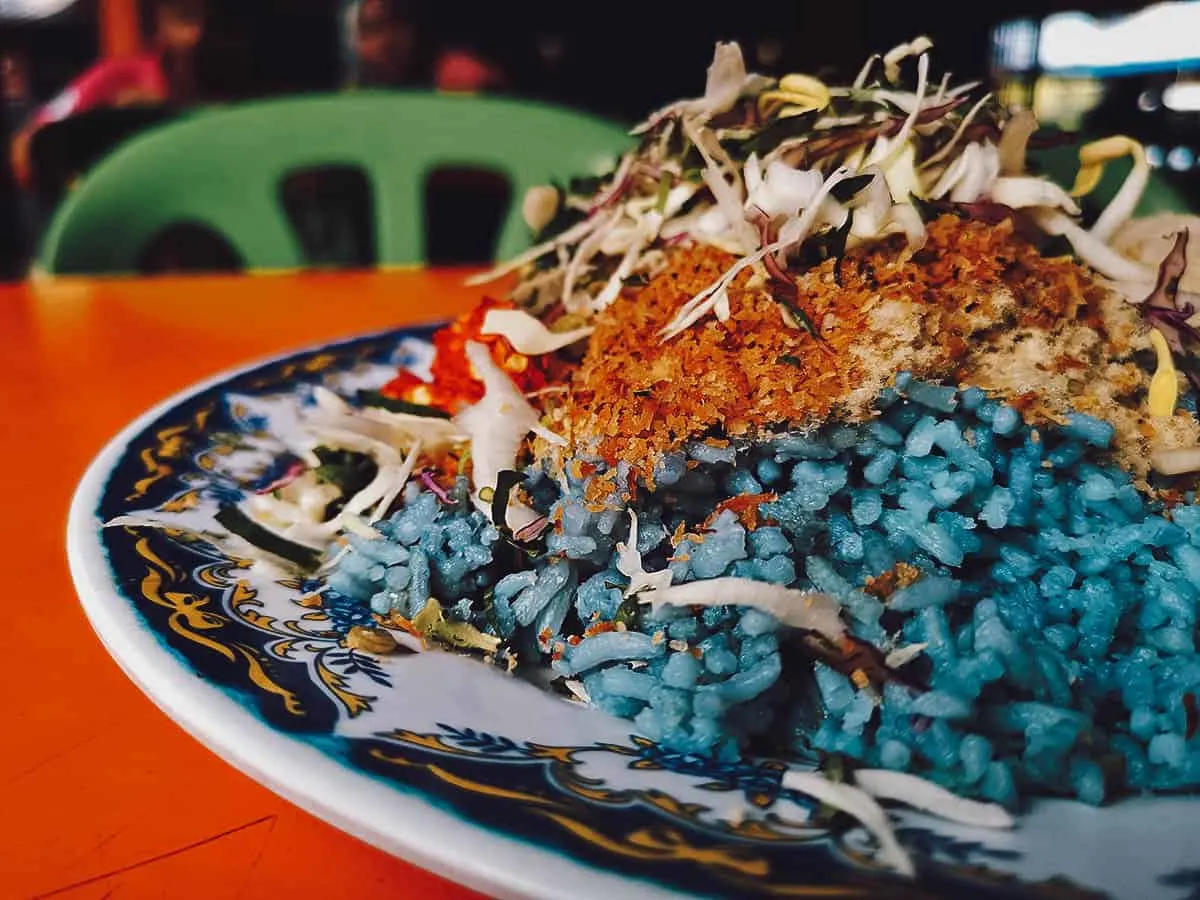 3. Fauziah Nasi Campur
As someone who travels for food, I yearn to find places that only locals know about. Fauziah Nasi Campur in Kampung Datuk Keramat is one of those places. I found it through some obscure Malaysian food blog that doesn't seem to exist anymore. Located at Pasar Basah Dato Keramat, even the Malaysian chef who led my food tour was surprised I knew about this place. Score!
As their name suggests, Fauziah Nasi Campur serves nasi campur which is a rice meal very similar to nasi kandar. The main difference is in the types of sides used. You can refer to this excellent post on the different types of Malaysian nasi dishes.
But as you can see below, I didn't come here for the nasi campur. I was here for the ikan pari bakar which is a dish of spicy stingray grilled in banana leaves. It was delicious and one of the best things I ate on this trip to KL.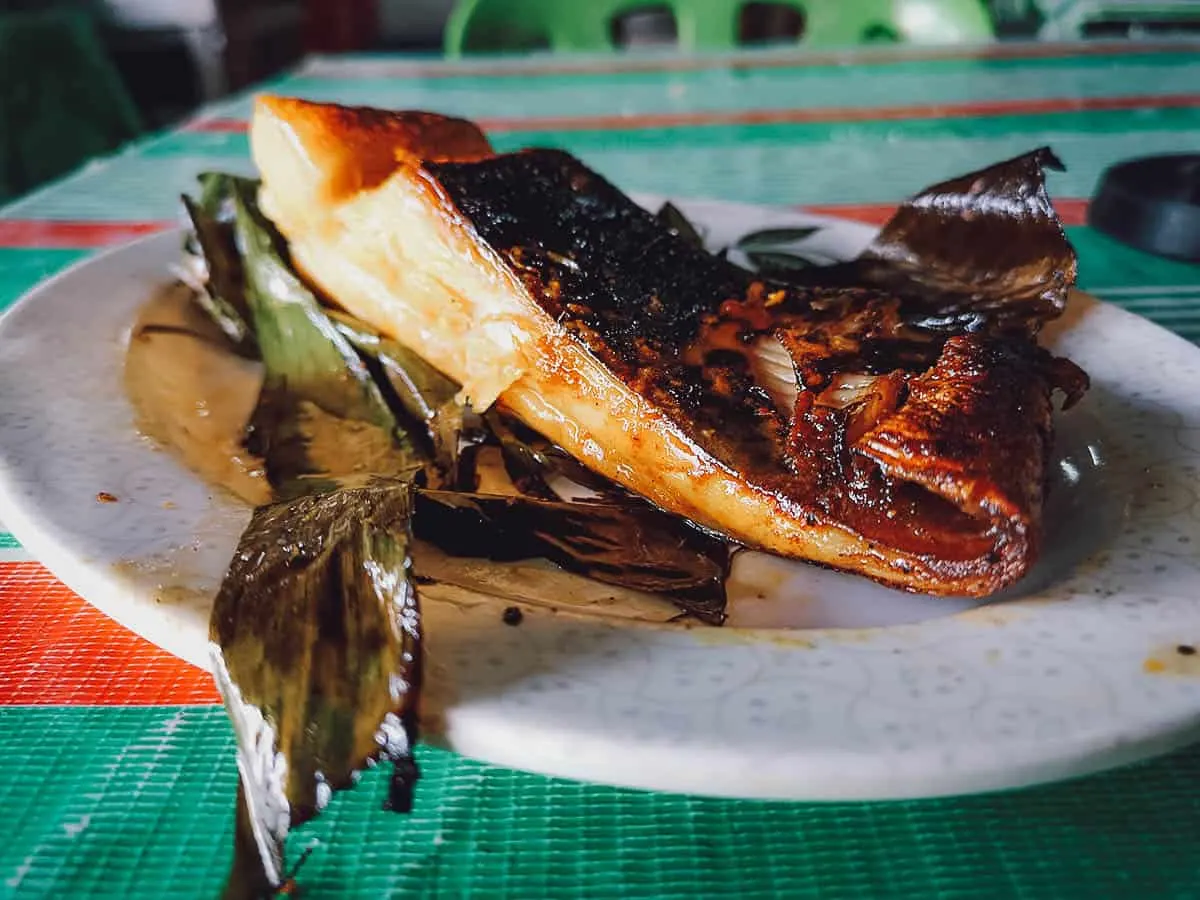 Have you ever had grilled stingray before? It has an unusual texture, firmer than most other fish but flakes very easily in strips. Look at the stingray below my spoon to see what I mean. It's clean and there are no small bones to worry about, making it a very easy fish to eat. If you like fish and spicy food, then I recommend trying this.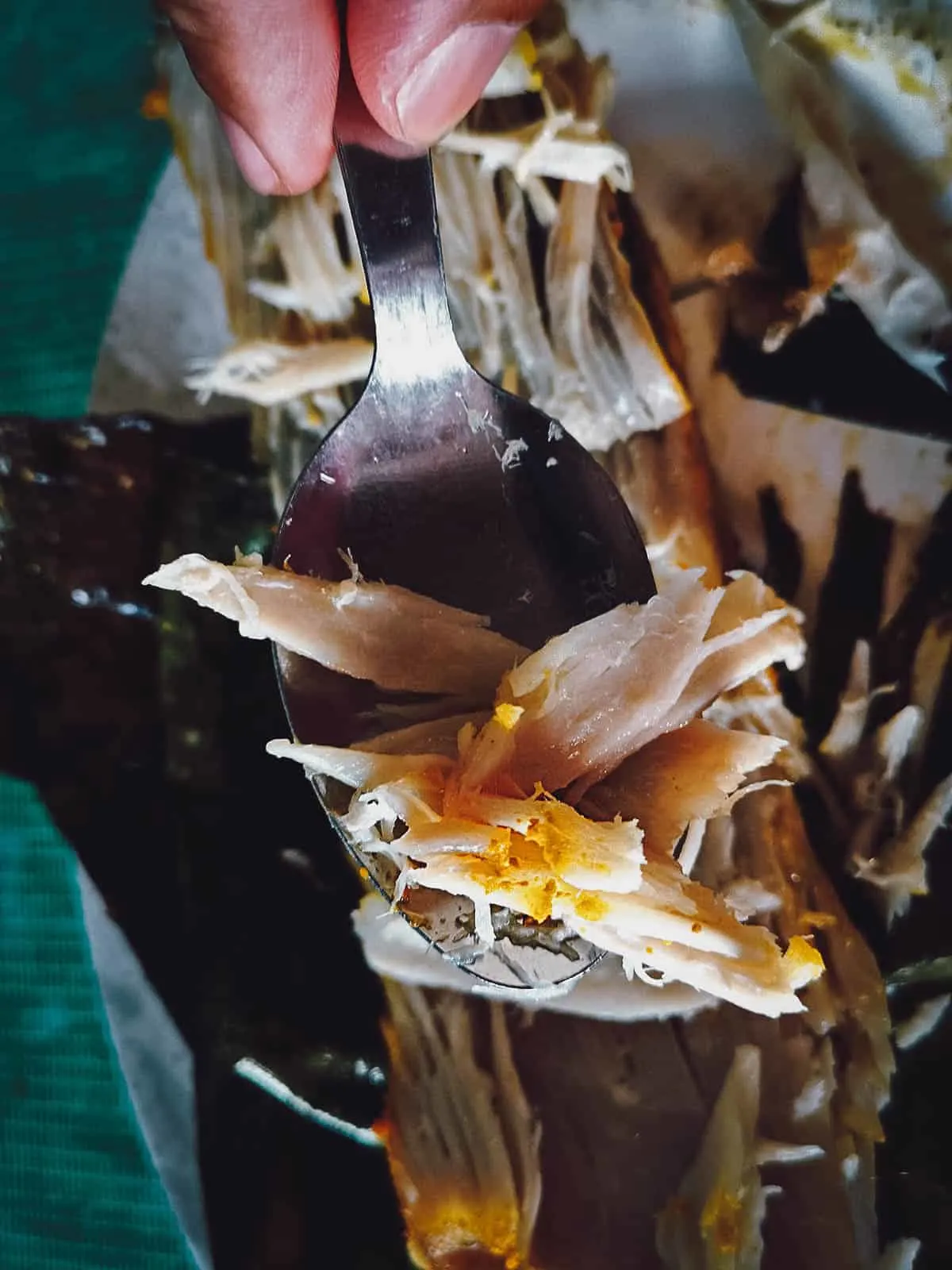 4. Aman Kuih
The same Malaysian food blog that pointed me to Fauziah Nasi Campur also led me to Aman Kuih, another stall located at Pasar Basah Dato Keramat. The term kuih refers to a family of bite-sized dessert snacks or cakes found throughout Southeast Asia. It's a broad term used to describe any number of cakes, cookies, dumplings, biscuits, or pastries made from rice.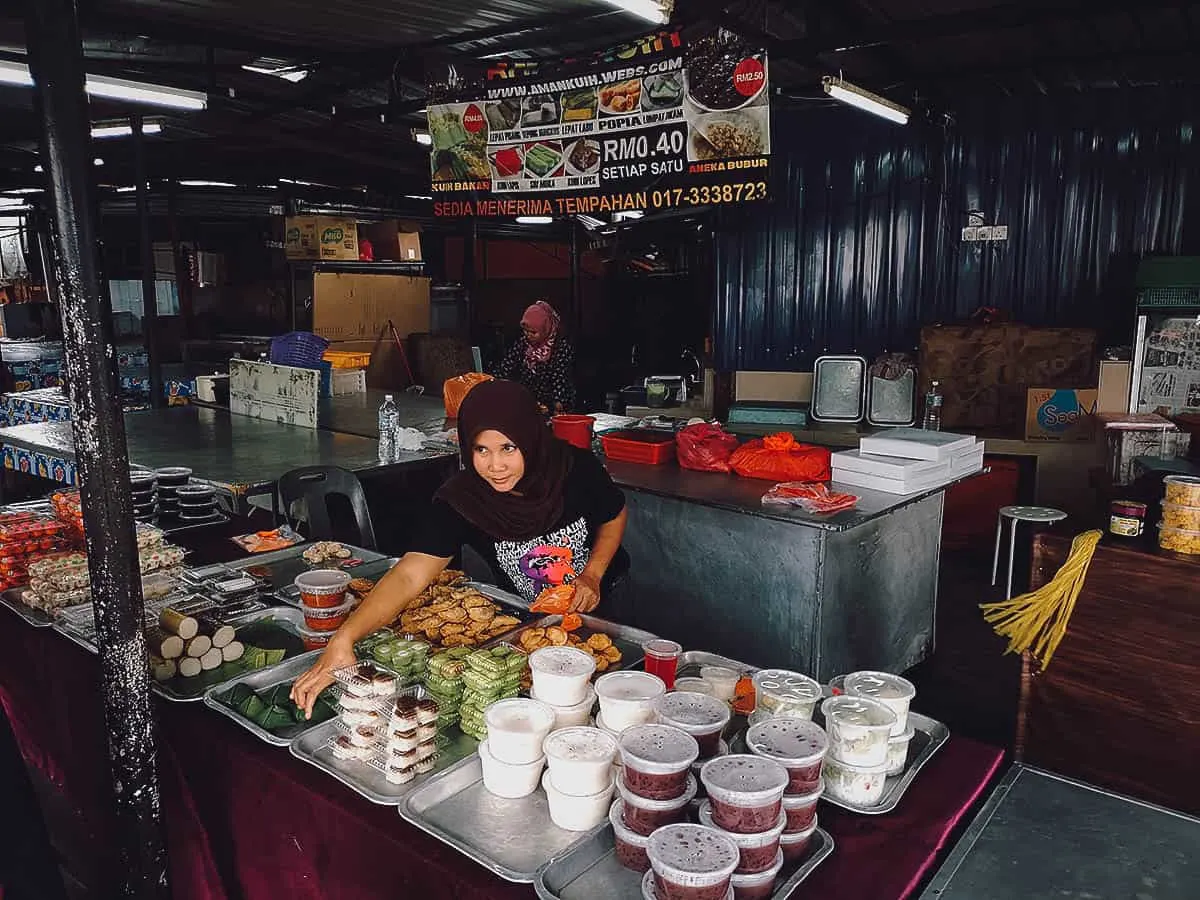 I didn't know what to get so I just picked out what looked good to me. I don't know what these are called but they were made with pandan and coconut cream. They were delicious.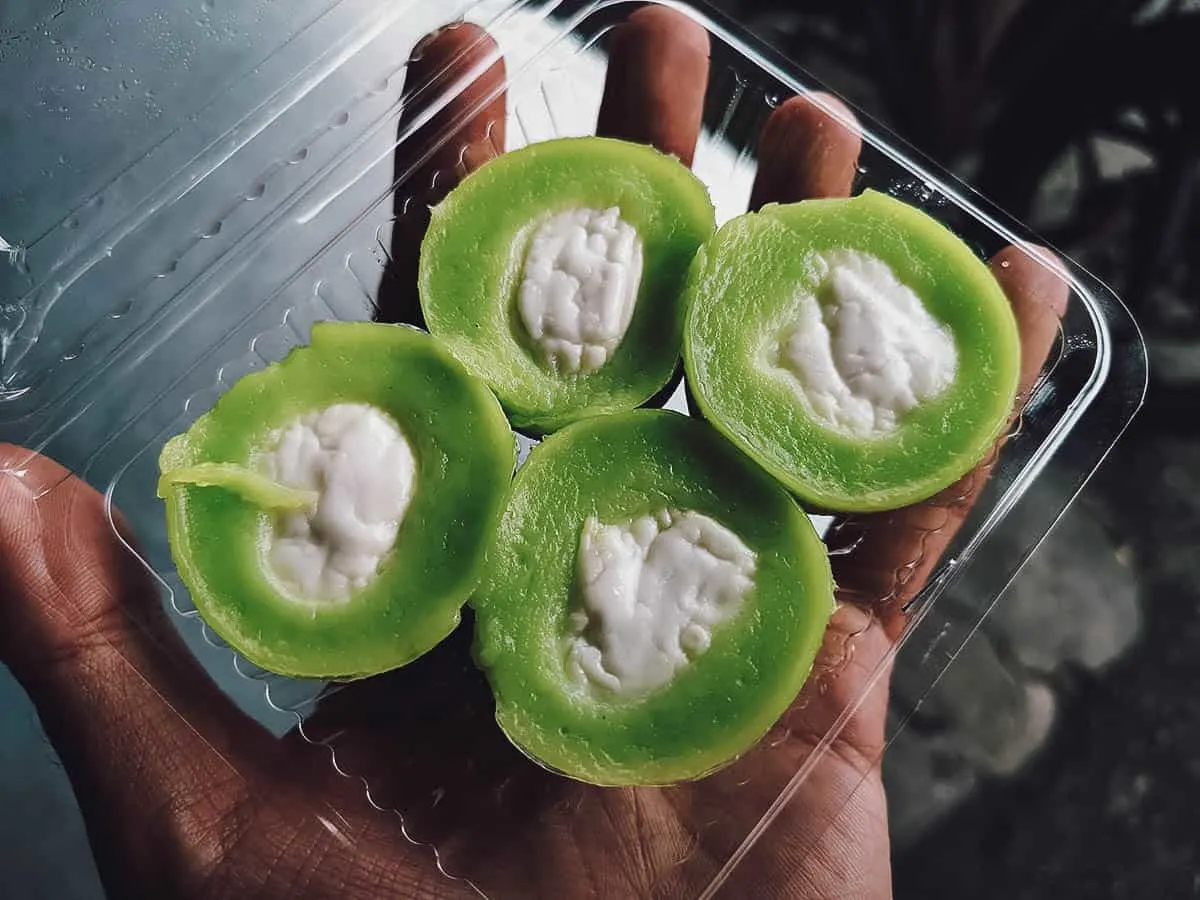 5. Jalan Alor
Jalan Alor is synonymous with street food. It's one of the most famous food streets in Kuala Lumpur and the first place many travelers think of when they think of street food.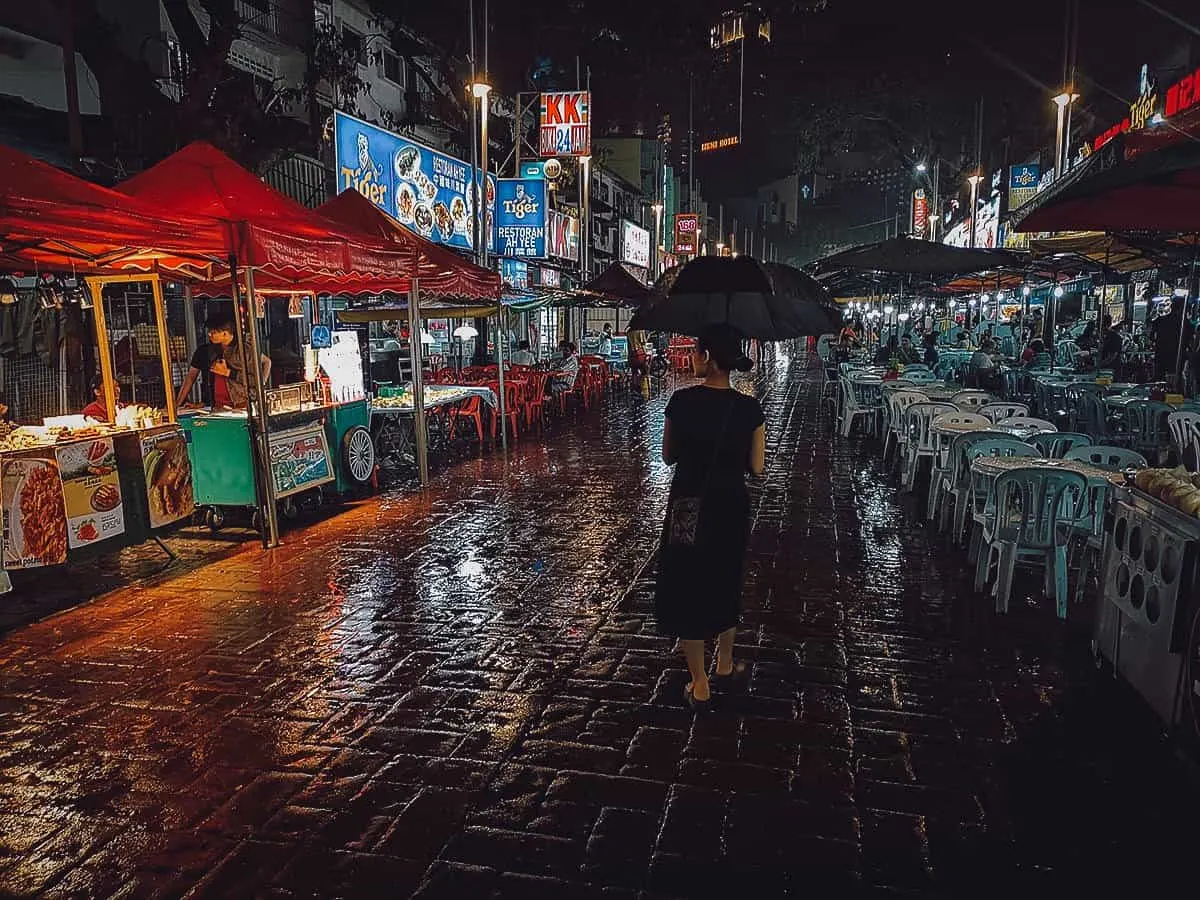 According to Chef Faris of A Chef's Tour, most of the food served along Jalan Alor is Chinese. I was in the mood for satay so made a beeline for Fat Brother which I read serves some of the best satay in the area.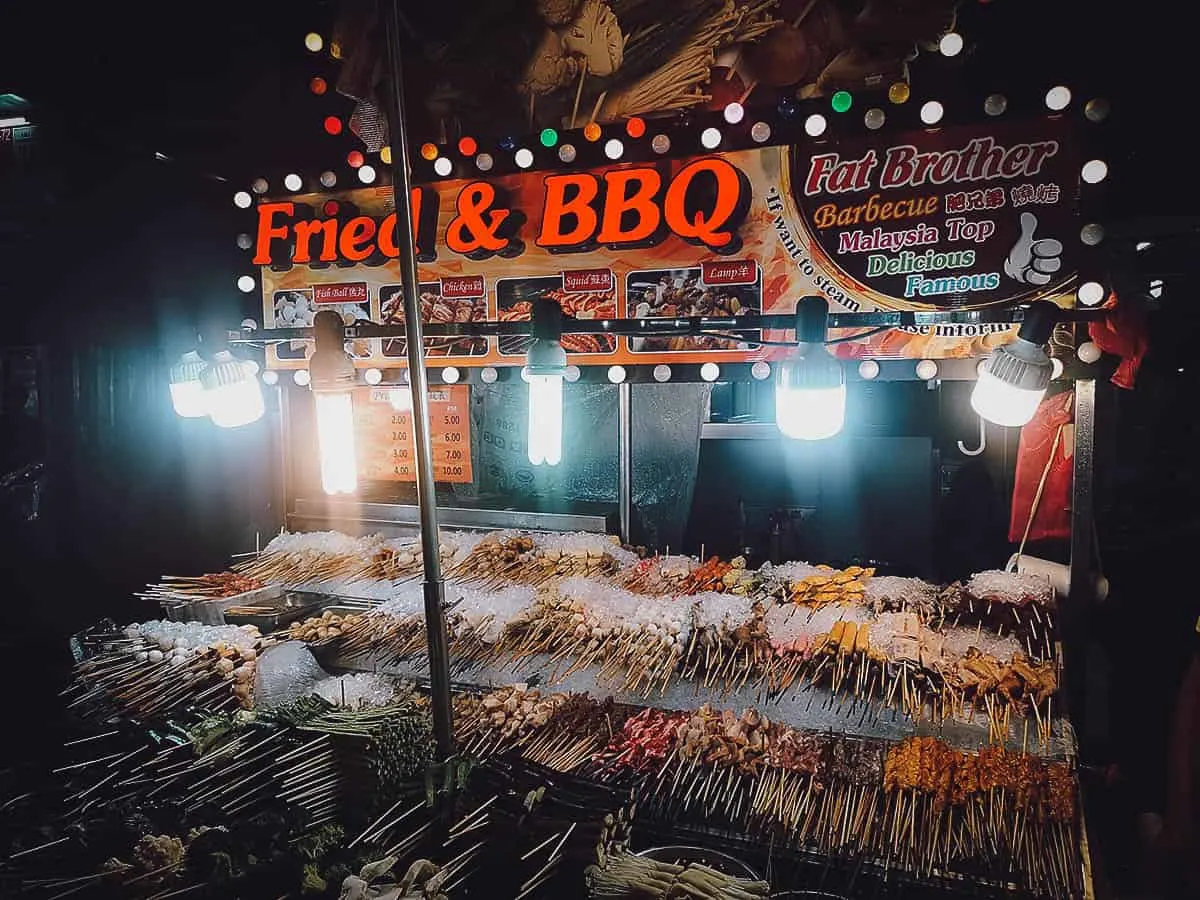 How can you possibly choose when every single skewer seems to be calling your name? They had everything here, from marinated meats to seafood to balls and different types of mushrooms and vegetables.
Note the different colors on the ends of the skewers. These indicate price so you'll have an idea oh how much the damage will be. The cheapest skewers I picked out were RM 3 apiece.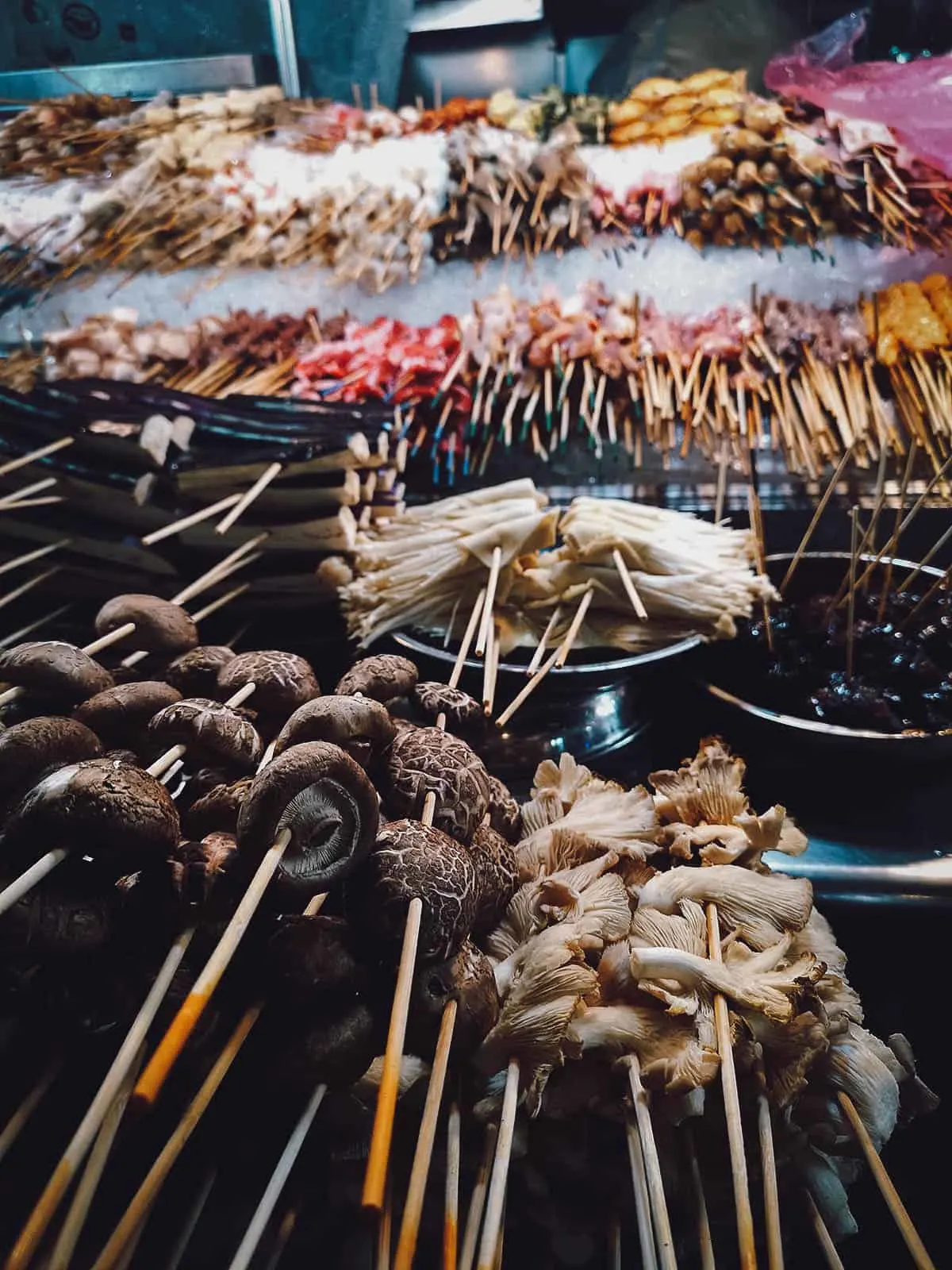 If I remember correctly, I had pig ears, two types of seafood balls, chicken, beef, and some type of offal. Everything I had was delicious. They were smokey and juicy and went great with the accompanying sweet and spicy satay peanut sauce.
I enjoyed my sticks of satay with an ice-cold 640 ml bottle of Skol beer. Jalan Alor is a great place to kick back a few beers over tasty plates of street food.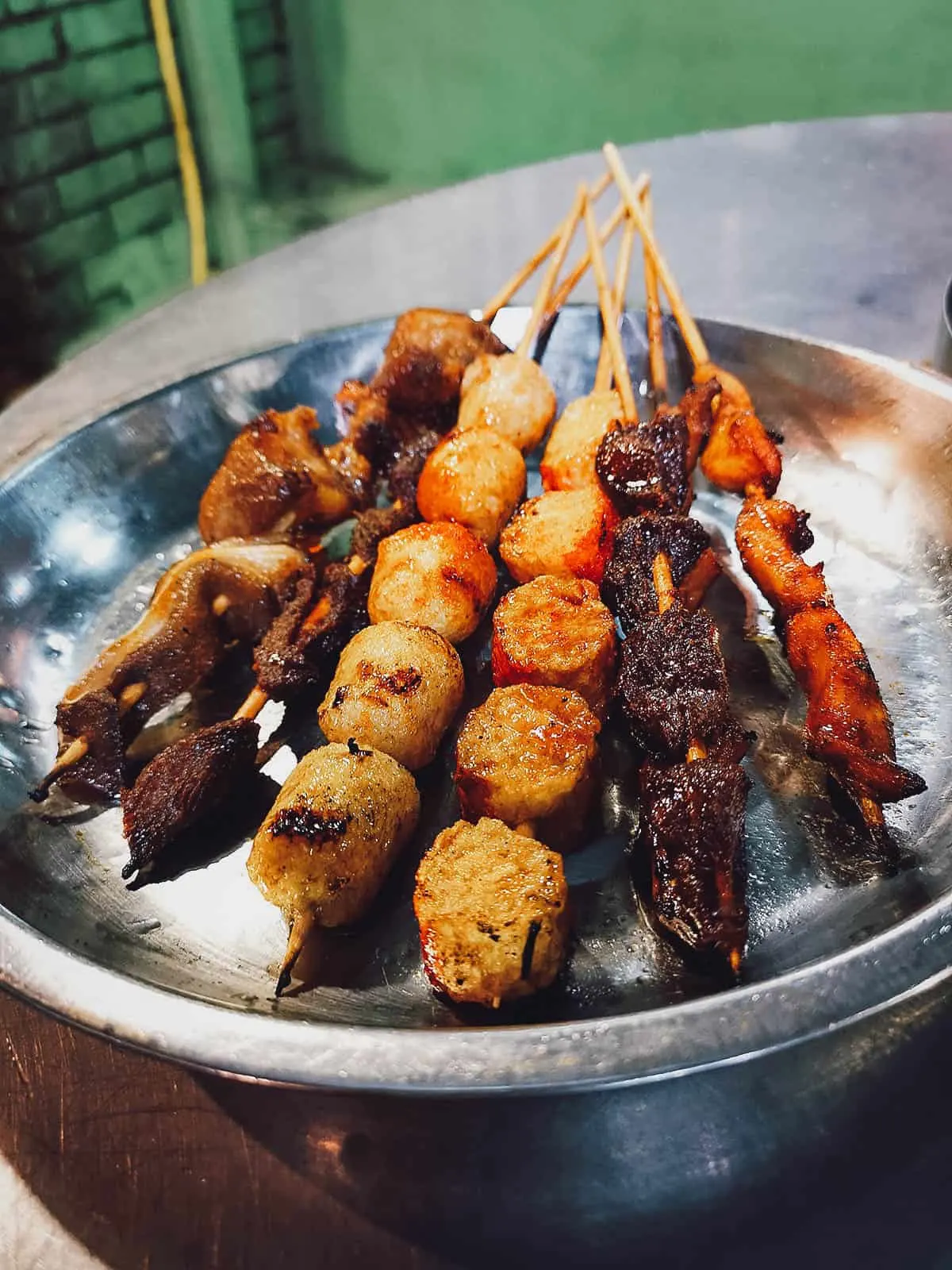 6. Madam Kwan's
I'm partial to street food stalls so I don't often eat at malls, but I was in Suria KLCC and thought I'd give Madam Kwan's a try. Located on the fourth floor of the mall, it's a TripAdvisor Certificate of Excellence awardee with a solid 4-star rating.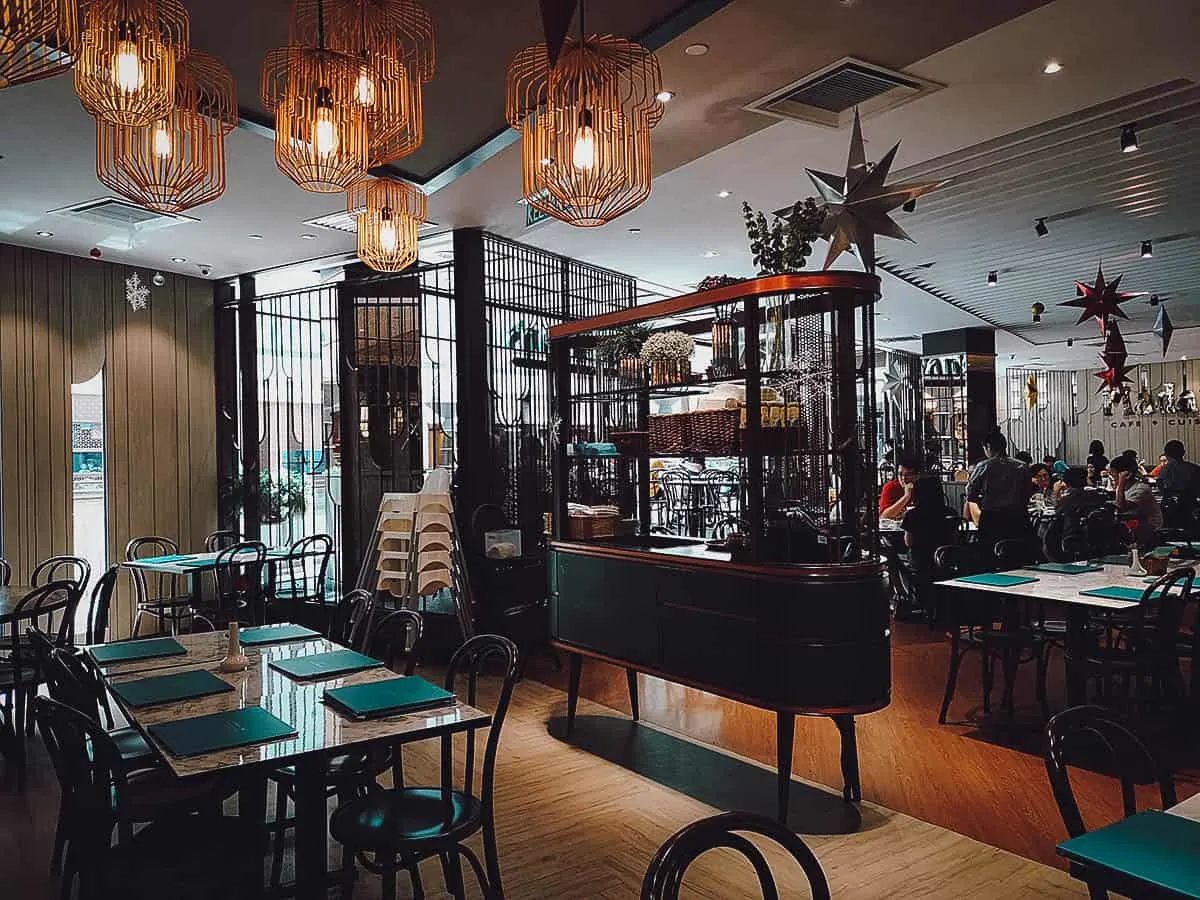 I was intrigued by a local's review of their curry laksa so that's what I had. It was pretty good. The noodles were chewy and the soup creamy with large pieces of prawn, chicken, and deep-fried tofu. It just wasn't as rich and seafood-y as other laksas I've had, mostly at hawker centers and roadside stalls. I guess I really am a down and dirty street food guy.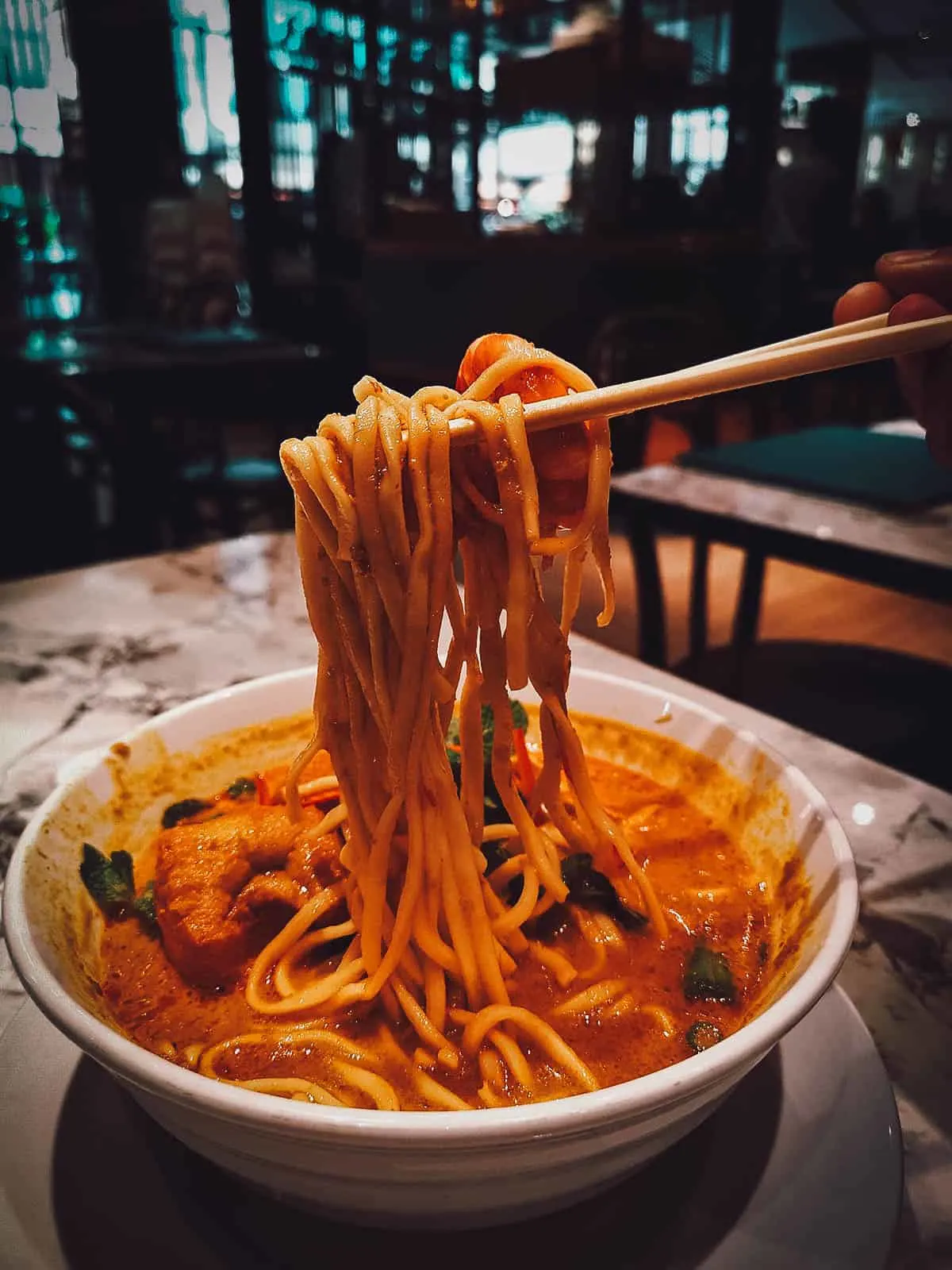 A refreshing bowl of cendol to beat the oppressive KL heat. Cendol is one of my favorite desserts in the world. It's an iced dessert made with green rice flour jelly, coconut milk, and gula melaka (palm sugar) syrup. Other ingredients are often added as well. In this case, red beans.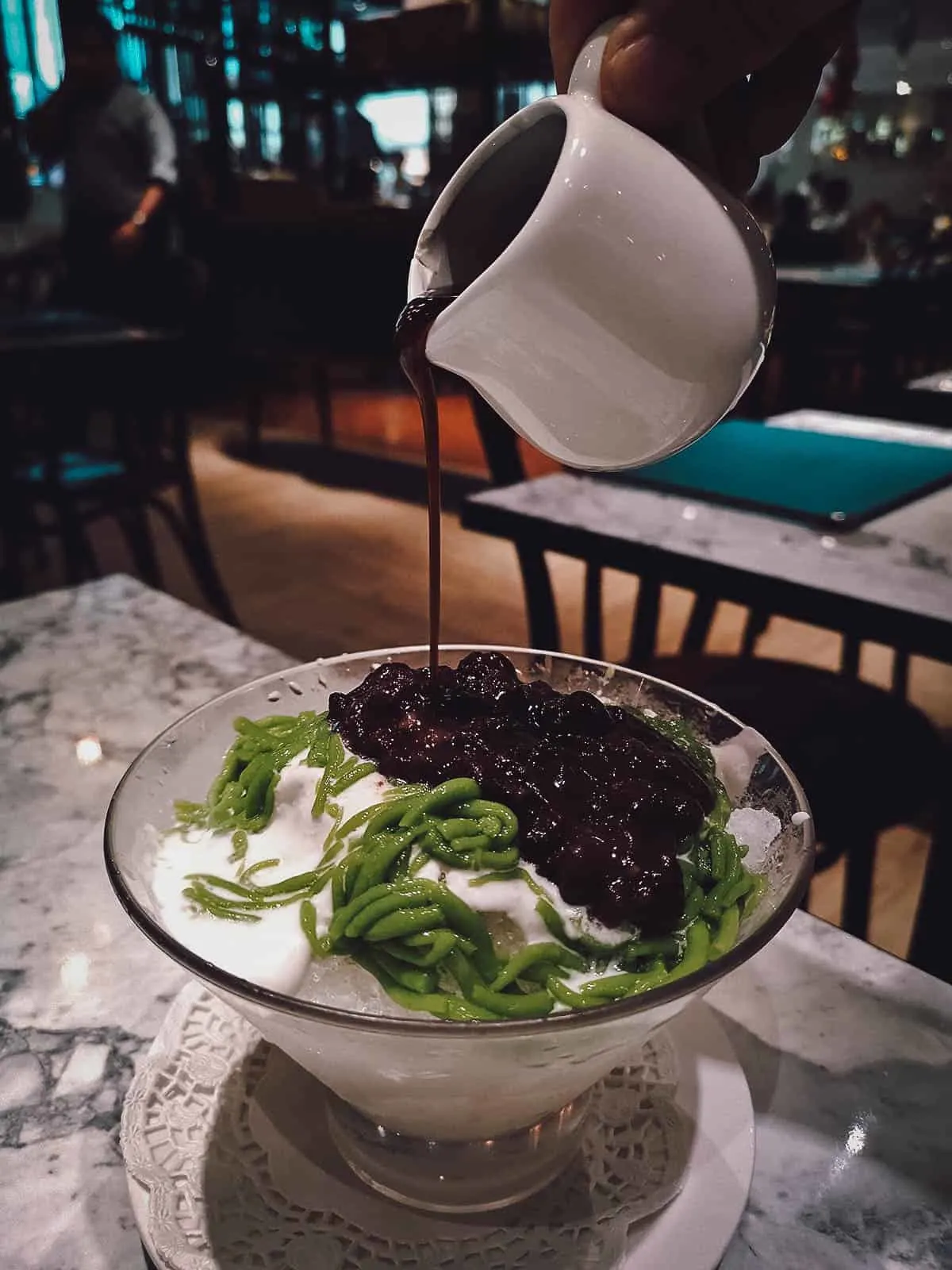 7. Merchant's Lane
What an oasis this cafe was. Hidden along busy Jalan Petaling in KL's Chinatown is this lovely cafe known as Merchant's Lane. It really does feel like an oasis because A) it isn't easy to spot; and B) it's an exceedingly cute cafe in an area that can hardly be classified as cute. Plus, it's got great air-conditioning.
As the sign says, just look for the teal door next to a stationary shop. The cafe is on the second floor.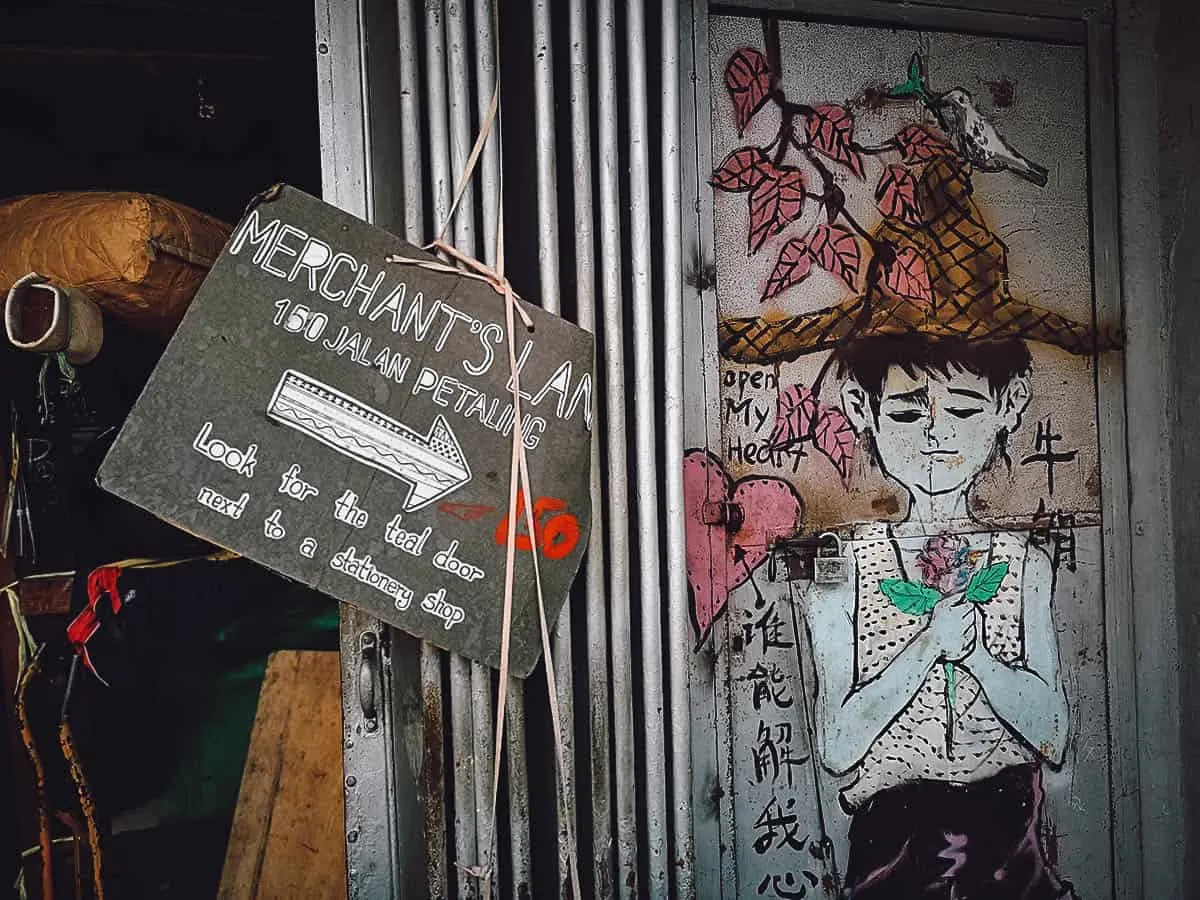 What did I tell you? Merchant's Lane is perfect for your Instagram feed. I didn't take photos but there's a section at the other end as well with hanging plants and a swing chair. You can see pictures of it on Merchant Lane's TripAdvisor page.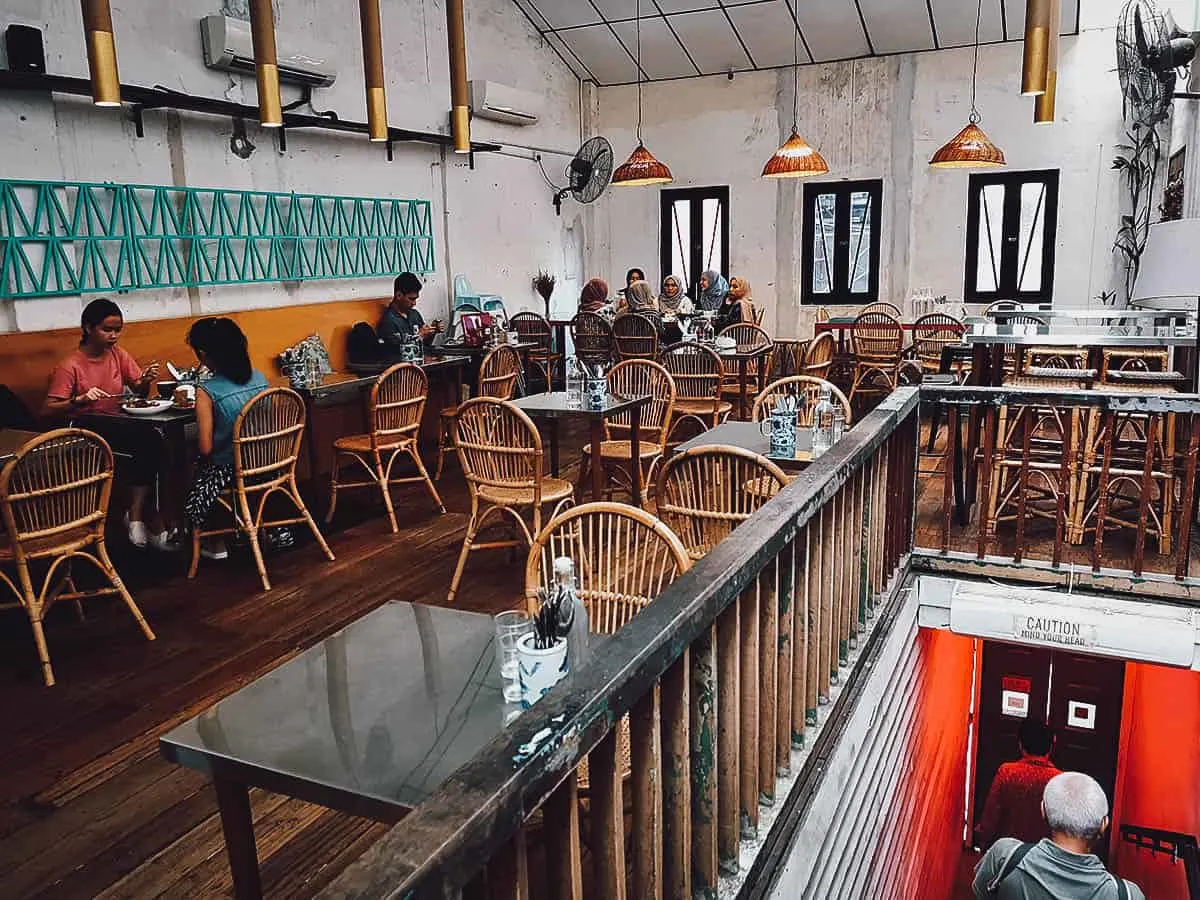 Merchant's Lane serves coffee and tea along with breakfast and a few comfort food dishes. I had this beautiful and delicious dessert called kalau aku kaya made with fried brioche-style bread balls served with lemon ice cream and kaya (coconut jam) sauce.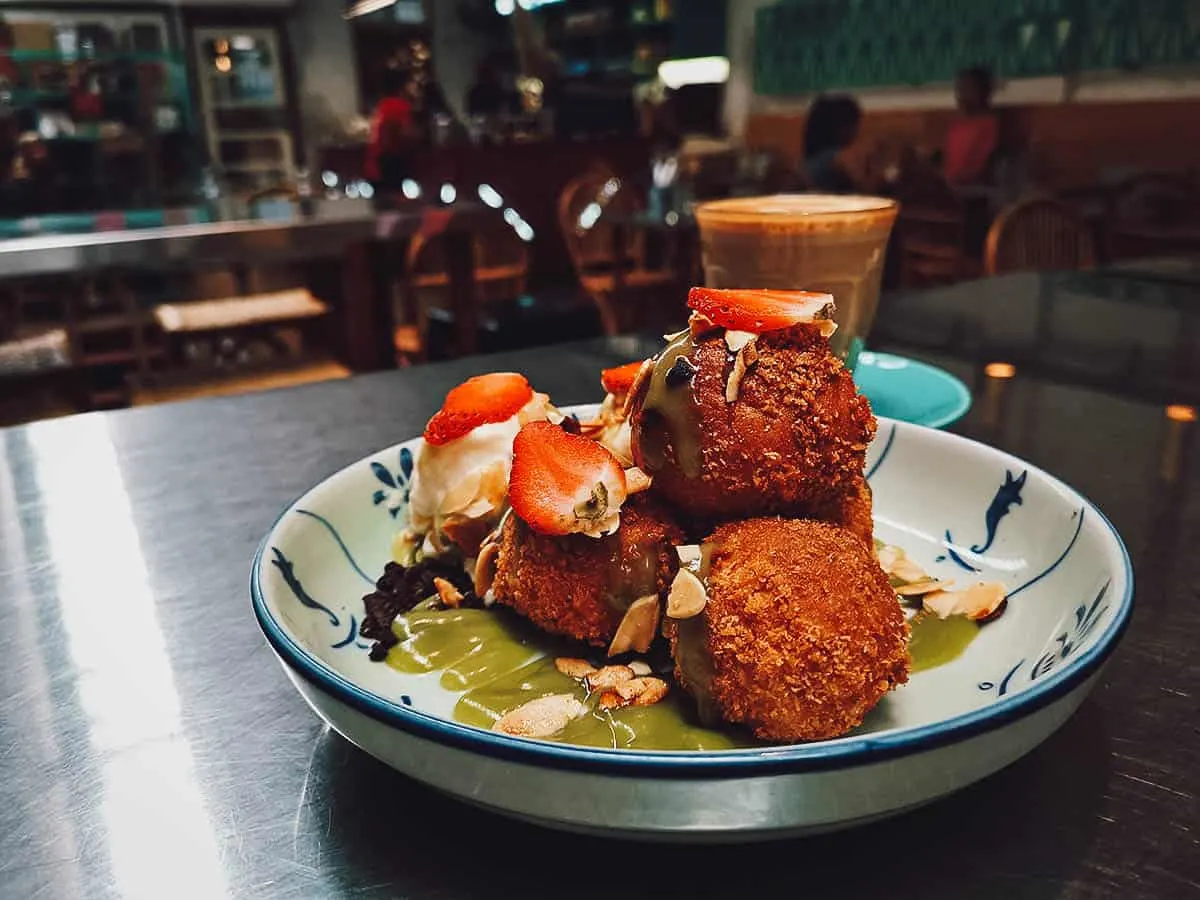 I meant it when I said this place was Inatagrammable. I hardly ever post selfies on Instagram and this was one of those rare exceptions. Ha! I think I was just killing time because I didn't want to leave this oasis and go back out to that intense KL heat again.
If you're looking for a comfortable place to chill out after exploring Petaling Street, then Merchant's Lane is a great place to go.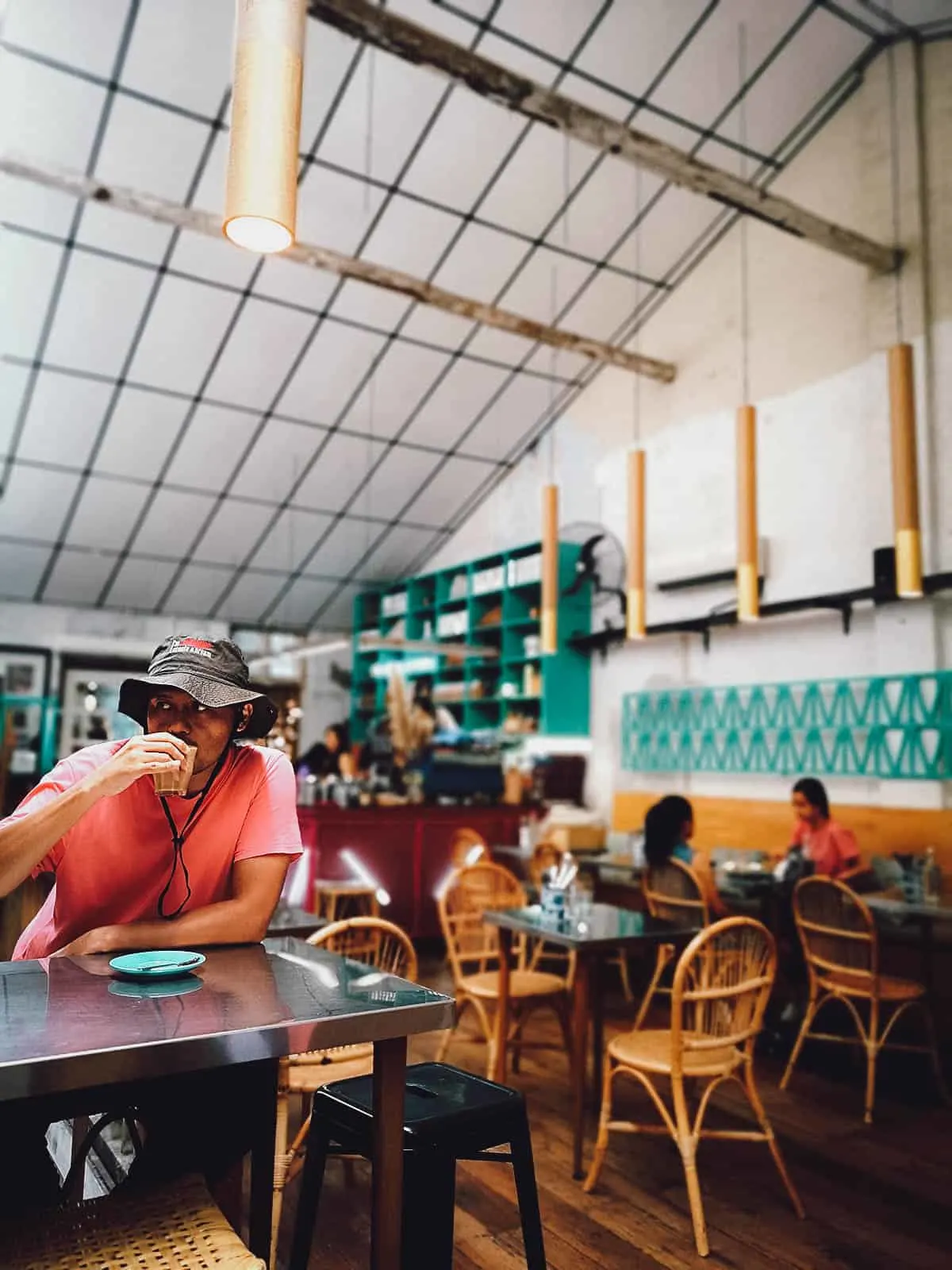 8. Ramly Burger
The Ramly Burger is a Malaysian street food icon. When we were in Langkawi, we were talking to our tour guide about food and he told us that the one thing he missed most about Kuala Lumpur was the Ramly Burger. It was created and sold in KL by Ramly Mokni in 1979 and became an instant classic.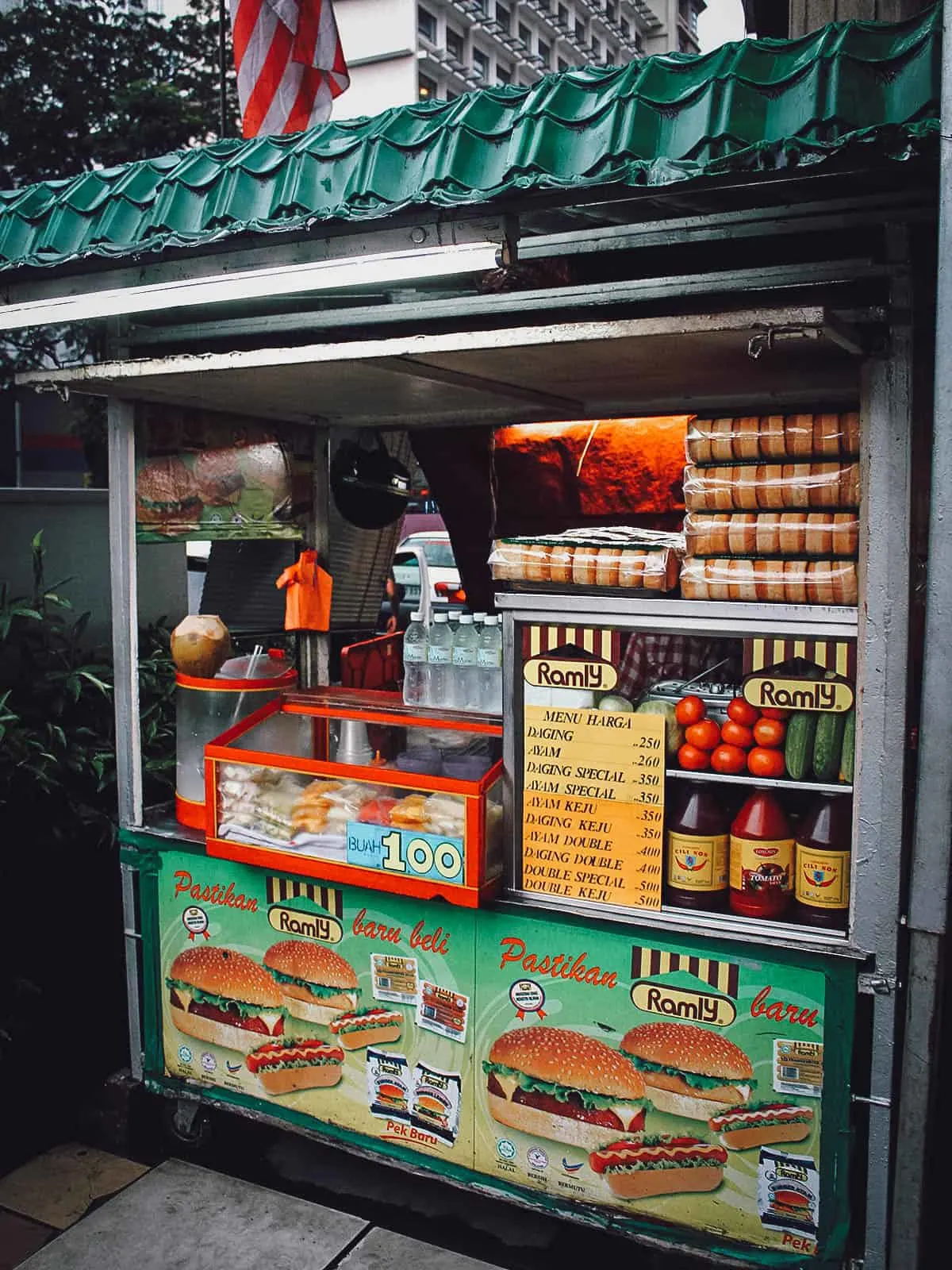 We've only had a Ramly Burger in KL once. As you can see below, the one we had was wrapped in egg which I thought was standard for all Ramly Burgers. But as it turns out, the term "Ramly Burger" refers to any type of street food burger. I don't know if that's how it started out but based on what I've read, that seems to be what it means today as Ramly Burgers can vary greatly from stall to stall.
At its core, a Ramly Burger is a beef or chicken patty made by the Ramly Food Processing Company. The version we had was made with an egg cracked onto the griddle and spread out into a thin omelette. The burger was then placed at the center and folded over with the omelette so it was completely encased in egg, like a parcel.
I don't know how true this is but according to an online recipe, what makes a Ramly Burger a Ramly Burger is the use of Maggi seasoning and a black pepper sauce made with butter, milk, oyster sauce, sweet soy sauce, and corn starch.
Whatever its true identity, it's an unconventional burger which to be honest, I didn't like too much at first but found oddly appealing at the end. There are Ramly Burger stalls throughout the city so you should definitely try one on your next visit to Kuala Lumpur.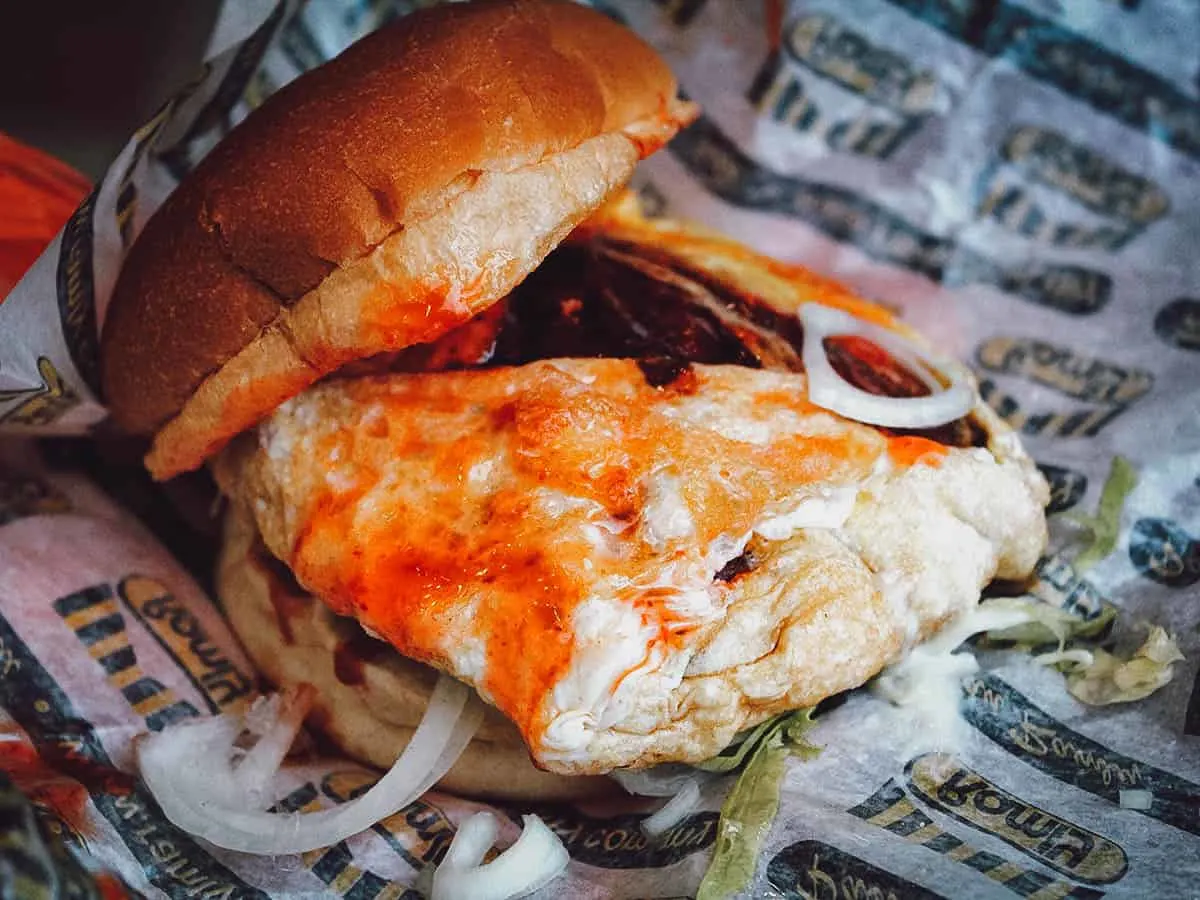 POINTS OF INTEREST IN KUALA LUMPUR
To help you visualize where everything is, I've pinned the places recommended in this Kuala Lumpur travel guide on this map. Click on the link for a live version of the map.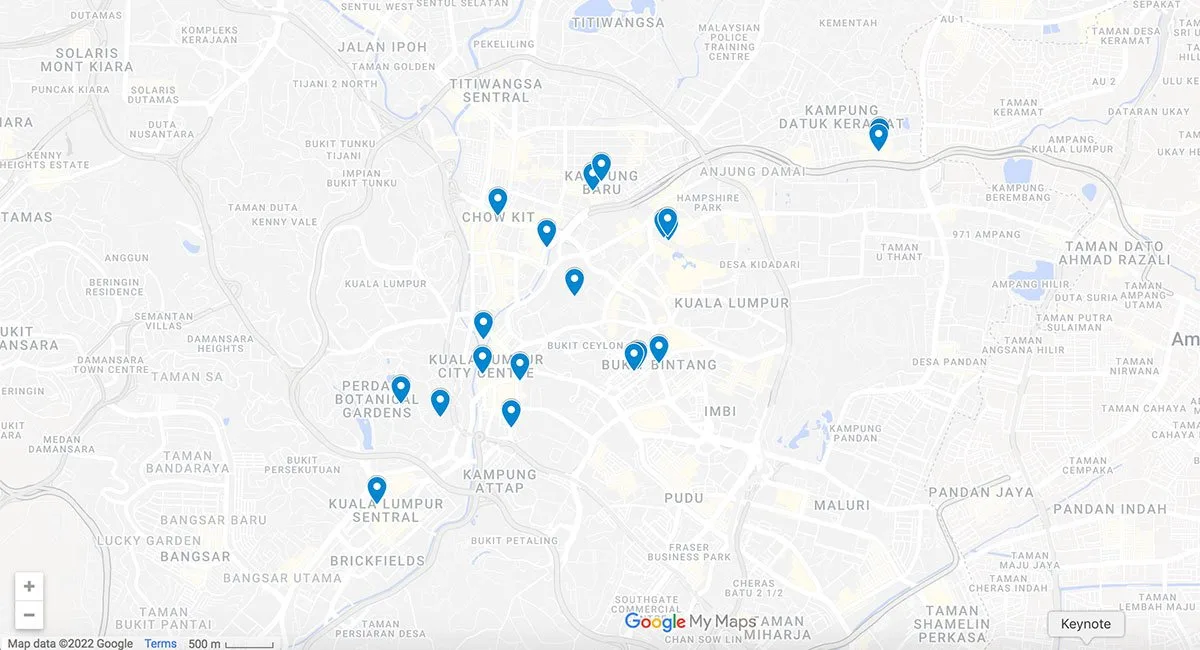 HOW TO GET AROUND IN KUALA LUMPUR
Kuala Lumpur's local metro system is extensive and efficient and the only means of transport I ever needed in the city. It's comprised of three lines – RapidKL, KTM Komuter, and KL Monorail – which you can easily switch between at connecting stations to get to the stop you want.
I didn't travel often enough by rail to need anything more than single journey tokens, but if you're staying for two days and intend to get around a lot by rail, then you may be interested in getting a KL Travel Pass. It includes one-way or roundtrip transfers from the airport via KLIA Ekspres, as well as unlimited rides for two consecutive days on KL's metro system. You can purchase it at the airport or in advance (at a small discount) through Klook.
To navigate, I highly recommend using the Google Maps app (iOS|Android). It'll tell you all the possible ways you can get from point A to point B using any city's public transportation system. I use it to navigate on every trip and find it to be very reliable.
HOW MANY DAYS TO STAY / KUALA LUMPUR ITINERARY
Compared to a city like Bangkok or Singapore, there isn't as much for tourists to do in Kuala Lumpur so I think it's possible to see all the major sites in one full day. It'll be hectic, especially if you plan on going to Batu Cavs, so it's better to split it between two days. Here's a sample 2D/2N Kuala Lumpur itinerary to help you plan your trip.
DAY ONE
• Petronas Towers
• KL Tower
• Masjid Jamek
• Central Market
• Jalan Petaling (Chinatown)
• National Mosque
• Jalan Alor
DAY TWO
• Batu Caves
• KL Bird Park
• Bukit Bintang shopping malls
KUALA LUMPUR TRAVEL TIPS
1. Plan your Trip with Sygic Travel
What's the most challenging part about trip planning? For me, it's laying out an efficient itinerary. It's easy finding all the must-dos but mapping them all out in an itinerary that makes sense can sometimes be challenging. Thankfully, there's Sygic Travel.
I've been using this free trip planning app for several years now. What it does is allow me to plot all points of interest on a map – places like hotels, landmarks, restaurants, and metro stops – so I can come up with the most efficient possible itinerary.
2. Rent a Pocket Wifi Device
What good is a smartphone these days if you don't have a reliable connection to the internet? It's vital in our everyday lives but even more so on a trip. You'll need it to do research, use ride sharing apps, and google "what's the difference between nasi kandar and nasi campur". Ren and I never ever go anywhere now without renting a pocket wifi device first.
If KL is your point of entry into Malaysia, then you can reserve a pocket wifi device through Klook. Personally, we prefer pocket wifi devices because we find them to be simpler and more reliable, but if you'd rather buy a sim card, then you can get it through Klook as well. It'll be cheaper.
3. Check for Kuala Lumpur Travel Deals
There are many websites that offer deals on tours and activities, but for trips to Asia, my favorites are Klook and Get Your Guide. They offer a wide selection at the best prices. Follow these links for a complete list of Kuala Lumpur deals on Klook and Get Your Guide.
4. Get Travel Insurance
Whether or not to get travel insurance is something we discuss before every trip. If all we'll be doing is making a quick trip to Singapore to do some eating and shopping, then we probably won't get it. But if we plan on doing anything physical, like skiing or bike riding, then we'll definitely purchase a policy no matter how short the trip.
When we do feel the need for insurance, we buy it from SafetyWing or Heymondo. They're travel insurance providers frequently used by many digital nomads. Click on the links to get a free quote from SafetyWing or Heymondo. Will Fly for Food readers get 5% off on Heymondo when using our link.
5. Bring the Right Power Adapter
Malaysia has Type G electrical outlets so be sure to bring the right power adapters for your devices. Electrical voltage is 240V and the standard frequency is 50Hz.
Have Fun!
I'm not an expert on Kuala Lumpur but I do hope you find this guide helpful. I'm only sharing everything I've learned from our trips. If you have any questions or comments, then please feel free to leave them in the comment section below. You're welcome to join our Facebook Travel Group as well.
Thanks for reading and have an awesome time traveleating in Kuala Lumpur!
OUR GEAR
These are some of the things we brought with us to Kuala Lumpur. To see what other travel essentials we bring on trips, check out our what's in our backpack post. (NOTE: The following links are Amazon and other affiliate links.)
Disclosure
Some of the links in this Kuala Lumpur travel guide are affiliate links, meaning we'll earn a small commission if we make a sale at no added cost to you. We only recommend products and services that we use ourselves and firmly believe in. We really appreciate your support as this helps us make more of these free travel guides. Thank you!