Taiwan, with its wealth of night markets, is a country travelers love going back to again and again for the food. From hot pot to boba to lu rou fan to beef noodle soup, there is so much good food to be had in Taiwan and for cheap too!
We spent the most recent holidays there for that very reason. We didn't care about visiting any attractions or seeing any shows. We were there for one reason and one reason only – Taiwanese food. We went to every eatery featured on the Taiwan episode of Street Food on Netflix and booked a hotel room in Kaohsiung just off Liouhe Night Market. We'd spend every evening there eating Taiwanese street food before retiring to our room.
I've been updating this Taiwanese food guide after every trip to Taiwan. The first edition listed 9. The second ballooned to 57 before I dialed it back to 45 after our most recent trip. I want to focus on only the best and most interesting Taiwanese food from now on which is why I'll be refining and editing and keeping it to that number with each update.
If you travel to eat like we do and have never been to Taiwan, then I hope this Taiwanese food guide of the country's best dishes gets you even more excited about your trip. It describes popular Taiwanese dishes you can find throughout Taiwan as well as regional specialties you can try in specific localities.
TAIWANESE FOOD QUICK LINKS
If you're planning a trip to Taiwan and want to really dig into the cuisine, then you may be interested in joining a food tour or taking a cooking class.
TOURS
Save This on Pinterest!
No time to read this Taiwanese food guide now? Click on the save button and pin it for later!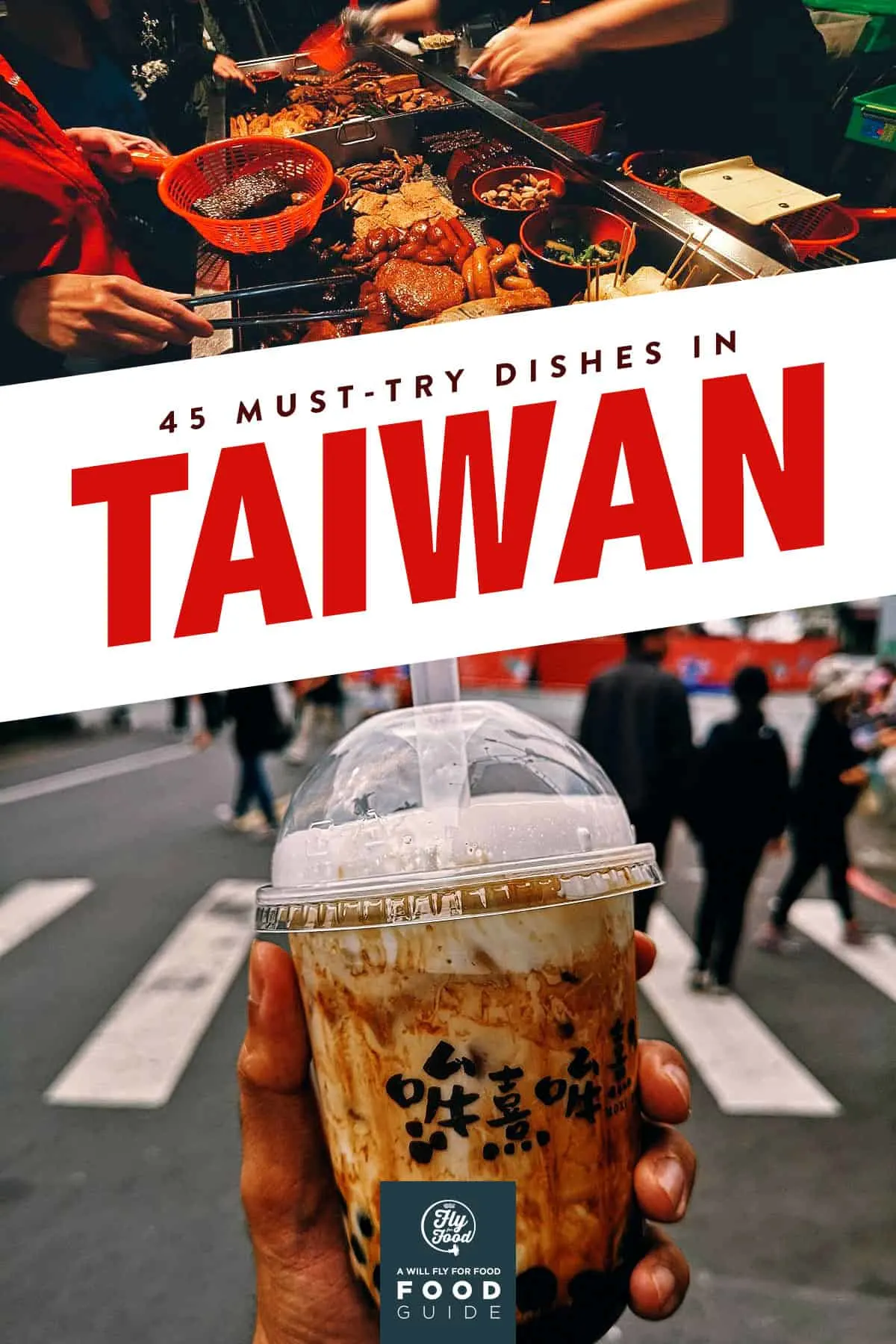 WHAT IS TAIWANESE FOOD?
Taiwanese cuisine is a reflection of its history of migration and colonization. It's been greatly influenced by Japanese cuisine and the various regional Chinese cuisines, mainly from the mid to southern provinces of China. Fujian and Hakka-style dishes are prominent, as are dishes from other regions like Guangdong, Shanghai, Hunan, and Sichuan.
Taiwanese food has also been shaped by its geographic location. Being an island, seafood figures prominently in Taiwanese cuisine. Chicken and pork are also common while rice is a staple dish. An array of seasonings are often used to flavor Taiwanese dishes, some of the most common being soy sauce, sesame oil, rice wine, fermented black beans, and pickled radish.
One of the most important (and delicious) aspects of Taiwanese food culture are xiaochi. These refer to a family of snacks similar to Spanish tapas or Turkish meze. Xiaochi aren't commonly made at home, but are instead enjoyed at the many Taiwanese night markets that can be found throughout the country.
So vital are xiaochi to the Taiwanese food experience that many people travel to Taiwan just to enjoy these tasty snacks at night markets. Personally, it's one of my favorite things about Taiwan.
WHAT TO EAT IN TAIWAN
A list of 45 Taiwanese dishes may be a bit daunting to go through so I've broken it down to into categories to make it easier to digest. As you'll see, most fall under night market food which speaks to how ingrained street food culture is in Taiwan.
RESTAURANT / SHOP FOOD
1. Ah-gei
Ah-gei is a specialty of Tamsui in New Taipei City. It's a Taiwanese dish we actively sought out when we spent a day there. Little did we know that we'd randomly walk into the place that invented it!
Ah-gei consists of fried tofu skin stuffed with cooked green bean noodles and sealed with surimi, a fish paste mixture commonly sold in the Tamsui District. It was invented by the Original Ah-Gei shop in 1965 where they've kept the recipe unchanged for over 50 years. Still considered by many to be the best and most authentic, what sets them apart is that they combine surimi with a carrot mixture and cook the stuffed tofu in stewed ground pork to make it even more flavorful.
We had the ah-gei pictured below at Three Sisters Ah-Gei, which is just a few doors down from the Original Ah-Gei shop. Personally, we couldn't really tell the difference between the two and enjoyed both equally.
Along with Wenhua Ah-Gei, these three shops – which are practically next to each other in the same alley – are said to offer the best ah-gei in town. A must-try when in Tamsui.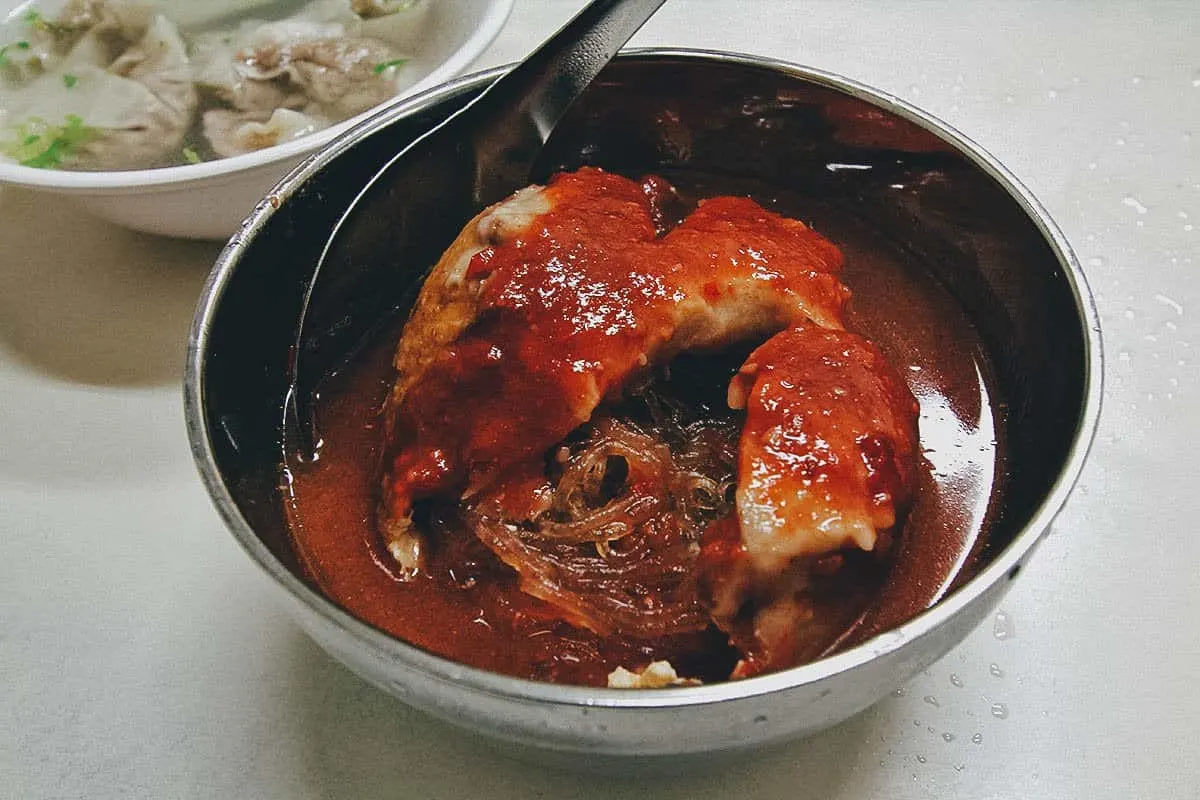 2. Baobing
Yes, this mound of golden mango goodness was every bit as delicious as it looks. Baobing is a Taiwanese shaved ice dessert topped with condensed milk and a variety of ingredients like fruit, ice cream, taro, azuki beans, sweet potato chunks, peanuts, and grass jelly. In Taiwan, because of the quality of their fruit, one of the most popular flavors is mango.
Gao Xiong Po Po Shaved Ice in Kaohsiung serves a mean mango baobing. It's topped with mango syrup, mango ice cream, and fist-sized hunks of sweet nectar-y mango. We had this after walking around in the hot Kaohsiung sun and it blew our minds. It was so naturally sweet and delicious! Looking at this list now, if there were just one Taiwanese dish I could have again, then it would be this mango baobing. It's so damn good.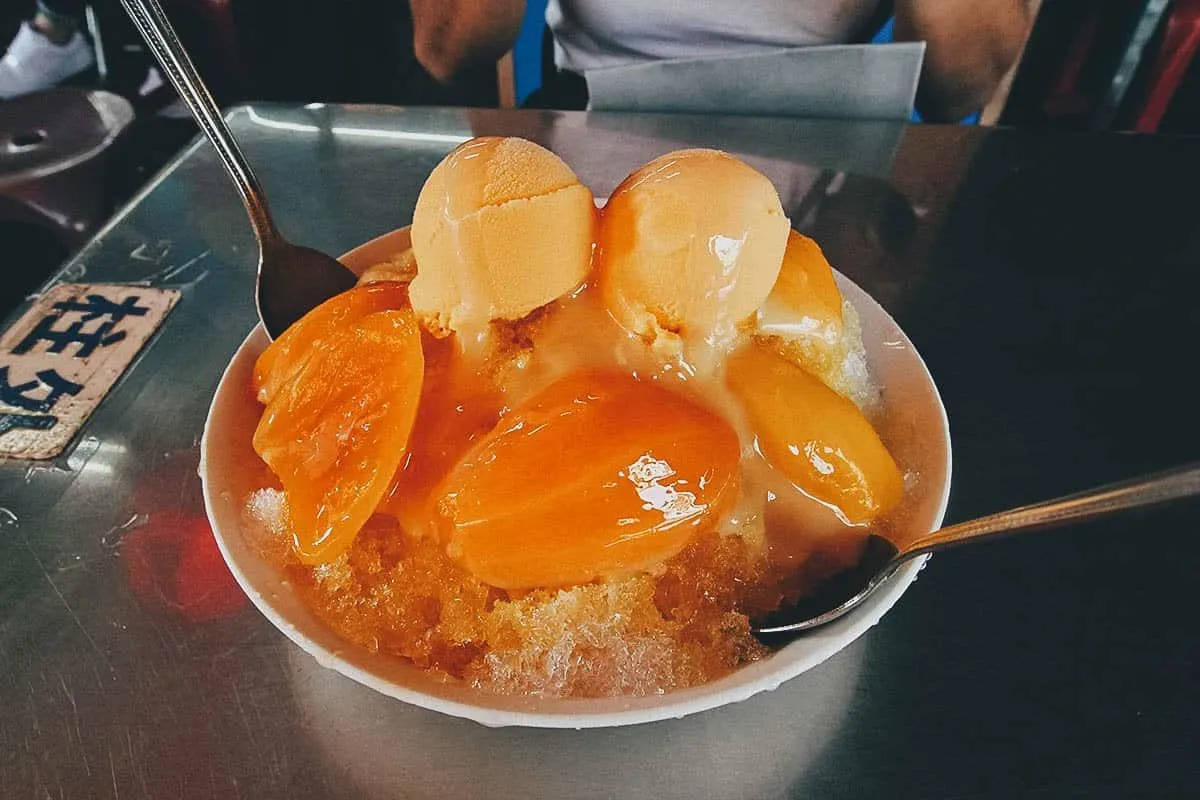 Pictured below is a variation of baobing called xue hua bing. It's basically the same thing but instead of crushed bits of ice, it's made with sheets of frozen condensed milk. Yummers.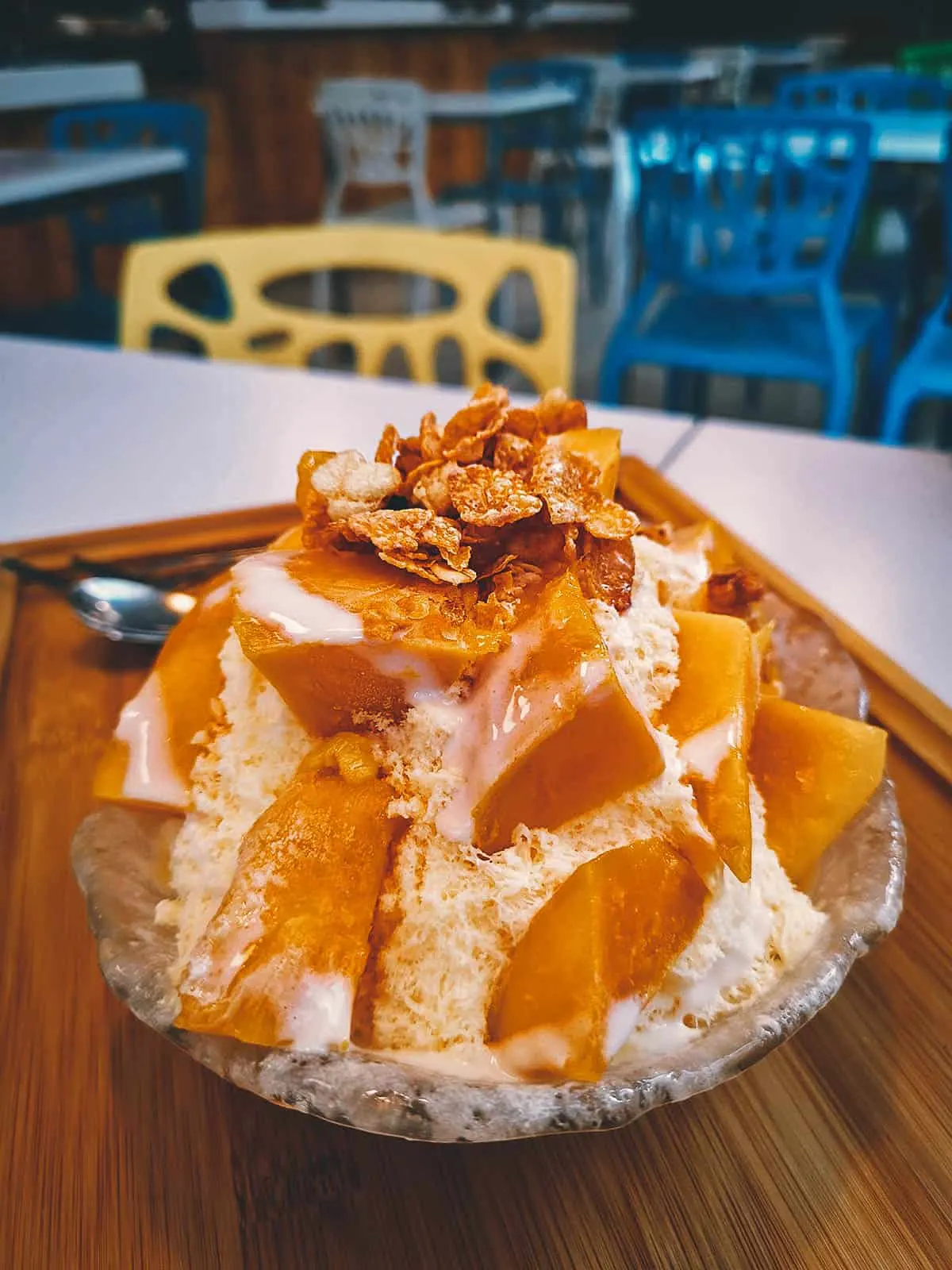 3. Beef Noodle Soup
Beef noodle soup is arguably the most beloved comfort food in Taiwan. It consists of red-braised beef slow-cooked in soy sauce, beef broth, vegetables, and Chinese wheat noodles. So important is Taiwanese beef noodle soup that it's often regarded as Taiwan's national dish. In fact, a beef noodle festival is held in Taipei every year where chefs and restaurants compete for the title of "best beef noodles" in Taiwan.
You can find beef noodle soup anywhere in the country but two highly regarded places are Tao-Yuan Street Beef Noodle Shop in Taipei and Gang Yuan Beef Noodles in Kaohsiung. Both were excellent, though the latter may have been slightly better as their noodles seemed springier in texture.
Regardless, both restaurants are must-visits and hugely popular so be prepared for a wait. The bowls pictured below are from Gang Yuan Beef Noodles where you can choose between a wet and dry version.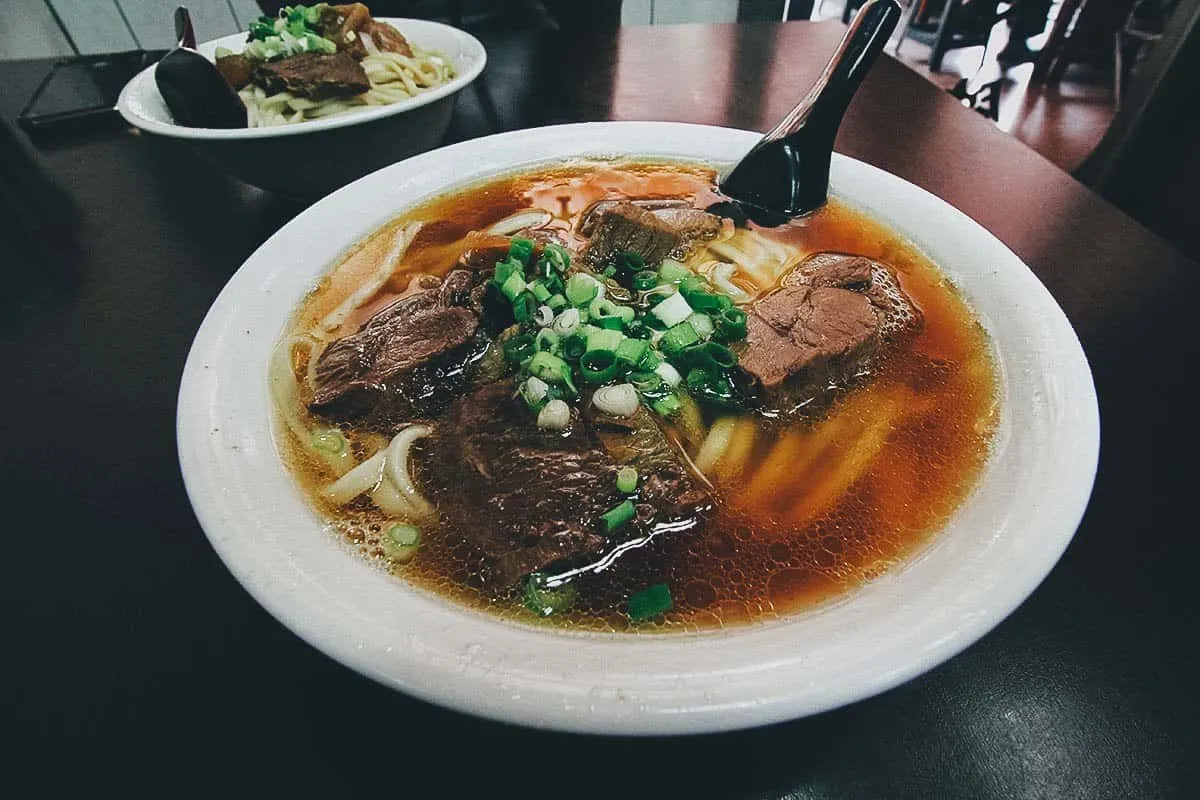 4. Braised Pork Knuckles
I've eaten lu rou fan (braised pork rice) at several restaurants in Taiwan, and Taiwanese braised pork knuckles was often on the menu. Not surprising I guess since they're similar in taste and preparation.
Both are slow cooked for hours until fork tender, with the main difference being the pig parts used. Instead of pork hocks, lu rou fan uses pork belly. I like both Taiwanese dishes though I may prefer braised pork knuckles because of its gelatinous texture.
We had this delicious plate of braised pork knuckles at Fu Ding Wang in Taichung. They're known for their braised pork knuckles and lu rou fan so we ordered both. You should too.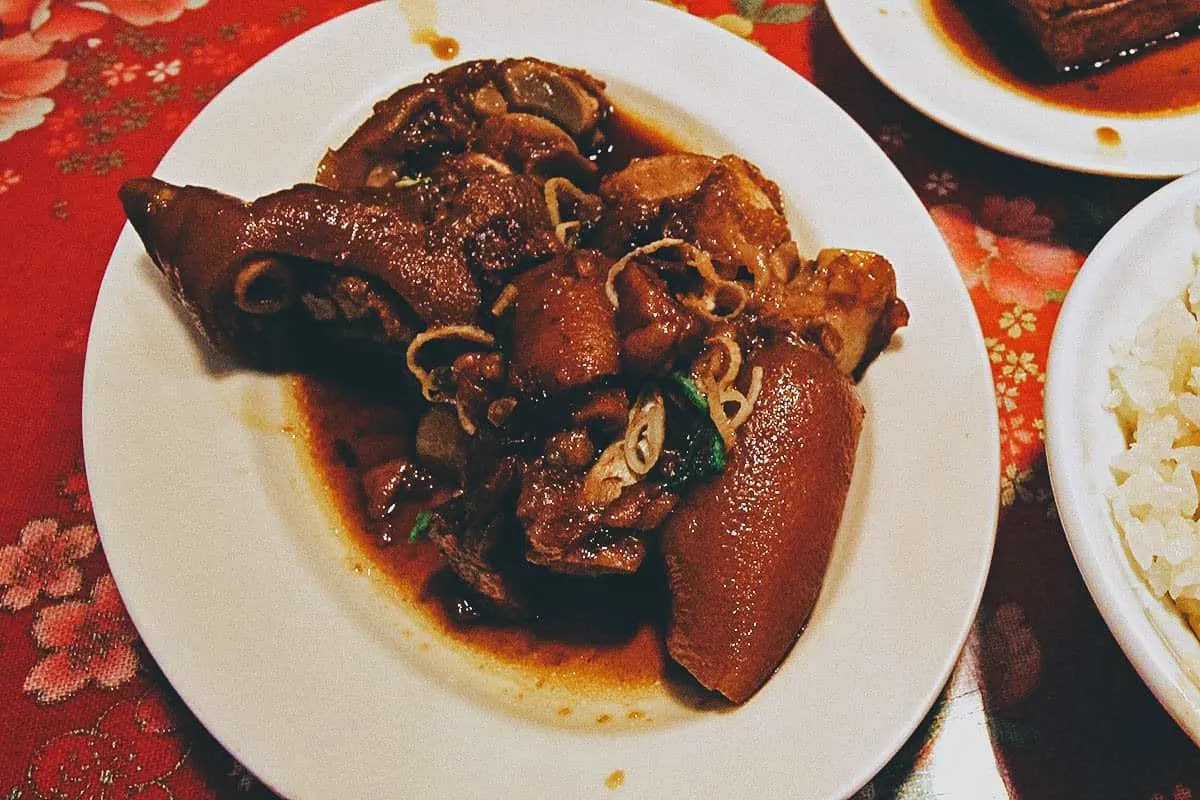 5. Braised Pork Rice (Lu Rou Fan)
This is one of Taiwan's most beloved comfort foods, perhaps second only to beef noodle soup. It's a Taiwanese dish of minced pork belly that's been stir-fried and slow cooked in soy sauce until it's fall-apart tender. It's then served on top of a bowl of steamed rice, often with a side of hardboiled egg that's been simmered in the same soy sauce mixture.
I'm a rice person so I preferred lu rou fan over beef noodle soup. We had it at Fu Ding Wang in Taichung and the ultra popular Jin Feng in Taipei. Both were fantastic. Sweet and savory with a thick sauce, the bits of pork belly are so tender they practically disintegrate in your mouth. It's comforting Taiwanese food and something I could see myself eating everyday.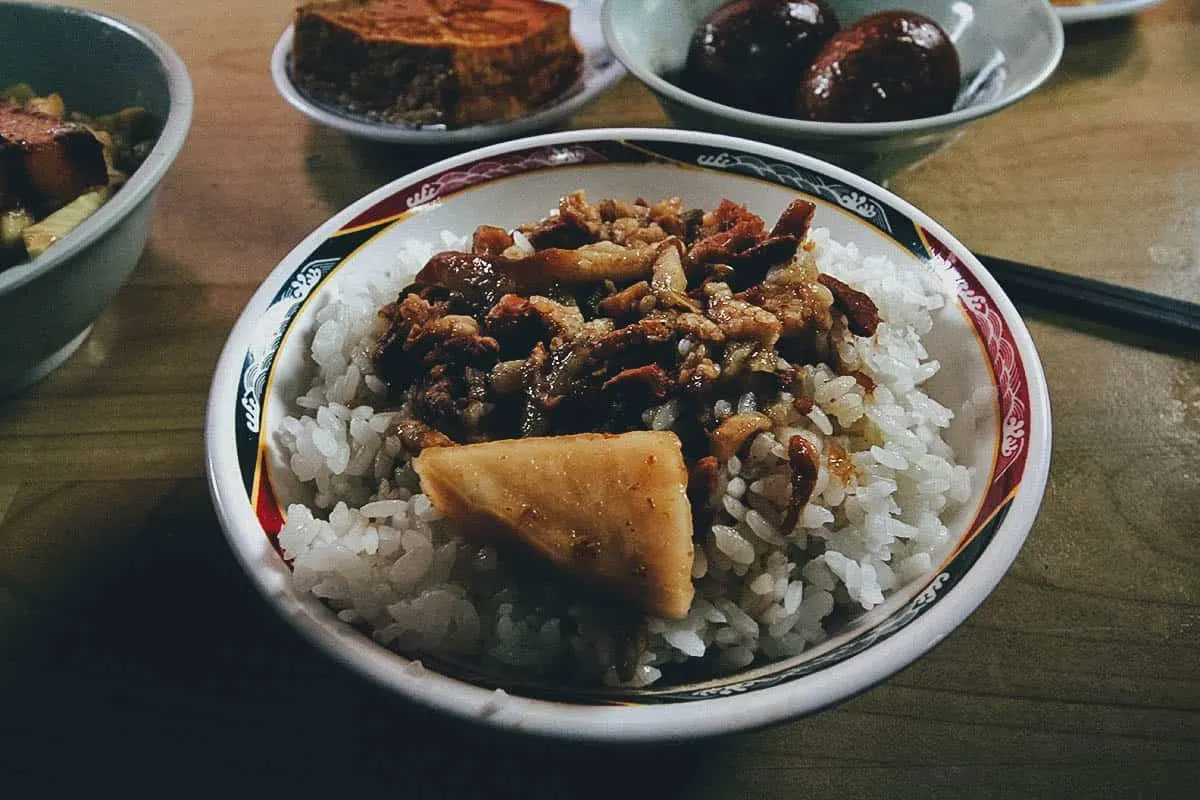 6. Bubble Tea (Boba)
Also known as boba or pearl milk tea, bubble tea is a massively popular Taiwanese drink that's become well-known in many parts of the world as well. You see it everywhere in Taiwan. In fact, you'll even see stores selling bubble tea holders so you can walk around looking lit with a cup of boba slung over your shoulders.
Looking at the menus of bubble tea stands, you'll find a head-spinning number of bubble tea varieties. Some are made with milk, some with fruit juice. You can get it either hot or cold and with any number of add-ons like tapioca pearls, pudding, and fruit jellies. You can even specify your desired level of sweetness.
The choices seem endless so to keep things simple, I always go with the original which is pearl milk tea. It's black tea, milk, sugar, and tapioca pearls. That's it. Apparently, it's still the most popular and with good reason. It's refreshing and delicious.
I was under the impression that Chun Shui Tang, a tea house originally from Taichung, was the inventor of bubble tea. We had it at their original store in Taichung (pictured up top). But as it turns out, Hanlin teahouse from Tainan may have a claim to that title as well. We may never know which teahouse truly invented bubble tea, but one thing's for sure, it's something you need to have at least once on every return trip to Taiwan. It's about as Taiwanese as Taipei 101.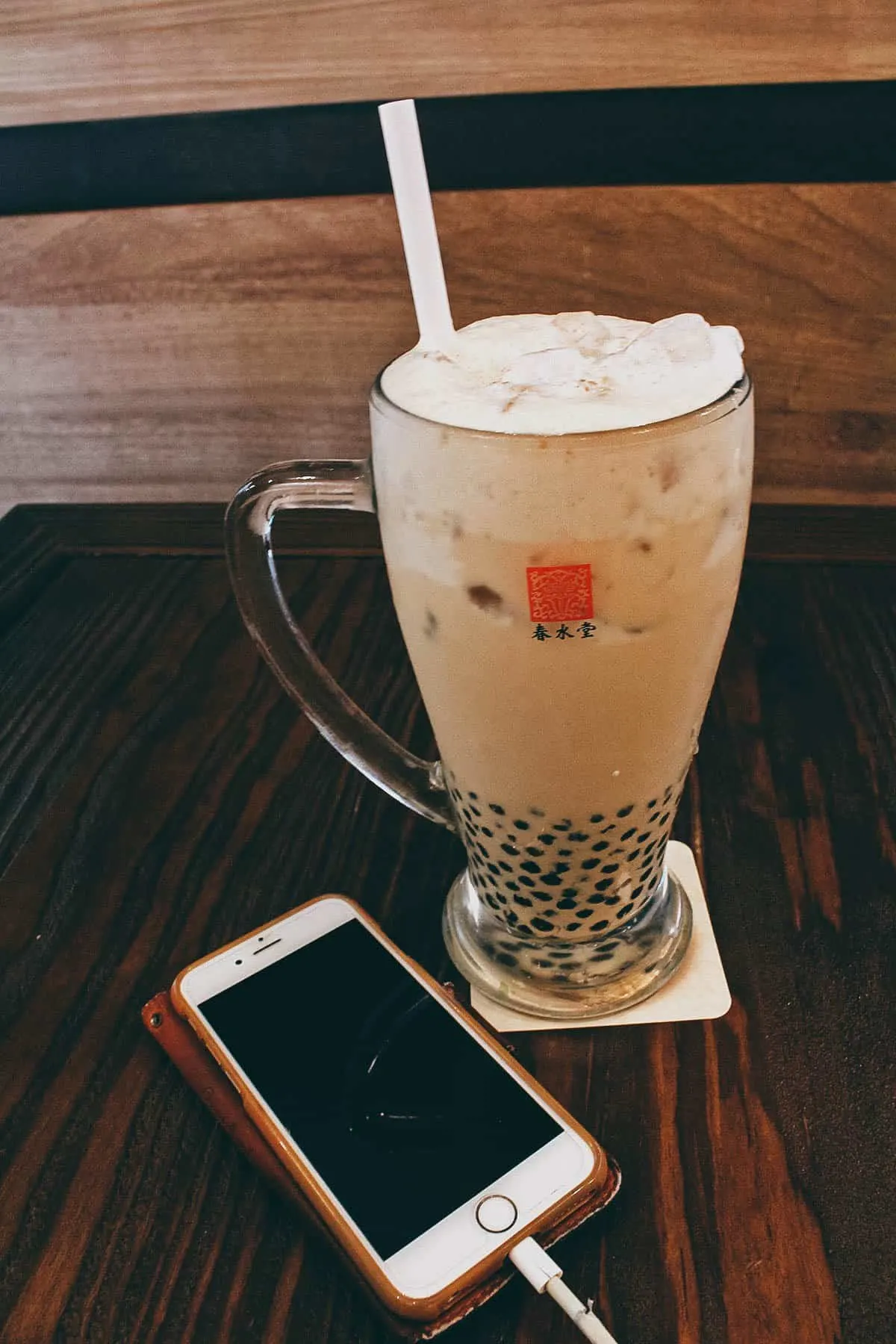 Pictured below is a trendier type of bubble tea made with brown sugar. Boiled brown sugar syrup is mixed with milk to give it a rich, earthy, and caramel-y sweetness. I like brown sugar so I enjoyed this one the most.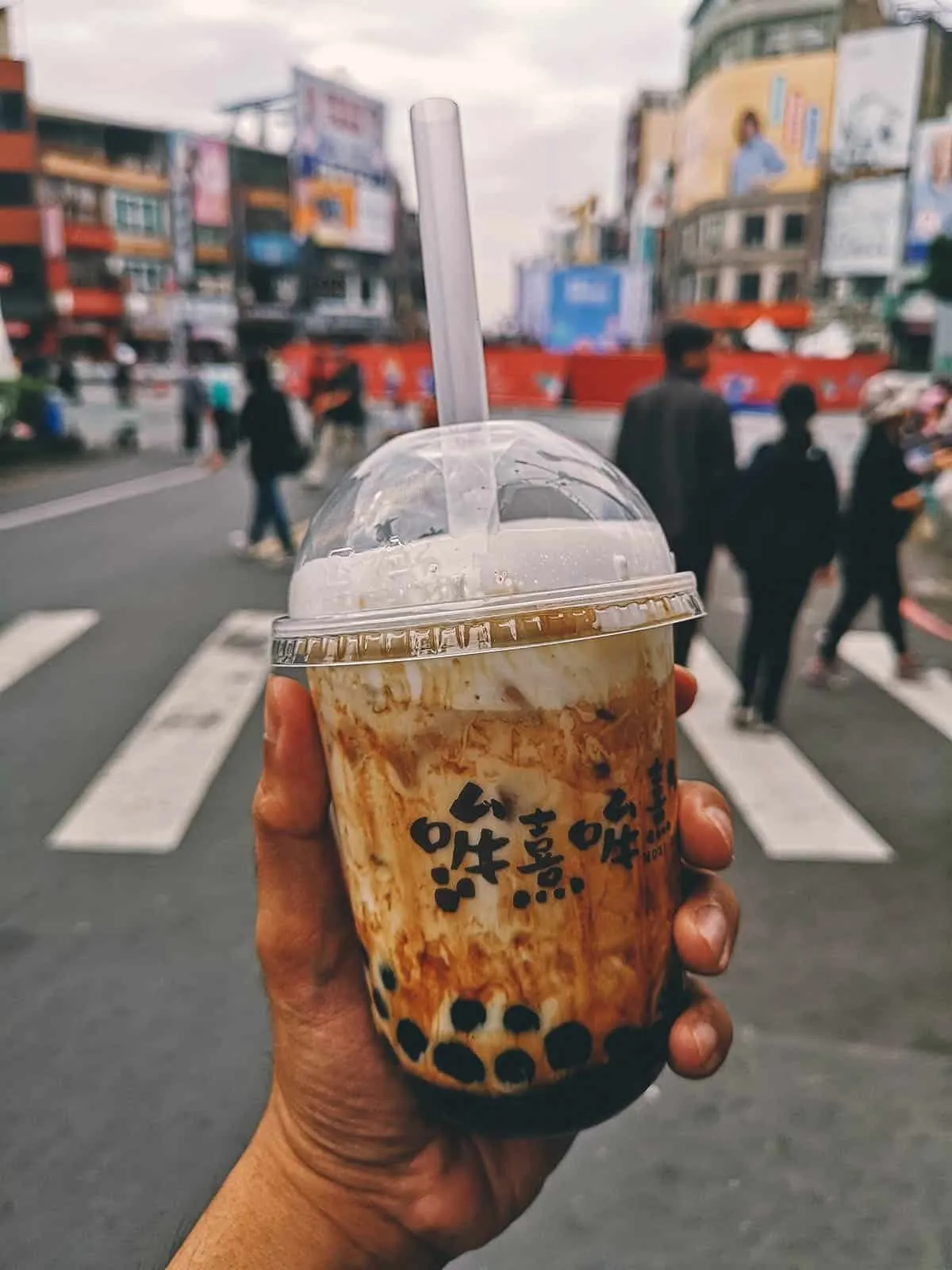 7. Danzai Noodles
Danzai noodles are a specialty of Tainan. It consists of chewy wheat-based noodles in a meat and seafood broth topped with long-simmered pork and a lone piece of shrimp.
Also known as "slack-season noodle soup," it was created by southern Taiwanese fishermen over 130 years ago. They'd carry wooden poles (danzai) with suspended pots over their shoulders, peddling noodles instead of fresh seafood during the off- or "slack" season.
We tried it at Du Hsiao Yueh, a restaurant in Tainan that's been specializing in this Taiwanese noodle dish since 1895. That's over 123 years! They offer a wet and dry version, both of which were very good.
You can't tell from this picture but the bowls of danzai noodles are fairly small. Even Ren with her miniscule appetite wanted more. As it turns out, this is the normal serving size for danzai noodles since they're considered more of a snack than an entree.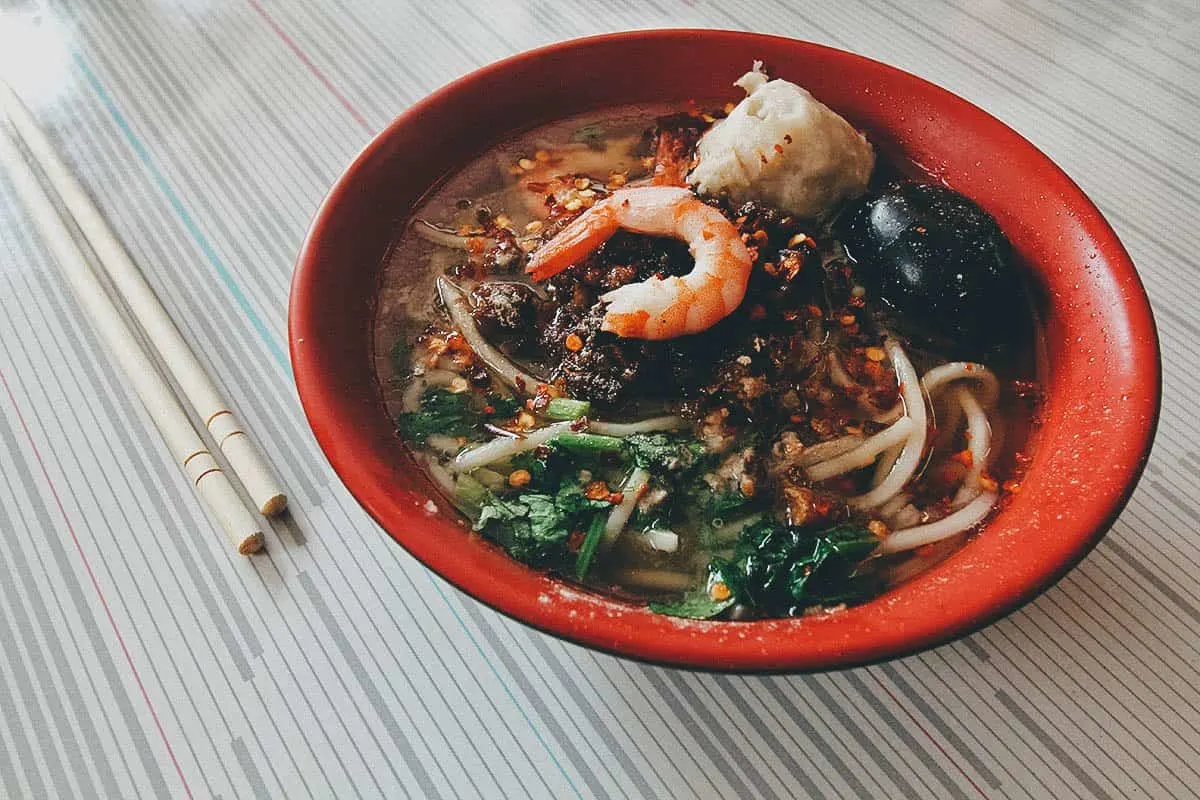 8. Douhua
Douhua is short for doufuhua and refers to a snack made with very soft tofu. Also known as tofu pudding, it's a dish Ren and I grew up eating in our native Philippines.
There are multiple variations of douhua throughout Asia but the Taiwanese version is typically made with tapioca balls, peanuts, oatmeal, adzuki beans, or mung beans and a ginger or almond syrup. This is different from the Filipino dessert which is only made with tapioca balls and arnibal which is a brown sugar syrup. Whatever the toppings, the one consistent ingredient is the silken tofu.
We had these bowls of tofu pudding with peanuts and tapioca balls at A E Lao Dian Dou Hua in Chiayi, but you can have it pretty much anywhere in Taiwan.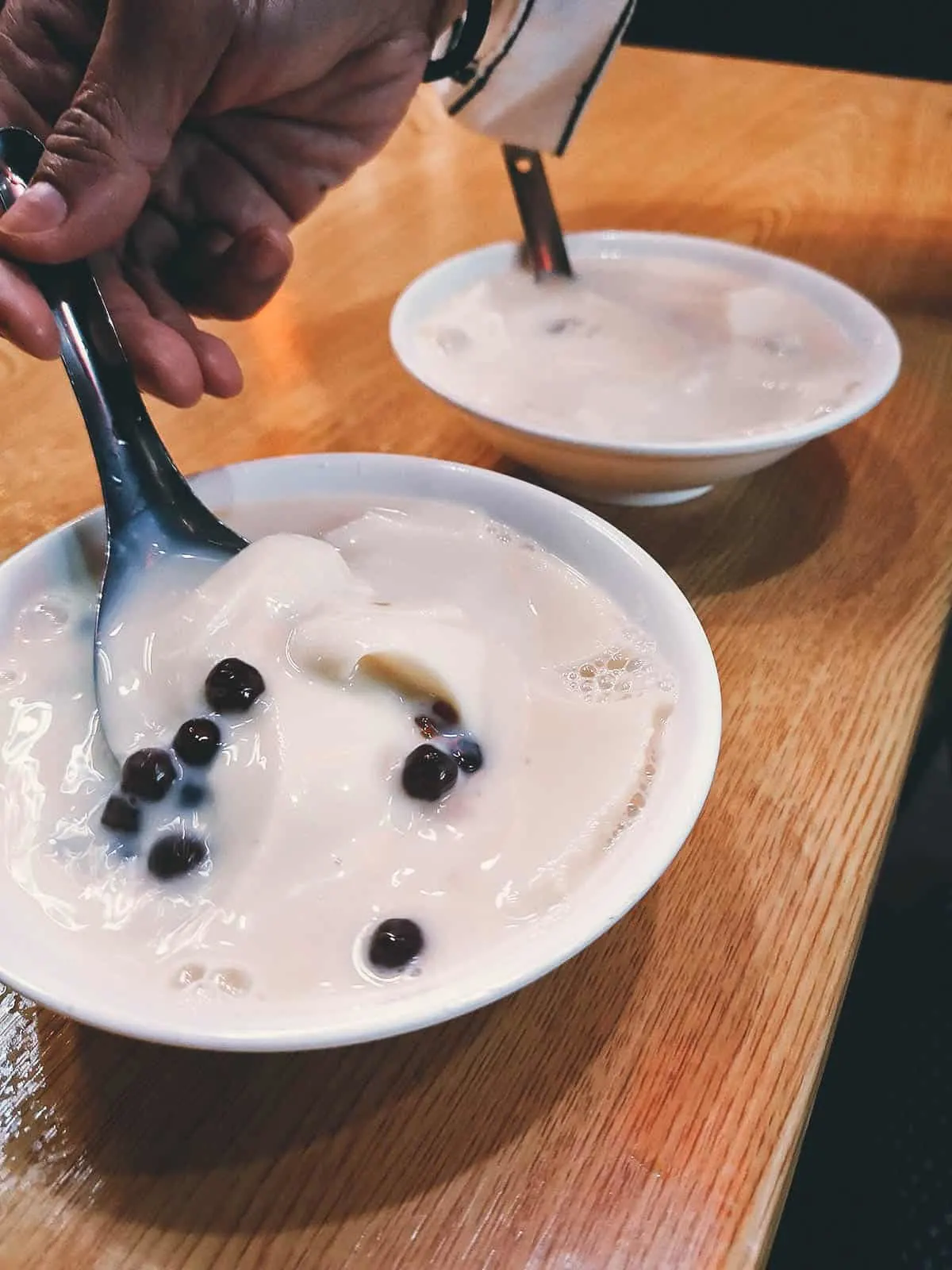 9. Duck
Peking duck, roast duck, crispy fried duck. I don't think I've ever met a duck I didn't like. It's always juicy and way more flavorful than chicken.
I learned about this duck specialty restaurant in Kaohsiung called Duck (Ya Rou) Zhen when I chanced upon an article from the Singapore Michelin Guide. In it, Chef Lanshu Chen of Le Mout describes her favorite places to eat in Tainan and Kaohsiung, proclaiming Ya Rou Zhen as her go-to place for duck.
Her go-to order is sliced duck with some rice and a bowl of duck innards soup. Being the head chef of one of the world's best restaurants, she clearly knows about Taiwanese food so I followed her lead, dish for dish, and it was awesome.
Tender, juicy, and smokey with a nice layer of fat beneath the skin, the sliced duck was delicious. Even then, what stole the show was the innards soup. Swimming with duck parts like intestine, liver, and gizzard, it was clean and flavorful with that wonderful gummy texture characteristic of offal. Serious yum!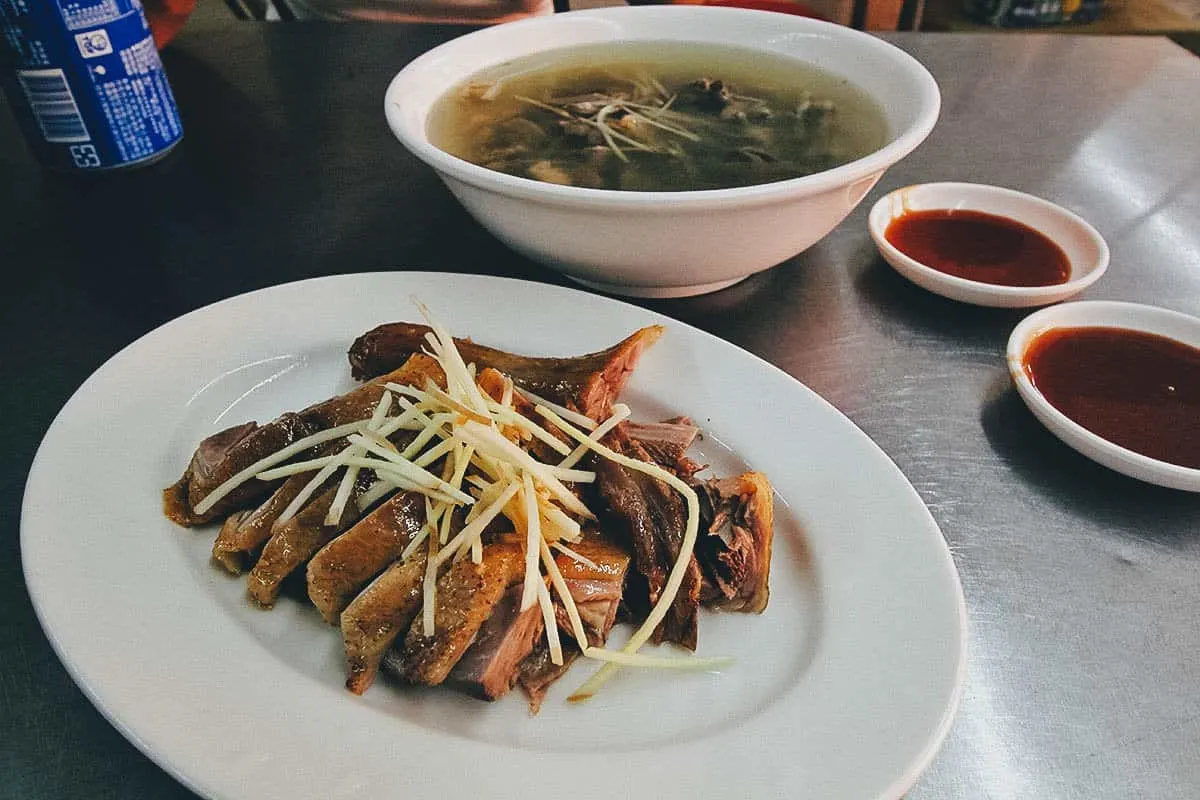 10. Goose
We've had roast goose a few times in Hong Kong, but this was the first time we've ever tried it steamed. I actually liked it better! Steamed goose is a specialty of the popular Mr Goose restaurant in Hualien.
Goose is less fatty and unctuous when it's steamed. It tastes cleaner, like Hainanese chicken, but it's still gamey and flavorful. We tried ordering the goose thigh and leg but our server recommended we get the goose and chicken platter instead. I guess the contrast in flavor and texture between the goose and chicken makes for a more balanced experience. It's served with finely julienned ginger and a soy sauce, basil, and goose fat dipping sauce to really bring out the flavor of the meat.
If you dine at Mr Goose, then be sure to try the deep-fried fish eggs with mayonnaise as well. Pictured below at the back, it goes very well with the goose.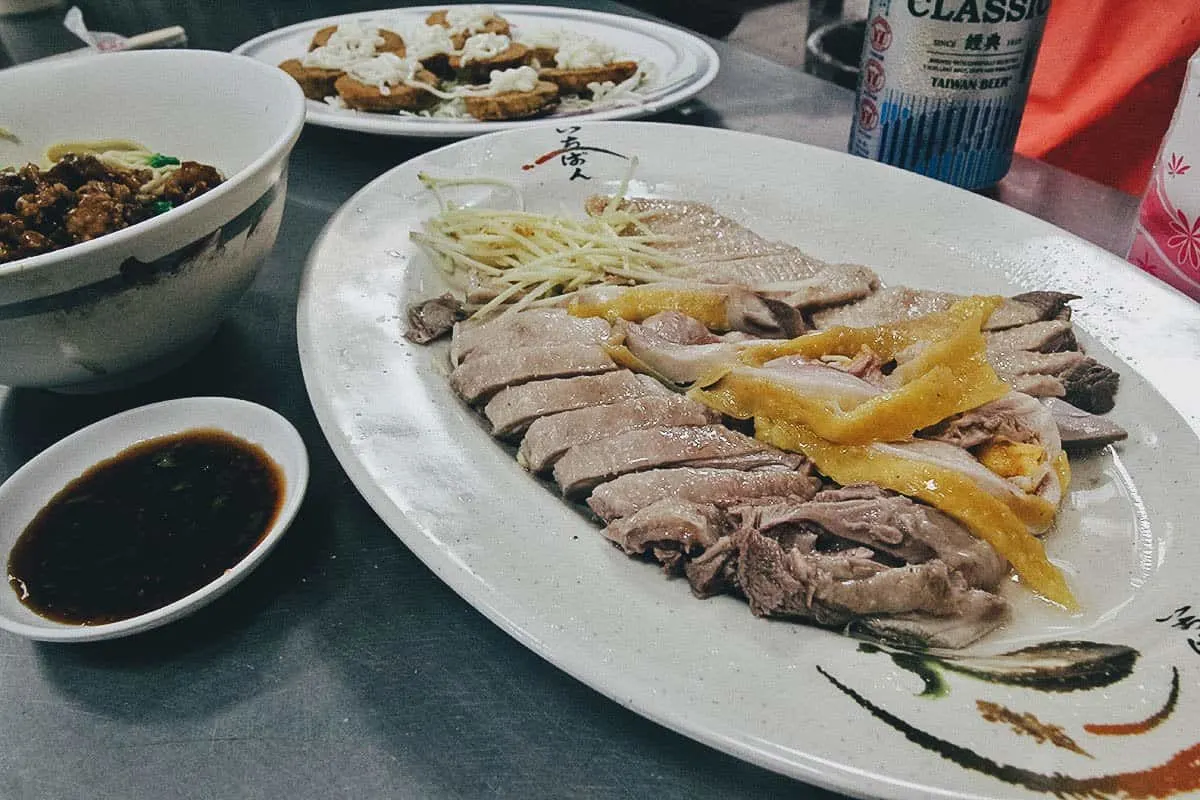 11. Hot Pot
Hot Pot is a core dish in Taiwanese cuisine and something you should try on your first trip to Taiwan.
Popular in East Asian countries like China and Japan, hot pot is a soup containing a variety of ingredients like thinly sliced meat, seafood, leaf vegetables, noodles, tofu, and various fish and meat balls. A simmering pot of soup stock is left on a burner at the table while diners place the raw ingredients into the pot to cook.
I was wondering how hot pot differed between countries and it seems the main difference is in the dipping sauce. For Japanese hot pot or shabu-shabu, it typically contains ponzu (citrus-based sauce) and goma (sesame sauce). The dipping sauce for mainland Chinese hot pot depends on the region. In Taiwan, where hot pot is also referred to as shabu-shabu because of the Japanese influence, the dipping sauce is often made with shacha sauce and raw egg yolk.
Based on the recommendation of a Taiwanese friend, we had this fantastic hot pot at Orange Shabu Shabu House in Taipei. It was phenomenal and the best Taiwanese hot pot we've ever tasted anywhere.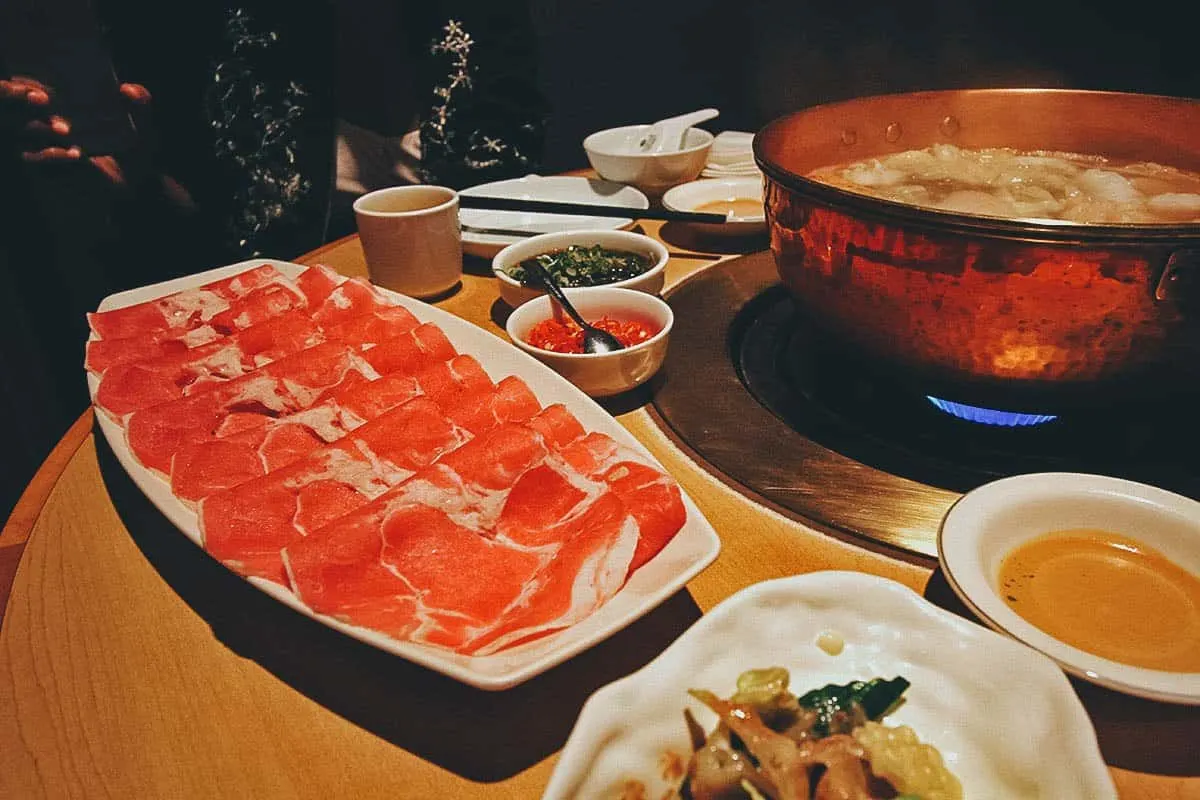 We had these delicious personal hot pot bowls at Tien Shui Yueh in Kaohsiung. It's a gorgeous restaurant with a giant Buddha head as its centerpiece.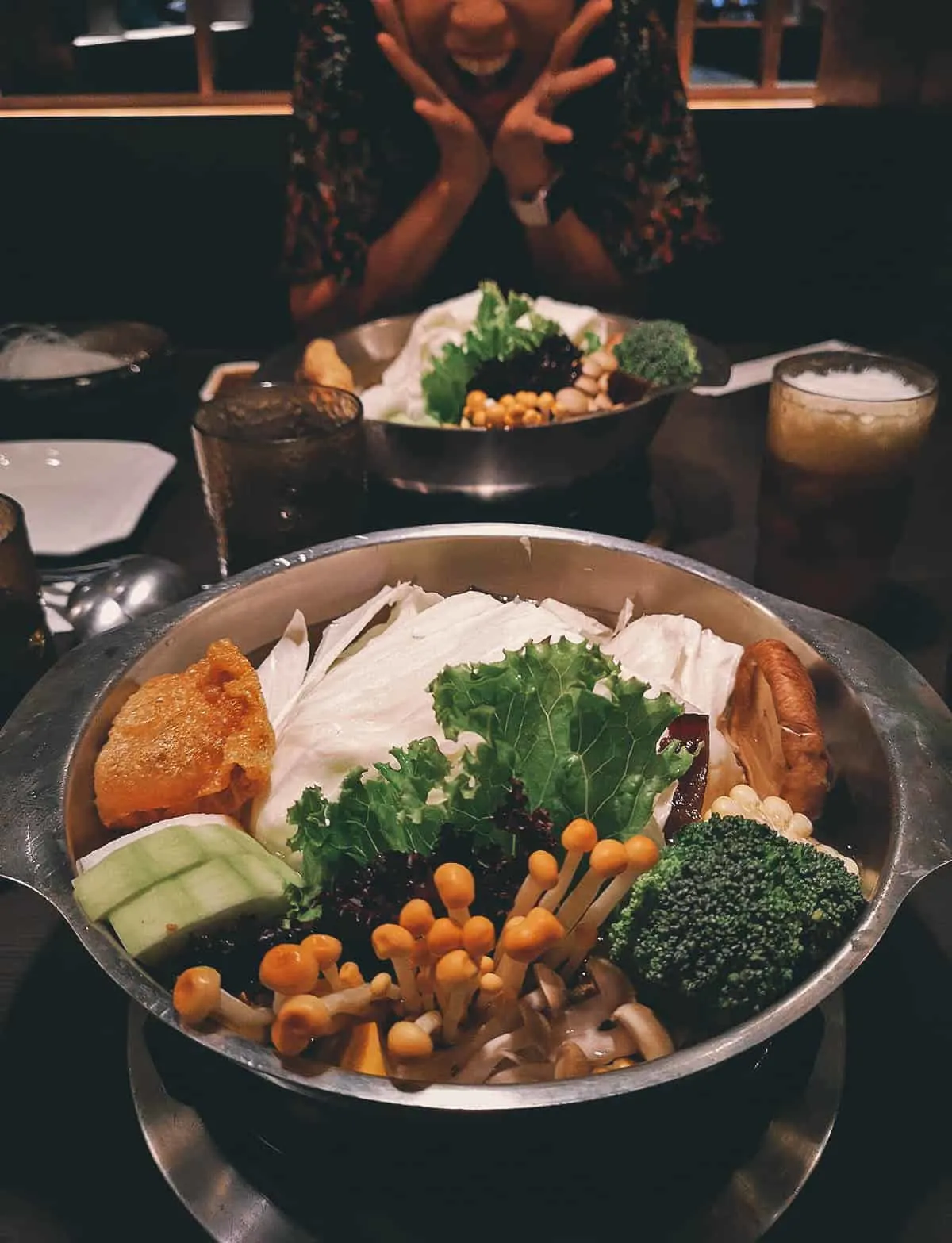 12. Taiwanese Breakfast
Having a traditional Taiwanese breakfast at least once is a must-do in Taiwan. It's heavy on carbs and eggs, and is usually washed down with a glass of hot soybean milk. Examples of typical Taiwanese breakfast foods include twisted crullers (you tiao), baked wheat cake (shao bing), hot soybean milk (dou jiang), leek pie (jiu cai he zi), turnip cake (luo buo gao), and baozi (steamed buns).
Pictured below is the twisted cruller and bowl of hot soybean milk I had at the ultra popular Fuhang Soy Milk in Taipei. When I say ultra popular, I really do mean ULTRA popular. The line to this Taiwanese breakfast food court snakes around the block so come as early as you can.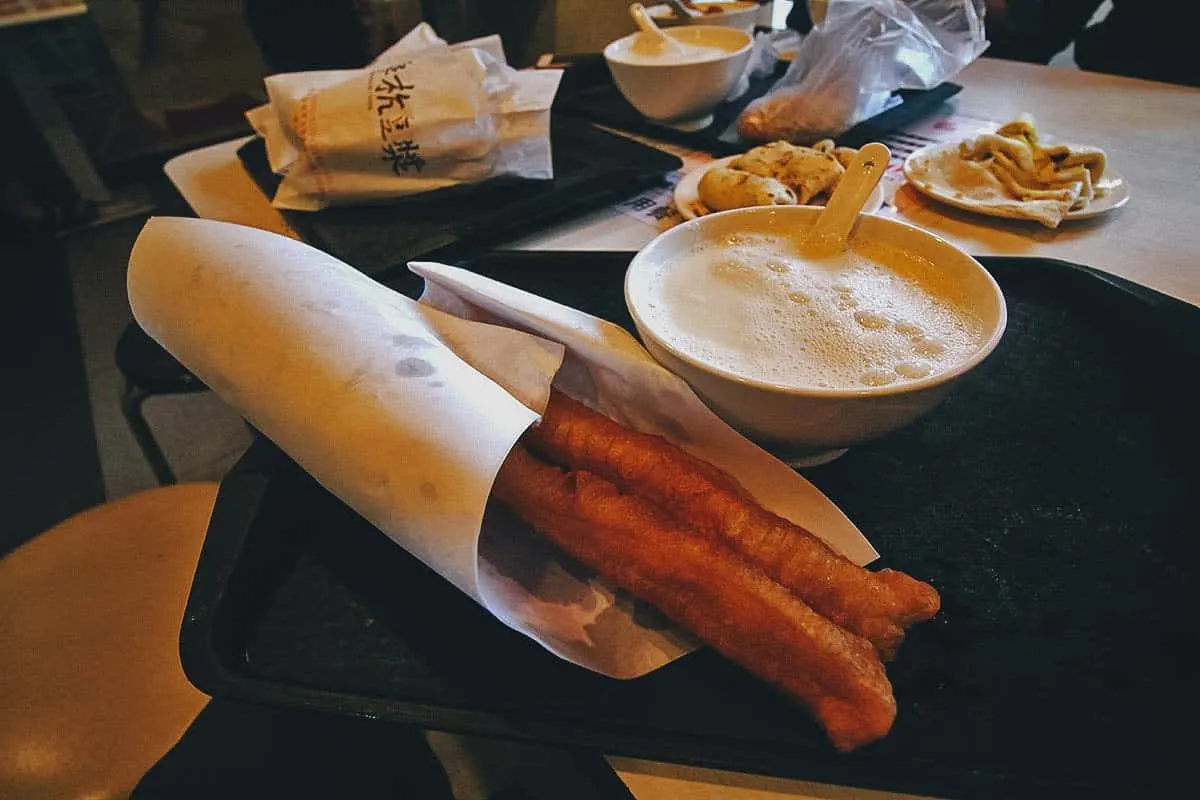 I had this hearty Taiwanese breakfast good enough for two at Second Market in Taichung. The lines that form here aren't as bad as Fuhang Soy Milk but it's an exceedingly popular place for Taiwanese breakfast as well.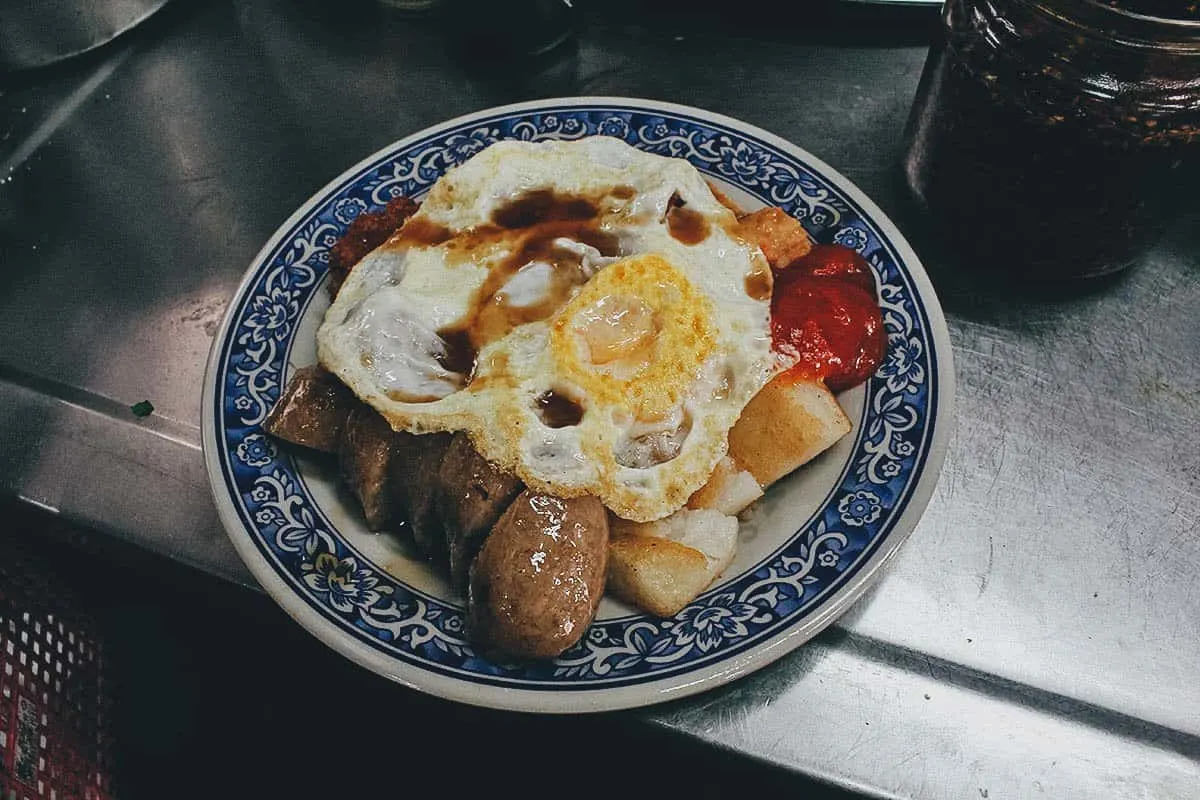 13. Turkey Rice
Turkey rice is a specialty of Chiayi. It's the quintessential Chiayi comfort food and one of the best things you can eat there. Looking at this relatively colorless Taiwanese dish, it looks bland but it's actually packed with flavor.
When I first tried it, turkey rice reminded me of a cross between lu rou fan and Hainanese chicken rice. Based on what I've read, it does seem to be a spin-off of braised pork rice. The earliest versions were made with both braised pork and turkey but people enjoyed the turkey so much they wound up eliminating the pork altogether.
Every restaurant has its own take on the dish but at its core, it's basically oily rice made with turkey drippings then topped with tender and succulent shreds of turkey breast. We had turkey four times on our last trip to Chiayi and we liked all of them, but we enjoyed the version at Smartfish the best. It had the pronounced flavor of fried shallots that the other restaurants didn't have. So damn tasty.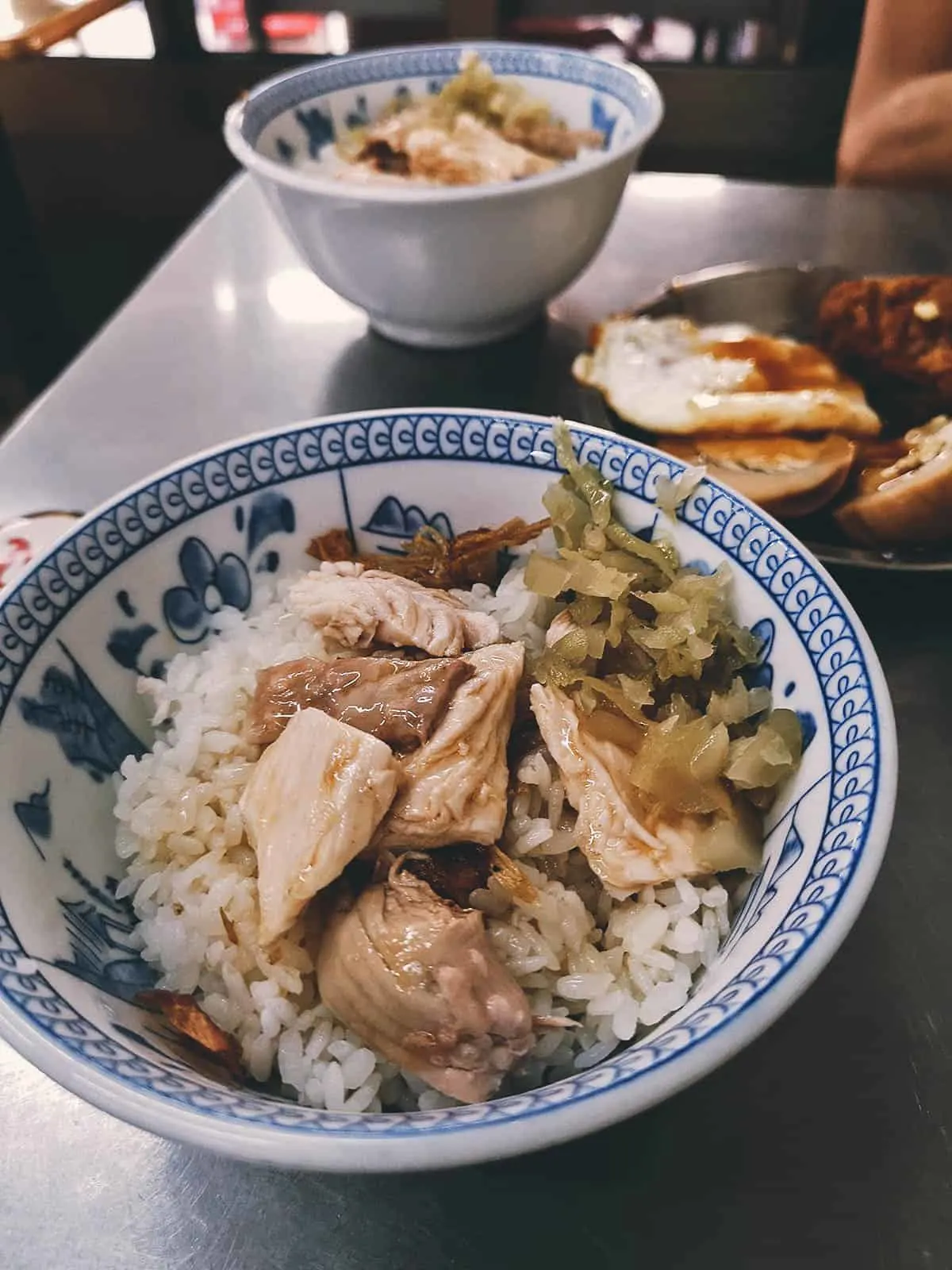 14. Xiao Long Bao
Xiao long bao is one of the most well-known types of baozi, or Chinese steamed buns. It gets its name from the bamboo basket where its steamed, the xiaolong, and is traditionally filled with pork and a solid meat aspic that melts into soup when heated.
The xiao long bao is originally from Shanghai, though many people feel that the best examples can be found right here in Taiwan, at Din Tai Fung. Made with the thinnest of wrappers, every Din Tai Fung xiao long bao has 18 pleats apiece and weighs exactly 21 grams before steaming. Aside from the traditional pork, you can even get them mixed with crab roe and truffle. Divine.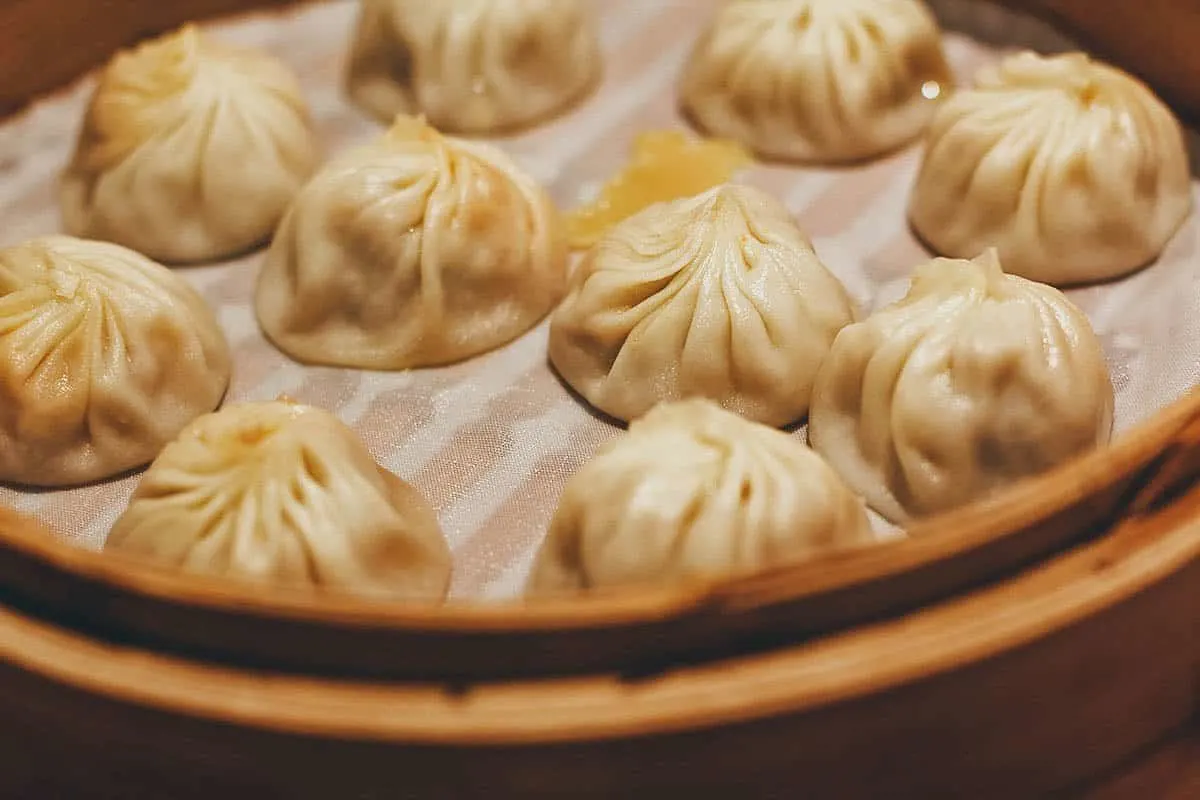 To keep from burning yourself, you're meant to pierce the skin of the dumpling and slurp out the soup first before eating the whole thing. Otherwise, you may burn the inside of your mouth from the hot soup.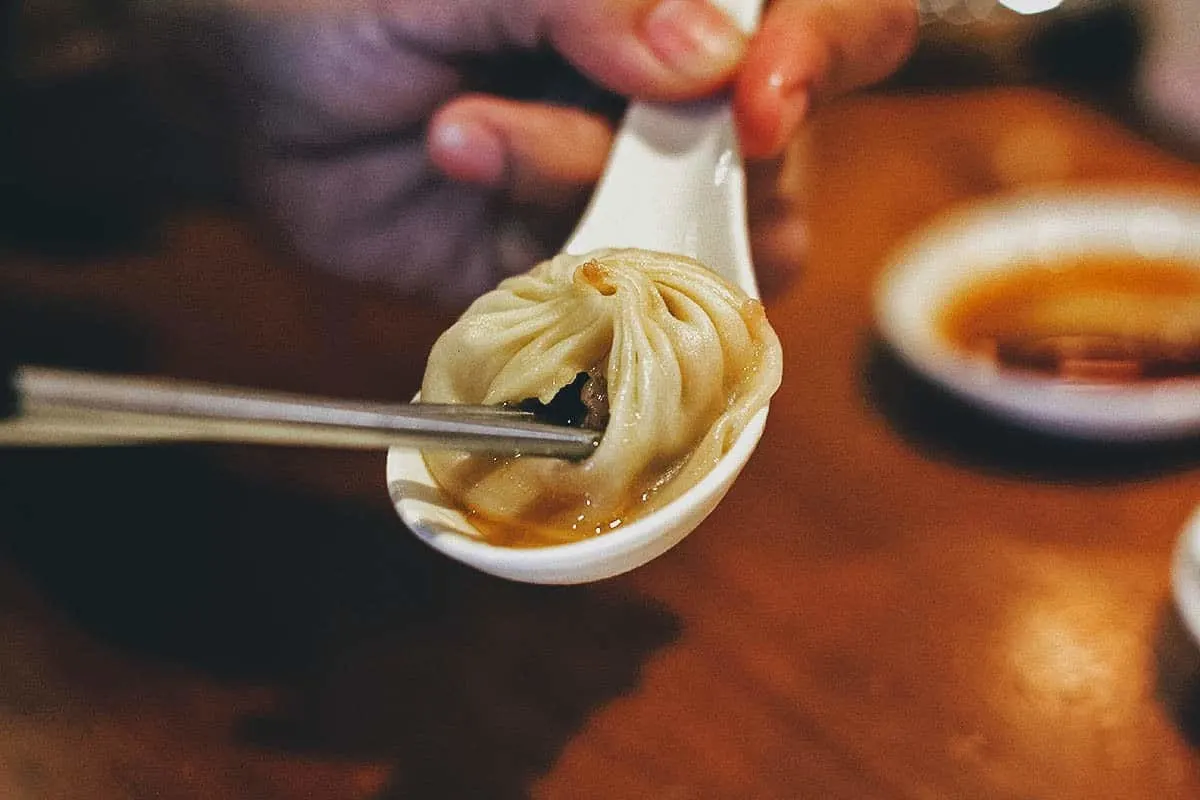 NIGHT MARKET / STREET FOOD
15. Coffin Bread
When I was doing research for our trip, I came across this intriguing sounding dish described as a "night market specialty of Tainan and Taipei since the 1940s". Coffin bread is basically a thick hunk of fried bread that's been hollowed out and filled with a creamy chicken, seafood, or vegetable chowder. As you can see below, it really does resemble a coffin.
The one we had along Anping Old Street in Tainan was made with chicken and it reminded me of chicken pot pie or chicken ala king served in a crunchy, bread-y vessel. It was hearty and satisfying.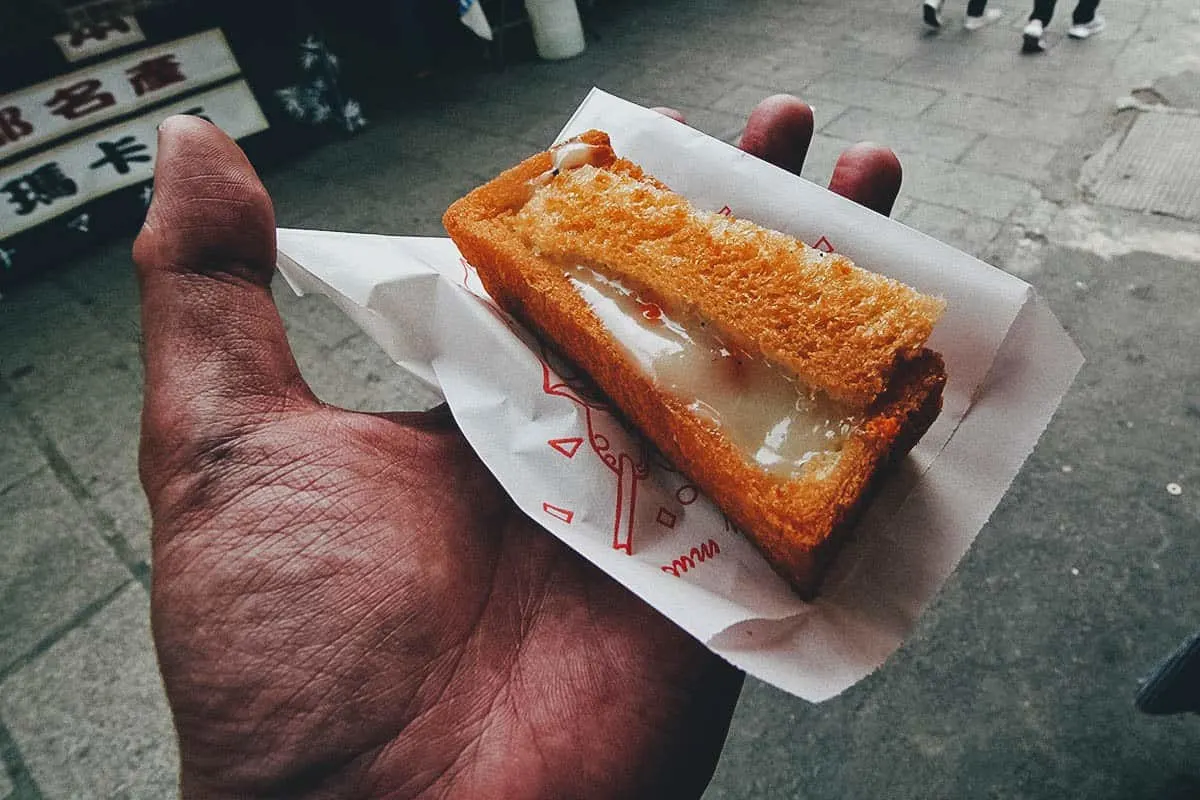 16. Fried or Grilled Seafood
You'll find stalls selling grilled or deep-fried battered seafood in virtually every night market in Taiwan. It's delicious and easy to eat, even while walking.
They make them with different types of seafood like shrimp and crab, but my favorite by far is the squid. You can get it topped with a variety of seasonings but I always got mine with lime salt. It's crunchy, salty, a little sour, and still tender, in spite of the squid's size.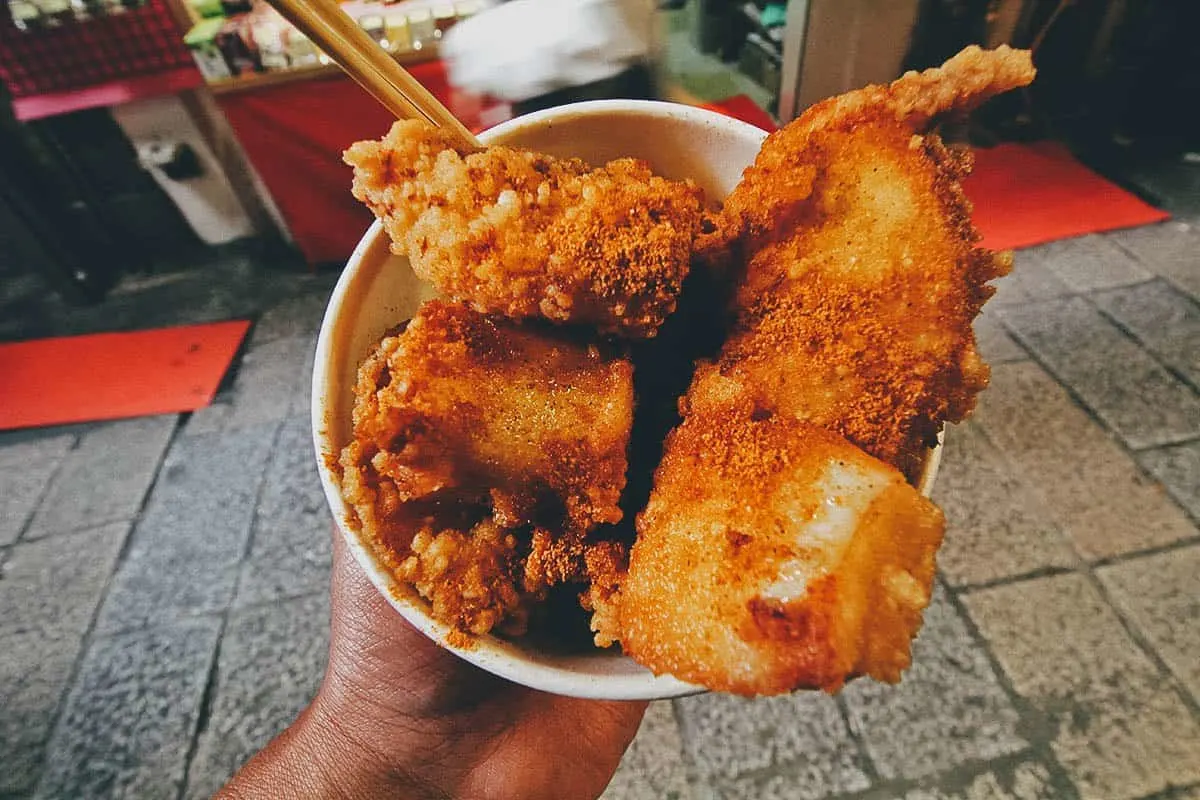 Equally ubiquitous at Taiwanese night markets is grilled seafood. At every night market, it seemed there was at least one stall grilling a selection of seafood like abalone, scallops, sea snails, shrimp, and oysters over a barbecue.
Pictured below are some abalone and sea snails seducing me at Fengjia Night Market in Taichung. If you like abalone, then you're going to love Taiwan. It seems to be in abundant supply throughout Taiwan and for relatively cheap too.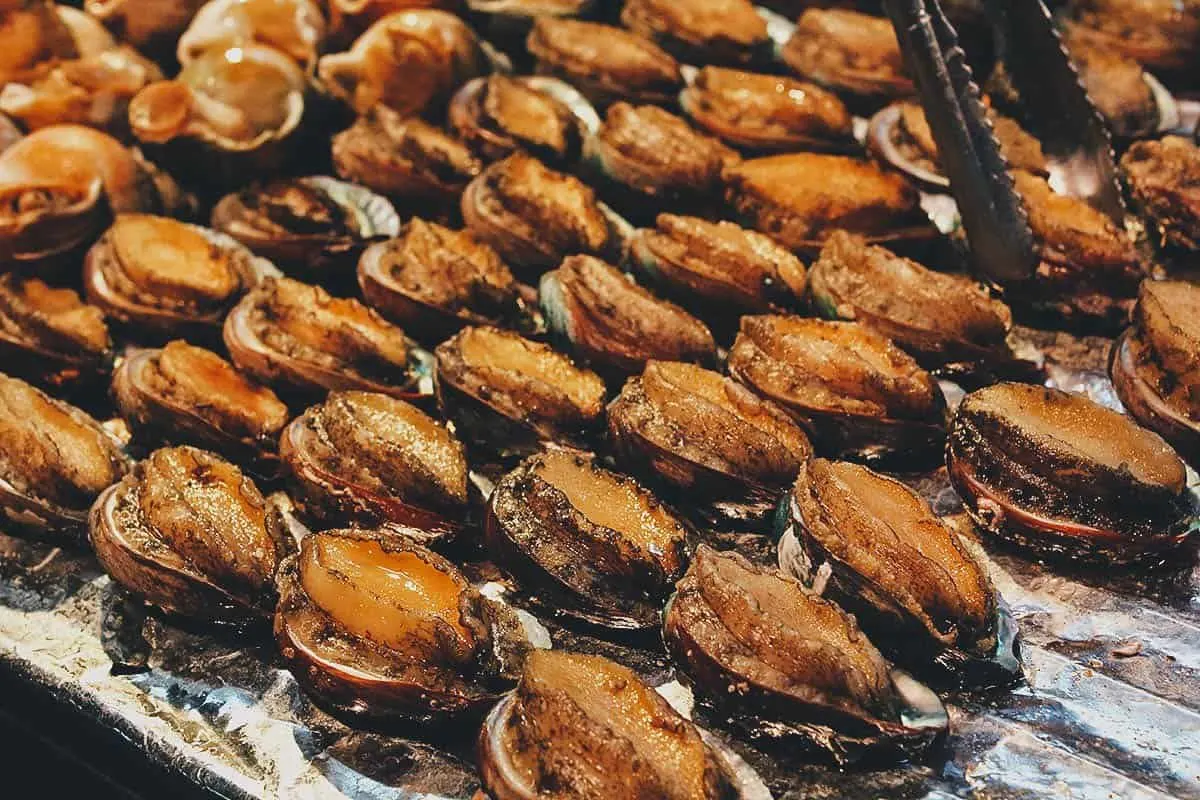 17. Fish Balls
Fish balls are a staple street food in many Asian countries and Taiwan is no exception. I did some research and in Taiwan, it looks like they often use milkfish as the main ingredient.
Sold at many Taiwanese night markets, the fish balls are left to stew in sauce before being skewered and served. You can get fish balls stewed in different types of sauces, but my personal favorite is the spicy curry.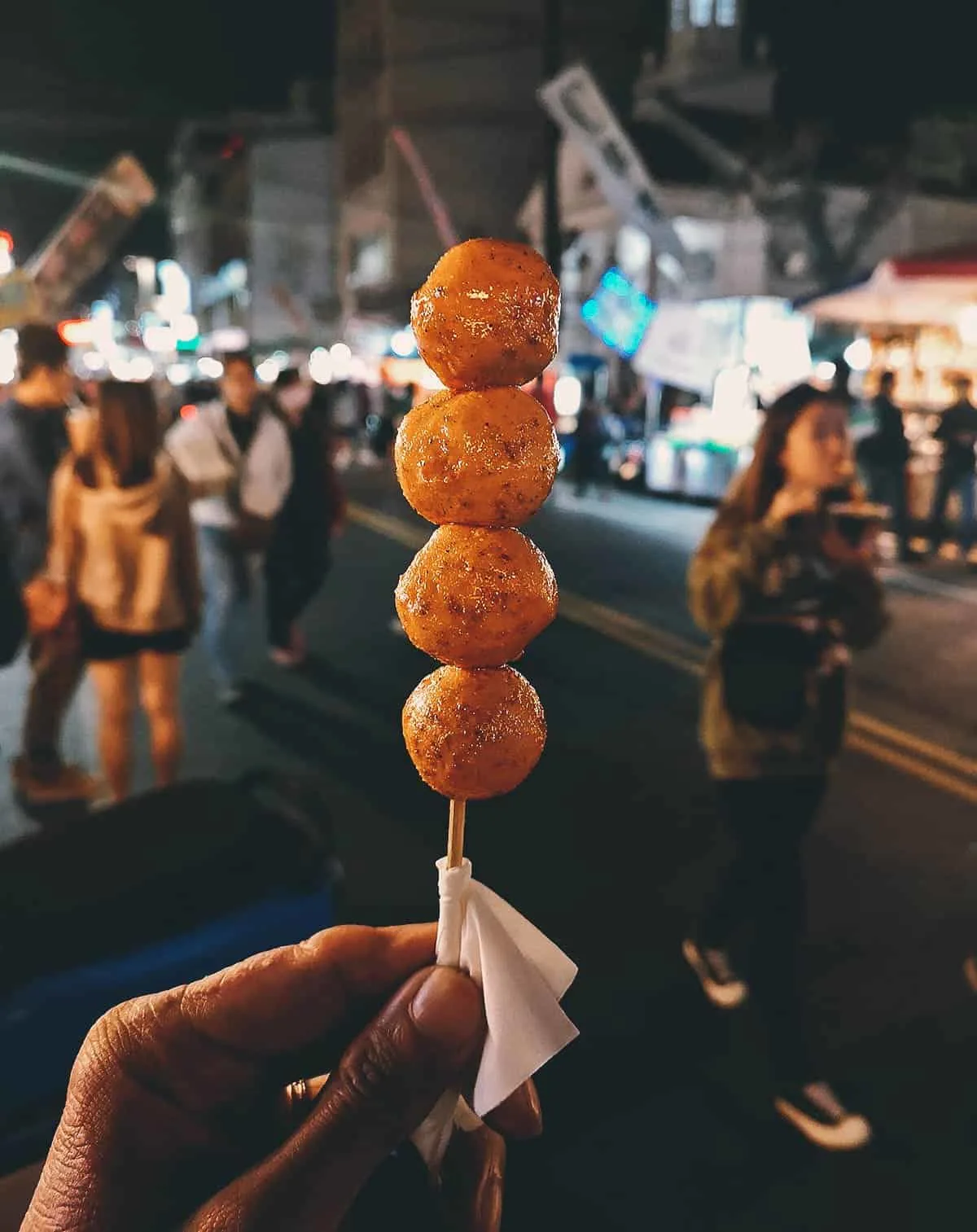 18. Flame-Torched Beef
This is one of my favorite things to eat at Taiwanese night markets. Tender cubes of beef are cooked over a grill before being torched and sprinkled with your choice of seasoning like salt, pepper, teriyaki, or cumin. It's simple but oh so good. The torching of the beef makes for a good show too.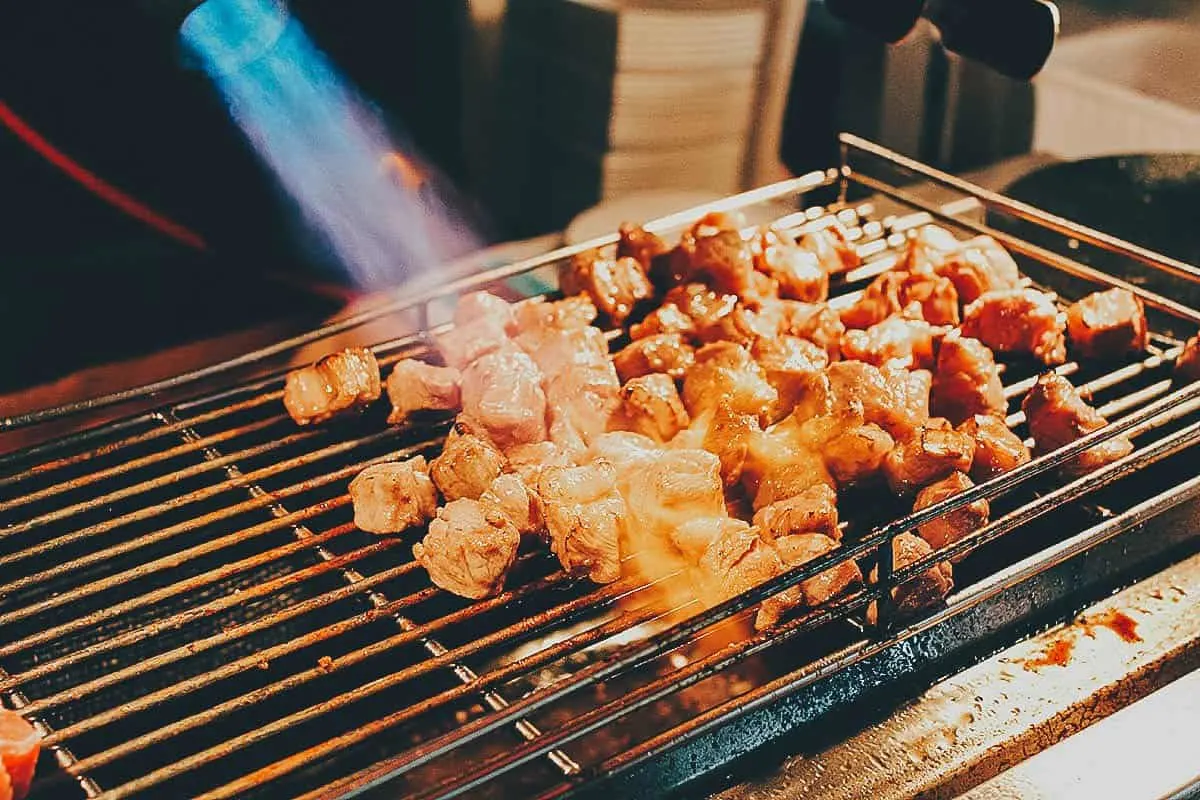 19. Fried Chicken Chop
This is one of the most iconic food items at Taiwanese night markets. Led by the uber popular Hot Star, chicken cutlets the size of your face are dredged in flour and deep-fried to golden perfection. Like many deep-fried dishes, you'll be given your choice of seasoning like salt and pepper, chili pepper, sweet and sour, or teriyaki.
You'll find many stalls offering fried chicken chops at night markets but the Hot Star brand is the most well-known. In spite of its hefty size, the chicken meat is surprisingly tender.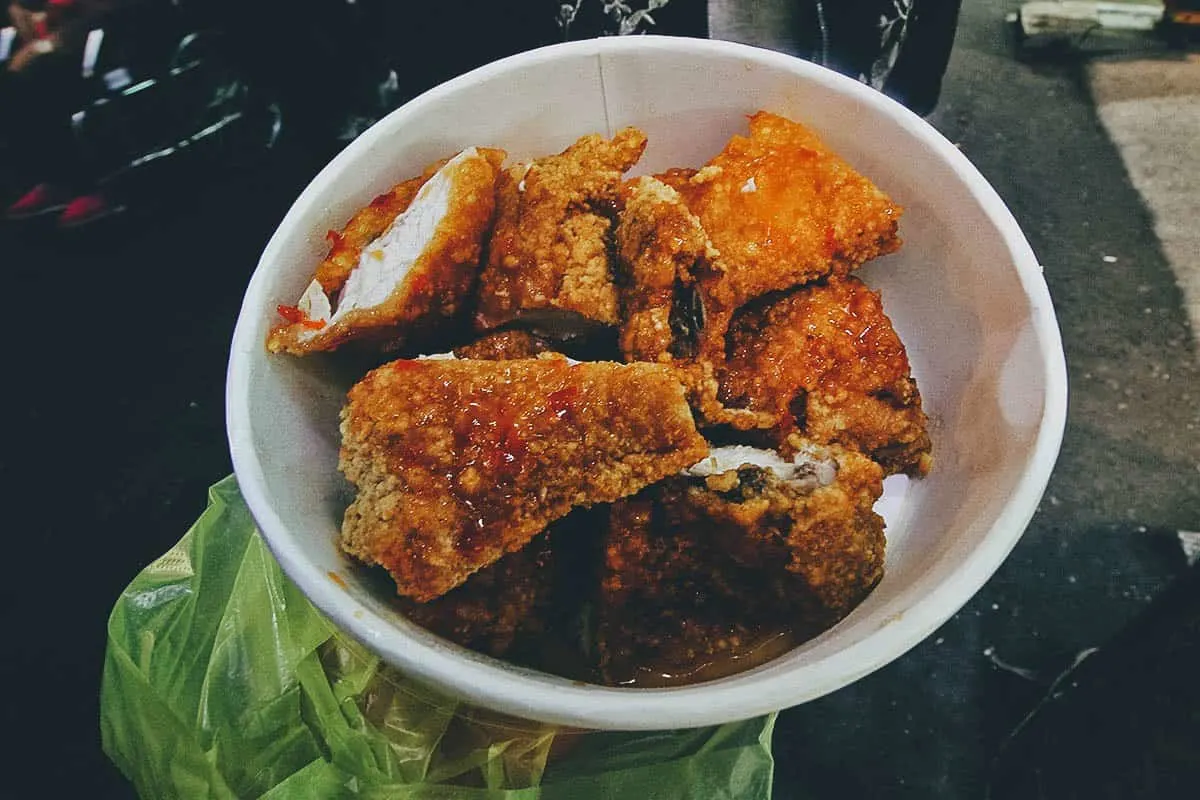 20. Glutinous Rice Cake
This is one of the most interesting things we've eaten so far in Taiwan. It's a Hakka glutinous rice cake that comes with a variety of fillings like sweet red bean, salted vegetable, and preserved turnip. Hakka cuisine is the cooking style of the Hakka people who are originally from China.
Several food stalls sell these glutinous rice cakes in Jiufen, but none are more popular than Ah Lan Hakka Glutinous Rice Cake. They're easy to spot. Just look for the stall with the longest queue. It's one of, if not the most famous food stall in Jiufen.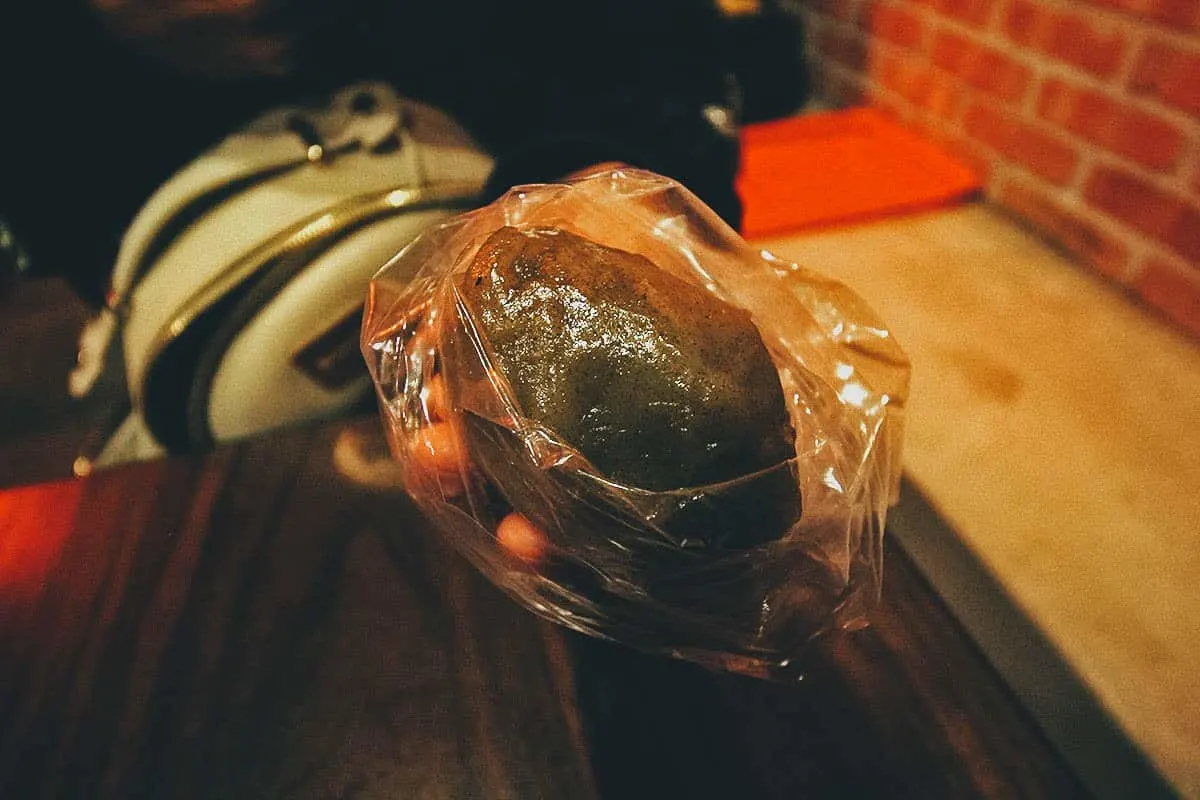 I think the one we got contained preserved turnip. It was an odd and overpowering flavor which took me by surprise at first.
Because of the glutinous rice casing, I was expecting to find something sweet inside, like a mildly flavored dessert. Instead, I got a pungent and salty vegetable flavor!
It's an acquired taste for sure that I can see growing on you over time. After all, there's a reason why this stall is so popular and often described as a must-visit in Jiufen.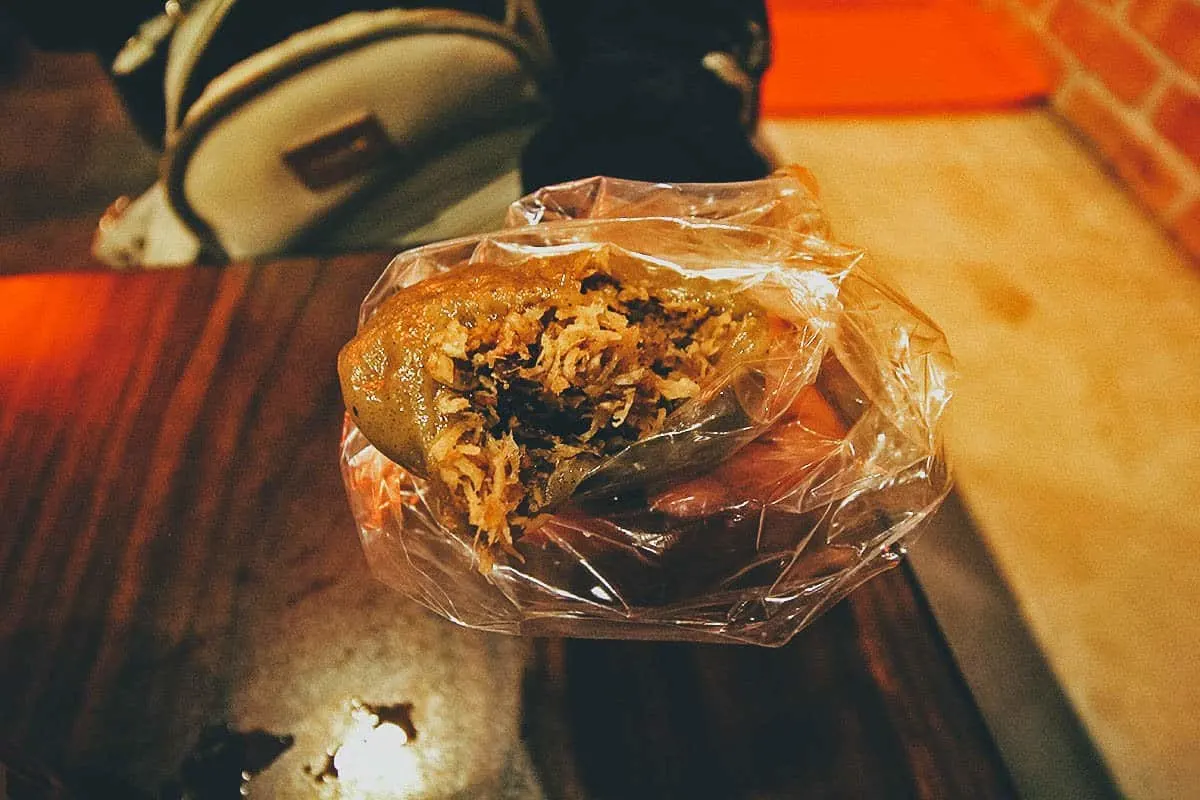 21. Gua Bao (Cua Pao)
Like lu rou fan and beef noodle soup, the gua bao or cua pao is one of the most popular Taiwanese foods. Often referred to as a "Taiwanese hamburger", it's basically a type of sandwich made with braised pork belly sandwiched between two halves of a Chinese steamed bun (baozi). It's typically dressed with pickled mustard greens, coriander, and ground peanuts.
Pictured below is a gua bao we enjoyed at Dongdamen Night Market in Hualien. You gotta love those thick hunks of pork belly! They're so fall-apart tender they practically dissolve in your mouth.
If you've never had a Chinese steamed bun before, it has a unique texture – soft and pillowy – like a cloud made of dough.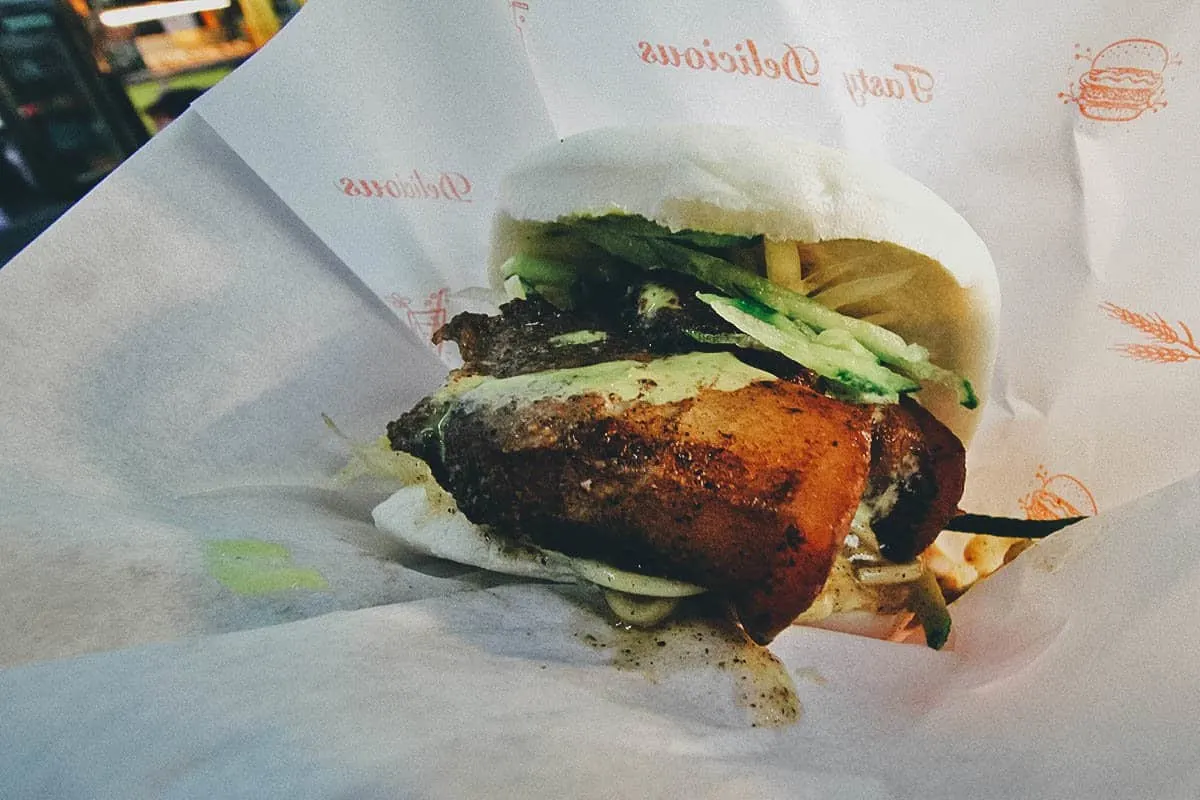 Part of the reason why gua bao is called a Taiwanese hamburger is because of its versatility. Pork belly may be the traditional ingredient but these days, it's made with a variety of fillings like fried chicken, fish, eggs, and stewed beef.
The ground pork gua bao pictured below was from a shop on the ground floor of our hotel in Taichung. Our room came with free breakfast so we were lucky to have this everyday during our stay. It was delicious and one of my favorite things to eat in our two weeks in Taiwan.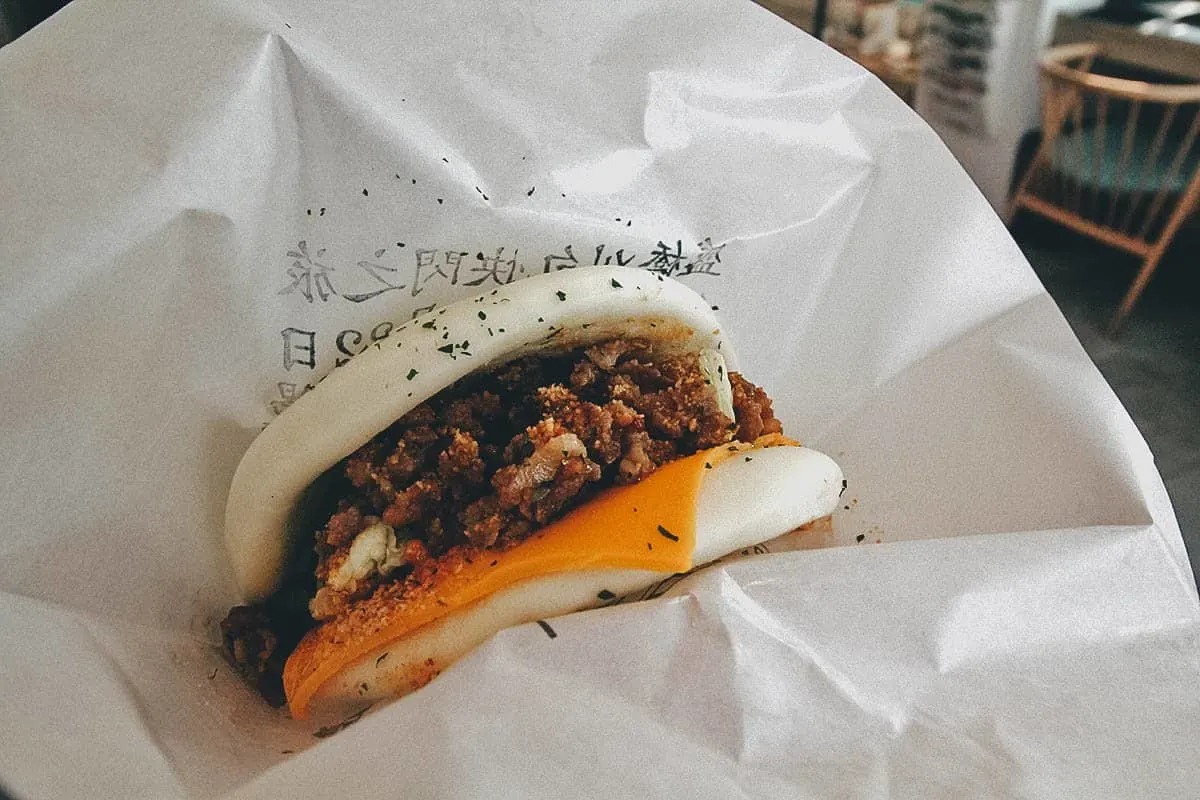 22. Lu Wei
Lu wei or Taiwanese braised food is a distant cousin of hot pot. Commonly eaten as a snack, it involves braising a variety of ingredients in broth, then adding spices and sauces to the cooked food.
You'll find many roadside stalls offering lu wei at Taiwanese night markets. Pictured below is a lu wei stand at Zhongxiao Road Night Market in Taichung. With a basket in one hand and a pair of tongs in the other, customers pick what they want from a selection of braised meats, vegetables, and noodles before handing it over to be diced up and heated in a hot soup.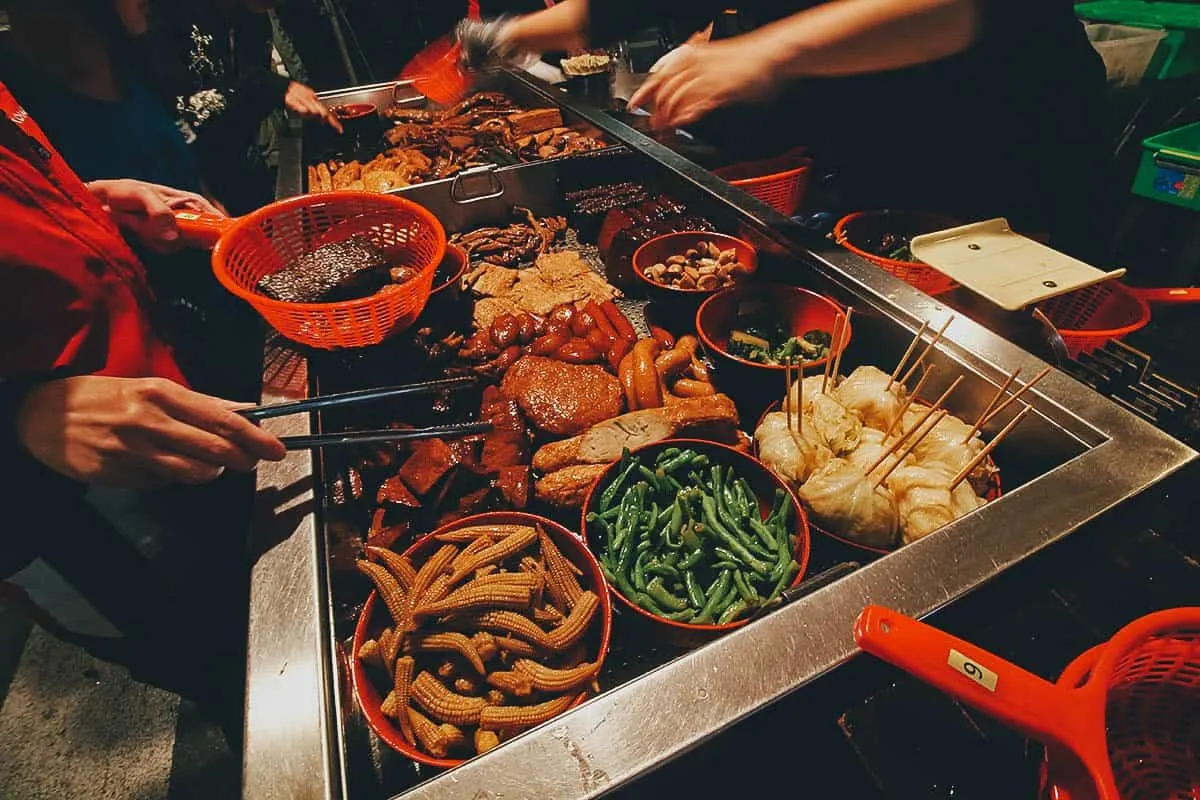 The lu wei was served in a plastic bag along with a bamboo skewer. It was a little hard to eat standing up so we went inside a convenience store so we could sit and enjoy it with cold beers.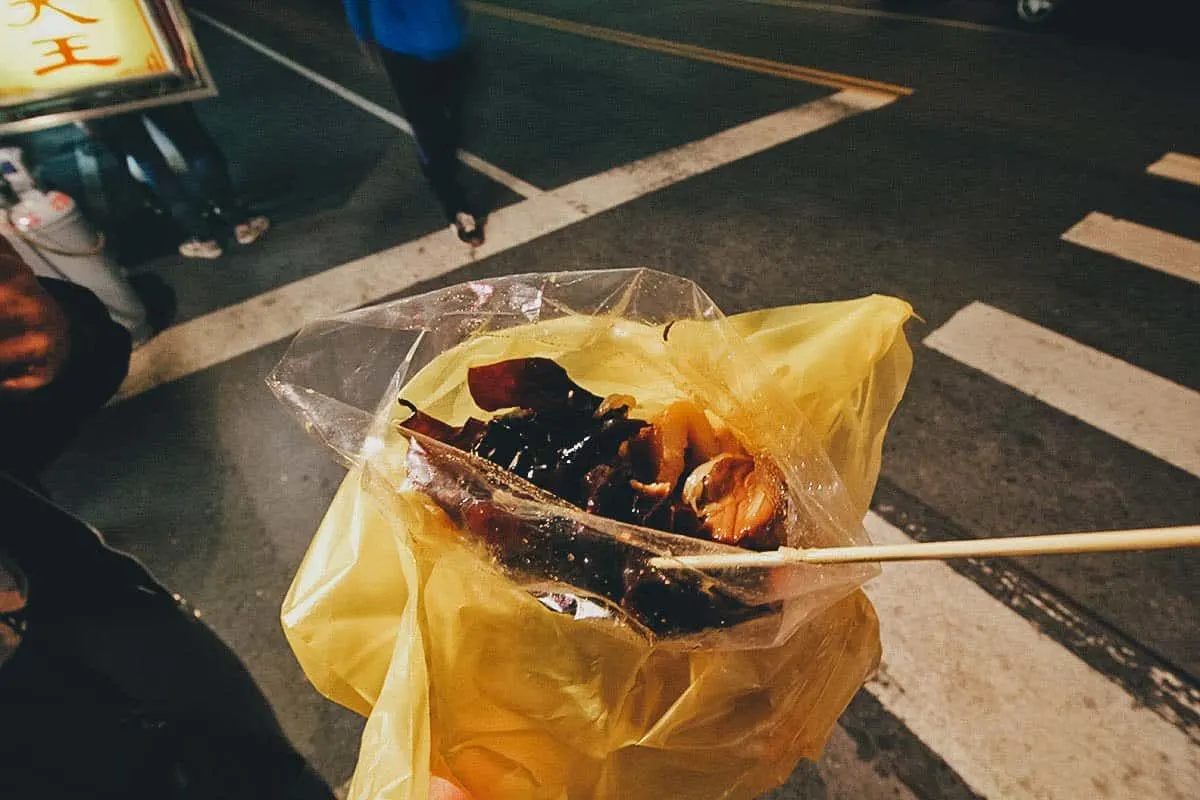 23. Mee Sua
This braised pork intestine mee sua at the ultra famous Ay-Chung Flour Rice Noodles in Ximending is incredibly delicious and one of the best things we ate in Taiwan.
Mee sua is a type of thin wheat-flour noodle similar to vermicelli. I read that Taiwanese mee sua typically contains oysters, but Ay-Chung makes them with the most tender bits of pork intestine. They were so soft they tasted like baby squid!
The mee sua is silky smooth and the gravy had this wonderful smokey flavor which I read comes from bonito flakes in the soup base. For even more flavor, you can add chili oil, garlic, and black vinegar if you like.
Ay-Chung is extremely popular so expect a long line. Not to worry though, it moves quickly. This bowl of mee sua is definitely worth the wait.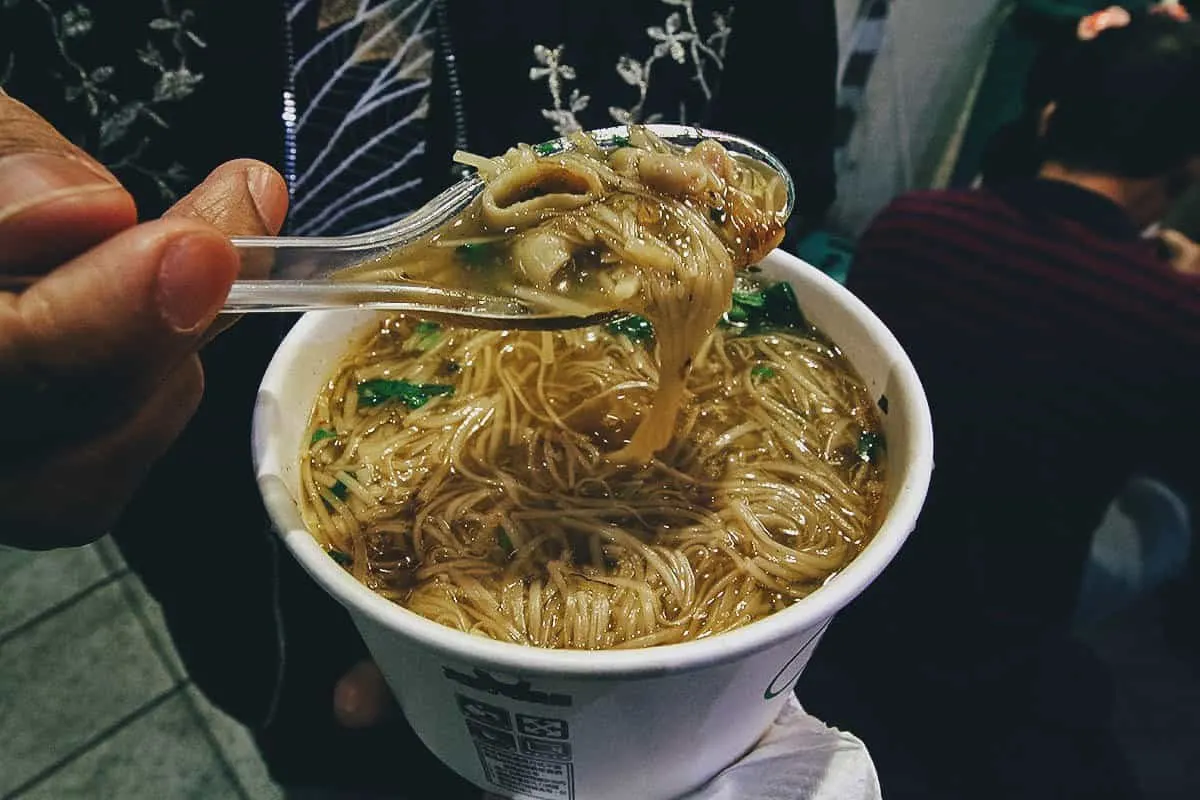 24. Oyster Omelette
Oyster omelette is a specialty in many Asian countries, including Taiwan. It's a Taiwanese night market staple and something you should try on your first visit here. As its name suggests, it's a pan-fried omelette mixed with starch and fresh oysters, and served with a mild sweet and sour tomato sauce.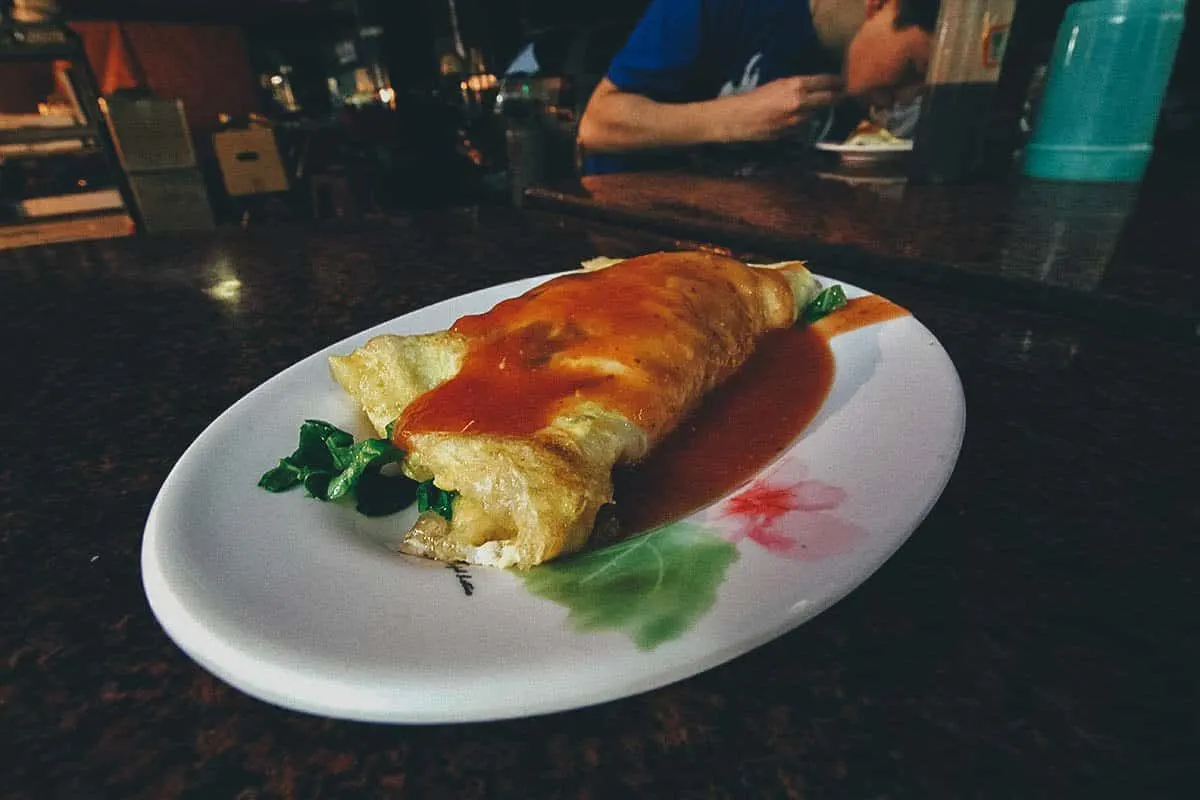 We had this at Liouhe Night Market in Kaohsiung, but you can find an oyster omelette vendor at practically every night market in Taiwan.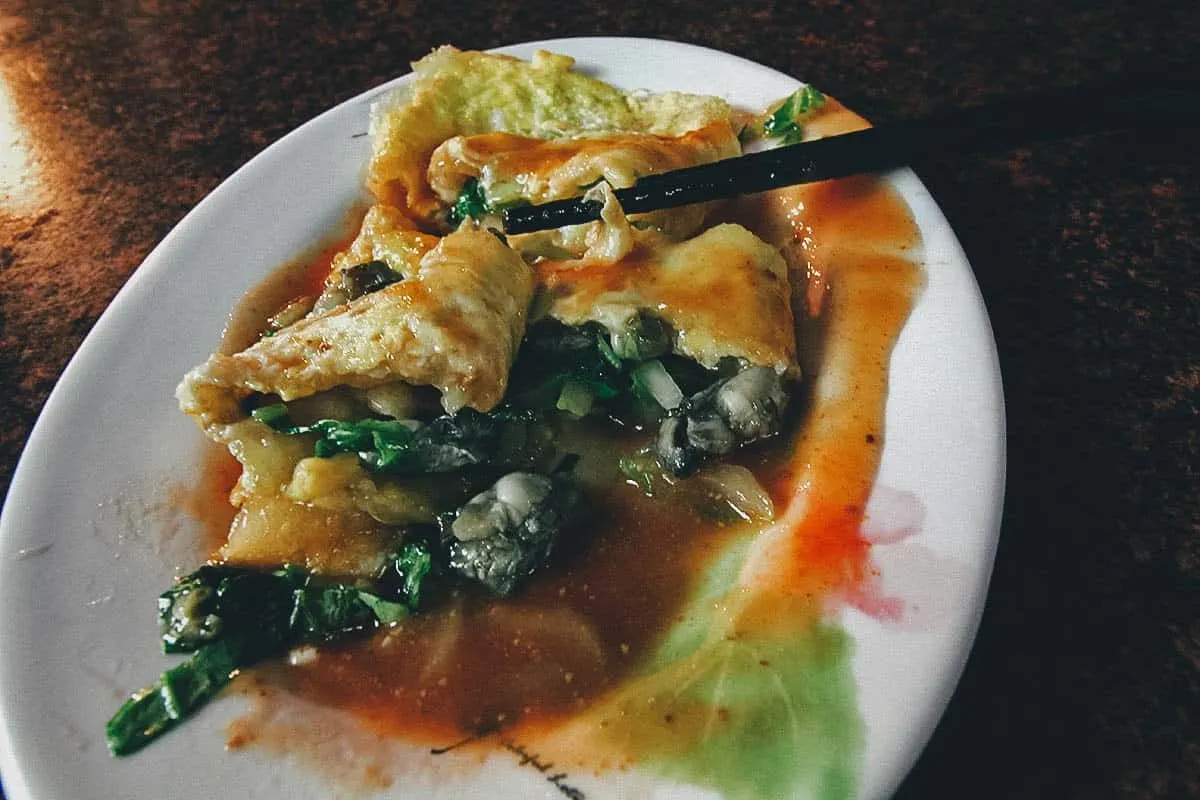 25. Papaya Milk
Papaya milk is exactly what it sounds like, a refreshing drink made with ripe papaya and fresh milk. We tried it at this famous Liouhe Night Market stall in Kaohsiung.
I don't know the stall's name but you'll know it from all the pictures of celebrity customers plastered on their cart. The papaya milk is smooth and creamy, and not too sweet. Delicious.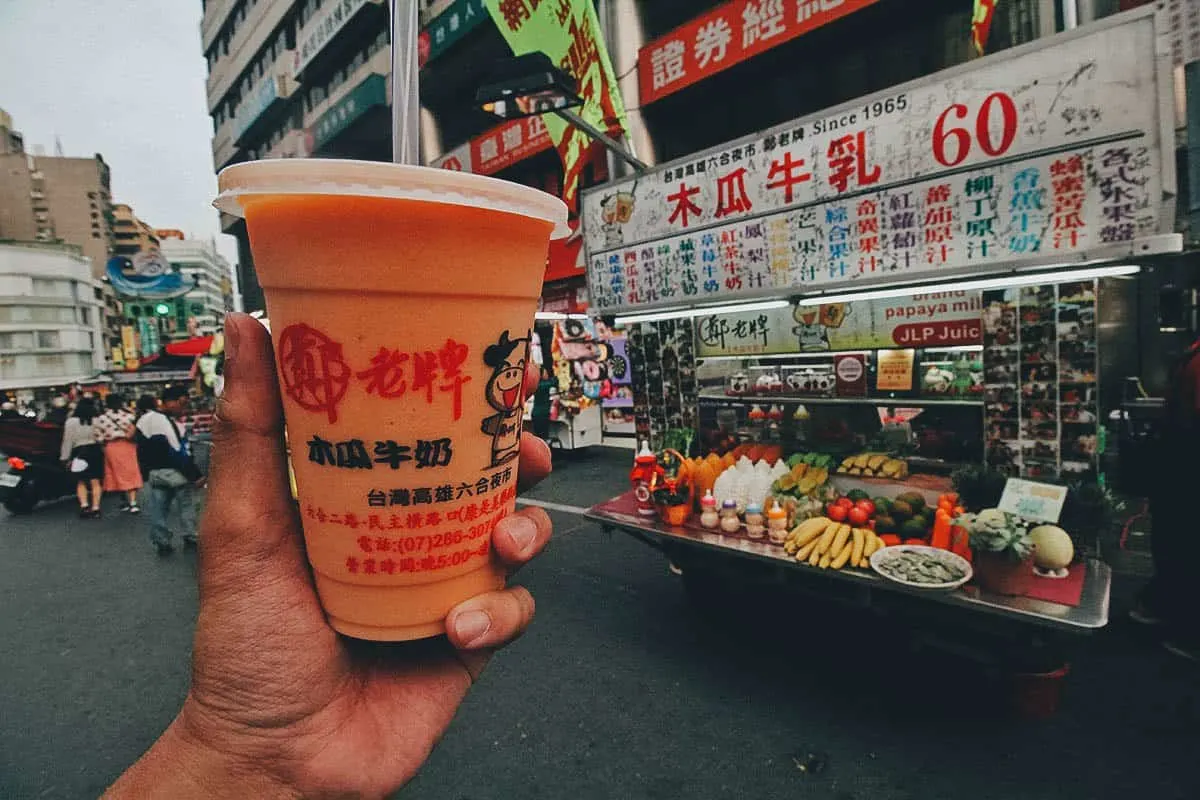 26. Peanut Ice Cream Roll
In Taiwan, we encountered a few dishes that blurred the line between dessert and savory snack. This peanut ice cream roll was one of them.
To make it, peanut shavings are spread out over traditional popiah skin and topped with two or three scoops of ice cream. I'm not sure exactly what flavor of ice cream it was, but it tasted neutral and not too sweet, like vanilla. Some places may add coriander before rolling it all up like a burrito. It's an odd combination but it works.
We had the peanut ice cream roll pictured below from a food stall at Dongdamen Night Market in Hualien.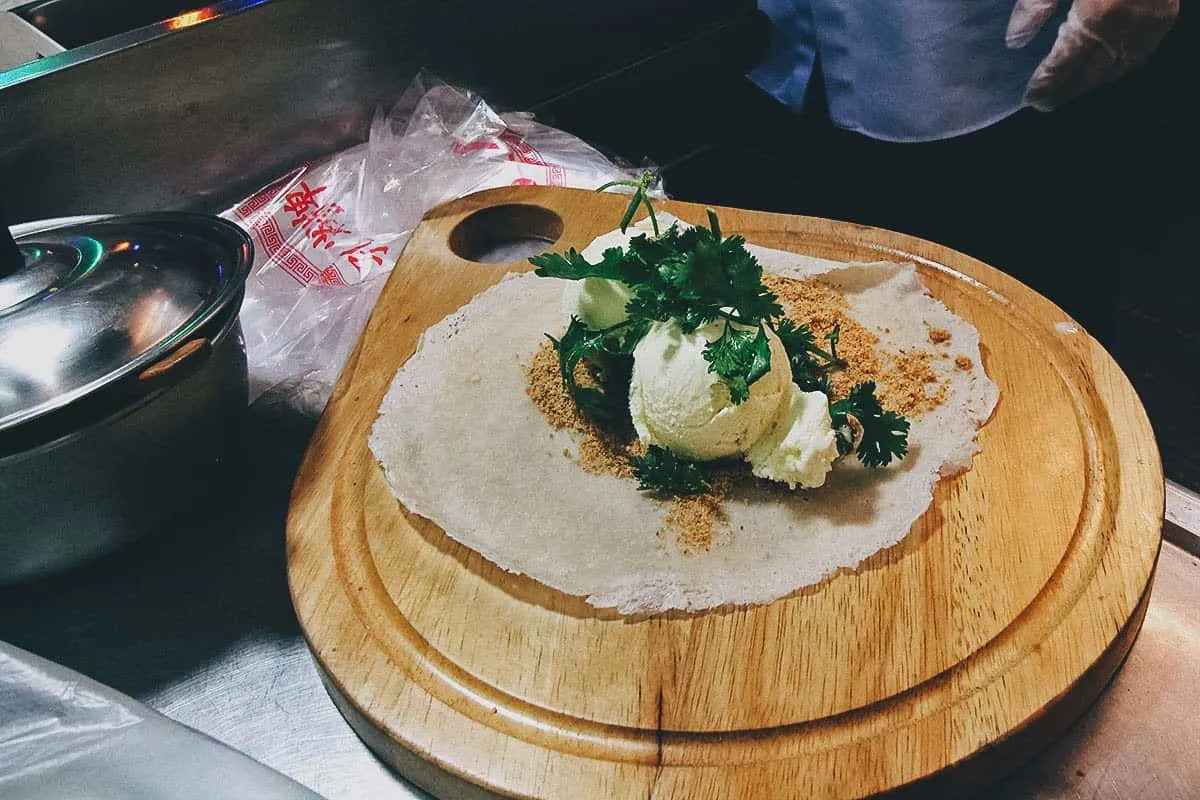 If you're visiting Jiufen, then there's no food stall more famous for this unusual treat than Ah Zhu Peanut Ice Cream. It wasn't loaded with as much ice cream as the one we had at Dongdamen Night Market, but it was still really good.
Oddly enough, I wasn't all that excited to try peanut ice cream roll before our trip but it's one of the Taiwanese dishes I remember most. It's surprisingly delicious.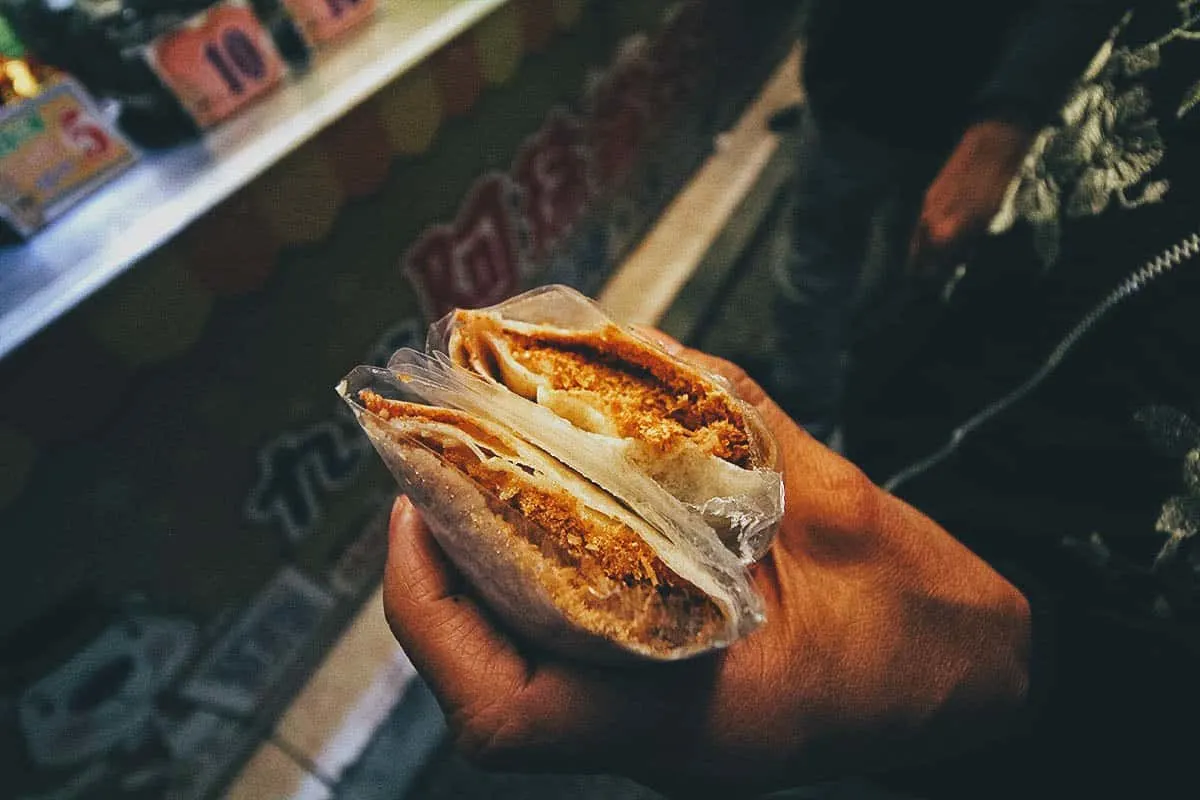 27. Pepper Bun
A pepper bun or hu jiao bing is a type of baked bun popular at Taiwanese night markets. It consists of a crunchy, flaky outer dough shell topped with sesame seeds and filled with a peppery marinated pork and loads of scallions.
Interestingly, it's cooked in a cylindrical clay oven similar to an Indian tandoori oven. Baked at high heat over charcoal, the buns are stuck to the sides of the oven and scraped off with a blunt knife or spatula when ready.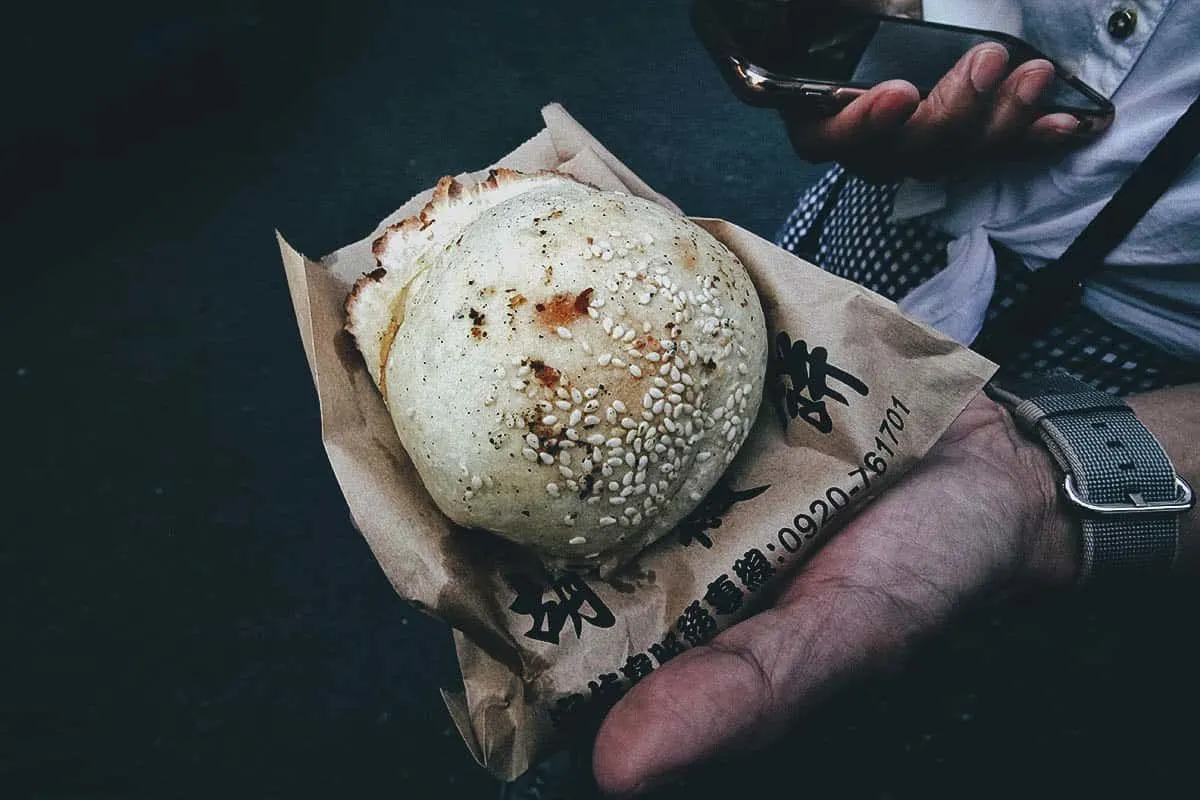 Pictured below is the pork bun we had at Liouhe Night Market in Kaohsiung. The dough is delicious – it's thin, crisp, and almost cracker-like in texture when freshly made. As you can see, it's a good-sized bun packed with lots of pork and green onions.
You can find pork buns at many Taiwanese night markets but a great place to try it is at Raohe Night Market in Taipei. Just look for the pepper bun stall with the longest line.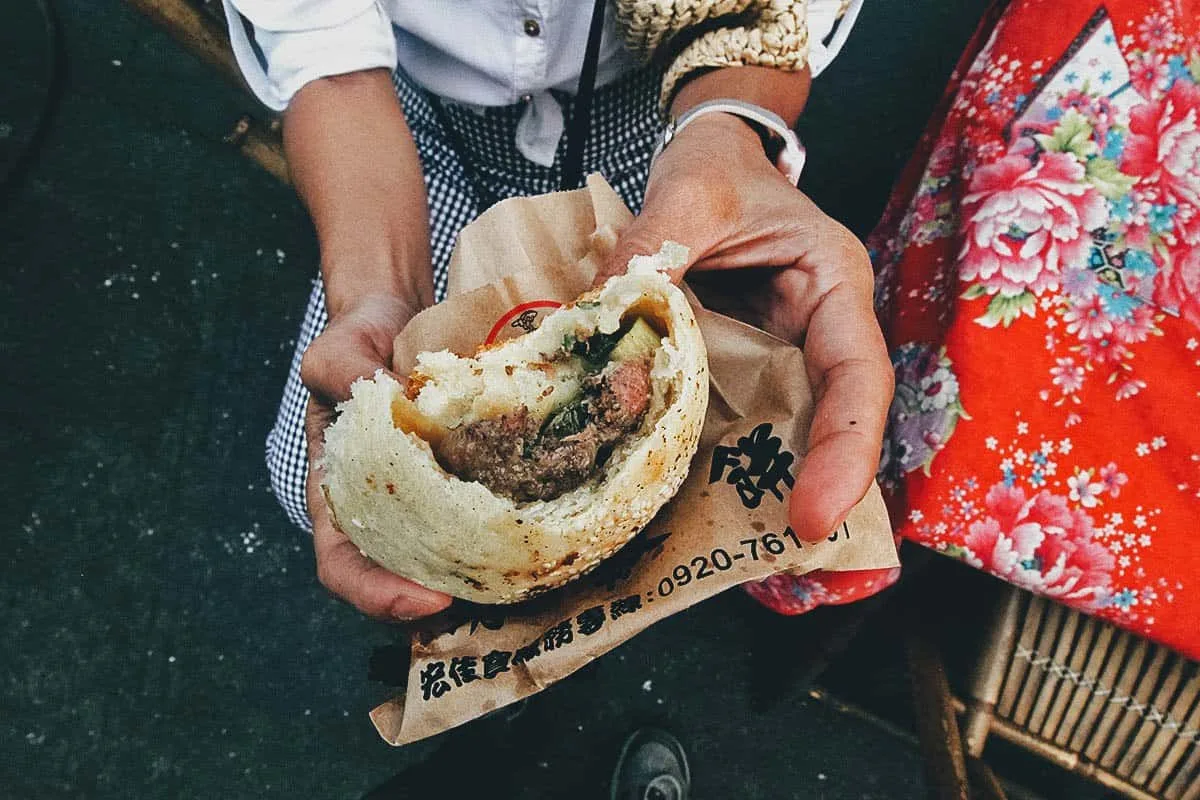 28. Pig's Blood Cake
Pig's blood pudding on a stick is a popular Taiwanese street food snack that you can find at many night markets in Taiwan. It's made with pork blood and sticky rice which is steamed or fried before being covered in a sweet soy sauce and coated in peanut flour and coriander.
We have congealed pig or chicken blood in the Philippines (called betamax) but this Taiwanese version is texturally different. The sticky rice makes it more firm and chewy, similar to mochi. It's really good.
We had this at Raohe Night Market but you can find pig's blood cake pretty much anywhere in Taiwan.
29. Pork Sausages
Sausages in different shapes and sizes are among the most common sights at Taiwanese night markets (or any market for that matter). We saw Kurobuta sausages, pearl sausages (pictured below), sausages encased in tofu skin, even sausages sandwiched in a glutinous rice "bun".
Pork sausages are the most common but I remember seeing one food stall in Jiufen selling sausages made with fish roe, squid, and wild boar!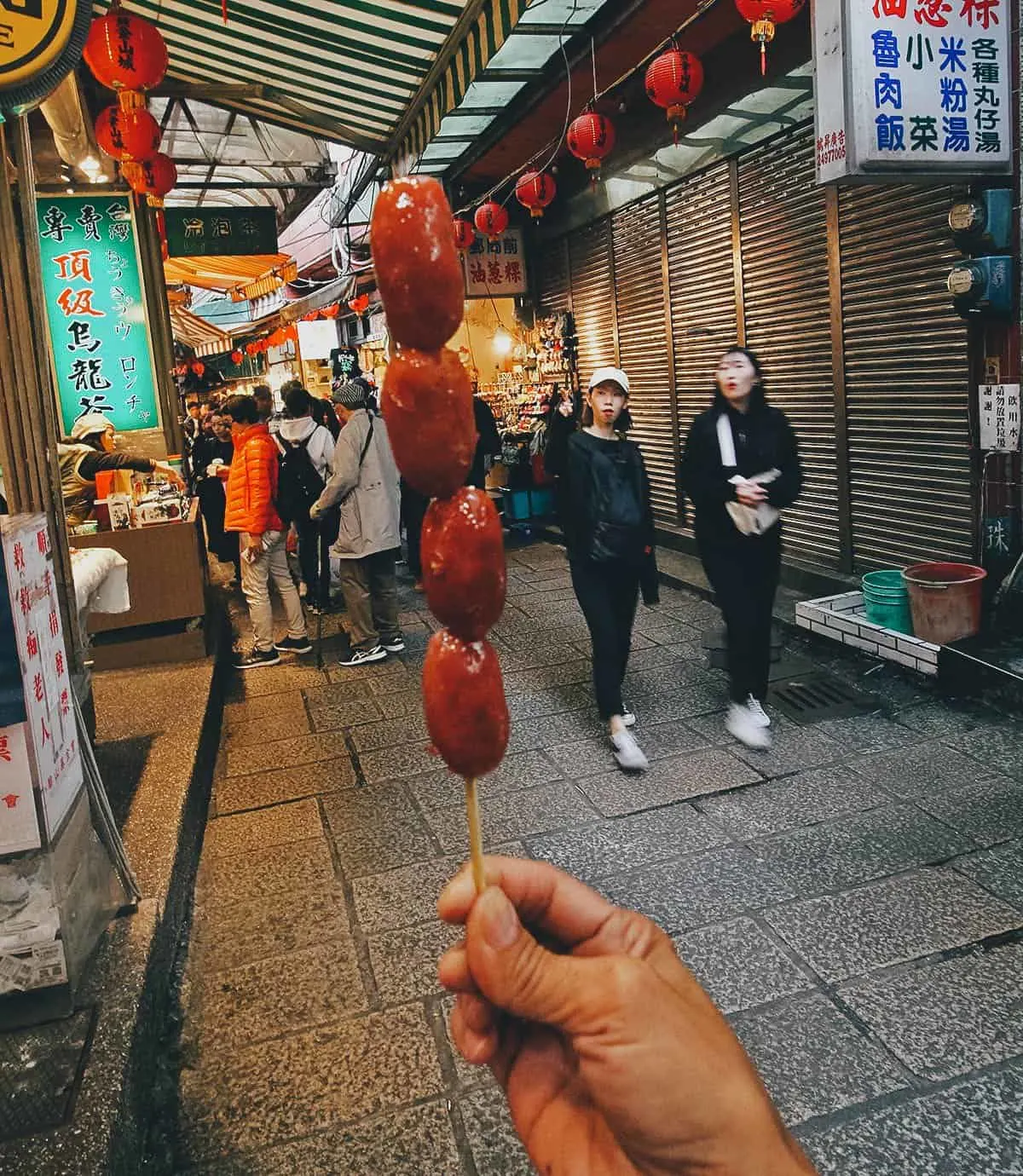 30. Quail Eggs with Shrimp
I'm a sucker for quail eggs so I often get it whenever I see it. It makes for a tasty and easy-to-eat snack.
On more than one occasion, I was seduced by night market vendors preparing these quail eggs with shrimp in grills that resembled takoyaki makers. They'd turn them to cook using tiny forks before adding a seasoning or sauce of your choice. Simple but delicious.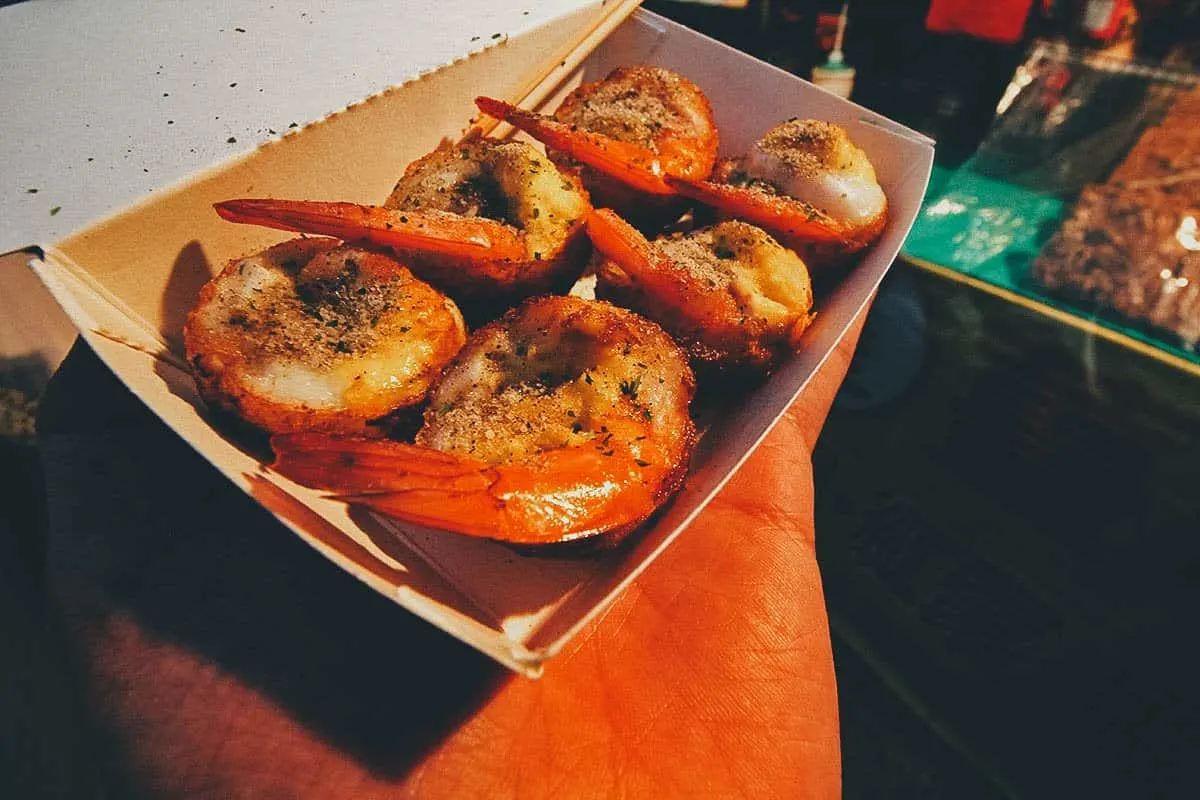 31. Red Bean Wheel Cakes
A wheel cake is the Taiwanese version of Japanese imagawayaki, a pancake-like dessert made with a variety of fillings. They're traditionally made with sweet azuki red bean paste, but nowadays you'll find a wide range of fillings like chocolate, vanilla custard, peanut butter, fruit, and matcha. There are plenty of savory fillings as well like corn, egg, tuna, curry, meat, and vegetable.
We saw plenty of wheel cake vendors throughout Taiwan, at night markets and along sidewalks with heavy foot traffic.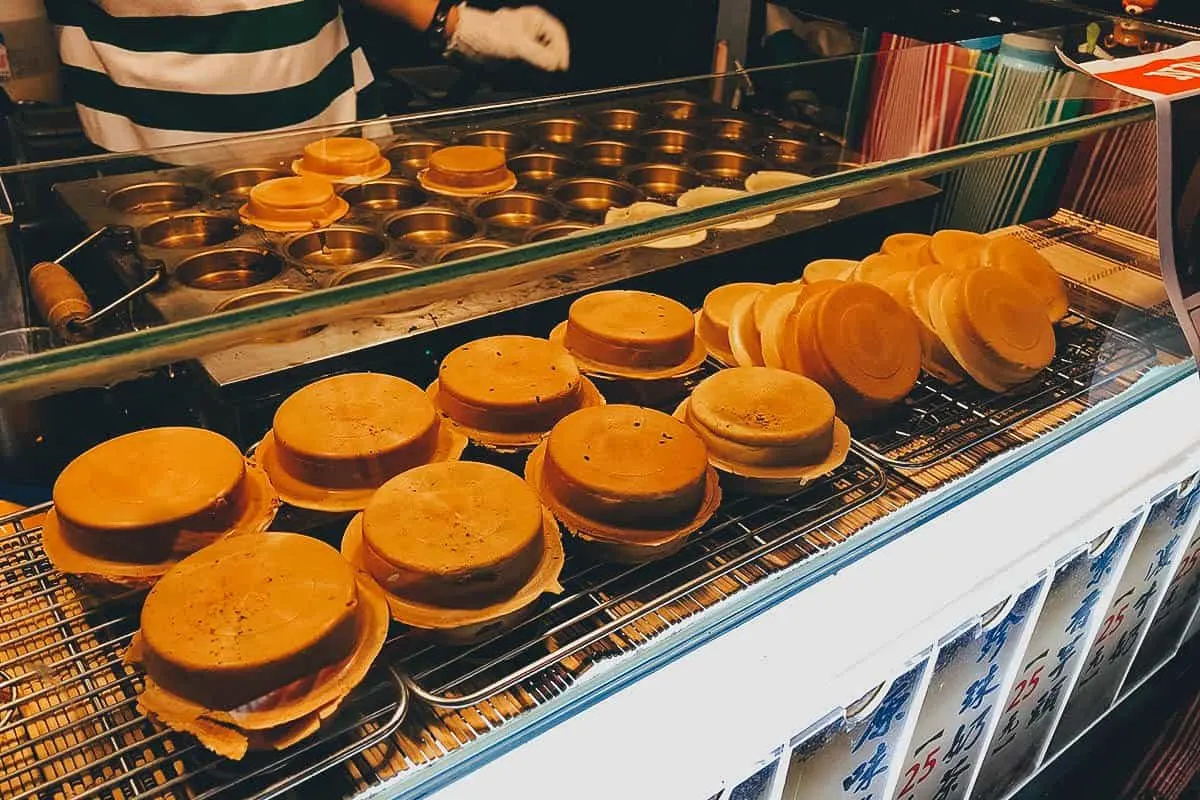 32. Scallion Pancakes
This was one of my favorite things to eat in Taiwan. Known locally as chong zhua bing, it consists of a pan-fried piece of dough with loads of green onion layered inside. Crispy on the outside and chewy on the inside, you can get your scallion pancake with egg or without.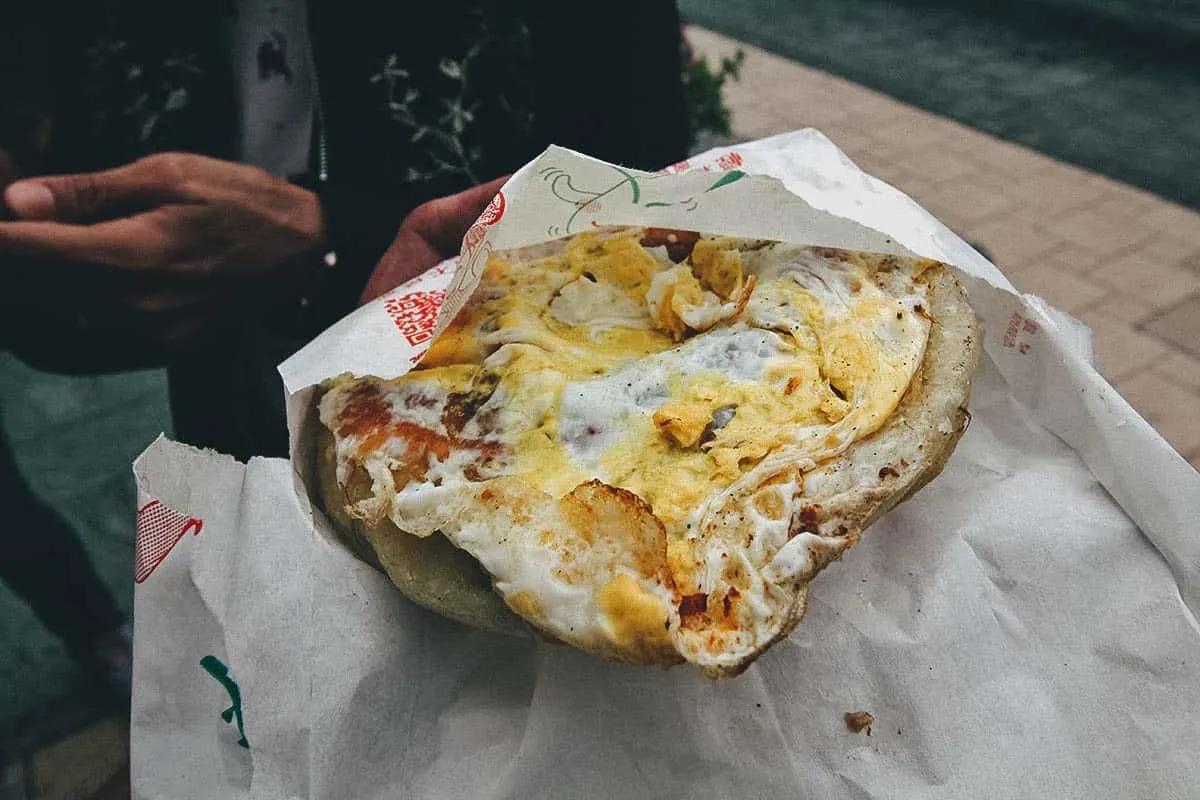 How beautiful do all those green onions look? Scallion pancake stalls are ubiquitous in Taiwan. We had this at the Shuishe Visitor Center at Sun Moon Lake. For such a simple snack, it tastes mighty good! Be sure to get it with egg as it adds richness and moisture to the pancake.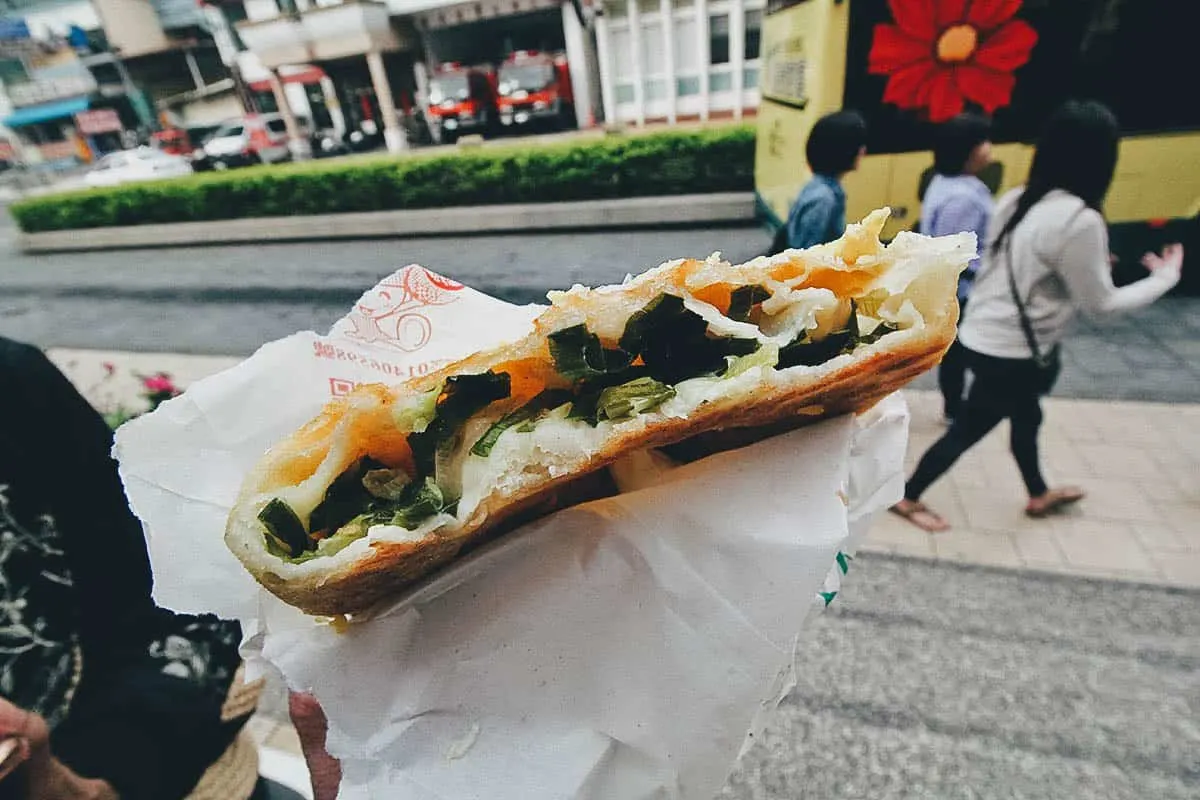 33. Sheng Jian Bao
This is one of my favorite types of baozi. A Shanghai dish that's also popular in Taiwan, sheng jian bao is a pork-filled bun that's fried in a shallow pan until the bottom turns brown and crunchy. Any meat-filled baozi is tasty enough, but the crunchiness from the pan-frying makes it even better.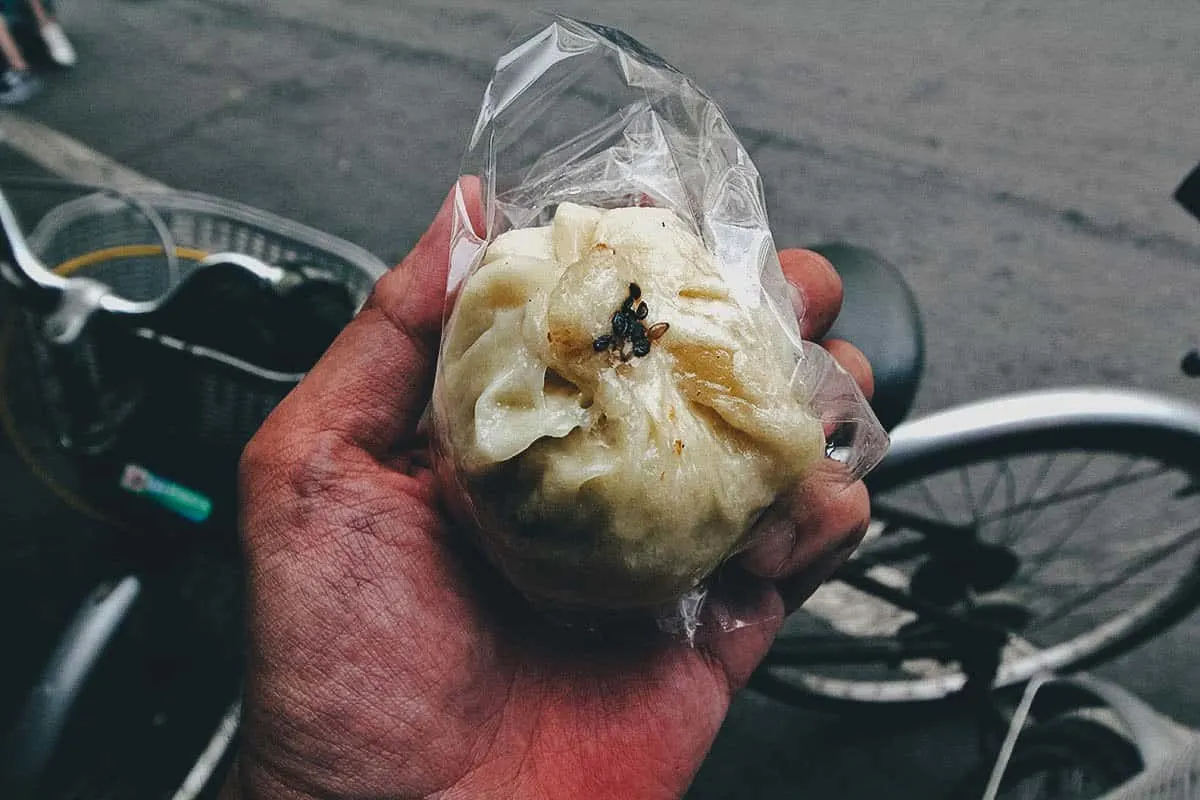 We enjoyed this sheng jian bao after a long day of biking on Cijin Island in Kaohsiung. As you can see, it's bursting with pork and green onions. We bought this from a street food vendor but I think you can find sheng jian bao pretty much anywhere in Taiwan.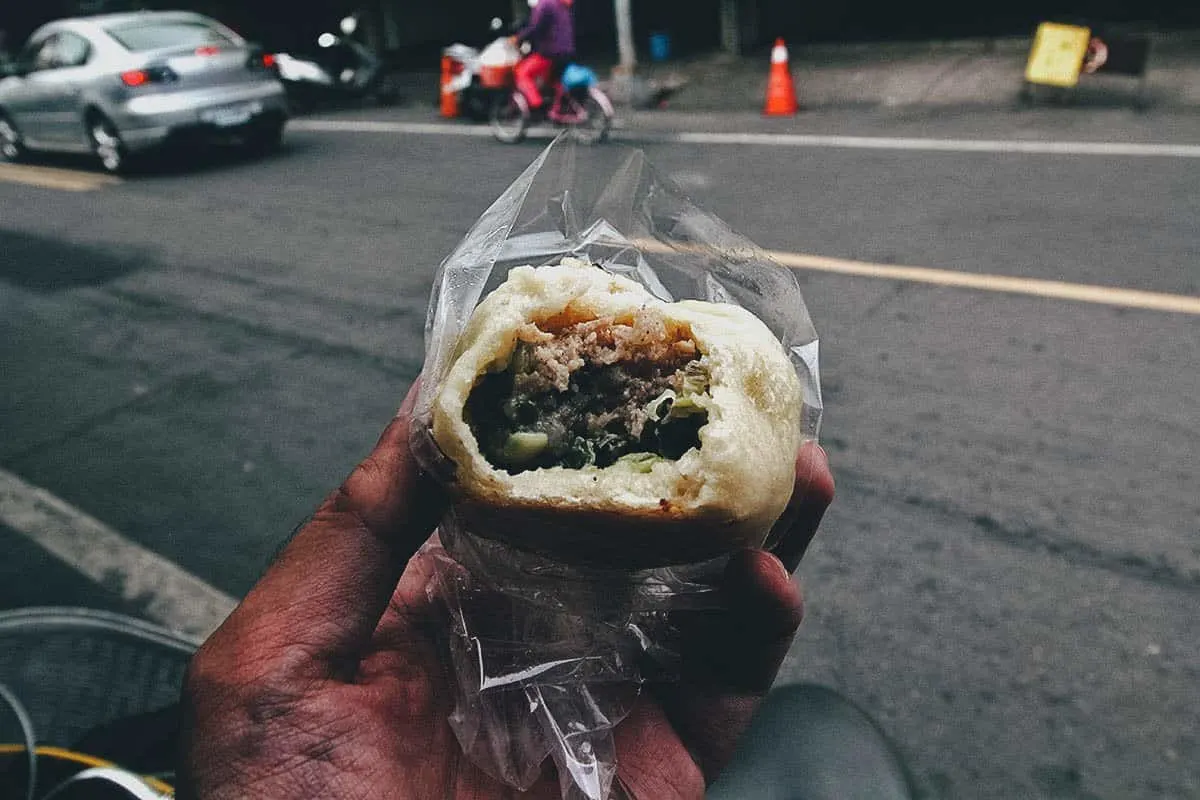 34. Stinky Tofu
Stinky tofu is one of Taiwan's most notorious foods. It's notorious because it truly does stink as much as its name suggests. I still remember the first time I tasted it in San Francisco. You could smell it from a block away, a stench that reminds me for some reason of cat poo. Ren can't stand the smell at all.
As foul as it smells, stinky tofu is an important part of Taiwanese food culture. At Taiwanese night markets, it attracts the longest lines because locals love the way it tastes in spite of the stench. Without question, it's an acquired taste which I'm proud to say I've acquired on our most recent trip to Taiwan.
Stinky tofu is brined in a mixture of fermented milk, vegetables, and meat for one to several months. Once the fermentation process is complete, it can be eaten cold, steamed, stewed, or deep-fried with a side of pickled mustard greens. The last is the most common preparation and the only one I've tried. It's crunchy on the outside but soft and very juicy on the inside.
You can find stinky tofu at every night market though a good place to try it in Taipei is at a restaurant called Dai's House of Unique Stink. From what I've read, they've had to move shop seven times since opening because of the awful stench. Enjoy.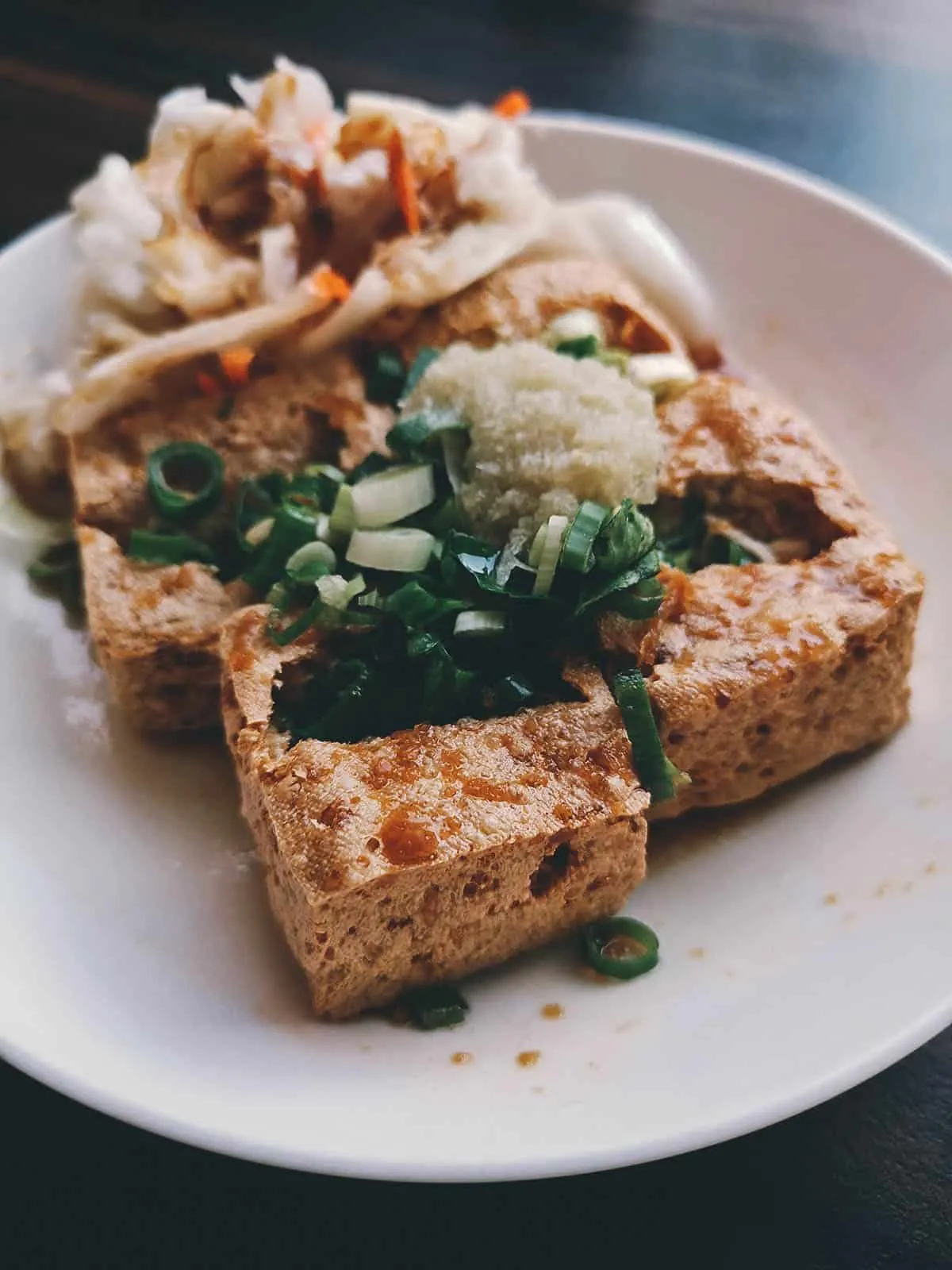 35. Stuffed Chicken Wings
These pregnant-looking chicken wings are stuffed with fried rice. The wings are deboned and filled with fried rice before being barbecued or fried. We tried both and we preferred the barbecued version. It was smokey and more flavorful. You can find these at pretty much any Taiwanese night market.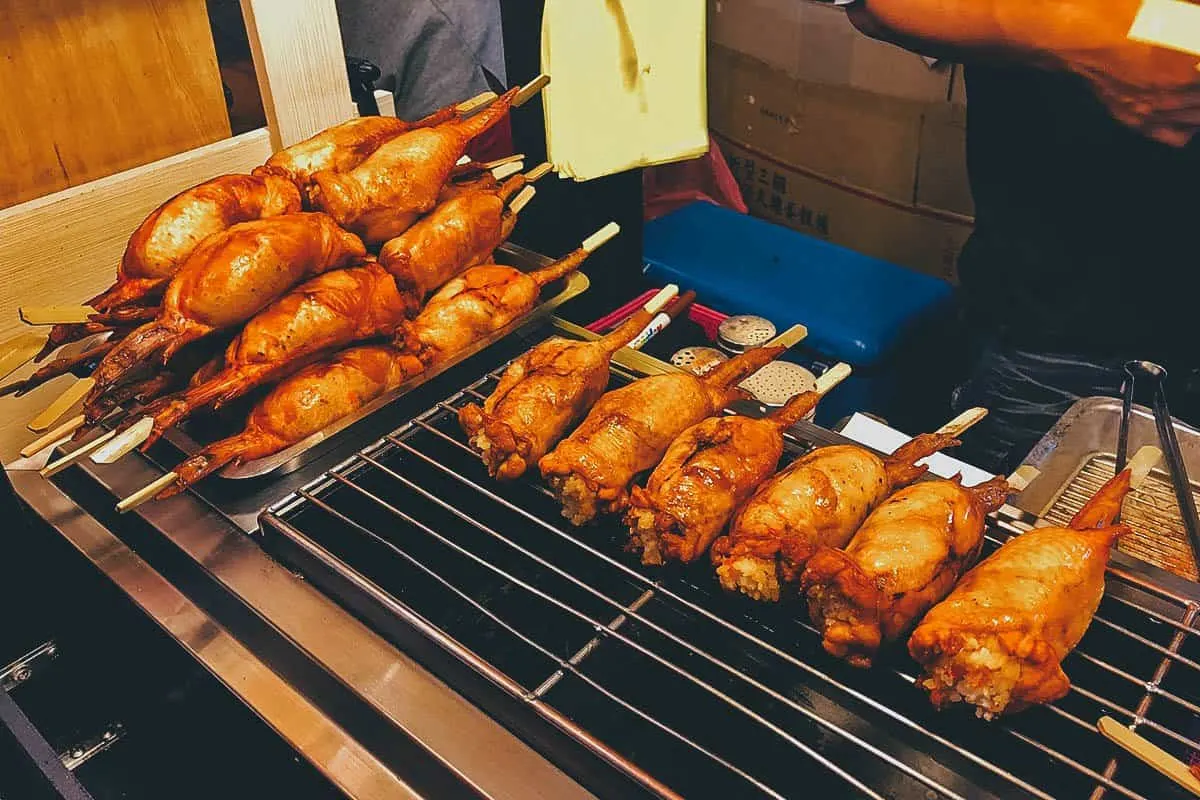 36. Sweet Potato Balls
The Taiwanese have a term for snacks with a chewy and bouncy consistency. They call them QQ. I read that it comes from the Minnan word for "khiu" which means soft, springy, or elastic.
QQ can be used to describe the texture of the tapioca pearls in boba. It can also be used to describe these sweet potato balls which you can find at many night markets throughout Taiwan. They're basically puffed up balls of fried mashed sweet potato. They're hollow on the inside and have a deliciously crunchy and chewy consistency.
Notice the purple stripes on each of the balls below? That's taro. You can get sweet potato balls, taro balls, or a combination of the two.
It's interesting watching night market vendors make these balls. While frying, they continually press on the balls using a mesh strainer to make them expand in size. It looks like a lot of work but the results make it worthwhile. I think we got a bag of these every night on our last trip to Taiwan.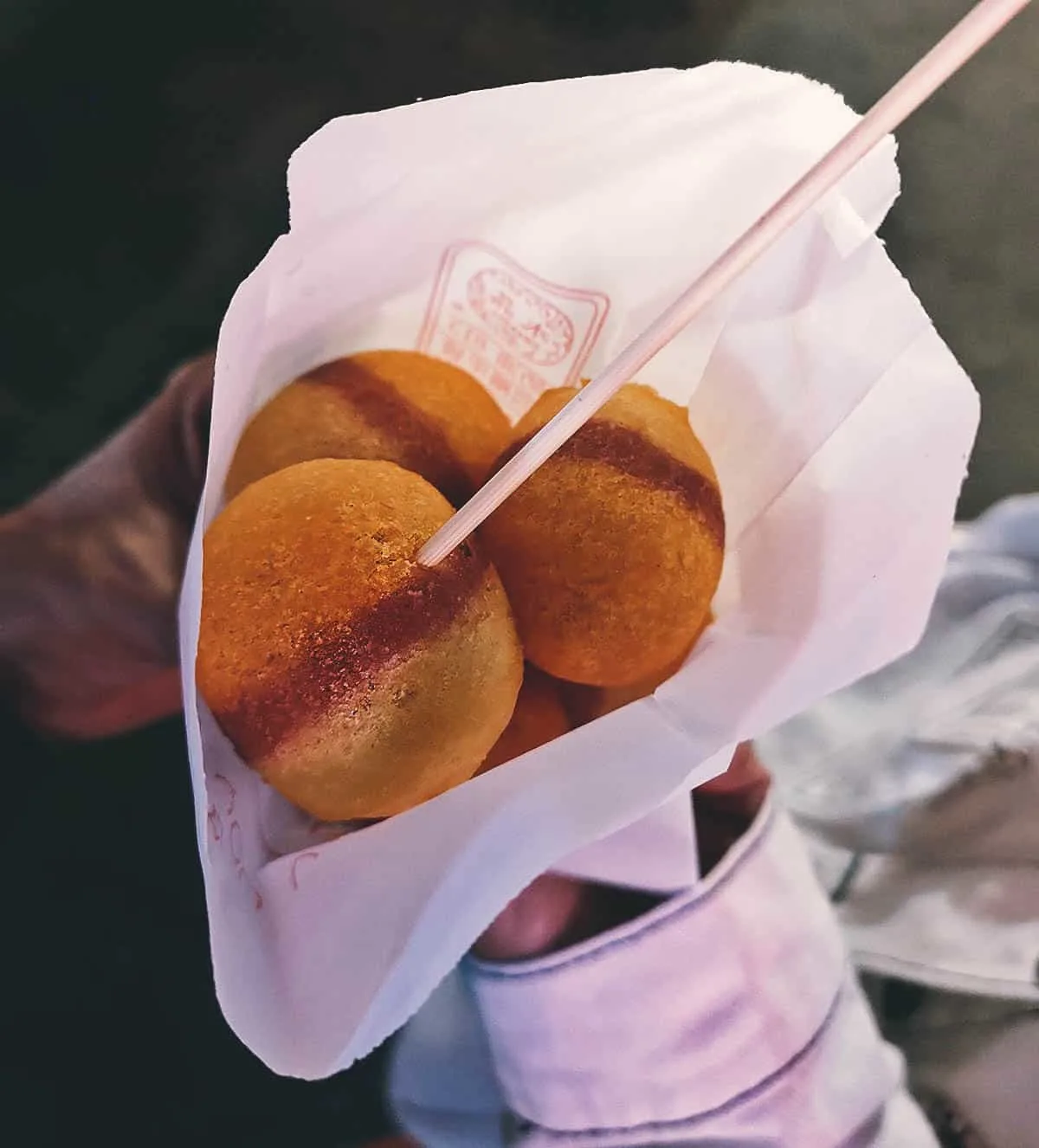 37. Tanghulu
You'll see these glossy sticks of red candied fruit everywhere in Taiwan. Known as tanghulu, this candied snack originated in China and involves dipping skewers of fruit in sugar syrup to form a hardened candy coating.
You'll find at least one stall selling tanghulu at virtually every night market in Taiwan. The most commonly used fruits seem to be strawberry and cherry tomatoes stuffed with a sliver of dried plum. Crackingly crisp on the outside, biting into the fruit fills your mouth with a burst of acidity to balance the sweetness of the candy coating.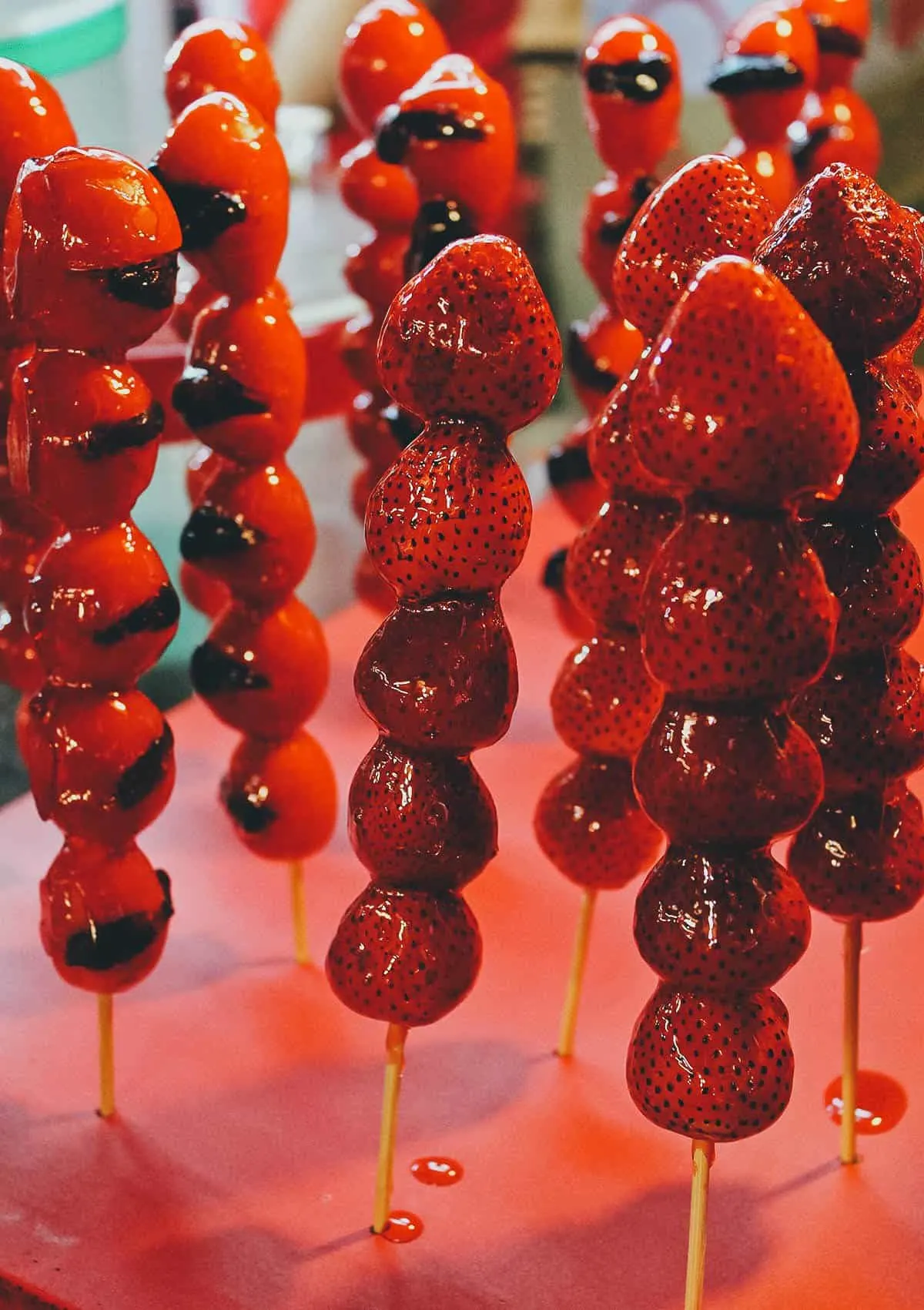 38. Taro Balls
Google "what to eat jiufen" and taro balls from this shop will show up on nearly very list.
Grandma Lai's Taro Balls is one of the most popular eateries in Jiufen. You can easily find the shop from the long line of patrons waiting to enjoy their taro ball soup, which you can have either hot or cold. We chose the hot and it was swimming with QQ handmade taro balls, sweet potato balls, green tea balls, and kidney beans.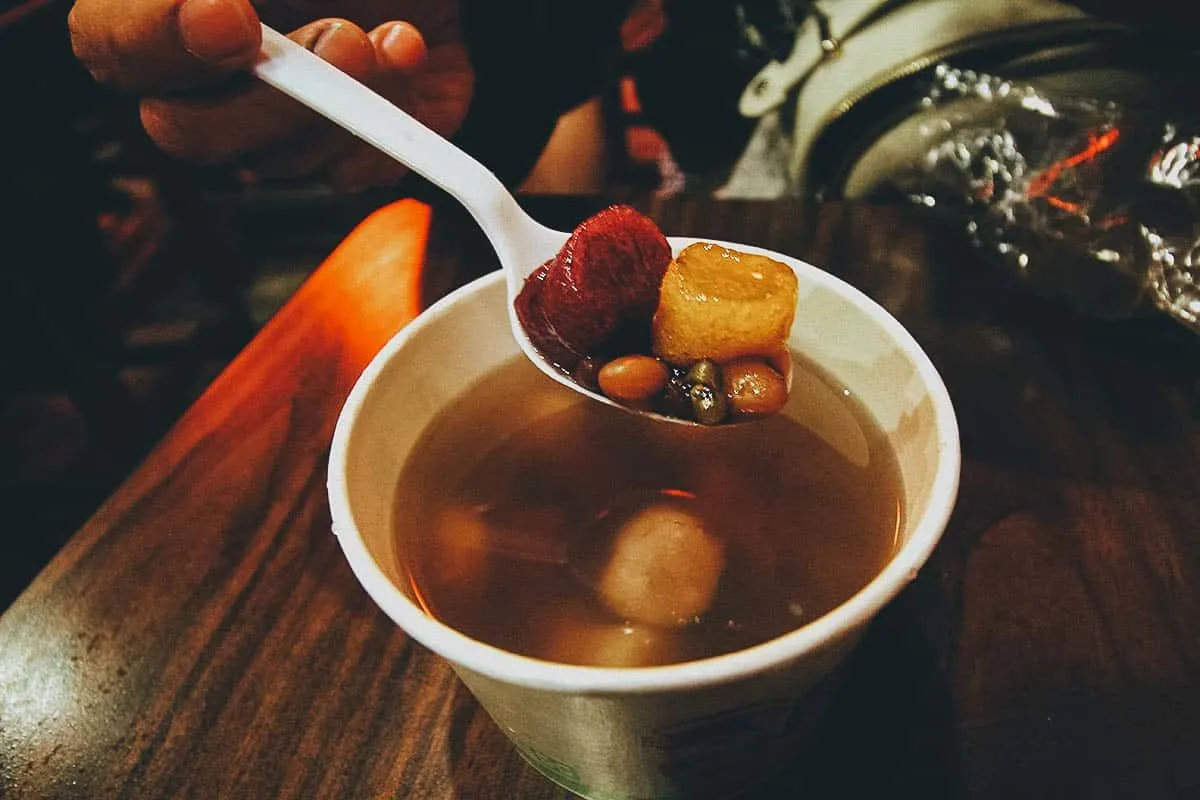 SOUVENIR FOOD
39. Crispy Almond Pork Paper
Crispy almond pork paper, or pork paper for short, is a snack made with pork and almonds hammered out into thin, paper-like sheets. Crisp and delicate, it tastes like a savory and sweet potato crisp. It's a delicious and highly addictive Taiwanese snack. So addictive in fact, that Ren went through an entire pack in just one sitting!
We bought four packs in Tamsui but you can get these throughout Taiwan – at night markets, souvenir snack shops, even at the airport. People will recommend pineapple cakes or sun cakes, but if I were to bring back just one souvenir food item from Taiwan, then this would be it. It's so tasty and easy to eat that it really is quite addictive.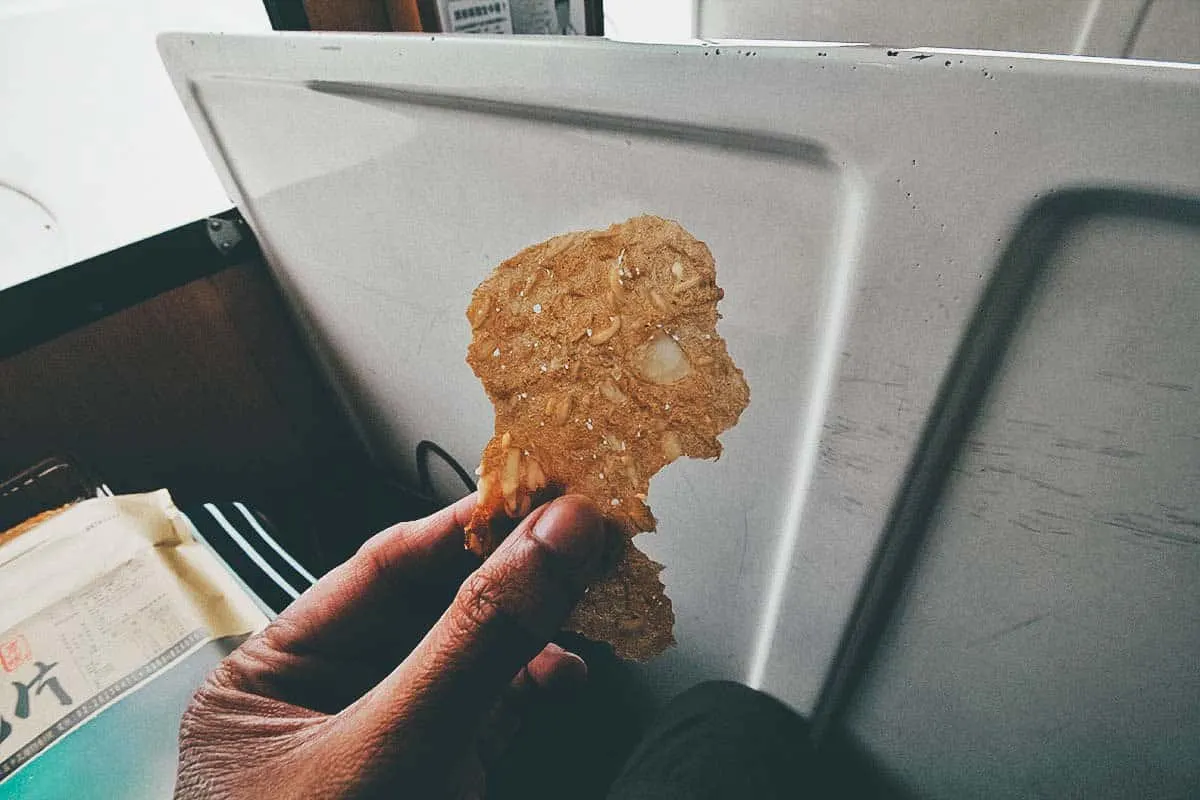 40. Iron Eggs
Like ah-gei, iron eggs are a specialty of Tamsui. They're chicken, pigeon, or quail eggs that have been repeatedly stewed in a tea, soy sauce, and spice mixture before being air-dried. The process shrinks the eggs, turns them a dark brown color (almost black), and makes them chewier and more concentrated in flavor.
You'll find iron eggs in vacuum-sealed packs like this throughout Tamsui. They're available in spicy or non-spicy versions. It's a fun and tasty snack that's easy to eat on the go or bring home with you.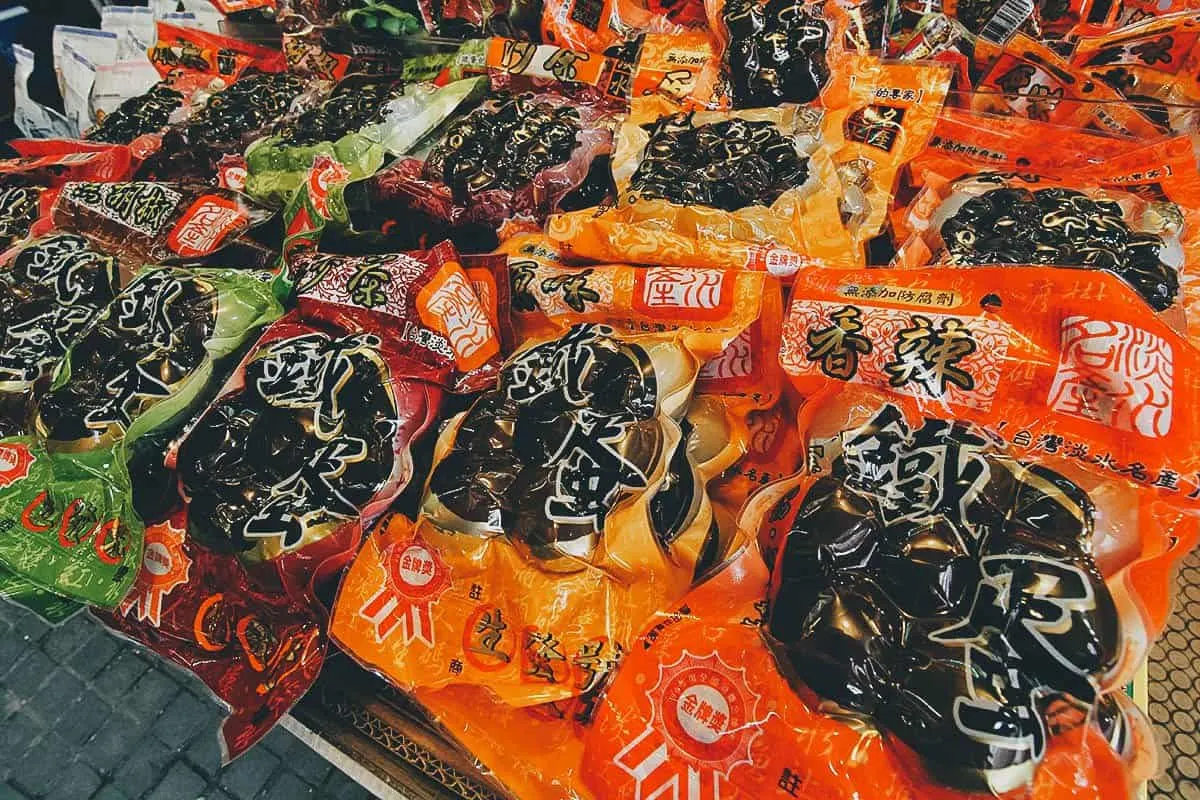 41. Mochi
Mochi may be Japanese in origin but it's become a popular snack in Taiwan as well. There's even a mochi museum in Nantou City! Mochi is a soft, marshmallow-like glutinous rice cake that's pounded into a paste before being molded into the desired shape. It can contain sweet or salty ingredients, but the most traditional types are filled with red bean paste and rolled in peanut powder.
Interestingly, there's a Hakka version of mochi which is much simpler than the Japanese variety. Known as tauchi, it doesn't have a filling and consists of plain handmade mochi covered in peanut or black sesame powder.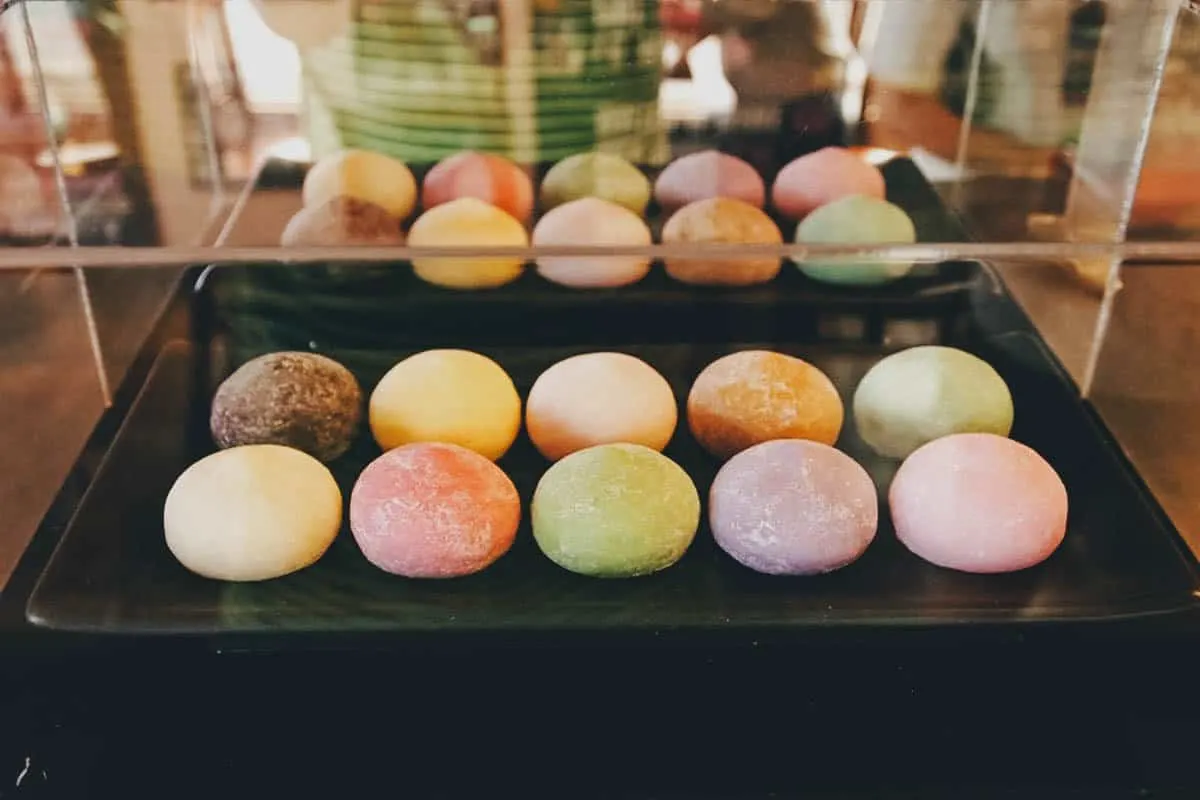 "Mochis in a glass case" by Dru Kelly, used under CC BY-ND 2.0 / Processed in Photoshop and Lightroom
We came across this interesting grilled version of mochi at Dongdamen Night Market in Hualien. A frozen block of mochi is placed on a grill where it puffs up repeatedly before being flattened out with a spatula and topped with peanut powder and your choice of sauce.
42. Nougat
Ren loves nougat and luckily for her, there's a lot of it here. So popular is peanut nougat in Taiwan that there's even a museum in New Taipei City dedicated to this chewy confection.
You can find shops selling nougat everywhere in Taiwan but we bought a box of these berry-laden beauties from a specialty shop near the Anping Tree House in Tainan.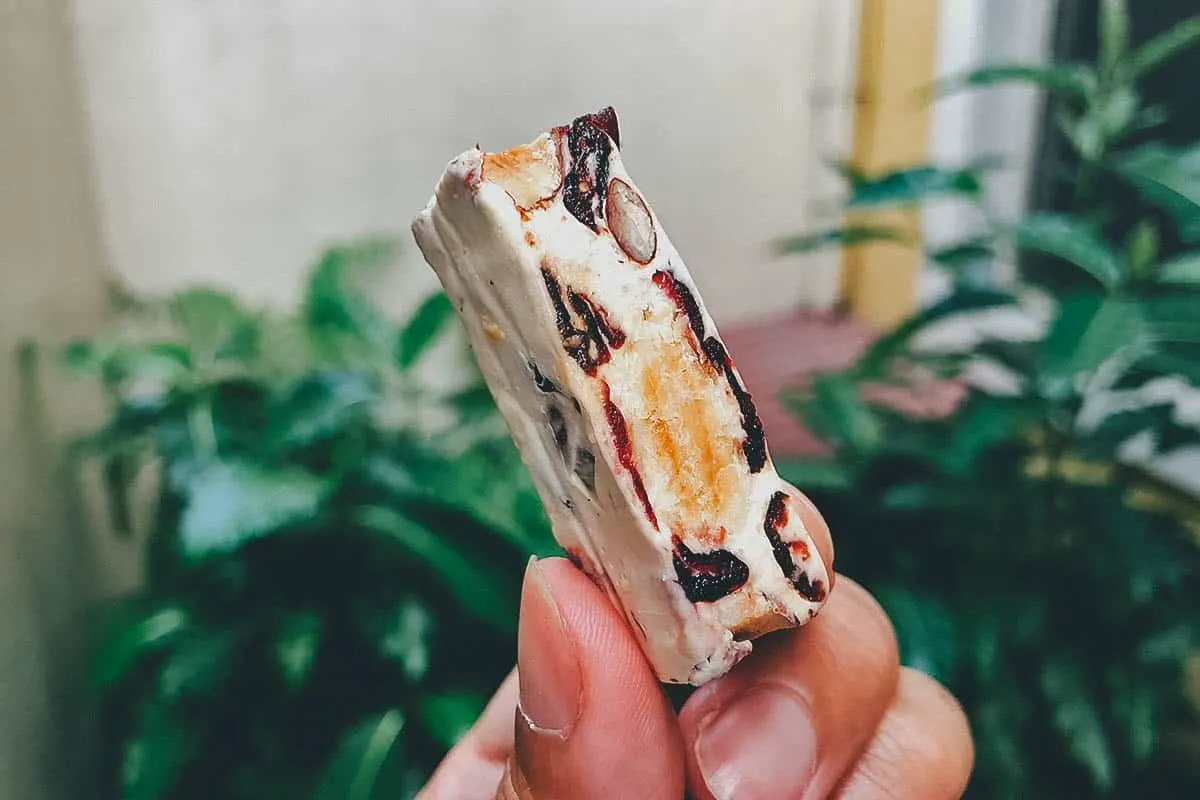 43. Pineapple Cake
A box of pineapple cakes is one of the most popular souvenir food items you can bring back from Taiwan. As its name suggests, it's a soft and sweet traditional pastry made with butter, flour, eggs, sugar, and pineapple jam.
Apart from being delicious, a big reason why it's so popular as a gift item is because the pineapple is considered an auspicious symbol. In Taiwanese Hokkien, the word for pineapple is ong lai, which sounds similar to a phrase meaning "incoming fortune".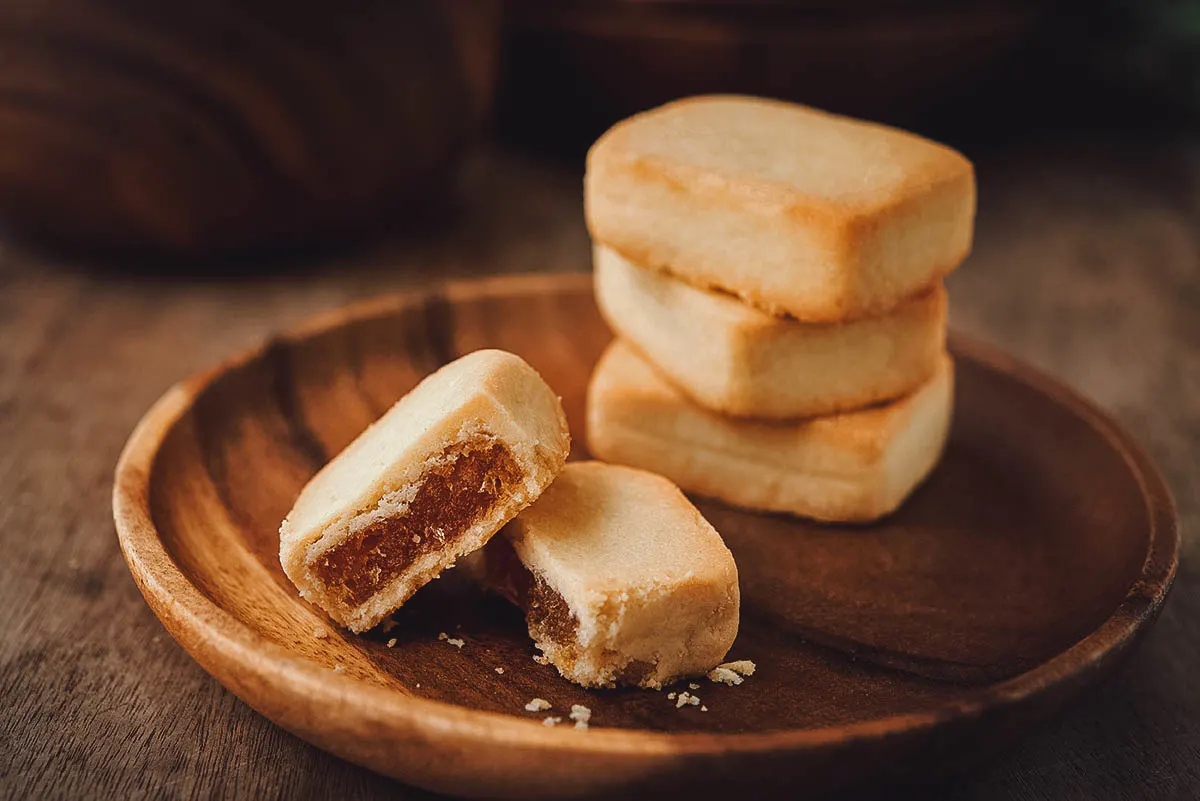 Photo by szefei via Depositphotos
You'll find boxes of pineapple cakes sold everywhere in Taiwan, including the airport, but one of the most famous shops is Miyahara. This place has become a tourist attraction in Taichung, equally popular for its library-like interior as it is for its pineapple cakes and other pastries.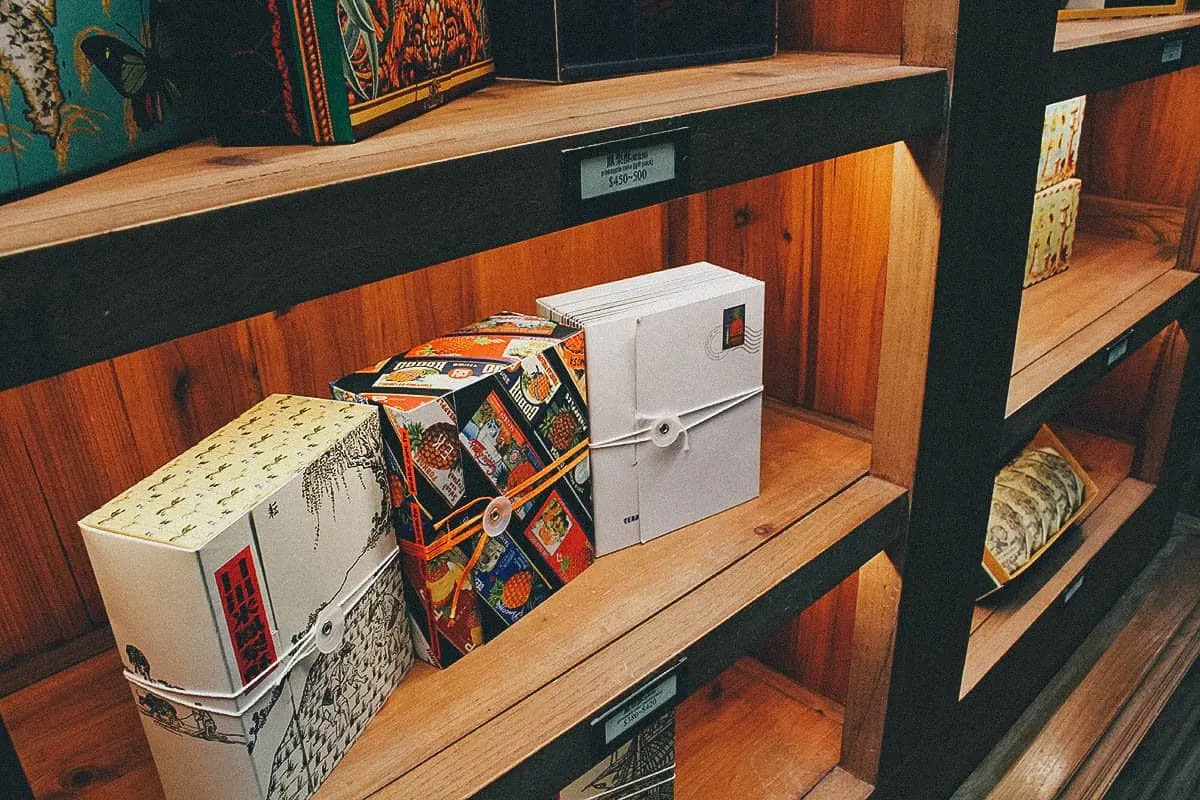 44. Sun Cake
Known locally as taiyang bing, a sun cake is a popular Taiwanese pastry that originated in Taichung. It has a flaky crust and a maltose filling and is usually eaten with Chinese tea. Like pineapple cakes, it's one of the most popular souvenir food items you can bring back from Taiwan.
45. Wuyuzi (Dried Cured Mullet Roe)
Wuyuzi is salted mullet roe. It's made by salt curing the roe sac of mullet over a couple of weeks. The process dries out and intensifies the flavor of the roe while preserving it. Also known as karasumi, it's similar to Korean myeongnan, Japanese mentaiko, or Mediterranean bottarga.
We saw a lot of wuyuzi drying out on tables like this in Kaohsiung, but I read it's a specialty of Donggang Township in west-central Pingtung County. You may want to go there if you're interested in trying the best.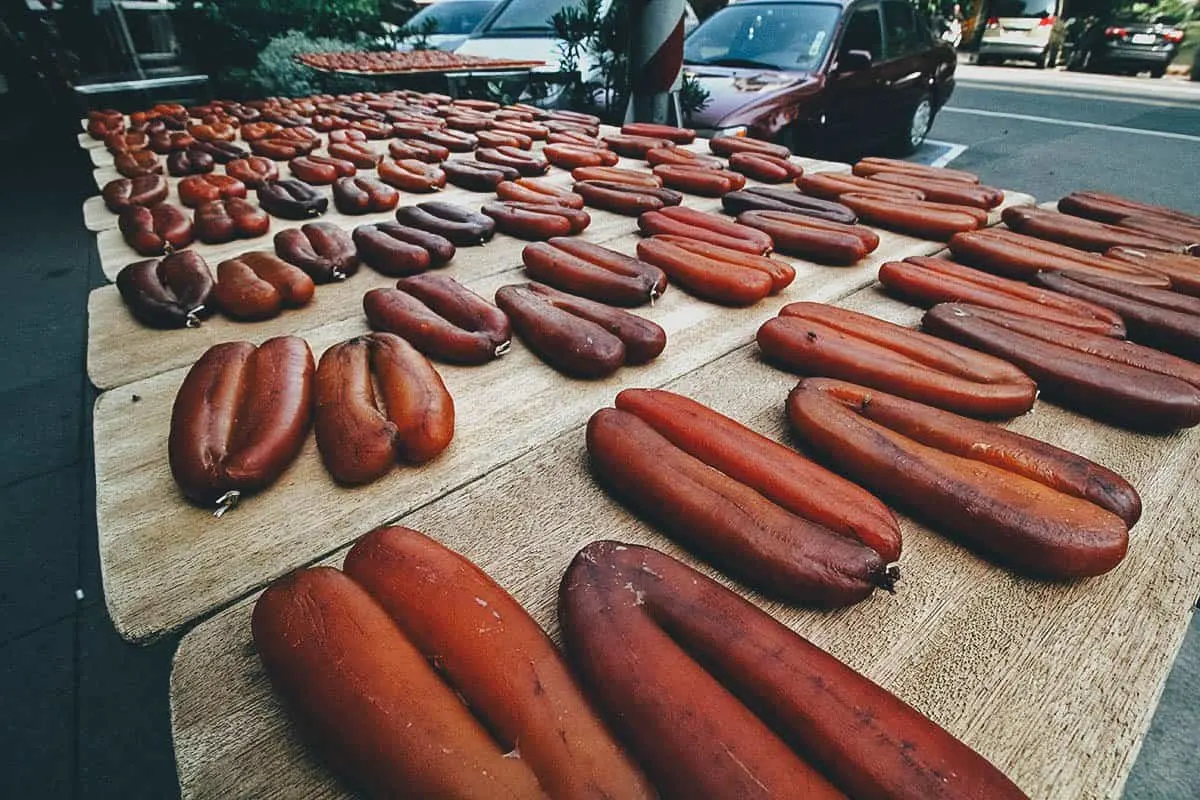 We didn't buy any wuyuzi but I read it's softer than bottarga and consumed in a similar way. It's a salty, fishy treat that you can slice or grate and mix with pasta or rice. Pictured below is a steamed bun (baozi) with wuyuzi and strips of nori from Wu Pao Chun Bakery. Delicious!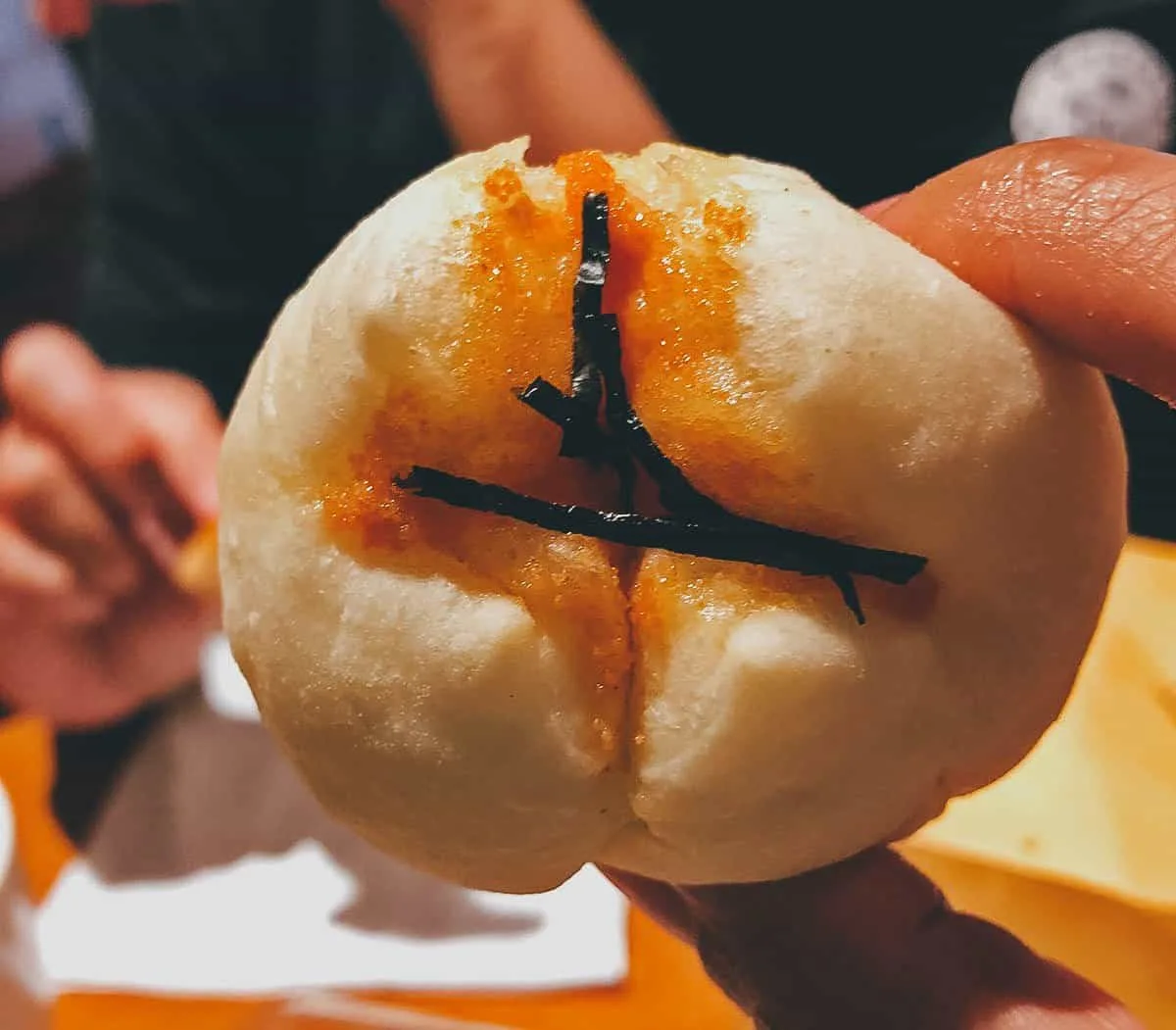 TAIWAN'S BEST NIGHT MARKETS
We have an article dedicated to the best and most popular night markets in Taiwan. I've quickly listed them below but be sure to click through to the full guide for pictures and more information.
Shilin (Taipei) – Huge night market with a good mix of Taiwanese food stalls and carnival games
Raohe (Taipei) – One of the best selections of Taiwanese food
Fengjia (Taichung) – One of the biggest night markets in Taiwan
Zhongxiao Road (Taichung) – Very local and authentic in feel
Wenhua Road (Chiayi) – Small but authentic in feel
Flower (Tainan) – Biggest night market in southern Taiwan
Ruifeng (Kaohsiung) – Fun atmosphere with a grid-like layout but can be very crowded
Liouhe (Kaohsiung) – Spacious and comfortable with plenty of rubbish bins
Dongdamen (Hualien) – Large well-laid out night market with a good mix of Taiwanese food and carnival games
TAIWANESE FOOD TOURS
It goes without saying that no one knows Taiwanese food better than a local, so what better way to experience Taiwanese cuisine than by going on a food tour? A food-obsessed guide will take you to the city's best restaurants and night market stalls and explain all the Taiwanese dishes to you in more detail. Check out Get Your Guide for a list of food tours in Taipei and in other cities throughout Taiwan.
TAIWANESE COOKING CLASSES
Aside from food tours, we enjoy taking cooking classes when we travel. For me, it's one of the best ways to learn about the local cuisine. Eating Taiwanese food is one thing but working with its ingredients and learning how to make it is another.
If you're visiting Taiwan and want a more hands-on experience with Taiwanese food, then check out Cookly for a list of cooking classes in different cities in Taiwan.
FINAL THOUGHTS ON TAIWANESE FOOD
Within your first 24 hours in Taiwan, you'll understand just how important street food culture is to the Taiwanese. This is evidenced by the many night markets you'll find in every city throughout the country. On one trip, we visited one new night market almost every night we were there, and had we wanted to, we probably could have visited two. That's how many they have here. If you enjoy traveleating as much as we do, then you're going to love Taiwan.
I didn't include it in this list but sushi and Japanese restaurants are a common sight in Taiwan. This was expected because of the Japanese influence. They even have many of my beloved kaiten-zushi restaurants! I considered adding sushi and unagi to this list because of their popularity in Taiwan, but I decided to keep it to dishes that have evolved to become fully or at least partially Taiwanese.
In any case, I hope you enjoyed going through this guide as much as we did doing research for it. As with all our guides, it's a never-ending work-in-progress that will only improve after every return visit to Taiwan.
Disclosure
Some of the links in this Taiwanese food guide are affiliate links, meaning we'll make a small commission if we make a qualifying sale at no additional expense to you. As always, we only recommend products and services that we use ourselves and firmly believe in. We really appreciate your support as this helps us make more of these free travel guides. Thank you!