Many travelers and food enthusiasts will tell you that Thai food is one of the world's greatest cuisines. Thailand is one of the best countries to visit for food which is part of the reason why Bangkok consistently ranks among the world's most visited cities.
When an article on the World's 50 Best Foods was published in 2017, seven traditional Thai foods made it to the list, the most of any country. 35,000 people worldwide were polled by CNN Travel and the dishes they voted into the list were tom yum goong, pad thai, som tam, massaman curry, gaeng keow wan, khao pad, and mu nam tok.
On top of that, two Thai desserts – khao niao mamuang (mango sticky rice) and tub tim grob – made it to CNN Travel's list of the World's 50 Best Desserts!
Living in Asia, we've been to the Land of Smiles many times and the one thing that always gets us excited to go is Thai food. Once you get a taste of the cuisine, then you'll understand why.
If you're planning on visiting Thailand for the first time, then listed in this Thai food guide are 45 of the best and most interesting dishes to look for in the country.
THAI FOOD QUICK LINKS
If you're visiting Thailand and want to really learn about Thai food, then you may be interested in joining a food tour or taking a cooking class.
TOURS
Save This on Pinterest!
No time to read this Thai food guide now? Click on the save button and pin it for later!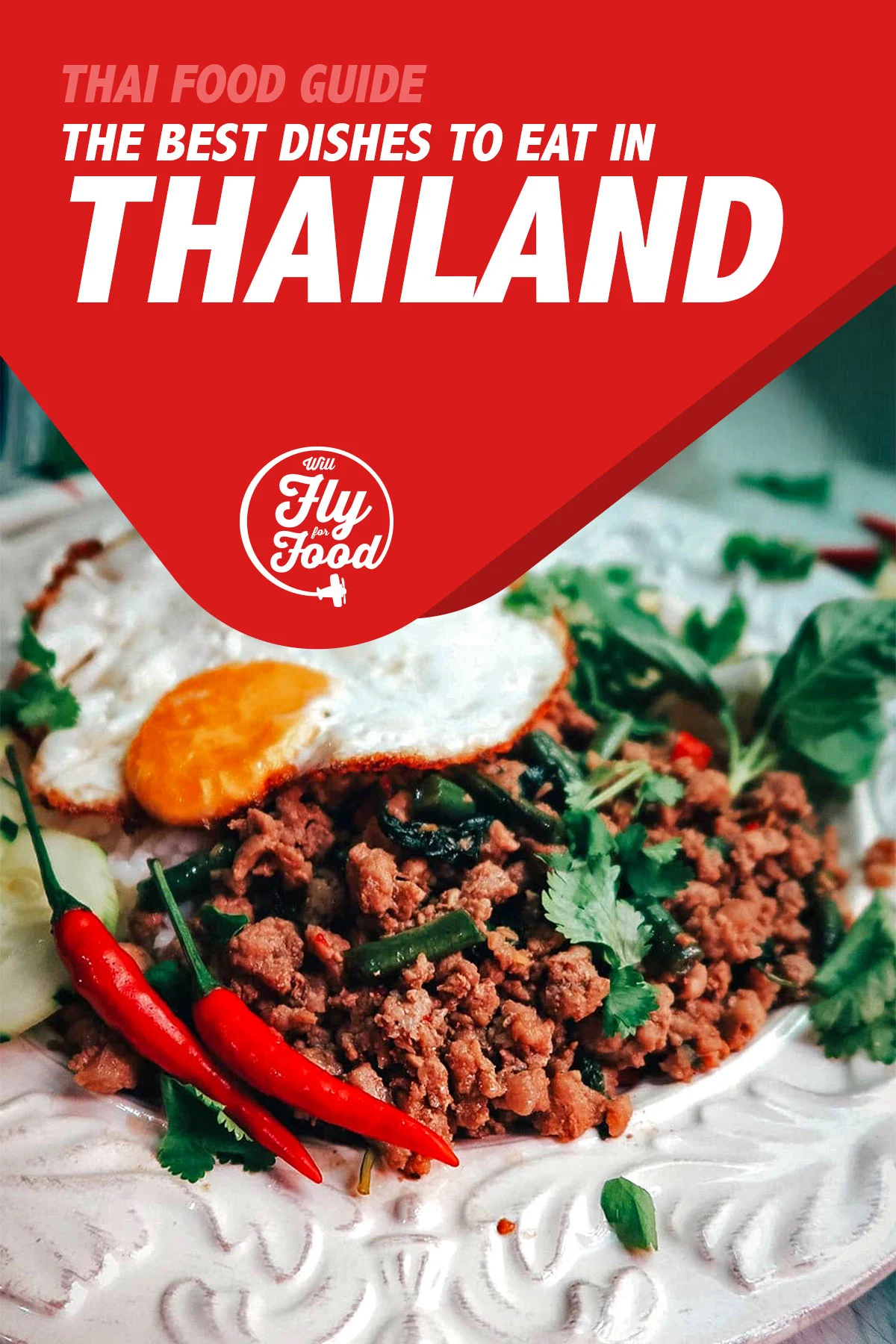 WHAT IS TRADITIONAL THAI FOOD?
Many people will probably describe Thai food as aromatic and spicy but there's actually more to it than that. Traditional Thai food should have a balance of salty, sweet, sour, savory, and spicy. Som tam is a perfect example of this.
Over the centuries, Thai cuisine has been greatly influenced by Thailand's neighbors, most notably India, Malaysia, and Indonesia. Western influence has made its way into the cuisine as well.
Surprisingly, chili pepper – one of the most important ingredients in Thai food – isn't native to Thailand. It's originally from the Americas and was introduced to Thailand by the Portuguese and Spanish.
Thai cuisine is a broad term used to describe seven subsidiary variations. The first six are characterized by region – Northern (Lanna), Northeastern (Isan), Eastern, Southern, Central Plain, and Bangkok – while the seventh pertains to Thai royal cuisine.
Because Thailand shares borders with other countries, regional variations of Thai food tend to correlate to the cuisines of its neighbors. For example, northern Thai food shares dishes with Shan State in Myanmar and northern Laos while Southern Thai food shares much in common with the cuisines of India, Malaysia, and Indonesia.
This confluence of cultural and culinary influences is part of what makes Thai food so appealing.
THE MOST DELICIOUS THAI FOOD
A list of 45 dishes can be daunting to go through so I've organized this Thai food guide by category. Click on a link to jump to any section.
SALADS / SOUPS / STARTERS
1. Tom Yum Goong
Pad Thai is arguably the most well-known dish in Thai cuisine but many Thai food lovers will tell you that tom yum is their favorite dish. Get a taste of this complex but well-balanced hot and sour soup and you'll understand why.
Also known as tom yam, this sour and spicy soup gets its name from two words – tom, which refers to the boiling process, and yam, meaning "mixed". It's often cooked with prawn (goong or kung), hence the popular variation tom yum goong (or kung). This is the very dish that ranks highest among the seven dishes on CNN Travel's list of the World's 50 Best Foods.
Recipes vary but tom yum goong is typically made with a stock of boiled shrimp heads and a soup base made with nam prik pao or roasted chili paste. The broth is redolent with prawn flavor and known for its characteristically hot and sour notes, with a variety of fragrant spices and herbs infused into the broth.
Like any tom yum, essential ingredients include lemongrass, galangal, and kaffir lime leaves, but many other ingredients are often used like lime juice, fish sauce, cilantro, tomatoes, and crushed red chili peppers. So beloved is tom yum that it's widely considered to be a Thai national dish.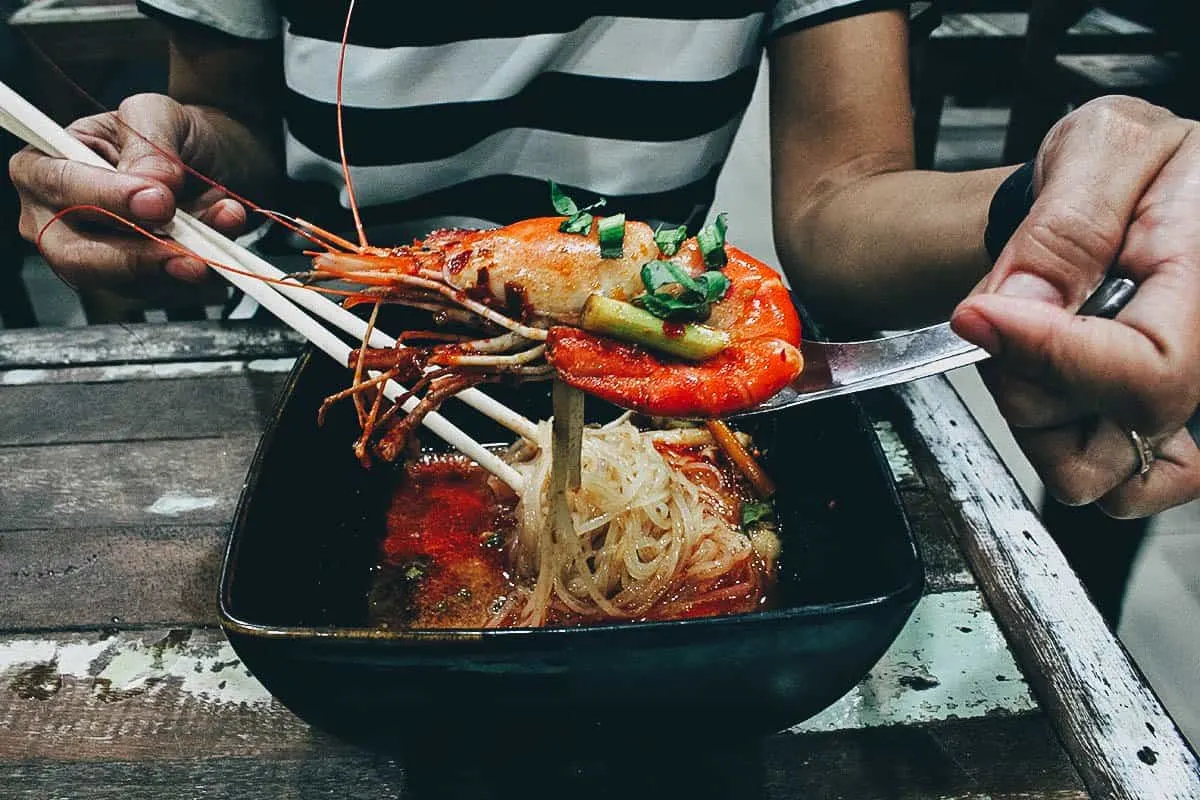 2. Tom Kha Gai
Like tom yum, tom kha gai is a favorite among Thai food lovers. It refers to a hot and sour soup made with coconut milk, galangal (kha), chicken (gai), kaffir lime leaves, lemongrass, mushroom, and other ingredients.
If you compare the recipes between tom yum and tom kha gai, you'll find there are many similar ingredients, with tom kha gai having the notable addition of coconut milk. This leads to a much creamier, curry-like broth.
In Thailand, tom kha gai is in fact eaten more like a curry than a soup. It's often paired with rice with the creamy broth being spooned onto the rice to eat.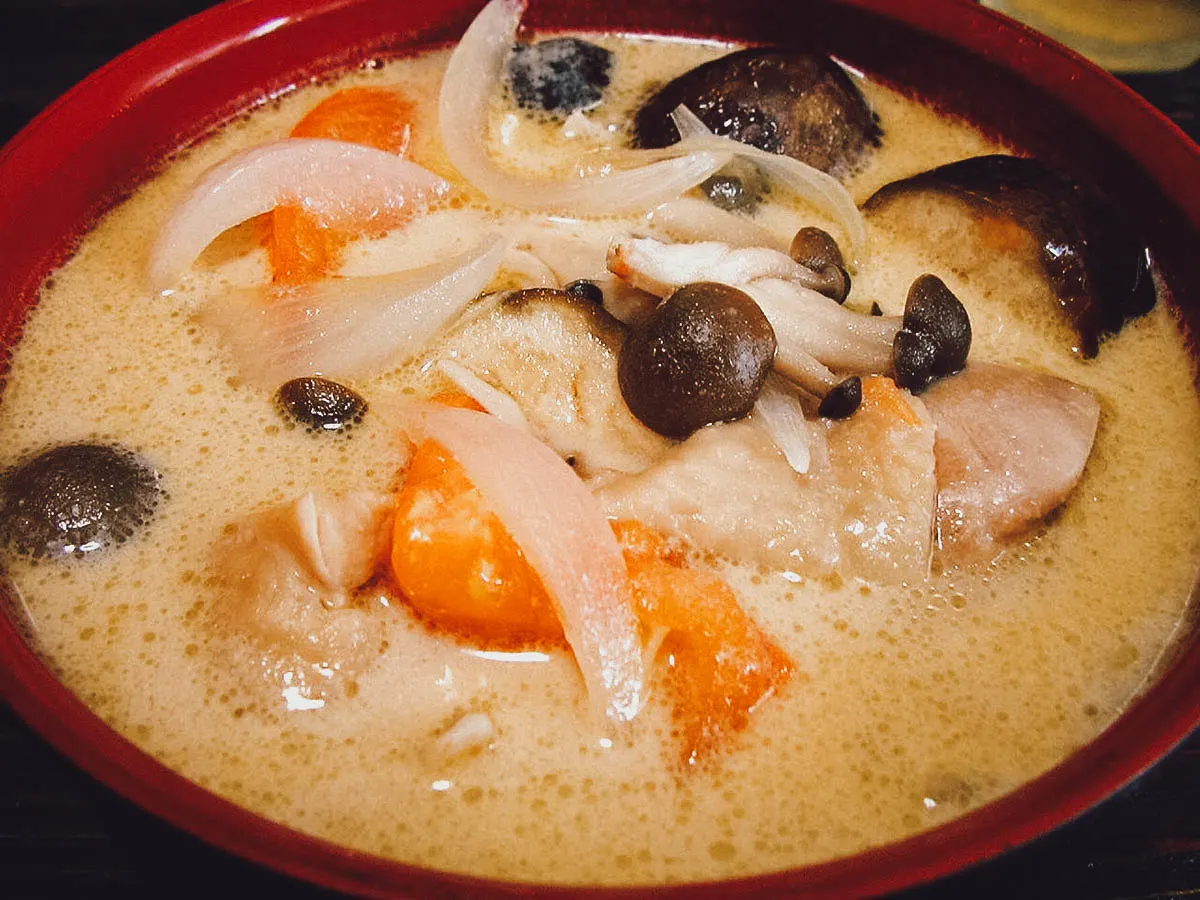 "Home made tom kha gai" by Hajime NAKANO, used under CC BY 2.0 / Processed in Photoshop and Lightroom
3. Por Pia
Por pia is the Thai version of the popular Fujianese/Teochew-style spring roll known as popiah. It's originally from China though it's found its way to the cuisines of many countries in Asia, including Thailand. If you're from the Philippines or Indonesia, then you'll recognize it as lumpia.
In Thai cuisine, two types of por pia are popular – por pia sod and por pia tod. The former refers to a fresh spring roll while the latter describes a deep-fried version. Both are made with a thin, paper-like crepe and filled with a variety of ingredients like mung bean noodles, bean sprouts, mushroom, tofu, cucumber, and shrimp.
Pictured below are the delicious por pia sod I had on this excellent food tour in Phuket. Fresh spring rolls are typically served with a dark sweet and savory sauce.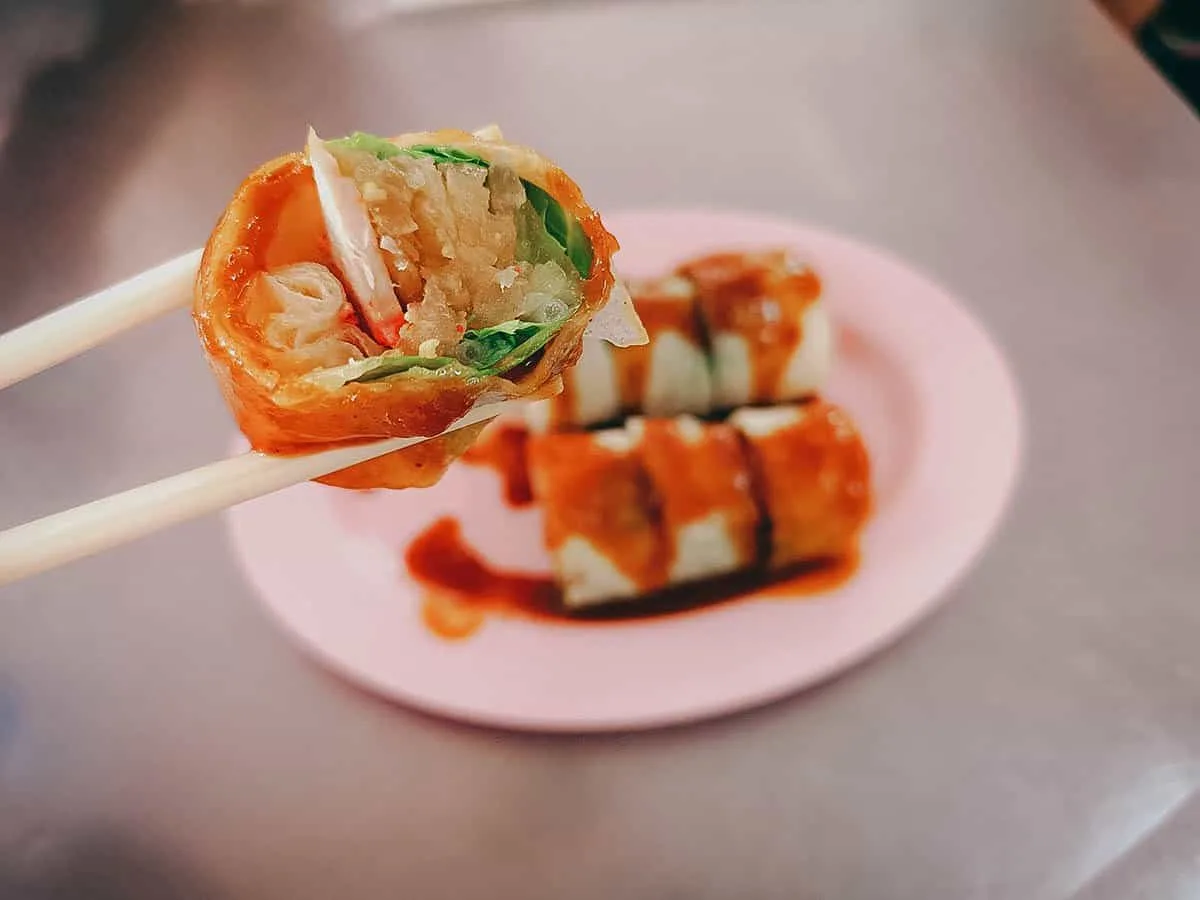 I made this por pia tod in a cooking class in Chiang Mai. I enjoy both versions though personally, I prefer por pia tod.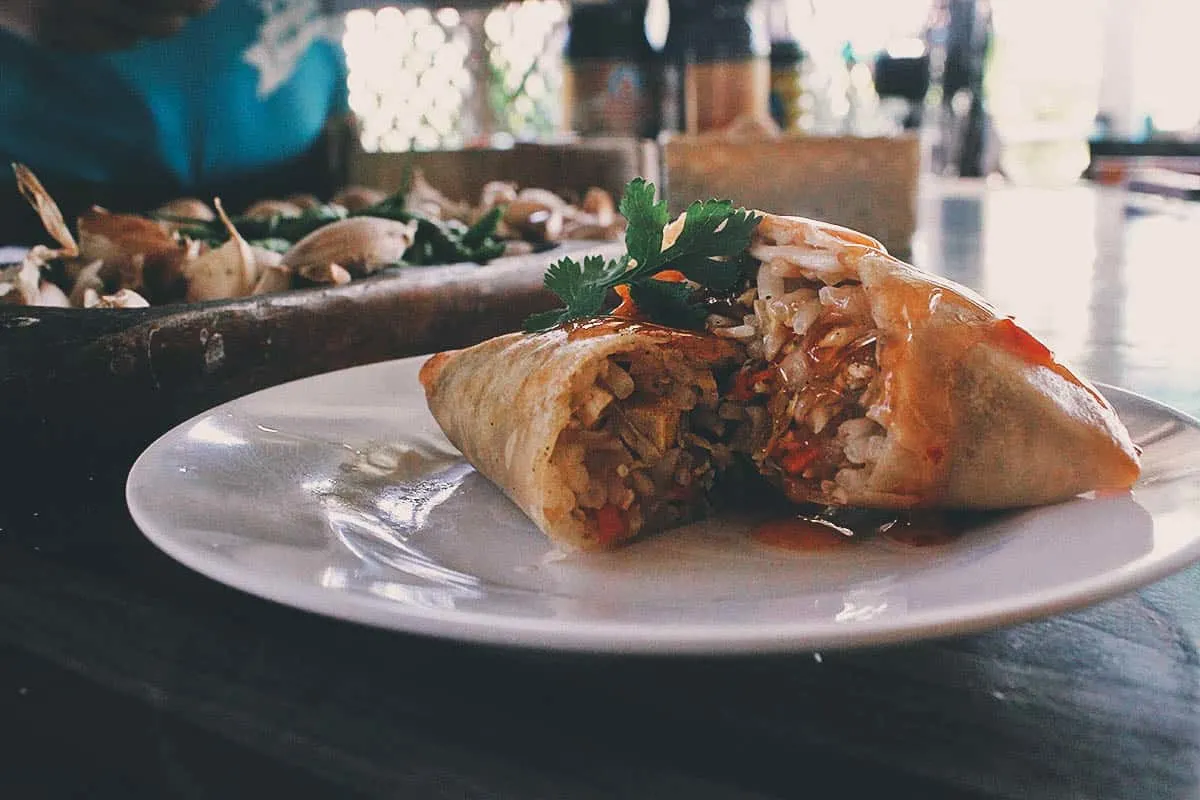 4. Nam Prik
Nam prik (or phrik) refers to a family of spicy chili sauces. They're made with a variety of ingredients like dry chilis, shallots, garlic, lime juice, and some type of fish or shrimp paste. They're typically pounded together using a mortar and pestle and served as a condiment with main dishes or as a dip with raw vegetables, poultry, and meats.
There exist over a hundred recipes for nam prik. Depending on the ingredients, preparation, and region, they can be liquid-y in consistency or more paste-like. So far, we've only tried nam prik in northern Thailand where two of the most popular preparations include nam prik ong and nam prik noom.
Pictured below is nam prik ong. It's made with minced pork and tomato and served as a meaty dip for raw vegetables and pork cracklings.
This is the nam prik noom. Like nam prik ong, it's a thicker type of nam prik made with roasted green chilies, onion, and garlic. It's also served as a dip with raw vegetables, pork cracklings, and sticky rice.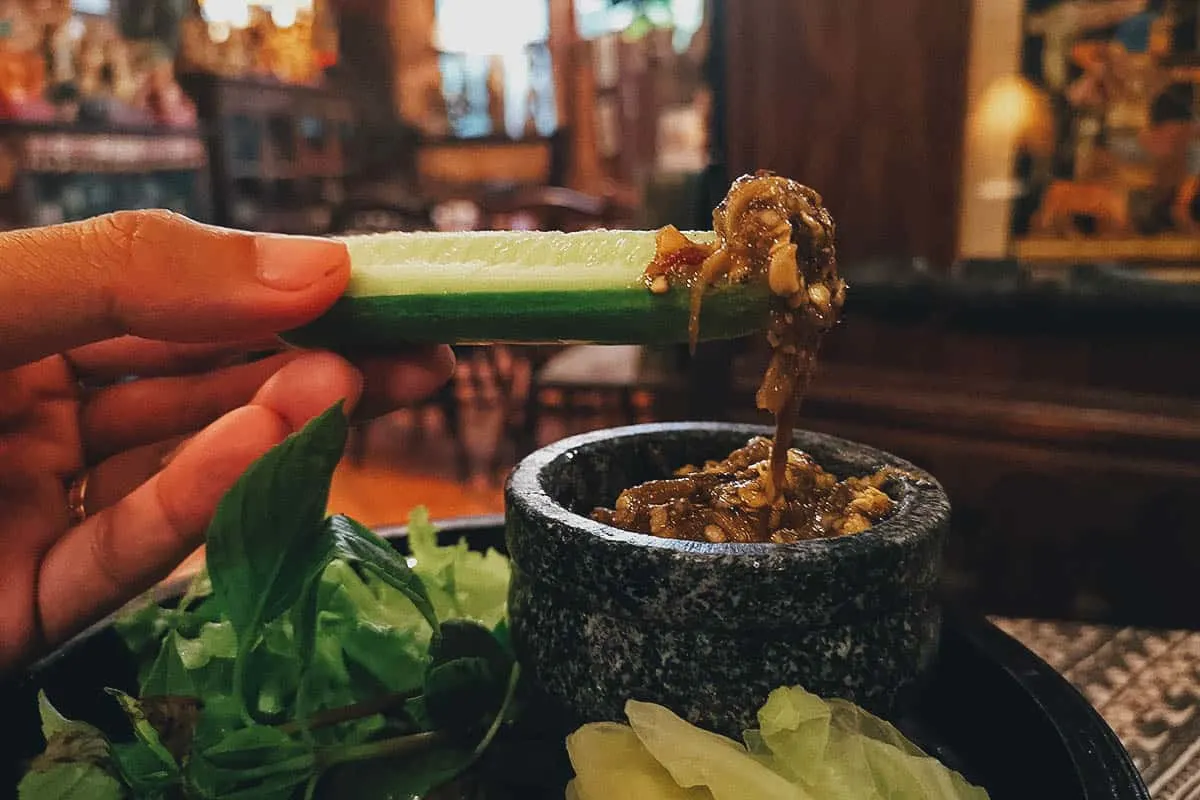 5. Som Tam
Som tam, like tom yum goong and pad thai, is a Thai food favorite and one of the best dishes you can eat in the country. Originally an ethnic Lao dish, it refers to a green papaya salad that's become a staple dish in Thailand, Laos, Cambodia, and Vietnam.
Som tam is made with shredded unripe papaya and a mix of other ingredients like chili pepper, fish sauce, palm sugar, dried shrimp, and brined rice paddy crabs. Sourness and heat dominate, though it's seasoned to have a balance of five flavors – sour, spicy, salty, savory, and sweet.
Many variations of som tam exist – some very spicy, others more sweet – but the original Isan version of this Thai food favorite must be made with fermented fish sauce and shrimp paste.
Pictured below is an authentic Isan preparation of som tam called tam pa. Meaning "jungle pounded salad", it's made with shredded green papaya, fermented fish sauce, shrimp paste, tomatoes, kulantro, crab, and chopped up freshwater apple snails.
You can try this very pungent but delicious version of som tam at Som Tam Jay So in Bangkok. Check out our Bangkok food guide for more information.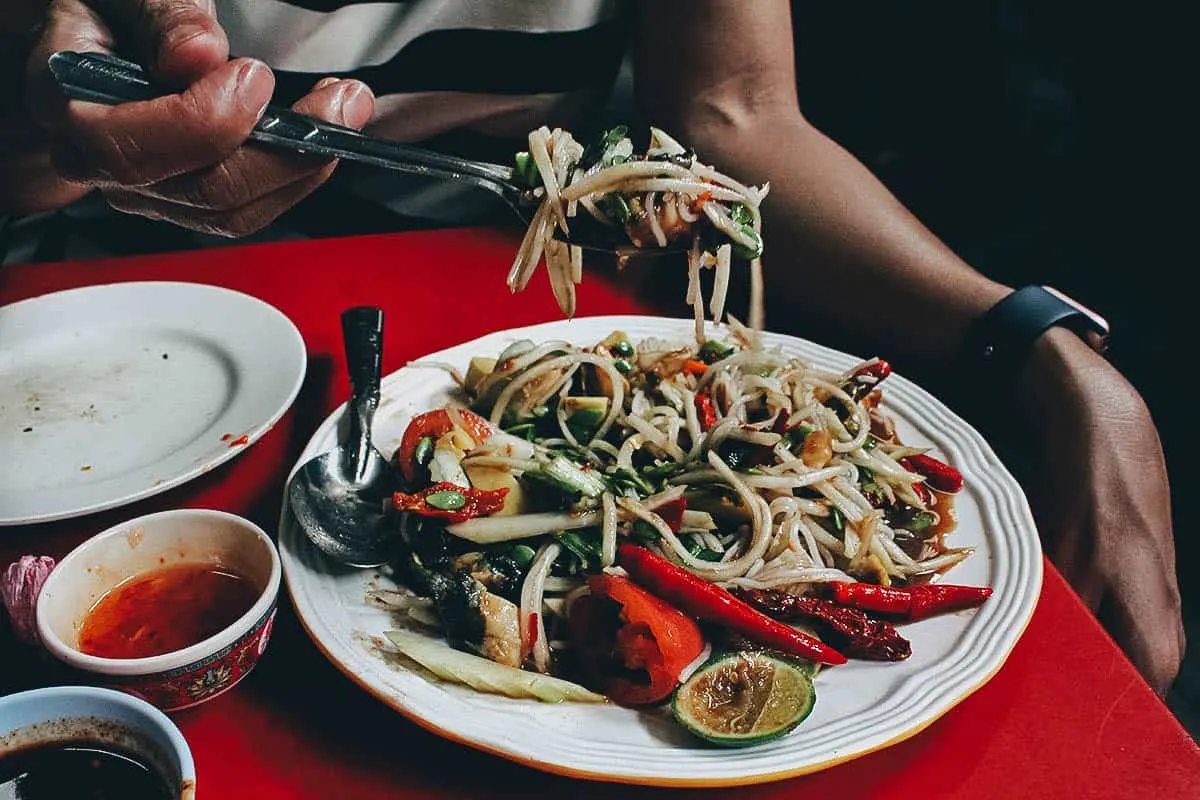 6. Thai Suki
Thai suki refers to a local version of hot pot. It's a communal dish where diners dip different types of meat, seafood, dumplings, or vegetables into a pot of broth at the center of the table. When ready, the food is dipped into a spicy "sukiyaki sauce" before eating.
In spite of its name, the dish more closely resembles shabu shabu or Chinese hot pot than sukiyaki. I read that the dish got its name after a restaurant in Bangkok offered a modified version of Chinese hot pot in the 1950s. They called it "sukiyaki" after a Japanese pop song that was a worldwide hit at the time.
The dish was a massive hit and the name stuck, so restaurants throughout the country have been calling it Thai suki ever since.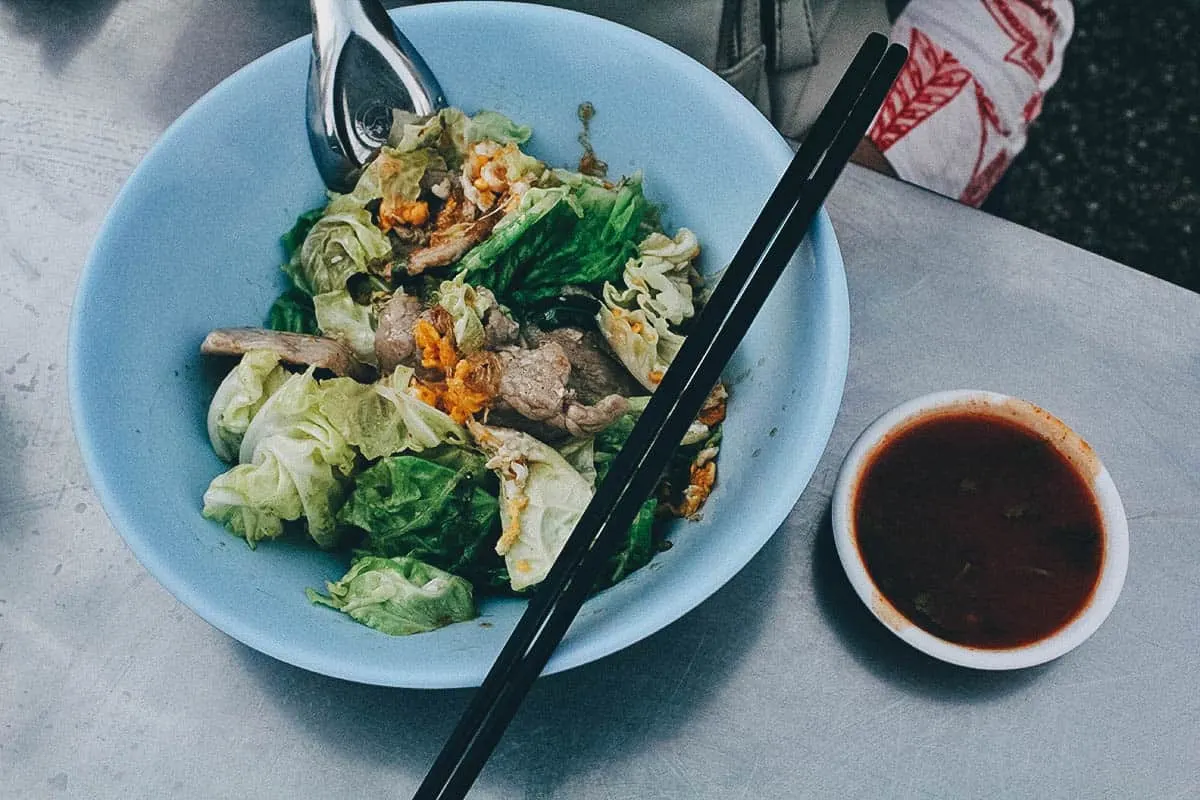 7. Yam Kai Mang Da Talay
This is one of the most unusual dishes I've had in Thailand and probably not something you'd see too often on a restaurant menu. It's called yam kai mang da talay, or spicy horseshoe crab roe salad.
Horseshoe crabs don't have edible meat like real crabs. The only thing you can eat are its eggs which are the round green things pictured below. The dish is basically a fresh salad made with shredded green mango, celery, chili, coriander, onion, and horseshoe crab roe. If you're an adventurous eater, then you may want to try this.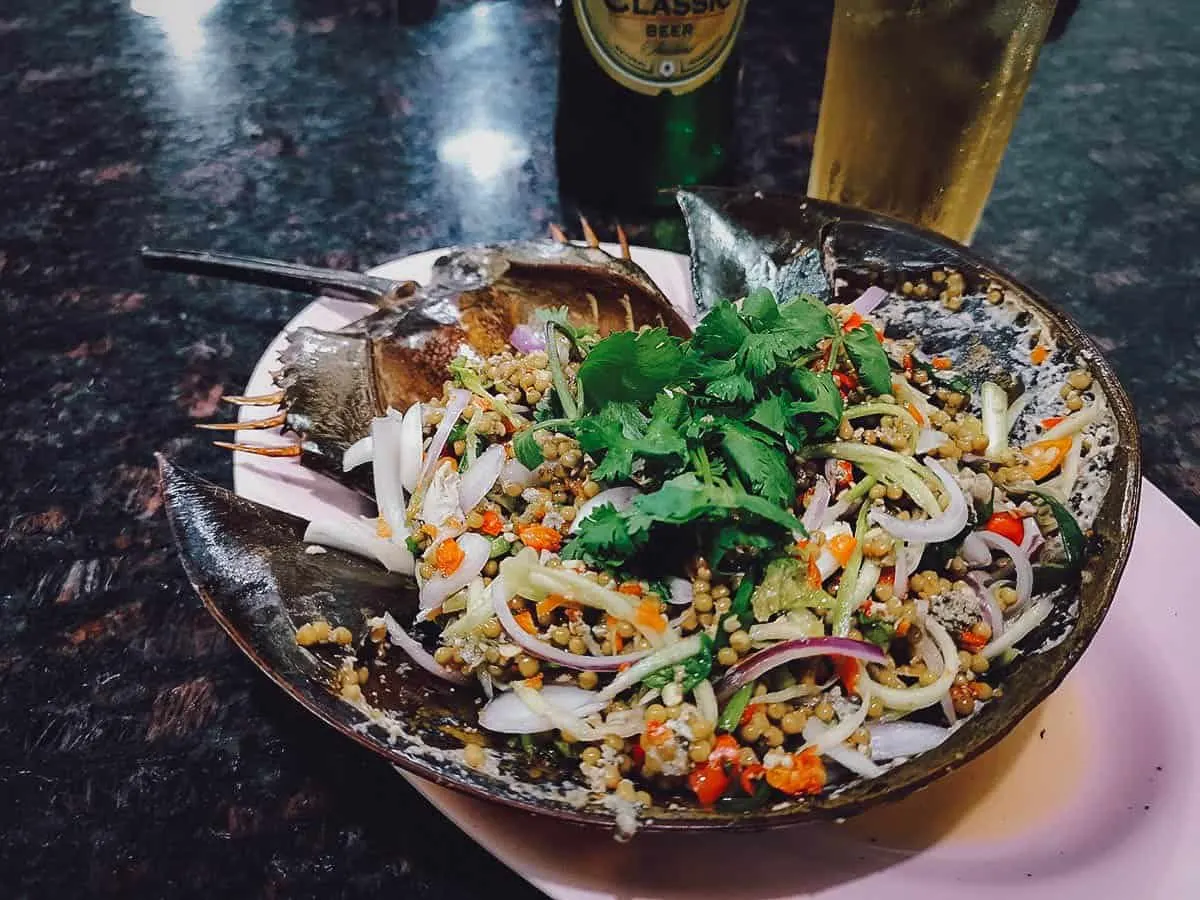 The salad as a whole is enjoyable but apart from some brininess, horsehoe crab roe doesn't actually have much flavor. They have an unexpected texture as well – like lumpy, rubbery little balls of Play-Doh.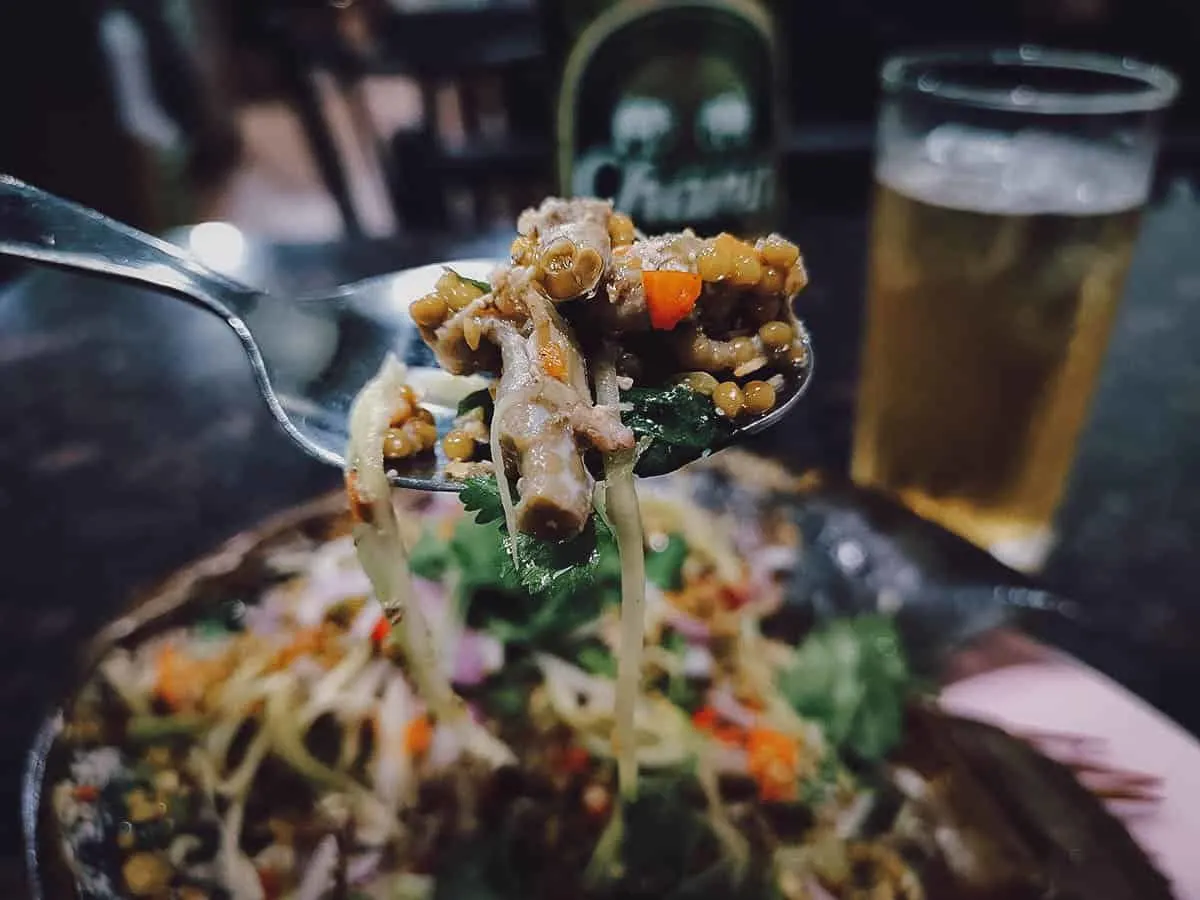 CURRIES
8. Gaeng Keow Wan
Gaeng keow wan refers to green curry. Known for its greenish color, it's a type of curry popular in the central region of the country.
Aside from the main protein (usually chicken), gaeng keow wan is made with green curry paste, coconut milk, palm sugar, and vegetables and herbs like Thai eggplant, kaffir lime leaves, and sweet basil. The consistency of the curry can vary depending on the amount of coconut milk used.
The green curry paste is prepared by pounding a variety of ingredients like green bird's eye chilis, garlic, galangal, shallots, fish sauce, lemongrass, kaffir lime peel, and coriander using a mortar and pestle. The green chilis is what gives the curry its signature green color.
Spice levels can vary but gaeng keow wan is typically known to be a sweet and spicy curry. In fact, the word wan in its name means "sweet", but not for the reasons you think. The creamy mild green color of the curry is known in Thai as a "sweet green", hence the wan in its name.
Personally, gaeng keow wan is one of my favorite dishes and something I look for on every return trip to Thailand. Pictured below is the delicious Thai green curry I made at a cooking class in Chiang Mai.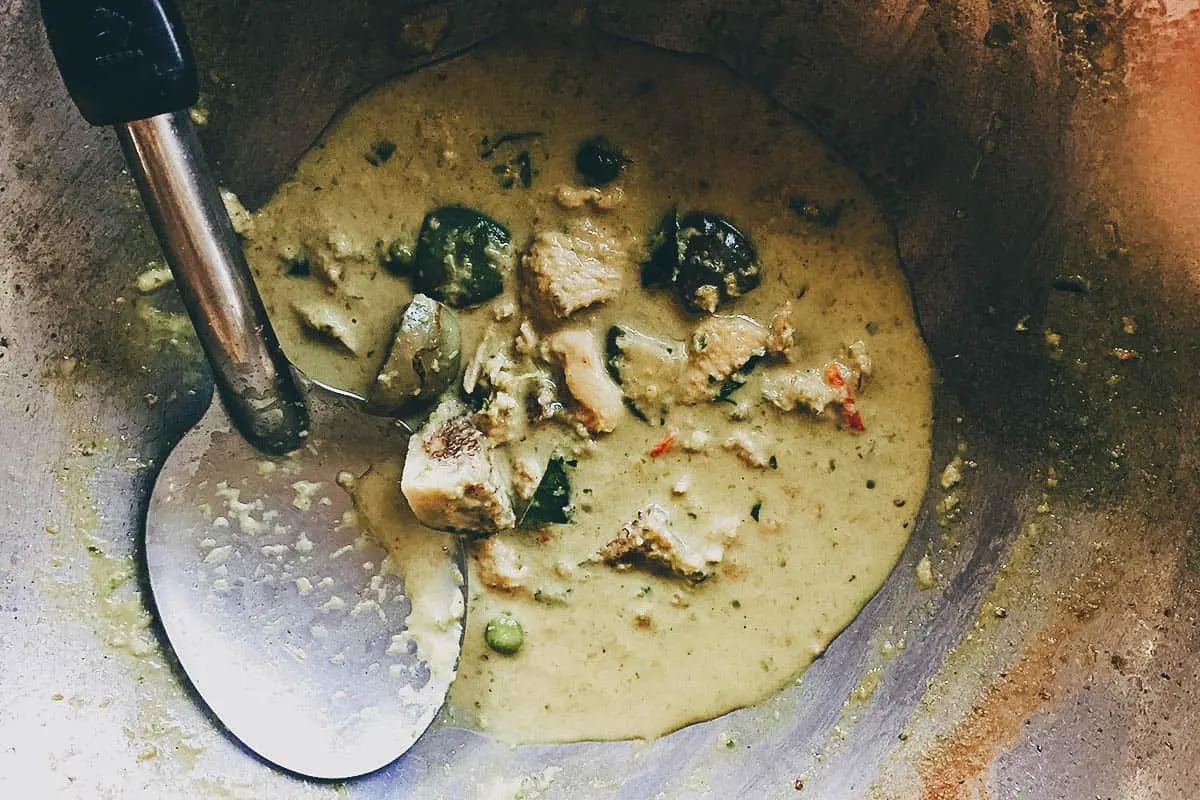 9. Gaeng Daeng
Gaeng daeng refers to red curry. As its name suggests, it has a reddish orange hue, its color derived from dry red spur chilis that are pounded in a mortar and pestle to create the base red curry paste.
Aside from red spur chilis, the red curry paste is made with garlic, galangal, shallots, shrimp paste, kaffir lime leaves, coriander, cumin, and lemongrass. Once the ingredients have been pounded into a paste, it's cooked in a saucepan with coconut milk and different proteins like chicken, beef, pork, shrimp, or duck.
Pictured below is the fantastic duck red curry we enjoyed at the Red Onion restaurant in Phuket. This was the best restaurant we went to on the island. You can check out our Phuket food guide for more information.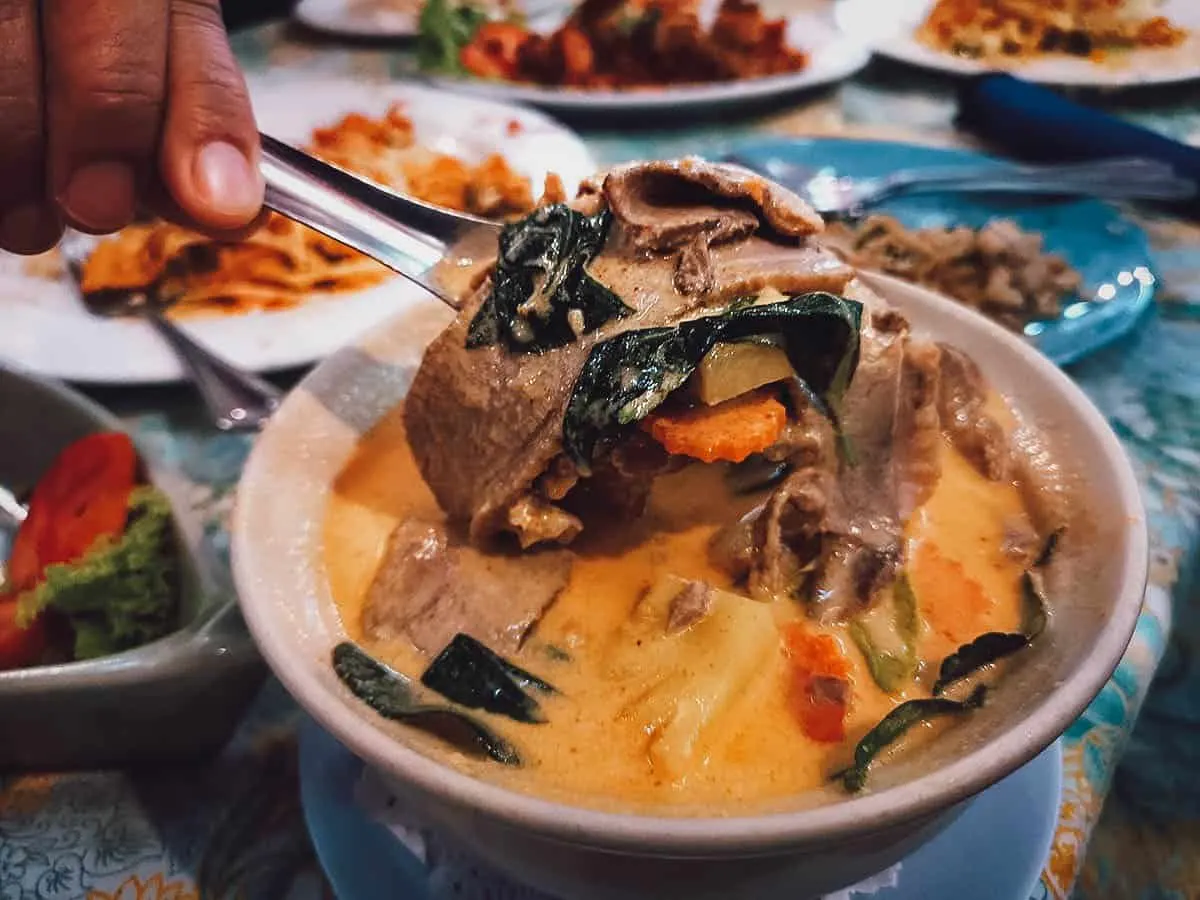 10. Kaeng Kari
Kaeng kari refers to yellow curry and is typically known to be the mildest of the three major types of Thai curry.
From what I understand, kaeng kari is basically a milder version of gaeng daeng that's been lightened with turmeric and generally contains less chili. Other ingredients include garlic, cumin, coriander, fenugreek, lemongrass, ginger, and bay leaf.
Kaeng kari is typically served with chicken (kaeng kari kai) or beef but it can be made with other proteins as well like duck, fish, or shrimp. It can be served with potatoes and vegetables and is usually enjoyed with steamed rice or round rice noodles known as khanom jeen.
Pictured below is the terrific crab yellow curry with khanom jeen rice noodles from One Chun Cafe in Phuket Old Town. This was seriously delicious and a must-try in Phuket.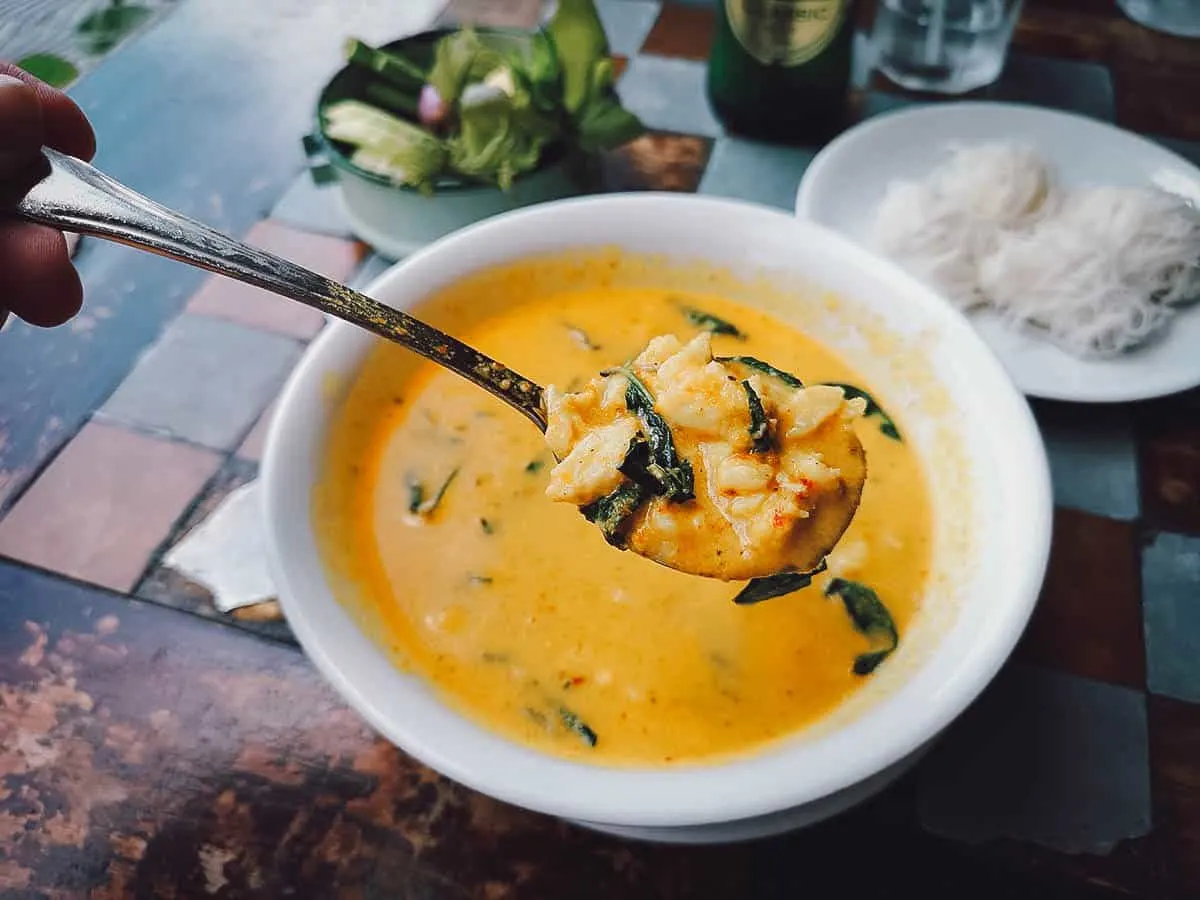 11. Gaeng Panang
Gaeng panang or panang curry is a variant of red curry that contains ground peanuts. It's usually thicker and seasoned to be less spicy and sweeter than gaeng daeng.
Aside from peanuts, panang curry paste is made with a host of other ingredients like dry red chili, garlic, galangal, lemongrass, kaffir lime zest, coriander, and cumin. The ingredients are pounded into a paste then cooked in a saucepan with thick coconut milk, palm sugar, fish sauce, and different types of protein like chicken, beef, or shrimp.
Like Thai red curry, gaeng panag is usually eaten with steamed white rice.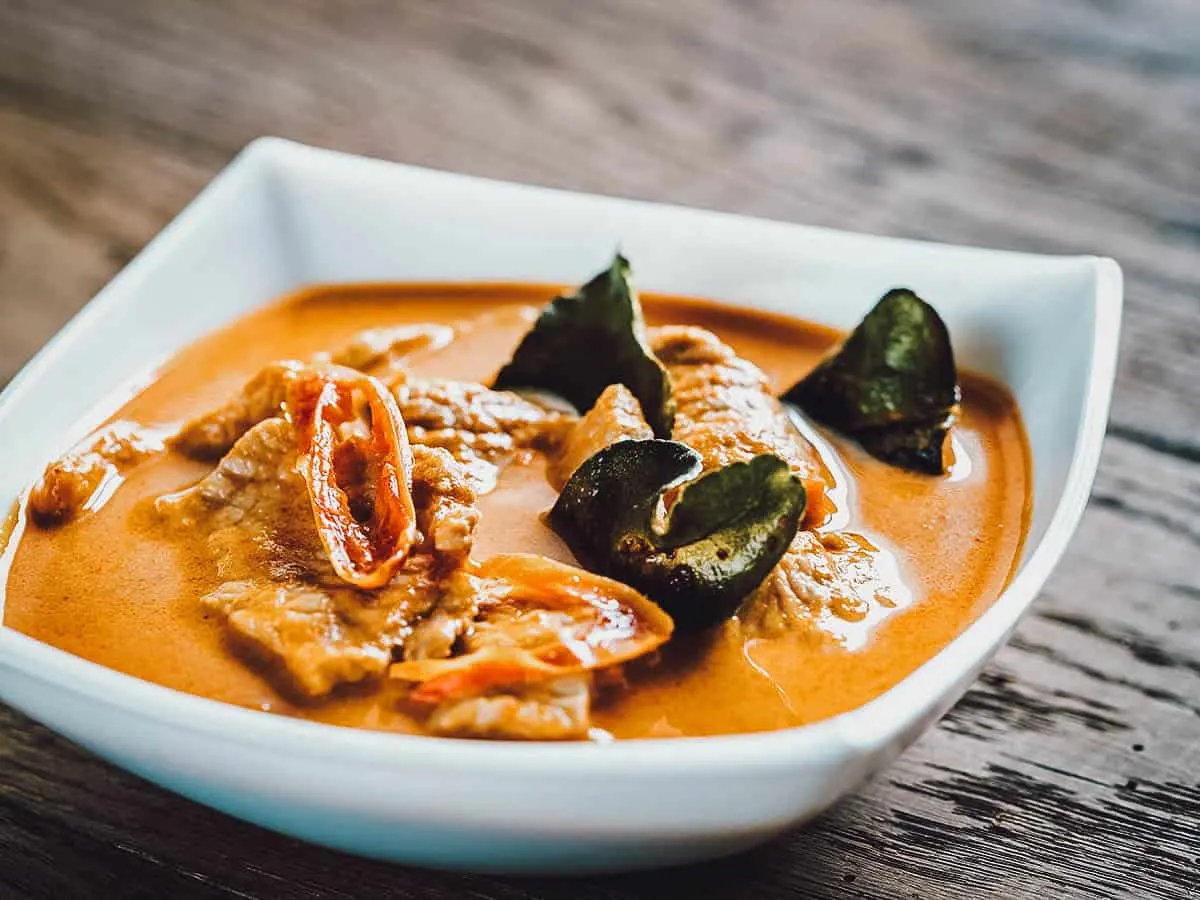 Photo by Alexander Prokopenko via Shutterstock
12. Massaman Curry
Massaman curry may be the last curry dish on this list but it certainly isn't the least. Together with gaeng keow wan, it's just one of two Thai curries that made it to CNN Travel's list of the World's 50 Best Foods. In my opinion, it's also the most interesting.
A dish with Muslim roots, massaman curry is made with ingredients that aren't often used in Thai curries like cardamom, cinnamon, cloves, star anise, nutmeg, and mace. These are combined with local ingredients like dried chili, lemongrass, galangal, and coriander to create the massaman curry paste.
Because of its Muslim roots, massaman curry is most often made with chicken but it can also be made with other proteins like beef, duck, mutton, or goat. Rarely is it made with pork.
To prepare, the massaman curry paste is fried with coconut cream before the other ingredients like chicken, potatoes, onions, fish sauce, tamarind paste, coconut milk, and peanuts are added. Like gaeng daeng or gaeng panang, it's usually eaten with steamed white rice.
I always found the name "massaman curry" to be a bit strange for a Thai dish so I read up on it. As it turns out, massaman is a corruption of the word "musulman" which is an archaic Persian word meaning "Muslim".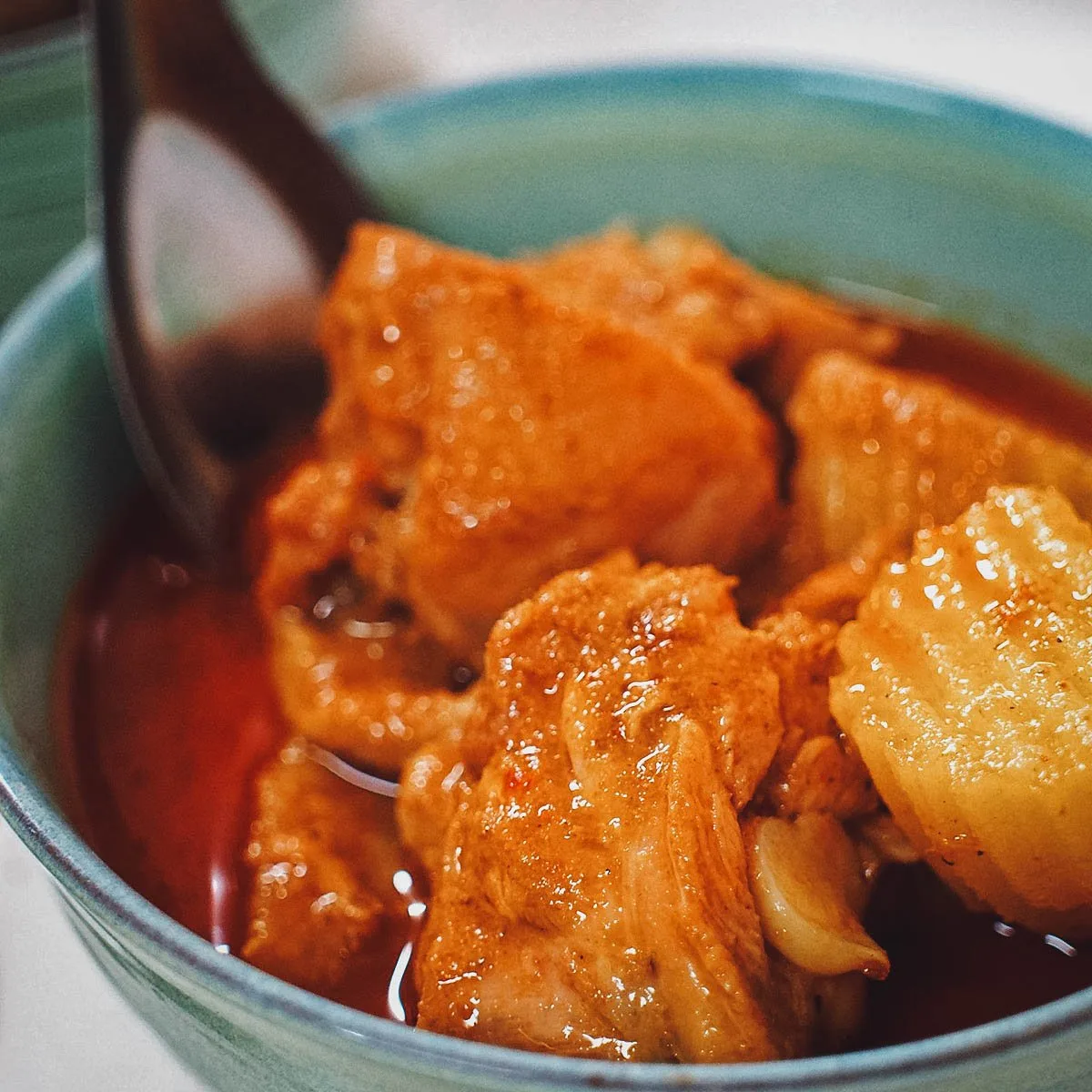 "Takeaway, CC BY-SA 3.0, via Wikimedia Commons / Processed in Photoshop and Lightroom
MEAT / POULTRY
13. Sai Oua
Sai oua refers to a grilled pork sausage popular in northern Thailand and northeastern Burma. It's made with minced pork, herbs, spices, and a red curry paste known as kaeng khua.
Sai oua is a signature dish in Chiang Mai and in other parts of northern Thailand. It's available pretty much anywhere and is typically enjoyed as a starter or snack, or paired with sticky rice.
We enjoyed sai oua many times in the north but the best was from this stall at a wet market in Chiang Mai. Even locals say it's the best. Unfortunately, I don't remember the name of the market but it was one of the stops on this Chiang Mai food tour.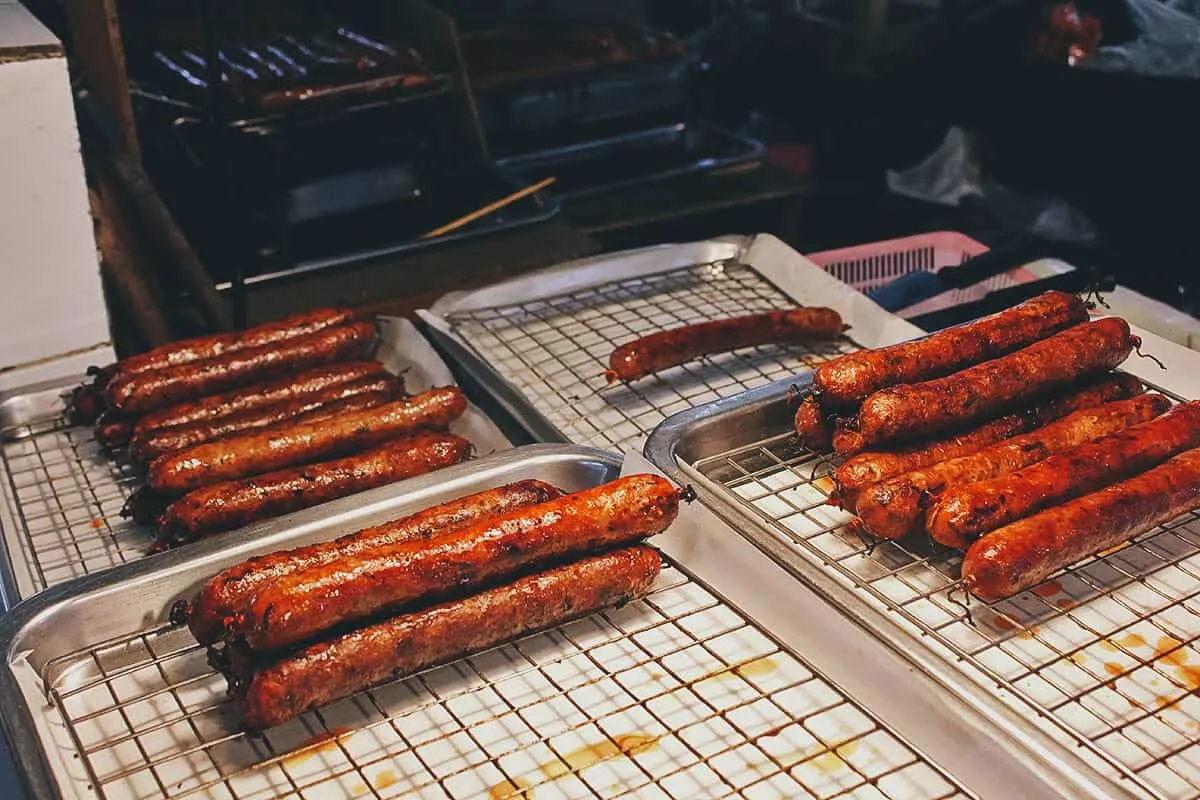 14. Laab
Laab or larb is a type of Lao meat salad. It's considered a Laos national dish and widely consumed in the northern and Isan regions of Thailand.
Styles of larb may differ depending on where it's from. Lao- or Isan-style larb is made with some type of meat like chicken, beef, pork, or duck. The meat can be raw or cooked and flavored with chili, fish sauce, lime juice, padaek, roasted ground rice, and fresh herbs.
Pictured below is Lanna-style larb. Unlike Isan-style larb, it doesn't contain fish sauce and it isn't made with any type of souring agent. Instead, it's made using a mix of dried spices like cumin, cloves, star anise, cinnamon, and long pepper. In some cases, it can be made with the blood of the animal.
Both versions of larb are served at room temperature and typically eaten with sticky rice and a side of fresh raw vegetables.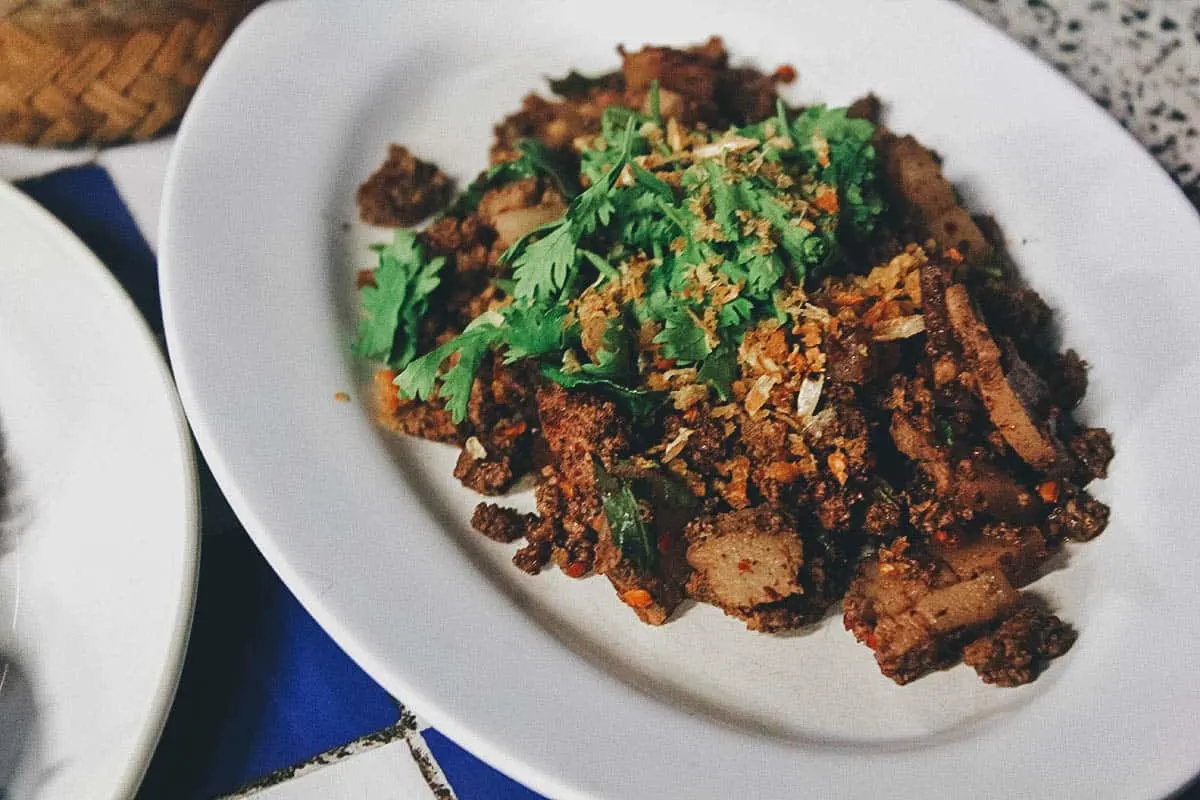 15. Naem
Naem refers to an interesting type of fermented pork sausage popular in the Isan region of Thailand. It's a skinless sausage made with pork, pork skin, cooked sticky rice, garlic, salt, sugar, and bird's eye chili.
To prepare, naem is wrapped in banana leaves and allowed to ferment in clay pots for 3-5 days. This fermentation process allows for the growth of lactic acid bacteria and yeasts which account for the sourness of the sausage.
When ready, the sausage is sold in banana leaves and typically eaten raw with chili, ginger, shallots, peanuts, and spring onions.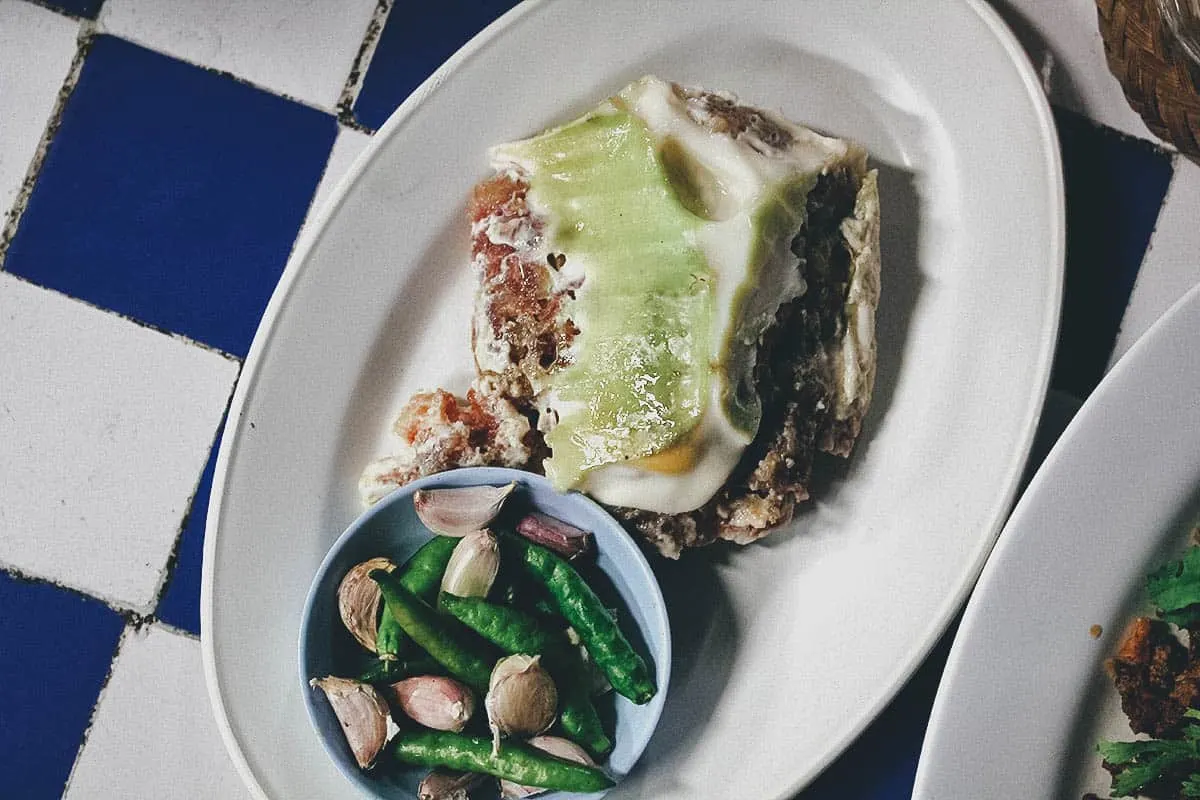 16. Thai Satay
Satay is typically associated with Indonesia or Malaysia but it's a popular dish in other parts of southeast Asia as well, including Thailand. It refers to seasoned, skewered, and grilled meat served with a sauce.
Thai satay can be made with different types of meat and vegetables but the most popular versions are made with chicken, beef, and pork. It's usually served with peanut sauce and a side of achat or pickled cucumber salad.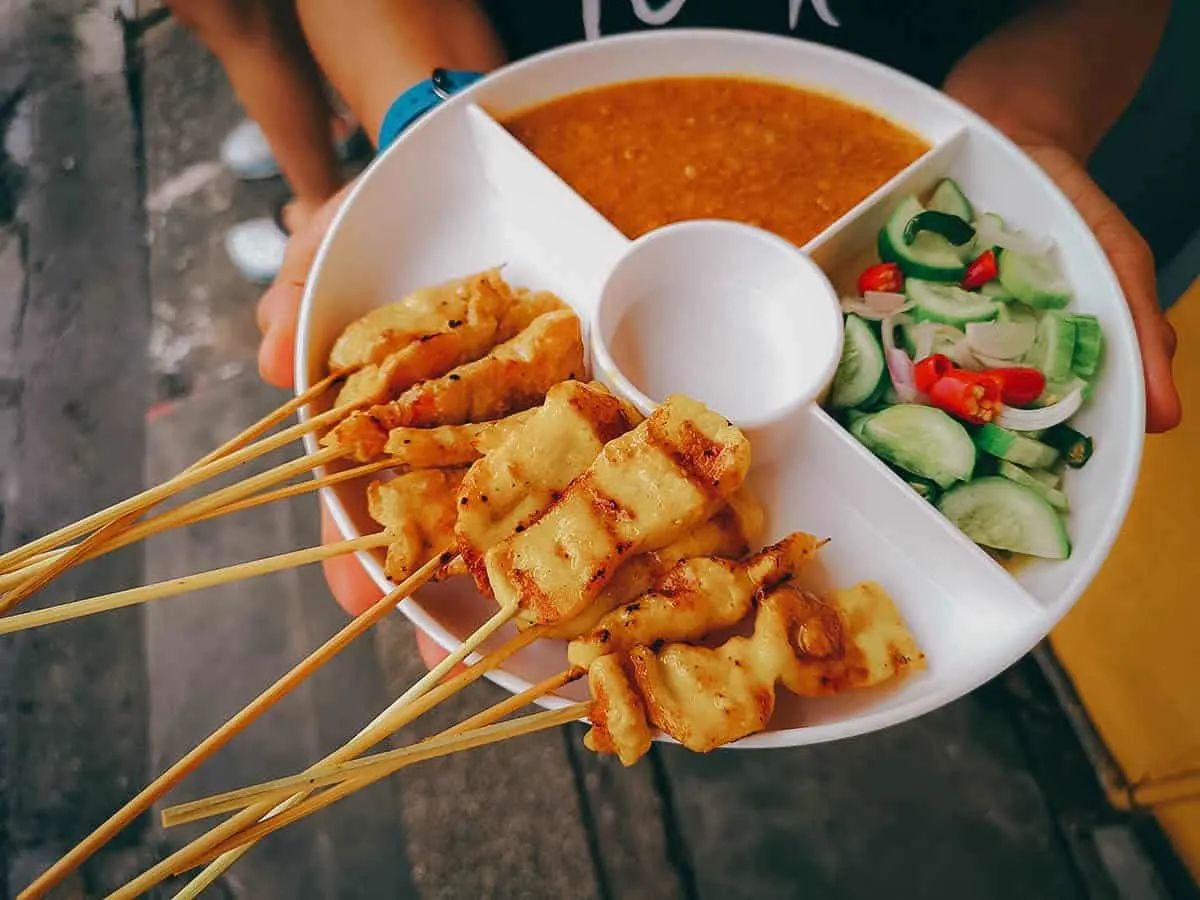 17. Moo Hong
Moo hong refers to a slow-cooked pork belly stew. It's considered a signature dish in Phuket and one of the most delicious Thai dishes you can have on the island.
Originally a Hokkien dish, moo hong is prepared by braising pork belly in a sweet marinade made with garlic, black peppercorn, coriander root, soy sauce, and star anise. It's cooked for over an hour until the pork belly is fork tender and swimming in a thick, dark, garlicky-peppery gravy. It's absolutely delicious when paired with a bowl of steamed white rice.
I tried this moo hong at the popular Raya restaurant in Phuket Old Town. It's a Michelin Bib Gourmand awardee and regarded for many years as one of the best restaurants in Phuket.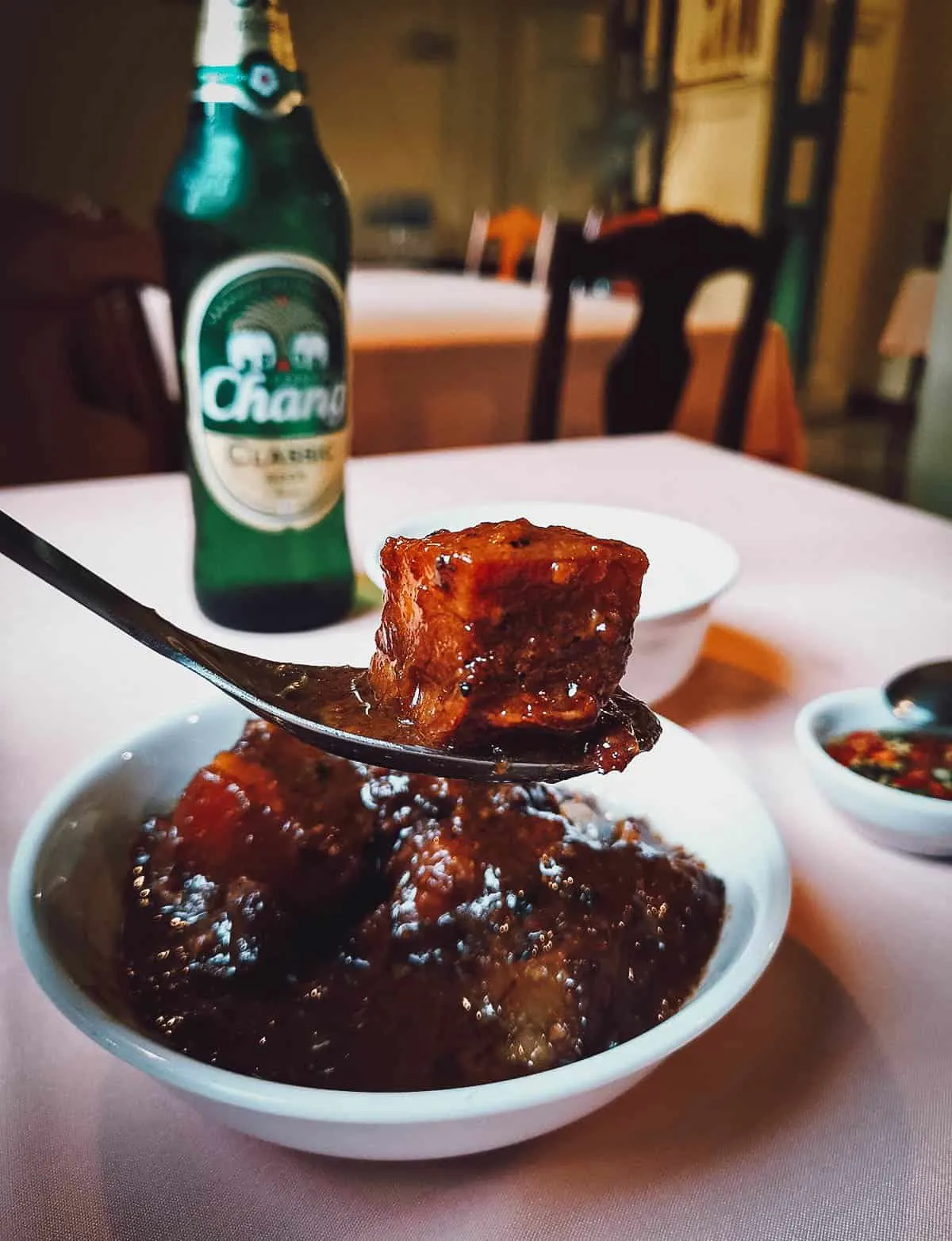 18. Pandan Chicken
As its name suggest, pandan chicken refers to a Thai dish of marinated boneless chicken pieces wrapped in pandan (screwpine) leaves. They're fried together, allowing the chicken to be imbued with the floral-like fragrance of the pandan leaf.
Pandan chicken is typically served with a soy-sauce-based dip or a sweet chili sauce, and often enjoyed as a starter or snack.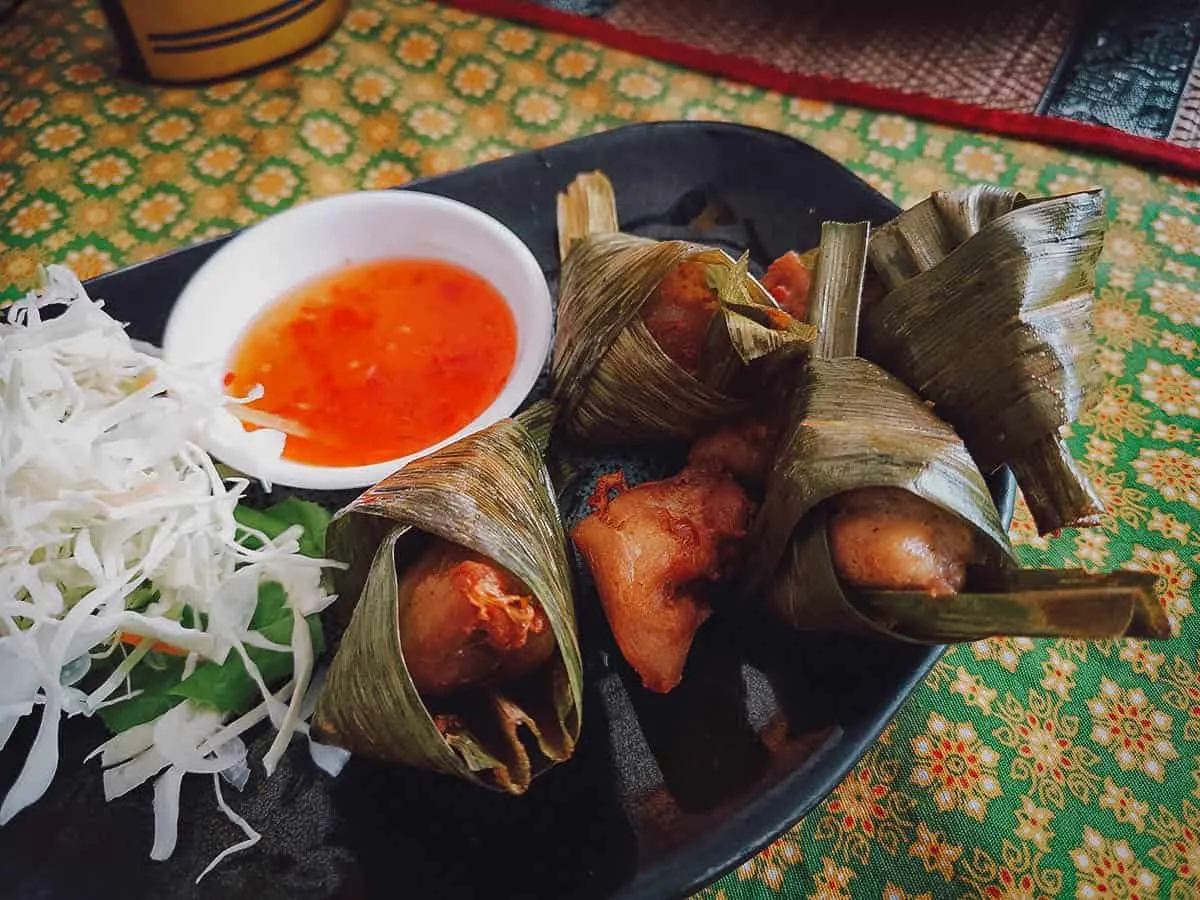 19. Gai Tod
Gai (or kai) means "chicken" and tod means "fried", so gai tod refers to Thai fried chicken. It's a popular street food snack that's known for its crispy but light coating.
To prepare, chicken pieces like wings and thighs are marinated in a mixture of spices and aromatics before being dipped in a rice flour batter and deep-fried. It's topped with crispy fried garlic and often enjoyed with sticky rice and a side of sweet chili sauce.
Unlike American-style batter-fried chicken where the coating easily comes off in one piece, the coating in gai tod is thinner and lighter and clings more tightly to the chicken.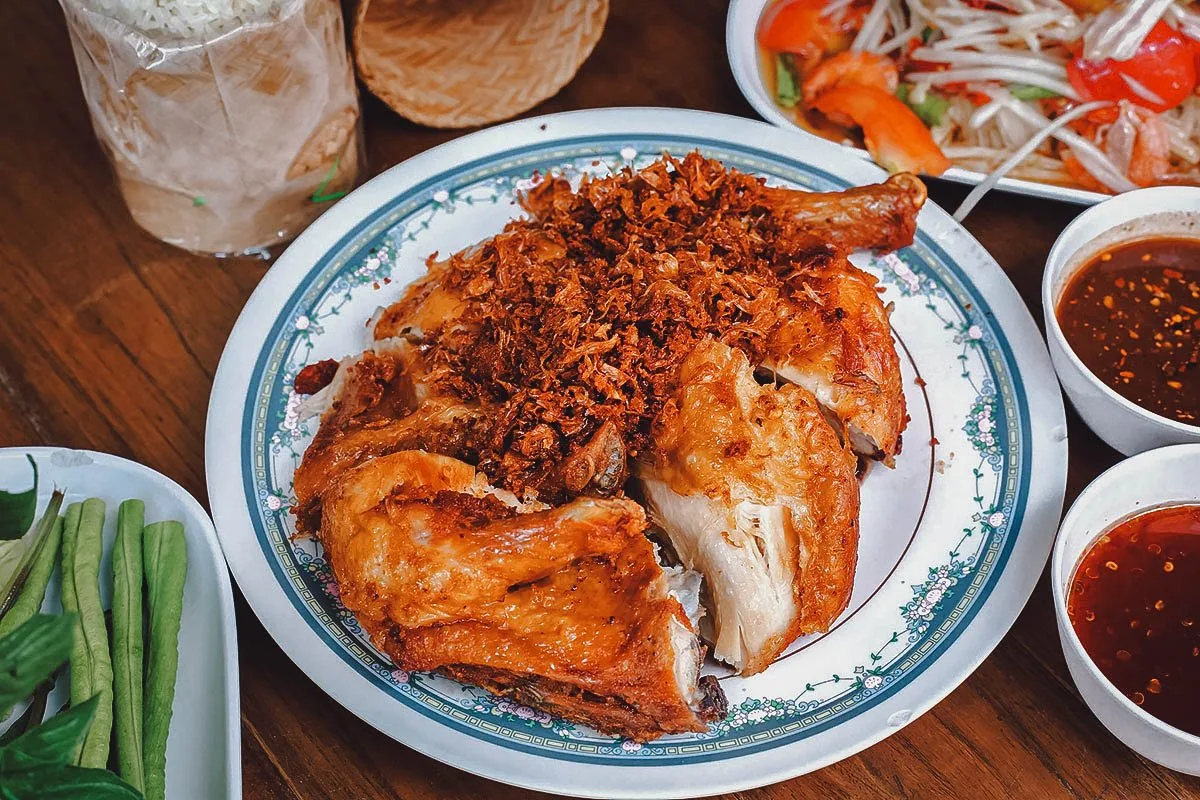 "Bangkok street food – Polo Fried Chicken" by Streets of Food, used under CC BY 2.0 / Processed in Photoshop and Lightroom
20. Gai Yang
Yang means "grilled" so gai yang refers to Thai grilled chicken. It's originally a Lao dish that's popular in the Isan and northern regions of Thailand. But these days, it's pretty much consumed throughout the whole of Thailand.
To prepare, a whole chicken is halved and pounded flat before being marinated and grilled over a low charcoal flame. Skewers are used to keep the chicken flat so it grills evenly, resulting in juicy meat and a nice, evenly crisped skin. Dipping sauces vary but gai yang is often served with a tamarind-based sauce or a sweet chili sauce. Personally, I prefer the former.
Because it's a Lao/Isan dish, gai yang is often paired with sticky rice and som tam. We've had it a few times in northern Thailand and it was always served with som tam and sticky rice. They go so well together.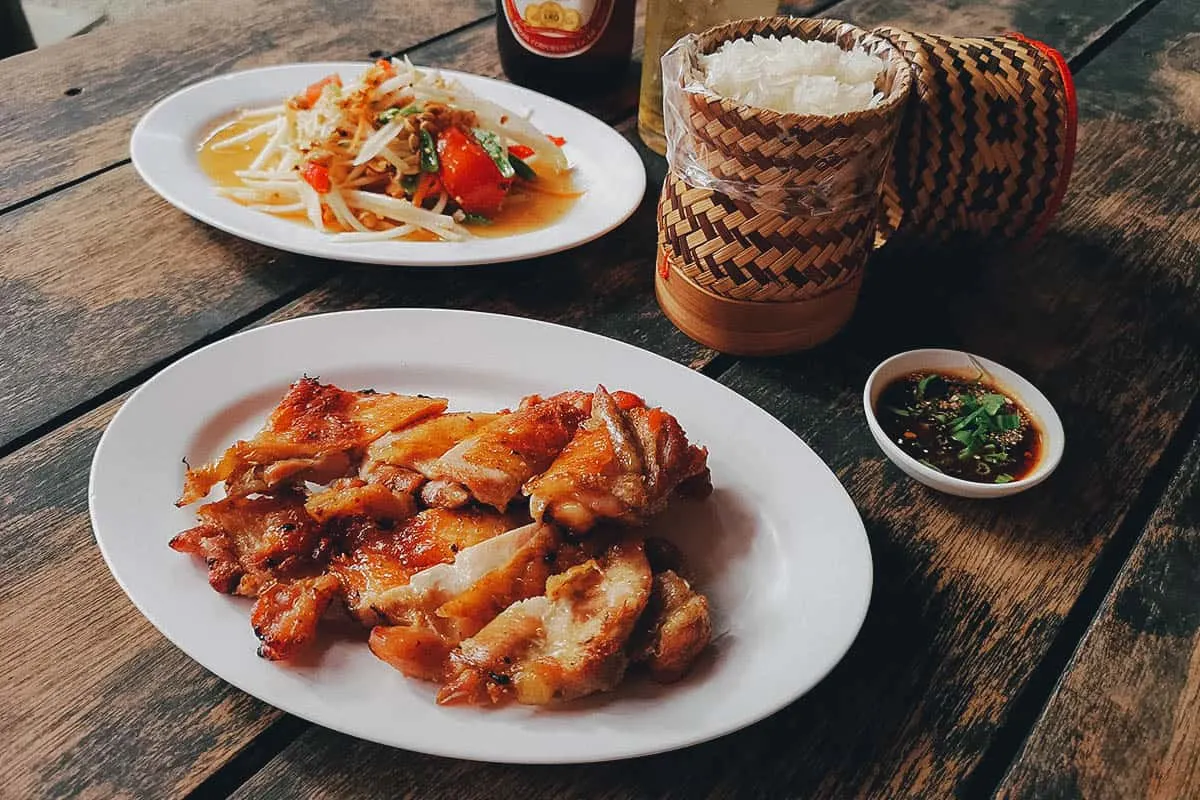 SEAFOOD
21. Yam Pla Dook Foo
Yam pla dook foo is one of my favorite Thai dishes. It refers to a deep-fried flaked catfish salad served with a dressing made with thinly sliced unripe mango, chili, shallots, lime juice, fish sauce, and sugar.
When I first tried this dish, I was surprised by how it looked. It says "catfish" on the menu but it looks nothing like catfish. As described, the meat is flaked and deep-fried so you're served this plate with the most delicious bits of crispy catfish that go so well with steamed white rice and the unripe mango salad.
I guess you can say I was "catfished"?
In all seriousness, you need to try this dish. It's textural and interesting and so much fun to eat.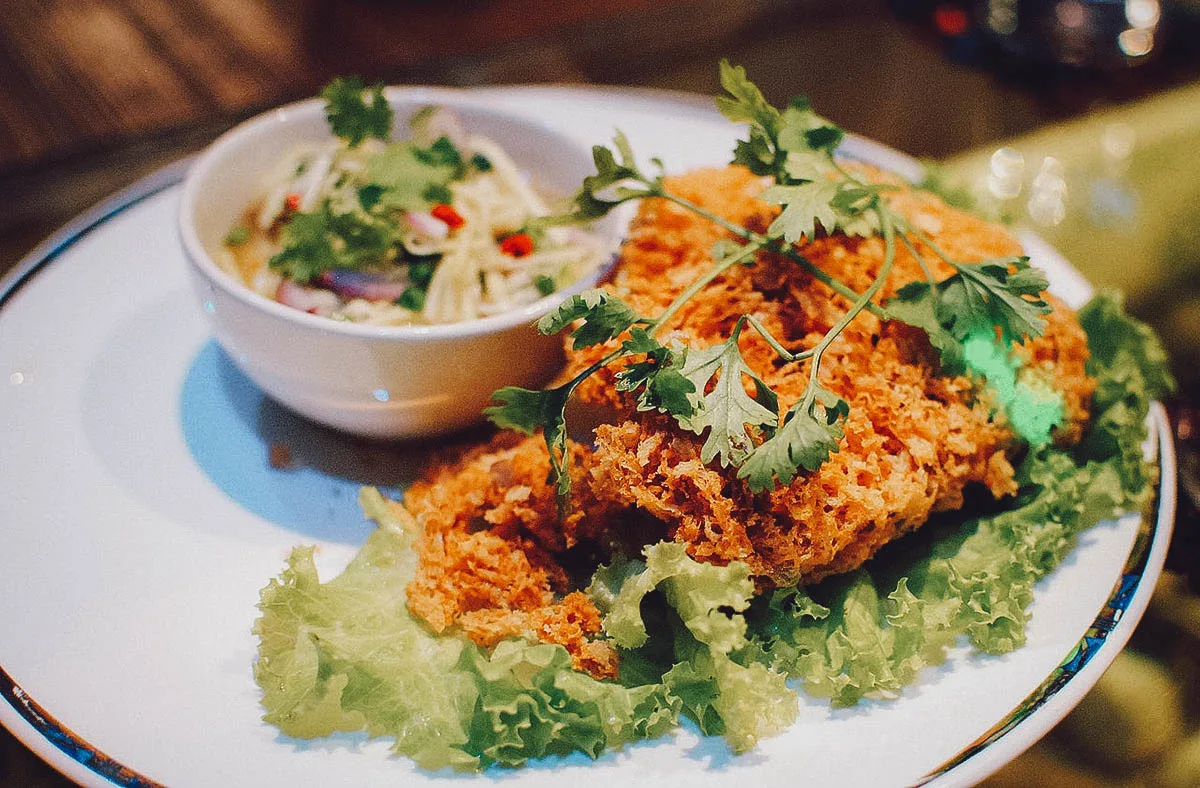 Takeaway, CC BY-SA 3.0, via Wikimedia Commons
22. Pla Pao
Pla pao refers to salt-crusted grilled fish. A whole fish – usually a red hybrid tilapia (pla tabtim) or snakehead fish (pla chon) – is covered in a thick layer of salt before being grilled.
Depending on the size of the fish, it's usually grilled for about forty minutes (twenty on each side) over a low charcoal fire to keep the flesh moist and succulent. When ready, it's often served with a Thai seafood sauce made with garlic, bird's eye chili, fish sauce, lime juice, and sugar.
We had pla pao at Khlong Lat Mayom floating market in Bangkok. According to our tour guide, it's a common floating market dish in Thailand. We tried the tilapia and it was served with raw vegetables, khanom jeen rice noodles, and a duo of sauces that you'd wrap in lettuce leaves to eat.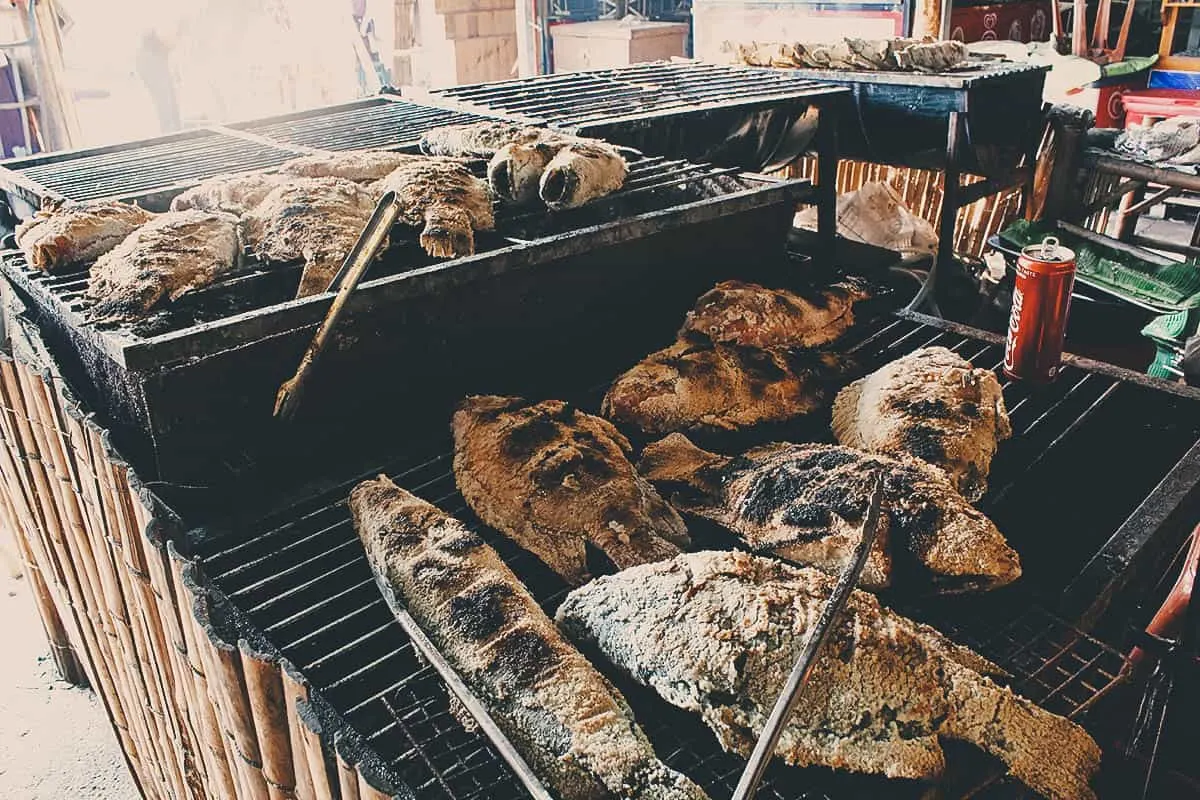 23. Tod Mun Pla
Tod mun pla refers to Thai fish cakes. It's a classic Thai street food or market snack that can be found everywhere in Thailand.
Tod mun pla are red-curry-flavored fish cakes traditionally made with meat from the clown featherback fish (pla grai). It's usually served with a cucumber dip or a sweet chili sauce and commonly eaten as a starter, snack, or as a main course with steamed rice.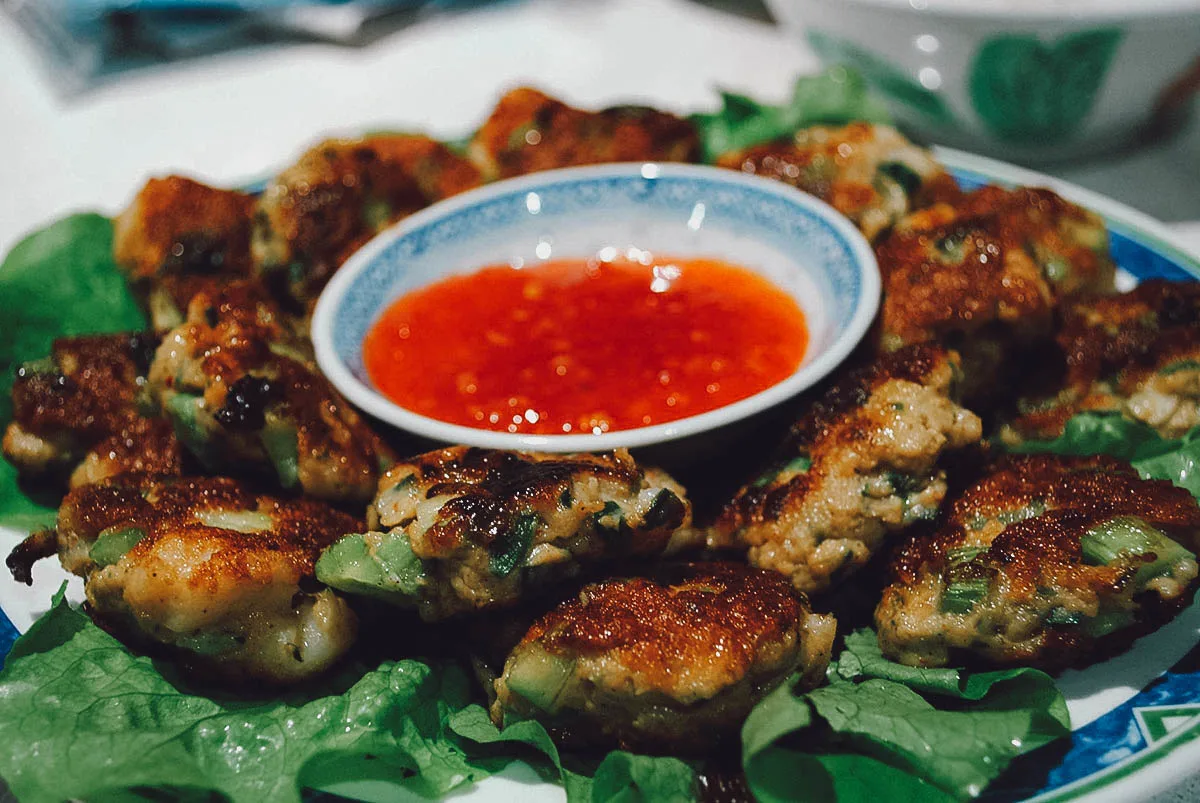 "Lu Yee's Thai Fish Cakes" by Alpha, used under CC BY-SA 2.0 / Processed in Photoshop and Lightroom
24. Hoy Tod
Hoy tod is one of the most popular street food dishes in Bangkok. It refers to a crispy omelette made with oysters or mussels, or both.
To prepare, oysters or mussels are fried with bean sprouts after being coated with a savory egg batter. The omelette is fried till crispy and served with a chili or tomato sauce.
Visit Bangkok and you may find two versions of this dish – hoy tod and or suan. Hoy tod refers to this crispy fried version that can be made with either oysters or mussels, while or suan refers to a spongier, gooier version made with just oysters.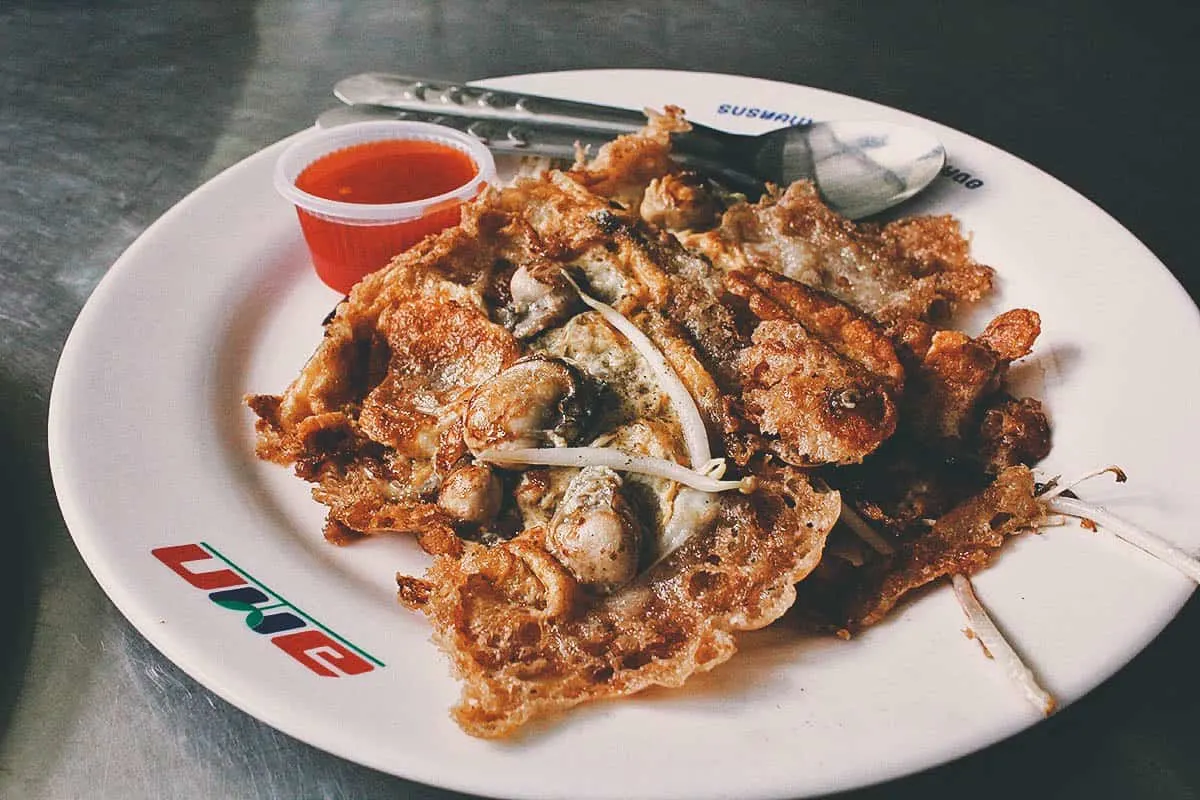 25. Kai Jeaw Poo
Kai jeaw poo refers to a Thai crab omelette. It's a Thai dish that's garnered international attention in recent years thanks to Jay Fai, the goggle-wearing street food cook who was awarded a Michelin Star in 2018. Kai jeaw poo is one of her signature creations.
To prepare, eggs, pepper, and fish sauce are whisked together in a bowl before being stirred through with the crab meat. The egg mixture is poured into hot oil and shaped into a tight cylinder using spatulas. When ready, the crab omelette is garnished with herbs and served with chili sauce.
Pictured below is the kai jeaw poo created by Jai Fai herself. It's crispy on the outside and moist and succulent on the inside. As you can see, it's practically bursting with crab meat.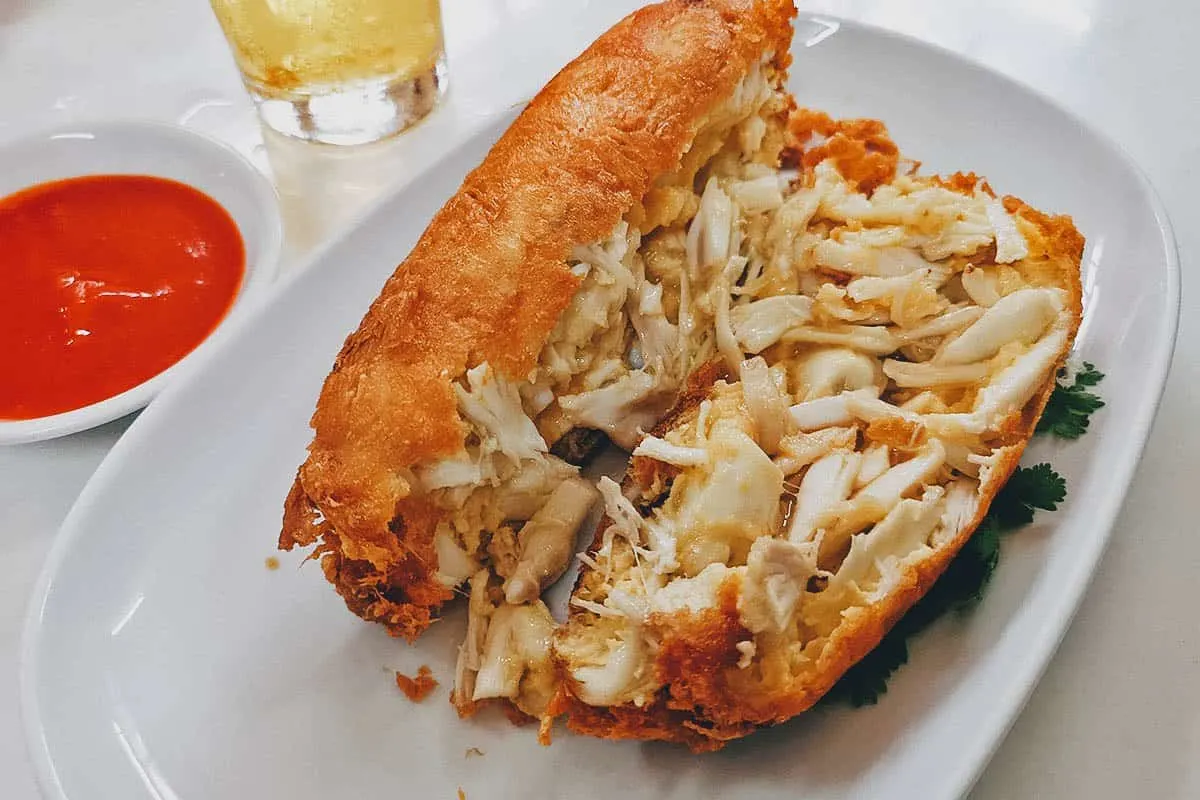 26. Goong Ten
Goong ten is one of the most interesting and unusual dishes on this Thai food guide. It refers to an Isan dish of tiny translucent shrimp that are dressed in a mixture of finely shredded lemongrass, garlic, shallots, ginger, bird's eye chili, mint leaves, lime juice, fish sauce, and chilli powder.
What makes goong ten interesting is that the inch-long shrimp are still alive when placed in the mixture. Like ceviche, the acidity from the lime juice essentially "cooks" the shrimp and causes them to jump about, hence the colloquial name for the dish – "dancing shrimp".
I don't know how common goong ten is outside of the Isan region but we were happy to find it at the night market in Chiang Rai. It's definitely not something you'd find on a typical restaurant's menu.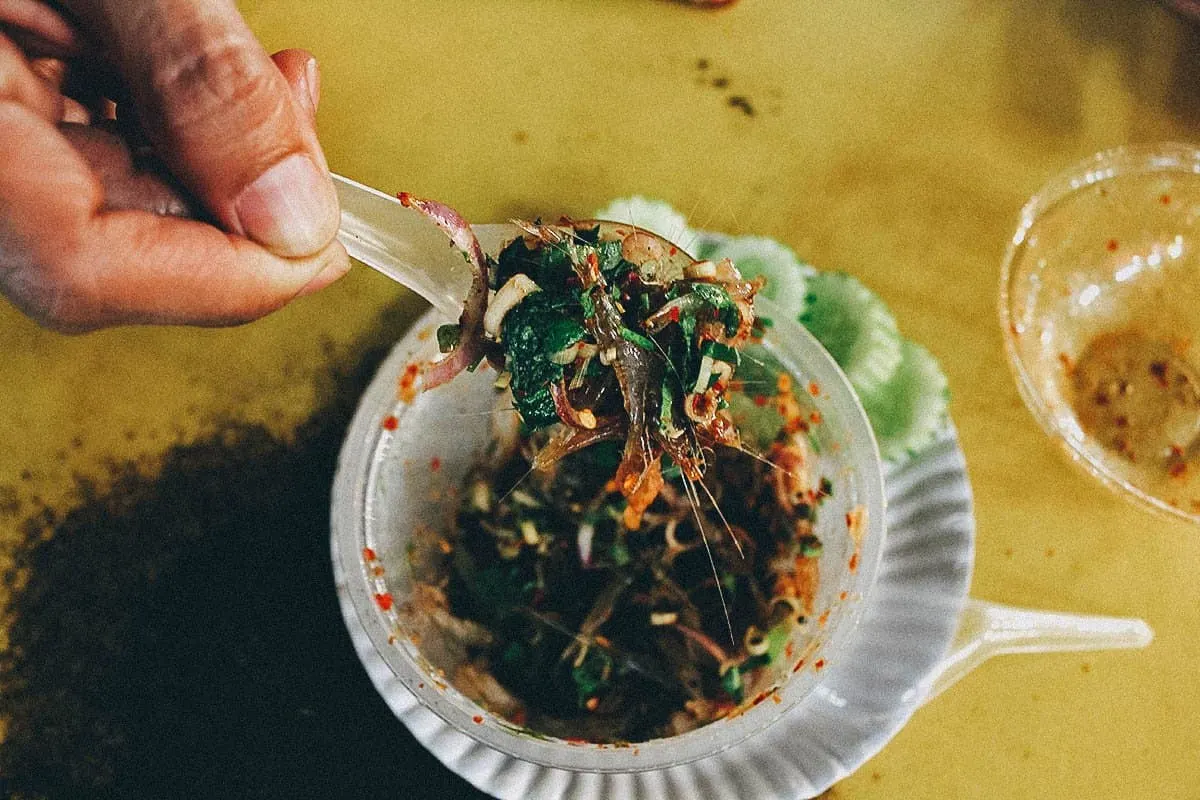 NOODLES / RICE
27. Pad Thai
Without a doubt, pad thai is the most famous dish on this Thai food guide. It's probably the first thing many travelers will look for on their first trip to Thailand.
Pad thai refers to a stir-fried rice noodle dish typically made with chicken, shrimp, tofu, peanuts, scrambled egg, bean sprouts, and other vegetables. The ingredients are tossed together in a wok before being flavored with a sauce made from tamarind juice, fish sauce, palm sugar, dried shrimp, garlic, and red chilis. When ready, it's often topped with crushed roasted peanuts and served with lime wedges.
Pad thai is very popular among tourists so you'll just as easily find it sold from street food carts as you would at proper sit-down restaurants. People love it for its balance of flavors. It's tangy, savory, and sweet all at once.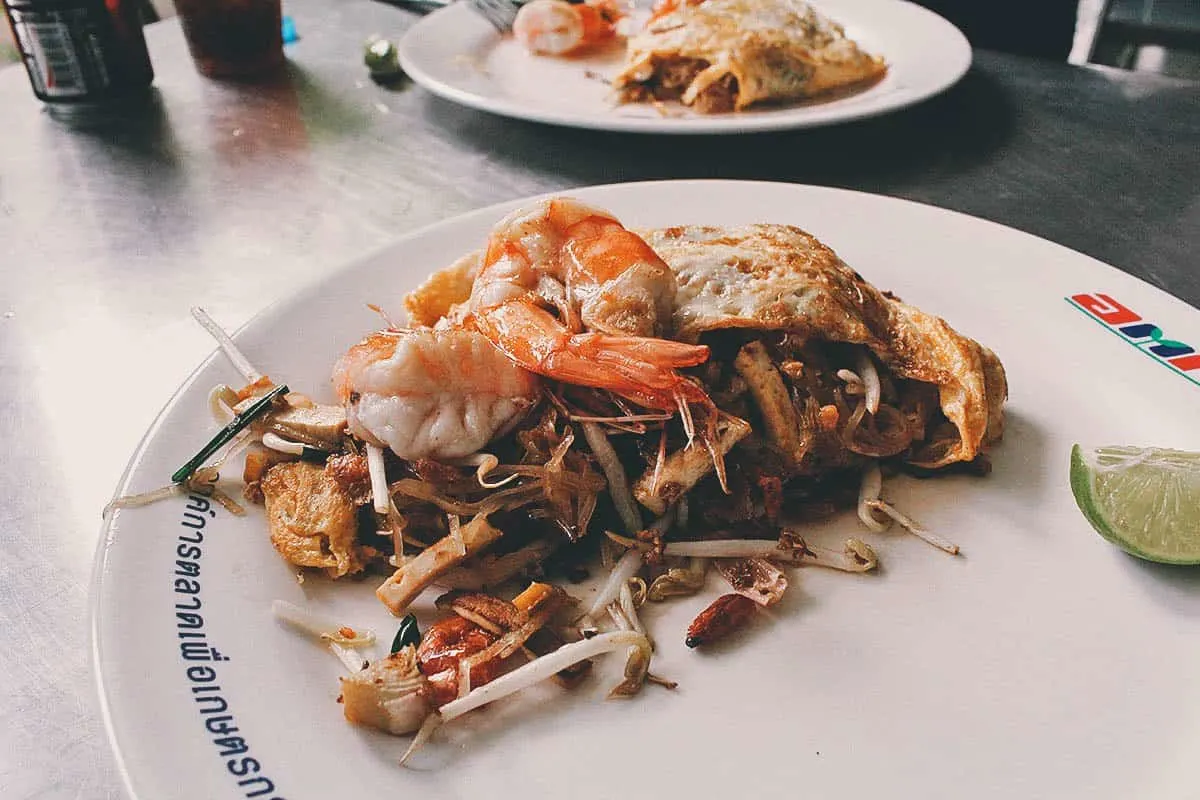 28. Guay Tiew Reua
Guay tiew reua refers to boat noodles, one of the most popular Thai street food noodle dishes in Bangkok. It features an intensely flavorful soup that's made with pig or cow's blood.
In Thai, guay tiew means "noodles" while reua means "boat", hence the name boat noodles. The name is in reference to how the dish was made and sold in Bangkok during the mid-20th century. Vendors would traverse Bangkok's canals on small boats selling small bowls of this Thai noodle soup.
Guay tiew reua can be made with different types of noodles along with beef, pork, pickled bean curd, meatballs, liver, and a plethora of seasonings and spices. If you enjoy strong flavors, then you need to have a bowl of boat noodles in Bangkok.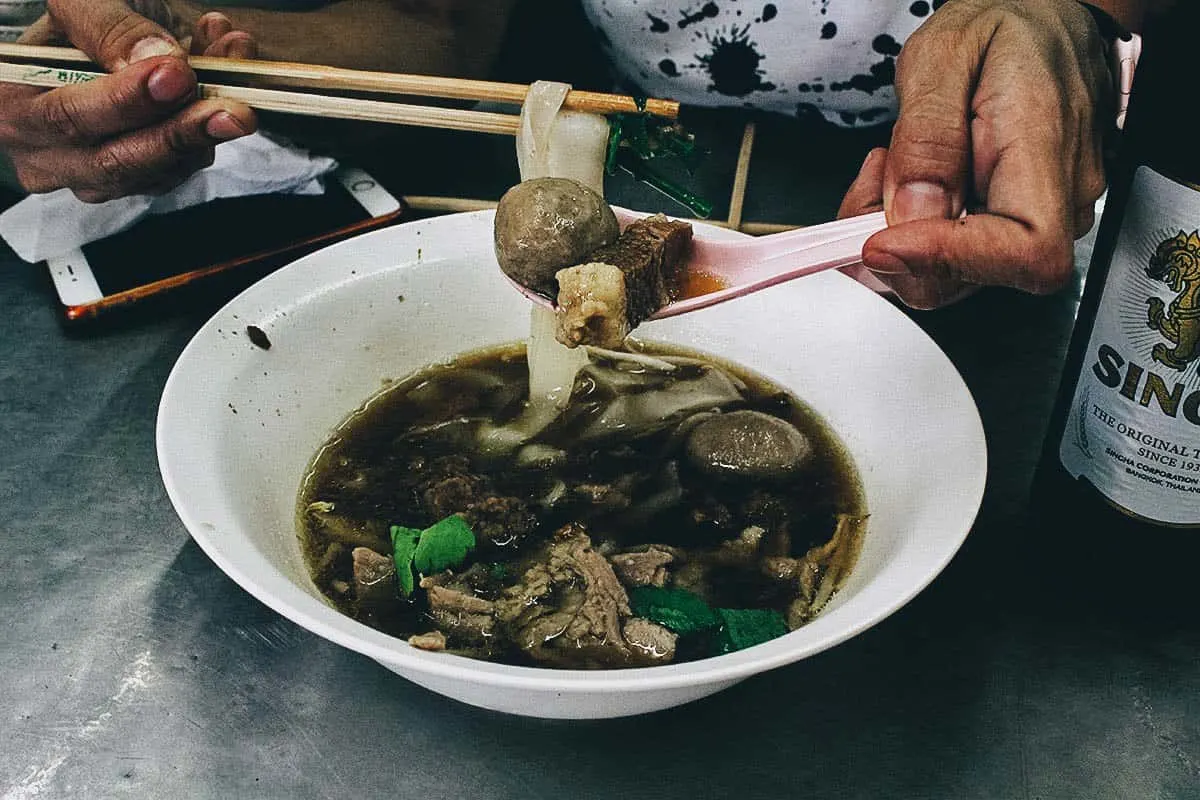 29. Goong Ob Woon Sen
Goong ob woon sen refers to a Thai dish made with glass noodles and prawns cooked with loads of ginger, garlic, and pepper. The ingredients are cooked together in a pot and served in the same pot it was cooked in.
Pictured below is an uncooked version from Khlong Lat Mayom floating market. When made with crab, the dish is called poo ob woon sen. You can find both versions at many seafood restaurants in Bangkok.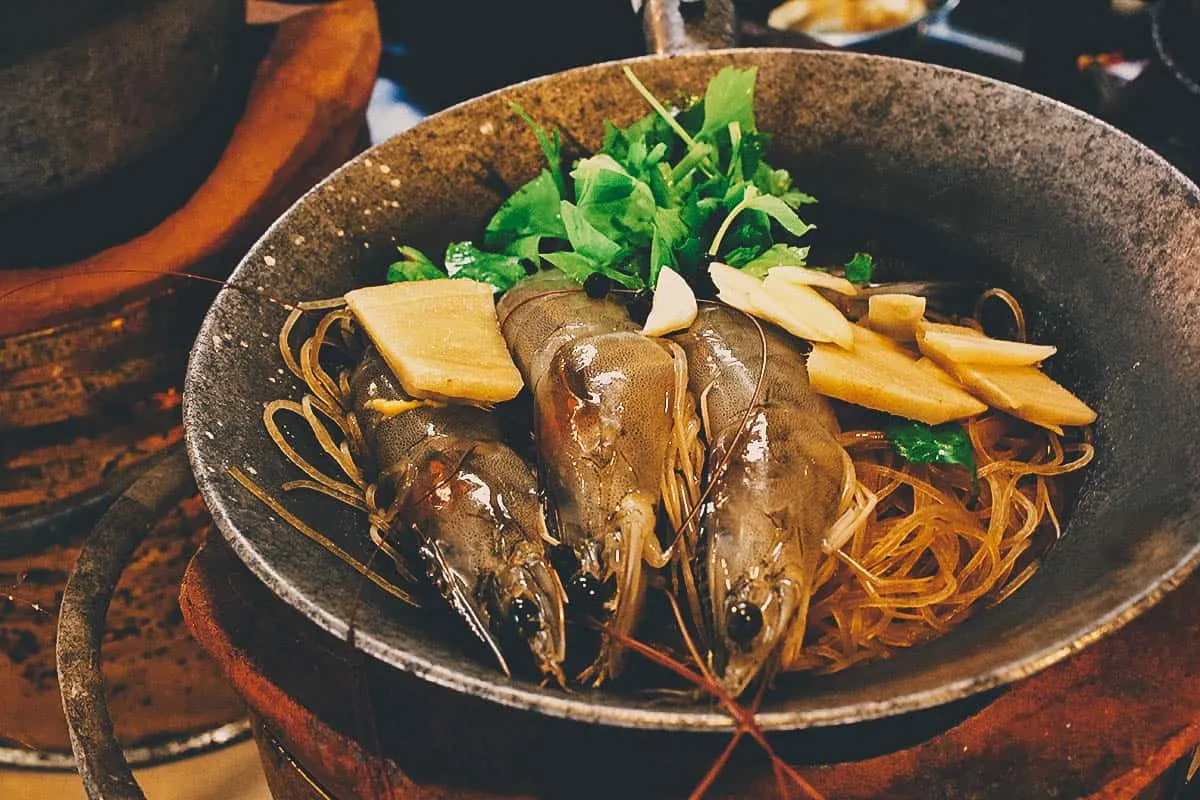 30. Khao Soi
If you were to have just one dish in Chiang Mai, then it should probably be khao soi. It refers to a noodle soup dish made with crispy and soft egg noodles in a creamy, curry-like sauce thickened with coconut milk. It's a popular dish in northern Thailand, Laos, and Myanmar.
The northern Thai version of khao soi is typically made with chicken or beef but you can have it with pork, shrimp, or fish as well. It's usually served with pickled cabbage, chopped red onions, and a wedge of lime. If you like, you can mix of packet of pork rinds into your khao soi as well for some added crunch.
Khao soi was my single favorite dish from northern Thailand. We had it a few times but the best was from Khao Soi Khun Yai in Chiang Mai. Check out our Chiang Mai food guide for more information.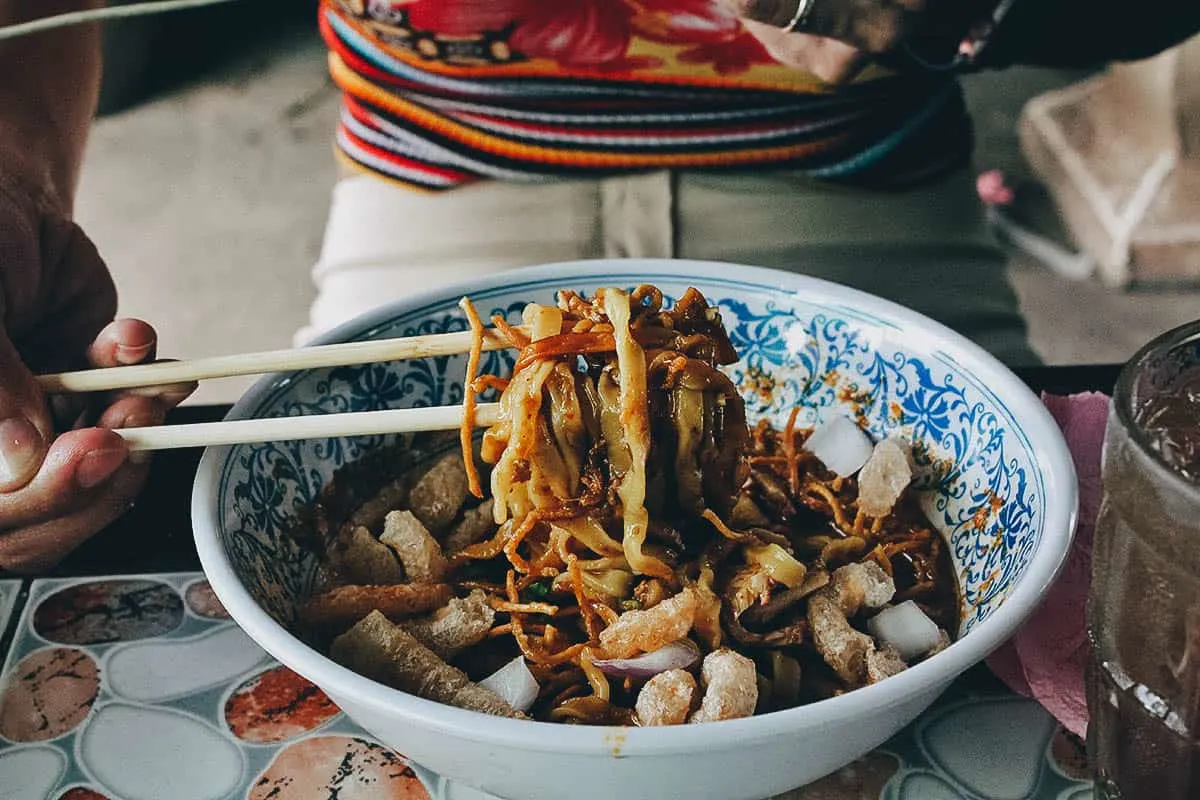 31. Pad See Ew
Pad see ew refers to a stir-fried noodle dish that's commonly eaten throughout Thailand. You can think of it as the Thai version of Malaysian char koay teow.
Pad see ew is made with a broad rice noodle called kuaitiao sen yai. Other ingredients include light soy sauce, dark soy sauce, garlic, Chinese broccoli, egg, tofu, and some type of meat. Beef is most often used but it can be made with other proteins as well meat like pork, chicken, or shrimp.
Pad see ew is one of the most popular Thai street food dishes and can be enjoyed pretty much anywhere in Thailand.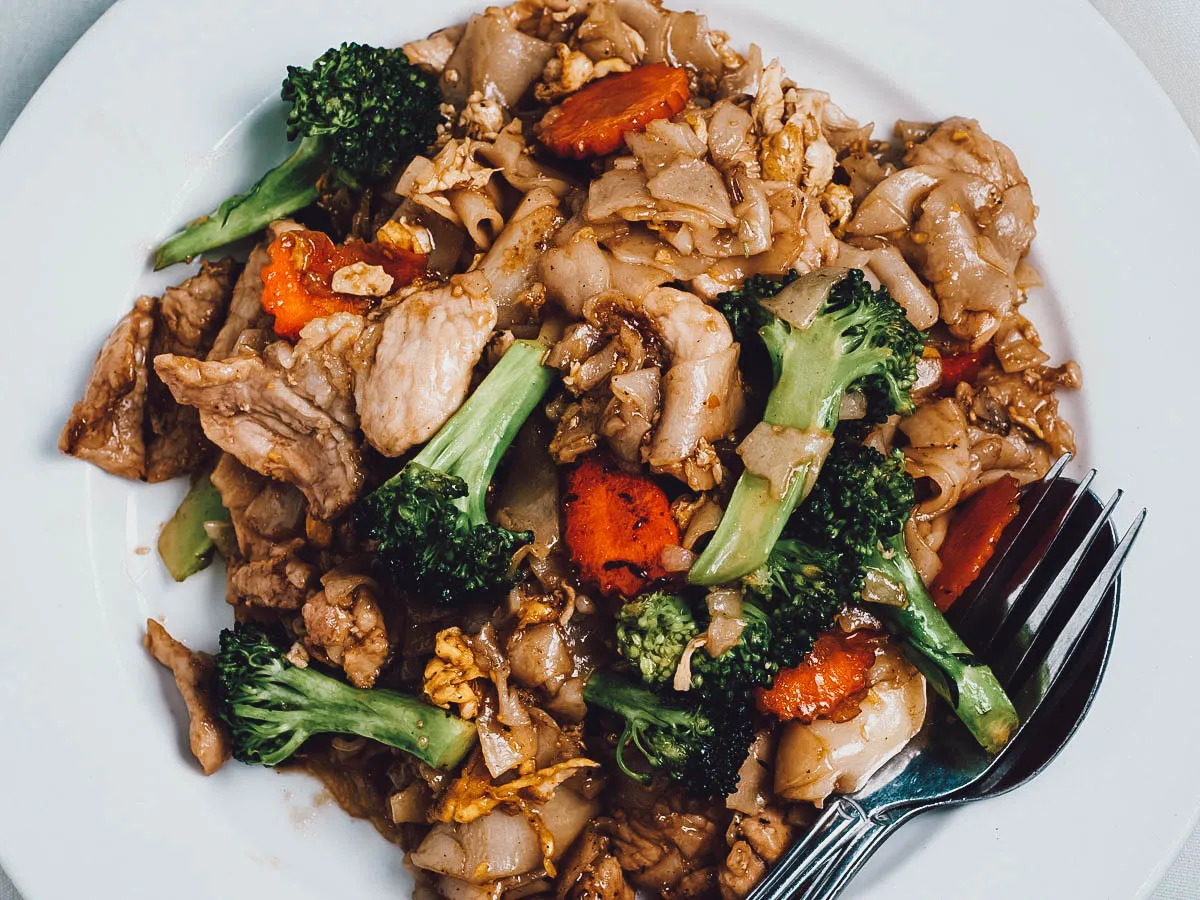 "Pad See Ew" by Jose Nicdao, used under CC BY 2.0 / Processed in Photoshop and Lightroom
32. Pad Kee Mao
Pad kee mao or "drunken noodles" is another popular Thai street food noodle dish. Made with stir-fried broad noodles, it's a very similar dish to pad see ew with the most notable differences being the addition of spicy peppers, baby corn, and sweet Thai basil.
From its name, I always assumed pad kee mao was made with some type of alcohol but it's not. Kee mao means "drunkard" but reasons for this name are unclear. One popular theory suggests that the dish got its name because of its popularity as after drinking food. Having eaten pad kee mao after a night of drinking in Bangkok, I can see that.
This incredibly appetizing-looking plate of pad kee mao was made by the street food legend herself – Jay Fai. You seriously need to try her food.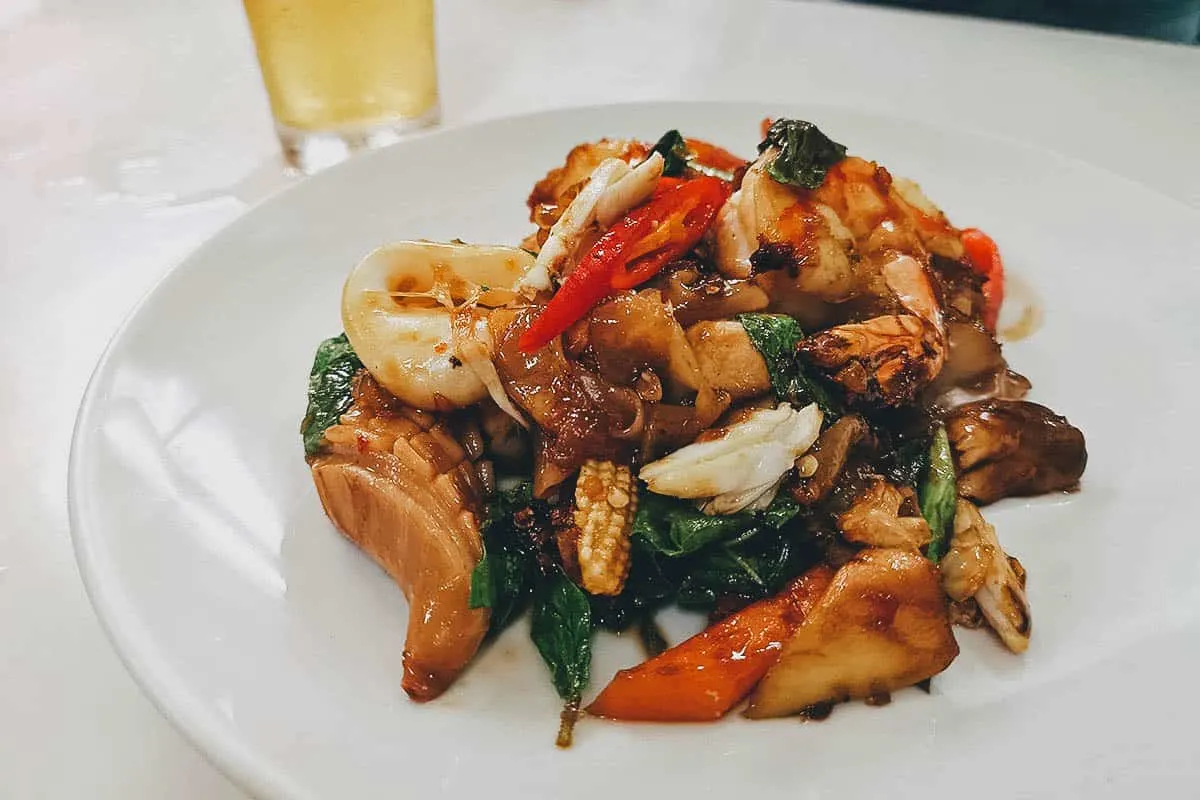 33. Nam Ngiaw
Nam ngiaw refers to a Shan noodle soup popular in northeastern Myanmar, northern Thailand, and southwestern Yunnan province in China. Frequently made with khanom jeen rice noodles, nam ngiaw is known for its characteristically sharp, tangy, and spicy flavors.
Aside from the rice noodles, nam ngiaw is made with either beef or pork along with chicken or pork blood cake as its main ingredients. It gets its sourness from chopped tomatoes and its spiciness from roasted or fried dry chilis.
Another key ingredient in nam ngiaw is tua nao, which is a type of fermented soy bean frequently found in northern Thai food. It's a plant-based condiment often used as an alternative to shrimp paste.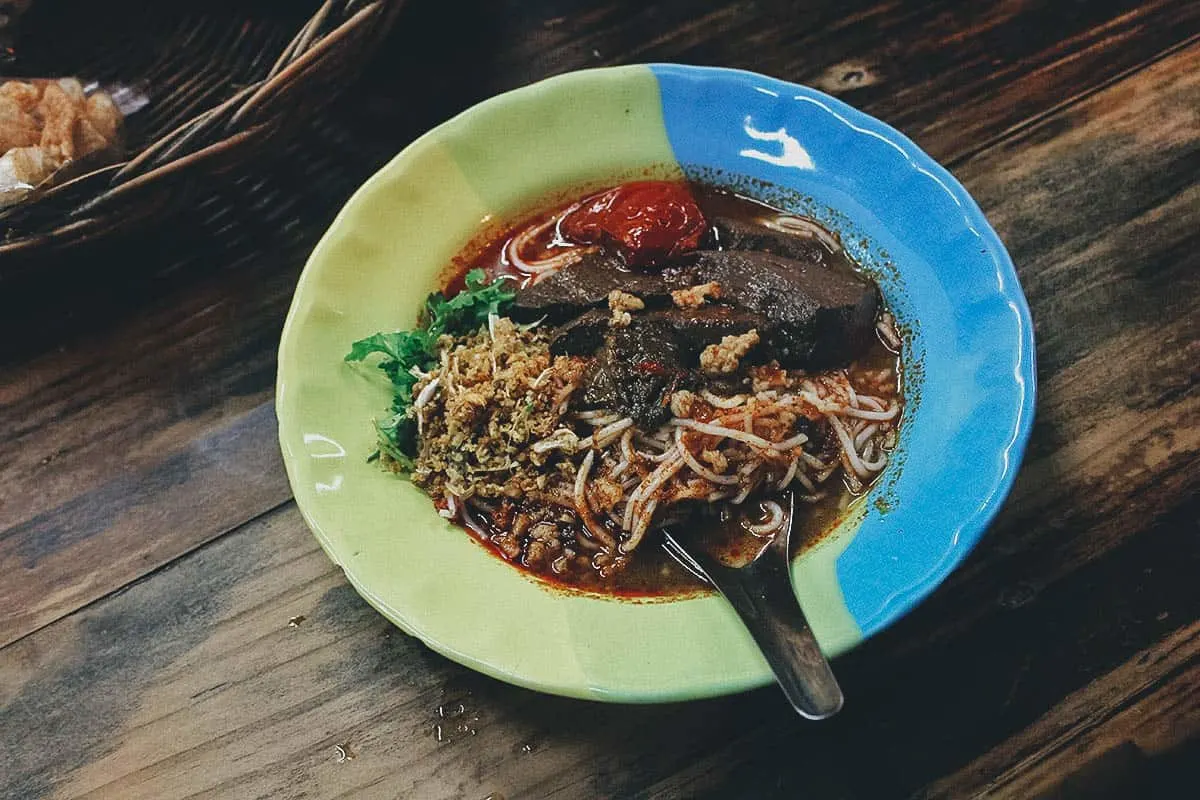 34. Yen Ta Fo
Yen ta fo refers to an interesting pink-colored Thai noodle soup. It's basically the Thai version of Chinese yong tau foo.
Yen ta fo gets its signature pinkish hue from fermented soybean paste. Aside from turning the broth a light crimson, it imparts a sweet, almost flowery essence to the soup. The dish is made with sen yai – the same noodles used to make pad see ew and pad kee mao – along with morning glory, tofu, fish balls, pork, and blood cake.
The pink-colored soup may give some tourists pause but yen ta fo is an interesting and delicious dish. It tastes savory and sour with just a hint of sweetness from the fermented soybean paste.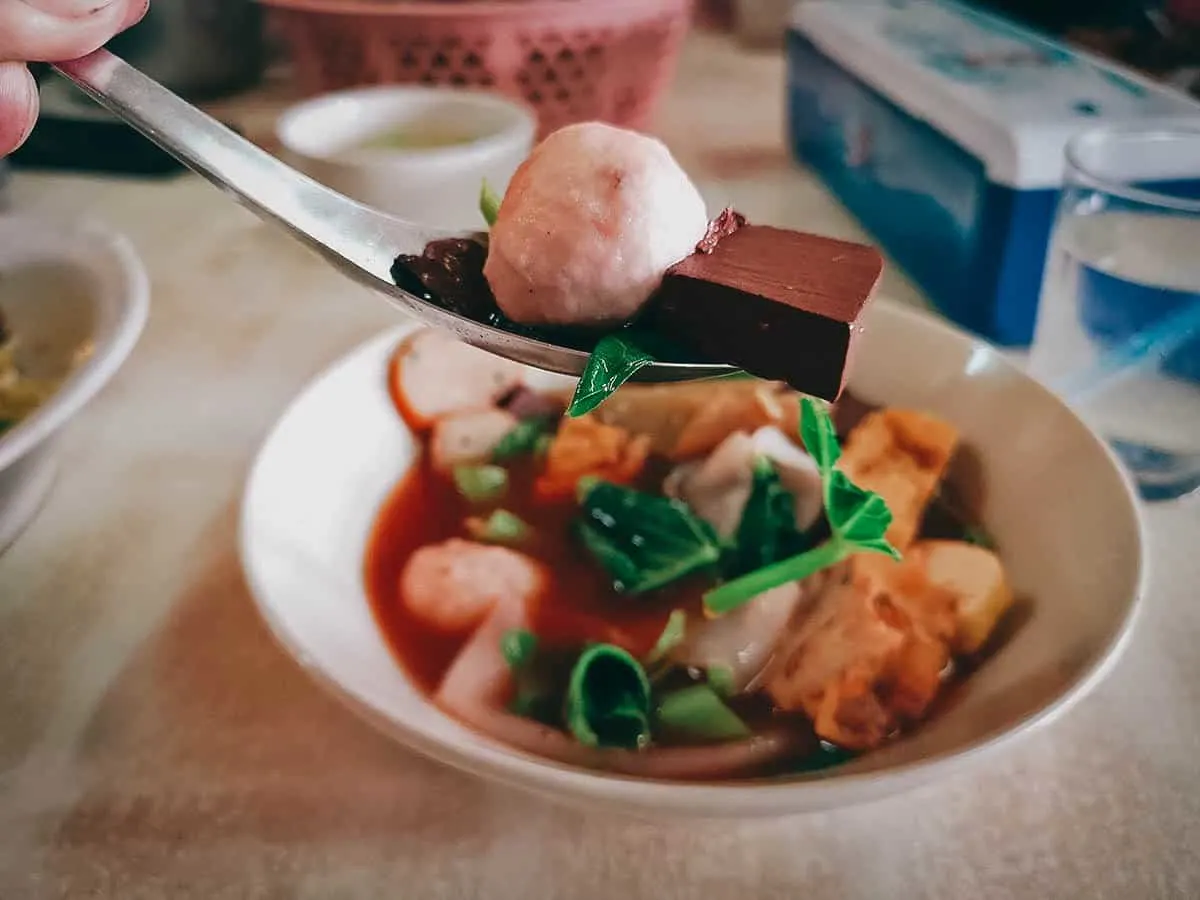 35. Khao Pad
Khao pad refers to Thai-style fried rice. It's typical of central Thai cuisine but it exists in many regional variants like green curry fried rice, American fried rice, and the popular pineapple fried rice pictured below.
Unlike Chinese fried rice, khao pad is usually made with fragrant jasmine rice which gives it a distinct flavor. Ingredients vary but Thai-style fried rice is usually made with some type of meat (like chicken, shrimp, or crab), egg, onions, garlic, and sometimes tomatoes. It's often served with sliced cucumber and prik nam pla, which is a spicy sauce made from bird's eye chili, fish sauce, and garlic.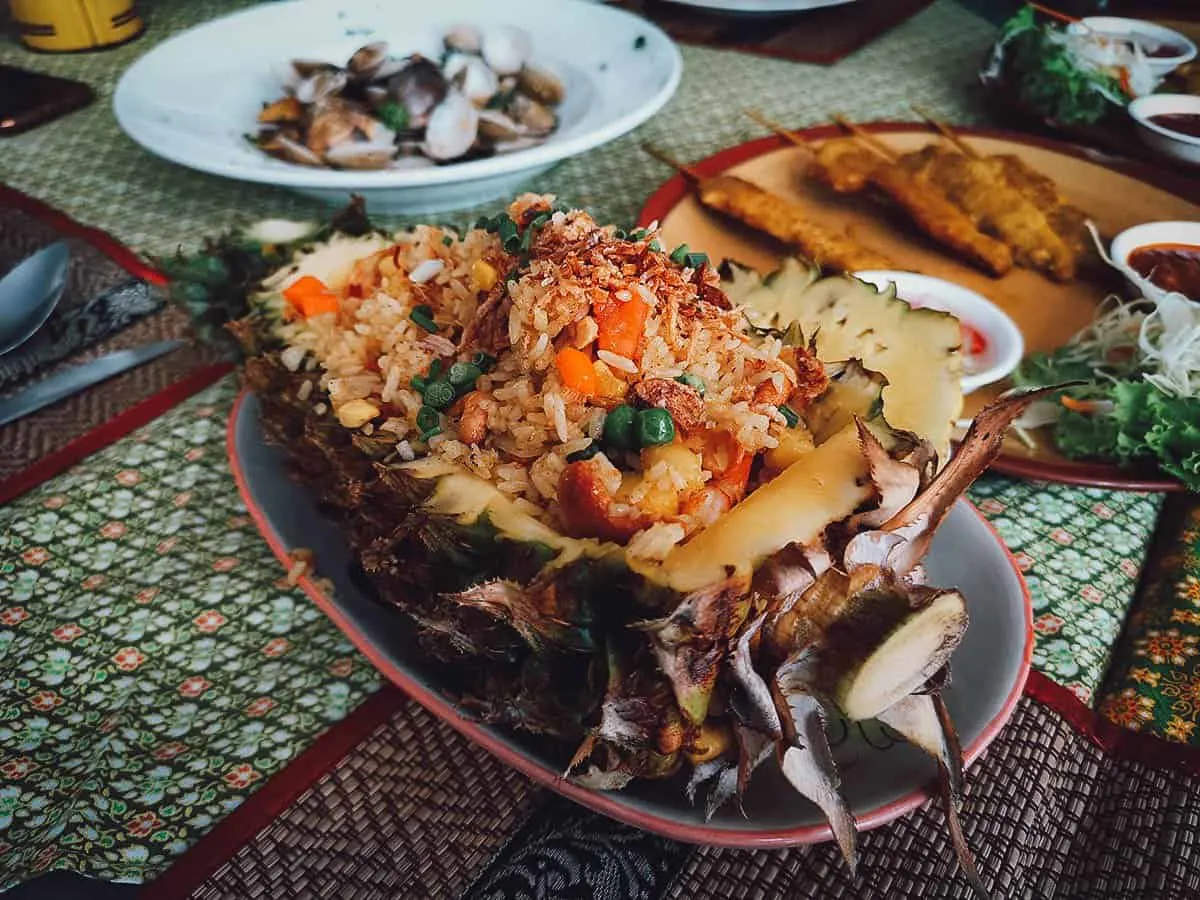 36. Pad Krapow
Pad kra pow (or phat kaphrao) is one of the most popular dishes in Thai cuisine. It's a Thai food favorite made with some type of seasoned ground meat – like pork, chicken, or beef – stir-fried with Thai basil and garlic.
In Thailand, pad kra pow is a popular lunch dish, something you can easily find at restaurants and food courts. It's usually served with steamed white rice and topped with a Thai-style fried egg (with crispy browned edges).
Being a beloved Thai comfort food, you can think of pad kra pow as the Thai equivalent to American cheeseburgers, Japanese tamago kake gohan, or Taiwanese lu rou fan.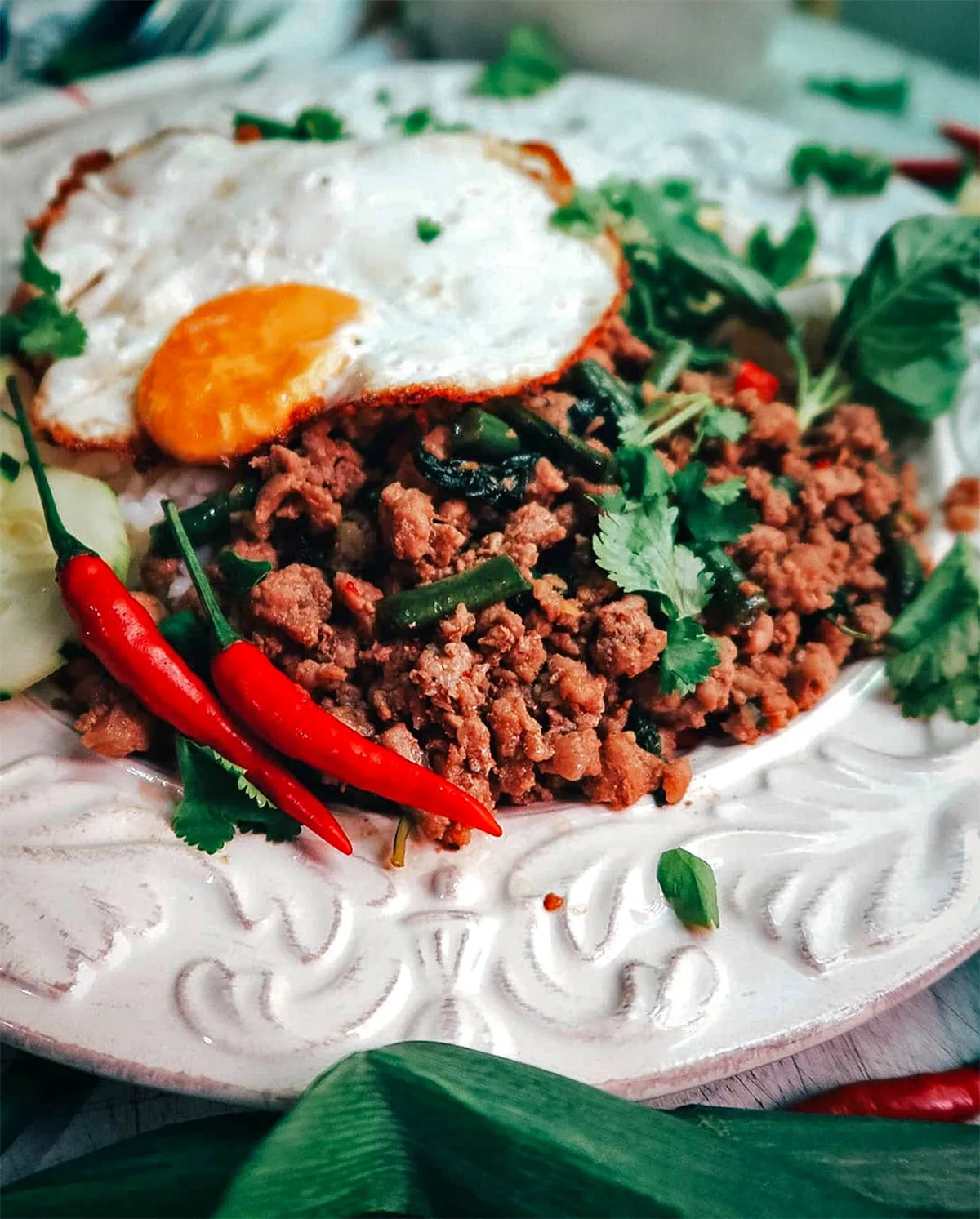 37. Khao Ka Moo
Khao ka moo is another Thai food favorite. It's originally a Teochew dish consisting of braised pork leg cooked in Chinese five spice. The meat is cooked till fork tender then served over steamed rice with a medium-boiled egg.
Khao ka moo is a popular dish that can be found pretty much anywhere in Thailand, from street food carts to food courts to proper sit-down restaurants. We had this fantastic plate of khao ka moo from the legendary Cowboy Hat Lady in Chiang Mai.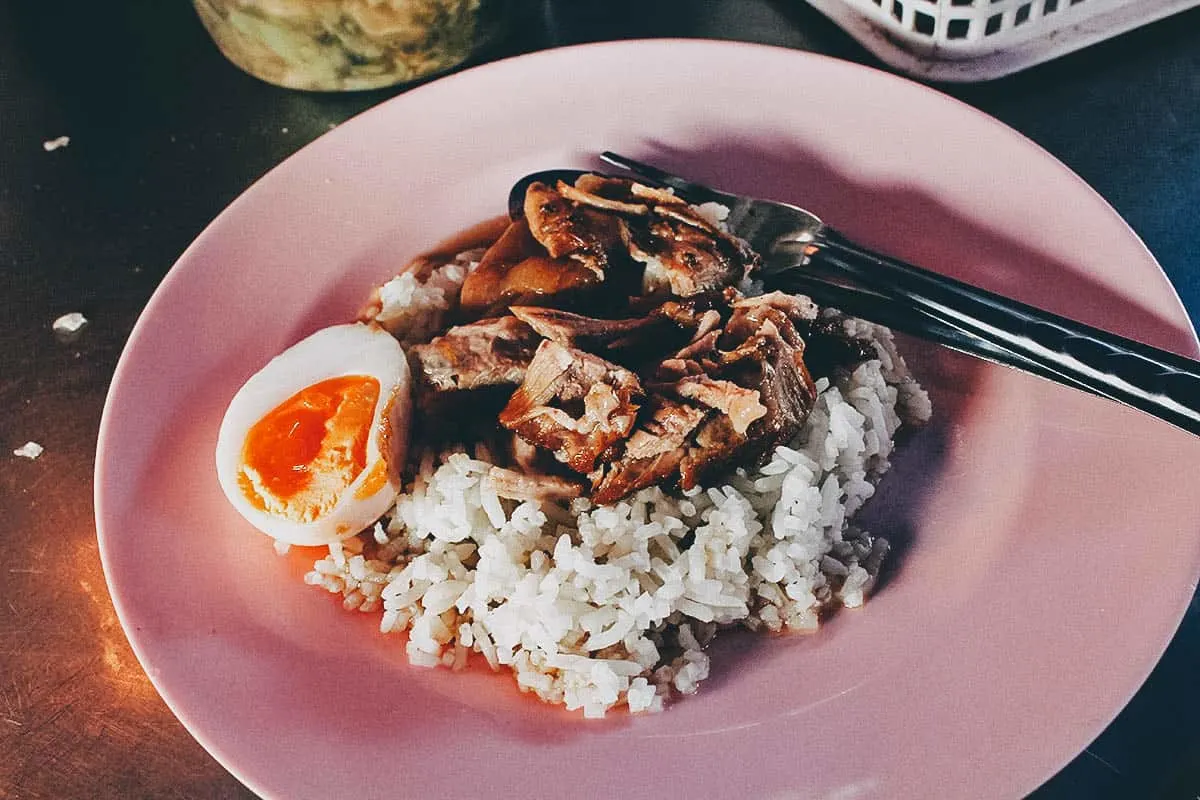 DESSERTS / DRINKS
38. Khao Niao Mamuang (Mango Sticky Rice)
Better known as mango sticky rice, khao niao mamuang is one of my favorite desserts not just in Thailand, but anywhere. As its name suggests, mango sticky rice is a popular dessert made with fresh mango, glutinous rice, palm sugar, and coconut milk.
To make mango sticky rice, coconut milk is mixed with salt and sugar before being heated and added to the glutinous rice. The mixture is left to sit until the coconut milk is absorbed into the sticky rice. It's then served alongside sliced ripe mango with the remaining milk drizzled on top.
When mangoes are in season, nothing beats mango sticky rice. It's so good. As described, mango sticky rice was one of just two Thai desserts included in CNN Travel's list of the World's 50 Best Desserts.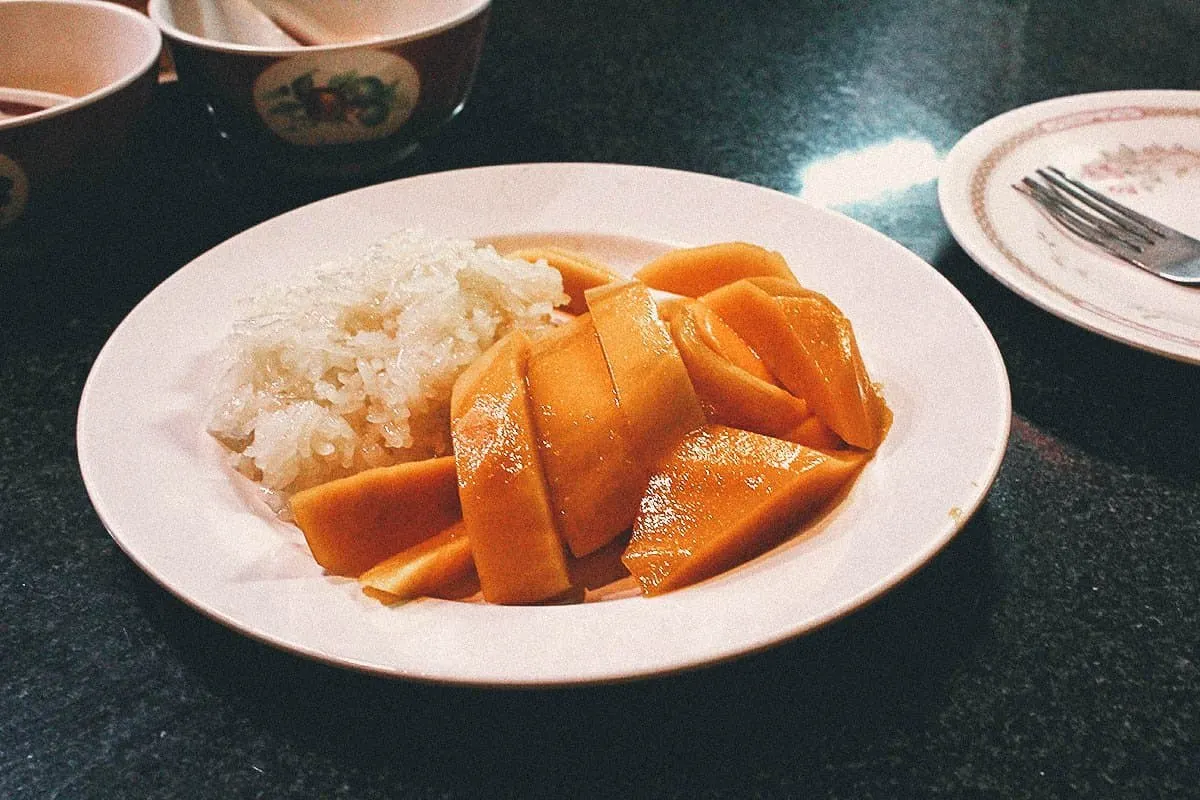 39. Oh Eaw
Oh eaw (or o-aew) refers to a shaved iced dessert that's a specialty of Phuket. It's named after its main ingredient – aiyu jelly – which is a jelly made from the seeds of the oh eaw plant. The jelly is served with sweet syrup and crushed ice topped with ingredients like red kidney beans and grass jelly.
Oh eaw was introduced to Phuket by Hokkien Chinese immigrants who settled on the island during the tin mining boom of the mid-19th and early 20th centuries. Today, you can find this colorful dessert pretty much everywhere in Phuket, from street food carts to food courts to cafes and dessert shops.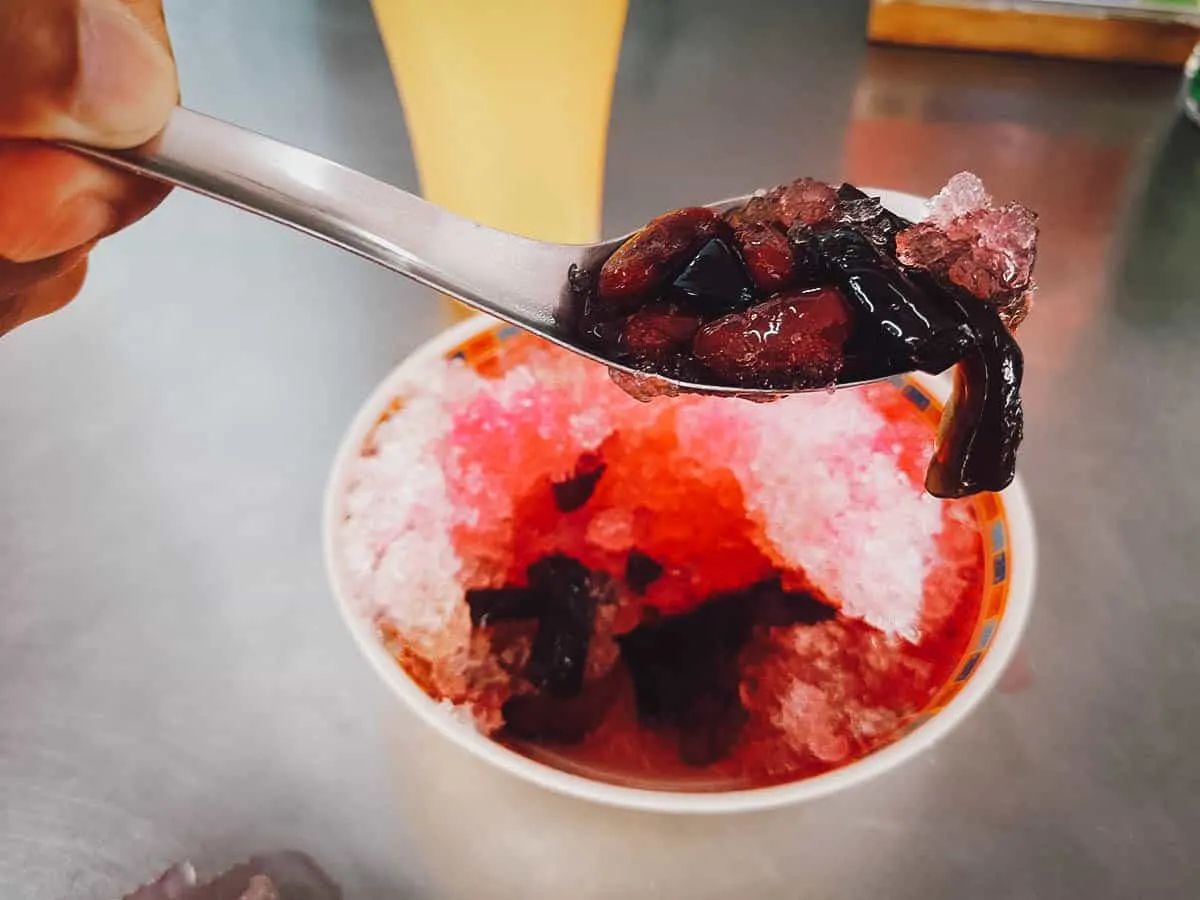 40. Tub Tim Grob
Like mango sticky rice, tub tim grob made it to CNN Travel's list of the World's 50 Best Desserts. It's name literally translates to "crispy rubies" which is in reference to the crunchy water chestnuts used in the dessert.
To prepare, water chestnuts are peeled and diced before being coated with red food coloring. They're then dipped in tapioca flour and boiled in water before being served in a pandan-scented coconut syrup with ice.
Looking at the red rubies, you'd think they'd have the texture of gelatin but they're very crunchy, just like regular water chestnuts. It's so refreshing and delicious.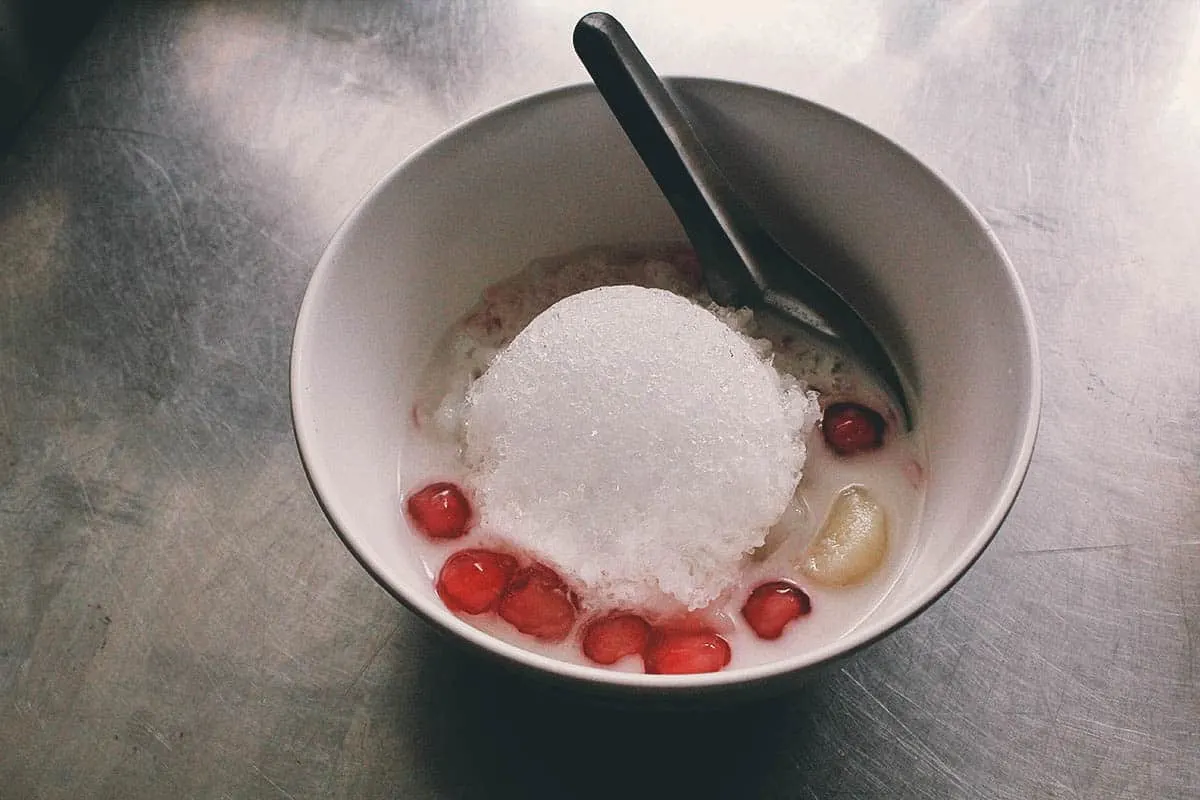 41. Khanom Tako
This is another of my favorite Thai desserts and something we often order at Thai restaurants outside of the country. Khanom tako (or simply tako) refers to a type of Thai dessert pudding covered in a coconut milk topping.
To prepare, a jelly base made of flour mixed with water and sugar is poured into a cup made with pandan leaves. It's allowed to cool and set before being poured over with the coconut milk topping. The result is a delicious dessert with two distinct layers – a creamy top and a more solid, gelatin-like bottom.
The tako can be served as is but as you can see below, it can also be garnished with any number of ingredients like fruit, corn, beans, or taro.
42. Pa Thong Ko
Pa thong ko refers to a popular Thai street food dessert made with deep-fried dough. It's basically the Thai equivalent of a doughnut or Chinese cruller.
Thai people like to eat pa thong ko either for breakfast or as a dessert snack. When eaten for breakfast, they usually have it with a bowl of jok or congee. When enjoyed for dessert or as a snack, it's often served with sweetened condensed milk or a rich and creamy pandan custard.
This batch of pa thang ko was from a popular Michelin-recommended street food stall in Bangkok. I don't remember the name of the stall but it was the last stop on this Bangkok food tour. Delicious!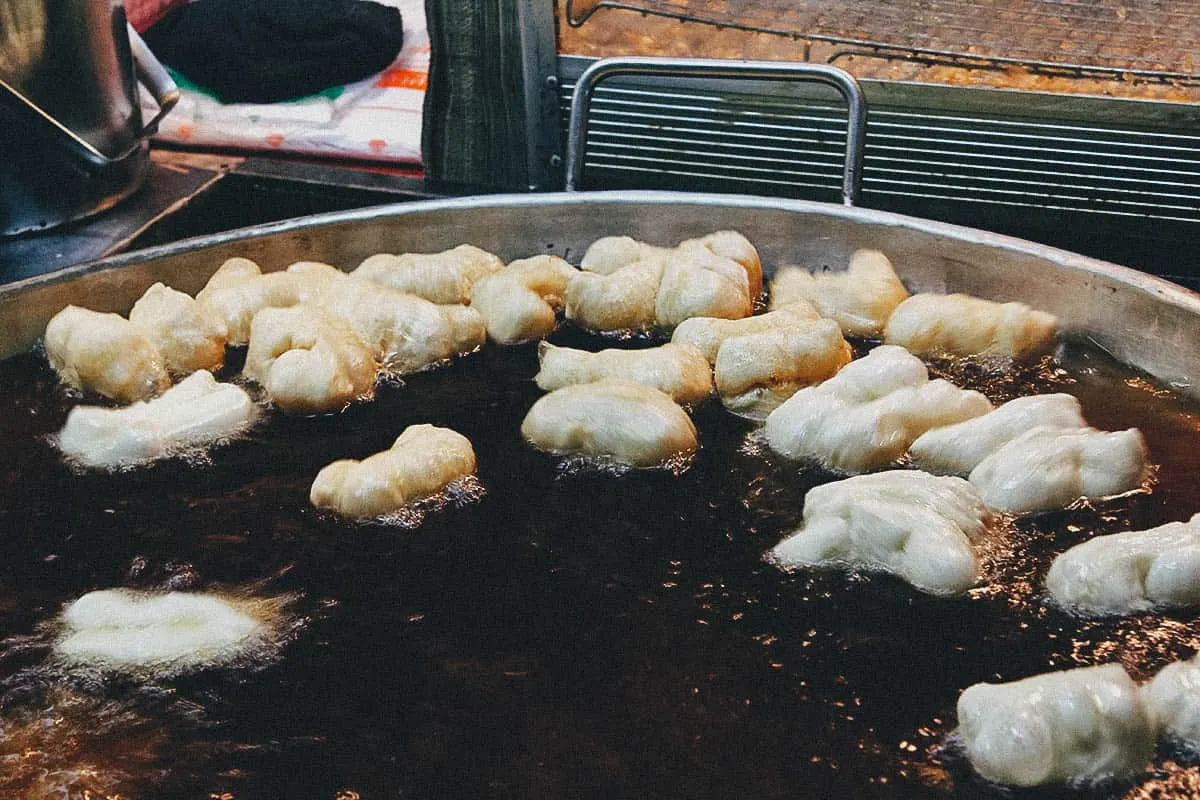 43. Khanom Krok
Khanom krok refers to a traditional Thai dessert of coconut-rice pancakes. It's a fragrant and sweet street food snack that's similar to Burmese mont lin maya or Indonesian surabi.
Khanom krok is made by mixing rice flour, coconut milk, and sugar into a dough then cooking it in a hot indented frying pan, similar to the pans used to make Japanese takoyaki. Each khanom krok consists of two halves – one salty and the other sweet – which are eventually stuck together to form the finished pancake.
Coconut milk and rice flour are the main components but khanom krok can be made with other ingredients as well like shredded coconut, corn, taro, and green onions. Pictured below are the sugar-dusted pancakes we enjoyed at the Yee Peng Festival in Chiang Mai.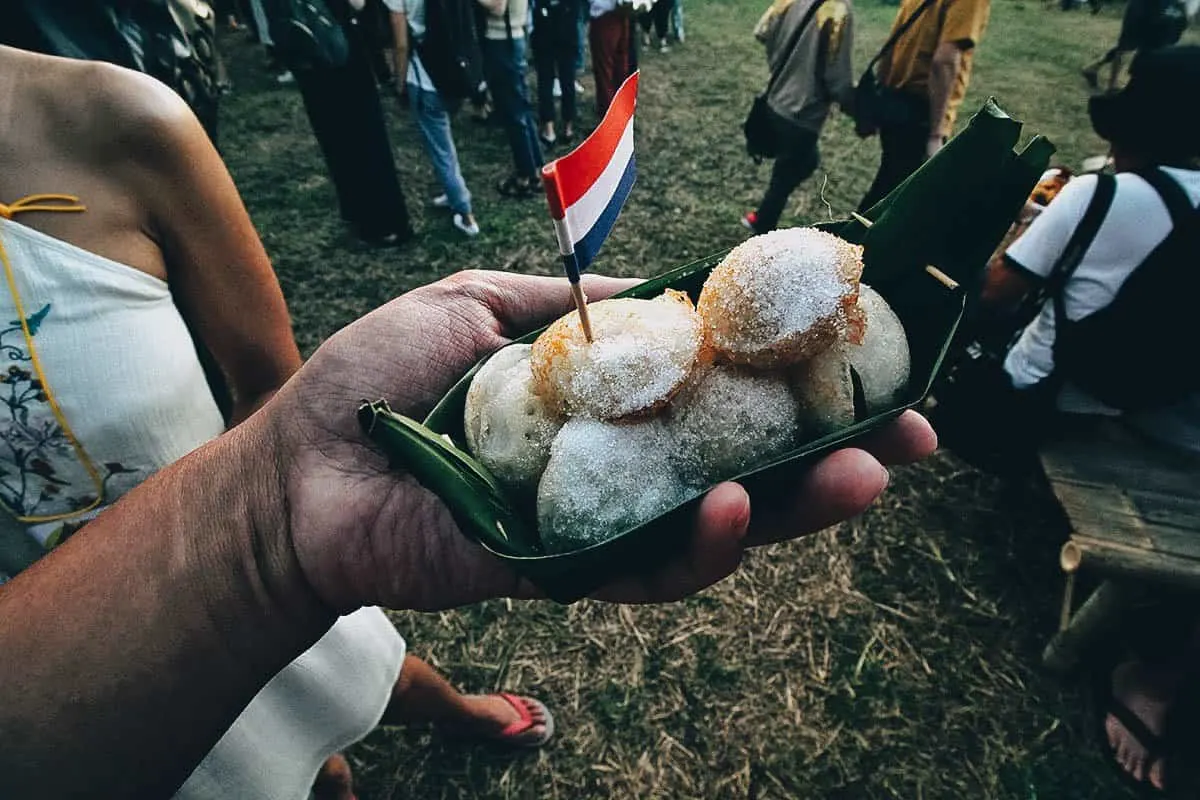 44. Luk Chub
These pretty glass-like beads are known as luk chub, a Thai confection made with a creamy, sweetened mung bean paste. Like Italy's frutta martorama, they're often shaped and colored to look like tiny Thai fruits and vegetables using natural dyes like butterfly pea flower and pandan leaf extract.
Based on what I've read, luk chub may have been introduced to Thailand in the 16th century by Portuguese traders with a taste for marzipan. Because almonds weren't available in Thailand, they used peanuts or mung bean paste instead.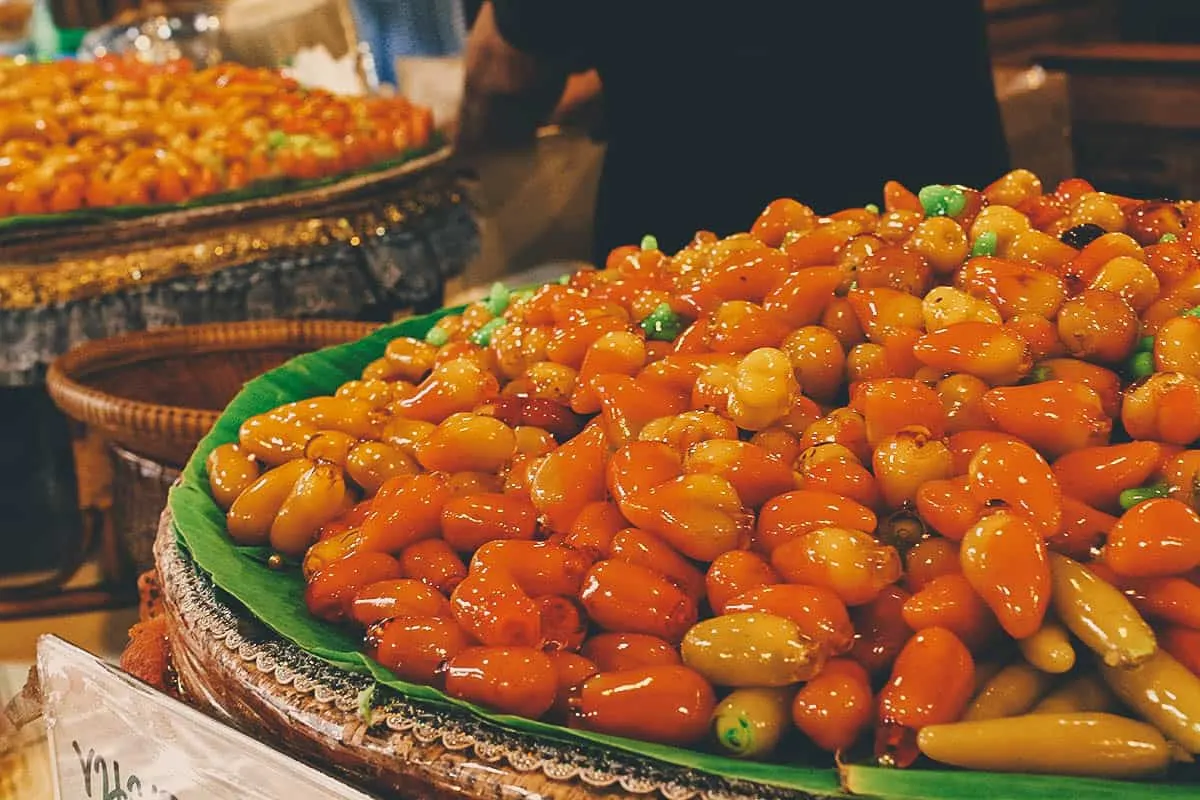 45. Cha Yen (Thai Iced Tea)
I love drinking beer when we eat out but Thai restaurants are often an exception, mainly because of this sweet and creamy drink called cha yen or Thai iced tea.
Beloved by both locals and tourists alike, cha yen is an incredibly delicious and refreshing drink made with black tea, sweetened condensed milk, evaporated milk, and sugar. The milk is poured over the tea and ice (or vice versa) before serving to give the drink its signature two-tone look. To drink, you mix the ingredients together until it's an even orange.
Speaking of orange, have you ever wondered where cha yen gets its nuclear color from? It's from specific brands of black tea made with the same food dye used to color Kraft Macaroni & Cheese. From what I understand, it's purely for aesthetics and has nothing to do with taste.
Personally, I like the orange color. For me, when it comes to the most delicious Asian drinks, cha yen is right up there with nuoc mia and boba.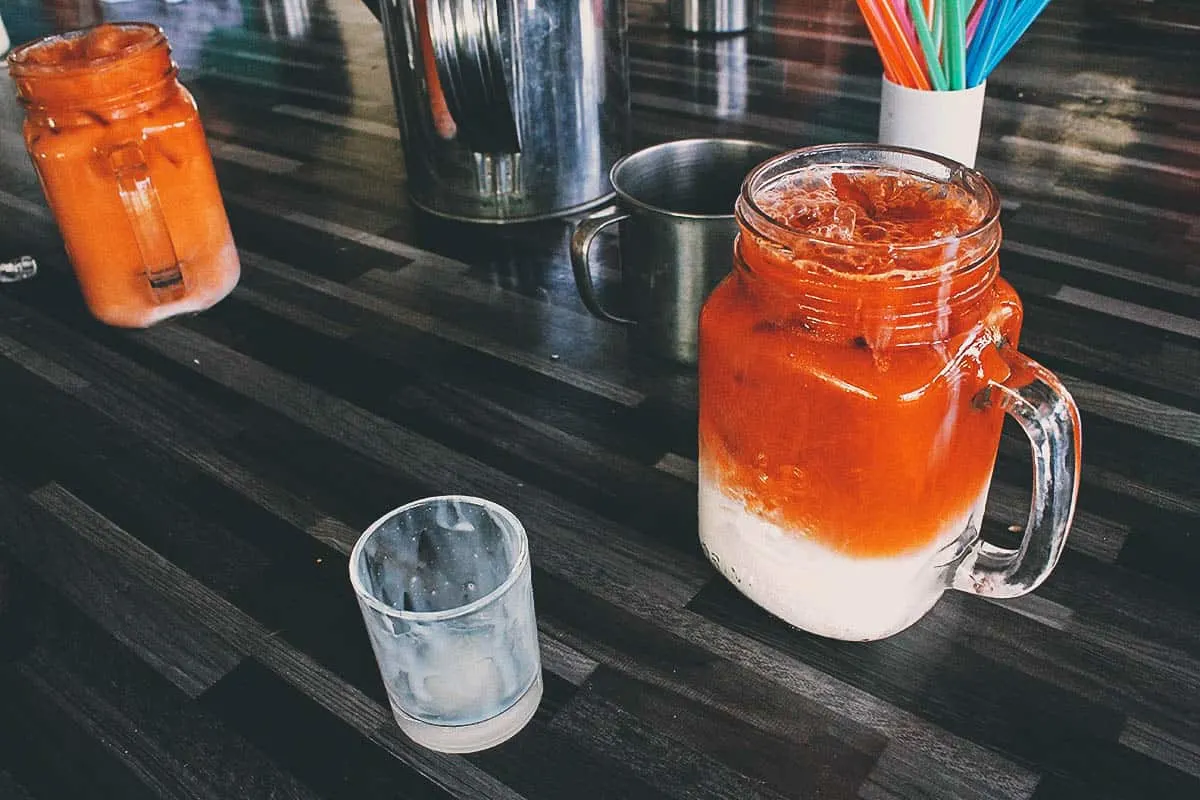 THAI FOOD TOURS
No one knows Thai food better than a local so what better way to experience Thai cuisine than by going on a food tour? They'll take you to the city's best local restaurants and street food stalls and explain every dish to you in more detail. If you're visiting Thailand, then check out Get Your Guide for a list of Thai food tours in different cities throughout the country.
THAI COOKING CLASSES
Aside from food tours, we love taking cooking classes on trips. In my opinion, it's one of the best ways to learn about the local cuisine. In Thailand, we've taken cooking classes in Chiang Mai and Phuket and enjoyed them both. Check out Cookly for a list of cooking classes in Bangkok and in many other cities throughout Thailand.
FINAL THOUGHTS ON TRADITIONAL THAI FOOD
Like all our food guides, this Thai food guide is a perennial work-in-progress that will only get better over time. We've been to Thailand many times but we've only explored a fraction of the country and its cuisine.
One area that's of particular interest is the northeastern or Isan region. It's such an important part of Thai cuisine and many people who've had it swear by it. I enjoyed the Isan food in Chiang Mai and Bangkok so I can only imagine what it must be like at the source.
In any case, I hope you enjoyed this Thai food guide as much as I enjoyed writing it. If you're a Thai food lover and have suggestions on what dishes we should look out for on our next trip to Thailand, then please let us know in the comments below.
Thanks for reading everyone and I hope this Thai food guide leads you to some terrific meals in the Land of Smiles!
Disclosure
Some of the links in this Thai food guide are affiliate links. We'll get a small commission if you make a purchase at no additional cost to you. We only recommend products and services that we use ourselves and firmly believe in. We really appreciate your support as it helps us make more of these free travel guides. Thank you!