Some people traveling to Vietnam for the first time may be asking the question: Hanoi or Ho Chi Minh City? They're Vietnam's biggest cities located at opposite ends of the country.
Though we personally prefer Hanoi, Saigon is the more exciting city with the best street food in the country. It's the more westernized and cosmopolitan of the two with glitzier shopping malls, fancy rooftop bars, and a pulsating nightlife.
Ho Chi Minh City may be too big and fast-paced for us but we always look forward to visiting because of all the terrific food we know we'll be having. From humble street food stalls to fancier restaurants offering elevated versions of Vietnamese cuisine, dining in this city never disappoints.
I'll be honest. If you're looking to party in Saigon, then this isn't the travel guide for you.
But if you're visiting for the first time and looking for the best things to do in Ho Chi Minh City and its most delicious food, then you've come to the right place.
VISIT SAIGON QUICK LINKS
This Ho Chi Minh City travel guide is long and detailed. For your convenience, I've compiled links to hotels, tours, and other services here.
HOTELS
Top-rated hotels in Dictrict 1, the most convenient area to stay for people on their first trip to Ho Chi Minh City.
TOURS
OTHER SERVICES
Save This on Pinterest!
No time to read this Saigon travel guide now? Click on the save button and pin it for later!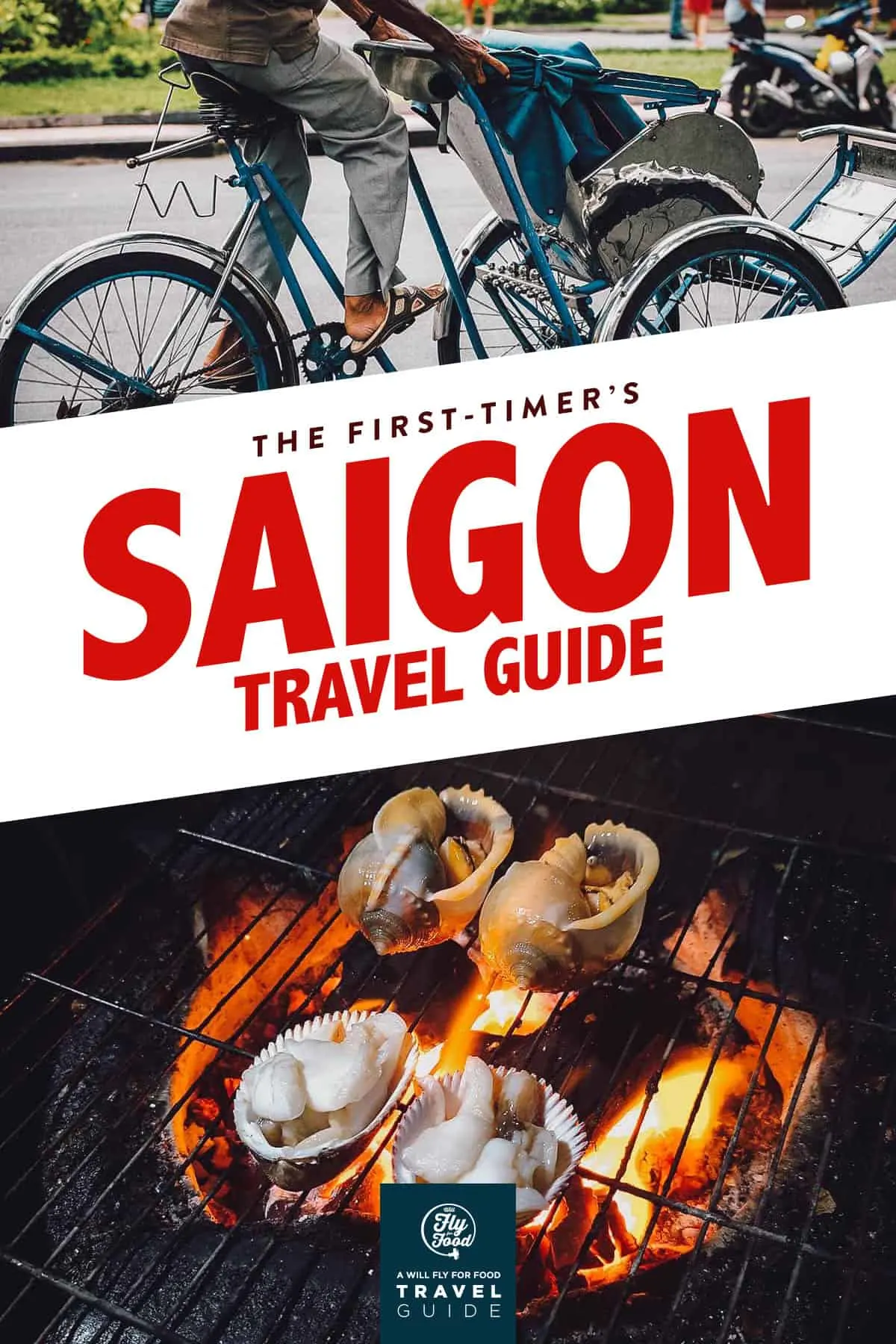 GUIDE TABLE OF CONTENTS
SAIGON TRAVEL RESTRICTIONS
Because of the current global situation, travel guidelines change frequently. To help with your travel planning, our friends at Booking.com have created a website that lists detailed information on travel restrictions around the globe.
Before planning a trip to Ho Chi Minh City, be sure to check Booking.com for information on travel restrictions to Vietnam. If you do decide to visit Saigon, then you may want to seriously consider getting travel insurance with COVID coverage.
HOW TO APPLY FOR AN E-VISA TO VIETNAM
Depending on your nationality, you may need an e-visa and medical declaration to visit Vietnam.
I'm a Philippine passport holder so I can visit Vietnam visa-free for up to 21 days, but I wanted to stay for a whole month. I applied for an e-visa online through iVisa.com which allowed me a stay of up to 30 days.
Requirements and fees may vary depending on what passport you carry, so you can visit iVisa.com for more information and to apply. In my case, the process was quick and easy.
HO CHI MINH CITY AT A GLANCE
Located in the southern region of the country, Ho Chi Minh City is the biggest city in Vietnam by population. It's often mistaken for the country's capital but it isn't. That distinction goes to Hanoi in the north.
Formerly known as Saigon, it was merged with surrounding Gia Dinh Province in 1976 and renamed Ho Chi Minh City in honor of the communist revolutionary leader credited for uniting the country at the end of the Vietnam War.
Today, the city is still informally known as Saigon. Being shorter, the name Saigon is used more often in daily speech, particularly by the Southern Vietnamese.
The locals we interacted with did in fact refer to their city as Saigon rather than Ho Chi Minh City. I'll be using both terms interchangeably in this guide.
BEST TIME TO VISIT SAIGON
Unlike Hanoi in the north that sees climate changes akin to the four seasons, Saigon only has two seasons – dry (Dec-Apr) and wet (May-Nov). It stays warm throughout the year with an average temperature of about 28°C (82°F).
Weather-wise, December to March is the best time to visit Ho Chi Minh City. The skies are clear, temperatures are relatively mild, and humidity is at its lowest.
DRY SEASON: Ho Chi Minh City's dry season is from December to April. It's generally viewed as the best time of the year to visit Saigon. Vietnam is largely a Buddhist country but they do celebrate Christmas and New Year, making December to January a festive time to visit the city.
WET SEASON: The wet season in Saigon is from May until November. Humidity is at its highest and tropical storms are more frequent. Unless you like rainy and humid weather, then it's probably best to go during the dry season.
We've been to Ho Chi Minh City three times so far – twice in April and once in late September. The weather in April was pretty good but it rained often in September.
When planning a trip to Vietnam, one thing to be mindful of is the Tet holiday (Vietnamese New Year) which happens sometime between the end of January and early February. Many establishments will be closed during that time and accommodations will be at their most expensive.
Climate: Annual Monthly Weather in Ho Chi Minh City
For more on Ho Chi Minh City's weather, check out these climate graphs from holiday-weather.com. I've also created average temperature and annual rainfall graphs with the most ideal months to visit marked in orange.
Average Temperature

Annual Rainfall

TRAVELING TO HO CHI MINH CITY
Most travelers visiting Ho Chi Minh City will be arriving via Tan Son Nhat International Airport, but there are other ways to get there depending on where you are.
You can check Bookaway to find route options available to you. You can click on the link or use the widget below.
If you're flying into Ho Chi Minh City, then you'll need to arrange for a transfer from the airport which is about 8 km from District 1.
By Bus
This is the cheapest way to get to downtown Saigon from the airport. There are several buses you can take into the city which you can catch from the bus stop outside the arrival terminal.
The most popular option is Bus 109 which will get you into the city in 45 mins. A faster option is Bus 49 which stops at various hotels in downtown Saigon and will get you into the city in about 30 mins. The cheapest but slowest option is Bus 152 which will get you into the city in about an hour.
I went straight to the Mekong Delta area after arriving in Ho Chi Minh City so the woman selling tickets at the bus stop advised me to take Bus 119. It took me directly to the bus station where I needed to catch a bus to Ben Tre.
If you're unsure which bus to take, then you can ask the ticket vendor at the airport bus stop.
By Private Transfer
Private transfers are the easiest way to get to your hotel from the airport, but they aren't the cheapest. You can probably arrange for one through your hotel, but if not, then you can book a private transfer through Bookaway.
By Grab
Grab is cheap and convenient in Vietnam. On a trip a few years ago, we paid around VND 65,000 to get into the city from the airport and VND 73,000 to go back. Based on my research, one-way trips to District 1 should now cost you around VND 90,000.
By Taxi
This would be my last resort. A taxi from Tan Son Nhat Airport to your hotel in District 1 will cost you between VND 150,000-200,000.
I read that taxi scams are rampant in Saigon so it's important to go only with the two most reliable companies – Mai Linh (white and green) and Vinasun (white) – which you can catch from the airport's official taxi stand. Ignore any touts and be sure to get metered taxis because fixed rates will be higher.
WHERE TO EXCHANGE CURRENCY
The unit of currency in Vietnam is the Vietnamese Dong (VND).
The best places to exchange currency in Vietnam are at banks and gold/jewelry shops. I've tried both in Ho Chi Minh City and I got excellent rates both times. I think the gold shop may have been better but not by much.
I exchange currency at a gold shop near Ba Chieu Market but I read that gold/jewelry shops around Ben Thanh Market offer the best rates.
You can exchange currency at some hotels as well but the rates generally aren't good or they charge you an additional fee for the service. Same goes for the airport.
If you'll be arriving at Tan Son Nhat Airport and need to exchange currency, then change a small amount there, just enough to get you into the city, and change the rest at a bank or gold shop.
A better alternative perhaps would be to withdraw VND from an ATM. I find myself doing this more often these days. In my case, the rates are comparable and it saves me the hassle of having to bring too much foreign currency.
Just be sure to inform your bank that you'll be using your ATM card abroad so you don't run into any issues. In my experience, my ATM card works in some machines but not in others.
NOTE: Some ATM machines may ask you if you'd like to proceed with or without conversion. Always choose WITHOUT conversion. Proceeding with conversion authorizes the foreign bank operating the ATM to perform the conversion, usually at terrible rates.
BEST AREAS TO STAY IN SAIGON
The best place to stay in Saigon is District 1. It's the main commercial hub and home to many of the city's top tourist attractions.
Listed below are some of the most convenient areas to stay in Ho Chi Minh City, along with a color-coded map to help you better understand where each of these areas are. Click on the link for a live version of the map. (Please note that marked areas are approximations only)
RED – District 1
ORANGE – District 2
BLUE – District 3
GREEN – District 5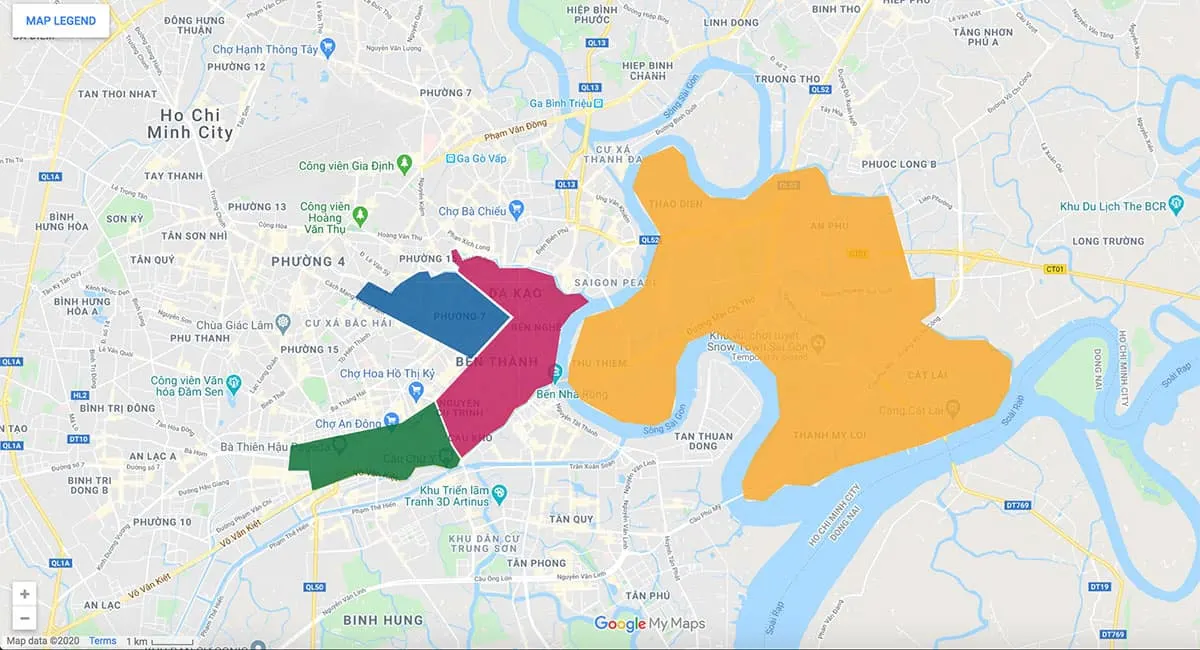 I'll provide targeted links under each description but you can book accommodations in Saigon through Booking.com or Agoda.
DISTRICT 1
If it's your first time in Ho Chi Minh City, then you'll be spending most of your time in District 1. It's Saigon's commercial hub and home to a wide range of hotels, restaurants, cafes, and bars.
District 1 is also where you'll find some of the city's most popular tourist attractions like Notre Dame Cathedral, Saigon Central Post Office, Reunification Palace, and Bitexco Financial Tower. You can book a hotel room in District 1 through Booking.com or Agoda.
Check out some of the top-rated hotels in District 1.
DISTRICT 2
If you'd prefer a quieter stay in Ho Chi Minh City, then perhaps District 2 would be better. It's the residential area of choice for many affluent locals and expats living in Saigon.
There are plenty of restaurants and cafes in District 2 but not much in the way of tourist attractions, so it may not be the most convenient area to stay for first-time visitors. But once the Ho Chi Minh City metro opens in 2024, it'll be much easier to get around the city. You can book a room in District 2 on Booking.com or Agoda.
Listed below are some of the most highly-rated accommodation options in District 2.
DISTRICT 3
District 3 is where we stayed on our last two trips to Saigon. It's the area directly northwest of District 1.
We enjoy staying in District 3 because it's home to plenty of good restaurants, cafes, and street food stalls, but it's a bit of a walk from the main attractions in District 1. If you don't enjoy walking, then you may need to book a Grab often.
On one trip, we stayed at M2C+ Cafe which is right at the border of District 3 and District 1. On our most recent trip, we stayed at the Babylon D3 Serviced Apartments (Booking.com | Agoda) which is farther away from District 1.
Both places were nice but they may be a bit far for first-time visitors. For example, it's about a 15-minute walk to Ben Thanh Market from M2C+ Cafe and 30 minutes from Babylon D3.
I enjoy walking so I didn't mind the distance, but some people might. In any case, this will matter less with the opening of the Saigon metro. You can book a room in District 3 on Booking.com or Agoda.
Here are some of the top-rated hotels in District 3.
DISTRICT 5
District 5 is home to Ho Chi Minh City's Chinatown. We haven't explored this area as much but it's home to many Buddhist temples and Binh Tay Market, which is the largest market in Vietnam.
If you like Buddhist temples and Chinese street food, then this may be an interesting area for you to stay. You can book a room in District 5 on Booking.com and Agoda.
Check out some of the top accommodation options in Distict 5.
You can also book hotels and homestays in Ho Chi Minh City using the handy map below.
THINGS TO DO IN HO CHI MINH CITY
1. Take a City Tour of Saigon
We don't find Ho Chi Minh City to be as walkable as Hanoi so it isn't as easy to go from one tourist attraction to the next. You can use Grab Bike to get around on your own or you can book a guided tour.
Klook and Get Your Guide offer tours that take you to Saigon's top tourist attractions like Saigon Central Post Office (pictured below), Notre Dame Cathedral, Thien Hau Temple, and Reunification Hall.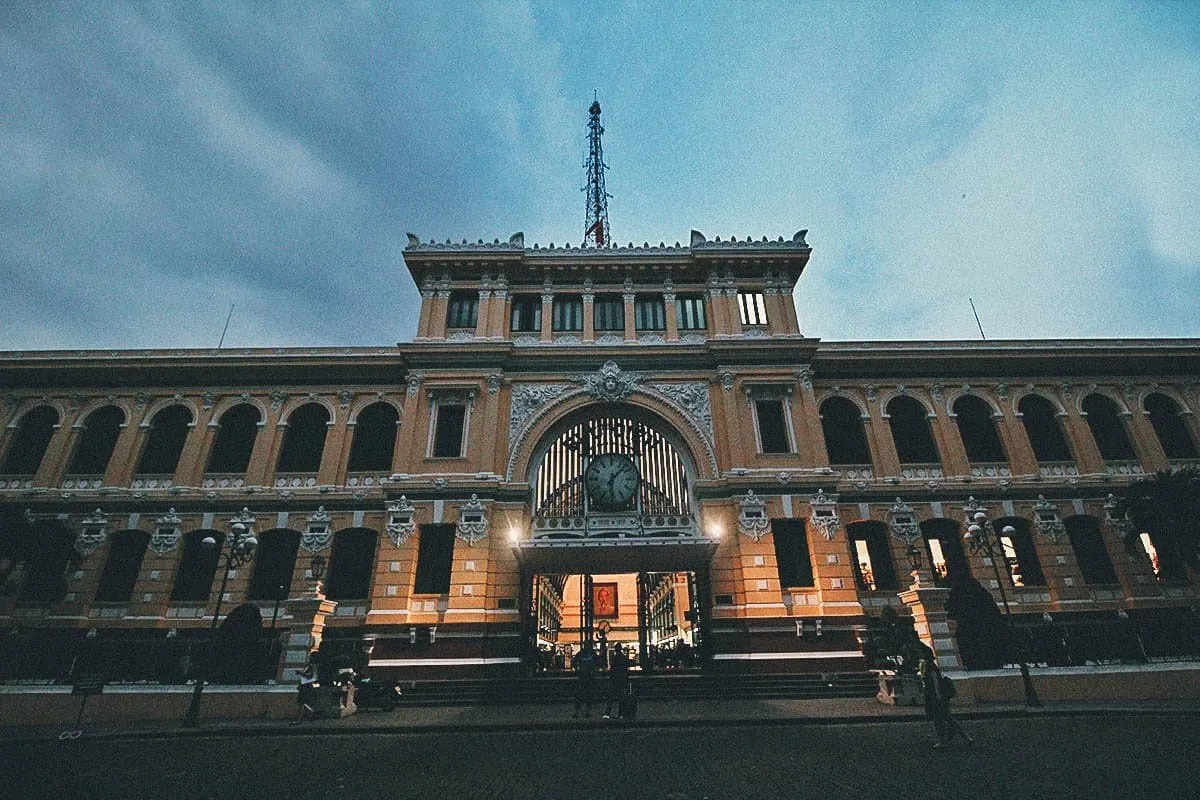 Estimated Time to Spend: At least half a day
2. Visit the War Remnants Museum
Some city tours will make a stop at the War Remnants Museum, but if you have a particular interest in the Vietnam War, then you may want to visit this place on your own. I did and I spent a good two hours perusing the museum's many exhibits.
On display at the War Remnants Museum are photographs, memorabilia, artillery, and vehicles of war like tanks, helicopters, even fighter jets. Some of the exhibits are a little depressing, especially the one on Agent Orange, so it may not be for everyone.
Check out my article on the War Remnants Museum in Saigon for more pictures and information. Get Your Guide offers several tours that take you to the War Remnants Museum.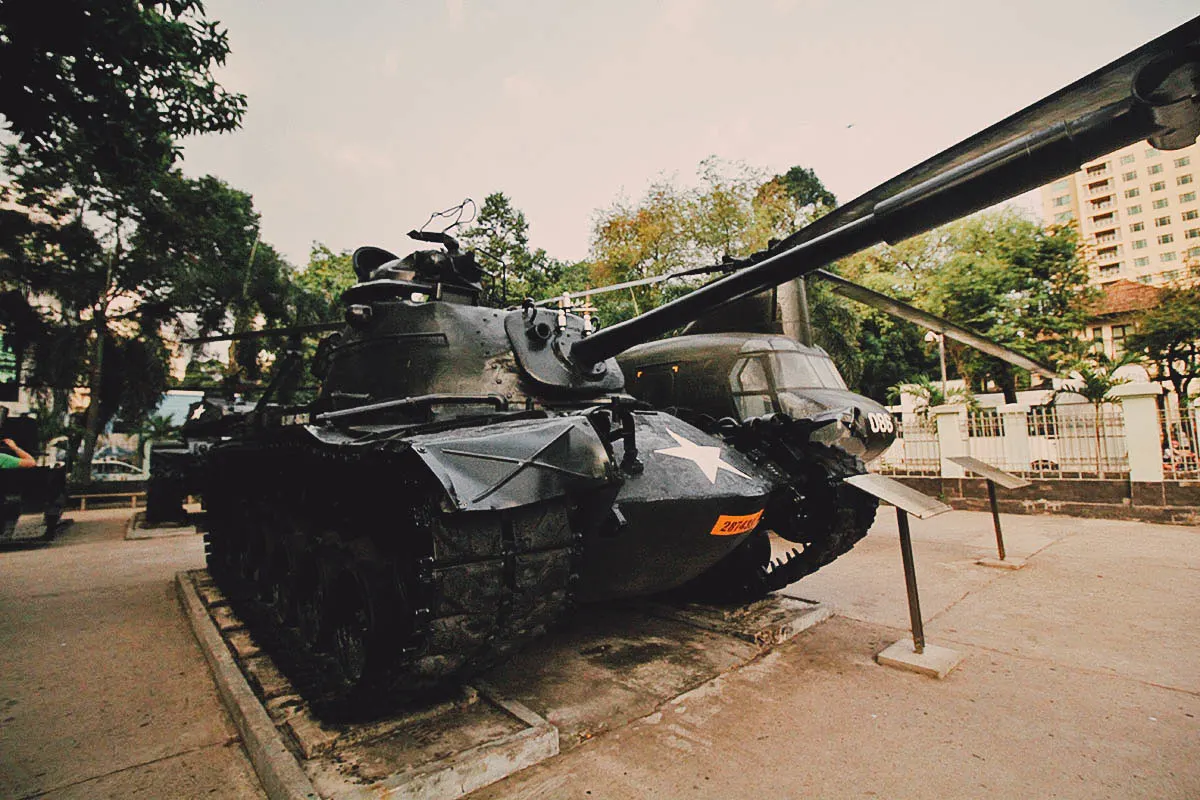 Admission: VND 40,000 per person
Estimated Time to Stay: Around 1-2 hrs
3. Explore Ben Thanh Market
Located in the heart of District 1, Ben Thanh Market is the most famous market in Ho Chi Minh City. It's one of the earliest surviving structures in Saigon and viewed as an important symbol of the city.
Inside the market are over 1,500 stalls selling a variety of goods like food, souvenirs, clothing, craft items, and shoes. If you get hungry after exploring the market, then you may want to grab bite to eat at Ben Thanh Street Food Market which is a trendy food hall about a block away.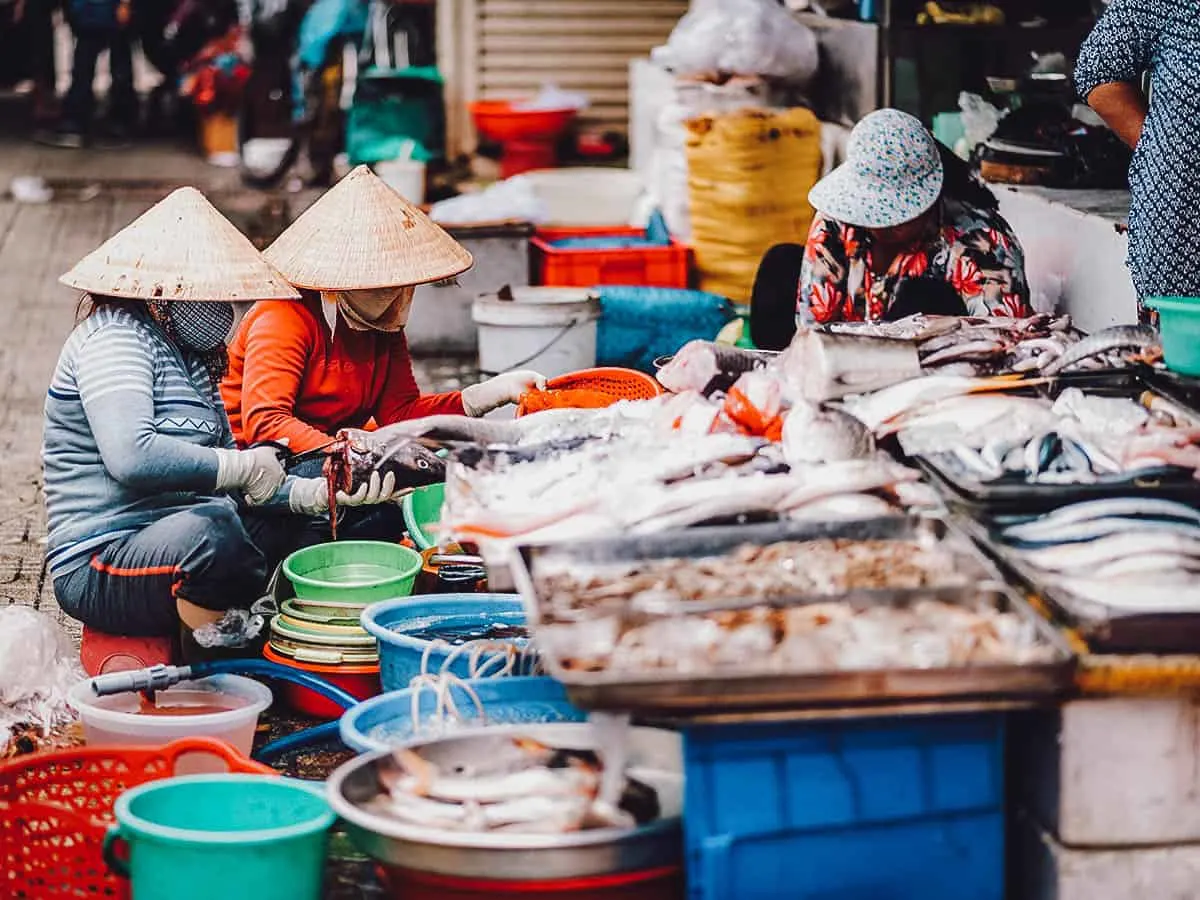 Photo by studiolaska via Shutterstock
Estimated Time to Stay: Around 30 mins – 1 hr
4. Visit the Museum of Fine Arts
I rode by this beautiful building while on a motorbike tour. Located near Ben Thanh Market, it's one of the country's biggest art museums housed in a lovely colonial-era mansion.
Exhibit reviews are lukewarm but people seem to agree that the building itself is the museum's main draw. Built in 1929, this yellow and white mansion is a combination of French and Chinese architectural styles. It features intricate tiles, stained glass, and one Saigon's oldest lifts.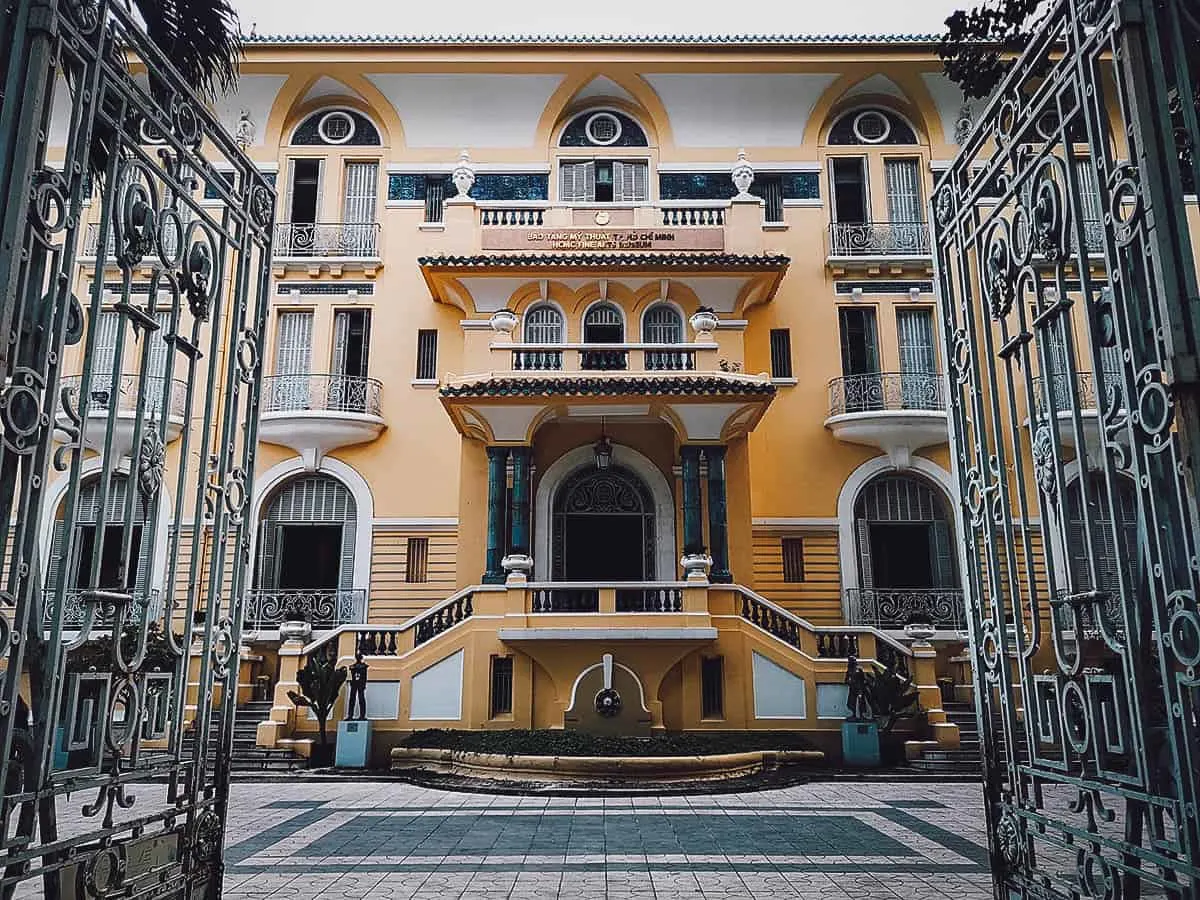 Admission: VND 30,000 per person
Estimated Time to Stay: Around 2-3 hrs
5. Enjoy the View from Saigon Skydeck
If you like bird's eye views, then you'll probably want to visit Saigon Skydeck on the 49th floor of Bitexco Financial Tower. It's an observation deck offering 360° panoramic views of Ho Chi Minh City.
Bitexco Financial Tower is a lotus-shaped building that was once the tallest building in Saigon. You can purchase tickets to Saigon Skydeck at the gate or in advance through Klook or Get Your Guide.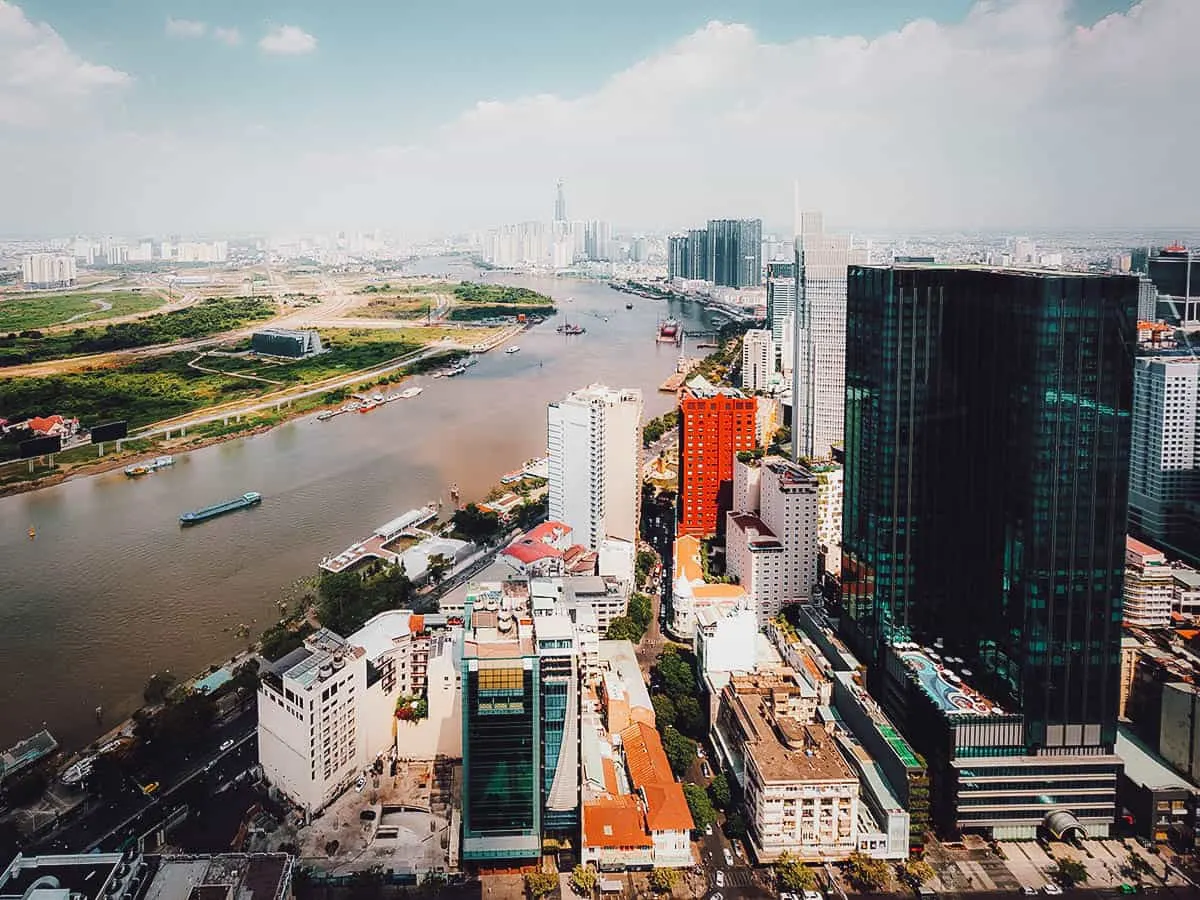 Photo by saiko3p via Shutterstock
Admission: VND 200,000 per person
Estimated Time to Stay: Around 30 mins – 1 hr
6. Go on a Motorbike or Cyclo Tour
Motorbikes are synonymous with the Vietnam experience, especially here in Saigon where you'll find schools of them flowing through the city's streets at most times of the day.
Until the HCMC metro opens, motorbikes are the best way to get around the city so why not explore it on a motorbike tour? I went on this evening motorbike tour and I was amazed by how skillfully my driver / tour guide would weave through traffic while recounting to me the history of Ho Chi Minh City.
You can book a motorbike tour on Klook or Get Your Guide. They're a fun and thrilling way of experiencing Saigon but if you aren't as comfortable riding motorbikes, then perhaps you'd rather go on a cyclo tour (Klook | Get Your Guide) instead.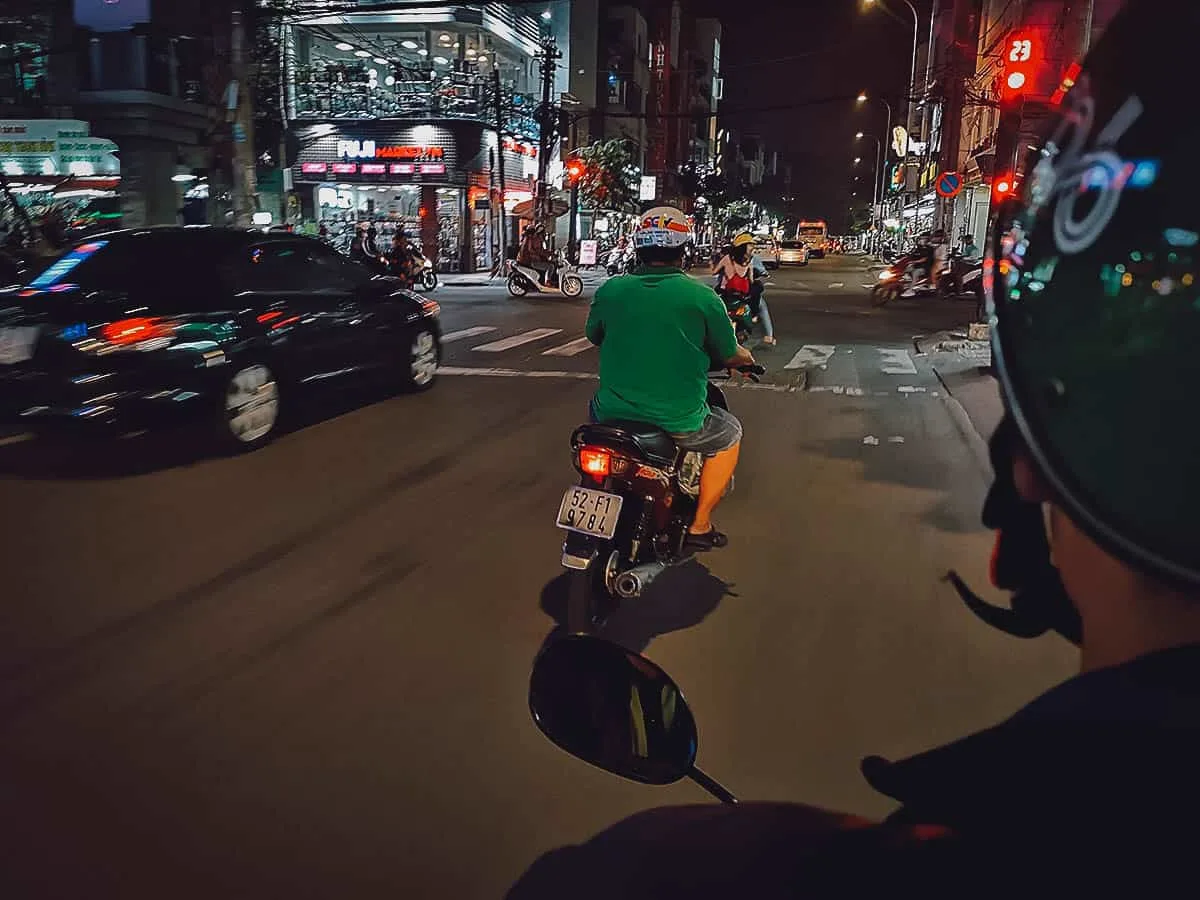 7. Take a Cooking Class
Taking a cooking class is something we try to do on every trip. Food tours are great for finding local hole-in-the-walls but cooking classes are the best way to learn about the local cuisine. It's like looking under the cuisine's hood.
We haven't done it in Saigon but we've taken a cooking class in Hoi An and we loved it. If you'd like to take a cooking class in Ho Chi Minh City, then you can book one on Cookly.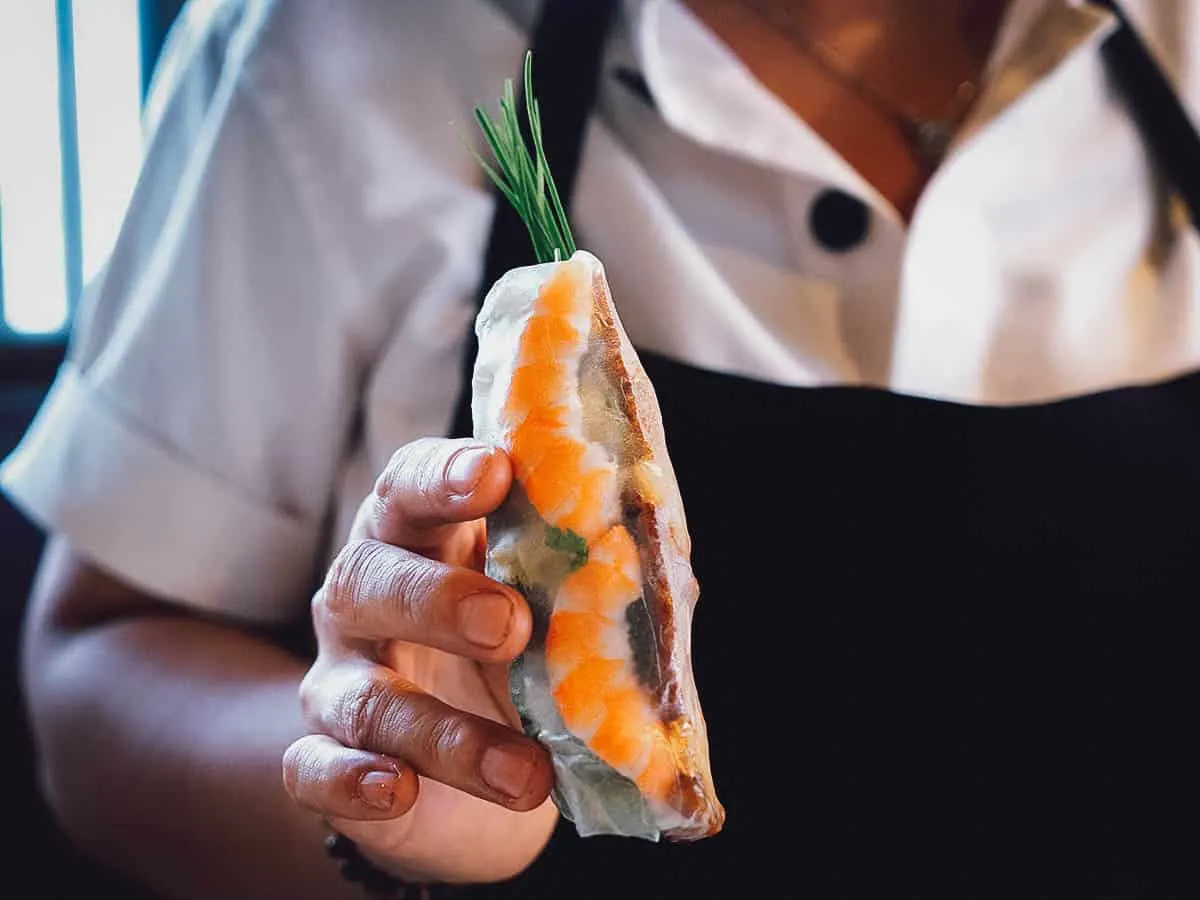 Photo by ngoc tran via Shutterstock
DAY TRIPS FROM SAIGON
1. Cu Chi Tunnels
A tour of the Cu Chi Tunnels is the most popular day tour you can make from Ho Chi Minh City. It takes you through the Cu Chi jungle to show you what subterranean life was like for the Viet Cong during the Vietnam War.
Tours vary but most will give you the chance to crawl through the famed tunnels as well as fire weapons used during the war. I got to fire ten rounds from an AK-47.
Check out my post on the Cu Chi Tunnels for more pictures and information. You can book a Cu Chi Tunnels tour on Klook or Get Your Guide.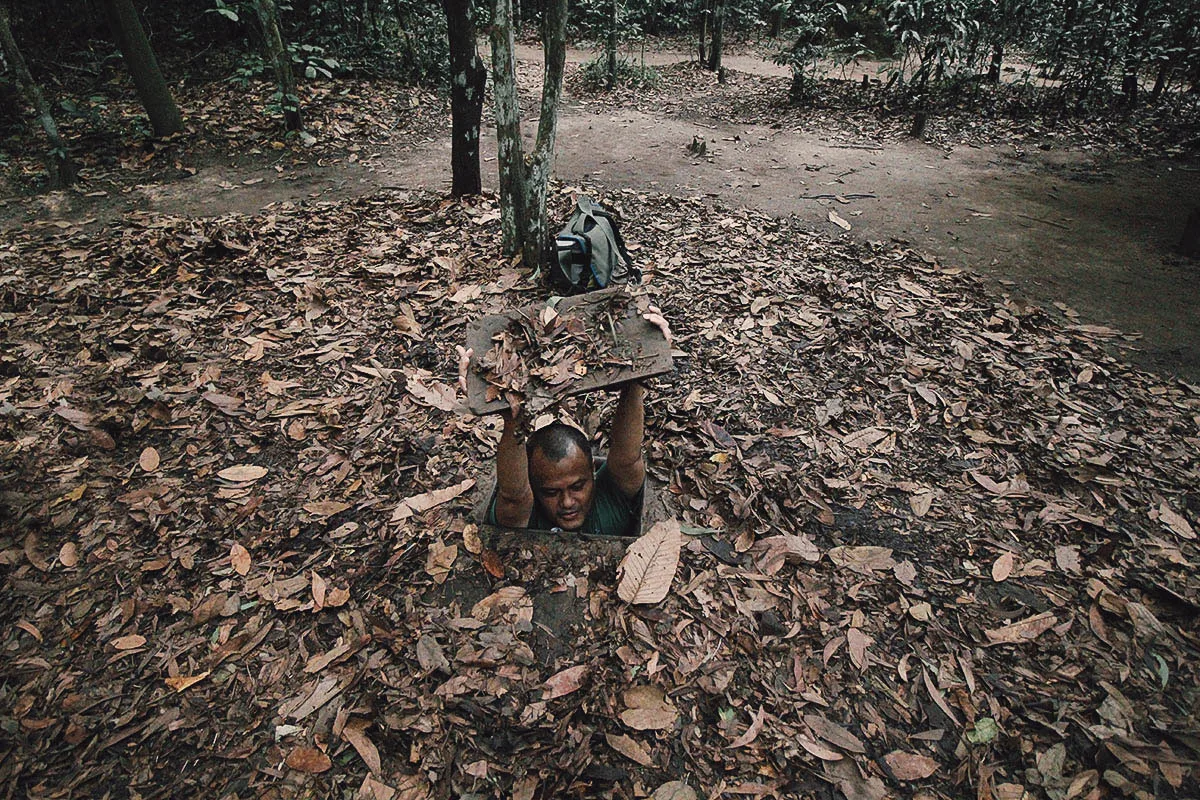 2. Mekong Delta
A visit to the Mekong Delta is another popular day trip you can make from Saigon. Considered Vietnam's "rice bowl", the delta is a fertile agricultural area that produces more than a third of the country's annual food crop.
Rice is the staple crop but coconut palms, fruit orchards, and sugar-cane groves also thrive in the region's nutrient-rich soil. The delta is home to thousands of animal species, making it one of the most biologically diverse areas in the world.
I spent a few days in the Mekong Delta exploring Ben Tre, Sa Dec, and Can Tho, but you can book a day tour through Klook or Get Your Guide.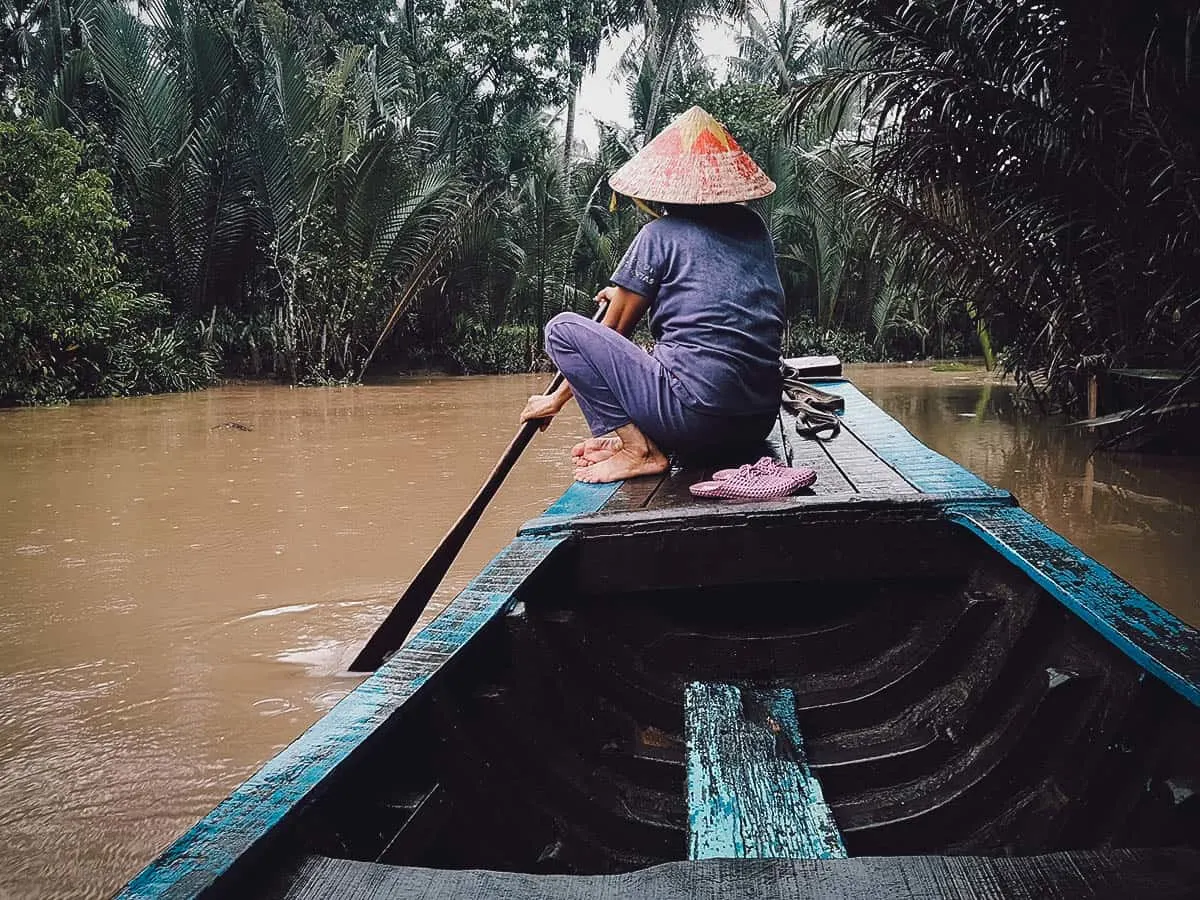 3. Can Gio
Can Gio is another fun day trip you can make from Ho Chi Minh City. It's a coastal suburban district of Saigon located just 40 km southeast of District 1.
Can Gio's Biosphere Reserve hosts the highest diversity of mangrove-associated plants, invertebrates, fish, and shellfish in the region. It's the city's green lung and makes for a nice nature escape from Saigon. You can book a day tour to Can Gio on Klook or Get Your Guide.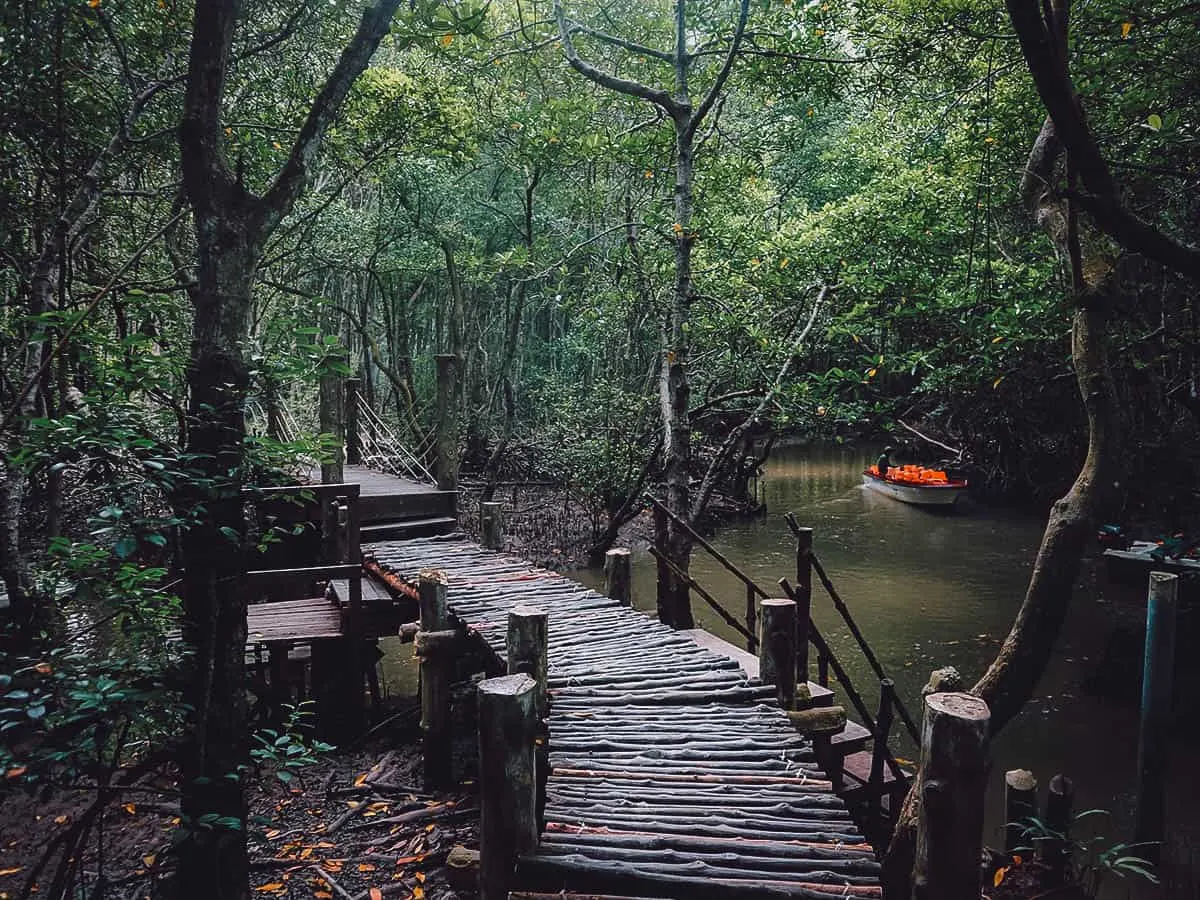 Photo by khlongwangchao via Shutterstock
VIETNAMESE FOOD GUIDE
Vietnamese is one of our favorite cuisines. It's the main reason why we keep going back to Vietnam. If you enjoy Vietnamese food as much as we do, then be sure to check out our guide to the best food in Vietnam. It covers many interesting dishes from bun cha in Hanoi to cao lau in Hoi An to com tam in Saigon.
If you have a fondness for the sweeter things in life, then be sure to read our article on the most delicious Vietnamese desserts as well.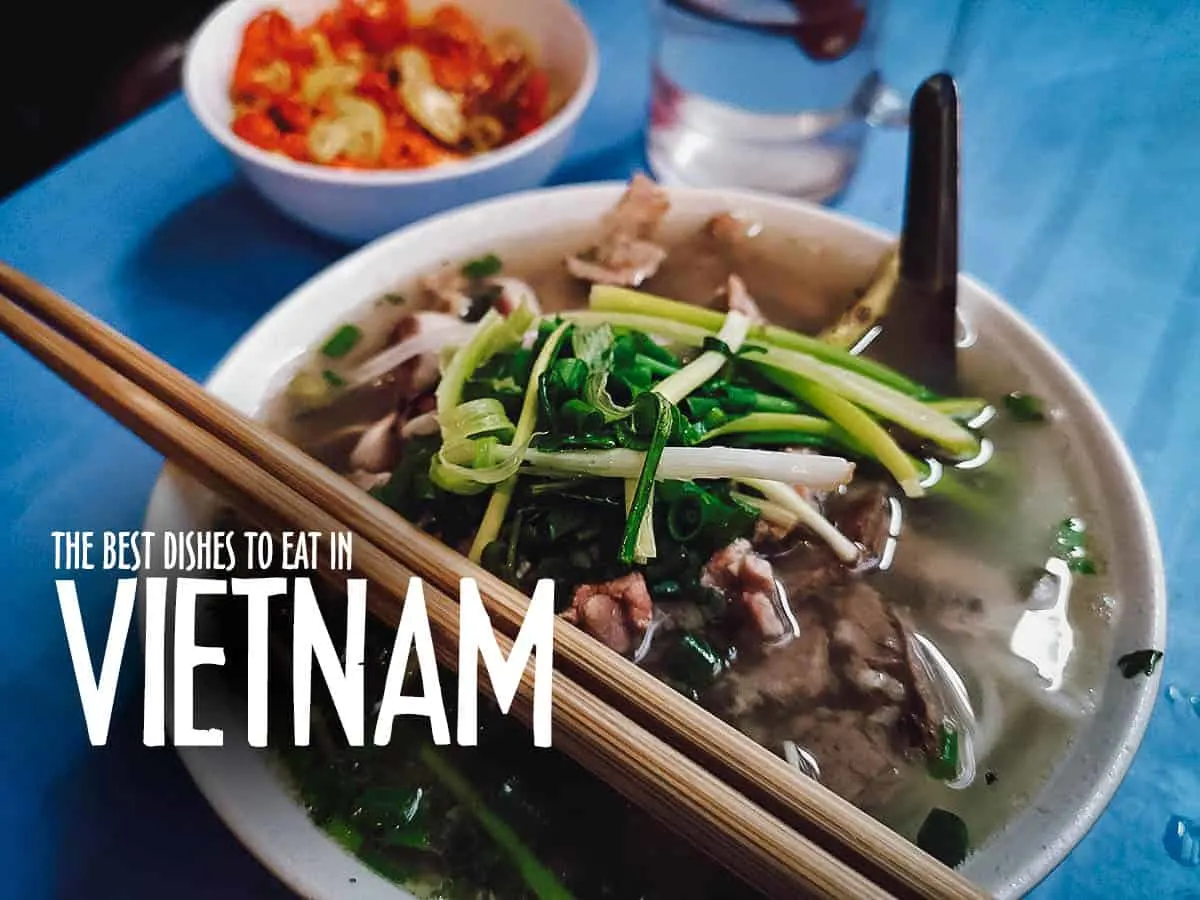 WHERE TO EAT IN HO CHI MINH CITY
Our Vietnamese food guide lists some of the best dishes you can try in Vietnam, but if you'd like to know where to eat in Saigon, then you can check out our article on the best restaurants in Ho Chi Minh City. It lists 25 of the best restaurants and street food stalls in Saigon.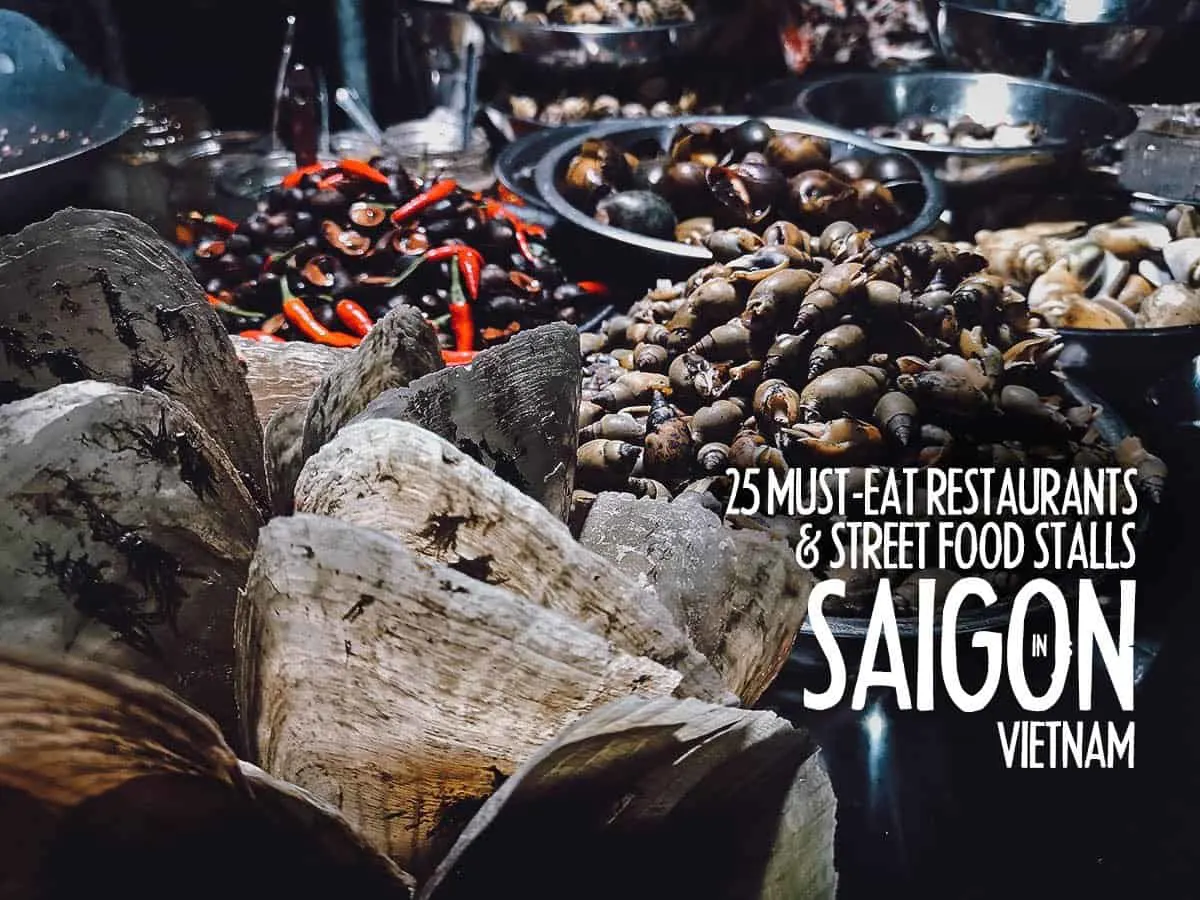 Not everyone can visit all 25 eateries on our Saigon restaurant guide so I've listed our five favorites below. But be sure to click through to the complete guide for more pictures and information.
1. Banh Mi Huynh Hoa
Banh mi is a Vietnamese national dish. Strictly speaking, it refers to bread but people use it to describe the sandwich made with a personal baguette and a slew of ingredients like pate, cold cuts, pickled vegetables, and cilantro.
Banh Mi Huynh Hoa is arguably the most popular banh mi shop in Saigon. It's featured on many travel food shows and listed on virtually every Saigon restaurant guide.
I've probably eaten at close to thirty banh mi shops throughout Vietnam and the sandwiches at Huynh Hoa are by far the most loaded. It was like eating a fully stacked American hoagie.
The lines at Banh Mi Huynh Hoa can get pretty long but not to worry, they do move fairly quickly. Their sandwiches are definitely worth the wait.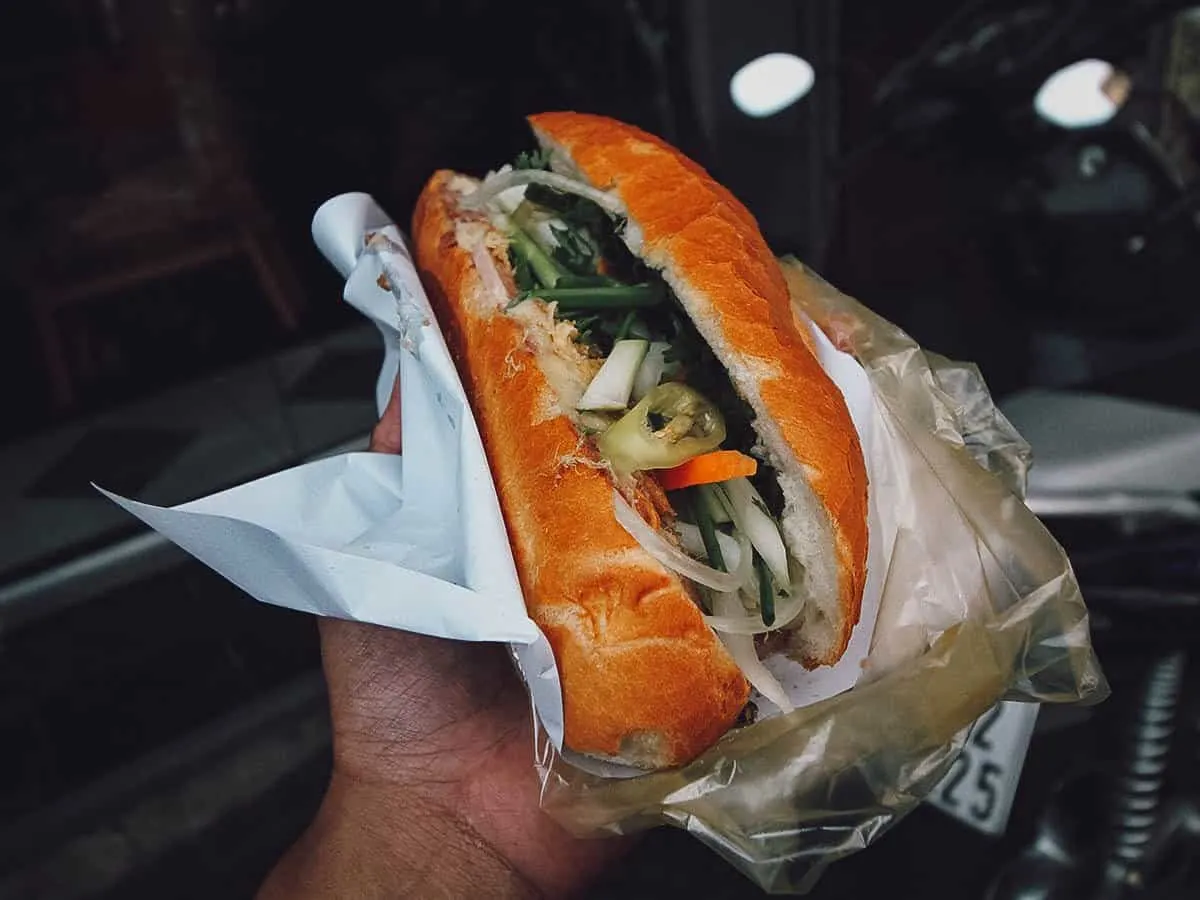 2. Pho Le
Like banh mi, pho is a national dish and one of the most popular Vietnamese foods. Bowls of pho may vary from place to place but at its core, its made with clear stock, rice noodles, meat (typically beef or chicken), and herbs.
Pho is popular throughout the country but Pho Le is hands down our favorite place to have pho not just in Ho Chi Minh City, but in all of Vietnam. It was recommended to us by two locals who called it the best pho restaurant in Saigon.
If you've had pho in Hanoi, then you'll notice that southern pho has a sweeter broth. Unlike its northern counterpart, it's also served with bean sprouts and a mountain of fresh herbs. Personally, I prefer southern pho.
Pho Le has two outlets in Ho Chi Minh City, one in District 3 and another in District 5. You can refer to our Ho Chi Minh City restaurant guide for more information.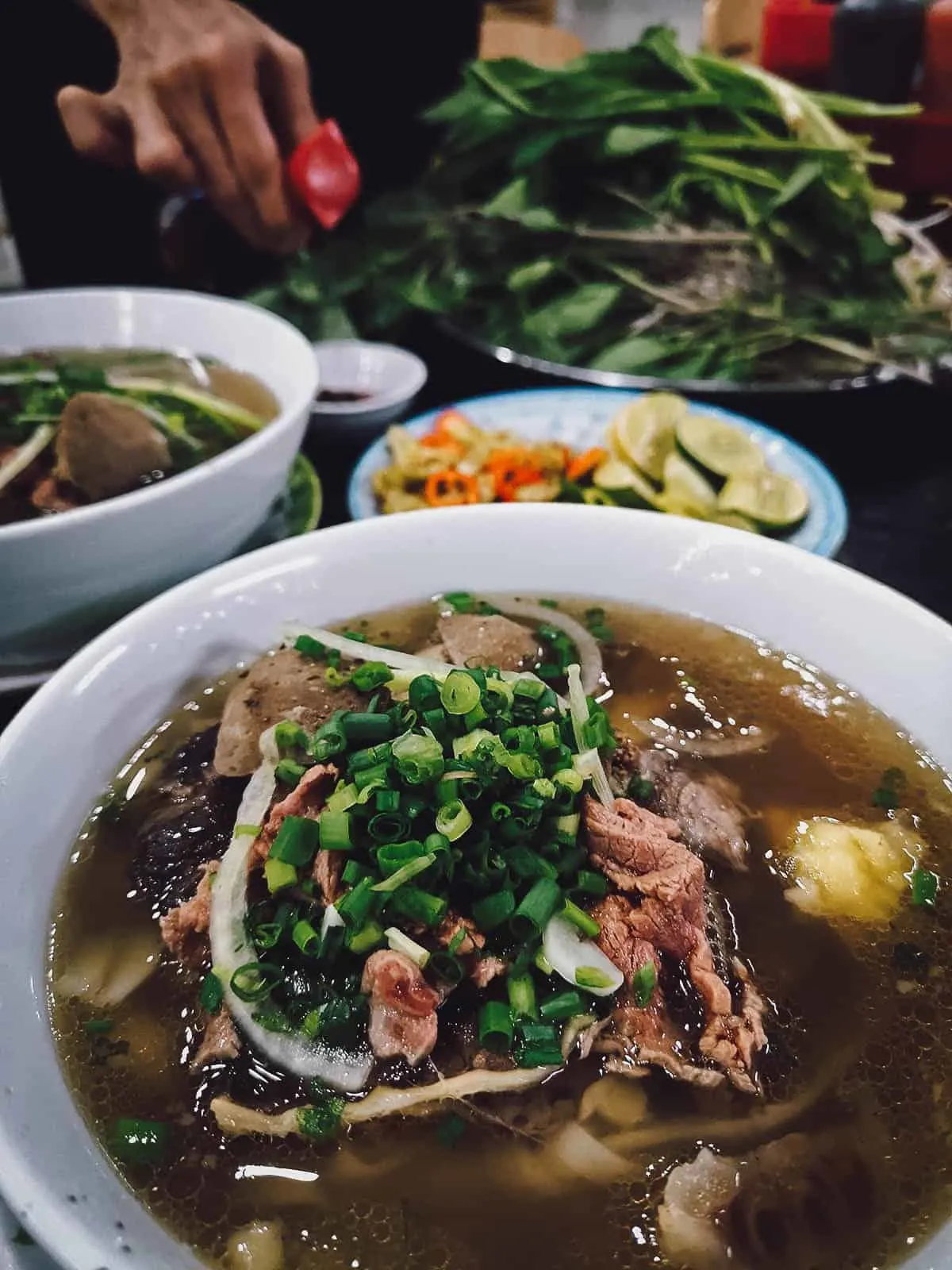 3. Bun Thit Nuong Nguyen Trung Truc
Bun thit nuong is one of our favorite Vietnamese dishes. Similar to Hanoi's bun cha, it's a dry noodle dish made with rice vermicelli noodles dressed in nuoc cham and topped with a variety of ingredients like grilled pork, pickled carrots, fresh herbs, and roasted peanuts. It's usually served with cha gio which is a deep-fried spring roll.
We've had bun thit nuong at three different places in Saigon and this street food stall near the Cafe Apartments in District 1 was by far the best.
Set up on a street corner with no real space to speak of, their bun thit nuong is absolutely delicious and one of the best street food meals we had in Saigon.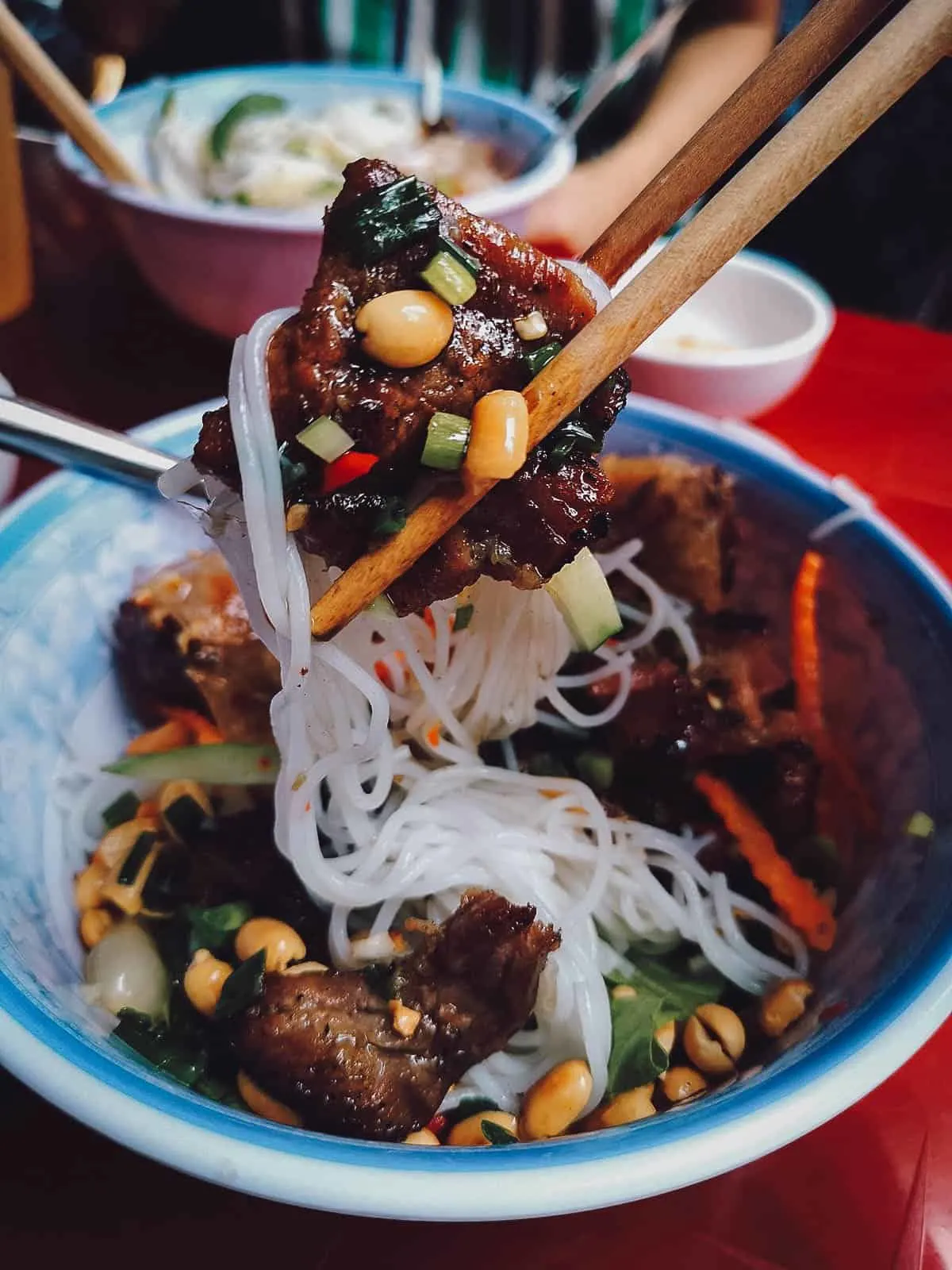 4. Oc Oanh
If you like seafood, particularly snails, then you're going to love Oc Oanh. A local took us here a few years ago and it quickly became one our favorite places to eat in Saigon.
Oc Oanh is located on Vinh Khanh Street. Nicknamed "Seafood Street", it's a street in District 4 that's recognized as one of the best places to have street food in Ho Chi Minh City.
Vinh Khanh Street is packed on either side with street food restaurants serving a variety of seafood. Oc Oanh is considered by many to be one of the best restaurants along this strip. Don't miss it.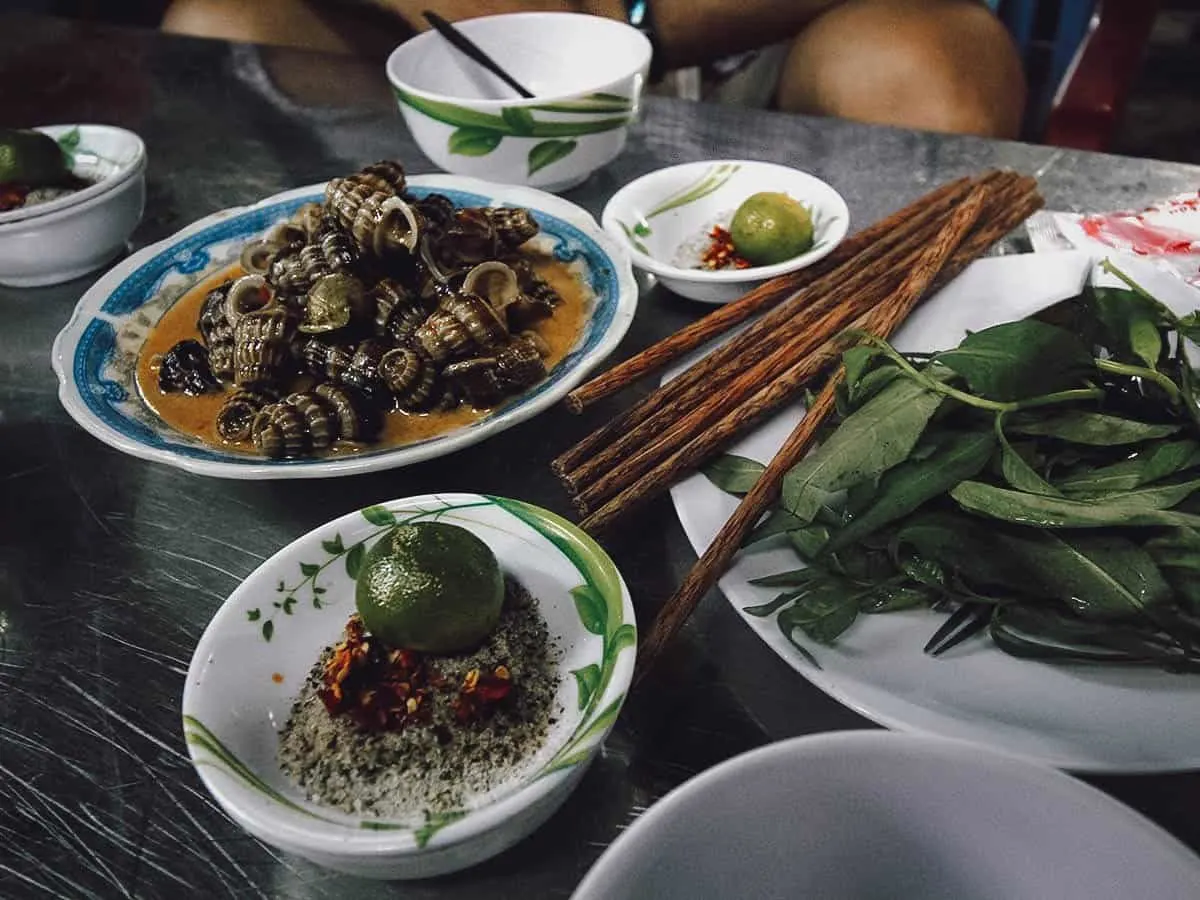 5. Com Ga Xoi Mo Su Su
Com Ga Xoi Mo Su Su is one of our favorite eateries in Ho Chi Minh City. It's a chicken and rice restaurant that fries their chicken in the most unique way.
The owner of the shop built this frying machine that pours hot oil from the top down onto poached chicken wings and thighs. The oil would fall through the screen and into a well below before being sent up again. This continuous waterfall of oil is where the dish gets its name – waterfall chicken.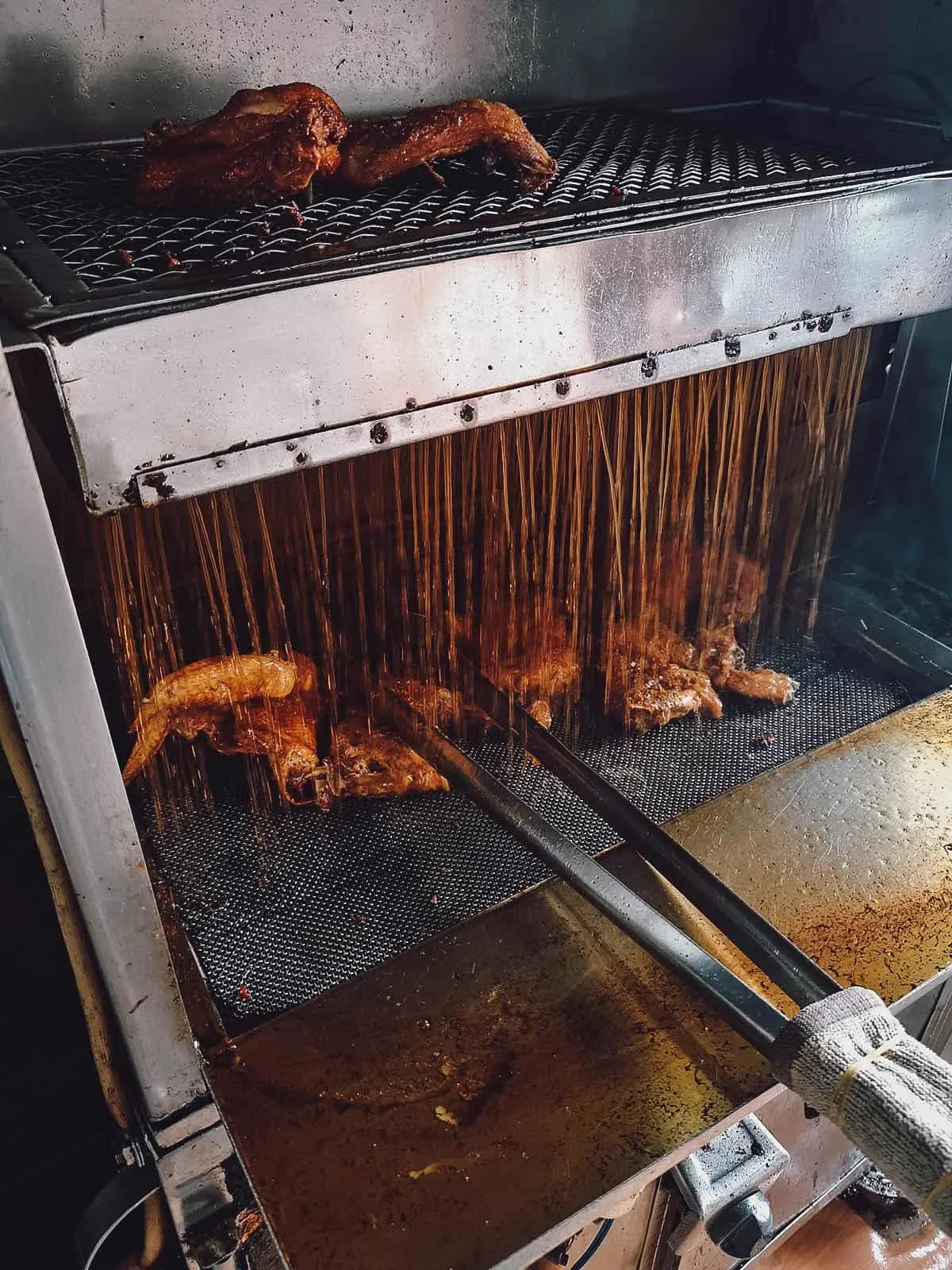 This unique frying process results in a fried chicken dish with the crispiest skin. They serve it with red rice, a fresh salad, and a delicious secret homemade sauce.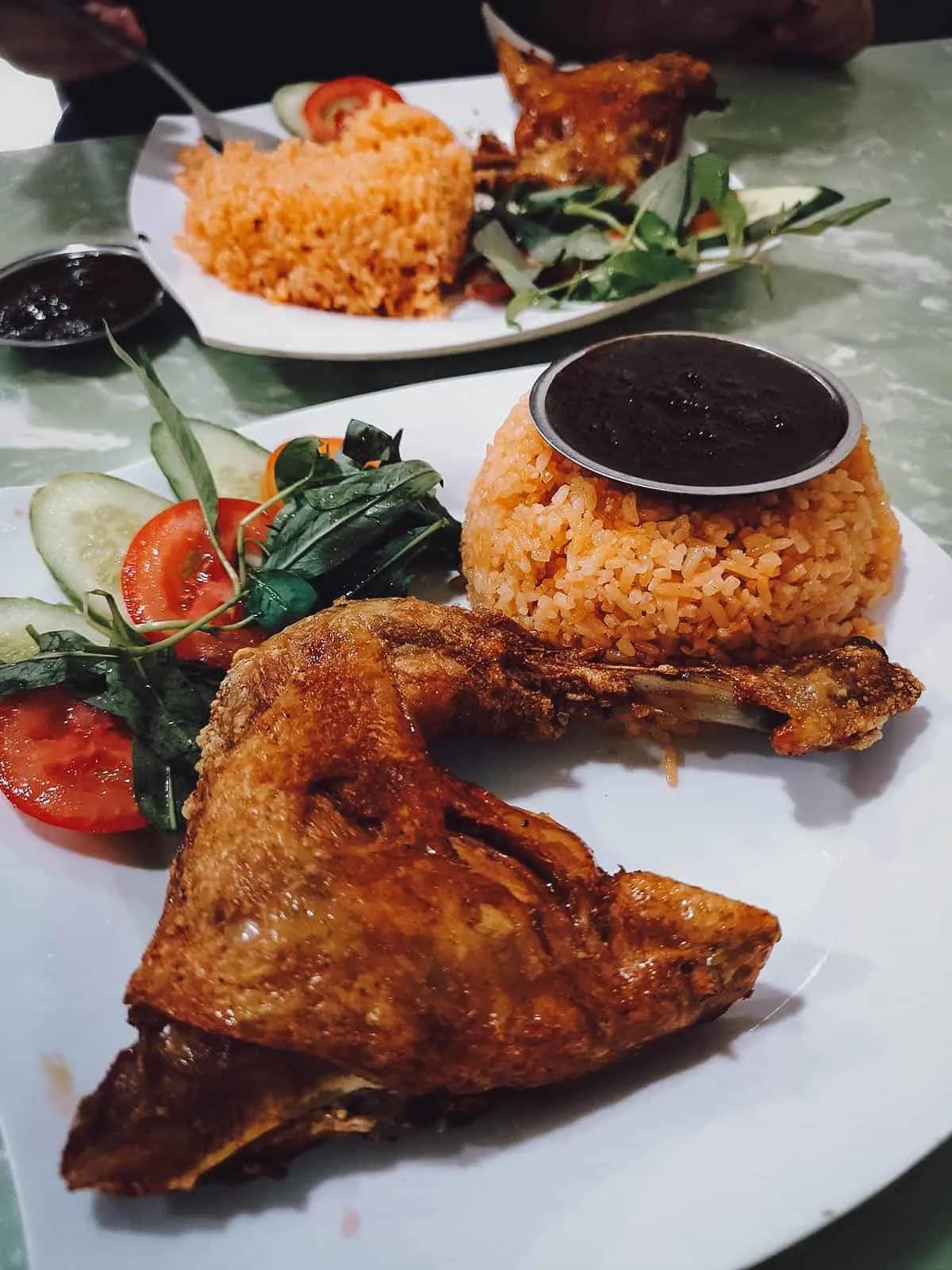 WHICH CAFES TO VISIT IN SAIGON
Vietnam is known for its coffee. It's the second largest producer of coffee in the world, behind only Brazil.
Saigon doesn't have any unique coffee creations on par with egg coffee in Hanoi or salt coffee in Hue, but what it does have are these quirky cafes located in partially abandoned buildings. You can refer to our article on the best cafes in Ho Chi Minh City for more information.
Of the ten coffeehouses listed in our Saigon coffee guide, these three are my favorites. Do check out the full guide for more pictures and information.
1. Whisfee Cafe
Whisfee Cafe is located inside the 14 Ton That Dam building, which was my favorite among Saigon's cafe apartment blocks. I liked this building the best because it was the grittiest and hardest to find.
Whisfee Cafe is one of about thirty establishments at 14 Ton That Dam. Inside this partially abandoned building are some of the most interesting cafes, teahouses, bars, and boutiques I visited in Ho Chi Minh City. Check out our Saigon cafe guide for more information.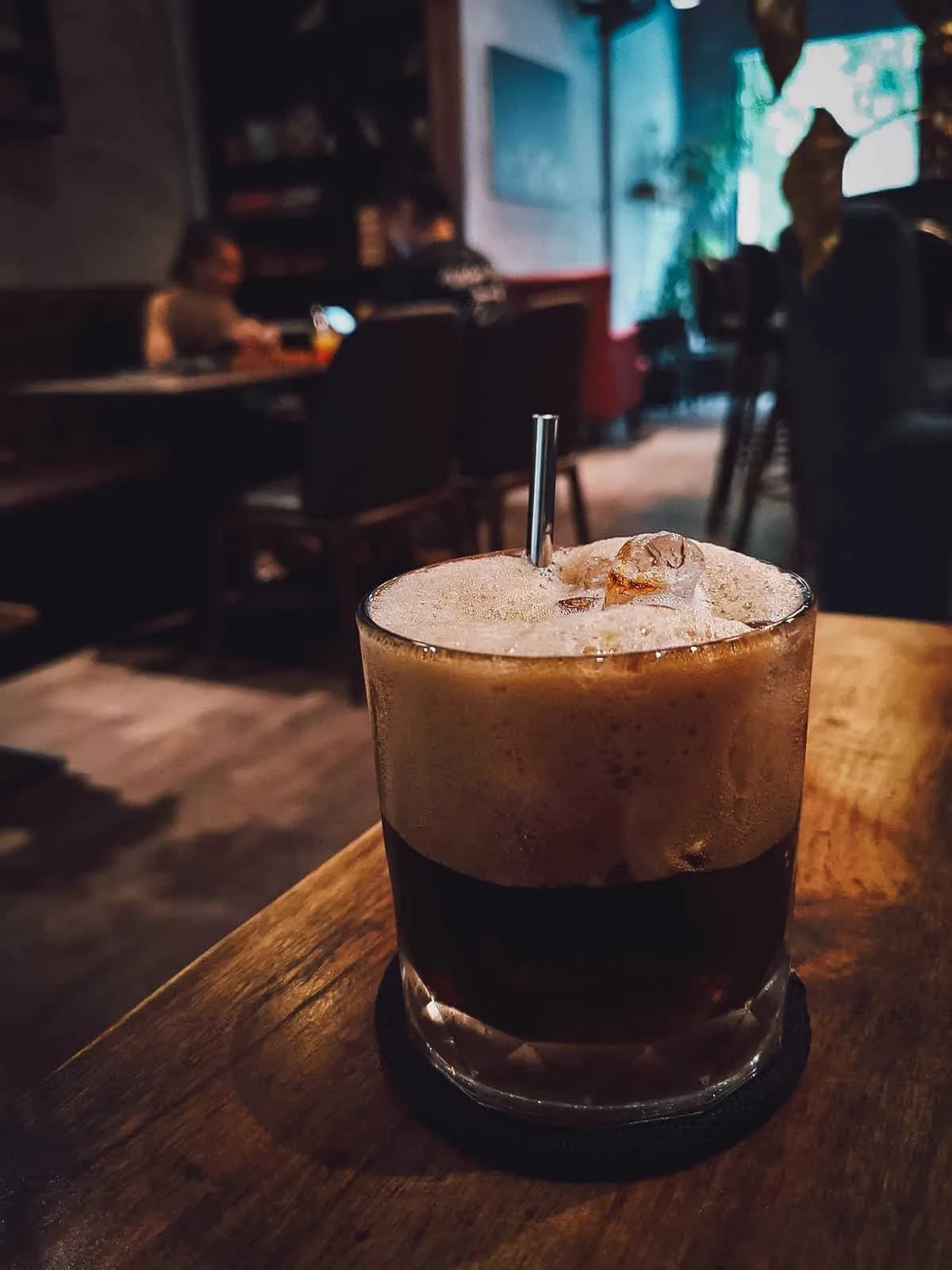 2. Saigon Oi
Saigon Oi is located inside the Cafe Apartments, the most famous cafe apartment block in Saigon. I found four of these buildings in Ho Chi Minh City and the Cafe Apartments was by far the nicest and most polished.
Saigon Oi is one of the more popular cafes in the Cafe Apartments. It's a beautiful space that serves cakes, coffee, lassis, and smoothies. Pictured below is a refreshing glass of durian iced coffee.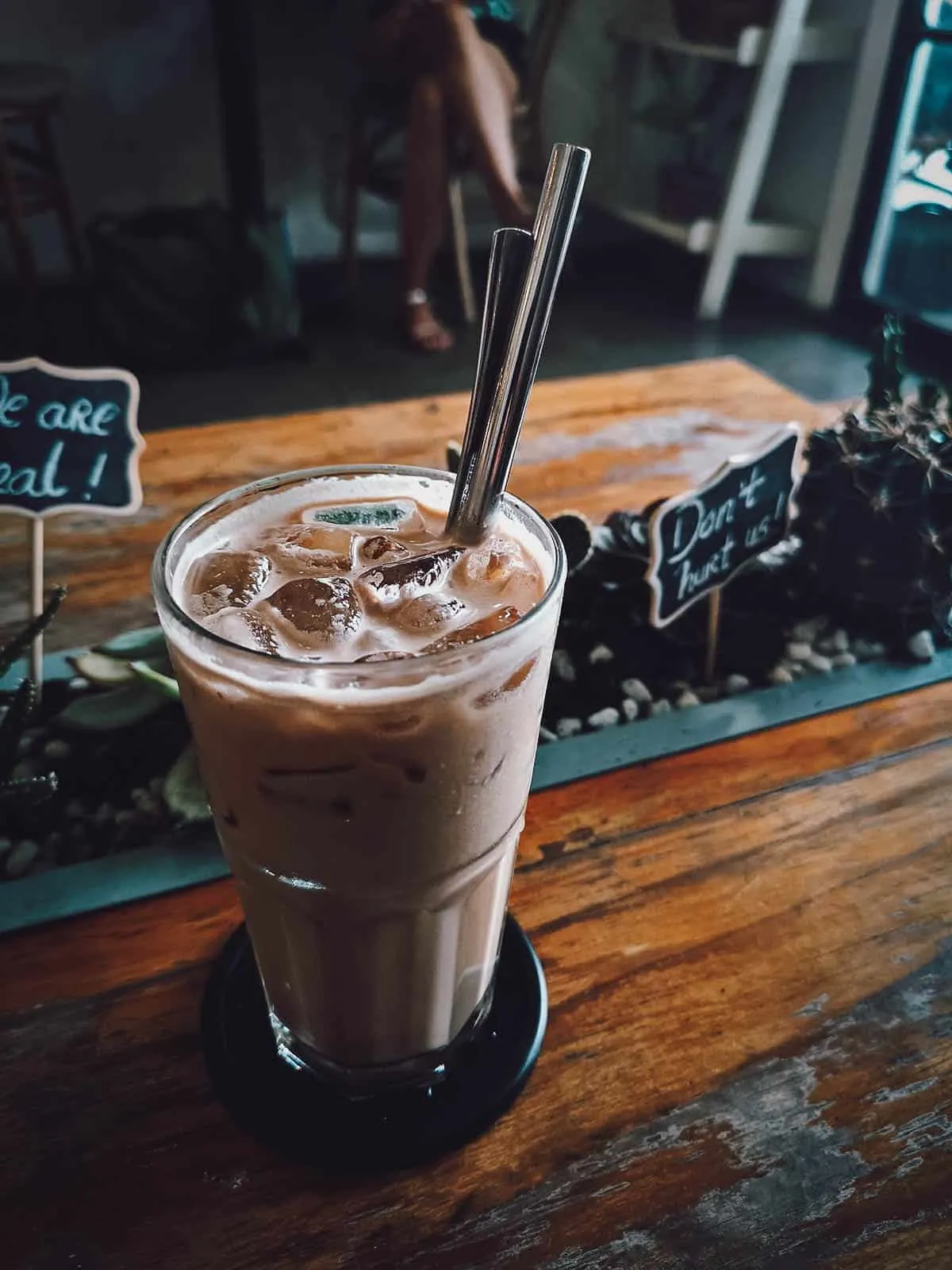 This is what the Cafe Apartments looks like from the front. Perhaps you've seen it on social media?
With more time, I would have loved to explore every establishment in this building. Every cafe, every bar, every boutique looked so quirky and unique.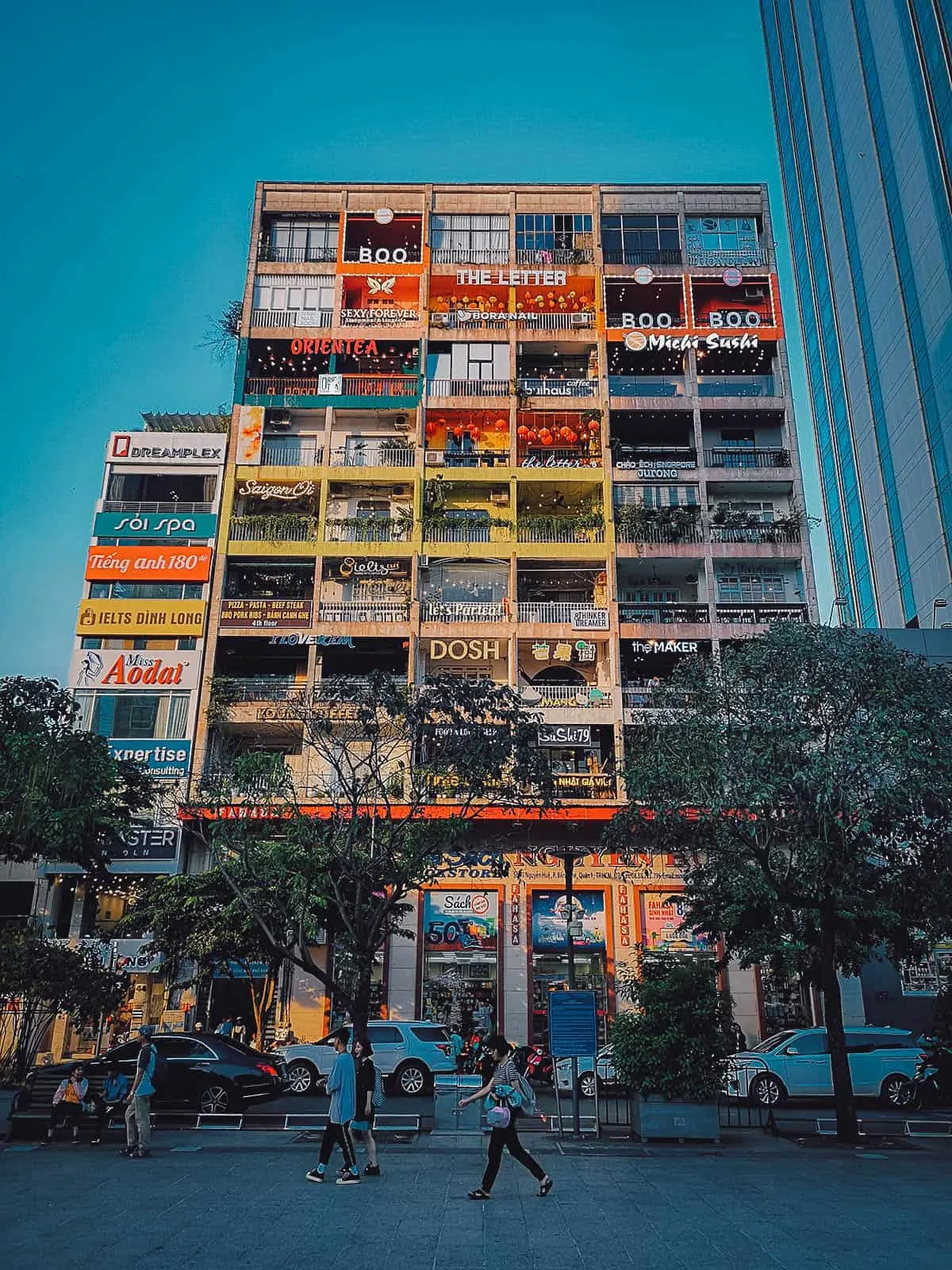 3. Ca Phe Do Phu
Ca Phe Do Phu wasn't as hip as the cafes at 14 Ton That Dam and the Cafe Apartments, but it was definitely the most unique.
I had this iced black coffee which is pretty much what you can expect from any standard Vietnamese cafe. But the coffee isn't why you should visit Ca Phe Do Phu.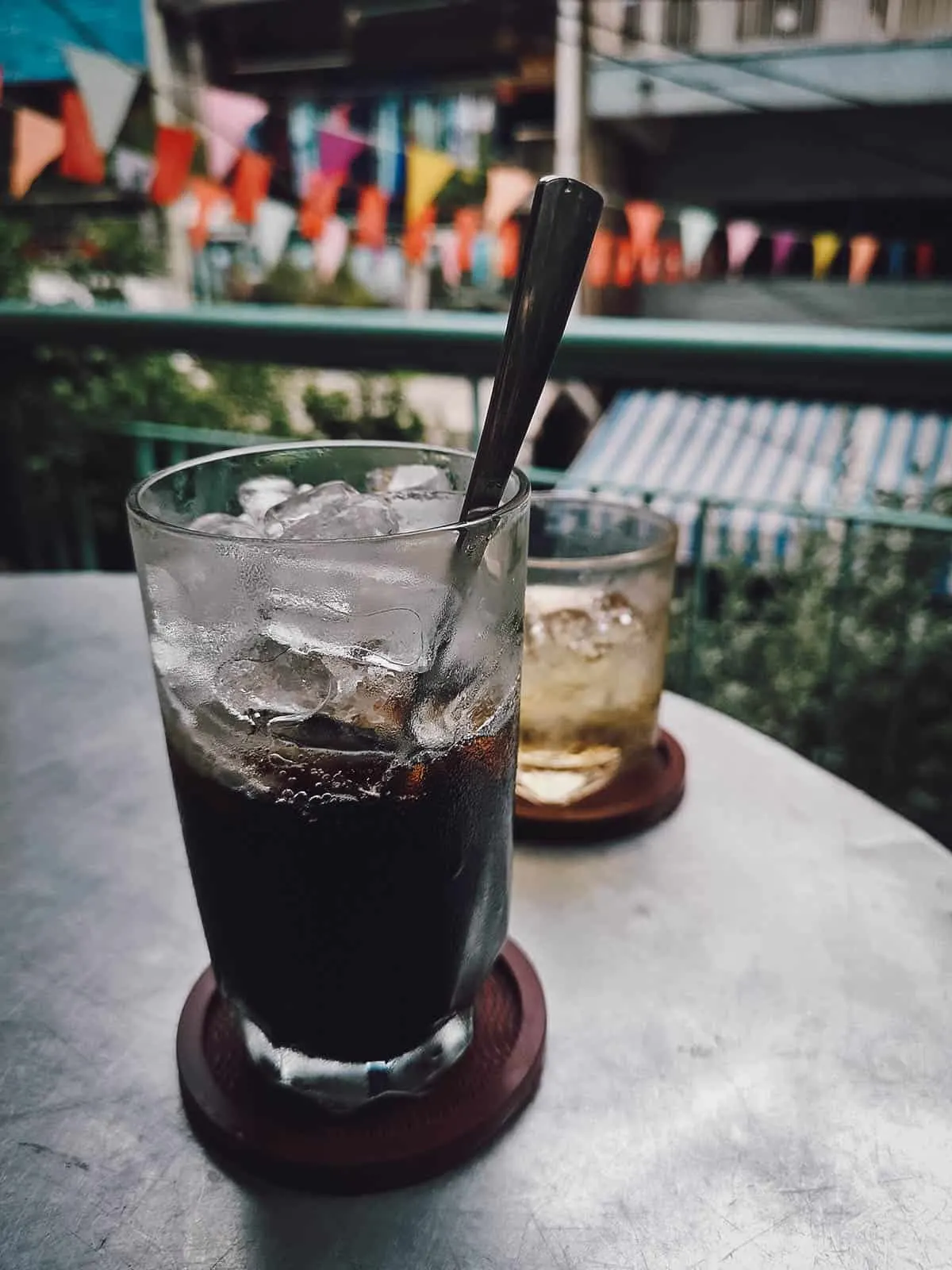 Ca Phe Do Phu is located inside the home of a former Viet Cong supporter. Through this trap door on the first floor is an underground bunker housing a cache of old weapons and uniforms.
During the war, the owner would allow members of the Viet Cong to hold secret meetings in his house. He'd hide weapons and artillery and provide refuge to soldiers wanted by the US army.
If you have a fascination for the Vietnam War, then you absolutely need to visit Ca Phe Do Phu. This trap door is just one of many secret passageways you'll find at the cafe.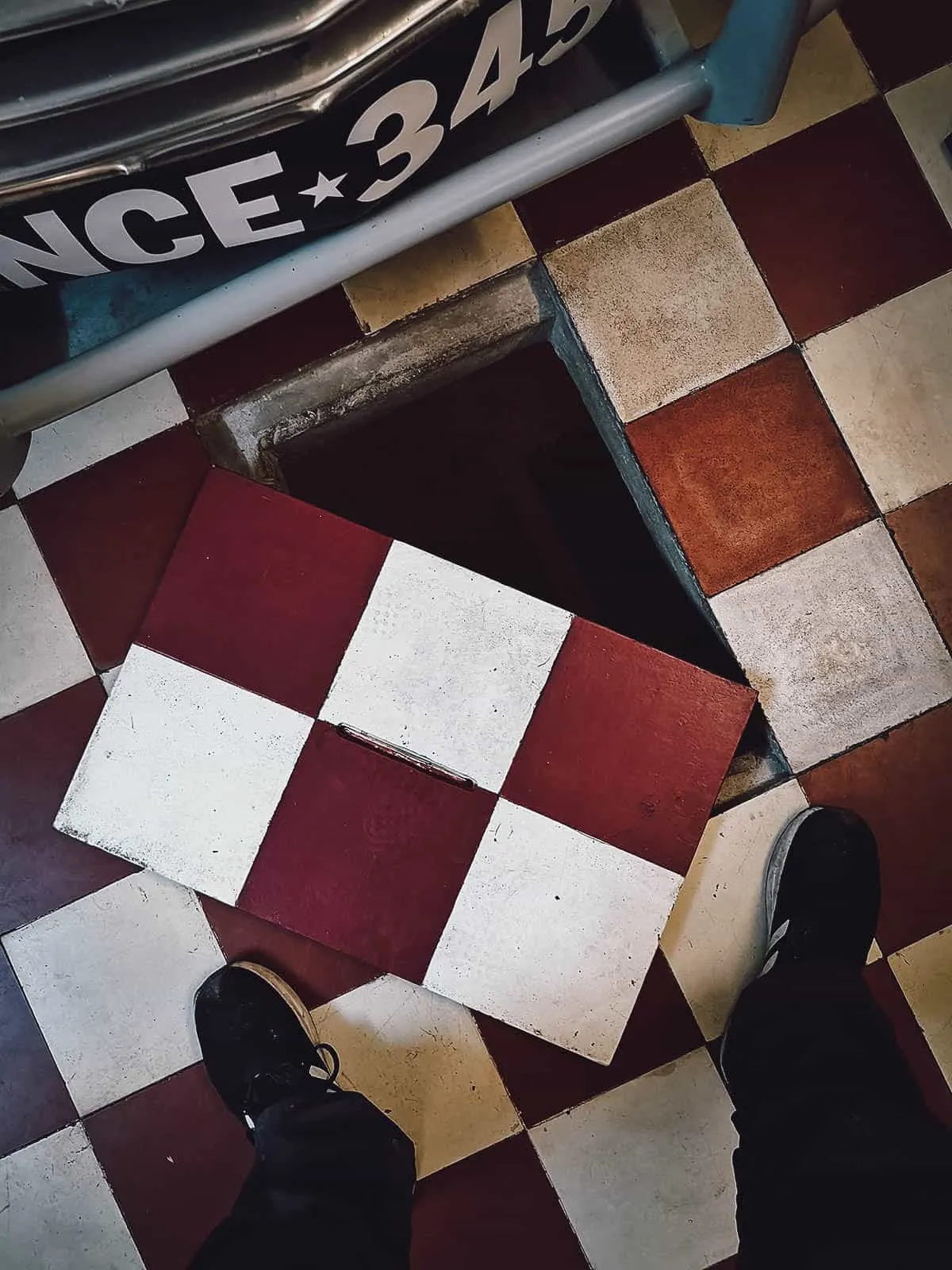 POINTS OF INTEREST IN HO CHI MINH CITY
To help you visualize where everything is, I've pinned the places recommended in this guide on this map. Click on the link to open a live version of the map in a new window.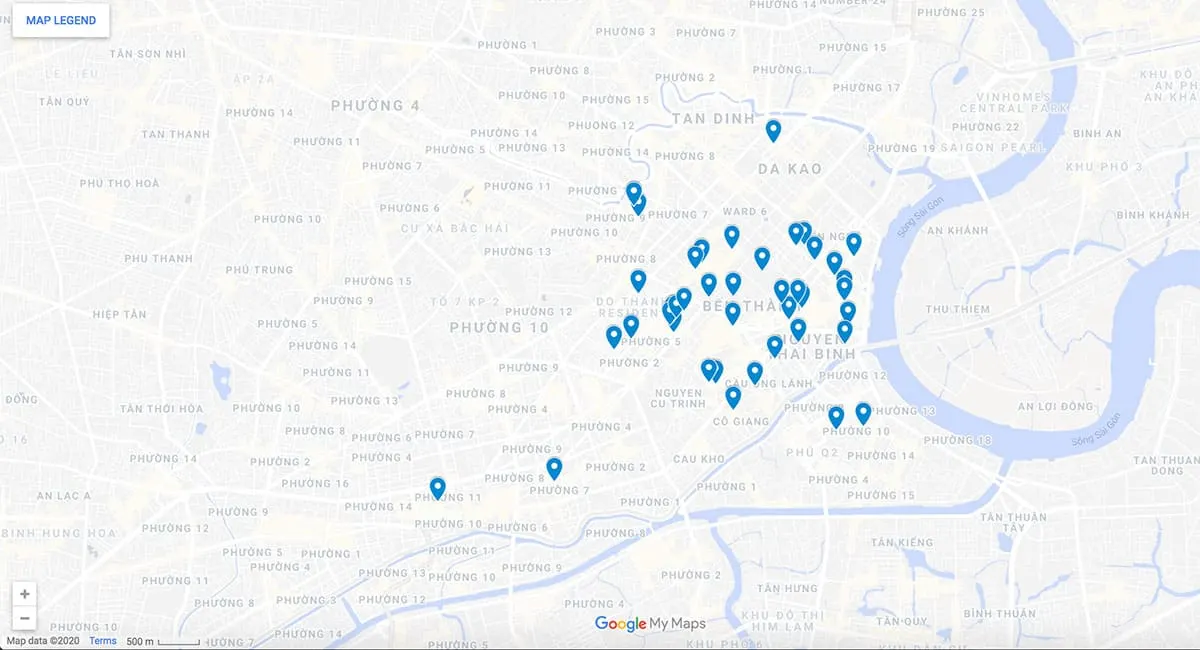 HOW TO GET AROUND IN SAIGON
As described, we don't find Ho Chi Minh City to be as walkable as Hanoi. The sidewalks are more congested, places of interest are farther apart, streets are wider, and there are a lot more motorbikes. Even crossing the street felt like a life or death situation!
Until the HCMC metro opens, then the easiest way to get around Saigon is by Grab Car or Grab Bike. Personally, I prefer the latter because it's faster and cheaper. I use it often in Saigon.
No matter how you get around, I highly recommend using the Google Maps app (iOS|Android) to navigate. It'll tell you all the possible ways to get from point A to point B using any city's public transportation system. It's accurate and very reliable.
HOW MANY DAYS TO STAY / SAIGON ITINERARY
Saigon is a big cosmopolitan city but it doesn't have as much in the way of historical or cultural attractions. You can visit the city's top attractions in a day.
Assuming you'd like to visit the Cu Chi Tunnels and the Mekong Delta during your stay in Ho Chi Minh City, then 3 days should be good. Here's a 3D/4N sample itinerary to help you plan your trip.
DAY ONE
• Half-Day Saigon City Tour
• Ben Thanh Market
• Ho Chi Minh Museum of Fine Arts
• Saigon Skydeck
• The Cafe Apartments
• Vinh Khanh Street
DAY TWO
• Cu Chi Tunnel Half-Day Tour
• War Remnants Museum
• Tao Dan Park
• Ben Thanh Street Food Market
• Vincom Center Shopping Mall
• 14 Ton That Dam
DAY THREE
• Mekong Delta Full Day Tour
SAIGON TRAVEL TIPS
1. Plan your Trip with Sygic Travel
What's the hardest part about trip planning? For me, it's how to make an efficient itinerary. It's easy enough to learn where to go, but figuring out how to organize it all is the difficult part. Thankfully, there's Sygic Travel.
I've been using this trip planning app for many years now. It allows me to plot points of interest on a map so I can see where everything is and create as efficient an itinerary as possible. You can download it for free on iTunes or Google Play.
2. Rent a Pocket Wifi Device
Simply put, you need a good wifi connection when you travel. Not having one at all times is inconvenient and keeps you from doing research, checking email, and posting on social media. Without it, we wouldn't have been able to book Grab rides in Saigon.
You can get a steady wifi connection by purchasing a sim card or renting a pocket wifi device. We prefer the latter so we rented a 4G pocket wifi device through Klook. But if you'd rather get a sim card, then you can either pick it up at Tan Son Nhat International Airport or have it delivered to your hotel. Another option is to get an eSIM.
3. Let Motorbikes Avoid You
Motorbike traffic in Saigon is crazy. It's a continuous stream of two-wheeled vehicles flowing through the streets like schools of fish. If you're the least bit hesitant, then you'll never get off the sidewalk.
As one of our tour guides explained to us, you just have to walk with confidence and let them avoid you. Vietnamese people practically rode out of their mother's wombs on motorbikes so they know what they're doing.
Locals have their eyes forward at all times so they can quickly react to avoid anything directly ahead of them, whether it be another motorbike, a lamp post, or you.
We tried it a couple of times and it really does seem to work. I mean, we survived right? By no means am I saying this is a foolproof method, but if you're a chicken in Vietnam, then you'll never cross the road.
Just find a good place to cross, time it well, then proceed with confidence and caution.
4. Pay Only in VND
If something is quoted in VND, then pay for it in VND. Don't pay in USD or any other currency because you won't get a good rate.
Hotels and restaurants may accept USD as payment but don't do it. You'll be losing money every time so only pay in VND. As described, banks and licensed money changers are the best places to exchange currency in Saigon.
5. Don't Be Confused by the Currency
Vietnamese currency is among the most confusing I've ever seen. The multiple zeros make it confusing enough but the colors between banknotes are often quite similar. For example, VND 100,000 bills have a similar greenish hue as VND 10,000 banknotes.
I overheard tourists talking on the bus and one woman made the mistake of paying for a VND 50,000 can of Coca-Cola with a similarly red VND 200,000 bill. By the time she realized her mistake, it was too late.
Be careful when handing over bills because not all vendors will correct you if you make a mistake.
6. Check for Saigon Travel Deals
I buy travel-related vouchers from a few websites but my favorites are Klook and Get Your Guide. They often offer the biggest selection and their websites are easiest to navigate.
Follow these links for a complete list of Saigon deals on Klook and Get Your Guide. Even if I don't wind up buying anything, I always enjoy going through their sites because I often find unique activities that I wouldn't normally think of myself.
7. Get Travel Insurance
We don't always get travel insurance. It depends on where we're going, how long we'll be staying, and what we'll be doing.
If we're just going to a place to eat and shop for a few days, then we may not get it. But if we plan on doing more outdoorsy things like skiing or horseback riding, then we'll definitely purchase a policy.
We buy travel insurance from SafetyWing or Heymondo. They're travel insurance providers often used by many digital nomads. Click on the links to get a free quote from SafetyWing or Heymondo. Get 5% off on Heymondo when purchasing a policy through our link.
8. Bring the Right Power Adapter
Vietnam has Type A, Type C, or Type F electrical outlets so be sure to bring the right power adapters for your devices. Electrical voltage is 220V and the standard frequency is 50Hz.
Have Fun!
By no means am I an expert on Ho Chi Minh City but I do hope you find this guide useful. I'm only sharing some of the things I learned from our trip. If you have any suggestions, then please let us know in the comment section below. You're welcome to join our Facebook Travel Group as well.
Thanks for stopping by and have an awesome time in Ho Chi Mnh City!
OUR GEAR
These are some of the things we brought with us to Saigon. Check out our what's in our backpack post for a complete list of our gear. (NOTE: The following links are Amazon and other affiliate links.)
Disclosure
Some of the links in this Saigon travel guide are affiliate links, meaning we'll get a small commission if you make a purchase at no added cost to you. We only recommend products and services that we use ourselves and firmly believe in. We really appreciate your support as this helps us make more of these free travel guides. Thank you!