A few years ago, I was walking from Bistro Remedios to Robinson's Place in Malate, when I spotted a pair of tourists eating sisig at this small, open air dive along Adriatico Street. Likely a married couple backpacking through the Philippines, several things struck me about that scene. One, they were Caucasian. Two, they weren't sharing a plate of sisig, they had one each. And three, they had on their faces this intense look of focus and excitement, the kind sprinters wear while waiting for that starter pistol to fire. Feverishly mixing their his and her plates of sisig with the obligatory condiments, it was evident even to passersby that they couldn't wait to dig in.
Such is the power of this dizzyingly delicious, highly addictive dish of sizzling pork head and liver. Beloved by Filipinos and foreigners alike (just ask Anthony Borudain), it's become the quintessential bar chow, ubiquitous anywhere that serves beer.
Like many Manileños my age or older, I got my first taste of sisig at Trellis over thirty years ago. Proudly stated on their menu in fact, is the claim that they made this Kapampangan dish (from Pampanga) famous in Manila. Tagging along with my mom for lunch, I still remember what we ordered – one plate of pork sisig, one plate of sizzling pusit (squid), and two cups of garlic fried rice. Despite being a kid with limited tastes at the time, I was enamored from that first forkful, and I haven't stopped eating it since.
Like those two Caucasian travelers, everything about this dish consumed me. From the sound and smell of the sizzling meat, to the smokiness of the finely chopped pork, to the ritualized mixing of condiments. I fell in love with it, I became addicted to it, and if it weren't for the fact that my metabolism is pushing forty, I'd eat it every damn day. With plans of giving up meat in the future, it's the one pork dish that I would definitely miss. I don't even feel that way about bacon.
Over three decades have past since that first taste of sisig, with countless sisigans (places that serve sisig) coming and going over the years. Admittedly, I've gone to many, a few of which I've visited more often than Trellis. As pervasive as good sisig had become, I started to believe that much of Trellis' charm hinged solely on the fact that they were one of the first. Today's experience, my first here in almost a decade, told me otherwise.
The truth is, Trellis built their reputation not just for being the first, but for serving one of the best, if not the very best sisigs in Manila. After thirty-three years, it's nice to know that they still do.
Pork Sisig – PHP 189
Like any food, sisig is subjective. Everyone has their personal favorite, and it's always the best.
For me, what sets Trellis' sisig apart, is its perfect marriage of smokiness and acidity. The chunks or pork face are chopped to the right size, and the taste of liver is complementary without being overpowering. Thankfully, they stuck to the original recipe and never served it with raw egg, mayonnaise, or chicharon bits (as far as I know). Though I do enjoy the crunchiness from those popular chicharon-laced varieties, I much prefer the biting, vinegary acidity of Trellis sisig. Perfect with garlic rice and beer, it's absolutely delicious, even after all these years. ♥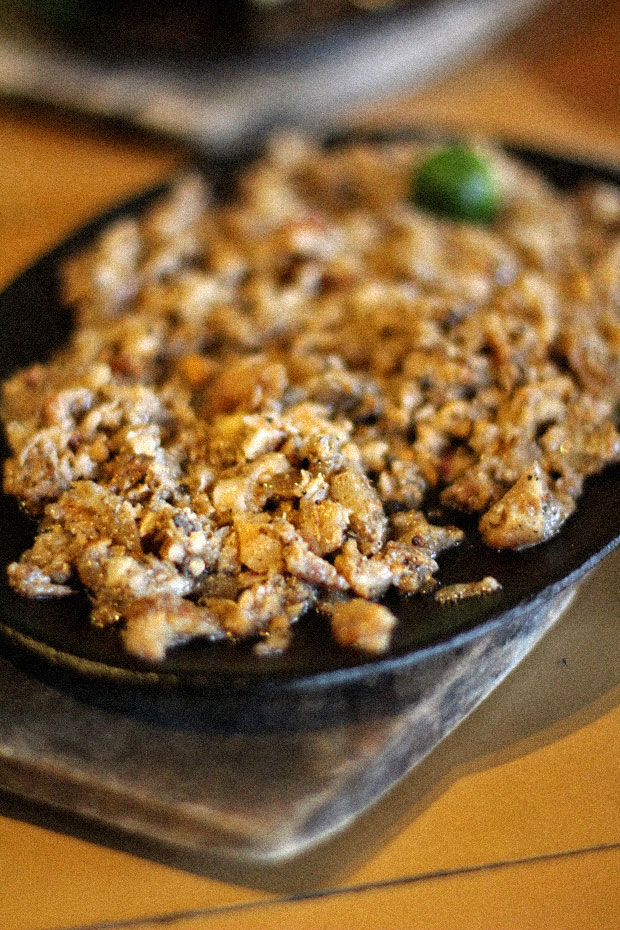 Trellis Diliman
40 Matalino Street corner Kalayaan Avenue, Diliman, Quezon City
Tel: 924-1057
Facebook: Trellis-Restaurant
Email: [email protected]
Operating Hours: Mon-Sat, 11AM-12MN
Trellis Makati
G/F Telecom Bldg., 316 Sen. Gil Puyat Avenue, Bel-Air, Makati
Tel: 753-3312
Operating Hours: Mon-Sat, 11AM-11PM