If you have an interest in history and a passion for Vietnamese food, then you're going to love Hue.
Located about 130 km north of Hoi An, Hue is a former Vietnamese capital that served as the Nguyen Dynasty's seat of power for well over a century. It's home to the magnificent Imperial City and a series of royal tombs housing the remains of nine Nguyen Dynasty emperors.
If you travel for food like we do, then you'll be happy to find an interesting bevy of regional dishes like com hen, banh hue, banh khoai, nem lui, banh ep, and my personal favorite – bunh bo hue.
The food is delicious everywhere in this country but it took just a few days of traveleating in Hue for it to become one of my favorite food destinations in Vietnam.
If you're visiting Hue for the first time, then I hope this comprehensive travel guide helps you plan your trip. It'll give you key information on where to stay, what to do, how much to budget, and of course, what and where to eat.
VISIT HUE QUICK LINKS
This Hue travel guide is comprehensive. What that means is that it's very long. For your convenience, I've compiled links to hotels, tours, and other services here.
HOTELS
Recommended hotels and homestays in the Citadel, one of the most convenient areas to stay for people on their first trip to Hue.
TOURS
OTHER SERVICES
Save This on Pinterest!
No time to read this Hue travel guide now? Click on the save button and pin it for later!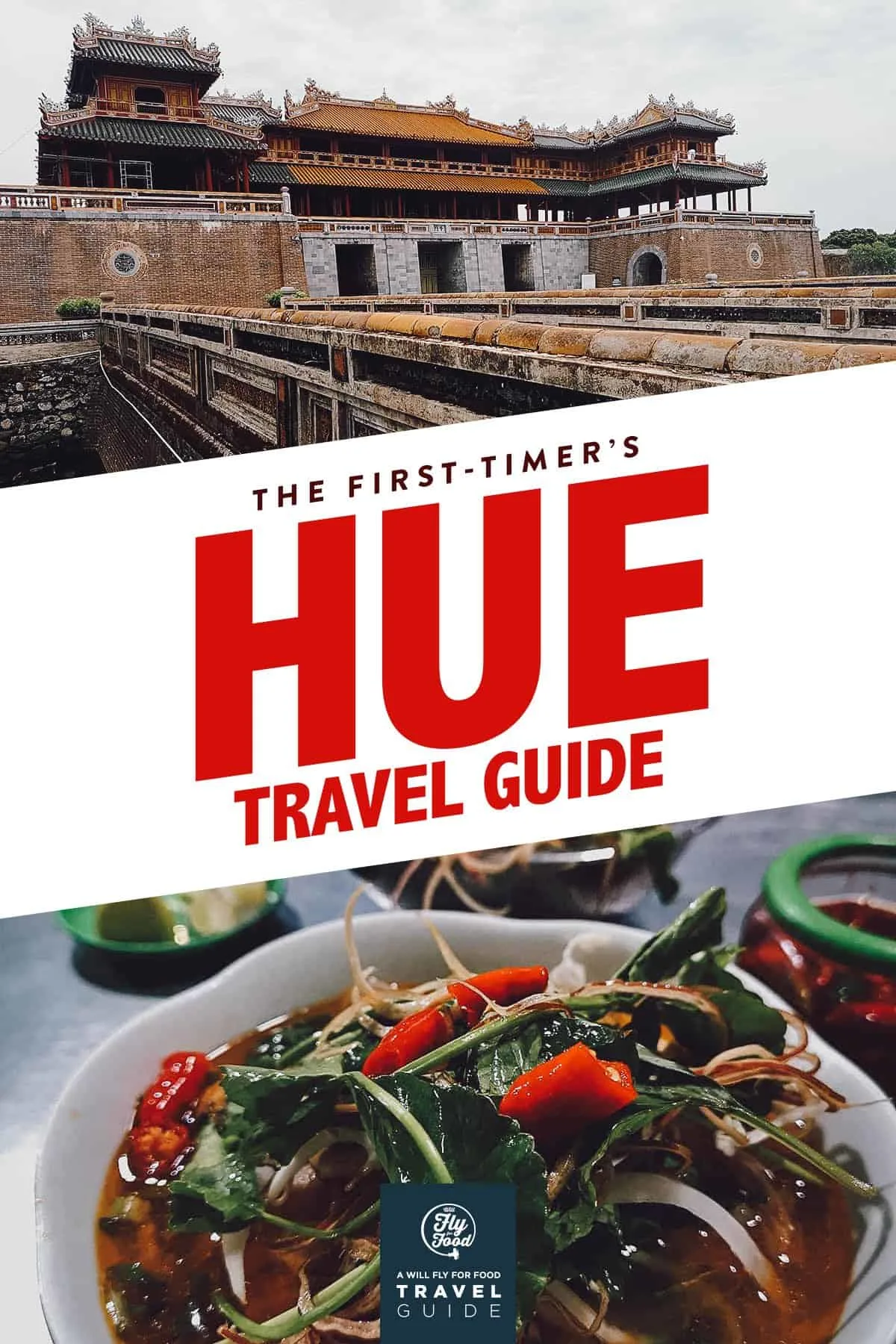 GUIDE TABLE OF CONTENTS
HUE TRAVEL RESTRICTIONS
Because of the current global situation, travel guidelines can change very often. To help you with your trip, our friends at Booking.com created a website that lists detailed information on travel restrictions around the globe.
Before planning a trip to Hue, be sure to check Booking.com for information on travel restrictions to Vietnam. If you do decide to go ahead and visit Hue, then we strongly recommended getting travel insurance with COVID coverage.
HOW TO APPLY FOR AN E-VISA TO VIETNAM
Depending on what type of passport you carry, you may need an e-visa and medical declaration to enter Vietnam.
I'm a Philippine passport holder so I can visit Vietnam visa-free for up to 21 days. However, I wanted to stay longer so I applied for an e-visa through iVisa.com which allowed me a maximum stay of 30 days. The approval process took about 2-3 days.
Requirements and fees may differ depending on your passport, so you can visit iVisa.com for more information and to apply.
HUE AT A GLANCE
Hue is a city in central Vietnam that served as the capital of the Nguyen Dynasty from 1802 to 1945. The first Nguyen emperor – Gia Long – established control over the whole of Vietnam in 1802 and made Hue it's capital.
During the French occupation which began in the 1880s, Hue became part of the French protectorate of Annam which encompassed central Vietnam. The Nguyen Dynasty was kept in power as puppets of the French.
Hue would remain the seat of the Nguyen Dynasty until 1945 when the last Nguyen emperor – Bao Dai – abdicated the throne. The Democratic Republic of Vietnam would be formed in the same year with Hanoi in the north being declared its capital.
Meanwhile, the French would appoint Bao Dai as Head of State of the newly formed State of Vietnam in 1949, with Saigon in the south being its capital. And so was born North and South Vietnam.
Due to its proximity to the border between North and South, Hue would suffer considerable damage during the Vietnam War. Many of the city's historical sites would lay in disrepair for many years because the victorious communist regime viewed them as relics from Vietnam's feudal past.
Sentiments have since changed with much of Hue now being restored as an important historical attraction and center for tourism and transportation in central Vietnam.
BEST TIME TO VISIT HUE
Unlike northern Vietnam that has four seasons, central Vietnam only has two – wet (Sept-Jan) and dry (Feb-Aug). Hue has a similar climate to Hoi An and Da Nang so the best time to visit, in terms of the weather, is from February till April.
I went to Hue in early- to mid-September which is just at the start of the rainy season. It didn't rain when I was there but it was overcast on multiple days and still fairly hot.
DRY SEASON: Hue's dry season is from February till August. May till August is the hottest time of the year with temperatures often rising above 33°C (91.4°F). On top of that, August is a peak month for domestic tourism. February till April are the driest months and the best time to visit Hue. Humidity is low and temperatures hover at a more tolerable 23°C (73.4°F).
WET SEASON: The rainy season in Hue starts around September and goes till January. It's one of the rainiest cities in Vietnam with the heaviest rainfall coming in October and November. This isn't the best time to visit Hue.
Another factor to consider when planning a trip to Hue is the Tet holiday or Vietnamese New Year celebration. This is held sometime between the end of January and early February. Many businesses will be shuttered during this time and hotel rates will be at their highest.
Climate: Annual Monthly Weather in Hue
For more on Hue's weather, check out these climate graphs from climate-data.org. I've also created average temperature and annual rainfall graphs with the most ideal months to visit marked in orange.
Average Temperature

Annual Rainfall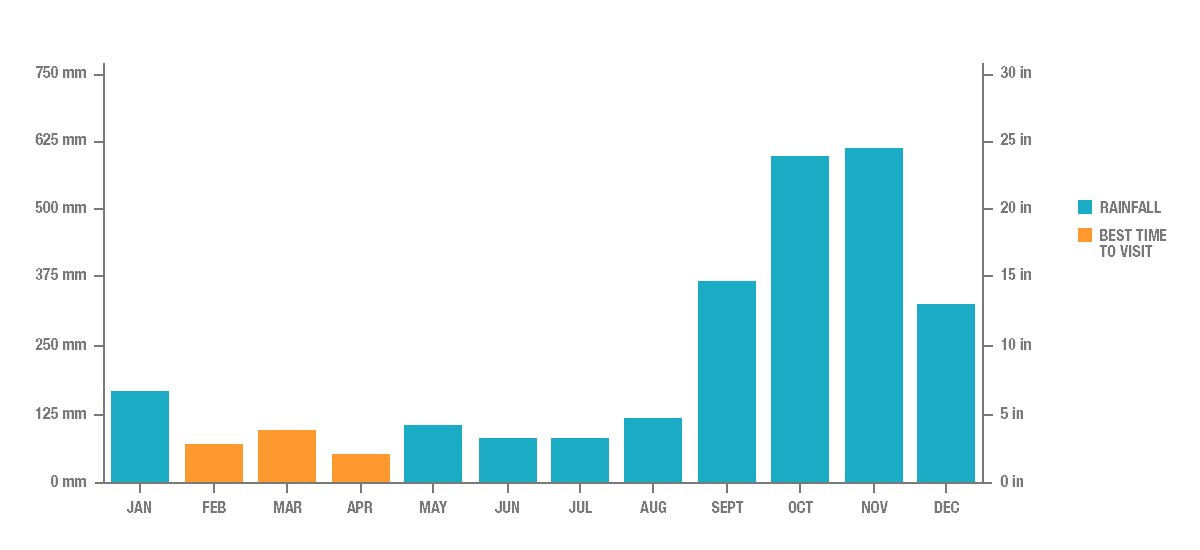 TRAVELING TO HUE
The most popular ways to get to Hue is by plane, bus, or train. I flew to Phu Bai International Airport (HUI) which is located about 15 km south of the city. From there, I took a minibus into Hue.
I'll describe each method in more detail below but you can go to Bookaway to check for transportation options to Hue from wherever you are.
By Plane
If you're flying into Phu Bai Airport, then you'll need to arrange for an airport transfer into Hue. Phu Bai Airport is about 15 km away so it'll take around 30 minutes to get into the city by car.
SHUTTLE BUS: This is what I did. At just VND 70,000, it's the cheapest transfer option from the airport to Hue. When you exit the arrival terminal, just look for signs for the airport shuttle bus. You can buy tickets on the spot. If I remember correctly, it dropped me off in front of a travel agency in the city center so you may have to take a taxi or Grab to your hotel.
TAXI: This is considerably more expensive than a shuttle bus but it's also a lot more comfortable. It's also more convenient because it'll drop you off right at your hotel. A taxi to Hue from Phu Bai Airport should cost you around VND 250,000.
PRIVATE TRANSFER: A private transfer is the most comfortable option but it will probably be the most expensive. You can book it in advance through Bookaway.
By Bus
I love Vietnam's sleeper buses. They're so comfortable. The seats are reclined to such a degree that you're lying almost flat on your back. They're my preferred means of transport for shorter distances in Vietnam.
Pictured below is the sleeper bus I took from Hue to Hoi An. Taking a bus to Hue may or may not be possible depending on where you are, so you can check for available routes on Bookaway.
By Train
I haven't taken a train in Vietnam but I've read that they generally aren't as comfortable as buses. Travel time is about the same but they're considerably more expensive.
You can check for available train routes to Hue Railway Station on Bookaway. From there, you can take a taxi or Grab or walk to your hotel.
WHERE TO EXCHANGE CURRENCY
The unit of currency in Vietnam is the Vietnamese Dong (VND).
I withdrew VND from ATMs in Hue so I didn't have to exchange any currency. But in my experience, the best place to exchange currency in Vietnam is at banks and gold/jewelry shops. I've exchanged currency at banks and gold shops in Hanoi and Ho Chi Minh City and I've always gotten good rates.
Personally, I think withdrawing VND from an ATM is the more convenient option. You'll need to confirm this with your bank but rates are often comparable and you won't have to bring too much foreign currency with you.
Just make sure to advise your bank that you plan on using your ATM card abroad so you don't run into any problems. In my experience, my ATM card works in some machines but not in others.
NOTE: Some ATMs may ask if you'd like to proceed "with or without conversion". Always proceed WITHOUT conversion. If you proceed with conversion, then you're authorizing the foreign bank operating the ATM to do the conversion for you, usually at less than favorable rates.
BEST AREAS TO STAY IN HUE
In my opinion, where you stay in Hue depends on which you prefer – history or food. If you prefer history, then it's a good idea to stay in the Citadel. If you prefer food, then it's best to stay across the river in the Vinh Ninh / Phu Hoi areas.
Represented on the color-coded map below are the two aforementioned areas. Click on the link to view a live version of the map. (Please note that marked areas are approximations only)
BLUE – Citadel
RED – Vinh Ninh / Phu Hoi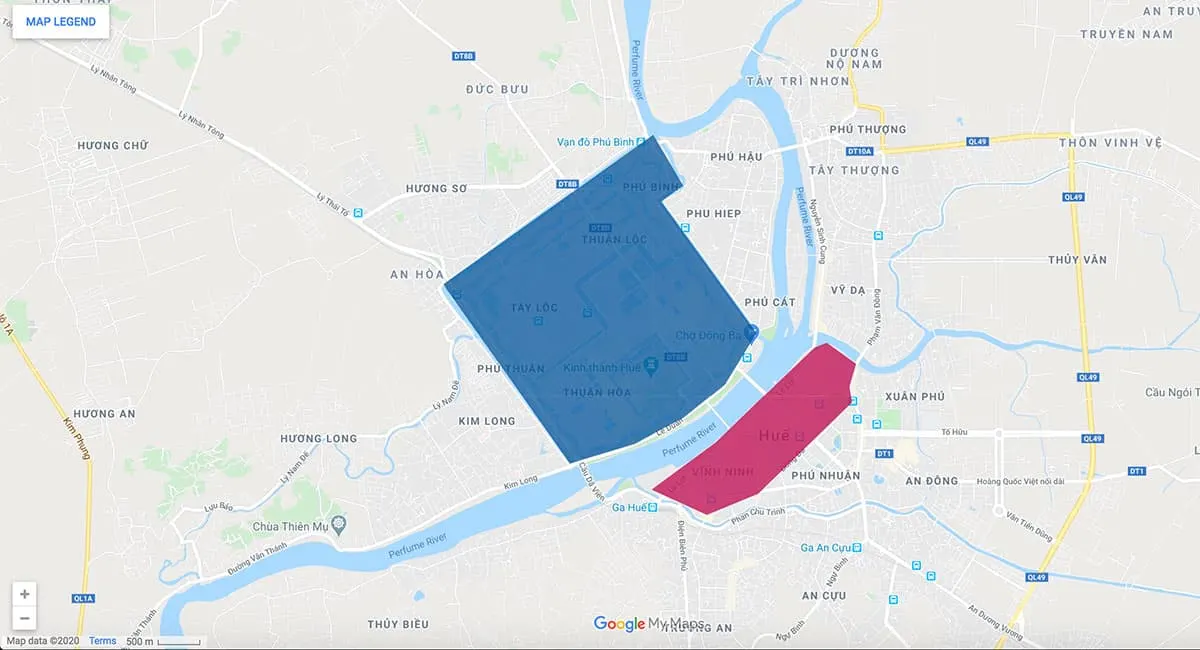 I'll provide targeted links under each description but you can book accommodations in Hue through Booking.com or Agoda.
CITADEL
The Imperial City is the top historical attraction in Hue. It refers to a moated area within a larger moated area known as the Citadel.
If you'd like to explore the Imperial City without having to rely too much on public transportation, then the Citadel is the ideal place for you to stay. You can search for accommodations in the Citadel area on Agoda.
Check out a few recommended hotels and homestays in the Citadel.
VINH NINH / PHU HOI
I went to Hue primarily for the food so I stayed in the Vinh Ninh / Phu Hoi areas. If you look at a map, you'll see that Vinh Ninh and Phu Hoi are two neighborhoods located right next to each other on the other side of the Perfume River, opposite the Citadel.
I stayed at Candy Inn which is a clean and comfortable bed and breakfast located in an alley in Phu Hoi. It's in a quieter part of town with plenty of restaurants and street food stalls within walking distance of the hotel.
You can book a room at Candy Inn on Agoda. If you'd like to stay on this side of the Perfume River but don't feel this is the right hotel for you, then you can search for alternate listing on Booking.com or Agoda.
Listed below are some of the most recommended accommodation options in Vinh Ninh and Phu Hoi.
You can also book hotels and homestays in Hue using the handy map below.
THINGS TO DO IN HUE
1. Explore the Imperial City
The Imperial City is a walled palace complex that served as the Nguyen Dynasty's seat of power from 1802 till 1945. It's a large complex of palaces, shrines, pavilions, and gardens enclosed within a perimeter wall measuring about 2.5 km (1.6 miles) in length.
You can explore the Imperial City on your own but it's probably best to go on a tour so you have the benefit of a guide explaining everything to you. I went on this Klook full day tour that took me to the Imperial City, two royal tombs, Thien Mu Pagoda, and a few other stops. Get Your Guide offers Hue city tours that take you to the Imperial City as well.
If you'd prefer to explore the Imperial City on your own, then entrance to the walled complex is VND 200,000. Just know that much of Hue was badly damaged during the war so you'll find many buildings in varying states of restoration and disrepair.
If you plan on visiting the royal tombs as well, then you can save on the total cost of admission by purchasing a combo ticket that includes admission to the Imperial City and two or three of the most popular tombs.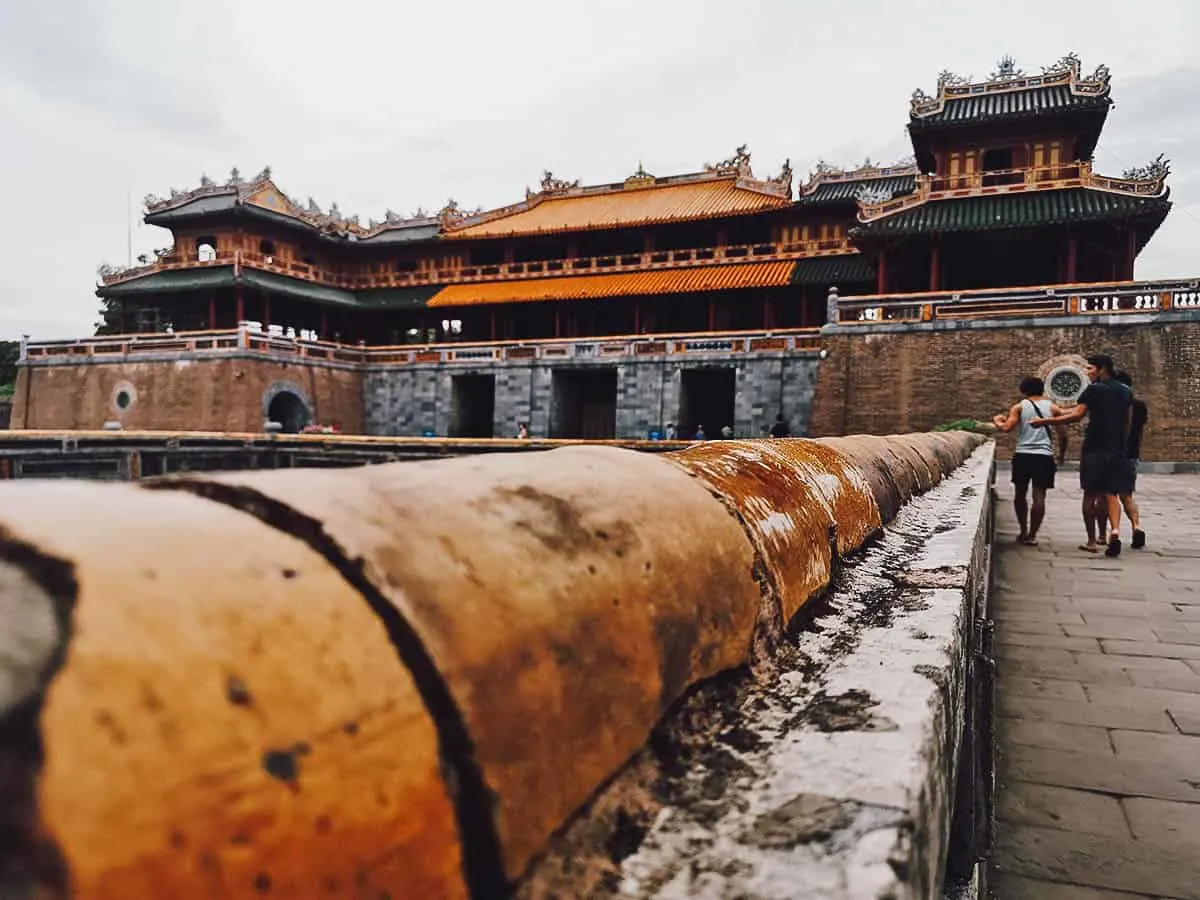 Operating Hours: 8AM-5:30PM (Fri-Wed), 8AM-10PM (Thurs)
Admission: VND 200,000
Estimated Time to Spend: At least half a day
2. Visit Thien Mu Pagoda
Thien Mu or the Pagoda of the Celestial Lady is one of Hue's most important temples. It's located on the banks of the Perfume River, about 3 km west of the Citadel.
Thien Mu Pagoda's most recognizable structure is Thap Phuoc Duyen – a seven-story 21-meter (69 ft) octagonal tower viewed as an unofficial symbol of Hue. Each of the tower's seven stories is dedicated to a Buddha which manifested itself in human form.
Entrance to Thien Mu Pagoda is free so you can go to the temple on your own via cyclo, Grab, or dragon boat. As described, I visited the temple on this full day guided tour that took me to the Imperial City and two royal tombs.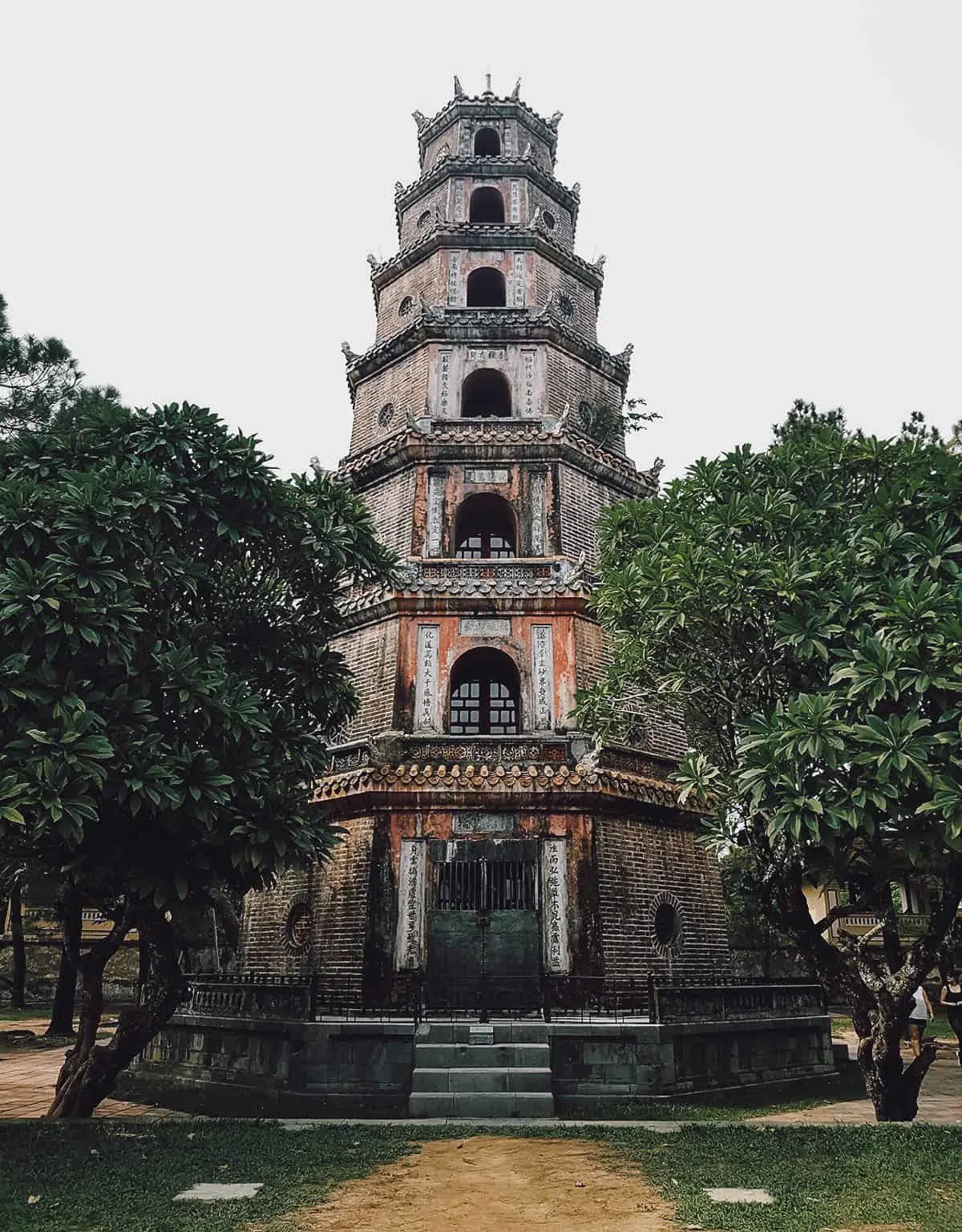 Operating Hours: 8AM-5PM, daily
Admission: FREE
Estimated Time to Spend: About 1 hr
3. Explore the Royal Tombs
The Nguyen Dynasty had thirteen emperors. There are seven known tombs in Hue housing the remains of nine of those emperors. Of those seven royal tombs, three are frequently visited by tourists – Minh Mang, Tu Duc, and Khai Dinh. This is due to the tombs' good condition and ease of accessibility.
Each of these three tombs is located at least 5 km (3 miles) from downtown Hue so you'll need to book a Grab or cyclo to get there. As described, I went on a full day guided tour which took me to Emperor Minh Mang's tomb and the mausoleum of Emperor Khai Dinh. You can learn more about these tombs in my article on the best things to do in Hue.
If you'd prefer to visit the royal tombs on your own, then the cost of admission is VND 150,000 per tomb but you can save on the cost by purchasing Imperial City combo tickets.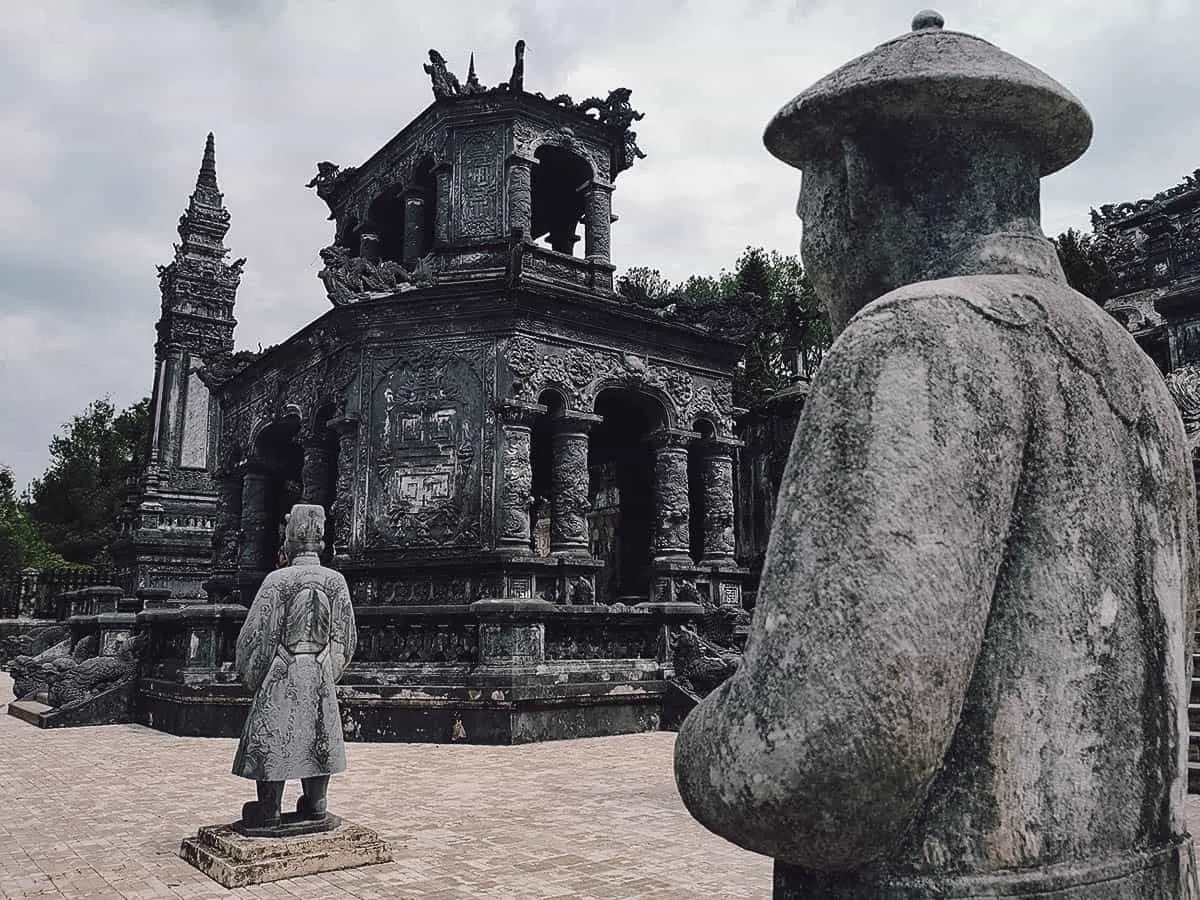 Admission: VND 150,000 per tomb
Estimated Time to Spend: About 1-2 hrs per tomb
4. Visit Dong Ba Market
Asian markets are always fun to explore. Covering an area of 16,000 square meters, Dong Ba Market is the biggest and oldest market in Hue. It's located by the banks of the Perfume River, about 1 km east of the Imperial City.
If you're into street photography or simply enjoy the atmosphere of markets, then you'll have fun getting lost in Dong Ba Market's network of stalls selling fresh meat, produce, handicrafts, and clothing.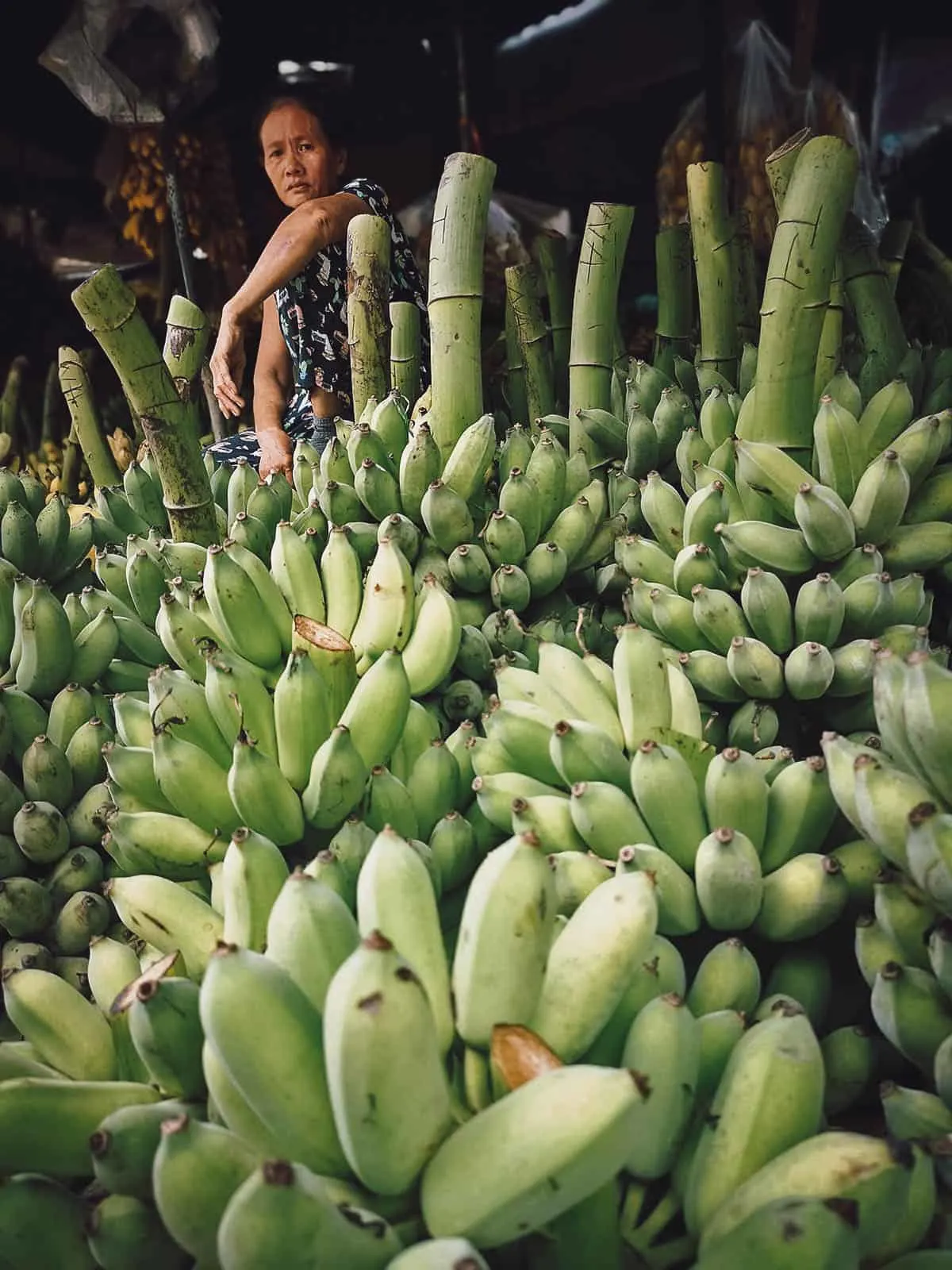 Estimated Time to Spend: About 1 hr
5. Ride a Cyclo
Hue is small compared to Hanoi or Ho Chi Minh City but it isn't small enough to be easily explored on foot. Exploring the areas on either side of the Perfume River takes a considerable amount of walking, which isn't always fun under Vietnam's intense midday sun.
If you'd like to explore Hue without doing too much walking, then perhaps you'd be interested in a cyclo tour. You'll be taken around in these three-wheeled bicycles that were a popular form of transport during the French colonial period.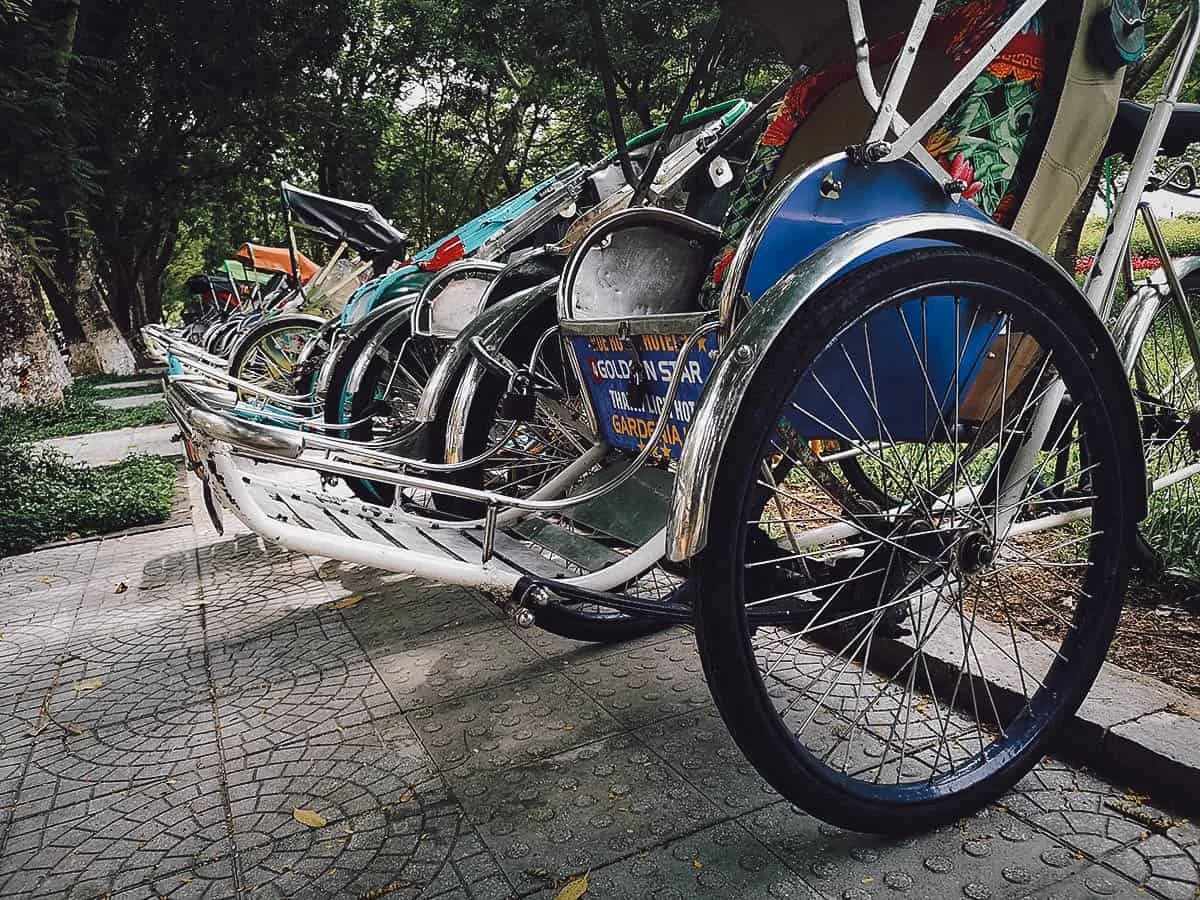 6. Take a Cooking Class
We took our first cooking class in Hoi An a few years ago. We enjoyed it so much that Ren's been taking at least one cooking class on every trip since then.
I went to Hue on my own so I didn't take a cooking class, but if you're interested in learning how to make some of Hue's delicious regional dishes, then you may want to go through Cookly's list of cooking classes in Hue.
Photo by ngoc tran via Shutterstock
DAY TRIPS FROM HUE
1. Thuy Bieu Village
Thuy Bieu is a village located about 7 km west of downtown Hue. It's made up of two villages – Nguyet Bieu Village and Luong Quan Village – and is known for its centuries-old stone houses and gardens growing a special kind of pomelo.
Known locally as thanh tra, this green-skinned pomelo was so prized that it was previously served only to members of the royal family.
Thuy Bieu Village is too far to walk for most people so it's best explored on a bicycle, either on your own or on a guided tour.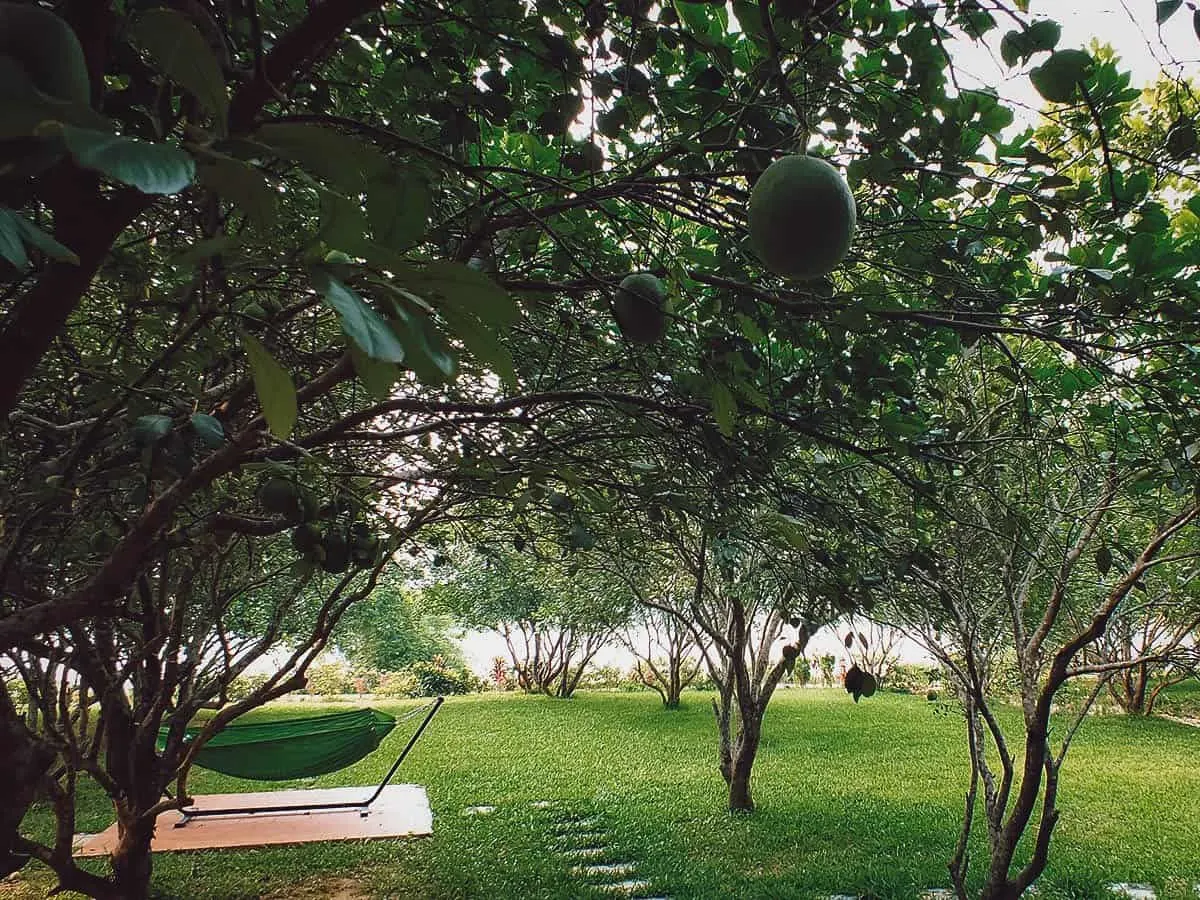 PHOTO: "Pomelo Garden" by Hue Riverside Resort, used under CC0 1.0 / Processed in Photoshop and Lightroom
2. Tam Giang Lagoon
Located about 15 km north of downtown Hue is Tam Giang Lagoon. It's the largest freshwater lagoon in Southeast Asia with a total surface area of about 22,000 hectares.
Water from the Perfume River and other major rivers pour into Tam Giang Lagoon before exiting into the East Sea. It's a beautiful area that's home to thousands of fisherfolk who live by its shores and earn a living from its aquatic resources.
For the most picturesque experience, Tam Giang Lagoon is best enjoyed at sunset during the dry season. You can book a tour on Klook or Get Your Guide.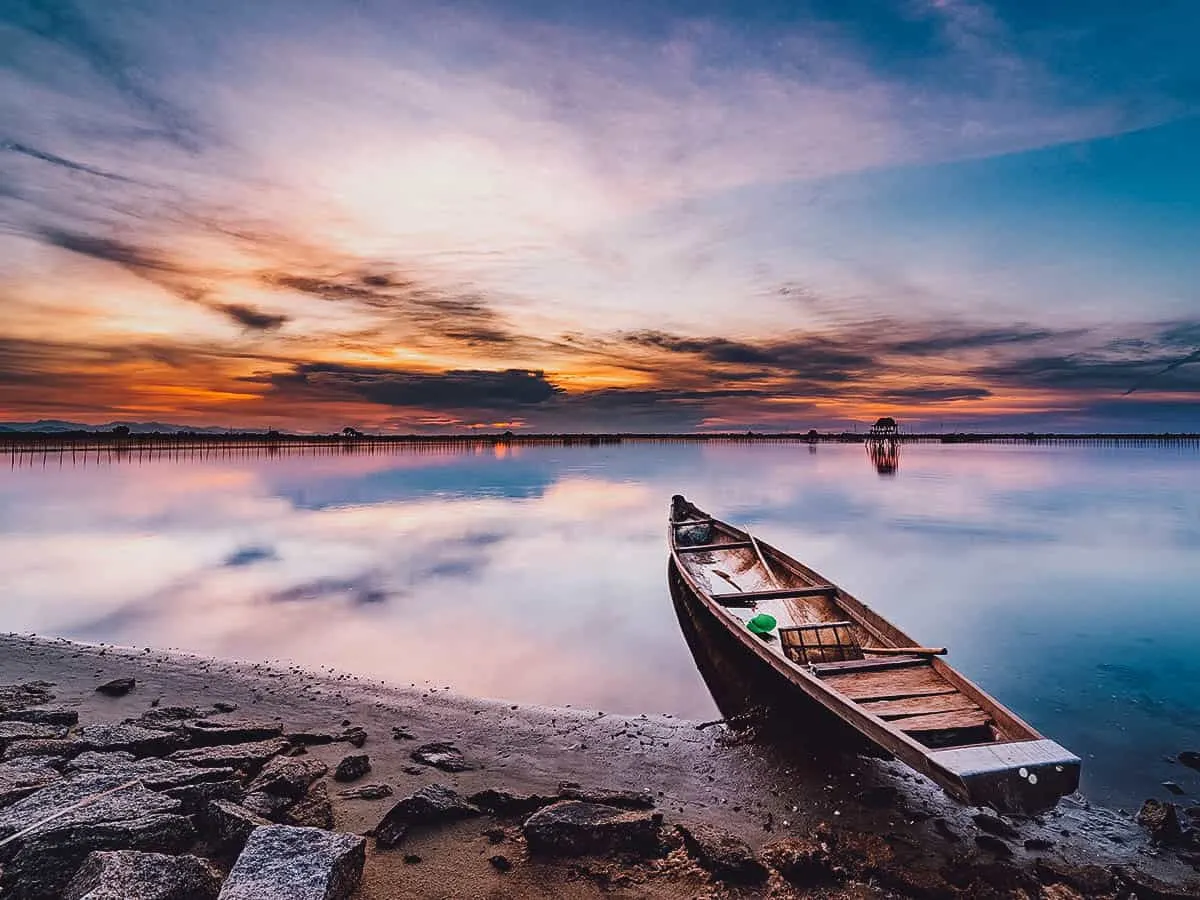 Photo by TBone Lee via Shutterstock
3. Ho Thuy Tien Abandoned Water Park
Adventurous tourists looking to do something more offbeat in Hue may want to visit Ho Thuy Tien, an abandoned water park about 8 km south of downtown Hue.
The park has been closed to the public since 2006, just two years after its unveiling. An estimated VND 70 billion (about USD 3 million) was spent on its construction which makes its sudden closure all the more baffling.
There may be a guard manning the park's entrance but I read VND 10,000-20,000 is enough to have him look the other way. Do understand that this is an abandoned park so it may not be the safest place to visit. Explore at your own risk.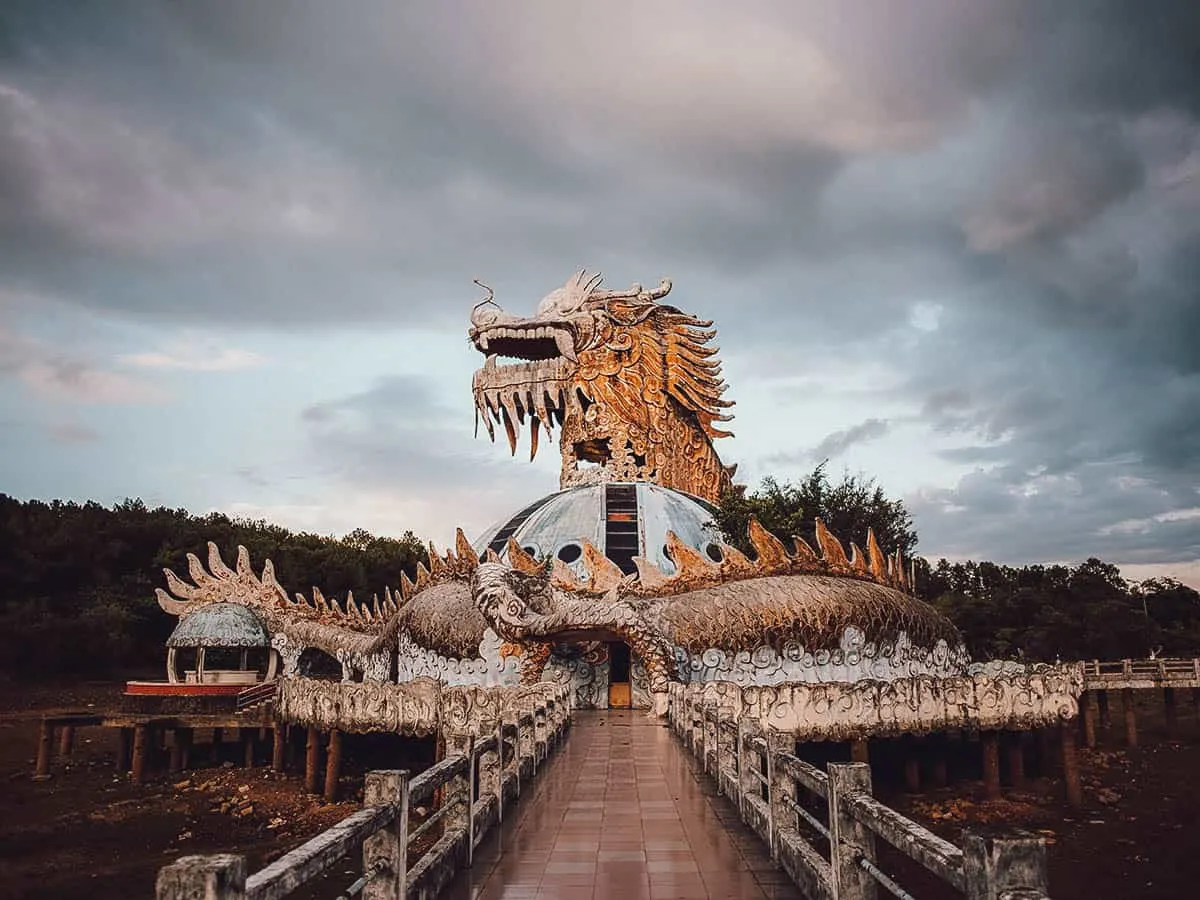 Photo by Yuttana Suntivong via Shutterstock
4. Bach Ma National Park
If you're staying long enough in Hue and want to do some hiking, then you may be interested in spending the day at Bach Ma National Park. It's a protected area and former hill station located about 1.5 hours south of Hue.
Covering an area of about 220 sq km, Bach Ma National Park is home to trekking trails through a lush jungle with lakes, waterfalls, and an abundance of flora and fauna.
You can book a day trip to Bach Ma National Park through Klook or Get Your Guide.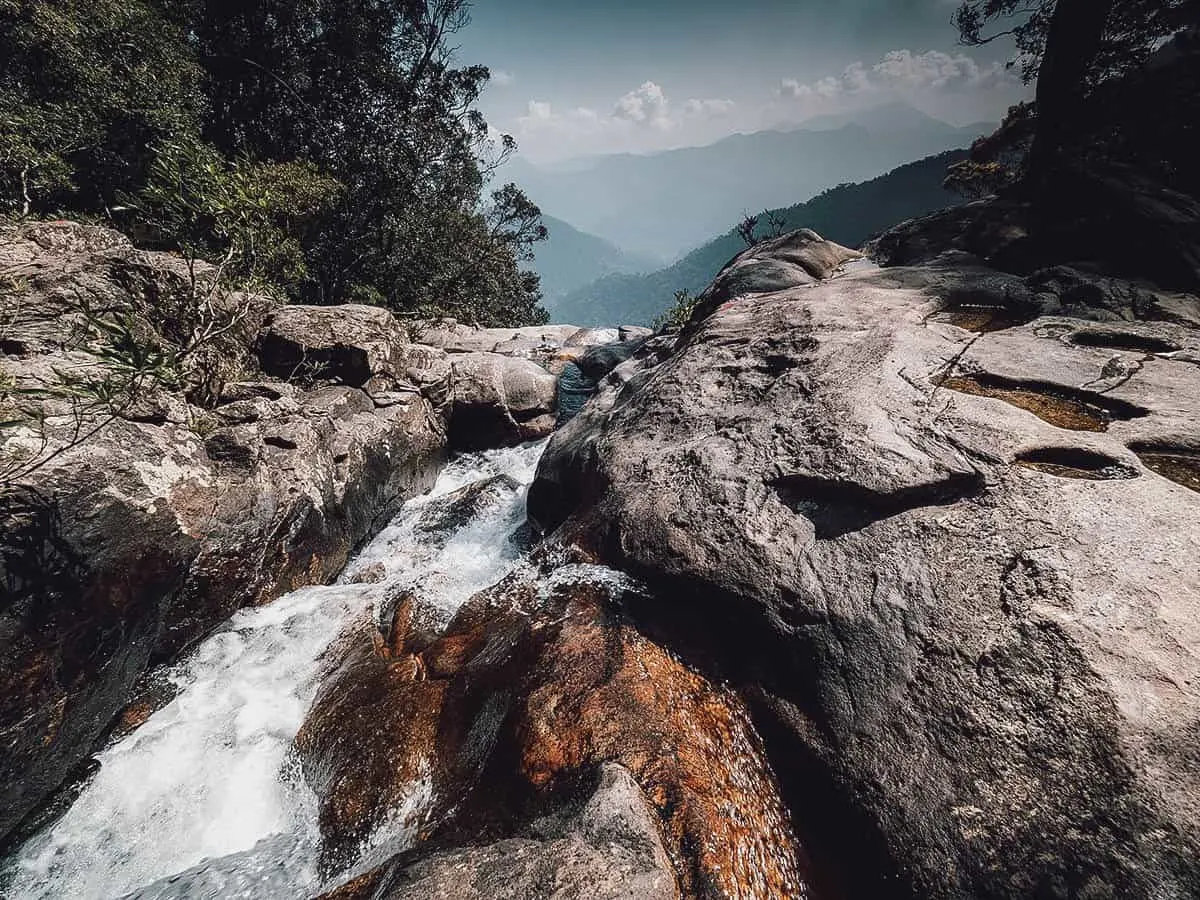 Photo by FoTonBuijs via Shutterstock
5. Phong Nha Cave
Phong Nha-Ke Bang National Park may be too far for some people but if you have a fascination for caves, then the 4-hr drive from Hue will be worth it.
Located in Quang Binh Province, Phong Nha-Ke Bang National Park is a UNESCO World Heritage Site that's home to Phong Nha Cave, a 7,729-meter-long cave containing 14 grottos and a 13,969-meter underground river.
You can book a Phong Nha Cave tour on Get Your Guide.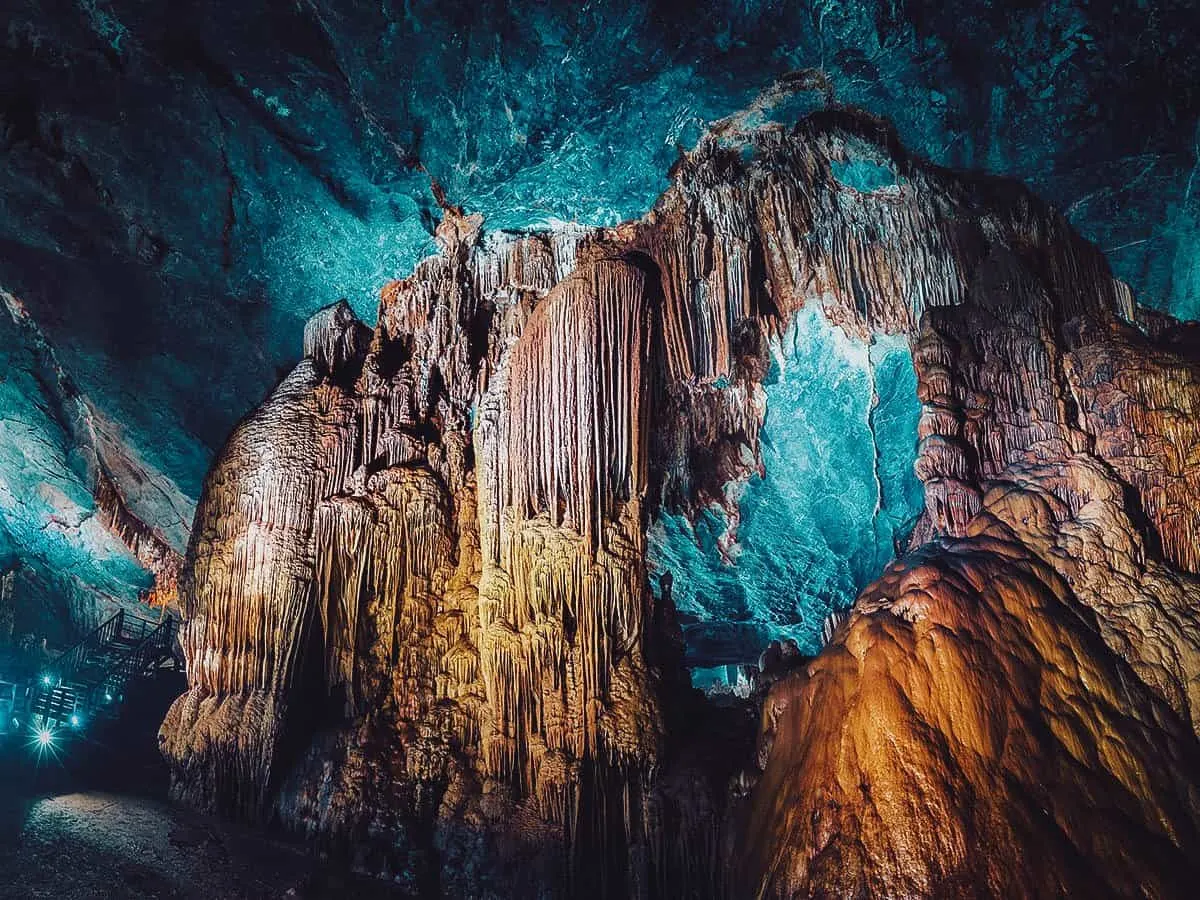 Photo by Dudarev Mikhail via Shutterstock
VIETNAMESE FOOD GUIDE
For us, Vietnamese is one of the best cuisines in the world. We can't get enough of it which is why we keep going back.
If you're wondering what to eat in Vietnam, then check out our Vietnamese food guide for a list of some of the best-tasting dishes in the country. If you're a fan of desserts, then you'll definitely want to check out our Vietnamese dessert guide as well.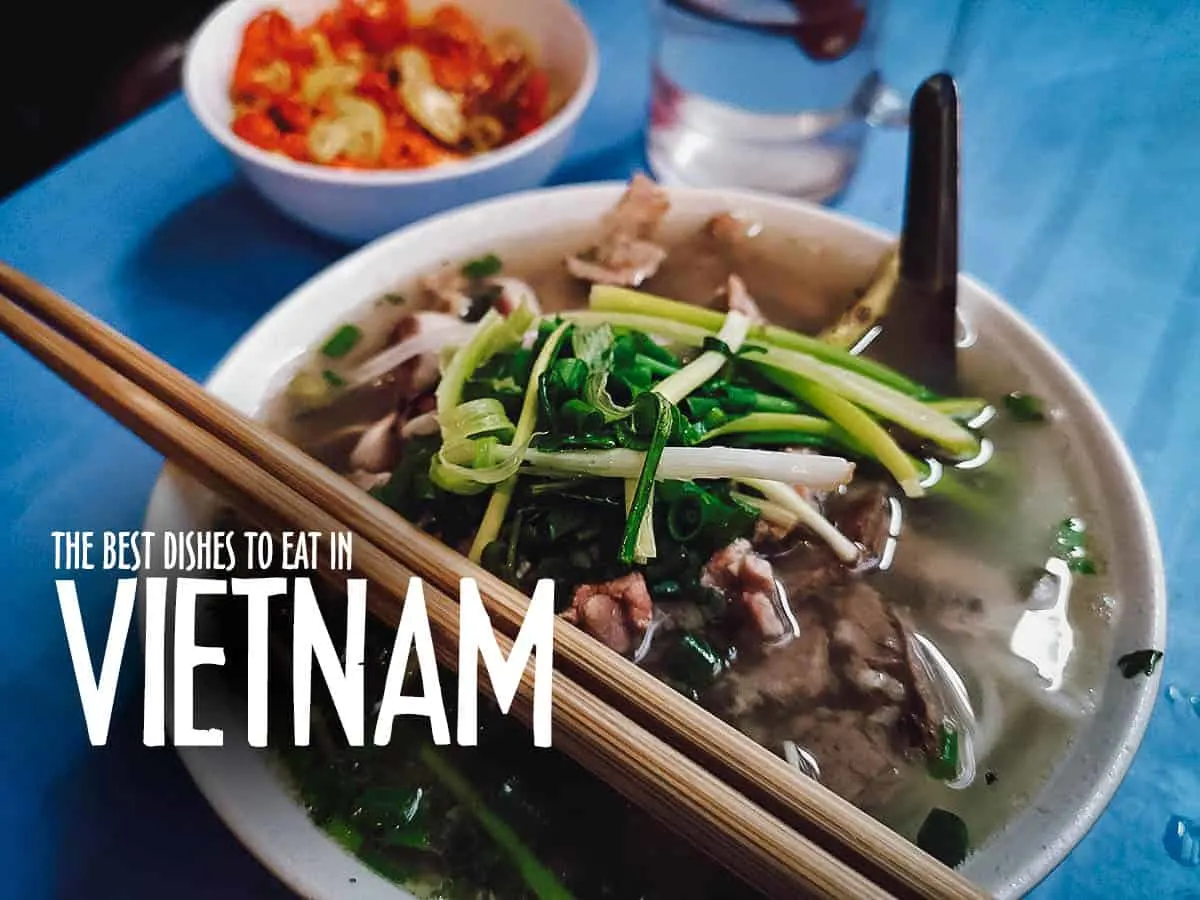 WHERE TO EAT IN HUE
While our Vietnamese food guide focuses on the best dishes to have in Vietnam, our Hue food guide lists some of the best restaurants in Hue. If you'd like to know where to try some of the tastiest examples of dishes like bun bo hue, banh beo, com hen, and nem lui, then this article will be useful to you.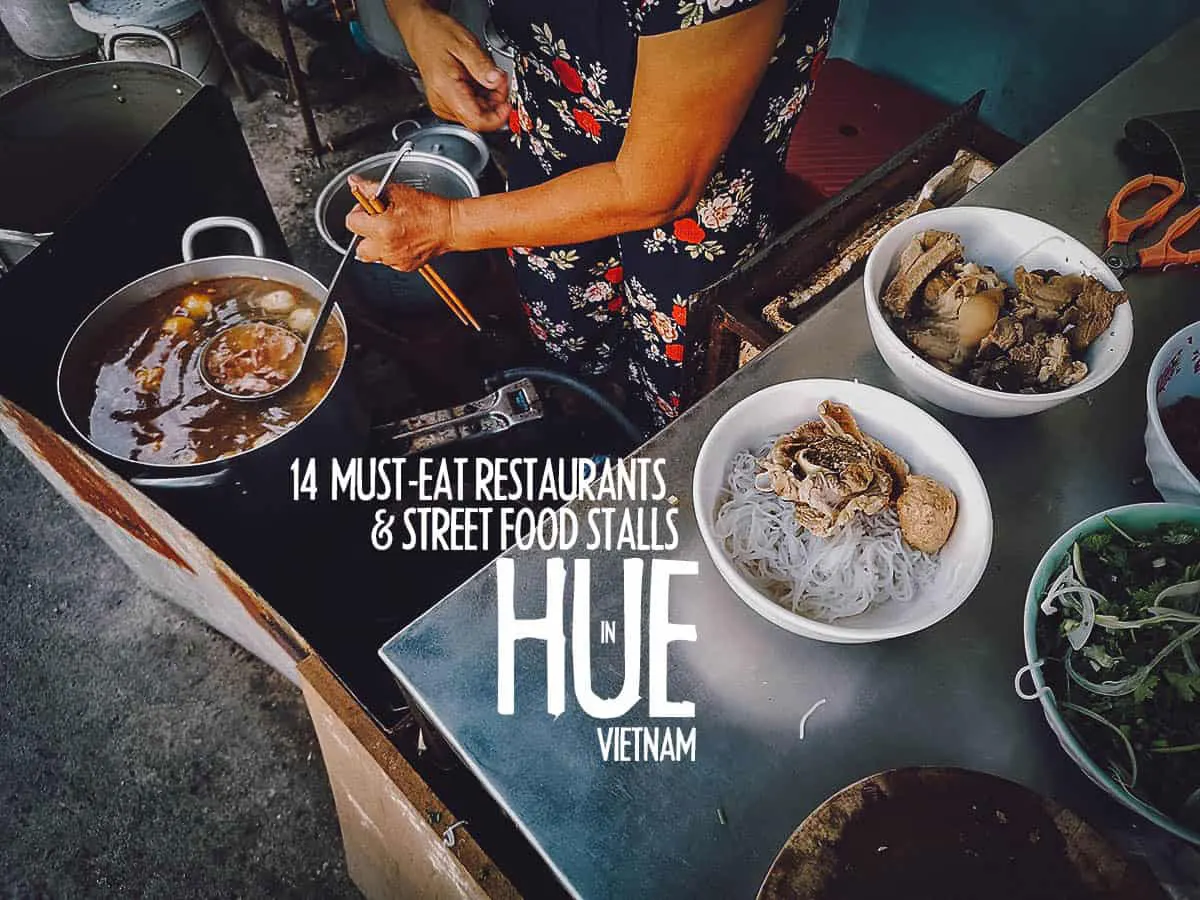 Fourteen may be too many for most travelers so I've listed five of my favorites below. Be sure to click through to our complete Hue food guide for more pictures and information.
1. Bun Bo Hue My Tam
I enjoyed many dishes in Hue, but bun bo was my hands down favorite. It refers to a supremely tasty noodle soup dish made with rice vermicelli, thin slices of beef brisket, and hefty chunks of boiled beef shank. It's absolutely delicious and one of my favorite dishes to eat not just in Hue, but in all of Vietnam.
I didn't meet a bun bo I didn't like in Hue but I suggest trying it at My Tam. It's a popular place that was suggested to me by my hotel's owner. They open at 5PM and close when they run out of food so come early if you can.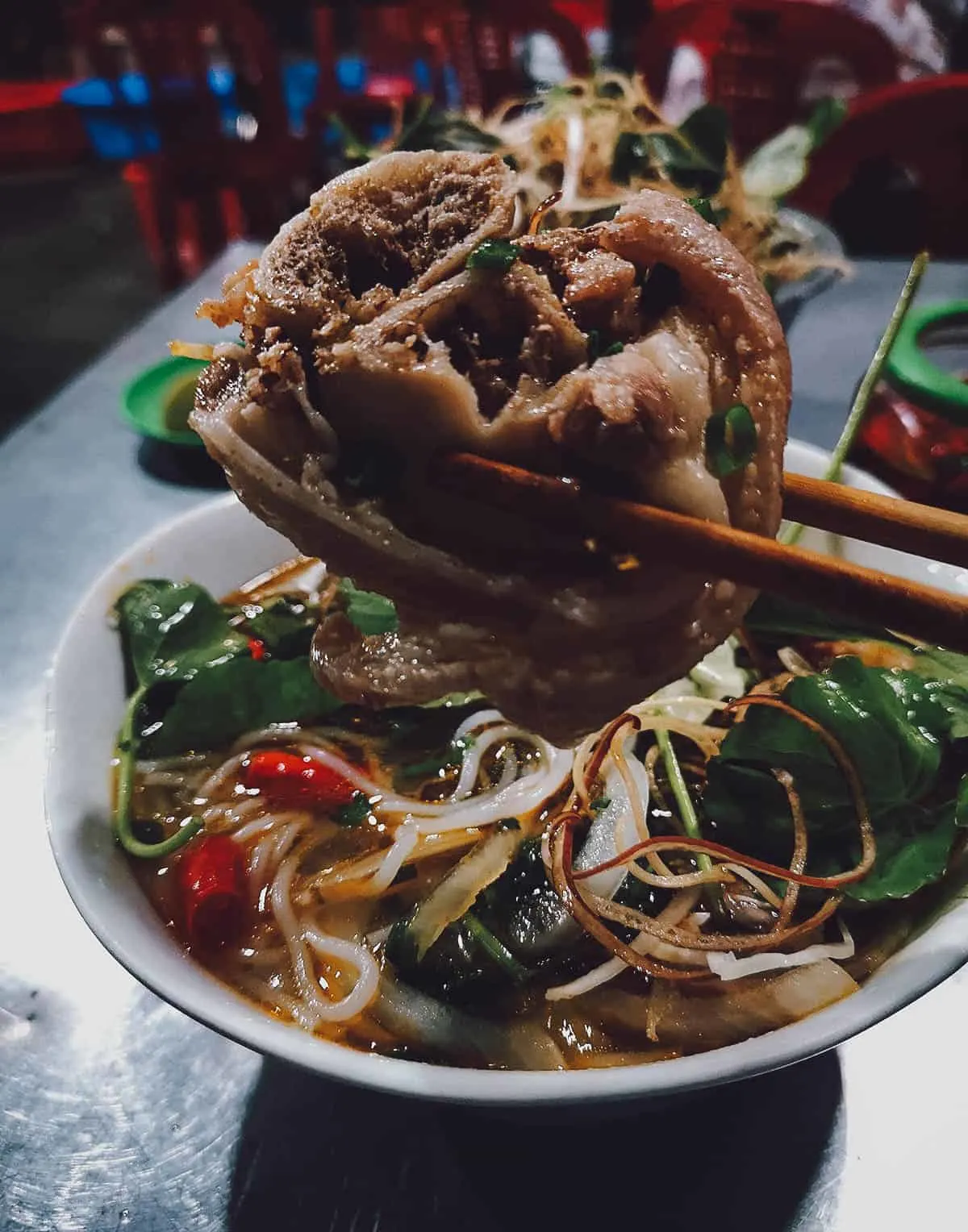 2. Com Hen Hoa Dong
Like bun bo, com hen is a regional specialty and another must-try in Hue. It refers to a dish made with either rice (com) or noodles (bun) topped with stir-fried baby basket clams, vegetables, and a host of other ingredients like fermented shrimp paste, fish sauce, herbs, and pork crackling.
Between rice and noodles, I preferred noodles but be sure to try both. I had com hen and bun hen at many shops in Hue but my clear-cut favorite was from Hoa Dong on Con Hen Island. They served the best che bap as well which is a type of che or dessert pudding made with sweet corn.
Con Hen Island is recognized as the birthplace of com hen so it makes sense to try it there. The name con hen literally means "baby clam island".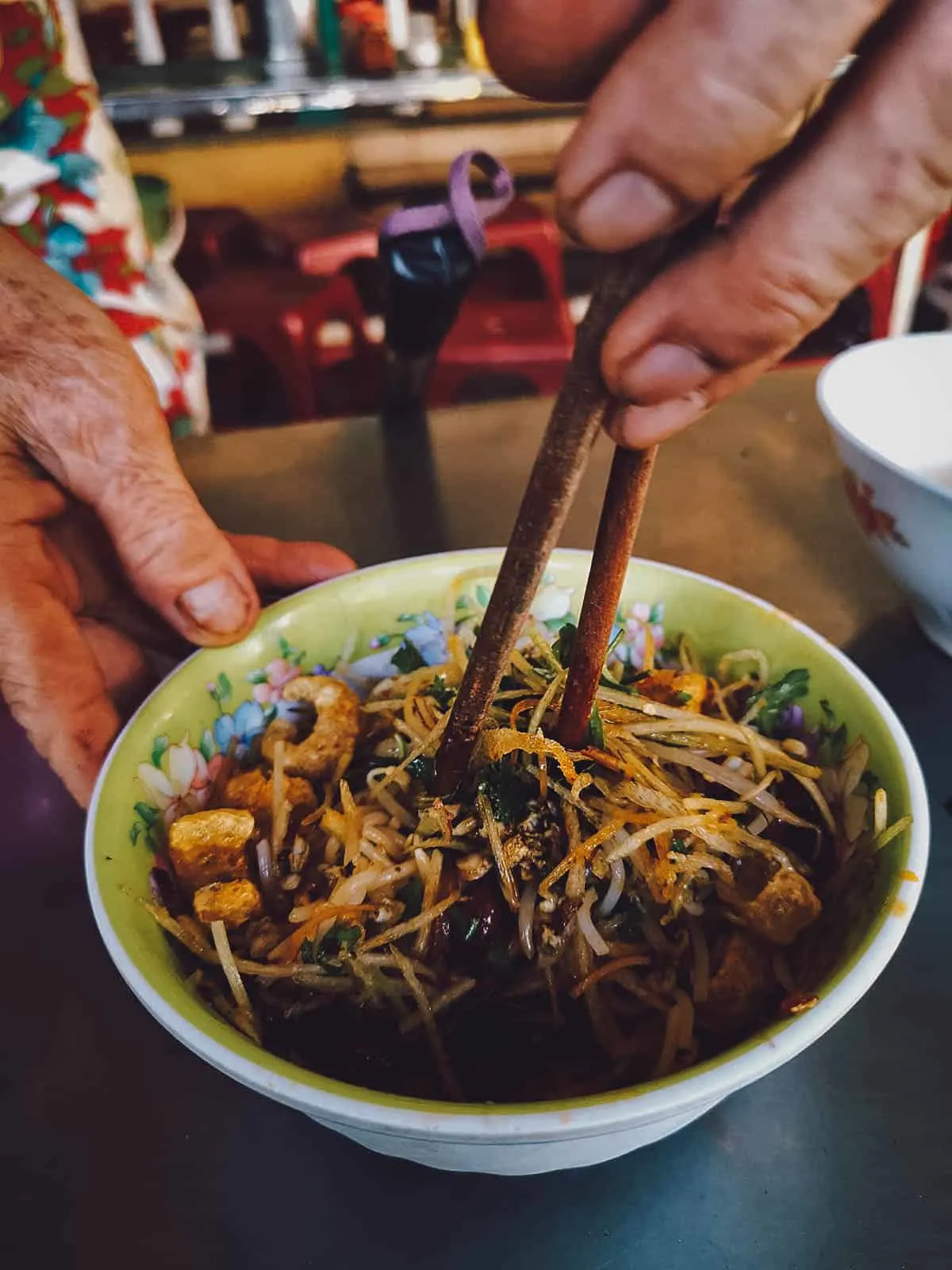 3. Original Hang Me
Original Hang Me is known for serving some of the best banh hue in town. "Banh hue" is a collective term used to describe a family of steamed bite-sized "cakes" or snacks made with rice flour and shrimp.
Pictured below is arguably the most popular type of banh hue called banh beo. It consists of steamed rice cake topped with dried shrimp, pork rinds, and other ingredients. It's served with a side of nuoc cham or Vietnamese dipping sauce.
Other types of banh hue include banh loc, banh ram it, banh nam, banh uot, and cha tom. They're made with similar ingredients so they all taste roughly the same – silky soft and bursting with sweet and savory umami flavor.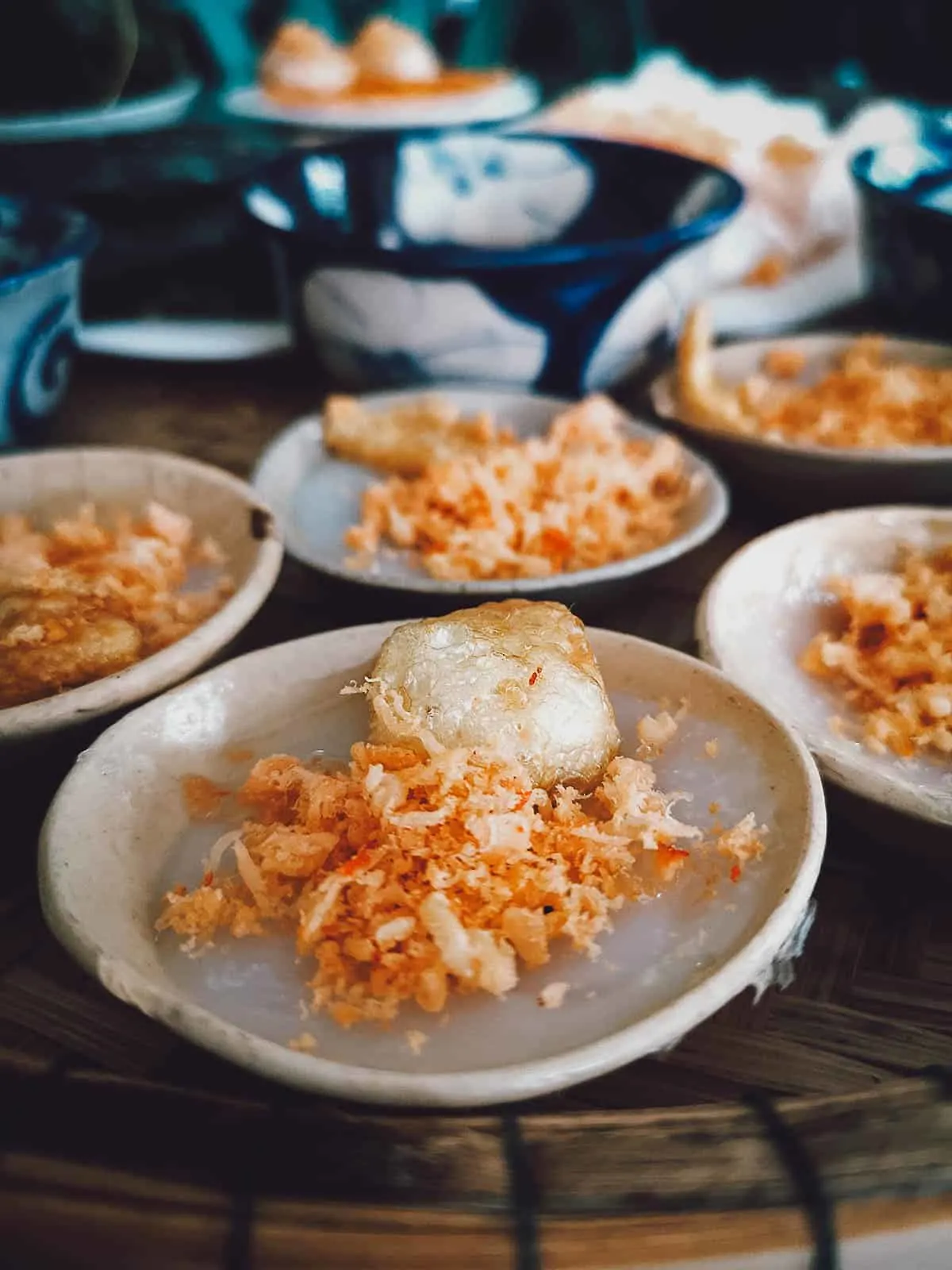 4. Cozy Restaurant
This hidden gem was one of our favorite restaurants in Hue. We're partial to street food eateries that specialize in just a handful of dishes but we couldn't help but fall in love with Cozy. It's more of a full-service restaurant that offers a wide menu of regional and Vietnamese dishes.
Pictured below is nem lui, a Hue specialty of grilled minced pork wrapped around a lemongrass skewer. We've had nem lui a few times in Hue but this was the best version of this dish we've had so far. They make a mean banh khoai as well, which is like the crunchier lesser-known cousin of banh xeo.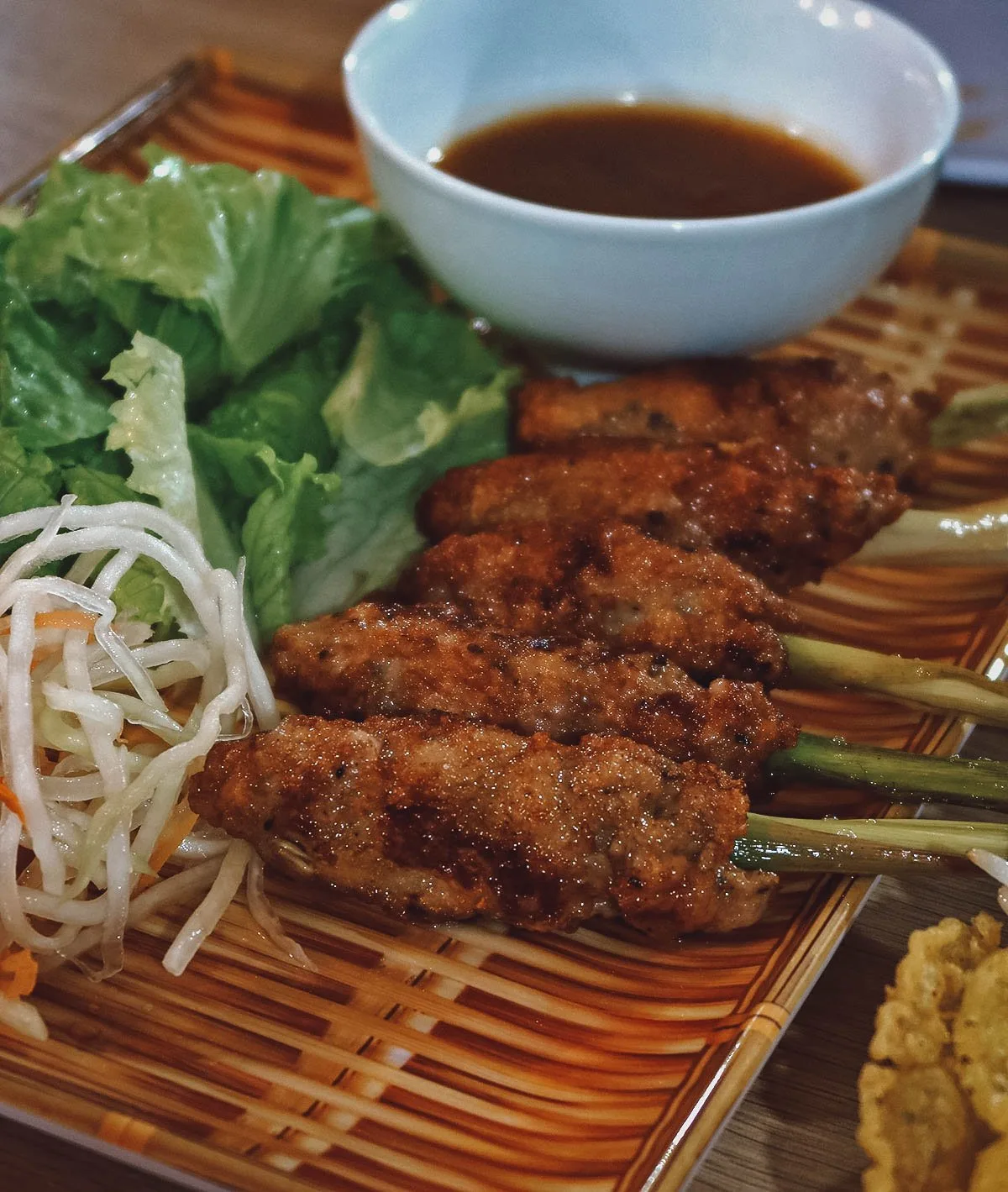 5. Ancient Hue Restaurant
If you're looking for a special meal in central Vietnam, then you may be interested in Hue's imperial cuisine. It refers to a multi-course meal that attempts to recreate the royal dining experience.
Pictured below is a plate of grilled beef meatballs wrapped around stalks of green onion. It was one of about eight or nine dishes served during the course of my meal. I believe this dish is a more refined version of nem lui.
As you can see, many courses are plated with hand-carved vegetables resembling animals like fish, birds, and the mythical dragon and phoenix. It's an interesting though perhaps slightly touristy experience that you can have only in Hue.
A few restaurants and hotels offer royal cuisine but Ancient Hue Garden Houses had the best reviews by a mile. They were also twice as expensive as anyone else, but if you're going to have this experience just once, then may as well go for the best.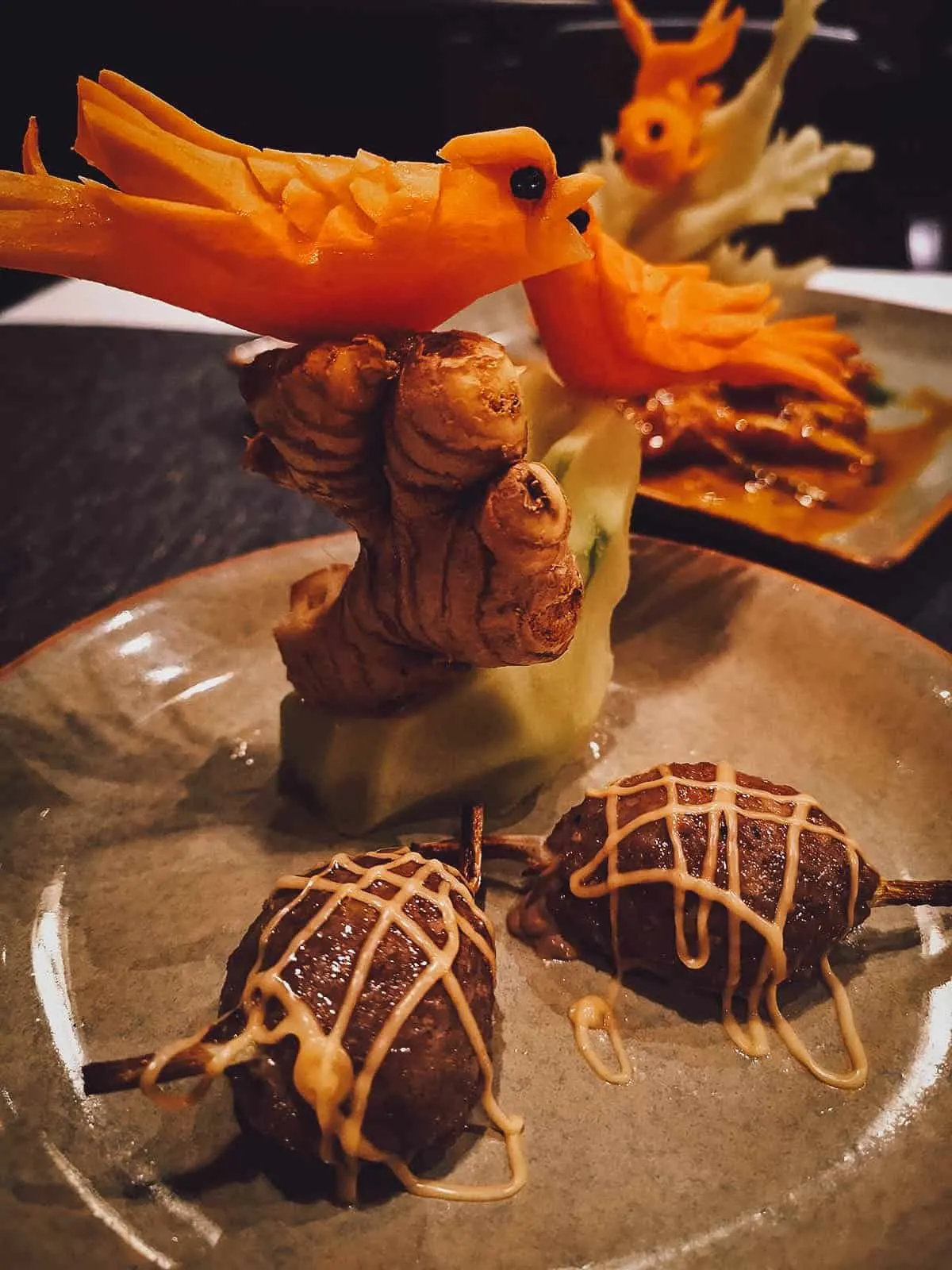 WHICH CAFES TO VISIT IN HUE
Hue is home to the one of the most interesting coffee creations I had in Vietnam – salt coffee. From Hanoi's egg coffee to Ho Chi Minh City's apartment block cafes, you'll find interesting cafes and coffee drinks throughout Vietnam.
Like I did in every city, I sought out as many coffeehouses as I could to come up with this list of the best cafes in Hue.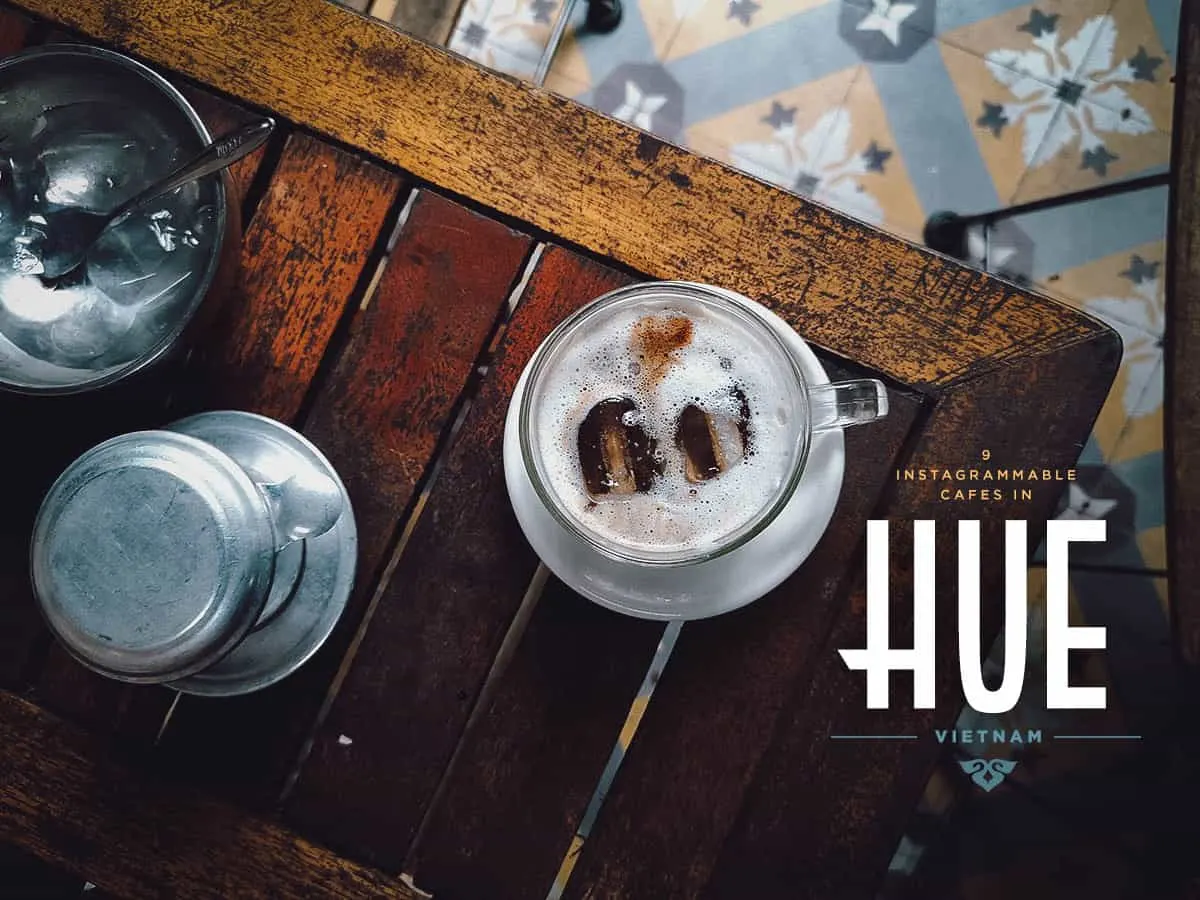 There's no need to visit all nine cafes so I've listed the three most interesting below. Be sure to click through to our Hue coffee guide for more pictures and information.
1. Ca Phe Muoi
If you were to have just one cup of coffee in Hue, then it should be a cup of salt coffee at Ca Phe Muoi, the cafe credited for inventing it.
Ca phe muoi means "salt coffee" and refers to a coffee drink made by whipping salt with fermented milk and cocoa powder. Traditional Vietnamese coffee is filtered into this mixture to create a unique coffee drink that's meant to be enjoyed with ice.
Salt in coffee sounds odd at first but it's a combination that works. Like egg coffee, it's delicious and something I wouldn't mind having again and again in Hue.
I've had salt coffee a few times in Hue and Ca Phe Muoi's cup is still one of the best. It has just the right balance of salty, sweet, creamy, acidic, and bitter.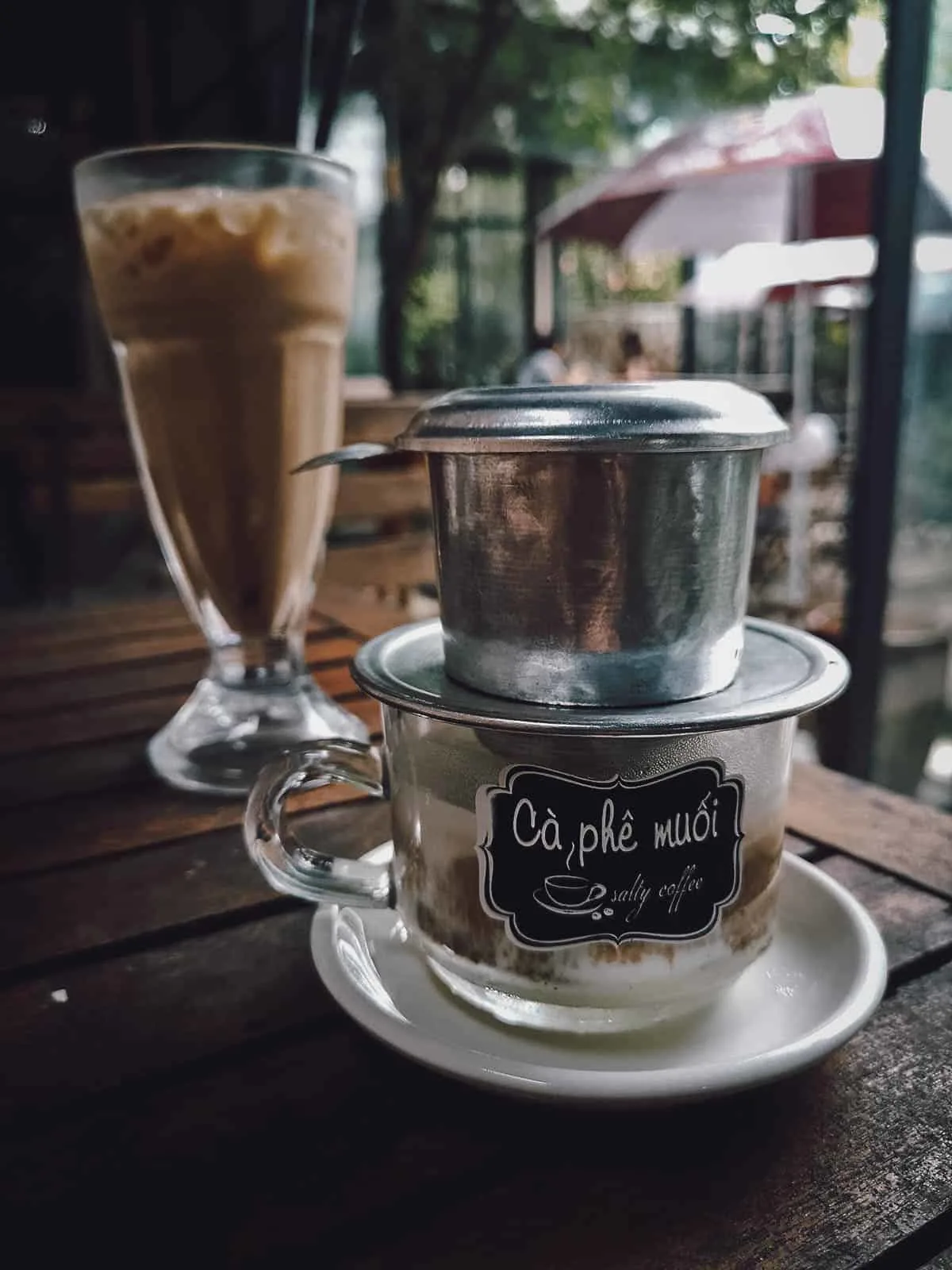 2. tan.cafe (Đinh Tiên Hoàng branch)
We went to two tan.cafe branches in Hue. Both were great and popular with young Vietnamese locals but the branch at the Citadel was probably our favorite cafe in Hue. Aside from their beautiful industrial interiors, they offer a few interesting specialty coffee drinks as well.
You may have heard of egg coffee and coconut coffee. I've just told you about salt coffee but did you ever think that coffee and corn could ever coexist in the same cup? That's exactly what you're looking at below.
Virtually every cafe in Hue now serves salt coffee but the Dinh Tien Hoang branch of tan.cafe is the only place we've found that serves corn coffee. Like egg coffee and salt coffee, the combination may sound odd at first but it actually works.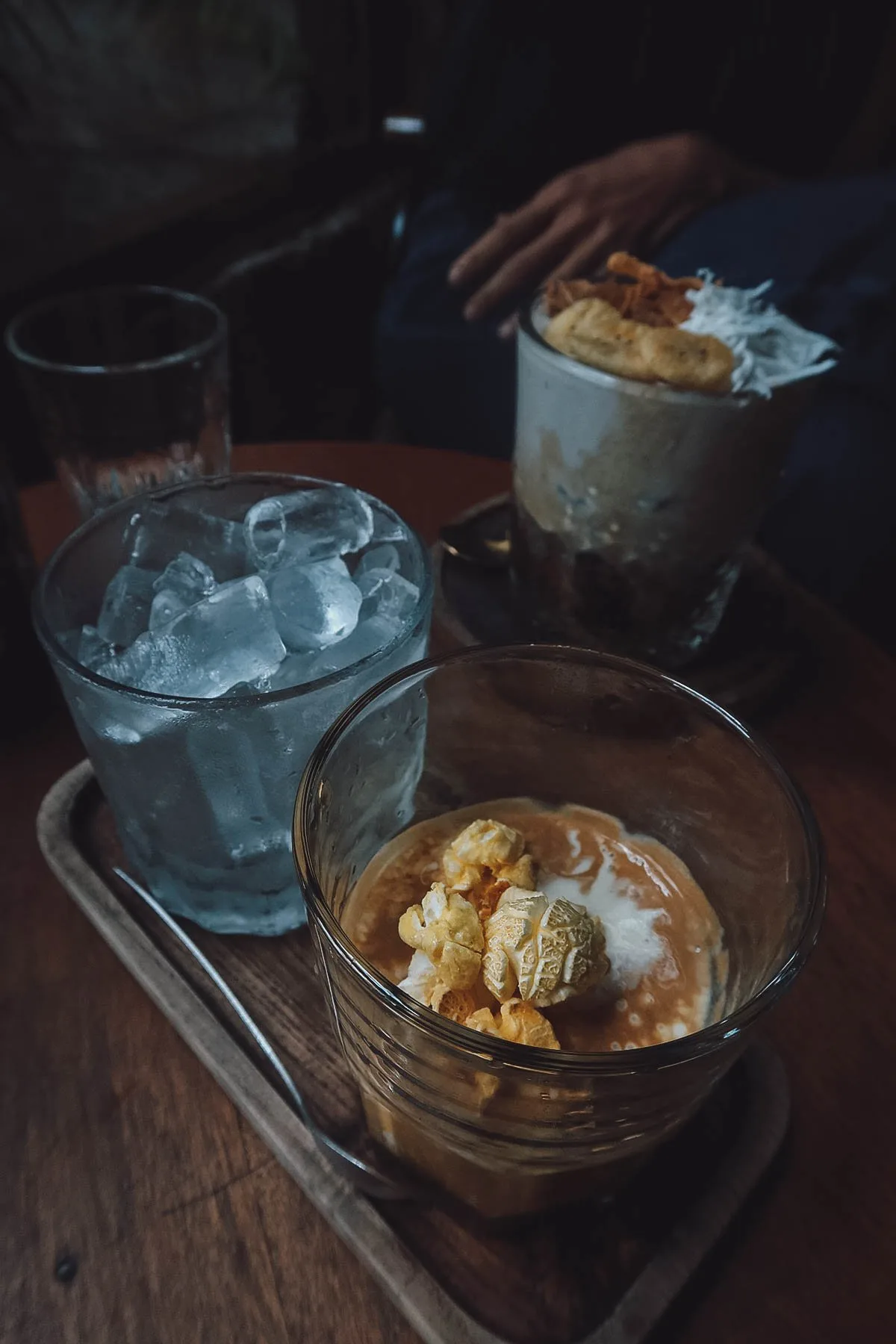 3. PhinHolic
PhinHolic doesn't have as much character as tan.cafe but it's a lovely cafe that offers many delicious coffee drinks, tea, and juices. Unlike the previous two cafes, it's more centrally located so it's easier to get to.
Aside from their coffee drinks, what I liked most about PhinHolic is the space itself. The cafe seems to have been designed for remote workers. It consists of two floors with lots of big tables and sockets so if you ever needed to get some work done in Hue, then this is one of the best cafes you can go to.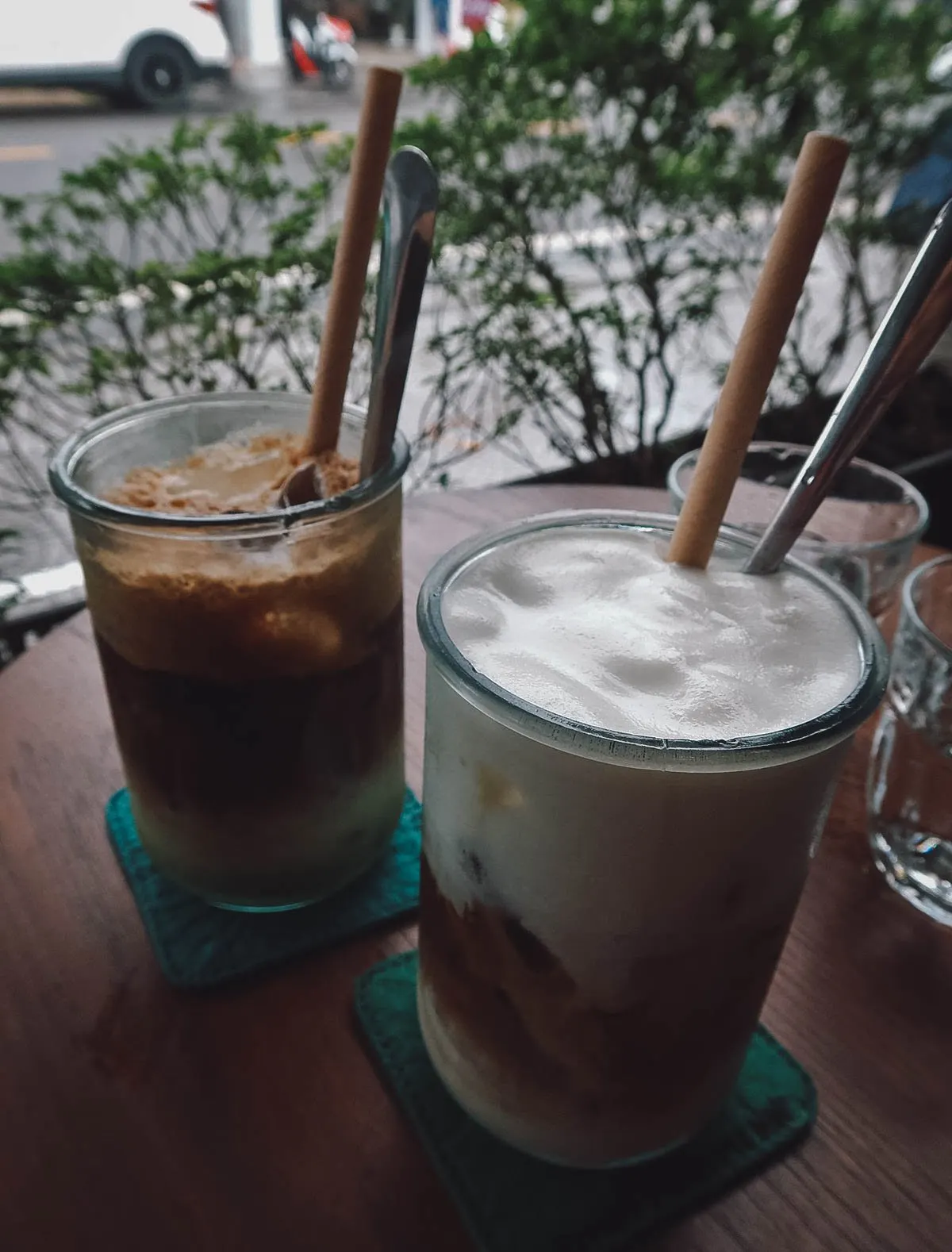 POINTS OF INTEREST IN HUE
To help you understand where everything is, I've pinned the places recommended in this guide on this map. Click on the link to open a live version of the map in a new window.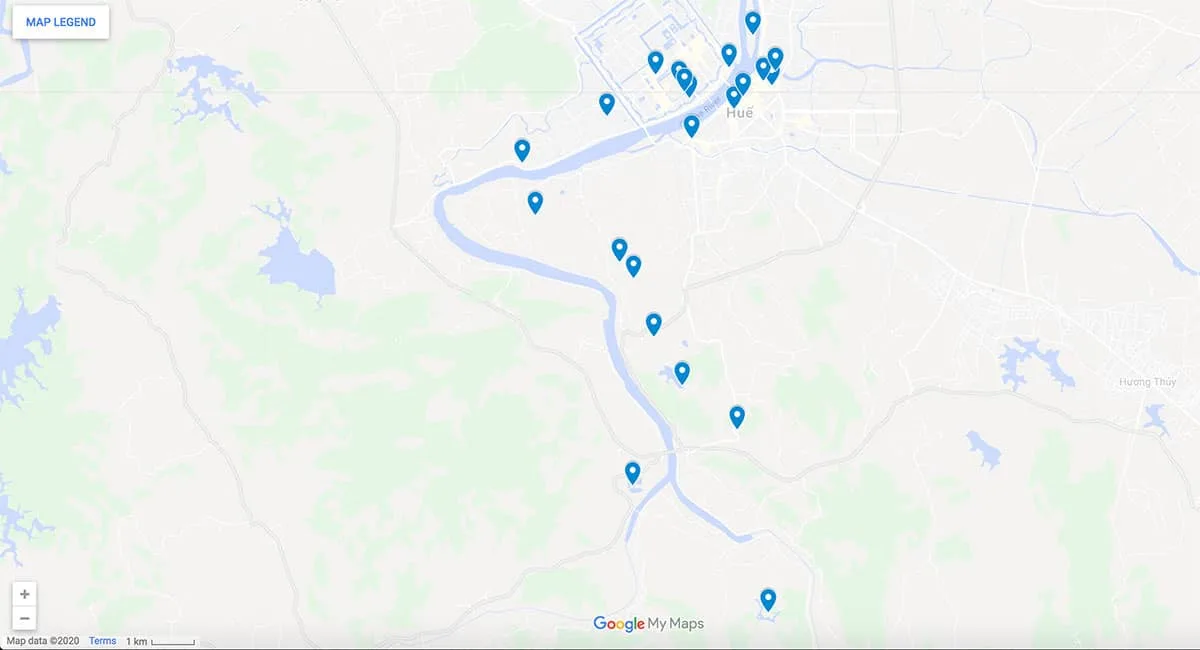 HOW TO GET AROUND IN HUE
As described, Hue is small compared to Hanoi or Ho Chi Minh City but it isn't small enough to not warrant the occasional ride on public transportation.
I enjoy walking so I got around mostly on foot. However, I frequently had to walk a few kilometers to get from point A to point B, often under the intense Hue sun.
If you don't enjoy walking as much, then you can get around in a cyclo or book a Grab. Cyclo rides within the city center should cost up to VND 20,000. I booked Grab Bike just once, to get from my hotel to Ancient Hue Garden Houses which is about 5 km away. After dinner, I walked back to my hotel.
The royal tombs are too far to walk from downtown Hue so you're better off booking a guided tour (Klook | Get Your Guide). If you'd rather explore them on your own, then you can book a Grab or cyclo.
Perhaps the best option would be to rent a bicycle or motorbike for the duration of your stay in Hue. You can ask your hotel for rental shop recommendations but it should cost you around VND 50,000 and VND 120,000 respectively per day.
HOW MANY DAYS TO STAY / HUE ITINERARY
I stayed five days in Hue because I wanted to explore as much of its regional cuisine as I could. But if you don't have as much time, then two days should be enough. Stay for three if you don't plan on joining any guided tours.
Assuming you're visiting Hue's top historical attractions on a guided tour, then here's a 2D/3N sample itinerary to help you plan your trip.
DAY ONE
• Minh Mang's Tomb
• Mausoleum of Khai Dinh
• Imperial City
• Thien Mu Pagoda
DAY TWO
• Thuy Bieu Village
• Tomb of Tu Duc
• Tam Giang Lagoon
HUE TRAVEL TIPS
1. Plan your Trip with Sygic Travel
I've been using Sygic Travel for many years now. It's a free trip planning app that allows me to plot all points of interest on a map then group them by day so I can create as efficient an itinerary as possible.
You can download Sygic Travel for free on iTunes or Google Play. Check out my article on Sygic Travel for more information.
2. Rent a Pocket Wifi Device
It goes without saying that a strong and steady internet connection is a must when traveling. It'll allow you to navigate, translate, stay connected, and google "best bun bo in hue". We never board a plane without securing a pocket wifi device first.
You can rent a 4G pocket wifi device through Klook but you'll need to pick it up in Hanoi or Ho Chi Minh City. We prefer using pocket wifi devices but a cheaper alternative is to purchase a sim card. You can buy a sim card through Klook and then pick it up at Da Nang Airport. Another option is to get an eSIM.
3. Check for Hue Travel Deals
I use several travel ecommerce websites to look for travel deals but my favorites are Klook and Get Your Guide. They have the biggest selection and their websites are the easiest to navigate.
Follow these links for a complete list of Hue travel deals on Klook and Get Your Guide. Even if I don't wind up buying anything, it's always fun to look just to see what's available.
4. Get Travel Insurance
We get travel insurance more often these days but there was a time when we didn't get it at all. It seemed more like a luxury than a necessity. I don't feel that way anymore.
Now, it depends on where we're going, what we'll be doing, and how long we'll be away for. We've been taking longer trips so we do find ourselves getting it more often.
When we do feel the need for insurance, we get it from SafetyWing or Heymondo. They're both popular travel insurance companies used by many long-term travelers. Click on the links to get a free quote from SafetyWing or Heymondo. Will Fly for Food readers get 5% off on Heymondo when using our link.
5. Pay Only in VND
Some establishments in Hue may accept payment in USD, but you should always pay in VND. If something is priced in VND, then you should pay for it in VND because using any other currency will lead to terrible exchange rates.
6. Don't Be Confused by the Currency
Vietnamese currency is the most confusing I've seen so far. Having all the zeros is confusing enough, but some banknotes even look the same. For example, VND 100,000 bills have a similar green hue as VND 10,000 notes.
Based on what I've seen and heard, tourists getting confused with Vietnamese banknotes isn't uncommon. In fact, it happened to a woman who was on this Hoa Lu and Tam Coc tour with us in Hanoi. She mistakenly gave the vendor a VND 200,000 note when she meant to give her a similarly red VND 50,000 bill.
Be careful when paying for things with cash in Vietnam because chances are, vendors won't correct you if you overpay.
7. Bring the Right Power Adapter
Vietnam has Type A, Type C, or Type F electrical outlets so be sure to bring the right power adapters for your devices. Electrical voltage is 220V and the standard frequency is 50Hz.
Have Fun!
I'm not an expert on Hue but I do hope this guide helps you plan your trip. I'm only sharing some of the things I learned from my trip. If you have any questions or comments, then please leave them in the comment section below. You're welcome to join our Facebook Travel Group as well.
Thanks for reading and have an amazing time in Hue!
OUR GEAR
These are some of the things I brought with me to Hue. Have a look inside our backpack to see what other gear we use. (NOTE: The following links are Amazon and other affiliate links.)
Disclosure
Some of the links in this Hue travel guide are affiliate links. If you purchase anything through them, then we'll make a small commission at no extra cost to you. We only recommend products and services that we use ourselves and firmly believe in. We really appreciate your support as this helps us make more of these free travel guides. Thank you!