We ate many delicious things in Turkey, but if I had to eat just one dish for the entire two weeks, then I would happily choose dürüm. And not just any dürüm, but the dürüm from Dürümzade, hailed by Anthony Bourdain as some of the best wraps in Istanbul.
I'm hardly an expert on dürüm — a type of sandwich made by rolling flatbread around döner kebab fillings — but we tried dürüm from four different places in two weeks and the wraps at Dürümzade were a cut above the rest. Not that the others disappointed. Hardly. They were all delicious but Dürümzade's was just that much better.
Dürümzade was one of the Istanbul restaurants featured on an episode of No Reservations. We set aside a day to seek out some of the places Bourdain visited on that show. If you fly for food like we do, then I suggest doing the same, starting here.
The Best Wraps in Istanbul?
Dürümzade is just a few minutes' walk from İstiklâl Caddesi (Independence Avanue) in Beyoğlu. Check out Bourdain's big mug on the side of the restaurant. From what I understand, business has boomed since the feature.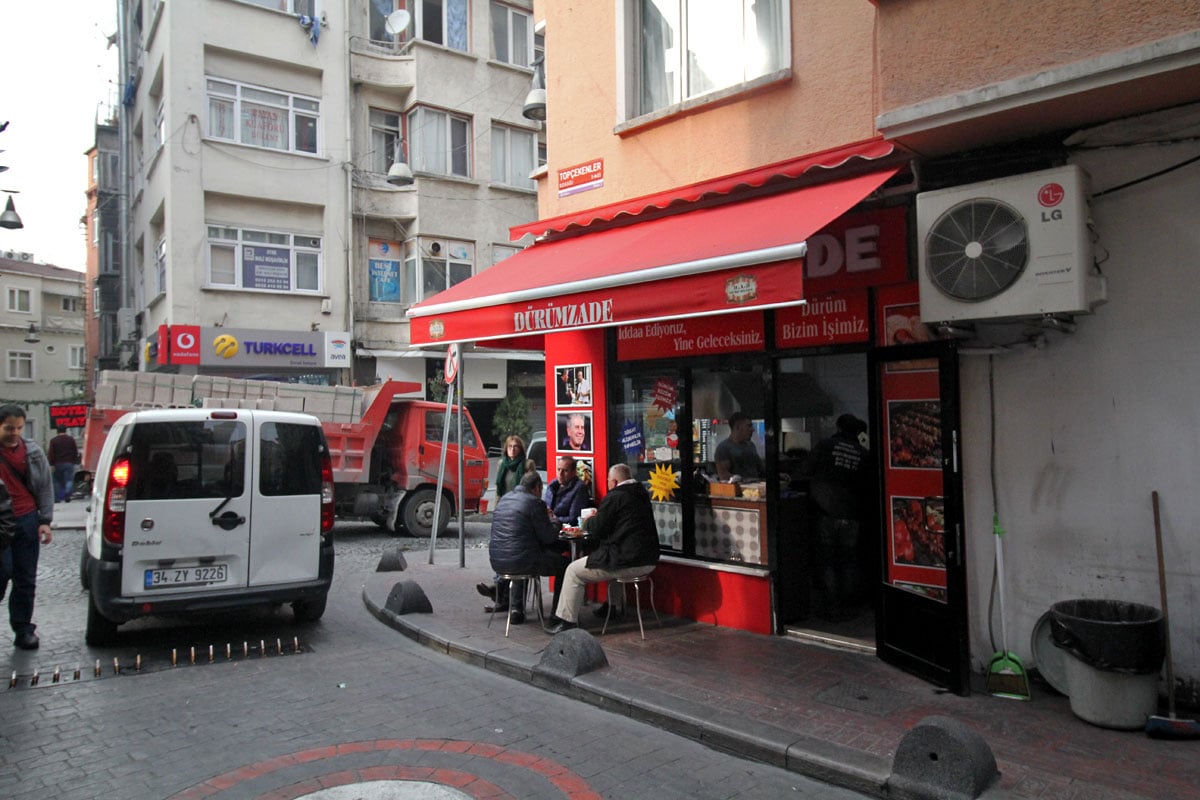 The grill master proudly showing off his kebabs. You can get single or double portions of lamb, chicken, minced beef (spicy or mild), or liver.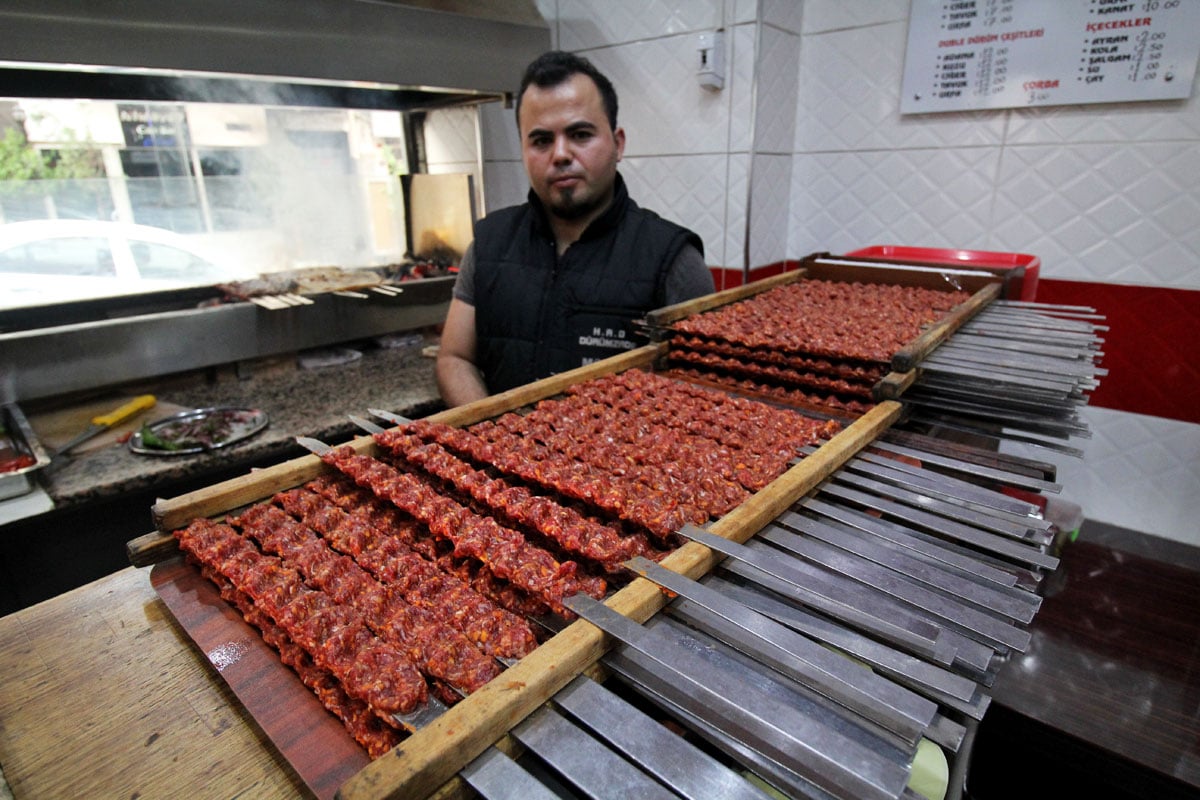 Duble Kuzu Dürüm — 12TL — Wrap with double serving of lamb kebab, tomato, onion, and parsley
Isn't she beautiful? Even at first glance, it was immediately apparent how heavily spiced Dürümzade's wraps are. Unlike the others we had tried which looked pale in comparison, the wraps here are dusted with flecks of red pepper, sumac, and other spices. I remember thinking how sexy this dürüm looked.
We Filipinos have a taste for shawarma which is basically the same thing, and what struck me the moment I took a bite was the bread. I'm a firm believer that a sandwich can only be as good as the bread it's on, and this lavaş — or Turkish tortilla — was superb. Bubbly in parts with crisp charred edges and moist chewy pockets, this was the best damn flatbread I had ever tasted in my life. It made all the difference.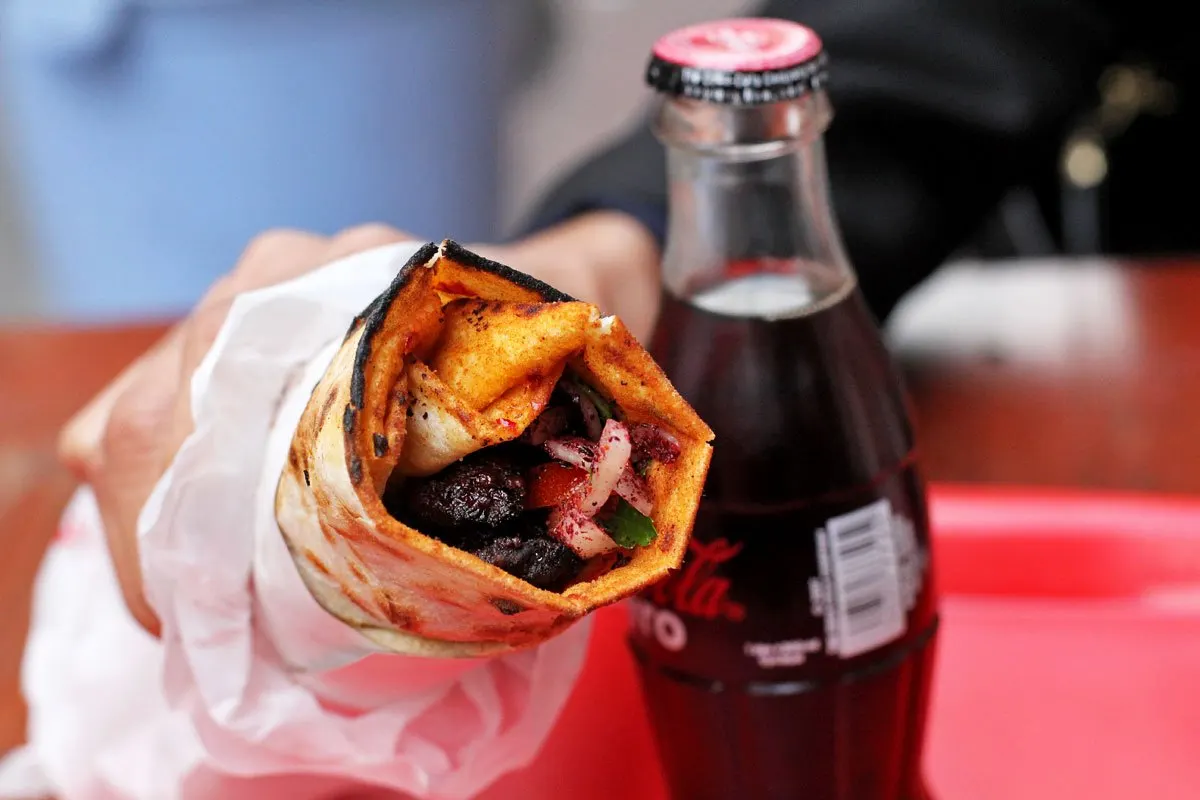 As you can tell from this photo, I wasn't the least bit eager to sink my teeth into this wrap. Nope, not at all.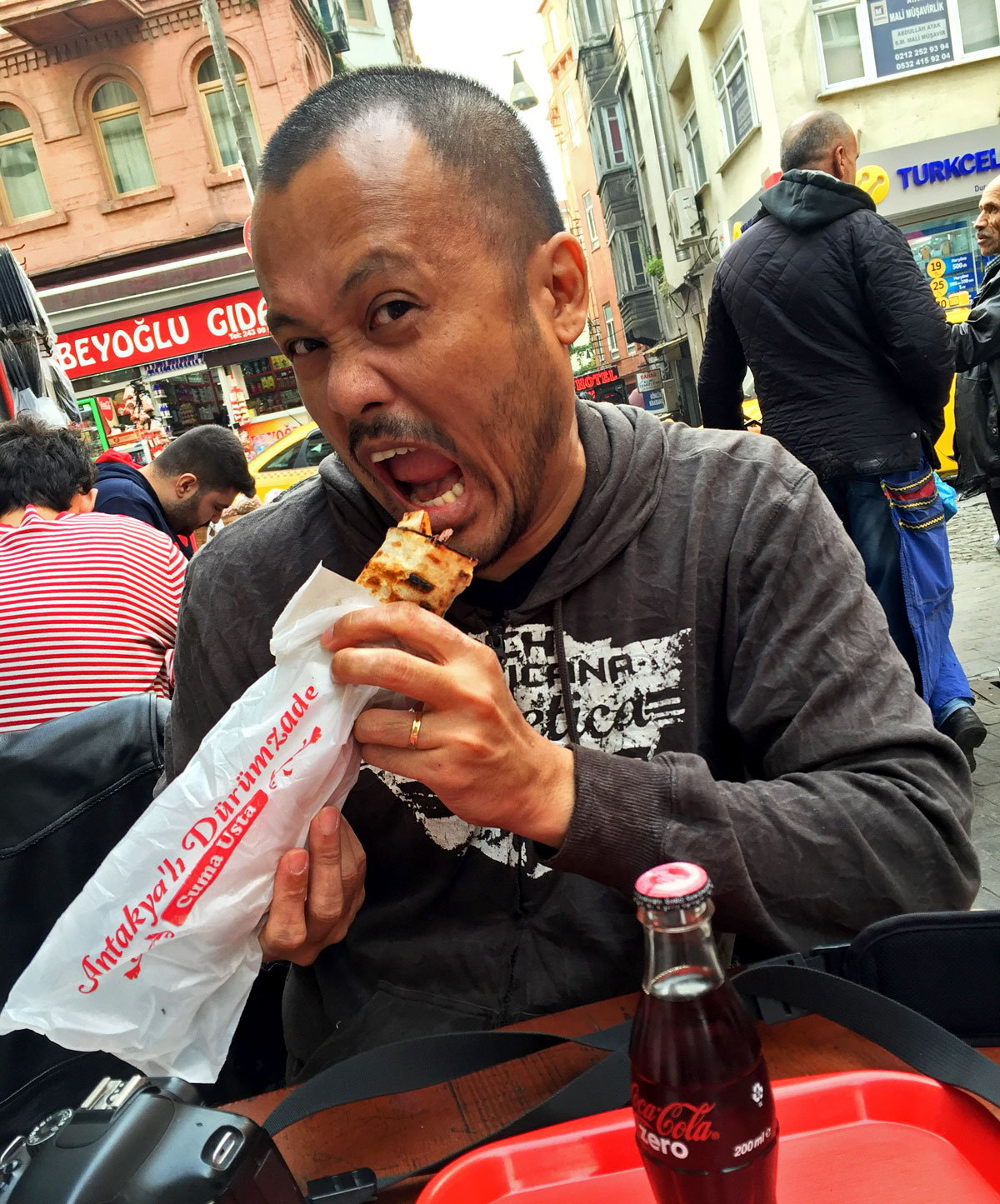 Looking at these pictures now, memories of that dürüm come flooding back to me. The texture of the lavaş, the spice, the sumac, the crunch of the onions, the charred bits of flatbread. Even the act of sitting at a table streetside imparted to the experience.
Dürümzade was one of four or five stops we made that day so we had to share a double between us, but I easily could have downed two of these on my own under normal circumstances. Drunk? Make that three. Ridiculous.
Dürümzade, Beyoğlu, Istanbul, Turkey
Topcekenler Sokagi No. 1, Beyoğlu, Istanbul, Turkey
Tel: +90 212 249 0147
Expect to Spend: About 10-15TL per person with drinks
Reservations: Not required
HOW TO GET THERE:
Walking along İstiklâl Caddesi from Taksim Square, turn right into Balo Sokak. Walk about 100 m then turn left into Topcekenler Sokak. Walk straight and you'll see Dürümzade at the corner of Topcekenler Sokak and Kamer Hatun Caddesi. If you have Sygic Travel and pocket wifi, then you can input the address of the restaurant into your map and track it down using GPS.
For more Istanbul travel tips, check out our First-Timer's Travel Guide to Istanbul, Turkey