We love Kyoto. It's our favorite city in Japan.
Tokyo and Osaka are incredible cities but Kyoto has everything we love most about this country – culture, atmosphere, good food, the arts. It has seventeen UNESCO World Heritage Sites and some of the most delicious food in Japan.
Japanese is one of the best cuisines in the world and Kyoto has a lot to do with that. In fact, so good is the food in Kyoto that it has the third most Michelin stars in the world, behind only Tokyo and Paris. It's recognized as the birthplace of kaiseki, a traditional multi-course meal that's considered by many to be the pinnacle of Japanese cuisine.
Michelin stars and kaiseki cuisine can be intimidating to some, but you don't have to empty your wallet to eat well in Kyoto. You can have delicious dishes like ramen, sushi, karaage, and tempura at any price point.
If you're visiting Kyoto and looking for some of the best Kyoto restaurants covering a wide range of budgets, then our Kyoto food guide will be very useful to you.
FOOD IN KYOTO QUICK LINKS
This Kyoto restaurant guide is long. To help you plan your trip, we've compiled links to popular hotels, tours, and other activities here.
HOTELS
Recommended hotels in Higashiyama, one of the best areas to stay for first-time visitors to Kyoto.
TOURS
OTHER SERVICES
KYOTO TRAVEL GUIDE
If you're planning a trip to Kyoto, then be sure to check out our detailed Kyoto travel guide. It'll have all the information you need – like where to stay, which temples to visit, how to get around, etc. – to help you plan your trip.
Save This on Pinterest!
No time to read this Kyoto restaurant guide now? Click on the save button and pin it for later!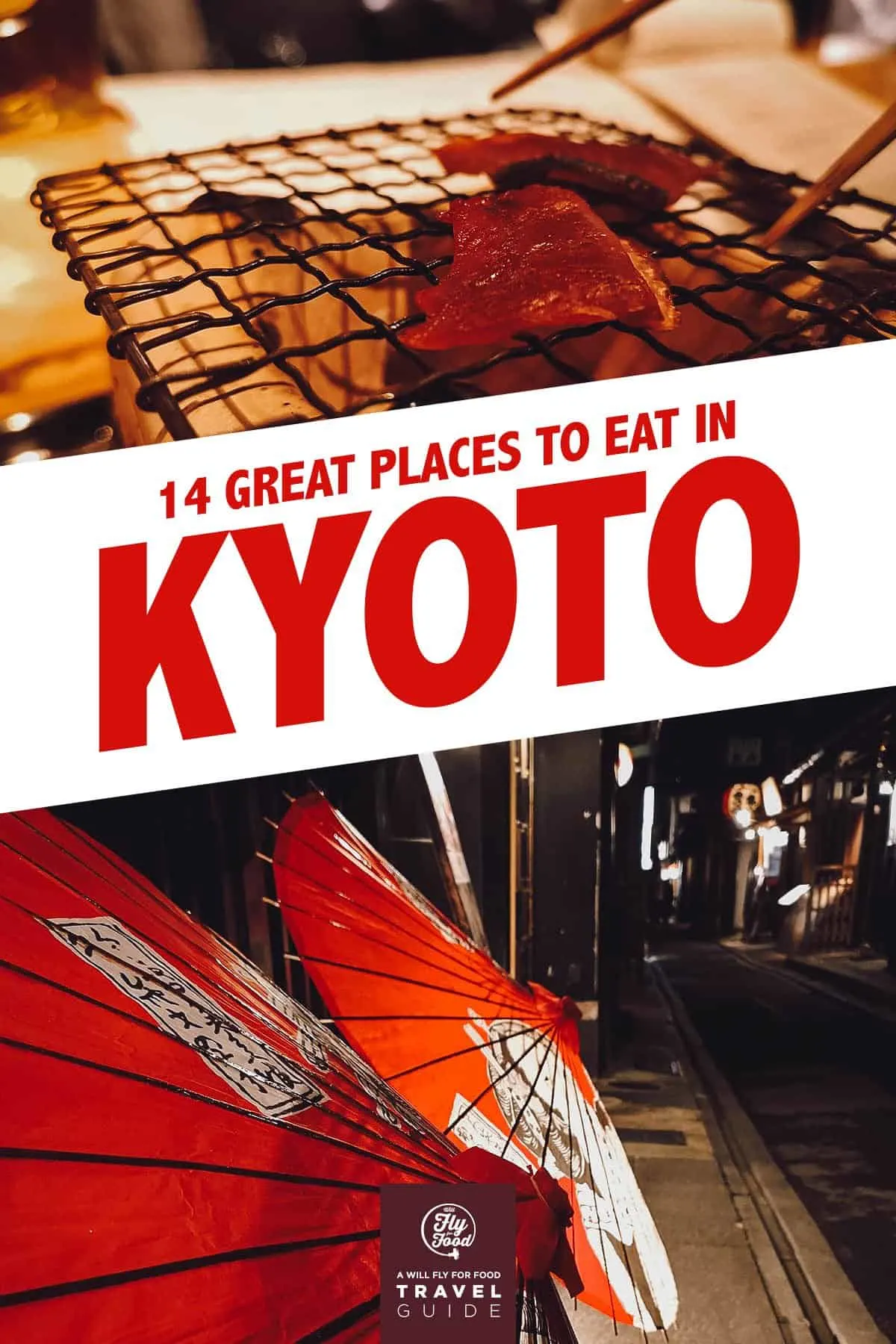 THE BEST RESTAURANTS IN KYOTO
To help you go through this guide of the best Kyoto restaurants, I've organized it by section. Click on the links below to jump to a list of restaurants specializing in that dish.
RAMEN
Ramen is a noodle soup that's become one of the most popular Japanese dishes. After sushi, it's arguably the most recognizable dish outside of Japan.
Originally a Chinese dish, it consists of wheat noodles served in a variety of broths typically flavored with miso, soy sauce, salt, or pork bones. Toppings vary but some of the most common ingredients include chashu pork, chopped green onions, nori, and soft-boiled eggs.
Ramen is categorized by its soup base, with some of the most famous versions being Sapporo's miso ramen and Fukuoka's Hakata ramen. It's commonly eaten with a side of gyoza (pan-fried dumplings) and chahan (fried rice).
1. Rai Rai Tei
One of my best friends is Japanese and Rai Rai Tei is his favorite ramen restaurant chain in Japan. According to him, it isn't as well-known to foreigners as Ippudo or Ichiran because most of their restaurants are located in suburban areas of Japan.
We tried the miso ramen and what Rai Rai Tei calls their "standard ramen". I think it may have been shoyu ramen. Both were outstanding. They were incredibly flavorful and at the time, the most complex and nuanced bowls of ramen we had ever tasted.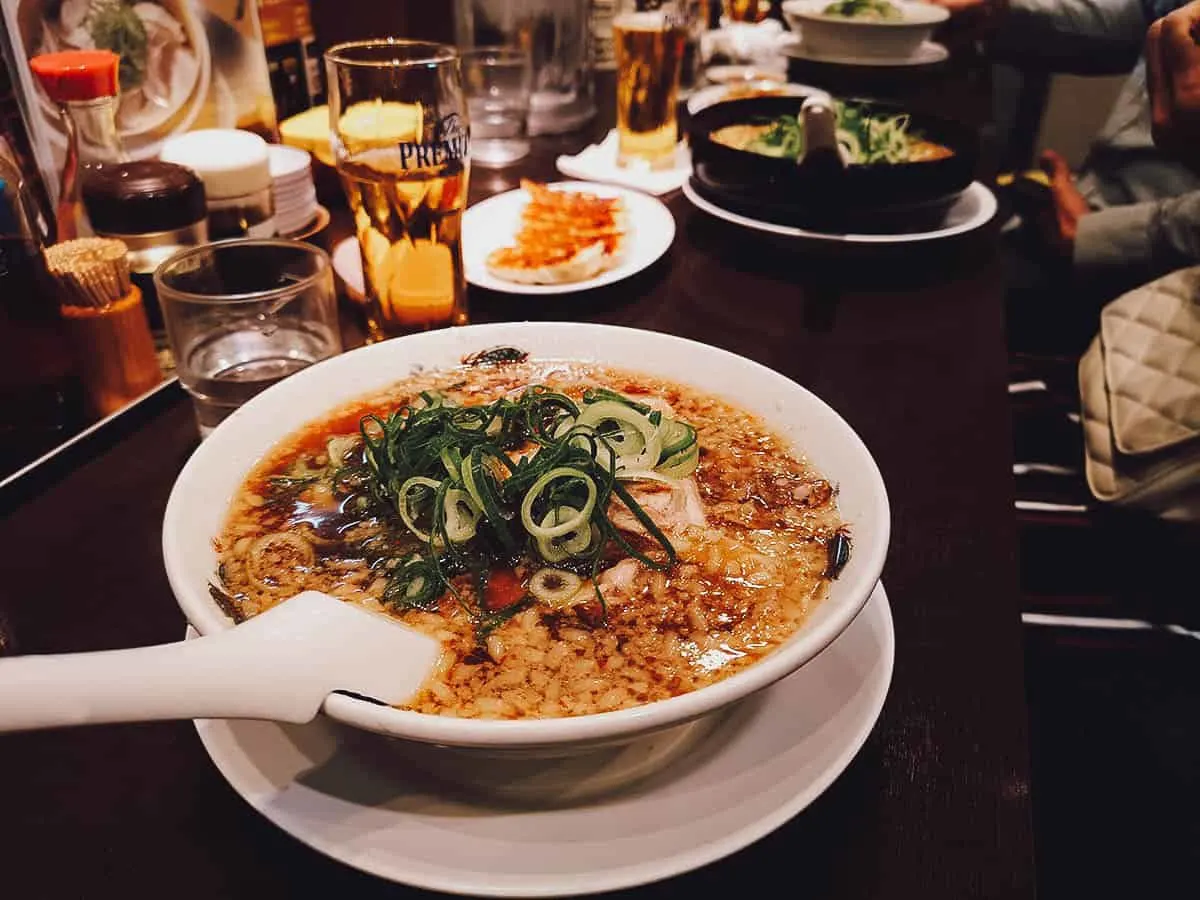 Here's a closer look at those deliciously chewy ramen noodles. You may already know this but in Japan, slurping your ramen noodles isn't considered rude. In fact, it's encouraged.
The Japanese want you to eat your ramen while it's still piping hot, so they encourage you to slurp it to help cool the noodles down. It's also a sign that you're enjoying your food so when you're eating noodles in Japan, don't be shy to slurp.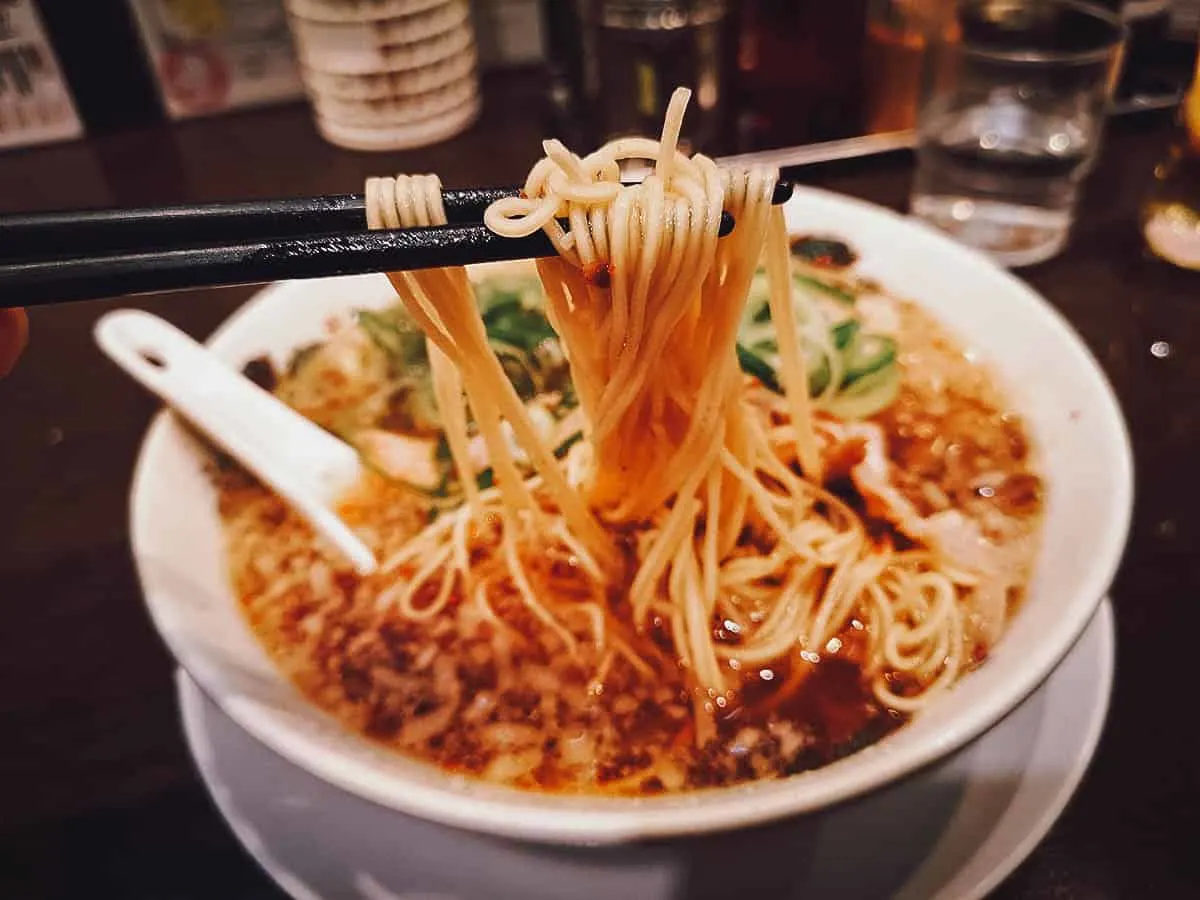 Rai Rai Tei has more than one restaurant in Kyoto but we went to the one near Sanjo Station. You can check out their website for a list of branches in Kyoto.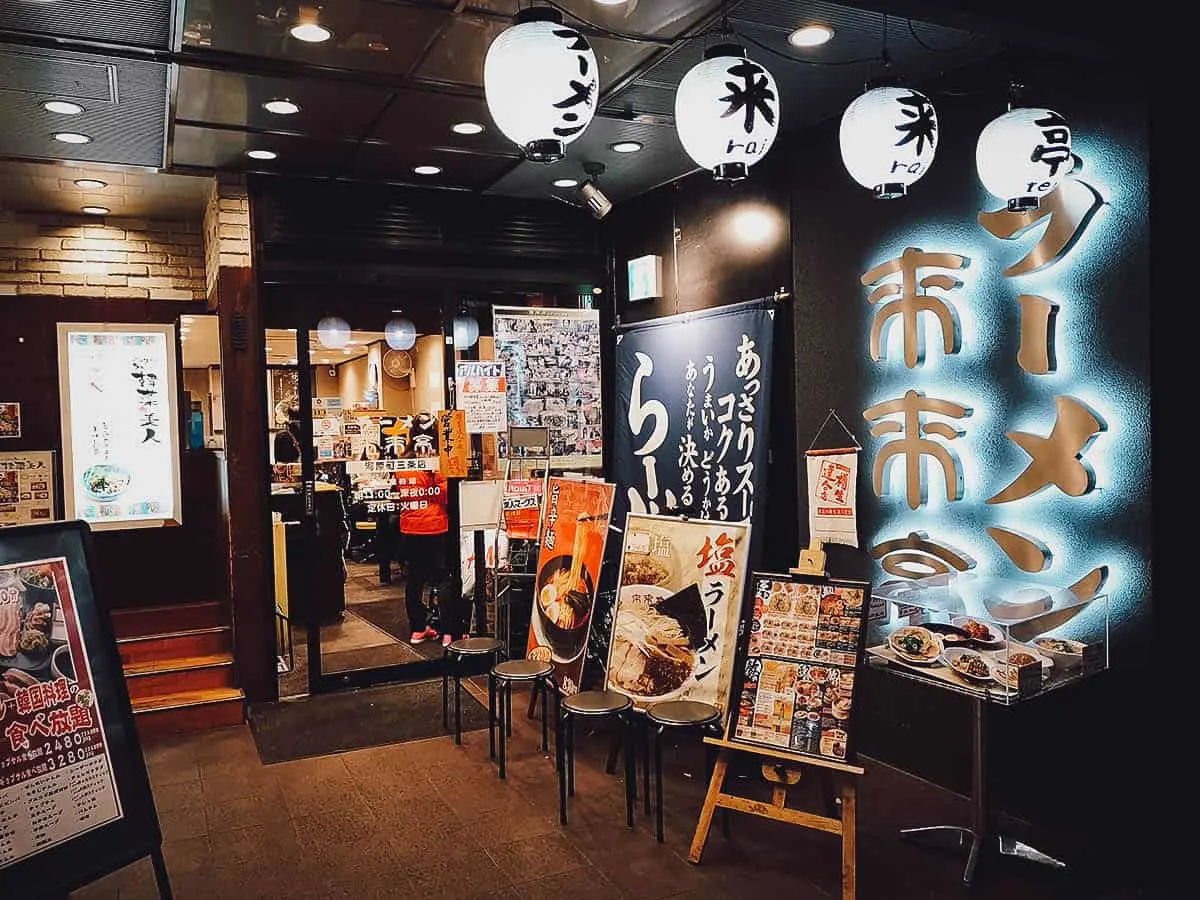 Rai Rai Tei
Address: Japan, 〒604-8031 Kyoto, Nakagyo Ward, 河原町東入ル大黒町37 文明堂京都ビル1F
Closest MRT Station: Sanjo Station
Operating Hours: 11AM-12MN, daily
Expect to Pay: About JPY 800 per bowl of ramen
2. Menya Inoichi Hanare
Menya Inoichi Hanare is a Michelin Bib Gourmand ramen restaurant where I had this delicious bowl of shoyu ramen served with a side of grilled A4 wagyu beef. The ramen was good but my god was that beef incredible!
Menya Inoichi Hanare specializes in miso ramen made with either white or black soy sauce. This particular bowl was made with white soy sauce and what the menu describes as "bonito soba noodles" (Japanese buckwheat noodles with bonito fish flakes).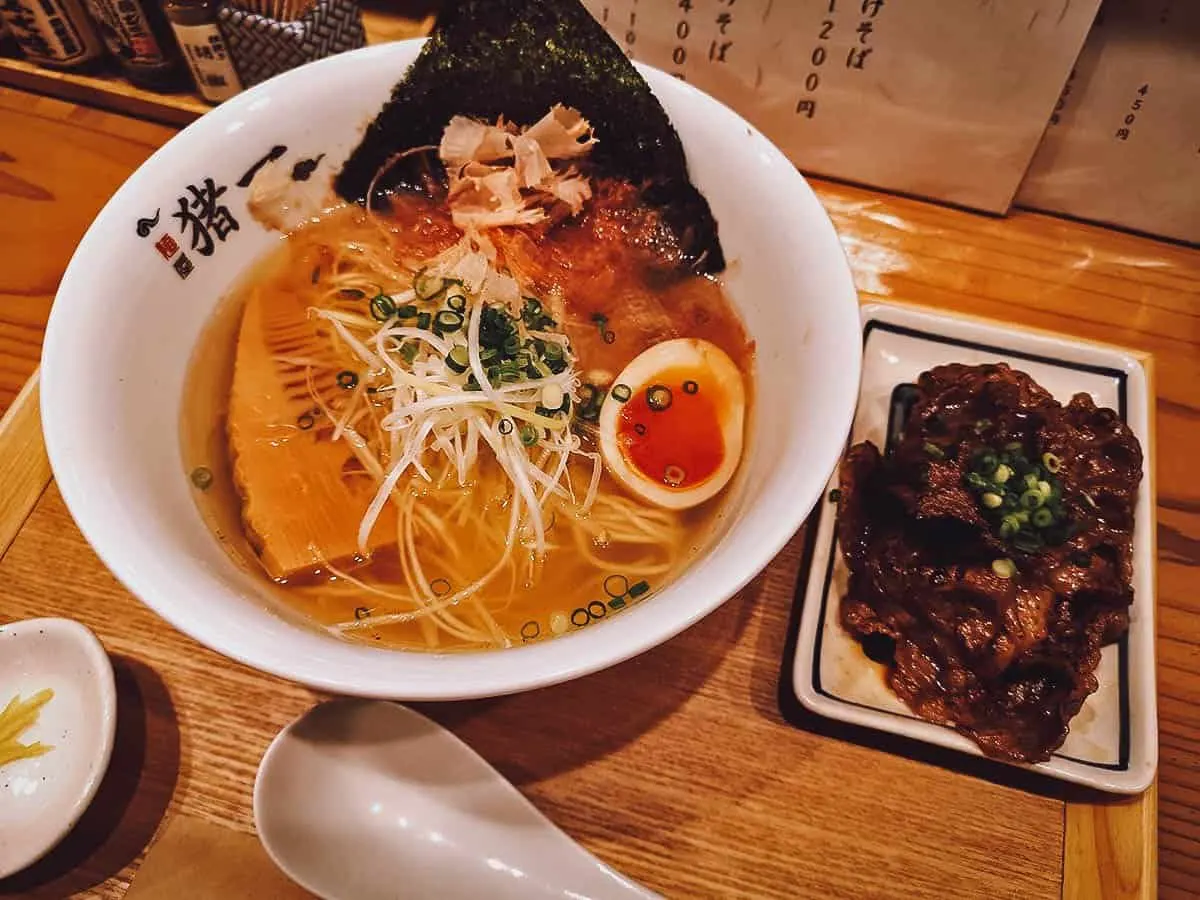 The ramen broth was tasty but what really made this pairing sing was the thinly sliced beef. Grilled with a hand torch, the caramelized beef was tender, smokey, and savory-sweet with beautiful strips of soft juicy fat. It was absolutely delicious and went so well with the salty, seafood-y flavors of the ramen.
Also in the bowl were bamboo shoots, roasted laver, green onions, bonito shavings, and half a ramen egg. I'm by no means a ramen expert but this was one of the most refined bowls of ramen I've ever had in Japan.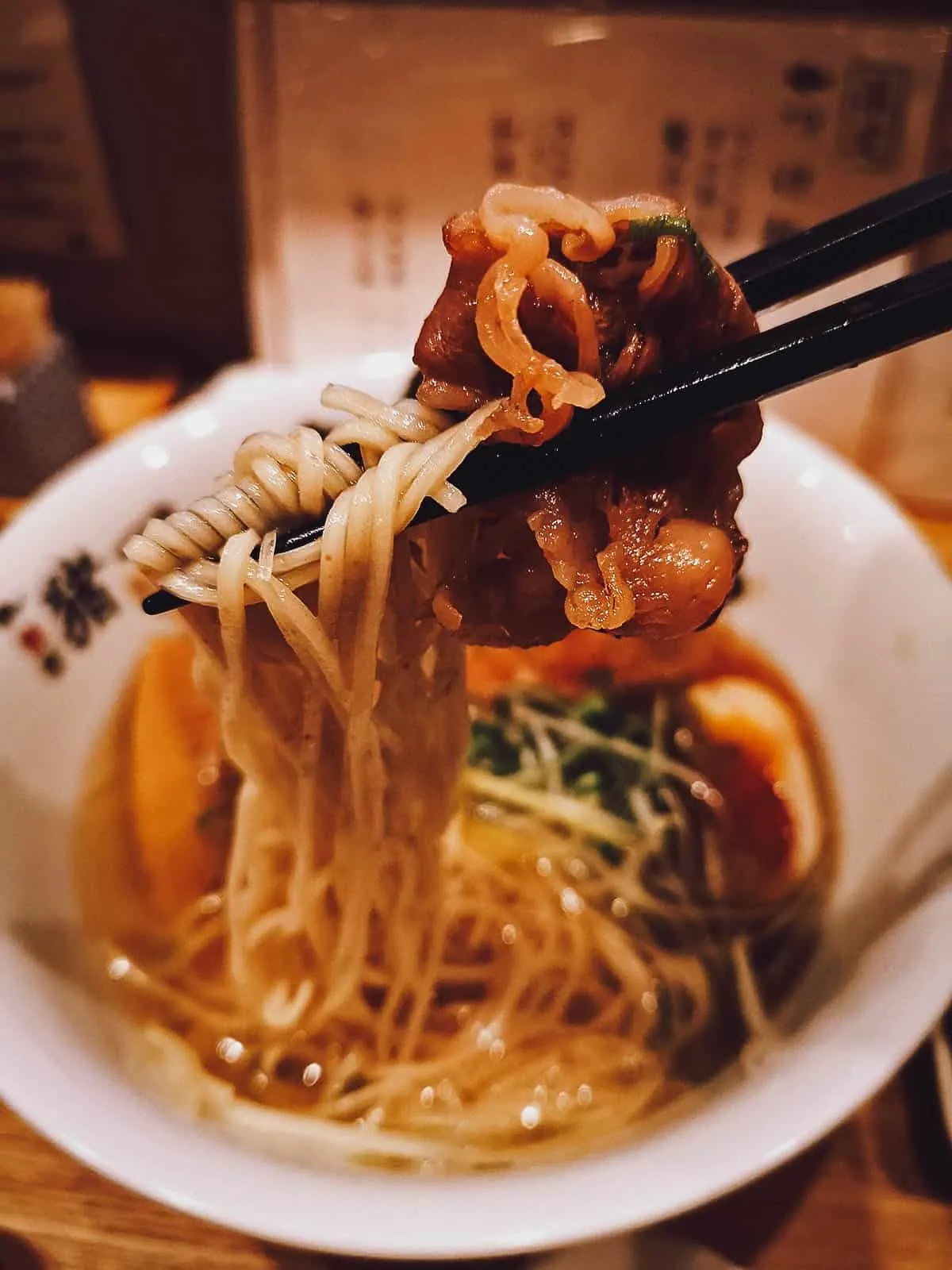 On the counter was a set of condiments that included these odd, thinly shaved shreds of what appeared to be dried seaweed. This was the first time I had ever seen this condiment at any ramen shop.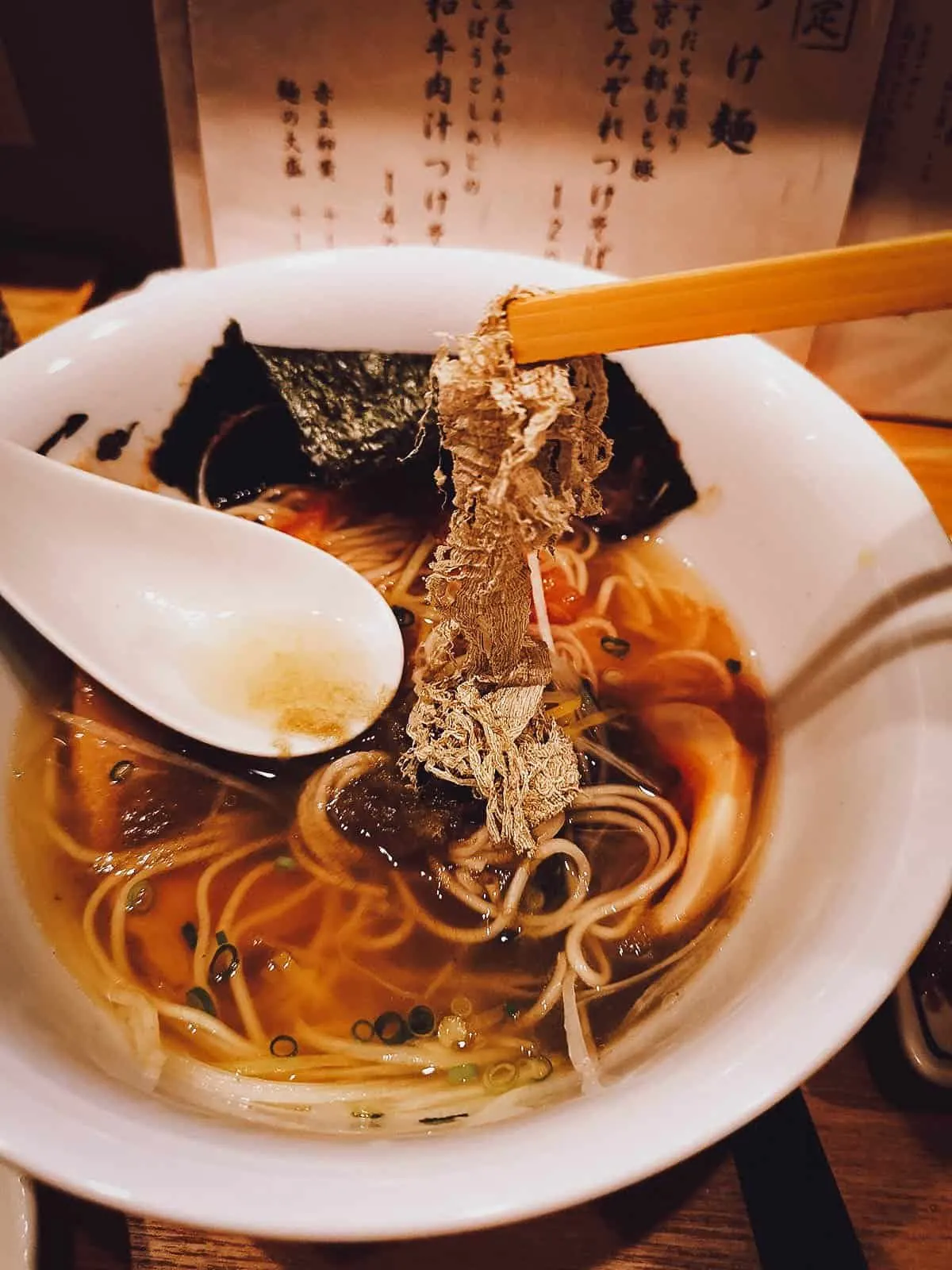 If you enjoy ramen, then you need to eat at Menya Inoichi Hanare. The restaurant is located a few blocks away from Karasuma Station.
Their ramen is a bit more expensive compared to other restaurants, but it's probably because they use only premium ingredients. You can tell they put a lot of care into crafting their bowls of ramen.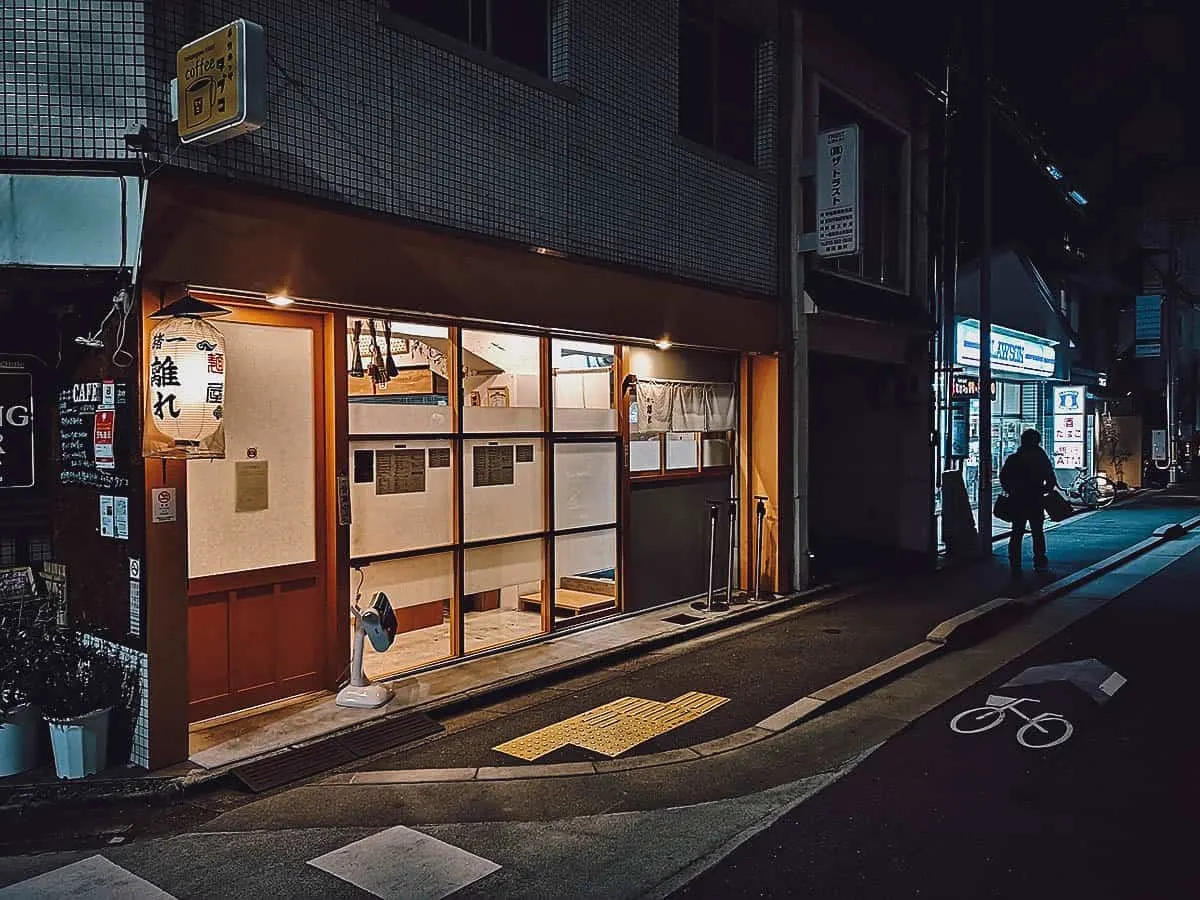 Menya Inoichi Hanare
Address: Japan, 〒600-8076 Kyoto, Shimogyo Ward, Senshojicho, 463 ルネ丸高 1F
Closest MRT Station: Karasuma Station
Operating Hours: 11AM-2:30PM, 6-9PM, daily
Expect to Pay: About 1,200 per bowl of ramen
3. Wajouryoumen Sugari
This motsu tsukemen from Wajouryoumen Sugari is one of the best bowls of ramen I've ever had. Tsukemen refers to a type of ramen where the noodles and broth are served separately.
To eat, you dip the noodles into the broth which is much more intensely flavored than regular ramen broth. This is to ensure that the noodles are coated with as much flavor as possible.
This particular tsukemen broth is made with delicious chunks of motsu. Motsu or horumon refers to offal like beef intestine or pork tripe. It's the same type of organ meat used in motsunabe, a Japanese hot pot dish originally from Fukuoka.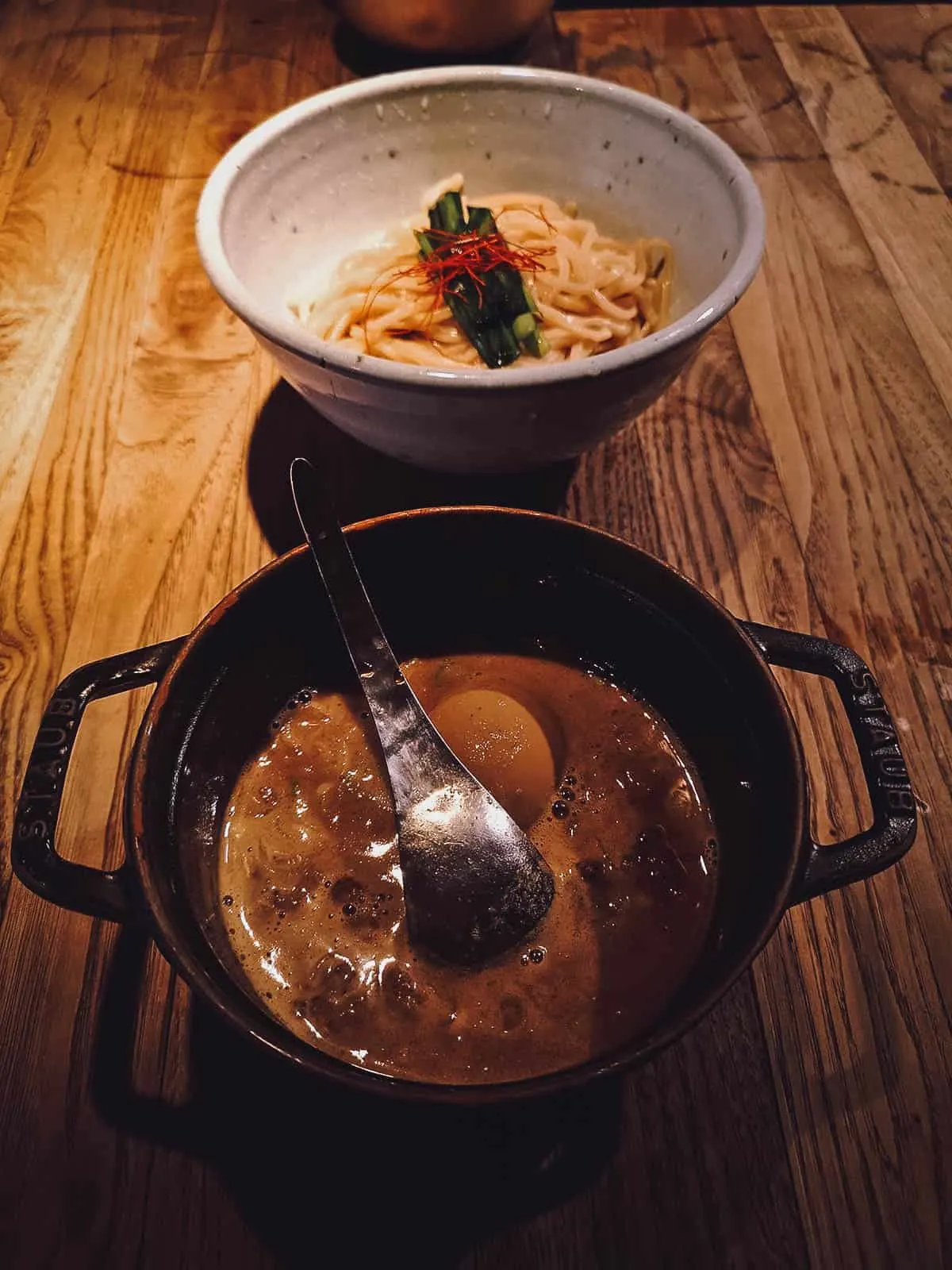 Here's a closer look at those delicious pieces of offal. They're soft and fatty and perfect with the firm ramen noodles. Because the noodles aren't submerged in water, they don't get soggy and remain firm throughout your meal.
As described, tsukemen broth is thick and intensely flavorful. It's closer to a stew than a soup. At the end of your meal, you can thin it with dashi if you'd like to slurp up any remaining broth.
Later that day, I went on a Kyoto night foodie tour and my guide and I were geeking out over Japanese food. When I told him I had this motsu tsukemen for lunch, his eyes lit up.
He told me that Wajouryoumen Sugari is his favorite ramen restaurant in the world. He goes there often to have this very bowl of motsu tsukemen, which from what I understand isn't that common.
If you like organ meat and ramen, then you absolutely need to try this motsu tsukemen.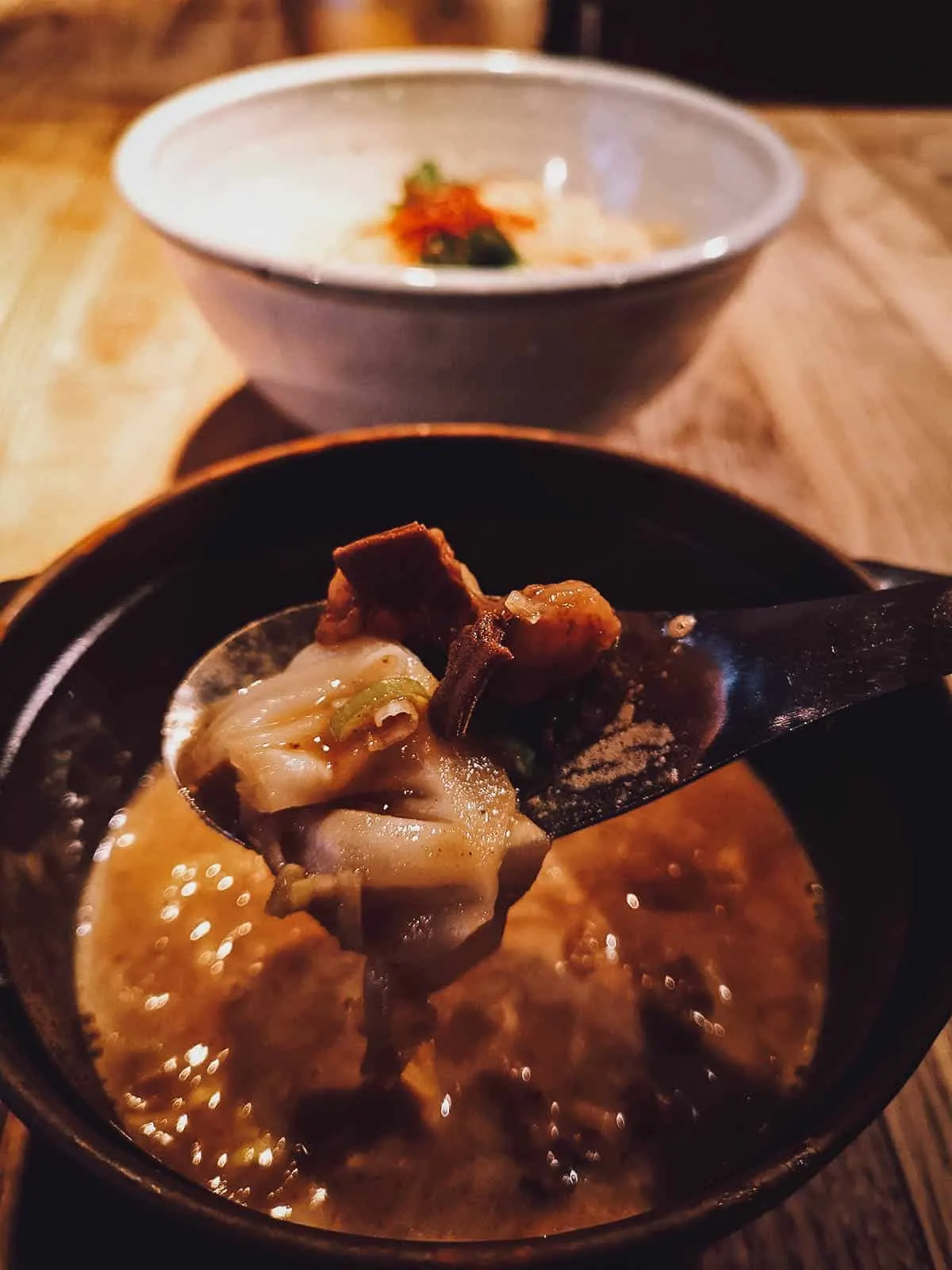 Wajouryoumen Sugari is located near Nishiki Market. It doesn't seem like it in this picture but Wajouryoumen Sugari is very popular.
I arrived about 10-15 minutes before opening and there was already a line of people waiting to get in. The restaurant is small, with maybe just 10-12 counter seats, so I had to wait for the first wave of people to finish before being seated. If you can, then it's best to arrive early.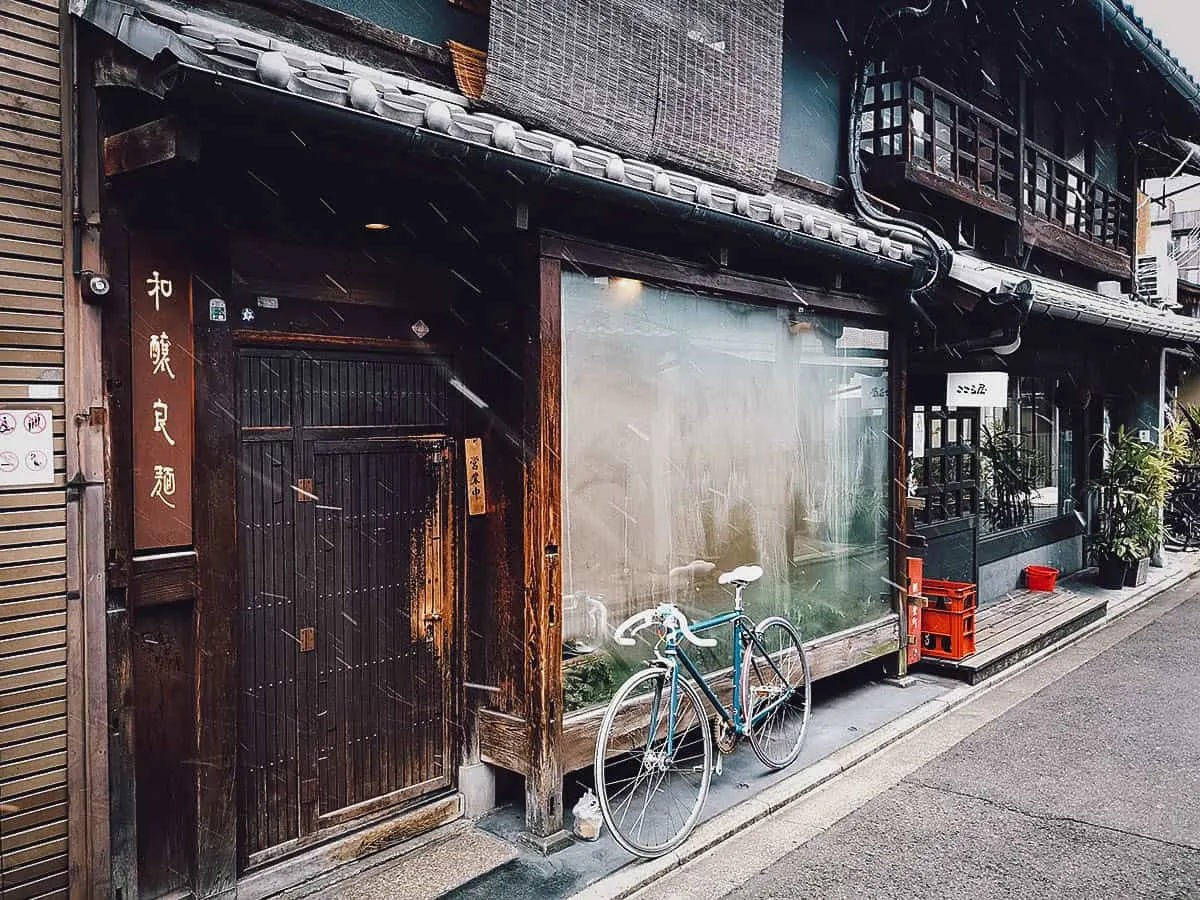 Wajouryoumen Sugari
Address: 471-1 Kannondocho, Nakagyo Ward, Kyoto, 604-8222, Japan
Closest MRT Station: Karasuma Station
Operating Hours: 11:30AM-3PM, 6-10PM, daily
Expect to Pay: About JPY 1,000 per bowl of ramen
SUSHI
Sushi needs no introduction. It's an iconic Japanese dish of vinegared rice topped with a sliver of raw fish and other seafood. It's my absolute favorite dish in the world and one of the reasons why I love Japan so much.
Compared to other dishes like ramen, sushi can be pricey in Japan. I found sushi to be typically cheaper in coastal cities like Kanazawa compared to more inland areas like Kyoto. Thankfully, sushi lovers on a budget can go to kaitzenzuhi restaurants to get cheap but delicious sushi.
4. Kura Sushi
Kura Sushi is a popular chain of kaitenzushi restaurants in Japan. The same Japanese friend who took us to Rai Rai Tei took us to Kura Sushi many years ago. It remains our favorite kaitenzushi in Japan and a place we try to visit at least once on every return trip.
Kaitenzushi refers to Japanese restaurants that serve sushi on conveyor belts. Plates of sushi make their way around every table at the restaurant and customers are free to grab whatever they want. Not only is it one of the cheapest ways to enjoy sushi in Japan, but it's also one of the most fun.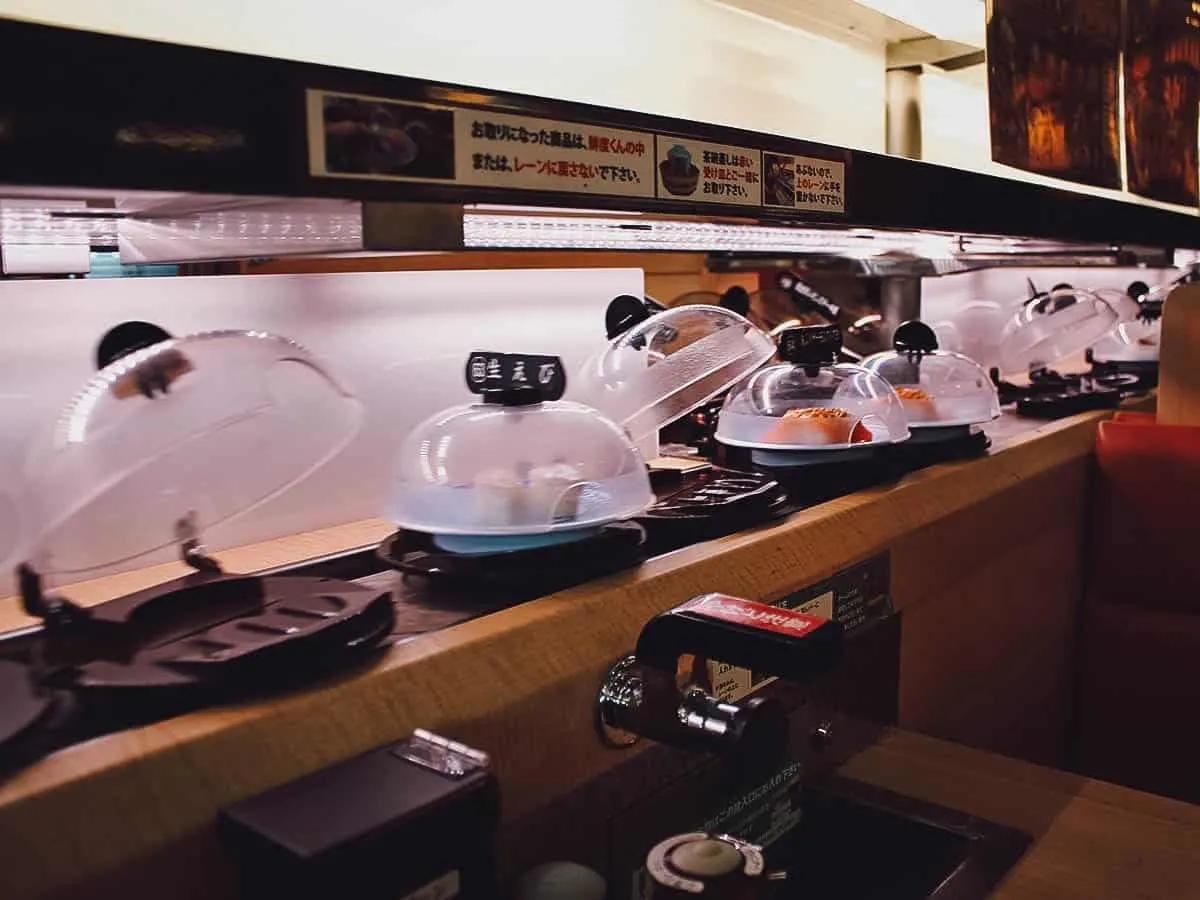 Kaitenzushi restaurants typically offer sushi on 4-5 different-colored plates, with each plate signifying a different price point. But at Kura, most plates of sushi go for just JPY 100 or roughly USD 1.
Kura Sushi is fun, delicious, and cheap. It's so liberating to pig out on sushi in Japan without having to worry too much about prices!
Kura does offer more expensive types of sushi but you'll have to order them a la carte via a tablet ordering system. The plate will be delivered to your table via a second conveyor belt located above the main one. Gotta love Japan!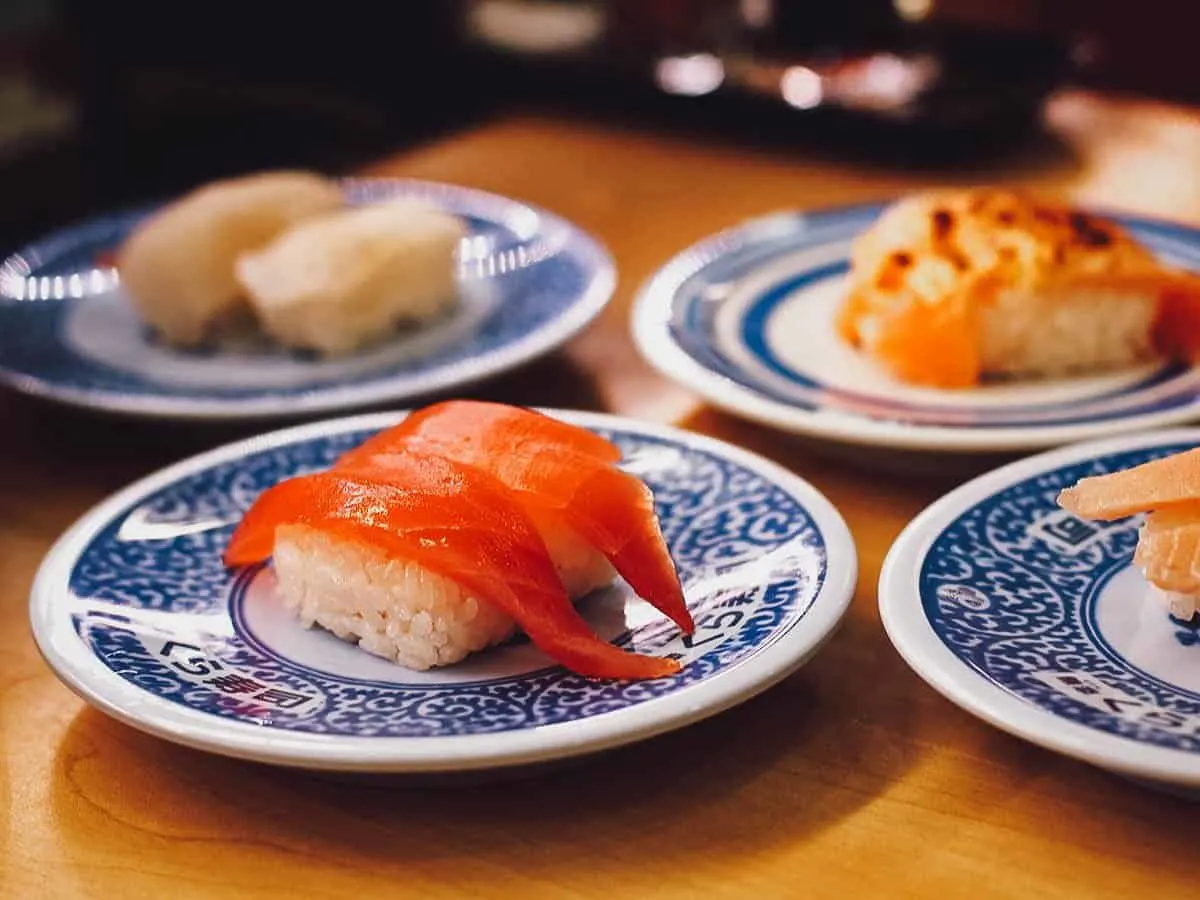 A plate of hotate or scallop sushi, one of our favorites.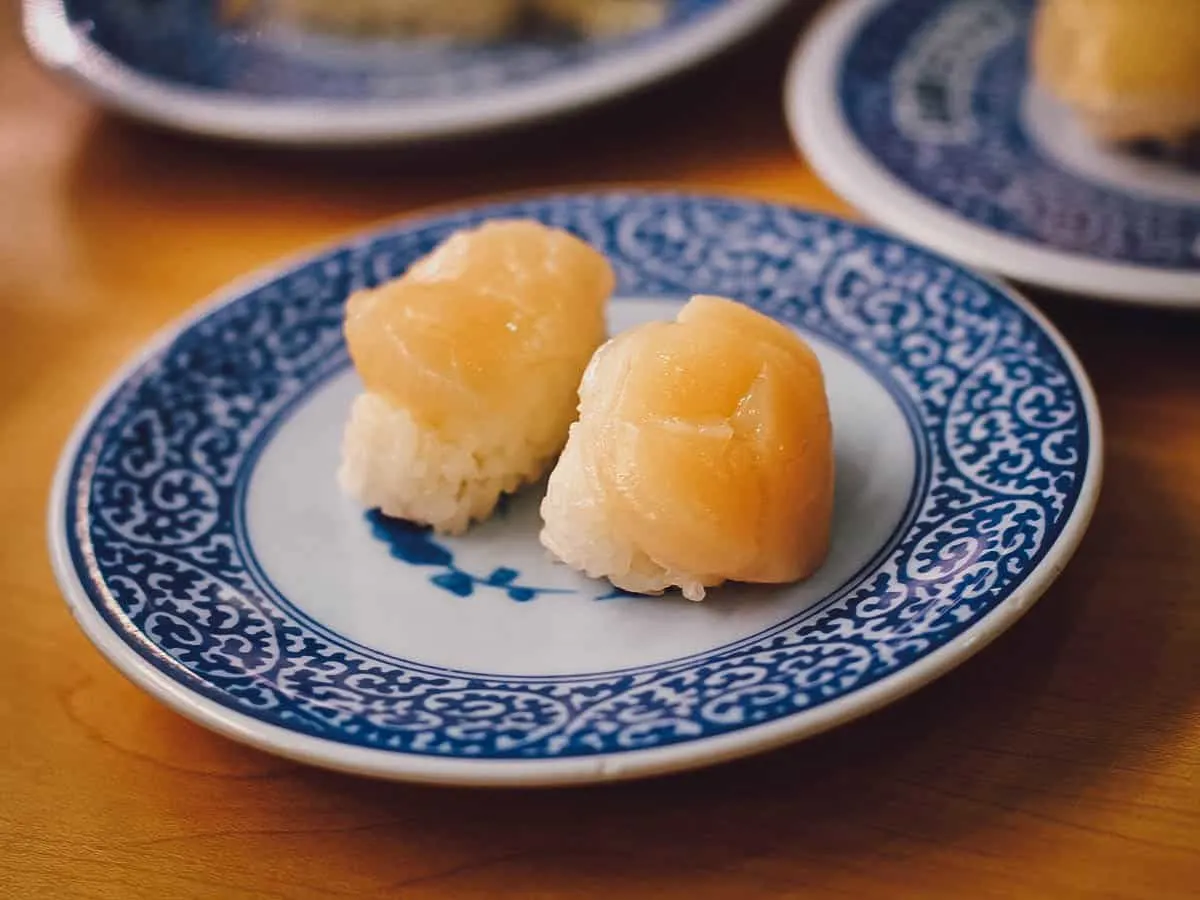 Crab is a more premium item so to keep it at JPY 100, this plate comes with just one piece of kani nigiri instead of two. Unlike imitation crab, this is the real deal.
We went to the Kura Sushi branch near Kinkaku-ji but there are many outlets in Kyoto. You can refer to the Kura Sushi website to find a branch near you.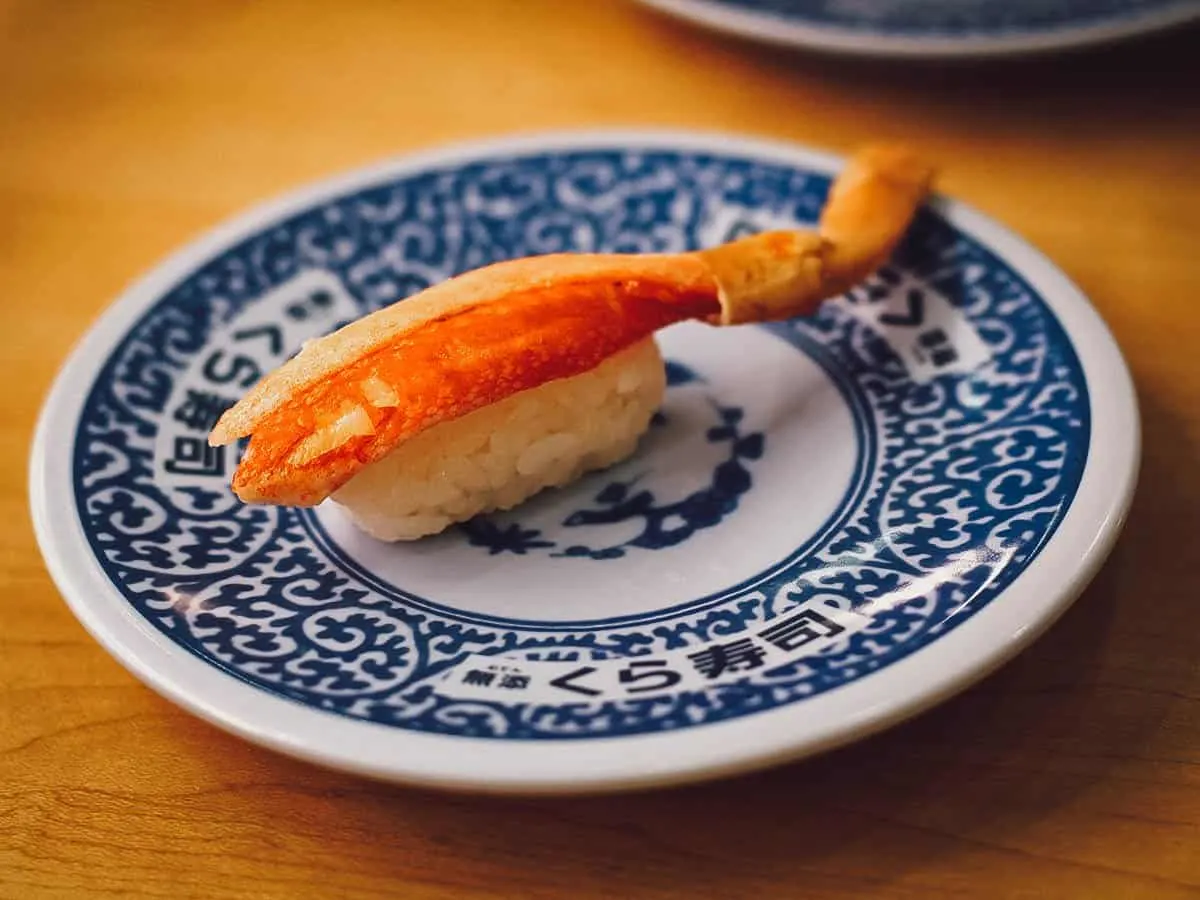 Kura Sushi
Address: 4 Hirano Miyashikicho, Kita Ward, Kyoto, 603-8365, Japan
Closest MRT Station: Kitanohakubaicho Station
Operating Hours: 11AM-12MN, daily
Expect to Pay: About JPY 100 per plate of sushi
5. Musashi Sushi
Murashi Sushi is a kaitenzushi restaurant with outlets only in Kyoto. It isn't as cheap as Kura but it's just as good.
As you can tell from the plates with different patterns below, they follow a color-coding system with plates of sushi ranging between JPY 146 and JPY 463.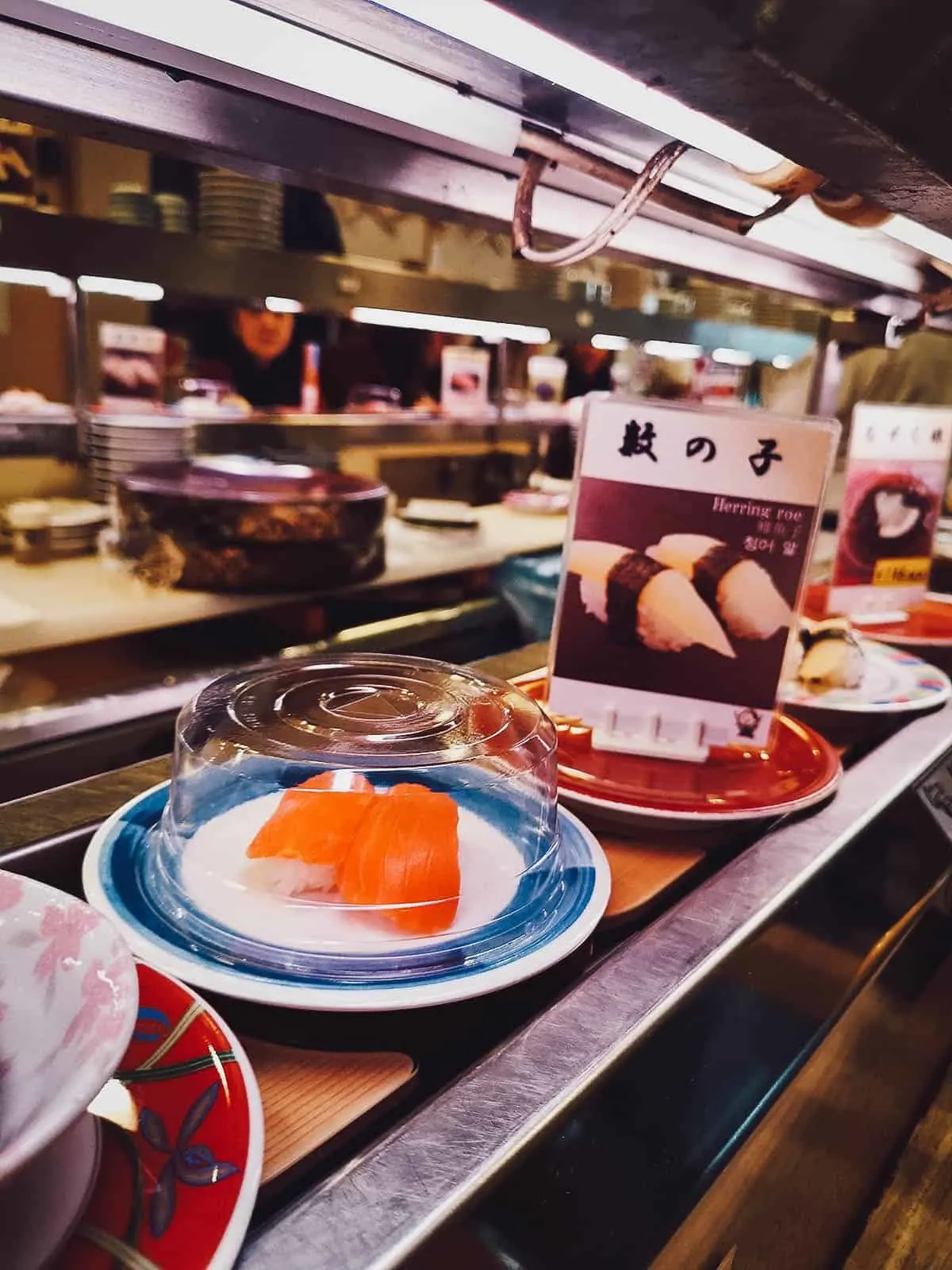 Have you ever tried sushi like this before? What you're looking at is oshizushi, a type of sushi that originated in Osaka.
Oshizushi means "pressed sushi" and refers to one of the oldest forms of sushi. It stems from an ancient method of preserving fish by packing it tightly in boxes with fermented rice. I believe it was a technique born out of necessity in more inland towns like Osaka and Kyoto.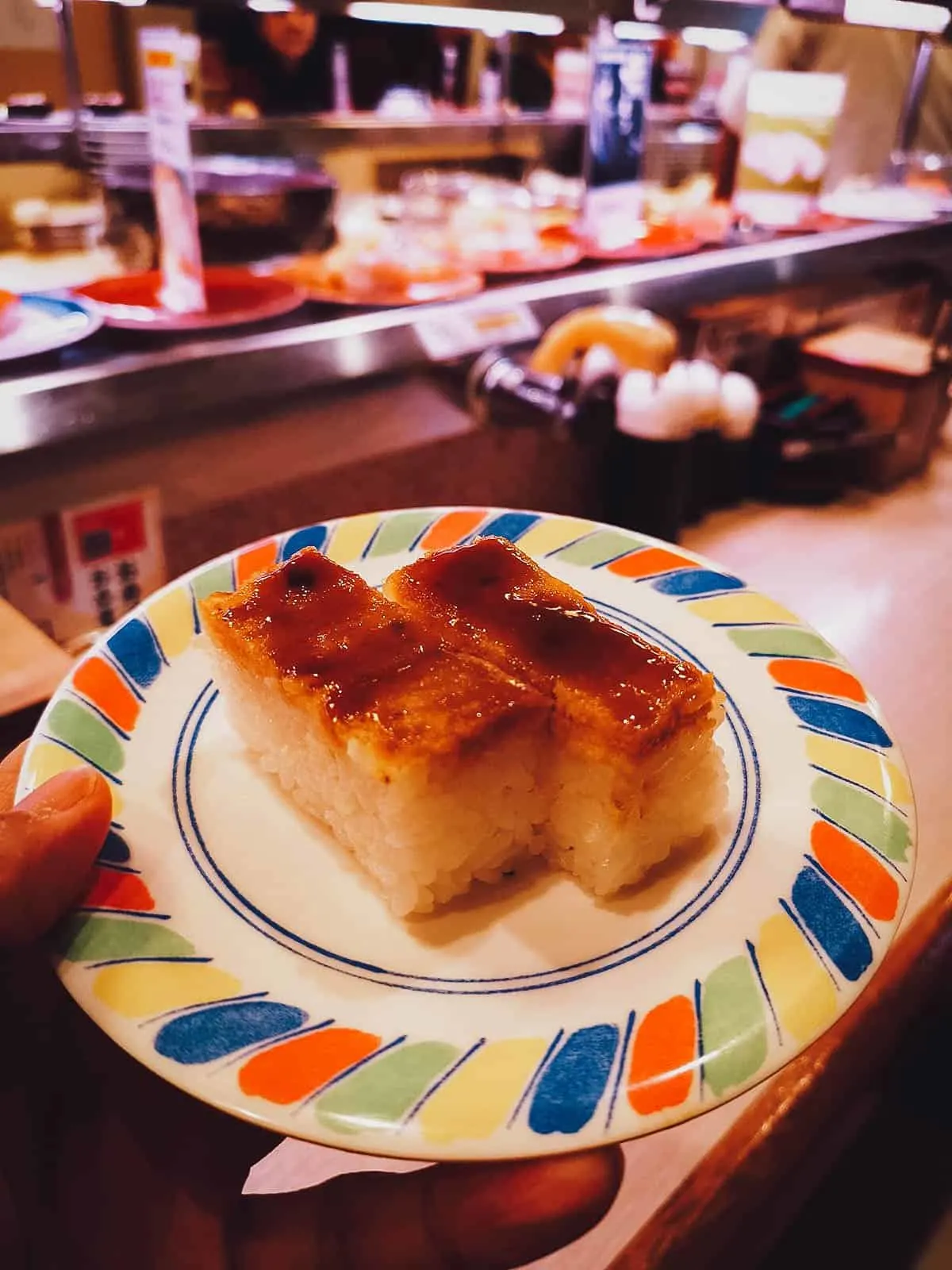 Another helping of hotate or scallop sushi. Musashi Sushi was good but not as much fun I thought as Kura.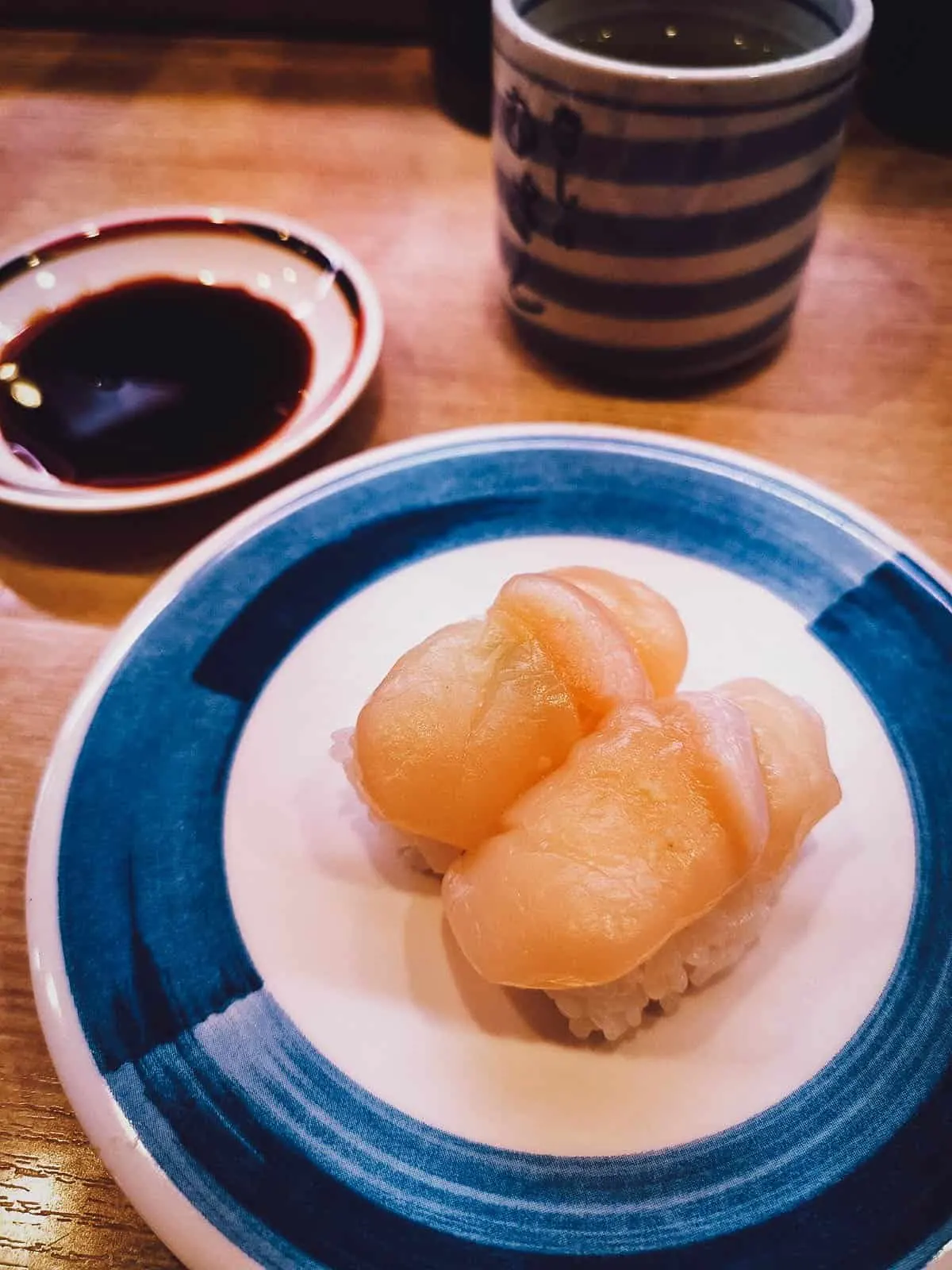 According to their website, Musashi Sushi has two restaurants in Kyoto. I went to the branch near Sanjo Station.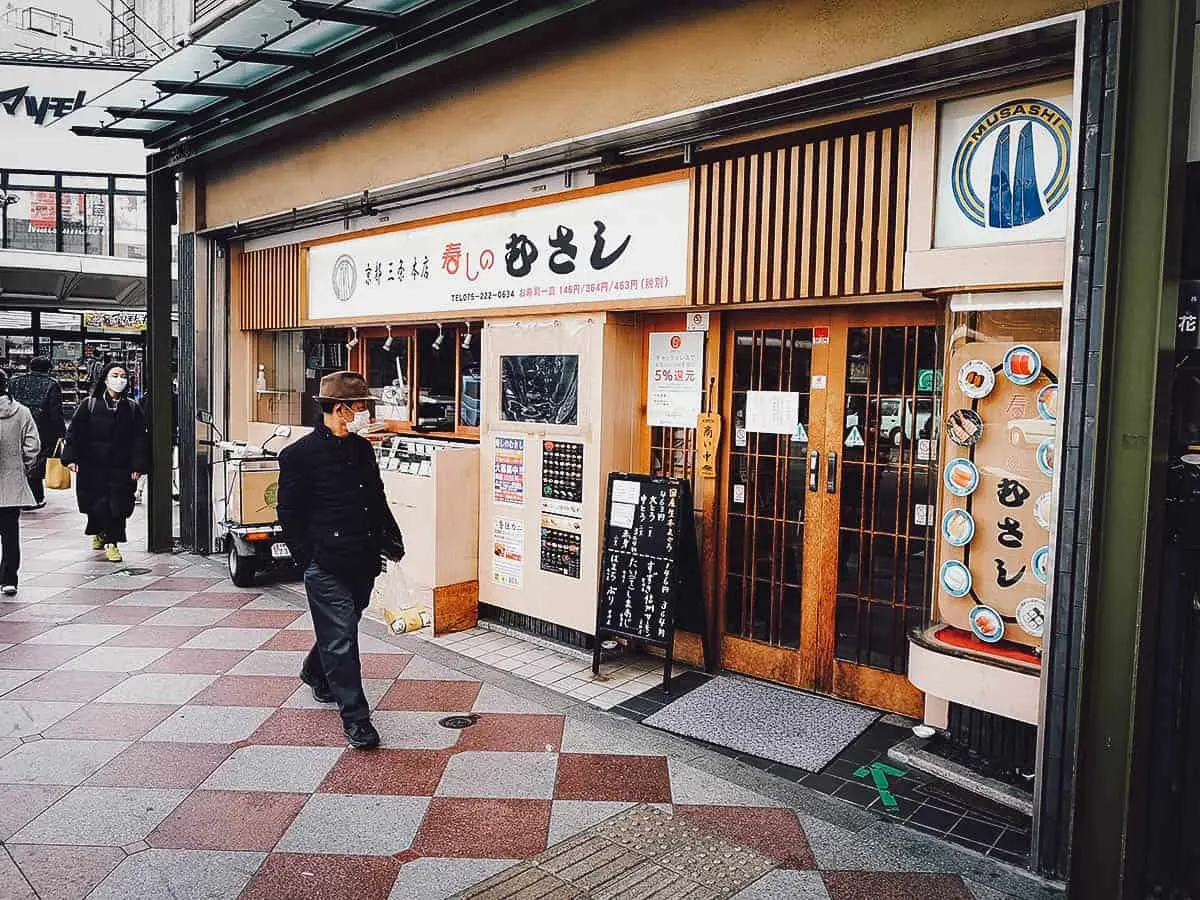 Musashi Sushi
Address: 440 Ebisucho, Nakagyo Ward, Kyoto, 604-8005, Japan
Closest MRT Station: Kyoto Shiyakusho-mae or Sanjo Station
Operating Hours: 11:15AM-7:30PM, daily
Expect to Pay: About JPY 146-463 per plate of sushi
SAKE BARS / IZAKAYAS
If you'd like to get your drink on in Kyoto, then you can go to a sake bar or an izakaya. A sake bar is self-explanatory but an izakaya refers to an informal type of Japanese bar that serves food with drinks. You can think of it as the Japanese equivalent to Irish pubs or Spanish tapas bars.
6. Gion Kappa
When we took our first trip to Kyoto in 2014, our Japanese friend asked his colleagues for Kyoto restaurant recommendations. They pointed him to Gion Kappa, an izakaya in Kyoto's legendary geisha district.
We enjoyed it so much that our Japanese friend goes back there every time he visits Kyoto. Popular with both locals and tourists alike, Gion Kappa is a fun and welcoming izakaya that serves small plates of food for just JPY 390.
Many izakayas and Japanese restaurants serve customers a compulsory appetizer called otoshi. It isn't free and it's something you need to get at places that serve alcohol. You can think of it as a consumable cover charge.
Otoshi can be anything from edamame to potato salad to pickled vegetables. Tonight, our otoshi was this delicious plate of seared tuna.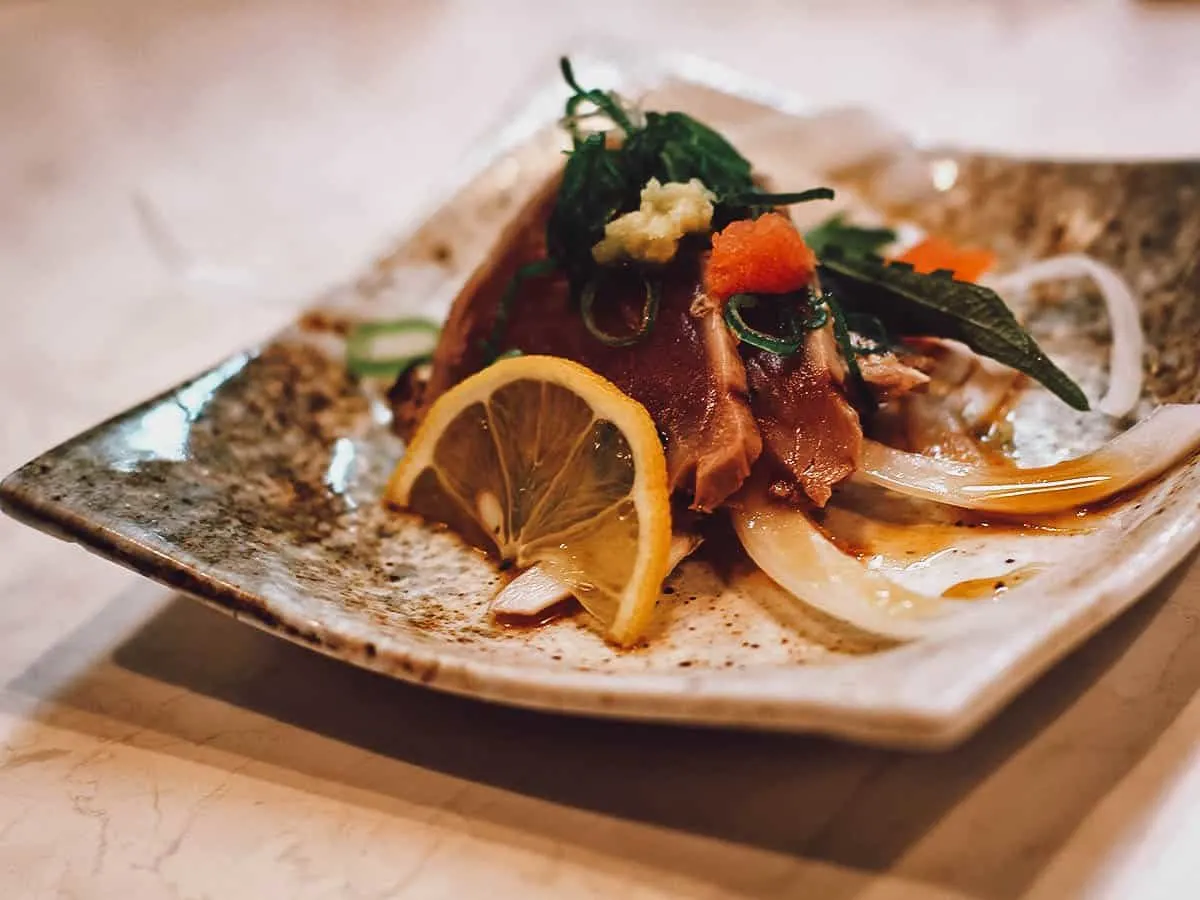 Kushiyaki is one of the most common types of food you'll find at izakayas. It refers to any dish that's skewered and grilled.
Kushiyaki can be made with different types of meat, seafood, and vegetables, though any dish made with skewered chicken – like the grilled chicken livers below – is referred to as yakitori.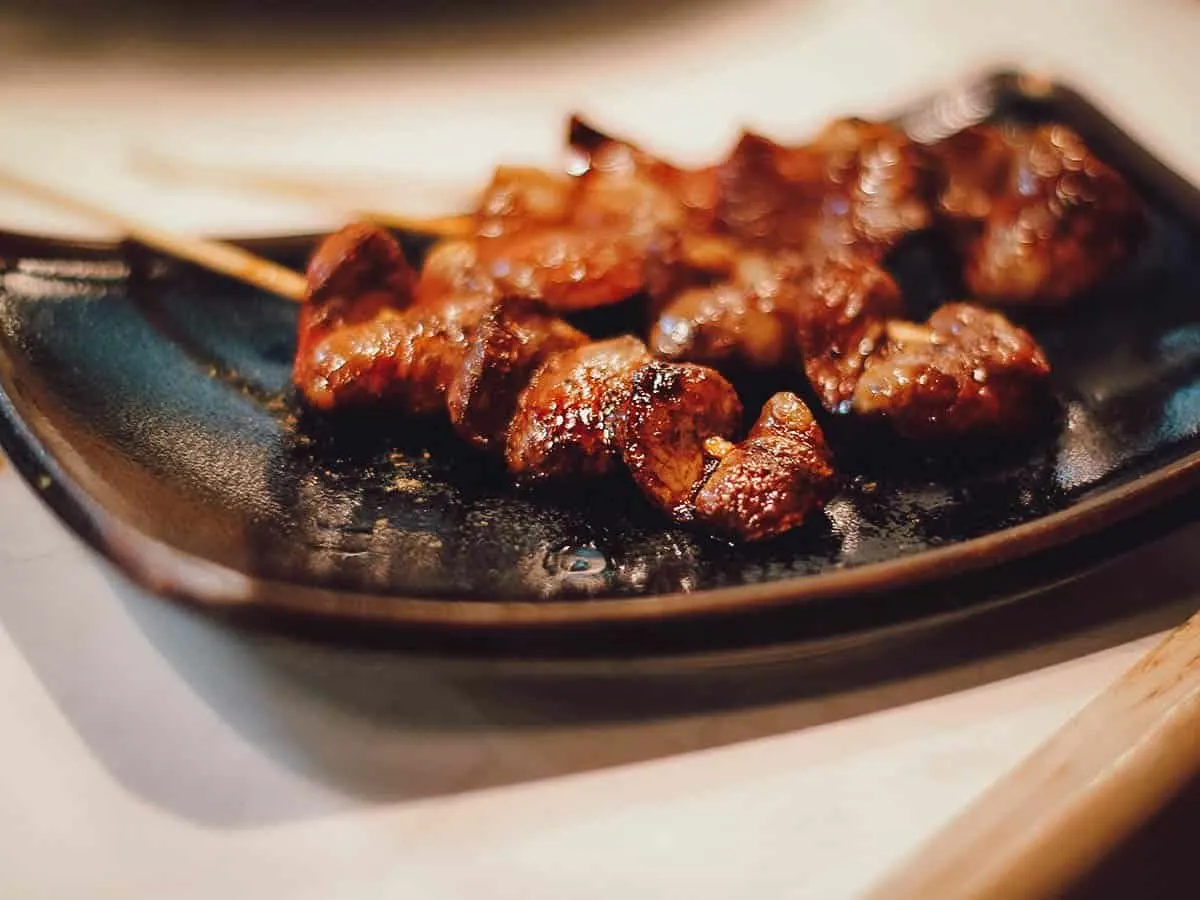 Kushiage or kushikatsu is another popular izakaya dish. It refers to meat, seafood, or vegetables that are skewered then deep-fried.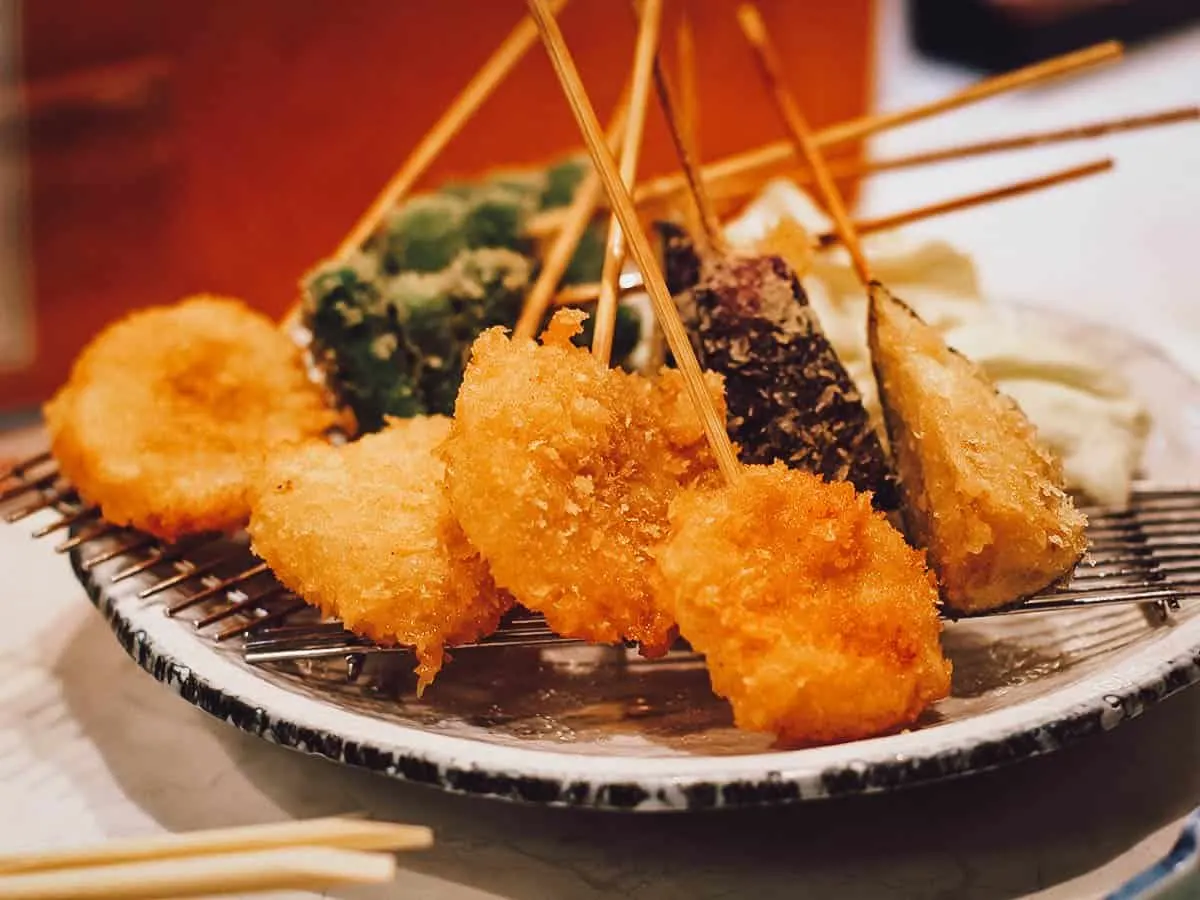 An order of Japanese snails. At just JPY 390 per small dish, it's tempting to try everything on the menu.
Gion Kappa is located near Gion-Shijo Station. It opens at 6PM on most nights and is a great place to get drinks and some bar food in the atmospheric Gion district of Kyoto.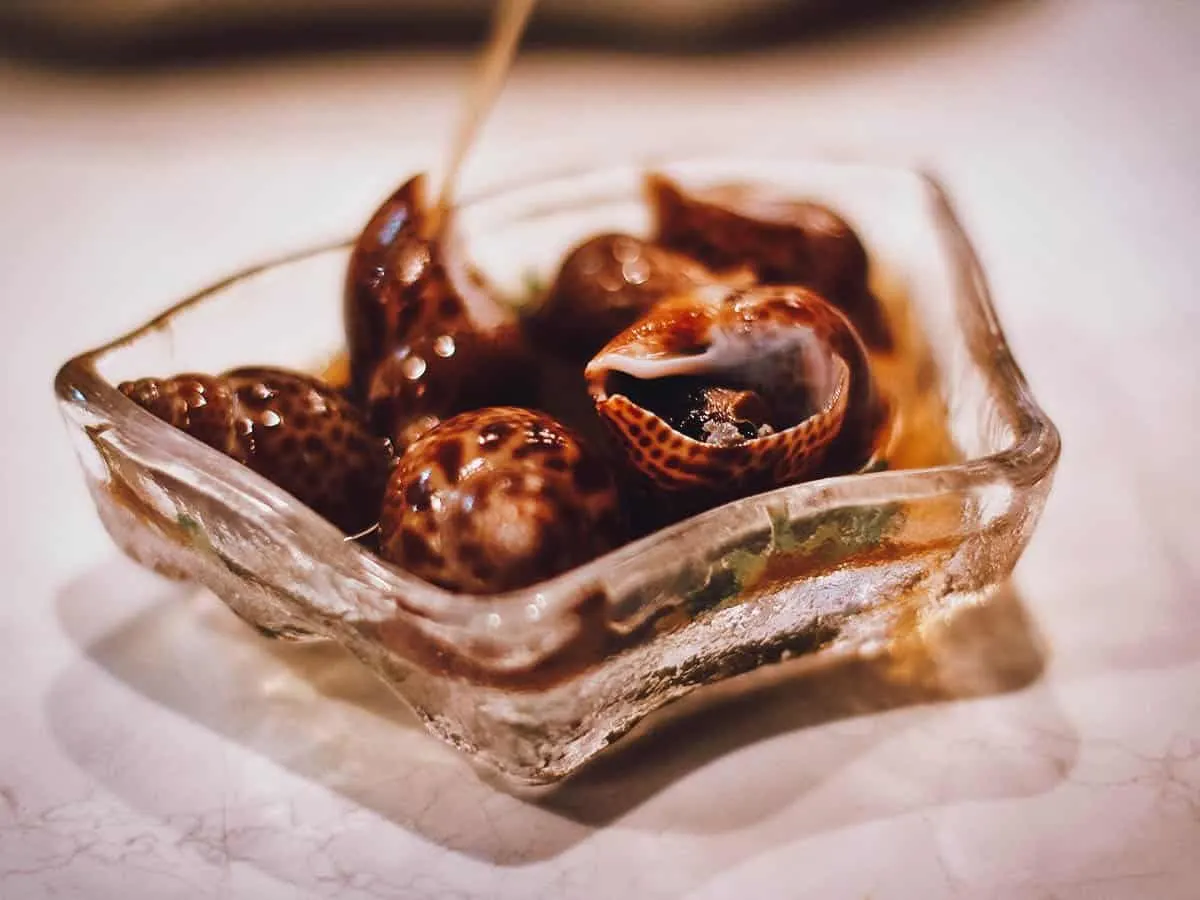 Gion Kappa
Address: Japan, 〒605-0085 Kyoto, Higashiyama Ward, Sueyoshicho, 77
Closest MRT Station: Gion-Shijo Station
Operating Hours: 6PM-2:30AM, Tue-Sat / 5PM-12MN, Sun (closed Mondays)
Expect to Pay: About JPY 390 per dish
7. Wadachi
Located about a minute's walk from Gion Kappa is Wadachi, a gaijin-friendly sake bar and restaurant that offers different types of sake sourced from all over the country. Every serving of sake at Wadachi goes for JPY 500 (plus tax).
Wadachi offers many dishes on their menu ranging in price from about JPY 400-700. At the time of our visit, they offered two specialties – chicken karaage (Japanese fried chicken, pictured below) and duck marinated with white miso and green onion.
We ordered the chicken karaage and the deep-fried breaded oysters to go with a few rounds of sake. Everything was delicious.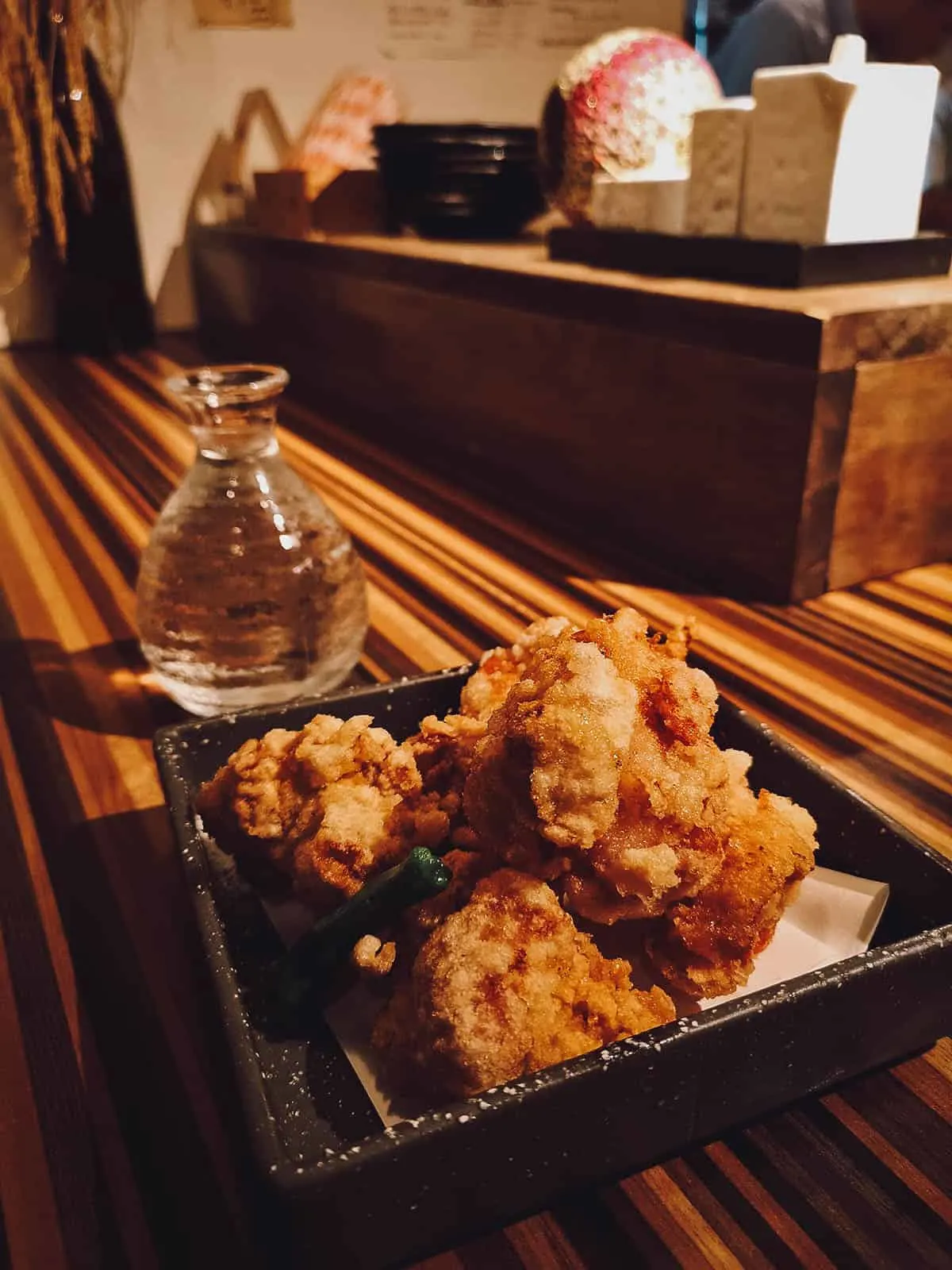 Wadachi is a TripAdvisor Certificate of Excellence recipient with a near perfect 4.5-star rating. It's located in a busy area of Gion District so it shouldn't be hard to find. It's literally a minute away from Gion-Shijo Station.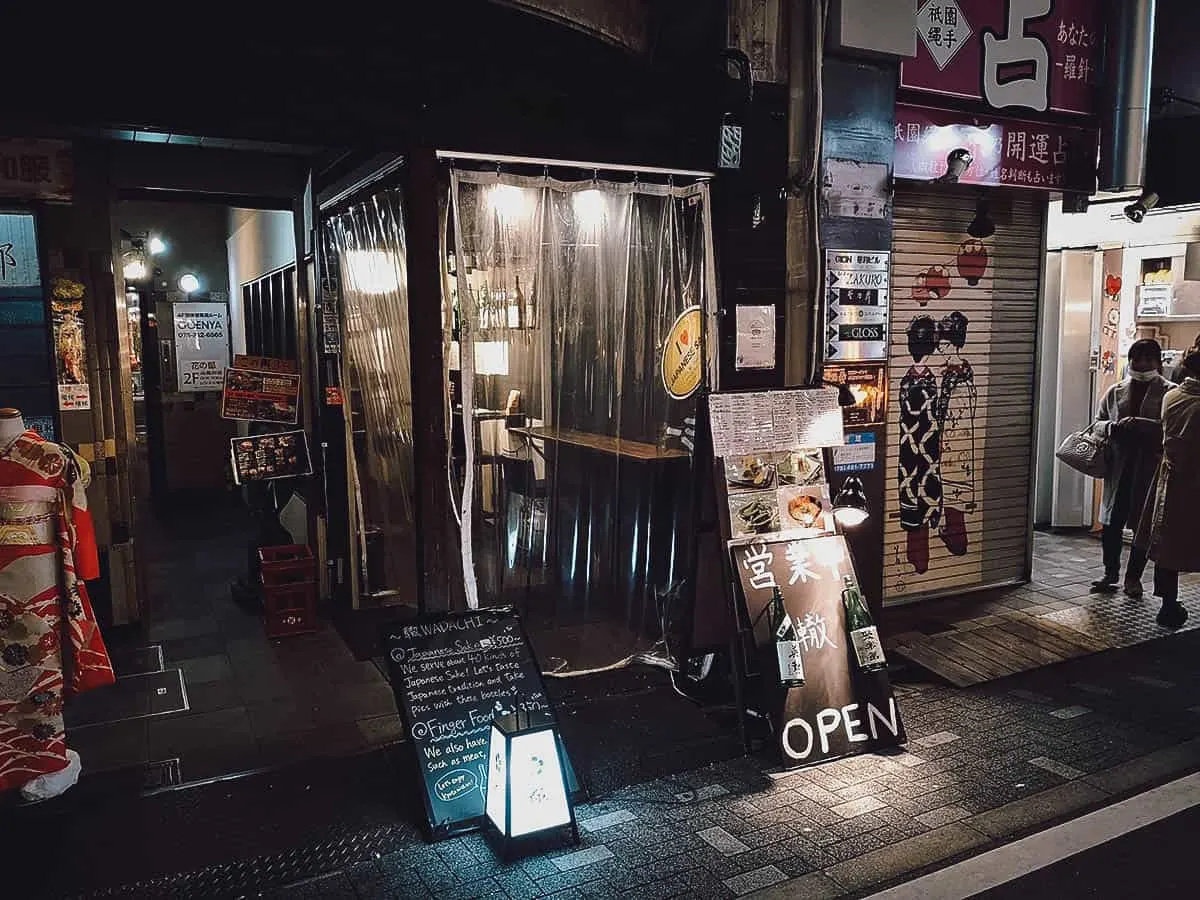 Wadachi
Address: Japan, 〒605-0077 Kyoto, 京都市東山区Higashiyama Ward, 廿一軒町227 岩橋ビル1F
Closest MRT Station: Gion-Shijo Station
Operating Hours: 4PM-12MN, daily
Expect to Pay: About JPY 400-700 per dish, JPY 500 per vial of sake
8. Ibushigin Kazuya
As described, I went on a night food tour in Kyoto. My guide Syouri and I bonded over our mutual love for food so he took me to Ibushigin Kazuya after our tour to continue our conversation about Japanese and Filipino food.
Syouri was born and raised in Kyoto and Ibushigin Kazuya is his favorite sake bar. Compared to Wadachi, Ibushigin Kazuya is a more upscale sake bar offering a wider range of sakes.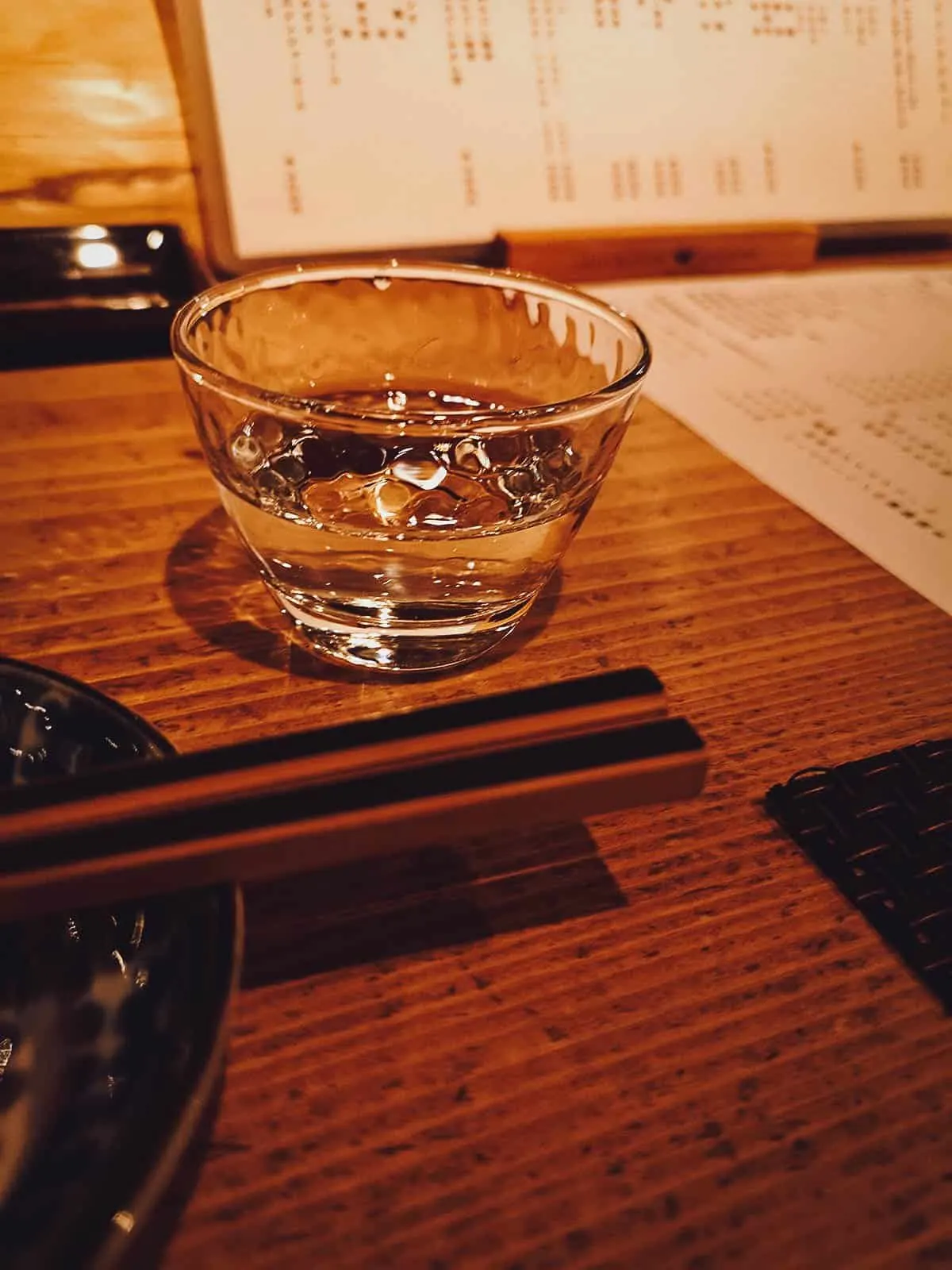 I have it in a video but tonight's otoshi of sashimi with ikura was under a glass cloche filled with vapor. You couldn't see what was inside until you lifted the cloche and released the vapor. I thought it was a dramatic and very elegant way of presenting food.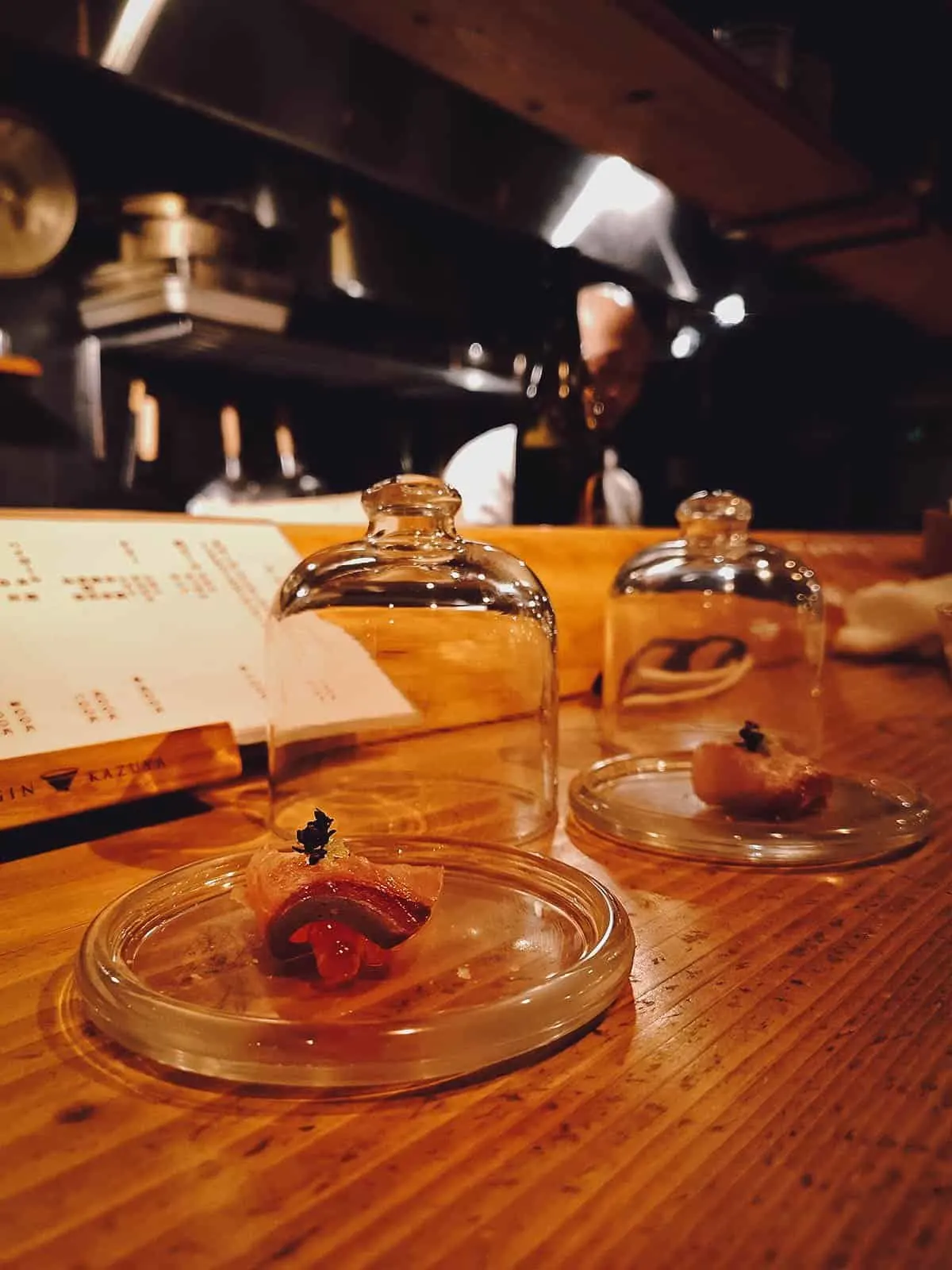 We ordered several glasses of sake, from common types to the more obscure seasonal varieties. We even tried a cloudy pink sake that I believe is typically offered during sakura season.
The Japanese enjoy food with their drink so we ordered some tuna jerky which we'd heat up on this small tabletop grill. It was heated by a lone piece of charcoal, just to warm it up and give it some smokiness.
I'm not an expert but I started to develop a real appreciation for sake on my most recent trip, thanks in part to a Fushimi sake tour and sake pairing experiences like this one. My god was this smoked tuna good with the sake!
The Fushimi district in Kyoto is known for being one of the best sake-producing areas in the country. If you'd like to experience it on a tour, then you may be interested in this sake tasting tour from Magical Trip.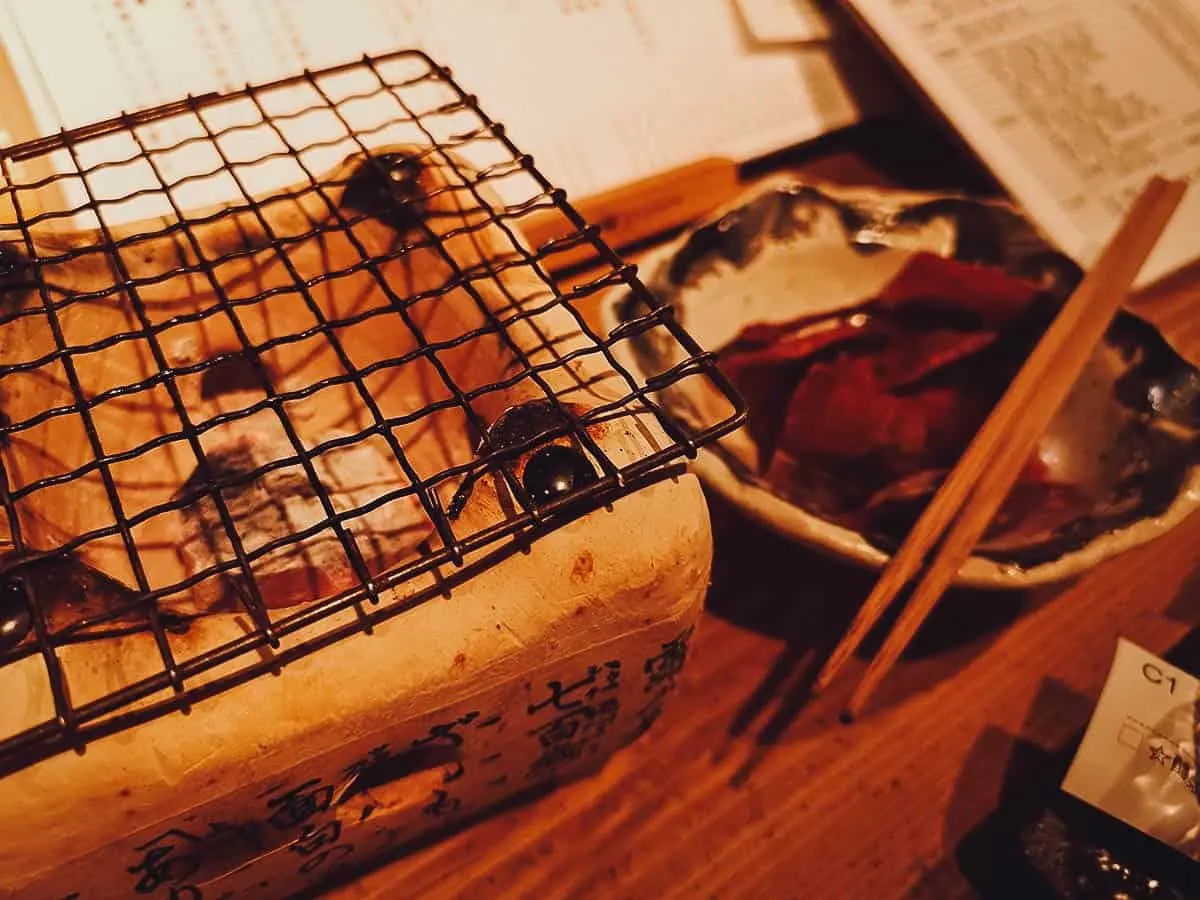 Ibushigin Kazuya is located near the Kamo River, about a 6-7 minute walk from either Sanjo or Gion-Shijo Station. I don't know how often their inventory changes but scribbled on the glass door are the different types of sake they have available every evening.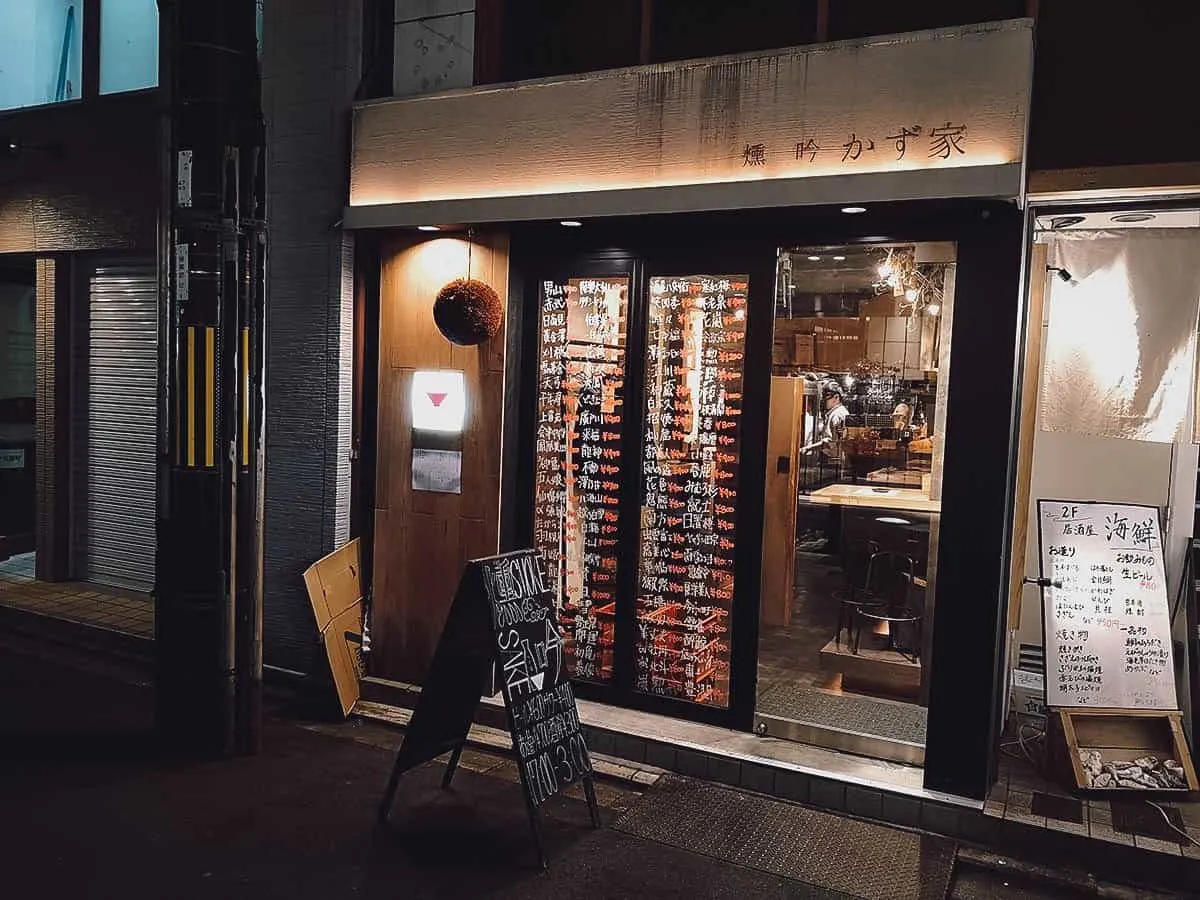 Ibushigin Kazuya
Address: 河原町通三条下ル二丁目東入ル北車屋町276, 永吉ビル1F, 京都市中京区, Kyoto 604-8021, Japan
Closest MRT Station: Sanjo or Gion-Shijo Station
Operating Hours: 5PM-3AM, daily
Expect to Pay: About JPY 300-700 per dish, JPY 700-900 per glass of sake
OTHER DISHES & RESTAURANTS IN KYOTO
9. Hachidaime Gihey
Hachidaime Gihey is a popular restaurant in Kyoto that offers kaiseki meals for dinner and reasonably priced set meals for lunch.
I was here to try one of their lunch sets which is served with meat or seafood, rice, miso soup, and an assortment of pickled vegetables. They're like bento meals minus the box.
Ranging in price from around JPY 1,500-2,500, I asked my server for recommendations and she suggested I get the chicken karaage set. It was delicious and a decent value for just JPY 1,650.
I've rarely met a karaage I didn't like so if you aren't as adventurous with your food choices, then karaage is a safe dish to try. It's like the Japanese equivalent to chicken nuggets or chicken tenders.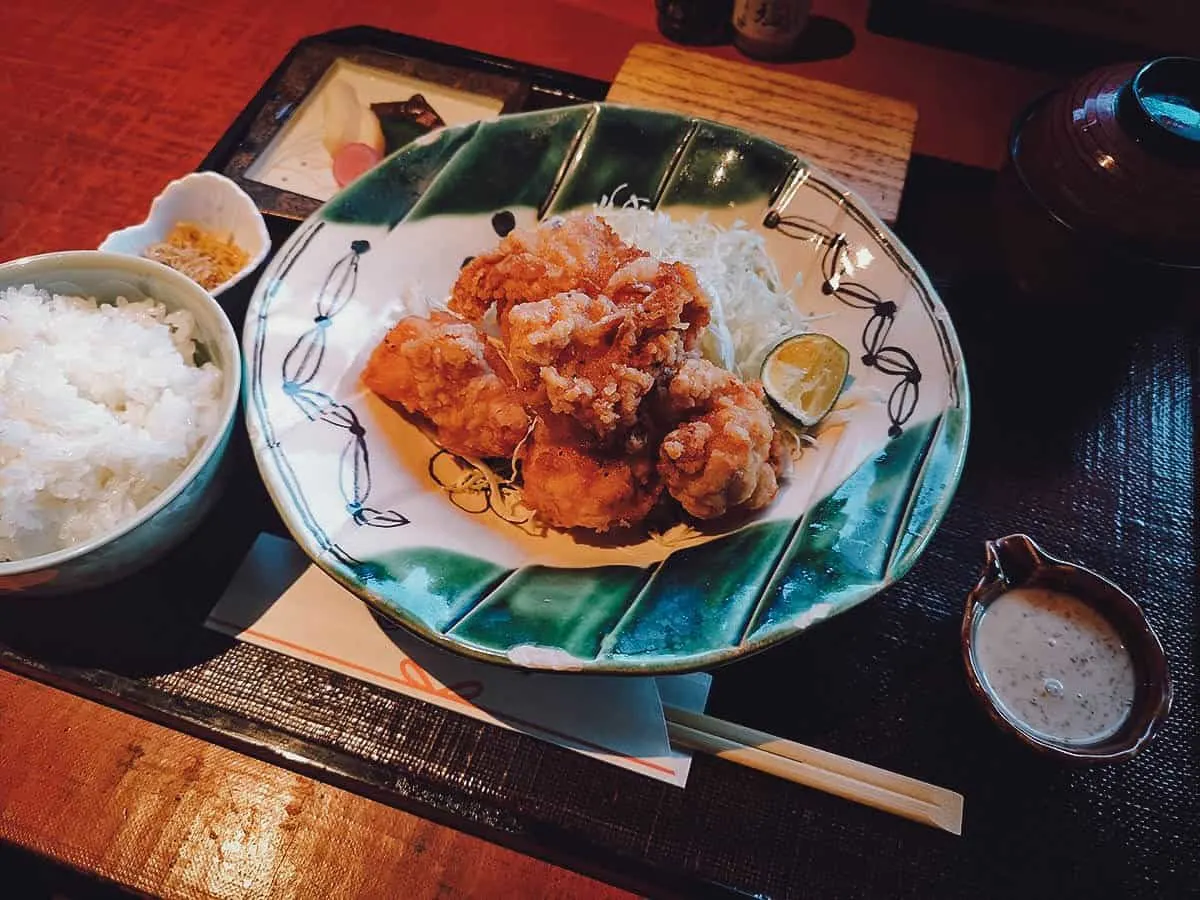 What makes Hachidaime Gihey truly special is their rice. The restaurant specializes in different preparations of rice which you can experience in their kaiseki meals.
When you get through your first bowl of rice at lunch, your server will offer you a free refill. Just say yes even if you're full.
The second bowl will be topped with a small serving of toasted rice seasoned with sesame and salt. It's the bottom layer of rice that gets crispy from cooking, similar to the scorched socarrat rice in paella.
I didn't get past the second bowl but I assume they'll give you a piece of this tasty toasted rice with every refill.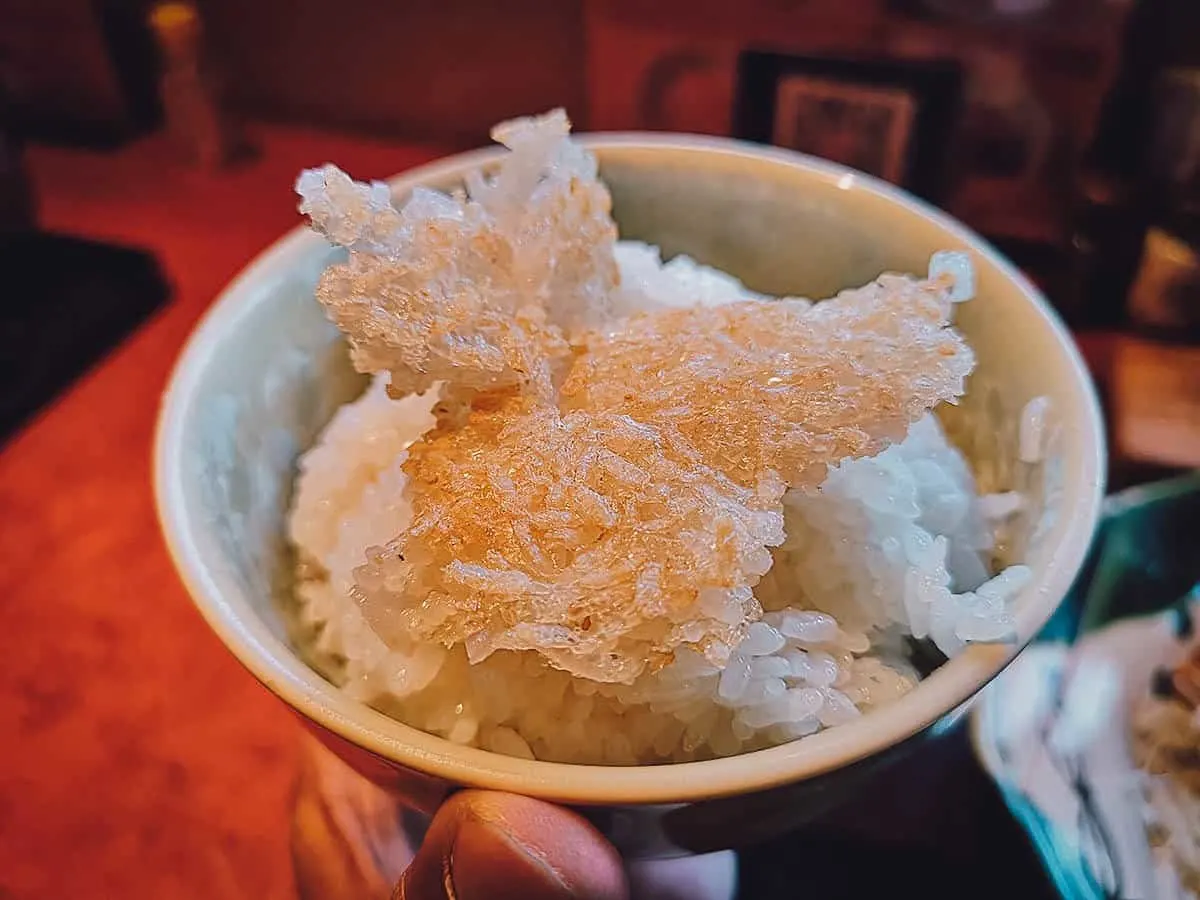 The Hachidaime Gihey restaurant is located almost directly across the street from Yasaka Shrine. It's convenient location and fairly priced set meals make it an attractive option for lunch so be prepared for a wait. I came alone and waited about half an hour to be seated.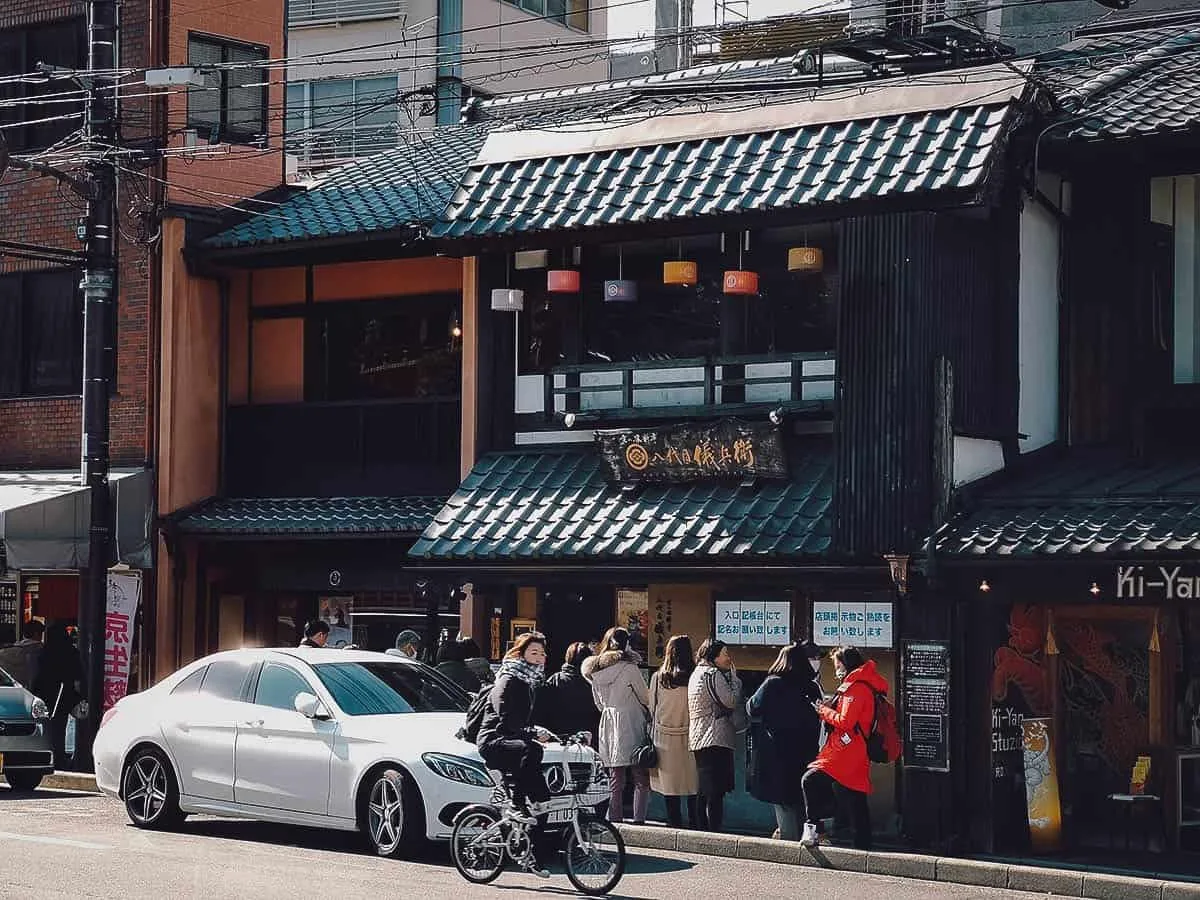 Hachidaime Gihey
Address: Japan, 〒605-0073 Kyoto, Higashiyama Ward, Gionmachi Kitagawa, 296 衹園
Closest MRT Station: Gion-Shijo Station
Operating Hours: 11AM-2:30PM, 5-7:30PM, daily
What to Order: Set meals
Expect to Pay: About JPY 1,700 for a lunch set
10. Donguri
Kyoto and Osaka are half an hour apart by JR train so you may have already tried Okonomiyaki in Osaka. If you haven't, it's a Japanese pancake-like dish made with wheat flour batter mixed with raw egg, grated yam, and shredded cabbage.
Okonomiyaki is typically cooked on a teppanyaki grill in front of you and made with other ingredients like pork belly, seafood, vegetables, noodles, and green onion. Donguri is a local chain of okonomiyaki restaurants that some people cite as the best in Kyoto.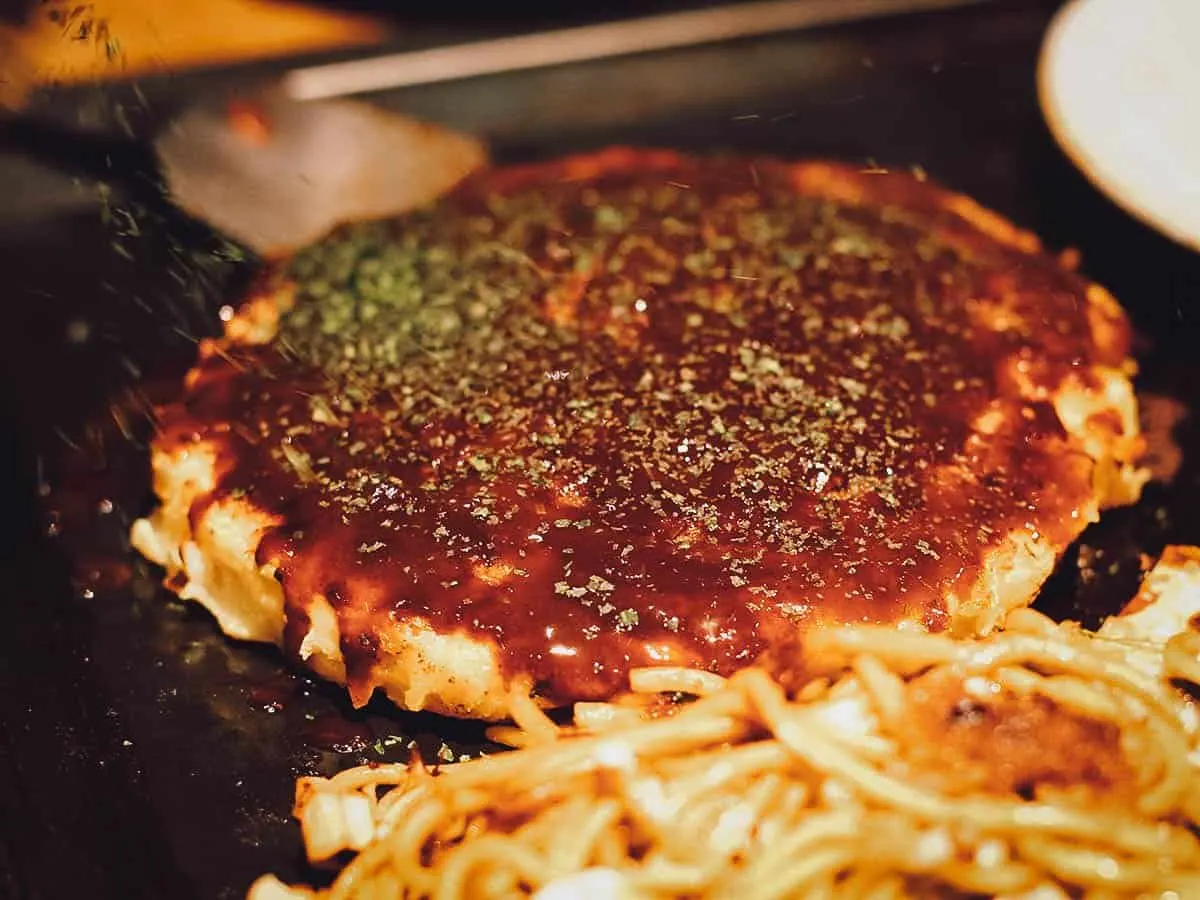 Okonomiyaki is a dish associated with Osaka and Hiroshima. I prefer having dishes at the source so if it's your first time trying okonomiyaki, then I suggest having it in Osaka. With that said, the okonomiyaki at Donguri is very good. Even our Japanese friend from Osaka was impressed.
We went to the restaurant near Kyoto Station but Donguri has several branches in Kyoto. You can refer to the Donguri website to find a branch near you.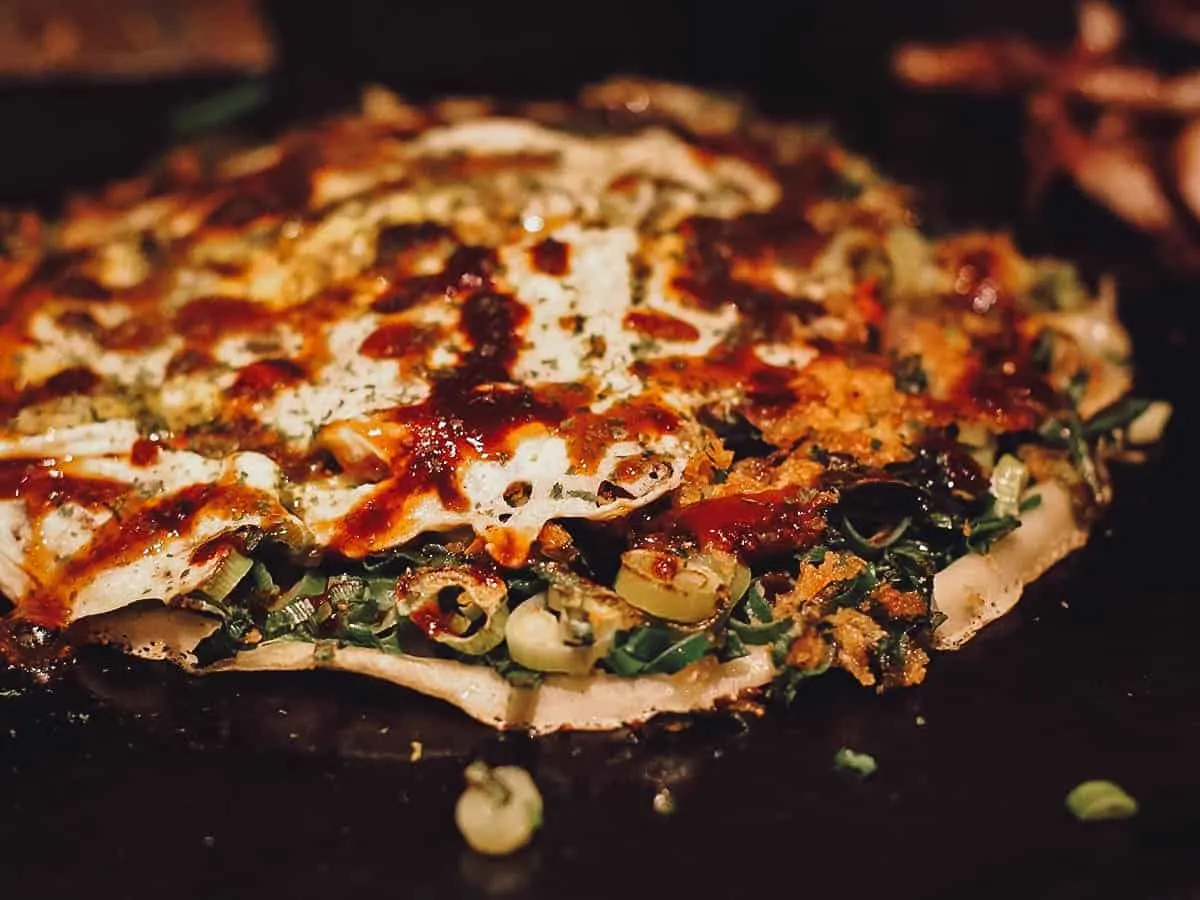 Donguri
Address: Japan, 〒600-8217 Kyoto, Shimogyo Ward, 七条下ル西側
Closest MRT Station: Kyoto Station
Operating Hours: 5PM-1AM, daily
What to Order: Okonomiyaki
Expect to Pay: About JPY 800 per okonomiyaki
11. Komefuku Shijo Karasuma
If sushi is what made me love Japanese food as an adult, then tempura is the dish that turned me on to it as a kid.
Tempura refers to a popular Japanese dish of prawns, vegetables, and other types of seafood that are coated in a cold batter and then deep-fried. It's served with a tentsuyu dipping sauce made with dashi, mirin, soy sauce, and grated daikon radish.
Komefuku Shijo Karasuma is an interesting tempura restaurant in Kyoto that allows you to order by the piece. I don't know how common that concept is in Japan but this was the first time I had ever encountered it.
After being seated, they'll hand you a check list order form similar to the ones offered at some sushi bars. They have around 25 types of tempura on their menu including prawn, conger eel, oyster, lotus root, and maitake mushroom. Prices range from JPY 100 for onion or eggplant to JPY 690 for anago.
If you'd rather not order per piece, then you can get a tempura set containing 5-12 predetermined pieces of assorted tempura. What you see below is the 8-piece assorted set.
Like sushi, I'm easy to please when it comes to tempura, but it isn't hard to tell good tempura from bad tempura. This towering beauty of fragile crunchiness is one of the best tempura I've ever tasted in my life.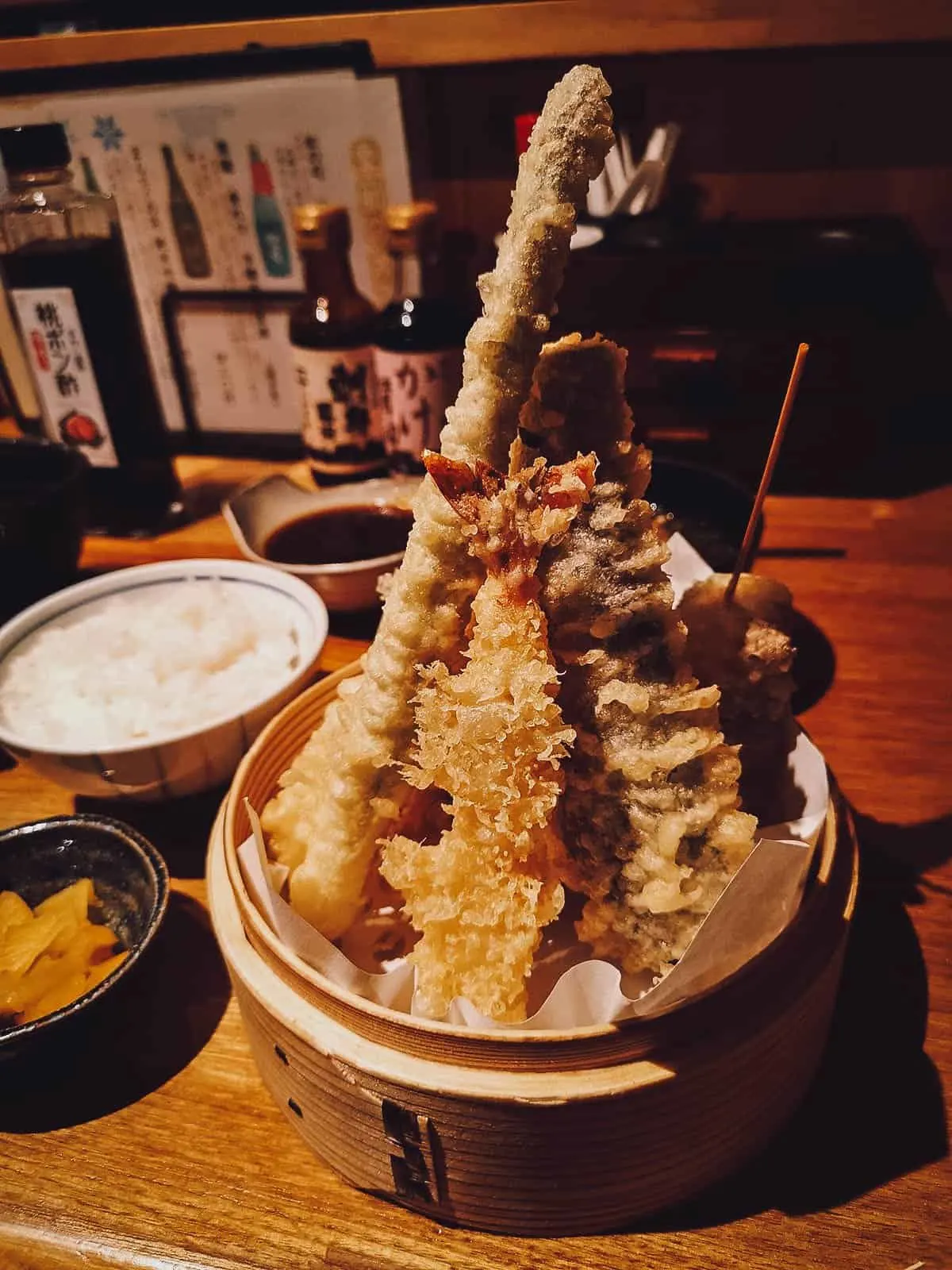 Komefuku Shijo Karasuma is located near Karasuma Station. If you have a hankering for tempura in Kyoto, then this is a great restaurant to visit. Tempura can be pretty pricey in Japan but the tempura sets at Komefuku Shijo Karasuma are reasonably priced.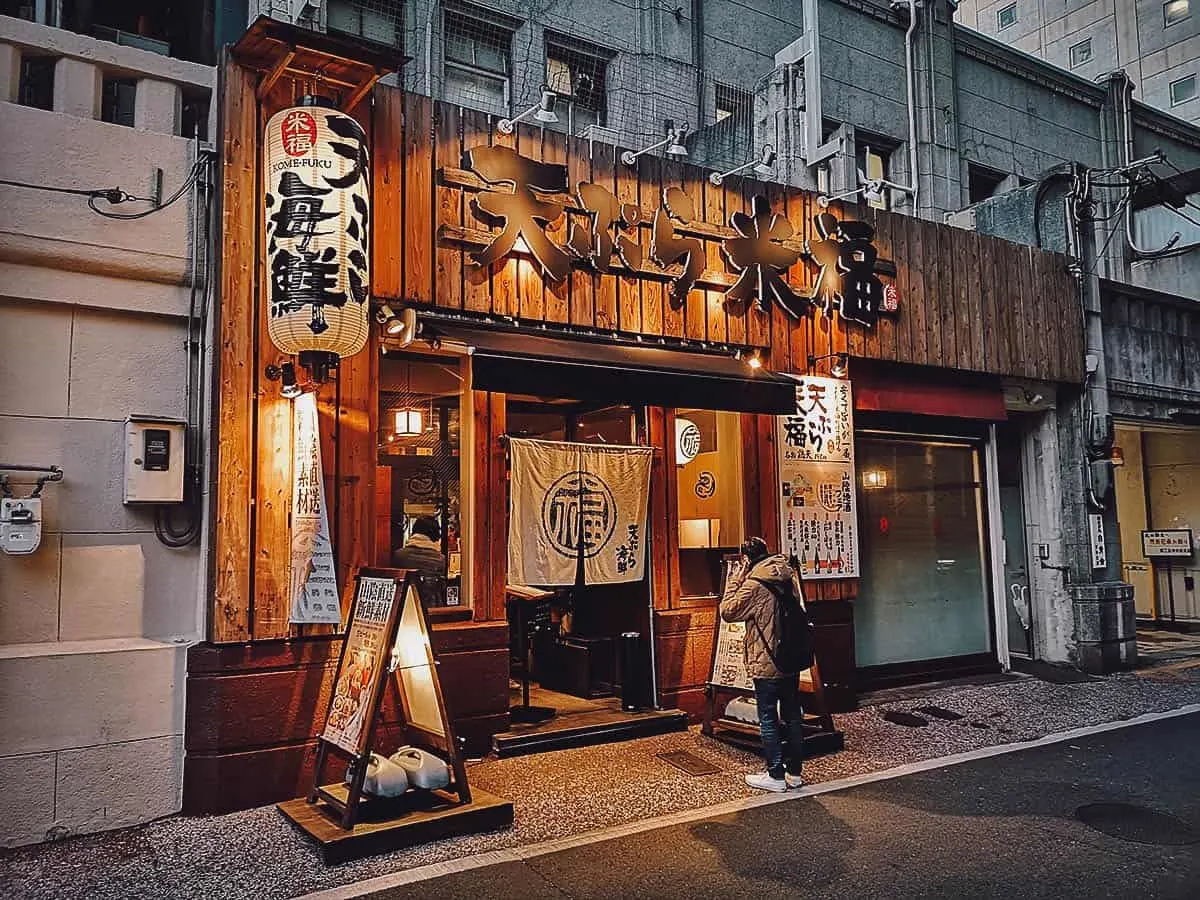 Komefuku Shijo Karasuma
Address: 657-5 Bantoyacho, Nakagyo Ward, Kyoto, 604-8143, Japan
Closest MRT Station: Karasuma Station
Operating Hours: 11:30AM-3PM, 5:30-11PM, daily
What to Order: Tempura
Expect to Pay: Around JPY 890-1,890 for a tempura set
12. Unagi Hirokawa
Hirokawa is a popular unagi restaurant located in Arashiyama, near the famous bamboo groves.
When we ate at Unagi Hirokawa in 2018, the restaurant had one Michelin Star. They seem to have lost it since then because I can't find them on the latest edition of the Kyoto Michelin Guide. They did close for several months after our visit to renovate so that may have had something to do with it.
In any case, Hirokawa is still one of the best restaurants in Kyoto for unagi. Pictured below is a rich and fatty skewer of eel liver.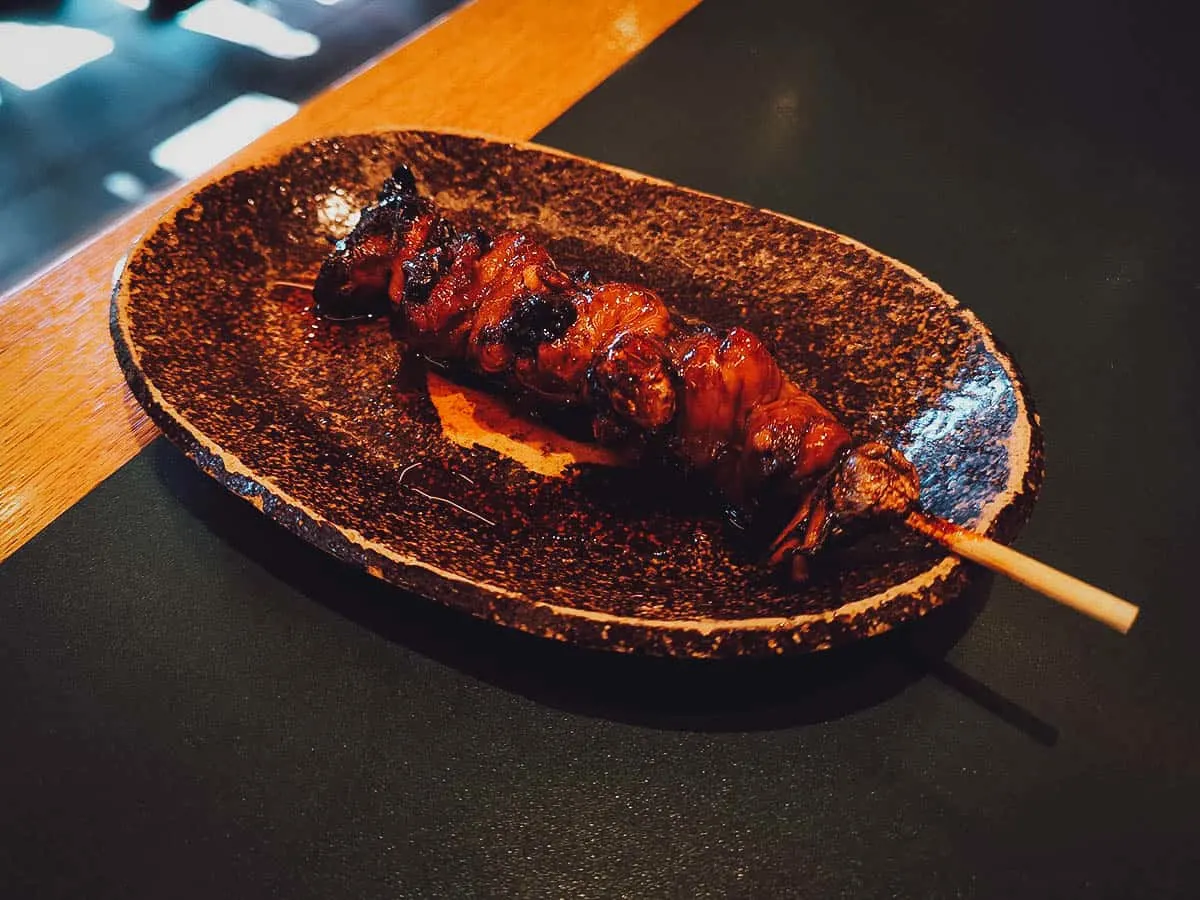 Unagi refers to barbecued freshwater eel. The eel is skewered and broiled before being slowly grilled over charcoal while being basted with a kabayaki sauce (sweet soy sauce).
It's most commonly served in sushi form, or over a bed of rice served in a lacquered box called unagi donburi. Sweet, smokey, and tender with a unique texture, it's one of my absolute favorite foods in the world. In fact, unagi nigiri is what turned me on to sushi in the first place.
We've had unagi donburi in many countries and cities in Japan, but this was definitely one of the best. Like many Japanese dishes, it takes a certain amount of experience and finesse to properly make unagi. Hirokawa has been making this dish for over fifty years.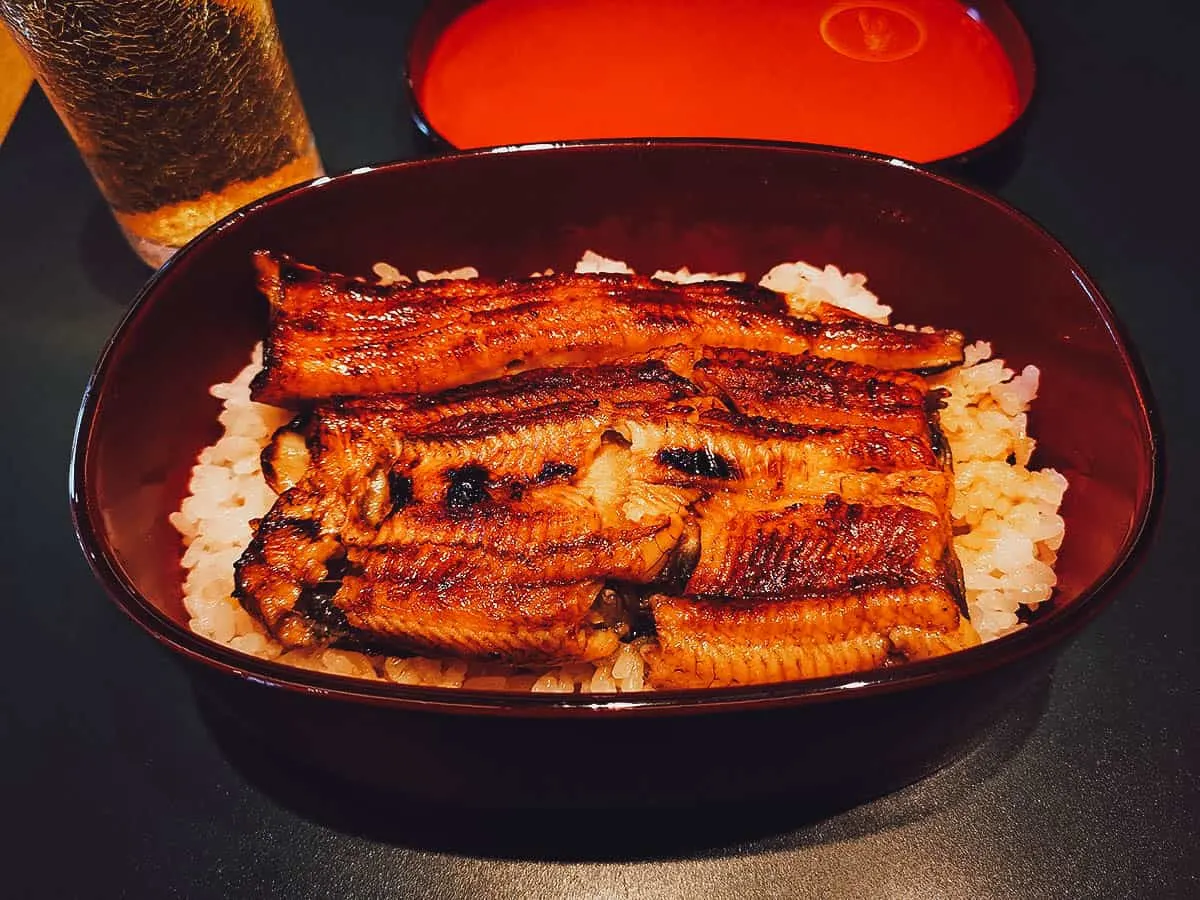 Unagi Hirokawa is an exceedingly popular restaurant so be prepared for a long wait. Our Japanese friend knew this so he stood in line early while we did an informal photo shoot at Arashiyama Bamboo Grove.
We were among the first to be seated but hour-long waits (or longer) aren't uncommon, so it may be a good idea to make advanced reservations.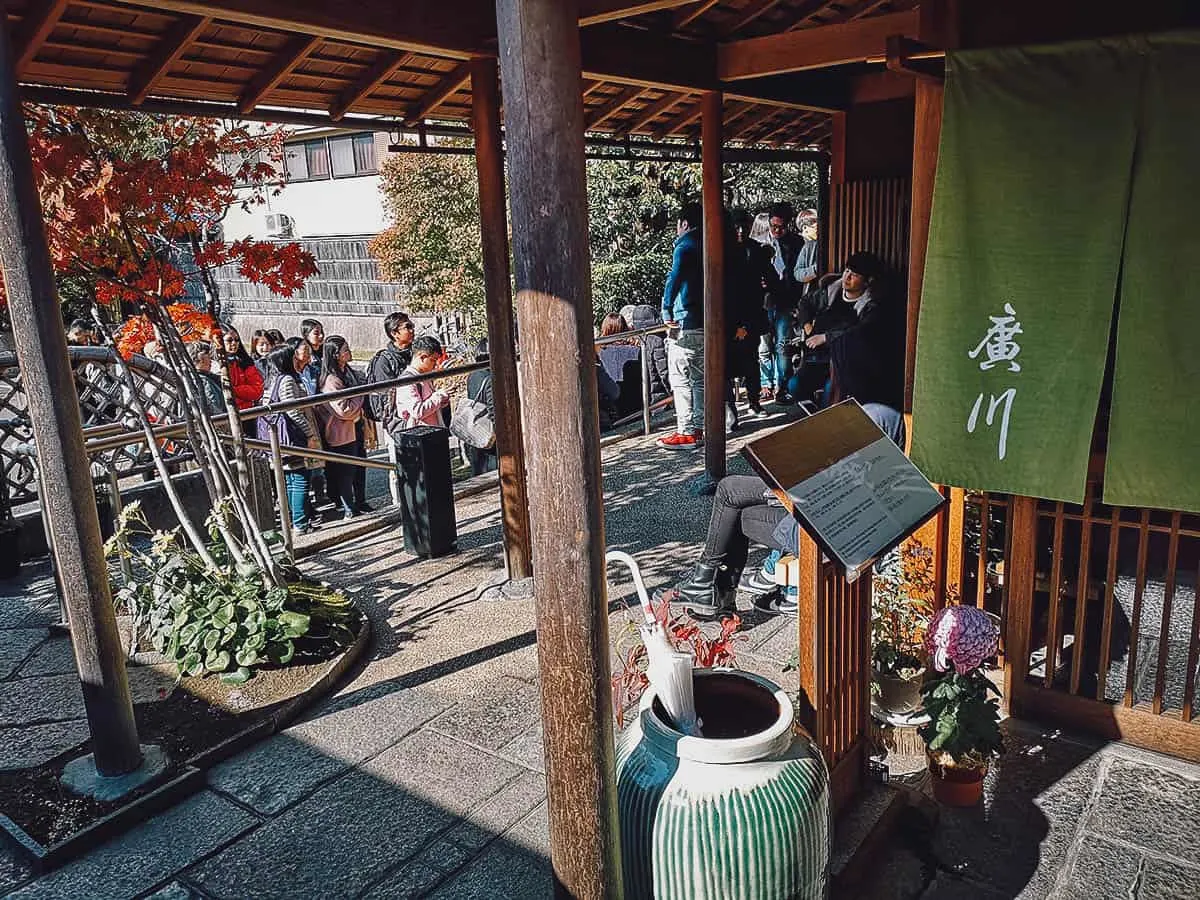 Unagi Hirokawa
Address: 44-1 Sagatenryuji Kitatsukurimichicho, Ukyo Ward, Kyoto, 616-8374, Japan
Closest MRT Station: Arashiyama or Saga-Arashiyama Station
Operating Hours: 11AM-2:30PM, 5-8PM, Tue-Sun (closed Mondays)
What to Order: Unagi donburi
Expect to Pay: Starts at around JPY 3,100 for unagi donburi
13. Nishiki Market
Nishiki Market is a must-visit in Kyoto. As its name suggests, it's a 5-block covered market with over a hundred shops, Japanese street food stalls, and small restaurants offering a wide range of local food products.
Like Kuromon Ichiba Market which is often referred to as "Osaka's kitchen", Nishiki Market is nicknamed "Kyoto's kitchen". If you'd like to experience Kyoto's regional specialties under one roof, then Nishiki Market is one of the best places for you to go.
You can easily explore Nishiki Market on your own, but if you'd like a local guide taking you to the best spots, then you may be interested in this Nishiki Market breakfast tour with Magical Trip.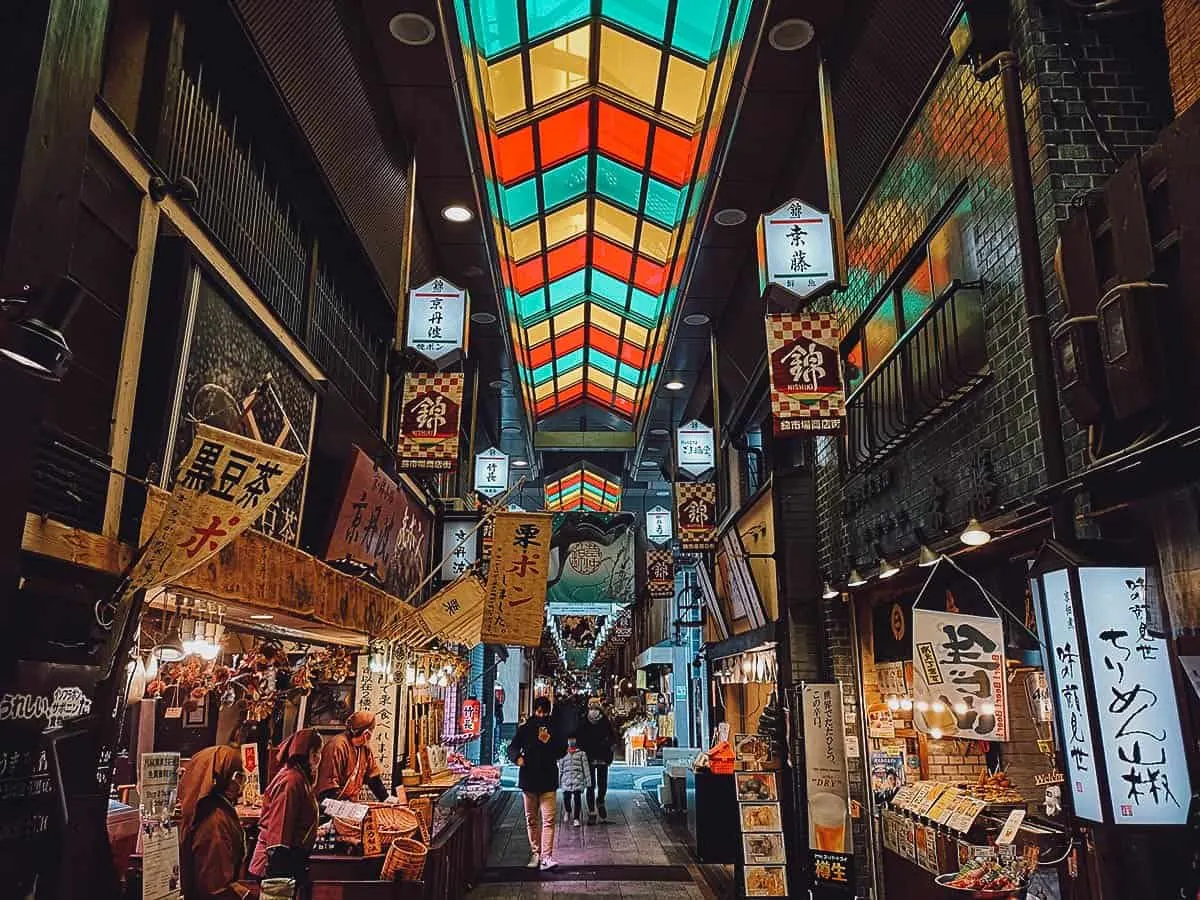 I was on my way to lunch at Wajouryoumen Sugari so I had to restrain myself, but I couldn't help but try one of these giant imitation crab sticks.
I like all types of crab, even imitation crab. These were like ten times the size of a regular kani stick. You can have one for JPY 400, two for JPY 700, or three for JPY 1,000.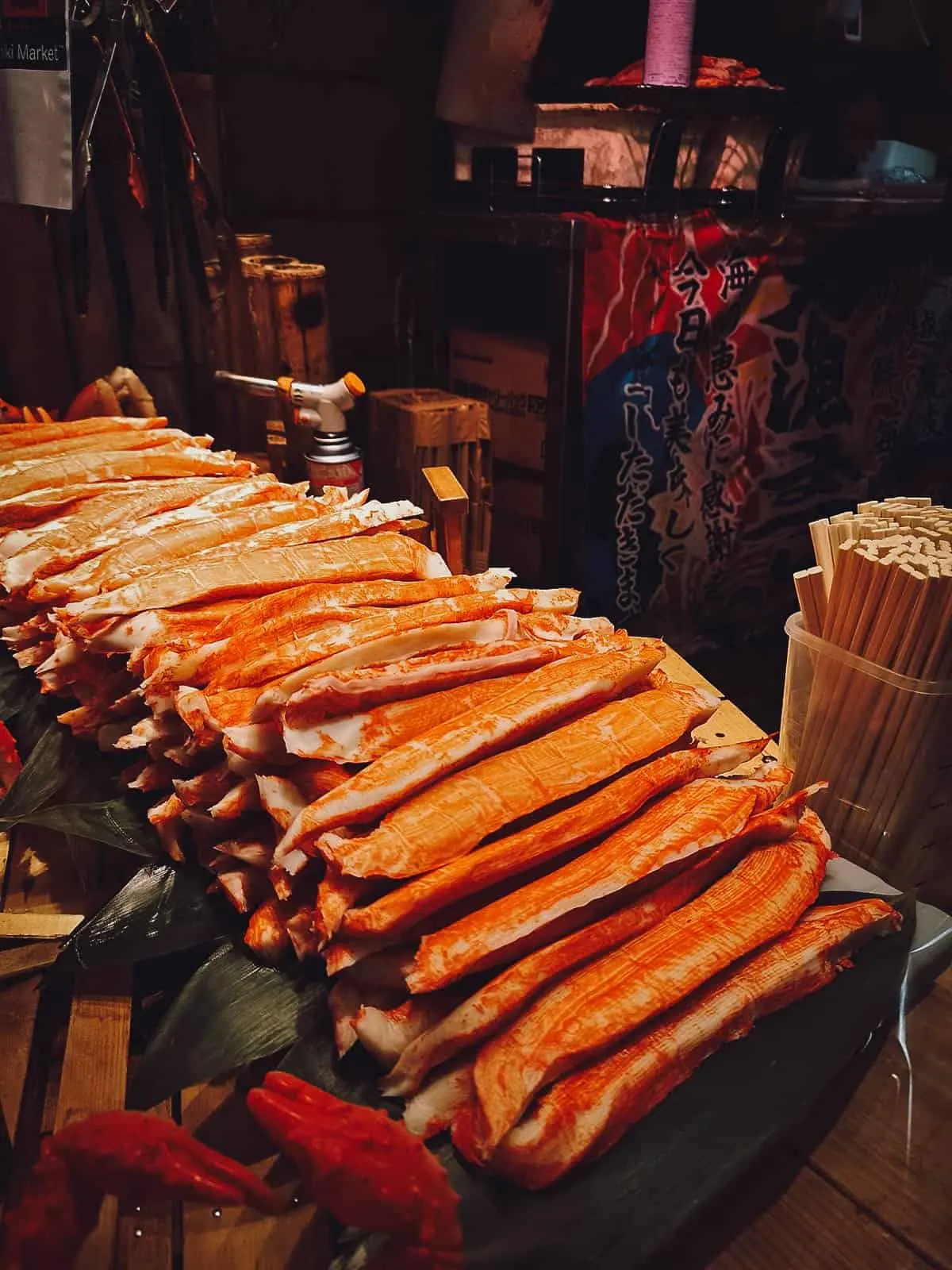 They grilled the crab stick briefly over coals while torching it by hand. To serve, they doused it with some soy sauce and a daub of Japanese mayo. Yum!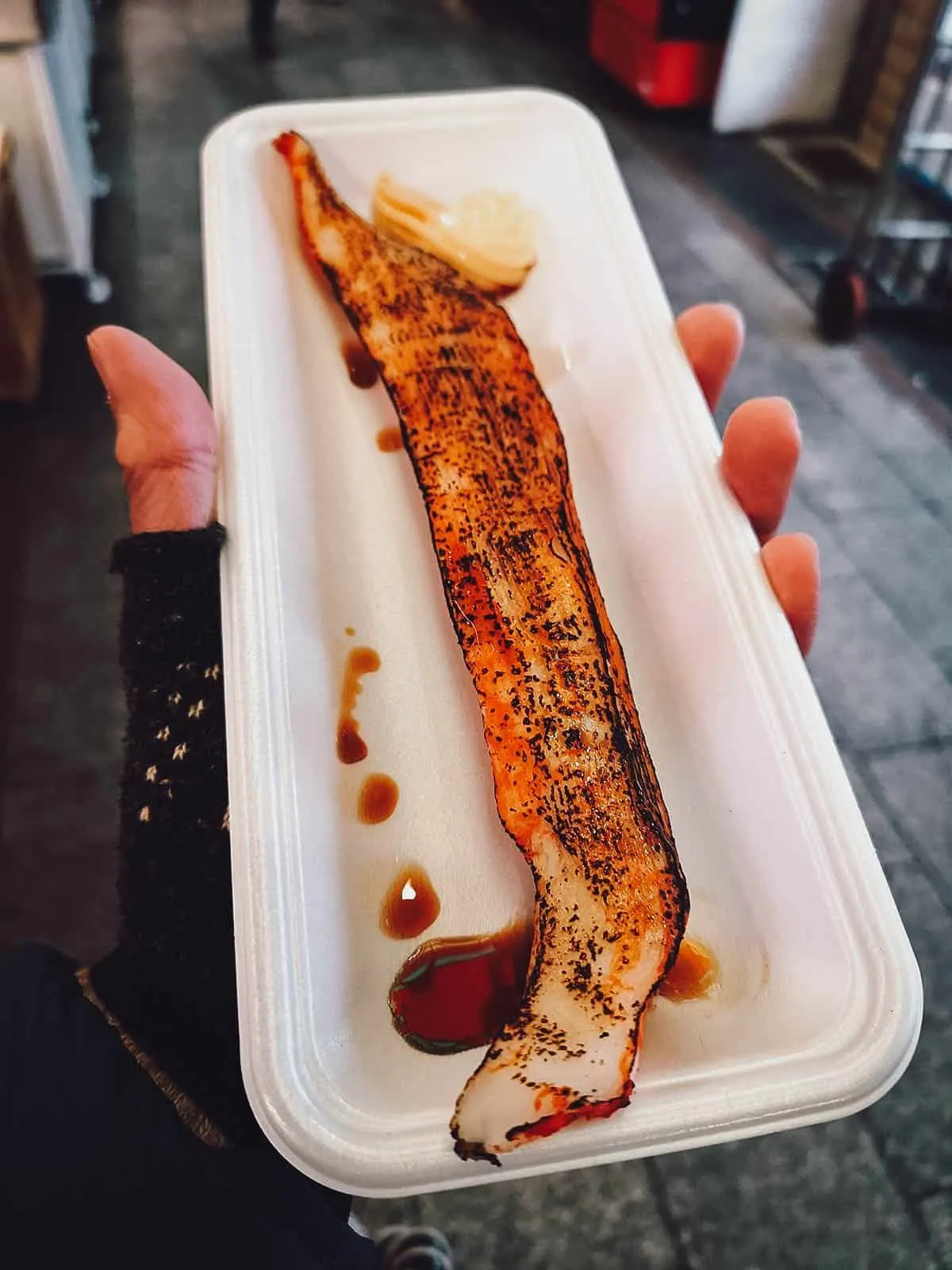 After lunch, I walked back through Nishiki Market and had this Uji matcha soft serve for JPY 486. Uji refers to a small city between Kyoto and Nara known for producing some of the finest green tea in Japan.
This ice cream cone was amazingly delicious and the best matcha ice cream I've ever had in Japan. Be sure to enjoy a cone or two in Kyoto.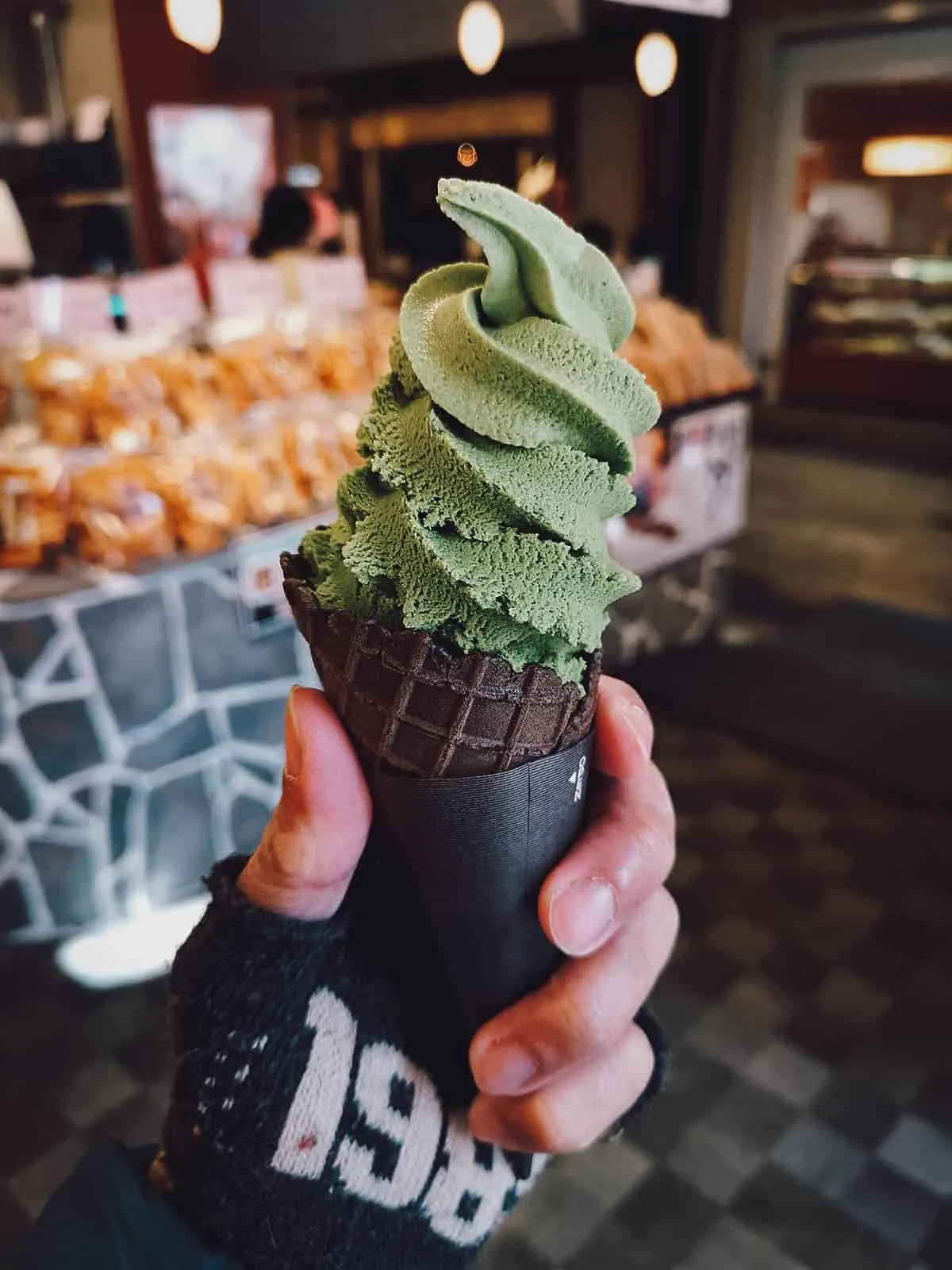 Nishiki Market
Operating Hours: 9AM-6PM, daily
14. Kyoto Night Foodie Tour
We love going on food tours when we travel. It's one of the best ways to learn about obscure, hard-to-find eateries. Thorough research is key when finding good restaurants but nothing comes close to local knowledge when it comes to food.
As previously described, I went on this night food tour with my guide Syouri. He took me to three spots in the famed Gion district of Kyoto.
Our first stop was this obscure traditional izakaya that you'd probably never find on your own. Check out my article on this Kyoto night food tour for more pictures and information. You can book this same tour on Magical Trip.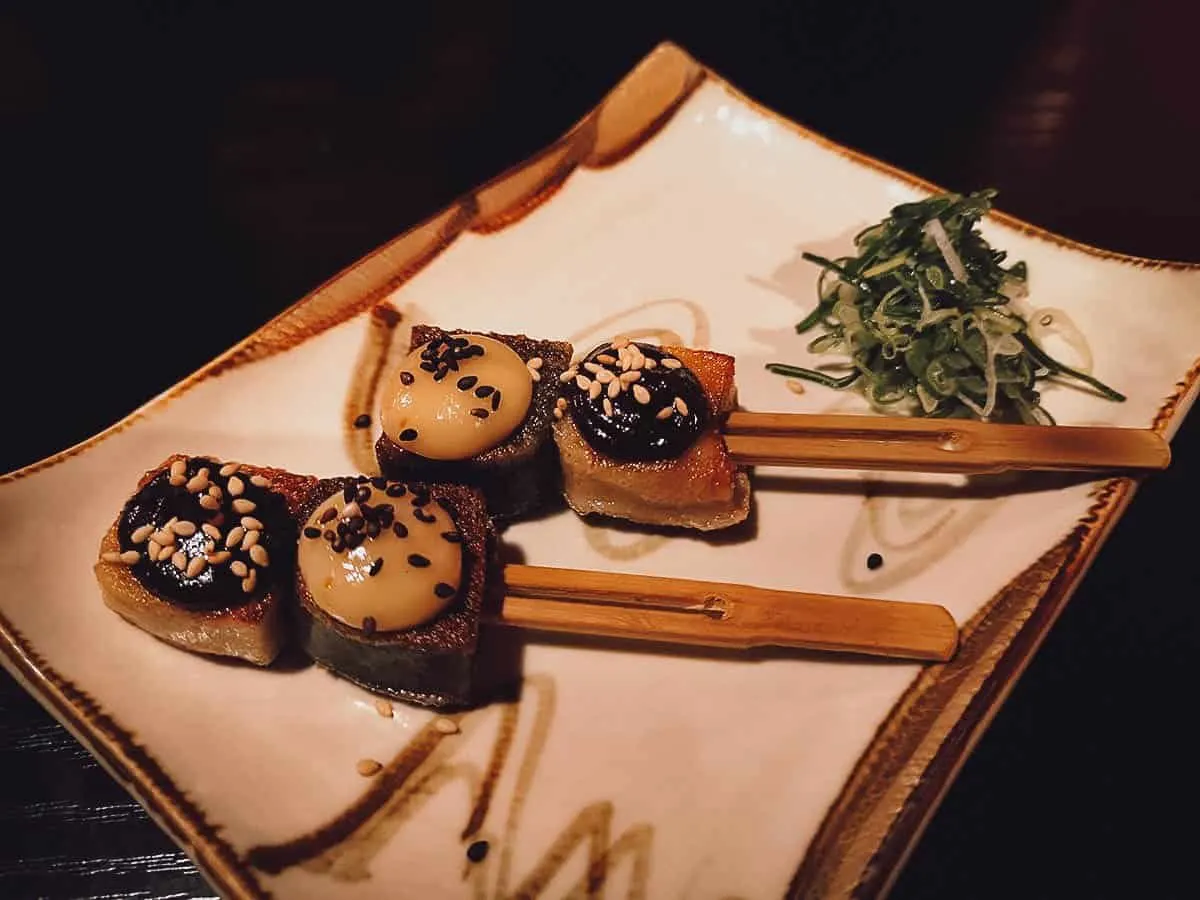 Between restaurant stops, Syouri walked me through Pontocho Alley. It's a narrow atmospheric alleyway that runs parallel to the Kamo River. Stretching for about 700 meters, it's packed on either side with izakayas, restaurants, and bars ranging from the inexpensive to the highly exclusive.
Pontocho Alley is one of the most intriguing neighborhoods in Kyoto. We haven't eaten at any establishments here but we will for sure on our next trip to Japan. If you'd like to experience Pontocho Alley on a bar hopping tour, then you can do so through Magical Trip.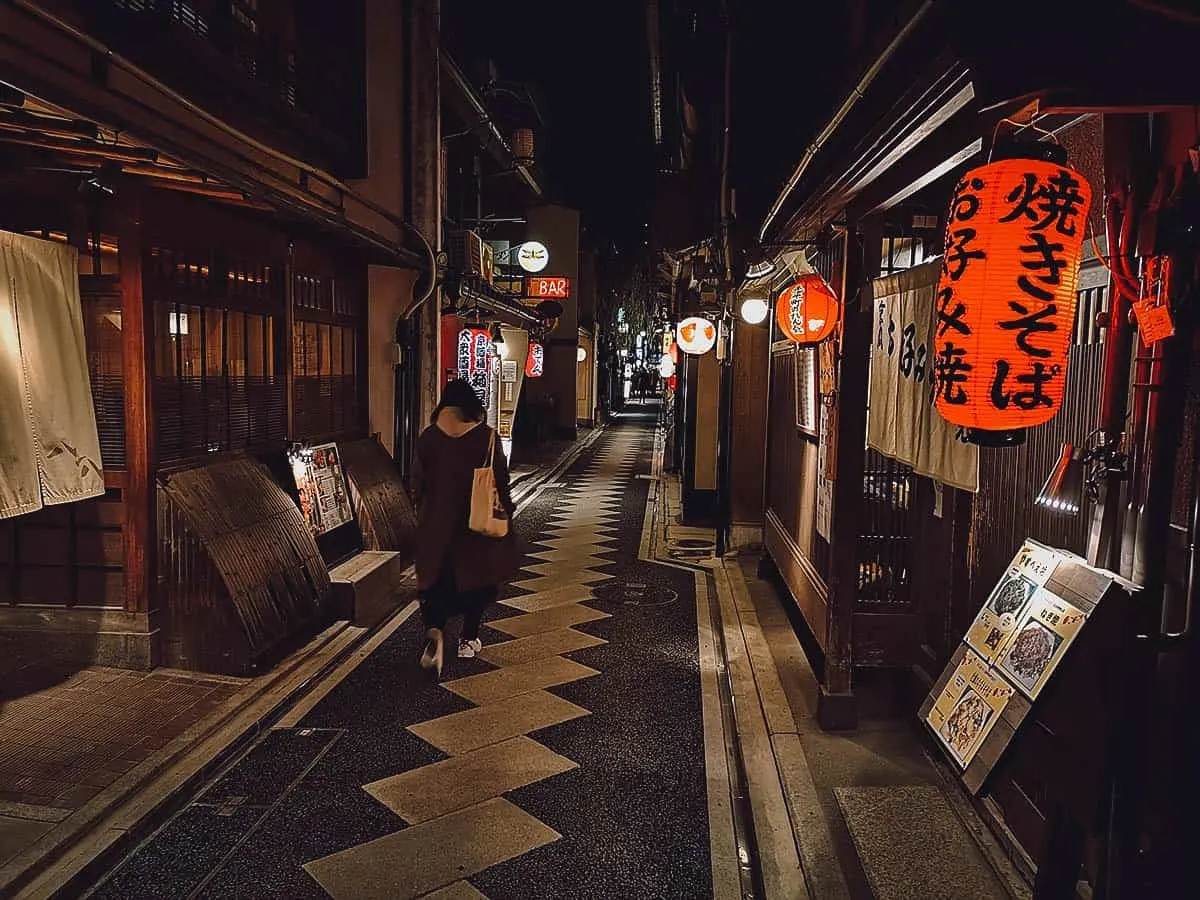 The last stop on the tour was a contemporary sake bar that was different from any I had been to in Japan. It felt more like the type of place you'd find in New York City rather than the Gion district of Kyoto.
We sampled three types of sake that you're encouraged to pair with gari, the same pink pickled ginger you cleanse your palate with between bites of sushi. According to Syouri, this is the only bar he knows of that pairs sake with ginger.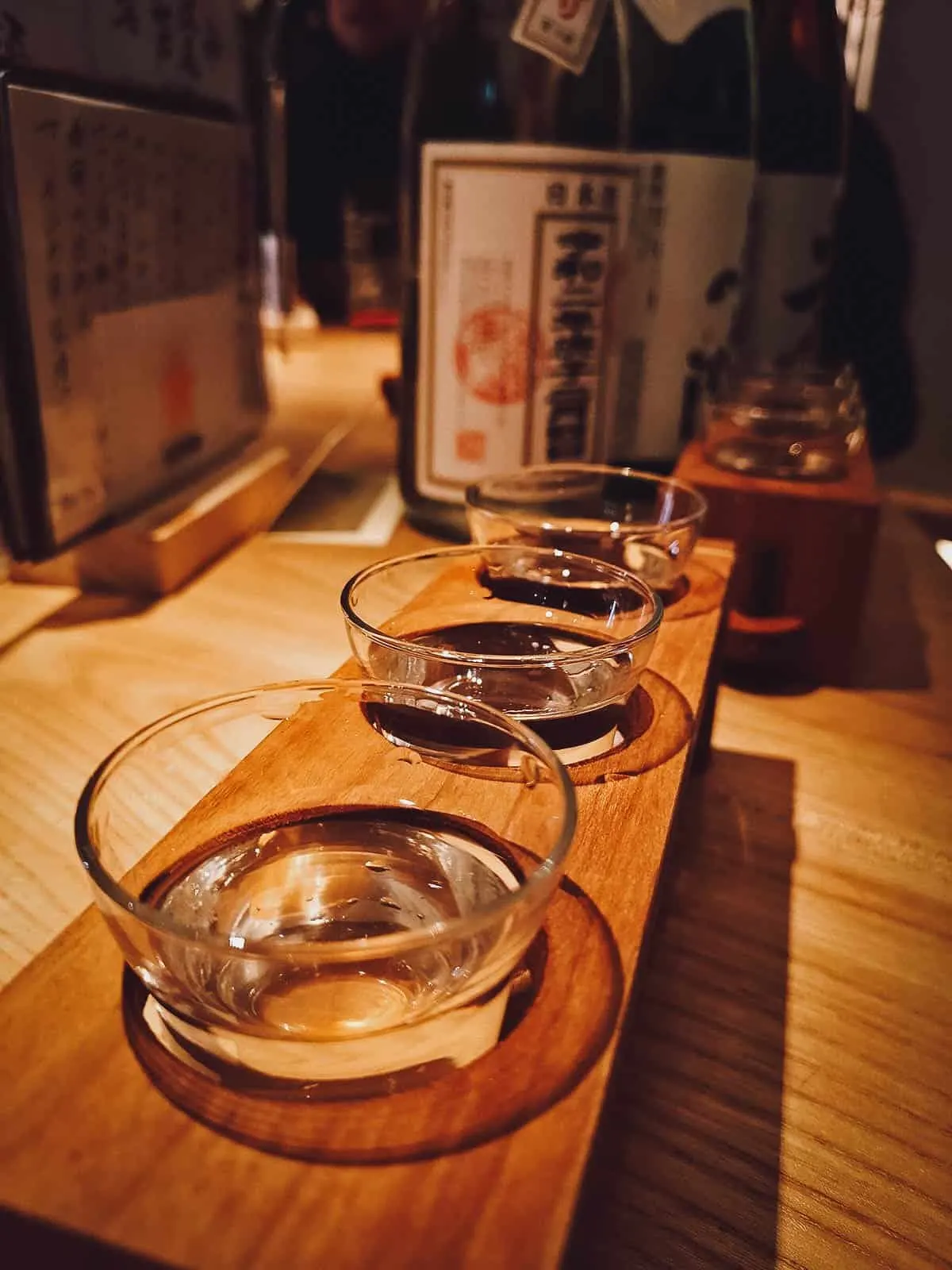 Kyoto Night Foodie Tour
Tour Cost: USD 90 per person
Length of Tour: 3 hours
OTHER KYOTO FOOD TOURS
I described and added links to the tours we went on in Kyoto, but there are plenty of other food-related tours you can do in the city. Check out Get Your Guide and byFood for a list of food and drinking tours in Kyoto. You'll have plenty to choose from like market tours, izakaya tours, and green tea experiences.
LOCATION MAP
To help you navigate, I've pinned all the Kyoto restaurants recommended in this guide on an interactive map. Click on the link to open the map in a new window.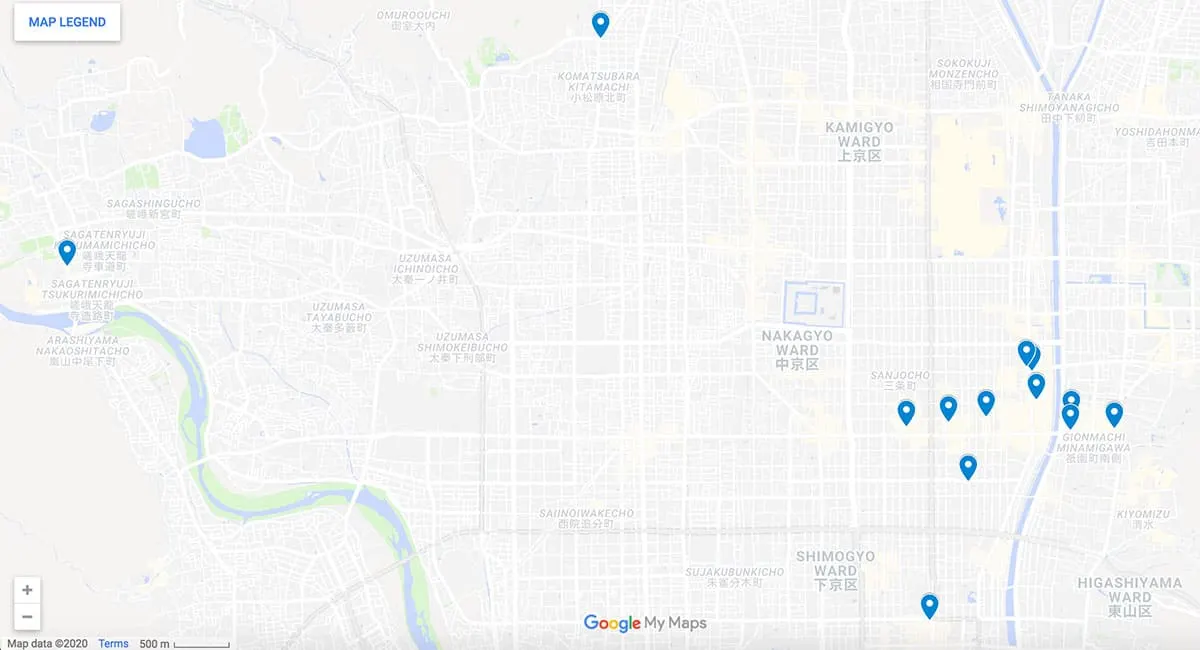 FINAL THOUGHTS ON THE FOOD IN KYOTO
There's one glaring omission in this Kyoto food guide – a kaiseki experience. I described it briefly at the top, and I also mentioned that Hachidaime Gihey offers kaiseki dinners, but we haven't had a true kaiseki experience ourselves in Kyoto.
Kaiseki is perhaps the one dining experience that best defines Kyoto cuisine so it's something we'll be prioritizing on our next trip to Japan. We intend to spend a few weeks just in Kyoto alone so we can really immerse ourselves in Japanese culture and cuisine and write a definitive guide on the best places to eat in Kyoto.
Fourteen is a good number to start with, but to be honest, it barely scratches the surface of the culinary experience that is Kyoto. As described, this city has the third-most Michelin Stars in the world. That pretty much speaks for itself.
Disclosure
Some of the links in this Kyoto food guide are affiliate links, meaning we'll earn a small commission if you make a booking at no extra cost to you. We only recommend products and services that we use ourselves and firmly believe in. We really appreciate your support as this helps us make more of these free travel guides. Arigato gozaimasu!