There's something about Bali.
Ren and I aren't beach people so we never imagined we'd be enamored with a tropical destination like Bali. After all, we're from the Philippines, an archipelago of over 7,600 islands, some of which are recognized year after year as among the best and most beautiful in the world. You'd think a place like Bali wouldn't be anything special to us, but it is.
If you've never been to Bali, then the first thing you'll probably think of are its sandy beaches. As idyllic as many of them are, they tell just a part of Bali's story. Within days of our first trip to Bali, we learned that there's so much more to this island paradise than just sand and surf.
For starters, it's home to a thriving food and arts scene that's more developed than anything we've seen in Southeast Asia. Instagram-worthy villas with infinity pools are the norm and there's a wealth of cultural attractions to be experienced like Hindu water temples and Balinese dance shows.
But perhaps the one thing that struck me the most was the vibe. There's an energy to this place that's hard to put into words. When you're there, you just feel it.
We went to Bali expecting it to be like any other island destination in Southeast Asia. We expected to like it, but perhaps not enough to really want to go back. We were wrong.
VISIT BALI QUICK LINKS
This Bali travel guide is long. For your convenience, I've compiled links to hotels, tours, and other services here.
HOTELS
Recommended hotels in Canggu, one of the coolest areas to stay in Bali.
TOURS
OTHER SERVICES
Save This on Pinterest!
No time to read this Bali travel guide now? Click on the save button and pin it for later!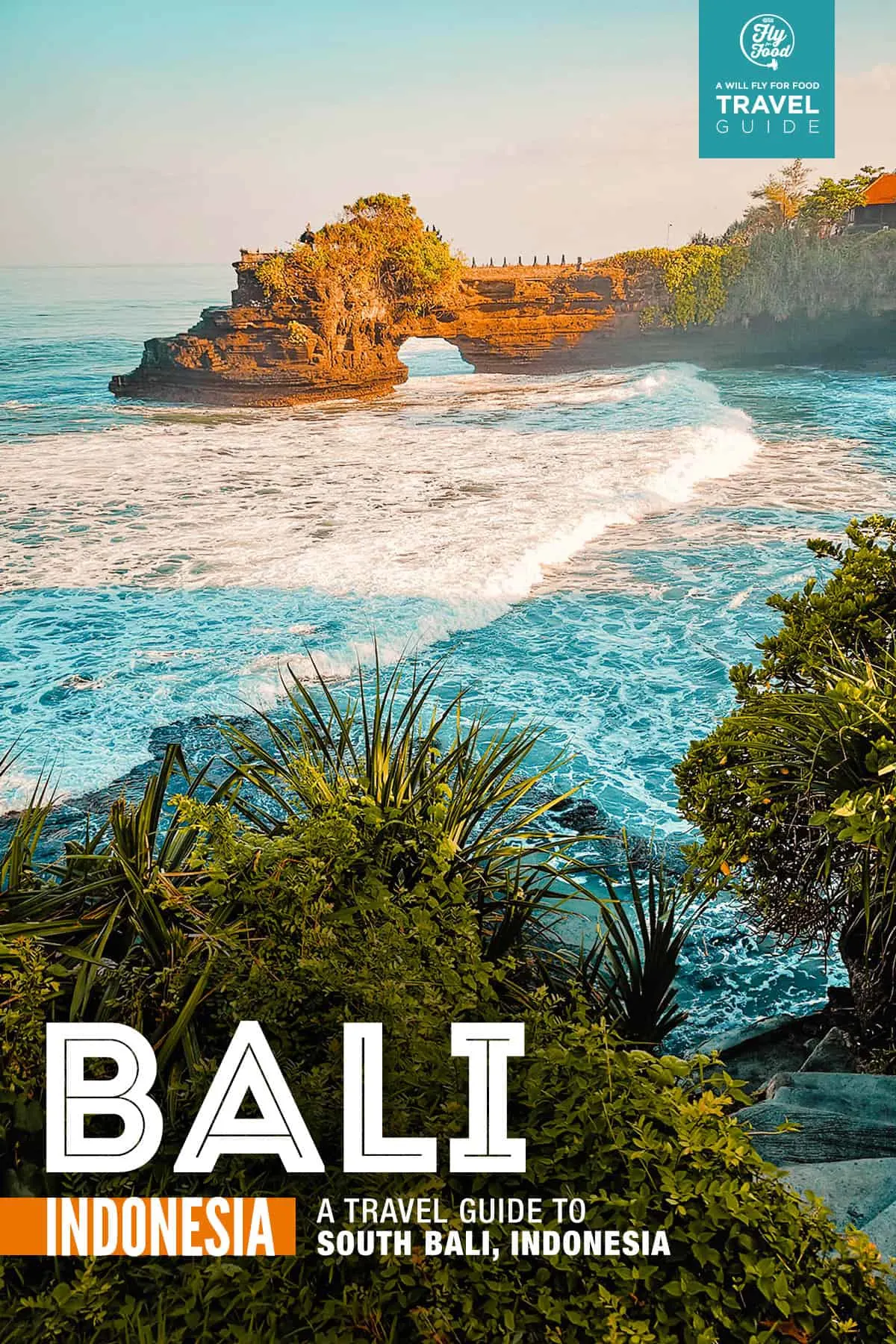 GUIDE TABLE OF CONTENTS
BALI TRAVEL RESTRICTIONS
Because of the current global situation, Bali travel guidelines have been changing often. Our friends at Booking.com created a website that lists detailed information on travel restrictions around the globe.
Before planning a trip to Bali, be sure to check Booking.com for information on travel restrictions to Indonesia. If you do decide to visit Bali, then you may want to seriously consider getting travel insurance with COVID coverage.
INDONESIA VISA
You may need a visa and other travel documents to visit Bali and Indonesia depending on your passport. Check out iVisa.com to learn about the requirements and to apply for a visa (if necessary).
BALI AT A GLANCE
Bali is an Indonesian island province located between Java and Lombok. It's the country's only predominantly Hindu province with an estimated 83.5% of the local population identifying themselves as Balinese Hindus. This is interesting considering how Indonesia has the largest Muslim population in the world.
Bali is characterized by its striking coastal areas and verdant interior. Hindu temples abound throughout this island paradise, as do expressions of its highly developed arts in the fields of painting, sculpture, woodcarving, metalwork, and dance. While the south is known for its beaches, the inland town of Ubud is regarded as the cultural heart of the island and a great place to experience Balinese culture and the arts.
Bali is one of if not Indonesia's top tourist destination, receiving over 6.5 million international visitors in 2018 alone. Tourism-related businesses make up 80% of the island's economy, with most of the action happening in the south.
The island is too big to cover in one article so this travel guide to Bali will focus only on southern Bali, which is where many tourists will be spending most of their time.
BEST TIME TO VISIT BALI
Bali, like the rest of Indonesia, has two seasons – dry and rainy. The dry season is typically from April till October while the rainy season begins around November and goes on till March. Temperatures stay fairly constant throughout the year so the best time to visit Bali is during the dry season.
The best months weather-wise are usually July and August, but these are also peak months. For that reason, I think the best time to go would be from April till June and September to November. The skies are clearer and the island isn't as crowded.
APR-OCT: This is the dry season. We were there in July on our last trip to Bali and the weather was perfect. The sky was clear everyday and it didn't rain once. However, it was crowded everywhere and traffic was horrible, especially in Seminyak.
NOV-MAR: This is the rainy season. November should still be ok but December and January are the rainiest months, not to mention among the busiest. Bali gets pretty crowded over the holidays so this probably isn't the best time to go. Hotel rates will be at their highest as well.
Climate: Annual Monthly Weather in Bali
To help you better understand the climate in Bali, I've created the average temperature and annual rainfall graphs below. Ideal months to visit Bali are indicated in orange.
Average Temperature

Annual Rainfall

TRAVELING TO BALI
Most visitors to Bali will probably be flying in to Ngurah Rai International Airport, which is just south of Denpasar in southern Bali. If you're staying in the south, then it's probably best to take a private transfer or taxi directly to your hotel. As of this writing, there's no developed public transportation system in Bali so any other option may be more trouble that it's worth.
BY PRIVATE TRANSFER: This is the best and most convenient option. The driver will be waiting for you at the arrival area then take you directly to your hotel. You can arrange for transfers through your hotel or through Get Your Guide.
BY TAXI: You can also take a taxi to your hotel but based on what I've read, it may be more expensive than a private transfer. You can book it at the official taxi counter inside the airport terminal. Just tell them the name of your hotel and they'll quote you a fixed price.
The above information assumes you'll be flying into Bali, but there may be other ways to get there depending on where you are. You can check Bookaway to find route options available to you.
WHERE TO EXCHANGE CURRENCY
The unit of currency in Indonesia is the Indonesian Rupiah (IDR).
Southern Bali is a big area so finding the best place to change your money will depend on where you're staying.
We didn't need to exchange currency in Bali but based on what I've read, there's a mix of reputable and shady currency exchange offices in popular tourist areas. Banks are the most reputable so if you can, then exchange your currency at an established bank.
If you don't have access to a bank, then you can change your money at a currency exchange office. According to this article, you should only change currency at Bank Indonesia-authorized money changers. Follow the link to see what that is along with other helpful money changing tips.
If you don't like brining large sums of cash on trips, then another alternative would be to withdraw IDR from an ATM. I've been doing this more and more now and the rates are comparable. Just be sure to let your bank know you'll be using your ATM card abroad so you don't run into any problems. In my experience, my card works in some ATM machines but not in others.
NOTE: When an ATM machine asks if you'd like to proceed with or without conversion, always select WITHOUT conversion. I made the mistake of proceeding WITH conversion once and wound up with a terrible exchange rate. Proceeding WITH conversion authorizes the foreign bank operating the ATM to do the conversion for you, usually at highly unfavorable rates.
BEST AREAS TO STAY IN BALI
There are so many great places to stay in Bali, ranging from 5-star luxury accommodations to humble but charming boutique hotels. The competition between hotels is so stiff that you can easily find beautiful hotels at very reasonable rates.
I'll get into specific areas below but you can book a room in Bali on Booking.com or Agoda.
I've created the color-coded map below to help you visualize where each of these areas are. Please be advised that we've only stayed in Seminyak thus far, so I can only provide a first-hand account of that area. Everything else is just a brief summary based on my research.
Click on the link for a live version of the map. (Please note that marked areas are approximations only)
RED – Seminyak
BROWN – Canggu
ORANGE – Kuta Beach
TURQUOISE – Legian Beach
PURPLE – Jimbaran Bay
GREEN – Nusa Dua
DARK BLUE – Tanjung Benoa
PINK – Sanur Beach
YELLOW – Denpasar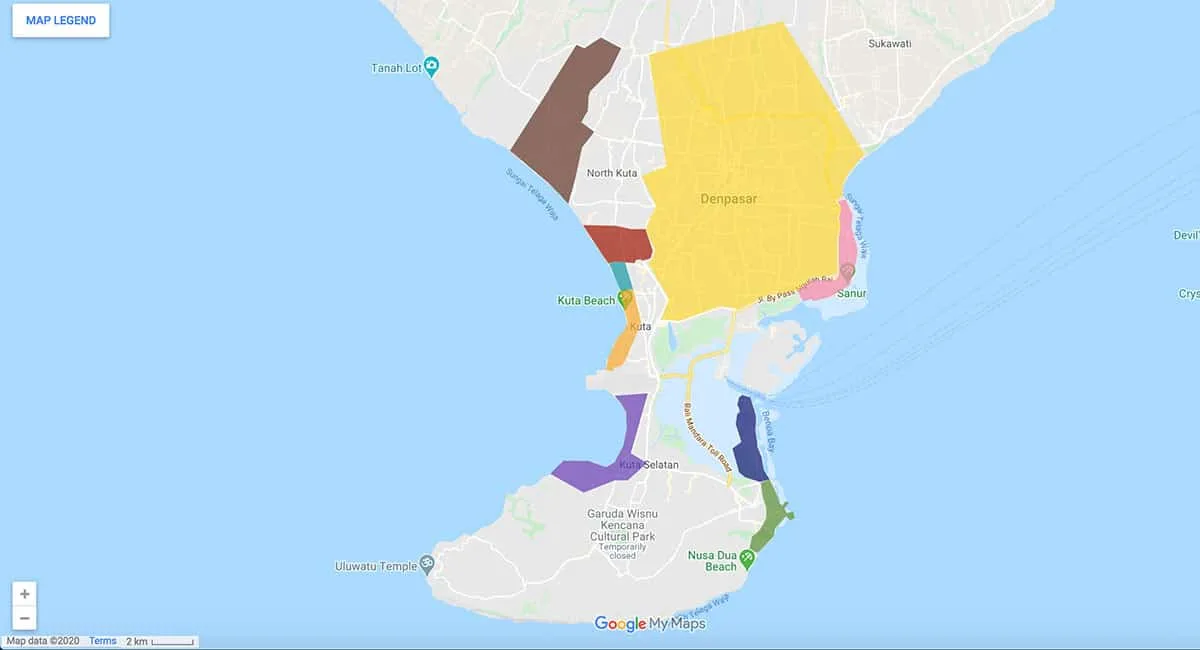 SEMINYAK
We stayed at Casa Kayu Aya in Seminyak on our last trip to Bali. Seminyak is one of the most popular areas on the island with plenty of hotels, restaurants, boutiques, and bars. It's listed as an upscale area but there are plenty of mid-range hotels too.
As you'd expect with such a popular area, Seminyak can get crowded. Traffic can get pretty bad here as well, especially during peak seasons. Seminyak is where you'll find some of the island's best restaurants which is why we chose to stay here.
Casa Kayu Aya is a lovely boutique hotel just off the main road and a short walk to the beach. It's got a pool and a nice roofdeck where they serve breakfast. We enjoyed our stay at Casa Kayu Aya and would happily book there again. You can reserve a room there on Booking.com or Agoda.
If you'd like to stay in Seminyak but don't think this is the right place for you, then check out these links for alternate listings: Booking.com | Agoda. Here are some of the top-rated hotels in Seminyak:
CANGGU
Canggu is one of the coolest areas in Bali. It's the preferred area to stay for digital nomads thanks to its bohemian vibe and many restaurants, cafes, bars, and yoga studios. It's surrounded by terraced rice fields and offers good surfing, not to mention a more relaxed atmosphere compared to livelier Seminyak.
A travel blogger friend of ours just opened Tribal Bali, a brand new co-working hostel in Canggu. Just minutes away from the beach, it's a modern hostel that offers digital nomads a great place to work and relax with its massive co-working area, dedicated booths, and high-speed wifi. You can book a room there on HostelWorld.
If you'd like to stay in Canggu but don't think Tribal Bali is the place for you, then check out Booking.com or Agoda for alternate listings. Here are some of the top-rated hotels in the area:
KUTA BEACH
Kuta Beach is the most famous beach in Bali and one of its liveliest nightlife areas. It's also got great surfing and plenty of budget accommodations. It's proximity to the airport makes it one of the most convenient places to stay as well. You can book a room at Kuta Beach on Booking.com or Agoda. Check out some of the top-rated hotels in Kuta Beach:
LEGIAN BEACH
This is the area directly south of Seminyak and north of Kuta Beach, which is fitting because it's described as being a mix between the two. Average hotel prices fall somewhere between Seminyak and Kuta Beach, and the nightlife is fun, but not as rowdy. You can search for accommodations at Legian Beach on Booking.com or Agoda. Check out some of the top-rated hotels in the area:
JIMBARAN BAY
This is the area to the south of the airport. It's described as a quieter area with many international chain hotels and 5-star resorts. If you're in Bali on your honeymoon, then this is probably a good place to be. Check out Booking.com or Agoda for listings in Jimbaran Bay. Here are some of the top-rated hotels in the area:
NUSA DUA
Located on the eastern side of southern Bali, Nusa Dua is described as being the most exclusive beachfront area on the island and home to some of its best white sand beaches. Almost all of the hotels here are international 5-star resorts. It sounds like another great place to stay if you're traveling to Bali on your honeymoon. Go to Booking.com or Agoda to find accommodations in Nusa Dua. Check out some of the top-rated hotels in the area:
TANJUNG BENOA
If you're into action-packed activities like jet skiing or parasailing, then you should probably stay here. Tanjung Benoa is located directly north of Nusa Dua and is described as being one of the best places on the island for watersports. Check out Booking.com for listings in Tanjung Benoa.
SANUR BEACH
Sanur Beach is apparently Bali's very first tourism beach area. It's quieter and more laid back compared to other areas like Kuta and Legian. Honeymooners may want to consider staying here as well. Check out Booking.com or Agoda for listings on Sanur Beach. Here are some of the top-rated hotels in the area:
DENPASAR
Denpasar is the capital city of Bali and the most urban area on this list. If you'd prefer to stay in a city rather than a touristy beach area, then Denpasar is one to consider. Follow the links to check out Denpasar listings on Booking.com or Agoda. Check out some of the top-rated hotels in Denpasar:
You can also book hotels and homestays in Bali using the handy map below.
THINGS TO DO IN BALI
There are plenty of fun and interesting things to do in southern Bali. However, attractions are spread out (see map) and the island doesn't have a developed public transportation system. It's easiest to book a private car charter with driver, which is what I did, or go on a guided tour (Klook | Get Your Guide). I'll get into the different options in more detail below.
If you'd like to visit these attractions in the cheapest way possible, then it may be best to get around using the Kura Kura shuttle bus. It's a fleet of air-conditioned minibuses that ply set routes on the island. You can purchase Kura Kura tickets on Klook. Click on the link for more information and to see a list of routes and stops.
1. Explore Bali's Shopping Streets
We stayed near the main commercial area in Seminyak and had fun exploring Jalan Kayu Aya and Jalan Raya Seminyak. Unlike less developed island destinations in Southeast Asia, Bali isn't just about market-like stalls selling folksy crafts and souvenirs. There are many international fashion boutiques here, along with art galleries and plenty of interesting cafes, restaurants, and bars.
Check out this article on Bali's shopping streets for a quick overview.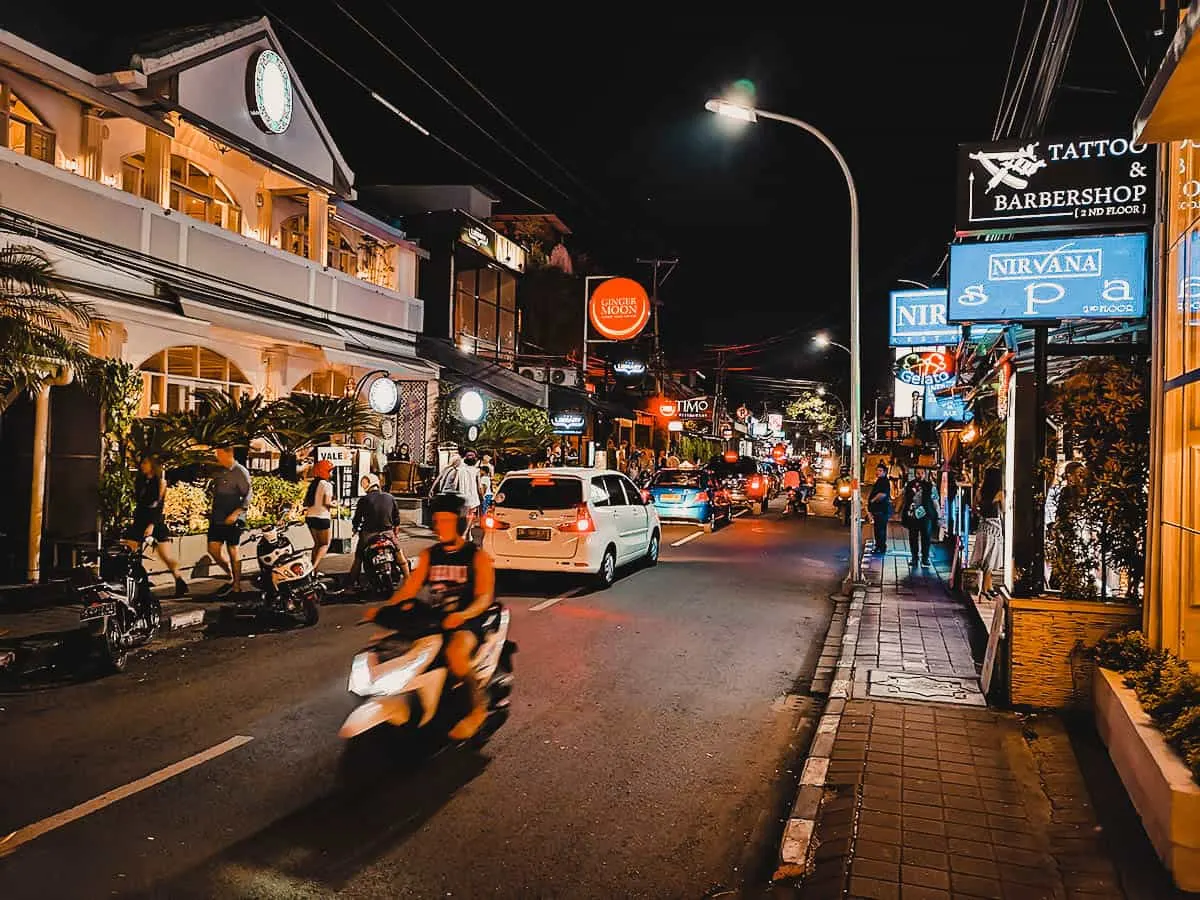 2. Enjoy the View at Tanah Lot Temple
This was the first stop I made on my private car charter. Tanah Lot is one of Bali's most important Hindu temples. Built on a rock just off the shore, it's also one of it's most unique and visually striking, which is why I wanted to get here early before the crowds came in. It's a frequent stop on many sightseeing tours (Klook | Get Your Guide).
It was still high-tide when I visited so this was as close as I could get. At low tide, you can cross to the base of the temple though entrance to the temple itself is prohibited. After centuries of crashing waves, the temple's rock base had eroded to the point that it needed restoration. About a third of the present rock is now artificial.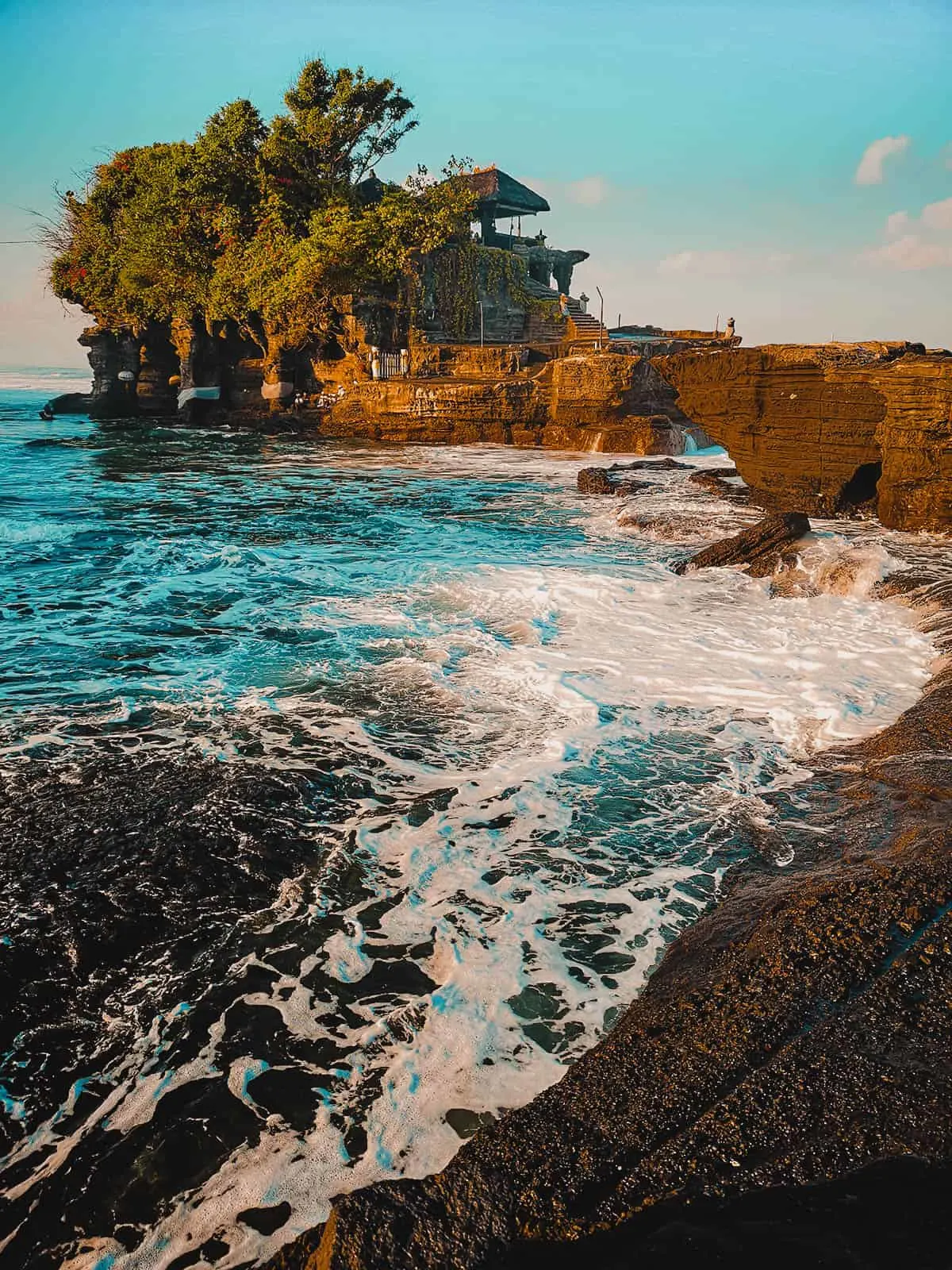 Farther along the coast is Batu Bolong Temple which you can easily get to on foot from Tanah Lot. This entire area is lovely at this time of day. The temperature is relatively cool with few people around so you can sit and enjoy the sound of waves crashing onto shore.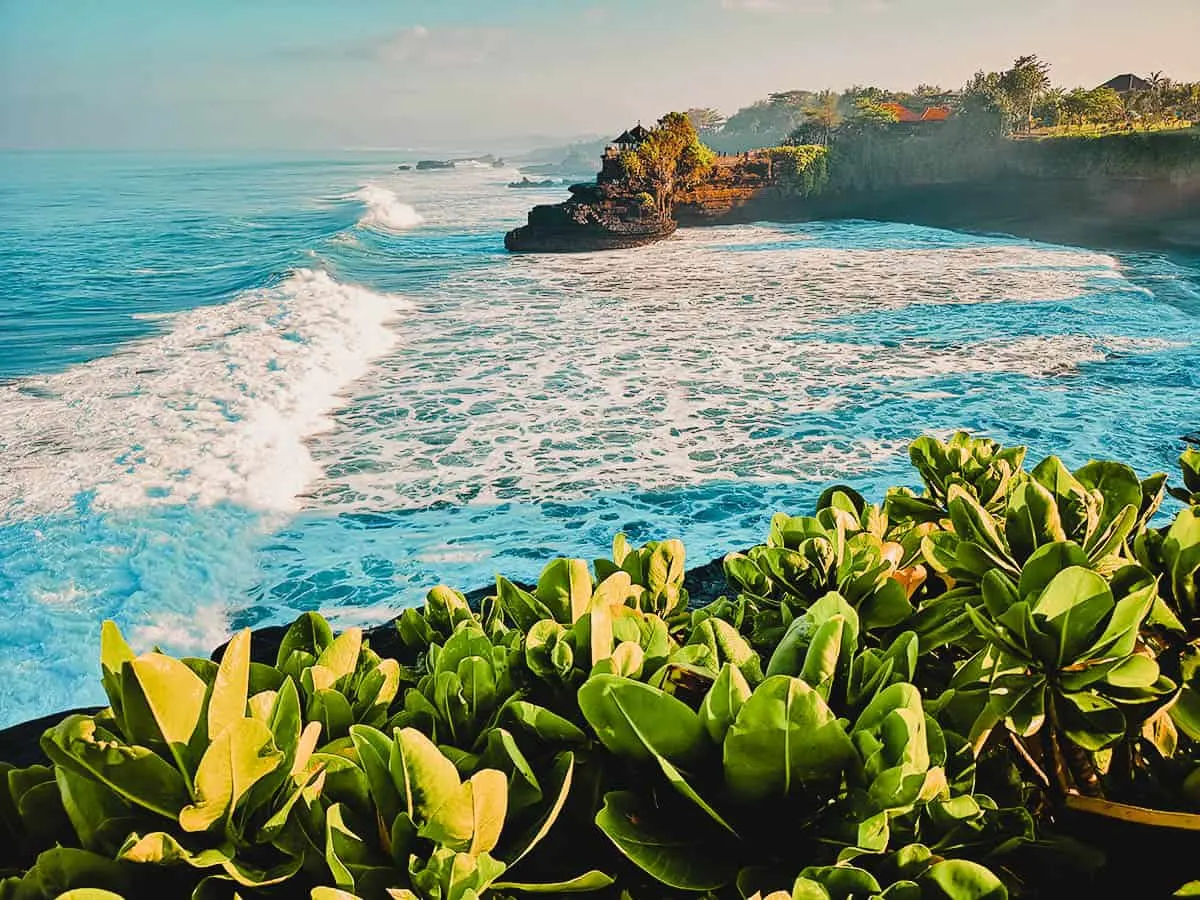 Suggested Length of Visit: 1-2 hours
Admission: IDR 60,000
3. Explore Uluwatu Temple
Uluwatu Temple reminded me of Tanah Lot with its similarly striking ocean view backdrop. But unlike Tanah Lot which is situated on a rock off the shore, Uluwatu is perched on a sheer cliff about 70 meters above sea level. It's a beautiful sight that's perhaps best enjoyed at sunset. I was here midday when it was scorching hot and the light too harsh so I didn't enjoy it as much.
Another reason to visit Uluwatu at sunset is to catch a Kecak fire dance which is performed everyday at 6PM. Some people say it's touristy, but fun and entertaining nonetheless.
You can get tickets to Uluwatu's Kecak fire dance on Klook. You can also book an island sightseeing tour on Klook or Get Your Guide that make stops at Uluwatu Temple.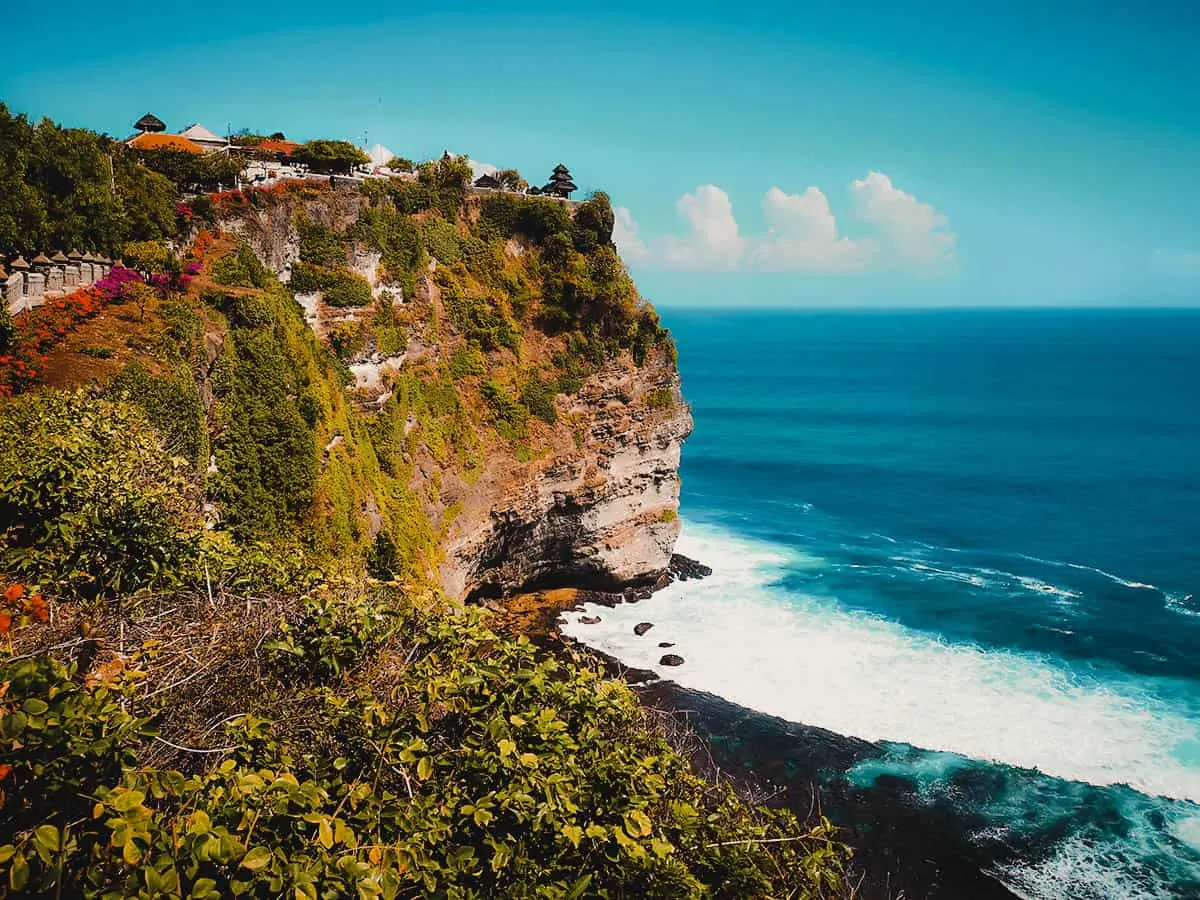 Be warned, there are plenty of monkeys patrolling the cliffs of Uluwatu. When I was there, a large monkey had a pair of aviator sunglasses in his hands. They've been known to snatch items from tourists so be careful with any loose belongings like mobile phones, cameras, and dangling jewelry.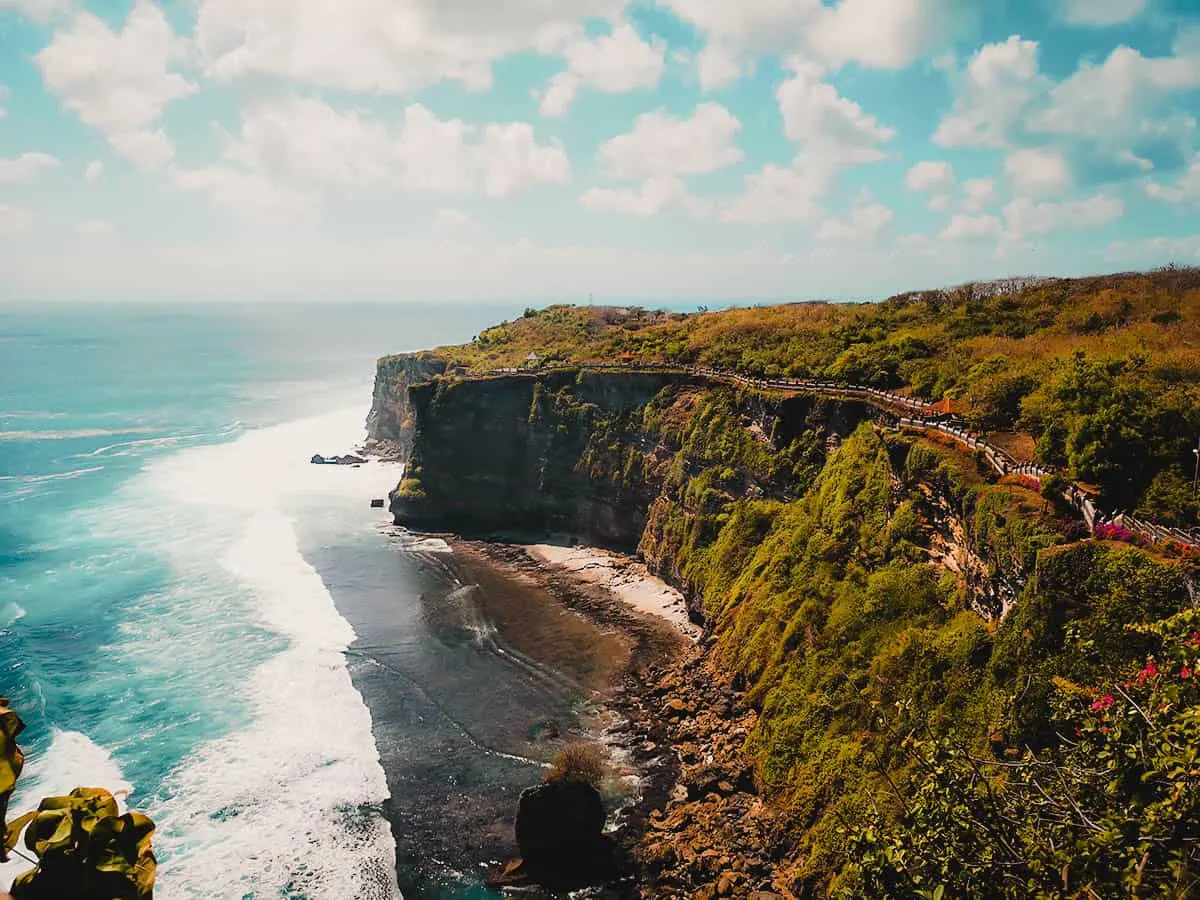 Suggested Length of Visit: 1-2 hours
Admission: IDR 30,000
4. Marvel at the Giant Statues of Garuda Wisnu Kencana Cultural Park
I wasn't sure what to make of this place. It's like a theme park but instead of rides, it features large statues. Very, very large statues.
Pictured below is the first of three gargantuan statues you'll find at Garuda Wisnu Kencana Cultural Park (GWK for short). I didn't notice it at first but this is actually a duplicate of one portion of the main statue. You'll see what I mean in succeeding pictures. It depicts Vishnu – one of the principal deities in the Hindu religion – who's known as the god of preservation and guardian of all beings.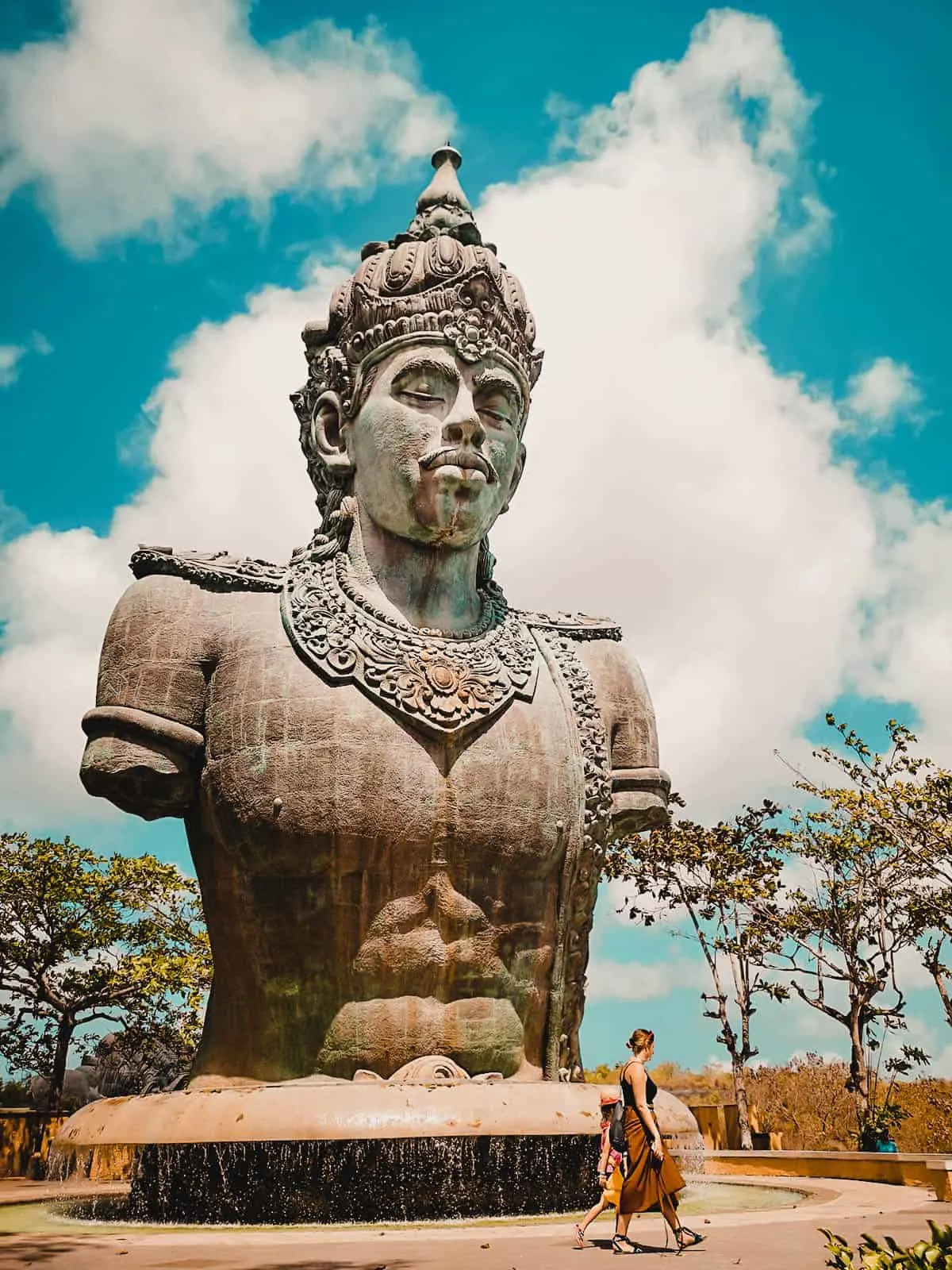 Like the statue above, this is also just one segment of the larger statue. It depicts Garuda – a legendary bird or bird-like creature in the Hindu religion. He is the trusted mount of Vishnu and recognized as a symbol of faithfulness and devotion. Check out the person in yellow walking on the lawn for scale.
The Garuda statue is looking to its left, at the park's main attraction – a 121-meter (397 ft) tall behemoth that now stands as the tallest statue in Indonesia and the fourth tallest in the world.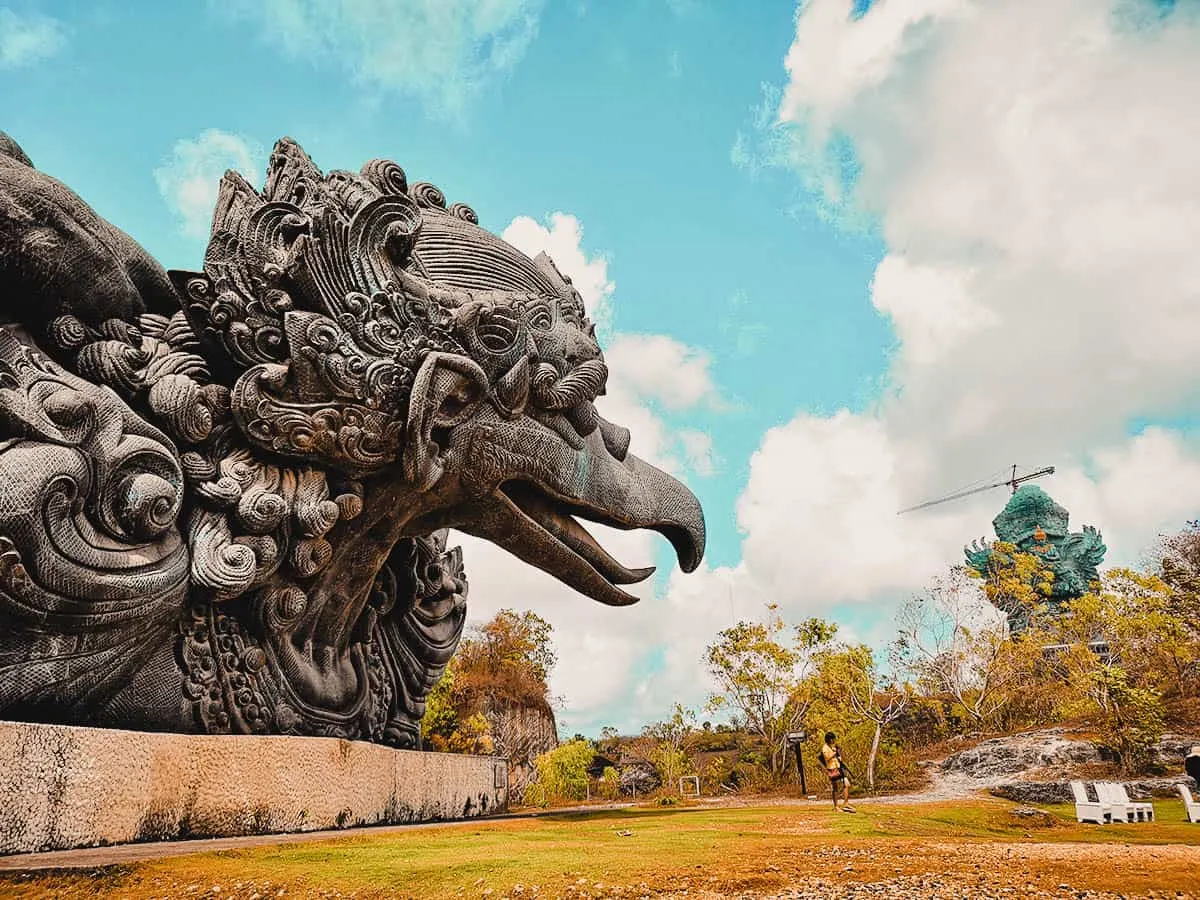 This gargantuan statue wasn't completely finished at the time of my visit but it is now. It depicts Vishnu riding on the back of his faithful mount Garuda. Not counting its base, the statue measures 75 meters tall and consists of 754 individual pieces weighing over 3,000 tons.
Interestingly, it took 28 years for this statue to be completed. Construction began in 1997 but financial problems and other setbacks delayed its completion till September 2018 at a cost of around 100 million US dollars.
The statues are well sculpted and magnificent to see, but there isn't much else to do at the park. It felt a bit odd to be honest as it wasn't clear to me what this place is for. It seems to be some type of cultural events venue.
I purchased entry tickets at the gate but you can get a discount if you purchase them in advance through Klook. You can also book a tour on Get Your Guide that makes a stop at Garuda Wisnu Kencana Cultural Park.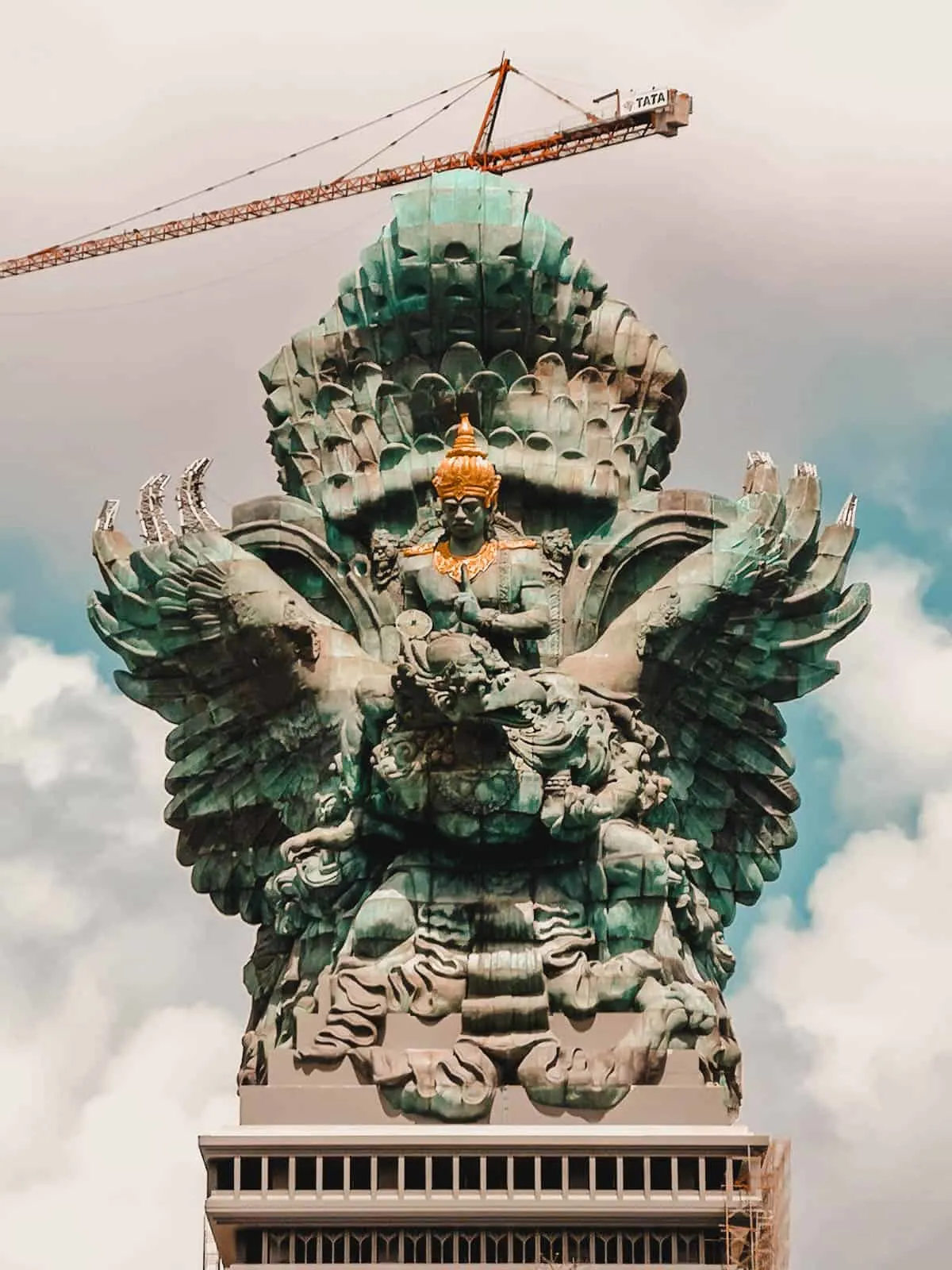 Suggested Length of Visit: 2-3 hours
Admission: IDR 115,000 (adults), IDR 95,000 (children ages 3-10)
5. Watch the Devdan Show at Nusa Dua Theater
We were planning on watching this show but Ren's trip to Bali was cut short when she had to fly back to Manila on an emergency.
At first, I thought this Devdan show was a cultural performance similar to the Kecak fire dance, but it looks to be more like a theatrical show in the spirit of a Cirque du Soleil or Broadway musical. It's a visual display telling the story of two children who stumbled upon an enchanted treasure chest filled with cultural objects from different regions in Indonesia.
Based on its stellar TripAdvisor reviews, it's an entertaining show that's fun for the entire family. You can purchase tickets from the Nusa Dua Theater website.
Length of Show: Approximately 1.5 hours
Ticket Price: Starts at around IDR 580,000
6. Take a Cooking Class
We took this fun cooking class in Ubud where we learned how to make Indonesian classics like gado-gado, sate, and pepes ikan. For me, there's no better way to learn about an unfamiliar cuisine than to take a cooking class. It's like looking under the cuisine's hood. Other than Bali, we've taken cooking classes in Hoi An, Chiang Mai, Phuket, Tokyo, and Marrakech.
If you're interested in taking a cooking class in Bali, then I suggest searching through Cookly. They're a dedicated cooking class booking platform that offers many classes in different areas around the island like Seminyak, Kuta, and Canggu. Follow the link for a list of cooking classes in Bali.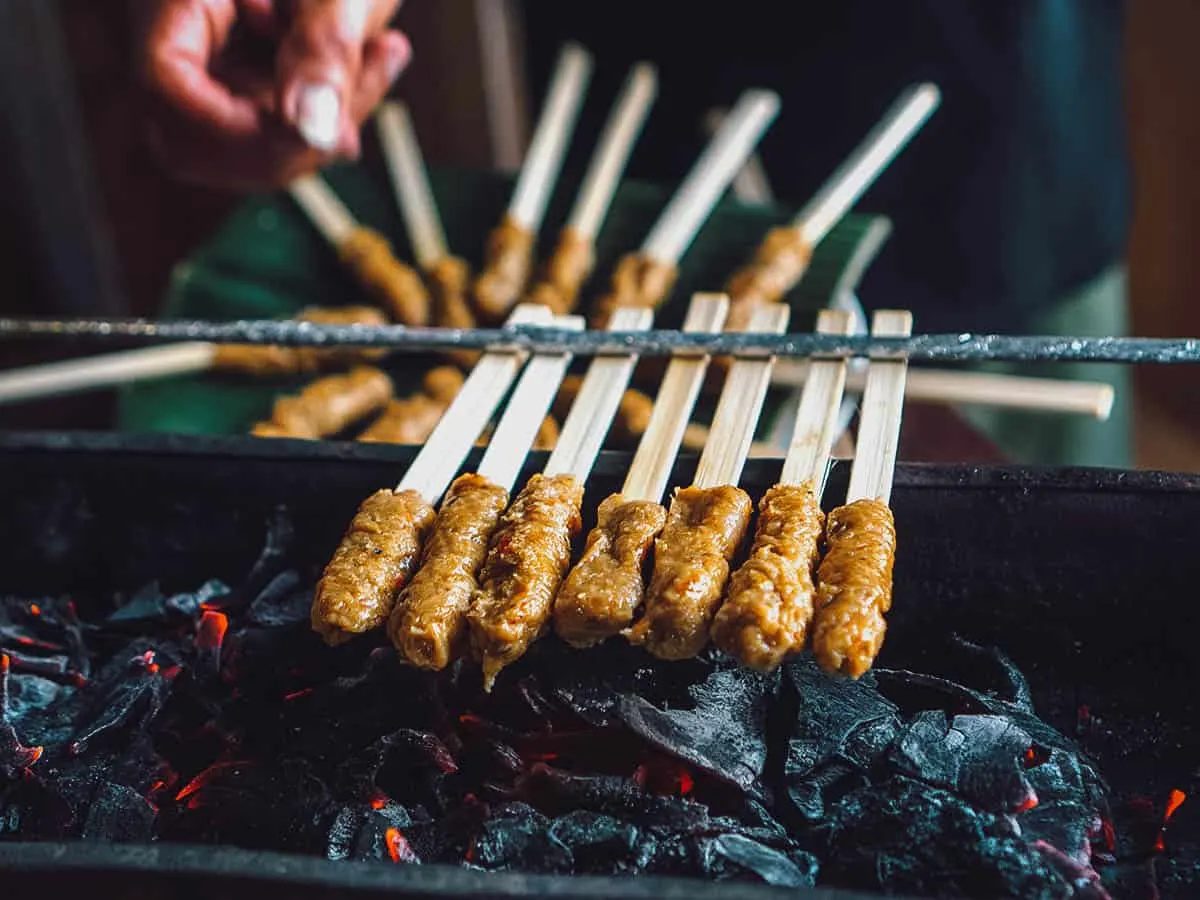 Photo by Scott Biales DitchTheMap via Shutterstock
7. Enjoy Contemporary Art
As described, Bali has a well-developed art scene. You'll find contemporary art galleries and museums throughout the island, including the pioneering Nyaman Gallery in Seminyak. This is one of the best contemporary art galleries in Bali, showcasing an interesting mix of work from both local and international artists.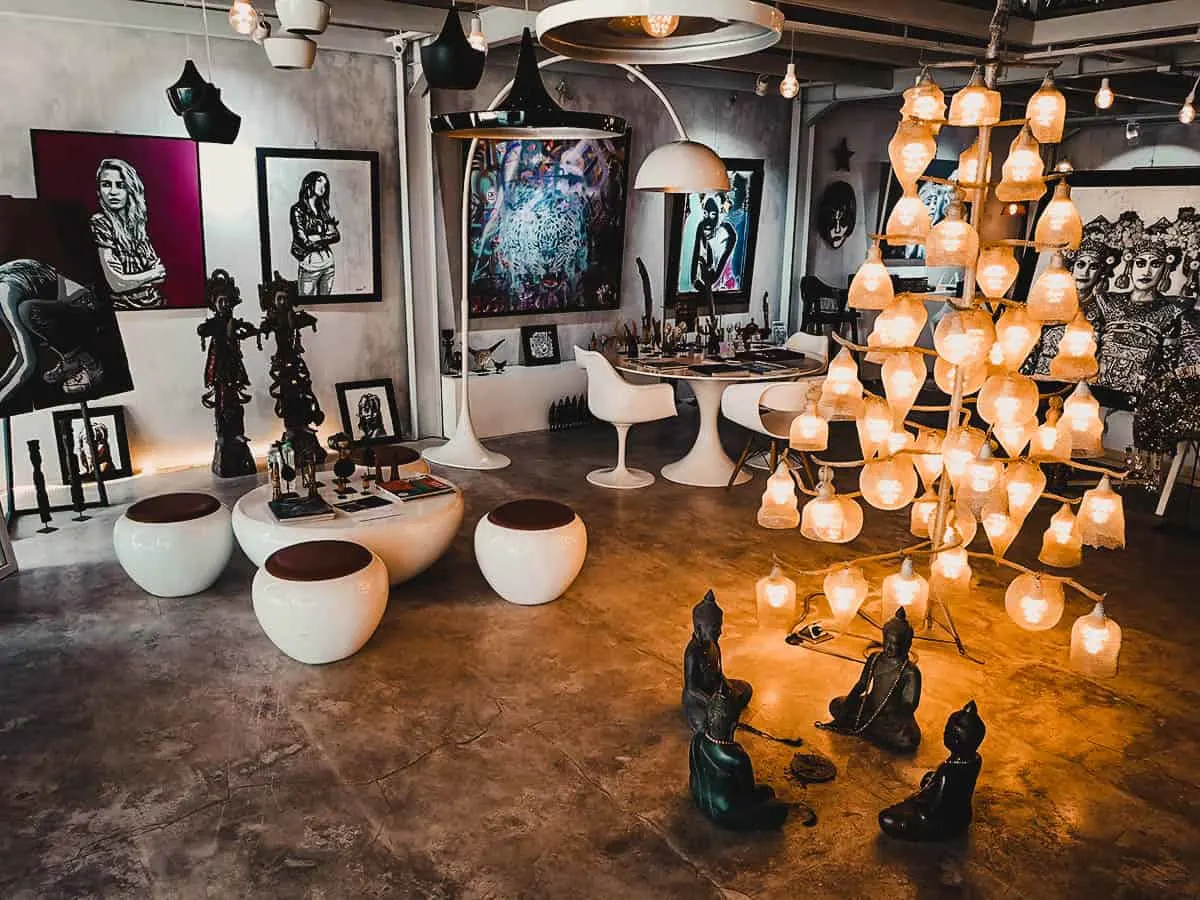 Its highly developed art scene was probably the one thing that surprised me most about Bali. I'm used to seeing just folk art in Southeast Asian island destinations, but not here. The body of contemporary art on display here is impressive. Check out this article for a list of interesting art galleries in Bali.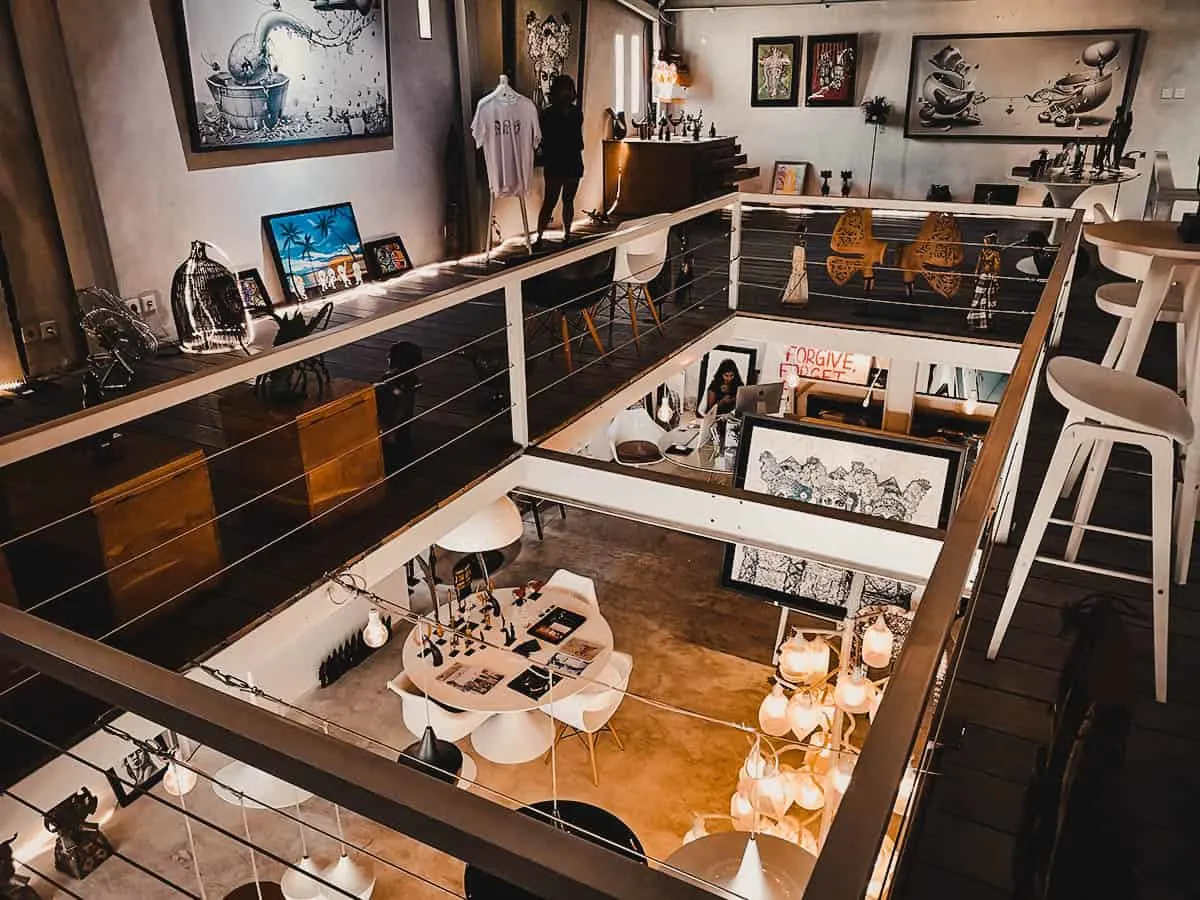 Even the commercial mass-produced art was impressive. This was a stack of paintings being sold by some sidewalk vendor in Seminyak.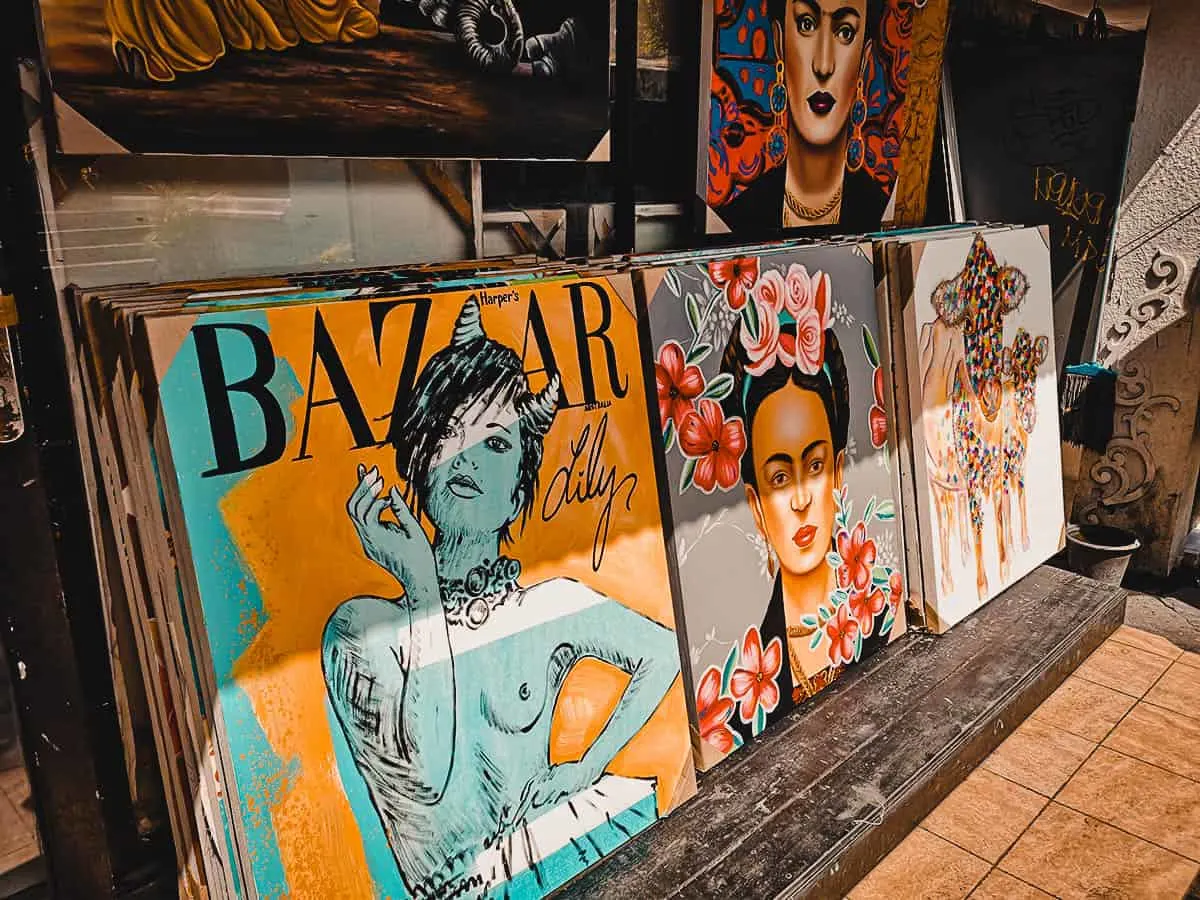 8. Lay on a Beach
Doing nothing is probably one of the best things you can do in an idyllic island destination like Bali. And by "doing nothing", I mean laying on a beach half naked just catching rays and sipping cocktails. Cliched I know, but who cares? You're in Bali.
Being such a large island, there are plenty of beaches to choose from. We aren't beach people so we didn't spend too much time on the beach. Which beach(es) you go to will probably depend on where you're staying, but you can check out this article for a list of the best beaches in Bali.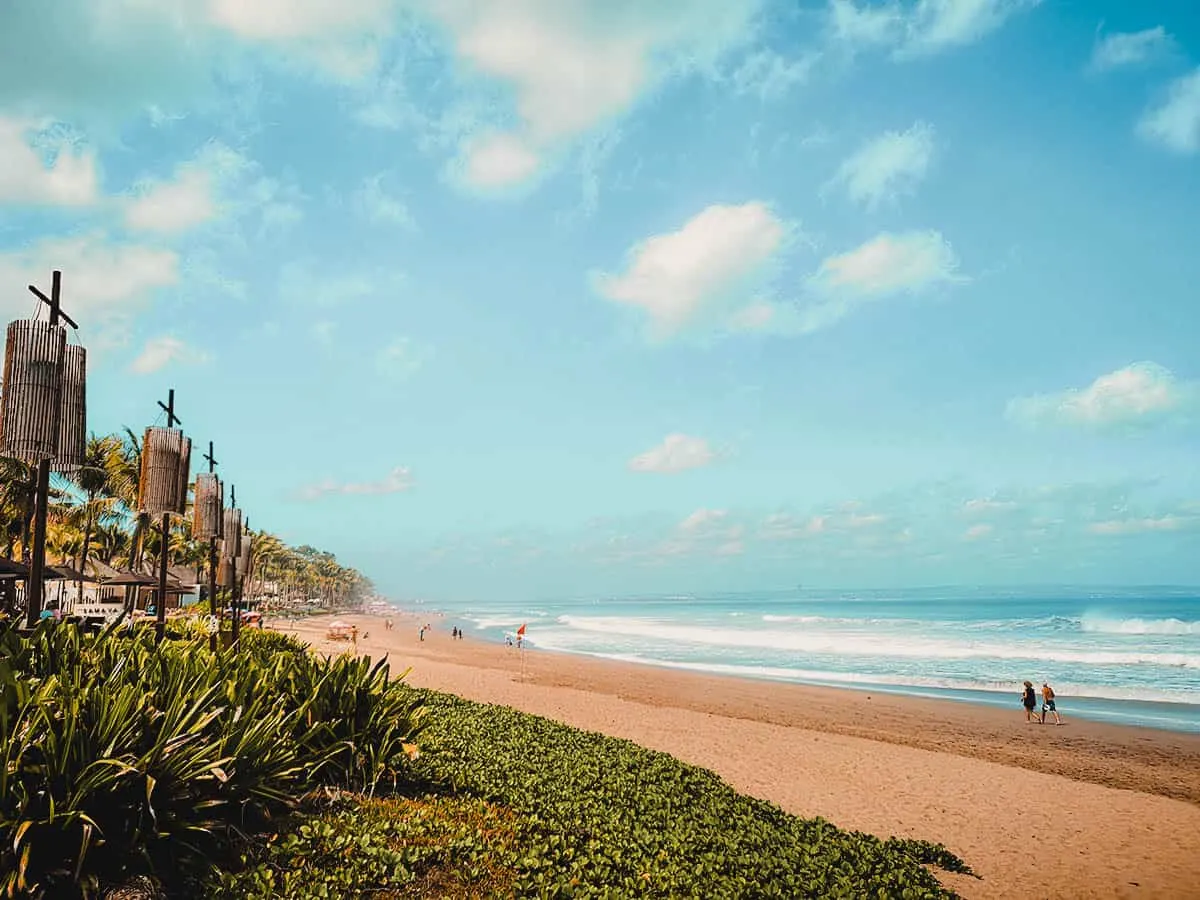 Here's an aerial shot I took of Seminyak Beach with my drone. For many travelers, laying on sandy stretches of beach like this one is the only thing they need to do in Bali. I can't say I blame them!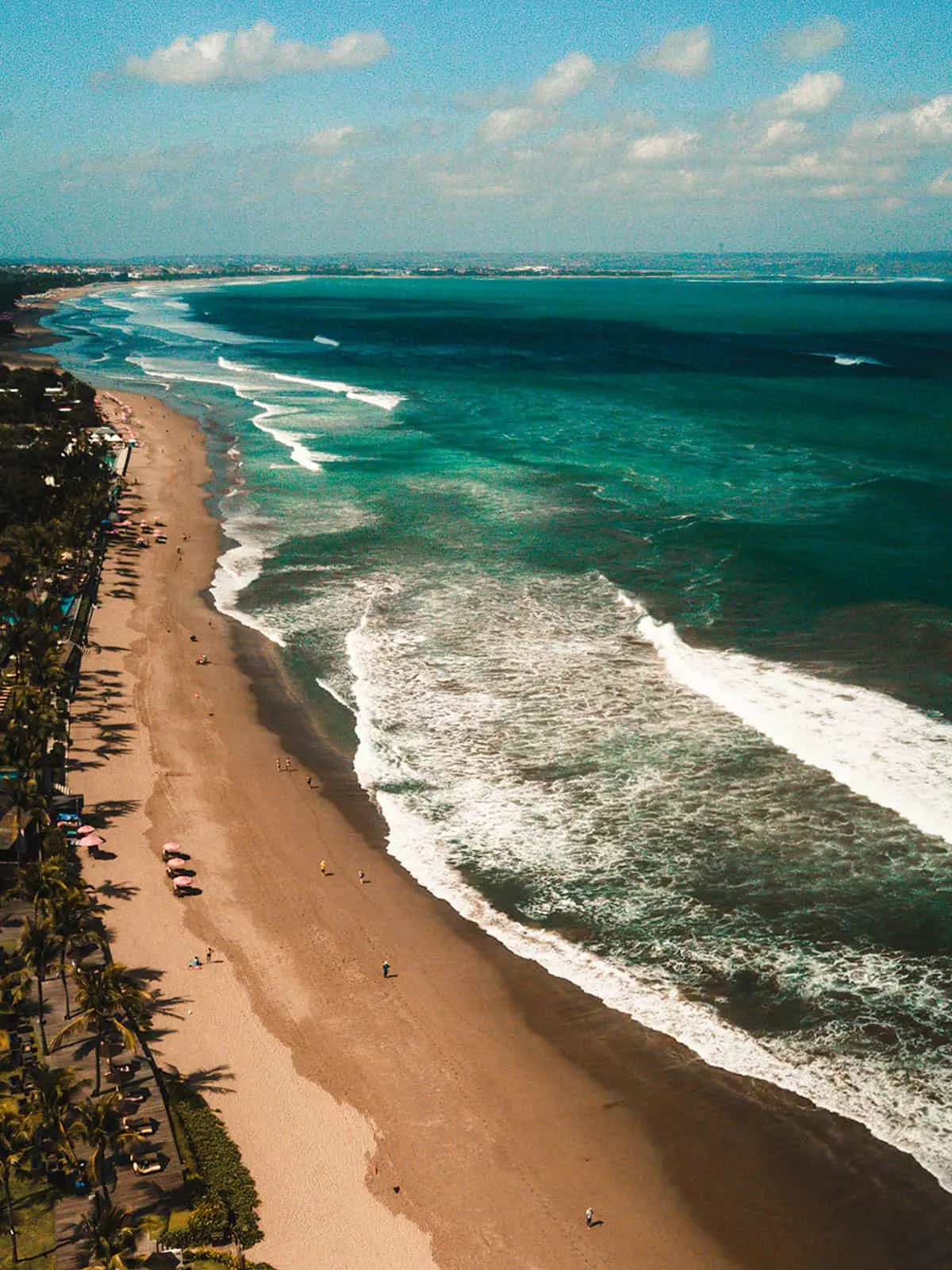 9. Go Snorkeling or Scuba Diving
Bali's landscapes are incredibly beautiful but the island is just as gorgeous underwater. Bali is part of the Coral Triangle which is recognized as a global hotspot for marine biodiversity. It's vibrant coral reefs and rich marine life offer plenty of opportunities to go snorkeling and scuba diving, if you know where to go.
As you can probably tell from my drone shot of Seminyak Beach, the current looks too strong to go snorkeling. I read that the eastern, northeastern, and western shores of the island offer the calmest waters and the best snorkeling opportunities.
You can refer to this article to find the best snorkeling spots in Bali. If you'd rather have everything arranged for you, then you can book a snorkeling or scuba diving day trip through Get Your Guide.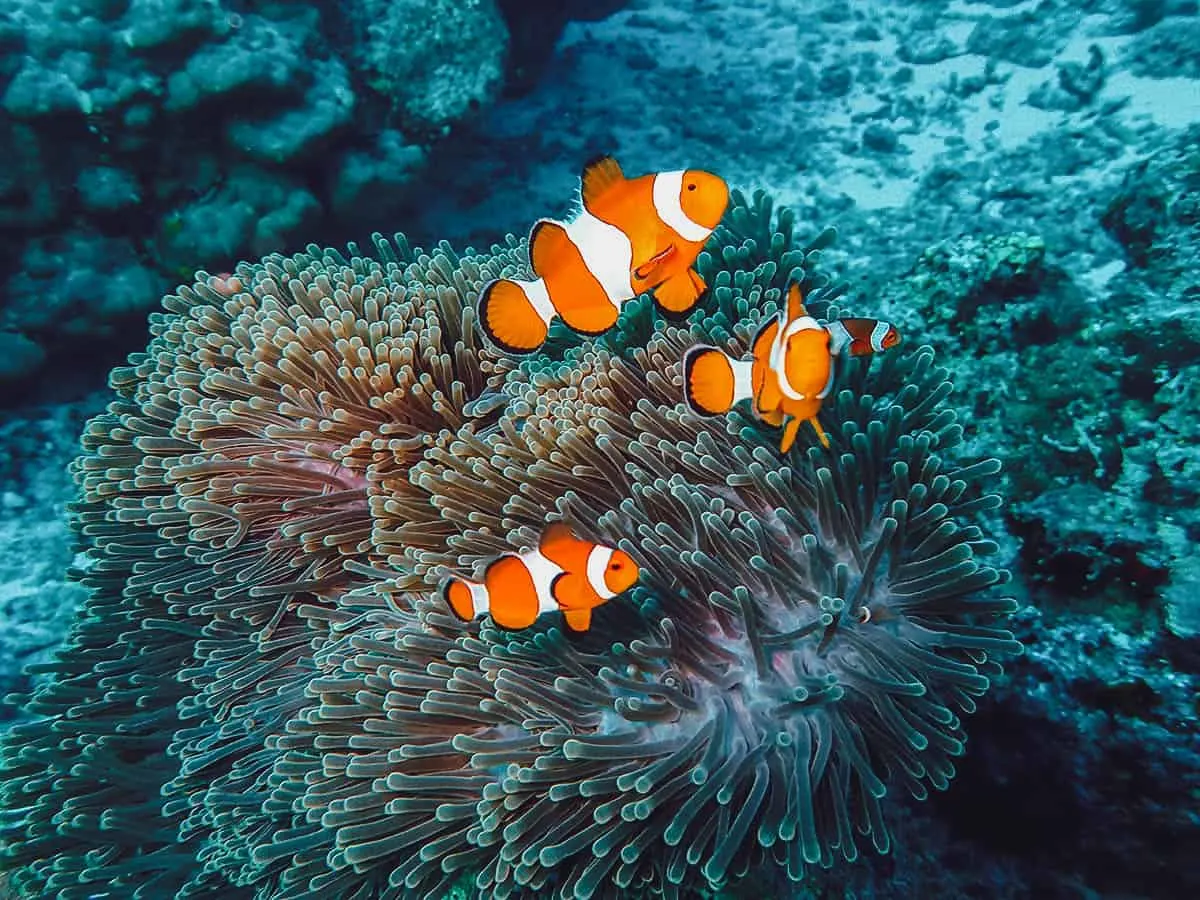 Photo by Wanwalee Wongsawan via Shutterstock
DAY TRIPS FROM SOUTH BALI
As described, Bali is a big island with lots to see and do. There are plenty of places you can go to on day trips from southern Bali. Here are a few suggestions.
1. Ubud
This is our favorite destination in Bali. Set amidst verdant rice paddies and a lush tropical jungle, Ubud is a small town located in the island's interior, about an hour and a half north of the airport. It's surrounded by rice fields and rice terraces and is considered the cultural heart of the island with its Hindu temples, artisanal boutiques, art museums, and galleries.
You can visit Ubud on a day trip but I think splitting your time between the coastal areas of the south and the inland atmosphere of Ubud makes for an ideal Bali stay. On our first trip to Bali in 2009, we went straight to Ubud from the airport and stayed there for the entire week.
There are plenty of Ubud day tours (Klook | Get Your Guide) you can do from southern Bali. If you're rather stay longer or go on your own, then you can check out our Ubud travel guide for more information.
Suggested Length of Visit: Full Day
2. Nusa Penida
We haven't been here but if you like looking at travel photos on Instagram, then you're probably already familiar with this place. It's an island southeast of the mainland that's become a popular photo backdrop for its coastal cliffs resembling a Tyrannosaurus Rex.
Though the cliffs of Kelingking Beach are the island's most identifiable feature, there's lots to appreciate here for nature lovers. Compared to the main island, it's much less developed and perhaps provides a glimpse of what Bali used to be many years ago.
There are plenty of accommodations on Nusa Penida (Booking.com | Agoda) so many travelers stay for several nights to fully explore the island. However, you can visit on a day trip, either on your own or on a guided tour. Klook and Get Your Guide offer vouchers for day tours as well as speedboat transfers and private car charters if you'd like to explore on your own.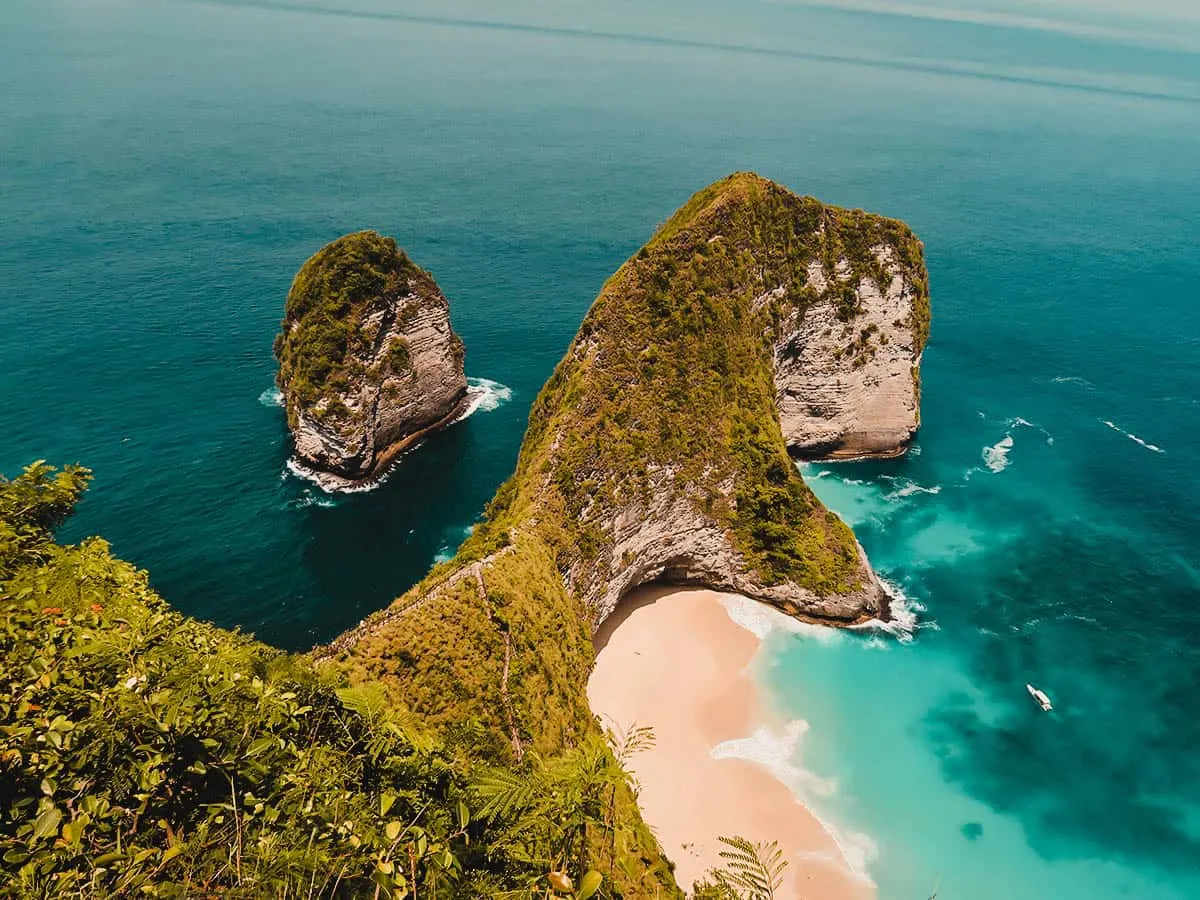 Photo by Igor Tichonow via Shutterstock
Suggested Length of Visit: Full Day
3. Ayung River
The Ayung River is the longest river in Bali. It starts from the northern mountain ranges and runs for about 68.5 km (42.6 miles) before opening up into the Badung Strait. It's famous for its white water rafting.
If you've had enough rest and relaxation and need a spike of adrenaline in Bali, then you can book a white water rafting adventure on the Ayung River through Klook or Get Your Guide.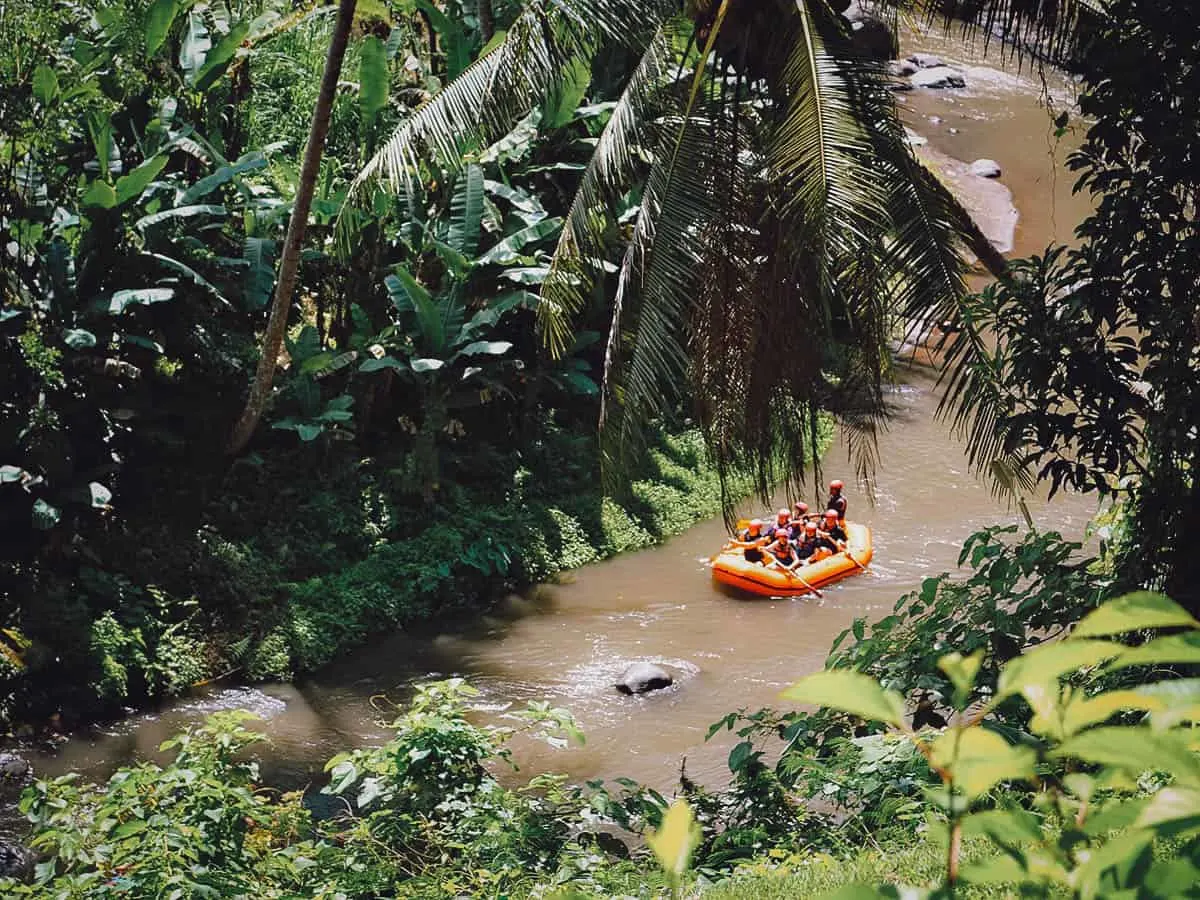 PHOTO: "Ayung River" by Studio Sarah Lou, used under CC BY 2.0 / Processed in Photoshop and Lightroom
4. Tegenungan Waterfalls
There are plenty of picturesque waterfalls in Bali, but Tegenungan Waterfalls is probably one of the most accessible. It's located between southern Bali and Ubud so you can probably make a stop here en route to central Bali. We visited the waterfalls while on a private car charter, but there are a few guided tours (Klook | Get Your Guide) you can join that make a stop there.
Because it's so accessible, Tegenungan Waterfalls also gets pretty crowded so it may be best to come here first thing in the morning before the crowds get in. If waterfalls and crowds are like oil and water for you, then you can check out this article for a list of Bali's more secluded waterfalls.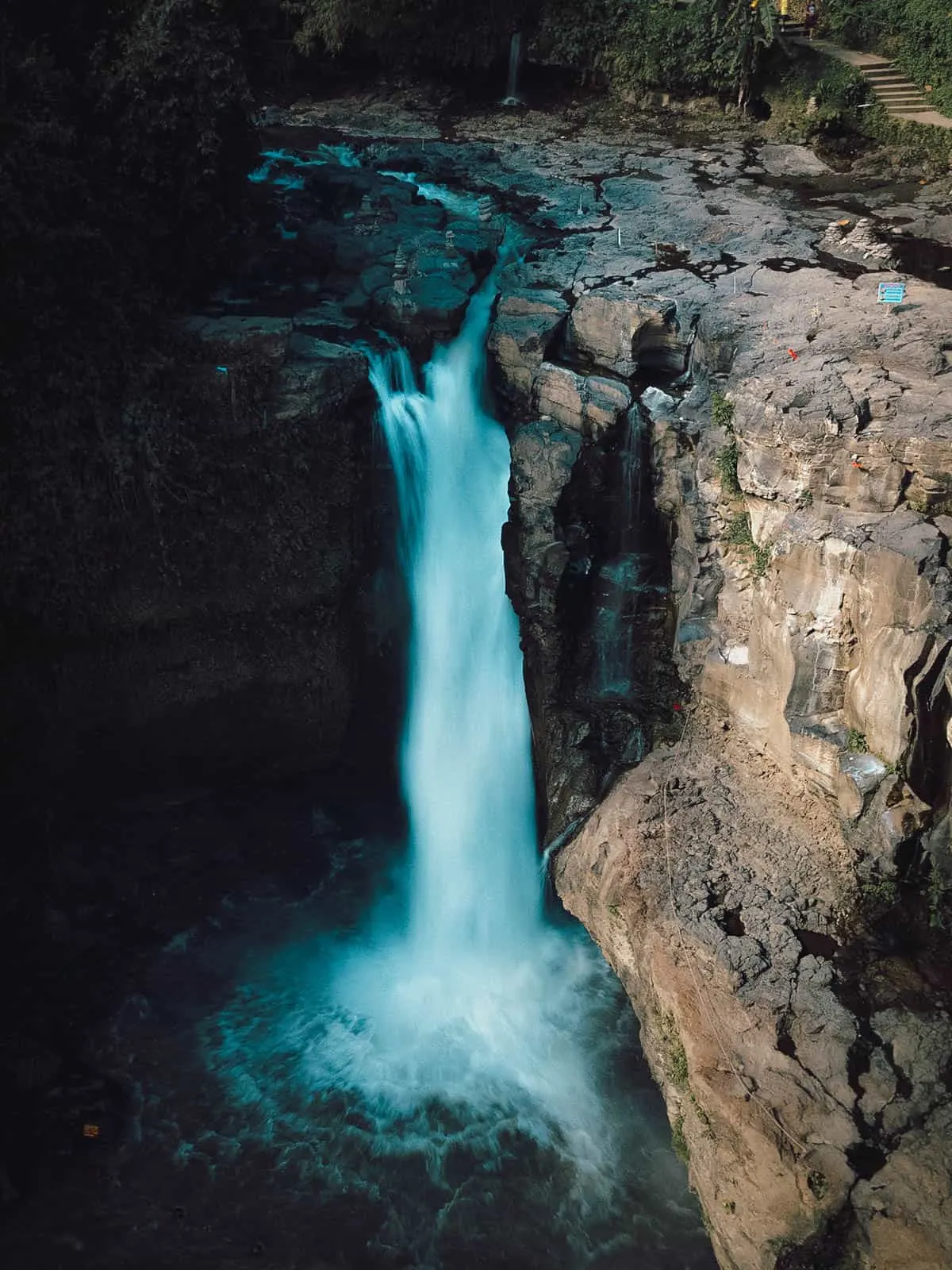 Suggested Length of Visit: Half a Day
Admission: IDR 15,000
INDONESIAN FOOD GUIDE
If you're new to Indonesan cuisine and want to experience the best traditional dishes, then check out our Indonesian food guide and Balinese food guide for a list of some of the best dishes to look for in Bali and Indonesia. If you like sweets, then be sure to check out our Indonesian dessert guide as well.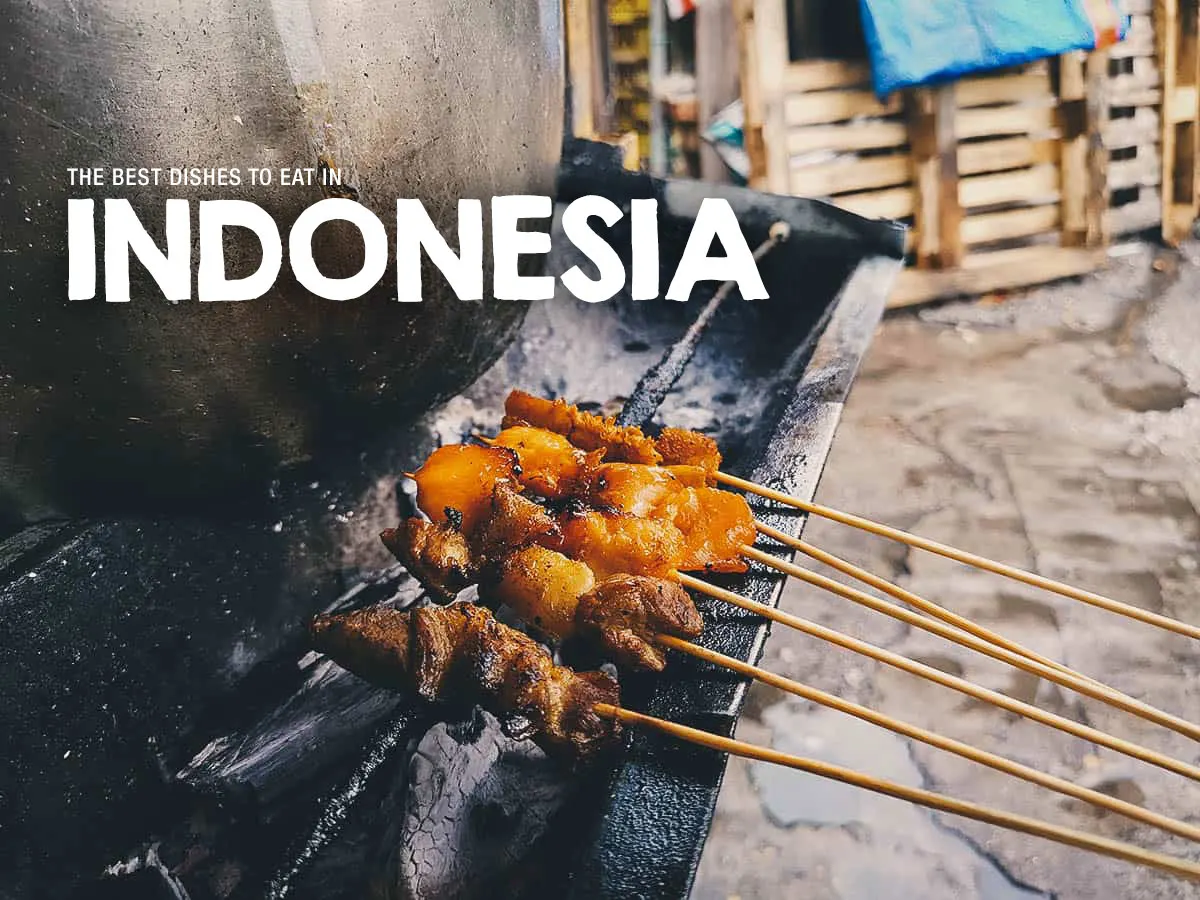 WHERE TO EAT IN SEMINYAK
There is so much good food in Bali. It's one of the few times we've ditched our "local food only" approach, simply because there are so many interesting food concepts here. As good as the local cuisine is, we would have missed out had we stuck to just Indonesian food.
As described, Seminyak is home to some of Bali's best restaurants. If you're looking for food recommendations, then check out our Bali food guide which includes a list of recommended restaurants in Seminyak.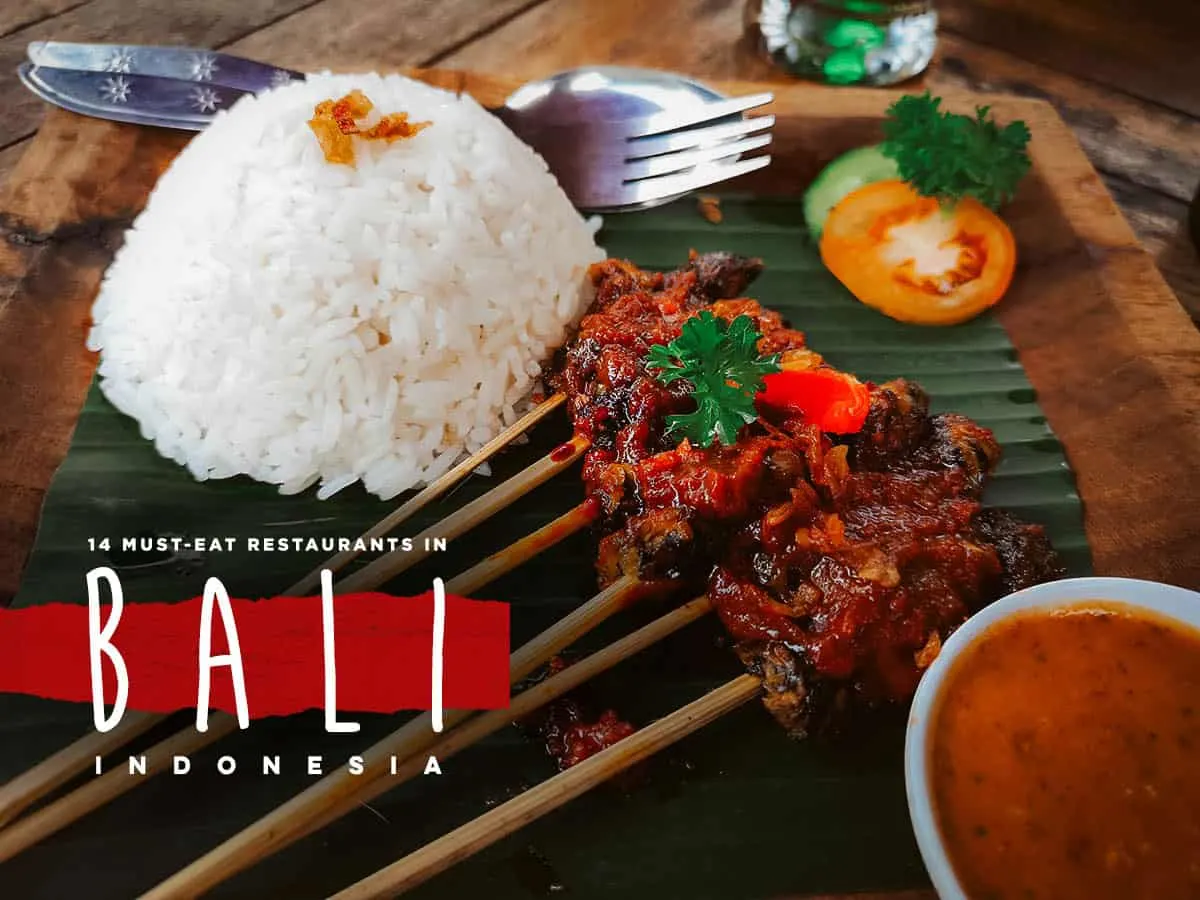 If you have limited time in Seminyak and can only go to a few restaurants, then we recommend starting with any of these four.
1. Warung Babi Guling Pak Malen
Babi guling is one of the best dishes you can have in Bali. It consists of roast suckling pig served over rice with a slew of side dishes like pork satay, vegetables, sambal, and crispy pork skin.
I was touring southern Bali on a private car charter one day and I asked my driver to recommend the best babi guling restaurant on the island, and he took me here to Warung Babi Guling Pak Malen. It was delicious and one of my favorite meals in Bali.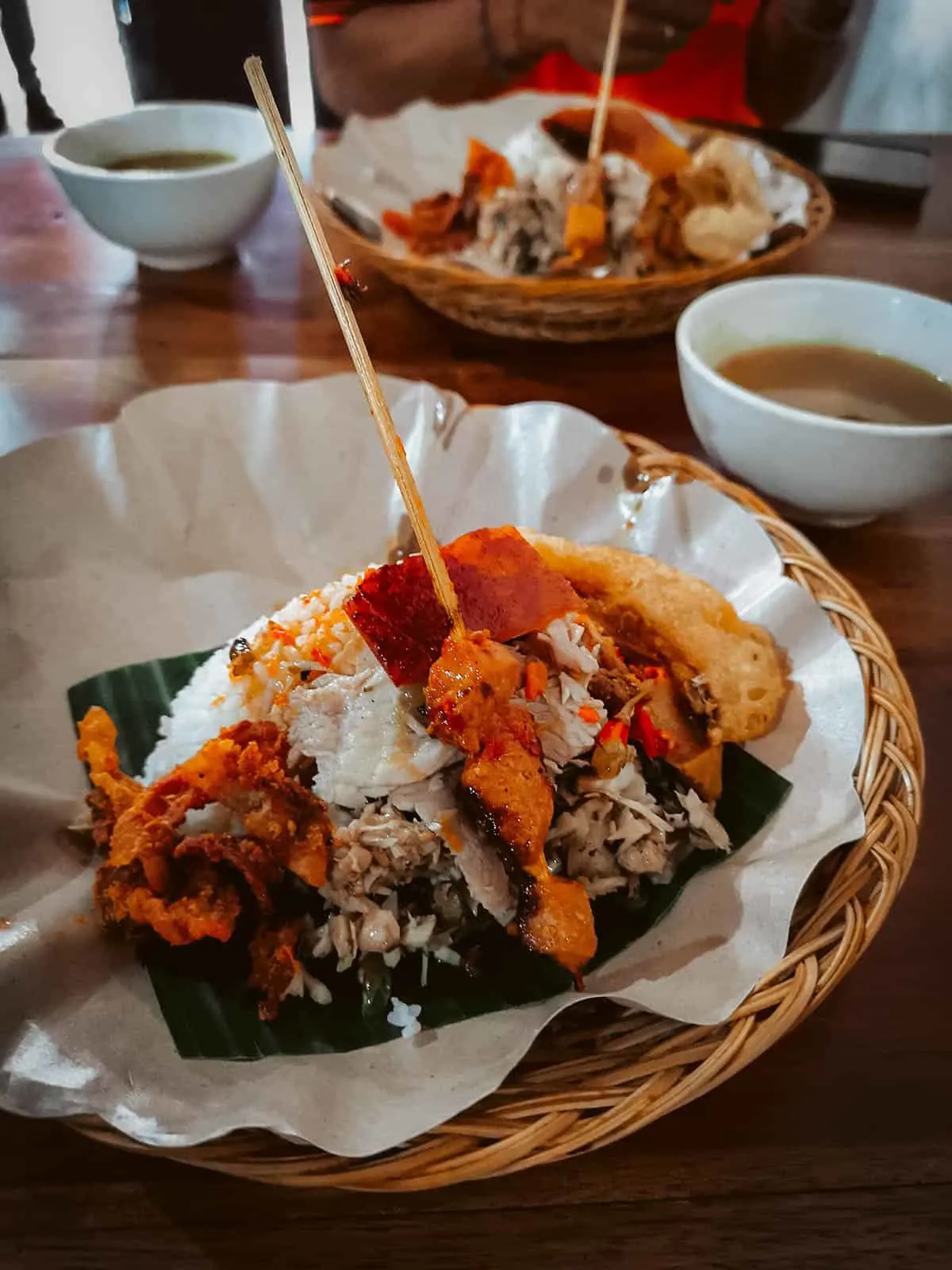 2. Naughty Nuri's
This place is a Bali legend, thanks in part to the late great Anthony Bourdain. They're known for their fall-off-the-bone Balinese pork ribs and what Mr. Bourdain once described as the "best martinis outside of New York".
The original restaurant is in Ubud but they've since expanded to several outlets both domestically and internationally, including their newest one here in Seminyak.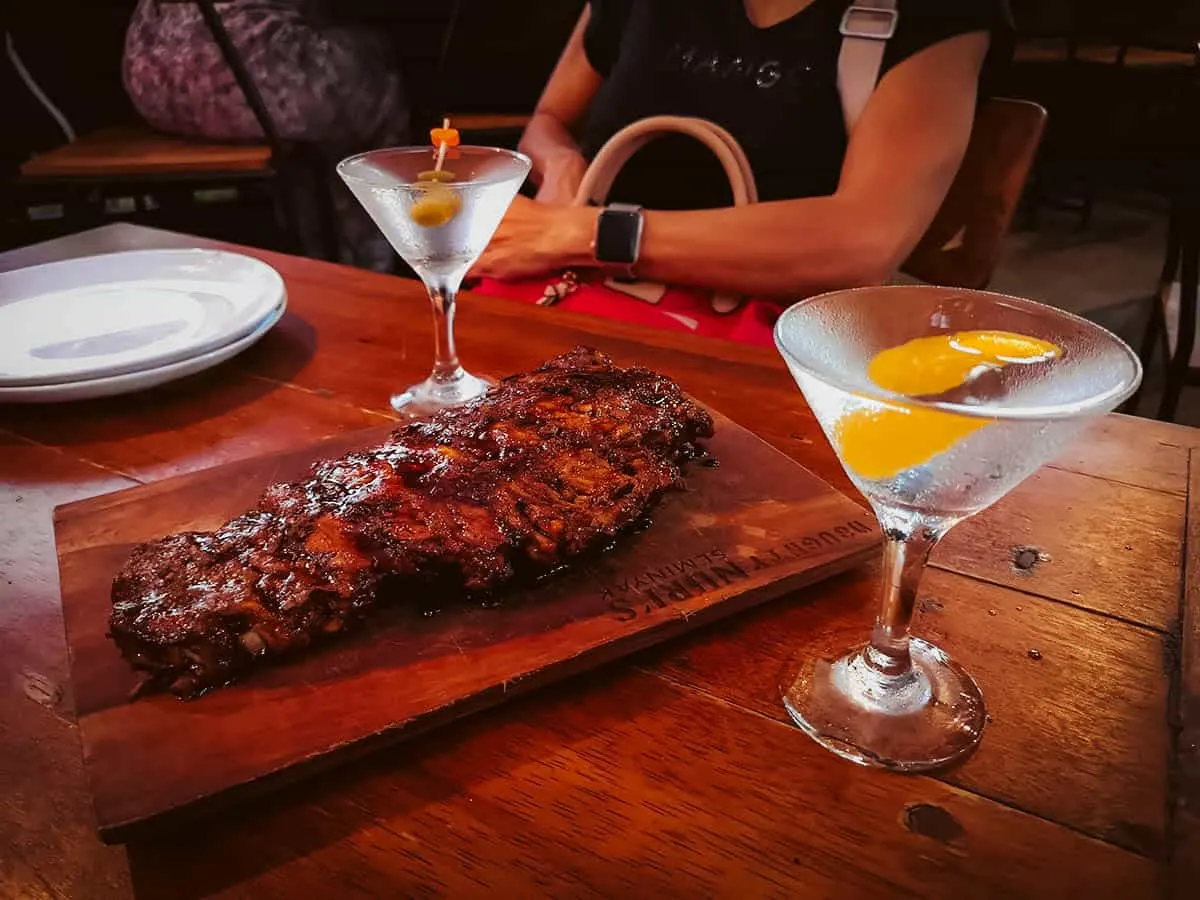 3. Warung Eropa
Bebek goreng is another dish you should try in Bali. It consists of crispy fried duck served with steamed white rice and a few sides like sambal and vegetables. Many restaurants and local warungs serve bebek goreng, but a Google search for the best led me to this place – Warung Eropa.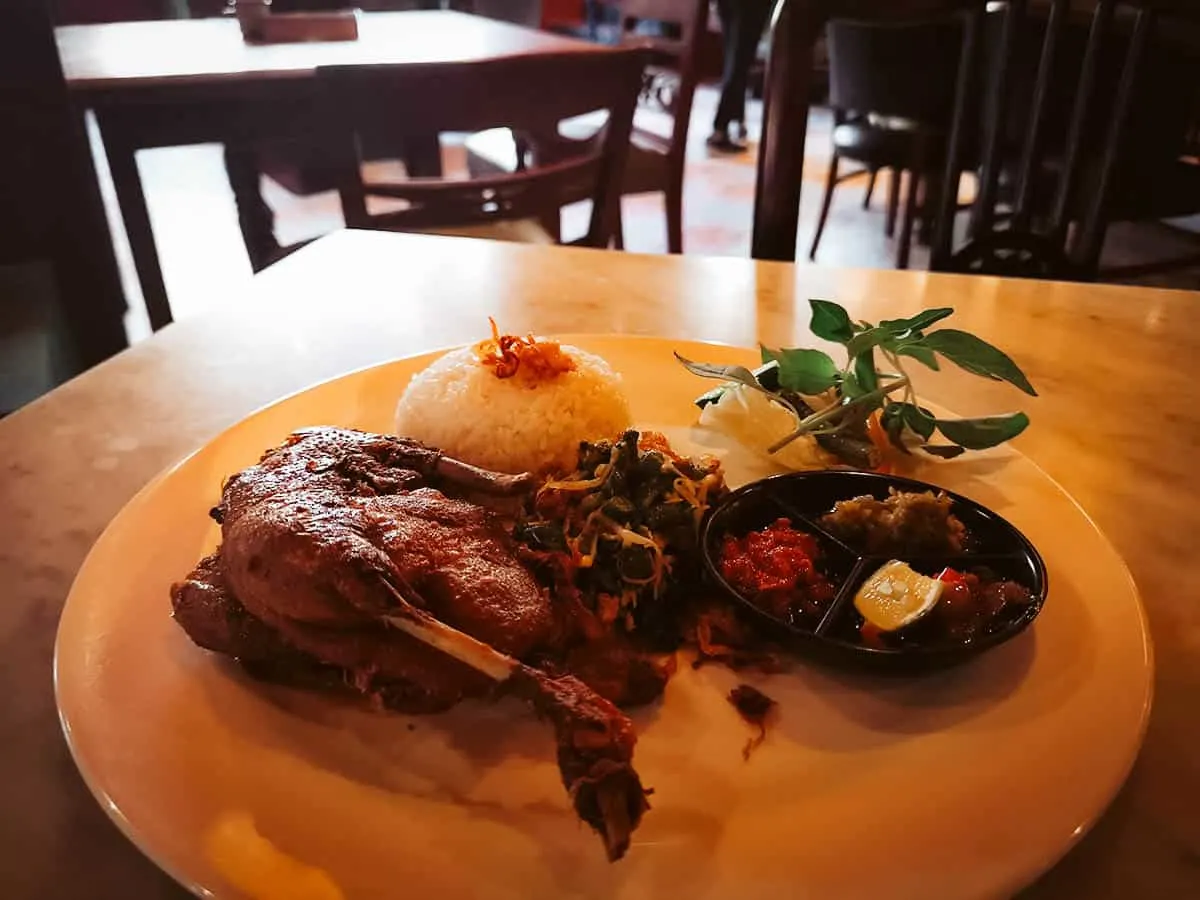 4. Motel Mexicola
This place isn't a motel, but a fun Mexican restaurant serving tacos, ceviche, empanadas, and quesadillas. It's in a big eye-catching space that turns into a lively club at night.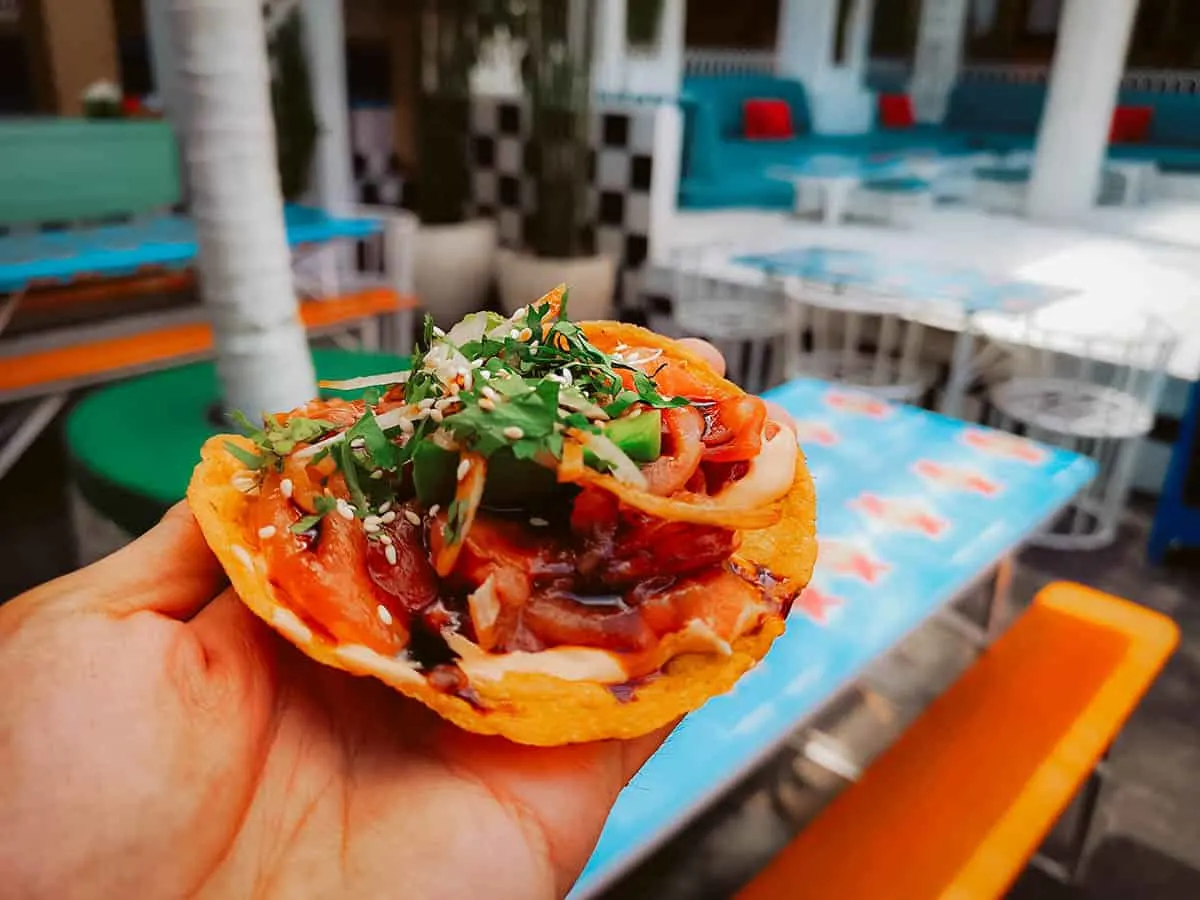 POINTS OF INTEREST IN BALI
To help you better understand this travel guide to Bali, I've pinned all our recommendations on this map. Click on the link for a live version of the map.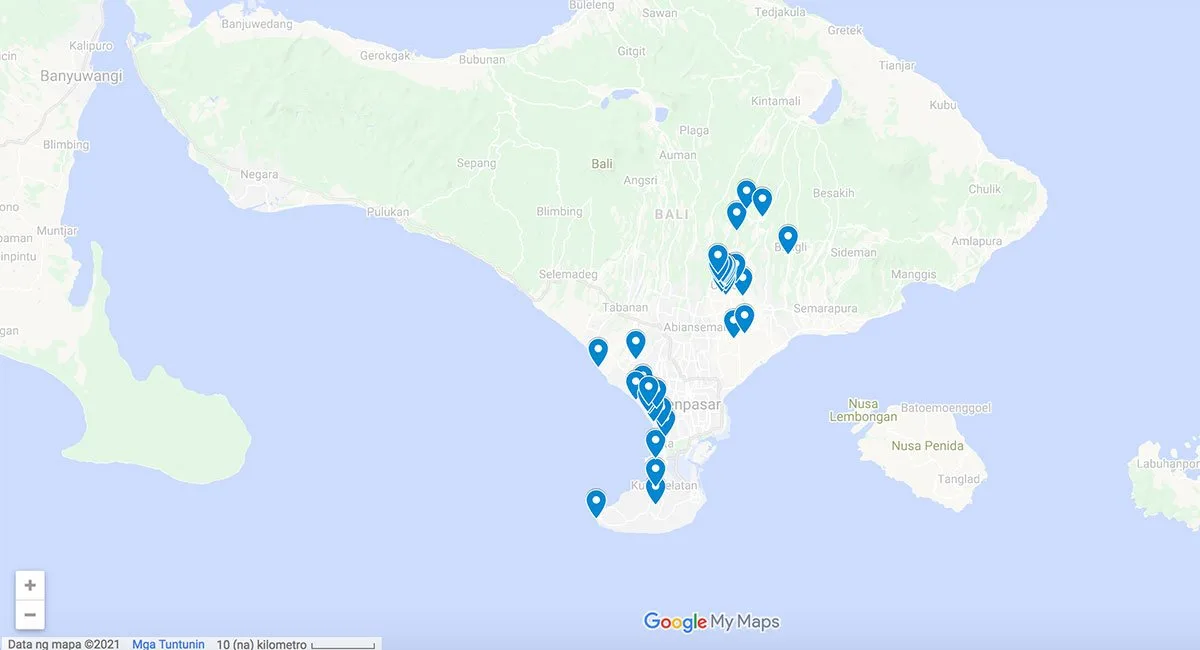 HOW TO GET AROUND IN BALI
Bali is a big island so getting around to fully appreciate it can be a challenge. It doesn't have much of a public transportation system other than a network of vans called bemo. From what I've read, it isn't the most comfortable way of getting around but it's definitely the cheapest.
A better alternative might be the newer Kura Kura shuttle bus system. It's a network of air-conditioned minibuses that ply set routes throughout the island. Follow the link for information on routes and to purchase Kura Kura passes on Klook.
You can also get around by taxi, Grab, Go-Jek, or rental motorbike/scooter. We traveled by Grab Bike a couple of times and it was super fun. It's faster and cheaper than Grab Car too.
The most convenient way of getting around Bali to go sightseeing is by booking a private car charter with driver. We did this twice in Bali, the first time to explore central Bali and the second to explore the southern past of the island. If you have enough people in your group to split the cost, then this will probably be your best option. It's the most comfortable and it will give you the most freedom. You can book a 10-hr private car charter on Klook.
No matter how you decide to get around, I suggest downloading the Google Maps app to help you navigate (iOS|Android). It's very reliable and we use it every time we need to navigate a new city's public transportation system.
For more tips, check out this useful article on how to get around Bali.
HOW MANY DAYS TO STAY / BALI ITINERARY
Bali is one of those places that draws you in and won't let go. It's no wonder so many digital nomads make it their home for months at a time. Aside from traffic in the most touristy areas, it's a very liveable place with lots to see and do.
If you can, then stay as long as you want. If not, then I'd say a stay of at least four days will be good. It'll give you enough time to see the most popular attractions in southern and central Bali. Here's a sample 4D/5N Bali itinerary to help you plan your trip.
DAY ONE
• Tanah Lot Temple
• Garuda Wisnu Kencana Cultural Park
• Uluwatu Temple / Kecak Fire Dance
• Devdan Show at Nusa Dua Theater
DAY TWO
• Tegenungan Waterfalls
• Ubud Town
• Goa Gajah
• Tegallalang Rice Terraces
• Tirta Empul Temple
DAY THREE
• Nusa Penida
DAY FOUR
• Relax on the beach
• Visit an art gallery
• Go shopping
BALI TRAVEL TIPS
1. Plan your Trip with Sygic Travel
Every single one of our trips starts with this free travel planning app. What it does is allow me to plot points of interest on a map – places like our hotel, landmarks, restaurants, metro stops, etc – so I can see where everything is in relation to one another. This enables me to group attractions by day to come up with an efficient itinerary. Check out my post on the Sygic Travel app for more information.
You can view our Bali itinerary on Sygic Travel or download it in editable Word format from our EAT-ineraries page. It covers Bali, Yogyakarta, Jakarta, and Bandung.
2. Rent a Pocket Wifi Device
Having a constant and reliable connection to the internet is so important these days. It just makes everything so much easier. It allows you to navigate, do research, translate, and convert currencies. Having access to Google Maps alone makes it a necessity. I wouldn't dare travel now without renting a pocket wifi device first.
For our two-week trip through Indonesia, we rented a 4G pocket wifi device from Java Mifi. If you're traveling directly to Bali, then you can rent a pocket wifi device or purchase a sim card through Klook. We prefer the former but buying a sim card will probably be cheaper.
3. Get a Private Car Charter
I know it's more expensive than the Kura Kura pass, but a private car charter is the best and most convenient way of exploring Bali, especially if it's your first time on the island. You'll want to have as much freedom as possible to visit the top tourist attractions. The Kura Kura sounds great and a good step towards building a reliable transportation system in Bali, but you'll need to account for waiting times and stops, plus I don't know how close it gets you to the island's main points of interest.
If you're traveling with enough people, maybe even just one other person, then I think a private car charter is worth it.
4. Anticipate Traffic
Traffic in Bali can get bad in the busiest of areas like Seminyak. Ten hours sounds like a lot for a private car charter, but it isn't as much as you think. It takes a while to get from one place to the next in Bali so expect to spend a good chunk of your time in transit.
Case in point, we stayed in Seminyak which is just 10 km north of the airport. I only had a domestic flight to catch but my driver advised me to leave no later than 2 hours before my flight in case of bad traffic. The traffic around the airport can get pretty bad so be sure to plan for that when flying out of Bali.
5. Tanah Lot at Sunrise, Uluwatu at Sunset
Tanah Lot and Uluwatu are both stunning temples, perhaps two of the most beautiful in Bali. To fully enjoy them, I think it's ideal to go at sunrise or sunset when it isn't as hot and the light is at its best.
If you're planning on visiting both on the same day, then I suggest going to Tanah Lot at sunrise then saving Uluwatu for sunset. That way you can catch the Kecak fire dance at 6PM.
6. Foreigners Pay More
Don't be surprised if entrance fees at some attractions are higher for foreigners than they are for locals. This is standard practice in Indonesia. We experienced it in Yogyakarta and Bandung as well.
I know it's unfair, but that's just how it is. You can either accept it and pay, or leave. Don't cause a fuss.
7. Check for Bali Travel Deals
I buy travel vouchers from a few websites. In Bali, I used Klook and Get Your Guide the most. They're both reliable companies with a large inventory of activities. For this trip, I purchased vouchers for private car charters and airport transfers.
If you want to buy vouchers for tours, pocket wifi rental, and car charters, then you can search through these lists of Bali deals on Klook and Get Your Guide.
8. Get Travel Insurance
Though we find ourselves buying it more often now, we don't always get travel insurance. If we plan on doing any physical activities, things that could get us injured like horseback riding or skiing, then we'll definitely get it. But if we're just taking a short trip to some place like Singapore, then we probably won't.
When we do feel the need for it, we buy insurance from SafetyWing or Heymondo. They're travel insurance providers often used by many digital nomads. Follow the links to get a free quote from SafetyWing or Heymondo. Will Fly for Food readers get 5% off on Heymondo when using our link.
9. Bring the Right Power Adapter
You'll find Type C or Type F electrical outlets in Indonesia so be sure to bring the right power adapters for your devices. Electrical voltage is 220/110V and the standard frequency is 50Hz.
Have Fun!
I'm not an expert but I do hope you find this travel guide to Bali useful. I'm only sharing some of the things I learned from our trips. If you have any questions, comments, or suggestions, then please feel free to leave them below. You're welcome to join our Facebook Travel Group as well.
Thanks for stopping by and have a wonderful time exploring this incredible island!
OUR GEAR
These are some of the things we brought with us to Bali. If you'd like to see what other gear we bring with us on trips, then you're welcome to have a look inside our backpack. (NOTE: The following links are Amazon affiliate links.)
Disclosure
This Bali travel guide contains affiliate links, meaning we'll earn a small commission if you make a booking or purchase at no additional cost to you. We only recommend products and services that we use ourselves and firmly believe in. We really appreciate your support as this helps us make more of these free travel guides. Thank you!