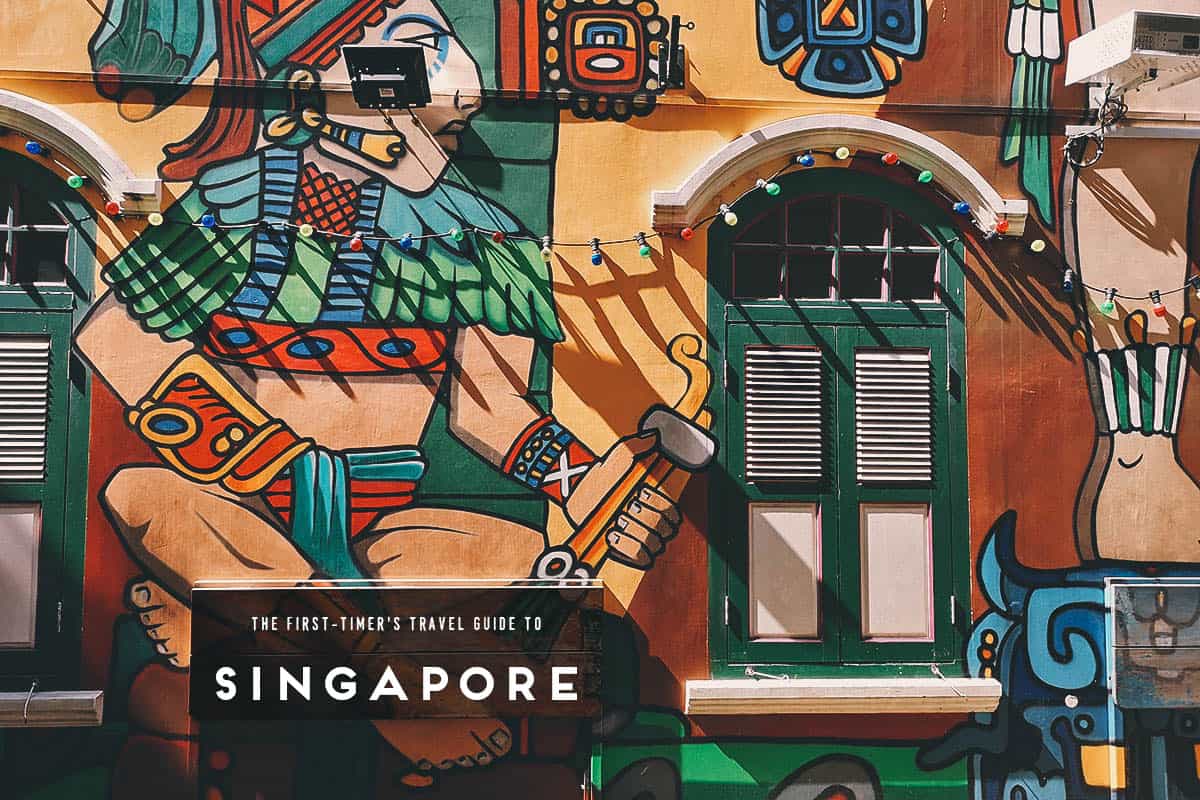 On a previous trip to Singapore, Ren and I were on the MRT en route to Little India from Changi, when I overheard this conversation between two young travelers:
"Singapore is a lot like Japan", one friend said to the other, "but you can talk to people here."
They sounded European and from that, it was clear that the guy talking had been to Singapore before while his friend was here on his first ever visit.
I get what he was trying to say. He meant that Singapore is similar to Japan in its hyper modern-ness. They're both clean with citizens known for being disciplined and orderly, but more Singaporeans are proficient in English so there's less of a language barrier here.
I agree with him on both points, but the more I visit Singapore, the more I realize that there's so much more to this city than what you see on the surface.
Most first-time visitors will notice its cutting edge architecture. How can you not? Iconic structures like Marina Bay Sands, the Supertrees of Gardens by the Bay, the Durian, and the ArtScience Museum were designed to grab your attention. But the more often you come, the more you get used to them, and then a funny thing happens. They start fading into the background to reveal what makes this tiny island nation truly special in my opinion – its diversity.
Singapore is called the "melting pot of Asia" for a reason. You may be too blinded by Marina Bay to appreciate that at first, but stay here long enough, and you may soon realize that Singapore's unique blend of ethnicities, culture, and food is what makes this country truly shiok.
GUIDE TABLE OF CONTENTS
TRAVEL RESTRICTIONS
Because of the current global situation, travel guidelines change regularly. Our friends at SafetyWing created a website that lists detailed information on travel restrictions around the globe.
Before doing any serious trip planning, be sure to check the Flatten the Curve website for information on travel restrictions to Singapore.
SINGAPORE AT A GLANCE
Singapore is a tiny island nation in Southeast Asia that's become one of the world's most prosperous countries. Walk around for a day and you'll see all the features of an ultramodern society with its impressive skyline, contemporary architecture, high-end shopping malls, and highly efficient subway system.
But in spite of its facade of steel and glass, Singapore retains much of the ethnic and cultural diversity that earned it its nickname – "the melting pot of Asia". Iconic structures like Marina Bay Sands and Supertree Grove are impressive but equally of note are the ethnic pockets within the city that preserve each culture's unique heritage and traditions.
Hop on a City Sightseeing Bus and you'll be treated to colorful neighborhoods like Little India, Chinatown, Arab Street, and Kampong Glam, all within the span of half an hour. This balance of modernity and cultural preservation is what makes Singapore so fascinating.
Another thing I found surprising about Singapore is that it's apparently the second most densely populated country in the world, behind only Monaco. It certainly doesn't feel crowded when you're there, perhaps due to the efforts they've made into making it a pleasant and liveable green city.
In spite of being a city-state with 100% of its population urbanized, over 50% of Singapore's area is covered by greenery. It boasts over 50 major parks and 4 nature reserves, all within a 720 sq km area.
If there existed a utopic city in the world today, then that city would be Singapore.
BEST TIME TO VISIT
Singapore is hot and humid year-round so there isn't a perfect time to visit weather-wise. The average temperature is 26-27°C and the humidity is always above 80% no matter what time of year.
The only thing you probably need to know regarding Singapore's weather is that the wettest months are from November to January. That's the monsoon season so you may want to avoid those months if you don't want a greater chance of rain.
NOV-JAN: As described, this is monsoon season so it'll be the wettest time of the year in Singapore. However, it's also the coolest, which may be appealing to travelers unaccustomed to the brutal Southeast Asian heat. I've read that it generally rains in spurts in Singapore even during the wettest months so it may not matter as much. Locals advise just ducking into a mall until the rain stops.
FEB-OCT: June till August is the driest time of the year in Singapore. We went in late June once and it would get overcast and drizzle a bit on a couple of days but that was it. It was hot and sunny the rest of the time and still very humid. If you enjoy shopping and food, then around July may be an ideal time for you to visit. Both the Great Singapore Sale and the Singapore Food Festival are held at that time.
Climate: Annual Monthly Weather in Singapore
To help you better understand the climate in Singapore, I've put together the average temperature and annual rainfall graphs below. Suggested months to visit are indicated in orange.
Average Temperature


Annual Rainfall


TRAVELING TO SINGAPORE
The majority of visitors to Singapore will be arriving by plane at Changi Airport. There are several ways to get to downtown Singapore from Changi.
BY SUBWAY (SMRT): The SMRT is the fastest and cheapest way to get to downtown Singapore from the airport. It took us around 45 minutes to get to Little India MRT Station and the standard fare was SGD 2.40. You can use this SMRT fare calculator to figure out the fare to your destination.
BY PUBLIC BUS: This is another inexpensive option. The fare is SGD 2.50 and it should get you into the city in a little over an hour. You'll need to prepare the exact amount since no change is given. You can catch bus 36/36A from the basement bays of Changi Airport Terminals 2 and 4 into the city. The first bus leaves at 6AM and the last one just before 11PM. You can refer to this route guide for a list of stops and estimated travel times.
BY AIRPORT SHUTTLE: If you're arriving at odd hours, then you can take an airport shuttle bus for SGD 9 for adults and SGD 6 for kids (under 12). These shuttle buses run 24 hours and will take you directly to your hotel. You can refer to this list to check if your hotel is one of their serviced hotels. If it is, then you can follow this link to book tickets on Klook.
BY TAXI: This is the easiest but most expensive way. It'll cost you anywhere between SGD 20-40 to get into the city by taxi. Bigger groups can take these large taxis called Maxi Cabs. They can accommodate up to 7 people for a flat fee of SGD 60. You can check the Changi website for more information.
BY PRIVATE TRANSFER: If you'd rather book a private transfer in advance, then you can do so through Klook or KKday.
We flew to Singapore but there are other ways to get there depending on where you are. I suggest checking Bookaway to find route options available to you. You can click on the link or use the widget below.
WHERE TO EXCHANGE CURRENCY
The unit of currency in Singapore is the Singapore Dollar (SGD). Finding good places to exchange your currency is less of a concern in Singapore. Most (if not all) places give fair rates. Even the currency exchange booths at Changi Airport aren't bad.
But if you want the best exchange rate, then Mustafa Foreign Exchange at Mustafa Centre in Little India is an excellent choice. Aside from offering some of the best rates in the city, they're also open 24/7. If it's too far from where you are, then you can check this website for a list of the 5 best money changers in Singapore. They're in different parts of the city so you can find the one that's closest to you.
Another option is to withdraw SGD from an ATM. The rates are competitive, some say even better. If you do decide to withdraw SGD from an ATM, be sure to let your bank know as they may have to activate it for overseas use. That's what I do before every trip. In my experience, my ATM card works in some machines but not in others.
NOTE: Some ATM machines may ask you if you'd like to proceed "with or without conversion". NEVER proceed "with conversion" because that would authorize the foreign bank operating the ATM to do the conversion instead of your local bank, which often results in terrible exchange rates. I've made this mistake before. According to this article on Medium, the difference between rates can be as high as 10% or more.
BEST AREAS TO STAY
Singapore isn't that big but it's such a diverse, multiracial city that you'll find many interesting neighborhoods within its 720 sq km area. This is by no means a definitive list but here are five popular neighborhoods where you can stay in Singapore.
For your convenience, I created the color-coded map below to help you see where all these recommended areas are. Click on the link for an interactive version of the map. (Please note that marked areas are approximations only)
RED – Little India
BLUE – Chinatown
GREEN – Marina Bay
LAVENDER – Orchard
ORANGE – Sentosa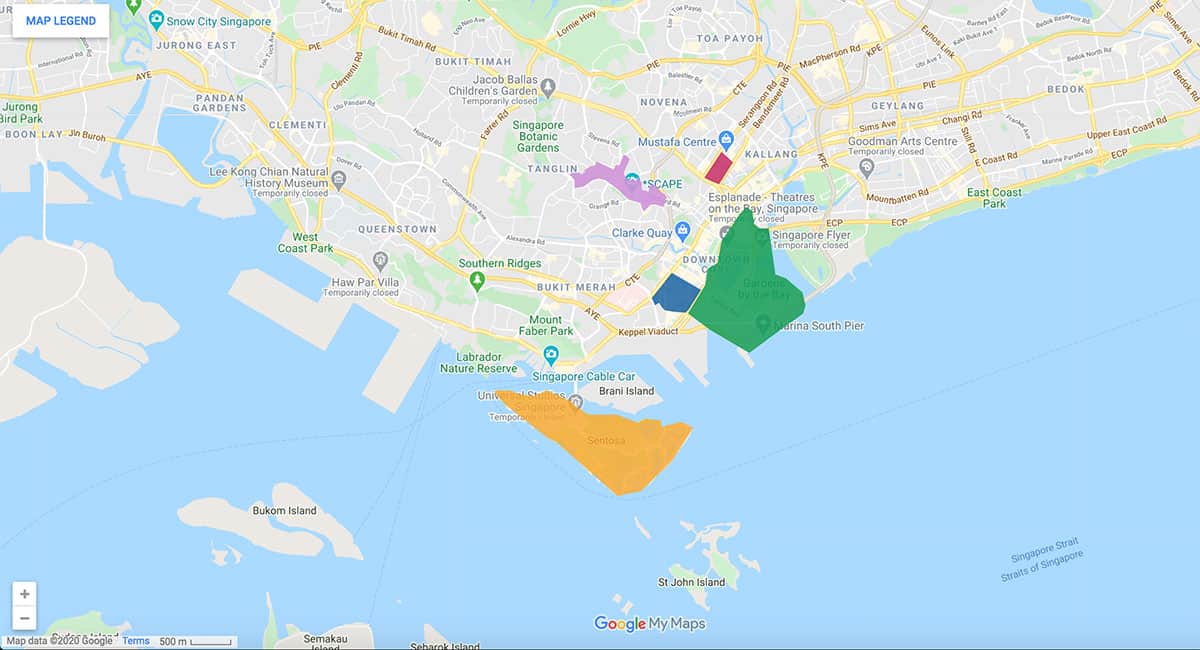 A few years ago, we stayed at City Inn Mackenzie, a clean and conveniently located boutique hotel just a couple minutes' walk from Little India MRT station. Our room was a decent size, not the biggest but big enough to have a desk without feeling cramped. Close to the hotel is Tekka Centre Food Court which offers plenty of inexpensive food options.
You can book a room at City Inn Mackenzie through Booking.com or Agoda. If you don't think that City Inn Mackenzie is the right hotel for you, then you can check these links for alternate listings in Little India: Booking.com | Agoda.
Approximate Room Rate: USD 85 per night (as of March 2019)
Basic breakfast and coffee are included, and they give you a key card to open and close your pod so you can safely leave your valuables inside.
Atlantis Pods has a few branches in Singapore but if you want to book a pod at the outlet in Little India, then you can do so through Booking.com or Agoda.
If you like Atlantis Pods but want to check out their other locations, then follow these links to see their outlets in Chinatown (Booking.com | Agoda) and Bugis (Booking.com | Agoda).
Approximate Room Rate: USD 20 per night (as of March 2019)
CHINATOWN
As is the case with most Chinatowns in the world, if you travel for food, then this is an excellent place to stay in Singapore. Here you'll find plenty of food options from cheap hawker centers to trendier bars and restaurants. Budget travelers will find a good selection of hostels and boutique hotels here as well. Check these sites for a list of accommodations in Chinatown: Booking.com | Agoda.
MARINA BAY
Home to the iconic Marina Bay Sands, this is one of the best areas to stay for luxury travelers. Hotels here are amongst the most luxurious and offer the best views in Singapore. Marina Bay is home to many upscale restaurants, bars, and shopping malls as well as popular attractions like the Merlion, Gardens by the Bay, and the Singapore Flyer. Check these sites for a list of accommodations in Marina Bay: Booking.com | Agoda.
ORCHARD
If you're traveling to Singapore to shop, then this is probably where you'll want to be. Orchard Road is Singapore's premier shopping district. It stretches for two kilometers and is home to more shopping malls than anywhere else in Singapore. Want a break from shopping? Head to nearby Botanic Gardens which is Singapore's only UNESCO World Heritage Site. Check these sites for a list of accommodations around Orchard Road: Booking.com | Agoda.
SENTOSA
Sentosa is Singapore's resort island. It's home to manmade beaches and theme parks like Universal Studios and Resorts World Sentosa. Staying here would put you farther away from the attractions in central Singapore, but if you're traveling with kids, then this a good place to consider. Check these sites for a list of accommodations in and around Sentosa Island: Booking.com | Agoda.
ATTRACTIONS TO VISIT
1. Gardens by the Bay
Gardens by the Bay is the most popular attraction on TripAdvisor and it isn't hard to understand why. This place is mind-blowing and unlike anything we've ever seen. It's home to the iconic Supertrees and two amazing conservatories — Cloud Forest and Flower Dome. If you have time for just one attraction in Singapore, then this should be it.
2. Singapore Zoo
I love animals but I've stopped going to zoos because most of them are shit. They don't put enough stock in the welfare of the animals but Singapore Zoo, which was voted by TripAdvisor users as the 5th best zoo in the world, is an exception. It's an impressive facility that sets the standard for captive animal conservation.
Check out my post on Singapore Zoo for more pictures and information. You can buy entrance tickets at the gate or in advance through Klook or Get Your Guide.
Pretty much everything in Singapore is world-class and that includes all its animal parks. Aside from Singapore Zoo, we've visited three others and they're all pretty awesome.
3. Universal Studios and Sentosa Island
Universal Studios needs no introduction. Located on Sentosa Island, this popular theme park is home to exhilarating rides like Jurassic Park and Transformers. If you're traveling with kids, then you'll probably want to allocate a day here. Otherwise, you'll never hear the end of it. You can buy tickets at the gate or in advance through Klook or Get Your Guide.
As popular as Universal Studios is, it's hardly the only attraction at Sentosa. Sentosa is an entire island dedicated to fun so it's home to many other attractions as well like 4D theaters, the Trick Eye Museum, action parks, S.E.A. Aquarium, watersport facilities, golf courses, and beaches. There are plenty of hotels and restaurants on the island as well.
4. Marina Bay Sands Skypark
Marina Bay Sands is the most iconic hotel in Singapore. I'm sure you've seen pictures of its infinity pool on social media. It's absolutely incredible but unfortunately, it's only open to guests of the hotel. (Boo!)
If you aren't checked in at Marina Bay Sands, then the next best thing would be to head up to the Skypark observation deck on the 57th level to get some of the most stunning views of Singapore.
5. ArtScience Museum
There are many interesting museums to visit in Singapore. Among the most notable are the National Museum of Singapore, National Gallery Singapore, Singapore Art Museum (SAM), and the ArtScience Museum.
Known for the building's hand- or lotus-flower-like shape, I visited the ArtScience Museum on my most recent trip and was blown away by its exhibits, particularly Future World which featured trippy interactive light displays. It's a permanent exhibit but some – like the Minimalism exhibition below – are temporary so be sure to check the ArtScience Museum website to see what's on before you go.
6. Singapore Flyer
The Singapore Flyer is one of the city's most iconic attractions. It offers fantastic views of the city from Asia's largest observation wheel.
You can go on a standard flight but if you want something a little more memorable, then how about going on one that offers drinks like Singapore Slings or champagne? For couples, they even offer flights with a romantic four-course dinner for two.
7. Singapore Botanic Gardens
One of the most striking things about Singapore is how green it is. It's the greenest city in Asia and one of the greenest in the world, which is surprising for a small city with 100% of its population urbanized.
Gardens by the Bay is a fantastic place to appreciate Singapore's greenery, but if you want to enjoy it in a more natural setting, then head on over to Singapore Botanic Gardens. It's a 158-year-old tropical garden and the only UNESCO World Heritage Site in Singapore.
Entrance to the gardens is free but you'll need to pay a small SGD 5 fee to enter the National Orchid Garden. It's a must so don't miss it. If you like, you can purchase entry tickets in advance through Get Your Guide.
THINGS TO DO
1. Get to Know Singapore on a Hop On Hop Off Tour
I'm a big fan of these Hop On Hop Off Tours. Barring any serious traffic or pollution problems, a Hop On Hop Off bus is the best way to explore a new city. It gives you unlimited access to bus lines that stop at major tourist attractions. You can hop on and off as often as you like within the validity period of your pass.
In Singapore, it'll take you to key attractions like the Singapore Flyer, Marina Bay Sands, the Merlion, Botanic Gardens, and Orchard Road, just to name a few. Check out my post on DUCK & HiPPO's Hop On Hop Off tour for more pictures and information.
You can buy tickets when you initially board the bus but you can get a discount if you purchase them in advance through Klook. They offer other versions of this tour as well, including night tours and fun amphibious vehicle tours that traverse both land and water.
2. Try the Iconic Singapore Sling at Raffles Hotel
Think of this as your welcome drink to Singapore. The Singapore Sling is a gin-based cocktail developed over a hundred years ago by Ngiam Tong Boon, a Hainanese bartender at the Long Bar in Raffles Hotel, which is still often cited as Singapore's finest hotel. It's become synonymous with Raffles and a must-try for first-time visitors to Singapore.
3. Experience the Best of Singaporean Cuisine on a Food Tour
There is so much good food to be had in Singapore. In fact, it's one of a handful of cities we could visit again and again just for the food.
If you have plenty of time in Singapore, then you can check out our Singapore Food Guide for restaurant recommendations. But if you're pressed for time, then you may want to go on a food tour. It's an easy way of sampling the local cuisine without having to find these restaurants and stalls yourself.
There are plenty of food tours to choose from, but some of the best we've been on are from A Chef's Tour. They're a tour provider that offers these really interesting food-focused tours in Asia and Latin America.
4. Take a Cooking Class
Ren loves to cook so we often take cooking classes we travel. For us, it's the best way to really get to know an unfamiliar cuisine. It's one thing to eat it, but it's quite another to learn exactly what goes into making each dish.
We haven't taken a cooking class in Singapore, but if you're interested, then you can search for one on Cookly. Cookly is an online booking platform that offers cooking classes in many cities around the world. They're basically an online tour provider that focuses just on cooking classes. For me, there's no better place to look for one-day cooking classes than Cookly. Follow the link to search through their list of cooking classes in Singapore.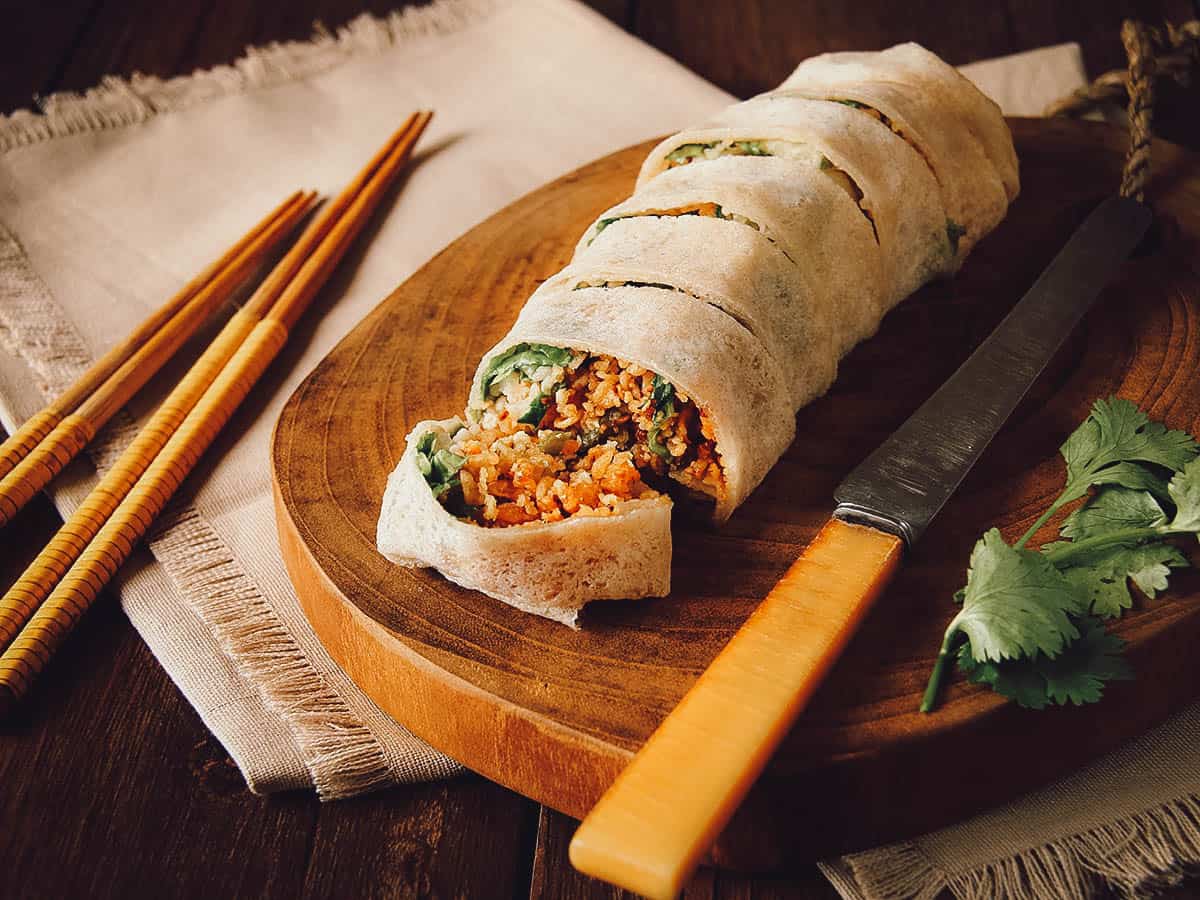 5. Arrive Early at Changi Airport
Singapore is probably the only country in the world with an airport that's a legitimate tourist attraction. Changi was already our favorite airport in the world by a mile, but even more so now with the opening of the Jewel complex.
Jewel Changi Airport is a nature-themed entertainment and retail complex. It's linked to the airport's three passenger terminals and features over 300 retail and dining facilities, not to mention indoor gardens, mazes, bridges, and the world's tallest indoor waterfall (pictured below).
SINGAPORE FOOD GUIDE
Singapore is synonymous with food. They take their food seriously here so a hawker stall that's been serving the same iconic dish for decades is every bit as important to us as Gardens by the Bay.
To make sure we ate at the best, I consulted with locals and trusted Singaporean food blogs to find out exactly what we should eat in Singapore. The result is this Singapore food guide listing 35 of the best dishes to eat in Singapore.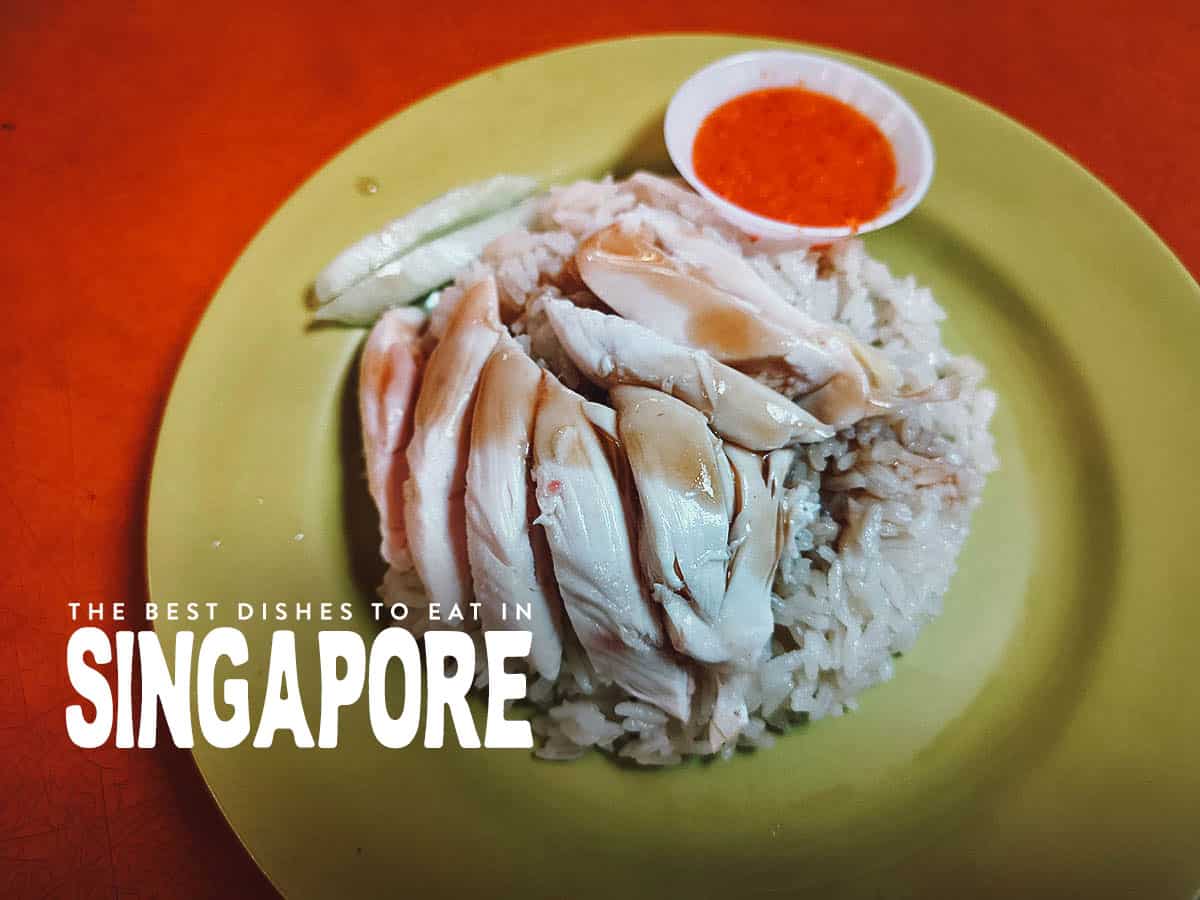 WHERE TO EAT
Our Singapore food guide shows you what dishes to eat in Singapore, but if you want to know where you should try them, then be sure to check out our restaurant guide. It lists 25 of the best restaurants in Singapore.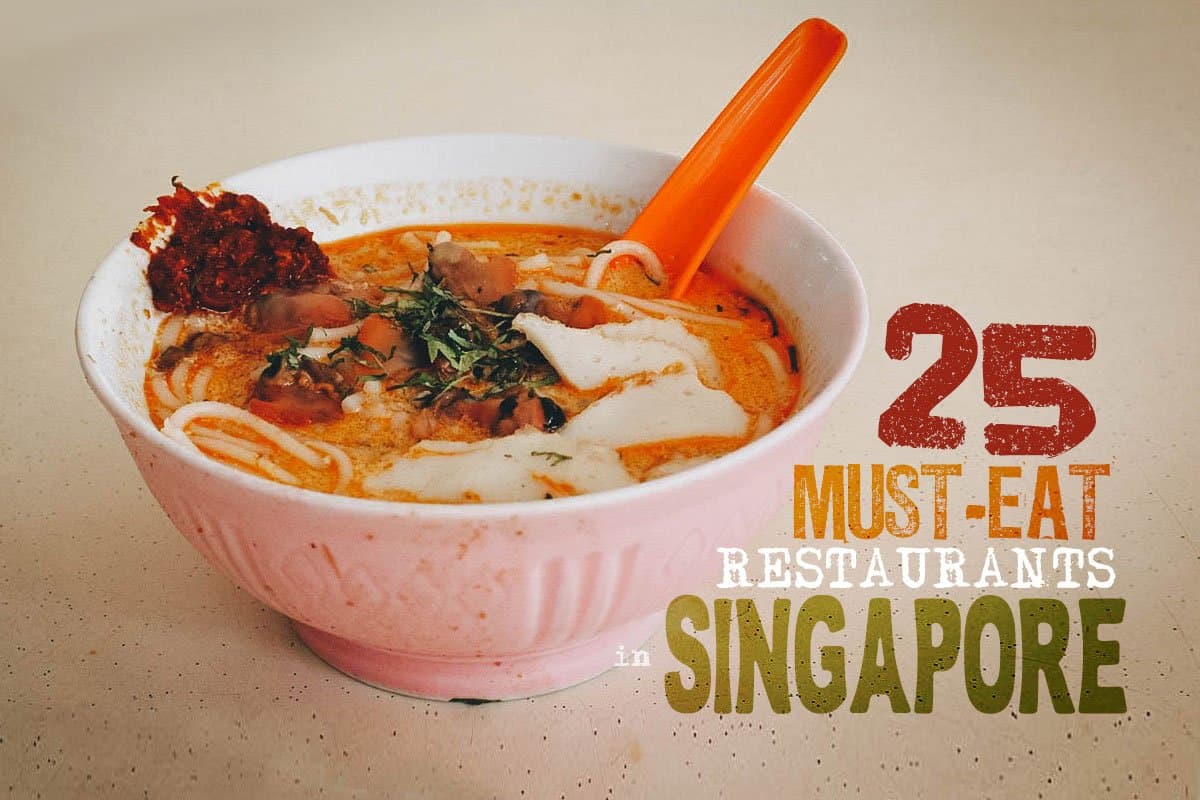 Not everyone can go to all 25 restaurants listed in our restaurant guide so I've narrowed it down to our favorites. All the eateries we mentioned are worthy of a visit but if you're pressed for time, then these are the six you shouldn't miss (listed in no particular order).
1. Red House Seafood Restaurant
What better way to start this list than with Singapore's most iconic dish, chili crabs? Often referred to as Singapore's national dish, chili crabs are prepared by stir-frying crabs — commonly mud crabs — in a rich, tomato- and chili-based sauce. Despite its name, it's more sweet and tangy with just a hint of spiciness.
2. Tian Tian Hainanese Chicken Rice
Like chili crab, Hainanese chicken rice is one of Singapore's core dishes and something you need to try as well. It's prepared by poaching whole chickens at sub-boiling temperatures then using the stock to cook the rice. The result is an oily, flavorful rice sometimes known as "oily rice".
3. Hill Street Tai Hwa Pork Noodle
Hawker Chan gets all the attention but this place is every bit as deserving. Like Hawker Chan, Hill Street Tai Hwa Pork Noodle is one of the first two hawker stalls ever to receive an esteemed Michelin star.
4. The Banana Leaf Apolo
Three words — fish head curry. This restaurant in Little India has been serving this delicious curry dish for over 40 years now.
5. Candlenut
Candlenut is a one-star Michelin restaurant that serves modern interpretations of Peranakan cuisine. If you've never tried Peranakan food before, it's a deeply flavorful cuisine that blends Chinese ingredients with distinct spices and cooking techniques used by the Malay/Indonesian community. If you enjoy food that isn't shy on flavor, then you'll love Peranakan cuisine.
6. MA Deen Biasa
Sup tulang is without a doubt the messiest and most sinful dish on this list. But it's also one of the most delicious. Sup tulang is a bone marrow dish made with tomato paste and a slew of spices. It's served with a basket of bread to mop up the sauce and straws to suck out the marrow. Seriously.
INSTAGRAMMABLE PLACES IN SINGAPORE
Singapore is one of the most Instagrammable cities we've visited so far. Everywhere you look there seems to be a mural or interesting piece of architecture to make your #ootd pop! Gardens by the Bay and Marina Bay Sands are obvious choices, but here are a few you may not have heard of.
5. People's Park Complex
People's Park Complex is a residential high-rise on Eu Tong Sen Street in Chinatown. The first few floors of the complex houses a shopping center, at the top of which is this roofdeck where you can take this picture.
HOW TO GET AROUND
Singapore's MRT system is very efficient. We used it to go pretty much everywhere. We only needed to take a bus once, to go to Singapore Zoo, but I've read the bus system is very efficient as well. If you need to travel by bus often, then I suggest using the Google Maps app (iOS | Android) to help you navigate. I've always found bus systems to be more confusing than trains but this free app makes it so much easier. It'll tell you exactly how to get from one place to the next using any city's public transportation system.
As recommended in the THINGS TO DO section of this guide, Hop On Hop Off buses are a great way for first-time visitors to get around as well. You can use them an unlimited number of times and they'll take you to all of Singapore's top points of interest. Follow the link to read my post on DUCK & HiPPO's Hop On Hop Off tour for more information. You can purchase Hop On Hop Off passes through Klook.
If you're too lazy to take public transportation, then you can always hop into a taxi or use Grab. We did a couple of times to get to harder to find restaurants.
If you plan on using public transportation often, then there are few transport cards you can get to make it cheaper and more convenient:
Singapore Tourist Pass
If you're staying in Singapore for a maximum of three days and plan on using the trains often like we did, then you can invest in a Singapore Tourist Pass. It'll give you unlimited access to the MRT and public bus system, plus it'll save you the hassle of having to buy tickets before each ride. They're available in 1-day, 2-day, or 3-day passes for SGD 10, SGD 16, and SGD 20 respectively. 2- and 3-day passes need to be used on consecutive days. You'll need to pay a SGD 10 deposit per card which you can refund within 5 days after the date of purchase. Check the Singapore Tourist Pass website for more information.
EZ-Link / NETS FlashPay Card
These are two different cards issued by two different companies, but they basically do the same thing. They even cost the same. If you're staying in Singapore for longer than three days and don't need unlimited daily rides, then an EZ-Link or NETS FlashPay Card may be better options than the Singapore Tourist Pass.
Like the Singapore Tourist Pass, they'll save you the hassle of having to buy single journey tickets each time, plus you won't have to scrounge up exact change for the bus. But unlike the Singapore Tourist Pass, you don't have to use them on consecutive days. Each ride will come out cheaper than single journey fares and you can use them to pay for taxis and make purchases at participating shops and convenience stores. They're very similar to Hong Kong's Octopus Card in that regard.
Follow the link to learn more about the EZ-Link Card and where to buy it. You can get the NETS FlashPay Card through Klook.
HOW MANY DAYS TO STAY / SAMPLE ITINERARY
Singapore isn't that big but it's packed with fun and interesting things to do. It's got a lot of good restaurants and hawker stalls too. If you're in a rush, then you can probably do everything in this guide in 4 full days. That will give you enough time to see the major sights. But if you want to have a more relaxed stay, then stay at least 5. Food was a big reason why we were here so we stayed for 6 days to visit as many eateries as possible. Here's a 5-day sample itinerary to help you plan your trip.
DAY ONE
• Hop On Hop Off Bus
• Singapore Botanic Gardens
• Orchard Road
• Merlion
• Esplanade
• Chinatown
• Little India
• Kampong Glam
• Long Bar at Raffles Hotel

DAY TWO
• Gardens by the Bay
• Marina Bay Sands Skypark
• ArtScience Museum
• Helix Bridge
• Singapore Flyer
DAY THREE
• Universal Studios
DAY FOUR
• Sentosa Island
DAY FIVE
• Singapore Zoo
• Night Safari
BUDGET / SUMMARY OF EXPENSES
As described, Singapore isn't cheap. It's one of the most expensive cities in Asia. But one of our favorite things about Singapore — its food — is surprisingly inexpensive. With so many hawker stalls to choose from, you can enjoy delicious Singaporean fare for just SGD 5 a meal! The public transportation system is very efficient as well so getting around the city is easy and cheap.
Assuming you'll be staying in Singapore for 5 full days and sharing an inexpensive hotel room with one other person, then a starting budget of around SGD 100-120 per day should be good. This takes into account your hotel room, transportation, hawker stall meals, Hop On Hop Off Tour passes, Gardens by the Bay tickets, and pocket wifi rental.
I usually factor in all must-do admission fees but some of the places or activities mentioned in this guide may not be for everyone (like Universal Studios or Singapore Zoo). The Hop On Hop Off Tour gives you a great overview of the city which is why I added it. I included Gardens by the Bay because it's freaking awesome and you need to see it. You can add the cost of any other tour/activity that you want to do to the suggested budget.
ACCOMMODATIONS
This varies from person to person and depends on many factors like hotel preference and number of travel companions. We booked a room at City Inn Mackenzie for about USD 83 a night.
MEALS
Food cost in Singapore is highly variable as well. You can pay SGD 5 for great street food or spend SGD 150 on a chili crab feast. I budgeted SGD 20 per person per day which should give you plenty of options. You can get by with much less but why would you want to? Singapore is such a food-centric city that you may as well enjoy yourself. Budget more if you plan on dining at fancier restaurants.
POCKET WIFI RENTAL
If you're sharing the cost with one other person, then you'll be paying SGD 4.50 each per day.
TRANSPORTATION
Assuming you're staying for 5 days and doing the Hop On Hop Off Tour for 1 day, then a 3-day Singapore Tourist Pass should be fine for the rest of your stay. A 3-day pass will run you SGD 30, but SGD 10 of that is for a refundable deposit so the actual cost is SGD 20.
ATTRACTION FEES
The 24-hr City Sightseeing Pass costs SGD 39 while admission to both conservatories at Gardens by the Bay will set you back SGD 28. You'll pay less if you buy them through Klook or Kkday.
TOTAL


This comes out to about SGD 101.90 per person per day for a 5-day stay. As advised, budget more if you plan on shopping or doing more tours and activities. Ren and I are middle of the road travelers who enjoy good food and drink, so this is a starting budget that works for us. Feel free to adjust based on your own travel habits.
TRAVEL TIPS
1. Plan your Trip with Sygic Travel
I've been using the free trip planning app for several years now and I don't see myself stopping soon. It just makes the process of creating an itinerary faster and easier. With Sygic Travel, I can see where everything is on a map so I can group attractions and restaurants by day to come up with the most efficient itinerary. If you find trip planning daunting or tedious, then you may want to give it a try. Check out my full post on the Sygic Travel app for more information.
Follow this link to check out our 6-day Singapore eat-inerary on Sygic Travel. You can also download it in editable Word format from our EAT-ineraries page. If Singapore's hawker stalls are a priority, then this will be very useful to you.
2. Rent a Pocket Wifi Device
It goes without saying that a reliable connection to the internet is a must these days. We need it to do research, check email, and post on social media. It becomes even more important when you're trying to find your way in an unfamiliar country. Personally, we never go anywhere now without renting a pocket wifi device first. It just makes the trip less stressful and more fun.
You can stay connected in Singapore by renting a pocket wifi device or getting a sim card. We prefer pocket wifi devices but either way is fine. Between the two, sim cards are cheaper. You can arrange for both through Klook. If you live in Asia, then be sure to go through the list as it may be cheaper to pick it up from your home country.
3. Get Discount Tickets
Before every trip, I go through several e-commerce travel websites to see what deals I can find. I've purchased vouchers from different sites but for destinations in Asia, the best by far are Klook and KKday. They almost always have the widest selection at the best prices.
If you're looking for deals on attractions and services, then check out these links for a complete list of Sinagpore deals on Klook and KKday. Even if I don't wind up buying anything, I often find interesting activities that I wouldn't normally think of yourself so it's always fun to look.
4. Get Travel Insurance
Travel insurance may seem like a frivolous expense to some but for others, it's a necessity. For us, it depends on where we're going and what we'll be doing. If all we'll be doing is eating and shopping for a couple of days, then we may not bother with it. Our credit cards give us free (but limited) travel insurance anyway. But if we plan on doing anything remotely dangerous, like skiing or competitive eating, basically anything that could land us in the hospital, then we'll definitely get it.
When we do feel the need for it, we buy insurance from World Nomads or SafetyWing. They're both reliable travel medical insurance providers used by many long-term travelers. Check out my article on why we buy travel insurance for a breakdown of the two. You can follow the links to get a free quote from World Nomads or SafetyWing.
5. Know the Laws
Singapore is a "fine city". It's a fine city not just because it's lovely, but because it's possible for you to get fined for something you'd normally do in your own country. Things like spitting, connecting to someone else's wifi, and jaywalking can carry hefty fines. There's even a law that requires you to flush public toilets! If you don't want to be on the wrong end of a fine, then you'll need to familiarize yourself with Singapore's laws.
6. Bring the Right Power Adapter
Singapore has Type G electrical outlets so be sure to bring the right power adapters for your devices. Electrical voltage is 230V and the standard frequency is 50Hz.
Have fun!
By no means am I an expert on Singapore but I do hope that you find this guide useful. I'm only sharing some of the things I learned from our trip. If you have any questions or comments, then please let us know in the comment section below. You're welcome to join our Facebook Travel Group as well.
Thanks for stopping by and have a shiok time in Singapore lah!
OUR GEAR
These are some of the things we brought with us to Singapore. Check out our "What's in Our Backpack?" post for more on our travel gear. (NOTE: The following links are Amazon affiliate links.)
Disclosure
This post contains affiliate links, meaning we'll earn a small commission if you make a booking at no added expense to you. We only recommend products and services that we use ourselves and firmly believe in. We really appreciate your support as this helps us make more of these free travel guides. Thank you!