Ren and I are planning on going back soon and staying longer-term in Vietnam. Though we do feel that Hanoi is the more liveable city, there's no question in our minds that the best food in Vietnam is in Saigon. Hanoi has my beloved bun cha and ca phe trung but overall, we prefer the food in Saigon.
We published the first edition of this Saigon food guide in 2017 and it listed ten eateries. Ten wasn't nearly enough to do this delicious city justice, so we recently went back to Vietnam to finish what we started.
I spent a month in Vietnam and almost a week in Ho Chi Minh City looking for the best restaurants, street food stalls, and cafes this city had to offer. The result is this new and improved guide featuring 25 of the best restaurants in Saigon.
If you're visiting Ho Chi Minh City and enjoy Vietnamese food as much as we do, then this Saigon restaurant guide will be very useful to you.
THE BEST RESTAURANTS IN SAIGON
I relied on local recommendations, food shows, restaurant review sites, and trusted Saigon food blogs to come up with this list of the best restaurants in Ho Chi Minh City.
In the case of some dishes like banh mi and pho, it wasn't enough to eat them just once so we visited multiple restaurants specializing in that dish.
A list of 25 Saigon restaurants can be time-consuming to go through so I've grouped them by dish to help keep this guide organized and easy to digest. Click on a link to jump to our restaurant recommendations for that dish.
BANH MI
Banh mi is one of the best known and most beloved Vietnamese dishes. The term "banh mi", in the strictest sense, refers to bread but people often use it to describe the sandwich.
A small French baguette is split lengthwise and filled with an endless combination of ingredients like cold cuts, grilled meats, liver pate, cucumber slices, pickled vegetables, and cilantro. It's a light sandwich that's typically eaten as a snack.
1. Banh Mi Bay Ho
This was the banh mi stall recommended in the Vietnam episode of Street Food on Netflix. We're huge fans of that series. Every episode does a deep dive into the featured city's local cuisine so we're always confident that we can rely on their recommendations.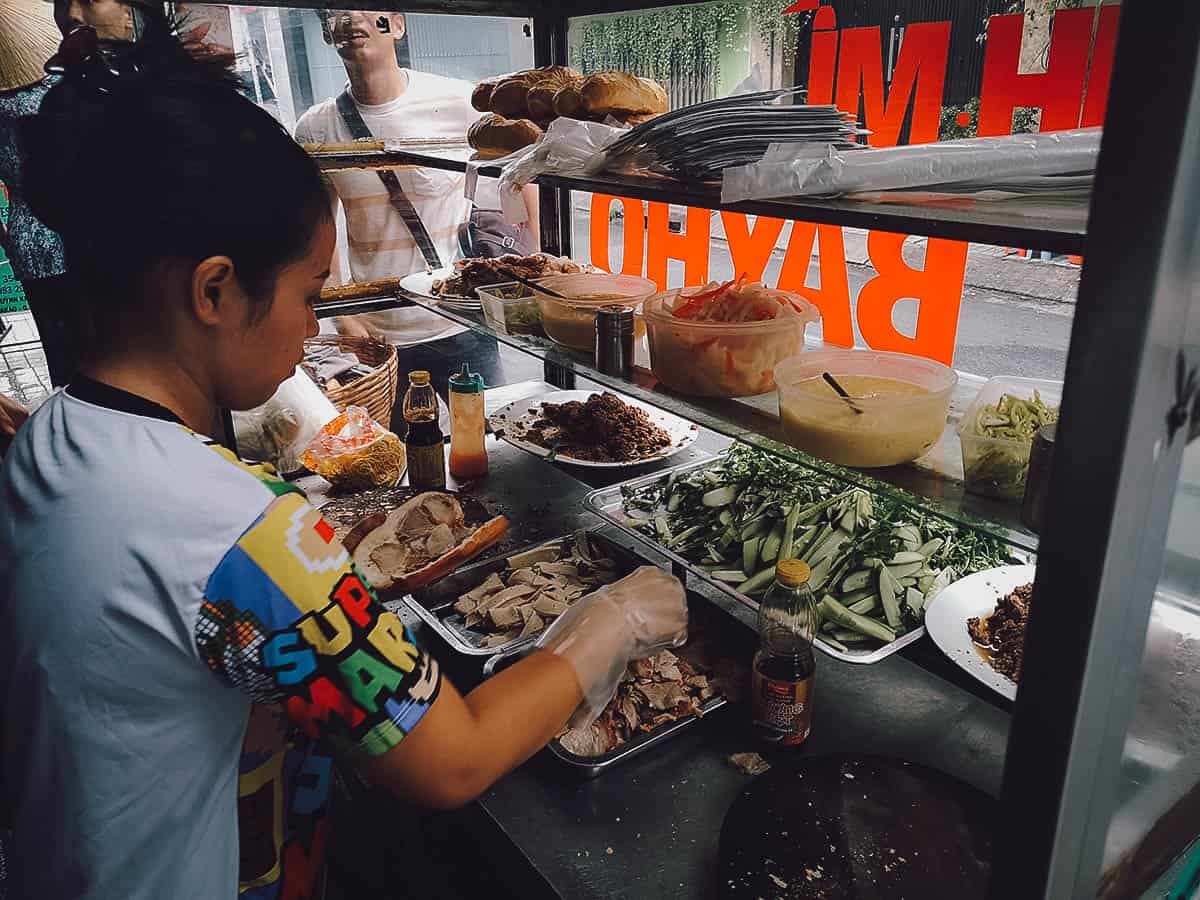 Netflix was right again with this one. The banh mi at Banh Mi Bay Ho wasn't just delicious, it was also one of the cheapest I tried in Saigon.
The bread was nice and crusty on the outside and pillowy soft on the inside. It had a good mix of ingredients in just the right amounts to highlight the real star of this dish – the bread.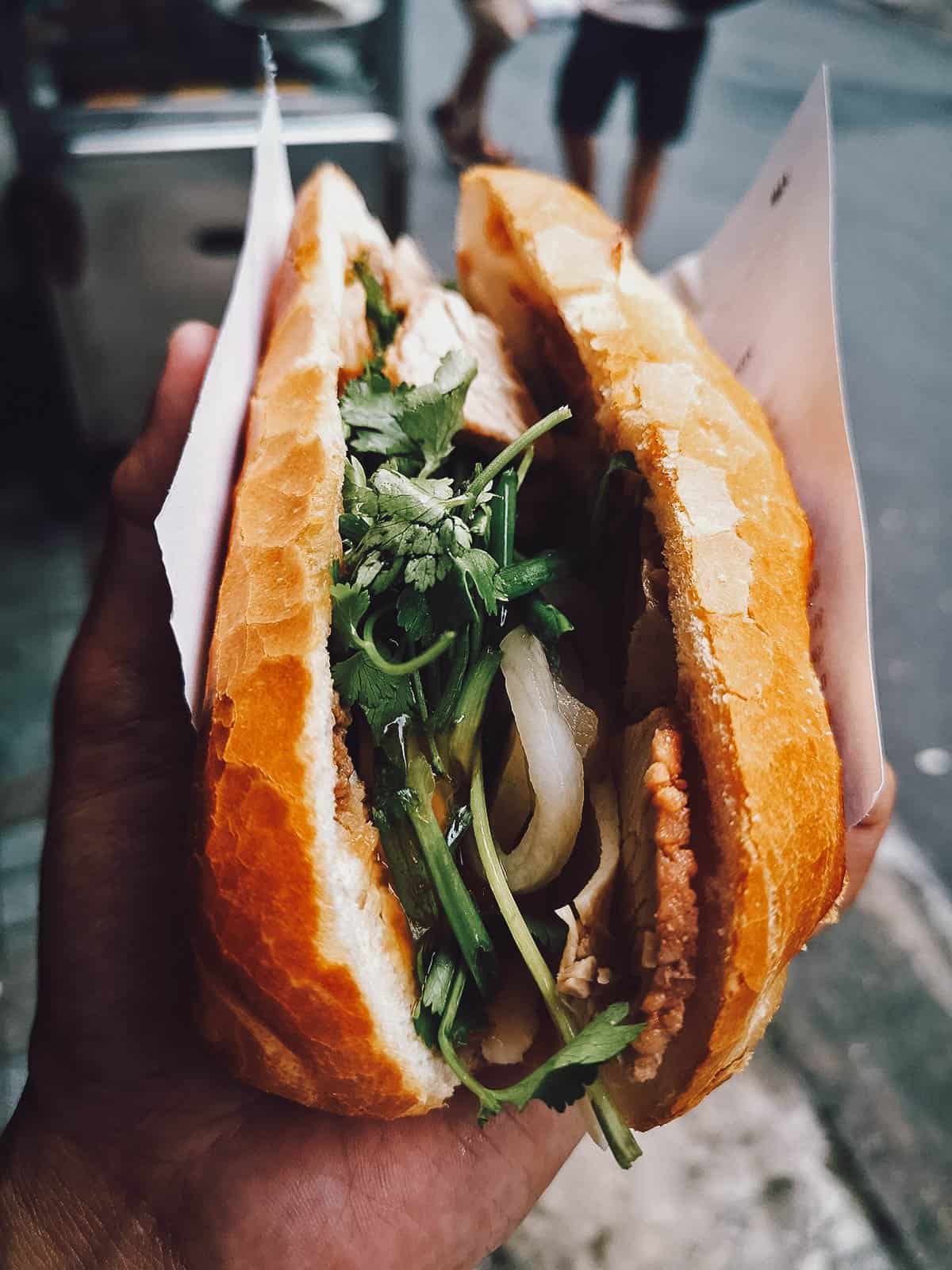 A basket of what in my opinion is the heart and soul of any sandwich. To me, it almost doesn't matter how good your fillings are. If your bread is subpar, then your sandwich will be subpar. Like every banh mi shop on this list, the bread at Banh Mi Bay Ho is exceptional.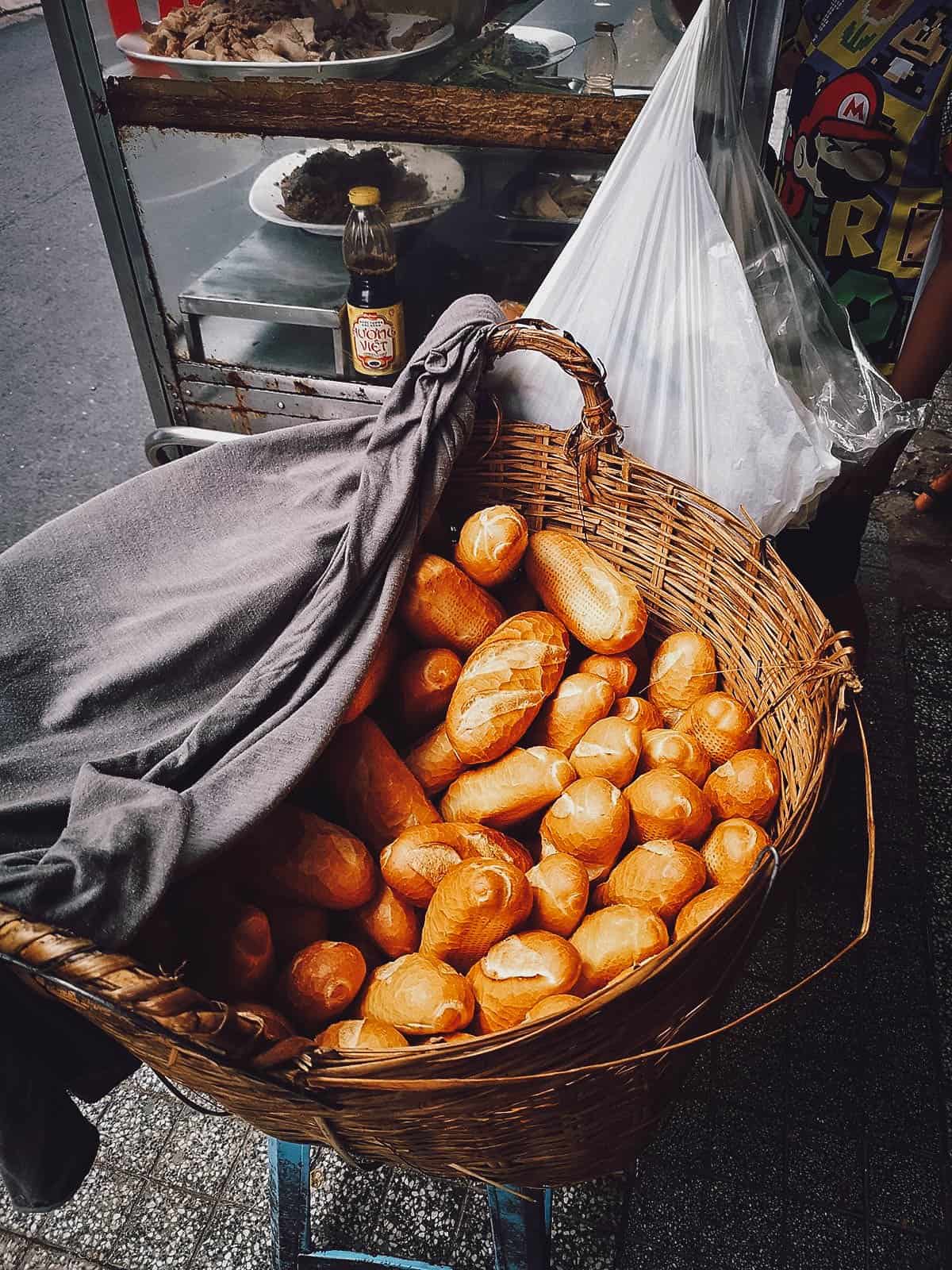 2. Banh Mi Huynh Hoa
Google "best banh mi in saigon" and many results will lead you to this place. It's featured on many travel food shows and is on nearly every article listing the best restaurants in Saigon.
We learned about Banh Mi Huynh Hoa from the first episode of Luke Nguyen's Street Food Asia. He called it his favorite banh mi stall in Ho Chi Minh City. Take a bite of their sandwiches and you'll quickly understand why.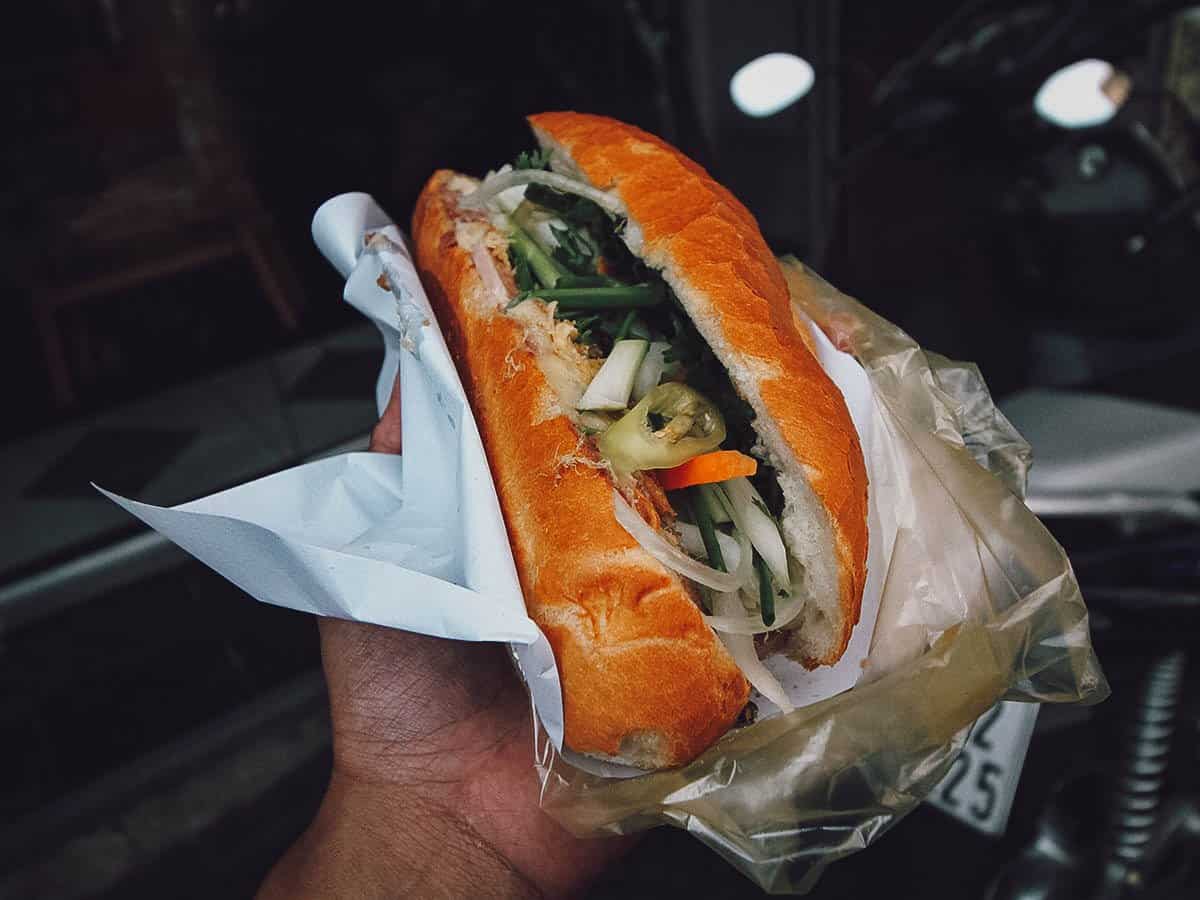 The banh mi at Banh Mi Huynh Hoa was indeed delicious, and as you can see in this picture, it was overflowing with ingredients.
I had banh mi multiple times everywhere in Vietnam and this sandwich was by far the most loaded. It was almost like eating an American hoagie.
We appreciated how stacked this banh mi was but personally, we prefer banh mi with slightly fewer ingredients.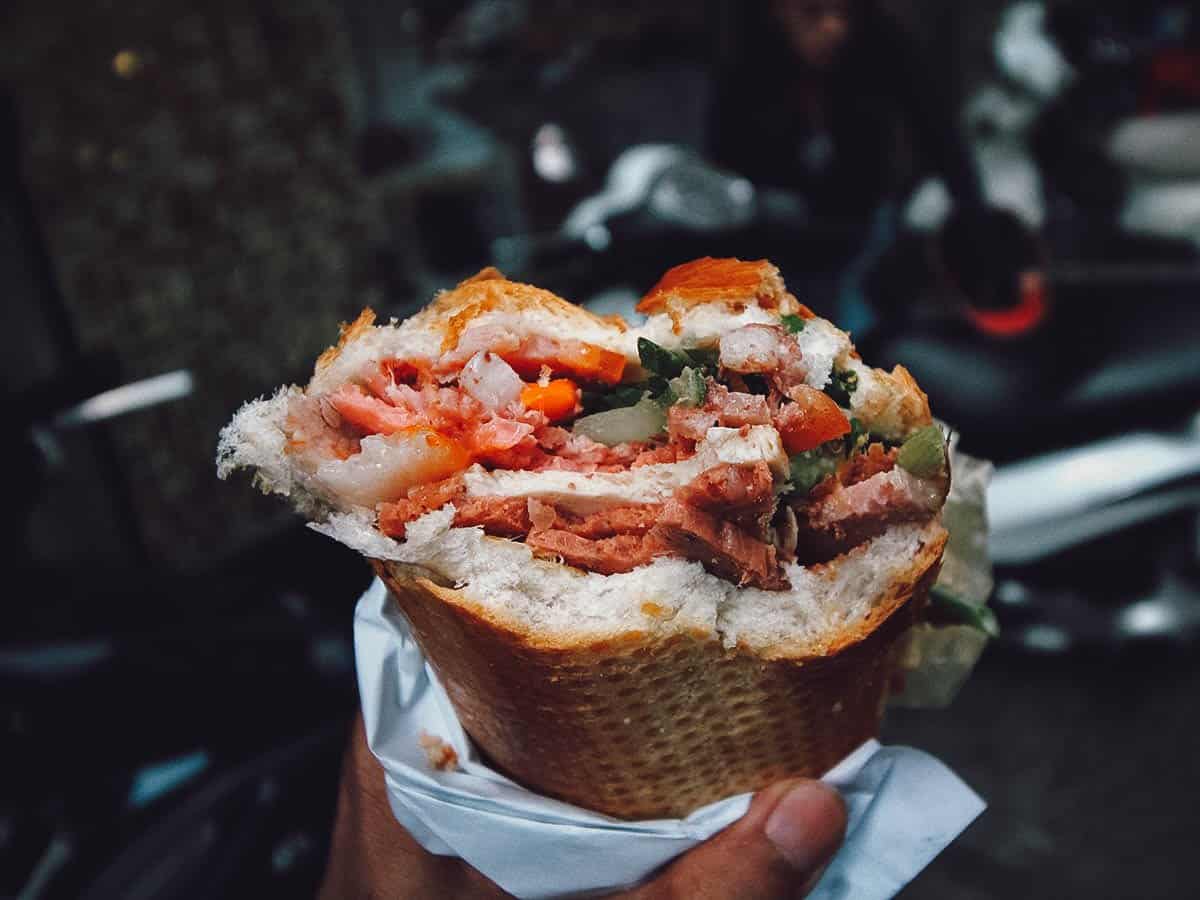 Banh Mi Huynh Hoa is a TripAdvisor Certificate of Excellence awardee with a stellar 4.5-star rating. They're one of the best restaurants in Saigon to have banh mi so you're advised to arrive early if you want to avoid the long queues. But no worries, they have an assembly line of banh mi makers so the line does move fairly quickly.
Interestingly, Banh Mi Huynh Hoa is known by another name – Banh Mi O Moi – which basically translates to "lesbian banh mi". It's owned by a lesbian couple who opened this stall over 30 years ago and originally staffed an all lesbian crew.
3. Banh Nam
Most of the restaurants and street food stalls we visit on our trips are vetted in advance, but we do allow ourselves moments of spontaneity. This was one of those moments.
We had just come from Mrs Truoc's snail stall when we were hit with a craving for banh mi. We hopped on Google Maps and did a search for highly-rated banh mi places near us, which led us to this place – Banh Nam.
It seems to be a fairly new banh mi stall with a solid 4.1-star rating so we decided to give them a try. We weren't disappointed.
We asked the server for recommendations and he suggested we get the grilled chicken and the special banh mi. Pictured below is the grilled chicken.
The bread was nice and crusty and filled with a few slices of grilled chicken breast, pork floss, cilantro, cucumber, and mayonnaise. So simple but always delicious.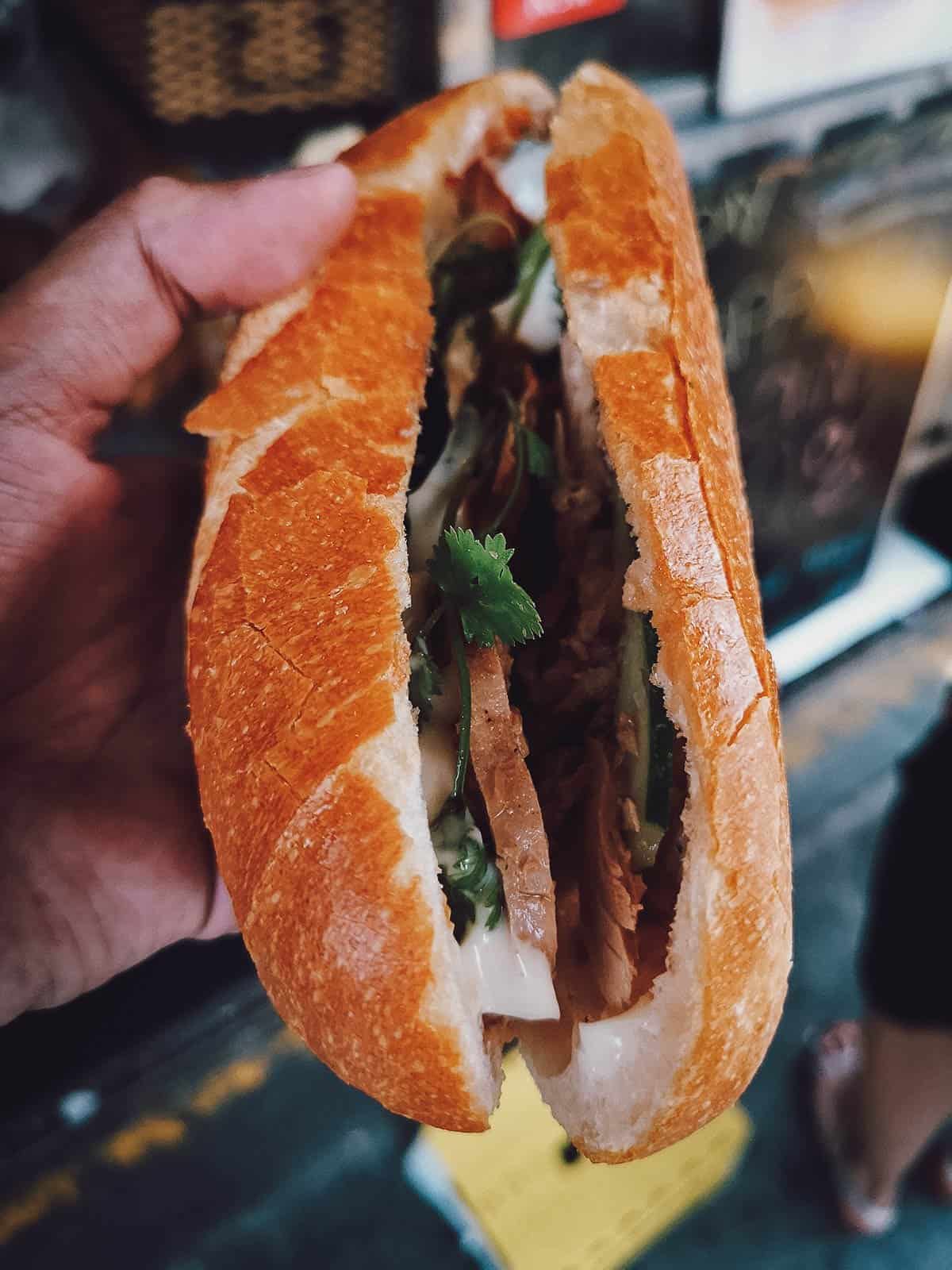 This was the special banh mi. I believe it contained both grilled chicken and pork along with cilantro, cucumber slices, tomato, onion, pepper, and some type of special sauce. This was good too but I preferred the simpler grilled chicken banh mi.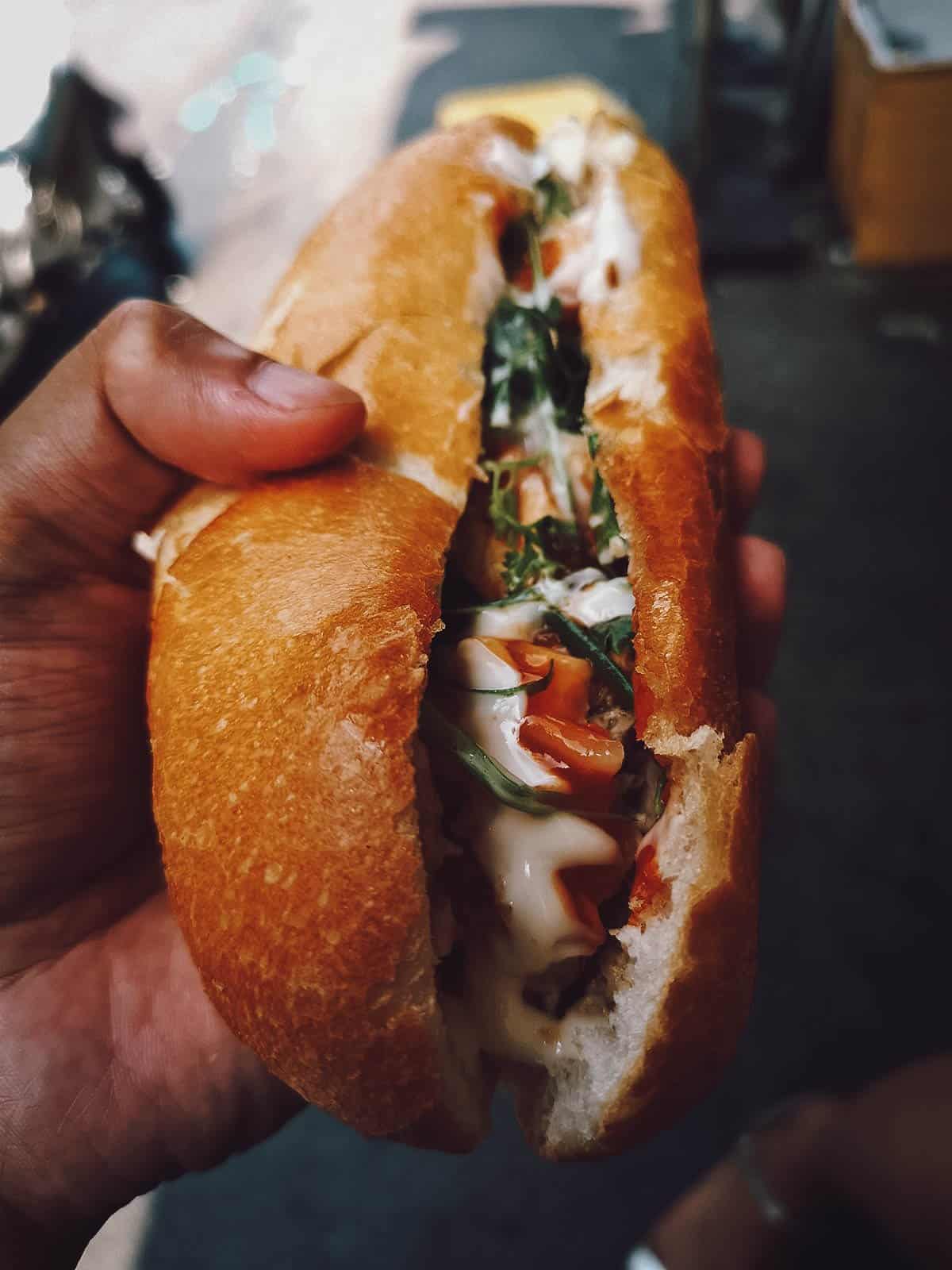 4. Phuc Hai
Take a good look at this banh mi. Do you see anything special? If you said "crispy pork belly", then you'd be right.
Known as banh mi heo quay, what you're looking at is banh mi made with roasted pork belly and the usual ingredients like cucumber, carrot, and cilantro.
Nice and fatty with crackingly crisp skin, it was absolutely delicious and perhaps the best banh mi we had in Saigon. If you like crispy pork belly, then you're going to love the banh mi heo quay at Phuc Hai.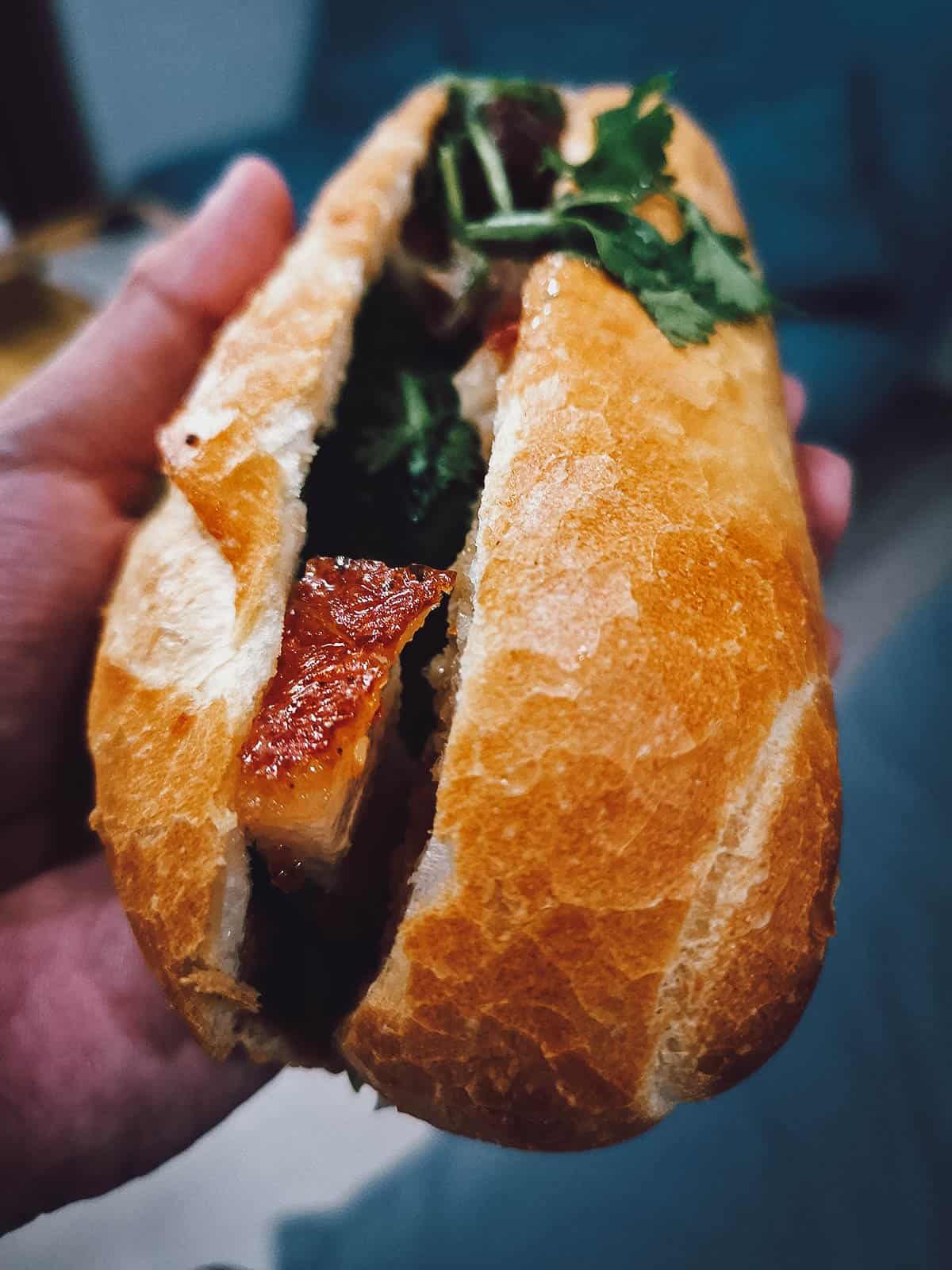 It doesn't seem like banh mi heo quay is available at every banh mi stall so we specifically searched for one that had it. We found Phuc Hai near our serviced apartment in District 3.
They have a solid 4.8 rating from local reviewers on Google Maps and a respectable 7.4 on Vietnamese review site foody.vn.
5. Banh Mi Hoa Ma
Banh Mi Hoa Ma is another popular Saigon street food stall that's featured on many blogs and travel food shows. Like Banh Mi Huynh Hoa, we learned about it from Luke Nguyen's show.
They're known for this beautiful pan of food called banh mi op la which consists of a baguette, two fried eggs, pate, an assortment of meats, and a side of pickled vegetables. Again, super simple but delicious and fun to eat!
They also offer a similar version assembled in sandwich form but without the fried eggs. It's called banh mi kep thit. But what this place is really known for is the banh mi op la so I suggest getting that.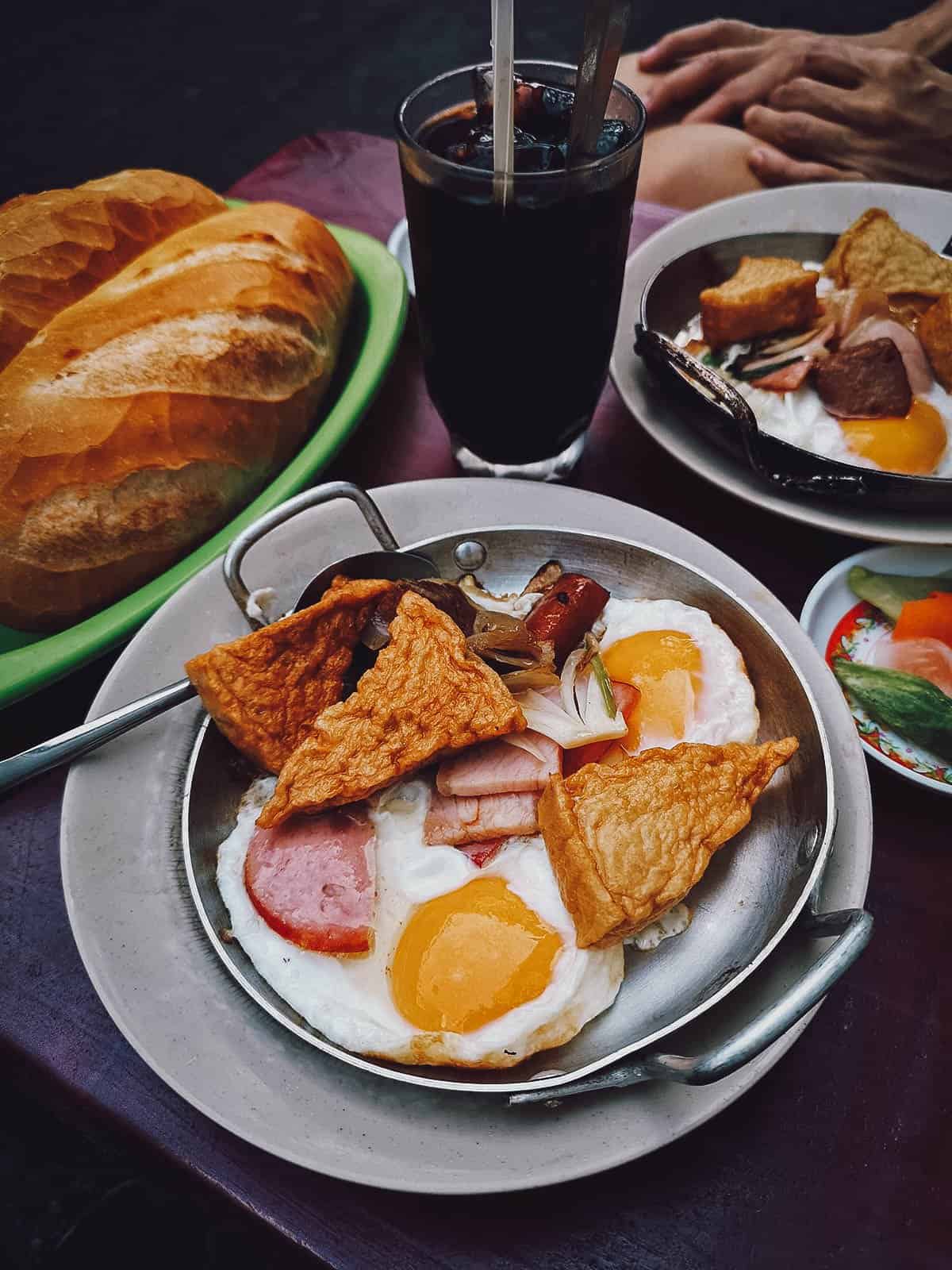 Banh Mi Hoa Ma is one of the more popular Saigon restaurants. They're open only from 6-11AM so you'll need to come early lest they run out of food.
As you can see below, there's no indoor seating. Plastic tables and chairs are set up in an alleyway by the side of a building. For me, this is what the Saigon street food experience is all about.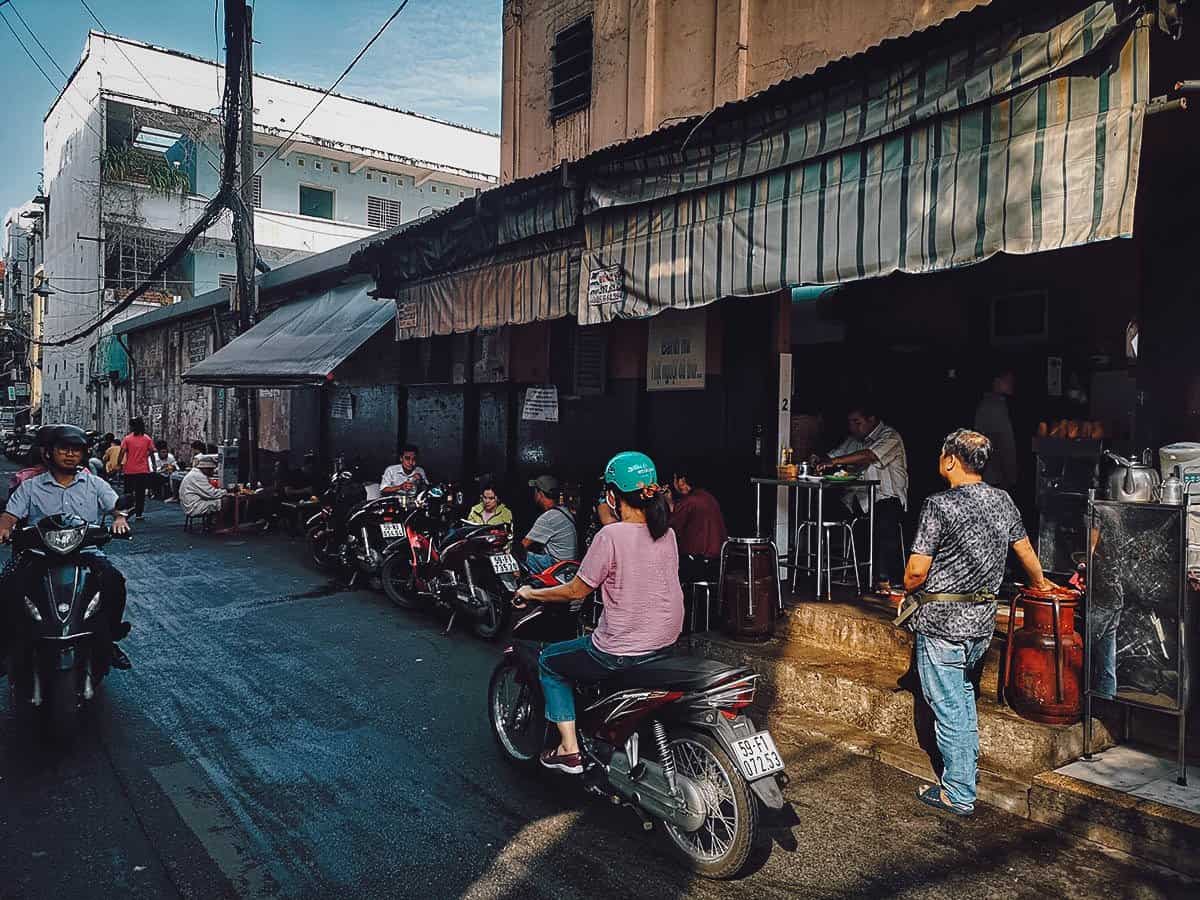 Here's Ren digging into her perfectly baked baguette. Banh Mi Hoa Ma was just one of three Saigon restaurants we revisited from two years ago.
6. Banh Mi Trang Thi
What an interesting find this was. I was walking to Pho Mien Ga Ky Dong for breakfast when I chanced upon this stall offering Turkish doner kebabs wrapped in Vietnamese banh mi.
They were shaving doner meat off a vertical rotisserie then stuffing them with vegetables and a sriracha-mayo-type sauce into these triangle-shaped slices of bread.
I love Turkish cuisine and Vietnamese food so this interesting mashup was already enticing enough, but the crowd of locals waiting to get takeout told me this place couldn't be missed. They were right.
It looks like they have an actual restaurant but this takeout stall only offers two options – regular and special. I don't know what the difference is but I got the special version of the doner kebab banh mi.
The meat is smokey and juicy and stuffed in Vietnamese-style bread. It's flatter than the typical baguette but it has a similar texture – crisp on the outside and crumbly on the inside.
The sandwich is tasty and unlike any banh mi sandwich I've ever had. If you want to have a different type of banh mi in Saigon, then you should definitely try Banh Mi Trang Thi.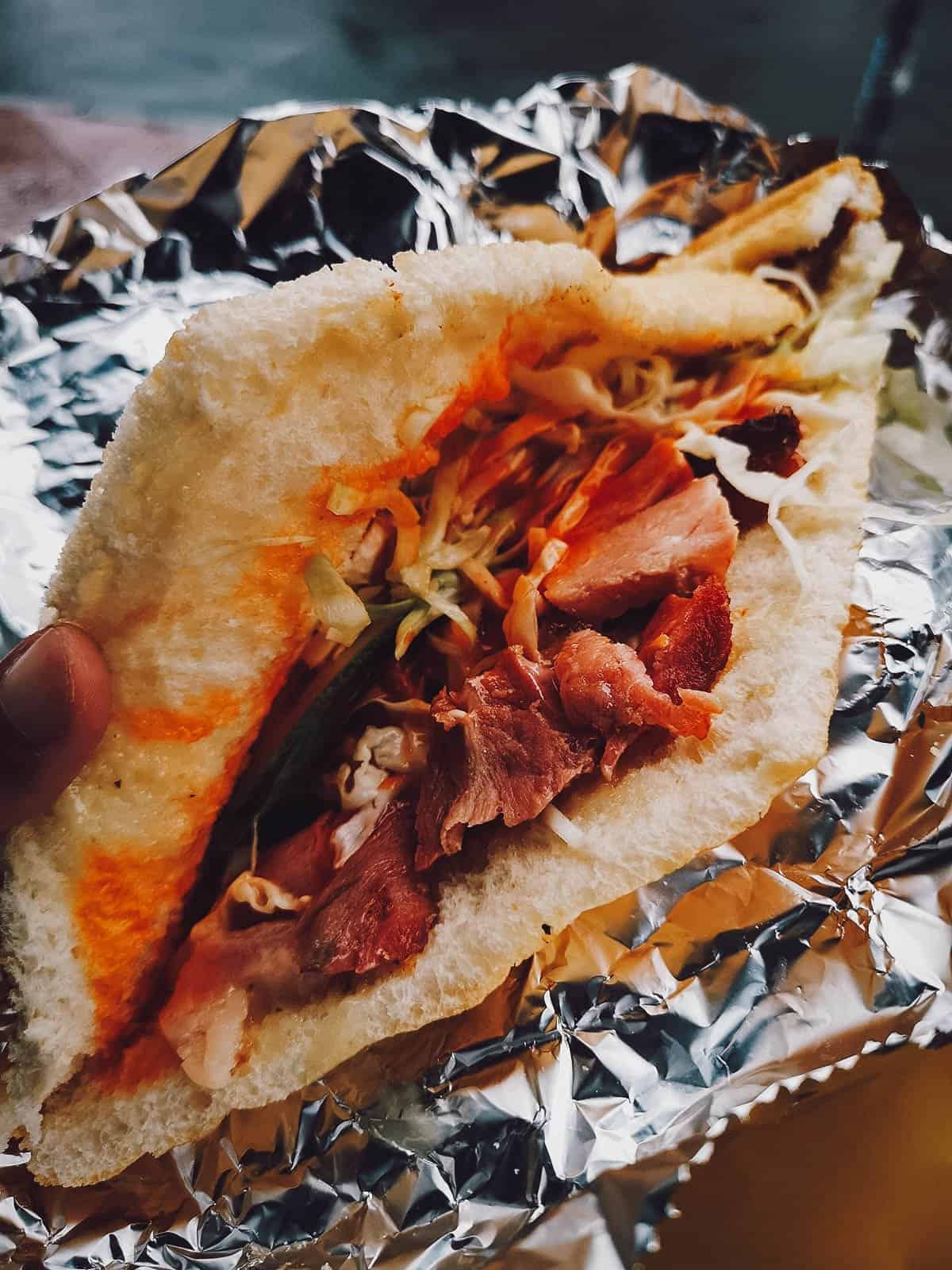 PHO
Like banh mi, pho is a Vietnamese national dish. It's a noodle soup that's said to have its roots in Nam Dịnh Province in northern Vietnam but it's now enjoyed throughout the country.
Pho is typically made with four basic ingredients – a clear stock, rice noodles, meat (typically beef or chicken), and herbs.
7. Pho Le
When we visited Saigon two years ago, our Inspitrip tour guide and the owner of our homestay both recommended Pho Le to us. Two locals recommending the same pho restaurant pretty much guaranteed that this place would be awesome, and it was.
It turned out to be my favorite bowl of pho not just in Saigon, but in all the cities I visited in Vietnam.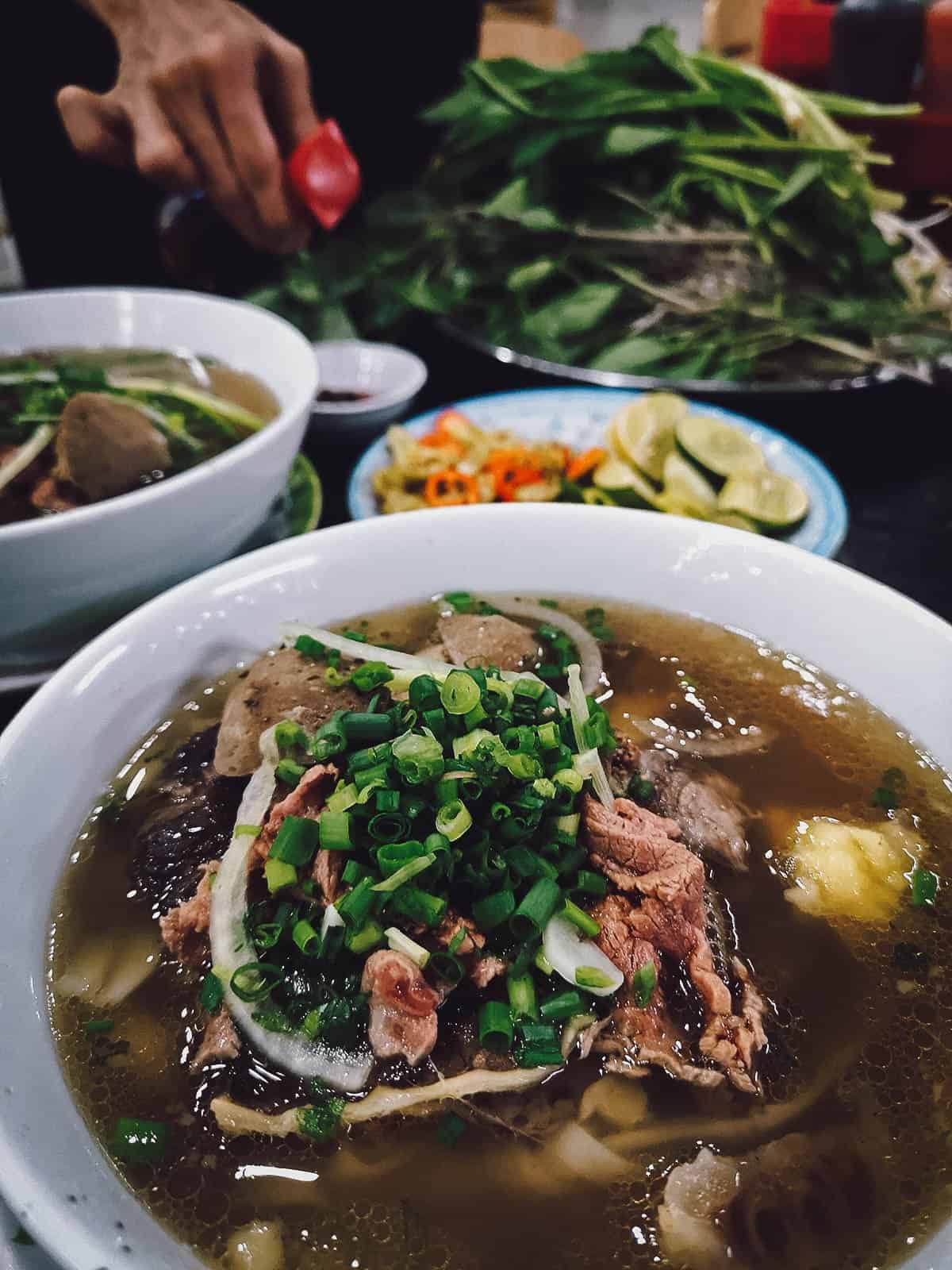 I had pho many times at different restaurants in Hanoi and the broth in southern versions is sweeter than its northern counterparts. Another difference is that it's served with bean sprouts and a much wider variety of fresh herbs.
If you like pho, then you should definitely eat at Pho Le. Their Vo Van Tan branch is in the same area as Bot Chien Dat Thanh, Com tam Tran Quy Cap, Ca Phe Do Phu, and Co Lieng so you can do a Saigon food crawl and visit all of these restaurants in one day.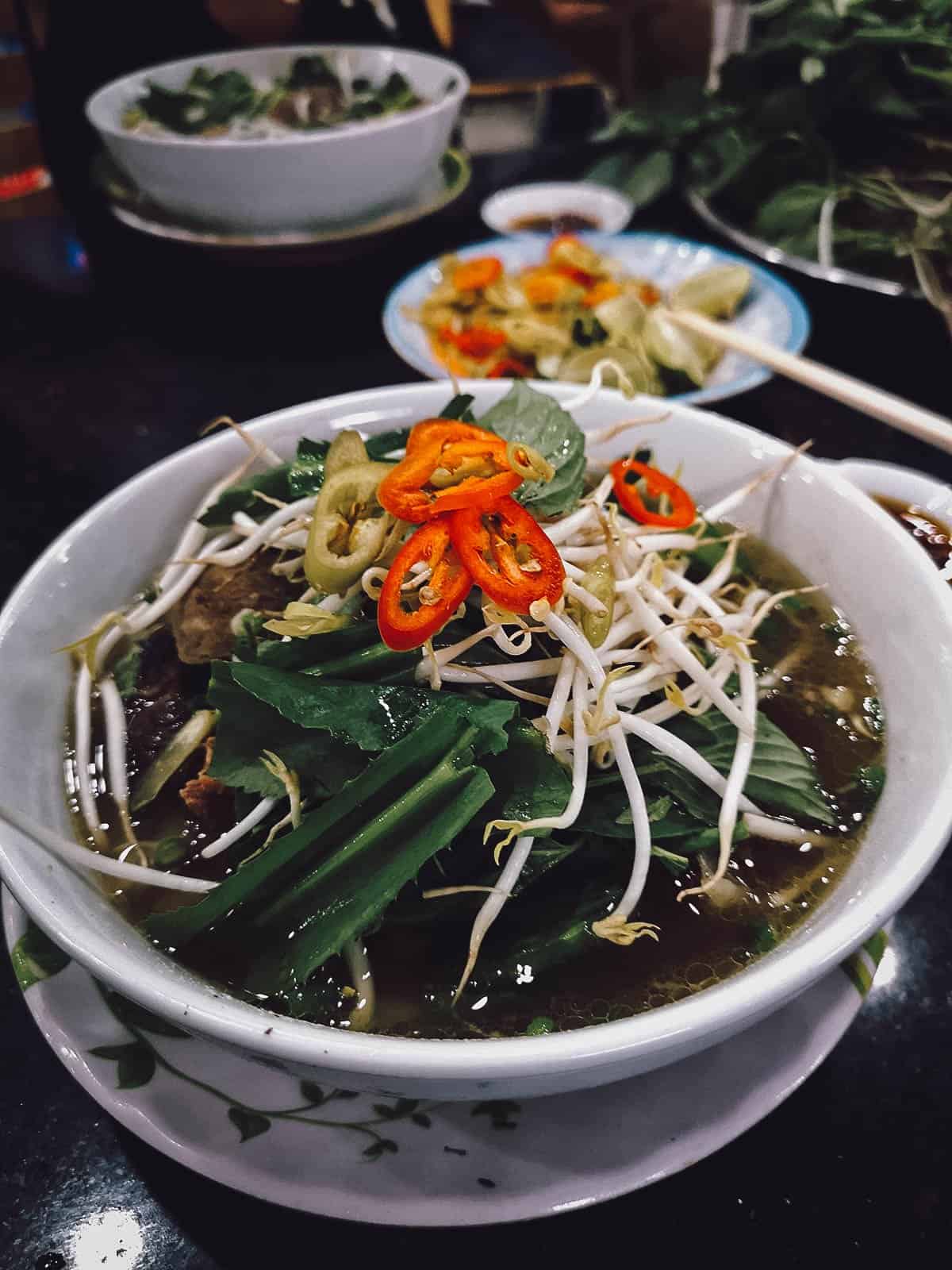 Pho isn't my favorite type of noodle soup in Vietnam but this bowl of pho thap cam – served with beef tendon, meatballs, and brisket – was the best damn pho I've ever tasted.
The broth was extremely flavorful and delicious. Plus, I enjoyed all the fresh greens that you could freely add to your bowl.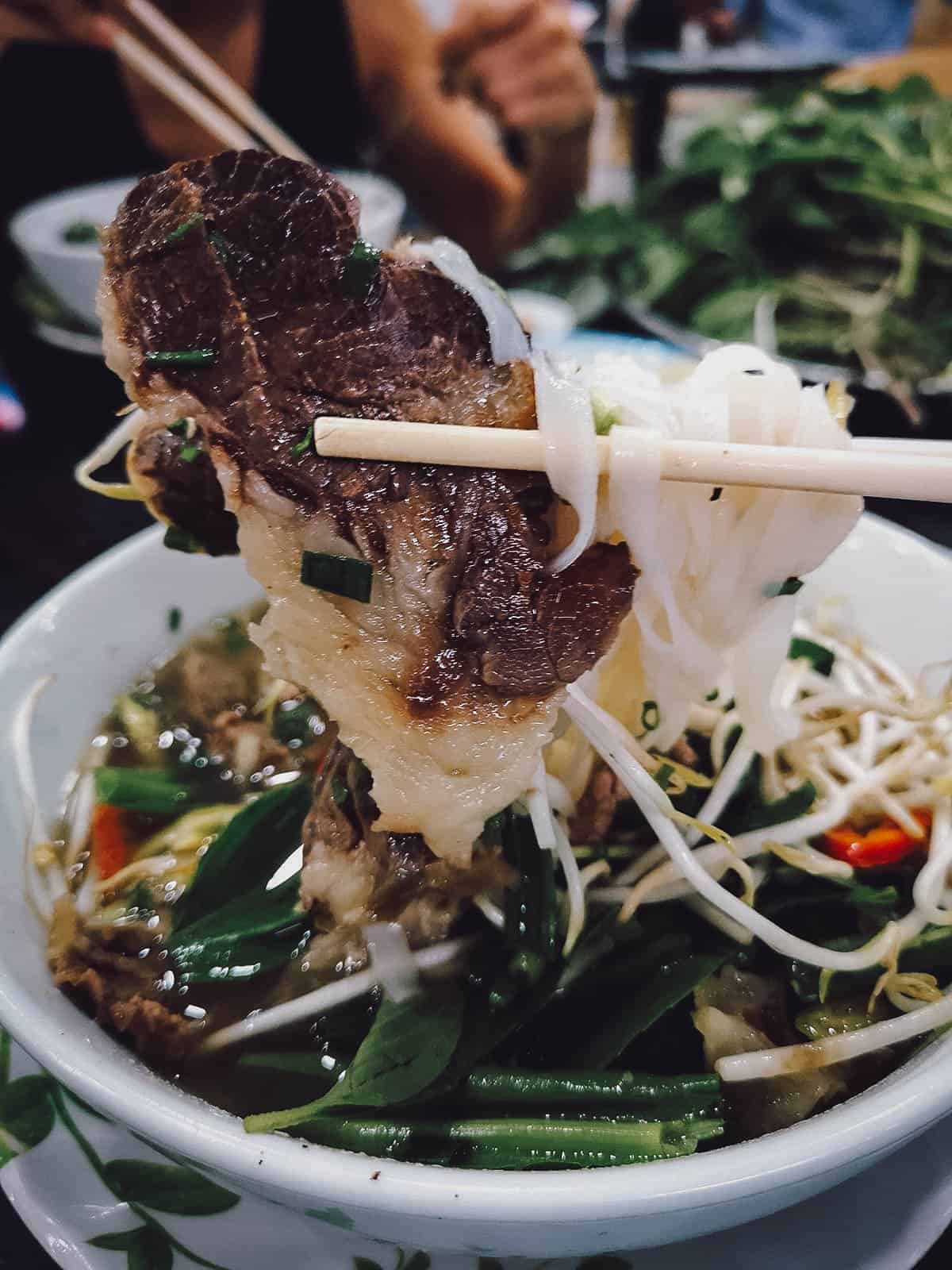 Pho Le has two restaurants in Saigon. Pictured below is the branch along Nguyen Trai Street in District 5. This is the branch we visited on our most most recent trip.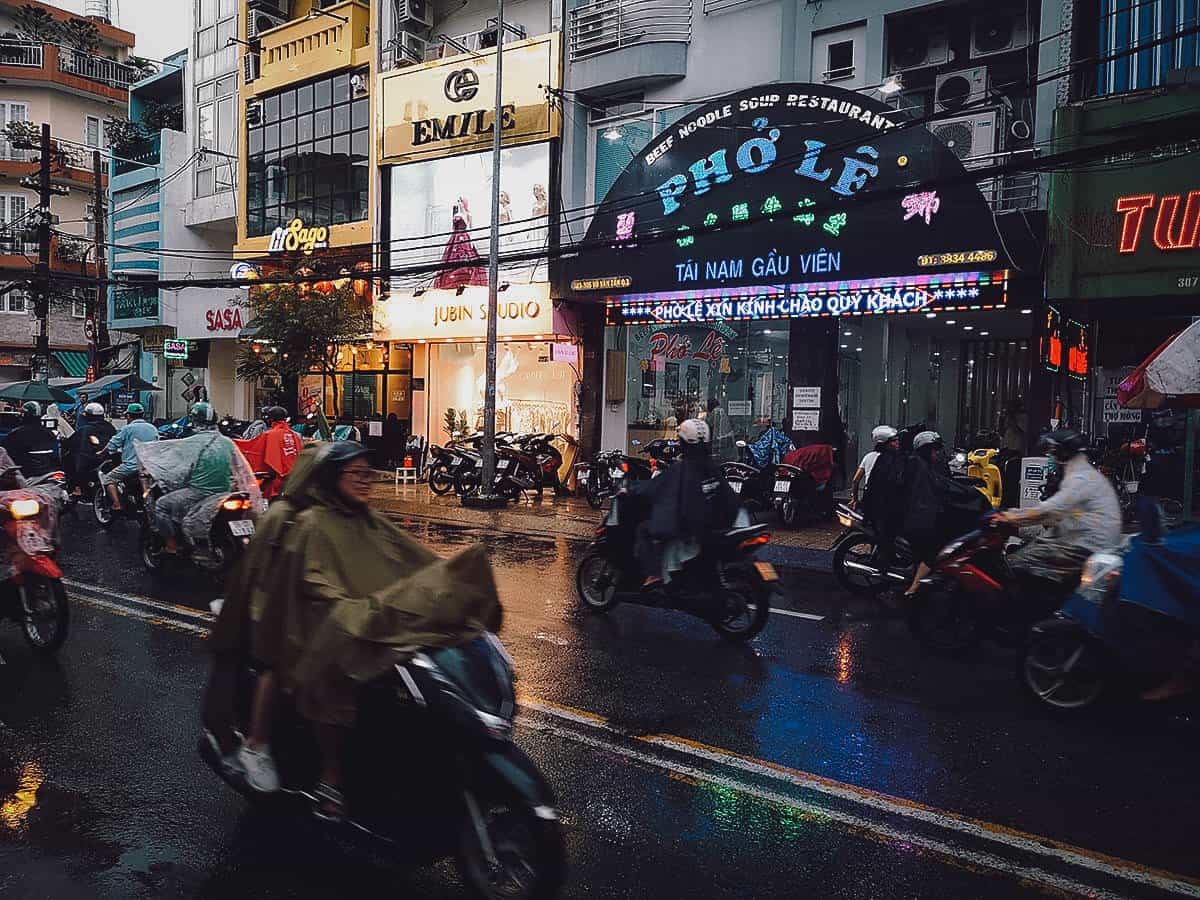 8. Pho Mien Ga Ky Dong
Pho Mien Ga Ky Dong was the pho restaurant featured on Street Food on Netflix. Judging by how busy it is, this has to be one of the most famous restaurants in Ho Chi Minh City.
The large cafeteria-like space was packed with locals enjoying pho for breakfast at around nine in the morning.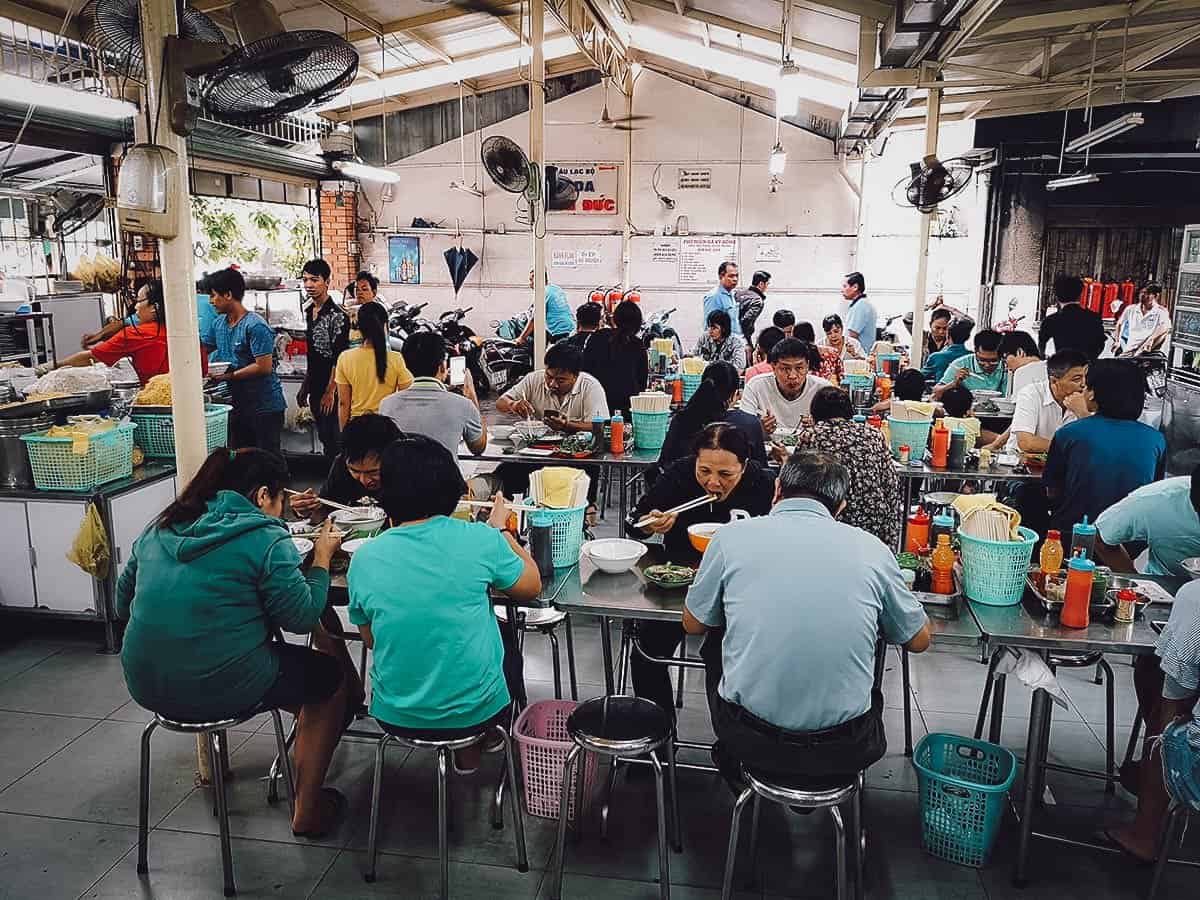 I had the beef pho and as expected, it was delicious – clean-tasting with soft and silky rice noodles. I had already devoured a banh mi from Banh Mi Trang Thi but I blitzed through this bowl anyway. Eating it with the crunchy raw bean sprouts and fresh greens is so enjoyable.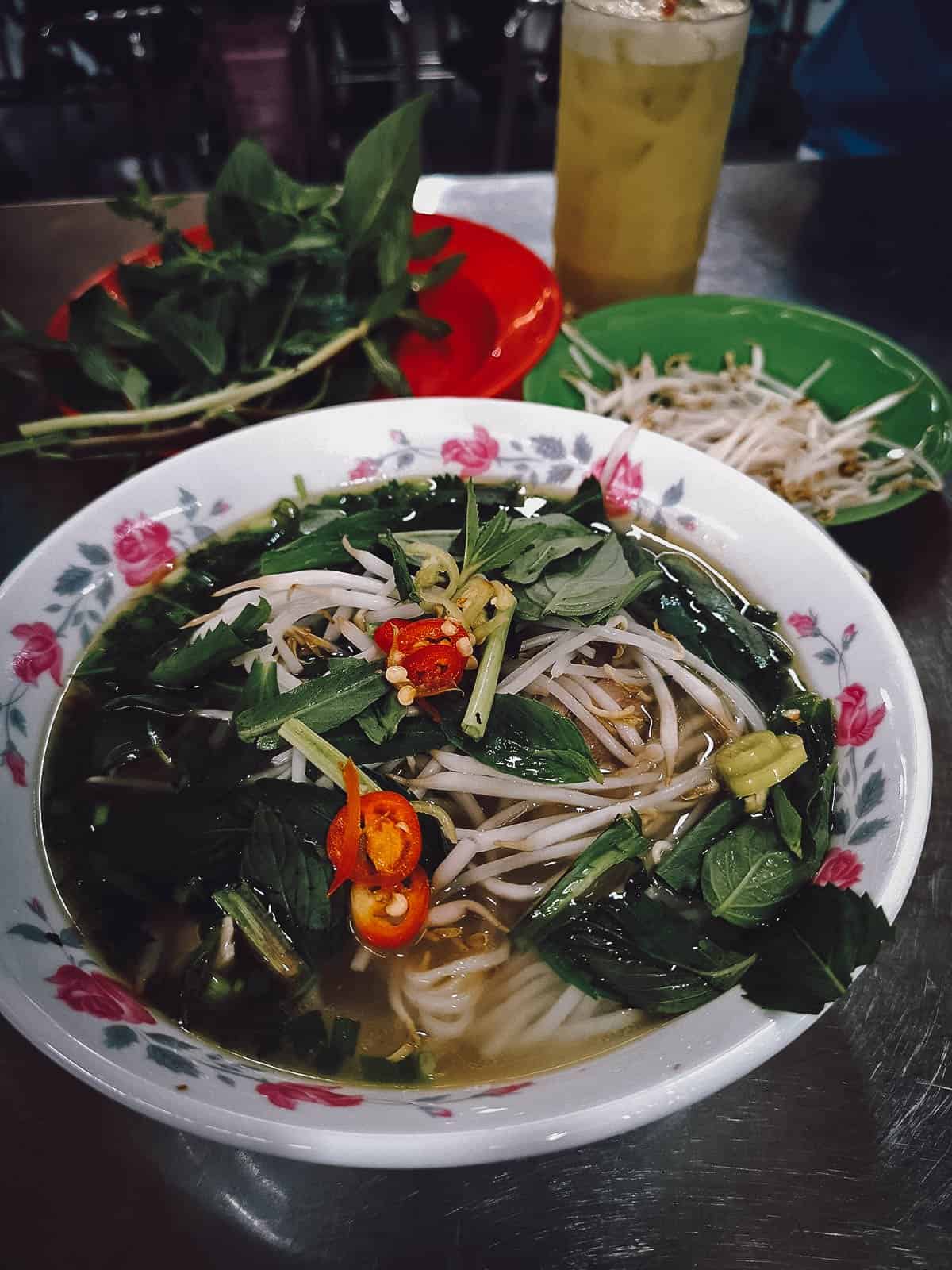 Here's a closeup of the beef with pho rice noodles. Personally, I preferred Pho Le but Pho Mien Ga Ky Dong wasn't far behind.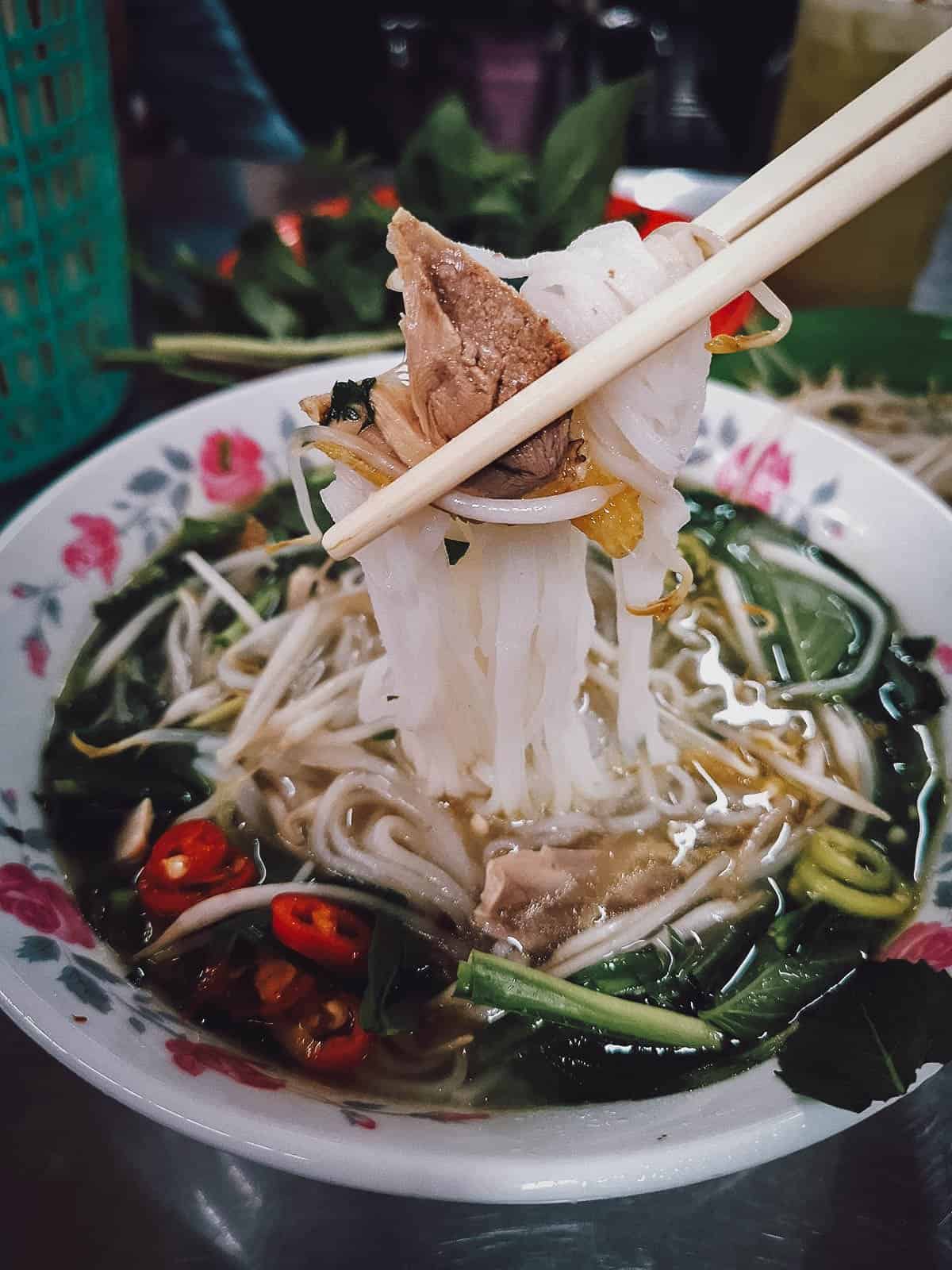 BUN THIT NUONG
Bun thit nuong is one of our favorite Vietnamese dishes. It's a dry noodle dish made with cold rice vermicelli noodles dressed in a nuoc cham sauce (Vietnamese fish sauce) and topped with grilled pork, bean sprouts, pickled carrots, fresh herbs, roasted peanuts, and a deep-fried spring roll (cha gio).
Though not exactly the same, it's basically what bun cha is known as outside of Hanoi.
9. Bun Thit Nuong Nguyen Trung Truc
We had one of our best meals in Saigon from this street food stall in District 1. We had just come from Saigon's famed Cafe Apartments when we were struck with a serious craving for bun thit nuong.
We hopped on Google Maps and it led us to this Saigon food stall grilling pork on the sidewalk – Bun Thit Nuong Nguyen Trung Truc.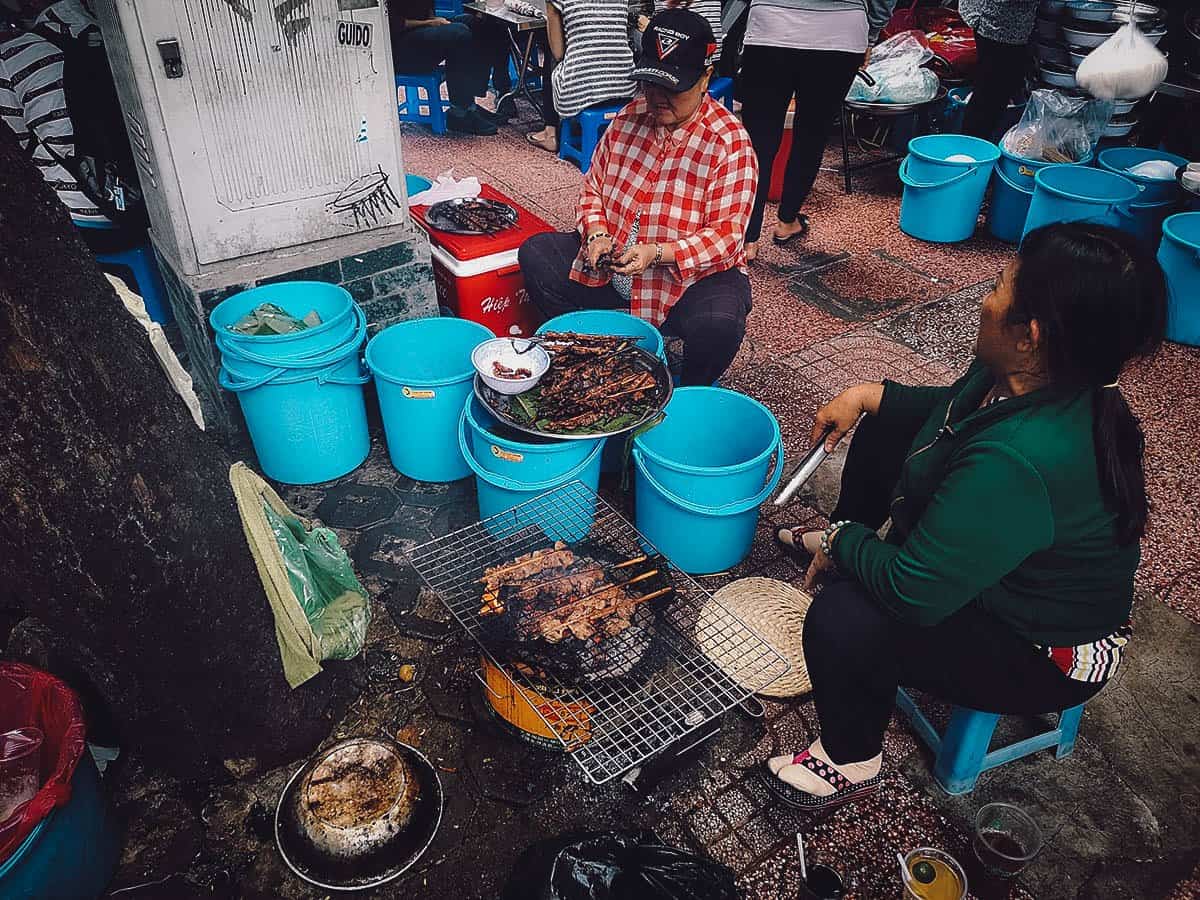 This place only makes bun thit nuong and they make it exceptionally well. As described, this was delicious and one of the most enjoyable meals we had in Ho Chi Minh City.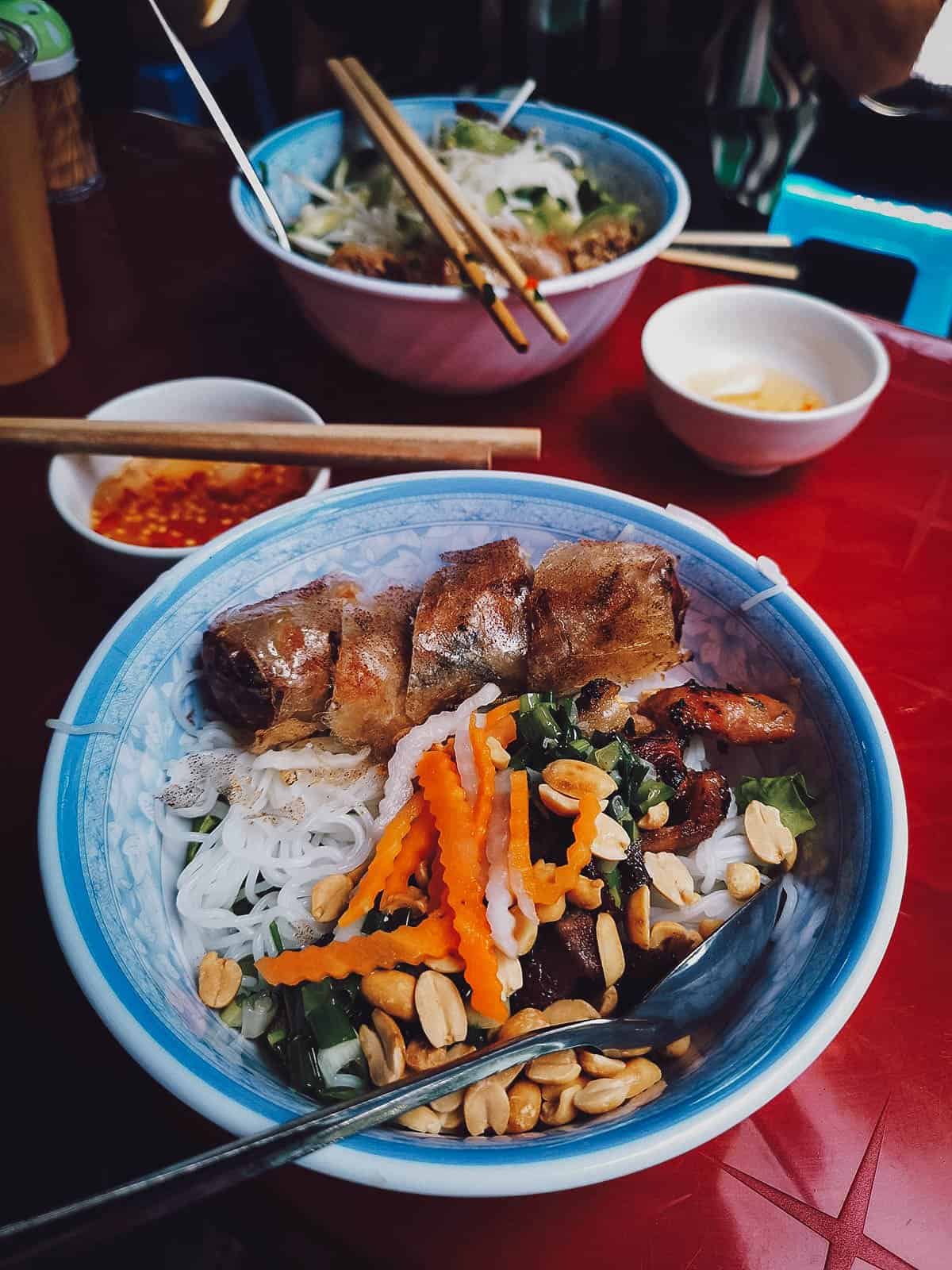 Here's a closer look at that delicious grilled pork. Like many Vietnamese dishes, bun thit nuong is a perfect balance of flavor and texture. Sweet, savory, smokey, crunchy, nutty, spicy, and a little sour, this dish has everything. It's so so good.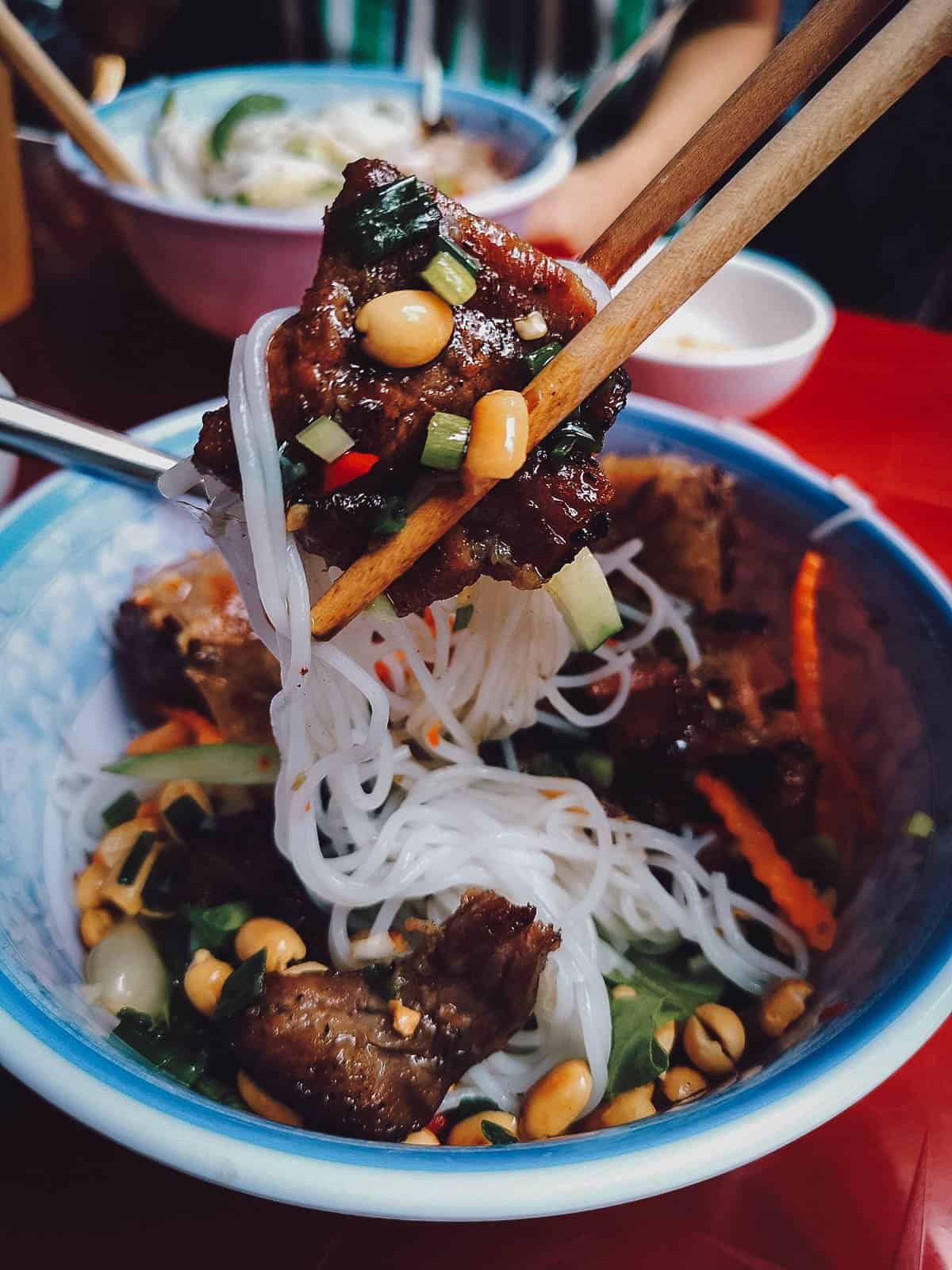 Bun Thit Nuong Nguyen Trung Truc is popular and gets crowded at noon. Most of the customers were office workers on their lunch break but there were a few tourists like us who probably stumbled upon the place by chance.
10. Bun Thit Nuong Kieu Bao
This was one of the stops on my Saigon motorbike tour with Saigon on Motorbike. According to my tour guide, Kieu Bao is a bun thit nuong restaurant that's popular with locals.
Their bun thit nuong was indeed delicious but I didn't find it to be quite as good as Nguyen Trung Truc's. As you can tell from the picture below, the meat wasn't as juicy and the cha gio not as delicate. Still, it was very good and worth a visit if you're in the area.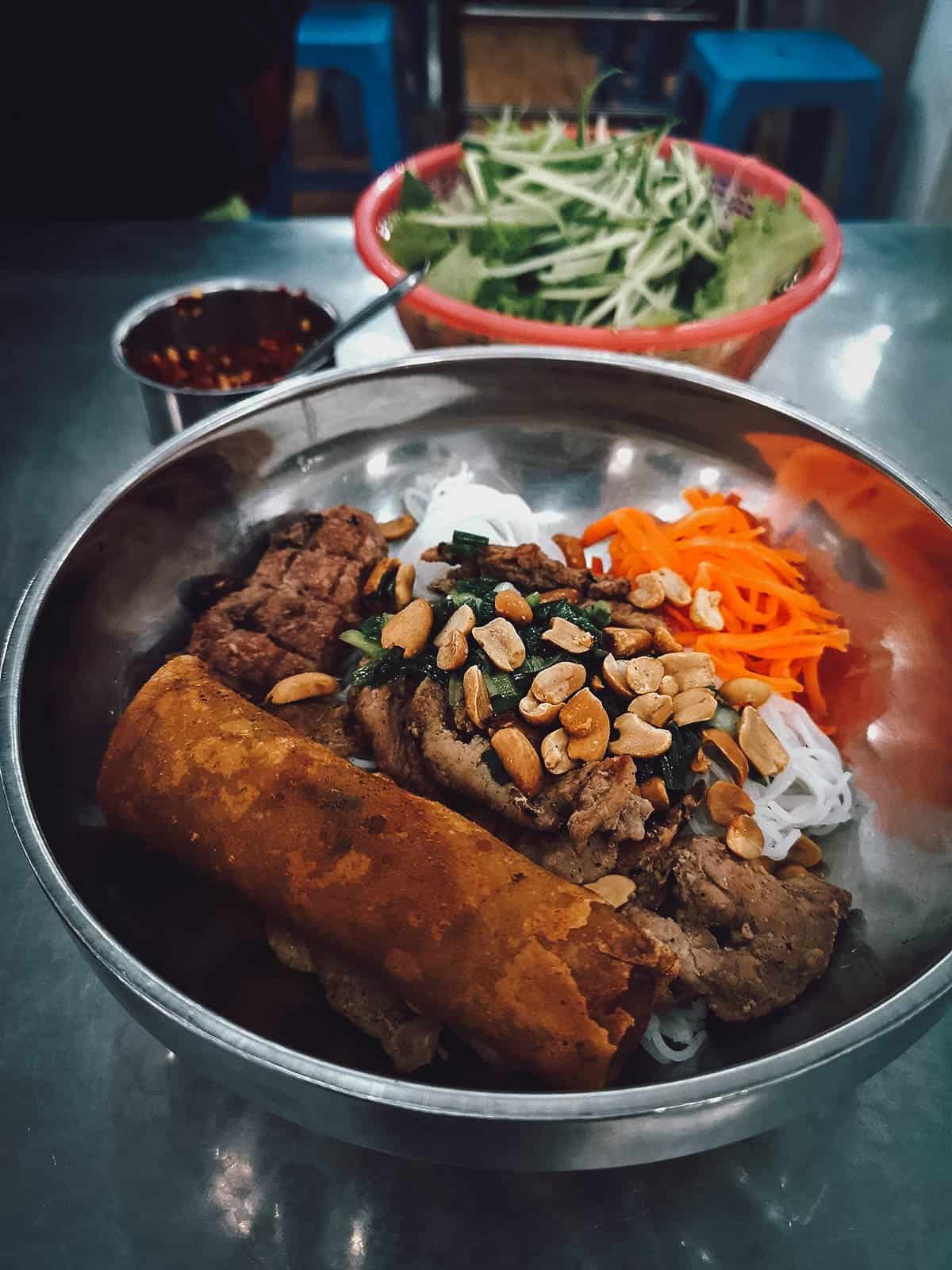 COM TAM SUON NUONG
Com tam means "broken rice" while suon nuong refers to a marinated charcoal-grilled pork chop. Together, com tam suon nuong refers to a dish of broken rice topped with a grilled pork chop.
This type of rice is called "broken rice" because it's made with fragments of rice grains that were broken either in the field, during drying, during transport, or by milling.
I haven't eaten it enough to really notice the difference but people have described it as being nuttier than regular rice, almost like risotto.
11. Com Tam Tran Qui Cap
The same tour guide that recommended Pho Le to us also led us to this place. According to him, Com Tam Tran Quy Cap has a reputation for being one of the best restaurants in Saigon to have broken rice.
It's been open for decades and was a favorite of both his father and grandfather. Three generations of Saigon locals telling you to go somewhere is advice you don't ignore.
I'm happy we didn't because this plate of broken rice with a grilled pork chop was one of the best meals we had in Saigon. The pork chop was delicious – savory sweet and exceedingly tender. Before this meal, I had no idea pork chop could be this good. I was blown away.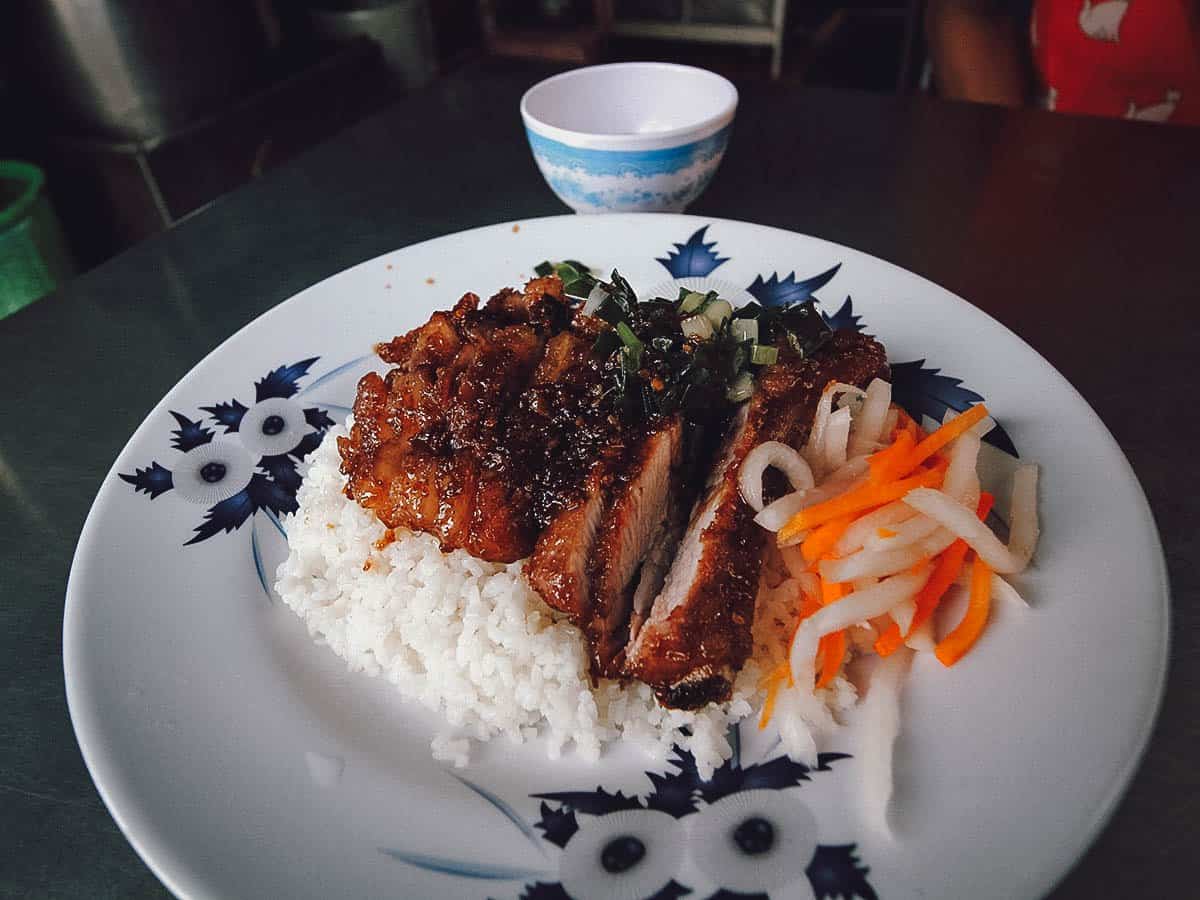 12. Ca Phe Do Phu
This cafe is one of the most fascinating places on this list. Like Bun Thit Nuong Kieu Bao, it was one of the stops on my Saigon night tour with Saigon on Motorbike.
But we didn't stop here to eat or have coffee. I'll explain why below but Ren and I went back to this Saigon coffee shop a few days later to have their com tam suon nuong, which my guide described as one of his favorites in Saigon.
Aside from the grilled pork chop, Ca Phe Do Phu gives you the option of adding a fried egg, shreds of pork skin, and stuffing to your meal.
I wanted the works but they were out of stuffing so I settled for the pork skin and fried egg. It was delicious with a wonderful medley of flavors and textures, but not quite as good I thought as Com Tam Tran Qui Cap.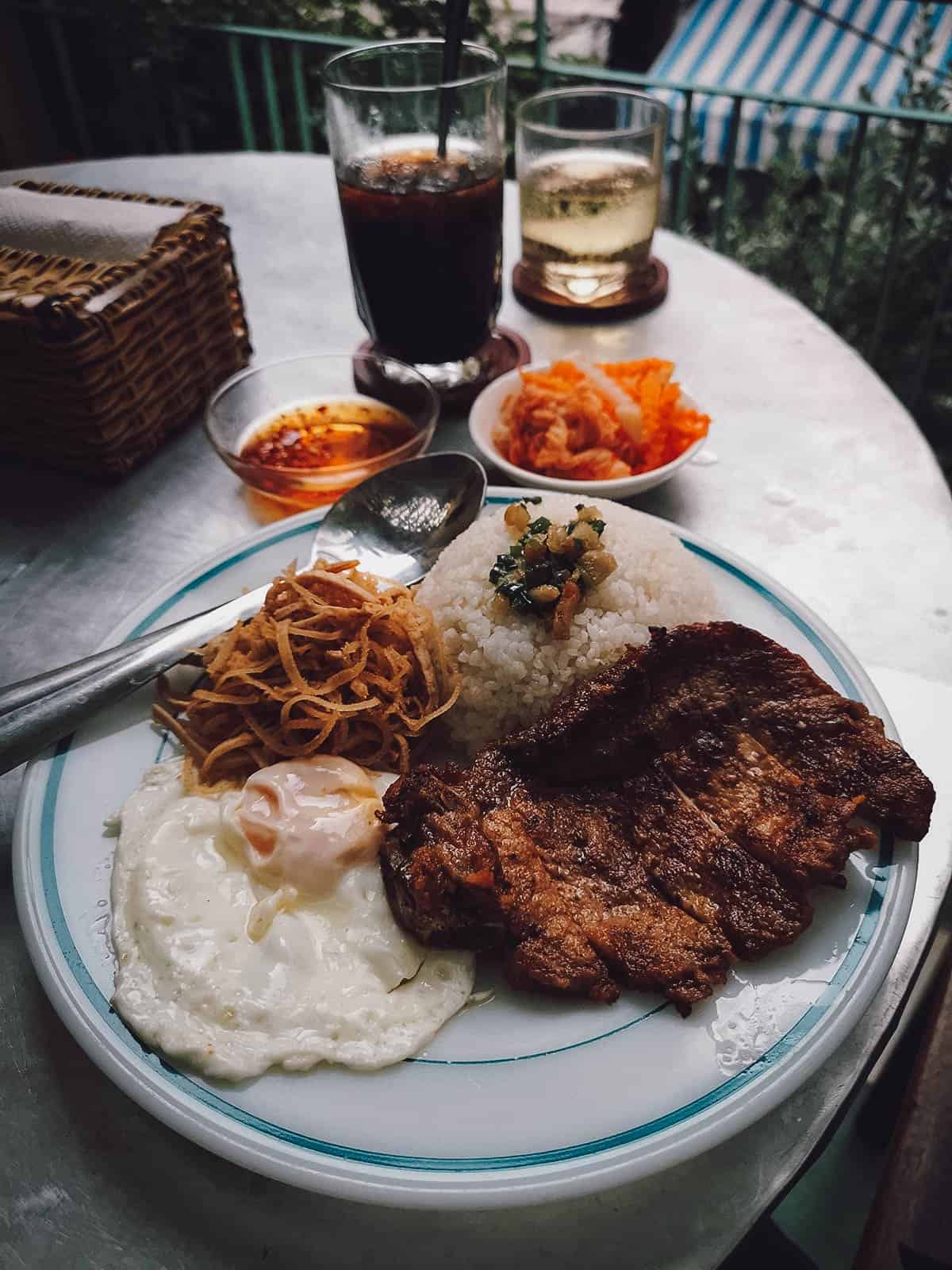 But regardless of the pork chop, you should definitely check out Ca Phe Do Phu because it offers so much more than good broken rice and coffee.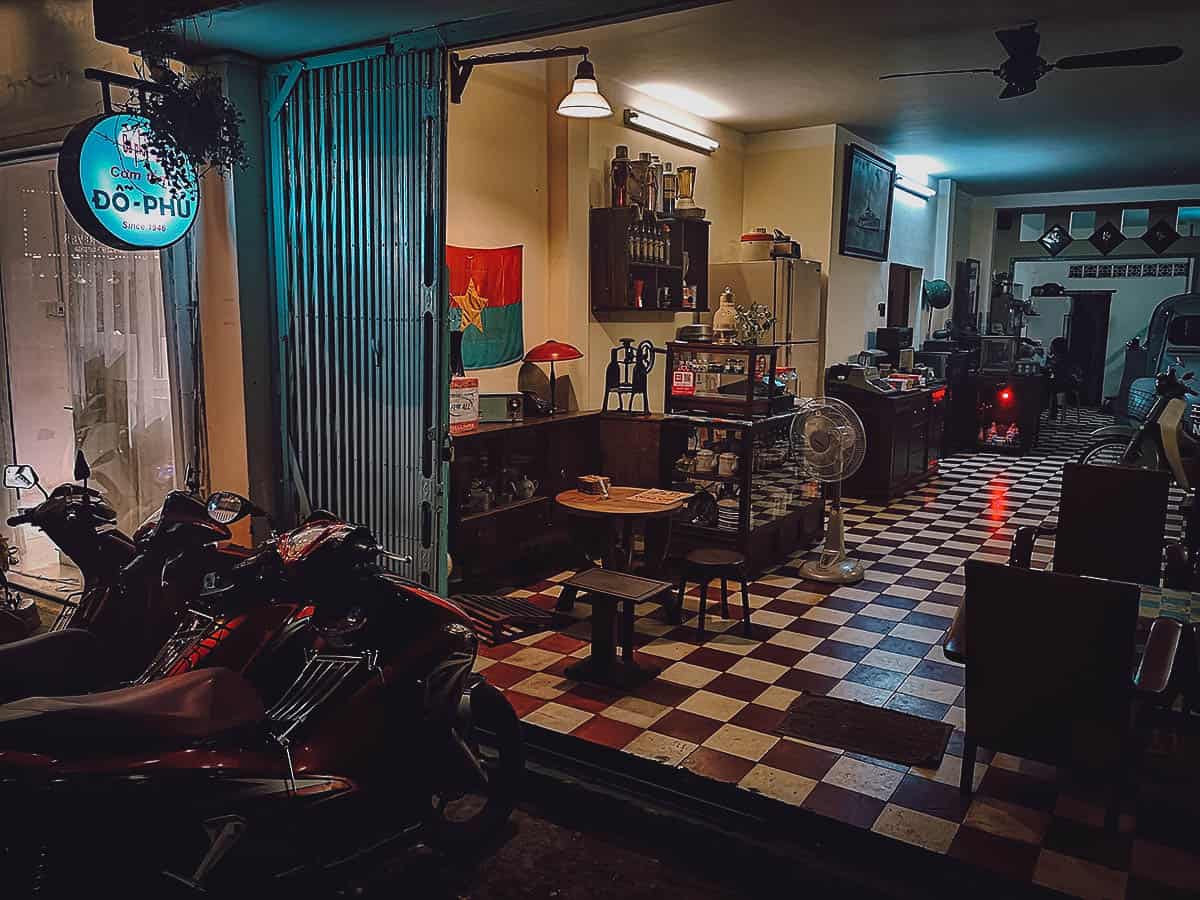 When you first walk into the cafe, you'd think it were just a cafe with a quirky vintage theme but everything on display here has historical value.
My guide took me on a tour of the cafe and explained to me that it used to be the home of a Viet Cong supporter. This house played a significant role in the Vietnam War.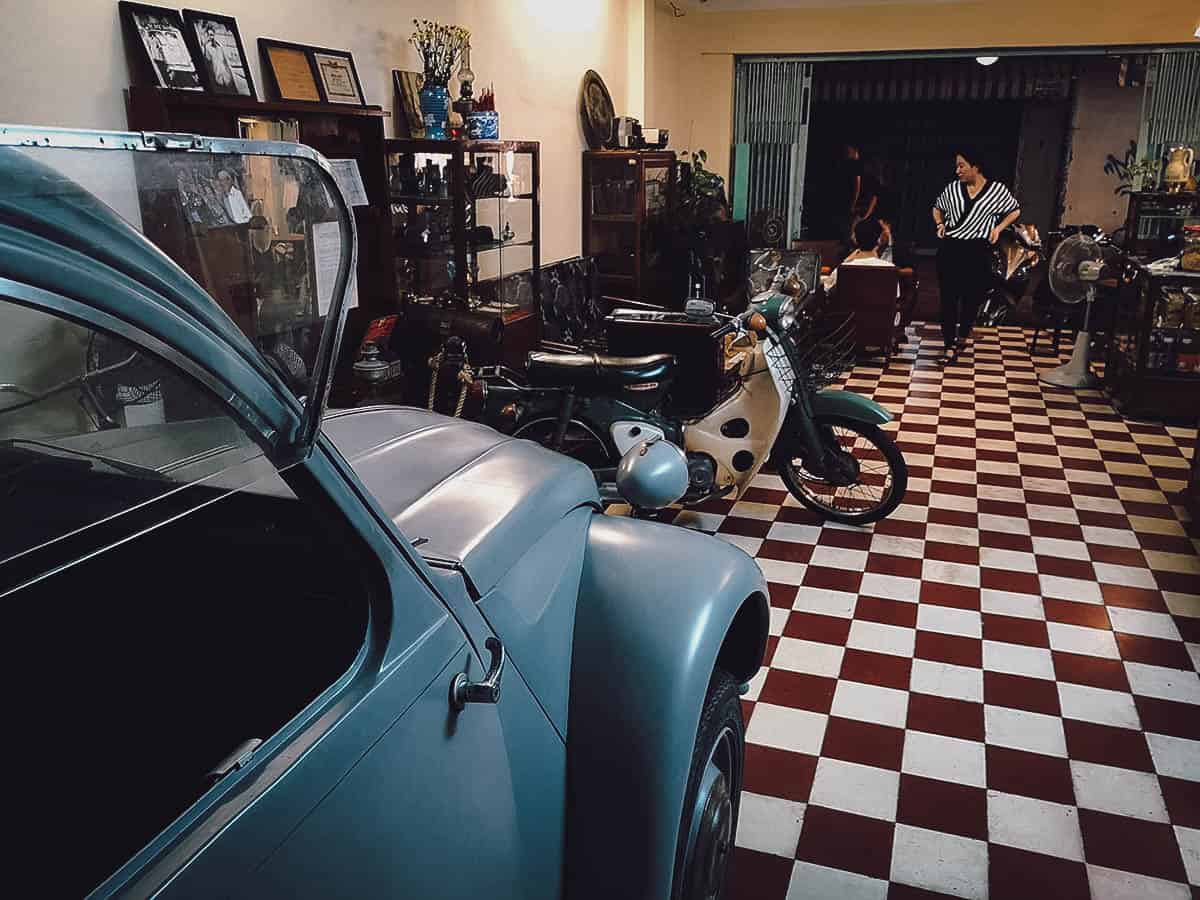 If you didn't know the history of the house, then you'd never realize that beneath the floor is an underground bunker accessible through this trap door.
My guide told me that the owner used to hold secret meetings here with members of the Viet Cong. He'd hide weapons and artillery in secret rooms like this one, even providing refuge to soldiers and officers wanted by the Americans.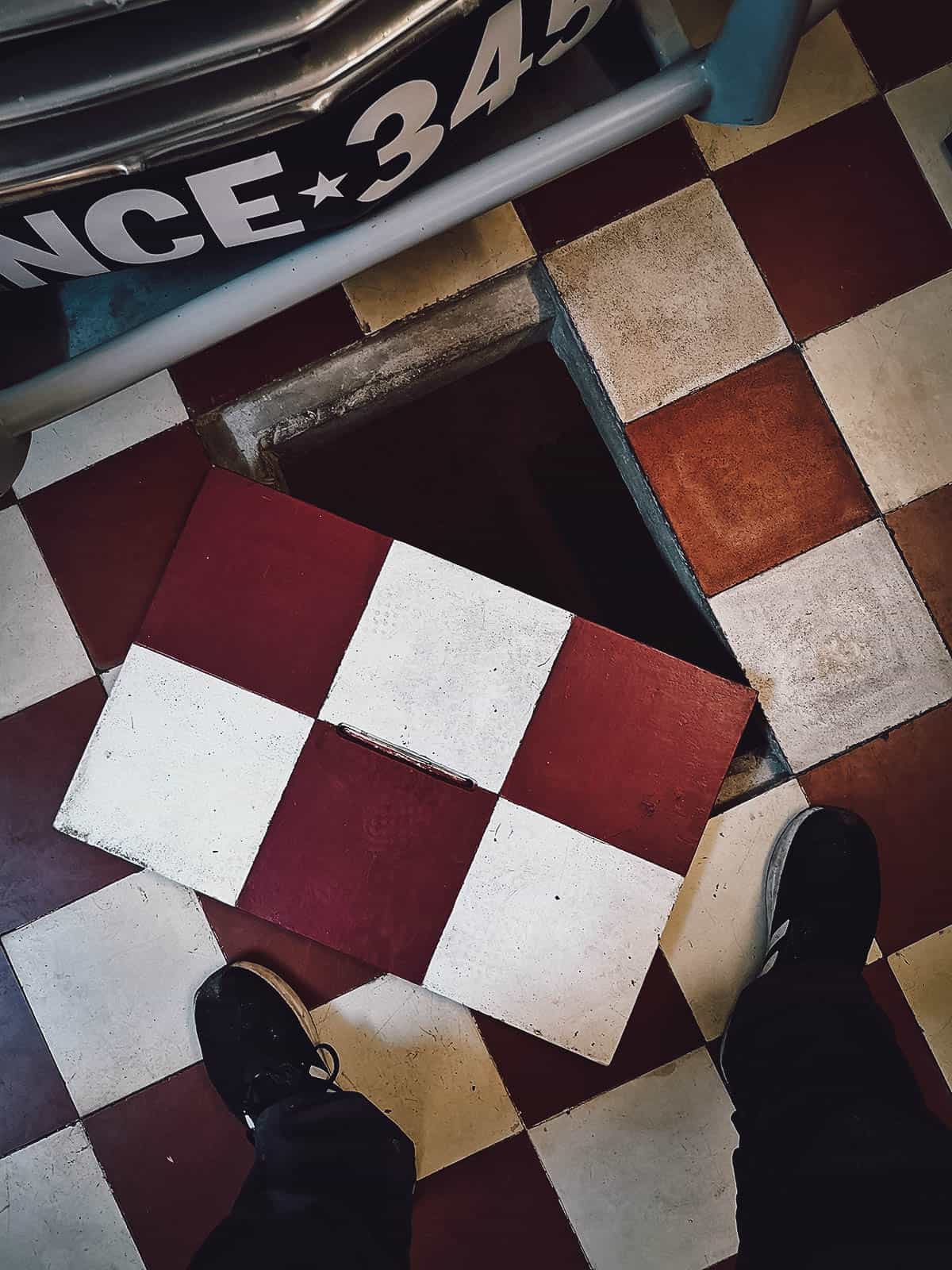 Go through the trap door and you'll find this bunker with a cache of weapons and uniforms. And this bunker is just the beginning.
My guide would take me through secret ladders and passageways that the Viet Cong could use as escape routes in the event that their secret meetings were discovered.
I explored the house on a guided tour but Ca Phe Do Phu's owners will let you explore the house on your own for free. You can check out my Saigon night tour video to see clips of these secret passageways.
SNAILS / SEAFOOD
Our Vinh Khanh Street experience from two years ago was one of the things that really turned us on to Saigon's street food.
Nicknamed "Seafood Street", Vinh Khanh is a colorful street in District 4 that's filled with street food stalls on either side selling different types of seafood and snails. We love snails which is why we enjoyed District 4 so much.
Vinh Khanh may be one of the best places in Saigon to have a snail feast, but it isn't the only place. In fact, street food stalls selling snails and seafood are ubiquitous in Saigon.
The fact that you can find them pretty much anywhere is one of the reasons why we think Saigon is one of the best food cities in Vietnam.
13. Oc Loan
I love seafood so I wanted to have a seafood street food feast on my first night in Saigon. We were staying in District 3 so I wanted to find a good restaurant that I could easily walk to. Google Maps led me to Oc Loan, a hidden street food stall at the end of this dark alley.
With hardly any people around, I was a bit nervous to go through at first but I'm so glad I did. Because waiting for me at the end of this alleyway was a seafood feast that would perfectly encapsulate the Saigon street food experience.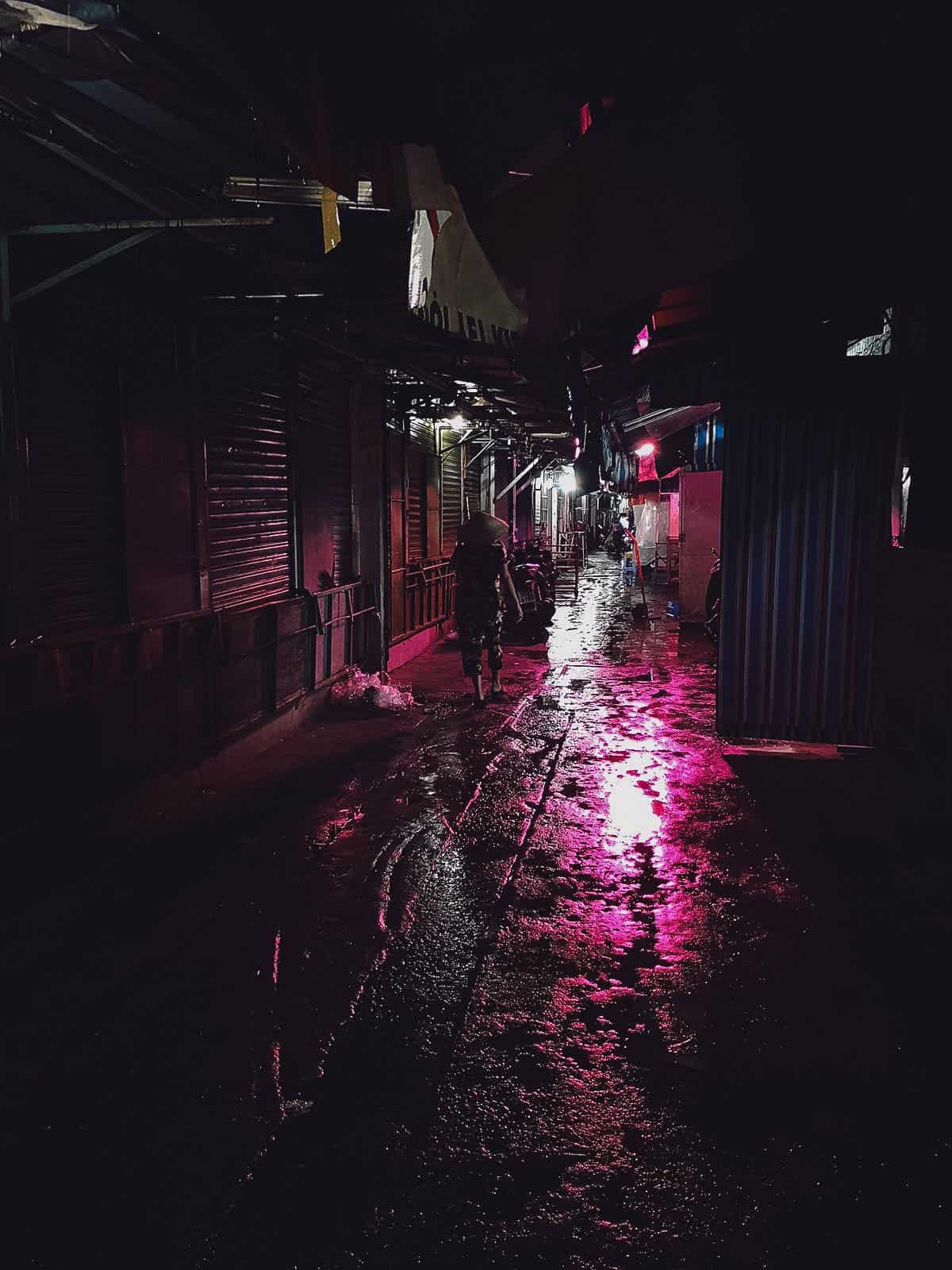 Walk through the dark alleyway and you'll eventually get to this row of street food stalls selling all kinds of seafood. This, for me, is what Saigon street food is all about.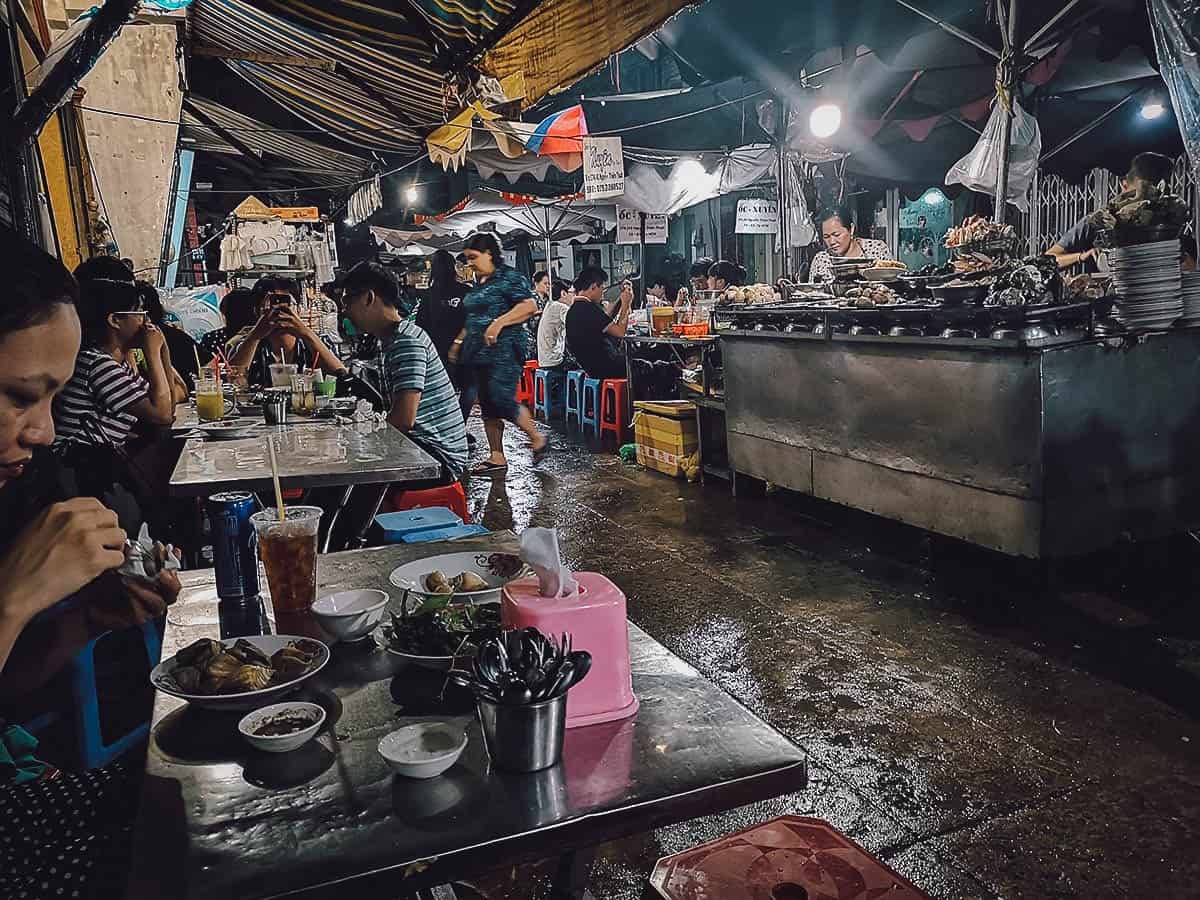 Oc Loan is just one of many street food stalls here. I chose it because of its positive reviews on Google Maps.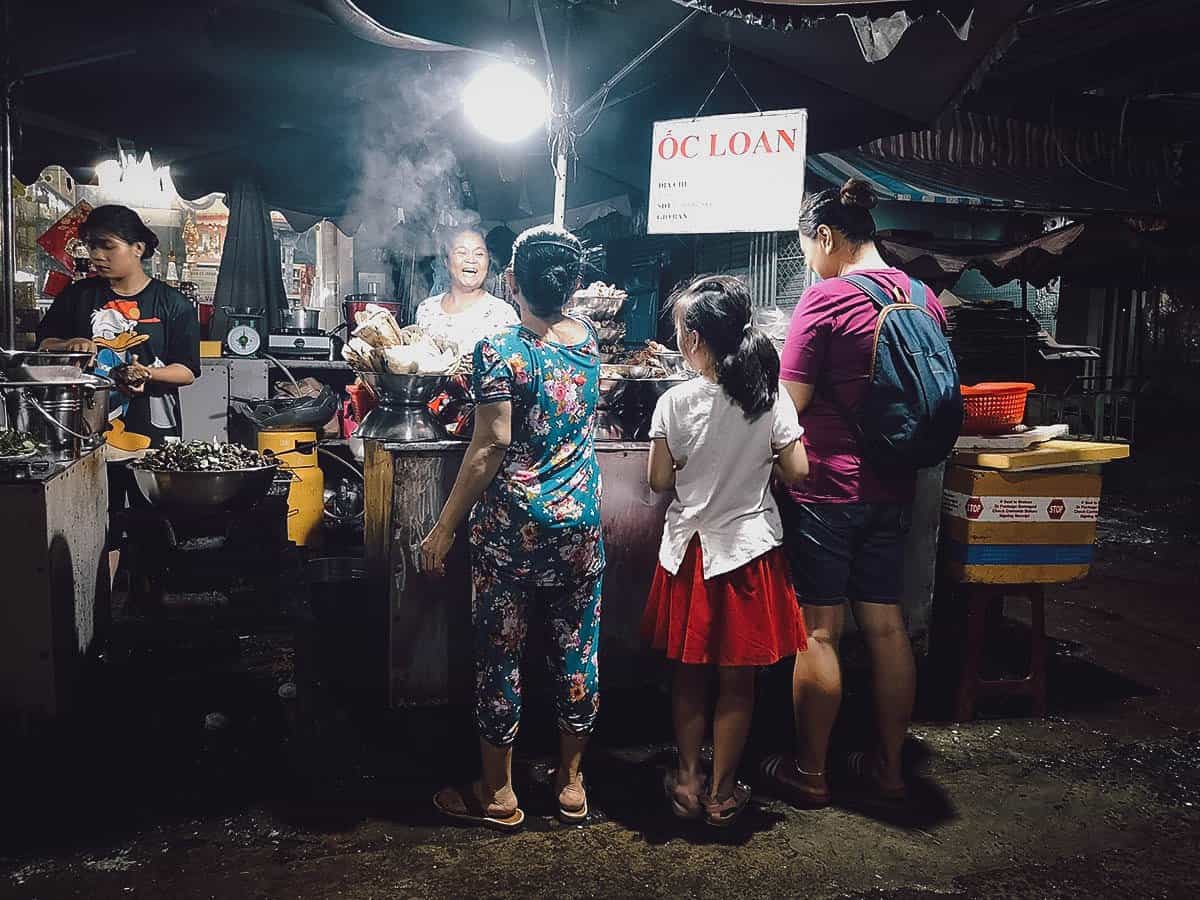 A bowl of mud creepers cooked in coconut milk. We had these at Oc Oanh along Vinh Khanh Street two years ago. They're delicious and a popular snail dish among locals.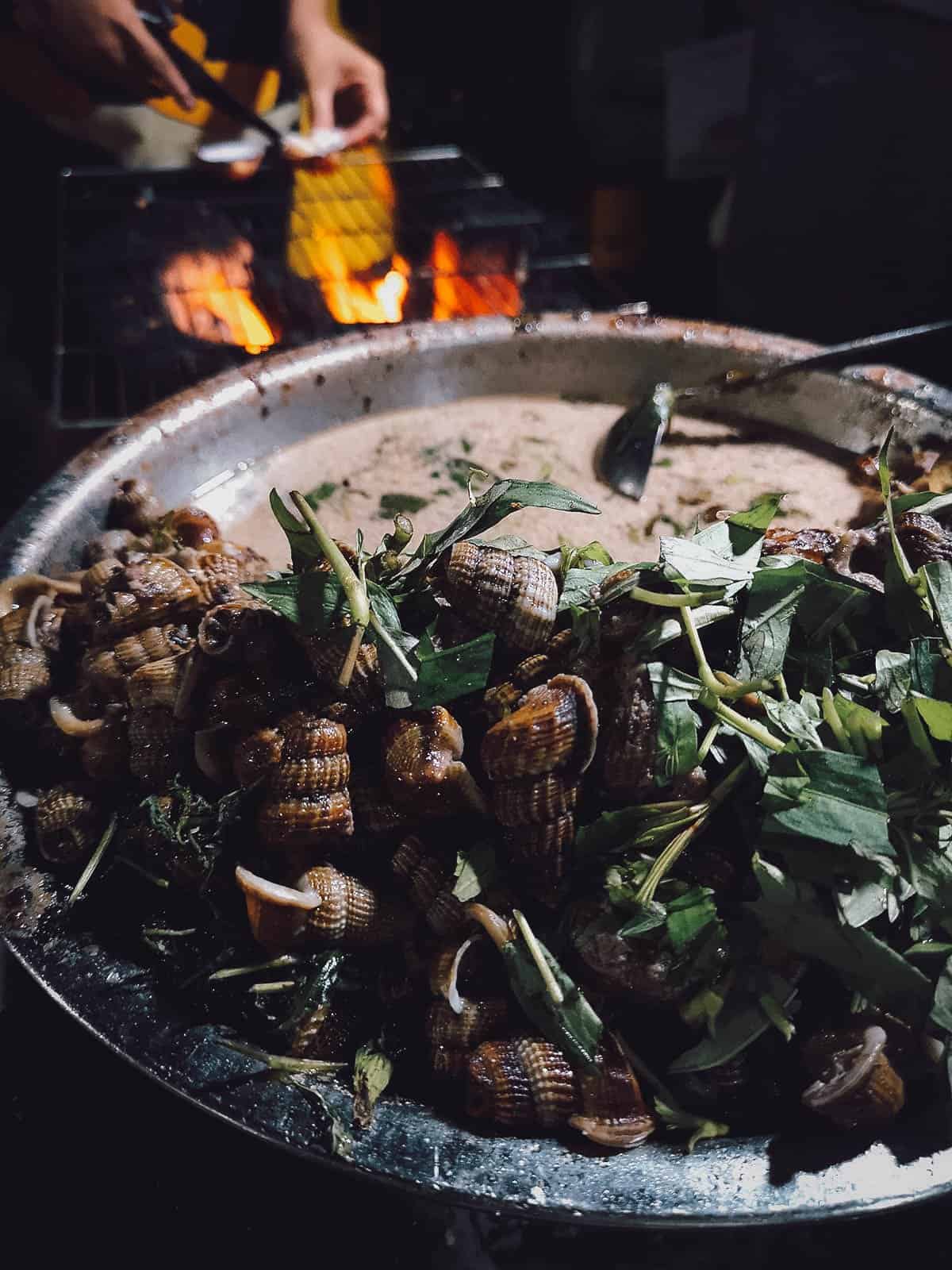 Snails and clams grilling over charcoal.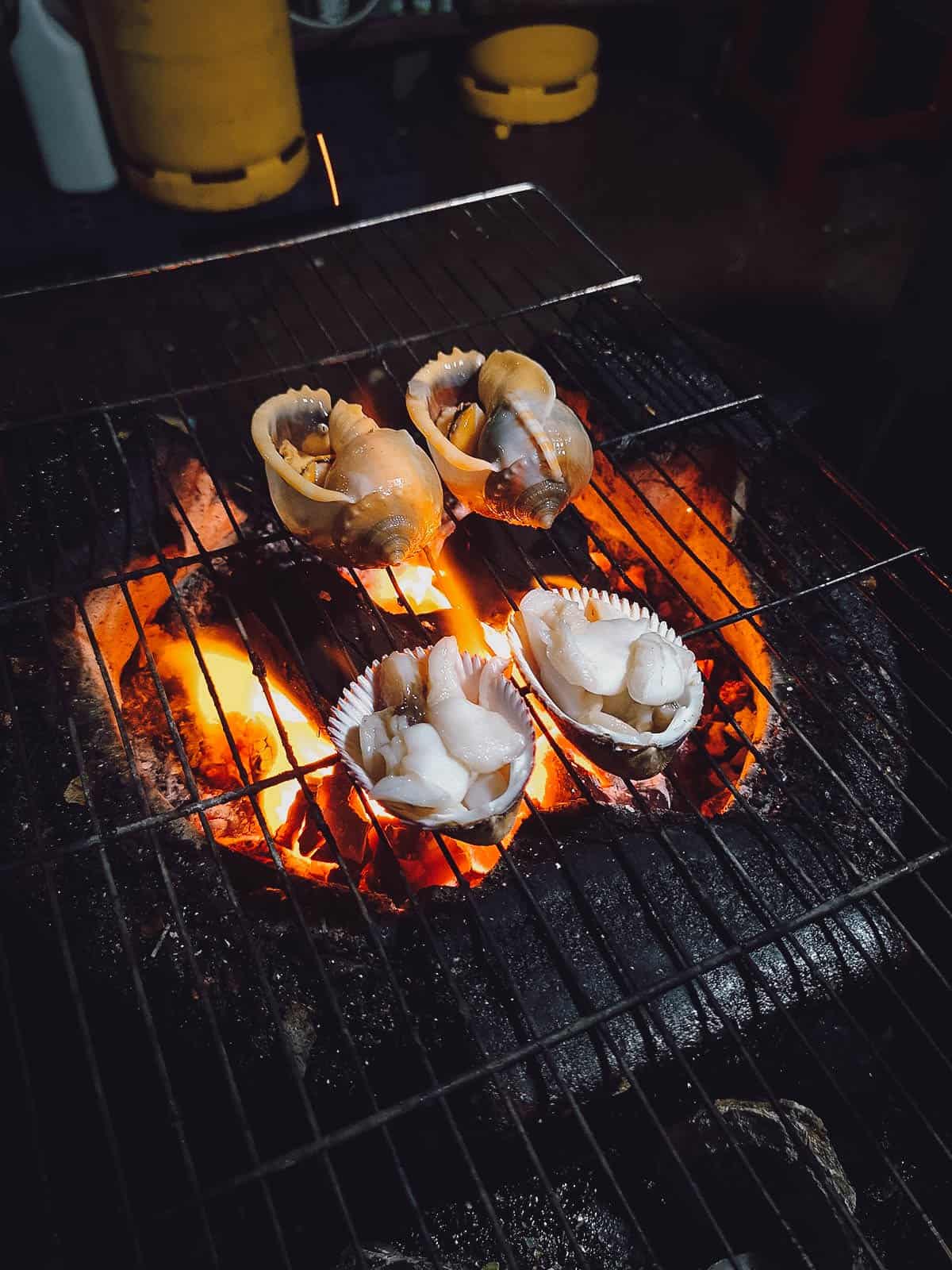 I asked my server for recommendations and one of the dishes he suggested was this tasty clam soup made with leeks and lemongrass.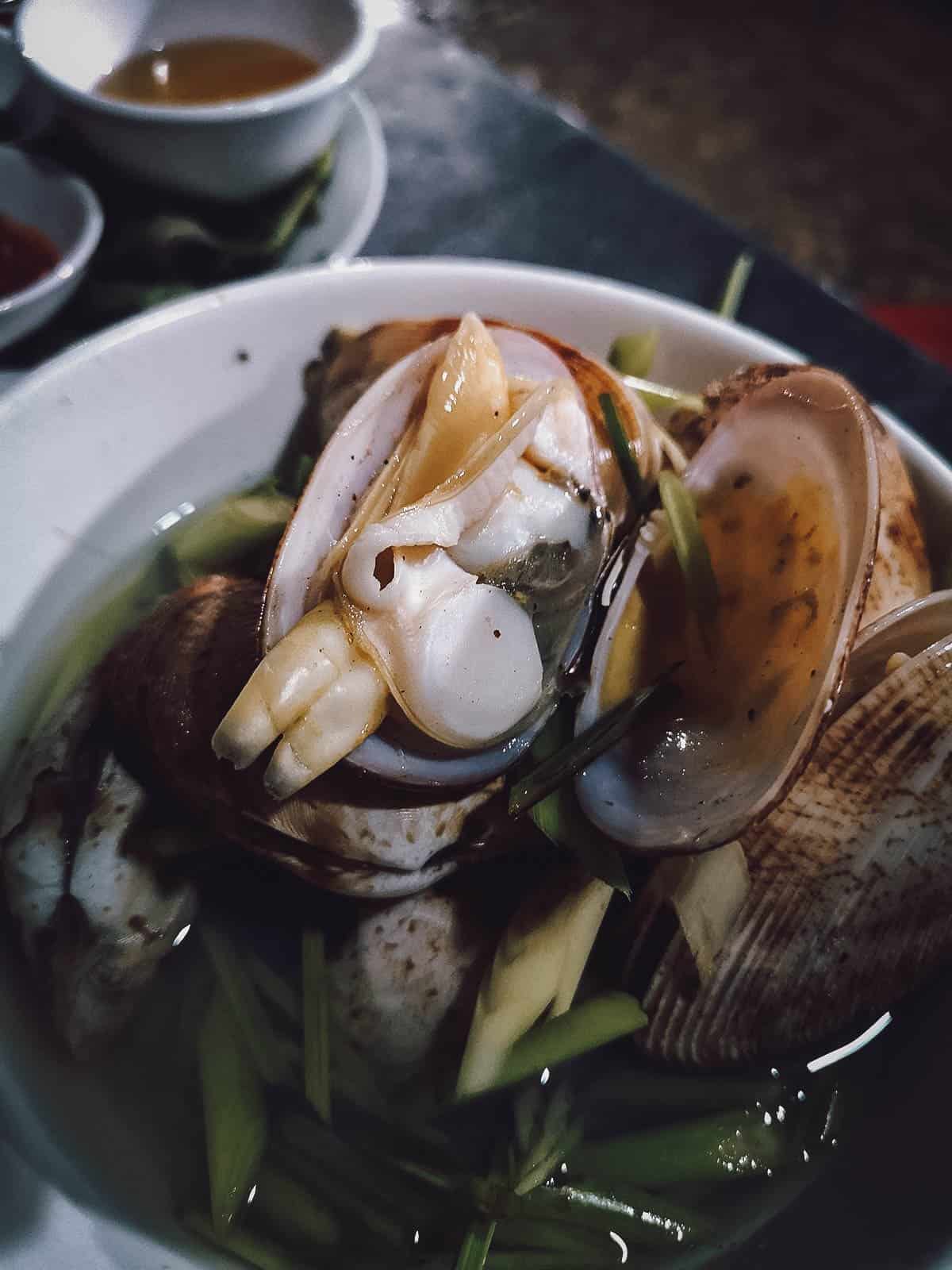 14. Oc Oanh
This was the restaurant that blew us away two years ago. We asked Inspitrip to take us to some of the best Saigon street food stalls and this was one of the places they took us to.
Located along Vinh Khanh Street, there are many street food stalls on this strip but Oc Oanh is clearly one of the most popular. Luke Nguyen featured this place as well on the second episode of Street Food Asia. We enjoyed this place so much that we wound up eating here twice on consecutive nights.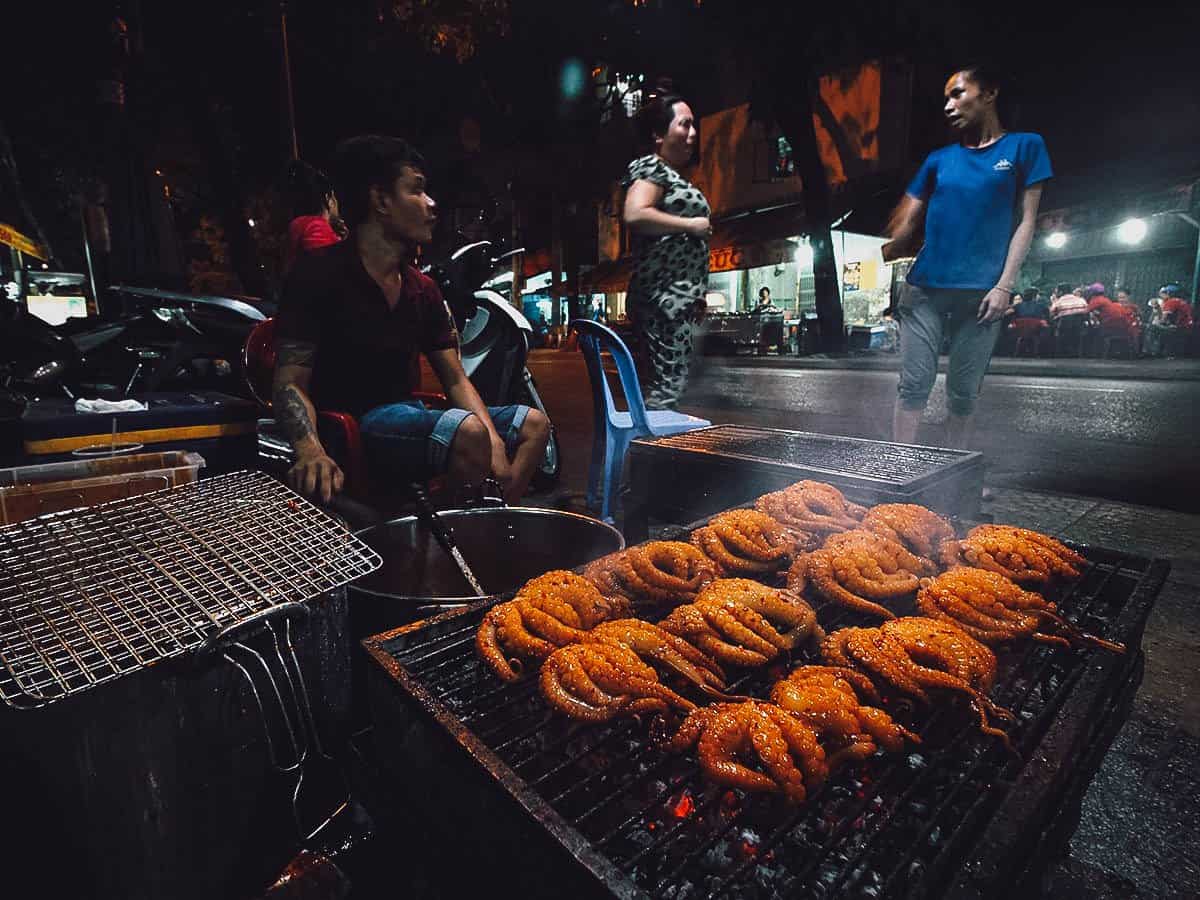 One of the things that Vinh Khanh Street is known for are its snail dishes. According to our guide, sea snails are popular among the Vietnamese but they're difficult to prepare at home, which is why nearly every restaurant on this strip serves them. Pictured below is a dish of snails cooked with chili salt.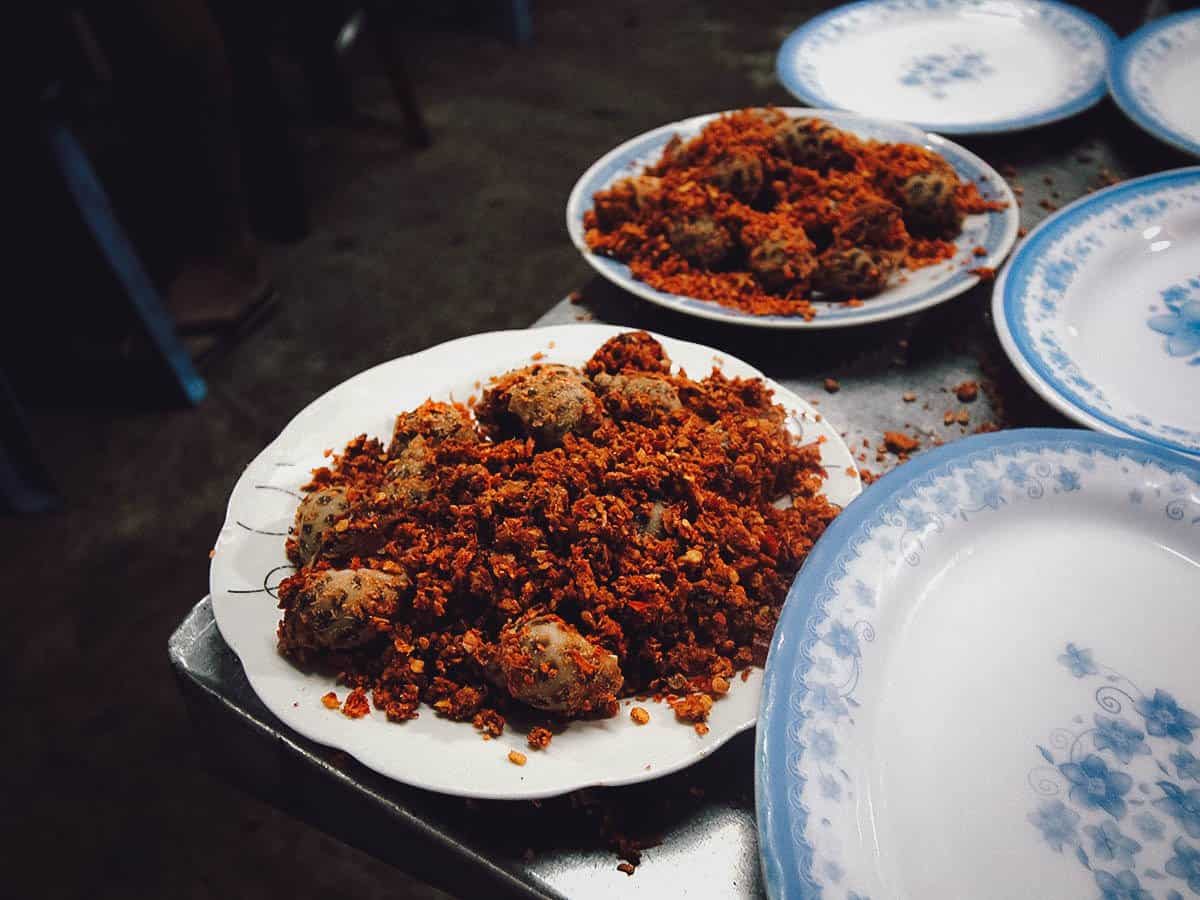 These are the same mud creepers cooked in coconut milk I showed you earlier. You eat them with lime salt, chili, and fresh greens. They're delicious.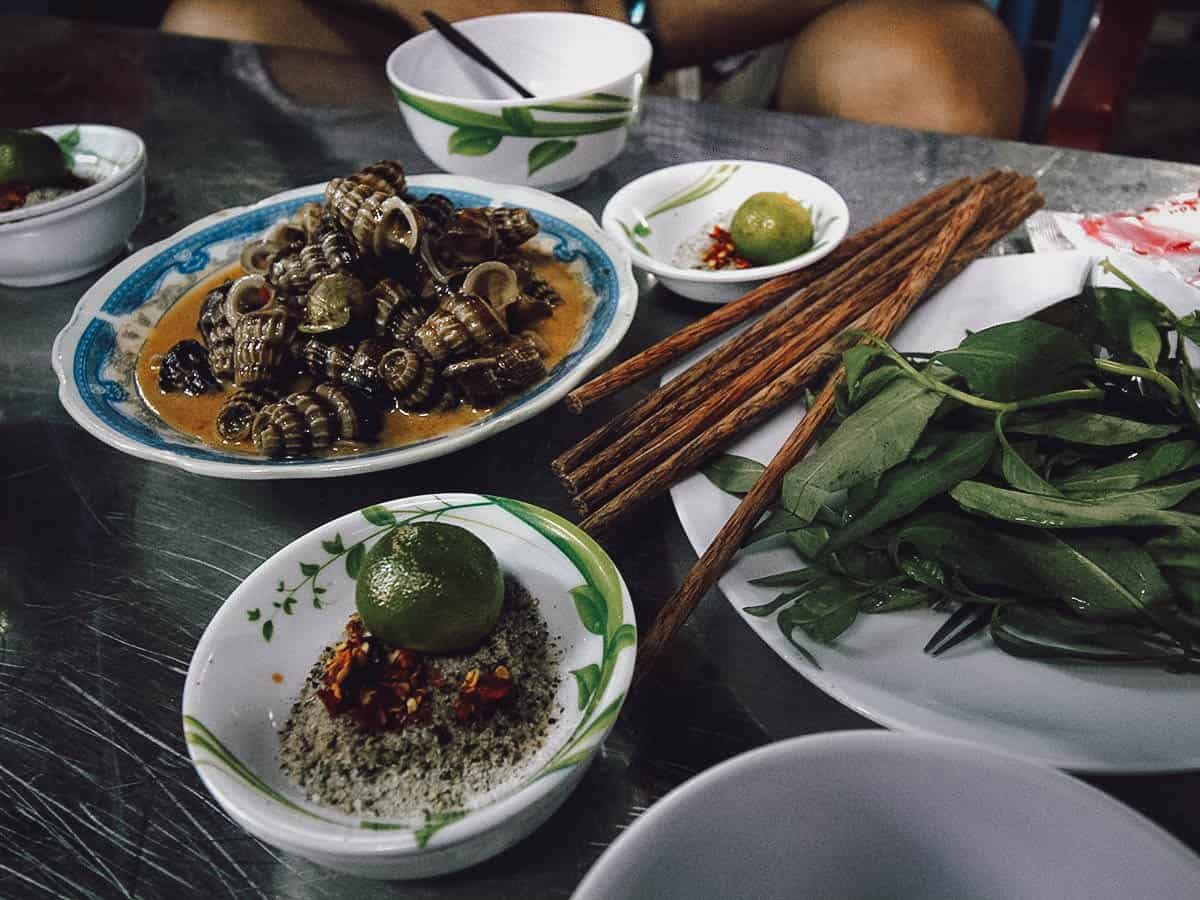 This looks like an oyster but it's some type of large clam served in a cream sauce.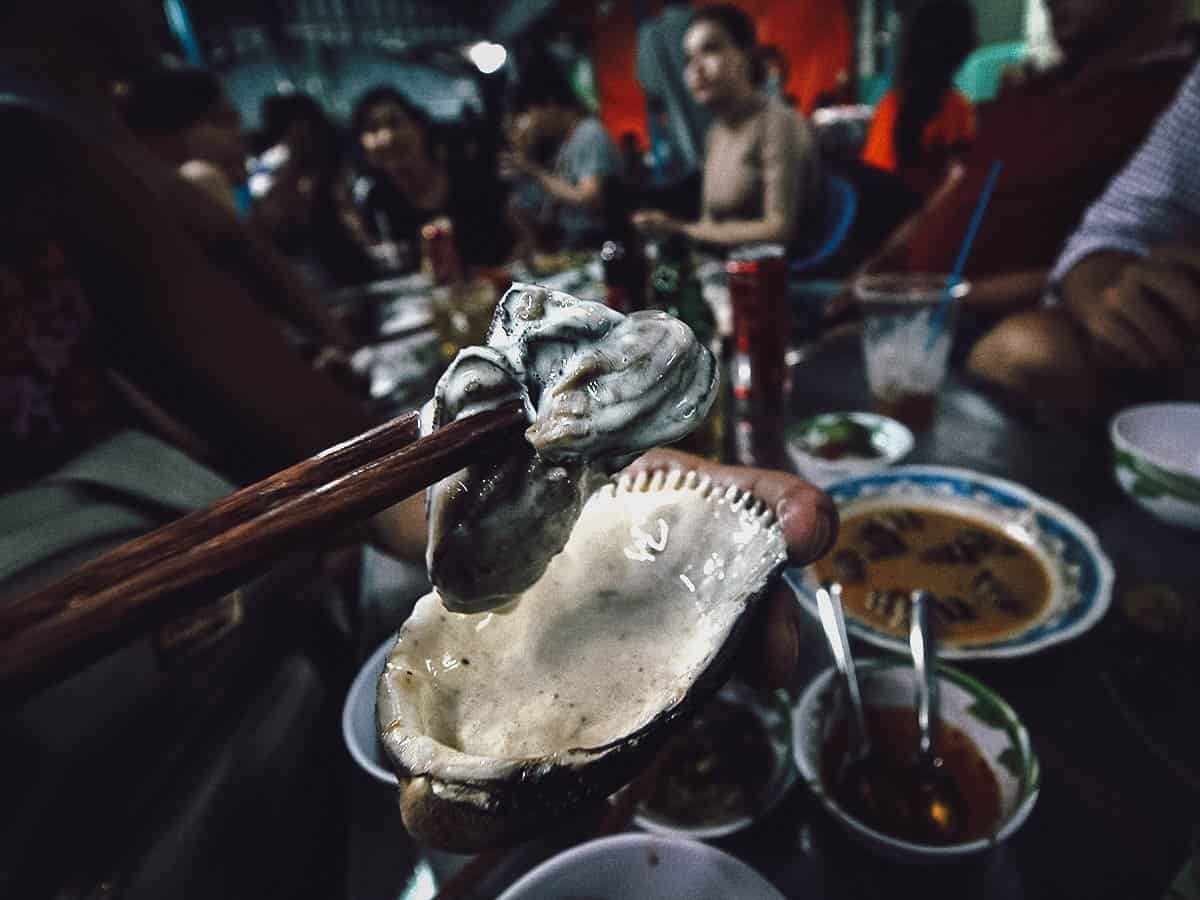 Aside from the food, what I loved most about Vinh Khanh Street was the atmosphere. You're literally stuffing your face with delicious seafood while watching traffic whizz by.
15. Mrs Truoc's Snail Stall
Mrs. Truoc was the vendor featured on Street Food on Netflix. Each episode features several eateries in every city but there's always one main storyline. Mrs Truoc and her struggle to succeed in the street food business was the main storyline in the Vietnam episode.
Among all the Saigon restaurants we had on our itinerary, this was the one we were most excited about.
Mrs. Truoc's stall is located in this alley in District 1. It isn't that easy to find so be sure to refer to this map to see exactly where it is. We went to the completely wrong neighborhood on our first attempt but thankfully, we found it on our second.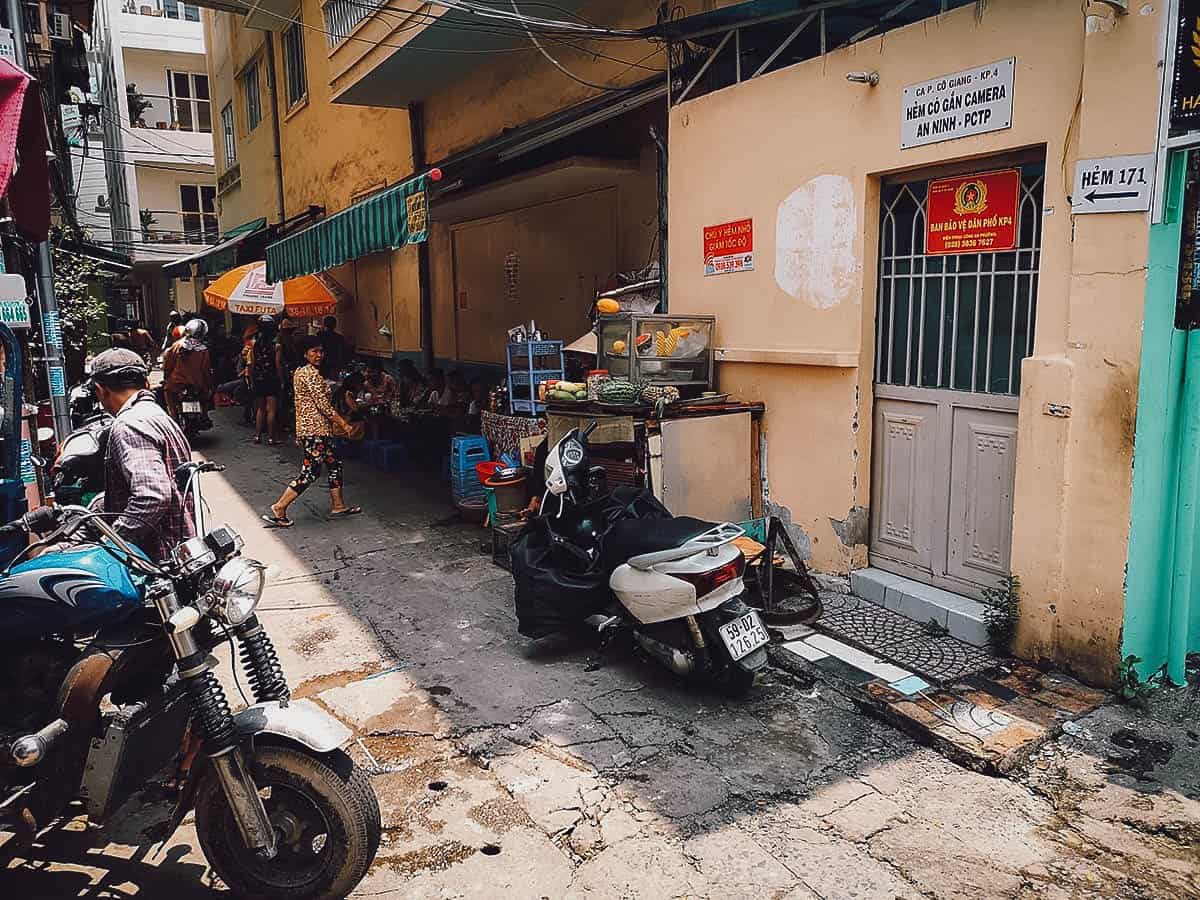 If you watched the show, then you may remember that Mrs. Truoc knew how to make just one snail dish – her father's recipe for mud creepers.
At the time of our visit, her repertoire has expanded to about six snail dishes and just as many clam dishes. We wanted a snail feast so we ordered four plates of snails and one clam dish.
Looking at her menu, it appears as if each type of snail or clam can be prepared in two or three ways. We didn't really know what to get so we let our server decide.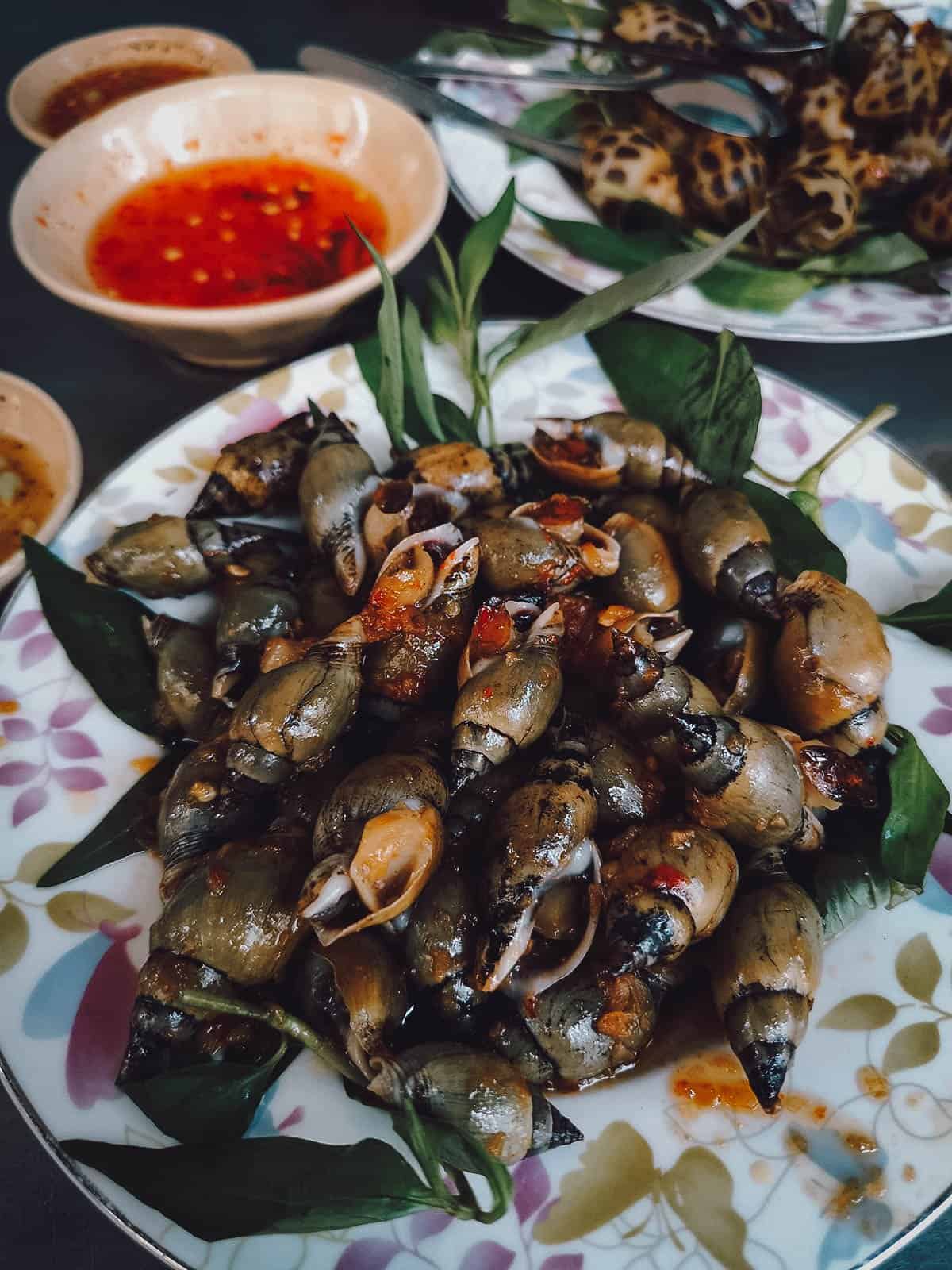 Some snails species are so small that you'll need to pry them out using safety pins. The larger snails can be fished out using a small two-pronged fork.
Some snails were grilled with pepper, others were fried with garlic or tamarind. Everything we had was delicious.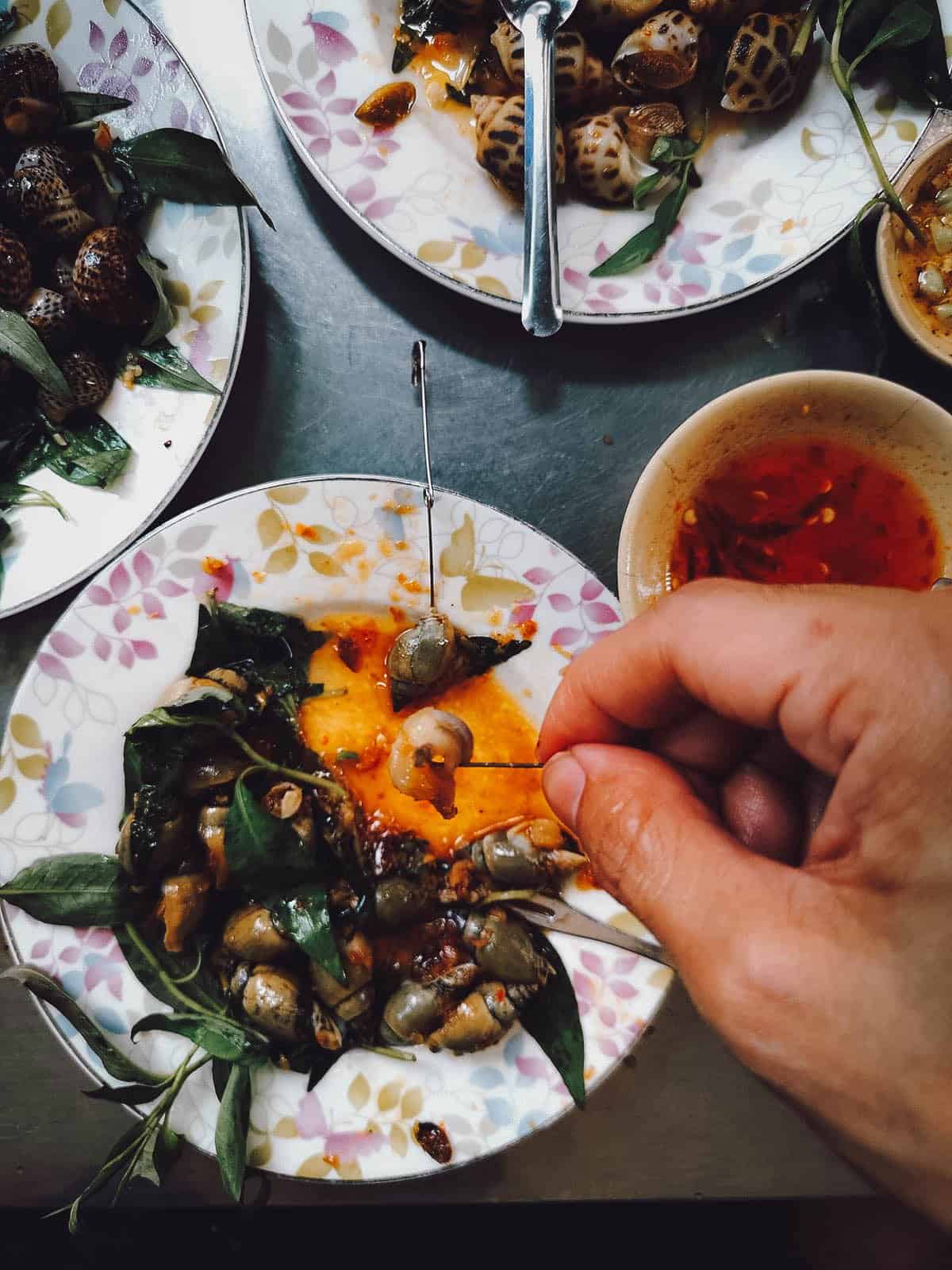 As tasty as the snails were, they aren't very filling so we ordered one clam dish for variety and to help fill us up. I believe these were steamed with chili.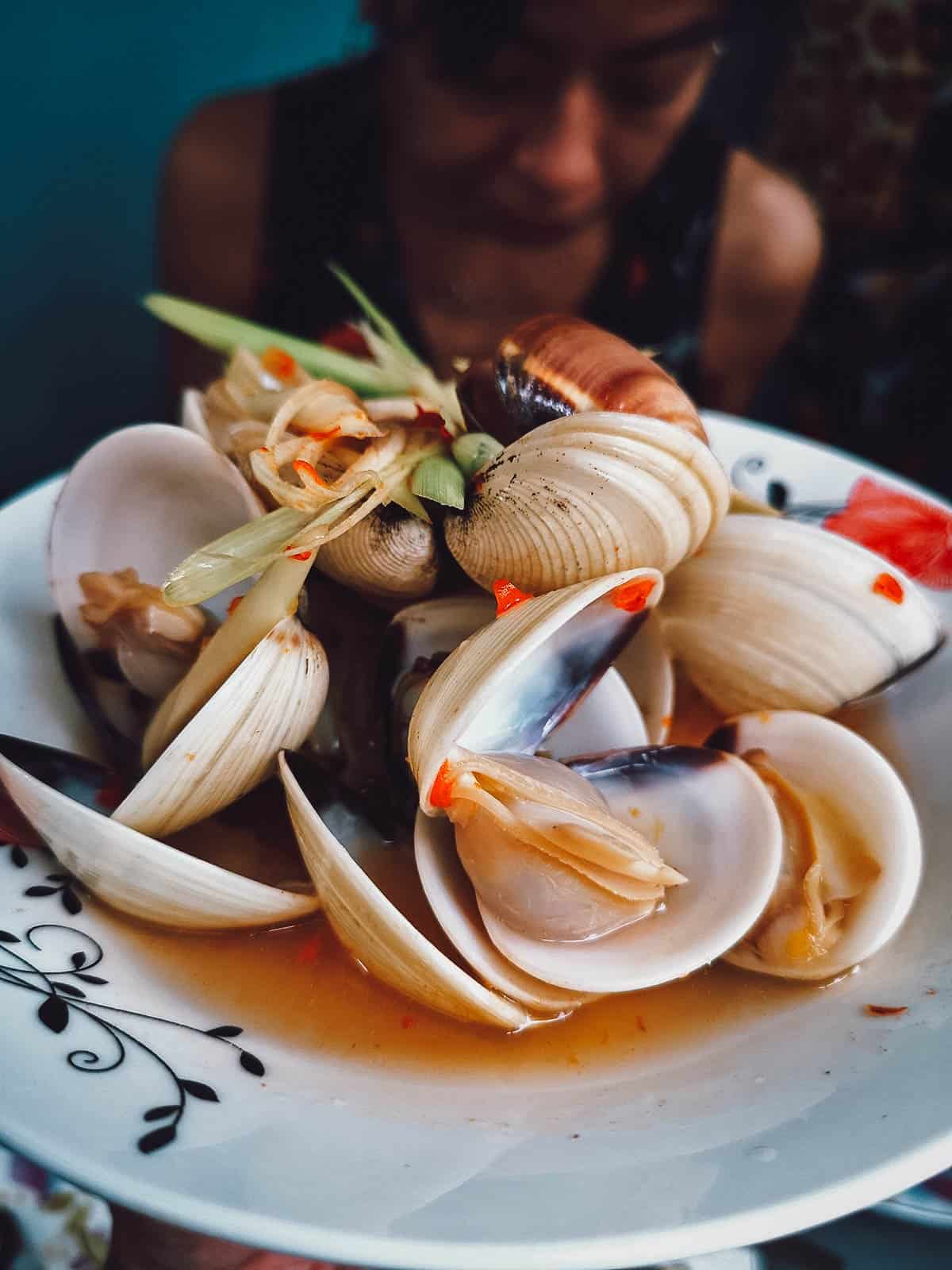 Here's Mrs. Truoc busily filling out orders for dine-in customers and for takeout. After learning about her struggles on the show, it was nice to see her stall thriving.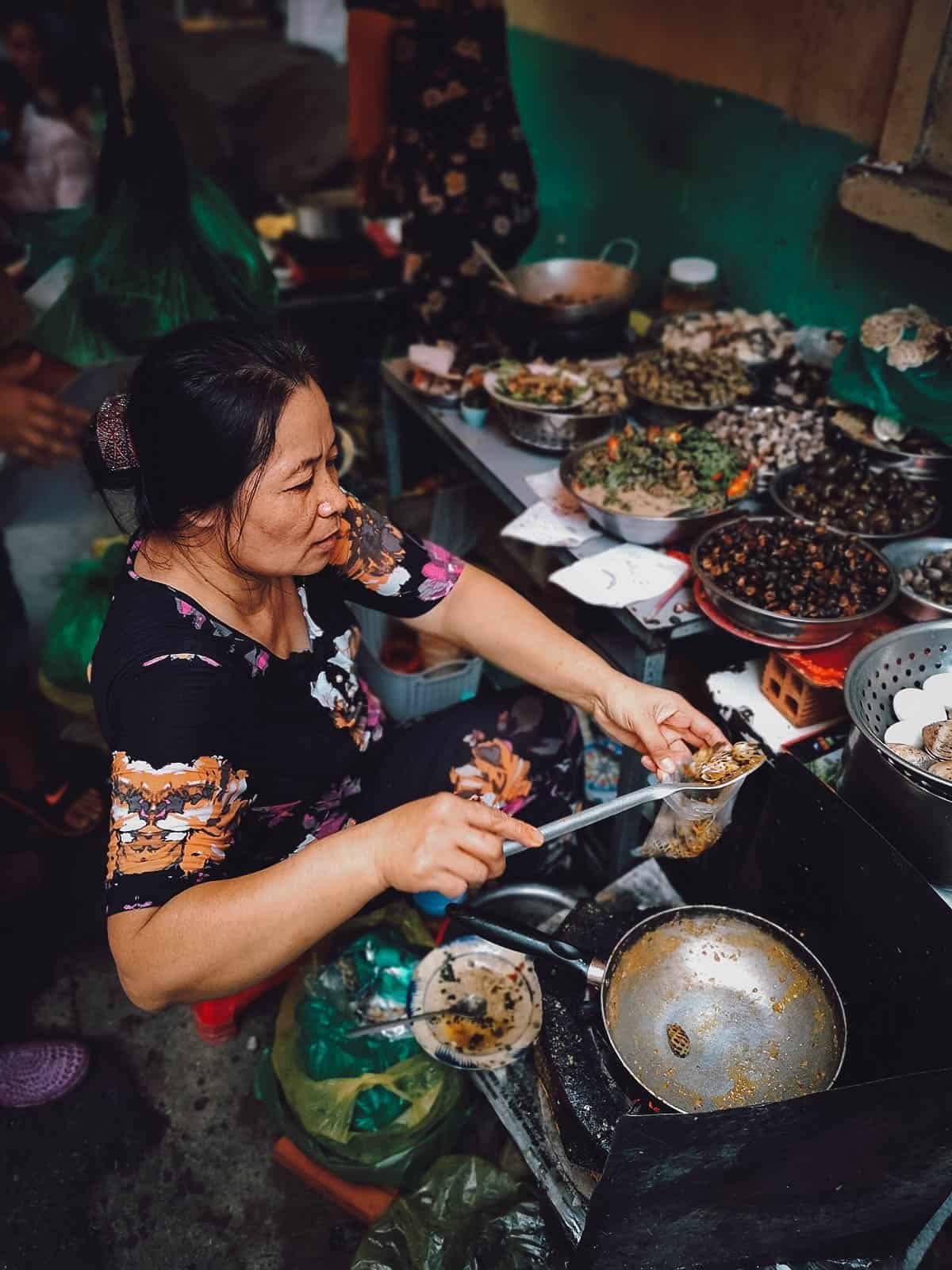 OTHER DISHES & RESTAURANTS IN SAIGON
16. Cha Ca La Vong
If you've been to Hanoi, then you may recognize this place. It's an iconic restaurant that's credited for popularizing cha ca – a delicious dish of grilled turmeric-marinated catfish served with a mini-forest of fresh dill.
The original restaurant still exists in Hanoi today, though based on its lukewarm reviews, it's best days may be behind it. Not so with this restaurant in Ho Chi Minh City.
If you've tried this dish in Hanoi, then you'll know how good it is. Not only is it tasty, but it's one of the most visually appealing dishes we've had in Vietnam.
A mountain of forest green dill is heaped onto a frying pan with golden orange nuggets of breaded catfish. It's pan-fried on your table using a small burner, so you can hear it sizzling and popping as it cooks. It's so incredibly appetizing.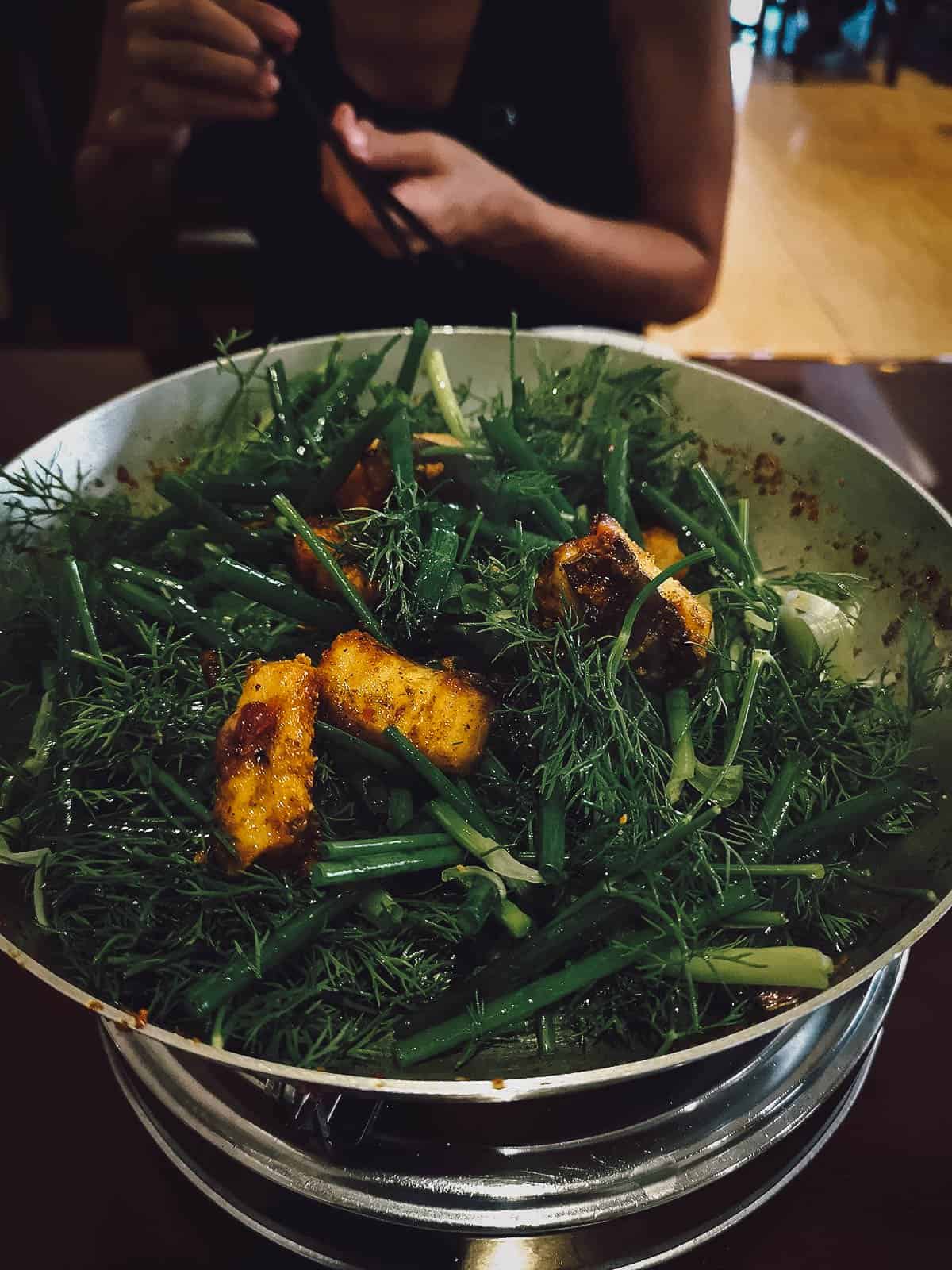 I'm not sure if they use the same fish in Saigon but cha ca is typically made with hemibagrus catfish, a genus of catfish caught in the rivers of northern Vietnam.
It's sliced into matchbox-sized nuggets then marinated in galangal, turmeric, and other spices before being grilled. It's then brought out to pan fry on your table with spring onions and dill.
When cooked, the fish nuggets are served with rice vermicelli, roasted peanuts, coriander, and a nuoc cham dipping sauce. If you like, you can also add a bit of mam tom which is a pungent dip made with Vietnamese shrimp paste and lime juice.
The fish is tender and flaky on the inside with a slightly charred, caramelized coating. The grilling process gives it smokiness while the dill imparts a wonderful aroma to the dish. It's so damn good.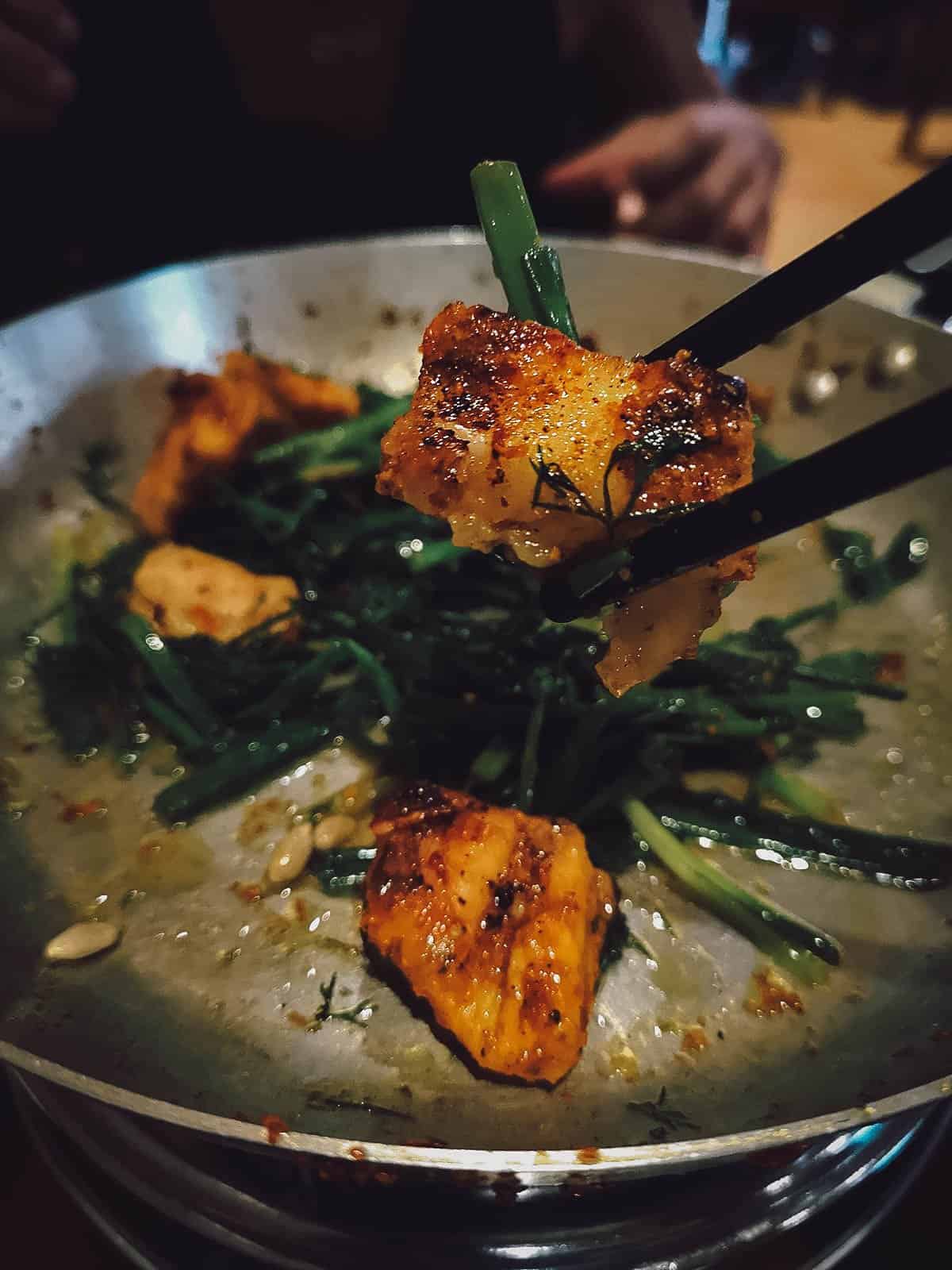 17. Co Lieng
Finding a good bo la lot place was one of our priorities on this trip, and thanks to the Saigon episode of Somebody Feed Phil, we found it. In the episode, Phil's guide Simon introduces him to bo la lot which he describes as his favorite dish.
Bo la lot is a Vietnamese dish made with seasoned beef that's wrapped in lolot or betel leaves before being grilled over charcoal.
Resembling cigars, they're typically garnished with roasted peanuts and chopped green onion and served with a side of Vietnamese rice paper, lettuce, pickled vegetables, and a nuoc cham dipping sauce.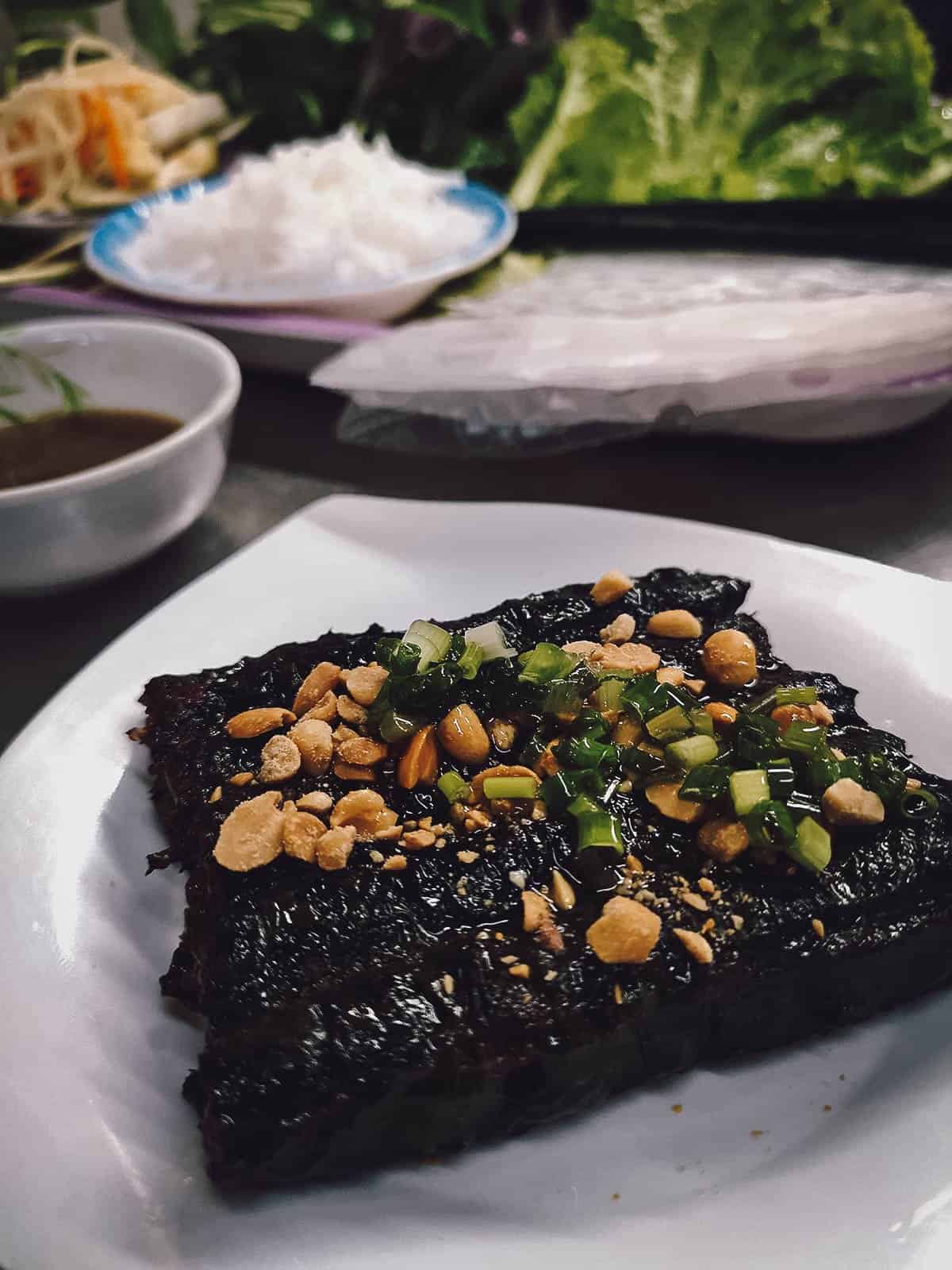 To eat, you wrap the beef "cigar" in a sheet of Vietnamese rice paper with the vegetables then roll it up.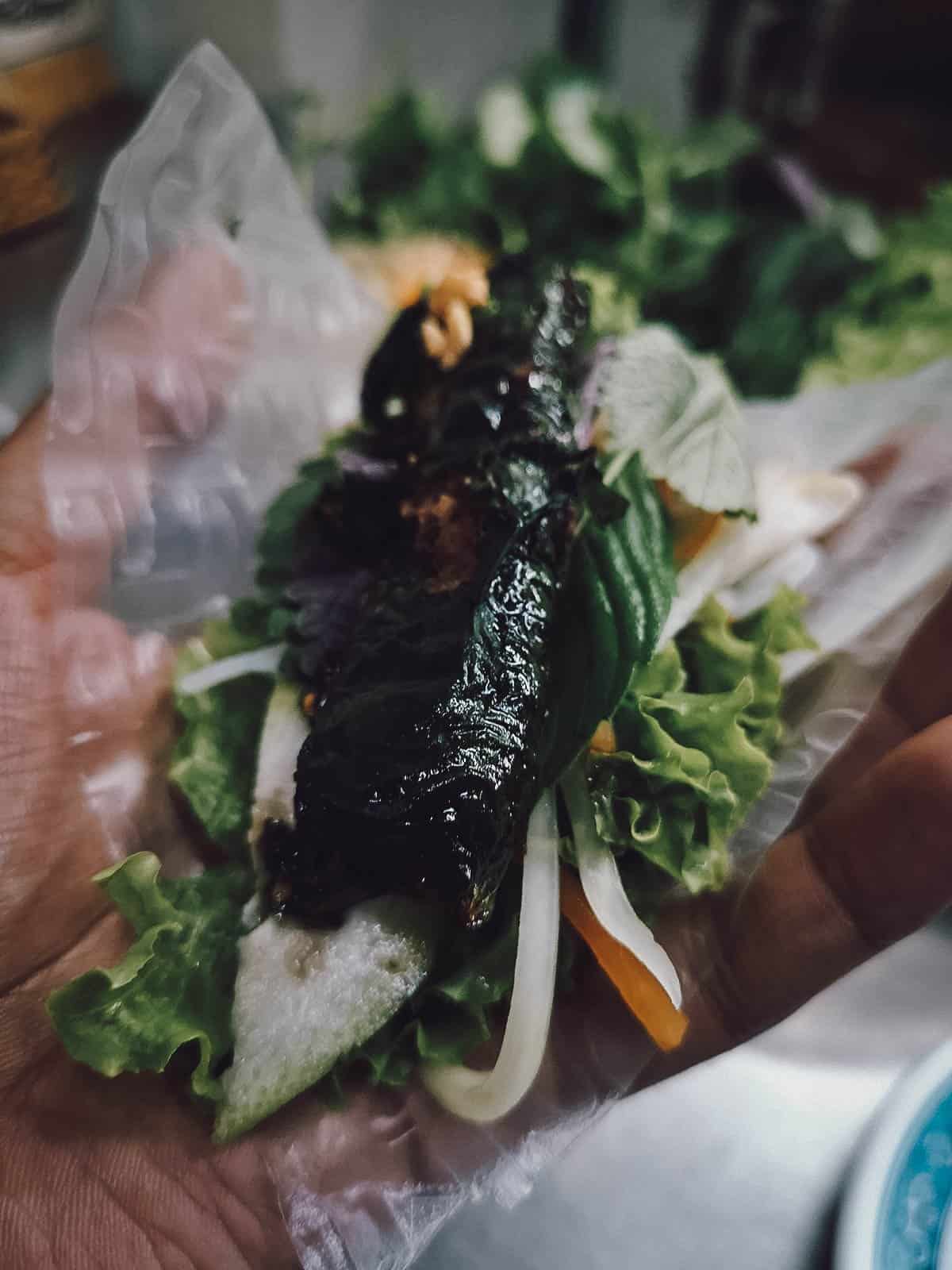 Bo la lot has a good balance of flavor and texture. The beef is smokey and a bit medicinal in taste from the betel leaves while the vegetables impart freshness and crunch. Smokey, sweet, sour, savory, spicy, crunchy, and a little bitter, this dish has it all and goes very well with beer.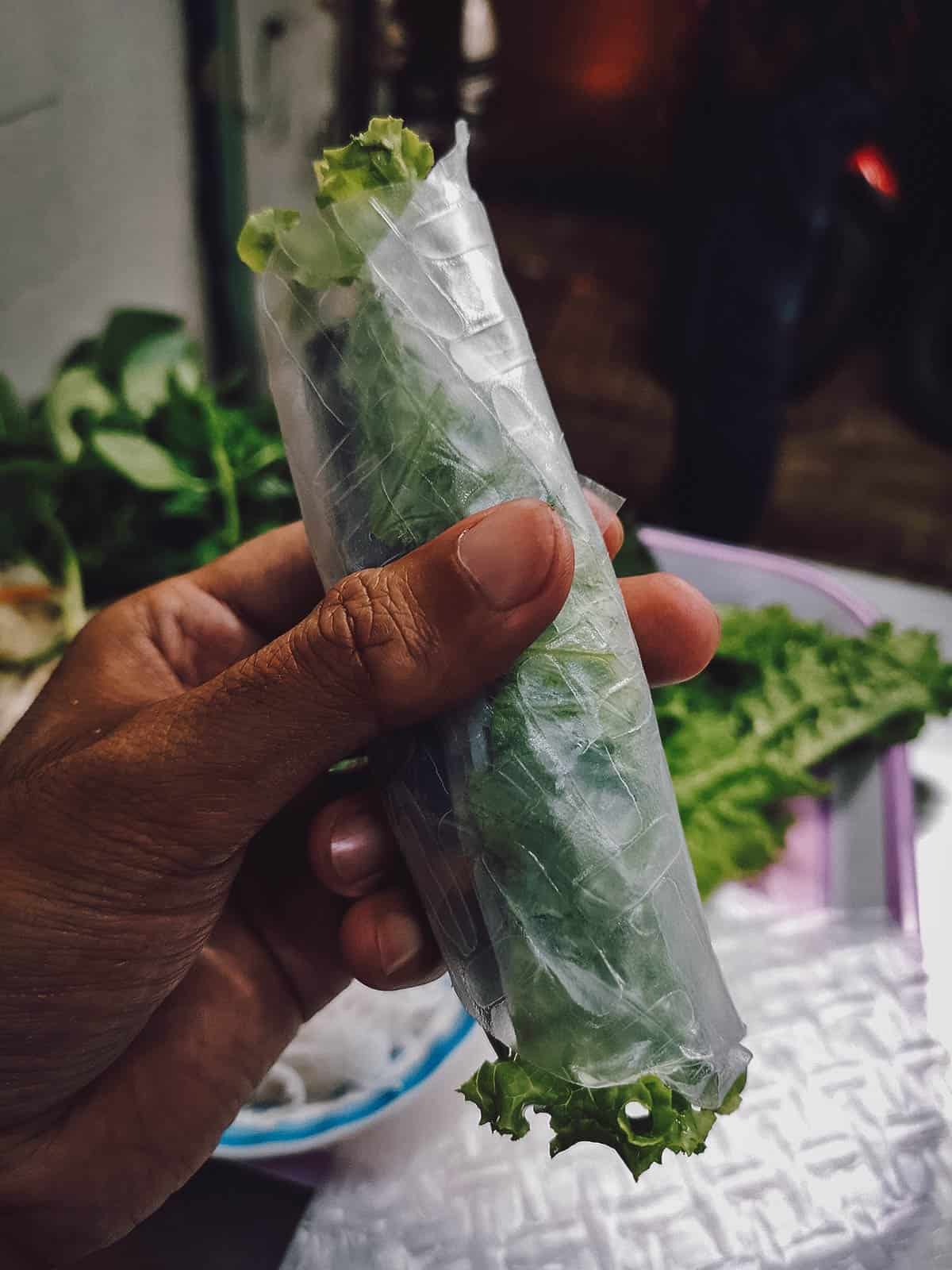 18. Bot Chien Dat Thanh
This was one of the Saigon restaurants we visited with our food tour guide. According to him, Dat Thanh is a local favorite known for their bot chien, which is a fried rice flour dish made with egg and served with a side of green papaya.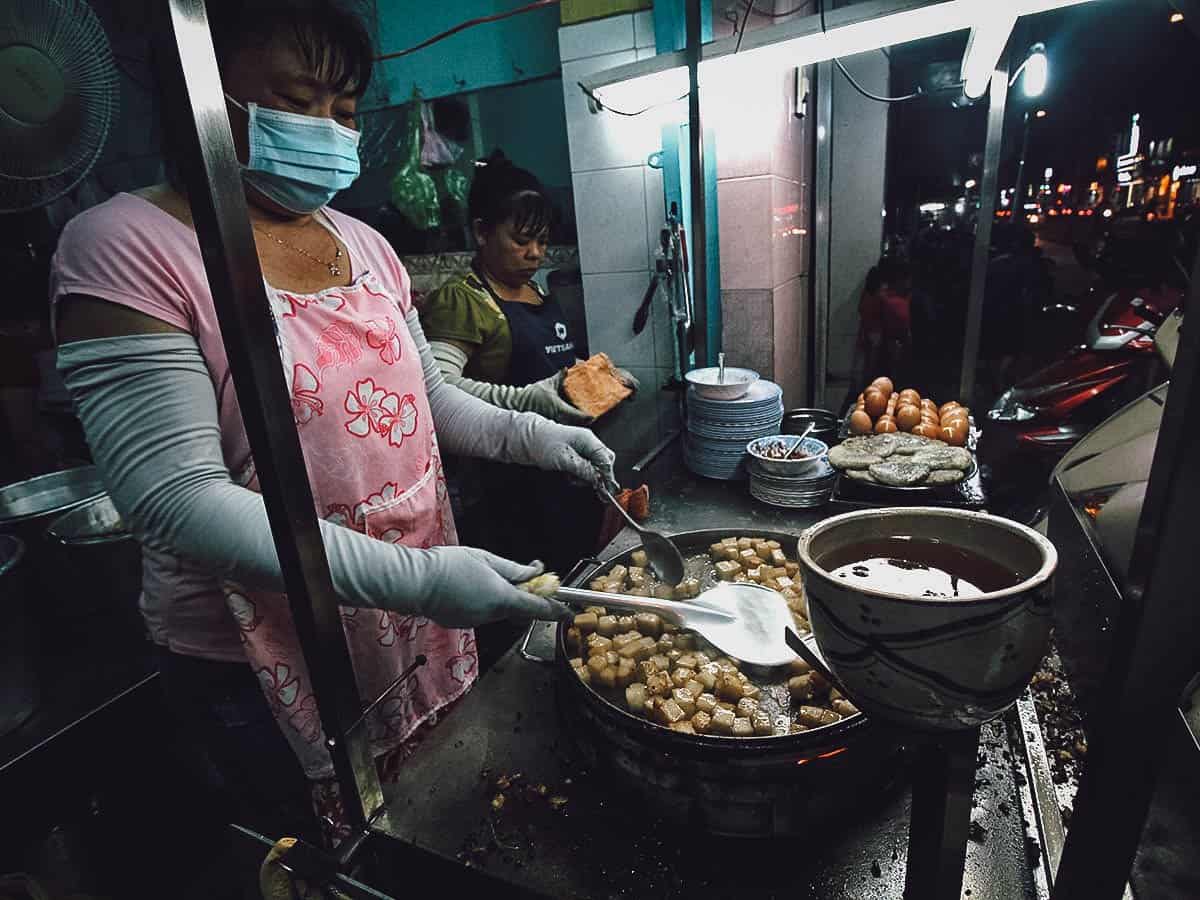 If you're fond of Malaysian or Singaporean food, then this dish may be familiar to you. It's similar to char koay kak in Malaysia or chai tow kueh ("carrot cake") in Singapore.
But unlike the Malaysian and Singaporean versions, bot chien doesn't contain daikon radish. It's made with cubed rice flour and tapioca starch that's fried in lard with egg until golden brown and crisp.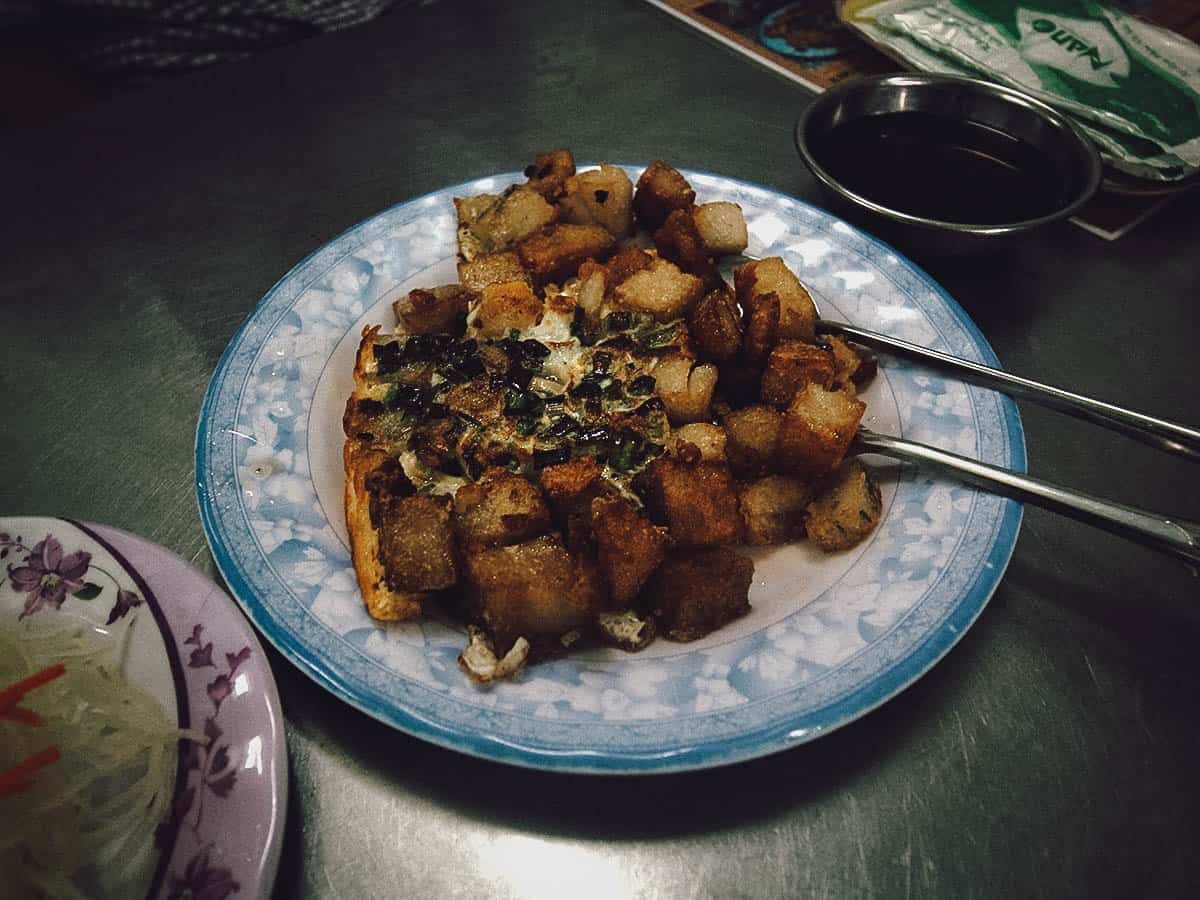 19. Com Ga Xoi Mo Su Su
This is one of our favorite restaurants in Saigon. They serve some of the best fried chicken we've ever tasted in our lives.
Like a few of the places on this list, we learned about Com Ga Xoi Mo Su Su from the second episode of Luke Nguyen's Street Food Asia.
If you're wondering what this odd-looking contraption is, it's the frying machine invented by the restaurant's owner. At the flip of a switch, hot oil (around 180°C) would shower down from the top of the machine onto poached chicken wings or thighs. The oil would go through the screen and back into the pool below before being sent back up again.
He would leave the chicken under this waterfall of oil for a few minutes not necessarily to cook it, since it's already been poached in a master stock, but to supremely crisp up the skin.
It's for this reason why his fried chicken is referred to as "waterfall chicken". So cool!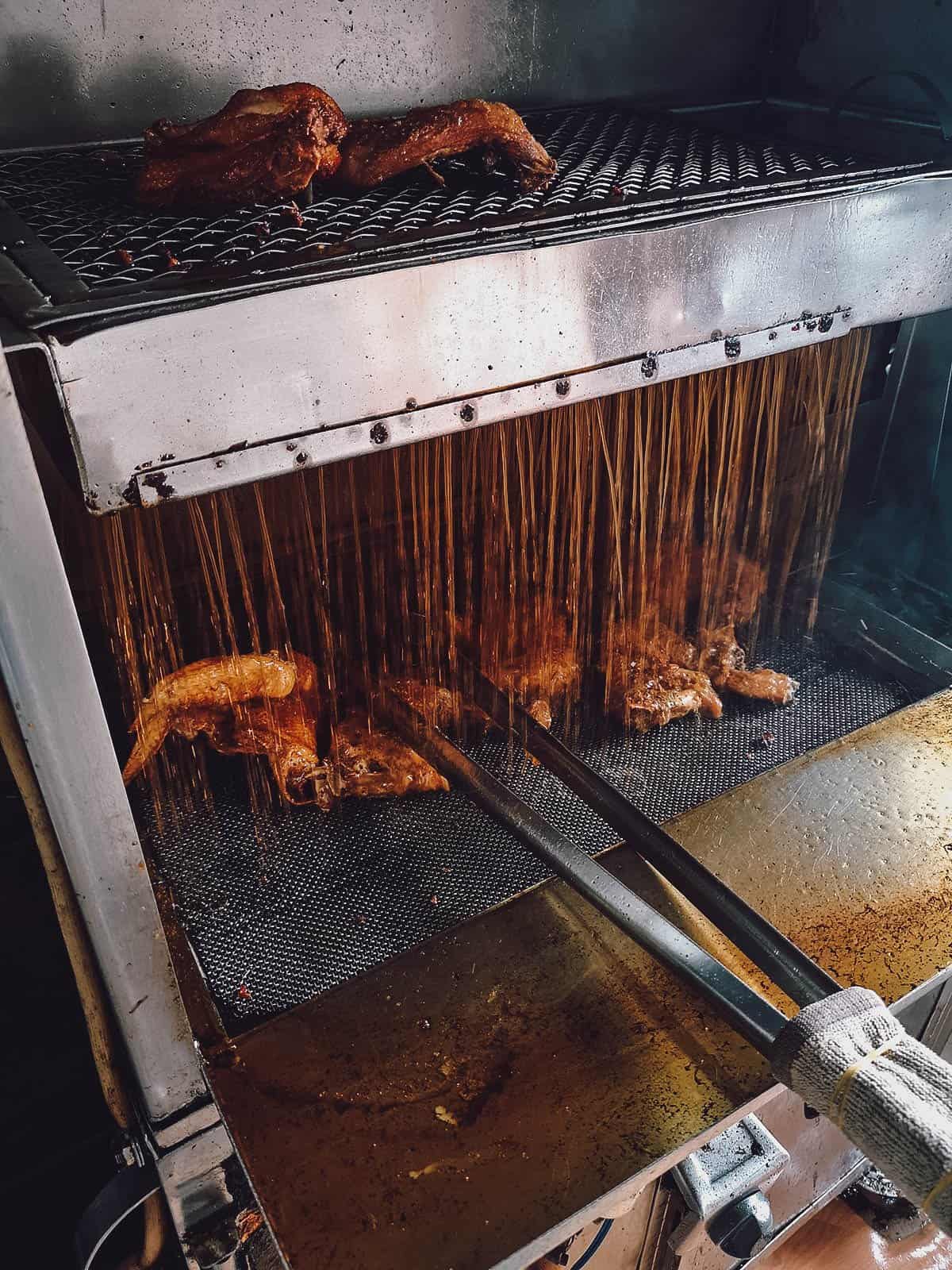 This is the red rice they serve with the fried chicken. Like the waterfall fryer, the owner built this machine to automatically stir the rice so it doesn't burn.
While we were having lunch, I noticed a workstation at the back of the shop with disassembled gadgets like radios, computers, etc. It's clear that this guy really likes to tinker with machines.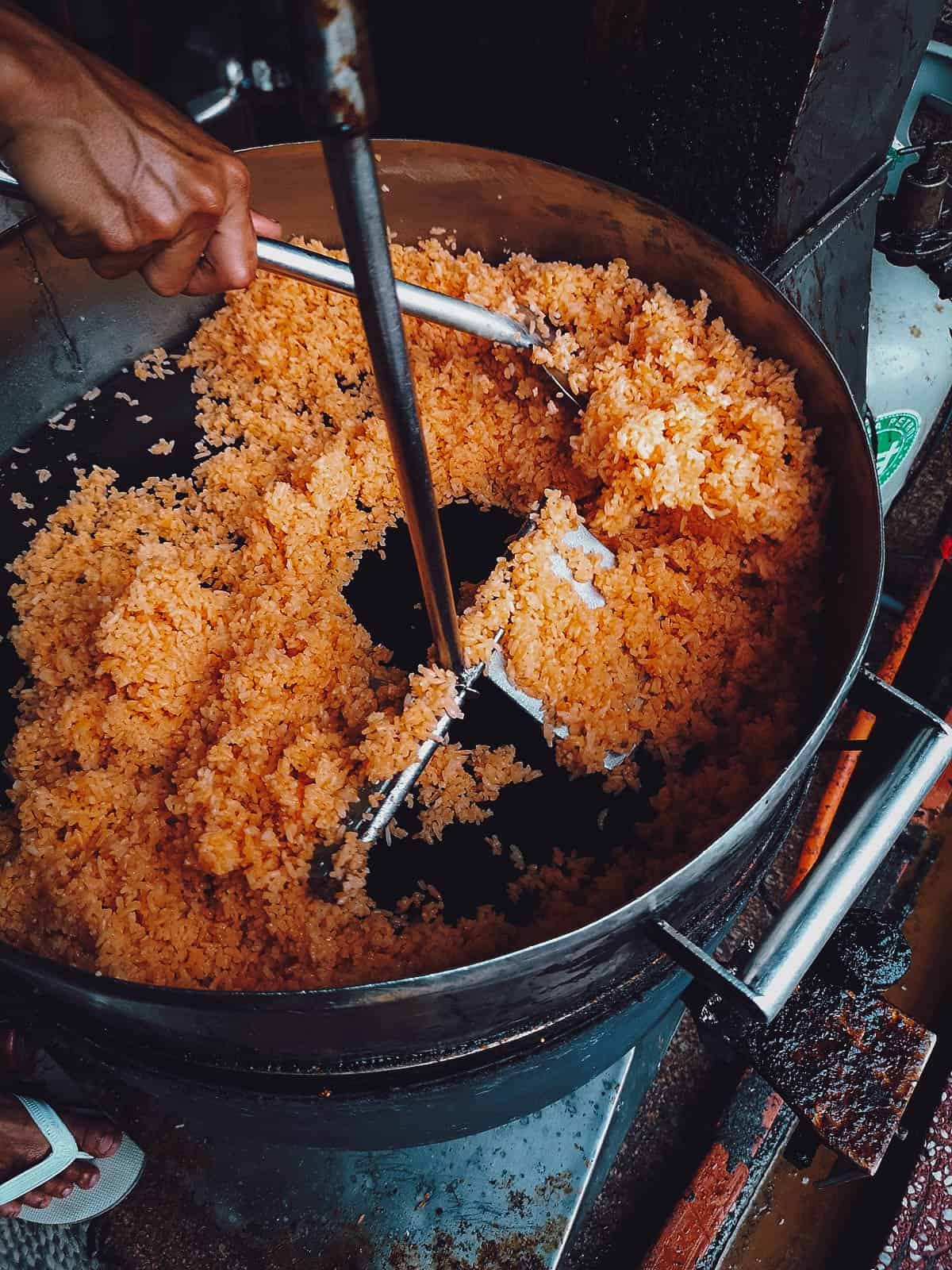 There's no arguing with the results. You can tell from looking at this picture how delicately crisp that chicken skin is. And because it wasn't deep-fried, it isn't as oily.
It's so damn good, especially when dipped in that secret dark homemade sauce. It's savory sweet and very garlicky, kinda like soy sauce with teriyaki and oyster sauce, maybe some hoisin and other spices.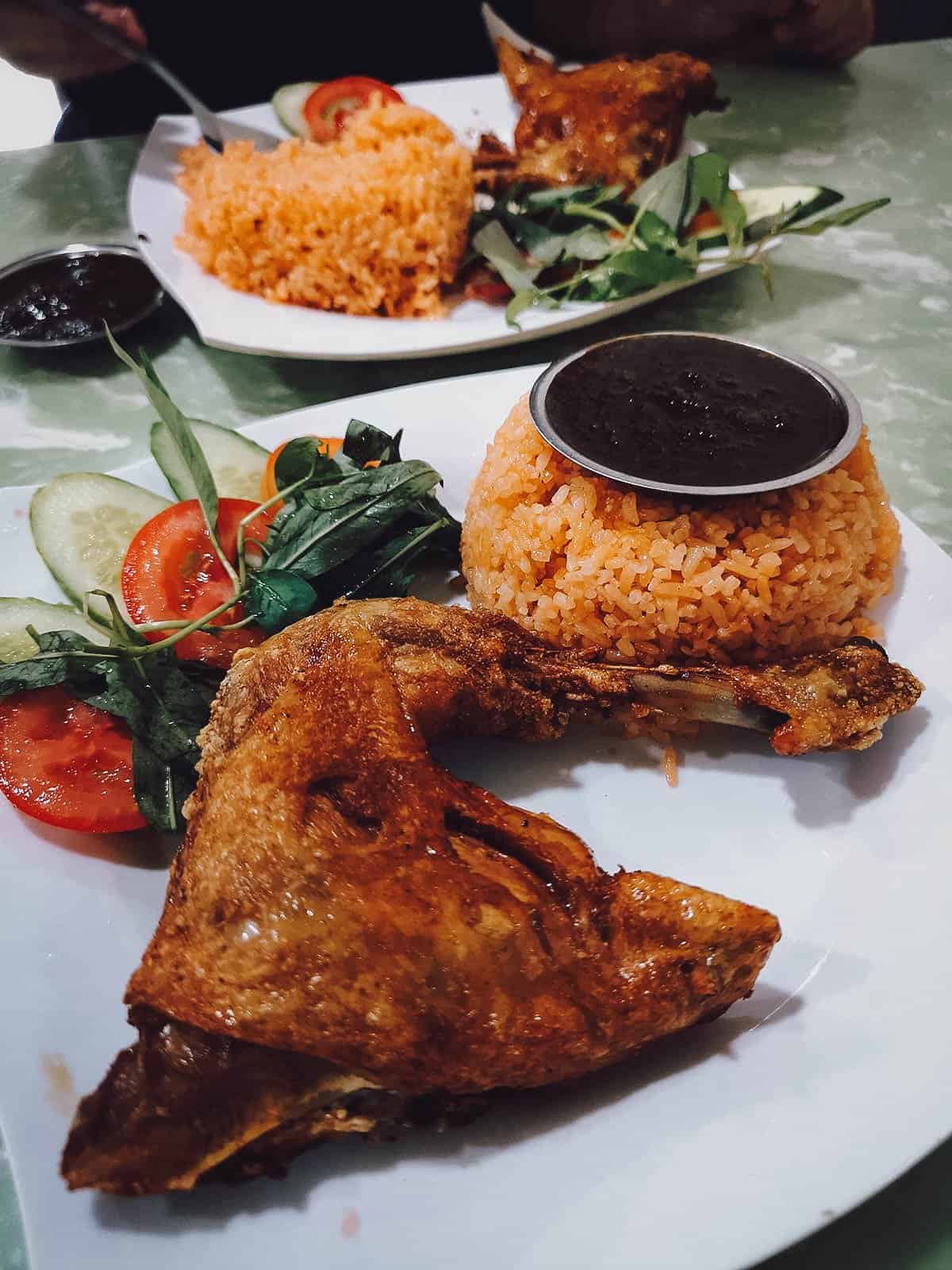 Com Ga Xoi Mo Su Su is located in District 3 fronting the river. It isn't as easy to get to so you may want to book a Grab Bike or Car to this place.

20. Xoi Ga Ut Map Number One
This xoi or sticky rice stall was another restaurant we learned about from Luke Nguyen's show. There are actually two stalls here almost right next to each other, both with very similar names and both specializing in xoi ga or steamed chicken with glutinous rice.
I was crawling through the Cu Chi Tunnels when Ren ate here so I didn't get to try it. But according to her, it was delicious, with the notable flavor of fried shallots.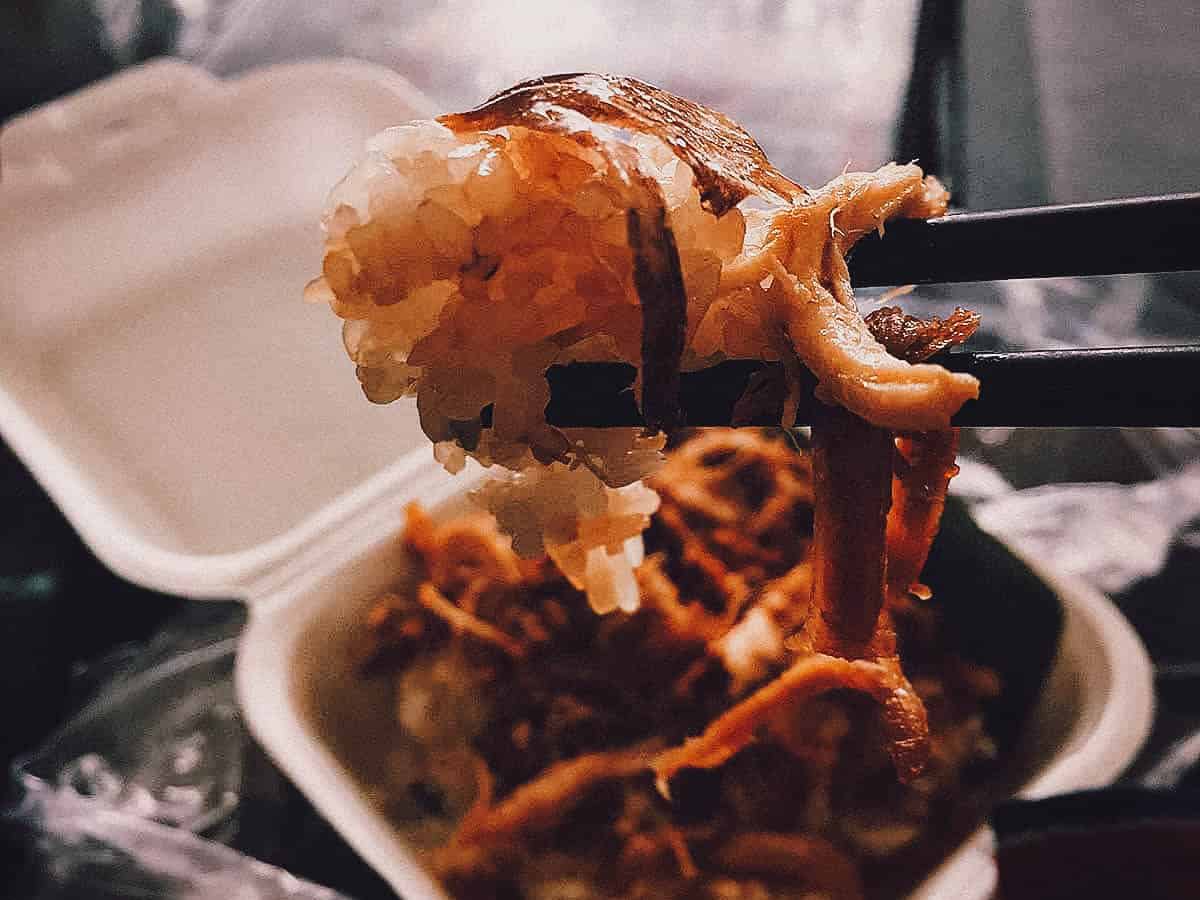 This shop has an interesting backstory. According to Luke, there was a street food vendor named BamMoy who would walk up and down this area selling Xôi Gà over fifty years ago. She became so popular that she eventually opened her own shop called Xoi Ga Number One.
Fast forward many years later and BamMoy is now in her nineties and has since passed on the business to one of her daughters. However, the other daughter wasn't too happy about it so she opened her own stall a couple of doors down called Xoi Ga Ut Map Number One.
In his show, Luke advised would-be diners to go to the original, which is what Ren did. But for some reason, they seated her at the sister's stall whilst serving her xoi ga from the original shop.
21. Hu Tieu Breakfast Stall
This breakfast stall is located right next to our serviced apartment building – Babylon D3 (Booking.com | Agoda). I'm not even sure if this place has a name but they'd set up metal tables and chairs on the side of the road every morning.
Every day we'd walk by this place and find every seat taken by locals slurping down delicious bowls of noodle soup before heading off to work. A no name eatery flooded with locals is always a good sign so I had to try it.
I'm so happy I did because this bowl of hu tieu with shrimp and egg was one of the best dishes I had in Saigon. It was so damn good.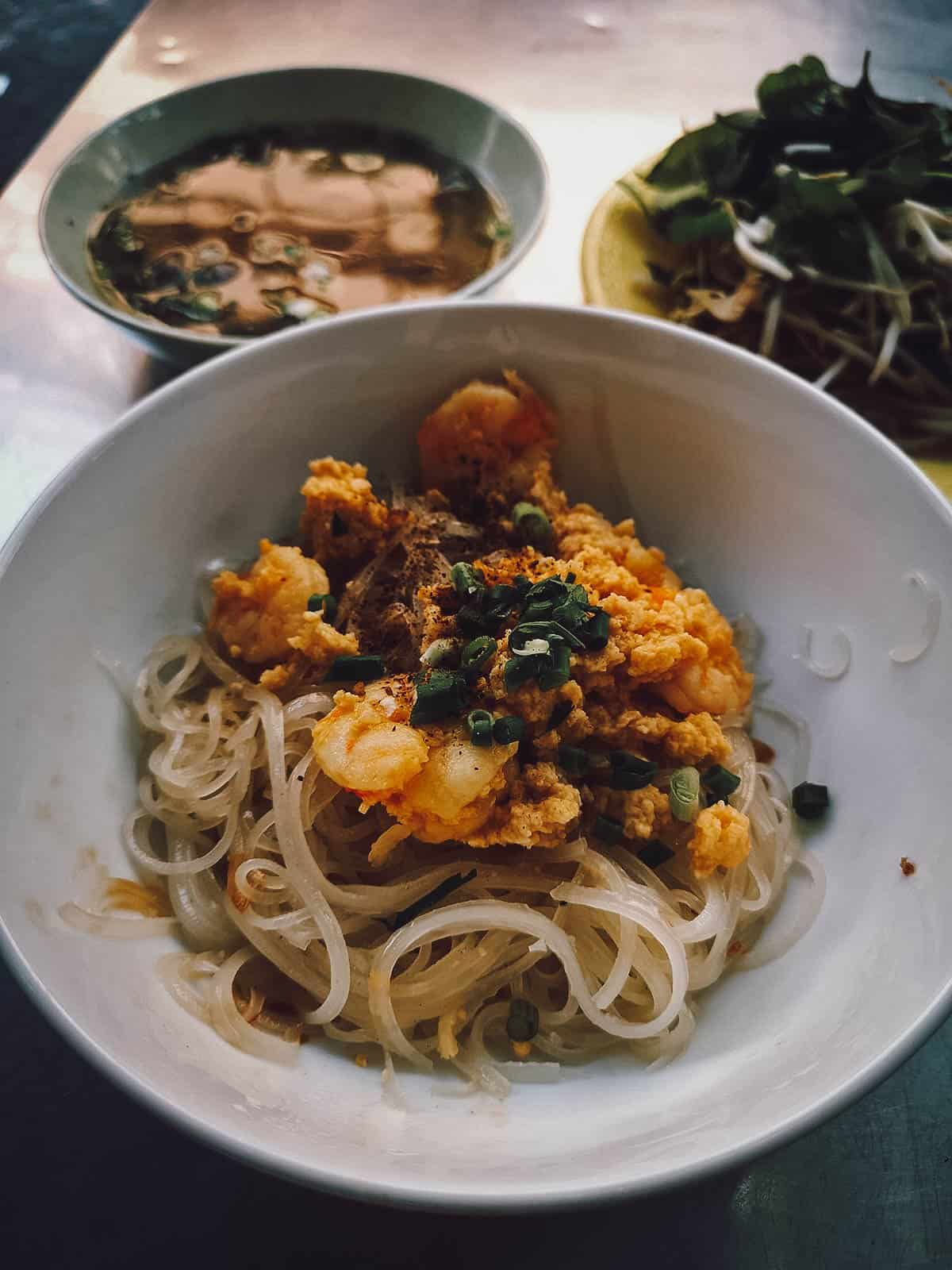 From what I understand, hu tieu is recognized as a breakfast dish with Cambodian roots. It's prepared by moistening noodles with garlic oil then dressing them with a sticky brown sauce made with oyster sauce, soy sauce, and sugar.
The bowl is filled with a clear broth made from pork bones, dried squid, and sugar, and then seasoned with fish sauce. It's then topped with a variety of meats like pork, duck, seafood, or offal.
I'm not sure if the Vietnamese version is prepared in exactly the same way but I had the soup version of this dish many times in the Mekong Delta region and loved it.
It quickly became one of my favorite noodle soup dishes in Vietnam. Based on what I've read, hu tieu became popular in Saigon and southern Vietnam in the 1960s.
This was my first time to try the dry version of hu tieu which I enjoyed just as much as the soup. Every hu tieu soup I had in the Mekong Delta was topped with pork, but this one had shrimp and bits of what seemed like scrambled egg.
The shrimp was soft, succulent, and savory sweet while the egg imparted richness and creaminess. It was absolutely delicious.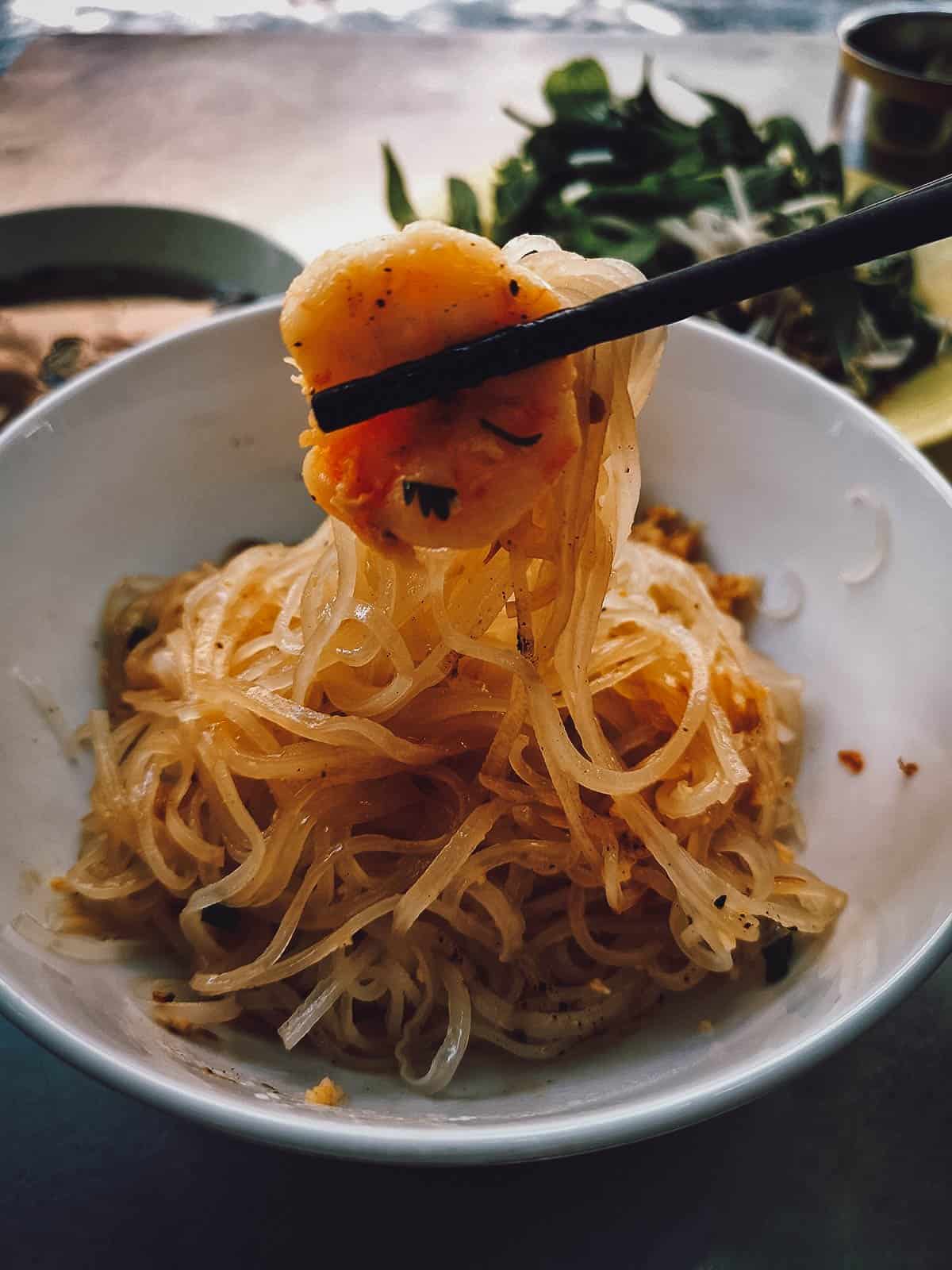 This beef soup was delicious as well. The broth was flavorful and the cuts of beef were super tender. I don't know if they always serve this with the dry hu tieu but I'm happy they gave it to me.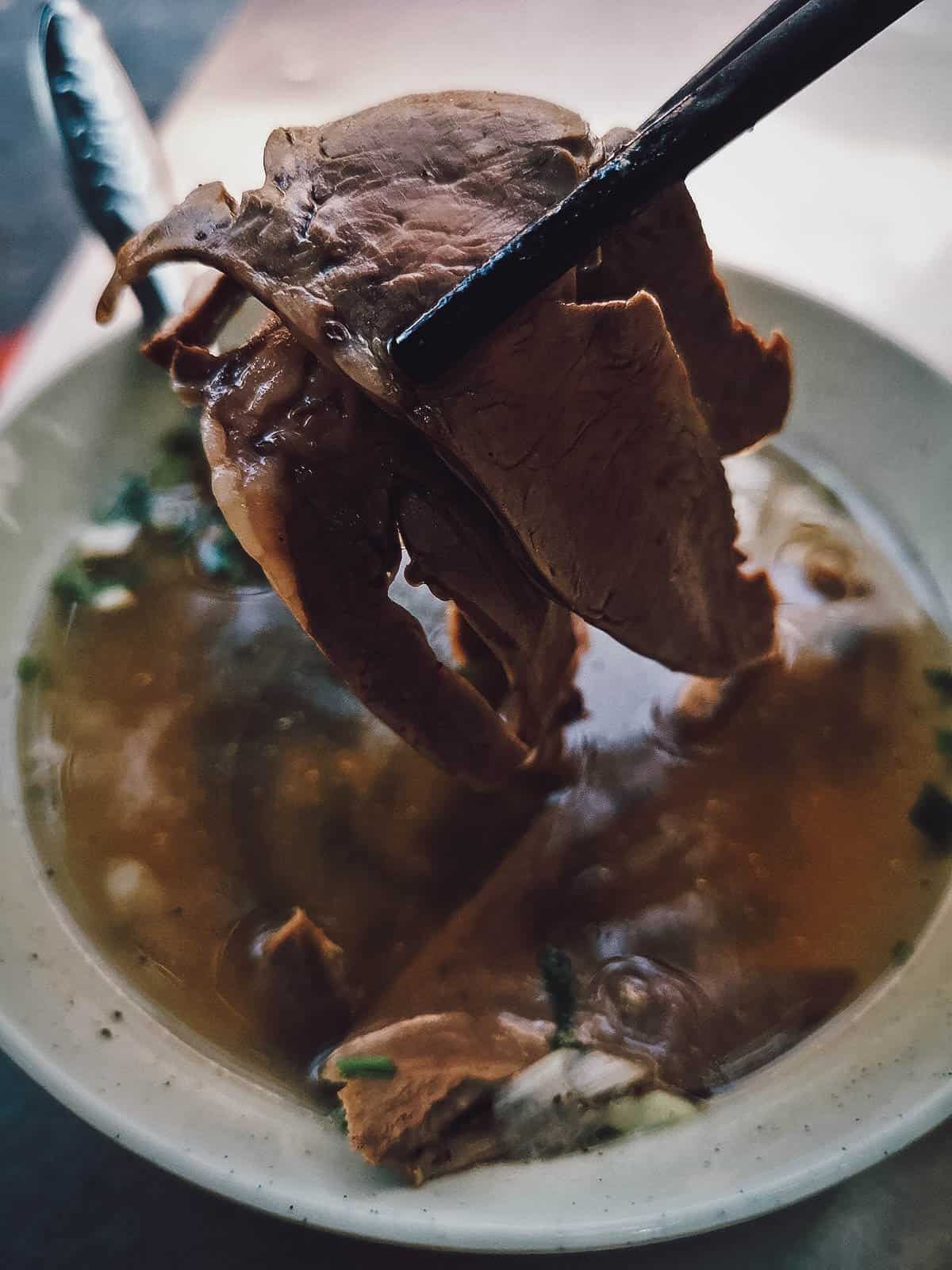 This is what the stall looks like after they've run out of food. Notice the folded up metal tables? You can see Babylon D3's sign to the left of the stall.
22. Vietnam House Restaurant
As you can probably tell by now, we're fans of Luke Nguyen and his shows so we couldn't visit Saigon without enjoying a meal at his restaurant.
As you can tell from this picture, Vietnam House is an upscale restaurant in District 1 serving elevated interpretations of popular Vietnamese dishes like cha gio and banh xeo.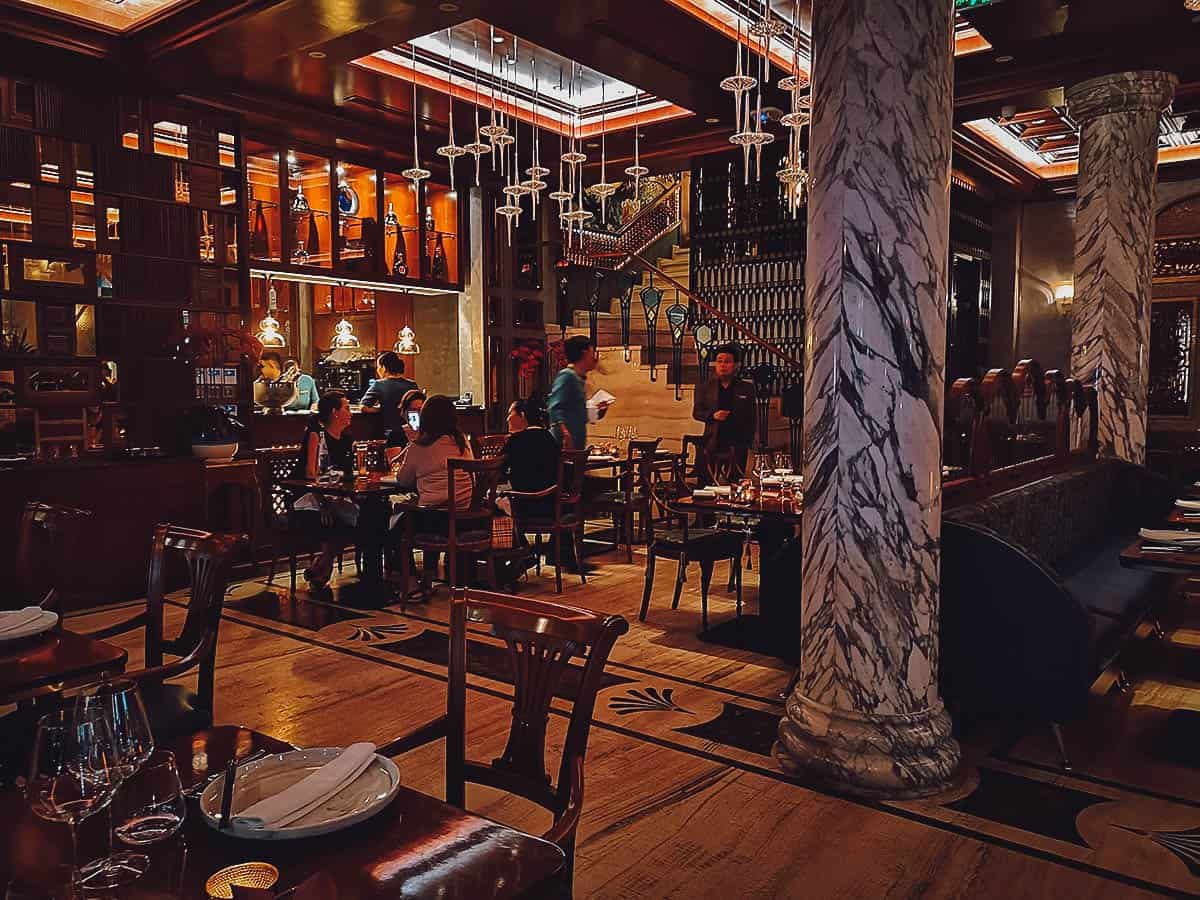 Speaking of elevating a dish, we started with these fried lobster netted spring rolls which are Luke's interpretation of cha gio or deep-fried spring rolls. They're stuffed with lobster, prawn, and wood-ear mushrooms.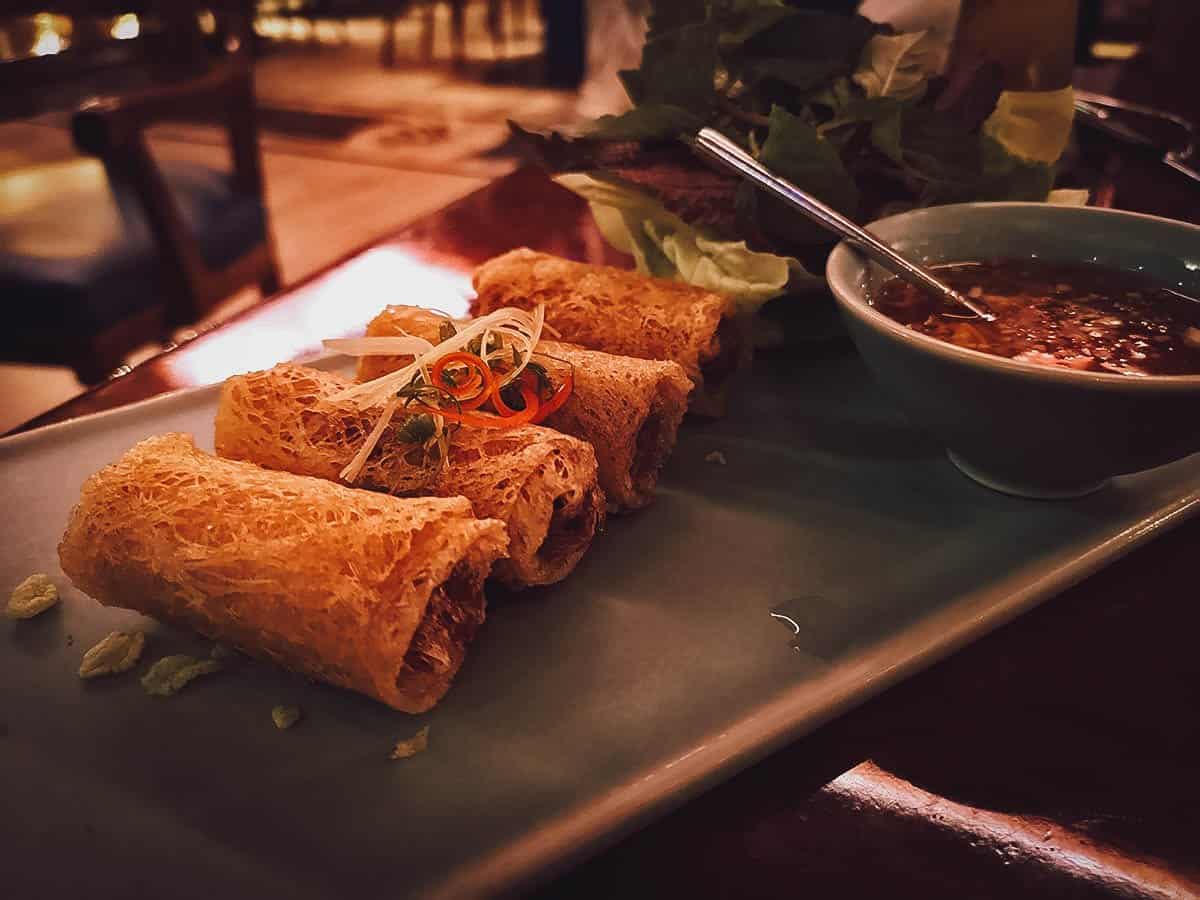 Like many fried Vietnamese dishes, these spring rolls are best enjoyed wrapped in fresh lettuce leaves and topped with pickled vegetables. These were delicious and perhaps my favorite dish from tonight's meal.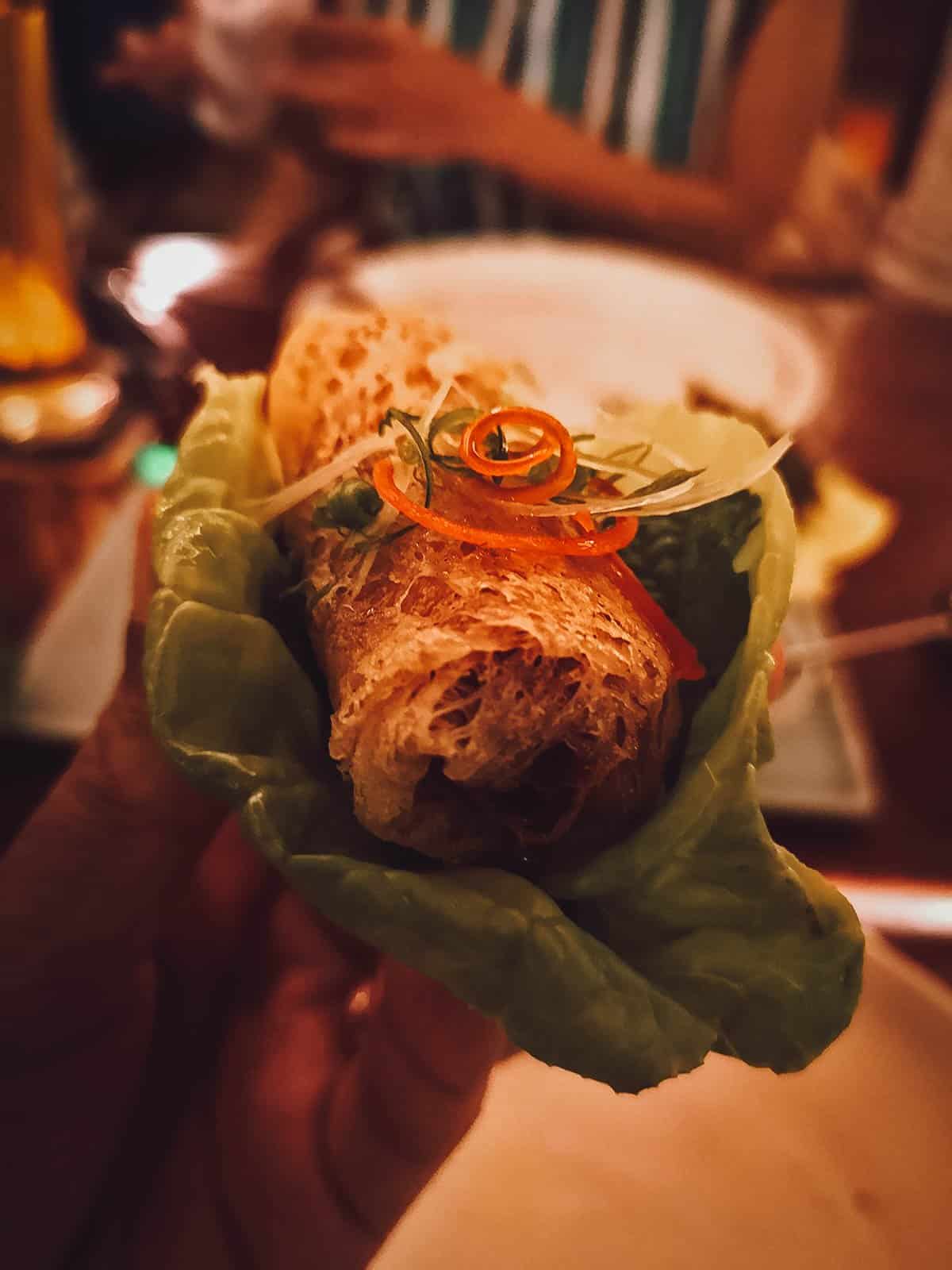 This is Luke's version of banh xeo made with crab, Iberico pork, and palm heart. Fancy!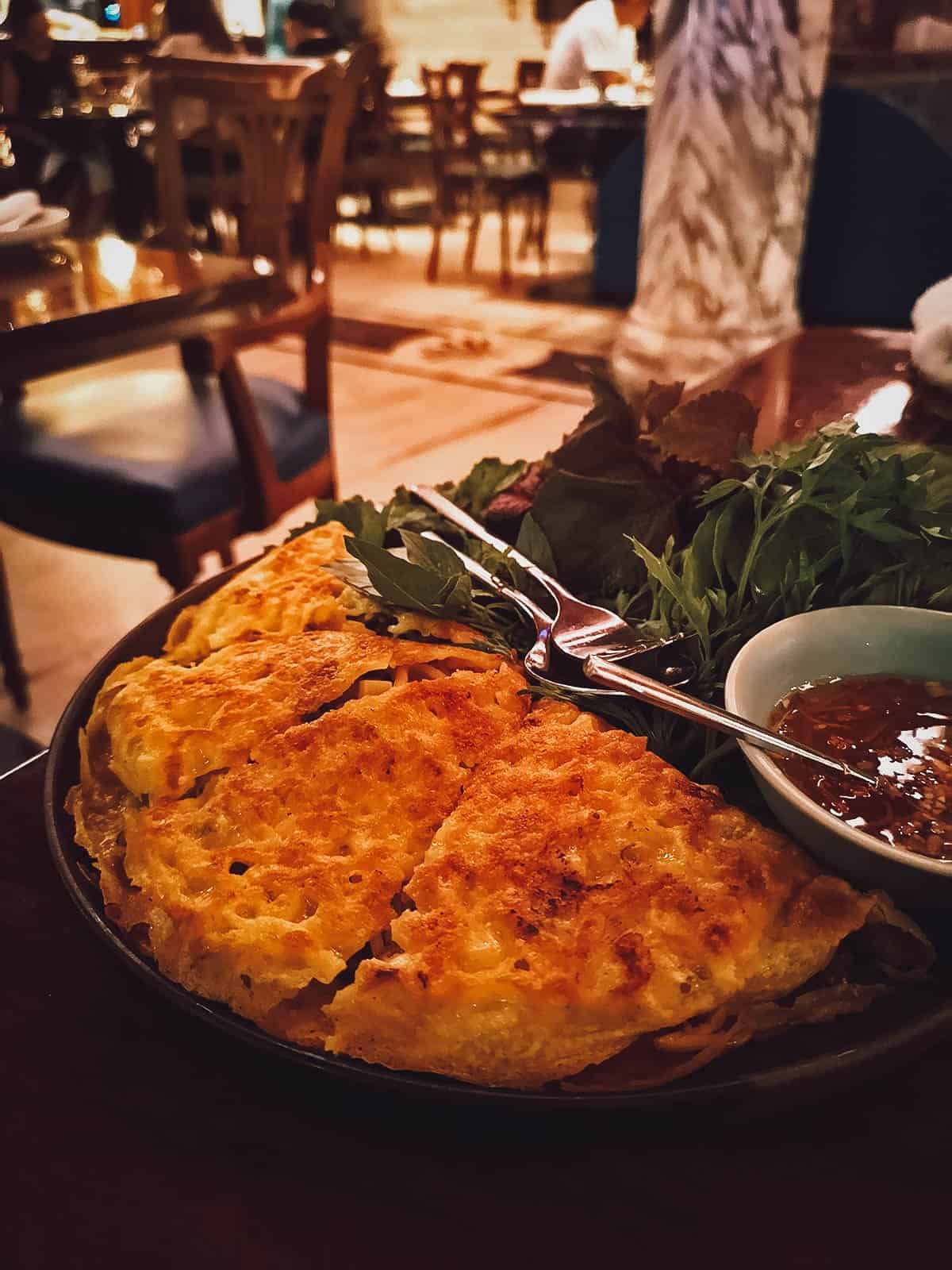 For our main course, we had this delicious bowl of braised wagyu beef cheek in coconut juice, green pepper, carrot, and shallots.
Served with a banh mi baguette, the sauce was rich and flavorful and the beef cheek was so tender it practically dissolved in your mouth. So good!

Vietnam House Restaurant is located in District 1, just a short walk from Saigon's famed Cafe Apartments.
23. Sushi Ko
I wouldn't normally add a sushi restaurant to a Saigon restaurant guide but this place was recommended to us by our Inspitrip guide, the same local who led us to Pho Le, Bot Chien Dat Thanh, Oc Oanh, and Com Tam Tran Qui Cap.
According to him, Sushi Ko enjoys somewhat of a cult following amongst locals because it isn't often that you see sushi sold as street food in Saigon. On top of that, they serve very good sushi.
Sushi Ko is located along Vinh Khanh Street in District 4, just around the corner from Oc Oanh. We've been wanting to eat here ever since we learned about it two years ago.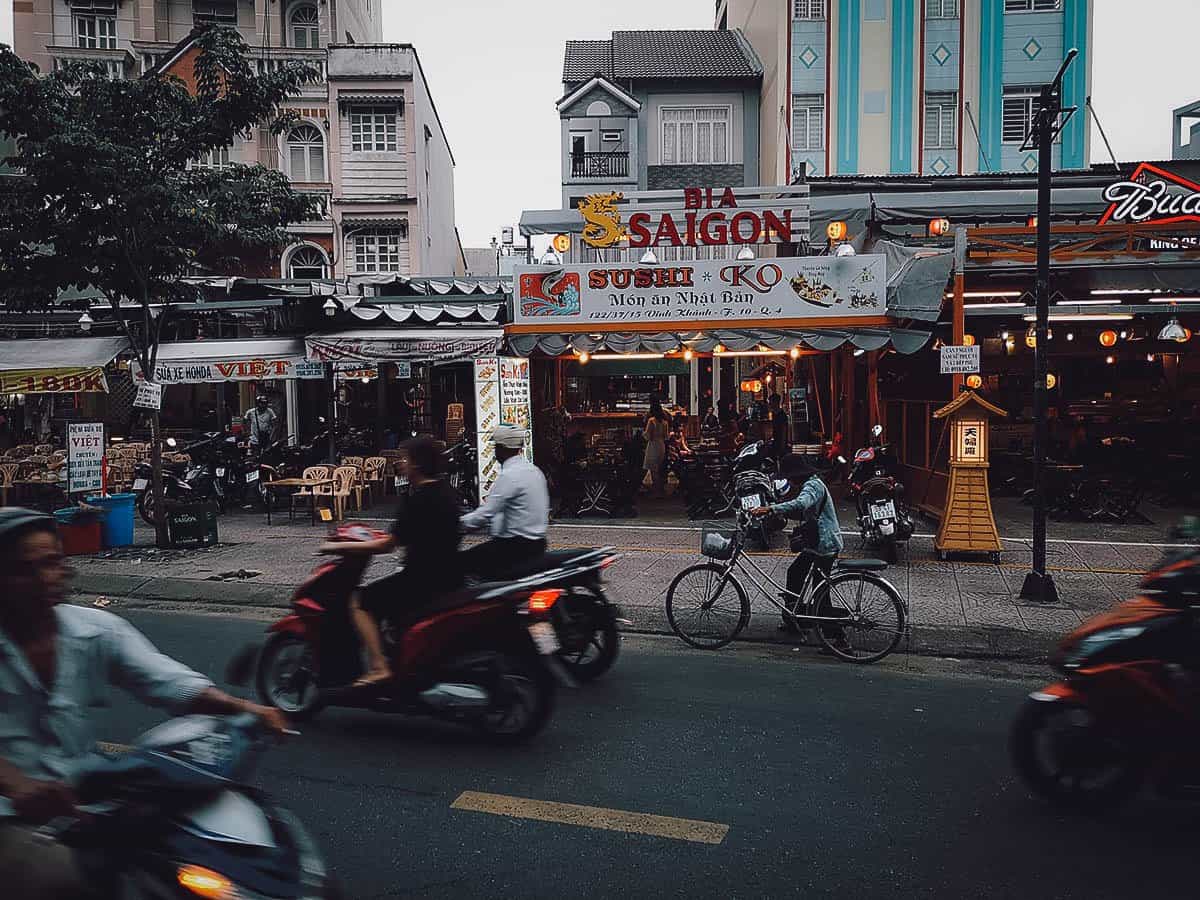 Sushi Ko has an extensive menu featuring fancy sushi rolls, sahimi, and other Japanese dishes. They even have anago here.
We started off with this beautiful Sushi Ko Special Maki roll made with different types of fish, cucumber, egg, avocado, and flying fish roe.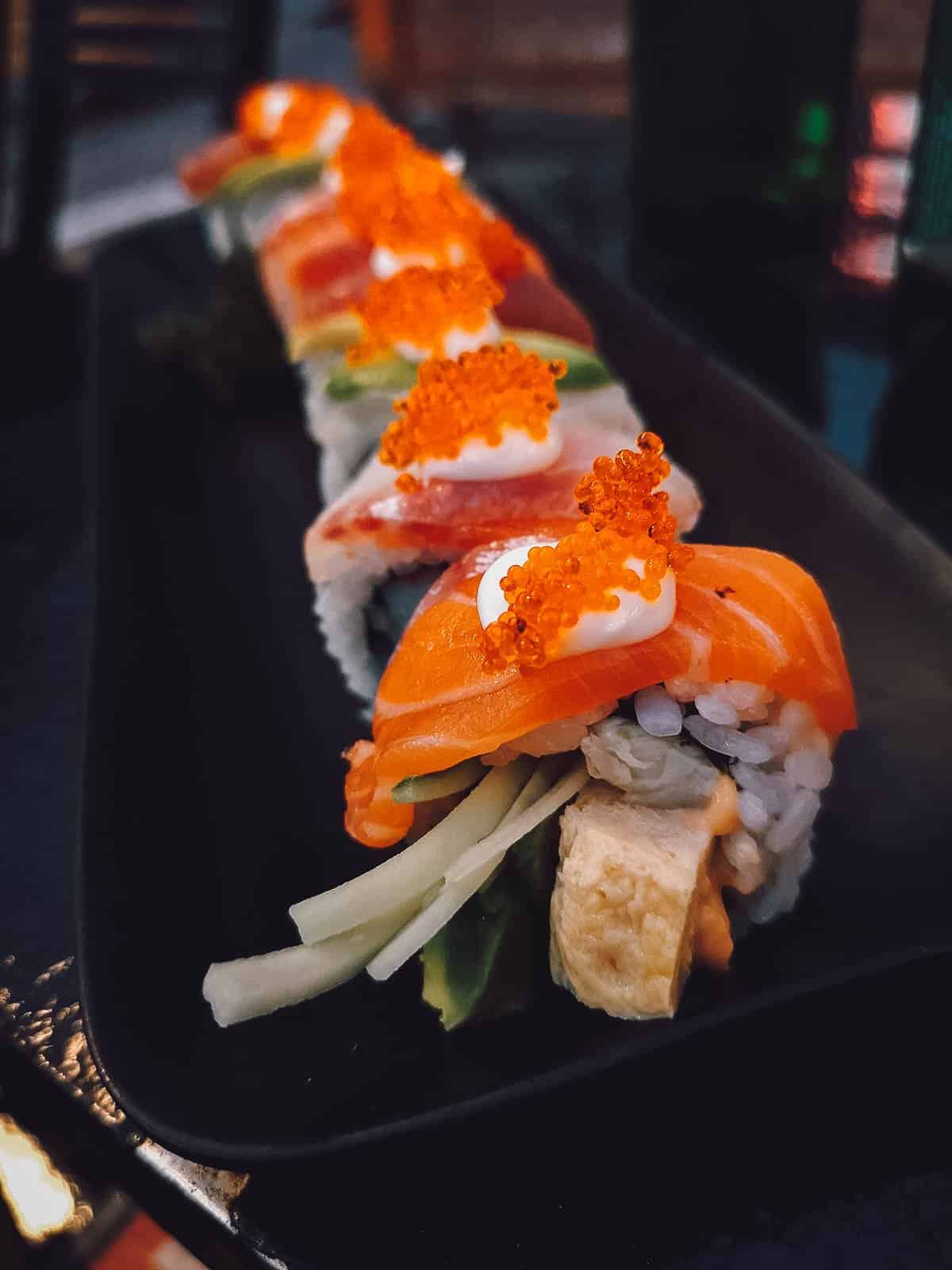 Pictured below is an unagi and avocado maki.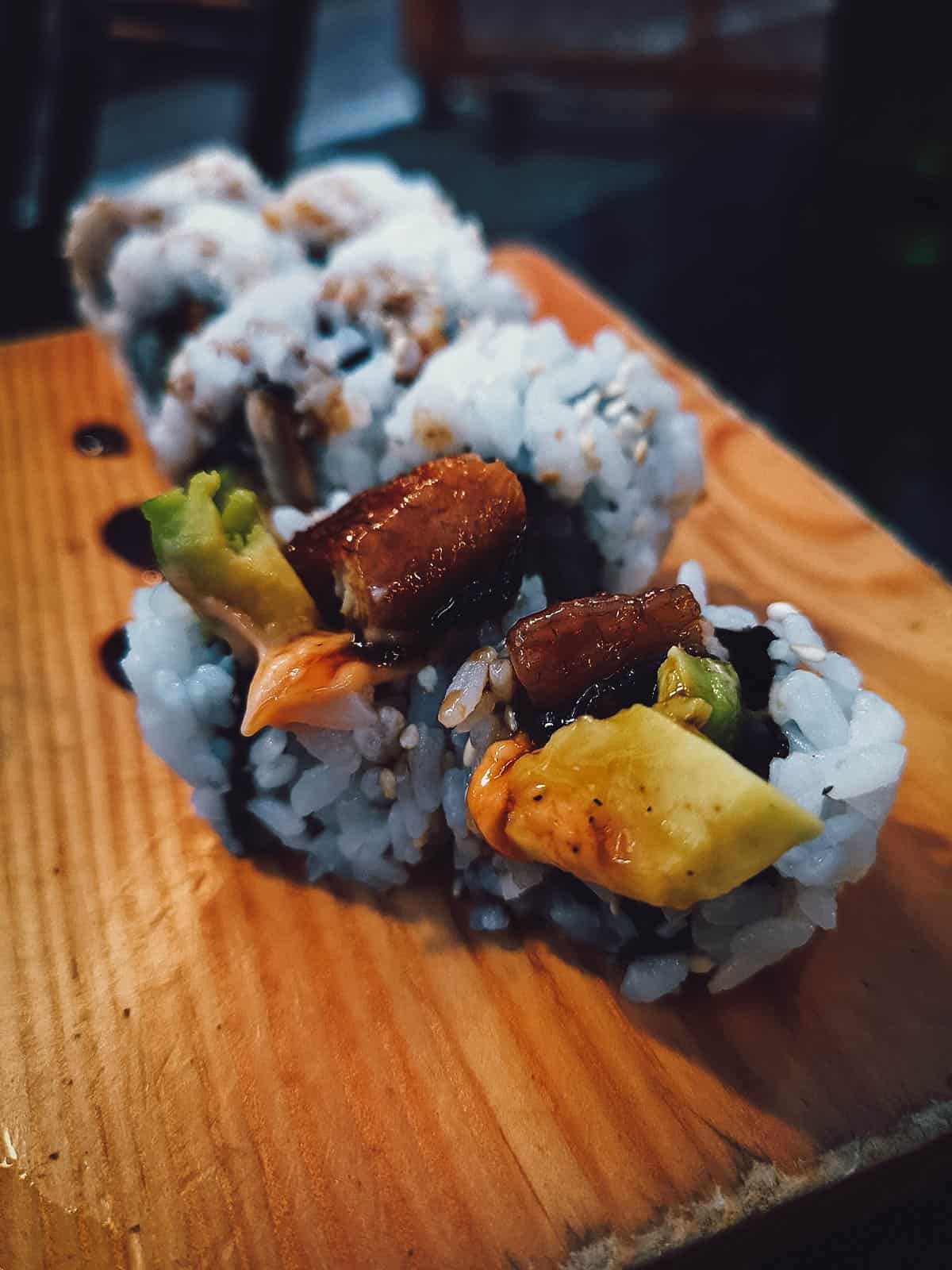 We ordered this seaweed salad to enjoy with our beer. They pop in your mouth and taste briny and a bit slimy, but in a good way.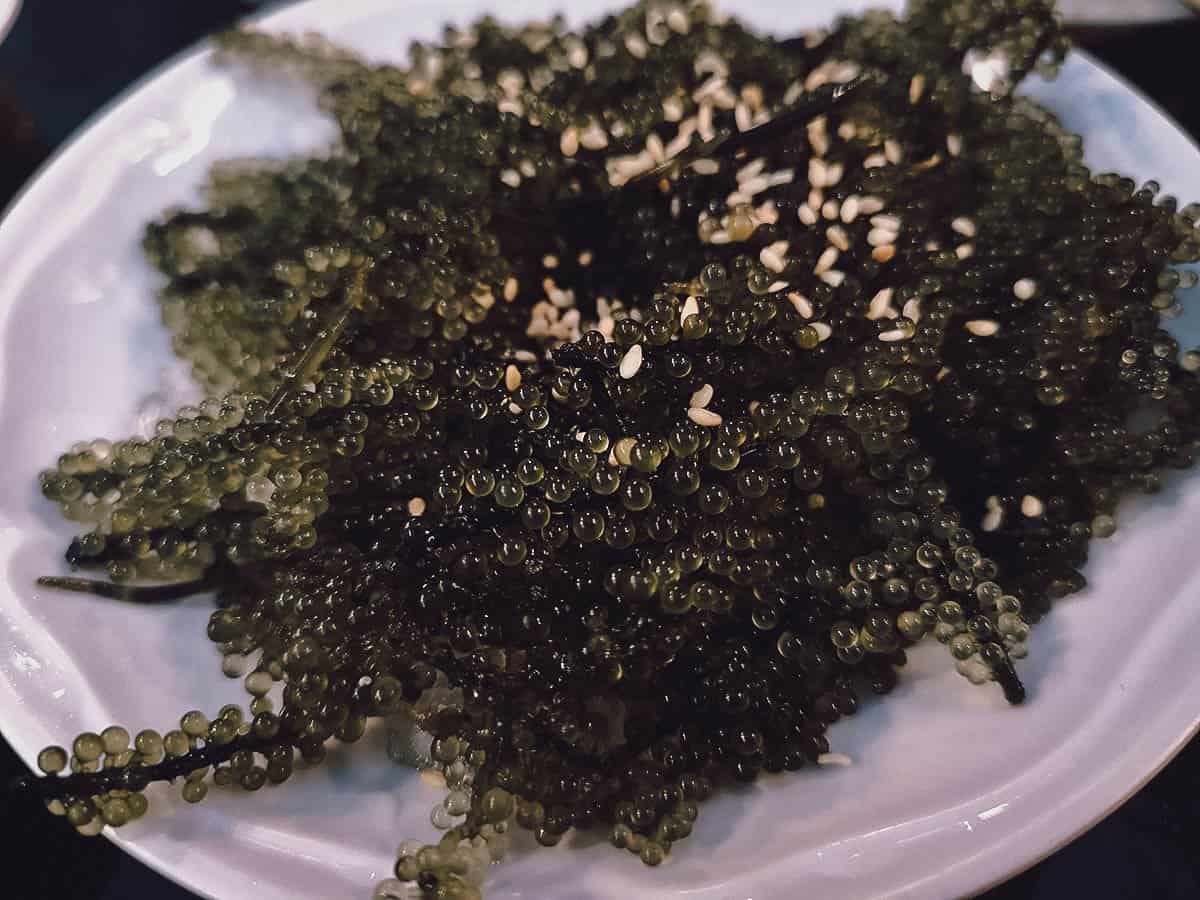 If you think Sushi Ko is all about novelty, it isn't. Seated two tables away from us was this group of Japanese businessmen who looked like they came straight from work.
24. Minh Chau
Gio Cha Minh Chau is a Saigon takeout stall selling different kinds of Vietnamese food products. We asked our homestay host what Vietnamese delicacies we could bring home and she suggested cha lua or Vietnamese pork sausage. What I'm holding here is a half kilo worth of cha lua.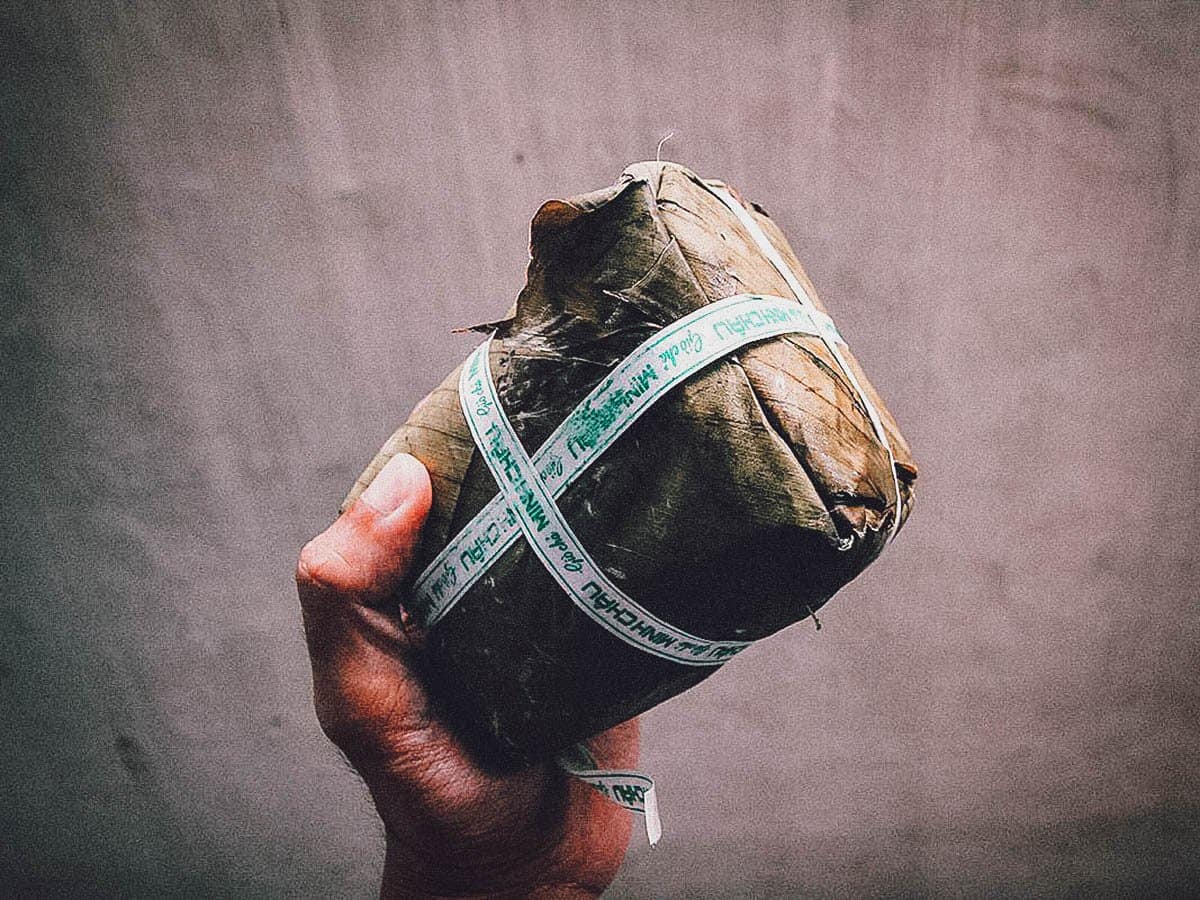 Cha lua or gio lua is made with lean pork, potato starch, garlic, ground black pepper, and nuoc mam (Vietnamese fish sauce). The pork is pounded until it becomes pasty before being seasoned with spices and fish sauce.
It can't be chopped or ground since that would leave the meat fibrous, dry, and crumbly. Achieving a springy texture is key which is why the pounding process is important. The mixture is then wrapped tightly in banana leaves into a cylindrical shape and boiled.
Pictured below is a dish topped with cha lua. It's already cooked so you just need to quickly slice and pan fry it before eating.
25. Ben Thanh Street Food Market
This last entry isn't a food stall or restaurant in Saigon but a food market. Ren and I love street food but we understand that not everyone may have the stomach for it.
If down and dirty Saigon street food isn't really your thing, then you're going to enjoy Ben Thanh Street Food Market.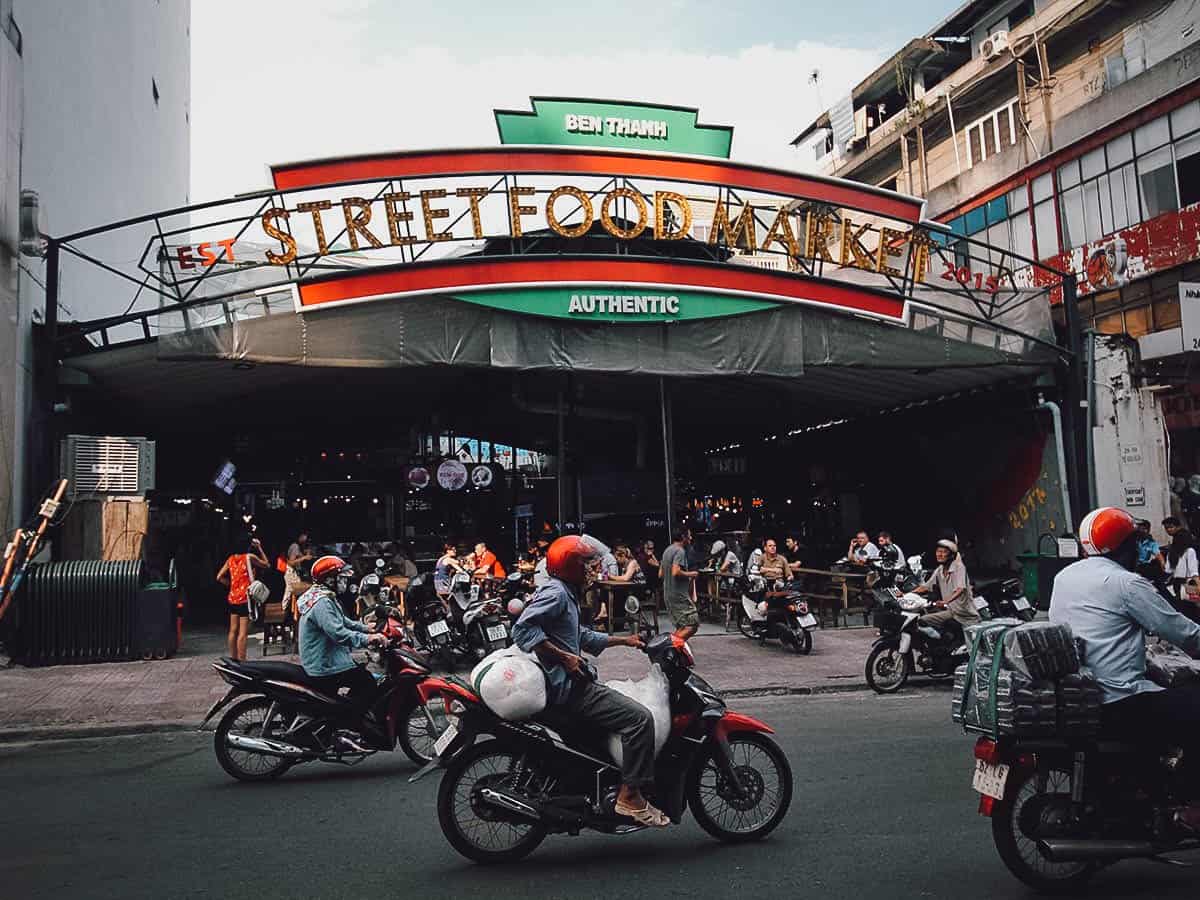 Located near Ben Thanh Market, this place is a trendy Saigon food market with several individual stalls selling different types of food. The venue is clean and the atmosphere is pleasant.
FINAL THOUGHTS
Vietnamese food is amazing. It's attention to the Yin and Yang of flavor, texture, and temperature never ceases to captivate us. It's one of our favorite cuisines in the world and something we will never grow tired of.
When we go on one of our lengthy traveleating trips, I usually start craving for familiar comfort foods after two weeks, but not so in Vietnam. I was in the country for a month and I still couldn't get enough of Vietnamese food.
Vietnamese food is delicious throughout the country but as described, we think the food in Saigon is the best. This food guide of 25 restaurants is a big improvement from our previous version of ten.
I'm proud of it but to be honest, we're only just beginning to scratch the surface of all the tasty things Ho Chi Minh City has to offer. There is so much good food in Saigon that two trips isn't enough to do it justice. We'll definitely be back and with each return visit, we'll be refining and building upon this Saigon food guide.
For more recommendations in Saigon, do check out our friend Max's YouTube channel. He's been based in Vietnam for over a year now and has been putting out some amazing videos on Saigon food.
Thanks for reading guys and have an amazing time exploring the many delicious restaurants in Saigon!
Disclosure
The TripAdvisor links in this post are affiliate links, meaning we'll earn a small commission if you make a booking or reservation at no extra cost to you. We really appreciate your support as it helps us keep this website going. Thank you!