I love Malaysian food. Nasi lemak is one of my favorite dishes in the world while satay is always the sidekick to my 640 ml bottle of Skol beer.
But to be honest, I didn't know much beyond that. Sure, we've eaten our way through Langkawi and Penang, but those experiences didn't give me a good enough grasp of Malaysian cuisine to understand its nuances. I couldn't distinguish between nasi campur and nasi kandar and I couldn't confidently tell you which dishes were truly Malaysian and which were more Chinese, Indian, or Peranakan.
Even more confusing was its striking resemblance to Singaporean cuisine. Many dishes seemed to cross over. Favorites like nasi lemak, laksa, popiah, murtabak, and roti appeared to be equally popular in both Malaysia and Singapore, making me wonder: "What exactly is Malaysian cuisine? Which dishes truly are Malaysian?"
As eager for answers as I was for Malaysian food, this is what I set out to learn tonight when I went on this Kuala Lumpur food tour with Chef Faris and A Chef's Tour.
Save This on Pinterest!
No time to read this now? Click on the red save button and pin it for later!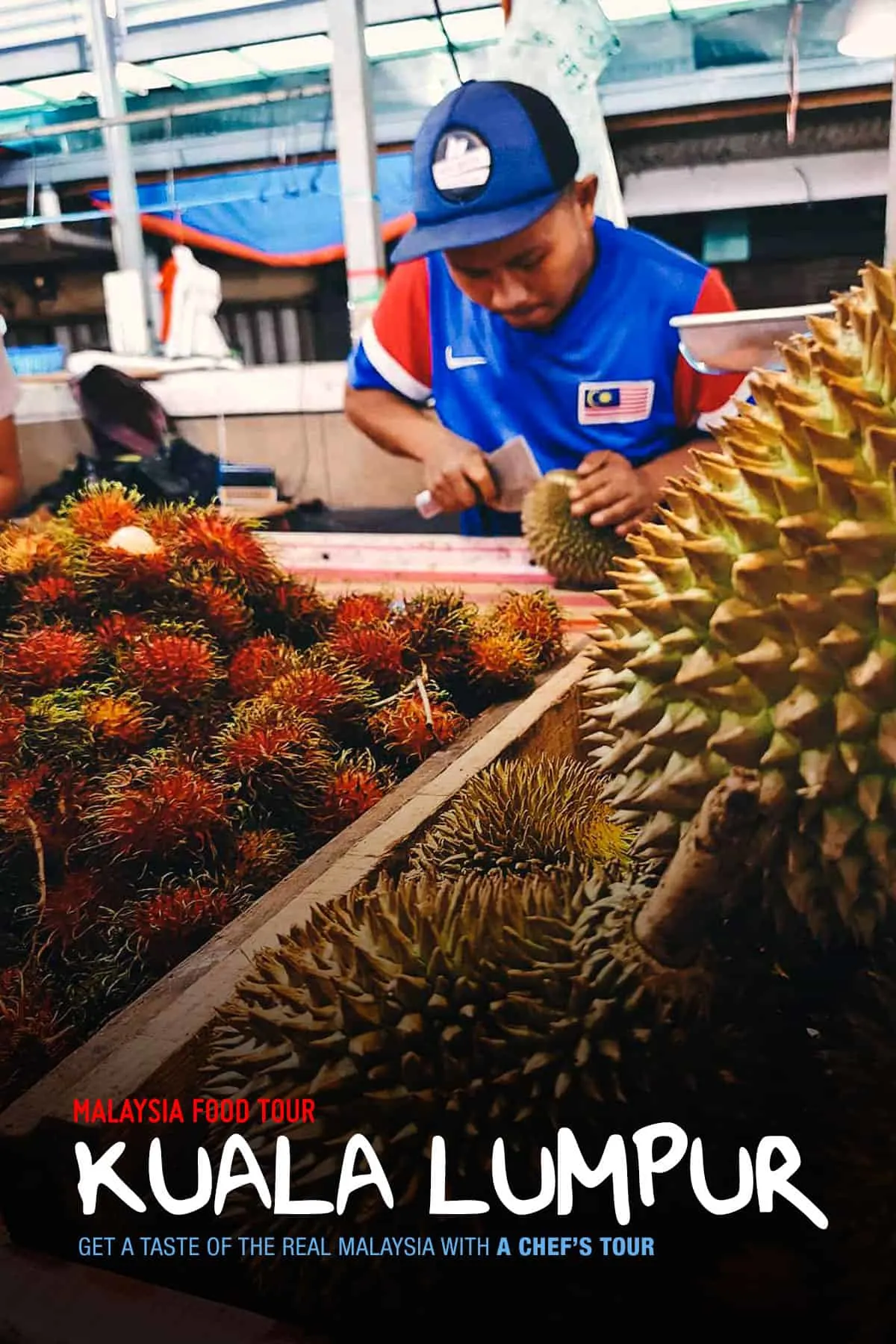 Old Markets & Beyond: Kuala Lumpur Food Tour
A Chef's Tour is a tour provider that offers these really interesting food-focused tours in Asia and Latin America. I've been on their tours in Bangkok, Chiang Mai, and Phuket in Thailand, as well as their tours in Mumbai, Delhi, and Kolkata in India. All were fascinating and gave you an insider's look into each destination's food and culture.
This Kuala Lumpur Food Tour is available from Thursday till Sunday and costs USD 55 per person, inclusive of all food, drink, and transportation during the tour. You can book this tour on A Chef's Tour or Get Your Guide. Be sure to check both links as one or the other may be offering a discount.
Tonight's tour started at 5:30PM, when I met Chef Faris at the exit of Chow Kit Station. As far as I know, Chef Faris is the only chef leading food tours in Kuala Lumpur. This man really knows his stuff. Having worked in hotels and restaurants, he now runs his own catering business and leads these food tours in his spare time. He took me on one of the best Asian food tours I've ever been on in our travels, beginning with Chow Kit Market which is one of the best and most popular wet markets in Kuala Lumpur.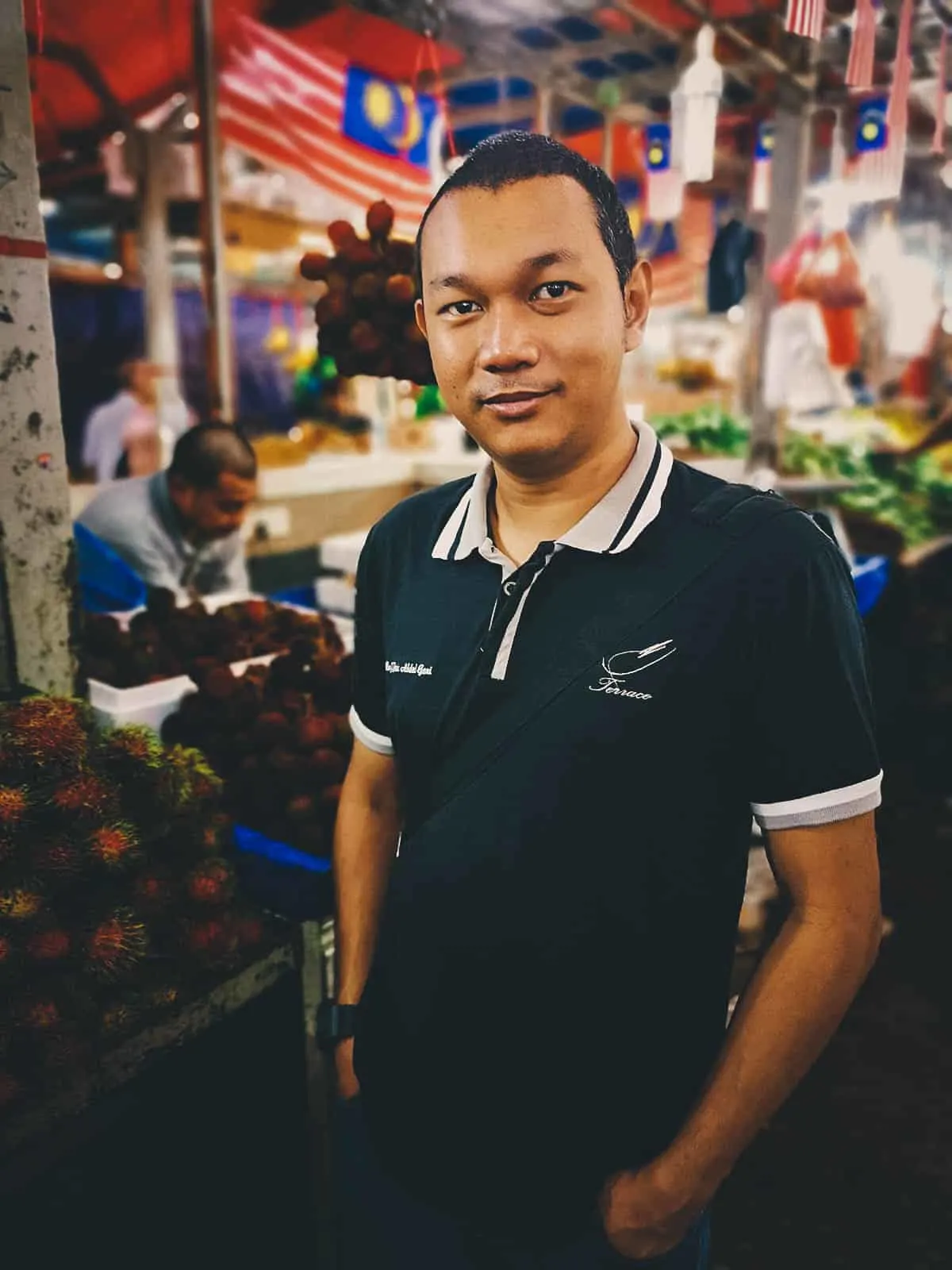 Chow Kit Market
Located at the northern end of Jalan Tunku Abdul Rahman, Chow Kit Market is both infamous and delicious. It's home to the city's unofficial red light district as well as its biggest wet market. Today's tour will take you through the latter.
Pictured below are giant strands of Parkia speciosa, commonly known as stink or bitter beans. They're a common ingredient in many Southeast Asian countries, including Malaysia where they're often served with sambal or mixed with dried shrimp, chili peppers, prawn paste (belacan), and other ingredients. They're a little smelly, hence the name, but delicious with great texture.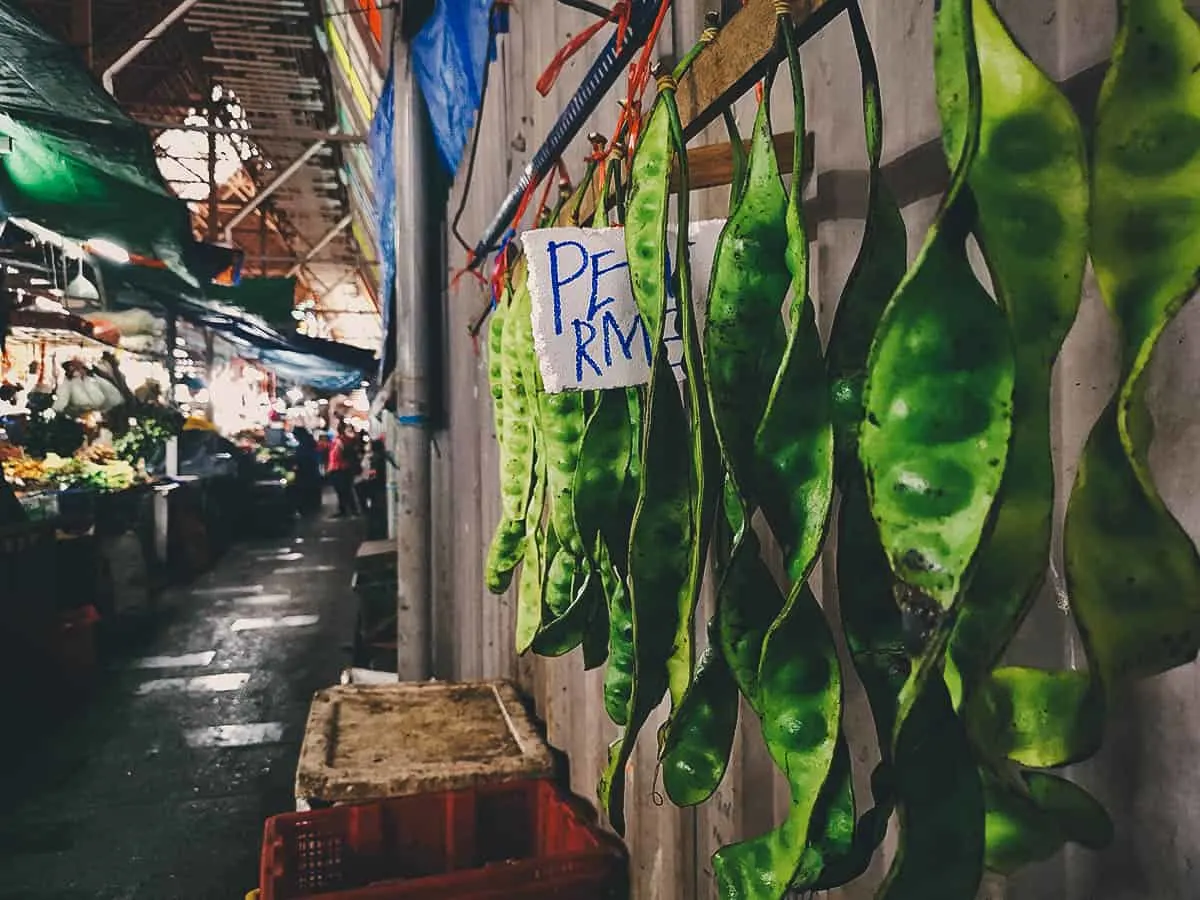 Fresh greens, tubers, and a small outcropping of torch ginger flowers. See that pinkish bunch there behind the greens? Torch ginger flowers are an interesting ingredient that you can't find just anywhere. Tangy and aromatic, we had it in a delicious bowl of asam laksa in Penang.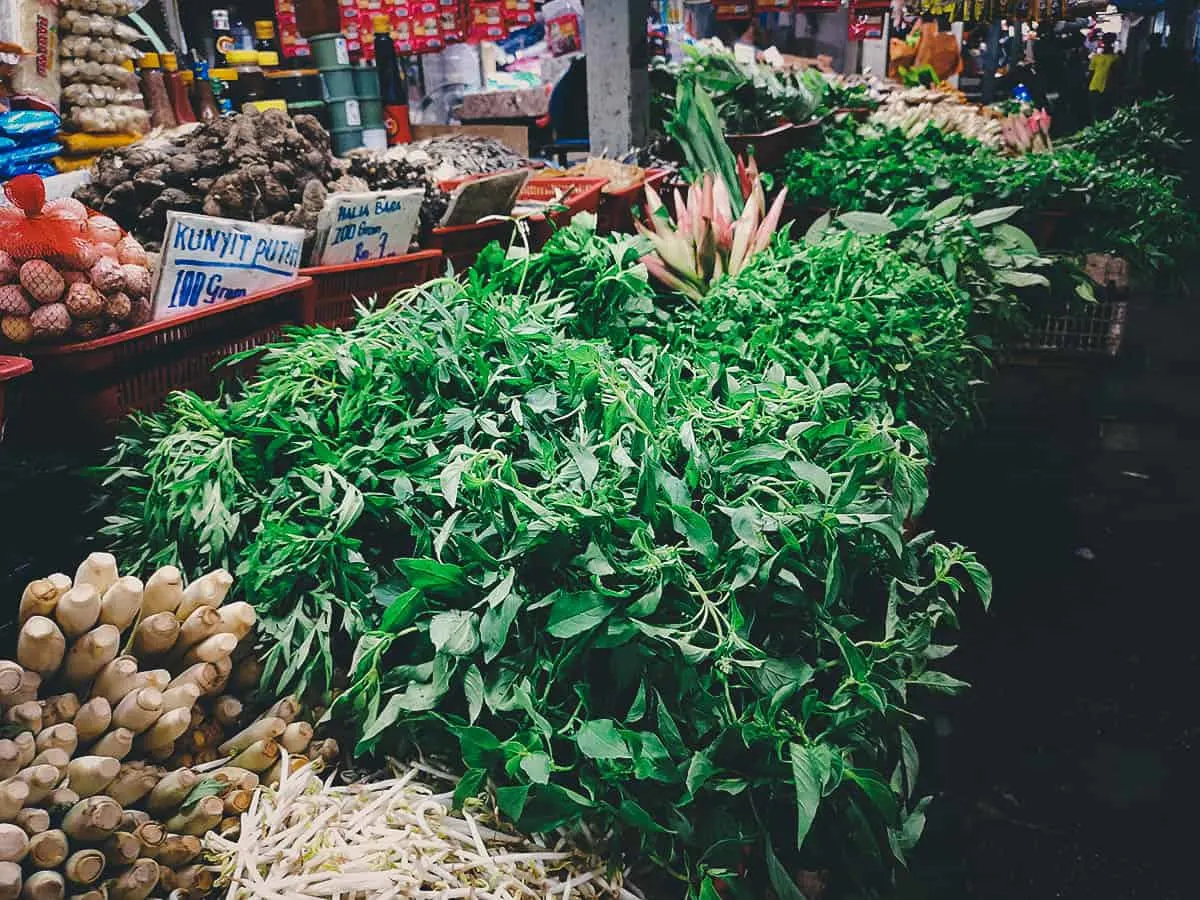 Fresh chili, the quintessential ingredient to a fiery sambal. I read that Chow Kit Market was slated for demolition a few years ago to make room for a modern high-rise. Sambal lovers everywhere rejoiced when it was spared.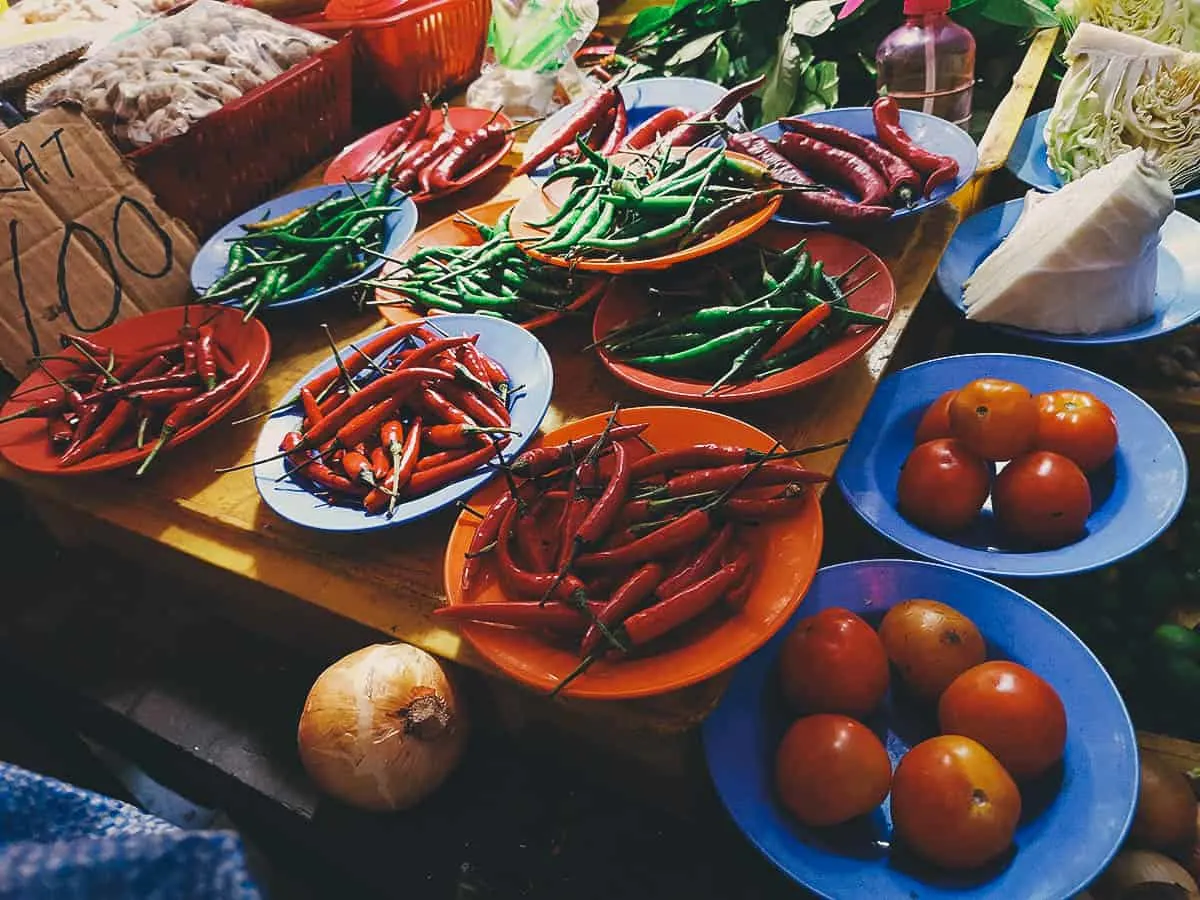 Fresh kaffir limes and their unique double-segmented leaves. They're often added to curries in Malaysian cuisine.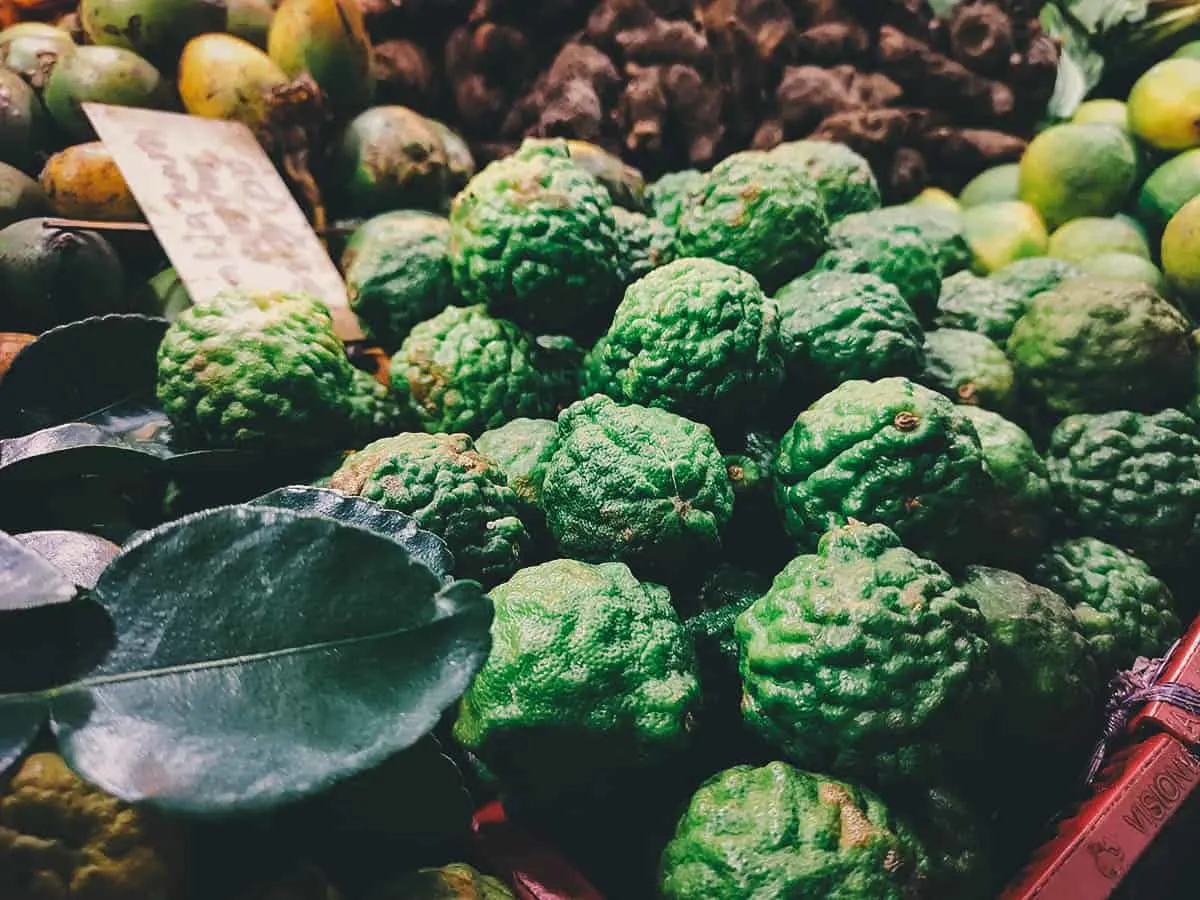 Are these stalks of lemongrass or green onion? The ones on the right are longan, one of my favorite fruits in the world. They're similar to lychee or rambutan but better.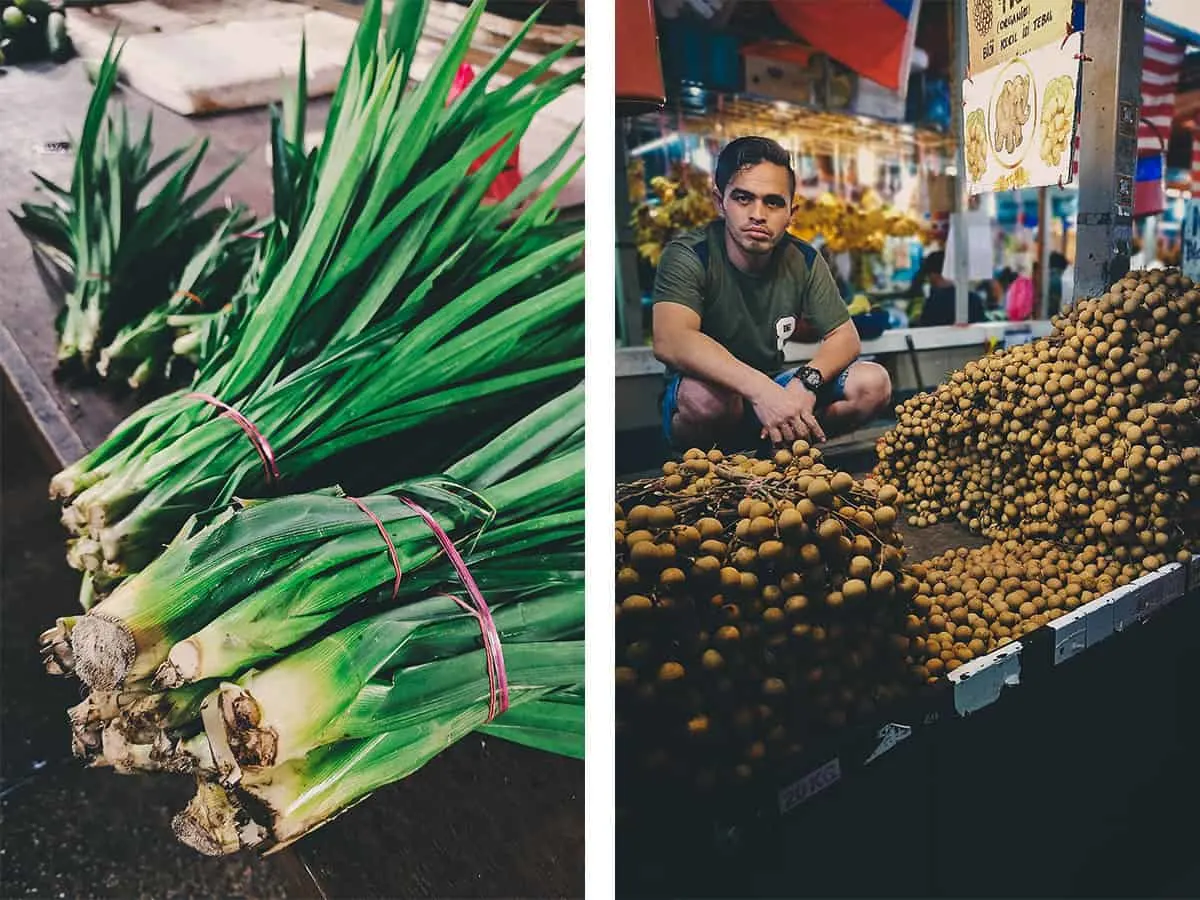 A selection of pomegranate

I'm not the biggest fan of pomegranate but I do find them to be quite pretty. Pop one open and you've got a handful of little edible rubies.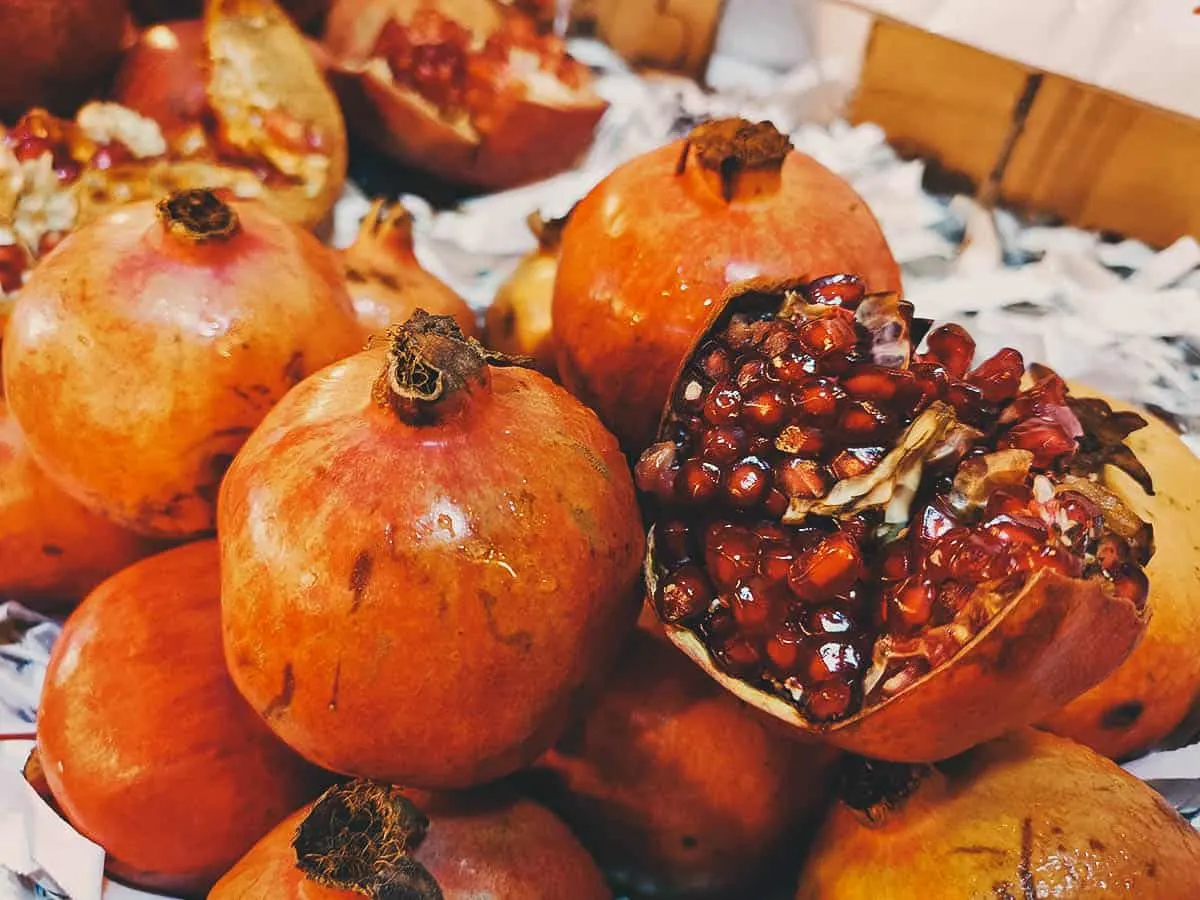 Side by side below are two menacing-looking but delicious fruit. On the left is rambutan while on the right is the king of fruit – durian. If you've never had it, durian is infamous for its putrid smell which is often likened to rotting flesh. Personally, I don't mind it. If you can get past the smell, then you'll be rewarded with the most unique-tasting, custard-like flesh. I absolutely love it.
I asked Chef Faris why durian is so expensive and he said it's because it's difficult to grow. It takes several years for a durian tree to bear fruit, the best growing only in the most favorable of conditions.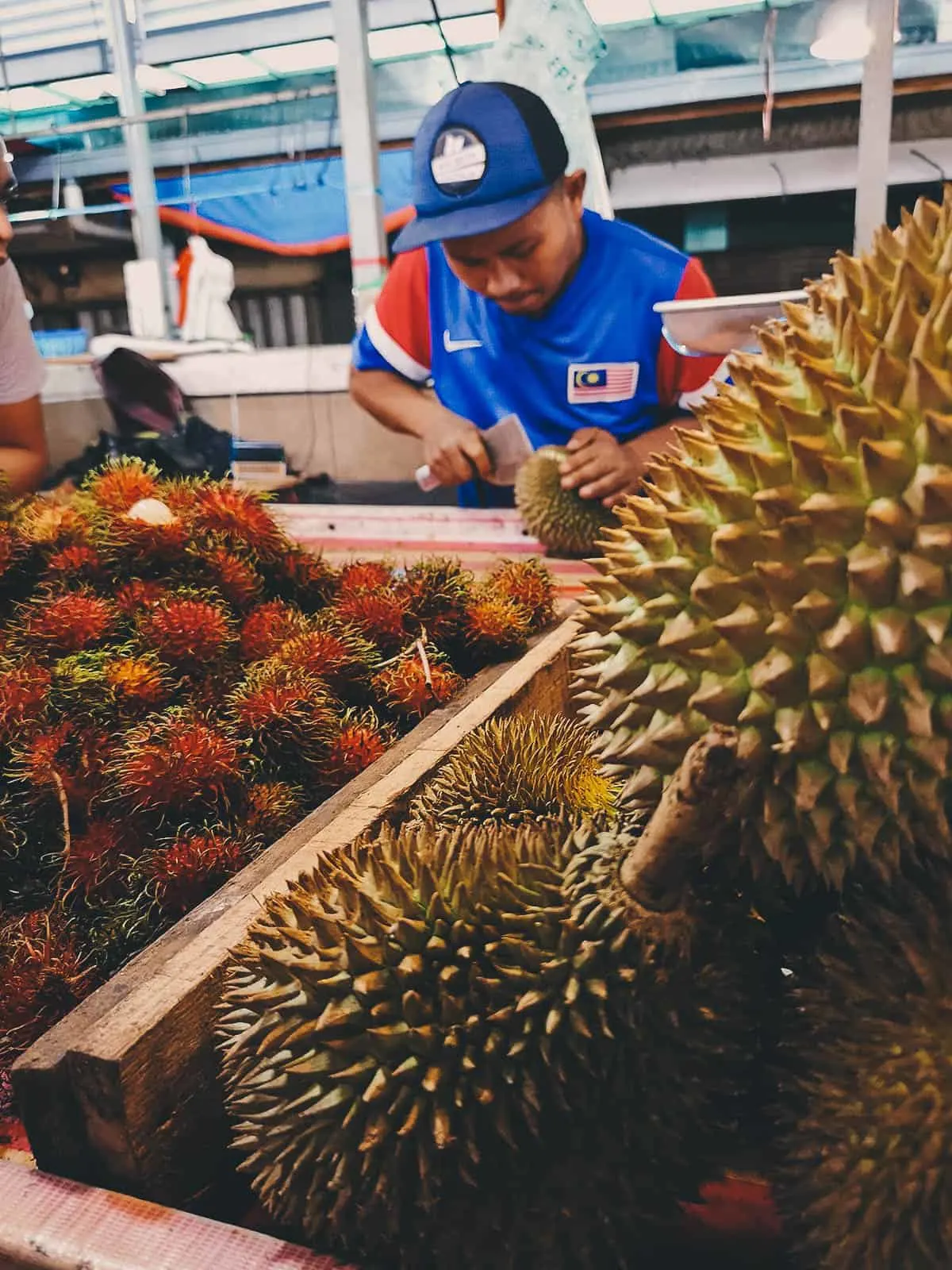 If you're a fan of Indonesian food, then you're in for a treat. Chow Kit Market is home to a large Indonesian community and their cuisine. There you'll find sticks of satay padang, which is a special type of satay hailing from Padang in West Sumatra, Indonesia. Apparently, satay padang isn't that easy to find in Kuala Lumpur.
If you aren't familiar with this popular Southeast Asian snack, satay refers to a family of seasoned, skewered, and grilled meat served with a sauce. It's popular in several countries like Singapore and Thailand, but none more so than in Malaysia and Indonesia where it's considered a national dish.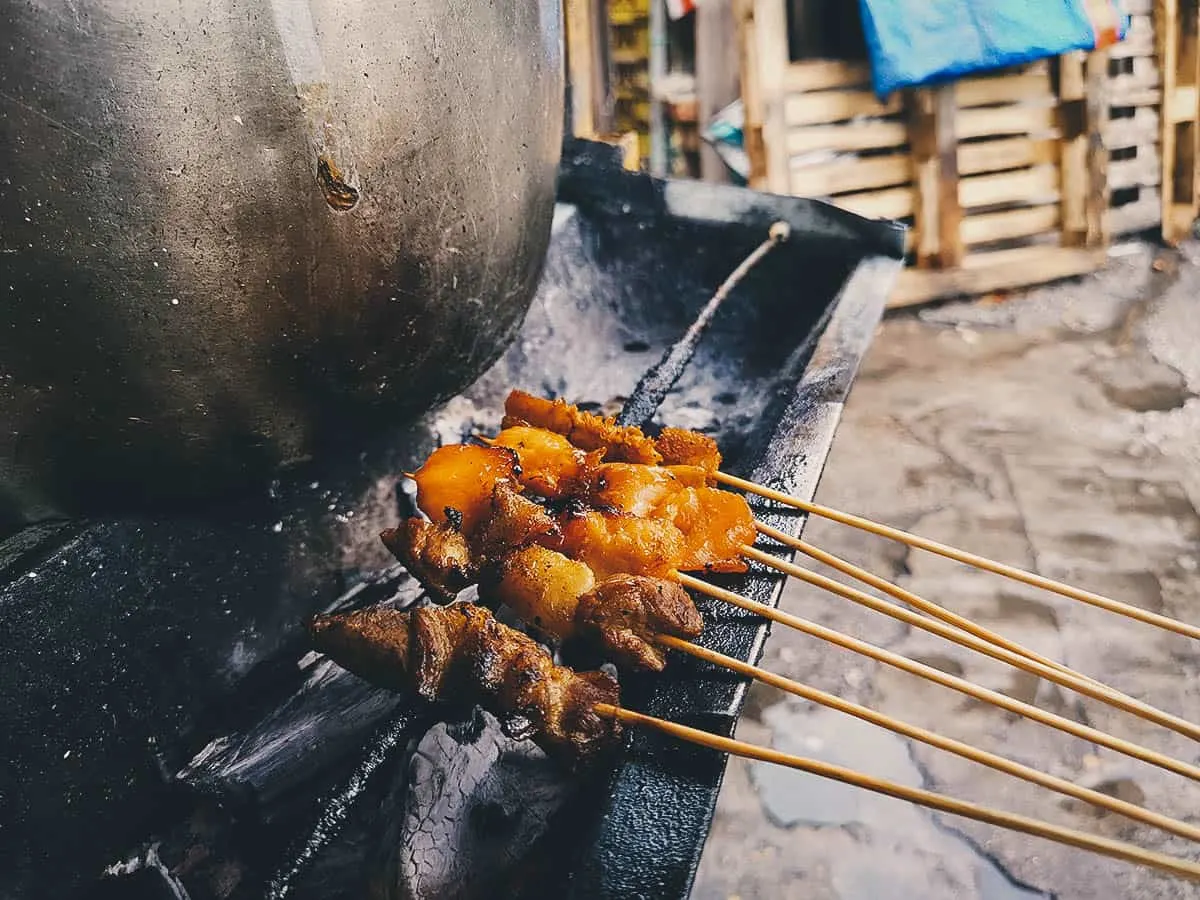 Satay Padang
I felt lucky to have this as my first dish considering how uncommon satay padang is in Kuala Lumpur. Made with beef, chicken, or lamb, what makes satay padang special is its thick yellowish-brown sauce. It's made from rice flour mixed with beef and offal broth, turmeric, ginger, garlic, coriander, galangal root, cumin, curry powder, and salt. The satay is served with cubes of rice cake (similar to Filipino puto) and often topped with crispy strands of fried shallot. Delicious!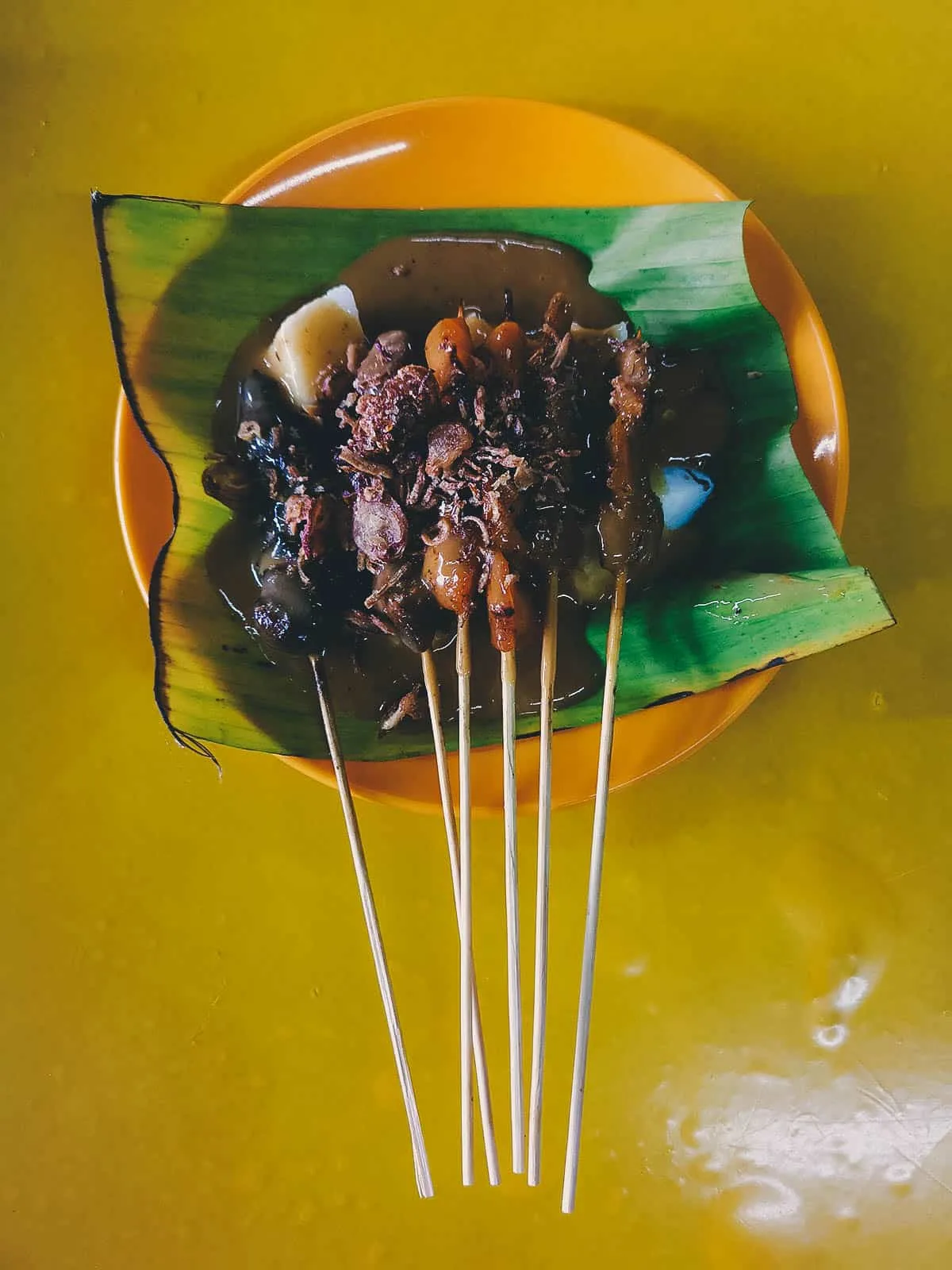 Chef Faris had me try the beef, chicken, and lamb. Smokey and meaty, they were all delicious but I think the lamb was my favorite.
I washed all that satay down with a hot cup of teh tarik, or pulled milk tea. I didn't get to see them prepare it, but teh tarik gets its name from the mixture being poured (or "pulled") back and forth between two vessels from a height, giving it a thick frothy top. This cools the tea down to an optimal drinking temperature, thoroughly mixing the tea with the condensed milk and improving its flavour. I love it.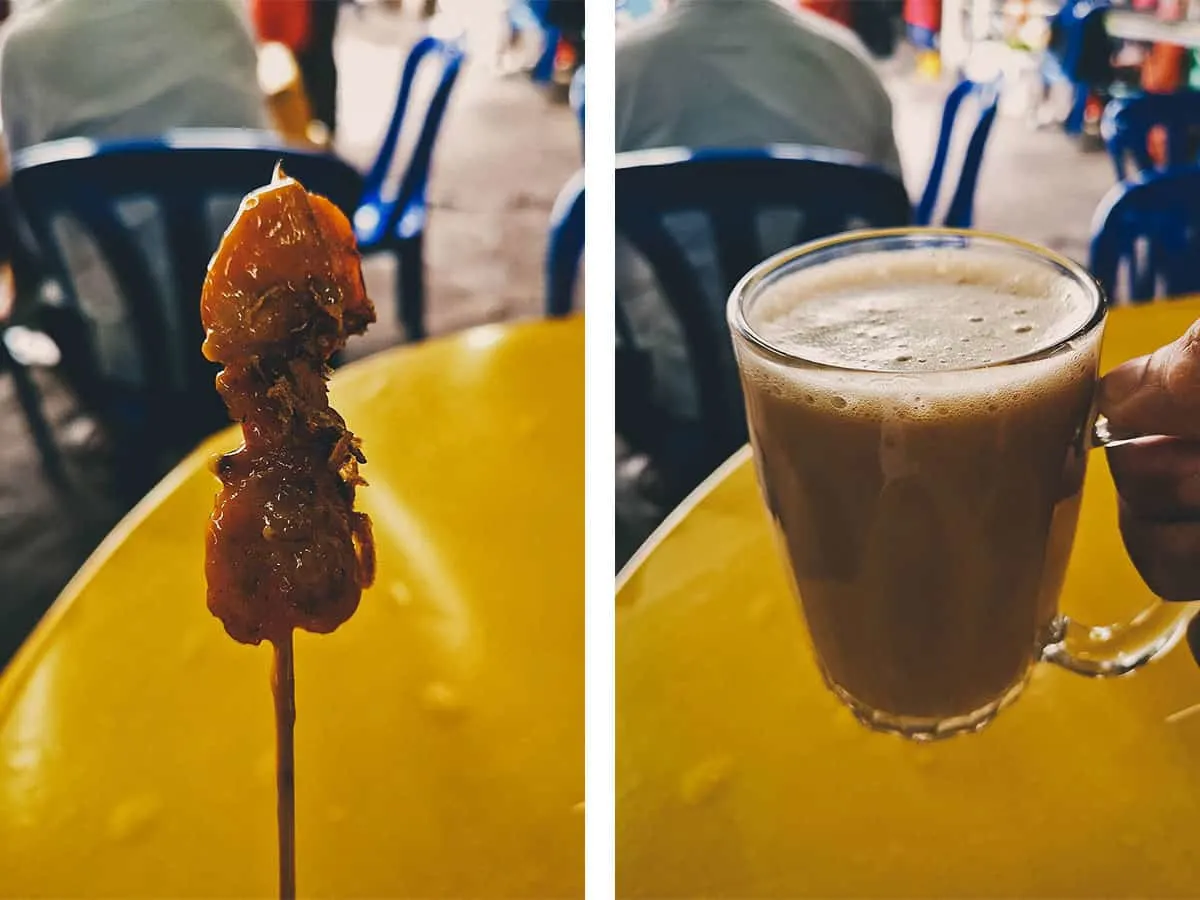 Durian Cendol
If you're a fan of durian and cendol like I am, then you're going to flip over durian cendol. Cendol is a popular Malaysian dessert made with shaved ice, coconut milk, jelly noodles, and palm sugar. It's topped with a variety of ingredients like red beans, glutinous rice, grass jelly, and creamed corn. We've been fans of cendol ever since we had it in Penang. But what makes this bowl of cendol so special, is that contains whole chunks of fresh durian. Yes, CHUNKS of durian.
Cendol is delicious enough with its milky bursts of caramel flavor, but throw some fresh nutty and custardy durian in there, and it becomes a whole different animal. As Chef Faris puts it, this is the ultimate bowl of cendol. Absolutely delicious!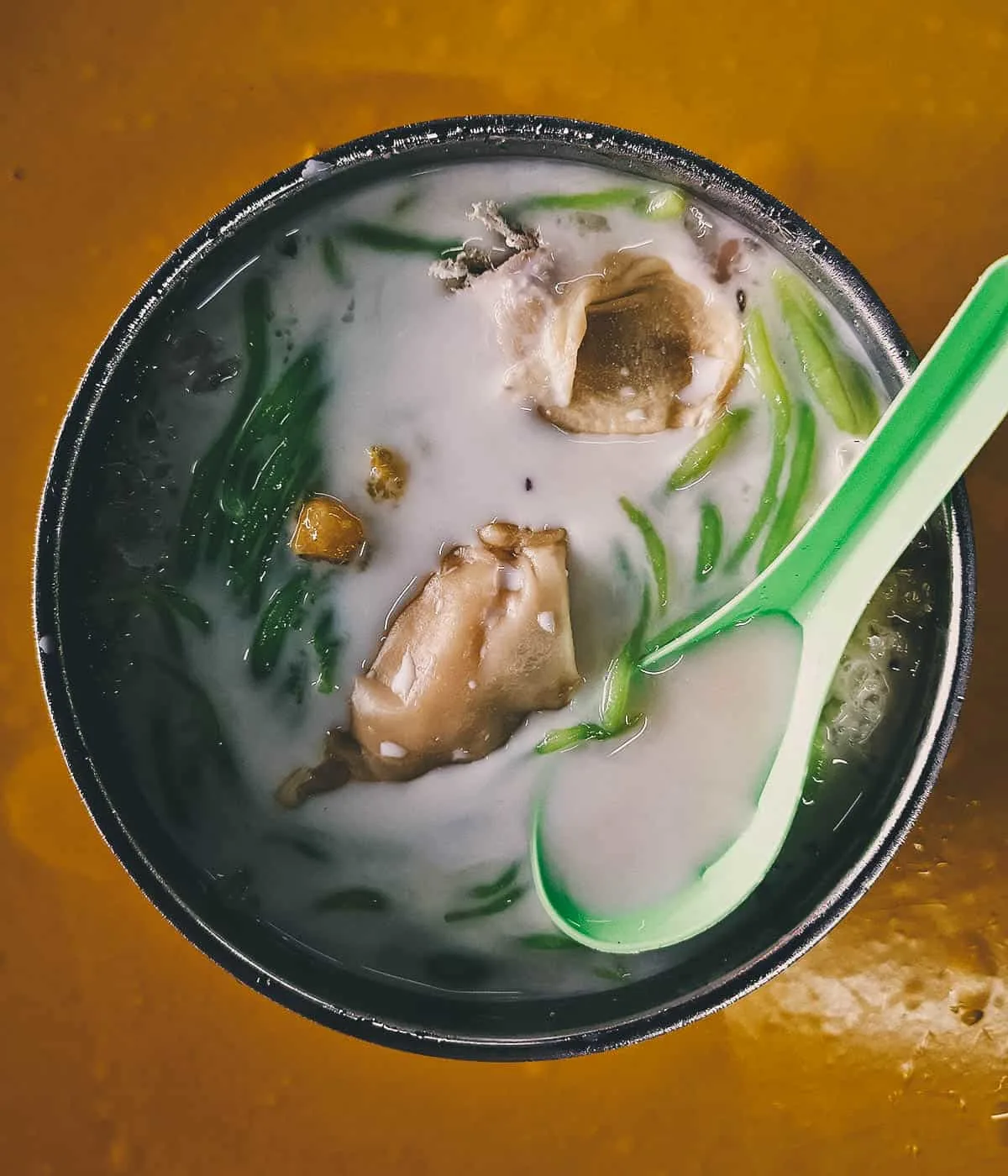 A dignified-looking uncle preparing trays of glorious golden durian. You can't really see it but those jars on the left contain tempoyak which is a Malysian condiment made from fermented durian. If you think fresh durian stinks, then try getting a whiff of the fermented version!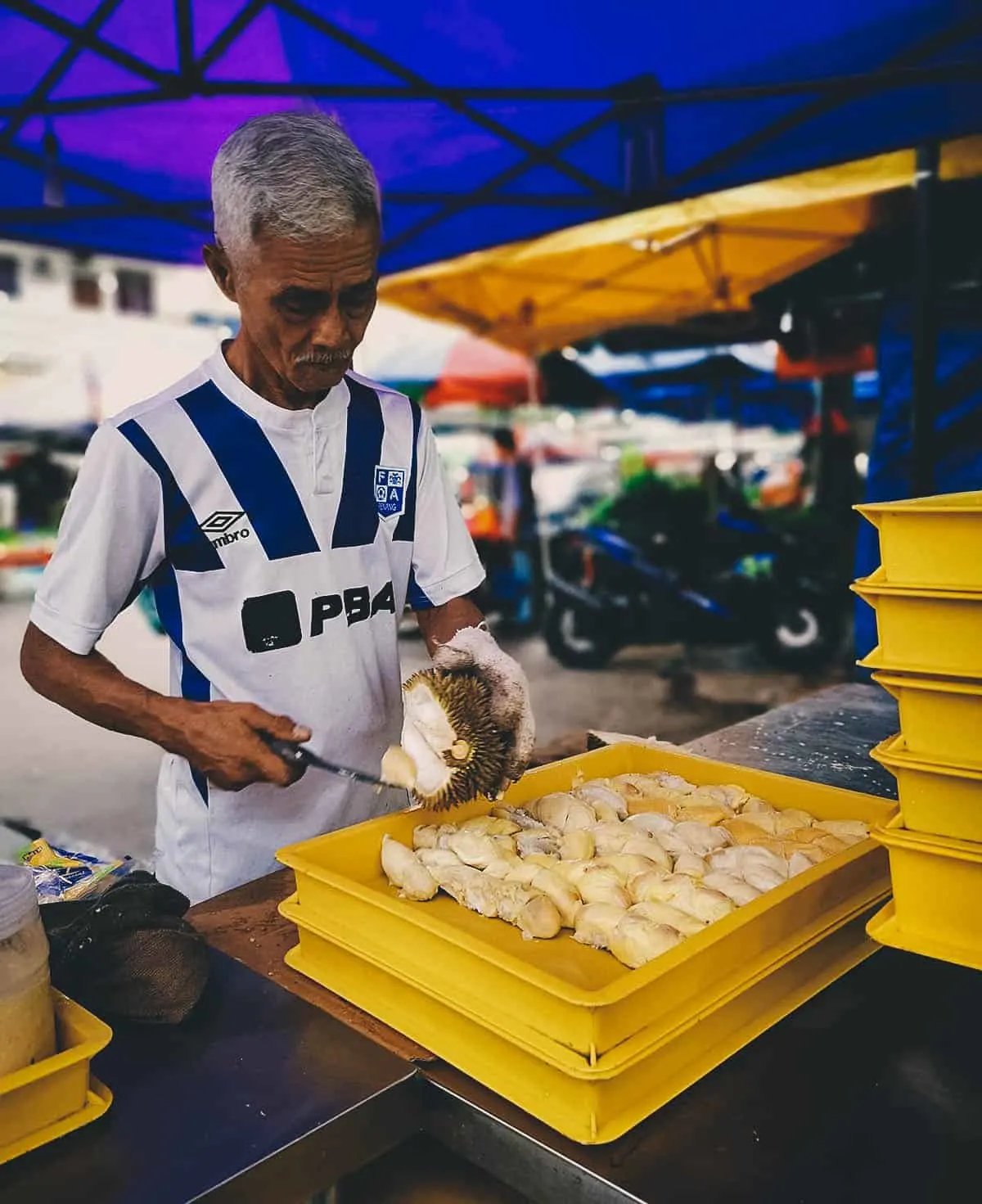 Herb Plants
Just outside Chow Kit Market is a section with a small selection of herb plants. We made a quick stop here before moving on to our next destination.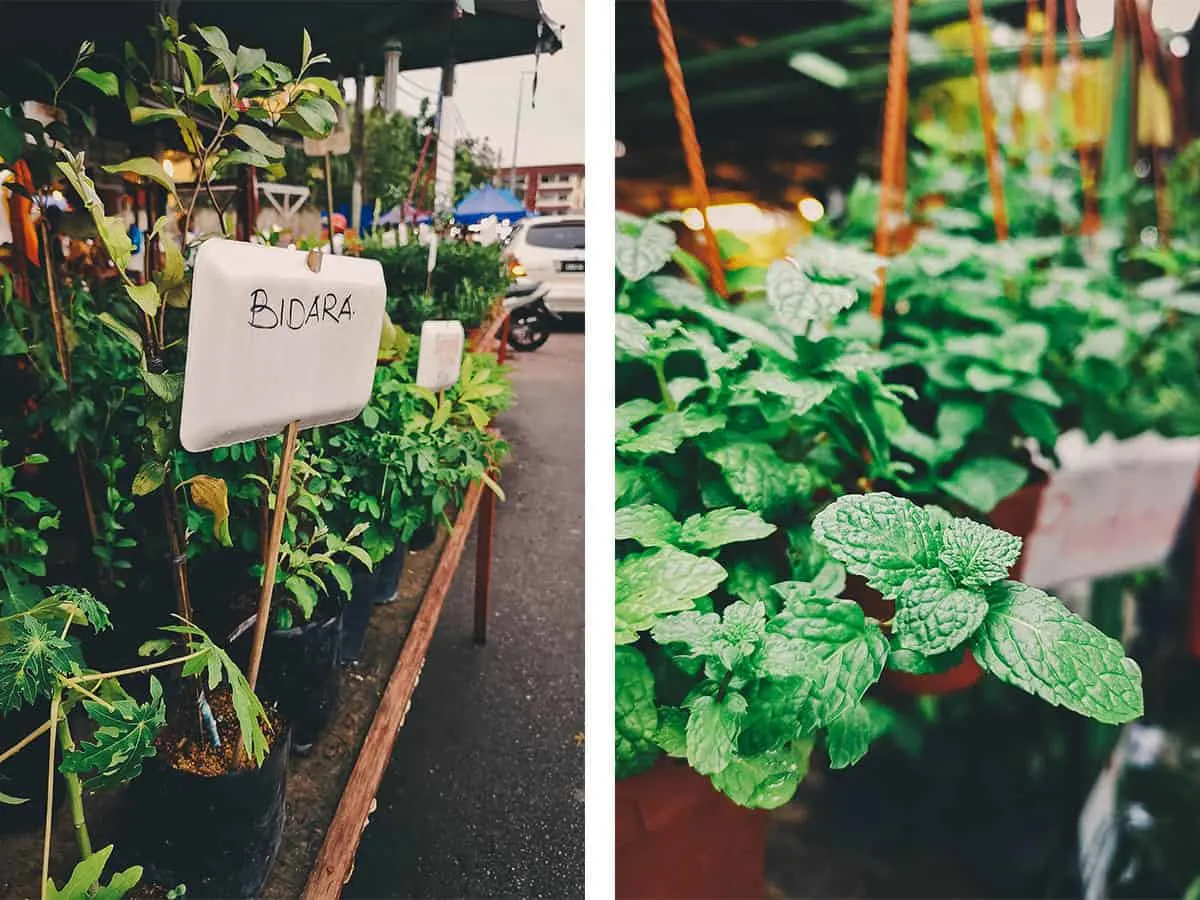 Small but potent bird's eye chilis ready for lift-off. Interesting how some varieties of chili pepper grow upright like this.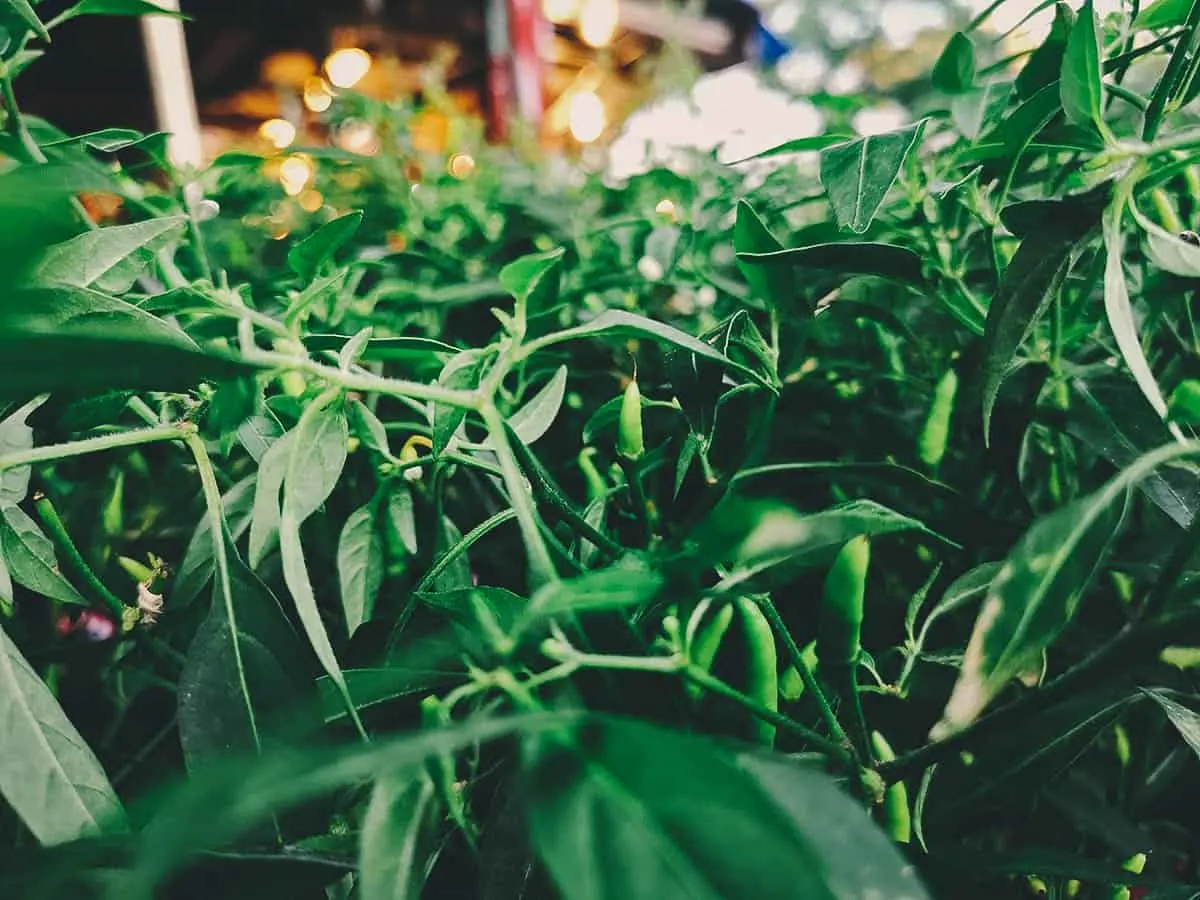 Kampung Baru
After leaving Chow Kit Market, we proceeded to nearby Kampung Baru, a charming enclave characterized by these traditional Malaysian wooden stilt houses. Unlike many parts of the city which are quickly being modernized with high-rise developments, Kampung Baru retains its old world feel, thanks to the community's steadfast determination to shun modern city living and preserve its ethnic Malaysian lifestyle.
I visited Kampung Baru on my own during the day, but its best experienced at night when the area comes alive with its many hawker stalls selling different types of Malaysian street food. This is where you'll be doing most of your eating on this tour.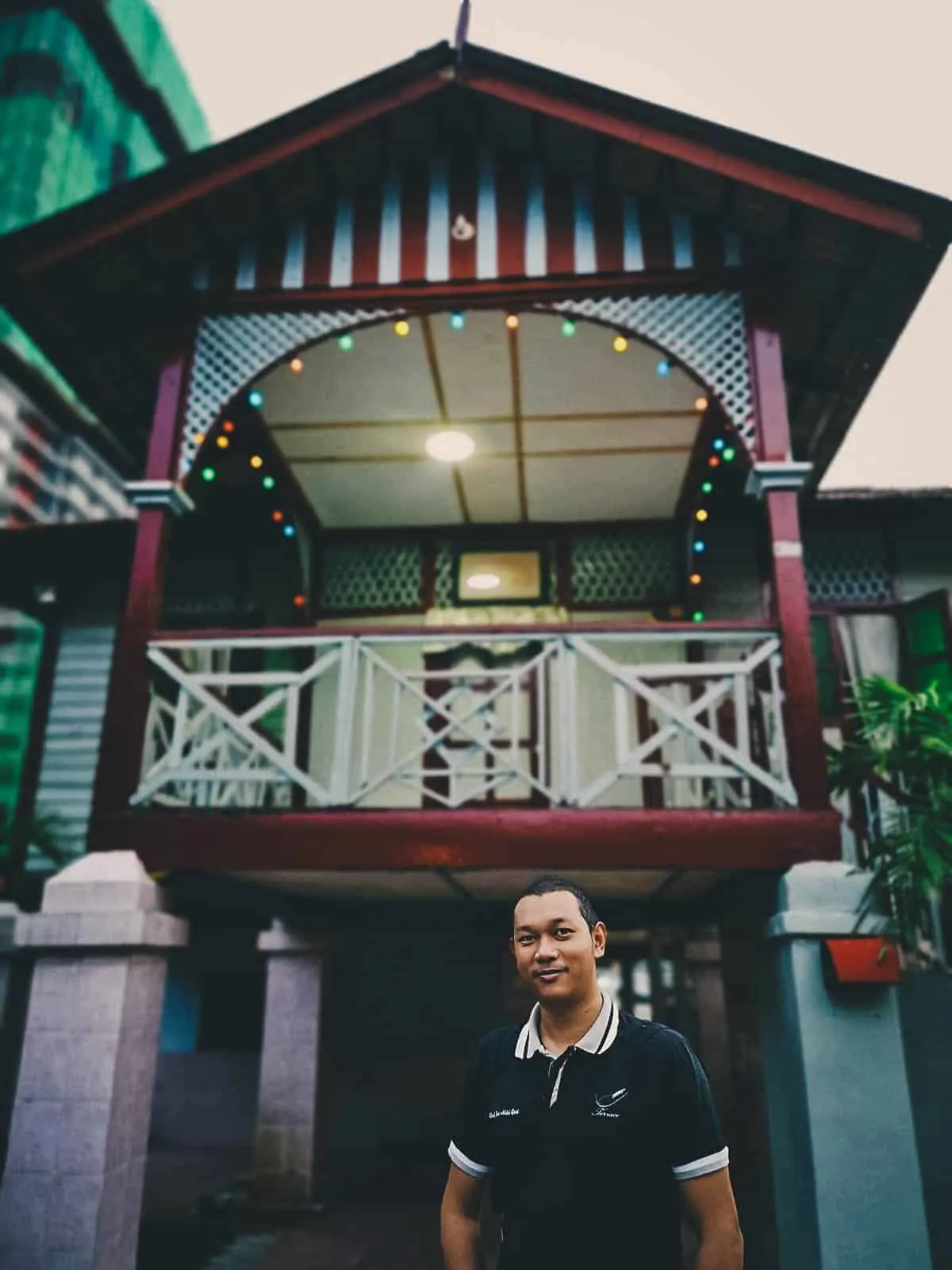 These three lovely ladies on the left below are purveyors of some of the finest nasi lemak in the city. On the right are beautiful bouquets of Malaysian satay just waiting to be charcoal-grilled. Though satay has its roots in Indonesia, its become equally popular in Malaysia where its now considered a national dish. You can find satay grilling in many restaurants and on street corners throughout the country.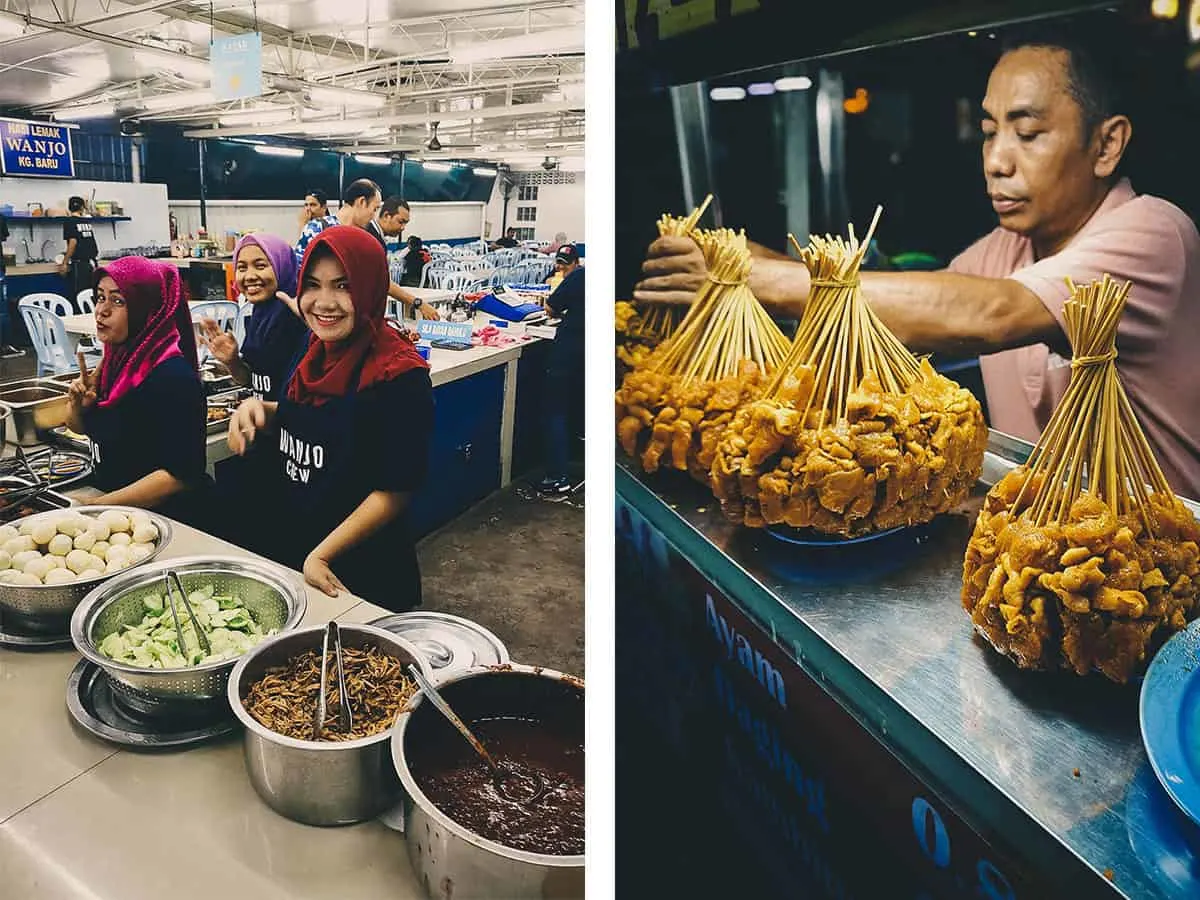 Uncle firing up a few sticks of his delicious satay. Now that we've tried satay padang, it's time to try the Malaysian version. These are gonna be lit!
I usually don't reveal the names of restaurants and stalls from these food tours, but Uncle asked me to promote his stall with Chef Faris giving his blessing. This man's stall is called Boy Satay and you can find him grilling up the most delicious sticks of satay every night in Kampung Baru.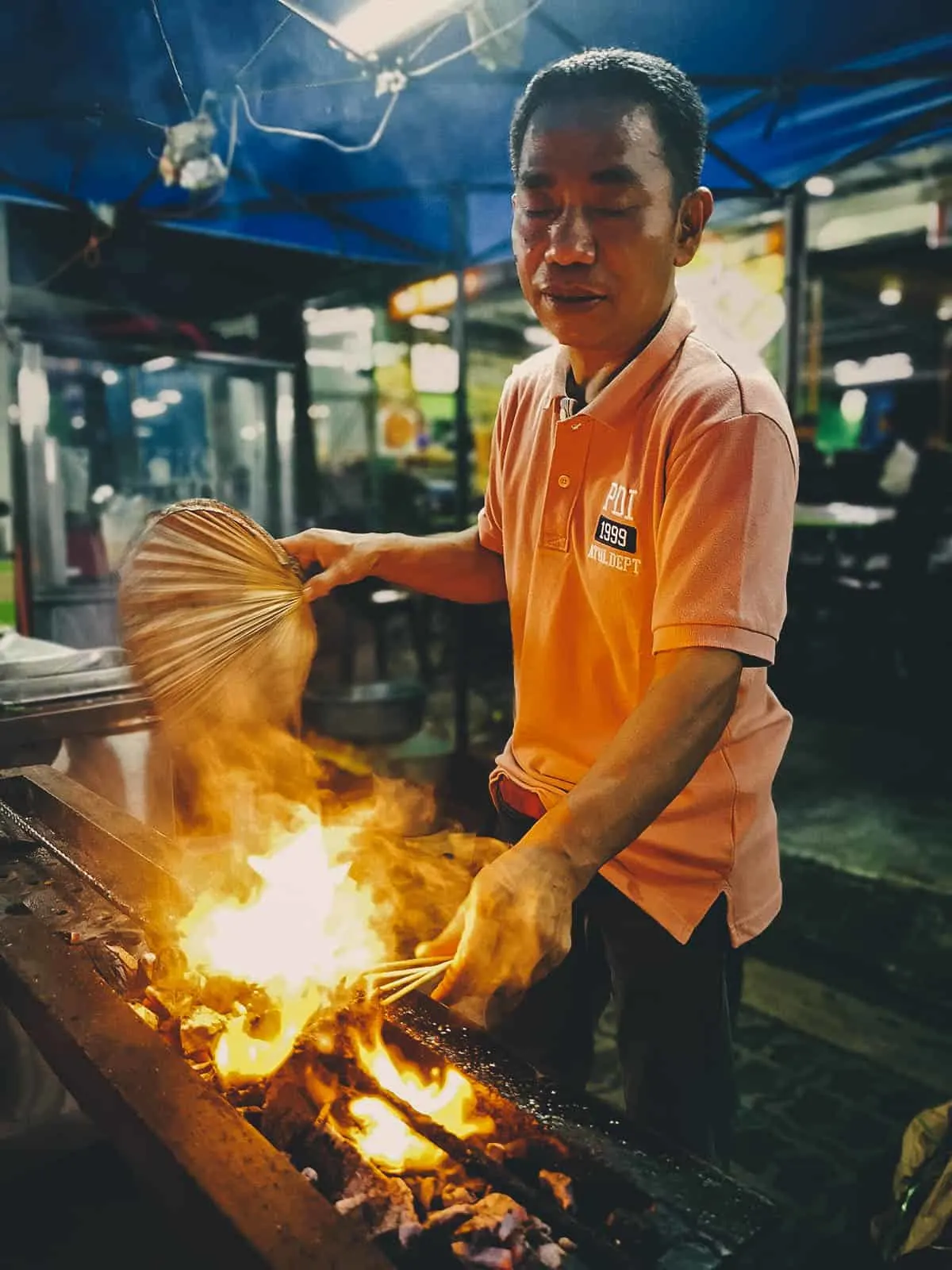 My feast of Malaysian satay, nasi lemak, rendang ayam, sambal sotong, and a steaming cup of kopi o. Some of the tastiest and most beloved Malaysian dishes – two of which are considered national dishes – set out before me on a plastic table and stools by the side of the road in traditional Kampung Baru. Seriously folks, it doesn't get any better than this.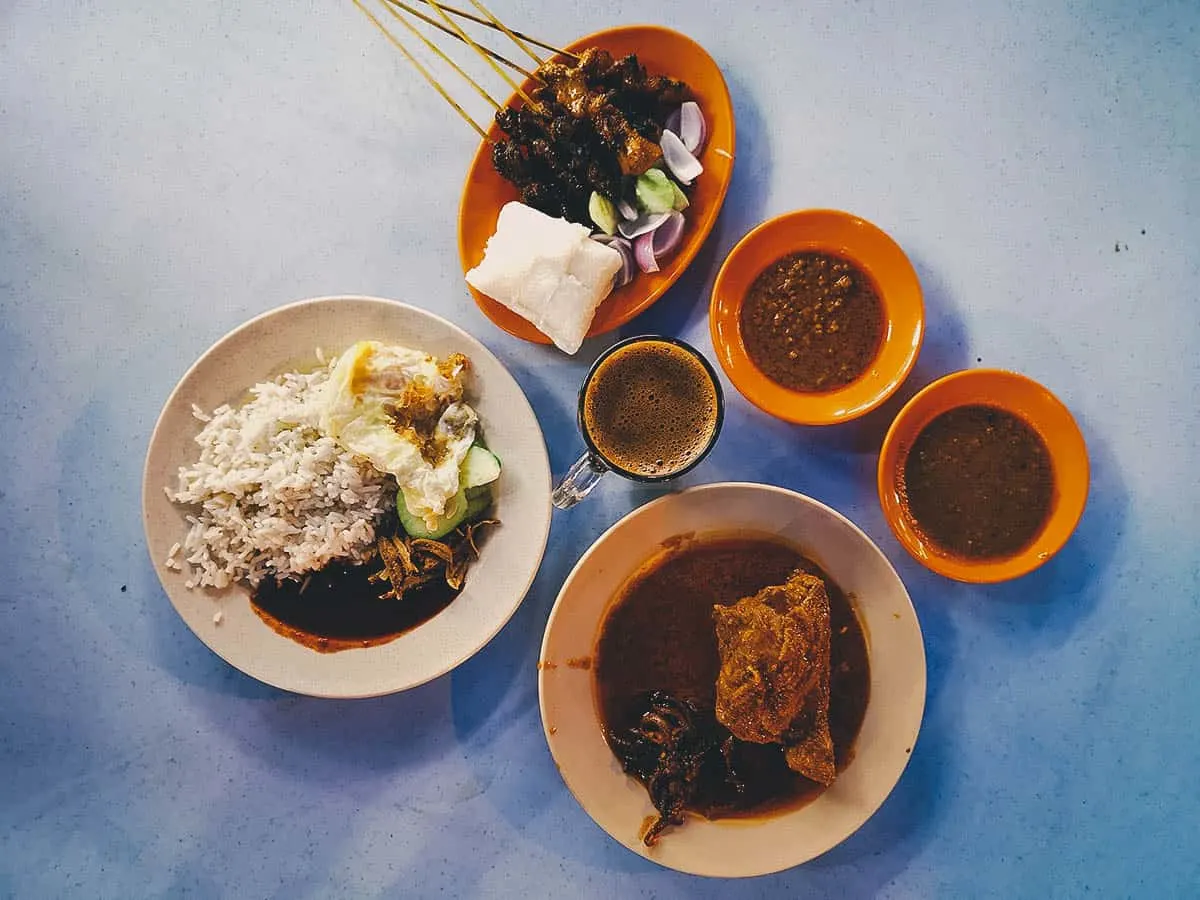 Malaysian Satay
My deliciously charred sticks of beef and chicken satay. Unlike satay padang, Malaysian satay is served dry with a side of sweet and savory peanut sauce. The satay padang was tasty but this version for me was even better, simply because I enjoyed eating the satay on its own, without any sauce, so I could really appreciate the flavors of the meat. It was smokey and delicious with crispy charred caramelized bits. So so good, especially when washed down with ice-cold bottles of Malaysian Skol beer!
Like the satay padang, this Malaysian satay was served with cubes of rice cake to help fill you up. Beef and chicken are the most common though other varieties like venison, rabbit, gizzard, and liver are also available.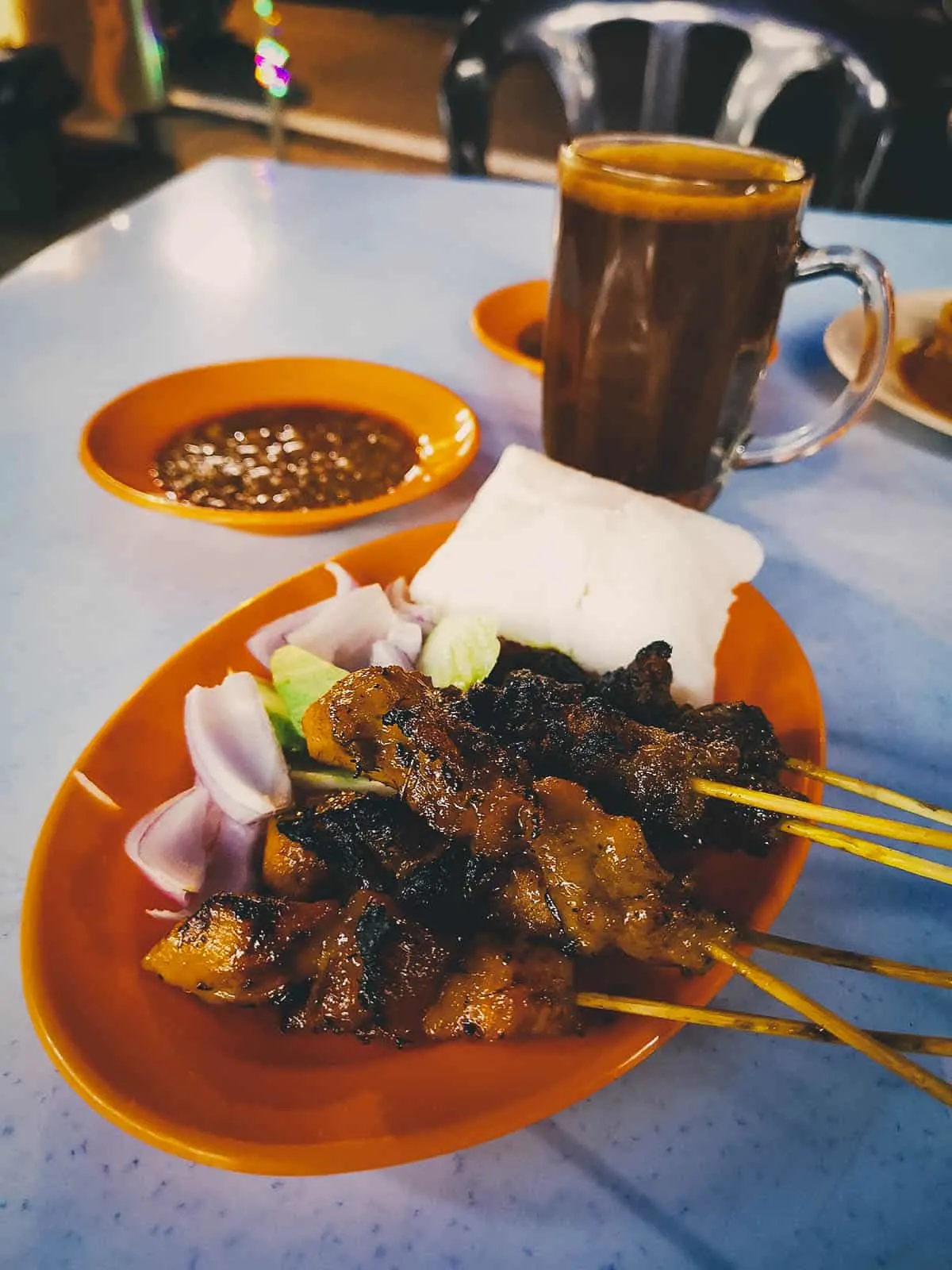 I love those caramelized bits of protein and sugar. I think it was in Vietnam or Thailand, but I remember watching a travel food show and seeing a vendor snip those off with scissors, presumably because they can be bitter. I think they're perfect as is.
Nothing like a strong cup of kopi o, or Malaysian black coffee with sugar, to help wash down all that delicious food.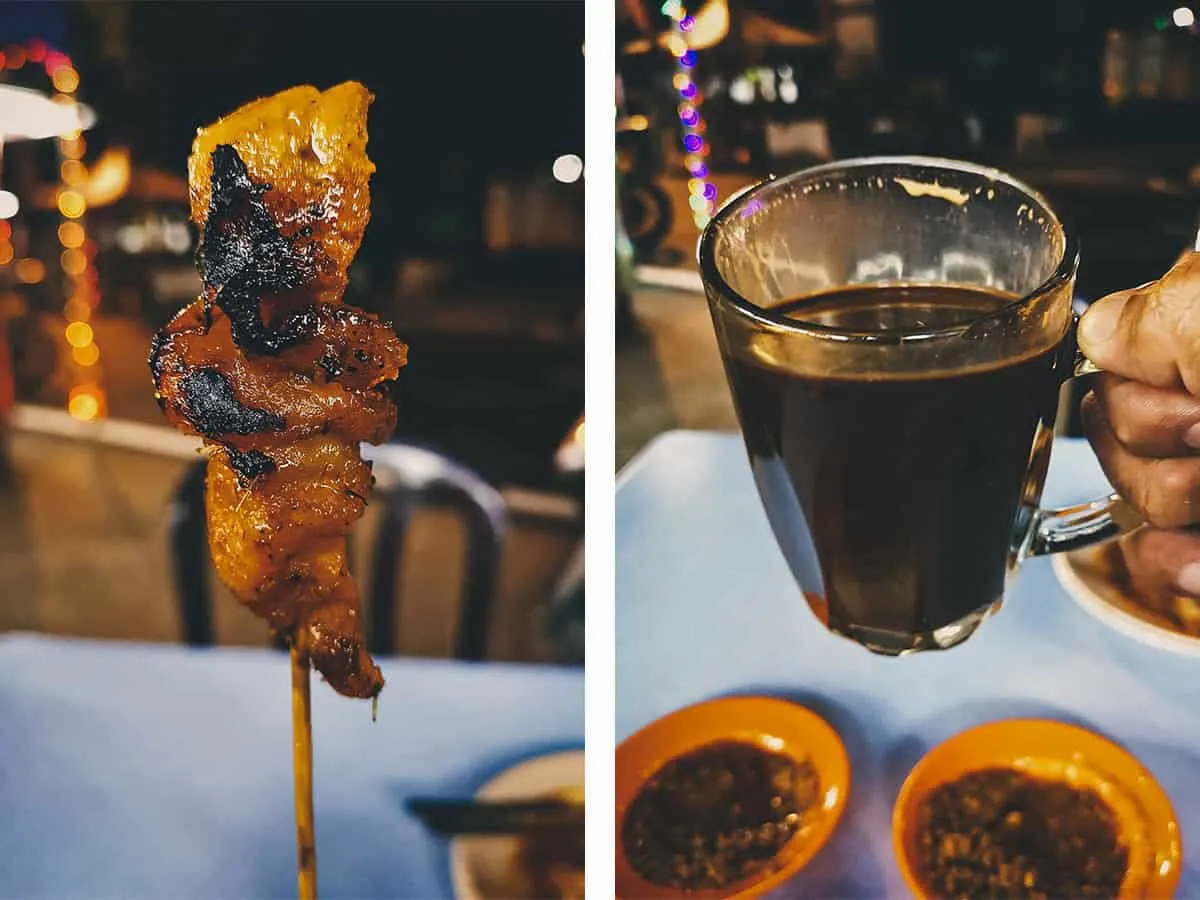 Nasi Lemak
If there were one dish to represent and carry the flag for Malaysian cuisine, then it should be this one. Like satay, nasi lemak is considered a Malaysian national dish. But unlike satay which has its roots in Indonesia, nasi lemak is truly a dish of Malaysian origin.
Nasi lemak literally means "fatty or oily rice" and is in reference to the fragrant rice cooked in coconut milk and pandan leaf. Several versions exist throughout Southeast Asia, though the most traditional Malay version is served with sambal (chili sauce), ikan bilis (anchovies), peanuts, cucumber, and boiled egg. However, it's often served with other proteins as well like fried chicken and different types of curry. I've always had it with fried chicken but tonight, I enjoyed it for the first time with sambal sotong (chili squid) and rendang ayam (chicken rendang). Typically a breakfast dish but often eaten throughout the day, nasi lemak is a terrific medley of flavors and textures that's one of my absolute favorite things to eat in this world. It's such a joy to eat.
Because of its name, you'd think the rice would be the star of this dish but it isn't. I asked Chef Faris what separates a good nasi lemak from a great nasi lemak and he said it's all about the sambal. A nasi lemak can only be as good as its sambal and this one had a near perfect balance of sweet, savory, and spicy. Absolutely delicious.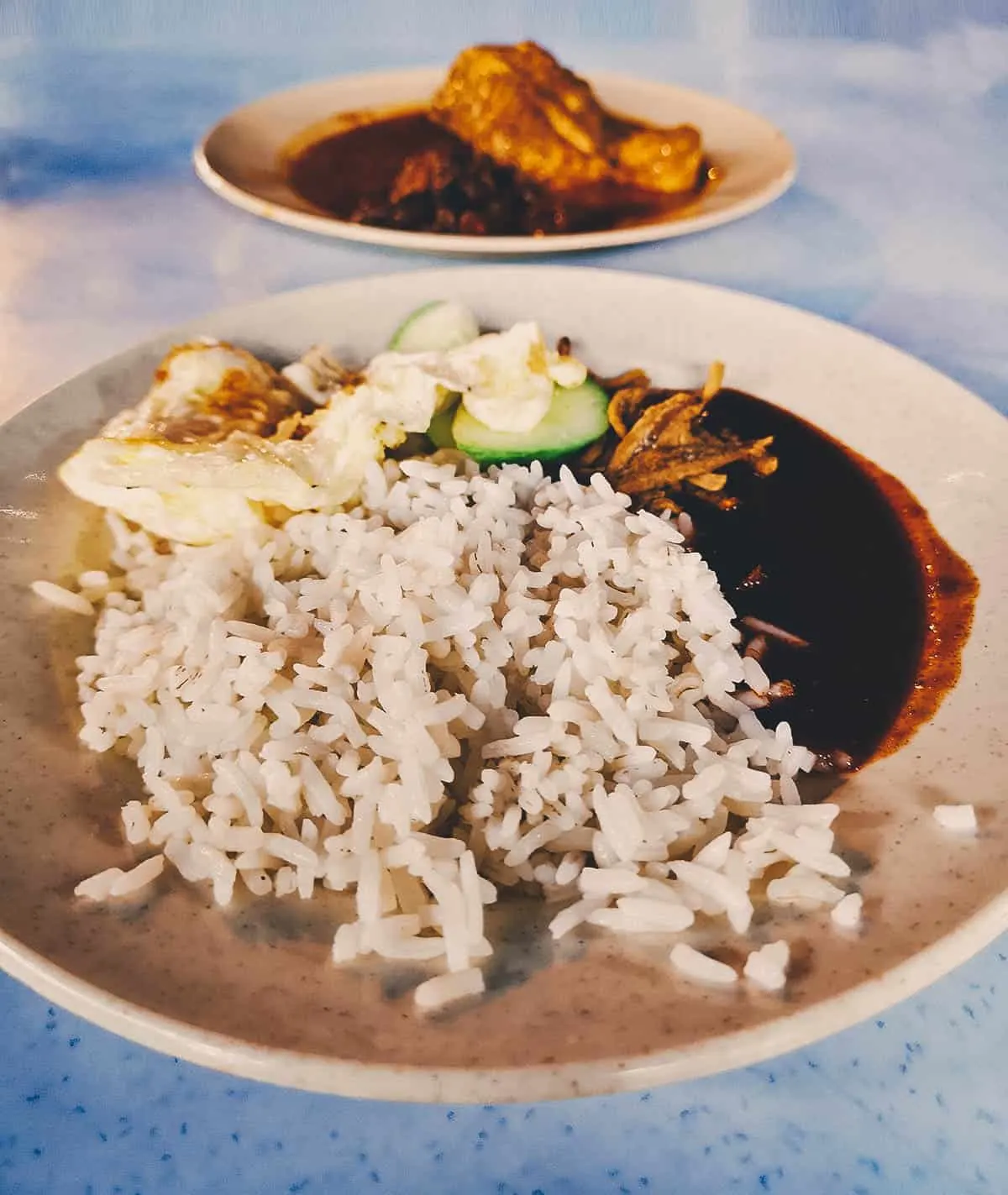 Rendang Ayam & Sambal Sotong
Like satay, rendang is of Indonesian origin. It's a celebrated dish of the Minangkabau people, traditionally prepared to honor guests at ceremonial gatherings like weddings and Hari Raya. It's a complex dish with much cultural significance, and is said to have been introduced to Malaysia by Minangkabau settlers who migrated to the southern part of the Malay peninsula. Today, it's a dish beloved by many Malaysians.
True to its roots, Chef Faris told me that rendang is still reserved for special occasions, partly because it's such a laborious dish to make. It involves pounding and grinding ingredients before slowly cooking them over a small fire for several hours. The mixture of meat, spices, and coconut milk needs to be continuously churned till all the liquid evaporates and the meat is well done. Ren can attest to how difficult it is to make this dish. She made beef rendang once and never again. Rendang is typically made with beef, though other ingredients can be used as well like chicken, duck, mutton, and jackfruit.
Sharing the plate with the chicken rendang below is sambal sotong, a dish of chili squid which Ren has also made. It's much easier to prepare than rendang but for me, it's just as delicious, especially since I love squid and spicy food. As if the nasi lemak weren't tasty enough, I had these two deeply flavorful dishes to enjoy it with. The contrast in taste and texture was heavenly.

Normally, a plateful of rice, several sticks of satay, two viands, tea, coffee, and a bowl of dessert would be enough to make the average person fall into a food coma. But believe it or not, I was only halfway through. It wouldn't be A Chef's Tour if they didn't give you copious amounts of food, so here I was at our next stop, about to eat a dish that was perhaps the most interesting from tonight's tour – nasi kerabu with its unusual blue rice.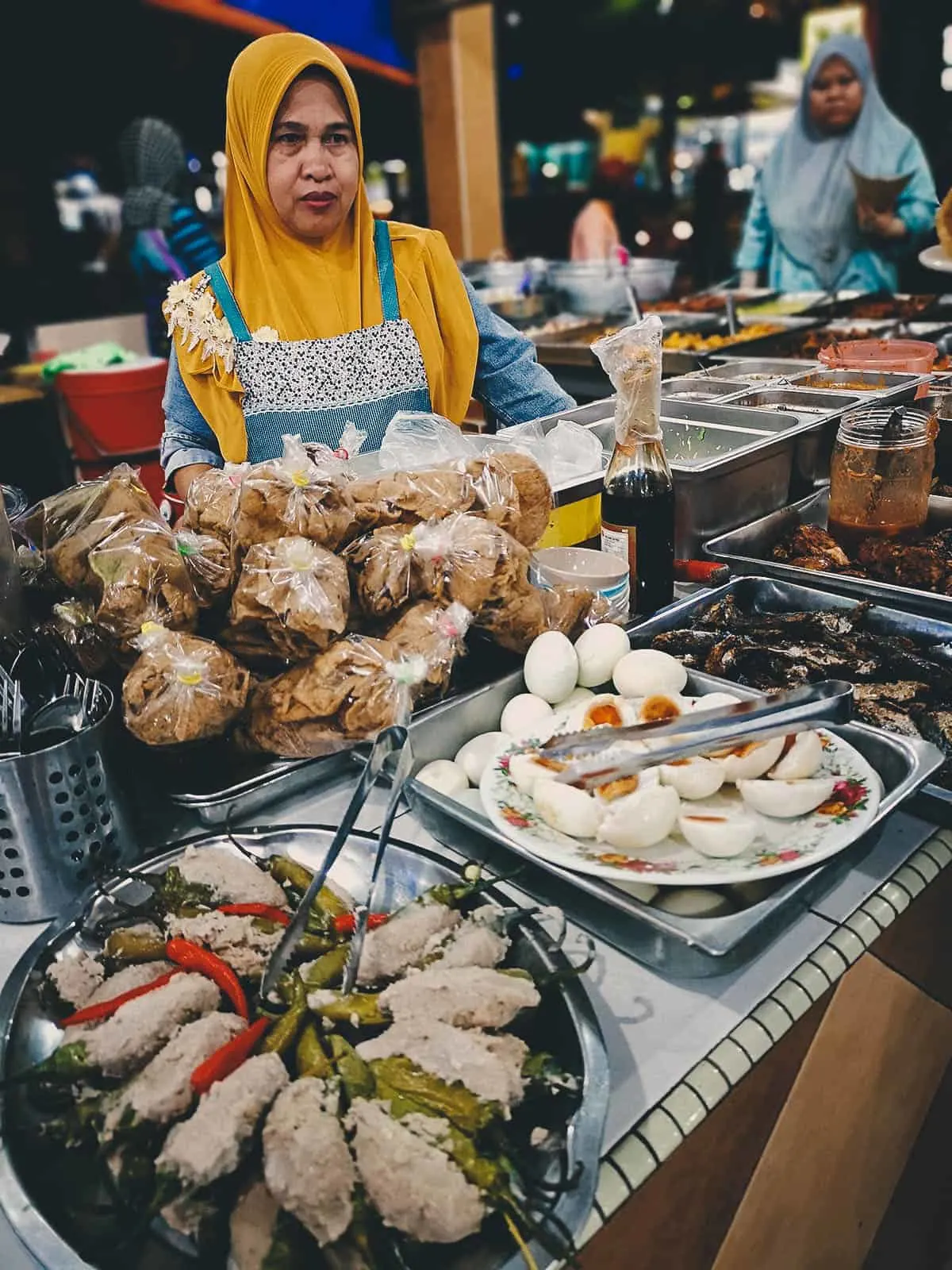 Nasi Kerabu & Nasi Dagang
Yes, it really is THAT blue. On this plate are two rice dishes, nasi kerabu on the left and nasi dagang on the right. Both hail from the eastern coast of Peninsular Malaysia and are typically eaten for breakfast, though like nasi lemak, they're often enjoyed throughout the day.
The rice in nasi kerabu is cooked with the petals of the butterfly pea flower, giving it its signature blue color. It's usually served with keropek (deep-fried crackers), fish or chicken, salad, and solok lada which are peppers stuffed with a fish paste and coconut mixture. You can see the solok lada at the bottom of the previous picture.
Nasi dagang isn't as striking as nasi kerabu but it's just as interesting. The rice is steamed with coconut milk, lemongrass, and fenugreek seeds, giving it a unique somewhat nutty flavor. I didn't have it tonight but I read that nasi dagang is often served with kari ikan, a type of fish curry made specifically for nasi dagang.
Chef Faris told me that the way to eat nasi kerabu and nasi dagang is with my hands, so I could properly break the keropek up into smaller pieces and properly mix together all the ingredients. I'm not used to eating with my hands so it felt weird at first, but I enjoyed the experience. Chef Faris will urge you to do the same. I was already stuffed from everything I had eaten to this point, but the food was so good I wound up eating every grain of rice on this plate. If you go on this tour, then I strongly recommend you arrive on an empty stomach.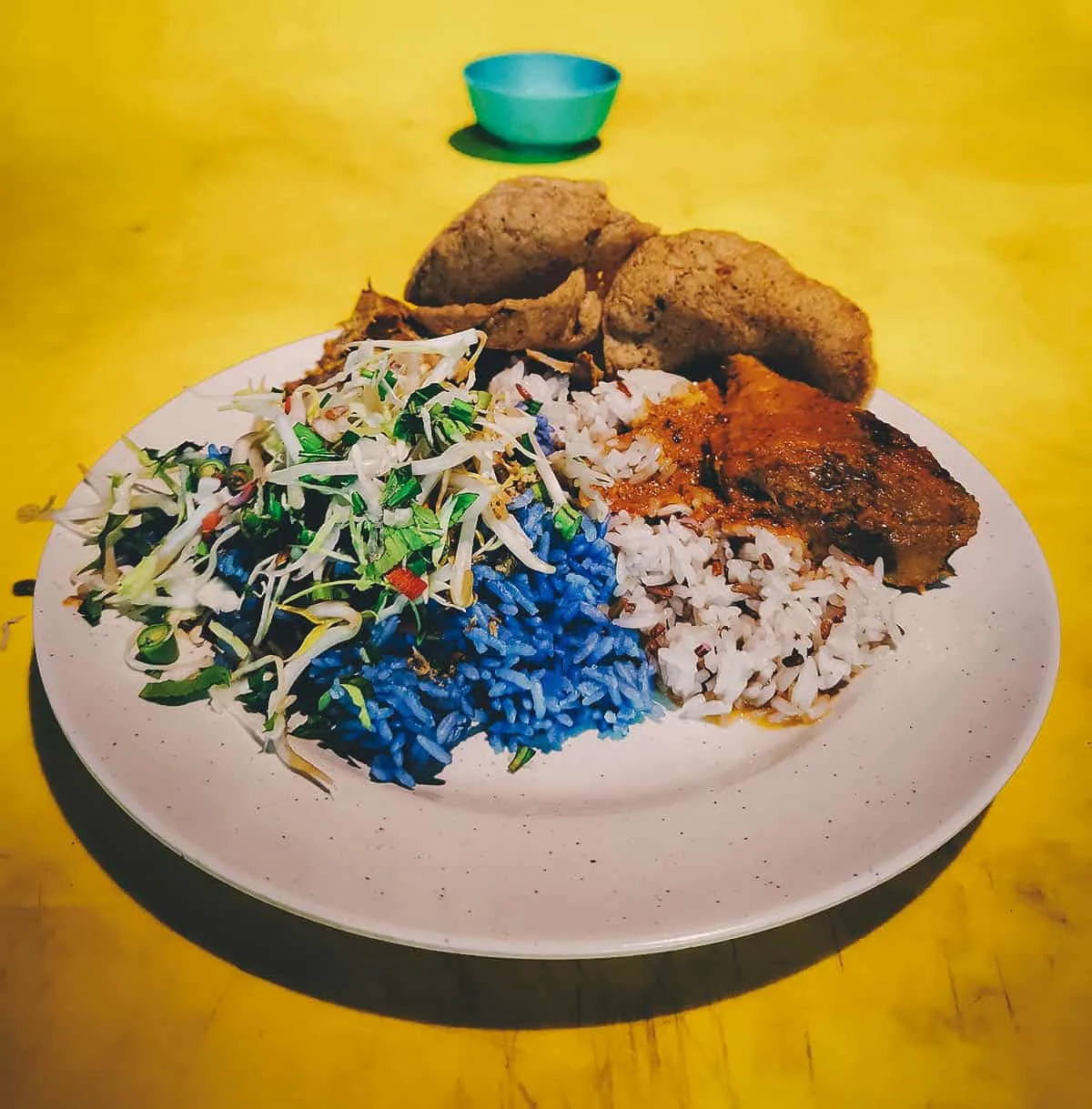 Grilled Seafood
I was so stuffed at this point that Chef Faris practically rolled me to our next stop – this popular eatery known for serving fresh grilled seafood.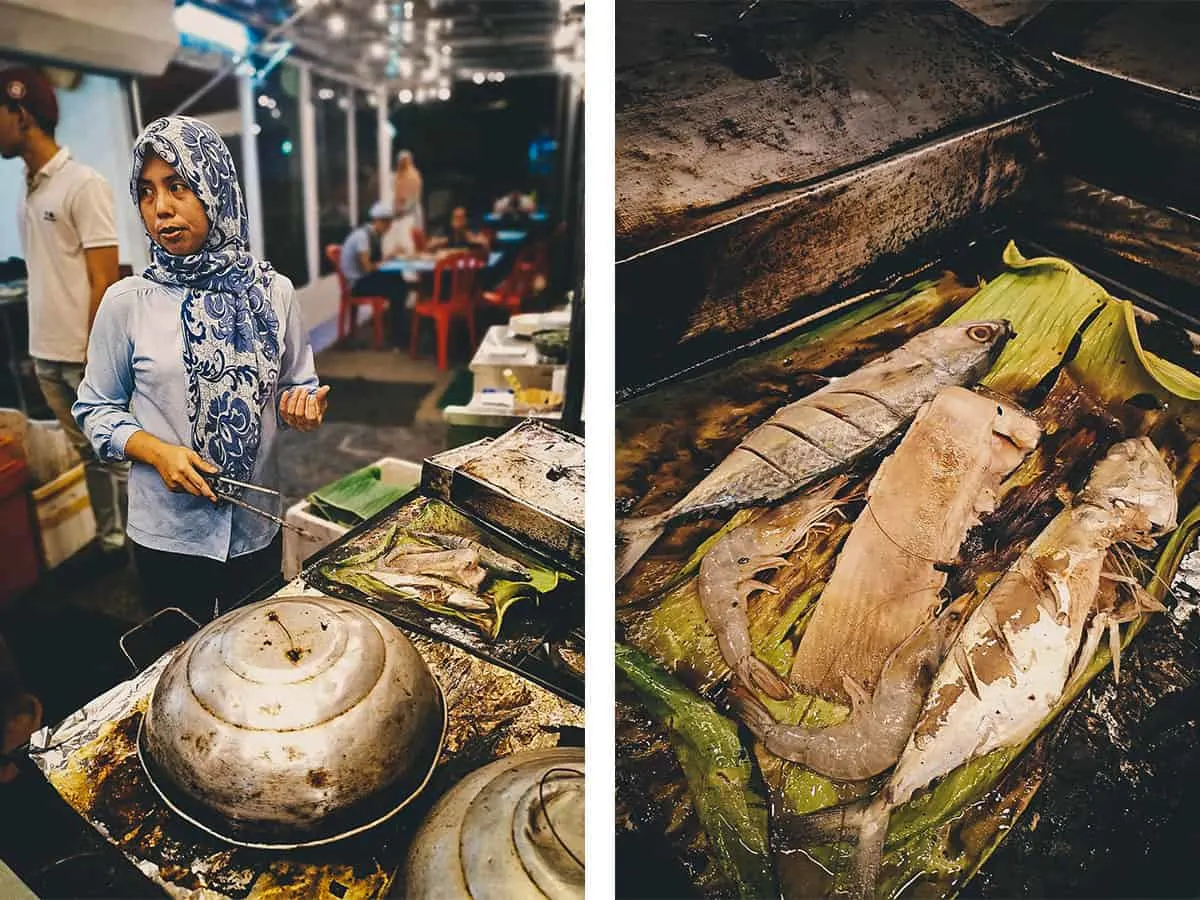 A few spritzes of calamansi onto my grilled mackerel and shrimp and I'm good to go. Like every place we visited tonight, this seafood barbecue restaurant was packed with locals. Kampung Baru is a popular hotspot for local Malaysians so you're guaranteed a lively evening out when you go on this food tour.
The tour was winding down so I asked Chef Faris to describe to me the differences between Malaysian and Singaporean food. As I suspected, not much, but there are differences. Both draw influences from Chinese, Indian, Malay, and Peranakan cultures, so favorites like nasi lemak, laksa, cendol, sambal, roti, and many others are equally popular in both countries. Where they sometimes differ, if I understood Chef Faris correctly, is in their regional influences and choice of ingredients.
Both were influenced by Chinese culture for example, but in Singapore the influences comes mainly from Hokkien and Teochew traditions while in Malaysia it's more Cantonese. Singapore's bak kut teh is served in the Teochew style with clear broth while Malaysia's version is made with soy sauce. Wonton noodles are dressed with a fragrant oyster sauce in Malaysia while Singapore's version is served with a sweet and spicy chili sauce. Singaporean laksa is known as curry mee in Malaysia, while the Indian-influenced flatbread is called roti prata in Singapore and roti canai in Malaysia, though they're exactly the same dish!
Differences do exist between both cuisines but they aren't as clearly defined as I was expecting them to be, which only makes sense considering their geographic proximity and shared history. Singapore after all, was once part of Malaysia so it's inevitable for both cultures to still share many similarities – in language, in ethnic diversity, and in food. Just don't ask a Singaporean or Malaysian whose cuisine is better, especially if you're standing between them.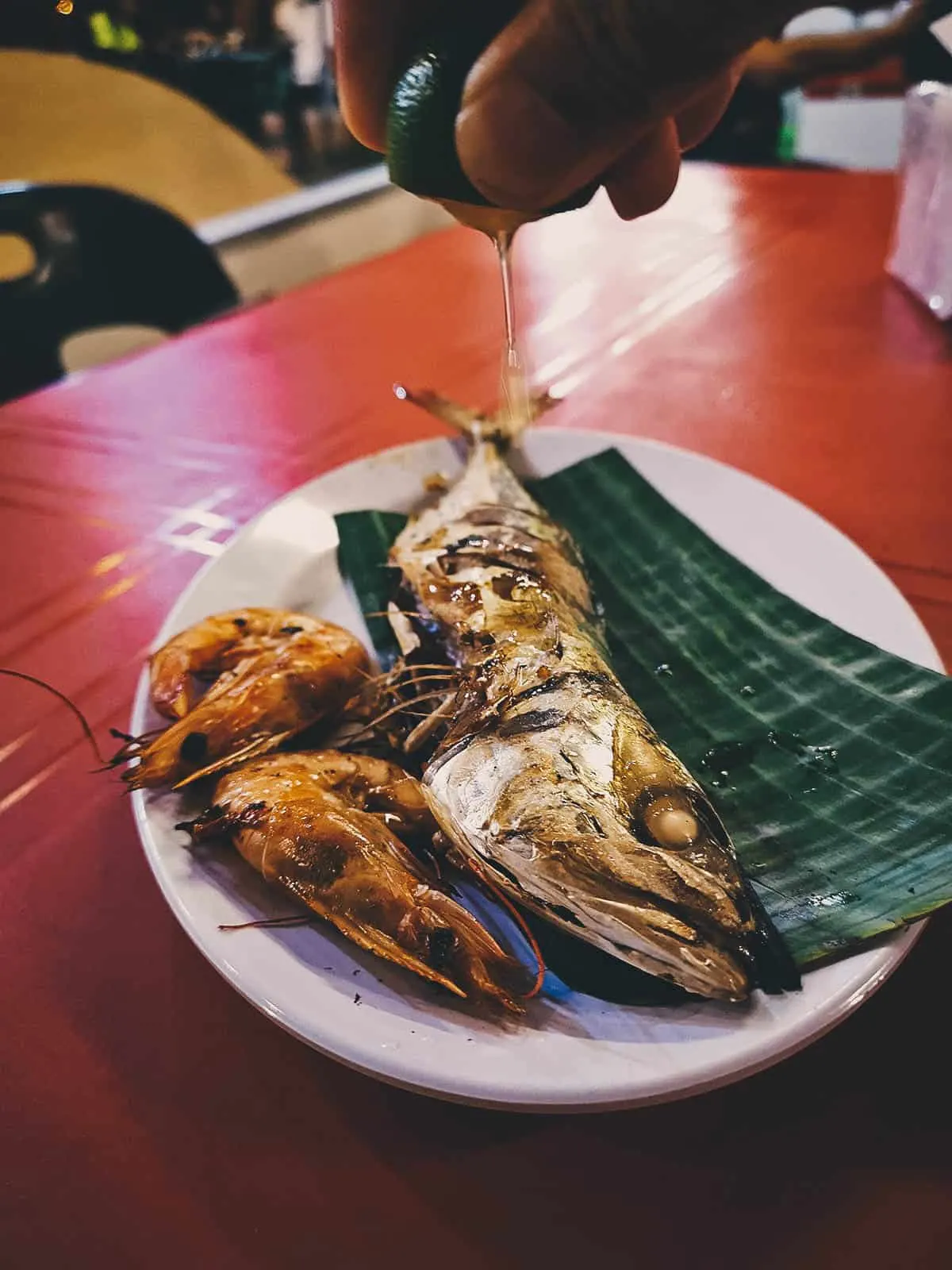 Kuih
Just when I thought the food would be never-ending, Chef Faris took me to this kuih stall which signalled the end of tonight's tour. Kuih is a broad term used to describe a family of bite-sized Malaysian snacks typically made with glutinous rice. Some kuih can be savory though most are sweet.
Chef Faris had me try the kueh lapis and kueh bom. Kueh lapis is a colorful layered cake made with soft rice flour pudding, while kueh bom is the Malaysian version of jian dui, a sesame-covered Chinese pastry made from glutinous rice flour. It can be filled with a variety of ingredients depending on the region, but in Malaysia, grated coconut is the most common.
And so with that, our tour ends and Chef Faris wheels me back to my hotel. I went into this tour with passing knowledge of the cuisine, but I left feeling confident that the heart and soul of Malaysian food was marinating right here in my belly. Thank you Chef Faris!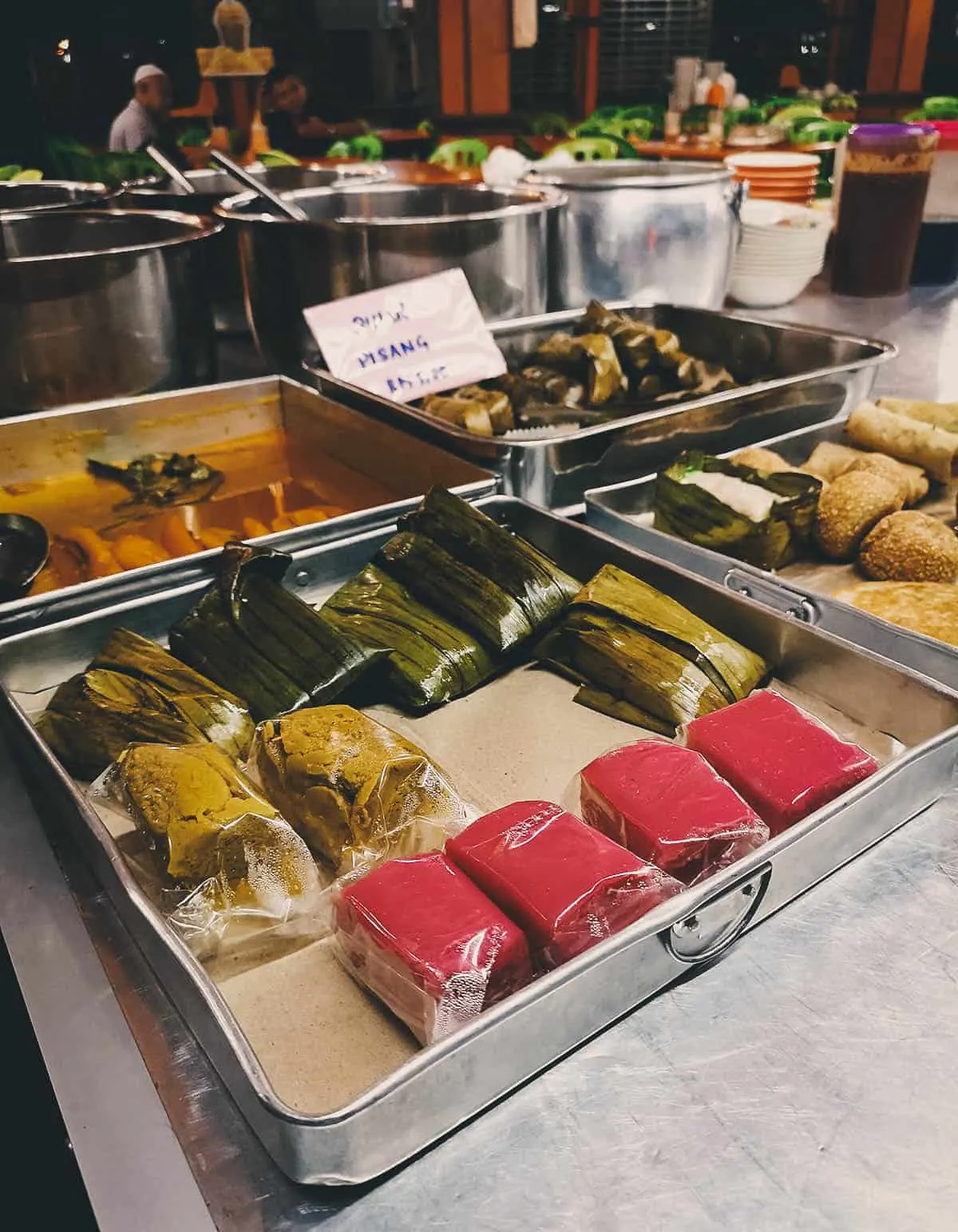 Conclusion
When they were working out the logistics for this tour, Chef Faris told me that A Chef's Tour considered conducting this tour along Jalan Alor in Bukit Bintang. If you've never been there, it's a lively night market with hawker stalls and seafood restaurants on either side. It's one of the most popular places to visit in the city as it's almost always cited as a "must-do" in Kuala Lumpur. In fact, it was the very first place I went to on my first night in KL.
Jalan Alor is a great place for a food tour but if what you want is a true local experience, then Kampung Baru is even better. As good as the food is along Jalan Alor, most of it is Chinese so it won't give you a complete picture of Malaysian cuisine. Plus, it's popular enough that you'll probably make your way there on your own anyway.
Chow Kit Market and Kampung Baru on the other hand are distinctly Malaysian. They're authentic places visited mostly by locals, by people who know good food like Chef Faris. In fact, I was talking to a local the day before and she recommended Chow Kit as a great place to experience Malaysian food. She was right.
As described, I've been on many of these tours from A Chef's Tour and this KL food tour is one of my favorites so far. Malaysian cuisine is too broad and nuanced to encapsulate into four hours, but Chef Faris does an excellent job of giving you the best possible taste.
Chef Faris is the man when it comes to Malaysian food so if you're visiting Kuala Lumpur and want a taste of the real Malaysia, then I highly recommend going on this tour. It costs USD 55 per person, inclusive of all food and drink and transportation during the tour. Follow the link to book it on A Chef's Tour or Get Your Guide.
A Chef's Tour
Website: achefstour.com
Facebook: achefstour
Twitter: achefstour
Instagram: achefstour
Pinterest: achefstour
Email: [email protected]
Cost: USD 55 per person (inclusive of food and transportation during the tour)
Availability: Thurs-Sun
For travel tips to Kuala Lumpur, check out our First-Timer's Travel Guide to Kuala Lumpur, Malaysia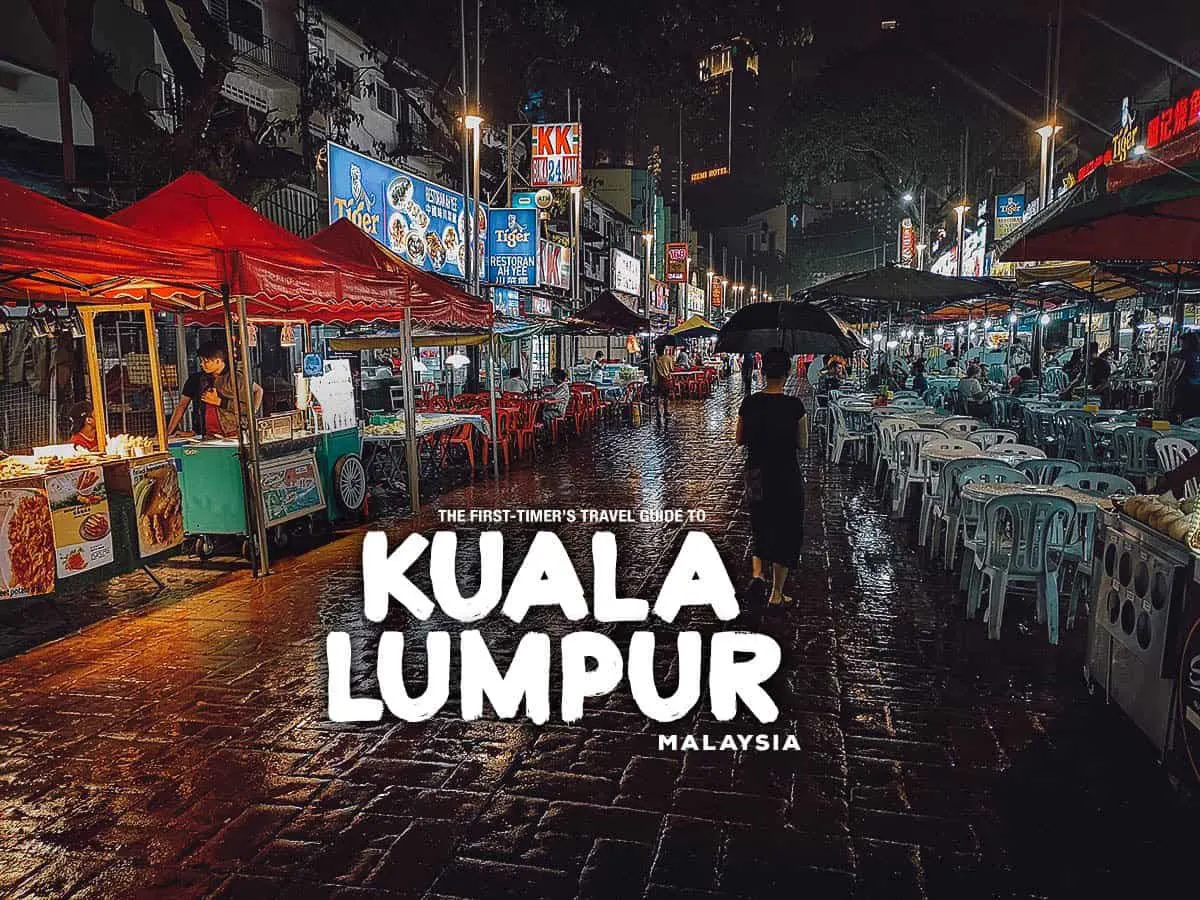 Disclosure
A Chef's Tour gave me a complimentary tour in exchange for an honest account of the experience. As always, all words, thoughts, and opinions expressed in this post are mine and mine alone.
Some of the links in this guide are affiliate links, meaning we'll get a small commission if you make a purchase at NO extra cost to you. We only recommend products and services that we use ourselves and firmly believe in. We really appreciate your support as this helps us make more of these free travel guides. Thank you!