I've been wanting to go to Shirakawago in winter ever since I first saw it on social media. It was an evening illumination scene, where the gassho-zukuri farmhouses were covered in a thick blanket of snow. It was one of the most magical scenes I had ever seen.
That was a few years ago and I've been to Shirakawago twice now, both in winter of the same year. Like the cherry blossoms, snow can be unpredictable. Our first visit was in late January when we were sure to find snow, but there wasn't a single snowflake on the ground. Instead, it was drizzling that day. It was still beautiful but not exactly the winter wonderland I was hoping to find.
Thankfully, I got a chance to visit again a few weeks later when I toured the Chubu region with JR Central. Not only was there a fresh cover of snow on the ground, but it was snowing heavily while we were there. Shirakawago is gorgeous any time of the year, but in winter, under a blanket of snow, it looks absolutely magical.
If you're planning a trip to Shirakawago, in winter or in any other season, then I hope this travel guide is useful to you.
VISIT SHIRAKAWA-GO QUICK LINKS
This Shirakawa-go travel guide is long. For your convenience, I've compiled links to tours and other travel-related services here.
DAY TOURS
OTHER SERVICES
Save This on Pinterest!
No time to read this Shirakawago travel guide now? Click on the save button and pin it for later!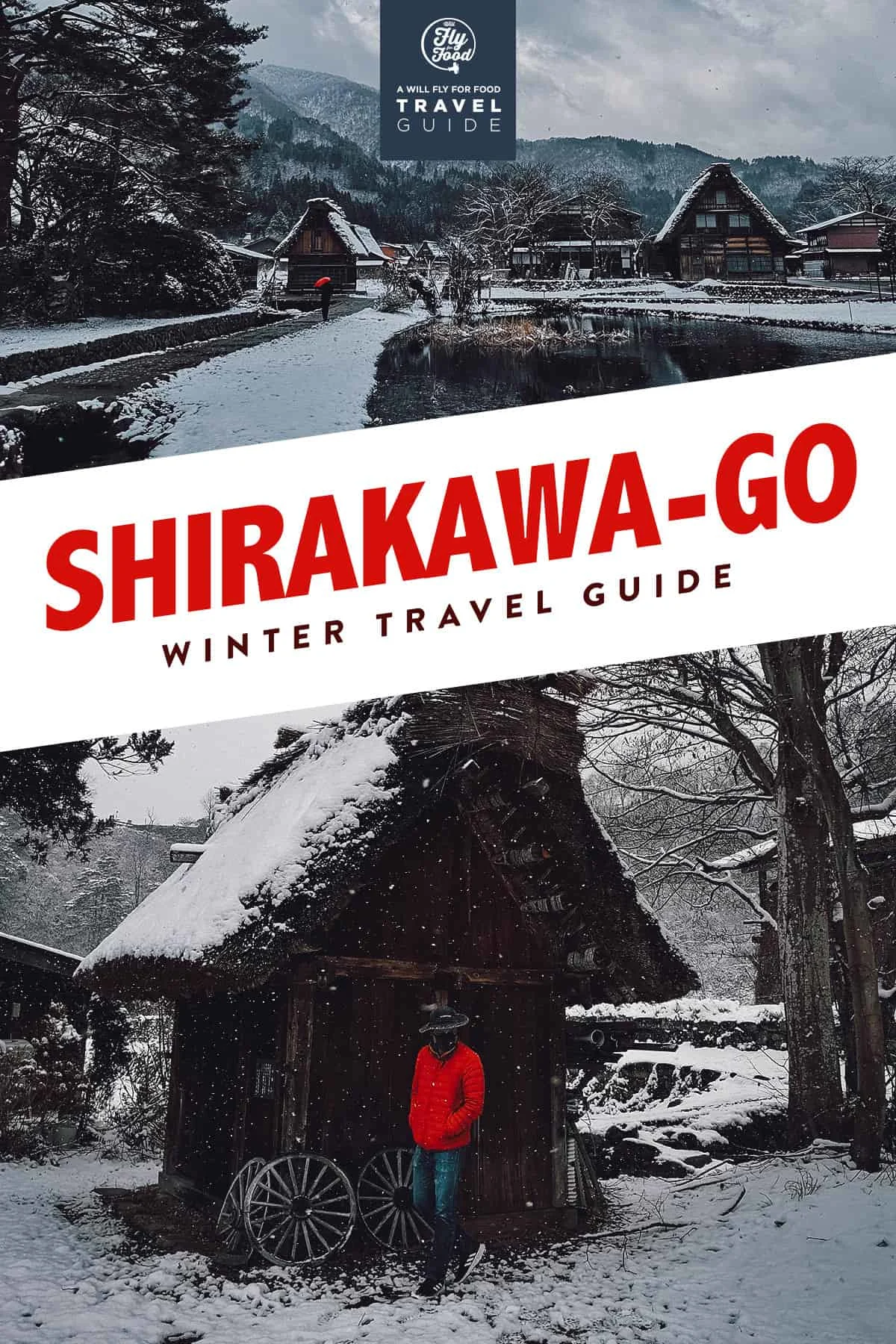 GUIDE TABLE OF CONTENTS
SHIRAKAWA-GO TRAVEL RESTRICTIONS
Because of the current global situation, Shirakawa-go travel guidelines can change very quickly. Our friends at Booking.com created a website that includes detailed information on travel restrictions to every country around the world.
Before planning your trip to Shirakawa-go, be sure to check Booking.com for information on travel restrictions to Japan. If you do decide to visit Shirakawa-go, then I strongly recommend getting travel insurance with COVID coverage.
JAPAN VISA
You may need a visa and other travel documents to visit Japan depending on your passport. Check out iVisa.com to learn about the requirements and to apply for a visa (if necessary).
If you're a Philippine passport holder from Manila, then you can check out our guide on how to apply for a Japan tourist visa for a step-by-step process.
SHIRAKAWA-GO AT A GLANCE
Shirakawago (and neighboring Gokayama) is a UNESCO World Heritage Site famous for its traditional gassho-zukuri farmhouses. It's located in the remote Shogawa River Valley in Gifu prefecture, close to the border with Toyama.
Unique to Japan, gassho-zukuri farmhouses are noted for their slanted thatched gable roofs. They're constructed at a steep angle to allow heavy snow to fall off easily in winter. Their unique shape resembles hands clasped in prayer, which is how this architectural style got its name. "Gassho" means to hold one's hands in prayer while "zukuri" refers to an architectural style.
What makes gassho-zukuri houses even more fascinating is that the roofs are constructed without nails or any metal materials. They're made entirely of straw and wood sourced from the forests around the village. In spite of this, this architectural style has endured, with the oldest houses being over 250 years old.
It's important to note that the name Shirakawago refers to an area. People use it to describe the village but it actually refers to a region. The largest village in Shirakawago, the one you often see on social media and the one I'll be describing in this guide, is called Ogimachi Village.
BEST TIME TO VISIT SHIRAKAWA-GO
Shirakawago is beautiful at any time of the year but in winter, it's absolutely stunning. It looks like a fairy tale. This travel guide urges you to go in winter but here's what you can expect through the seasons.
APR-MAY: Spring is one of the best times to visit Japan because of the cherry blossoms. However, I don't think Shirakawago is the best place to see them as Ogimachi doesn't seem to have as many cherry trees. If the cherry blossoms are what you're after, then you're probably better off going somewhere else.
JUN-AUG: Shirakawago turns green in summer. The trees and rice paddies are a verdant green and many flowers are in full bloom throughout the village.
SEP-NOV: This is perhaps the second best time to visit Shirakawago. Many parts of Japan are gorgeous in autumn with the leaves turning brilliant shades of red, orange, and yellow. Surrounded by mountains and forest, expect Ogimachi Village to be no different.
DEC-MAR: As described, Shirakawago is stunning in winter. The gassho-zukuri houses look like gingerbread houses when covered in snow. That's what they were designed for so I don't think there's a better time to visit Ogimachi Village than in winter. Just be sure to dress warmly as it can get bitingly cold.
Climate: Annual Monthly Weather in Shirakawago
To help you better understand the weather in Shirakawago, I've included average temperature and annual snowfall graphs below. Suggested months to visit are indicated in orange.
Average Temperature

Annual Rainfall

HOW TO GET TO SHIRAKAWA-GO
There are an infinite number of ways to get to Shirakawago depending on where you are in Japan. But for the purpose of this guide, I'll focus on the nearest major cities of Takayama, Kanazawa, and Nagoya.
VIA TAKAYAMA: Takayama is perhaps the closest major city to Skirakawa-go. It's how I went both times. It takes about 50 minutes each way by Nouhi Bus. A one-way ticket costs JPY 2,600, and JPY 4,600 roundtrip. There are reserved buses and non-reserved buses, though if you're going during peak season in winter, then you may want to get reserved seats. You can check out the Nouhi Bus website for more information. If you'd rather not do all the planning yourself, then another option would be to book a day tour through Get Your Guide.
VIA KANAZAWA: It takes about 1 hr 25 mins to get to Shirakawago by Nouhi Bus from Kanazawa. A one-way ticket costs JPY 2,000, and JPY 3,600 roundtrip. You can refer to the Nouhi Bus website for more information. If you'd rather go by guided tour, then you can book one through Klook or Get Your Guide.
VIA NAGOYA: Nagoya is over 2.5 hours away but I'm including it here because Gifu Bus operates multiple direct routes per day from Nagoya to Shirakawago. The fare is around JPY 3,500 each way and you can book it through Willer. If you're planning on doing a day trip, then it may be easier and cheaper to book a tour.
VIA ANOTHER CITY: If you're coming from somewhere else, like Tokyo, Osaka, or Kyoto, then you'll need to first make your way to one of the cities above before continuing to Shirakawago. You can use Google Maps (iOS/Android) to find the best route. Just key in "shirakawago" as your destination. Chances are, it'll direct you to Ogimachi Village through either Takayama, Kanazawa, Toyama, or Nagoya.
Takayama-Hokuriku Area Tourist Pass
Shirakawago is located in the Chubu region of central Japan. If you plan on exploring other cities within the Chubu region like Takayama, Kanazawa, Nagoya, Fukui, and Hida Furukawa, then you may be interested in the Takayama-Hokuriku Area Tourist Pass.
The Takayama Hokuriku Pass is a JR Pass that entitles you to unlimited travel for five (5) consecutive days on JR trains and Nouhi Buses within the Chubu region. It's valid for all the routes discussed above (except the Nagoya to Shirakawago Gifu Bus). You can check out my post on the Takayama Hokuriku Pass for more information. You can also check out our 5-day Chubu itinerary for suggestions on how to use it.
The pass costs JPY 15,280 for adults and JPY 7,640 for children if you buy them in Japan. But if you purchase them in advance, before arriving in Japan, then they cost just JPY 14,260 and JPY 7,130 respectively.
This map shows you all the areas you can travel to using the Takayama Hokuriku Pass. As you can see, it's also valid for travel to Osaka and Kyoto, as well as to Gokayama which is the less visited but equally beautiful neighbor of Shirakawago.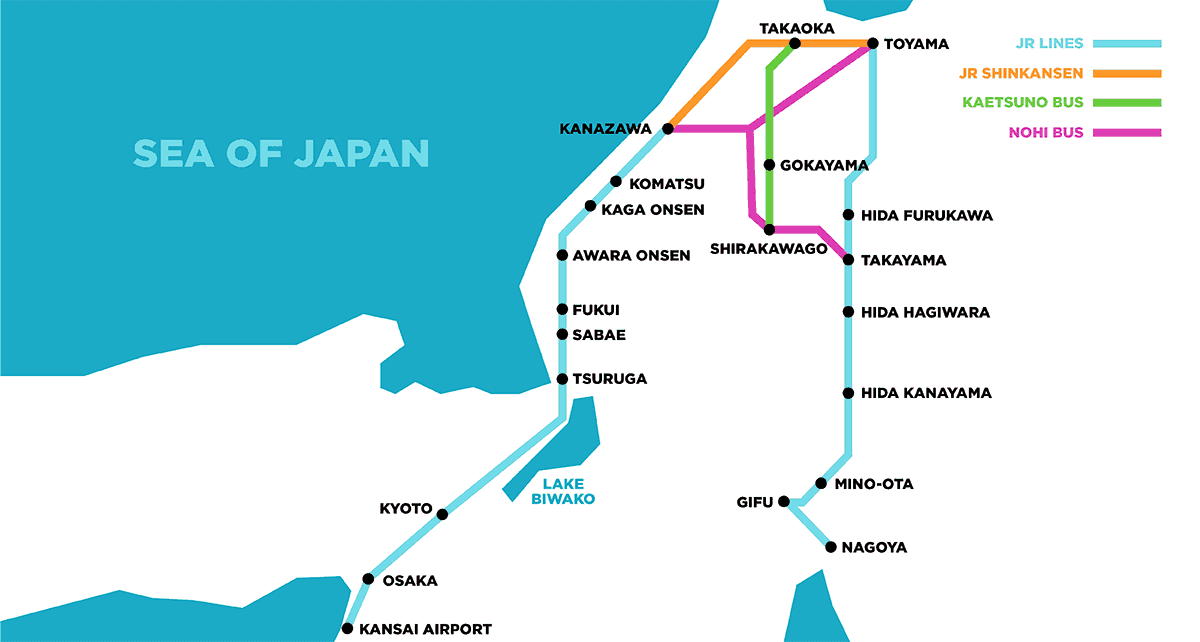 FARMHOUSE STAY IN SHIRAKAWA-GO
If you want a truly immersive Shirakawago experience, then you may be interested in a farmhouse stay. A few of the gassho-zukuri houses in Shirakawago operate as family-run lodgings so guests can stay the night.
Staying at a gassho-zukuri house is a great way to experience the village, but it's fairly pricey. A farmhouse stay will set you back at least JPY 9,000 per person, but that includes dinner and breakfast featuring local dishes. You can book a farmhouse stay through the Japanese Guest Houses website.
If you're looking to experience Shirakawago's winter light up ceremony, then the best way for you to do that would be to book a farmhouse stay. More on that below.
SHIRAKAWA-GO LIGHT-UP EVENT
Experiencing the winter illumination was something I really wanted to do when I first learned about Shirakawago. For six nights in winter, the village is lit up for two hours, giving people lucky enough to be there the most magical view of Ogimachi Village.
Thanks to social media, Shirakawago's winter light-up event has become exceedingly popular over the years. To experience it, you need to secure reservations. You can do that by either booking a tour with a travel agency, renting a car and reserving a parking space in Shirakawago, or staying the night. It's so popular that a lottery-based reservation system is put in place for the limited number of rooms in the village.
The illumination typically happens on six consecutive Sundays in January and February, from 5:30-7:30PM. Dates change from year to year so you can follow the Shirakawago website for updates. Keep in mind that the weather is largely unpredictable so even if you get a reservation, it isn't guaranteed that the houses will be covered in snow on the evening of your booking.
SHIRAKAWA-GO IN PICTURES
Shirakawago is one of the most photogenic places we've visited so far in Japan, and that's saying a lot because most of Japan is beautiful. The following pictures were taken on two separate trips in winter, the first set while it was snowing and the second when it was drizzling. As you can see, Shirakawago really is gorgeous at any time of the year!
Shirakawa-go Under Snow
It began snowing the evening before so we arrived at the village to find a thin layer of snow. Not as much snow as I was hoping for but it was still achingly beautiful. Ogimachi Village can get covered in up to two meters of snow at the height of winter.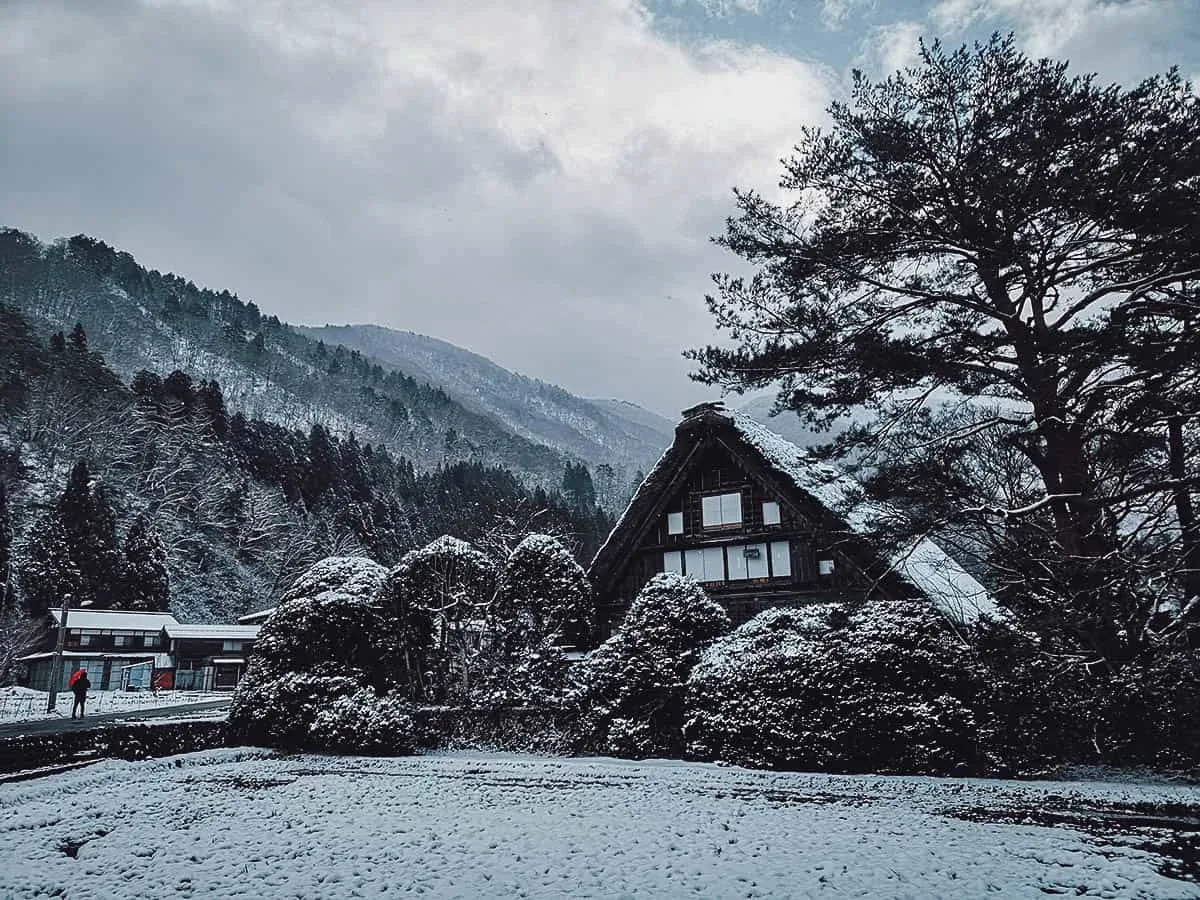 Ogimachi is the largest village in Shirakawago and Gokayama but it still isn't that big. You can explore the entire village in about two to three hours.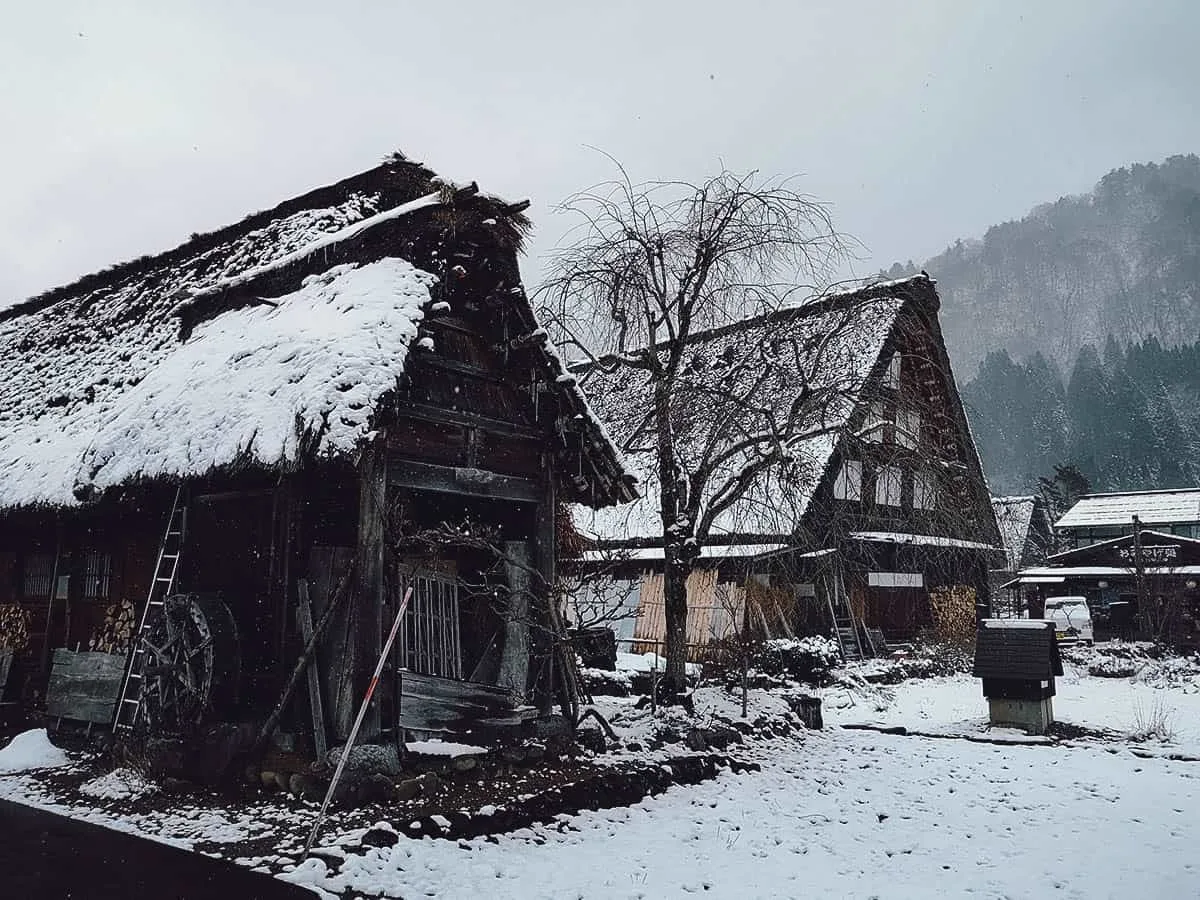 Tourism to Shirakawago has boomed in recent years so many of the houses along the main road have been converted into restaurants and souvenir shops. This picture was taken off the main road.
This tourist was wearing all black and carrying a bright red umbrella. It looked great against the snow in winter so I followed him around for a good portion of the morning.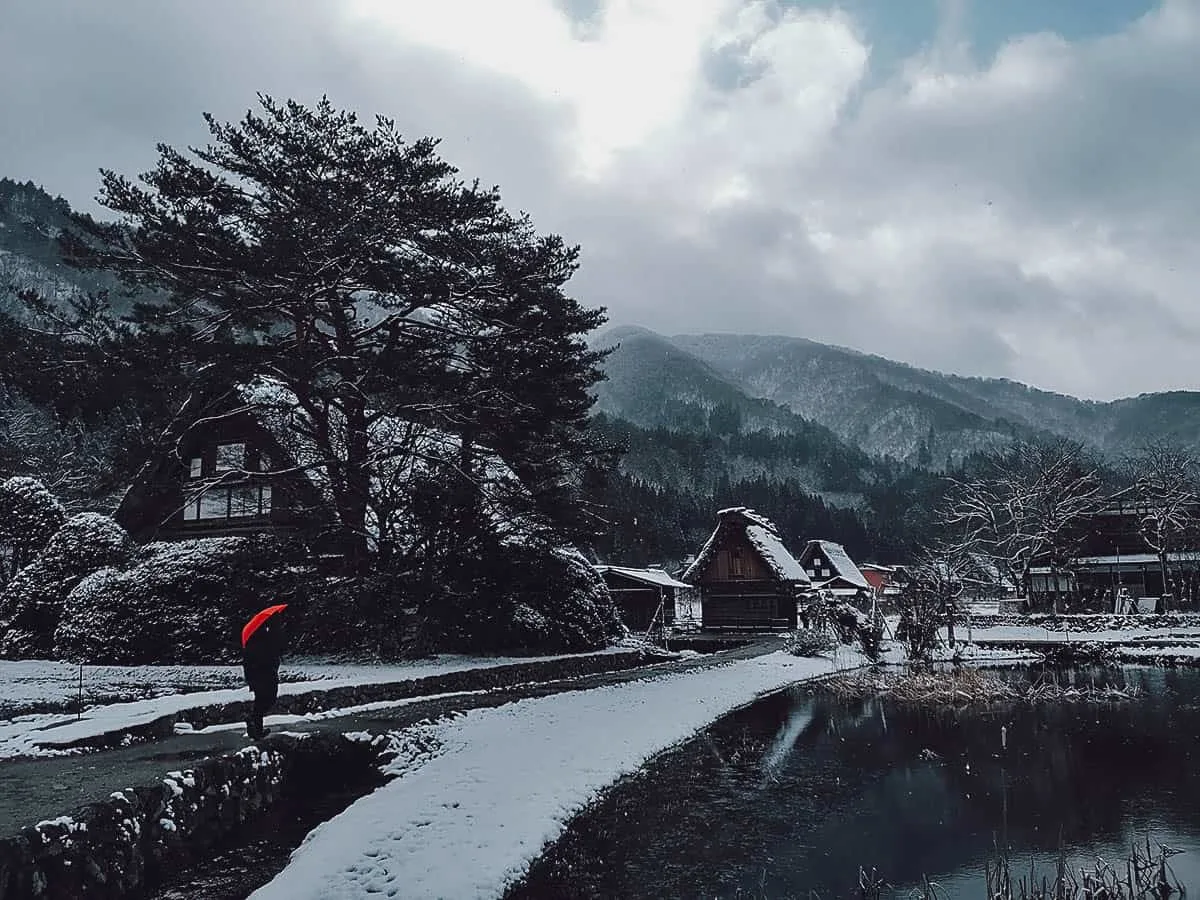 This is the view from Shiroyama Viewpoint, the best place to catch the winter light-up event. I imagine this spot to be extremely crowded on those six nights.
Shiroyama Viewpoint is about a 20-minute uphill walk from Ogimachi Village, but there are shuttles that can take you there and back for JPY 200 each way.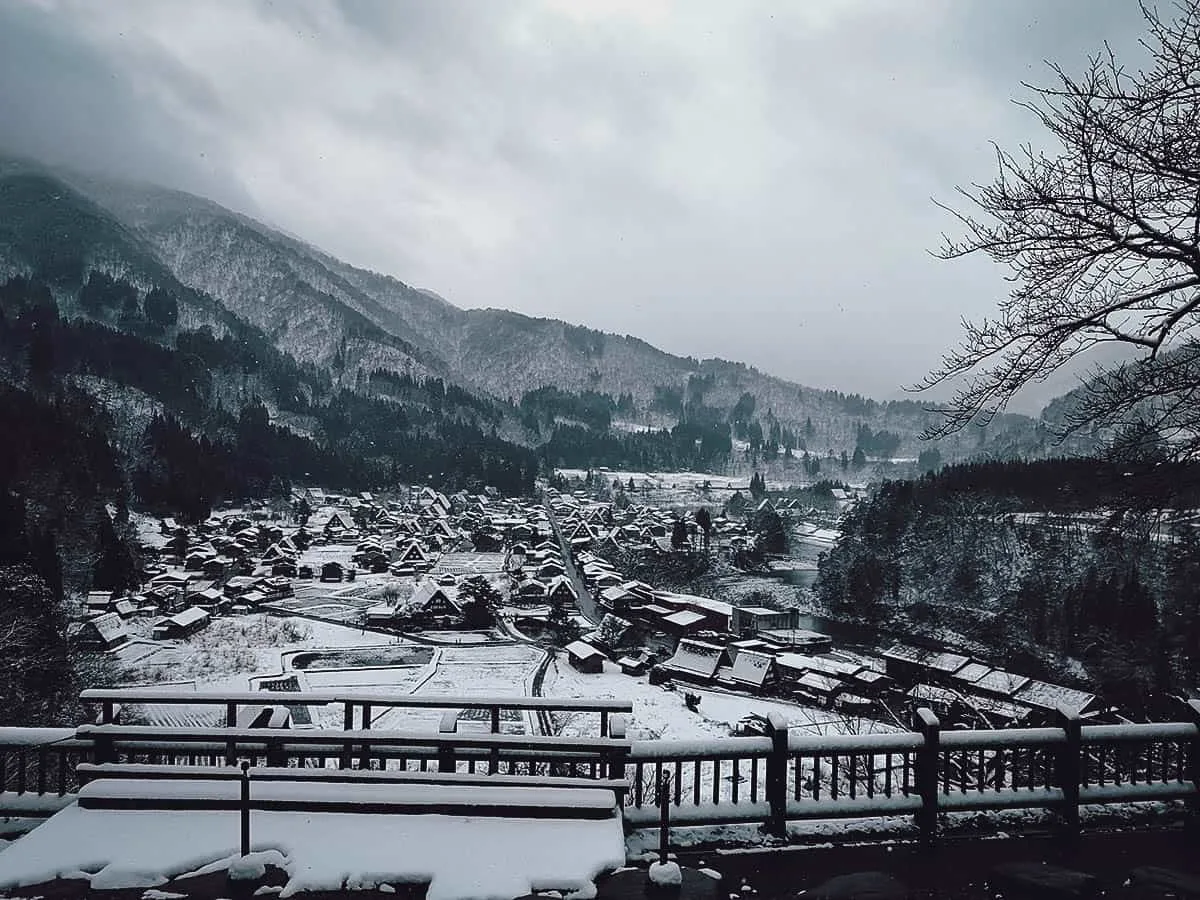 Shirakawa-go Without Snow
Like I said, Shirakawago is still beautiful even without snow.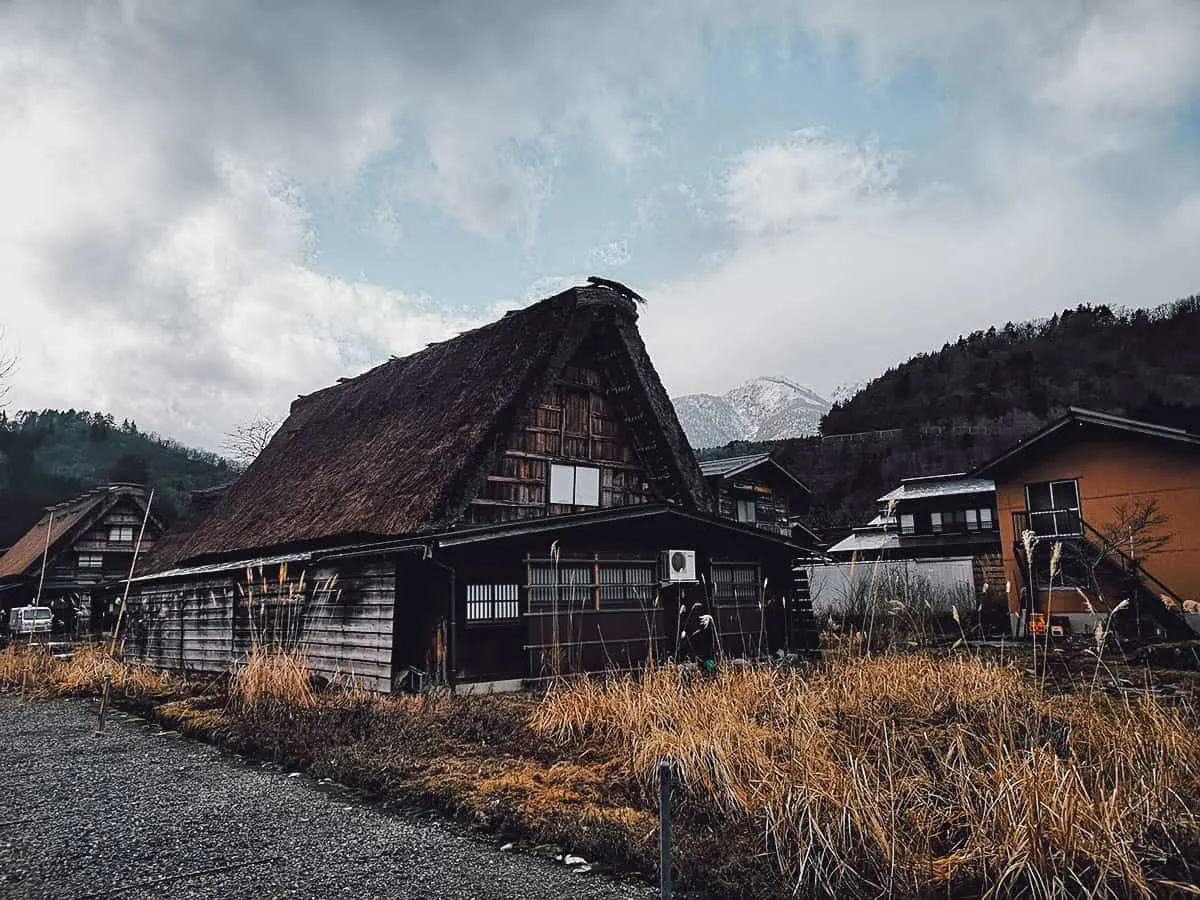 The gassho-zukuri farmhouses varied greatly in size. This was one of the larger houses.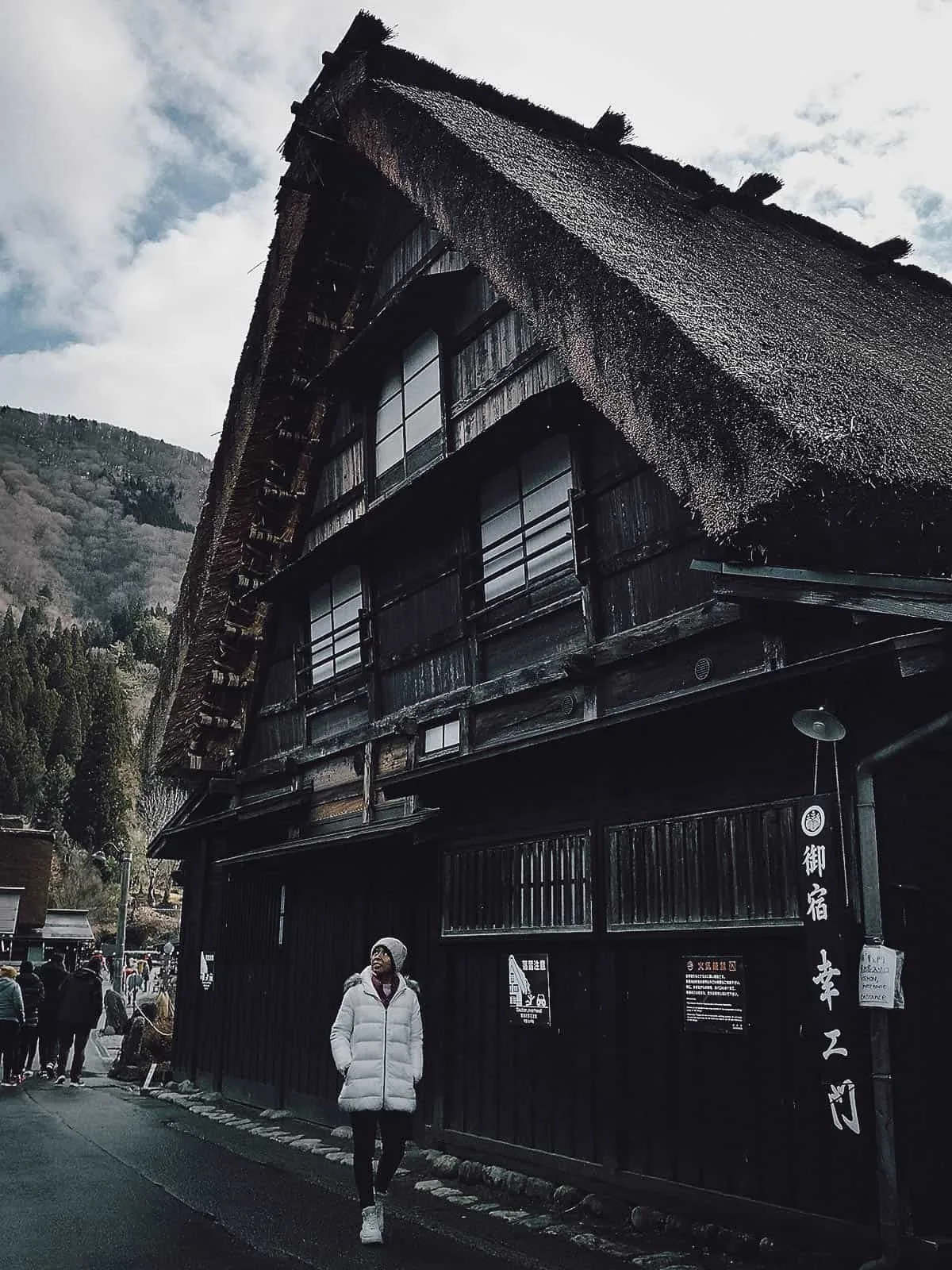 You can't tell from this picture but there were a lot of tourists at Shirakawago on our first visit. Ogimachi Village is the largest and most popular but if you want a more intimate experience, then you can visit Gokayama as well. It's less than an hour away by bus.
Like Shirakawago, the name Gokayama refers to a region, with the most beautiful villages in the region being Suganuma and Ainokura. They aren't as big as Ogimachi but they're also quieter and less commercially developed. You can do farmhouse stays there as well.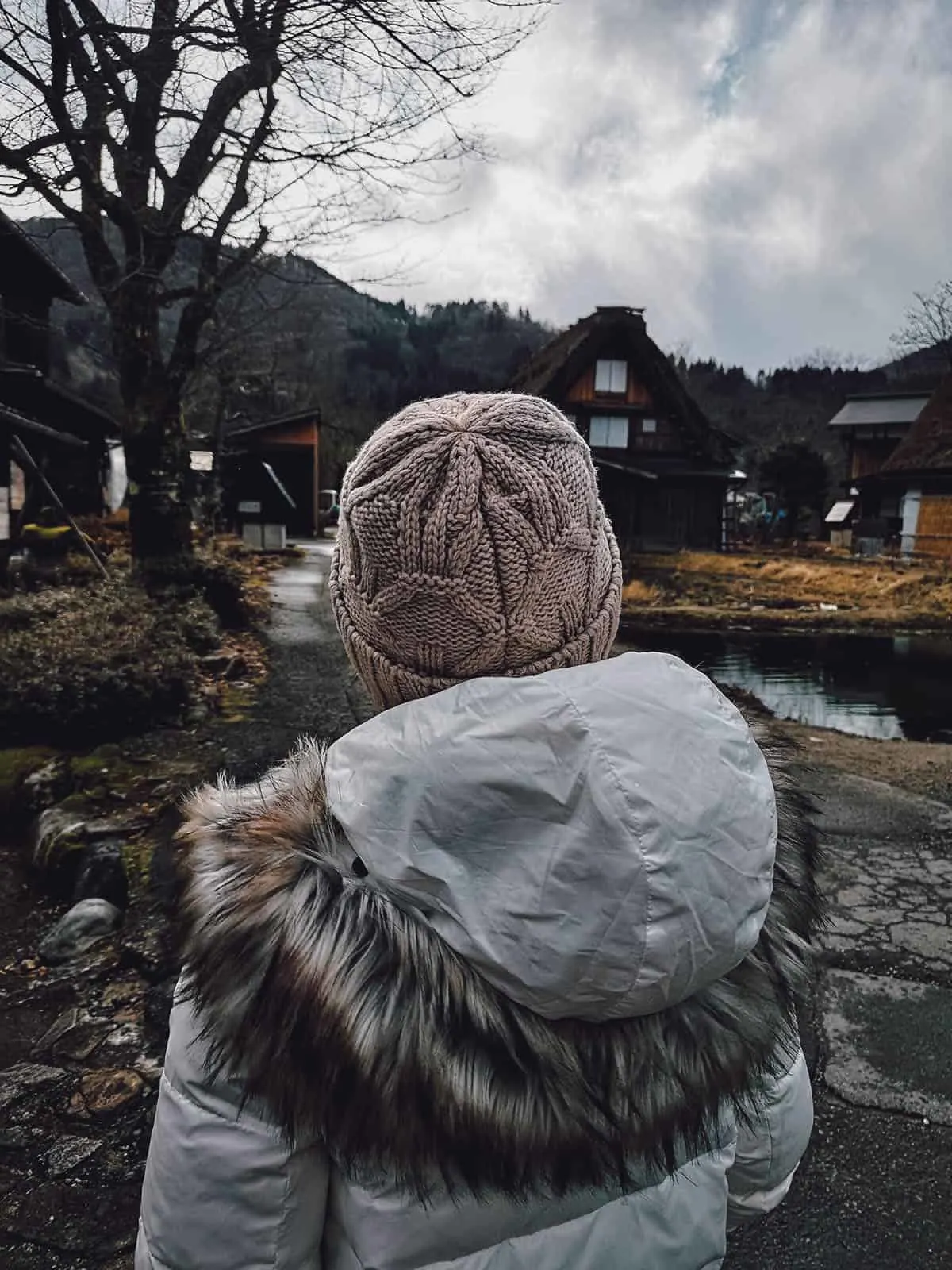 They look brown now but in summer, Shirakawago's rice paddies and forests turn a verdant shade of green.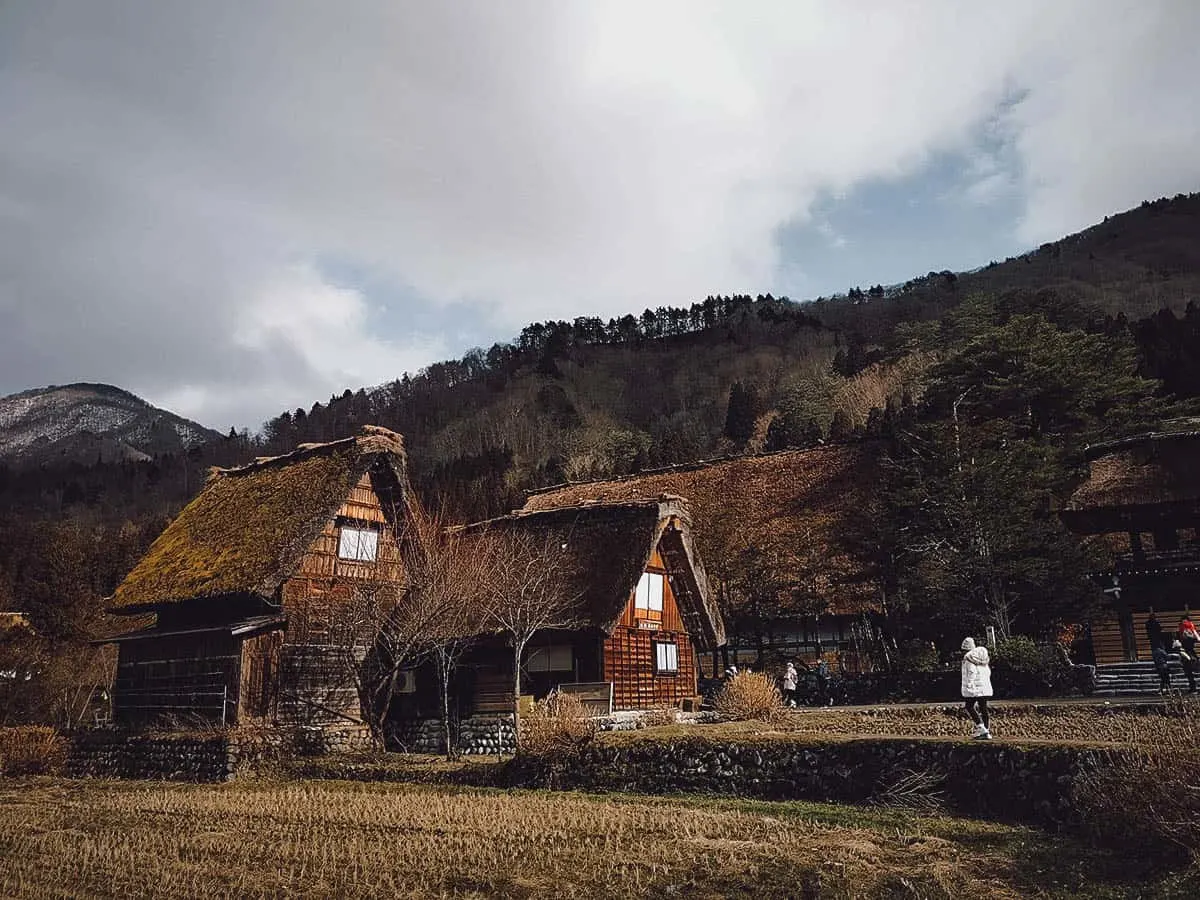 Here's a close-up of the roof, to show you just how thick they are. It's amazing that they aren't constructed with any nails or metal materials.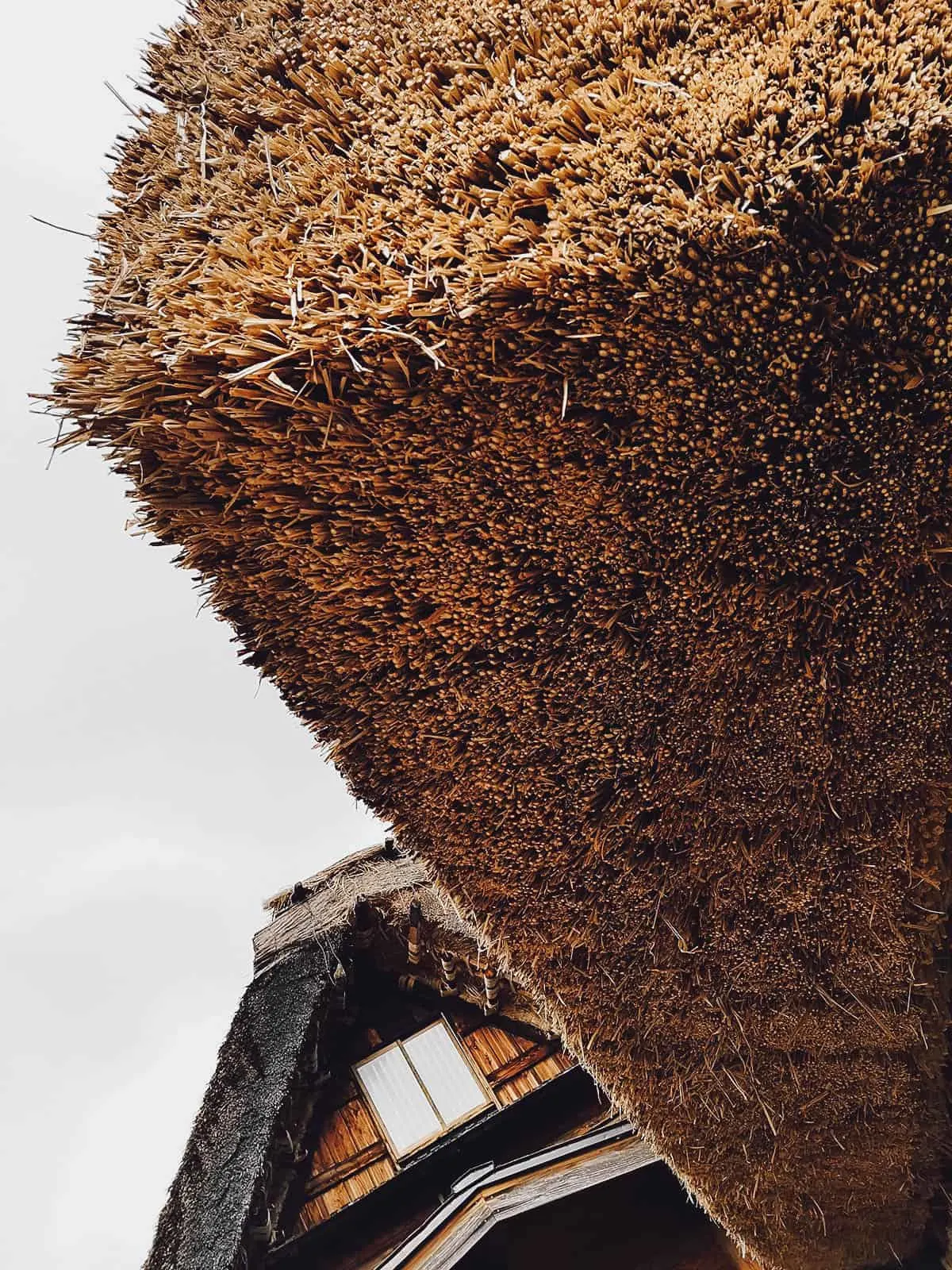 Inside a Gassho-Zukuri House
These pictures were taken inside Wada House, one of the gassho-zukuri houses that have been turned into a museum.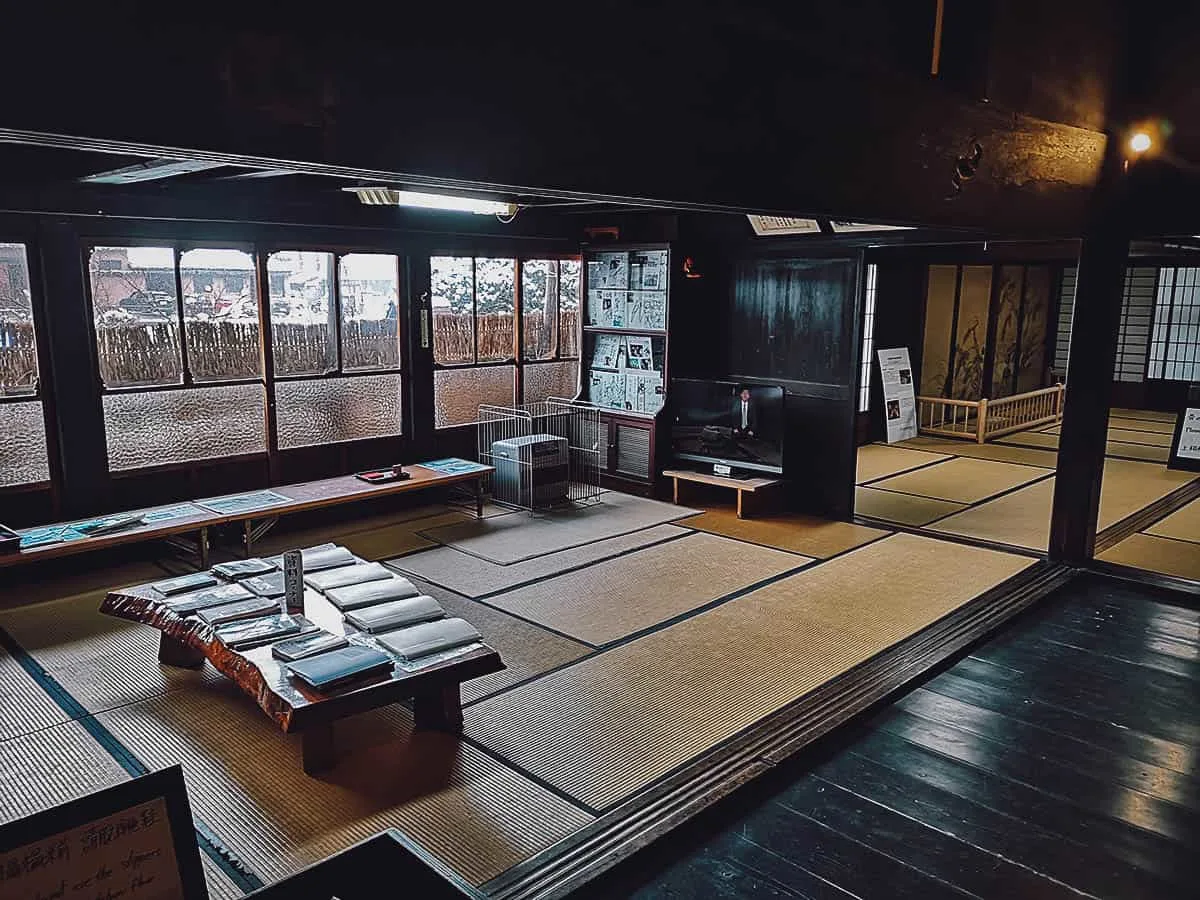 Wada House consists of four floors. This was the second floor. I read that these large attic spaces were used to cultivate silkworms.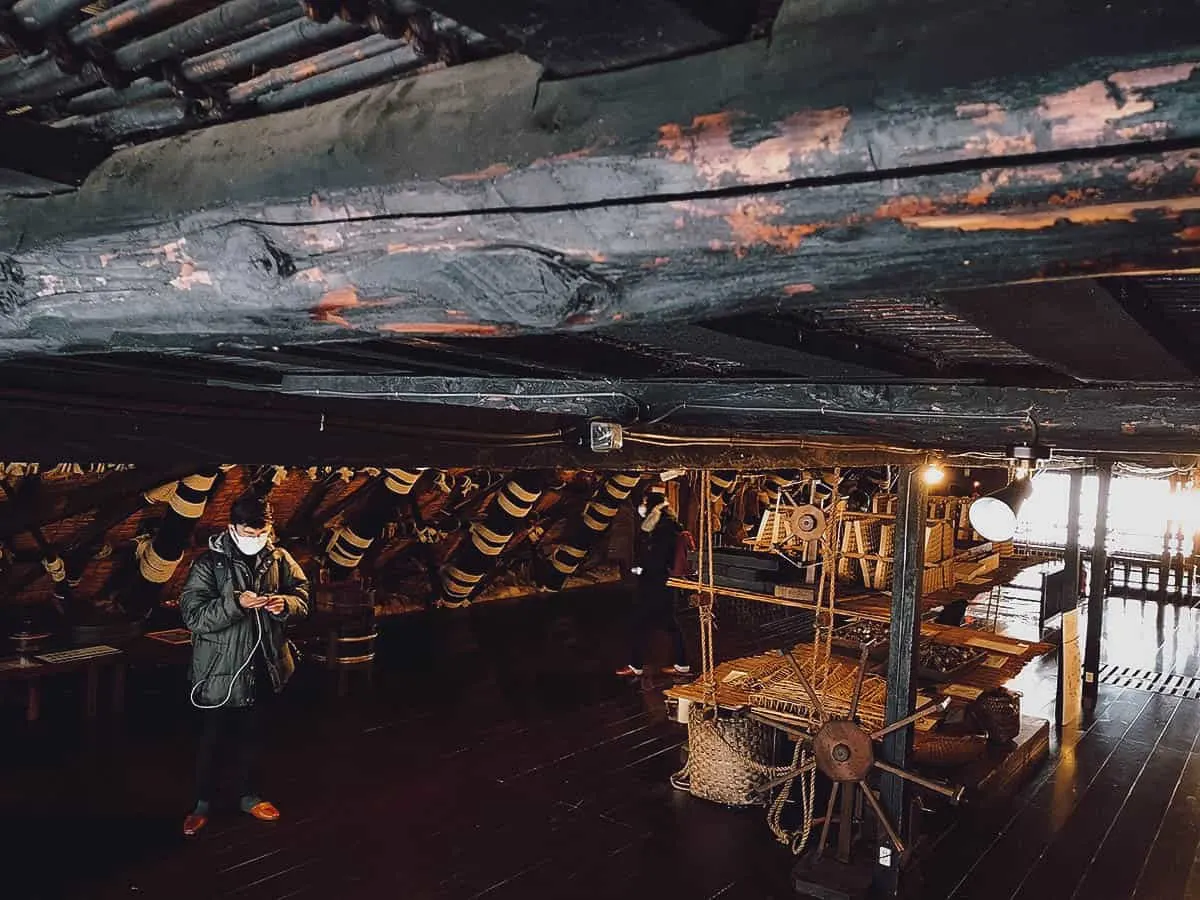 Store room with wooden barrels of different sizes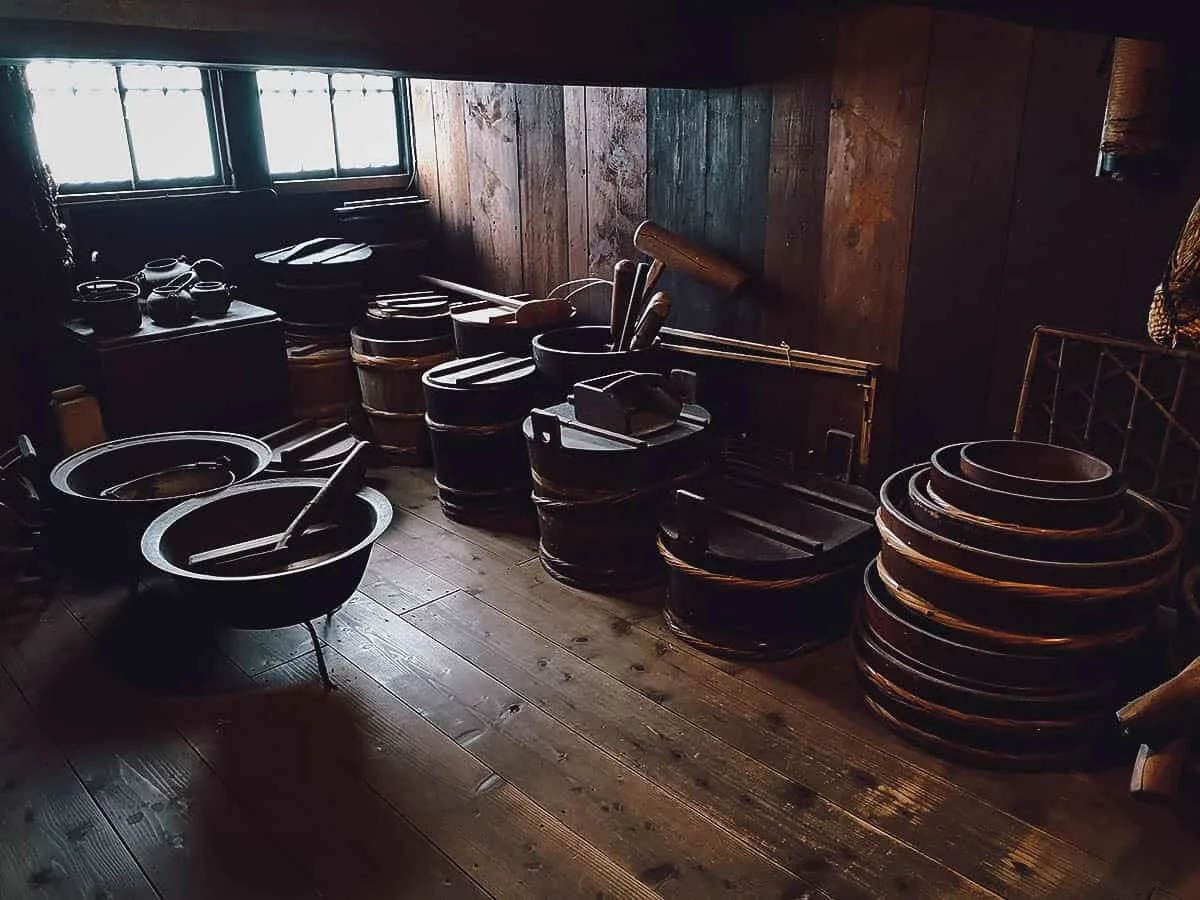 THINGS TO EAT IN SHIRAKAWA-GO
On our first visit, lines to the restaurants were too long so we had street food instead. Pictured below are all the tasty Japanese street food dishes you can expect to find in Shirakawago.
This is a Hida gyu korokke or Japanese croquette made with mashed potato and Hida beef. Hida beef is a prized brand of beef raised in Gifu prefecture. It's considered one of the best in Japan so you'll find many Japanese dishes made from Hida beef in Shirakawago and Takayama.
On the left is gohei mochi which is skewered sticky rice cake brushed with a miso glaze. On the right is a type of smokey sausage made from coarse ground meat, probably pork. The sign said it's available only in Shirakawago.
Both of these snacks were delicious and something you should definitely try in Shirakawago.
This was some type of steamed bun made with Hida beef.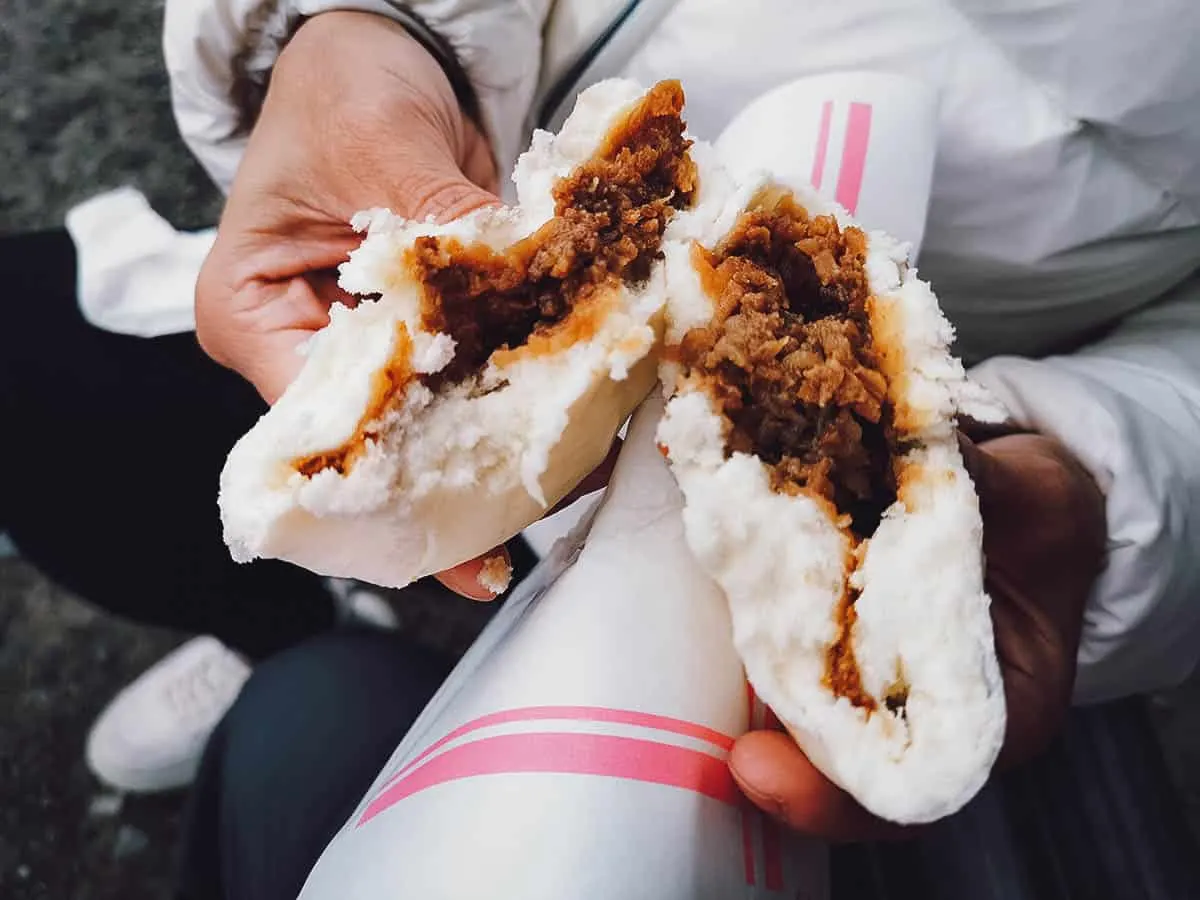 On the left is mitarashi dango or skewered broiled rice dumplings brushed with a sweet soy sauce glaze. It's very similar to mochi, except it's gooier and sticker. It's delicious as well and fun to eat.
On the right is Hida gyu gohan, which is a rice ball made with Hida beef.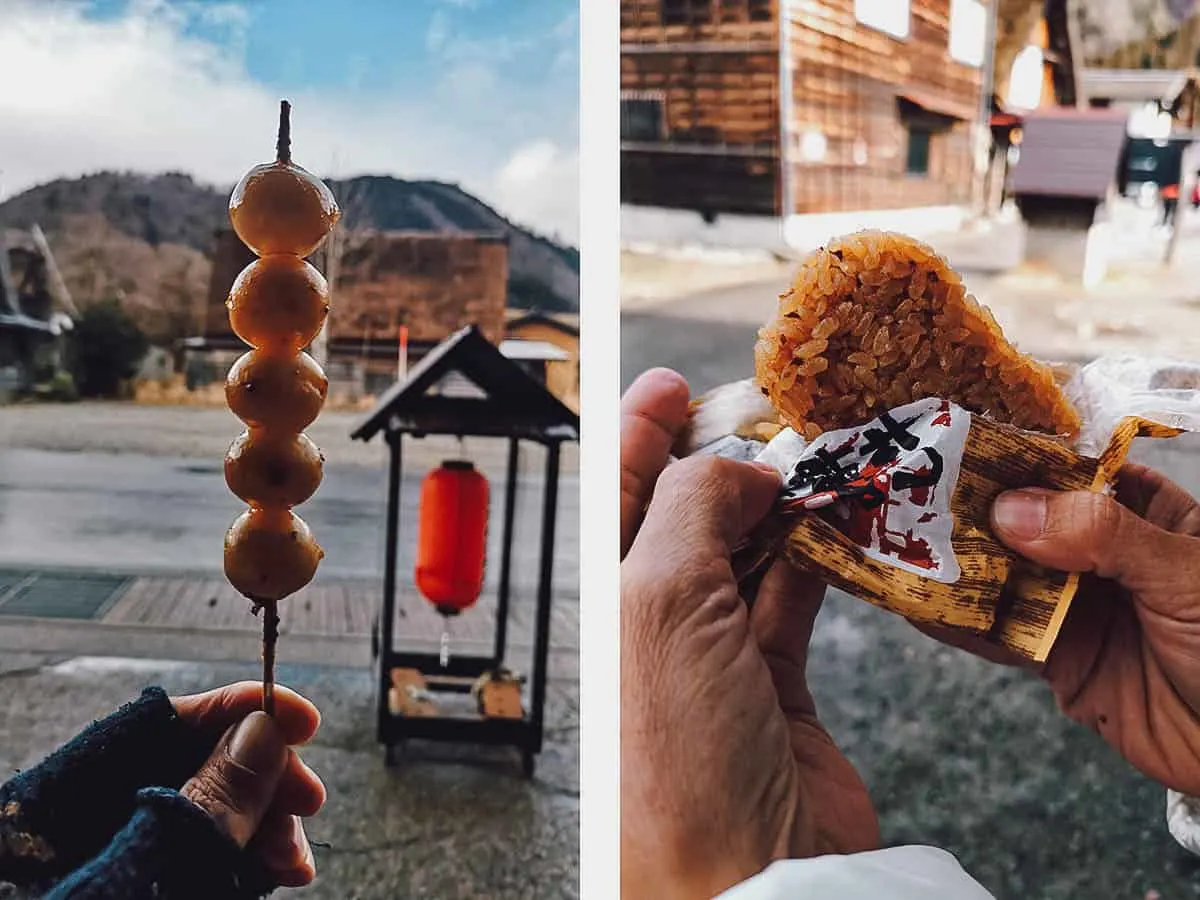 This was perhaps the tastiest snack we had in Shirakawago. It's a skewer of grilled A5 grade chuck eye roll Hida beef. It was smokey, juicy, and incredibly tender.
WHERE TO EAT IN SHIRAKAWA-GO
There were fewer tourists on my second visit so we got to have lunch at Irori, one of the most popular restaurants in Ogimachi Village. It's located on the left side of the main road, about a hundred meters from Shirakawago bus terminal.
Irori
Irori is one of the most recommended restaurants in Ogimachi so eat here if you can. Not only is the food delicious, but it's a great experience to have lunch in a traditional gassho-zukuri farmhouse.
Irori offers set menus of local specialties. Aside from Hida beef, Shirakawago is known for its mountain vegetables, soba, tofu, and river fish.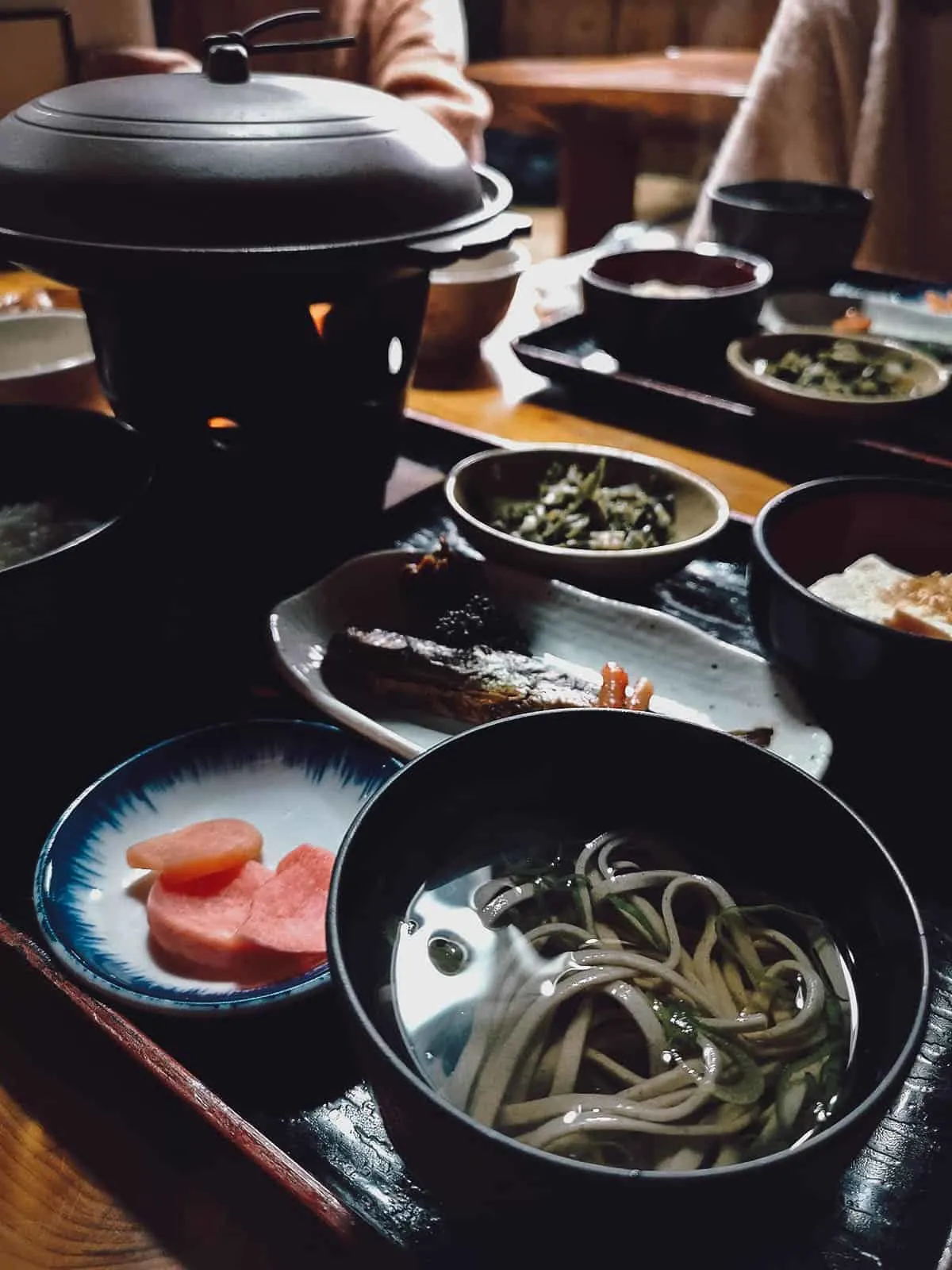 Everything in the set was delicious, but the star was again the Hida beef. It was served broiling on a leaf with bean sprouts, mushrooms, and miso paste. So damn good!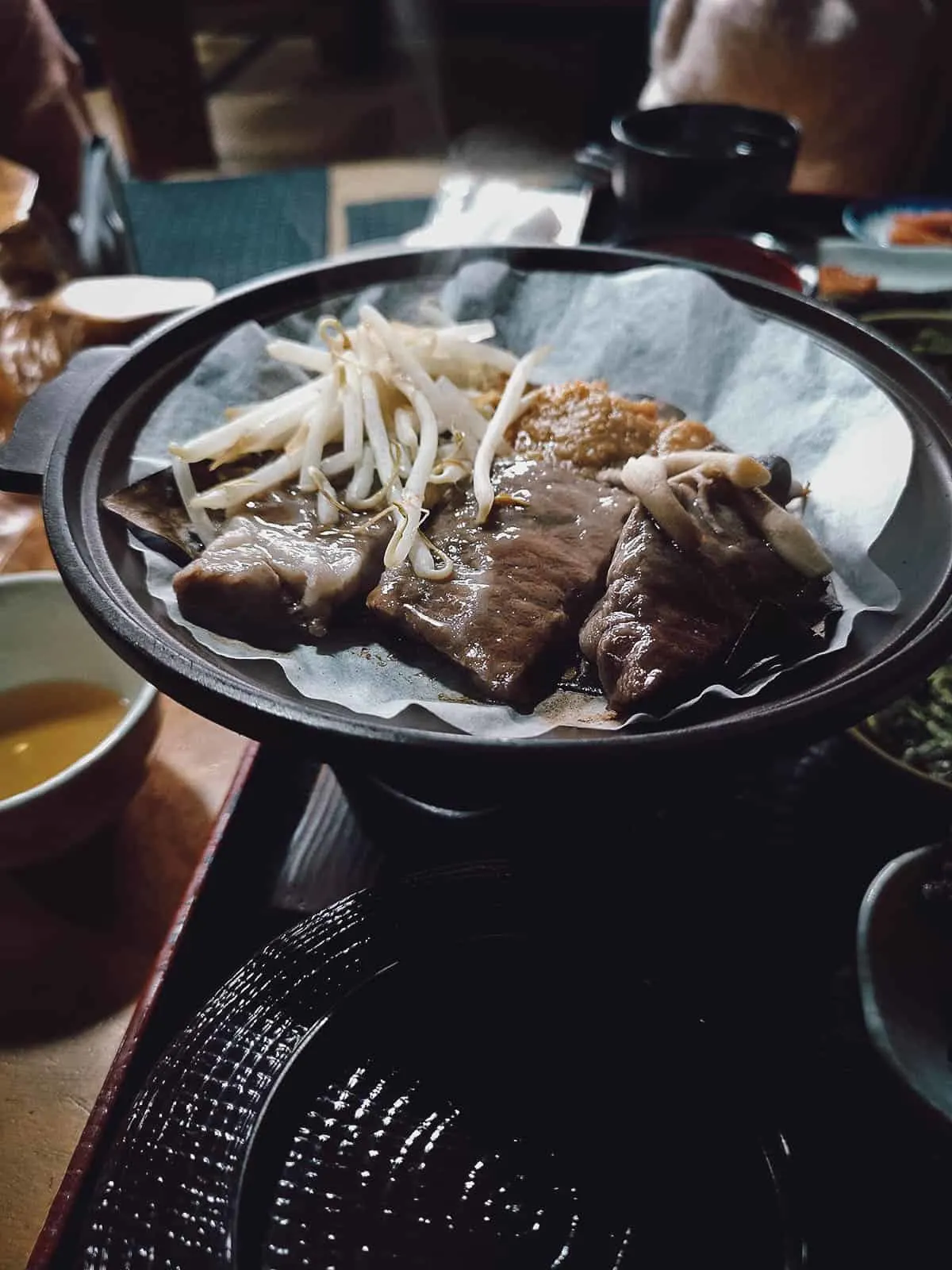 SHIRAKAWA-GO TRAVEL TIPS
1. Plan your Trip in Advance
If you're visiting Shirakawago in winter, then you need to plan your trip well. This is peak season and one of the most popular times to go.
When we went in late January, every bus from Takayama was almost completely full so it was a good thing I had booked tickets on a reserved bus ahead of time. You can get tickets on the spot but you do run the risk of them selling out.
If you want to attend the winter illumination and stay the night, then you need to plan your trip even earlier. Last year, reservation requests for farmhouse lodging needed to be submitted by August. Parking spaces for the light-up event went on sale in August and travel agencies started selling illumination tour packages in October.
SYGIC TRAVEL: Everyone has their preferred way of planning a trip. If you're like us and enjoy planning every detail yourself, then Sygic Travel may be useful to you. I've been using this free trip planning app for several years now. It's available for free on iOS and Android.
2. Stay Connected
Having a constant wifi connection is so important these days, especially when you're traveling in a country with a language barrier. Having access to Hyperdia and Google Maps alone justifies the cost.
You can connect to the internet in Japan either through a sim card or a pocket wifi device. Personally, we prefer connecting via pocket wifi devices because it's simpler, but it's up to you. Click on the links to purchase a 4G sim card or rent a pocket wifi device through Klook or Get Your Guide. They can be picked up from international airports throughout Japan.
3. Use Hyperdia
The majority of people arrive in Shirakawa-go by bus, but if you plan on traveling anywhere in Japan by train, then Hyperdia will be very useful to you. This free commuter app gives you exact train departure and arrival times for intercity trains and local rail networks.
WEBSITE: hyperdia.com
4. Navigate with Google Maps
Hyperdia is great for intercity travel in Japan, but there's no better navigation app than Google Maps. It'll tell you exactly how to get from point A to point B either by walking or using any city's local transportation system. It's super reliable and something I can't imagine traveling without.
5. Check for Shirakawa-go Travel Deals
There are many websites that offer discount passes to tours and services. The websites I've used the most are Klook and Get Your Guide. Just do a search for the destination you're interested in (ie "shirakawago" or "takayama") for a list of available travel deals. I often find interesting activities that I wouldn't normally think of myself so it's always worth a look.
6. Get Travel Insurance
Travel insurance isn't something we always get before every trip. It depends on where we're going, what we'll be doing, and how long we'll be away for. Some trips may not call for it as much but on this month-long multi-city trip to Japan, I felt I absolutely needed it.
We buy travel insurance from SafetyWing or Heymondo. They're popular travel insurance providers used by many digital nomads. Follow the links to get a free quote from SafetyWing or Heymondo. Get 5% off on Heymondo if you use our link.
7. Bring the Right Power Adapter
Japan has Type A or Type B electrical outlets so be sure to bring the right power adapters for your devices. Electrical voltage is 100V and the standard frequency is 50/60Hz.
8. Learn Basic Japanese Etiquette
Japan is a country with many unwritten rules. You're a foreigner so you aren't expected to know all of them, but it would be good to familiarize yourself with the basics. Check out this great overview on Japanese etiquette for travelers.
Have Fun!
I'm not an expert on Shirakawago but I hope you find this post useful. I'm only sharing the things I learned from our trips. If you have any suggestions, then please feel free to leave them in the comments section below. You're welcome to join our Facebook Travel Group as well.
Thanks for reading and I hope you see snow in Shirakawago!
OUR GEAR
These are some of the things we brought with us to Shirakawa-go. For more of our gear, have a look inside our backpack. (NOTE: The following links are Amazon and other affiliate links.)
Disclosure
Some of the links in this Shirakawa-go travel guide are affiliate links, meaning we'll earn a small commission if you make a purchase at no additional cost to you. We only recommend products and services that we use ourselves and firmly believe in. We really appreciate your support as this helps us make more of these free travel guides. Thank you!