For us, Vietnam is one of the world's best countries for food. We've been to Vietnam several times now and Vietnamese cuisine always leaves us wanting for more.
My most recent visit to Vietnam was a month-long stay in which I explored the country's diverse cuisine from north to south. I ate my way through Sapa, Hanoi, Hue, Hoi An, Saigon, and the Mekong Delta with the goal of writing a traditional Vietnamese food guide that showcased the best and most interesting dishes Vietnam had to offer.
If you're wondering what to eat in Vietnam, then this Vietnamese food guide will be very useful to you. It lists 45 of the tastiest Vietnamese dishes you can have throughout the country. In trying these dishes, I hope you fall in love with traditional Vietnamese food as much as we have.
This Vietnamese food guide advises you on what dishes to eat, but if you're looking for the best Vietnamese restaurants and street food stalls in key cities throughout Vietnam, then be sure to check out our Hanoi, Ho Chi Minh City (Saigon), Hue, and Hoi An food guides as well. Enjoy!
VIETNAMESE FOOD QUICK LINKS
If you're planning a trip to Vietnam and want to learn more about Vietnamese cuisine, then you may be interested in joining a food tour or taking a cooking class.
TOURS
Save This on Pinterest!
No time to read this traditional Vietnamese food guide now? Click on the save button and pin it for later!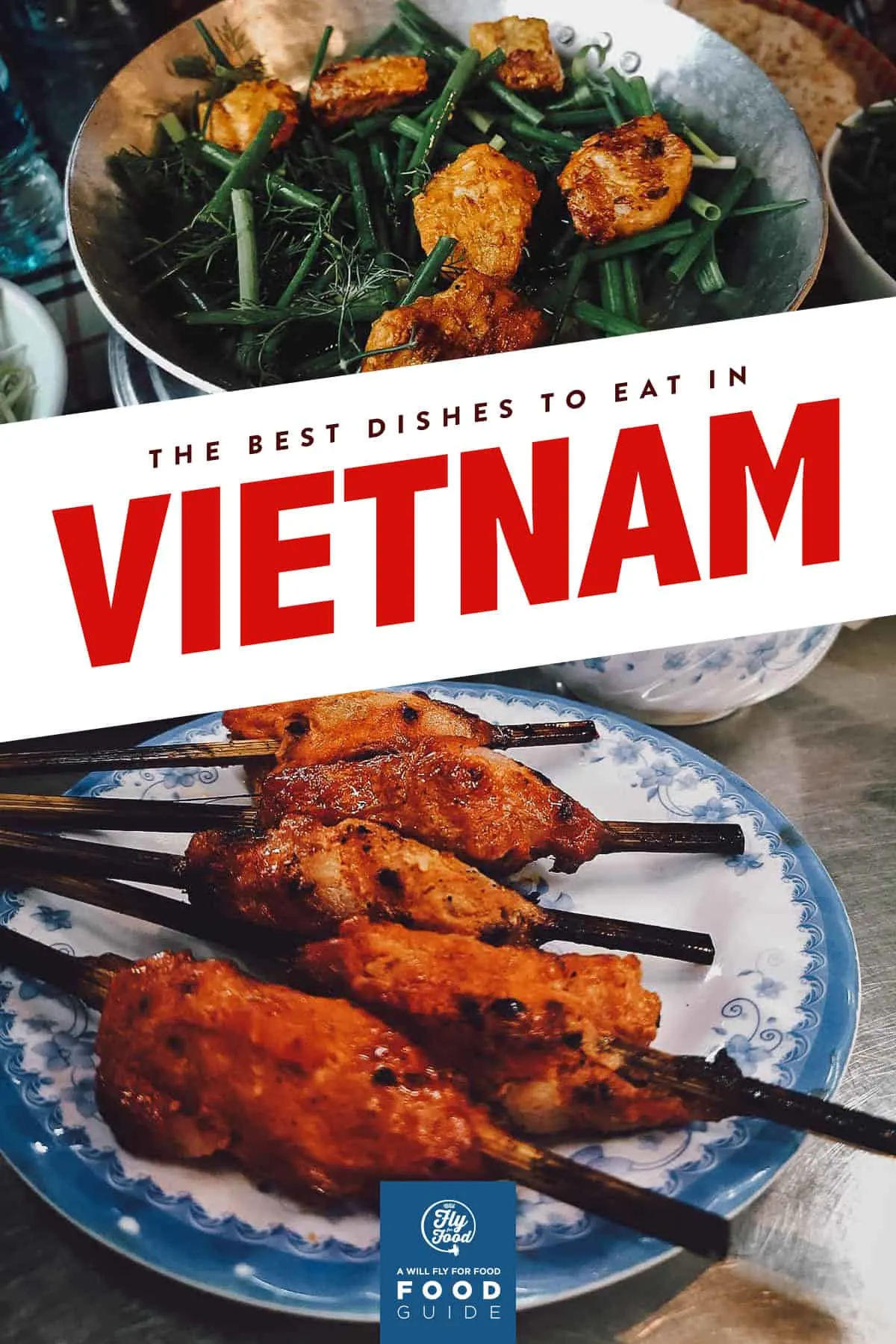 WHAT IS TRADITIONAL VIETNAMESE FOOD?
If I were to use one word to describe traditional Vietnamese food, it would be "balance". Balance is important in all types of cuisine but it seems to be of particular importance in Vietnamese cuisine.
Traditional Vietnamese cuisine aims to strike a balance in different aspects of its food like taste, nutrients, and presentation, and it does so by paying attention to five elements per aspect.
In spices used for example, a balance is sought between sour, bitter, sweet, spicy, and salty. In presentation, cooks aim to have the colors green, red, yellow, white, and black in their food. Vietnamese food is considered one of the healthiest cuisines in the world and this is due in part to a balance of nutrients like carbohydrates, fat, protein, minerals, and water.
I noticed this Yin and Yang in Vietnamese food when we ate deep-fried dishes like nem cua be and banh goi in Hanoi. We're presently living in the Philippines so I'm used to eating deep-fried spring rolls similar to nem cua be.
Our fried spring rolls are typically served with just ketchup or vinegar so I often find them to be one-note and unctuous. In Vietnam however, they're served with a Vietnamese dipping sauce made with water, cucumber slices, fish sauce, and other ingredients. They're also served with a heaping bowl of fresh greens like lettuce, coriander, perilla, and mint which you would dunk into the sauce and eat with the fried bits of food.
So in spite of the Vietnamese spring rolls being deep-fried and oily, the experience of eating them was surprisingly refreshing, and much of that had to do with the balance of ingredients, sensations, and temperatures.
It was an eye-opening experience for me, one that gave me a better understanding and appreciation for the food in Vietnam. I was a fan after that.
THE MOST DELICIOUS VIETNAMESE FOODS
To help organize this Vietnamese food guide, I've divided the dishes by category. Some traditional Vietnamese dishes can fall in more than one category so I tried organizing this list as best as I could. Click on a link to jump to any section.
VIETNAMESE NATIONAL DISHES
What better way to start this traditional Vietnamese food guide than with the country's national dishes – pho, banh mi, and goi cuon? They're among the most well-known dishes in Vietnamese cuisine and something you'll probably have often during your stay in Vietnam.
1. Pho
Pho is one of the most well-known examples of traditional Vietnamese food. Like banh mi and goi cuon, it's one of the most popular foods in Vietnam and regarded as a Vietnamese national dish.
Pho is a noodle soup that originated in the north but it's now popular throughout Vietnam. Regardless of where it's from, it's made with four basic ingredients – clear stock, rice noodles (called banh pho), meat (typically beef or chicken), and herbs.
The origin of pho noodle soup can be traced to early 20th century Nam Dinh Province in northern Vietnam. The higher availability of beef due to French demand resulted in a surplus of beef bones which were then used as the base for modern pho soup.
With the Partition of Vietnam in 1954, over a million people fled from the north to the south, bringing with them their affinity for this beloved noodle soup. This helped popularize pho in other parts of Vietnam, which in turn led to further development of the dish.
Unconstrained by the culinary traditions of the north, variations in meat and broth appeared, as did additional garnishes like lime, bean sprouts, culantro, cinnamon basil, hoisin, and hot chili sauce. Today, several varieties of pho soup exist, most notably pho bac or "northern pho", and pho Sai Gon or "southern pho".
Recipes for northern pho soup tend to use wider rice noodles and a lot more green onions. Garnishes are generally limited only to vinegar, fish sauce, and chili sauce. Southern pho soup, on the other hand, has a sweeter broth and is topped with bean sprouts and a wider variety of fresh herbs.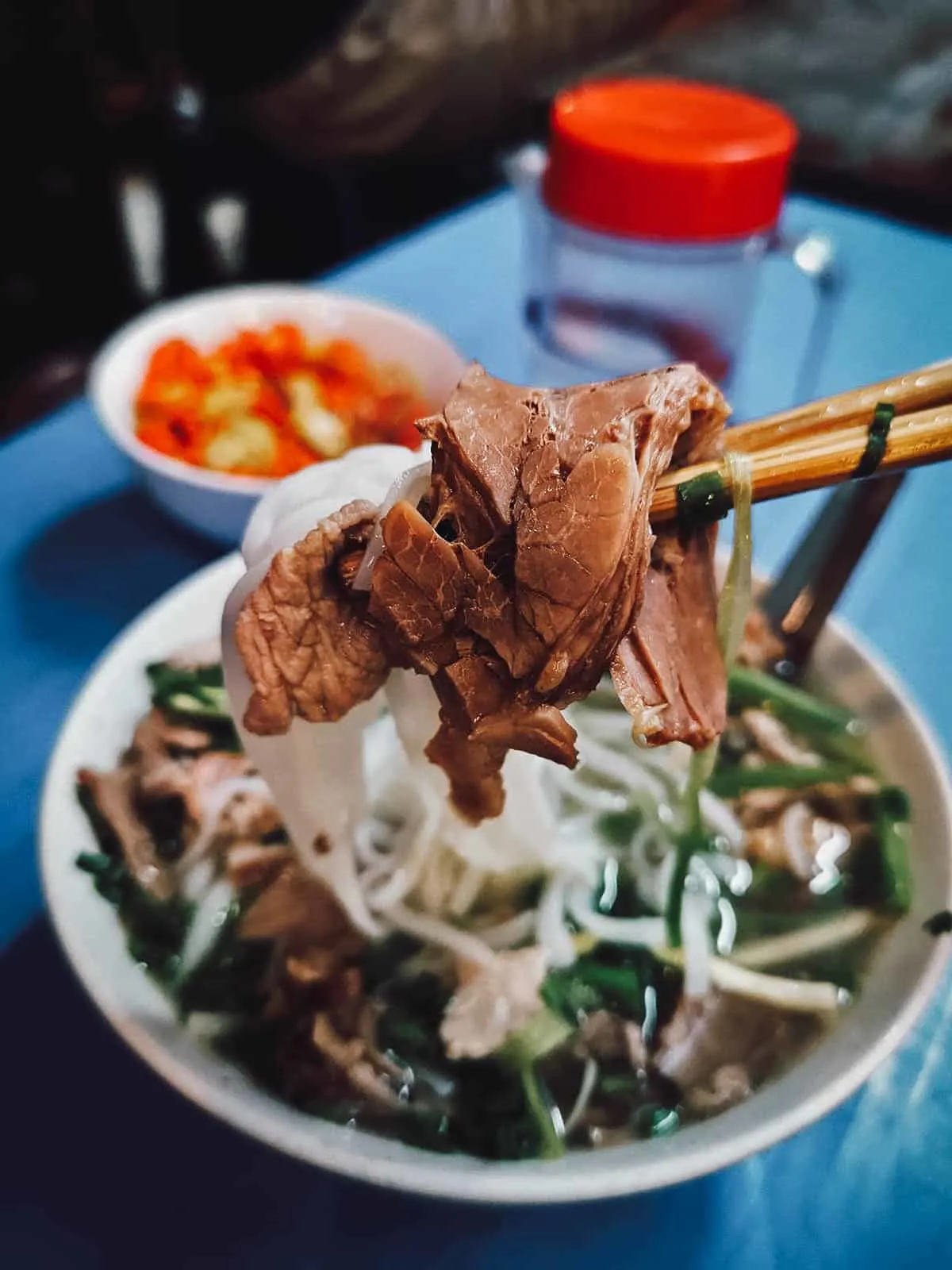 2. Banh Mi
Like pho, banh mi is one of the most well-known examples of Vietnamese food. Even if you aren't that familiar with traditional Vietnamese food or have never been to Vietnam, chances are you've at least heard of banh mi. It's considered a Vietnamese national dish and can be found pretty much anywhere in Vietnam.
Strictly speaking, "banh mi" is the Vietnamese word for the baguette which was introduced by the French during the colonial period. But when most people say "banh mi", they're referring specifically to the baguette sandwich made with different types of meat, vegetables, and condiments.
Pork is frequently used in banh mi sandwiches and comes in many forms like paté, grilled patties, Vietnamese sausage, cold cuts, terrine, and floss. Commonly used vegetables in banh mi include cucumber slices, coriander, pickled carrots, herbs, and shredded radish. But like any sandwich, you can basically put whatever you want in a banh mi so there are many varieties made with other ingredients as well like duck, egg, grilled chicken, fish cake, etc.
No matter what you put in a banh mi, what makes this sandwich truly special is the baguette. They make it so crusty and crunchy on the outside but soft and pillowy on the inside that it sort of crumbles in on itself when you take a bite. Banh mi is so incredibly delicious and one of my absolute favorite foods to eat in Vietnam.
3. Nem Cuon / Goi Cuon
Compared to pho or banh mi, Vietnamese spring rolls (or summer rolls) may not be as well known to many foreigners but they're every bit as delicious.
Known as nem cuon in northern Vietnam and goi cuon in the south, these fresh spring rolls are a Vietnamese national dish. They're traditionally made with shrimp, pork, vegetables, herbs, and rice vermicelli wrapped in banh trang (Vietnamese rice paper).
Vietnamese spring rolls are often served with a peanut hoisin dipping sauce along with other sauces like nuoc mam pha or fish sauce. Soft, light, and savory-sweet, it's a delicious and refreshing Vietnamese food classic.
If you prefer deep-fried spring rolls, then there's an equally popular version of this dish called cha gio (called nem ran in the North).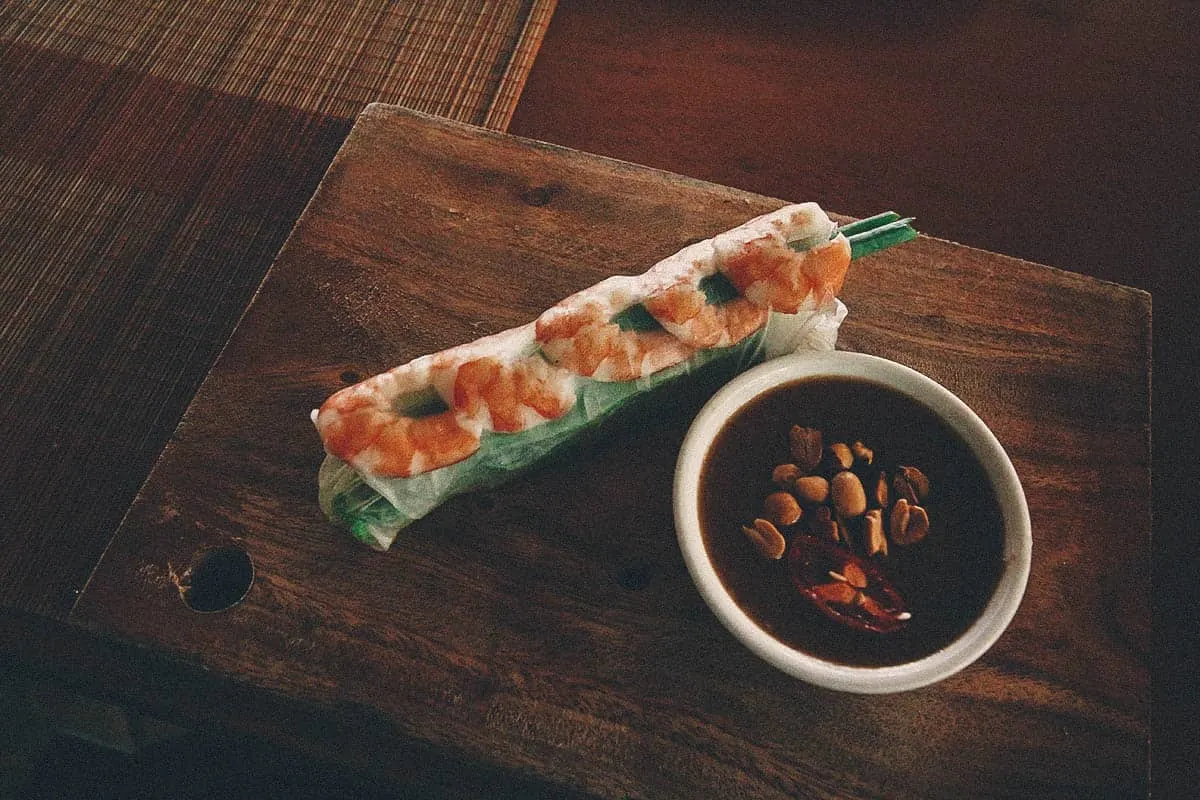 VIETNAMESE STARTERS / SIDES
4. Banh Cuon
Have you ever had those slippery rice noodle rolls served at Chinese dim sum restaurants called chee cheong fun? Banh cuon is similar to that. It's a northern Vietnamese noodle dish that's become popular throughout Vietnam.
Banh cuon are rice noodle rolls made from a thin sheet of steamed fermented rice batter filled with seasoned ground pork and wood ear mushrooms. Topped with herbs and fried shallots and served with a bowl of nuoc cham (Vietnamese fish sauce), they're typically served with a side dish of gio lua (Vietnamese pork sausage), sliced cucumber, and bean sprouts.
I was watching them make it in Hanoi and one woman would ladle a scoop of the batter onto a convex metal surface where it would quickly solidify into a thin delicate sheet. Another woman would then fill it with ingredients and roll it up before cutting with scissors into bite-sized pieces. All of this happened with a quickness and fluidity of motion that was mesmerizing to watch.
Banh Cuon is typically made with pork (banh cuon nhan thịt) but you can have them filled with other ingredients as well, like shrimp (banh cuon nhan tom tuoi). They're delicious no matter what they're made with – soft, slippery, and a little gummy with bits of crunchy fried shallots and fresh herbs.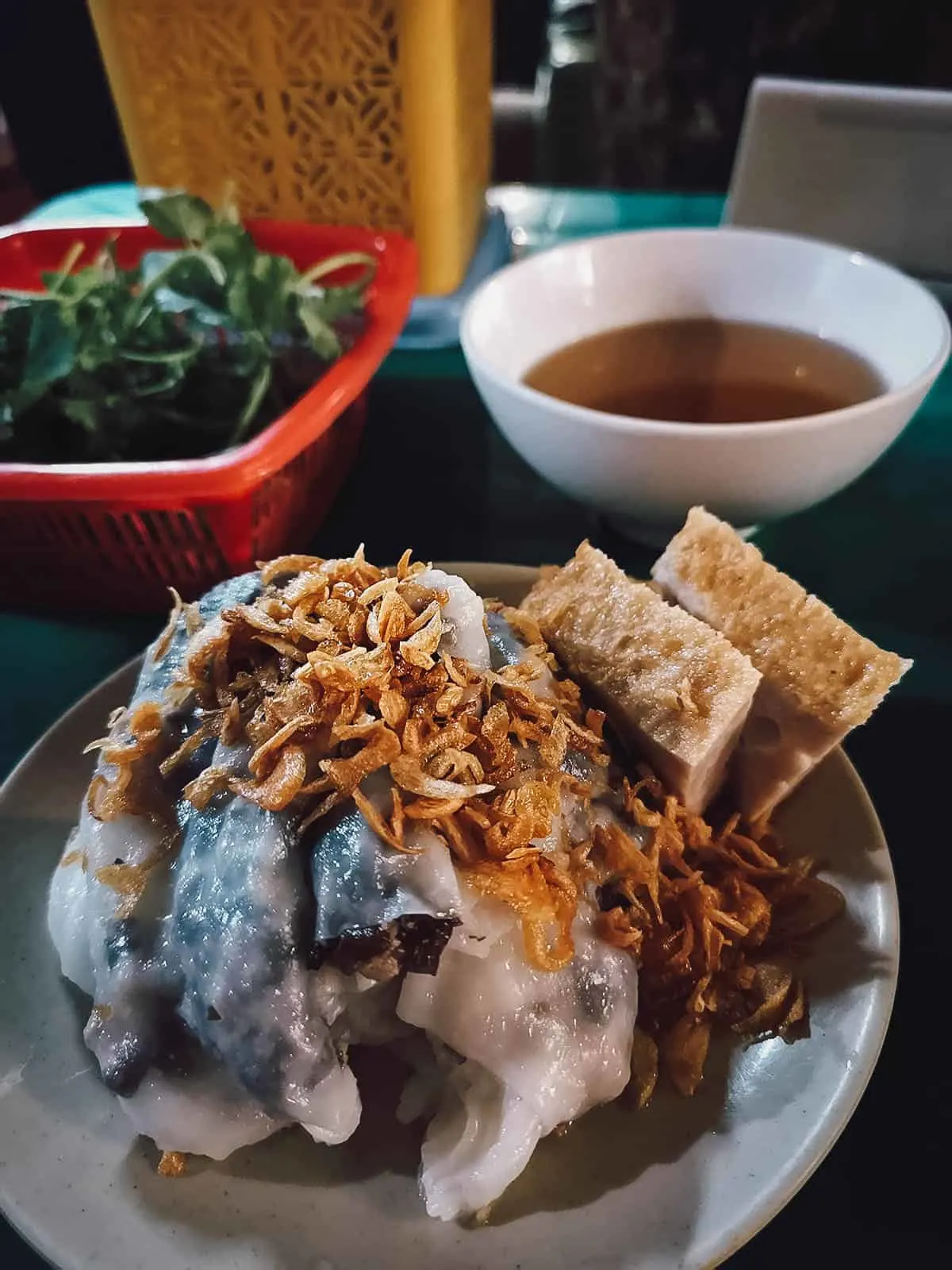 5. White Rose Dumplings
Like cao lau, banh bao banh vac (or White Rose Dumplings) is a regional Vietnamese dish available only in Hoi An. The recipe for banh bao banh vac is a well-guarded secret that's been kept in the family for three generations.
Invented and popularized by the grandfather of the owner of White Rose Restaurant, banh bao banh vac is made with translucent white dough filled with spiced minced shrimp or pork. The wrapper is bunched up to resemble flowers which is how the dumplings get their English name. They're topped with crispy fried shallots and served with a special dipping sauce made with shrimp broth, chilies, lemon, and sugar.
Walking inside Hoi An's Central Market, I saw many Vietnamese food stalls selling "White Rose Dumplings". I thought they were knock-offs of the original but as it turns out, nearly all the white rose dumplings sold in Hoi An are supplied by White Rose Restaurant.
When you take a bite of these dumplings, you may notice that the skin is firmer and chewier than traditional Chinese dumplings like har gow. I read that the dough is made with water drawn from the Ba Le Well, so that may have something to do with its chewier texture.
It's said that the water is filtered and purified 15-20 times before being mixed with the rice paste to form the airy dough. Whatever the secret is, these dumplings are delicious and a must-try in central Vietnam.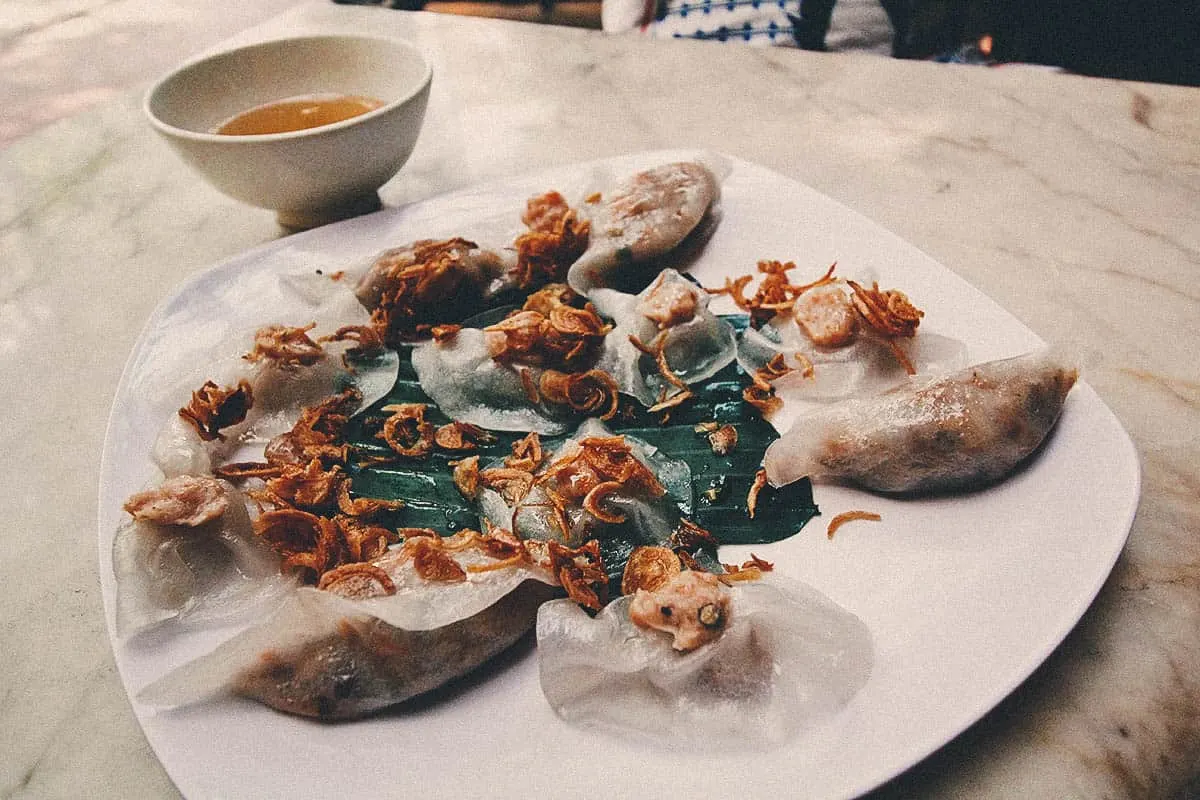 6. Banh Hue
Banh hue refers to a family of rice flour cakes popular in Hue and central Vietnam. Types of banh hue include banh beo, banh nam, banh loc, banh ram it, banh uot, and cha tom.
Banh beo is perhaps the most well-known among Hue's family of rice flour cakes. At its most basic, it consists of a steamed rice cake topped with dried shrimp and pork rinds, but it can be topped with other ingredients as well like scallions, roasted peanuts, mung bean paste, and fried shallots. It's served with a side of nuoc cham (fish sauce).
The different types of banh hue vary in presentation, ingredients, and method but they all seem to be made with rice flour and shrimp in some form. Because the recipes share similar ingredients, they taste relatively similar – silky, soft, and loaded with umami.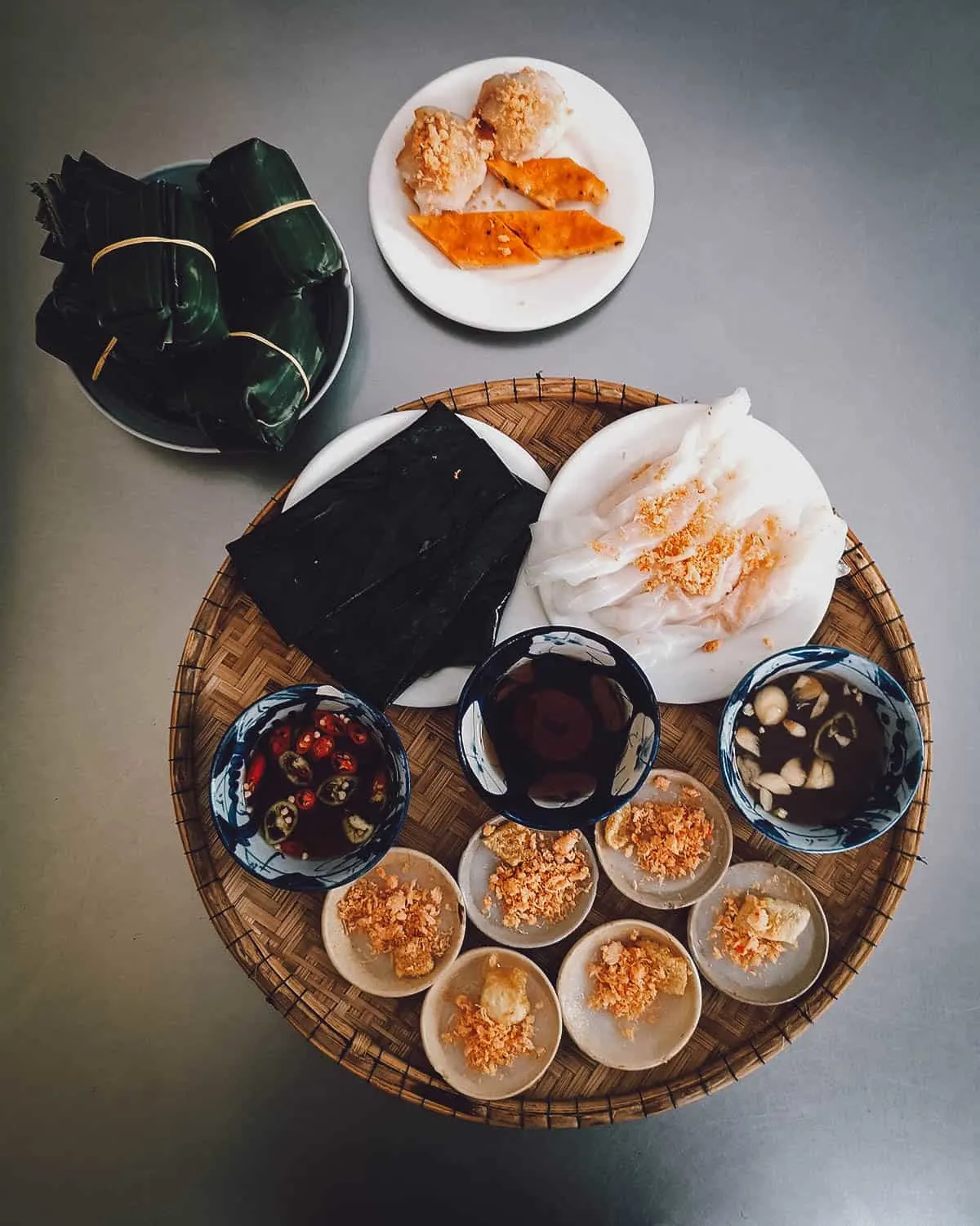 7. Chao Tom
Chao tom is a specialty of Hue in central Vietnam. It consists of prawns that are seasoned and mashed into a paste before being wrapped around a stick of sugar cane. The chao tom is then steamed to set its shape before being grilled or deep-fried.
To eat, you cut the meat off the sugar cane and wrap it in lettuce with fresh herbs and some sweet chili sauce. Smokey, savory, and sweet, it's a springy shrimp appetizer that's always been one of my favorite traditional Vietnamese dishes.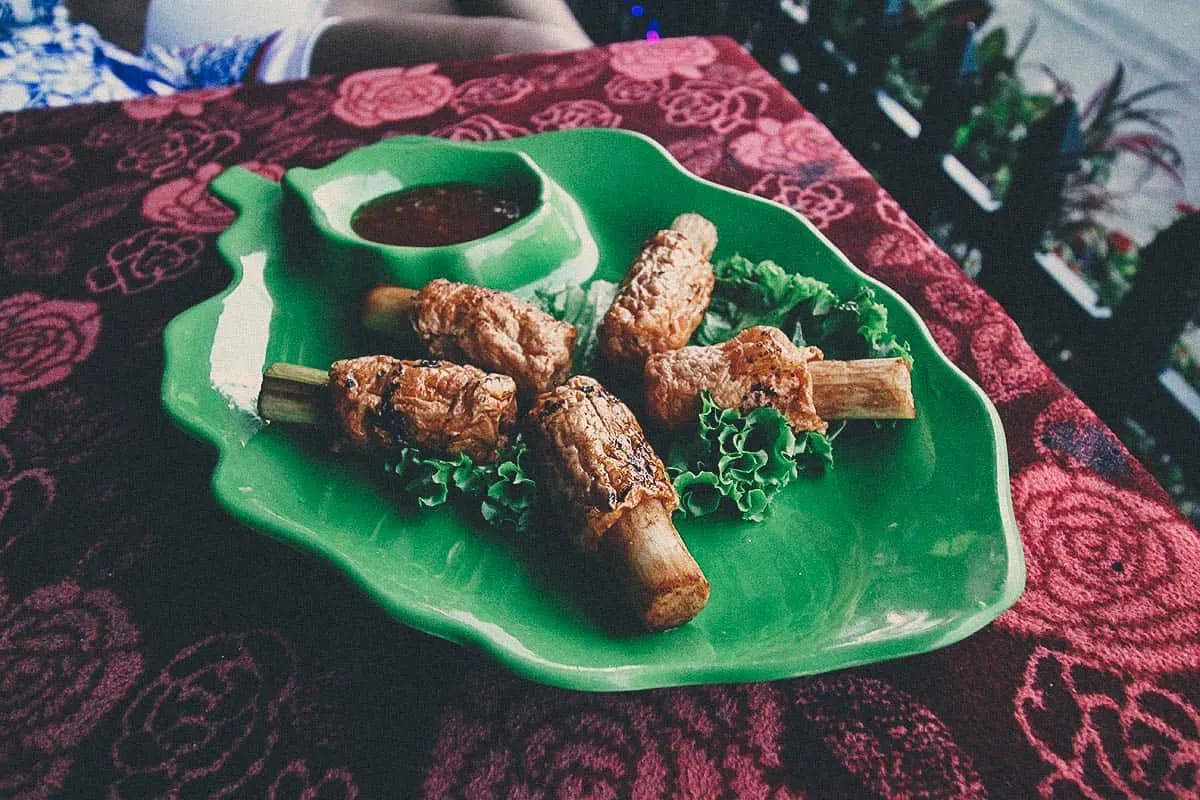 8. Bo La Lot
Thit bo nuong la lot, or bo la lot for short, is a traditional Vietnamese dish made with ground beef wrapped in wild betel leaves and grilled over charcoals. It's one of the more unique and interesting dishes you'll find in Vietnam.
What makes bo la lot special and unique are the betel leaves. Seasoned ground beef is wrapped in piper lolot leaves from the Piper sarmentosum plant, then placed over a charcoal grill to cook. Soon as the leaves are heated, they're said to emit a unique, incense-like fragrance that's both medicine-y and perfume-y.
I stood watching the lady grill our bo la lot and though the smell wasn't as pungent as I expected it to be, I did get a whiff of its distinctive aroma. An aromatic food, it smelled pretty much how it looks – very green.
We tried bo la lot in Ho Chi Minh City but I believe it's a food you can find throughout Vietnam. Recipes vary but if I understand correctly, the main regional differences lie in what spices are used to season the beef.
To me, bo la lot tasted like heavily spiced hamburger meat wrapped in a smokey, peppery, aromatic leaf. Served with rice paper, fresh greens, herbs, bean sprouts, rice vermicelli, pickled vegetables, and nuoc cham (fish sauce), it's interesting and fun to eat and makes for great beer chow no matter where you are in Vietnam.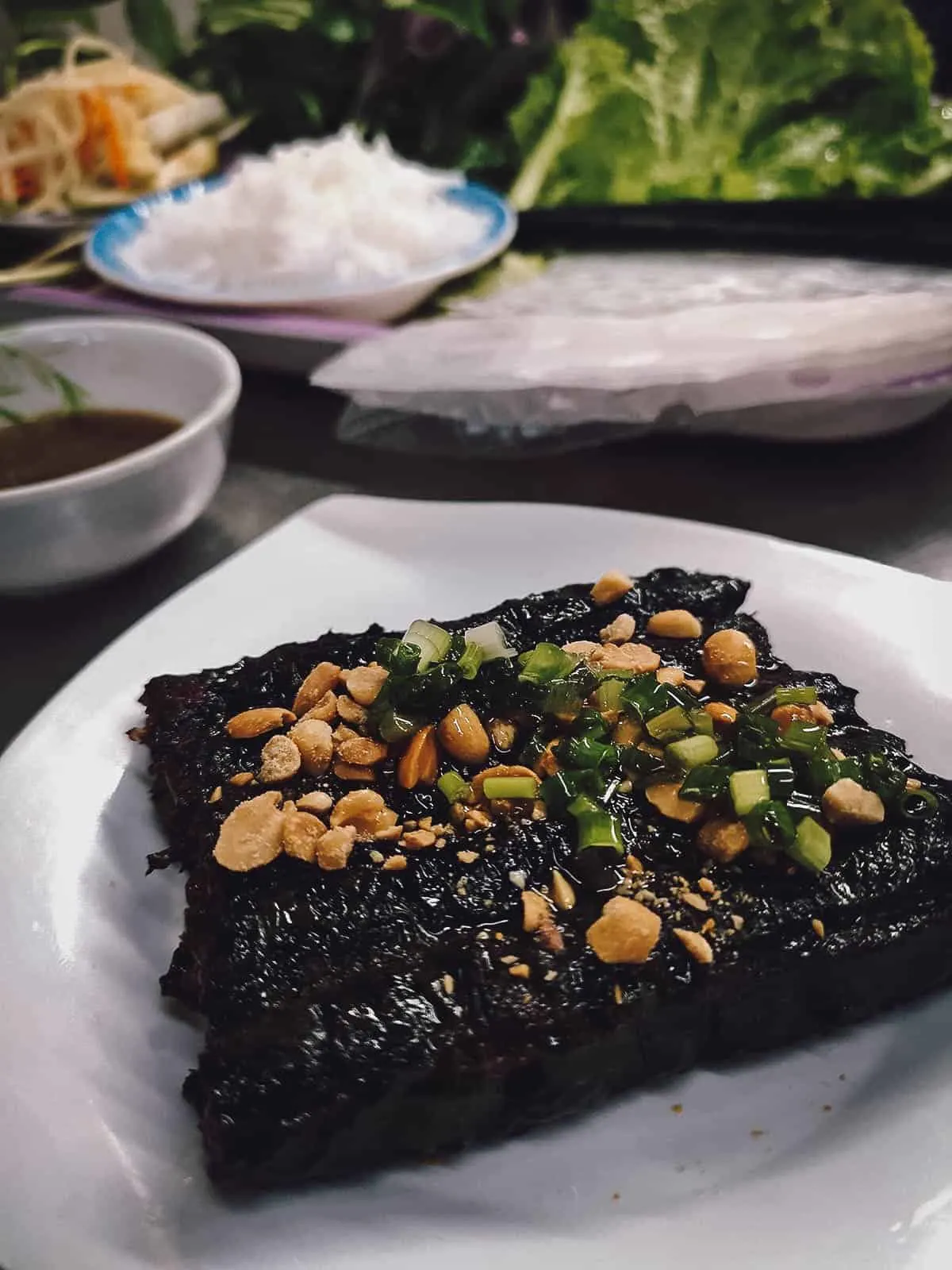 9. Sup Bap Cua
Sup bap cua is Vietnamese crab and corn egg drop soup. We first heard about this Vietnamese dish on the Saigon episode of Luke Nguyen's Street Food Asia. I love crab and egg drop soup is one of my favorite comfort foods, so this was one of the traditional Vietnamese dishes I was most excited to try in Ho Chi Minh City.
The soup contains crab meat, shredded chicken, whole quail egg, corn, mushroom, loads of coriander, and ribbons of dropped egg in a broth thickened with tapioca starch. It's typically served in a plastic cup and seasoned with sesame oil, pepper, and chili.
We were having a seafood feast along Vinh Khanh Street in Saigon when a motorbike carrying some type of street food rode by and parked a few meters down the road. I didn't notice it at first because I had my face latched onto a crab claw, but when Ren told me a sign saying "sup bap cua" was pasted on the side of the man's styrofoam box, I jumped up and practically flew to him.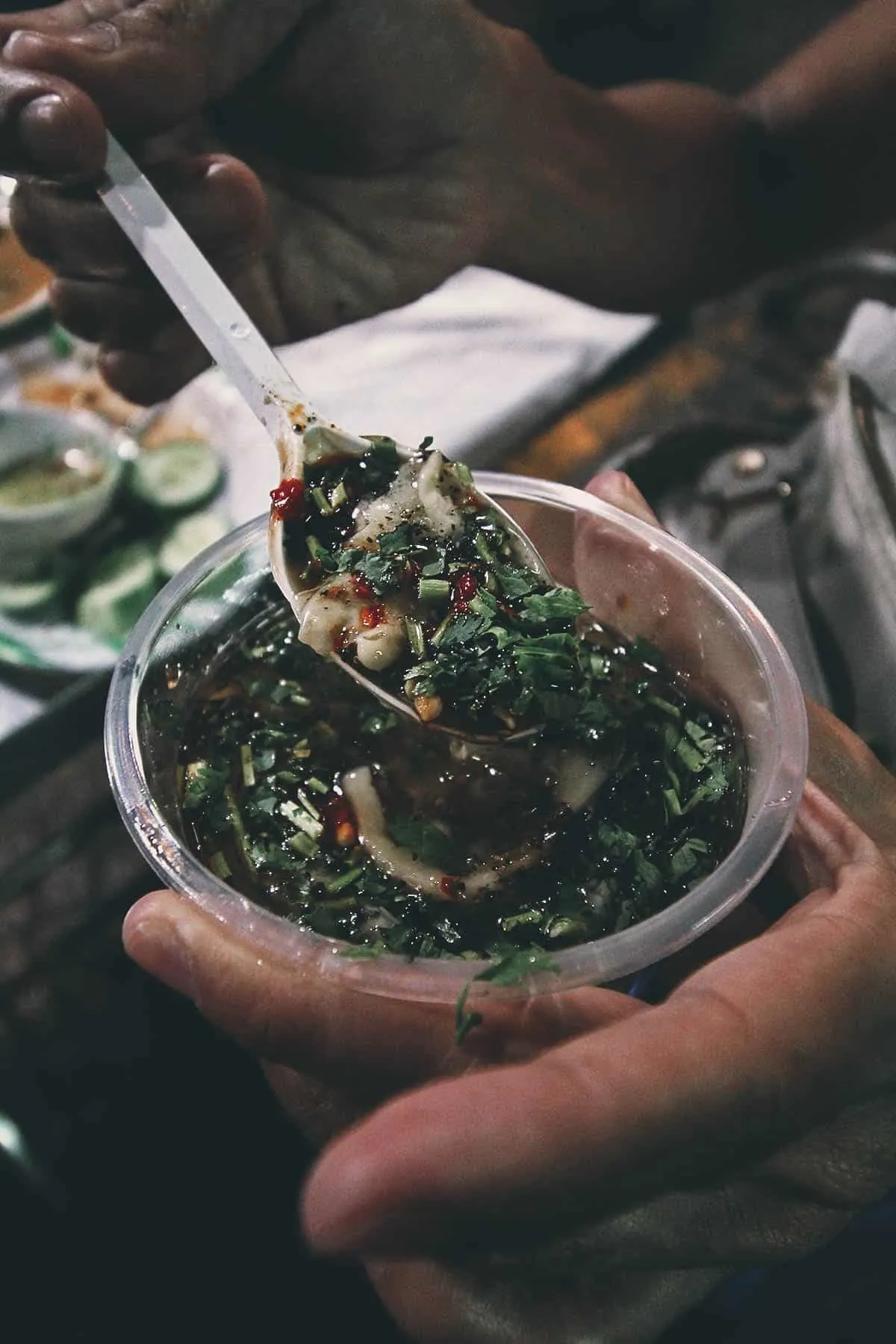 10. Bun Dau Mam Tom
Bun dau mam tom may be the most polarizing dish in this Vietnamese food guide. I enjoyed it because I'm used to the taste of fermented shrimp paste, but it clearly isn't for everyone.
Bun dau mam tom refers to a platter of bunched up rice noodles, deep-fried tofu, sliced cucumber, and fresh herbs. If you get the version with meat, then you can expect things like fish balls and steamed pork as well.
What makes it off-putting for many is the Vietnamese mam tom dipping sauce. It's made with finely crushed shrimp or krill that's been fermented for weeks so it's extremely pungent. Only try this if you have a daring palate.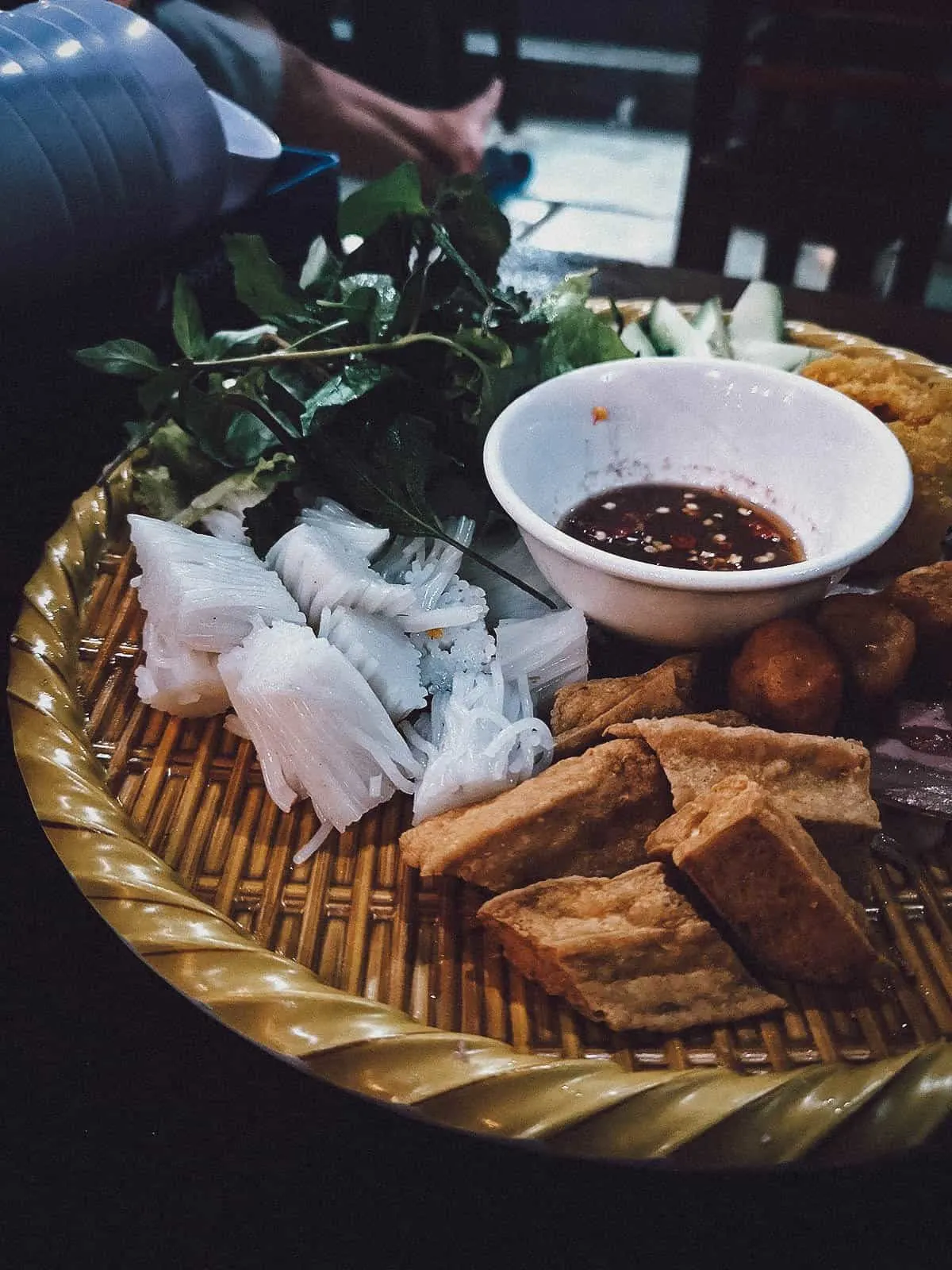 11. Banh Cong
Banh cong is a popular dish in southern Vietnam. It's a muffin-shaped snack made with mung beans, taro, and whole shrimp with their heads and shell still intact.
To make this Vietnamese dish, each ingredient is layered in the deep ladle-like tool used to cook it. Once layered, the ladle is filled with a wheat and rice flour mixture before being topped with shrimp and submerged in oil to deep-fry.
After a few minutes of frying, the banh cong is removed from the ladle and served with nuoc mam and the usual basket of Vietnamese fresh greens. As you can see below, the cake's coating is crisp but the inside is soft and muffin-like in texture.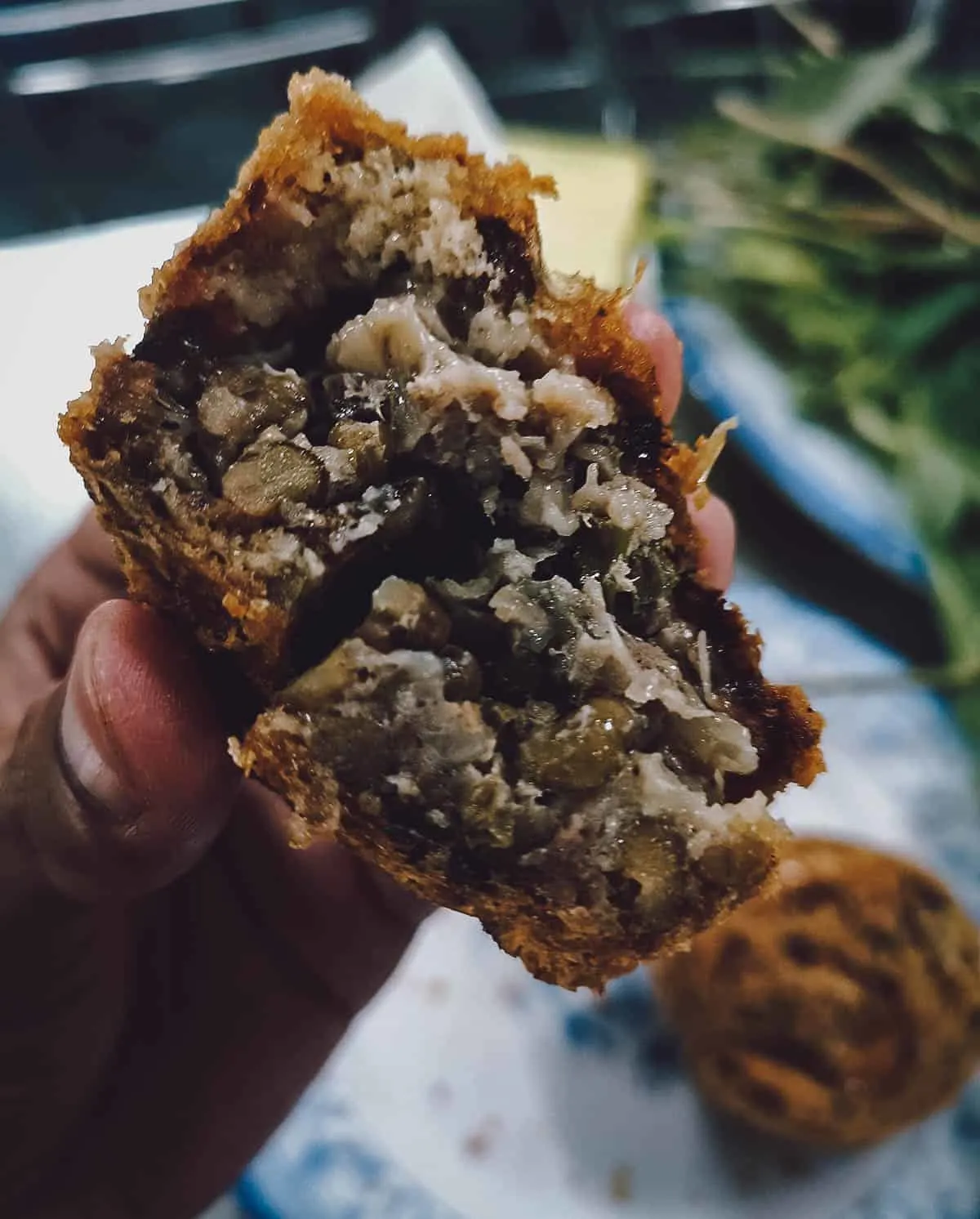 12. Nem Cua Be
Nem cua be is a type of cha gio or deep-fried spring rolls made with crab meat. It's a specialty of Hai Phong, a coastal province east of Hanoi in northern Vietnam.
Aside from crab meat, the deep-fried spring rolls also contain pork, egg white, kohlrabi (cabbage), carrot, wood ear mushroom, bean sprouts, and vermicelli. As previously described, it's commonly eaten as a side dish together with bun cha.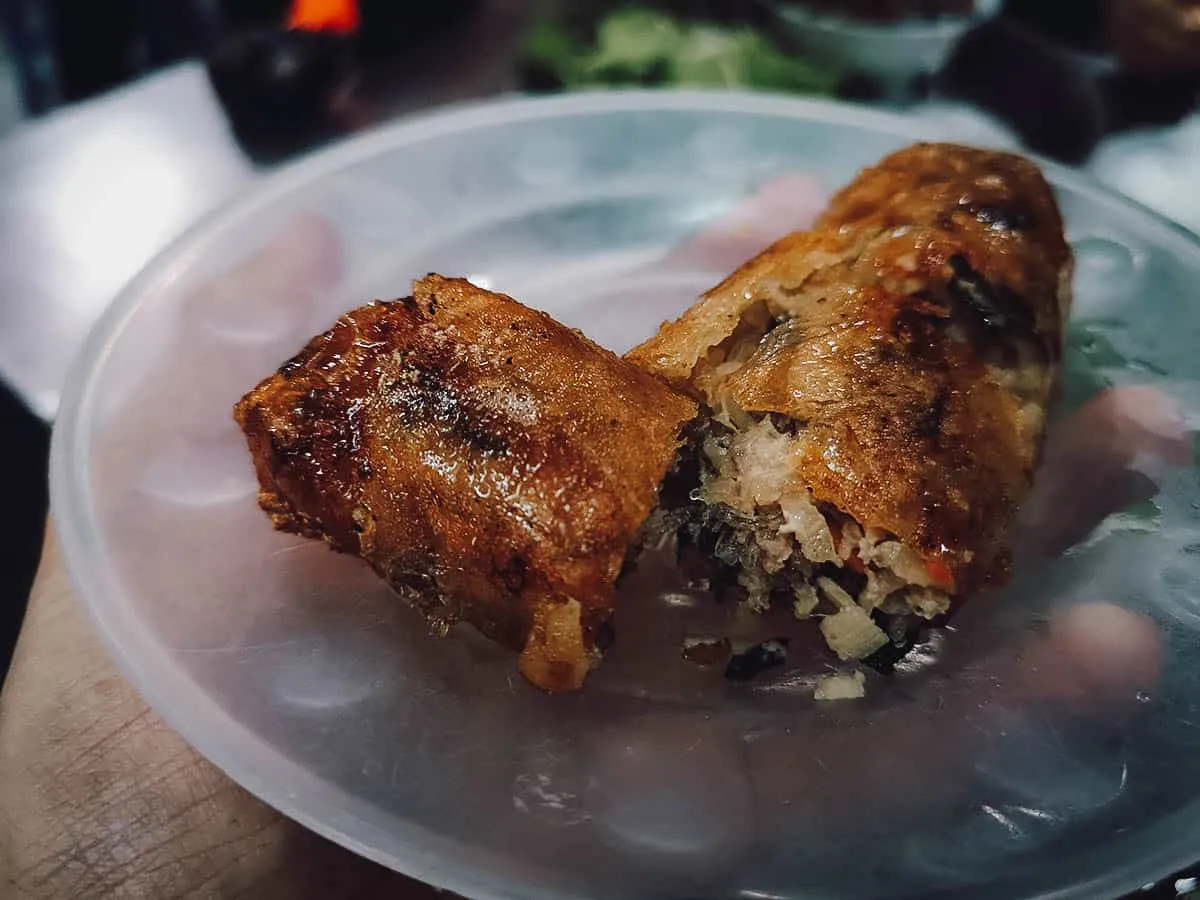 13. Bot Chien
Bot chien is one of the most popular Vietnamese street foods from Ho Chi Minh City. TV chef and restaurateur Luke Nguyen described it as one of his favorite Vietnamese foods growing up.
Bot chien is basically rice flour mixed with tapioca starch that's steamed, cooled, and then cut into flat squares before being pan-fried in lard with some egg and green onions until golden brown and crispy. If you're familiar with Malaysian or Singaporean food, then you may find it similar to char koay kak or chai tow kueh ("carrot cake"), except is isn't made with any daikon radish.
Bot chien is much crispier than Malaysian char koay kak but still chewy and gummy on the inside. It's served with a refreshing side of green papaya salad and a thickened sweet sauce to offset the oiliness.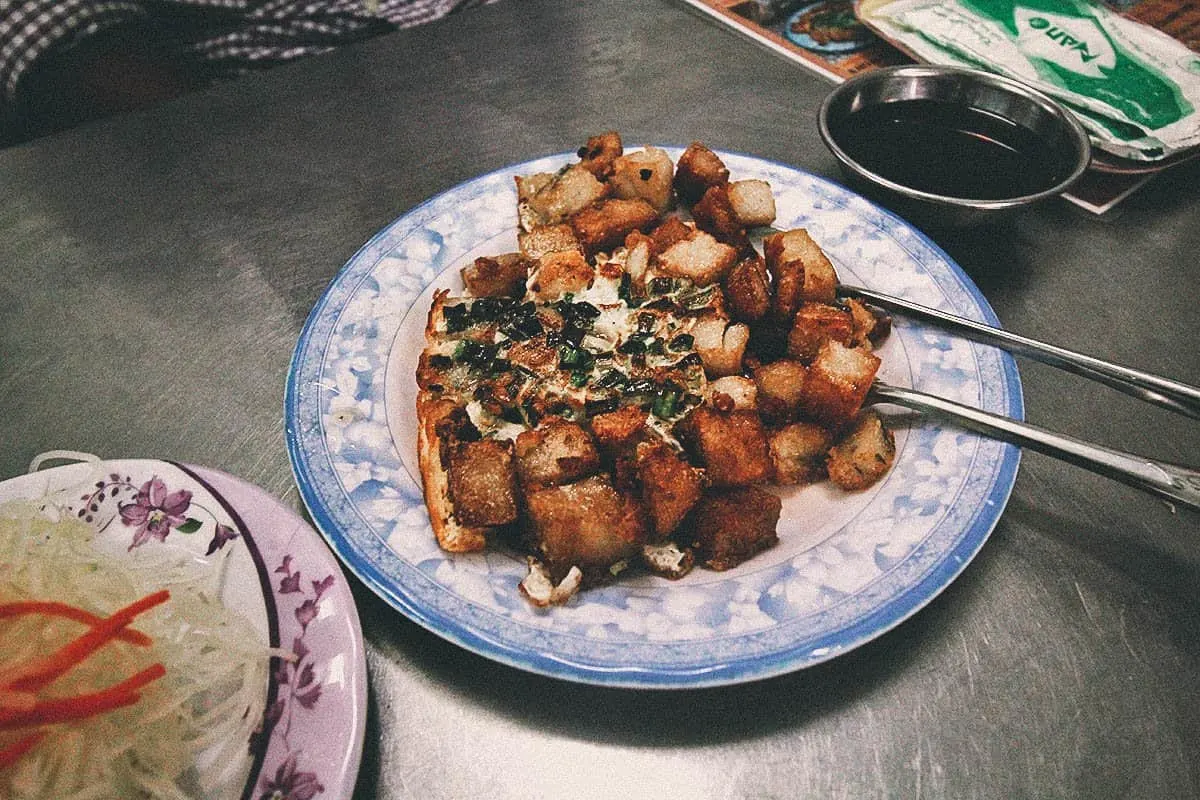 14. Banh Trang Nuong
Banh trang nuong refers to round crunchy rice crackers cooked over charcoal and topped with any number of ingredients. They're a popular night time snack food that's often referred to as "Vietnamese pizza".
To make, quail or chicken egg is beaten and mixed with spring onions before being poured over Vietnamese rice paper. This keeps the rice paper from burning and holds all the toppings together.
Toppings vary but we had them on this food tour in Saigon and one was topped with shredded chicken and another with beef. The cracker is ultra crisp and eggy and goes very well with beer.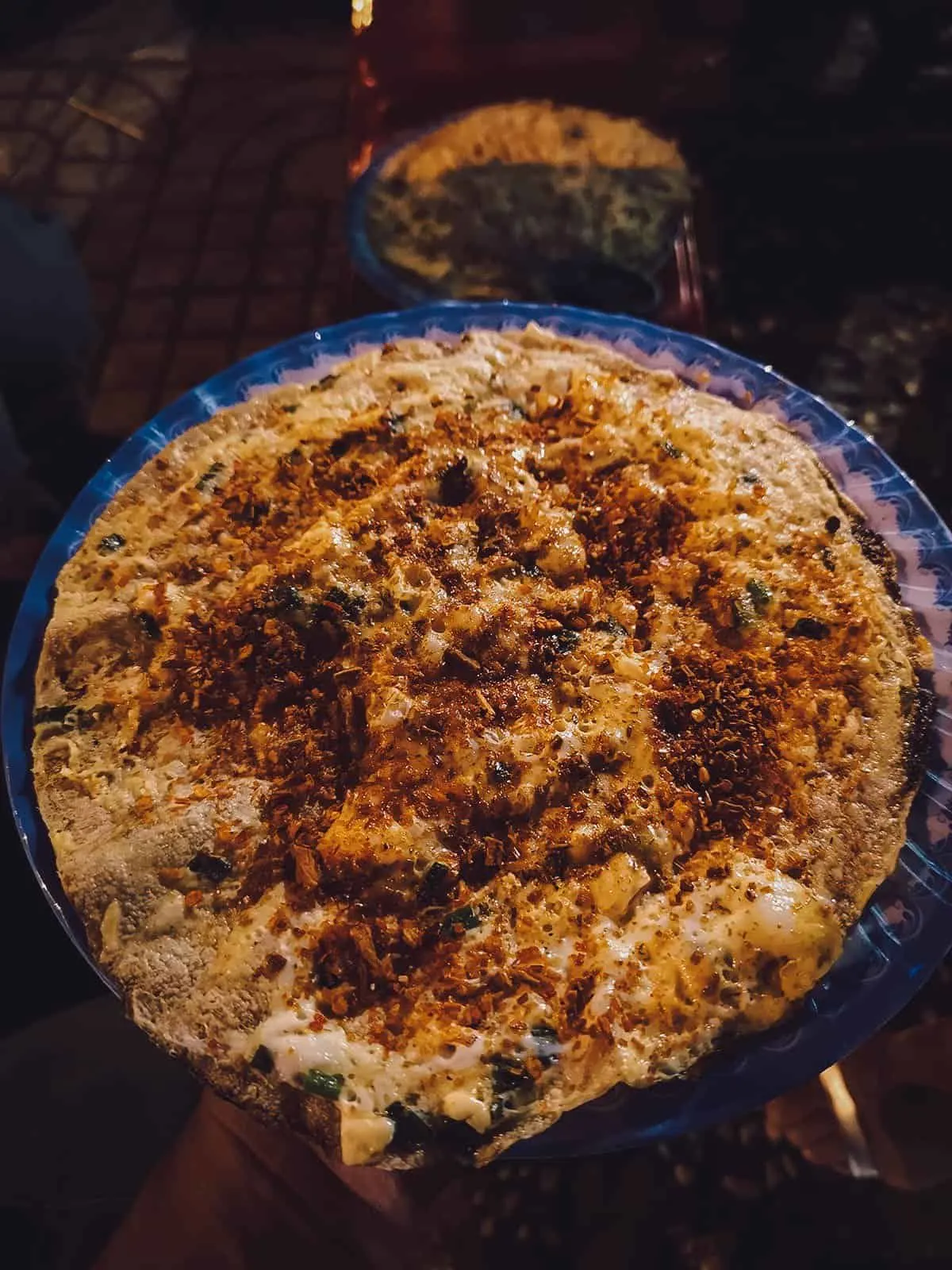 15. Banh Goi / Banh Tom
I don't know if there's a collective term for these deep-fried Vietnamese fritters. The famous street food stall we went to in Hanoi had trays full of different types of pre-fried dumplings. Point to whichever ones you want and they'll throw them into a pot of hot oil to refry and crisp up.
One of the more popular types of Vietnamese fritter is banh goi (lower half of plate) which is like a Vietnamese empanada filled with minced pork, mushroom, glass noodles, and a quail egg. The filling is placed in the center of the pastry skin which is then folded and pinched closed in a half circle before being deep-fried till golden brown and crispy.
Banh goi means "pillow cake" because it's shape is said to resemble a pillow. Next to the banh goi below is banh tom which is like a Vietnamese sweet potato shrimp fritter.
Whichever fritter you order will be served with a basket of fresh greens, herbs, and a dipping bowl of nuoc cham (fish sauce). Dunking the fried cakes into this bowl with a few greens was pure magic.
Despite being deep-fried, I was surprised by how refreshing the dumplings were because of the greens and dipping sauce. There was virtually no hint of its oiliness! This experience taught me a lot about the Yin and Yang of Vietnamese food.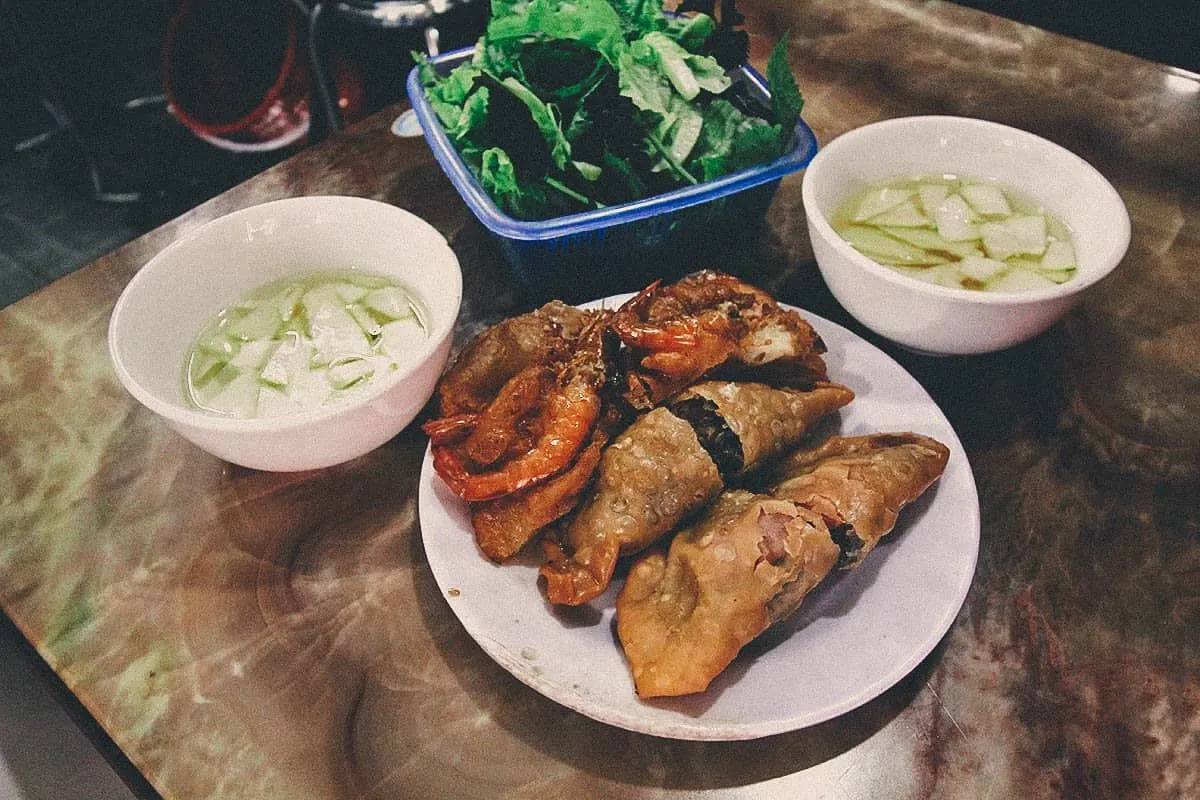 16. Banh Xeo / Banh Khoai
Banh Xeo is another Vietnamese food favorite. It's a crispy crepe made with fried rice flour batter filled with pork belly, shrimp, green onions, and bean sprouts.
To make banh xeo, the batter is poured into a hot skillet and then filled with the ingredients before being folded in half like an omelette. They actually look like omelettes because of their shape and color but they aren't made with any eggs. They get their yellowish color from turmeric mixed into the batter. The name banh xeo literally means "sizzling cake" because of the sound it makes when the rice batter hits the hot skillet.
Banh Xeo is eaten by wrapping pieces of it in rice paper (banh trang) with fresh herbs like coriander, mint, and perilla before dipping into nuoc mam pha (or nuoc cham). Despite being fried, you don't really notice the oiliness too much because of the fresh greens and fish sauce. Crisp on the outside but moist on the inside, banh xeo is delicious and a lot of fun to eat.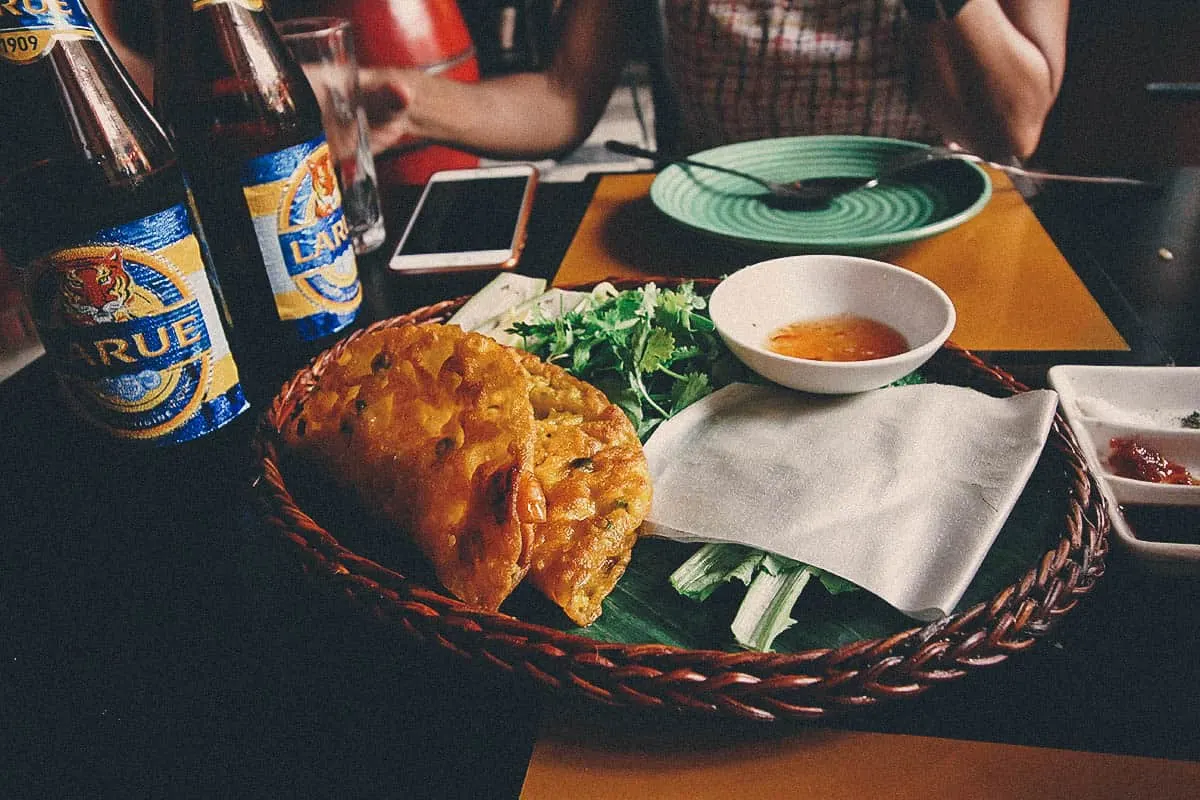 Banh khoai is a very similar dish that you can find in Hue. It's basically a much crunchier version of banh xeo, perhaps due to the addition of soda water in the batter.
It's also served with a side of fresh leafy greens, herbs, and a few slices of star fruit or young banana. But unlike banh xeo, banh khoai isn't wrapped in rice paper and it's served with a hoisin dipping sauce instead of nuoc cham (fish sauce).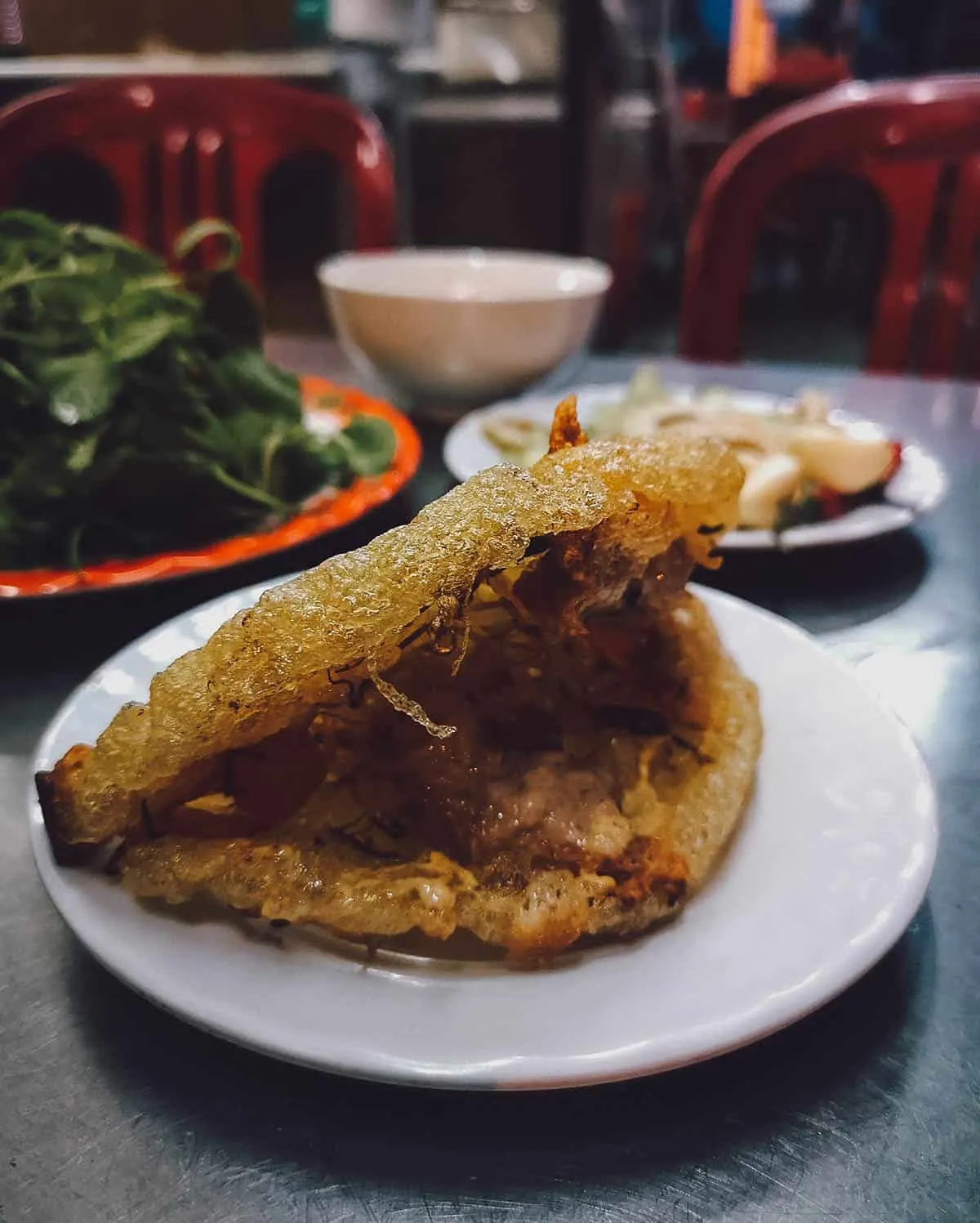 17. Gio Lua / Cha Lua
Known as gio lua in northern Vietnam and cha lua in the south, this is a common type of Vietnamese pork sausage that's often served in many Vietnamese dishes like bun thang and banh mi. It's made by pounding pork until pasty, then seasoning it with spices and nuoc cham.
After being seasoned, the mixture is then tightly wrapped in banana leaves and boiled. The cylindrical banana leaf parcel is submerged vertically in boiling water and typically left to cook for about an hour. A common way to tell if the sausage is ready is to drop it onto a hard surface. If it bounces, then it's good.
Aside from finding it in many Vietnamese dishes, we bought cha lua at Gio Cha Minh Chau in Saigon upon the recommendation of our homestay host. We were looking for interesting Vietnamese souvenir food items to bring back home and she suggested cha lua.
The sausage is already cooked so all you have to do is slice it and pan fry before eating. If you like SPAM, then you'll probably enjoy this. It has a slightly gummy and chewy texture that's reminiscent of fish cake.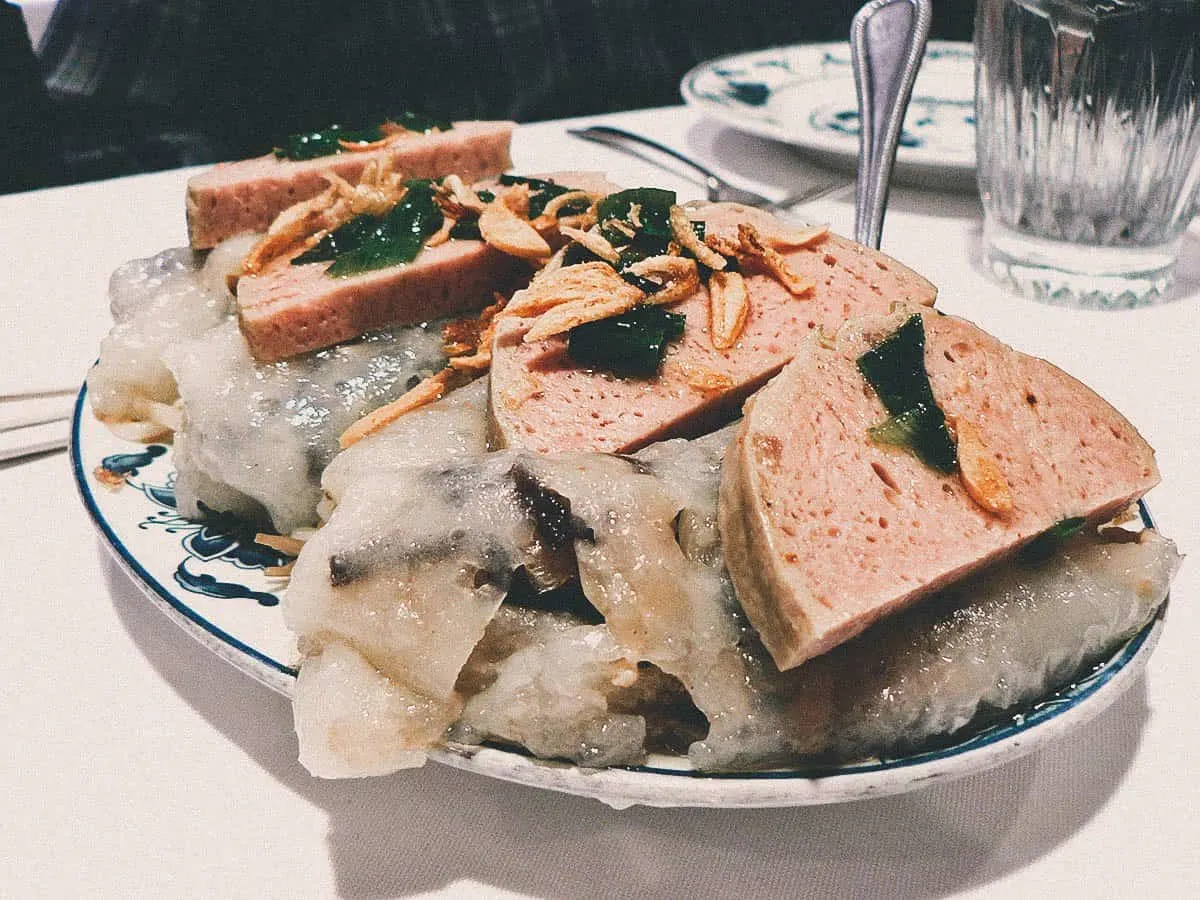 "cha lua banh cuon" by stu_spivack, used under CC BY-SA 2.0 / Processed in Photoshop and Lightroom
VIETNAMESE NOODLE DISHES
18. Bun Bo Hue
Bun bo is one of the most popular noodle soups in Hue. It's made with thin rice noodles, thin slices of beef, and large chunks of beef shank.
To make the broth, pork and beef bones are simmered with lemongrass then seasoned with fermented shrimp paste, annatto, sugar, and chili oil. It's then garnished with chopped green onion, slivers of raw onion, and cilantro.
Bun bo hue is typically made with brisket and beef shank but it can contain other ingredients as well like oxtail, pig's knuckle, crab balls, and congealed pig's blood. It's served with a basket of fresh greens like mint, perilla, fish wort, banana blossom, and bean sprouts.
Bun bu hue is an absolutely delicious noodle soup and one of my favorite foods to eat in Vietnam. The broth is so flavorful and the beef shank super tender with delicious bits of soft and chewy tendon. If you were to have just one dish in Hue, then it should be bun bo.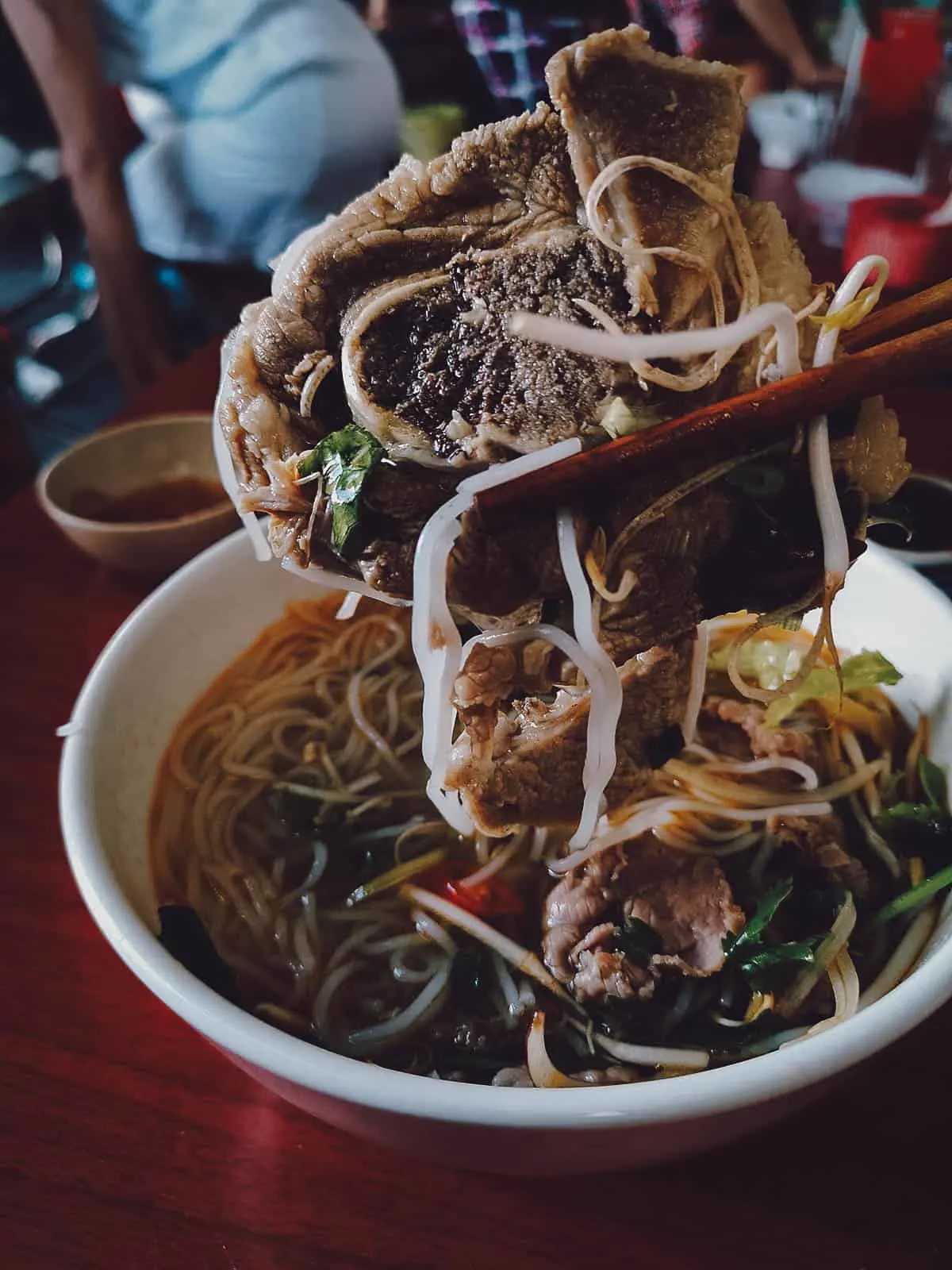 19. Cao Lau
Cao Lau is perhaps the single most important Vietnamese dish in Hoi An regional cuisine. If you were to have just one dish in Hoi An, then this should be it.
Cao Lau is a dry noodle dish made with rice noodles topped with cha siu pork, fresh greens, bean sprouts, herbs, rice crackers, and fried pork rinds. Like banh bao banh vac, what makes this dish so quintessentially Hoi An is that authentic cao lau noodles need to be made with water sourced from a specific local well.
People claim that the water needed to make the rice noodles must be drawn from a local Cham well called the Ba Le Well. The alkaline water from this well is said to be the secret to the chewier texture of cao lau noodles.
Wood ash from trees that grow on Cham Island is mixed with the well's alkaline water to create a lye solution used to pre-soak the rice noodles. This is what gives them their distinctively yellow tinge. After soaking in the lye solution, the noodles are then smoked over an ash-burning furnace to give them a smoky flavor.
It sounds like a lot of work just to prepare noodles but the results speak for themselves. Smokey and chewy, this noodle dish is delicious and an absolute must-try in central Vietnam.
Mythical stories about the Ba Le Well have made some people skeptical about its properties, but I've heard similar claims about the fog in San Francisco and the water in Philadelphia playing a critical role in their bread production. Folklore aside, I don't think it's that far-fetched.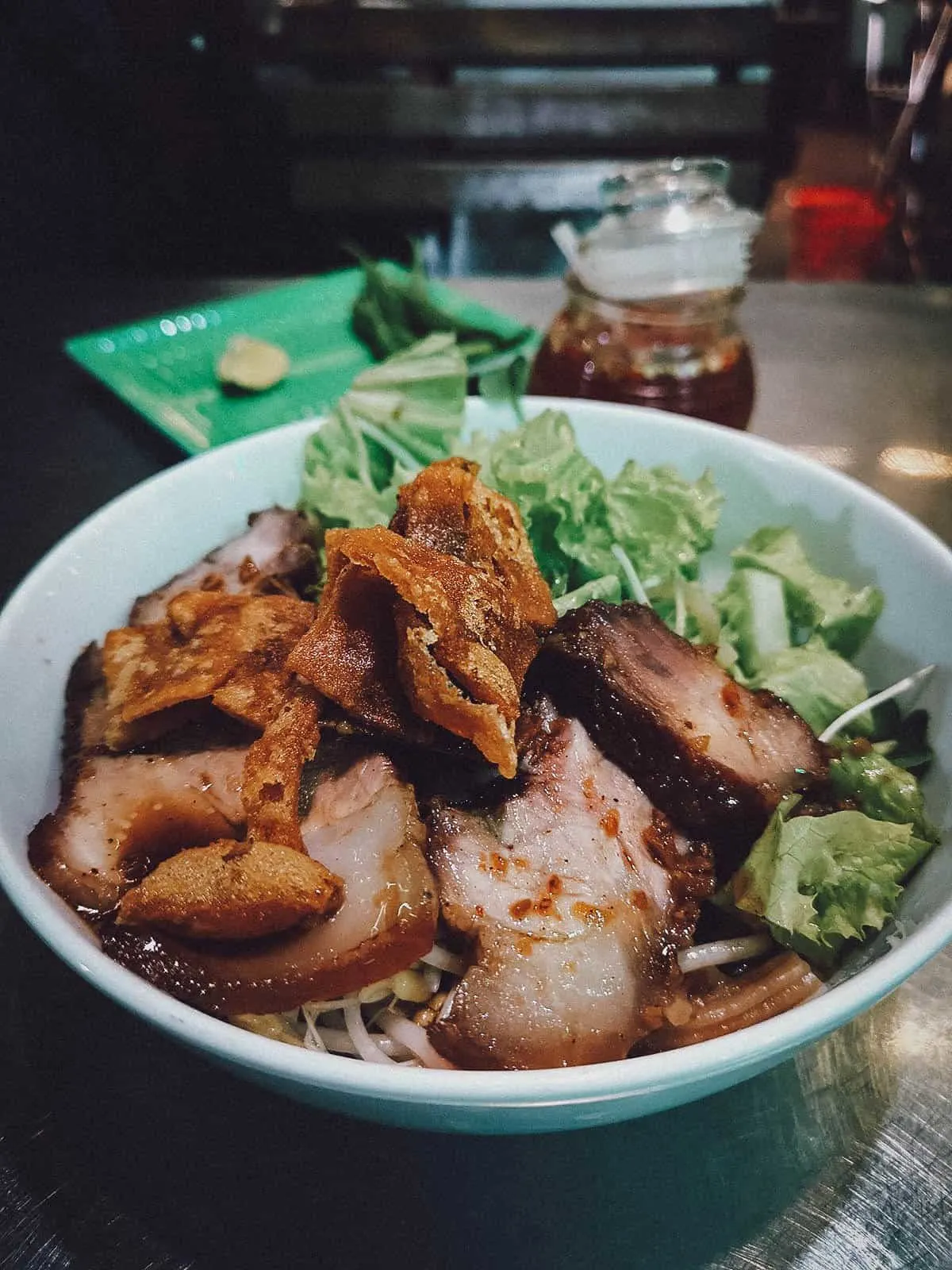 20. Mi Quang
Like cao lau, mi quang is a specialty of Quang Nam Province. A quintessential Da Nang food, what cao lau is to Hoi An, mi quang is to Da Nang.
Mi quang is a rice noodle dish made with chicken (or pork) broth topped with a host of proteins from chicken to shrimp to snakehead fish. It's served with a bowl of fresh greens and herbs along with a few condiments.
Unlike cao lau that's served dry, mi quang is a slightly soupier dish made with a wider type of rice noodle. Its stock is made by simmering meat (typically chicken or pork) in water or bone broth before seasoning with black pepper, fish sauce, shallots, and cu nen – a pungent, garlic-type vegetable.
The simmering process creates a concentrated broth that's more intense in flavor than traditional noodle soups. The broth is then ladled about 1-2 cm deep into a bowl of rice noodles topped with different proteins like pork, shrimp, and hard-boiled quail eggs. It's typically garnished with crushed peanuts, green onions, and chili, and served with fresh herbs, a rice cracker, whole green chilis, and lime.
There's a saying in Vietnam about mi quang that goes like this: Thương nhau múc bát chè xanh, Làm tô mì Quảng anh xơi cho cùng. The Vietnamese saying describes a girl from Quang Nam province who invites her lover to drink a cup of tea and eat a bowl of mi quang, to prove to him the depth of her love. That's how special a dish mi quang is in Quang Nam province.
Mi quang is a Da Nang noodle dish so I imagine the best versions can be found there. Unfortunately, we haven't tried it in Da Nang but you can find mi quang everywhere in Hoi An.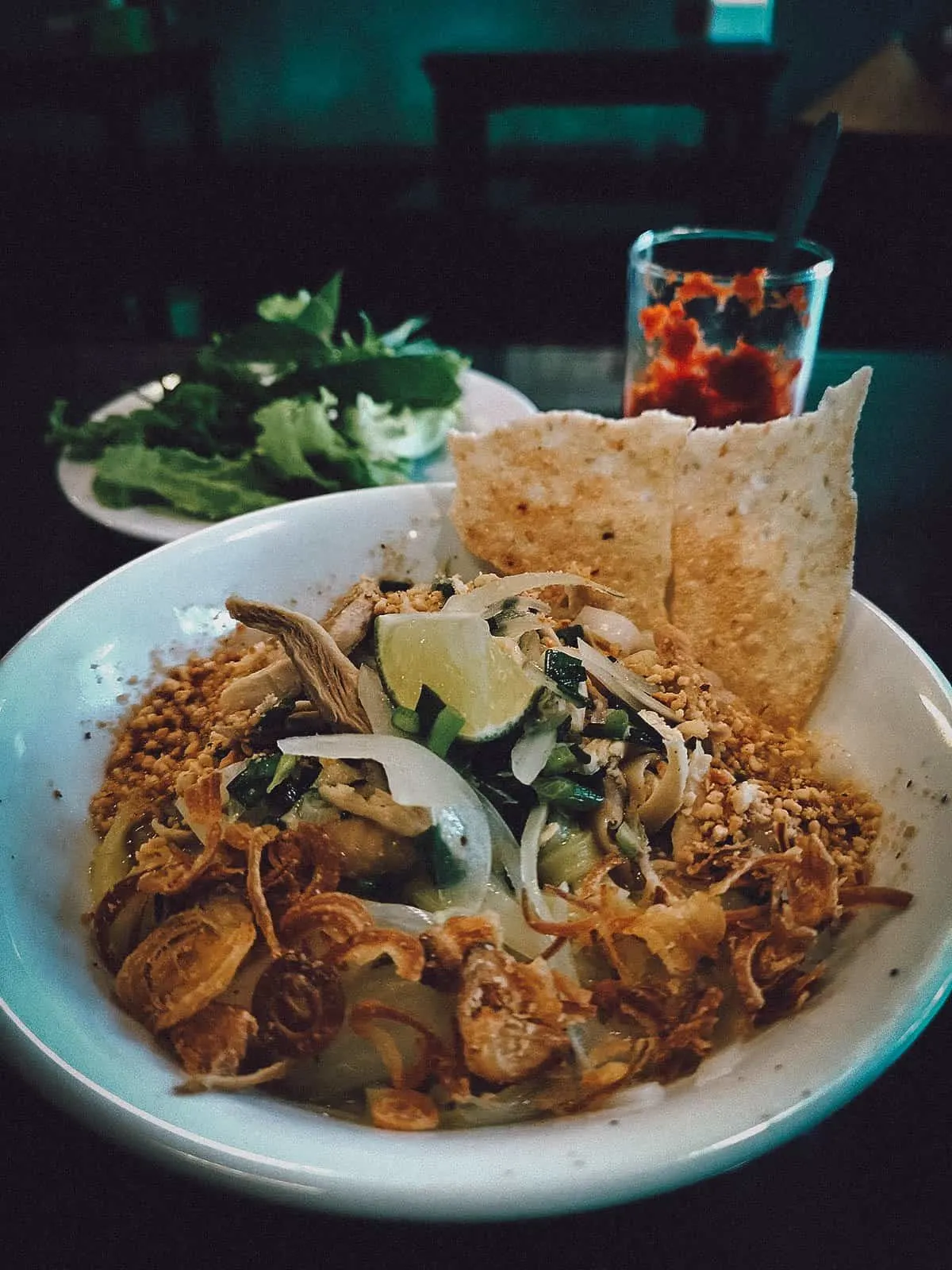 21. Hu Tieu
Hu tieu is another of my favorite foods in Vietnam. Originally from Cambodia, it's a popular breakfast dish that can be served either as a noodle soup or dry without broth.
Hu tieu noodle soup is prepared by moistening noodles with garlic oil then dressing them with a sticky brown sauce made with oyster sauce, soy sauce, and sugar. The bowl is then filled with a clear broth made from pork bones, dried squid, and sugar. It's seasoned with fish sauce before being topped with a variety of meats like pork, duck, seafood, or offal.
I had several different types of both soup and dry hu tieu in the Mekong Delta area and I enjoyed all of them. Pictured below is a version of hu tieu from Sa Dec that contains two types of noodles. So delicious.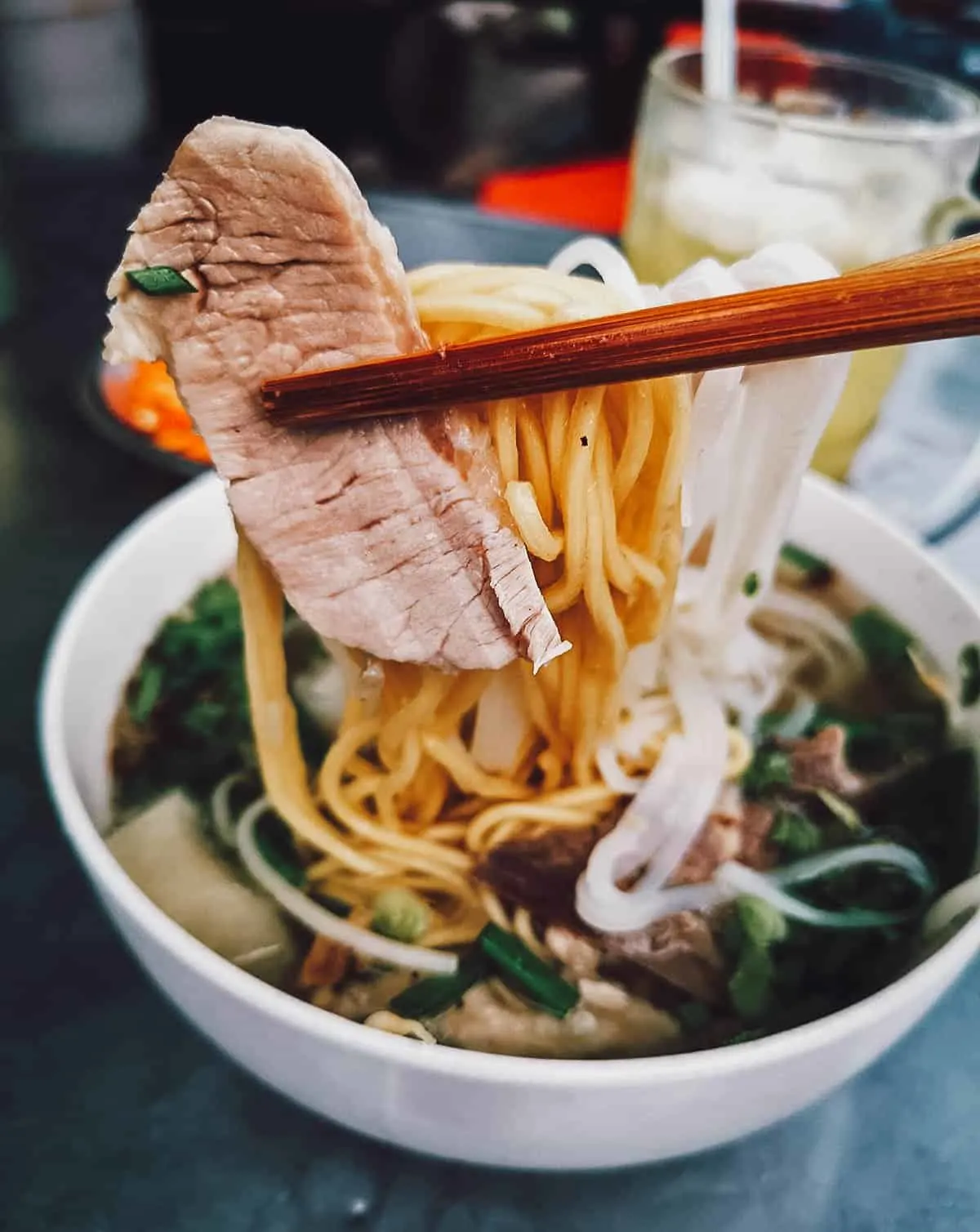 22. Bun Bo Nam Bo
Bun bo nam bo literally means "southern-style beef vermicelli", but from what I understand, it isn't actually from southern Vietnam. Some believe that it originated in Hanoi, with the "nam bo" in its name merely suggesting that the dish was made in the southern-style – ie dry rice noodles without broth.
Whatever its origin, bun bo nam bo is a delicious traditional Vietnamese dish that I think most people will enjoy. It consists of cold rice noodles topped with marinated stir-fried beef, bean sprouts, fried shallots, fresh vegetables, herbs, roasted peanuts, and nuoc cham. It's a delicious dish – savory, crunchy, a little sweet, and with nice contrast between the warm beef and cold sticky noodles.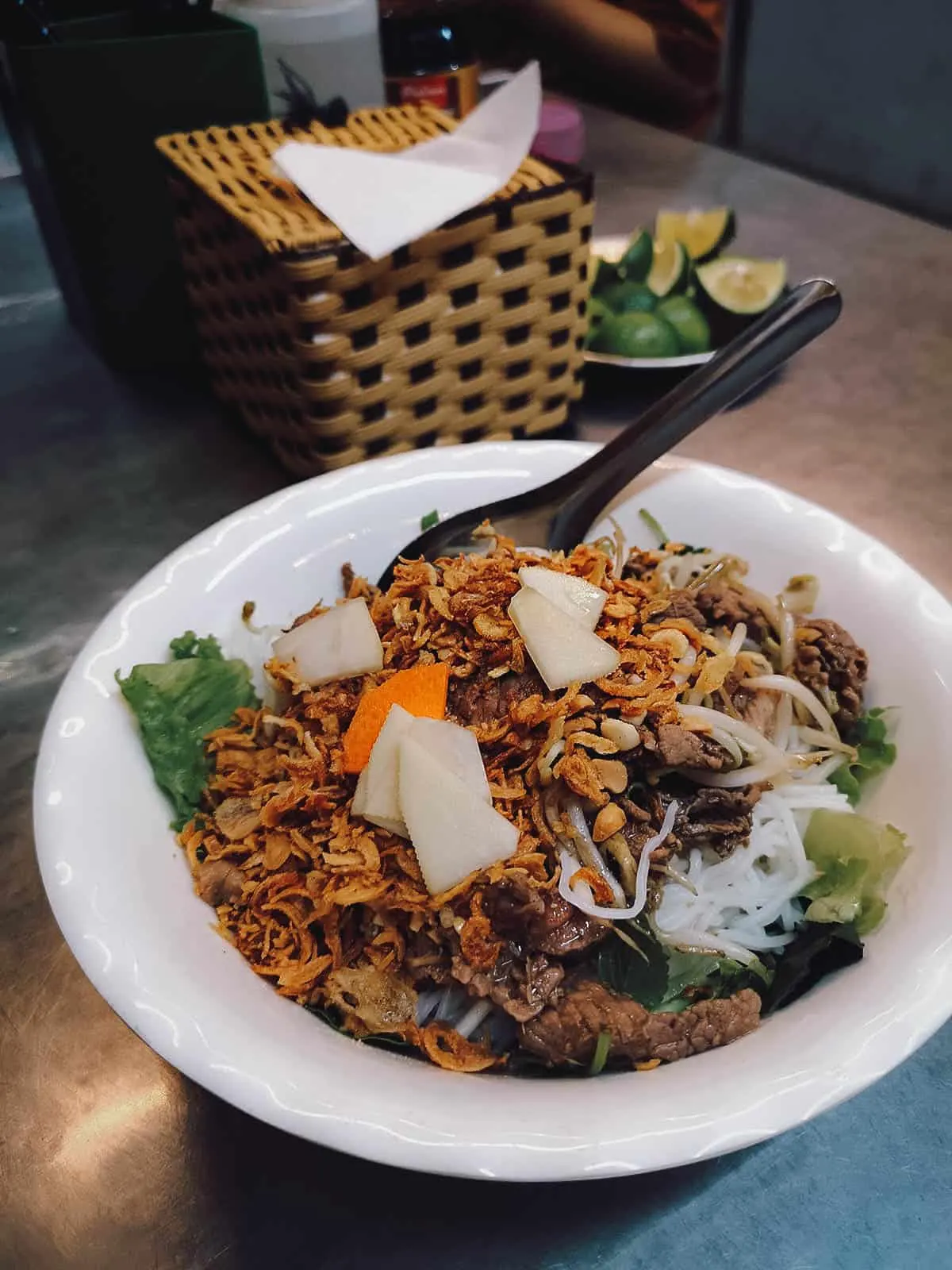 23. Bun Rieu
Bun rieu is a breakfast noodle soup dish that's originally from northern Vietnam but is now enjoyed throughout the country. You'll find different versions of this tasty noodle soup though one of the most popular is bun rieu cua which is made with crab.
To make bun rieu cua, freshwater rice paddy crabs are pounded with the shell into a fine paste before being strained. The crab liquid is then used as a base for the soup along with stewed tomatoes and annatto seeds, giving the broth a wonderful tangy flavor.
Whatever's left of the crab is used to make crab cakes which are served with the soup along with rice vermicelli, green onions, fried tofu, and cubes of congealed pig's blood. Like many traditional Vietnamese dishes, it's served with a basket of fresh greens and herbs like perilla, mint, lettuce, and water spinach.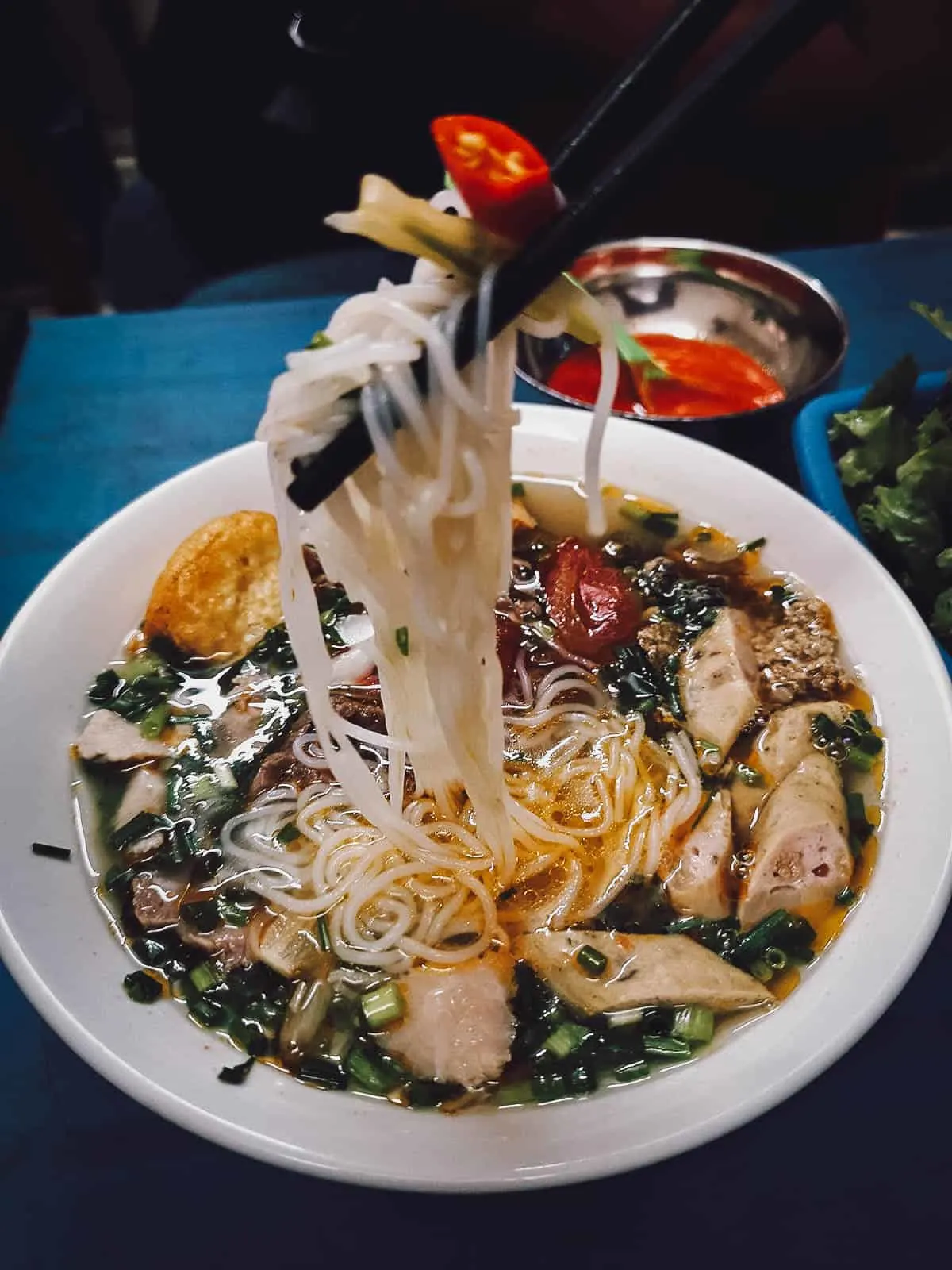 24. Banh Canh
Banh canh means "soup cake" and refers to a thick Vietnamese noodle soup that can be made either from tapioca flour or a mixture of tapioca and rice flour. The "cake" in its name refers to the thick sheet of uncooked dough from which the noodles are cut.
There are several types of banh canh noodle soup made with different ingredients. Banh canh cua is made with sumptuous chunks of crab (pictured below) while banh canh cha ca, a version popular in central Vietnam, is made with pork and fish cake. I've had both and enjoyed them both.
We went on a private tour of My Son Sanctuary in Hoi An and our guide Turtle took us to his favorite banh canh place in the Ancient Town. It was a spur of the moment thing that turned out to be one of my favorite food experiences in Vietnam.
I prefer thick, chewier noodles like Japanese udon and that's exactly what banh canh noodles are like. The broth was flavorful with sinewy chunks of pork bone, fish cakes, and lots of green onions. I think it may have had slivers of cha lua as well.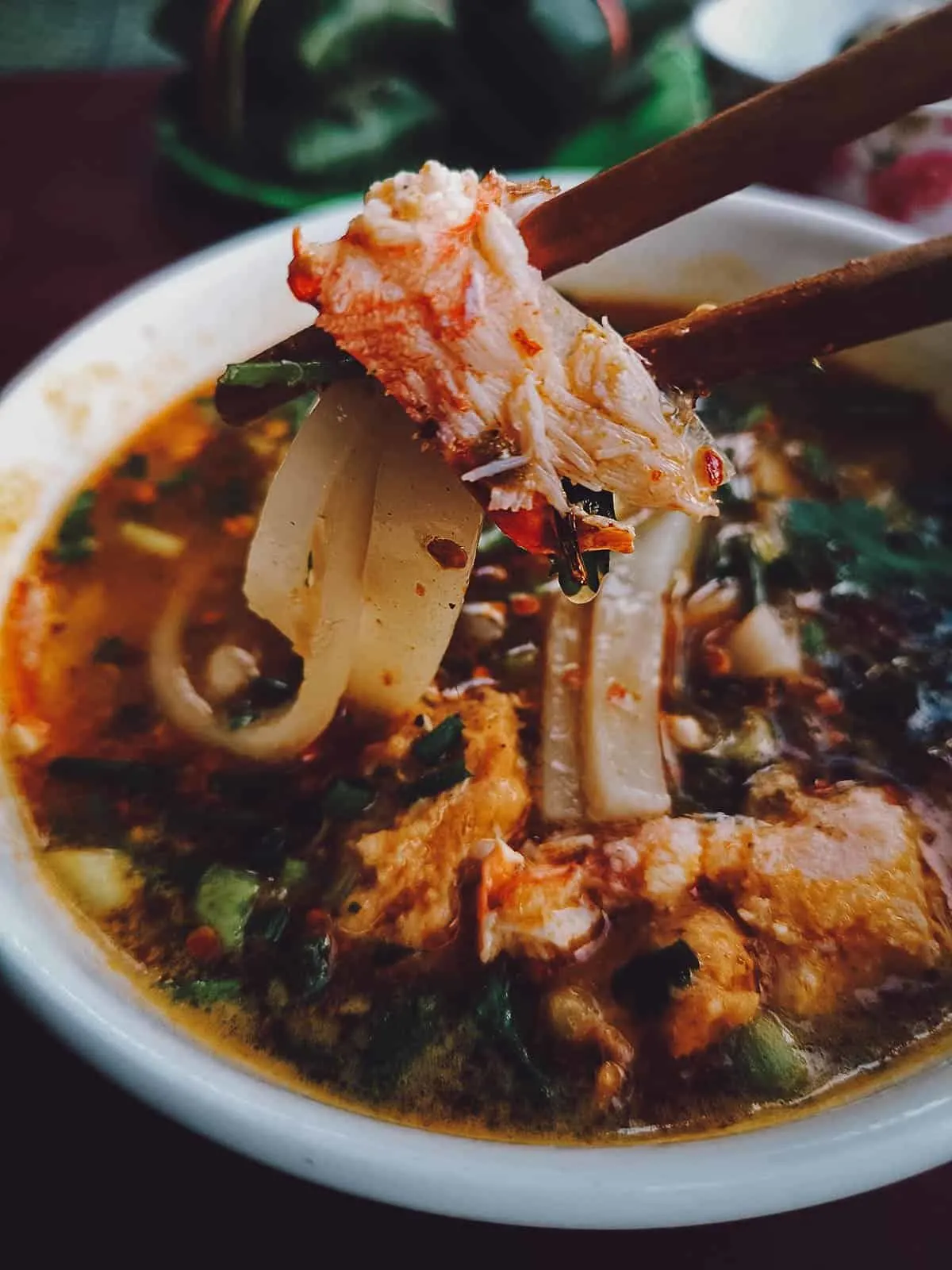 25. Bun Thang
This was one of the most interesting food experiences we had in Vietnam, partly because of the unusual restaurant and the unique ingredients needed to make this noodle soup dish.
Originally from Hanoi, bun thang is a fussy bowl of rice noodle soup that's often reserved for special occasions in Vietnam. Toppings vary but it's typically made with shredded chicken, pork, shrimp floss, thinly sliced egg shreds, gio lua, and fresh herbs like mint and coriander.
The two ingredients that make bun thang special are ga mai dau, which are Vietnamese hens of a very specific age, and ca cuong, which is a pheromone extracted from male belostomatid beetles. Yes, actual beetle juice.
The ideal hens used to make this dish must only be old enough to lay eggs for about a week. Any older or younger and the chicken meat isn't ideal. As for the beetle extract, a minute amount is added to the broth via the tip of a toothpick to give it a unique fragrance.
Real ca cuong is expensive and difficult to come by these days so I'm not sure how often it's still used. I didn't notice any strange aromas in our bun thang but then again, I didn't know to look for it at the time.
Another thing that makes proper bun thang so fussy to prepare is that the toppings need to be cut into thin, matchstick-like threads, as you see below.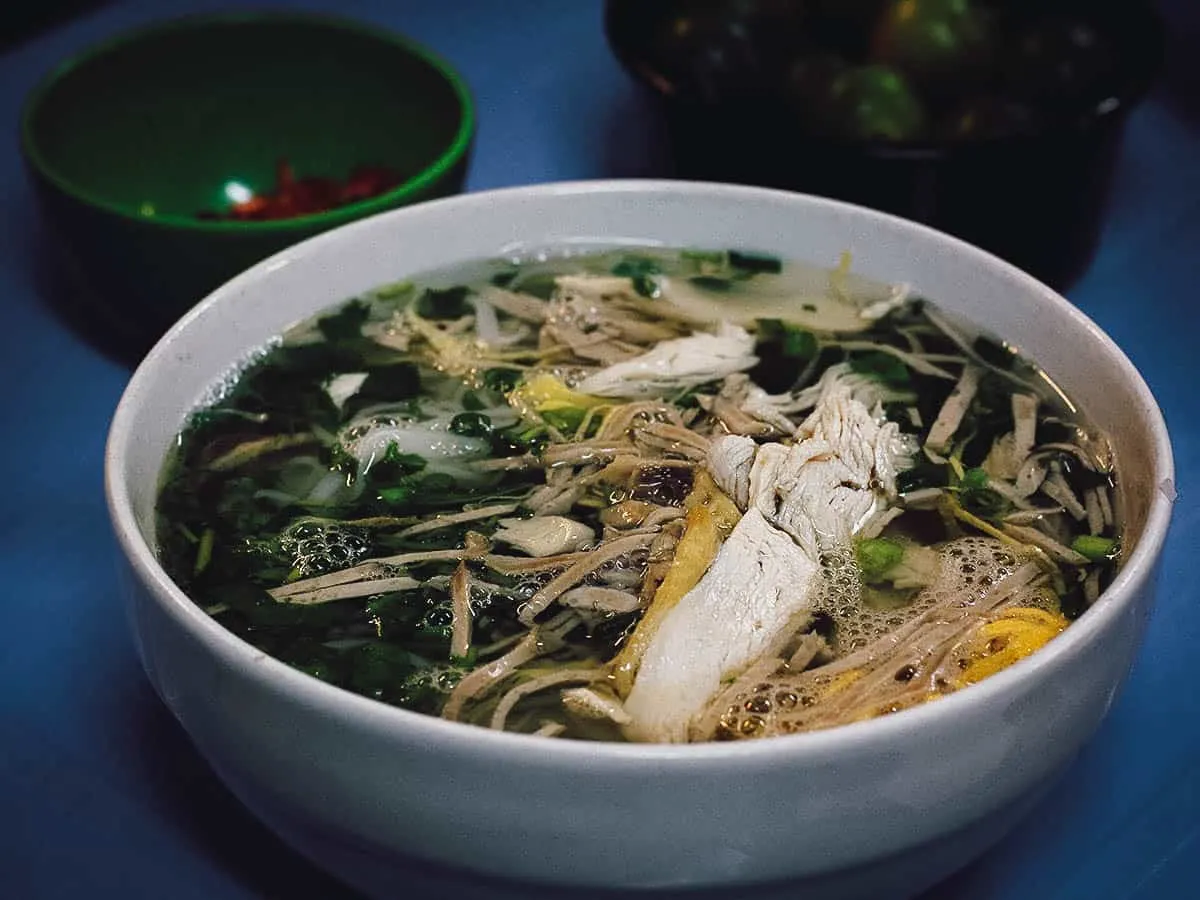 VIETNAMESE RICE DISHES
26. Com Ga
Com ga is another specialty of Hoi An. It's basically the Vietnamese version of Hainanese chicken rice. It's originally from China but it found its way to central Vietnam via Chinese traders who settled in Quang Nam Province.
Com ga consists of shredded poached chicken served with seasoned pilaf rice, shredded green papaya and carrot, fresh herbs, and a bowl of chicken broth that may or may not contain offal and cubes of congealed blood. Like Hainanese chicken rice, it's lack of color makes it look deceptively bland but nothing could be further from the truth. It's absolutely delicious and something you need to have in central Vietnam.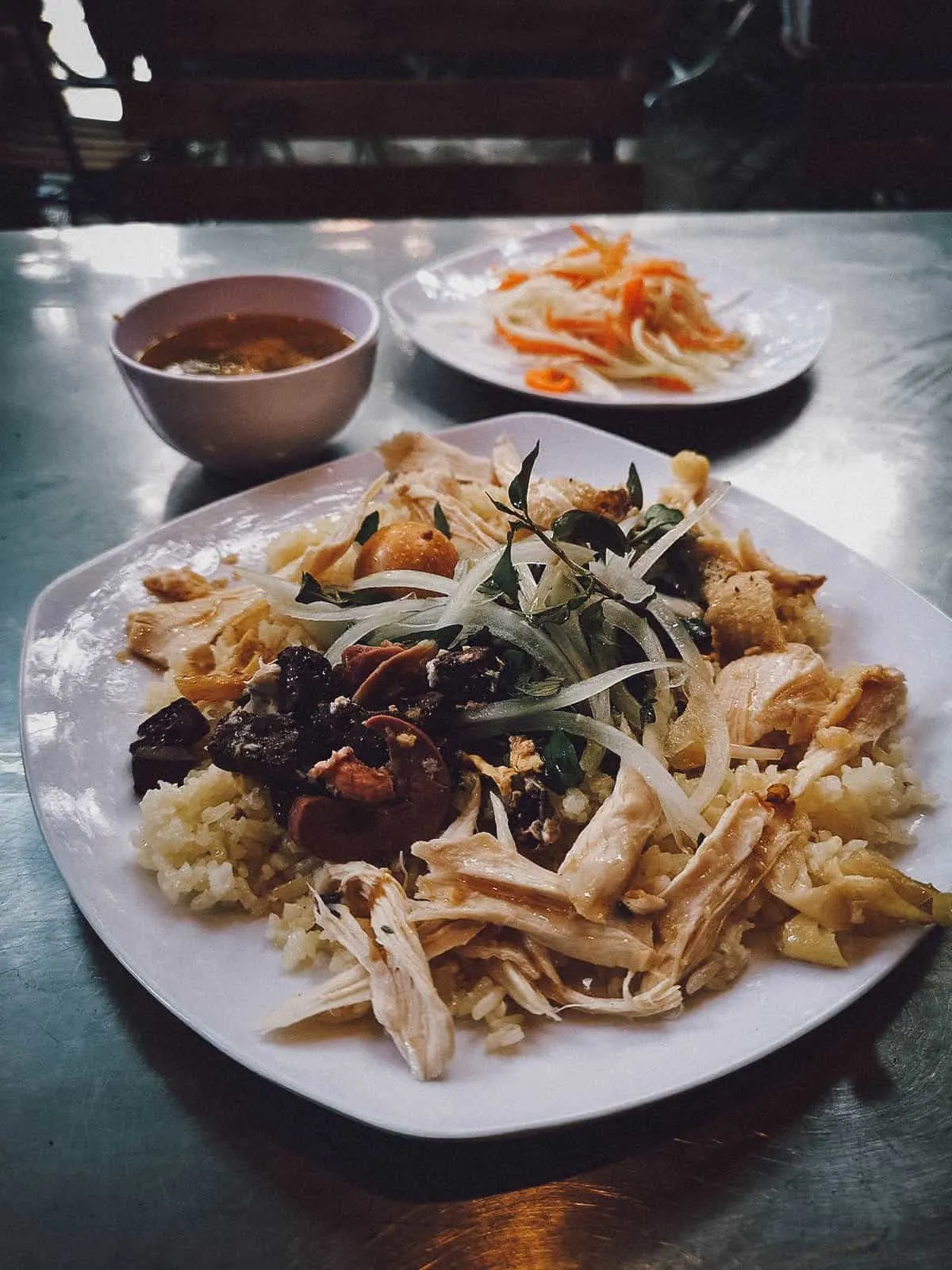 27. Com Tam Suon Nuong
Com tam means "broken rice" and refers to one of Saigon's most famous Vietnamese dishes. It's called "broken rice" because it's made with rice grain fragments that were broken either in the field, during drying, during transport, or by milling. Because it was damaged, com tam was a traditionally cheaper grade of rice but it's since become more expensive as a sought after food item.
Broken rice is often eaten with a grilled pork chop in a traditional Vietnamese dish called com tam suon nuong. To be honest, I haven't eaten com tam enough to really notice the difference but it's said to be nuttier than regular rice, almost like risotto.
What I do notice however, is how delicious Vietnamese pork chop is. Marinated and grilled over charcoal, it's savory, sweet, very tender, and perfect to eat with the broken rice.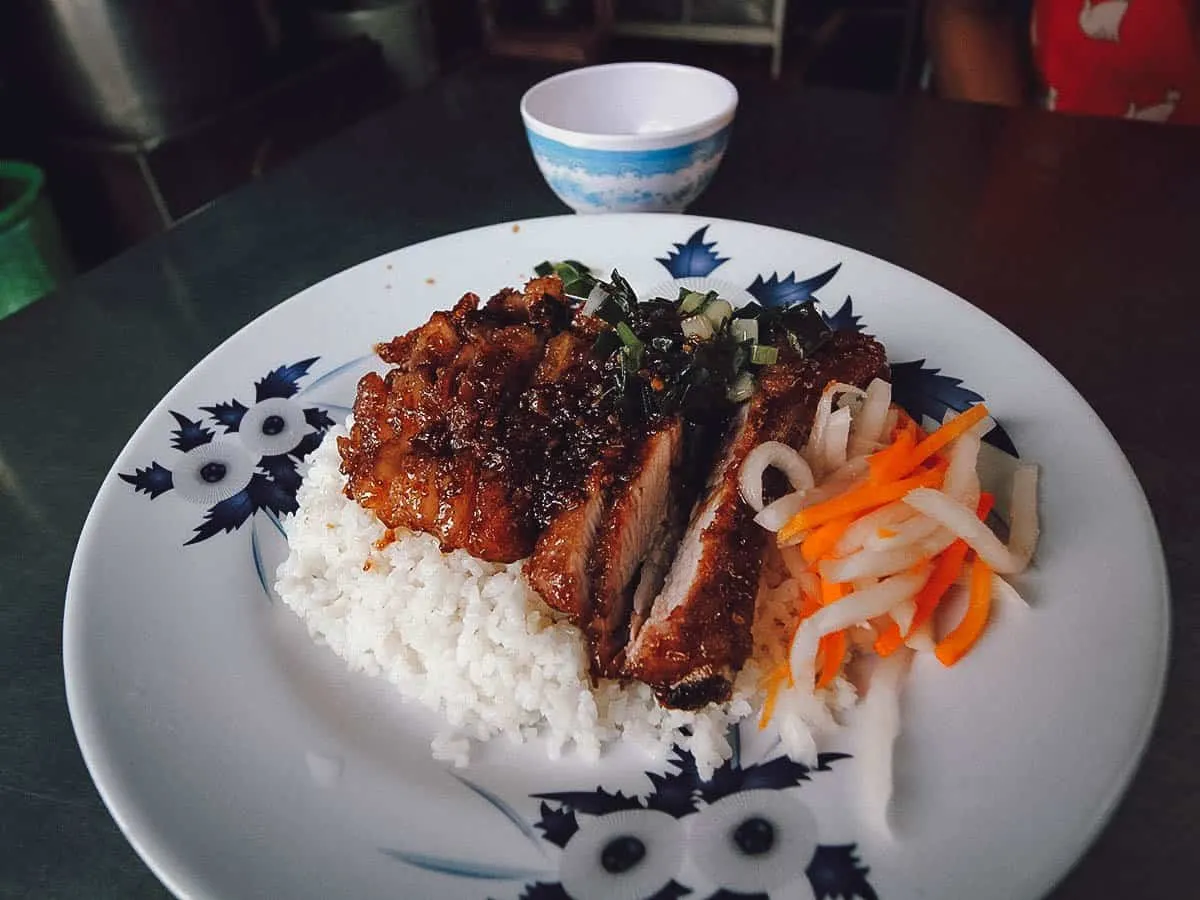 28. Xoi
Xoi refers to a family of traditional Vietnamese dishes made with glutinous or sticky rice that's been soaked for several hours then drained and steamed dry. Like che, there are hundreds of varieties of xoi sticky rice made with any number of different ingredients, both savory (xoi man) and sweet (xoi ngọt).
Pictured below is an overflowing banana leaf of xoi bap in Hanoi. It consists of two types of sticky rice loaded with different ingredients like corn, fried shallots, crushed peanuts, and pork floss.
It's a tasty combination of chewy, sticky, sweet, savory, nutty, and crunchy. If you're starving but running low on cash, then xoi sticky rice is a great dish to have. It's delicious and will fill you right up.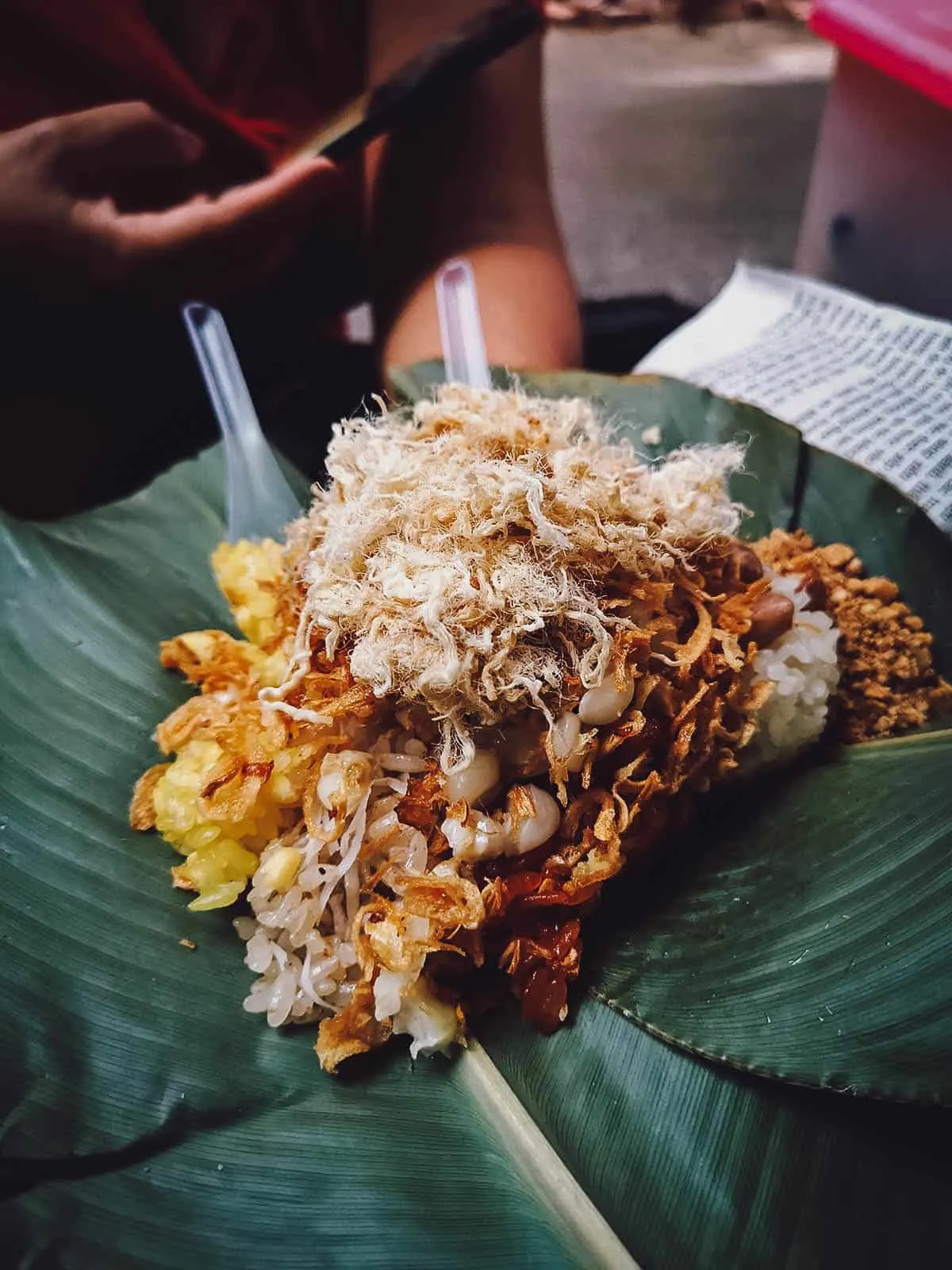 29. Com Hen / Bun Hen
Com hen or bun hen is another specialty of Hue. It's made with either rice (com) or noodles (bun) topped with stir-fried baby basket clams, vegetables, and a host of other ingredients like fish sauce, fermented shrimp paste, herbs, pork crackling, banana flower shreds, and peanuts.
Com hen is traditionally made with leftover rice which is why the dish is served at room temperature. Between com hen and bun hen, I preferred the latter. I thought the rice noodles paired better texturally with the clams than rice.
Com hen or bun hen is a tasty and cheap snack that I had many times in central Vietnam. Served with a side dish of warm clam broth, it's an interesting medley of flavors and textures that gives you salty, sweet, spicy, and sour to go with the crunchiness of the cracklings.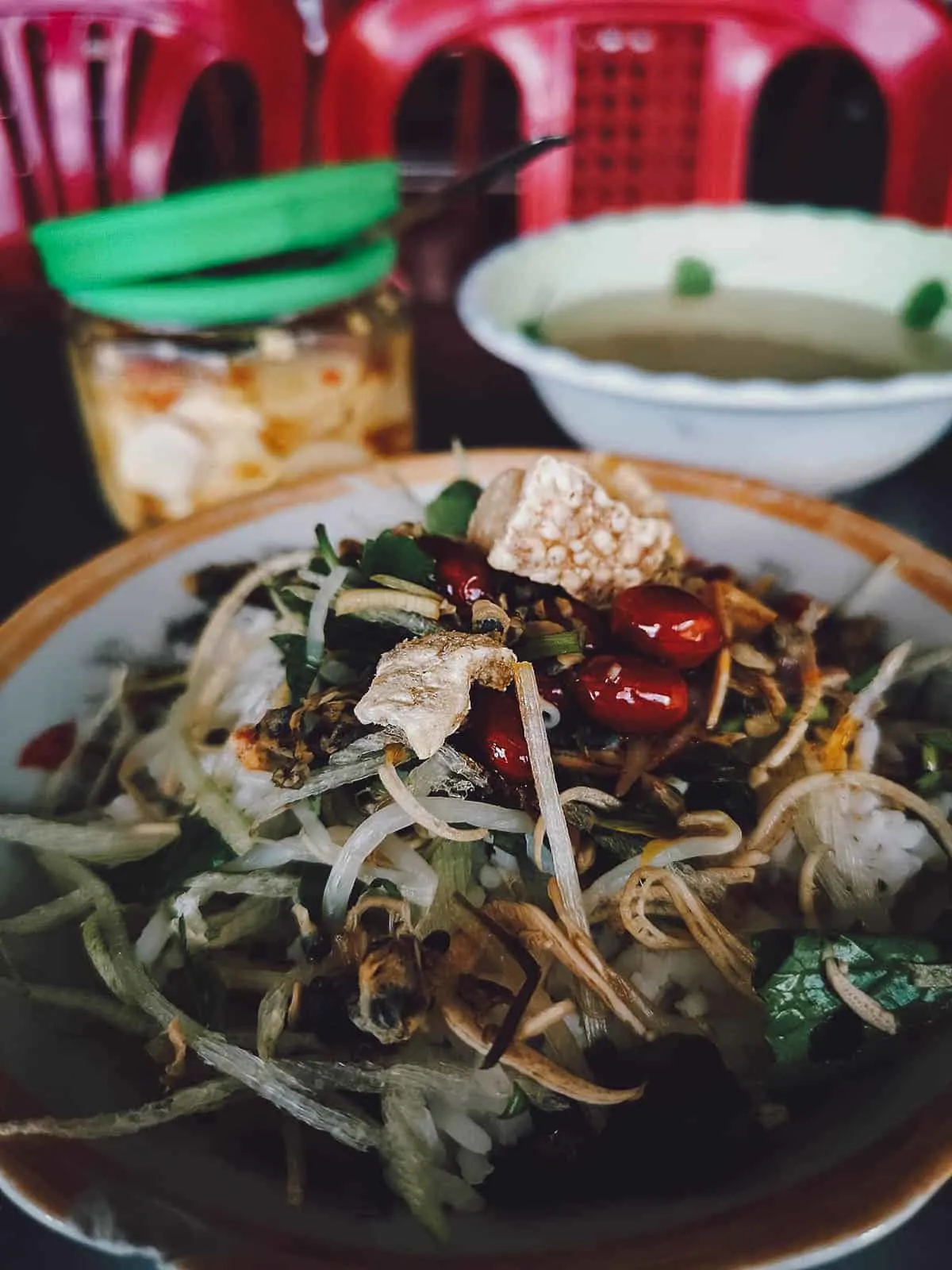 30. Chao Ga
Chao ga refers to Vietnamese chicken porridge or congee. A thick and satisfying dish, it's comforting food that tastes even better when eaten with quay or Chinese crullers.
The crullers are crunchy on the outside but airy in the middle so they practically melt in your mouth with the congee.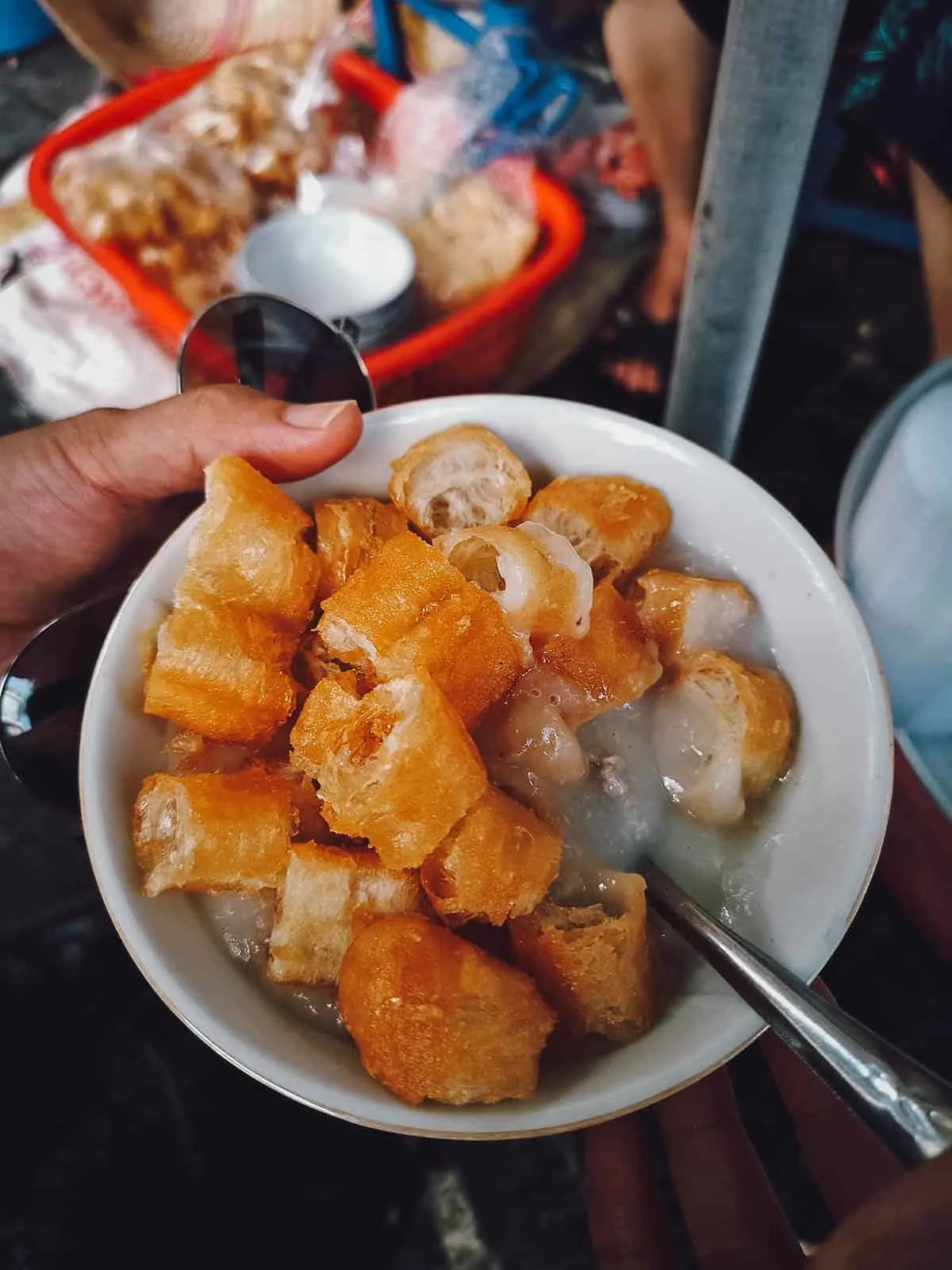 VIETNAMESE MEAT DISHES
31. Bun Cha
Like banh mi, bun cha is one of my favorite traditional Vietnamese dishes. It's one of northern Vietnam's most beloved foods and the reason why bun thịt nuong is popular everywhere in Vietnam except Hanoi. It's also the dish famously shared by Anthony Bourdain and Barack Obama in the Vietnam episode of Parts Unknown.
Like bun thịt nuong, bun cha is a charcoal-grilled pork dish served with cold rice noodles (bun) and fresh greens like lettuce, perilla, coriander, and mint. The main difference between bun cha and bun thit nuong, as far as I can tell, is in the preparation of the meat.
In bun cha, the pork comes in meatball patty form, along with some grilled pork belly, and served in a soupy bowl of pickled vegetables that impart acidity to the dish. Unlike the ingredients of bun thịt nuong which are served together in one bowl, the components of bun cha – pork, rice noodles, greens, and nuoc cham – are presented separately.
As good as bun thịt nuong is, bun cha may even be better. They're closely related Vietnamese dishes but for me, there's more going on with bun cha in terms of flavor and texture. Like pho and banh mi, it's one of the tastiest examples of Vietnamese food and a must-try when in Hanoi.
Bun cha is often eaten with a side dish of nem cua be or deep-fried crab spring rolls. The combination is fantastic so be sure to order a side of nem with your bun cha.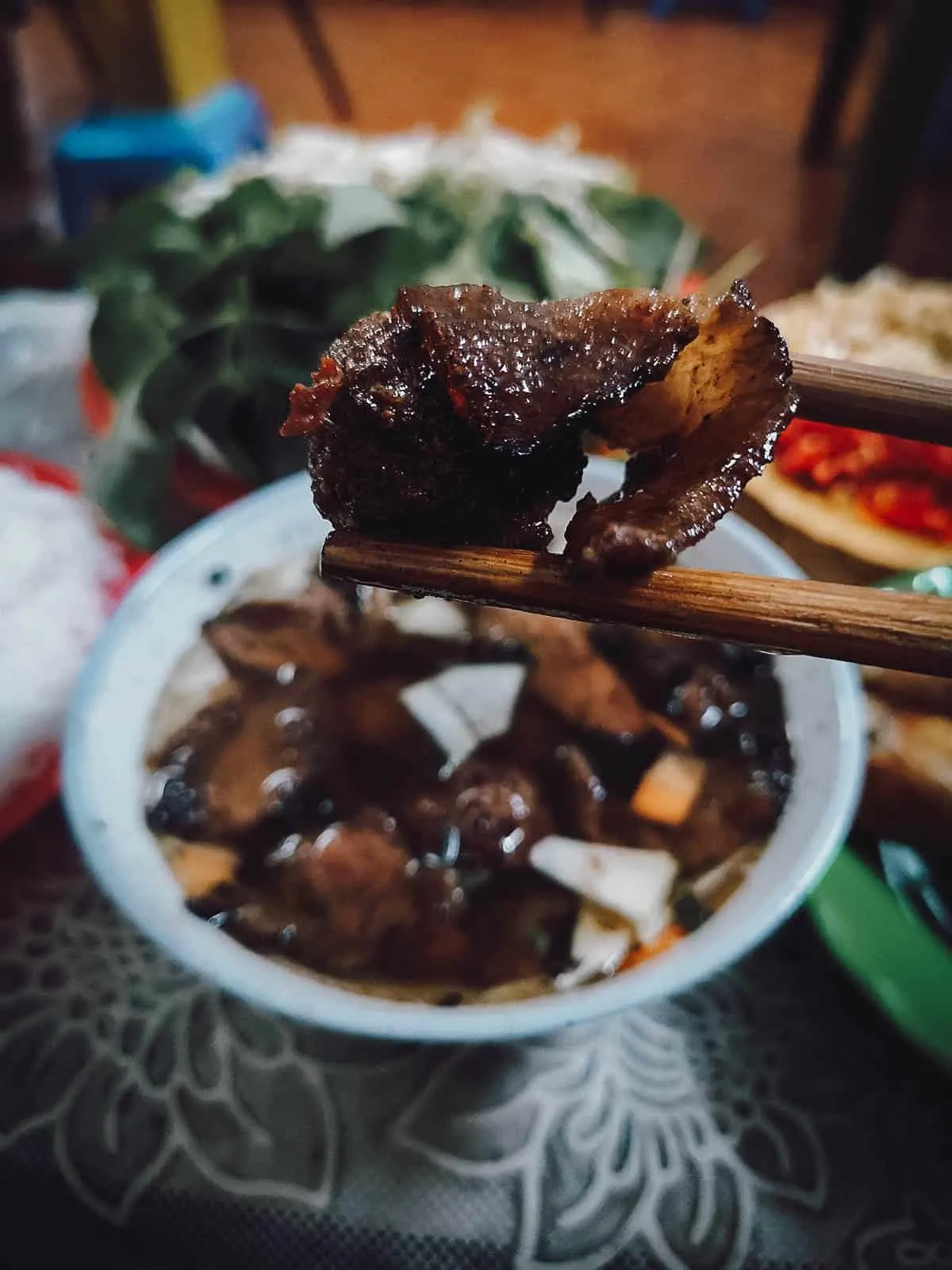 32. Bun Thit Nuong
As described, bun thịt nuong is a popular traditional Vietnamese dish similar to bun cha. It consists of cold rice vermicelli noodles topped with charcoal-grilled pork, fresh greens, and herbs like basil, perilla, and mint. It's garnished with pickled daikon and carrots, roasted peanuts, and chopped green onions before being drizzled with nuoc mam pha (Vietnamese fish sauce).
Like bun cha, there's a good balance of flavor and texture in bun thit nuong that's easy on the palate. You have smokey pork, sour and crunchy pickled vegetables, fresh greens, peanuts, and a sweet-savory fish sauce dressing over a bed of cold sticky rice noodles. Unless you don't eat meat, it's hard to imagine anyone not liking bun thit nuong or bun cha.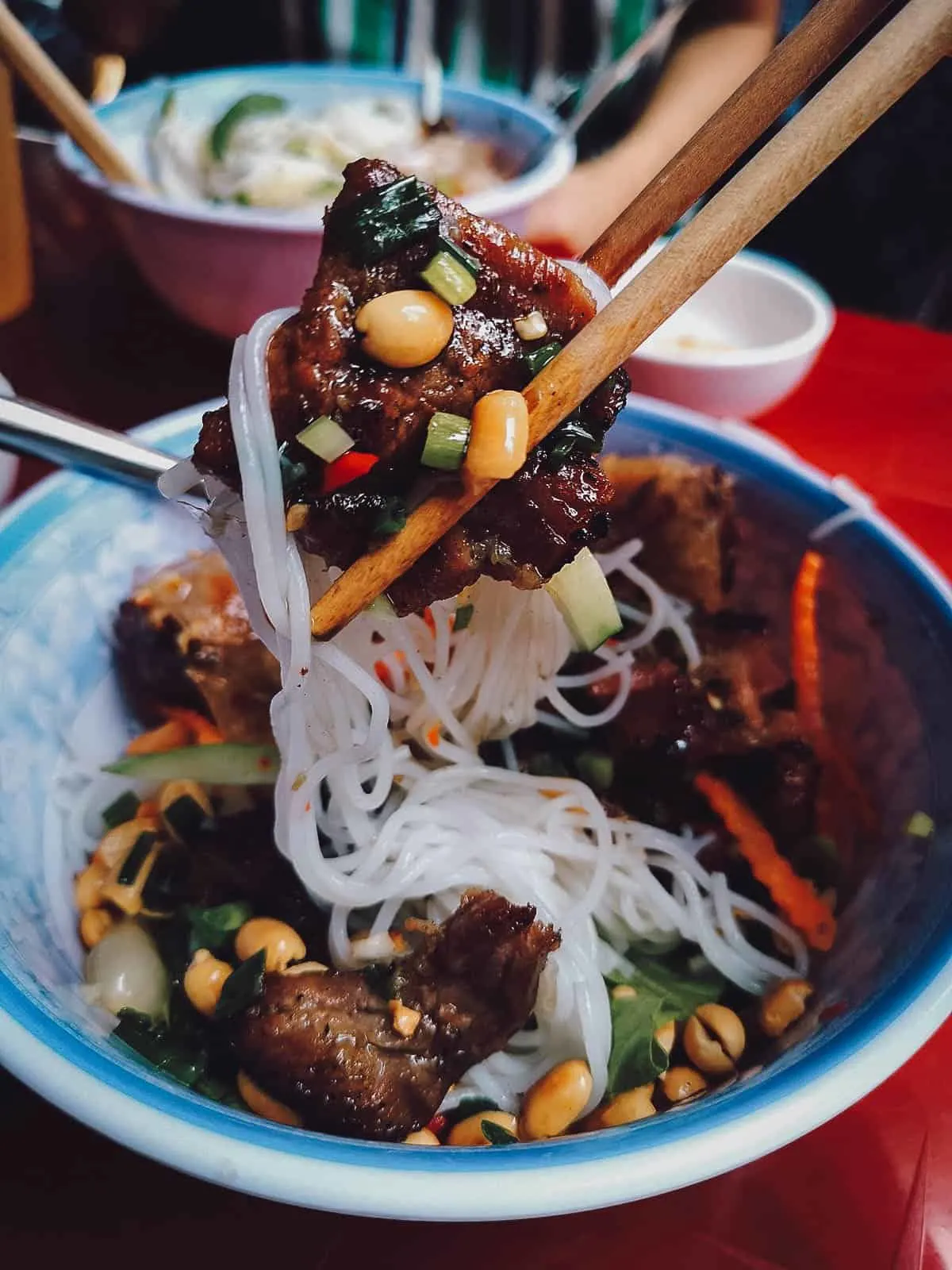 33. Nem Nuong / Nem Lui
Nem nuong is a dish of skewered and grilled pork meatballs or sausages. They're made with fatty pork seasoned with shallots, garlic, fish sauce, sugar, and black pepper.
From what I understand, nem lui is the version of nem nuong found in Hue. I don't know if the spices or preparation is different, but nem lui is typically served on lemongrass skewers with Vietnamese rice paper, rice vermicelli, lettuce, cucumber slices, fresh herbs, and peanut sauce.
To eat, you wrap the grilled meat in the rice paper with some lettuce, vermicelli, and other ingredients before dipping into the peanut sauce. It's delicious – smokey, sweet, savory, and nutty from the peanut sauce. It's something I believe many tourists will enjoy in central Vietnam.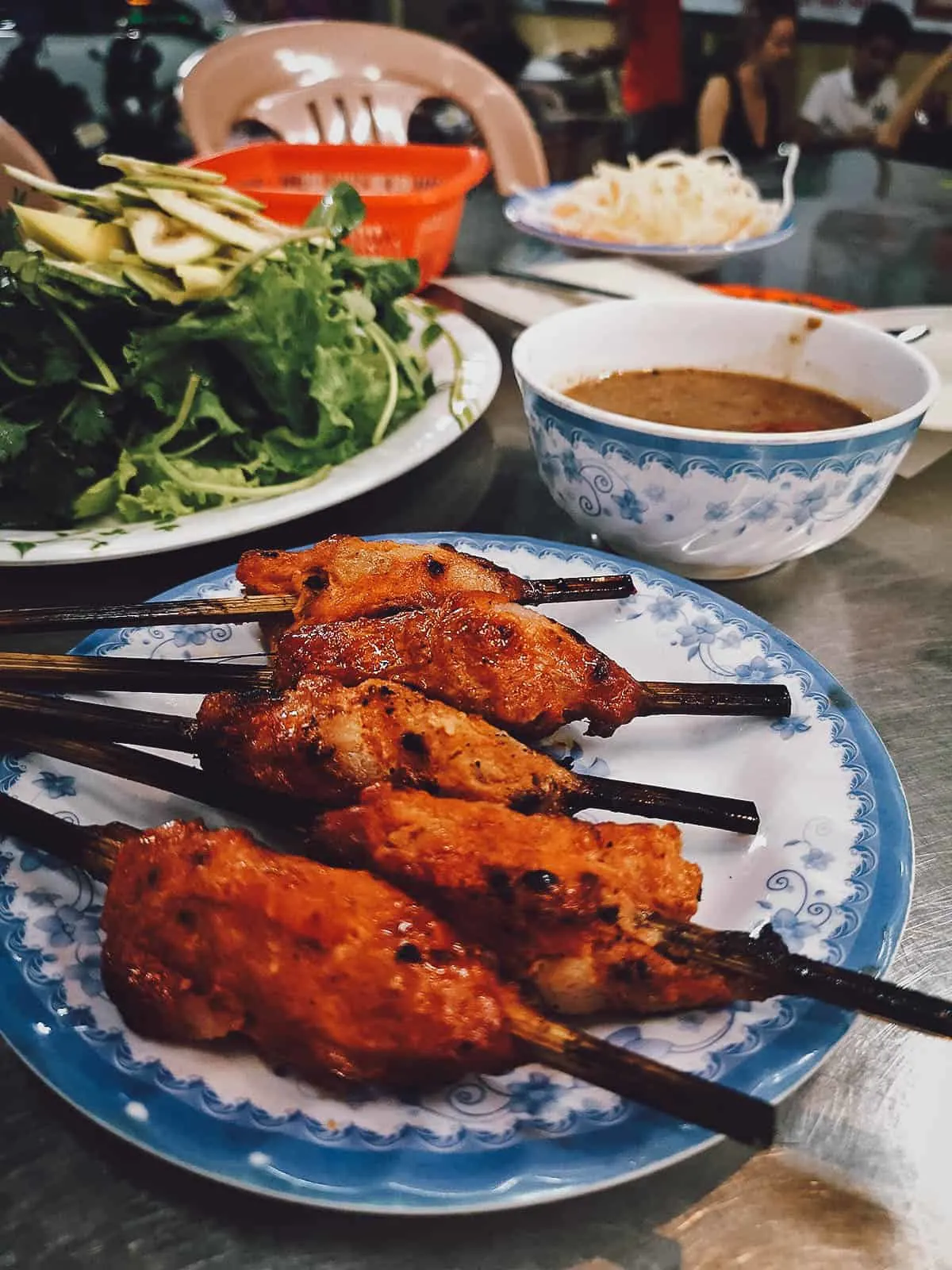 34. Thang Co
Thang co is a specialty of Sapa in the mountainous region of northern Vietnam. It's a traditional H'mong stew made with horse meat.
The H'mong people have been using horses for transport for generations. When the horse becomes sick or too old to work, they butcher it for its meat. Though horse meat is the main ingredient in thang co, other types of meat like beef, pork, buffalo, and goat are often used as well.
To prepare, the meat is simmered for hours in a large pot or pan with a host of up to twelve different spices. I read that the spices help to remove the pungent smell of the meat while giving the stew its distinctive aroma.
As you can see in this picture, they use every part of the horse so little goes to waste. I'm not sure which parts are horse but I see congealed blood, cubes of liver, tendon, and tail. It was served with rolled up rice noodles which I'd dunk into the stew to eat.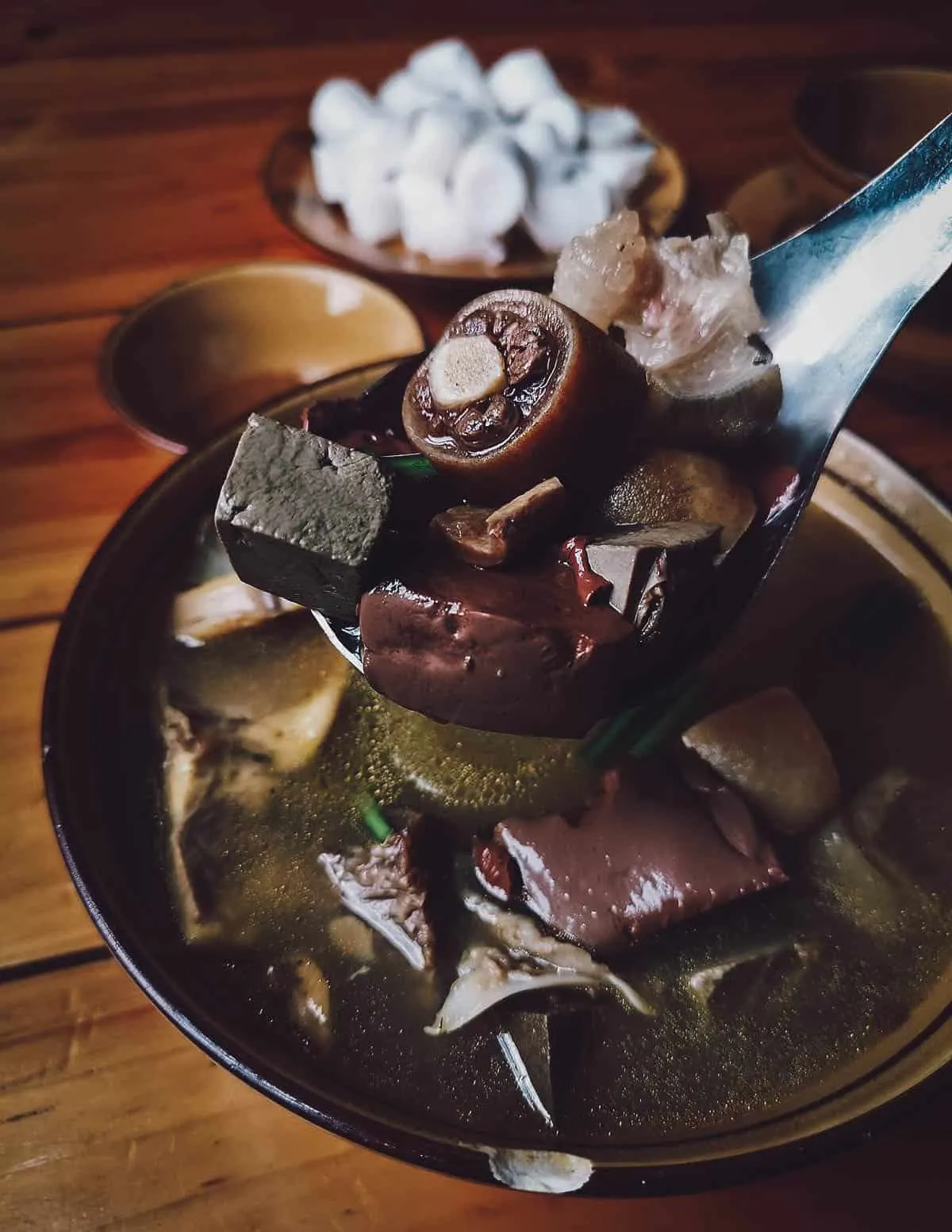 VIETNAMESE SEAFOOD DISHES
35. Cha Ca
Like bun cha, this is one of the most beloved foods in northern Vietnam. Named after the restaurant that popularized it over a hundred years ago, cha ca la vọng is a classic Hanoi specialty of grilled turmeric-marinated catfish served with a forest of fresh dill.
To make cha ca, catfish caught from the rivers of northern Vietnam are cut into matchbox-sized nuggets that are marinated in galangal, turmeric, and other spices. They're grilled on charcoal before being brought out to pan fry on your table with heaping amounts of fresh dill and spring onions.
Once ready, the cha ca is served with rice vermicelli, roasted peanuts, and coriander, along with a dipping sauce made with nuoc cham (fish sauce), vinegar, and garlic. If you like, you can also add a bit of Vietnamese shrimp paste (mam tom) mixed with lime juice.
Smokey and aromatic, the fish is tender and flaky on the inside with a delicate, crisp caramelized coating. It's seriously delicious and one of the best things we ate in Vietnam. In fact, so good is this dish that the restaurant credited for inventing it was listed as a destination in the bestselling book 1,000 Places to See Before You Die.
Cha ca was invented and popularized by the La Vong restaurant in Hanoi. It's still open today though based on its negative reviews, it's best days may be behind it. There are better places to have cha ca in Hanoi.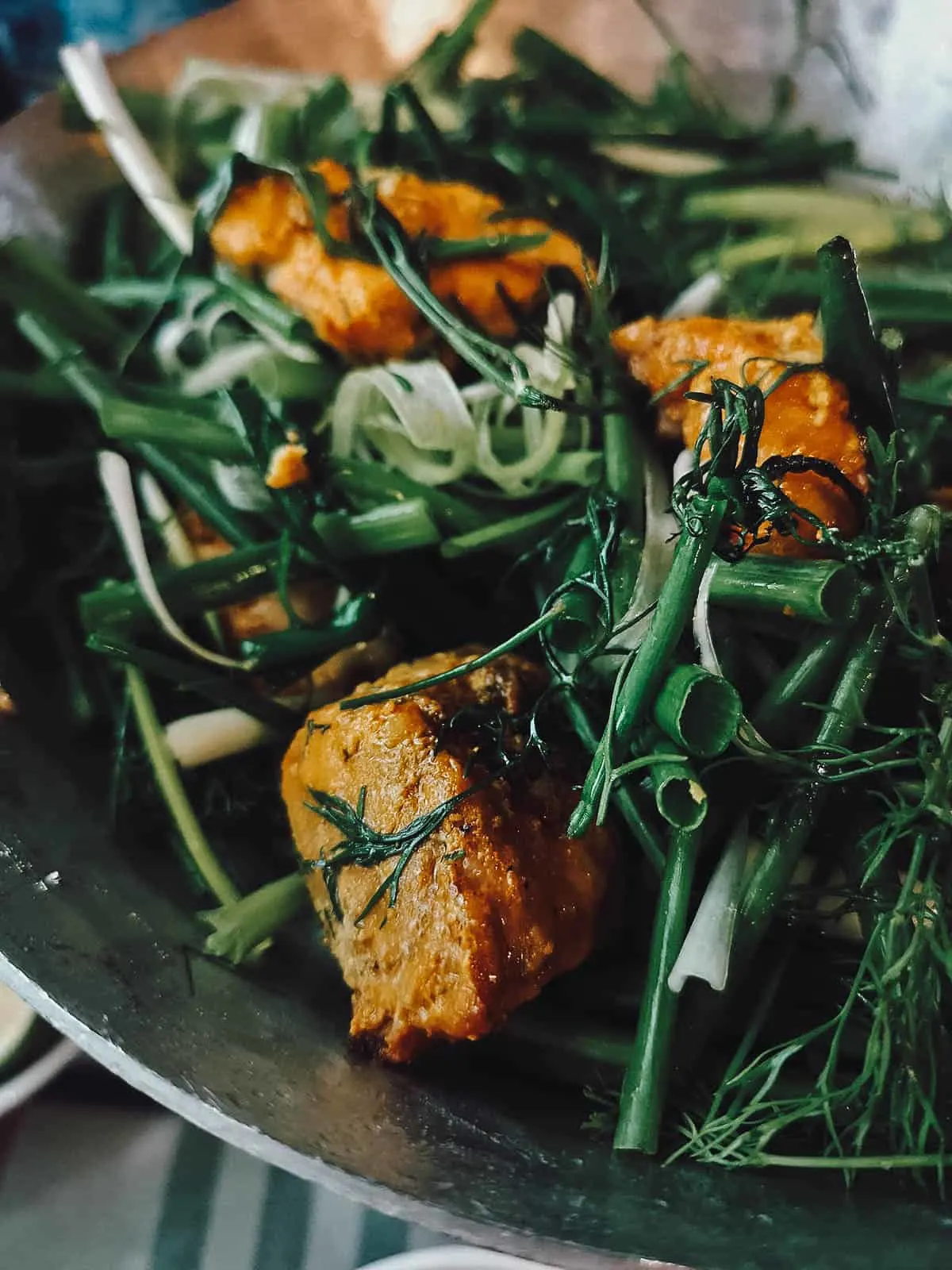 36. Oc
Oc is the Vietnamese word for snail – a popular delicacy in Vietnam. They come in many forms and are harvested from the ocean as well as from freshwater sources like rice paddies and lakes throughout Vietnam.
I thought that the Vietnamese fondness for snails may have been a vestige of French colonial influence but as it turns out, the Vietnamese have been feasting on snails long before the French arrived. An oc or "snail eating" is part of nhau culture, which is the Vietnamese word for "going out, eating, drinking, and socializing". Eating snails is so popular that it's considered a national pastime in Vietnam.
Delicious, easy to eat, and prepared in any number of ways, snails go very well with beer so I can understand why it's one of the most popular street foods in Vietnam.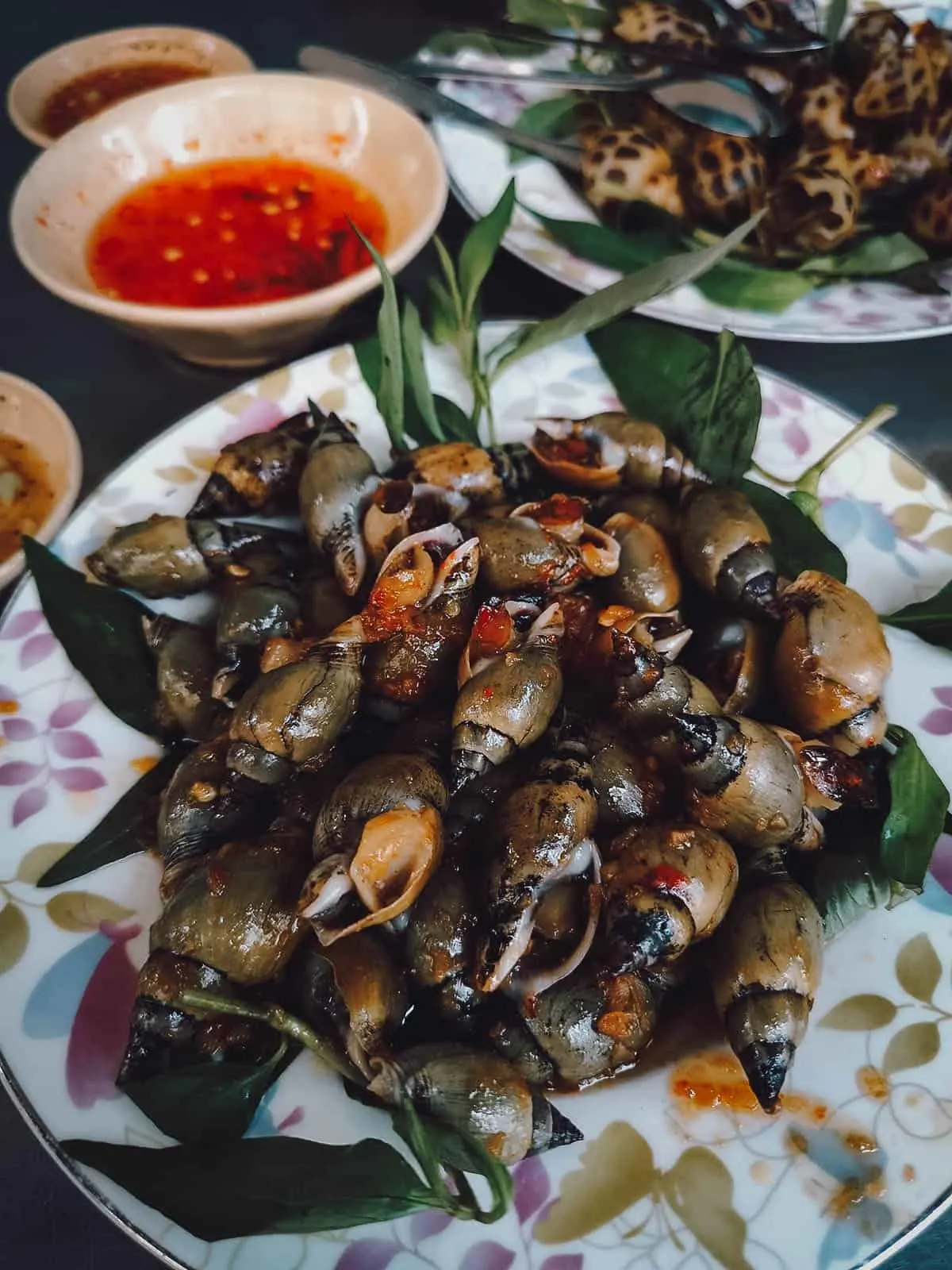 37. Luon
Luon refers to any dish made with eel. Unlike Japanese unagi where the eel is grilled, eel in Vietnamese cuisine is dried then deep-fried so it's crispy like dried anchovies.
There are many places that serve luon dishes in northern Vietnam but we had it at highly regarded Mien Luon Dong Thinh in Hanoi. They have their eel delivered daily from Nghe An Province which is about 300 km south of the capital city. Nghe An is said to be home to the best eel (and best eel dishes) in Vietnam.
You can have the eel prepared in a few ways. We had mien xiao luon and mien luon tron. They're similar dishes using virtually the same set of ingredients – glass noodles (mien), fried garlic and shallots, cucumber slices, chopped peanuts, and fresh herbs and greens.
The main difference is that mien xiao luon (pictured below) is served dry and the noodles are fried. Mien luon tron is served with a shallow layer of broth made from eel bones and ginger. The eel starts off crunchy then softens up after a bit of chewing. That's when you start noticing the natural sweetness of the eel.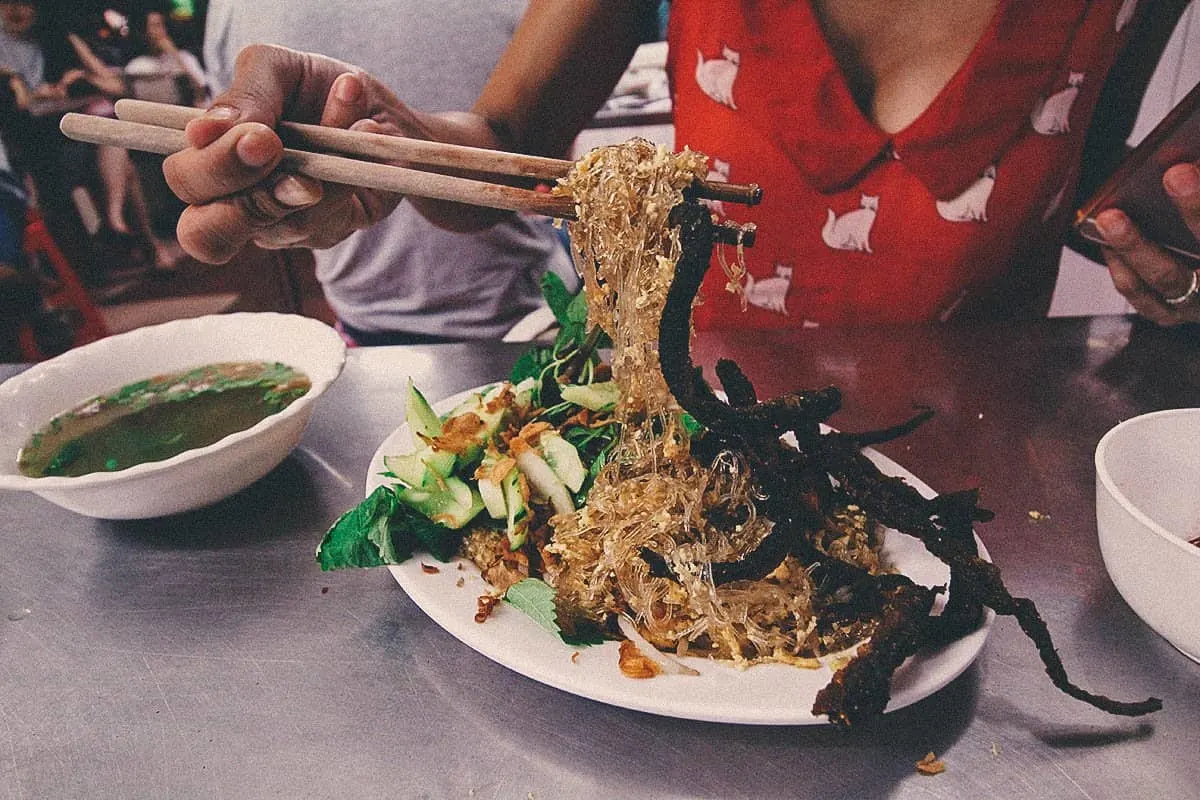 38. Bach Tuoc Nuong Sa Te
We enjoyed this grilled octopus on Vinh Khanh Street in Ho Chi Minh City, but I believe octopus is a popular street food throughout Vietnam, not just in the south. We didn't know what this dish was called at the time since we just pointed at whatever looked good, but I believe it's called bach tuoc nuong sa te, which is grilled octopus with satay.
Fresh octopus is marinated in a garlic, satay, honey, oil, and salt mixture before being grilled. It's served with Vietnamese mint, cucumber slices, and a dipping sauce made with satay, lemon juice, chili, pepper, and salt.
Bach tuoc nuong sa te is one of the most popular street foods among the Vietnamese, especially the youth. Vinh Khanh street is known for their seafood so it's the perfect place to try this dish in Ho Chi Minh City.
I was watching them grill it and the octopus is barbecued over coals for just a few minutes on either side to keep it nice and tender. It's smokey, a little sweet, and surprisingly spicy.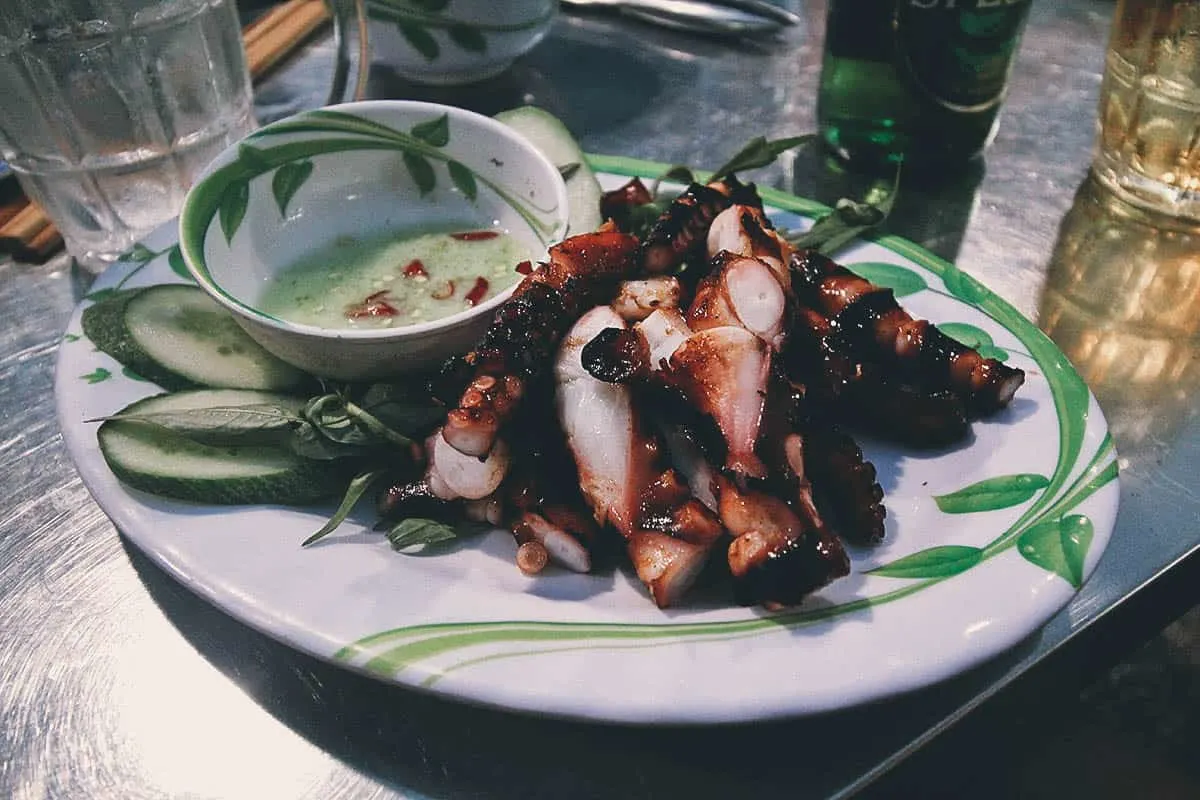 VIETNAMESE DESSERTS / DRINKS
39. Che
Che is the blanket term used to describe a family of traditional Vietnamese dessert soups, sweet beverages, or pudding. It's an extremely popular dessert that you can find pretty much anywhere in Vietnam.
Served hot or cold, there are endless varieties of che made with all kinds of ingredients like coconut milk, beans, tapioca, jelly, fruit, seeds, tubers, grains, cereals, and glutinous rice. Some varieties even include dumplings. Basically, if it's sweet and comes in soup or pudding form, then it can probably be classified as che.
Vietnam can get brutally hot so slurping down ice cold bowls of che is a great way to cool down. It was something we enjoyed several times in Vietnam.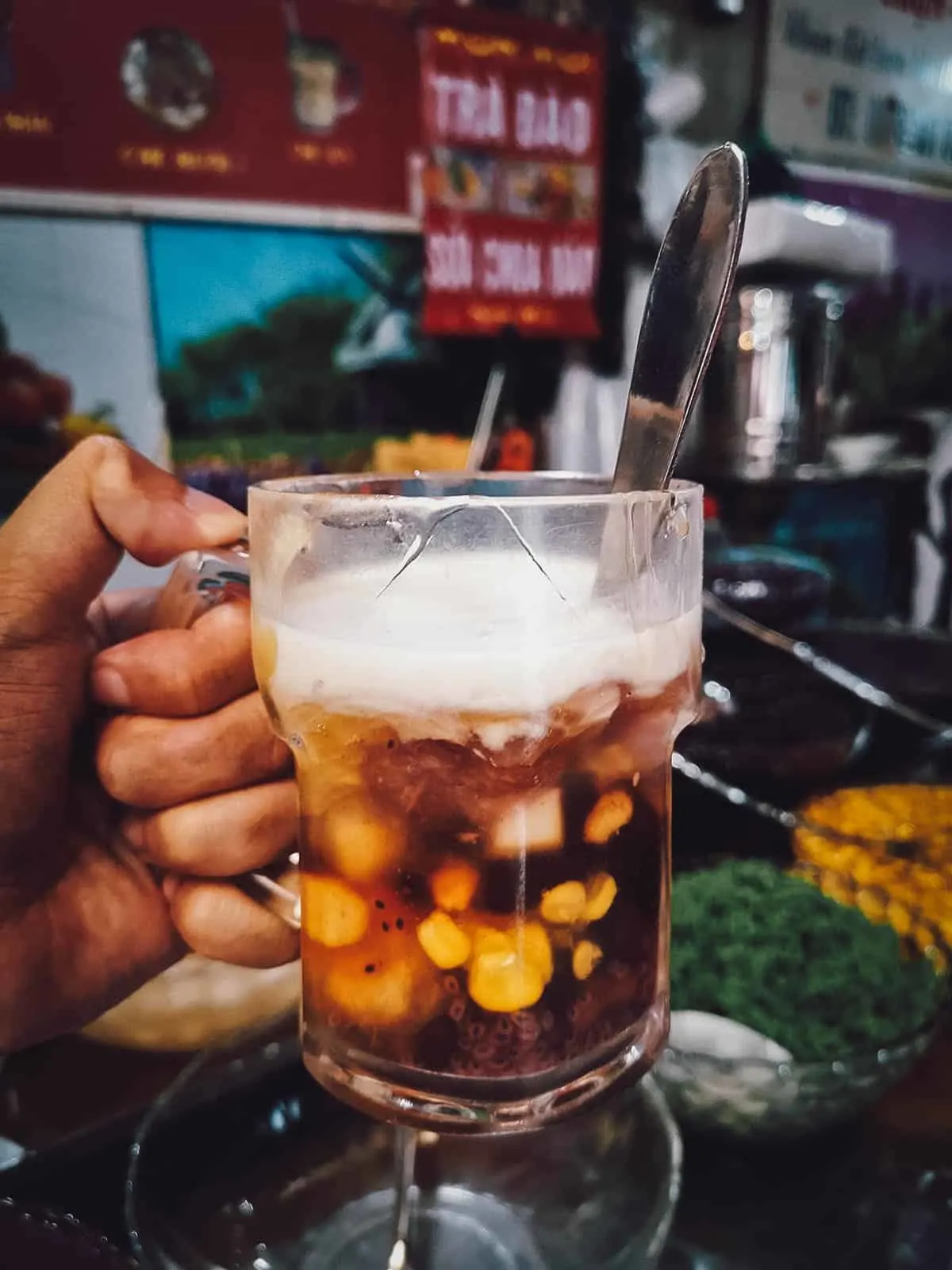 This che bap or che made with sweet corn was one of my favorite versions of this traditional Vietnamese dessert. Thick and gooey, it's popular in Hue and a great dessert to have after a bowl of com hen.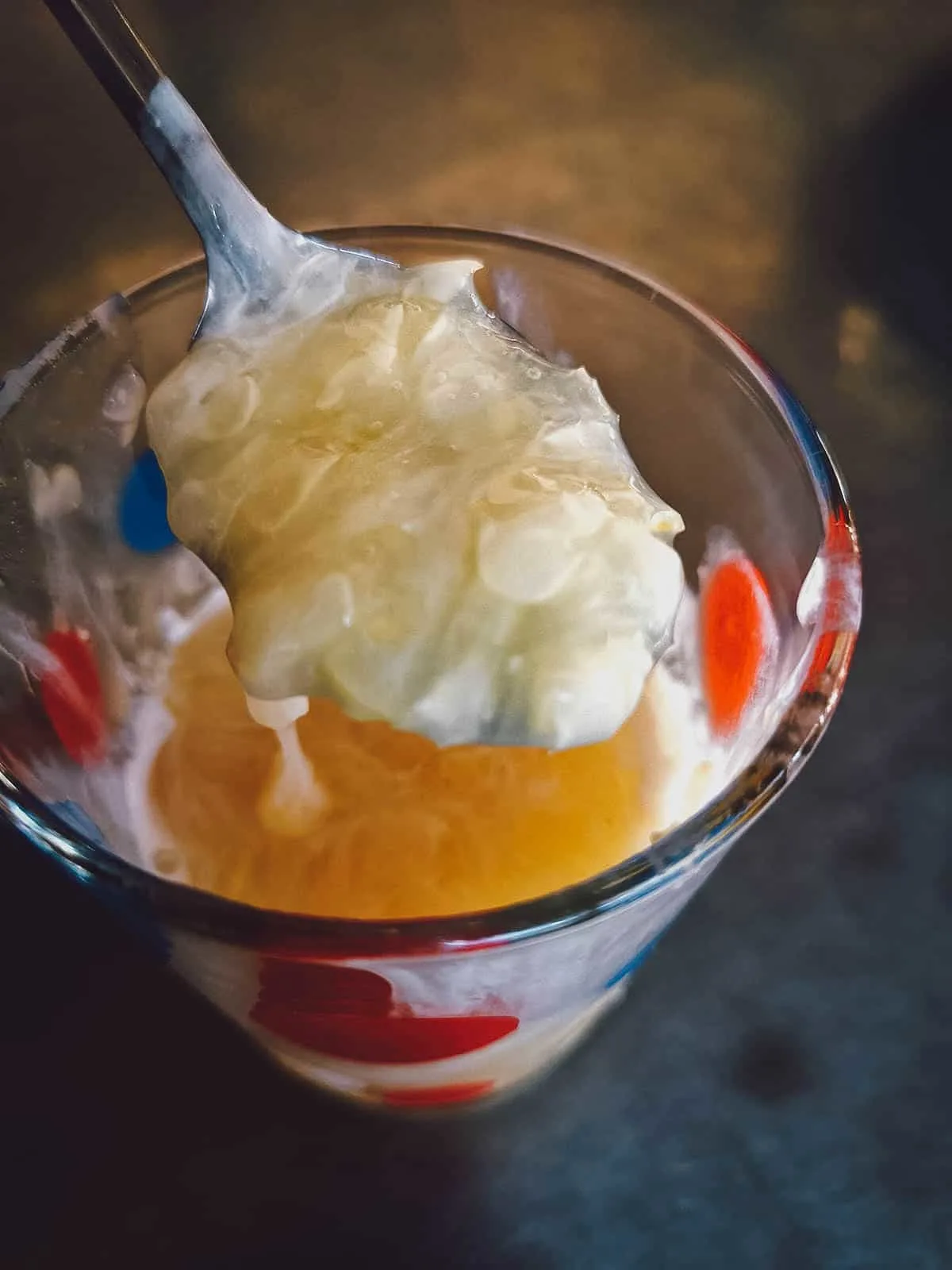 40. Banh Xoai
This is an oddly-named snack food. It's called banh xoai which means "mango cake", but it doesn't contain any mango nor is it even really a cake!
Banh xoai is a powdery ball made from sticky rice with a filling consisting of peanuts and sugar. I read that it got its name because its shape is said to resemble a mango seed.
It's a nice, cheap snack you can buy from many vendors around the Thu Bon River in Hanoi.
41. Xi Ma
Xi ma or black sesame sweet soup is a popular dessert food in Hoi An. It originates from Fujian Province in China and is made with black sesame, coconut, rice flour, sugar, and pennywort – a type of Chinese herbal medicine.
Served warm in small portions, Xi ma is nutty, not too sweet, and described as being good for your health. You can find it being sold by street food vendors along the Thu Bon River in central Vietnam.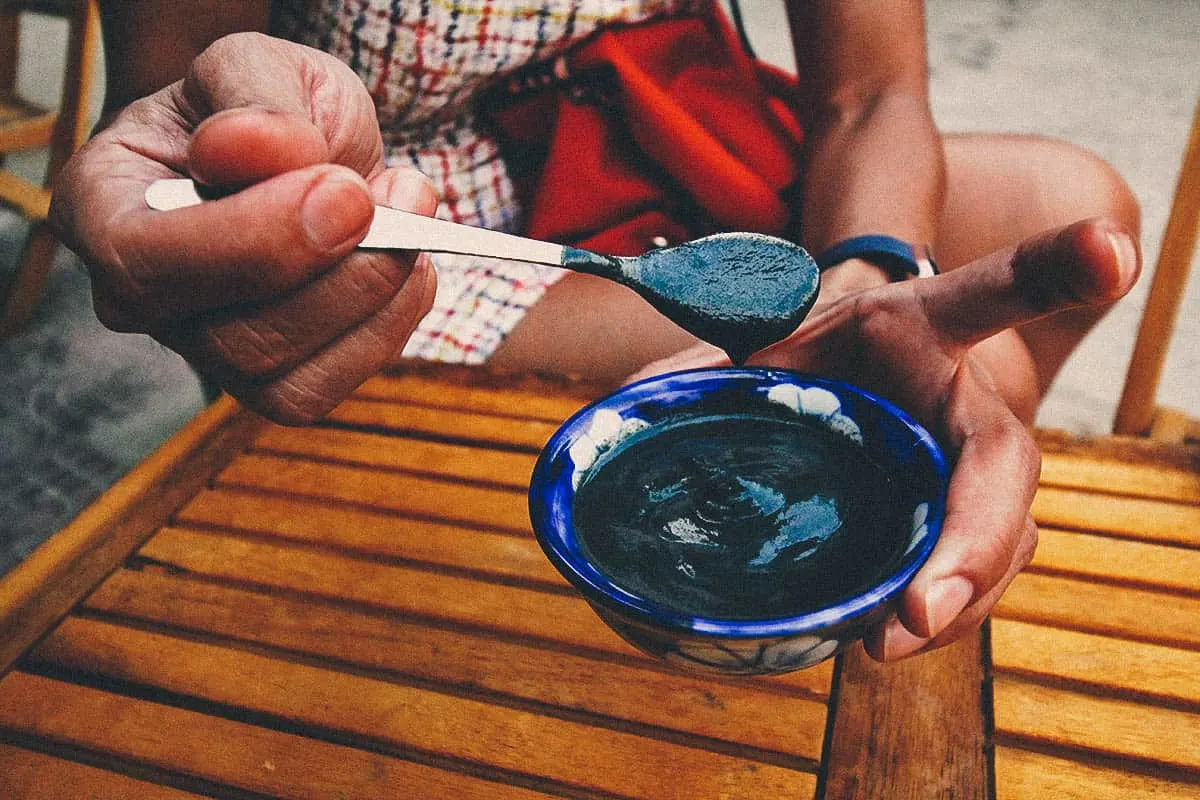 42. Ca Phe Trung (Vietnamese Egg Coffee)
Like bun cha, ca phe trung or egg coffee is a quintessential part of the Hanoi experience. As strange as the concept sounds, it refers to a type of Vietnamese coffee enriched with egg yolks, sugar, and condensed milk, hence the name egg coffee.
Egg coffee was invented in the capital city of Hanoi due to a shortage in milk in the 1940s. It's prepared by vigorously beating egg yolks with condensed milk and coffee until frothy. Half a cup of freshly brewed Vietnamese coffee is poured into a cup then topped with this fluffy egg mixture, resulting in a frothy cup of egg coffee that's sweet, strong, eggy, and very rich.
Vietnam is the second largest exporter of coffee in the world, behind only Brazil, so coffee is something you should have often in Vietnam. You'll find different types of coffee drinks in Vietnam but egg coffee is one of the most famous and unique and definitely a must-try.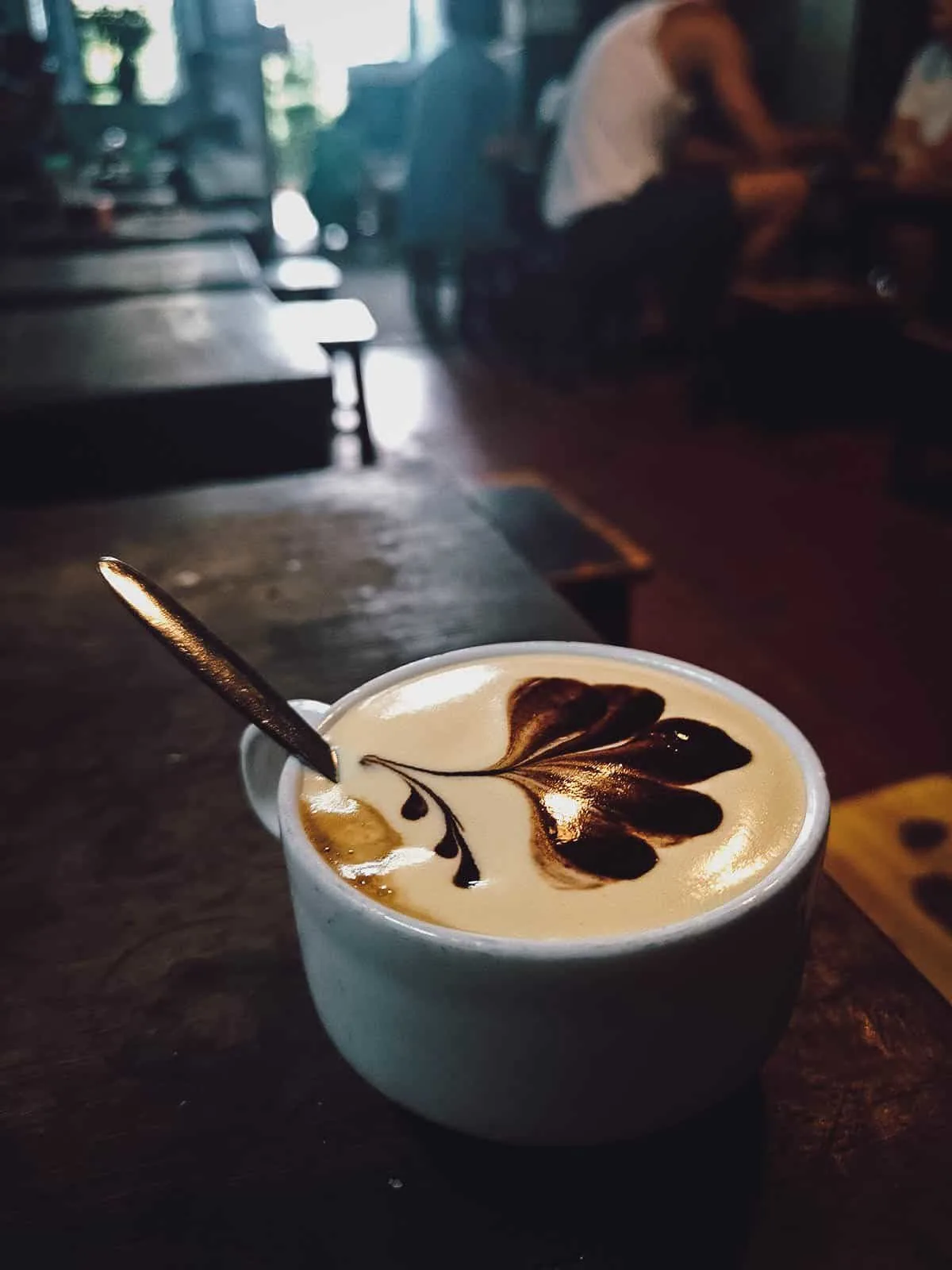 43. Ca Phe Muoi
If Hanoi has ca phe trung or egg coffee, then Hue has ca phe muoi. Ce phe muoi literally means "salt coffee" and as its name suggests, refers to a coffee drink made with salt.
To prepare, a mixture of salt, fermented milk, and cocoa powder are vigorously whipped before being transferred to a cup. A traditional phin filter with Vietnamese drip coffee is placed over the cup. After the coffee has completely filtered through, a few ice cubes are added to the coffee mixture before drinking.
Salt coffee sounds strange at first but it's actually delicious. It's just salty enough to bring out the sweetness of the cocoa and milk while tempering the bitterness of the coffee. Someone described it as being reminiscent of a chocolate brownie, which in a strange way, it is.
If egg coffee is a must-try in Hanoi, then salt coffee is a must-try in Hue.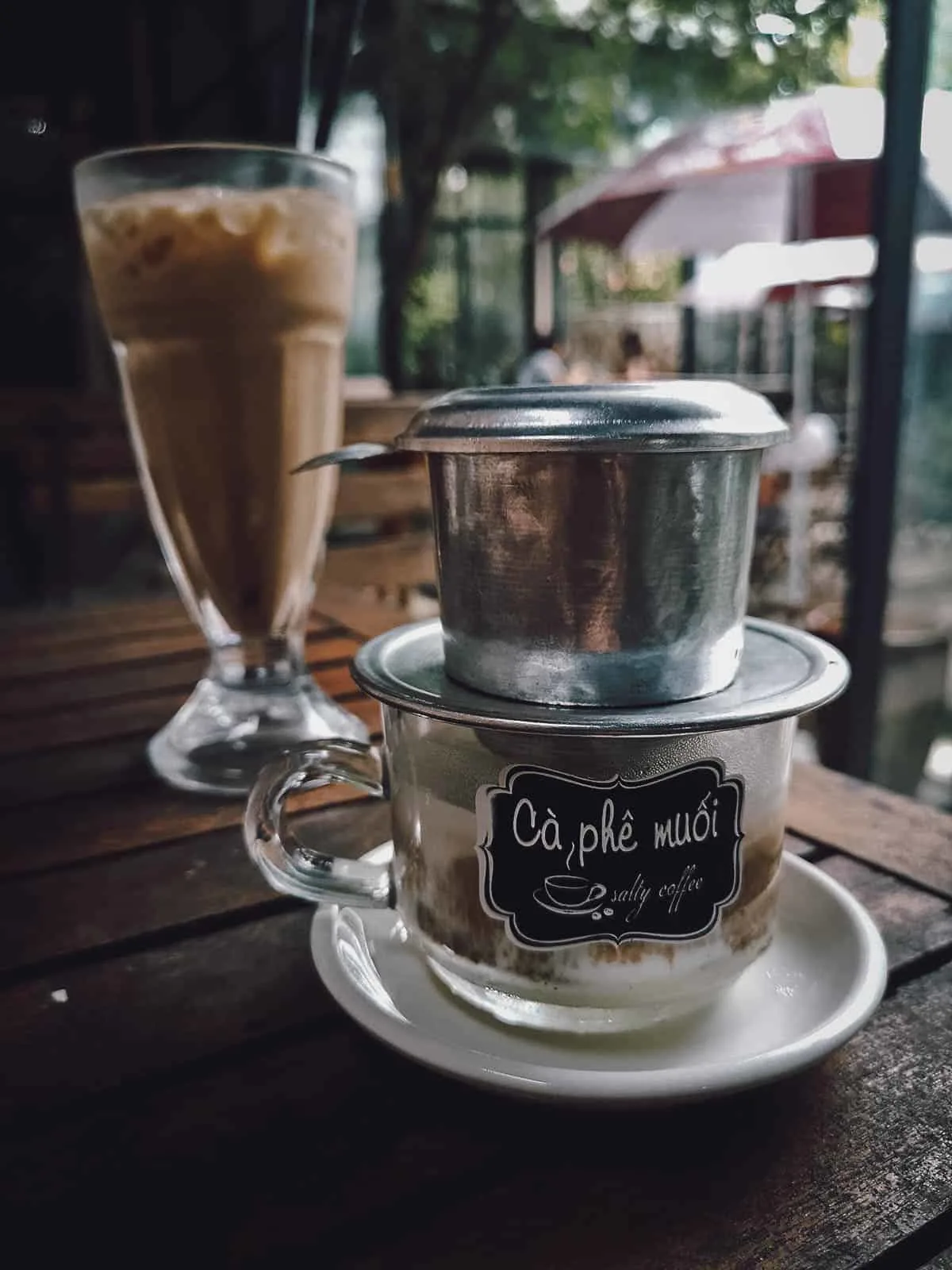 44. Nuoc Mia
If I wasn't drinking coffee in Vietnam, then I was drinking nuoc mia. Nuoc mia refers to freshly pressed sugarcane juice.
Nuoc mia is sometimes mixed with kumquat or chanh muoi (salted pickled lime) to balance its sweetness but I think it's perfect on its own. Sold at street food stalls throughout Vietnam, it's the perfect boost of energy on a blistering summer day. It's delicious and incredibly refreshing.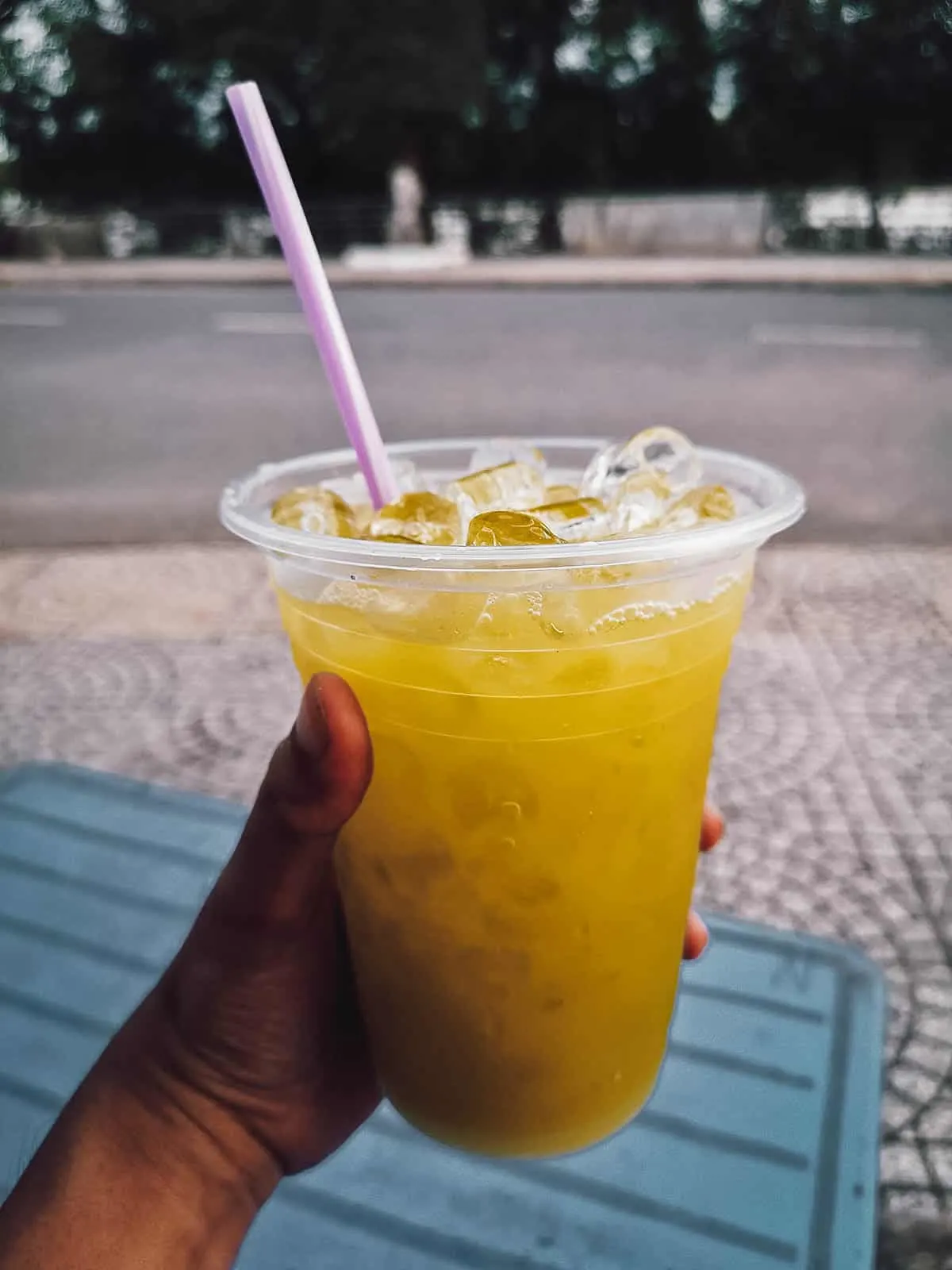 45. Bia Hoi
Bia hoi means "fresh (or gas) beer", and refers to a type of Vietnamese draft beer often marketed as the "cheapest beer in the world". It has a relatively low alcohol content of around 3% and costs anywhere between VND 3,000-7,000 a glass. At today's exchange rate, that's just 13-30 US cents!
Brewed daily and without preservatives, freshly made batches are delivered in steel barrels (without any branding) and typically consumed that same evening.
Though it's possible find bia hoi in other parts of Vietnam, it's most strongly associated with Hanoi and the north. Many bars in the city serve bia hoi but the best place to have it is at bia hoi corner.
Located at the intersection of Ta Hien & Luong Ngoc Quyen Streets seems harmless during the day, but at night, it becomes an electric mix of locals and foreigners chugging beers on low plastic stools by the side of the road. It's a fun, vibrant atmosphere that every beer drinker and street food lover has to experience in Vietnam.
As for the bia hoi itself, it's a light watery beer that reminded me of Coors Light or Keystone. Personally, I didn't like it too much as I found it a little sour, perhaps even a bit chemical-y in taste. I switched to local bottled beer after my first glass.
This is definitely something you should try though as it's a key part of the Hanoi experience. Many people seem to enjoy it. Just know that bia hoi's production isn't monitored by any health agency in Vietnam so you probably shouldn't go overboard with the stuff.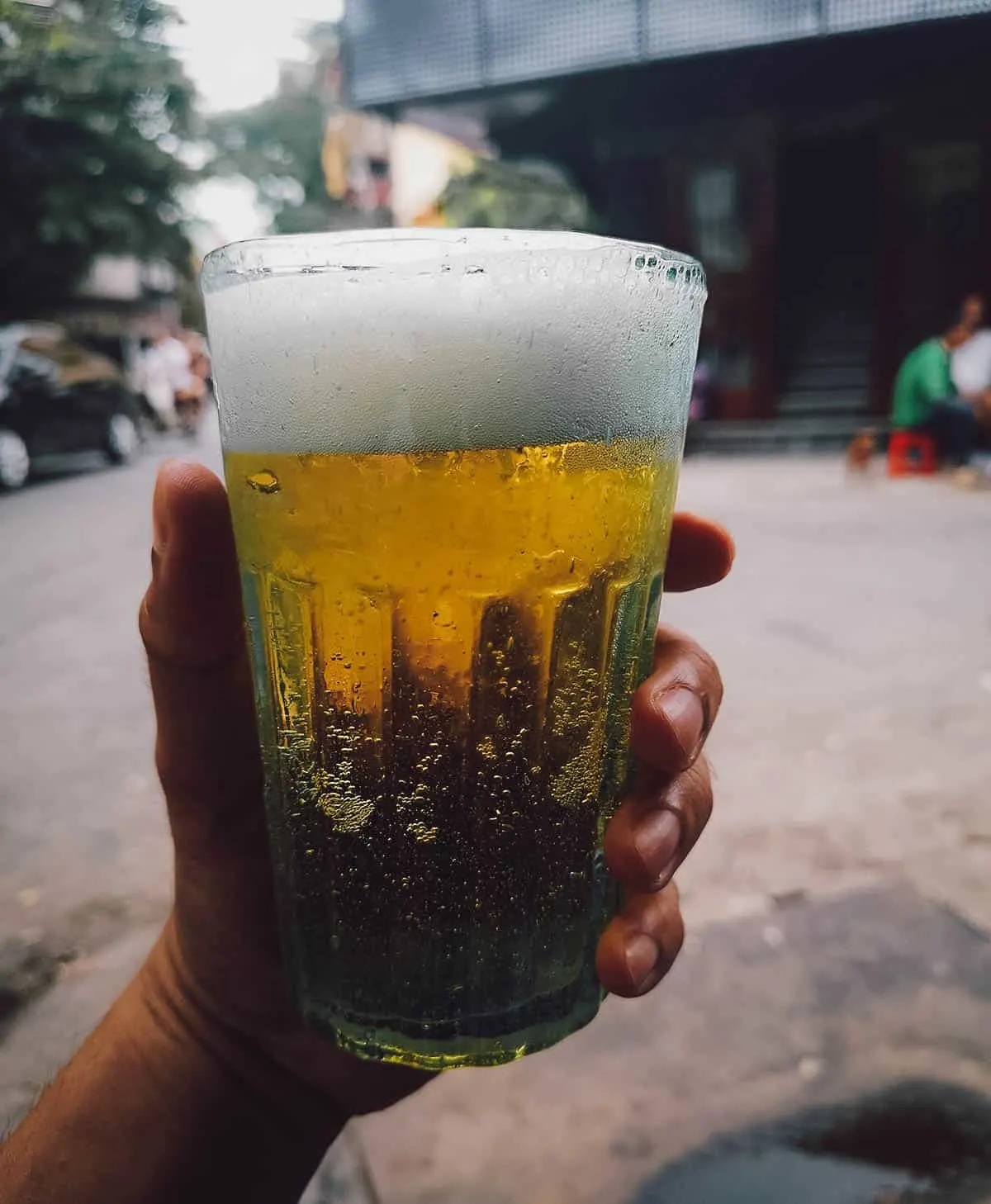 This is what bia hoi corner looks like at night, and the festivities are only just getting started. It gets much busier than this.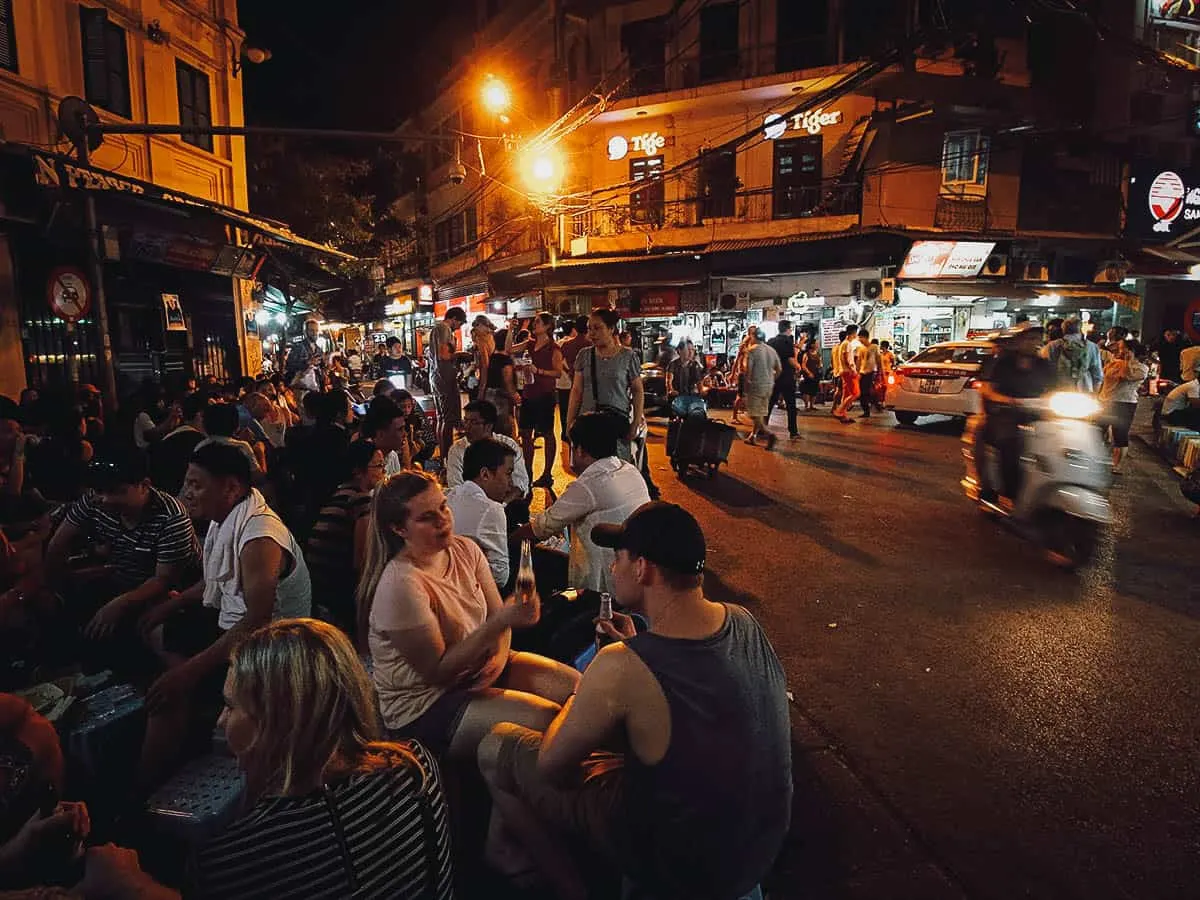 VIETNAMESE FOOD TOURS
It goes without saying that no one knows Vietnamese food better than a local, so what better way to experience Vietnamese cuisine than by going on a food tour? A knowledgeable guide will take you to the city's best Vietnamese restaurants and street food stalls and explain all the dishes to you in more detail.
If you're visiting Vietnam, then check out Get Your Guide for a list of food tours in Hanoi, Ho Chi Minh City, and other cities in Vietnam.
VIETNAMESE COOKING CLASSES
Aside from food tours, we also enjoy taking cooking classes when we travel. In fact, we took our very first cooking class in Hoi An. We enjoyed it so much that we've been doing it ever since. For me, it's one of the best ways to learn about the local cuisine. Check out Cookly for a list of cooking classes in different cities throughout Vietnam.
FINAL THOUGHTS ON TRADITIONAL VIETNAMESE FOODS
We've tried many more Vietnamese dishes than this guide reflects but I'm capping it at 45, even after future visits to Vietnam. The goal isn't to create an almanac of Vietnamese food but a guide showcasing the best dishes in Vietnam.
Vietnamese cuisine is one of our favorites which is why we plan on going back often. We plan on exploring every nook and cranny of this delicious and fascinating country. After every visit, this guide will be updated, refined, and improved upon to give you the best possible resource on Vietnamese food on the internet.
Thanks for reading guys and have an amazing time eating all this delicious food in Vietnam!
Disclosure
Some of the links in this Vietnamese food guide are affiliate links, meaning we'll earn a small commission if we make a qualifying sale at no added expense to you. As always, we only recommend products and services that we use ourselves and firmly believe in. We really appreciate your support as this helps us make more of these free travel guides. Cám ơn!