Taichung is one of Taiwan's biggest cities. In fact, it's the second biggest by population, bigger than Taipei and second only to New Taipei City. As you'd expect from a city with over 2.7 million people, it has a dizzying number of food choices, especially in a country as food-centric as Taiwan.
To be honest, I hadn't heard of Taichung until I was invited to a blogger event there in October 2017. We visited several restaurants throughout the city in celebration of the Gourmet Taiwan Festival. Little did I know that Taichung was a preferred city among many Taiwanese, even topping a 2013 survey as the most livable city in Taiwan.
Apart from being the country's arts and cultural center, much of that has to do with the food. It's home to the biggest night market in Taiwan and is recognized by many as the birthplace of one of the country's most iconic drinks – bubble tea.
Taichung made such an impression on me that we decided to stay there for three nights on our most recent trip to Taiwan. And as you'd expect, we spent a lot of that time trying as much Taiwanese food as we could. We've done the leg work for you so if you're planning that first trip to Taichung and wondering where you can eat, then here are eight places to seriously consider.
FOOD IN TAICHUNG QUICK LINKS
To help you with your Taichung trip planning, we've compiled links to popular hotels, tours, and other activites here.
HOTELS
Recommended hotels in the Central District, one of the most convenient areas to stay for people visiting Taichung for the first time.
TOURS
OTHER SERVICES
TAICHUNG TRAVEL GUIDE
If you're planning a trip to Taichung, then be sure to check out our detailed Taichung travel guide. It'll have all the information you need – like where to stay, which attractions to visit, how much to budget, etc. – to help you plan your trip.
Save This on Pinterest!
No time to read this Taichung travel guide now? Click on the save button and pin it for later!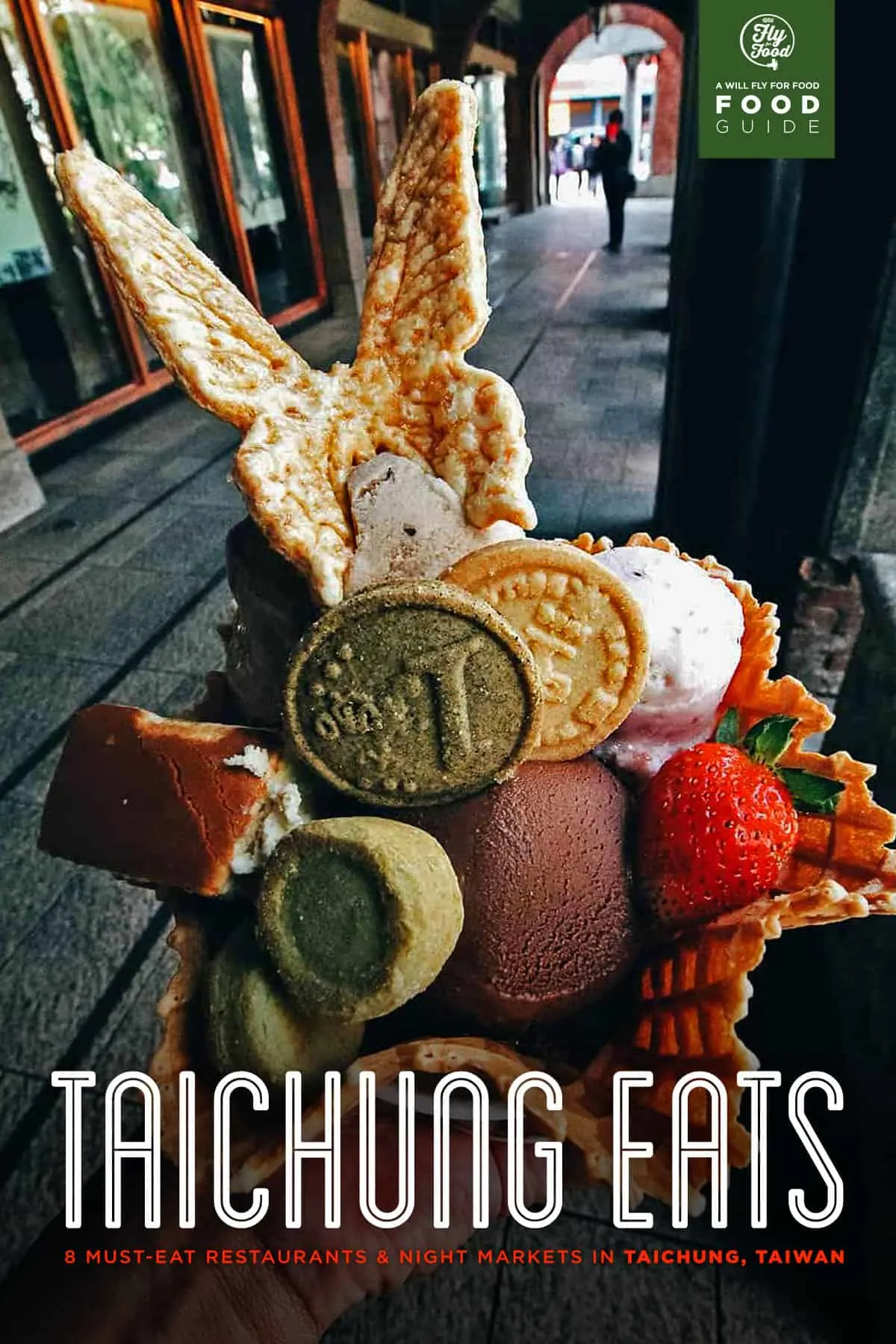 MUST-TRY RESTAURANTS IN TAICHUNG
1. Second Market
If you're in the mood for traditional Taiwanese breakfast, then Second Market is the place to go to in Taichung. Open since 1917, Taichung Second Public Market is a 7,000 square meter market with over fifty shops and three hundred stalls.
At Second Market, you'll find all kinds of meat, produce, and spices, as well as multiple stands selling cooked food like baozi, noodles, lu rou fan, and black tea. As you can see from the long line of people below, it's especially popular for breakfast.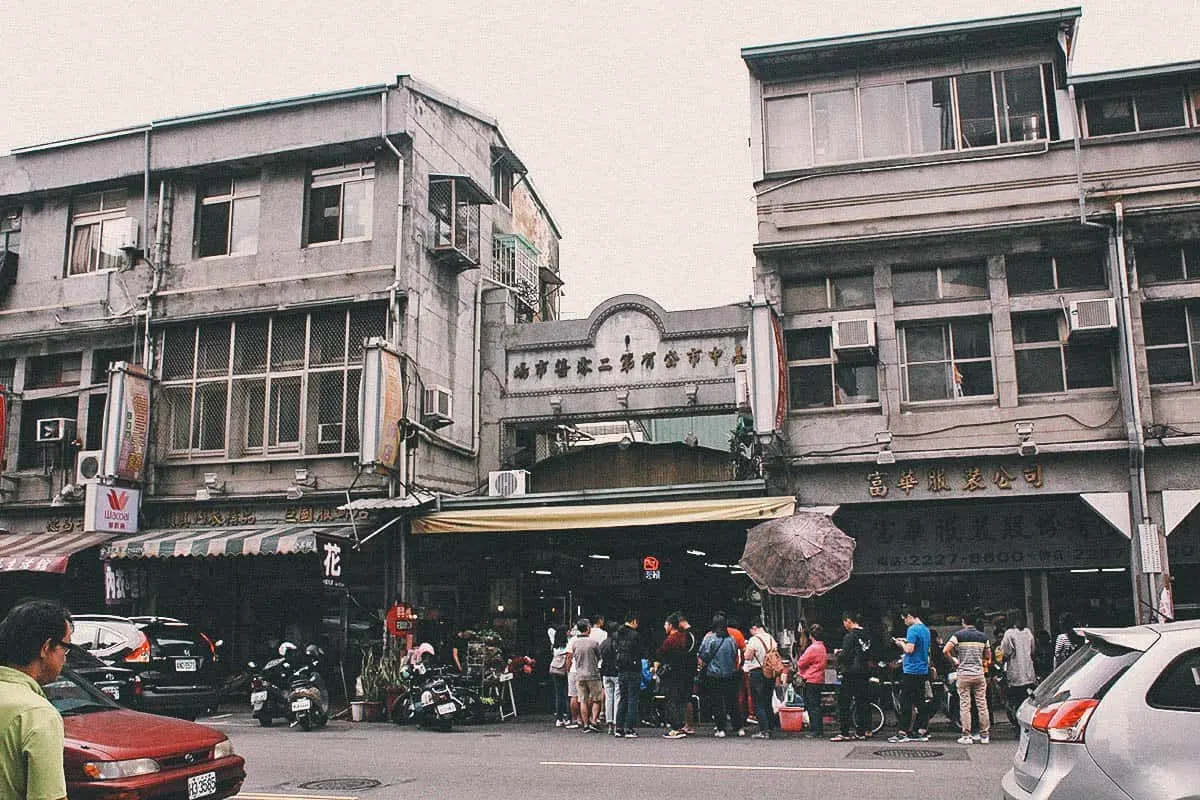 This vendor selling Taiwanese breakfast at the mouth of Second Market was the most popular stall here. In fact, the line of people pictured above was for this place. I didn't have time to wait in line that long so I went to a different stand instead.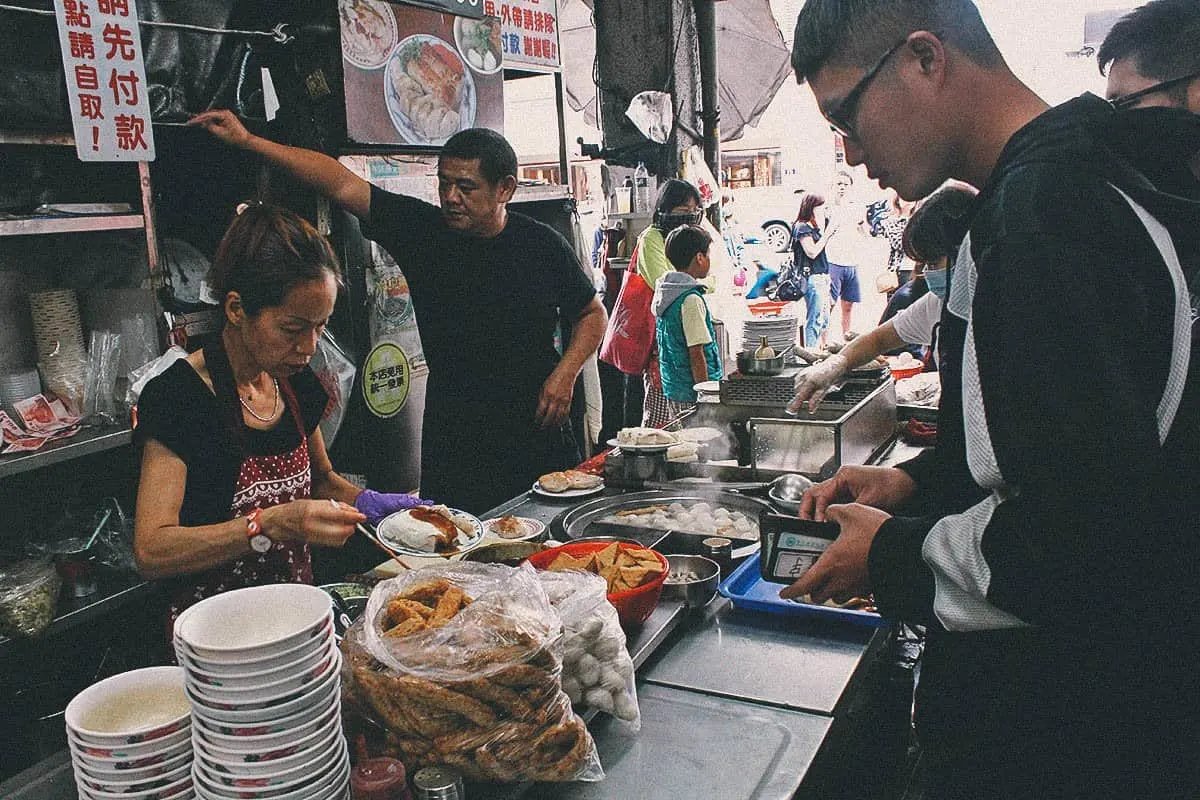 This stand was popular as well but it wasn't nearly as crazy as the previous one.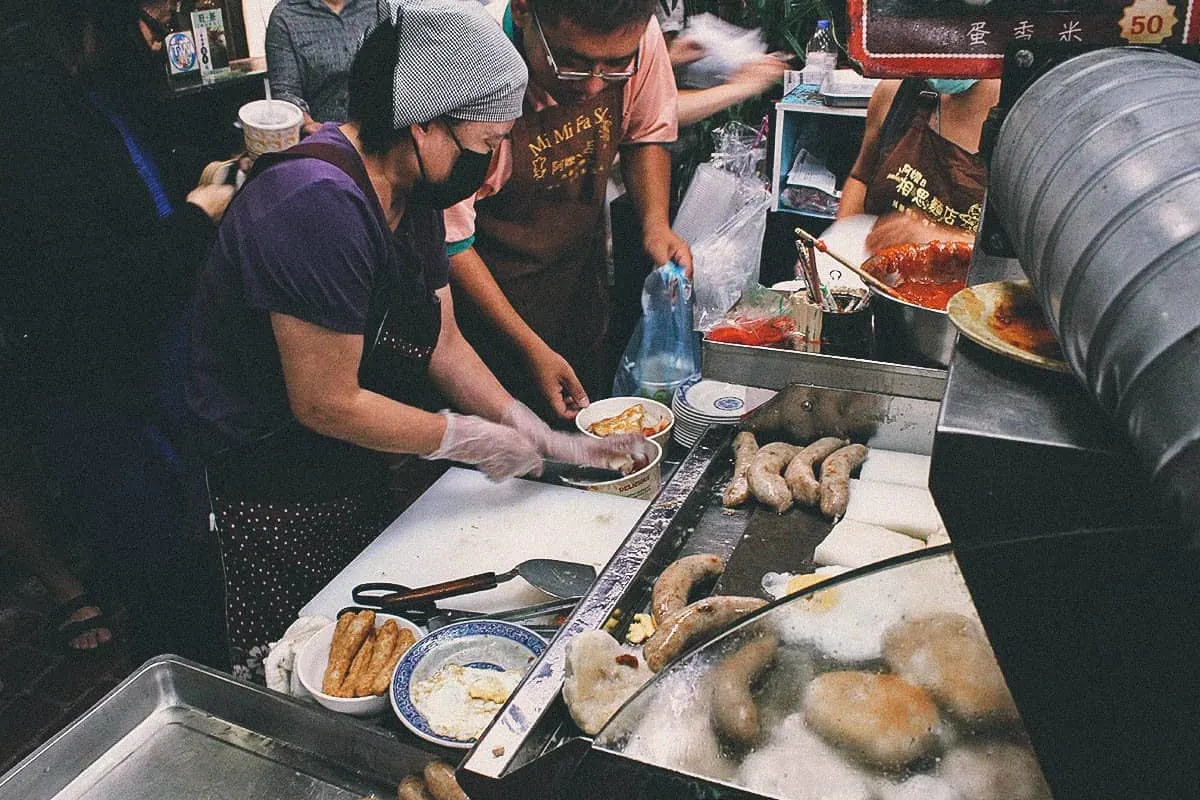 They couldn't speak English and the menu was entirely in Chinese, so I just pointed at a picture of this set breakfast platter with egg, sausages, glutinous rice cakes, and tofu, among others. It was served with a red sweet and savory sauce that I believe is the same sauce they serve with oyster omelettes.
The vendor must have noticed how excited I was about the food because he was kind enough to give me a bowl of fish ball noodle soup for free. Thank you!
I'm not an expert on Taiwanese breakfast so I unfortunately can't describe the individual dishes in more detail, but everything tasted good. Much of it was starchy and filling. Some of the items on my plate looked like pork sausages but they were actually made with glutinous rice.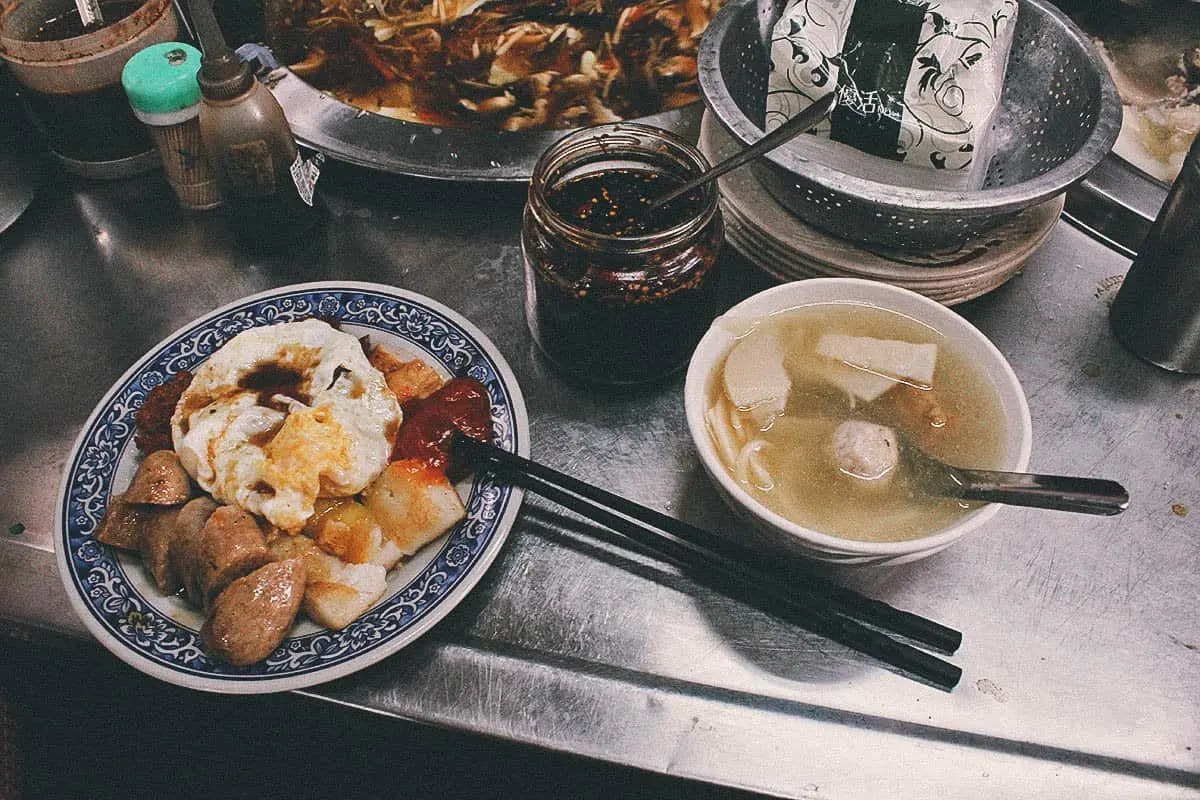 Second Market
Address: No. 87, Section 2, Sanmin Road, Central District, Taichung City, Taiwan 400
Operating Hours: 7AM-8PM, Tue-Sun (closed Mondays)
What to Order: Taiwanese breakfast
Expect to Pay: Around NTD 50-100 per plate
How to Get There: From Taichung TRA Station, walk northwest on Section 1, Taiwan Boulevard. This will take you all the way to the market.
2. Chun Shui Tang (Original Shop)
If you're a fan of boba or bubble tea, then you absolutely must have one here at the original shop of Chun Shui Tang. It's one of two Taiwanese establishments that have a legitimate claim as being the inventor of bubble tea. The other is Hanlin Teahouse in Tainan.
If you've never had boba before, it's a Taiwanese drink which at its most basic is black tea, milk, sugar, and tapioca pearls. It was invented in Taiwan but it's become hugely popular worldwide.
There are countless varieties of boba today, including here at Chun Shui Tang, but I suggest going for the original pearl milk tea if it's your first time here. It's delicious and incredibly refreshing.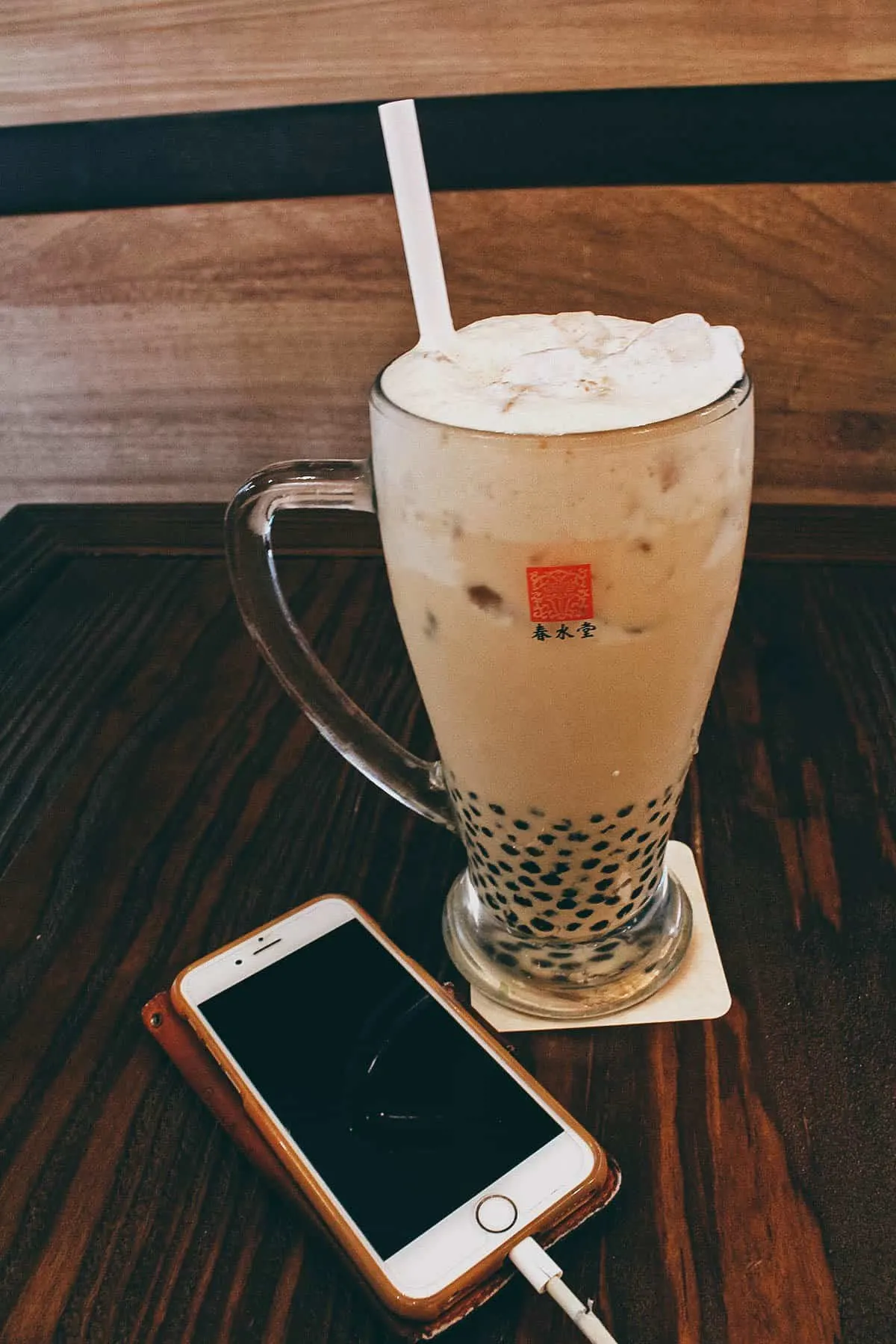 Aside from bubble tea, Chun Shui Tang is popular for its dim sum as well. They have an extensive menu so you may want to have a full meal here to go with your boba. We ordered a delicious breakfast set and this interesting pork shumai wrapped in rice.
There are many Chun Shui Tang branches in Taichung and throughout the country. But if you can, try going to the original store so you can brag to everyone on Instagram that you've been to the birthplace of boba.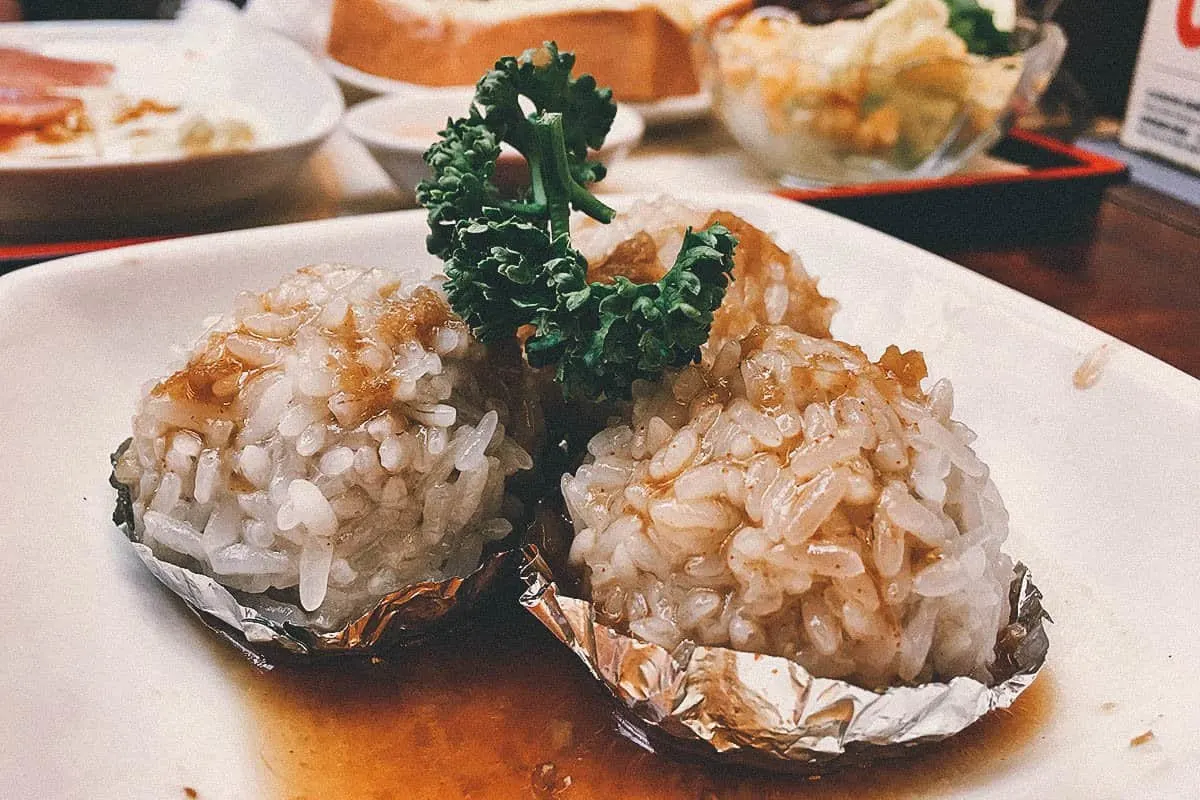 Chun Shui Tang (Original Shop)
Address: No. 30 Siwei Street, Taichung, Taiwan
Operating Hours: 11AM-10PM, daily
What to Order: Pearl milk tea, dim sum
Expect to Pay: NTD 75 (small), NTD 140 (large) for pearl milk tea
How to Get There: From Taichung TRA Station, walk west along Jianguo Road. Make a right on Minsheng Road then make a left on Fuhou Street. Make a right on Siwei Street and the restaurant will be on your right.
3. Fu Din Wang
I learned about Fu Din Wang when I was doing research for the best places to eat in Taichung. Not only was it mentioned in a few blog posts, but one article described this restaurant as the place to go to in Taichung for pork knuckle.
Aside from braised pork knuckle, they also specialize in lu rou fan or braised pork rice. These are two of my favorite Taiwanese dishes so there was no way we weren't eating here.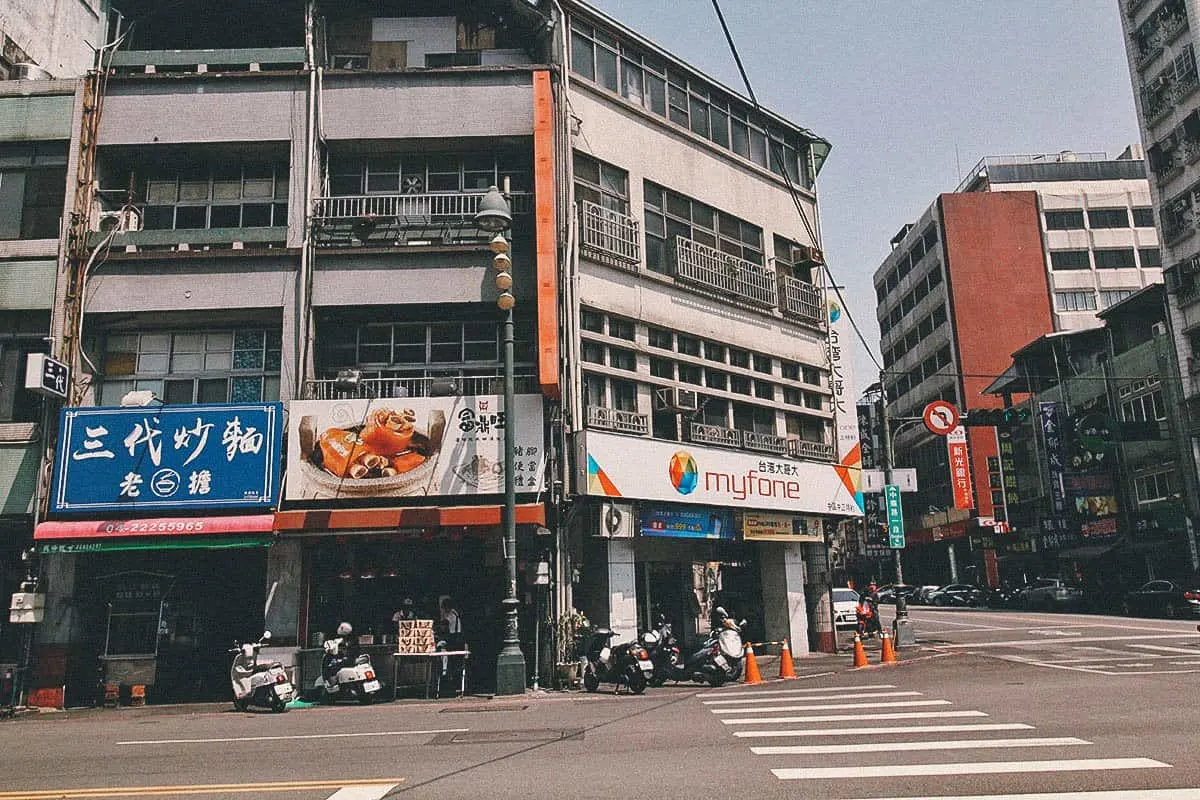 Check out that bubbling cauldron of pork knuckle deliciousness. Taiwanese pork knuckles are slow-cooked for hours until they're fork tender and the meat is practically sliding off the bone.
Fu Din Wang was packed during lunch but it looks like they do a lot of business with takeaways as well. They were filling these to-go boxes non-stop from the moment we arrived till we left.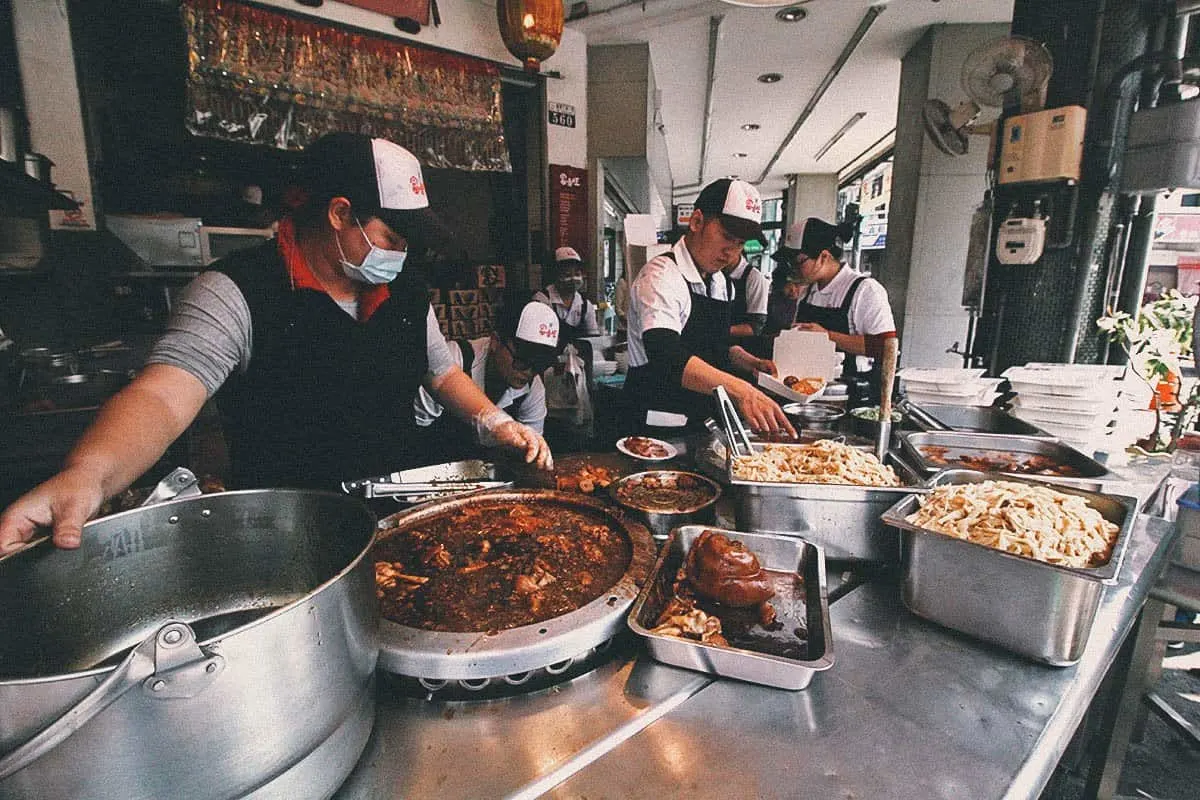 Our tasty lunch of lu rou fan, braised pork knuckle, and tofu. Lu rou fan and braised pork knuckle are actually quite similar with the only difference it seems being the cut of meat used. Instead of pork hocks, lu rou fan is made with pork belly.
Both were delicious – savory, a little sweet, and served with a thick sauce that was a joy to eat with the steamed rice. The slow-cooked pork virtually disintegrated in your mouth and I loved the gelatinous texture of the pork knuckles. They're so good.
We should have gotten it here but be sure to order a side of hardboiled egg as well to go with your lu rou fan. It's simmered in the same soy sauce mixture and is often paired with the dish.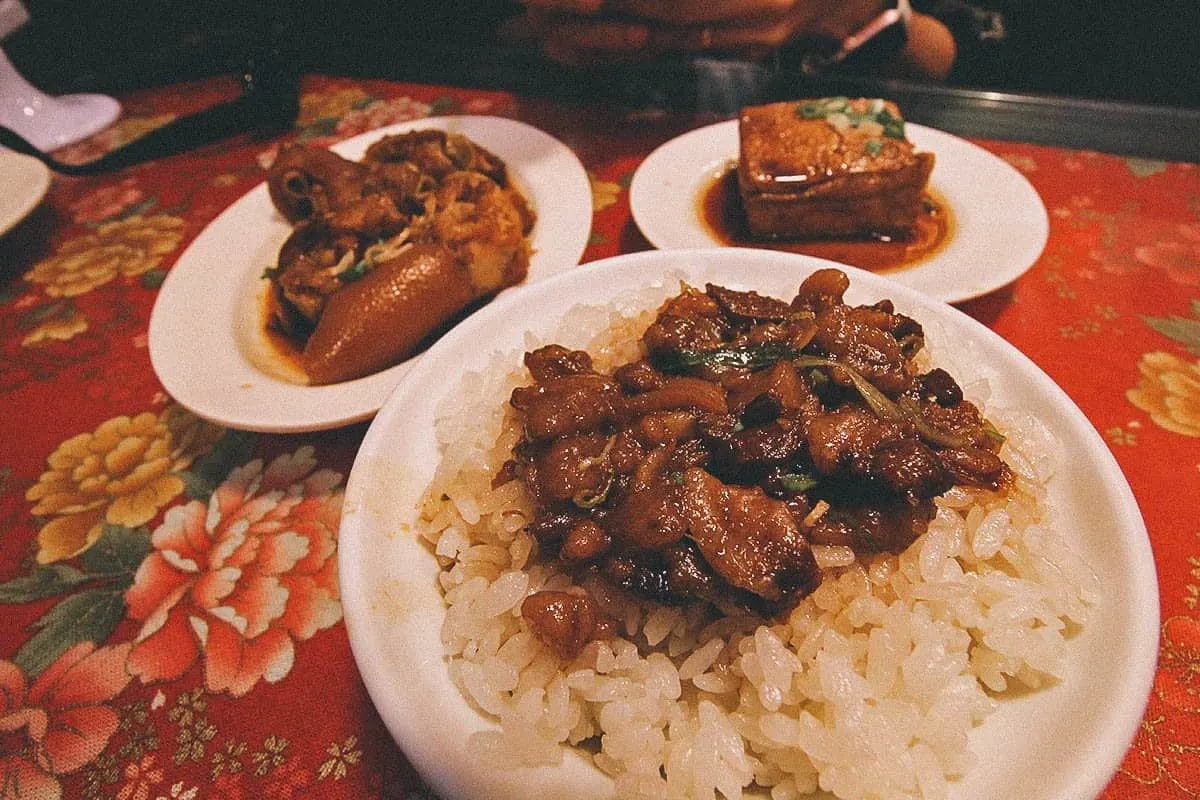 Fu Din Wang
Address: No.560, Sec. 1, Taiwan Blvd., Central Dist, Taichung 400, Taiwan
Operating Hours: 11AM-8PM, Wed-Mon (closed Tuesdays)
What to Order: Braised pork rice, braised pork knuckle
What We Paid: Around NTD 175 with drinks
How to Get There: From Taichung TRA Station, walk northwest on Section 1, Taiwan Boulevard. Keep walking straight until your reach the restaurant at the corner of Taiwan Boulevard and Zhonghua Road.
4. Ding Wang Hotpot (Tripod King)
Like lu rou fan and beef noodle soup, hot pot or shabu shabu is another beloved Taiwanese dish. I did a search for recommended hot pot restaurants in Taichung and Ding Wang Hotpot frequently came up.
Popular in East Asian countries like Japan and China, hot pot is a soup dish containing a variety of ingredients like seafood, thinly sliced meat, noodles, leaf vegetables, tofu, and different types of fish and meat balls. A simmering pot of one or two kinds of soup stock is left on a burner at your table along with your ingredients. You then drop the raw ingredients into the pot yourselves to cook.
Ding Wang is known for a spicy variety of hot pot which I believe is what you see there on the right side of the pot. I didn't find it to be that spicy but it was very tasty.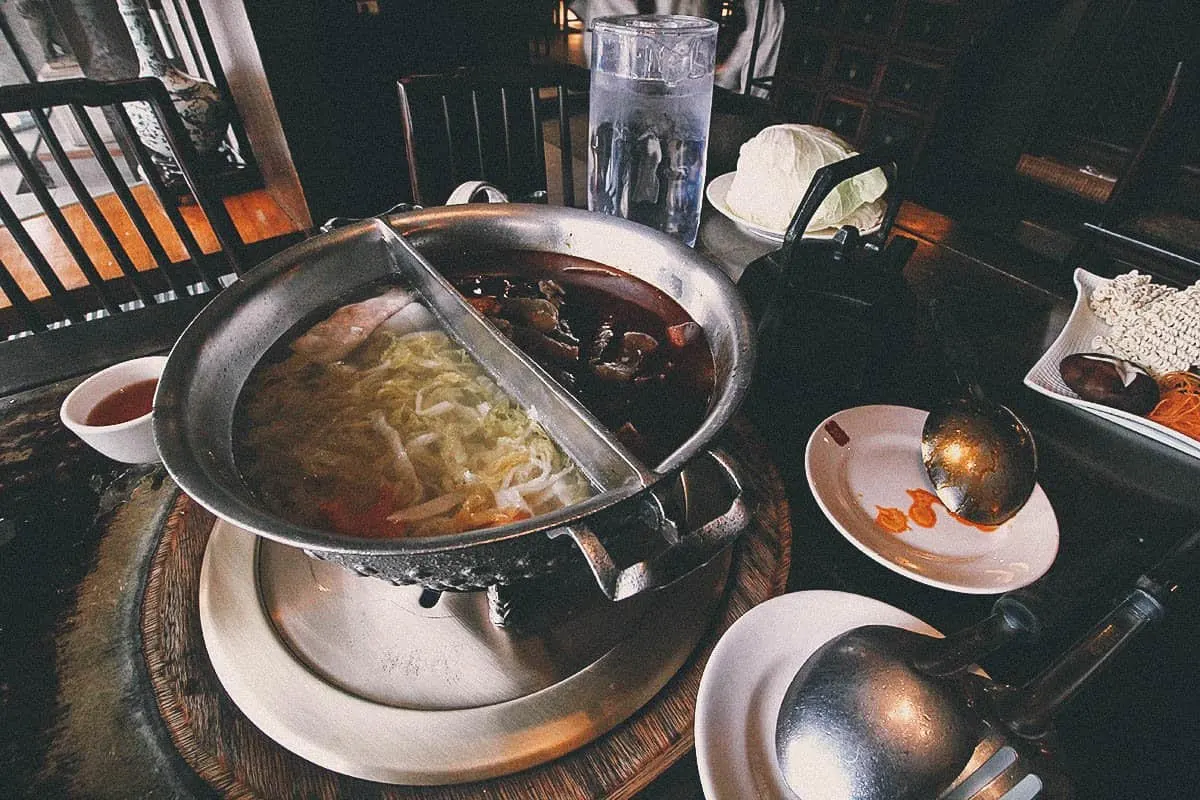 We ordered lamb, beef tendon, seafood and meat balls, ramen, and different types of vegetables. Everything was delicious, so much so that I wound up eating three bowls of rice! Steamed rice is self-serve at Ding Wang Hotpot so you can help yourself to as many bowls as you like.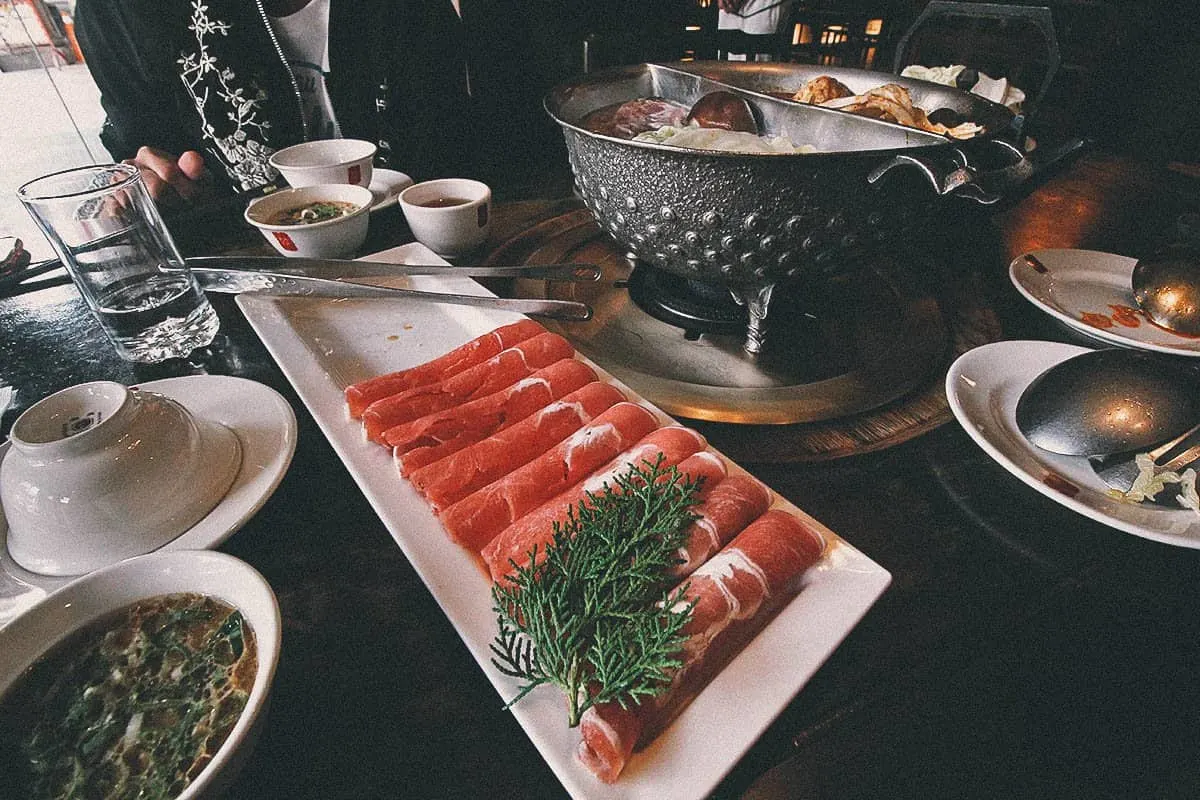 Ding Wang Hotpot
Address: No. 12, Jingcheng Road, Xitun District, Taichung City, Taiwan 407
Operating Hours: 11:30AM-2:30AM, daily
What to Order: Taiwanese hot pot
What We Paid: Around NTD 1,485 for two
How to Get There: From Calligraphy Greenway, walk northwest on Section 2, Taiwan Boulevard. Walk straight then make a left on Jincheng Road. The restaurant will be on your right. There are no clear signs so it's a little hard to spot, but it's the only hot pot restaurant on that block. Just look for the nice restaurant pictured above.
5. Smokey Joe's
This was one of the restaurants we visited on that blogger trip I mentioned at the top of this article. Smokey Joe's is a huge Tex-Mex restaurant with an American Vintage theme. It's a beautifully designed restaurant with multiple dining areas and vintage memorabilia adorning every space.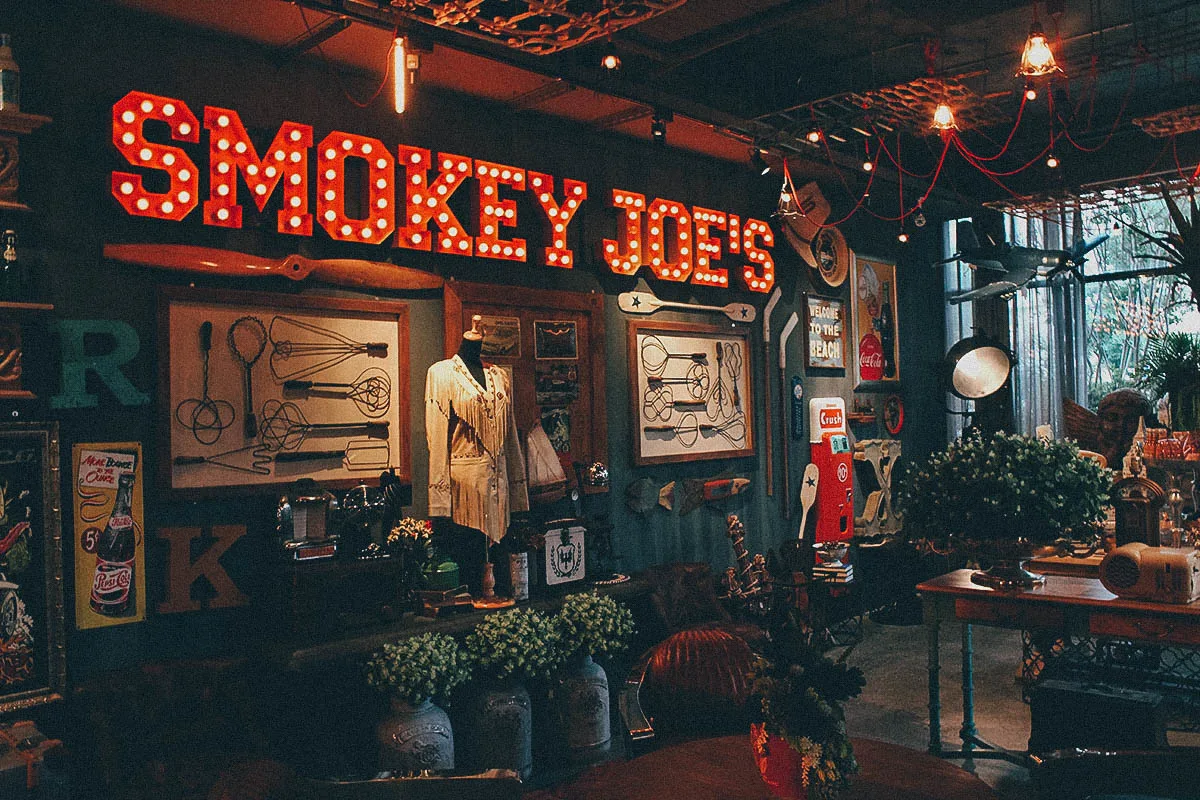 As described, Smokey Joe's specialty is Tex-Mex cuisine like this delicious skillet of Mexican fajitas.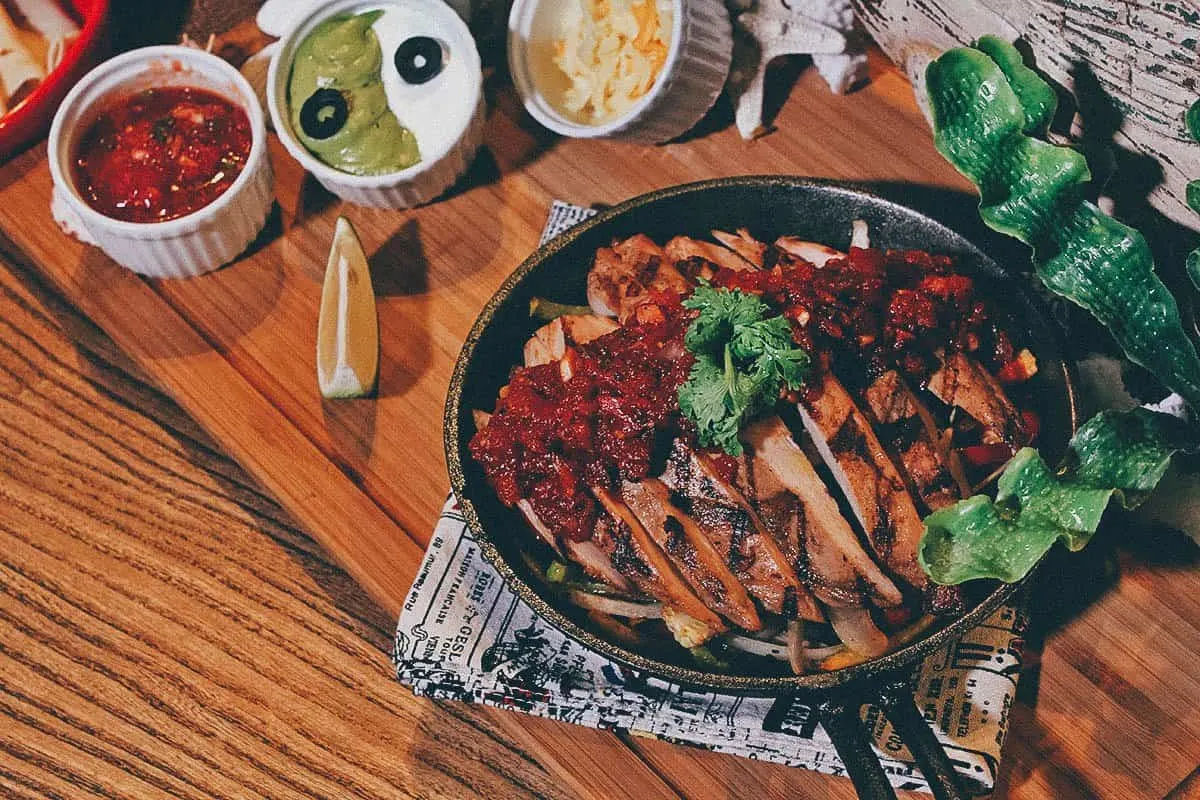 Smokey Joe's serves mainly Tex-Mex cuisine but they do offer many global dishes as well, like burgers, pasta, and paella. I enjoyed this pot of meat skewers which is a play on Malaysian lok lok. Everything was good.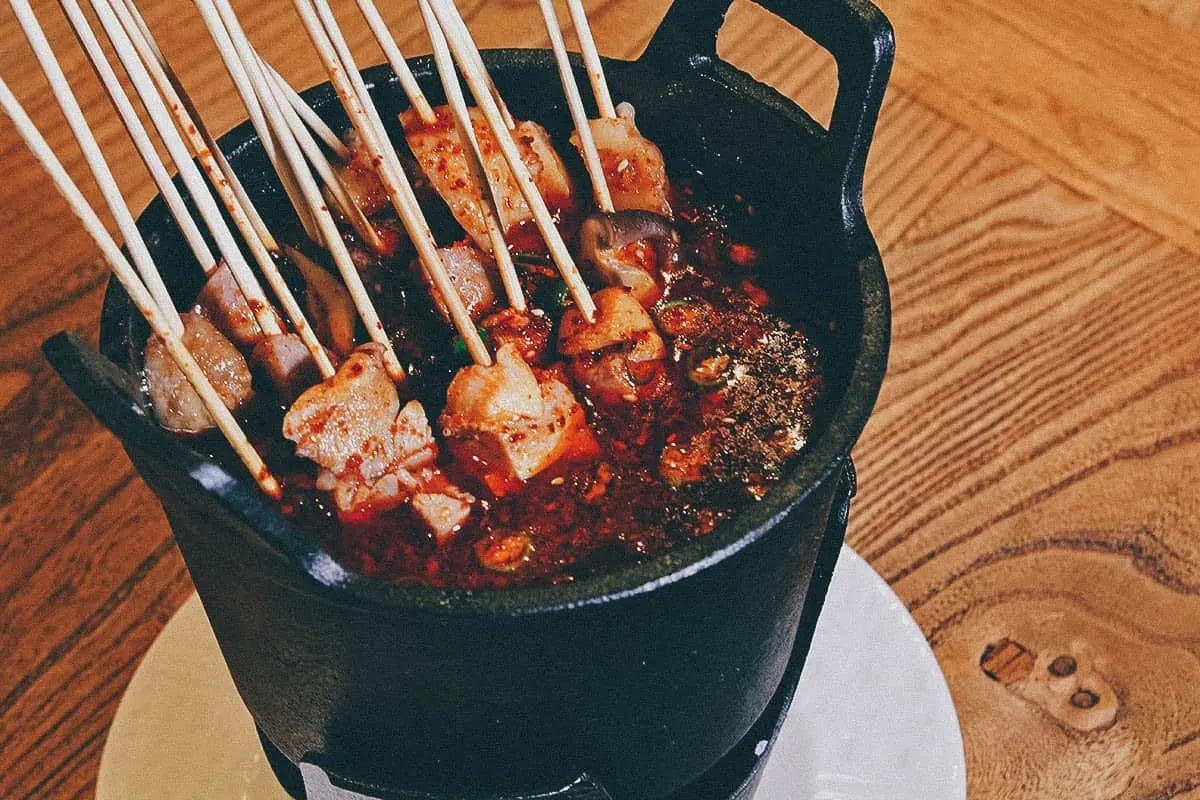 Isn't this cute? Being a Tex-Mex restaurant, you may want to enjoy your food with some ice-cold margaritas. Many of their dishes are creatively and elaborately presented like this.
To be honest, this isn't the type of restaurant that Ren and I would go to when we travel. We much prefer eating the local cuisine, but Smokey Joe's is a fun, beautifully designed restaurant with good food. You may want to give them a try if you're in the mood for margaritas and Tex-Mex in Taichung. It just goes to show you how culinarily diverse this city is.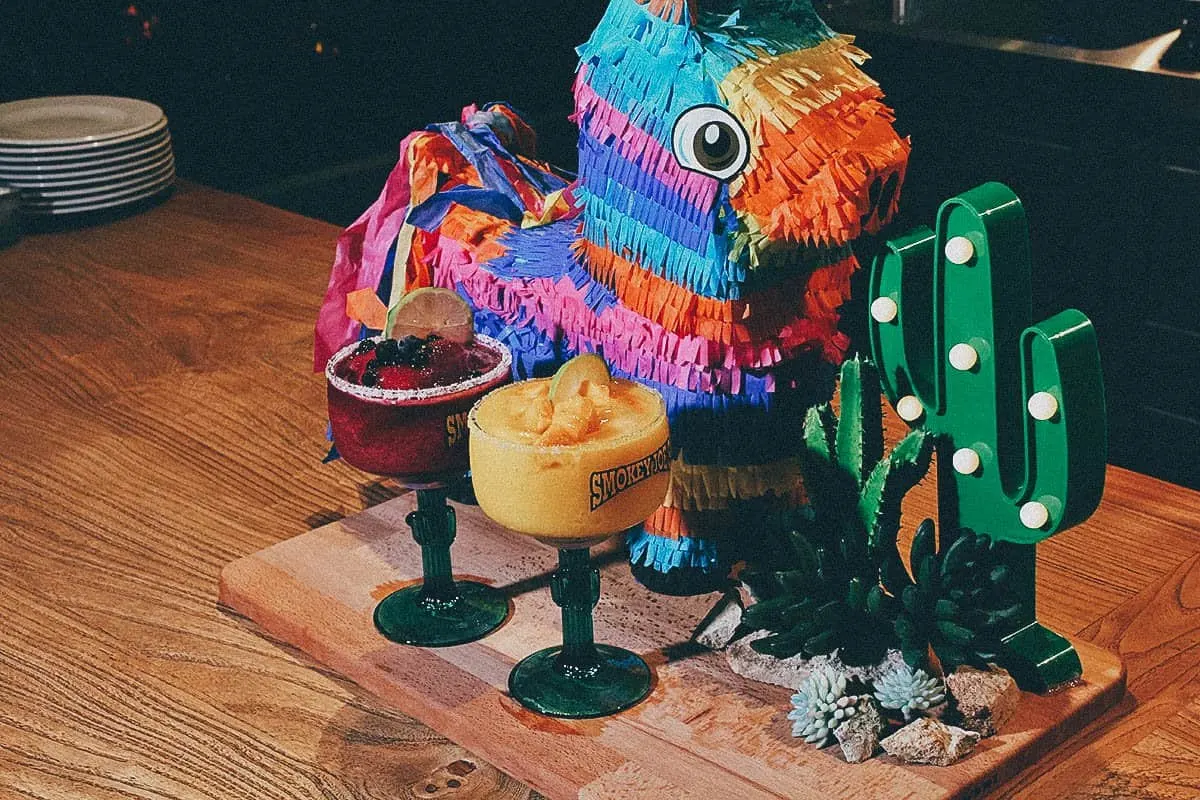 Smokey Joe's
Address: No. 7, Section 1, Meichuan West Road, West District, Taichung City, Taiwan 403
Operating Hours: 11AM-10PM, daily
What to Order: Wild Wolf Platter, chicken fajitas, mango margarita
Expect to Pay: At least NTD 500 per person
How to Get There: Smokey Joe's is near the southern end of Calligraphy Greenway. From the eastern side, walk south on Yingcai Road then make a left on Section 1, Meichuan West Road. Smokey Joe's will be on your left.
6. Miyahara Ice Cream
Miyahara is the most famous place for pineapple cakes in Taichung. It's so famous in fact, that it's one of the most visited tourist attractions in the city. I've been to Miyahara three times and every time I went, there were a few tourists visiting the shop with their luggage in tow.
Though Miyahara is best known for its pineapple cakes, it's beloved for its ice cream as well which you can try from their small shop at the side of the main store.
We got here before it opened and there was already a line of people waiting outside. As you can tell from the markings on the floor, Miyahara Ice Cream is used to serving long queues of customers.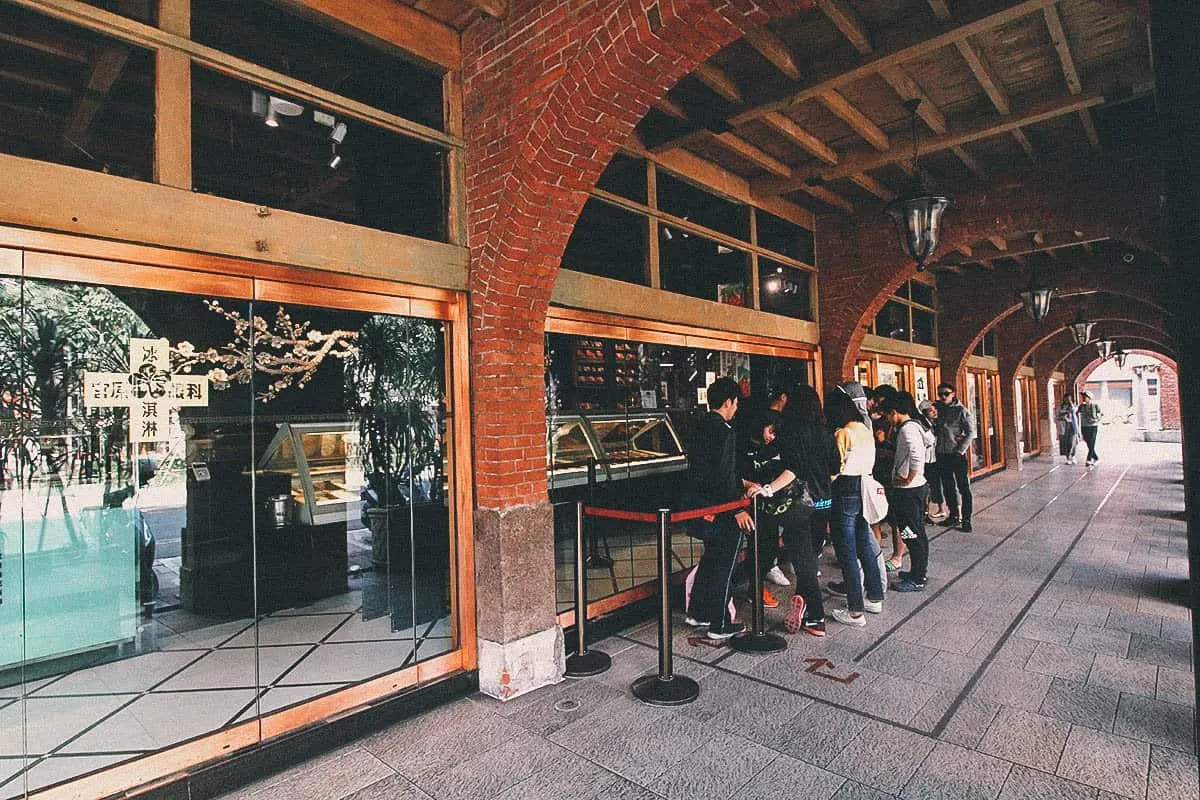 Aside from the usual flavors, you'll find many exotic flavors as well like Uganda 80% Smoked Chocolate, Alishan Oolong, and Sri Lankan Black Tea.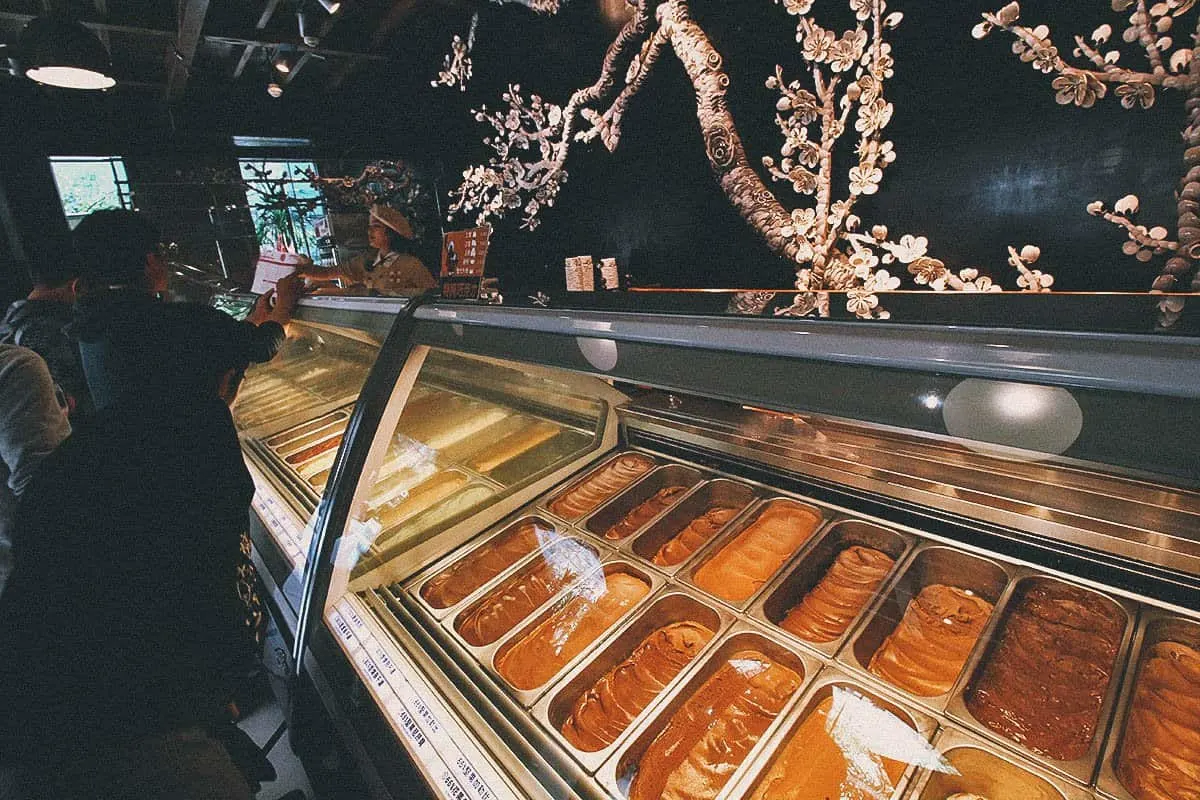 If you like, you can choose to have your ice cream topped with a selection of ingredients like cheesecake, pineapple tarts, and almond crisps.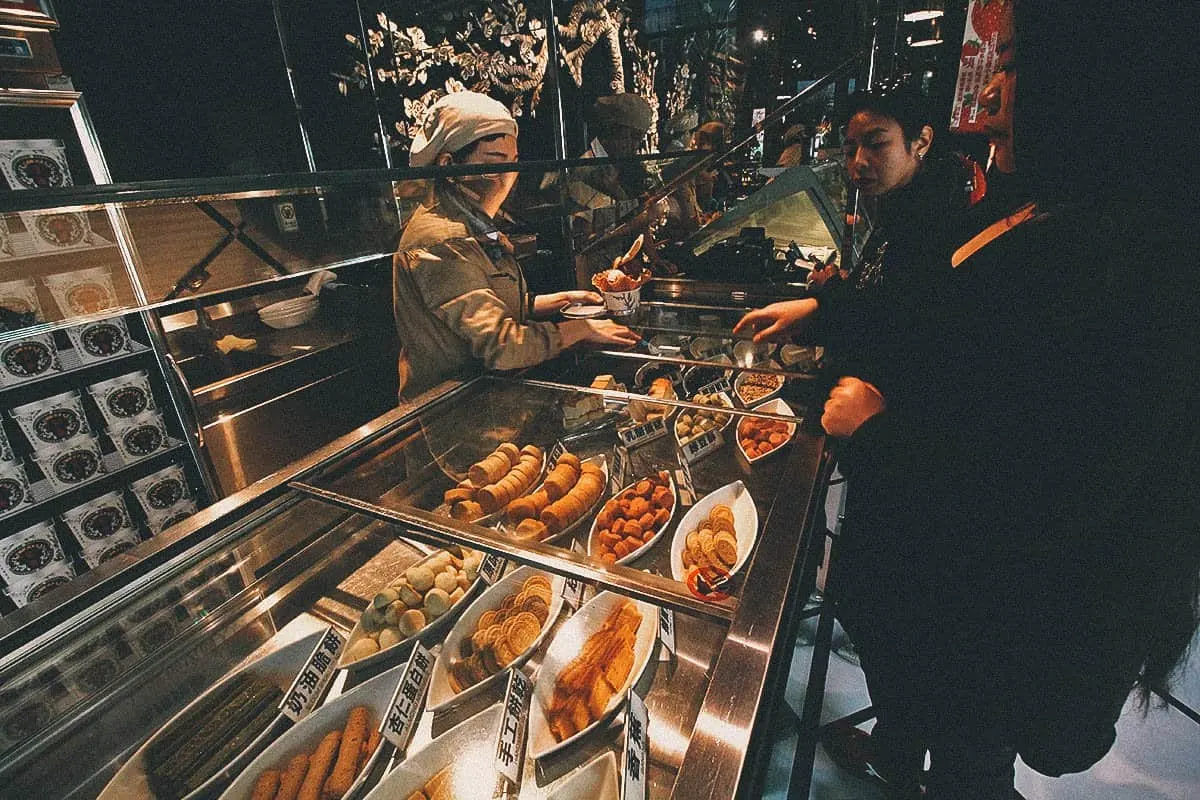 With this being our first visit, we opted for the works. Isn't it beautiful? Bear in mind that ice cream in Taiwan isn't as creamy as it is in other countries like the US or Japan. The dairy is less evident and it tastes like a cross between ice cream and sorbet.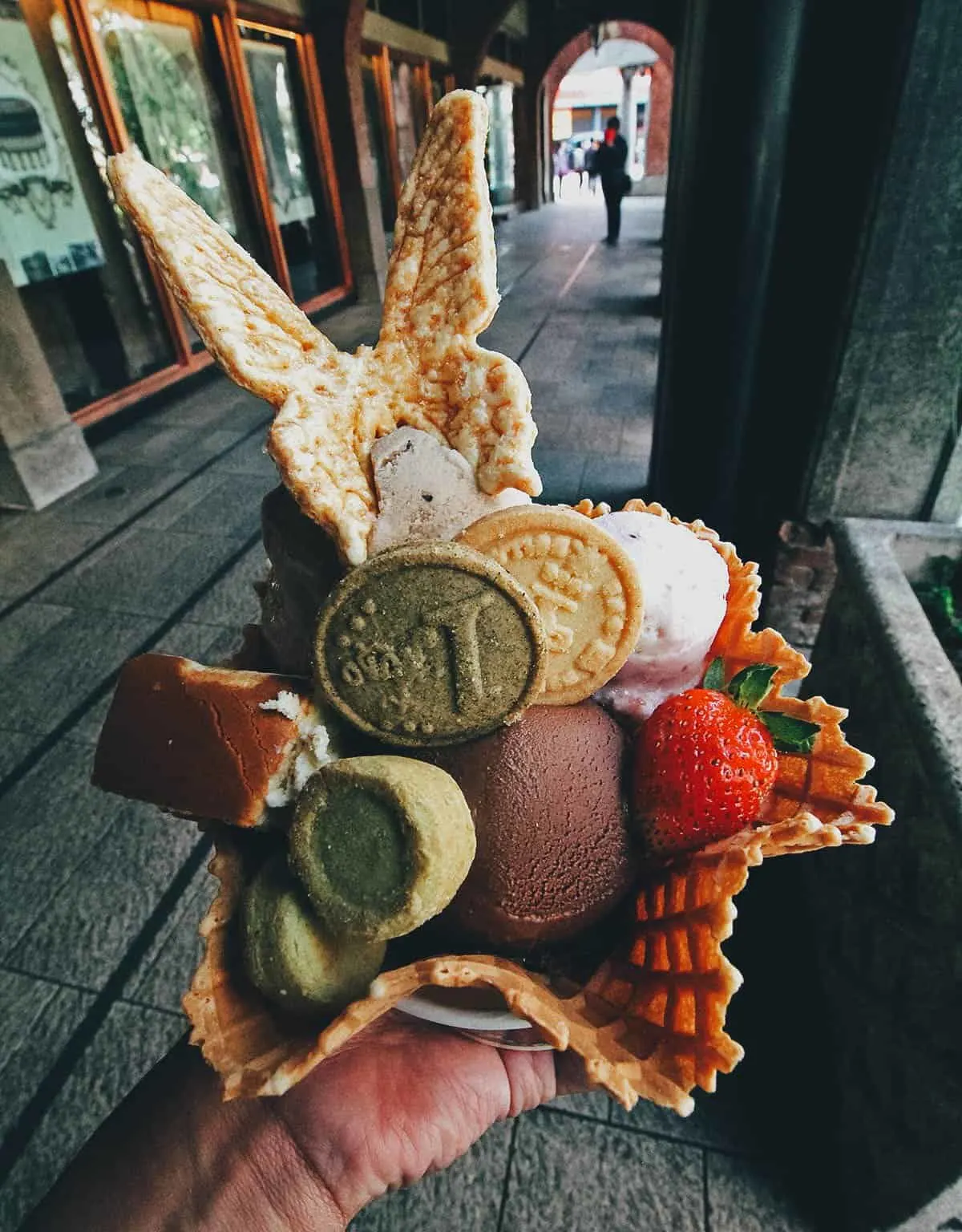 Miyahara Ice Cream
Address: No. 20號, Zhongshan Road, Central District, Taichung City, Taiwan 400
Operating Hours: 10AM-10PM, daily
What to Order: Ice cream
Expect to Pay: NTD 90 (single), NTD 160 (double), NTD 225 (triple)
How to Get There: Miyahara is near the Taichung TRA Station. From the station, walk northwest on Zhongshan Road then make a right on Luchuan East Street. The entrance to the ice cream shop will be at the side of the main building.
7. Zhongxiao Road Night Market
This wasn't my favorite night market in Taiwan but it felt the most authentic. I didn't see many tourists around as it seemed to be patronized mainly by locals.
Though what we had was good, Zhongxiao Road Night Market didn't seem to have as much food variety as other night markets. But more importantly, it didn't feel as safe.
Unlike other markets that are closed to vehicular traffic, this one has stalls on either side of busy Zhongxiao Road. Cars and motorcycles are constantly zipping by from both sides so take a step back without looking, and WHAM! Foreigner pancake.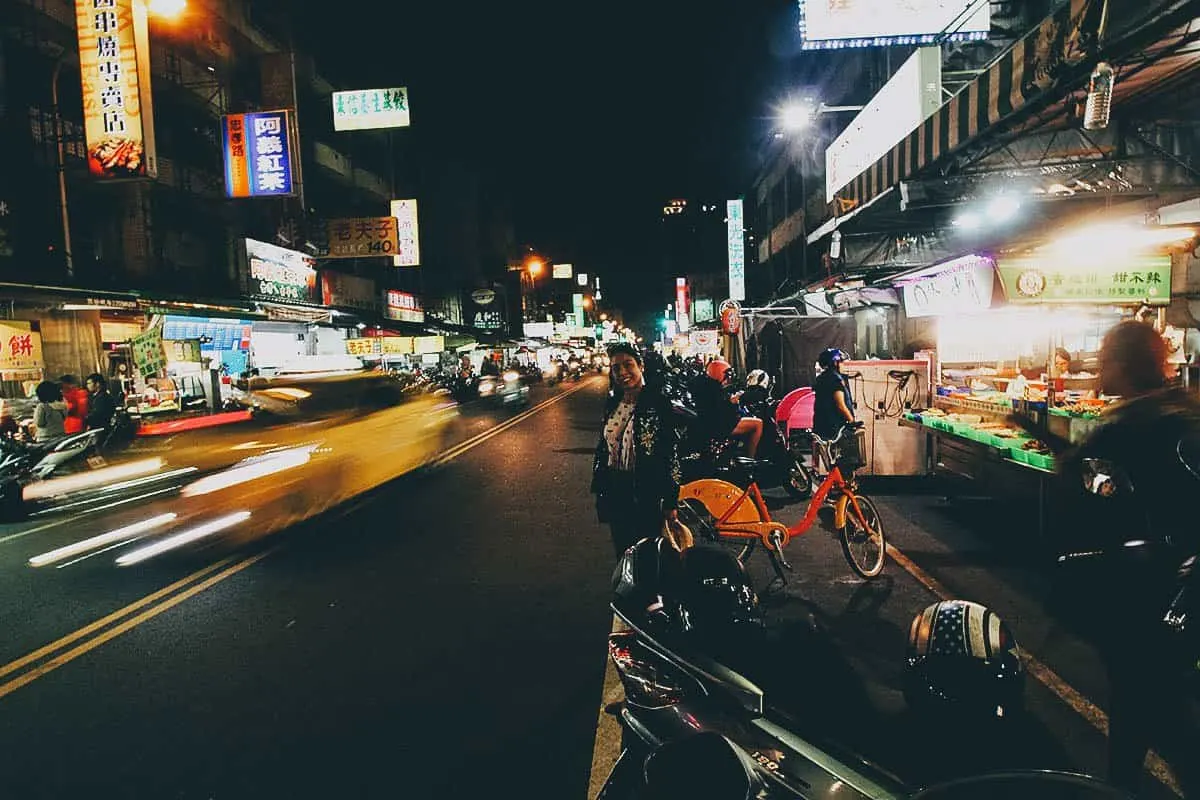 Many stalls at Zhongxiao Road Night Market were offering lu wei, a type of Taiwanese braised food which is considered a distant cousin of hot pot. Commonly eaten as a snack, it involves braising a variety of ingredients in broth, then adding spices and sauces to the cooked food.
With a basket in one hand and a pair of tongs in the other, you pick what you want from a street buffet of braised meats, vegetables, and noodles, before handing it over to be diced up and heated in a hot soup.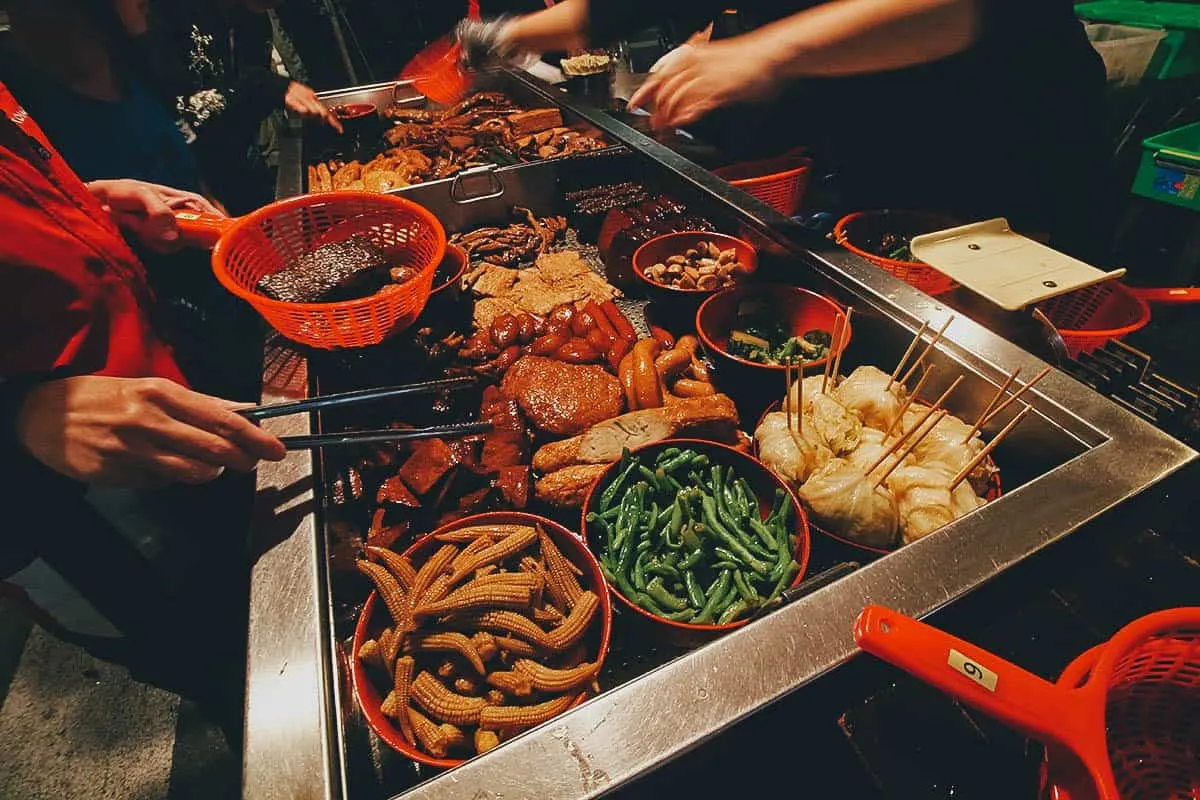 The food is then served to you in a plastic bag along with a bamboo skewer. Interesting!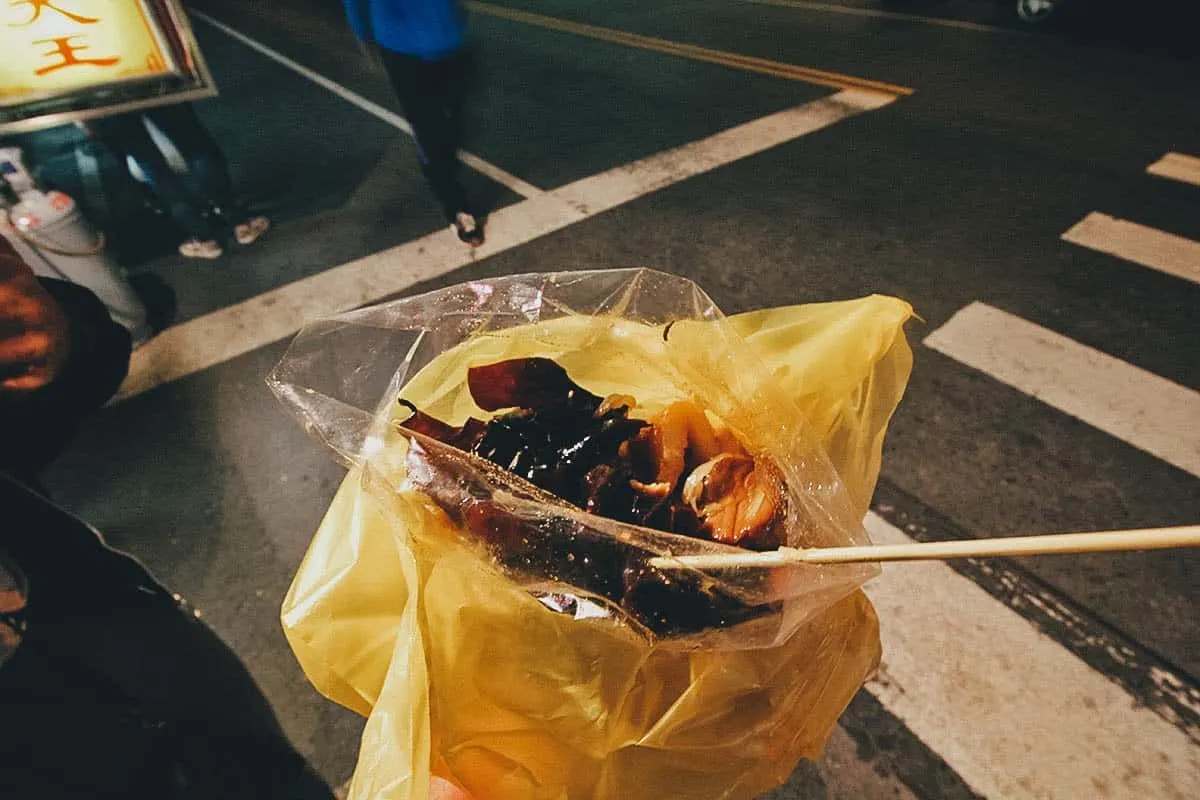 Zhongxiao Road Night Market
Address: Zhongxiao Road, South District, Taichung City, Taiwan 402
Operating Hours: 12:30PM-11:30AM, daily
How to Get There: From Taichung TRA Station, walk west on Section 4, Fuxing Road. Make a left on Taizhong Road. Walk straight then make a right on Zhongxiao Road and you'll see the start of the night market.
8. Fengjia Night Market
Home to an estimated 15,000 shops, restaurants, and stalls, Fengjia Night Market is described as the biggest night market in Taiwan. It's a popular night market with a huge selection of food choices, so if you had time to visit just one night market in Taichung, then it should be this one.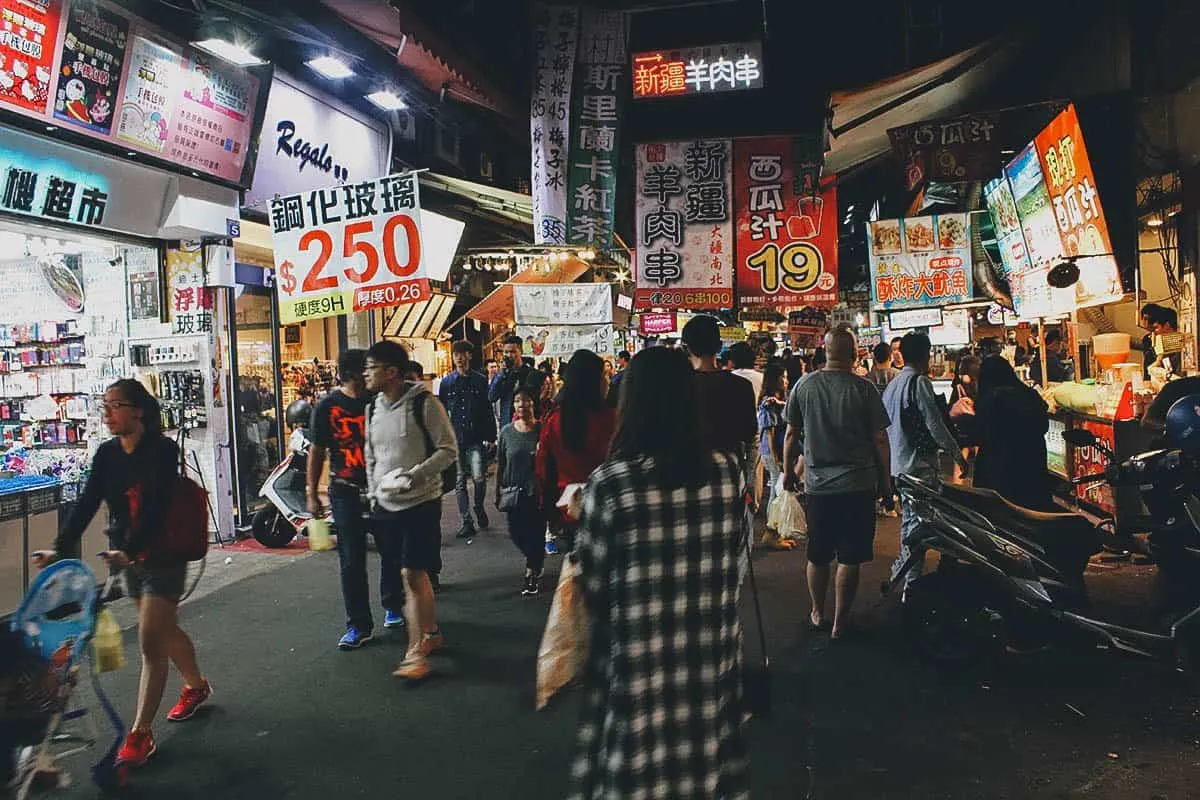 You'll find many different types of grilled seafood at Fengjia Night Market like scallops, clams, squid, oysters, sea snails, and abalone.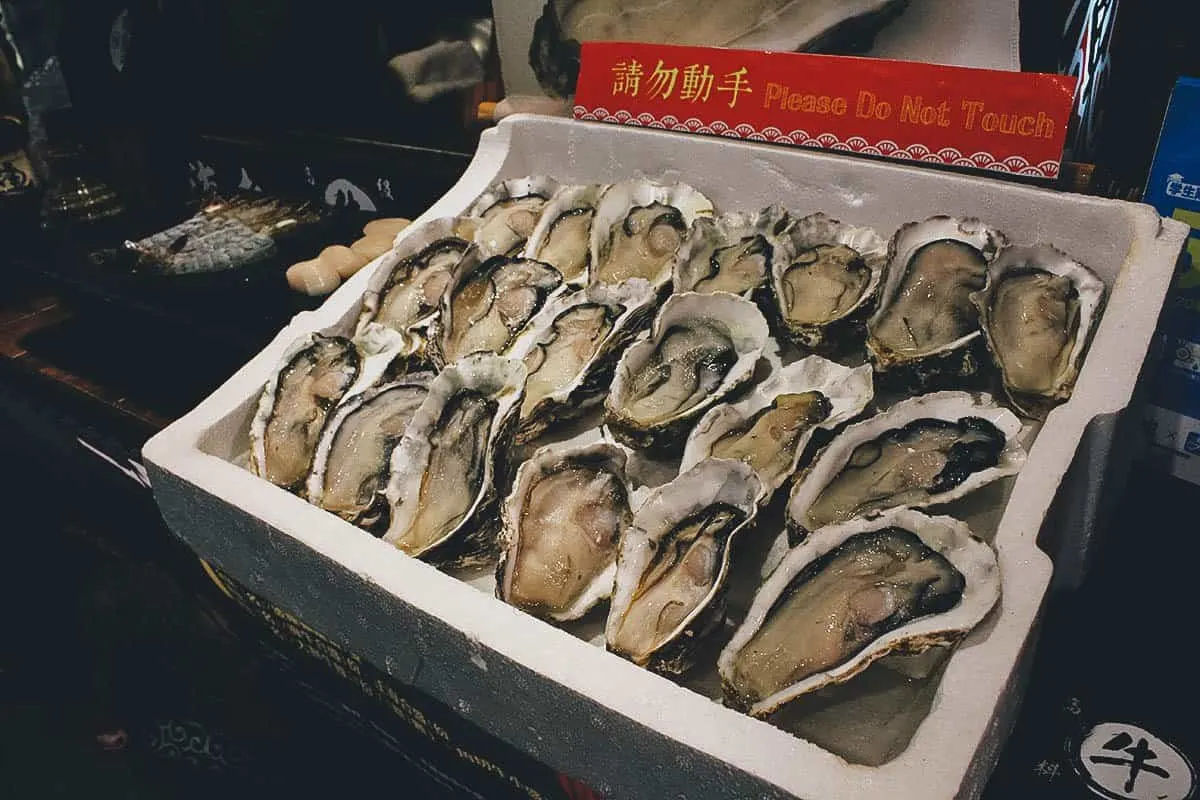 Check out those huge scallops!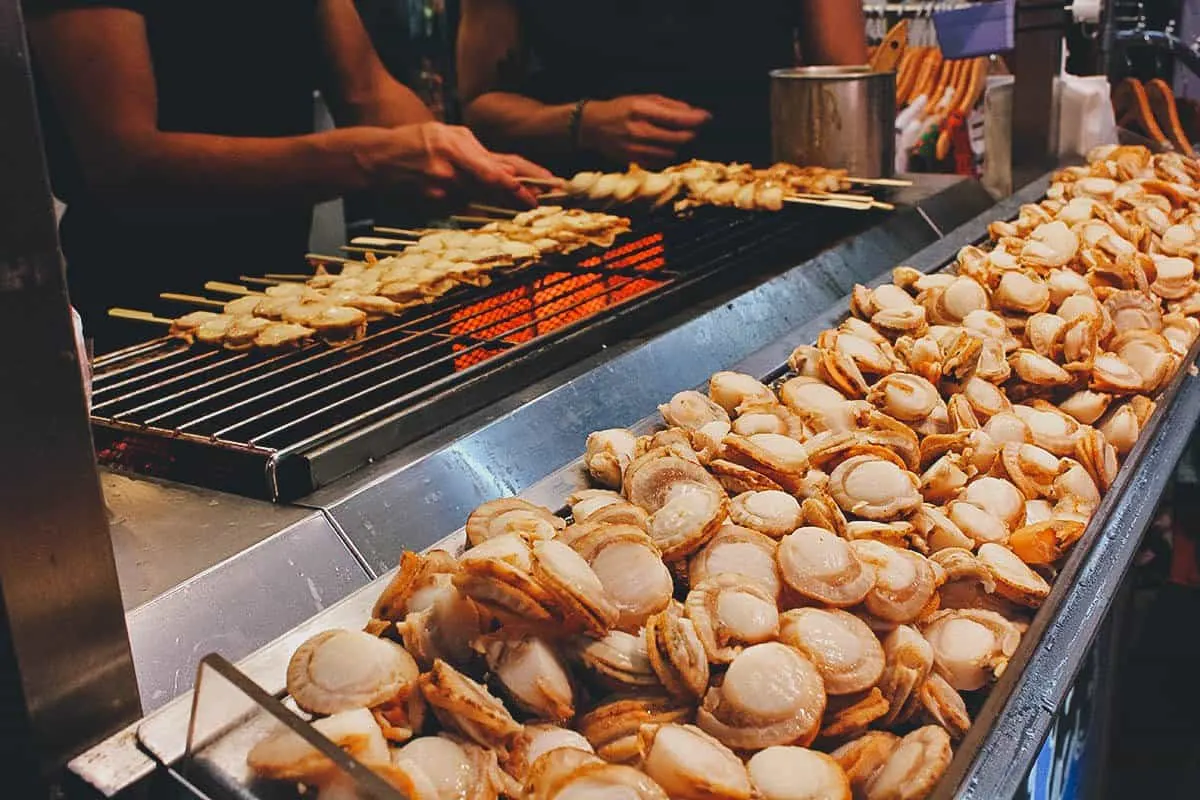 Abalone seems to be in abundance in Taiwan and for a reasonable price too. I had a box of these along with some sea snails at Fengjia.
By the way, I'm a seafood lover so I'm naturally drawn to dishes like abalone and scallops, but you can get a whole spectrum of dishes at Fengjia Night Market as well, like giant chicken chops, Taiwanese sausages, stinky tofu, and bubble tea.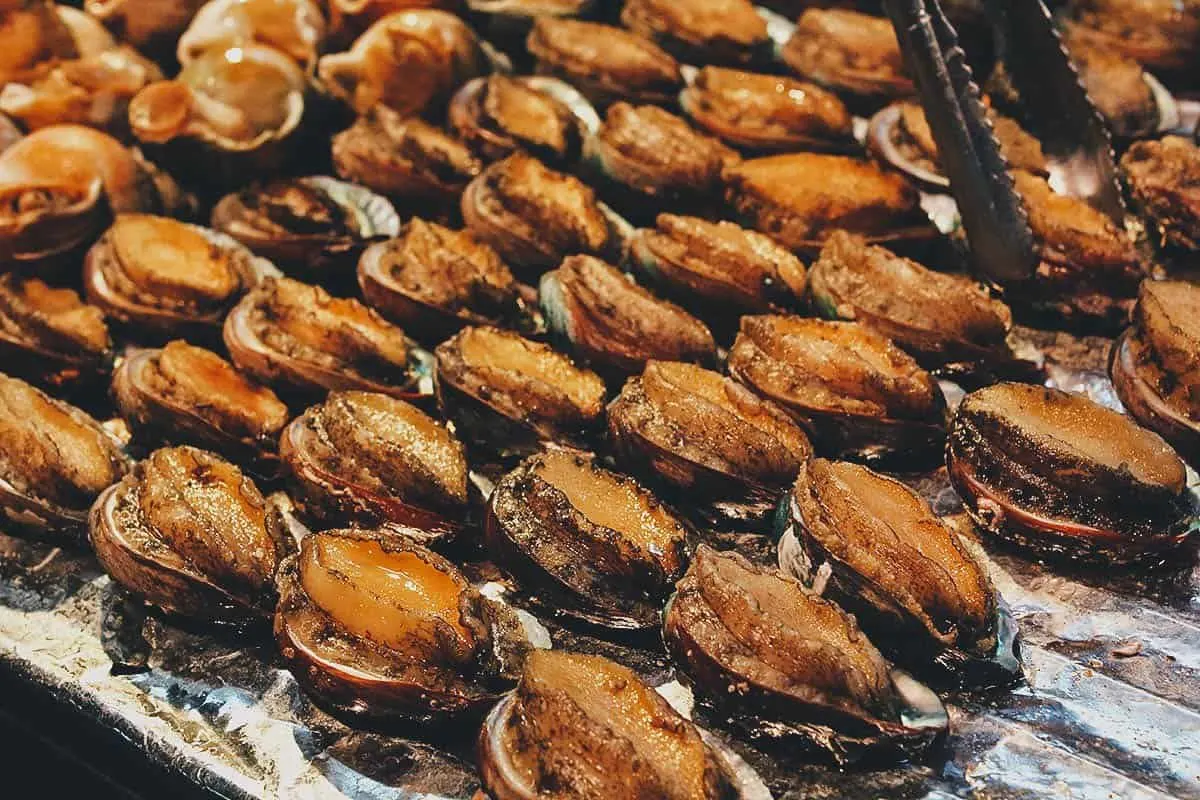 Fengjia Night Market
Address: Wenhua Road, Xitun District, Taichung City, Taiwan 407
Operating Hours: 4PM-1:30AM, daily
How to Get There: Fengjia Night Market is located on the northwestern side of Taichung. It may be too far to walk from the city center so the easiest way is to go by Uber (about 20-25 mins from Taichung TRA Station). It's cheaper than taxis. If you'd prefer to take the bus, then I suggest downloading the Google Maps app (iOS | Android). It'll tell you how to get to Fengjia Night Market by bus from wherever you are.
LOCATION MAP
To help you find the restaurants mentioned in this guide, I've pinned them all on the map below. Click on the link for a live version of the map.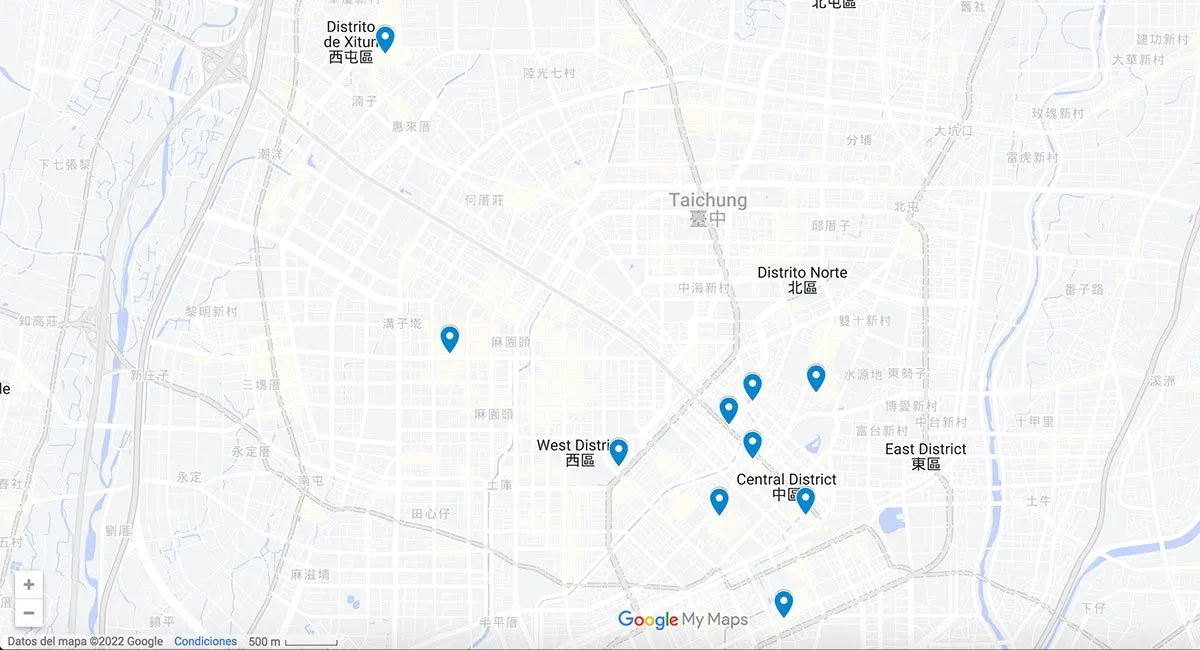 FINAL THOUGHTS ON THE FOOD IN TAICHUNG
As with each and every one of these food guides, there are so many interesting and delicious places to try in a big city like Taichung that a list of 8 barely scratches the surface.
With that said, I do hope it points you in the right direction and helps you plan your Taichung food trip. Every restaurant, stall, or night market we recommend has been carefully vetted by us, either through trusted blogs, local recommendations, or crowd review sites like TripAdvisor and their regional equivalents.
Thanks for reading and we hope you enjoy these awesome restaurants and night markets in Taichung!
Disclosure
This Taichung food guide contains affiliate links, meaning we'll earn a small commission if you make a booking or reservation at no extra cost to you. We really appreciate your support as it helps us keep this website going. Thank you!