I was on a multi-city tour of India to document the newest food tours from our friends at A Chef's Tour. Delhi was my last stop.
I was unfamiliar with India at the time so they helped me choose all my hotels throughout the trip. For convenience, they recommended hotels that were close to the general area where their tours would take place. They did that in every city except Delhi.
According to them, the site of their food tour – Chandni Chowk – was too crazy. Located in the heart of Old Delhi, it was a dizzying cacophony of sights, sounds, and smells that may have been a bit much for a first-time traveler to India like myself. And they were right.
The old town was indeed crazy, but it was also perfect – a perfect glimpse into this kaleidoscopic city and country that was every bit as colorful and captivating as it was chaotic.
Welcome to Delhi.
GUIDE TABLE OF CONTENTS
TRAVEL RESTRICTIONS
Because of the current global situation, travel guidelines change very often. Our friends at SafetyWing created a website that lists detailed information on travel restrictions around the globe.
Before planning a trip to Delhi, be sure to check the Flatten the Curve website for information on travel restrictions to India.
HOW TO APPLY FOR AN E-VISA TO INDIA
Applying for an e-visa to India was super easy. In my case, my e-visa was emailed to me in a little over 24 hours after submitting my online application and making payment. You can refer to my post on applying for an e-Visa to India for a step-by-step process.
DELHI AT A GLANCE
I was under the impression that Delhi was just a quicker way of saying New Delhi, but it isn't. They're two distinct entities.
Delhi refers to the National Capital Territory of Delhi (NCT), a city and union territory (administrative division) of India. It contains New Delhi which isn't a city, but an urban district within the larger Delhi. Even though it isn't considered a city, New Delhi is regarded as the capital of India and the seat of all three branches of government.
Historically, Delhi is one of the most important cities in India, having served as a vital political, commercial, and cultural hub throughout its long history. It's one of the oldest cities in the world and is believed to have been continuously inhabited since the 6th century BCE.
Aside from housing the nation's capital, it's the second most populous city in India today and its second wealthiest, after Mumbai. It has an urban population of over 11 million with an estimated 18 billionaires and 23,000 millionaires.
BEST TIME TO VISIT
The best time to visit Delhi is from October till March. The skies are clear and the weather is pleasant, especially around autumn (Oct-Nov) and spring (Feb-Mar).
OCT-MAR: Autumn and spring are the best times to visit Delhi. Winter is fine as well, though it can get cold in the morning and evening so remember to bring warmer clothing. If you like festivals, then October-November is a great time to go. Diwali is held sometime between late October and mid-November and is one of the biggest and most popular festivals in Delhi. I was in Mumbai for Ganesh Chaturthi and experienced how fun Hindu festivals can be.
APR-JUN: This is summer in Delhi and probably not the best time to go. June is the hottest month with temperatures known to reach a scorching 45°C (113°F). Yikes!
JUL-SEPT: This is monsoon season in Delhi with August being the rainiest month. I was here in late September and found the weather to be pleasant and agreeable. I normally wouldn't want to visit a new city during the rainy season but it doesn't seem to be as bad in northern India. Based on what I've read, Delhi during the rainy season can be quite beautiful. People definitely prefer it over the searing heat of summer.
Climate: Annual Monthly Weather in Delhi
Follow the link for more on the weather in Delhi. I've also created the average temperature and annual rainfall graphs below. Suggested months to visit are colored in orange.
Average Temperature


Annual Rainfall


TRAVELING TO DELHI
My port of entry was Kolkata, but most travelers will probably enter the country through Indira Gandhi International Airport in Delhi. If you're already in India, then there are several ways to get to Delhi depending on where you are.
BY PLANE: Flying is the fastest way to travel between cities in India but it's also the priciest. I use airline aggregators like Skyscanner to find cheap flights. Skyscanner is what I used to book all my domestic flights in India, including the one from Mumbai to Delhi.
Indira Gandhi International Airport is about 15 km from the city center. Delhi has an efficient and expansive subway system so you can easily take the Delhi Metro to the area of your hotel. At the end of my trip, I took the Airport Express line to go to the airport from New Delhi for INR 60.
If you have a lot of luggage, then you can go by prepaid taxi. Fares are fixed so it should cost you between INR 400-500 to get to the city center. Just be sure to book it from the official prepaid taxi booth inside the terminal.
If you'd rather go by private transfer, then you can arrange for one through your hotel. My hotel booking came with a free one-way transfer so that's what I did. Alternatively, you can book an airport transfer in advance through Klook or Get Your Guide.
BY TRAIN: I flew in to Delhi from Mumbai but if I had more time, then I would have loved to travel by train to see more of the country. India has an extensive rail network that can take you pretty much anywhere. Going by train will take a lot longer than flying, but it may be the most scenic way of experiencing this vast country.
The easiest way to book train tickets in India is through a third-party provider like Bookaway. It's a lot easier to use than the convoluted IRCTC website. I tried booking Delhi to Agra train tickets on IRCTC but gave up after I couldn't complete payment.
BY BUS: I didn't travel at all by bus in India but based on what I've read, the cost between trains and sleeper buses is comparable. People say buses are less comfortable than trains in general, but they may also be more convenient because of the location of the stations. You can check out this insightful article from Hippie in Heels for information on bus travel in India.
OTHER OPTIONS: There may be other ways to get to Delhi from wherever you are so I suggest checking Bookaway to find route options available to you. You can click on the link or use the widget below. Klook and Get Your Guide also offer private transfers to Delhi from neighboring areas like Agra/Rajasthan, Jaipur, Uttarakhand, and Himachal Pradesh/Punjab.
WHERE TO EXCHANGE CURRENCY
The unit of currency in India is the Indian Rupee (INR). I read that banks are not the best places to exchange currency in India and it's true. I inquired at three different places in Delhi – my hotel, a bank, and a forex shop – and the bank offered the worst rate, just INR 6,950 minus an additional INR 200 transaction fee. Both my hotel and the forex shop offered INR 7,000 flat for my USD 100.
Even though my hotel offered the same rate as the licensed money changer, forex shops are generally the best places to exchange currency in Delhi. Popular tourist areas like Connaught Place, Paharganj, and Karol Bagh are all known to have shops offering favorable exchange rates. Check out this helpful article for a list of recommended forex shops in Delhi.
With that said, I posted this query on TripAdvisor and the consensus was that ATMs are the way to go in India. This seems to be the case in most cities these days. It's more convenient and rates are comparable. Just be sure to let your bank know you'll be using your ATM card abroad so you don't have any problems. In my experience, my ATM card works in some machines but not in others.
NOTE: Some ATM machines may ask if you'd like to proceed "with or without conversion". Always proceed WITHOUT conversion. Proceeding with conversion authorizes the foreign bank operating the ATM to do the conversion instead of your local bank, usually at terrible rates. According to this article, the difference between rates can be as high as 10%.
BEST AREAS TO STAY
Delhi is a big city with an efficient metro system so it should be easy to get around no matter where you stay. Listed below are some of the most convenient areas to stay in Delhi, along with a color-coded map to help you better understand where each of these areas are.
Click on the link for an interactive version of the map. (Please note that marked areas are approximations only)
GREEN – Connaught Place
RED – Paharganj
DARK BLUE – Karol Bagh
PURPLE – South Deli
POWDER BLUE – Dwarka
I'll provide targeted links under each description but you can book accommodations in Delhi through Booking.com or Agoda.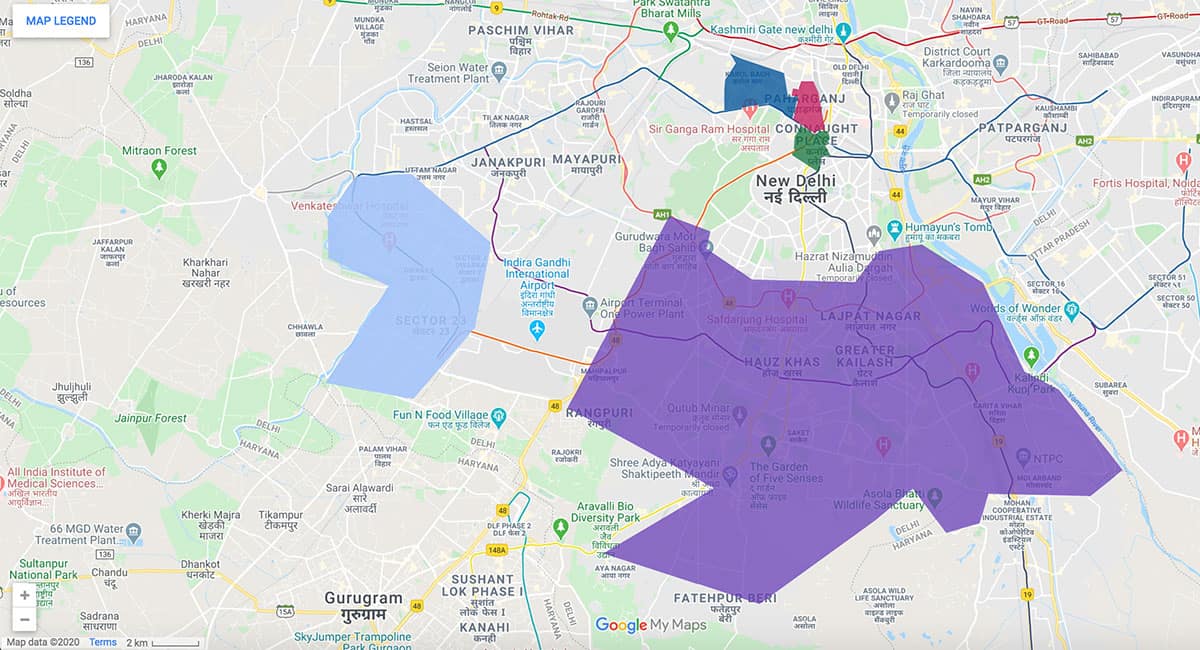 CONNAUGHT PLACE
This is where I'd like to stay on our next trip to Delhi. Connaught Place is a centrally located commercial area with plenty of upscale shops, bars, cafes, and restaurants. It was one of the nicest areas I visited in Delhi. It's shaped like a circle with the Rajiv Chowk metro station at its center, so getting around won't be a problem. When I wasn't sightseeing, I'd spend most of my time here. You can search for accommodations in Connaught Place on Booking.com or Agoda.
PAHARGANJ: Hotel Ajanta
This is the main backpacker area in Delhi and where I stayed. It's located next to the New Delhi Railway Station and about a 10-15 minute walk from Connaught Place. It's centrally located and convenient, though a bit dirty and chaotic. Travelers looking for budget accommodations may want to search here first. Please note that there's no metro stop in the Paharganj area. The nearest one is the Rajiv Chowk metro station in Connaught Place.
I stayed at Hotel Ajanta (about USD 30/night) which is a decent hotel with big rooms. There's a pretty good Indian restaurant on the ground floor of the hotel. You can book a room here on Booking.com or Agoda. If you'd like to stay in the Paharganj area but don't think this is the right hotel for you, then you can check out alternate listings on Booking.com or Agoda.
KAROL BAGH
Karol Bagh is the area just west of Paharganj. It's a shopping hub with plenty of budget hotels and inexpensive places to eat. I didn't explore this area but based on what I've read, Karol Bagh is similar to Paharganj but less crowded and chaotic. There are a couple of metro stations in the area making it easier to get around. People wanting to be closer to the action may want to stay around Ajmal Khan Road, while those looking for a quieter stay can search for places around Channa Market. Check out Booking.com or Agoda for accommodations in Karol Bagh.
SOUTH DELI
If you're looking for a quieter stay but still have easy access to the city's metro, then South Deli is a great choice. it refers to a large area comprised of several distinct neighborhoods. Many of the recommended places to visit in this guide are located in South Deli, making it a great place to use as a base to explore the city. If you zoom in on the map above, then you'll find plenty of metro stops in South Deli, so I suggest choosing a place within walking distance of a station. You can search for accommodations on Booking.com or Agoda.
DWARKA
Dwarka is the suburb just west of Indira Ghandi International Airport. If you have an early flight to catch and would like to stay near the aiport, then Dwarka is a good place to be. There are several metro stations in the area, giving you quick access to the airport. Check out Booking.com or Agoda for listings in Dwarka.
PLACES TO VISIT
1. Akshardham Temple
There are many interesting attractions in Delhi, but the place I was most excited about was the one I got to spend the least amount of time in.
Akshardham is a massive Hindu temple complex that recounts over 10,000 years of Indian history and culture. I had read nothing but superlatives about this place, from its massive scale to its glorious architecture to its mind-numbing attention to detail.
I was so excited to come here that it was the first place I went to in Delhi. I took the metro to Akshardham and was shocked by the sea of people waiting to get in.
I got through the first queue only to be greeted by a bag check area with another long queue. Apparently, you can't bring anything with you inside the temple – no bags, no phones, no cameras, no nothing.
I looked at the queue, I looked at all the places I needed to go to on my itinerary, then made the difficult decision of turning away. It would have taken too much time to enter so I decided to leave this for another trip.
2. Humayun's Tomb
Humayun's Tomb is the final resting place of Humayun – the second Mughal emperor and father of Akbar the Great – along with dozens of members of the royal family.
Built in 1570, it's a sprawling garden tomb which was the first of its kind on the Indian subcontinent. You can easily spend a couple of hours here exploring the grounds.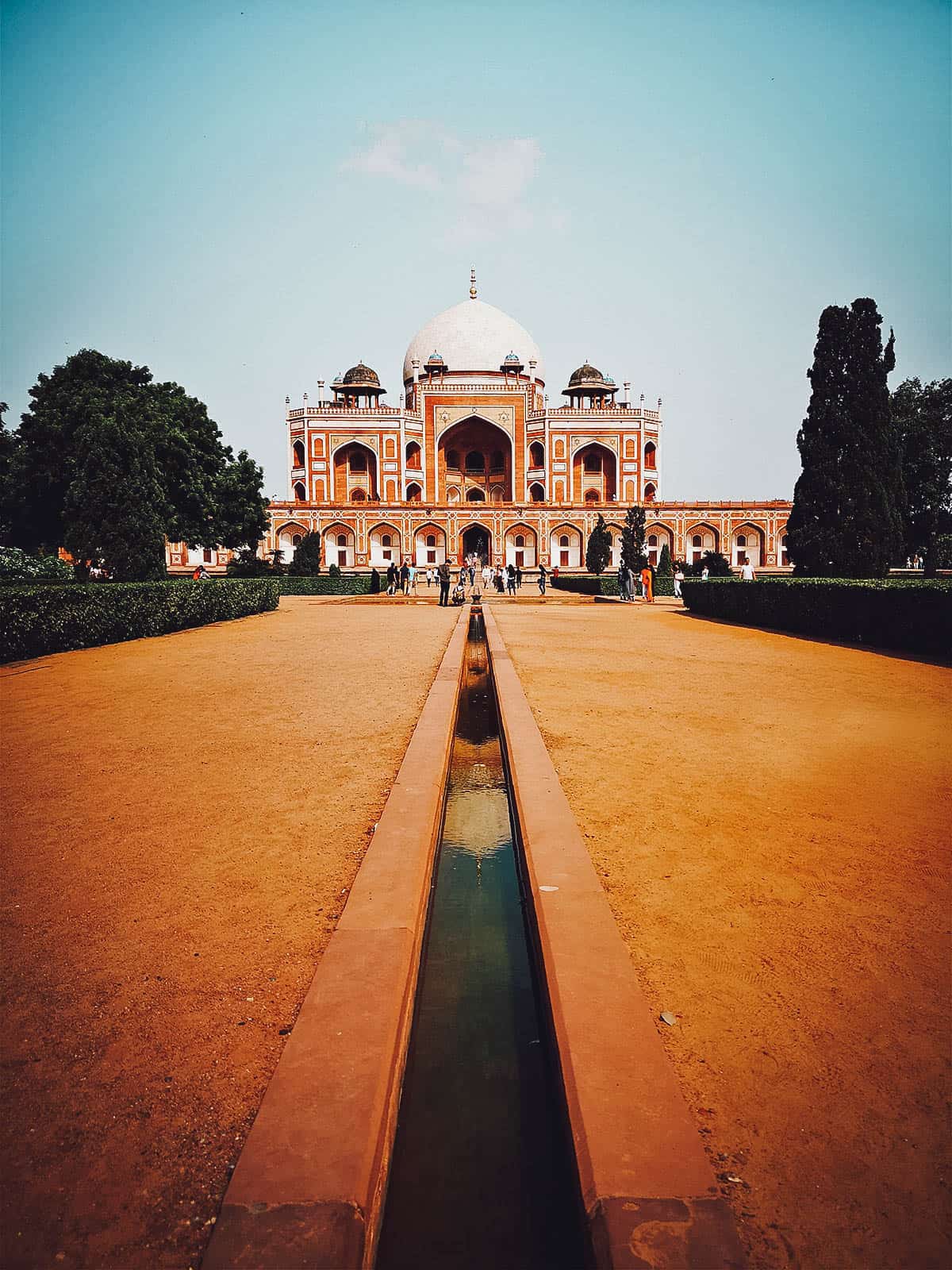 Take a walk around and you're sure to find this eye-catching octagonal-shaped building. It's the tomb of Isa Khan Niyazi, an Afghan noble who oddly enough, fought against the Mughals. I wonder why his tomb is so close? This tomb actually pre-dates Humayun's Tomb by 23 years.
3. Lodhi Gardens
About 3 km west of Humayun's Tomb is Lodhi Gardens. It's a 90-acre park and garden that contains the tombs of Muhammad Shah, the third monarch of the Sayyid dynasty, and Sikandar Lodi, the sultan of Delhi from 1489 till 1517. The Lodhis were an Afghan dynasty that ruled the Delhi Sultanate from 1451 to 1526.
4. Safdarjung Tomb
Located about a ten minute walk from Lodhi Gardens is this tomb that bears a resemblance to Humayun's Tomb. Built in 1754, it's the tomb of Nawab Safdarjung, the former ruler of India's Oudh state who served under the Mughal emperor Muhammad Shah.
5. Lotus Temple
This lotus-shaped building is one of the most recognizable structures in Delhi, largely because of its unique design that looks so much different than everything else. It consists of 27 marble-clad petals arranged in threes to form nine sides. Its color and design reminded me of the iconic Sydney Opera House in Australia.
The Lotus Temple is a Bahá'í House of Worship that welcomes people of all races and religions. Entrance is free and you'll need to walk along a pathway through manicured gardens to reach the Lotus Temple. You'll be asked to turn off your mobile phone and keep silent before being allowed entry into the temple. You can stay for as long as you like inside.
6. ISKCON Temple
ISKCON stands for International Society for Krishna Consciousness, more popularly known as the Hare Krishna movement. This is one of the biggest temples dedicated to the Hare Kirshnas which strangely enough, was founded in New York City in 1966 as a way of spreading the practice of Bhakti yoga. The movement now has around twenty temples throughout India.
7. Qutub Minar
This was one of my favorite attractions in Delhi. Measuring 73 meters tall (240 ft), Qutub Minar has been the tallest minaret in India for over 800 years. It was built by Qutb Ud-Din-Aibak, the founding father of the Delhi Sultanate, and stands as one of the proudest and most imposing icons of Delhi.

You can appreciate how big it is in this picture. Note the people walking on the path to its right. You can't enter the minaret but there's a spiral staircase inside with 379 steps.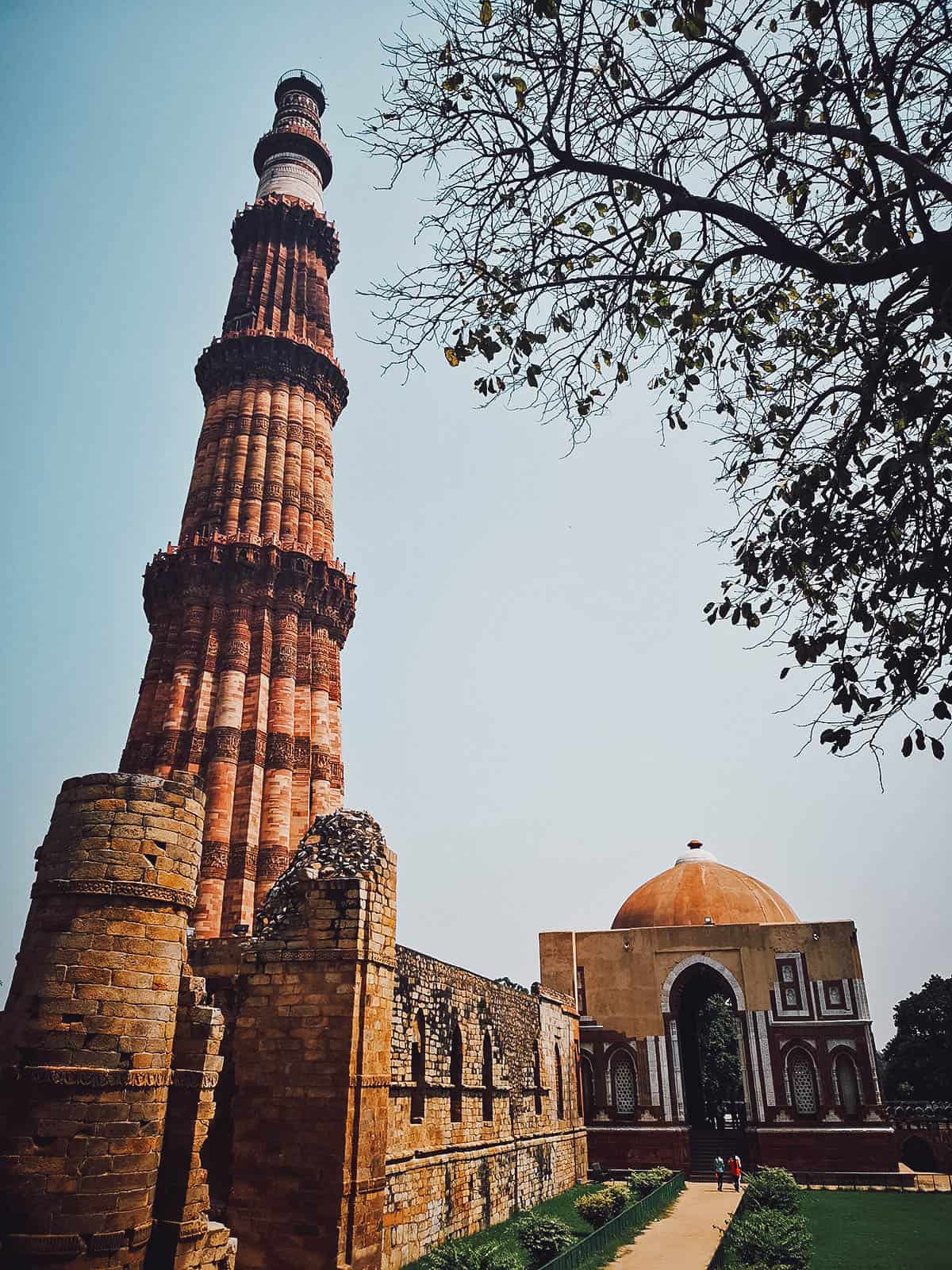 All around the minaret are crumbling ruins from the days of the Delhi Sultanate. It's an interesting place to explore and photograph.
8. India Gate
India Gate is a war memorial dedicated to the tens of thousands of British Indian army soldiers who died in battle. It resembles the Arc de Triomphe in Paris or the Gateway of India in Mumbai. If you walk up to the archway, you'll find a smaller memorial directly underneath with an eternally burning flame called Amar Jawan Jyoti. It was added in 1972 to commemorate the unknown soldiers who died during the Indo-Pakistani War of 1971.
9. Gurudwara Bangla Sahib
This was another of my favorite sites in the city. Gurudwara Bangla Sahib is one of the most prominent Sikh temples in Delhi. I enjoyed the Sikh temple we visited on this Delhi food tour so I couldn't wait to visit this one. They are such peaceful and welcoming environments.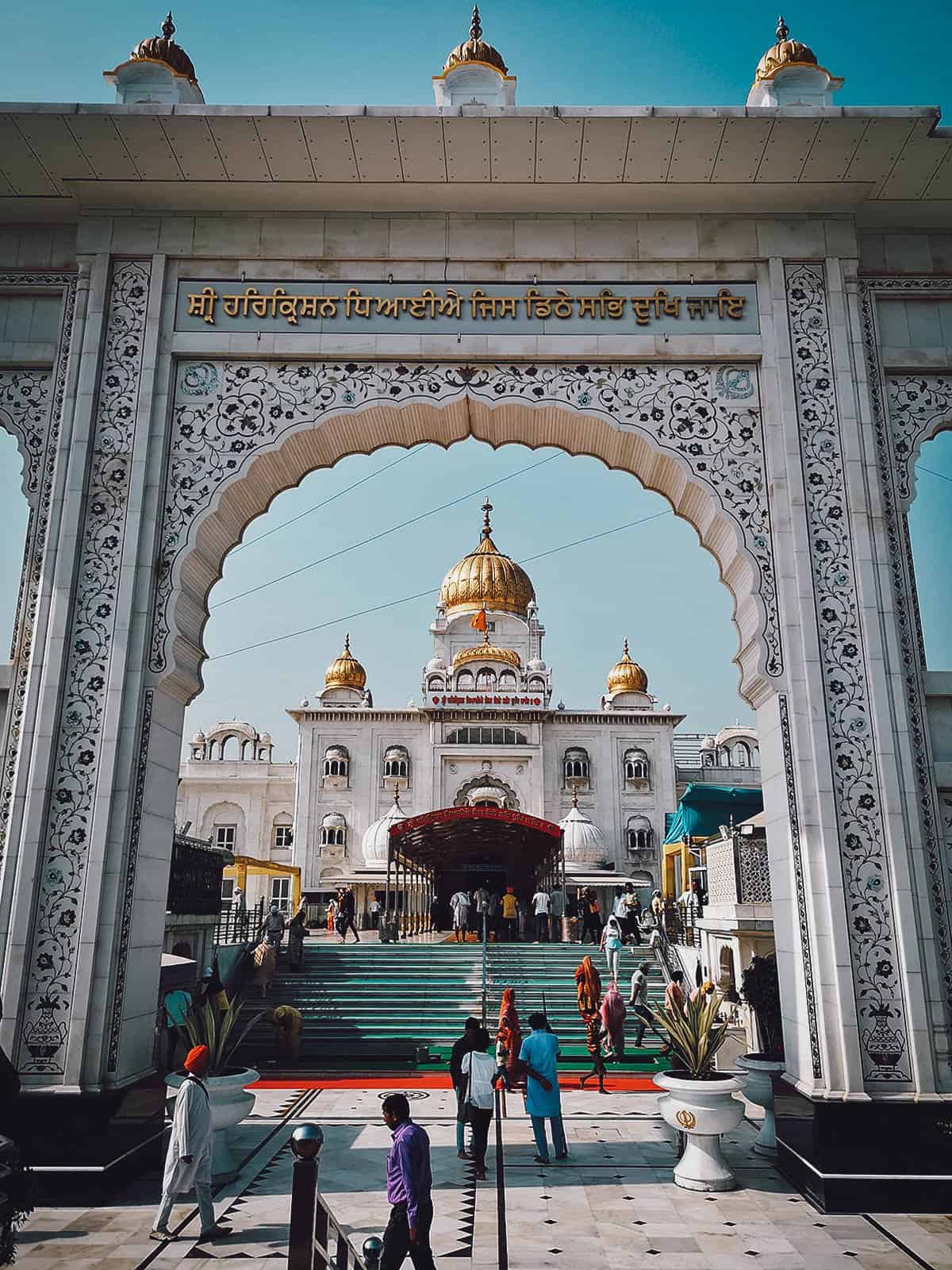 Sikh temples have to be among the most hospitable places on the planet. It doesn't matter what your race, religion, or social standing is. Everyone is welcome to sit in meditation or enjoy a free meal, which I believe they serve two or three times a day everyday.
If you've never experienced a Sikh temple before, then I highly recommend going to this one. Entrance is free and you can visit on your own or go on a guided tour with Get Your Guide or Klook.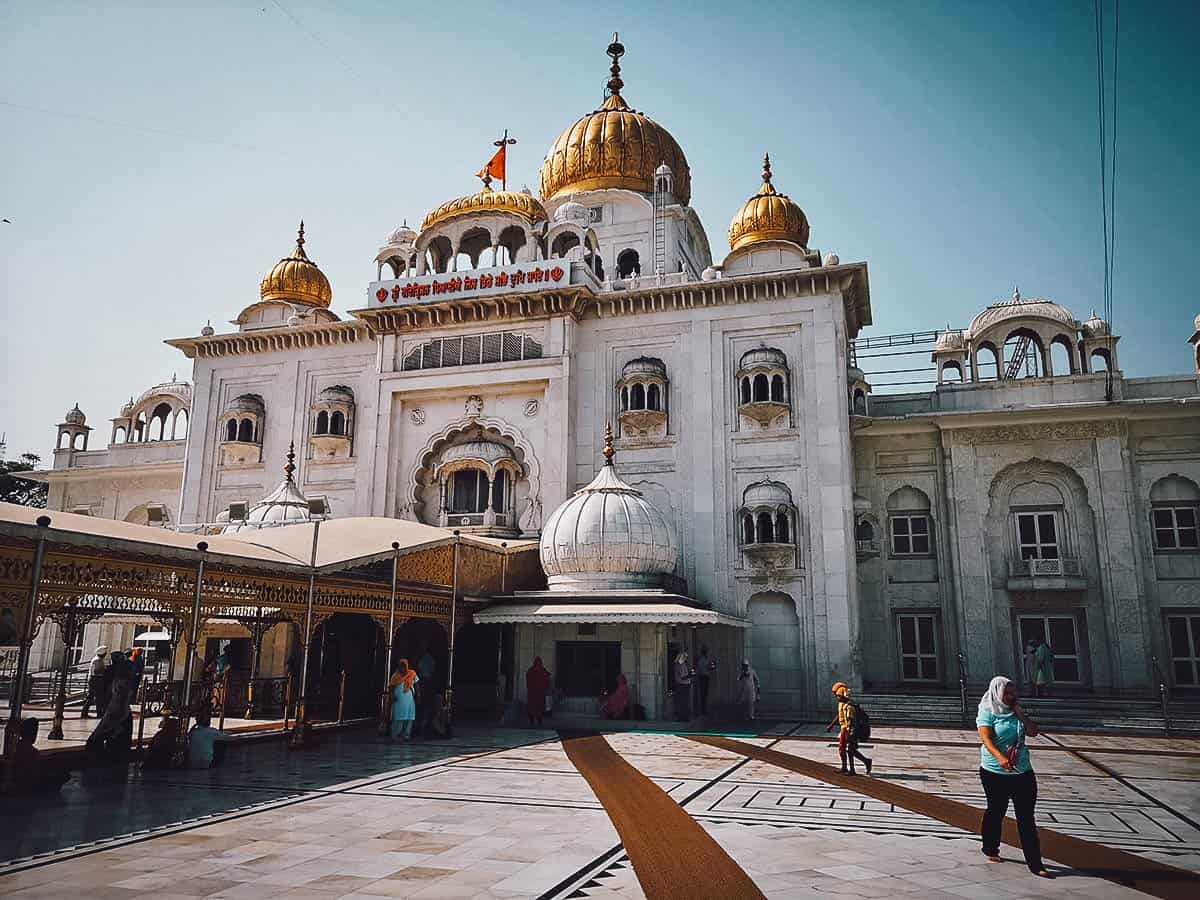 10. Laxminarayan Temple (Birla Mandir)
Laxminarayan Temple or Birla Mandir is a Hindu temple dedicated to Lakshmi Narayan, a manifestation of Vishnu. It was inaugurated by Mahatma Ghandi and is described as being one of the most visited temples in India.
11. Jama Masjid
Jama Masjid is the largest mosque in Delhi and one of the biggest in India. It was built in the mid-17th century by the famed Mughal emperor Shah Jahan, the same ruler who built the Taj Mahal.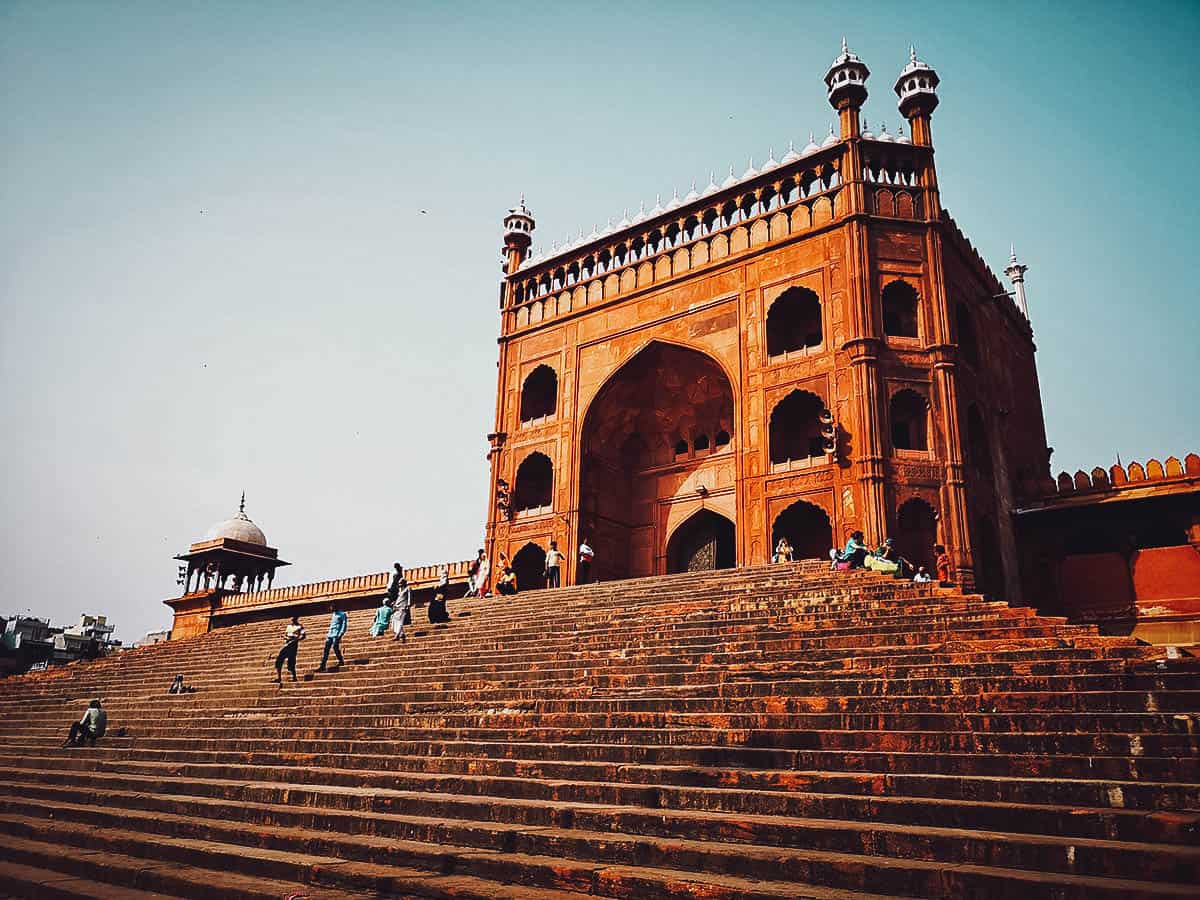 Jama Masjid is located in the heart of Old Delhi, very close to Chandni Chowk market. If you visit this mosque, then I suggest eating at Karim's, an iconic restaurant that's been around for over a hundred years. I enjoyed one of my best meals there.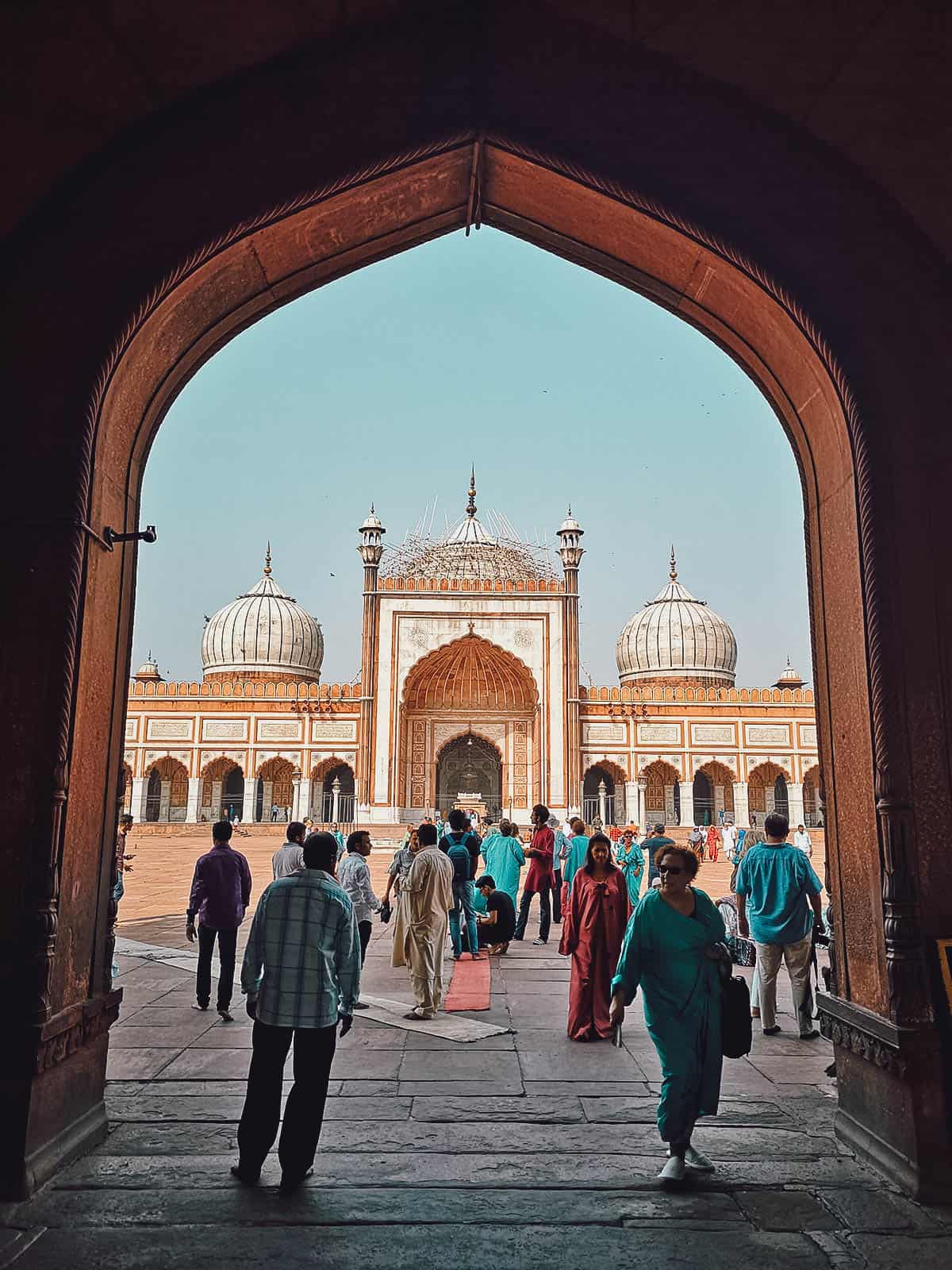 12. Red Fort
The Red Fort is a sandstone fortress built by Emperor Shah Jahan in the mid-17th century, when he moved the capital of the Mughal empire from Agra to Delhi. It was designed by Ustad Ahmad Lahauri, the same Persian architect who created the iconic Taj Mahal.
13. Raj Ghat Ghandi Memorial
Who's the most famous Indian person you've heard of? Most people will probably say Mahatma Ghandi, the iconic lawyer and anti-colonial nationalist who espoused a non-violent approach to ending British rule in India.
After his assassination in 1948, he was cremated here at Raj Ghat along the west bank of the Yamuna River. His memorial is little more than a black marble platform that sits uncovered in a large open area with manicured gardens. Adorned with flowers, it's lit by an eternally burning flame. This was another of my favorite places to visit in Delhi. It felt so peaceful to be here.
THINGS TO DO
This section lists some of the best things you can do in Delhi as well as a few interesting day trips you can make. For more suggestions, be sure to check out this excellent guide from a local on great places to visit near Delhi.
1. Take a Day Trip to Agra and the Taj Mahal
If Mahathma Ghandi is the most famous Indian person you've heard of, then what's the most famous place? For many, it's the Taj Mahal, an everlasting monument to love that's widely regarded as one of the most beautiful buildings in the world. You can't possibly visit India for the first time and not go to the Taj Mahal.
I visited Agra and the Taj Mahal on this private day tour which I booked through Klook. I made the 2-hour trip to Agra by express train and visited the Taj Mahal, Agra Fort, and Fatehpur Sikri, all of which are UNESCO World Heritage Sites.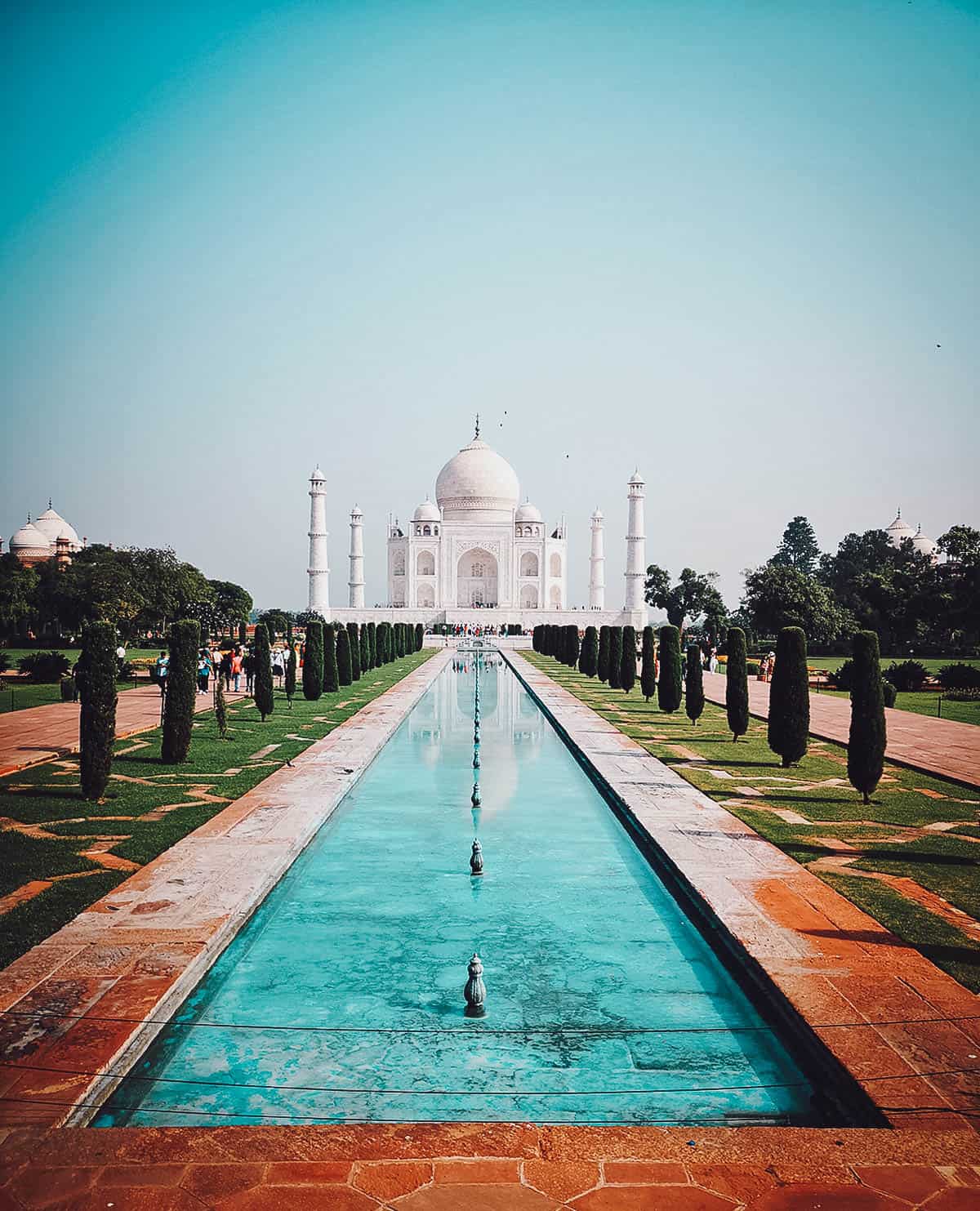 Booking the same tour I did will also take you to Agra Fort, a walled city which served as the main residence of Mughal emperors until the capital was moved from Agra to Delhi. This was where they lived and ruled from before the construction of Delhi's Red Fort.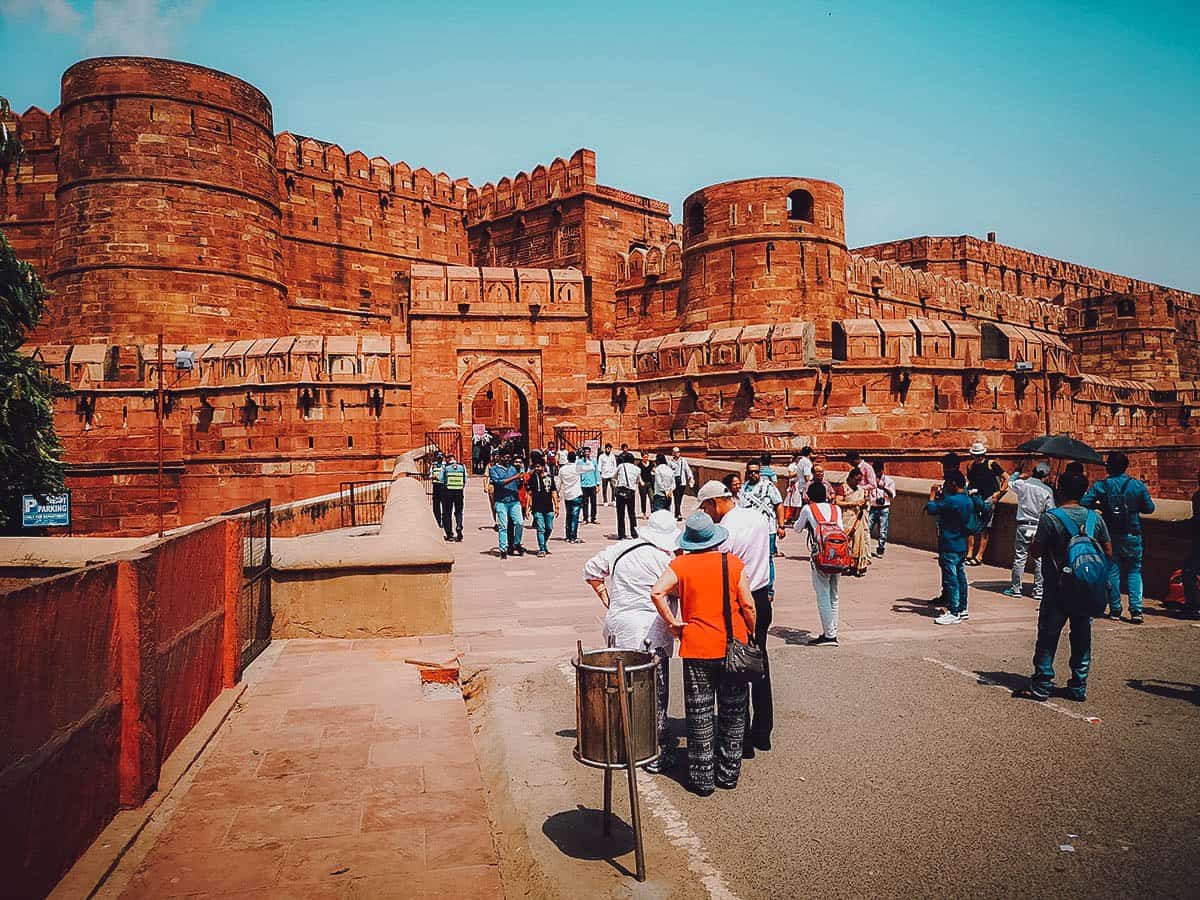 The last stop on my tour was Fatehpur Sikri, a walled city built by Akbar the Great, the third Mughal emperor and grandfather of Shah Jahan. I loved this tour and highly recommend it, but you may want to check out all options on Get Your Guide and Klook. Just be sure that the tour you book starts from Delhi, and not from some other city like Agra or Jaipur.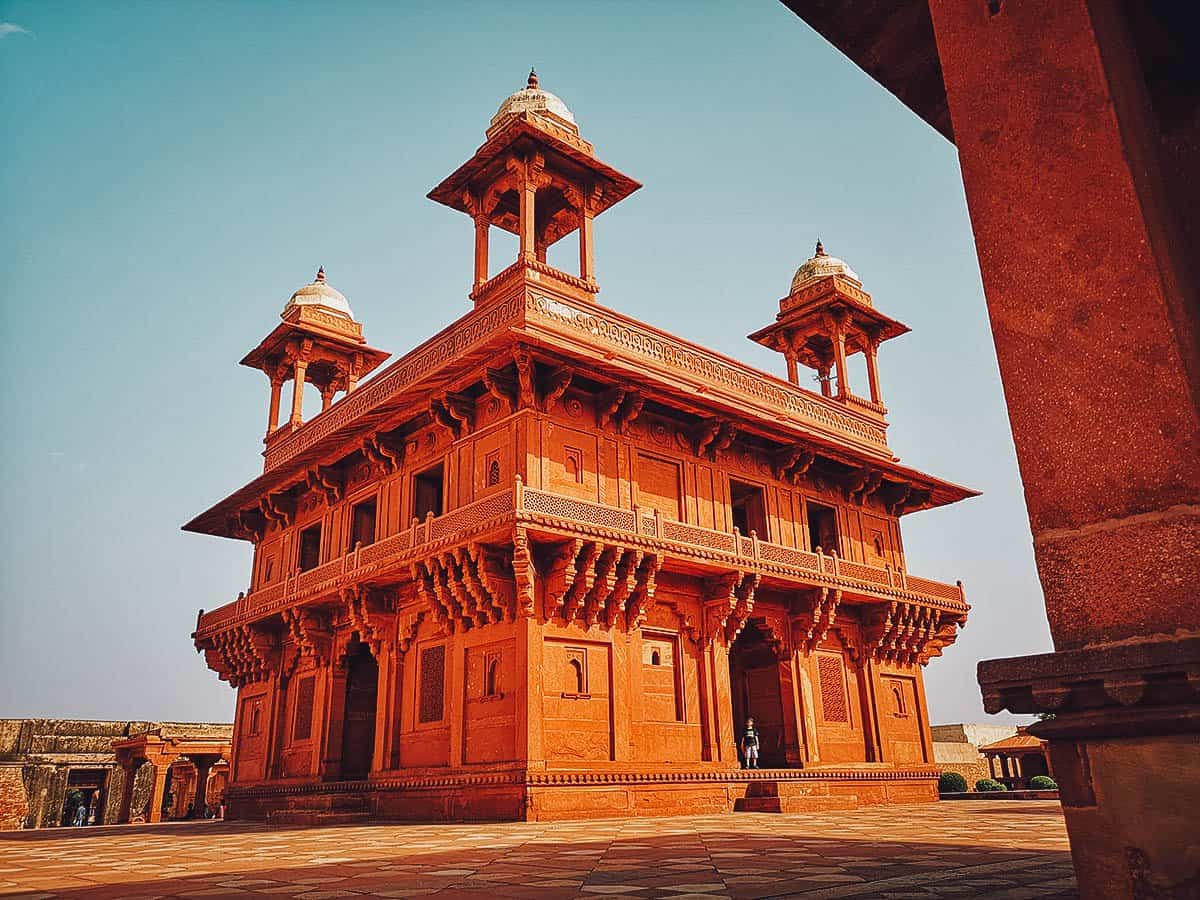 2. Visit Jaipur on a Day Tour
I had limited time in Delhi so I only had room on my itinerary for one day trip. As much as I would have loved to go to Jaipur, the Taj Mahal is such an iconic site that I had to leave Rajasthan for another time. Like the Taj Mahal, I've heard nothing but superlatives about Jaipur so I'll definitely be prioritizing this city on my next trip to India. The UNESCO World Heritage Committee inscribed Jaipur as the "Pink City of India" due to the dominant color scheme of its buildings.
Jaipur and Rajasthan merit its own trip but if you're pressed for time, then you can visit on a day tour from Delhi. Check out Klook and Get Your Guide for tour options. Just be sure that the tour you book starts from Delhi and not from some other city.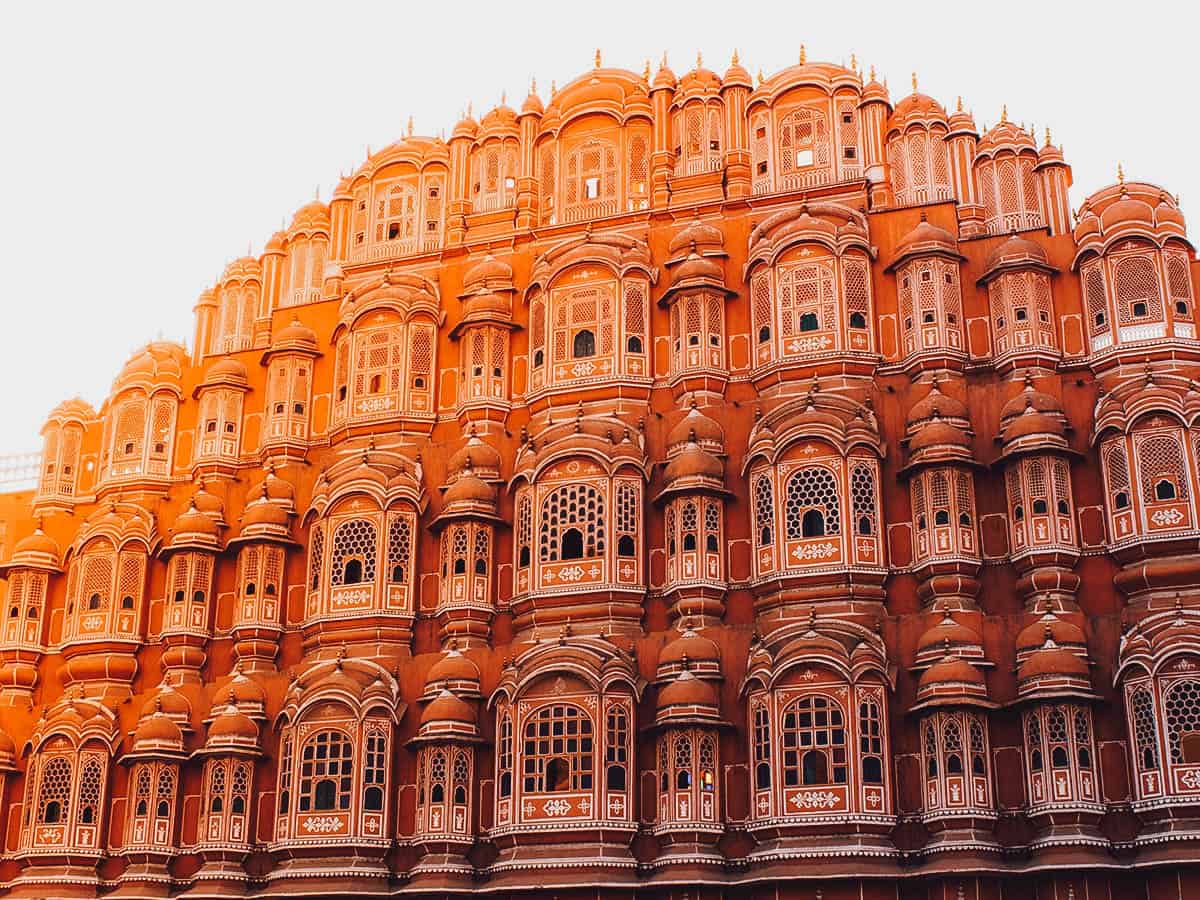 Photo by Fosterphotographic via Shutterstock
3. Get Lost in Chandni Chowk Market
When I think of markets in Delhi, I think of Chandni Chowk. Built by Emperor Shah Jahan in the 17th century, it's one of the oldest and busiest markets in Old Delhi. It's basically a labyrinth of shops selling all kinds of wares from spices, fabrics, jewelry, electronics, shoes, and of course, street food.
I experienced Chandni Chowk on this street food tour but I also explored it on my own by rickshaw. I flagged one down to give me an hour-long tour of the market. If you like, then you can also book a guided tour through Get Your Guide or Klook. The market is pretty chaotic so it may be best to go with someone who knows the place well.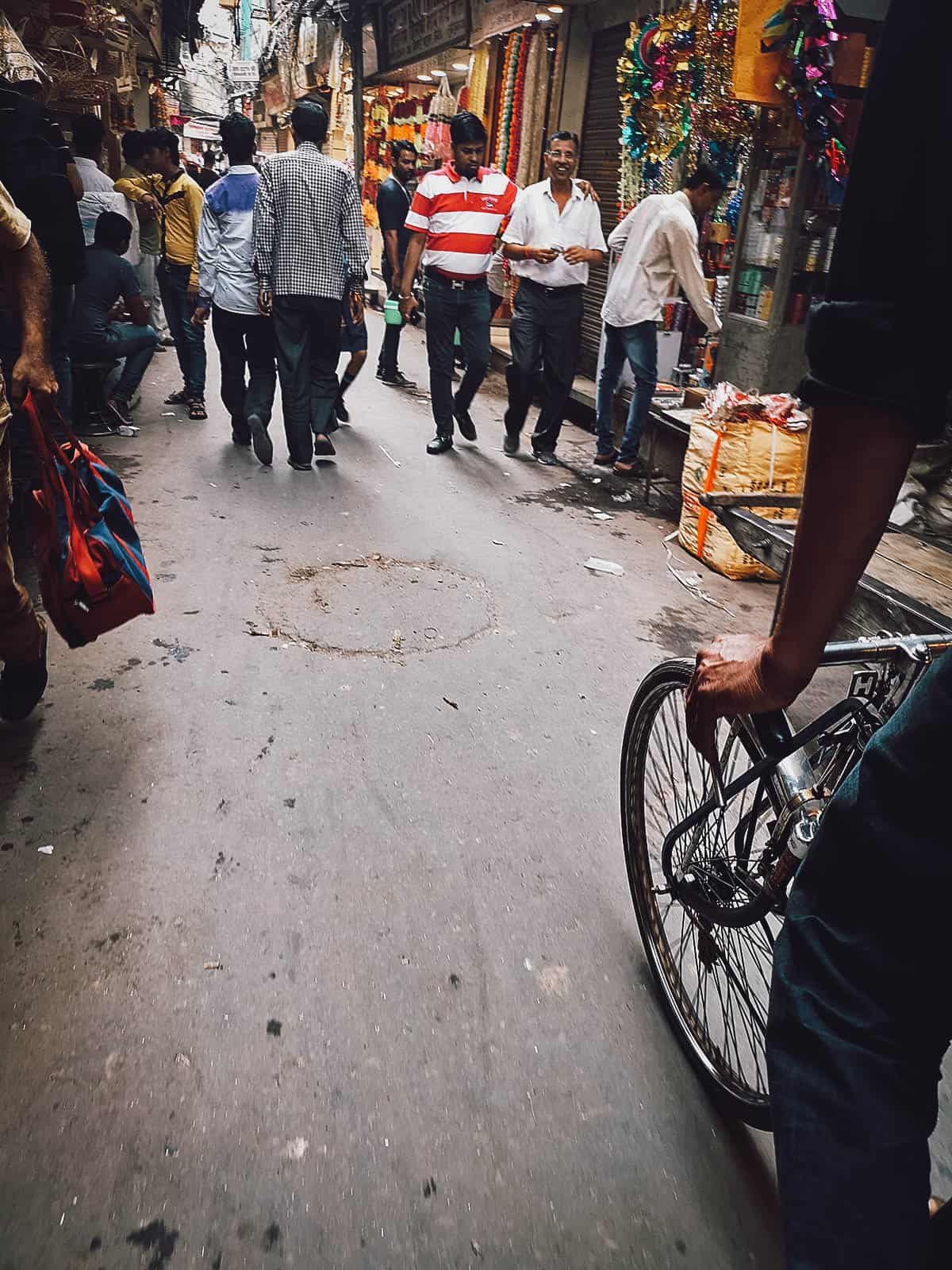 One of the places I was taken to on both the food tour and rickshaw ride was this building called the "spice house". It's a distribution center consisting of several floors of throat-clearing spices, at the top of which is this roofdeck offering bird's eye views of Old Delhi.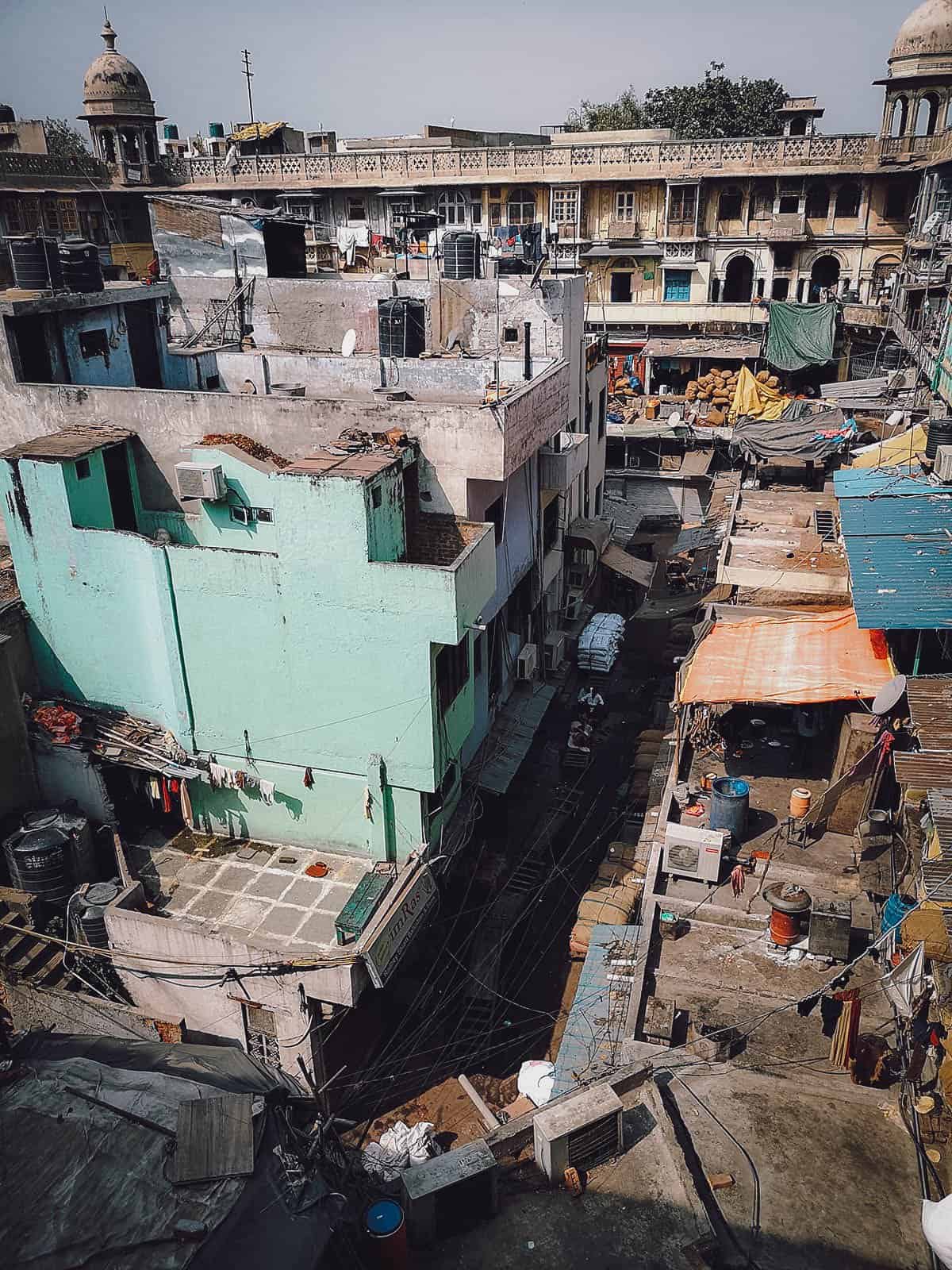 4. Go People Watching at Connaught Place
Connaught Place was one of my favorite places to hang out in Delhi. It's a nice upscale commercial area with plenty of cafes, shops, and restaurants. If you're taking a break from sightseeing and want a pleasant place to just sit and chill over a hot cup of coffee or some good food, then Connaught Place is a great area to kill a few hours.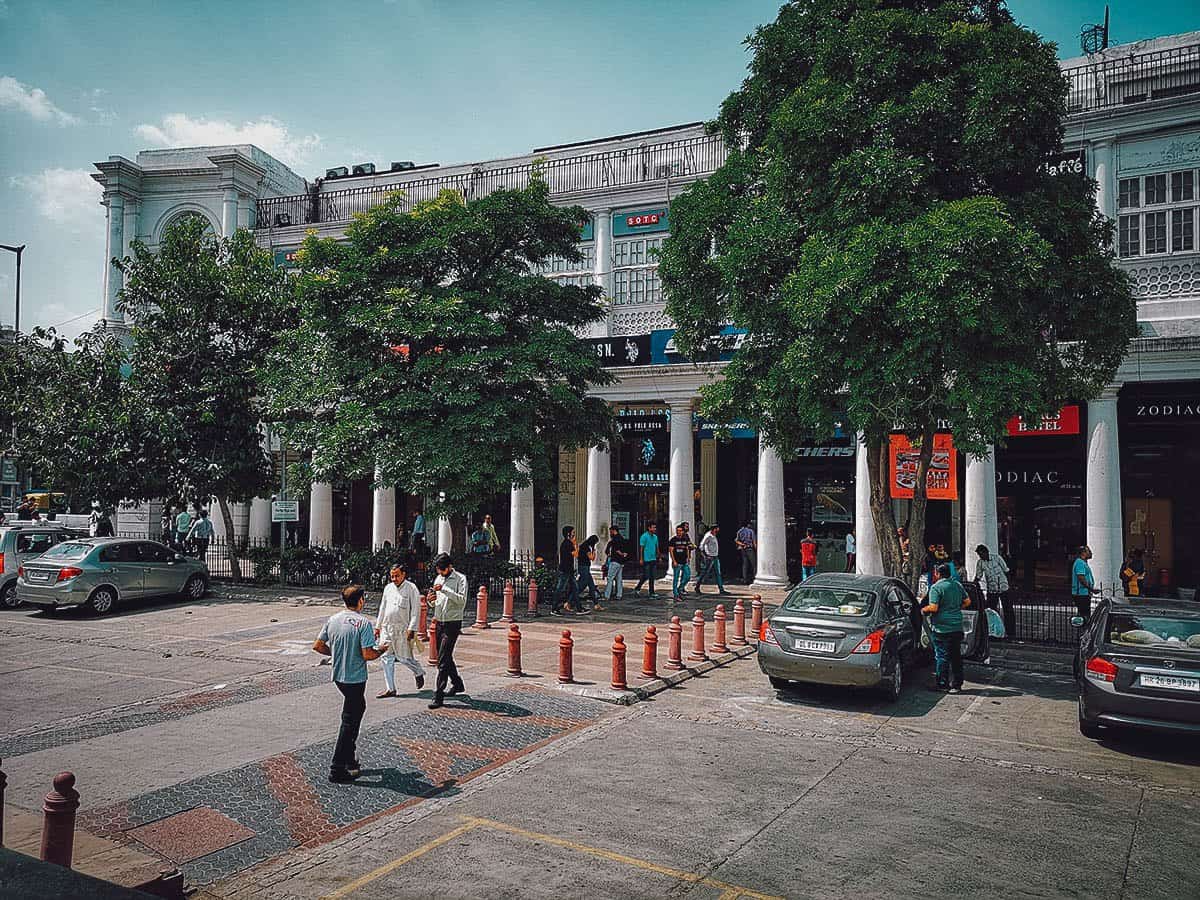 5. Taste the Best North Indian Cuisine on a Food Tour
As I've often preached on this blog, there's no better way to experience a new city's cuisine than to go on a food tour. I do tons of food research before every trip, but not matter how many articles I read, nothing will ever compare to local knowledge, especially when it comes to food. Many of the best and most authentic local places don't show up on Google, so it's ideal to have a local show you around.
I've been on all of A Chef's Tour's food tours in India and this food crawl through Chandni Chowk market was my favorite. Check out my article on the Old Delhi Food Crawl for more pictures and information. You can book this tour directly on A Chef's Tour.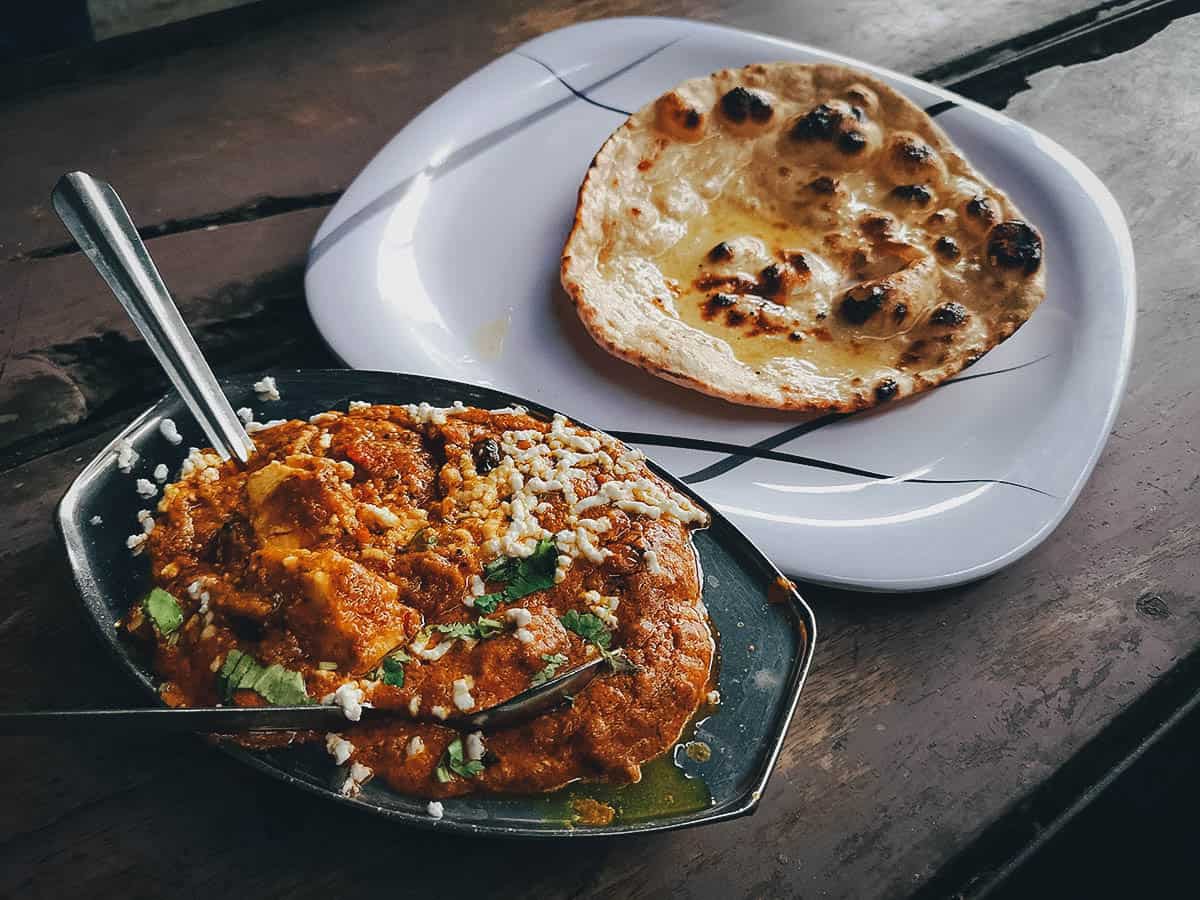 6. Take a Cooking Class
While going on a food tour is a great way to find local places, taking a cooking class is the best way to learn about a foreign cuisine. Eating an unfamiliar dish is one thing, but learning how to make it is another. It's like looking under the cuisine's hood.
Ren's a great cook so we try to make time for a cooking class whenever we travel. Unfortunately, she wasn't with me on this trip, but if you're interested in taking a cooking class in Delhi, then I suggest searching for one on Cookly. They're a cooking class aggregator and as far as I know, the single best resource for short-term cooking classes around the world.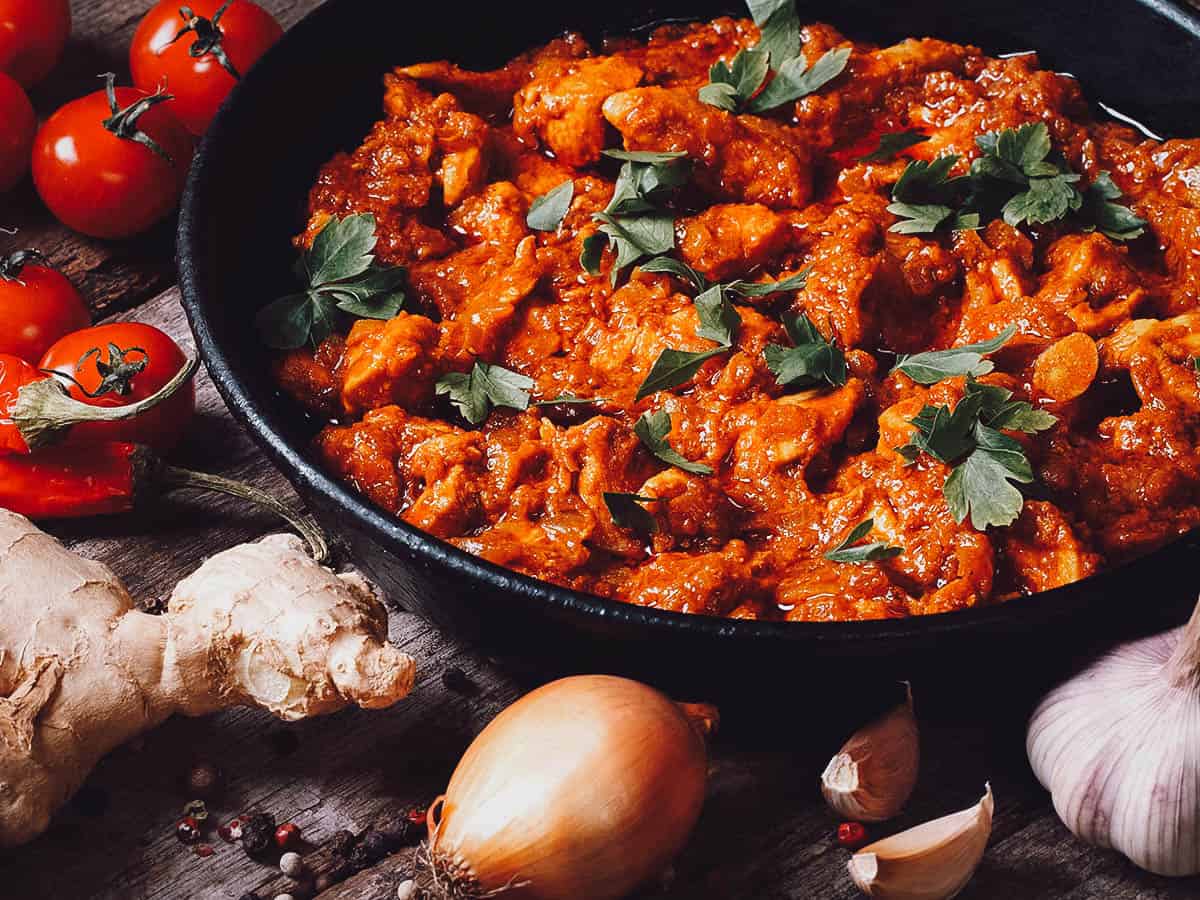 Photo by AS Food studio via Shutterstock
WHERE TO EAT
India has one of the greatest cuisines in the world, which is why I'd like to apologize in advance for this list. Instead of suggesting "where to eat in Delhi", it should probably be called "where to eat butter chicken in Delhi".
I usually do a better job of presenting a more well-rounded list of places to eat but butter chicken or murgh makani is one of my absolute favorite foods in the world and a big reason why I had been wanting to visit north India for the longest time. With limited time in the city, I couldn't resist eating it at virtually every meal.
If you like butter chicken as much as I do, then you're going to appreciate this list. But if not, then I promise to come up with a more diverse list on my next trip to Delhi (I hope).
1. Moti Mahal
What better way to kickstart this list of butter chicken restaurants in Delhi than with the place credited for inventing the dish? Moti Mahal is a chain of Punjabi restaurants known for popularizing dishes like tandoori chicken and murgh makani.
As the story goes, Moti Mahal was already famous for their tandoori chicken, which is tandoor-roasted chicken marinated in yogurt and spices. As delicious as it is, tandoori chicken has a tendency to dry out, so the cooks at Moti Mahal started recycling the chicken juices left in their marinade trays by adding butter and tomato. The sauce was then mixed with the chicken to create the classic now known as murgh makani or butter chicken. It was an instant hit and quickly became one of the most popular types of curry in India and the rest of the world.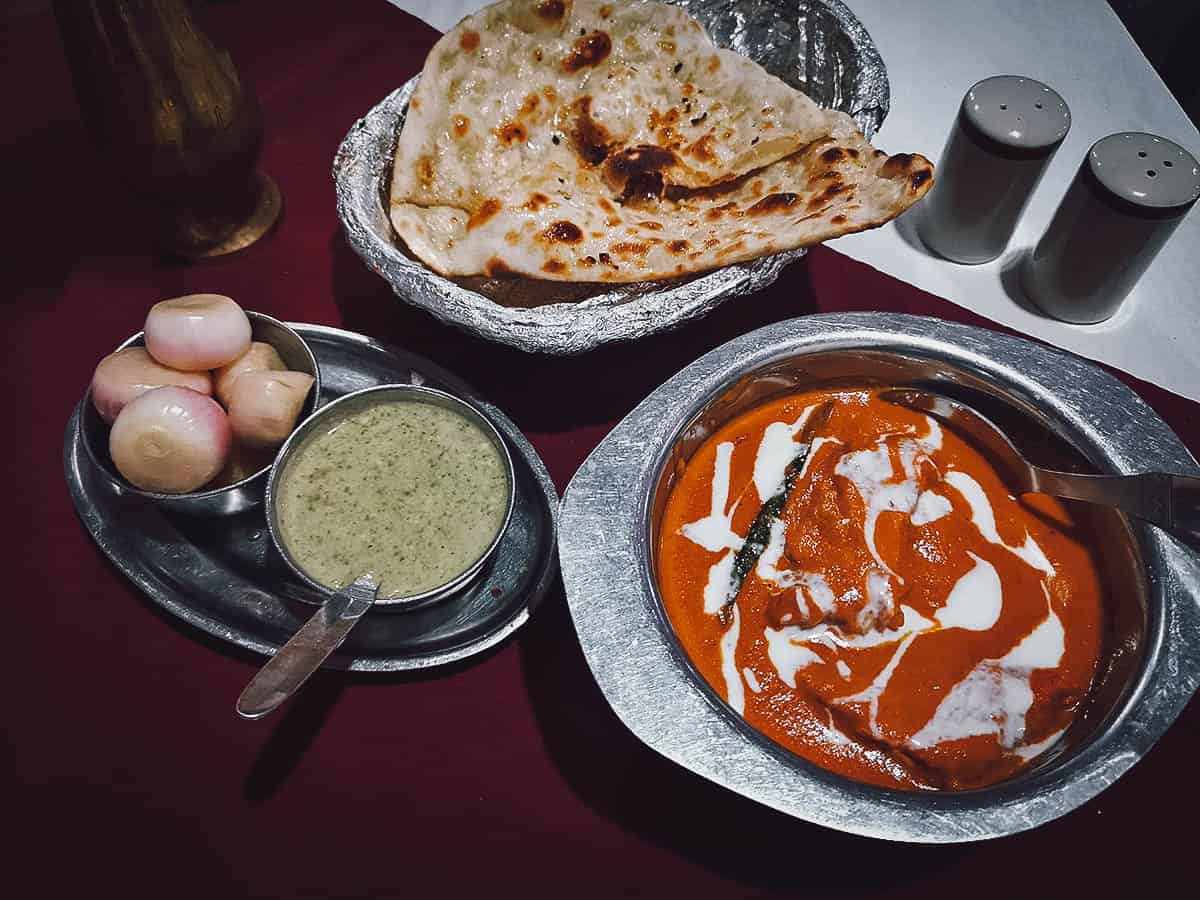 For me, one of life's greatest pleasures is to dip freshly baked naan into this rich and creamy curry. It is so unbelievably good. This is why I couldn't visit more restaurants in Delhi. After a meal of murgh makani, naan bread, and basmati rice all to myself, I was pretty much done and asleep.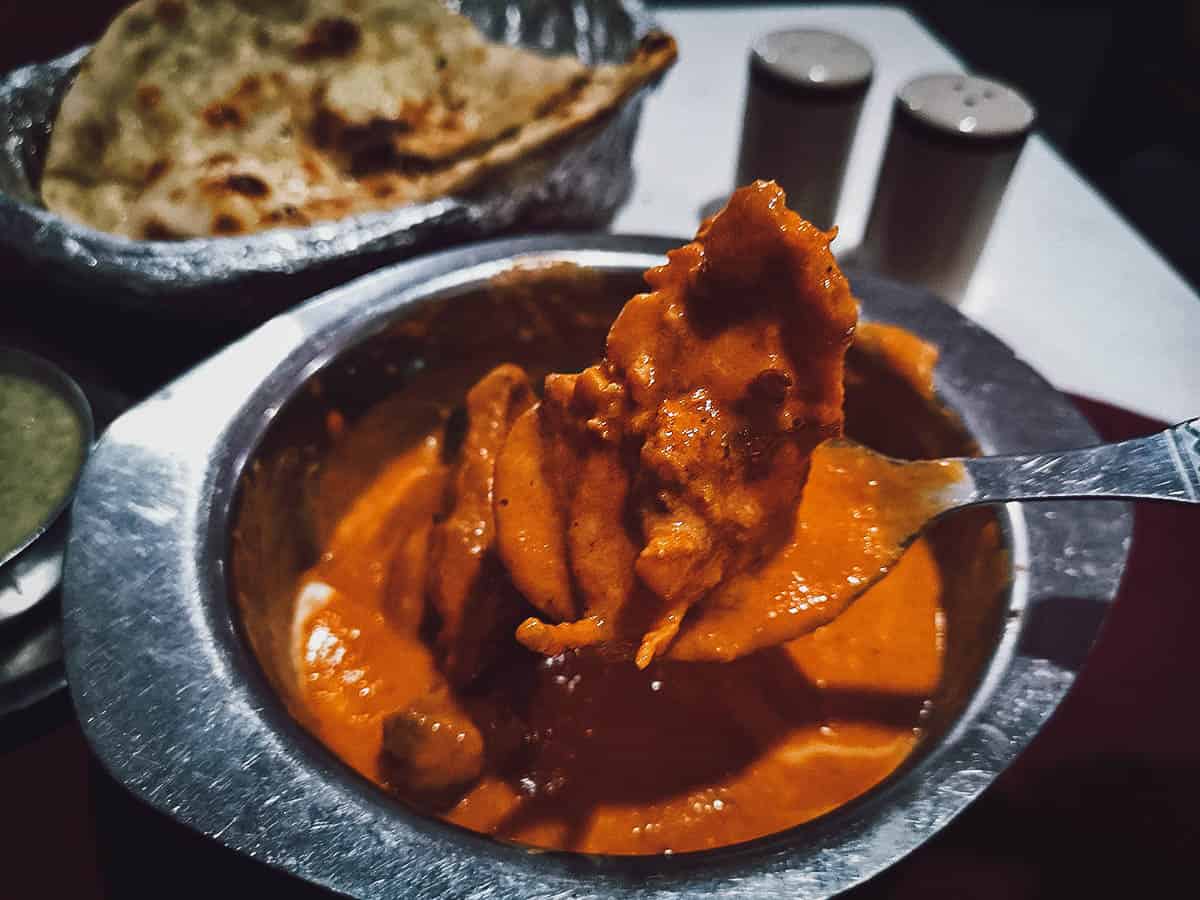 2. Kake Da Hotel
If you check out my Delhi location map, you'll find a few restaurants in Connaught Place. But of course, I couldn't help but do a search for "best butter chicken in connaught place" which led me to Kake Da Hotel, a place that's been known for serving killer butter chicken since 1931.
The waiter noticed how much I was enjoying my food so he offered me an extra plate of gravy and another piece of naan bread. I was done and asleep shortly after.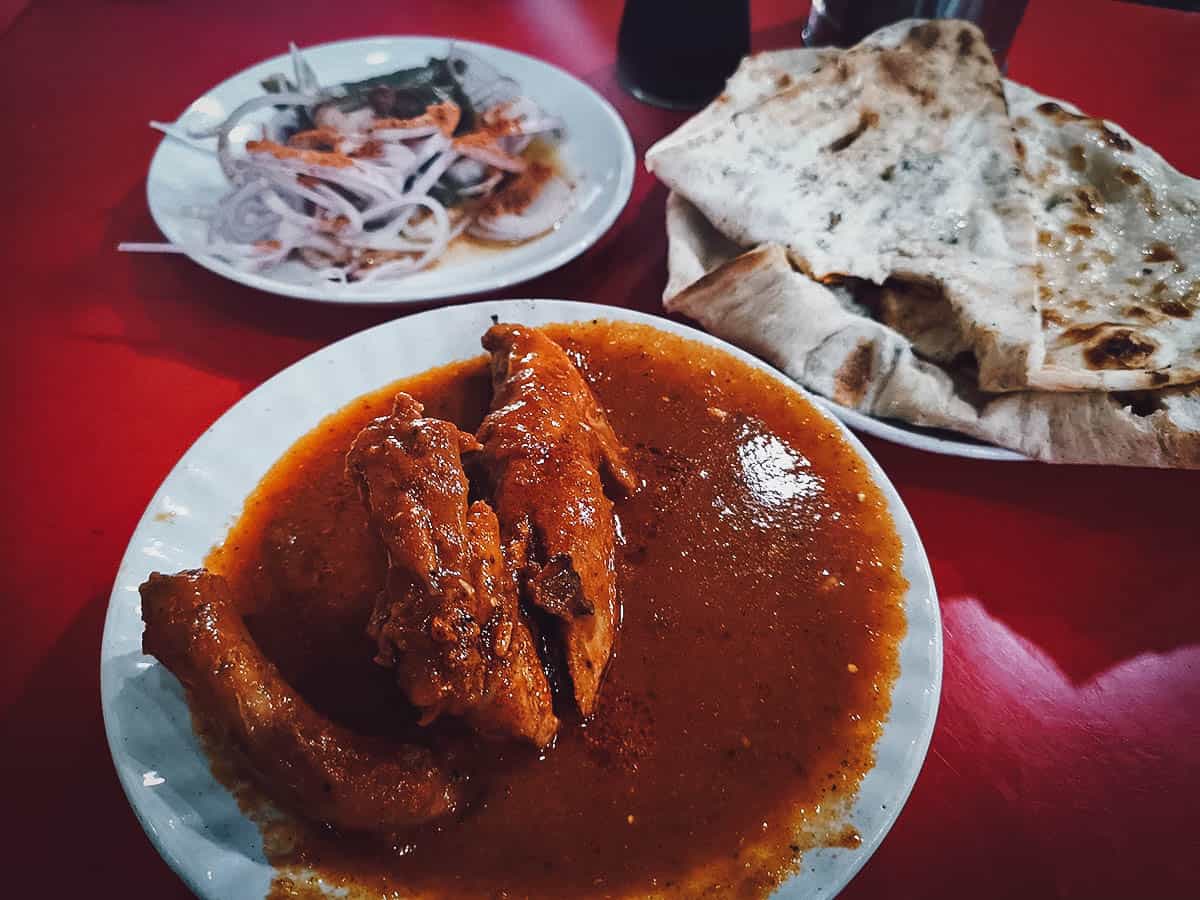 3. Cafe Vagabond
I was getting ready to go to Connaught Place for dinner when I had the idea of googling the reviews for Cafe Vagabond, the restaurant in my hotel. To my surprise, they have a solid 4-star rating on TripAdvisor with many local reviewers singing their food praises. When I saw they had murgh makani on their menu, I knew I wasn't going anywhere.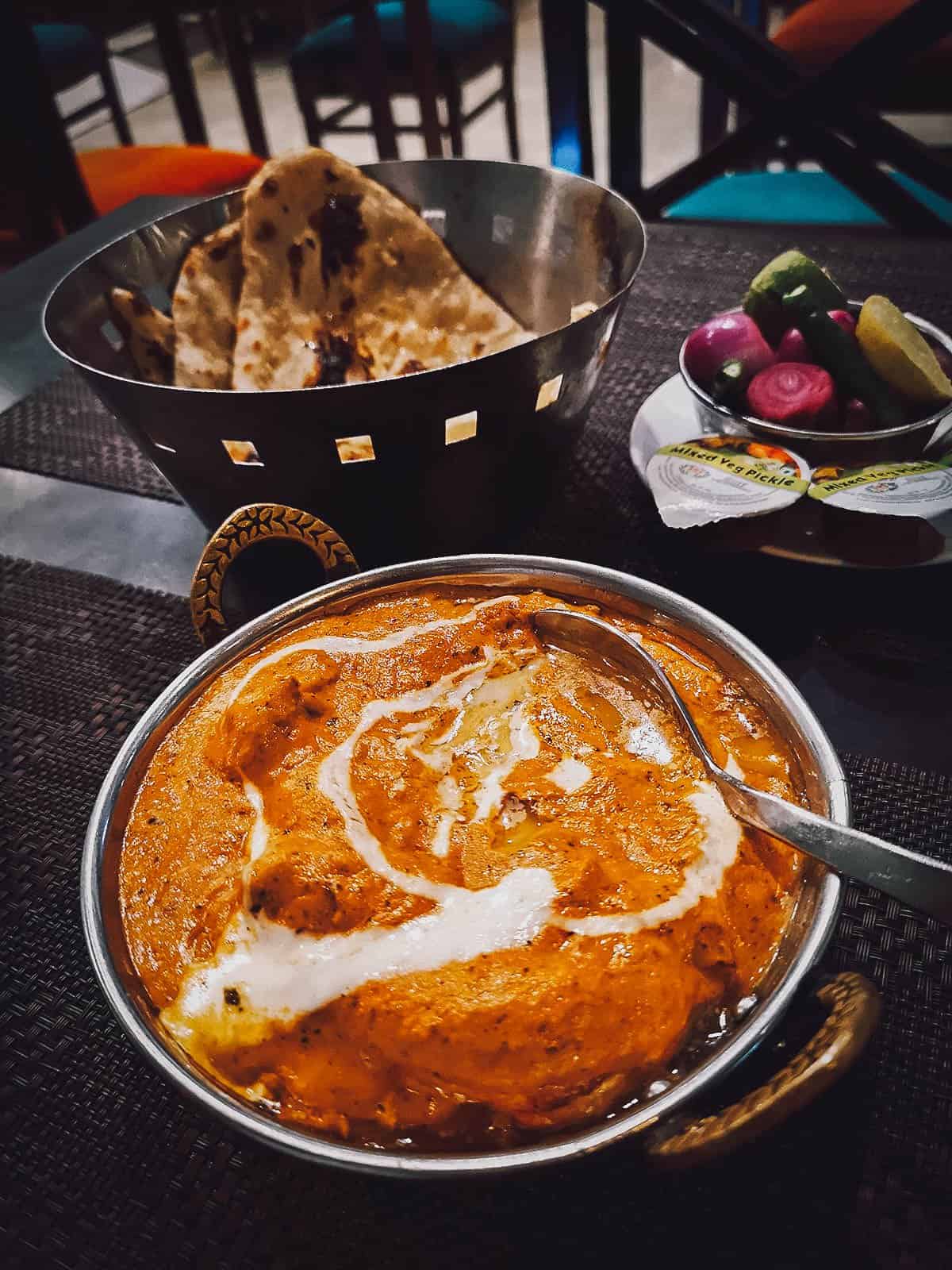 Flavor-wise, this may have been the best murgh makani I had in Delhi. It had a bit of a grainy texture but the taste was spot-on delicious.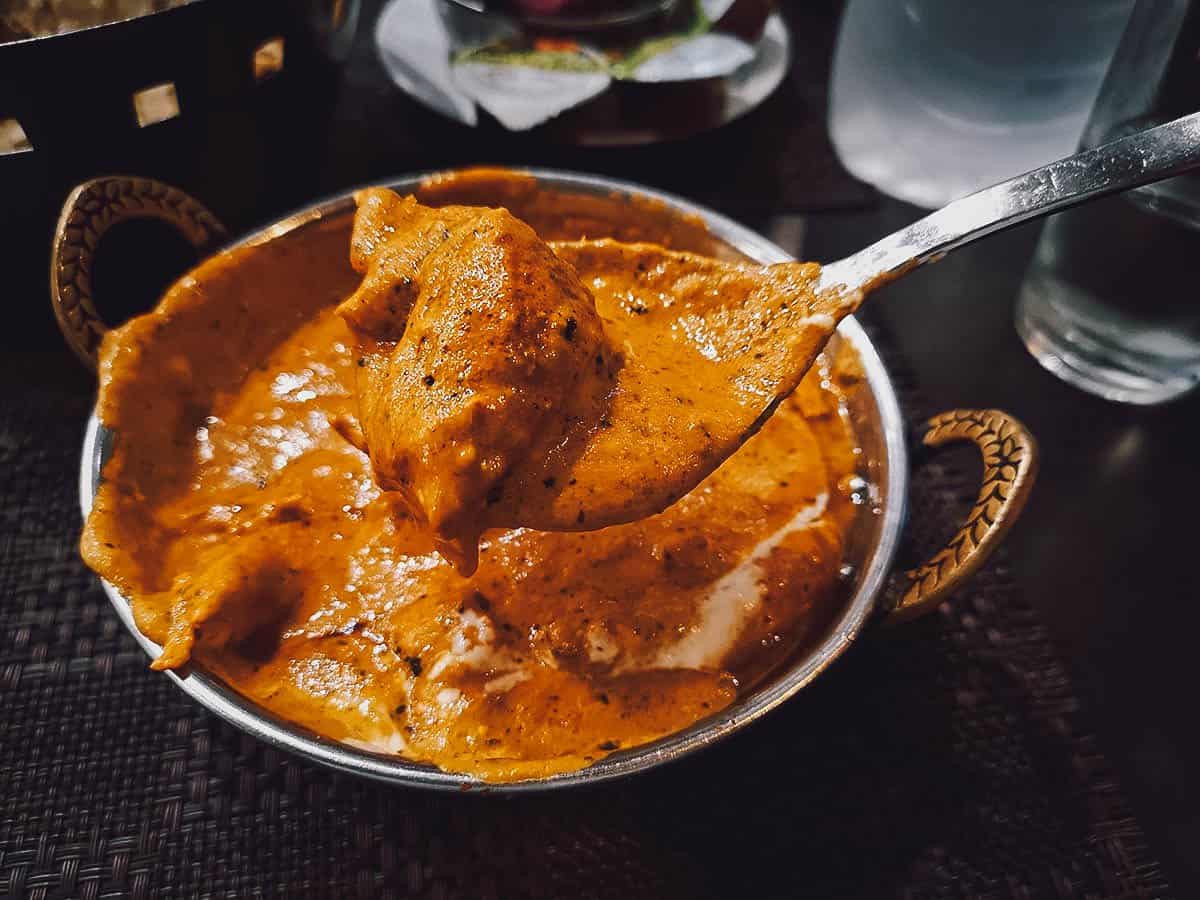 4. Karim's
I heard nothing but great things about Karim's, so I made it a point to eat here in spite of being stuffed to the gills after lunch at Moti Mahal. I'm glad I did because the food here was truly phenomenal.
I read about their tandoori mutton burra so that's what I ordered. I'm a curry guy so I'm not usually as excited when it comes to grilled dishes. I expect them to be somewhat dry and not too exciting, but my god was this good. It was smokey and intensely flavorful. As described, Ren couldn't join me on this trip so I brought her back a takeout box of her favorite mutton biryani from Karim's. She said it was the best biryani she's ever tasted in her life.
My only regret was coming to Karim's on a full stomach. On our next trip to Delhi, we're coming here famished so we can experience the full range of their dishes.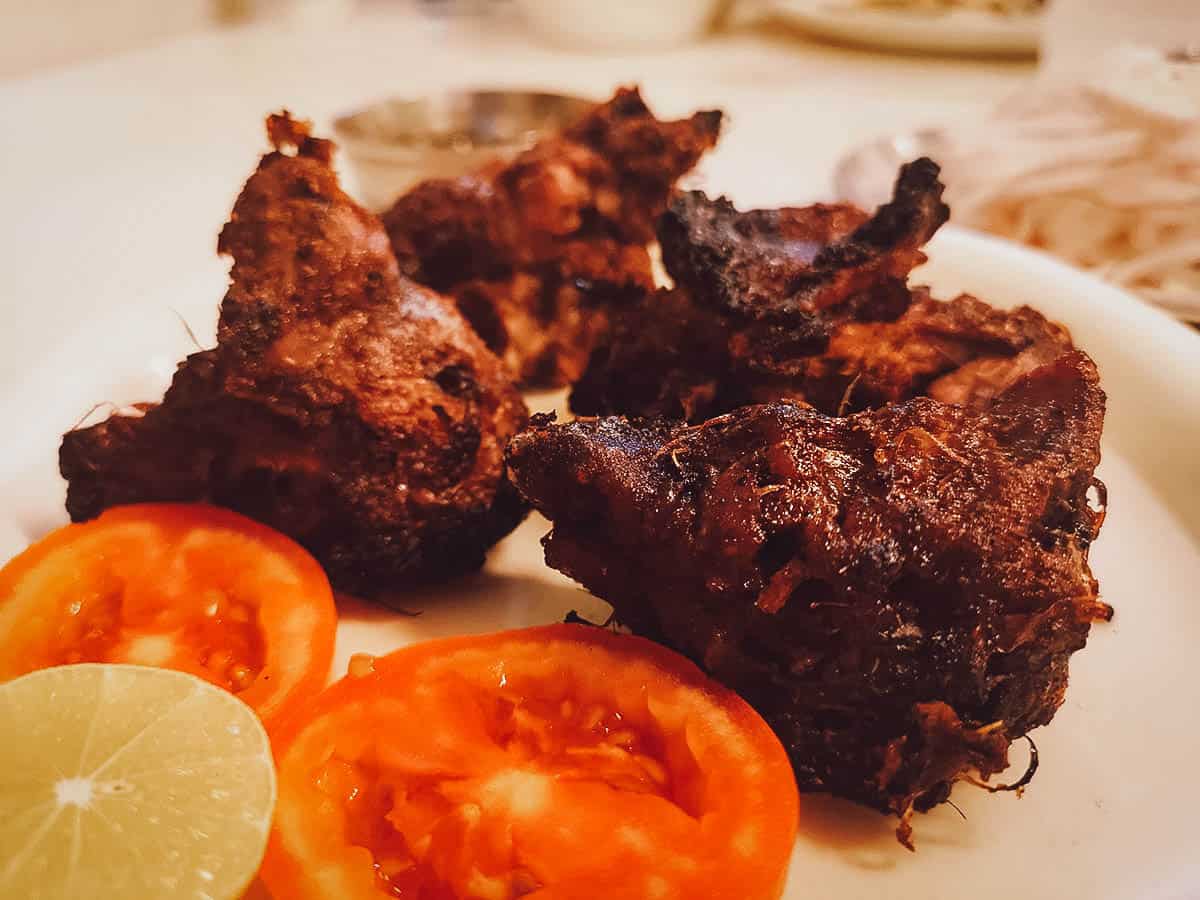 Time Magazine once featured Karim's as one of the best restaurants in Asia. I'm definitely a believer after that mutton burra. They've been open since 1913 and were founded by the chef of the last Mughal emperor Bahadur Shah Zafar. This place is an absolute legend in Delhi, and may have a solid claim to inventing the UK national dish known as chicken tikka masala.
Karim's is located just a stone's throw away from Jama Masjid, so it's a great place to have lunch or dinner after visiting the mosque. It isn't visible from the street so look out for this alleyway on the immediate left of Hotel Jawahar.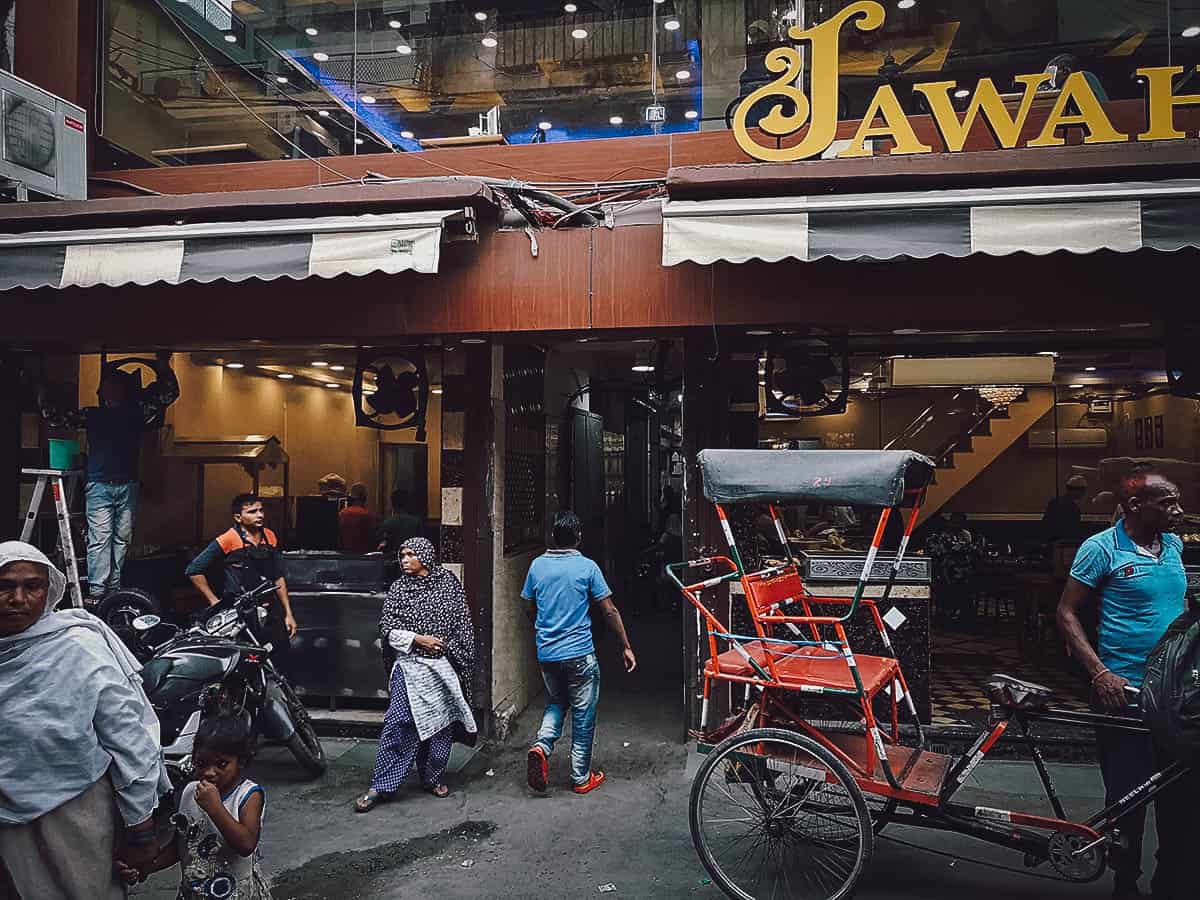 INDIAN STREET FOOD GUIDE
The previous section offered restaurant recommendations in Delhi, but if you enjoy street food as much as I do, then check out our guide on Indian street food for a list of must-try street food dishes in India.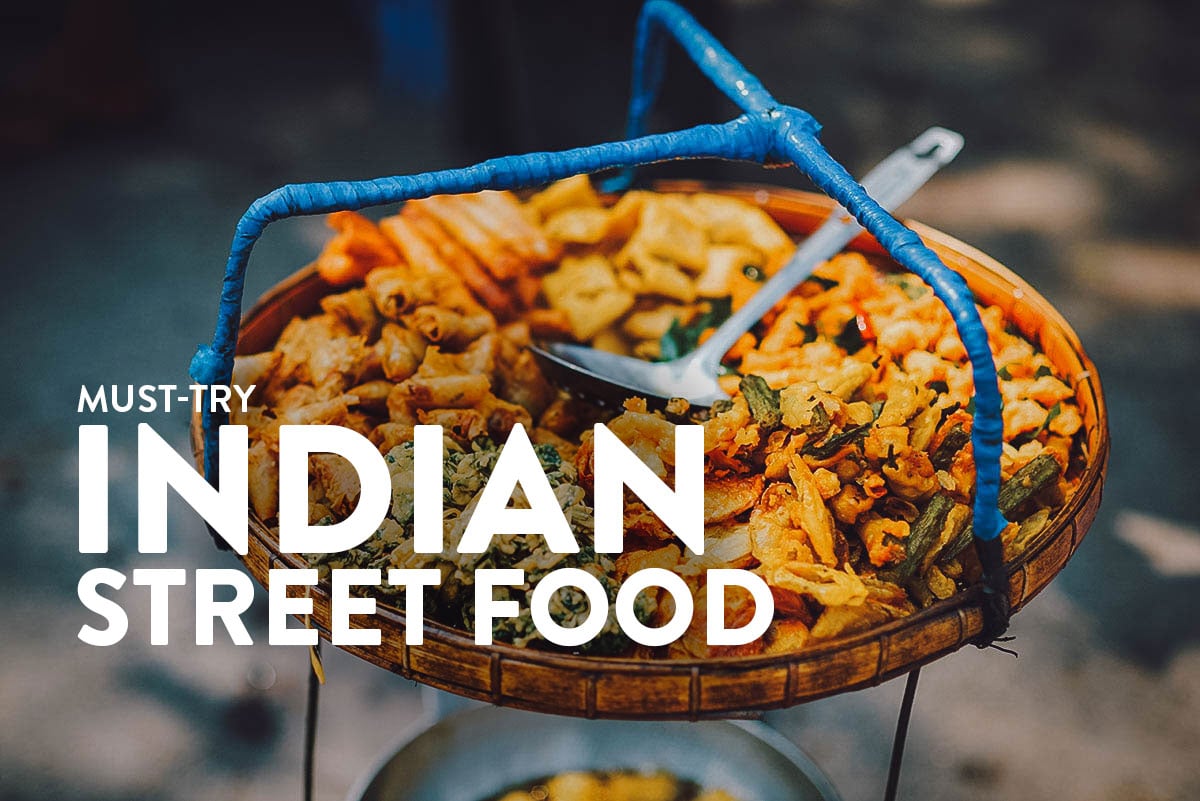 Photo by Yarygin via Deposit Photos
HOW TO GET AROUND
Delhi is a big city with a cheap and extensive metro system so it's easy to get around. You may have to take taxis or auto-rickshaws to cover shorter distances and that's fine. You'll have plenty of options.
BY DELHI METRO: Going by metro is always our preferred way of getting around a city. Delhi has a great metro system that can take you almost anywhere you need to go as a tourist. Fares start at just INR 10 and you'll have the option of purchasing a smart card or tourist card.
A smart card is a stored value card that not only eliminates the hassle of having to buy single journey tokens, it'll give you a 10-20% discount on fares as well. Tourist cards are unlimited transport passes that allow you to travel as often as you want for the duration of your card. They're available in 1- or 3-day variants. You can refer to the Delhi Metro website for more information.
Please be advised that you'll be required to go through security checks at Delhi Metro stations. This is because of the ongoing threat of terrorism. It may take time to get through during peak hours so keep that in mind.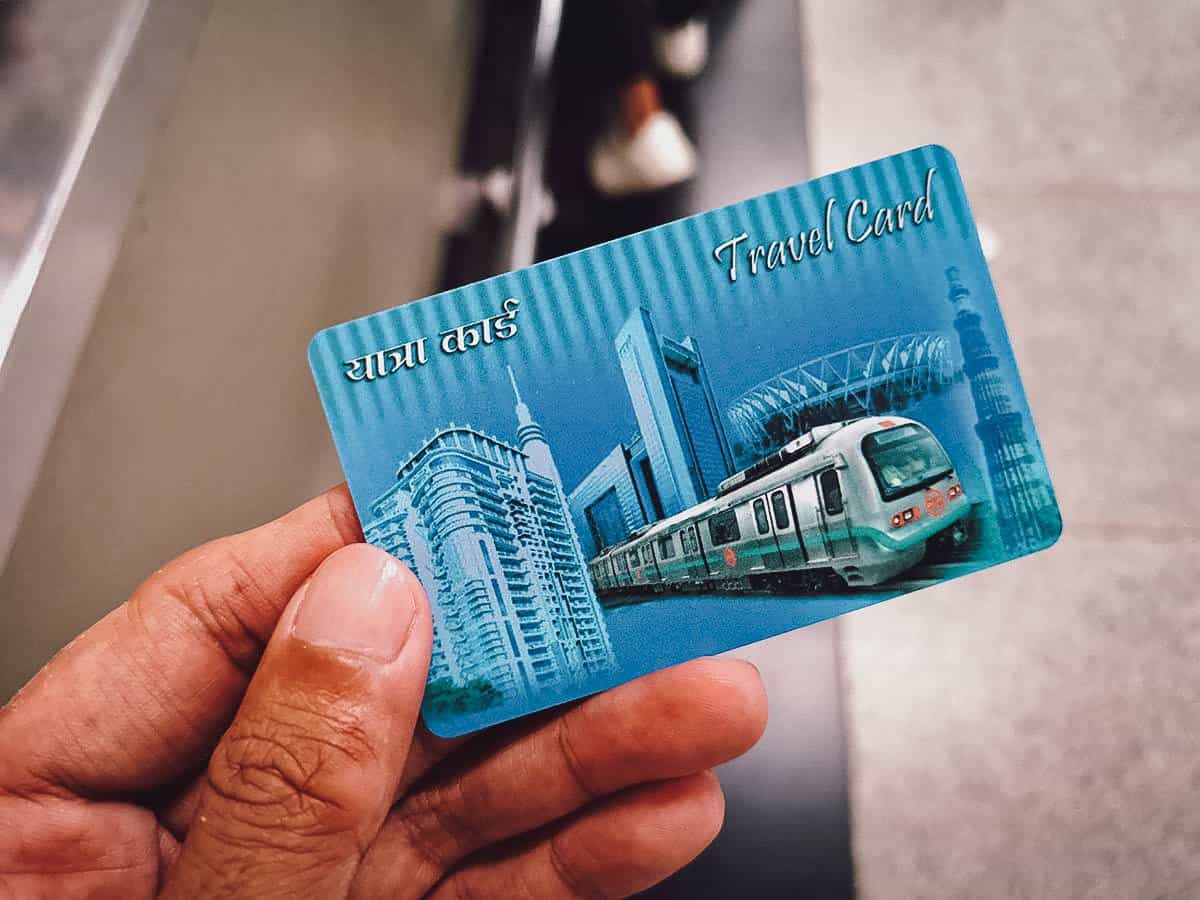 BY UBER / OLA: I had trouble using Uber in Kolkata but I had no problems whatsoever in Delhi. It was efficient and a great way to travel short distances in the city. As previously described, not all attractions are near metro stations so you may have to grab an Uber to cover the last 2-3 km. I didn't use it but there's a local competitor called Ola as well.
BY TAXI / AUTO-RICKSHAW / RICKSHAW: This would be my last resort, simply because I hate having to argue about fares. I rode a rickshaw and auto-rickshaw and they both tried to get more money from me even after we had agreed upon the fare! They gave every reason in the book like being poor and increasing gas prices. It was never threatening but it was annoying and something I didn't want to deal with. If you can get an Uber or Ola, then do that instead.
No matter which mode of transport you choose in Delhi, I highly recommend using the Google Maps app (iOS|Android) to navigate. It'll tell you all the possible ways you can get from point A to point B using any city's public transportation system. It's very reliable and we never travel anywhere now without it.
HOW MANY DAYS TO STAY / SAMPLE ITINERARY
There is so much to see and do in Delhi. Many of the attractions are historically significant and require a couple of hours or so to fully appreciate.
Assuming you're using Delhi as a base and interested in taking day trips to Agra and Jaipur, then five full days should be enough. This will allow you to explore Delhi's most significant attractions without feeling rushed. Here's a sample 5D/5N Delhi itinerary to help you plan your trip.
DAY ONE
• Jama Masjid
• Chandni Chowk
• Red Fort
• Raj Ghat
• India Gate
• Connaught Place
DAY TWO
• Agra day tour
DAY THREE
• Jaipur day tour
DAY FOUR
• Akshardham Temple
• Humayun's Tomb
• Gurudwara Bangla Sahib
• Laxminarayan Temple
DAY FIVE
• Qutub Minar
• Lotus Temple
• ISKCON Temple
• Safdarjung Tomb
• Lodhi Gardens
BUDGET / SUMMARY OF EXPENSES
This is always tough because everyone's travel habits are different, especially in a city like Delhi where there's so much to see and do. Assuming you aren't taking any day trips and staying in Delhi for three full days with one other person, then a daily budget of around INR 2,500-3,000 per person should be enough. This takes into account your accommodations, transportation, admission fees, meals, drinks, and pocket wifi rental. Here's a quick breakdown of expenses:
ACCOMMODATIONS
This is highly variable. I stayed at Hotel Ajanta in the backpacker area of Paharganj for USD 30 a night, which I think is a good average room rate between two people. You can pay USD 100 for a better hotel in Connaught Place or USD 4 a night for a hostel dorm room. It's really up to you.
MEALS
Food is cheap anywhere in India. If you stick to street food, then INR 150 per meal will be plenty. If you want something more substantial like murgh makani and naan, then expect to pay more. I suggest budgeting around INR 600 a day for food.
TRANSPORTATION
To simplify things, let's assume you're getting a 3-day tourist card. It'll cost you INR 500. You may need to take an auto-rickshaw or Uber here and there so I think a daily transportation budget of around INR 250 should be good.
ENTRANCE FEES
Assuming you're going to all the attractions in Delhi listed in this guide, then you'll be paying a total of INR 1,970 in admission fees.
POCKET WIFI RENTAL
Renting a pocket wifi device will run you INR 173 per day.
TOTAL


This comes out to about INR 2,753 a day per person. Ren and I are middle of the road travelers who enjoy good food and drink, so the recommended budget works for travelers like us. Feel free to adjust based on your own preferences.
TRAVEL TIPS
1. Plan your Trip with Sygic Travel
This is my go-to trip planning app. I use it to create all our itineraries. What it does is allow me to pin all points of interest on a map – places like the airport, our hotel, restaurants, and attractions – so I can see where everything is in relation to one another. That way I can group them by day to create an efficient itinerary and minimize transit times. Check out my post on the Sygic Travel app for more information.
Sygic Travel is what I used to create the location map above. You can also view it as a day-to-day itinerary on Sygic Travel or download it in editable Word format from our EAT-ineraries page. It covers Delhi, Agra, Mumbai, and Kolkata.
2. Rent a Pocket Wifi Device
Having a strong and steady wifi connection is so important when traveling these days. It allows you to do research, navigate, convert currencies, and google "where is the best butter chicken near me". Having access to Google Maps alone makes it a must in my opinion.
This trip to India was put together at the last minute so I didn't have time to rent a pocket wifi device. Thankfully, I had my Pokefi which is a global wifi device, but if you need to rent one in India, then you can do so through Klook.
3. Exercise Caution with Street Food
Have you heard of this phenomenon called "Delhi belly"? It's what they call traveler's diarrhea in India. It's a very real thing and something you should be concerned about, especially if you like eating street food. I didn't come down with it in Delhi but I did get a case of it in Mumbai. The culprit I believe, was hand-churned street ice cream.
Delhi belly can be a trip killer so I suggest checking out Hippie in Heels' tips on how to safely eat street food in India. These are the most important things to remember:
Look for popular stalls. The more popular a stall is, the cleaner and safer its food is likely to be.
Avoid dishes and drinks with water. Water is the leading cause of Delhi belly so it's best to avoid dishes made with any water or sauce. Ice cubes are always a no-no and any fruits or vegetables washed in undistilled water must be treated with caution. If possible, go to stalls that prepare their food using distilled water.
Fried or grilled dishes are safer. Heat kills bacteria so fried or grilled dishes are typically safer to eat. The same applies to drinks. Hot drinks like chai tea are safer because the water used to make them has been boiled. When it comes to street food, try to avoid any dishes made with meat because you don't know how long it's been sitting out.
4. Get a Car Charter or Go on a Guided Tour
Attractions in Delhi are spread out and not all are located right next to a metro station. The Delhi Metro is convenient but if you don't have a lot of time in the city, then you may want to consider getting a private car charter, even for just one day. That's what I did. I tried to get around on my own but found myself wasting too much time in transit, so I arranged for a private car charter with my hotel for the following day. I paid INR 1,500 for an 8-hour car charter and I was able to cover a lot of ground.
You can try booking a car charter with your hotel or purchasing a voucher in advance through Klook or Get Your Guide. Split between two or three people, this may be a cost-effective way of exploring the city as well.
I already had a specific list of attractions I wanted to visit so a private car charter made sense for me, but if you just want to see the "best of Delhi", then you may want to go on a guided tour. There are many to choose from on Klook and Get Your Guide.
5. Get Discount Tickets
I get travel vouchers from a few websites. As you can probably tell from all the links in this guide, I used Klook and Get Your Guide the most for this trip to Delhi.
If you're looking to get vouchers for things like tours, airport transfers, pocket wifi rental, and fast track tickets, then you may want to check out Klook and Get Your Guide for a list of deals in Delhi. I often learn about activities I never would have thought of myself so it's always worth a look.
6. Get Travel Insurance
Getting travel insurance is something we consider before every trip. Whether or not we get it depends on what we'll be doing. If we plan on doing anything physical, anything that could get us hurt like skiing or mountain bike riding, then we'll definitely pick up a policy. But if we're just making a quick trip to a city like Hong Kong to eat for a couple of days, then we probably won't.
However, India is a different animal. In my opinion, the threat of Delhi belly alone makes it a necessity. I've heard of travel bloggers coming down with severe cases of traveler's diarrhea in India, so I think getting travel medical insurance would be a very good idea.
Whenever we feel the need for travel insurance, we get it from either World Nomads or SafetyWing. They're both trusted travel medical insurance providers used by many long-term travelers. Check out my article on why we buy travel insurance for a closer look at the two. You can follow the links to get a free quote from World Nomads or SafetyWing.
7. Bring the Right Power Adapter
India has Type C, Type D, or Type M electrical outlets so remember to bring the right adapters for your devices. Electrical voltage is 230V and the standard frequency is 50Hz.
8. Have Patience and Stay Cool
India is a life-changing experience. Until you've been there and seen it with your own eyes, then you won't really understand what that means. India is a polarizing destination. People either love it or hate it – there's no middle ground. But regardless of what happens and how it makes you feel, it's best to remain calm and keep a cool head.
To be honest, I found India to be incredibly frustrating at times. Delhi was my last stop and my patience at that point was running very thin. Discipline and mindfulness can seem like foreign concepts in this country. Not once did I hop into a taxi, rickshaw, or auto-rickshaw without the driver trying to rip me off. If you're from a developed country, then you can't visit India expecting things to work like they do in your country. It will lead to much hair-pulling and frustration.
When something tries your patience, just take a deep breath and have a look around to remind yourself where you are. You're in India. This is how it's supposed to be.
Have fun!
I'm not an expert on Delhi but I do hope you find this guide helpful. I'm only sharing some of the things I learned from my trip. If you have any questions, then please feel free to ask us in the comment section below. You're welcome to join our Facebook Travel Group as well. We'd love to hear from you.
Thanks for stopping by and have a wonderful time in Delhi.
Disclosure
This travel guide contains affiliate links, meaning we'll get a small commission if you make a booking at no extra cost to you. We only recommend products and services that we use ourselves and firmly believe in. We really appreciate your support as this helps us make more of these free travel guides. Thank you!