We're originally from Asia so when it comes to starchy food, rice is king. We've eaten it with almost every meal since childhood.
However, we do have a passion for other high-carb staples as well, especially bread. Renée loves baking bread and making pizzas from scratch. Like sausages, sandwiches, and exotic ice cream flavors, new and unfamiliar types of bread are something we look for on every trip.
From Vietnamese banh mi to Ethiopian injera, here are fifty types of bread from around the world that every dough lover needs to try.
Save This on Pinterest!
No time to read this article on different types of bread from around the world? Click on the save button and pin it for later!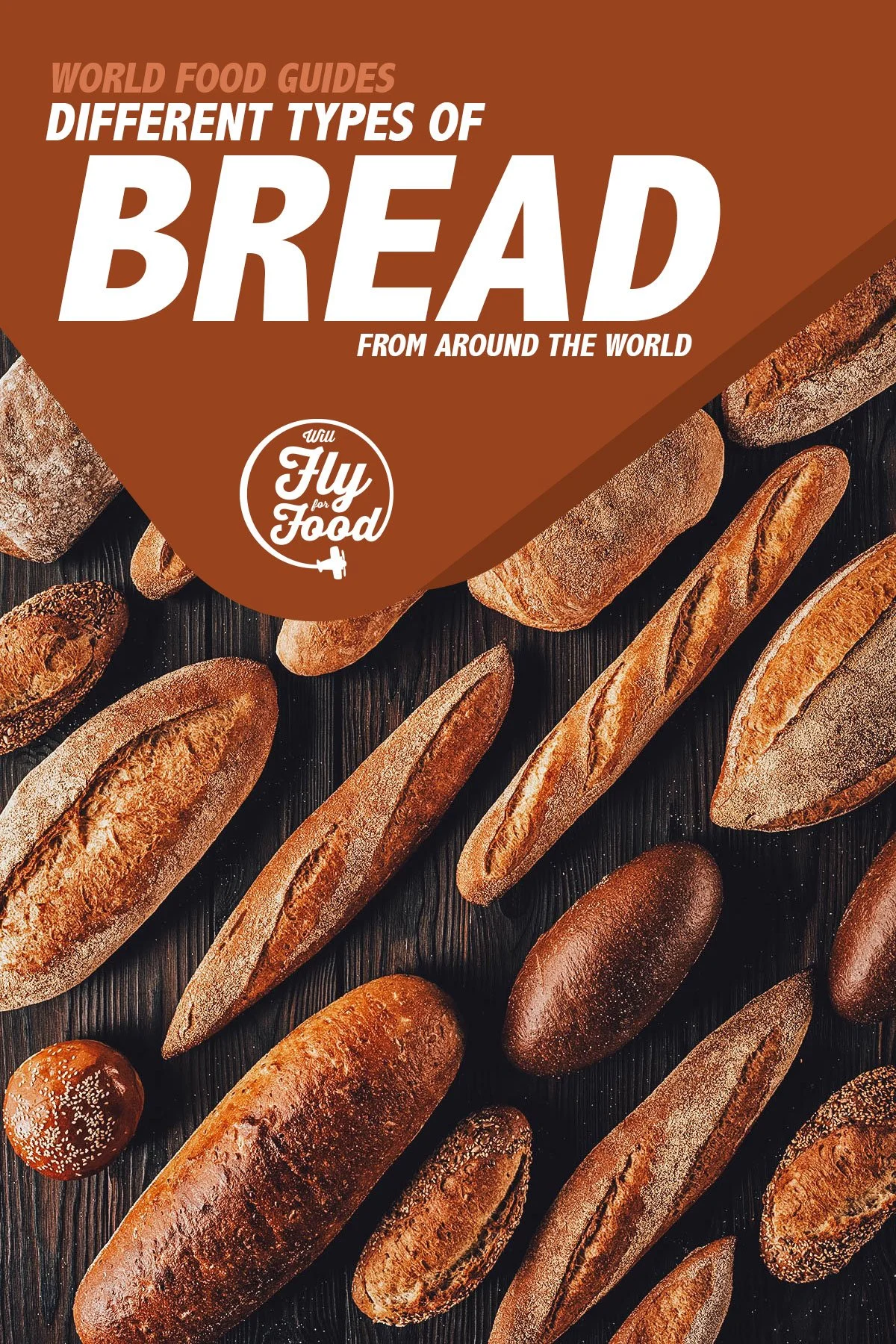 Photo by VadimVasenin
WHAT IS BREAD?
Bread refers to a vital staple food made with dough (or batter). It's usually baked and can be made using just two ingredients – flour and water. Bread has existed throughout the world since Neolithic times and is recognized as one of the earliest human-made foods.
Flour is the heart and soul of bread. It's a powder that can be made from a variety of finely ground grains, tubers, legumes, nuts, and seeds. Bread can be made with different types of flour though grain-based flours – especially wheat flour – are most commonly used.
Flour and water are the most important ingredients in bread though it's commonly made with yeast, salt, baking powder, and baking soda as well. It can be leavened or unleavened and enriched with other ingredients like eggs, milk, butter, sugar, spices, nuts, and seeds.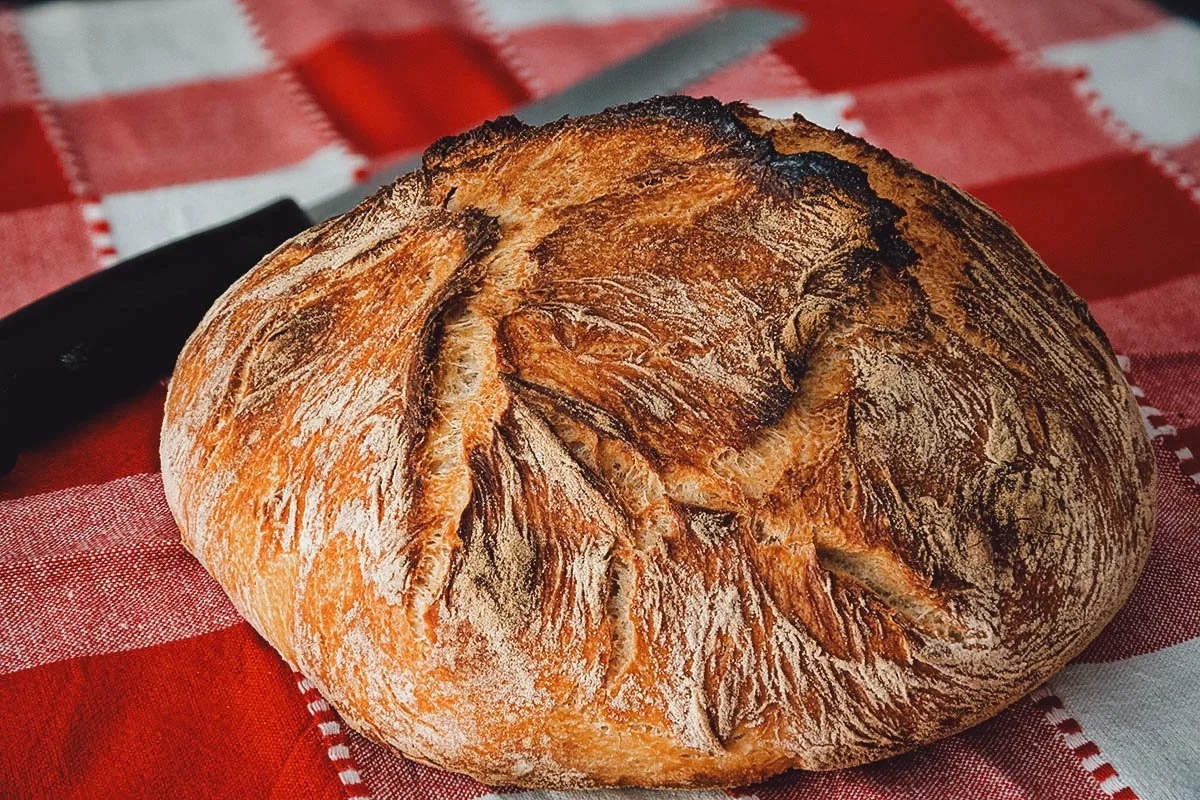 Photo by Gabbiere
WHAT'S THE DIFFERENCE BETWEEN BREAD AND PASTRY?
As with many foods that are quite similar to each other (like soups and stews), there's a fine line between breads and pastries. They're made with similar ingredients but the main difference is in the amount of fat and gluten in the dough.
Pastry has a higher fat content than bread. Adding fat or oil to pastry dough and manipulating it as little as possible slows down the production of gluten. This leads to a product that's flakier and crumblier in texture.
Pastries are also made with pastry flour which typically has a lower level of gluten than all-purpose flour or bread flour.
WHAT'S THE DIFFERENCE BETWEEN BREAD AND CAKE?
The line between bread and cake is even hazier.
Both products are made from similar ingredients but bread is made predominantly with flour and water while cakes are enriched with additional ingredients like sugar, milk, butter, and eggs. Bread also uses yeast as its primary leavening agent while cakes are made with chemical leaveners like baking powder and baking soda.
By that definition, it seems clear that "quick breads" – breads leavened with a non-biological agent like baking soda or baking powder – are actually cakes instead of bread. Labels make everything so confusing.
WHAT ARE THE MAIN TYPES OF BREAD?
There are hundreds of known bread recipes from around the world. There are many ways you can categorize bread but one of the simplest is to put them into one of two main categories – leavened or unleavened.
Leavened Bread
Leavened bread refers to any type of raised bread made with yeast or another leavening agent like baking powder or baking soda. When added to dough (or batter), the yeast or chemical leaveners release carbon dioxide that makes the dough rise.
Leavened bread is best made with flour that contains high levels of gluten, like whole wheat flour or rye flour. These types of flour contain two proteins that give raised bread its structure – glutenin and gliaden. Glutenin creates elasticity and chewiness while gliaden enables the bread to achieve a higher rise.
When mixed with water, these proteins connect and form gluten, the supporting structure of raised bread. Carbon dioxide bubbles produced by the leaveners are held together by these gluten strands which allow the dough to rise and retain its shape before baking.
Some common examples of leavened bread include white bread, whole wheat bread, rye bread, potato bread (made with potato flour or mashed potatoes), multigrain bread (made with several types of grain), and quick bread (leavened with a non-biological agent like baking soda or baking powder).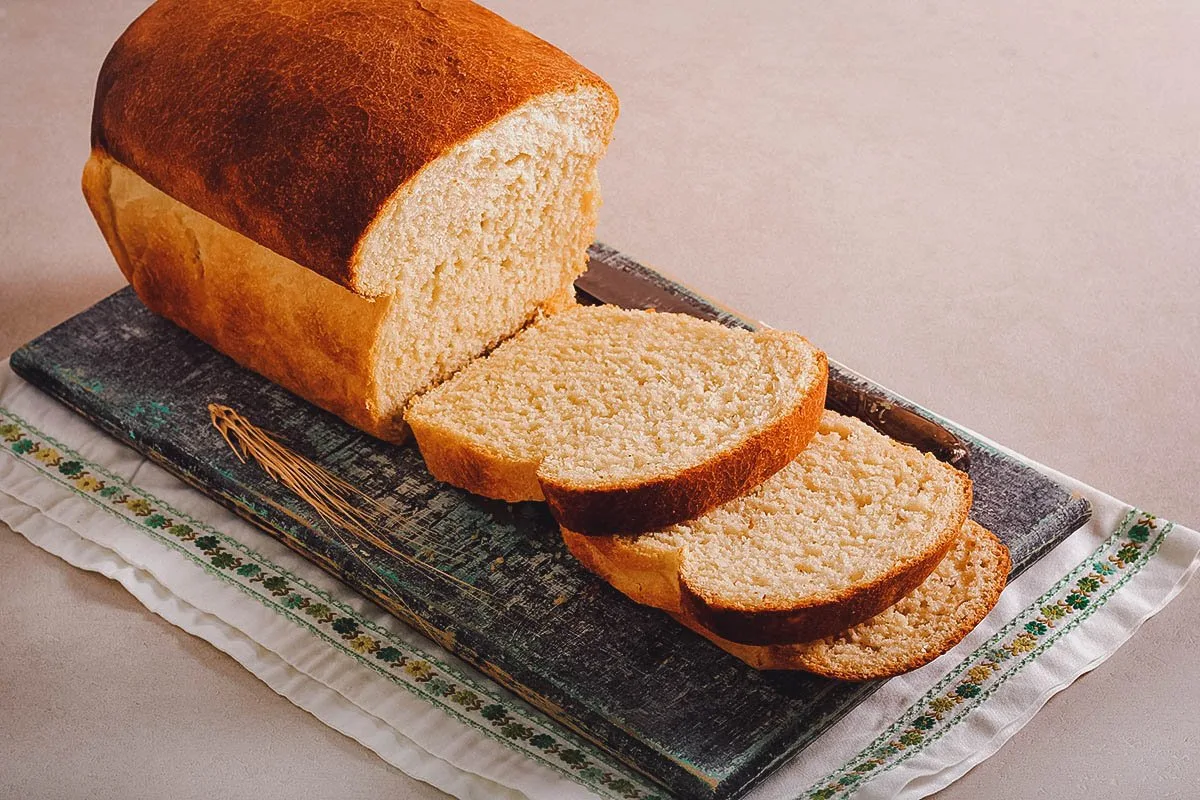 Photo by manyakotic
Unleavened Bread
Unleavened bread refers to any type of bread made without a rising agent, so they're flat in shape. Tortilla, chapati, roti canai, and matzah are popular examples of unleavened bread.
It's a common misconception that all types of flatbread are unleavened, but that isn't the case. Some well-known flatbreads like naan bread and pita bread are made with yeast.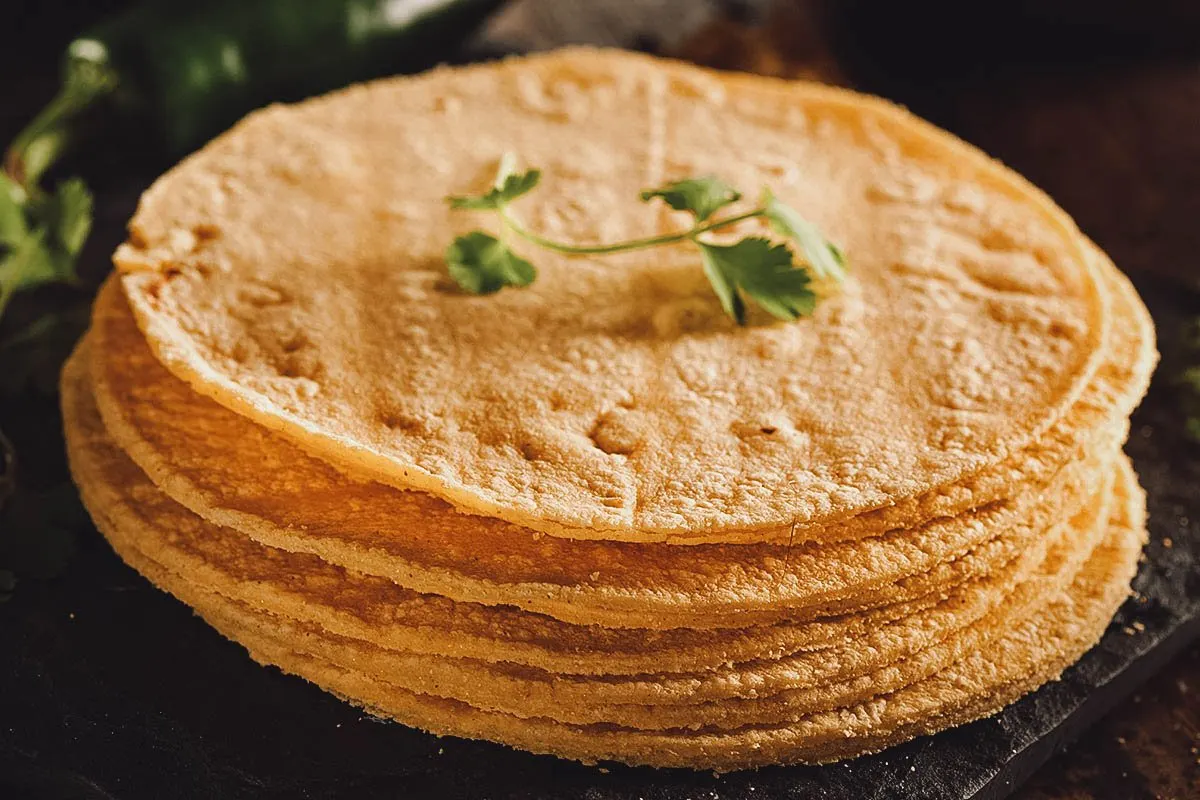 Photo by bhofack2
DELICIOUS TYPES OF BREAD FROM AROUND THE WORLD
This is a big list of bread types. To make it easier to go through, I've organized it by continent. Click on a link to jump to any section of the guide.
EUROPE
1. English Muffin (England)
Fans of eggs benedict and Egg McMuffins are no strangers to the English muffin. Known simply as a "muffin" in England, it refers to a small and round yeast-leavened type of flatbread that's commonly eaten for breakfast.
Muffins are typically sliced horizontally and toasted before being spread with butter and/or jam. They can also be filled with various breakfast ingredients like eggs, sausage, bacon, and cheese to create a portable sandwich version of the classic English breakfast.
I absolutely adore Sausage McMuffins from McDonald's. It's one of my favorite breakfast sandwiches and a lot of that has to do with the texture of the bread. It's soft, spongy, a little crusty, and just perfect with the breakfast ingredients.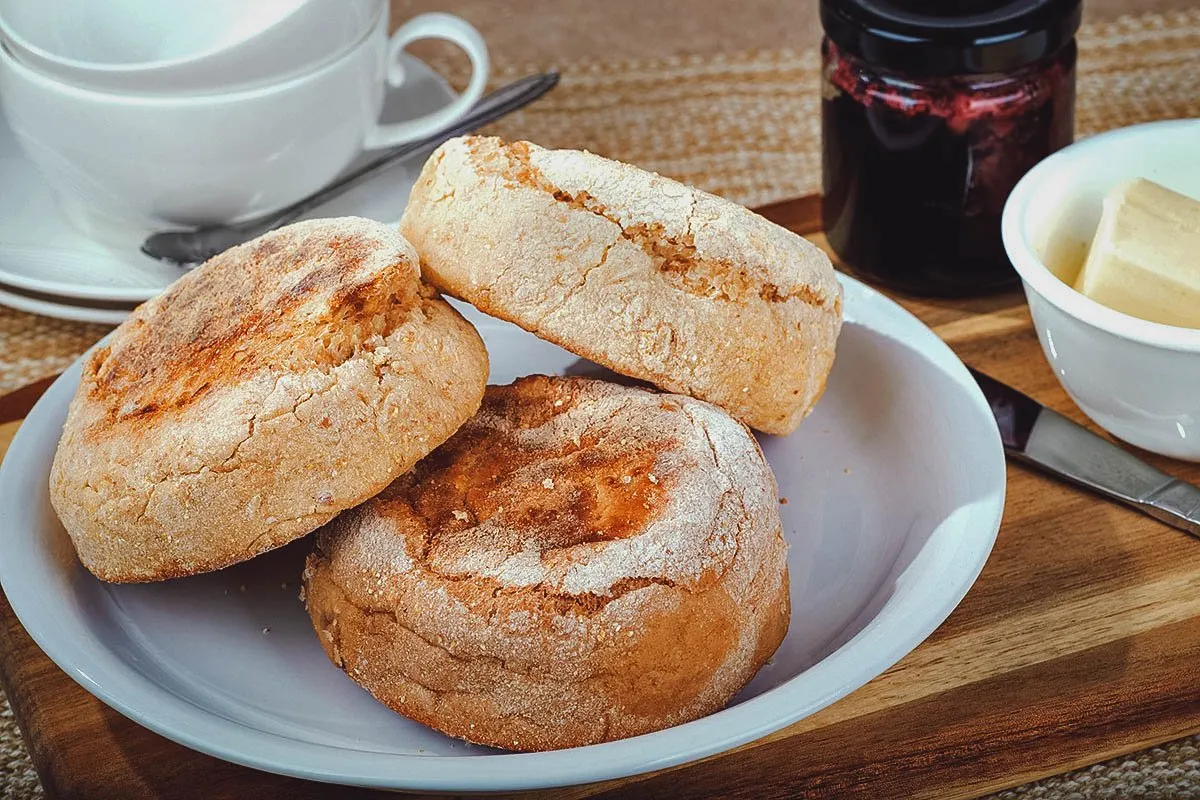 Photo by chasbrutlag
2. Bannock (Scotland)
Bannock refers to a family of quick breads that originated in Scotland. Traditionally made from grain-based flours like barley, oatmeal, or wheat, they're round and flat and usually cut into pie-like wedges before serving.
Bannock can be prepared in a number of ways. They can be leavened or unleavened, baked or fried. Depending on the recipe and where they're from, they can contain special ingredients and be made to celebrate holidays and special occasions.
In Scotland, bannock from the town of Selkirk is especially popular. It's made from wheat flour and raisins and has a buttery, sponge-like texture that's reminiscent of fruitcake.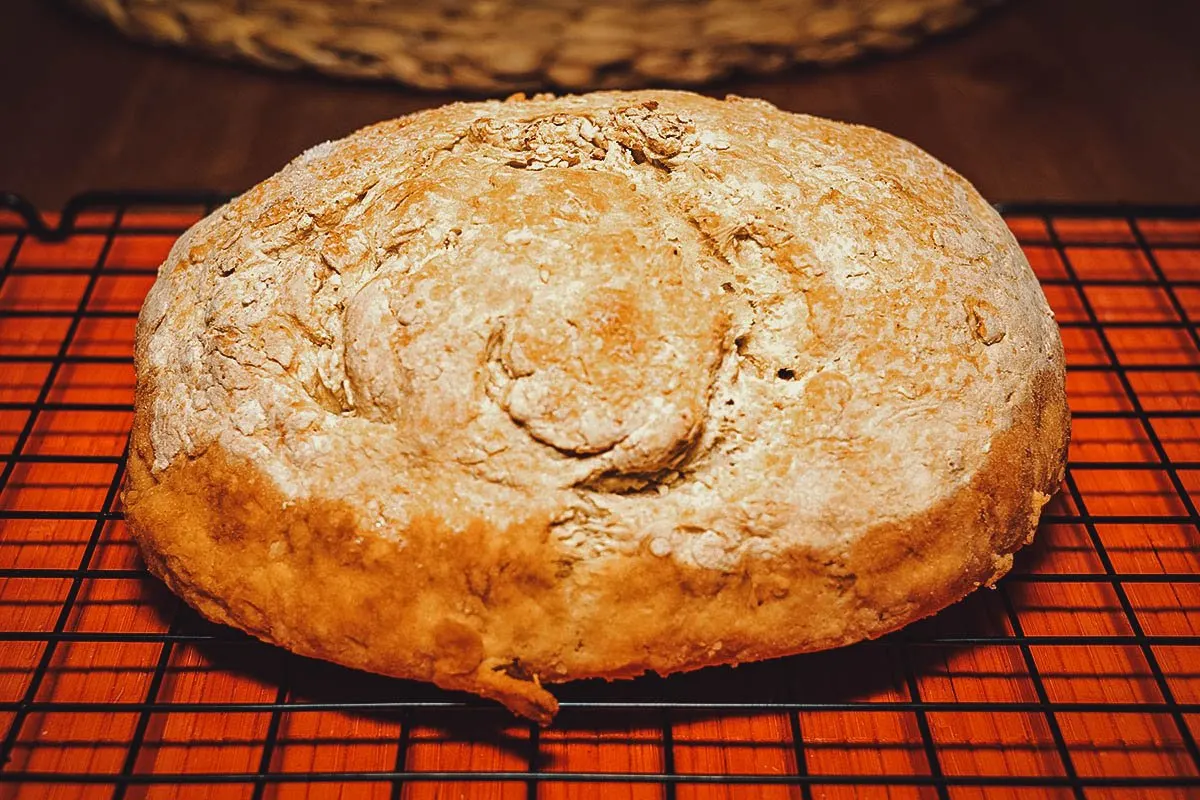 Photo by melastmohican
3. Crumpet (Wales)
The crumpet is a type of griddle cake that originated in Wales. Small, round, and bespeckled with holes, they're very similar to English muffins except they're made from milk batter instead of a stiffer dough. They're also leavened with baking soda while English muffins are made with yeast or sourdough.
Unlike muffins that are sliced horizontally and toasted, crumpets are cooked only on one side.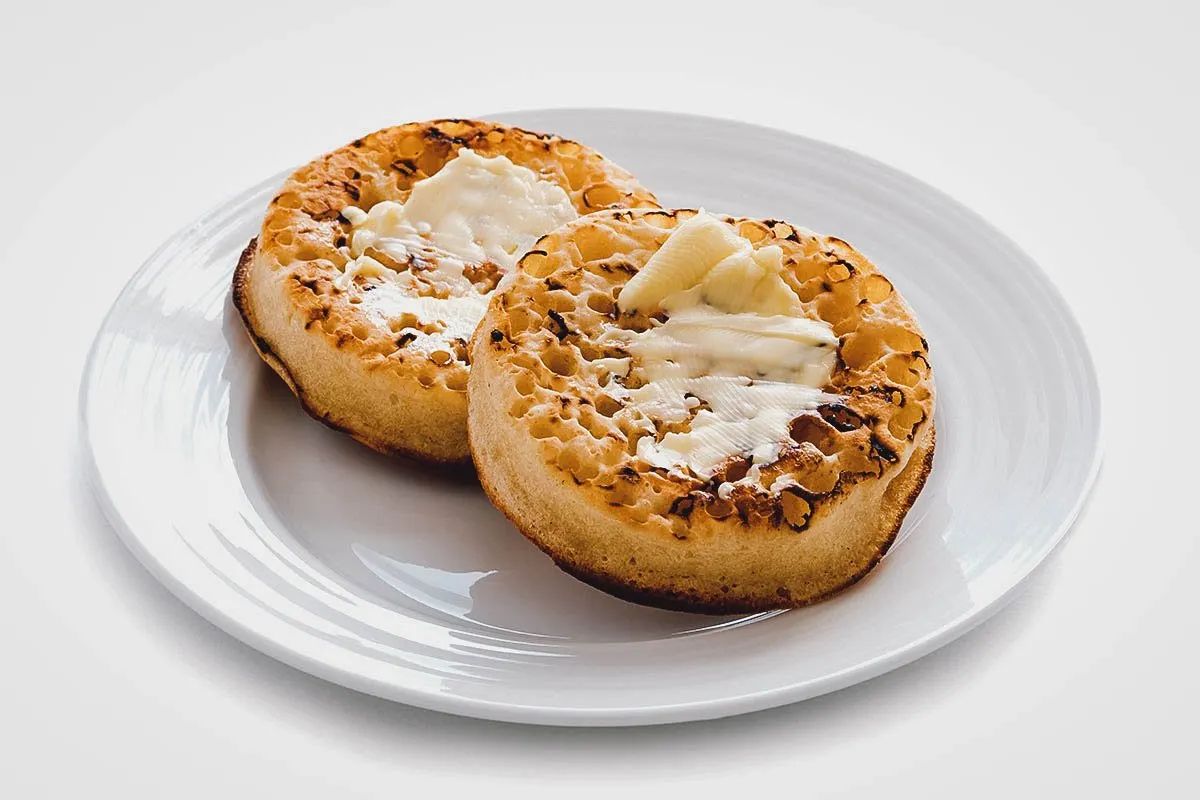 Photo by eelnosiva
4. Barmbrack (Ireland)
Barmbrack refers to a type of Irish yeast bread made with raisins. Often referred to as "brack", it's usually toasted with butter and served with tea.
Interestingly, making and serving barmbrack has long been a Halloween tradition in Ireland. Traditionally, it was made with various items inside like a pea, a stick, a coin, and a ring. Each item carried a symbolic meaning which bestowed a fortune (or misfortune) upon the person who received it in their slice.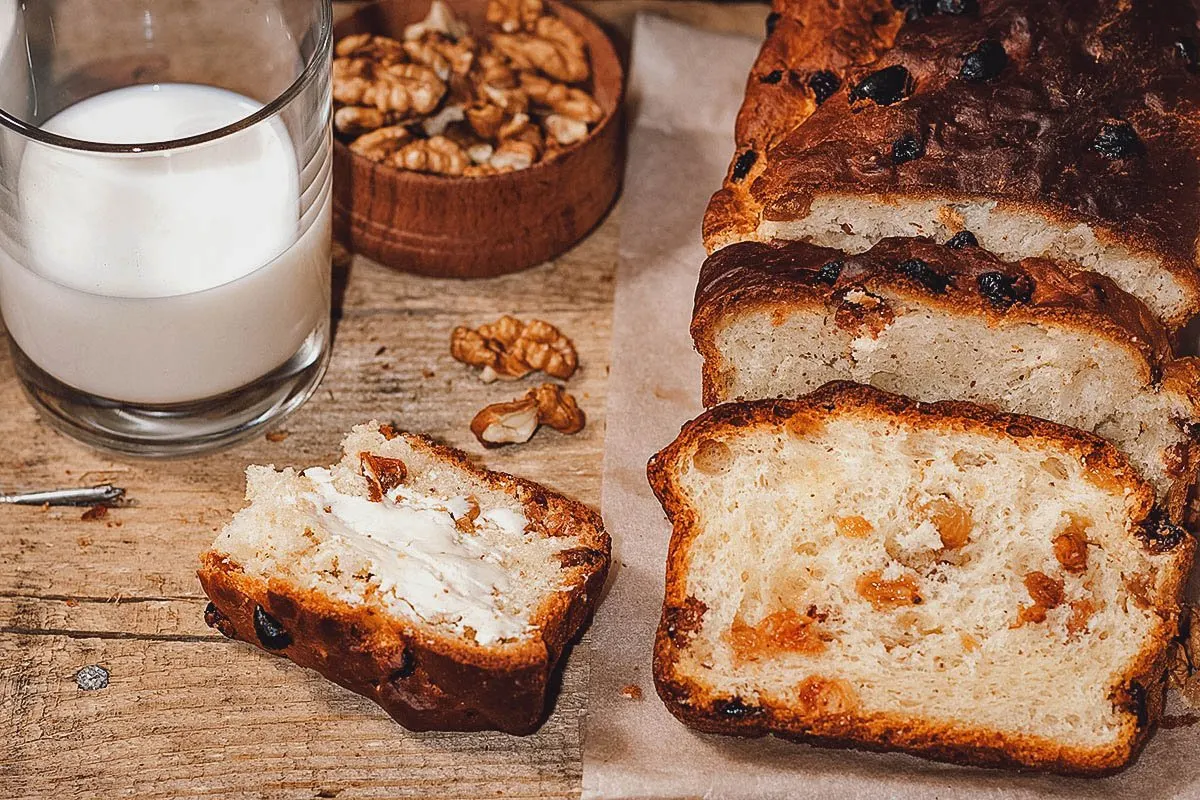 Photo by ganzevayna
5. Soda Bread (Ireland)
Soda bread is a type of quick bread made from baking soda, white flour, salt, and buttermilk. Originally from Ireland, it's a slightly sweet bread that's often made with additional ingredients like eggs, butter, raisins, and nuts.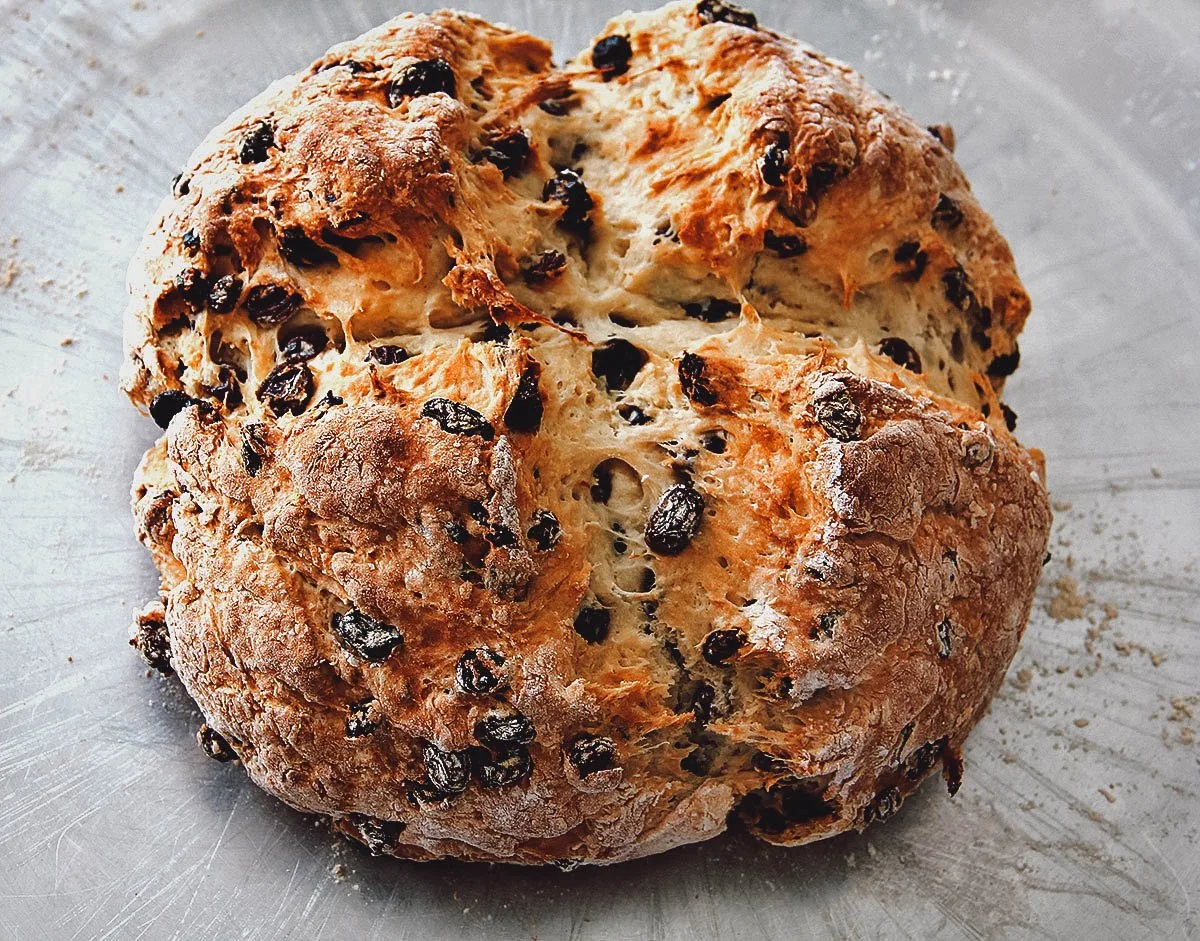 Photo by starstock
6. Brown Bread (Ireland)
Irish brown bread is basically a type of soda bread made with whole wheat flour instead of white flour. Thanks to the wheat flour and wheat bran in its recipe, it's typically nuttier and more savory in flavor compared to traditional soda bread.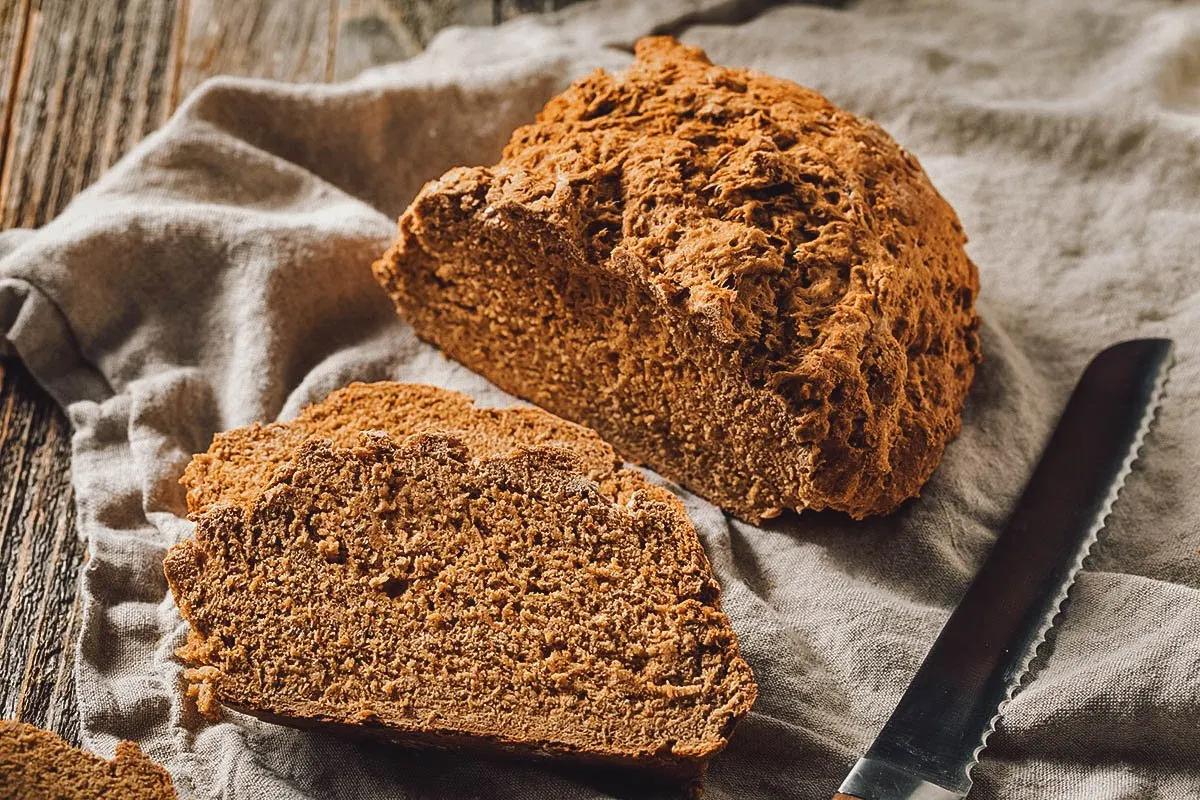 Photo by bhofack2
7. Rugbrød (Denmark)
Rugbrød refers to a type of rye bread from Denmark. Dense, dark, and a bit sour in flavor, it's an everyday type of bread in Danish cuisine and is used as the base for smørrebrød open-faced sandwiches.
Rugbrød is typically made with dark rye flour, wheat flour, cracked rye, and a sourdough starter. Depending on the baker, it can be made with additional ingredients as well like pumpkin seeds, sunflower seeds, flaxseeds, and beer.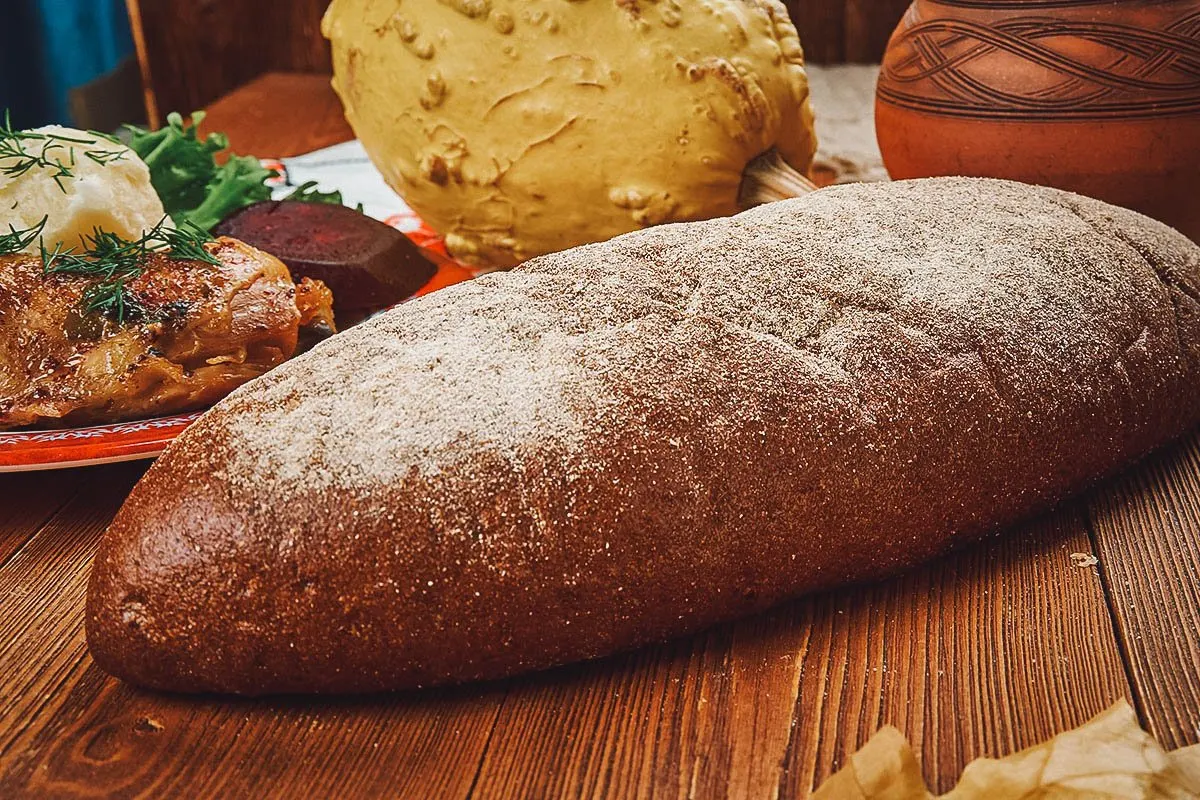 Photo by fanfon
8. Lefse (Norway)
If you like tortillas, then you're going to enjoy lefse, a type of Norwegian flatbread made with wheat flour, butter, milk, water, salt, and sometimes potato. It's a staple food that can be eaten plain or filled with a variety of sweet and savory ingredients.
Different types of lefse are consumed throughout Norway and in the Norwegian diaspora in America. Some of the most popular varieties include potetlefse (made with potatoes), møsbrømlefse (made with brunost brown cheese), and kjøttlefse (made with meat).
In America, lefse is always made with potatoes. It's considered a holiday dish that's traditionally eaten around Thanksgiving and Christmas.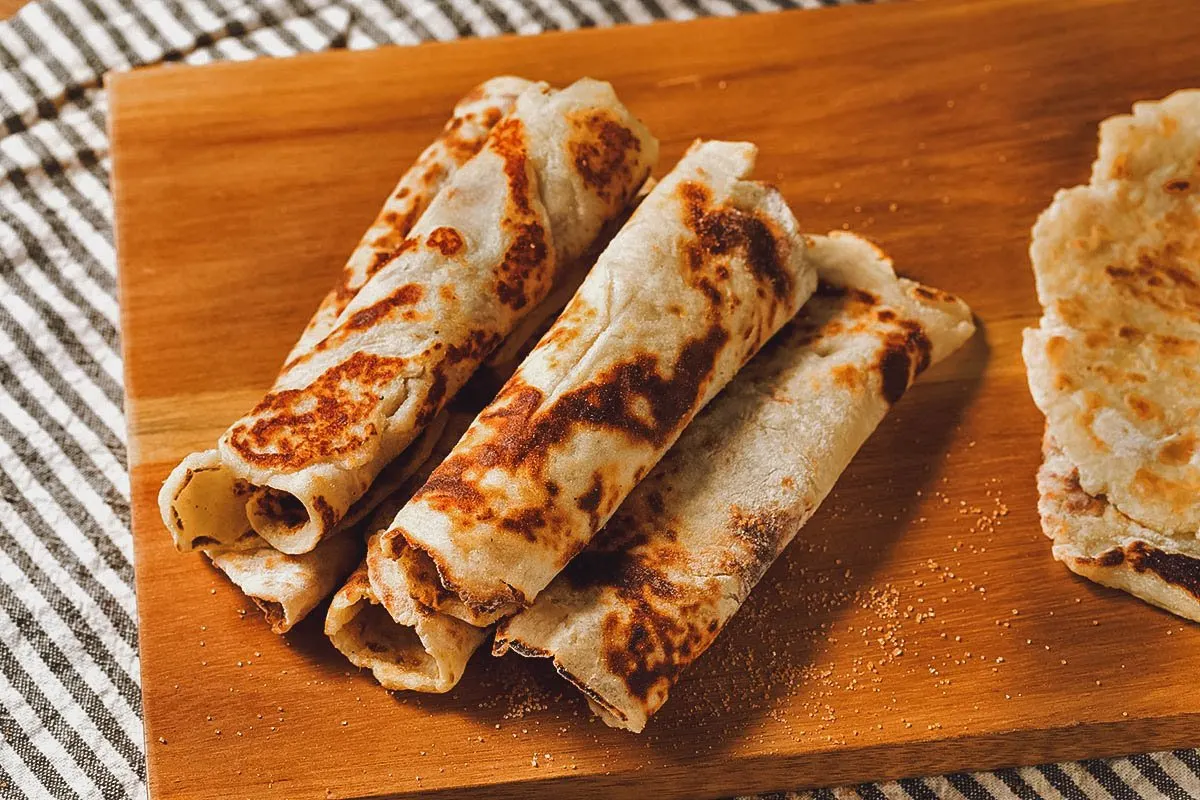 Photo by bhofack2
9. Baguette (France)
No list of the world's most delicious bread can ever be complete without mentioning the baguette. Meaning "wand" or "stick" in French, this iconic French bread known for its elongated shape and crisp chewy crust is an icon of French cuisine and an important symbol of French culture.
A baguette is made from a basic lean dough and measures around 65 cm (26 in) in length and 5-6 cm (2-2.5 in) in diameter. Its exact origins are unclear though one colorful account claims that it was the brainchild of Napoleon Bonaparte. The former Emperor wanted bread that soldiers could more easily carry so he asked that bread be made in a long and narrow shape so it could easily be slid into a soldier's uniform.
Whatever its true origins, bread lovers are grateful for its invention because it truly is one of the most delicious types of bread in the world. Crusty on the inside but soft and pillowy on the inside, bread doesn't get any better than this.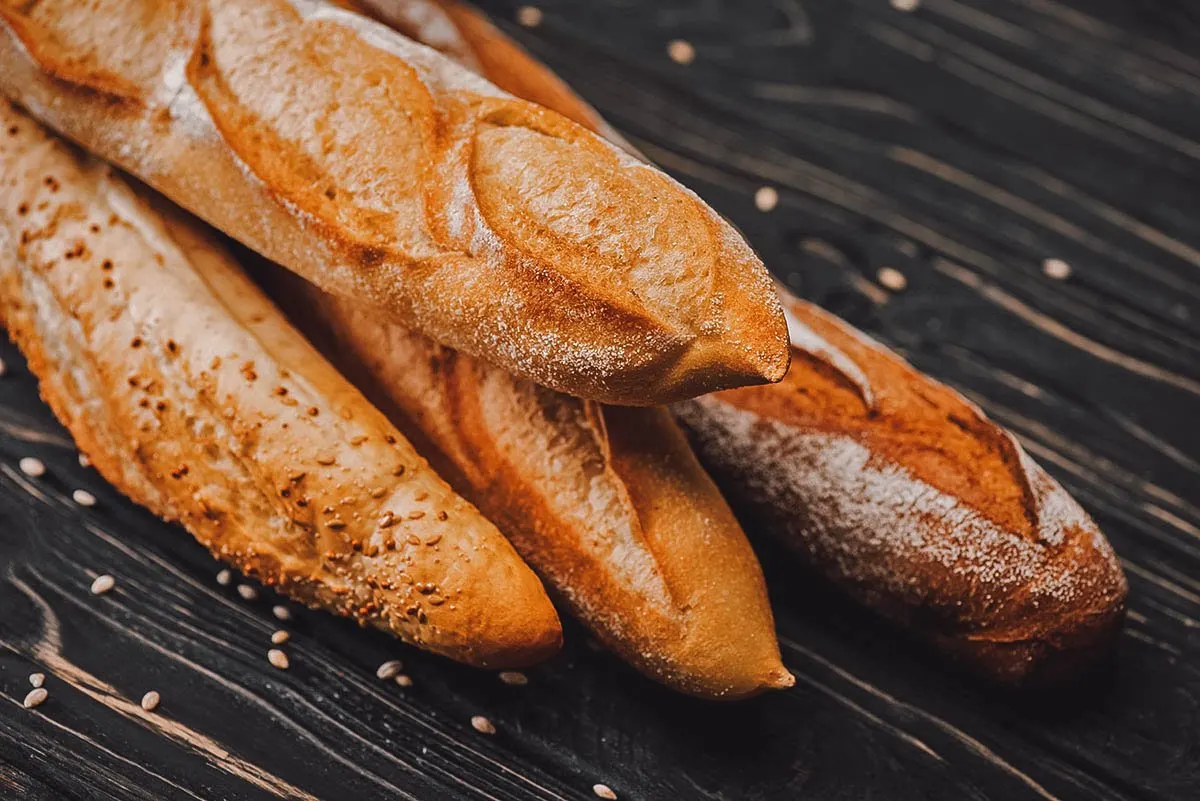 Photo by VitalikRadko
10. Brioche (France)
Brioche is a great example of a dough-based product that straddles the line between pastry and bread.
Because of its high butter and egg content, brioche belongs to a family of baked goods known as Viennoiseries. These are yeast-leavened French pastries that are made in a manner similar to bread, but enriched with additional ingredients like eggs, milk, butter, and sugar.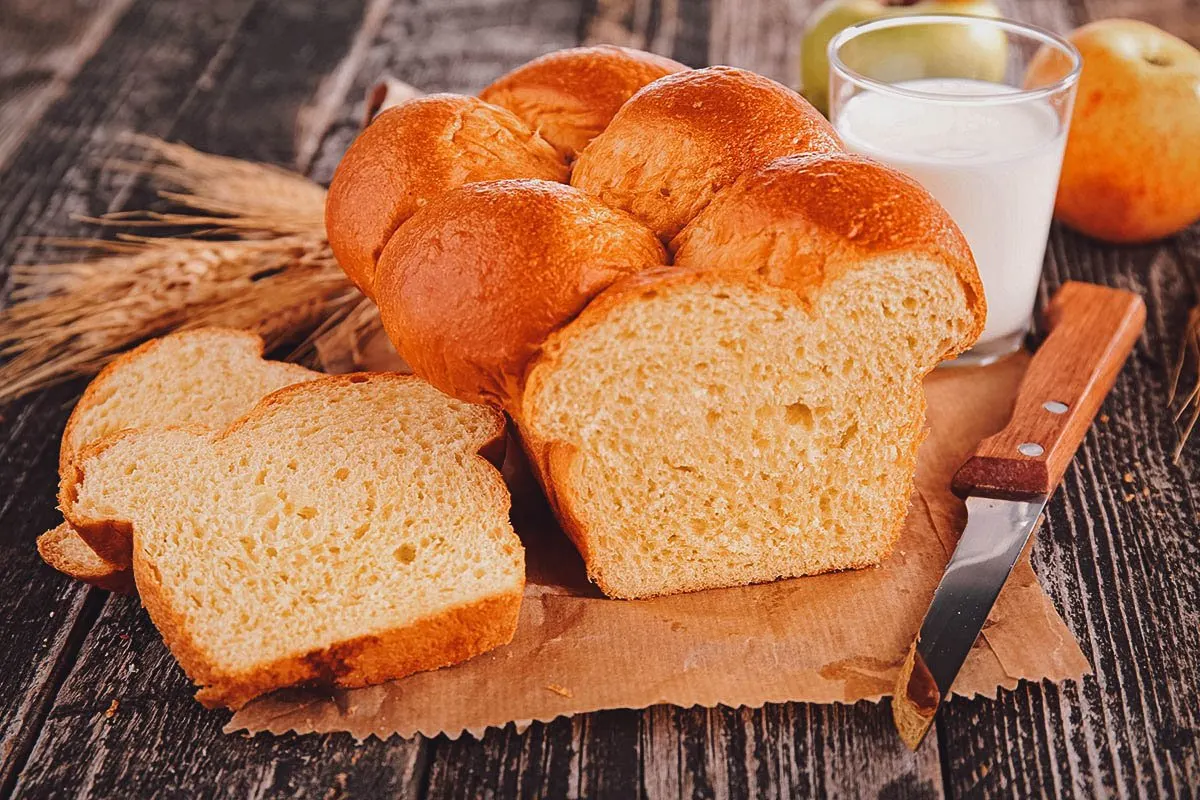 Photo by studioM
11. Fougasse (France)
Fougasse is a type of French bread that's traditionally associated with the southeastern region of Provence. It's the French descendant of an ancient Roman flatbread that evolved to become focaccia in Italy, pogača in the Balkans, and hogaza in Spain.
Fougasse is sometimes made to look like an ear of wheat and is often prepared with additional ingredients like olives, garlic, cheese, and anchovies.
Photo by Anna_Shepulova
12. Pumpernickel (Germany)
Pumpernickel refers to a type of rye bread from Germany. Heavy and slightly sweet, it's made with coarsely ground rye flour, rye berries, and a sourdough starter.
According to one folktale, pumpernickel gets its name from Napoleon Bonaparte. Legend has it that the former French Emperor asked for bread while invading Germany and was given this dark rye bread.
He declared it unfit for consumption and demanded that it be given to his horse Nickel (or Nicole) instead: "C'est du pain pour Nickel/Nicole!"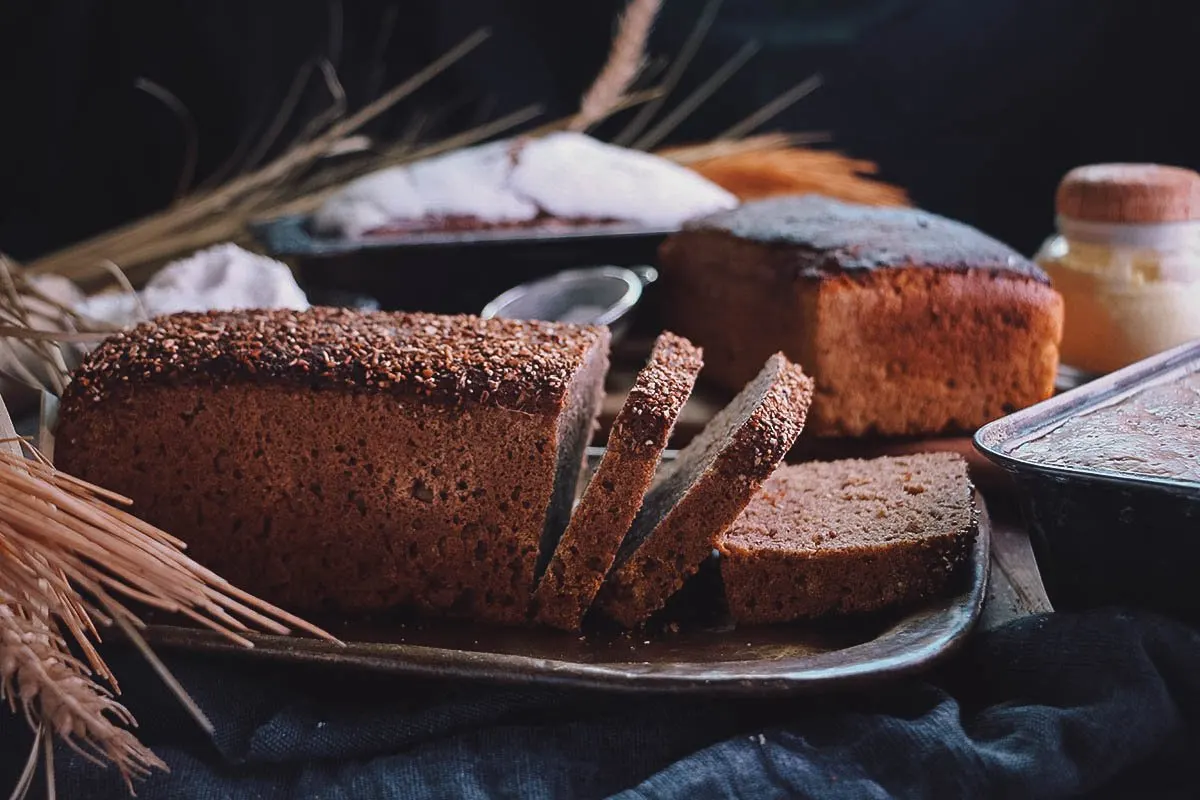 Photo by Komar.
13. Pretzel (Germany)
Like bratwurst and schnitzel, the brezel or pretzel is one of the most popular German foods. Traditionally made from wheat flour or rye flour, they can be made into various shapes though the symmetrical knot form is the most iconic and recognizable.
Pretzels have a characteristic color, texture, and flavor that's derived from being immersed in a lye solution (or washing soda) before baking. They're traditionally seasoned with coarse salt though they can be flavored with other ingredients as well like mustard, cheese, sugar, seeds, and nuts.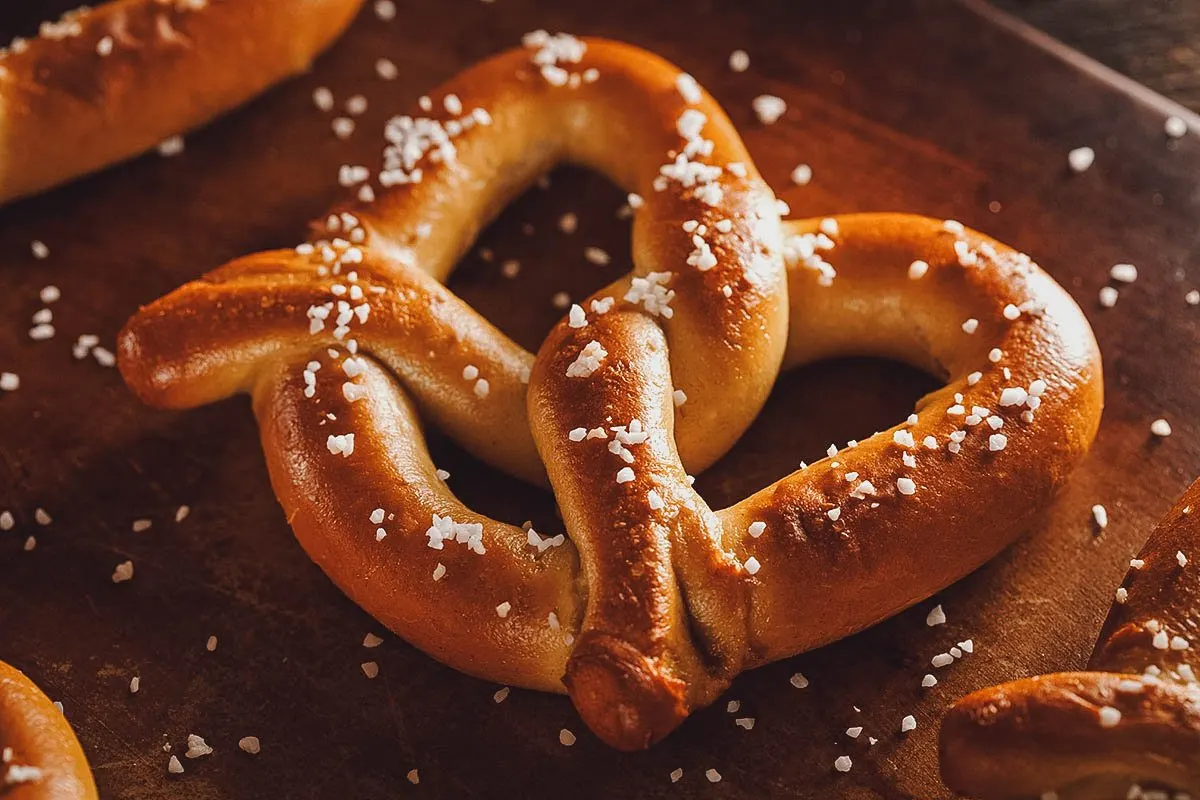 Photo by bhofack2
14. Kipferl (Austria)
If you're a fan of croissants, then you may want to try these similarly-shaped bread rolls from Austria. Known as kipferl or kifli, these crescent-shaped bread rolls are believed to be the inspiration for French croissants.
Unlike croissants which are made from laminated pastry dough, kipferl are made from a soft yeasted dough. The dough is flattened into a thin sheet and then cut into triangular wedges before being rolled into crescent shapes and baked.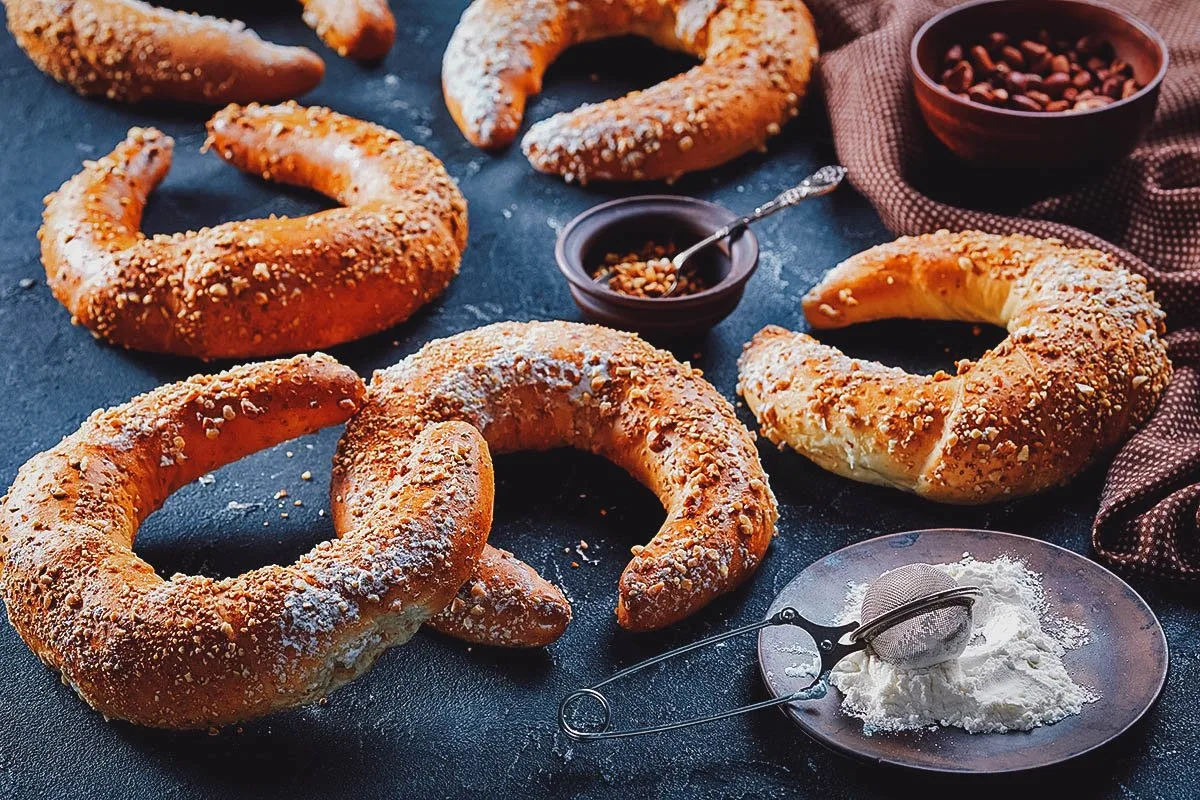 Photo by myviewpoint
15. Tiger Bread (Netherlands)
Known for its cracked crust, this appetizing-looking bread from the Netherlands is known as tijgerbrood or tiger bread.
Tiger bread is made by painting rice paste onto the surface of the dough before baking. The paste dries and cracks while baking, giving the bread its characteristic mottled appearance.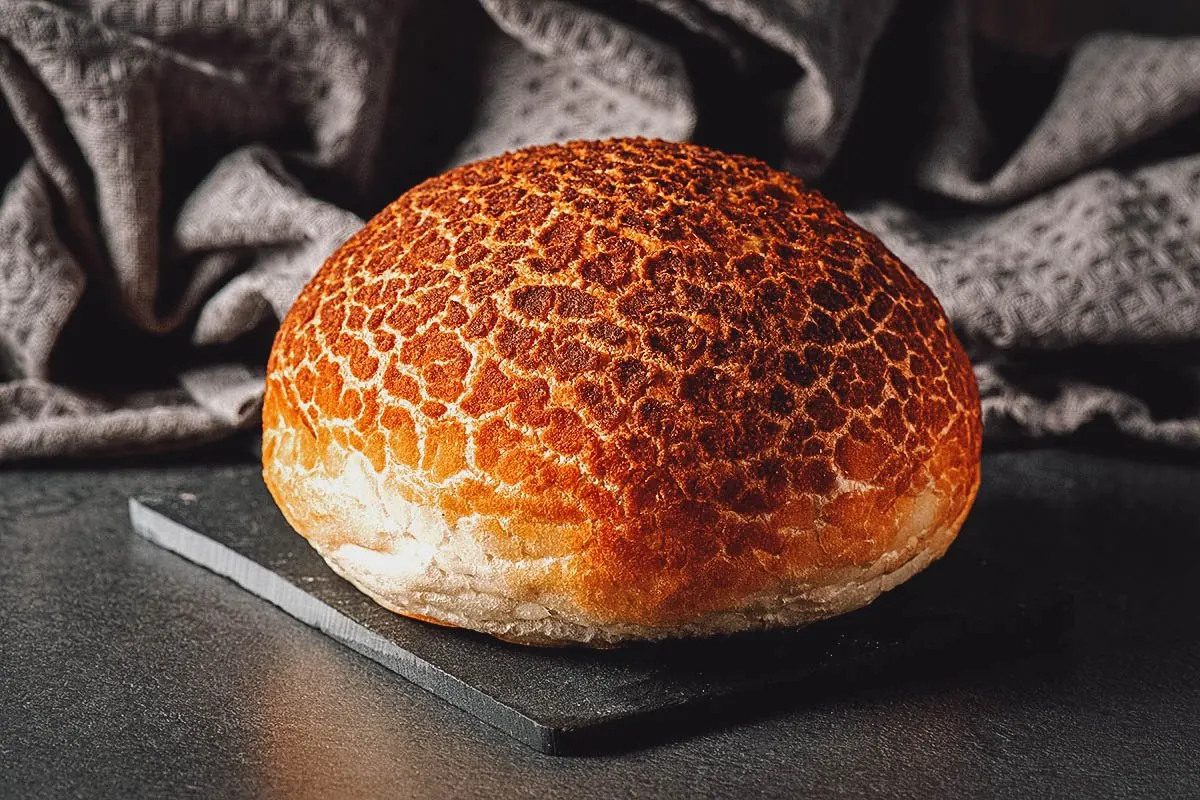 Photo by artistrobd
16. Lángos (Hungary)
Lángos was one of our favorite street foods in Budapest. It refers to a deep-fried Hungarian flatbread that can be eaten plain or topped with a variety of ingredients like garlic butter, sour cream, grated cheese, ham, sausage, and mushroom.
Lángos is most often eaten plain with garlic, but we went to one innovative street food stall in Budapest that used them as hamburger buns. It was delicious!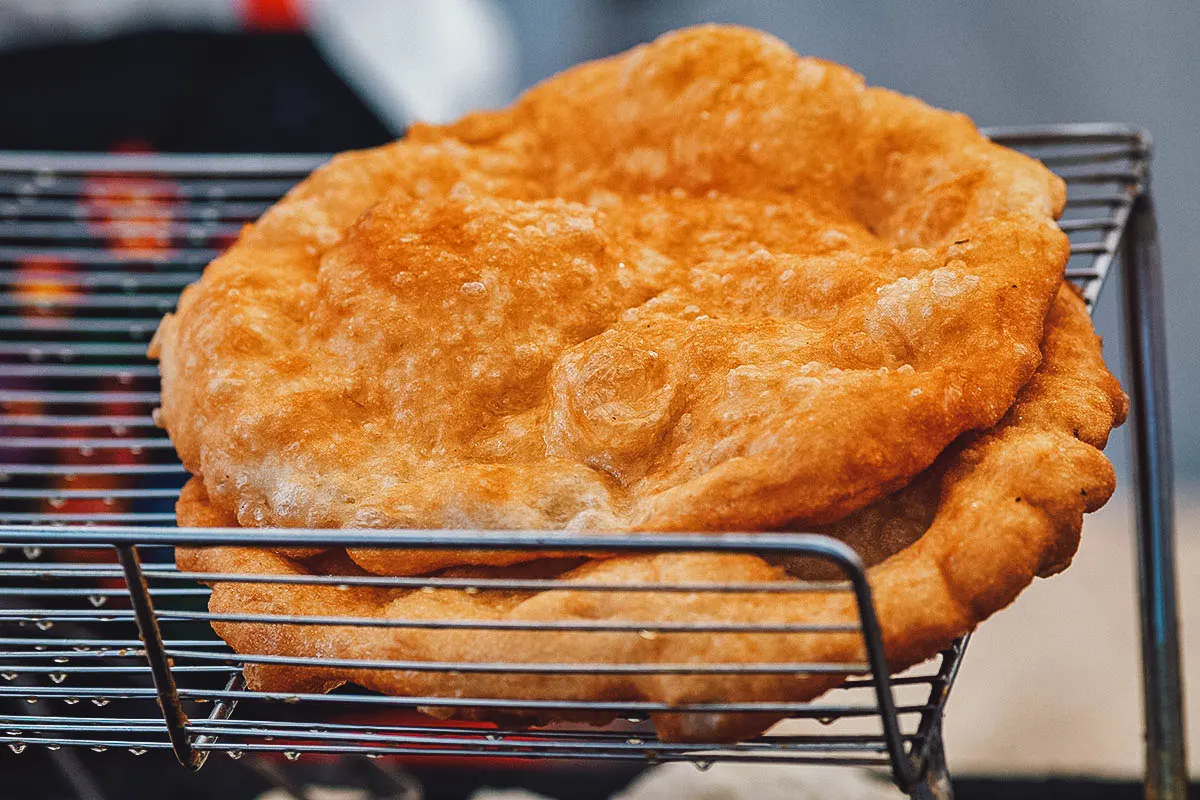 Photo by [email protected]
17. Bagel (Poland)
If you're from New York or Montreal, then the bagel is probably one of your favorite types of bread. This iconic ring-shaped bread has become ultra-famous in North America but it originated from the Jewish communities of Poland.
A bagel consists of yeasted dough that's shaped into a ring by hand and then briefly boiled before baking. The preparation process results in a browned bread with a dense, doughy, and chewy interior. It's usually topped with poppy or sesame seeds and sliced horizontally before eating.
Bagels in North America are often served with spreads and toppings like cream cheese, butter, jam, lox, and capers. They can also be used to make sandwiches with a variety of fillings.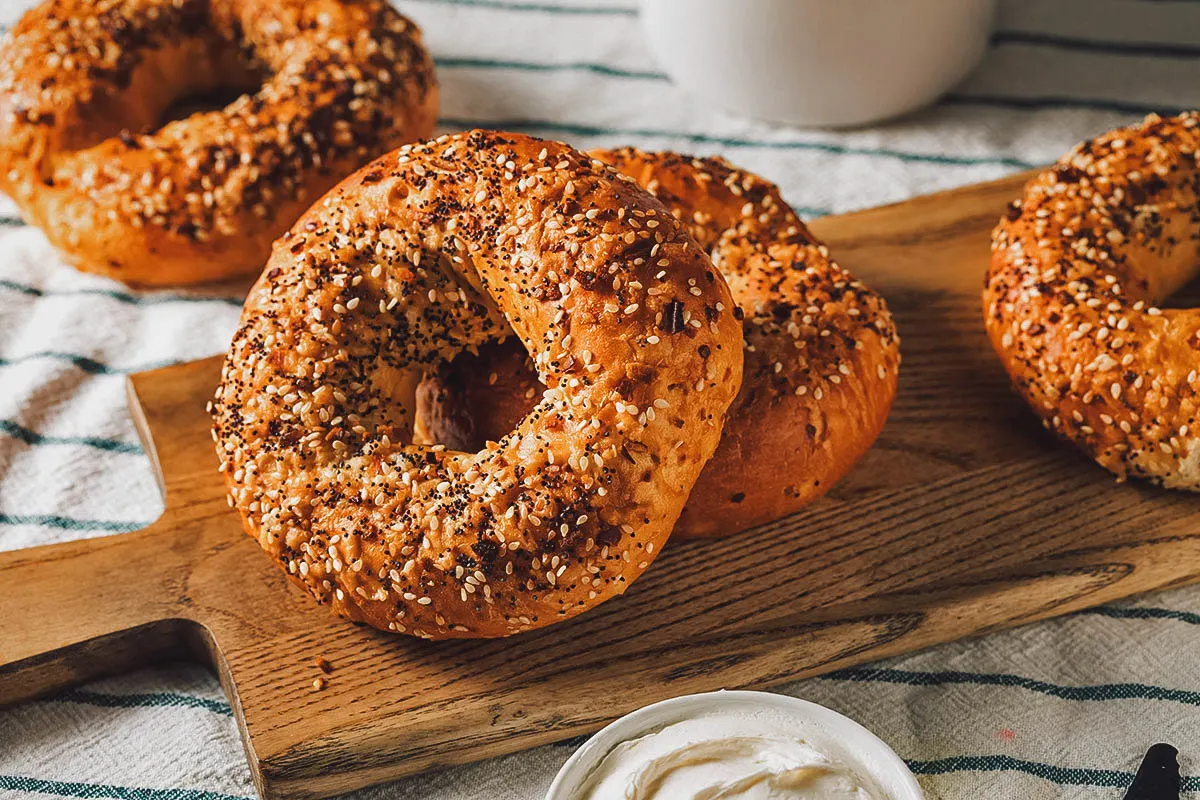 Photo by bhofack2
18. Borodinsky (Russia)
Borodinsky refers to a dark sourdough rye bread from Russia. It's traditionally made from a mixture of whole grain rye flour, wheat flour, and rye malt enriched with molasses, caraway, and coriander seeds.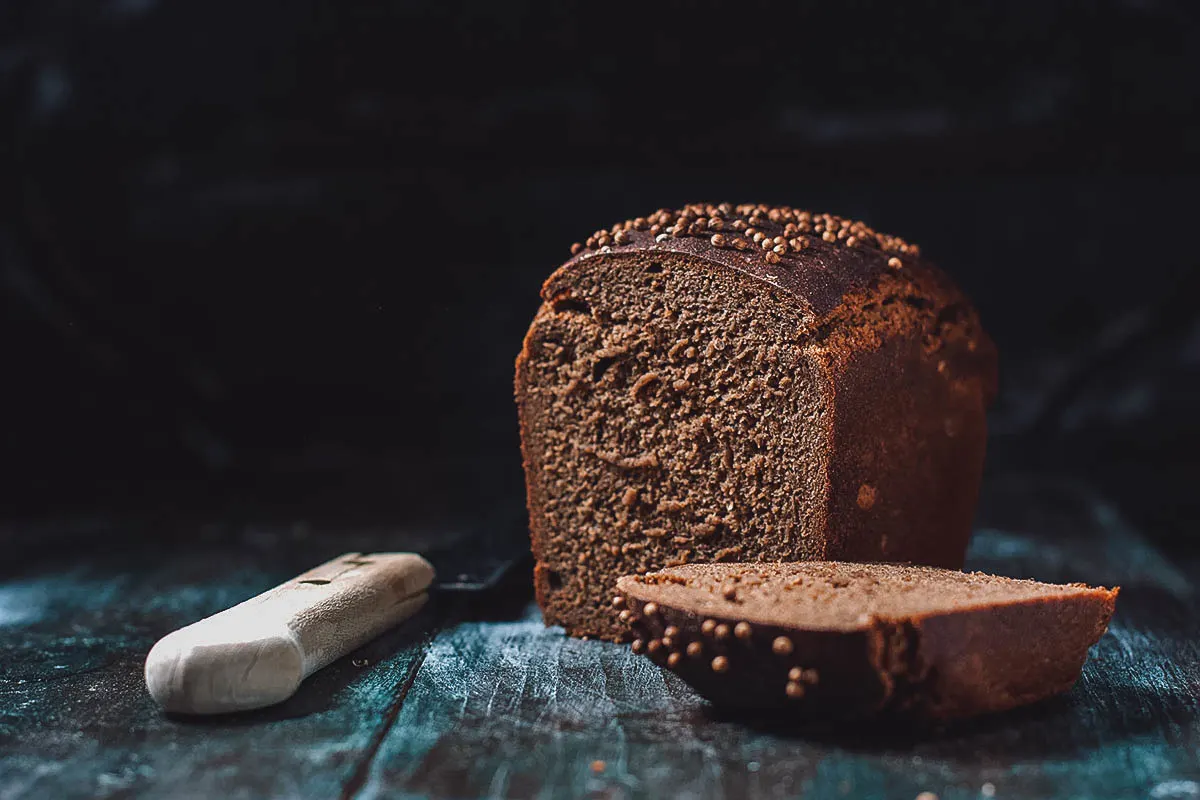 Photo by gulya_shaina
19. Kalach (Eastern Europe)
Kalach refers to a type of bread popular in many Eastern European countries like Russia, Ukraine, Hungary, Poland, Romania, and Serbia. Meaning "circle" or "wheel", it's a ring-shaped bread that's traditionally prepared and consumed to celebrate Slavic rituals.
In Hungary and Romania for example, kalach is usually prepared for holidays like Easter. In Belarus and Poland, it's traditionally baked for weddings and welcoming ceremonies.
Photo by fotoflow
20. Focaccia (Italy)
The Italians have many contributions to the world of bread, but when I think of Italian bread, the first thing that comes to mind is focaccia.
Focaccia refers to a popular leavened Italian flatbread that's similar to pizza bread. But unlike pizza dough that's baked immediately after flattening, focaccia is left to rise until it fills out the pan. It can be served as a side dish or used as sandwich bread.
Focaccia can be made in many different ways but one of the most popular is Genoese focaccia. It's topped with olive oil and coarse salt and has finger-sized indentations on its surface.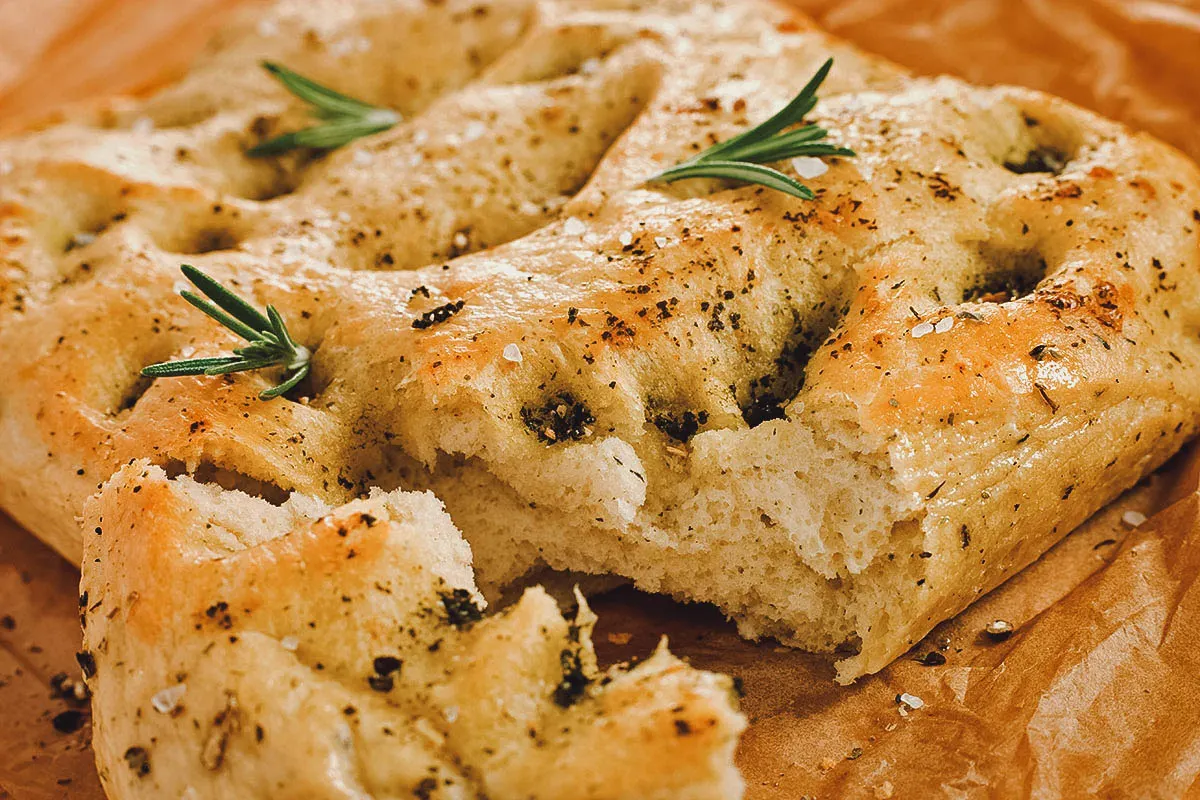 Photo by monkeybusiness
21. Ciabatta (Italy)
Ciabatta is another well-known type of bread from Italy. Meaning "slipper" in Italian, ciabatta refers to a type of Italian white bread made from wheat flour, yeast, salt, water, and olive oil.
I was surprised to learn that ciabatta was invented as recently as 1982. Not to be outdone by the French, it's said to have been created as a response to the popularity of the baguette.
A large volume of French bread was being imported into Italy to make sandwiches, so a local baker from Polesine created the recipe for ciabatta as a local alternative.
As you can probably guess, ciabatta gets its name from its flat and elongated, slipper-like shape.
Photo by AntonioGravante
22. Bread Sticks (Italy)
Known as grissini in Italy, bread sticks are pencil-sized sticks of crispy baked bread. They were invented sometime in mid-17th century Italy, but they've become equally popular in the US where they're often served as crispy or soft appetizers at Italian-American restaurants.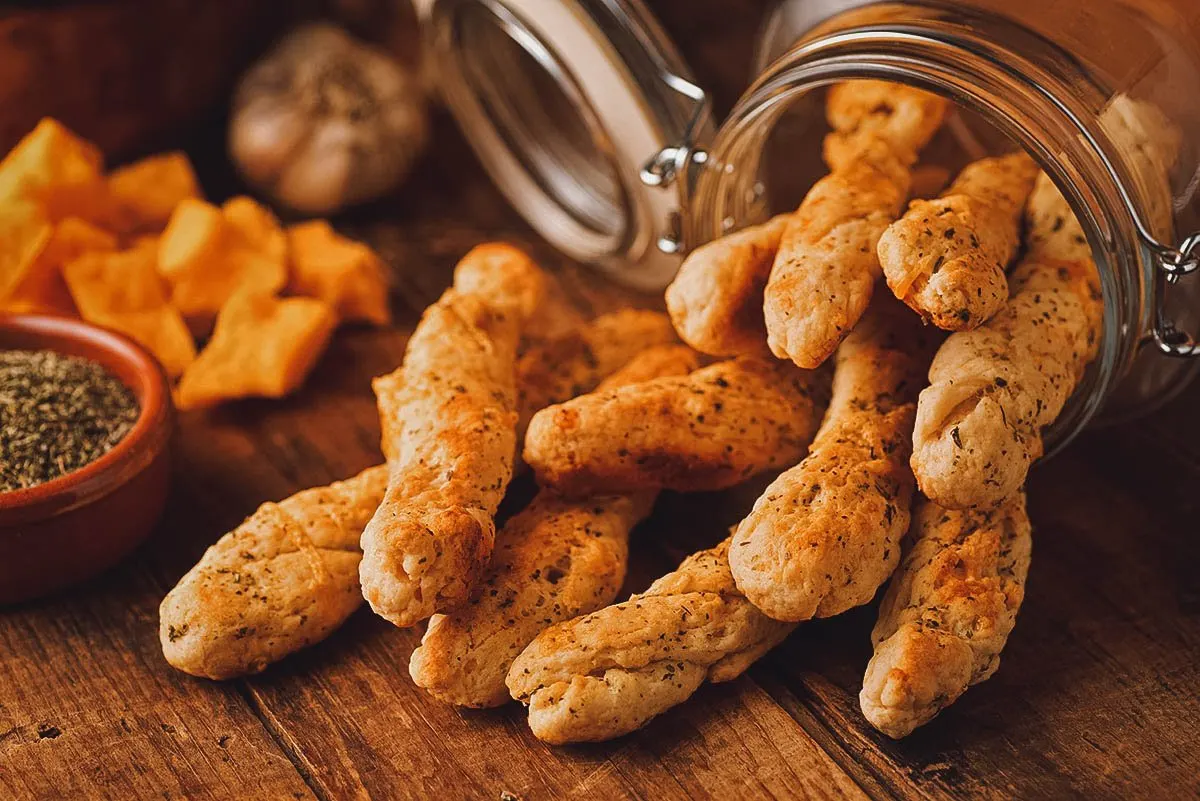 Photo by fudio
23. Piadina (Italy)
Piadina refers to a type of flatbread traditionally associated with the Romagna region of Italy. Made with white flour, olive oil, salt, and water, it can be eaten with savory or sweet fillings like cheese, cold cuts, vegetables, and jam.
Photo by lenyvavsha
24. Michetta (Italy)
This Italian white bread with an interesting bulged shape is known as the michetta. It's a descendant of the Austrian kaiser roll that was brought to Milan sometime in the 19th century.
Michetta are highly leavened bread rolls with a hard crust and an extremely airy, almost hollow interior.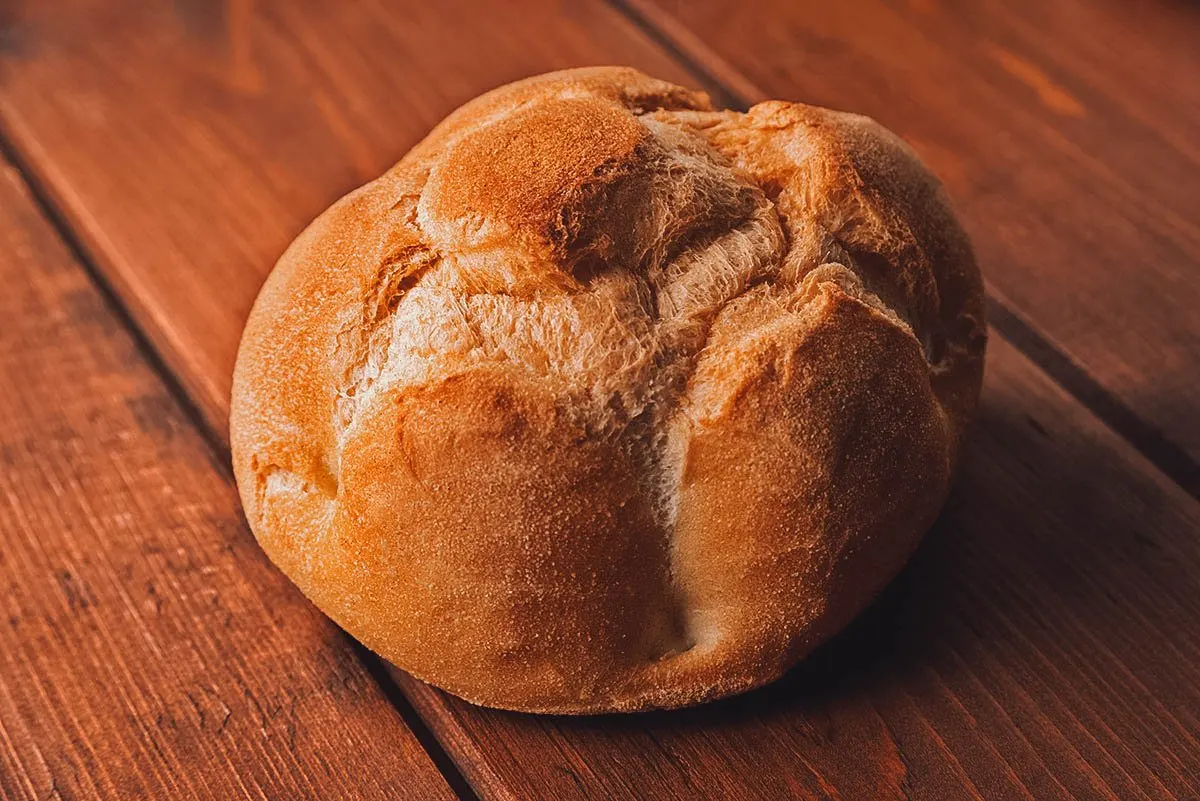 Photo by marmo81
25. Pita (Greece)
When I think of flatbreads, pita is the first thing that comes to mind. It refers to a family of yeast-leavened flatbreads that's been a staple of Mediterranean and Middle Eastern cuisines for thousands of years.
Pita is a versatile type of wheat flour bread that's often made with an interior pocket. Baked at high temperatures, the water in the dough turns into steam which causes the pita to puff up and form a pocket.
After baking, pita bread is often used as a vessel to make wrap or pocket sandwiches. It can also be used as a scoop for dips or cut into smaller pieces and then baked into crispy pita chips.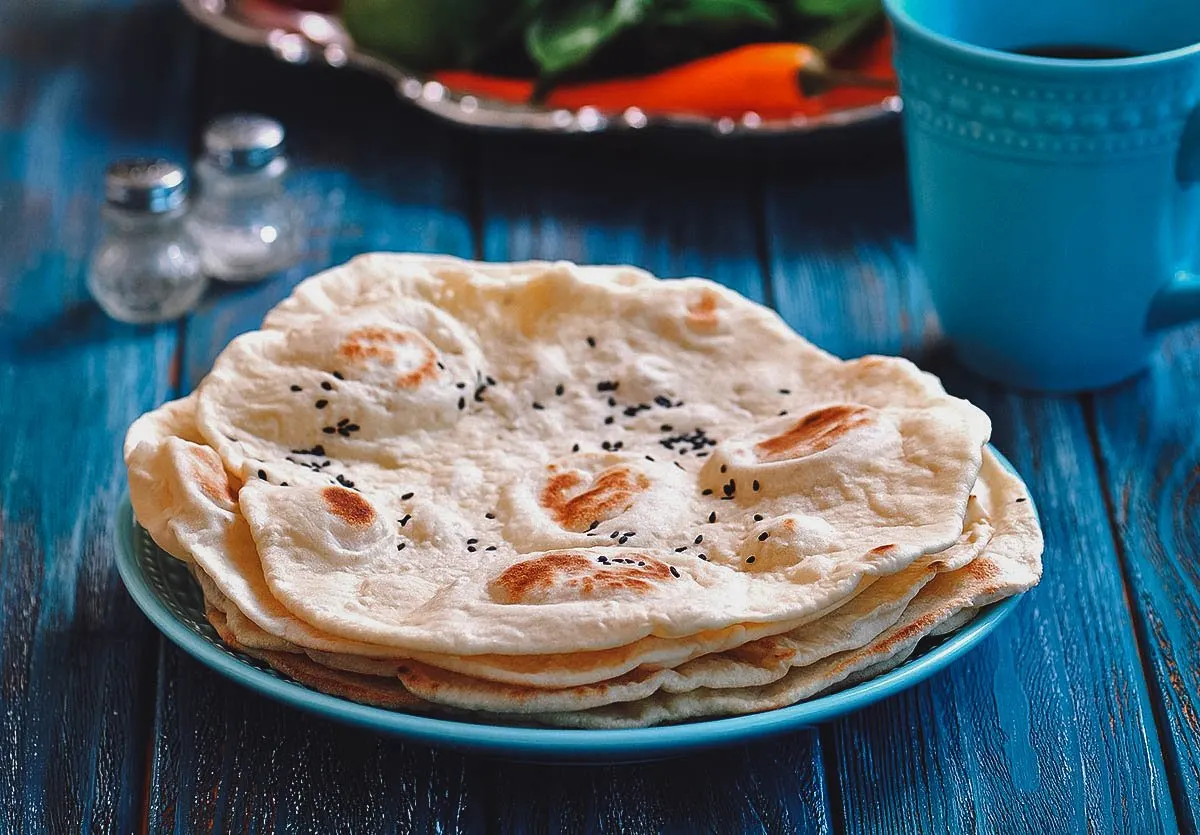 Photo by chudo2307
26. Tsoureki (Greece)
If sweet bread is your jam, then you'll probably enjoy tsoureki. Popular in Greece and Armenia, it's a type of sweet holiday bread that's traditionally prepared to celebrate Easter.
Tsoureki is made from a sweet yeasted dough consisting of flour, butter, eggs, milk, and sugar. The dough is brushed with egg wash before baking and often enriched with additional ingredients like orange zest, almond extract, mastic, and cinnamon.
Because tsoureki is traditionally baked for Easter, it's often made with dyed red eggs pressed into the dough.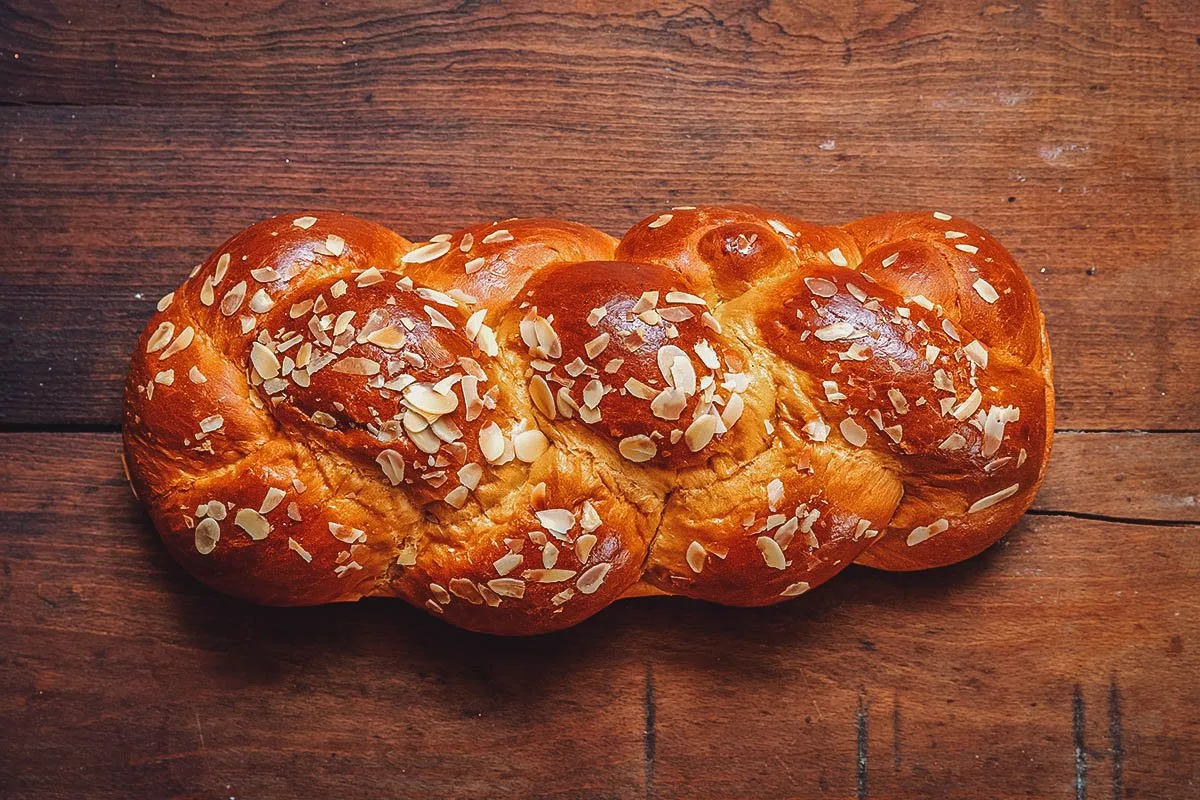 Photo by gioiak2
ASIA
27. Naan (India)
Indian food is one of my absolute favorite cuisines in the world. I love dipping shreds of freshly baked naan bread into bowls of curry. For me, it's one of life's great simple pleasures.
The curries in an Indian meal will always be the star but naan bread makes them even more enjoyable. Naan refers to a type of leavened flatbread that's popular in South Asian cuisine. It's made with white or whole wheat flour and is usually leavened with yeast before being baked in a tandoor (clay oven).
At Indian restaurants, you can usually get them plain or brushed with butter and/or garlic.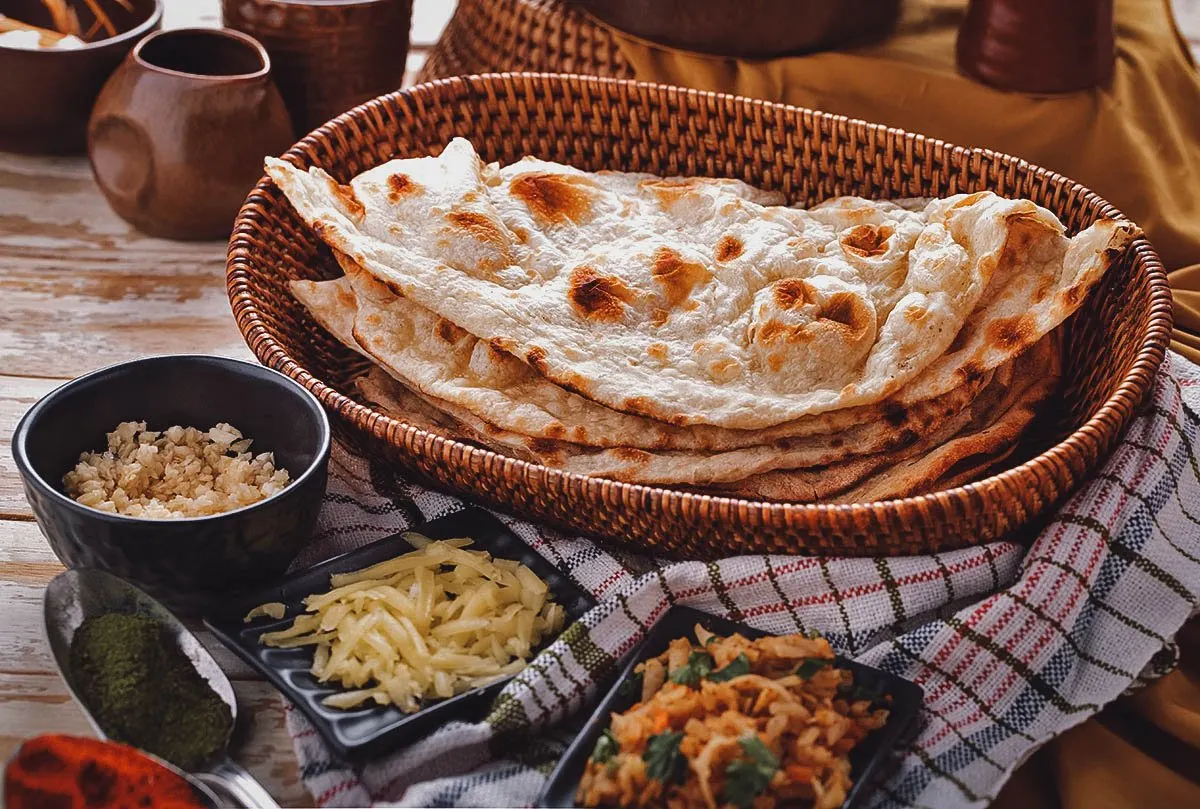 Photo by odua
28. Paratha (India)
The Indian subcontinent is famous for its flatbreads. Outside of India, naan is perhaps the most well-known but you should definitely try paratha as well. It's one of the most popular types of unleavened flatbread in Indian cuisine.
Paratha translates to something like "layers of cooked dough". Using a laminated dough technique, it's made by repeatedly folding and brushing layers of whole wheat dough with ghee or oil to create its characteristically flaky layers. The discs are then cooked on a tava before being finished off with shallow frying.
Paratha can be made plain or filled with a variety of ingredients like dal (lentils), spiced potatoes, vegetables, and paneer (Indian cottage cheese).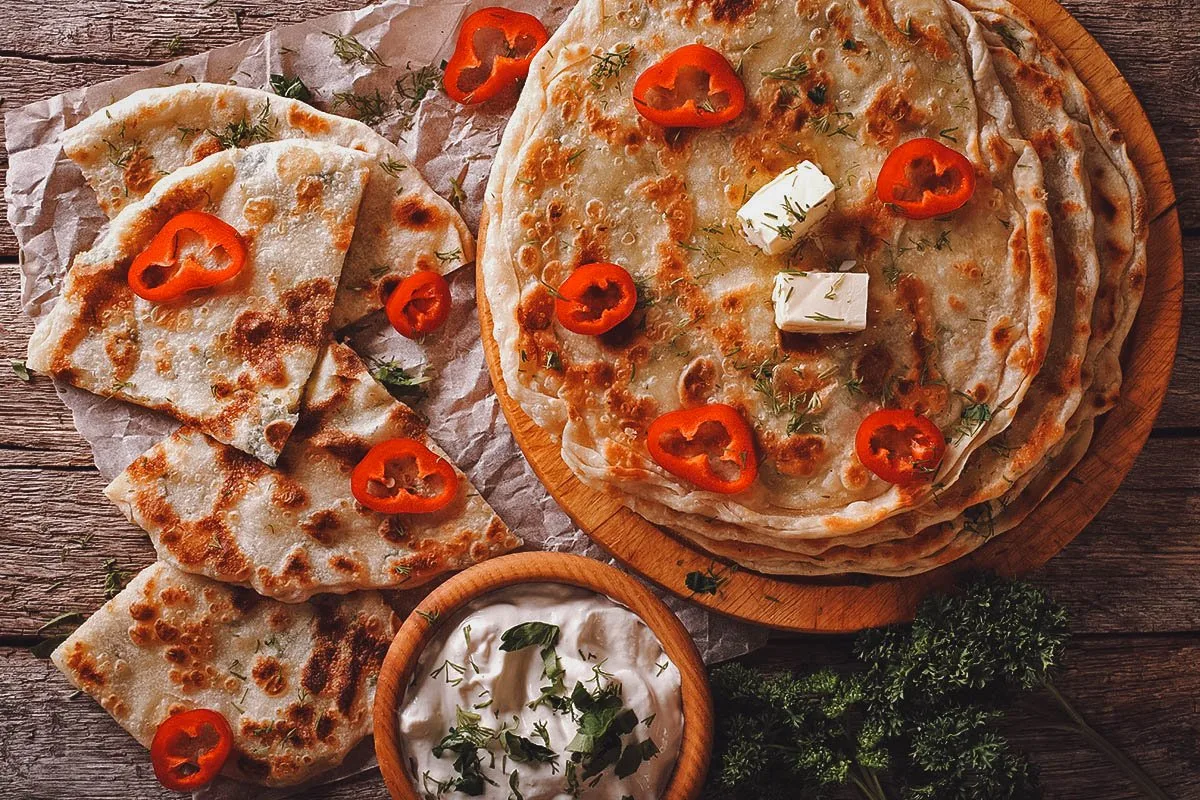 Photo by lenyvavsha
29. Khobz Al Khameer (UAE)
In Standard Arabic, the word "khubz" refers to any type of bread. There are many different types of khubz in the Middle East, but if you visit Dubai, then you need to try khobz al khameer. It's a popular yeasted Emirati flatbread that's typically eaten for breakfast in the UAE.
Khobz al khameer is usually enjoyed with various accompaniments like date paste, jam, honey, and cheese. Like pita bread, it has a hollow center that can be stuffed with date paste and other fillings.
Photo by Wirestock
30. Barbari Bread (Iran)
Barbari bread refers to a thick, yeast-leavened Iranian flatbread topped with sesame seeds or black caraway seeds. Like pretzels, it's known for its distinctive skin that gets its color and texture from being brushed with a mixture of baking soda, flour, and water before baking.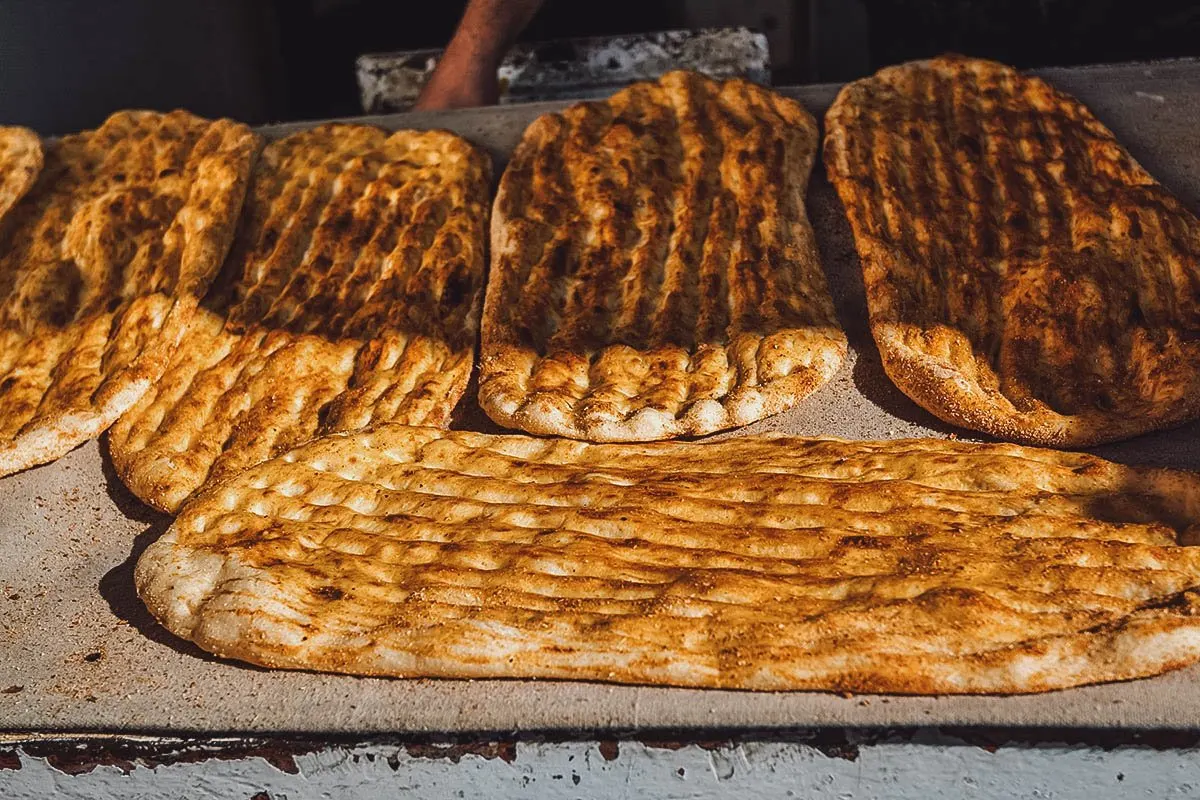 Photo by VictorJiang
31. Challah (Israel)
Challah is a type of braided bread with Ashkenazi Jewish roots. It's an important ritual bread that's typically prepared for ceremonial occasions like Shabbat and other major Jewish holidays.
Challah can be made in many ways. Traditional Ashkenazi challah is a brioche-like bread that's made with a large number of eggs, white flour, yeast, water, sugar, salt, and oil. After rising, the dough is rolled into rope-like shapes and braided before being sprinkled with sesame or poppy seeds. The dough is then brushed with egg wash before baking to give it its characteristic golden brown color.
Interestingly, a portion of dough must be separated as an offering to make the bread ritually acceptable. The term challah can refer to both the bread and this portion of dough.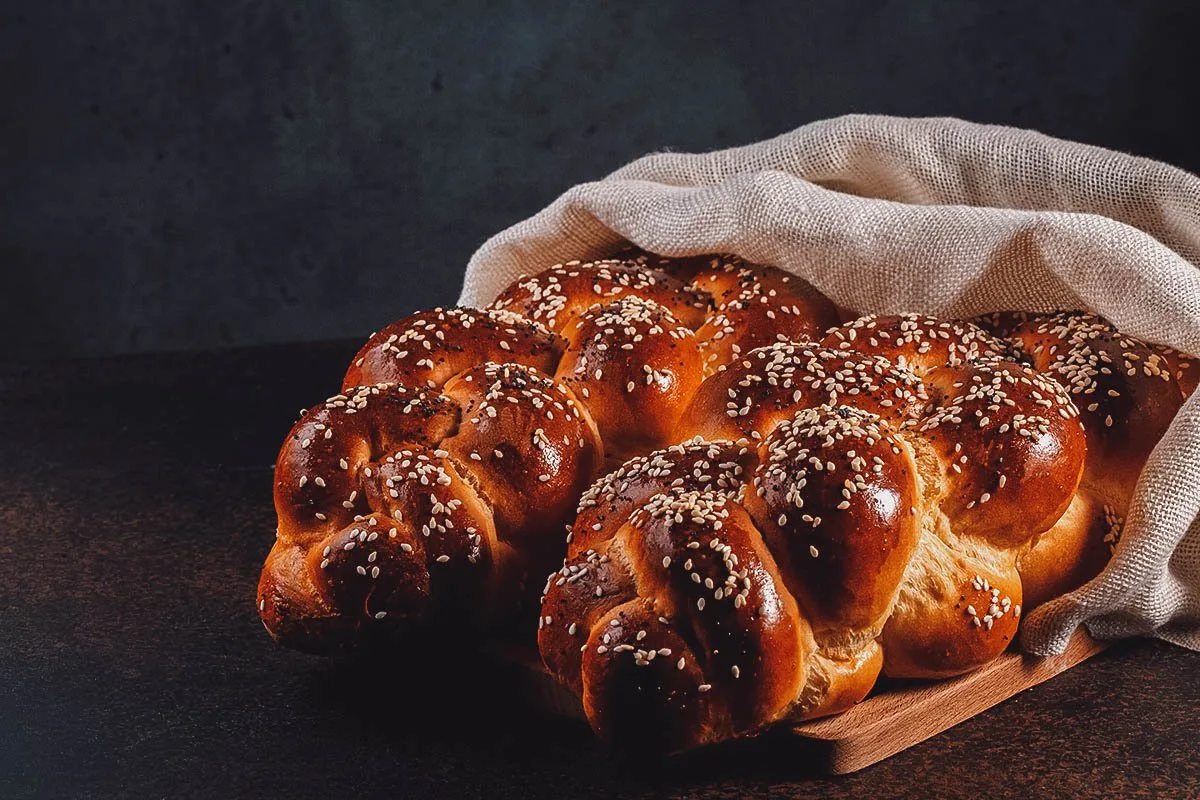 Photo by OlgaBombologna
32. Bazlama (Turkey)
We absolutely love Turkish cuisine. From its colorful meze platters to its doner kebabs and breads-based dishes like lahmacun and pide, we couldn't get enough of Turkish food.
There are many delicious types of bread in Turkey but bazlama is one of our favorites. It refers to a soft, leavened Turkish flatbread that's similar to naan, but thicker and heavier. Also known as "village bread", it's traditionally cooked over an open wood fire and is usually eaten fresh for breakfast or stuffed with various ingredients like a sandwich.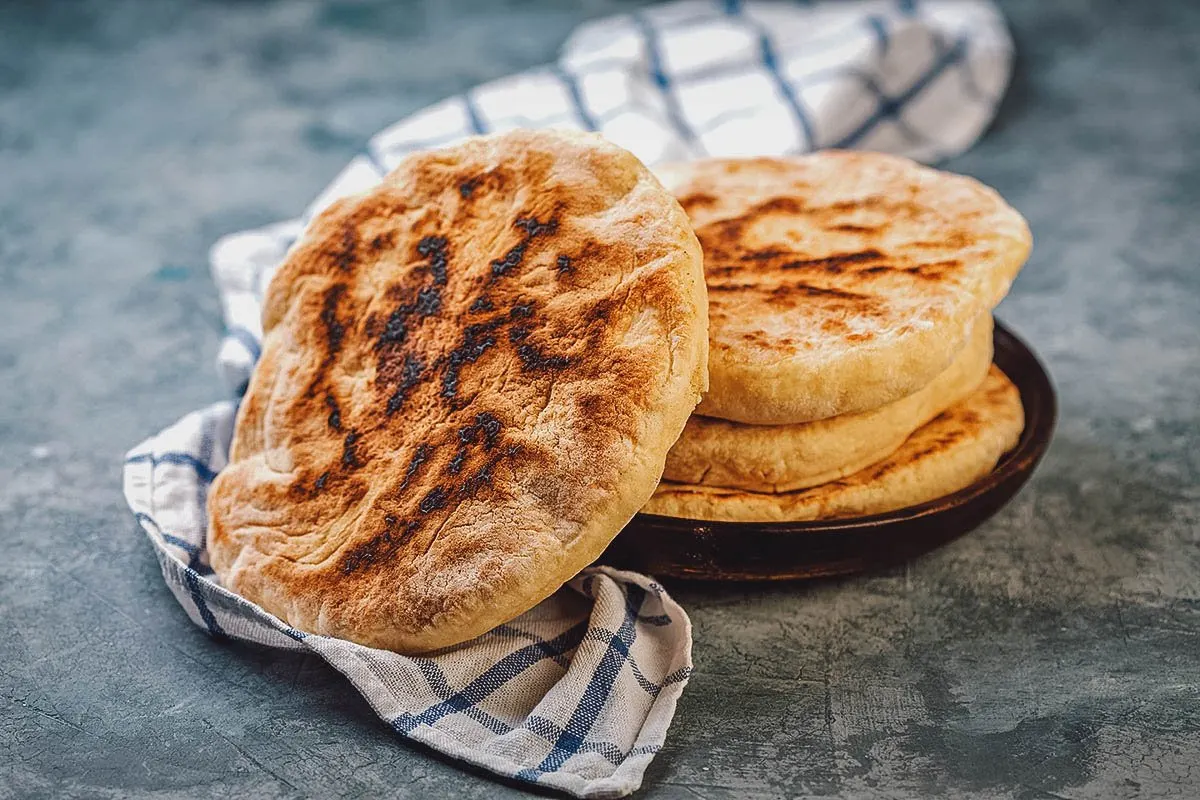 Photo by sriba3
33. Shotis Puri (Georgia)
Shotis puri, or simply shoti, refers to an interesting, canoe-shaped type of Georgian bread. Like naan, it's cooked in a tandoor-like clay oven called a tone.
Shoti can be made at any time of the year though it's especially popular during holidays and special celebrations like weddings and birthdays.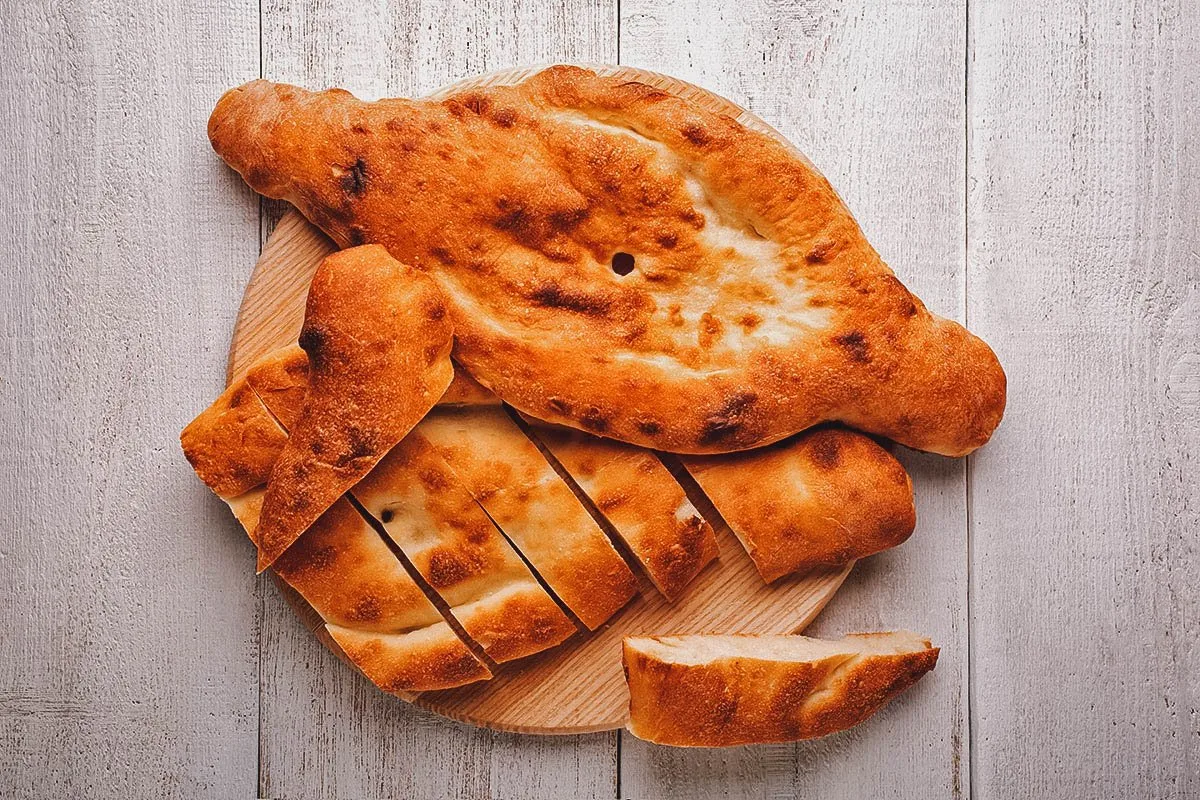 Photo by [email protected]
34. Lavash (Armenia)
Lavash is another type of bread that's cooked in a clay oven. Popular in many South Caucasian and Western Asian countries like Armenia, Iran, Turkey, and Kazakhstan, it's a versatile flatbread that can be used as a wrap for meats or eaten for breakfast with eggs, cheese, jam, or butter.
Lavash can be leavened or unleavened. Traditionally, it's baked by slapping the dough on the side of a tonir clay oven but it can also be cooked on a saj or pan.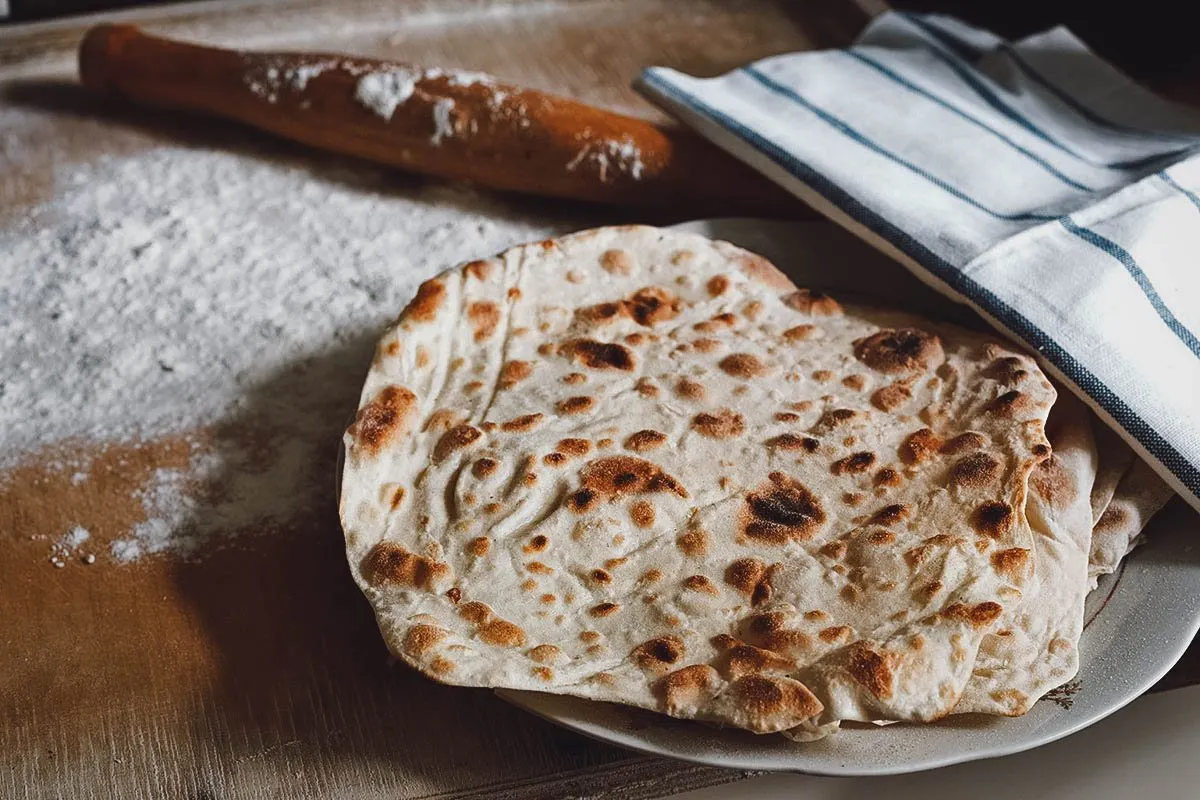 Photo by maxsol7
35. Obi Non (Uzbekistan)
Obi non is perhaps one of the most beautiful types of Asian flatbread. It's an important Uzbek staple food that's similar to naan, except it's adorned with a decorative pattern on its surface.
Like many of the flatbreads from this part of the world, obi non is baked in a traditional clay oven called a tandyr.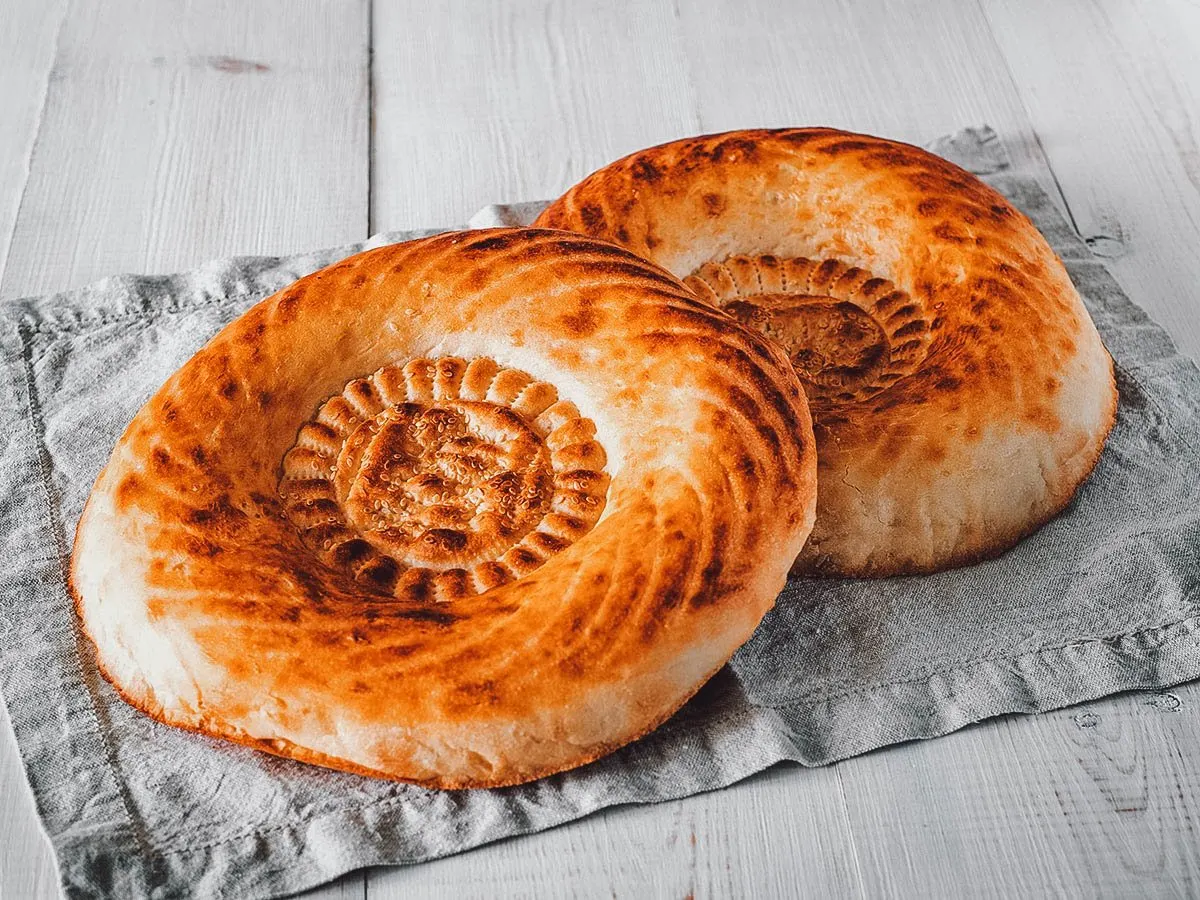 Photo by Fascinadora
36. Mantou (China)
Mantou is a type of bread bun from northern China. It's different from most other types of bread in that it's steamed and not baked.
Mantou is a staple food in parts of China where wheat, instead of rice, is the primary crop. It's made with milled wheat flour, water, and leavening agents and can range in size from 4-15 cm (1.6-5.9 in).
Steamed mantou buns are delicious but in Singapore, you can try a fried version that may be even better. They're typically served as a side dish with chili crabs.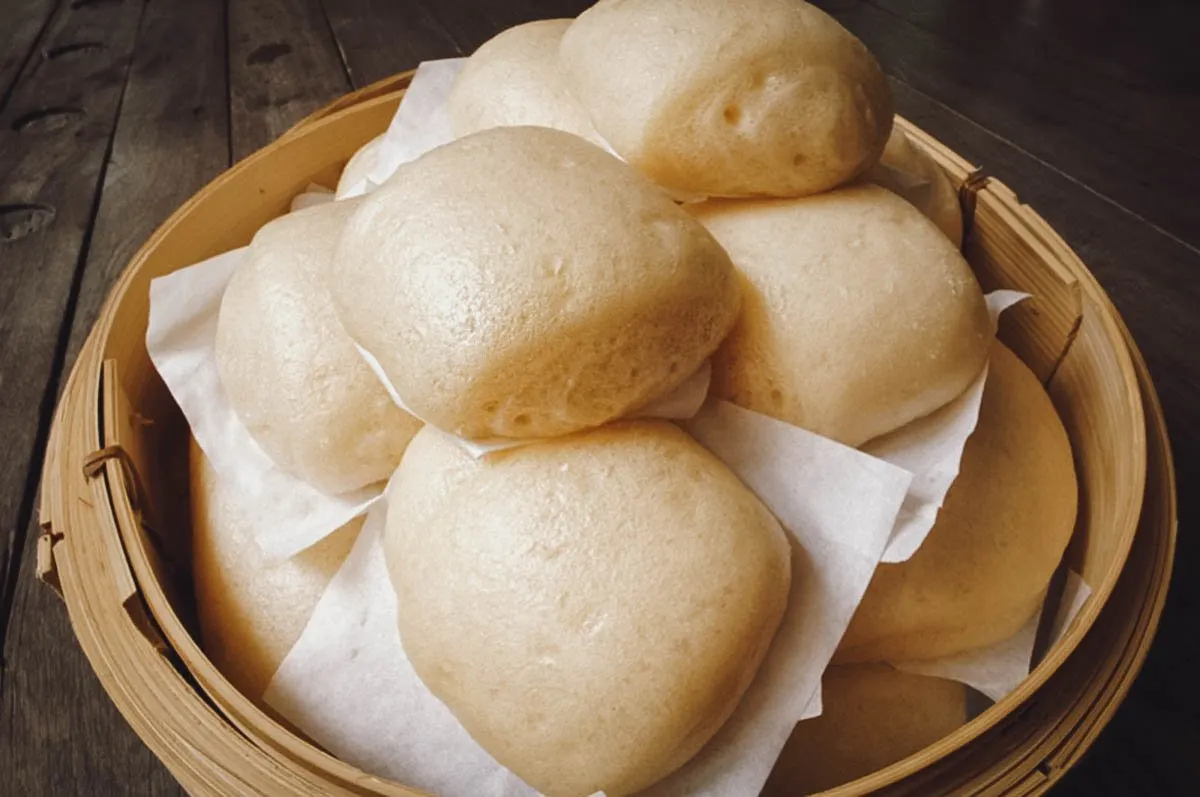 Aumrino970, CC BY-SA 4.0, via Wikimedia Commons / Processed in Photoshop and Lightroom
37. Shokupan (Japan)
Japan is our favorite country in the world to visit, and a lot of that has to do with Japanese food. Sushi and ramen are amazing but the Japanese make awesome baked goods as well, one of our favorites being shokupan or Japanese milk bread.
Shokupan is just white bread but it's probably the softest and most delicious white bread you'll ever taste in your life. As its name suggests, it's a slightly sweet and milky type of bread made with white flour, milk powder, butter, yeast, salt, and sugar. Soft, buttery, and fluffy, it's basically the Japanese version of a Pullman loaf.
From focaccia bread to banh mi and hoagies, Renée bakes amazing breads but her shokupan may be my favorite. It's amazing on its own but even better when used for sandwiches.
In Japan, you'll find two types of shokupan – one with a rounded top (pictured below) and another with a flat top.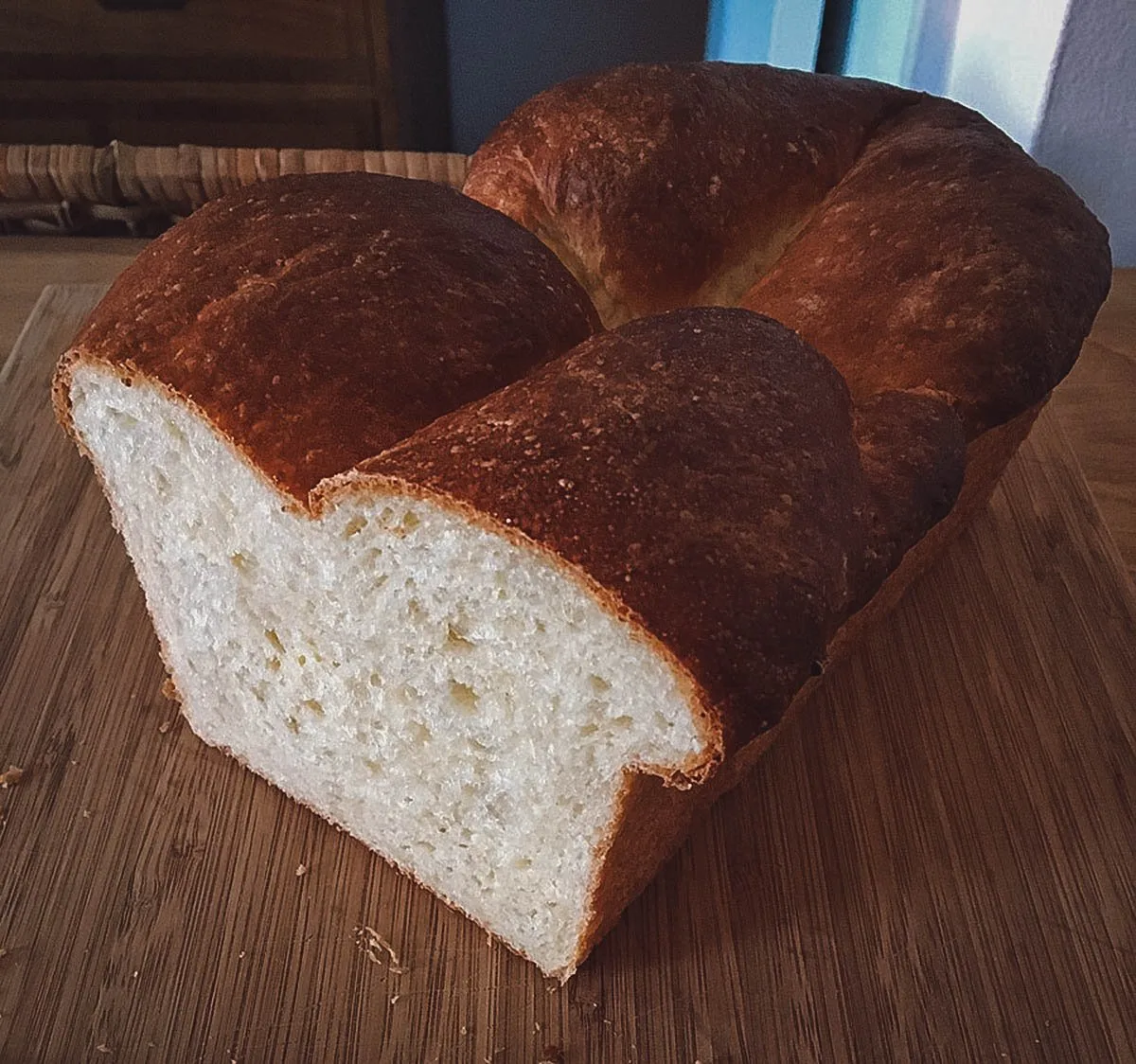 ChrisHamby, CC BY-SA 2.0, via Wikimedia Commons / Processed in Photoshop and Lightroom
38. Banh Mi (Vietnam)
I'm starting to sound like a broken record but banh mi is another of my favorite types of bread in the world. It's a French-influenced Vietnamese baguette that's basically a miniature version of the iconic French bread.
Banh mi is made with a dough consisting of both wheat flour and rice flour. Like the baguette, it's known for having a crispy crust and a soft airy crumb that sort of crumbles in on itself when you take a bite. It's so incredibly delicious.
The term banh mi can refer to both the Vietnamese sandwich and the bread used to make it.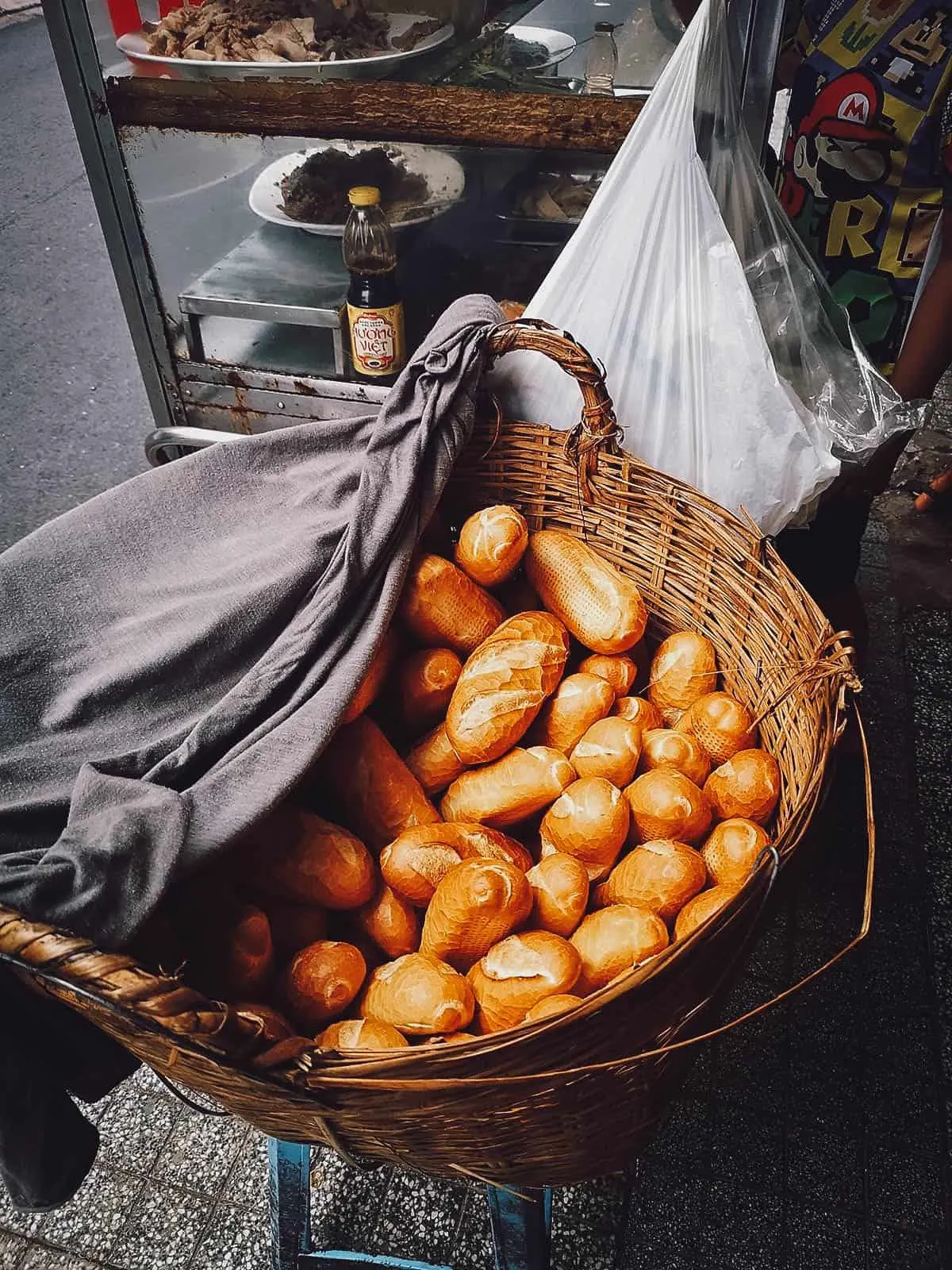 39. Pan de Sal (Philippines)
The Philippines isn't really known for its bread but since we're originally from Manila, I had to include pan de sal. It's a soft bread roll that's typically eaten for breakfast in the Philippines.
Pan de sal is a small bread roll that's made with wheat flour and/or bread flour, yeast, sugar, salt, and oil. The dough is shaped into logs and then rolled in bread crumbs before being portioned and baked.
Filipinos love sweet food and pan de sal is an example of that. I wouldn't call it a sweet bread, but it's definitely on the sweeter side. It can be eaten as is, dipped into coffee, or eaten with fillings like a small sandwich.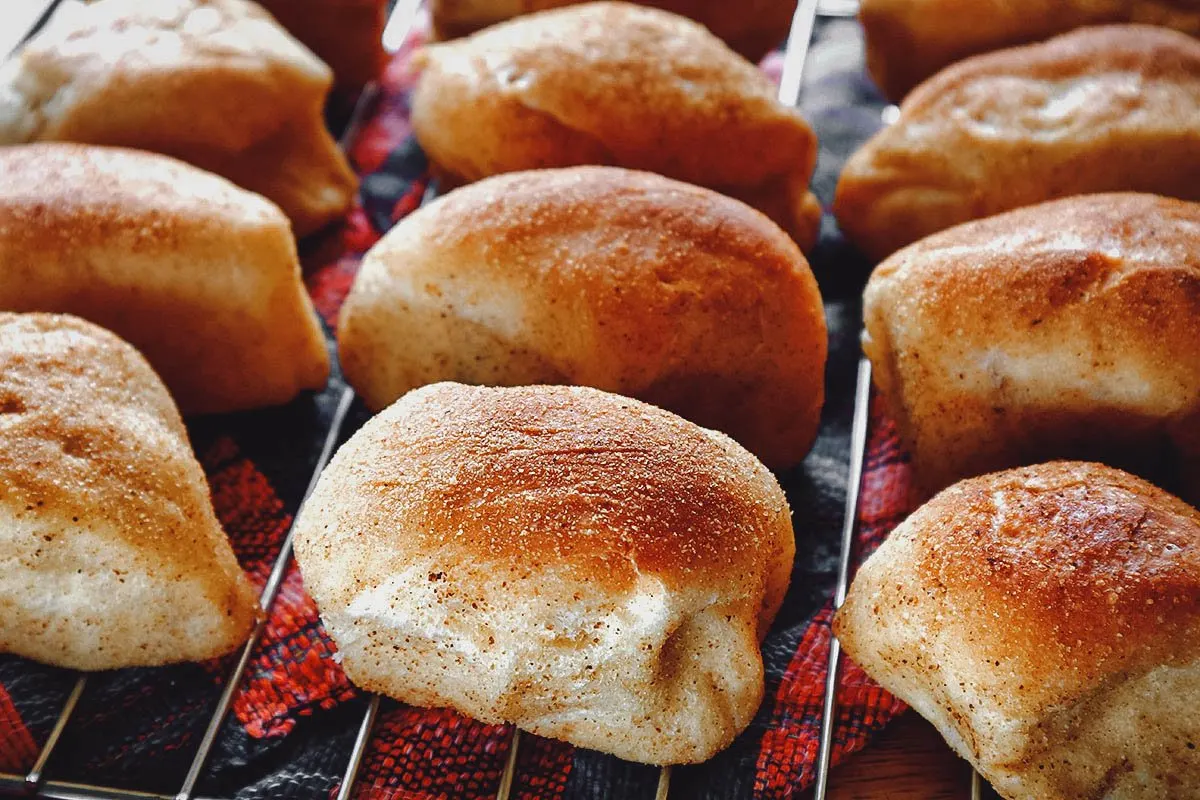 Photo by junpinzon
40. Roti Canai (Malaysia)
Roti canai (or roti prata in Singapore) is a Southeast Asian variation of Indian paratha. Like paratha, it's made with a dough that's repeatedly kneaded, oiled, and folded to create a soft and flaky layered flatbread.
Roti canai can be made in many variations but I like plain roti the best. It's usually served with a curry dipping sauce and makes for a great appetizer at Malaysian restaurants.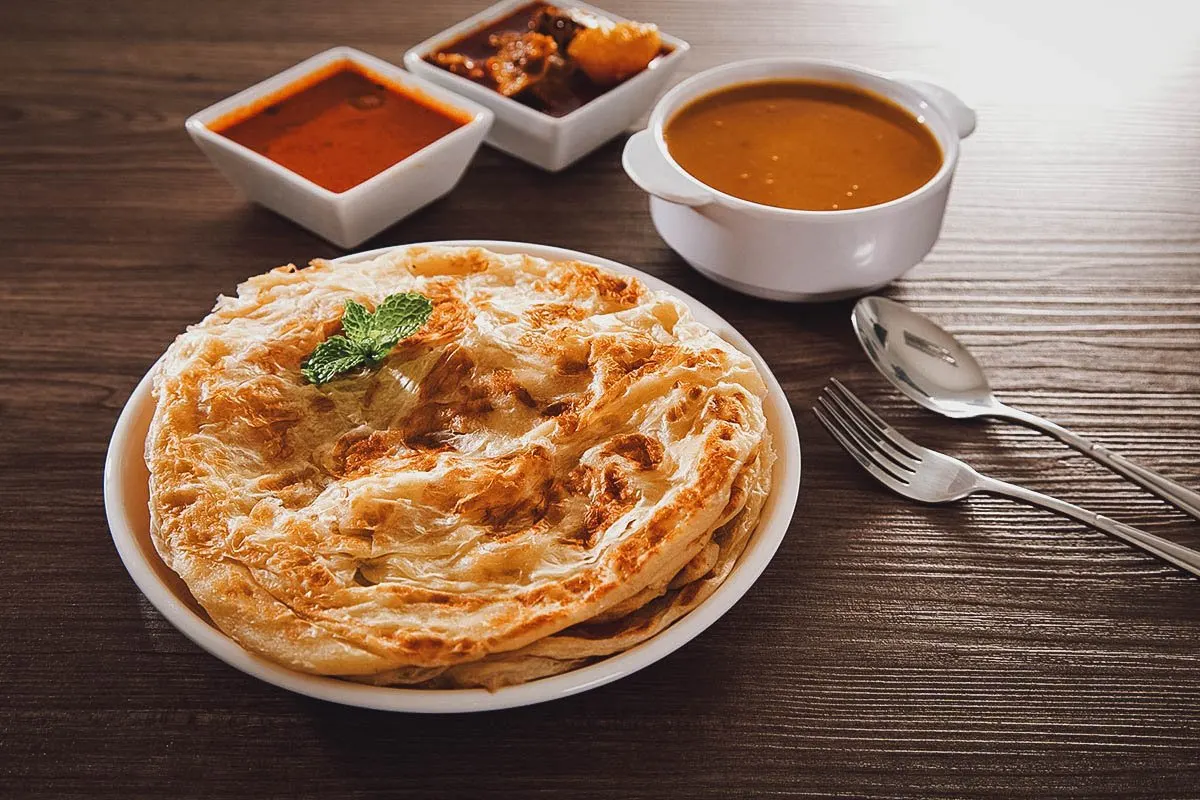 Photo by tehcheesiong
NORTH AMERICA
41. Biscuit (USA)
The word "biscuit" may mean something else in other parts of the world but in the US, it refers to a type of quick bread that's like a denser and crumblier version of a dinner roll.
About the size of a hockey puck, American biscuits have a firm exterior and a soft, crumbly interior. They're typically eaten for breakfast or as a side dish with butter, jam, or honey. Like English muffins, they can also be sliced horizontally and eaten with breakfast ingredients like a sandwich.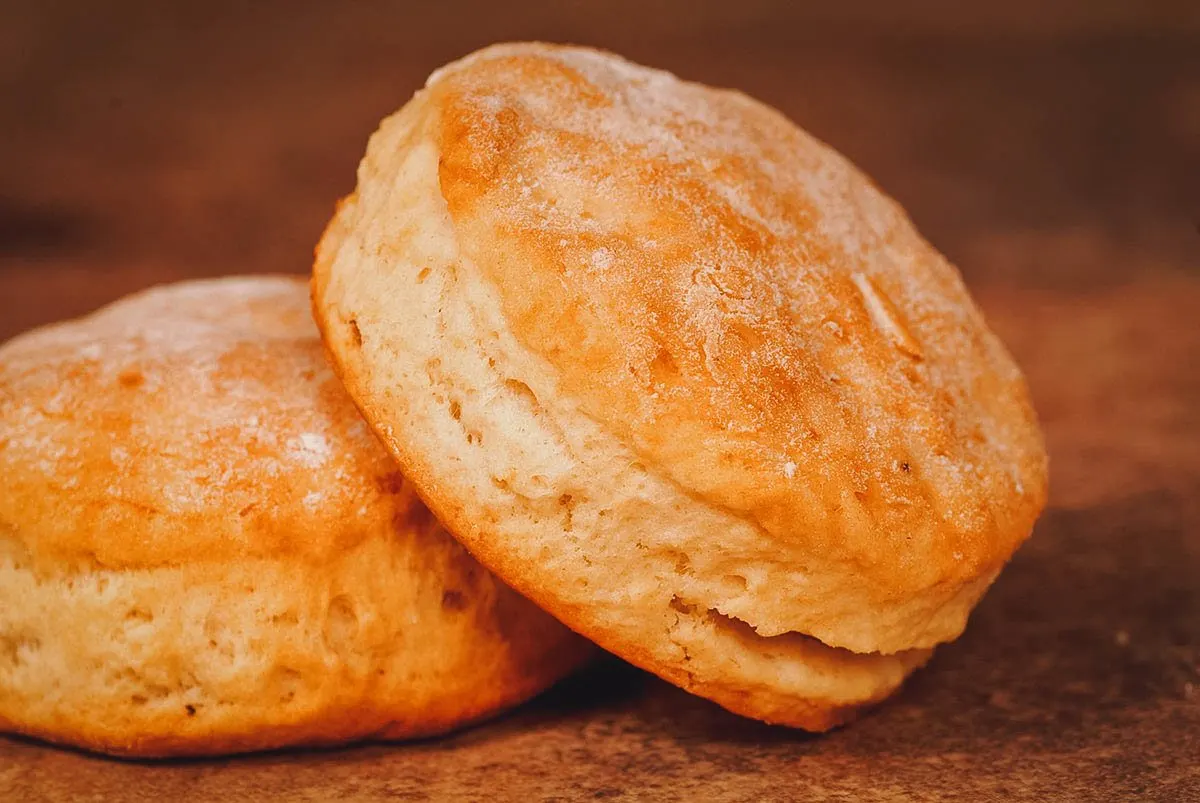 Photo by HHLtDave5
42. Cornbread (USA)
Cornbread is another type of quick bread that's popular in the US. Made with cornmeal, it's especially popular in southern cooking though its roots are in Native American cuisine.
Cornbread is usually baked or fried. It can be eaten for breakfast or served on the side with southern staples like barbecue, pinto beans, and chili con carne. It can be slightly sweet or neutral in flavor and has a distinctively grainy texture that's different from other types of bread.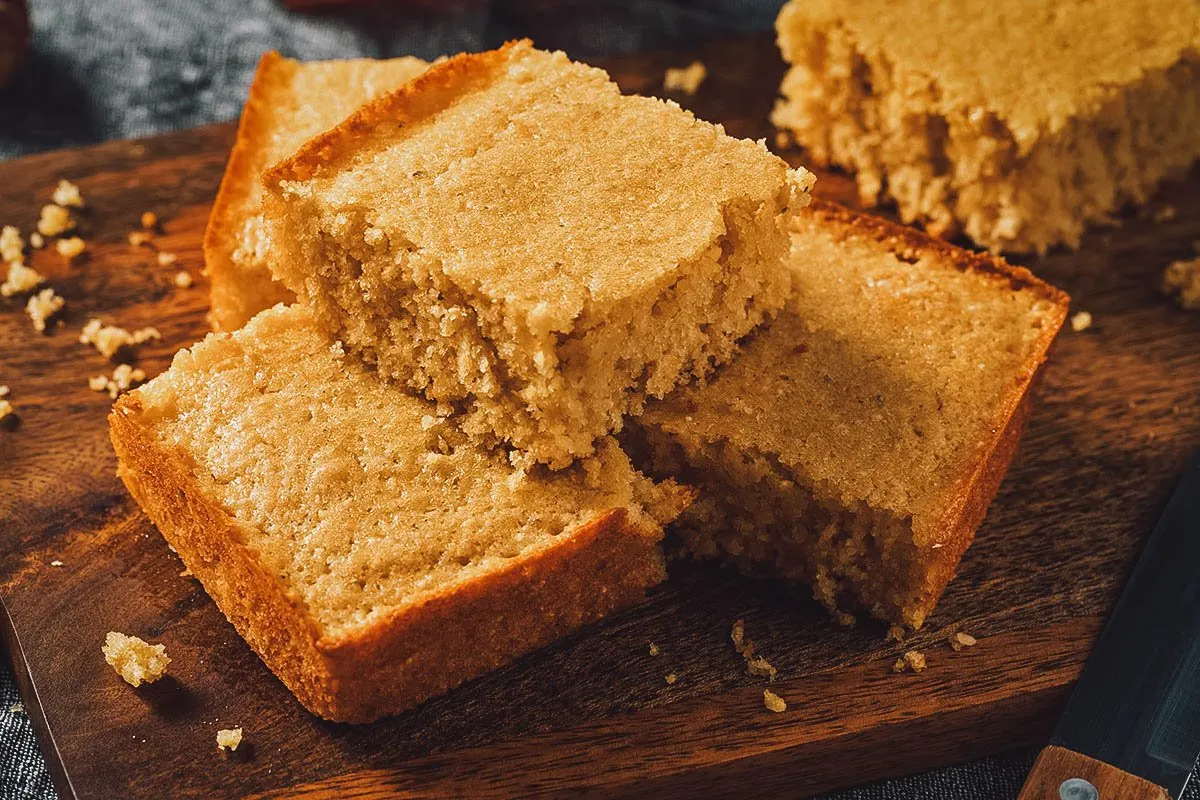 Photo by bhofack2
43. Tortilla (Mexico)
We currently live in Mexico so we've had our fair share of corn tortillas. Wheat tortillas are available in Mexico as well though the corn tortilla is definitely king.
A tortilla is a Mesoamerican type of unleavened flatbread. Traditionally, it's made with nixtamalized corn but it's now commonly made from wheat flour as well. Because corn masa is gluten-free, corn tortillas are noticeably crumblier in texture than their wheat counterparts.
In Mexico, tortillas are often served on the side or as a vessel to make tacos and quesadillas.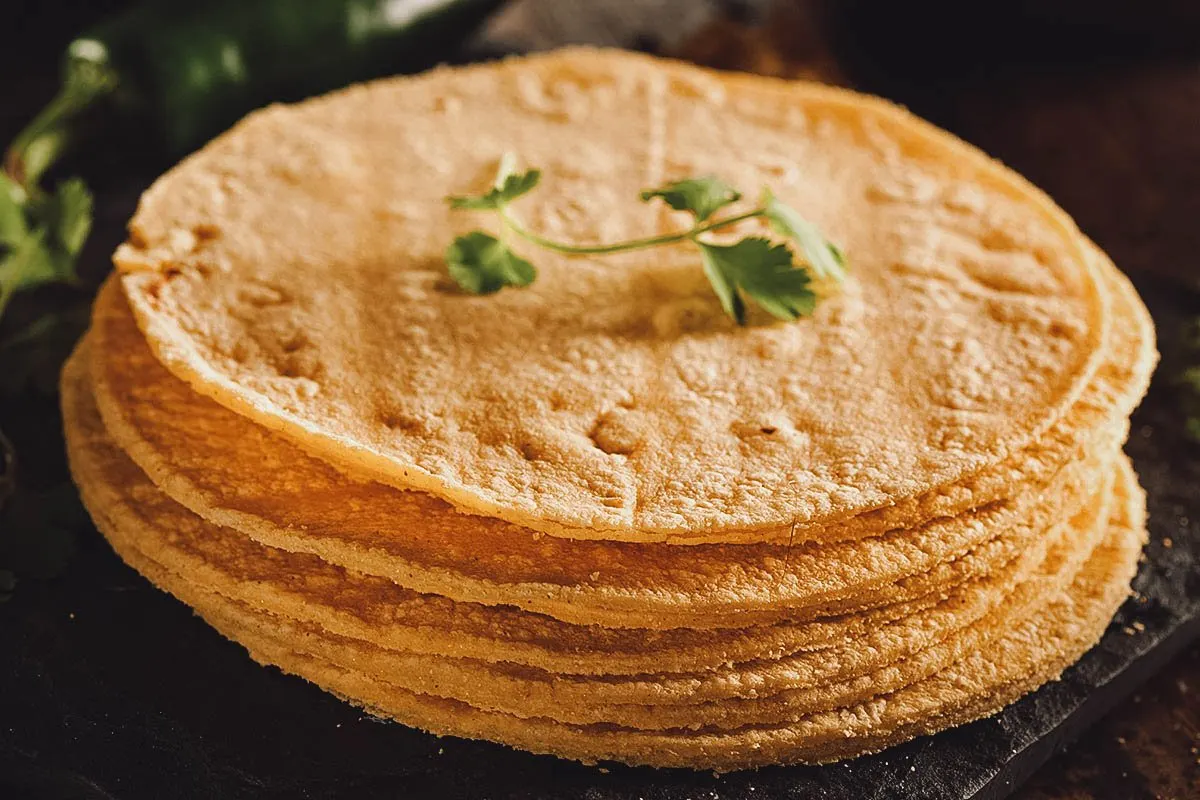 Photo by bhofack2
44. Cemita (Mexico)
We spent a lot of time in Puebla where cemita sandwiches reign supreme. Like banh mi, the term cemita can refer to both the sandwich and the bread used to make it.
The cemita is a type of Mexican bread roll that's traditionally associated with Puebla. It's an eggy, brioche-type bread that's made with wheat flour, eggs, butter, yeast, salt, and sugar. They're topped with sesame seeds and have a distinctively crunchy exterior and a soft rich interior.
Like banh mi, cemitas poblanas are among my favorite sandwiches in the world, and a lot of that has to do with the bread.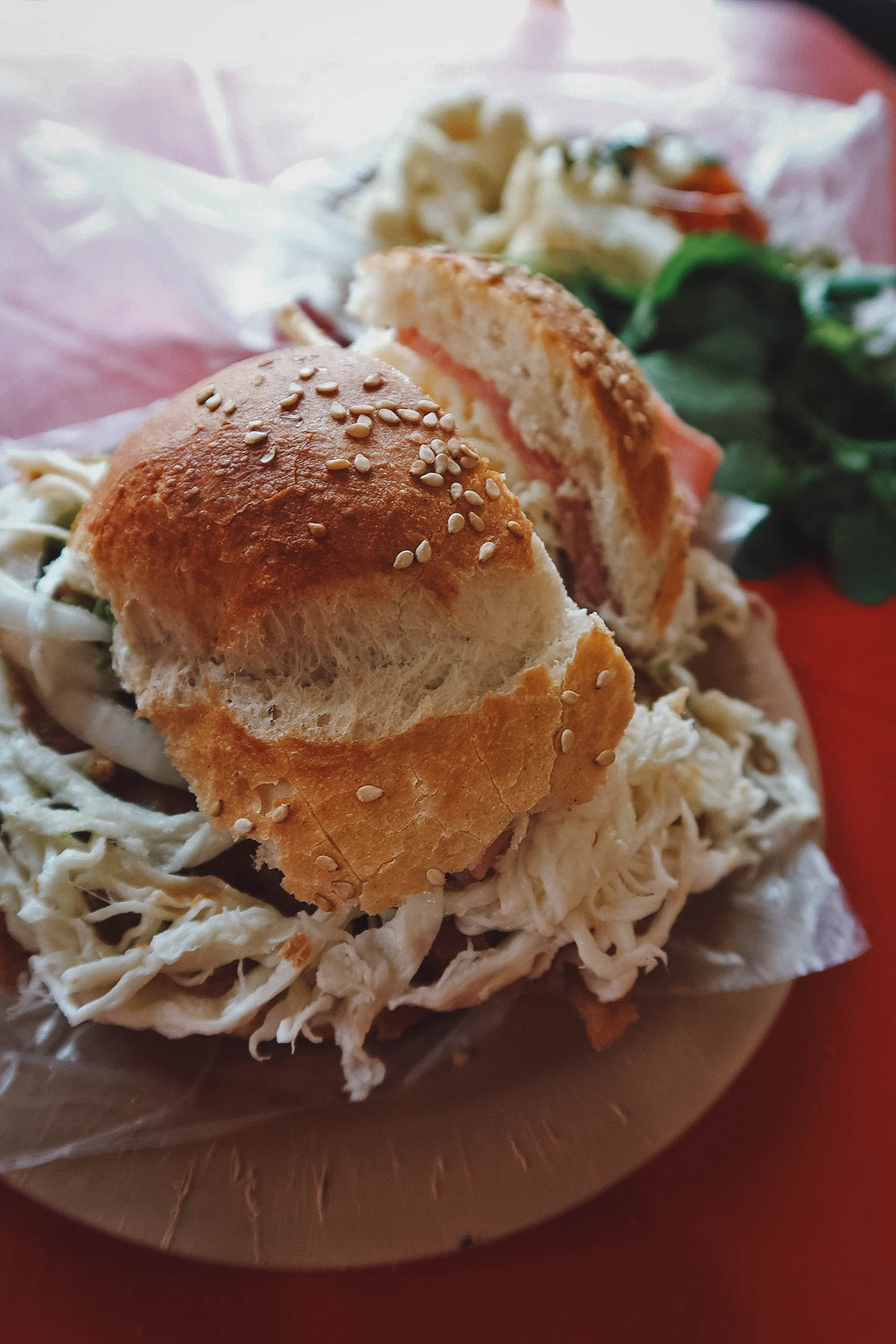 SOUTH AMERICA
45. Arepa (Venezuela, Colombia)
The arepa is an important staple food in Venezuelan and Colombian cuisine. You can think of it as the South Amercian equivalent of naan or pita bread, but instead of wheat flour, it's made with ground maize dough.
Whether in Colombia or Venezuela, arepas are eaten throughout the day. They can be enjoyed plain or filled with various ingredients like cheese, eggs, and meat.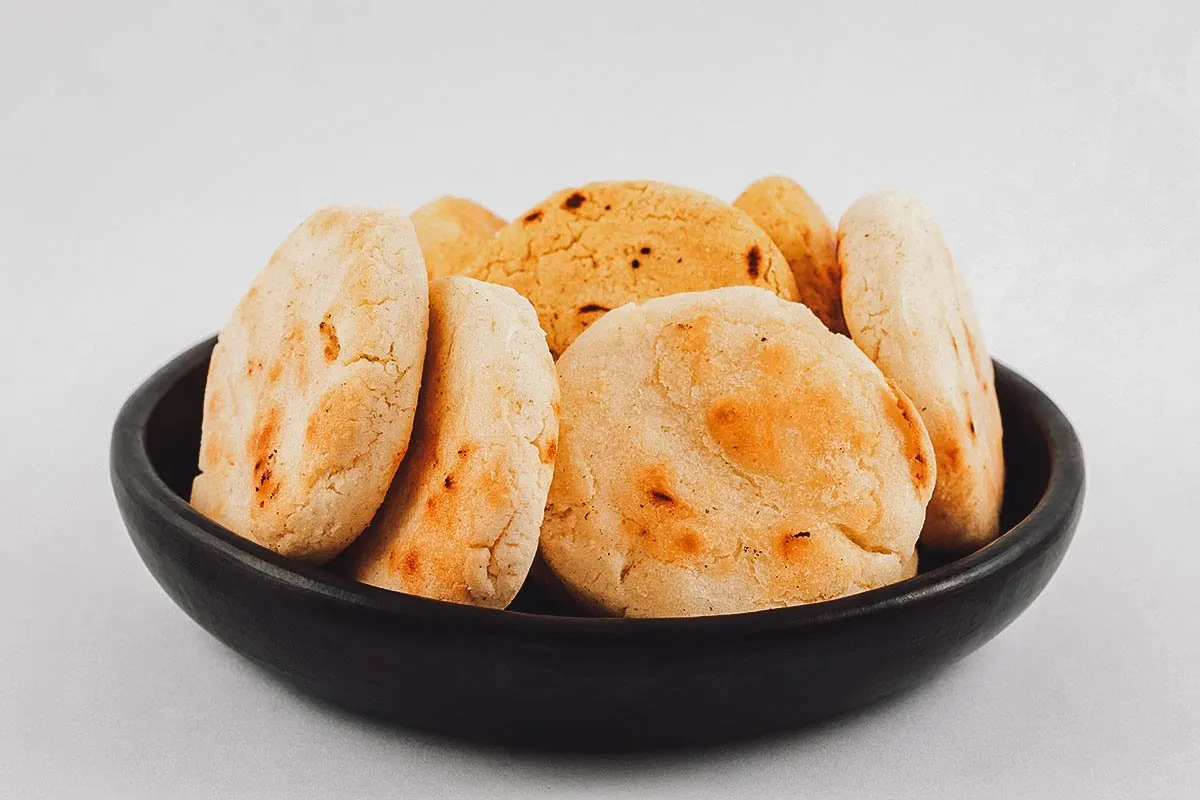 Photo by anamejia18
46. Marraqueta (Chile)
It was interesting to learn that Chile is one of the biggest consumers of bread in the world. The average Chilean is estimated to eat over 90 kg (200 pounds) of bread per year, and there's no doubt that marraqueta accounts for a significant part of that total.
Marraqueta is the most popular type of bread in Chilean cuisine. Easily recognizable for its distinctive shape that can be broken up into four segments, it's also referred to as pan francés thanks to its crusty and crunchy baguette-like texture. It's typically eaten for breakfast, enjoyed with pebre salsa or mashed avocado, or used as sandwich bread.
Marraqueta is such an important part of Chilen culture that a local saying goes: "Nació con la marraqueta bajo el brazo", which literally means "to be born with a marraqueta under his/her arm".
This saying describes a child that has their future secured, much like the English phrase "to be born with a silver spoon in one's mouth".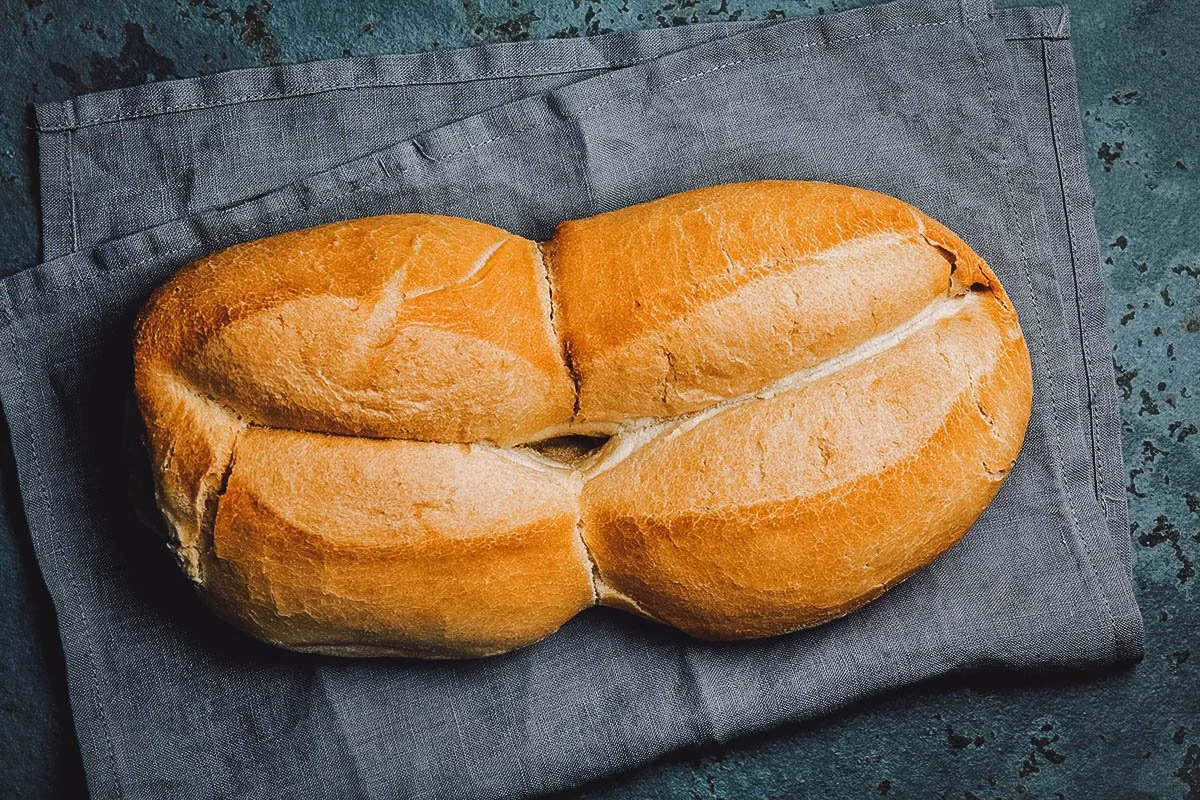 Photo by Blinovita
47. Hallulla (Chile)
After marraqueta, hallulla is perhaps the second most consumed bread in Chile. It refers to a round flatbread made with wheat flour, vegetable shortening (or lard), milk, water, yeast, sugar, and salt.
Popular in South American countries like Chile, Bolivia, and Ecuador, hallulla is commonly eaten as a sandwich or served as a side dish with larger meals.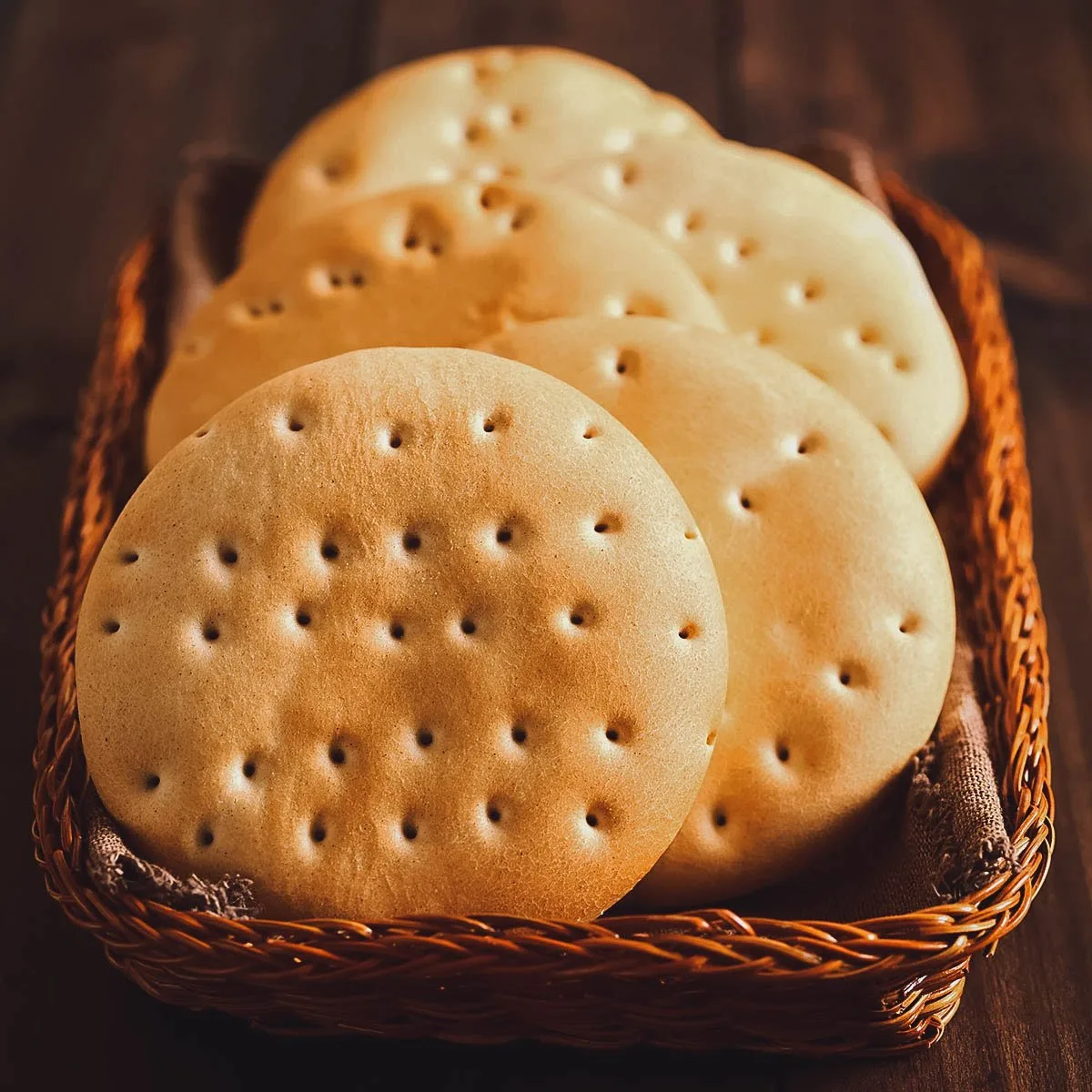 Photo by PantherMediaSeller
AFRICA
48. Aish Baladi (Egypt)
Staple foods like bread, corn, and rice are defining elements in many cultures and aish baladi is an example of that. It refers to the Egyptian version of pita bread made with whole wheat flour baked at extremely high temperatures.
Aish baladi is a cornerstone of Egyptian cuisine and a vital part of their culture. In fact, you can tell just how important it is to Egyptian culture by its name – aish means "life" while baladi means "traditional" or "authentic".
Consumed across all social classes, aish baladi is baked several times a day in Egypt and eaten with every meal.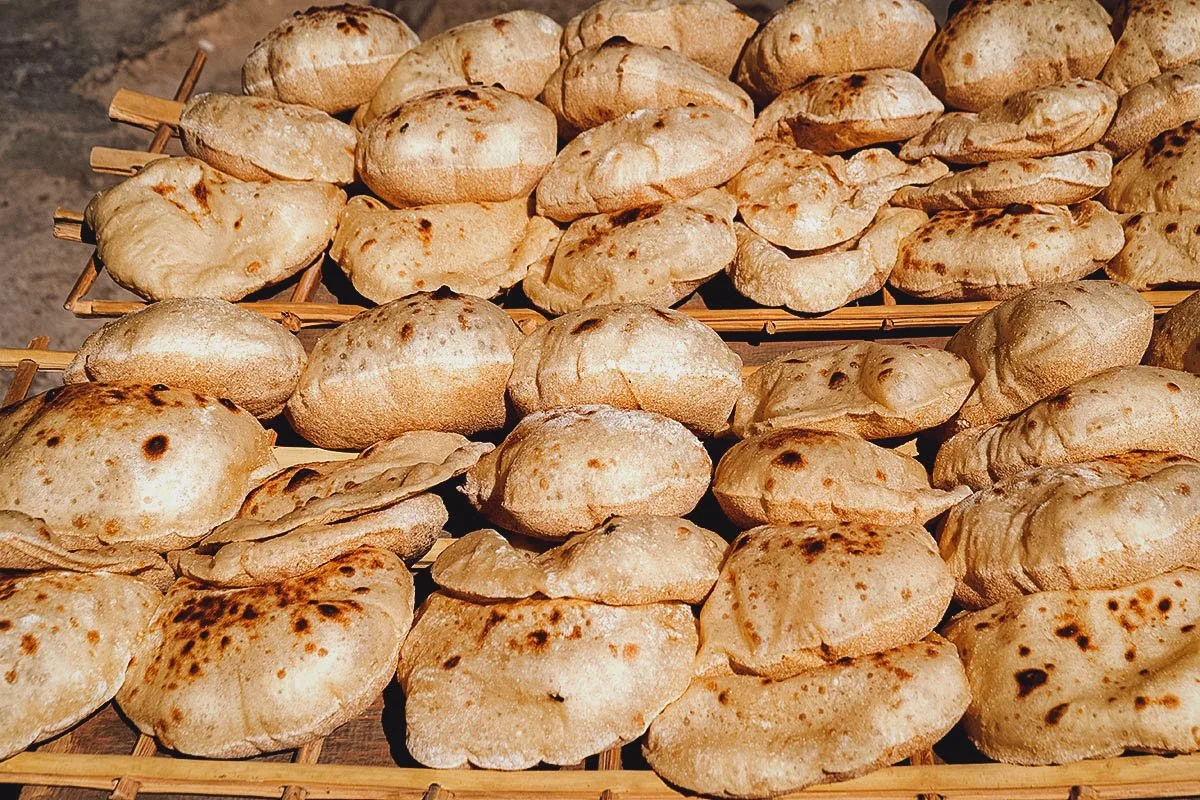 Photo by Iggib00
49. Injera (Ethiopia)
Injera isn't one of my favorite types of bread but it's definitely one of the most interesting and memorable. A staple in Ethiopian cuisine, it's a spongy sour fermented flatbread that functions not just as food, but as a plate and eating utensil. If you've had Ethiopian food, then you'll know what I mean.
Injera is made with tef, the world's smallest grain. Tef dough is mixed with ersho (starter) and left to ferment to give it a mild sour taste. After a few days, the dough is flattened and baked into round pieces on a large circular griddle called a mitad.
Injera has a spongy and absorbent texture that makes it an ideal accompaniment to Ethiopian food. Various stews and curries are served on a "tablecloth" of injera along with several rolls. To eat, you tear pieces of injera and use them as scoops to pick up the food.
It's an interesting experience that's sure to stay with you long after the last piece of injera is gone.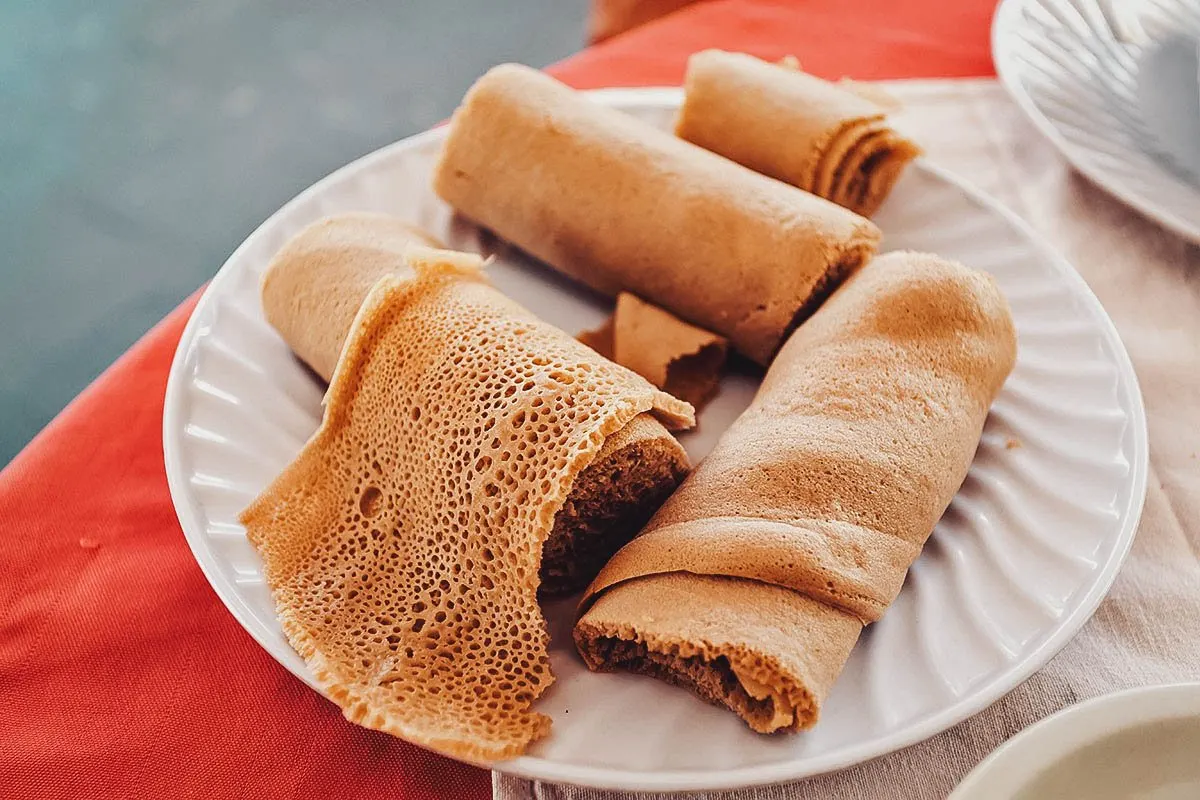 Photo by artush
OCEANIA
50. Damper (Australia)
Last on this long list of bread is damper, an Australian version of soda bread. It's made from a wheat-based dough that's lightly kneaded and then baked in the coals of a fire.
Damper is an iconic Australian bread that was consumed by stockmen who traveled to remote parts of Australia for long periods of time. They often carried just basic rations so they needed food that was easy to make. Damper can be made with just flour, water, salt, and a leavening agent like baking soda or beer.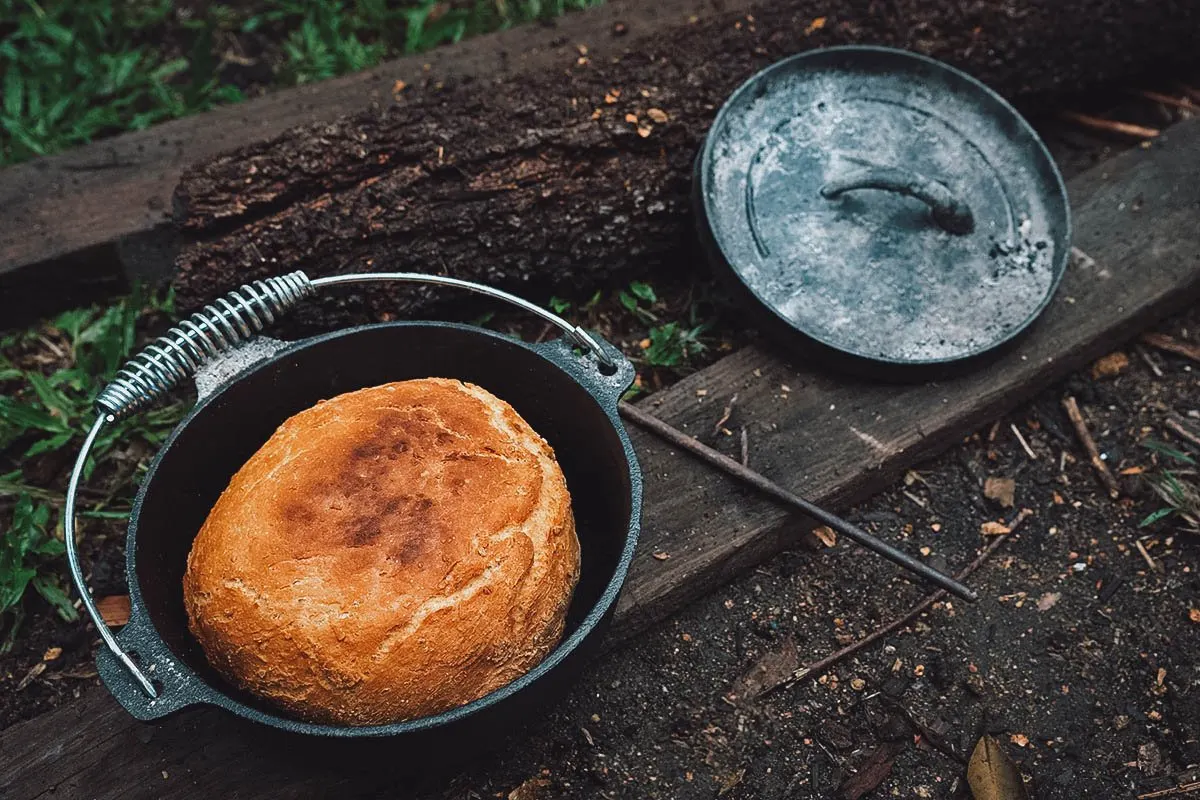 Photo by SherS
FINAL THOUGHTS ON THE DIFFERENT TYPES OF BREAD FROM AROUND THE WORLD
When I started this list, it was considerably longer than it is now. It included many batter-based breads like waffle, baghrir (Moroccan pancake), crepe, dosa (Indian pancake), and palachinka (Bulgarian pancake). Personally, I consider all those dishes to be types of bread but other people may not, so I left them out (for now).
After doing research for this article, I found that the line separating bread, cake, and pastry is thin and often debatable. There really is no definitive definition that distinguishes one from the other so "tweener" products like pancakes, banana bread, and croissants can fit in more than one category.
In any case, I hope you enjoyed reading this article as much as I enjoyed writing it. Being Asian, rice and noodles will always be king for me but I can never say no to a loaf of good bread.
Cover photo by AntonMatyukha. Stock images via Depositphotos.