To be honest, Valladolid wasn't even on my itinerary. We travel for food so our destination choices were based largely on Google searches for "best food cities in mexico".
Popular food cities like Oaxaca, Puebla, Mexico City, Guadalajara, and Merida were included in nearly every article I found. Only when I was doing research on Yucatecan cuisine did I learn about Valladolid.
I saw dishes with names like longaniza de valladolid and lomitos de valladolid so I did some digging. As it turns out, a few dishes that are enjoyed throughout the Yucatan Peninsula originated in Valladolid. I had to add it to my itinerary.
Many people visit Valladolid for just a few days, mainly as a stopover between Merida and cities in the Riviera Maya like Cancun, Playa del Carmen, and Tulum. I needed more time to explore its regional cuisine so I spent over a week in this small but charming pueblo magico.
If you're visiting Valladolid and have a keen interest in regional Mexican cuisine, then this list of the best Valladolid restaurants will be of interest to you.
VALLADOLID RESTAURANTS QUICK LINKS
To help you with your Valladolid trip planning, we've put together links to top-rated hotels, tours, and other travel-related services here.
HOTELS
Recommended hotels in Centro, one of the most convenient areas to stay for first-time visitors to Valladolid.
TOURS
OTHER SERVICES
Save This on Pinterest!
No time to read this guide on the best Valladolid restaurants? Click on the save button and pin it for later!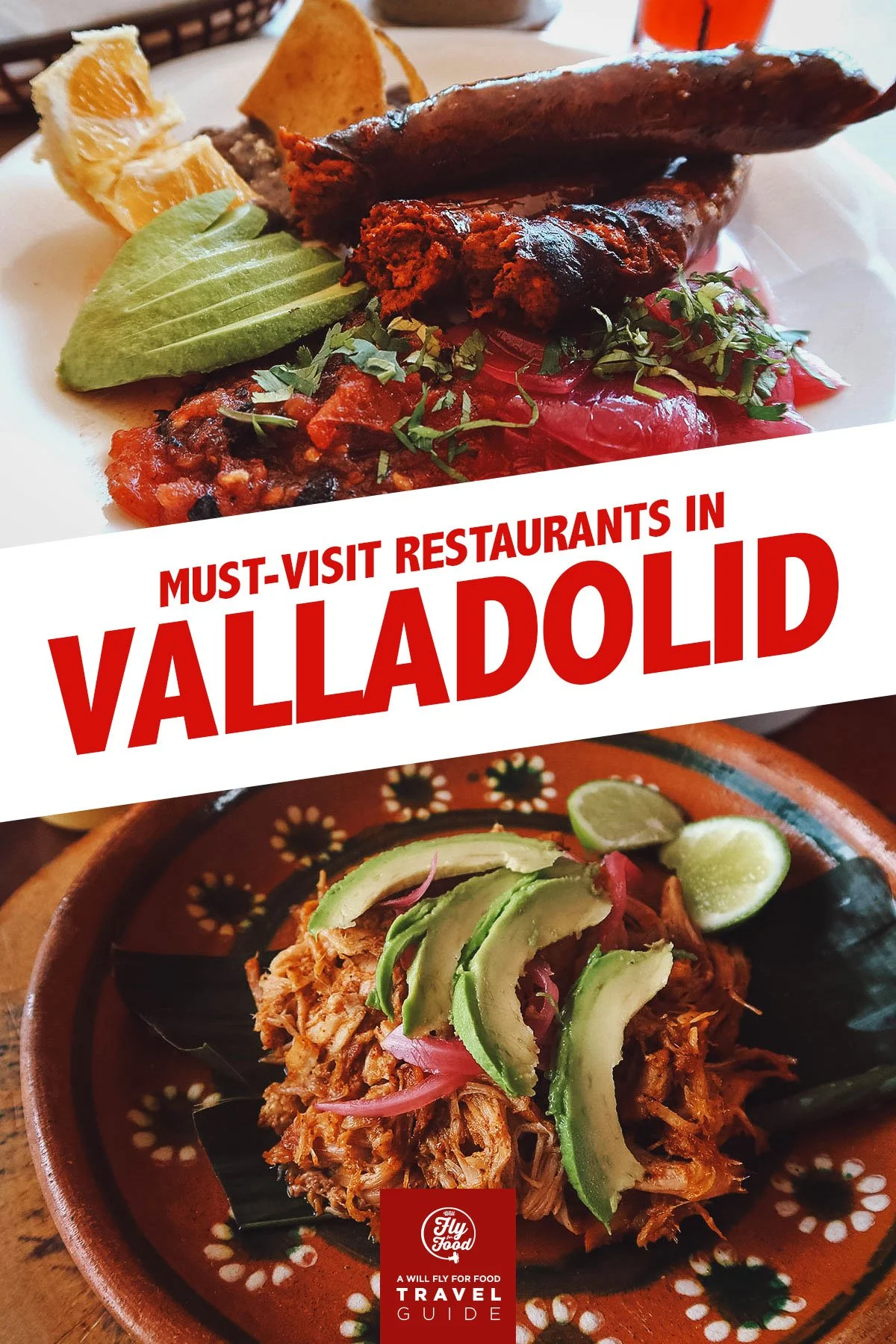 WHAT FOOD IS VALLADOLID KNOWN FOR?
Valladolid is a small city in the eastern half of Yucatan state, close to the border with Quintana Roo. As of this writing, it's one of 132 pueblos magicos (literally "magical towns") you can visit in Mexico.
Being a city on the Yucatan Peninsula, traditional Yucatecan food is what you can expect to find in Valladolid. The Yucatan was the heart of the ancient Mayan Civilization so traditional Yucatan cuisine is heavily influenced by Mayan culinary traditions. It's for this reason why Yucatecan food is often referred to as Mayan cuisine.
I won't get into too much detail here but some of the tastiest and most important dishes in Valladolid regional cuisine include lomitos, longaniza, cochinita pibil, and pibihuajes. For more information, you can refer to our guide on traditional Mayan cuisine.
THE BEST RESTAURANTS IN VALLADOLID
1. Restaurante Constanza
I was walking down Calle 37 in downtown Valladolid one morning when I chanced upon Restaurante Constanza. It's a cozy restaurant that serves a wide menu of breakfast, seafood, and regional dishes. You can find many Yucatecan specialties here like cochinita pibil, lomitos de valladolid, poc chuc, and papadzules.
I was looking at their menu near the front gate when one of the servers started chatting with me. According to him, Restaurante Constanza had just opened up the week before. I'm always happy to support local businesses so I promised to come back at noon when they were ready to serve lunch.
I love trying local food so I was unsure at first what to order, but I eventually settled on this beautiful plate of longaniza de valladolid. As you can tell from its name, it's a local sausage made with ground pork seasoned with garlic, chile ancho, vinegar, pepper, and spices. It's served with fresh corn tortillas and a bevy of sides like pickled red onions, avocados, refried beans, tortilla chips, and sour orange wedges.
If you like sampling local sausages when you travel, then you need to try longaniza de valladolid. It's delicious.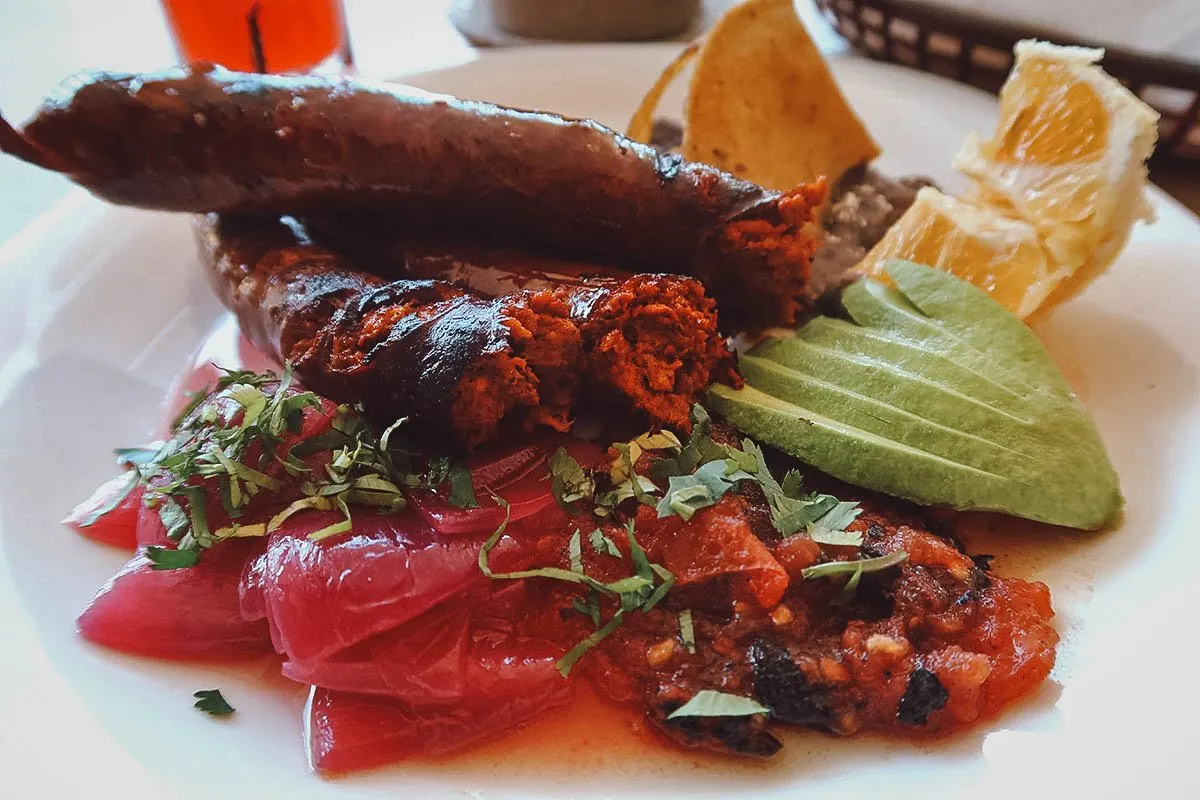 For dessert, I enjoyed this equally beautiful bowl of caballero pobre. Drenched in syrup and served with slices of fresh fruit and raisins, you can think of it as the Yucatecan version of french toast.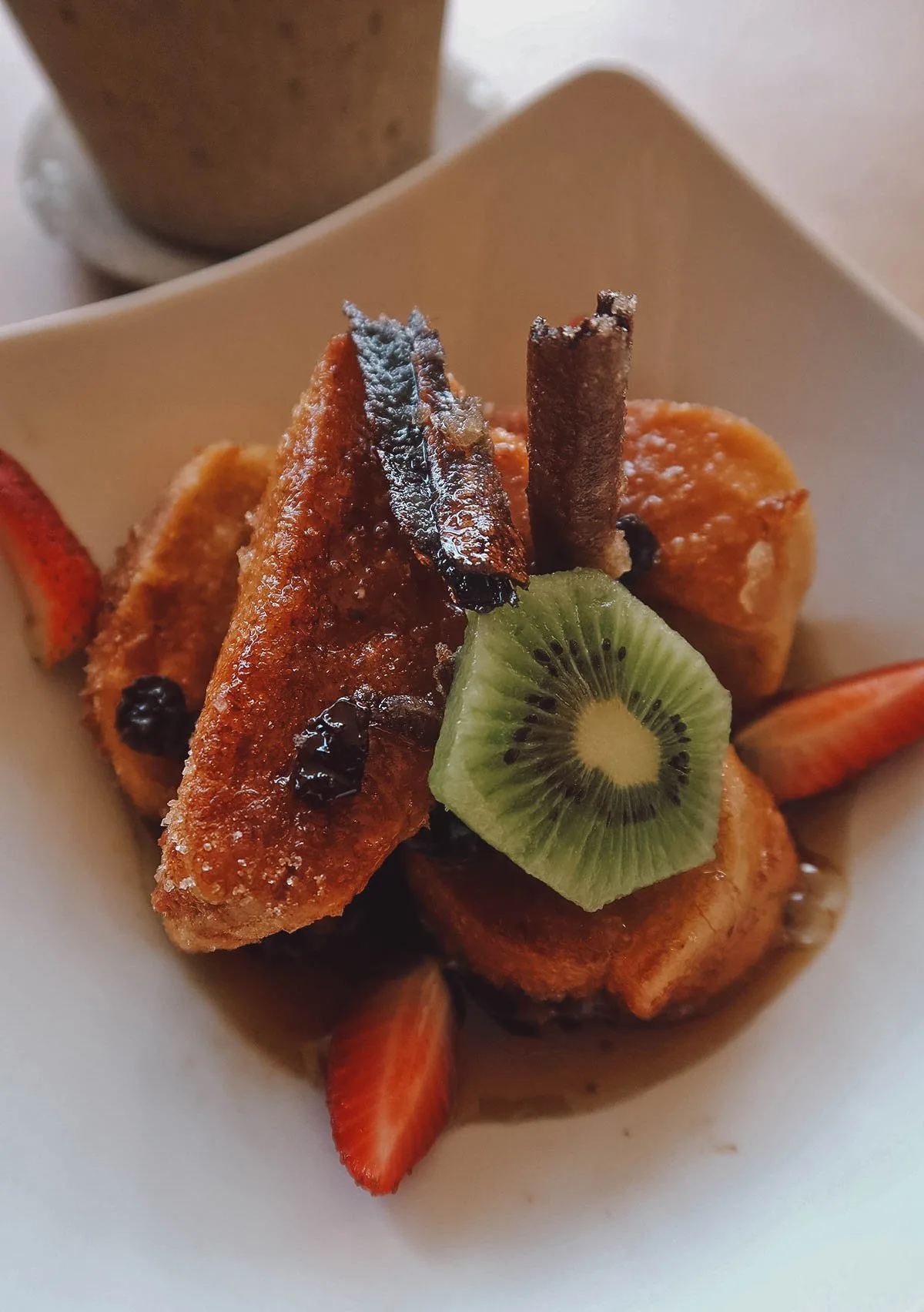 Aside from their menu of local dishes, another thing that drew me to Restaurante Constanza was the space itself. It's located in what appears to be a converted house.
I didn't bother going inside but there are two tables on the front porch – where I sat – and two more on the front lawn. Eating here makes you feel like you're having Sunday brunch in someone's home.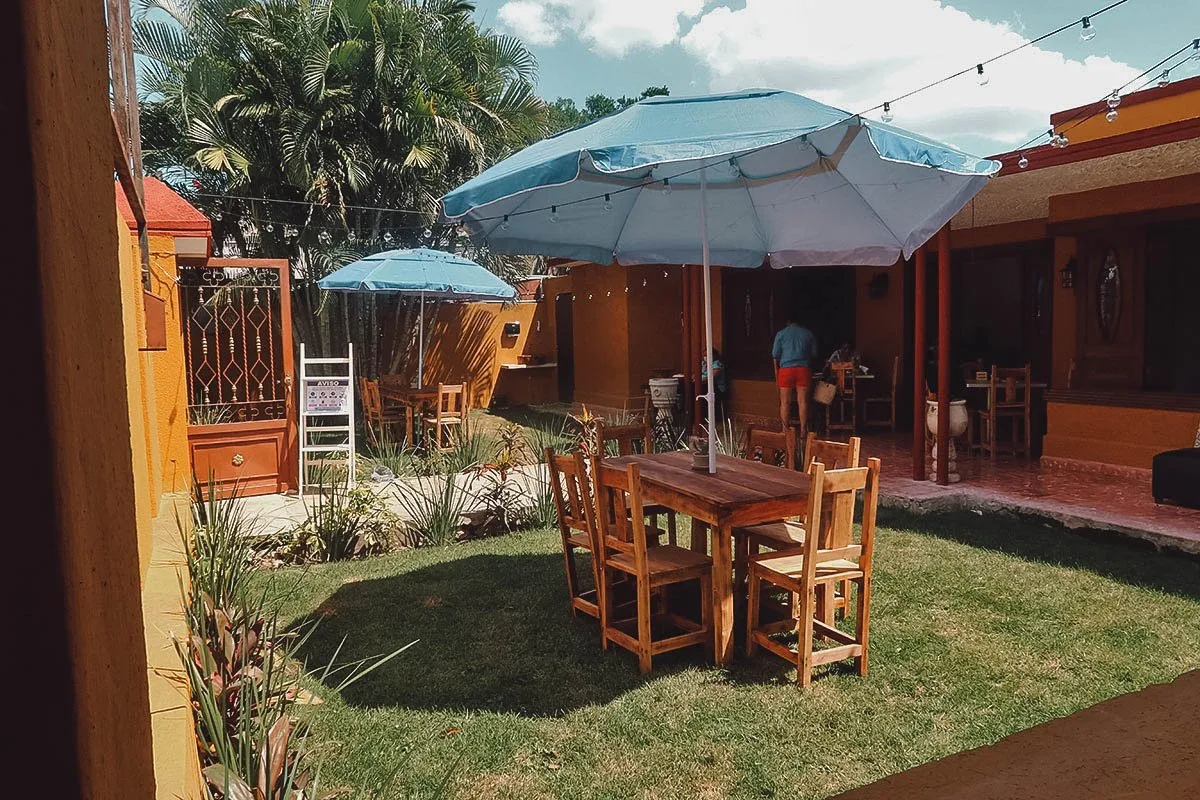 Restaurante Constanza is one of the newest restaurants in Valladolid but I've got a feeling they'll be around for a long time.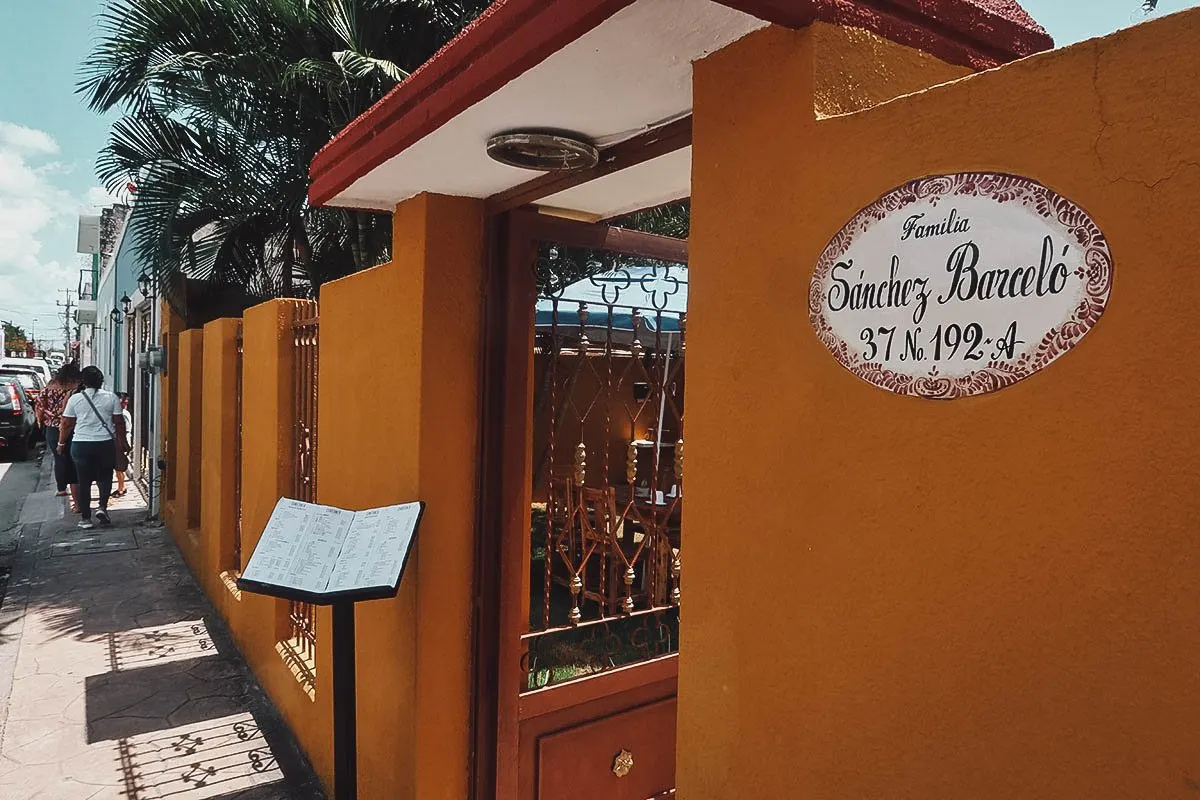 Restaurante Constanza
Address: C. 37 192A, Centro, 97780 Valladolid, Yucatan
Operating Hours: 8AM-5PM, daily
What to Order: Breakfast dishes, seafood, traditional Yucatecan dishes
2. Yum Ka'ax El Buen Sabor
Valladolid is known for its Mayan food so when I see a restaurant with a Mayan-sounding name like Yum Ka'ax, I'm instantly on my phone searching for reviews. Thankfully, the reviews were great.
Yum Ka'ax is a Mayan restaurant that serves breakfast dishes, antojitos, tamales, and other Yucatecan specialties. There's lots of good local food to be had here so I wavered between the cochinita, poc chuc, and sopa de lima before eventually going with the lomitos de valladolid. It's a tasty local dish consisting of diced pork loin cooked in a slightly spicy tomato sauce.
Like my longaniza de valladolid at Restaurante Constanza, these lomitos were served with a slew of side dishes like rice, hard-boiled egg, avocado, corn tortillas, and plantains. My server was quite amiable and happy to help me choose the right dish. These lomitos were delicious.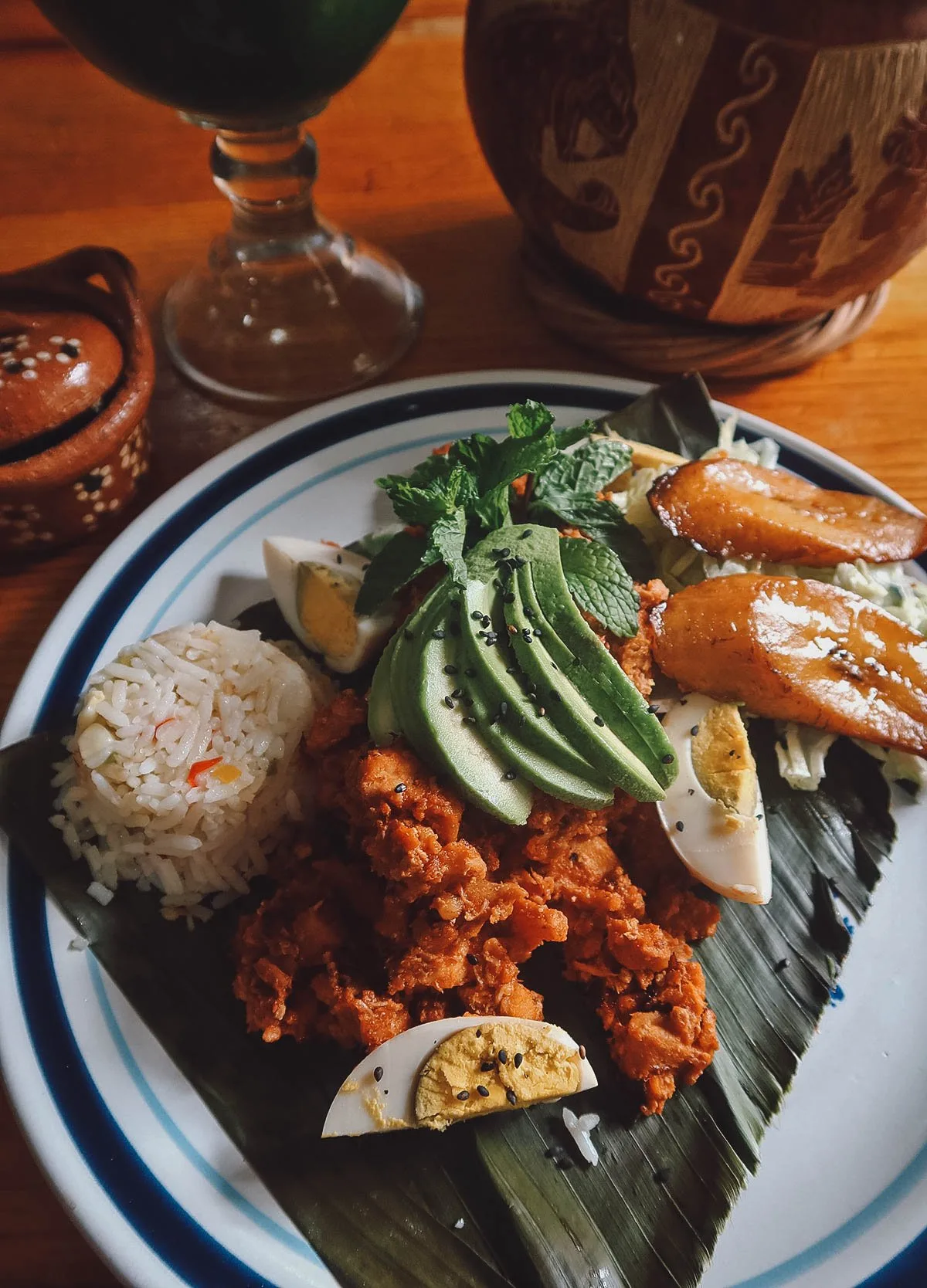 One thing that drew me to Yum Ka'ax was their ice cream. They have three flavors – queso de bola (Edam cheese), elote (corn), and chaya (local herb). I wanted to try all three but unfortunately, all they had that day was queso de bola.
I wasn't bummed for too long because this queso de bola ice cream was delicious. Edam cheese is an important and often-used ingredient in many Yucatecan dishes and desserts.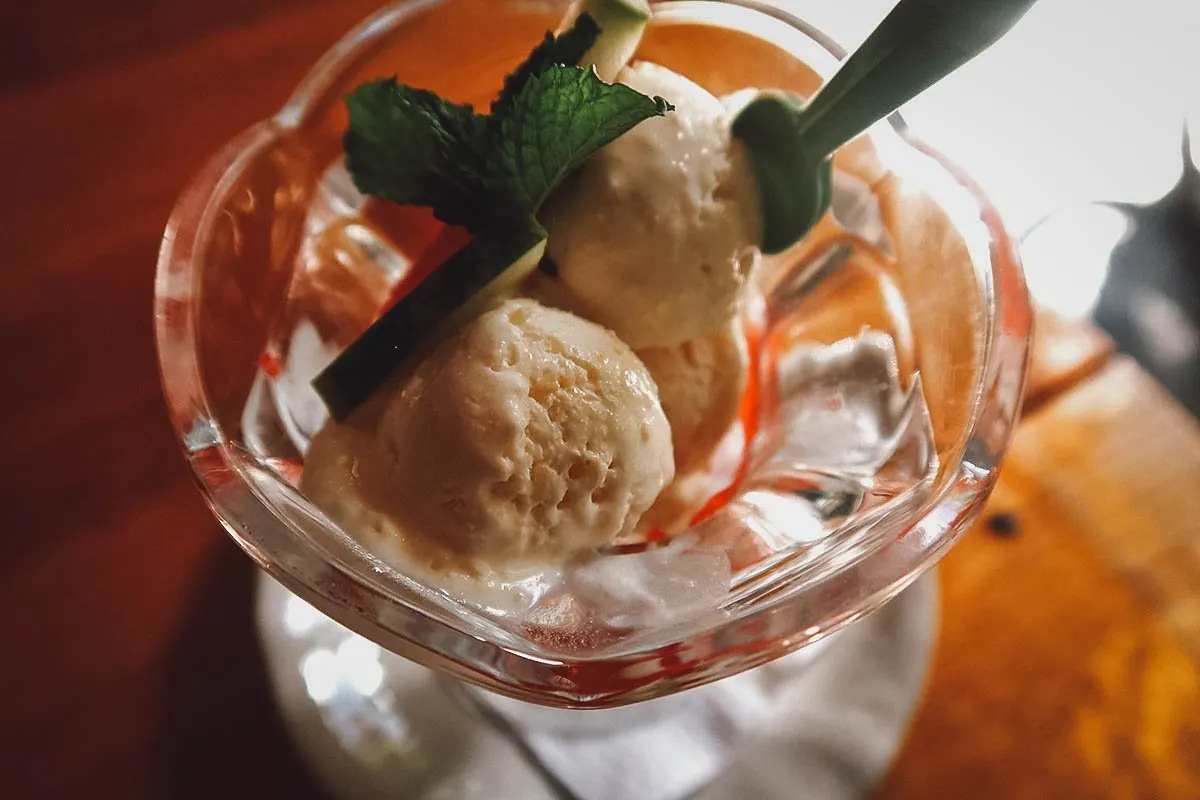 Valladolid, like the rest of the Yucatan Peninusla, can get blisteringly hot. Aside from diving into a cenotes, fresh juices are among the best ways to cool down.
Yum Ka'ax serves many different types of aguas frescas but since this is Valladolid, I suggest trying agua de chaya. It's made from a chard-like shrub native to the Yucatan.
Enriched with pineapple or lemon, agua de chaya is a deliciously fresh drink that will keep you healthy and hydrated in Valladolid.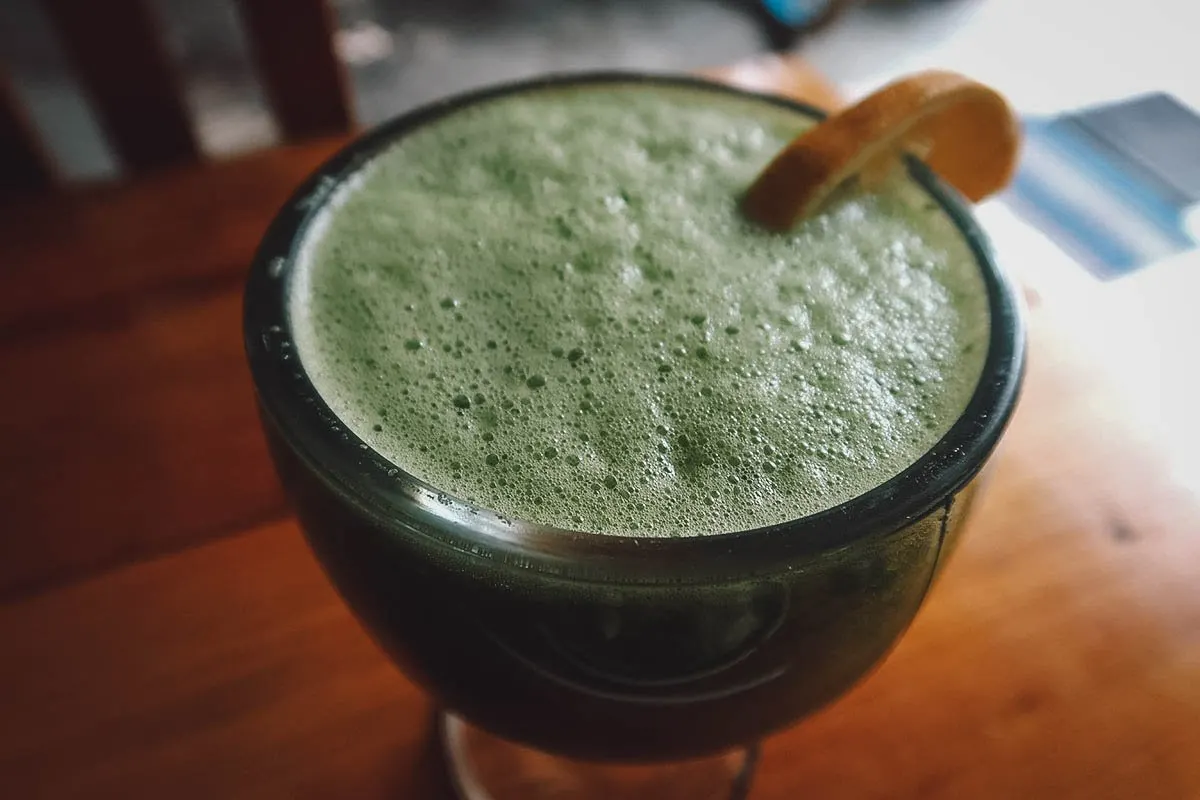 If you want good food (and excellent service) at reasonable prices in Valladolid, then Yum Ka'ax El Buen Sabor is a great place to consider.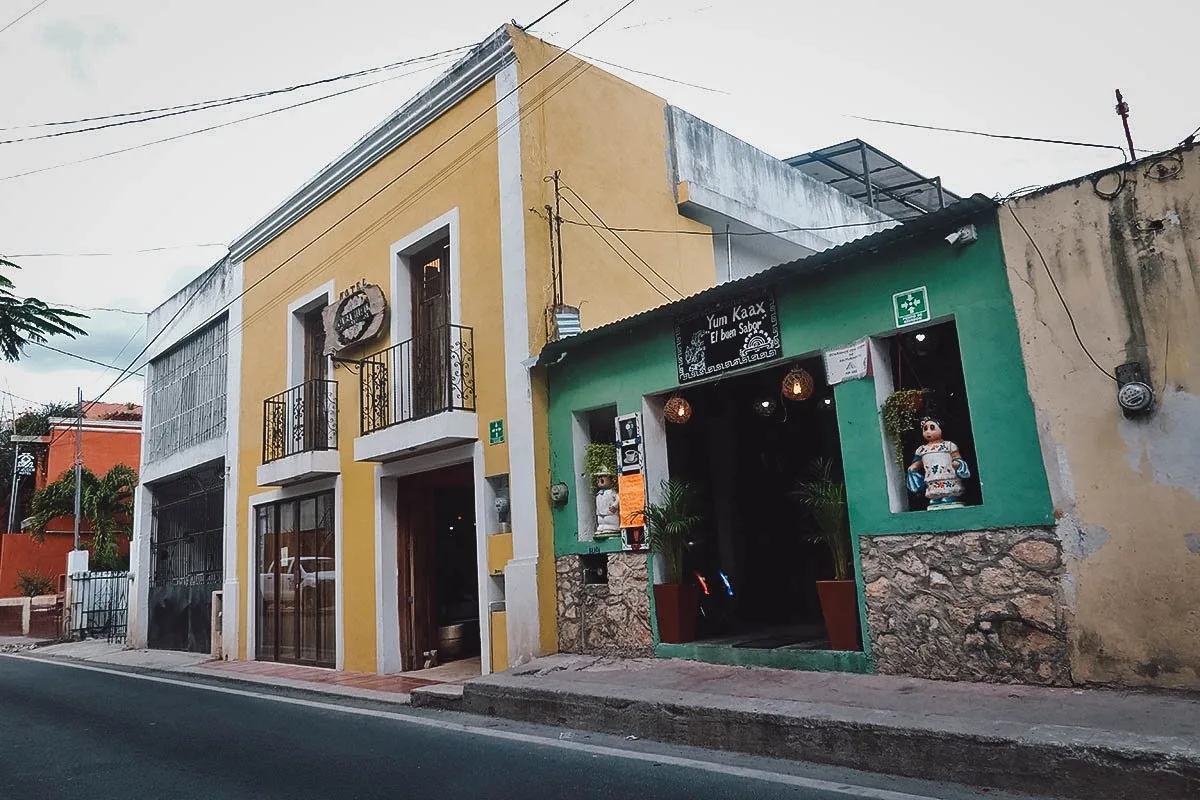 Yum Ka'ax El Buen Sabor
Address: Calle 42 número 190 Candelaria 97780 Valladolid Yucatán MX, entre 33 Y 35
Operating Hours: 7AM-8PM, daily
What to Order: Breakfast dishes, antojitos, traditional Yucatecan dishes
3. Loncheria Olich
I went to a few good restaurants in Valladolid but Loncheria Olich may have been my favorite. I enjoyed it for its food and its ambiance.
Loncheria Olich is a casual restaurant that serves breakfast and dinner. They serve breakfast from 8AM till 1PM and dinner from 6-10PM. I ate here twice, both times for breakfast.
On my first visit, I had longaniza de valladolid. I enjoyed longaniza a few times in Valladolid and Merida and this one was definitely my favorite. It had a crispy but crumbly texture that was an absolute joy to eat.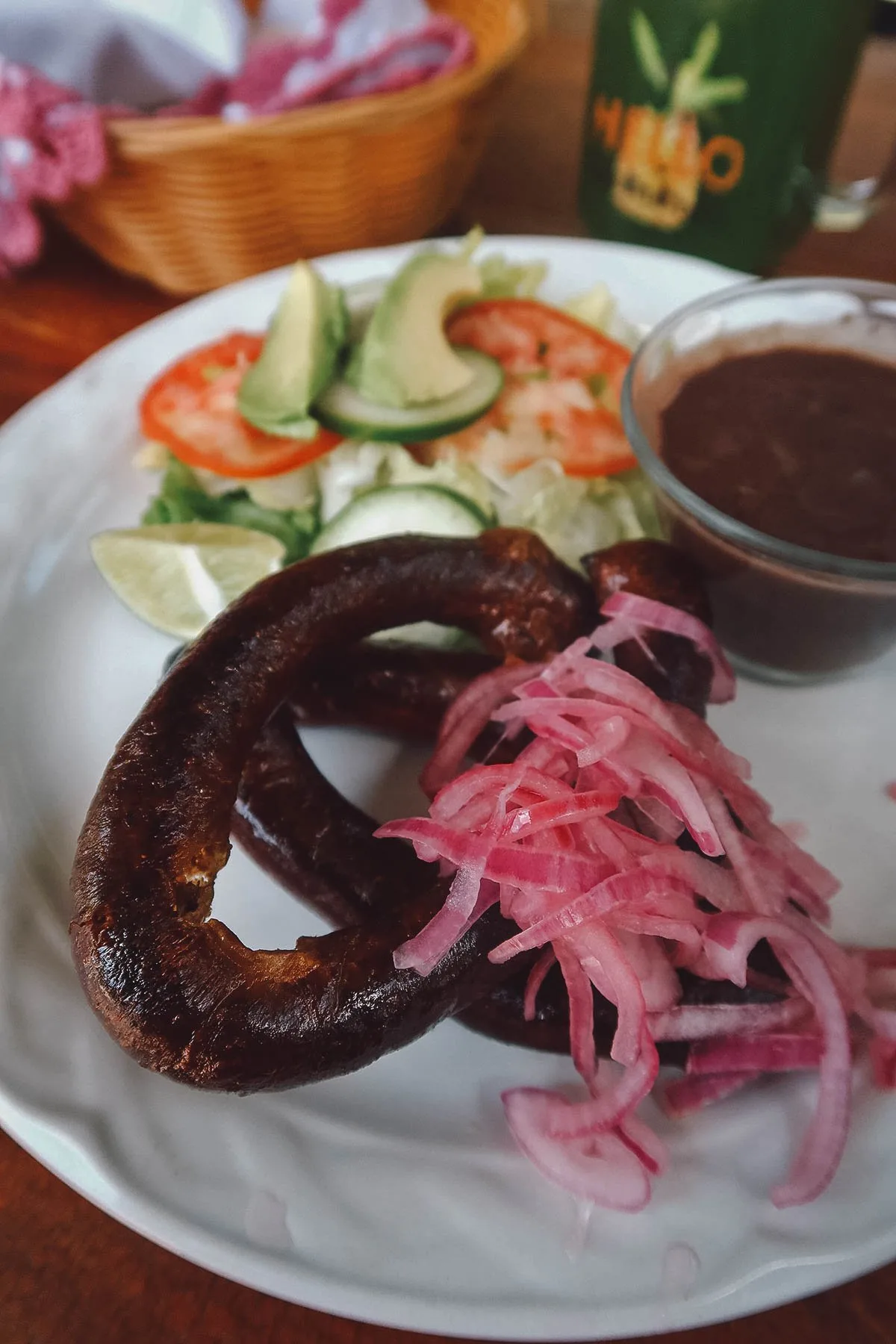 I enjoyed that longaniza de valladolid so much that I had breakfast here again before taking the bus to Playa del Carmen. This time, I had huevos motuleños, one of the most famous Yucatecan regional dishes. Originally from the town of Motul, it's a hearty breakfast dish consisting of corn tortillas topped with fried eggs, black beans, cheese, and tomato sauce.
If you're really hungry and want to try both these dishes, then I suggest getting the motuleños valladolid. It's basically huevos motuleños served with Valladolid longaniza.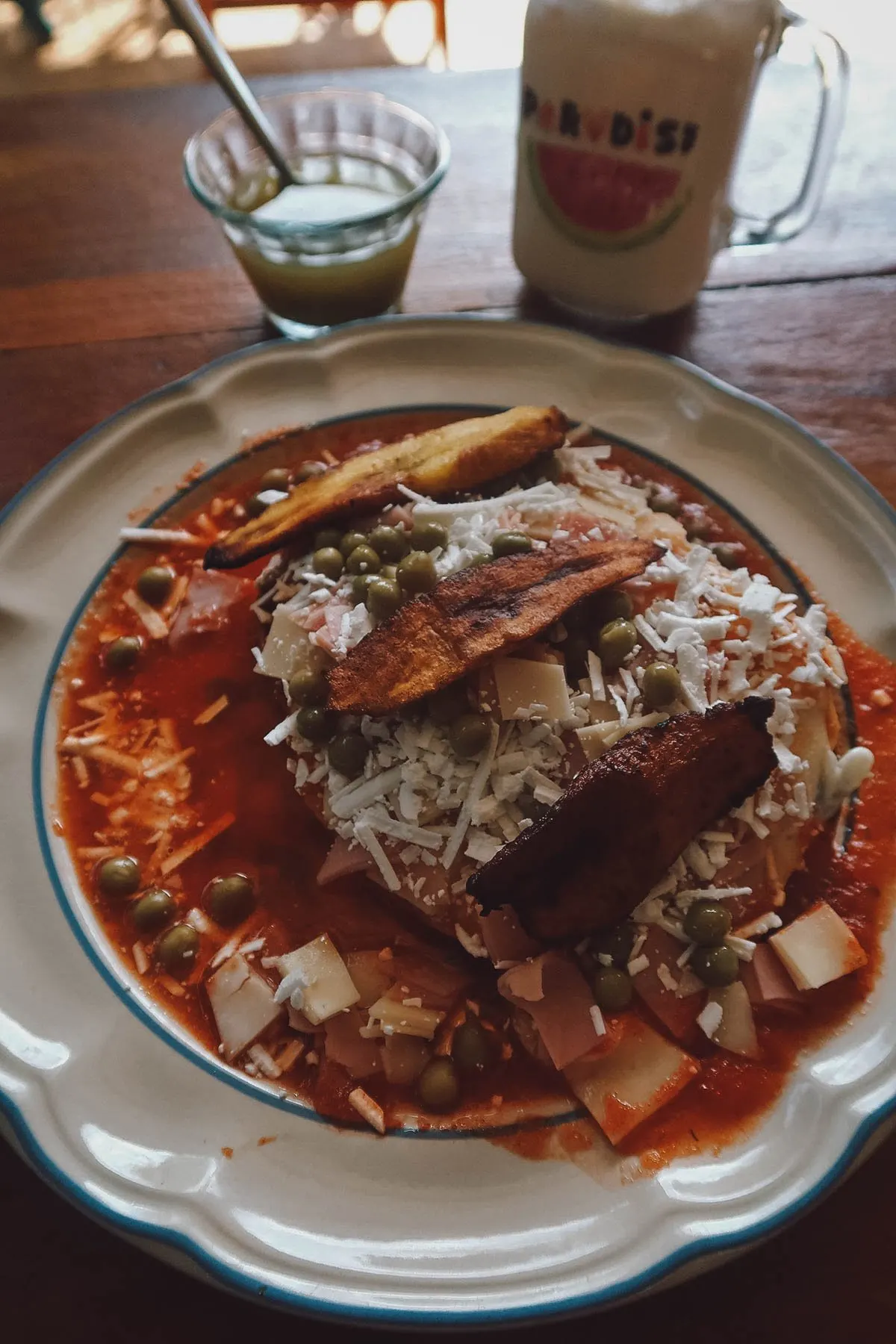 A deliciously fresh mason jar of agua de chaya con piña to wash all that delicious breakfast food down.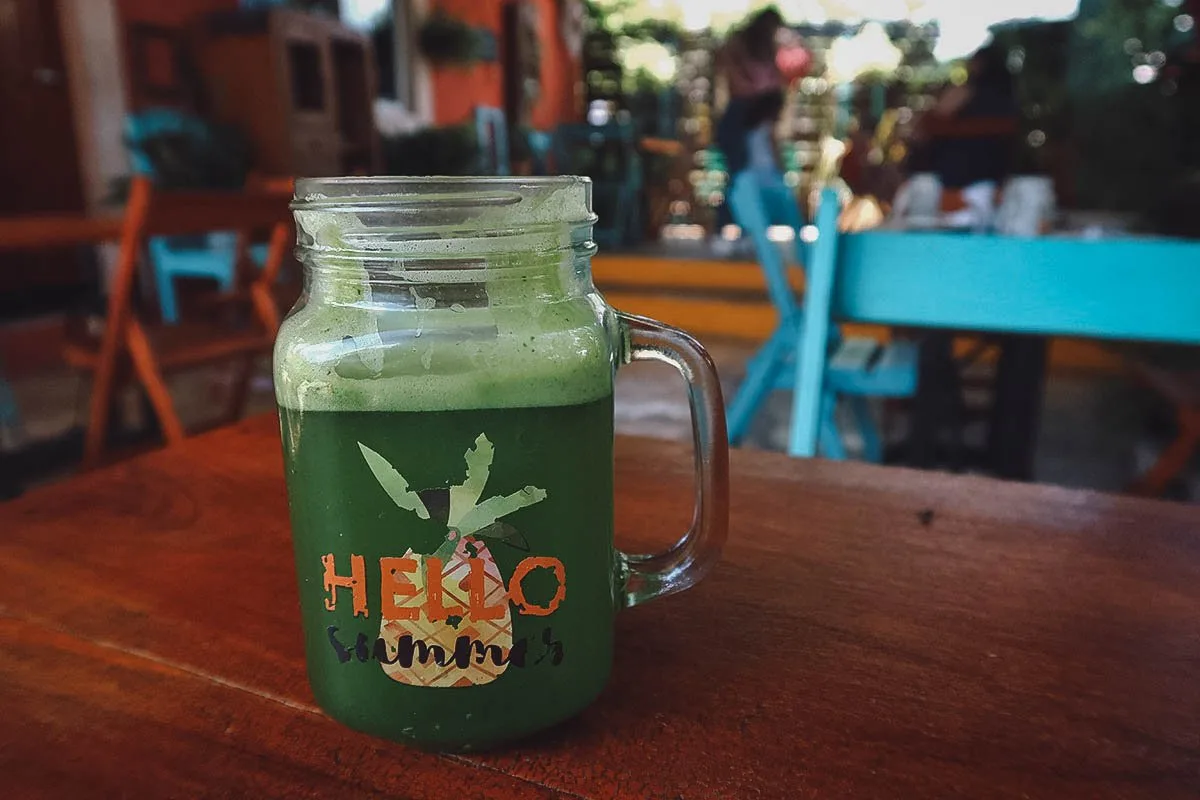 I think I enjoyed this space as much as the food itself.
The dining area at Loncheria Olich is located in the back, in a tranquil garden-like space with plenty of potted plants. It's a breezy al fresco space that's partially covered so you don't have to suffer under the intense heat of the Yucatecan sun.
I've seen pictures of Loncheria Olich at night and the space looks as charming as it does during the day. I think they serve mostly soups and antojitos at night.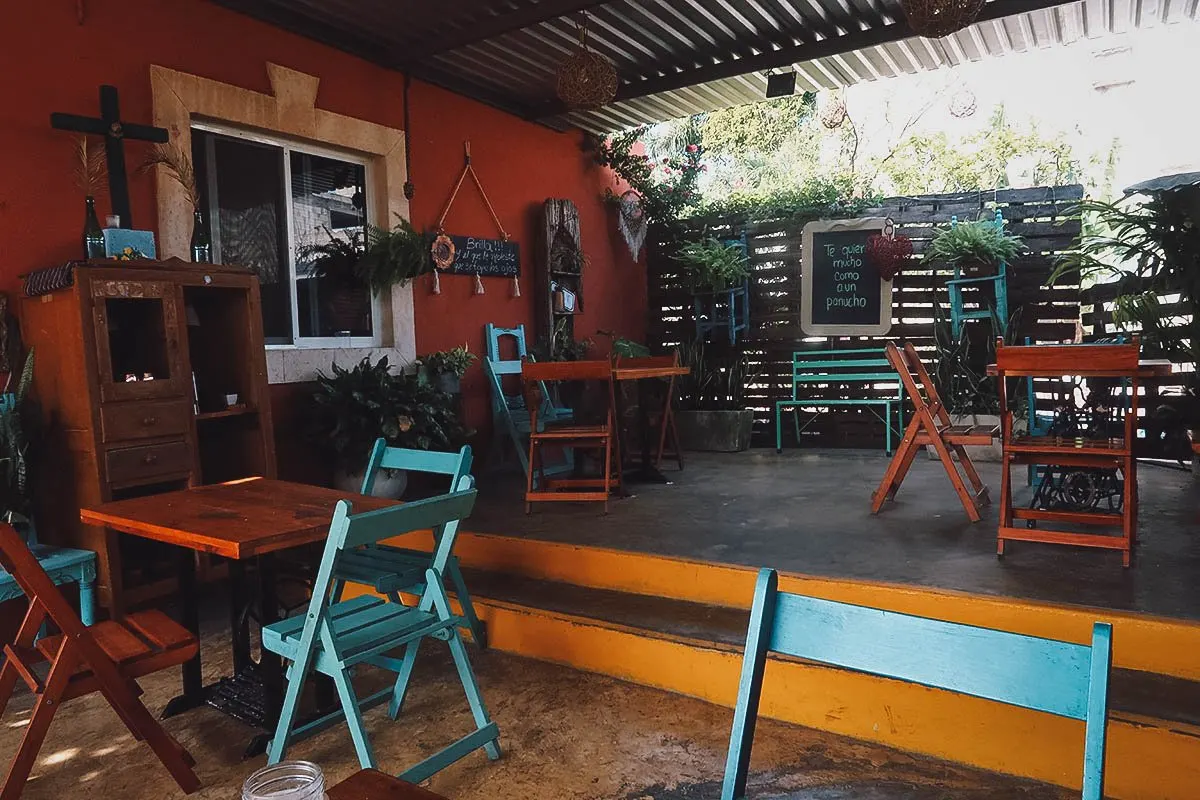 If you want tasty food at great prices served in a space that makes you feel good, then I highly recommend going to Loncheria Olich. For me, it's definitely one of the best restaurants in Valladolid.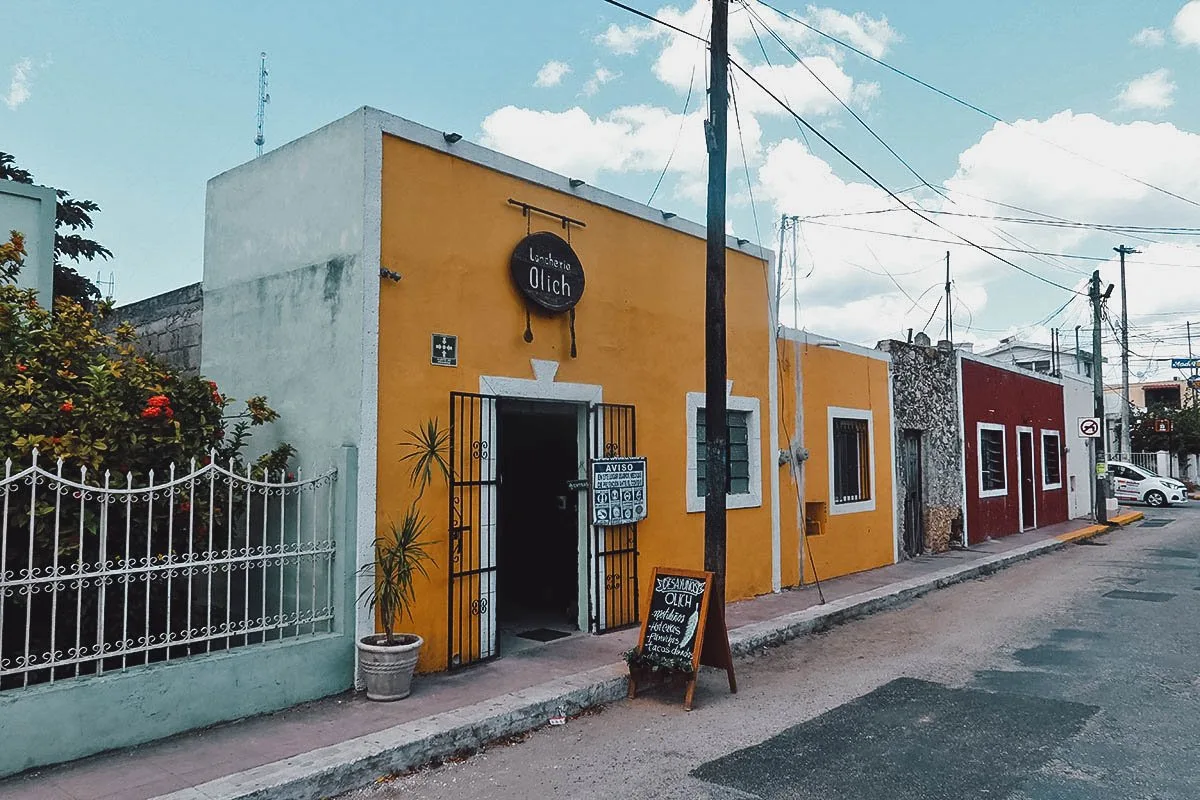 Loncheria Olich
Address: Calle 40 No 179 B entre Calle 33 y 35, Sta Lucía, 97780 Valladolid, Yucatan
Operating Hours: 8AM-1PM, 6-10PM, Mon-Sat / 6-10PM, Sunday
What to Order: Yucatecan Breakfast dishes
4. El Sazon de Valladolid
El Sazon is another great place to visit for good Mexican food in Valladolid. Located on the outskirts of the centro area, this highly-rated restaurant serves regional cuisines along with seafood, a few vegetarian options, and breakfast dishes. They have such an extensive menu that it can be hard to decide what to get.
After going through their menu a few times and poring through online reviews for clues, I ultimately went with this platter of salbutes. Salbutes are among the most popular antojitos in the Yucatan. They're puffy deep-fried tortillas that can be topped with any number of ingredients. In this case, two with cochinita and two with shredded chicken.
Cochinita is arguably the single most important dish in Mayan cuisine. It refers to a dish of slow-roasted pork marinated in achiote and sour orange juice. The pork is wrapped in banana leaves and then slow-cooked for up to 16 hours in an earthen oven called a píib. It's absolutely delicious and a must-try dish in Valladolid.
Admittedly, this wasn't the best cochinita I had in Valladolid but these salbutes were definitely the most generous. The salbutes themselves were quite large and practically overflowing with meat.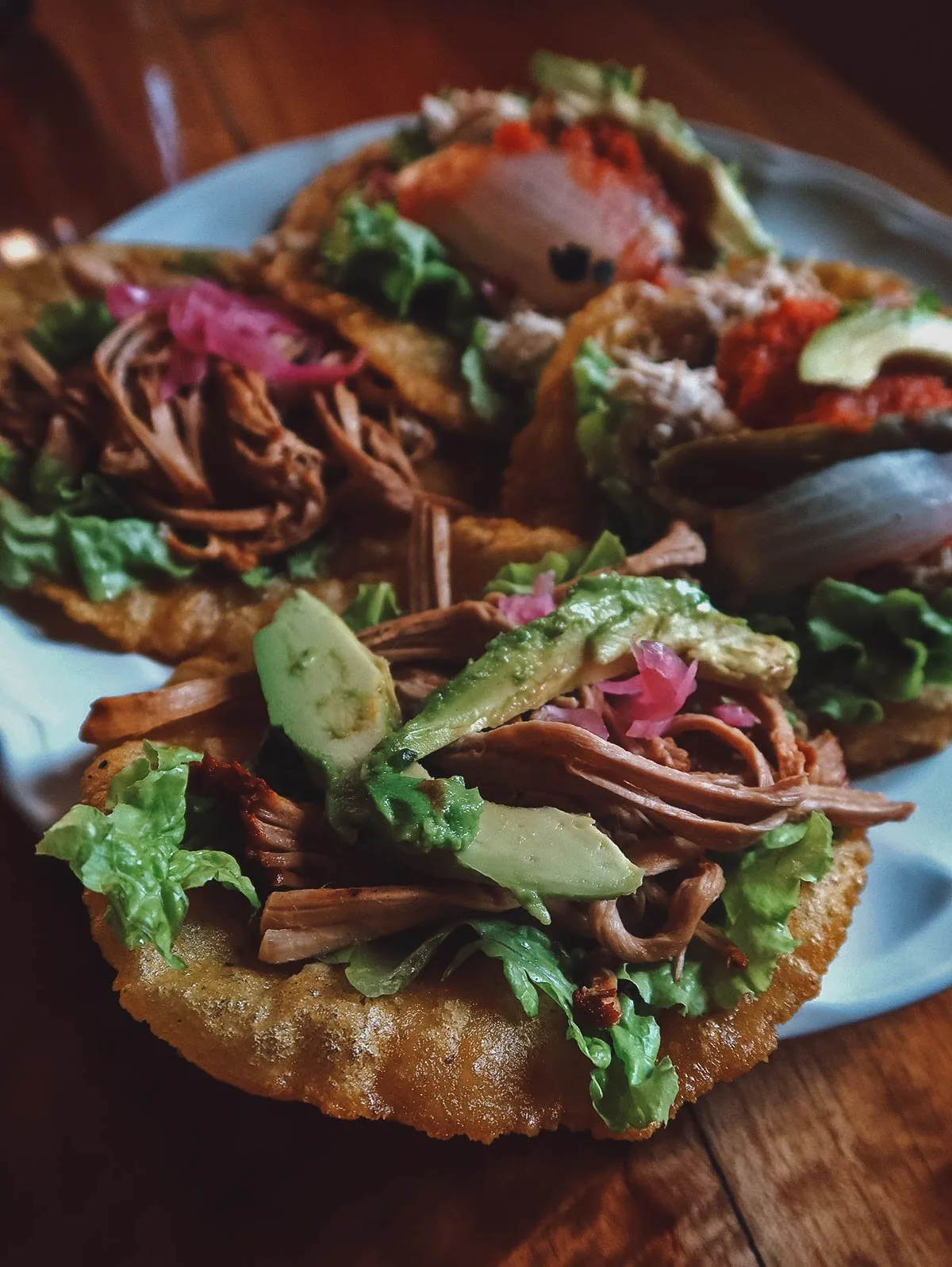 For dessert, I had this smooth and creamy flan napolitano, one of the most delicious desserts you can have in Mexico. It's basically the Mexican version of a popular custard dessert that exists in some form in many countries throughout the world like Spain, Portugal, Brazil, Argentina, and the Philippines.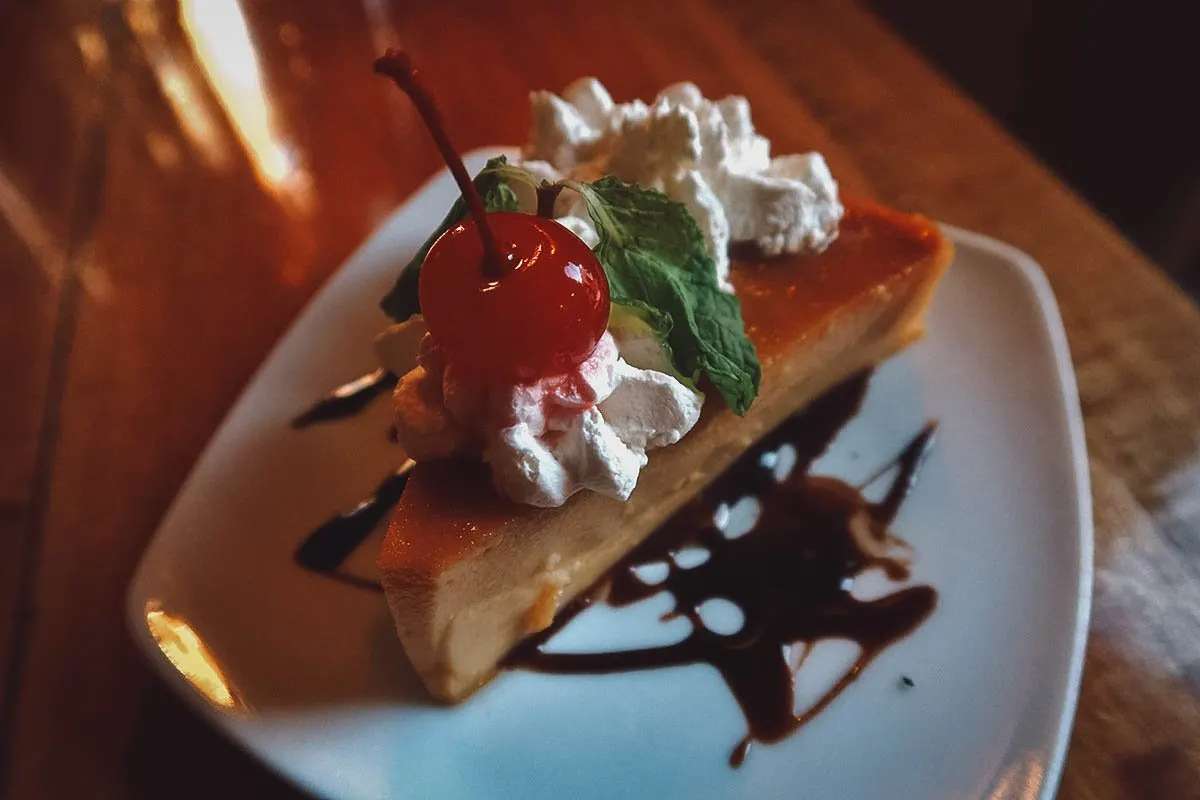 El Sazon de Valladolid is located several blocks west of Valladolid's zocalo (main square). It's in a less busy and much quieter neighborhood that doesn't get as much vehicular traffic (or tourists).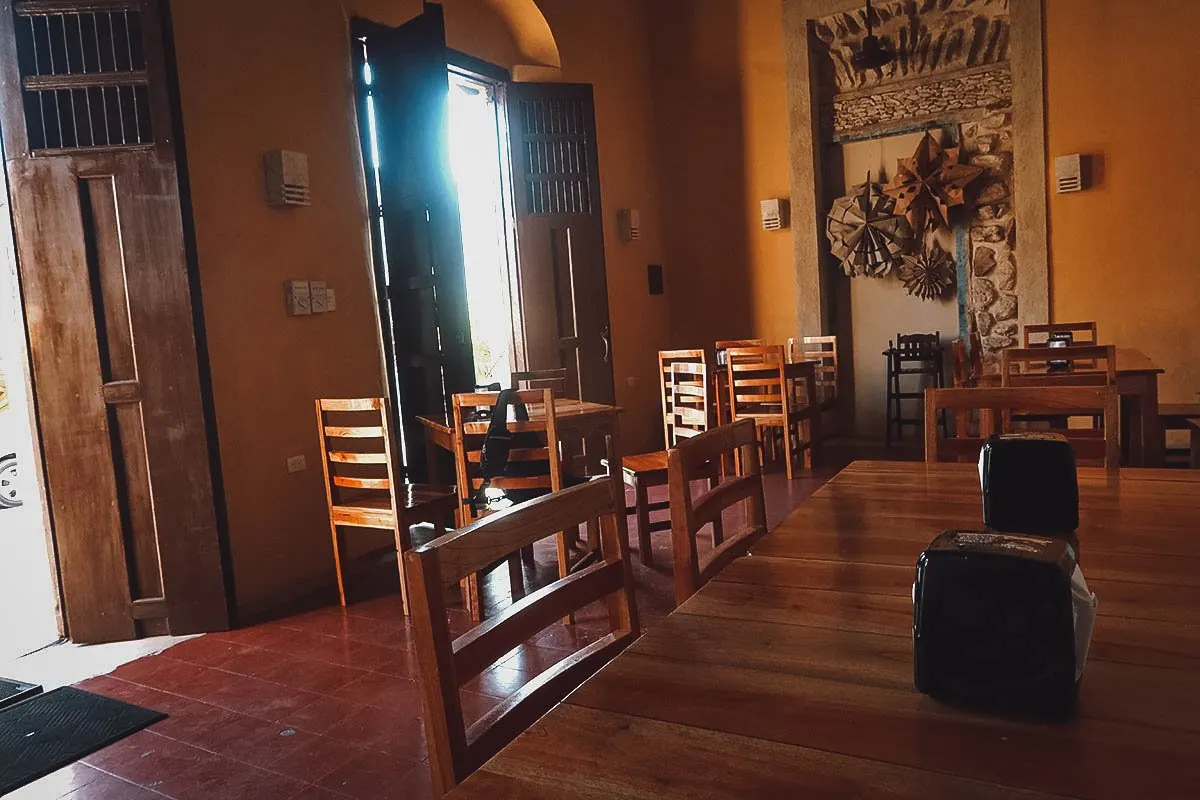 If you want solid Mexican cuisine in a quiet restaurant that offers good service, then El Sazon de Valladolid is a good place to go.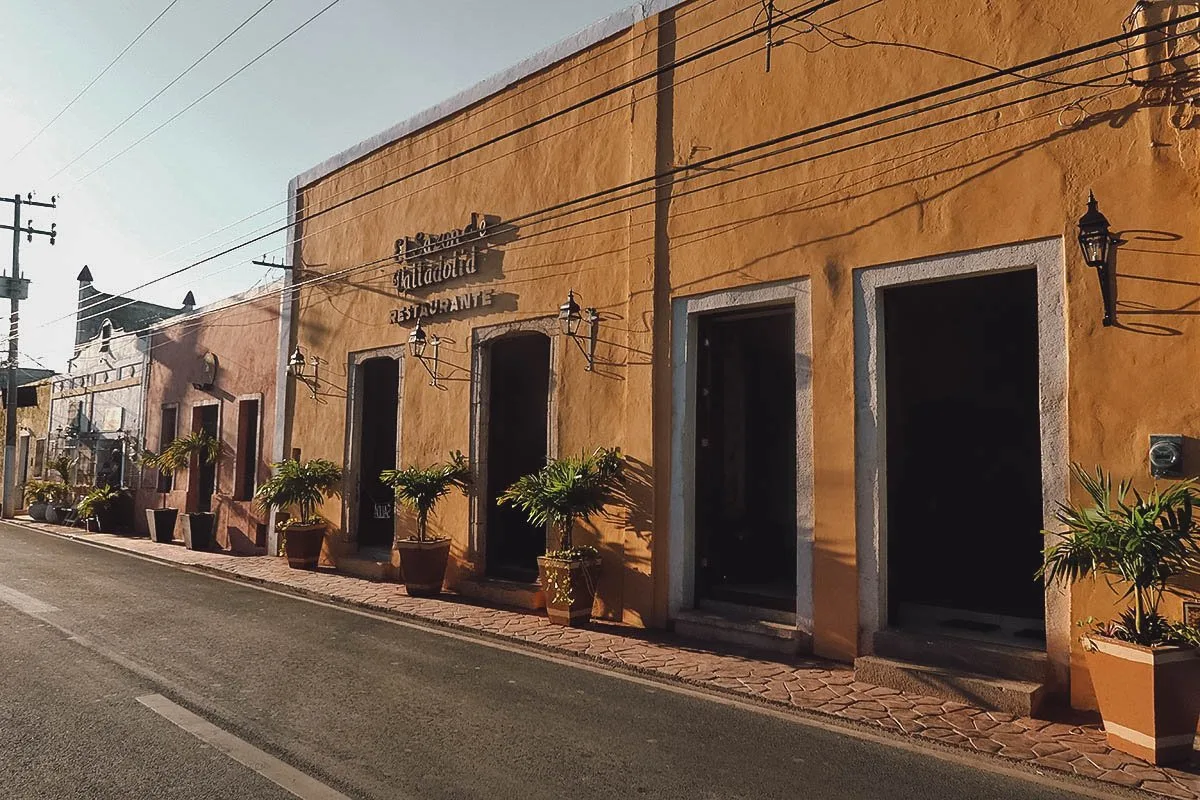 El Sazon de Valladolid
Address: Valladolid – Cancun 231 A x 48 y 50, Bacalar, 97780 Valladolid, Yucatan
Operating Hours: 8AM-10:30PM, daily
What to Order: Breakfast dishes, antojitos, seafood
5. La Selva
My AirBnB host recommended this restaurant to me. He frequents La Selva himself to get antojitos and soup at very reasonable prices. Salbutes, panuchos, tacos, and tostadas go for just MXN 15 apiece.
Pictured below is my overflowing plate with three salbutes, two panuchos, and one empanada. If I remember correctly, the panuchos were topped with lomitos while the salbutes were made with shredded chicken. The empanada was filled with ground pork and cheese.
These antojitos were delicious but if you're an average eater, then don't overorder and get six. Four will probably be enough.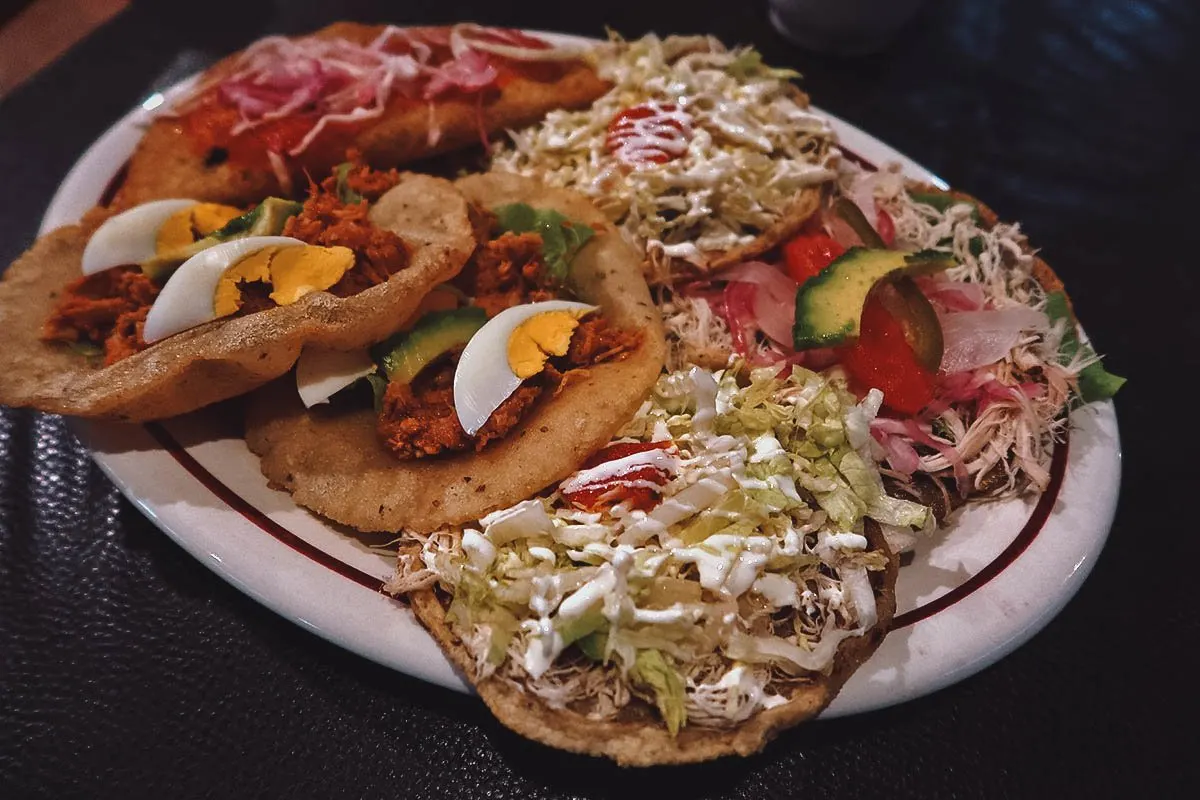 Like El Sazon de Valladolid, La Selva is located several blocks away from the zocalo. Had it now been for my AirBnB host, then I probably wouldn't have found this place. ¡Muchas gracias!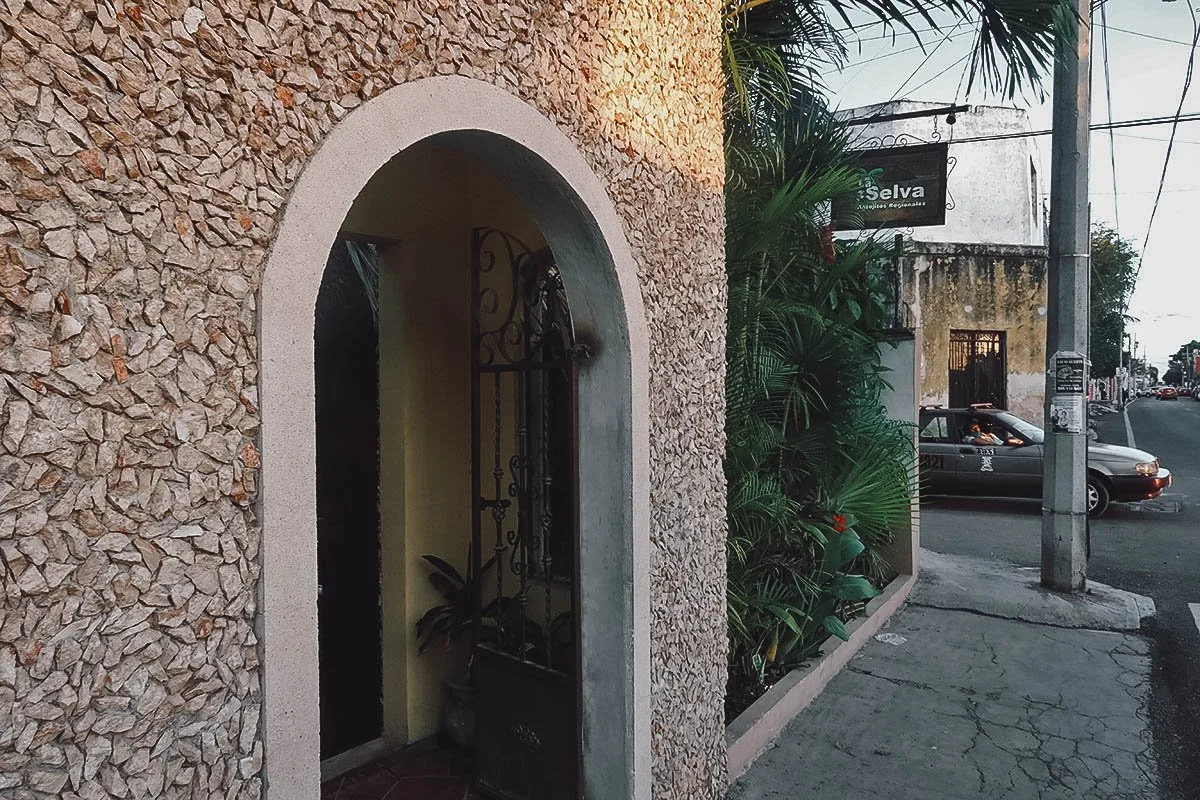 La Selva
Address: C. 42 179C, Sta Lucía, 97780 Valladolid, Yucatan
Operating Hours: 6-10PM, Fri-Wed (closed Thursdays)
What to Order: Antojitos
6. Echate un Taco
I had cochinita many times in Merida and Valladolid and the version I had here at Echate un Taco was in my top two. This burnt orange mound of slow-roasted pork served on beautiful Mexican dining ware was perhaps the single best thing I had in Valladolid.
Echate un Taco sources their cochinita from Tixcacalcupul, a municipality about 20 km (12.4 miles) south of Valladolid. According to my very gregarious server, this small Yucatecan town is known for producing some of the very best cochinita on the peninsula.
Served with a side of corn tortillas so you could make your own tacos, this cochinita was seriously delicious.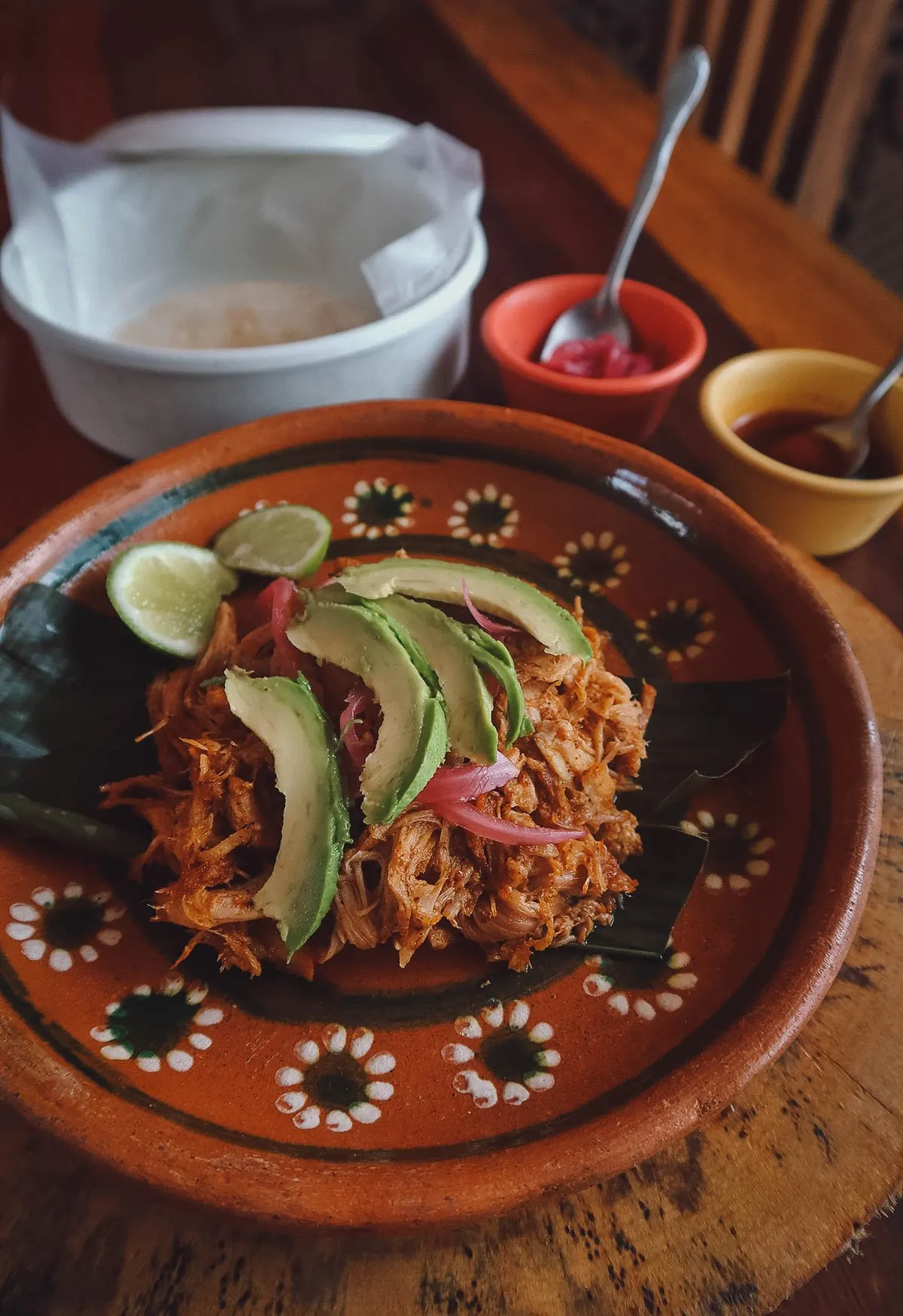 Echate un Taco has a small indoor dining room but if you enjoy dining alfresco, then you can enjoy your cochinita or other Yucatan specialties here. Aside from cochinita, they serve many other regional favorites like lomitos, sopa de lima, papadzules, and poc chuc.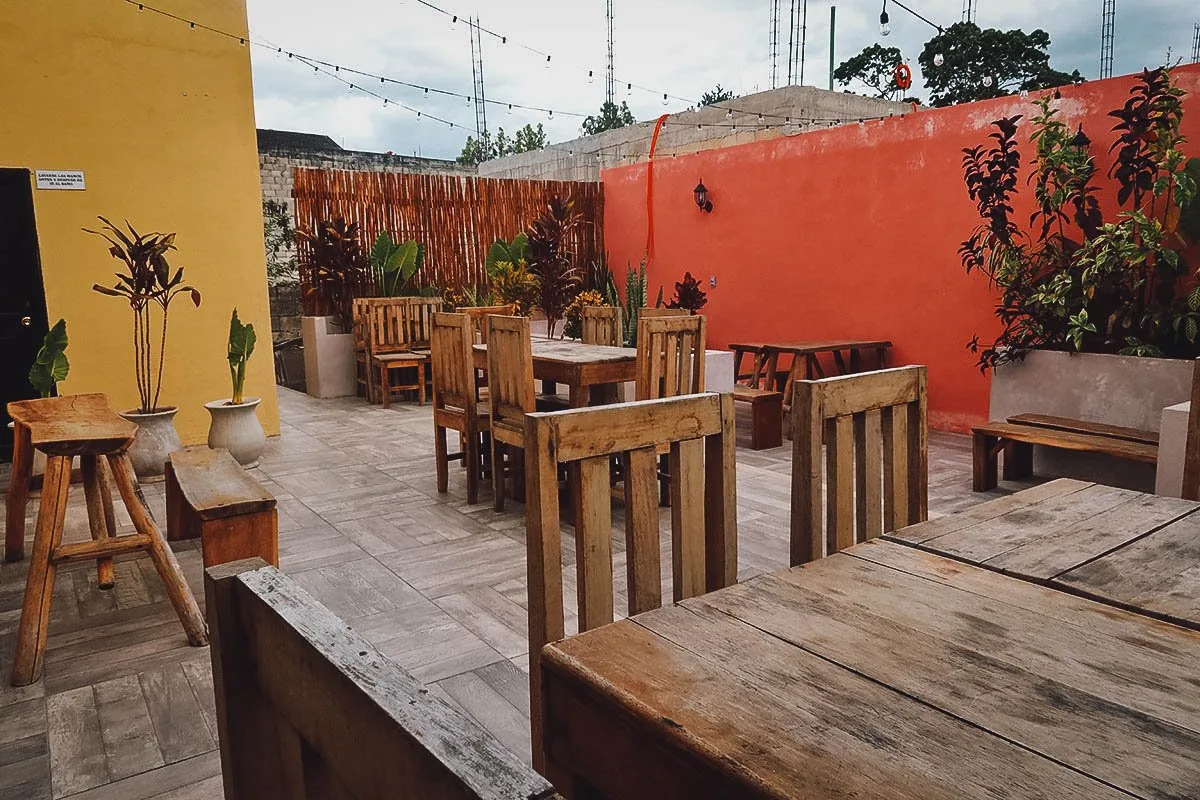 Echate un Taco is located on the same block as El Sazon de Valladolid. It's a fun little restaurant with great service and what could very well be the best cochinita in Valladolid.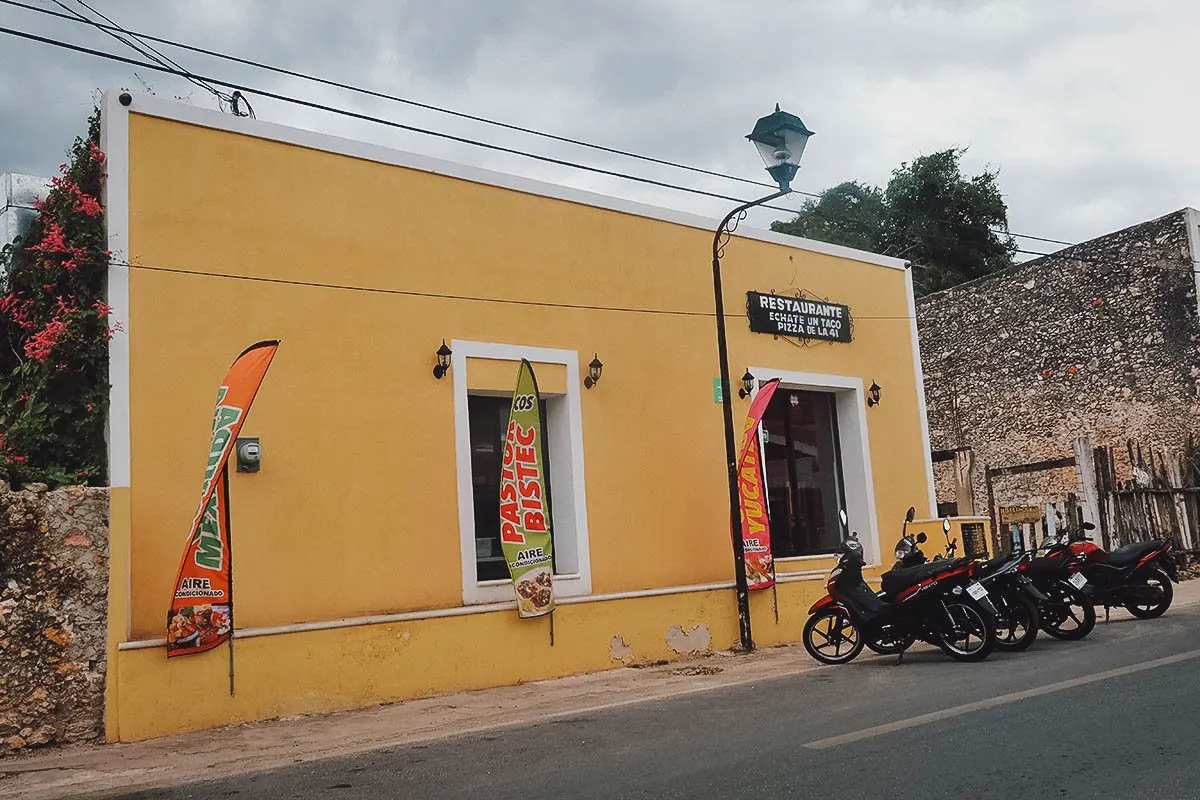 Echate un Taco
Address: Calle 41 x 48 y 50, Bacalar, 97784 Valladolid, Yucatan
Operating Hours: 1-10PM, Mon-Sat (closed Sundays)
What to Order: Cochinita pibil, traditional Yucatecan dishes
7. Burrito Amor
Frequent visitors to Tulum may be familiar with this restaurant. Burrito Amor is a fun burrito restaurant that built a loyal following in Tulum before setting up shop in Valladolid. From their website, it looks like they'll be opening a branch somewhere in the US as well.
Burrito Amor offers a more contemporary menu of Mexican food. You'll find different types of meat and seafood burritos, egg burritos, salads, and breakfast bowls. There are a few vegetarian and vegan options as well.
Pictured below is my tasty grilled pork and pineapple burrito. This is a regular size but if you add MXN 25, then you can upsize any burrito to a large.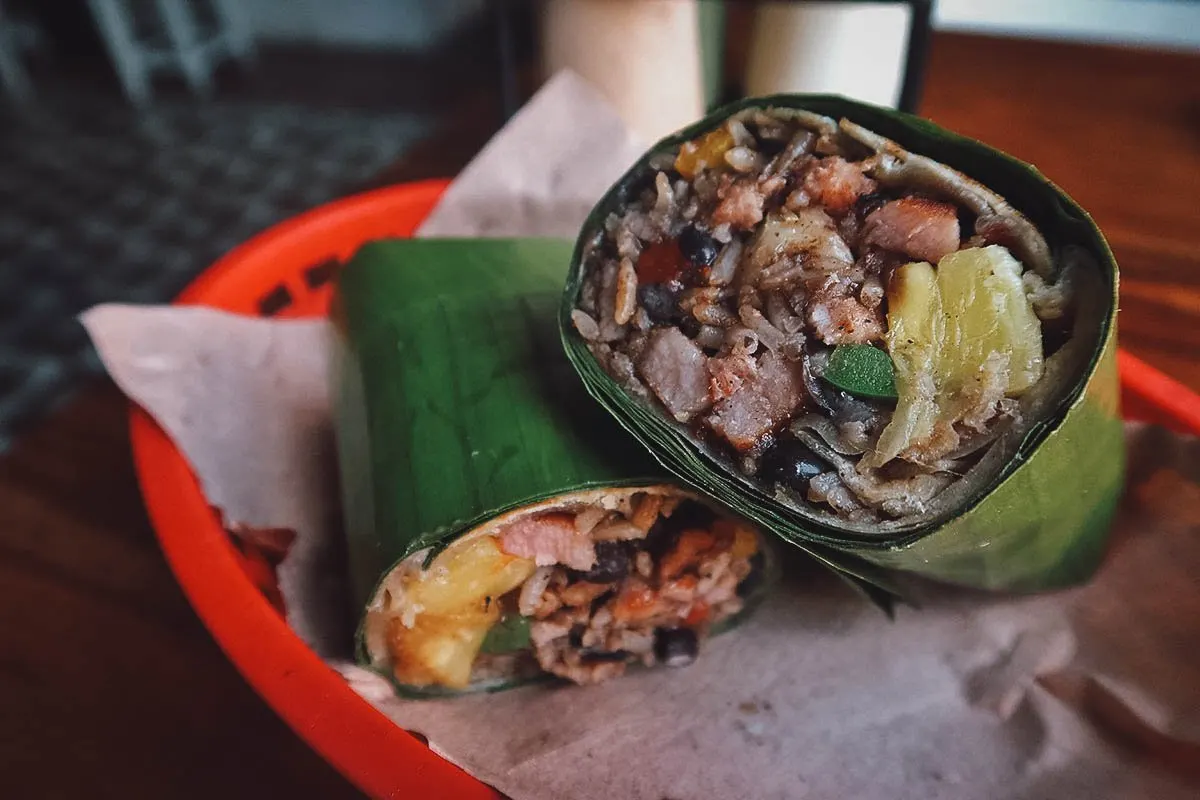 Burrito Amor has a lush, plant-filled garden area in the back where you can enjoy your burrito.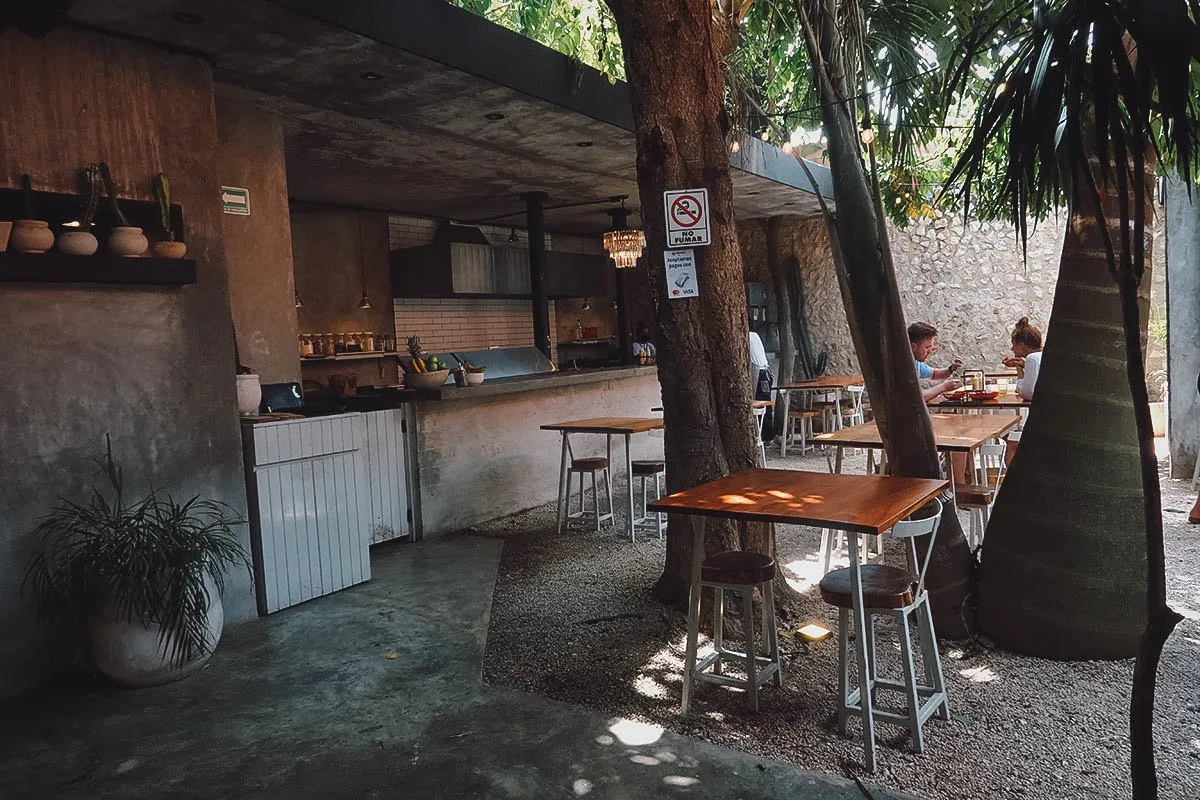 You can also dine in this lovely indoor dining space with tiled floors. They seem to share this space with an art club and cafe.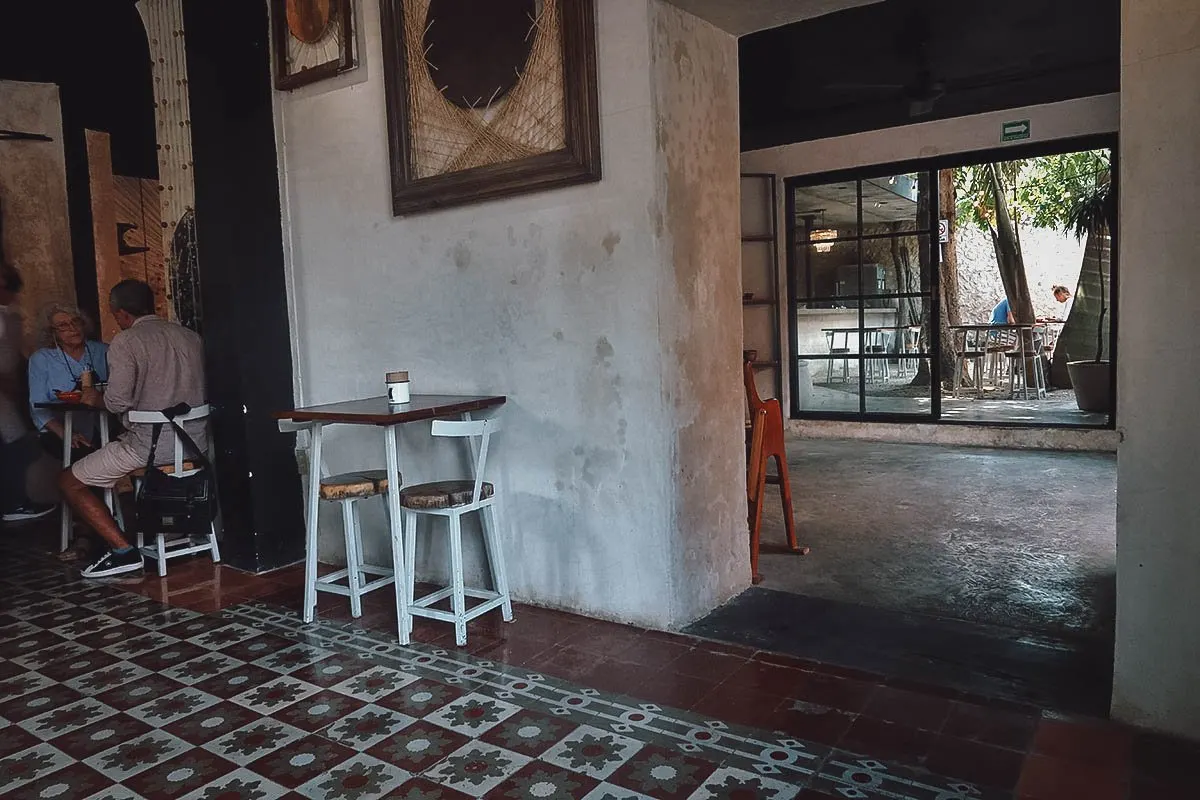 Between the cafe and Burrito Amor's alfresco dining space is this room with various ceramics and handicrafts on display. I'm not sure what the story is here but I believe these are all for sale.
In any case, Burrito Amor is a fun little restaurant and a great place to enjoy breakfast or a burrito (or a breakfast burrito) in Valladolid.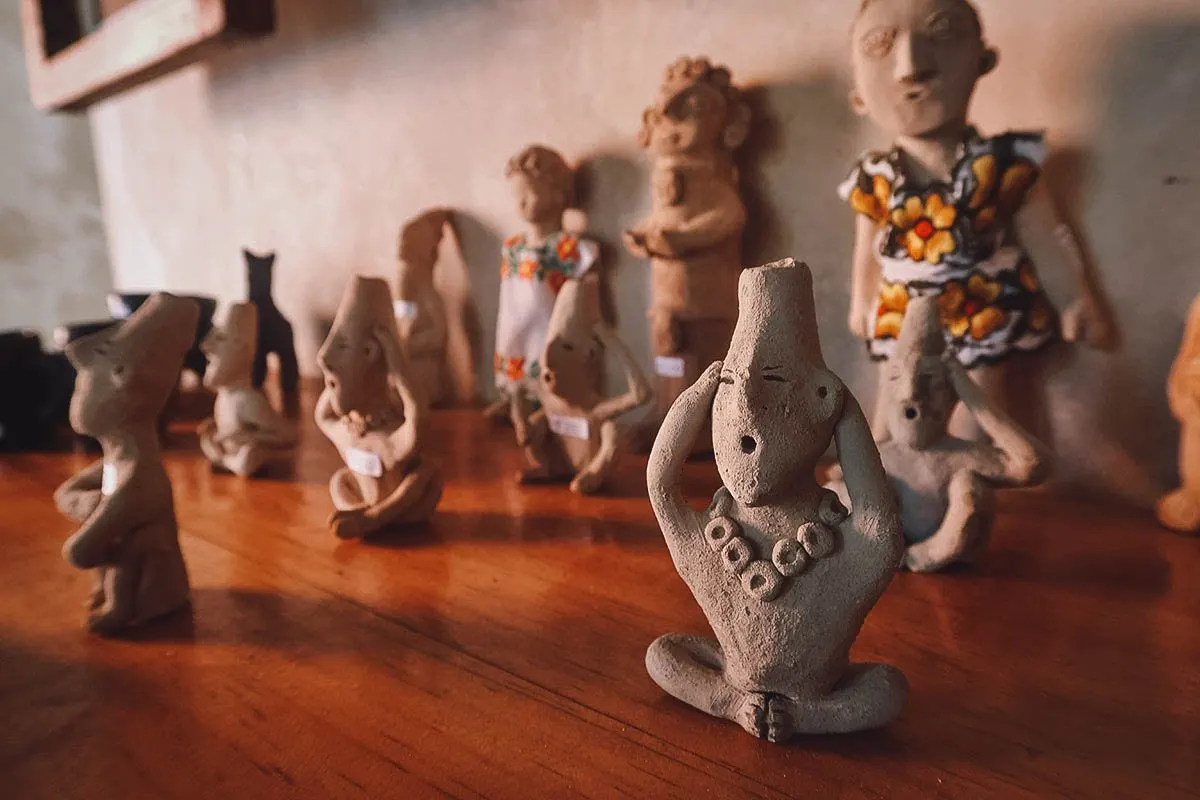 Burrito Amor
Address: C. 44 por 35, Candelaria, 97782 Valladolid, Yucatan
Operating Hours: 8AM-10PM, Thurs-Tue (closed Wednesdays)
What to Order: Breakfast dishes, burritos
8. Las Tortolas
I rode a bicycle from my AirBnB to Hacienda San Lorenzo Oxman's cenote. By the time I had gotten back to the outskirts of Valladolid, I was dying of hunger and thirst. Thankfully, this delicious family-run torta (sandwich) shop was along the way.
I've had many tortas throughout Mexico and this was one of my favorites. They make them with different fillings like ham, eggs, and longaniza. I was starving from the bike ride so I went for the cubana, which is basically a sandwich with all of the above.
This beautiful sandwich was filled with longaniza, ham, hot dogs, breaded pork, and scrambled eggs. This seriously hit the spot!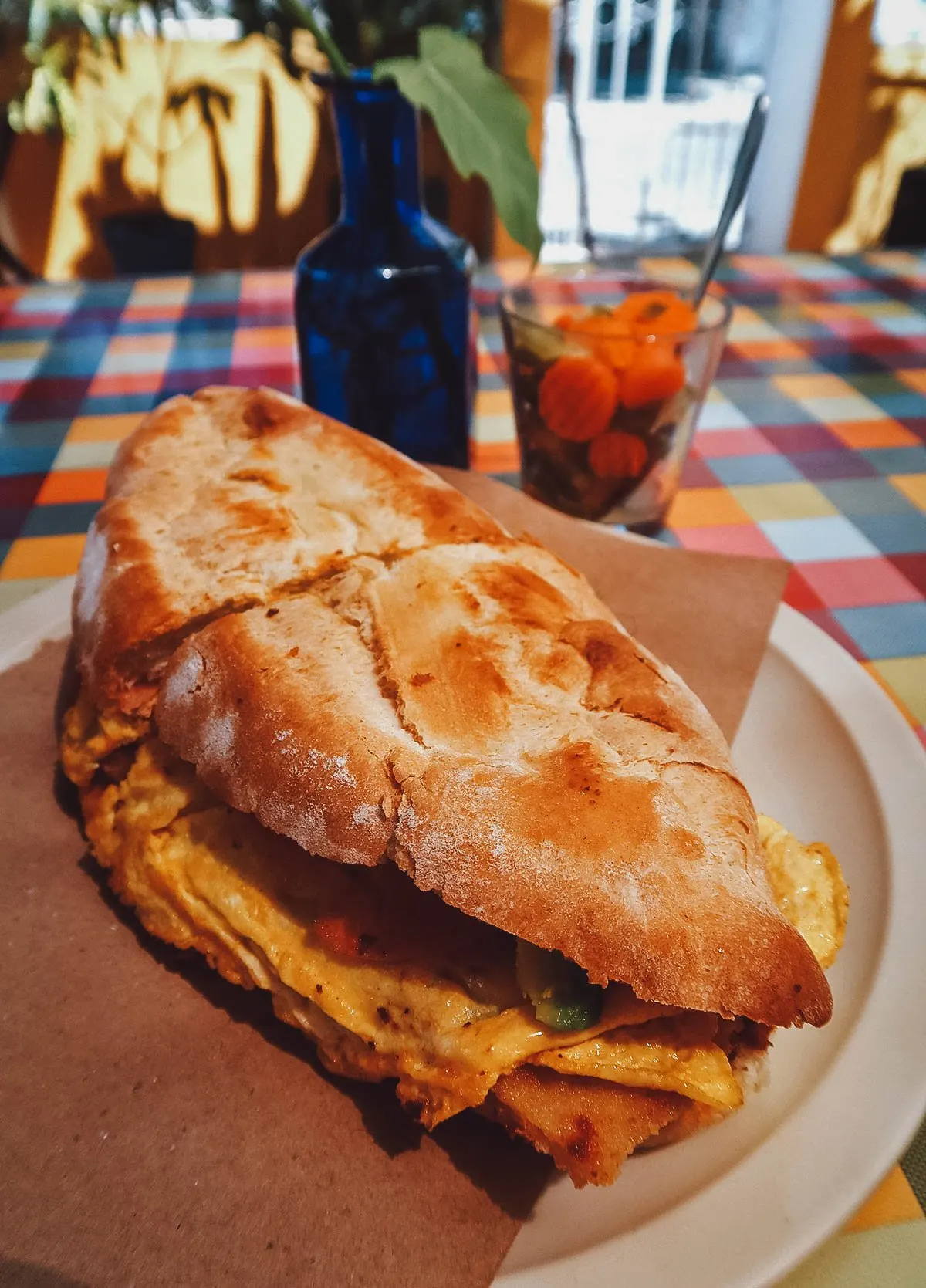 Here's a look at all those delectable layers of meat, egg, and bread. Yummers!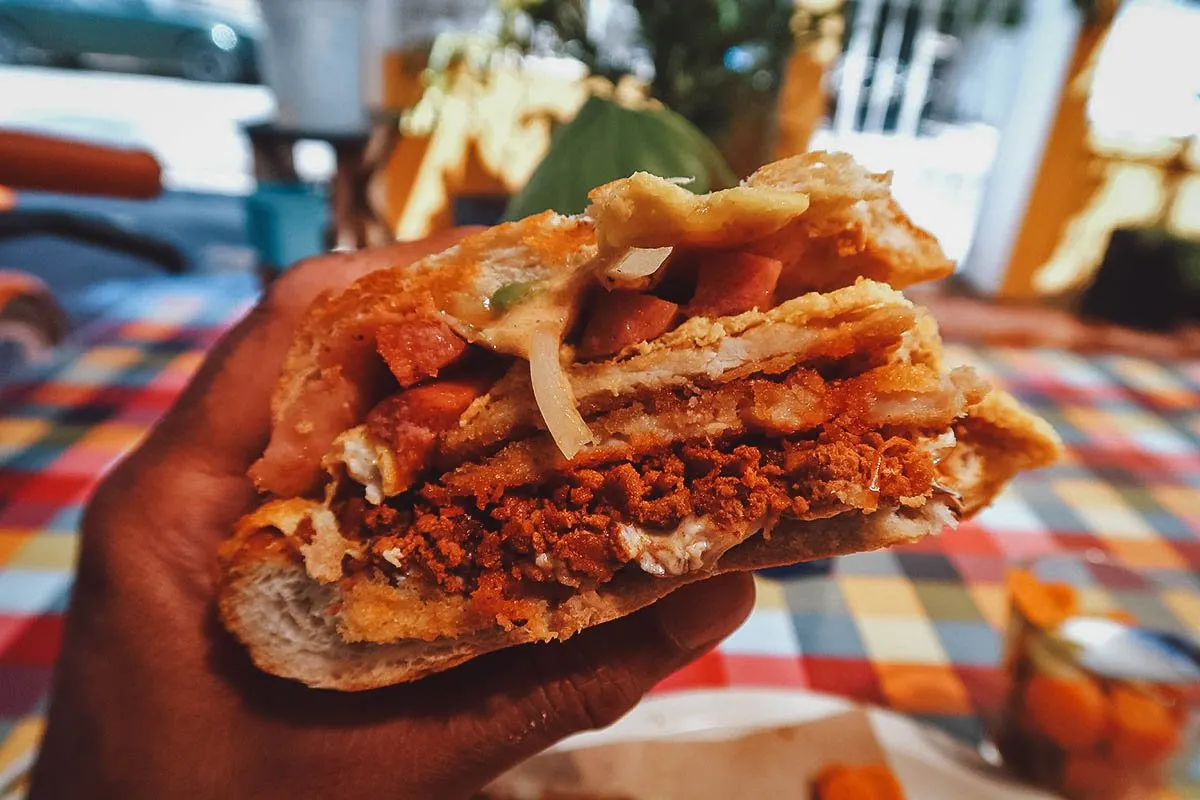 Las Tortolas is located a few blocks south of the zocalo. You can probably walk there in about 15-20 minutes.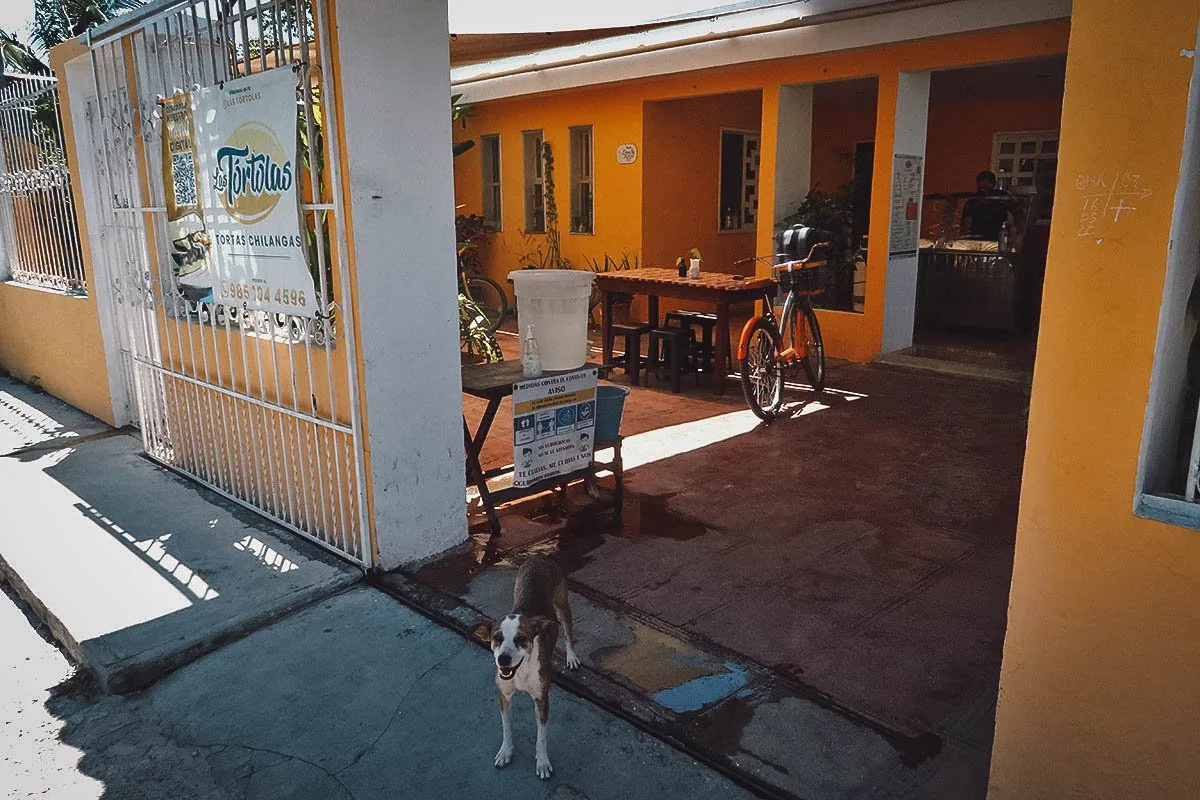 Las Tortolas
Address: C. 38 255, San Juan, 97783 Valladolid, Yucatan
Operating Hours: 7AM-2PM, Mon-Sat (closed Sundays)
What to Order: Tortas
9. Nena Nena
Nena Nena isn't a vegan restaurant but they do make well-prepared vegetarian food. There are no veggie burgers here but you can get vegetarian options of popular Mexican dishes like gorditas, guajillas, tlacoyos, and enchiladas.
However, I'm not a vegetarian so I went with this beautiful plate of tacos de canasta. Tacos de canasta literally means "basket tacos" and refers to tacos that are filled with various stews and then bathed in oil or melted butter. They're sold from baskets to keep them warm hence the name.
Even before I looked at Nena Nena's menu, I already knew what I wanted. There was a familiar-looking basket at the entrance to the restaurant with a sign that read "tacos de canasta". I'll take five please.
I asked for five but it looks like my server was kind enough to give me six. ¡Muchisimas gracias! Nena Nena fills their tacos de canasta with pressed chicharron, potato and chorizo, potato and chili pepper, refried beans, and pork.
Speaking of tacos de canasta, be sure to check out our guide on the best tacos in Mexico City if you plan on visiting the country's capital.
Aside from their delicious basket tacos, another thing I loved about Nena Nena was the space. Cafe-like in feel, it's a relaxed and hip atmosphere with one of the more contemporary-looking interiors I found in Valladolid.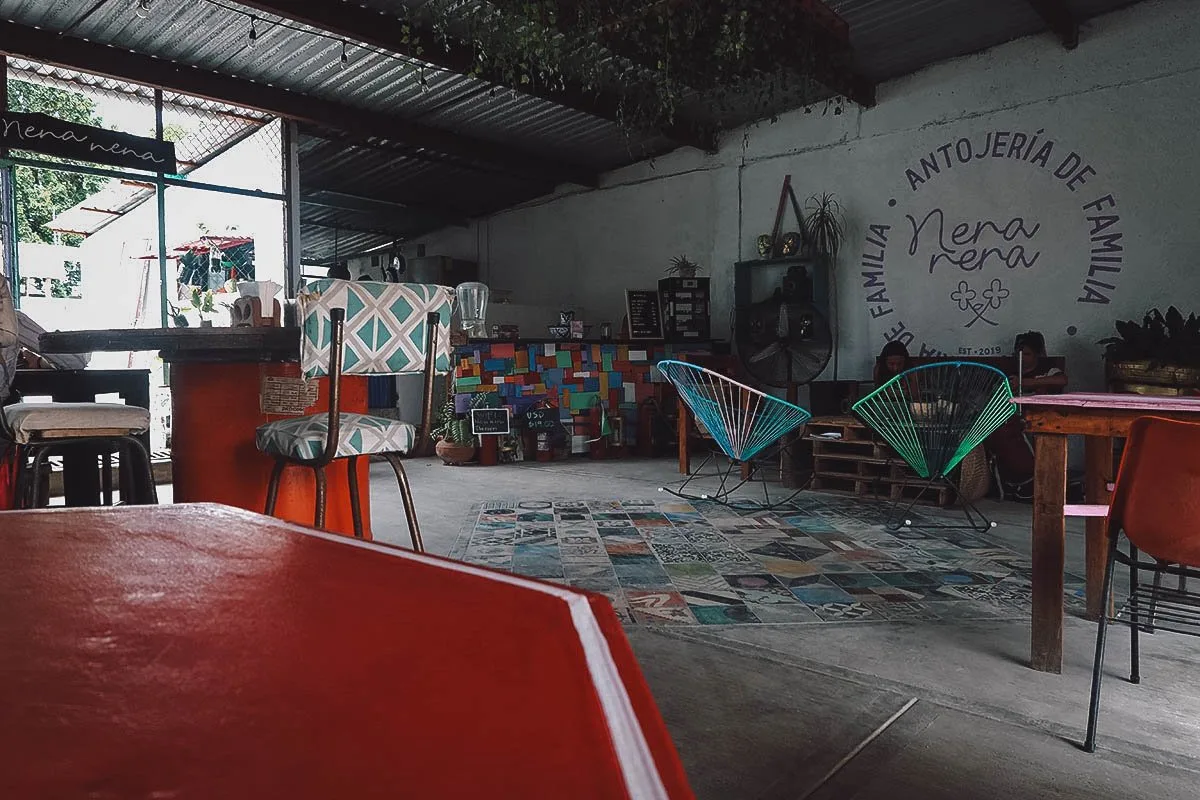 Nena Nena is one of the more fun restaurants I went to in Valladolid. I definitely recommend checking them out, especially if you're looking for vegetarian or vegan options.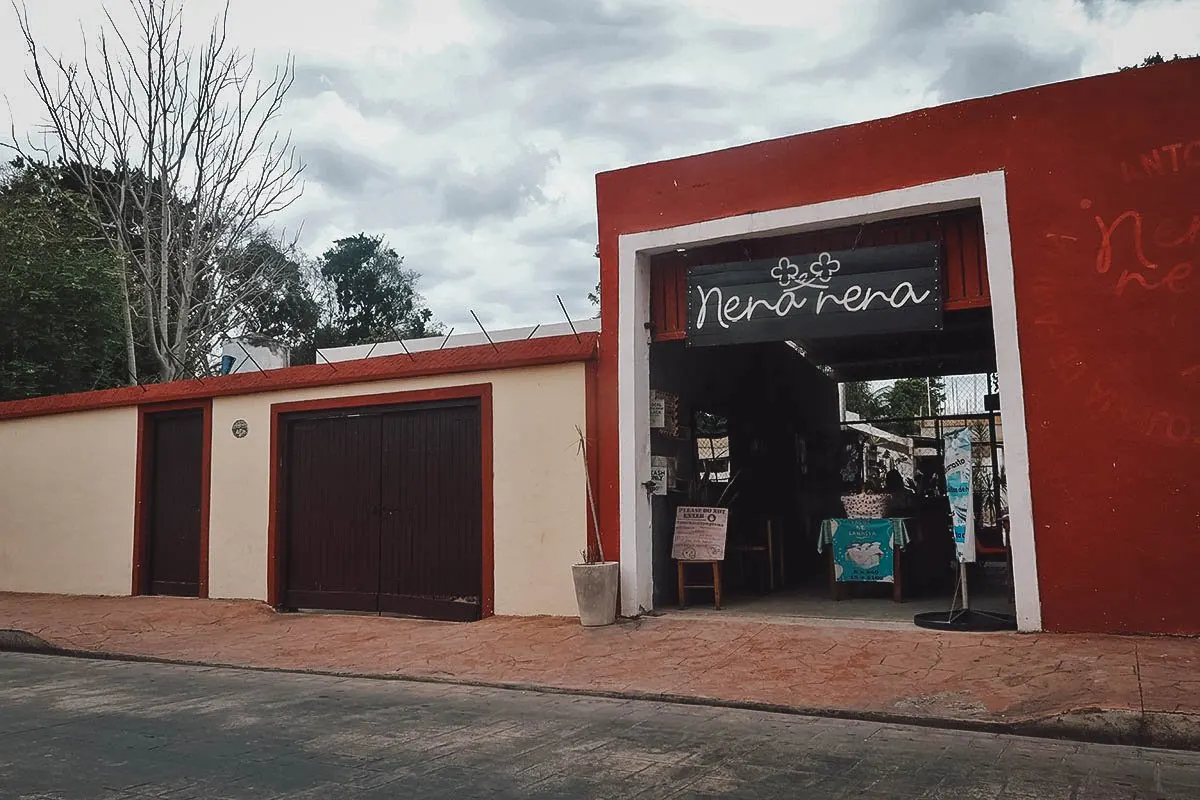 Nena Nena
Address: Calle 37 por 44 y 42, Centro, 97780 Valladolid, Yucatan
Operating Hours: 10AM-6PM, Wed-Mon (closed Tuesdays)
What to Order: Tacos de canasta, vegetarian-friendly dishes
10. Sabrositacos
If you're looking for a no-frills taqueria in Valladolid, the kind that locals go to, then look no further than Sabrositacos. Located on the same block as La Selva, this humble taco restaurant was recommended to me by my AirBnB host as well.
Sabrositacos is like your typical neighborhood taqueria. They serve the usual taqueria offerings like tacos, tortas, quesadillas, and antojitos.
It had been a while since my last al pastor tacos so I went with four, two mixed with cheese. I will seriously never grow tired of these.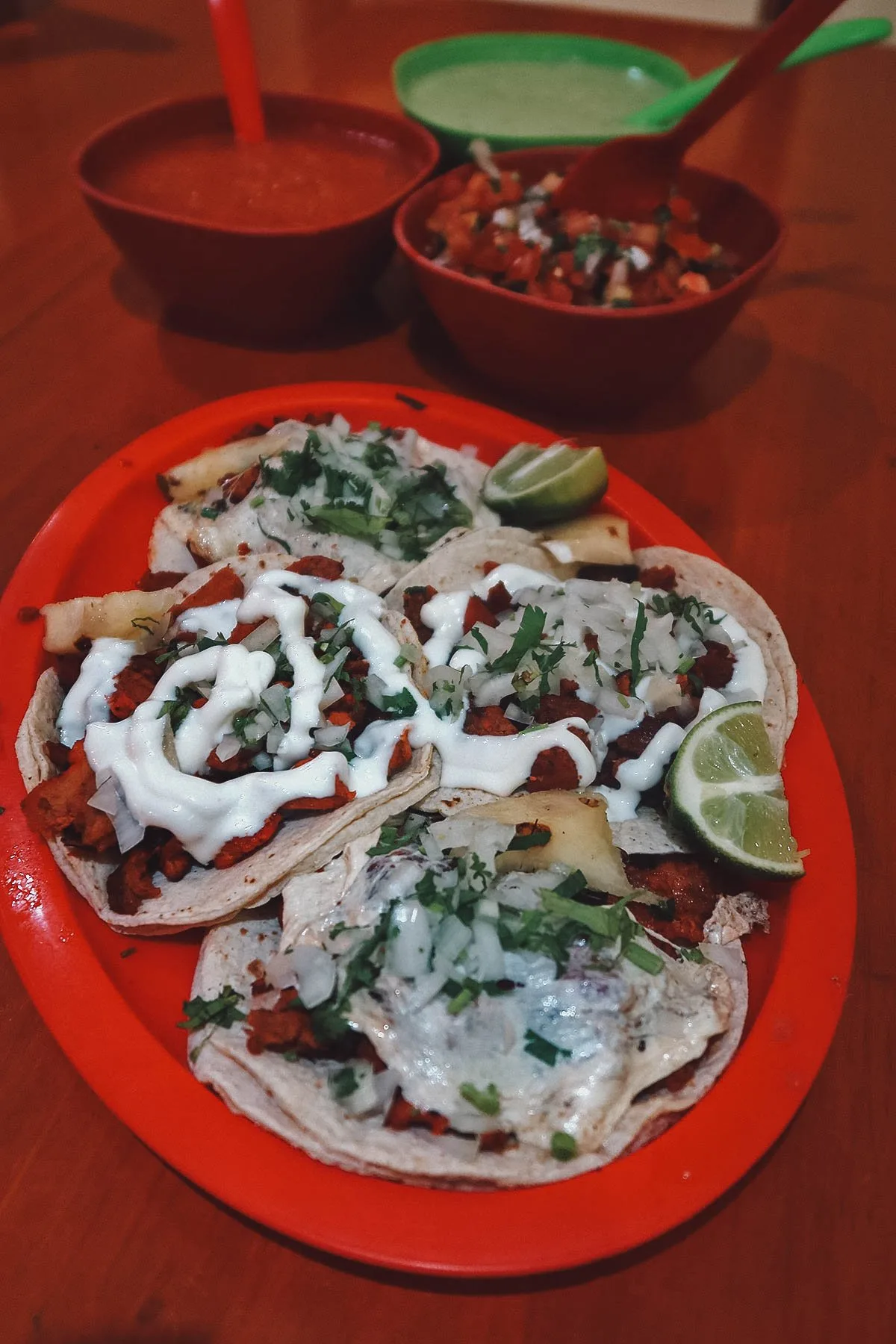 Sabrositacos serves beer and other alcoholic drinks. If you want to spend the night eating tacos and drinking beer at a non-touristy restaurant in Valladolid, then Sabrositacos is a great place to go.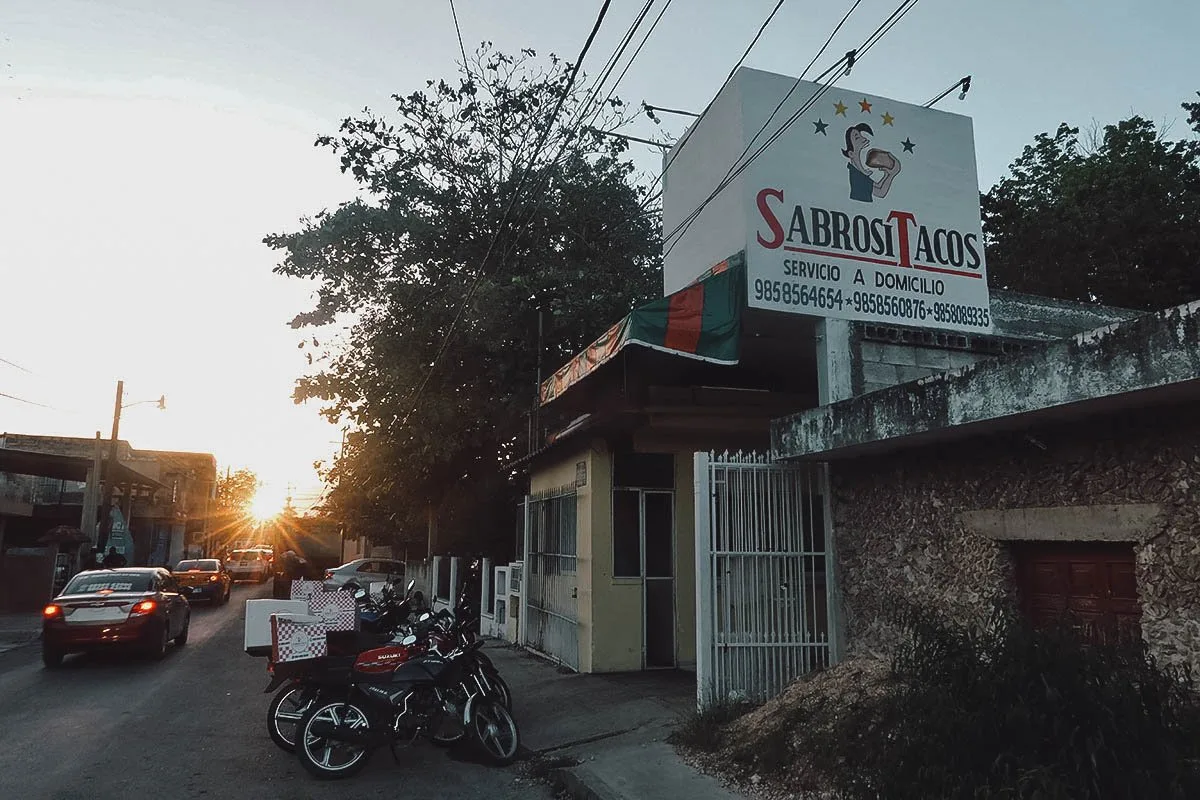 Sabrositacos
Address: 31 200U X 40 y 42, Santa Lucía, 97780 Valladolid, Yucatan
Operating Hours: 6:30PM-12MN, Tur-Sun (closed Mondays)
What to Order: Tacos, antojitos
11. Tres Mentiras
I was so happy I found this restaurant. It was actually located on the same street as my AirBnB, several blocks north of the zocalo, but in a section that I didn't pass too often. I saw it by chance when riding my bike in and out of town.
Tres Mentiras is a restaurant/bar that serves a full range of drinks like mezcal cocktails, tequila, margaritas, martinis, gin and tonics, beer, and more. Their menu offers many comfort food options both Mexican and international like tacos, quesadillas, burritos, chicken wings, and hamburgers.
Pictured below is a tasty trio of pulpo (octopus) tacos. They have octopus, shrimp, fish, flank steak, chicken, and cochinita. Each order comes with three.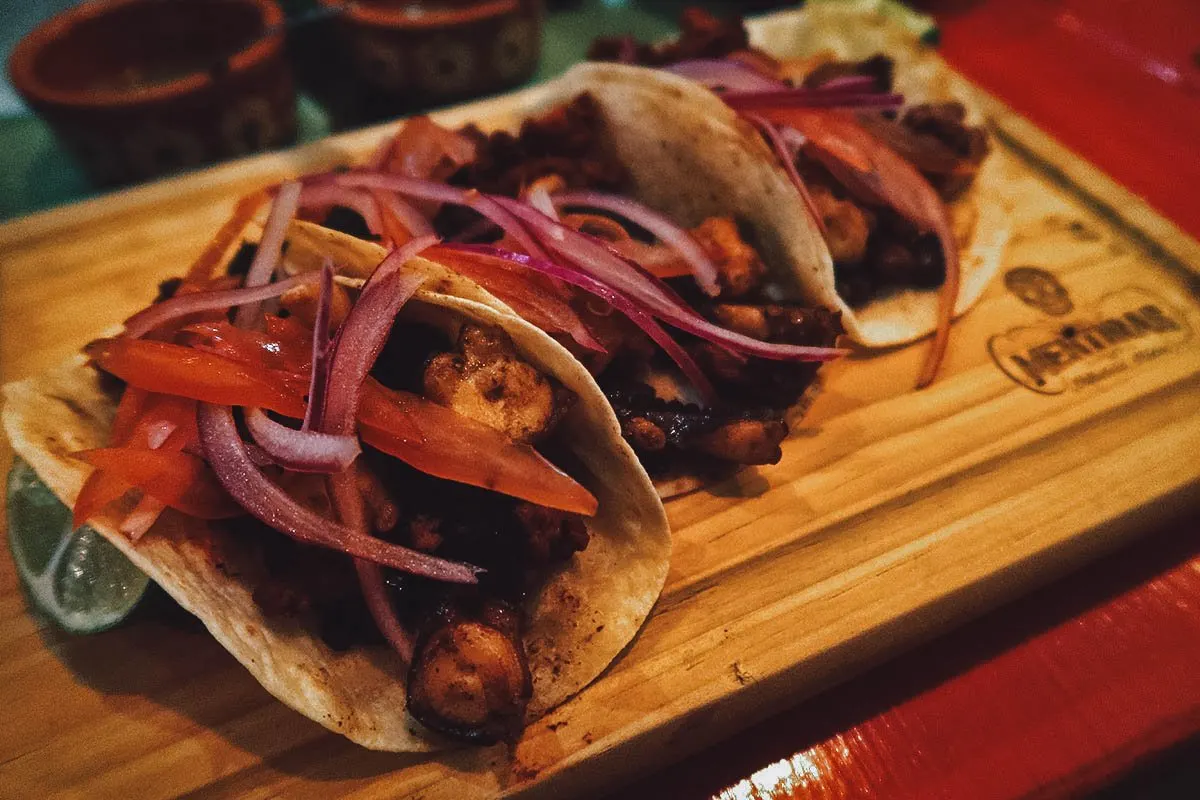 Tres Mentiras offers many dishes to choose from but they have an even wider selection of perfectly blended cocktails. I asked my server for recommendations and she pointed me to this piña gengibre made with pineapple, ginger, and Espadin mezcal. I love Mexico.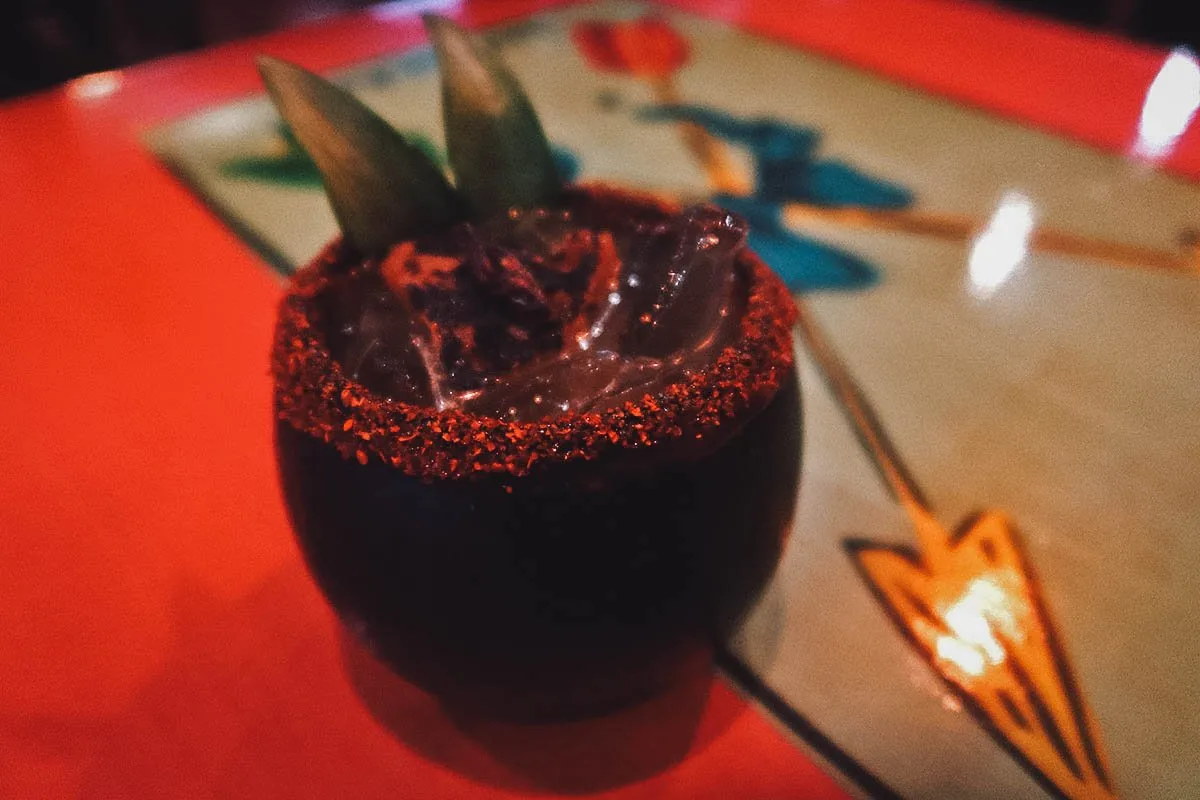 Tres Mentiras is a fun and colorful restaurant with elaborate murals on the walls. No one was performing that night but they have a stage for live music as well.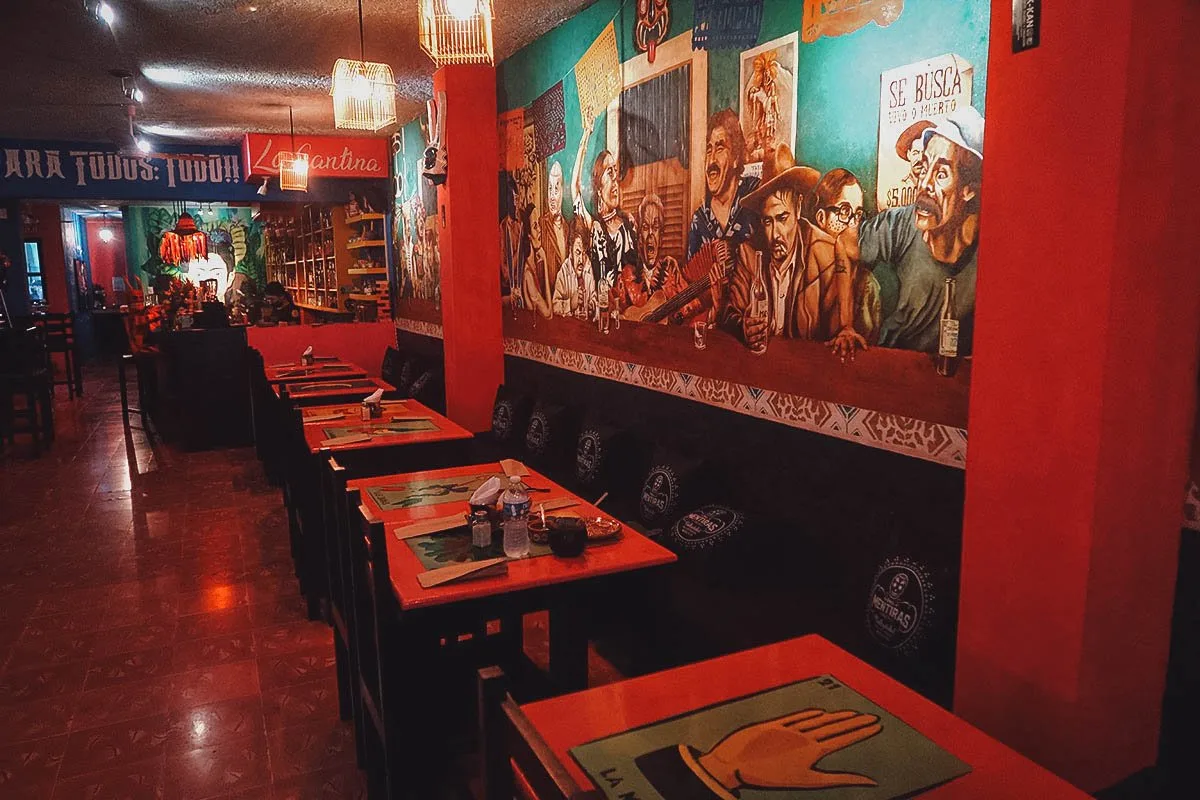 Tres Mentiras is a hidden gem in Valladolid. If you're in the mood for good comfort food, cocktails, and music in a venue that isn't frequented by tourists, then this is a great place for you to go.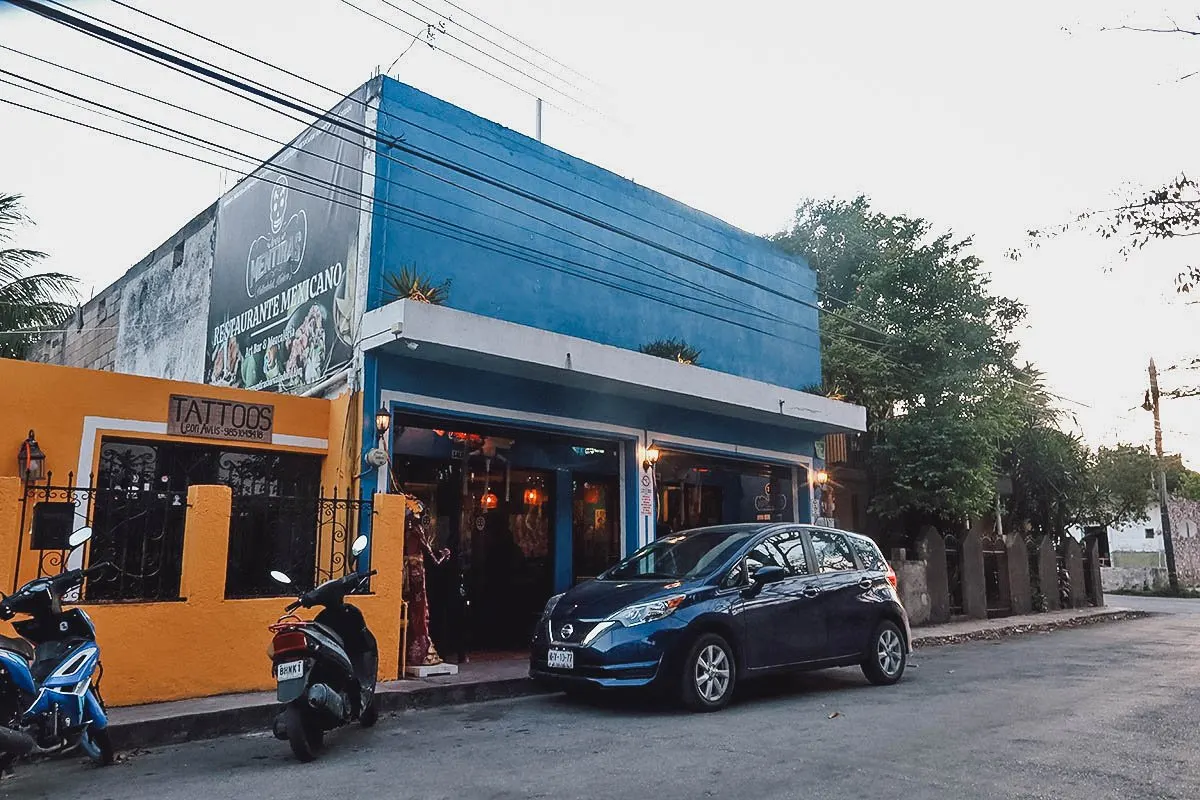 Tres Mentiras
Address: C. 33 214, Candelaria, 97782 Valladolid, Yucatan
Operating Hours: 4PM-1:30AM, Tue-Sun (closed Mondays)
What to Order: Tacos, quesadillas, mezcal cocktails
12. Paletas y Helados Kukulkan
As described, it can get brutally hot in Valladolid and the Yucatan. At the hottest times of the day, refreshing drinks and desserts like these scoops of Mexican ice cream are the next best thing to a cenotes.
Paletas y Helados Kukulkan is an ice cream and frozen popiscle cart that offers the usual flavors like chocolate, Nutella, and vanilla but they also have more Mexican offerings like elote and limon-tequila. Guess which two I got?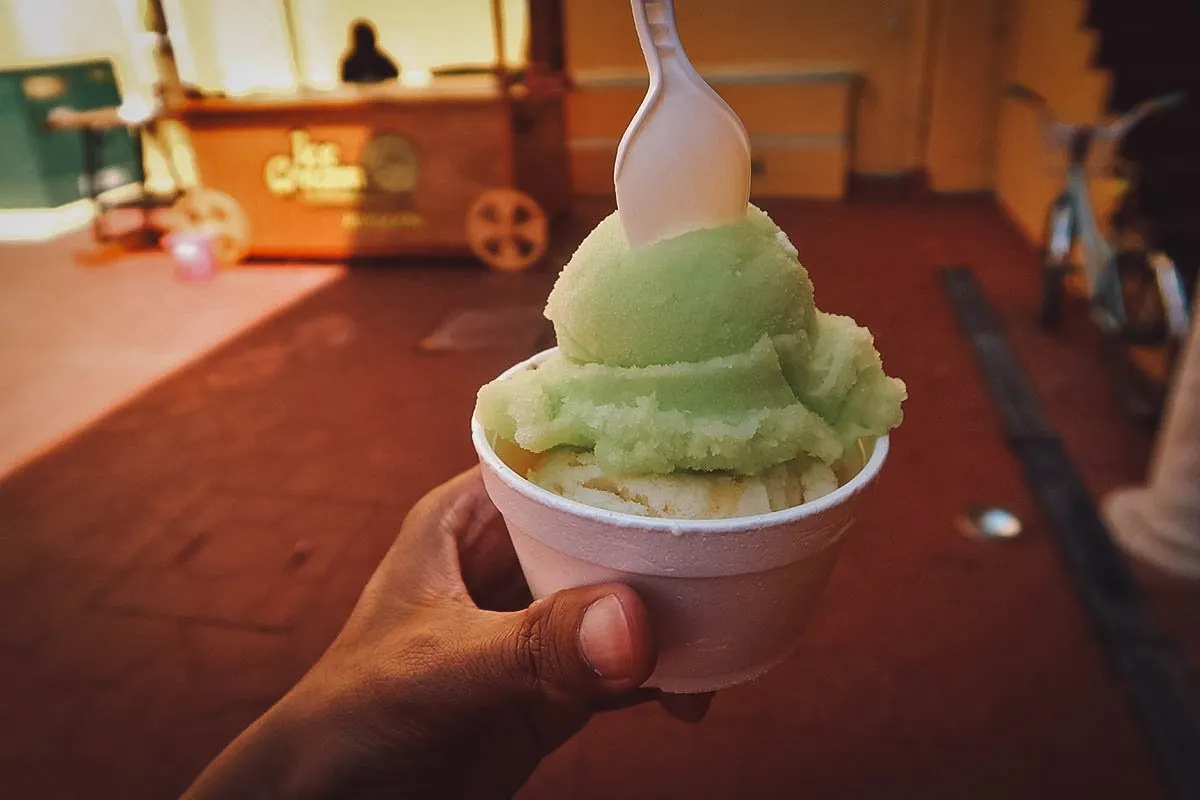 Paletas y Helados Kukulkan is like any typical ice cream cart in Mexico but what I like about it is that it's hidden in plain sight. It's located in the heart of Valladolid, right by the zocalo, but you'd never know it was there.
You can find the cart inside Centro Artesanal Zaci, a shopping arcade on the north side of the plaza. It's home to a few shops selling clothing and handicrafts and a lush, plant-filled garden in its inner courtyard. It's a great place to sit down and enjoy a cup of ice cream to cool down from the intense Yucatan heat.
I believe Paletas y Helados Kukulkan has a proper shop along Calzada de los Frailes but this cart is easier to get to.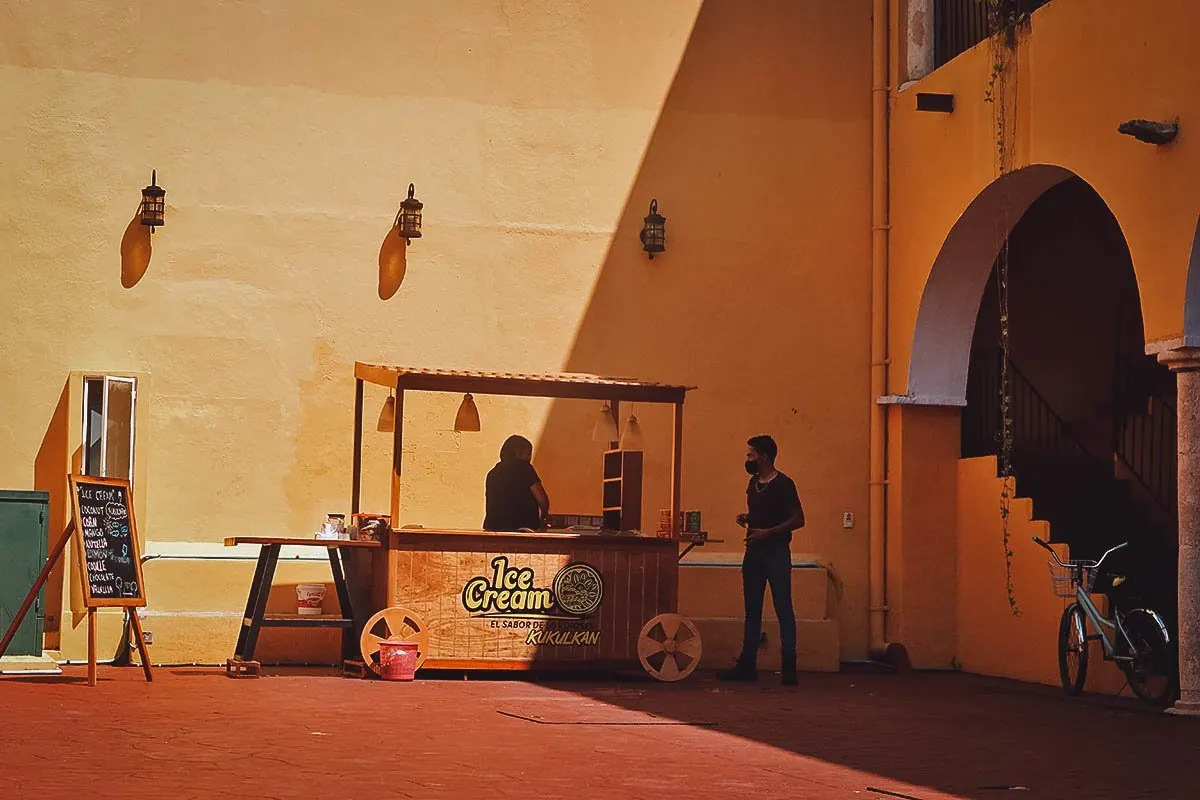 Paletas y Helados Kukulkan
Address: Centro Artesanal "Zaci", C. 39 30, Centro, 97780 Valladolid, Yucatan
Operating Hours: 8AM-7PM, daily
What to Order: Elote ice cream
BAZAR MUNICIPAL
There are a few good places to get cheap eats in Valladolid, but the most conveniently located is Bazar Municipal. My AirBnB host turned me on to this place as well.
Located right off the zocalo, on the same side as Centri Artesanal Zaci, Bazar Municipal is home to a food court with about a dozen stalls offering inexpensive food.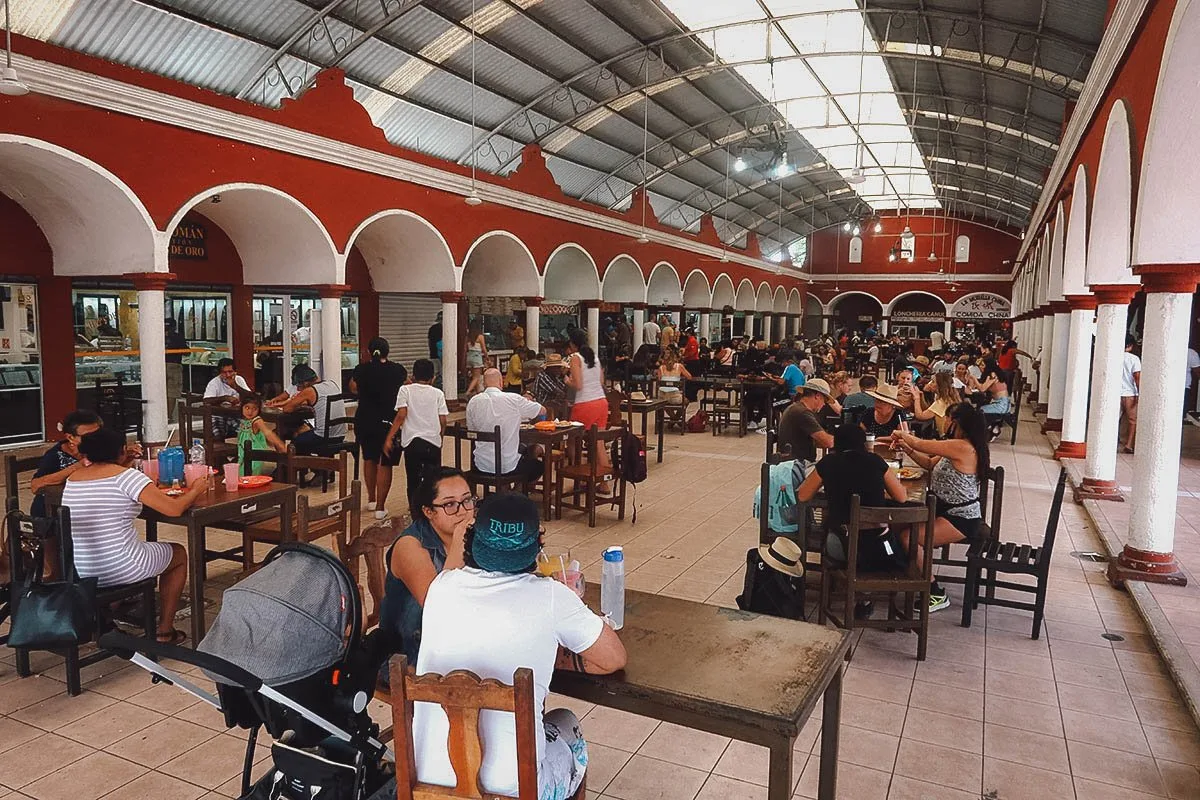 13. Loncheria Canul
Whenever we visit an unfamiliar hawker center in Singapore, we always look for the stalls with the longest line of locals. This guarantees that you get the best and most authentic food. The same rule applies anywhere in the world.
But when no single stall stands out, we follow another rule – avoid the stalls with the most aggressive touts. Places like that are aggressive for a reason (ie crappy food) so avoid them at all costs. You'll find a few of those here at Bazar Municipal.
True enough, one of the quietest stalls at the food court had the highest reviewer rating – Loncheria Canul.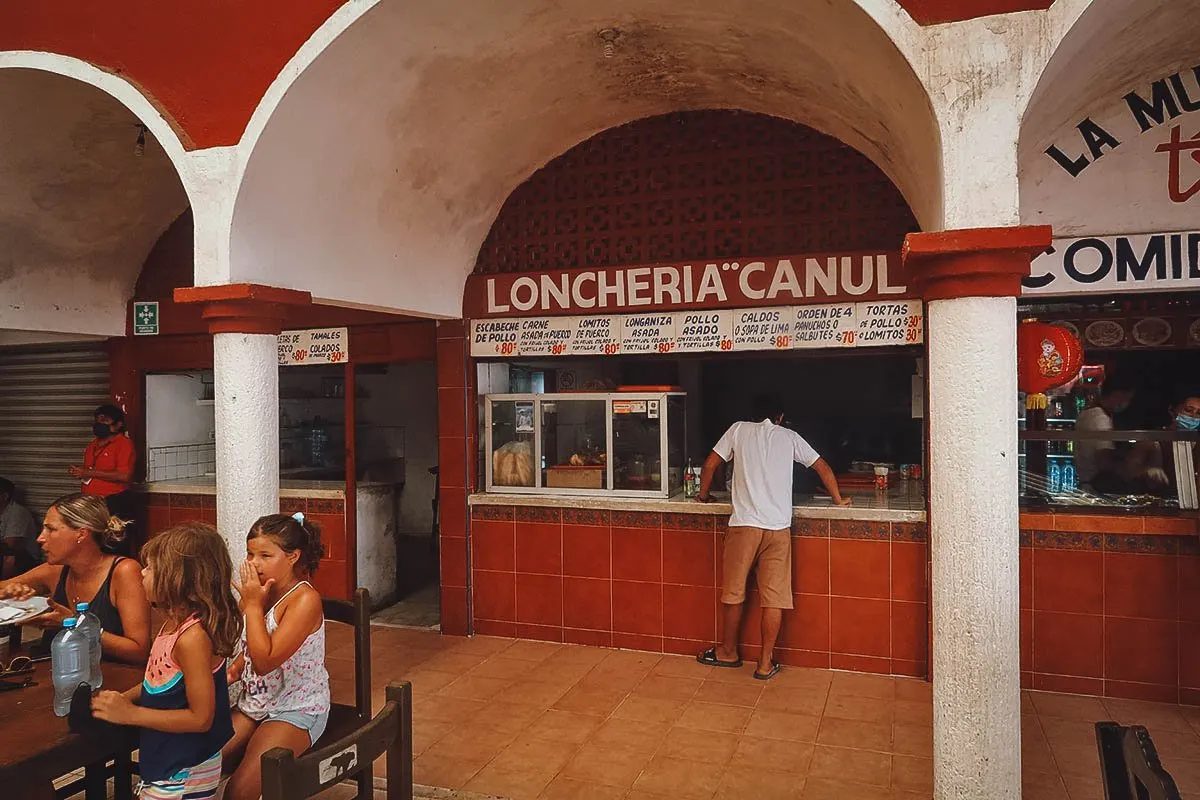 Loncheria Canul has a focused menu offering a few specialties from Yucatecan cuisine like sopa de lima, lomitos, and longaniza. I went with a dish that was somewhat familiar to me because we have something similar in our native Philippines – escabeche.
Escabeche in the Philippines is typically made with fish but what you're looking at below is pollo (chicken) en escabeche oriental. The term escabeche refers to a culinary technique that involves cooking marinated meats, fish, poultry, or vegetables in an acidic sauce, usually with vinegar.
The reason why the dish is called "oriental" is because it's originally from the eastern part of the Yucatan Peninsula, specifically Valladolid.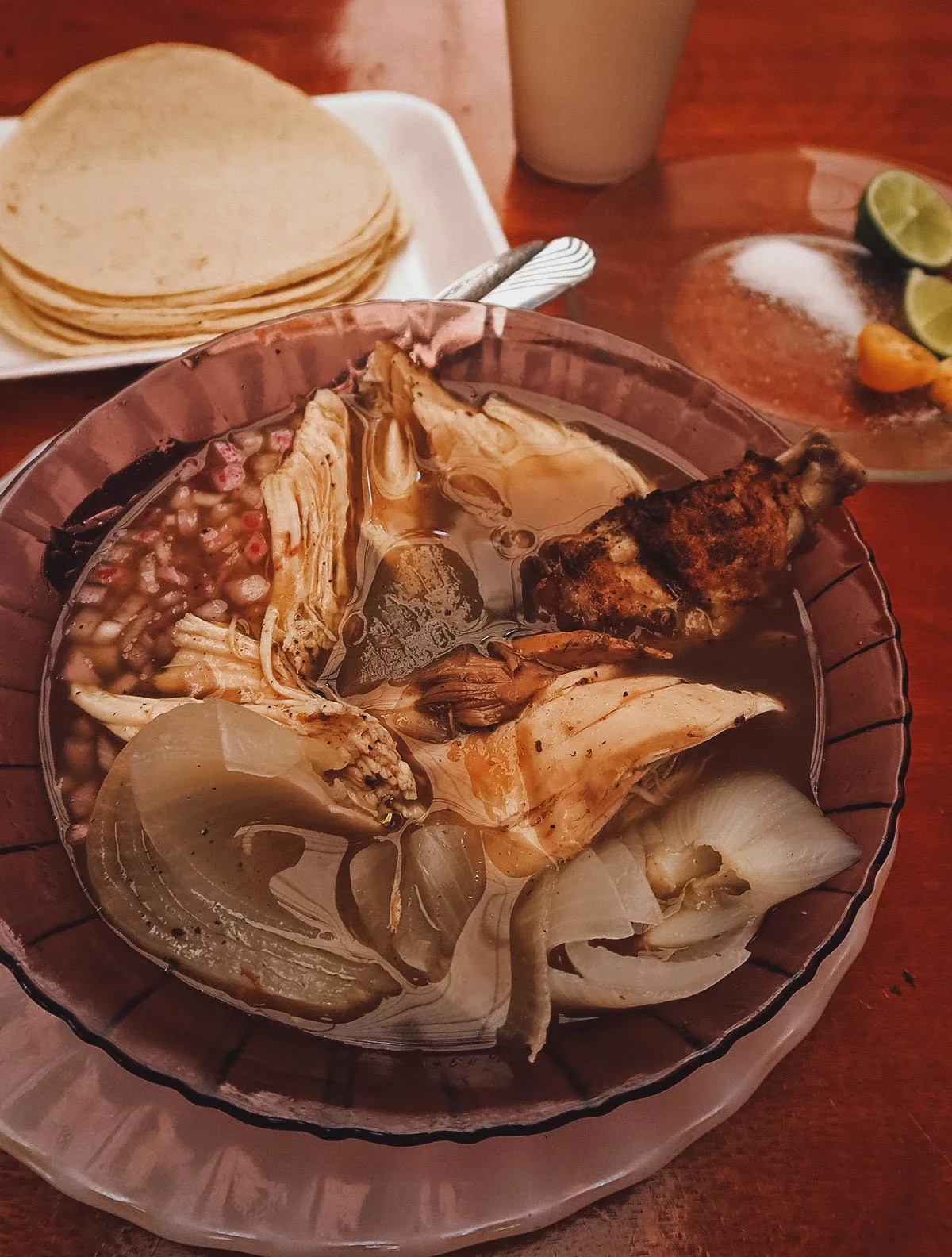 Loncheria Canul
Address: Bazar Municipal, C. 40 190, Centro, 97780 Valladolid, Yucatan
Operating Hours: 4-10PM, daily
What to Order: Escabeche de pollo, antojitos
MERCADO MUNICIPAL
Mercado Municipal is Valladolid's main market. Home to butchers, produce sellers, and handicraft shops, it's a good place to visit if you'd like to get a glimpse of local life in Valladolid.
Like any public market in Mexico, Mercado Municipal is also a great place to get cheap eats in Valladolid.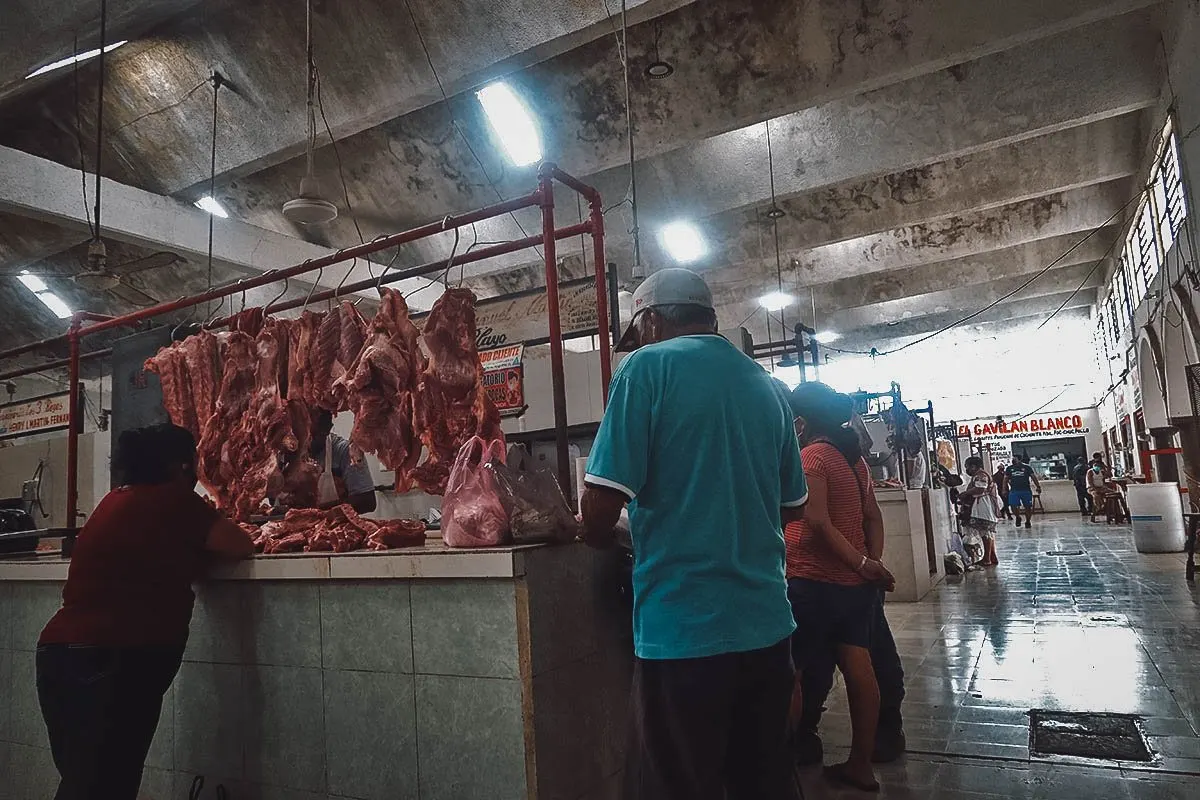 14. Taqueria Ebeneezer
Remember what I said about looking for the stalls with the longest line of locals? That approach definitely helped me here.
Ebeneezer is a small taqueria tucked away in a corner of Mercado Municipal. They offer a few specialties in Yucatecan cuisine like cochinita and lechon al horno that you can enjoy in salbutes, panuchos, pibihuajes, or polcanes.
Until I got to this stall, I had never heard of pibihuajes before so I googled it. As it turns out, it's a Yucatecan dish that originated right here in Valladolid.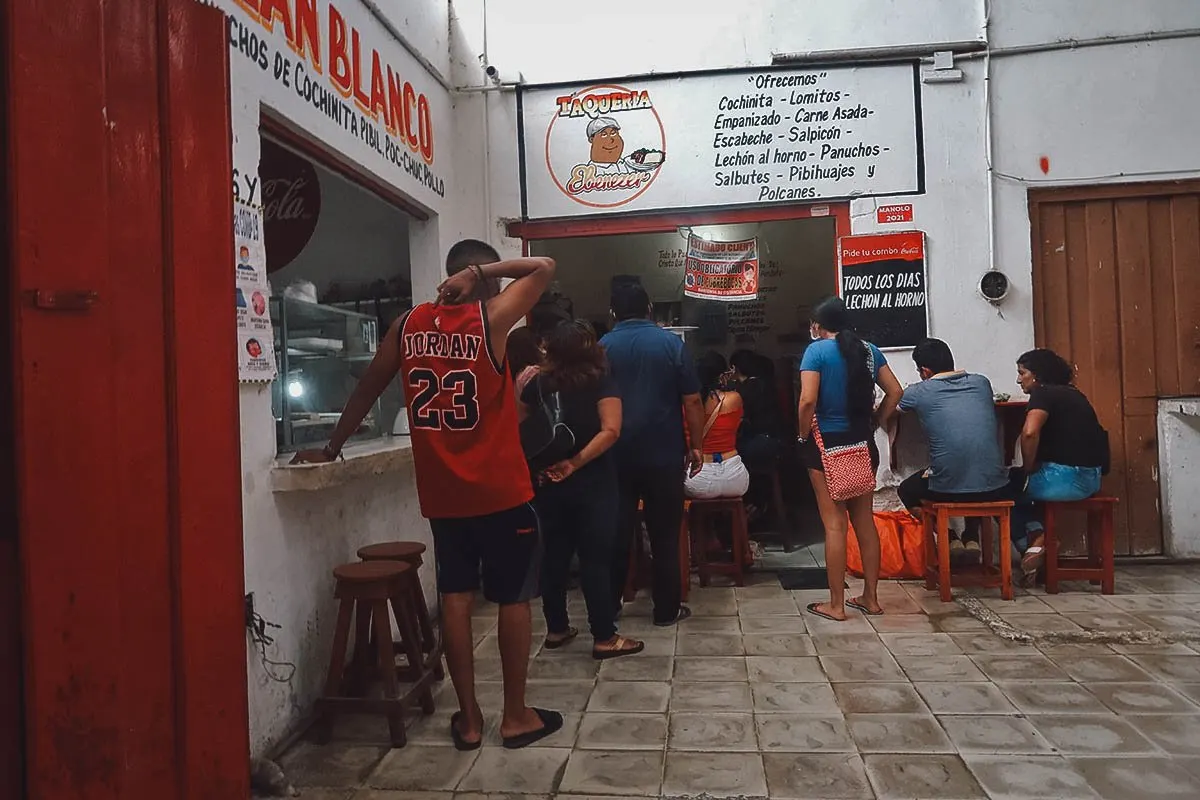 This is what pibihuajes looks like. It's basically an oval-shaped sphere of bread made with dough and red beans. It's baked in a píib before being split open and filled with various ingredients like cochinita, lechon, lomitos, or carne asada.
You can think of pibihuajes as a mini Yucatecan sandwich bun, but much denser in texture.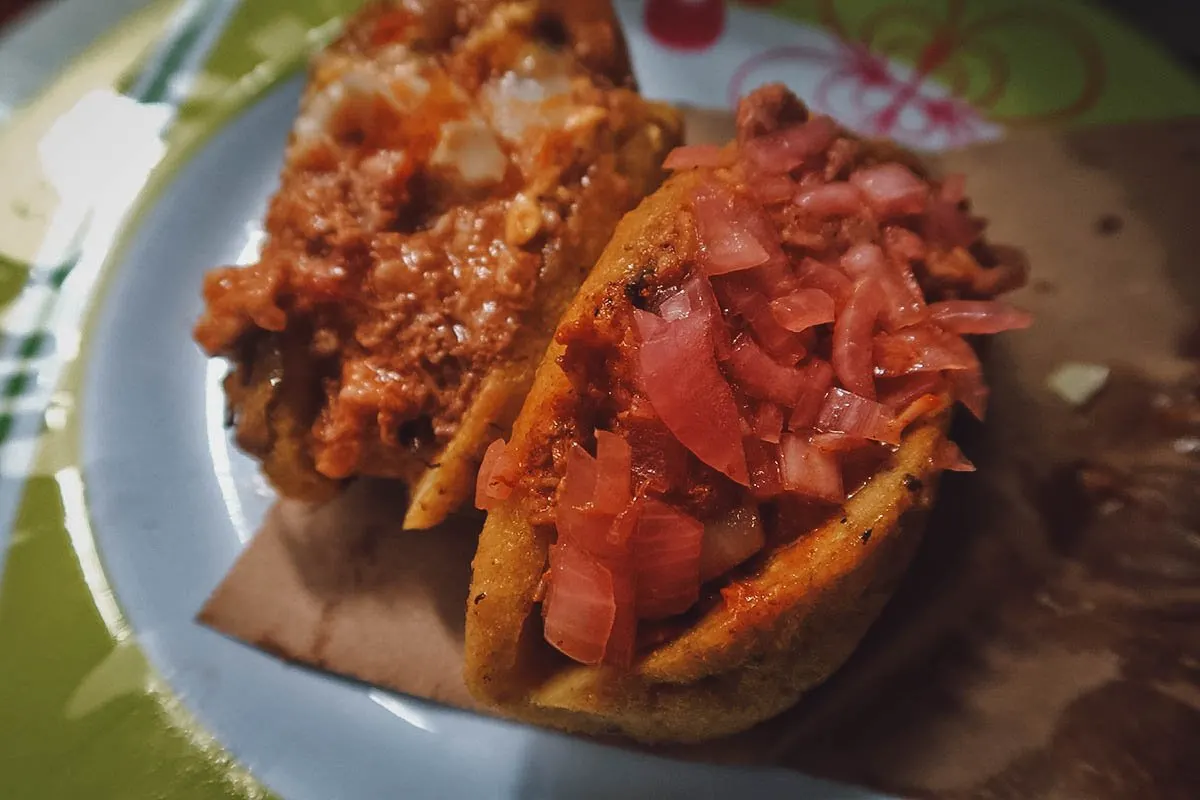 Taqueria Ebeneezer
Address: Mercado Municipal de Valladolid, C. 32 #0, Sta Ana, 97780 Valladolid, Yucatan
Operating Hours: 5AM-4PM, daily
What to Order: Salbutes, panuchos, pibihuajes, polcanes
15. Loncheria Mati
After eating my pibihuajes and walking out of Mercado Municipal, I noticed this humble restaurant right across the street. It was buzzing with locals, which to me is like a big neon sign that says "come here".
Another great sign? Loncheria Mati basically offers just a couple things on their menu – empanadas and salbutes/panuchos/polcanes.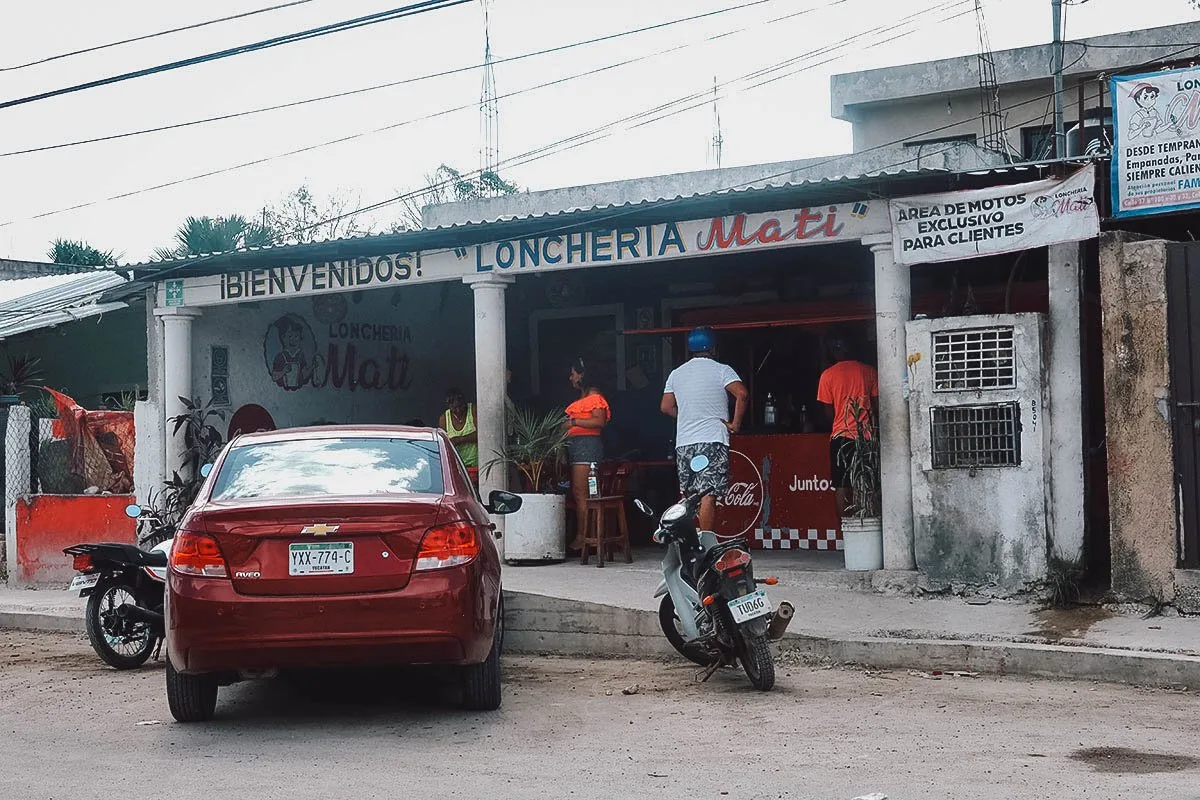 The majority of locals were feasting on their empanadas so that's what I decided to try as well. Loncheria Mati makes empanadas filled with ground meat, cheese, or ground meat and cheese.
Yucatan cuisine is known for a specific type of empanada made with chaya. You can usually see flecks of green in the fried dough but this one didn't seem to have any.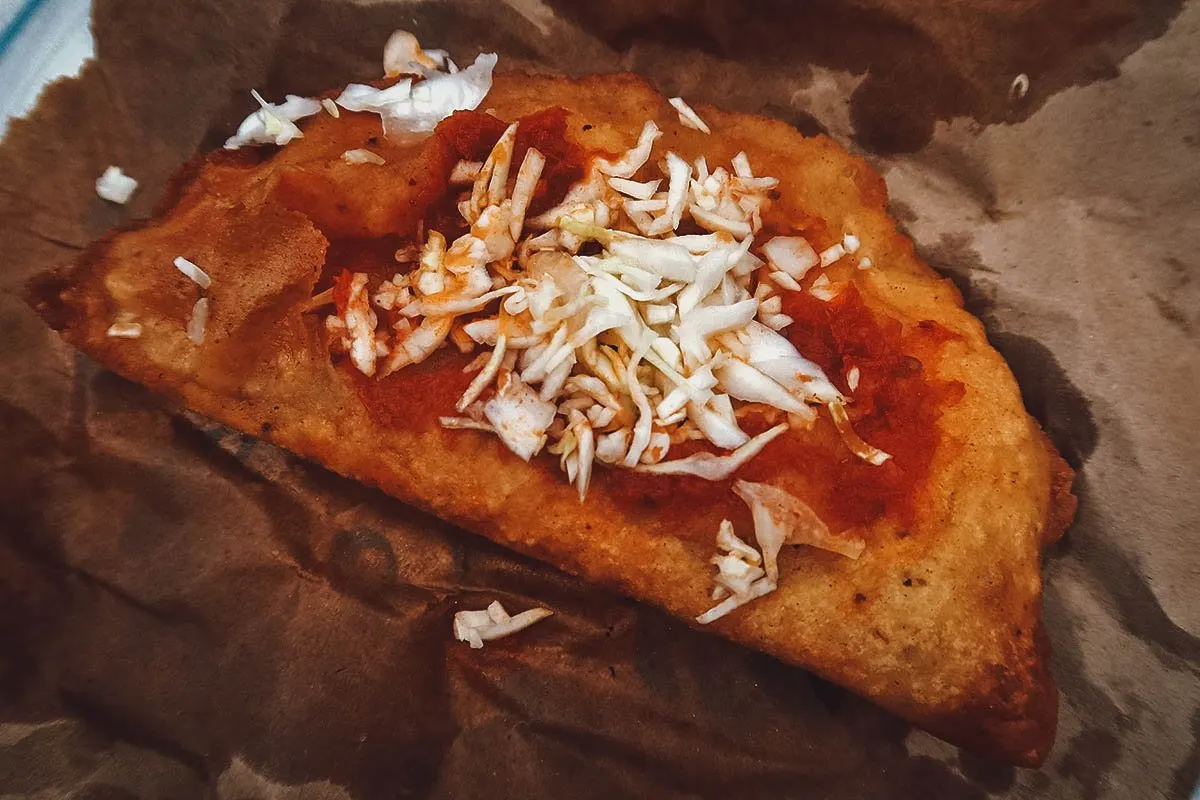 As you can see below, I got one filled with ground meat and cheese. No wonder Loncheria Mati was packed. Their empanadas are delicious.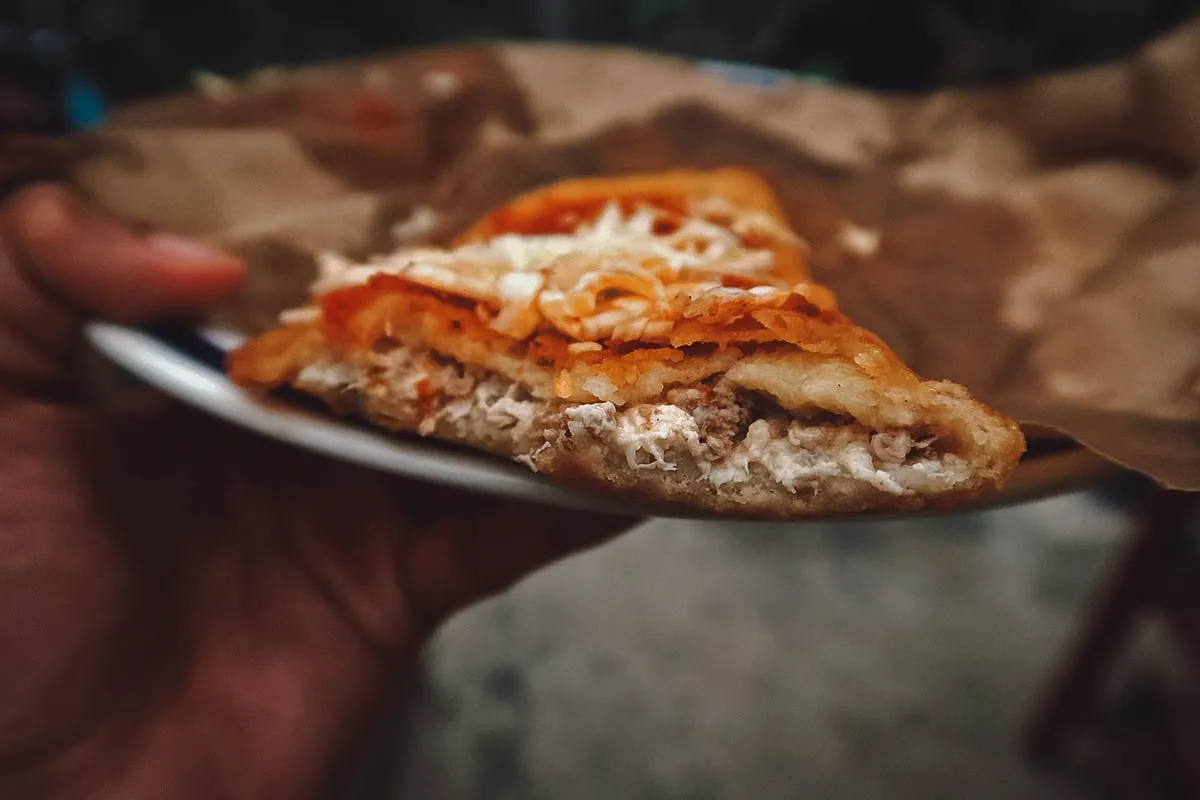 Loncheria Mati
Address: C. 37 180, Sta Ana, 97780 Valladolid, Yucatan
Operating Hours: 7AM-12:30AM, daily
What to Order: Empanadas, salbutes, panuchos, polcanes
LOCATION MAP
To help you navigate to these restaurants in Valladolid, I've pinned them all on the map below. Click on the link for a live version of the map.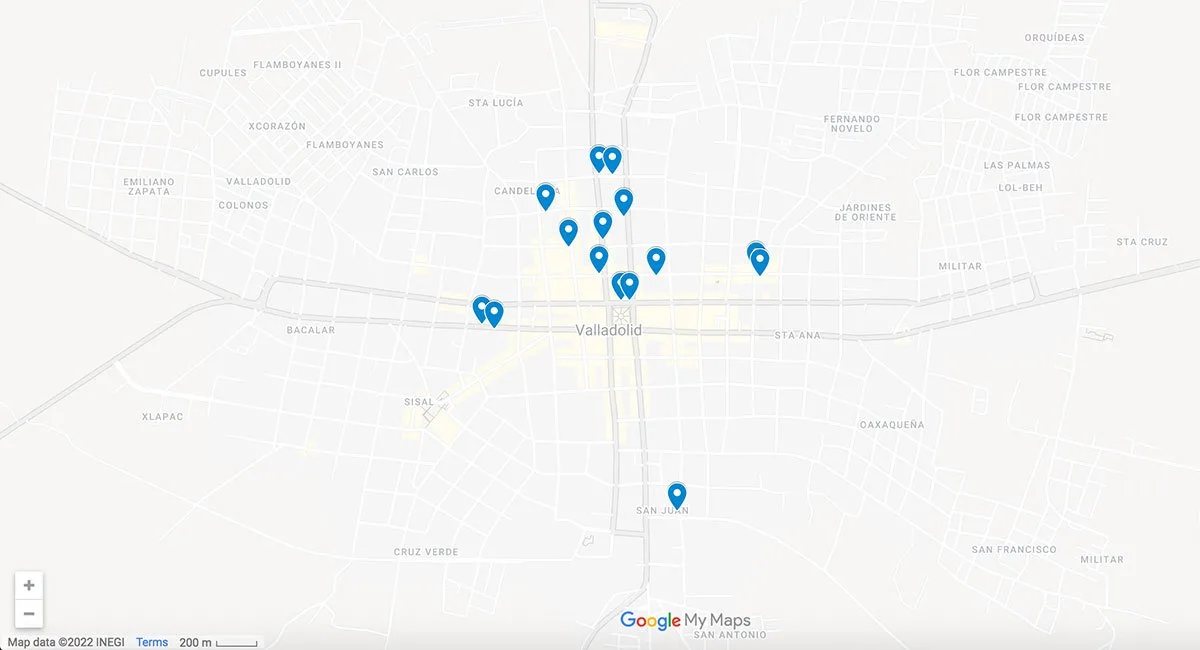 FINAL THOUGHTS ON THE BEST VALLADOLID RESTAURANTS
I may have been late to the Valladolid party but I'm happy I made a stop here. There are many reasons to visit this charming pueblo magico. It's the closest jumping-off point to Chichen Itza and there are several cenotes within biking distance of the town.
Bus as this guide on Valladolid restaurants shows, Yucatecan cuisine is another great reason to visit. Thanks for reading and I hope this article leads you to many wonderful meals in Valladolid.
¡Buen provecho!
Disclosure
Some of the links in this article on the best restaurants in Valladolid are affiliate links, meaning we'll earn a small commission if you make a purchase at no added cost to you. As always, we only recommend products and services that we use ourselves and firmly believe in. We really appreciate your support as this helps us make more of these free travel guides. Muchas gracias!