Even if you aren't familiar with Vietnamese food, chances are you've heard of phở. It's a popular Vietnamese street food, which like the bánh mì, is considered a Vietnamese national dish. For me, it's the quintessential Vietnamese food and the first thing that comes to mind when I think of the cuisine.
Phở's popularity is a bit surprising to me considering that it's a relatively young dish. I'd imagine a dish this popular would have a long history but it doesn't. Phở wasn't invented until the early 20th century. It originated in Northern Vietnam and spread to other parts of the country, and the world, through migration after the Vietnam War. So popular is phở that it was the subject of a food mashup that went viral on social media. Dubbed the "Phởrrito", it's basically all the goodness of a phở wrapped in a burrito. It's a Vietnamese-Mexican mashup cooked up by the Komodo restaurant in Los Angeles.
To be honest, I wasn't always the biggest fan of phở. I prefer thicker, chewier noodles like bánh canh or Japanese udon, but phở has grown on me since our recent trip to Vietnam. Vietnam is the land of noodle soups and this soft, silky noodle dish has a character all its own that makes it stand out. I can see why it's so popular.
Save This on Pinterest!
No time to read this now? Click on the red save button and pin it for later!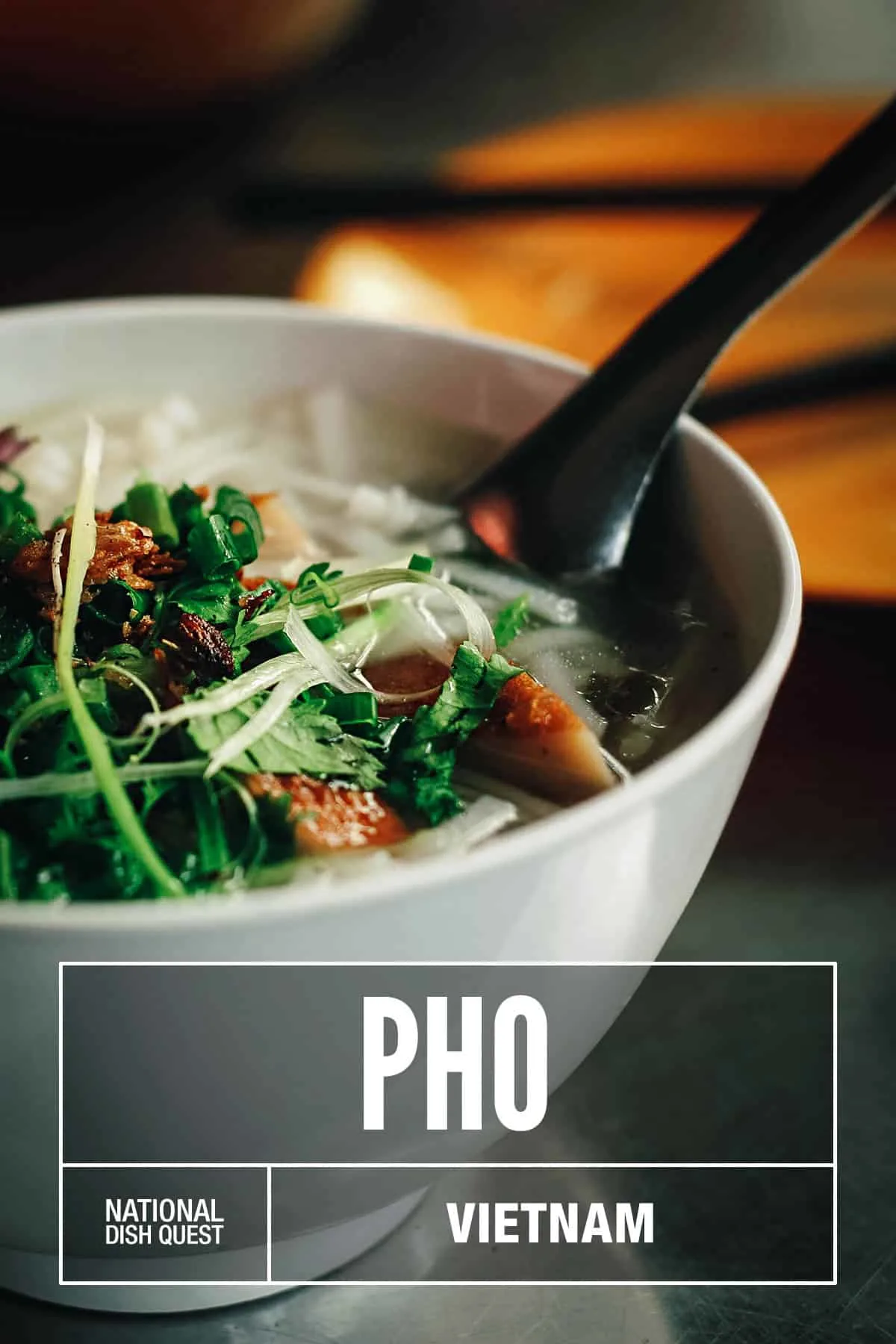 Photo by Free-Photos via Pixabay
WHAT IS PHO?
Phở is a noodle soup that originated in Nam Định Province in Northern Vietnam, but is now popular throughout the country. Regardless of where it's from, phở is typically made with four basic ingredients – clear stock, rice noodles (called bánh phở), meat (typically beef or chicken), and herbs.
It's believed that the popularization of phở was a result of the French influence. A higher availability of beef due to French demand resulted in a surplus of beef bones which were used as the base for modern phở. It was originally sold at dawn and dusk by street vendors who roamed the streets with a pole slung over their shoulders. From this pole hung two wooden cabinets – one housing a cauldron over a wood fire, and the other storing noodles, spices, utensils, and other materials needed to prepare bowls of phở. It wasn't until the mid-20th century that these roaming street vendors gave way to the stationary phở stalls that you see today.
WHAT ARE THE DIFFERENT TYPES OF PHO?
With the Partition of Vietnam in 1954, over a million people fled from Northern Vietnam to the south, bringing with them their love for phở. This helped popularize the dish in other parts of the country, which in turn led to its development and evolution. Unhindered by the culinary traditions of the north, variations in meat and broth appeared, as did additional garnishes like lime, bean sprouts, culantro, cinnamon basil, hoisin, and hot chili sauce. Today, several varieties of phở exist, most notably phở bắc or "northern phở", and phở Sài Gòn or "southern phở". We tried both on our recent trip to Vietnam.
Phở Bắc (Northern Phở)
We tried phở bắc at Pho Thin which is said to serve some of the best phở in Hanoi. Opened in 1979 by a painter named Nguyen Trong Thin, what makes this restaurant's phở so special is how they prepare the beef. Instead of simply boiling the beef, Nguyen decided to stir-fry it with garlic before adding it to the soup. This simple innovation added new flavor components to the dish, turning a traditionally gentle stock into a more robust and richly layered broth.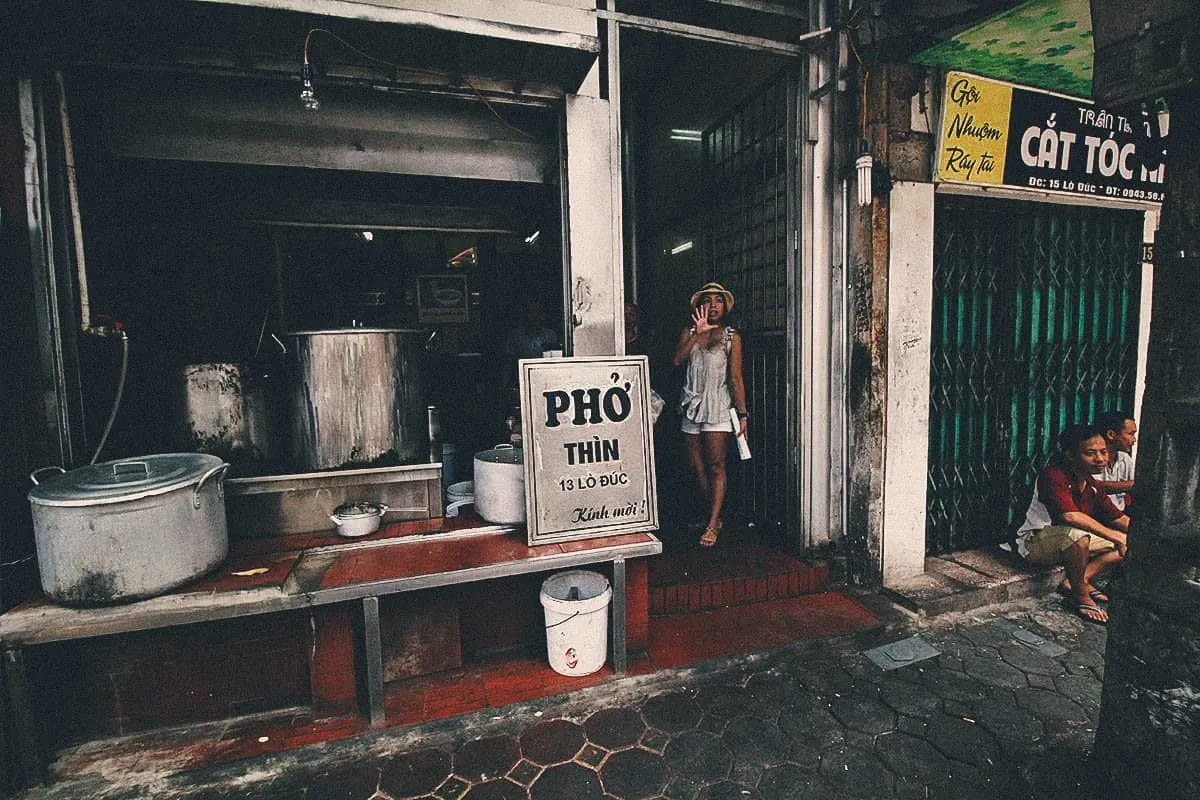 Phở Bắc, in general, is said to have wider noodles and plenty of green onions. As you can see below, the part about the green onions is true. Garnishes in northern phở are typically limited only to vinegar, fish sauce, and chili sauce.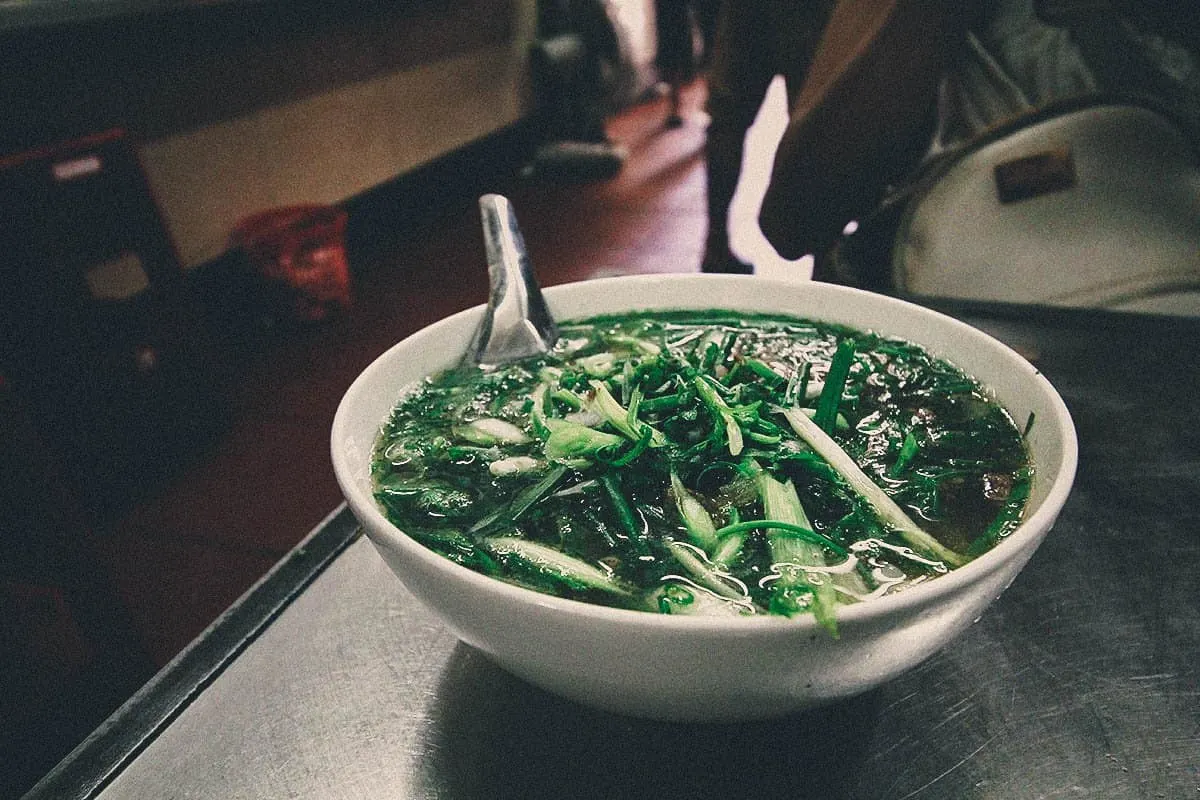 There's the stir-fried beef. Pho Thin's version is garlicky and smokey with hints of caramelization from the stir-frying process. It's delicious and flavorful and definitely unlike your typical northern phở, which tends to be more mild in flavor compared to southern phở. I loved all the crunchy green onions. If you enjoy a good bowl of pho, then you need to seek this place out. You can check out our list of the best restaurants in Hanoi for more information.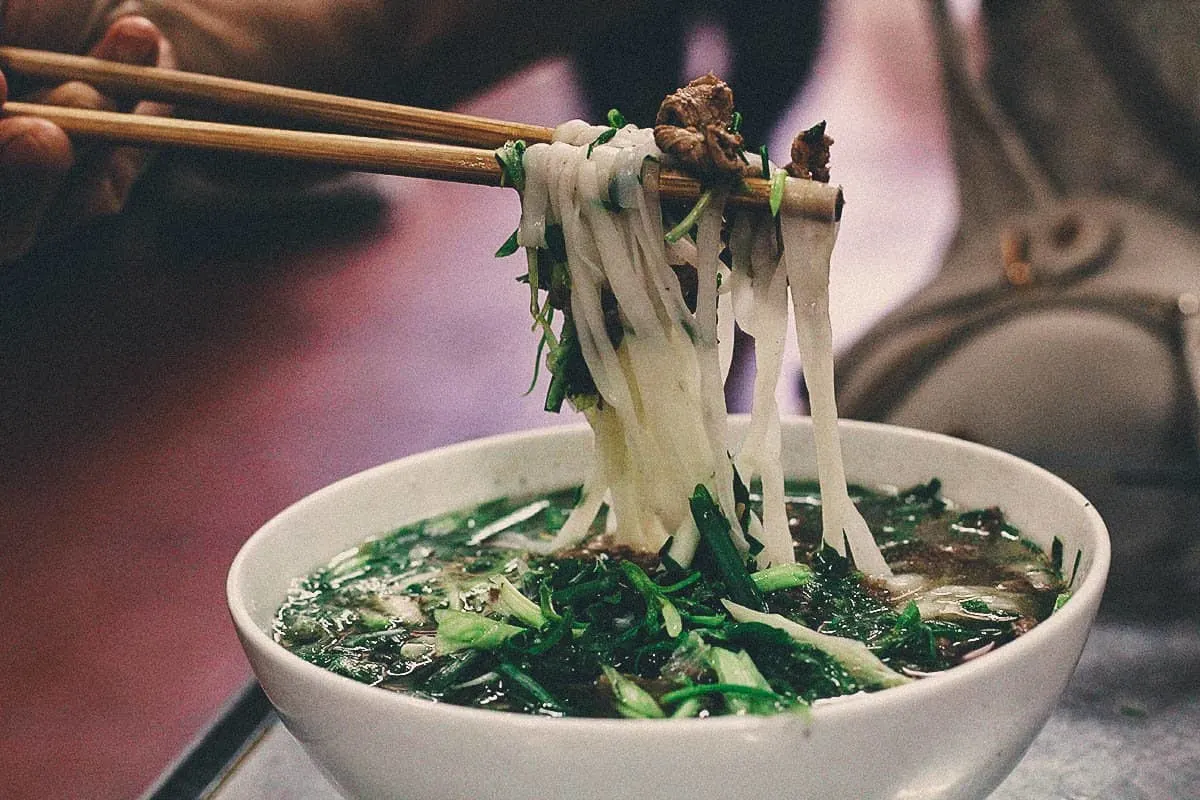 Phở Sài Gòn (Southern Phở)
We tried southern phở at Phở Lệ Nguyễn Trãi in Saigon. It was recommended to us by two locals so we knew it was going to be good.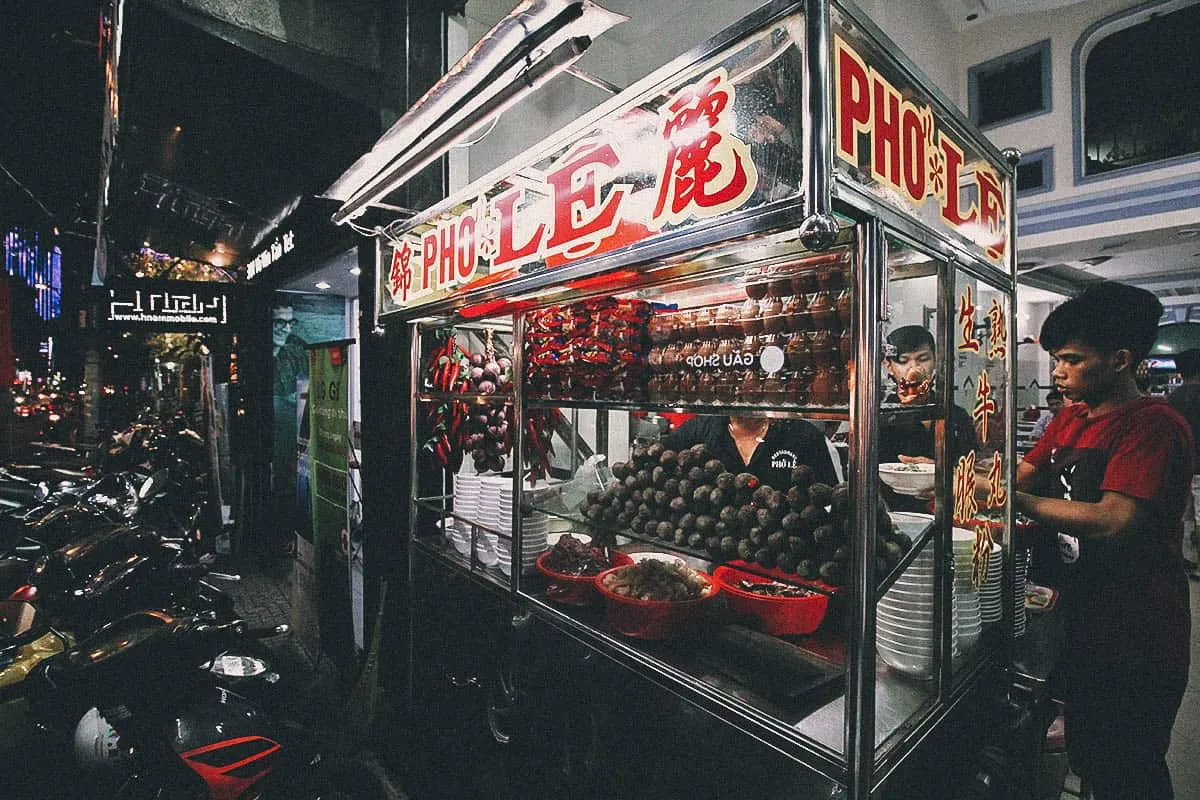 Phở Sài Gòn is described as having a sweeter broth than northern phở. It's also served with a lot more garnishes like bean sprouts, fresh greens, and herbs. See that small mountain of vegetables in the back? Those are the garnishes that you eat with your phở. We didn't get anything like that in Hanoi.
Both versions of phở were tasty but I preferred southern phở. We ate phở several times in Vietnam and this bowl made with beef tendon was my favorite. The broth is indeed sweeter and more flavorful than northern phở. I enjoyed the variety of garnishes as well. I didn't really notice a difference in the width of the noodles though. To me, they looked and tasted similar.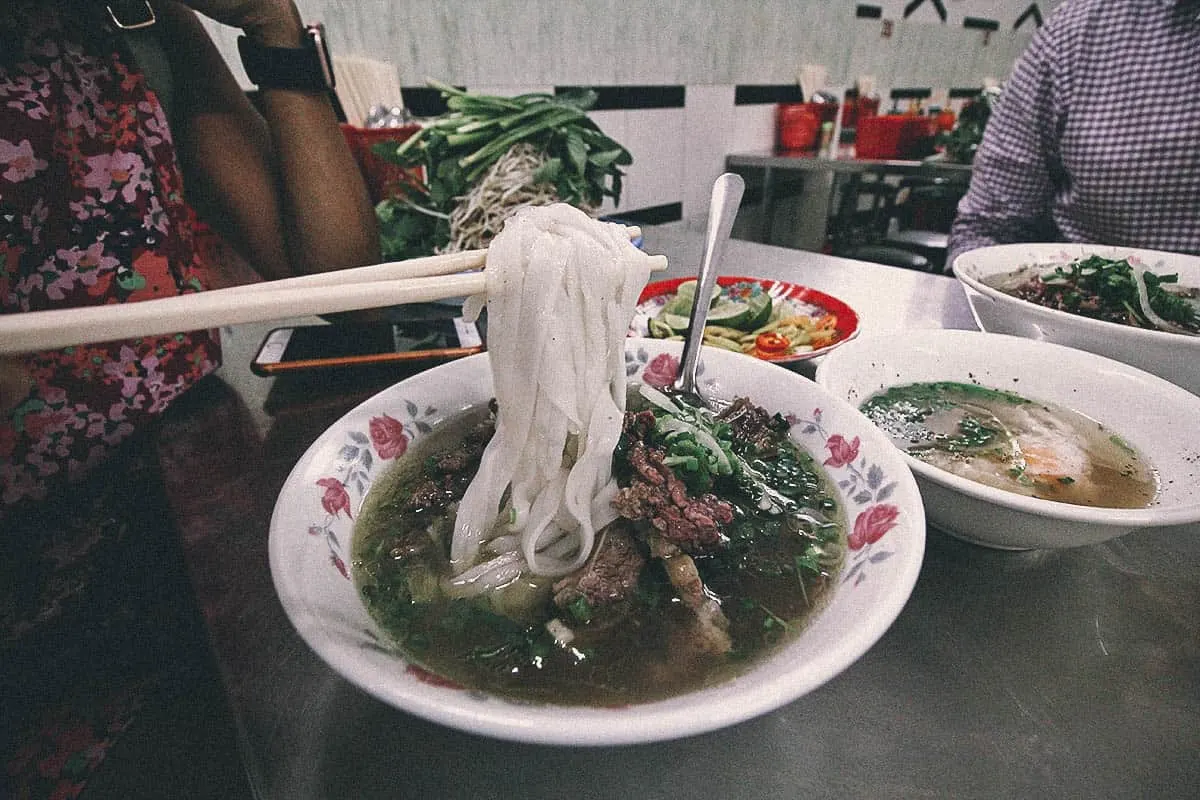 I believe this is another innovation of southern phở. According to Alex of Inspitrip, Saigon locals always enjoy their phở with this eggy bowl of broth. I love egg drop soup so I really enjoyed this as well. It added the richness of egg to the already flavorful phở. If you're visiting Ho Chi Minh City, then you may want to try Phở Lệ Nguyễn Trãi.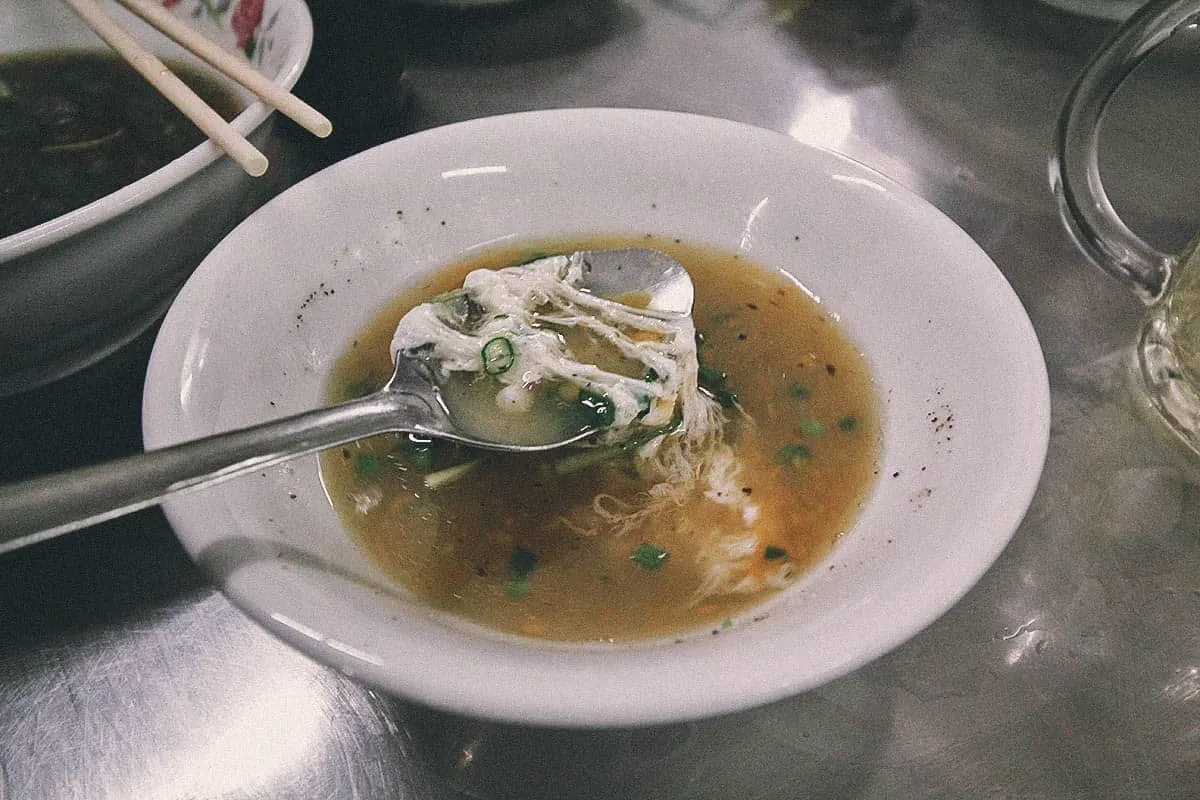 HOW TO MAKE PHO?
We tried phở in Northern and Southern Vietnam, but we learned how to make it in Central Vietnam. We took a cooking class at Thuan Tinh Island Cooking School in Hoi An. The secret to a good phở is in the broth, which can take several hours to prepare. You'll find the full recipe for phở bò ha noi at the bottom of this post.
Thuan Tinh Island Cooking School
There are many cooking classes to choose from in Hoi An but Thuan Tinh Island Cooking School is one of the most popular. As of this writing, they have a perfect 5.0 rating on TripAdvisor.
After the van picked us up from our hotel, we were dropped off at Hoi An Central Market with our instructor Hien to buy all the ingredients.

Here are the bánh phở or rice noodles. They're made by steaming rice batter into thin sheets, then cutting them into wide strands.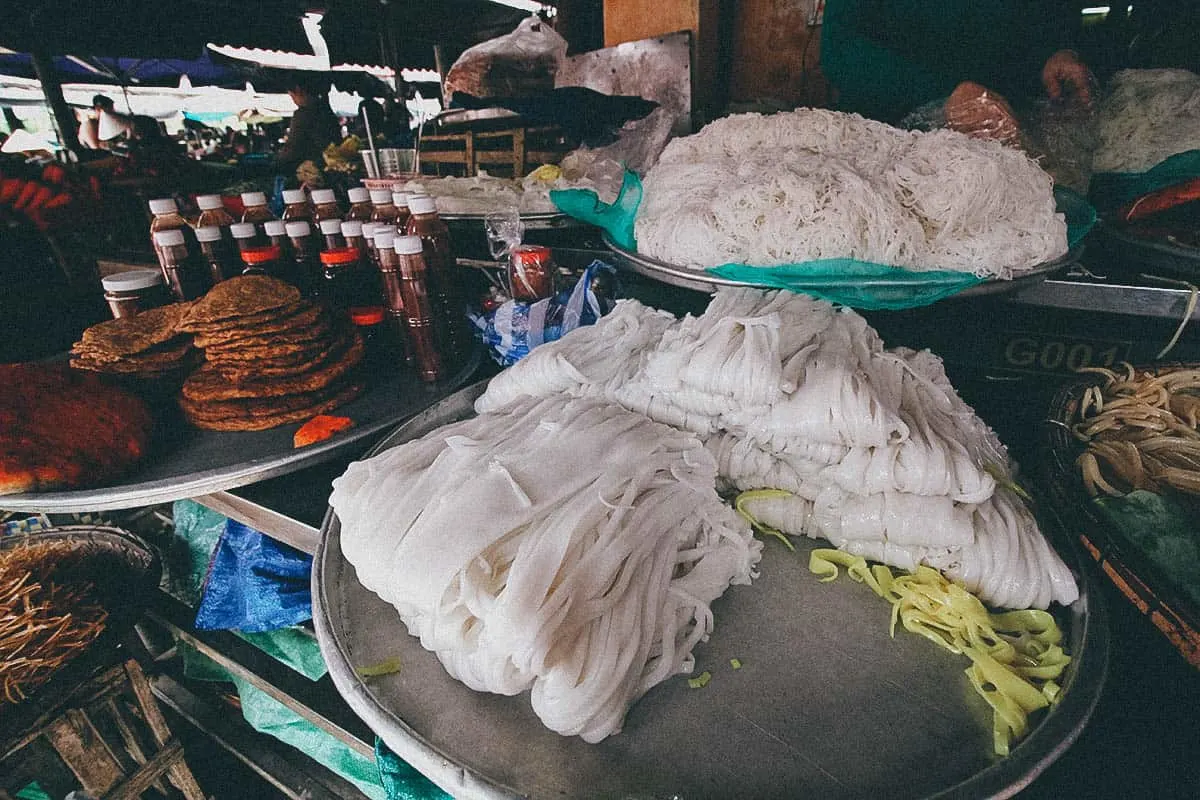 There's Ren super excited to make phở. 😆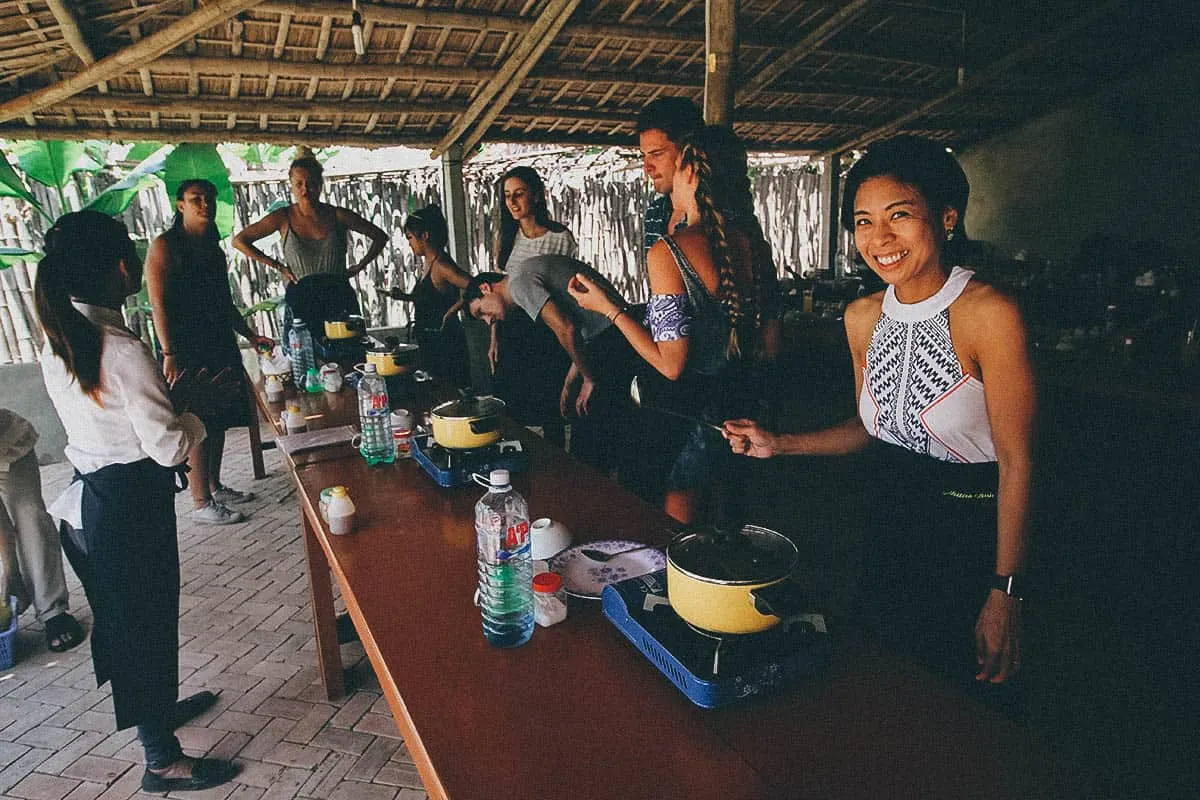 Here we are grilling the ginger and shallots. Hien taught us that quickly roasting the spices before adding them to the stock concentrates their flavor. On the side there are the beef bones we used to make the stock. If you like, you can use beef bones with a little meat still on them for a more intense flavor.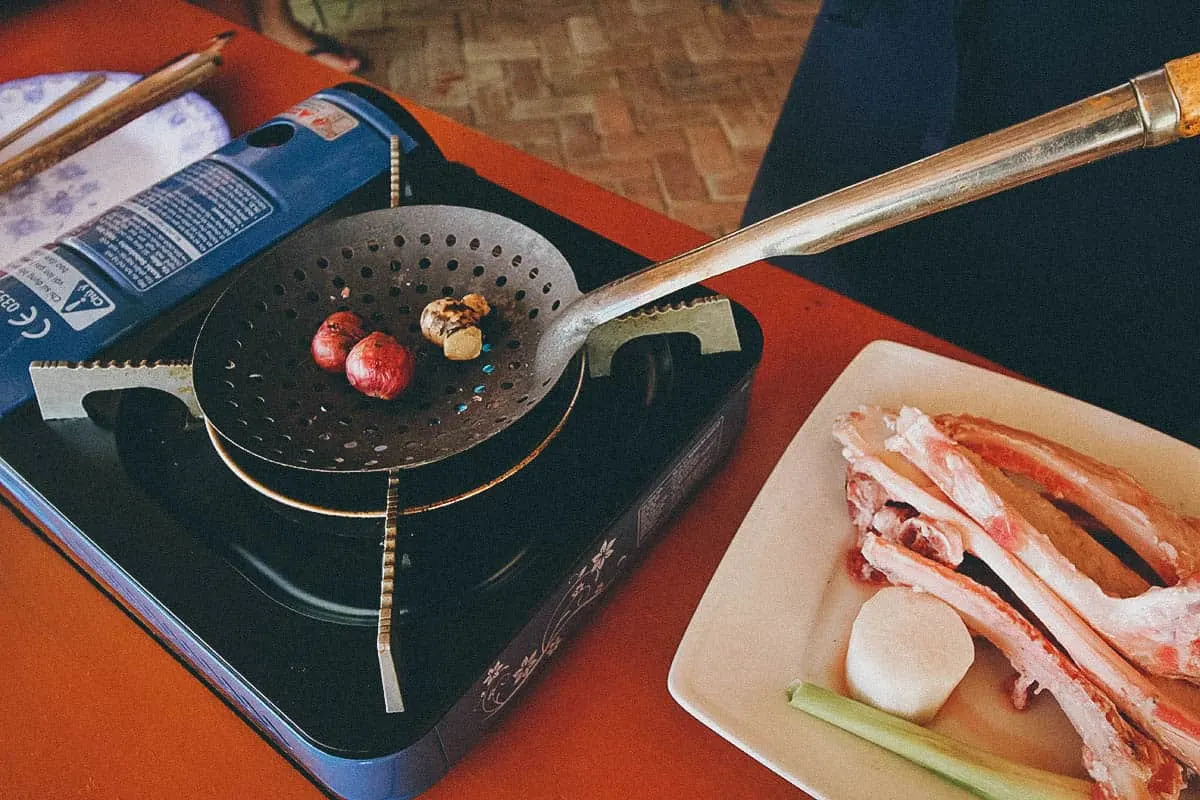 The broth is made by simmering beef bones with the charred onion, ginger, and other spices. We left this to simmer for about an hour.

When the broth was ready, we soaked the bánh phở in hot water for about 15 minutes. We then cooked it in boiling water over high heat for about 45-60 seconds until it was soft.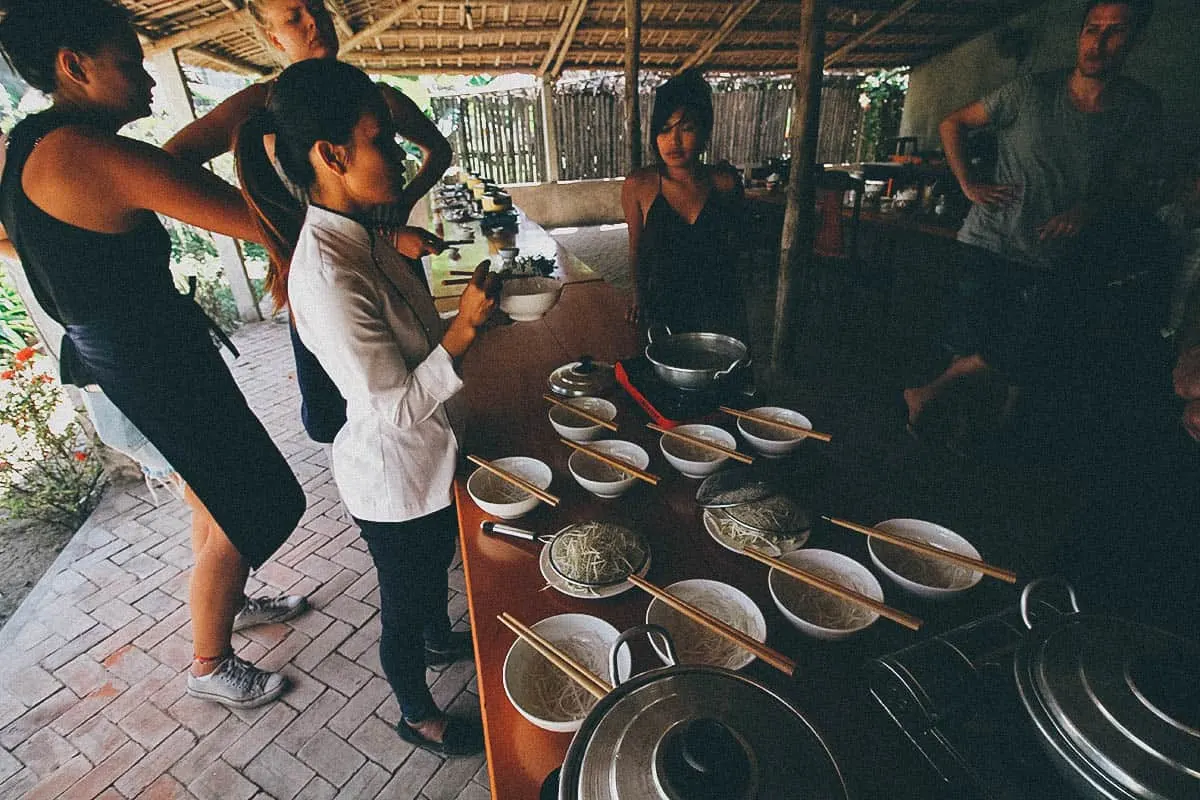 Put them all together, add some seasoning, and voila! Our beautiful bowl of northern-style phở. You can learn how to make it yourself by following the recipe below.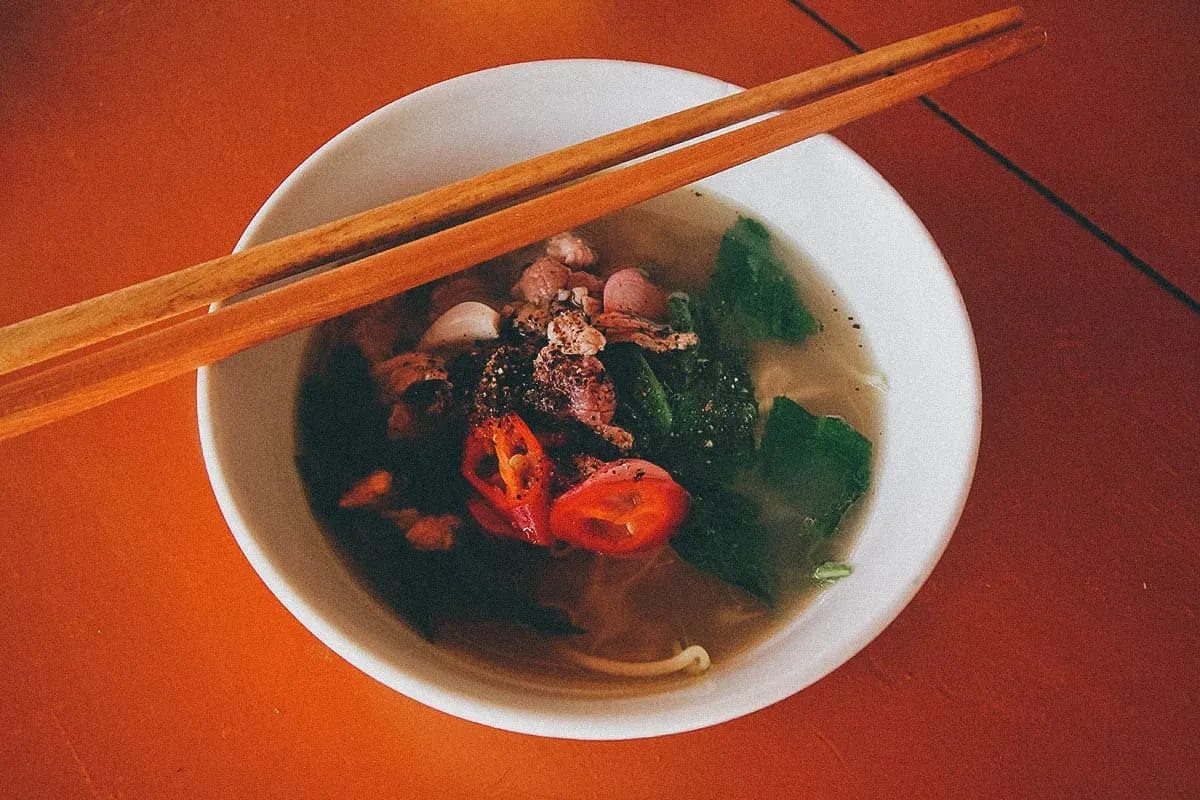 PHO BO HA NOI RECIPE
INGREDIENTS (for 5 bowls)
1 packet dry pho noodles 450g
Beef neck bones 500g
Beef skirt (belly) 500g
Beef tenderloin 150g
1 daikon radish
8 shallots (or 1 onion)
2 thumb-sized ginger
8 star anise
1 small cinnamon stick
Black pepper
Premium fish sauce
Lime
Bean sprouts
Green onions
Red chili
Sweet Thai basil
DIRECTIONS
Wash the neck bones and beef skirt. Put in a large pot with the daikon radish then pour in 3 liters of water. Bring to a boil, then simmer at low heat, skimming from time to time. Season with 1 tsp black pepper, and 1 ladle of premium fish sauce. Simmer for 1 hour.
Set the beef skirt aside to cool then slice finely across the grain. The meat should be melt-in-your-mouth tender but not falling apart.
Grill the cinnamon, ginger, and shallots. Clean the shallots and ginger, then crush lightly. Grill the star anise. Grilling concentrates the essence which will be infused into the broth. Add to the pot of broth and simmer for 5 minutes. Be sure to take out the cinnamon and star anise before the broth starts tasting like bark.
Taste the broth. It should feel slightly over-salty because the lime juice, bean sprouts, and noodles will absorb the flavor and make the broth taste bland. Add salt, fish sauce, and/or water to taste.
Soak dry rice noodles in hot water for 15 minutes, then cook in boiling water over high heat for about 45-60 seconds until soft. Drain well and place in bowls.
Top the noodles with 8-10 slices of beef skirt and 5 thinly sliced raw beef tenderloin poached in the boiling broth. Sprinkle with chopped green onions. Pour in boiling broth. Add 4-5 slices pickled red shallots. Serve immediately with a side of red chili slices, sweet Thai basil, blanched bean sprouts, and lime quarters.
Disclosure
The TripAdvisor links in this post are affiliate links, meaning we'll get a small commission if you make a purchase or reservation at NO extra cost to you. We really appreciate your support as this helps us keep this website going. Thank you!