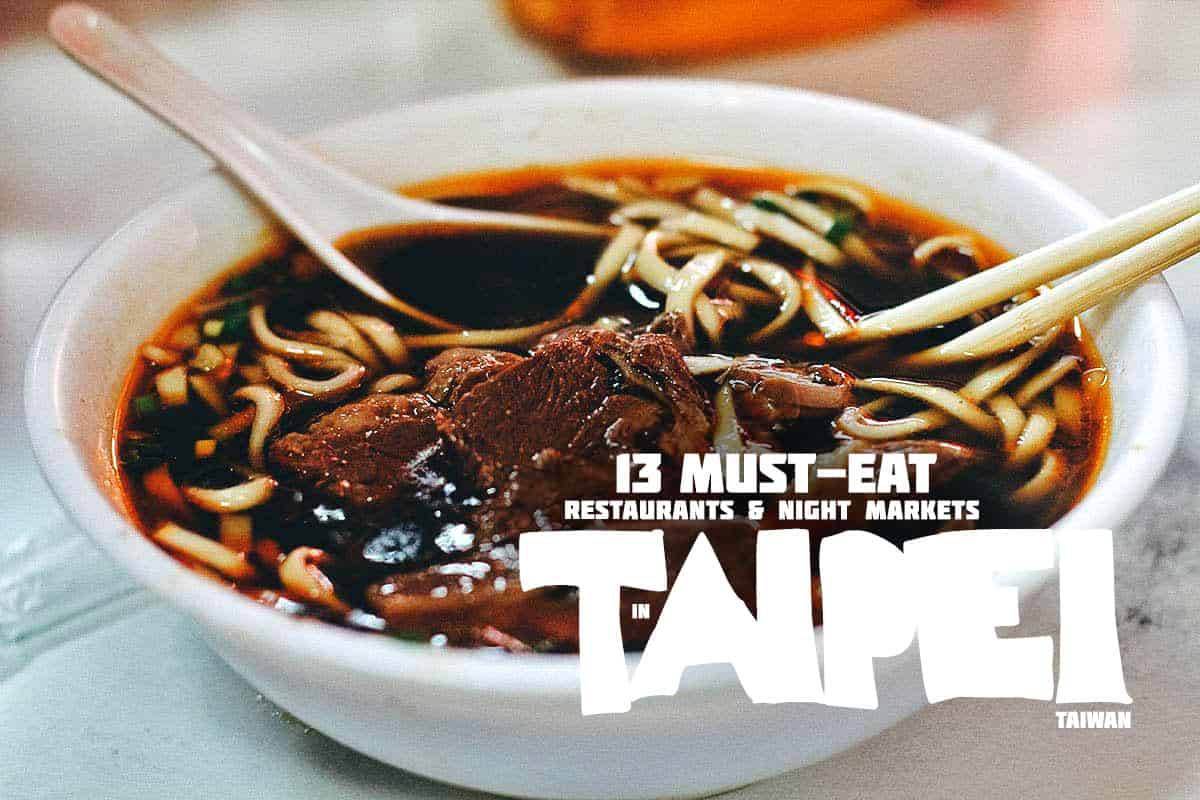 Taipei Food Guide: 13 Must-Try Restaurants
NOTICE: Your health and safety come first. Please adhere to the WHO recommendations and avoid any non-essential travel at this time. If travel is unavoidable for you, then please refer to these advisories on COVID-19 coverage from our friends at World Nomads and SafetyWing.
DISCLOSURE: Some of our articles contain affiliate links. The ones that do will have a disclosure statement at the bottom. You can refer to our privacy policy and terms of use for more information.
When it comes to food, Taiwan is one of our favorite countries to visit. The food is cheap, the choices are endless, and the local dishes are delicious. And at the center of it all is Taipei.
Ren and I have explored the local cuisine in nearly every major city in the country and Taipei is easily our favorite. Which isn't surprising considering it's the capital of Taiwan and one of its biggest cities. Like any metropolis, everything just seems better there.
Step into one of its night markets and you'll see immediately what a food-obsessed city this is. With so much good food to be had, having dinner at a night market can often be confusing. It's so hard to choose! Night markets are such a major part of the Taiwanese experience that eating street food at Shilin or Raohe night markets is every bit as important as visiting the observatory of Taipei 101.
If you're traveling to Taipei and want to experience the best local food, then this food guide will point you in the right direction. It'll show you where to have some of the best examples of core Taiwanese dishes like lu rou fan, shabu shabu, beef noodle soup, Taiwanese breakfast, and more.
As with all our food guides, we strive to find only the best local food so every restaurant, stall, or night market we suggest has been carefully vetted by us, either through local recommendations, trusted food blogs, the Michelin Guide, or crowd review websites.
WHAT & WHERE TO EAT IN TAIPEI
1. Ay-Chung Flour Rice Noodles
Ren and I like to eat at as many new restaurants as we can when we travel, so we try not to go to the same place more than once. In Taipei, we had three or four exceptions. This place is one of them.
Ay-Chung Flour Rice Noodles has just one dish on their menu – Taiwanese-style vermicelli or mee sua with braised pork intestine. If you've never had mee sua before, it's a type of thin wheat-flour noodle similar to vermicelli. Ay-Chung makes their bowl with the most tender bits of braised pork intestine. They were so soft I initially thought I was eating baby squid! The mee sua is silky smooth and the gravy had this wonderful smokey flavor which I read comes from bonito flakes in the soup base.
Ay-Chung's mee sua is plenty flavorful as it is, but you're welcome to add as much chili oil, garlic, and black vinegar as you wish. I literally could not stop eating this.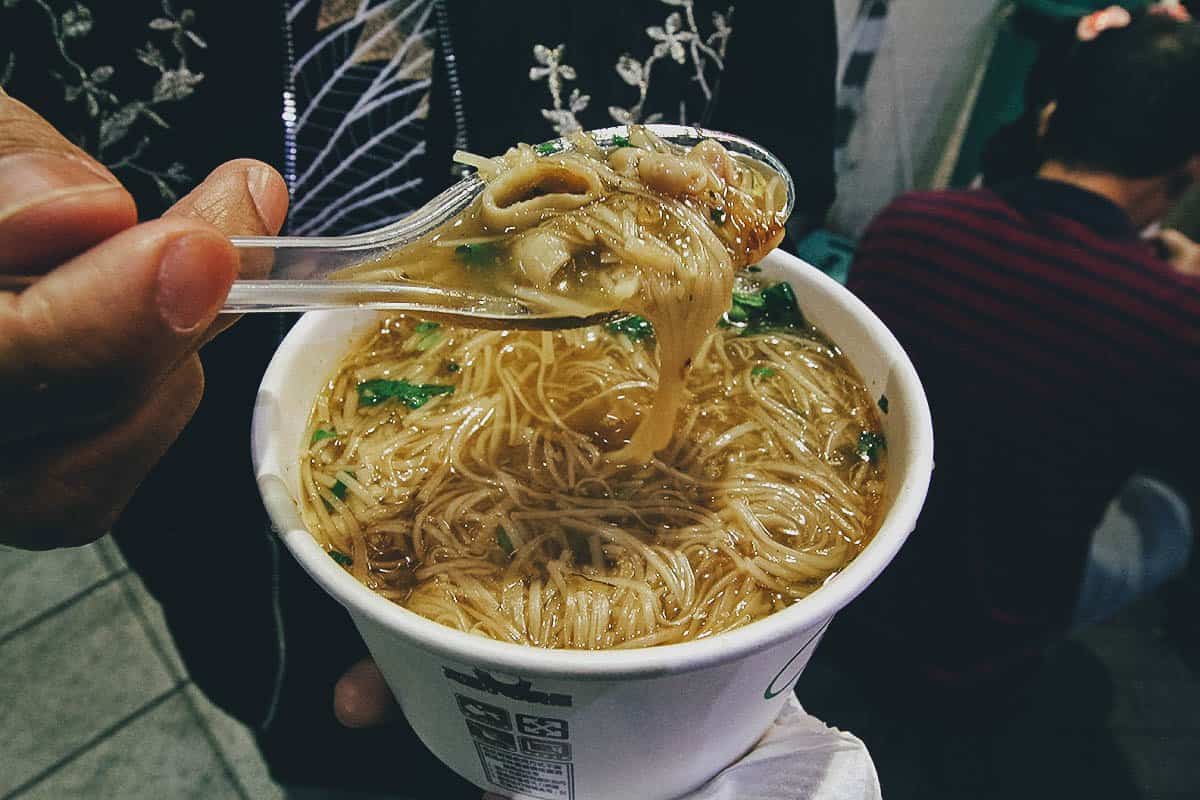 As you can see from this picture, Ay-Chung Flour Rice Noodles is popular. It's one of the most popular food stalls in Ximending, perhaps in all of Taipei. But don't let the long queue deter you. It moves quickly and this is a dish you shouldn't miss. It's featured on virtually every "what to eat" list in Taipei.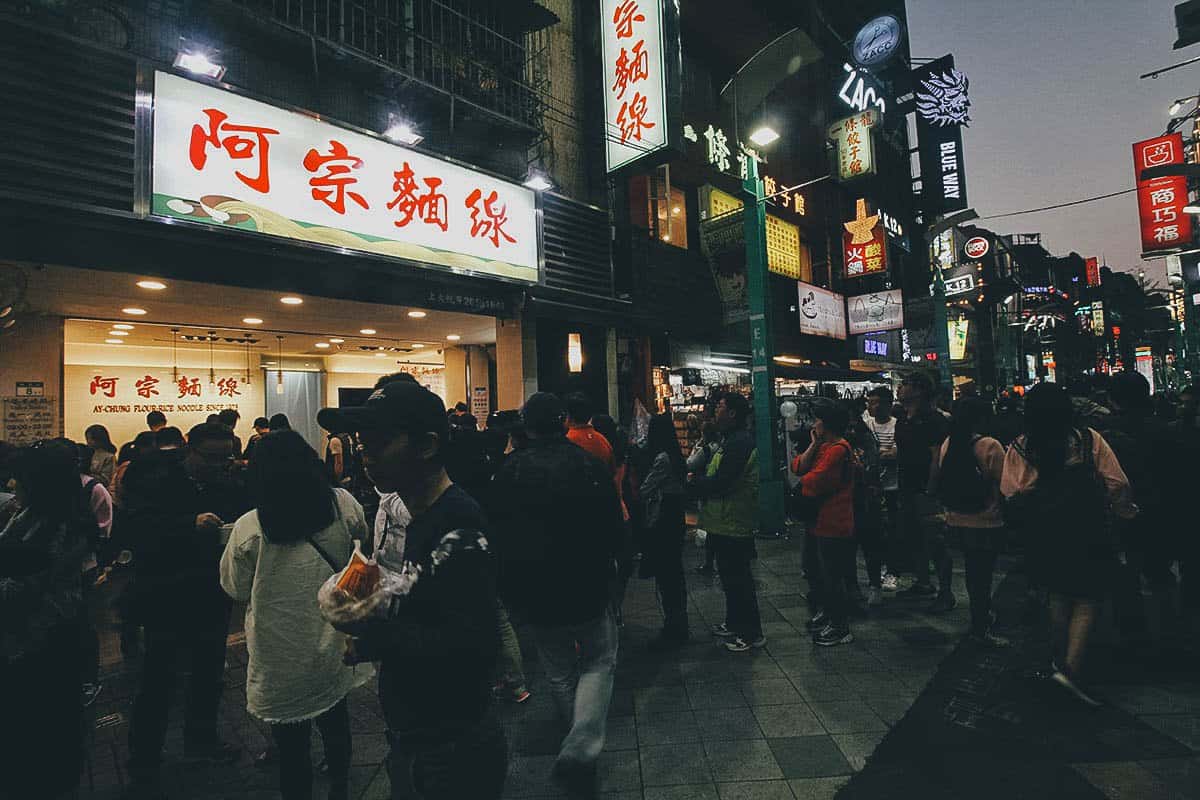 Ay-Chung Flour Rice Noodles
Address: No. 8-1, Emei Street, Wanhua District, Taipei City, Taiwan 108
Closest MRT Station: Ximen (Exit 6)
Operating Hours: 9AM-11PM, daily
What to Order: Braised intestine mee sua
Expect to Pay: NTD 70 (large), NTD 55 (small)
2. Fuhang Soy Milk (Fuhang Dou Jiang)
We visited many popular restaurants in Taipei but this one was by far the most popular. Fuhang Soy Milk is known as one the best places in the city to have a traditional Taiwanese breakfast, the line here literally goes down a flight of stairs, out the building's door, and around the block. Twice! This place is crazy popular.
Pictured below is my bowl of warm soy milk with youtiao or Chinese doughnuts. The food here is good and cheap, though I'm not experienced enough to say how much better it is than other Taiwanese breakfast places. I'm assuming it is judging by the small army of Taiwanese customers who come here every morning. On top of that, it has the distinction of being a Michelin Bib Gourmand awardee.
But it is worth the long-ass wait as a tourist? Hard to say. If you have the time and are willing to get up at the crack of dawn and possibly wait for an hour or more, then go for it. But if you aren't, then the good news is that you can purchase a voucher in advance through Klook and have the food delivered to you. Personally, I enjoyed the experience as much as the food so I suggest having it at the shop if you can.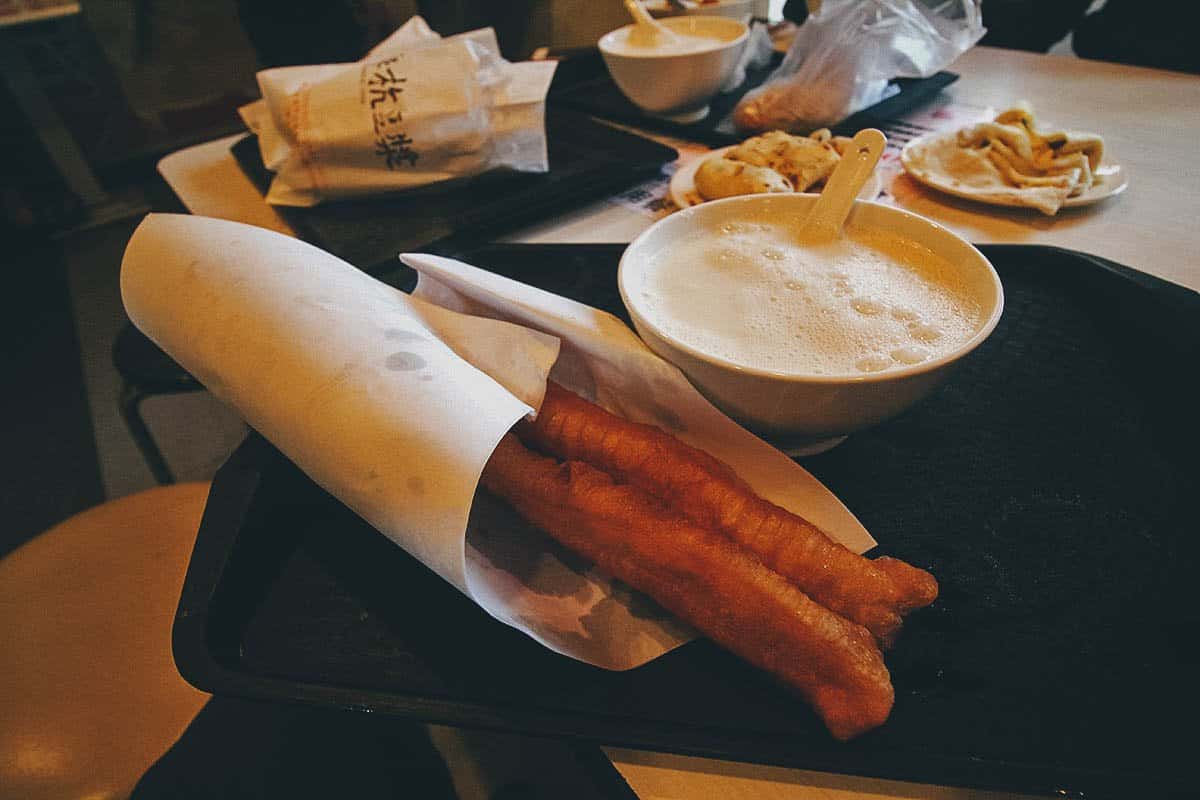 As described, the lines here get crazy long. This was the end of the line at 6:30AM. This queue looks long but it doesn't even tell the whole story. The line actually wrapped around the building before going up a flight of stairs.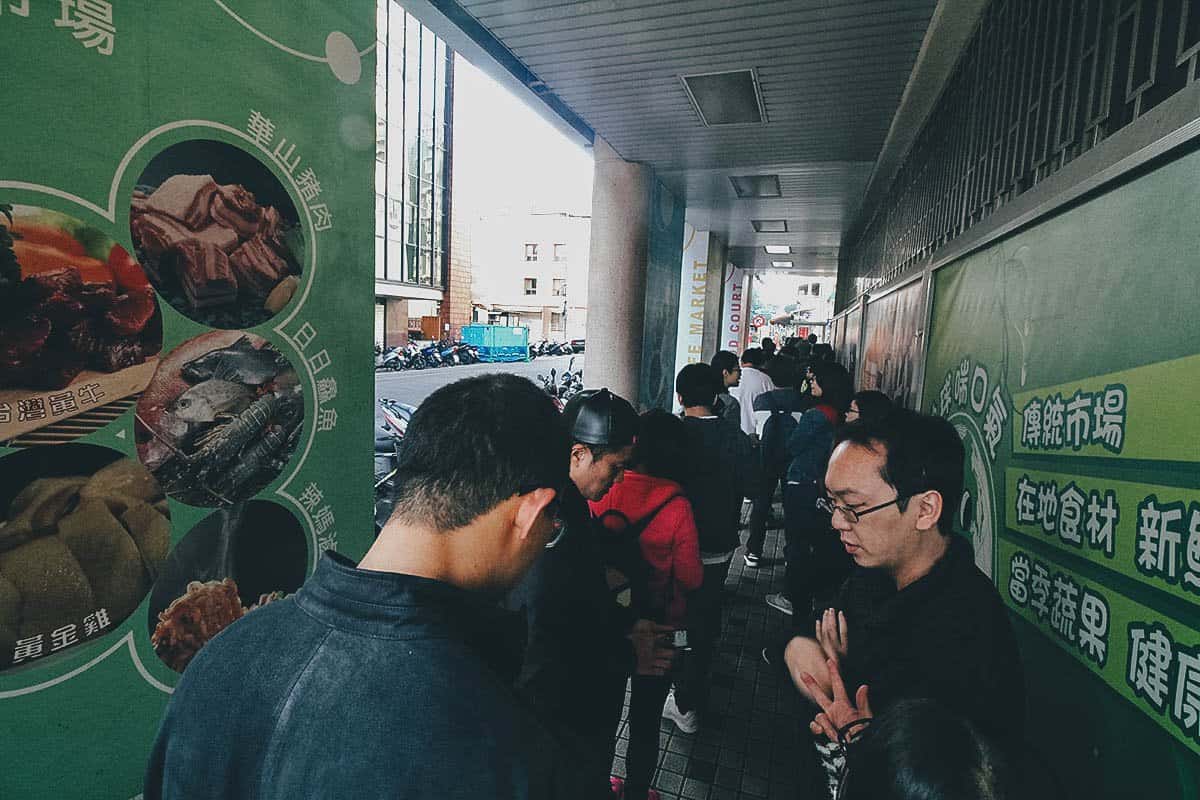 After waiting at least half an hour, I'm finally through the door and into the large cafeteria area. Aside from soy bean milk and fried dough sticks, Fuhang Soy Milk is known for serving many different types of Taiwanese breakfast items like egg crepes and roasted pancakes.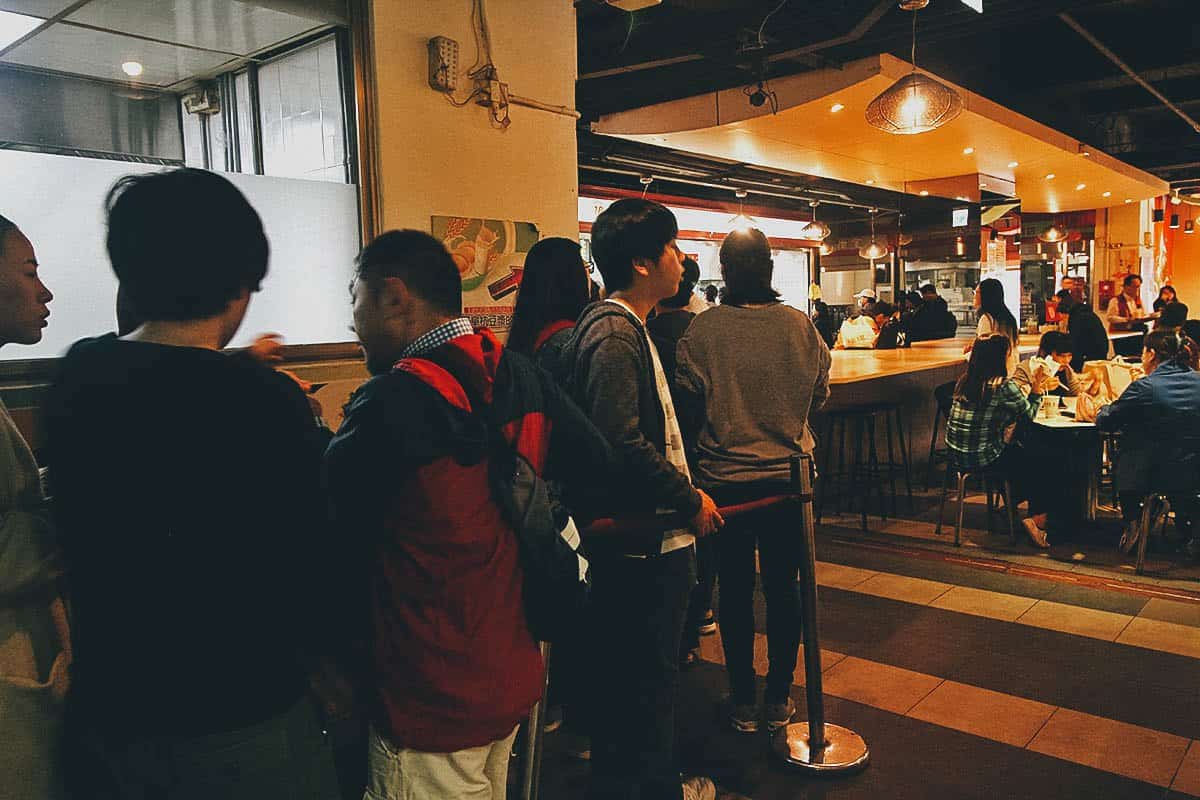 Fuhang Soy Milk
Address: 100, Taiwan, Taipei City, Zhongzheng District, Section 1, Zhongxiao East Road, 108號
Closest MRT Station: Shandao Temple (Exit 5)
Operating Hours: 5:30AM-12:30PM, Tue-Sun (Closed Mon)
What to Order: Soy bean milk, dough sticks, egg crepes, roasted pancakes
Expect to Pay: Less than NTD 100 per person
3. Tao-Yuan Street Beef Noodle Shop
Beef noodle soup, for many, is the most beloved comfort dish in Taiwanese cuisine. In fact, it's often regarded as the country's national dish. So popular is this dish that a festival and competition is held every year to find the best bowl of beef noodles in Taiwan. Only a handful of restaurants can lay claim to the title of "Best Beef Noodle Soup" in Taipei, and Tao-Yuan Street Beef Noodle Shop is one of them.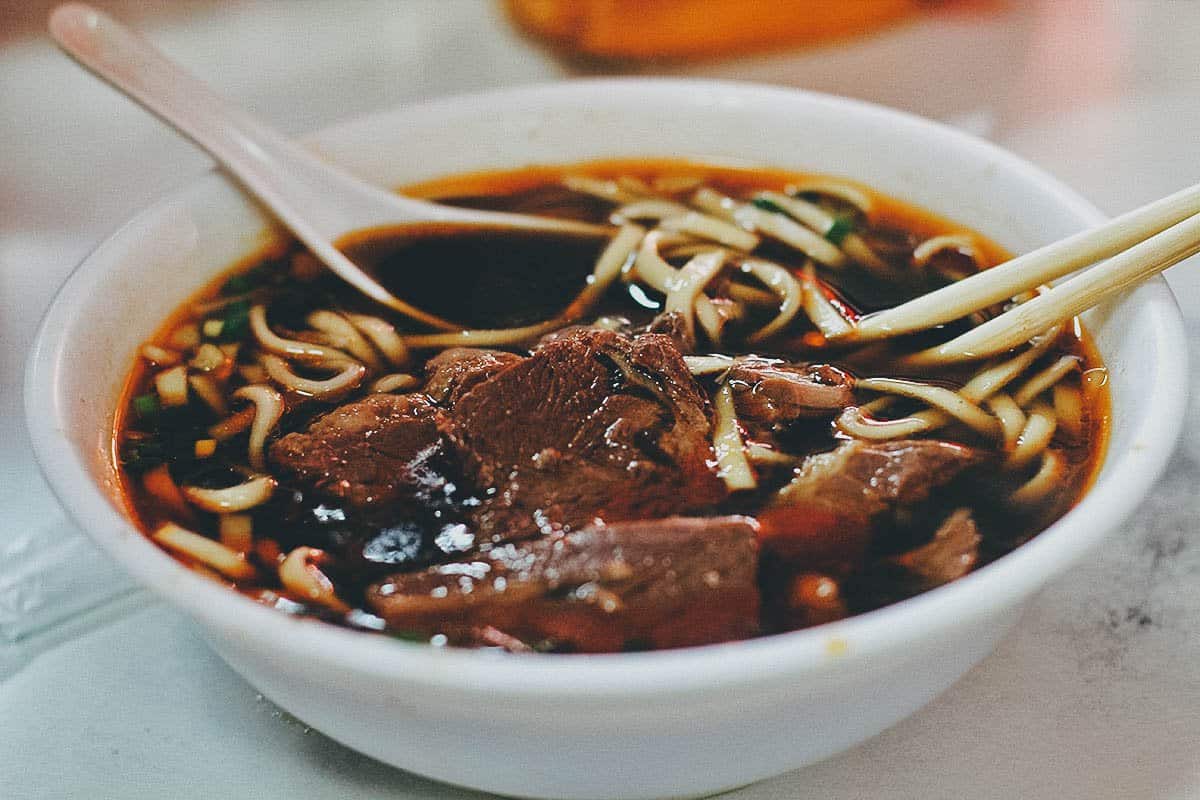 At Tao-Yuan Street Beef Noodle Shop, you can have your beef noodle soup with clear (below) or braised (above) broth. I prefer the braised but both are very good. The beef is fall-apart tender and the noodles are nice and springy. Like Ay-Chung Flour Rice Noodles, this place is popular so be prepared for a queue.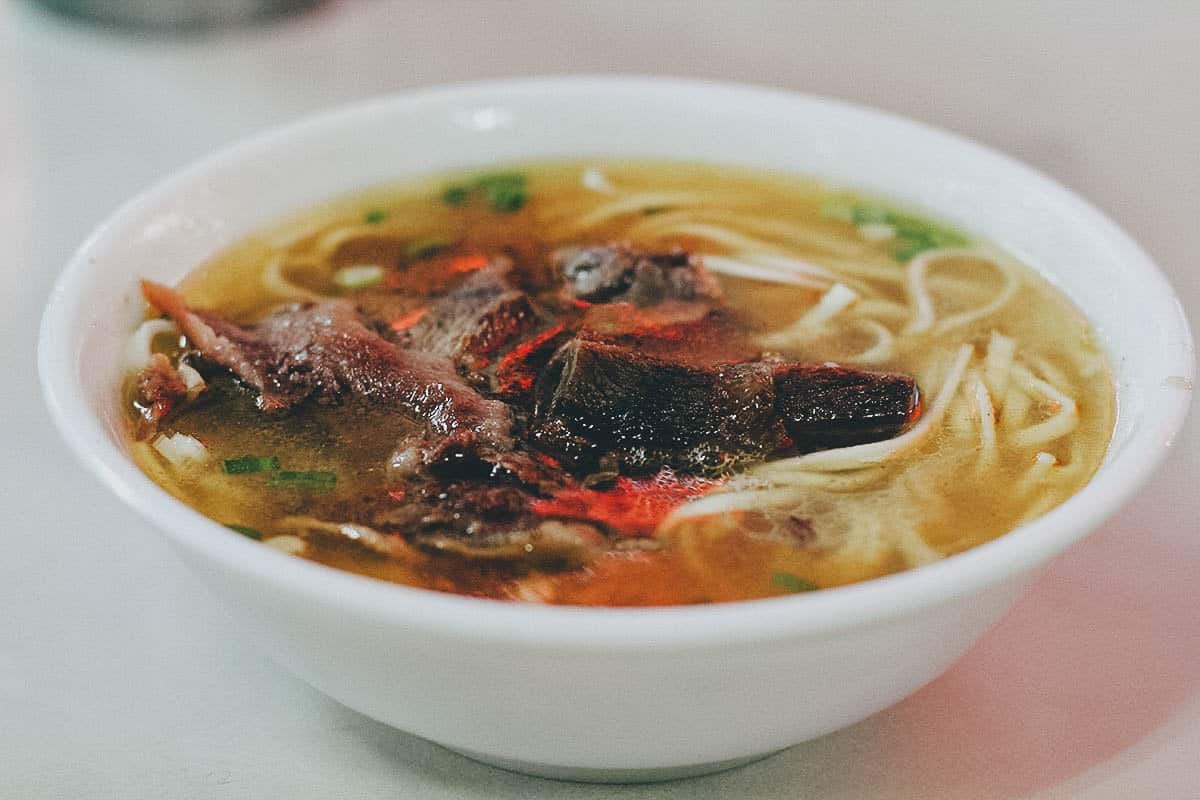 Tao-Yuan Street Beef Noodle Shop
Address: No.15 Taoyuan Street, Zhongzheng District, Taipei 100, Taiwan
Closest MRT Station: Ximen (Exit 3)
Operating Hours: 10AM-9PM, daily
What to Order: Beef noodle soup
Expect to Pay: NTD 220 per bowl
4. Jin Feng Lu Rou Fan
Lu rou fan or braised pork rice is one of the most beloved comfort dishes in Taiwan, taking a backseat only to beef noodle soup. It consists of minced pork belly that's been stir-fried and slow cooked in soy sauce until tender, then served over a bowl of steamed rice, usually with a hard-boiled egg on the side.
We had a bowl of braised pork belly rice to go with lu rou fan, a side of hard-boiled eggs, and tofu. The braised pork belly was delicious but the star here is clearly the lu rou fan. It's ultra-tender, fatty, and served with a thick savory-sweet sauce that's wonderful to eat with the rice.
Braised pork rice was one of my favorite things to eat in Taiwan. I enjoyed it so much that it was the one dish I missed most from our trip. In fact, I missed it so much I asked Ren to replicate it for me! Comforting and simple, it's something I could honestly see myself eating everyday.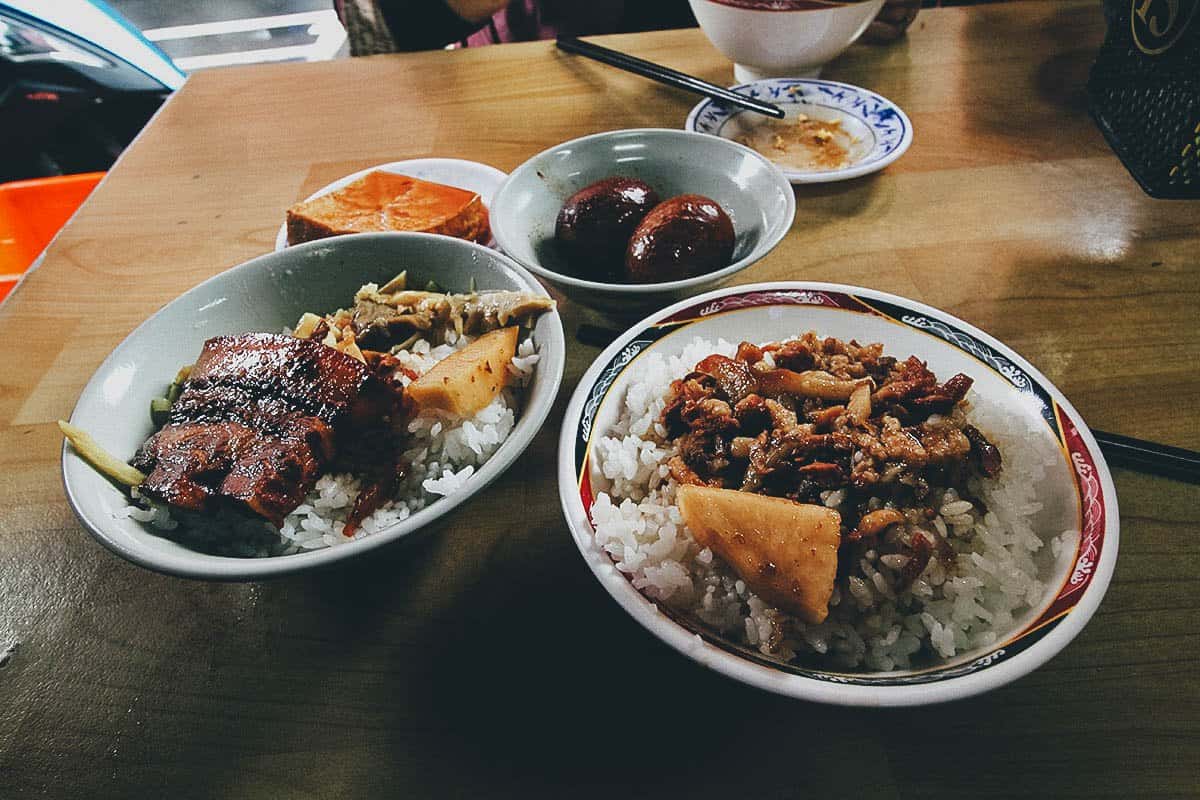 Google "best lu rou fan in taipei" and Jin Feng will dominate the search results. Like nearly every other restaurant on this list, it's clear how popular this place is from the long line of people waiting outside. But again, don't worry. People eat fast so the line moves fairly quickly.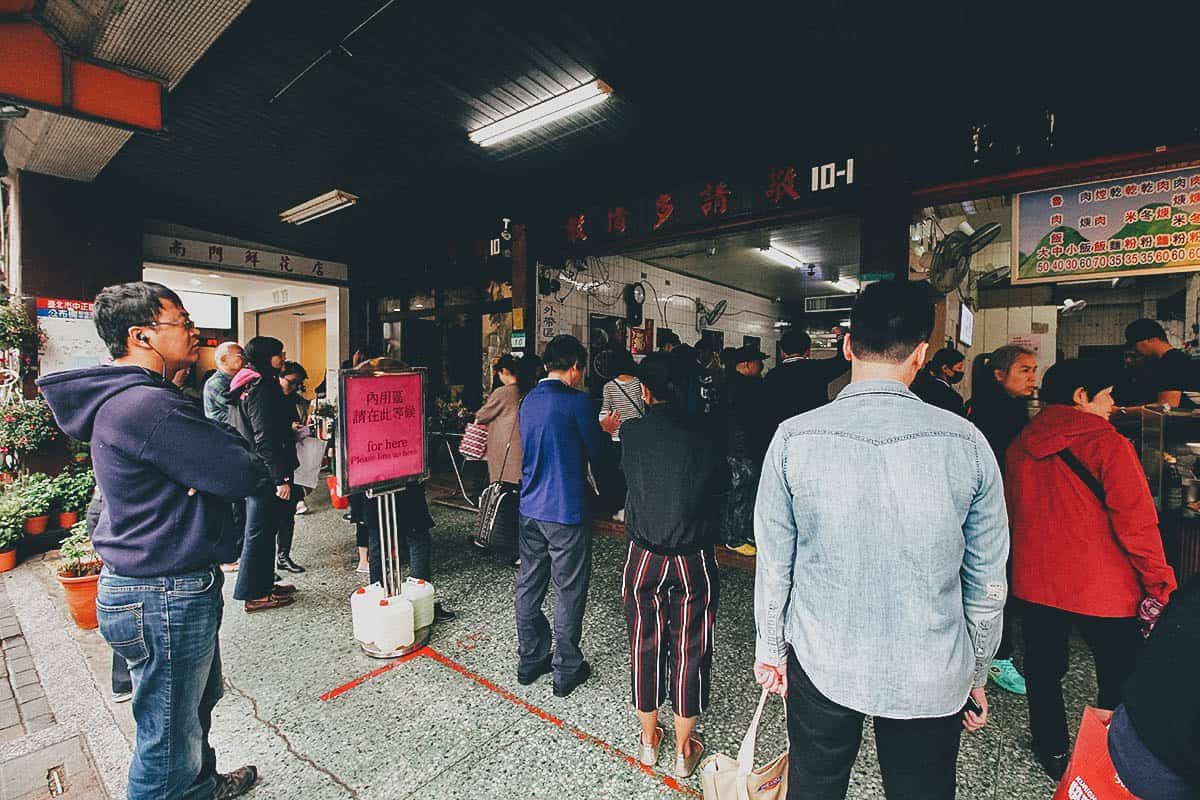 Jin Feng Lu Rou Fan
Address: No. 10-1, Sec. 1, Roosevelt Rd., Zhongzheng Dist, Taipei 100, Taiwan
Closest MRT Station: CKS Memorial Hall (Exit 2)
Operating Hours: 8AM-1AM, daily
What to Order: Lu rou fan (braised pork rice)
Expect to Pay: NTD 30 (small) / NTD 40 (medium) / NTD 50 (large)
5. Din Tai Fung
If you like xiao long bao, then Din Tai Fung needs no introduction. Din Tai Fung is a homegrown international chain of restaurants known for its dim sum, particularly its xiao long bao which many say is the very best in the world.
Xiao long bao is a type of baozi or Chinese steamed bun filled with pork and hot soup. Part of the reason that makes Din Tai Fung so good is their consistency. Made with the thinnest of wrappers, every xiao long bao that comes out of their kitchen has eighteen pleats and weighs exactly 21 grams. I think having OCD is a prerequisite to working here.
I have a Taiwanese friend who's lived in Beijing and according to him, there are many Din Tai Fung knock-offs in China. Many have copied the exact look and feel of the place but they fail in one key aspect – the xiao long bao. No one can seem to match the quality and consistency of Din Tai Fung.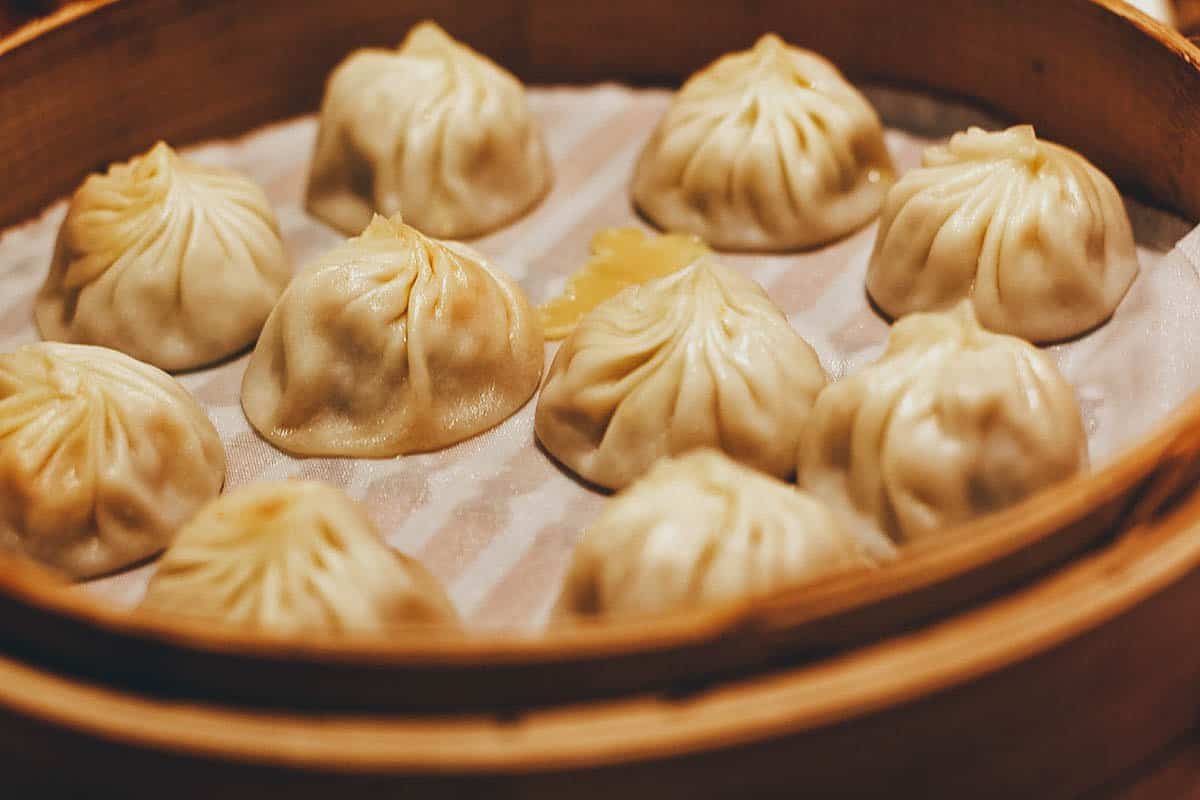 To keep from burning yourself, you're advised to pierce the skin first and suck out the soup. Only then should you put the dumpling in your mouth lest you spew hot soup all over your significant other.
KKday offers a voucher for a xiao long bao set meal at Din Tai Fung. You can also get a voucher for a Taipei night tour that ends with dinner at Din Tai Fung through Klook.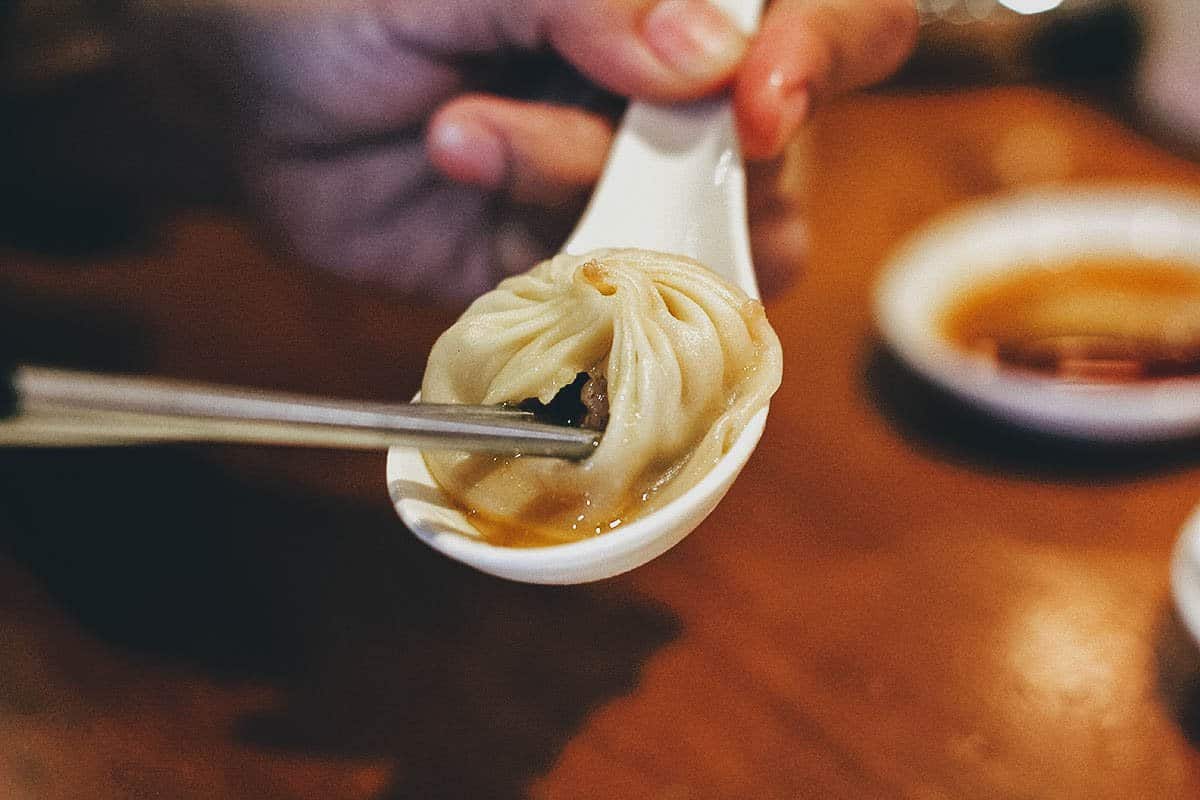 There are several Din Tai Fung branches in Taipei but we ate the the Taipei 101 branch, located in the building's basement. Like nearly every other place on this list, expect a line if you eat here.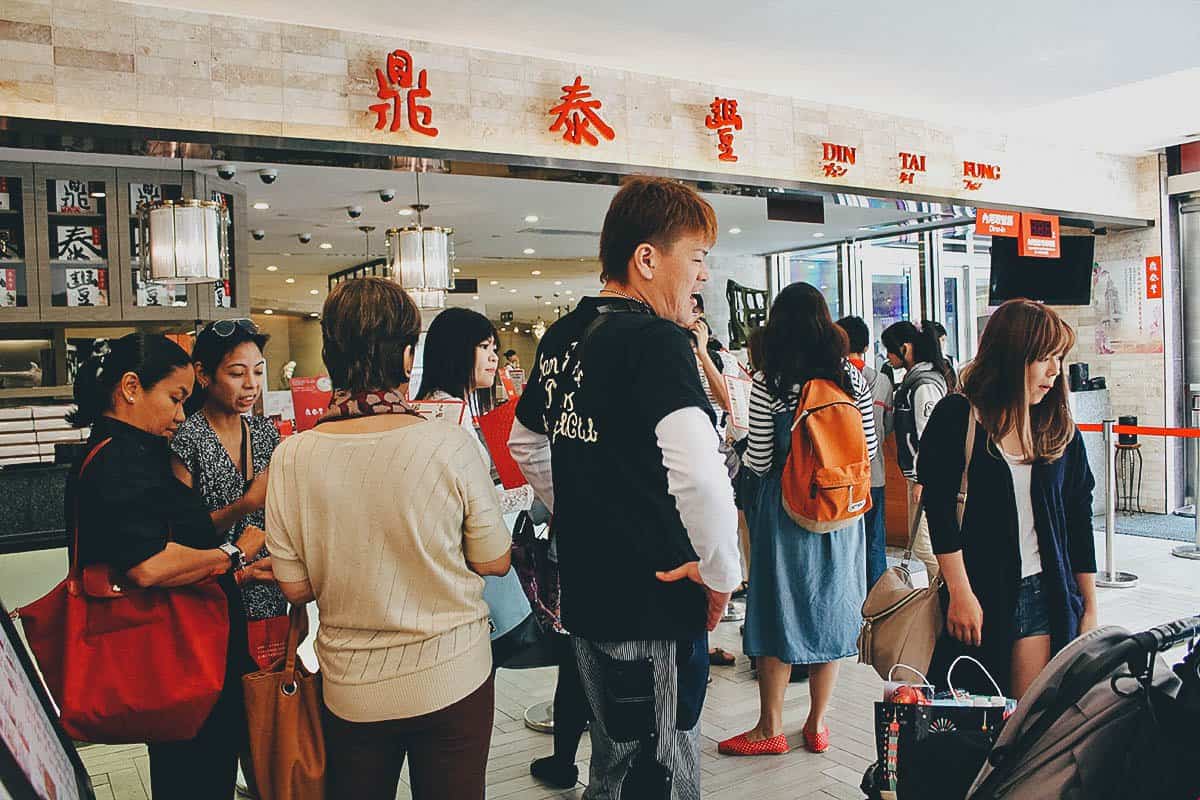 Din Tai Fung
Address: B1, No. 45, Shifu Rd., Taipei 101 Mall, Taipei City, Taiwan, ROC
Closest MRT Station: Taipei 101 World Trade Center (Exit 4)
Operating Hours: Sun-Thurs, 11AM-9:30PM / Fri, Sat, Day before Holiday, 11AM-10PM
What to Order: Xiao long bao, dim sum
Expect to Pay: Around NTD 500 per person with drinks
6. Orange Shabu Shabu House
Hot pot or shabu shabu is a core Taiwanese dish. I asked my Taiwanese friend to recommend a good hot pot restaurant in Taipei, and he said without hesitation – Orange Shabu Shabu House. According to him, it's the best hot pot restaurant in Taipei. He may be right.
To be honest, I didn't think I'd be able to tell the difference because hot pot is hot pot, right? Wrong! This turned out to be the best damn hot pot we've ever tasted in our lives. You can absolutely tell the difference. From the quality of the soup base to the dipping sauce to the freshness of the ingredients, everything about Orange Shabu Shabu House was phenomenal.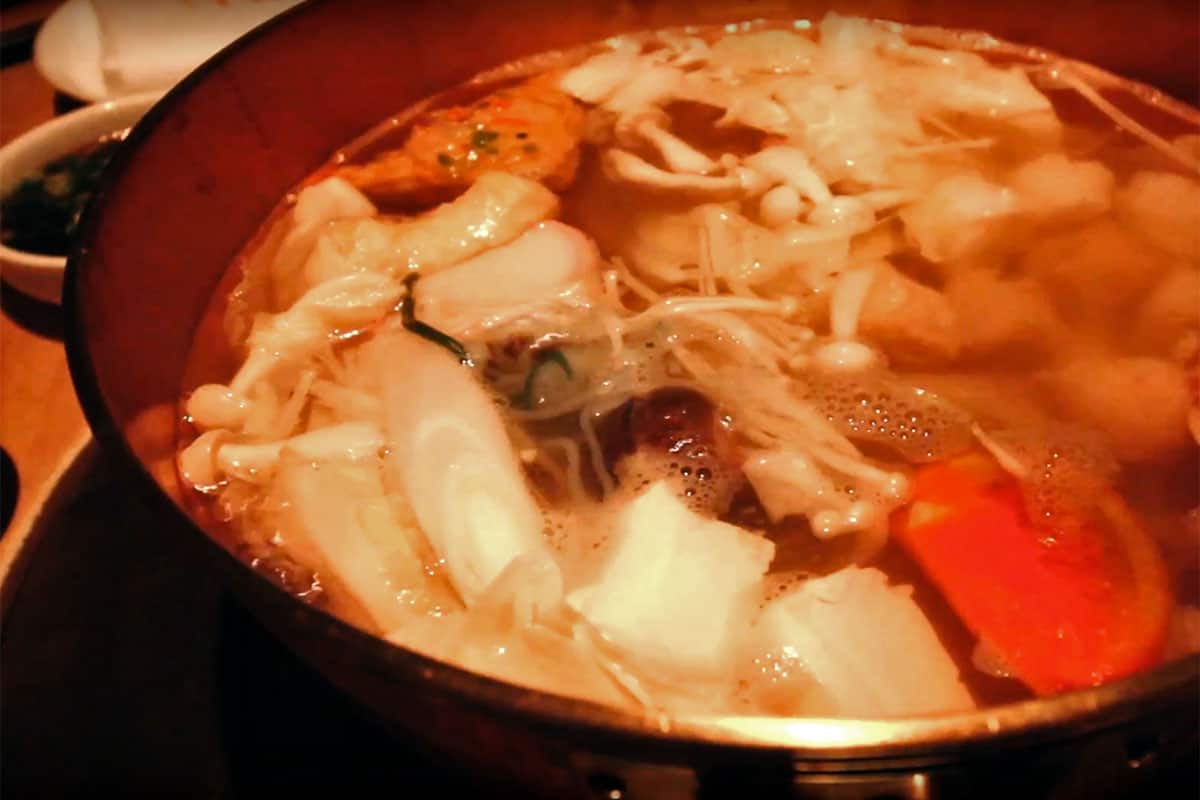 According to my friend, it's difficult to book a table at Orange Shabu Shabu so it's highly recommended you make reservations. Unfortunately, you can't do it via email so you'll need to call the Orange Shabu Shabu restaurant. They speak limited English so you may need someone to help you make the reservation.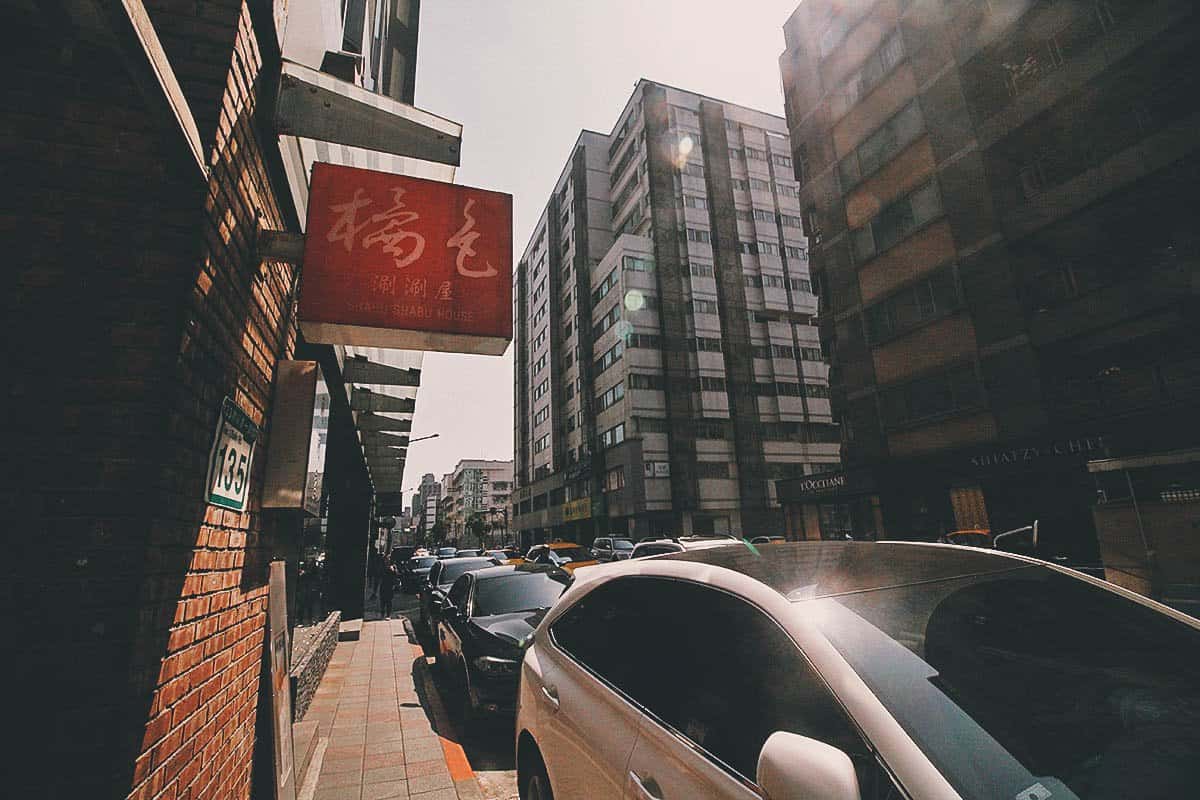 Orange Shabu Shabu House
Address: B/1, No. 135, Section 1, Da'an Road, Taipei, Taiwan ROC
Closest MRT Station: Zongxiao Fuxing (Exit 3)
Operating Hours: 11:30AM-11PM, daily
What to Order: Taiwanese hot pot
What We Paid: NTD 1,474 for two
7. Shao Shao Ke
I stumbled upon this restaurant specializing in Shanxi cuisine when I was doing research for our trip. I had never heard of Shanxi food before, but two words in the cuisine's description convinced me to add Shao Shao Ke to our itinerary – lamb and cumin.
Shanxi cuisine is the cooking style of Shanxi Province in China. Noodles figure prominently in the cuisine, as does lamb. They're also known for using a unique type of vinegar in their food. Called Shanxi mature vinegar, it's a prized vinegar produced exclusively in the area.
Pictured below are deep-fried lamb skewers with cumin, one of many lamb dishes they have on their menu. This dish was fantastic and unlike any lamb dish we've had in the past. It was tender with a light crisp coating and a flavorful punch of cumin. If you have a fondness for lamb, then I suggest you try this.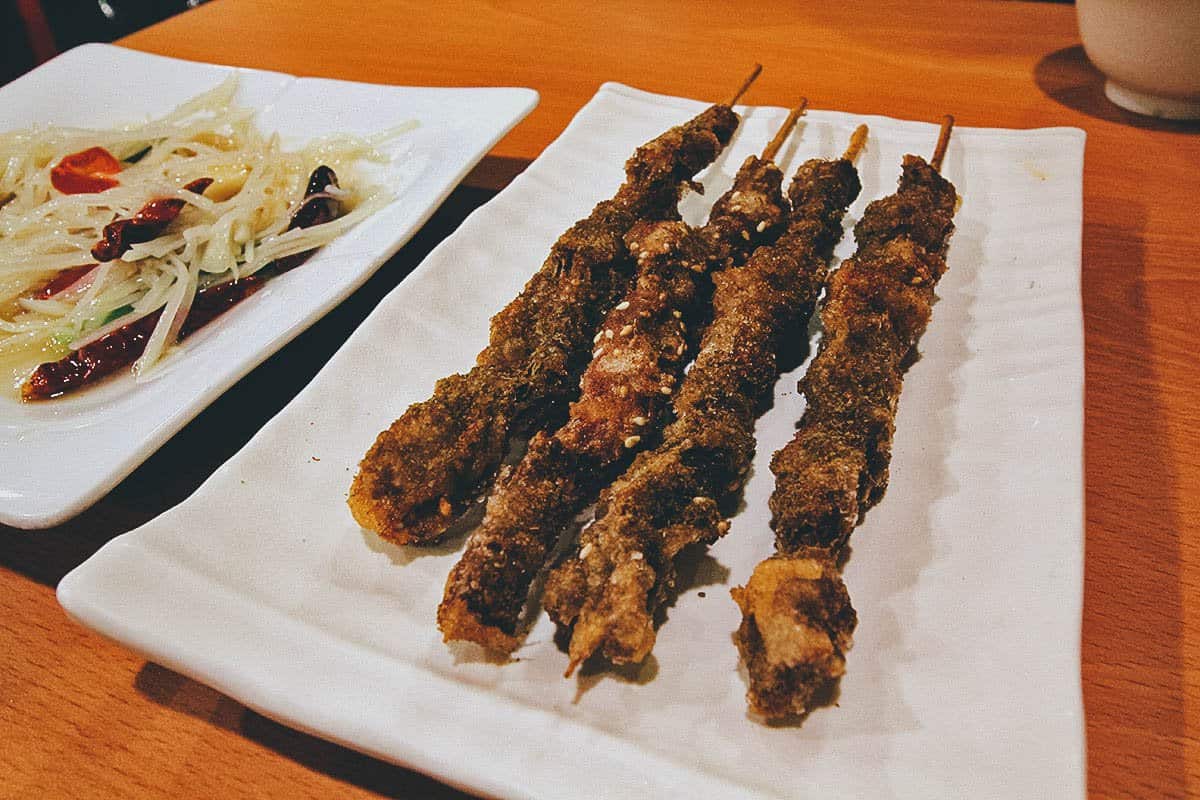 Two skewers of lamb weren't enough for Ren so she ordered this bowl of knife-cut noodles with green onion, carrot, and lamb. Knife-cut noodles, and noodles in general, are a Shanxi specialty so be sure to try this as well. The noodles are fantastic – bouncy and elastic with great bite.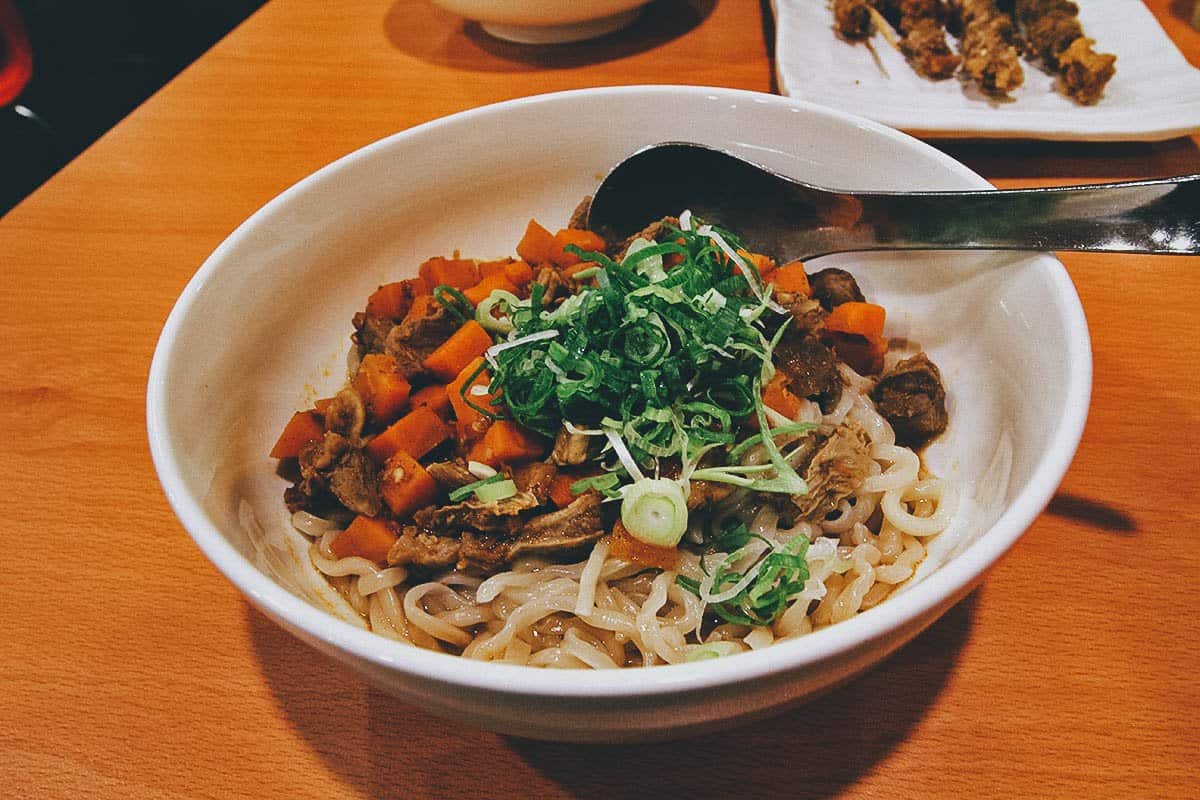 These deep-fried soy cheese puff pastries are a must-try as well. In fact, they're so popular that you're advised to put in an advanced reservation for them! They're made with soy tofu cheese that's deep-fried in a triangular puff pastry and dusted with powdered sugar. The cheese has a texture similar to mozzarella so it comes away in gooey strings each time you take a bite. It's absolutely delicious!
Shanxi cuisine is interesting and apparently not something you see too often outside of the region, so I strongly suggest you enjoy a meal here. You can read my post on Shao Shao Ke for more information about the restaurant and Shanxi cuisine.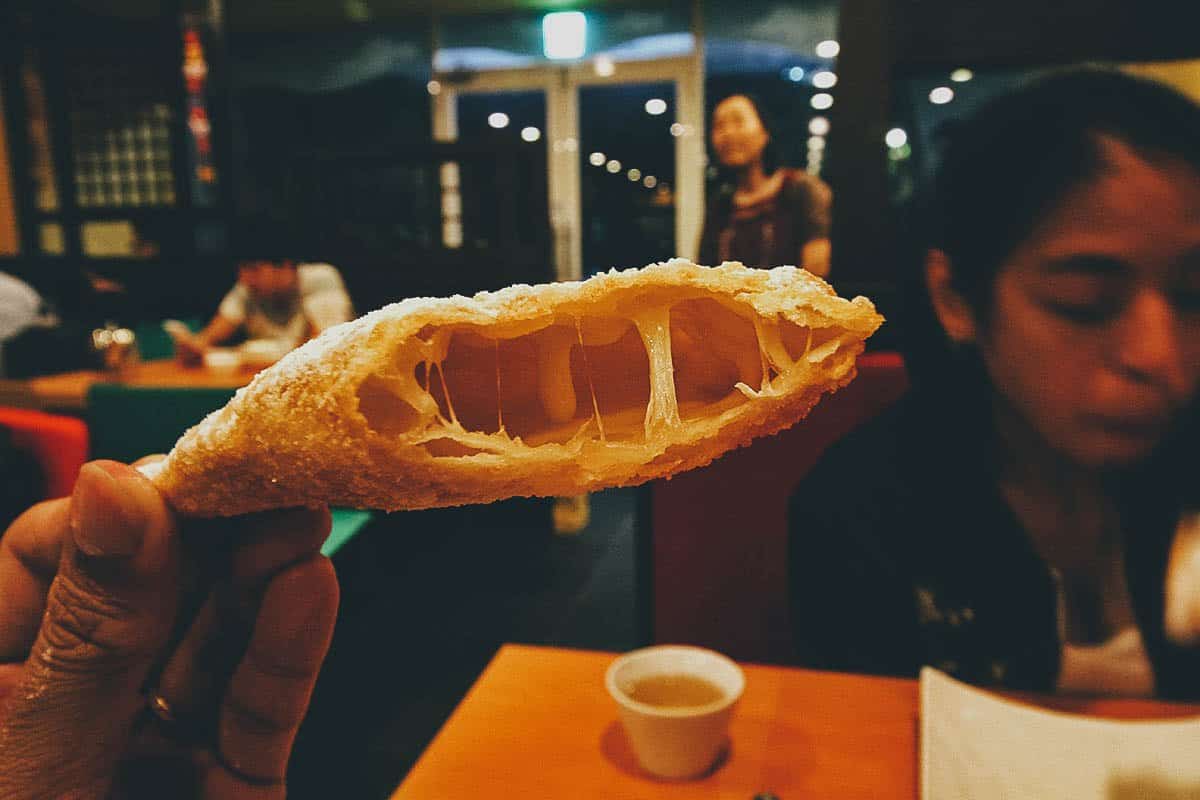 Shao Shao Ke is about a 5-10 minute walk from Huashan 1914 Creative Park so it's a great place to eat before or after a trip to the park.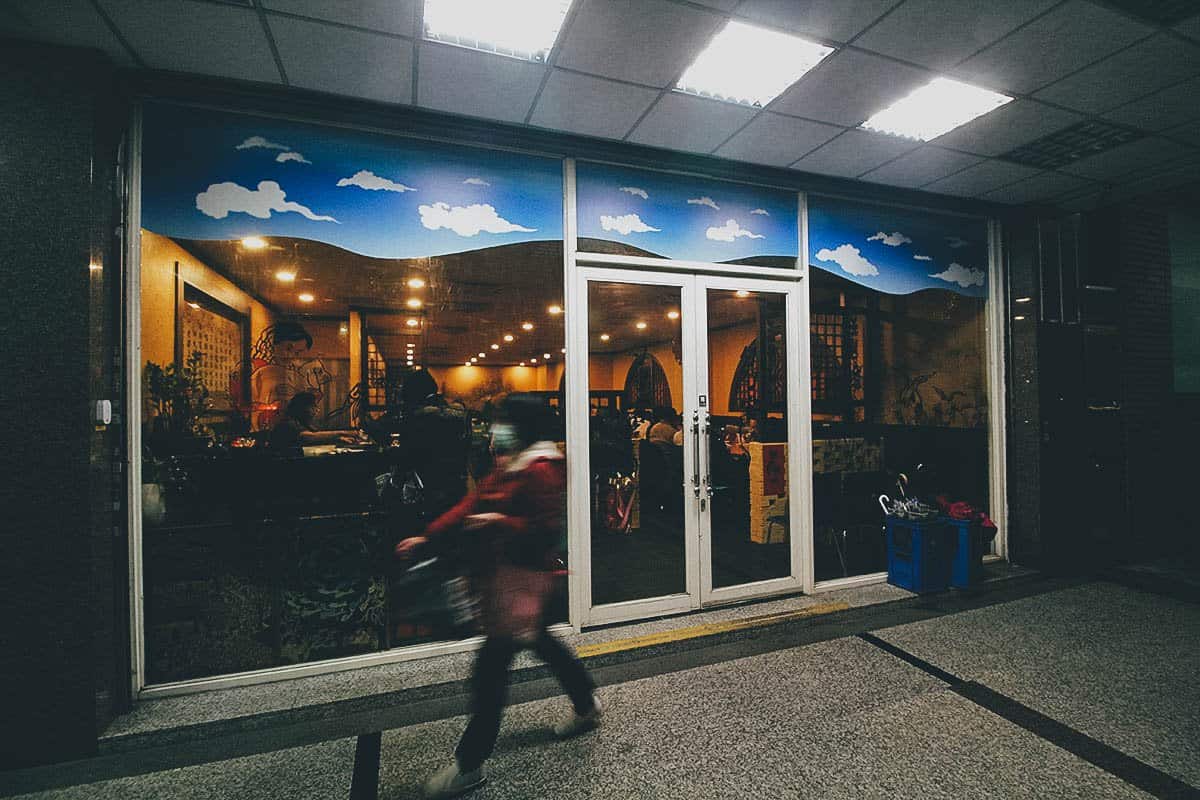 Shao Shao Ke
Address: No. 27, Section 1, Hangzhou South Road, Zhongzheng District, Taipei City, Taiwan 100
Closest MRT Station: Shandao Temple (Exit 3)
Operating Hours: 11:30AM-2:30PM / 5:30-9:30PM, Tue-Sun (closed Mon)
What to Order: Lamb, knife-cut noodles, bun noodle soup, deep-fried soy cheese pastries
What We Paid: NTD 704 for two with drinks
8. Fei Qian Wu
Unagi or Japanese barbecued eel is one of my favorite foods in the world. I was thrilled to find Fei Qian Wu, a restaurant known for serving some of the best unagi bento boxes in Taipei.
Pictured below is my large box of unagi next to Ren's small order. Now how good do these look?? If you've never had unagi before, it's freshwater eel that's broiled and slowly grilled over coals while being basted with a kabayaki sauce (sweet soy sauce). It's smokey, savory, and a little sweet with the most wonderful soft and lightly charred texture. I love it.
Taiwan was under Japanese rule for fifty years so there are plenty of Japanese restaurants throughout the country. The Taiwanese know Japanese food so if you like unagi, then you may want to enjoy a meal here.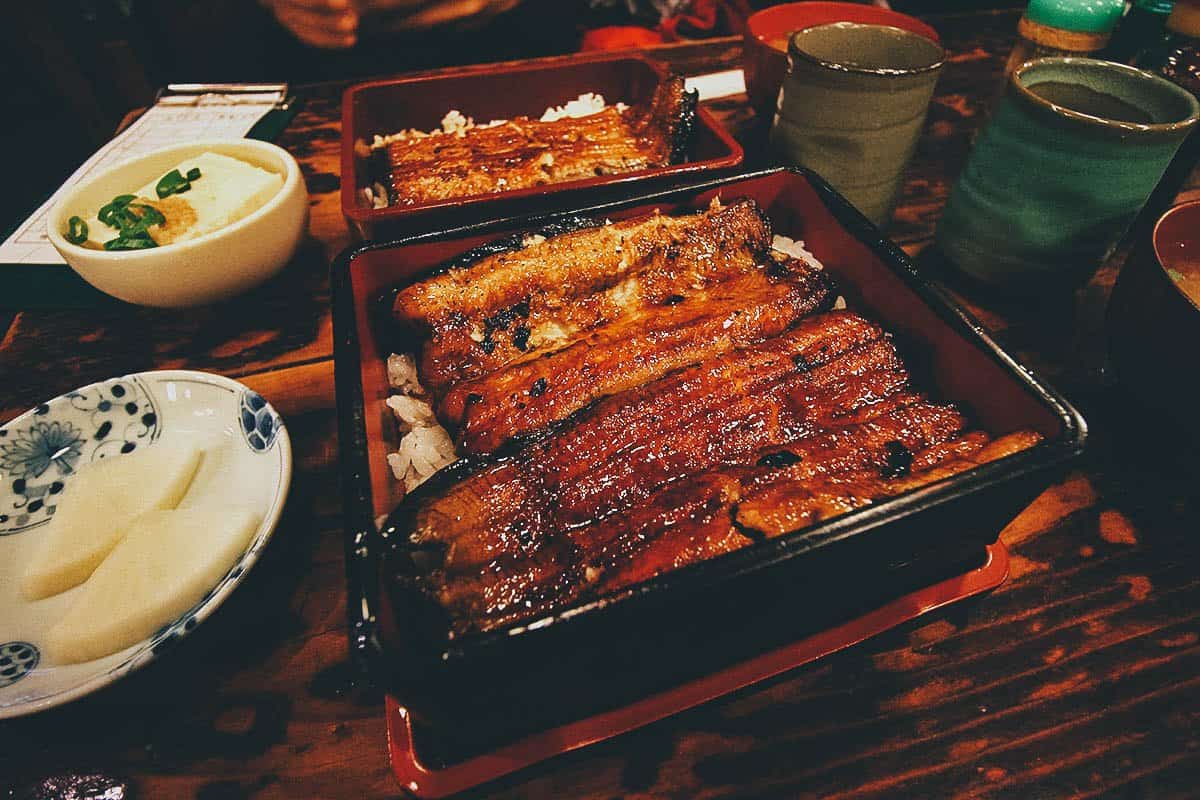 Fei Qian Wu often sees long queues but we arrived at an odd hour in the afternoon so thankfully, we didn't have to wait too long.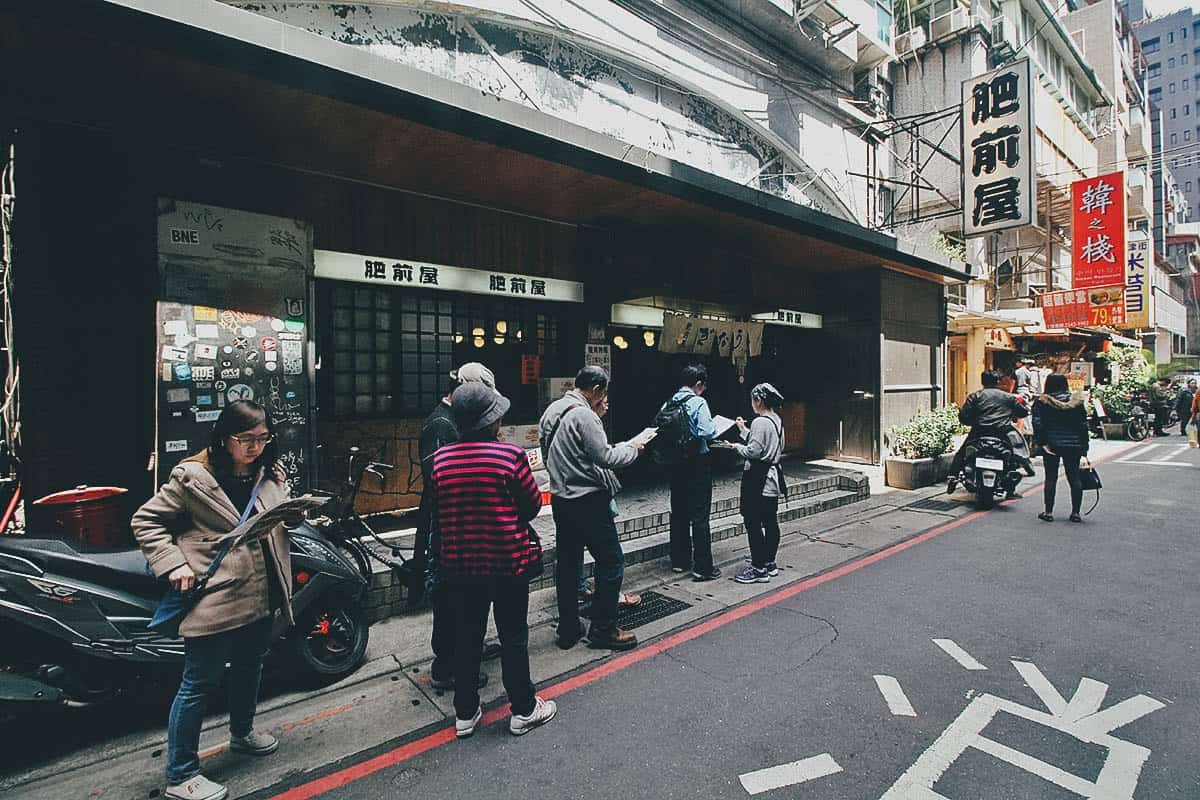 Fei Qian Wu
Address: No. 13, Lane 121, Section 1, Zhongshan North Road, Zhongshan District, Taipei 104, Taiwan
Closest MRT Station: Zhongshan (Exit 2)
Operating Hours: 11AM–2:30PM / 5–9PM, Tue-Sun (Closed Mon)
What to Order: Unagi over rice
Expect to Pay: NTD 480 (large) / NTD 250 (small)
9. Addiction Aquatic Development
This is one of the most interesting and jaw-dropping food establishments we've been to thus far in Taipei. I say "food establishment" instead of restaurant because it's so much more than that.
Addiction Aquatic Development is basically an upscale live seafood market, gourmet food supermarket, seafood bar, sushi bar, oyster bar, seafood barbecue restaurant, hot pot restaurant, and flower market all rolled into a stylish 1,983 square meter space. In short, it's a seafood lover's wet dream.
Pictured below are large tanks containing live seafood like king crabs, hairy crabs, diver scallops, and abalone.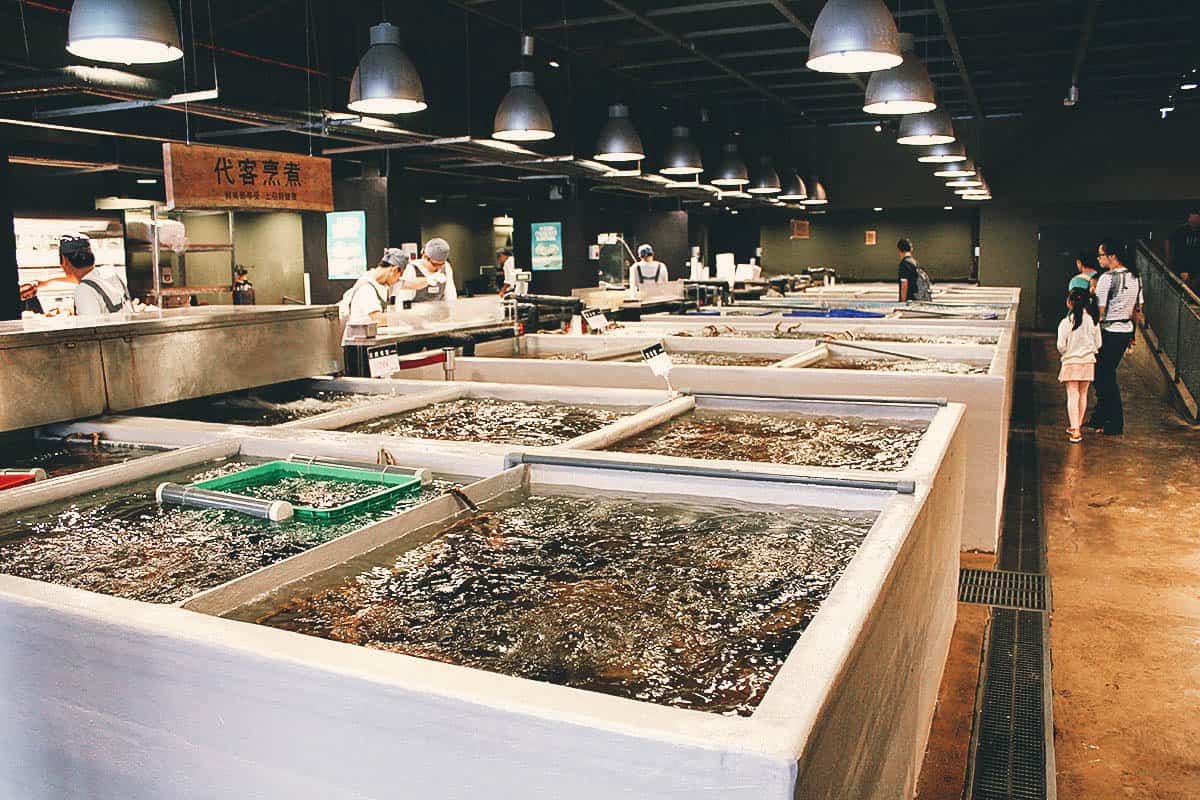 Aside from its market and grocery portions, there are several mini-restaurants within the space. There's a hot pot restaurant, a sushi bar, and an oyster bar, to name a few. Pictured below are the plump pieces of amaebi (spot shrimp) nigiri from the sushi bar.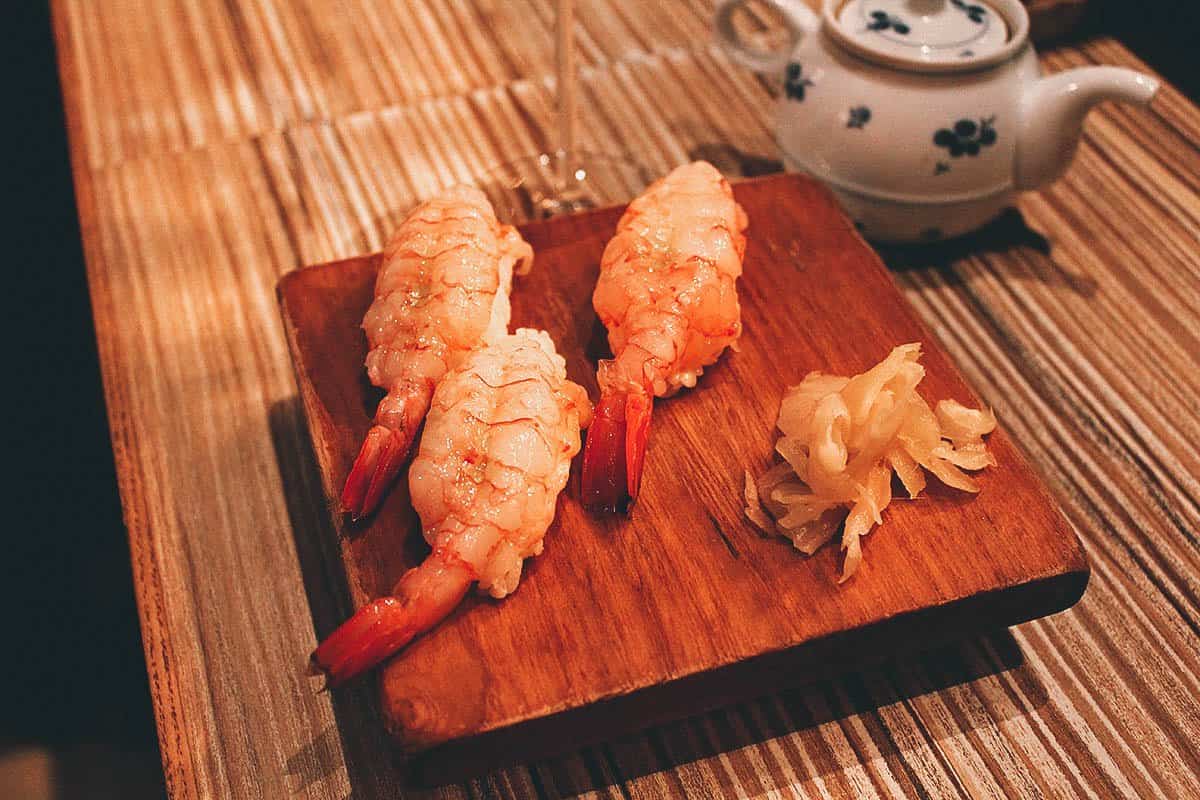 This platter overflowing with king crab, sashimi, and different types of shellfish were a popular item from the seafood bar. If you're a fan of seafood, then you cannot come to Taipei without visiting Addiction Aquatic Development. I've never seen anything like it so it's one of the places we'd definitely go back to on every return trip to Taipei. Check out my post on Addiction Aquatic Development for (a lot) more pictures and information.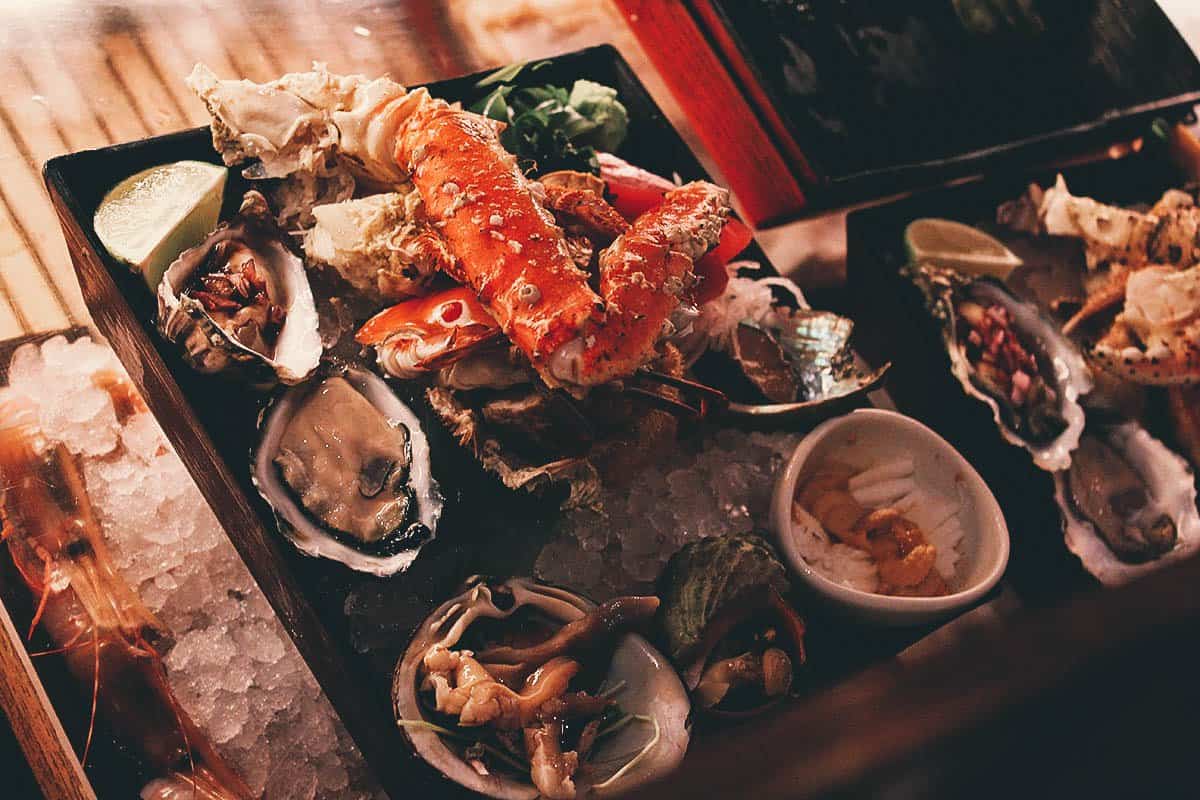 Addiction Aquatic Development
Address: No. 18, Alley 2, Lane 410, Minzu East Road, Zhongshan District, Taipei City, Taiwan 104
Closest MRT Station: XingTian Temple (Exit 3)
Operating Hours: 6AM-12MN, daily
What to Order: Seafood
Expect to Pay: Depends on the seafood
10. RAW
If you're looking to have one truly special meal in Taipei, then RAW should be on your short list. Helmed by Chef André Chiang – a Taiwanese chef renowned for his 2-Michelin star (but now closed) Restaurant André in Singapore – RAW also has two Michelin stars and is presently number 30 on this list of Asia's 50 Best Restaurants. They offer beautiful degustation experiences featuring the best of Taiwan's local seasonal ingredients.
Here's a shot of the restaurant with its stunning wooden sculptural bar. It's one of the most beautiful restaurants we've been to – classy and modern without feeling pretentious.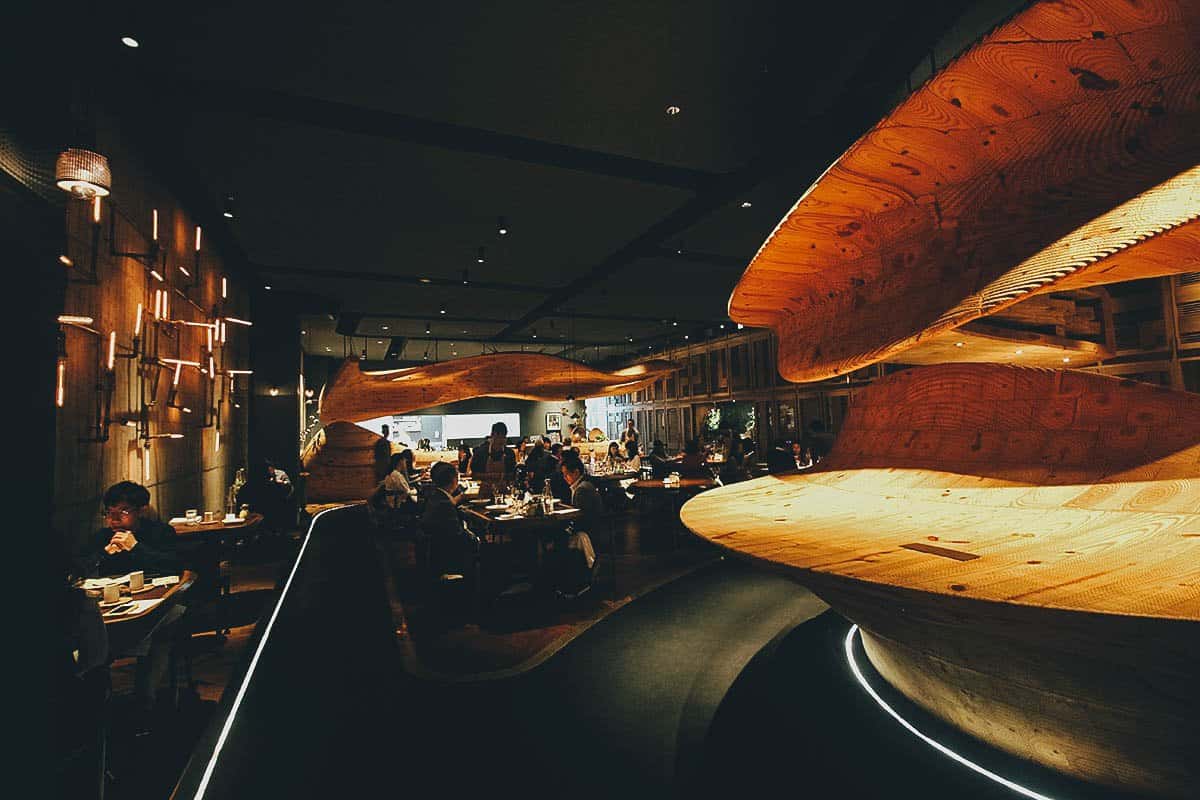 We had a ten-course degustation featuring creatively plated dishes like this prawn, mioga, and pea course.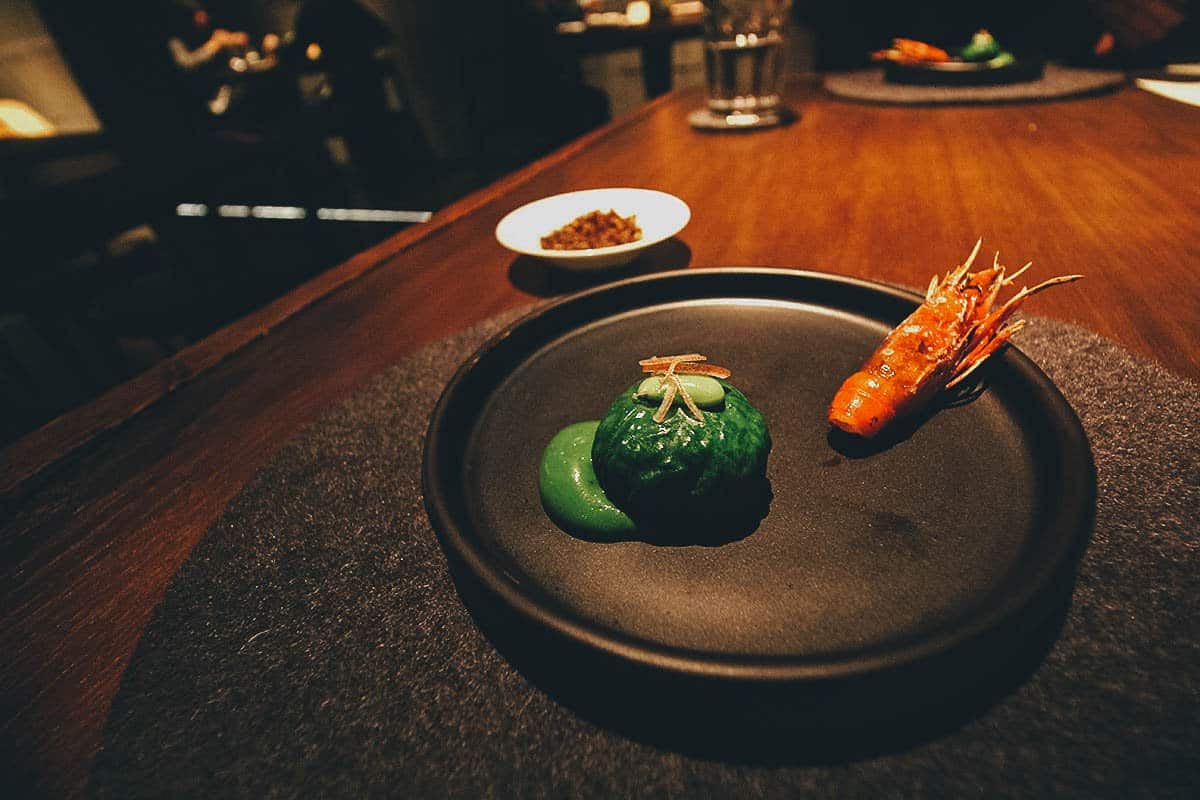 This course is RAW's take on Taiwanese hot pot or shabu shabu. It consists of sturgeon, puff rice, and garden greens. Our server poured broth into our bowls before telling us to mix it all up and eat. Pretty isn't it?
RAW is one of the hottest restaurant in Taipei. Because of its popularity, it's notoriously difficult to get reservations here, which you'll need to secure online. Check out my post on RAW by Chef André Chiang for more pictures and information.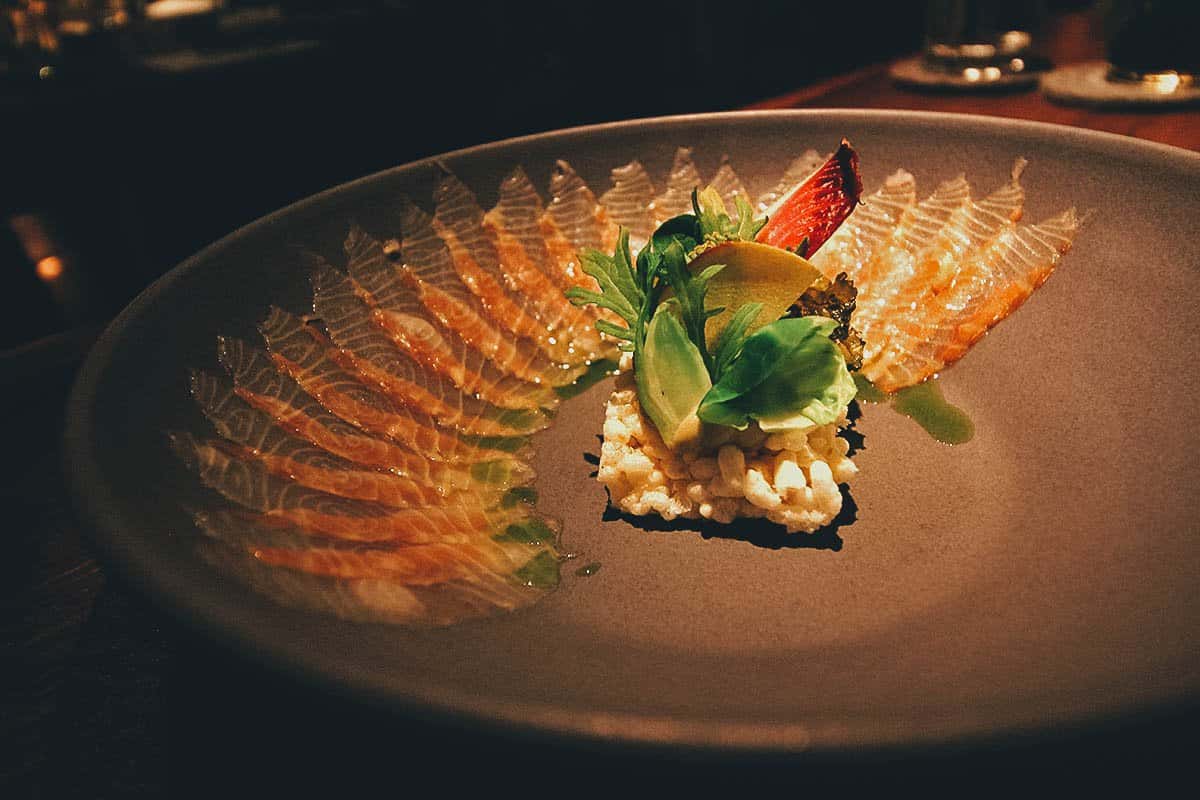 RAW
Address: No. 301, Lequn 3rd Road, Zhongshan District, Taipei City, Taiwan 104
Closest MRT Station: Jiannan Rd (Exit 3)
Operating Hours: 11:30AM-2:30PM, 6-10PM, Wed-Sun
What to Order: Tasting Menu
Expect to Pay: NTD 1,850 / 3,500++ per person
11. Yongfu Ice Cream
I learned about this ice cream shop from a free walking tour I had joined led by Like It Formosa. Our guide Thomas made a stop here and described it as being one of the most popular ice cream shops in the city. Simple without any frills, they've been serving hand churned ice cream made with distinctly Taiwanese ingredients like taro, longan, peanut, and red bean for over 70 years.
If I remember correctly, I had a scoop each of longan and red bean. If you've never had Taiwanese ice cream before, then the first thing you'll notice is that it isn't as creamy as American or Japanese ice cream. It's made with less dairy and more fruit so it's light and a little tart, almost like a sorbet. Personally, I prefer creamier ice cream but you can give this a go just to try something different.



Yong Fu Ice Cream is about a 10-minute walk from Ay-Chung Flour Rice Noodles so you can have dessert here after your bowl (or two) of mee sua.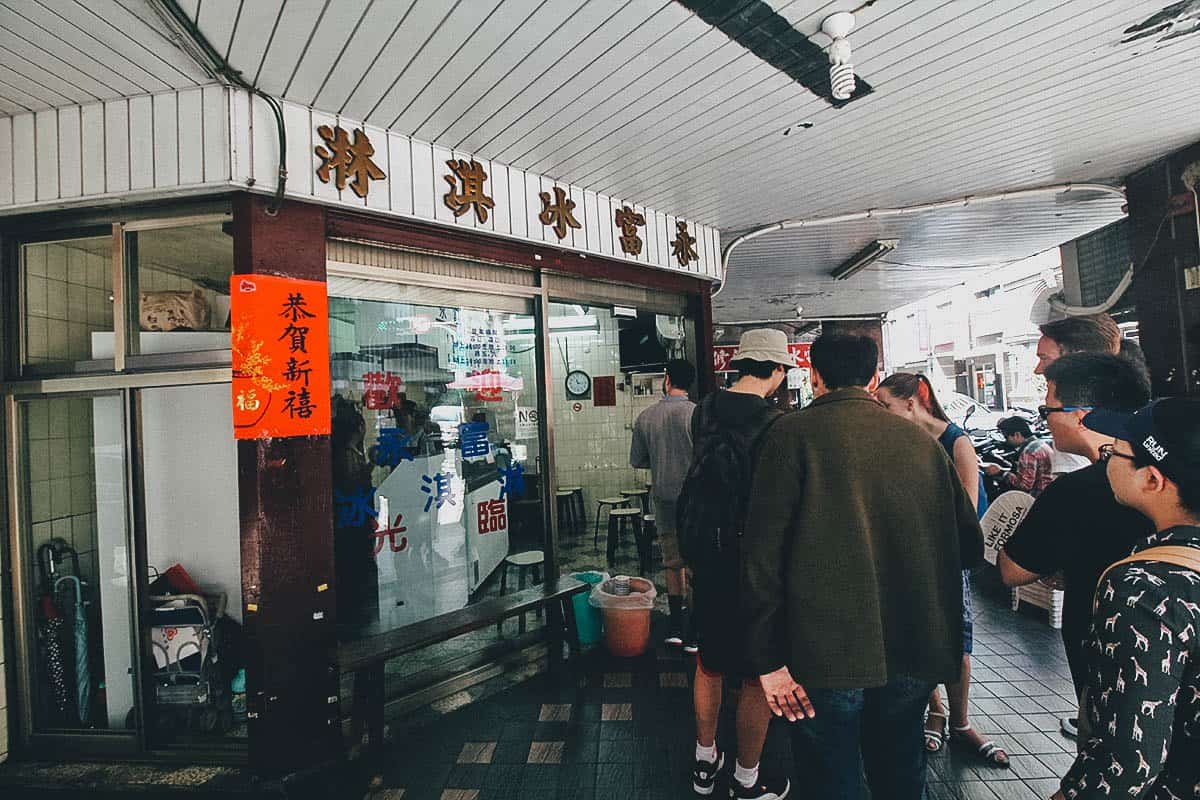 Yongfu Ice Cream
Address: No. 68, Section 2, Guiyang St, Wanhua District, Taipei City, Taiwan 108
Closest MRT Station: Ximen (Exit 1)
Operating Hours: 10AM-10PM, daily
What to Order: Ice cream
Expect to Pay: Around NTD 40 for two scoops
12. Raohe Night Market
Taiwan is all about night markets. What's not to like about them? The food is cheap, the choices are plentiful, and the atmosphere is fun. Night markets are an integral part of the country's food culture and something you should experience on every trip to Taiwan.
In Taipei, there are several night markets to choose from, but often regarded as the best and most important are Raohe and Shilin Night Markets.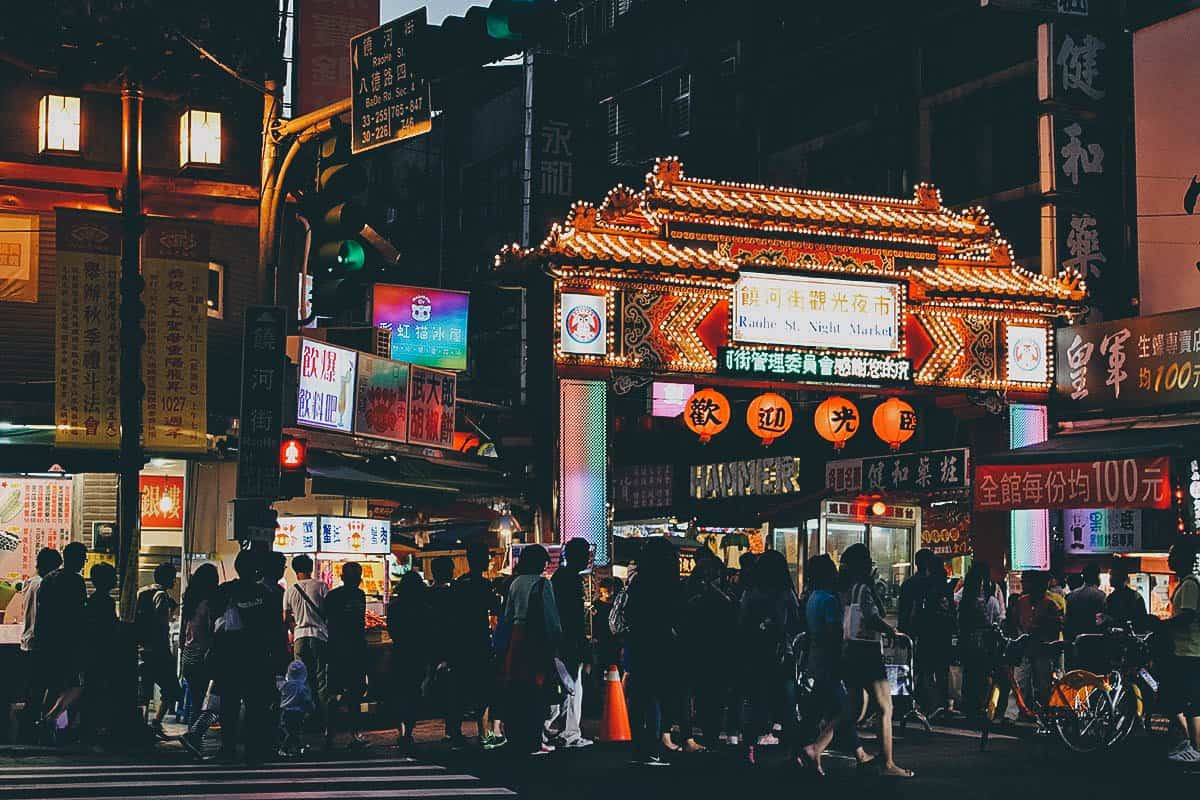 Many people cite Raohe Night Market as having one of the best selections of food. A dish you definitely shouldn't miss is the flame-torched beef. It's one of my favorite things to eat at Taiwanese night markets.
It consists of tender cubes of beef cooked over a grill, before being torched and sprinkled with your choice of seasoning like salt, pepper, teriyaki, or cumin. It's delicious.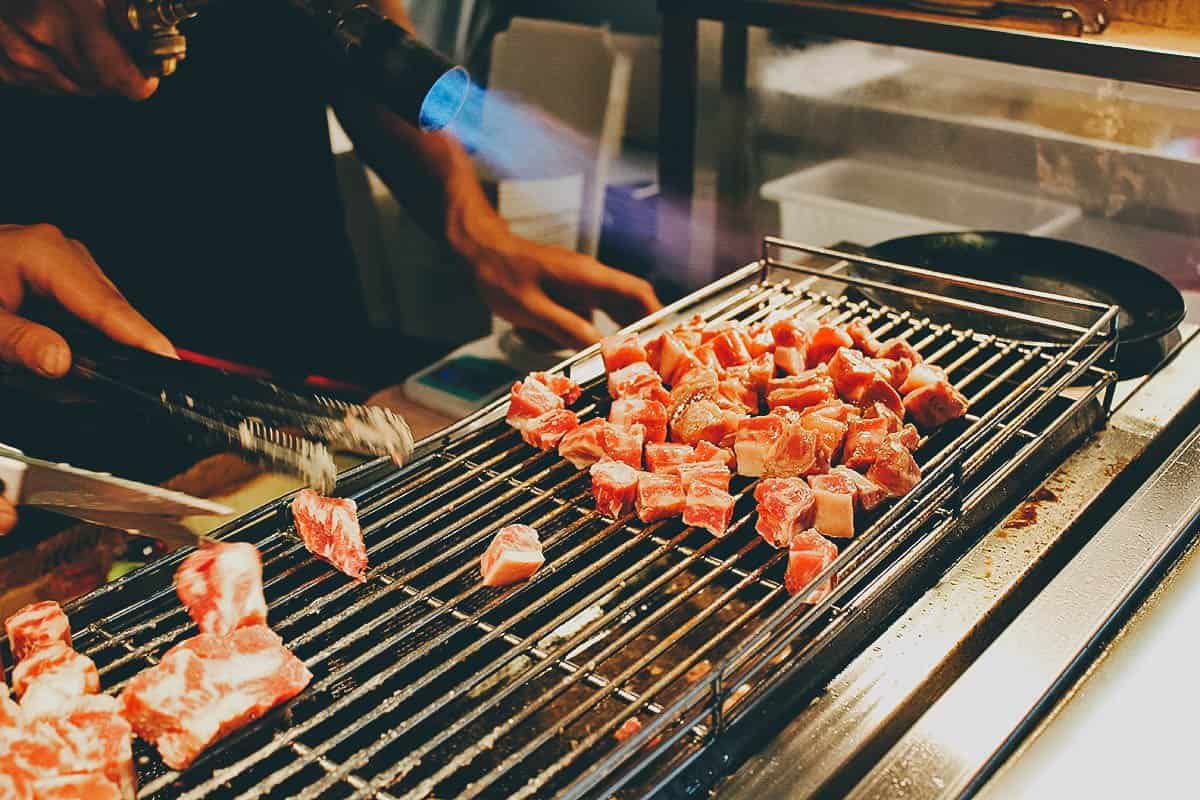 Oyster omelettes are another popular night market staple.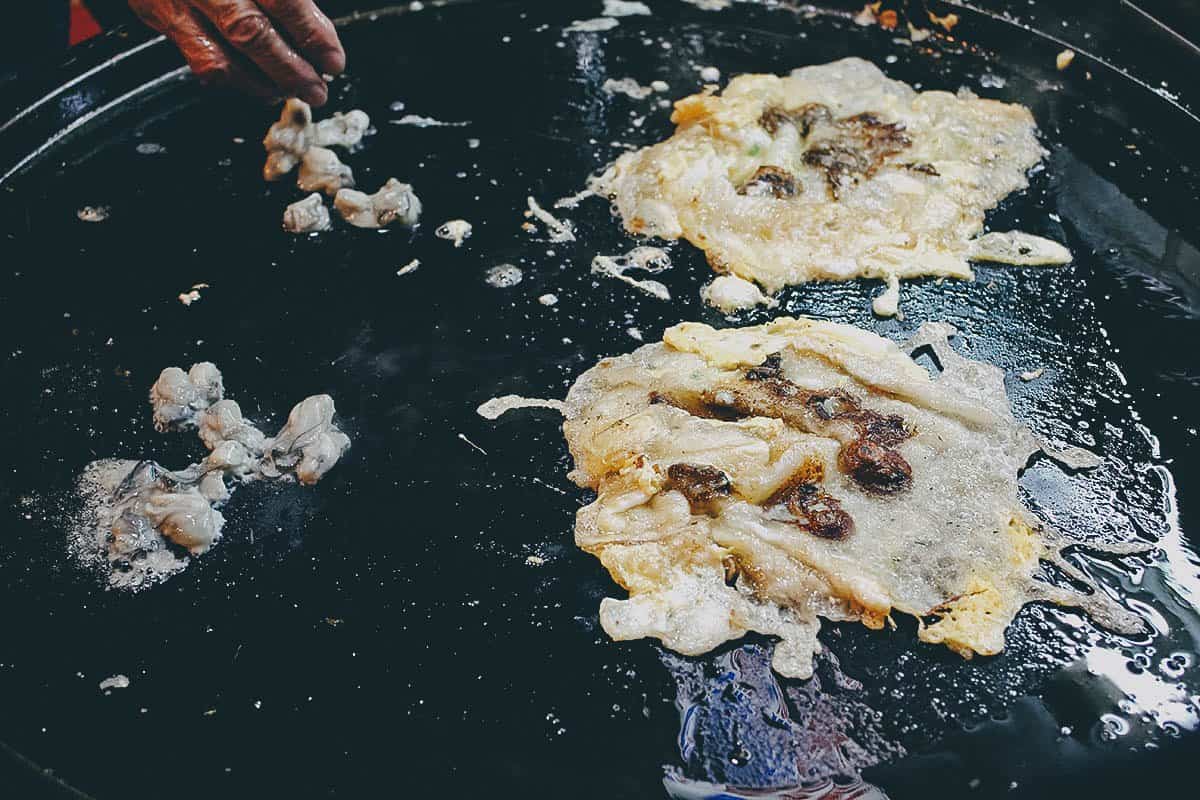 Raohe Night Market
Address: Raohe Street, Songshan District, Taipei City, Taiwan 105
Closest MRT Station: Songshan (Exit 5)
Operating Hours: 4PM-12MN, daily
What to Try: Stinky tofu, oyster omelette, flame-torched beef, pepper buns
Expect to Pay: Between NTD 100-200 per person
13. Shilin Night Market
Shilin Night Market is one of the biggest night markets we've visited not just in Taipei, but in all of Taiwan. It's been open for over 120 years and still going strong. Unlike some places that offer just food, Shilin has a fun, carnival-like atmosphere with arguably the best mix of food, games, and shopping stalls of any night market.
If you had time to visit just one night market in Taipei, then Shilin should probably be it. It'll give you the most well-rounded experience.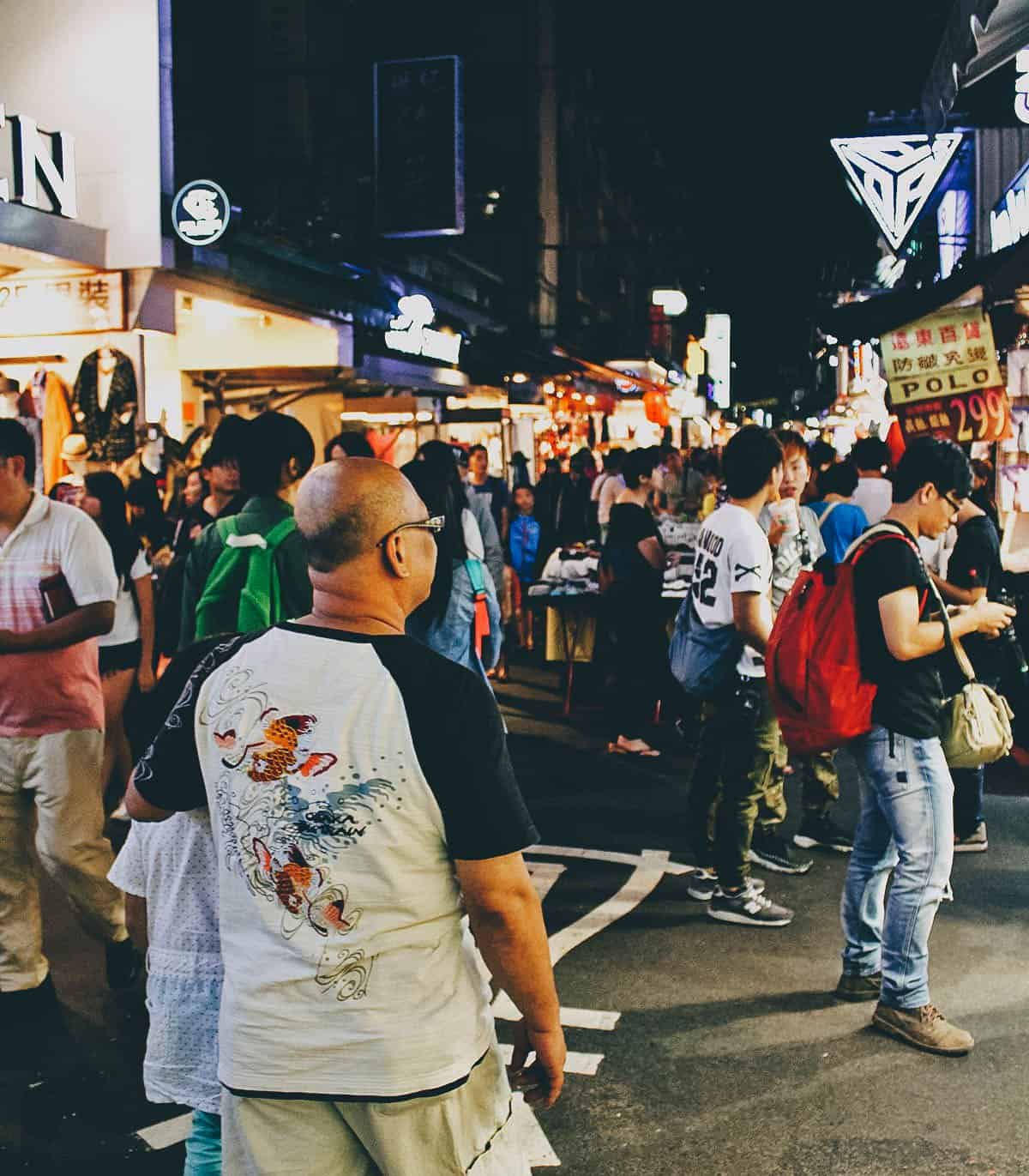 You can find pretty much any type of street food at Shilin Night Market. Pictured below is a stick of pig's blood cake which is a popular snack at Taiwanese night markets. It's made with pork blood and sticky rice – which is steamed or fried – before being covered in a sweet soy sauce and dredged in peanut flour and coriander.

Shilin Night Market
Address: No. 101, Jihe Road, Shilin District, Taipei City, Taiwan 111
Closest MRT Station: Jiantan (Exit 1)
Operating Hours: 3PM-1AM, daily
What to Try: Hot Star fried chicken chop, flame-torched beef, penis waffle
Expect to Pay: Between NTD 100-200 per person
LOCATION MAP
As with each and every one of our food guides, there are so many interesting and delicious places to try in a food-centric city like Taipei that a list of thirteen barely scratches the surface. With that said, I do hope it points you in the right direction and helps you plan your trip.
To help you find the places mentioned in this guide, I've pinned them all on the map below.
To help you with your travel planning, you can refer to our full 5-day Taipei itinerary on Sygic Travel. It's a more complete version of the map above which includes attraction suggestions as well.
You can also download a copy of our entire 2-week Taiwan itinerary in editable Word format from our EAT-ineraries page. It covers Taipei, Tamsui, Jiufen, Taichung, Sun Moon Lake, Tainan, Kaohsiung, and Hualien.
Thanks for reading and we hope you enjoy these awesome restaurants and night markets in Taipei! If you need more help in planning your trip, then you can refer to excerpts from our Taipei travel guide below.
TAIPEI TRAVEL TIPS
We have a detailed travel guide to Taipei that will tell you everything you need to know to plan your trip. It includes key information like best areas to stay, things to do, day trips you can take, budget suggestions, and much more.
Listed below are some of the most important points but be sure to click through to the full travel guide for more details.
Where to Stay in Taipei
I go through this in much detail in our Taipei travel guide but in summary, I think the best place to stay in the city is in the Ximending area. It's a fun commercial area in Wanhua District that puts you close to many shops, restaurants, cafes, and transportation options. In fact, so lively and colorful is Ximending that it's often referred to as the "Harajuku of Taipei".
You can book accommodations in Ximending on Booking.com or Agoda.
Things to Do in Taipei
There's lots to see and do in Taipei. The attractions that come foremost to mind are Taipei 101, the National Palace Museum, the Museum of Contemporary Art, Chiang Kai Shek Memorial Hall, and Elephant Mountain. You can also visit a creative park, and as discussed above, eat your way through a night market.
Taipei's metro system is so good that you can easily visit these places on your own. An even easier way is to go on a Hop On Hop Off tour. Open-top double decker buses ply set routes through most of the city's top tourist attractions so you don't have to worry about getting there on your own. You can get on and off as often as you want for the duration of your pass. You can purchase Hop On Hop Off vouchers in advance through Klook or KKday.
If eating your way through a night market isn't enough for you, then you can also take a cooking class. In my opinion, there's no better way to learn about an unfamiliar cuisine than by taking a cooking class. It's like looking under the cuisine's hood.
If you're staying long enough in Taipei and have time for a day trip outside of the city, then this day tour to Yehliu Geopark, Shifen, and Jiufen is one of the best and most popular you can take.
Book a Taipei Tour
There are many online booking platforms that offer tours and other travel deals in Taipei. The ones we personally use the most are Klook, KKday, and Get Your Guide.
Disclosure
This article contains affiliate links, meaning we'll earn a small commission if you make a booking or reservation at no extra cost to you. We really appreciate your support as it helps us keep this website going. Thank you!