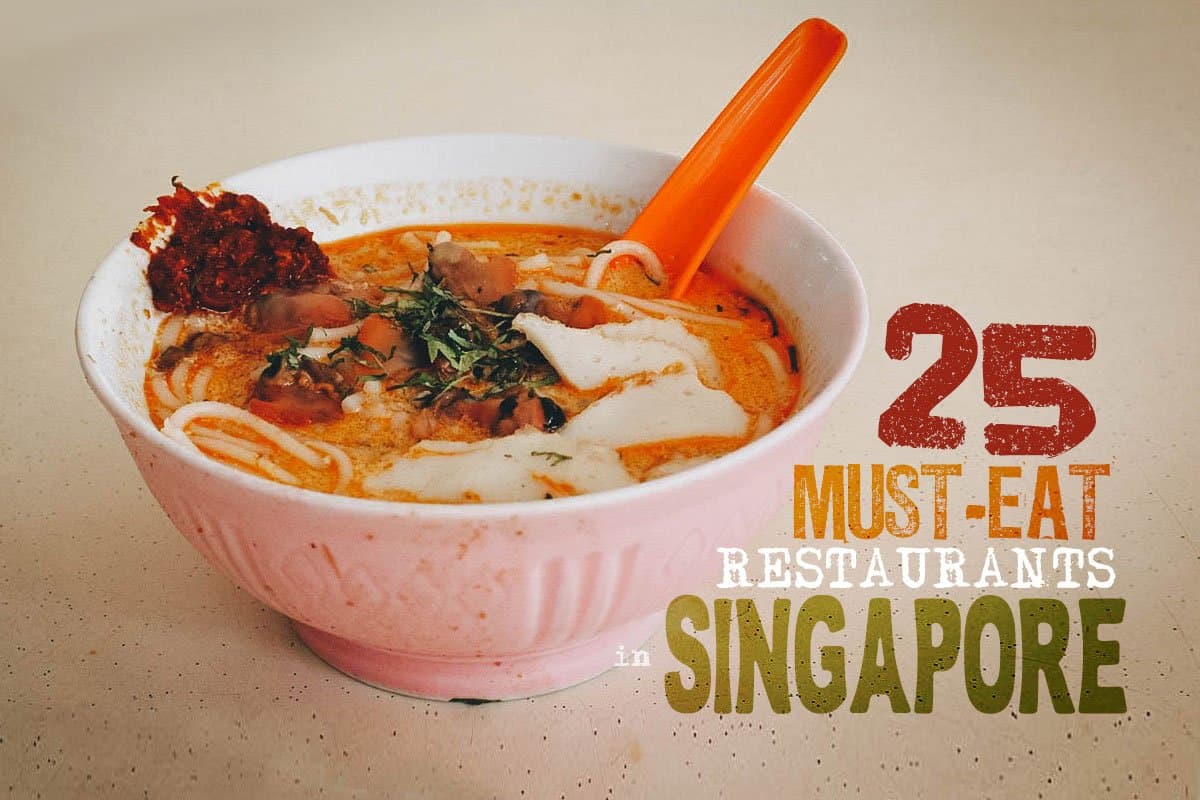 Our short list of favorite countries is shaped largely by food. Japan is up there. So are Thailand and Spain. And of course, Singapore is close to the top of that list.
Singapore may be small but it isn't lacking in great food. Inch for inch, it's one of the world's best countries for food. It's defined by a wide spectrum of food choices ranging from cheap but legendary hawker stall meals to trendy envelope-pushing dining concepts.
If you're visiting this tiny island nation and looking to find the best restaurants in Singapore to have dishes like laksa, Hainanese chicken rice, chili crab, and sup tulang – then you've come to the right place.
THE BEST RESTAURANTS IN SINGAPORE
When dining out in Singapore, people often go to hawker centers and food courts because they're affordable and provide a wider range of choices. This Singapore restaurant guide includes a mix of hawker stalls, food stands, chains, and proper sit-down restaurants.
1. Changi Nasi Lemak
What better way to start this list of the best Singapore restaurants than with a place that specializes in nasi lemak? It's one of my all-time favorite breakfast foods!
Nasi lemak is a dish of Malaysian origin that's also popular in Singapore. It consists of fragrant rice cooked in coconut milk and pandan leaf and served with sambal and a number of sides like ikan bilis (anchovies), peanuts, cucumber, and an omelette or fried egg. It's typically eaten for breakfast though it can be enjoyed throughout the day.
Google "best nasi lemak in singapore" and Changi Nasi Lemak will appear at the top of many lists. They've been open since the 1970s and have been serving some of the city's tastiest plates of nasi lemak for three generations.
Pictured below is the Spicy Thigh Cutlet Set, one of Changi Nasi Lemak's bestsellers. It features the restaurant's Legendary Changi Chilli and a chicken cutlet inspired by the McDonald's McSpicy.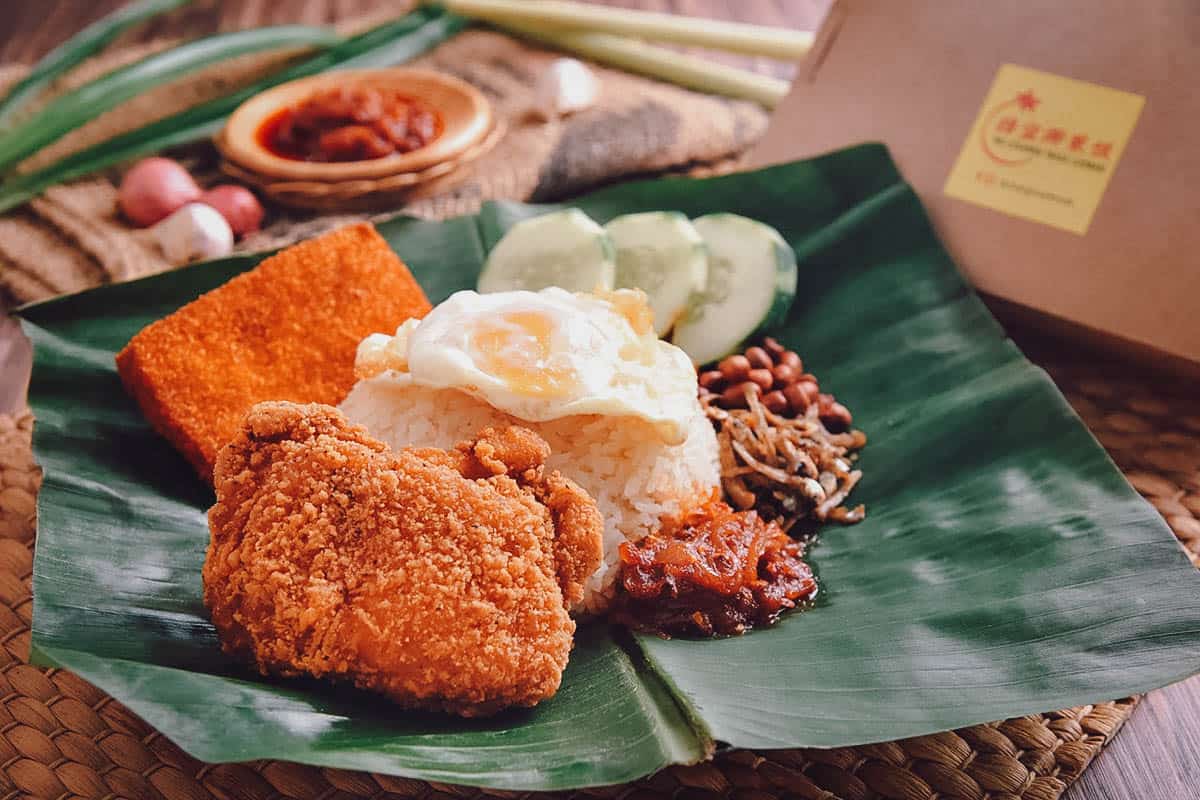 2. Bali Nasi Lemak
This is another popular nasi lemak restaurant in Singapore. I learned about Bali Nasi Lemak from KF Seetoh and Makansutra. Like Changi Nasi Lemak, it's described as one of the best restaurants in Singapore to have nasi lemak.
Bali Nasi Lemak is known for their kecap manis fried chicken which is tossed in a sweet and savory dark sauce.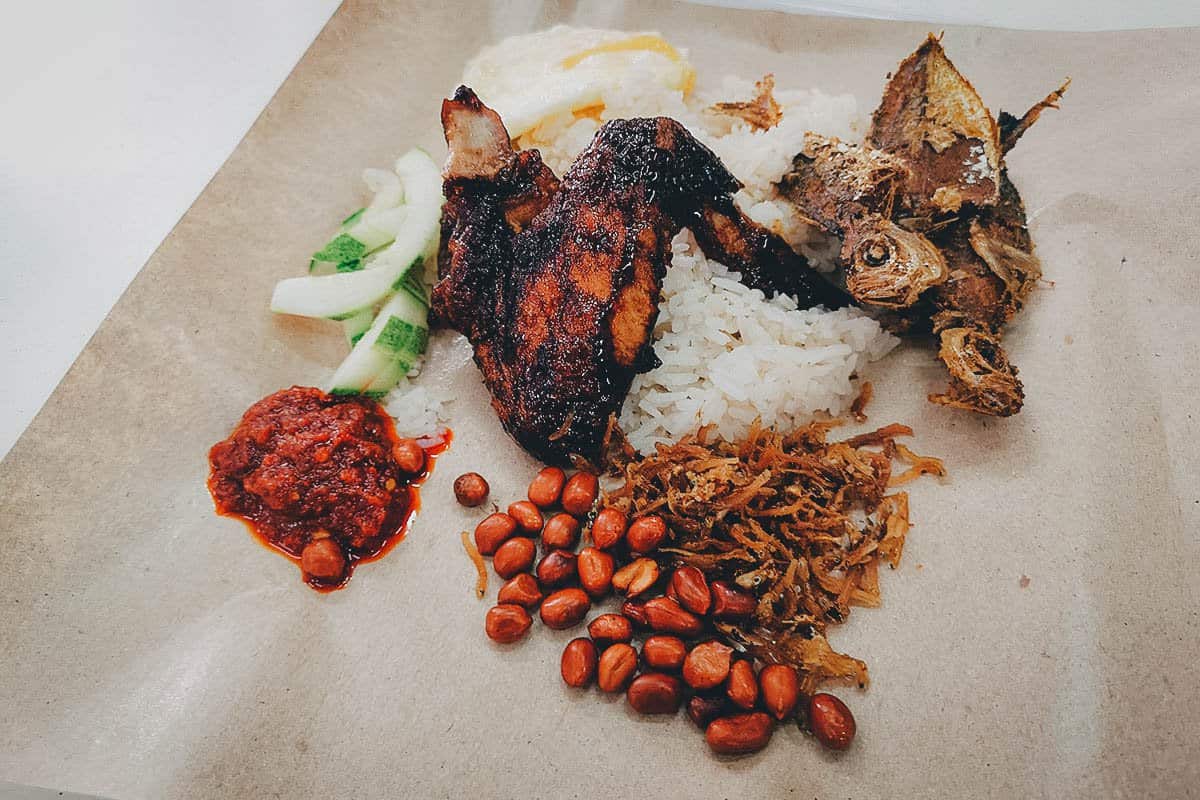 3. Ya Kun Kaya Toast
As its name suggests, Ya Kun Kaya Toast specializes in kaya toast, a popular breakfast dish or snack that's prepared by spreading kaya — a jam made with coconut, eggs, and sugar — between charcoal-grilled or toasted slices of bread.
It's served with either coffee or tea and is usually accompanied by two soft-boiled eggs sprinkled with a bit of dark soy sauce and white pepper.
Ya Kun is one of the best restaurants in Singapore to have kaya toast. They have many outlets throughout the city but we went to their branch at Ang Mo Kio MRT station en route to Singapore Zoo.
4. Fatimah Stall Ar Rahman Royal Prata
This mouthful of a stall called Fatimah Stall Ar Rahman Royal Prata specializes in another popular Singaporean breakfast dish or snack called roti prata.
Known as parotta in Southern India and roti canai in Malaysia, roti prata refers to a fried flour-based pancake cooked over a grill and served with a curry dipping sauce.
Pictured below is a plate of crisp and chewy butter roti. It was slathered with butter and sugar so it had a good balance of sweet and savory when dipped into the curry sauce.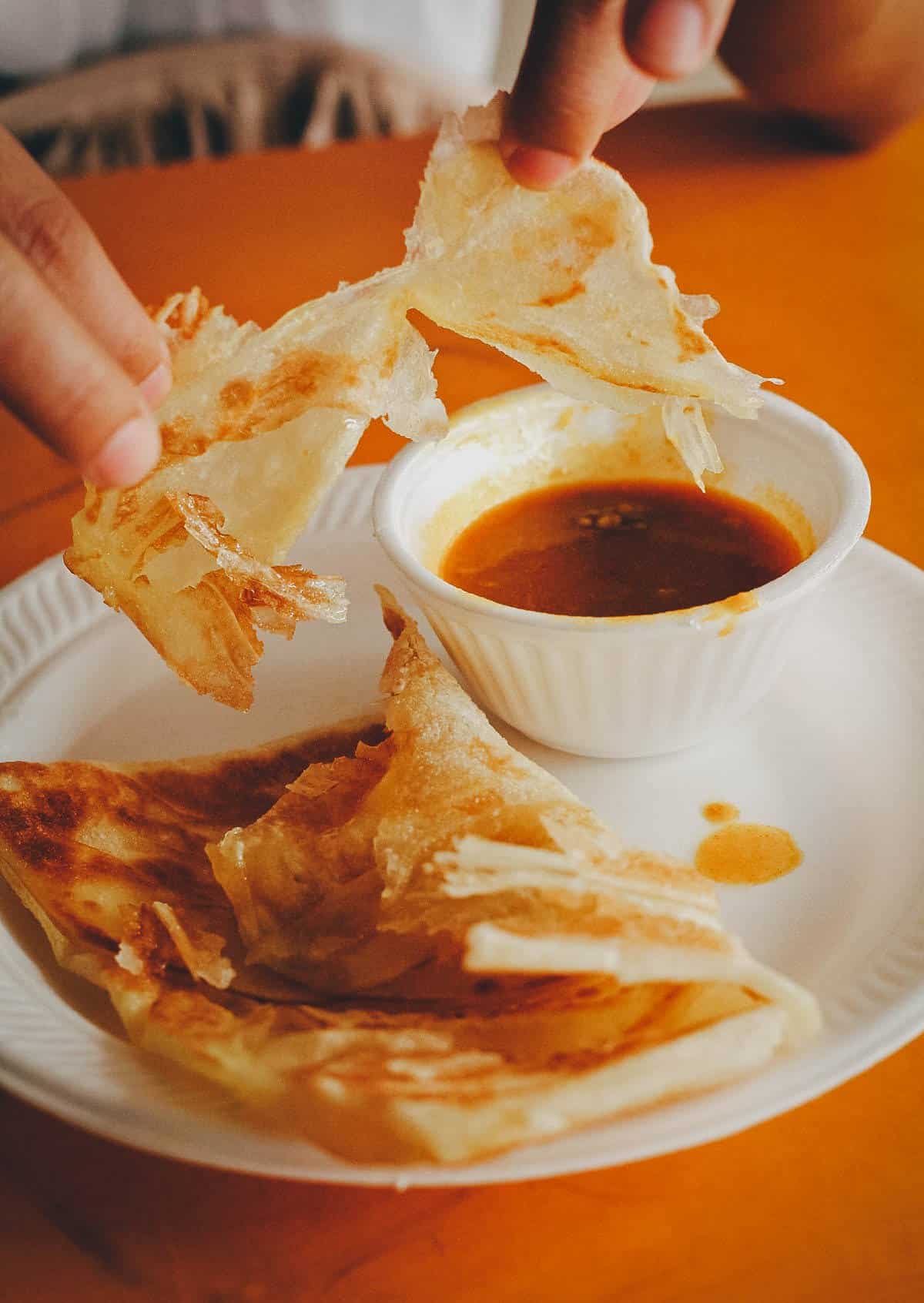 To be honest, Fatimah Stall Ar Rahman Royal Prata wasn't actually our first choice for roti prata. We wanted to go to Prata Saga Sambal Berlada, a stall that often came up when searching for the best Singapore restaurants to try roti prata.
Prata Saga Sambal Berlada was closed for Ramadan but we were lucky to find Fatimah Stall Ar Rahman Royal Prata just a few steps away.
5. Jian Bo Shui Kueh
Jian Bo Shui Kueh specializes in one of the most interesting dishes we've had so far in Singapore – chwee kueh. Chwee kueh refers to a type of steamed rice cake topped with diced preserved radish and served with a side of chili sauce.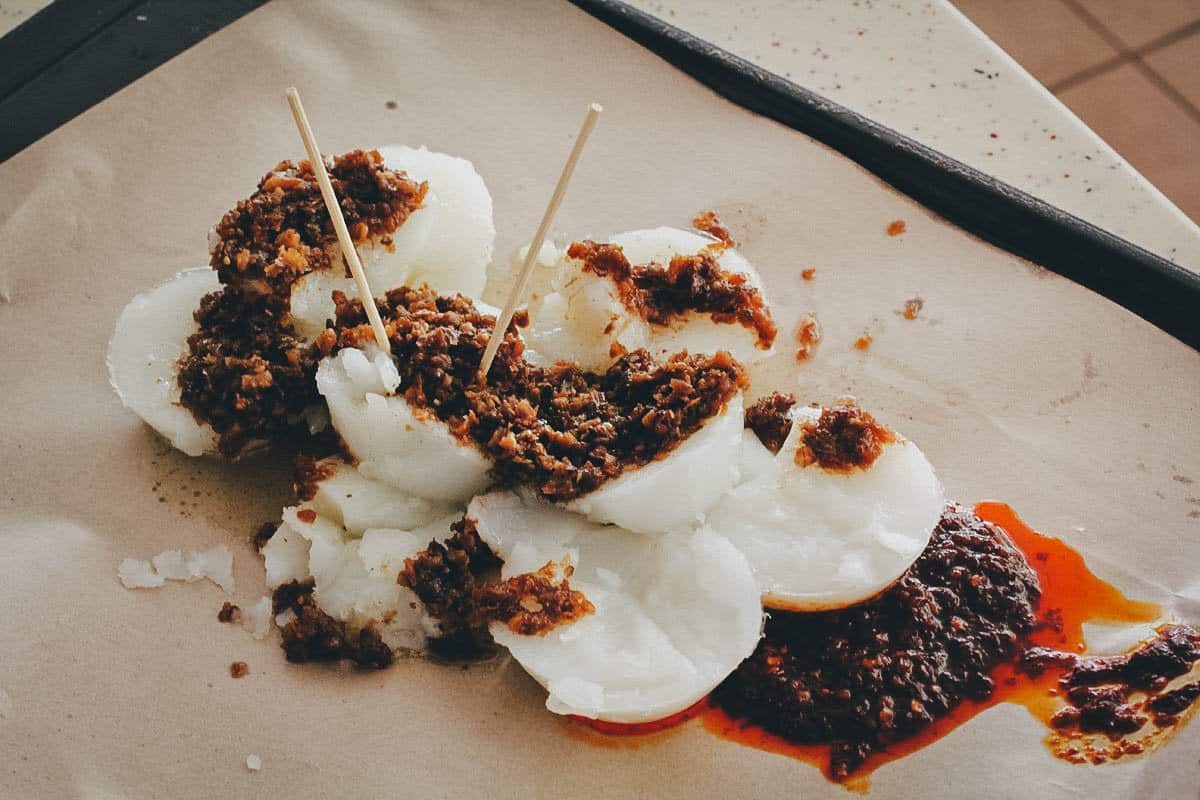 Jian Bo Shui Kueh is located inside historic Tiong Bahru Market. Google "best Singapore restaurants for chwee kueh" and many Singapore food bloggers will point you to Jian Bo. This tiny stall has been selling chwee kueh, and only chwee kueh, for over fifty years!
6. 1A Crispy Puffs
1A Crispy Puffs is known for these tasty empanada-like snacks called curry puffs. Enjoyed throughout Southeast Asia, they're basically small, half-circle shaped pies stuffed with a variety of ingredients like chicken curry and potatoes, beef rendang, and chili crab in a deep-fried or baked pastry shell.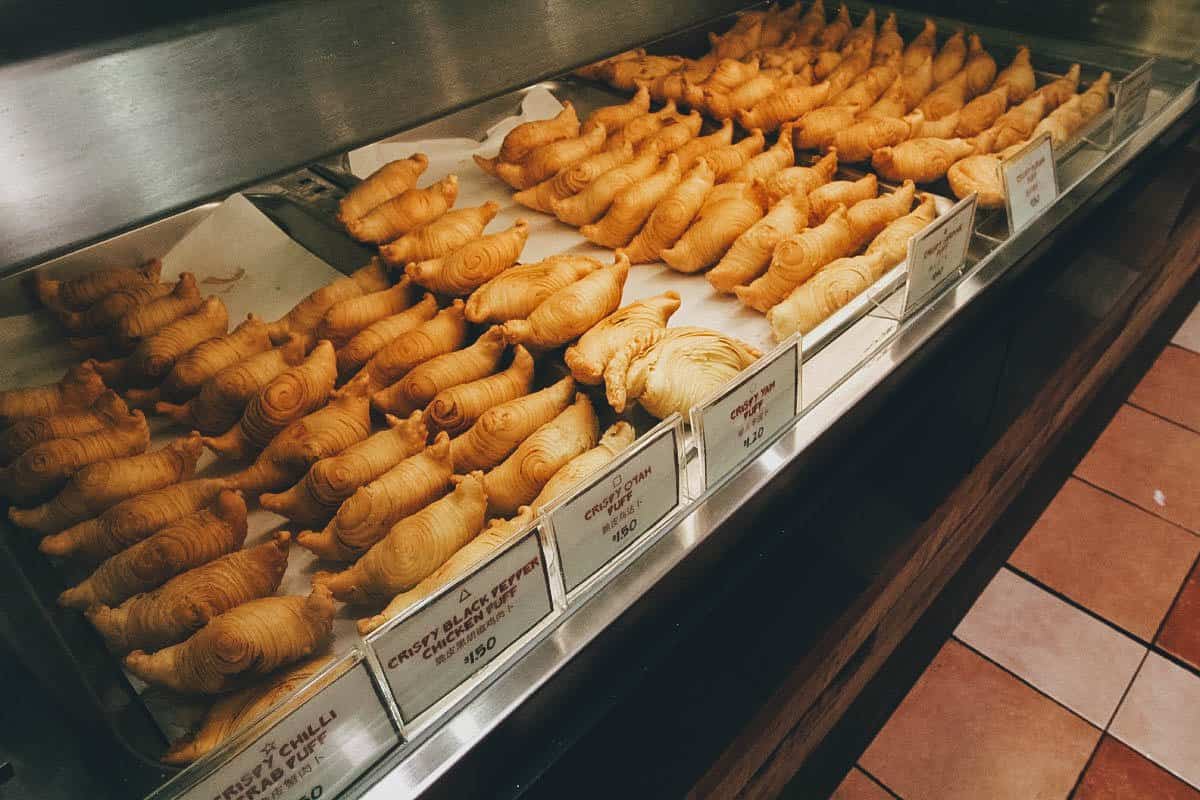 I googled "best restaurants in Singapore for curry puffs" and popular food blog sethlui.com led me to 1A Crispy Puffs. They have many outlets in Singapore but we went to their stall at the Takashimaya Shopping Centre food court on Orchard Road.
7. Zam Zam Restaurant
If you like roti prata, then you're probably going to enjoy murtabak as well. It's basically a stuffed version of roti prata that can be filled with either savory or sweet ingredients.
Murtabak is common in the Arabian Peninsula and Southeast Asia and can vary significantly depending on where its from. In Singapore, it's typically filled with spiced beef, chicken, or mutton and served with a curry sauce, sweet pickled onions, or cucumber in ketchup. A version filled with mozzarella is also popular.
Pictured below is a plate of mutton murtabak from the legendary Zam Zam Restaurant, a heritage restaurant that's been serving murtabak since 1908. That's well over a hundred years!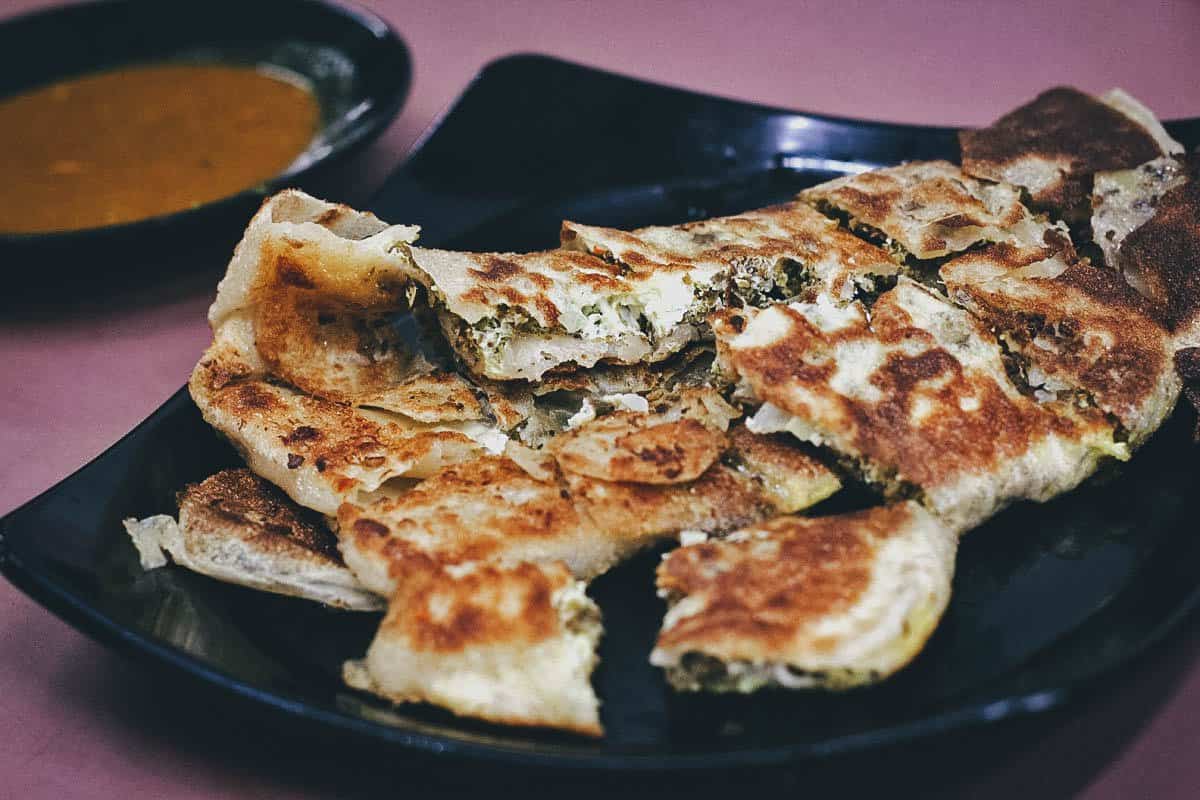 8. Sungei Road Laksa
Laksa is one of Singapore's most beloved dishes and popular heritage stall Sungei Road Laksa is known for being one of the best restaurants in Singapore to try it.
If you've never had it, laksa is a spicy noodle soup of Peranakan origin consisting of rice noodles or vermicelli made with chicken, prawn, or fish. It's soup can be based on either a rich and savory coconut milk, a fresh and sour asam (tamarind, gelugur or kokum), or a combination of the two.
In Singapore, the most popular version is the coconut-based curry laksa, which is the version I prefer. That's the type of laksa you'll find at Sungei Road Laksa.
I read that Sungei Road Laksa is one of the last remaining places to use a charcoal burner for making their laksa. The curry is creamy and fairly mild at first, until you mix in that dollop of spicy sambal which really kicks it up a notch.
Topped with slivers of fish cake, blood cockles, and some Vietnamese coriander, this is one of the best bowls of laksa I've ever tasted in my life. It's so good.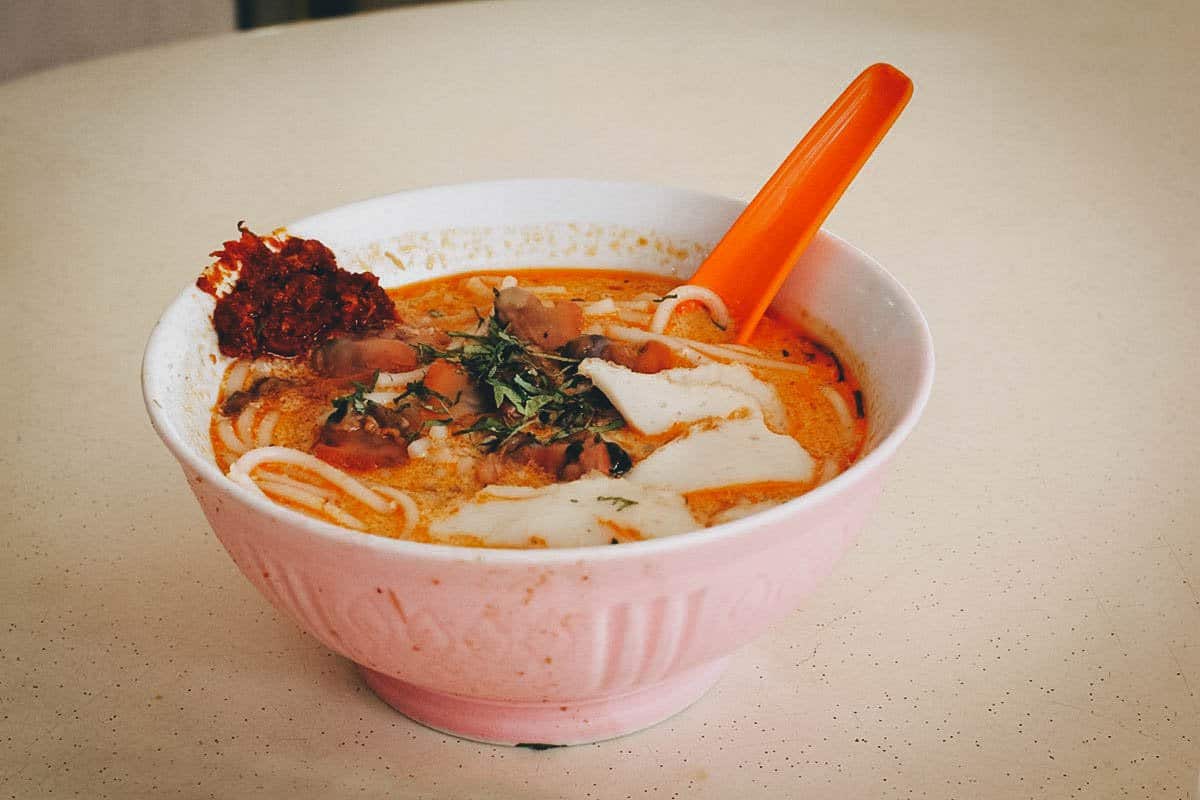 There are many popular laksa restaurants in Singapore and everyone seems to have their favorite. Even the Grab driver who took us to Sungei Road Laksa had his own recommendation.
We chose Sungei Road Laksa on the strength of KF Seetoh's recommendation to CNN Travel. After all, they've been serving this same bowl of curry laksa for over 40 years!
Interestingly, there's a bit of folklore associated with this place. Legend has it that the secret recipe was given to them by a mysterious customer who wanted to help their struggling food cart business.
9. Ng Ah Sio
Ng Ah Sio is known for their bak kut teh, a beloved dish made with meaty pork ribs cooked in a broth of different herbs and spices.
The name bak kut teh literally translates to "meat bone tea", though no tea is actually used to make this dish. Its name refers to a strong oolong Chinese tea that's usually served with the soup to help wash down the fat.
Based on the way bak kut teh is described, it sounds like a comforting dish to many Singaporeans, something they can't go too long without. We enjoyed ours with a bowl of rice and a side of braised mushrooms.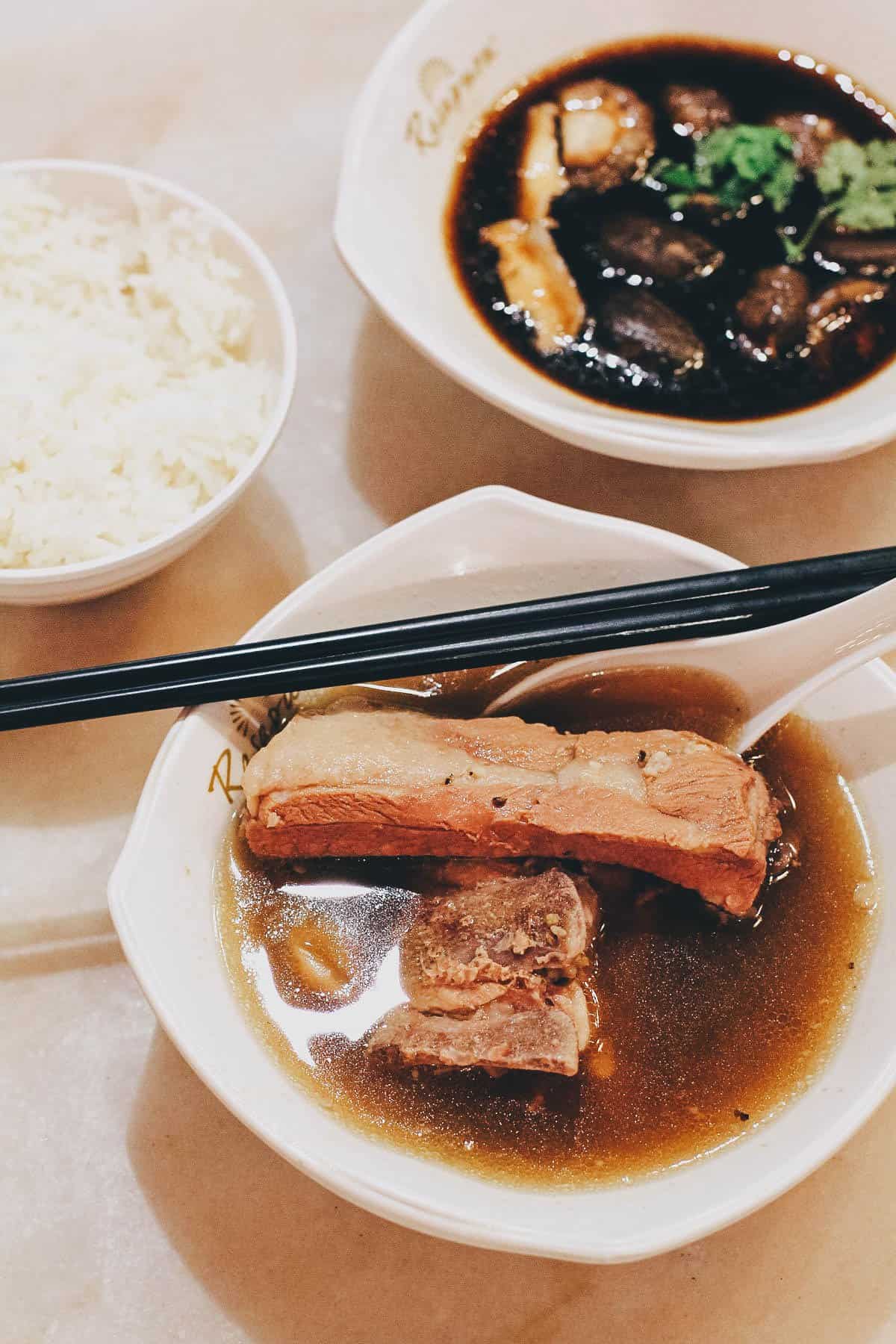 Many food bloggers, including sethlui.com and Dr. Leslie Tay, recommended Ng Ah Sio as one of the best restaurants in Singapore to try bak kut teh. They opened on Rangoon Road in 1977 and now have several branches in Singapore.
10. Heng Gi Goose and Duck Rice
As its name suggests, the Heng Gi stall is known for its goose and duck rice dishes. As Dr. Leslie Tay puts it: "When you talk about braised duck, this is the one stall that is a bit of a legend in Singapore." It isn't hard to understand why considering the man behind Heng Gi Goose and Duck Rice has been selling braised duck for over 60 years!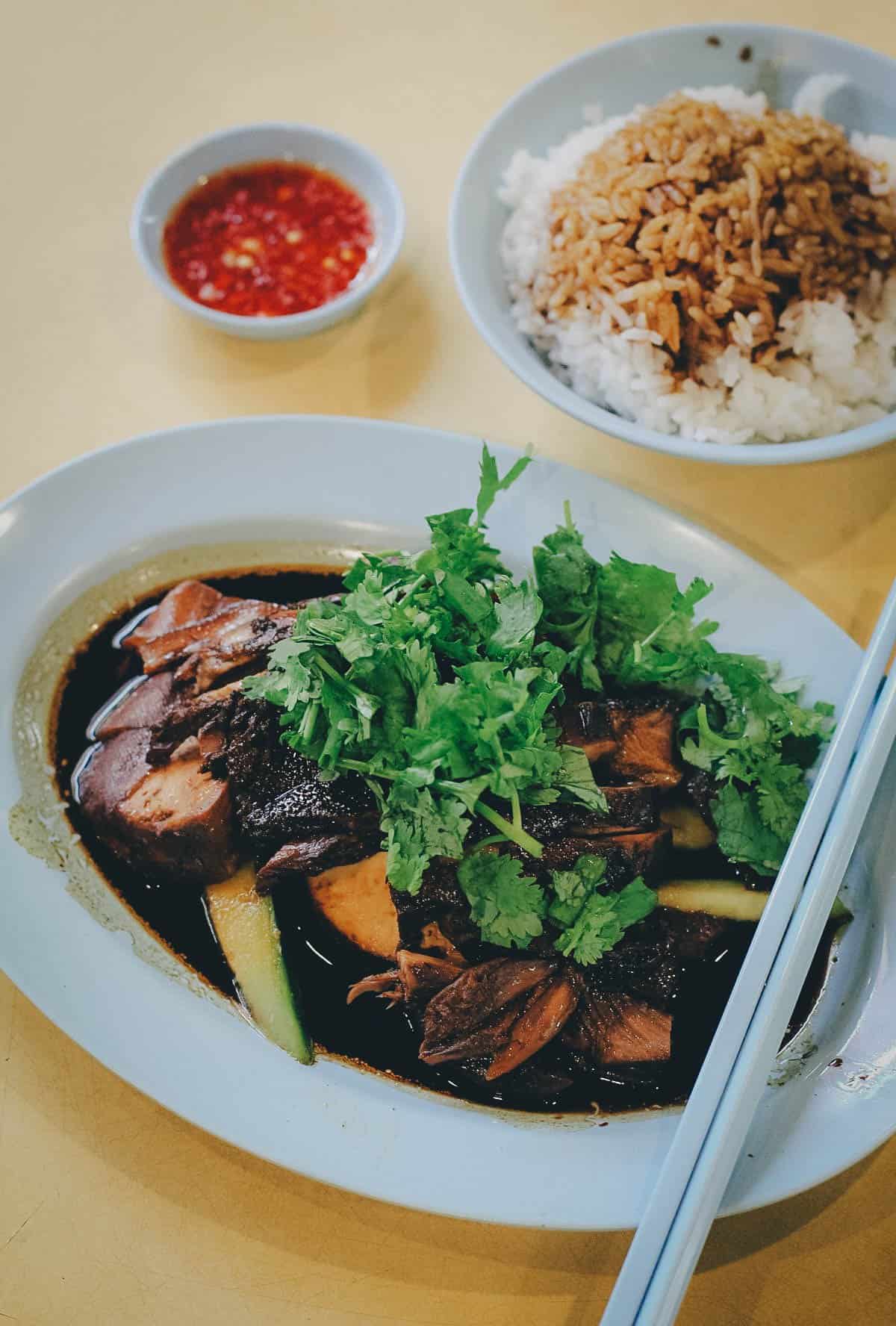 We tried the mixed platter which contained braised duck, goose, and pork. The sauce was incredibly tasty and the meats juicy and flavorful. Everything on this platter was fantastic but my favorite part was the pig face.
If you've never had it, pork face has a unique texture that's a little chewy and gummy but with snap. I love it.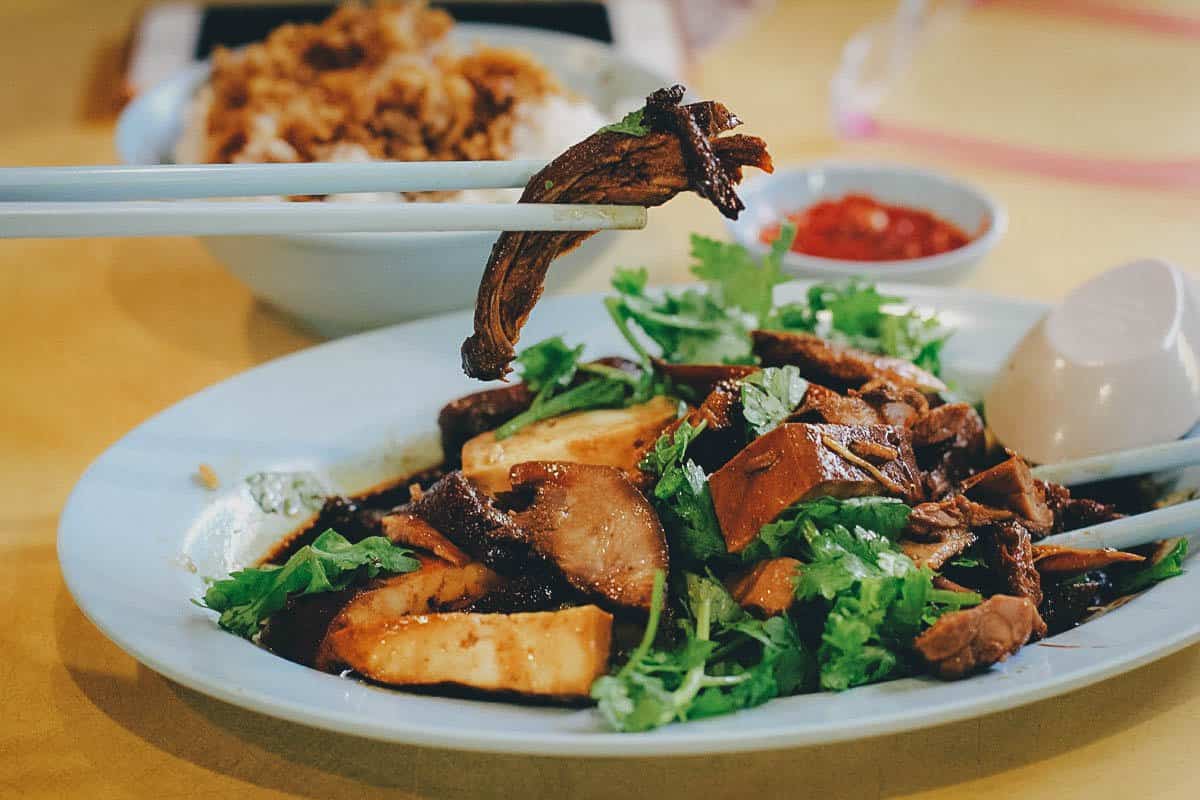 The old man who started this stall is now retired but he's turned the reins over to the family's younger generations to keep the tradition alive.
11. Hill Street Tai Hwa Pork Noodle
You've heard of Hawker Chan right? The street food stall that was awarded a Michelin star in 2016? What many people don't know is that two hawker stalls were awarded Michelin stars that year, the other one being Hill Street Tai Hwa Pork Noodle.
I think Hawker Chan got all the press because their food is cheaper and it made for a better story, but Hill Street Tai Hwa Pork Noodle may be the better restaurant.
Most of the hawker stalls we went to in Singapore are popular so as expected, many had long queues. This legendary noodle shop on Crawford Lane had the longest by a mile.
I waited over an hour to get this bowl of bak chor mee. It's a vinegar and spicy sambal pork noodle dish made even more delicious with lard.
Served dry with a light broth on the side, it's topped with a myriad of ingredients like pork slices, meatballs, liver, dumplings, minced pork, and a sun-dried sliver of fish.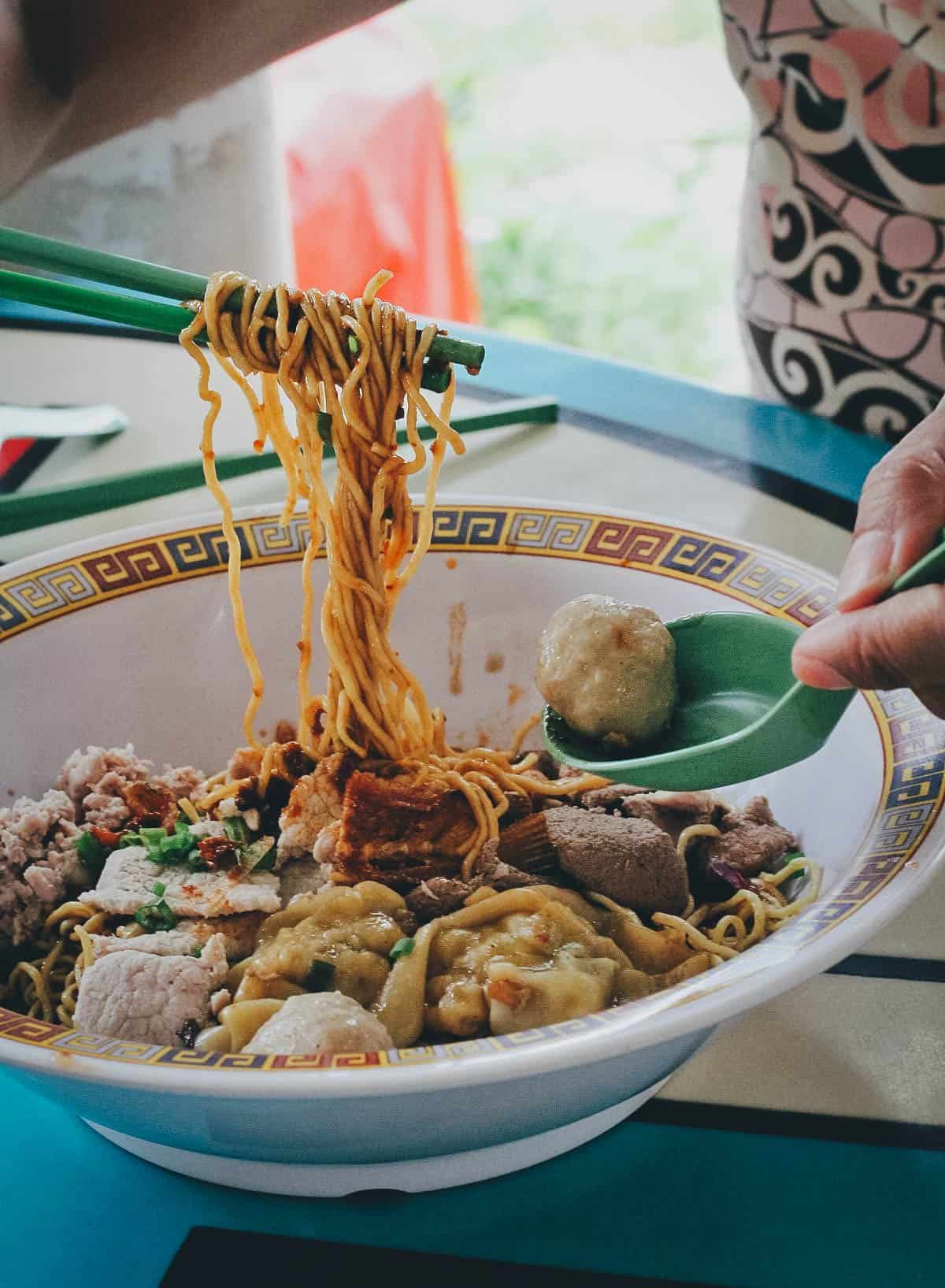 I wasn't kidding about the line. Though it may not look very long, it moved at a turtle's pace but no one seemed to mind. We ate here before they were awarded a Michelin Star so I can only imagine how long the lines must be now!
12. Five Star Hainanese Cuisine
Five Star specializes in Hainanese chicken rice which is one of Singapore's core dishes. You can't visit Singapore without trying it at least once.
Hainanese chicken rice is made by poaching whole chickens at sub-boiling temperatures. The resulting stock is then skimmed off while some of the fat and liquid, along with ginger and garlic, are used to cook the rice. The result is an oily, flavorful rice sometimes known as "oily rice".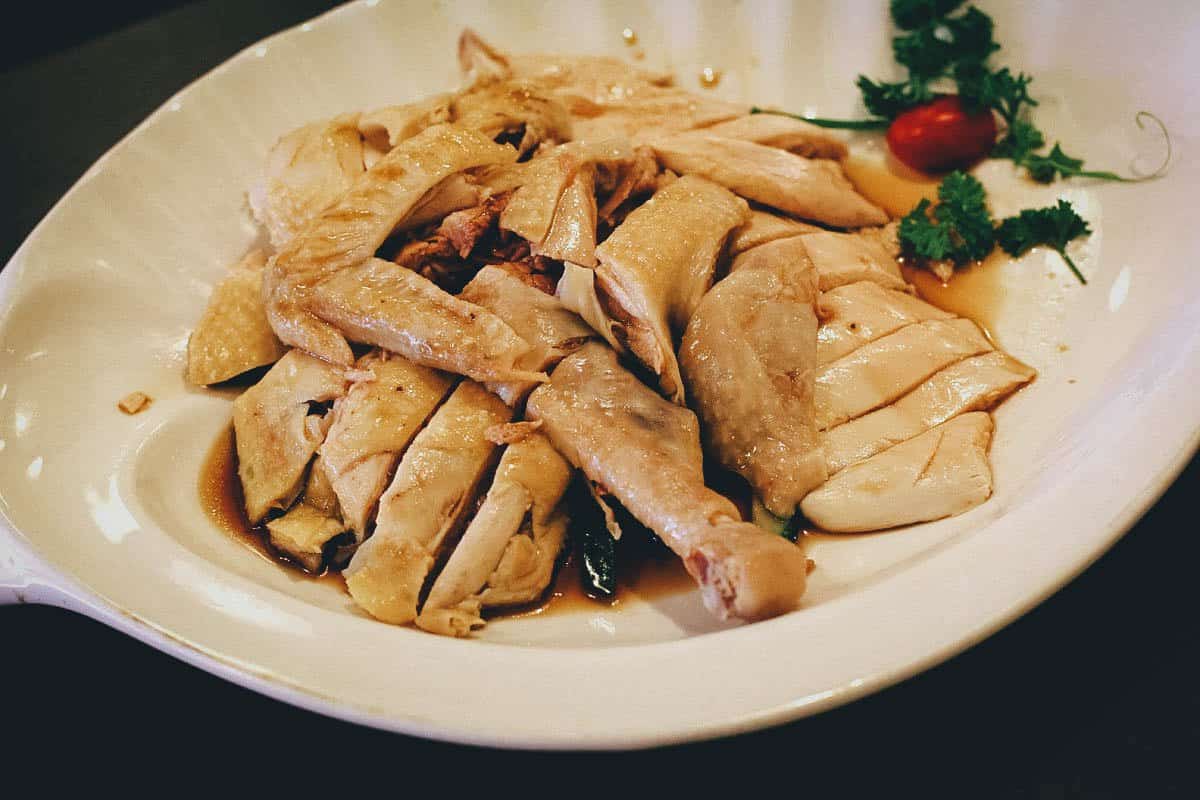 Hainanese chicken rice is typically served with a trio of dipping sauces that include pureed ginger, kecap manis (sweet soy sauce), and chili sauce. It's absolutely delicious and one of my favorite things to eat in Singapore.
Five Star uses kampong chicken which is a breed native to Indonesia and Malaysia.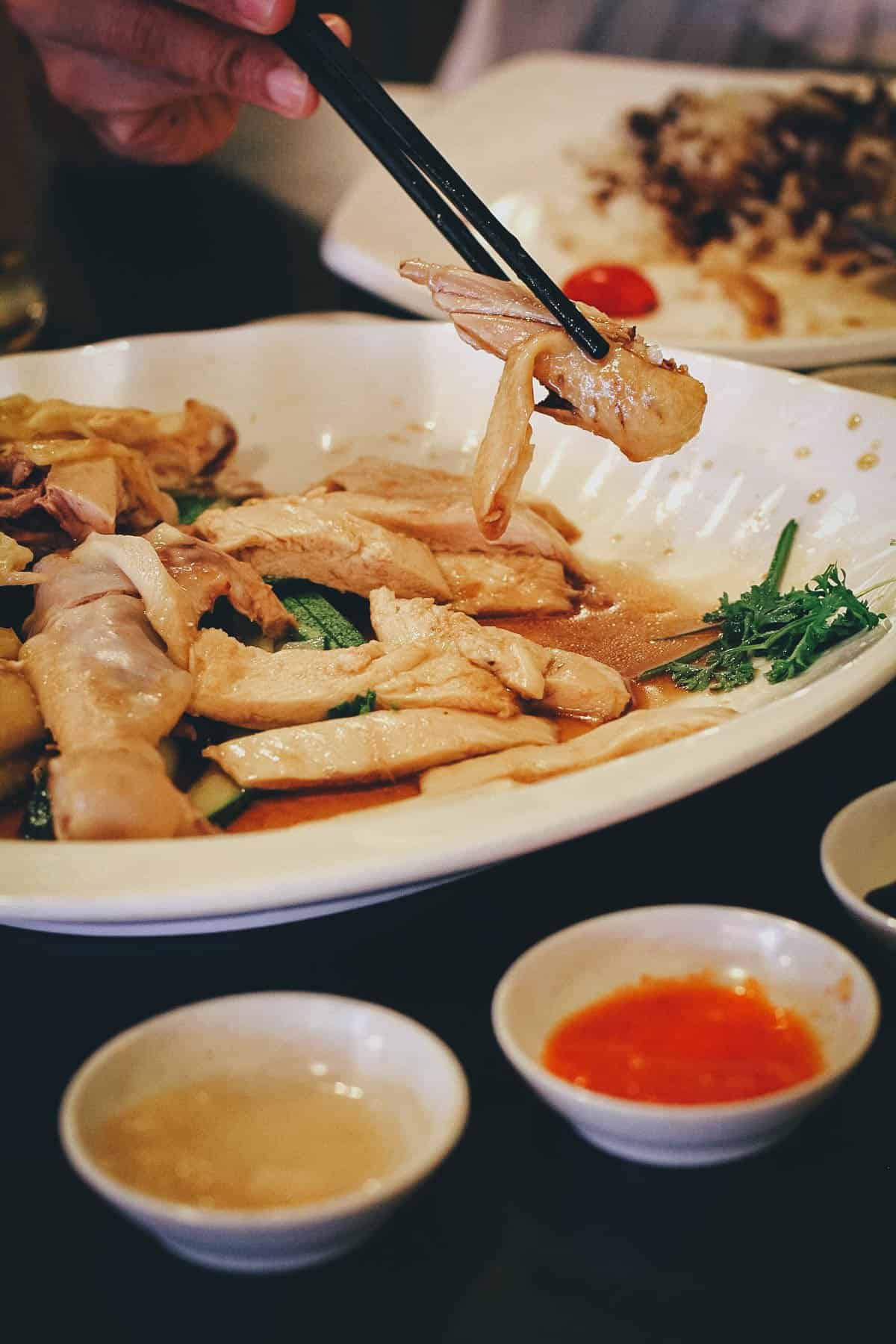 It seems that every Singaporean has their favorite chicken rice restaurant. We went to Five Star based on my friend's recommendation. He's been living in Singapore for many years and he loves to eat so I trust his judgement.
13. Tian Tian Hainanese Chicken Rice
Like many people, we're fans of the late great Anthony Bourdain. Any place he features on his shows will definitely go on our itinerary.
Tian Tian Hainanese Chicken Rice is one of those places. According to him, the rice at Tian Tian is exceptionally fragrant and flavorsome, and is delicious even on its own.
We've had Hainanese chicken rice many times before and this was indeed one of the best I've ever tasted. I enjoyed it even more than Five Star.
Apart from the flavorful rice, the owners say their secret is in the sauce (which was indeed very tasty), but what I remember most was the texture of the chicken. It was perfect – soft, succulent, and incredibly juicy.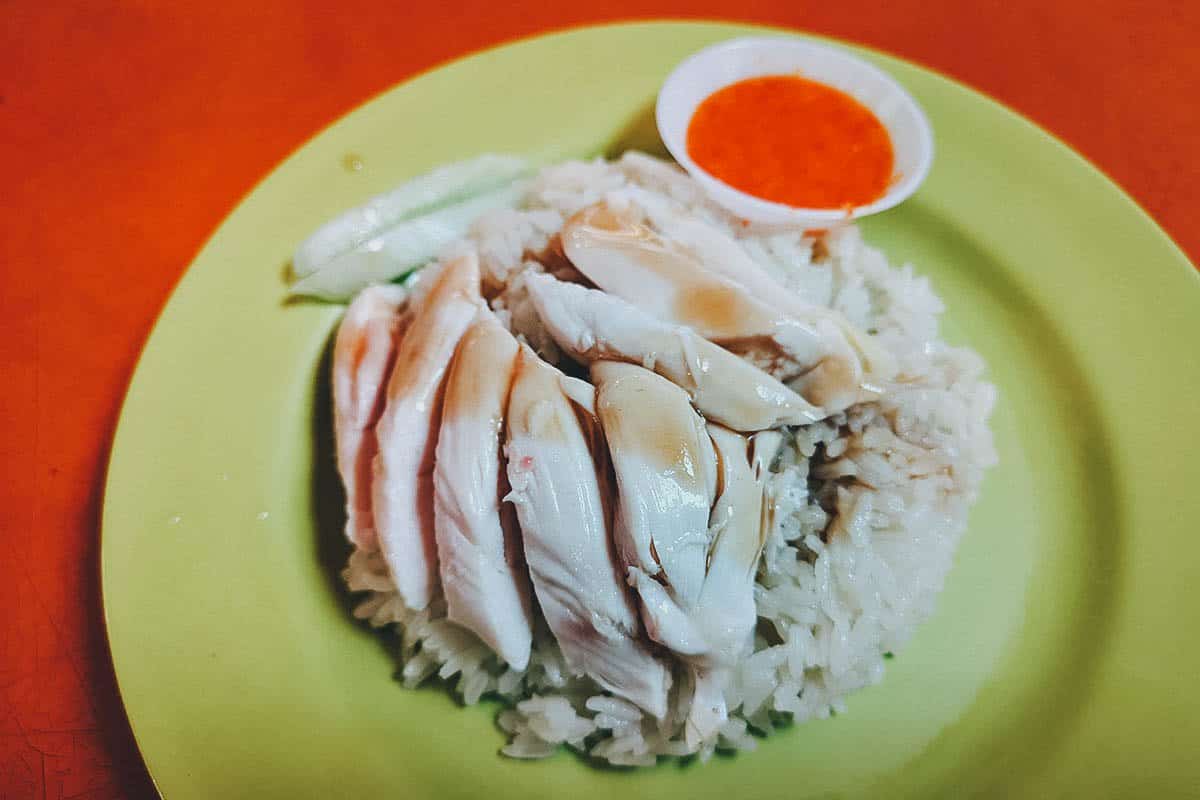 Open since 1987, Tian Tian has developed a reputation for being one of the best Singapore restaurants for chicken rice. It's a Michelin Bib Gourmand awardee and beloved by both locals and tourists alike.
14. 545 Whampoa Prawn Noodles
Also known as hae mee, prawn mee is a popular noodle soup dish in Singapore. 545 Whampoa Prawn Noodles is said to be one of the best restaurants in Singapore for prawn mee. According to Dr. Leslie Tay, the owner is a third generation hawker whose grandfather started selling prawn mee from a pushcart in the 1920s.
You can choose between a soup or dry version. I believe the dry version is known as hokkien mee. Dr. Tay recommended both but we went with the former based on his slightly higher rating (4.25 vs 4.5). The soup was bold and delicious with a deeply flavorful broth that tasted heavily of prawn.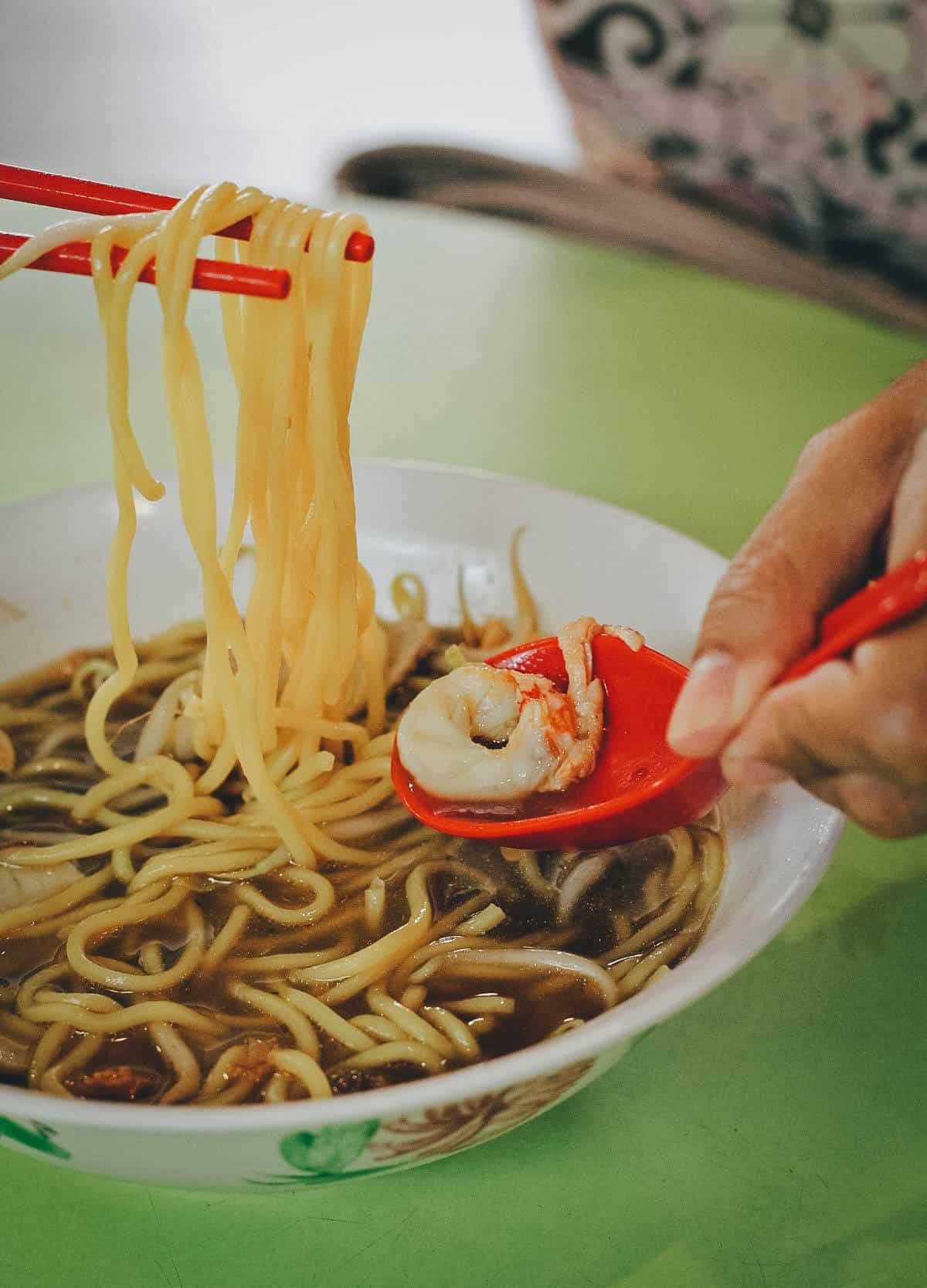 Like Fatimah Stall Ar Rahman Royal Prata and Heng Gi Goose and Duck Rice, 545 Whampoa Prawn Noodles is located at Tekka Centre food court in Little India.
15. Huat Huat BBQ Chicken Wings
We chanced upon Huat Huat and their bbq chicken wings at the Rasapura Masters food court in Marina Bay Sands. They were delicious so I thought of adding them to this list as a non-local dish you may want to try in Singapore.
Only when I saw this list of the best bbq chicken wings in the city did I learn that they were actual Singaporean hawker food! Very cool!
Unlike the chicken wings I'm accustomed to, the skin on these bbq chicken wings are crisp but delicately thin. Paper thin in fact. It feels like it was stretched taut over the wing and crisped!
There's no heavy batter or thick sauce, just flavorful marinated chicken wings cooked over charcoal and served with lime juice and a spicy chili sauce. They're surprisingly good and highly addictive.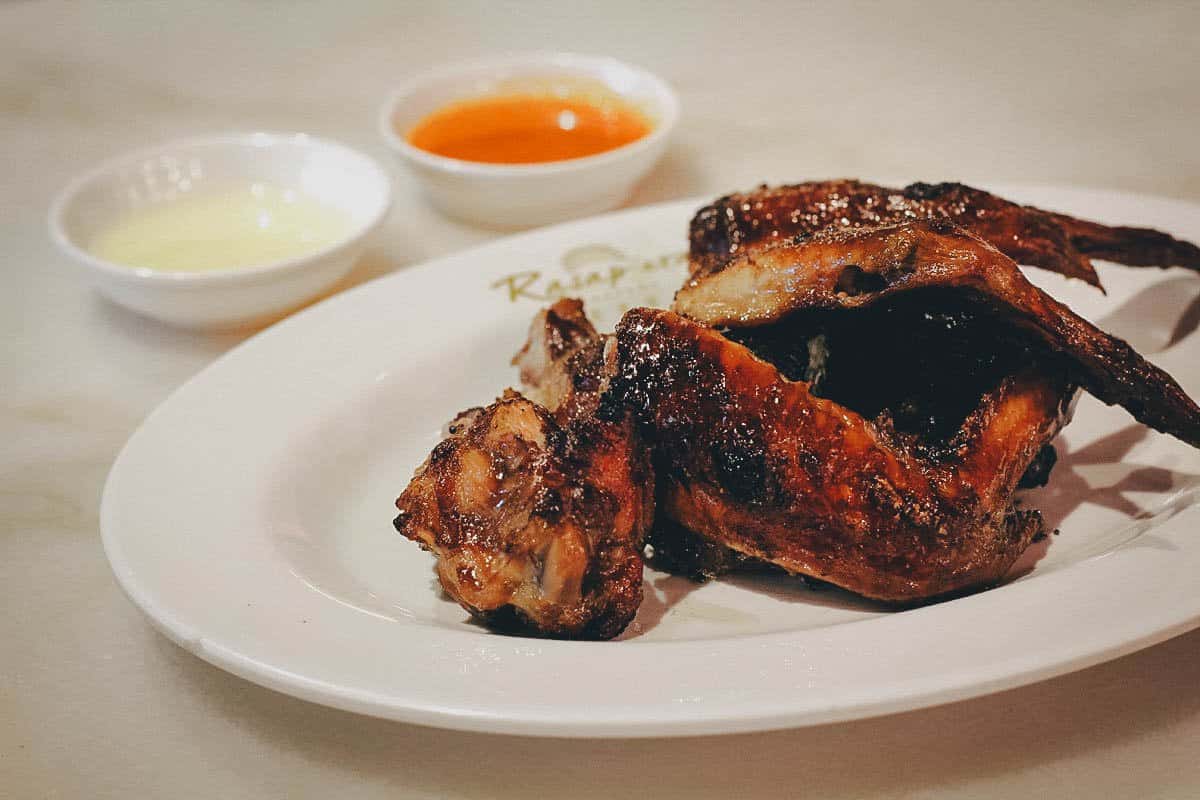 16. Red House Seafood Restaurant
Red House Seafood Restaurant is one of the many places in Singapore to try chili crab. Often referred to as the country's national dish, chili crab is synonymous with Singapore. It's considered one of its greatest culinary inventions and arguably its most important dish.
Chili crab is prepared by stir-frying crabs — commonly mud crabs — in a thick, tomato- and chili-based sauce. Despite its name, it isn't very spicy at all. It tastes sweet and tangy with just a hint of spiciness.
If you were to have just one dish in Singapore, something to represent the cuisine as a whole, then it should definitely be chili crab.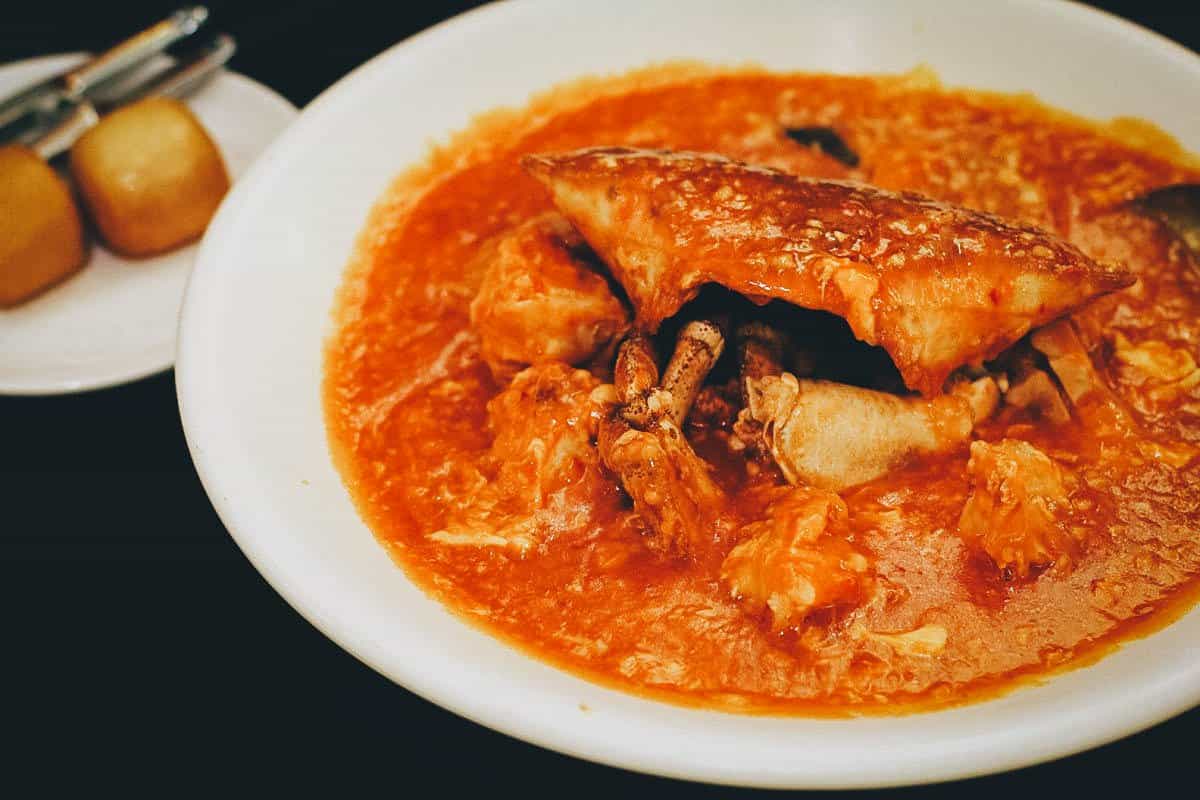 The best part of any crab? The sinful roe in its shell, of which ours had tons (pictured below). Instead of the usual Sri Lankan mud crabs, Red House uses Scottish brown crabs which are said to be meatier and less pungent.
According to my friend who recommended Red House to us, chili crabs are delicious pretty much anywhere in Singapore so it doesn't matter as much where you go.
17. Don Signature Crab
Don Signature Crab is known for their crab bee hoon, a popular Singaporean rice vermicelli dish made with whole mud crabs cooked in seafood stock.
Crab bee hoon shot to international fame after Anthony Bourdain tried it at Sin Huat Eating House and included the restaurant in his list of 13 places to eat before you die.
With an endorsement like that, I wanted to try it at Sin Huat Eating House but I was put off by its many negative reviews which called the place overpriced and poor value for money.
Thankfully, I learned about Don Signature Crab from this article listing 15 of the best restaurants in Singapore for crab bee hoon.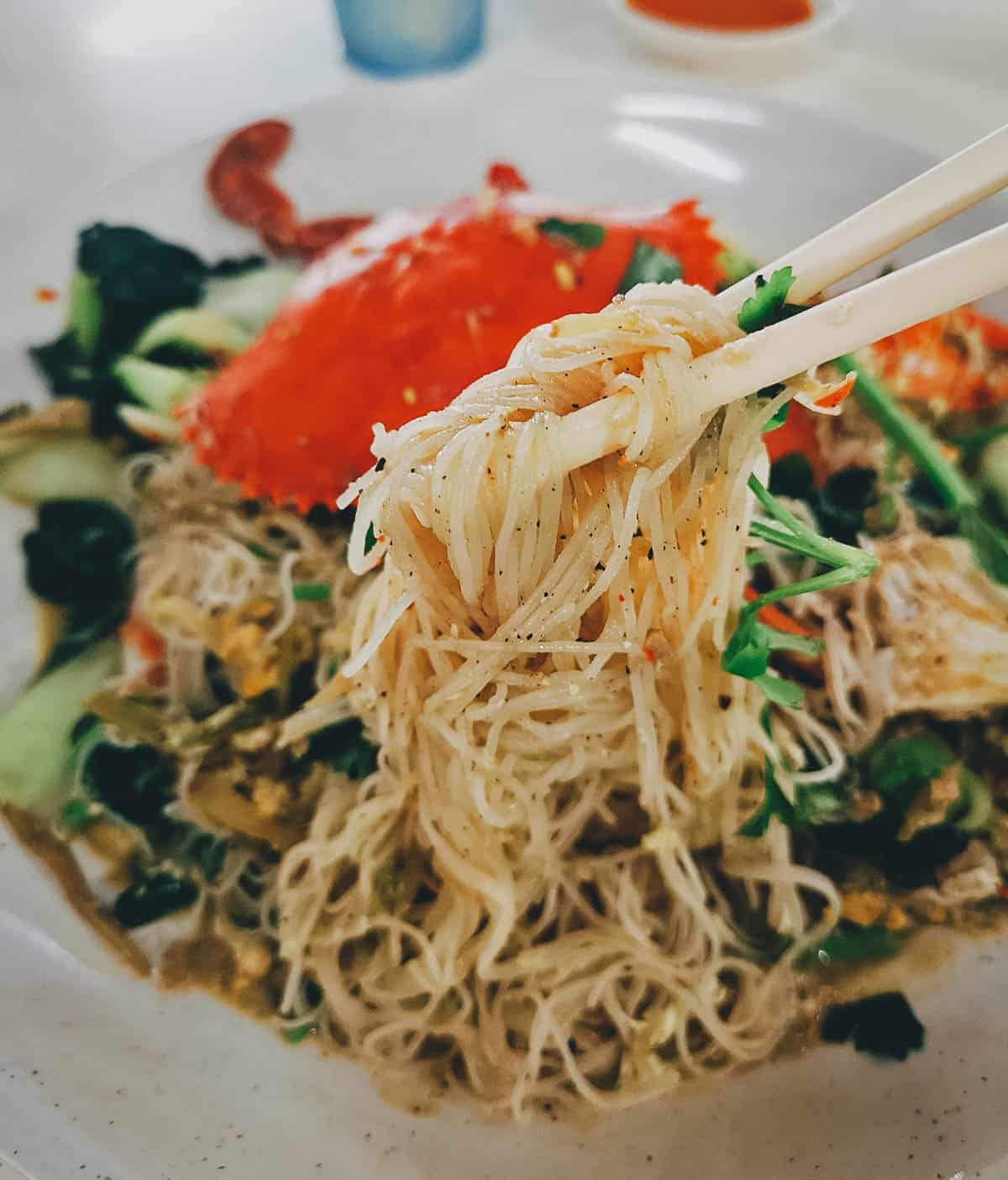 Because the dish is made with whole crab, it can be expensive which is why I chose Don Signature Crab. I was traveling in Singapore alone so I didn't want to spend an arm and a leg for it.
18. The Banana Leaf Apolo
Google "where to eat in Singapore" and The Banana Leaf Apolo will surely come up. Located in Little India, this legendary restaurant has been open since 1974 and is known for serving many delicious dishes, one of the most popular being their fish head curry.
A Singaporean dish with Indian and Chinese origins, fish head curry is prepared by stewing a whole sea bream's head in a Kerala-style curry with assorted vegetables and a secret blend of eighteen spices.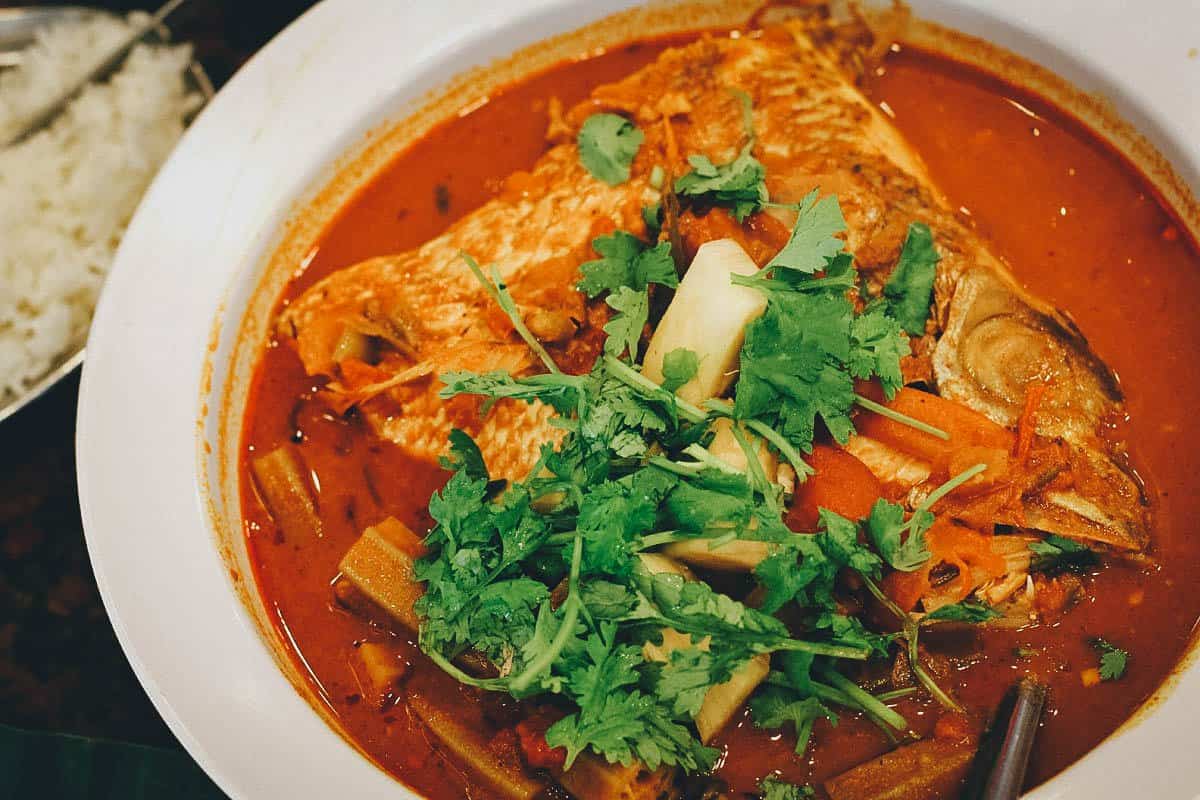 Served on banana leaves, Apolo's fish head curry is available in small, medium, or large sizes. We got the medium which was more than enough for two people.
19. Ayam Penyet Ria
Ayam Penyet Ria is a restaurant chain that serves Indonesian food. Their signature dish – ayam penyet – literally translates to "smashed fried chicken".
Ayam penyet is prepared by lightly pounding fried chicken with a mortar and pestle (or mallet) to make it softer. It's then topped with kremes (crispy spiced flakes) and served with rice, sambal, cucumber slices, fried tofu, and tempeh (soybean cake).
I learned about this restaurant when I was searching for a good place to eat along Orchard Road. Ayam Penyet Ria fit the bill nicely.
20. MA Deen Biasa
Sup tulang has been on top of our must-eat list from the moment we read about it. It refers to the most sinful-looking bone marrow dish cooked in tomato paste and spices.
When KF Seetoh described MA Deen Biasa's sup tulang as "the most desperately delicious" in Singapore, I knew I found the right place to try it.
Served with slices of baguette to mop up the sauce, hunks of beef bone with marrow are cooked with tomato paste and a variety of spices to create this devilish-looking dish. We made the mistake of ordering rice with it but don't bother. It's perfect with the bread.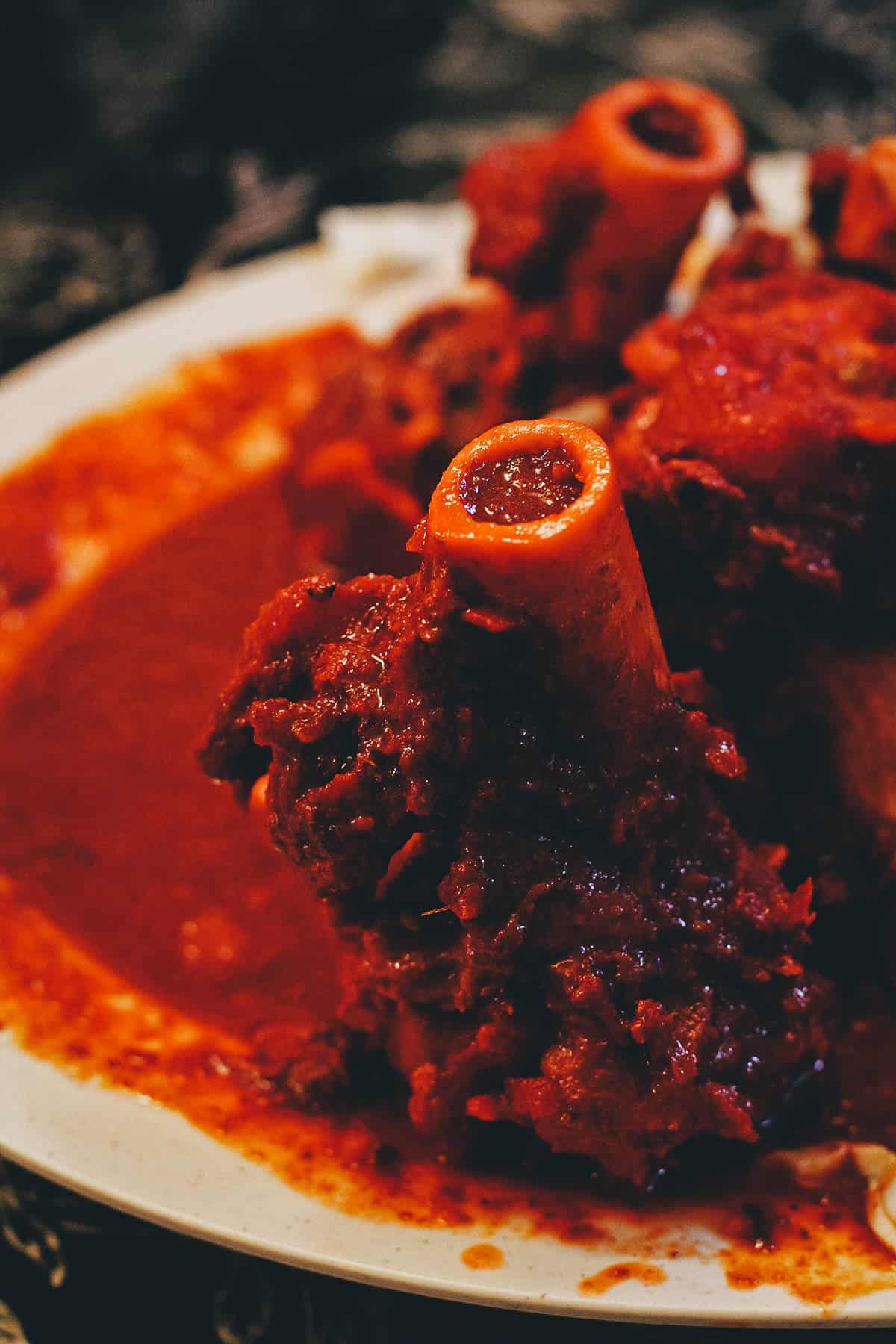 The sauce and beef are fantastic but the real star of this dish is the bone marrow. MA Deen Biasa will give you straws so you can suck out the marrow like a mosquito. Awesome!
21. Candlenut
Candlenut serves elevated Peranakan food. The Peranakans are the descendants of Chinese immigrants who settled in Penang, Malacca, Singapore, and Indonesia between the 15th and 17th centuries.
They inter-married with local Malays and produced an intermingling of cultures that manifested itself in many ways, most notably in their food.
Chinese ingredients were used with local spices and cooking techniques to create Peranakan interpretations of Malay food that are characteristically tangy, aromatic, spicy, and herbal. If you enjoy bold flavors, then you're going to love Peranakan food.
There are many Peranakan restaurants in Singapore, but I believe Candlenut is the only one that's been awarded a Michelin star. If you're looking to have a special dinner in Singapore, then Candlenut is a good choice. Even before it was awarded a Michelin Star, it already had a reputation for being one of the best restaurants in Singapore.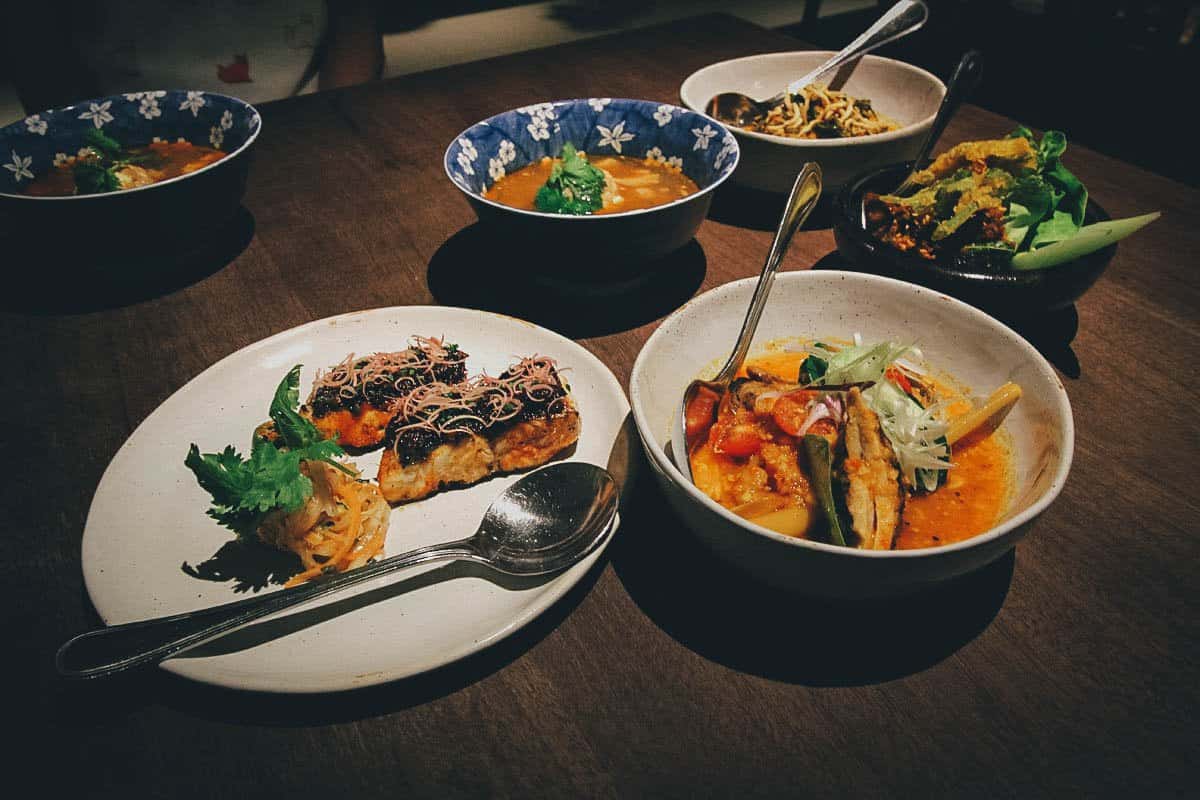 What makes Candlenut so interesting is that there's no ala carte dinner menu. Inspired by Japanese omakase, Chef Malcolm Lee creates new dishes each week and serves them family-style in an experience he likes to call ahma-kase dining. Ahma means "grandmother".
Pictured below is a course of charred octopus with chincalok (fermented shrimp), cucumber and pineapple achar (pickled), and roasted peanuts.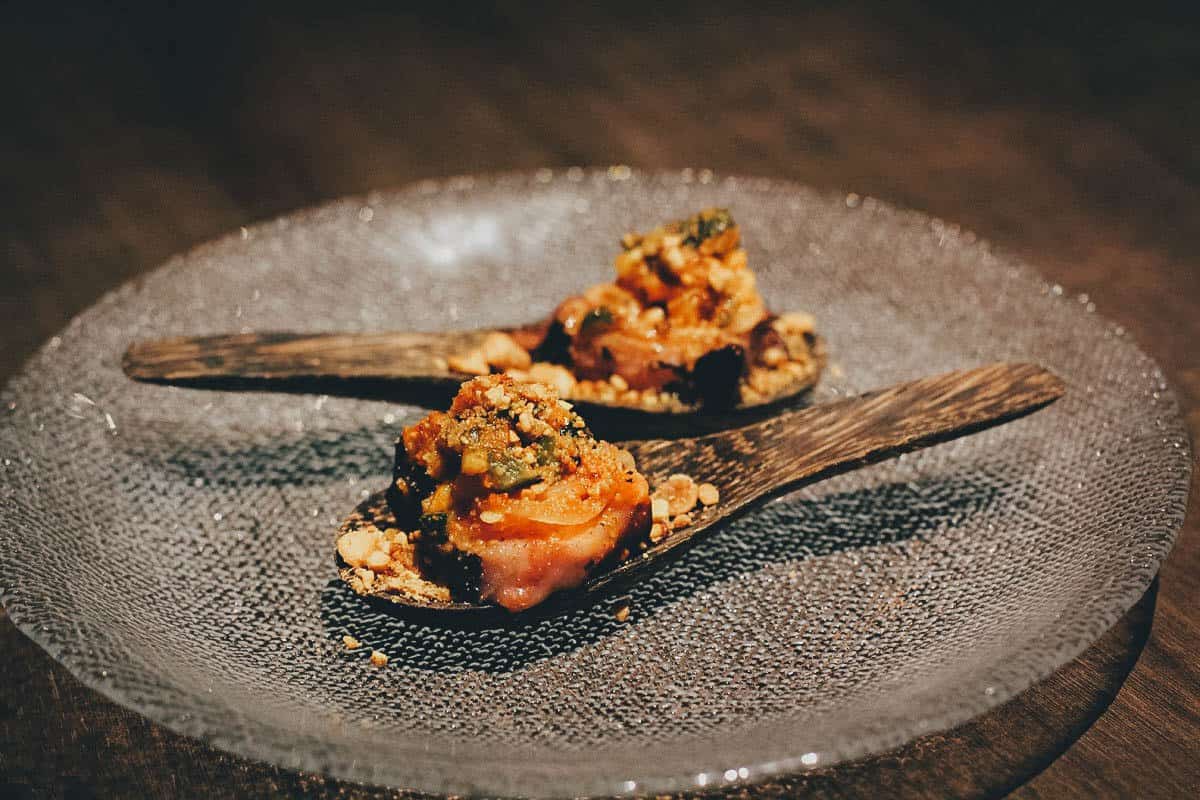 22. 3S Beancurd City
We were searching for good breakfast restaurants in Singapore when we came across 3S Beancurd City. They're known for their soya beancurd served with a side of fried doughstick (you tiao).
According to Dr. Leslie Tay, it's "probably as good as beancurd gets in Singapore".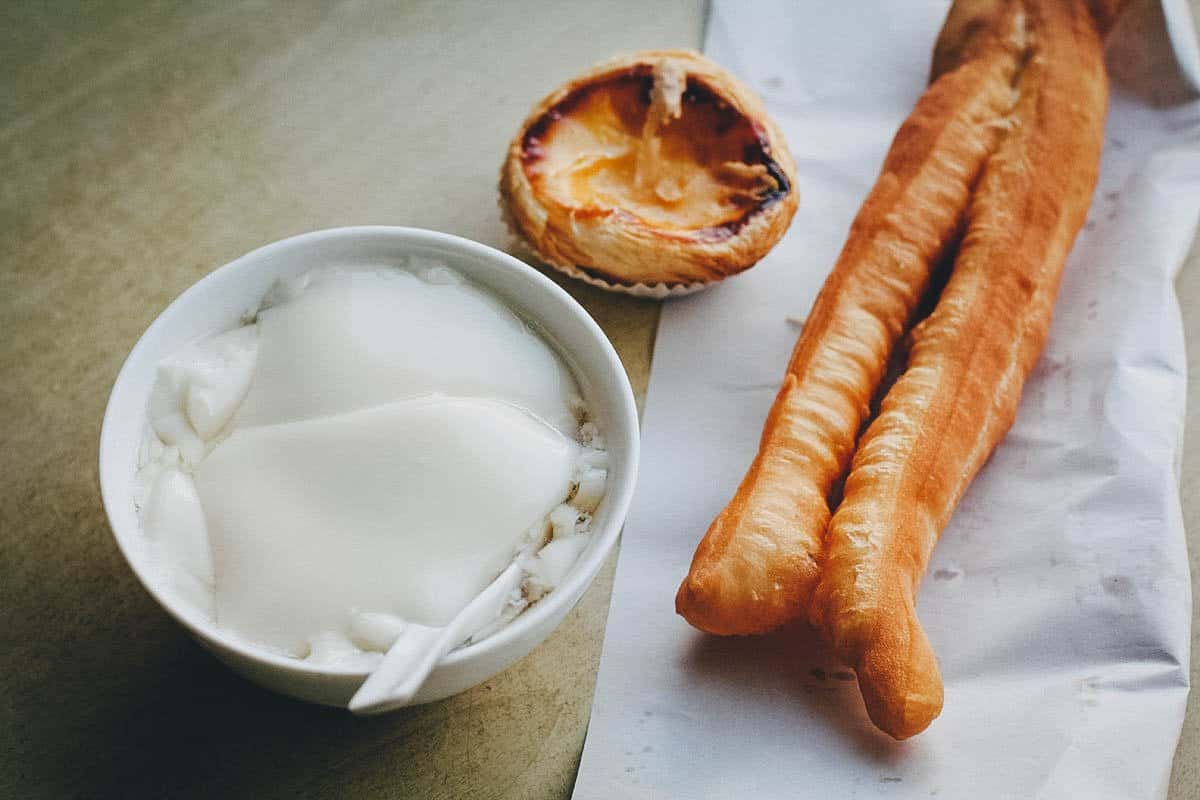 23. Simple Delite
Kueh is a blanket term that refers to these bite-sized snacks made with rice. They come in many different forms and can be either sweet, like the kueh lopis below, or savory like the chwee kueh described earlier in this article.
I added Simple Delite to our itinerary after reading about their kueh lopis on Dr. Leslie Tay's blog. Made with glutinous rice, banana leaf, gula melaka, and shredded coconut, he described it as having "a sublime texture [with] a superb balance of sweet, salty and savory flavors". He was right – it was amazing.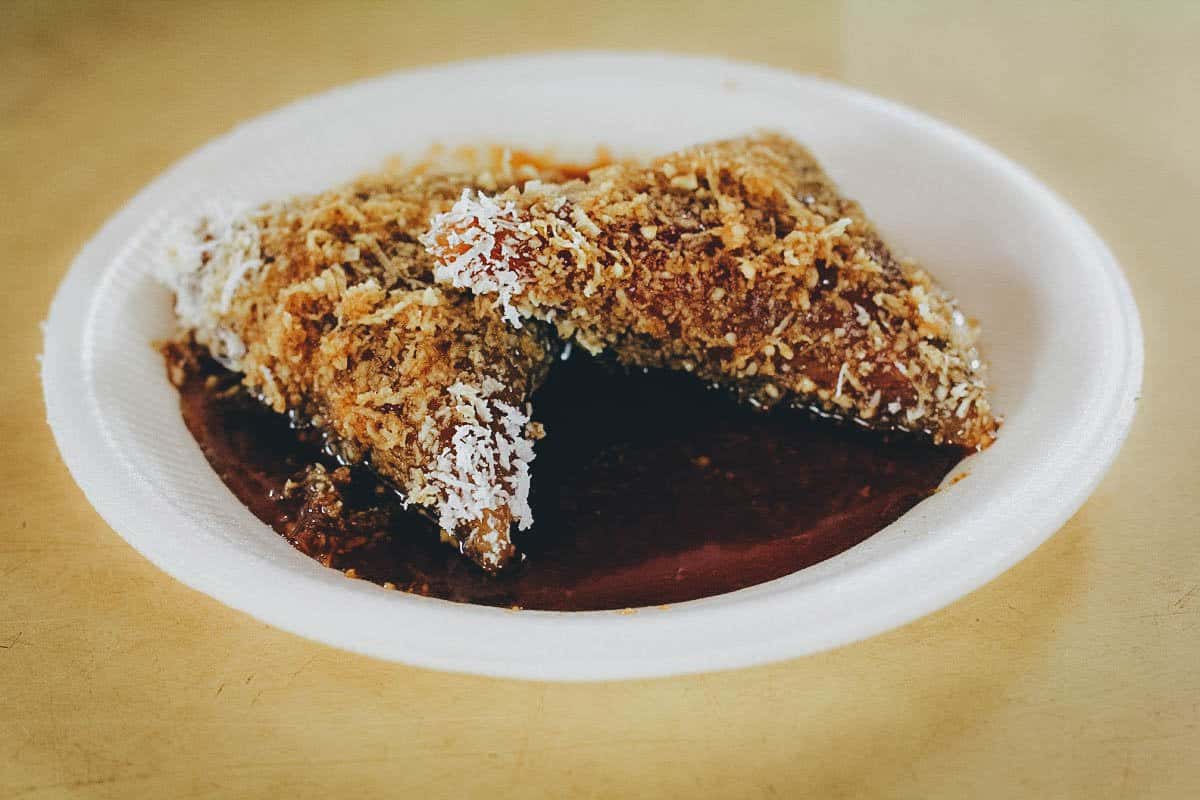 We also tried these other types of kueh called kueh salat and kueh bingka jagung (if I remember correctly). Kueh salat is made with pandan and tapioca while kueh bingka jagung is made with corn pudding and palm sugar. Both were just as good.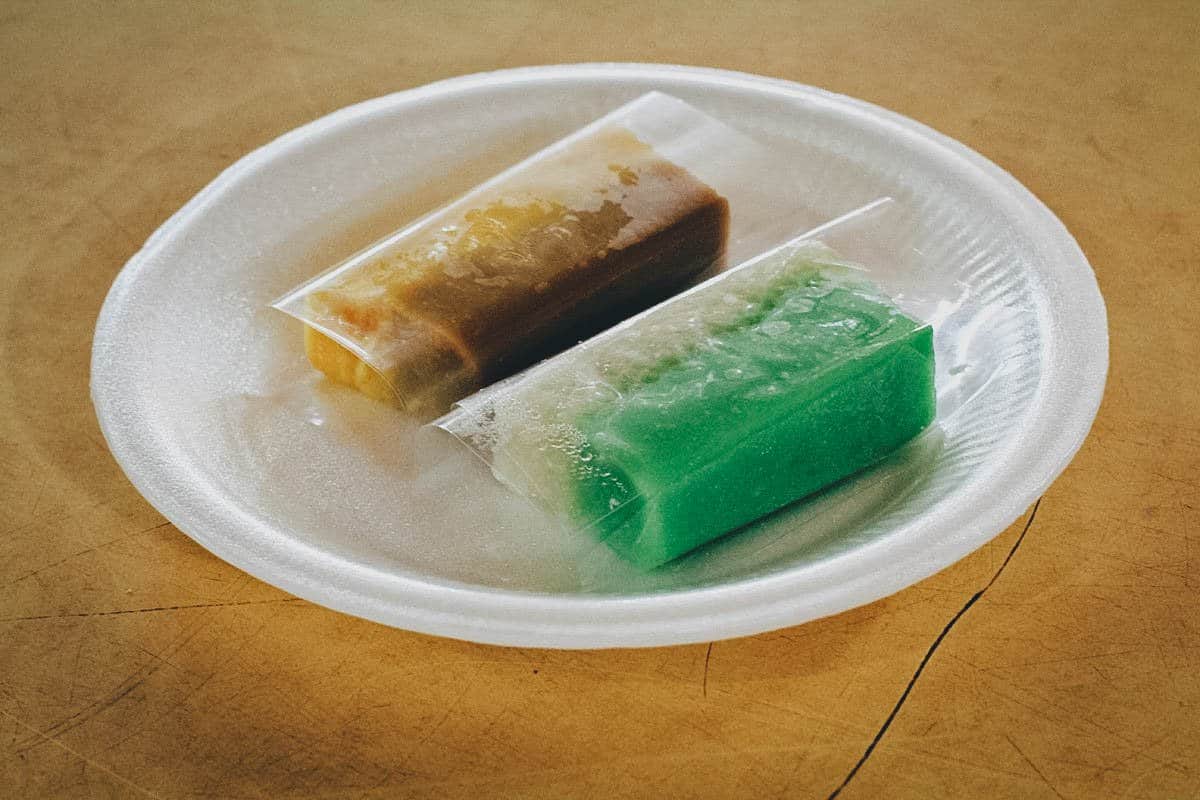 24. Tiong Bahru Bakery
I know what you're thinking. Croissants may seem like an odd choice for a Singapore restaurant guide but these are an exception.
Opened in partnership with Parisian Chef Gontran Cherrier, the croissants at Tiong Bahru Bakery are to die for. In fact, some say they're even better than the croissants in Paris! We had the green tea almond croissant and it was divine.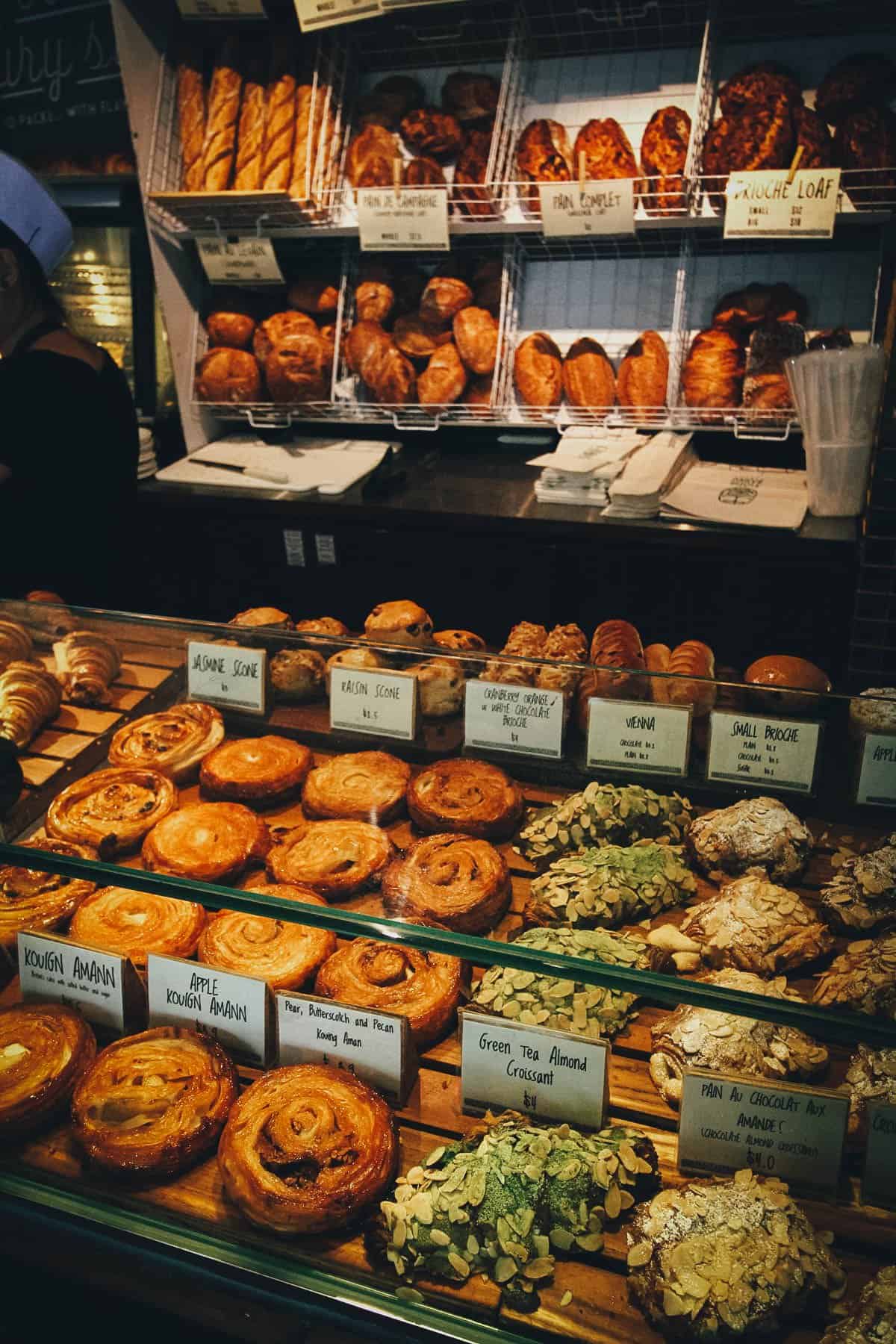 Here's the aforementioned green tea almond croissant and a kouign-amann. The kouign-amann was average but the croissant really was superb.
If you'd like to purchase Tiong Bahru Bakery meal vouchers in advance, then you can do so through Klook. They offer vouchers to meal sets similar to what you see below.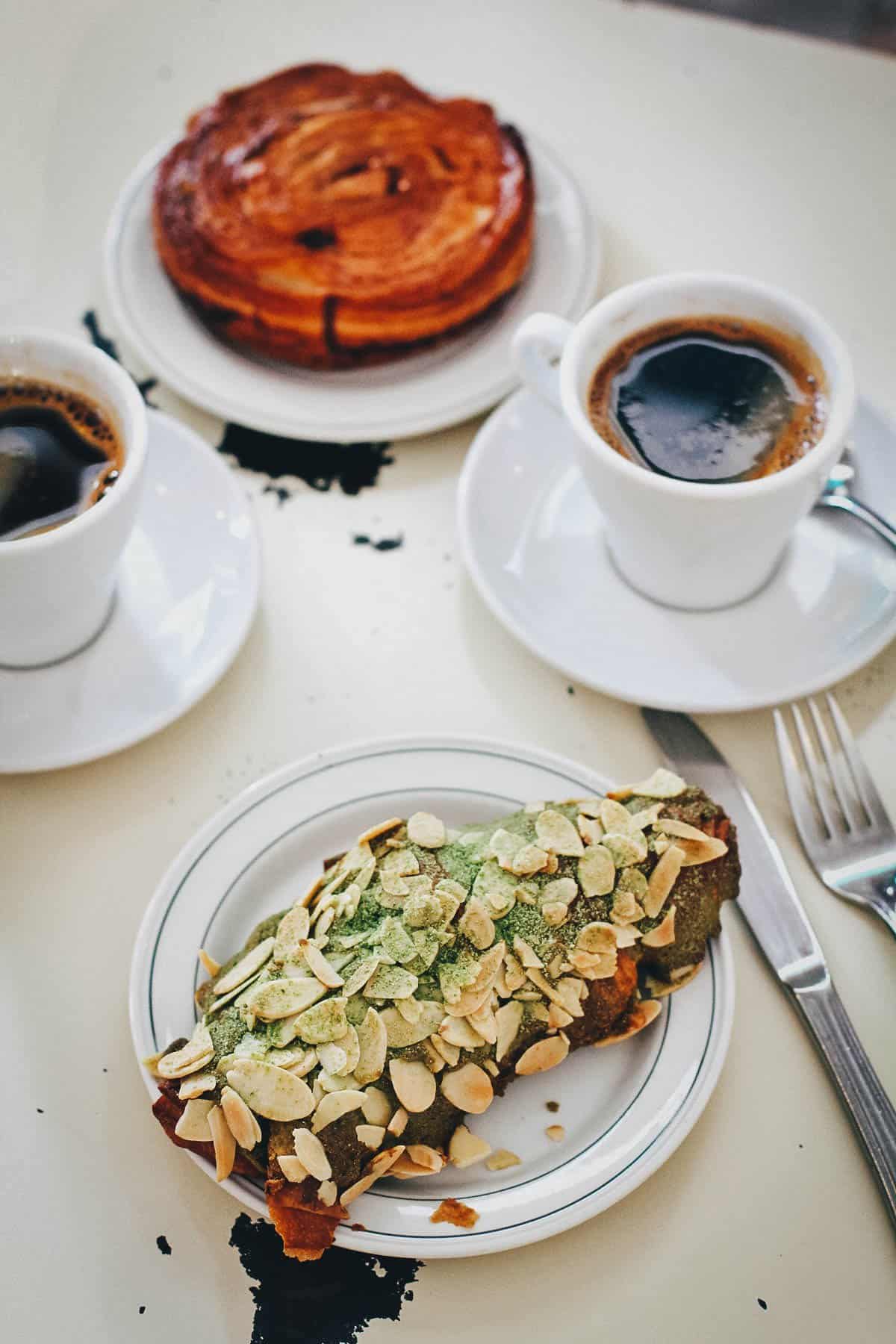 25. Off the Eaten Track with A Chef's Tour
This last entry isn't a Singapore restaurant or a hawker stall. It's a food tour, an excellent food tour by A Chef's Tour featuring the most incredibly delicious plate of char siew rice I've ever tasted in my life. Just look at that thing!
Char siew (or char siu) is a Cantonese dish of barbecued seasoned boneless pork. I've been eating char siew practically all my life and this was the best I've had by a mile.
It was tender, meaty, fatty, and juicy with ultra crisp skin and a deliciously thick savory-sweet sauce. I'd fly back to Singapore just for this!
If you don't have the time to go from hawker stall to hawker stall on your own, then I suggest going on this food tour with A Chef's Tour. It'll give you a sampling of some of the best dishes this city has to offer.
This is by no means a comprehensive list but I do hope it helps you plan your trip. With so many great restaurants to choose from, figuring out where to eat in Singapore can be a challenge.
Like all our food guides, this Singapore restaurant guide will continue to grow and improve after each return visit to this island nation. With food this delicious and diverse and prepared by a people as food-obsessed as we are, I'm pretty sure we'll find ourselves in Singapore often.
We're always looking for great places to eat so if you have any suggestions on where to eat in Singapore, then please let us know in the comments below.
Thanks for reading and have a wonderful time eating your way through Singapore!
Disclosure
Some of the links in this guide are affiliate links, meaning we'll get a small commission if you make a purchase at NO extra cost to you. We only recommend products and services that we use ourselves and firmly believe in. We really appreciate your support as this helps us make more of these free travel guides. Thank you!