My wife's cousin was telling me the other day how he and his fiancee caught the travel bug on a recent trip to Tokyo. It must have been the sushi.
Every long-term traveler can remember the exact place where they were bitten by the travel bug. For many digital nomads, it's Bangkok. For me, it's Nepal.
I visited Nepal many years ago and I was smitten by the country's jaw-dropping landscapes. Shortly after checking into my hotel in Kathmandu, I took the stairs up to the rooftop and I couldn't believe what I was seeing. All around me in 360º were snow-capped mountains. It looked like something out of a dream.
I didn't know how at the time but I knew at that moment this was what I wanted to do for the rest of my life – to travel the world and experience unfamiliar cultures. To see how other people lived and best of all, to taste their food.
To be honest, Nepalese food isn't one of my favorite cuisines in the world but it will always be near and dear to my heart, thanks to those memories.
If you're planning a trip to the Himalayas and have a curiosity for local food, then here are twenty traditional Nepalese dishes that you need to look for in Kathmandu, Pokhara, or anywhere else in Nepal.
NEPALESE FOOD QUICK LINKS
If you're visiting Nepal and want to learn more about Nepalese cuisine, then one of the best ways to do that is to take a cooking class.
COOKING CLASSES
Save This on Pinterest!
No time to read this article on traditional Nepalese food? Click on the save button and pin it for later!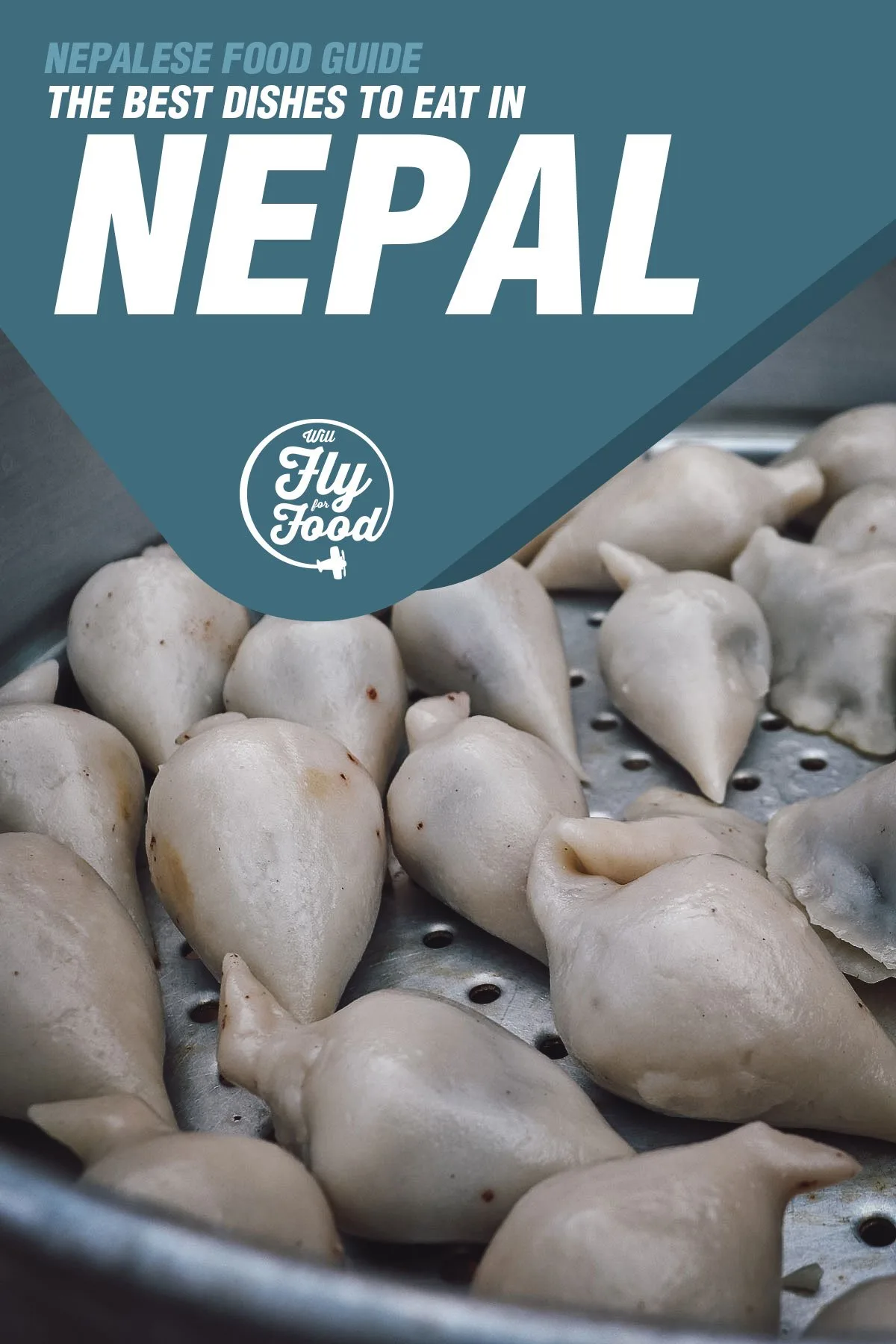 Photo by kamal kishor a
WHAT IS TRADITIONAL NEPALESE CUISINE?
Bordered by India and Tibet, Nepali food shares many similarities with its neighbors. Dishes like samosa and pani puri demonstrate the influence of Indian food while everyone's favorite momos and chow mein are derived from Tibetan and Chinese cuisines.
Depending on where you are in the country, the food in Nepal can vary greatly based on climate and ethnicity. I remember the food at Chitwan National Park to be noticeably different from the meals I was served along the Annapurna Circuit.
Go trekking in the Himalayas and you'll find dishes influenced by Tibetan cuisine. Because of the colder climate and less fertile land, agricultural options are limited. Buckwheat, barley, and millet are the staple grains while potatoes are a vital food crop. Yak meat and mutton are the more commonly consumed meats while steaming, boiling, and stewing are the preferred cooking methods.
In the lowlands, closer to India, the food in Nepal is more heavily influenced by Indian cuisine. You'll find a much greater variety of vegetables, fruits, and spices like cumin, turmeric, coriander, and chili peppers. There are more meat options as well and a greater emphasis on frying and sauteing.
As you'd expect, the best food in Nepal can be found in bigger cities like Kathmandu and Pokhara. Newari food – from the Newar ethnic group living in the Kathmandu Valley – is of particular interest. It's a rich cuisine noted for its diverse use of ingredients, spices, and more intricate cooking methods.
MUST-TRY DISHES IN NEPALI CUISINE
This article on traditional Nepalese food has been organized by category to make it easier to digest. Click on a link to jump to any section of the guide.
SNACKS / SOUPS / SIDES
1. Momo
You can't talk about the food in Nepal without bringing up momos. Originally from the Himalayan region, it's one of the best dishes in Nepalese cuisine and something you can find pretty much anywhere in the country.
Momos can be prepared in different ways but it's essentially a type of steamed dumpling filled with a mixture of minced meat and vegetables seasoned with onions, garlic, ginger, and a variety of spices like cumin, coriander, and turmeric. Traditionally, they were made with yak meat but they're now more commonly filled with chicken or goat.
You shouldn't have to go too far to satisfy your momo craving no matter where you are in Nepal. They're available at restaurants and street food stalls and can be served with different sauces, one of the most common being achar – a variety of pickles and chutneys derived from South Asian cuisines.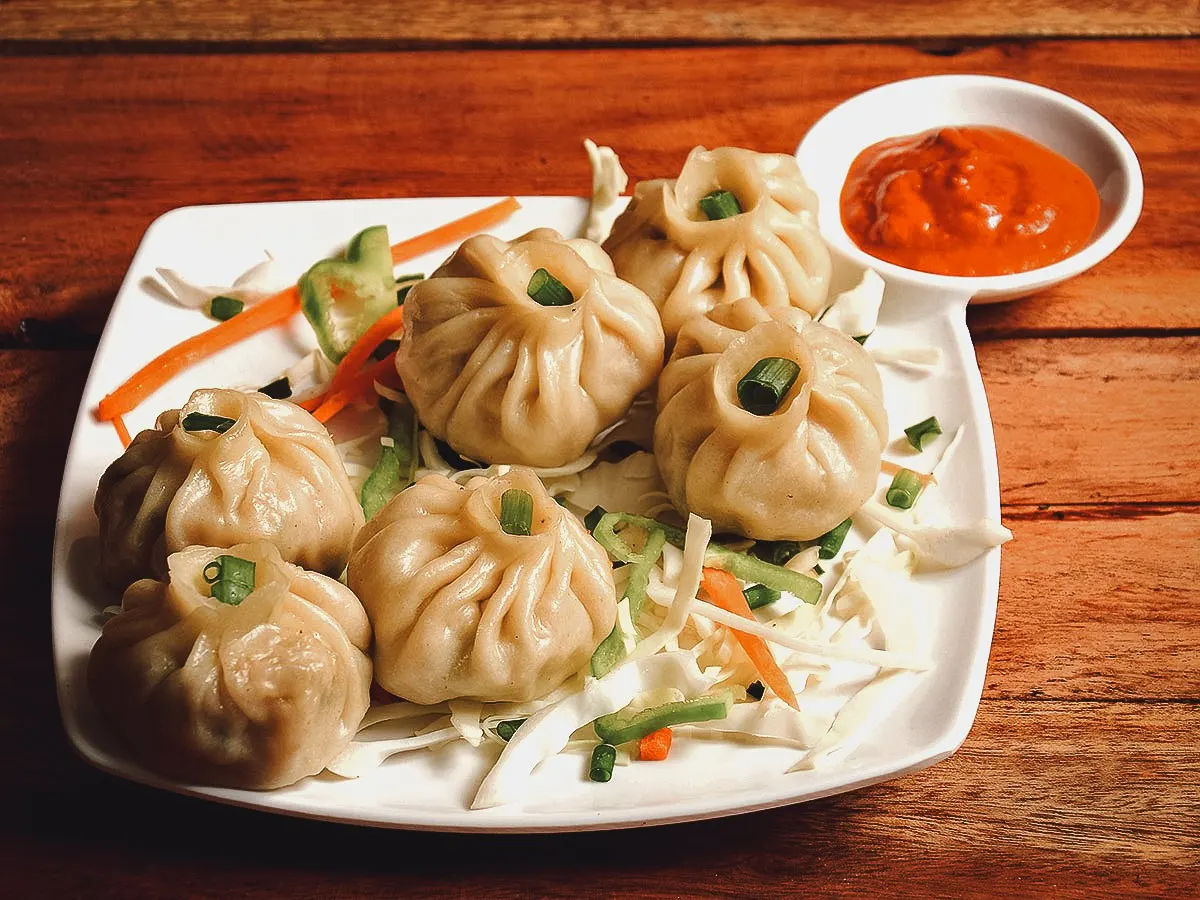 Photo by Mahi ryan
2. Samosa
If you're a fan of Indian food, then you've probably had your fair share of samosas. It's a type of fried South Asian pastry that's popular in India, Nepal, Pakistan, Sri Lanka, and many other countries throughout the Middle East, North Africa, and Southeast Asia. Off the top of my head, I can remember having it in some form in Myanmar and Morocco, usually as street food.
In some parts of Nepal, samosas can also be referred to as "singadas". Readily available at restaurants and street food stalls, it's a tasty snack that's commonly made with spiced potatoes, onions, peas, herbs, and different spices. Like the Indian version, they're usually served with some type of sauce like achar or a yogurt-based dipping sauce.
Some people describe samosas as being a spicy dish but I don't think so. I'm a fan of spicy food and find Nepali samosas (and samosas in general) to be moderately spiced at best.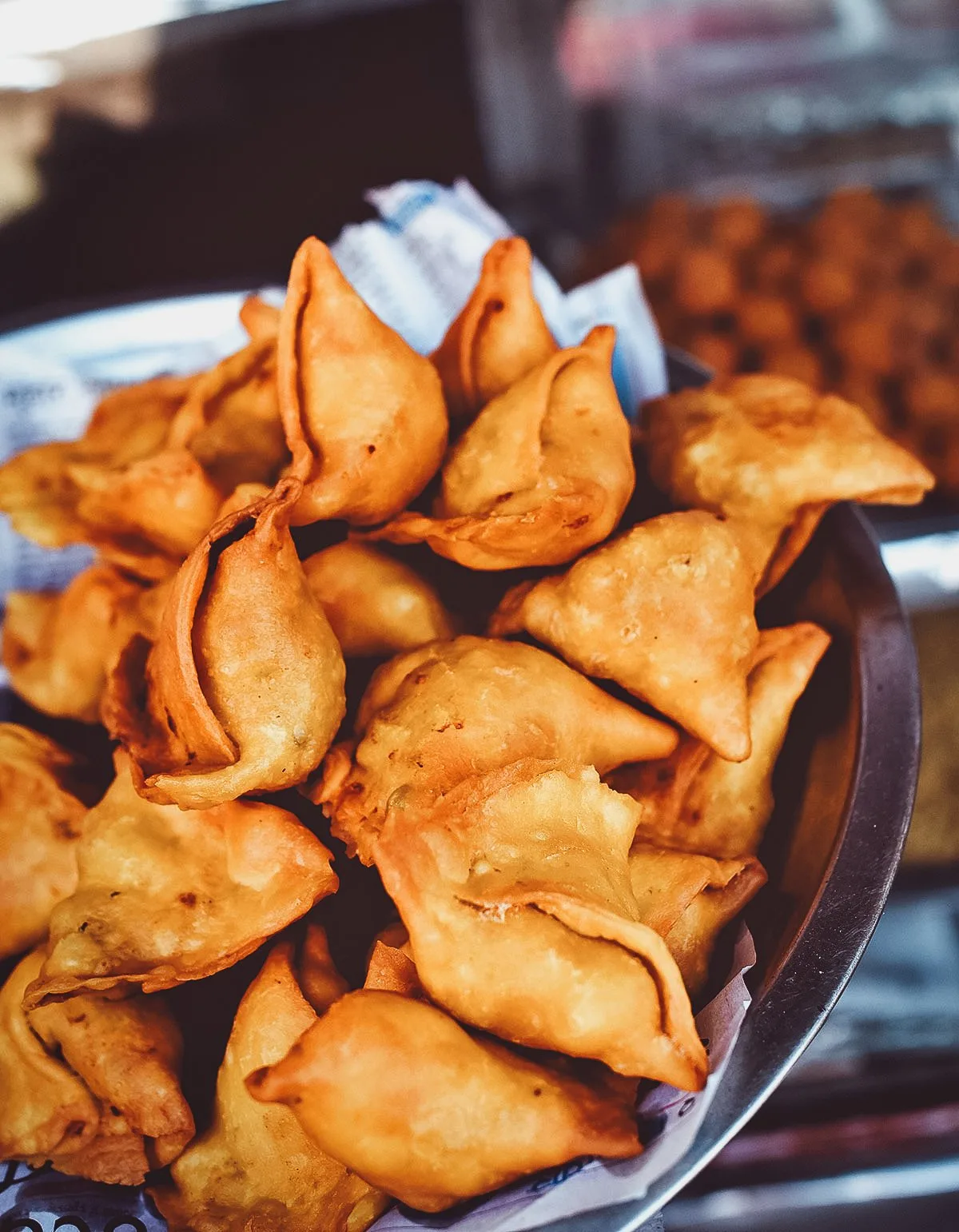 Photo by Aivars Ivbulis
3. Chatamari
Pizza is such a universally recognized and beloved dish that you'll often find similar dishes from other countries likened to it. In Turkey, for example, lahmacun is sometimes referred to as "Turkish pizza". In Vietnam, it's banh trang nuong. In Nepal, it's chatamari.
Often referred to as "Nepali pizza", chatamari refers to a crispy rice flour crepe topped with minced meat, onions, cheese, vegetables, and egg. A Newari dish from Kathmandu Valley, it was traditionally prepared for festivals and special occasions but it's now commonly eaten as a snack or appetizer.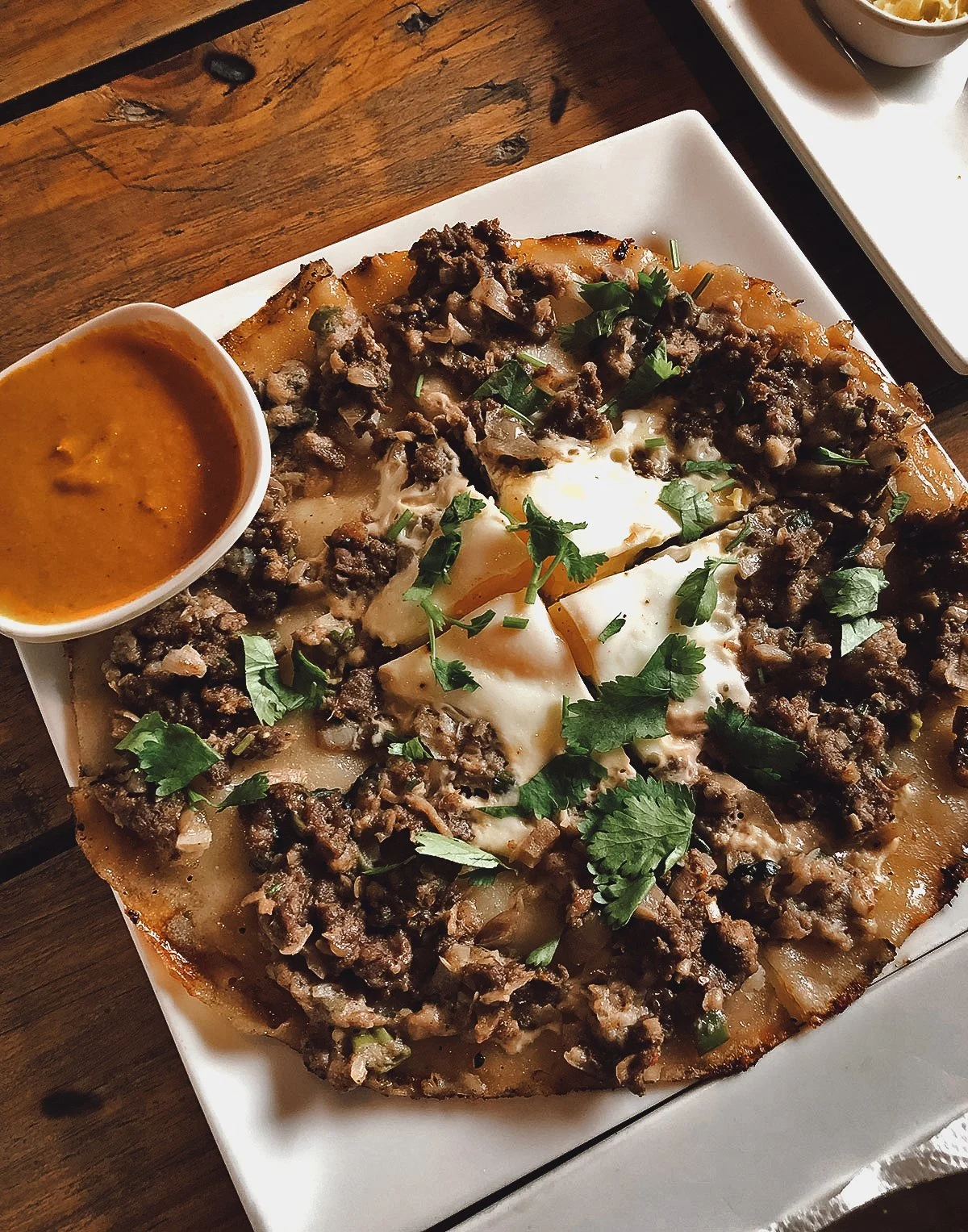 Photo by Heeheer
4. Pani Puri
With Indian cuisine having such a pronounced influence on Nepali food, it's no surprise that pani puri is a popular street food within the urban areas of Nepal. It's enjoyed throughout South Asia but some believe it may have originated in North India.
Regardless of where it's from, pani puri is an interesting street food made with crispy hollow balls (puri) filled with a variety of different ingredients. Preparations vary depending on where it's from but in Nepal, it's often made with a mixture of boiled potatoes, chickpeas, tamarind chutney, and a spiced water mixture known as pani.
Aside from its eye-opening blend of flavors, what makes pani puri so interesting is how it's eaten. The puri is cracked open and stuffed with the potato and chickpea mixture before being filled with the pani. The delicate puri will disintegrate quickly once filled so it needs to be eaten immediately.
A word of warning – pani puri is made with water so you need to exercise caution when trying it. I had it while on guided street food tours in Kolkata and Delhi but I'd never attempt to try it on my own. In 2022, the Nepalese government banned the sale of pani puri in Kathmandu because of a cholera outbreak. Try it ONLY if you can be sure it's safe.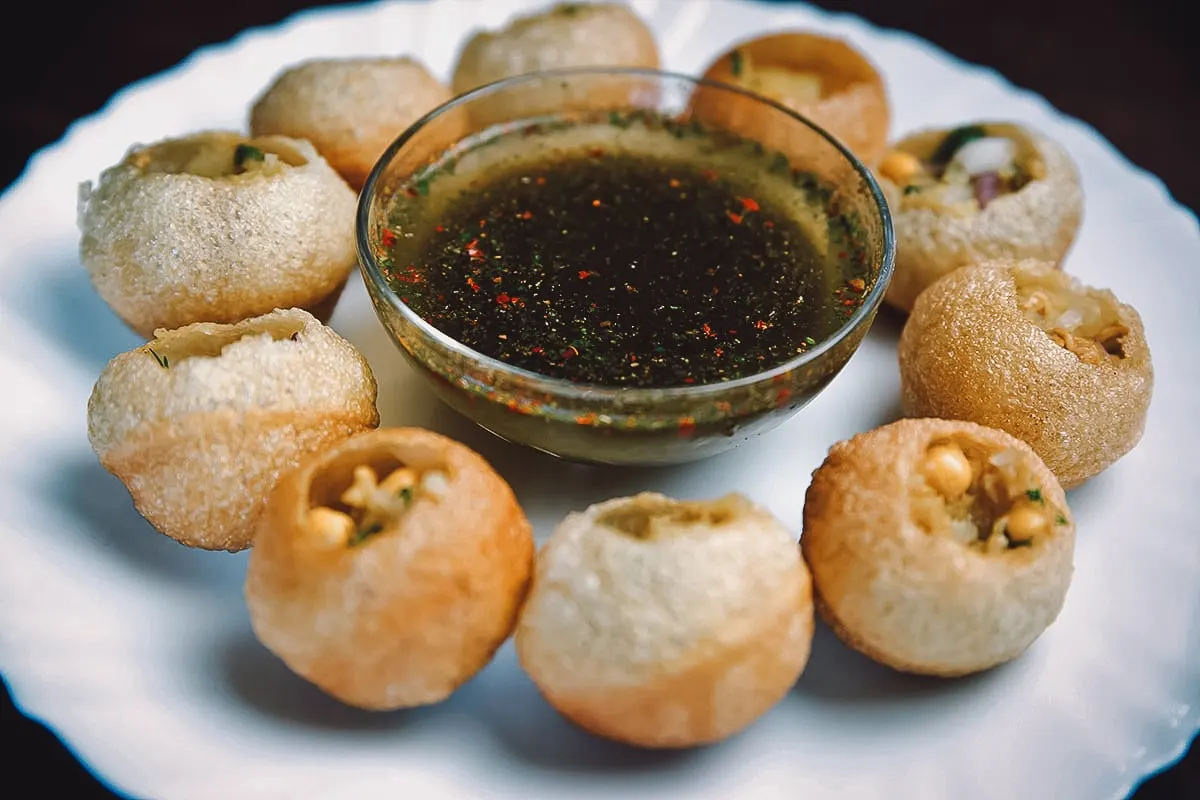 Photo by Nabaraj Regmi
5. Thukpa
Like momos, thukpa is a great example of the Tibetan influence on Nepalese food. Originally from Eastern Tibet, it refers to a noodle soup featuring thick wheat-based noodles served in a flavorful broth with different vegetables like carrots, chickpeas, beans, and peppers.
Vegetarian thukpa is the most popular but it can be made with meat and poultry as well. Typical garnishes include spring onions, coriander leaves, and a spritz of lemon.
Photo by Artit Wongpradu
6. Gundruk
Gundruk is an interesting Nepali side dish. It's made from leafy green vegetables like mustard greens, radish, or cauliflower leaves that are sun-dried before being fermented in tightly closed earthenware pots. After several days (or weeks), the fermented gundruk is left to dry in the sun.
Rich in minerals, vitamins, and dietary fiber, gundruk can be enjoyed as an appetizer or as a side dish with larger meals.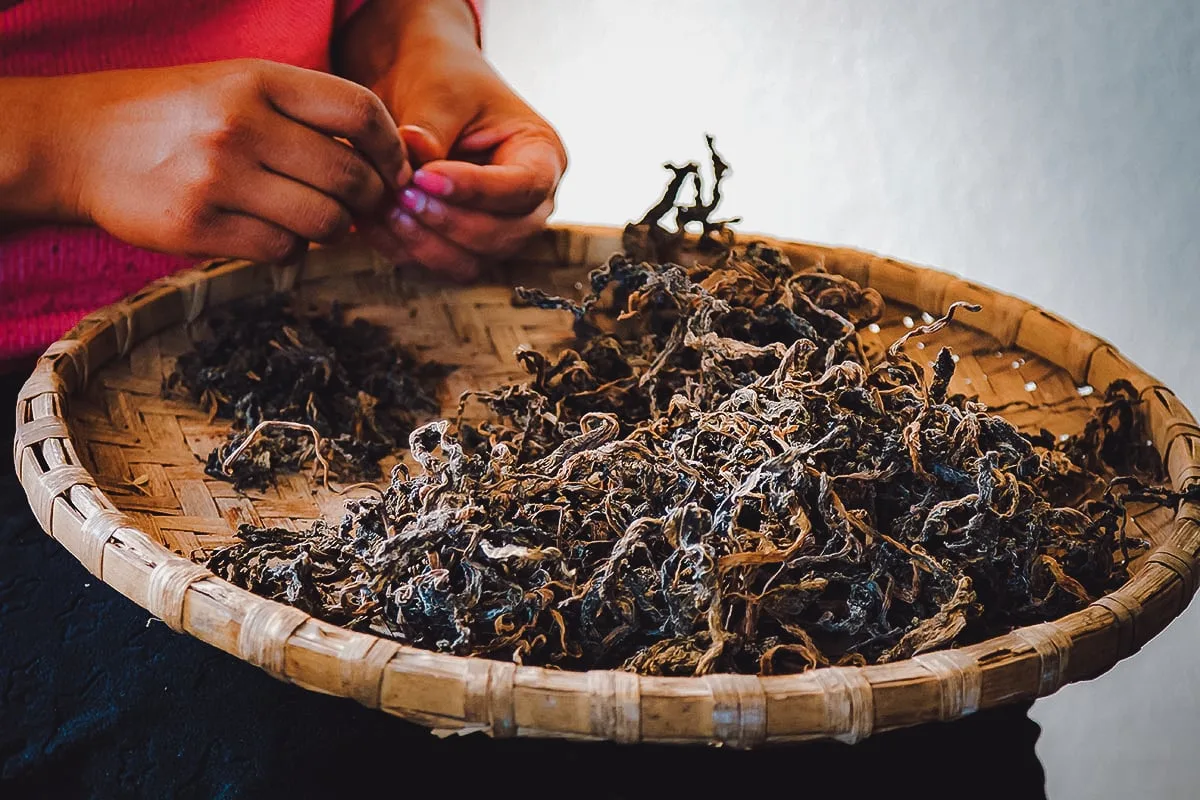 Photo by Nabaraj Regmi
BREAD / STAPLE FOOD
7. Kodo Ko Roti
Kodo ko roti refers to a type of Nepalese flatbread or pancake made from kodo millet – a small-grained millet commonly found in Nepal and other parts of South Asia. It can be consumed on its own or with other Nepali dishes like vegetable curries, achar, or yogurt.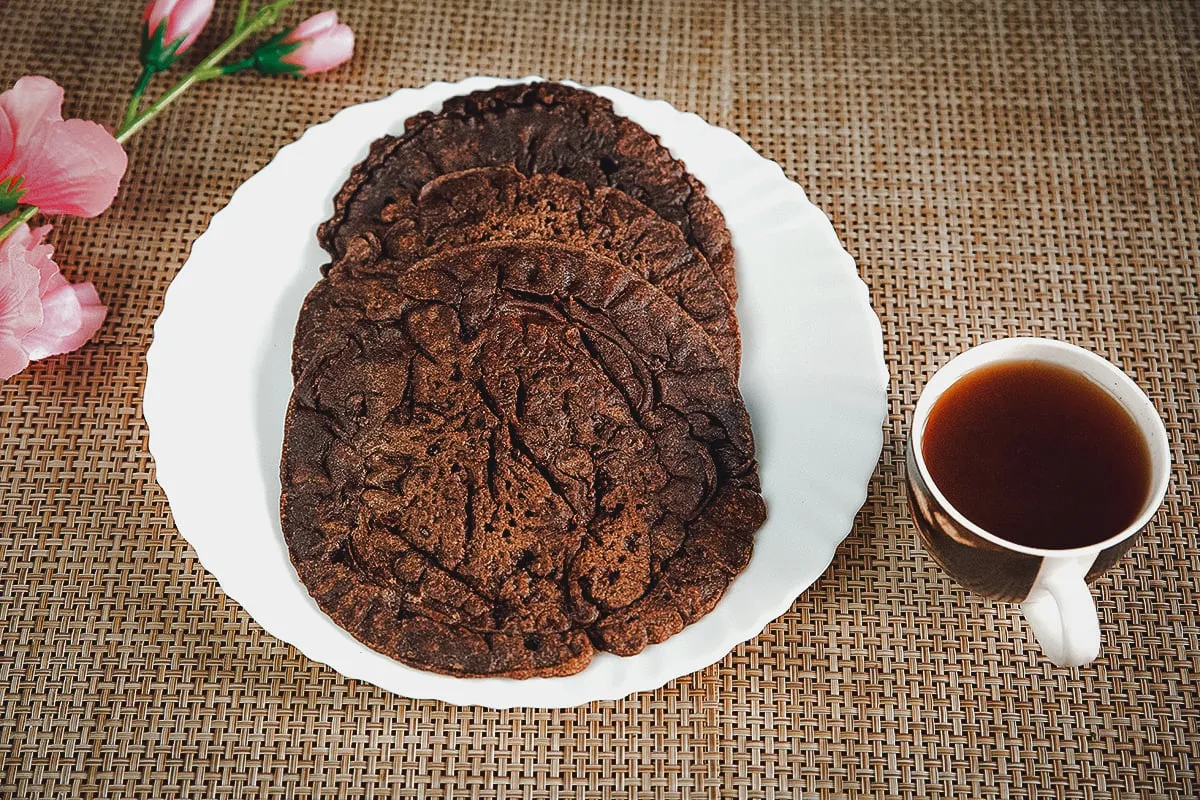 Photo by Nabaraj Regmi
8. Dal Puri
Dal puri is a type of fried roti or paratha made with seasoned soaked ground lentils (dal) as a filling. It's especially popular in the Terai, a lowland region in southern Nepal that borders India.
Deep-fried till golden brown and crispy, dal puri is typically served hot with chutney, achar, yogurt, or vegetable curry.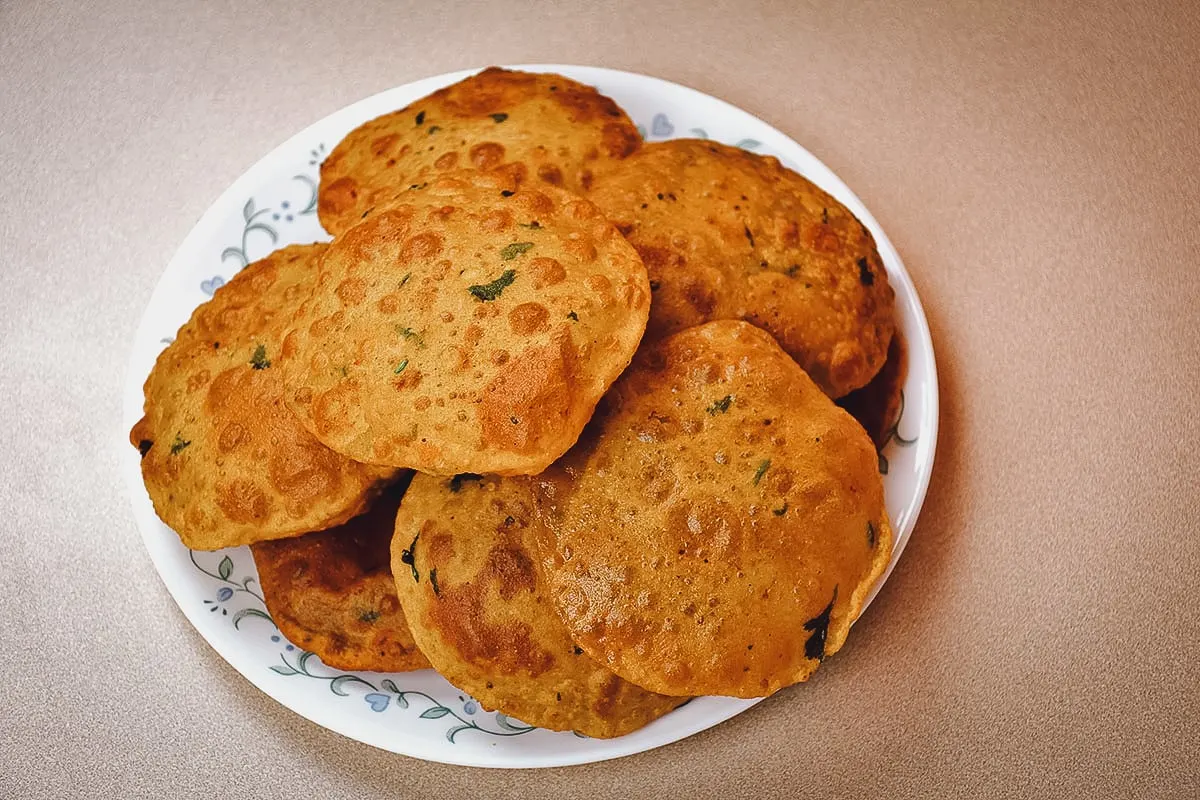 Photo by ManishkuJha
9. Dhindo
Dhindo is an interesting staple food in Nepal that's commonly served in the country's mountainous regions. It isn't much to look at but it's a nutritious porridge-like dish made with a mixture of flour and water. Traditionally, it's made with buckwheat flour but it can be made with kodo millet or corn flour as well.
A good choice of meal between treks, dhindo is typically served with a variety of side dishes like lentil soup, vegetable curries, achar, leafy greens, and yogurt.
Photo by Dipson Hamal
10. Pulao
Pulao or pilaf is a rice dish that's enjoyed throughout South Asia, Central Asia, and the Middle East. It consists of rice cooked with a variety of different vegetables, meats, and aromatic spices.
Pulao can be made in many different ways but its key ingredients are basmati rice and spices like cumin seeds, cloves, cardamom pods, and cinnamon sticks. Other common ingredients include carrots, peas, beans, chicken, and mutton.
After cooking, Nepalese pulao is often garnished with additional ingredients like toasted almonds or cashews, fried onions, and fresh cilantro.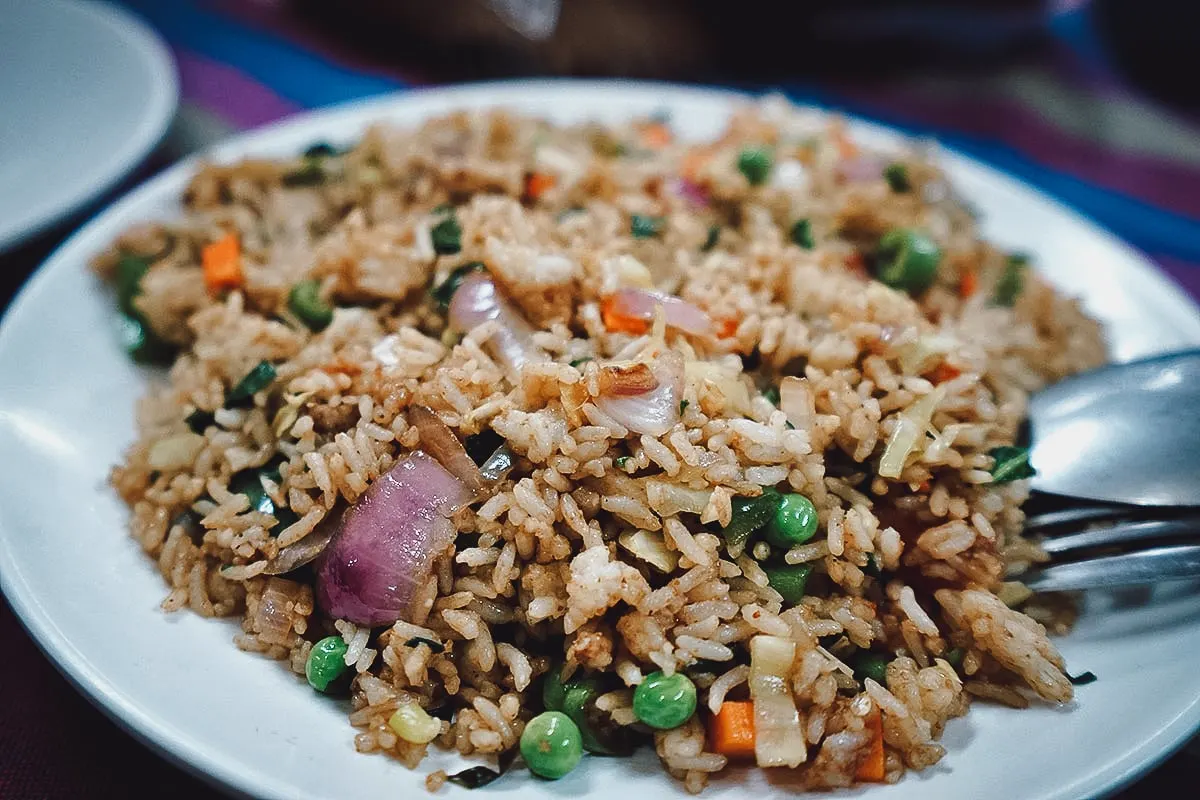 Photo by chettarin
MAIN DISHES
11. Dal Bhat
Like momos, you can't have a conversation about Nepalese food without talking about dal bhat. Widely considered to be a Nepali national dish, it consists of lentil soup (dal) and steamed rice (bhat) served with a variety of side dishes like vegetable curries, achar, yogurt, and papadam.
When I went trekking in Nepal, this was one of the most common meals I was served. Rice isn't as common at higher elevations so it was often prepared with dhindo instead. On one occasion, I remember getting it with some dried (and very chewy) mutton.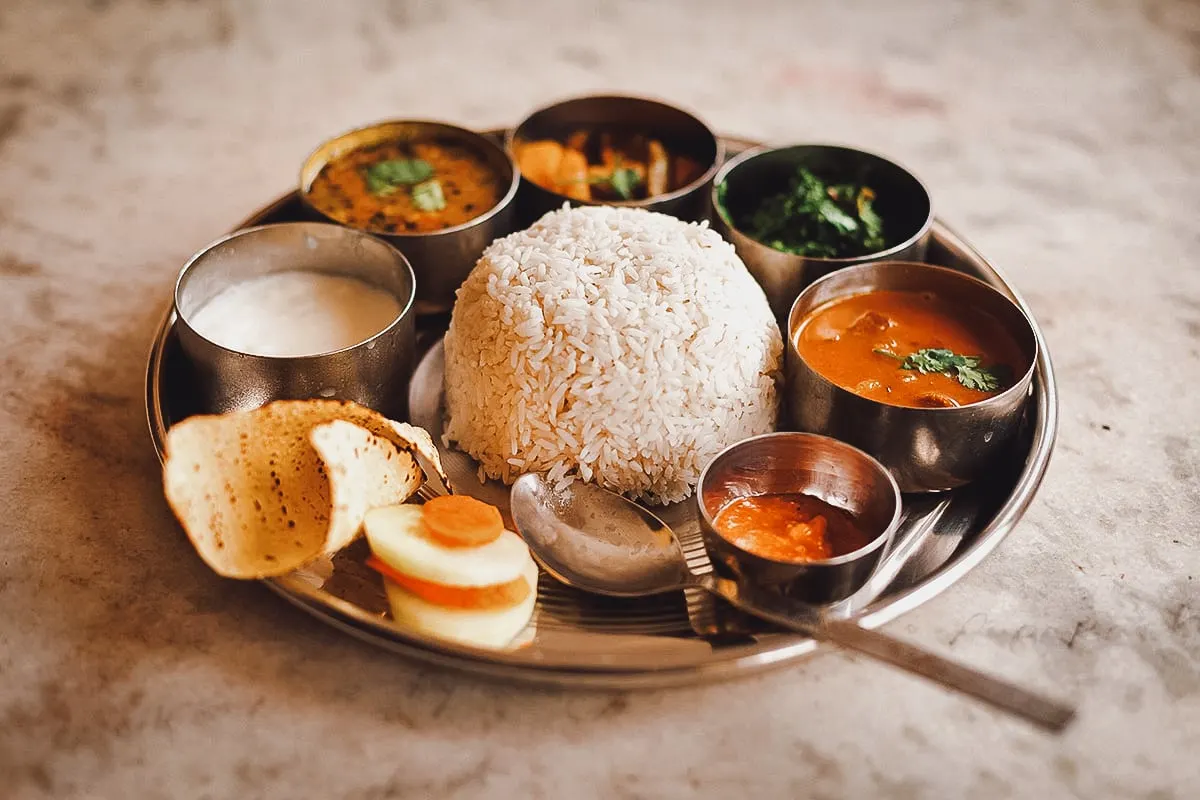 Photo by e2dan
12. Samay Baji
If you're looking for a truly memorable Nepali food experience in Kathmandu, then you need to try samay baji. It refers to a ceremonial Newari dish consisting of a variety of dishes served on a large metal platter called a baji.
Typically served during festivals and special occasions, a platter of samay baji can be made with many different Nepali dishes like barbecued buffalo meat (choila), spicy potato salad (aloo), beaten rice / rice flakes (chiura), boiled egg, gundruk, achar, and black soybeans, among others.
This traditional dish is usually served as a starter at Newari festivals but you shouldn't have any trouble finding it at restaurants in Kathmandu.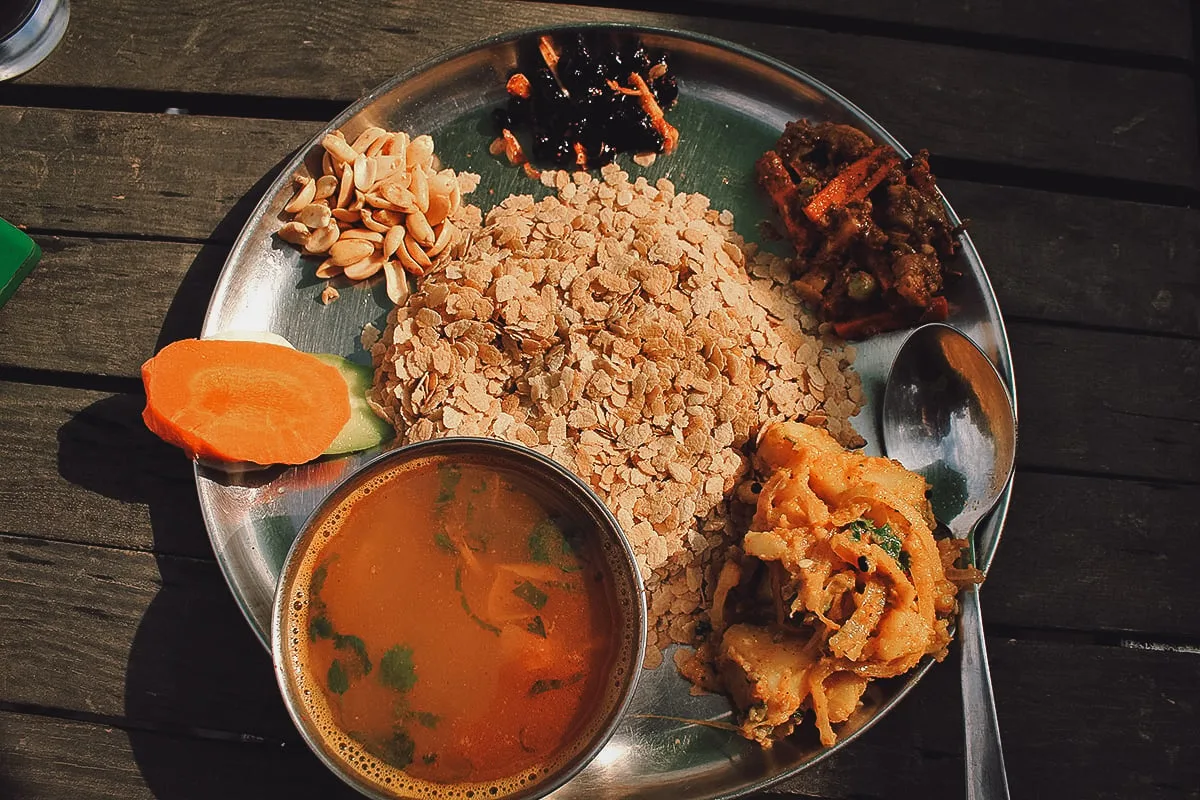 Photo by Mercy Edjoc
13. Khasi Ko Masu
I've mentioned vegetable curry a few times in this Nepalese food guide but if you're a staunch meat eater, then you may want to try khasi ko masu. It refers to a tasty Nepali curry made with goat meat flavored with a variety of spices like cumin, coriander, cloves, turmeric, ginger, and cinnamon.
Served in a thick gravy, it's best when paired with steamed rice or some type of flatbread like roti or naan.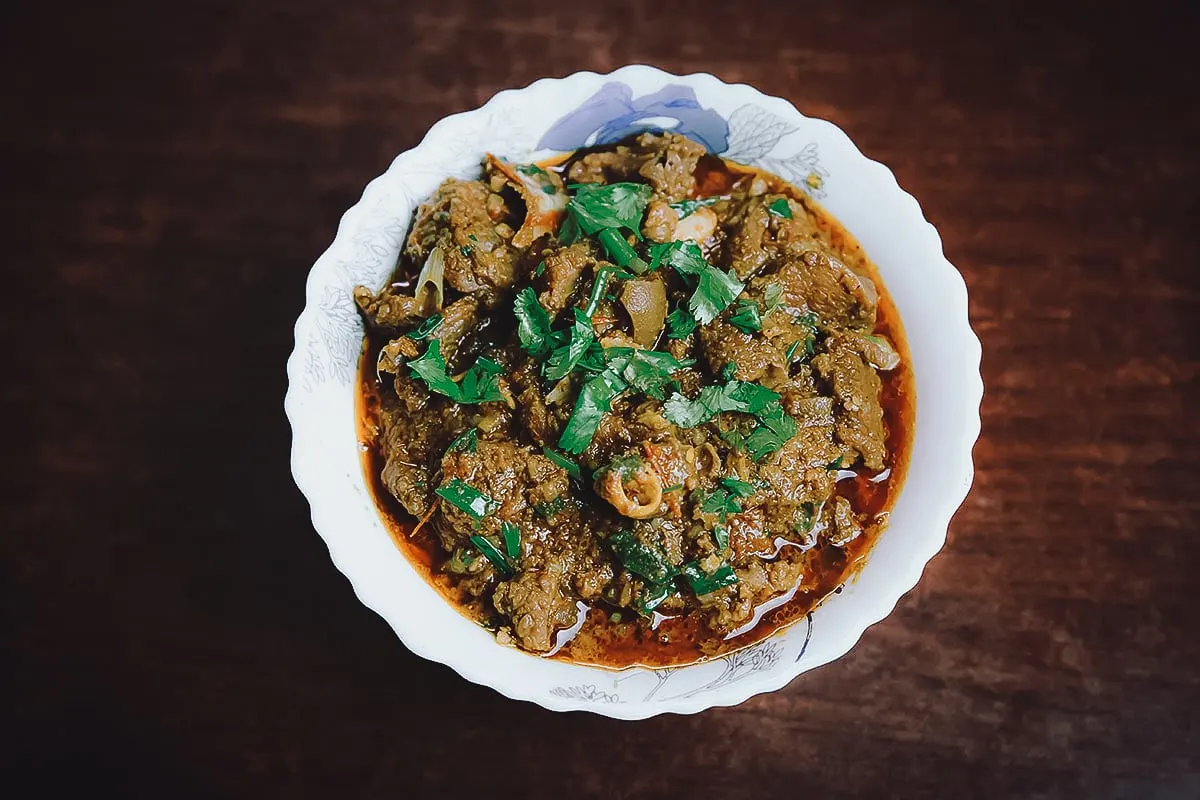 Photo by Nabaraj Regmi
14. Choila
Choila is another Newari dish that you need to try in Nepal. It consists of spiced barbecued buffalo meat served with rice flakes / beaten rice. Traditionally, choila was made with buffalo meat but these days, it can be made with other types of meat as well like goat or chicken.
As previously described, choila is often a component of samay baji. It's generally a spicy dish so people who like spicy food should try it.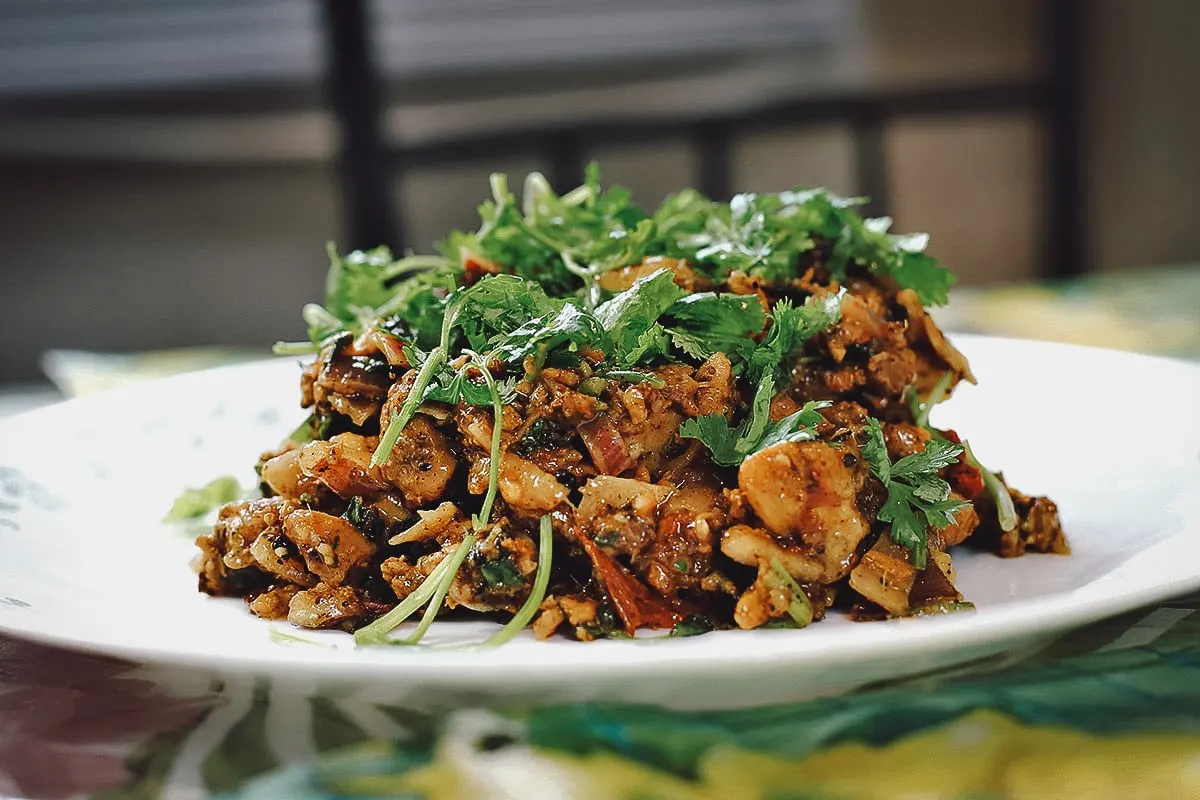 Photo by Shiva Photo
15. Sukuti
Visit mountainous regions around the world like Sapa in Vietnam or Sagada in the Philippines and you'll often find some type of dried meat dish. Nepal is no exception.
In Nepal, you'll find sukuti – a type of seasoned dried meat made with buffalo or goat. The meat is cut into thin strips or small chunks before being sun-dried and seasoned with different spices like cumin, coriander, garlic, and red chili powder.
Depending on how it's going to be used, the seasoned dried meat can be grilled or fried, or added to soups and stir-fries. It's typically eaten as a snack or side dish.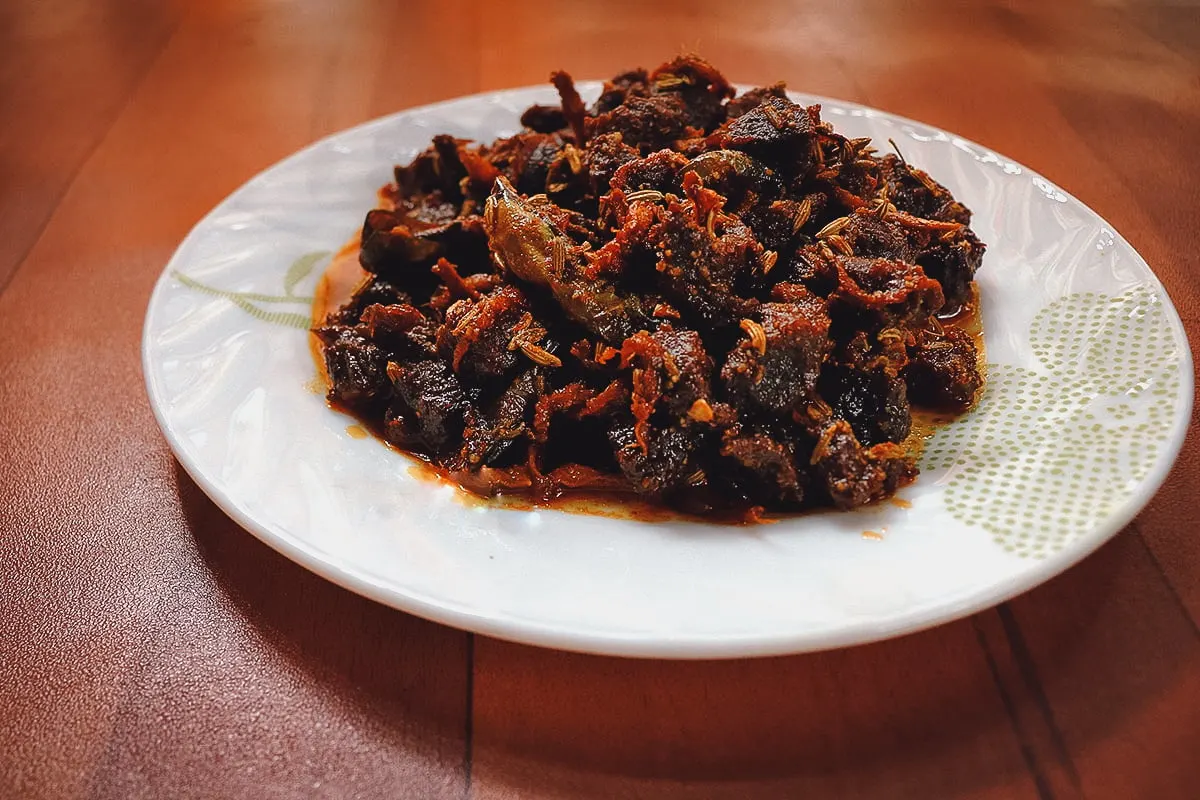 Photo by Abhusan rai
DESSERTS / DRINKS
16. Sel Roti
When I think of donuts, I can't help but picture Homer Simpson and America. It's become a symbol of American indulgence but this beloved pastry treat is equally popular in many countries around the world, including Nepal.
One type of donut you should try in Nepal is sel roti. Flavored with ghee and spices like cardamom and cloves, it's a deep-fried circular rice flour bread that's traditionally made to celebrate Hindu festivals like Dashain and Tihar.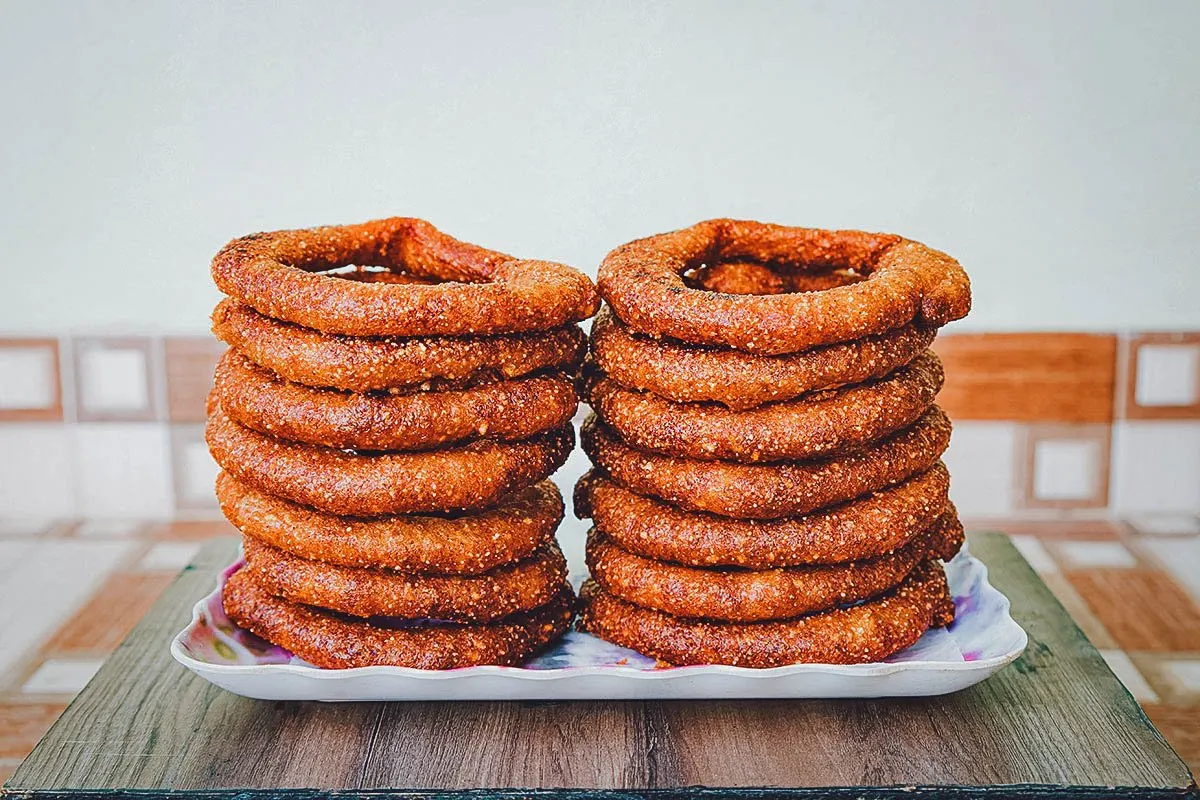 Photo by Idealnabraj
17. Dhau
Yogurt is hugely popular throughout South Asia. It's enjoyed for its cooling properties, probiotic effects, and nutritional benefits. In Nepal, one type of yogurt you should try is dhau. Prepared mainly by the Newari people, it's beloved for its creamy texture and sweet-tangy taste.
There are several types of dhau you can try in Nepal but the most popular is juju dhau, which literally translates to "king of yogurt". A specialty of the Bhaktapur region, juju dhau is made with fattier buffalo milk that's tightly sealed in clay pots to allow for slow fermentation. The end result is a rich-tasting yogurt with a caramelized surface and a more indulgent flavor.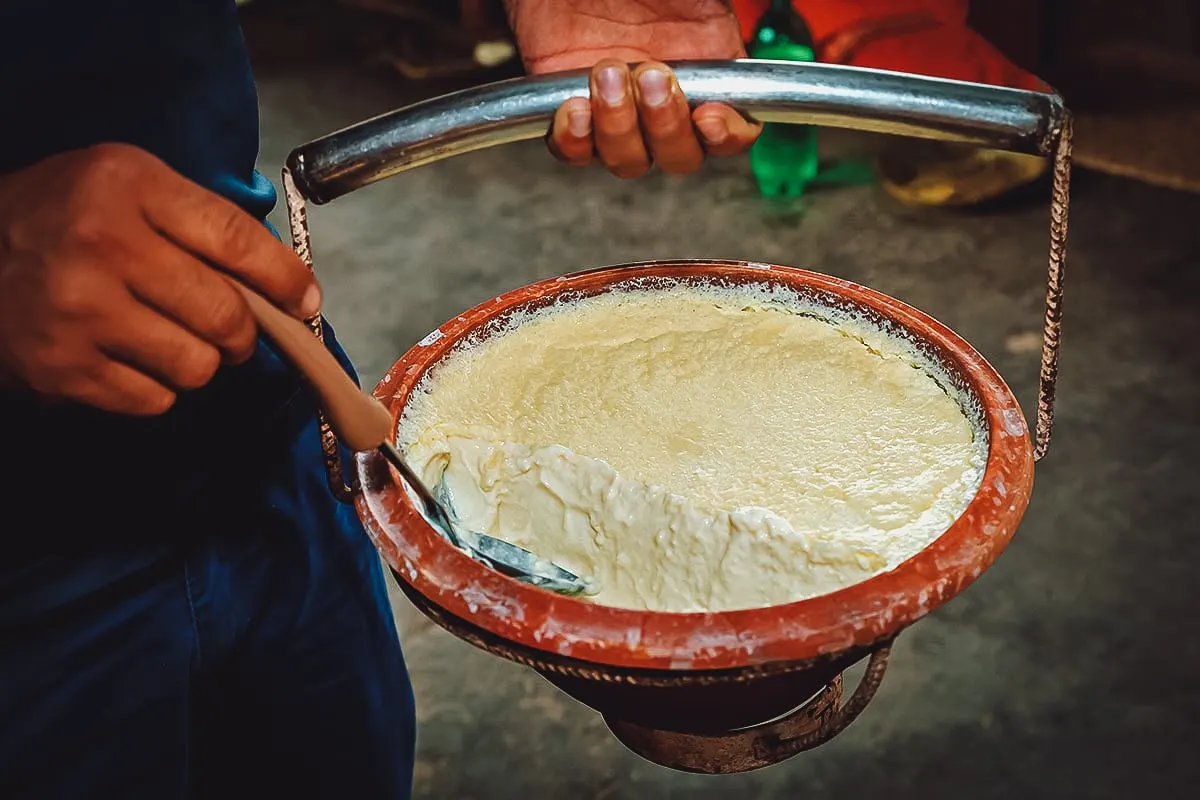 Photo by Nabaraj Regmi
18. Yomari
Yomari (or yamari) is another Newari delicacy that you need to try in Nepal. It's a type of steamed dumpling made with a rice flour wrapper filled with a sweet mixture of ingredients like molasses, dried whole milk, and sesame seeds.
Aside from its flavor, what makes yomari interesting is its shape. It's molded into a crescent or conical shape with a wide base and a pointed tip. Its unique shape is said to represent one-half of the Shadkona, the six-pointed star that symbolizes the Hindu goddess Saraswati.
Yomari is an important cultural symbol that's traditionally eaten during Yomari Punhi – a popular Newari festival that marks the end of the rice harvest.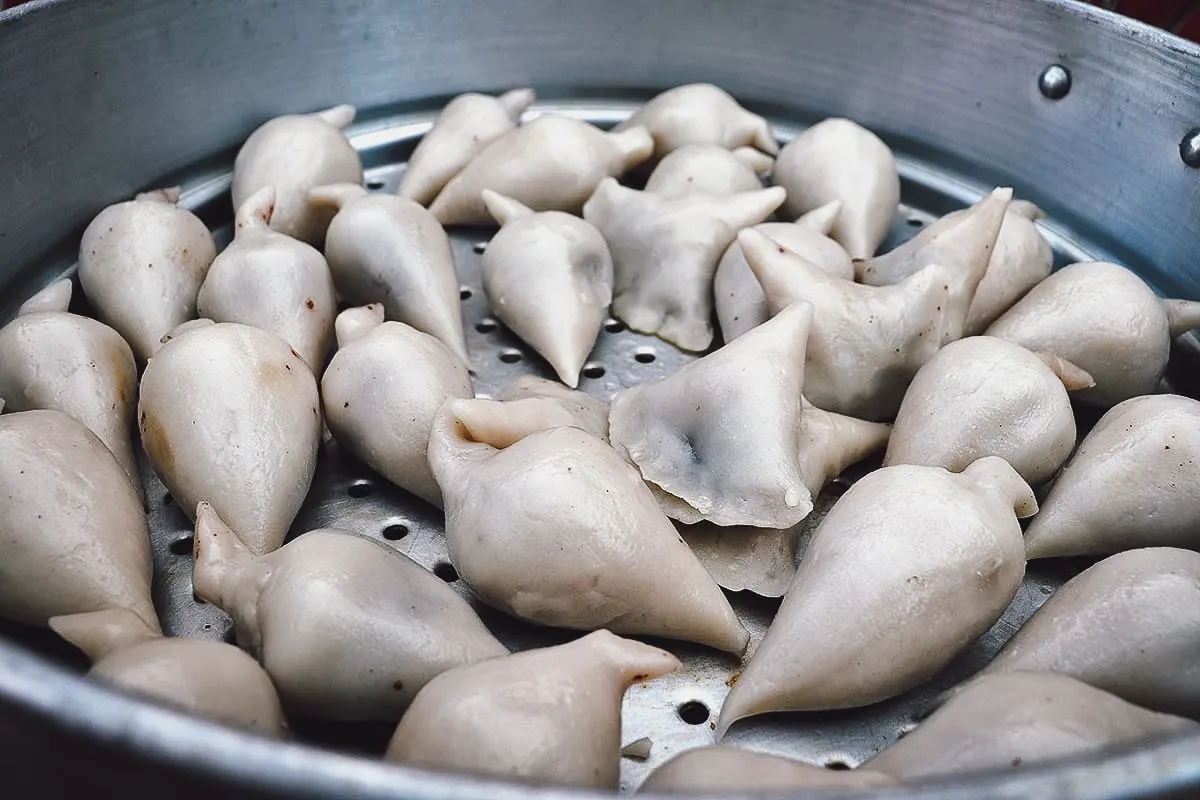 Photo by kamal kishor a
19. Chhaang
If you like tasting traditional alcoholic beverages from around the world, then you may want to try chhaang. It refers to a fermented drink consumed in the Himalayan region of Nepal.
Chhaang is made with barley, millet, or rice grains that are first boiled before being mixed with a starter culture. The brew is then left to ferment for 2-3 days to create a slightly tangy drink with an alcohol content of about 5-7%.
If you're feeling a bit nippy between treks in the Himalayas, then chhaang is a good drink to pair with your momos, dal bhat, and other traditional Nepalese dishes.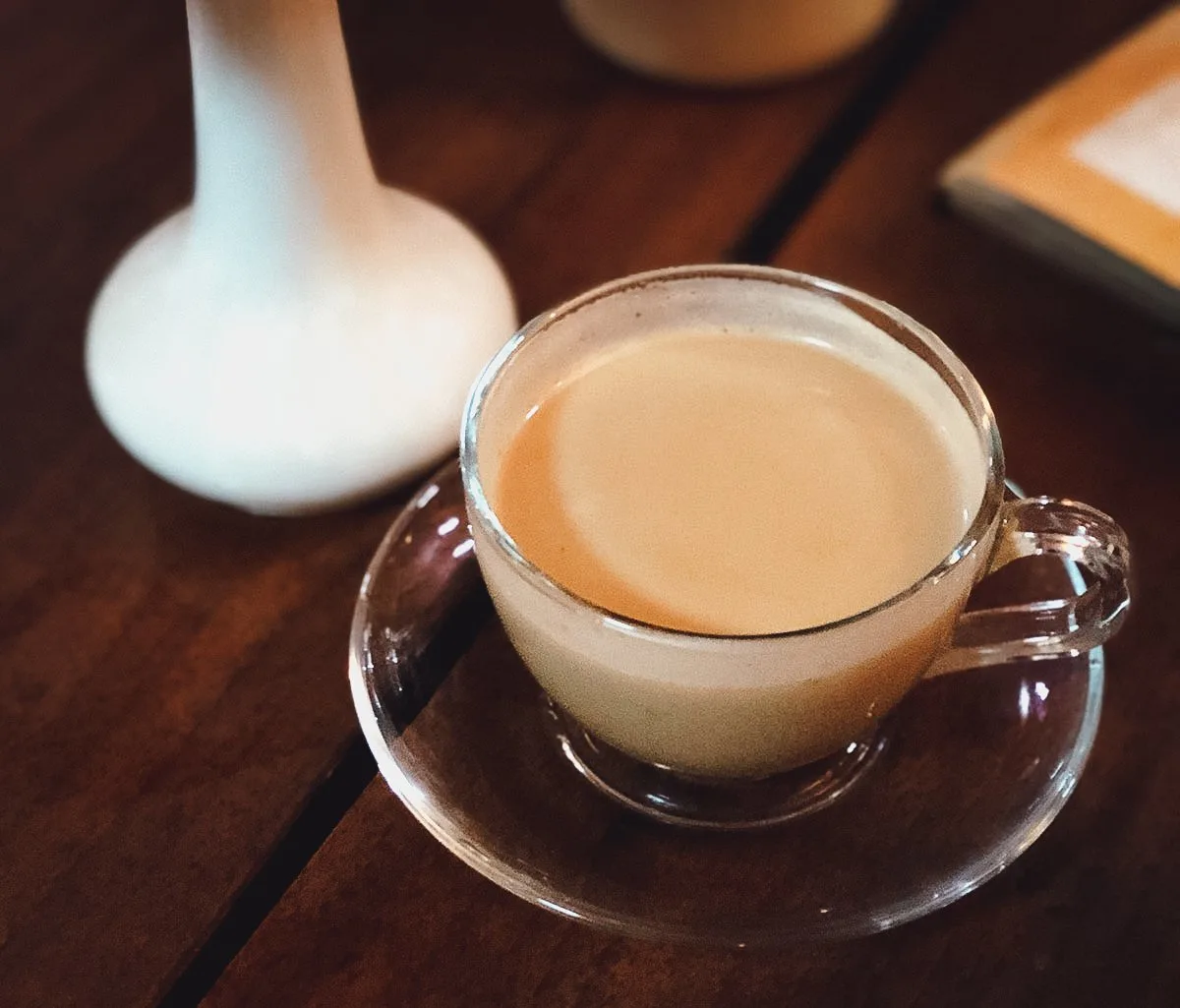 Photo by Agnespeny
20. Tongba
Tongba is another Nepalese alcoholic drink that's similar to chhaang. But unlike chhaang that can be made with millet, barley, or rice grains, tongba is made only with fermented millet. It also takes longer to ferment and has a slightly higher alcoholic content than chhaang.
The term tongba can be used to describe the drink and the vessel it's traditionally served in.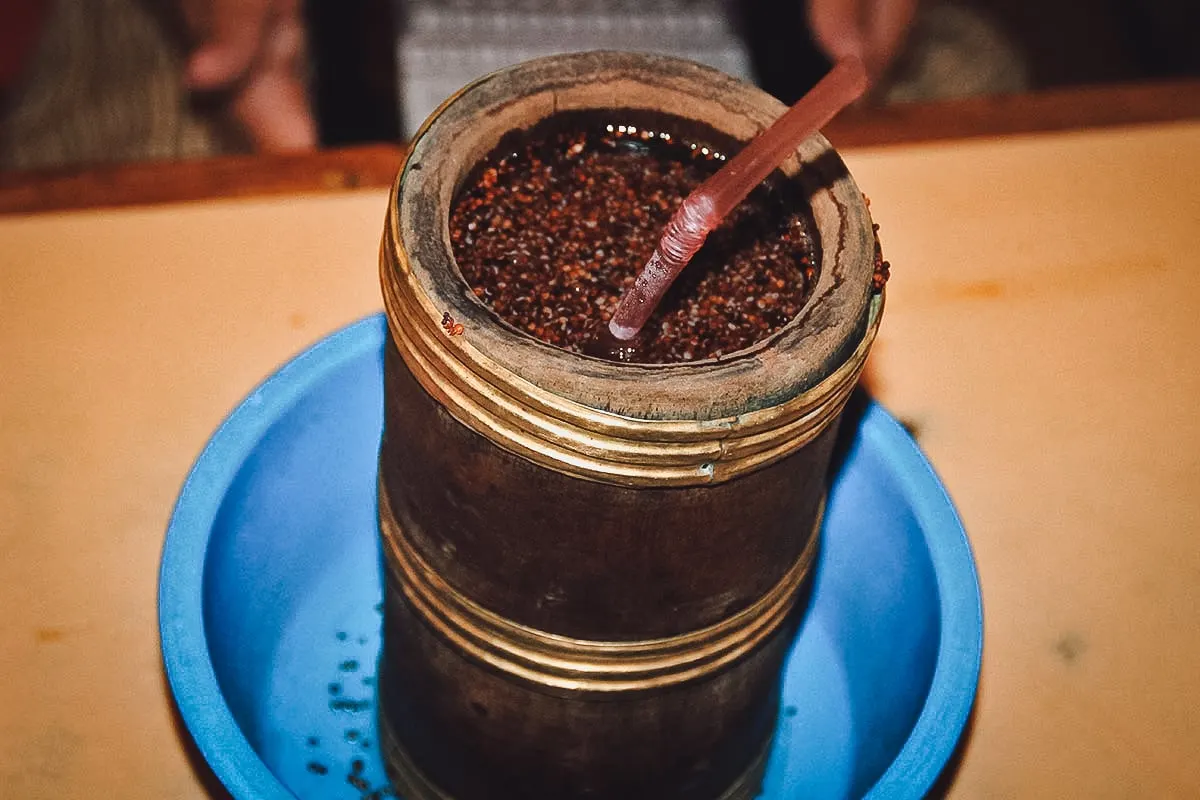 Photo by Tatsiana Hendzel
FINAL THOUGHTS ON NEPALESE FOOD
Without dating myself, that trip to Nepal feels like a lifetime ago but I still remember many of these dishes like it were yesterday. As they say, food takes you places. Writing this Nepalese food guide brought me right back to Kathmandu and the mountains of the Himalayas.
Thanks for reading and I hope the food in Nepal gives you a lifetime of memories like it did with me.
Disclosure
This Nepalese food guide contains affiliate links, meaning we'll earn a small commission if you make a booking at no additional cost to you. As always, we only recommend products and services that we use ourselves and firmly believe in. We really appreciate your support as this helps us make more of these free food and travel guides. Thank you!
Cover photo by Nabaraj Regmi. Stock images via Shutterstock.