EDITOR'S NOTE: Traveleater Michael Evans, a writer based in China, shares some of the best places to enjoy Peking duck in Beijing.
A Peking duck dinner is on the must-do list of every visitor to China's capital, usually sandwiched between a long day getting lost in the labyrinth of the Forbidden City and sweating their way to the top of the Great Wall.
As a centuries-old dish that was once a regular feature of the emperor's dinner table, Peking duck, when done right, is truly worth all the hype, with a rich medley of flavors and textures. And the ritual of eating it is simply a lot of fun, even if it can be a little tricky to master, wrapping the meat up in palm-sized pancakes mixed with cucumbers, green onions, and dipping sauce.
(By the way, if you find yourself fumbling, here's a tip: don't get too hung up about doing everything "the right way" i.e. with your chopsticks. Watch the locals, and you'll see them diving in fingers-first to pick up the sticky, paper-thin pancakes and fold them into an edible package.)
But with so many restaurants all over the city claiming to serve the best and most authentic Peking duck, where's the best place to choose?
Here, we'll take a look at two popular choices and one personal favorite, as well as a few ideas for how to put together your own duck dinner anytime, anyplace.
Save This on Pinterest!
No time to read this now? Click on the red save button and pin it for later!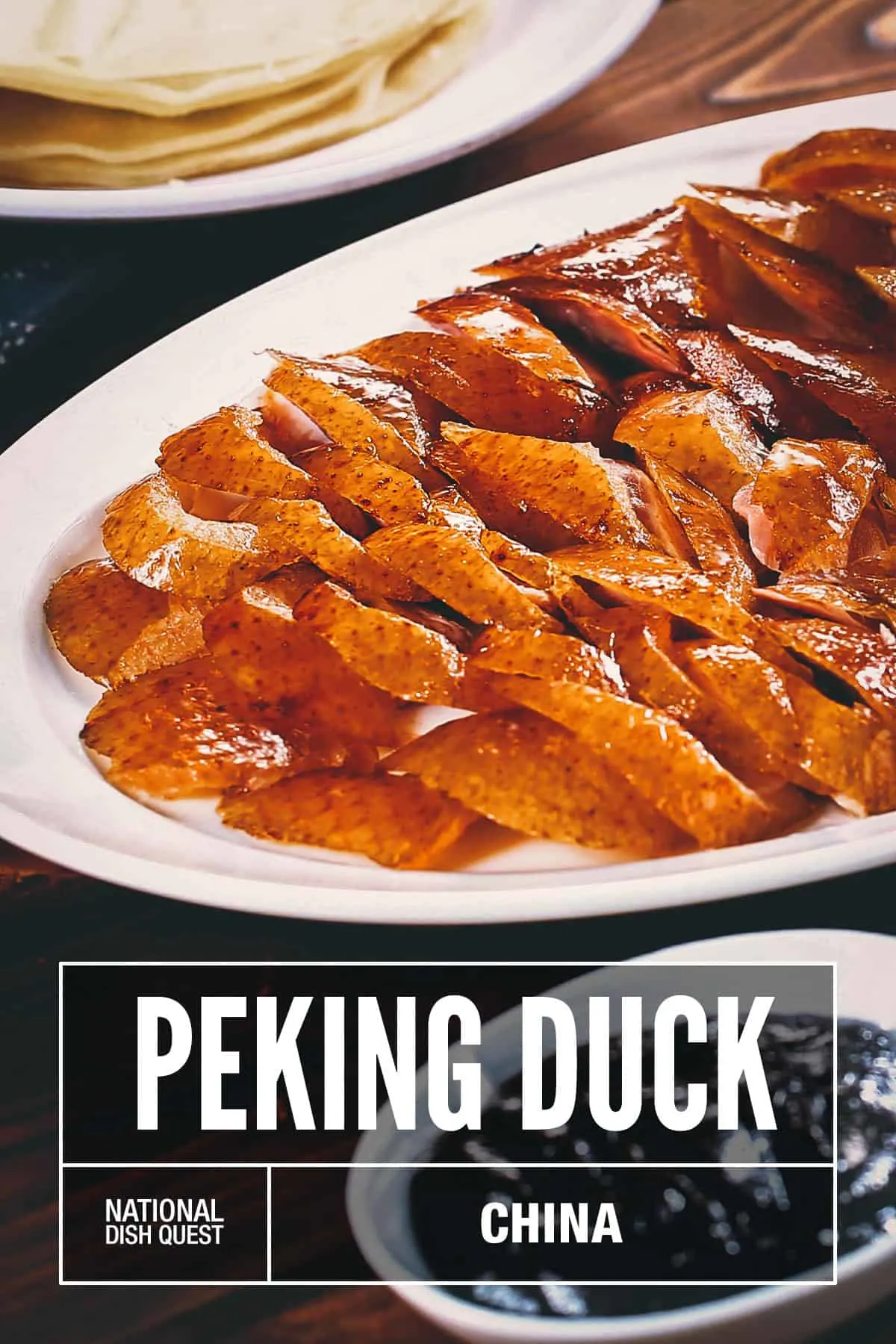 Photo by FuReal via Pixabay
3 PLACES TO TRY PEKING DUCK IN BEIJING
1. Bianyifang
With its claim to fame as the oldest Peking duck restaurant still in operation, Bianyifang traces its history back six hundred years to the Ming dynasty. While the original premises have long since vanished, the restaurant carries on its original cooking method of baking its ducks in an oven, a process you can watch for yourself courtesy of huge glass windows giving diners a clear view of the kitchen.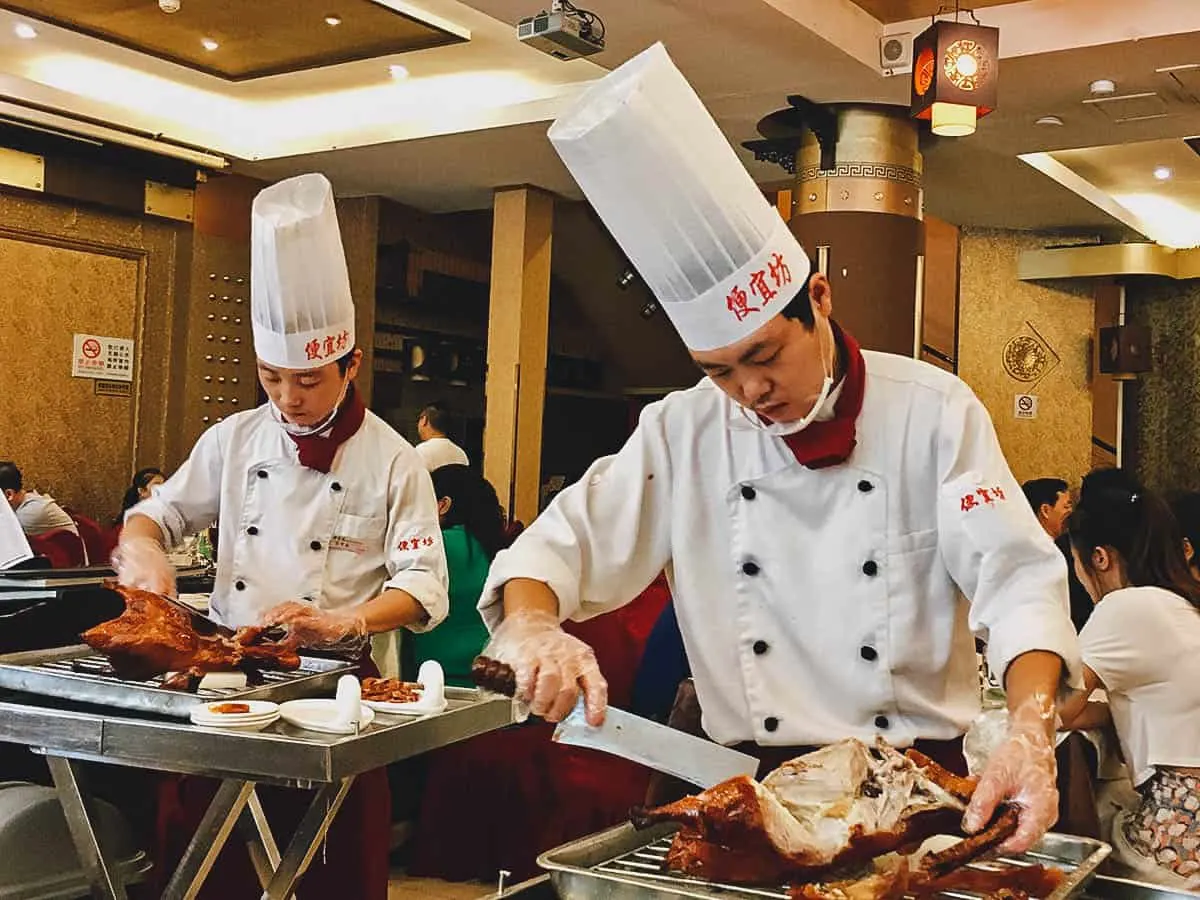 Bianyifang is also well-known for another, very important reason: it's considerably cheaper than most other big name duck restaurants. Locations are generally found in residential areas or shopping centers, rather than tourist hotspots, and tend to draw a more local crowd of patrons. The flipside of this is that the décor tends to be minimalistic and a bit worn around the edges, not exactly the best place if you're looking to celebrate a special occasion.
The menu offers three varieties of duck, each cooked while stuffed with different vegetables and herbs (though these stuffings won't make it to your dinner plate). I tried the flower tea duck, but I'll be completely honest… I couldn't taste either flowers or tea. Nonetheless, Bianyfang serves a good, no frills Peking duck dinner at a very reasonable price.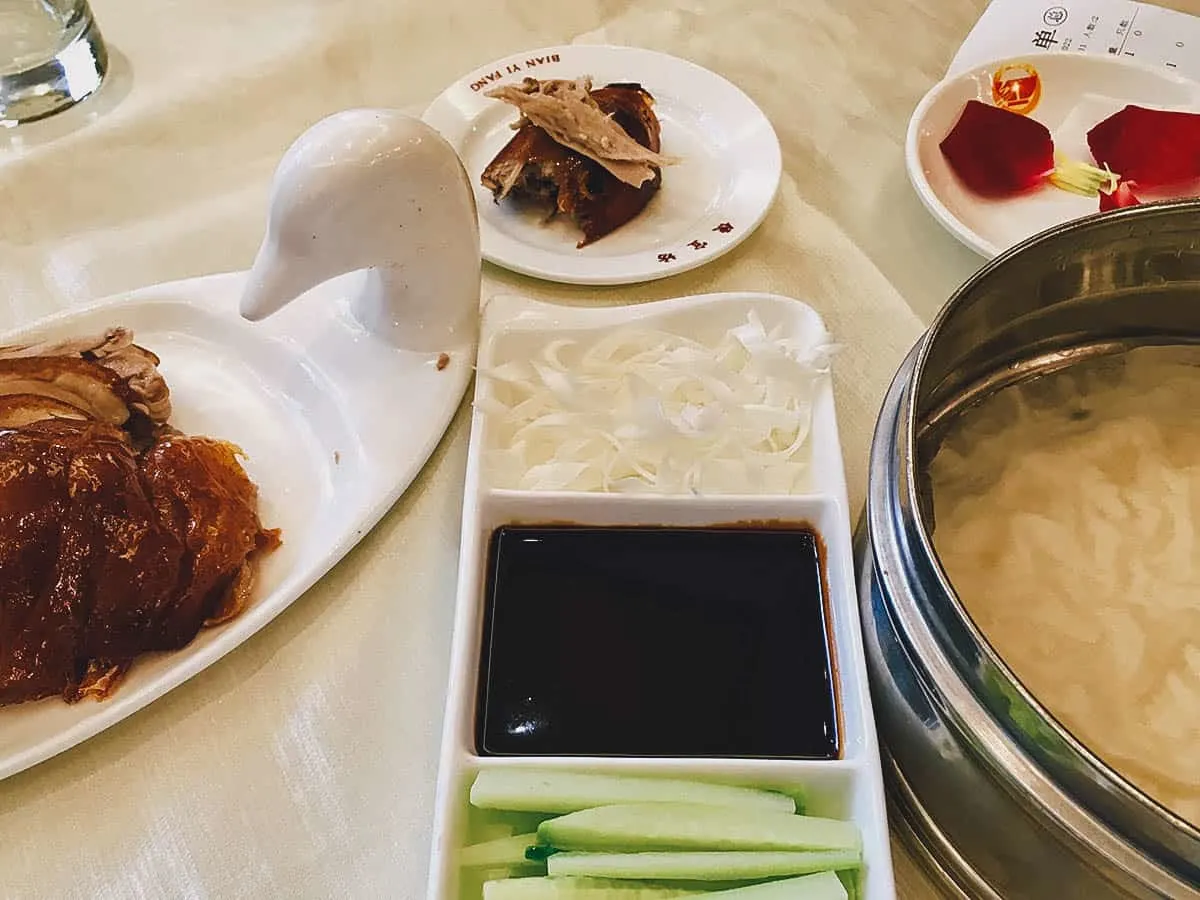 2. Quanjude
The most famous name in Peking duck, Quanjude is familiar to every Chinese visitor to Beijing, and the first choice for most tourists.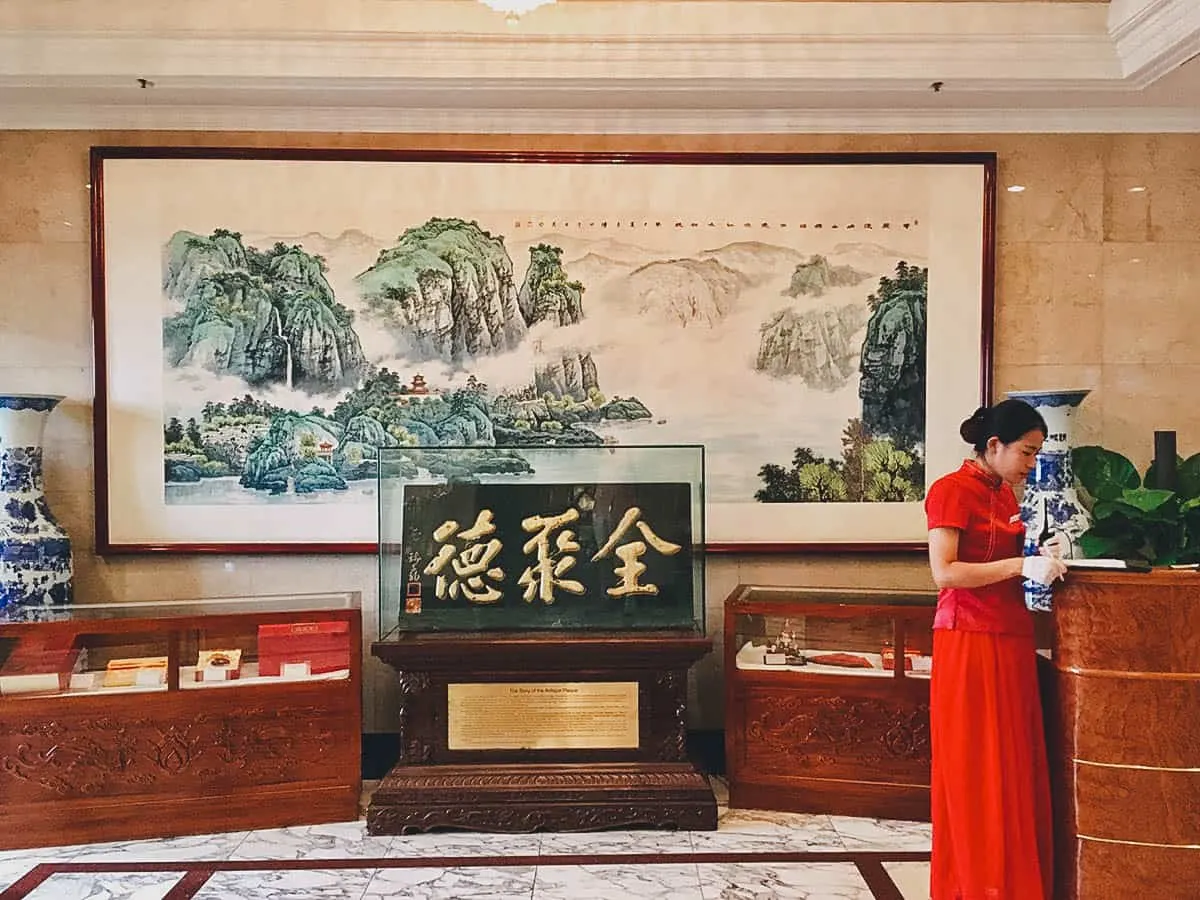 Developing their own unique cooking style more than a century ago, Quanjude roasts its ducks in front of an open flame. As a result, the skin is crispier compared to the duck at Bianyifang, but the meat is also considerably greasier.
While Quanjude has countless locations all across the city, my favorite without a doubt is right outside the Hepingmen subway station. Built in 1979, just as China was opening up to foreign tourism after the isolation of the Cultural Revolution, stepping through the front doors is like walking back in time. With sprawling red-carpeted halls and a quotation from Chairman Mao adorning the main wall of the lobby, you might feel like you're about to step into an official state banquet or rub elbows with some high-ranking diplomats.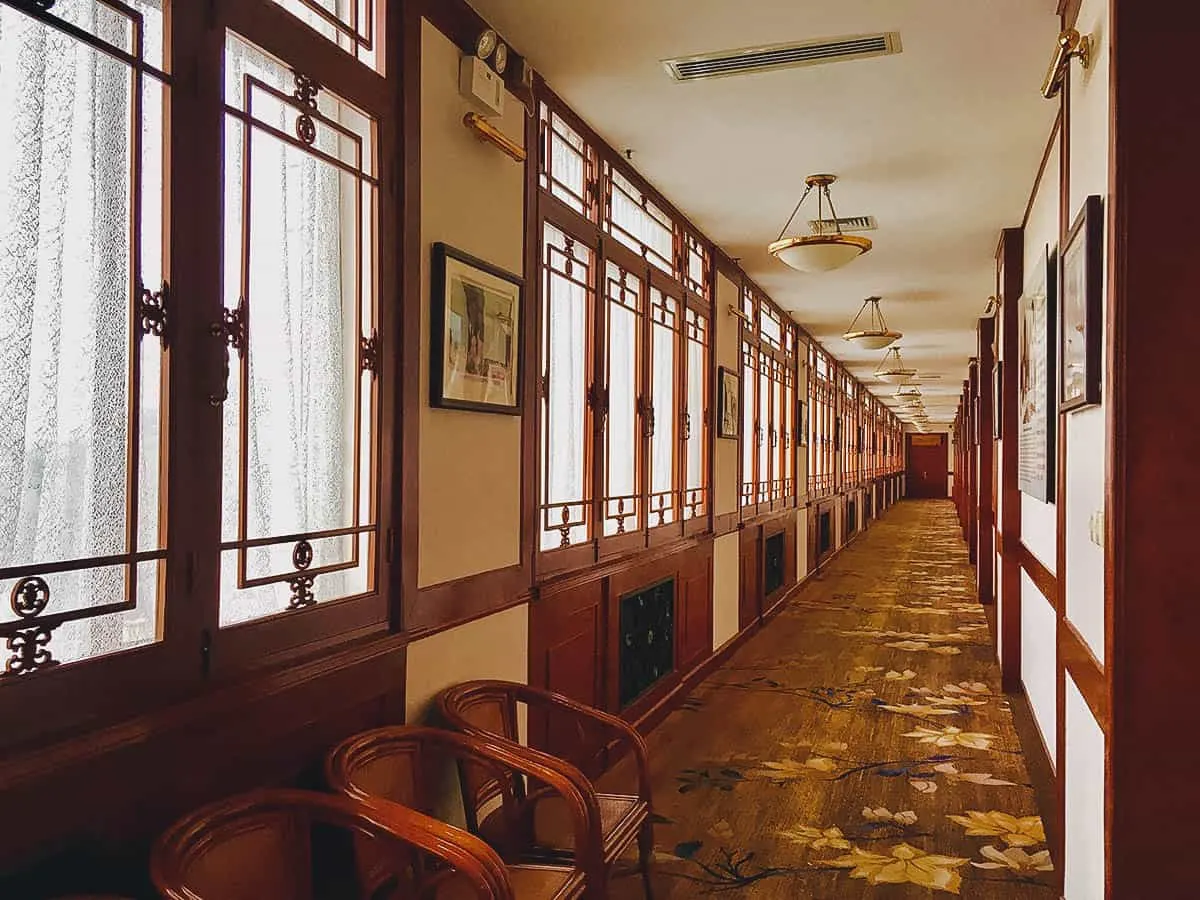 It also helps that the Hepingmen branch is far from the regular tourist trail, so you can enjoy your duck dinner without the noise and the long wait that more popular locations are infamous for.
3. Liqun
For visitors looking to experience a taste of old Beijing, Liqun is without a doubt the place to go. Operating out of a converted courtyard home, Liqun is hidden away in the labyrinthine backstreets of the Qianmen neighborhood, the domain of humble merchants and craftsmen in imperial times. Its intimate, at times cramped atmosphere is a world away from the sprawling floorplans of the other major duck chains.
The restaurant's founder is said to have learned his craft in the kitchens of Quanjude, and discerning eaters will probably notice similarities in the taste, courtesy of the cave-like roasting room whose fiery oven hits visitors with a warm blast of hot air and a tantalizing whiff of duck fat on their way through the front door.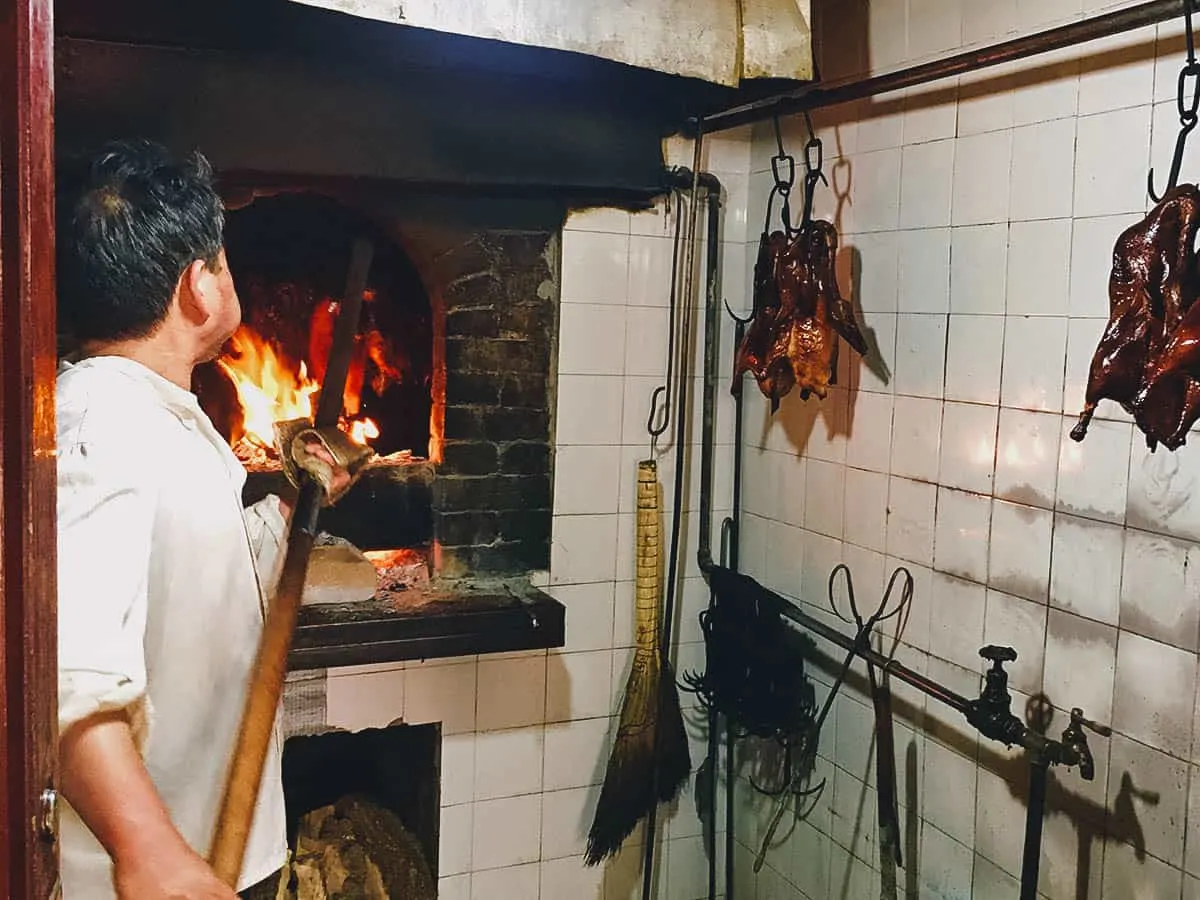 But despite its decades of serving hungry guests, Liqun's days may sadly be numbered. A massive government renovation project has torn down dozens of dilapidated old homes in the historic Qianmen area, aiming to beautify the streets for China's growing number of domestic tourists. Today, Liqun is surrounded by a ghost town of empty lots, and diners waiting for a table often bump into construction workers carting away baskets of rubble. While Liqun seems determined to stand its ground, I'd say visit now, before this last relic of historic Beijing is gone for good.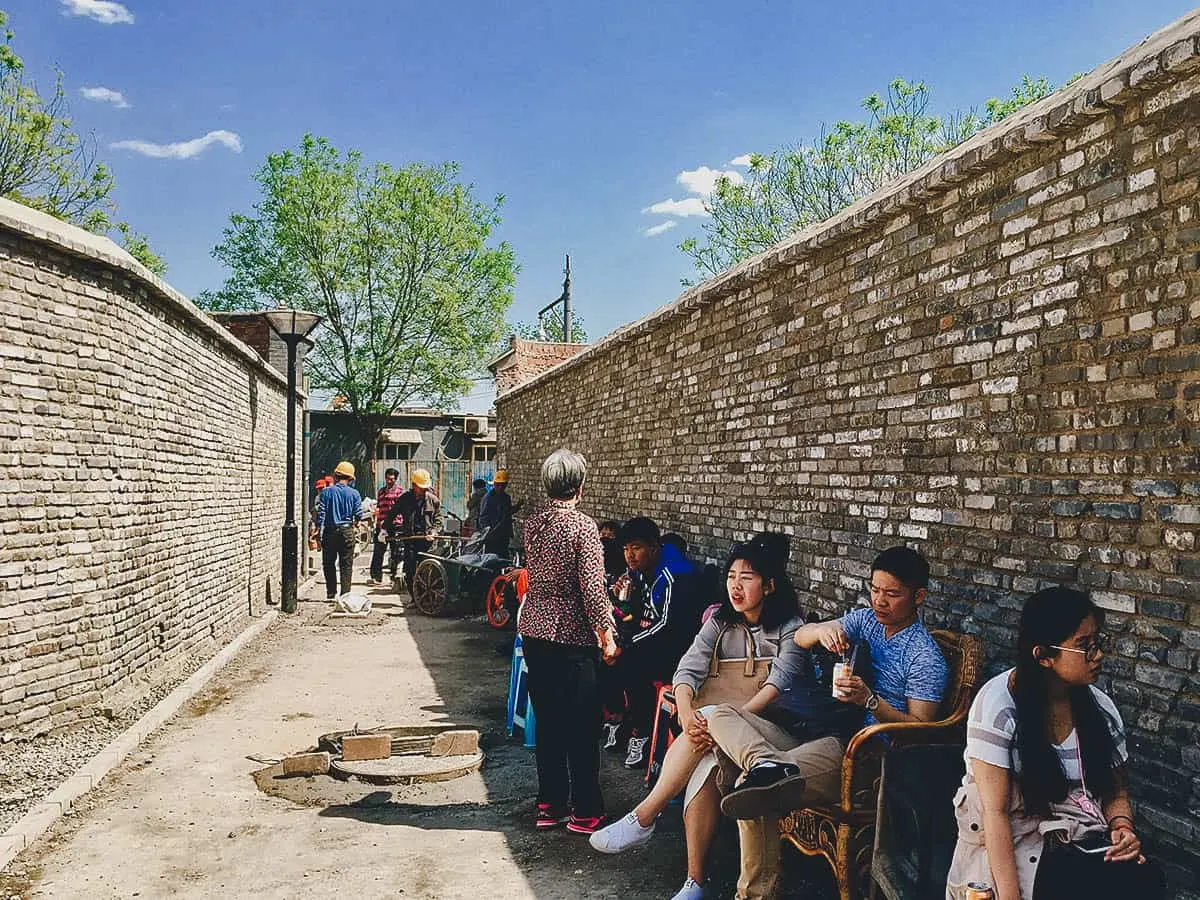 MAKING PEKING DUCK AT HOME
Peking duck is not the easiest dish to cook up in the comfort of your own kitchen, especially as ovens are few and far between in Chinese apartments.
But for those of you willing to cheat just a little, most major duck restaurants feature a takeaway window where you can pick up a freshly-roasted duck to eat at your leisure. And if you don't mind a hefty dose of preservatives, nearly every supermarket sells vacuum-packed ducks in an easy to carry plastic bag.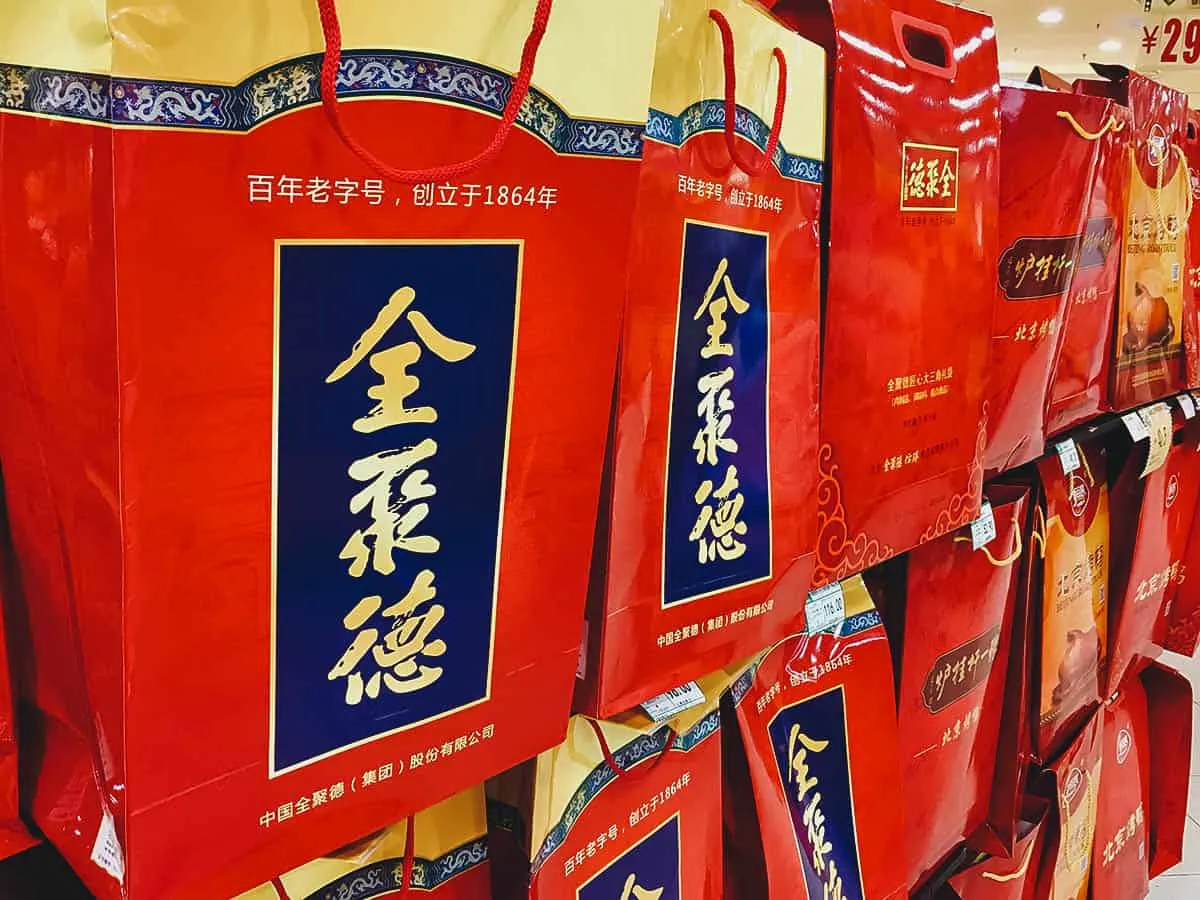 The other ingredients to your duck dinner are all within arm's reach. Head to any vegetable market for the cucumbers and green onions. The signature duck sauce is also easy to find, just look for a package that says "甜面酱" (tian mian jiang) in the sauce aisle.
The best part of making your own duck is the freedom to get a little creative with the details. In addition to the traditional fixings, I like to add sliced radishes and carrots, as well as a spoonful of Lao Gan Ma (老干妈), China's favorite brand of chili sauce, but a definite no-no for the traditional Beijing palate.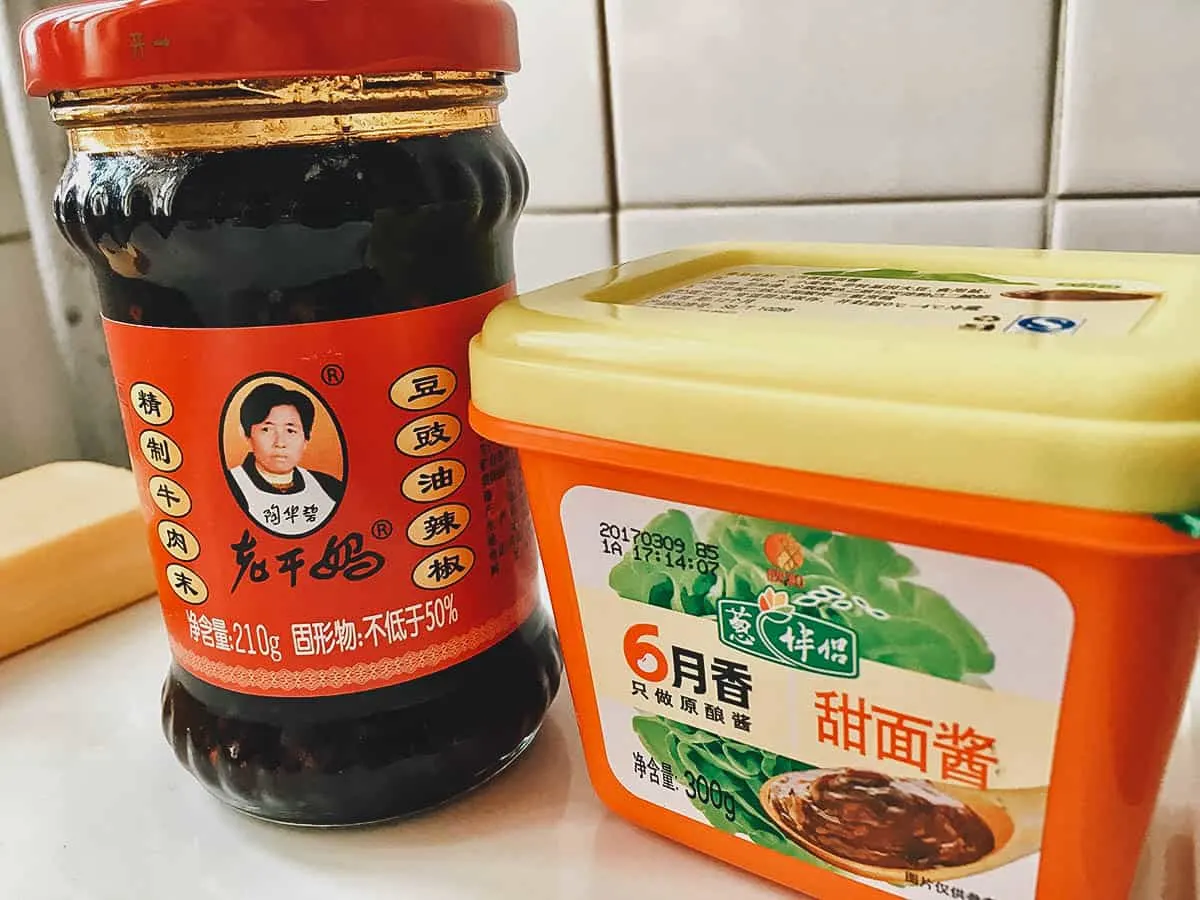 The only part that may take some time is the pancakes. Head over to your local vegetable market, and in the flour-dusted corner where they sell piles of freshly-made noodles, pick up a bag of dumpling wrappers, round and flat like a duck pancake, but just a little too small. At home, use your fingers or a rolling pin to make them the right size. The best way to steam them is in a traditional wooden steaming basket (again, something you can find in the vegetable market), but for a quicker solution, you can place the uncooked pancakes in the microwave for about 30 seconds, covered by a damp paper towel.
With everything ready, the only thing left is to find the perfect place to enjoy your duck dinner. If the weather is nice, why not head to one of Beijing's many parks for a picnic? My top choice is Beihai Park, the former imperial pleasure grounds, where you can enjoy your duck picnic on the lake inside one of their many duck-shaped motor boats!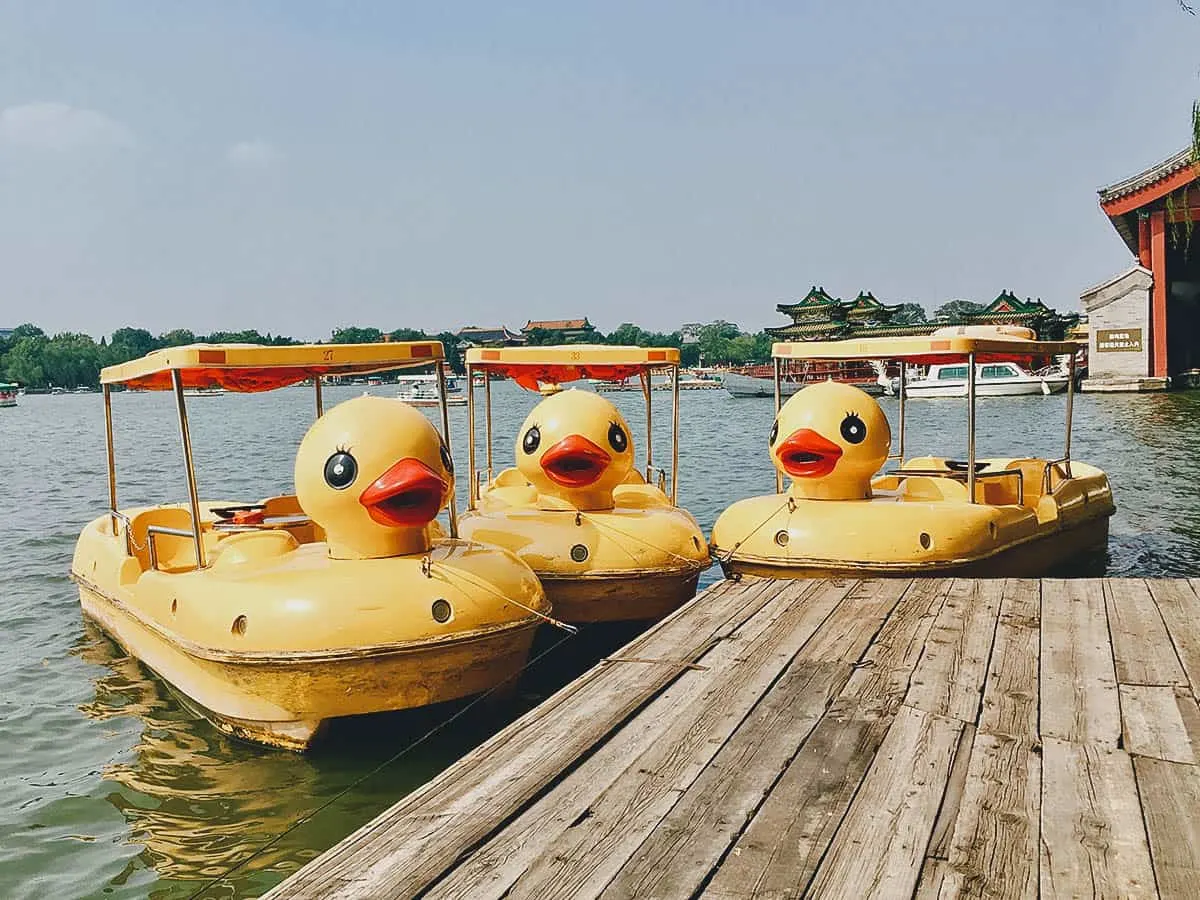 But wherever and however you enjoy your Peking duck, take some time to savor more than just the flavor, and remember that you're biting into a slice of this city's incredible history and culture. I hope your duck dinner is just the first step in a long and exciting culinary adventure, exploring the often unusual but (usually) delicious treats that Beijing has to offer!
Photos by Michael Evans