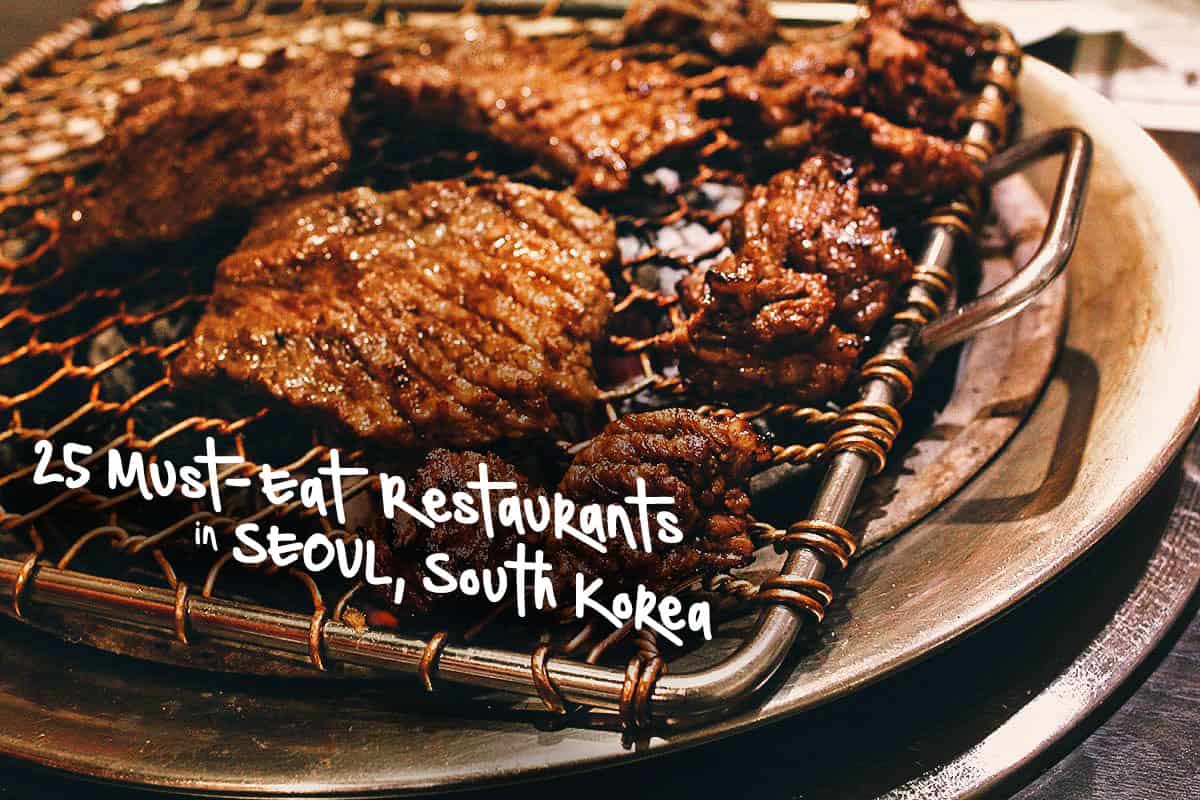 Seoul Food Guide: 25 Must-Try Restaurants
NOTICE: Your health and safety come first. Please adhere to the WHO recommendations and avoid any non-essential travel at this time. If travel is unavoidable for you, then you can check the Flatten the Curve website for information on global travel restrictions.
DISCLOSURE: Some of our articles contain affiliate links. The ones that do will have a disclosure statement at the bottom. You can refer to our privacy policy and terms of use for more information.
Many long-term travelers have made it their mission to visit every country in the world. We aren't one of those people. Instead, we have a short list of countries we want to visit again and again, and a lot of it has to do with the food. South Korea is one of those countries.
We've taken three trips to Seoul thus far and are planning a fourth this year. With each visit, we delve deeper into the city's culinary landscape to update and improve upon this Seoul restaurant guide.
It's important for us to eat like locals so we've made it our mission to find the best restaurants serving the most delicious and authentic examples of key Korean dishes like BBQ, bibimbap, kalguksu, naengmyeon, and many others.
Compiled and refined over the years thanks to the help of locals, trusted food blogs, crowd review sites, and my Korean sister-in-law who's a former chef, the second edition of our Seoul restaurant guide has expanded to 25 eateries to give travelers as complete a Korean food experience as possible. If you're visiting Seoul and want to eat like a local, then this guide will be useful to you.
This restaurant guide teaches you where to eat in Seoul. If you'd like a more general article on what dishes to try in Korea, then you may want to check out our Korean food guide listing 45 delicious things to eat in Seoul.
Save This on Pinterest!
No time to read this now? Click on the red save button and pin it for later!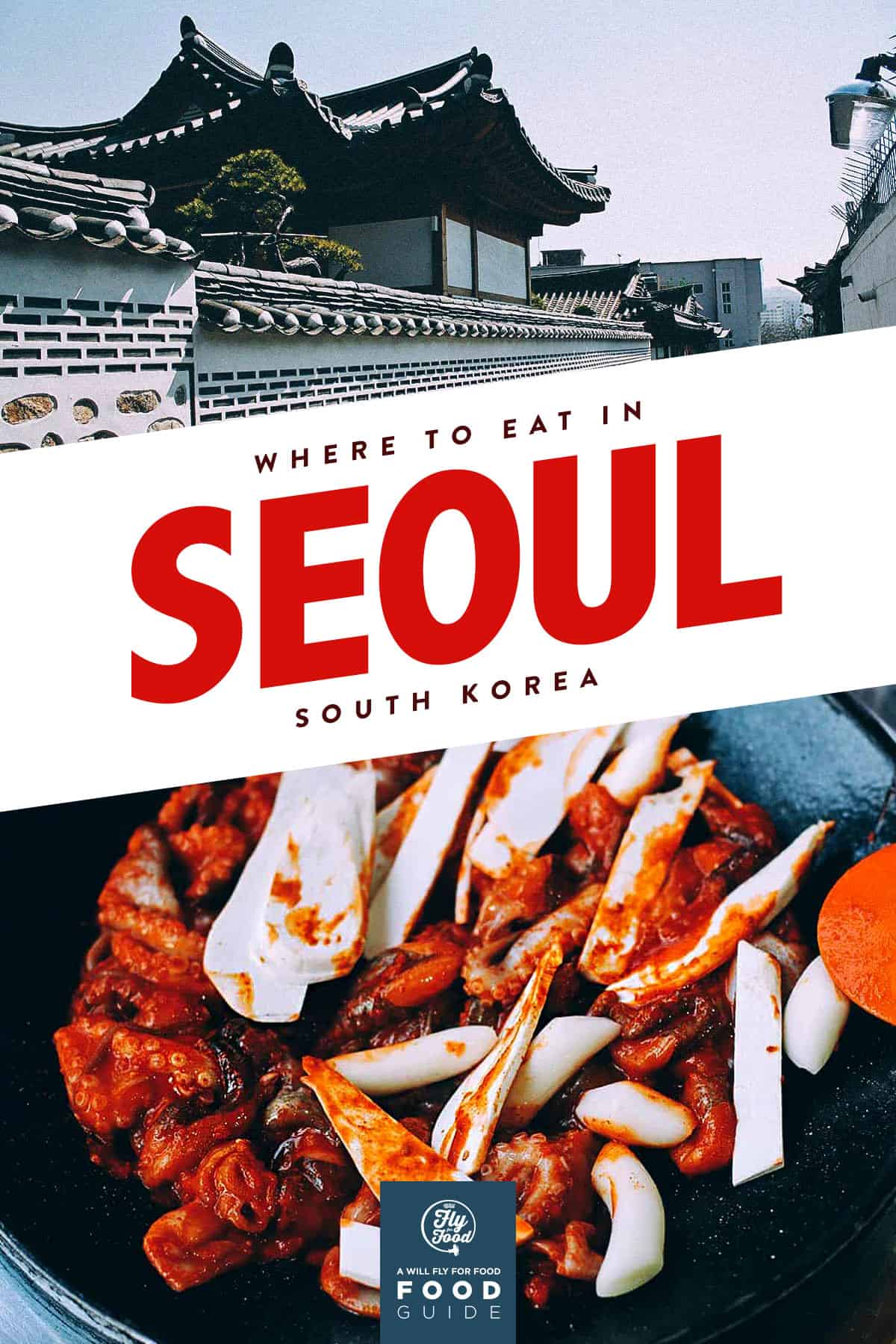 MUST-EAT RESTAURANTS BY DISTRICT
To help you navigate through this list, I've organized the restaurants by district. Visiting as a tourist, you'll probably be spending time in popular neighborhoods like Myeongdong, Insadong, Hongdae, and Itaewon. Myeondong is in Jung-gu, Insadong in Jongno-gu, Hongdae in Mapo-gu, and Itaewon in Yongsan-gu. I've added a location map to the bottom of this post as well to help you find these restaurants more easily.
DONGDAEMUN-GU
1. Na Jeong-sun Halmae Jjukkumi
Na Jeong-sun Halmae Jjukkumi is one among a cluster of restaurants specializing in jjukkumi, a notoriously spicy dish of stir-fried baby octopuses marinated in a red chili gochugaru sauce.
Located in Jjukkumi Alley, you'll know you're at the right area when you see this bronze statue of an octopus at the corner.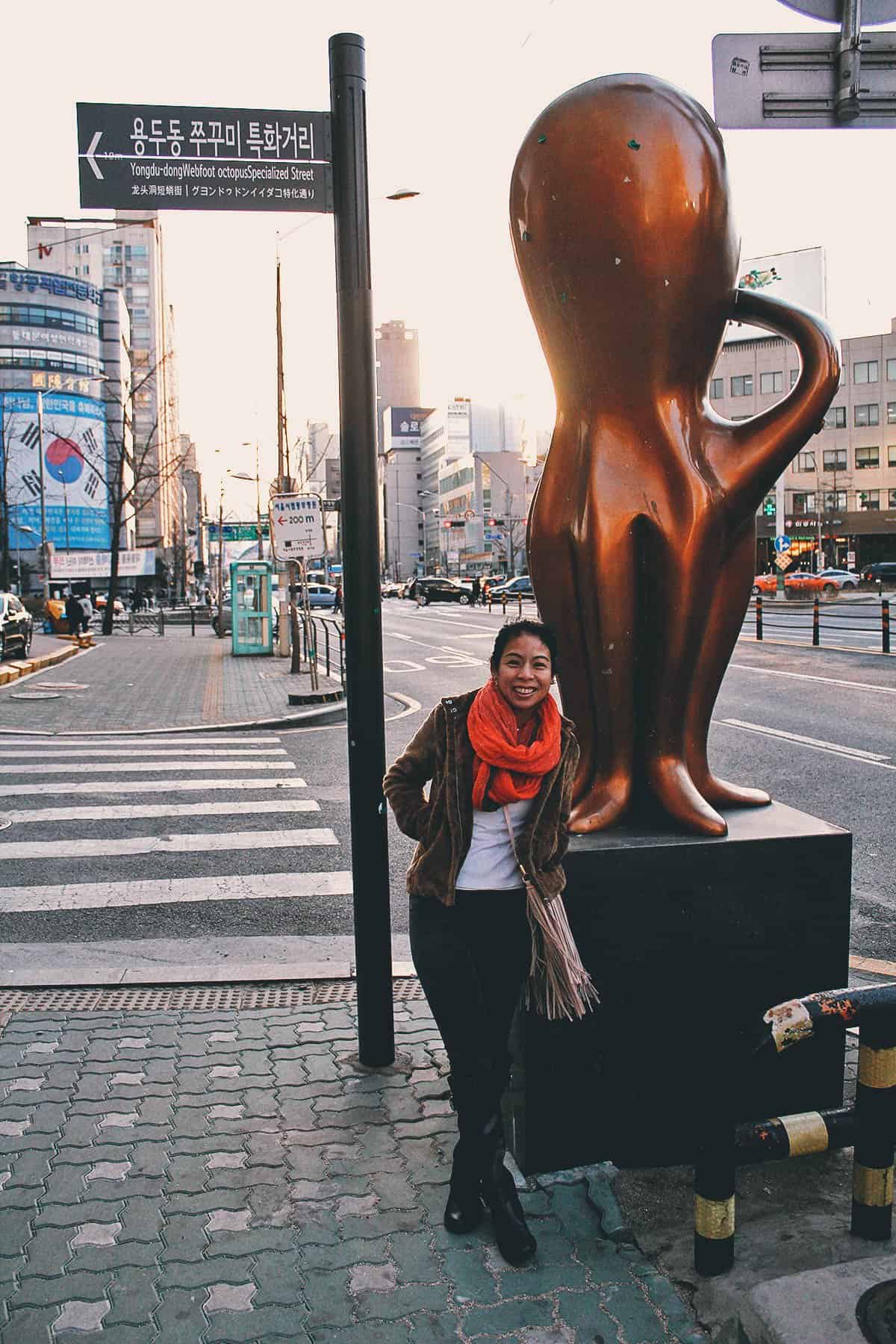 I have a high tolerance for spicy food. I did the 2X Fire Noodle Challenge without flinching but these devilish baby octopuses kicked my ass. It's one of the spiciest things I've ever eaten in my life.
Koreans have a high tolerance for spicy food and jjukkumi is considered very spicy even by their standards. As delicious as this dish was, I could barely finish it because it was so damn hot!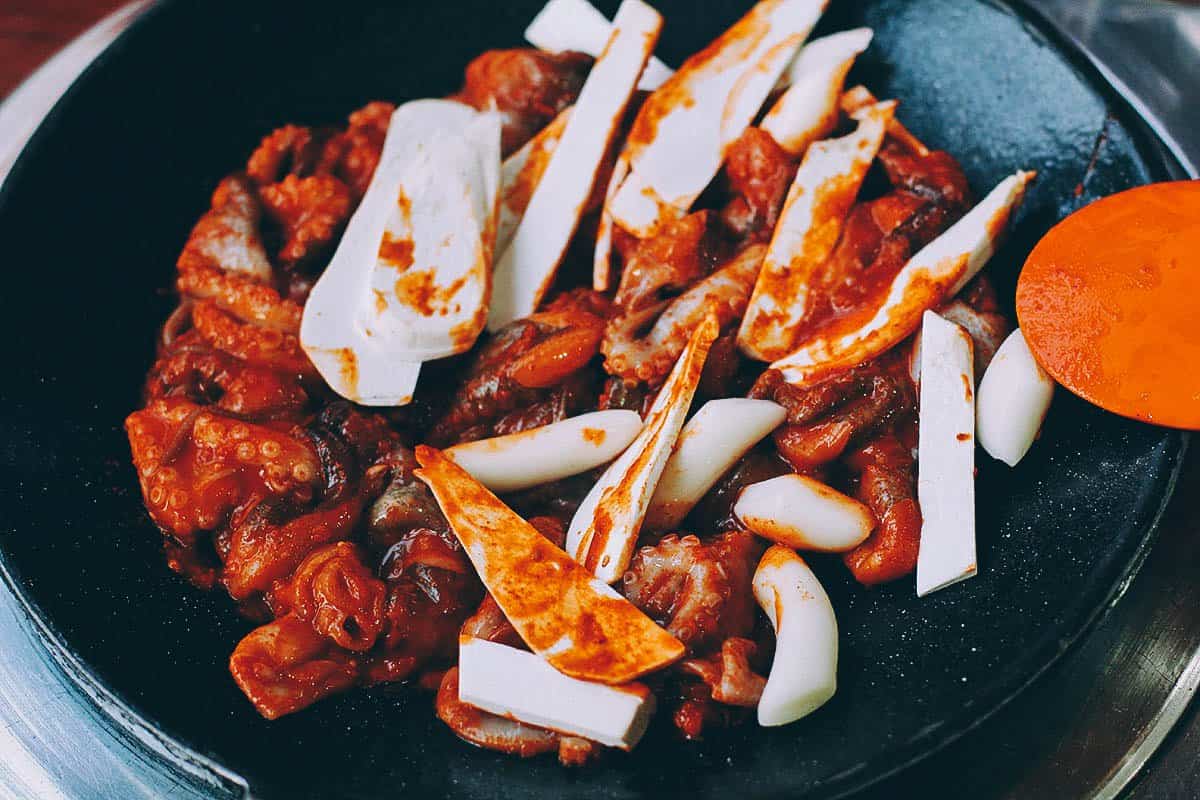 Jjukkumi is often eaten as ssam, wrapped in perilla leaves and consumed with soju, a Korean liquor typically made with rice, wheat, or barley.
There are many jjukkumi restaurants in Jjukkumi Alley but Na Jeong-sun Halmae Jjukkumi is said to be the best. Run by Grandma Na Jeong-sun, she opened her restaurant 35 years ago when the neighborhood didn't have its current cluster of jjukkumi restaurants. A true pioneer indeed!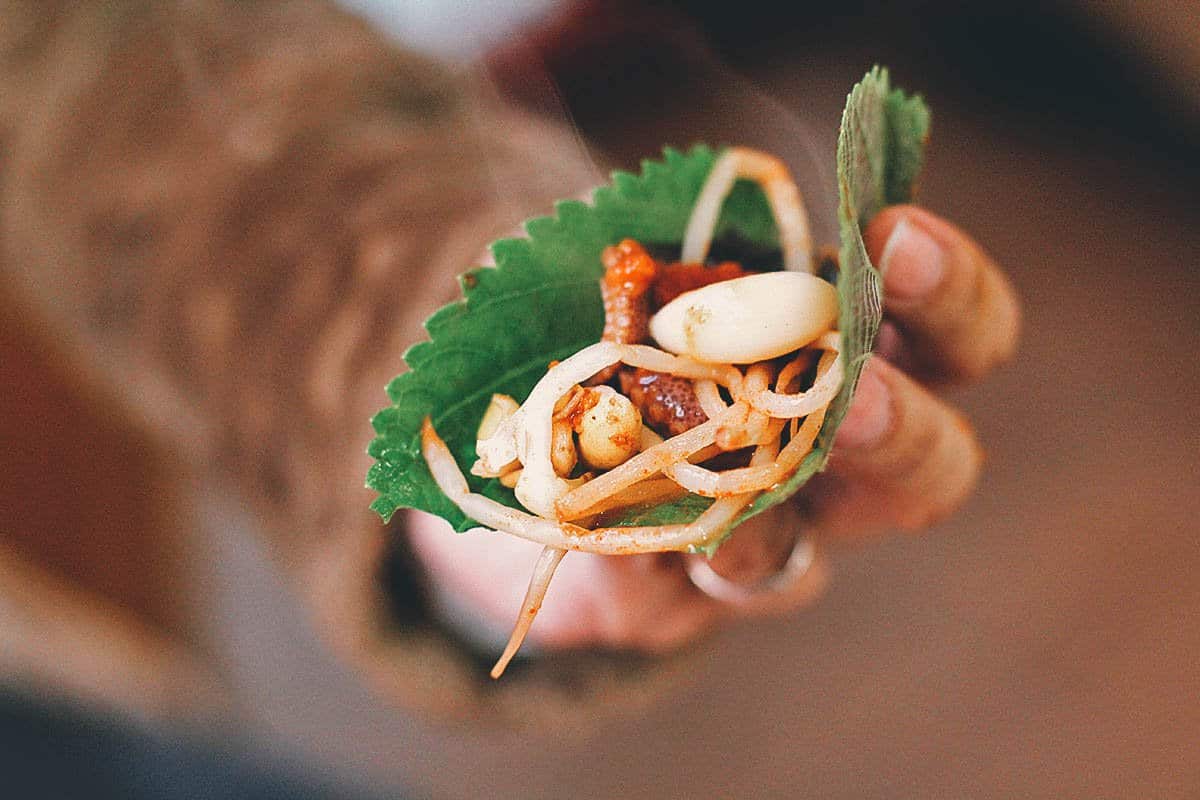 Na Jeong-sun Halmae Jjukkumi
Address: 144, Muhak-ro, Dongdaemun-gu, Seoul, South Korea
Nearest Subway Station: Jegi-dong
Operating Hours: 11AM-10:30PM, Mon-Fri
What to Order: Jjukkumi
Expect to Pay: Around KRW 10,000-15,000 per person
DONGJAK-GU
2. Noryangjin Fish Market
Open since 1927, Noryangjin Fish Market is one of Korea's biggest seafood markets. Here you'll find a wide variety of fresh seafood like scallop, abalone, crab, lobster, prawn, sea urchin, and octopus.
It's one of the most popular places in Seoul to try sannakji, Korea's infamous dish of octopus sashimi. You can check out my full post on Noryangjin Fish Market for more pictures and information.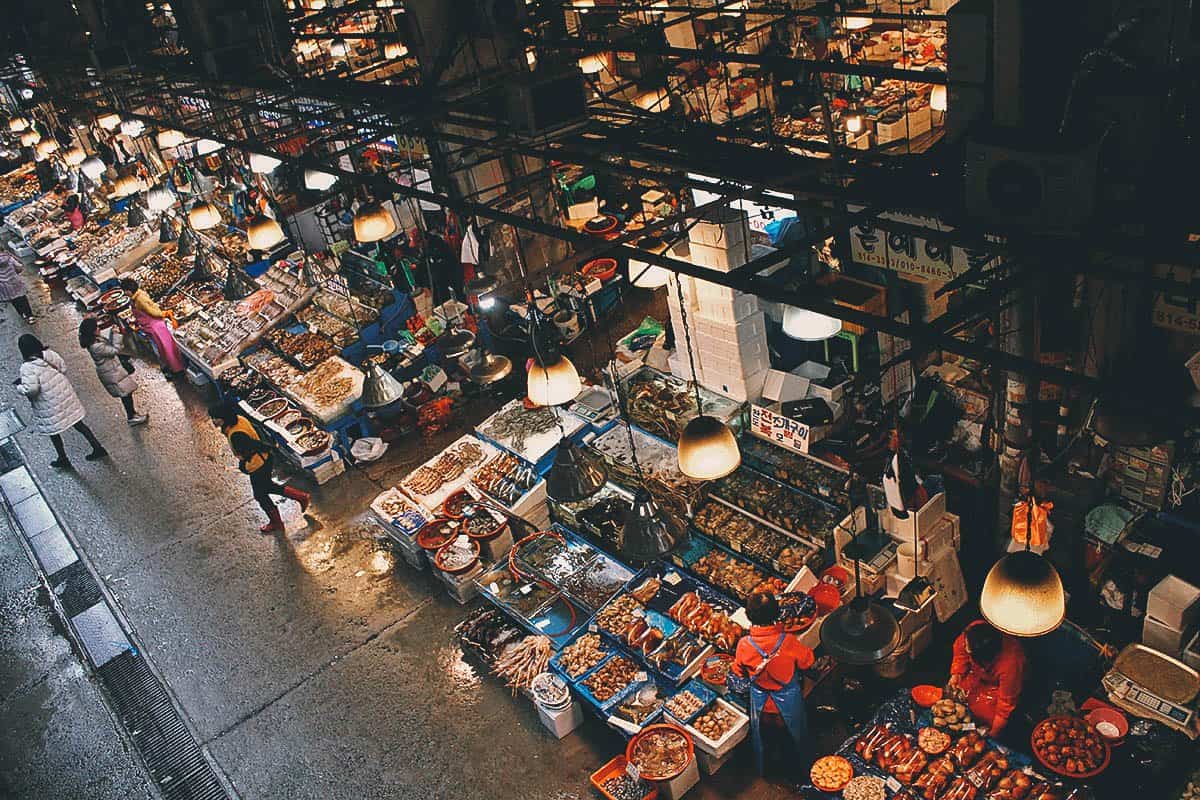 Sannakji was the one dish I was most excited to try on our first trip to Korea. Back then, we were quoted KRW 5,000 for one small octopus. Based on what I've read online, foreigners are often quoted higher prices so don't be afraid to bargain down.
Once you've bought all your seafood, you can bring it upstairs and have one of the many restaurants prepare it for you.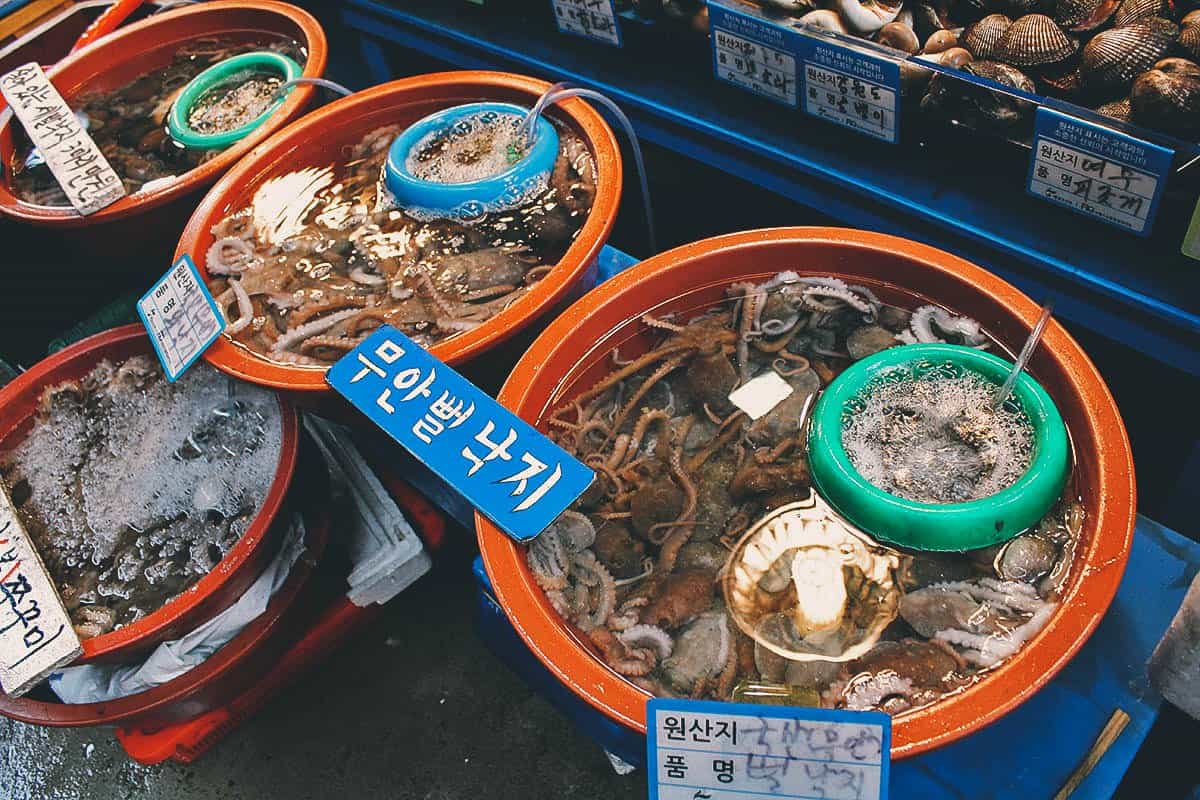 We were here to try sannakji but we couldn't resist picking up some abalone as well. Apologies, I don't know how much they cost now but we paid KRW 10,000 for these four pieces a few years ago.
The cooking cost is separate and we were originally quoted KRW 20,000, which I thought was too high just to grill up some abalone and chop up an octopus. I was able to bargain it down to KRW 15,000 for a grand total of KRW 30,000.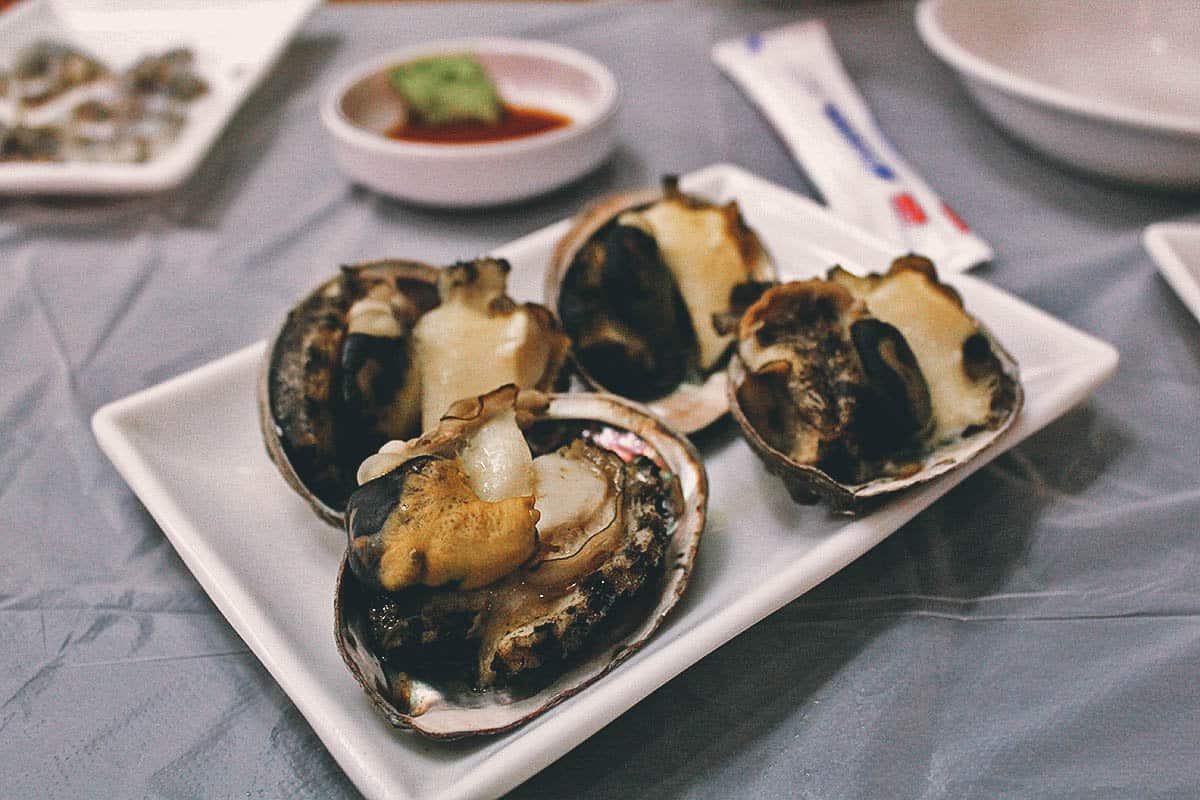 Sannakji is basically just octopus sashimi, but what makes it unnerving for many is that the tentacles are still squirming when served to you. It's controversial because people think the octopus is still alive when it isn't.
The tentacles continue to move because they contain ganglia which can operate separately from the octopus' body. When an octopus loses an arm, it can no longer control it. But since the ganglia are still intact, it's capable of operating independently of the octopus and reacting to stimuli, hence the continued movement.
I love octopus and this was the one and only time I've had it raw. Served with soy sauce and wasabi, it was absolutely delicious, naturally sweet and not as gummy as I thought it would be.
Be sure to chew it well because the suction cups STILL WORK. I picked up a tentacle with my chopsticks and it nearly took the plate with it.
A few deaths by choking are still reported each year from the tentacles latching on to people's throats, so be sure to chew your food like your life depended on it.
Noryangjin Fish Market
Address: 688 Nodeul-ro, Dongjak-gu, Seoul, South Korea
Nearest Subway Station: Noryangjin
Operating Hours: Open 24 hrs (High Class Fish Market)
What to Order: Sannakji, fresh seafood
Expect to Pay: Depends on seafood
GANGNAM-GU
3. Han Chu Korean Fried Chicken & Beer
Ren and I love chimaek restaurants and Han Chu is frequently listed as being one of the best in Seoul.
Chimaek is a compound word for chi-cken and maek-ju, the Korean word for "beer", so it refers to the popular duo of Korean fried chicken and beer. Two of our favorite things!
Han Chu has been in business for over 20 years and is said to be a popular spot among many local celebrities.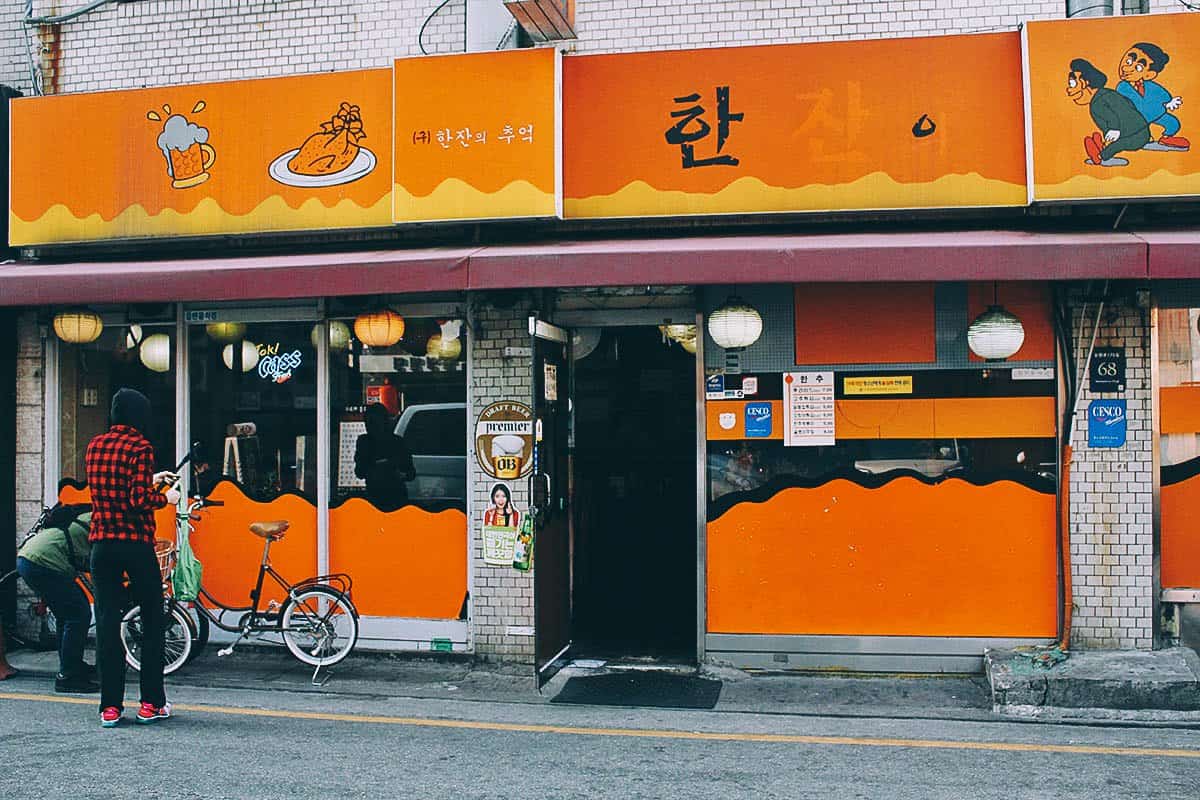 Korean fried chicken is double-fried, resulting in crunchier and less greasy skin. We've eaten at a few chimaek restaurants in Seoul and the preparation varies from place to place.
Pictured below is an order of their supremely crispy and juicy regular fried chicken. As you can see, they give you a lot so one order can be enough for two.
Han Chu is a chimaek place so be sure to wash it down with an ice-cold mug of beer. We didn't try it but their deep-fried green peppers stuffed with pork are said to be very good as well.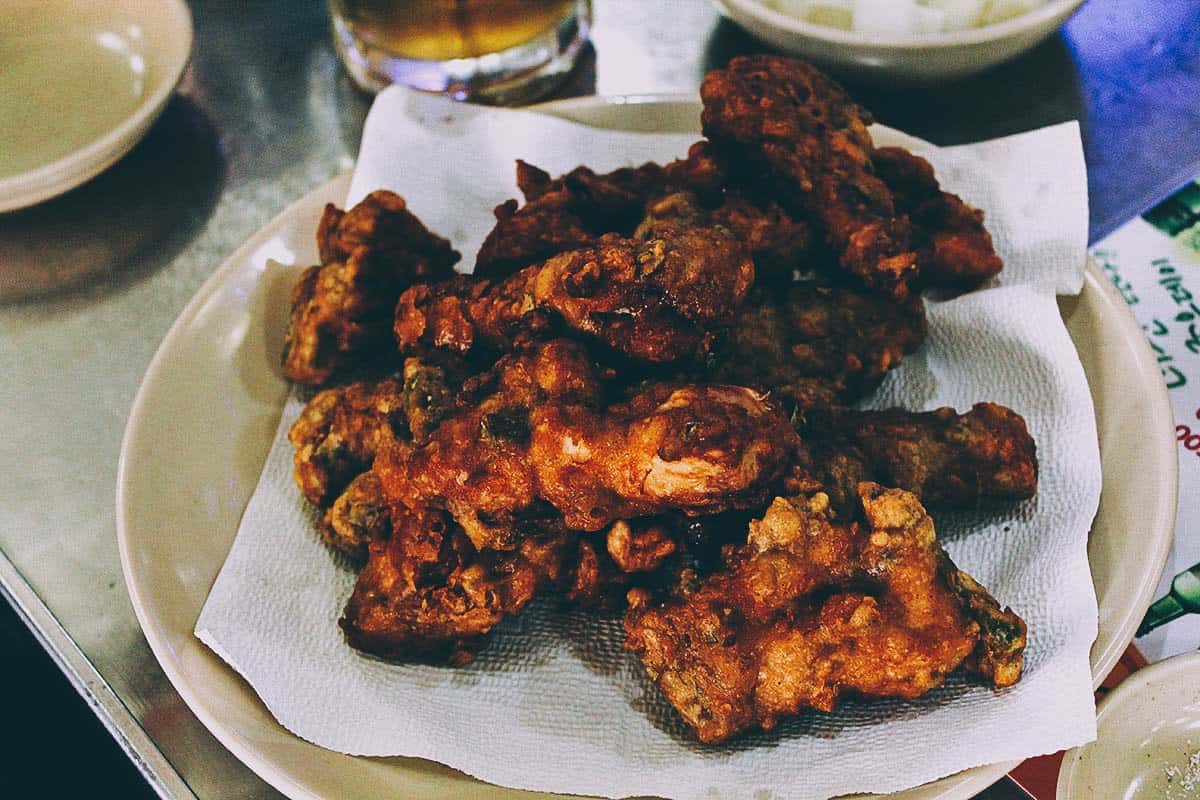 Han Chu Korean Fried Chicken & Beer
Address: 68 Nonhyeon-ro 175-gil, Sinsa-dong, Gangnam-gu, Seoul, South Korea
Nearest Subway Station: Sinsa
Operating Hours: 4PM-2AM, daily
What to Order: Fried chicken, deep-fried green peppers
Expect to Pay: Around KRW 20,000 per person
4. Yeontabal BBQ Restaurant
Barbecue is one of the best things about Korean food. Prime cuts of meat like bulgogi (thinly sliced marinated beef sirloin or tenderloin) or galbi (marinated beef short ribs) are grilled on your table using gas or charcoal grills.
We think Korean barbecue is best enjoyed over charcoal because it imparts a wonderful smokiness to the meat. That's what they use here at Yeontabal. They have four branches in Seoul but we went to the one in Gangnam.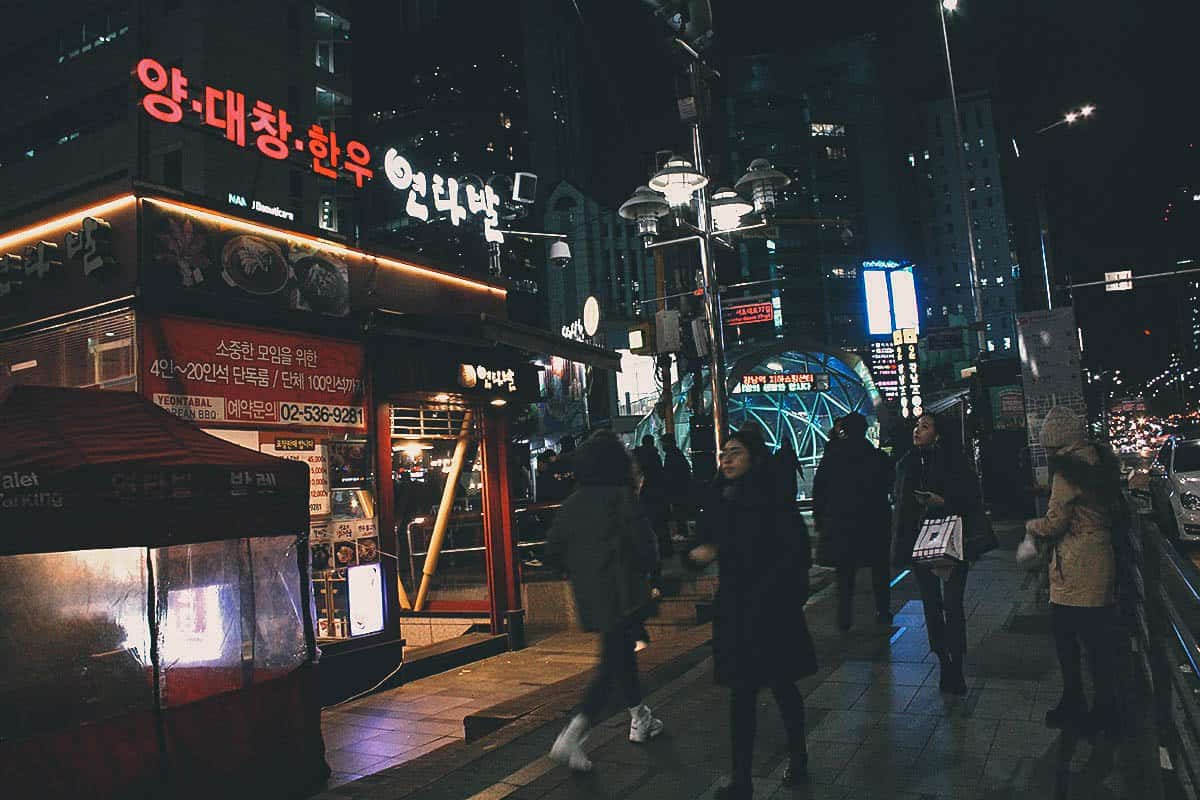 Like any fan of Korean food, Ren and I have enjoyed Korean bbq plenty of times but this was hands down the BEST barbecue we've ever had. It was tender and juicy with the characteristic sweetness and smokiness of Korean bbq cooked over charcoal. It was absolutely delicious.
Meat is typically expensive in Seoul so expect a barbecue at any restaurant to be one of your pricier meals. If you'd like to eat at Yeontabal, then you may want to purchase vouchers in advance from Klook. Like many Korean bbq restaurants, you need to get a minimum of two orders.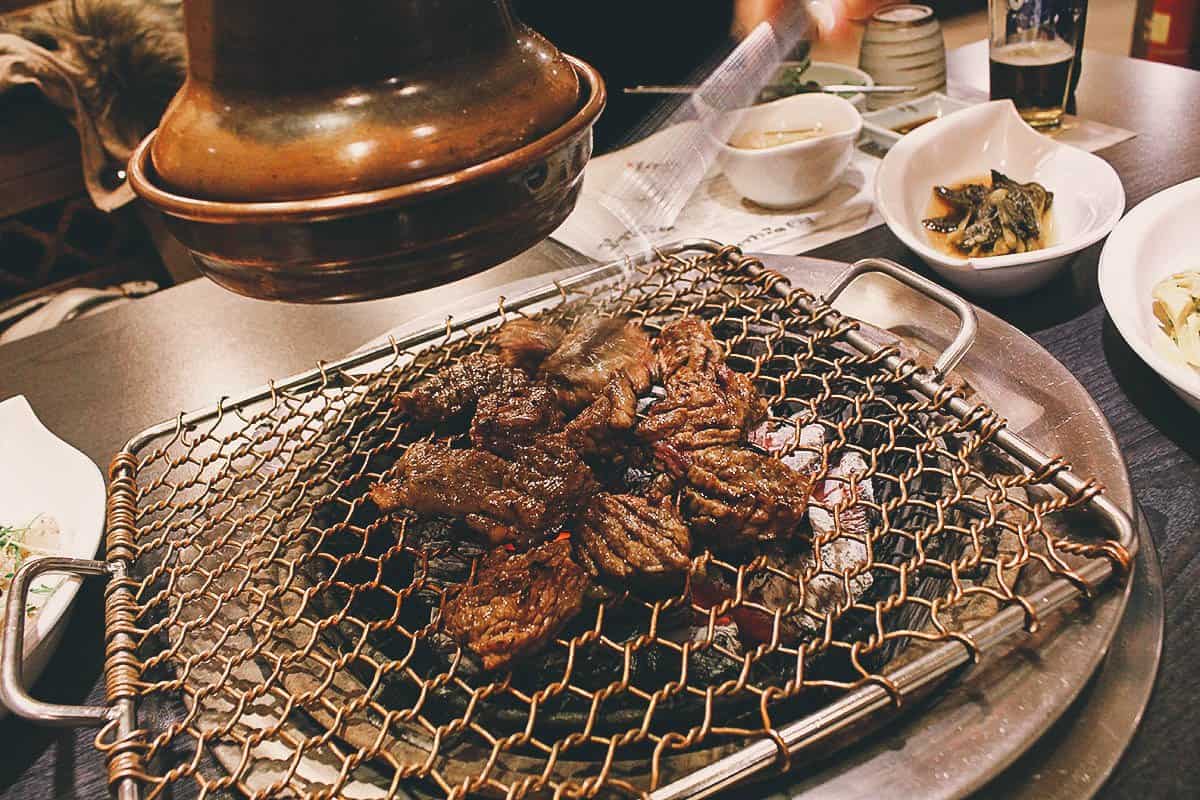 Check out all those delicious bits of caramelization! This barbecue was soooo good.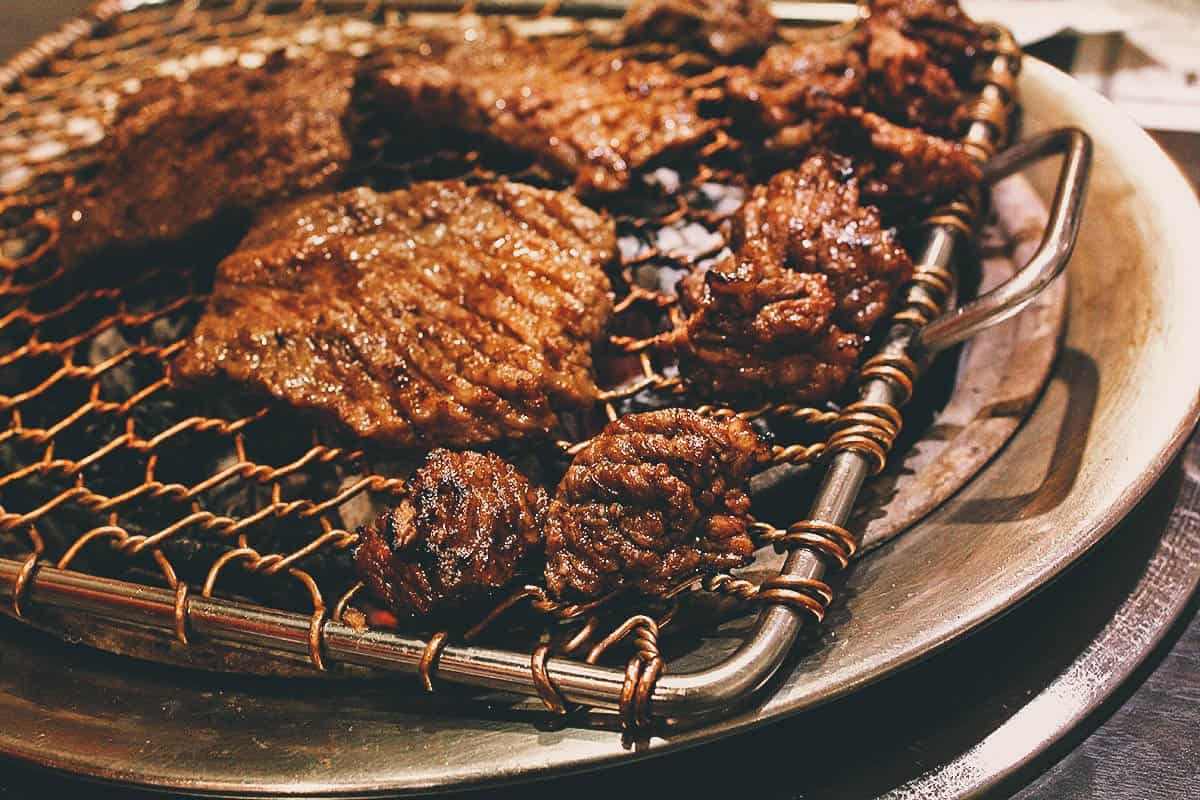 Yeontabal BBQ Restaurant
Address: 1317-16 Seocho-dong, Seocho-gu, Seoul, South Korea
Nearest Subway Station: Gangnam
Operating Hours: 11:30AM-10PM, daily
What to Order: Grilled king beef ribs
Expect to Pay: Around KRW 40,000-45,000 per person
JONGNO-GU
5. Gwangjang Market
Established in 1905, Gwangjang Market is known to be one of the oldest traditional markets in South Korea. It's also one of its biggest with over 5,000 shops under its roof.
Apart from stalls selling fresh produce and seafood, the market is known for its prepared food section with vendors offering different types of Korean dishes like soondae (blood sausage), kimbap (Korean sushi rolls), and tteokbokki (rice rolls). I even saw a couple of stalls with small live octopus in tanks for sannakji (octopus sashimi).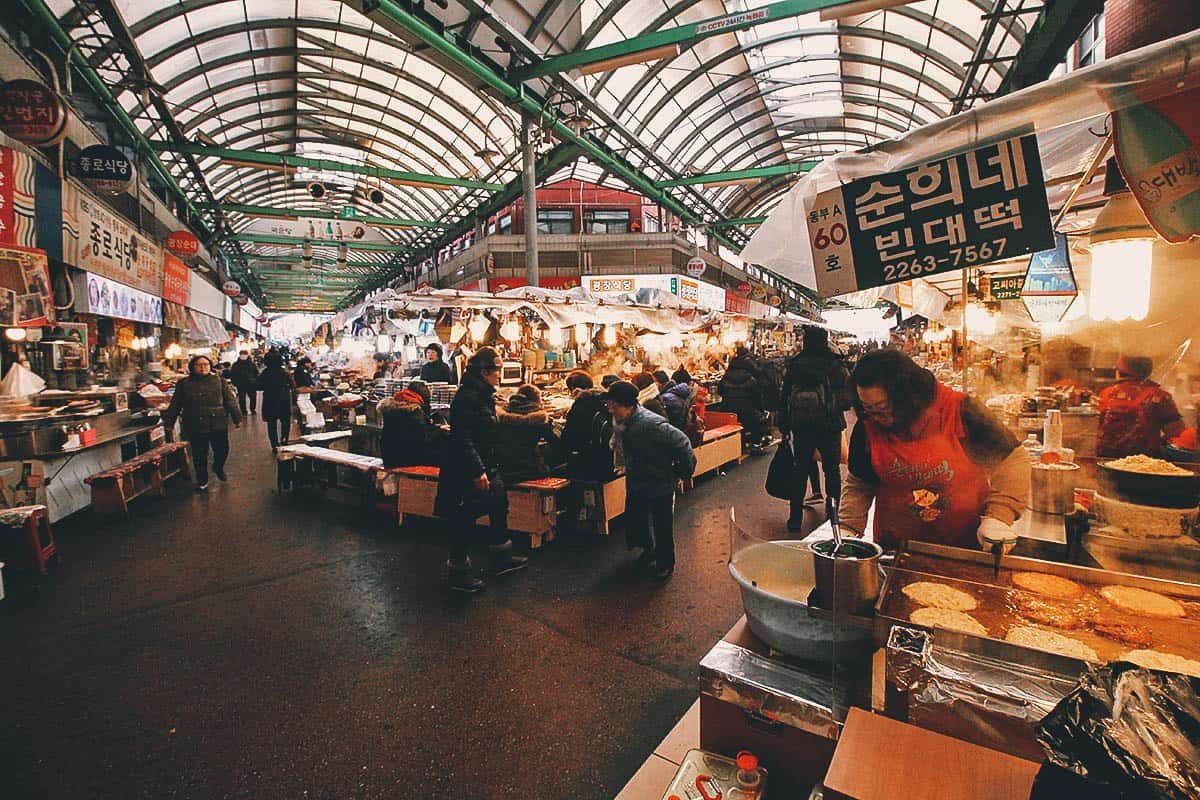 I read that Gwangjang Market is particularly known for bindaetteok or mung bean pancakes. At the center of the market are several food stalls like this one selling bindaetteok.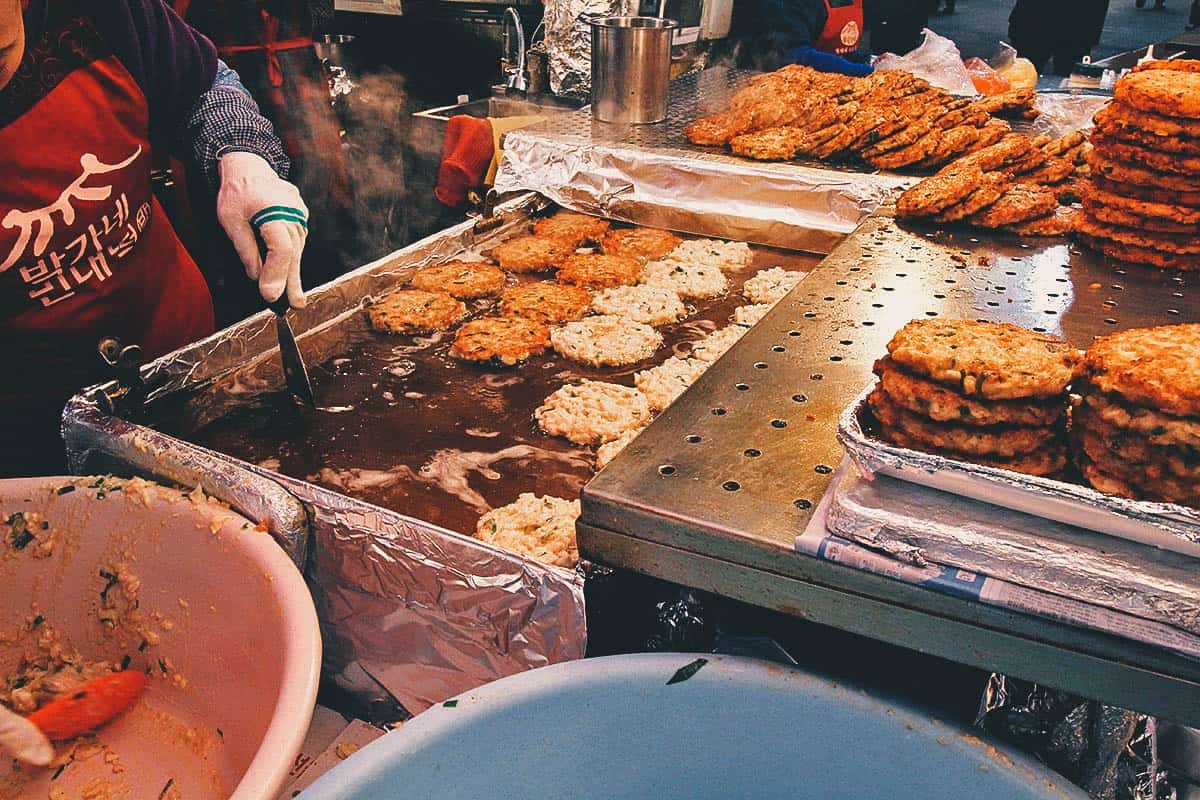 Pictured below are skewered fish cakes and tteokbokki, along with a few other things I didn't recognize.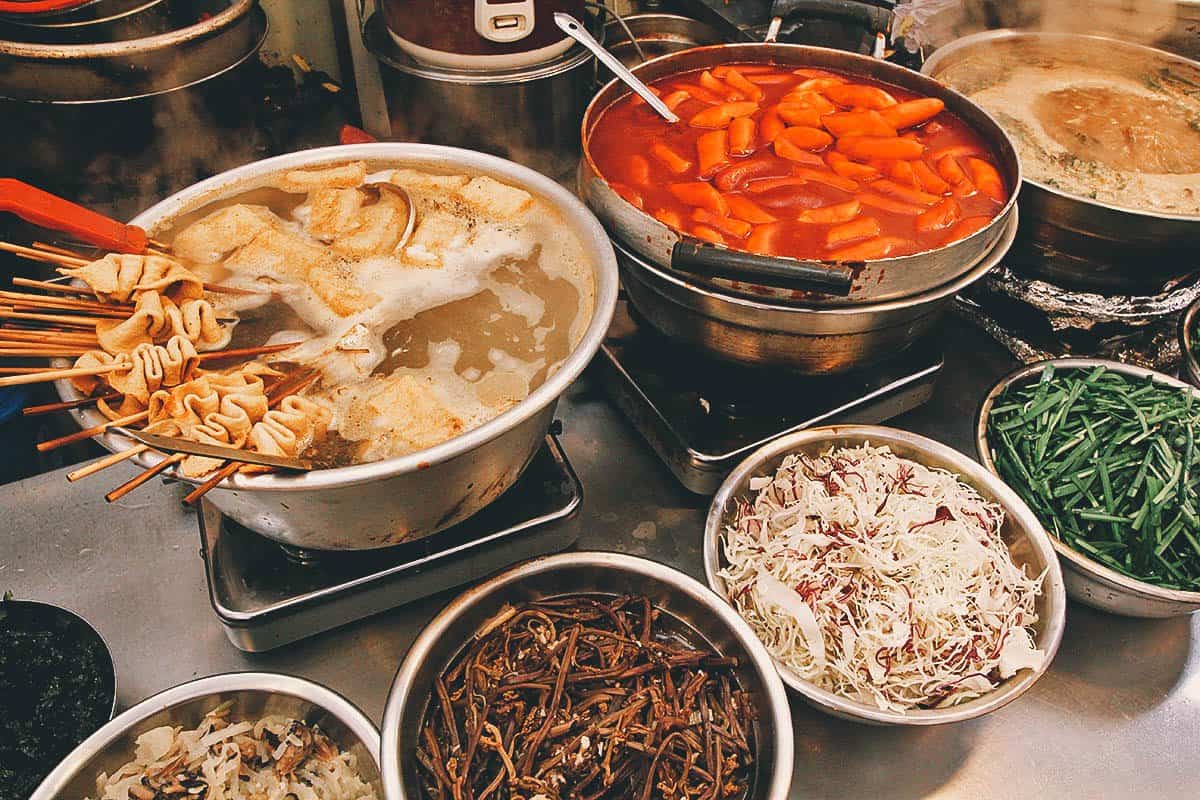 We visited Gwangjang Market early in the morning and it was already bustling with Korean customers having breakfast. The Korean vendors would signal for us to sit down, but we had several restaurants on our itinerary that day so we politely declined.
If you do decide to visit Gwangjang Market, then you may want to have a meal here. The food is relatively inexpensive and there's a wealth of dishes to choose from.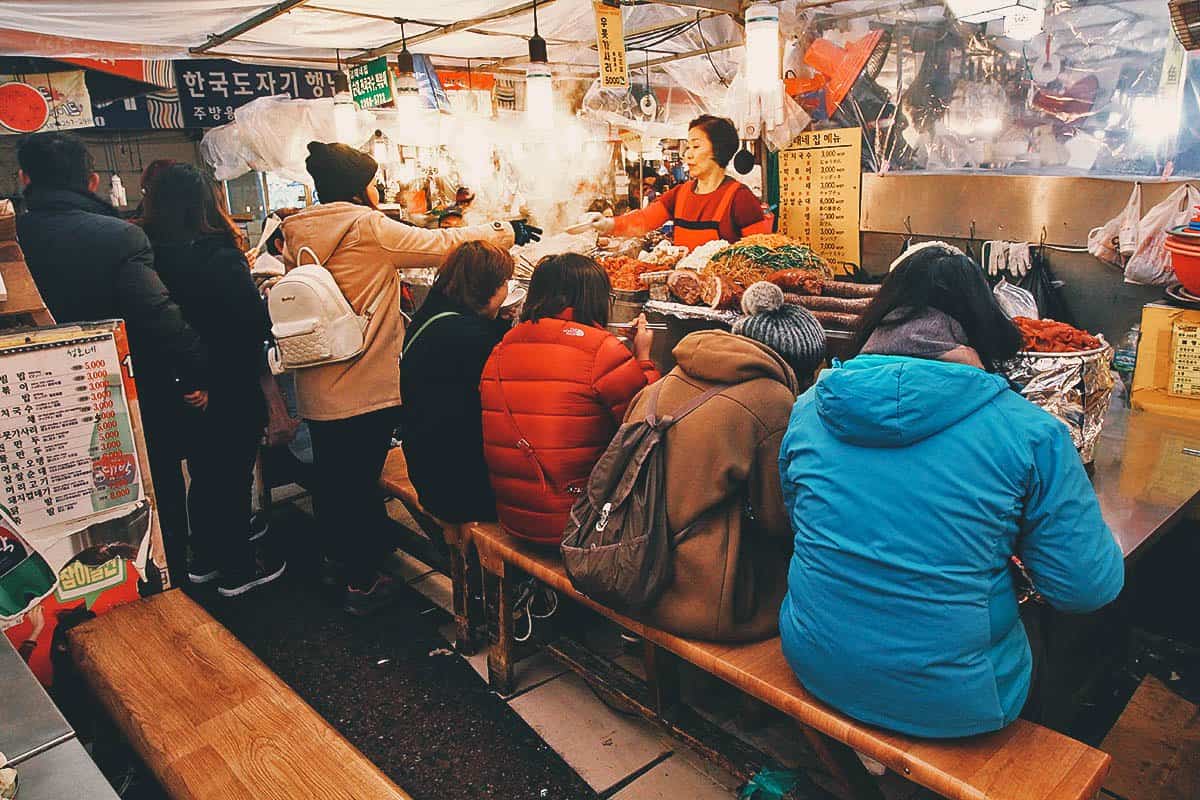 Gwangjang Market
Address: 88, Changgyeonggung-ro, Jongno-gu, Seoul, South Korea
Nearest Subway Station: Jongno 5-ga
Operating Hours: 8:30AM-6PM, Mon-Sat
What to Order: Soondae, tteokbokki, bindaetteok, kimbap
Expect to Pay: Around KRW 5,000-10,000 per person
6. Imun Seolnongtang
I found this article listing Seoul's oldest restaurants, at the very top of which is Imun Seolnongtang. This restaurant has been specializing in seolnongtang or ox bone soup for close to 120 years.
Open since 1904, they're the first eatery in the country to officially register for a restaurant license, making it the oldest restaurant not just in Seoul, but in all of South Korea. This place is legendary.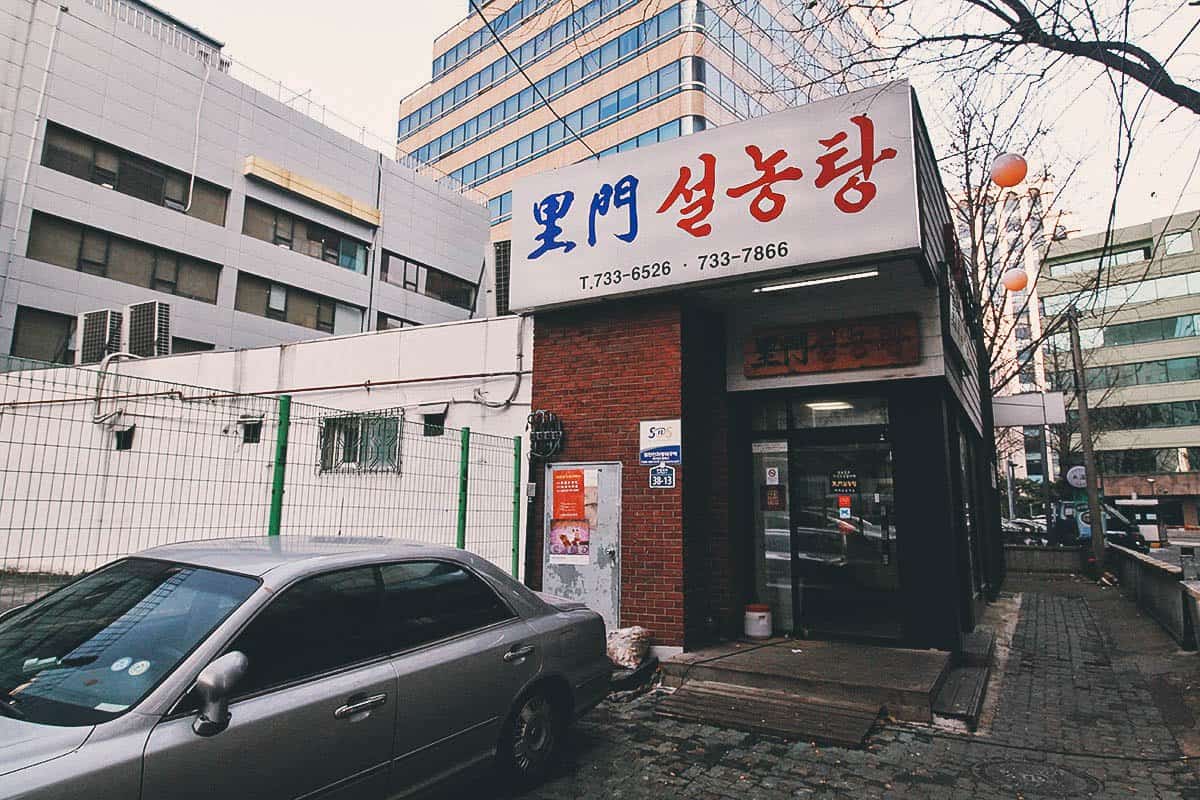 When I was asking my Korean sister-in-law for food recommendations, this was one of the first dishes she suggested.
Seolnongtang is ox bone soup which is made by boiling beef shank bones for a period of several hours or an entire day. This slow simmering process gradually extracts the flavor from the bones, turning the broth cloudy and milky white. Brisket and other cuts of beef are then added to the broth along with rice and soft wheat noodles.
Pictured below is the seolnongtang before we seasoned it. Salt, ground black pepper, and chopped spring onions are available on your table so you can season the soup to your personal taste.
Seolnongtang is a rich and hearty soup that's perfect for cold winter days. Ren and I were wondering why soups and stews are so popular in Korean cuisine. It wasn't until we visited Seoul in winter did we understand. Comforting dishes like this one are exactly what your body needs when it's freezing outside.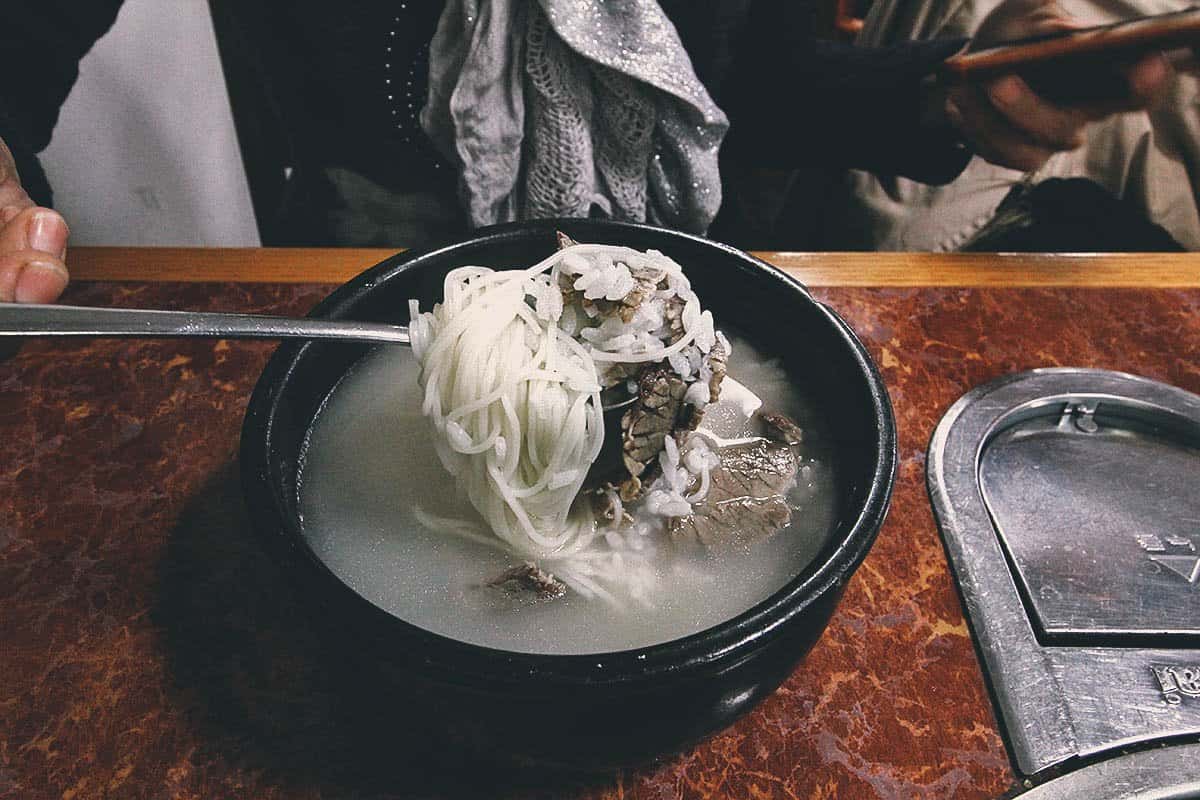 My sister-in-law also recommended that we drink makgeolli with our seolnongtang. Makgeolli is a sweet-sour alcoholic beverage made from rice or wheat mixed with nuruk, a Korean fermentation starter.
Like seolnongtang, it's milky white in color and has a slightly higher alcohol content than beer, about 6-8%. It went very well with the seolnongtang.

Imun Seolnongtang
Address: 38-13 Ujeongguk-ro, Gyeonji-dong, Jongno-gu, Seoul, South Korea
Nearest Subway Station: Jonggak
Operating Hours: 8AM-9PM, daily
What to Order: Seolnongtang, makgeolli
Expect to Pay: Around KRW 10,000-15,000 per person
7. Jalppajin Memil
Jalppajin Memil is another restaurant I found through Klook. Like Yeontabal, what drew me to it were its TripAdvisor reviews. It has stellar ratings from its Korean reviewers while a couple of English comments described its food as unique.
The dish being offered on Klook is called "boiled pork slices with pomelo sauce". That doesn't sound like your typical Korean dish so I had a good feeling this would be memorable. It was.
Jalppajin Memil is just a short walk from Gyeongbokgung so this is a great place to have lunch or dinner after visiting the palace.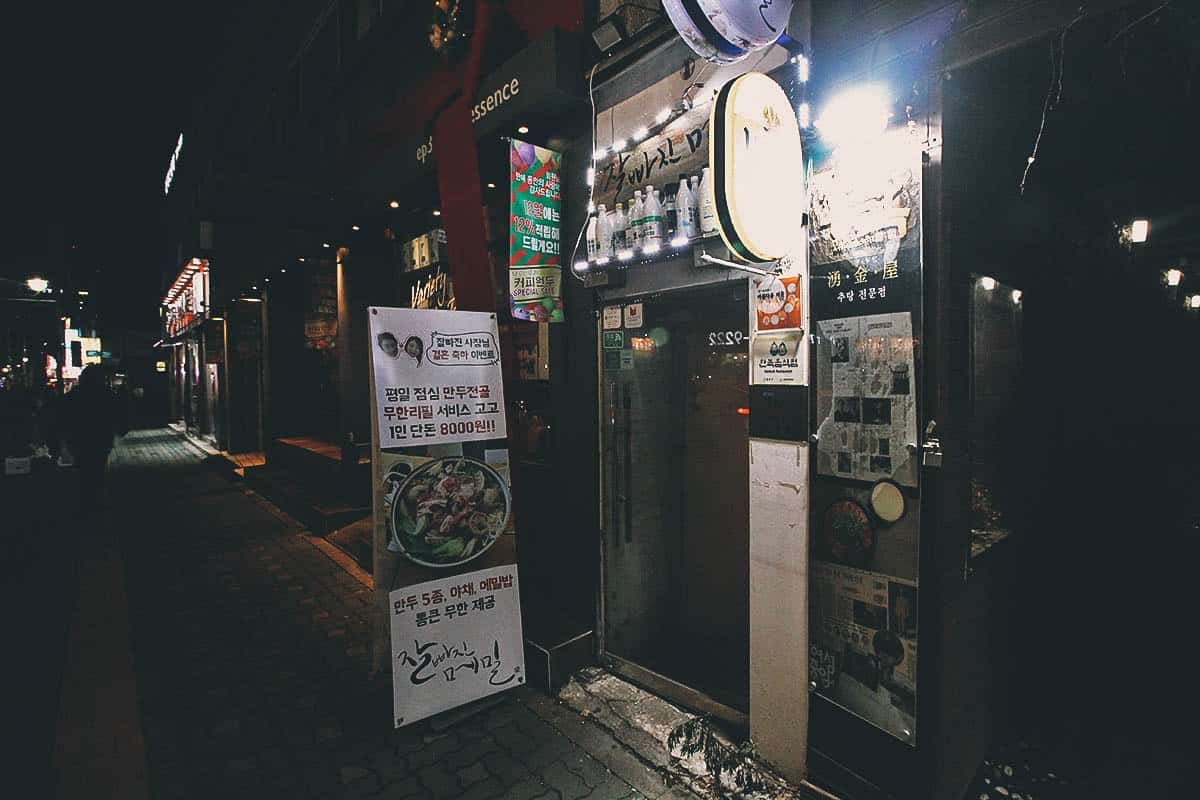 We got the small order of boiled pork slices with pomelo sauce which is good for 2-3 people. It comes in medium and large sizes as well. This was one of Ren's favorite dishes from our most recent trip to Seoul. She told the owner that before we left and he blushed after the compliment. Ha!
According to one TripAdvisor reviewer, the chef and owner was once featured on a popular Korean food show, so that says a lot about the quality of his food.
I'm not an expert on Korean cuisine, but this does seem like a unique fusion dish, largely because it's served with some type of fermented shrimp and a sweet citrusy sauce. He calls it pomelo sauce but it looks to be made with yuzu or something similar. Whatever it is, the combination of pork with the salty shrimp and sweet-sour sauce is delicious.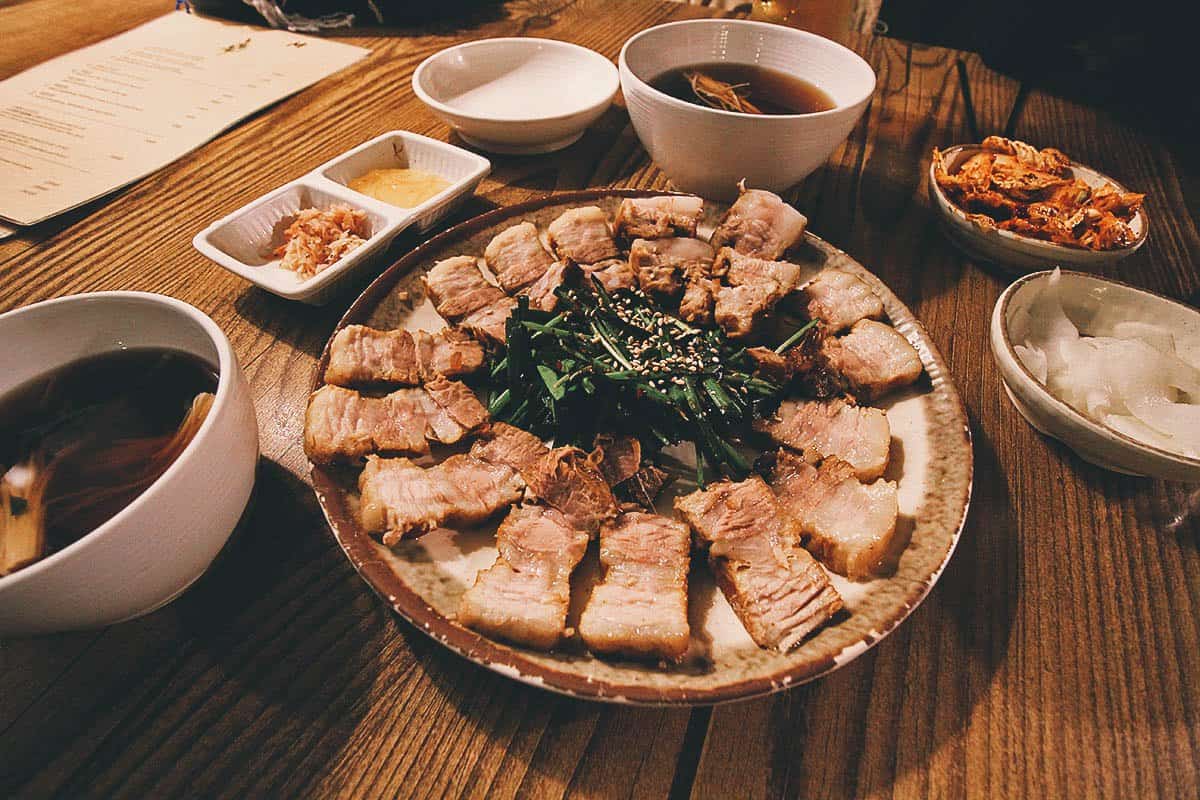 Jalppajin Memil
Address: 41-1, Jahamun-ro, Jongno-gu, Seoul, South Korea
Nearest Subway Station: Gyeongbokgung
Operating Hours: 11:30AM-10PM, Mon, Wed-Sat (3-5PM break time) / 12NN-9PM, Sun / Closed on Tue
What to Order: Boiled pork slices with pomelo sauce
Expect to Pay: Around KRW 15,000-20,000 per person
8. Tosokchon
Tosokchon is synonymous with samgyetang, a hot and nutritious soup made from a whole young chicken stuffed with glutinous rice, then boiled in a broth of Korean ginseng, jujube fruits, garlic, ginger, and various herbs and condiments.
They've been open for over 30 years and are known for serving some of the best samgyetang in Seoul. In fact, the late Korean president Roh Moo-hyun was a frequent patron. Like Jalppajin Memil, Tosokchon is just a short walk from Gyeongbokgung so you can eat here before or after a trip to the palace.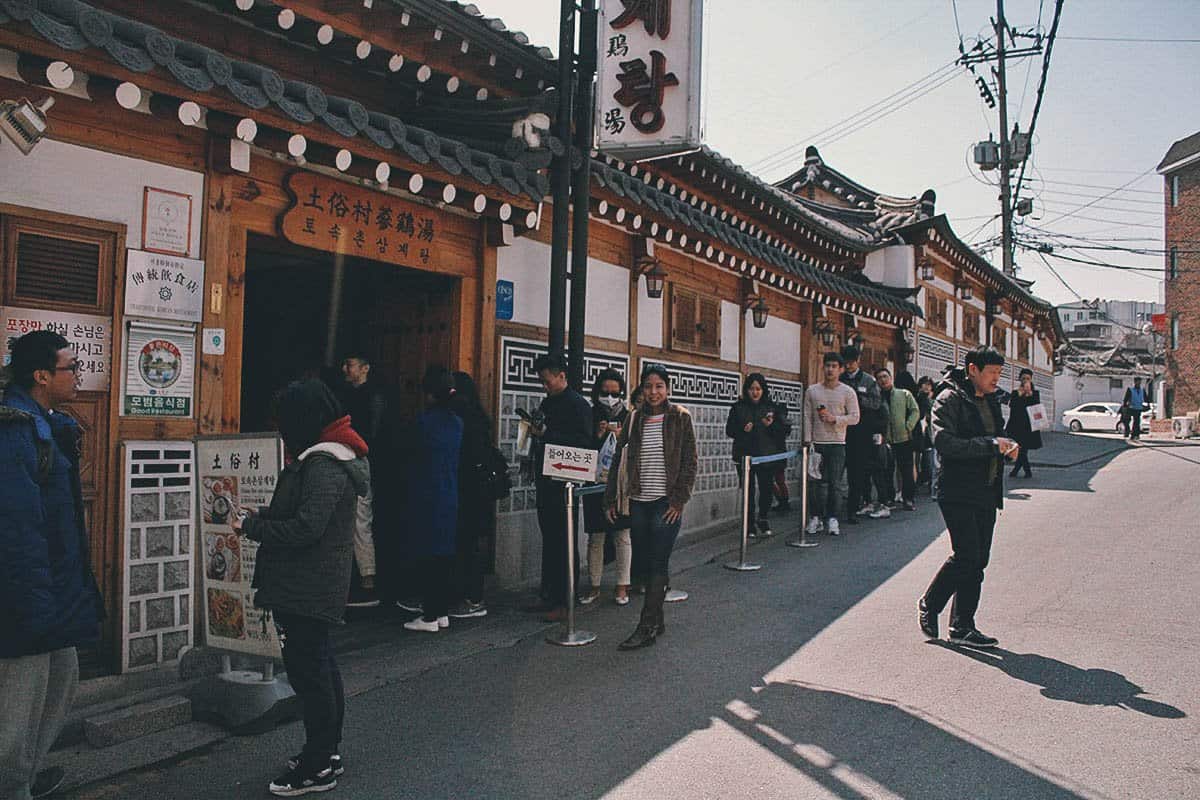 Samgyetang is typically considered a summer dish because it's believed to replenish lost heat and boost your energy. This practice is founded on the notion of Yi Yeol Chi Yeol — "fighting heat with heat" — which is derived from traditional Korean medicine principles.
It's said that eating a hot, nourishing dish like samgyetang can facilitate blood flow in the internal organs and help lower body heat by emitting sweat.
Samgyetang is one of Ren's favorite Korean dishes. It's a hearty dish that makes you feel good after eating it. At Tosokchon, you can try it with either regular or black chicken.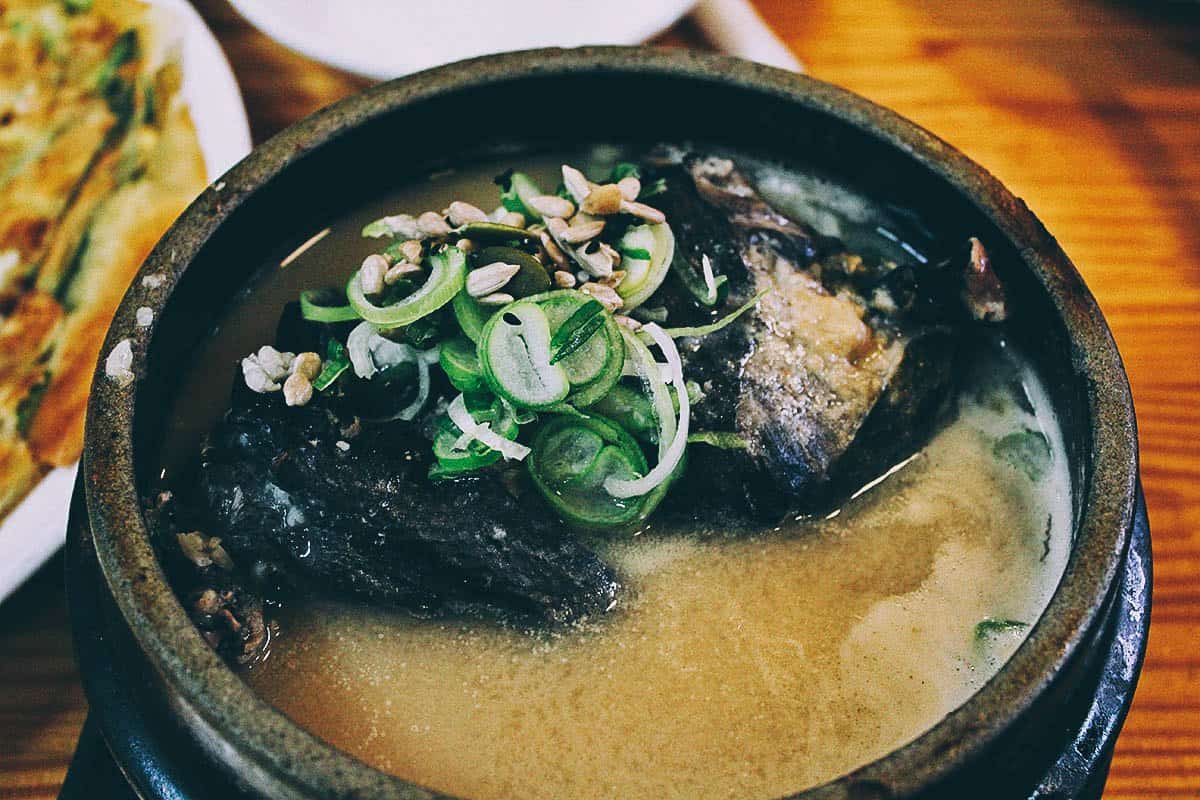 Tosokchon
Address: 5 Jahamun-ro 5-gil, Sajik-dong, Jongno-gu, 서울특별시 South Korea
Nearest Subway Station: Gyeongbokgung
Operating Hours: 10AM-10PM, daily
What to Order: Samgyetang
Expect to Pay: Around KRW 15,000-20,000 per person
9. Si.Wha.Dam
If you're interested in experiencing modern Korean cuisine, then Si.Wha.Dam is one of the best places in Seoul to try it. They have two branches offering tasting menus with artfully presented dishes, this one in Insadong and another in Itaewon.
Korean dishes are typically served family style so it isn't often you see Korean food that looks like this. Si.Wha.Dam calls itself a "museum of Korean cuisine" which is apt since their food looks more like conceptual art pieces than actual food.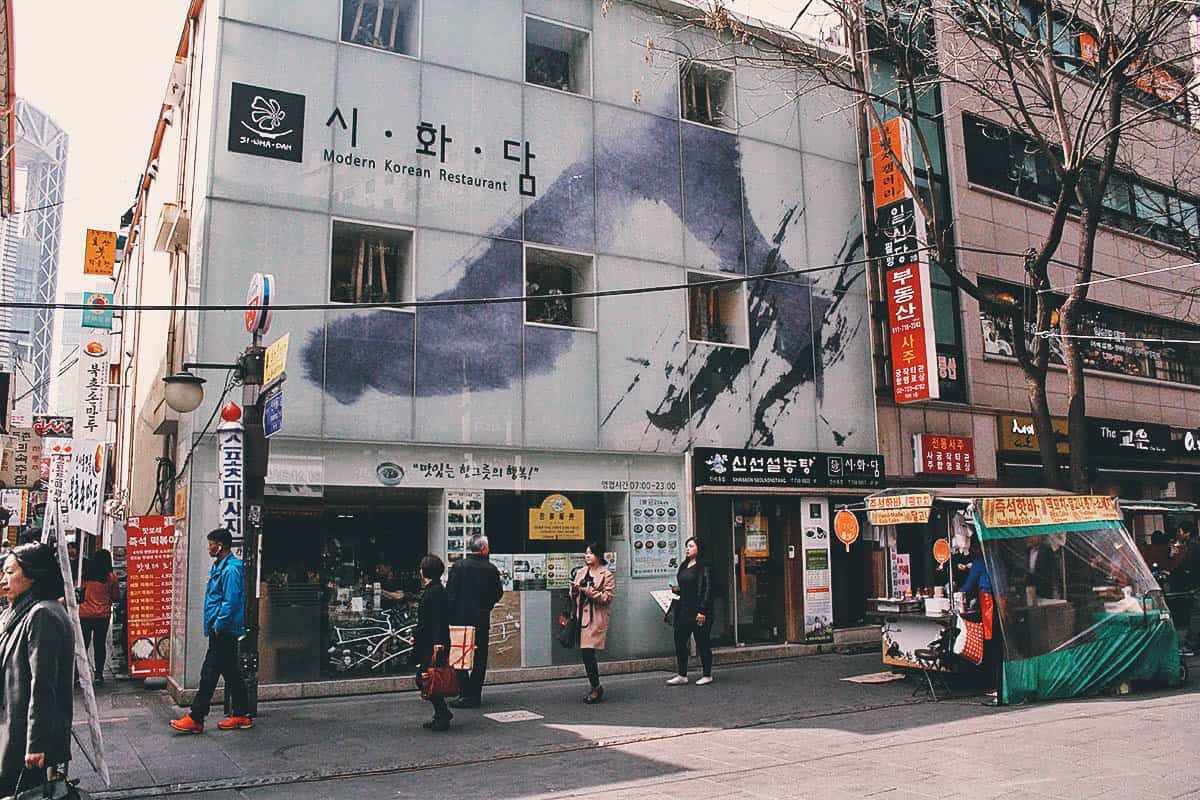 See what I mean about the dishes being artfully presented? They have several tasting menus available. Ren went with "A Verse of Poem" while I tried "A Piece of Painting". Each came with several courses.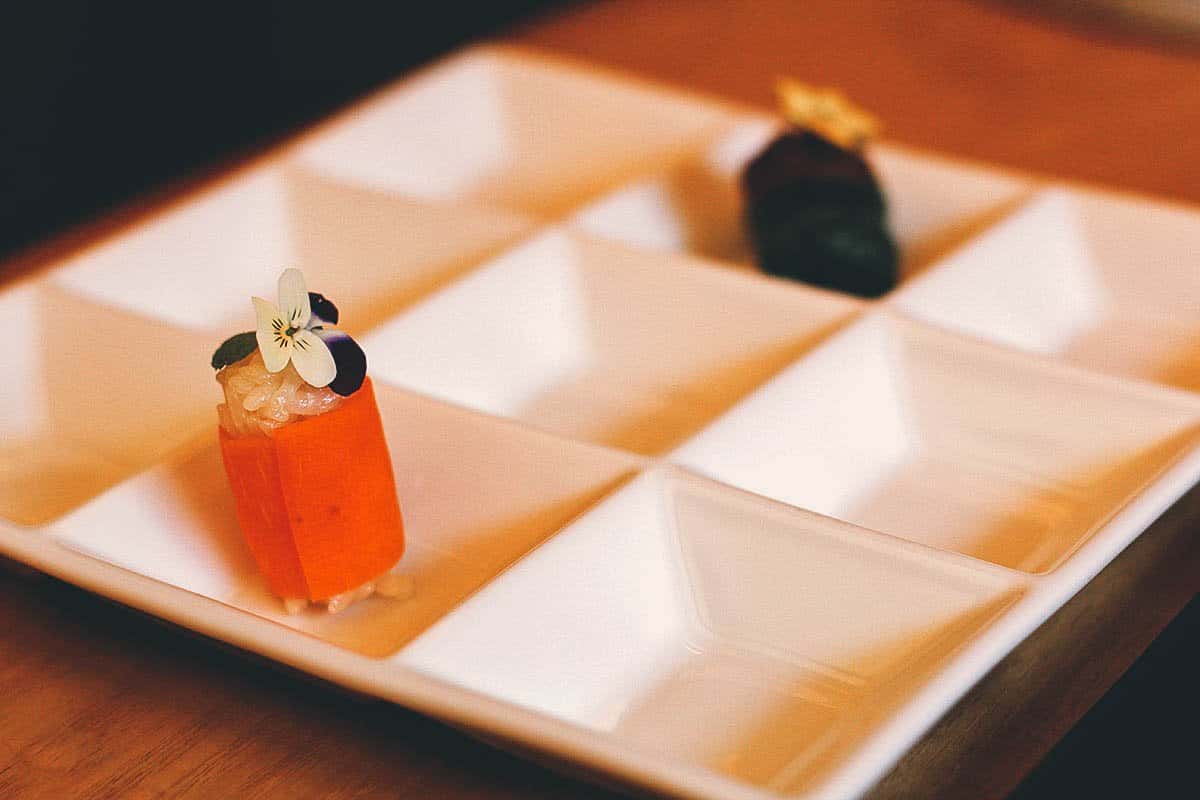 They have artful names for all the courses as well. This one is called "Korean Lunch Box" and consists of bite-sized bulgogi sandwiches made with seared rice cakes.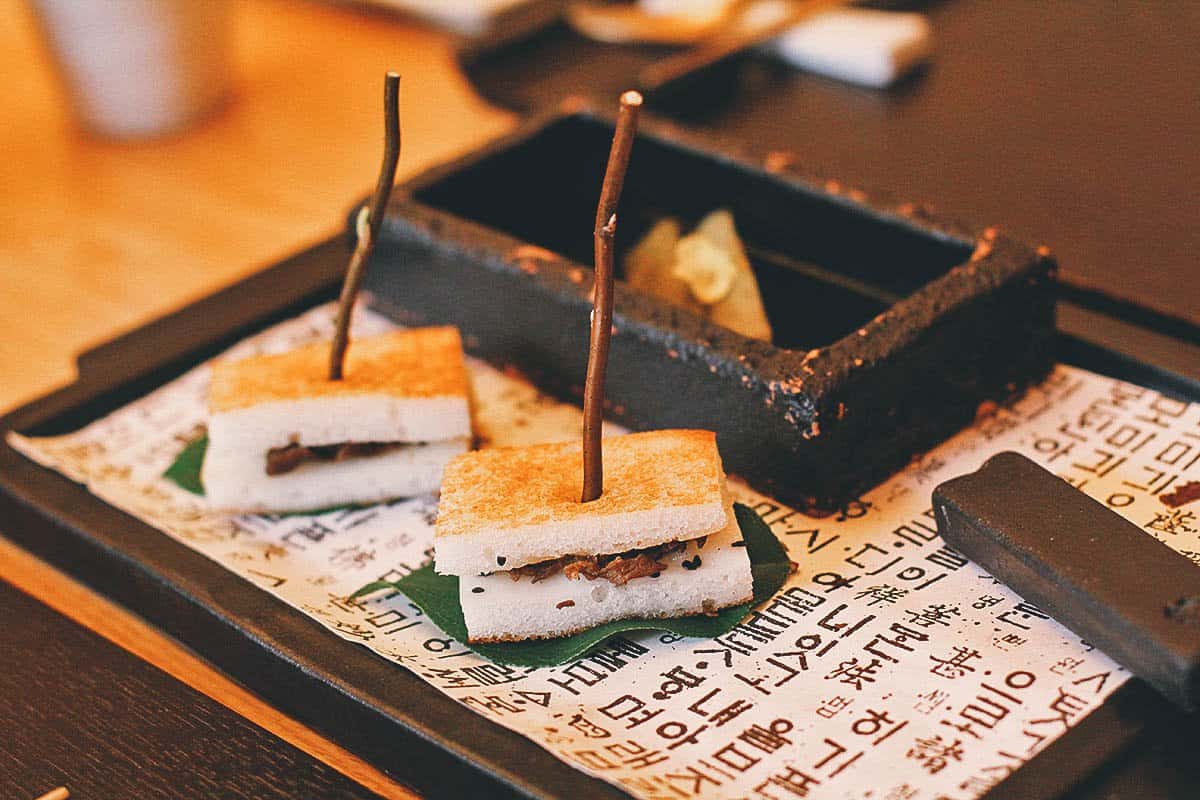 This one is called "A Piece of Spring on the Apricot Branch". It consists of parsley tea with firm, sticky gelatin shaped like cherry blossoms. You pick up the blossoms with those two-pronged twigs on the right. Pretty right?
You can check my full post on Si.Wha.Dam for more pictures and information. We had lunch here in 2015 so some of the dishes from the tasting menus may have changed since then.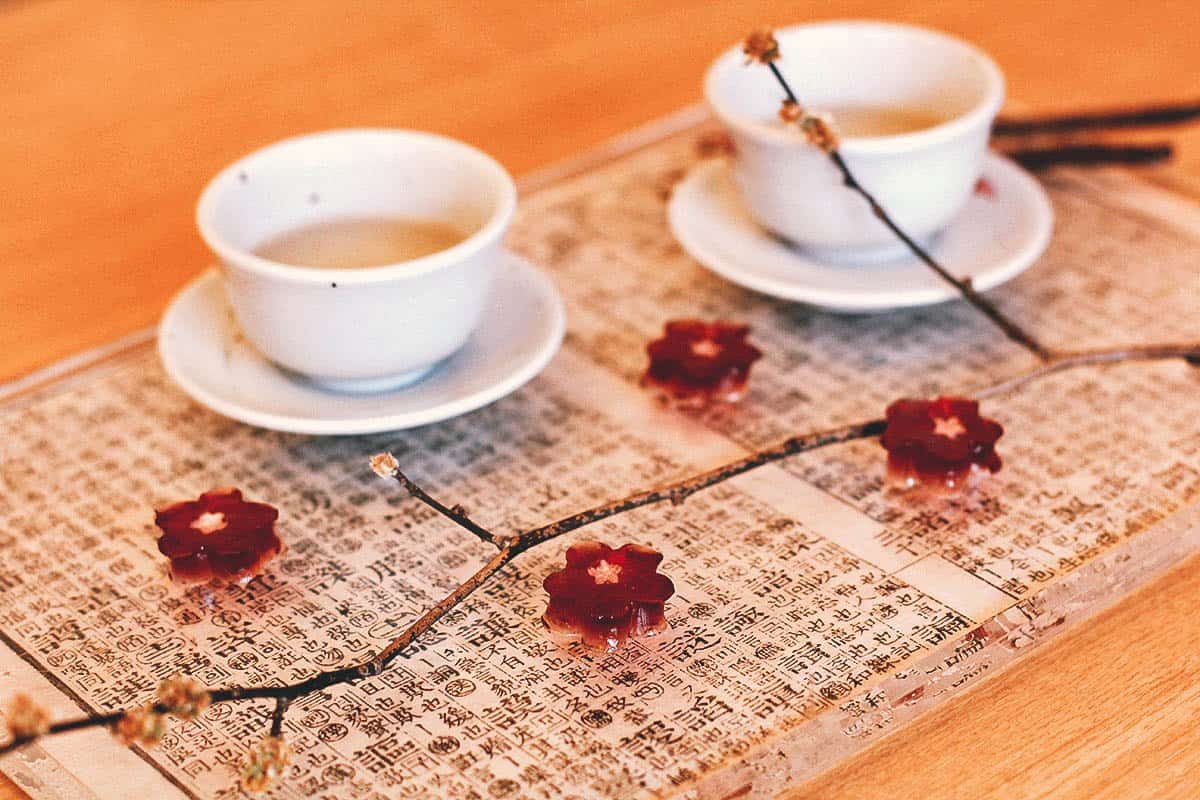 Si.Wha.Dam
Address: 13, Insadong-gil, Jongno-gu, Seoul, South Korea
Nearest Subway Station: Anguk
Operating Hours: 11:30AM-10PM, daily
What to Order: Tasting menu
Expect to Pay: Starts at KRW 33,000
JUNG-GU
10. Hadongkwan
Like Imun Seolnongtang, Hadongkwan is one of Seoul's oldest restaurants. They've been open since 1939 and have a reputation for serving some of Seoul's best, if not the best gomtang or beef bone soup.
It's located in the heart of the Myeongdong shopping district, making it a great place to have lunch or an afternoon snack when shopping in the area. The restaurant closes at 4:30PM or when ingredients run out.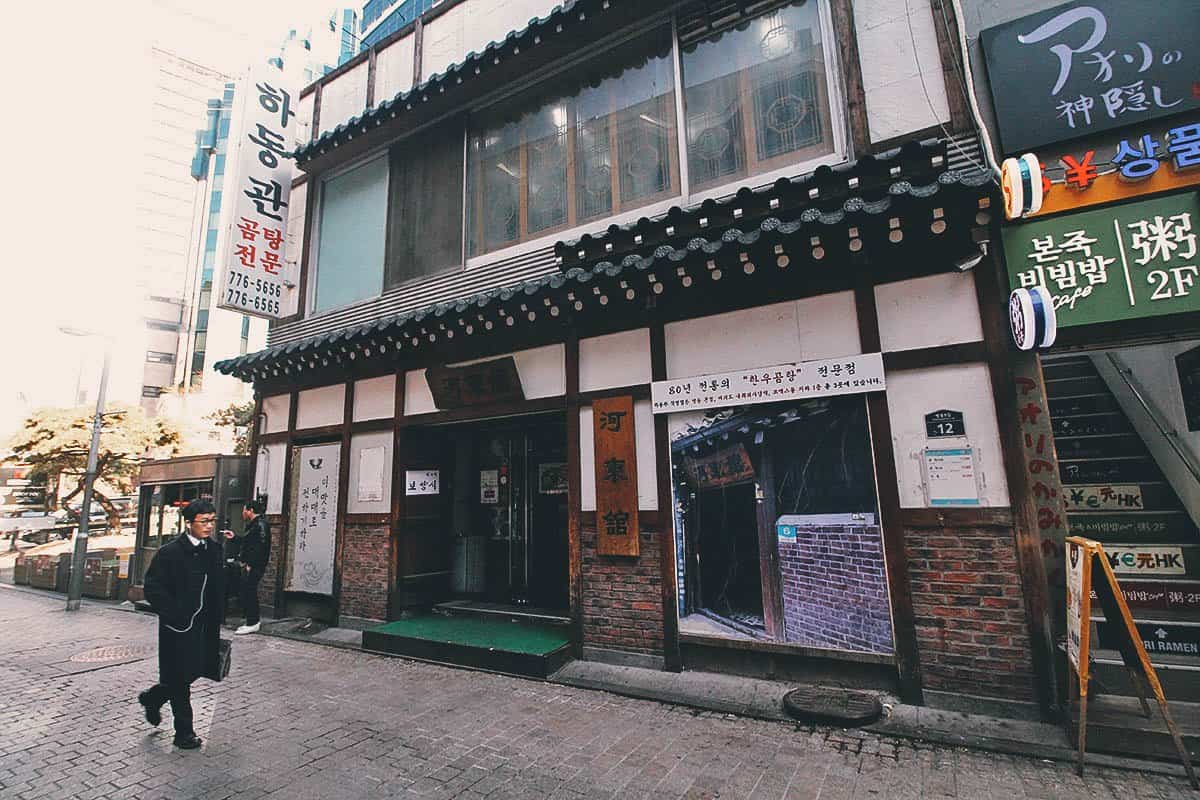 Gomtang is a beef bone soup made by simmering various beef parts like ribs, oxtail, brisket, and ox head or bones over a low flame. Like seolnongtang, the broth becomes cloudy but not as opaque because it's made with more meat than bones.
Rice is also added to the soup and you can season the broth with salt and minced green onion at your table. I enjoyed both soups but I personally preferred gomtang.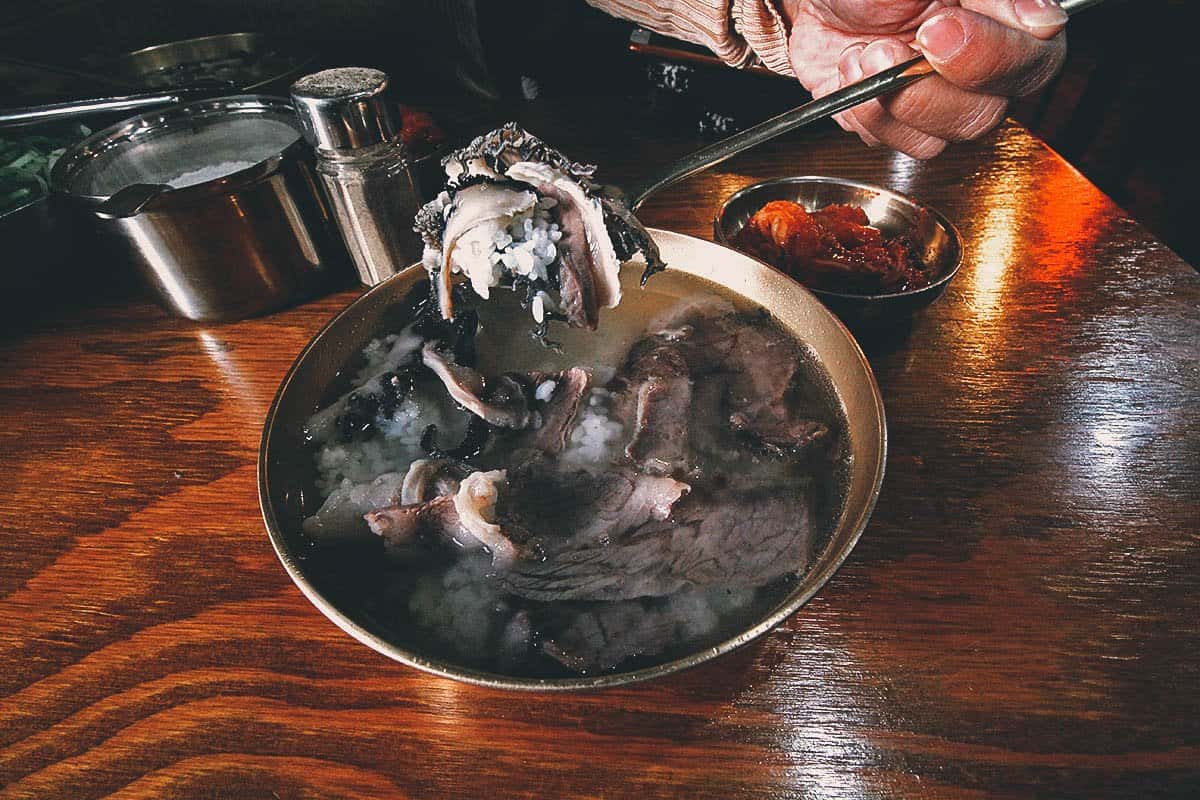 At Hadongkwan, you can get regular or special gomtang. We got the latter which comes with beef tripe. Yum!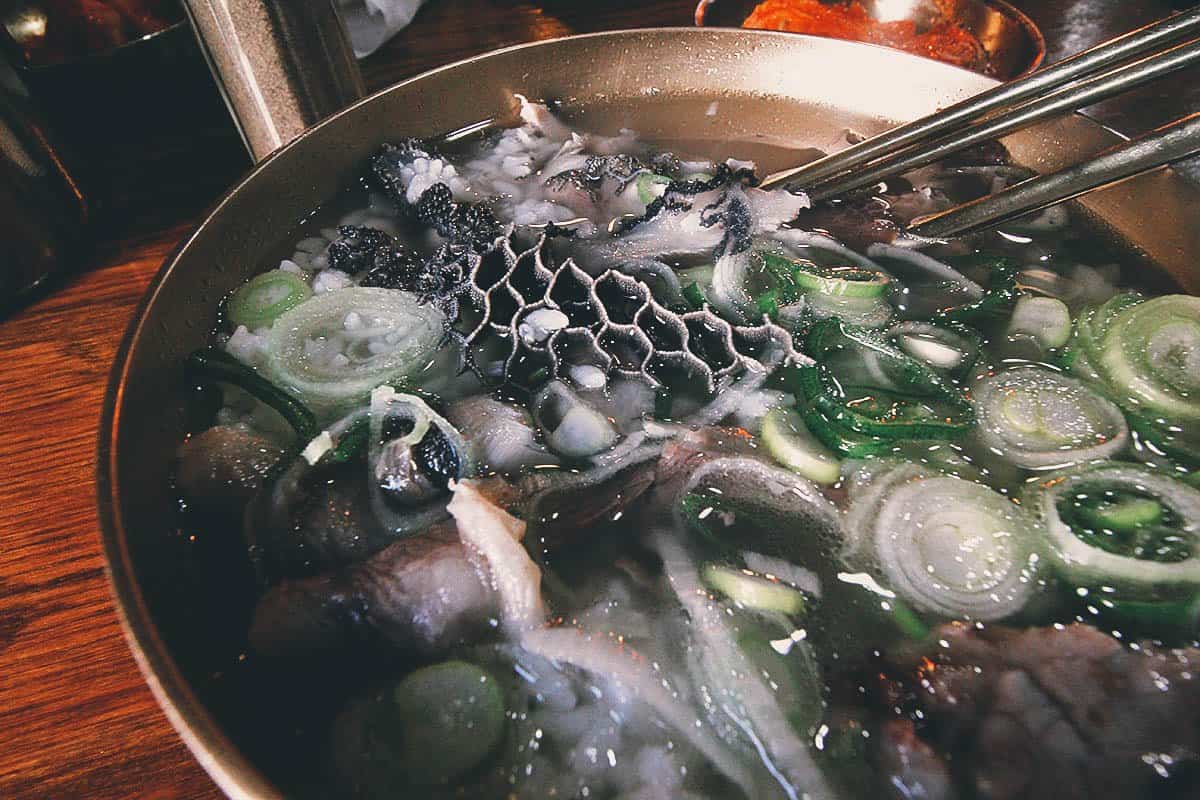 Hadongkwan
Address: 10-4 Myeong-dong 1-ga, Jung-gu, Seoul, South Korea
Nearest Subway Station: Myeongdong
Operating Hours: 7AM-4:30PM, daily
What to Order: Gomtang
Expect to Pay: Around KRW 15,000 per person
11. Yuktongryeong
I didn't join her but Ren recently went on a trip to Korea with her girlfriends. They stayed at an AirBnB in Myeongdong and they asked their host Ernie to recommend a good BBQ place. He pointed them to Yuktongryeong which according to him, is the best Korean BBQ restaurant in Myeongdong.
They invited Ernie to join them for dinner so he did all the ordering. Yuktongryeong specializes in Jeju black pork so they feasted on that and a thick slab of ribeye steak. They loved everything.
Myeongdong is one of the most popular tourist neighborhoods in Seoul so if you get a craving for Korean BBQ while shopping for cosmetics, then Yuktongryeong is a great place to go. Locals always know best.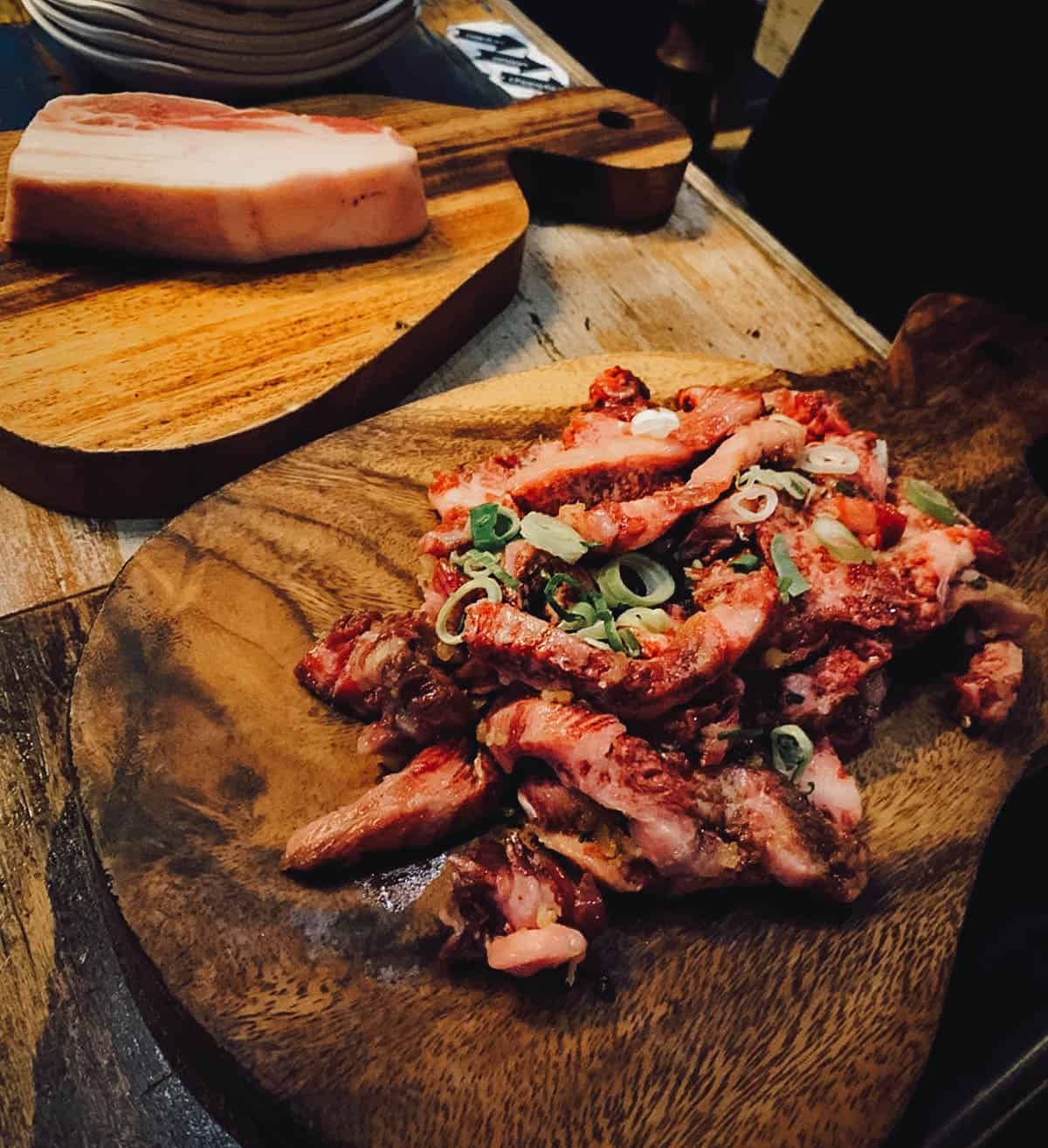 Is there anything more appetizing than meat grilling over charcoal? Ernie ordered in Korean so Ren couldn't understand what he was saying, but she thinks he may have ordered a set which included this large trumpet mushroom.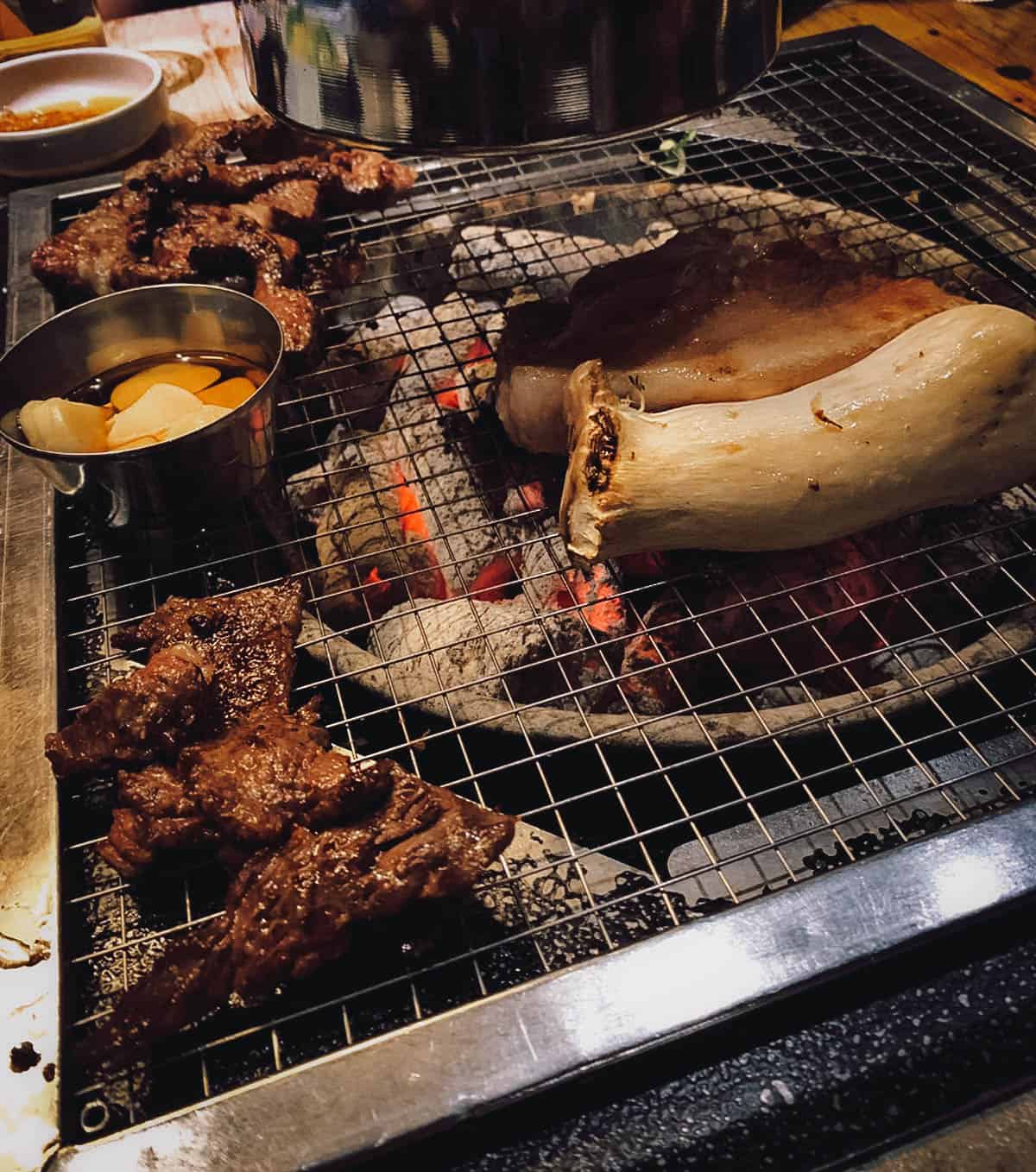 Yuktongryeong
Address: 37-1 Myeongdong 8na-gil, Chungmuro 1(il)-ga, Jung-gu, Seoul, South Korea
Nearest Subway Station: Myeongdong
Operating Hours: 11:30AM-1:30AM, daily
What to Order: Jeju black pork
Expect to Pay: Around KRW 30,000-35,000 per person
12. Grandma Yu's Bibimbap (Jeonju Yuhalmeoni Bibimbap)
Like barbecue or japchae, bibimbap is one of the most popular Korean dishes outside of the country. I still remember the first time I ever saw it.
We were at Woo Lae Oak in Virginia and my Korean college roommate ordered it. I was only familiar with bulgogi and japchae at the time so I was mesmerized by this colorful dish served in a heavy stone black pot.
I wanted to find the best bibimbap in Seoul and Jeonju Yuhalmeoni Bibimbap (aka Grandma Yu's Bibimbap) frequently came up. There were a couple more accessible bibimbap restaurants in Myeongdong like Gogung, but I chose this one because it was described as having a loyal local following.
Run by Grandma Yu, they've been around for over 40 years and their Jeonju bibimbap is said to be one of the most authentic you can find in Seoul. Bibimbap is the ultimate Korean comfort food and there's no better place to have it than at grandma's house, right?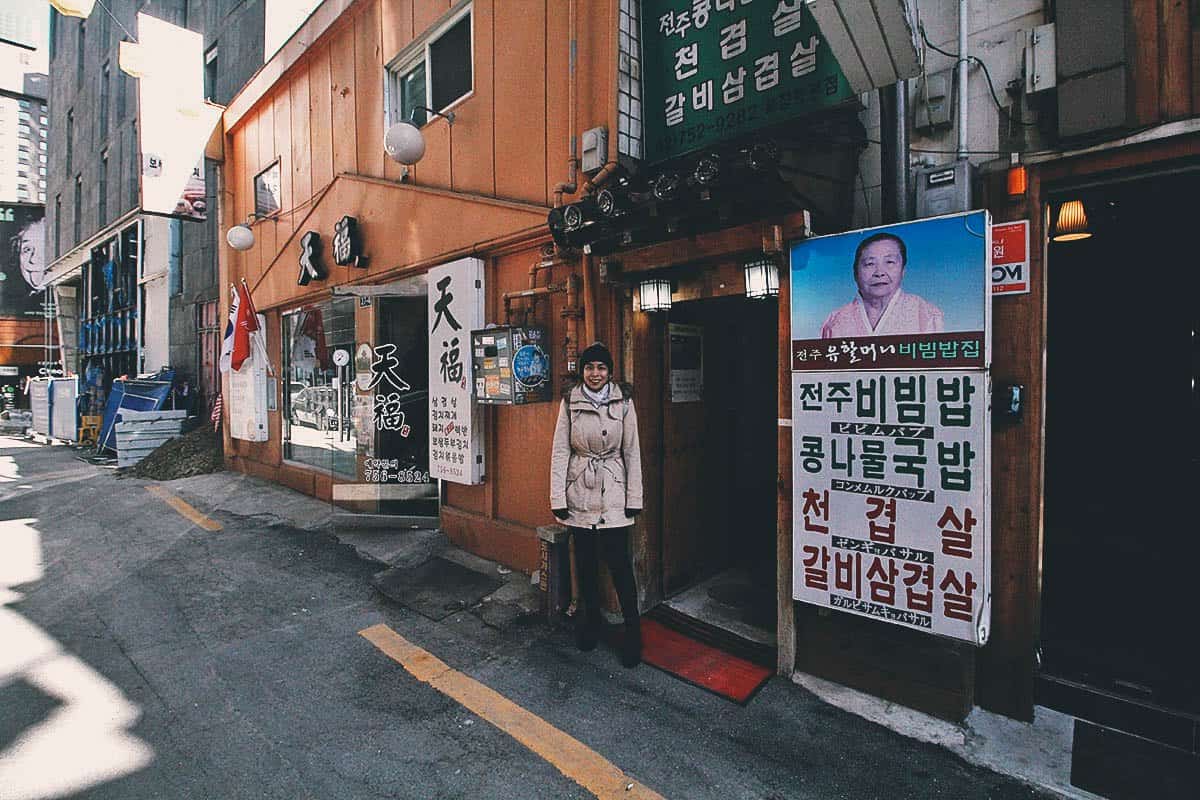 Bibimbap literally means "mixed rice" and refers to a bowl of warm white rice topped with namul (sauteed and seasoned vegetables like cucumber, zucchini, radish, and mushroom) and gochujang (Korean chili paste). An egg (raw or fried) and sliced meat, typically beef, are often added. The contents are then mixed together thoroughly before being eaten.
There are several different types of bibimbap like yukhoe bibimbap (beef tartare bibimbap) and dolsot bibimbap (hot stone pot bibimbap). Grandma Yu specializes in a version of bibimbap from the city of Jeonju.
Jeonju bibimbap is famous throughout Korea and is said to be based on a royal court dish from the Joseon Dynasty. I read that an authentic Jeonju bibimbap is made with rice cooked in beef broth and can contain over 30 ingredients, some of the most essential being crispy Jeollado bean sprouts, sesame oil, and gochujang.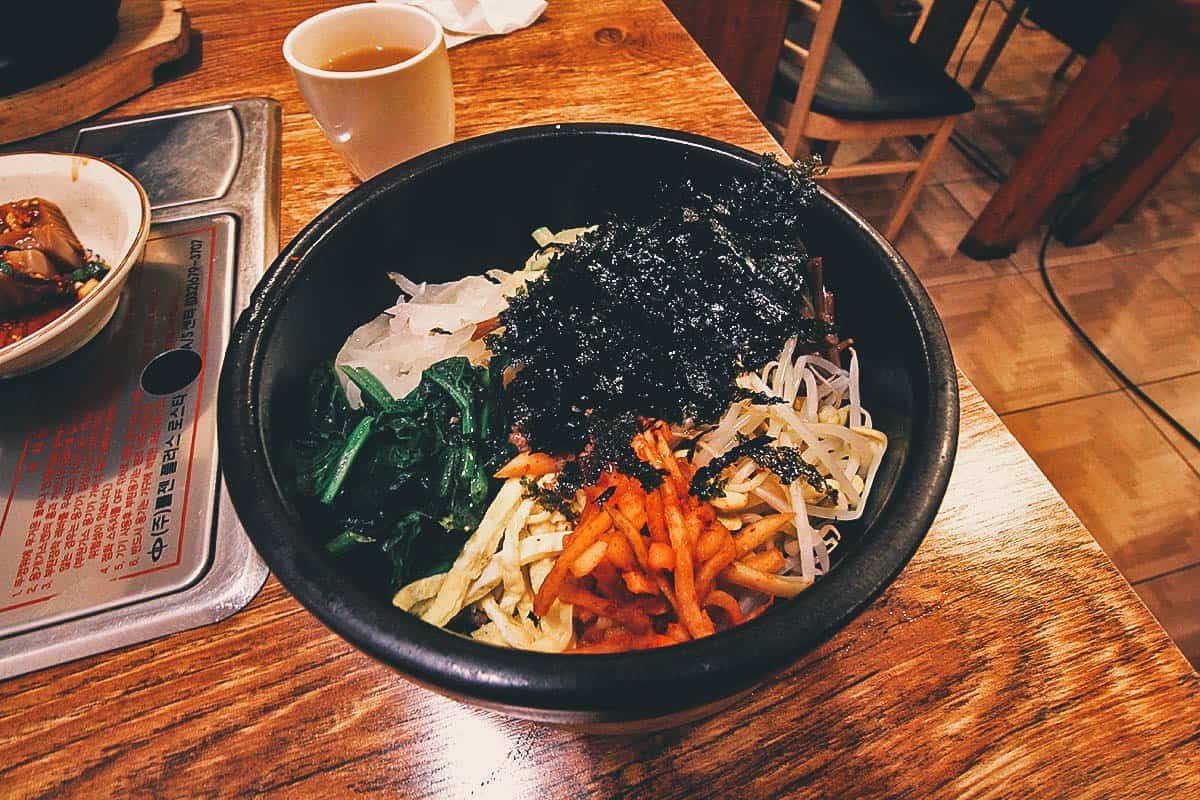 This is what the bibimbap looks like after you've mixed it all up. Looks much prettier in the before picture right?
It tastes really good though – healthy, crunchy, and clean. We were here for lunch and the restaurant quickly filled up with locals so try to come as early as you can.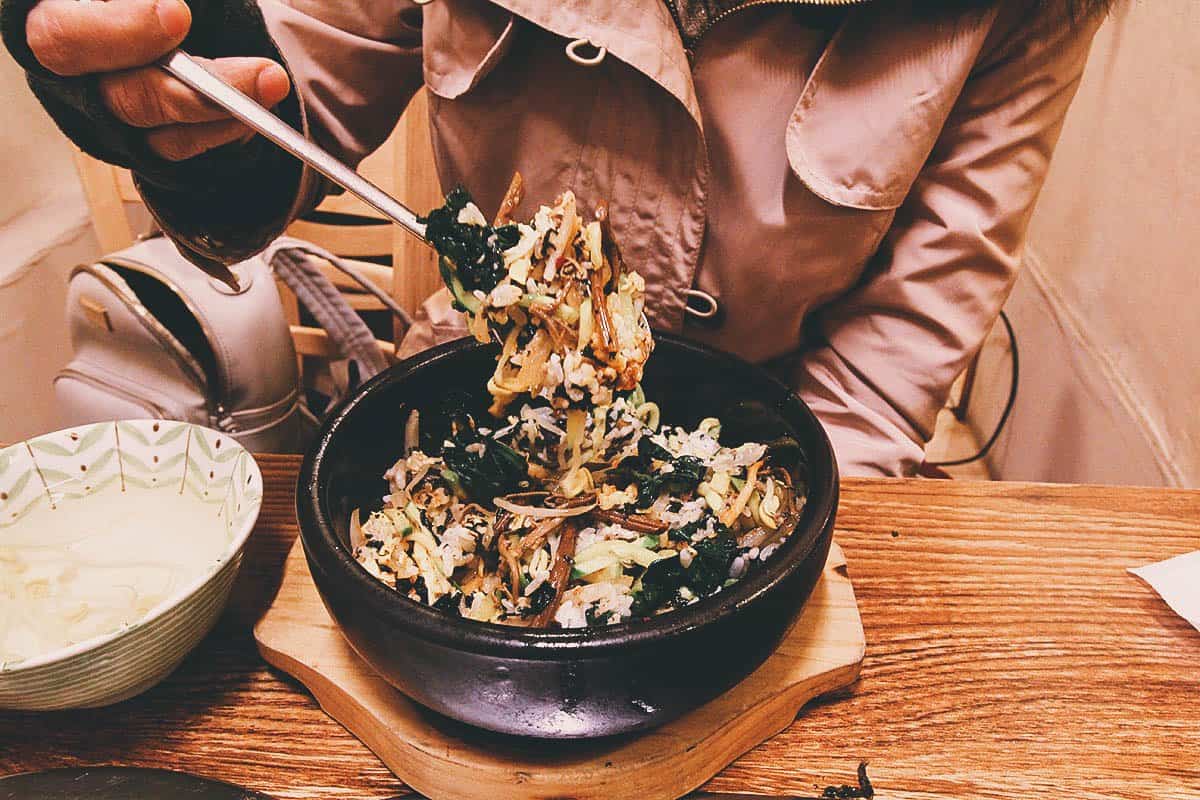 Grandma Yu's Bibimbap (Jeonju Yuhalmeoni Bibimbap)
Address: 12-2, Bukchang-dong, Jung-gu, Seoul, South Korea
Nearest Subway Station: City Hall
Operating Hours: 11:30AM-10PM, Mon-Fri
What to Order: Jeonju bibimbap
Expect to Pay: Around KRW 10,000 per person
13. Manjok Ohyang Jokbal
Jokbal is another dish that my Korean sister-in-law recommended. When I googled "best jokbal seoul", one restaurant dominated the search results – Manjok Ohyang Jokbal.
The restaurant is a TripAdvisor Certificate of Excellence awardee with solid ratings from its Korean reviewers. Luckily for us, Klook was offering a voucher to this very dish and restaurant. We were meant to eat here.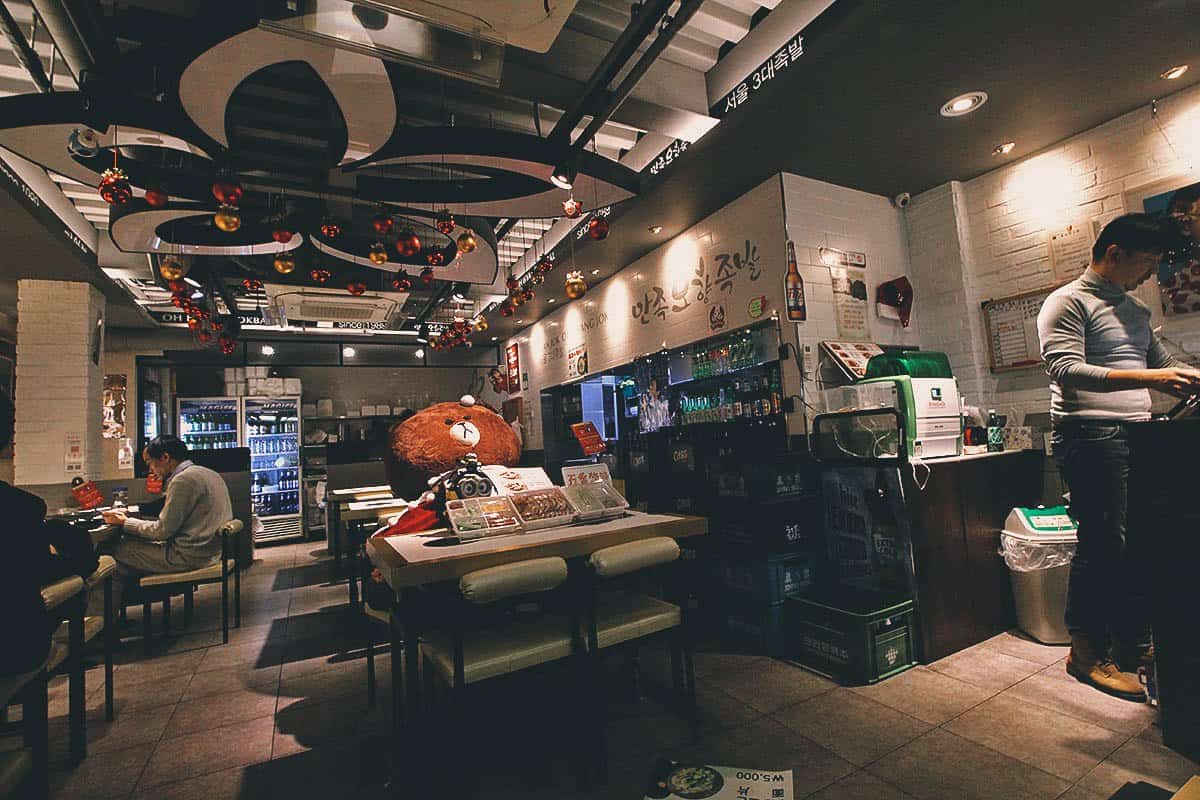 Jokbal is a dish of pig's trotters (feet) cooked in soy sauce and spices. It's typically braised in a combination of soy sauce, ginger, garlic, and rice wine, and can contain other ingredients like onion, leeks, garlic, cinnamon, and black pepper.
The trotters are simmered until fork tender, then deboned and cut into thick slices. Jokbal restaurants typically offer the dish in regular or spicy versions.
Manjok Ohyang Jokbal offers bossam as well, which is thinly sliced pork belly boiled in spices. It's a dish we've been meaning to try for a long time, so we were happy to find that Manjok Ohyang Jokbal offers a jokbal and bossam set menu.
Klook offers vouchers for just jokbal or bosam, or both in a set menu. Pictured below is the jokbal bossam set menu.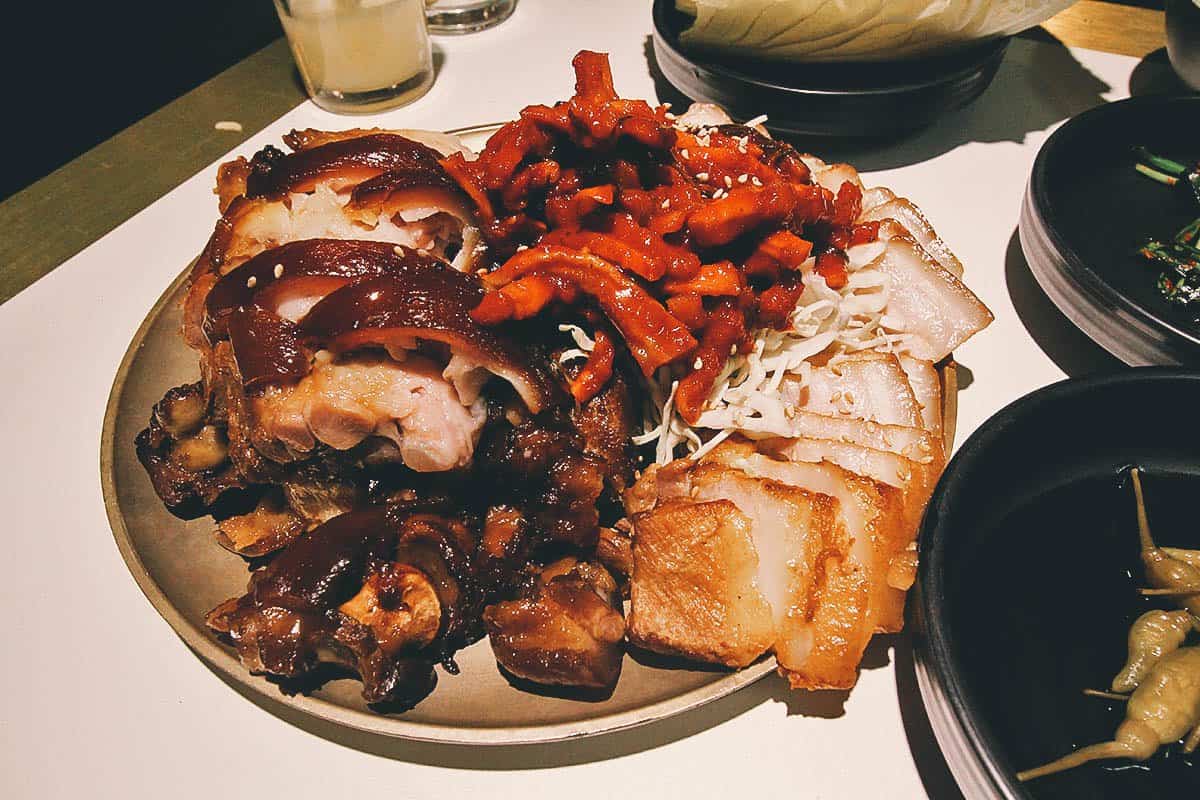 Both jokbal and bossam are typically eaten as ssam, wrapped in a piece of lettuce with sauces and other vegetables. They're considered anju dishes, meaning they're meant to be eaten with alcoholic beverages like soju or beer. Definitely our kind of dish!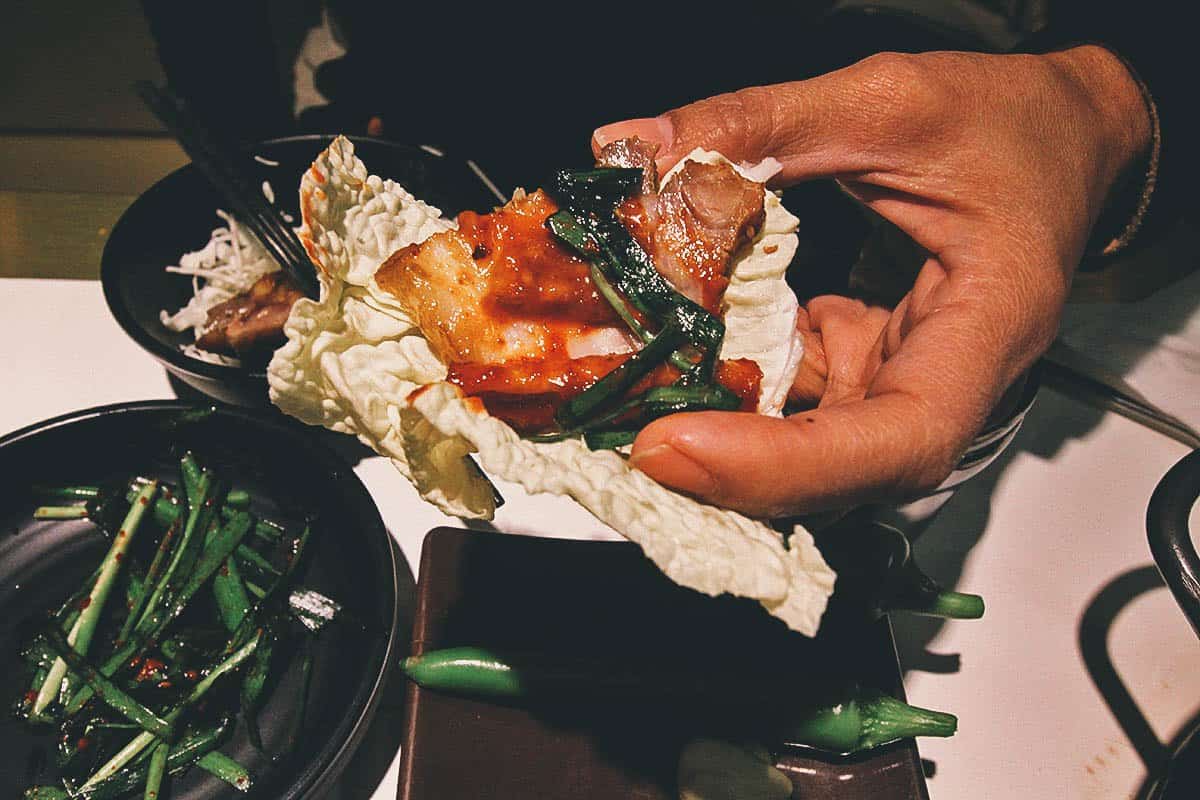 We were also given a dipping sauce with shredded cabbage and garlic. Whether eaten as ssam or dipped in this sauce, the jokbal and bossam were awesome.
It's funny, Klook made the mistake of giving us two medium-sized orders which is meant for 4-6 people. We thought we'd be bringing a doggy bag home but we wound up eating everything on the spot! It was delicious, soft and gelatinous with good spice and texture from all the sides.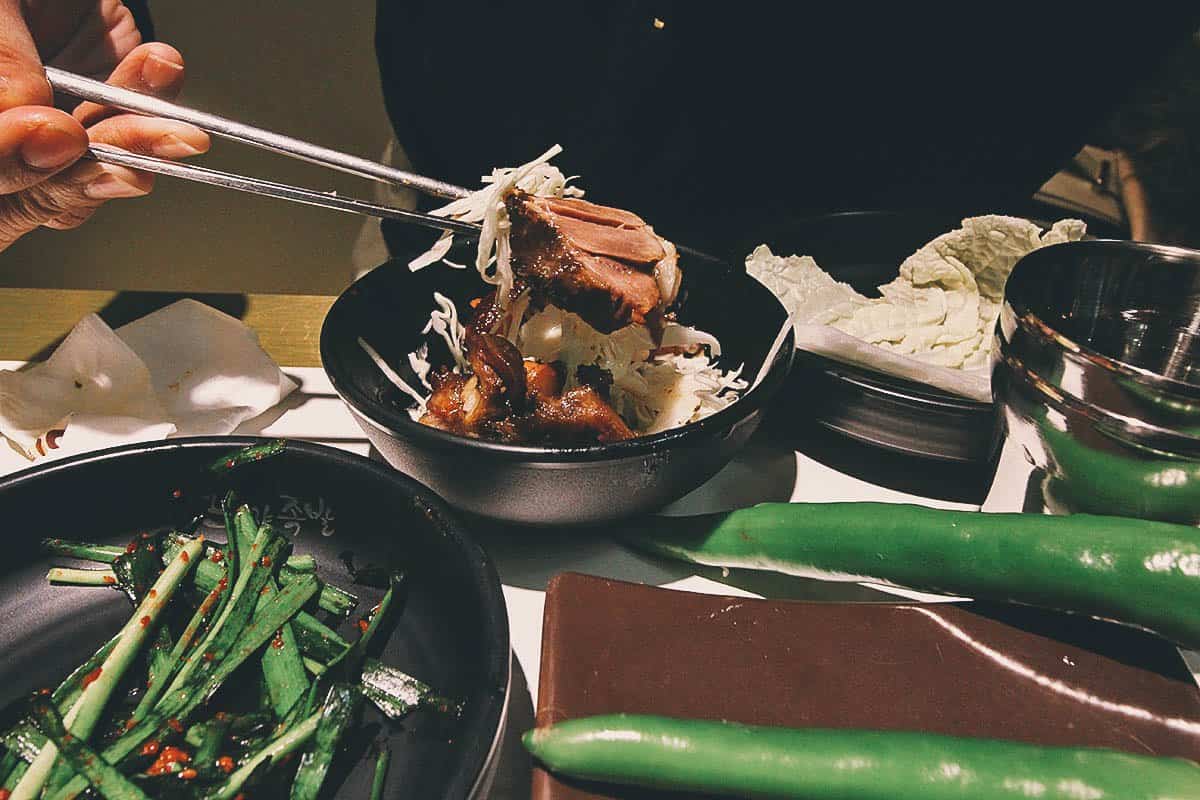 Manjok Ohyang Jokbal
Address: 18-77, Euljiro 6, Jung-gu, Seoul, South Korea
Nearest Subway Station: Dongdaemun Historical and Cultural Park
Operating Hours: 4PM-2AM
What to Order: Spiced pig's trotters bossam set menu
Expect to Pay: Around KRW 20,000-25,000 per person
14. Myeongdong Kyoja
Myeongdong Kyoja has been in business for over 50 years and is known for serving some of the best kalguksu or knife-cut noodles in the city. Like Hadongkwan and Yuktongryeong, the restaurant is located in Myeongdong so it's a great place to stop for lunch or dinner when shopping in the area.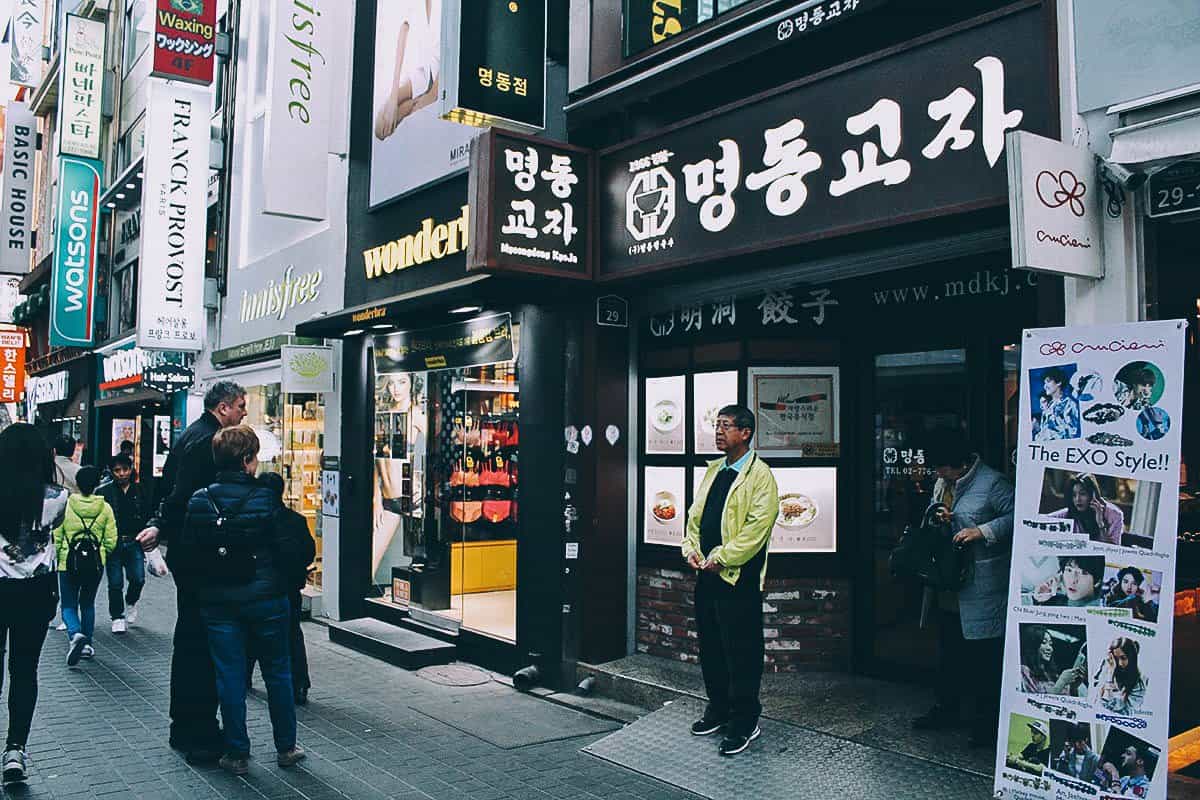 Kalguksu is a noodle dish consisting of handmade, knife-cut wheat flour noodles served in a large bowl with broth and other ingredients.
It gets its name because the noodles aren't extruded or spun, but cut. They're made with dough from wheat flour and eggs, then rolled out thinly and cut into long strips.
Ingredients like dried anchovies, shellfish, and kelp are simmered for several hours to prepare the broth, before the noodles and vegetables are added and boiled together.
Kalguksu is typically considered a summer dish but you can have it any time of the year. Be sure to try Myeongdong Kyoja's steamed mandu or Korean-style dumplings as well.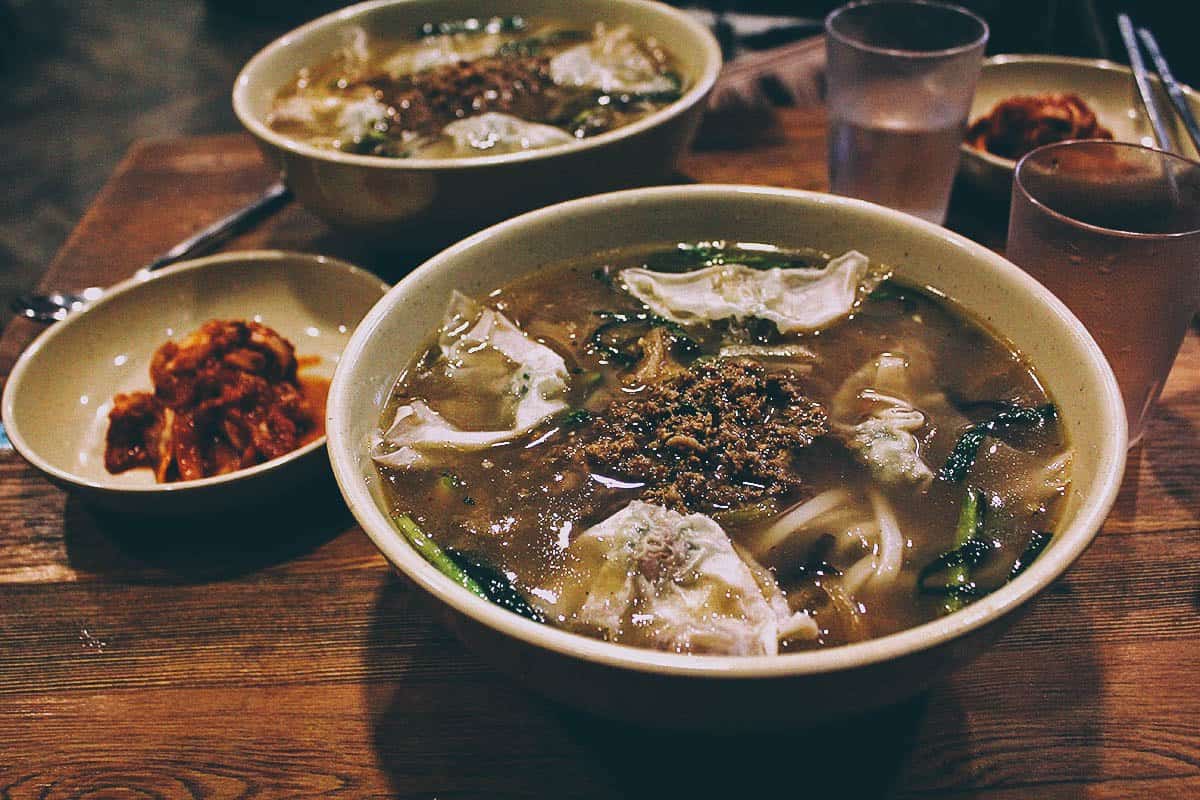 Myeongdong Kyoja
Address: 29 Myeongdong 10-gil, Myeongdong 2(i)-ga, Jung-gu, 서울특별시 South Korea
Nearest Subway Station: Myeongdong
Operating Hours: 10:30AM-9:30PM, daily
What to Order: Kalguksu, mandu
Expect to Pay: Around KRW 10,000-15,000 per person
15. Myeongdong Food Street
I find Myeongdong to be a little too crazy with all its cosmetics shops and overly aggressive salespeople, but I keep going back to the area because I love its street food.
Starting around 5PM every night, vendors set up carts along Myeongdong's main walking street to offer a banquet of Korean street food. If you enjoy it as much as we do, then be sure to leave one night free in your Seoul itinerary for a Myeongdong street food feast.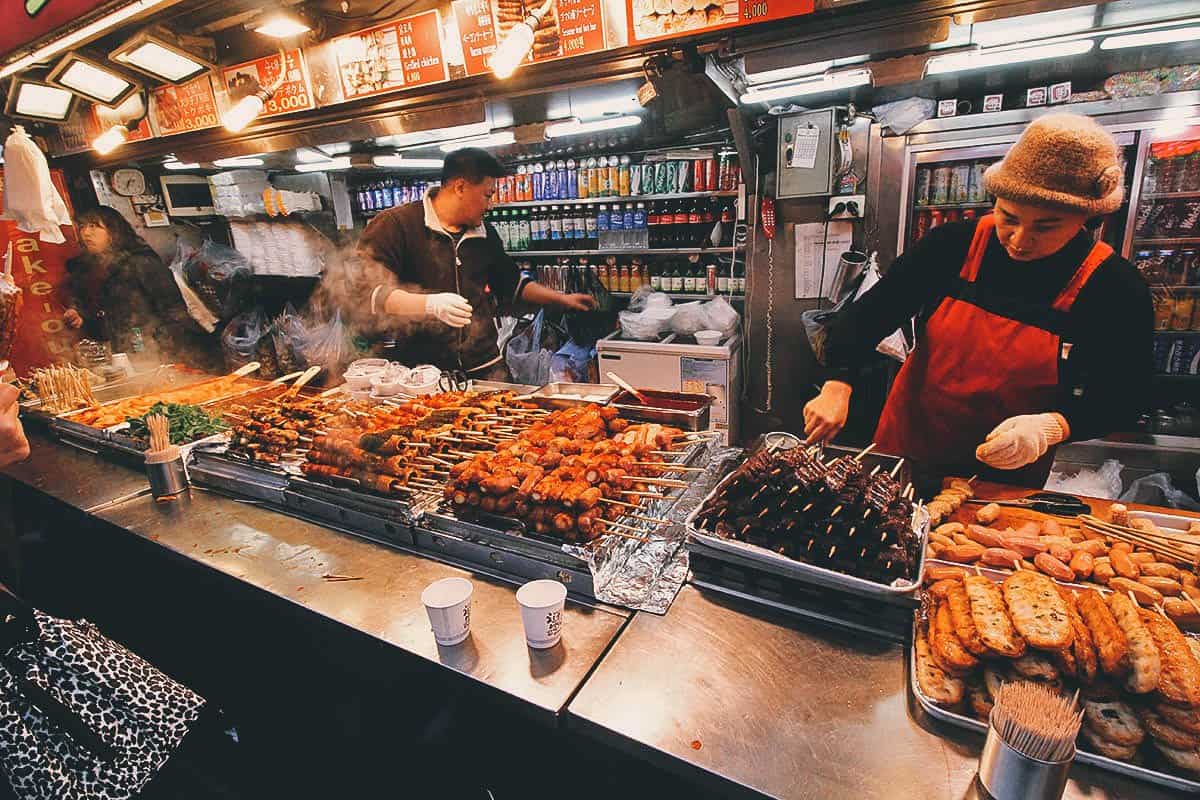 There's a lot of street food to be had in Myeongdong. Some of our favorites include Korean fried chicken with tteokbokki (rice cakes). We had already eaten Korean fried chicken twice on this trip so we had to really restrain ourselves from buying a cup here!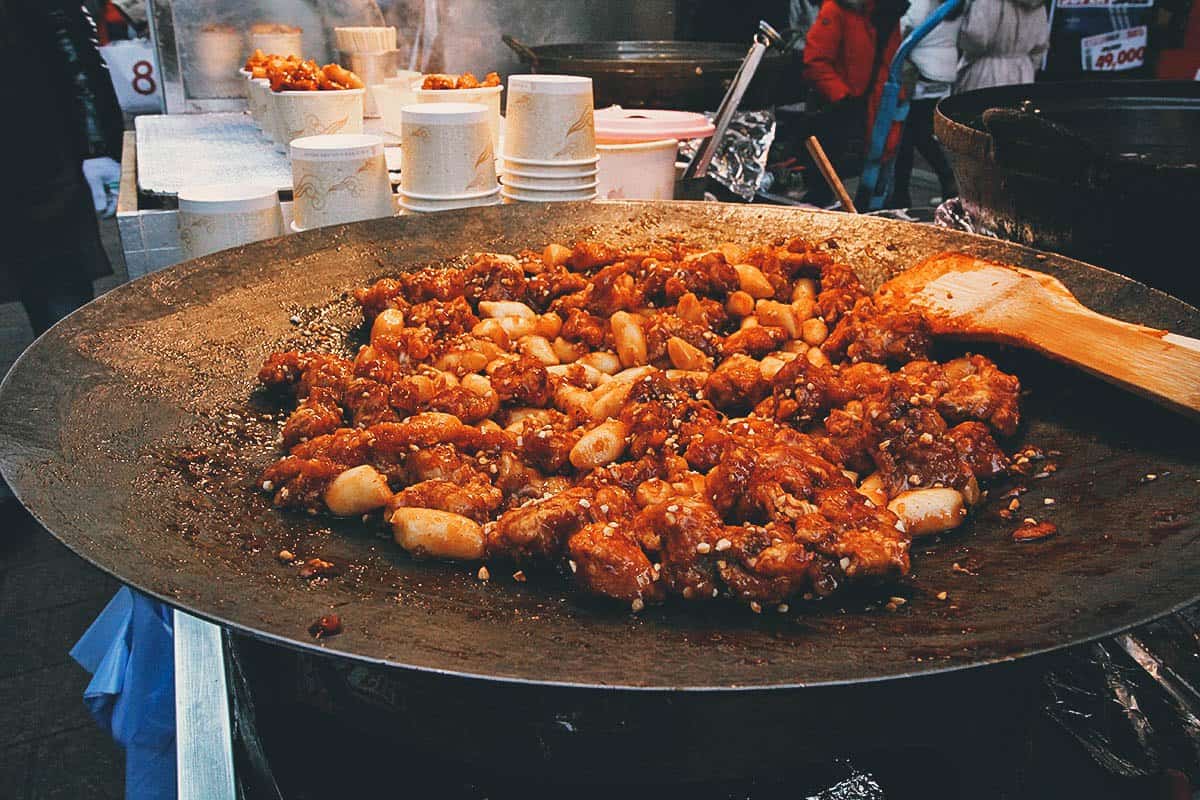 These lobster tails were awesome. Set on a grill, they blowtorch the meat before sprinkling it with some shredded cheese. The cheese is then melted under a Zaigle (infrared grill) and finished off with some type of spicy red sauce, probably made with gochujang.
As you'd expect, this is one of the pricier street food dishes in Myeongdong but it's so worth it.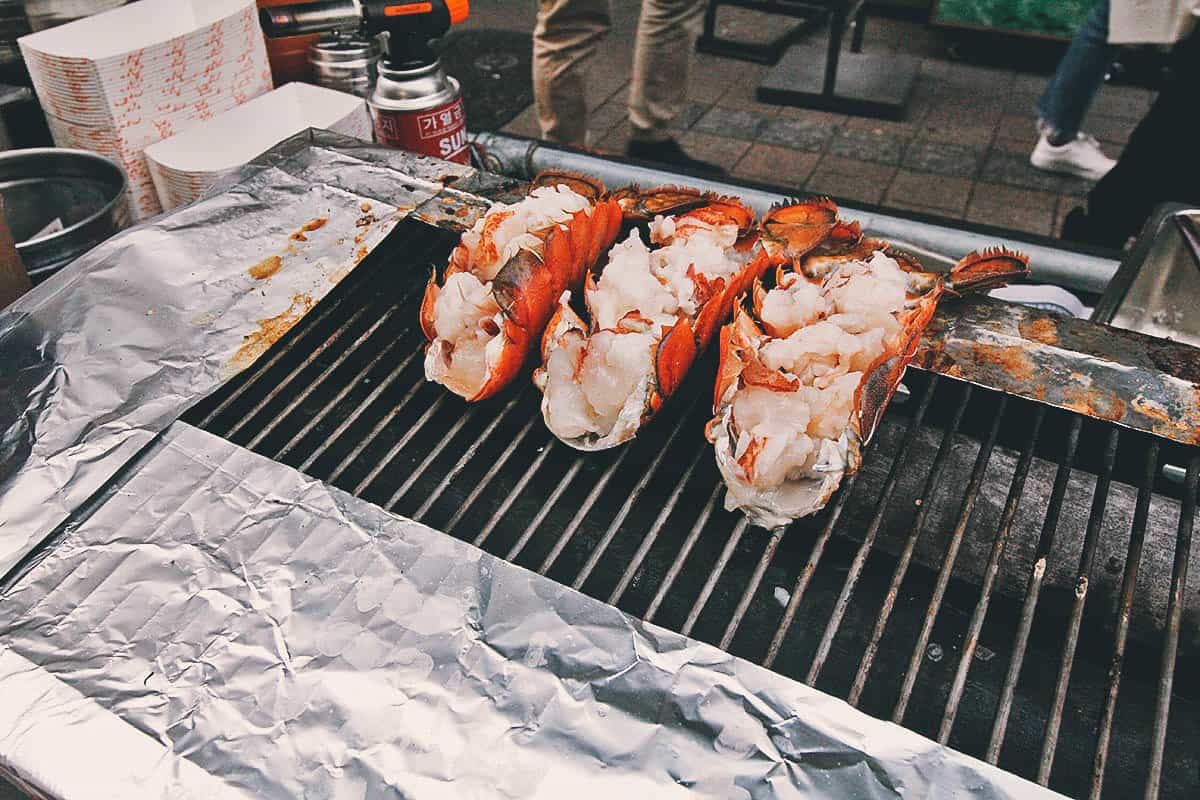 This beautiful pancake-like morsel of goodness is called gyeranppang or "egg bread". Made in machines that resemble waffle dog makers, a whole egg is cracked into oblong-shaped slots filled with pancake batter and crisped until golden brown.
The result is a rich and eggy snack with a slightly crisp, chewy crust. You can see the egg running through it in the picture below. It's one of my favorite Korean street food snacks.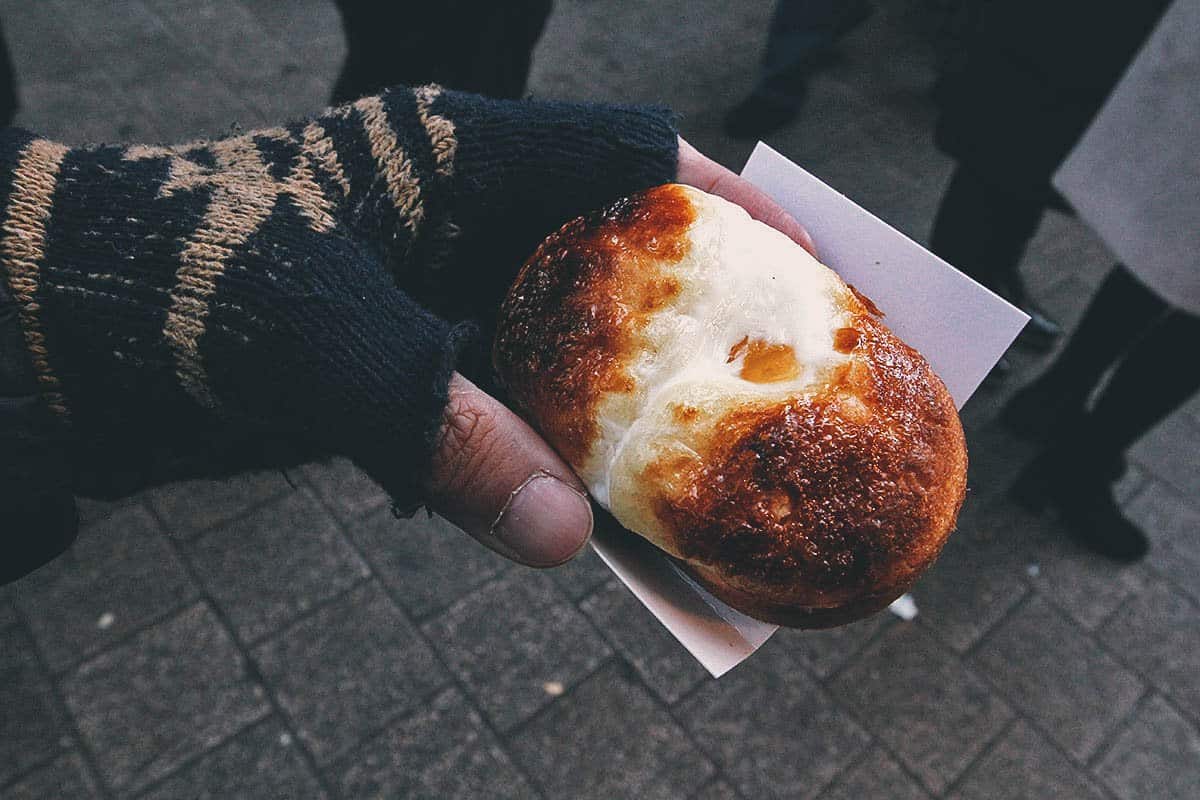 Myeongdong Food Street
Address: Myeongdong 2-gil
Nearest Subway Station: Myeongdong
Operating Hours: Around 5PM onwards
What to Order: Grilled lobster tails and scallops, Korean fried chicken, gyeranppang
Expect to Pay: Anywhere between KRW 2,000-15,000 per dish
16. WooSung Galbi
When I was doing research for the best barbecue restaurants in Seoul, three things stood out about WooSung Galbi.
One, it's said to be a favorite among locals and Korean food bloggers. Two, they have a focused menu and offer just two items – pork galbi and pork rinds. And three, it's relatively cheap. Three excellent reasons to add this restaurant to your itinerary!



As advertised, WooSung Galbi is a no frills, throwback restaurant with plastic stools and an unadorned interior. Located in Yaksu Market, it was packed during dinner with Ren and myself being the only non-Korean customers.
Aside from beer, they really do have just two items on their menu. We started off with two orders of the pork galbi which we cooked ourselves over a charcoal grill. Delicious!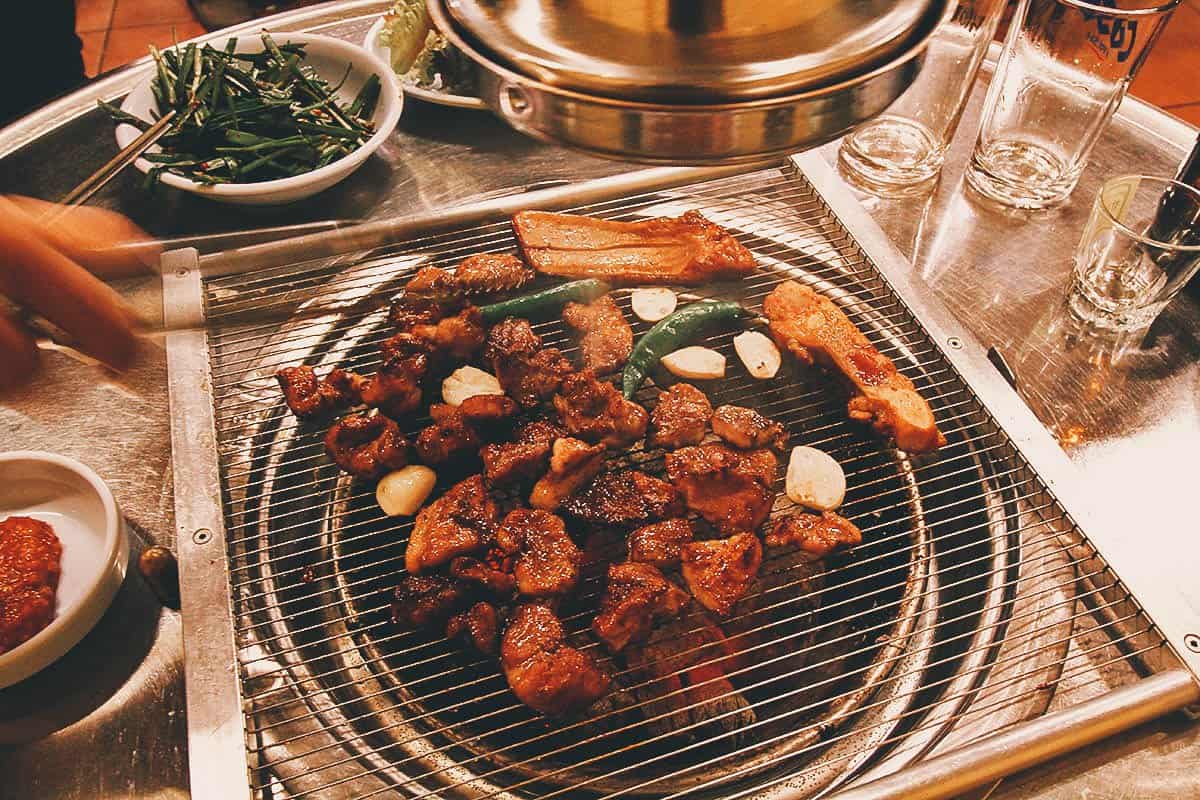 We were already full from the pork galbi but we couldn't leave without trying the pork rinds as well. We've never had pork rinds at a Korean bbq restaurant before!
It was soft and gummy as expected but leave it on the grill long enough and it starts to pop, curl up, and become crunchy like chicharon. We loved it.
It had a similarly sweet marinade as the pork galbi and came with a wasabi dipping sauce. Very interesting indeed and a great dish to have with beer.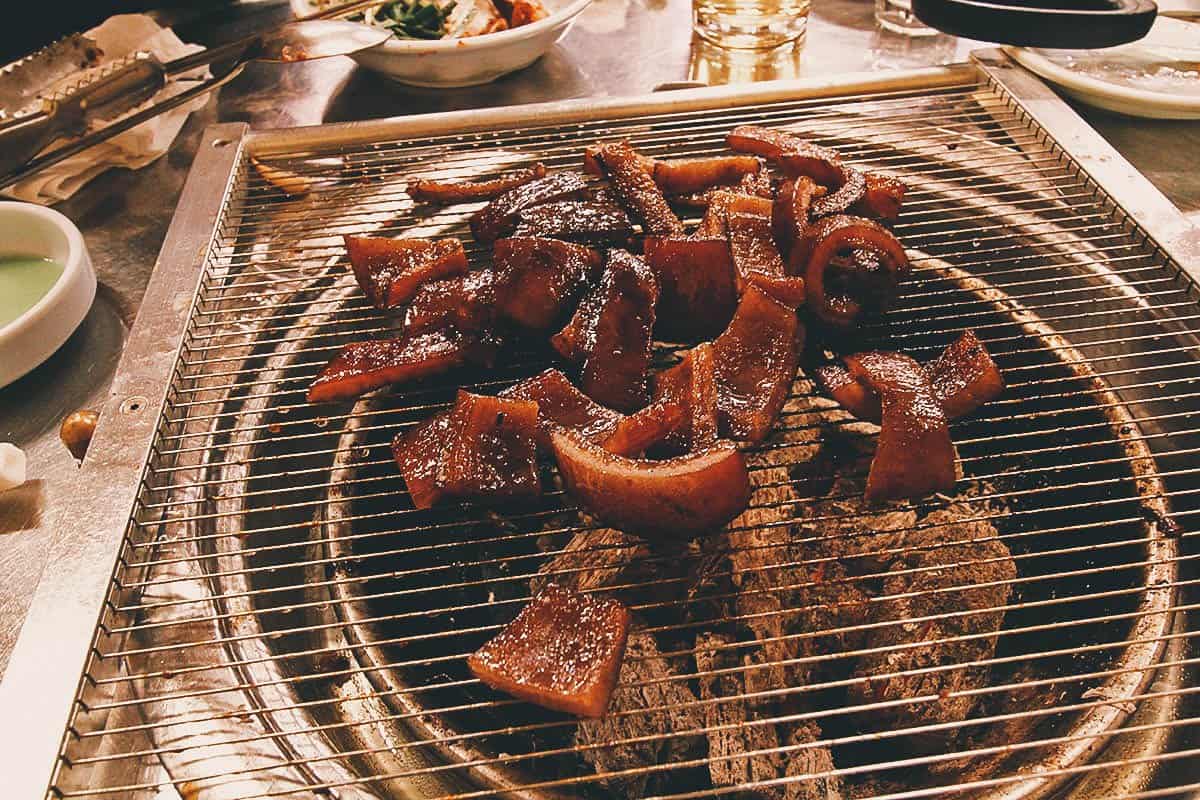 WooSung Galbi
Address: 372-40 Sindang3-dong, Jung-gu, Seoul, South Korea
Nearest Subway Station: Yaksu
Operating Hours: 2PM-2AM
What to Order: Pork galbi, pork rinds
Expect to Pay: Around KRW 15,000-20,000 per person
17. Woo Lae Oak
I had a few Korean friends in college and they used to take me to the Woo Lae Oak restaurant in Virginia. That was almost 20 years ago but it wasn't until this trip when I learned that Woo Lae Oak actually has its roots in Seoul.
Not only was it started in Korea, but it's also one of Seoul's oldest restaurants! Open since 1946, Woo Lae Oak is a Korean bbq restaurant known for their bulgogi. Curiously, they're also known for their naengmyeon, or chilled buckwheat noodles, which is said to be among the best in Seoul.
When I had read that it's one of Seoul's oldest restaurants, I was expecting to find a humble hole-in-the-wall tucked in an alley somewhere. Turning the corner, we were surprised to find that it occupies its own two-storey building!
Like their branch in the US, Woo Lae Oak is a more upscale restaurant that's hugely popular with the locals. It filled up quickly over lunch in spite of being so large.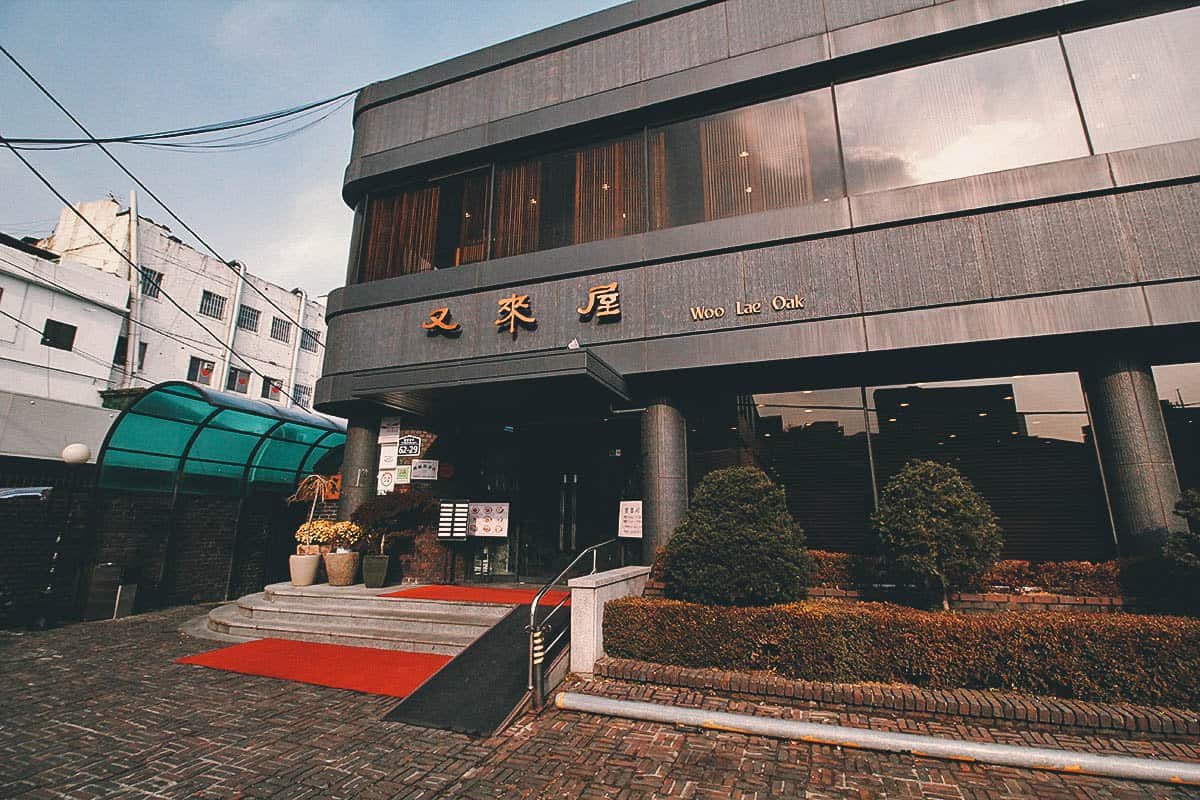 Woo Lae Oak offers two types of naengmyeon – mul naengmyeon and bibim naengmyeon. Pictured below is bibim naengmyeon. It's a less soupy version topped with a spicy dressing made primarily from gochujang. Served cold, you mix up all the ingredients before eating.
I had the bibim naengmyeon and I thought it was delicious. The buckwheat noodles are cold and firm, and the gochujang dressing more flavorful than hot. I've been wanting to try this dish ever since I saw it on a documentary about North Korea.
Naengmyeon is originally a North Korean delicacy that became popular throughout Korea after the Korean War. Traditionally, naengmyeon is served in a large stainless-steel bowl with a tangy iced broth.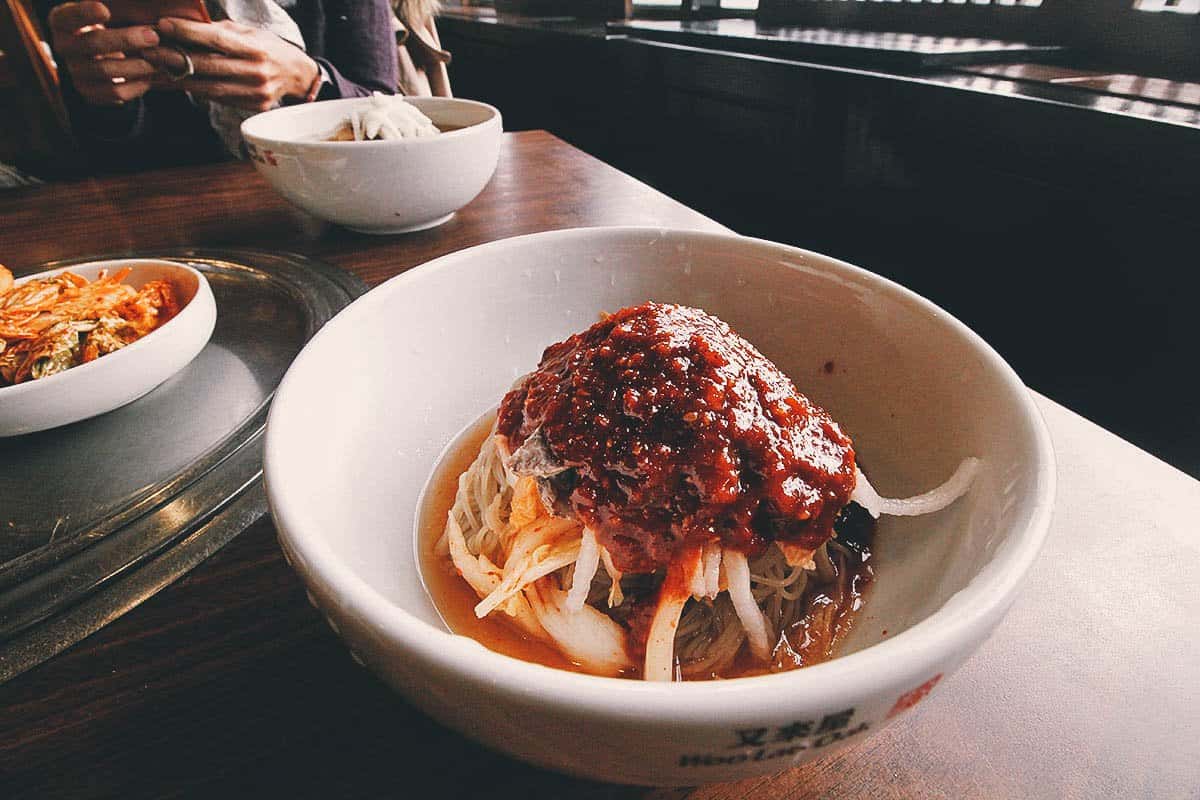 Ren had the mul naengmyeon. Originally from Pyongyang, mul naengmyeon is served as a cold soup with the buckwheat noodles swimming in a broth made from beef, chicken, or dongchimi (watery brine made from kimchi). It was milder in flavor though every bit as delicious as mine.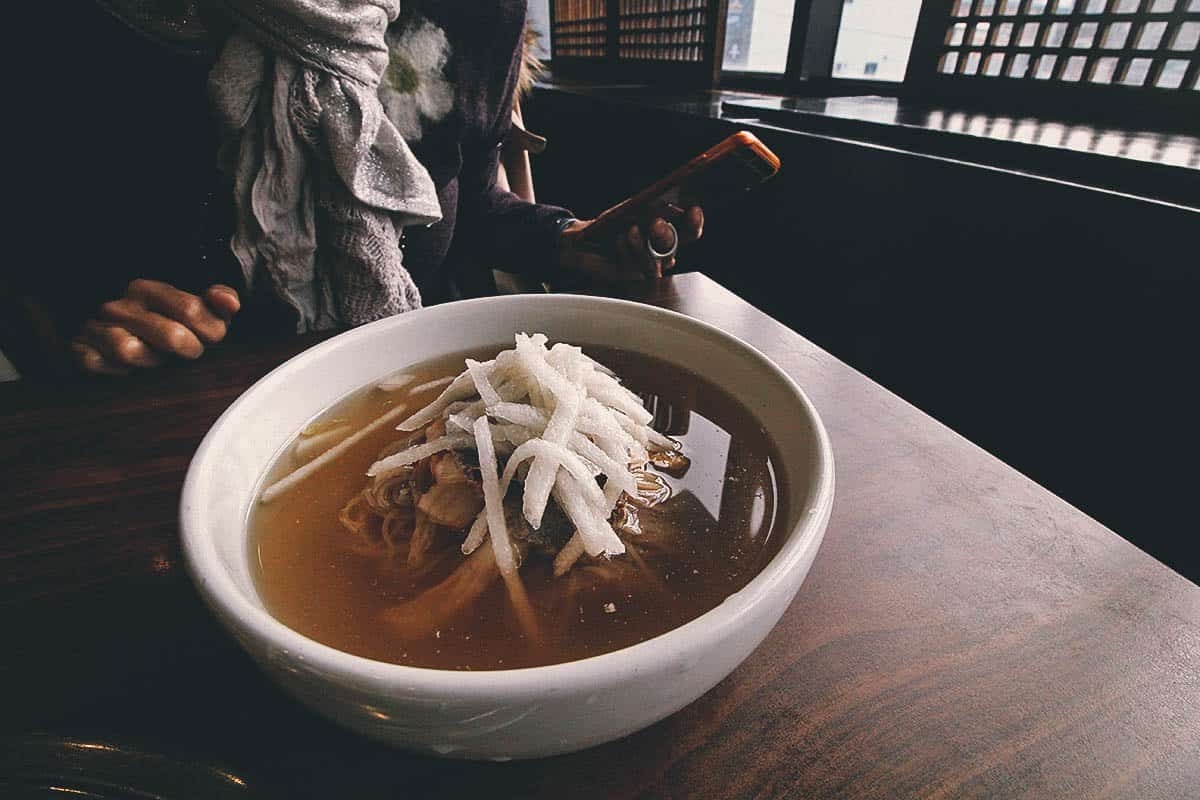 The buckwheat noodles are obviously the star of this dish. They're traditionally eaten long without cutting to symbolize long life and good health.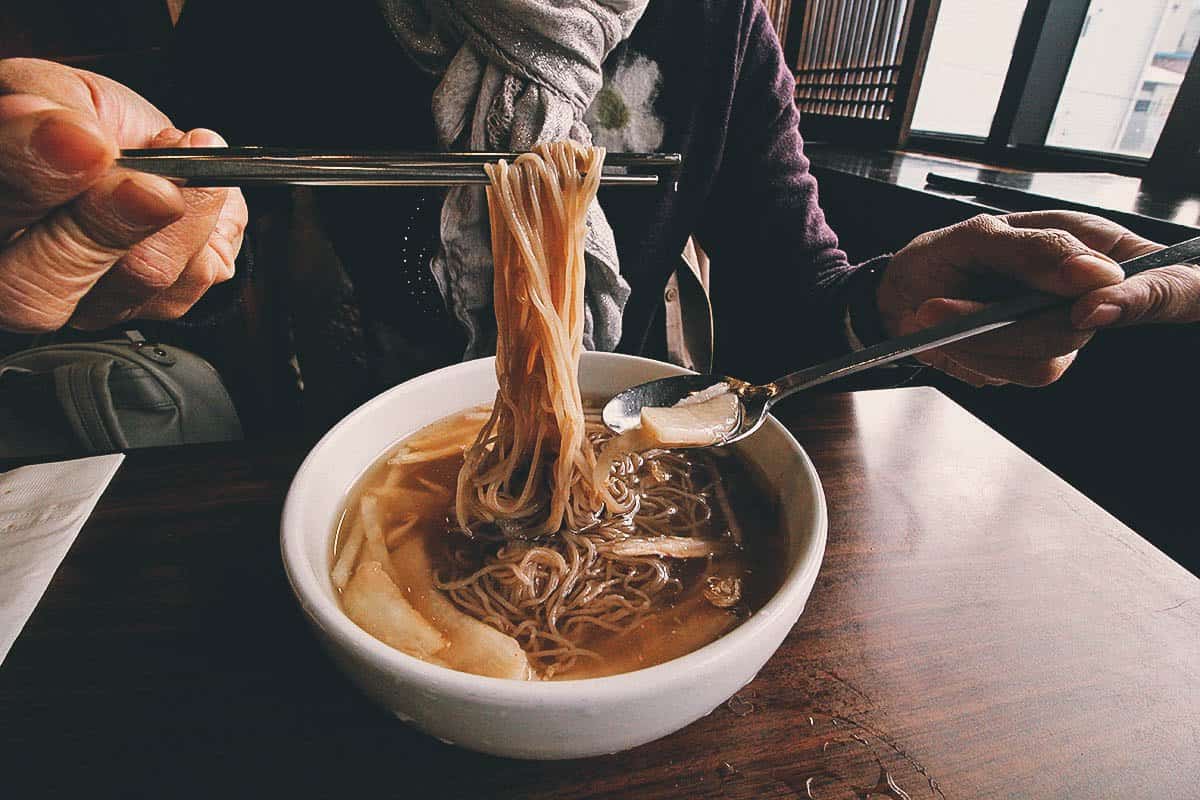 Woo Lae Oak
Address: 62-29, Changgyeonggung-ro, Jung-gu, Seoul, South Korea
Nearest Subway Station: Euljiro 4-ga
Operating Hours: 11:30AM-9:30PM, daily
What to Order: Naengmyeon, bulgogi
Expect to Pay: Around KRW 15,000-20,000 per person
18. Yonggeumok
Yonggeumok is another of Seoul's oldest restaurants. Open since 1932, they're the third oldest restaurant in the city and have been serving chueotang, a type of soup made from pond loach, for close to 90 years.
When we were there, we got the feeling that Yonggeumok doesn't see a lot of foreign visitors. The woman inside seemed to think that we were just lost and asking for directions! It was only when I asked "Yonggeumok?" did she realize we were here for their famous chueotang.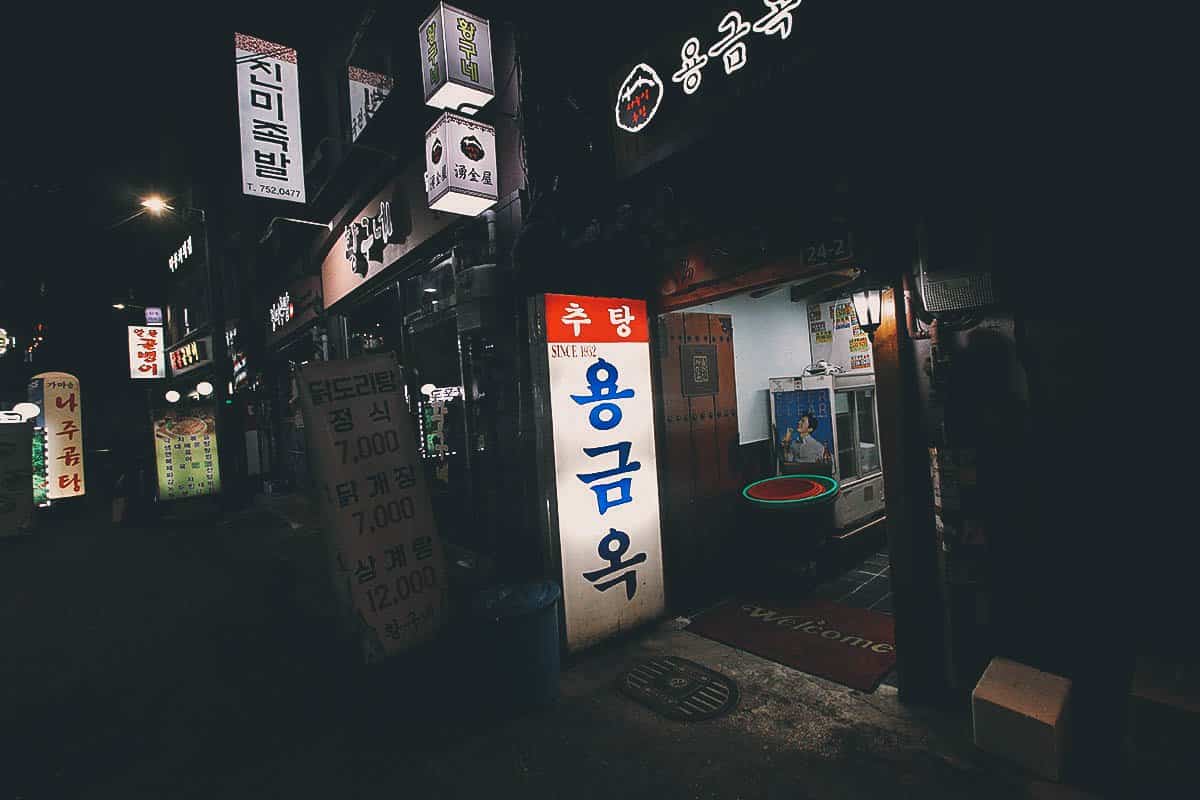 A fiery red bowl of chueotang. Don't worry, it isn't as spicy as it looks. Chueotang is made from pond loach which is a type of freshwater mudfish. They're boiled in water until tender, then sieved to remove all bones and skin.
The fish meat is boiled again with beef or chicken broth and seasoned with gochujang (red chili paste), doenjang (soybean paste), grated ginger, and ground black pepper.
Yonggeumok's chueotang comes in two varieties – the first with the whole mudfish intact and the second with the fish ground into the soup. When we were there, the woman taking our order was asking us something in Korean but we couldn't understand.
It was only when I read about Yonggeumok's two versions of chueotang did I understand what she was asking. She was doing a grinding motion with her hand so I think she wanted to know which version we preferred – ground or whole.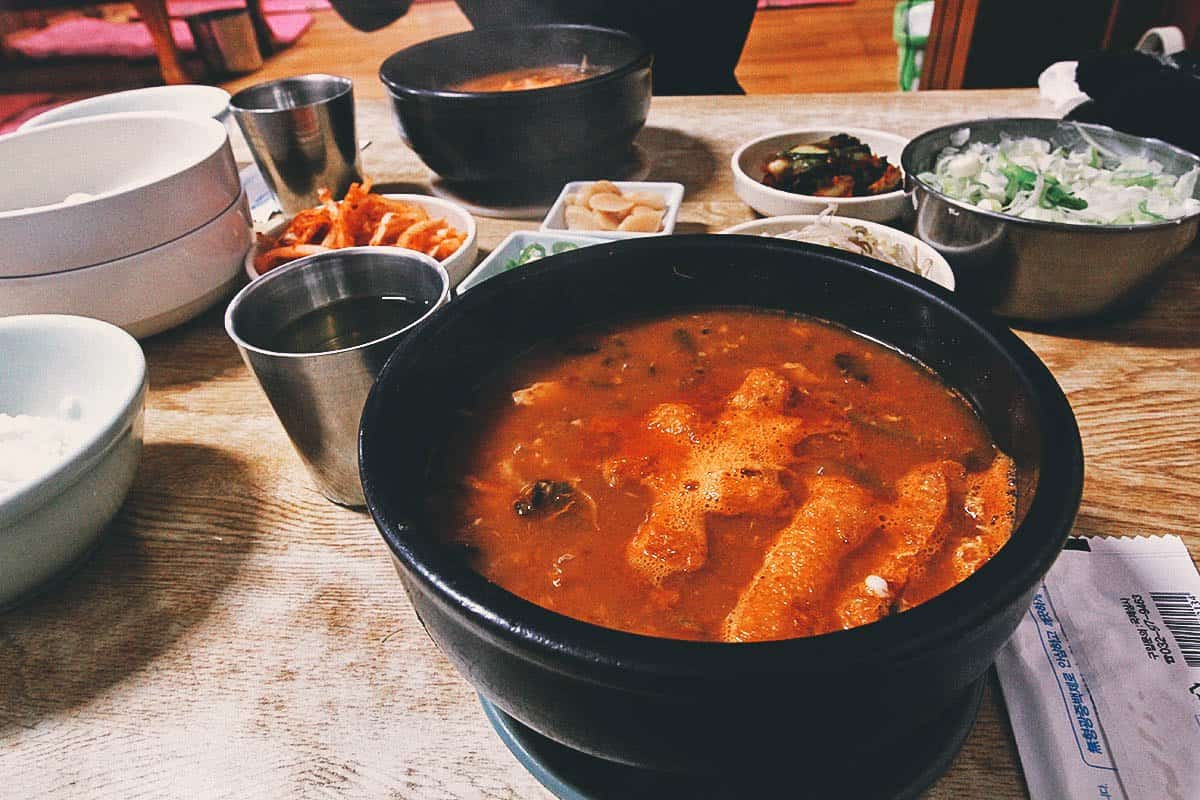 In the end, she gave us the ground version which is what we would have chosen anyway. I read that the older generations prefer the whole version of the loach which contains tiny, spiny bones. Yeep!
The chueotang had a nice and tangy flavor characteristic to these types of Korean soups. Ours was filled with mushrooms, fried tofu, rice, and noodles, perhaps a few other things as well.
You couldn't really make out the loach as it had already been ground up into the soup. It was delicious and hearty, perfect for cold winter nights.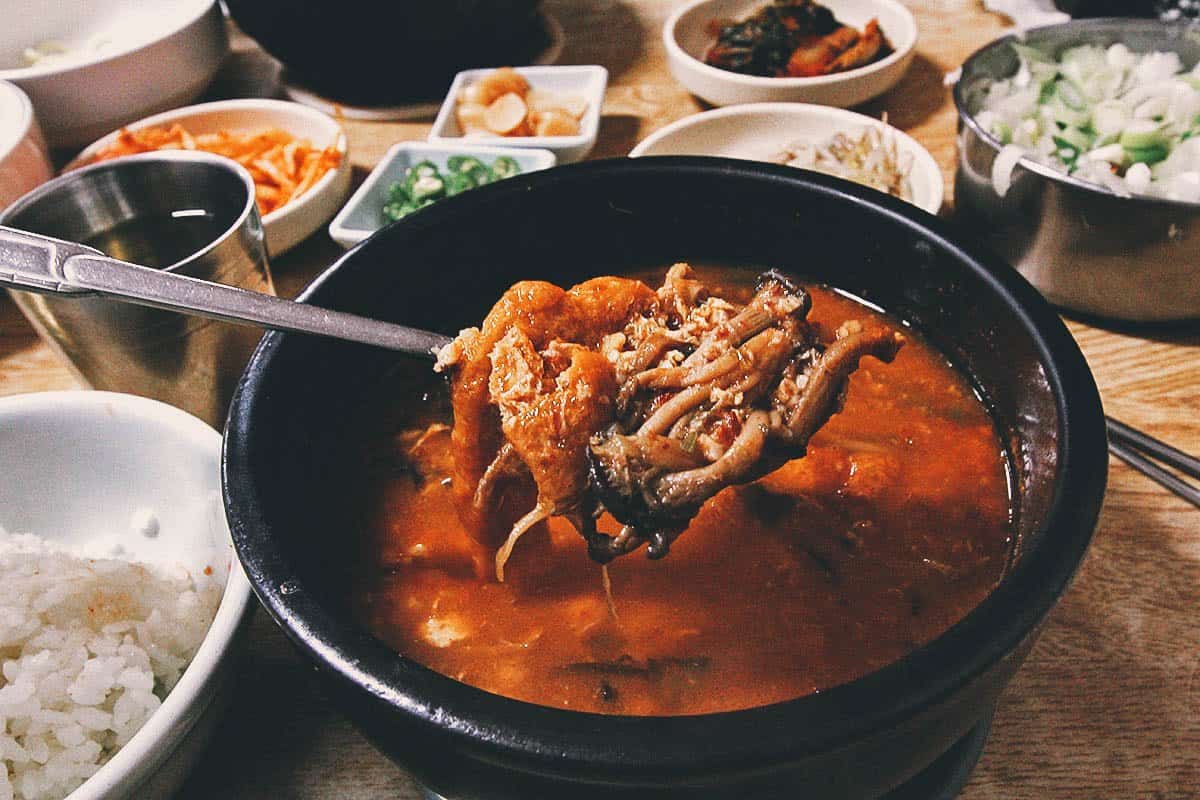 Yonggeumok
Address: 24-2, Dadong-gil, Jung-gu, Seoul, South Korea
Nearest Subway Station: Jonggak
Operating Hours: 10:30AM-10PM, Mon-Fri / 10:30AM-8PM, Sat-Sun
What to Order: Chueotang
Expect to Pay: Around KRW 10,000-15,000 per person
MAPO-GU
19. Oksang Dalbit
Like Han Chu, Oksang Dalbit is a chimaek restaurant offering Korean fried chicken and beer. They often come up in blog posts listing Seoul's best chimaek restaurants.
Located in Hongdae, they're open from 5PM till the wee hours of the morning, and is said to be a popular spot for students and local residents.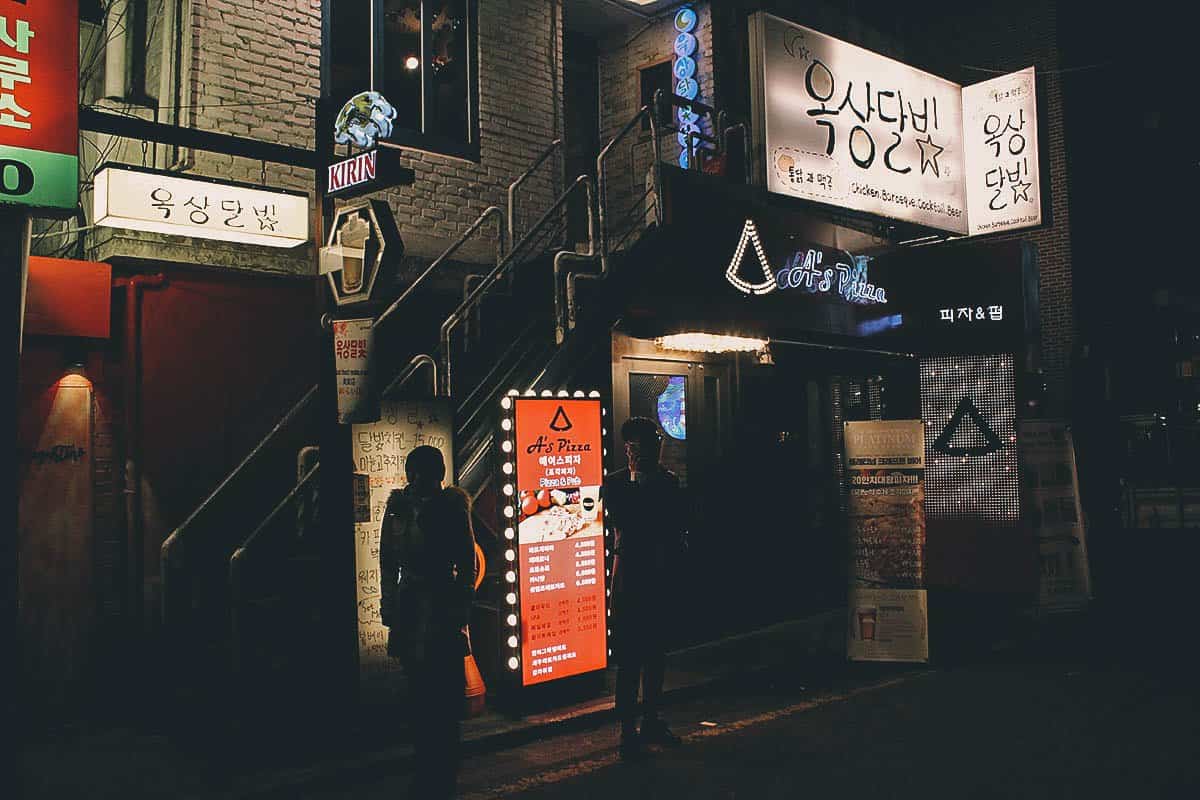 Oksang Dalbit is a cool place to hang out and drink beer. Customers can doodle on their walls and it was one of the few places we went to that played contemporary American pop music. It felt very much like an American college bar, without the rowdy college kids.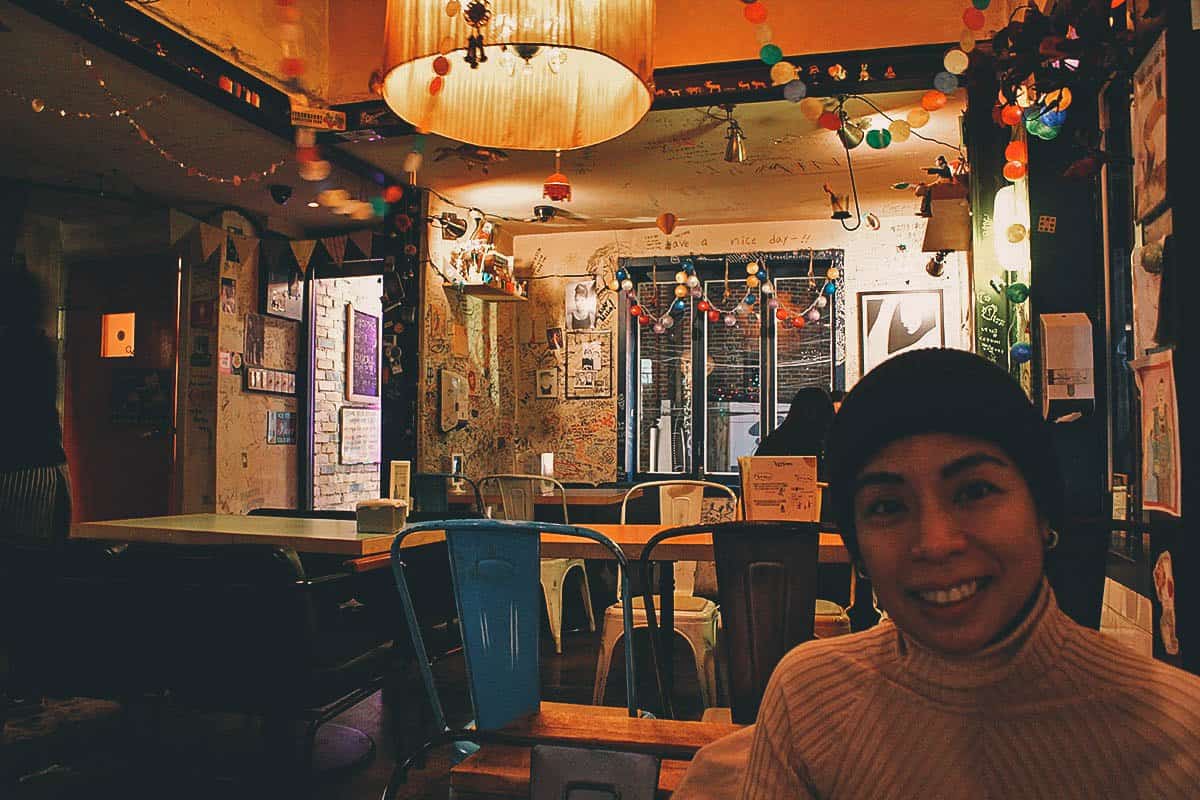 Oksang Dalbit served two types of chicken – fried and garlic pepper – both of which you can get deboned. We got the boneless fried and garlic pepper combo and both types of chicken were delicious.
If you enjoy spicy food like I do, then you'll love the garlic pepper. The chicken is served with a side of pickled radish for acidity and crunch.
Oksang Dalbit's fried chicken is lit. What makes it unique is that they serve it flaming – it's literally on fire when they bring it to your table. Fun to post on your Instagram?

Oksang Dalbit
Address: 411-2 Seogyo-dong, Mapo-gu, Seoul, South Korea
Nearest Subway Station: Sangsu
Operating Hours: 5PM-4:30AM
What to Order: Boneless fried and garlic pepper chicken
Expect to Pay: Around KRW 15,000 per person
SEOCHO-GU
20. Wonjo Masan Halmae Agujjim
As described up top, this was the one dish I was dying to experience on this return trip to Korea. I'm talking about ganjang gejang, or raw crab marinated in soy sauce.
My Korean sister-in-law cals it her absolute favorite Korean dish. After finally getting a taste of it, I can certainly understand why.
Like Jjukkumi Alley, there's a cluster of restaurants in Sinsa-dong called Ganjang Gejang alley that specializes in this dish. I chose Wonjo Masan Halmae Agujjim based on an English-speaking reviewer's comments. He enjoyed the restaurant and didn't seem to have any problems ordering.
With an expensive dish like this, I didn't want to make a mistake and order the wrong thing!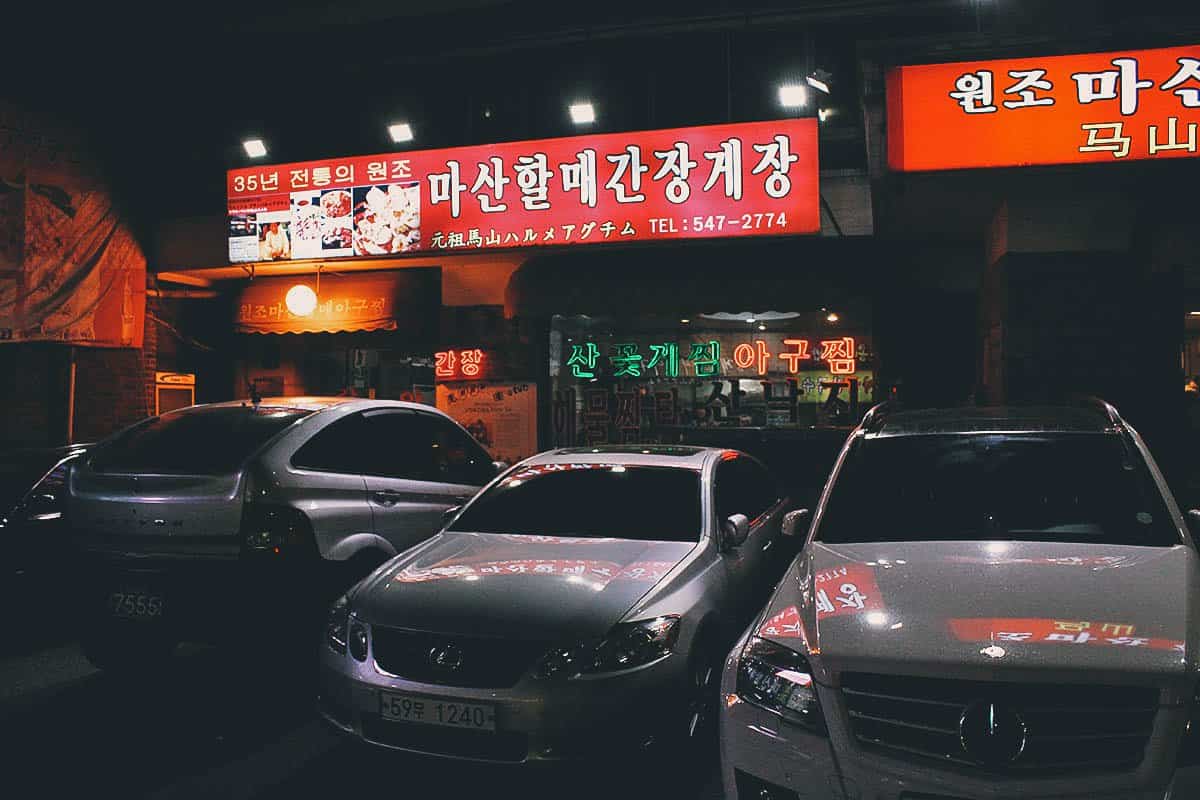 There it is, our ganjang gejang with all the beautiful orange roe. I've waited over two years to have you and you did not disappoint.
Gejang is made by marinating fresh raw crabs either in ganjang (soy sauce), or in a sauce made with chili pepper powder. Crabs marinated in soy sauce are called "ganjang gejang", while crabs marinated in chili pepper powder are referred to as "yangnyeom gejang".
You'd think that raw crab marinated in soy sauce is an easy dish to prepare, but it isn't. It's described as being one of the more complicated Korean dishes to make which is probably why it's expensive.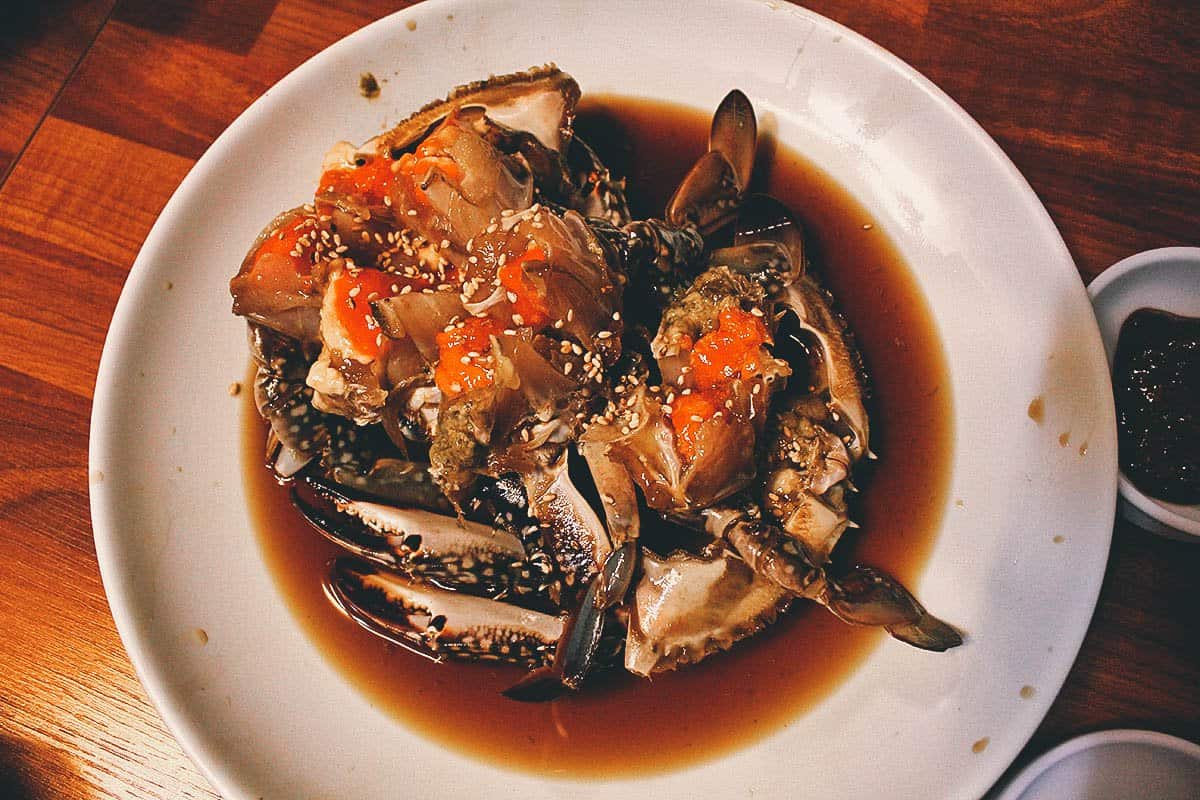 To make ganjang gejang, crabs are thoroughly cleaned then put in a hangari or earthenware crock where they're salted for about six hours. A mixture of soy sauce, sesame oil, sugar, scallions, garlic, ginger, and fresh red chili pepper is boiled briefly then poured over the salted crabs.
An hour later, the marinade is removed from the bowl and reboiled before again being poured over the crabs. This process is repeated several times before the dish is chilled and consumed.
Some vendors had crabs soaking in marinade at Gwangjang Market and they explained that ganjang gejang can be preserved like this for weeks, even months at a time before being consumed.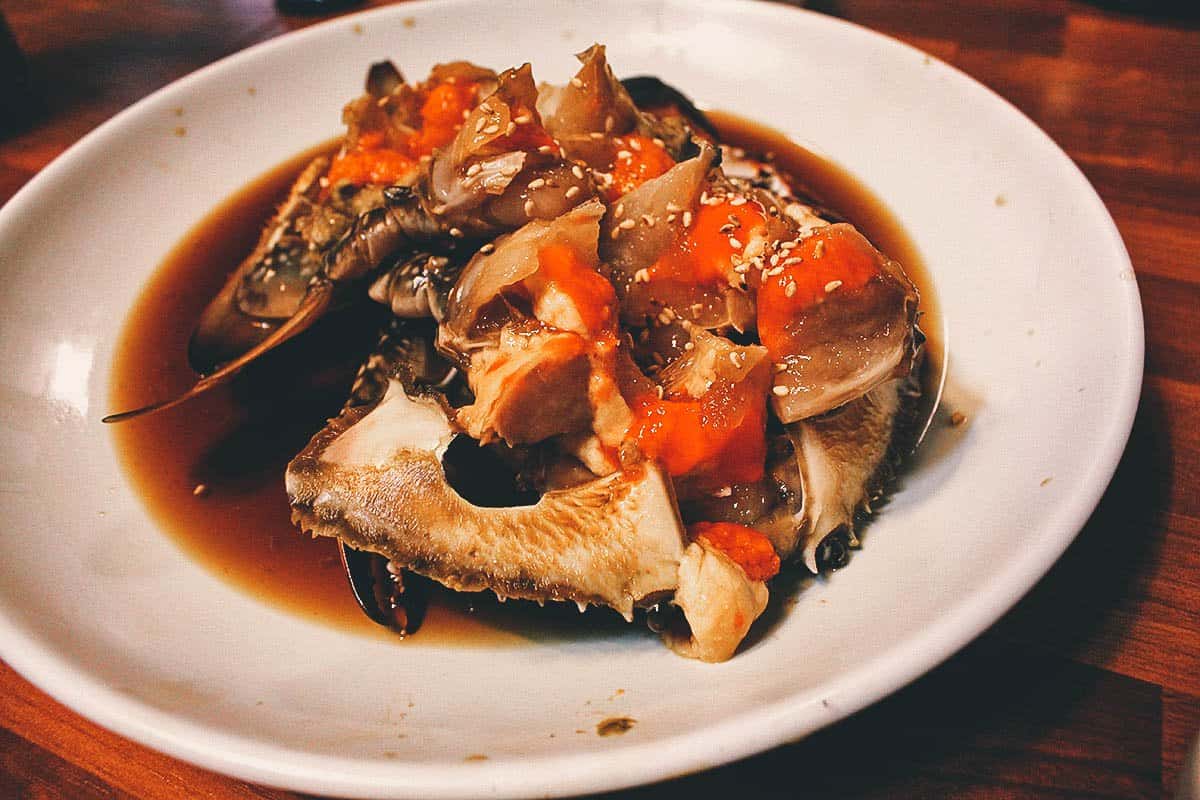 Ganjang gejang is messy and hard to eat but it doesn't matter. It's so good you won't care. Just grab a segment and start sucking on it. The meat has a gelatin-like consistency that oozes out easily. It's sweet, cold, rich, and just a little bit salty.
The best part of the meal is when you add rice into the shell and mix it up. The combination of the ganjang gejang with the Korean sticky rice is unbelievable, like it becomes almost caramel-y in flavor.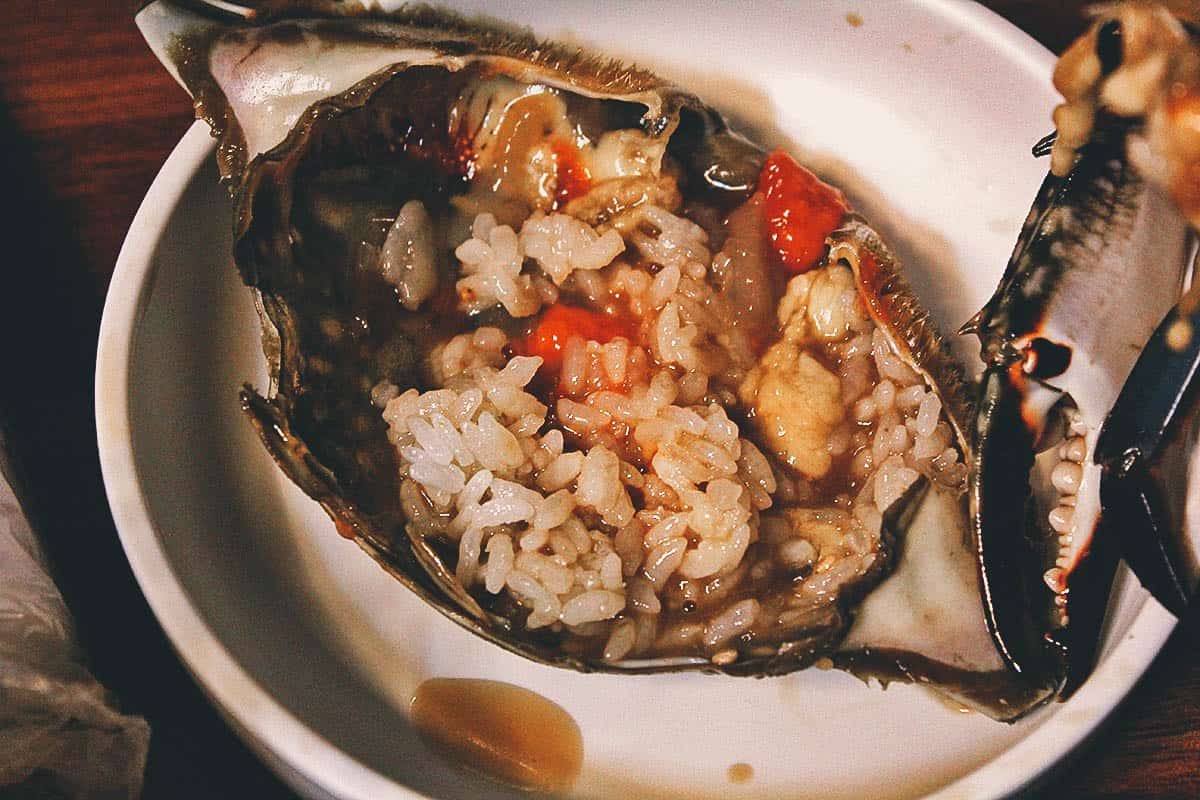 They provide ssam vegetables so you can wrap up the ganjang gejang and rice in leafy parcels as well. If you like crab, then you need to try this on your next trip to Korea. Seriously yum.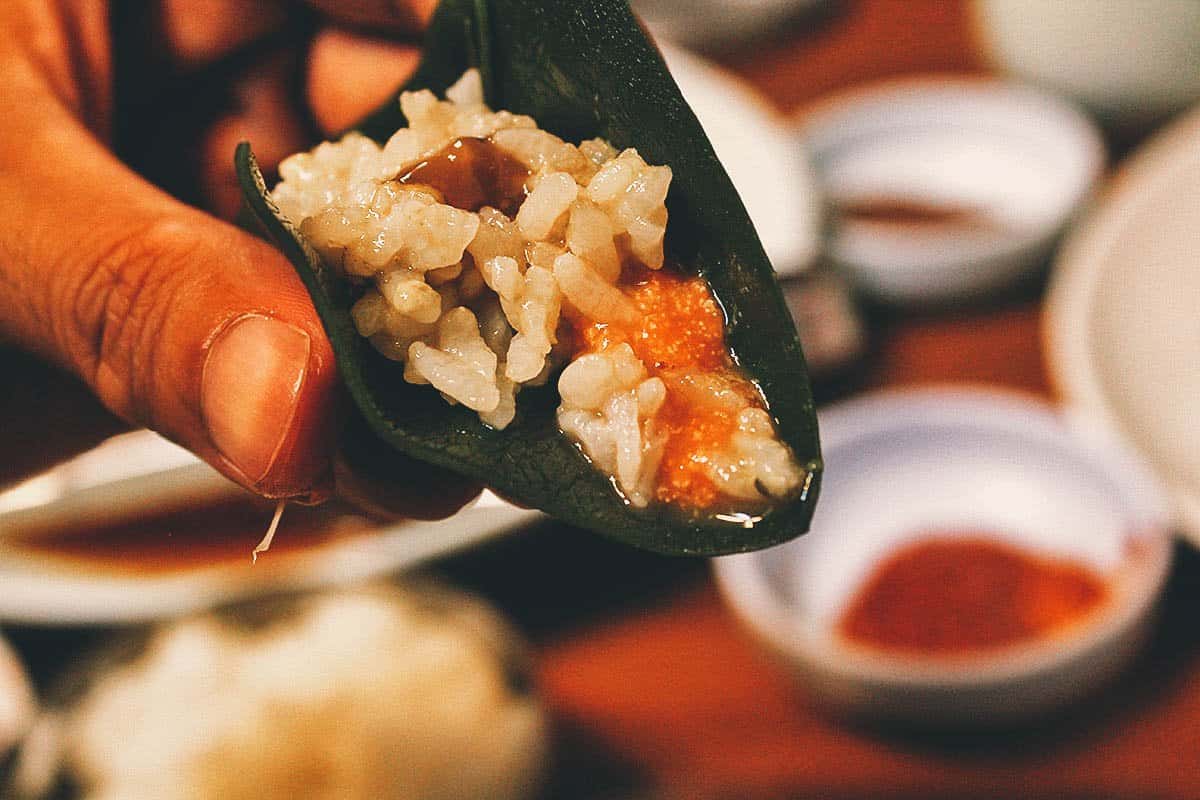 Wonjo Masan Halmae Agujjim
Address: 10 Gangnam-daero 99-gil, Seocho-gu, Seoul, South Korea
Nearest Subway Station: Sinsa
What to Order: Ganjang gejang
Expect to Pay: Around KRW 30,000-40,000 per person
YONGSAN-GU
21. Sigol Bapsang
If you enjoy eating Korean food, then you probably like banchan. They're those little side dishes served before your main course.
They're typically the supporting cast to a Korean meal, but at Sigol Bapsang, they're the star.
That's Sigol Bapsang with the orange sign, to the left of the GS25 convenience store.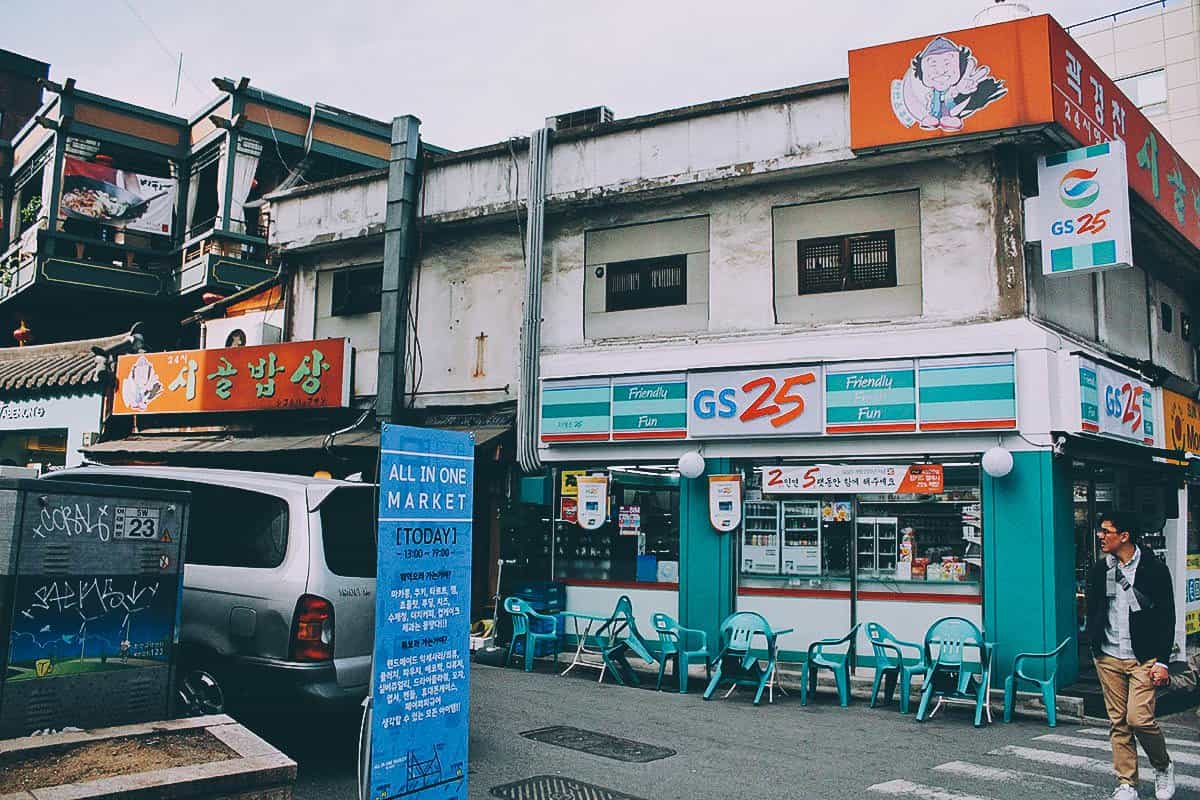 Sigol Bapsang is in a tiny space with just five tables. It's quite literally a hole in the wall. What makes it so interesting is that it looks completely out of place in cosmopolitan Itaewon.
Seoul is a sprawling modern metropolis of steel and glass, but walk into Sigol Bapsang and you'll instantly be transported to old school, rural Korea. Very cool.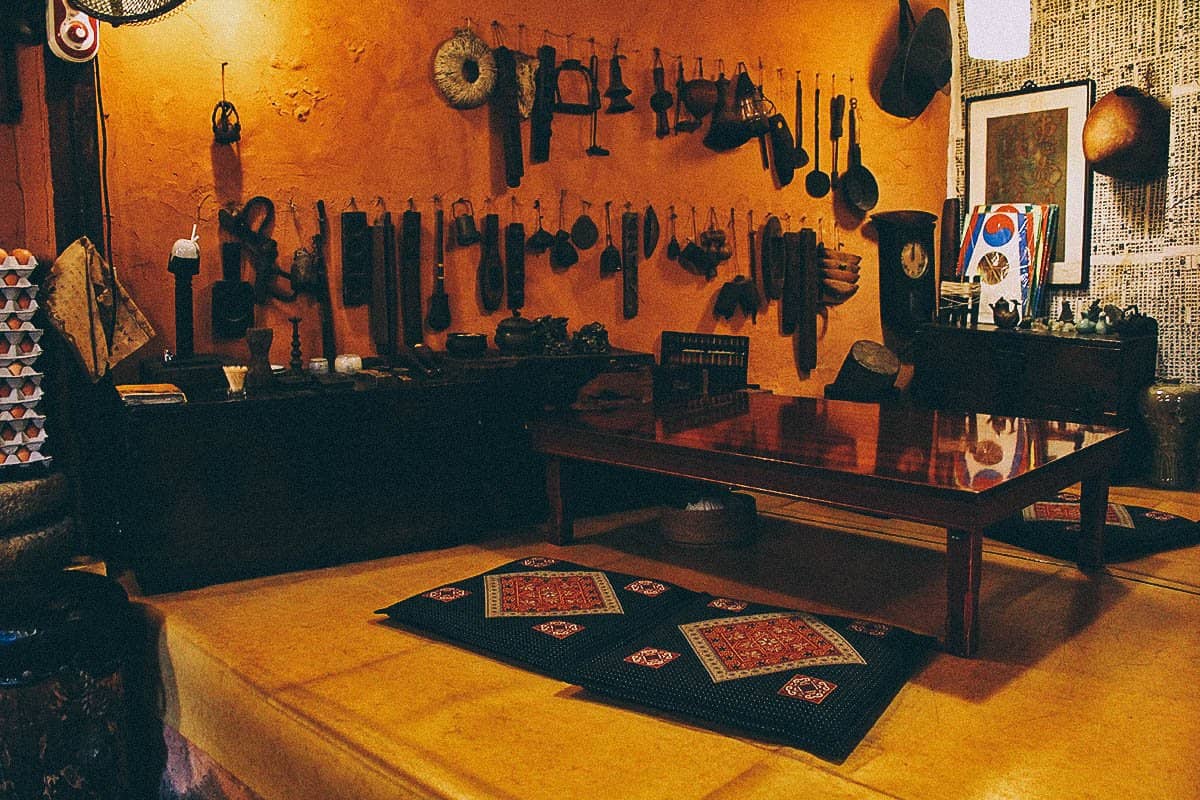 At Sigol Bapsang, you can have a feast of at least 20 different types of banchan along with rice and a steaming bowl of jjigae, or fermented soybean paste stew. The banchan is said to be refillable but we didn't need any – we were full just from this first serving!
We enjoyed our banchan meal so I was surprised to find mixed reviews for Sigol Bapsang. The thing is, I did my research and Sigol Bapsang is the only place I could find that serves banchan as an "entree".
Until I can find a better one, then I'd say this place is worth checking out. The restaurant is open 24 hrs daily, making it a great place for a late night snack.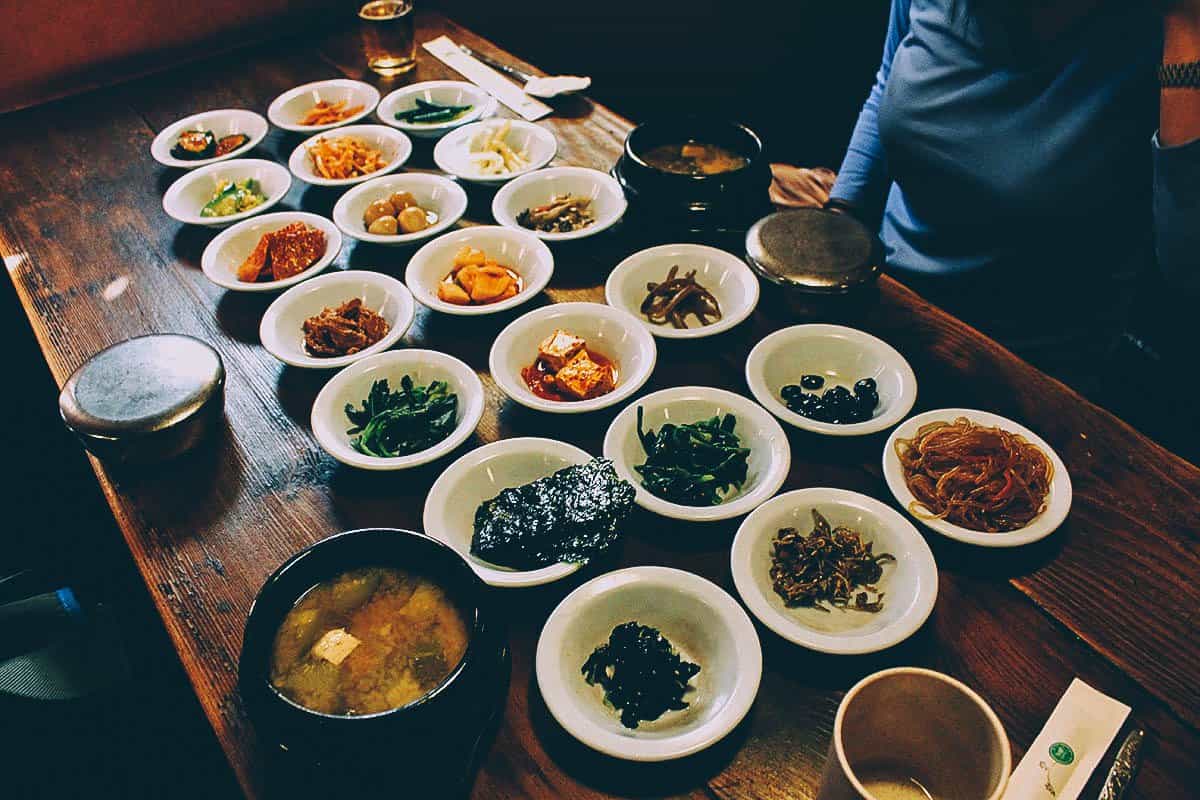 Sigol Bapsang
Address: 235 Itaewon-ro, Hannam-dong, Yongsan-gu, Seoul, South Korea
Nearest Subway Station: Itaewon
Operating Hours: Open 24 hrs
What to Order: Banchan
Expect to Pay: Around KRW 10,000-15,000 per person
CITYWIDE
22. BBQ Olive Chicken Cafe
BBQ Olive Chicken Cafe is a popular chimaek restaurant with many branches in Seoul.
Ren and her girlfriends are K-drama fanatics and this restaurant has been featured in more than one series, including Ren's all-time favorite Goblin with Gong Yu. It was so prominently featured in that show that Ren made it a point to enjoy a meal here on their most recent trip.
BBQ Olive Chicken Cafe offers many different types of Korean fried chicken. They tried the golden olive and soy garlic flavors.
According to Ren, it's the best Korean fried chicken she's had thus far in Seoul. And no, it has nothing to do with Gong Yu.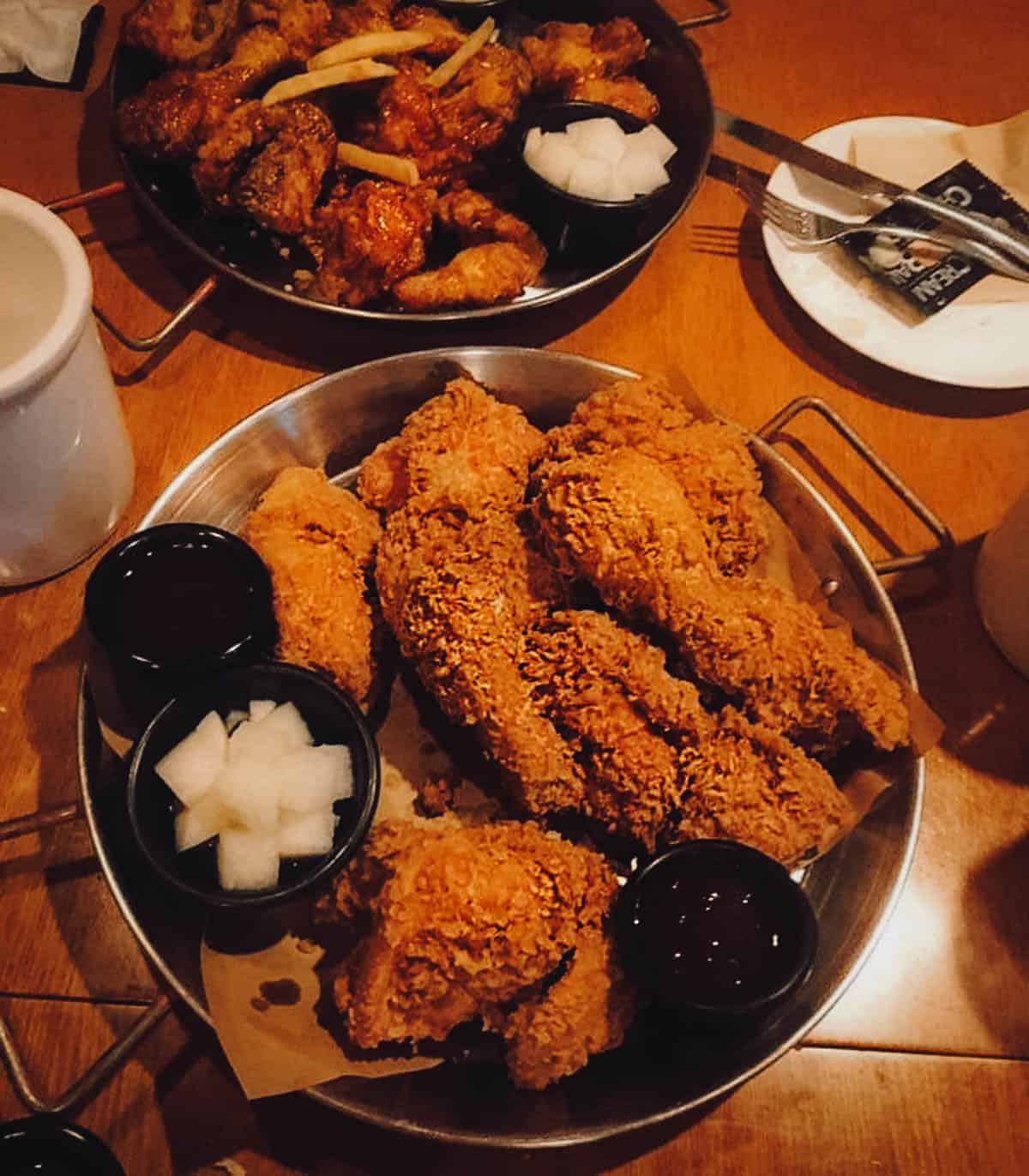 BBQ Olive Chicken Cafe
Address: Multiple branches
Operating Hours: Varies per branch
What to Order: Golden Olive Chicken, sweet potato fries
Expect to Pay: Around KRW 15,000 per person
23. Sulbing
Sulbing has hundreds of branches in South Korea. It was another place that Ernie recommended to Ren and her friends.
He was giving them a tour around Myeongdong when he pointed out this cafe to them. Sulbing serves different types of comfort food but what they're really known for is their bingsu.
If you've never had it, bingsu refers to a family of shaved ice desserts topped with things like chopped fruit, red beans, chocolate, matcha, and other goodies.
Pictured below is Sulbing's tower of decadence known as tiramisu bingsu. Sulbing's bingsus are huge so they shared two between six people. They got a honeydew melon bingsu as well which was good, but not quite as good as this tiramisu.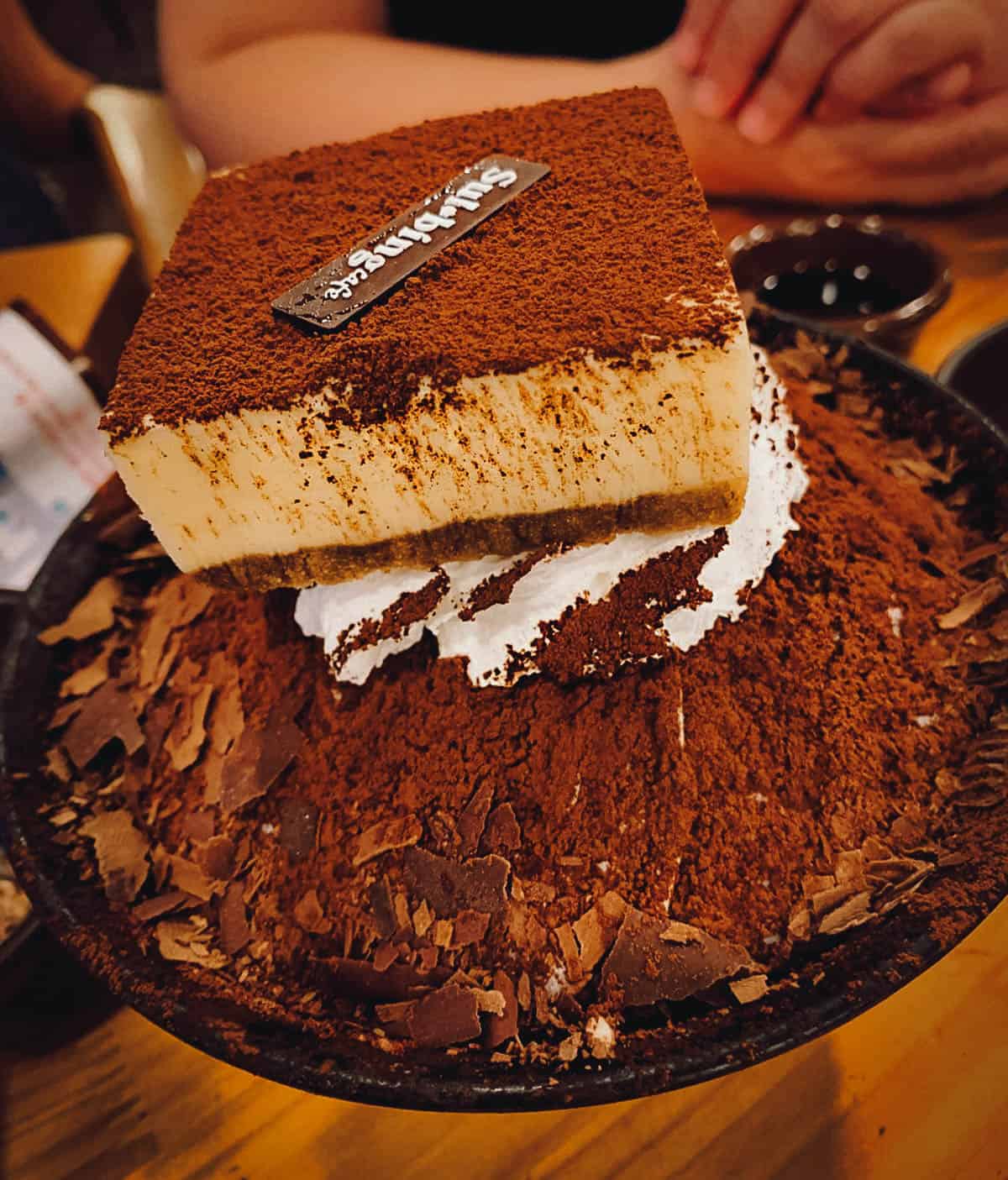 Sulbing
Address: 20 Myeongdong 10-gil, Myeongdong 2(i)-ga, Jung-gu, Seoul, South Korea
Nearest Subway Station: Myeongdong
Operating Hours: 10AM-11PM, daily
What to Order: Bingsu
Expect to Pay: Around KRW 12,000 per person
24. Lotteria
Lotteria is South Korea's number one fast food chain. If the name seems familiar, it's owned by the Korean-Japanese conglomerate Lotte Group.
They opened their very first shop in Tokyo, Japan in 1972, followed by the first Korean branch in 1979. Today, they branches in Japan, Korea, China, Myanmar, Taiwan, and Vietnam.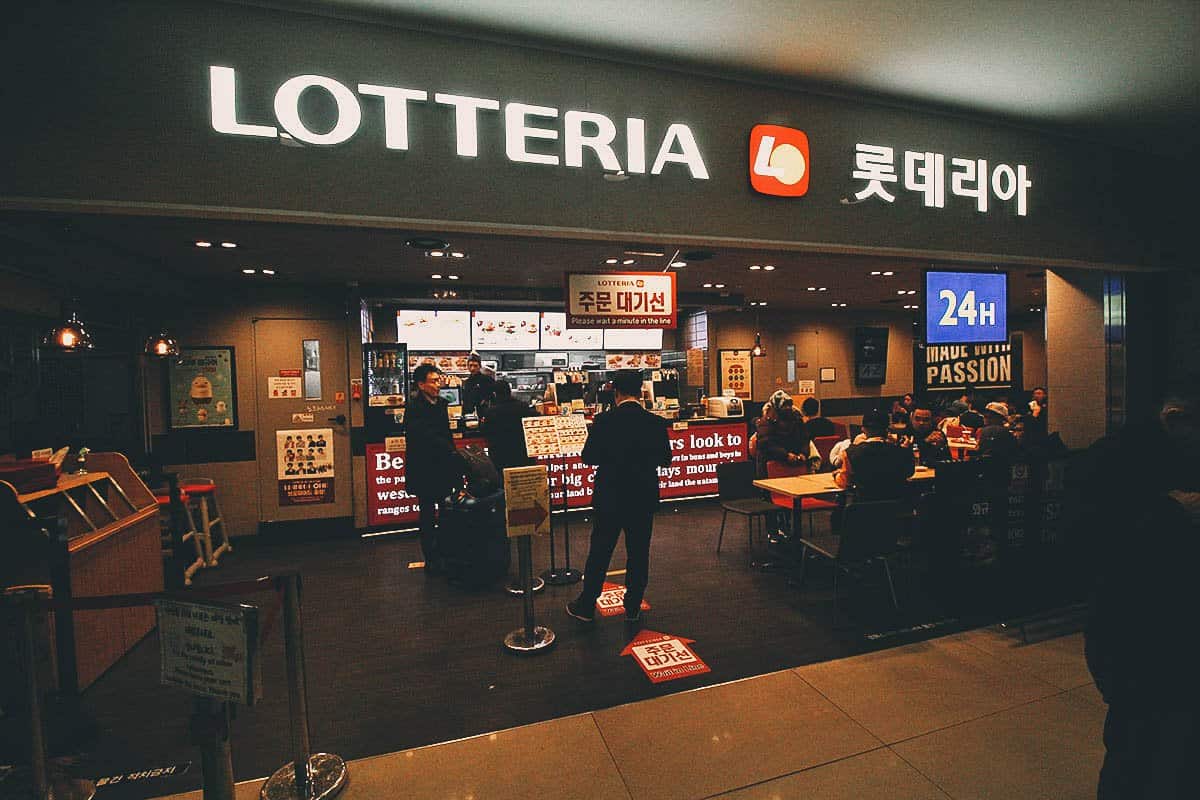 There are many Lotteria branches throughout the city, but we knew there would probably be one at Incheon Airport. In fact, we saw two. This Mozzarella Bacon Burger was my very last meal in Korea.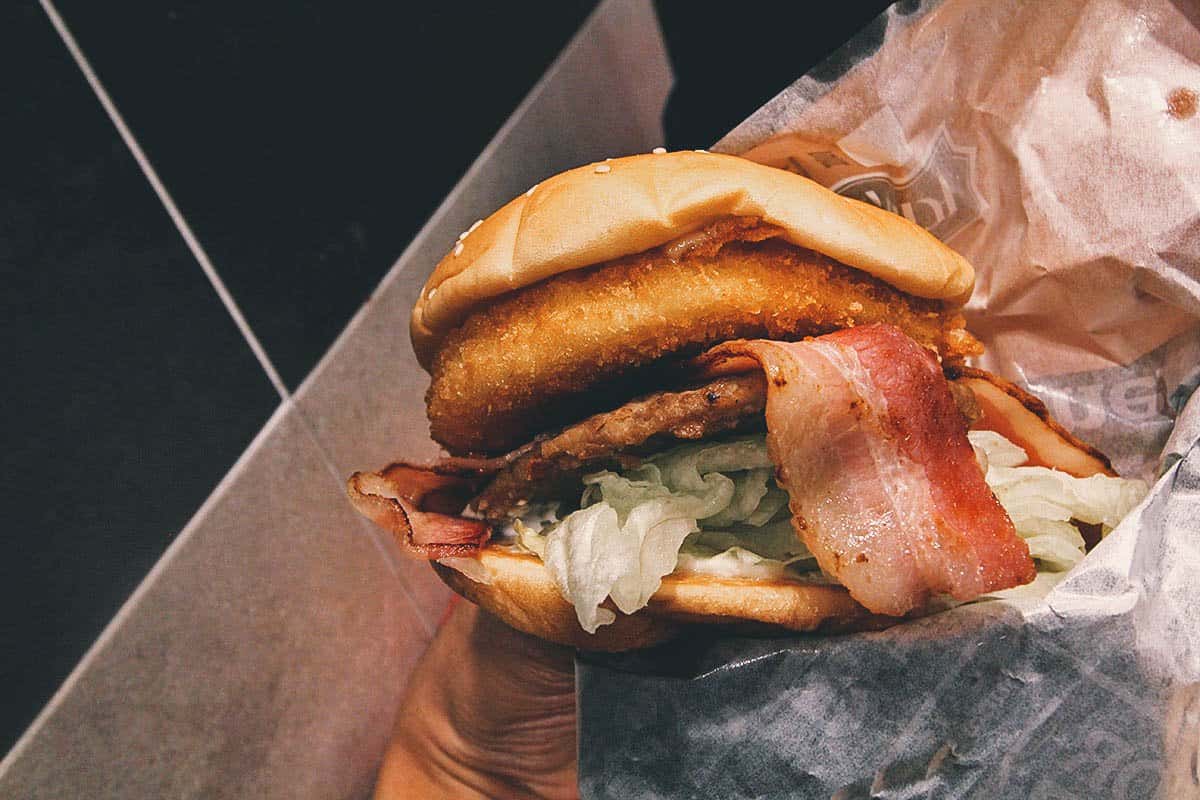 Check out that cheese pull! What makes this burger so good is its breaded mozzarella patty. If you want to try something more Korean in flavor, then go for the Hanwoo Bulgogi Burger. It's one of Lotteria's most popular burgers.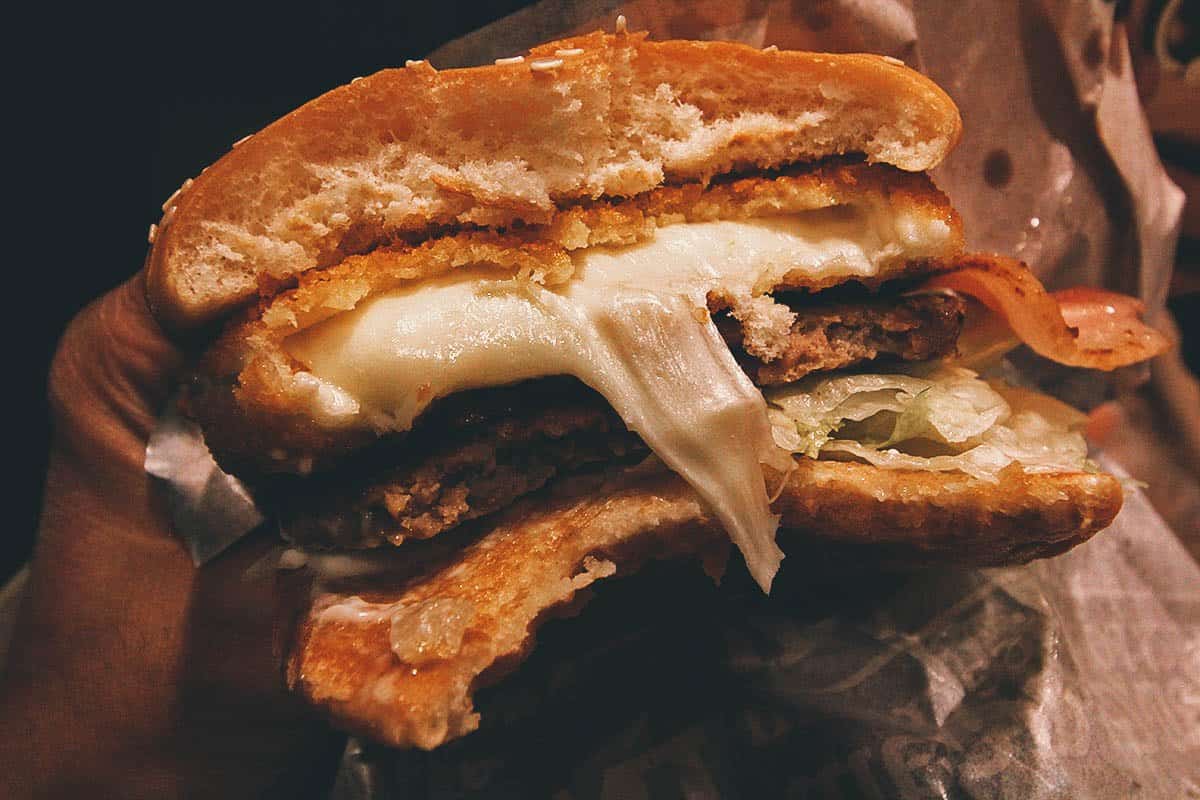 Lotteria
What to Order: Mozzarella Bacon Burger, Hanwoo Bulgogi Burger
Expect to Pay: Around KRW 10,000 per person
25. Pojangmacha
My Korean sister-in-law suggested that we check out a pojangmacha in Seoul. Pojangmacha isn't the name of a restaurant, but a type of dining experience.
Similar to Fukuoka's Yatai food stalls, a pojangmacha is a small tented space that serves Korean street food and alcoholic beverages like soju and beer. The term pojangmacha literally means "covered wagon".
We walked by plenty of pojangmacha in different parts of Seoul. We chanced upon this one after having dinner at Yonggeumok.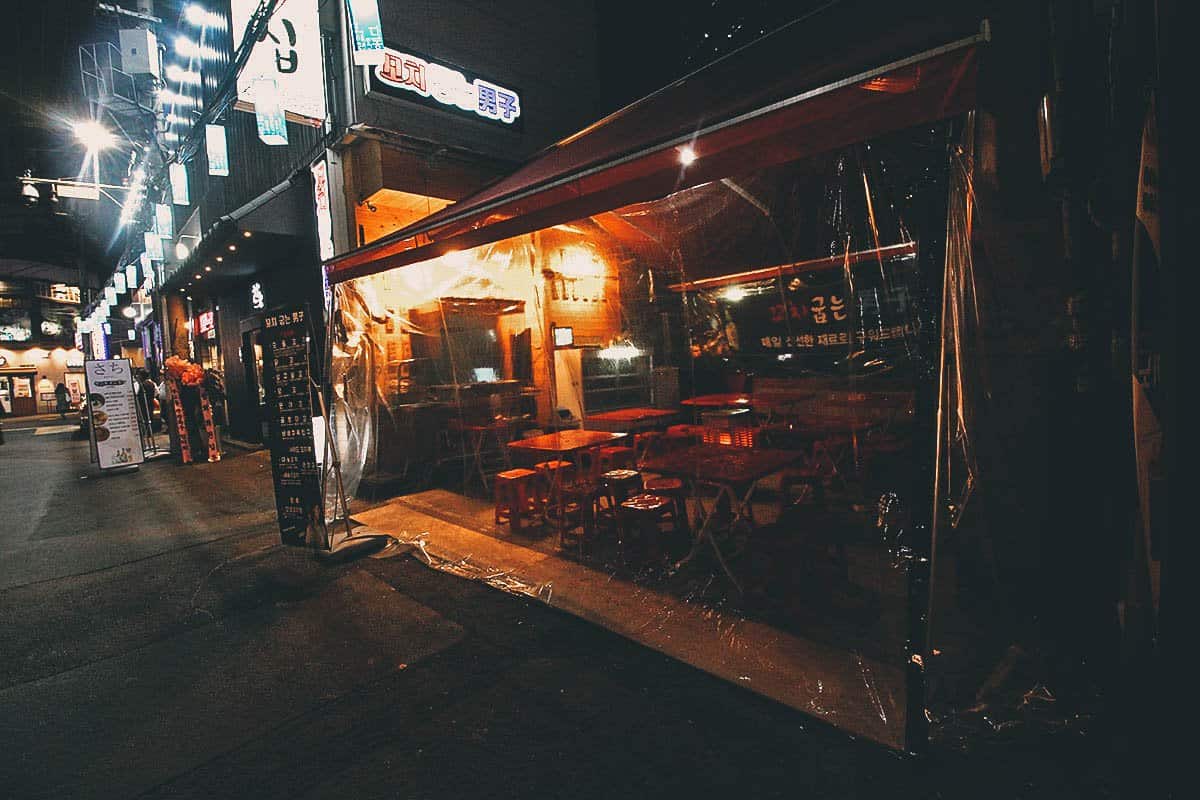 This pojangmacha offered different types of skewers with bacon, lamb, chicken, and octopus. Basically anything that's easy to eat and good with beer like tteokbokki (rice cakes), soondae (blood sausage), or mandu (Korean dumplings) can be found at pojangmacha tents.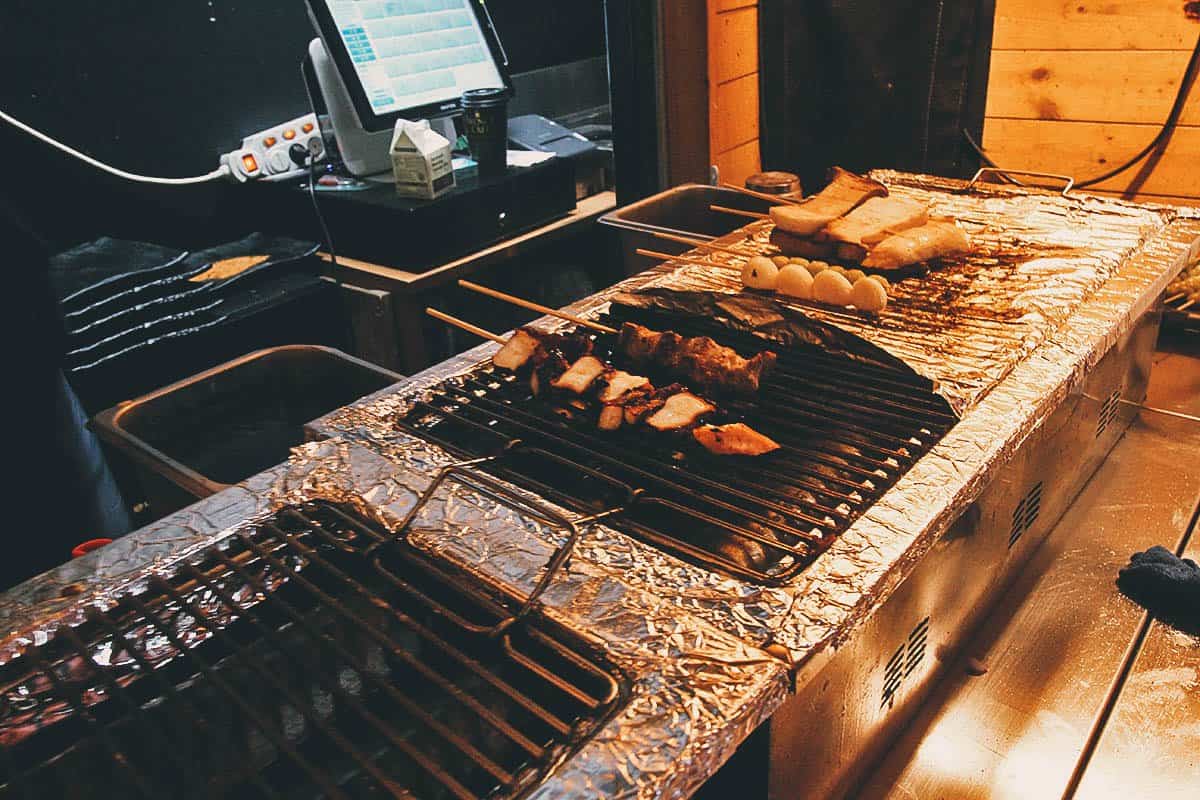 If you like to drink and eat street food, then having a few drinks at a pojangmacha is something you should try in Seoul. I'm sure it's cheaper than drinking beer at any bar or club.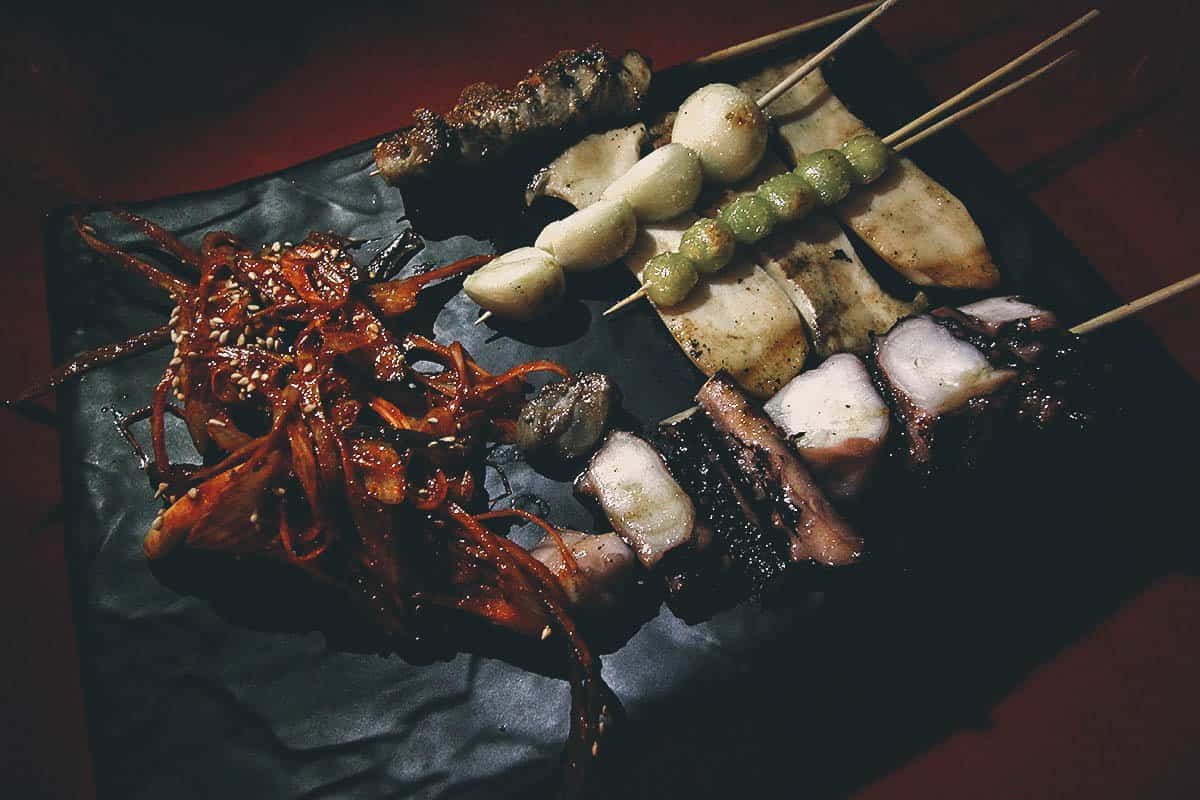 LOCATION MAP
As with all our food guides, this is by no means a definitive list but I hope it points you in the right direction. There is so much interesting food to be discovered in Seoul.
Some of these eateries can be hard to find, especially since the signs are in hangul, so I've pinned them all on a map to make it easier for you. Click on the link to open the interactive map in a new window. I added a few others as well that we wanted to visit but couldn't get to.

To help you with your travel planning, you can refer to our full 8-day Seoul itinerary on Sygic Travel. It's a more complete version of the map above with restaurant, hotel, money changer, and attraction suggestions.
You can also download a copy of our entire 8-day Seoul itinerary in editable Word format from our EAT-ineraries page. Thanks for reading and we hope you enjoy these awesome restaurants in Seoul!
Disclosure
The article contains affiliate links, meaning we'll get a small commission if you make a purchase or booking at no extra cost to you. We really appreciate your support as it helps us keep this website going. Thank you!