EDITOR'S NOTE: Please be advised that this Hong Kong travel guide hasn't been updated to reflect 2023 prices and travel guidelines. We'll update it as soon as Hong Kong is fully reopened to tourism. Thanks for your patience.
Hong Kong is perhaps the one country we've visited more times than we can remember. Its proximity makes it an ideal destination. You'd think the city would lose its lustre after all those visits, yet every trip seems to bring with it the promise of something new.
Hong Kong is a fast-paced city. Like Manhattan or Tokyo, you feel its energy the moment you land. One year between visits can feel like a lifetime in Hong Kong which is exactly how I felt when I step foot in Kowloon for the first time in three years. It felt like my first visit all over again. Such is the excitement you feel in a city as electric as Hong Kong.
Whether you're into shopping, food, fashion, or nightlife, I hope this third edition of our Hong Kong travel guide can help you plan your trip. As you'll quickly learn when you step foot in this city, Hong Kong has it all.
GUIDE TABLE OF CONTENTS
HONG KONG AT A GLANCE
Hong Kong is a Special Administrative Region (SAR) of China. What that means is that it's officially a part of China, though it's allowed to operate as an independent country enjoying the highest degree of autonomy. It has its own currency and its own economy. It has its own immigration and legal system and gets little to no interference from either the Central Government or the Communist Party of China.
For people my age or older, Hong Kong had always been a colony of the British Empire until it was handed back to China in 1997. It's been a major tourist destination for as long as I can remember and one of the most important hubs for business and trade in Asia.
If you've never been to Hong Kong, then it's easy to picture it strictly as an urban metropolis, but it's more than that. Geographically, it's comprised of Hong Kong Island, Kowloon, and the New Territories, as well as over 200 outlying islands. It's best known for is towering skyline of glass and steel but there's plenty of nature to be enjoyed there as well.
BEST TIME TO VISIT HONG KONG
Weather-wise, the best time to visit Hong Kong is in the Fall, from around the end of September till November, followed by Spring (March to May).
MAR-MAY: Spring is a great time to visit Hong Kong. Like Fall, the weather is ideal though it does get a little foggy and more rainy around this time.
JUNE-AUG: Summer is the hottest, wettest, and most humid time of the year so avoid these months if you can.
SEPT-NOV: As described, Fall is the ideal time to visit Hong Kong. The weather is mild and it seldom rains. Room rates are reasonable around this time as well. On our last trip, we went in mid-September and the weather was great, though I think October or November would have been even better.
DEC-FEB: This is the busiest time of the year in Hong Kong, especially around Lunar New Year. Expect more tourists and higher hotel prices around that time.
Climate: Annual Monthly Weather in Hong Kong
I created the average temperature and annual rainfall graphs below to help you better understand the weather in Hong Kong. Suggested months to visit are marked in orange.
Average Temperature


Annual Rainfall


TRAVELING TO HONG KONG
Travelers to Hong Kong will be arriving at Hong Kong International Airport. There are several ways to get from the airport to wherever you're staying in the city.
BY AIRPORT EXPRESS: Going by train is the fastest way to get to downtown from the airport, though it isn't necessarily the most convenient. It stops only at Kowloon or Hong Kong MTR stations so you'll need to transfer to get to wherever it is you're staying. That may not be so easy if you're carrying a lot of luggage. You can refer to this MTR map to see where your stop is in relation to Kowloon and Hong Kong stations. A single journey ticket usually costs HKD 105 to Kowloon and HKD 115 to Hong Kong island, but it costs just HKD 100 and HKD 110 respectively with an Octopus Card (click on the link for more information). If you purchase them in advance through Klook, then you can get them at an even bigger discount, just HKD 66 to Kowloon and HKD 72 to Hong Kong Island. Follow the link to purchase Hong Kong Airport Express tickets through Klook. They offer an Airport Express and MTR travel pass combo as well.
BY AIRPORT SHUTTLE BUS: Another way to get to your hotel from the airport is by Vigor Airport Shuttle Bus. It'll drop you off at designated hotels in Kowloon and Hong Kong Island for HKD 130 and HKD 140 respectively. But if you purchase your tickets in advance through Klook, then it'll cost you just HKD 117 to either area.
BY PUBLIC BUS: This is probably the cheapest and one of the most convenient ways of getting into the city. We stayed at a relative's place in Jordan on our first night and the A22 bus dropped us off just a few meters from her apartment. The ride took less than an hour and cost HKD 39 one way, which we paid for using our handy Octopus cards. To get to the bus terminal at the airport, make a right soon as you go through customs and walk all the way down. Take the lift or stairs down to the first floor and exit the building. The bus terminal will be across the street on your right. If you can take a bus to your destination, then it's the best way to get back to the airport as well, especially if your flight is in the wee hours of the morning when the Airport Express isn't running yet.
BY TAXI/UBER: Going by taxi or Uber is more convenient but it's also expensive. You can refer to this Hong Kong taxi transport guide for fare estimates.
BY PRIVATE TRANSFER: If you'd rather prearrange a private transfer to your hotel from the airport, then you can book it in advance through Klook.
Klook offer several other transfer options as well. Follow the link to check out more airport transfer options in Hong Kong on Klook.
This guide assumes you'll be flying into Hong Kong but there may be other ways to get there depending on where you are. You can go to Bookaway or use the widget below to check for options available to you.
WHERE TO EXCHANGE CURRENCY
The unit of currency in Hong Kong is the Hong Kong Dollar (HKD). The exchange rate at Hong Kong airport isn't very good so change just enough currency there to get you into the city. If you're staying in Kowloon, then a good place to change your money is at Chungking Mansions in Tsim Sha Tsui (pictured below). There are many currency exchange offices inside, all of which are known to give competitive rates. If you're staying on Hong Kong island, then the money changers at World Wide House in Central are a good choice.
You can also use your ATM card to withdraw HKD. The exchange rates are comparable. This is what I intended to do but my ATM card kept getting rejected at the airport. I did notify my bank that we were going on a trip so that wasn't the issue. I've found that my ATM card works in some countries but not in others so it's always a good idea to bring cash and/or credit cards as a backup.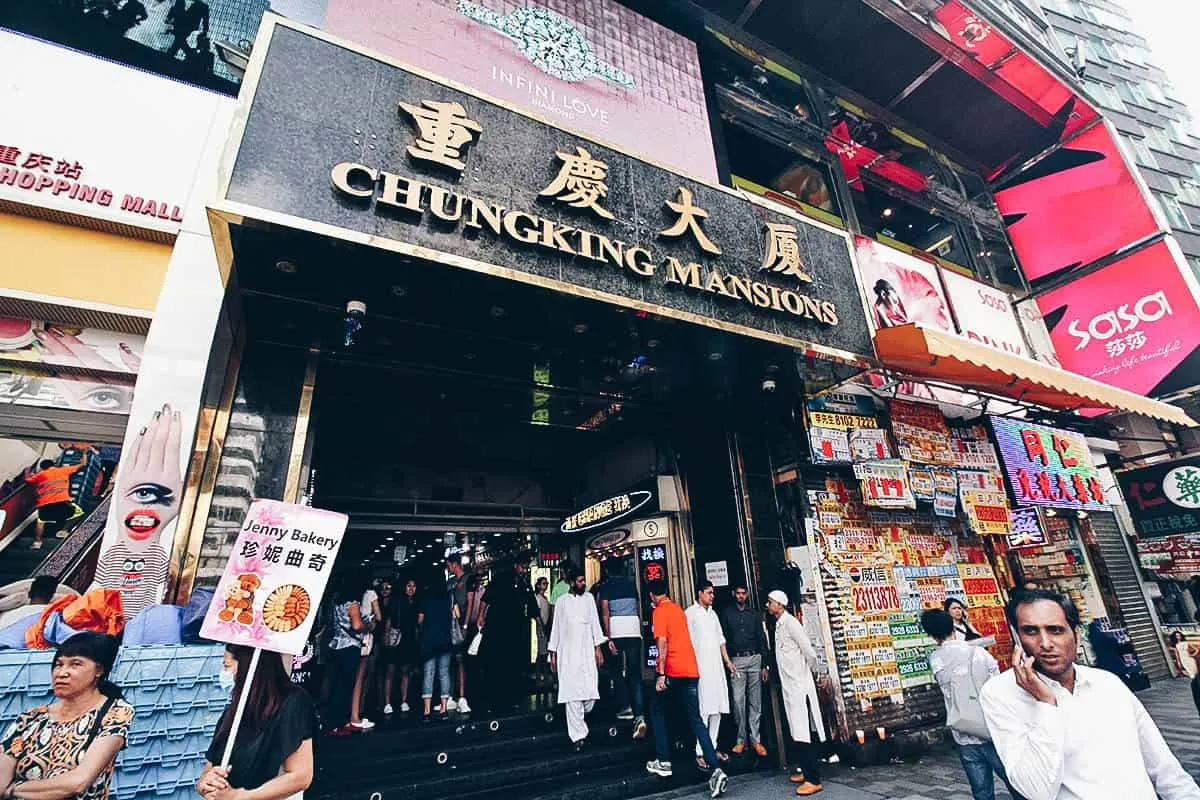 WHERE TO STAY IN HONG KONG
We've stayed in many areas in Hong Kong through the years. The city's MTR system is so efficient it's easy to get around no matter where you stay. But first-timers, it's best to stay on the Kowloon side or on Hong Kong Island, close to the harbor.
Listed below are some of the most convenient areas to stay in Hong Kong, along with a color-coded map to help you better understand where each of these areas are. Click on the link for an interactive version of the map. (Please note that marked areas are approximations only)
RED – Tsim Sha Tsui
PURPLE – Mong Kok
ORANGE – Jordan
GREEN – Yau Ma Tei
PINK – Causeway Bay
BLUE – Wan Chai
YELLOW – Central
I'll provide targeted links under each description but you can book accommodations in Hong Kong through Booking.com or Agoda.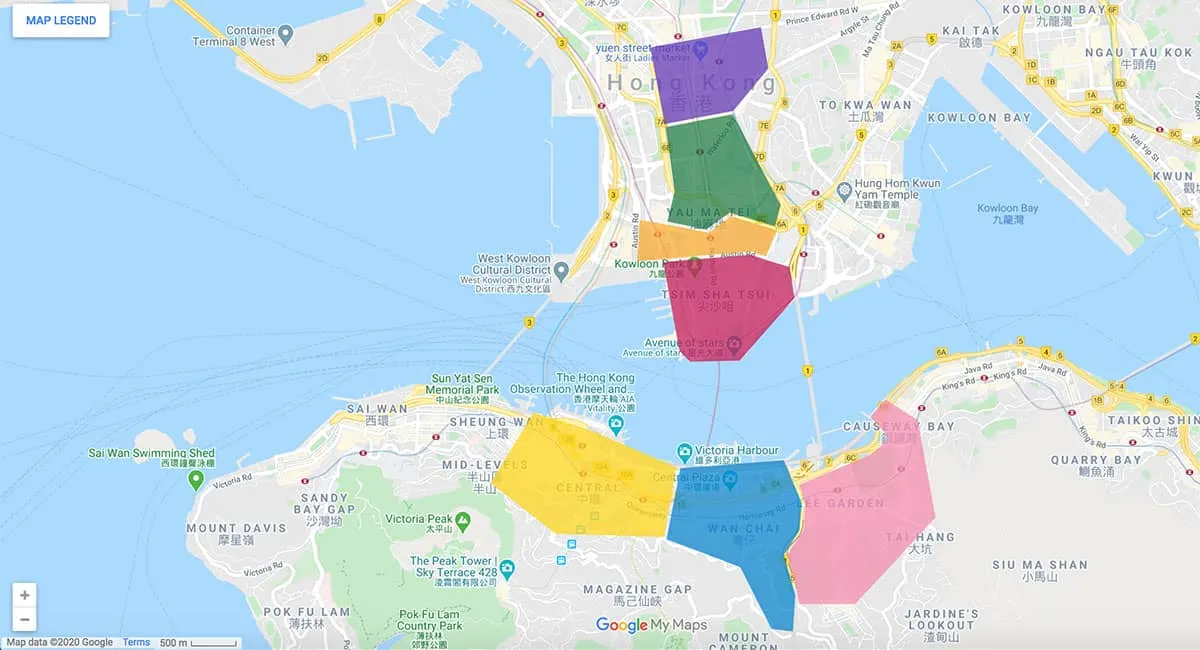 KOWLOON SIDE
"Kowloon side" refers to the area north of Victoria Harbor. It's considered the tourist hub of Hong Kong with its myriad shopping and restaurant options. If it's your first time in the city, then this is probably where you'll want to be.
Tsim Sha Tsui
Located in Kowloon, Tsim Sha Tsui is probably the most popular spot for tourists in Hong Kong. It's where my family always stayed whenever we went to Hong Kong in my childhood. There are plenty of shopping and restaurant options here, particularly along Nathan Road, as well as easy access to Victoria Harbour where you'll find the most stunning views of Hong Kong's skyline. Check these sites for a list of accommodations in Tsim Sha Tsui: Booking.com | Agoda.
Mong Kok
Mong Kok is one of the best areas to stay in Hong Kong for budget travelers. It isn't too far from Tsim Sha Tsui and there are plenty of shopping options in the area like the famed Ladies' Market on Tung Choi Street. If you're into street food, then you'll have lots to choose from here. Check these sites for a list of accommodations in Mong Kok: Booking.com | Agoda.
Jordan
Ren's cousin works as a pilot for Hong Kong Airlines and this is where she lives. It's the area just north of Tsim Sha Tsui and is home to plenty of eateries and street markets. The southern end of the Temple Street Night Market is here, as is the Jade Market. We met a few locals who think the city's best dai pai dongs are here in Jordan. Check these sites for a list of accommodations in Jordan: Booking.com | Agoda.
Yau Ma Tei
This is where I stayed on my most recent trip to Hong Kong. It's the area sandwiched between Jordan and Mong Kok. Like the areas around it, Yau Ma Tei is home to many markets and eateries, most famous perhaps is the Temple Street Night Market.
Casa Deluxe (about USD 47/night) is a semi-modern hotel located along Nathan Road, around the corner from the Yau Ma Tei MTR station. The rooms are clean and comfortable but small, which is pretty much what you can expect in Hong Kong. You can book a room at Casa Deluxe Hotel on Booking.com or Agoda.
If you'd like to stay in Yau Ma Tei but don't think this is the right hotel for you, then you can check these sites for alternate listings: Booking.com | Agoda.
HONG KONG ISLAND
Hong Kong Island is the site of the original British settlement. It's the economic center of the city with hundreds of skyscrapers and luxury high-rises. It looks and feels more modern than the Kowloon side and may be the preferred place to stay for repeat travelers to Hong Kong.
Causeway Bay
If you enjoy shopping, then this is arguably the best area for you to stay. It's a busy, more upscale commercial area with plenty of malls, shops, and restaurants.
We stayed at Mini Hotel Causeway Bay three years ago (about USD 53/night). It's a stylish and trendy boutique hotel located just minutes from high-end shopping malls in Causeway Bay. Check out my post on Mini Hotel Causeway Bay for more pictures and information.
You can book a room at Mini Hotel Causeway Bay through Booking.com or Agoda. If you don't feel that this is the right place for you, then you can search for alternate listings in Causeway Bay on these sites: Booking.com | Agoda.
Wan Chai
My sister used to live in Wan Chai decades ago so I've stayed for months here at a time. It's a convenient commercial area located right next to Causeway Bay. If you want to have easy access to the shopping in Causeway Bay without having to pay as much for accommodations, then this is a good place to look. Check these sites for a list of accommodations in Wan Chai: Booking.com | Agoda.
Central
The Central District is the financial center of Hong Kong. Staying here will give you easy access to Lan Kwai Fong and the Peak Tram. Lan Kwai Fong is one of the most popular places to go clubbing and bar hopping while the Peak Tram is an iconic landmark that takes you up to Victoria Peak for the best views of the city. Check Booking.com for a list of accommodations in Central.
THINGS TO DO IN HONG KONG
1. Explore Hong Kong's Many Shopping Neighborhoods
Hong Kong is a shopaholic's paradise. Ren and I aren't big shoppers but we did enjoy exploring some of Hong Kong's many popular shopping neighborhoods like Causeway Bay, Soho, Temple Street Night Market, Ladies' Market (Tung Choi Street), and Sneaker Street (Fa Yuen Street).
We learned that Sham Shui Po is a good area for inexpensive fashion and tech accessories. We also learned that the popular section of Temple Street Night Market is actually its touristy part. If you keep walking down Temple Street and through the park, you'll get to a section of the market where you can find the same products for half the price. This is where the locals shop. For more insider tips, you can check out this guide to shopping in Hong Kong from China Highlights.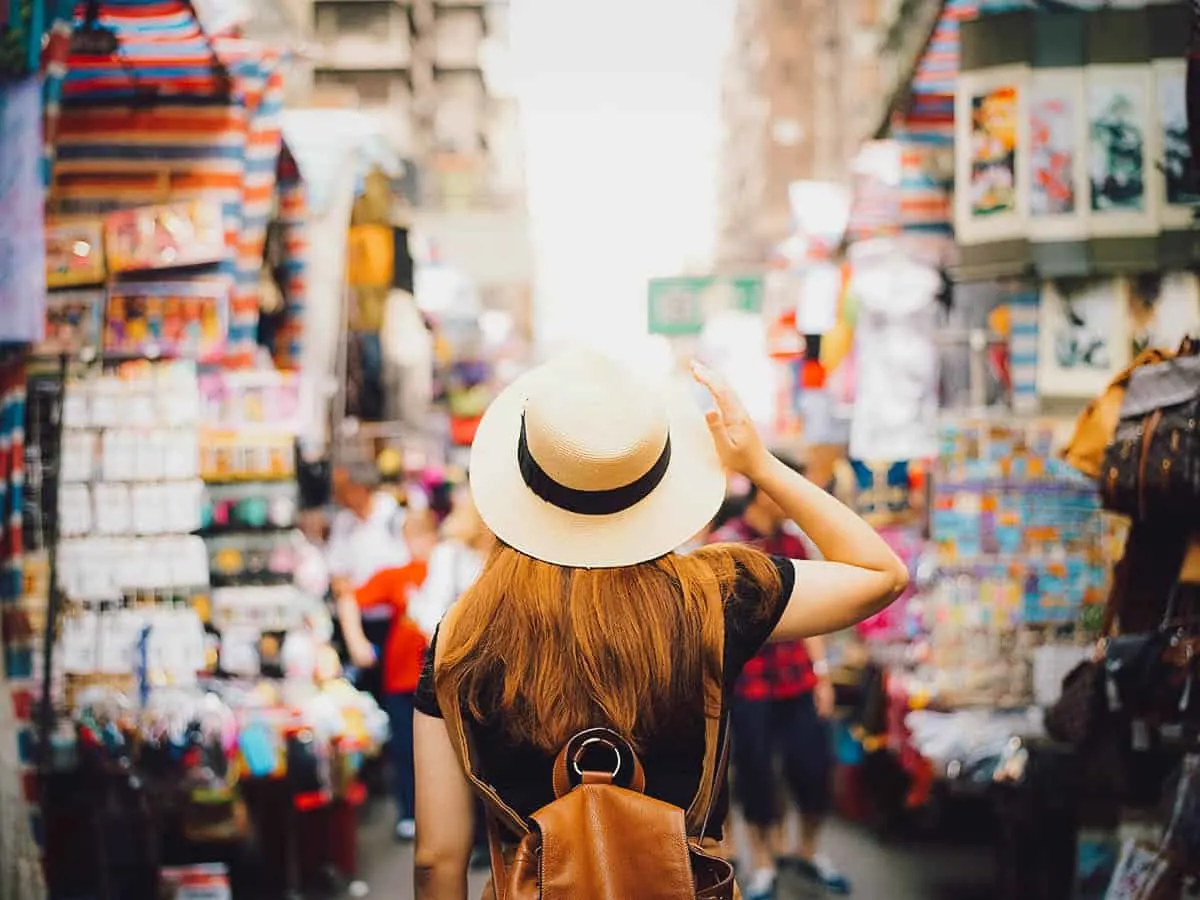 Photo by noina via Shutterstock
2. Explore the City on a Big Bus Tour
I'm a big fan of these Hop On Hop Off tours. For me, they're the easiest and most convenient way of seeing a city's top attractions. Double decker buses ply set routes and you can get on and off as often as you like at designated stops for the duration of your pass.
The Big Bus Tour will take you to the most popular attractions in Hong Kong like the Peak Tram, Causeway Bay, Ladies' Market, Lan Kwai Fong, and Repulse Bay. Click on the links for more information and to purchase tickets to the Hong Kong Big Bus Tour on Klook or Get Your Guide.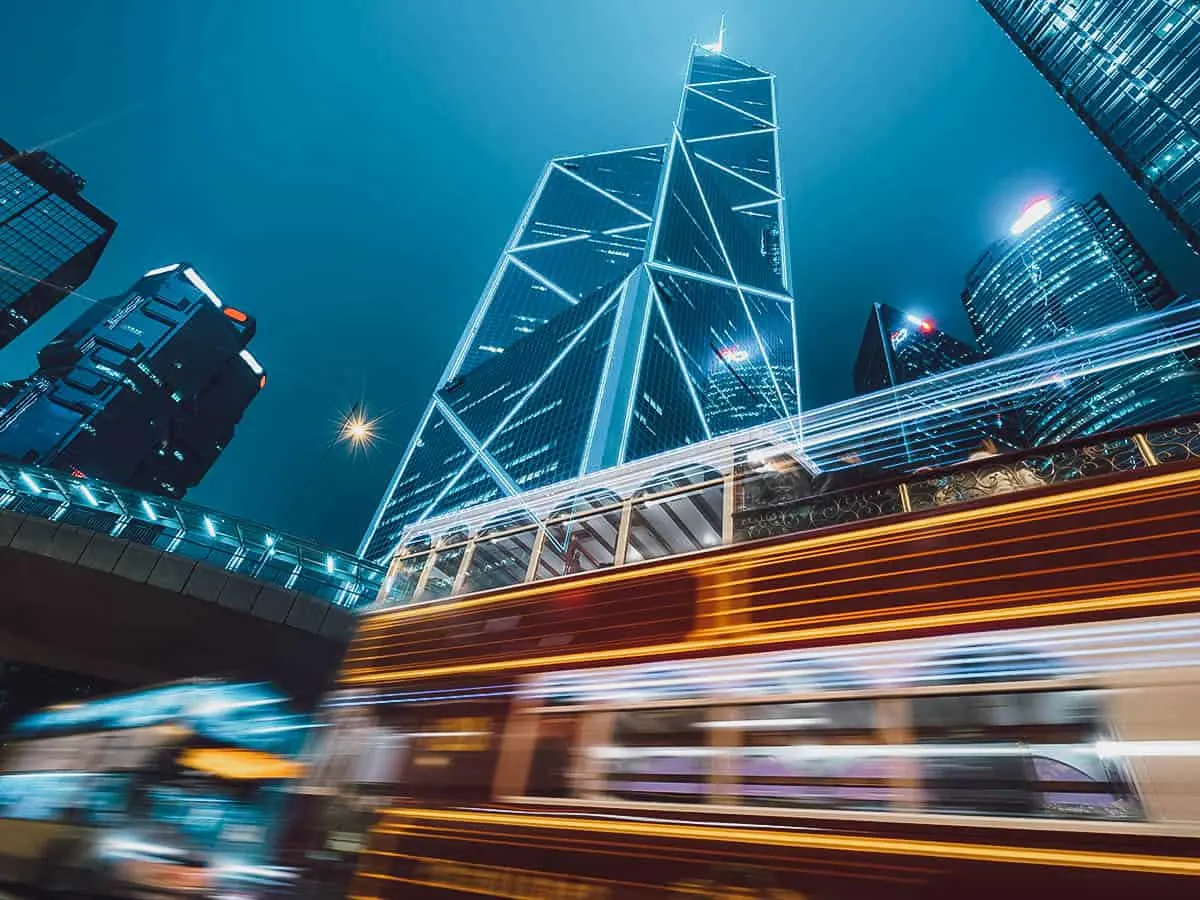 Length of Pass: 24 or 48 hrs / Cost: USD 61.20 for the Classic Ticket (walk-in)
Photo by fanjianhua via Shutterstock
3. Ride the Peak Tram to Sky Terrace 428
The Peak Tram is the world's steepest funicular railway and one of Hong Kong's most popular tourist attractions. It takes you up to Victoria Peak and Sky Terrace 428 which boasts the most stunning views of the city. I'm usually underwhelmed by observatories like this but the view from Sky Terrace 428 was pretty spectacular. There are plenty of shops, restaurants, and other attractions at Victoria Peak so you can easily spend a few hours there. Just be sure to go on a weekday if you can because queues over the weekend can be excruciatingly long. Check out my post on Victoria Peak for more pictures and information.
4. Get a Drink Behind Bars at Tai Kwun
If you enjoy the arts, then a visit to the newly opened Tai Kwun in Central District is a must. Dubbed as a "Center for Heritage and Arts", what makes Tai Kwun interesting is that it's housed in an historic mid-19th century police station and prison.
5. Enjoy the View from Sky100
Hong Kong's skyline is magnificent so if the views at Sky Terrace 428 aren't enough for you, then you can head up to Sky100 which is a 360° indoor observation deck on the 100th floor of the International Commerce Centre in Kowloon.
6. Catch a Parade at Hong Kong Disneyland
We didn't go but Disneyland is obviously one of Hong Kong's top tourist attractions and a must visit for many families. You can check the Hong Kong Disneyland website for information on how to get there.
7. Eat Your Way Through Kowloon
I do a lot of research to find the best local food experiences before every trip. But no amount of online digging will ever beat local knowledge, especially when it comes to food. If you want the deepest and most authentic experiences, then I highly recommend going on a food tour with a knowledgeable local.
8. Listen to Jazz at Hong Kong's Oldest Bar
We don't usually go out to bars when we travel but when Ren's cousin invited us to this jazz bar in Hong Kong, we just had to check it out. As it turns out, Ned Kelly's Last Stand in Tsim Sha Tsui (11A Ashley Rd) isn't just a jazz bar, it also happens to be Hong Kong's OLDEST bar.
Named after an Australian outlaw, it's a Western-style pub that plays live jazz music every night and serves happy hour from 11:30AM-9:30PM. Pretty cool eh?
Happy Hour: 11:30AM-9:30PM
9. Take a Cooking Class
Ever since we took this cooking class in Vietnam, Ren and I have been trying to make time for them wherever we go. Eating the local food is one thing, but actually learning how to make it is another. Simply put, there's no better way to get to know the local cuisine than by taking a cooking class. It's like looking under the cuisine's hood.
If you're interested in taking a cooking class in Hong Kong, then I suggest searching for one on Cookly. Cookly is a travel e-commerce platform that focuses just on cooking classes, so for me, there's no better place to look for one-day cooking classes when traveling than on Cookly. Check out what classes they have available in Hong Kong.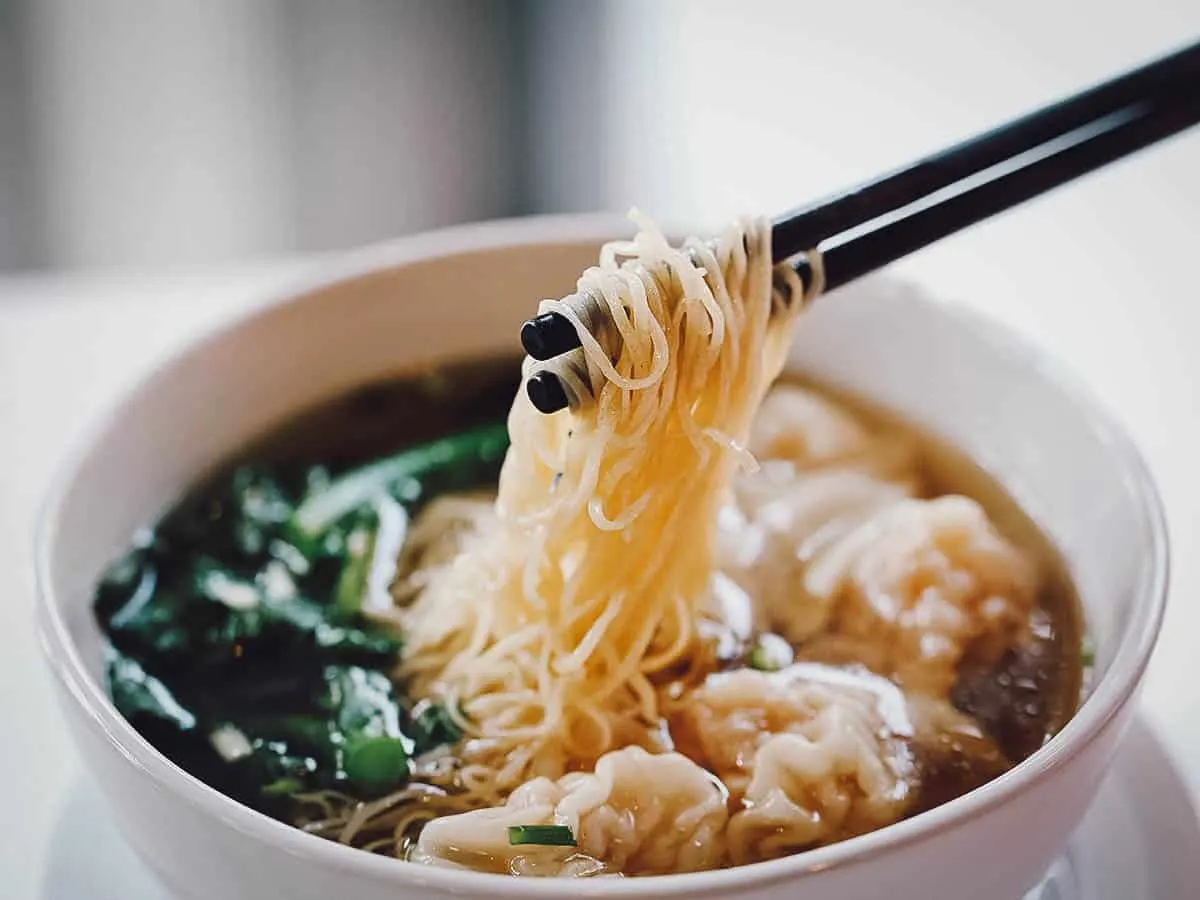 Photo by Piyato via Shutterstock
DAY TRIPS FROM THE CITY
1. Ride the Cable Car to Lantau Island and the Big Buddha
Like Victoria Peak, the Tian Tan Buddha on Lantau Island is one of Hong Kong's most popular attractions. It's an impressive sight at 34 meters high (112 feet). Most tourists go to Lantau Island via Ngong Ping 360 which is often cited as one of the best and longest cable car rides in the world (5.7 km).
Aside from the Big Buddha, the island is also known for Tai O Fishing Village which serves as a jumping off point for Chinese white dolphin watching tours. Chinese white dolphins are a species of pinkish-white dolphins that are native to Hong Kong's waters.
2. Explore Macau, the Las Vegas of Asia
Macau is only about an hour away from Hong Kong by fast ferry, making it a great day trip destination. Though it's emerged as the Las Vegas of Asia in recent years, there's a lot more to Macau than just gambling.
Take a walk through Senado Square and you'll see that the spirit of Old Macau is still very much alive. The Portuguese-influenced architecture is beautiful and the food is just delicious. In fact, we enjoyed one of our best meals from this trip in Macau. Check out our Day-Tripper's Travel Guide to Macau for more pictures and information.
Our Macau travel guide outlines how you can visit Macau on your own, but if you'd like to go on a guided tour, then you can arrange for one through Klook. They offer this all-in Macau Sightseeing Day Tour which starts in Hong Kong and includes ferry transfers and lunch at a 4-star hotel.
3. Go Hiking and Enjoy a Seafood Feast on Lamma Island
Many travelers know about Lantau Island because of the Big Buddha (and Hong Kong Disneyland), but there are several other outlying Hong Kong islands you can explore. One of the most popular is Lamma Island. About a 30-minute ferry ride from Hong Kong Island, it offers scenic hiking trails and some fantastic seafood.
If you're in the mood for an easy hike, then you can take a 20-minute ferry from Central Pier 4 to Yung Shue Wan on Lamma Island. You can then do the popular Lamma Island Family Trail which takes you from Yung Shue Wan to Sok Kwu Wan Fishing Village.
4. Cruise to Cheung Chau Island in a Chinese Junk
I've been to both islands decades ago and Cheung Chau Island is actually quite similar in appeal to Lamma Island. Like Lamma, it's a popular spot for hiking and indulging in seafood. However, I read that it gets more crowded than Lamma Island these days, especially over the weekend.
If you don't feel like braving the crowds, then you may want to visit the island on a short cruise aboard a traditional Chinese junk. Available only on Fridays, it'll take you from Central Pier 9 to Cheung Chau Island and back in less than two hours.
5. Hike the Dragon's Back
The Dragon's Back is arguably the most popular hiking trail in Hong Kong. So accessible and picturesque is this 4-hour hiking trail that it was named Asia's best urban hike by Time Magazine.
To get to the trail, you'll need to take the MTR to Shau Kei Wan Station. Proceed to exit A3 and take Bus No. 9 to To Tai Wan which should be 11 stops later. From there, you can follow the path leading up to the Dragon's Back Trail.
HONG KONG FOOD GUIDE
Hong Kong is a food lover's paradise. There is so much great food to be discovered here. If you're looking for the best and most authentic dining experiences, then check out our list of 19 must-eat restaurants and street food stalls in Hong Kong. It'll tell you where to find great examples of Cantonese favorites like dim sum, char siu, roast goose, and Hong Kong cart noodles.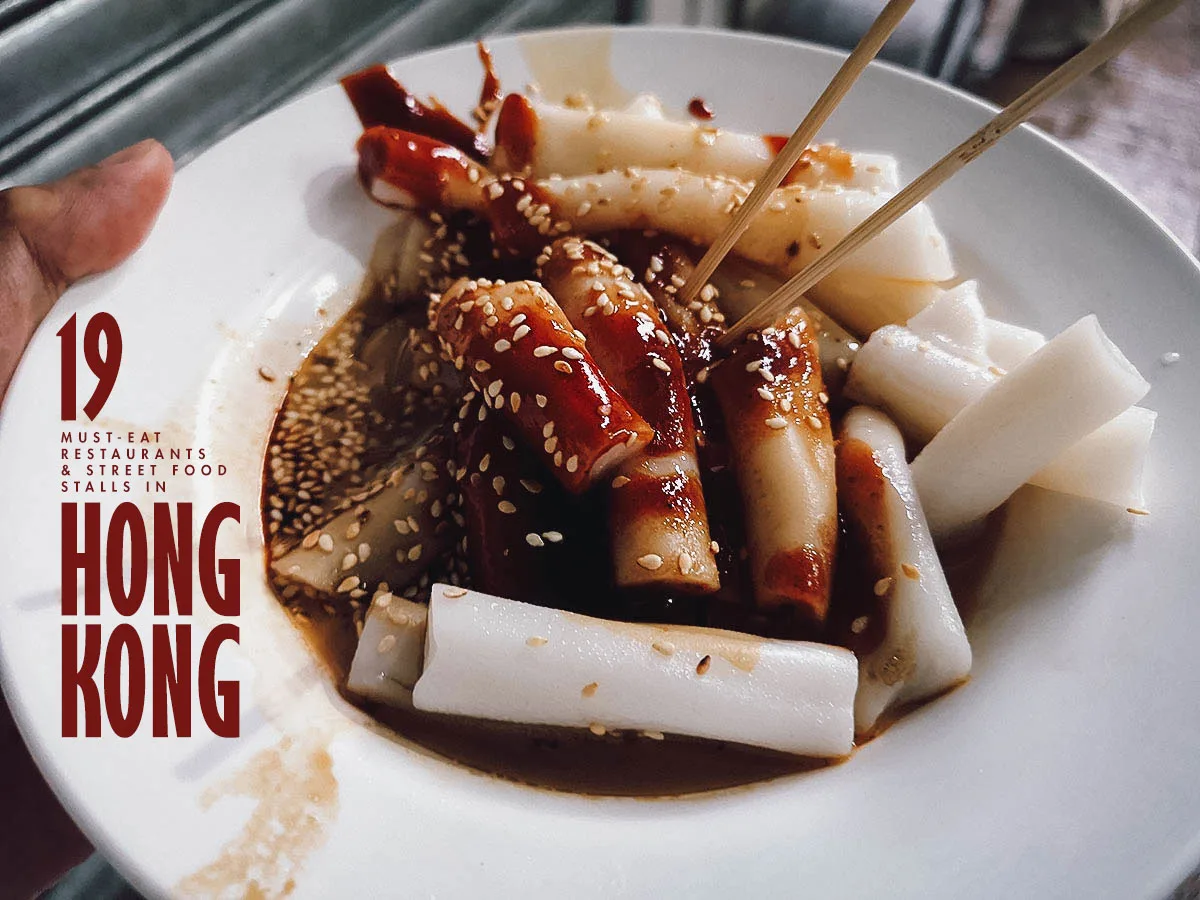 THE MICHELIN HONG KONG STREET FOOD GUIDE
For the first time in 2016, the Michelin Hong Kong added a street food section to their guide. We went to all 23 eateries on that list, all of which you can check out on our Michelin Hong Kong Street Food Guide. The list has changed since then but most of the original 23 are still on it. We'll be back in Hong Kong to update our guide but in the meantime, you can go to the official Michelin Guide for their latest list of recommended street food stalls in Hong Kong.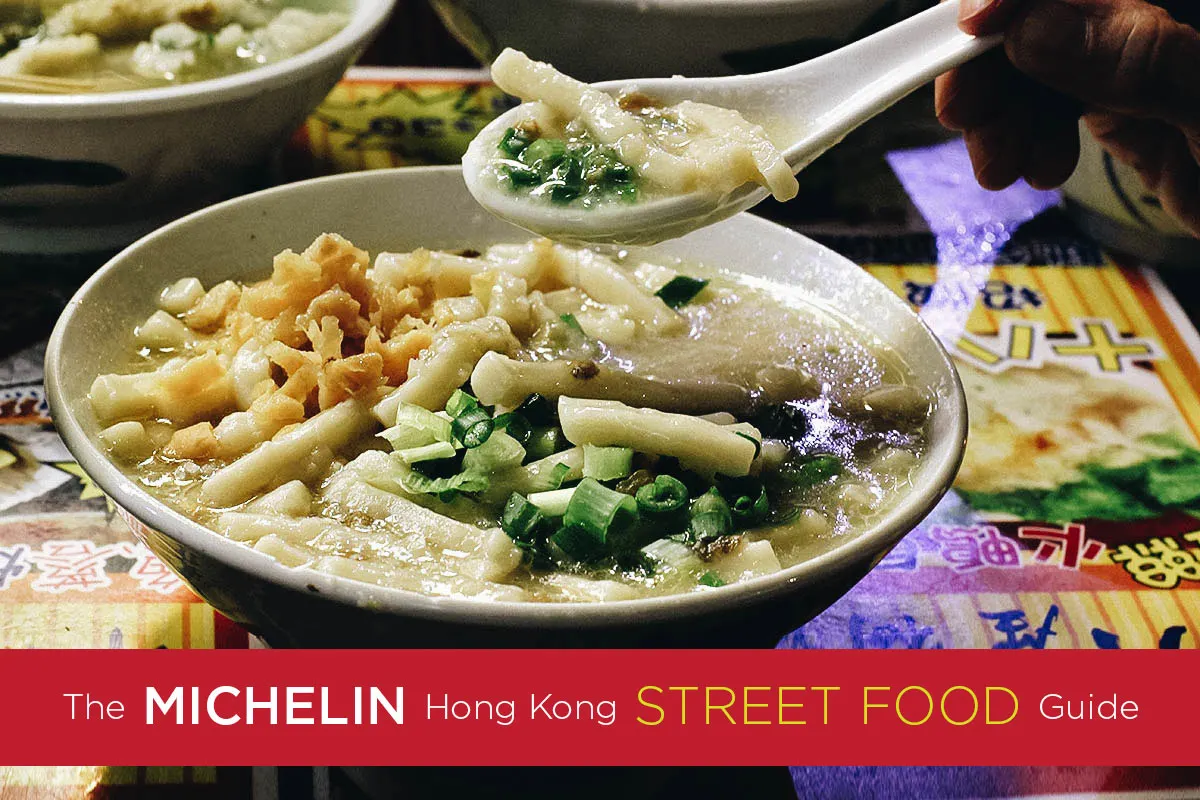 WHERE TO EAT
If you click on the links to both food guides above, then you'll find over 30 recommended restaurants. That's way too many for most people so I've narrowed them down to our six favorites below. In my opinion, eating at these six places will give first-timers a well-rounded Hong Kong food experience.
1. Yee Shun Milk Company
Yee Shun Milk Company is known for these delicious bowls of steamed buffalo's milk. They're prepared using a special steaming technique that produces a light and fluffy milk pudding with a think sheet of solidified milk on top. It's so good and something we'll definitely be having on every return trip to Hong Kong.
2. One Dim Sum
Dim sum is listed (unofficially) as one of two Hong Kong national dishes, so no visit to this city can be complete without experiencing it at least once.
3. Joy Hing Roasted Meat
Char siu or barbecued pork is the second Hong Kong national dish. Siu Mei shops selling char siu are ubiquitous in Hong Kong, but many believe that Joy Hing Roasted Meat in Wan Chai serves the best.
4. Yat Lok
Another popular dish in Hong Kong is roast goose. Like char siu, many siu mei shops offer roast goose, but one Michelin-starred Yat Lok has long been known for serving some of the city's best.
5. Tung Po
This is one of my favorite restaurants in Hong Kong. Tung Po is an indoor dai pai dong, which traditionally is an open-air food stall similar to a hawker center.
6. Mammy Pancake
Egg puffs are a popular street food in Hong Kong, and one of its most addictive. They're similar to waffles but they're shaped in bite-sized orbs made with egg-rich batter. They're so good and a fun snack to have on the go.
HOW TO GET AROUND HONG KONG
It's easy to get around Hong Kong using just the MTR. It's convenient and inexpensive. We never hopped into a cab or used Uber the entire week we were there.
The MTR is easy enough to figure out but if you need to travel by bus, then I suggest using the Google Maps app (iOS | Android) to help you navigate. I've always found bus systems to be more confusing than trains but this free app makes it so much easier. It'll tell you exactly how to get from one place to the next using any city's public transportation system.
As advised, it's best that you get an Octopus Card especially if you plan on using public transportation a lot. You'll never have to get single journey tickets or fish for exact change if you need to take the bus. It's accepted on the Peak Tram as well and you can use it to ride these iconic double decker trams to travel between east and west on Hong Kong Island.
Octopus Cards are available at any MTR station though you can purchase preloaded cards in advance through Klook. You can pick it up at the airport and it comes with HKD 50 preloaded. You can have it reloaded at any MTR station, participating convenience stores, fast food restaurants, coffee shops, and many other places as well. Click on the link to jump to the TRAVEL TIPS section for more information about the Octopus Card.
Short-term travelers to Hong Kong can also purchase an MTR Tourist Day Pass which gives you unlimited access to the MTR for 24 hours. Like the preloaded Octopus Card, you can pick it up from the airport. Follow the link for more information and to purchase an MTR Tourist Day Pass through Klook.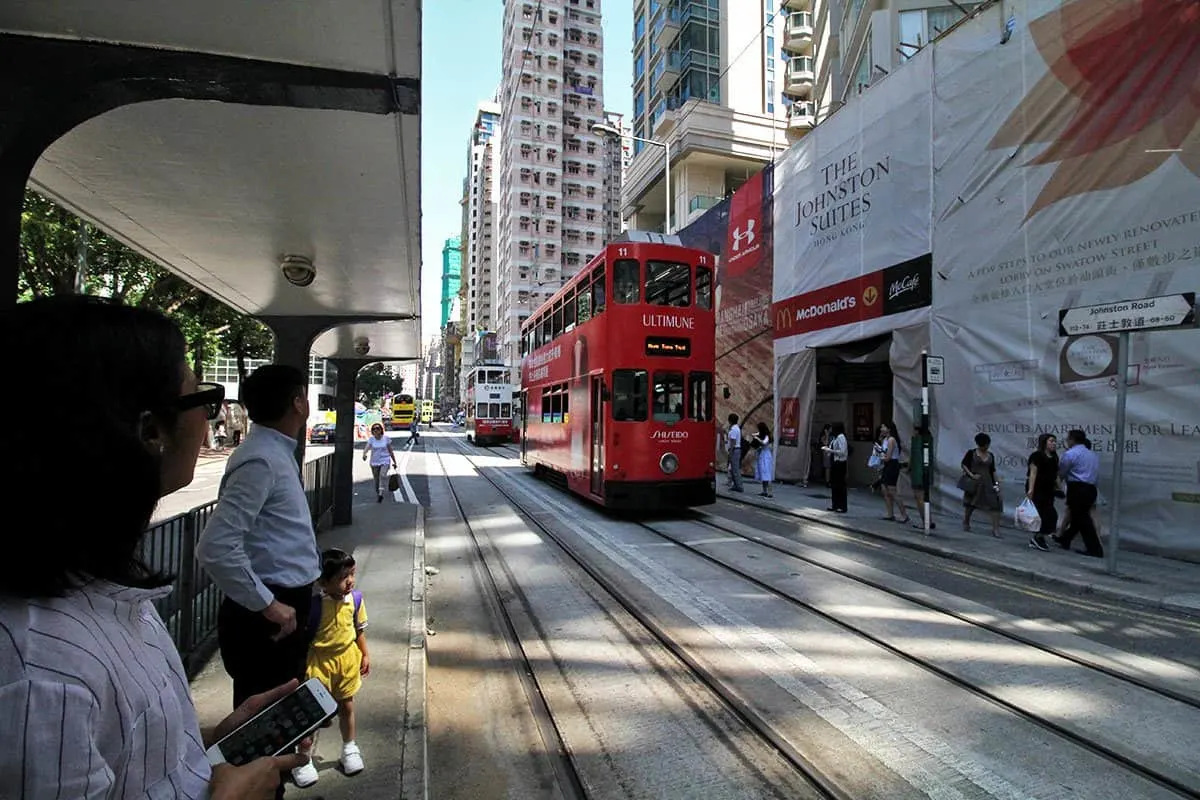 HOW MANY DAYS TO STAY / SAMPLE ITINERARY
We stayed a full week to give us enough time to visit all 23 eateries on Michelin's Street Food Guide, but you don't have to stay that long. Hong Kong isn't that big so 3-4 full days may be enough for many first-time travelers. If you can, then 5 days would be even better. It'll give you enough time to do most everything in this guide. Here's a 5-day sample itinerary to help you plan your trip.
DAY ONE
• Hop On Hop Off Bus
• Peak Tram
• Sky Terrace 428
• Repulse Bay
• Mid-Levels Escalator
• Man Mo Temple
• Lan Kwai Fong / Soho
• Sky100
DAY TWO
• Hong Kong Disneyland
DAY THREE
• Lantau Island
• Ngong Ping 360
• Tian Tan Buddha
• Po Lin Monastery
• Tai O Fishing Village
DAY FOUR
• Macau
• Coloane
• Original Lord Stowe's Bakery
• Taipa
• Senado Square
• Ruins of St. Paul
• Casinos
DAY FIVE
• Shopping
• Causeway Bay
• Tsim Sha Tsui
• Mong Kok
• Sham Shui Po
• A Symphony of Lights
BUDGET / SUMMARY OF EXPENSES
This is highly subjective since many people visit Hong Kong to shop. But if you take shopping out of the equation, then a budget of around HKD 520-550 per day for five days is a good baseline. This takes into account your hotel room (shared between two people), meals, transportation costs, pocket wifi rental, and the Hop On Hop Off Tour. I usually factor in all must-do admission fees but some of the places or activities mentioned in this guide may not be for everyone (like Disneyland or a day trip to Macau). The Big Bus Tour gives you a great overview of the city which is why I added it. You can then add the cost of any other tour/activity that you want to do to the suggested budget.
ACCOMMODATIONS
This varies from person to person. We booked a room at Mini Hotel Causeway Bay for about USD 61 a night.
MEALS
Food cost in Hong Kong is highly variable as well. You can pay HKD 15 for great street food or spend HKD 250 on a seafood feast. I budgeted HKD 150 per person per day which should give you plenty of options. You can get by with much less but why would you want to? Hong Kong is such a food-centric city that you may as well enjoy yourself. Budget more if you plan on dining at fancier restaurants.
POCKET WIFI RENTAL
If you're sharing the cost with one other person, then you'll be paying HKD 14 each per day.
TRANSPORTATION
This is highly variable too because it all depends on where you want to go. The base cost of the Octopus Card is HKD 150. This comes with HKD 100 of stored value. You can start with that and just top up as needed.
BIG BUS TOUR
If you purchase it through Klook, then the cost of the 24-hr Classic Tour is HKD 432 per person.
TOTAL


This comes out to a minimum of about HKD 521 per person per day. As advised, budget more if you plan on shopping or paying for tours and activities. Ren and I are middle of the road travelers who enjoy good food and drink, so this is a starting budget that works for us. Feel free to adjust based on your own travel habits.
TRAVEL TIPS
1. Plan your Trip with Sygic Travel
Do you find trip planning tedious or daunting? If you do, then this free trip planning app may make it easier for you. It allows you to pin points of interest on a map so you can see where everything is. That way you can easily organize attractions and restaurants by day to come up with an efficient itinerary. I've been using Sygic Travel for five years now and love it. Check out my full post on the Sygic Travel app for more information.
Follow this link to check out our 7-day Hong Kong / Macau eat-inerary on Sygic Travel. You can also download it in editable Word format from our EAT-ineraries page.
2. Rent a Pocket Wifi Device
Being able to connect to the internet is so important these days, especially when you're on a trip. It helps you maximize your time there by allowing you to do research, navigate, and find the best places to eat. In Hong Kong, that's key. We never go anywhere now without renting a pocket wifi device first.
You can connect to the internet by renting a pocket wifi device or buying a sim card. Personally, we prefer the former but either way is fine. Whichever you prefer, you can get them through Klook or Get Your Guide.
3. Get an Octopus Card
Ren's cousin tells us that all you need to survive in Hong Kong is a mobile phone and an Octopus Card. She was right. This incredibly convenient card can be used for so many things in Hong Kong. We bought them primarily for public transportation but you can use it for taxis, supermarkets, convenience stores, coffee shops, even bookstores.
There are several types of Octopus Cards available but we got the Standard which costs HKD 150. It's available at MTR stations and comes with HKD 100 of initial stored value and a HKD 50 deposit which you can refund at the end of your trip. Conveniently, you can have it reloaded not just at MTR stations, but at convenience stores, fast food restaurants, coffee shops, and other add value service providers as well. Octopus Cards are so convenient that getting one is a must on every trip to Hong Kong. Even if you won't be using public transportation that much, it's still good to have because you can use it to pay for other things.
As described, Octopus Cards are available at any MTR station though you can purchase preloaded cards in advance through Klook. You can pick it up at the airport and it comes with HKD 50 preloaded.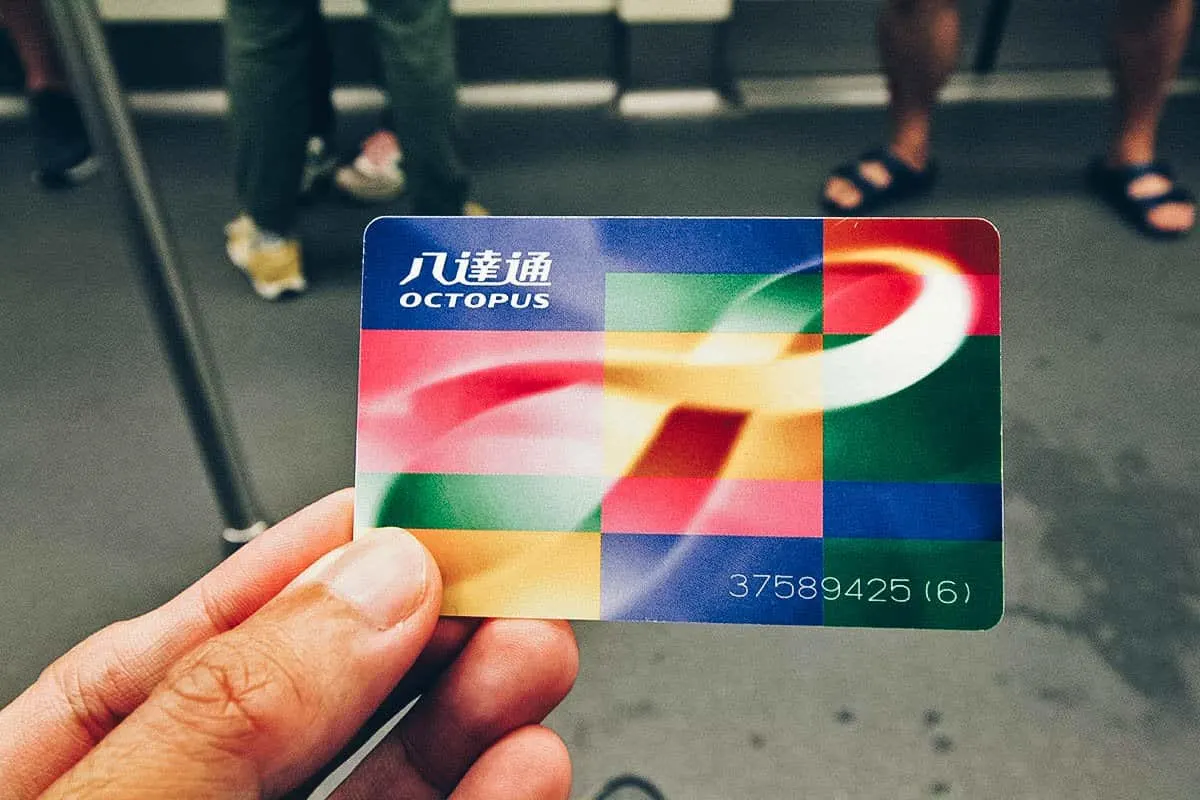 4. Invest in an iVenture Card
I didn't know about this until after our trip, but if you'll be visiting both Hong Kong and Macau, then you may want to invest in an iVenture Card. Available in 3- or 5-day passes, it's basically a prepaid attraction pass that saves you on the total cost of many of Hong Kong and Macau's top tourist attractions like the Peak Tram, Ngong Ping 360, Sky100, and Macau Tower, just to name a few. You can purchase it from the iVenture Card website, but you can save on the cost if you get it through Klook. Follow the link for more information on participating attractions and to purchase the iVenture Card through Klook.
5. Get Discount Tickets
There are many websites that offer discount passes to tours and services around the world, but in Hong Kong, my absolute favorite is Klook. They're based in Hong Kong so for me, there's no one better.
On this trip, we bought three Hong Kong deals from Klook — pocket wifi rental, Ngong Ping 360 and Peak Tram tickets — and we were happy with all of them. Klook is based in Hong Kong so in my opinion, there's no better company to buy Hong Kong travel deals from than Klook. They have the biggest and best selection with great prices all around.
6. Get Travel Insurance
Getting travel insurance is something we think about before every trip. It really depends on where we're going and more importantly, what we'll be doing. For a quick trip to Hong Kong just shopping and eating dim sum, then we may not get it. Our credit cards give us free (but limited) travel insurance anyway. But if we plan on doing crazier things like swimming with sharks or boxing with kangaroos, then we'll definitely pick up a policy.
When we do feel like we need it, we buy insurance from SafetyWing. They're a popular travel insurance company used by many digital nomads. Click on the link to get a free quote from SafetyWing.
7. Bring the Right Power Adapter
Hong Kong has Type G electrical outlets so be sure to bring the right power adapters for your devices. Electrical voltage is 220V and the standard frequency is 50Hz.
Have fun!
I've been to Hong Kong many many times but I still don't consider myself an expert. Nonetheless, I hope you find this guide useful and it helps you plan your trip. I'm only sharing some of the things I learned from all our visits there. If you have any questions or want to add anything, then please let us know in the comment section below. You're welcome to join our Facebook Travel Group as well.
Thanks for stopping by and have an awesome time shopping and eating your way through Hong Kong!
Disclosure
This travel guide contains affiliate links that will earn us a small commission if you make a booking at no added cost to you. We only recommend products and services that we use ourselves and firmly believe in. We really appreciate your support as this helps us make more of these free travel guides. Thank you!
Featured image by Philippsaal via Pixabay