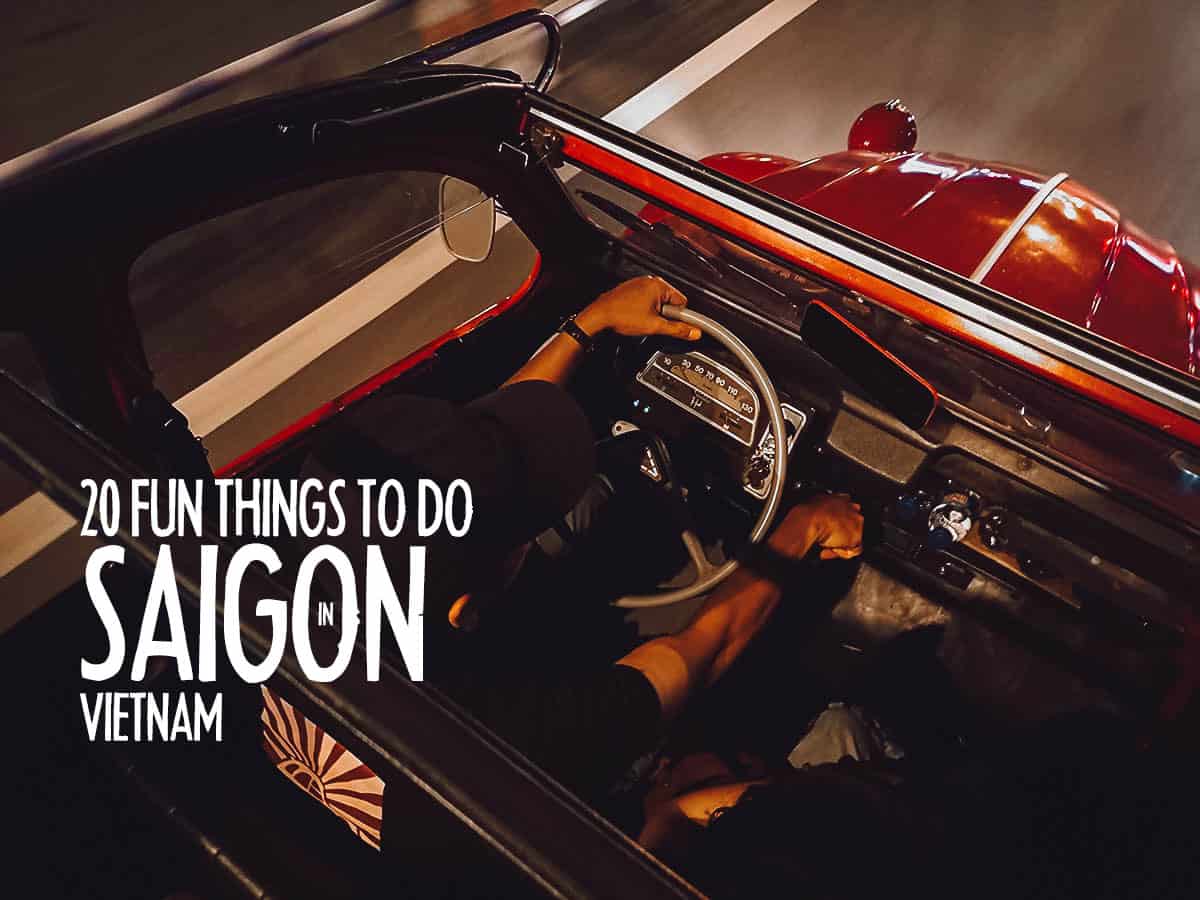 I'll be honest. For me, there's no better thing to do in Ho Chi Minh City than to eat. There is so much good food in Saigon. In my opinion, Hanoi is the more liveable city but Ho Chi Minh City has the best street food in Vietnam.
But as much fun as it is to eat, it isn't the only thing to do in Saigon. Ho Chi Minh City is a bustling metropolis of about nine million people with plenty of things to see and do.
If it's your first time visiting Saigon, then I've put together this list of twenty of the most fun things to do to help you plan your trip.
It's made up of a good mix of attractions, activities, day tours, and food experiences to make your trip to Ho Chi Minh City as well-rounded as possible.
THINGS TO DO IN HO CHI MINH CITY
1. Eat Pho
You can't visit Vietnam without eating pho. It's a Vietnamese national dish and one of the most recognizable foods in Vietnamese cuisine.
Variations exist between regions but at its core, pho is a noodle soup made with four basic ingredients – a clear stock, rice noodles, meat (typically beef or chicken), and herbs. The Vietnamese like to have it for breakfast but you can enjoy it at any time of the day.
2. Go on a City Tour
I don't find Ho Chi Minh City to be as walkable as Hanoi so it's a little harder to tour the city on your own. Grab Bike is a great and inexpensive way to go from one tourist attraction to the next.
3. Explore Ben Thanh Market
Ben Thanh Market in District 1 is the most famous market in Ho Chi Minh City and a great place to buy handicrafts and local souvenirs. It's one of the earliest surviving structures in Saigon and a key symbol of the city.
Being as popular as it is, Ben Thanh Market can get pretty crowded but it's definitely worth a visit, especially if it's your first time in Ho Chi Minh City. It has over 1,500 stalls selling everything from lacquerware, textiles, crafts, bags, spices, and shoes.
4. Feast on Snails at Vinh Khanh Street
This is one of my favorite things to do in Ho Chi Minh City. Oc or snails are a popular delicacy in Vietnam and Vinh Khanh Street may be the best place to have them.
Nicknamed "Seafood Street", Vinh Khanh Street is a strip in District 4 with street food stalls on either side selling all kinds of fresh seafood. It's a lively environment with loads of people enjoying seafood and beer by the side of a busy road. For me, a meal at Vinh Khanh Street is one of the best food experiences you can have in Saigon.
5. Have Vietnamese Coffee at a Cafe Apartment
You can have great coffee all throughout Vietnam, but only in Ho Chi Minh City will you find these quirky and super cool apartment block cafes.
Popularized by the Cafe Apartments on 42 Nguyen Hue Street, apartment block cafes are old and perhaps partially abandoned buildings that have been repurposed to house the most interesting cafes and boutiques.
6. Crawl Through the Cu Chi Tunnels
A visit to Cu Chi District is perhaps the most popular day trip you can make from Ho Chi Minh City. You'll be taken on a tour of the jungle and be shown what life was like for the Viet Cong during the Vietnam War.
Having studied in the west, I always heard the American side of the story so it was nice to learn about it from a different perspective. It was fascinating to see the elaborate tunnel system the Viet Cong had built during the war. Crawling through the very tight Cu Chi Tunnels was definitely a highlight.
7. Have a Banh Mi at "Lesbian Banh Mi"
Like pho, banh mi is a national dish and one of the most beloved foods in Vietnamese cuisine. You can find it pretty much anywhere in the country but the best banh mi I've had are in Hoi An and Ho Chi Minh City.
Strictly speaking, "banh mi" refers to bread but people use it to describe the sandwich made with a personal-sized baguette filled with a variety of ingredients like liver pate, cold cuts, pickled vegetables, cucumber slices, and cilantro. I love it. For me, it's one of the best sandwiches in the world.
Many shops serve great banh mi in Saigon but one of the best and most popular is Banh Mi Huynh Hoa. It's owned by a lesbian couple and often referred to as Banh Mi O Moi, meaning "lesbian banh mi".
8. Go on a Motorbike Tour
Motorbikes are a way of life in Vietnam. The Vietnamese learn to ride motorbikes at a young age so it's second nature to them. They're by far the best way of getting around Ho Chi Minh City.
Grab Bike is our preferred means of transport in Saigon but motorbikes are also great for tours. I went on this motorbike tour and was amazed by how deftly my driver and tour guide would give me his monologue while weaving through Ho Chi Minh City's crazy traffic. It was insane!
9. Take a Day Trip to the Mekong Delta
Aside from the Cu Chi Tunnels, a Mekong Delta tour is one of the most popular day trips you can make from Ho Chi Minh City. Known as Vietnam's "rice bowl", it's a fertile agricultural area that produces over a third of the country's annual food crop.
I spent a few days exploring the various towns along the Mekong River but you can easily visit the area on a day tour. Most if not all will take you to Ben Tre which is one of the closest Mekong Delta cities from Saigon.
10. Take a Cooking Class
Food tours are a great way of experiencing the local food but if you really want to learn about Vietnamese cuisine, then there's no better way to do that than by taking a cooking class. It's like looking under the cuisine's hood.
11. Ride a Cyclo
If you aren't comfortable going on a motorbike tour, then perhaps a cyclo tour is a good alternative. Cyclos are three-wheeled bicycle taxis that became popular in Vietnam during the French colonial period.
With the rise in popularity of motorbikes, cyclos have all but vanished as a viable means of transportation in Ho Chi Minh City. Today, they're pretty much used only by tourists as a more relaxed way of seeing the city.
12. Find the Snail Lady
There are snail street food stalls everywhere in Ho Chi Minh City. But if you're a fan of Street Food on Netflix, then you'll probably want to go to this one.
Affectionately called the "Snail Lady", Mrs. Truoc was the street food vendor featured on the Vietnam episode of Street Food. In fact, she was the episode's main storyline.
We enjoyed her story so much that we made it a point to find her stall on our most recent trip to Saigon. It wasn't easy so you can refer to this map for the exact location.
13. Visit a Viet Cong Cafe
This was one of the coolest cafes I visited in Ho Chi Minh City. It was cool not because it was trendy or hip. It was cool because of its history.
To the casual observer, Ca Phe Do Phu just looks like an old cafe with vintage memorabilia but look closer and you'll find something extraordinary.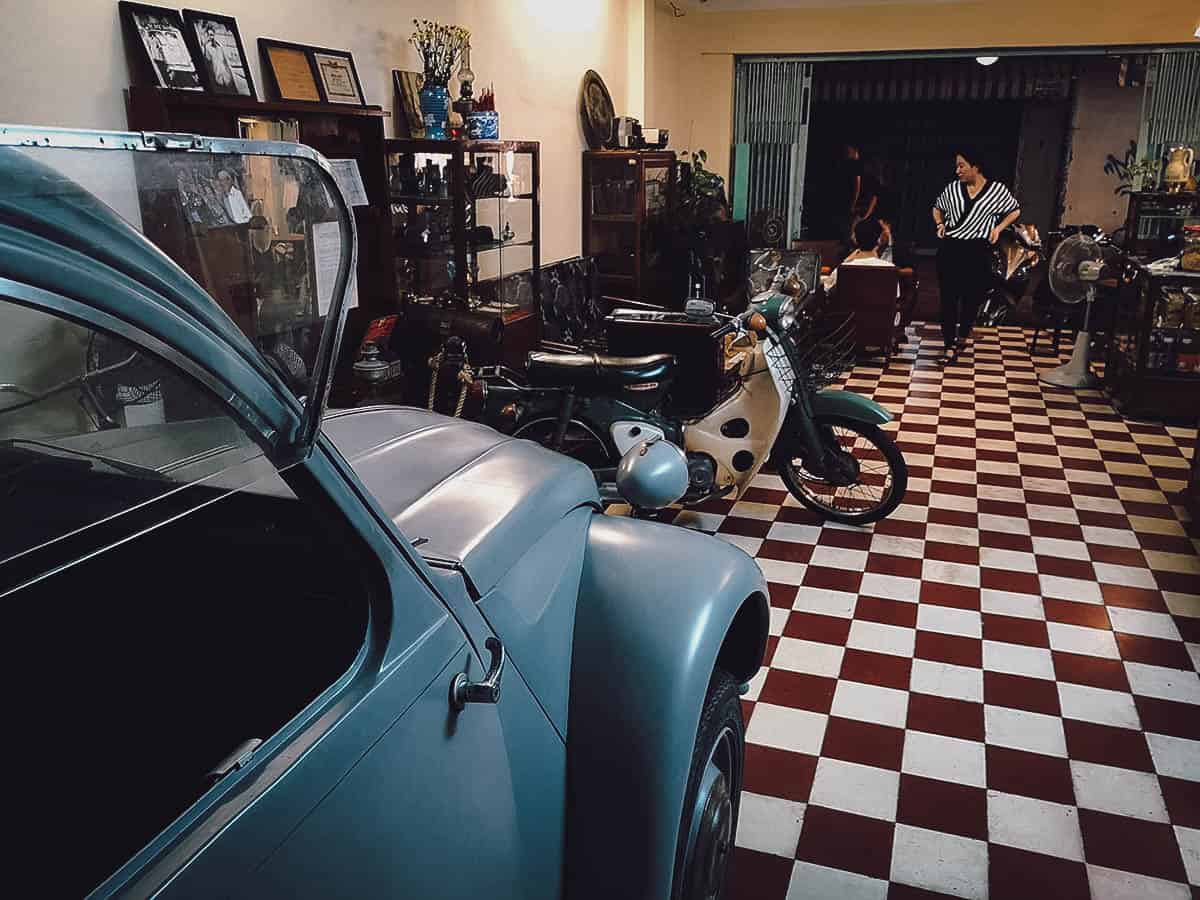 I visited Ca Phe Do Phu as part of a motorbike tour and my guide explained that it used to be the home of a Viet Cong supporter. Through the trap door pictured below is a bunker with a cache of old weapons and uniforms. Pretty interesting right? But it doesn't end there.
My guide took me through ladders that opened under sinks and secret passageways that served as escape routes in case the Viet Cong's meetings were discovered by the Americans. It's a fascinating space that isn't as well known to tourists visiting Saigon.
14. Eat Your Way Through Saigon in a Vintage Citroen 2CV
We've been on many food tours in different cities around the world but this was one of the coolest we've experienced so far. You'll be driven from food stop to food stop in Ho Chi Minh City in an open-top vintage Citroen 2CV.
If you'd like a fun and unique way of experiencing Saigon, then we highly recommend booking this tour. You can check out my article and video on this Citroen 2CV food tour for more information.
15. Have Breakfast in an Alley
This is another of our favorite experiences in Ho Chi Minh City and something we look forward to on every return visit. Banh Mi Hoa Ma is a street food stall that serves breakfast in an alley.
Open daily from 6-11AM, Banh Mi Hoa Ma specializes in banh mi op la which is a breakfast dish consisting of a baguette, two fried eggs, liver pate, an assortment of meats, and a side of pickled vegetables. It's a delicious plate of food that exemplifies the Vietnamese street food experience.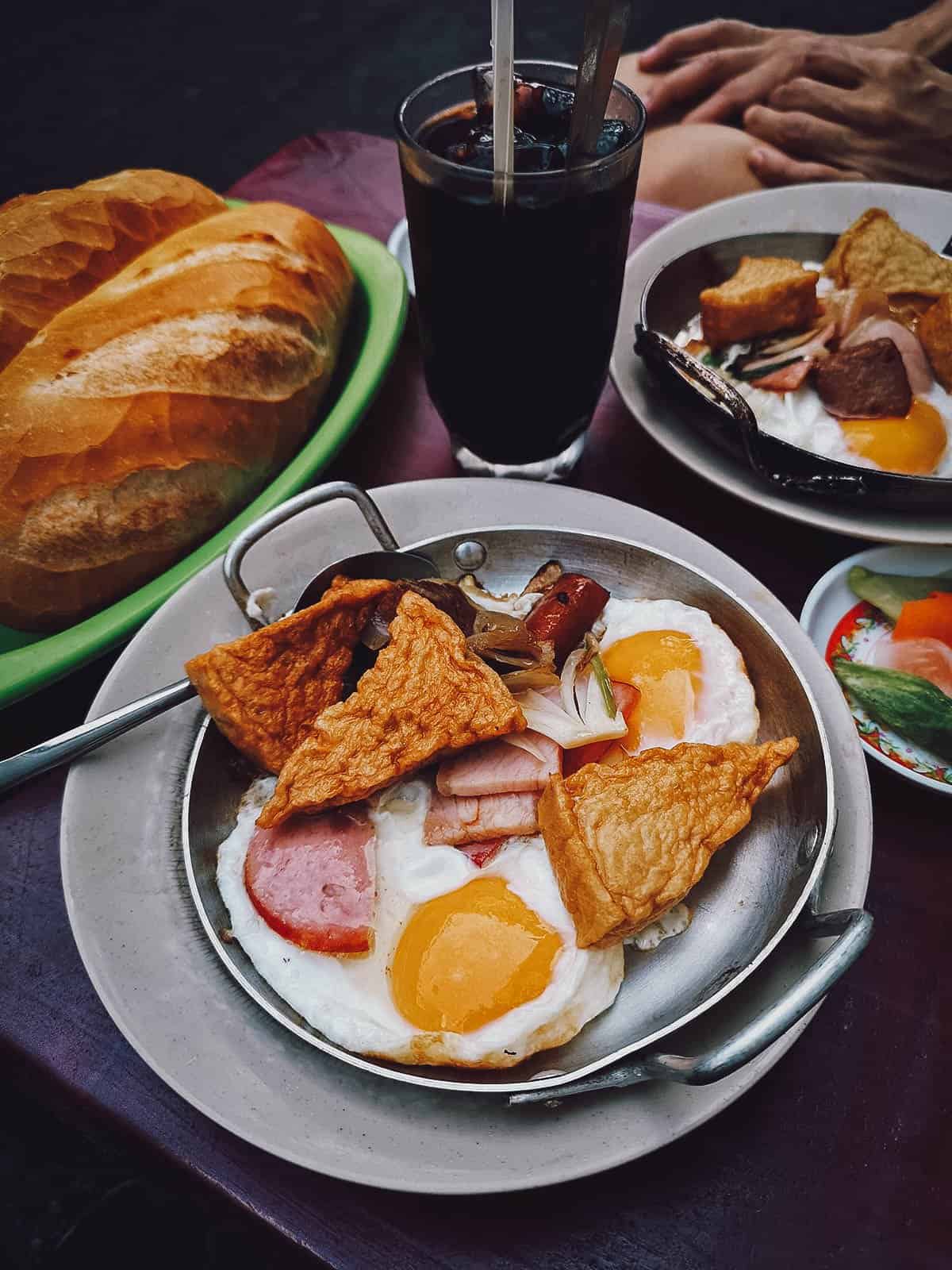 Here's a shot of Ren eagerly digging into her banh mi. It's such a terrific experience eating breakfast in an alley like this at eight in the morning.
16. Enjoy the View from Saigon Skydeck at Bitexco Financial Tower
If you like lofty views, then you're going to enjoy Saigon Skydeck. It's an observations deck that offers 360° panoramic views of Ho Chi Minh City from the 49th floor of Bitexco Financial Tower.
17. Watch a Show at Saigon Opera House
If you'd like to see a cultural performance in Saigon, then you may want to catch a show at The Municipal Theatre of Ho Chi Minh City. Also known as the Saigon Opera House, it's a lovely 500-seat theater that hosts ballets, concerts, and other artistic performances.
18. Eat Waterfall Chicken
This is one of our favorite dishes to eat in Ho Chi Minh City and something we look forward to on every return visit. "Waterfall chicken" refers to a crispy fried chicken dish served at Com Ga Xoi Mo Su Su.
The owner of Com Ga Xoi Mo Su Su is some type of mad tinkering genius that built this machine himself. What it does is send a stream of hot oil (around 180°C) showering down onto poached chicken and into a pool below before being sent up again.
The chicken's already cooked so it's left under the waterfall of oil for just a few minutes to crisp up the skin.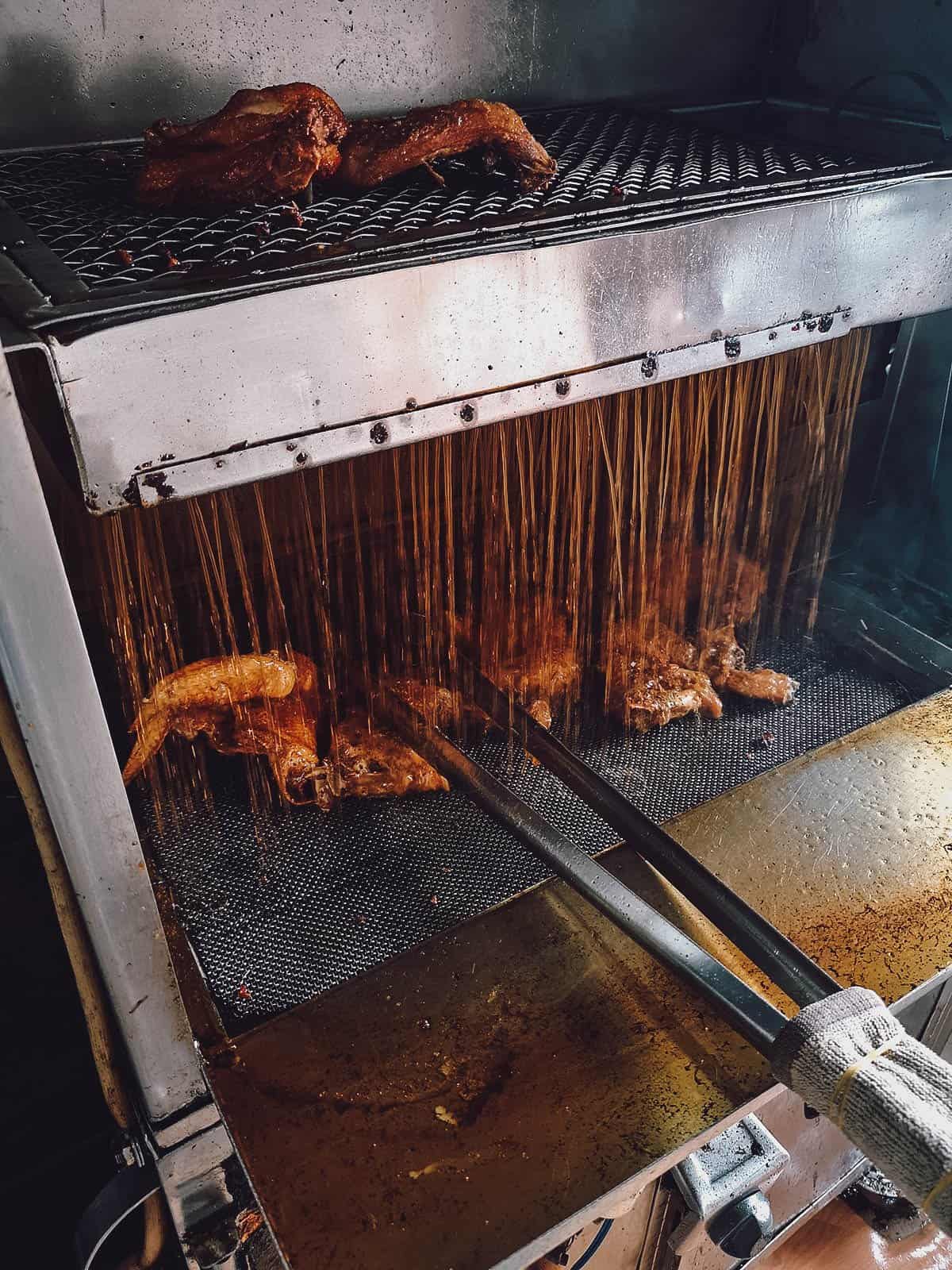 19. Go Bird Watching at Tao Dan Park
We learned about Tao Dan Park on the Ho Chi Minh City episode of Somebody Feed Phil. It's a green space in District 1 with gardens, a Buddhist temple, and a bird cafe.
We learned on the show that bird keeping is a popular hobby among men in Saigon. They like to bring their pet birds to this cafe every morning to chat over Vietnamese coffee.
20. Try Elevated Vietnamese Food at Vietnam House Restaurant
We're fans of Luke Nguyen. He's a Vietnamese-Australian chef and restaurateur who had a television series called Street Food Asia. We learned about many of the places we visited in Ho Chi Minh City from him, including Banh Mi Huynh Hoa, Banh Mi Hoa Ma, and Com Ga Xoi Mo Su Su.
Vietnam House Restaurant is Luke's upscale restaurant in District 1 which serves elevated interpretations of classic Vietnamese street food dishes like banh xeo, goi cuon, and cha gio. If you're interested in having a special meal in Ho Chi Minh City, then Vietnam House Restaurant is a good place to go.
Disclosure
Some of the links in this guide are affiliate links, meaning we'll get a small commission if you make a purchase at NO extra cost to you. We only recommend products and services that we use ourselves and firmly believe in. We really appreciate your support as this helps us make more of these free travel guides. Thank you!