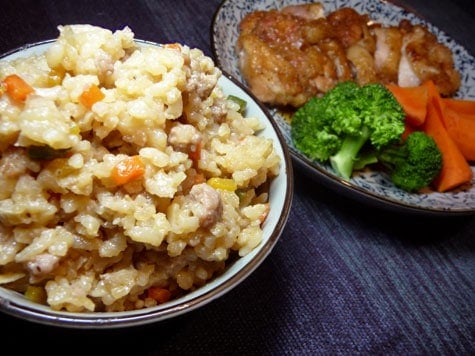 Ren's Japanese Fried Rice ala Kimpura with Chicken Teriyaki
NOTICE: Your health and safety come first. Please adhere to the WHO recommendations and avoid any non-essential travel at this time. If travel is unavoidable for you, then please refer to these advisories on COVID-19 coverage from our friends at World Nomads and SafetyWing. Please be advised that all information on this website is for travel pre-COVID-19. We'll update the information soon as new travel guidelines become clearer.
DISCLOSURE: Some of our articles contain affiliate links. The ones that do will have a disclosure statement at the bottom. You can refer to our privacy policy and terms of use for more information.
Like many of our contemporaries who grew up in the 70s and 80s, Ren and I fondly remember Kimpura as THE restaurant to go to to celebrate a special occasion or event. Whether it be a graduation, birthday, or anniversary, Kimpura was always at the top of our list.
One of the many things we loved about Kimpura, aside from their unparalleled ebi tempura, was their equally delicious fried rice. Cooked in front of you teppanyaki style, I always marveled at how adeptly, and with so much panache, the chef would flip, crack, toss, mix and scrape all the ingredients into these perfect, steaming little bowls of fried rice.
Ren, the budding gourmet at 8, was more keen in her observation, noting each ingredient and its corresponding amount with every visit. The beautiful bowl of fried rice that you see before you is the culmination of all those years (and special occasions) of quiet, but telling, captivation.
Oh, and yeah, her chicken teriyaki kicks ass too. 🙂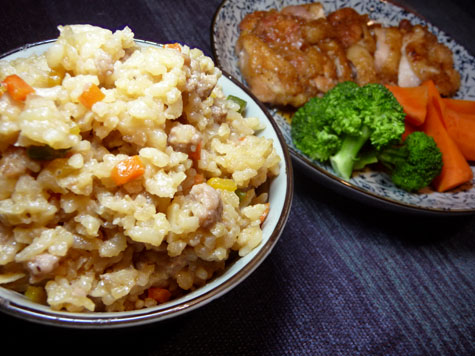 The viand isn't always the star.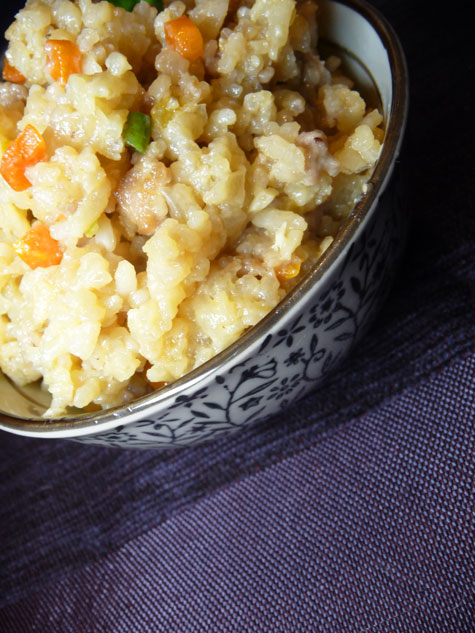 The willing and gracious supporting player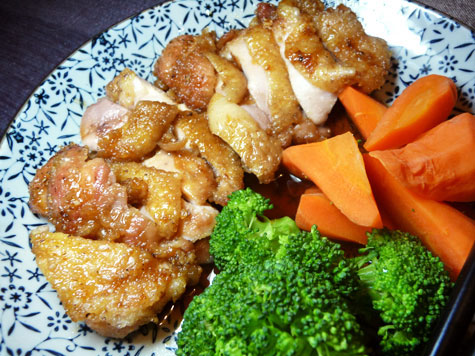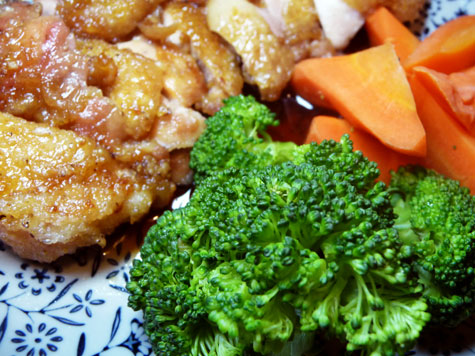 These last 2 photos were taken on the second day, after Ren had added a slurry (corn starch and water mixture) to the teriyaki sauce, making it thicker and more syrupy. This is the teriyaki sauce consistency that's more commonly seen in restaurants. I much prefer the less sweet and more authentic version from the night before.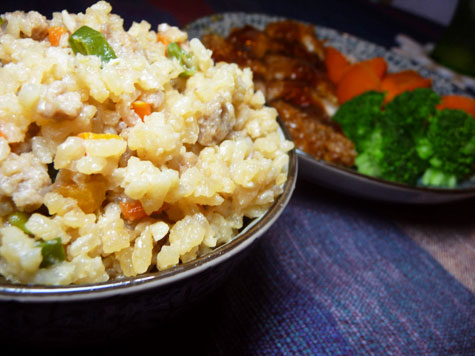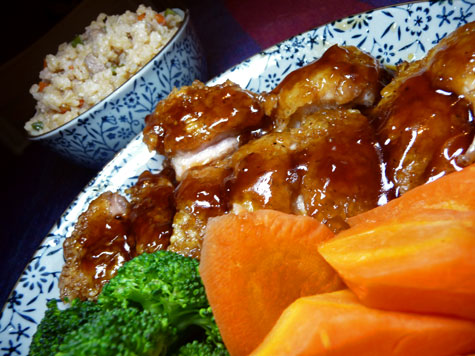 Ingredients
FOR THE JAPANESE FRIED RICE
5 cups day-old, cooked japanese rice
2 Tbsps butter
1 Tbsp vegetable oil
1 small carrot, finely diced
1 cup baguio beans, finely chopped
1/4 kilo lean ground pork
1/3 cup kikkoman or any premium soy sauce
1/3 cup mirin
Splash of sake or rice wine
1 large egg
Salt and white pepper, to taste
4 garlic cloves, minced
1 large white onion, minced
FOR THE CHICKEN TERIYAKI
230 grams or 1/4 kilo boneless chicken thighs
Vegetable oil
Garlic cloves
1/4 medium bunch of broccoli, steamed
1/4 large carrot, cut into chunks. steamed
1/4 cup plus 2 Tbsps mirin
1/4 cup soy sauce
1/4 cup sake or rice wine
White pepper
Salt
Flour
Directions
FOR THE JAPANESE FRIED RICE
Heat butter and vegetable in a large wok or skillet. Add onions, garlic, carrot, beans and cook til soft.
Add ground pork; season with salt and white pepper, and stir-fry until no longer pink.
Add cooked rice, soy sauce and mirin and mix well. splash on sake or rice wine and continue to mix.
Adjust seasoning to taste. break egg on top of rice mixture and keep mixing until well combined and egg is cooked.
Serve on individual bowls or a large serving platter.
FOR THE CHICKEN TERIYAKI
Sprinkle a little white pepper and salt on both sides of the chicken breast. Coat with a bit of flour.
To make teriyaki sauce, mix soy sauce with mirin.
Place a few pieces of unwrapped garlic on skillet with generous amount of vegetable oil on low heat so it will not burn. Stir occasionally and cook for a few minutes and then remove.
Pan fry chicken in skillet for about 4-5 minutes on medium heat and then flip and cook other side for another 2 minutes.
Momentarily set aside chicken and discard oil. Put chicken back in pan.
When fully cooked, pour in sake or rice wine into skillet to flash or flambé chicken. Be careful not to stand close to pan. Let sake/rice wine reduce by more than half.
Add in teriyaki sauce and reduce until thick.
Remove chicken pieces and cut into strips. Place broccoli and carrots on plate, followed by cut chicken, then pour teriyaki sauce over chicken.
DID YOU KNOW?
That Kimpura has been in business for over 40 years? Since they first opened their doors on October 10, 1970 at what was then known as the Makati Commercial Center, they have set the bar for Japanese restaurants in the Philippines, often being credited for bringing Japanese cuisine to the mainstream.