Osaka will always be one of our favorite destinations in Japan. Japan is one of the world's best countries for food and Osaka is one of its most famous food cities.
Since 2014, we've been to Osaka a total of four times. Each visit gives us the opportunity to explore new restaurants and to continually update and refine this Osaka food guide.
Our goal is to lead you to the most interesting Japanese food experiences and the best restaurants in Osaka, and I believe we've done just that with the latest edition of this guide.
We understand that when it comes to food, local knowledge is key. No one understands a destination's cuisine better than a local which is why most of the Osaka restaurants and Japanese street food stalls featured here were recommended by locals – either by friends, Japanese food blogs, or local restaurant review sites. We've even included the eateries featured on the Japan episode of Street Food on Netflix.
If you're looking for the best food in Osaka – experiences that will make you fall in love with this delicious city as much as we have – then you've come to the right place.
WHAT & WHERE TO EAT IN OSAKA
A list of 25 Osaka restaurants can be difficult to go through so I've organized the restaurants by dish to make it easier to digest. Osaka is best known for takoyaki and okonomiyaki so if you're interested in Osaka food specialties, then you can start with those.
TAKOYAKI
As described, there are two dishes that Osaka is particularly known for – takoyaki and okonomiyaki. Both are Osaka food favorites that can be found throughout the city.
Takoyaki is a ball-shaped snack made with wheat flour batter cooked in a special molded pan. It's typically filled with octopus (tako), tempura scraps, pickled ginger, and green onion. They can be served plain or brushed with takoyaki sauce and mayonnaise, then sprinkled with green laver and bonito shavings.
Although they come in the shape of balls, they're actually very soft in texture. Save for the slightly crisped up skin which allows it to retain its shape, the center is almost liquid-y in consistency with a nice chewy bit of octopus in the middle. It's a fun and easy snack to eat on the go.
1. Takoyaki Tamaya
With takoyaki being an Osaka food staple, I wanted to find the best so my research led us to this place – Takoyaki Tamaya. The Japanese blogger who recommended it described it as the best takoyaki she's tasted thus far in Osaka. Their secret? Lobster in the soup broth.
Takoyaki Tamaya offers several different varieties, but you may want to get this sampler of eight so you can try them all. They top them with things like curry powder, barbecue sauce, garlic soy sauce, and ponzu sauce.

As I learn time and time again, simple is usually the best. Their most popular flavor is this basic but delicious rock salt with mayonnaise.
Because we haven't eat takoyaki enough, I knew neither Ren nor I would really notice the difference between this one and "lesser" takoyakis, but I thought our Japanese friend Tsutomu would. Turns out, he couldn't either. Takoyaki is one of those things that varies little from place to place, so chances are it's going to be good no matter where you go.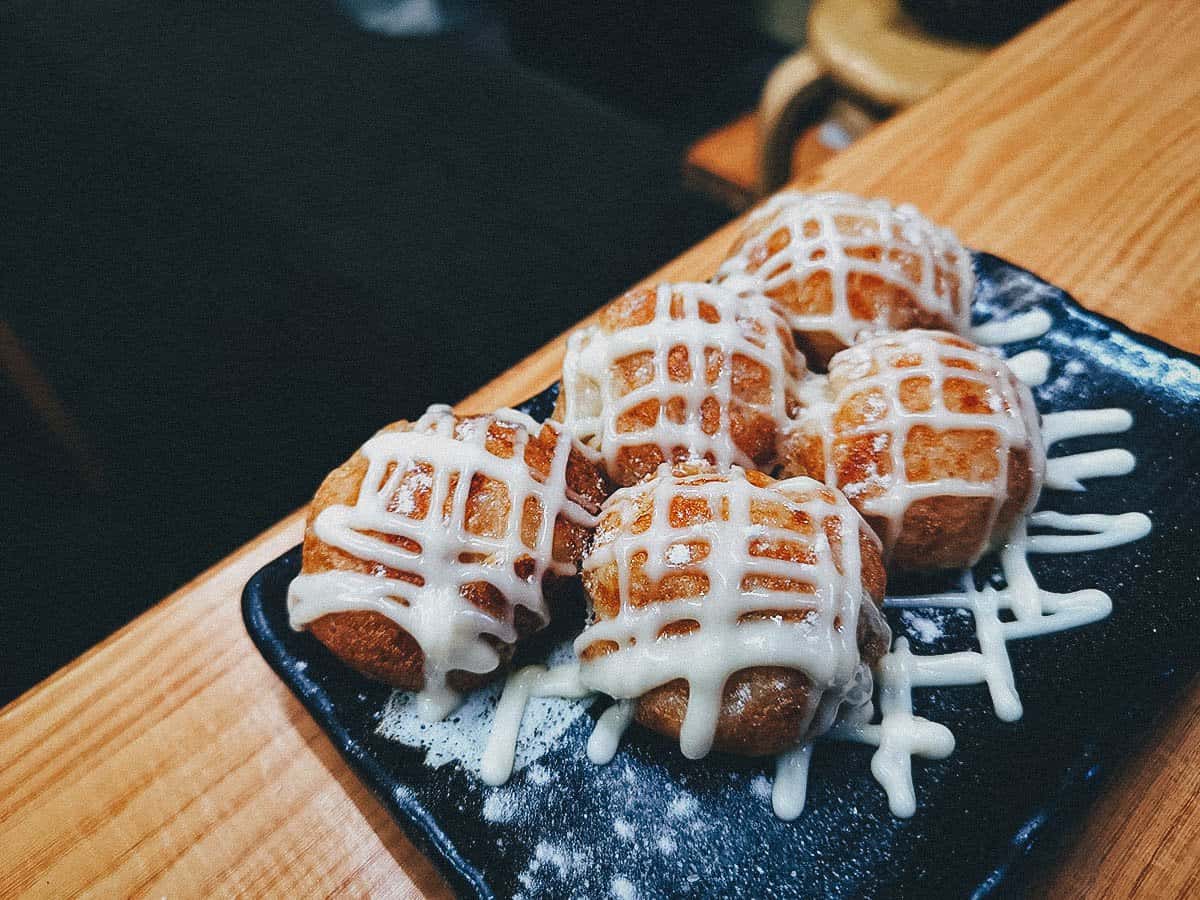 2. Takoyaki Doraku Wanaka
My friend took me here on my most recent trip to Osaka. According to him, it's one of the most popular takoyaki chains in the city. This one was topped with the classic combination of takoyaki sauce, mayo, laver, and bonito flakes. If it's your first time trying takoyaki in Osaka, then this is how you should have it.
Aside from the variety in toppings, one difference I noticed about the takoyaki between stalls is how runny or thick its consistency is. I guess that it boils down to how long they're kept on the griddle. The longer they cook, the less gooey they become. These were more on the runny side.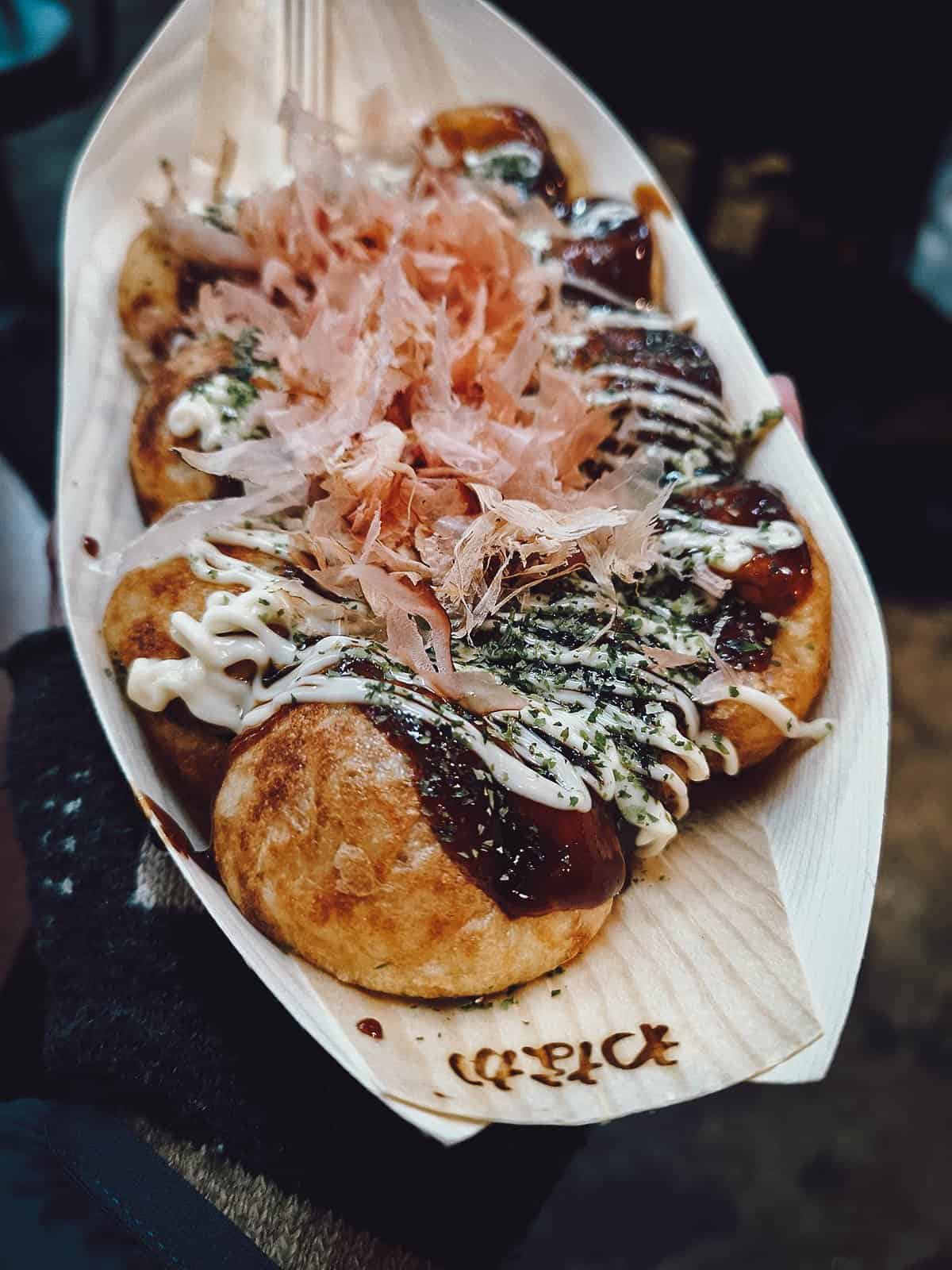 3. Takoyaki Umaiya
Umaiya was the takoyaki stall featured on Netflix and another great place to try this Osaka food classic. It's located just a short walk from the Takoyaki Doraku Wanaka branch we visited in Kita Ward so you can try both on the same day. Let us know which you prefer.
Umaiya serves a simpler version of takoyaki brushed with just takoyaki sauce. It was tasty and less gooey than the takoyaki at Doraku Wanaka.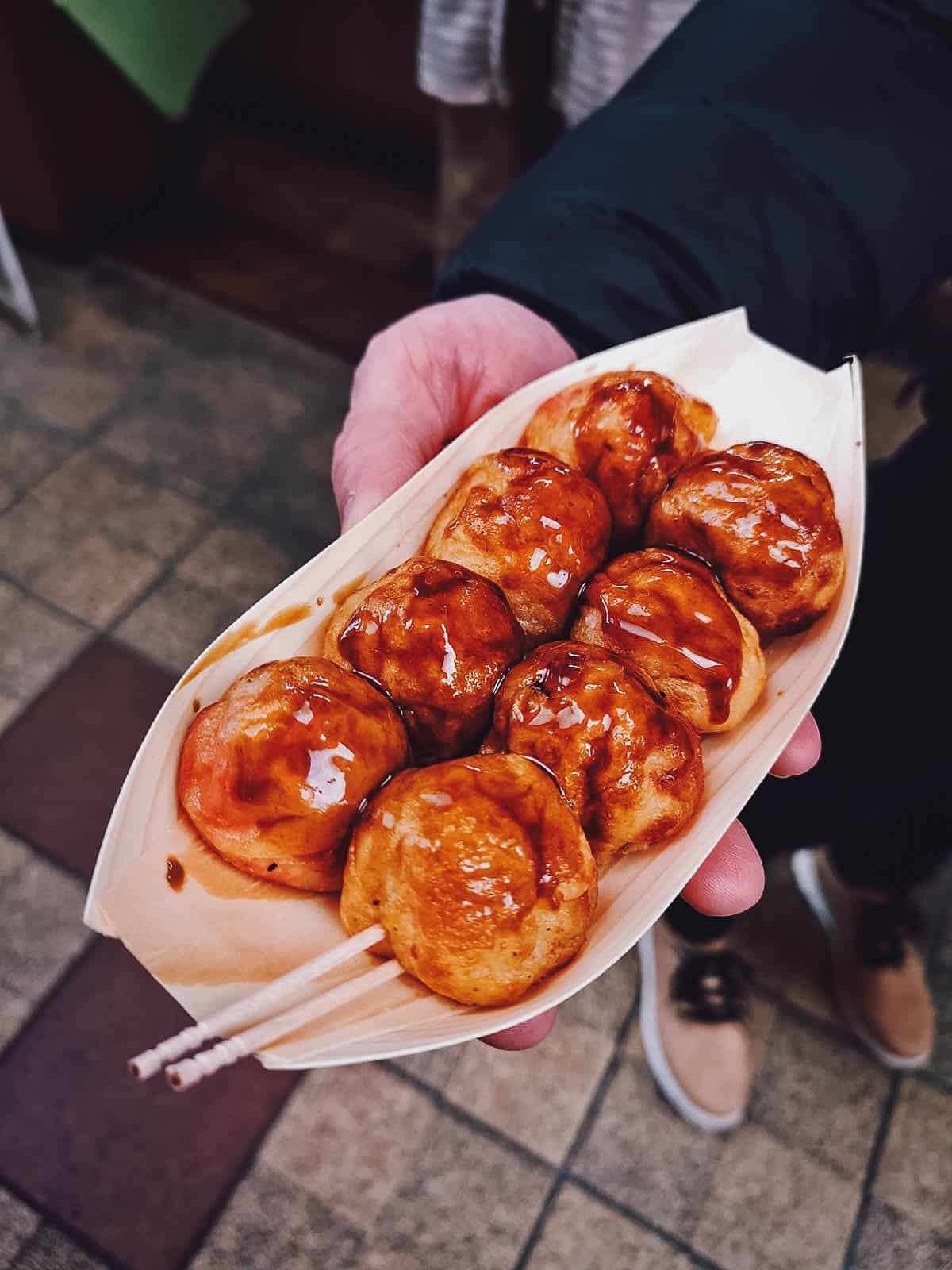 OKONOMIYAKI
Like takoyaki, okonomiyaki is one of the dishes that Osaka is best known for. It's a simple but comforting Osaka food favorite that's easy on the palate.
Okonomiyaki is basically a Japanese savory-sweet pancake made with wheat flour batter mixed with eggs, grated yam, and shredded cabbage. It's often cooked on a teppanyaki grill in front of you, and typically contains other ingredients as well like green onion, pork belly, seafood, vegetables, and cheese.
4. Okonomiyaki Mizuno
You can find okonomiyaki restaurants throughout Osaka so it was important for me to find the best. My research led me to Okonimayki Mizuno, a Michelin-recommended restaurant long known for serving some of the very best okonomiyaki in Osaka.
Pictured below is Mizuno's bestseller – the yamaimo-yaki – which you can have with two of of the following ingredients: pork sirloin, pork belly, scallop, squid, shrimp, and oyster. I don't remember what we got but I do remember it being delicious.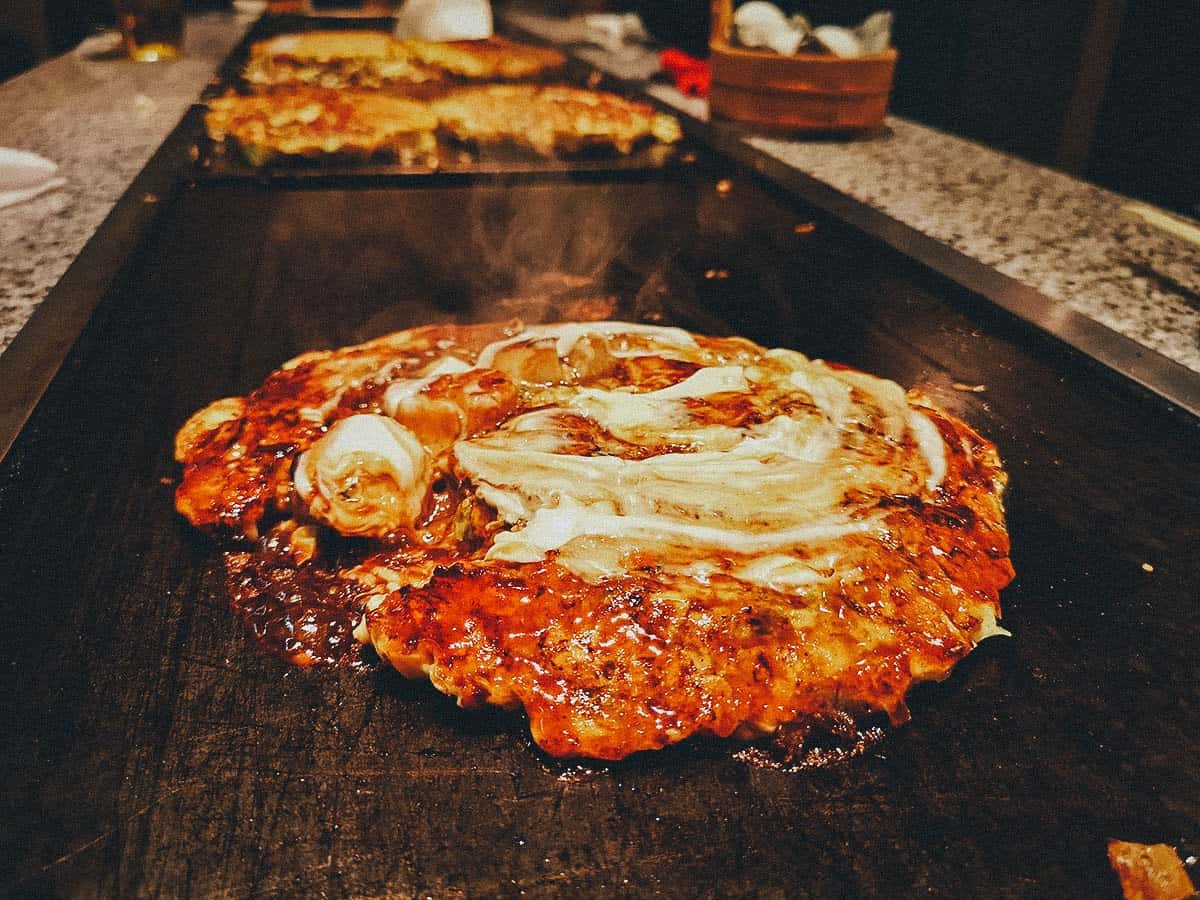 This is a version of okonomiyaki called modan-yaki which is made with a layer of fried noodles, either udon or yakisoba.
We ate here with out friend Tustomu. It was his first time here and unlike the takoyaki at Tamaya, Tsutomu concurred that the okonomiyaki at Mizuno was one of the best he's ever had. When it comes to okonomiyaki, Mizuno really is one of the best places to eat in Osaka.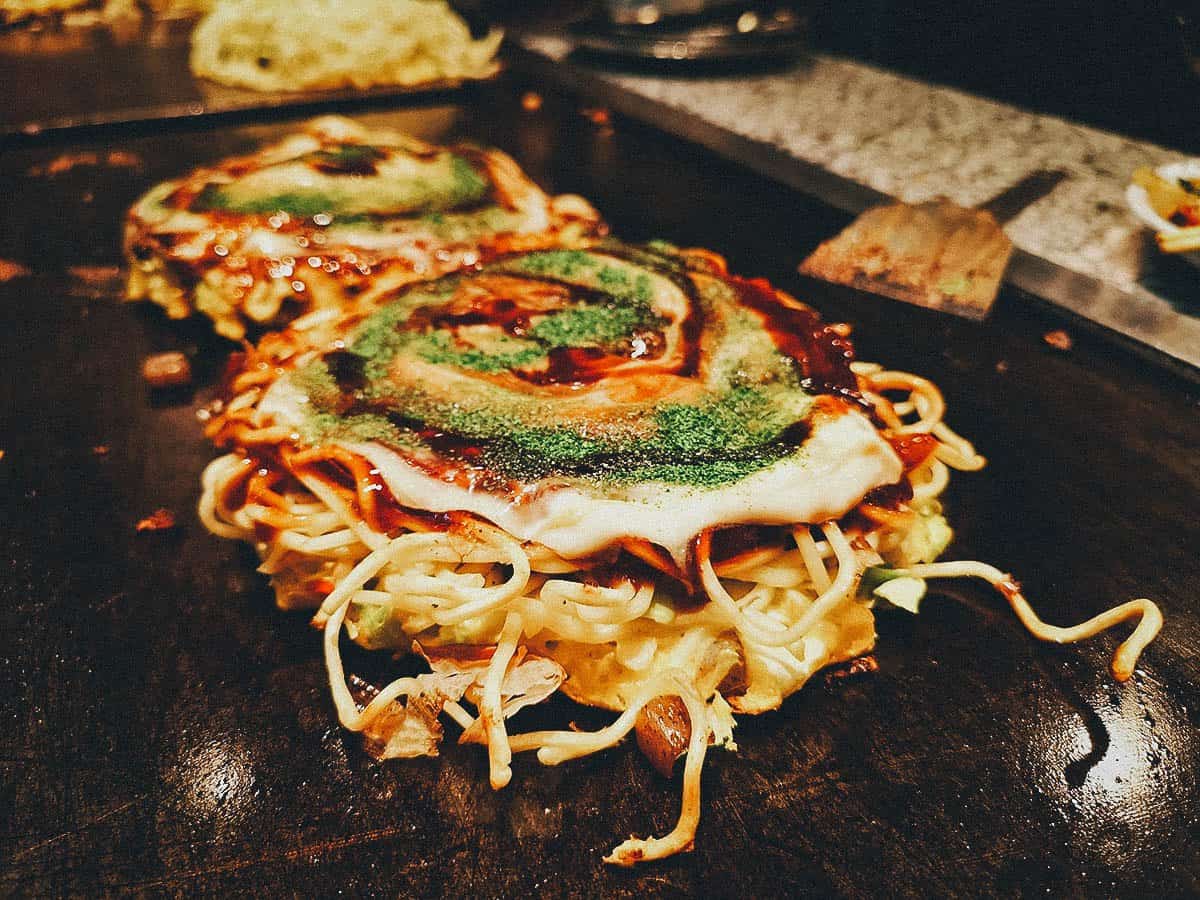 5. Fue
This is the okonomiyaki restaurant featured on Netflix. Tsutomu and I shared two kinds – a butatama made with pork and an ikatama made with squid. They were both delicious, a bit firmer than other okonomiyakis I've tried, which I liked.
They serve them to you brushed with just okonomiyaki sauce and Japanese mayo so you can top them with as much laver and bonito flakes as you like.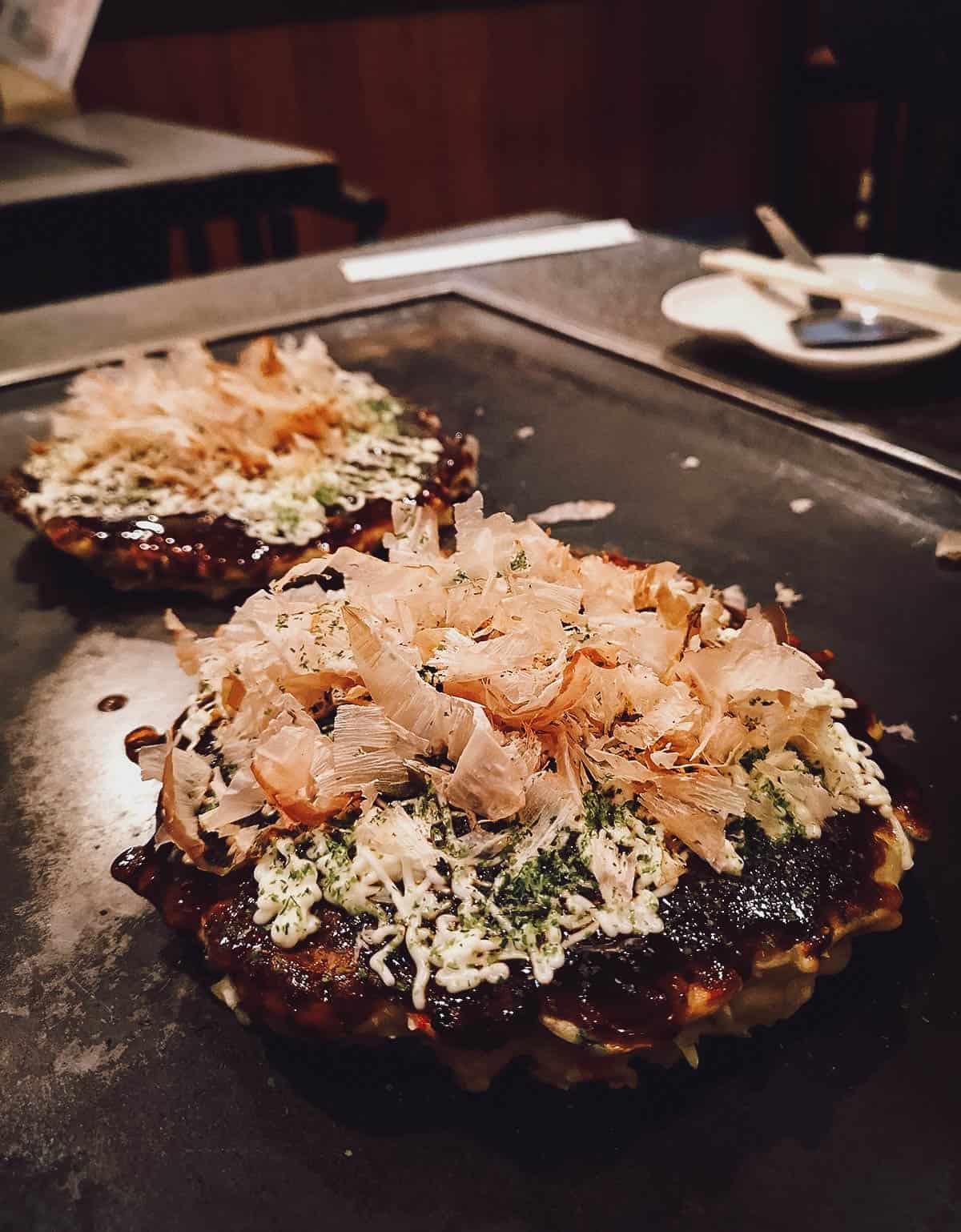 This is what the insides of an okonomiyaki look like. I enjoyed how the okonomiyaki at Fue holds it shape even when sliced like this. Many tend to just fall apart when you start dividing it with your spatula.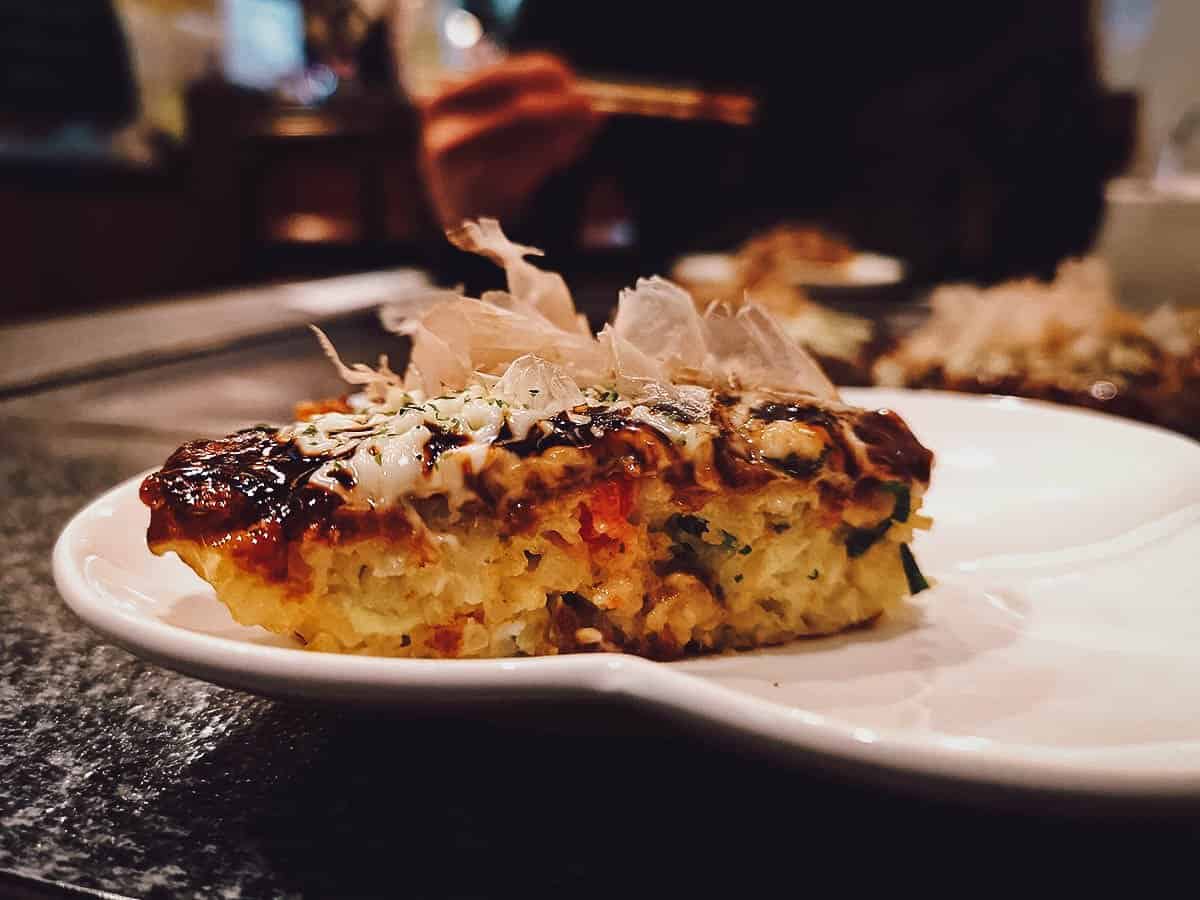 SUSHI
No self-respecting Osaka food guide would be complete without the mention of sushi, one of the greatest dishes in Japanese cuisine. This delectable dish of vinegared rice topped with a sliver of raw fish is my absolute favorite food in the world.
Sushi is one of the most well-known Japanese dishes and something you can have throughout the country. For many people, it's the first thing that comes to mind when they think of Japanese cuisine.
6. Daiki Suisan
Sushi is served in many places – at restaurants, at sushi bars, even at convenience stores. Our favorite place to have sushi in Japan is at kaiten-zushi restaurants. Kaiten-zushi refers to a restaurant that offers sushi on a rotating conveyor belt. Customers are free to grab any plate of sushi they want as it makes its way through the restaurant.
In my hand below is a plate of kani or crab sushi.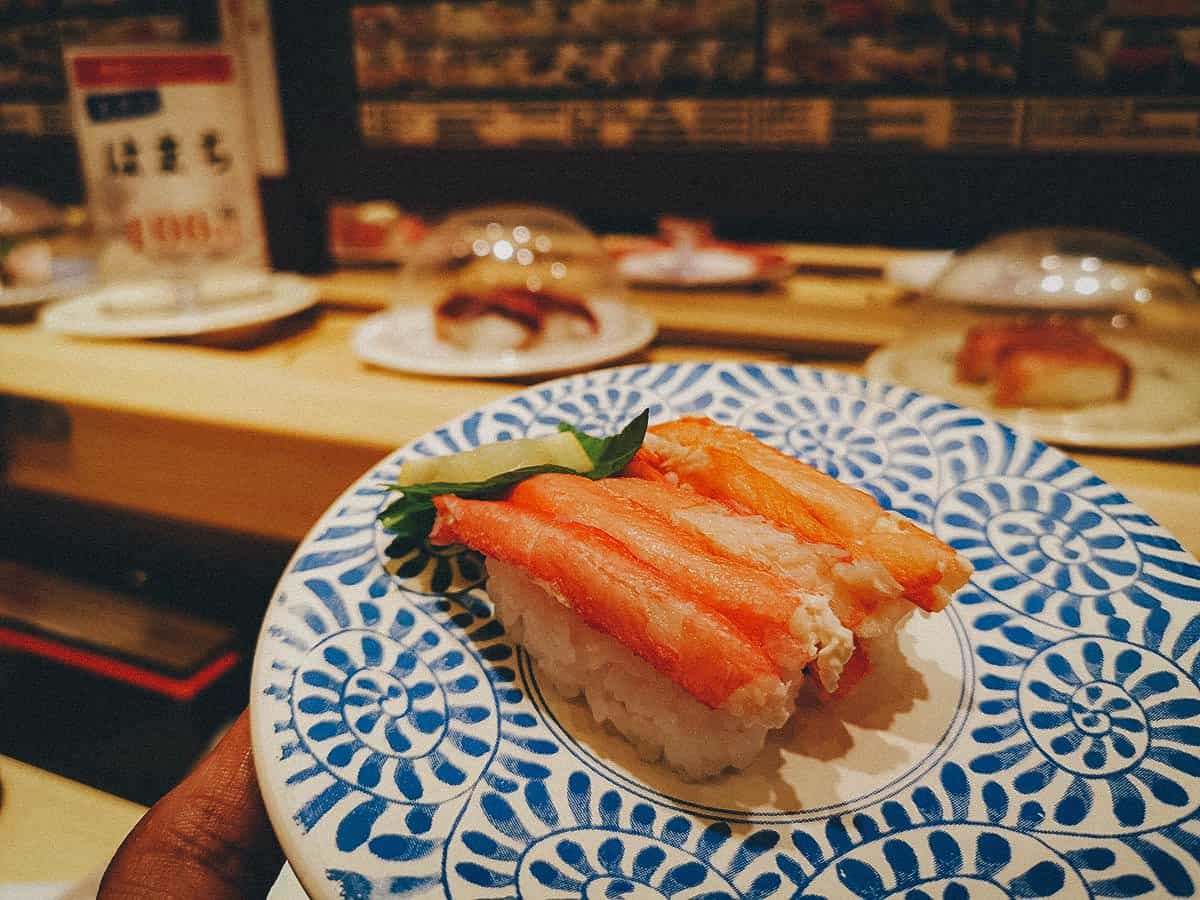 Plates are color-coded so you know exactly how much you'll be paying. Sushi at Daiki Suisan ranges from JPY 100-500 per plate.
More premium types of sushi like toro (fatty tuna) or unagi (freshwater eel) don't come along as often, so you'll need to order them via the touchscreen pad at your table or counter seat. This is what most Japanese customers do. Ren and I enjoy grabbing them off the conveyor belt for the novelty, but if you want the freshest plates, then it's best to get them made-to-order.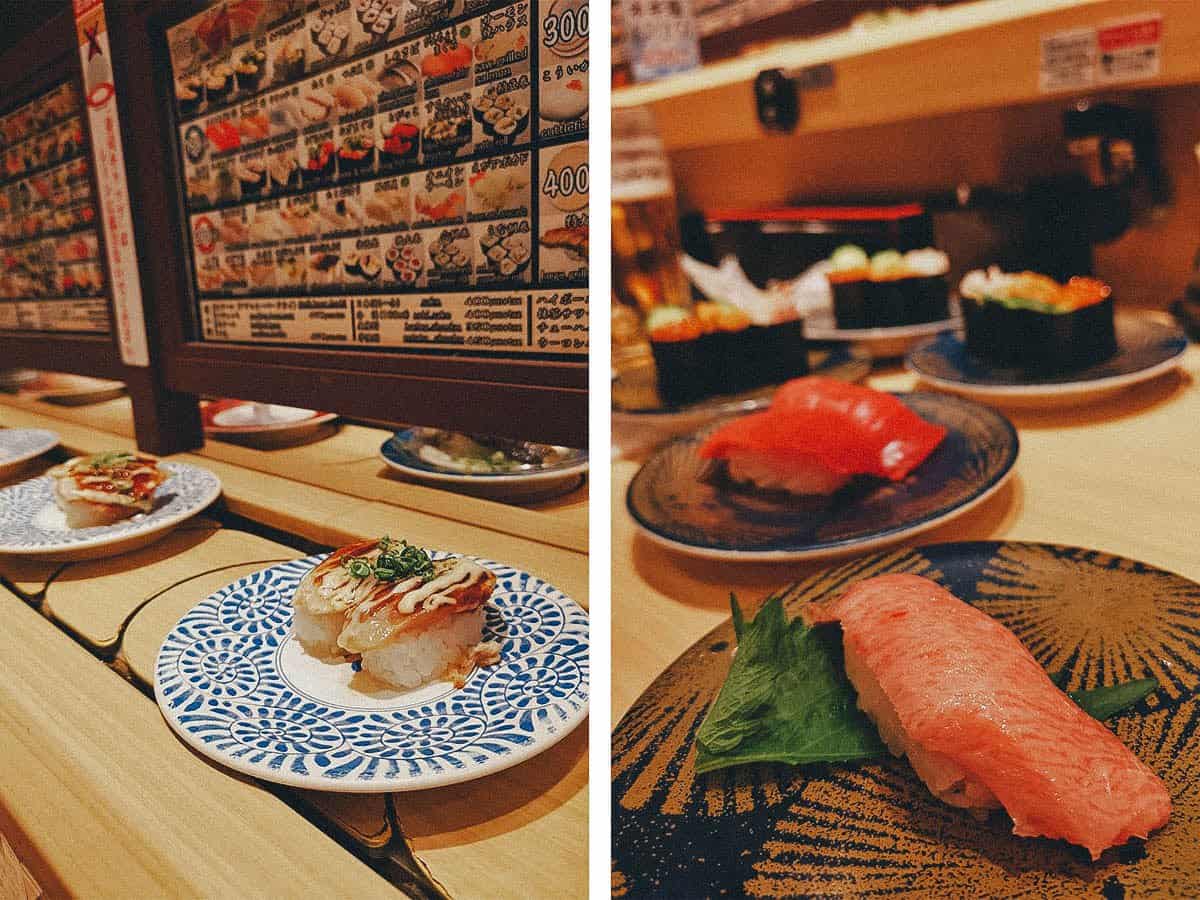 7. Kura Sushi
As good as Daiki Suisan was, I think we still prefer Kura Sushi, and it has little to do with taste.
Not only can you enjoy the novelty of grabbing anything you want off that conveyor belt, but every plate of sushi at Kura goes for just JPY 100, or about one US dollar.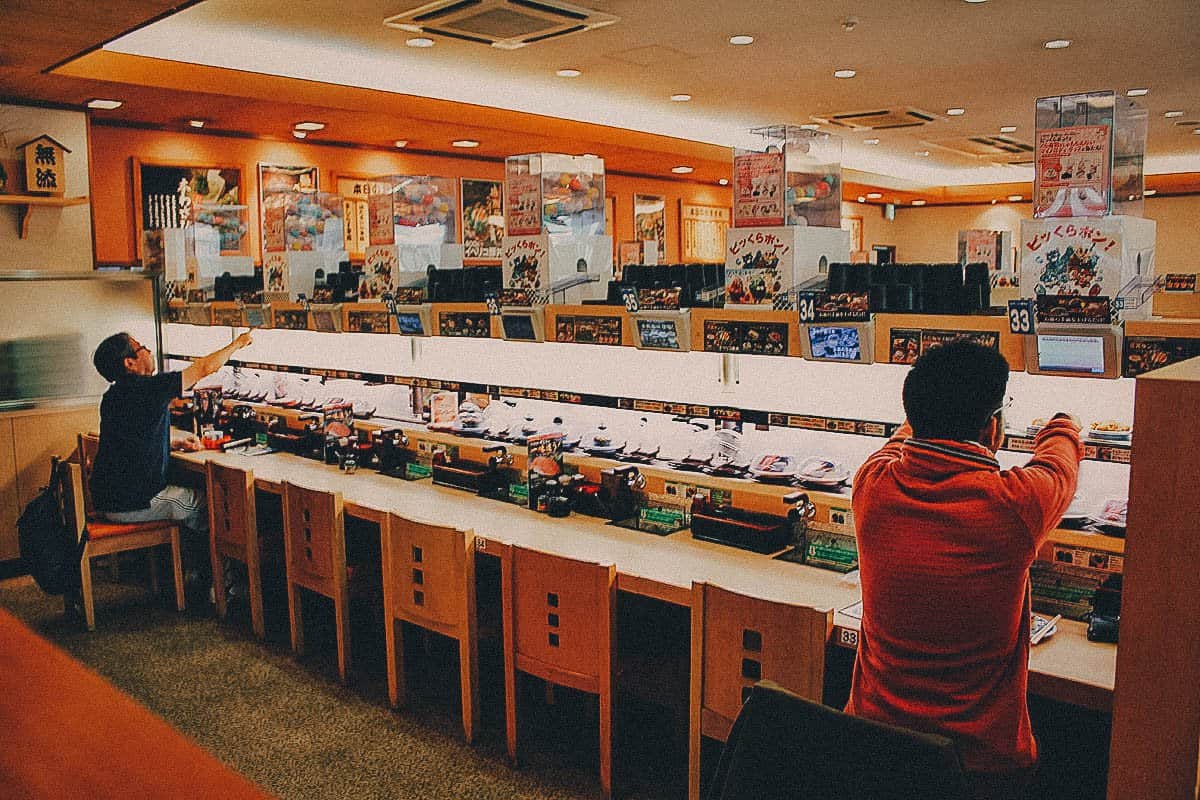 Because it's so cheap, the quality probably isn't as high as Daiki Suisan, but who cares? You can't say no to JPY 100 a plate sushi, especially in a country as pricey as Japan. Even Tsutomu loves Kura Sushi and eats here often.
Kura Sushi is a popular kaiten-zushi chain with hundreds of branches throughout the country. I believe they have at least one branch in every prefecture in Japan, except Hokkaido.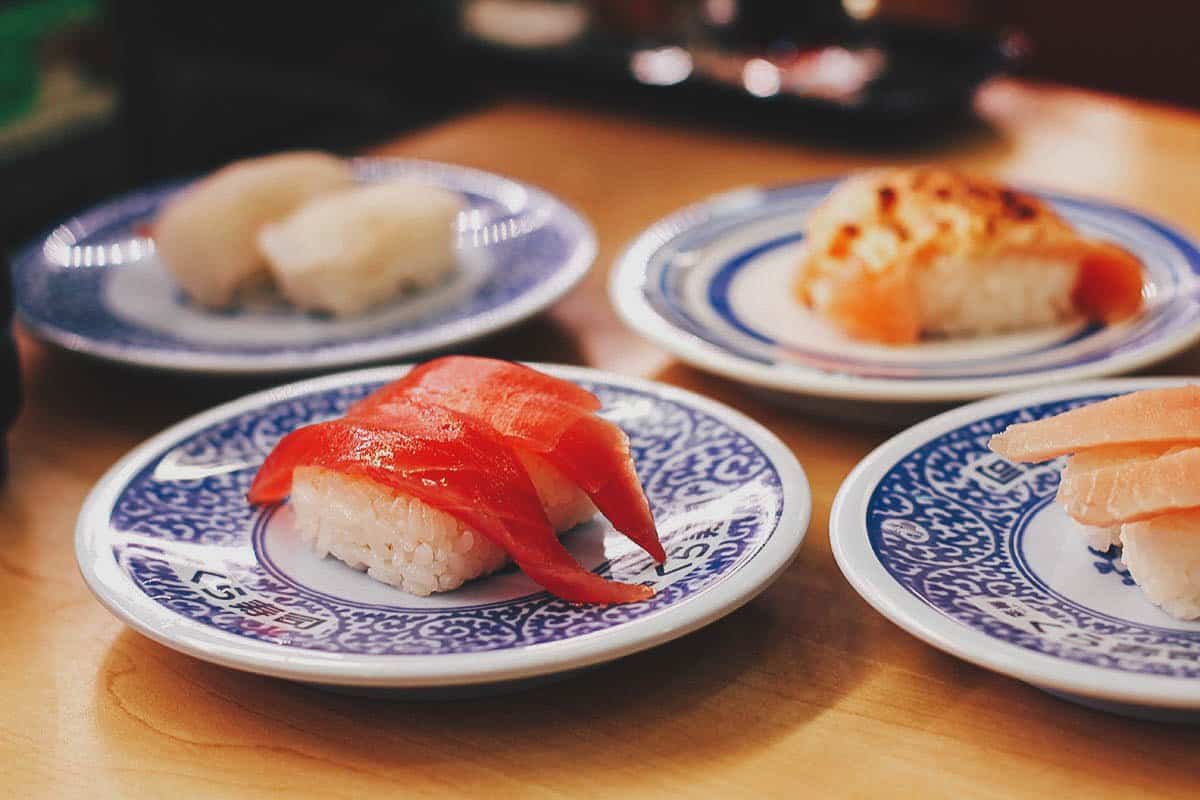 Most plates have two pieces of sushi but more premium varieties like this kani (crab) only come with one.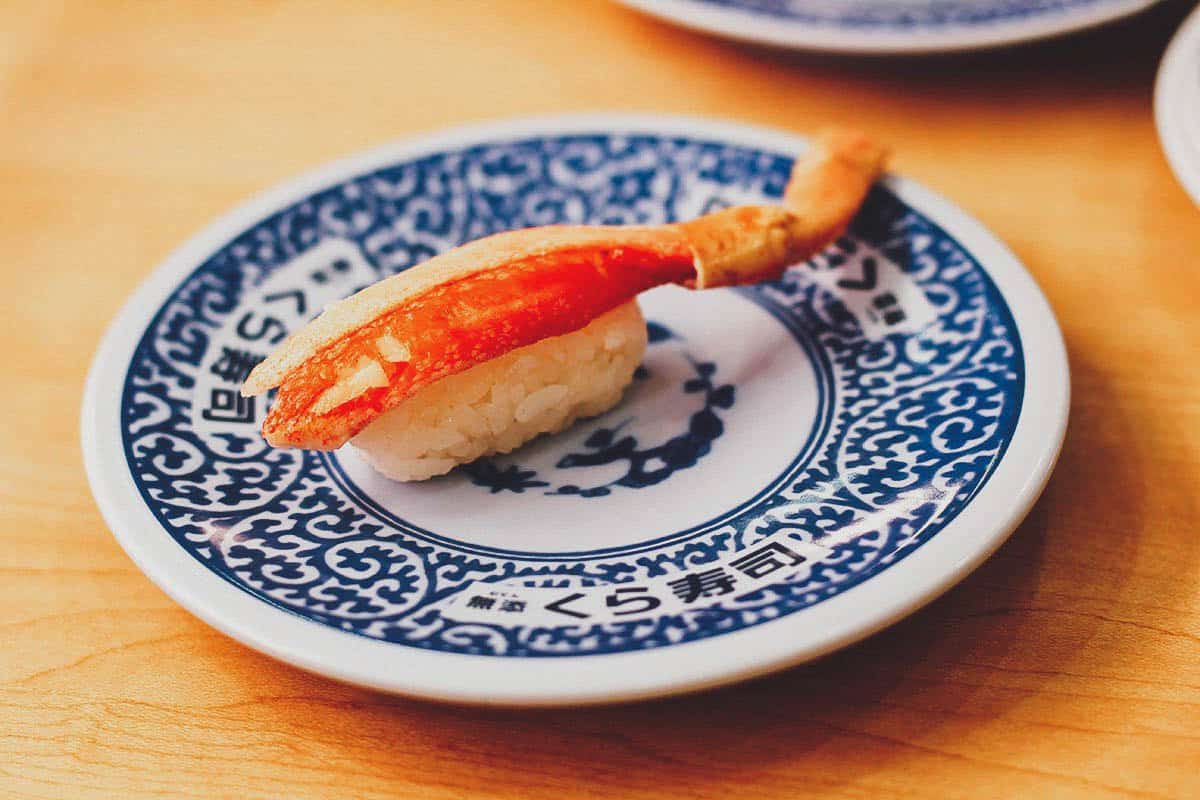 8. Jinen Shimizucho
Kaiten-zushi restaurants are a lot of fun, but if you don't care much for the novelty and want to have better quality sushi in a more traditional restaurant, then Jinen Shimizucho is a good choice.
Just a short walk from Shinsaibashi station, Tsutomu took us here on our first trip to Osaka and we've never forgotten it. Their sushi is top notch and it's the first time we ever got to try aburi or flame-torched sushi.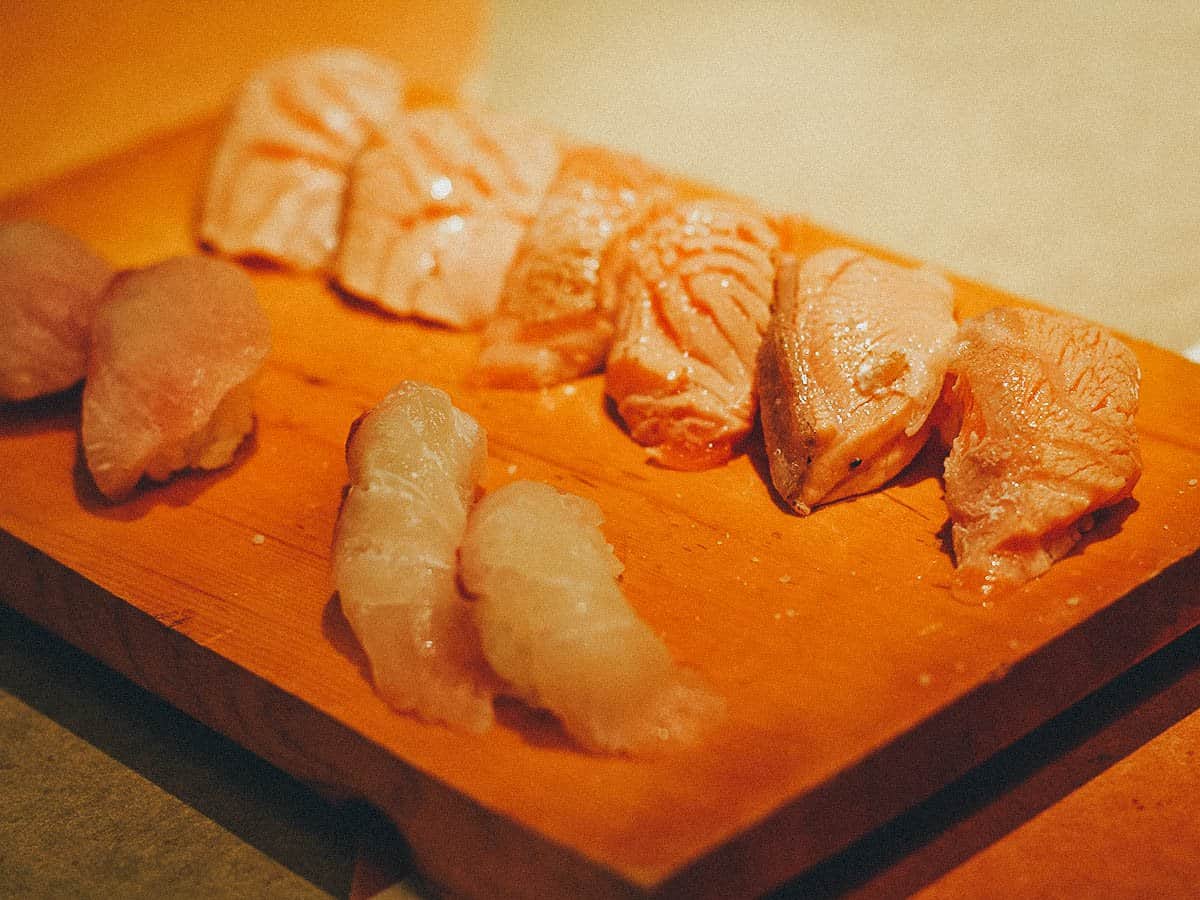 Unagi (freshwater eel) in front and anago (saltwater Conger eel) in the rear. Unagi was the very first piece of sushi I ever tried in my life. It's what turned me on to sushi and remains one of my absolute favorites to this day.
Tsutomu does all the ordering when we go to sushi restaurants and this was the first time either Ren or I got to try anago. It isn't as common outside of Japan so if you like unagi, then you should definitely try it here. The Japanese seem to prefer it over unagi. It's similar but less sweet, and softer in texture.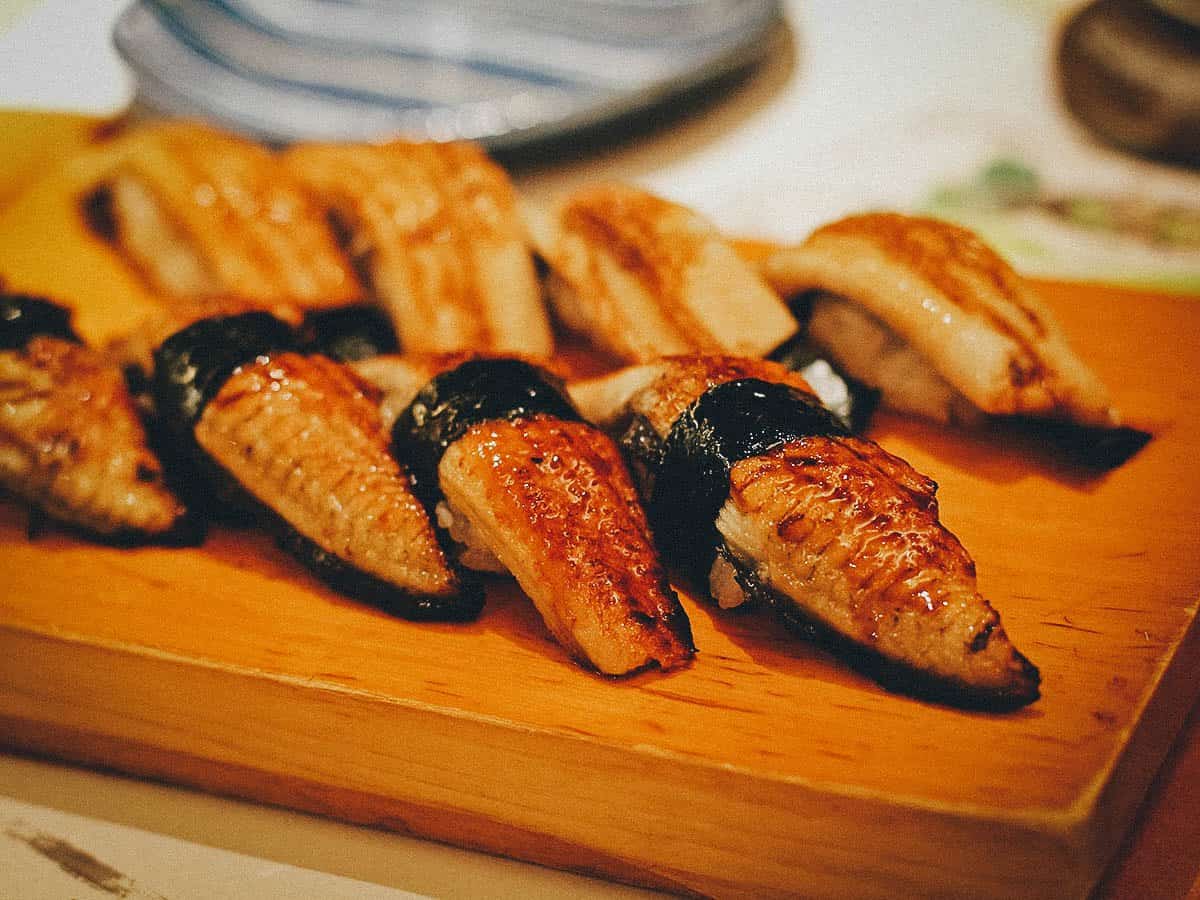 Chuo toro (medium fatty tuna) in the rear and aburi shake (blow-torched salmon) in front. They sprinkle the aburi with a pinch of salt so no soy sauce is necessary. It's partially cooked and has a wonderful texture that's unlike your typical raw sushi.
RAMEN
Like sushi, ramen is one of Japan's most famous dishes. It's a noodle soup dish made with Chinese wheat noodles in a meat or fish-based broth. It's often flavored with soy sauce or miso then topped with chashu (sliced pork), nori (dried seaweed), and scallions.
Many regions in Japan offer their own version of ramen, like Hakata ramen in Fukuoka or miso ramen in Sapporo. Unfortunately, Osaka doesn't seem to have its own spin on ramen but it's still a great dish to have, especially in winter.
9. Rai Rai Tei
Rai Rai Tei is a ramen chain with branches throughout the country. It's our friend Tsutomu's favorite ramen restaurant and a place he was extremely excited to share with us. It did not disappoint.
Ren had the standard while I went with the miso ramen, both of which were outstanding. We've had great bowls of ramen before but never this good. The depth of flavor in both broths was incredible, and they were noticeably different too. So much more complex than any bowl of ramen we've ever had.
We've had many bowls of ramen in different cities throughout Japan so I honestly didn't think I'd be blown away by this one, but we were. It's so damn flavorful.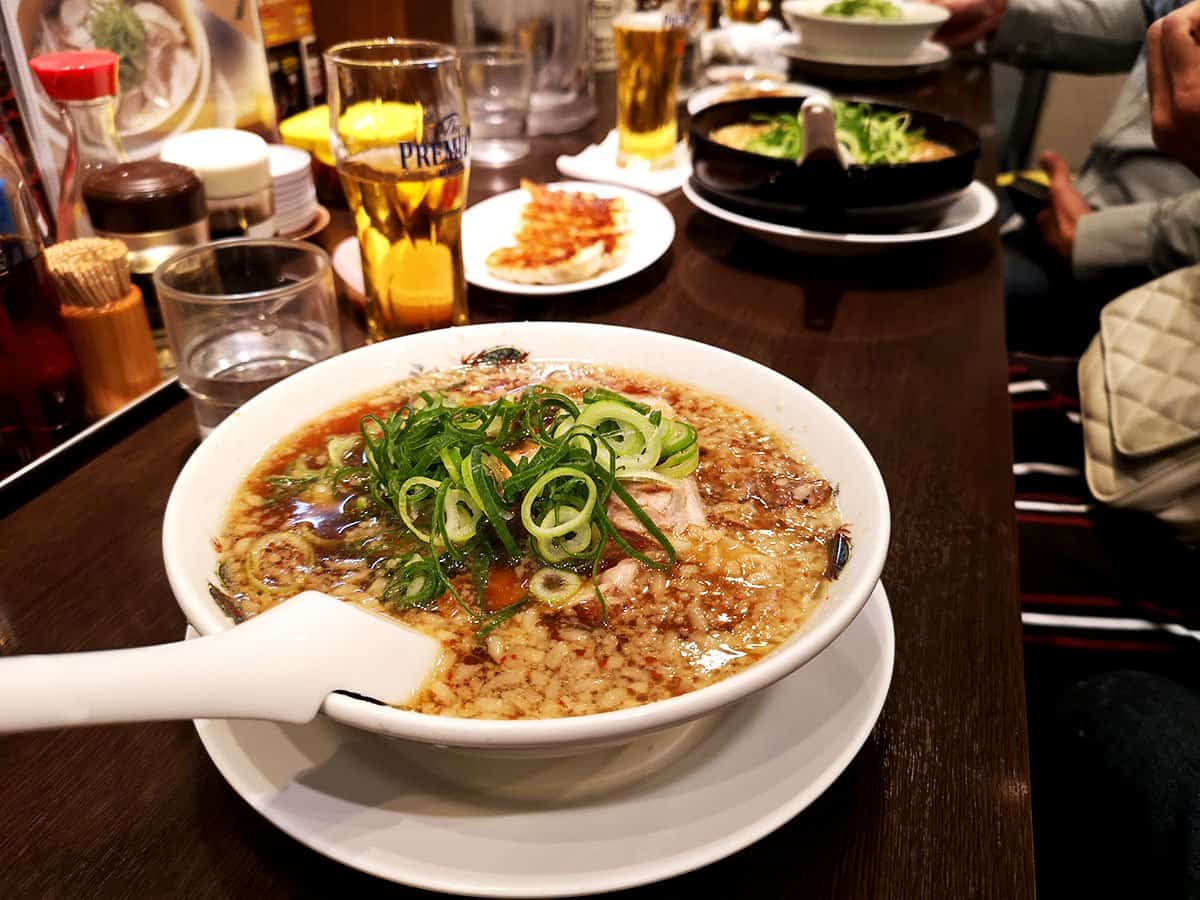 Ramen noodles are meant to be slurped, and slurped loudly. While slurping your food may be considered rude in the western world, it isn't in Japan.
In fact, the Japanese want you to slurp your ramen because (A) it allows you to consume the noodles when they're at their best – scalding hot; (B) slurping aerates the noodles and broth, making them taste better; and (C) slurping is a sign that you're enjoying your food.
So when in Japan, don't be shy when eating ramen or other noodle soup dishes. Just dig right in and slurp away!
We actually slurped these bowls of ramen at a Rai Rai Tei in Kyoto but they have many branches throughout Japan, including several in Osaka. According to Tsutomu, they're mostly in suburban neighborhoods which is probably why Rai Rai Tei isn't as well known to tourists as Ichiran or Ippudo.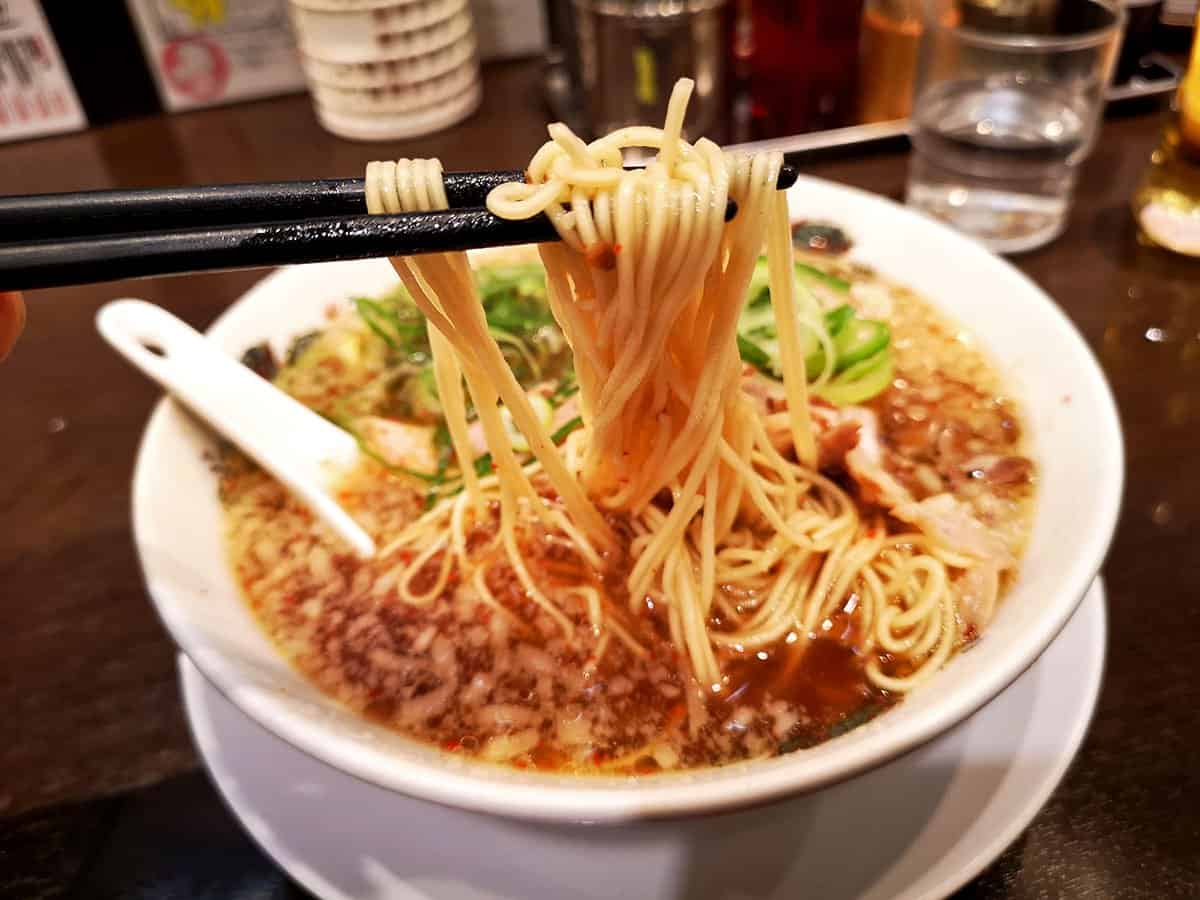 10. Ippudo
Unlike Rai Rai Tei, Ippudo is an internationally renowned ramen restaurant chain with branches in Asia, Europe, North America, and Australia. Personally, we preferred Rai Rai Tei but the ramen at Ippudo is excellent as well. We ate at the Ippudo branch in Ikeda, conveniently and fittingly just a few minutes' walk from the Cup Noodles Museum.
Ren had Ippudo's signature creamy tonkotsu ramen while I went with this spicier tan-tan men. Both were very good.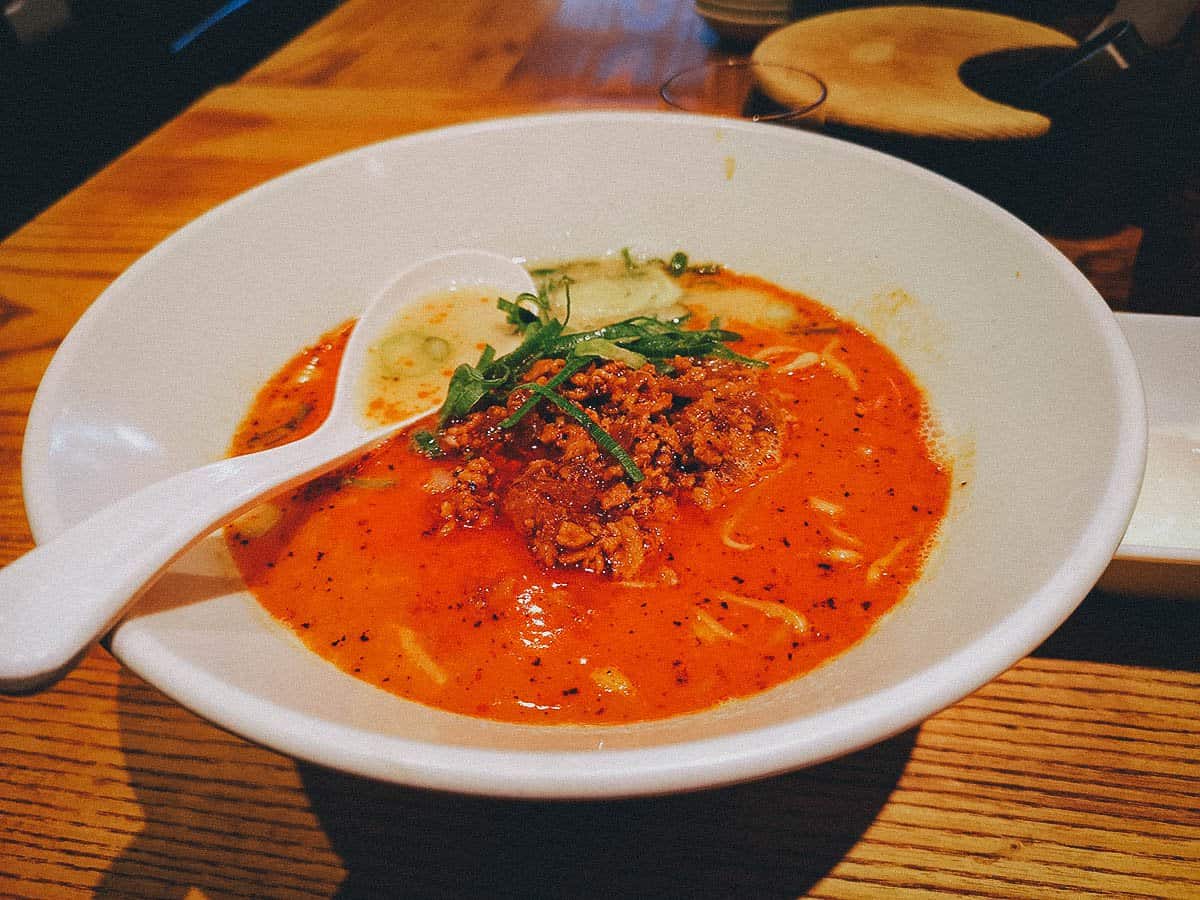 The noodles in Ippudo's ramen seem thicker than Rai Rai Tei's.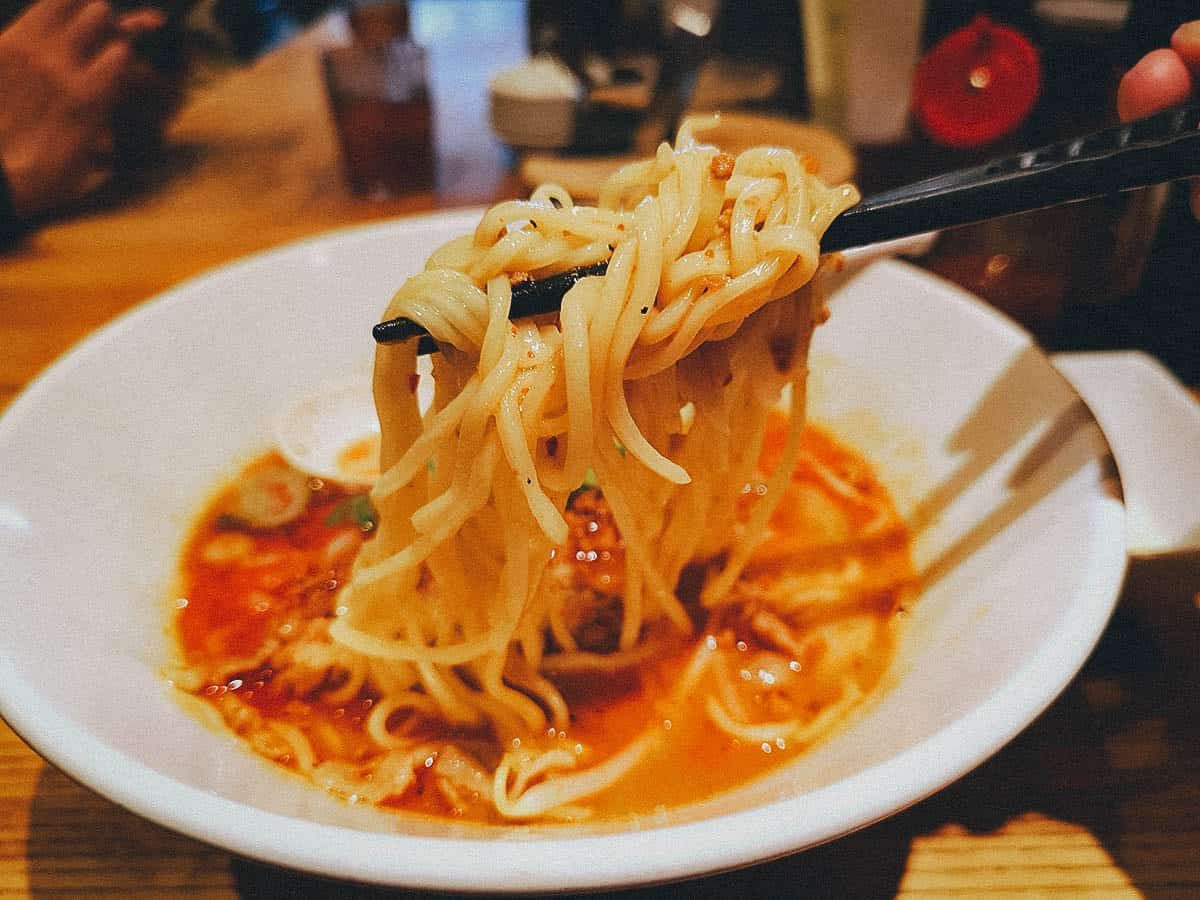 11. Niboshi Ramen Tamagoro Kuromon
If you like ramen, then you're probably going to enjoy tsukemen. Tsukemen is a type of ramen where the noodles and broth are served separately. Think of it as a form of deconstructed ramen.
You take the noodles, which are typically served cold or at room temperature, and dip them into the hot broth before eating. Compared to regular ramen, tsukemen broth is more intensely flavored which is why you're encouraged to dilute it with dashi so you can drink it as a soup at the end of your meal.
Niboshi Ramen Tamagoro is known for serving their ramen with a rich, deeply flavorful niboshi fish broth. They offer regular ramen as well but tsukemen is a fun and different way of enjoying this beloved Japanese dish. Because the noodles are served separately, they maintain their firmness throughout the meal.

Niboshi Ramen Tamagoro has several branches in Osaka but the one we went to is inside Kuromon Ichiba Market, one of the best places to enjoy quality street food in the city. If you'd like to try tsukemen, then we suggest visiting this branch so you can make it an entire morning of eating in Osaka.
UDON
Like ramen, udon is a noodle soup dish but made with thicker wheat flour noodles. Served hot in winter and cold in summer, it's often topped with chopped scallions, tempura, aburaage (deep-fried tofu), and kamaboko (fish cake).
12. Dotombori Imai Honten
Dotombori Imai Honten has been open since 1946 and is one of the most beloved udon restaurants in Osaka. Our friend Tsutomu told us it's his mom's favorite udon restaurant and often gets takeaway from there.
Ren had this shippoku udon made with prawn, fishcake, black mushroom, and green onion. It was clean-tasting and absolutely delicious.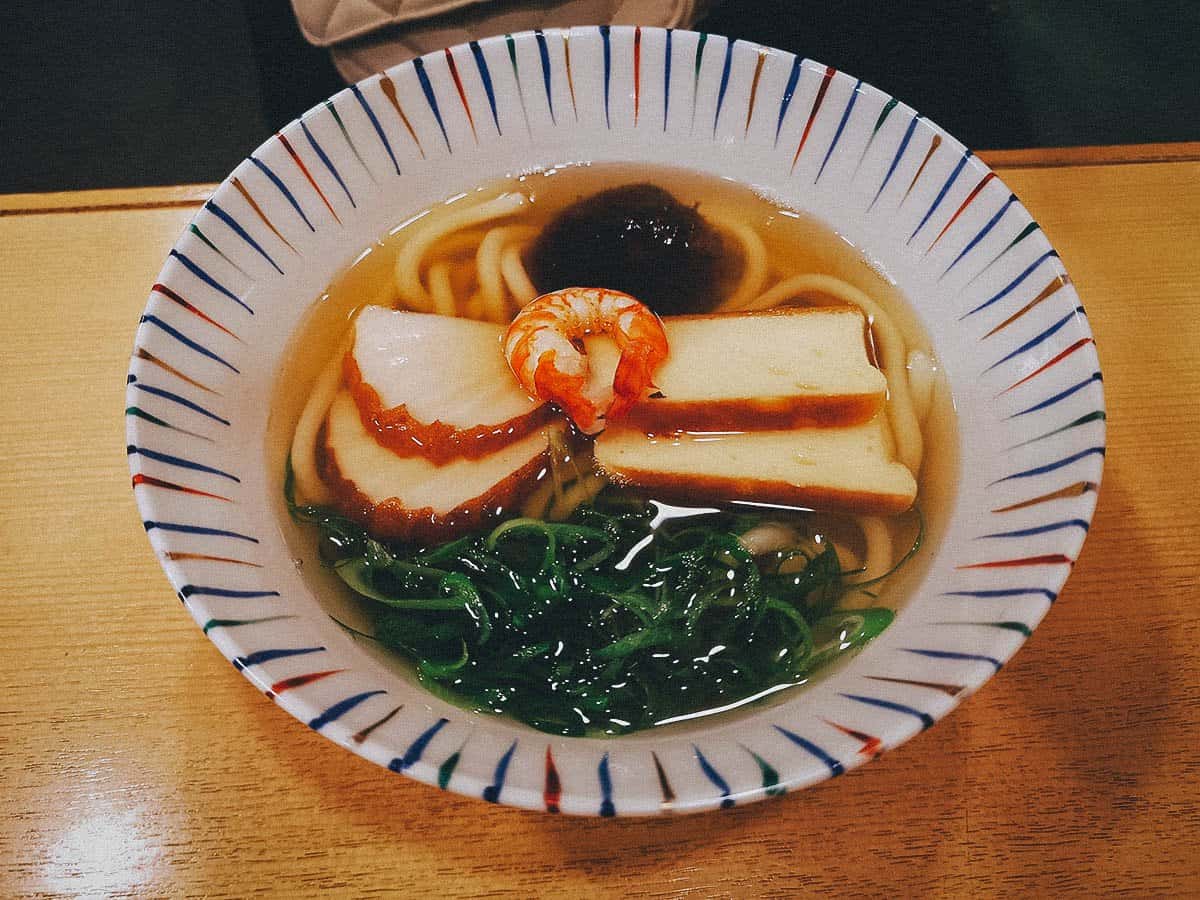 I had the nabeyaki udon which was served in this clay pot and contained a variety of vegetables, duck, fishcake, and egg.
Personally, I prefer the chewier, slippery smooth texture of udon noodles but the broth tends to be more subtle in flavor than ramen broth. I've read that ramen typically contains more sodium than udon which explains why it's tastier.
It seems to me that in a bowl of ramen, the star is the broth, while in udon, it's the noodles.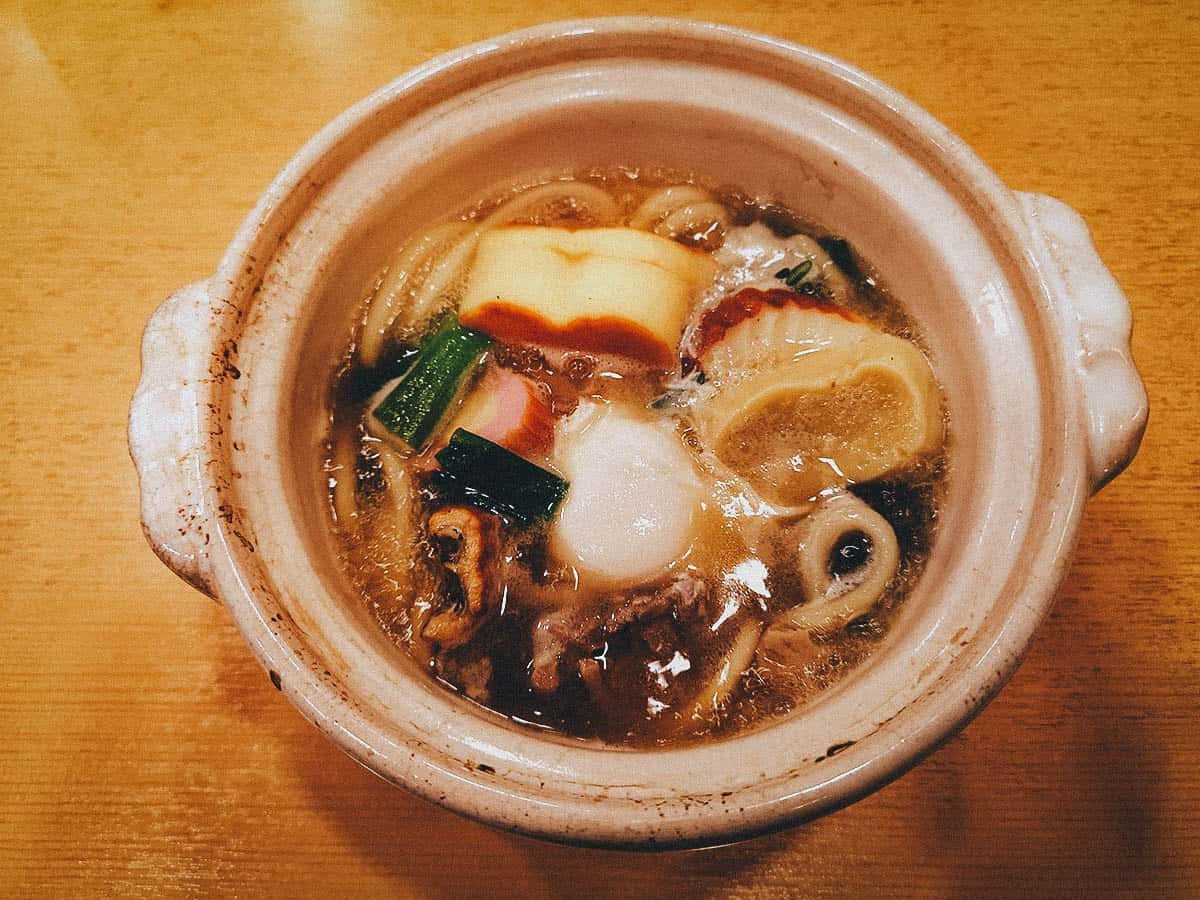 13. Ibuki Udon
Ibuki was the udon shop featured on Netflix. Well, sort of.
I didn't catch it but according to our friend Tsutomu, they briefly showed the shop's interior during the episode's intro sequence. Being well-acquainted with the shop, he recognized it right away. According to him, it's his favorite udon shop.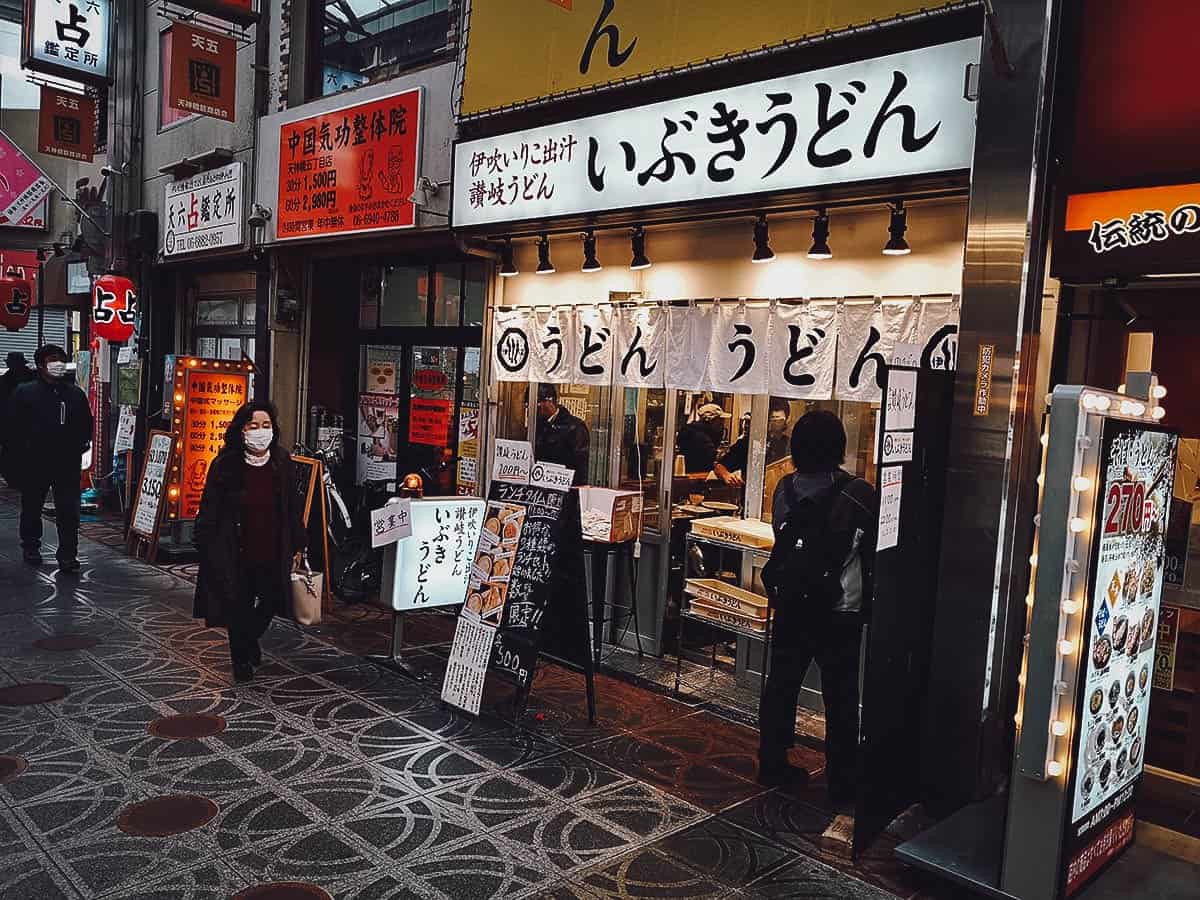 I let Tsutomu do the ordering but from their menu, it looks like they offer both dry and soup udon. He got us the udon with soup. It comes with just the udon noodles in soup but you can top it with as much chopped scallions, tempura scraps, and dried fish as you want.
Tsutomu was right. This was the best udon I've ever tasted. The noodles were your typical udon noodles – slippery smooth and chewy – but what made all the difference for me was the broth. It was very tasty and perhaps the most flavorful udon broth I've ever had.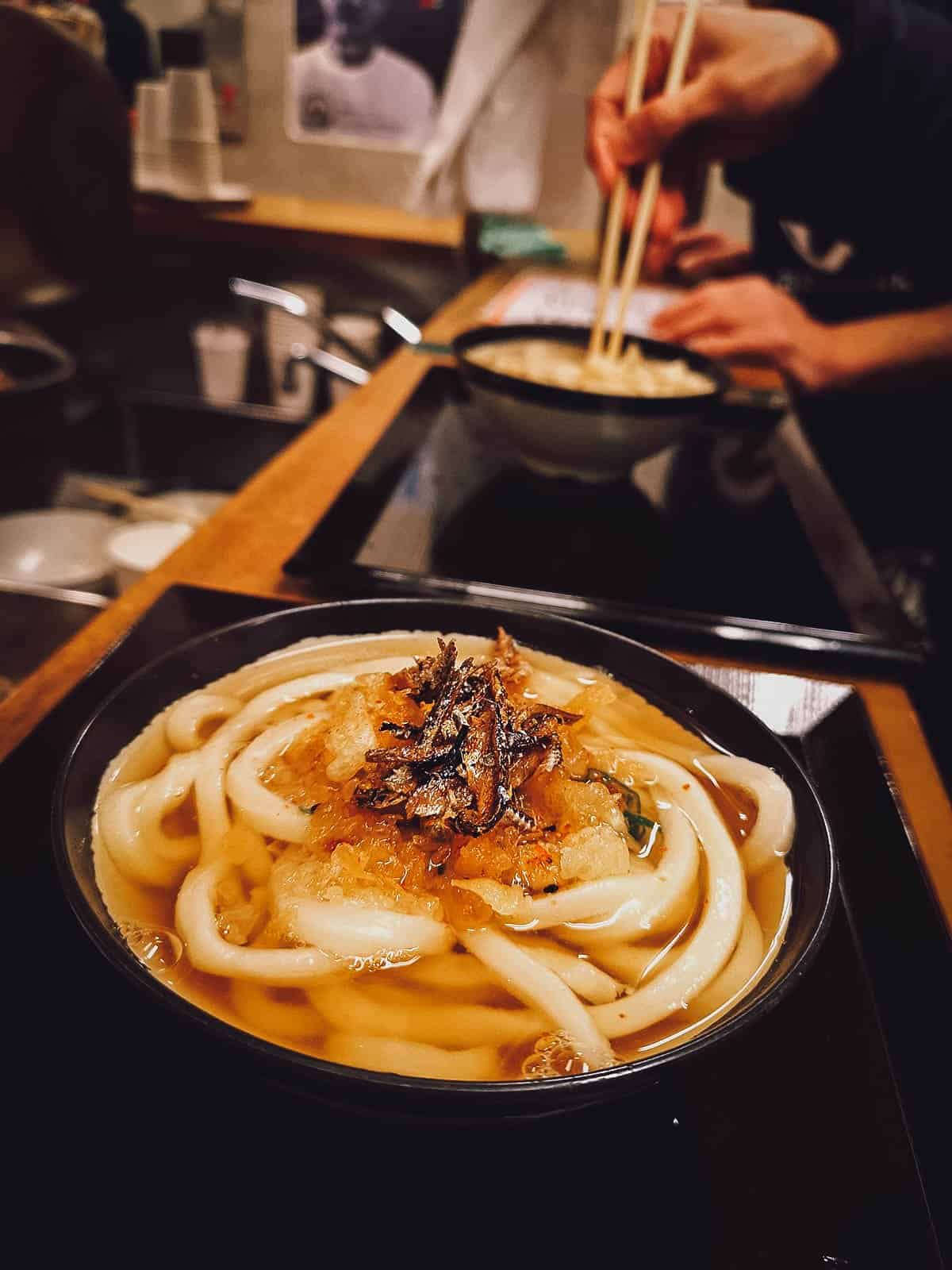 KAISEKI
Kaiseki refers to a traditional multi-course Japanese dinner consisting of small, artfully prepared dishes. It's typically served at ryokans (traditional Japanese inns) or at small restaurants called ryōtei. You can think of it as the Japanese version of western haute cuisine.
Kaiseki has its roots in Kyoto but you can have it pretty much anywhere in Japan. If you want a truly special meal in Osaka, then a kaiseki meal at a Michelin-starred restaurant is something you should plan for.
14. Iroha
This ryōtei was where I celebrated my birthday in 2014. Iroha has one Michelin star and is known for serving traditional kaiseki meals.
Pictured below is uni or sea urchin on a bed of vegetables. It was the first of thirteen courses from our terrific kaiseki dinner in Osaka. Compared to Fujiya 1935 which offers contemporary dining, you'll notice that kaiseki dishes are much more traditional in preparation and presentation.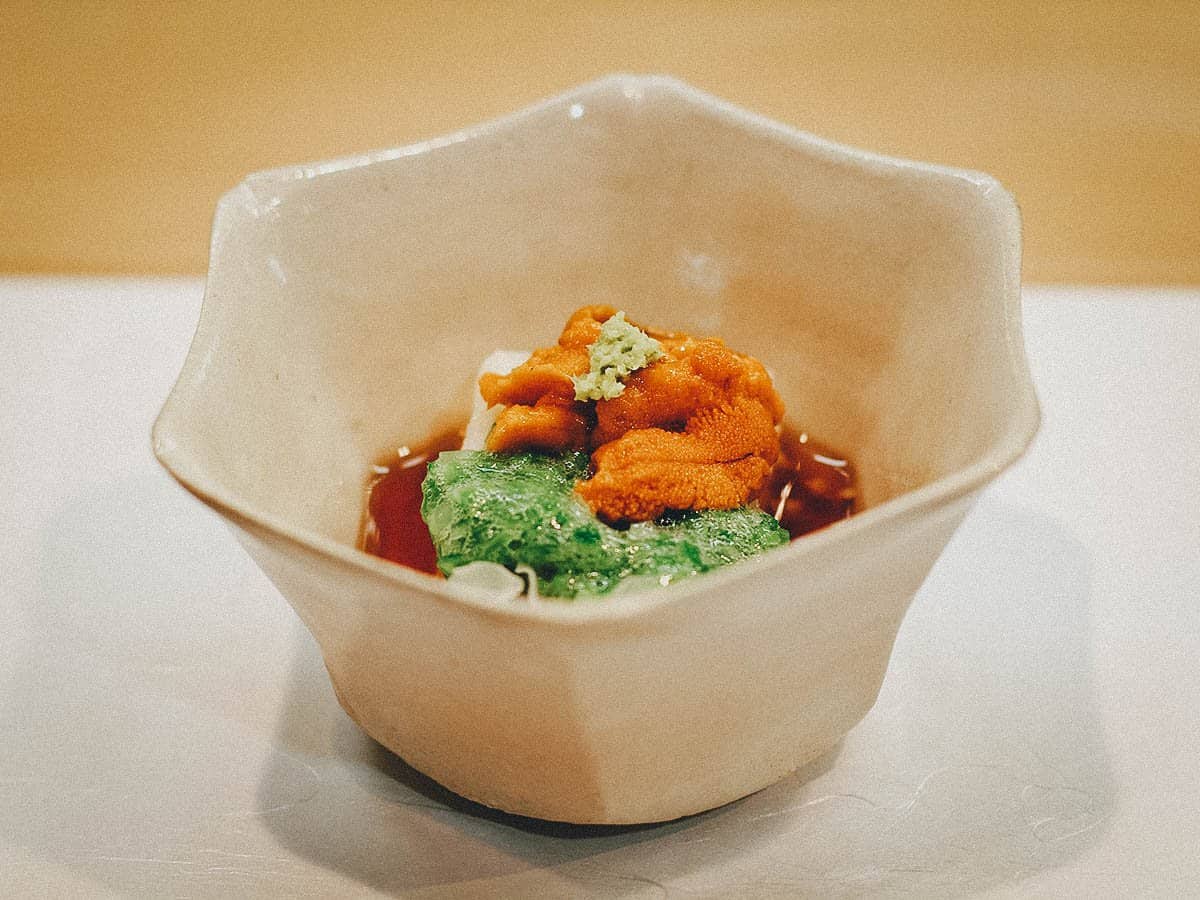 White fish on vegetables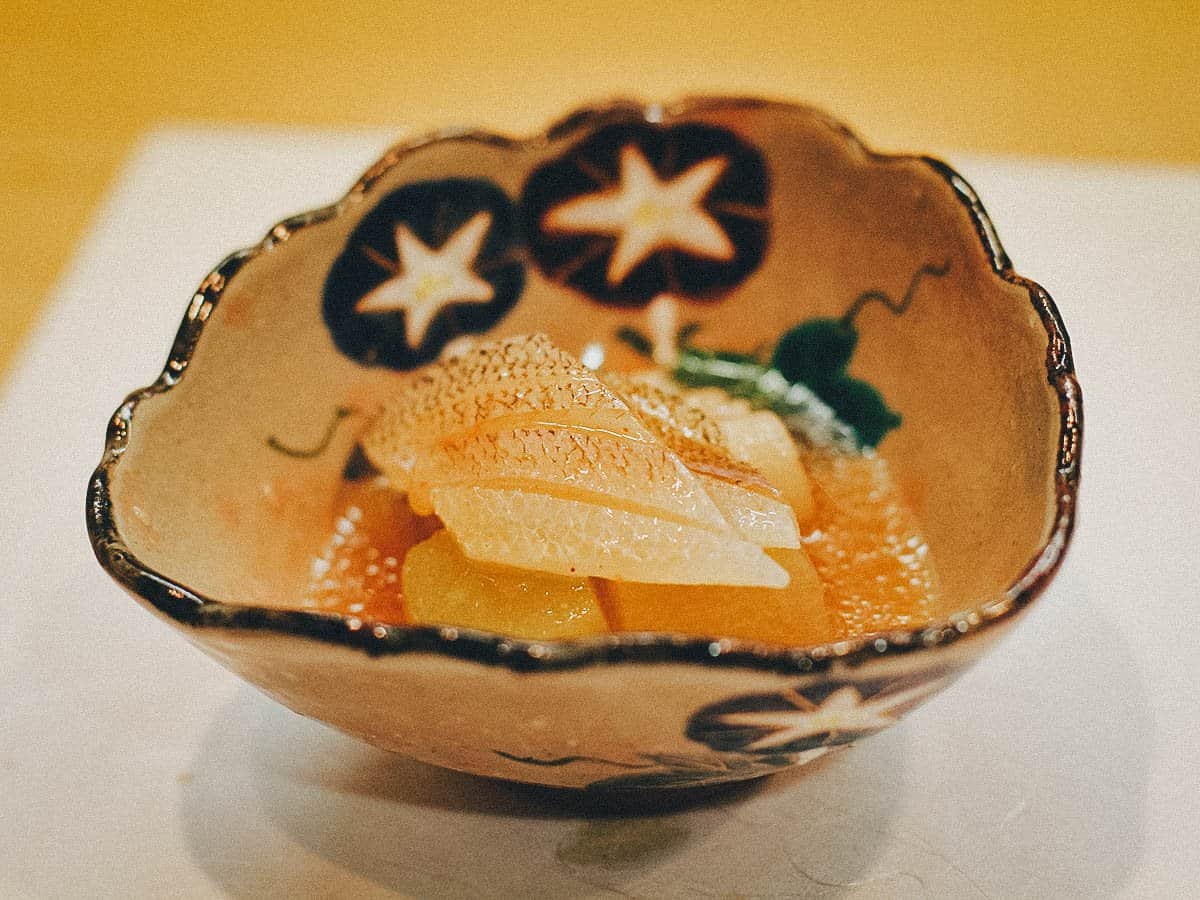 15. Fujiya 1935
When we visited Osaka in 2014, it was to celebrate my birthday so we ate at three very special restaurants. The first was Tsurugyu, the second was Iroha, and the third and perhaps most special, was Fujiya 1935.
At the time, Fujiya was one of just four Osaka restaurants that had three Michelin stars. They've since lost one star but they're still one of the best restaurants in Osaka.
Helmed by Chef Tetsuya Fujiwara, Fujiya 1935 is known for its innovative contemporary dishes like this ayu or river fish with pureed shiso leaf (perilla). It was one of six courses from our lunch tasting menu.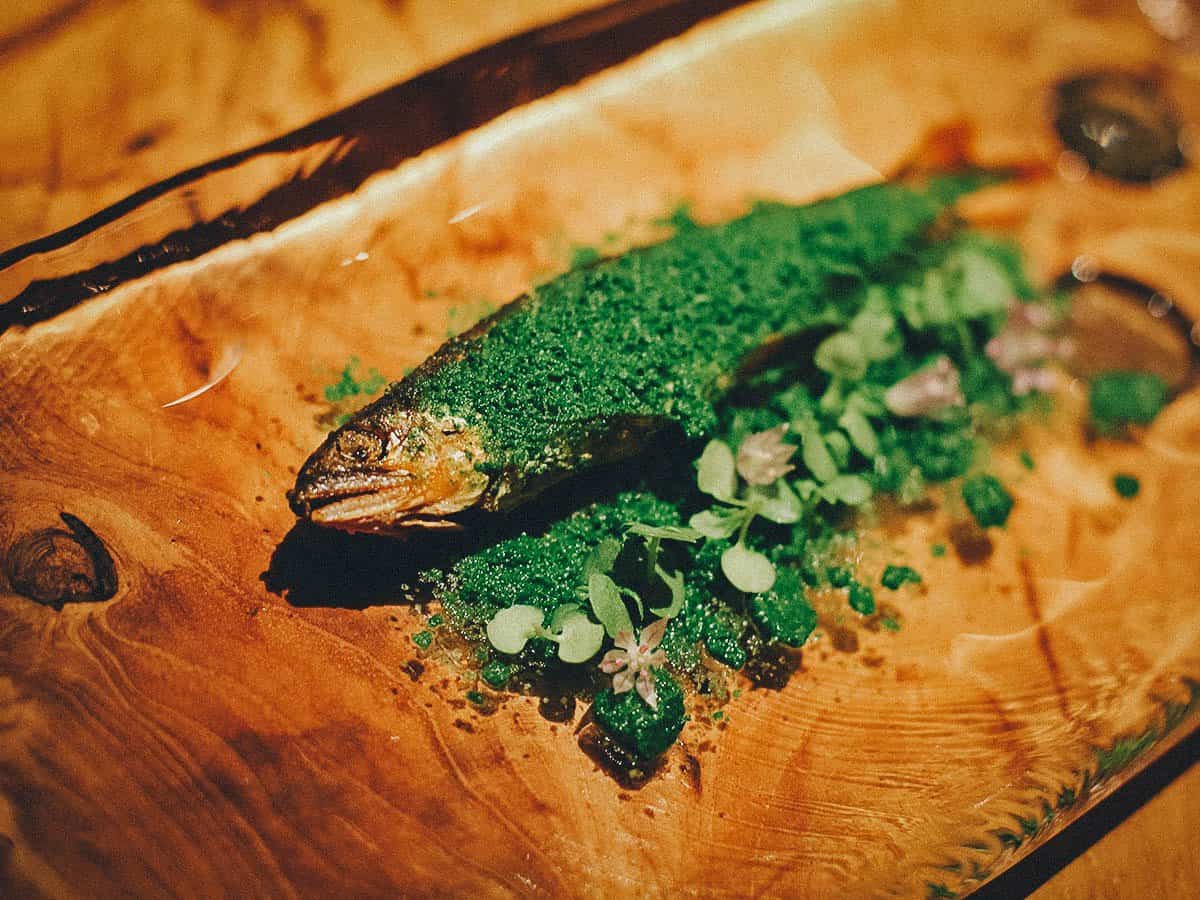 This was one of my favorite dishes from our lunch tasting menu – firefly squid on fresh pasta with seasonal vegetables and edible flowers.
I'm not sure if the tasting menus at Fujiya are technically still kaiseki meals. At the very least, they're westernized versions.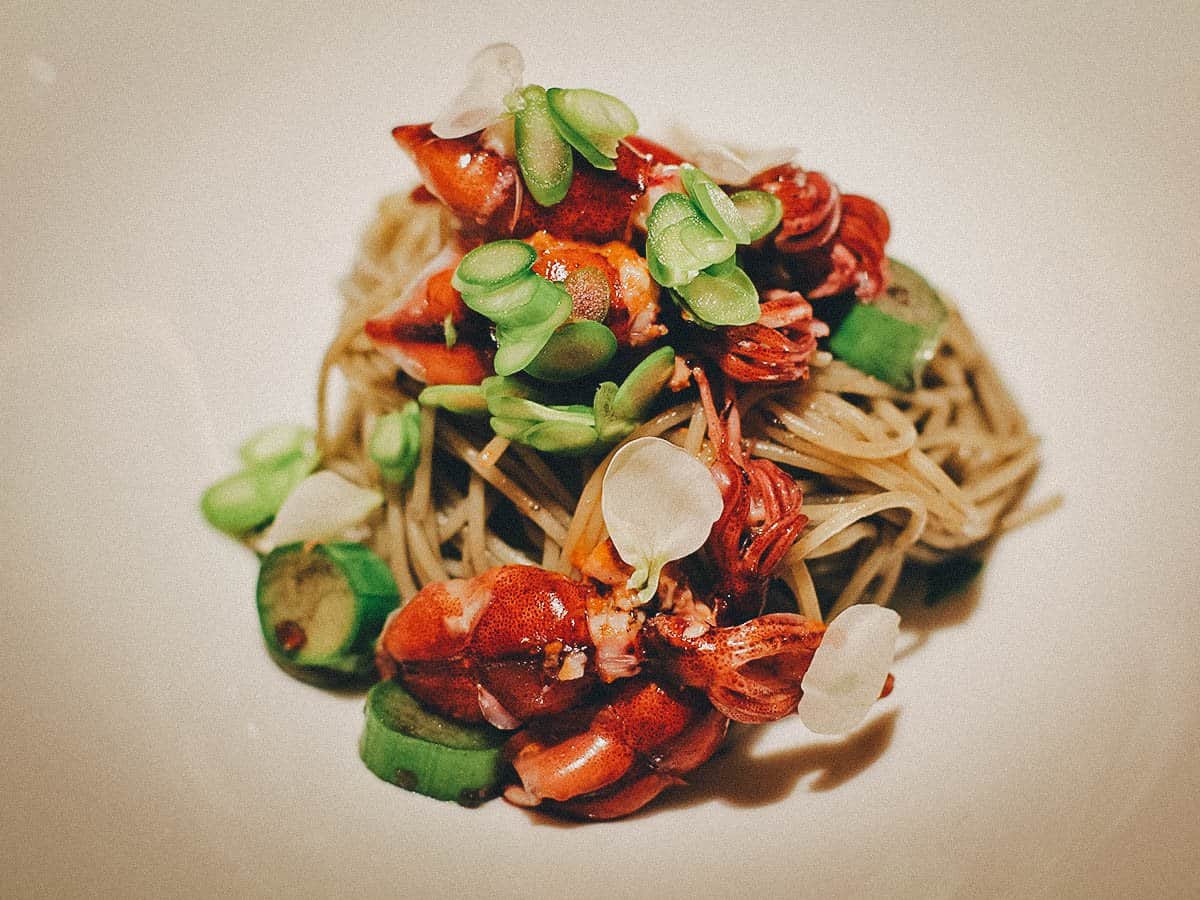 Check out this beautiful dessert of fresh berries, two types of cream, a quenelle of matcha (green tea) ice cream, crystallized sugar, and matcha powder. It looks almost too pretty to eat!
OTHER JAPANESE DISHES & OSAKA RESTAURANTS
16. Tempura Tentomi
Aside from sushi, tempura is one of my favorite dishes in Japanese cuisine. In the Philippines, it's one of the first things to go at an all-you-can-eat Japanese buffet.
Like sushi restaurants, many of the best tempura places can be expensive in Japan. Thankfully, I found Tempura Tentomi which not only offers excellent tempura, but they serve a type that isn't as common in Osaka – Kanto-style tempura.
Kansai-style tempura (Osaka, Kyoto) uses a more neutral oil like vegetable oil while Kanto-style (Tokyo) uses sesame oil. Egg is also used in the batter of Kanto-style tempura which makes it look more yellowish.
We came here for lunch when all they offer is this tendon bowl with the sauce already poured over the tempura and rice. Like many Filipinos, we've been eating tempura for most of our lives and this was one of the best tempura experiences we've ever had.
The tempura was crisp, succulent, sweet-savory, and slightly sticky from the sauce. It was absolutely delicious, especially when eaten with the rice. It was Tsutomu's first time here and he loved their tempura as well.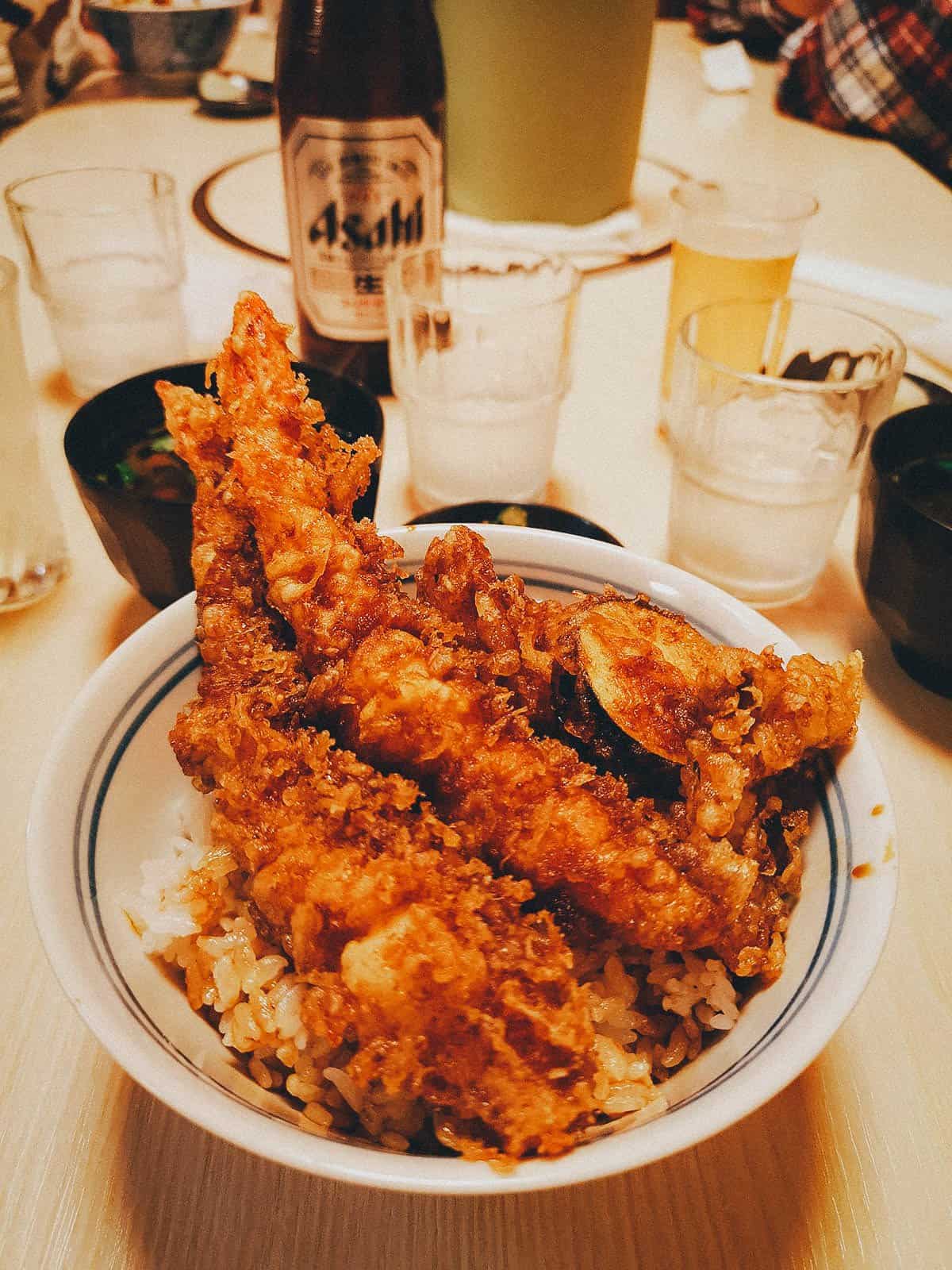 Restaurants like this make me so grateful for having a Japanese friend.
Like many un-touristy restaurants, Tempura Tentomi isn't located along the street. It's away from plain view on the second floor of this building, the only indication of its location being the Japanese sign in the building's directory.
It's hard to find on your own so look out for this building if you decide to eat here.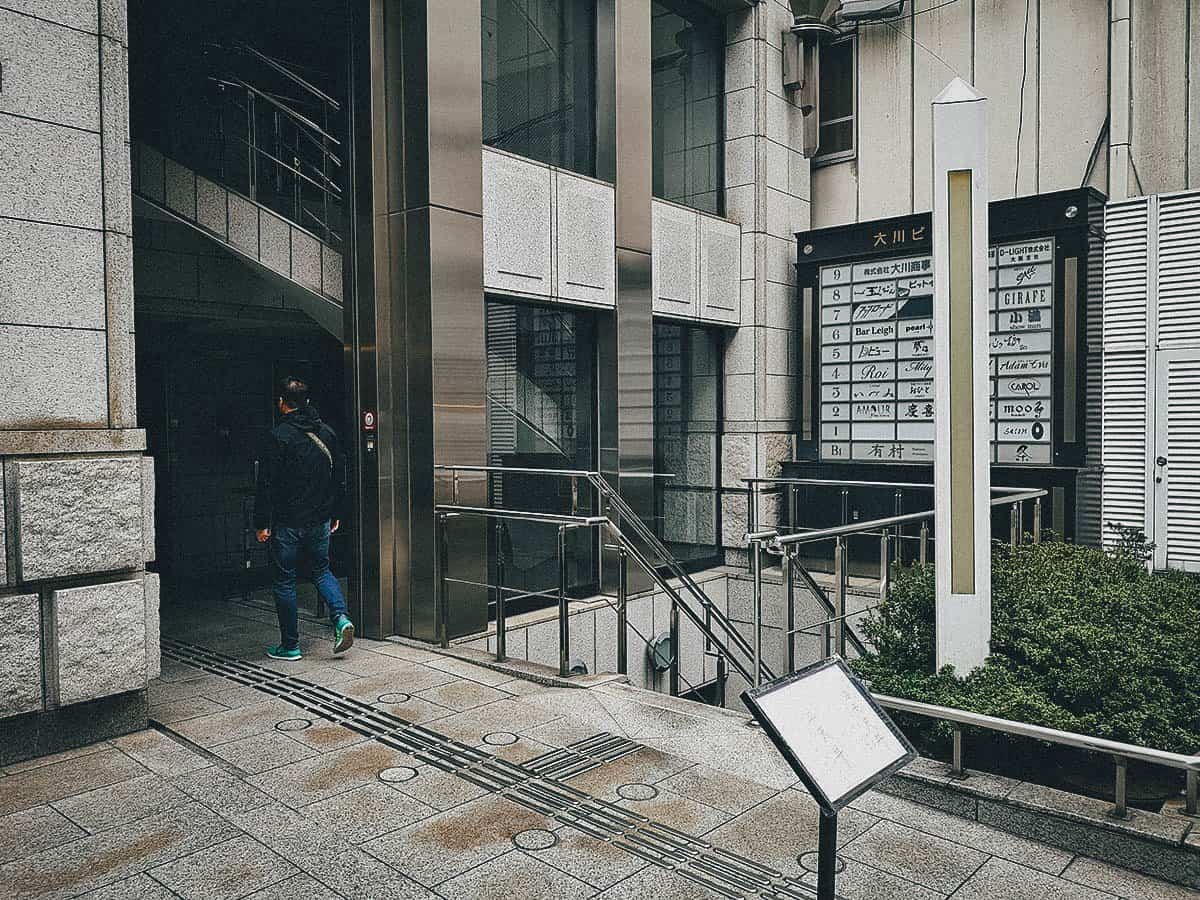 17. Tsurugyu
This meal was from our first trip to Osaka in 2014 and it remains one of our best dining experiences so far in Japan. It's where you can (allegedly) have Kobe Beef without paying for the exorbitant price tag. I won't get into why I use the word "allegedly" here, but you can read about it in my post about Tsurugyu.
Kobe Beef refers to Wagyu beef from the Tajima strain of Japanese Black cattle raised in Hyōgo Prefecture. It's considered one of Japan's top three beef brands – revered for its flavor, tenderness, and fatty, well-marbled texture. Quality like that comes at a price, with customers typically paying around JPY 10,000-20,000 for one certified Kobe Beef steak.
Our friend Tsutomu used to work as a purchasing agent for a five-star resort and Tsurugyu was recommended to him by one of their meat suppliers. According to him, they serve genuine Kobe Beef at a fraction of the cost.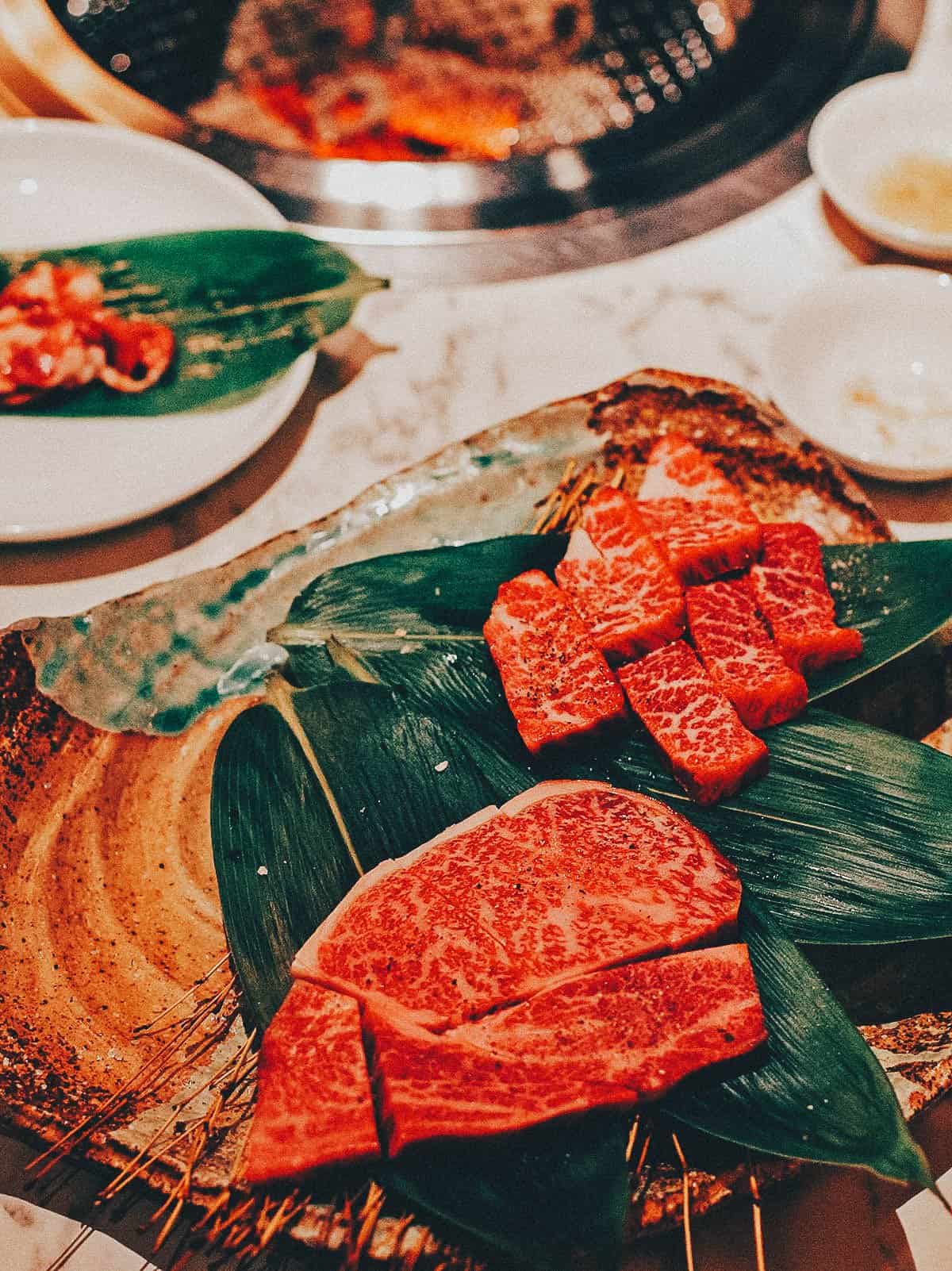 Certified or not, this was the best damn beef we had ever tasted in our lives. It was so tender that every bite, no matter the cut, practically dissolved in your mouth.
Pictured here is a plate of Kobe Beef tongue. Tables at Tsurugyu have tabletop grills so you can cook the meat yourself.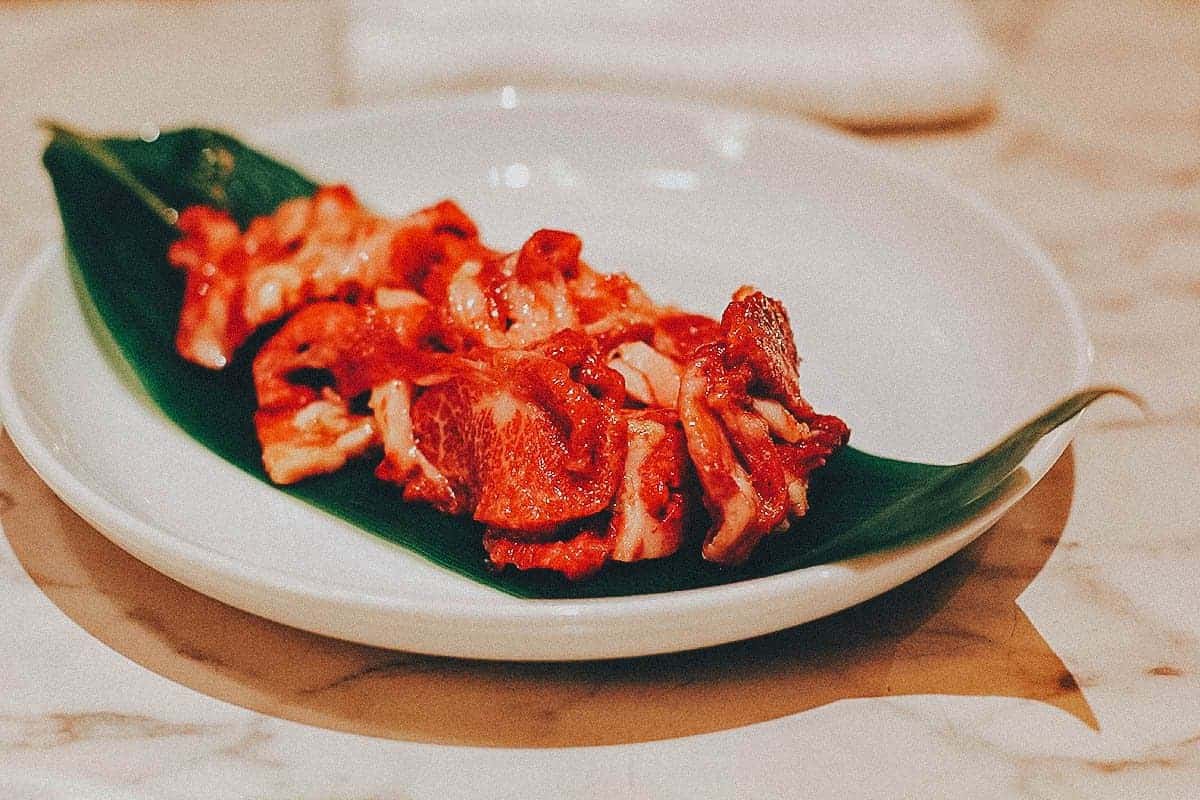 18. Kisoji
Our friend Patrick wanted to have shabu-shabu for dinner so Tsutomu took us to Kisoji, a shabu-shabu and sukiyaki restaurant chain with a few branches in Osaka.
Shabu-shabu is a Japanese hotpot dish of thinly sliced meat and vegetables boiled in a clear, kombu-based (kelp) broth. Unlike sukiyaki which is noticeably sweeter, shabu-shabu is milder and more savory in flavor. It's commonly made with thinly sliced beef, though other proteins like pork, crab, or chicken may also be used.
Kisoji offers four different grades of beef. It can get pretty expensive so we went with the lowest two grades. As you can probably tell, the redder beef with less marbling was the lower grade.
To be honest, I couldn't really tell the difference because both were outstanding. If you're worried about the cost, then start with the lowest grade. Every order comes with a basket of vegetables and mushrooms, and a few sides.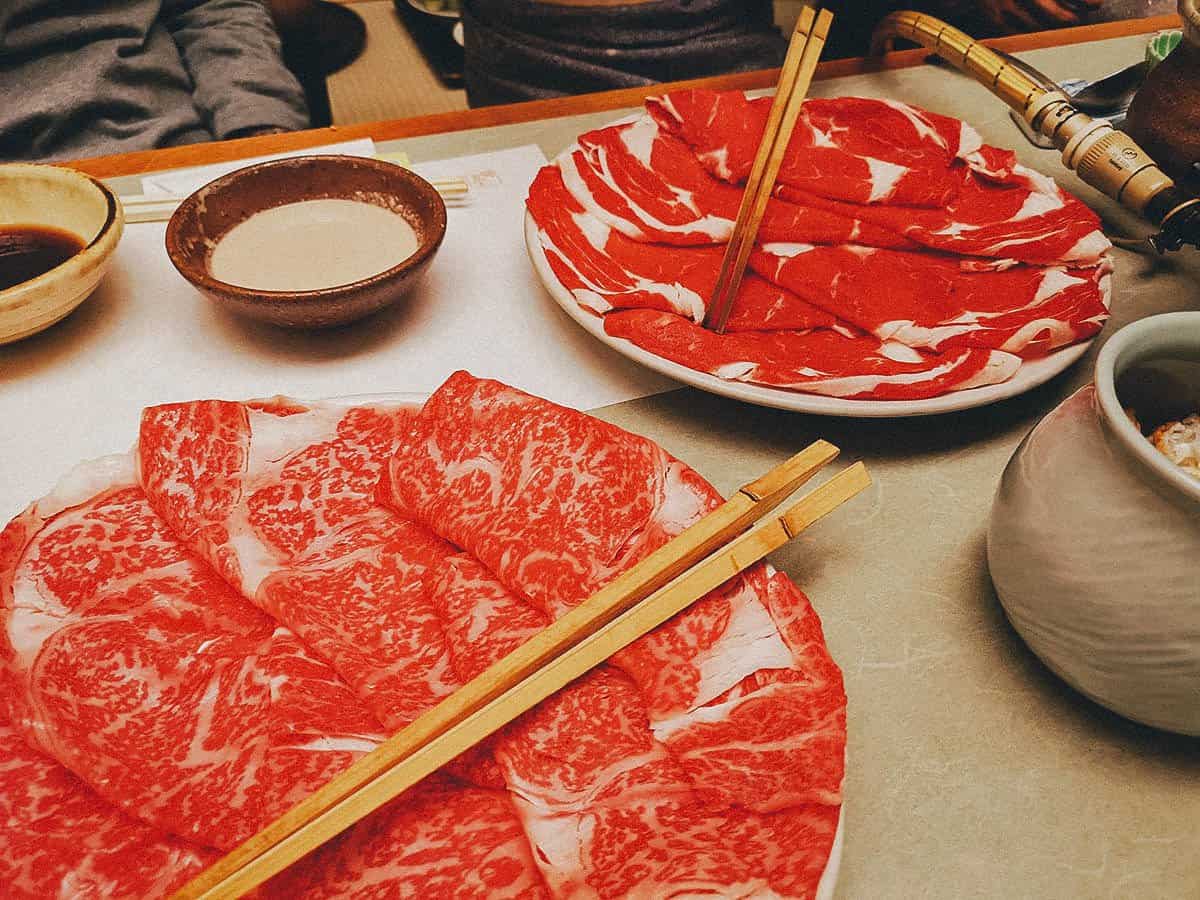 Tsutomu did all the ordering so I'm not sure if this trio of appetizers were ordered a la carte, or if they came with the meal. They were as tasty as they were beautiful.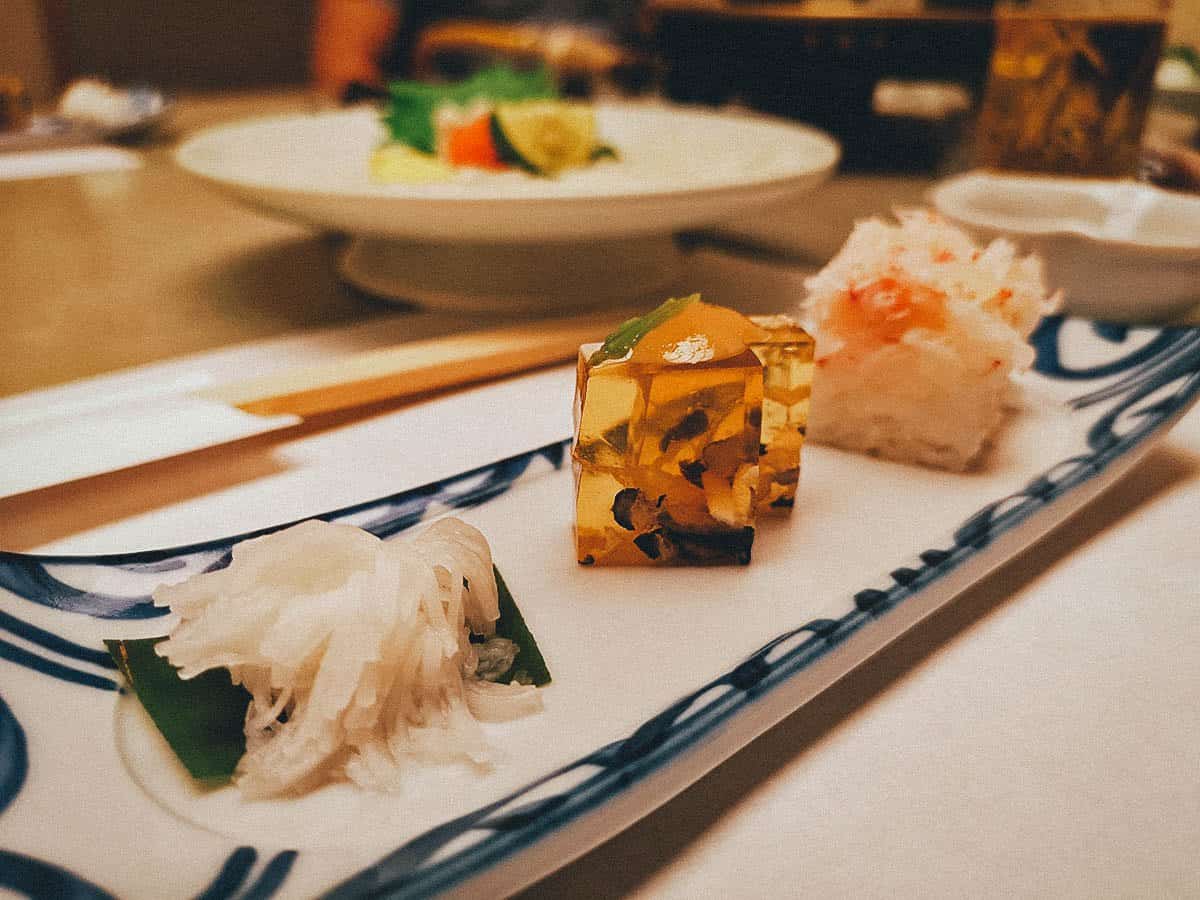 Kisoji speicalizes in shabu-shabu and sukiyaki, but they offer other dishes on their menu as well, including this platter of fugu or pufferfish.
Pufferfish are notorious for their neurotoxin which is 1,200 times more powerful than cyanide, so a chef needs to be properly trained and certified before they can serve fugu in Japan. Try this if you're feeling adventurous.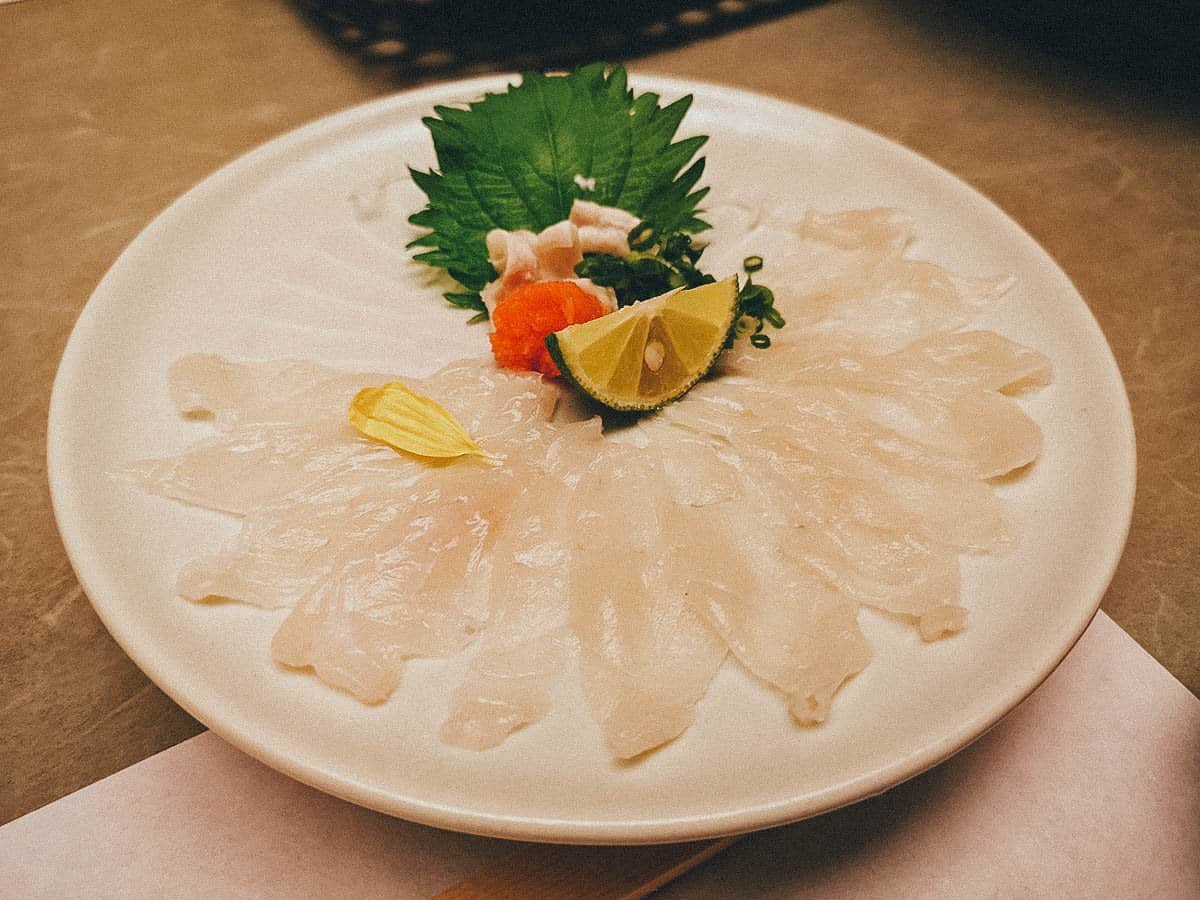 19. Izakaya Toyo
Every episode of Street Food on Netflix showcases three or four eateries, but there's always one place that's featured as its main storyline. In the Japan episode, Izakaya Toyo was that place.
Toyo is an outdoor izakaya (Japanese pub) in Miyakojima Ward named after its owner. Toyo-san is a colorful and ebullient man with an interesting though somewhat sad backstory. I won't get into that here but he's managed to get past the tragedies in his life to open what has become one of the most popular izakayas in Osaka.
We got here shortly after they opened at 3PM and the standing room only izakaya was already packed with Japanese office workers and tourists drinking beers and eating plates of his blowtorched food.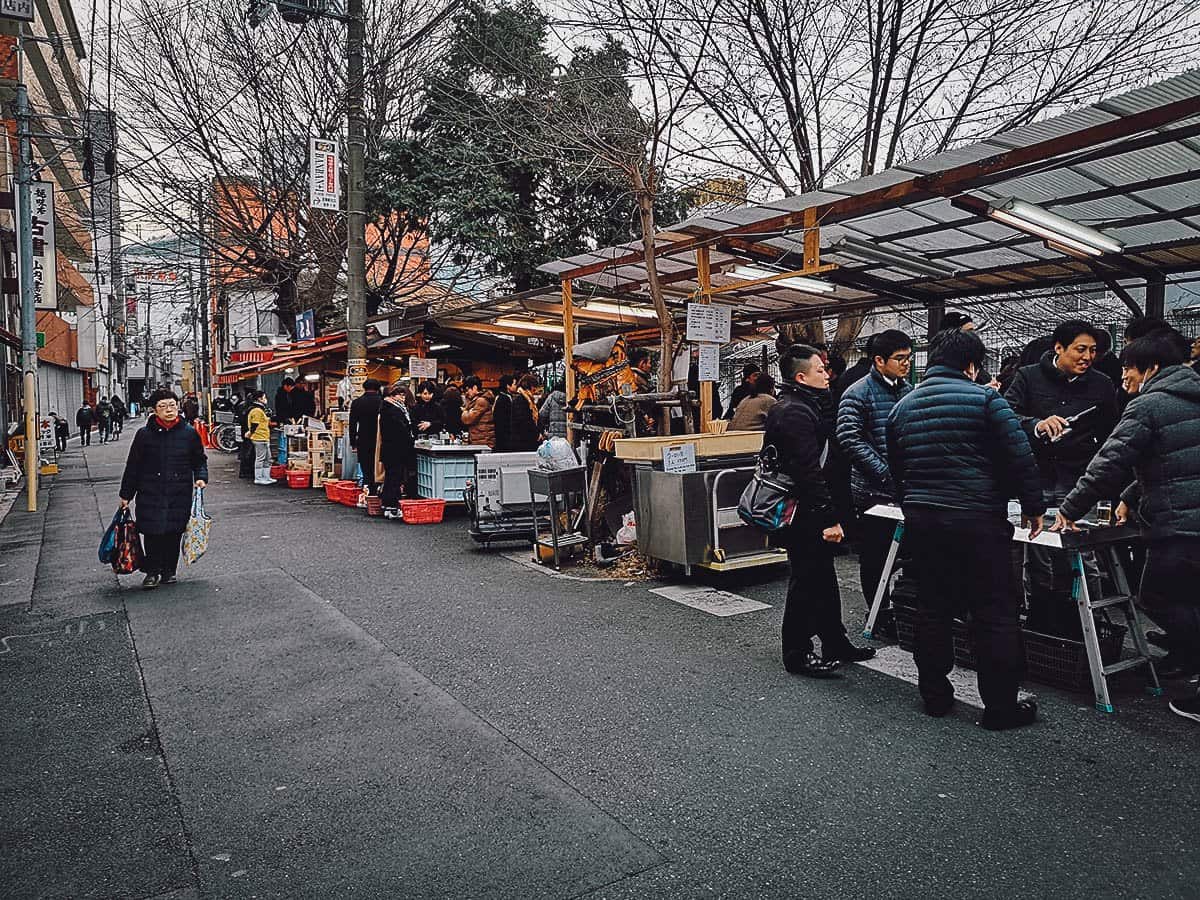 This gorgeous plate of uni, ikura, and toro was the day's special. The uni and ikura were nice but the toro was served nearly frozen. We found it to be a waste of such a prime cut of tuna. Such a shame!
At JPY 3,000, this plate was pretty pricey considering the quality so you may want to order something else.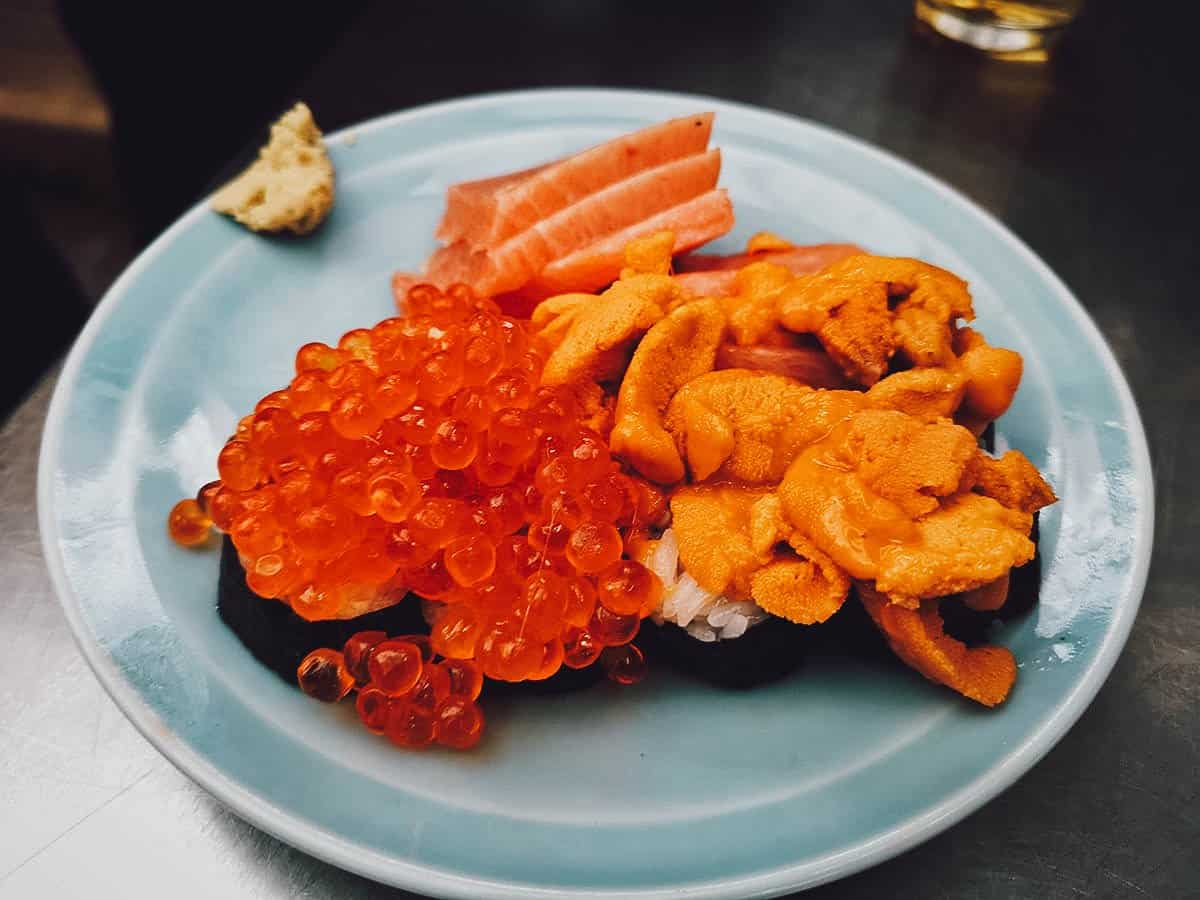 If you look really closely, you can see Toyo-san's bald head between two diners. He's become somewhat of a local celebrity for his jovial demeanor and aggressive way he blowtorches food.
While torching seafood and meat with his left hand, he dips his right into a bucket of ice water then dabs the food to keep it from drying out. It doesn't look like he's burned himself (too badly) yet but it's a theatrical and entertaining way of cooking that pulls in the customers.
20. Ohagi no Tambaya
If you like mochi, then you need to eat here. According to my Japanese friend, Ohagi no Tambaya is one of the best and most popular mochi chains in the Kansai region.
We had these delicious balls of grilled mochi after our udon breakfast at Ibuki. They were brushed with a miso glaze while being barbecued on a grill. They were smokey, savory-sweet, chewy, gooey, and loaded with umami. I loved the added texture from those grill marks as well. So damn good and something I wouldn't mind having as a snack everyday.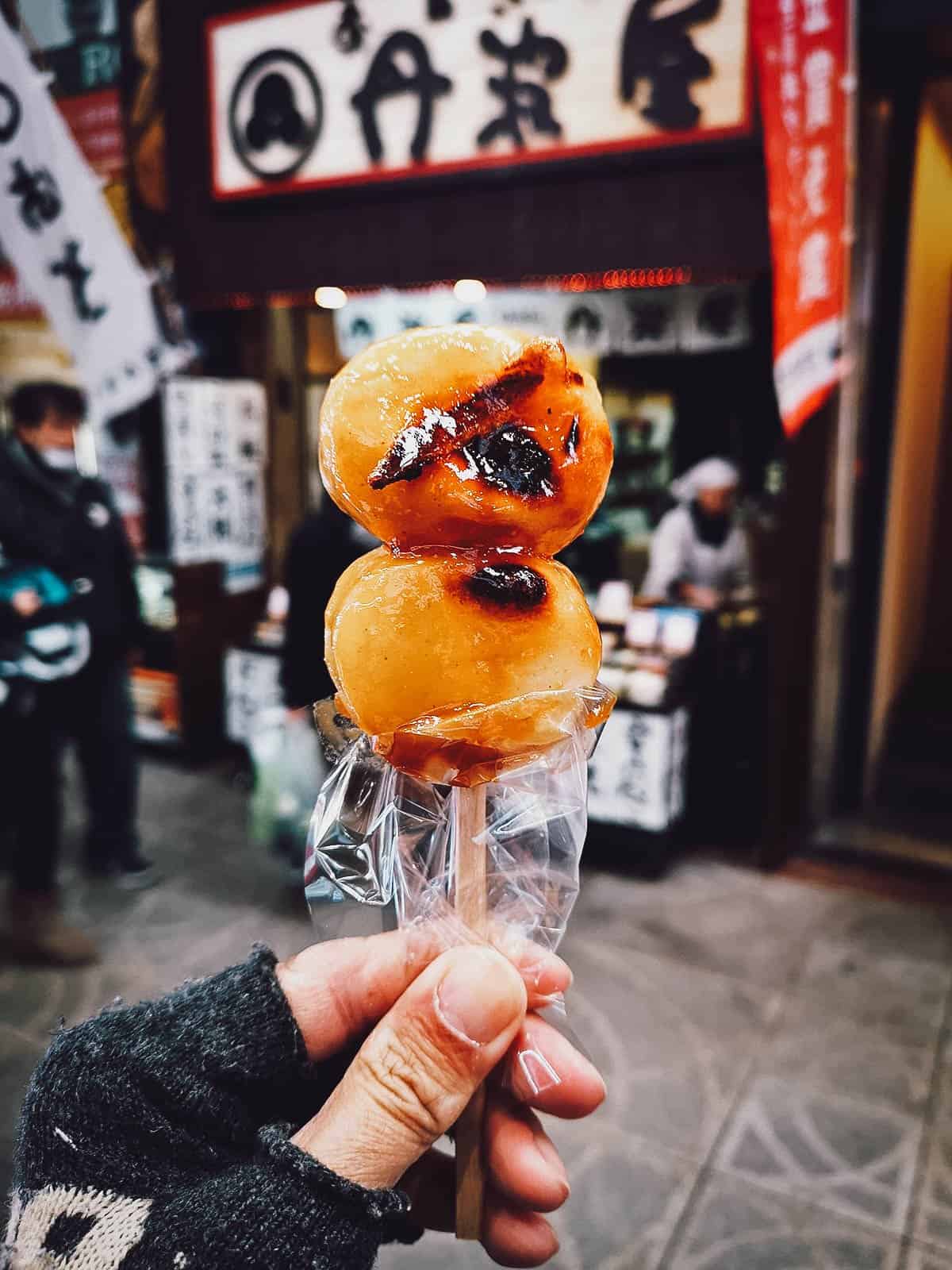 21. Tonkatsu Matsunoya
Tonkatsu Matsunoya is a popular tonkatsu chain with branches throughout Osaka and Japan. Tonkatsu refers to seasoned pork fillet or loin coated in panko bread crumbs then deep-fried. It's typically served with shredded cabbage and a thick brown tonkatsu sauce.
Matsunoya offers different types of tonkatsu meal sets. I had the tonkatsu with ebi furai (shrimp) while Ren went with the tonkatsu with miso sauce. Both the tonkatsu and ebi furai were very good – succulent and juicy with a light, crisp coating.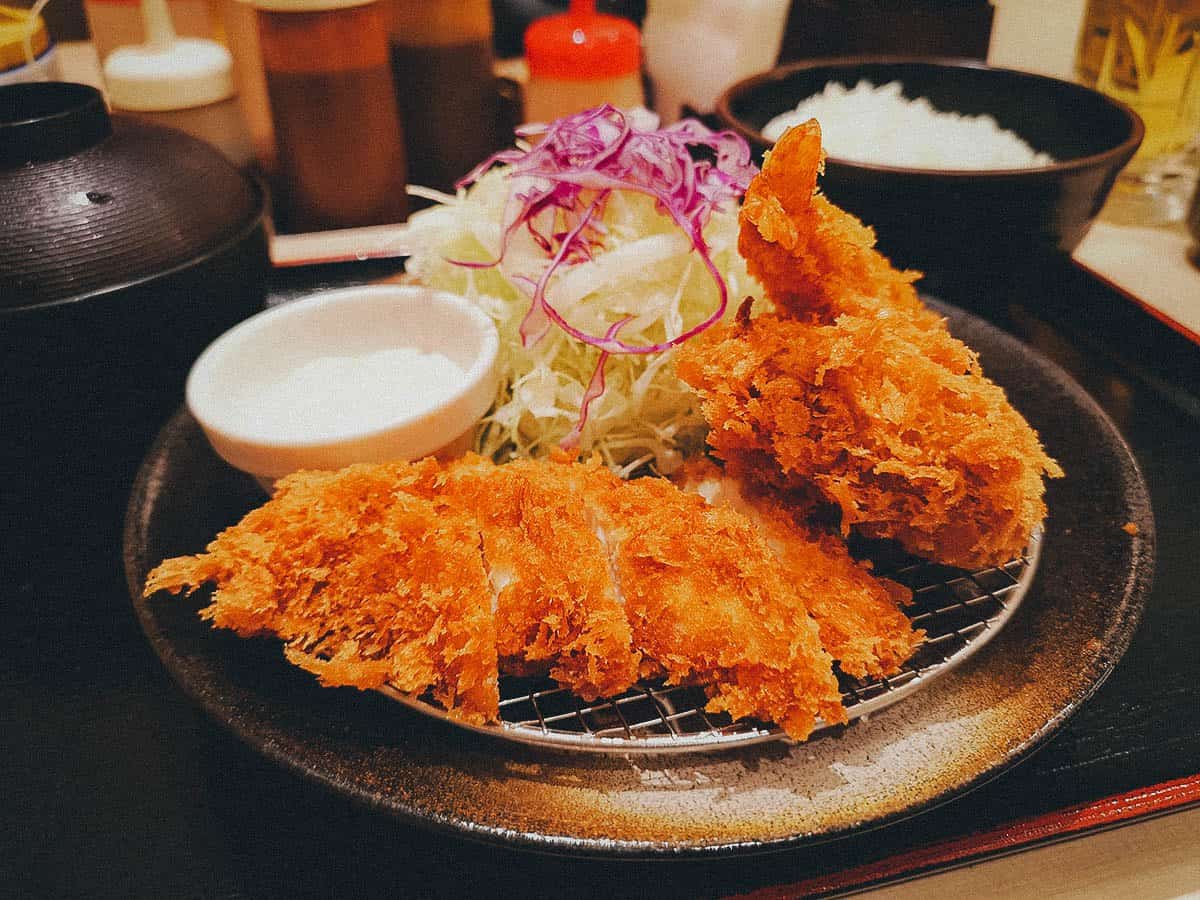 22. Zuboraya
Because of its element of danger, fugu has become a curiosity among many travelers, something the more adventurous want to try just for the sake of trying. If you're one of those people, then you may want to try it at Zuboraya, an Osaka restaurant that specializes in this curious and somewhat notorious delicacy.
As I touched upon earlier, fugu or pufferfish has a powerful neurotoxin that's about 1,200 times stronger than cyanide. It doesn't have an available antidote which is why chefs need to go through a rigorous training program to serve it. Eating improperly prepared fugu can lead to dizziness, exhaustion, headache, nausea, asphyxiation, and potentially, death. How fun!
In reality, the chances of eating improperly prepared fugu at a Japanese restaurant are virtually nil nowadays. I've heard that eating fugu is supposed to give you a tingling, numbing sensation, but I didn't experience that either time I tried it. To be honest, it doesn't taste like anything which is why I don't think it matters at which (licensed) restaurant you try it.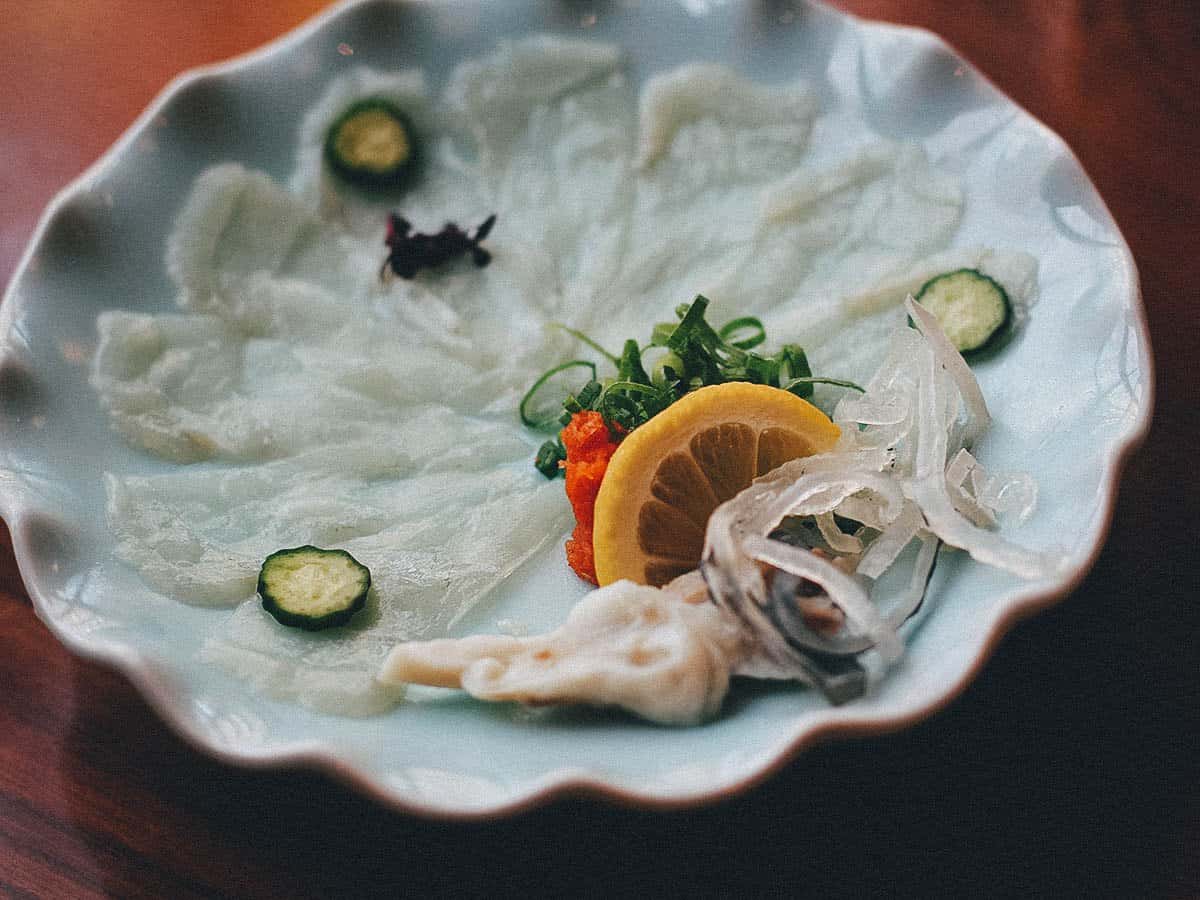 Aside from sashimi, fugu is also served in sushi form. We haven't tried it but one of the mot popular ways of enjoying fugu in Japan is in a hotpot. It's typically eaten in winter and is usually fairly pricey.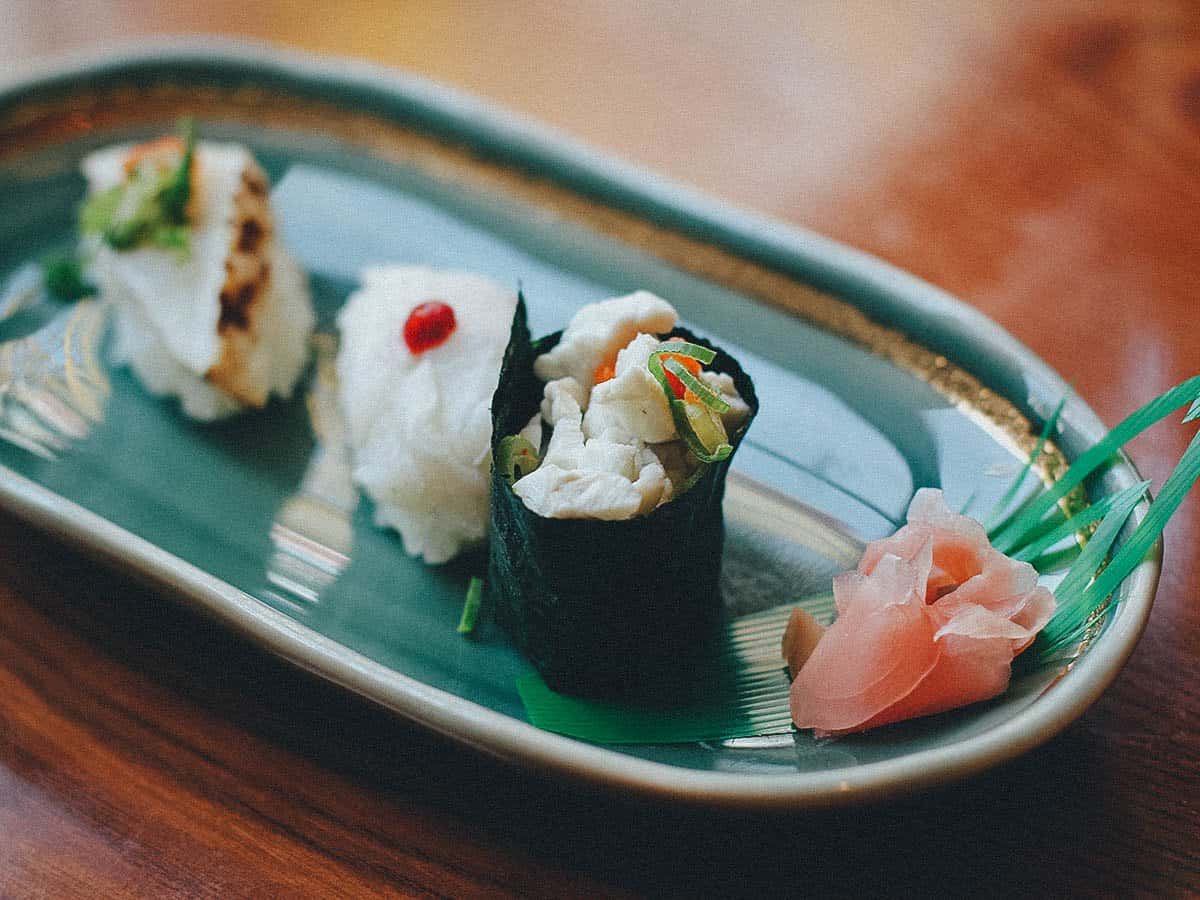 Walk around the Dotonbori area and you may come across one of these large blowfish lanterns. Congratulations! You've found a Zuboraya.
According to Tsutomu, Zuboraya isn't known for serving the best fugu, but if all you want to do is cross it off your bucket list, then it's good enough. Like I said, it doesn't have much taste anyway.
23. Rikuro Ojisan
You may have seen these branded Japanese cheesecakes jiggling their way through social media. Rikuro Ojisan makes these super fluffy baked cheesecakes with raisins that are available only in Osaka.
As you can see below, the kitchen is behind a glass window so customers can observe the baking process. Molds are lined with raisins then filled with the cheesecake mixture before being baked for about 45 minutes. When ready, a staff member rings a bell to let customers know that freshly baked cheesecakes have just come out of the oven. Each one is then stamped with the logo bearing founder and pastry Chef Rikuro Nishimura's likeness.
Before I tried it, I didn't think it would be better than any other Japanese cheesecake, but it was. It's so frikking good. It's rich, fluffy, creamy, and super duper jiggly. It's light too so you could probably demolish the entire thing in one sitting. Dangerously good stuff.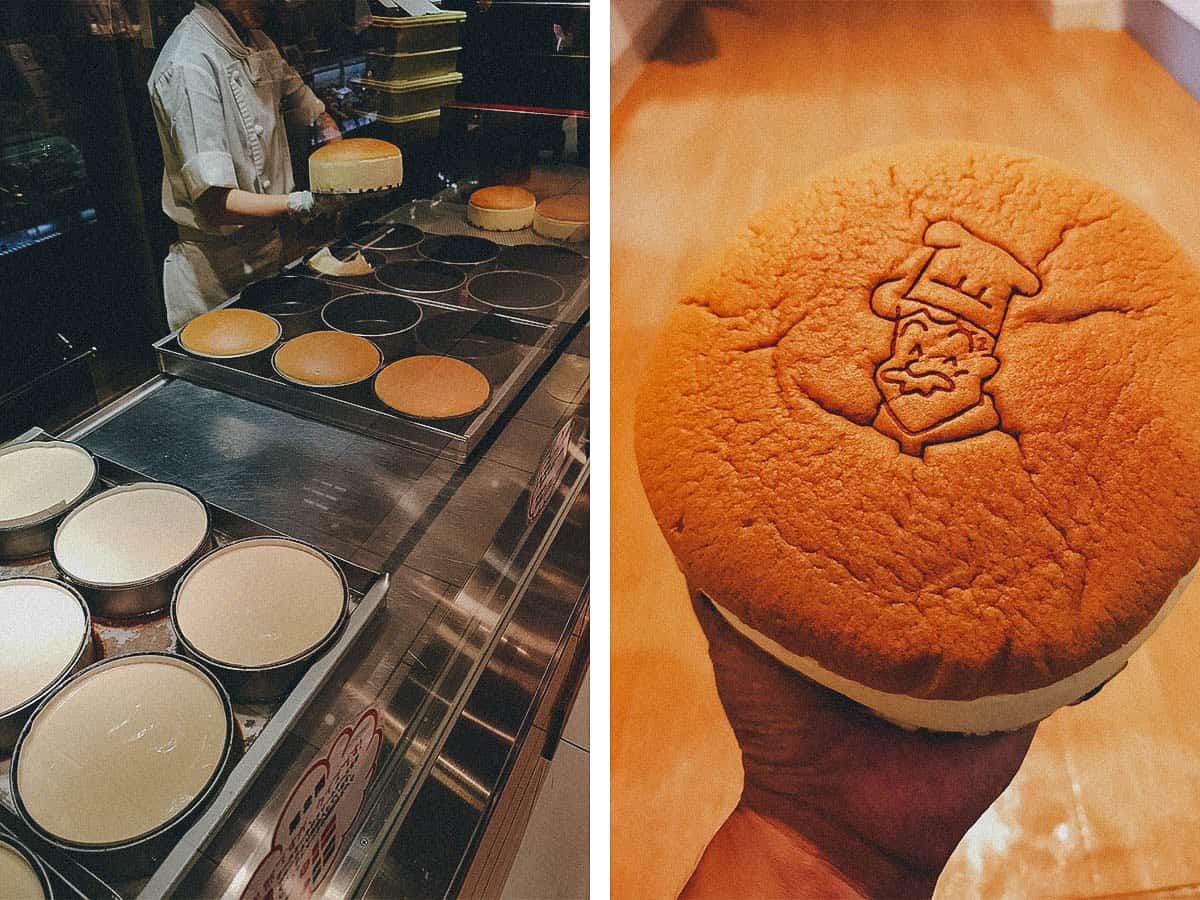 24. Kuromon Ichiba Market
From its name, you can probably tell that this isn't an actual restaurant, but a covered food market. It's somewhere between a wet market and a food hall. Nicknamed "Osaka's Kitchen", Kuromon Ichiba is where many of the city's chefs purchase their ingredients so you know the food here is of the highest quality.
Kuromon Ichiba Market has been around for well over a century and is home to about a hundred and fifty shops selling meat, seafood, fruits, vegetables, and all kinds of prepared food. For casual dining, it's one of the best places to eat in Osaka.
Pictured below are skewers of diver scallops and tako tamago – a glazed baby octopus stuffed with a whole quail egg. Serious yum!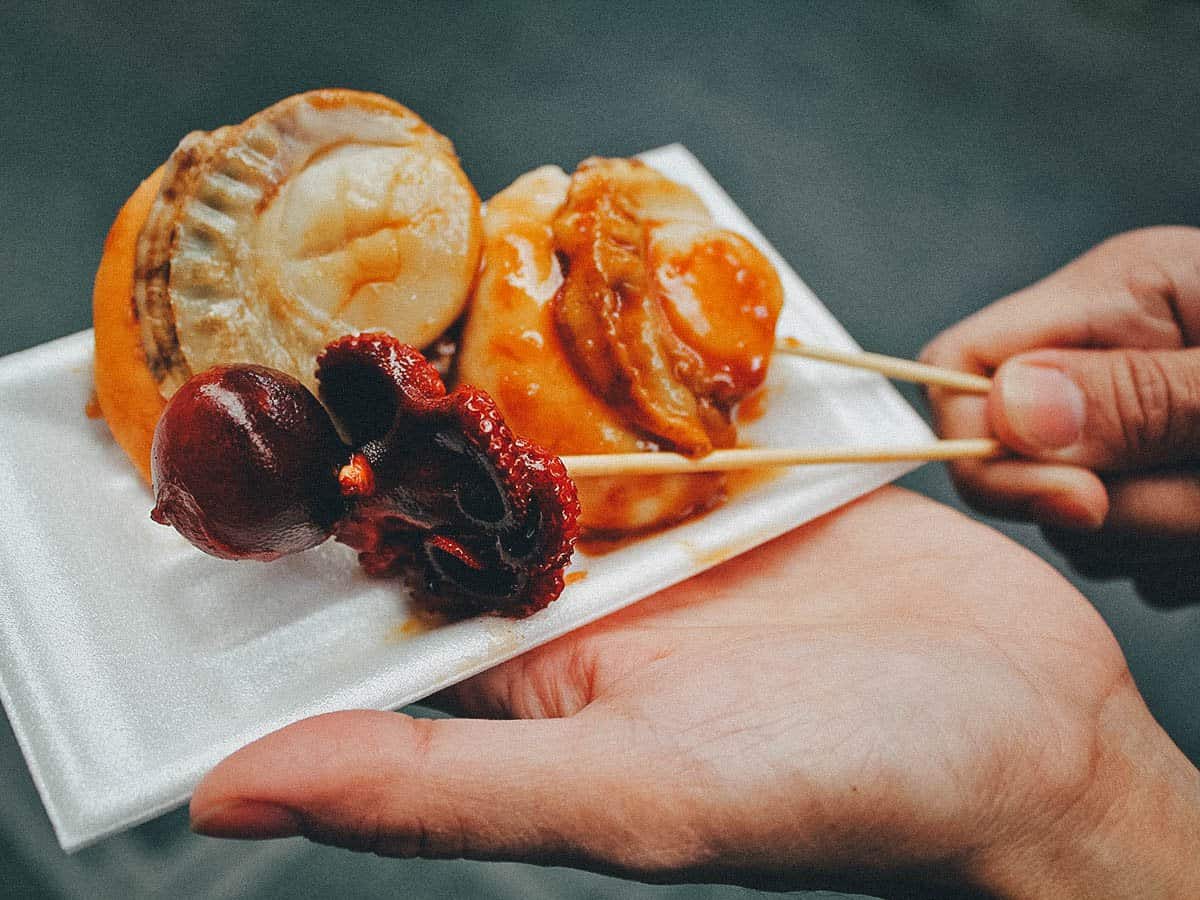 Feast you eyes on these massive grilled oysters.

Glistening uni or sea urchin. Serioiusly, how good does that look??
As previously described, Niboshi Ramen Tamagoro has a branch inside the market. If you're interested in trying good tsukemen, then I suggest coming to Kuromon Ichiba Market early and trying whatever you like before having lunch at Niboshi Ramen Tamagoro. The market can get pretty crowded later in the day so it's best to experience it early before it gets packed.
25. Namba Bar Hopping Tour
If you'd like to know where to eat in Osaka but don't have the time to do research, then you may want to book a food tour. It's a great way of having a local take you to some of the best food in Osaka.
We love going on food tours when we travel. It's a great way to find hidden gems and learn about the local cuisine. If you're interested in going on a food tour in Osaka, then you may want to book one with Magical Trip.
Magical Trip is a fun tour company that offers small group tours led by locals in several Japanese cities, including Osaka. We haven't done one in Osaka yet, but we have done their tours in Tokyo and Kyoto.
LOCATION MAP
There is so much delicious food in Osaka. We did thorough research and consulted with our Japanese friend Tsutomu to make this Osaka food guide as complete as possible. We hope it leads you to many delicious Japanese meals.
Because of the language barrier, it can sometimes be challenging finding your way around Japan. To make things easier, I suggest renting a pocket wifi device or buying a sim card. That way you have a constant wifi connection to consult maps and do any last minute research.
You can also download a copy of our entire 7-day Kansai itinerary in editable Word format from our EAT-ineraries page. It covers Osaka, Kyoto, and Nara.
Thanks for reading and have an awesome eating all the delicious Japanese food in Osaka. If you need more help in planning your trip, then be sure to check out our Osaka travel guide as well.
Disclosure
Some of the links in this guide are affiliate links, meaning we'll get a small commission if you make a purchase at NO extra cost to you. We only recommend products and services that we use ourselves and firmly believe in. We really appreciate your support as this helps us make more of these free travel guides. Thank you!