I'll be honest. As much as I love hakata (or tonkotsu) ramen, Fukuoka isn't my favorite Japanese city.
It lacks the charm of Kyoto and the excitement of Tokyo but what it does have, is one of the best regional cuisines in Japan.
I went on a food tour in Kyoto and according to my guide Syouri, when Japanese people travel for food, they usually go to one of three cities – Nagoya, Hiroshima, and Fukuoka. I don't know how universal that statement is, but it was surprising to me because I had always assumed it would be Osaka or Tokyo.
I was already familiar with the food in Fukuoka but Syouri's revelation got me excited to revisit this city known for its yatai stalls, motsunabe, and arguably its most famous dish of all – tonkotsu ramen.
Thanks to some key recommendations from Syouri, I was able to fill this Fukuoka food guide with some of the best dishes and restaurants in Fukuoka, including my personal quest to find the city's best bowl of ramen.
If you're visiting Kyushu and wondering what and where to eat in Fukuoka, then this food guide will be useful to you.
FOOD IN FUKUOKA QUICK LINKS
To help you plan your trip to Fukuoka, we've compiled links to recommended hotels, tours, and other travel-related services here.
HOTELS
Top-rated hotels in Nakasu, one of the best areas to stay for first-time visitors to Fukuoka.
TOURS
OTHER SERVICES
FUKUOKA TRAVEL GUIDE
If you're planning a trip to Fukuoka, then be sure to check out our detailed Fukuoka travel guide. It'll have all the information you need – like where to stay, what to do, where to go on a day trip, etc. – to help you plan your trip.
Save This on Pinterest!
No time to read this Fukuoka food guide now? Click on the save button and pin it for later!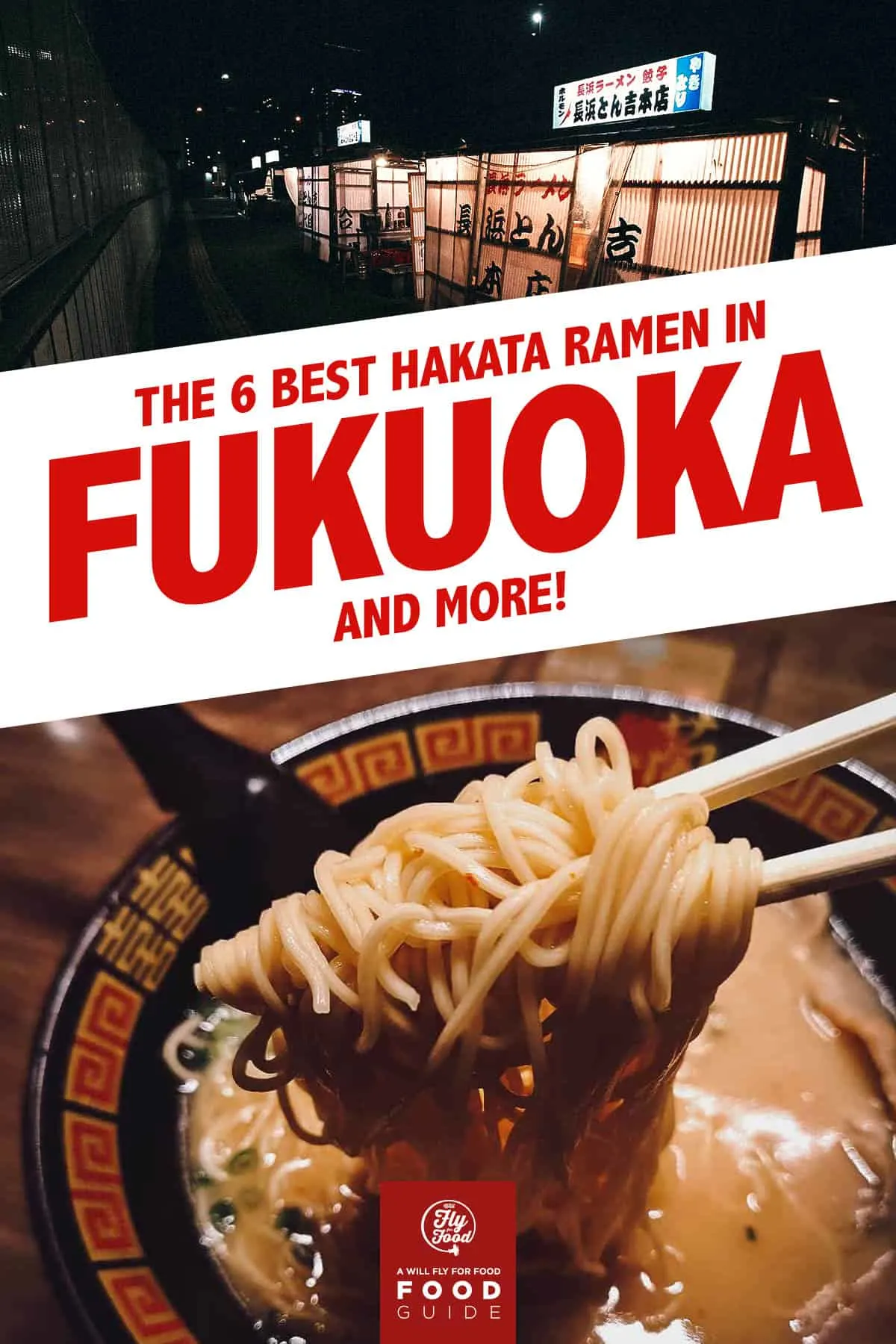 WHAT & WHERE TO EAT IN FUKUOKA
Listed in the menu below are the best dishes to look for in Fukuoka. You can click on the links to jump to any section.
Under each section, you'll find a description of the dish as well as recommendations on which Fukuoka restaurants to visit for the best examples of that dish.
HAKATA RAMEN
There's a lot of delicious food in Fukuoka, but if you were to have just one dish, then it should be hakata ramen. It's one of the most popular types of ramen in Japan and a signature dish of Fukuoka, where it's originally from.
Although hakata ramen can now be enjoyed throughout Japan, I always believe that it's best to have a dish at the source. I wanted to find the best bowl of ramen on my most recent trip to Fukuoka so that was pretty much all I ate in my three days there.
What is Hakata Ramen?
Hakata ramen is made by boiling pork bones over a high flame for several hours until the marrow seeps out. This boiling process can take up to 8-12 hours to create this ramen's signature milky broth.
Rich and creamy in flavor, the broth is served with thin noodles that can be cooked to your preferred level of firmness.
You can have it anywhere from extra firm (barikata) to extra soft (bariyawa), but for the best experience, I suggest getting them extra firm. Ramen noodles are most enjoyable when firm and chewy.
Hakata ramen is typically served with just a few topping like chashu pork, green onion, and wood ear mushroom. If you like, then you can also have it with a ramen egg.
On your table will be a slew of condiments like garlic, pickled ginger (beni shoga), sesame seeds, and pickled mustard greens (karashi takana) which you can freely add to your bowl of ramen.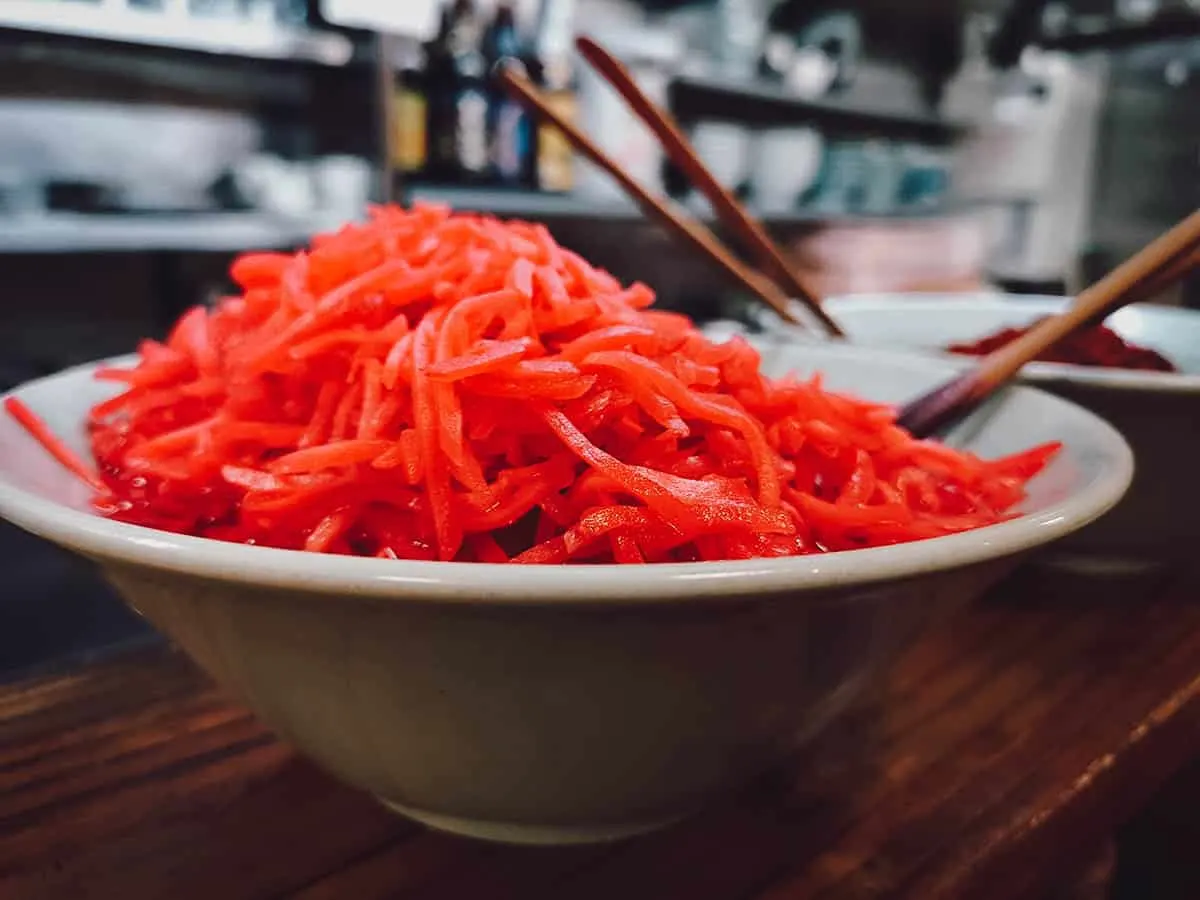 Hakata ramen is also referred to as tonkotsu ramen, with tonkotsu meaning "pork bones" in Japanese. In Fukuoka, Hakata is the historical name of central Fukuoka so the dish is more commonly referred to as hakata ramen.
Listed below are six restaurants that serve some of the best ramen in Fukuoka. Prices vary depending on the choice and number of toppings but on average, expect to pay anywhere between JPY 800-1,000 per bowl.
1. Ganso Nagahamaya
Ganso Nagahamaya gave us our first taste of tonkotsu ramen on our first trip to Fukuoka in 2017. I learned about this restaurant when I posted a TripAdvisor thread asking for food recommendations in Fukuoka.
Ganso Nagahamaya is a local ramen restaurant that's been serving ramen since the end of the Asia-Pacific War.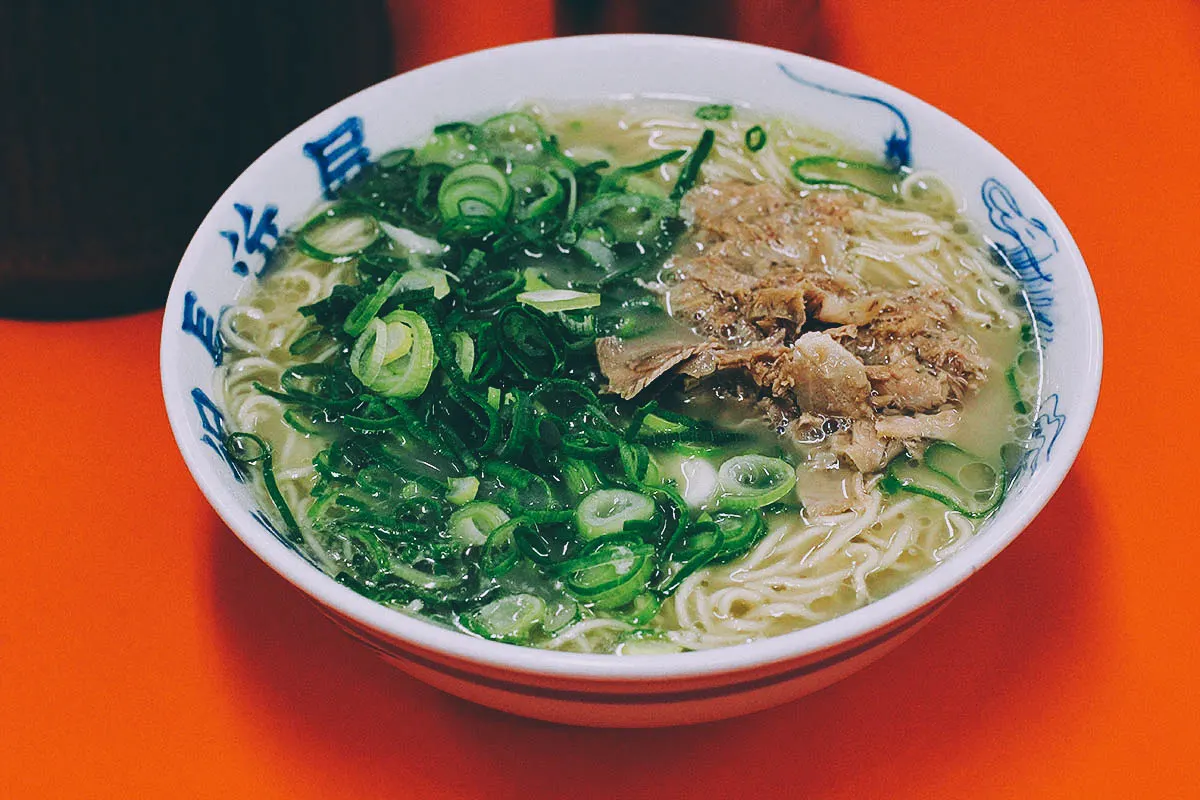 Ganso Nagahamaya serves their ramen with tender shreds of chashu pork and a boatload of chopped green onion. Compared to the other shops on this list, Ganso Nagahamaya's ramen looks the most different. As far as I could tell, this was the only place that served the chashu pork shredded like this.
We enjoyed this bowl three years ago but I still remember the milkiness of its broth very well. It's still one of the creamiest bowls of tonkotsu ramen I've had in Fukuoka.
You can tell they boil the pork bones for a long time by how cloudy and flavorful that broth is. It's milky and delicious.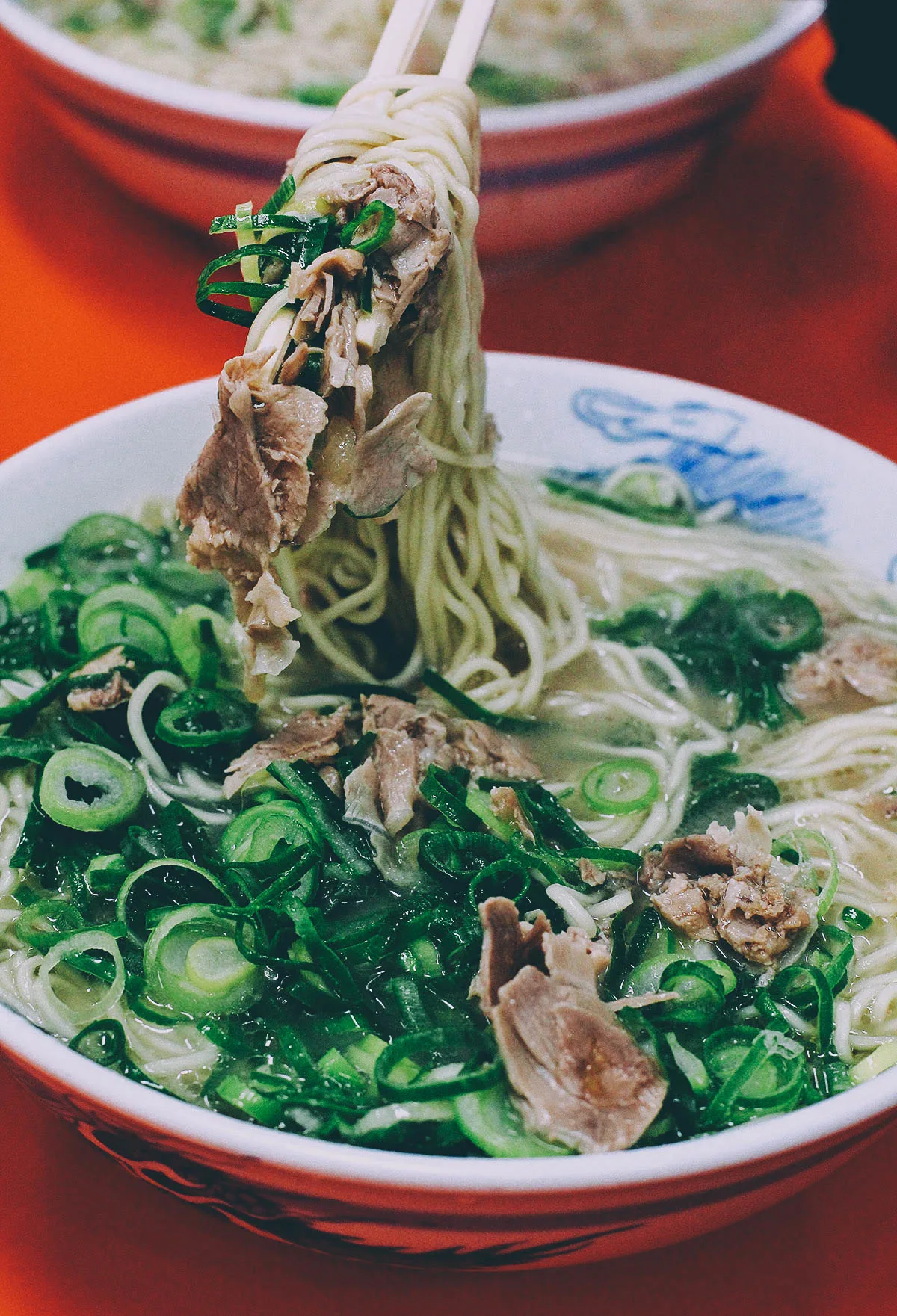 When we ate at Ganso Nagahamaya three years ago, we paid JPY 500 per bowl of ramen. It looks like prices haven't increased much since then.
At just JPY 550, it's probably one of the cheapest bowls of ramen you'll find in Fukuoka.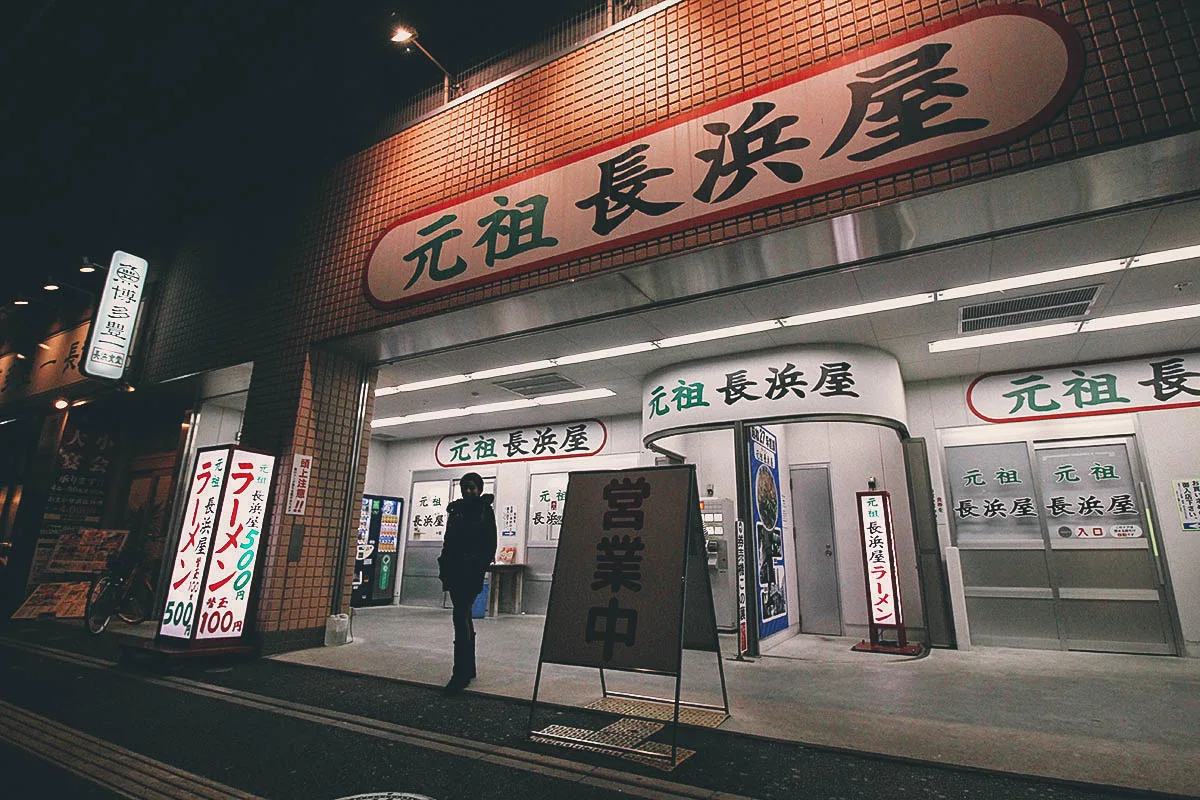 Ganso Nagahamaya
Address: Japan, 〒810-0072 Fukuoka, Chuo Ward, Nagahama, 2 Chome−5−25 トラストパーク3 1F
Operating Hours: 4AM-1:45AM, daily
What to Order: Tonkotsu ramen, gyoza
Expect to Pay: About JPY 550 per bowl of ramen
2. Hakata Issou
I did a lot of research for this Fukuoka food guide and more than one Japan-based article declared Hakata Issou's bowl of tonkotsu ramen to be the best in Fukuoka. Even Syouri recommended this place to me.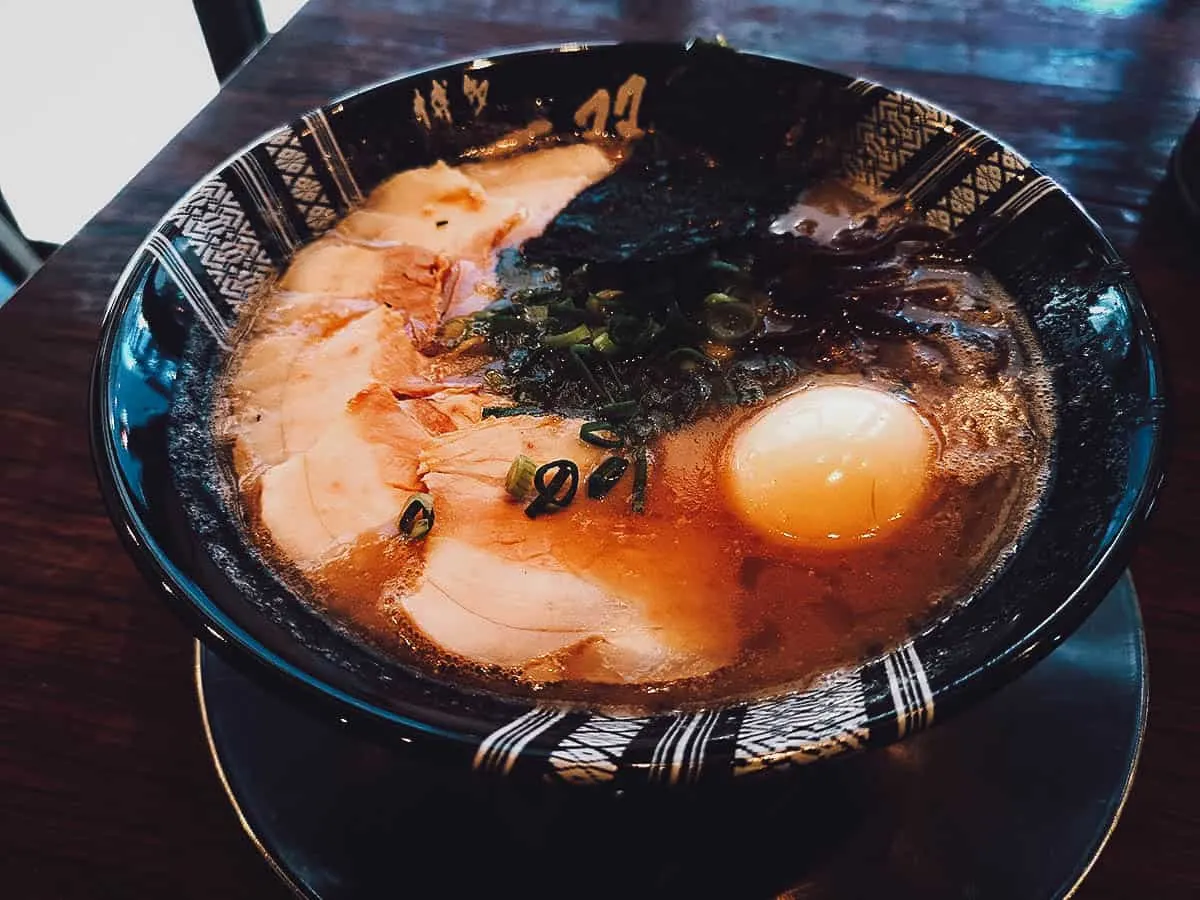 Hakata Issou serves their bowls of ramen with several pieces of chashu pork, nori, green onion, wood ear mushroom, and a ramen egg.
It was tasty but as you can see below, the broth isn't as milky as Ganso Nagahamaya's. It didn't taste as creamy which was a little disappointing because I've come to associate that milkiness with tonkotsu ramen.
Personally, I prefer the broth to be rich and creamy but perhaps this is what a more authentic version of what tonkotsu ramen should be like. More on that at the bottom of this guide.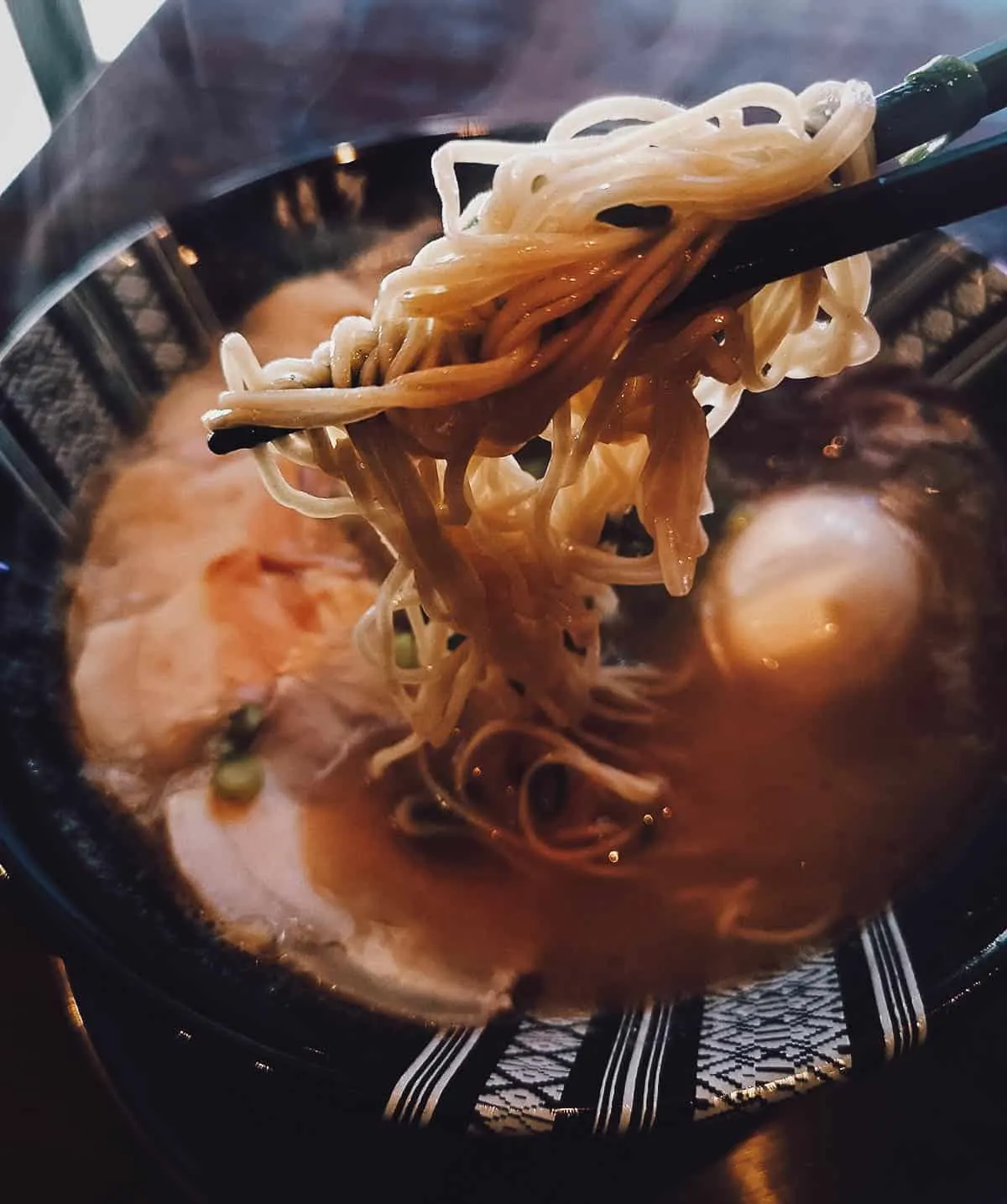 Regardless of my opinion, you should definitely check out Hakata Issou as it was one of the busiest ramen shops I visited in Fukuoka. It's popular even among locals, which at the end of the day, is all that matters.
Being one of the most popular ramen restaurants in Fukuoka, you'll probably find a queue like this if you go around lunch or dinner time. It does move fairly quickly but you may be pressured to slurp your ramen faster than you want to.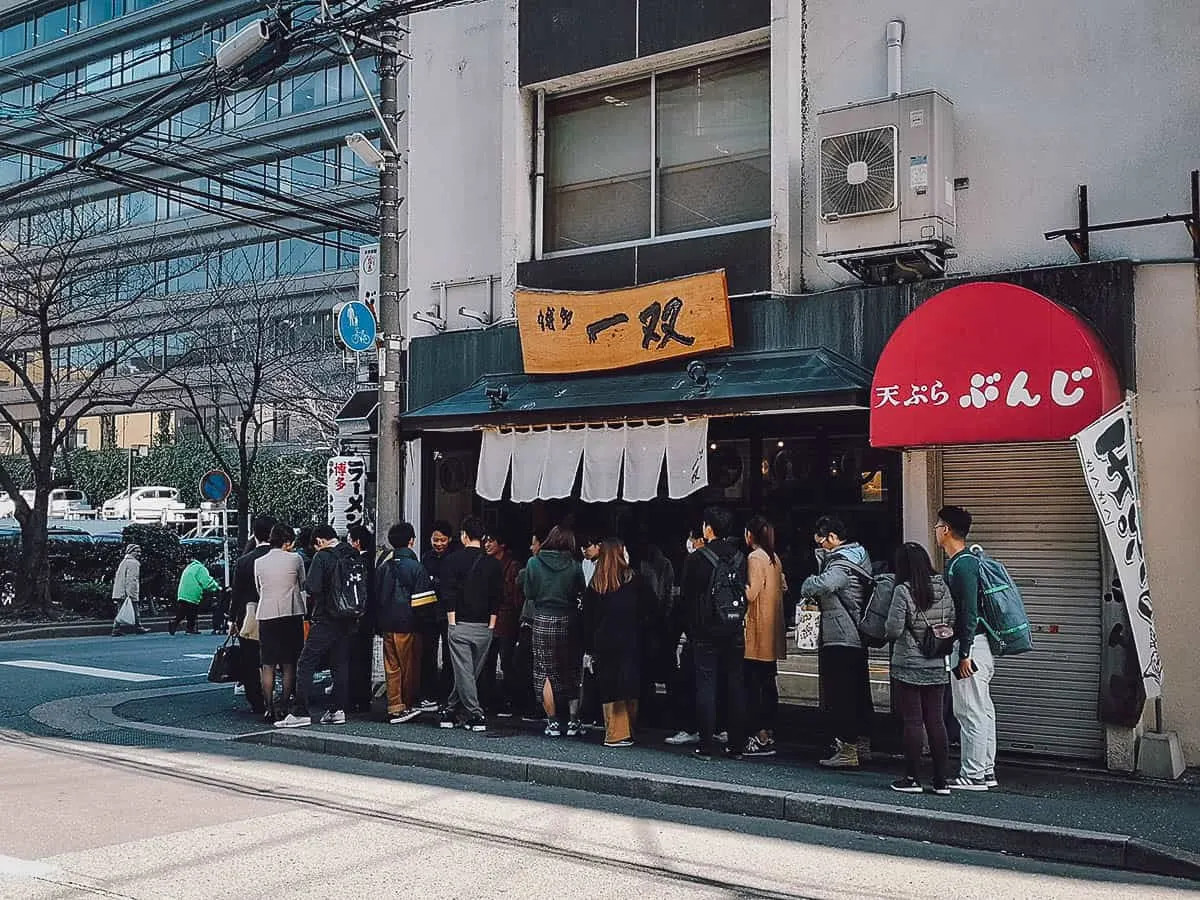 Hakata Issou
Address: 3 Chome-1-6 Hakataekihigashi, Hakata Ward, Fukuoka, 812-0013, Japan
Operating Hours: 11AM-12MN, daily
What to Order: Tonkotsu ramen, gyoza
Expect to Pay: About JPY 900 per bowl of ramen
3. Menchan
Menchan was another ramen shop recommended to me by Syouri. They have a few options to choose from but I went with the version made with chashu pork, wood ear mushroom, chopped green onion, and pickled mustard greens. I also had a side of gyoza (Japanese pan-fried dumplings) to go with it.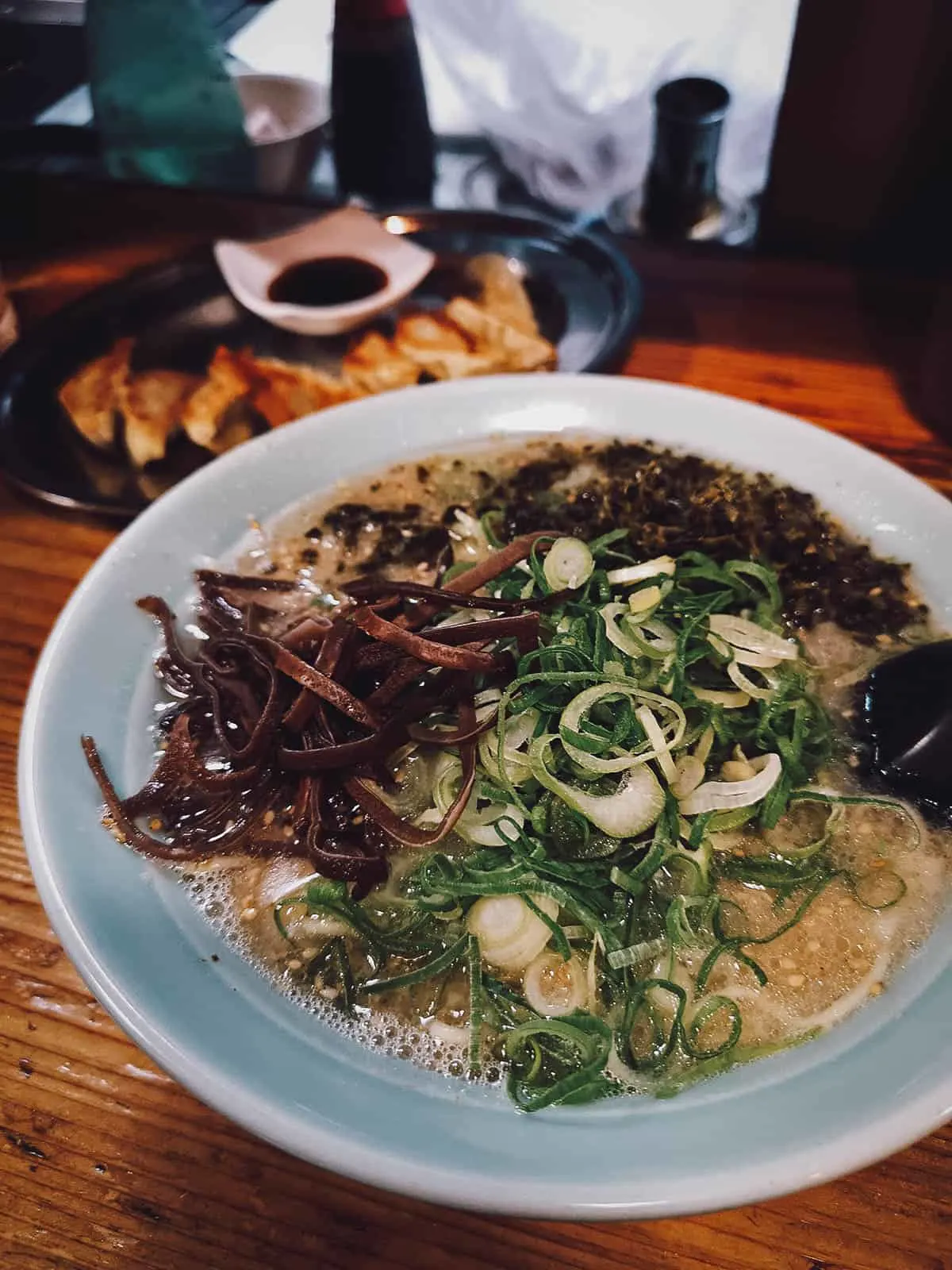 I enjoyed Menchan more than Hakata Issou but the broth still wasn't as creamy as I would have liked, which again leads me to believe that this style of tonkotsu ramen may be the type Japanese people prefer.
It's subtle and perhaps more nuanced in flavor, the type you'd learn to appreciate with more experience. On the counter at Menchan were heaping bowls of pink pickled ginger that you can add to your ramen for more texture and bite.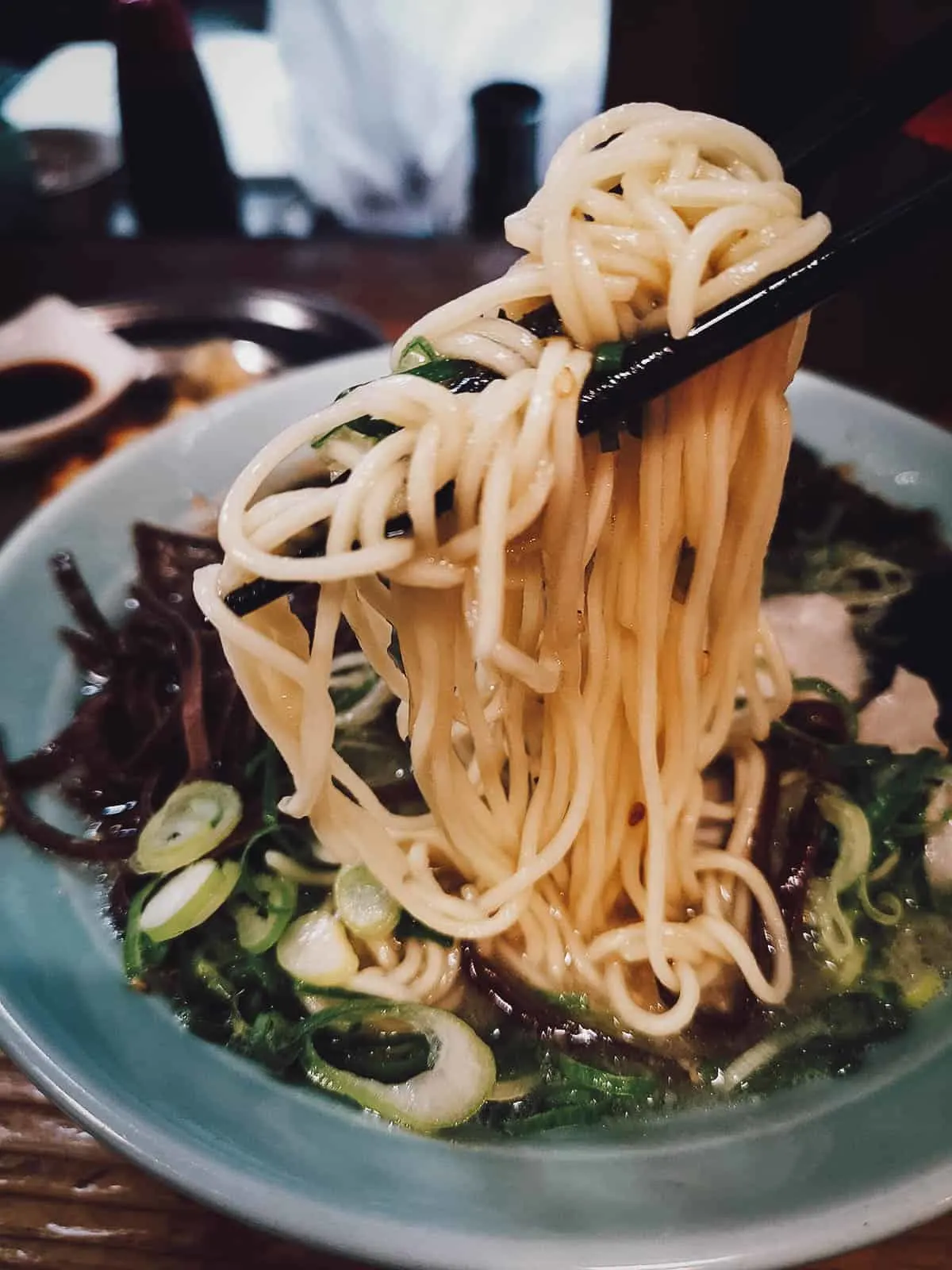 Gyoza and chahan (Japanese fried rice) are often paired with ramen. Made fresh at the shop, Menchan's gyoza are some of the best I've had anywhere. They're light and crisp with just the right amount of filling.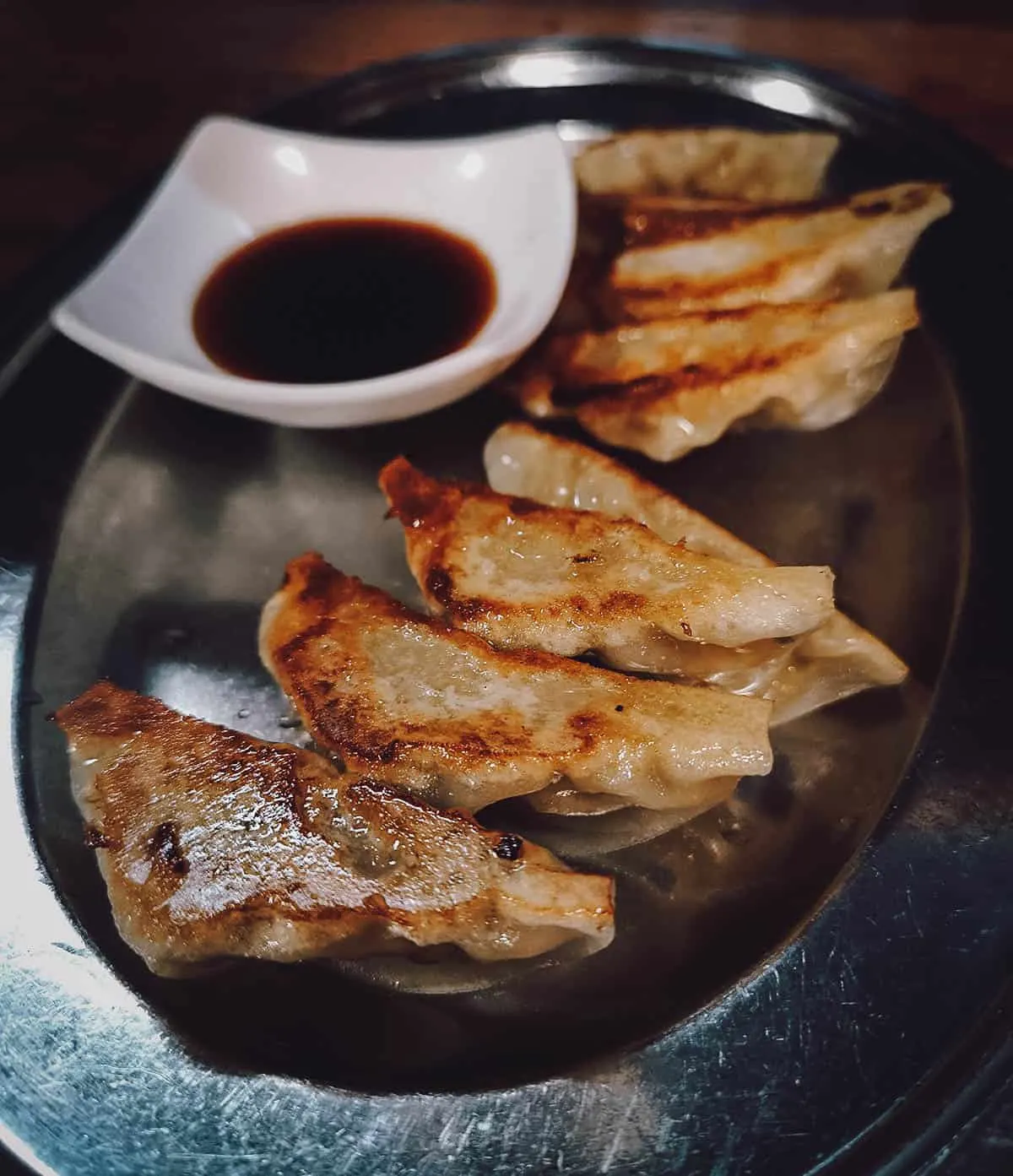 Menchan is located near the Hakata River. It isn't as popular as Hakata Issou so it shouldn't be hard to get a table.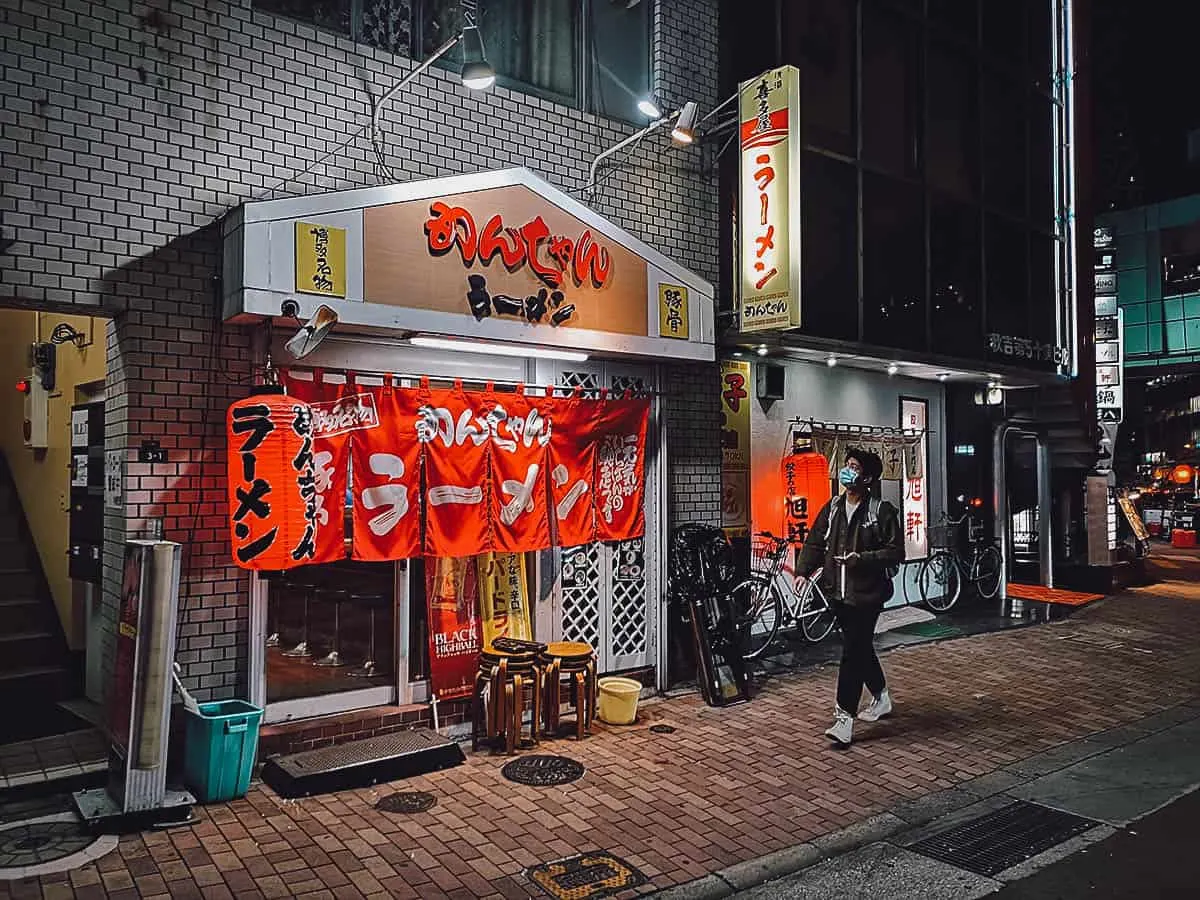 Menchan
Address: 3-1 Kamikawabata Nakasu, Hakata, Fukuoka 812-0026 Fukuoka Prefecture
Operating Hours: 7PM-4AM, Mon-Sat (closed Sundays)
What to Order: Tonkotsu ramen, gyoza
Expect to Pay: About JPY 800 per bowl of ramen
4. Shin Shin
Shin Shin is a successful chain of ramen shops in Fukuoka. My first experience with Shin Shin came in the form of a tonkotsu ramen kit that we brought home from Fukuoka Airport. Inside the box were noodles, powder, and a sauce to make the broth.
It was delicious so I knew that having it freshly made at their Fukuoka restaurant would be even better. It was.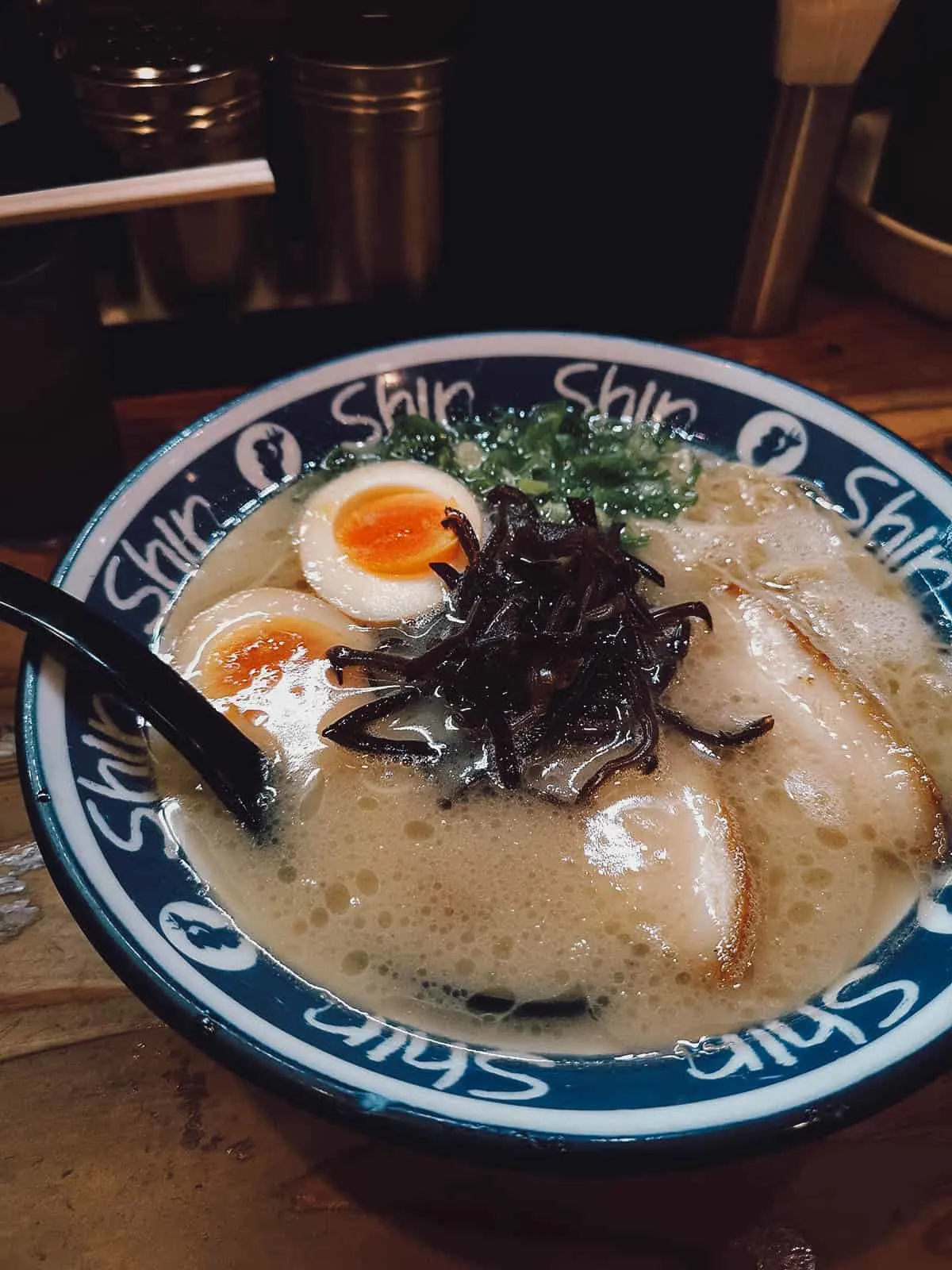 I had the version made with chashu pork, wood ear mushroom, chopped scallions, and a ramen egg. As you can see below, Shin Shin makes their ramen with a thick and milky broth, which is exactly how I like it. It was one of my favorite bowls of ramen in Fukuoka.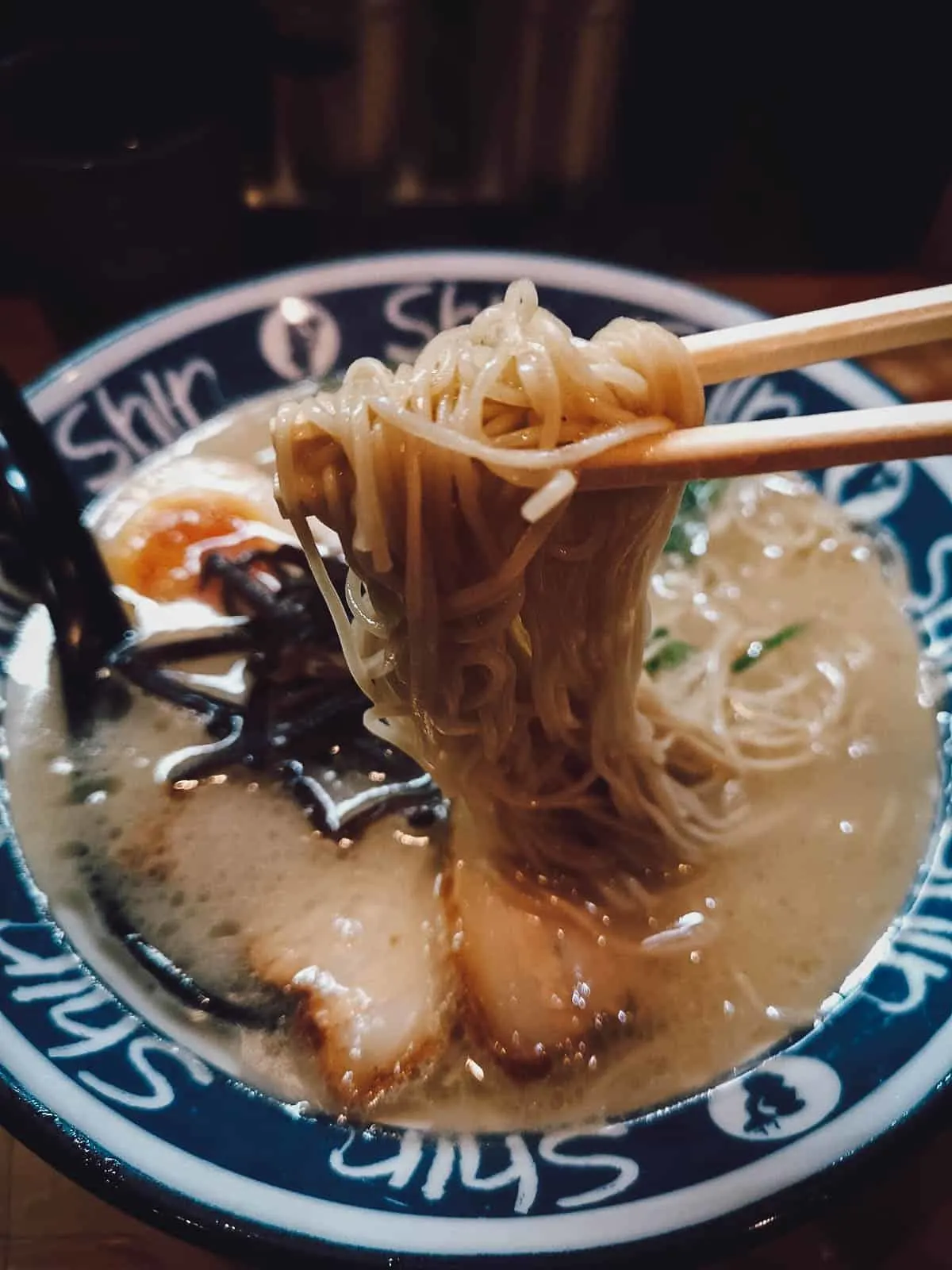 I enjoyed my ramen with a side of gyoza. They were good but not nearly as good as Menchan's gyoza.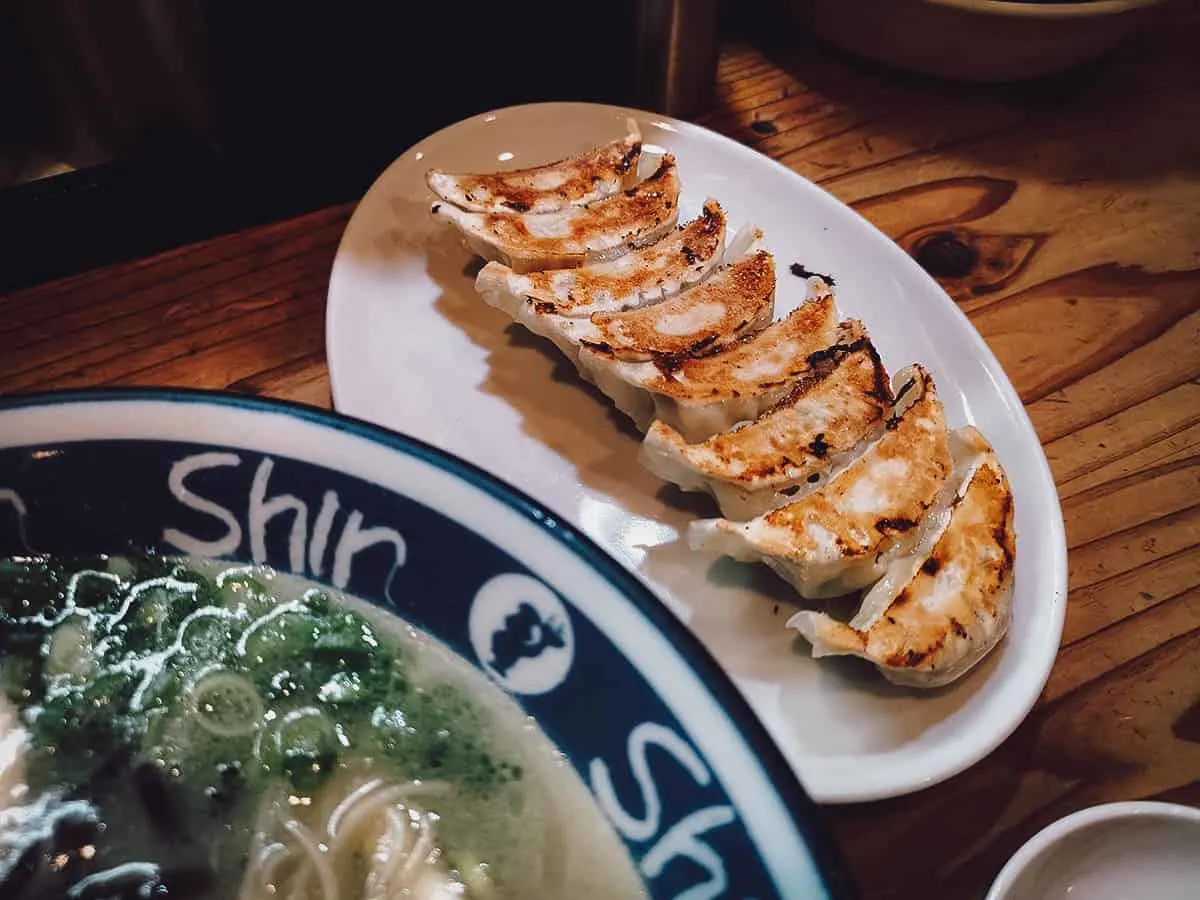 Shin Shin has multiple restaurants in Fukuoka. You can check their website to find a branch near you.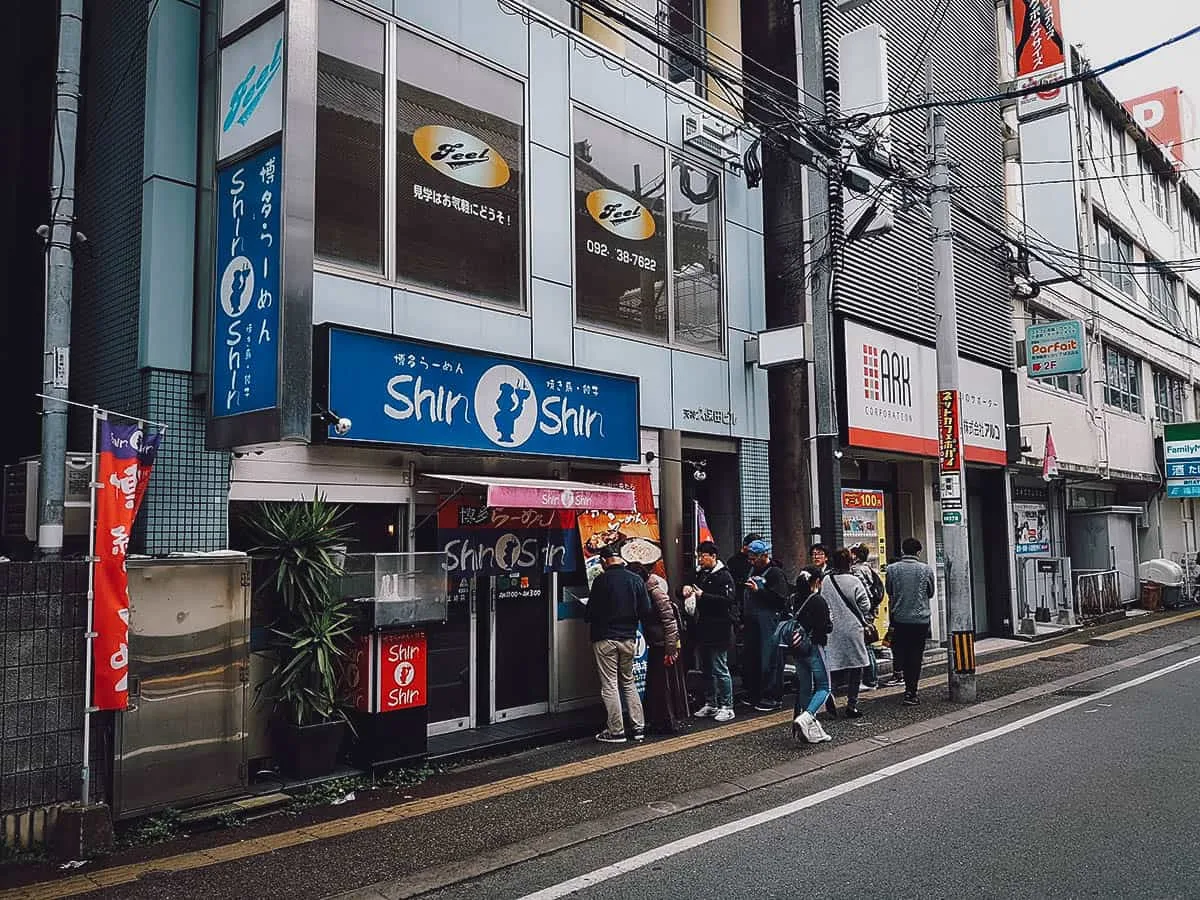 Shin Shin
Address: 3 Chome-2-19 Tenjin, Chuo Ward, Fukuoka, 810-0001, Japan
Operating Hours: 11AM-2:30AM, Mon-Sat (closed Sundays)
What to Order: Tonkotsu ramen, gyoza
Expect to Pay: About JPY 800 per bowl of ramen
5. Ichiran
Ichiran is one of the most famous Fukuoka restaurants. It's a tonkotsu ramen chain that started in Fukuoka in 1960 before growing into a global brand with outlets in Japan, New York, Hong Kong, and Taipei.
Aside from serving delicious ramen, Ichiran has become famous for their solo dining booths designed to amplify the ramen dining experience.
Instead of sitting at regular restaurant tables or counters, diners can enjoy their ramen in solo booths with partitions between seats. That way they can focus on one thing and one thing only – their ramen.
Unlike the other ramen shops on this list that offer set versions of ramen, Ichiran diners can customize every aspect from its spice level, richness, noodle texture, and more.
Since it was my first time at Ichiran, I went with the recommended level for everything. I wanted what they deemed to be their best bowl of ramen.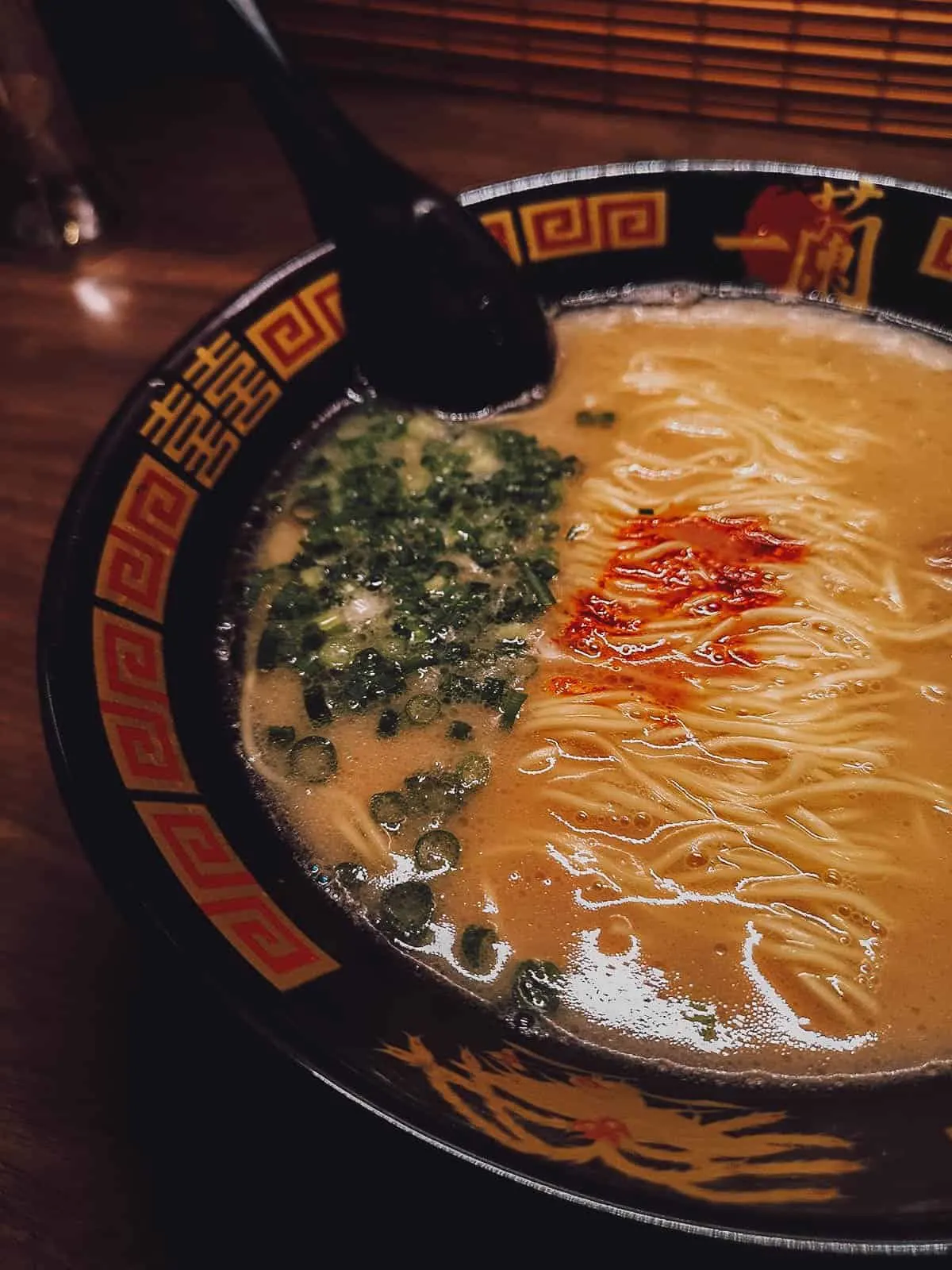 To be honest, with Ichiran being a global cookie cutter chain, I wasn't expecting their ramen to be exceptional but I was wrong. Their ramen is fantastic. For me, it's one of the two best ramen restaurants in Fukuoka.
As you can tell from the milkiness of the broth, Ichiran's ramen is incredibly rich and creamy. It's got just a hint of sweetness to go with perfectly textured ramen noodles and an ideal balance of ingredients. It isn't loaded with too much of anything because clearly (or should I say cloudily), the broth is the star.
I loved this bowl of tonkotsu ramen and enjoyed it to the last drop.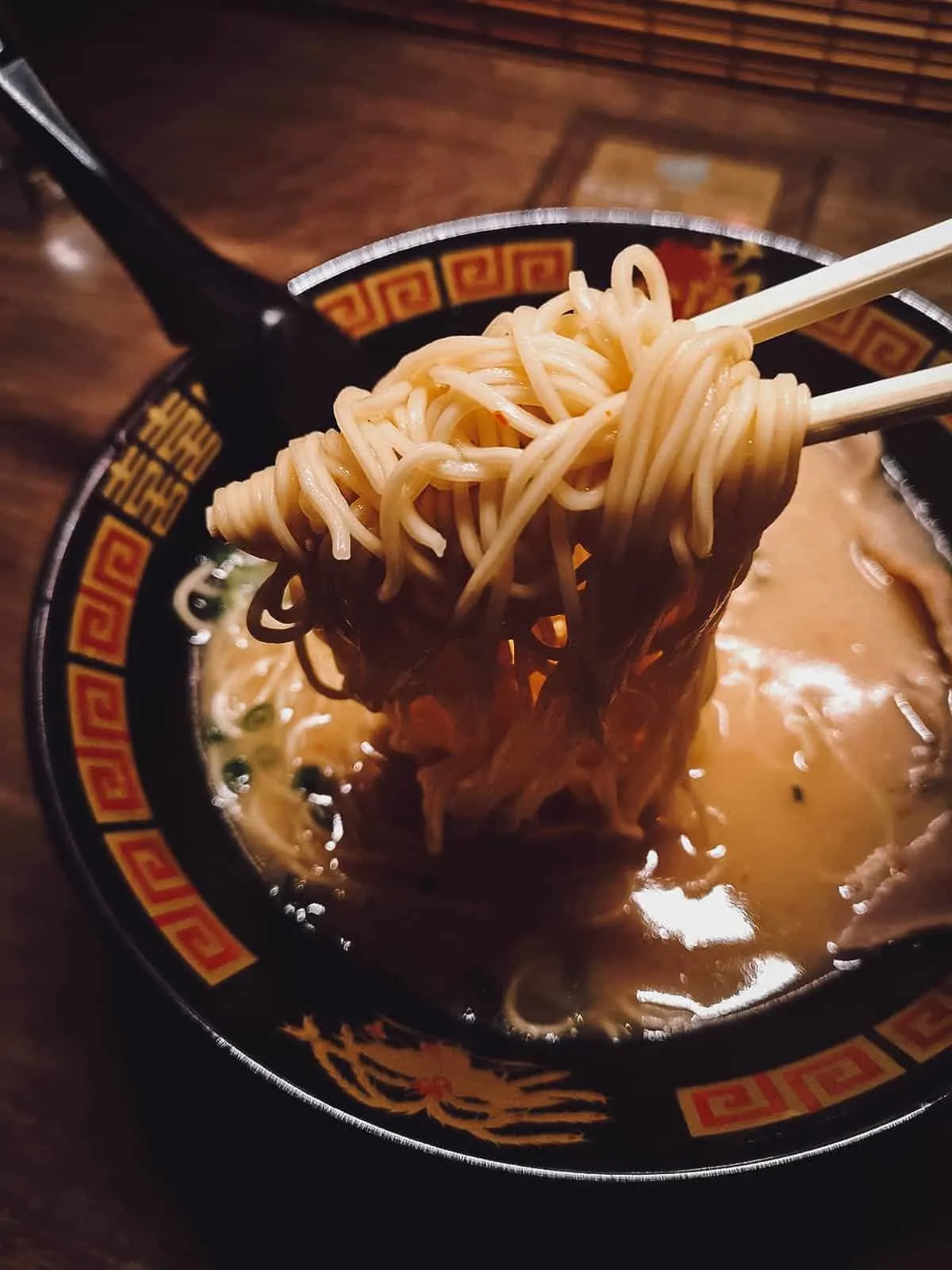 Ichiran has several Fukuoka restaurants but I suggest going to the original branch located in the building pictured below. Only the first few floors are taken up by the restaurant. I believe the rest of the floors are occupied by corporate offices.
When their original Fukuoka restaurant first opened in 1960, it was called Futaba Ramen before changing its name to Ichiran in 1966. Ichiran means "one orchid".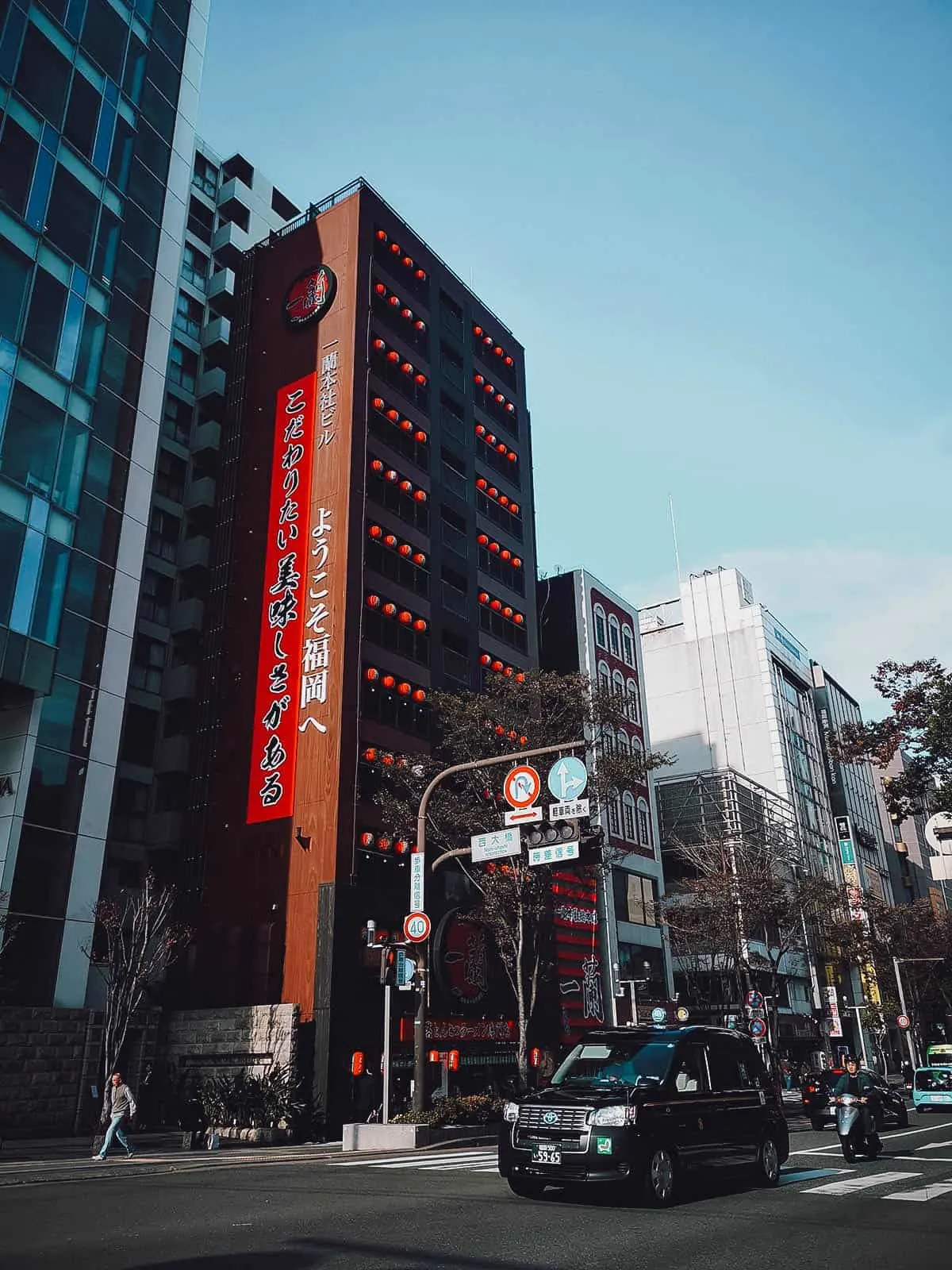 Ichiran
Address: 5 Chome-3-2 Nakasu, Hakata Ward, Fukuoka, 810-0801, Japan
Operating Hours: 24 hrs
What to Order: Tonkotsu ramen, gyoza
Expect to Pay: About JPY 950 per bowl of ramen
6. Hakata Genki Ippai
If I were to choose based on taste alone, then Ichiran's tonkotsu ramen may be my favorite. But based on the whole dining experience, then Hakata Genki Ippai gets the nod. I'll explain why below.
As you can see below, the bowl I ordered came with chashu pork, some green onion, and a mountain of wood ear mushrooms.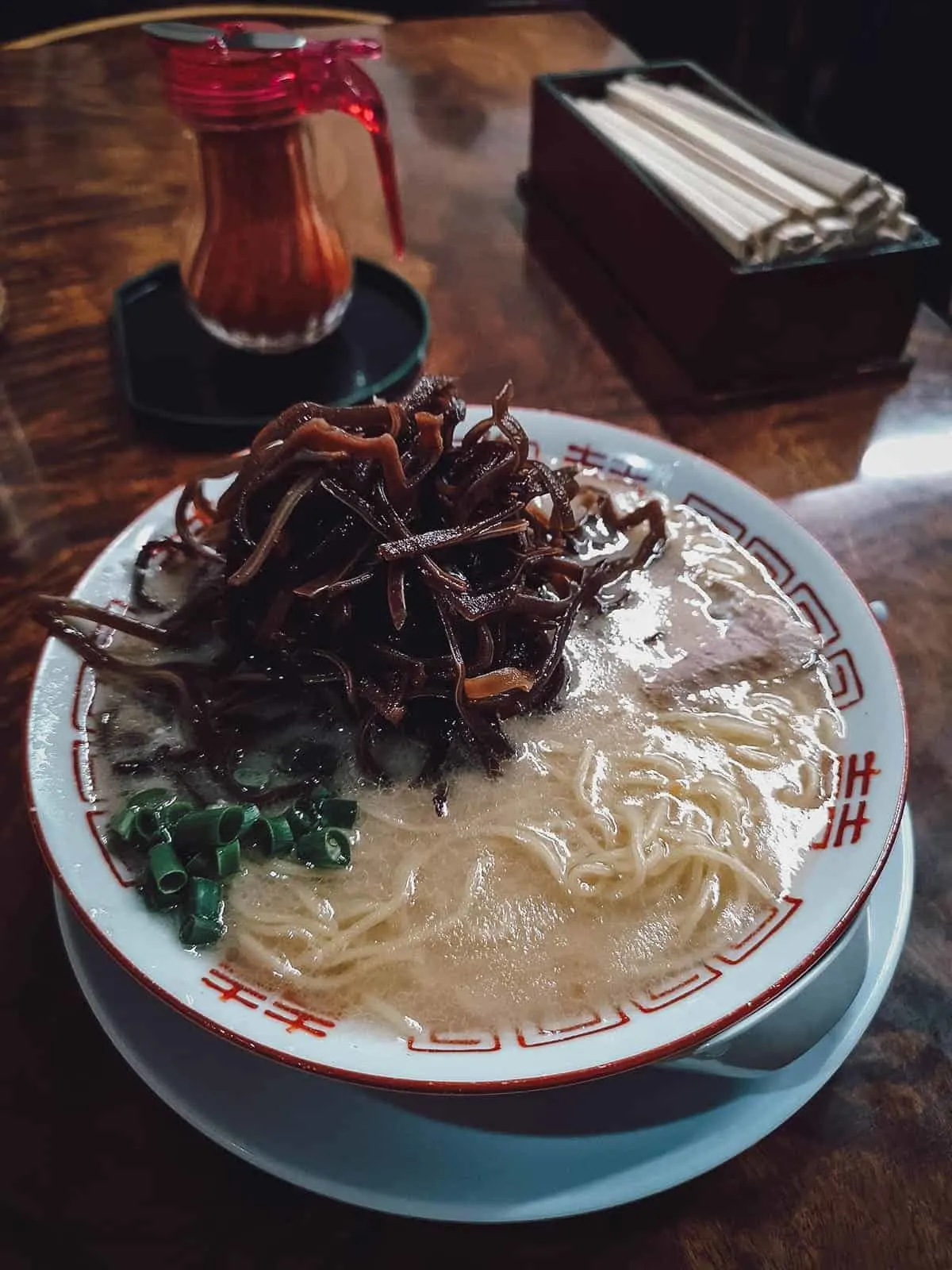 You can probably tell from its supremely milky broth why I was partial to this bowl of ramen. It wasn't quite as flavorful and developed as Ichiran's broth but I enjoyed it just as much.
Looking around the shop, nearly everyone's bowl was loaded with wood ear mushroom so I ordered the same. All that wood ear mushroom imparted a crunchy and chewy texture that made it so much fun to eat.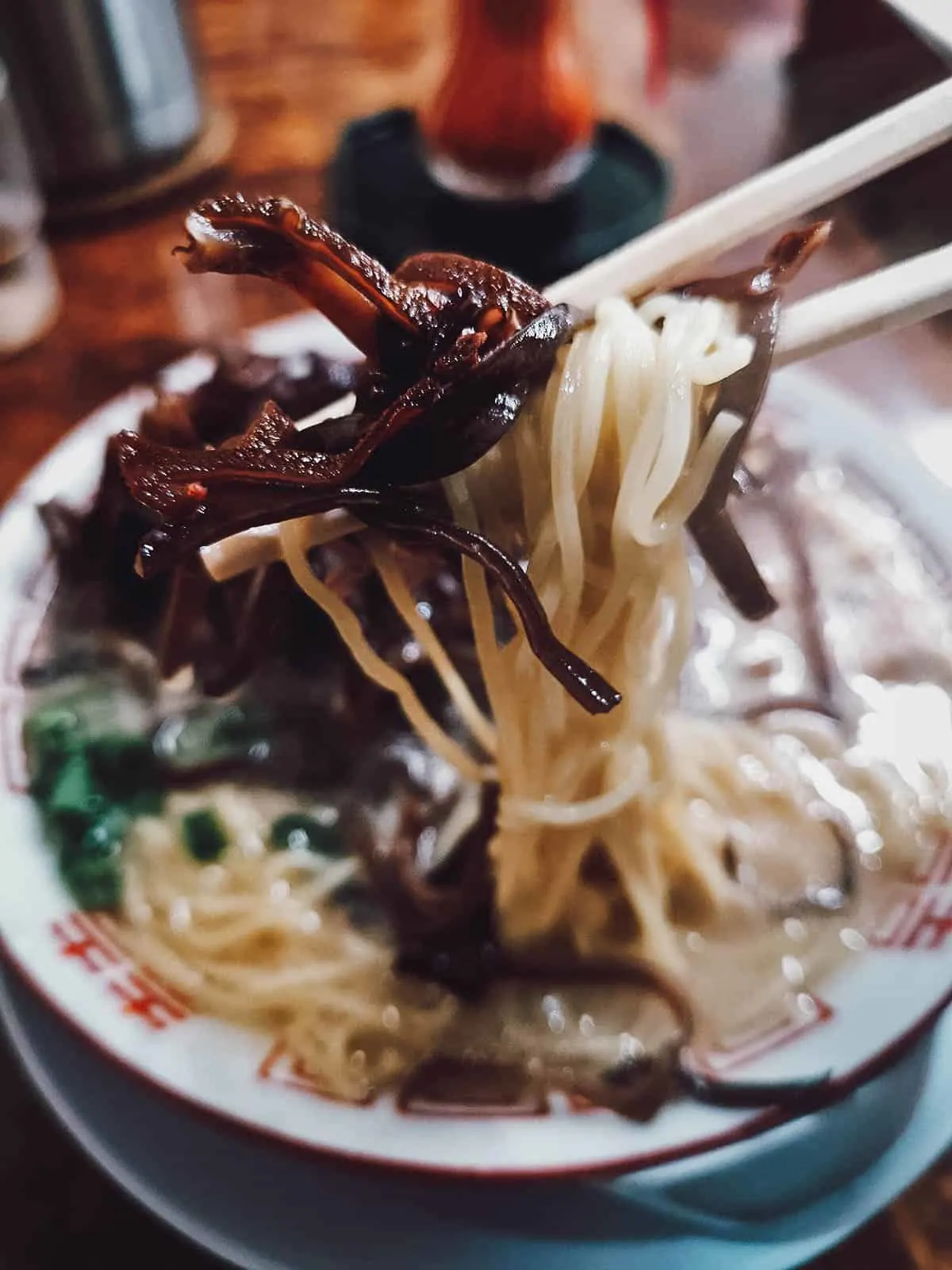 Aside from serving great tasting ramen, one of the reasons why I enjoyed Hakata Genki Ippai so much is the restaurant itself.
As you can see from the picture below, there are no signs. It's a very local ramen shop that uses a cute signal to let customers know if they're serving ramen that day. Can you tell what it is?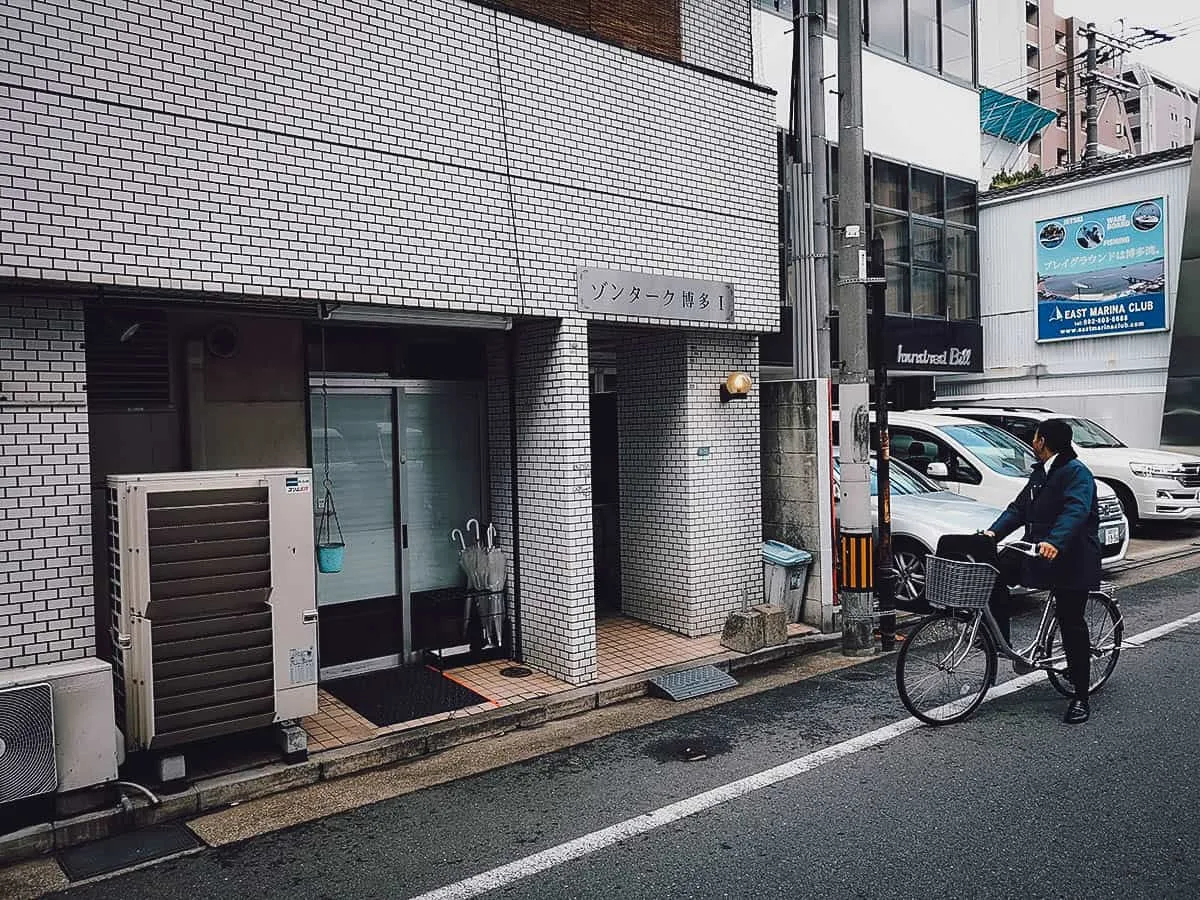 It's all about the blue bucket. If it's hanging outside, then you can go in and enjoy their ramen. If it isn't, then they've already run out or aren't open on that day.
Based on what I've heard, you won't always find the blue bucket hanging outside so I was fortunate to try their ramen on my very first attempt.
Speaking of being fortunate, I have to thank Lucky of DiscoverMNL for recommending this place to me.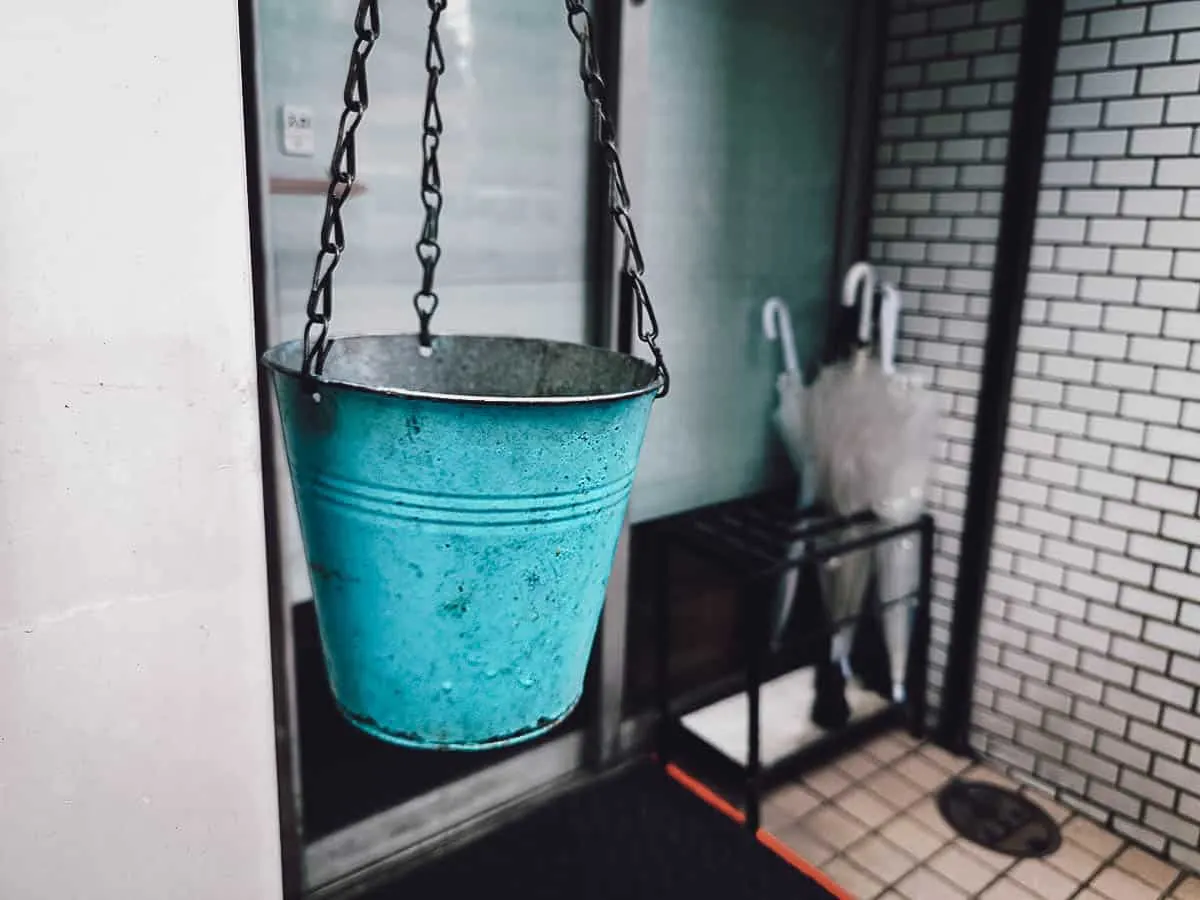 Hakata Genki Ippai
Address: Japan, 〒812-0034 Fukuoka, Hakata Ward, Shimogofukumachi, 4 Chome−31
Operating Hours: 11AM-10PM, Mon-Fri / 11AM-8PM, Sat-Sun
What to Order: Tonkotsu ramen, gyoza
Expect to Pay: About JPY 950 per bowl of ramen
MOTSUNABE
Like tonkotsu ramen, motsunabe is one of Fukuoka's signature dishes. A type of nabemono or Japanese hot pot dish made with beef or pork offal, it's one of the most delicious Hakata specialties that's made its way to many parts of Japan.
Cooked in a shallow pot on your table, innards like beef intestine and pork tripe are simmered in a soup base seasoned with soy sauce, garlic, and chili pepper. Other ingredients like cabbage, garlic chives, and champon noodles are later added to complete the dish.
7. Hakata Motsunabe Yamanaka Akasakaten
Hakata Motsunabe Yamanaka was where we got our first taste of motsunabe in 2017. We're fond of offal dishes so we knew we'd enjoy motsunabe, but we didn't realize just how much we'd like it.
After this one meal, motsunabe quickly became one of Ren's favorite Japanese dishes and something she looks forward to on every return visit to Japan.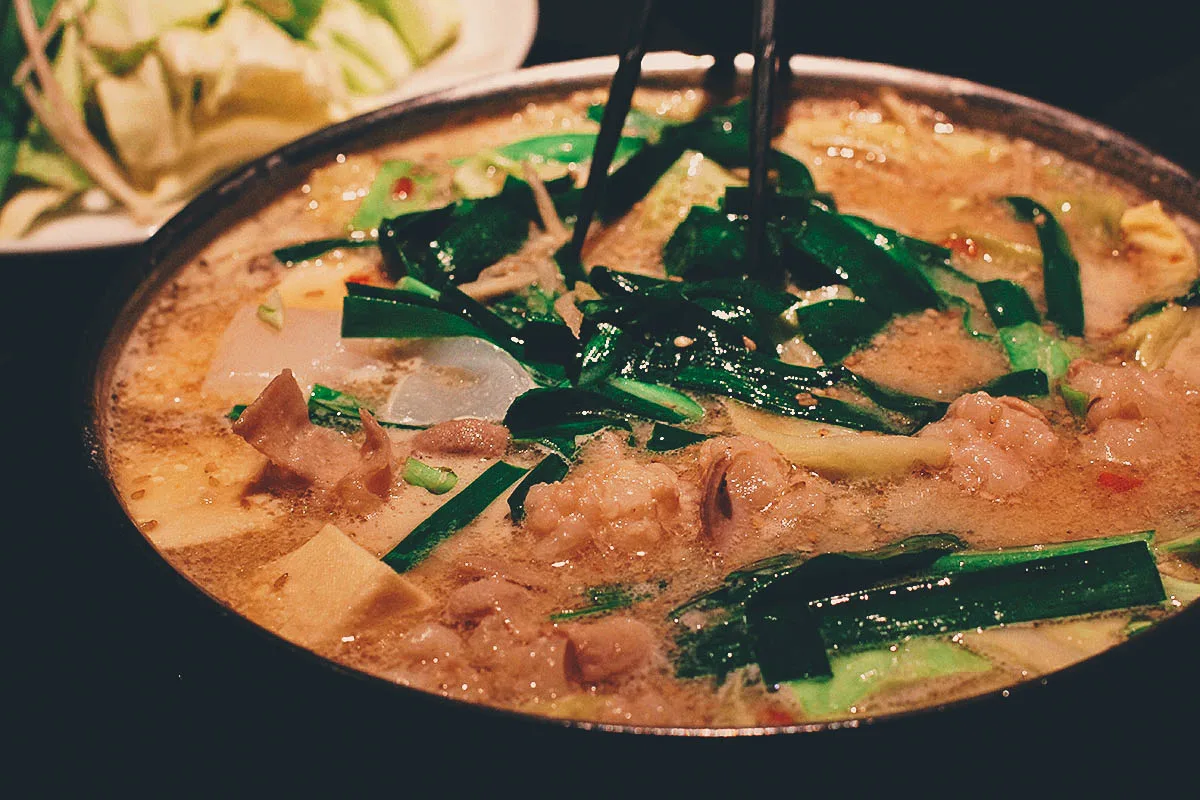 Pictured below is a piece of the beef intestine. It has a soft, gummy, and fatty texture that's so enjoyable to eat, especially with champon noodles or a bowl of steamed white rice.
The offal is nice but the backbone of motsunabe is the broth. It's rich, savory, and a little sweet, perhaps from mirin. The garlic chives are terrific as well and round out the dish nicely.
Next to hakata ramen, motsunabe is one of the best dishes you can have in Fukuoka. Don't miss it!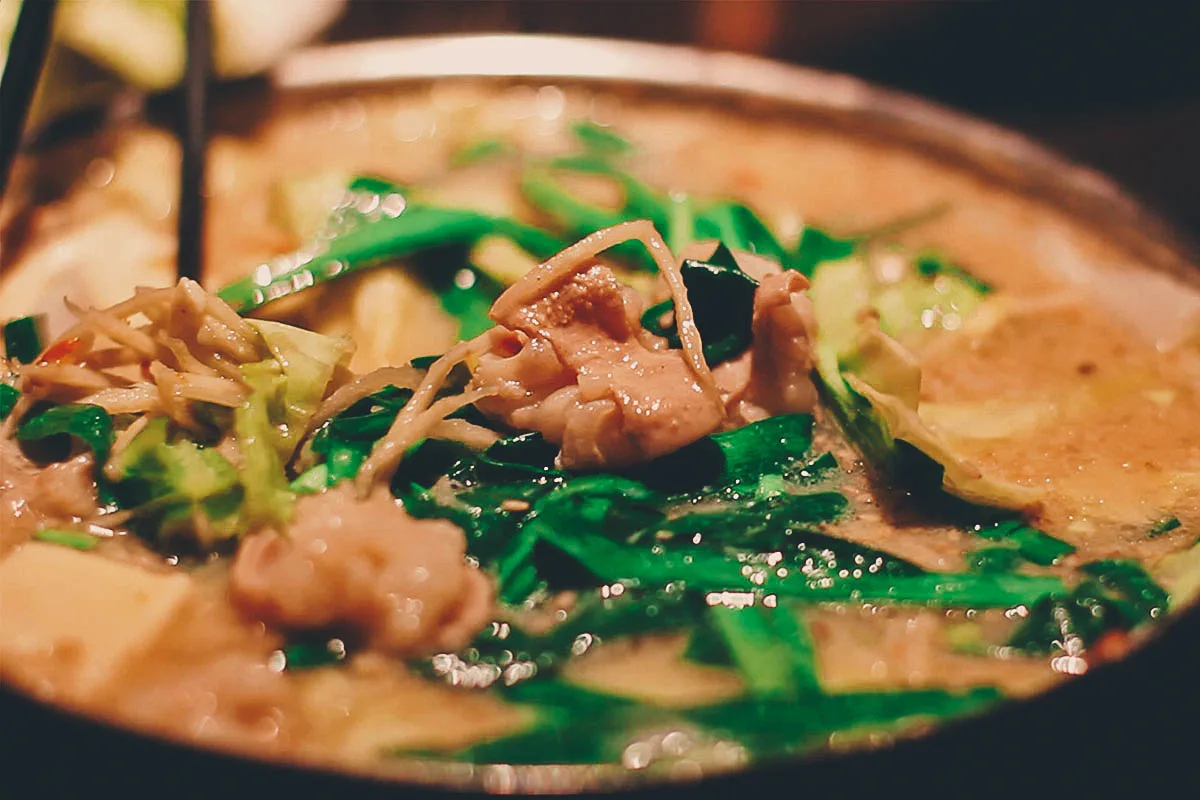 Hakata Motsunabe Yamanaka is a swanky Japanese restaurant with two branches, one in Akasaka and another in Mukaino. It looks intimidating at first but don't let its stylish interior deter you. Prices are surprisingly reasonable.
Like tonkotsu ramen, motsunabe is a Fukuoka food favorite and something you need to try. We've had it at two other restaurants in Japan but for us, Hakata Motsunabe Yamanaka is still the best.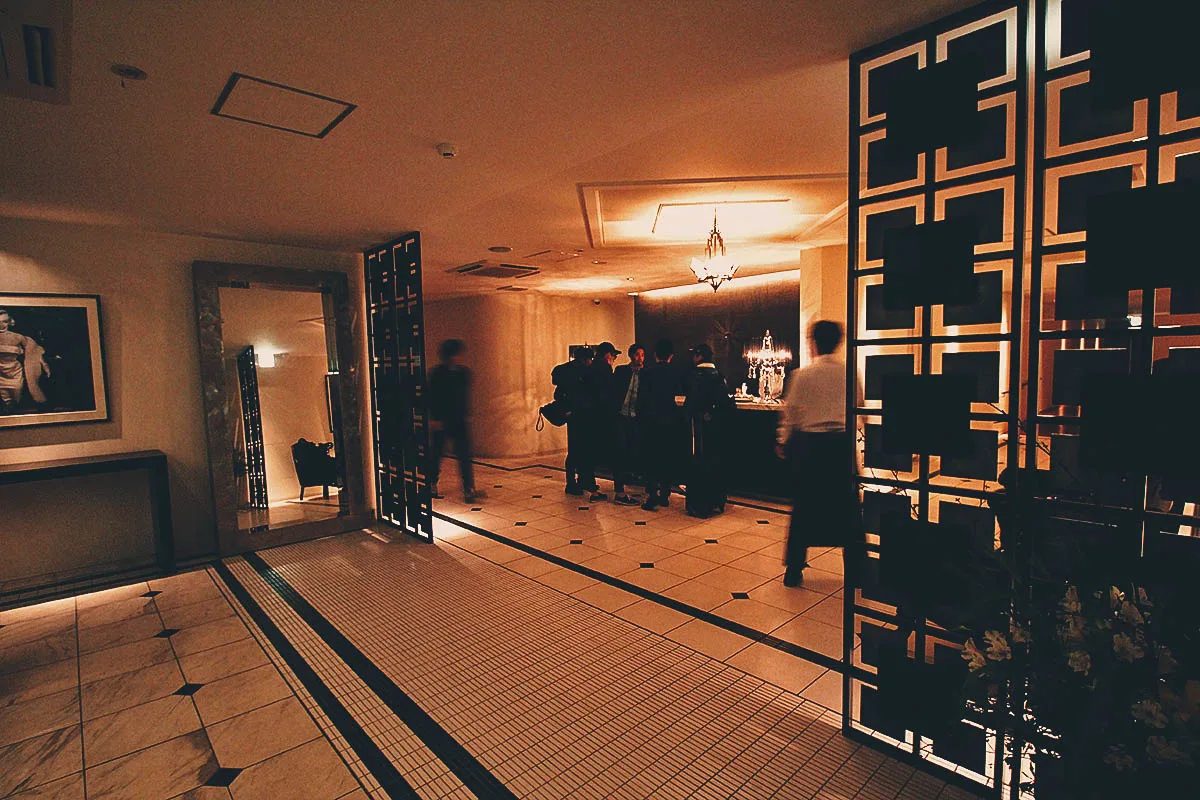 Hakata Motsunabe Yamanaka Akasakaten
Address: 1 Chome-9-1 Akasaka, Chuo Ward, Fukuoka, 810-0042, Japan
Operating Hours: 5-11:30PM, Thu-Tue (closed Wednesdays)
What to Order: Motsunabe
Expect to Pay: About JPY 1,980 per person for motsunabe
8. Motsunabe Rakutenchi
Remember what I said earlier about eating ramen almost exclusively on my most recent trip to Fukuoka? I had it four times out of five possible meals, with this single portion of motsunabe at Rakutenchi being the lone exception. Like I said, motsunabe is a terrific dish and something I need to have on every return trip to Fukuoka.
This is what it looks like at the beginning before everything gets cooked down. Notice how much garlic chives they put in there to go with all that fatty and juicy beef and pork offal.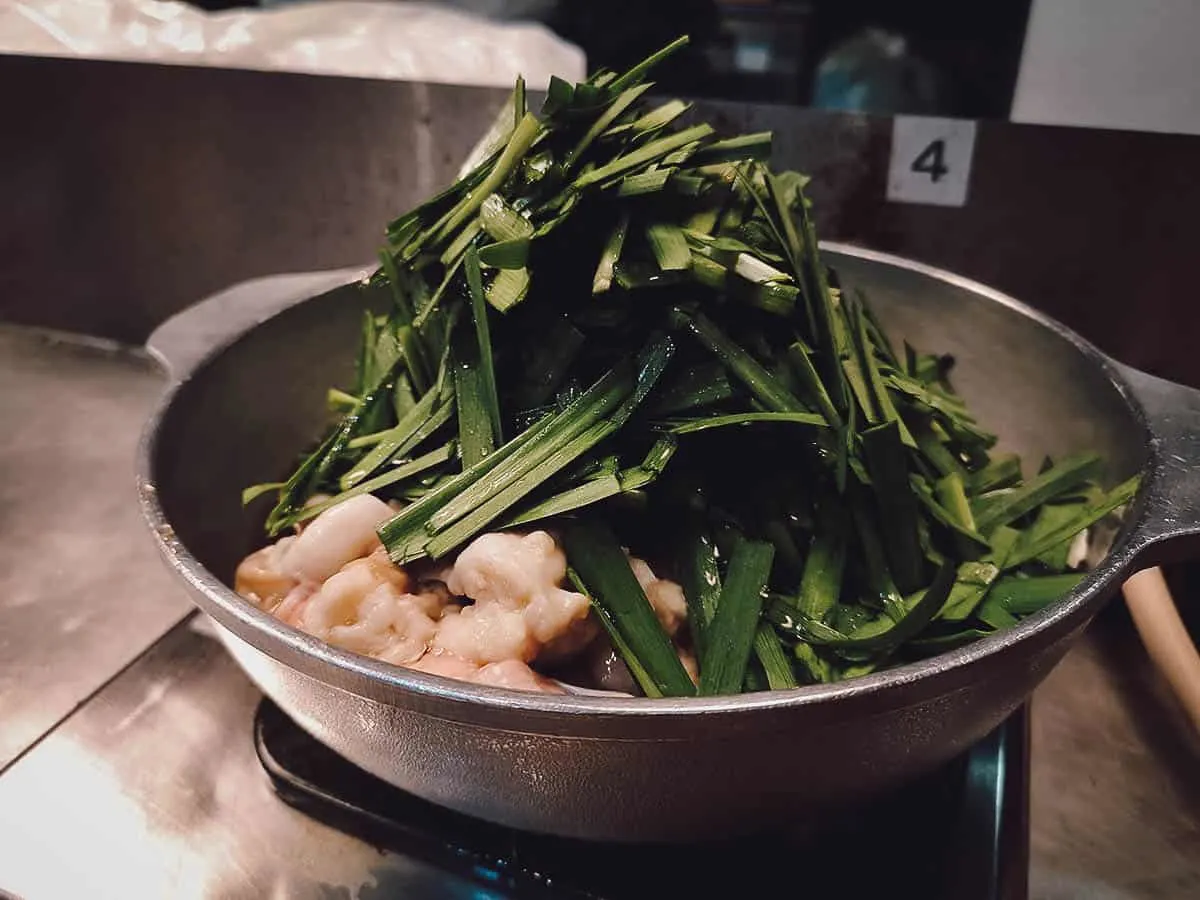 After a few minutes of cooking, the offal breaks down and cooks into the broth, giving it that rich, savory-sweet flavor we love. The motsunabe at Rakutenchi is delicious but not quite as good I thought as Hakata Motsunabe Yamanaka.
The great thing about Rakutenchi is that they offer motsunabe in single portion servings. Many motsunabe restaurants require you to order a minimum of two portions.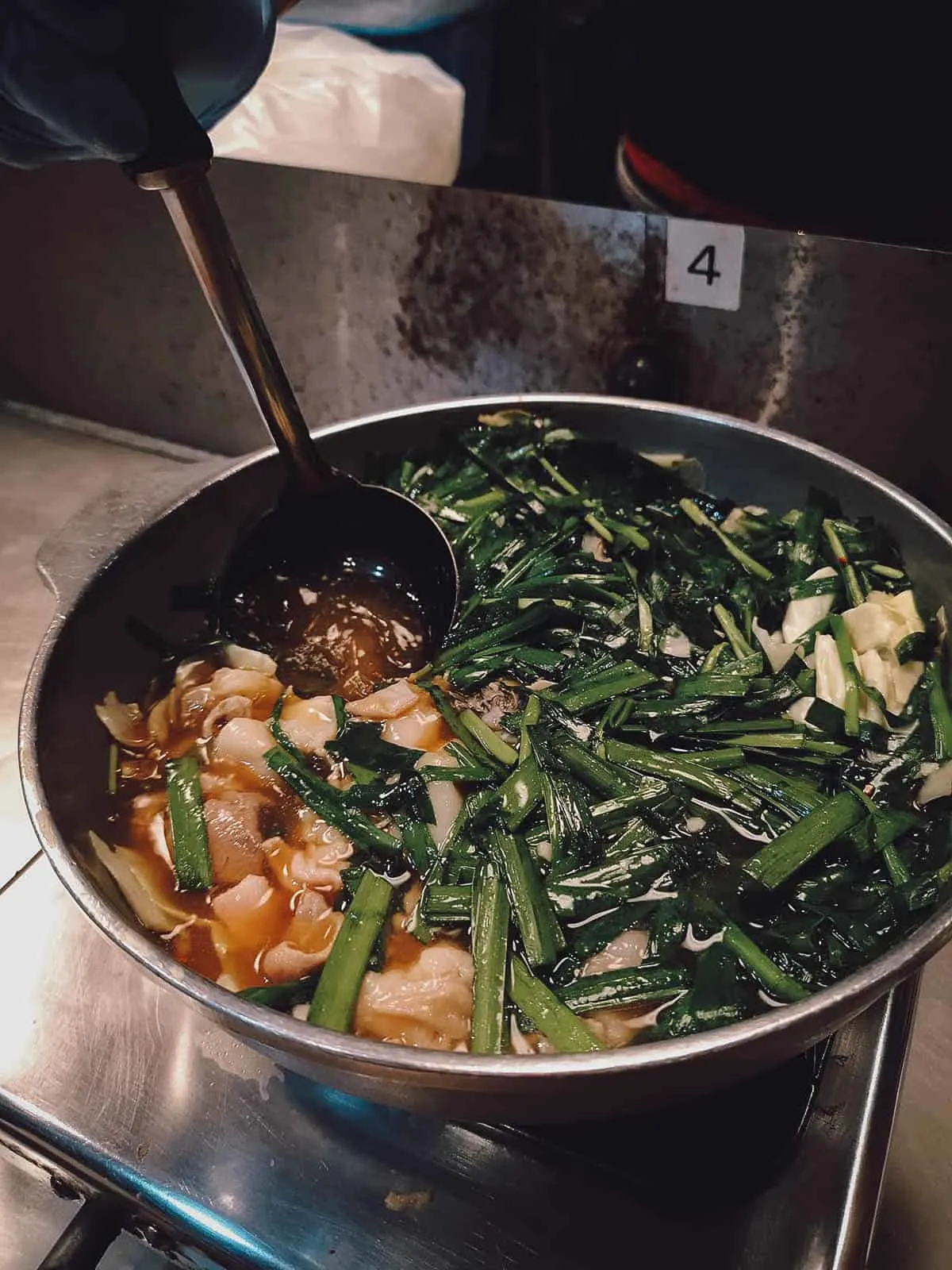 These soft, fatty, and slightly chewy pieces of offal are delicious. Like ramen, motsunabe is an ideal dish to have on a cold winter day. In fact, it's a dish that's typically eaten only in winter.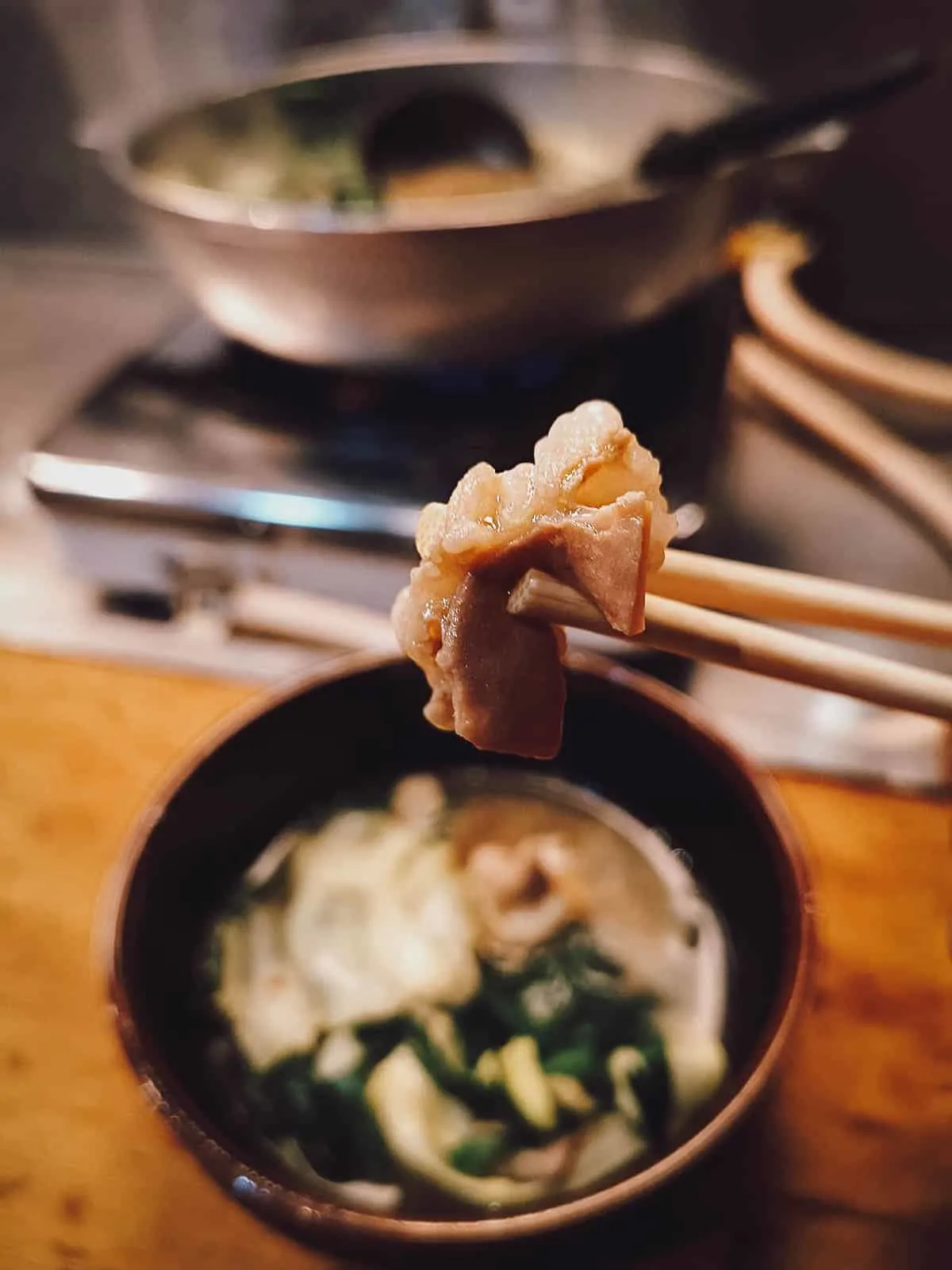 Even with its location pinned on Google Maps, Motsunabe Rakutenchi is hard to find. Just look for this door at the end of an alley. Motsunabe Rakutenchi is on the second floor. You can refer to the map at the bottom of this article for its exact location.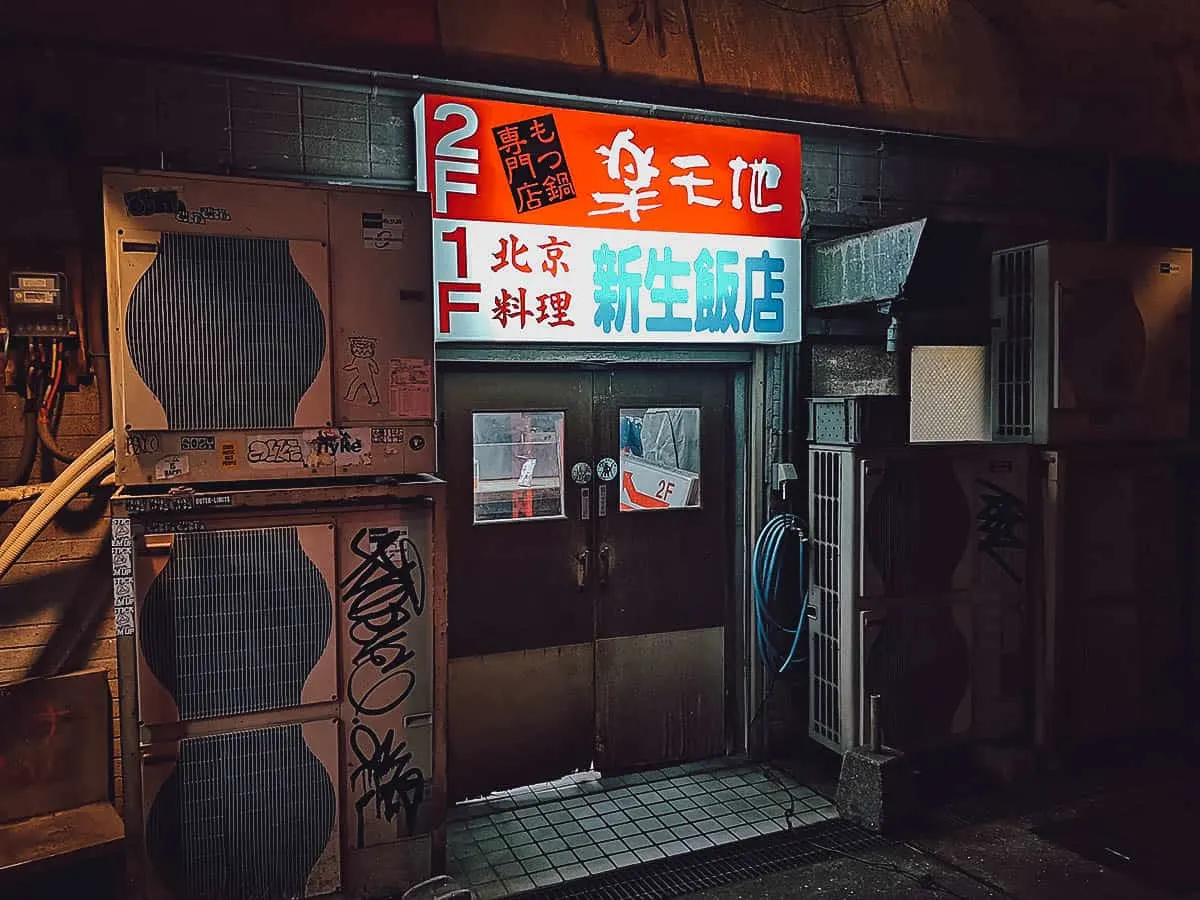 Motsunabe Rakutenchi
Address: 1 Chome-10-14 Tenjin, Chuo Ward, Fukuoka, 810-0001, Japan
Operating Hours: 5PM-12MN, daily
What to Order: Motsunabe
Expect to Pay: About JPY 1,090 for motsunabe
MIZUTAKI
Mizutaki is similar to motsunabe but instead of beef or pork offal, it's made with jidori chicken which is a type of domestic mixed-breed free-range chicken.
9. Hakata Hanamidori
Hakata Hanamidori is a Fukuoka restaurant known for its motsunabe and mizutaki. This was the one and only time I've had mizutaki which is a similar hotpot dish made with chicken.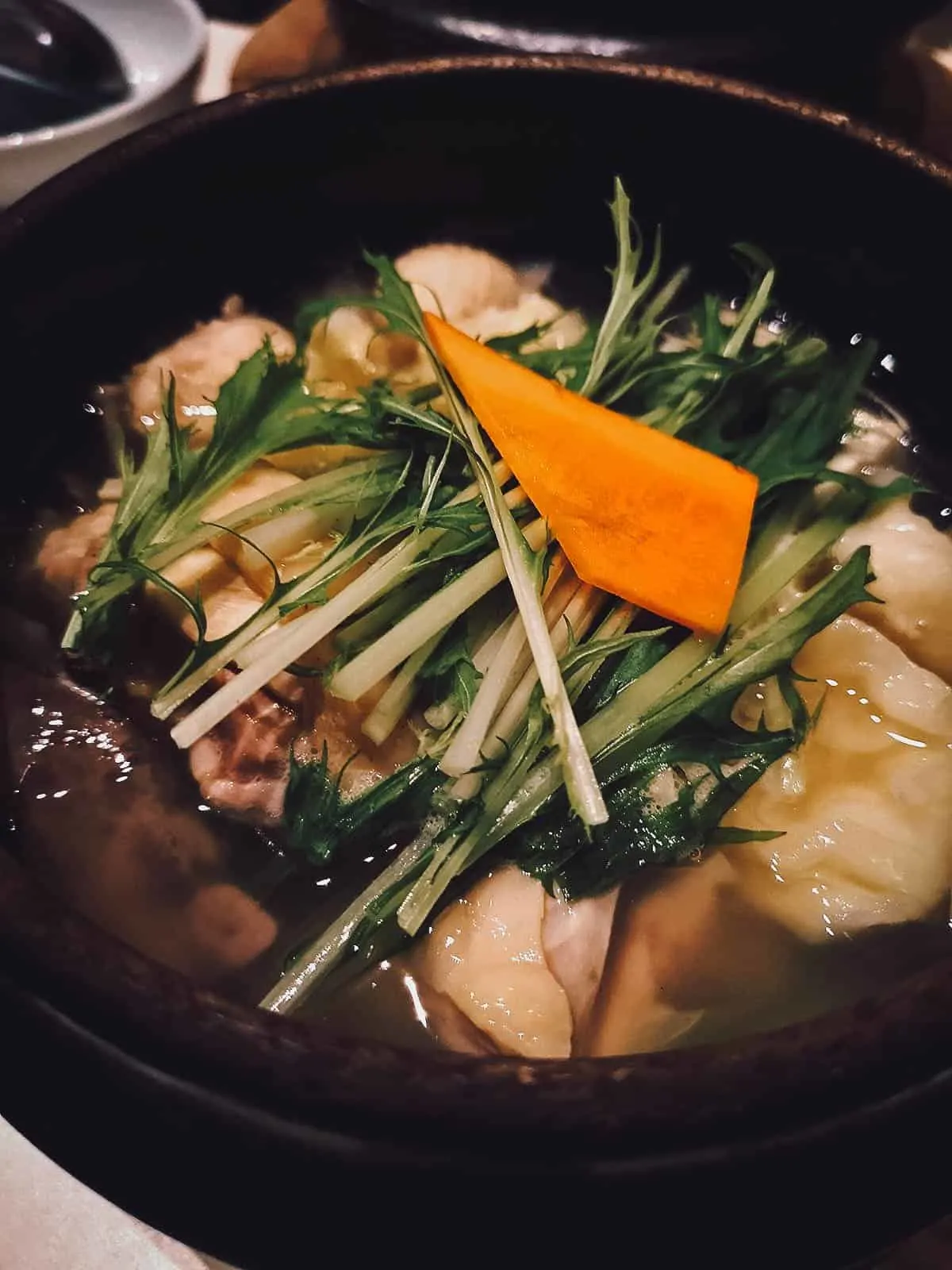 Pictured below is a chunk of jidori chicken which is sometimes referred to as the "Kobe beef of chicken". Known for its more robust flavor, jidori chickens are fed an all-vegetarian diet and often served raw as sashimi.
To prepare, the chicken is simmered in a broth with chicken meatballs and offal, cabbage, green onion, mushroom, and other seasonal vegetables. It's lighter than motsunabe and can be eaten year-round.
Compared to motsunabe, mizutaki broth is milder in flavor which is why you're meant to dip the chicken in a light and citrusy ponzu sauce. Mizutaki is nice though it doesn't quite have the oomph of motsunabe.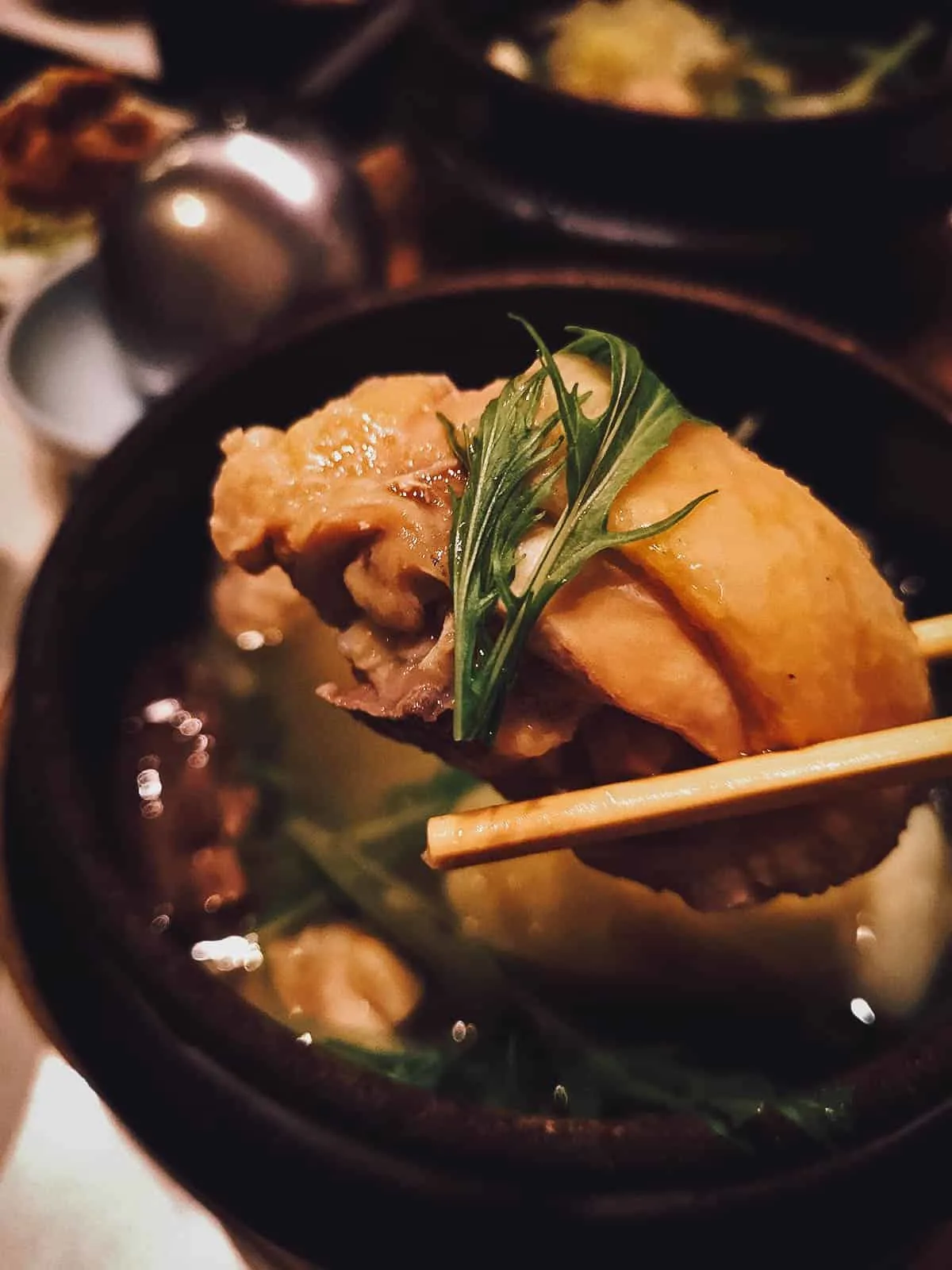 For the full experience, Hakata Hanamidori serves mizutaki courses which you may be interested in. You can refer to our northern Kyushu food guide for more pictures and information.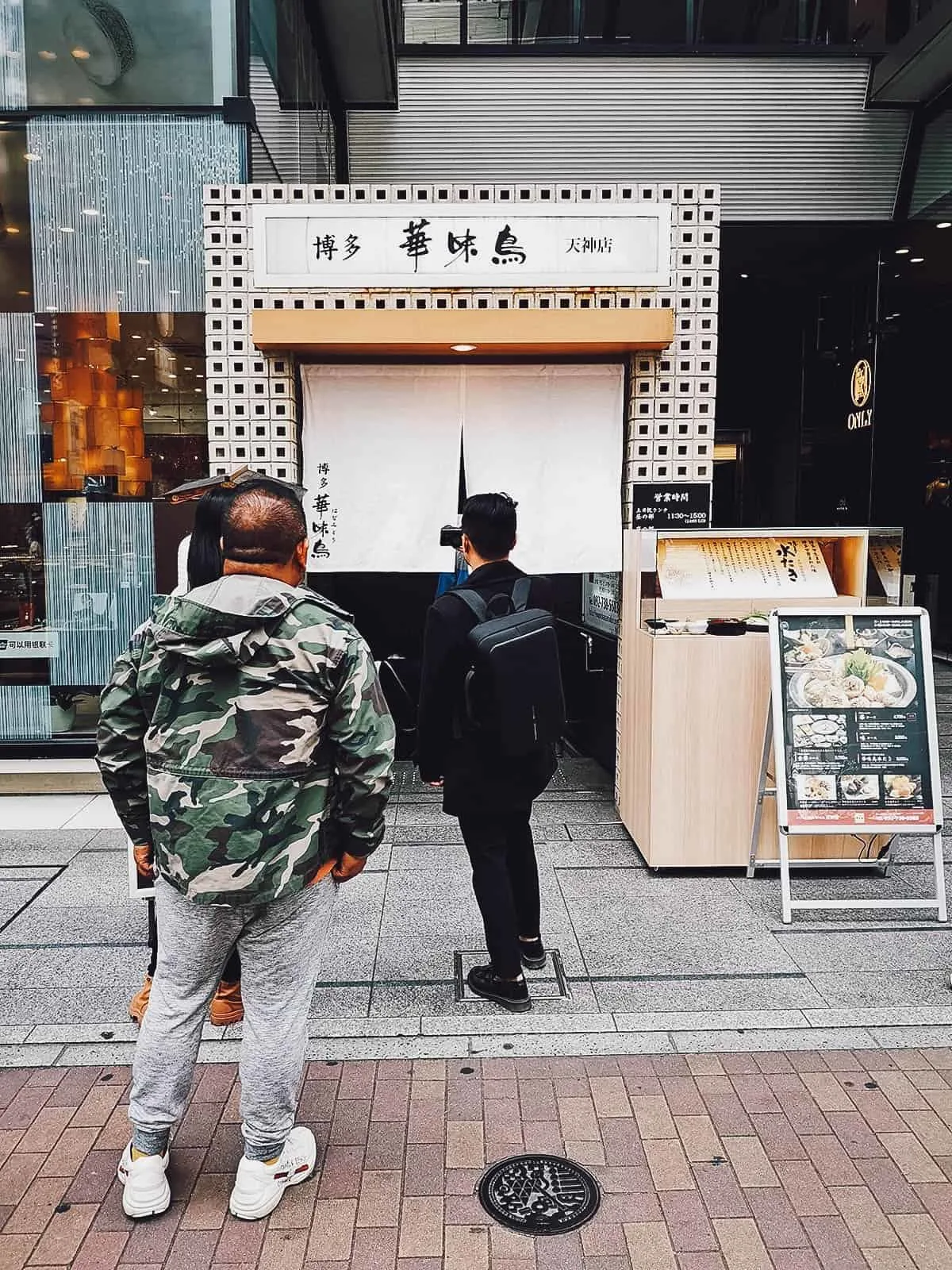 Hakata Hanamidori
Address: 3 Chome-23-17 Hakata Ekimae, Hakata Ward, Fukuoka, 812-0011, Japan
Operating Hours: 11:30AM-3PM, 5PM-12MN, Mon-Sat / 11:30AM-3PM, 5PM-10PM, Sun
What to Order: Mizutaki
Expect to Pay: About JPY 2,900 for the mizutaki set
MENTAIKO
Mentaiko refers to a Japanese dish of salted pollock or cod roe. It's originally a Korean dish that was adapted to suit Japanese tastes.
Mentaiko is popular throughout Japan but it's considered a Fukuoka food specialty. It can be eaten on its own, usually with sake, or used as an ingredient in many dishes like onigiri rice balls, omelettes, and spaghetti.
I read that mentaiko first became popular when it was served as a street food dish at Fukuoka's yatai stalls. I've also seen it at many seafood markets throughout Japan. Spicy cod roe is called karashi mentaiko while the milder version is known as tarako.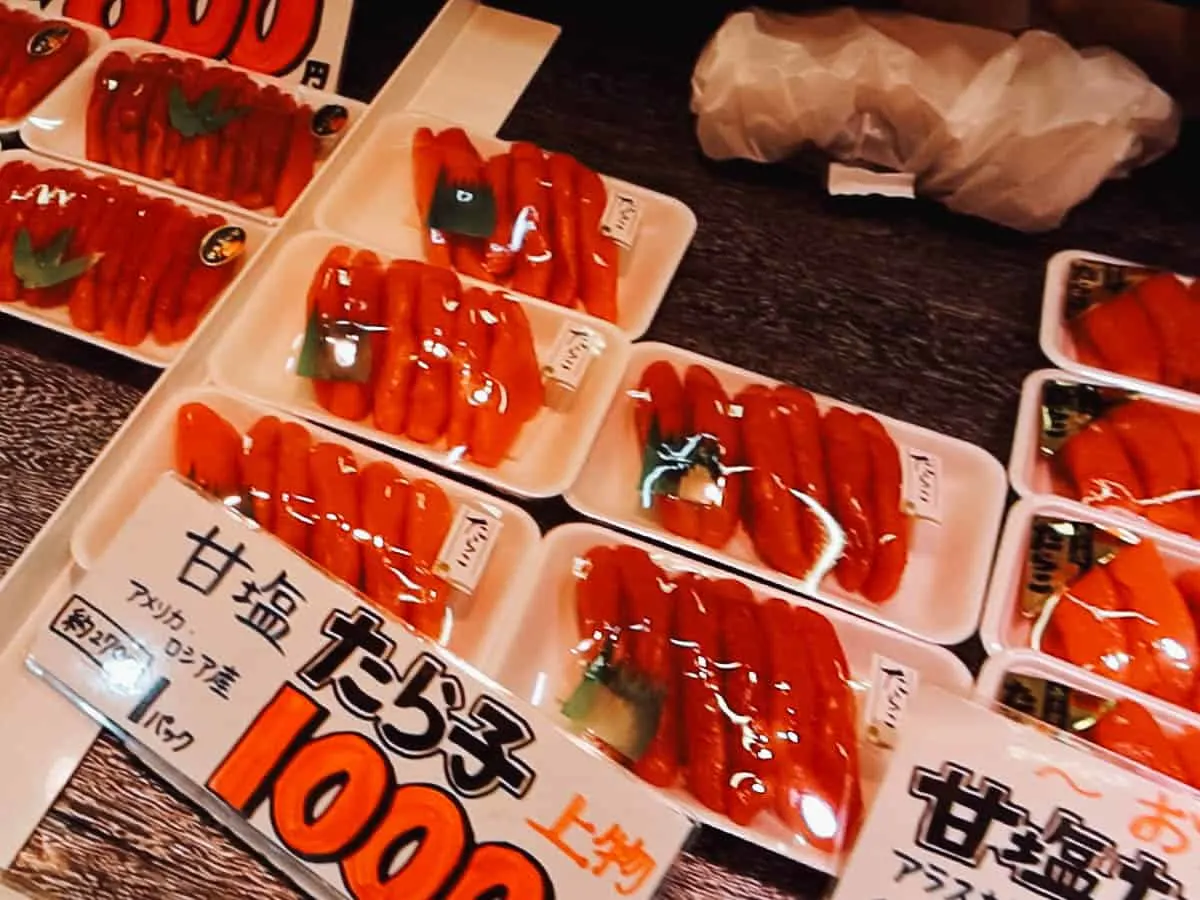 AMAOU STRAWBERRIES
We got our first taste of Amaou Strawberries a few years ago in Kyoto. My Japanese friend bought them from a supermarket and described them as Japan's best brand of strawberries.
Often referred to as Hakata Amaou, Amaou Strawberries are cultivated in Fukuoka and are known for their large size and ruby red color. They're exceptionally juicy and are considered the most prized strawberries in Japan.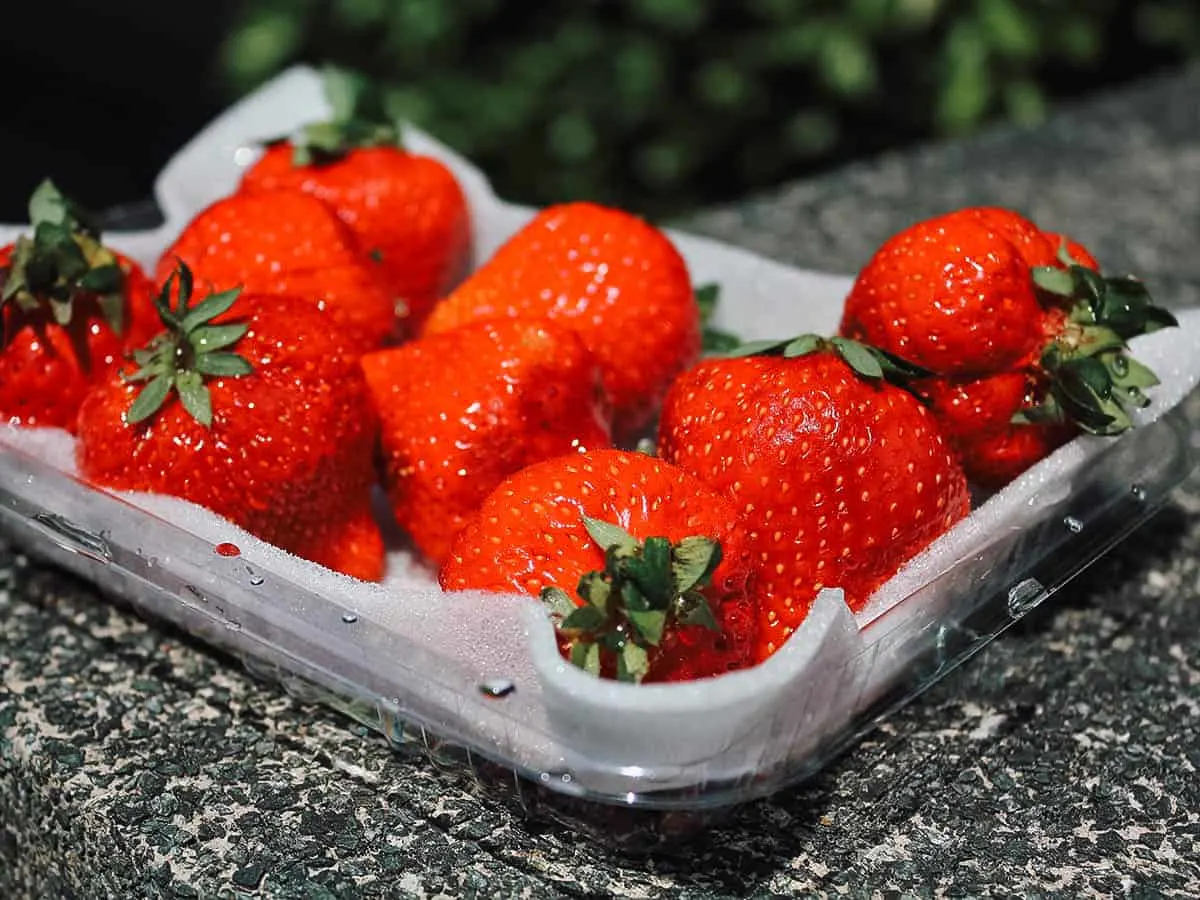 Before I took my first bite, my Japanese friend told me to take note of the strawberry's color. Unlike lesser strawberries that have a whitish interior, Hakata Amaou are mostly red throughout. They're juicy and sweet and absolutely delicious.
Because of Japan's lack of arable land, farmers focus on quality instead of quantity. They make some of the best fruits in the world and the Amaou Strawberry is an example of that.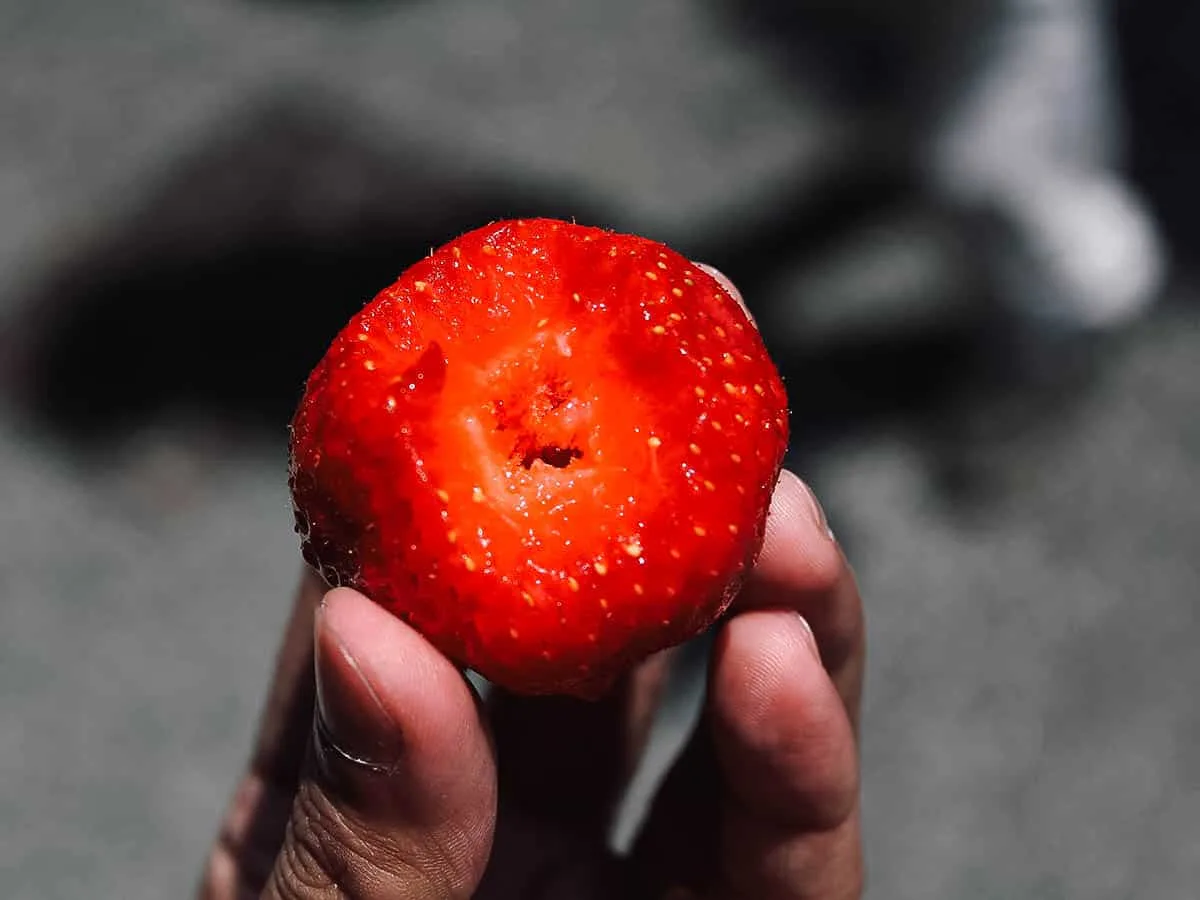 YATAI STALLS
The humble yatai stall is perhaps the most iconic symbol of Fukuoka. It's basically a tiny street food stall that opens only at night and serves simple dishes like yakitori, grilled seafood, and ramen.
They can be found throughout Japan but Fukuoka has the most, around 150 clustered in different parts of the city like Nakasu, Tenjin, and Nagahama.
The practice of selling food from these mobile food stalls dates back to the 17th century. They boomed in popularity during and immediately after WWII, but they've since been on a decline due to health concerns.
If you'd like a truly local food experience in Fukuoka, then you need to enjoy a meal at a yatai stall. You'll literally be rubbing elbows with locals.
10. Nagahama Yatai Stalls
After slurping down our bowls of ramen at Ganso Nagahamaya, we stepped out of the shop and crossed over to this row of yatai stalls. We were already full but we wanted to enjoy a few beers and late night bar chow before heading back to our hotel.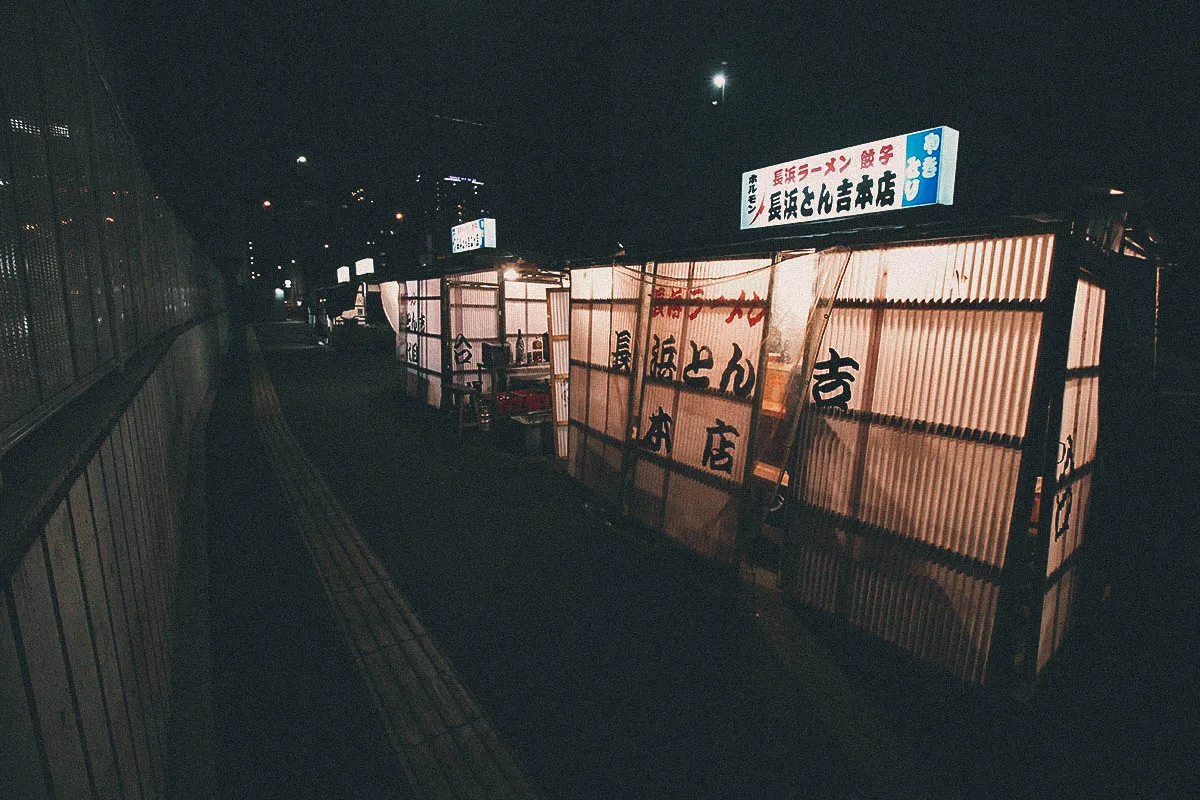 From the outside, these yatai stalls seem too small to fit anyone but they're actually roomier than they look. Most have the capacity to fit about 8-10 people.
Eating at a yatai stall puts you in close proximity with locals so we felt a bit intimidated at first. Would we be made to feel welcome? Or was a yatai stall a more "local-only" experience? Thankfully, everyone was friendly and the stall we went to had english menus.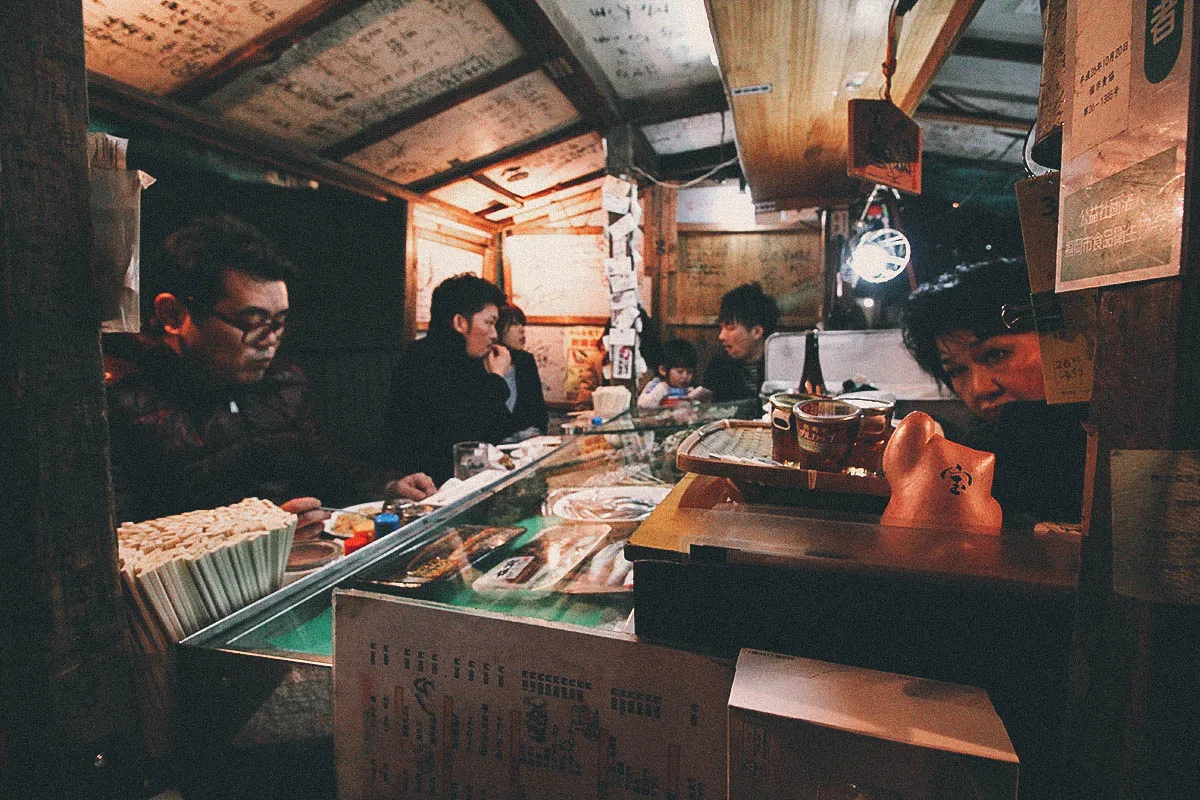 Pictured below is grilled shishamo, one of several Japanese street food dishes we had at this yatai stall. It's a great place to unwind and enjoy a few small dishes with cold bottles of Japanese beer.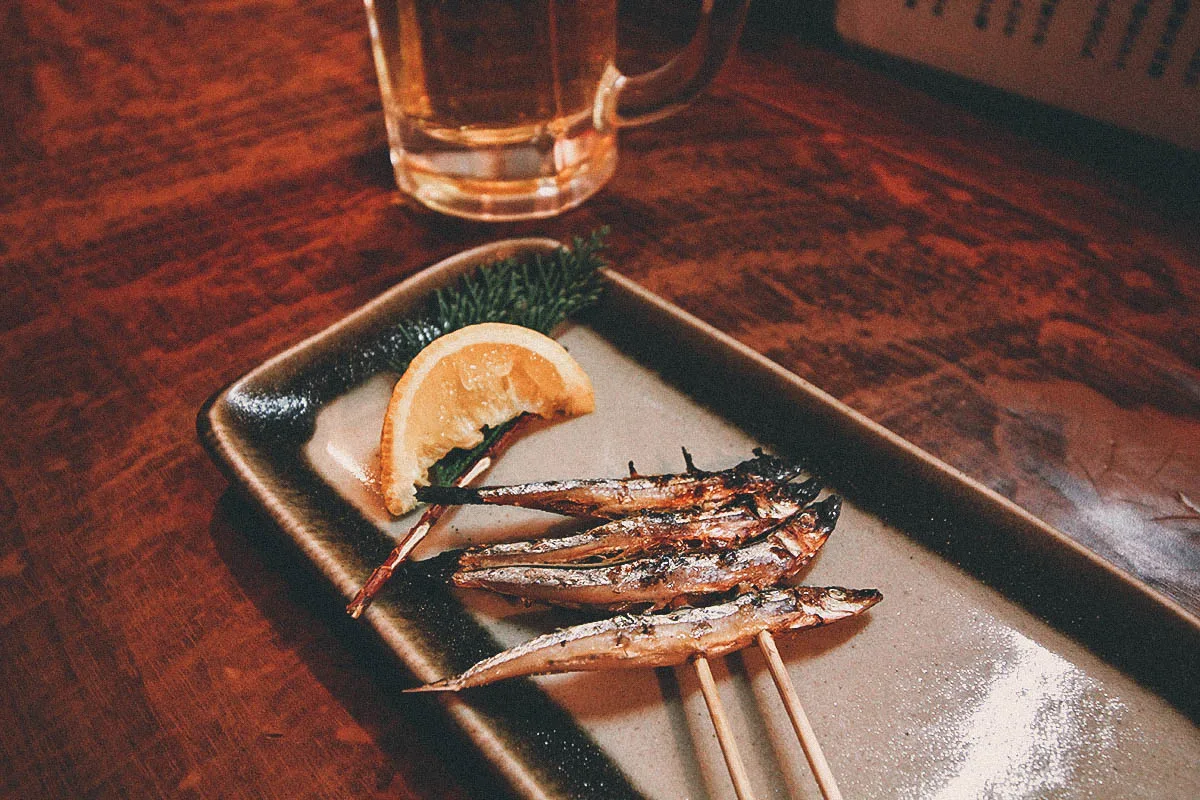 OTHER DISHES & FUKUOKA RESTAURANTS
I'll be expanding and refining this Fukuoka food guide with every return visit to Kyushu. In this section, I'll be adding noteworthy restaurants known for serving food that isn't necessarily associated with Fukuoka.
11. Yakiniku Nurubon – CLOSED
Yakiniku Nurubon is a popular Fukuoka restaurant that serves all-you-can-eat yakiniku set meals. Yakiniku refers to the Japanese way of grilling meat and vegetables on tabletop grills.
Interestingly, Yakiniku Nurubon serves Hakata wagyu which they purchase by the cow. Unlike other restaurants that offer a limited range of meat, this allows Yakiniku Nurubon to offer a variety of premium cuts.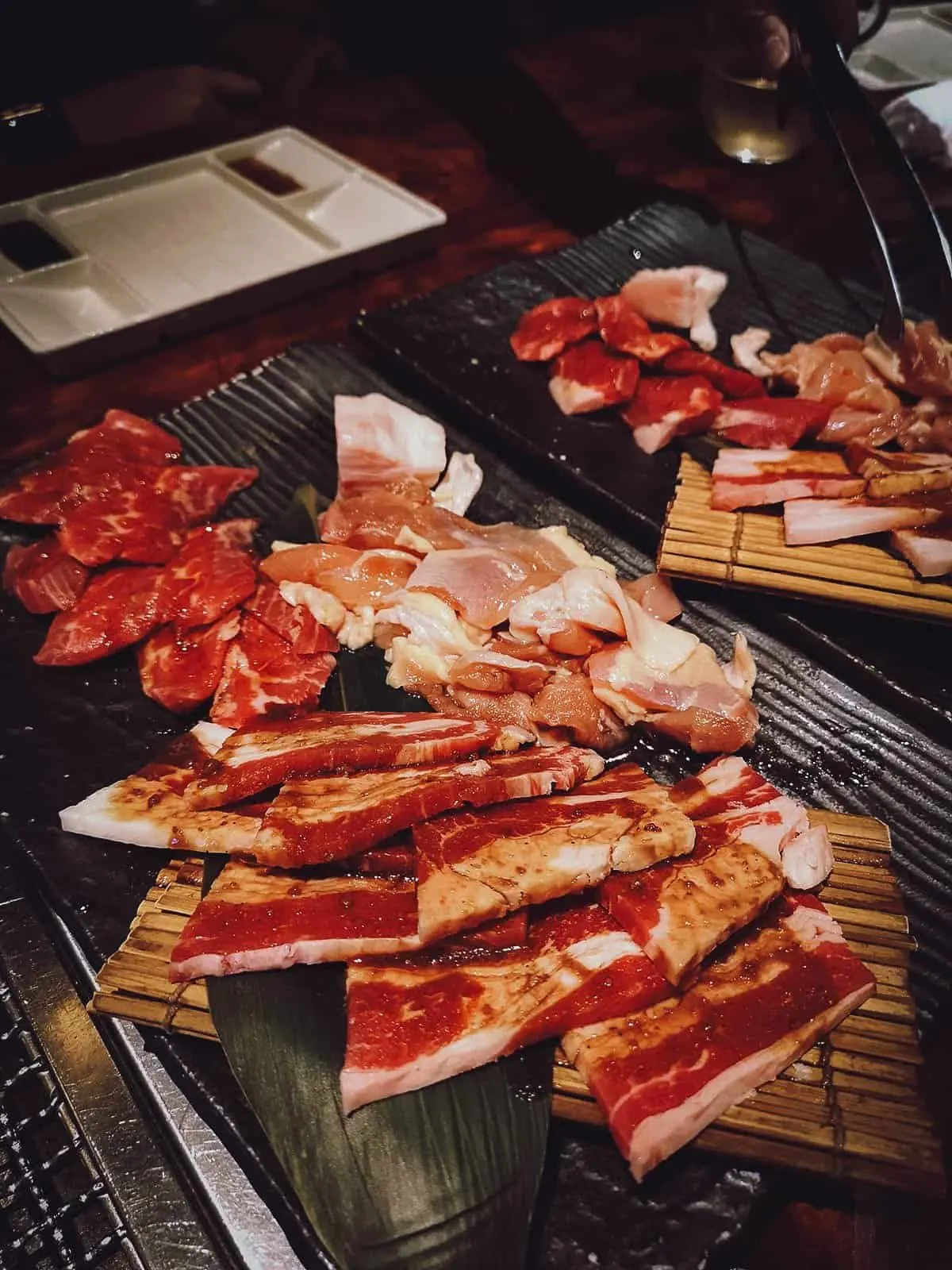 Set meals at Yakiniku Nurubon start at around JPY 3,000 per person, which isn't bad at all considering the quality and unlimited quantity of the meat. To order more meat, you just punch it in through an iPad and the server will bring it to your table.
They give you two types of tare or dipping sauce, but honestly, the meat is delicious enough on its own that you barely need it.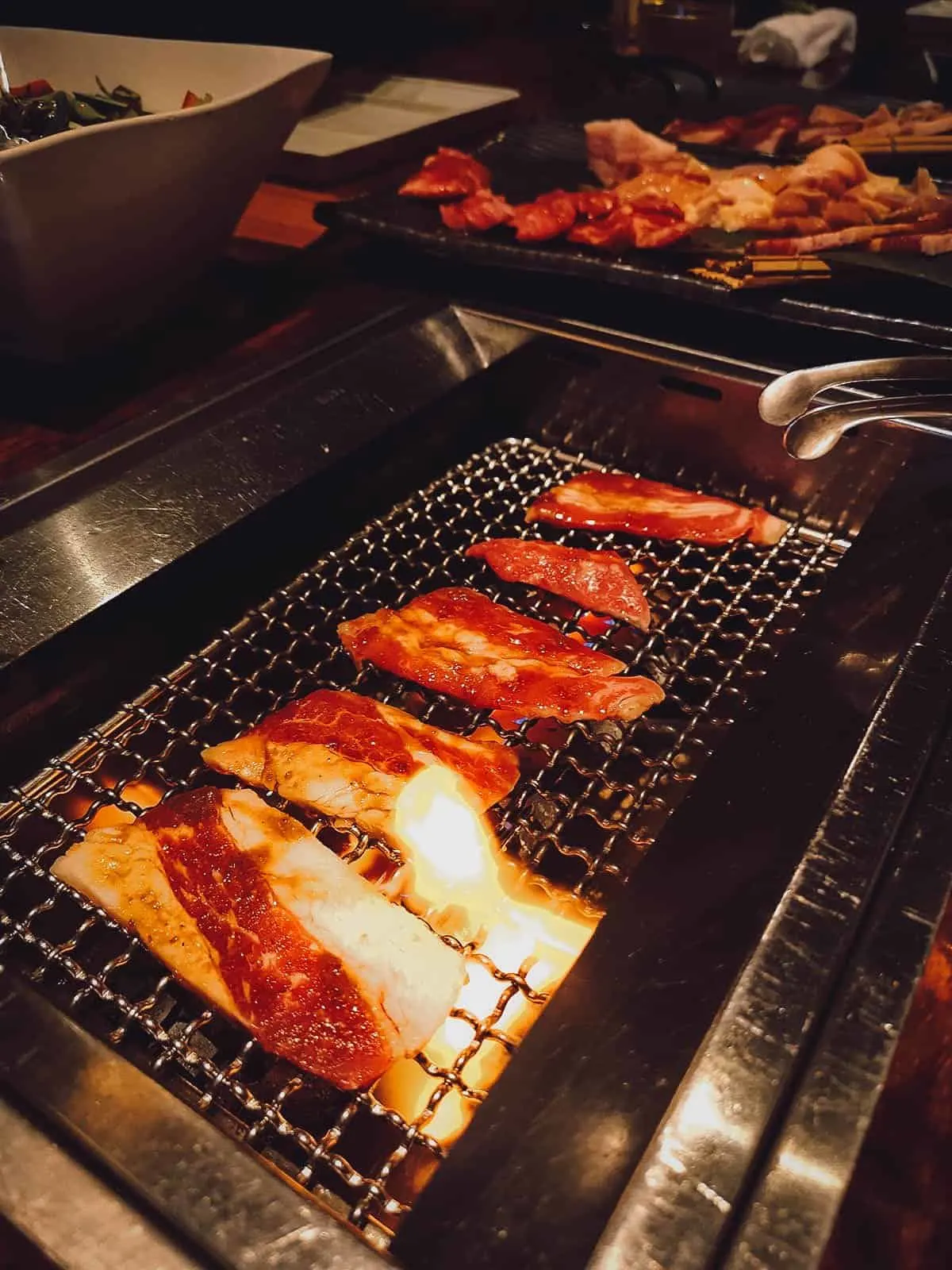 I took this picture after dinner. You can't tell from this photo but Yakiniku Nurubon is an exceedingly popular restaurant in Fukuoka so reservations are highly recommended. When we arrived, the front was packed with people waiting to get a table.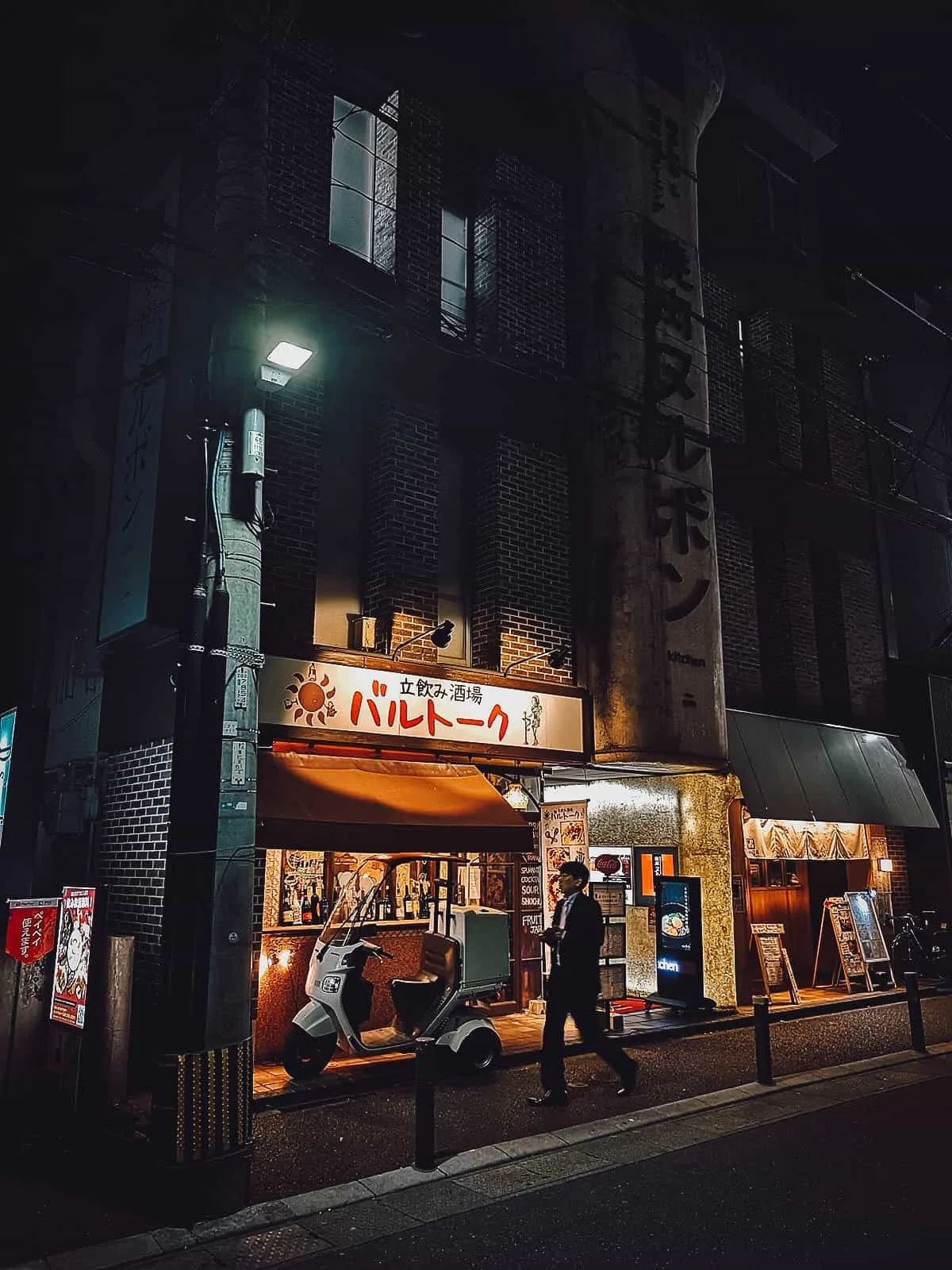 Yakiniku Nurubon
Address: 1 Chome-11-12 Daimyo, Chuo Ward, Fukuoka, 810-0041, Japan
Operating Hours: 5PM-12MN, daily
What to Order: Yakiniku
Expect to Pay: About JPY 3,000 for the tsudoi course
FUKUOKA FOOD TOURS
It goes without saying that no one knows the food in Fukuoka better than a local, so what better way to experience Fukuoka's regional Japanese cuisine than by going on a food tour? A food-obsessed local will take you to Fukuoka's best restaurants and yatai stalls and explain all the dishes to you in more detail.
We've been on food tours in Tokyo and Kyoto and enjoyed them both. I think Fukuoka would be a great city to do a food tour because of the yatai stalls. Check out Get Your Guide or byFood for a list of food and drinking tours in Fukuoka.
LOCATION MAP
To help you find these Fukuoka restaurants, I've pinned them all on an interactive map. Click on the link to open the map in a new window.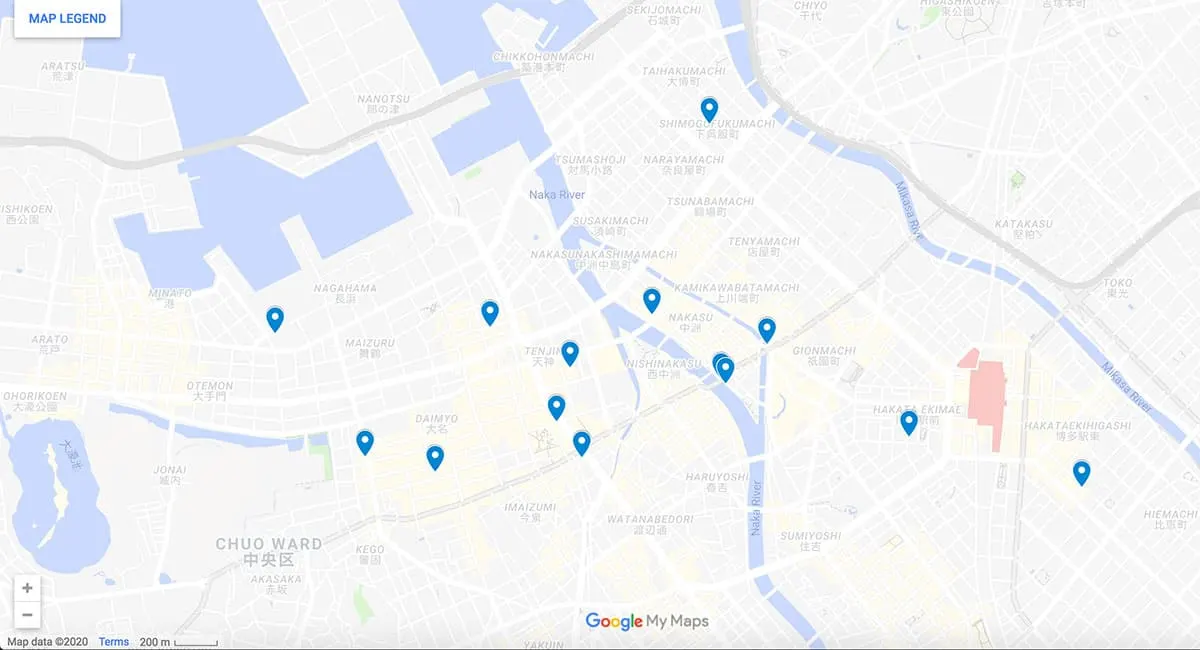 FINAL THOUGHTS ON THE FOOD IN FUKUOKA
Going back to what I learned about hakata ramen, it seems to me that the supremely rich and creamy hakata broth isn't necessarily what many local Japanese deem to be the best.
At first, I thought it was a question of authenticity, but looking back now, I think it has more to do with preference. Every tonkotsu ramen in Fukuoka is authentic, but many Japanese seem to prefer versions made with less creamy and more subtle-tasting broth.
As I've already described many times over in this guide, I prefer a rich and creamy broth, something that smacks you in the face with flavor. I think this is the type of ramen many foreigners will prefer.
But the more experience you have eating tonkotsu ramen, then I think the less appealing these creamy versions will be. You'll start to look for something a little more subtle and refined, which seems to be a common thread among many Japanese palates.
In any case, I could be totally off and overthinking this whole thing but that's how I see it. I don't have the experience yet to truly understand and appreciate the most subtle nuances of ramen, but it's a mystery I hope to solve with more trips to Fukuoka.
If you do wind up visiting some of these ramen shops, then let us know in the comments below which you enjoyed the most and why. We'd love to hear what you think.
Thanks for reading and have an amazing time eating all the delicious food in Fukuoka!
Disclosure
Some of the links in this Fukuoka food guide are affiliate links, meaning we'll get a small commission if you make a booking at no extra cost to you. As always, we only recommend products and services that we use ourselves and firmly believe in. We really appreciate your support as this helps us make more of these free travel guides. Arigato gozaimasu!