Otaru is a small port town less than an hour away by train from Sapporo. It's a lovely town known for its beautifully preserved canal, its wealth of dairy shops, and some of the island's freshest seafood. In fact, many say that the best seafood in Hokkaido can be found right here in Otaru.
We knew that going in which is why it was important for us to find the best place to have kaisendon in Otaru. If you've never had it, kaisendon is basically a bowl of rice topped with different types of sashimi. Ren's cousin Brooke is a pilot who frequently flies to Sapporo, and one of the places she frequents for kaisendon is this small shop in Sankaku Market called Takinami Shokudo.
Recommended to her by locals, it's one of the most popular places to eat at the market. Its signs are all in Japanese but you'll know you're at the right place when you find the sea of people waiting outside.
Scroll down to see what I mean.
Sankaku Market
Sankaku Market is located next to Otaru station. Make a left when you exit the station and you'll see the entrance below to the market.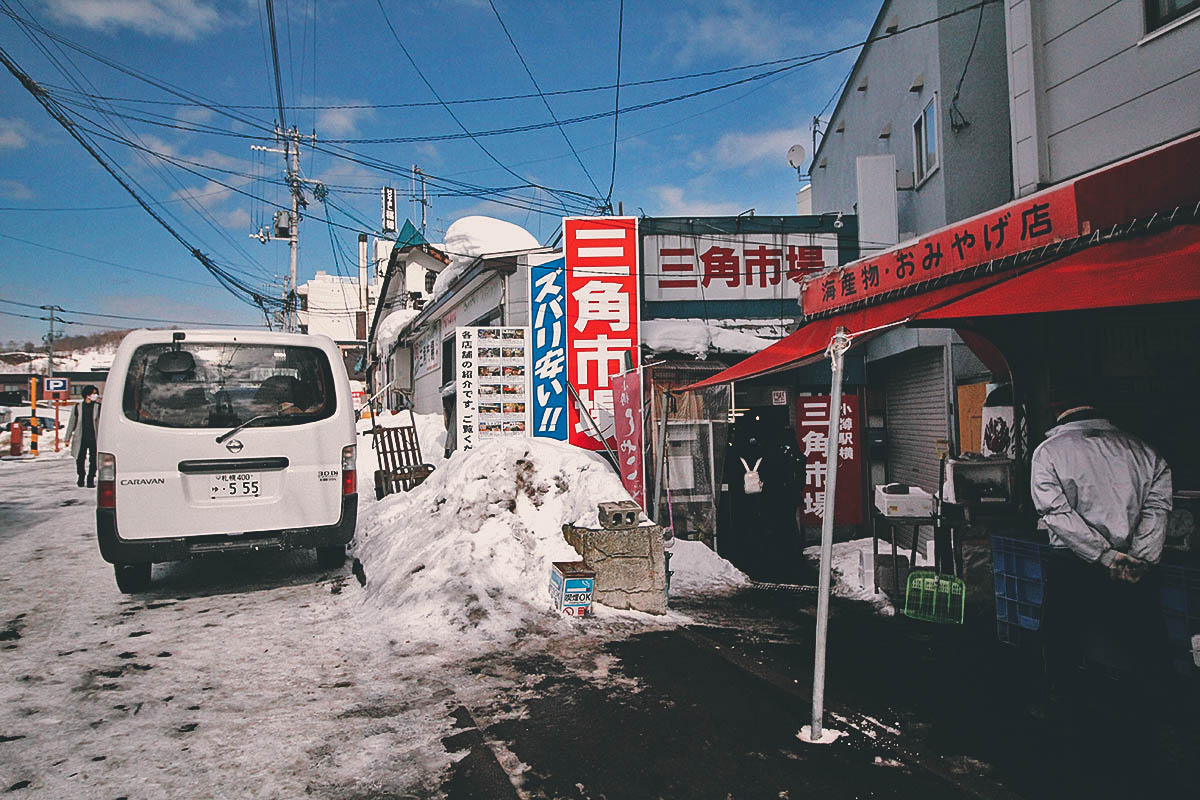 See what I mean by the crowds? If I remember correctly, this was taken at around 10:30AM. Though the place is popular, the line does move fairly quickly.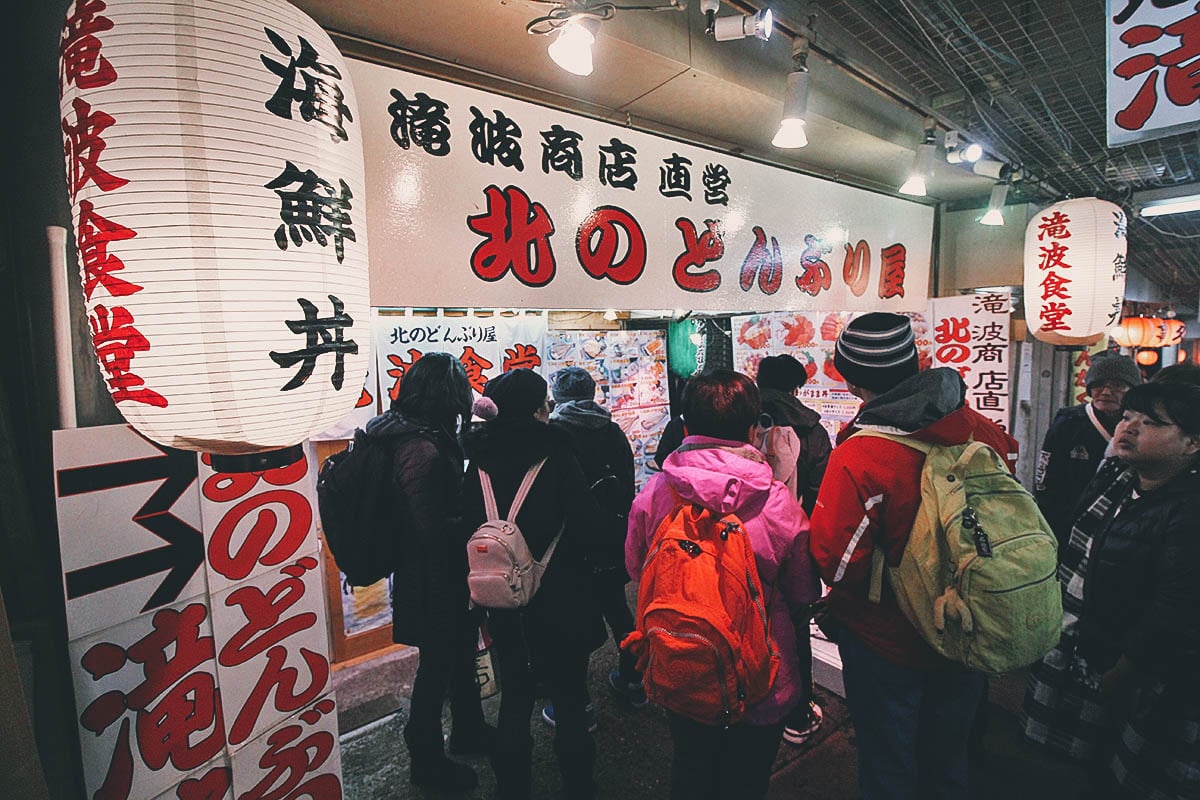 To help move the line along, the restaurant's menu is plastered all over the walls so all you have to do is point to what you want. This helps with the language barrier as well. Not sure if you can make out the kaisendon bowls but most range between JPY 2,000-3,000 per bowl. The servers will take your order while you're still in line so your food comes out shortly after you're seated. Efficient!

As you can see, the restaurant is pretty small hence the wait. With so many people waiting, you don't want to linger too long so it's best to eat and run. 😉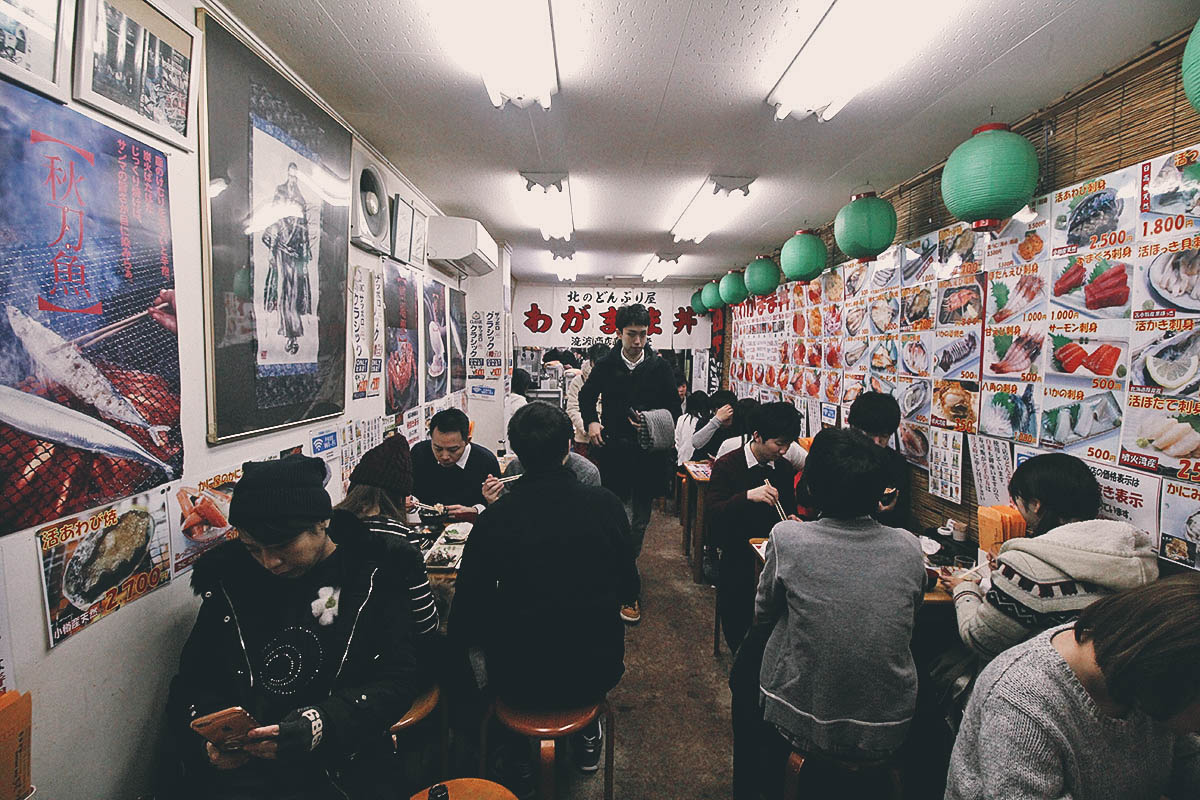 We start off our meal with scallop sashimi. Each of these beautiful diver scallops goes for JPY 250. Naturally sweet and succulent, it's like eating candy from the sea. I love fresh scallops! ♥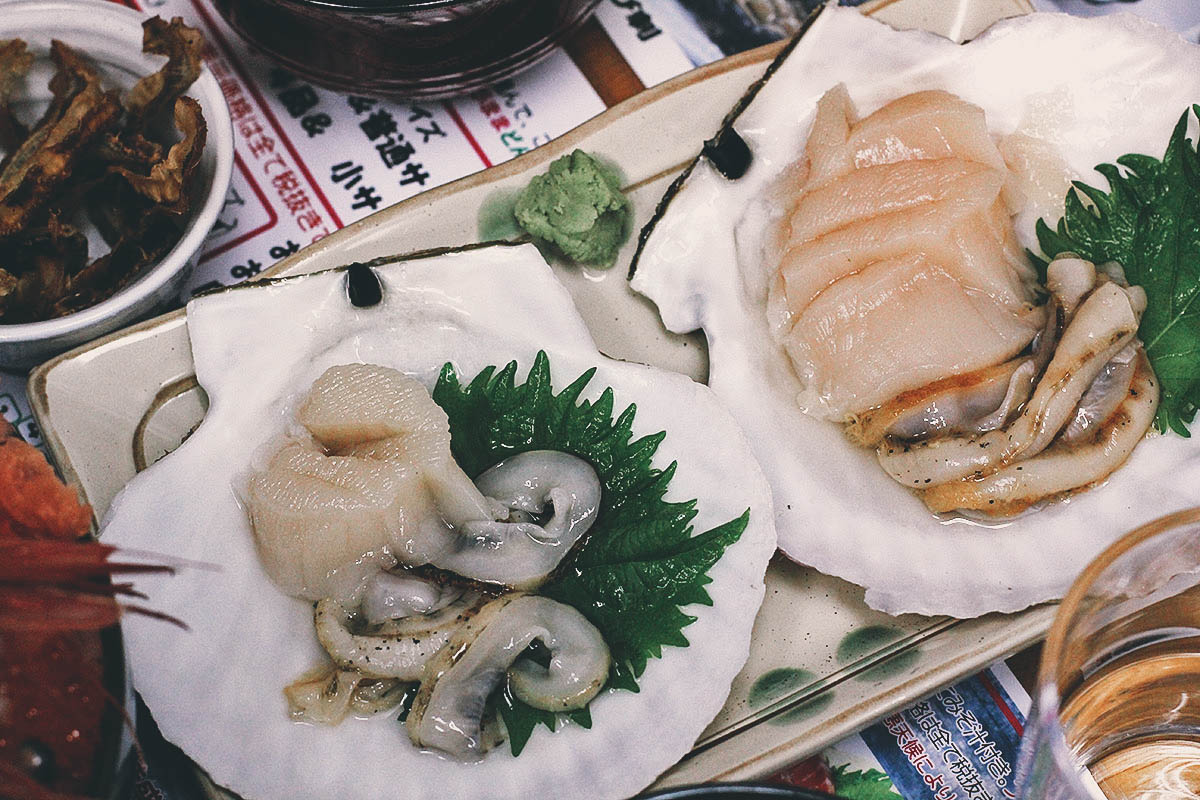 Scallops are one of our favorite foods so we needed to have some grilled as well. It costs JPY 350 per grilled scallop. Yum!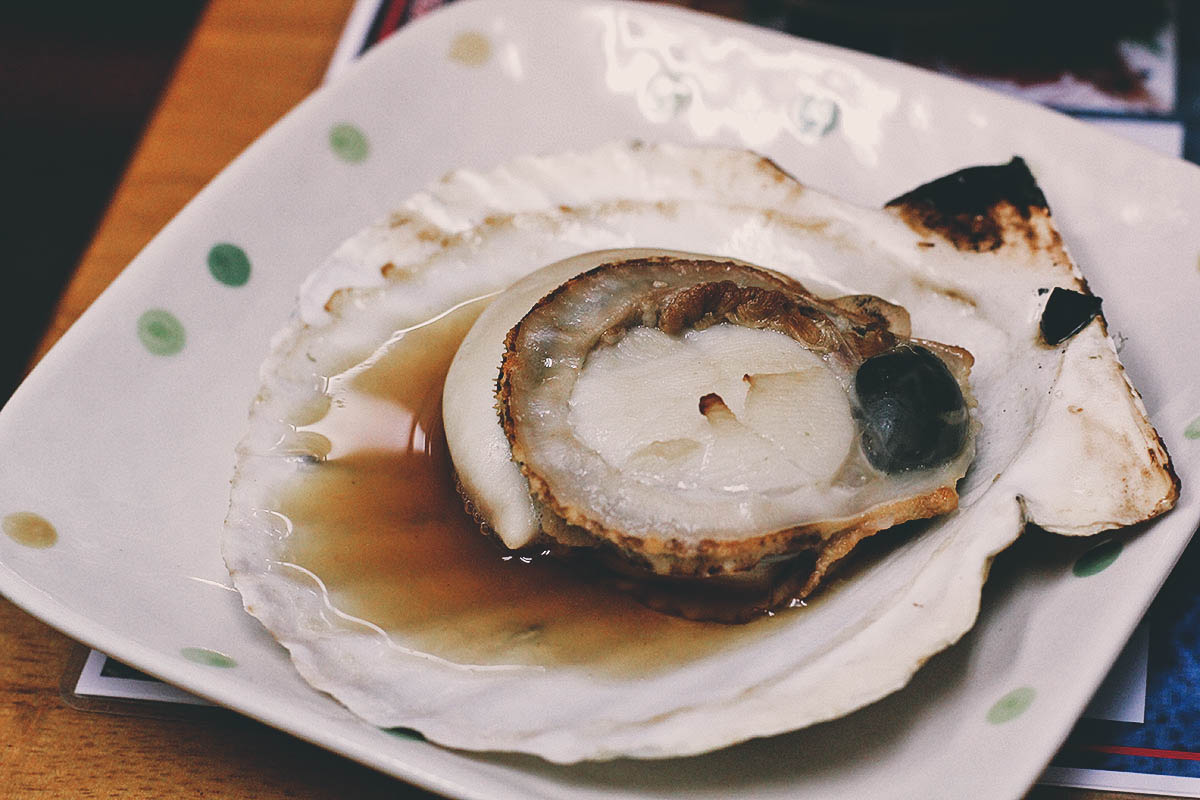 My overflowing JPY 3,000 bowl of kaisendon. Beautiful isn't it? This stunning mound of seafood had crab, amaebi (sweet shrimp), uni (sea urchin), ikura (salmon roe), and scallop stacked over a bed of rice. If I remember correctly, there may have been a few pieces of tuna and salmon buried there too.
It's funny, I've been having these bowls of sashimi over rice for as long as I can remember, but they were always labeled as "chirashi sushi". I thought that chirashizushi and kaisendon are one and the same but they're not. Scroll down to the bottom of this post to learn the difference.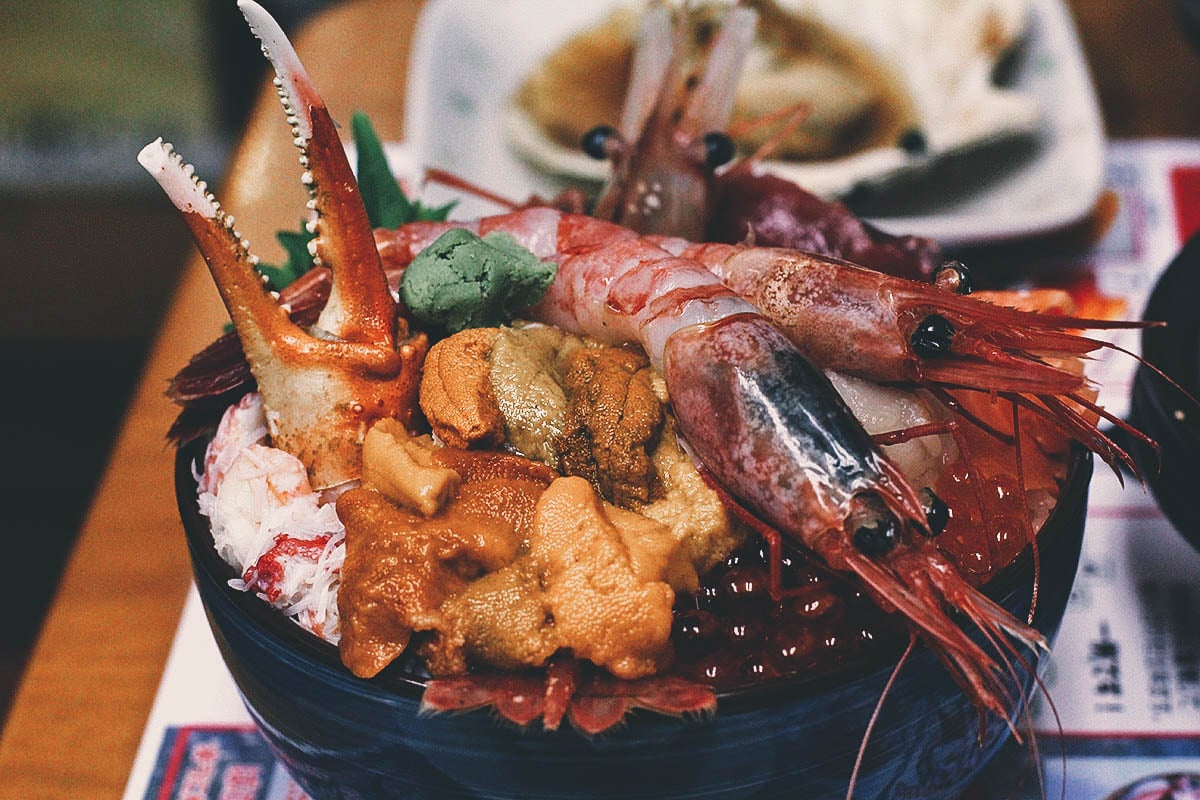 Help! These crab claws are drowning in crab! 😆 Brooke ordered this ridiculous bowl of kani (crab) kaisendon for JPY 2,500 if I remember correctly.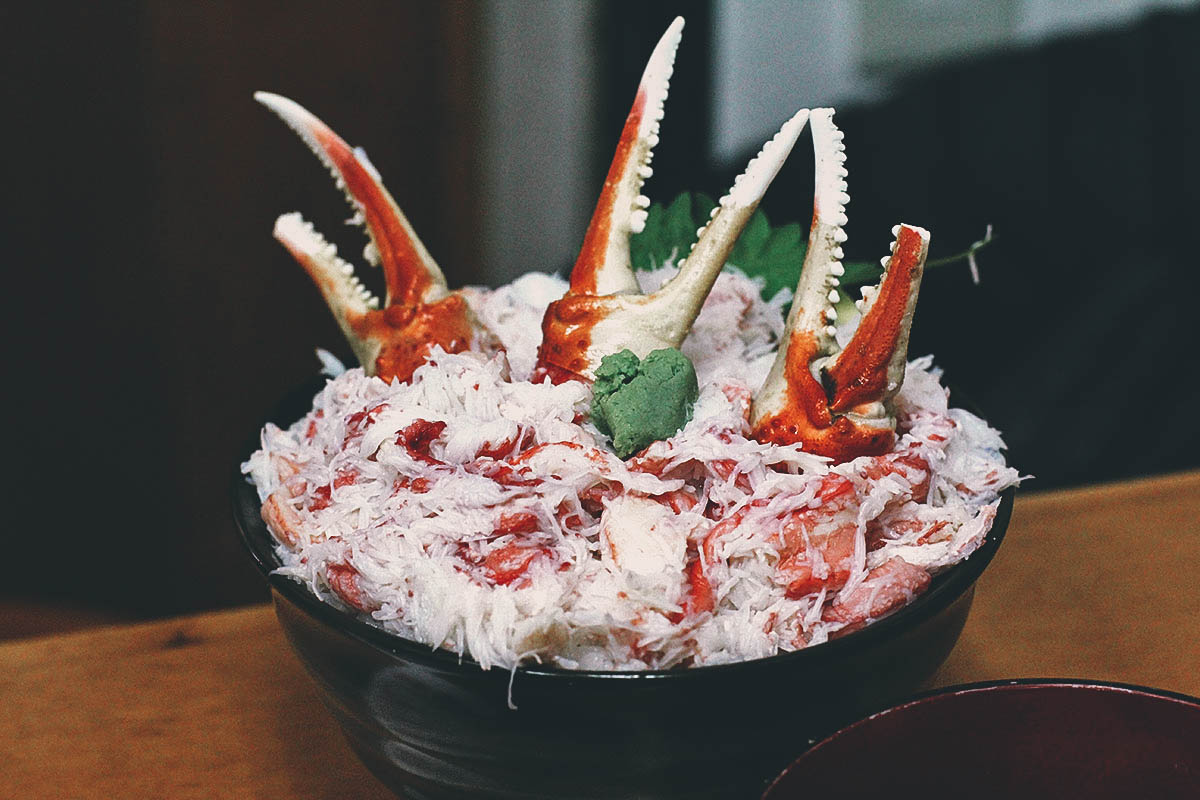 Our gorgeous Japanese seafood feast complete with miso soup and…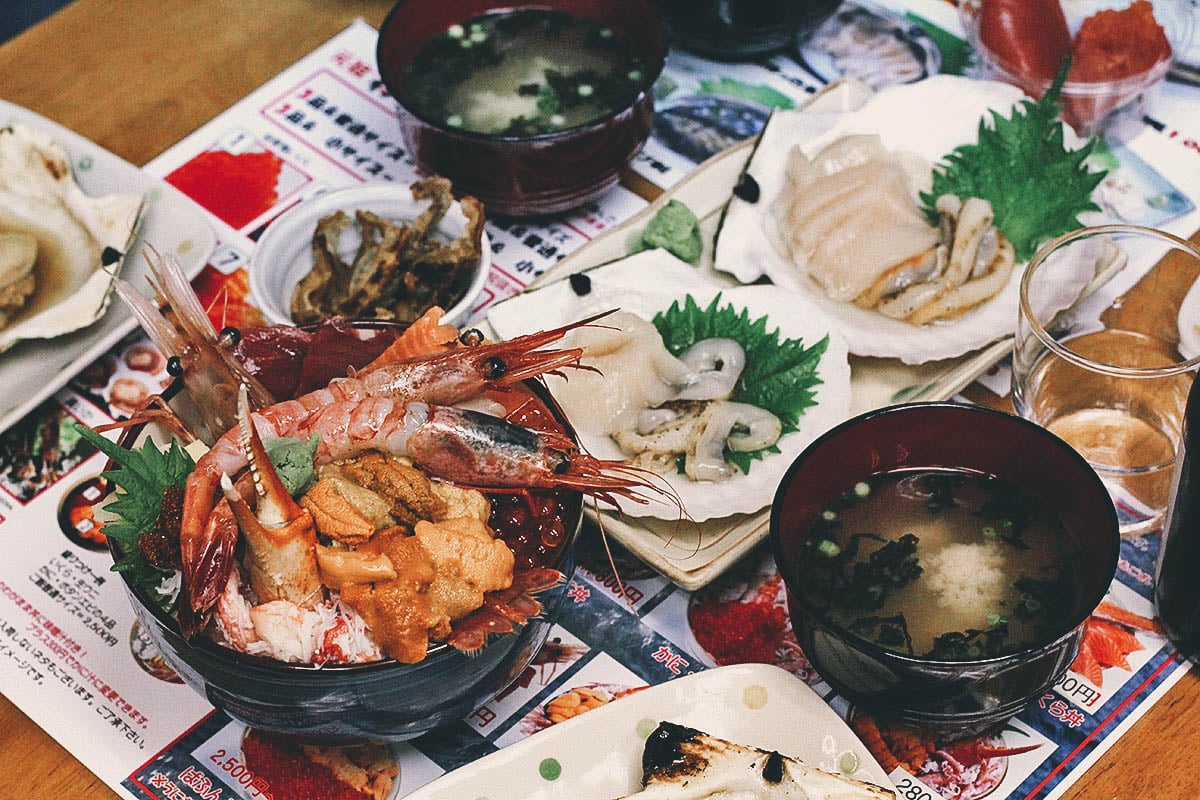 …Otaru beer! The Otaru Beer brewery is right by the canal. I'll post pictures of it soon in my Otaru article.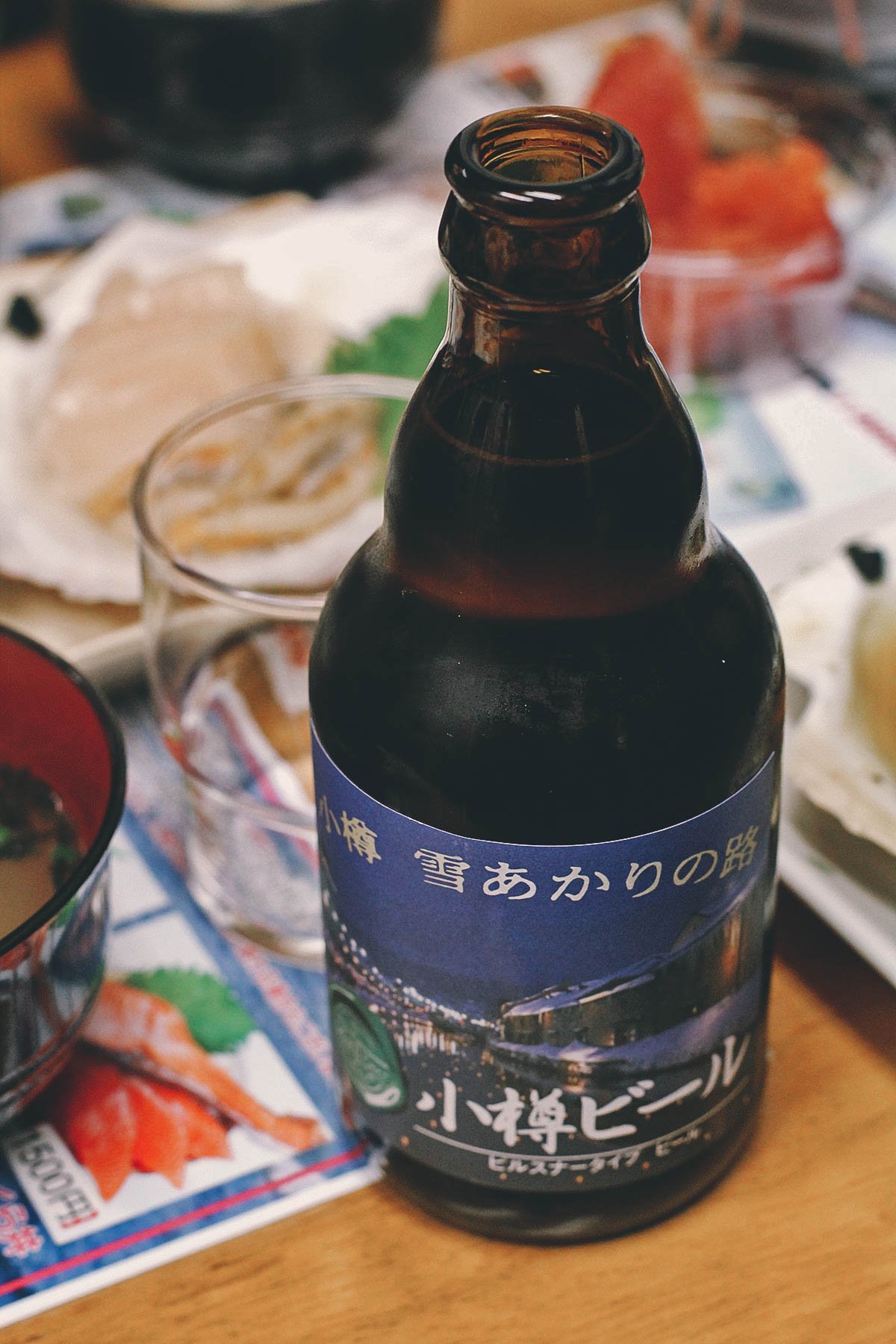 There are many restaurants in Sankaku Market but Takinami Shokudo seems to be the most popular. You'd think that fresh seafood would be the same anywhere in Otaru but there must be a reason why people prefer this place.
Good service? Better prices? I don't really know, but whatever the reason, I suggest having lunch here when you visit Otaru. It's located right by the train station making it an ideal place to have lunch before exploring the town.
Going back to these sashimi bowls, I was under the impression that chirashizushi and kaisendon are interchangeable terms but apparently, they're not. I was wondering why some people refer to them as chirashizushi while others called them kaisendon, so I googled it.
As it turns out, chirashizuhi is made with vinegared sushi rice while kaisendon uses regular steamed rice. Aside from raw seafood, chirashizushi often contains other ingredients as well like renkon (lotus leaf), carrots, shiso (perilla leaf), tofu, mushrooms, beans, and strips of scrambled egg. The ingredients are laid out more flat over the rice instead of in a mound like the kaisendon bowls pictured above.
In fact, if you google "chirashizushi", you'll notice the visual difference. Chirashizushi looks more thoughtfully arranged, almost like a pattern, while kaisendon is basically a mountain of fresh seafood piled high over rice.
Now I know! 🙂
Takinami Shokudo, Otaru, Japan
3-10-16 Inaho | Sankaku Market, Otaru 047-0032, Hokkaido
Tel: +81 134-23-1426
Operating Hours: Mon-Sun, 8AM-5PM
What we paid: Around JPY 2,000-3,000 per bowl of kaisendon
HOW TO GET THERE:
Take a JR train to Otaru station. Make a left after exiting the station and walk straight to get to the market. Enter the market and Takinami Shokudo will be on the left side.
For more travel tips to Sapporo in winter, check out our Sapporo Winter Travel Guide.