It's funny, I've written over 600 posts for this blog, but I've used the word "sublime" on just three occasions. One was to describe the climate-controlled charcuterie room at Spirals, and the other two were in reference to something other than the food I was describing, so they don't count. In the past few days though, I feel like I've been using it in every other sentence when describing the dishes from our recent trip to Japan. I guess you can say that we liked the food?
I try not to overuse words to avoid sounding repetitive, but in this case, it can't be helped. Because to describe Kobe beef using any other adjective would sound like an understatement. Yes, everything you've heard about it is true. Yes, it does melt in your mouth, And yes, it is THAT good.
Thanks to my friend Tom, who treated us to this amazing dinner as a 40th birthday present, we finally got a taste of this most legendary cut of meat.
Kobe Beef at Tsurugyu
To give you a quick background, Tom works as a purchasing agent at a five-star resort so he deals with many suppliers. Asking their meat purveyor for suggestions, this restaurant was one of two in Osaka that came highly recommended. Endorsed by a Japanese meat merchant to high-end resorts, can you get a better guarantee than that?
To start us off, Tom ordered two types of beef tongue, the first being this Australian wagyu. Apparently, it's customary for the Japanese to start with tongue. Incredibly soft and almost squid-like in its tenderness, this piece of meat changed Ren's perspective and made her reevaluate what her hypothetical last meal would be. 😆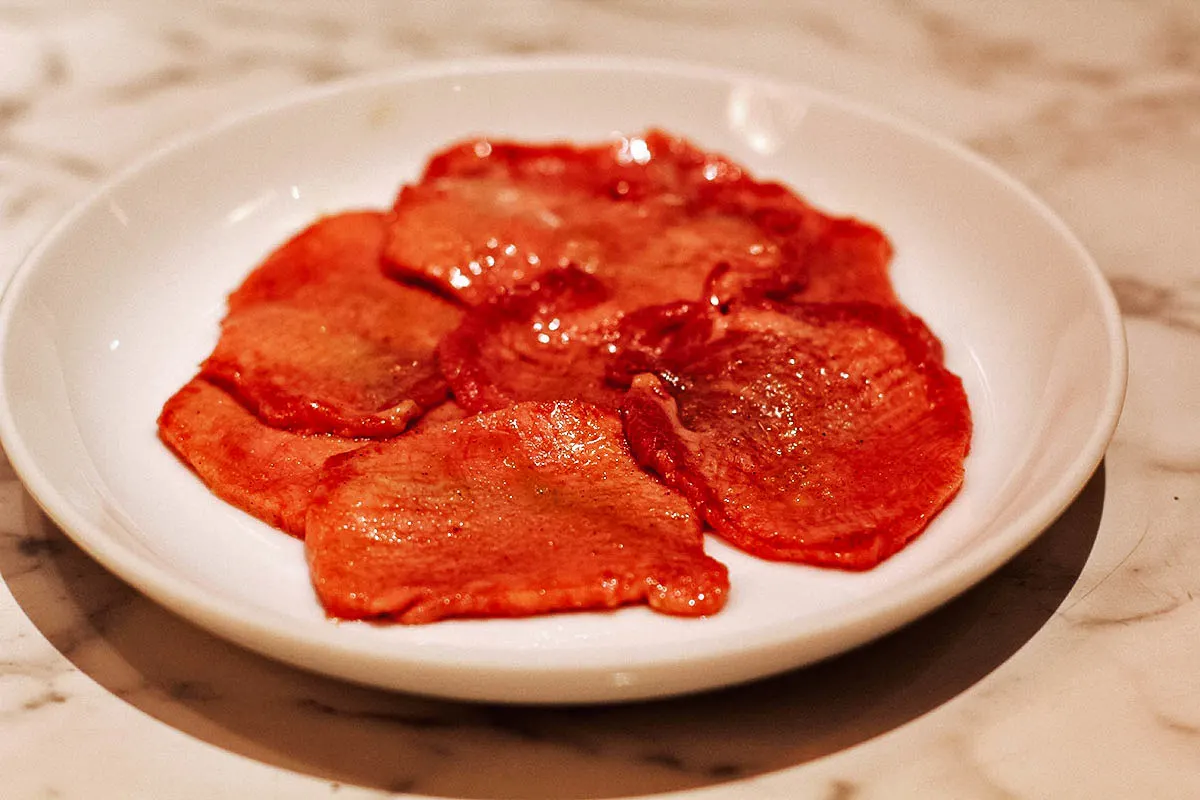 The second type was this Kobe beef tongue cut from a different section of the organ. It was different in texture from the first but every bit as tender and delicious.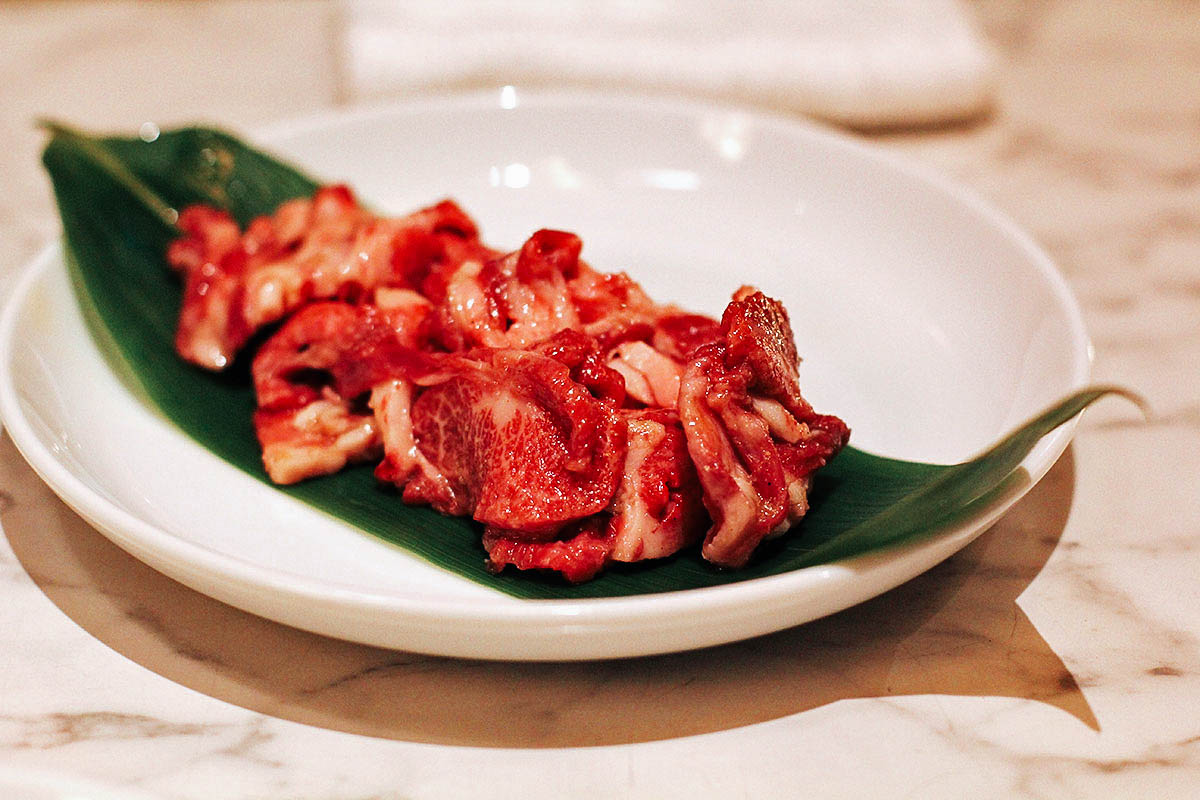 Grilling them up yakiniku-style. How good does that look? If this picture doesn't make you salivate, then you're either blind or dead.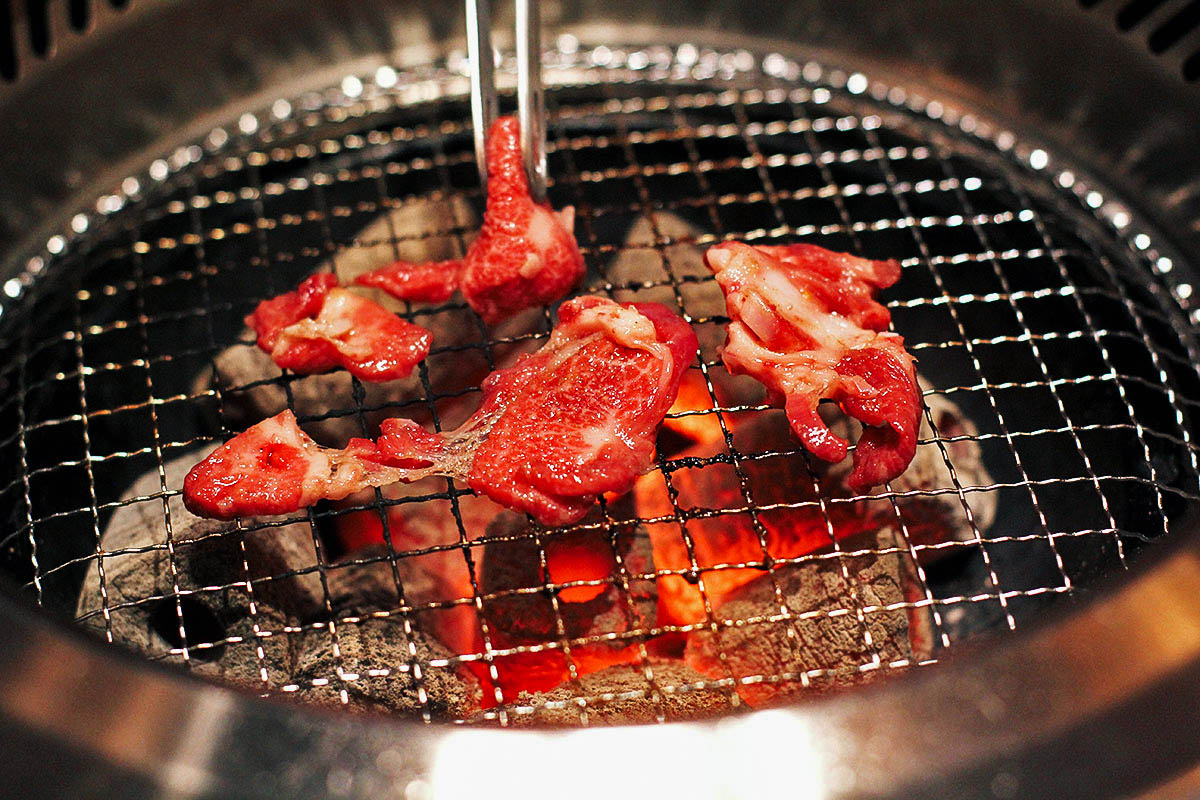 The Rolls Royce of meat, just check out the marbling on that thing! If I remember correctly, everything that we tried tonight other than the tongue was cut from either the belly, back, or shoulders. Those pieces on the right-hand side are their second most expensive cut on the menu, retailing at ¥3,000 for six pieces. Expensive I know, but worth it. Apparently, it's a good deal for Kobe beef as well, which is one of the reasons why Tsurugyu came so highly recommended.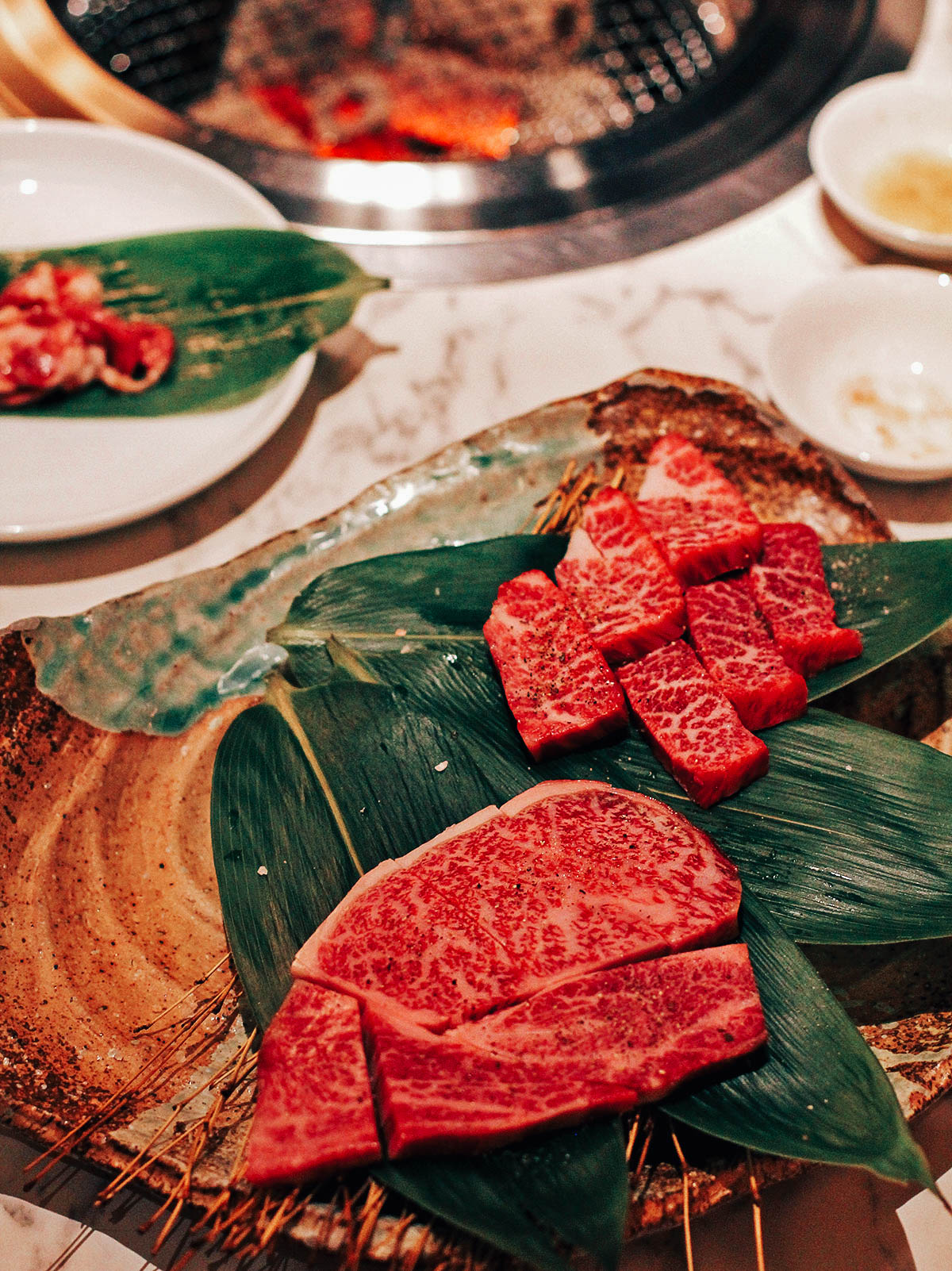 Interestingly, with every cut of meat came a different set of dips. Some were simple, others more elaborate with karashi and seaweed. No two dips were ever the same tonight, which told me just how important food pairing is to the Japanese. Here we are browning the meat to caramelized perfection.

MWAHAHAHAHA!! 😈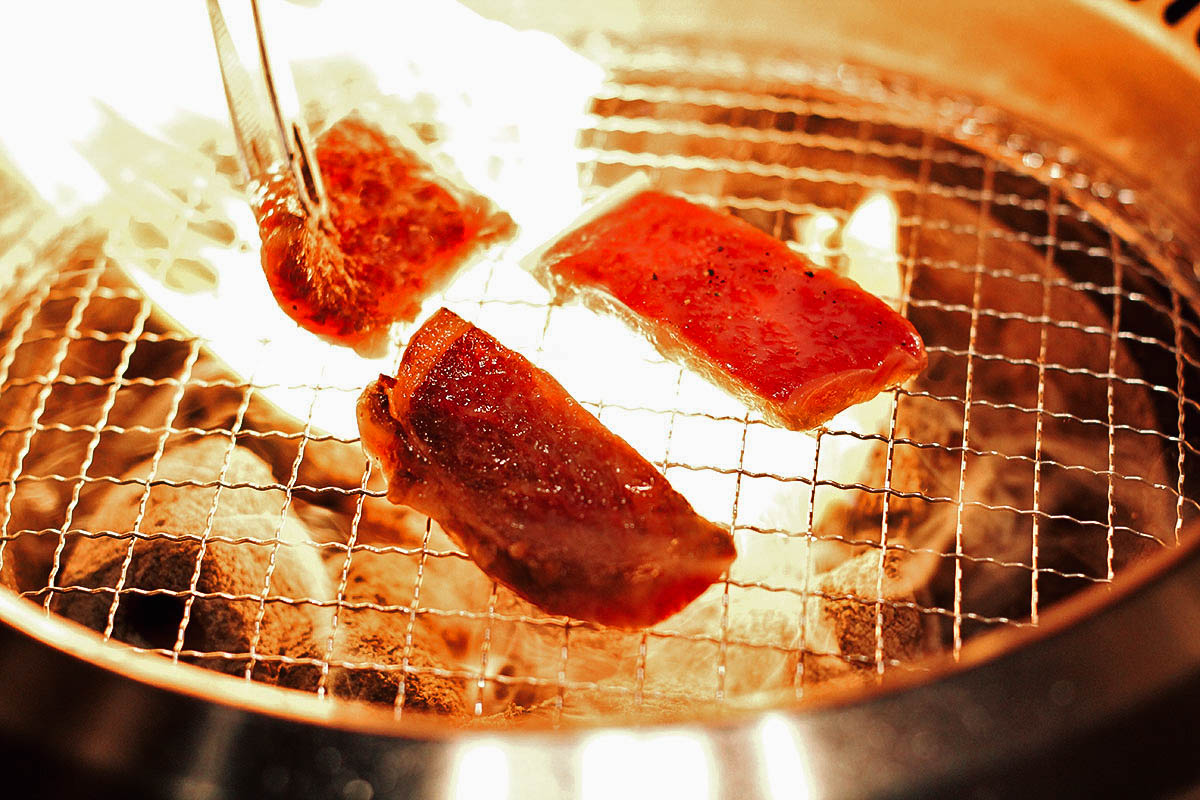 And now for the really good stuff. Practically dissolving in your mouth, wars have been waged over less than this. Without question, this was the most sublime piece of meat that I have ever tasted in my life.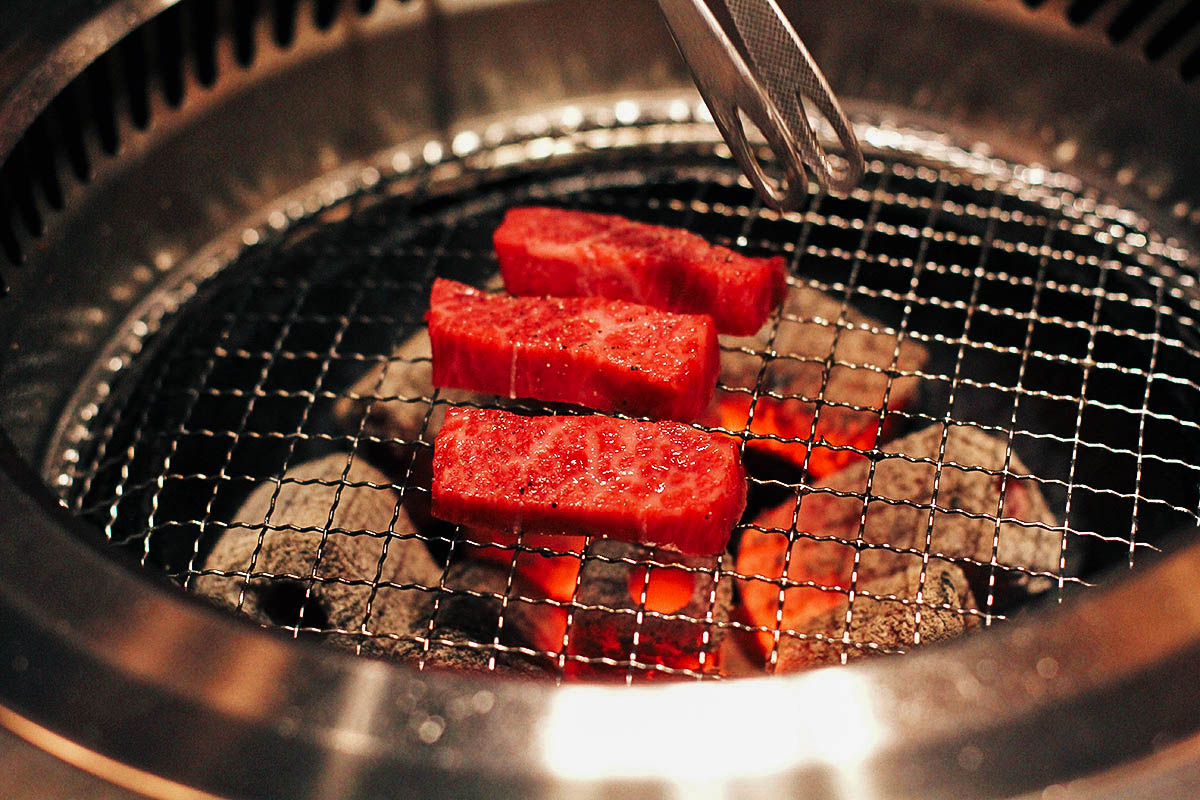 Not sure where this cut was from, but it came with toasted garlic chips and another set of sauces.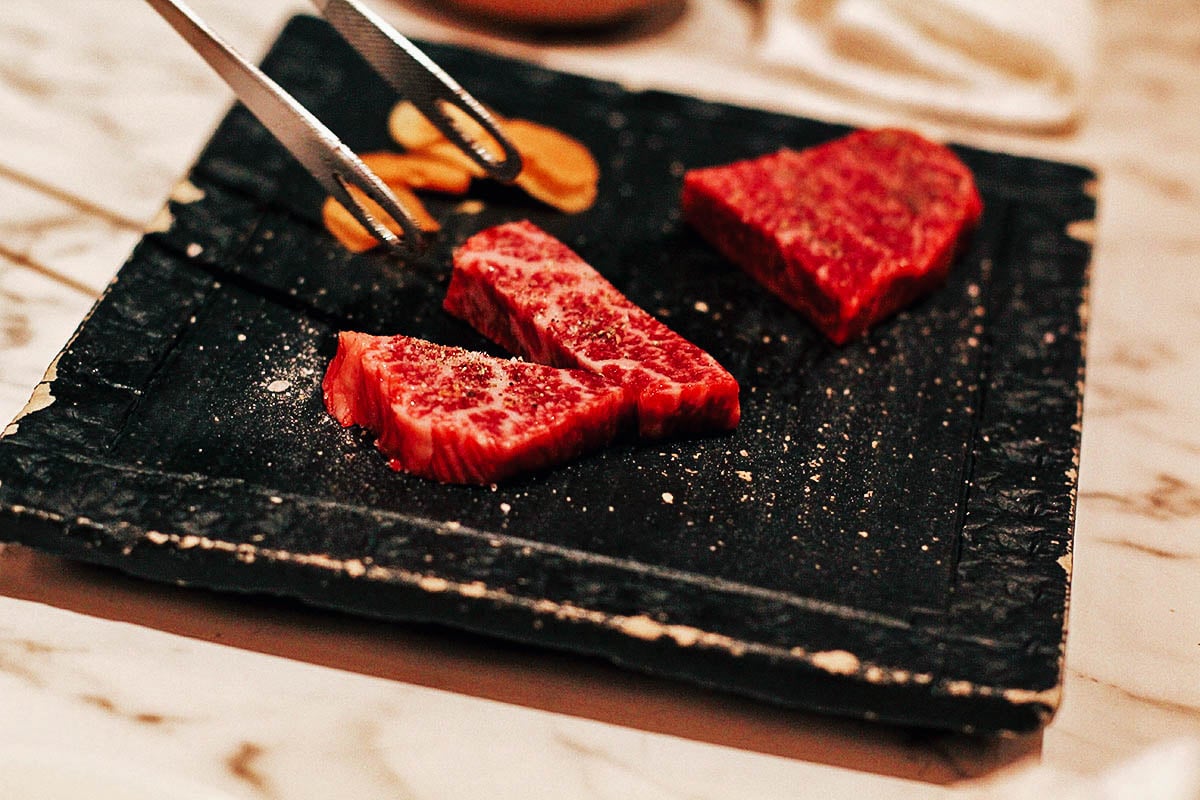 Grillin like a villain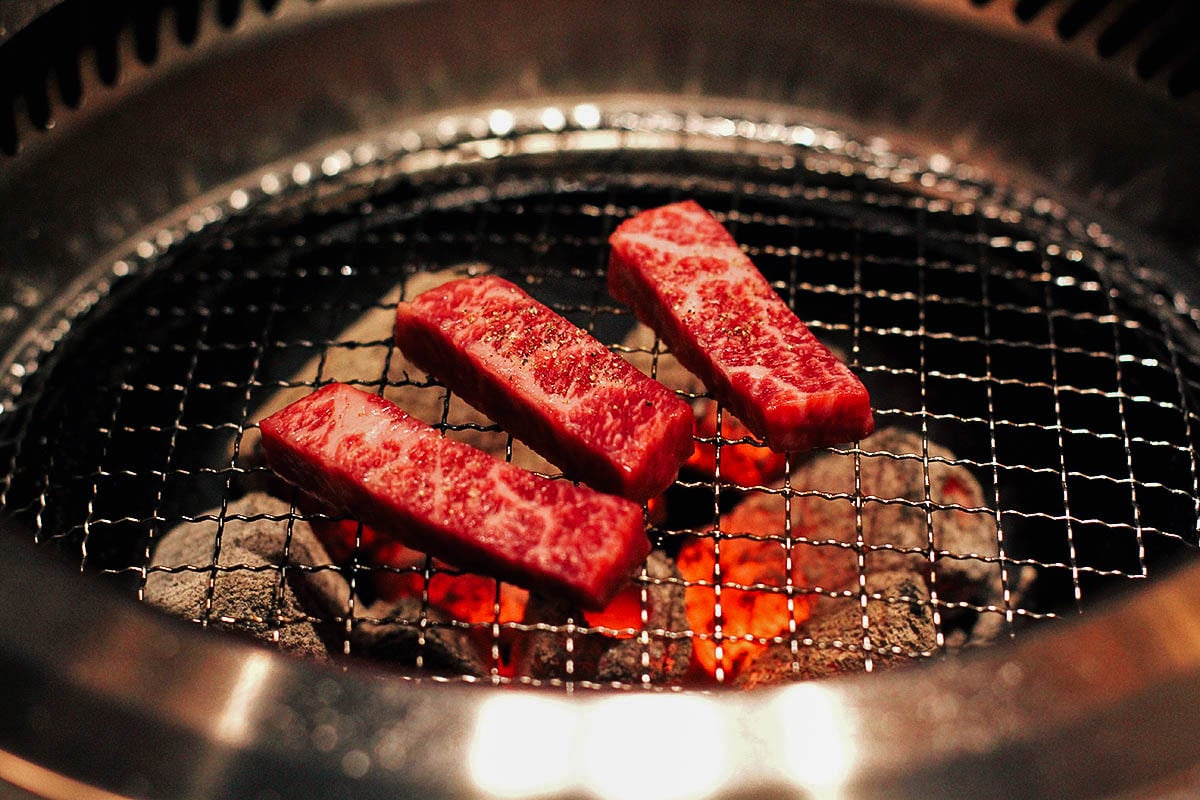 Now that we had gotten a taste of all the premium stuff, it was time to fill up. Less expensive than the previous cuts, this one was meant to be eaten with rice. You'll see why in the next picture.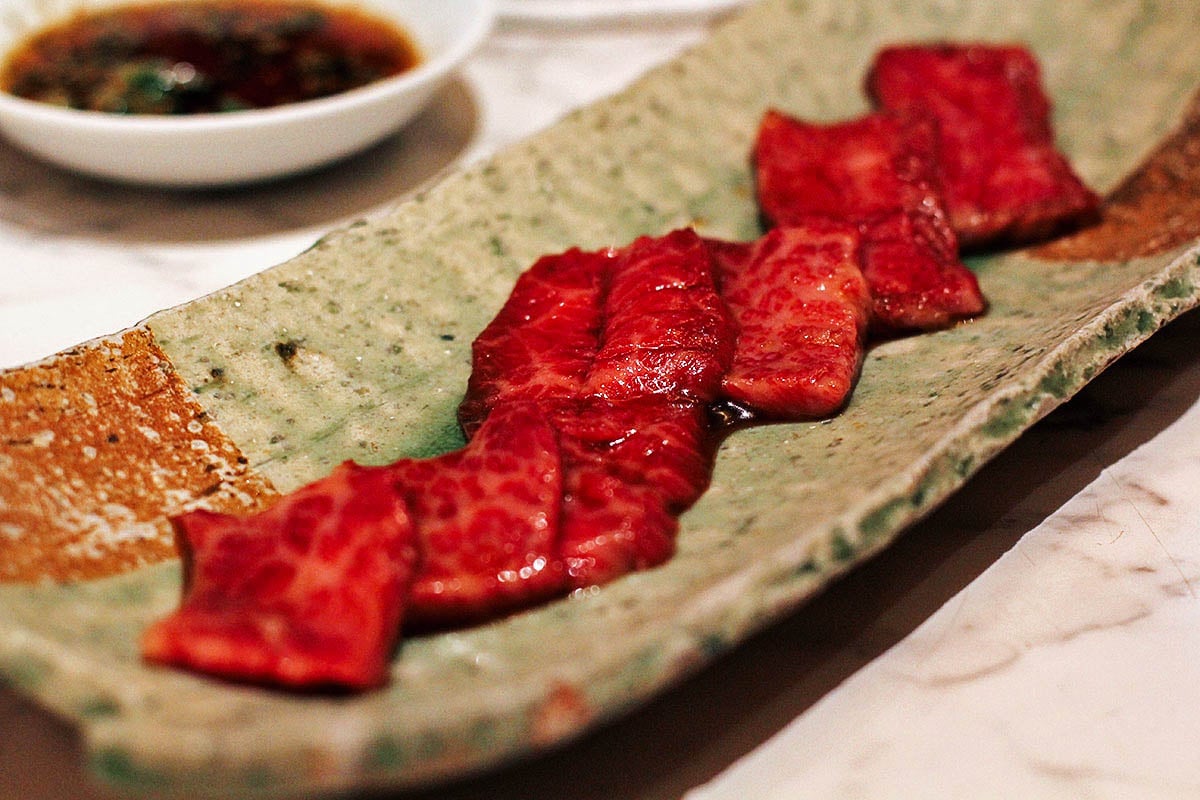 Just look at that thing! Almost half of it is fat! Delicious but way too unctuous to be eaten on its own, this was perfect when paired with rice. So unbelievably good and satisfying.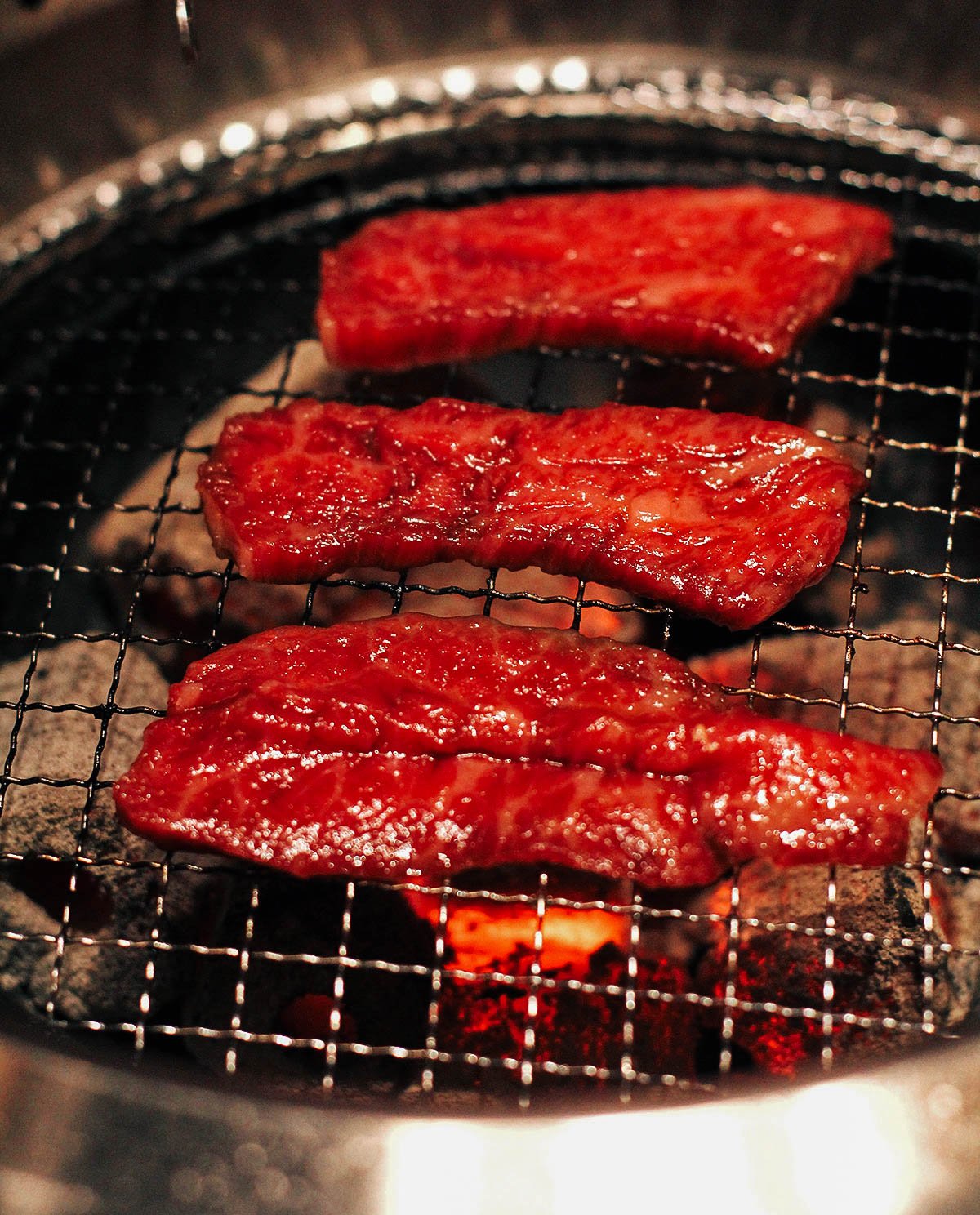 Finishing up the remaining pieces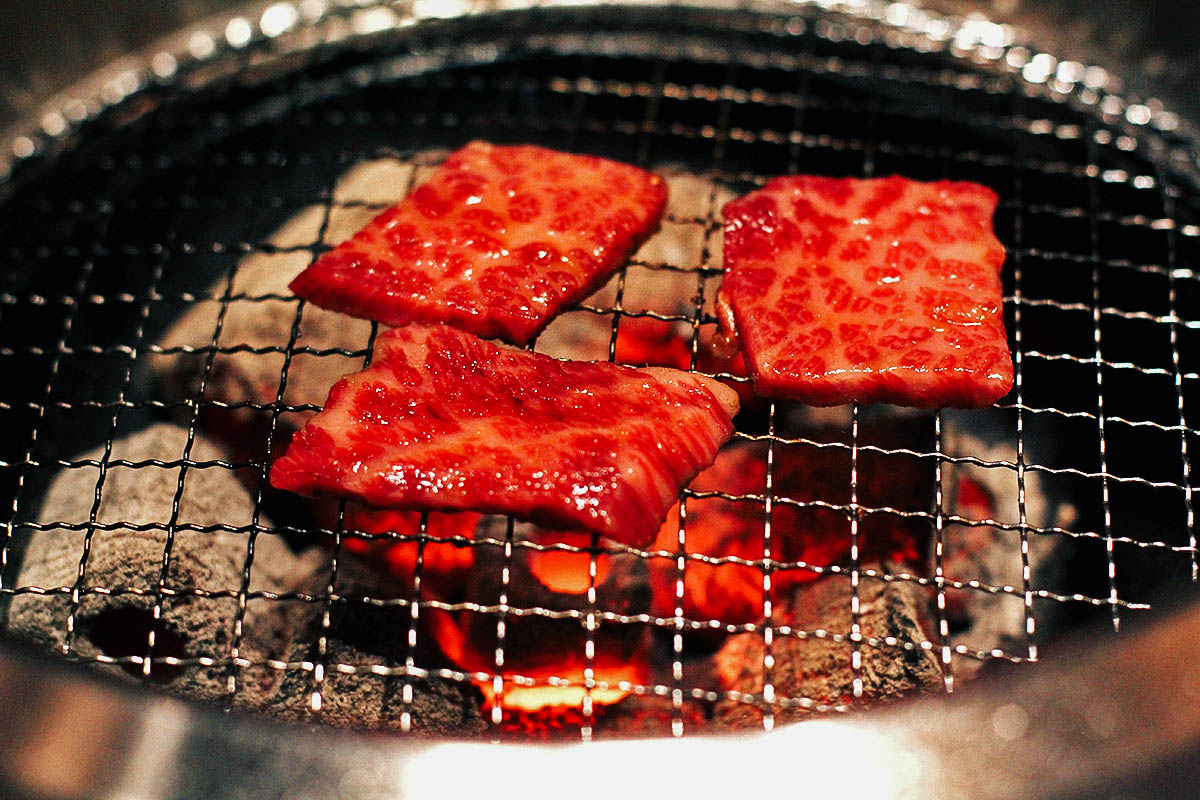 You can't have all that meat without eating some veggies right? After our meal, we were given these shots of vegetable juice. You know, for health and stuff. 😉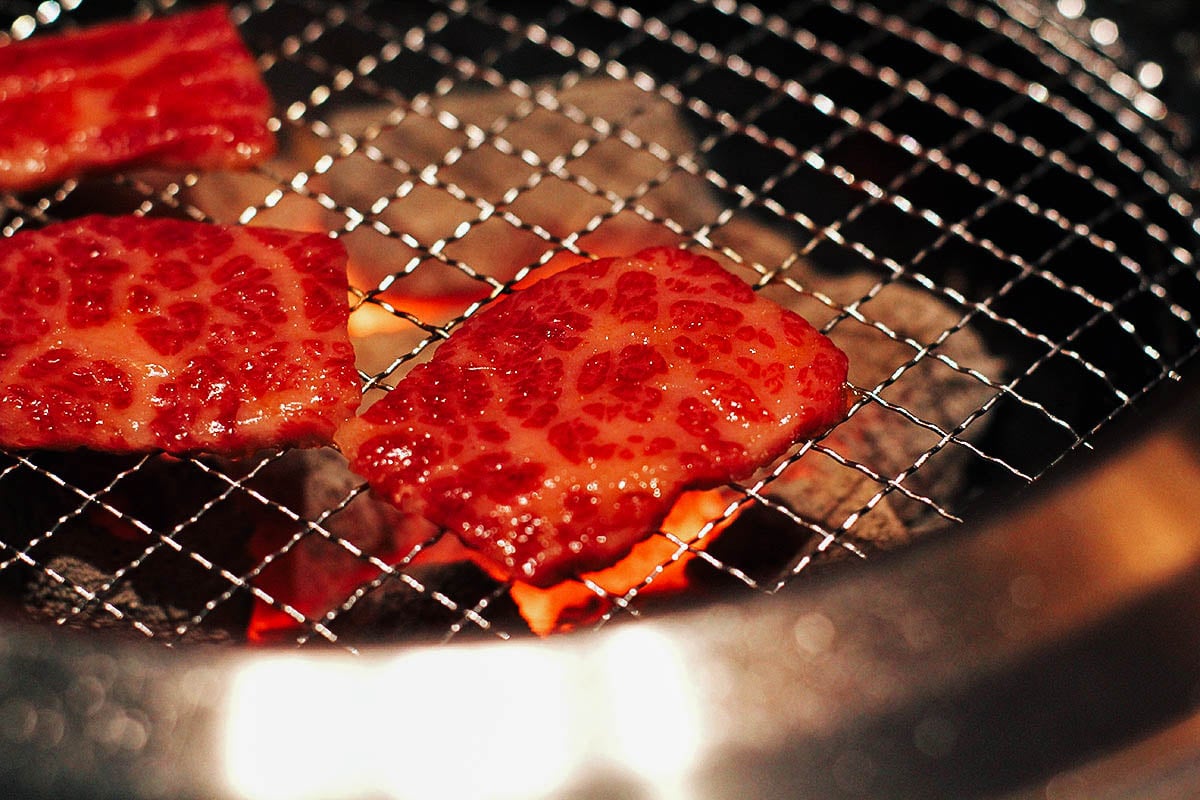 With this epic meal forever seared into our memories, I can't thank Tom enough for this once-in-a-lifetime treat. Among all the Japanese dishes that we tried on this trip, this was by far the most unforgettable. I doubt we'll be experiencing this again anytime soon, so from the bottom of our hearts, thank you!
If you'll be visiting Osaka and want to treat yourself to a special meal, then this is it. I can't recommend it highly enough. It truly is…(wait for it)…sublime. 😀
On Kobe Beef Certification
A reader emailed us recently asking why Tsurugyu didn't have a bronze plaque nor certificate guaranteeing that their meat was indeed Kobe Beef. He also pointed out that Tsurugyu isn't on this WEBSITE that lists all the restaurants in Osaka certified to sell Kobe Beef.
I asked my Japanese friend about this and according to his aforementioned meat supplier, Tsurugyu hasn't paid for the certification that allows them to advertise and sell their meat as Kobe Beef. This is why the "Kobe Beef" at Tsurugyu is priced considerably lower than establishments that do have that certification. His meat supplier did however guarantee at the time of our visit that Tsurugyu does serve genuine Kobe beef. They just can't openly advertise nor price it as such because they don't have that formal certification. Thanks to my friend, I guess we were just treated to a bit of insider knowledge.
With that said, I do understand that some diners may want to see an actual Kobe Beef certificate. If you're one of those diners, then Tsurugyu isn't for you. It's best that you go elsewhere.
Tsurugyu
3-5-14 Kawarayamachi chuo-ku Osaka, Osaka 542-0066, Japan
Tel: +06-6767-2989
Website: tsurugyu.com
Operating Hours: Mon-Sun, 5PM-12MN
Expect to spend: ¥6,500 per person with drinks
Reservations: Not required, but a good idea