Kuromon Ichiba Market is one of my favorite places to visit in Osaka. It's a covered market that serves great seafood and Japanese street food in a relaxed, informal space.
The food is relatively cheap, the choices are abundant, and the seafood is always unbelievably fresh. Like Dotonbori, it's a place I try to visit on every return trip to Osaka.
Kuromon Ichiba is a small market with just one main alleyway so it's easy enough to explore on your own. But if you're looking for suggestions on what dishes to eat, then listed below are ten of the best and most delicious things we've personally tried at Kuromon Market.
Pro tip, go on an empty stomach. You'll need it.
KUROMON ICHIBA MARKET QUICK LINKS
To help you plan your trip to Osaka and Kuromon Market, we've compiled links to popular hotels, tours, and activities here.
HOTELS
Top-rated hotels in Shinsaibashi and Namba, the best area to stay for first-time visitors to Osaka.
FOOD TOURS
OTHER SERVICES
OSAKA TRAVEL GUIDE
If you're planning a trip to Osaka, then be sure to check out our detailed Osaka travel guide. It'll have all the information you need – like where to stay, when to go, where to eat, etc. – to help you plan your trip.
Save This on Pinterest!
No time to read this Kuromon Ichiba guide now? Click on the save button and pin it for later!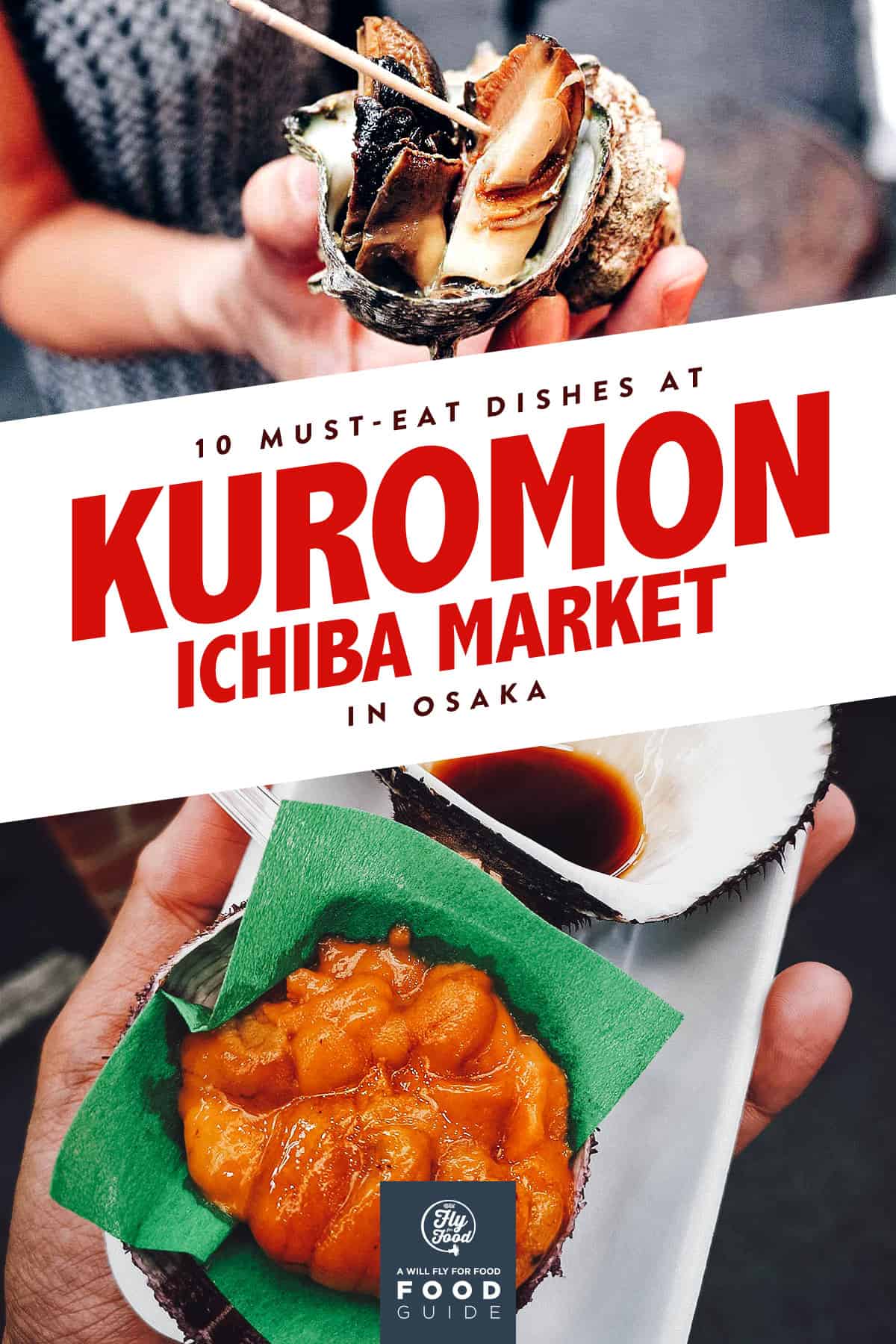 WHAT IS KUROMON ICHIBA MARKET?
Kuromon Ichiba is a covered market in Osaka's Chuo Ward, about a 3-minute walk from Nippombashi Station. It's made up of one main walking street with about 150 shops selling mostly fresh fish, seafood, meat, fruits, and vegetables. It's often referred to "Osaka's kitchen" because it's where many of the city's chefs get their supplies.
Open since 1902, the market used to be called Enmyoji Ichiba. It was named after a nearby temple that was known for its black painted gate. The Japanese word for "black gate" is kuromon, hence Kuromon Ichiba or "Black Gate Market". Enmyoji Temple was destroyed by a fire in 1912 which is why the market is known today only as Kuromon Ichiba.
When we first visited Kuromon Market in 2014, it wouldn't get as crowded as it does today. It's become exceedingly popular as a tourist attraction because of the many stalls that will cook and serve the fresh seafood to you. For that reason, I suggest going early – just after 9AM when the market opens – to avoid the crowds.
As described, it's easy to visit Kuromon Market on your own, but if you'd like to go with a local guide, then you may want to book this Kuromon Ichiba walking food tour.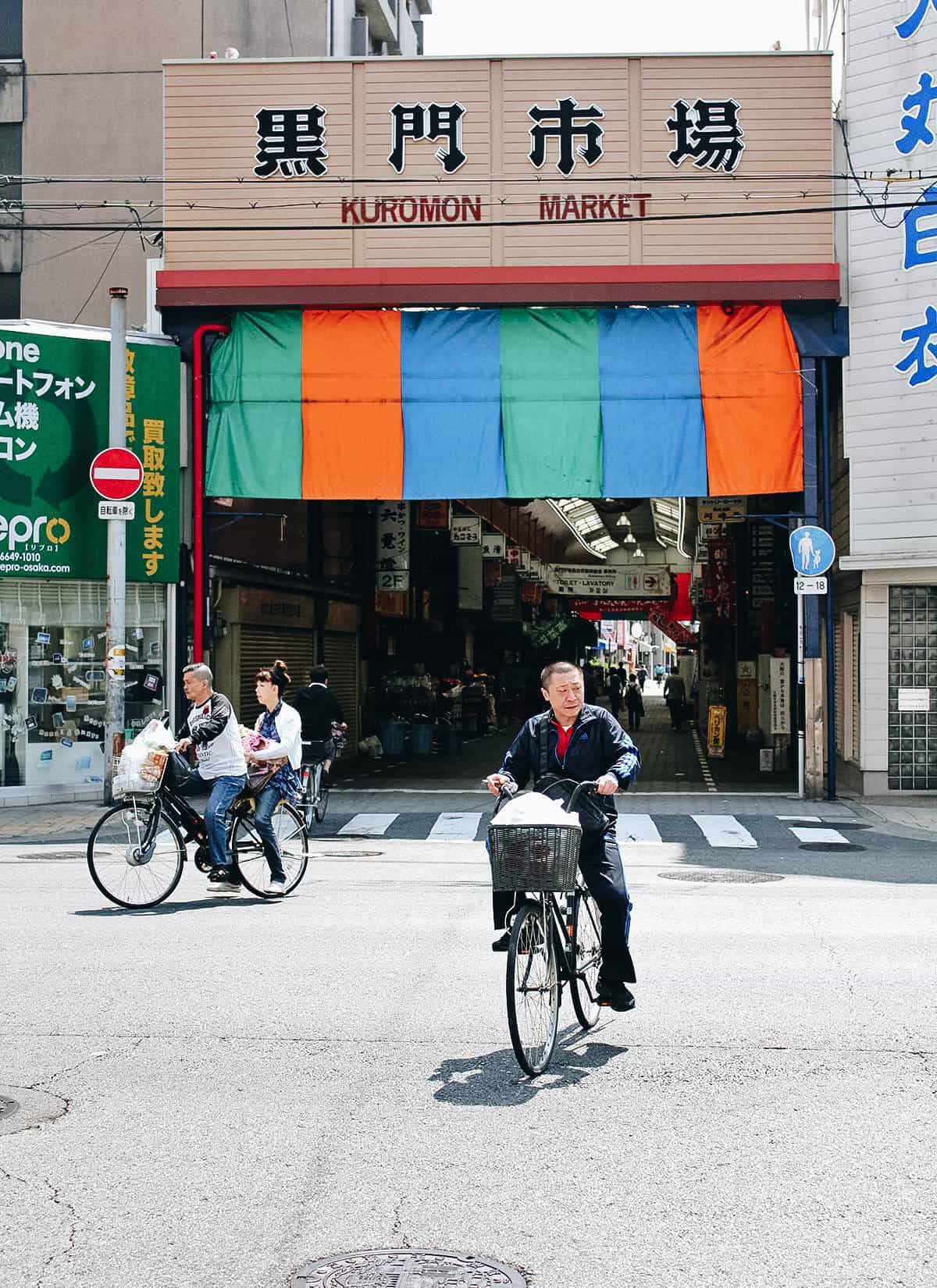 This is how the market looks shortly after opening. Don't expect it to be this empty later in the day. All the tourists elbowing their way for a serving of uni can be annoying so I highly recommend going early.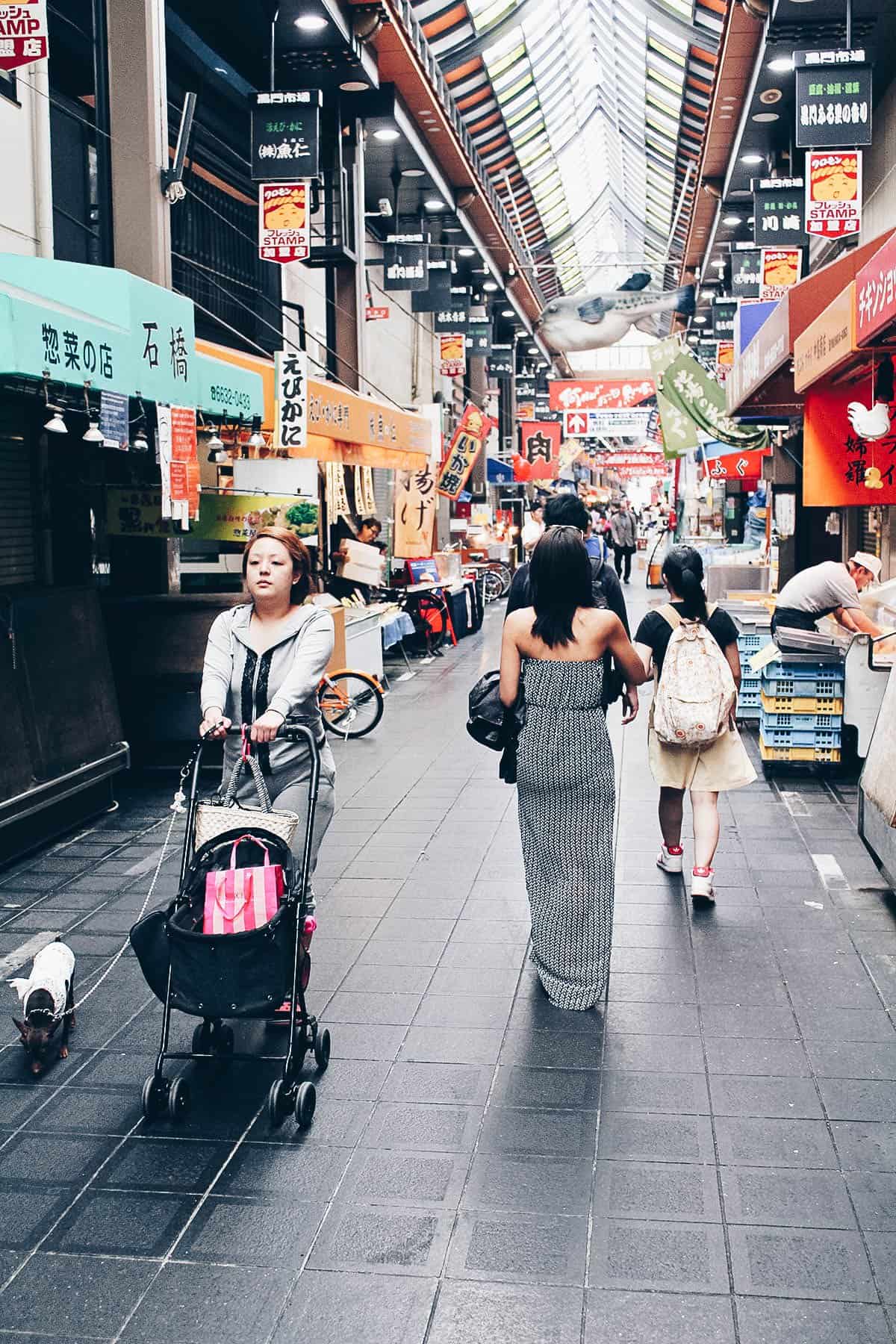 Here's a shot of me dumbfounded, unsure where to begin. But don't worry, you have this guide to point you in the right direction.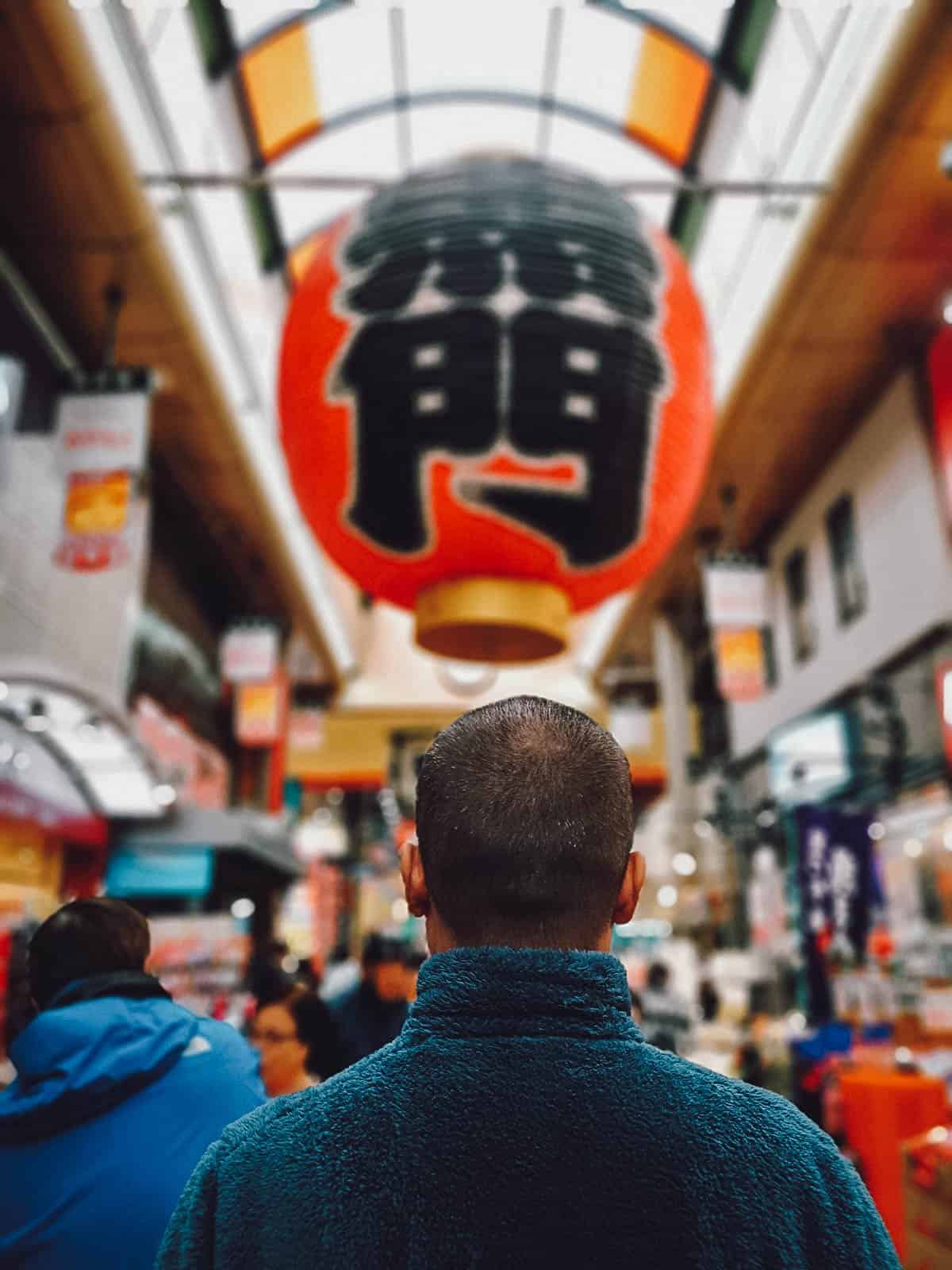 WHAT TO EAT AT KUROMON ICHIBA MARKET
There are many, many delicious things to eat at Kuromon Market, but here are our ten favorites from all our visits.
1. Oysters
I'll never forget these grilled oysters. It was the first time we had ever tasted Japanese oysters and we were surprised by how big they were.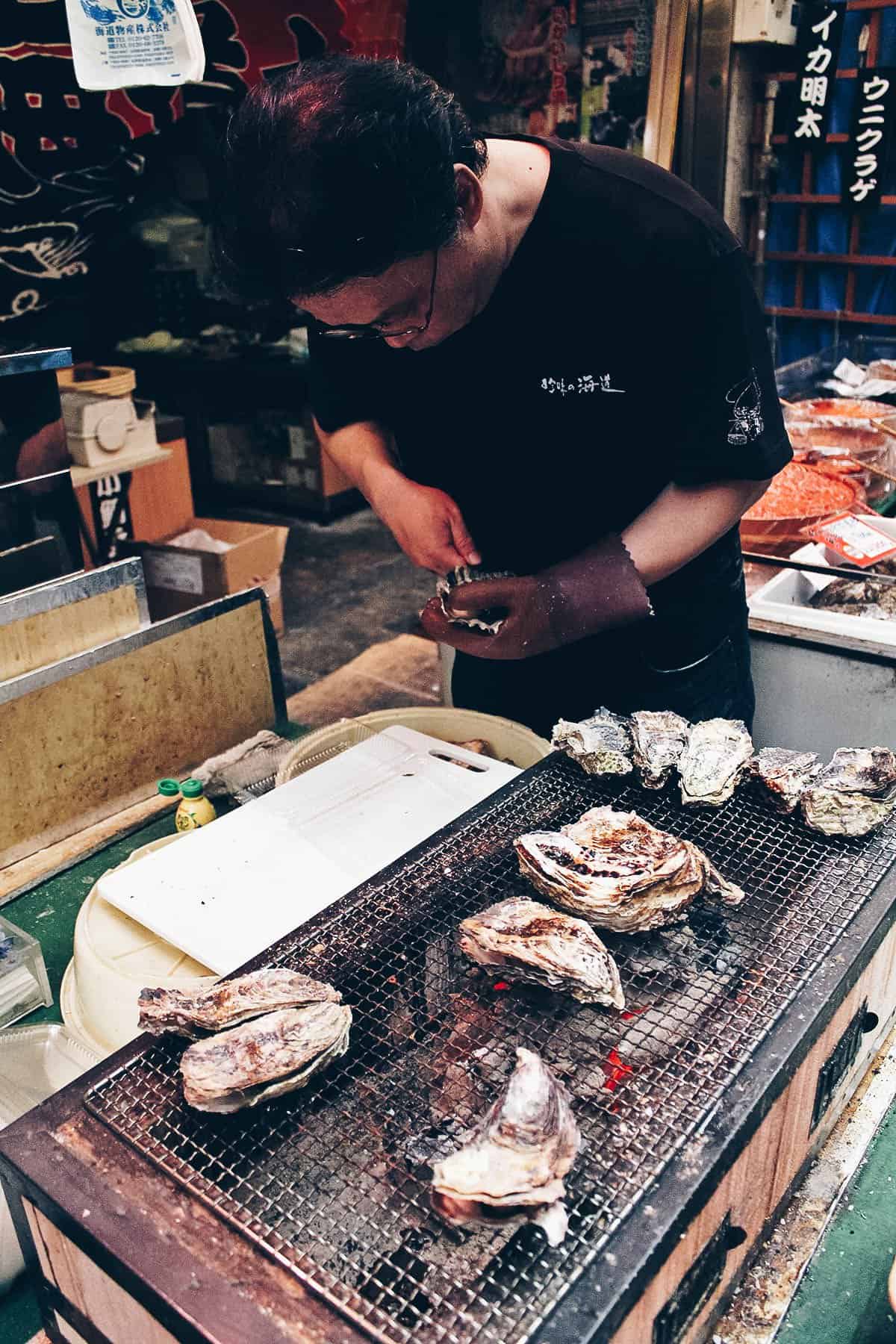 The two on the left are a decent size but the one of the right was an absolute monster! It was probably the biggest oyster I had ever seen in my life.
The oysters were grilled over charcoal to give them a smokey and earthy aroma. They were plump and juicy and exploded with that briny, ocean-y flavor that's unique to oysters. So damn good.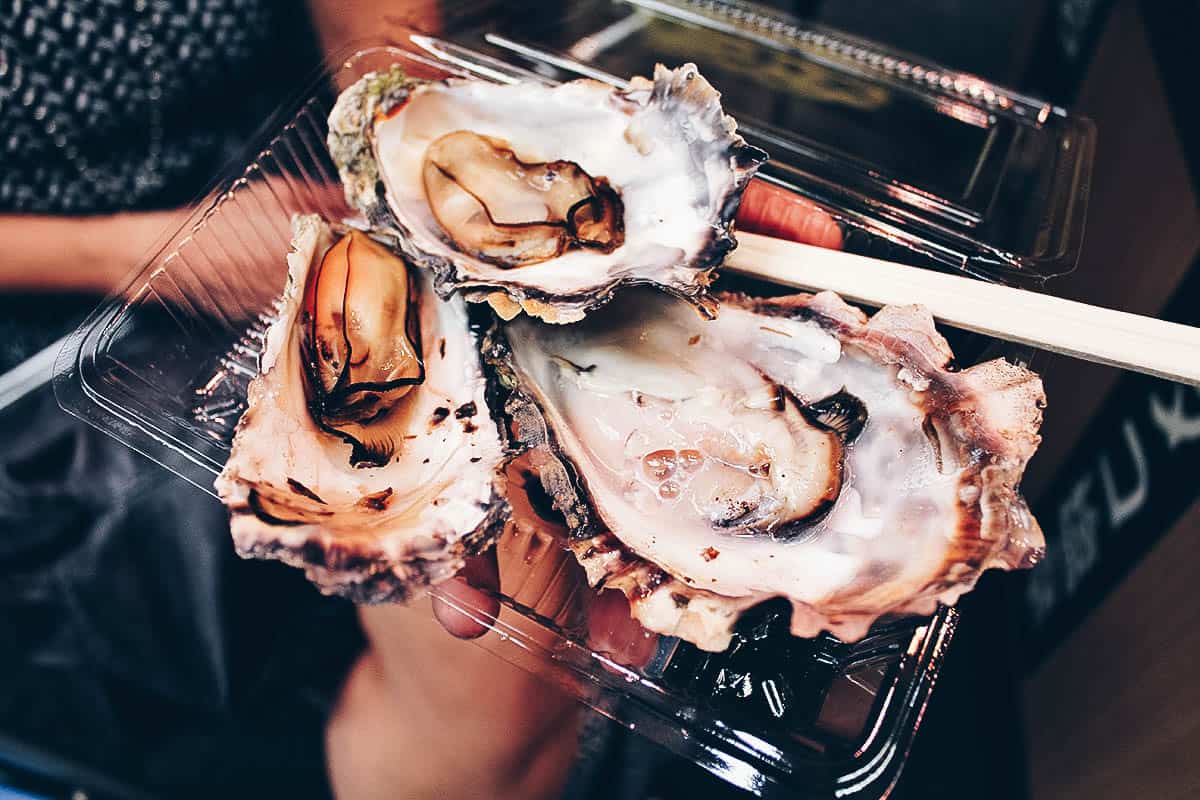 2. Uni
Like oysters, uni or sea urchin is one of my favorite foods in the world. You can easily tell the quality from looking at it and the uni in Japan, no matter where you have it, is always amazing. Look at how plump and intensely orange that uni is!
If you've never had it, uni refers to sea urchin roe. Inferior uni is a dull yellow color and looks thinner and more liquid-y. This is about as good as it gets.
Served in its shell, the uni was rich, creamy, sweet, and briny with a good punch of saltiness and burn from the soy sauce and wasabi. Like oysters, there's nothing in the world quite like uni.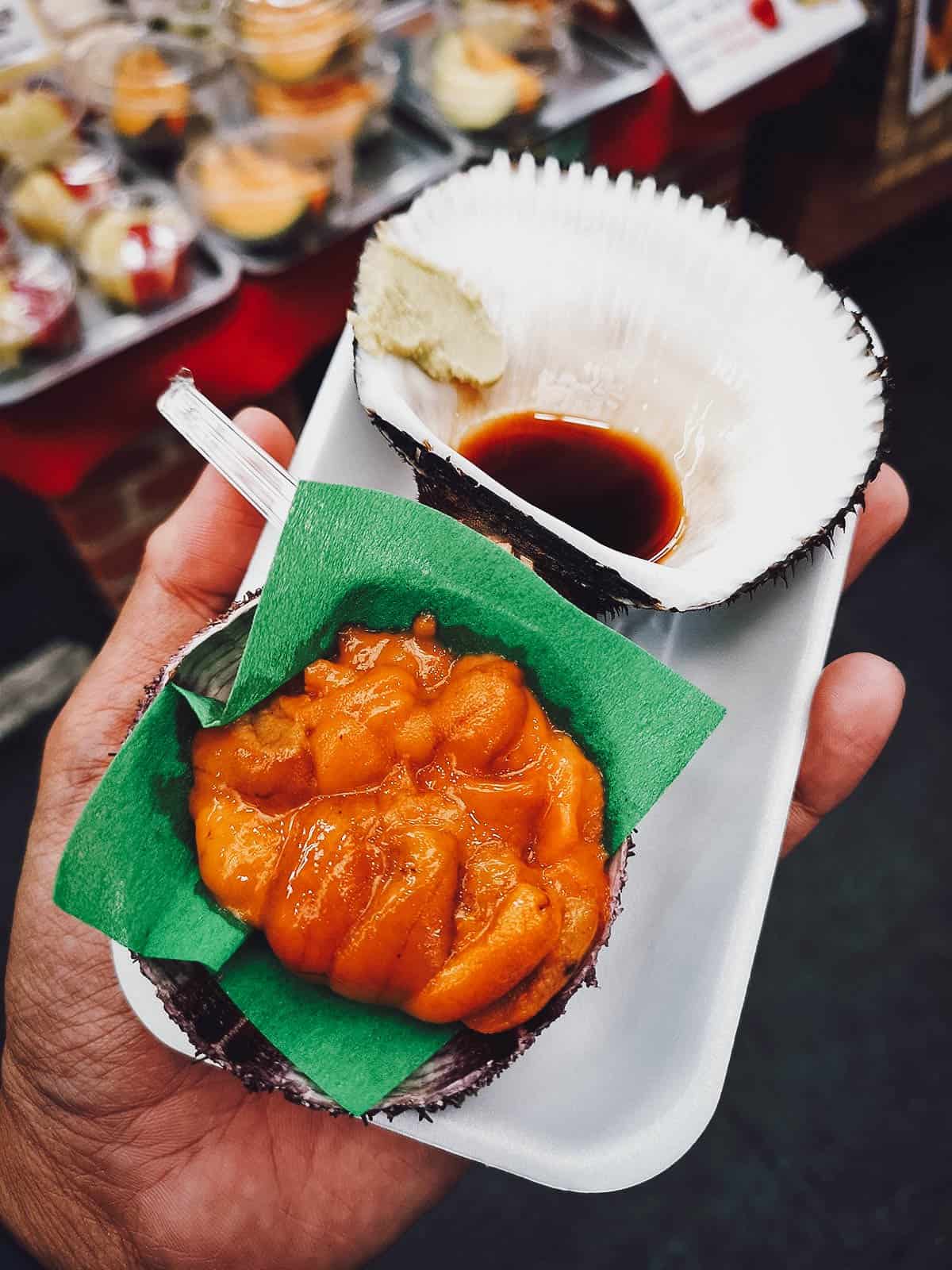 3. Unagi
I'm starting to sound like a broken record, but unagi is another of my favorite foods in the world. It refers to barbecued freshwater eel that's been basted with a savory-sweet kabayaki sauce. It's typically served over a bed of rice in a dish called unadon, or as bite-sized pieces of nigiri sushi. At markets like Kuromon Ichiba, they're often skewered on sticks and served without rice.
Unagi was the very dish that turned me on to sushi as a high schooler in the US. The sweetness, smokiness, and uniquely soft, gummy, and charred texture of the eel is incredible. I was a fan from that very first bite and I've been in love with it ever since.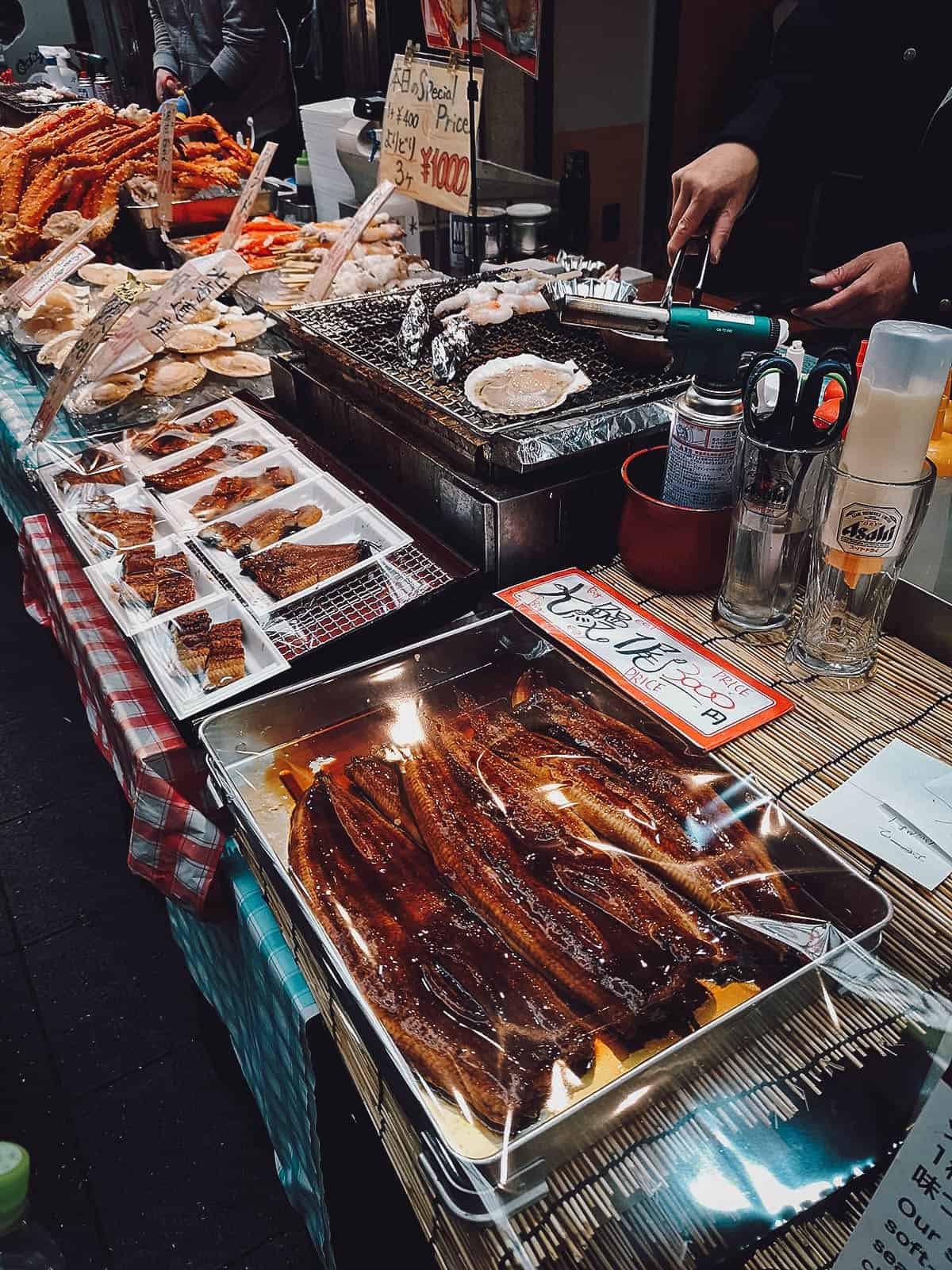 4. Crab
Crab is one of the best things you can have in Japan, especially in winter when they're in season. You can still have them in the off-season but according to my Japanese friend, those specimens are imported from Russia.
Unless I'm mistaken, pictured below are segments of Japanese king crab. They look almost identical to snow crabs but they're bigger. Crabs are pricey but you can find single barbecued snow crab legs at Kuromon Market for around JPY 500.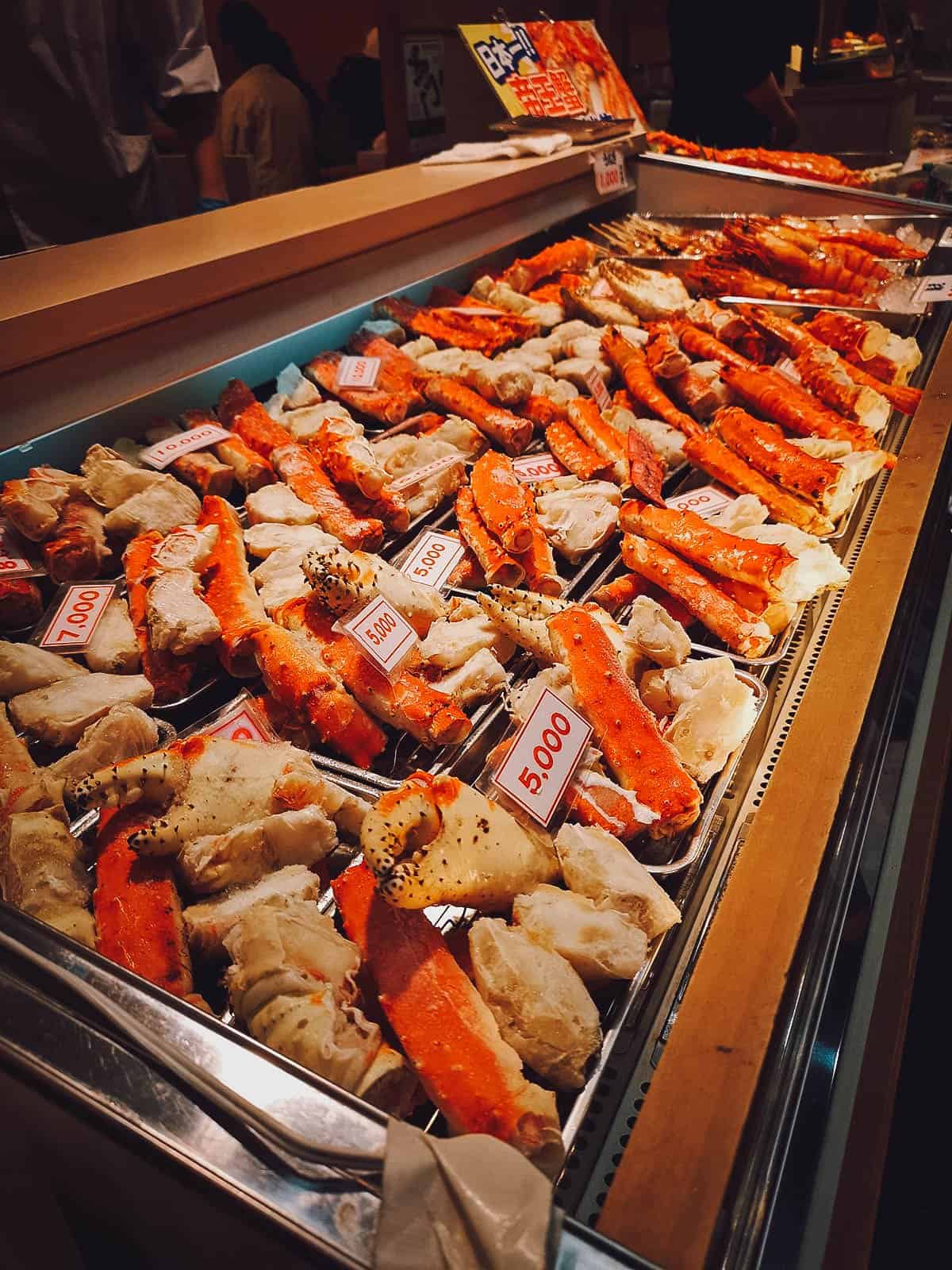 A tray of iced soft sell crabs.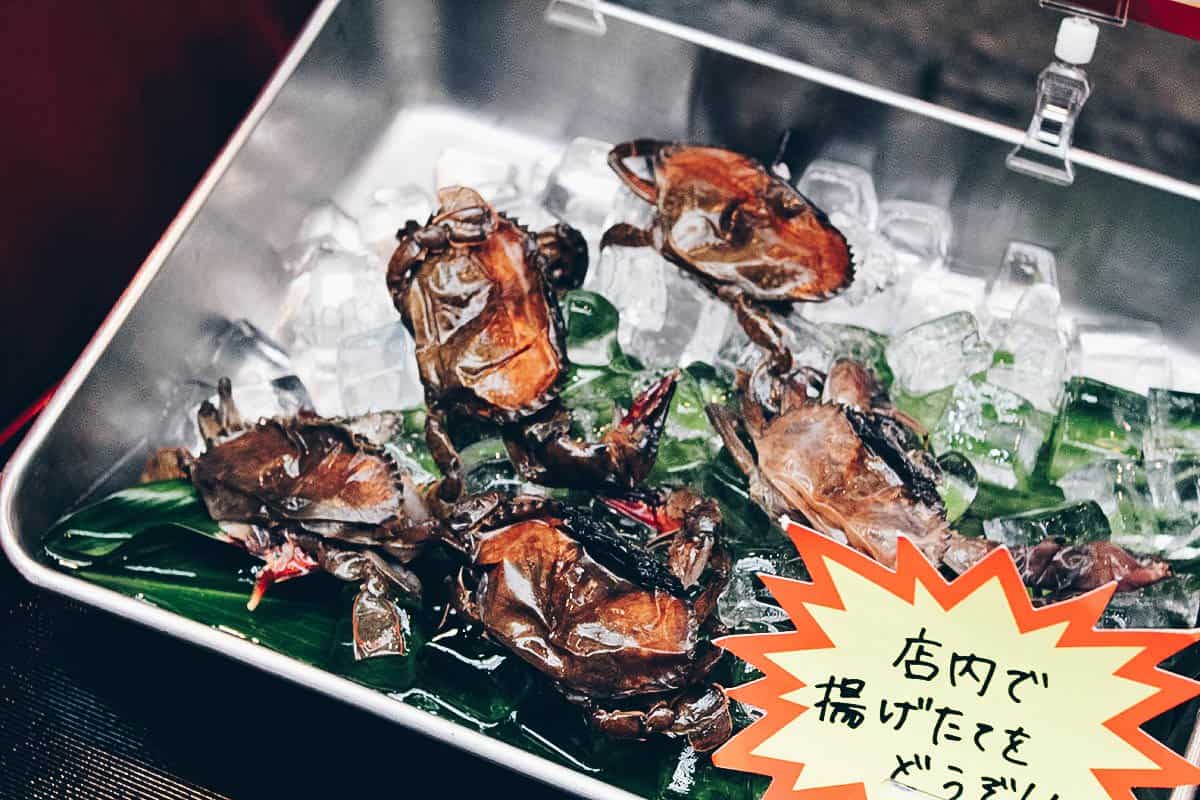 You'll find plenty of live seafood at Kuromon Market. In the front tray are live snow crabs while the ones behind it appear to be hairy crabs. The best crabs in Japan are said to come from Hokkaido.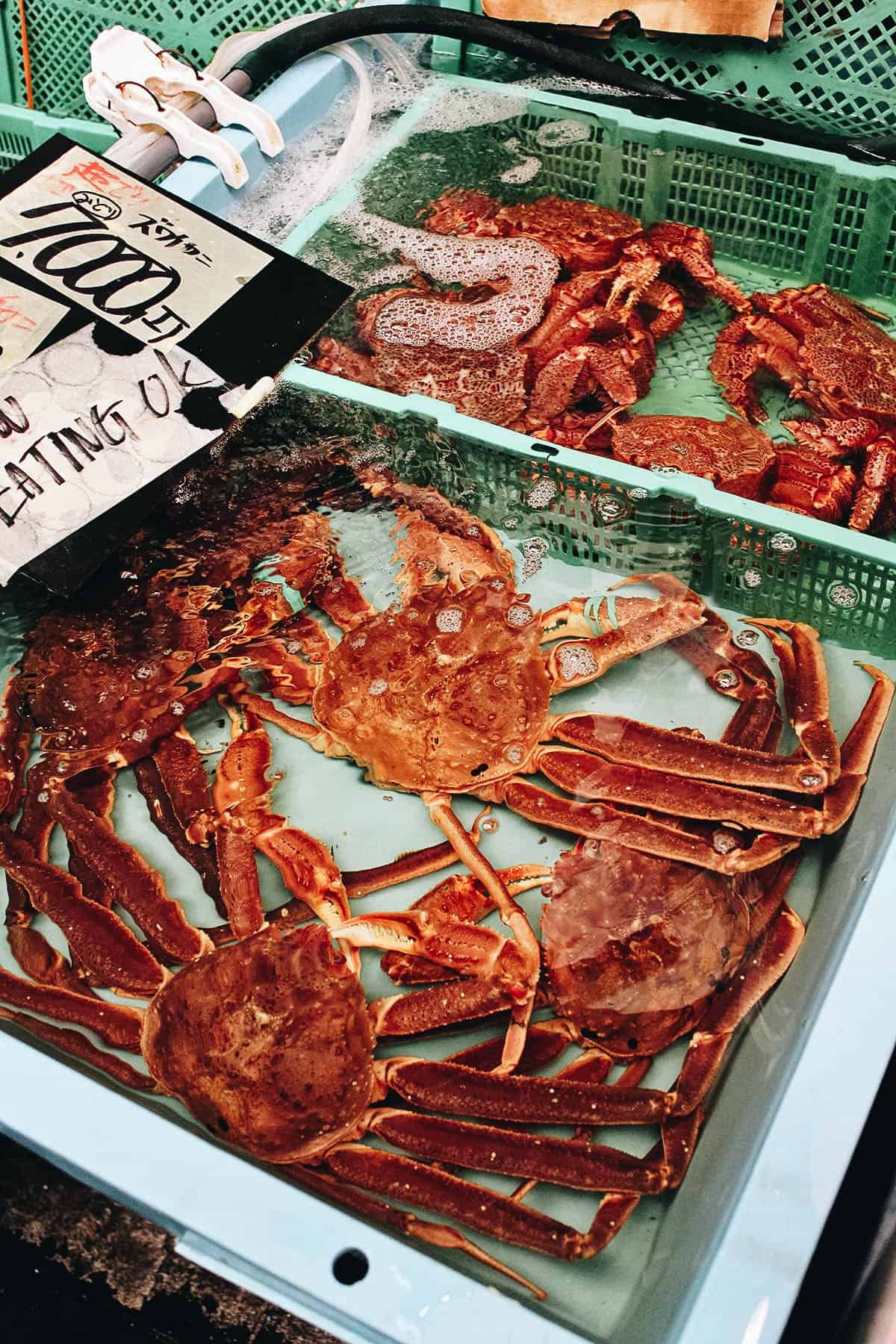 5. Tako Tamago
Tako tamago are these skewered glazed baby octopuses with whole quail eggs stuffed in their heads. They seem to have originated from Nishiki Market in Kyoto but you can find them here at Kuromon Market as well.
They're an intense red and make for an eye-catching and tasty snack. They're one of the first things that come to mind when I think of Kuromon Market or Nishiki Market.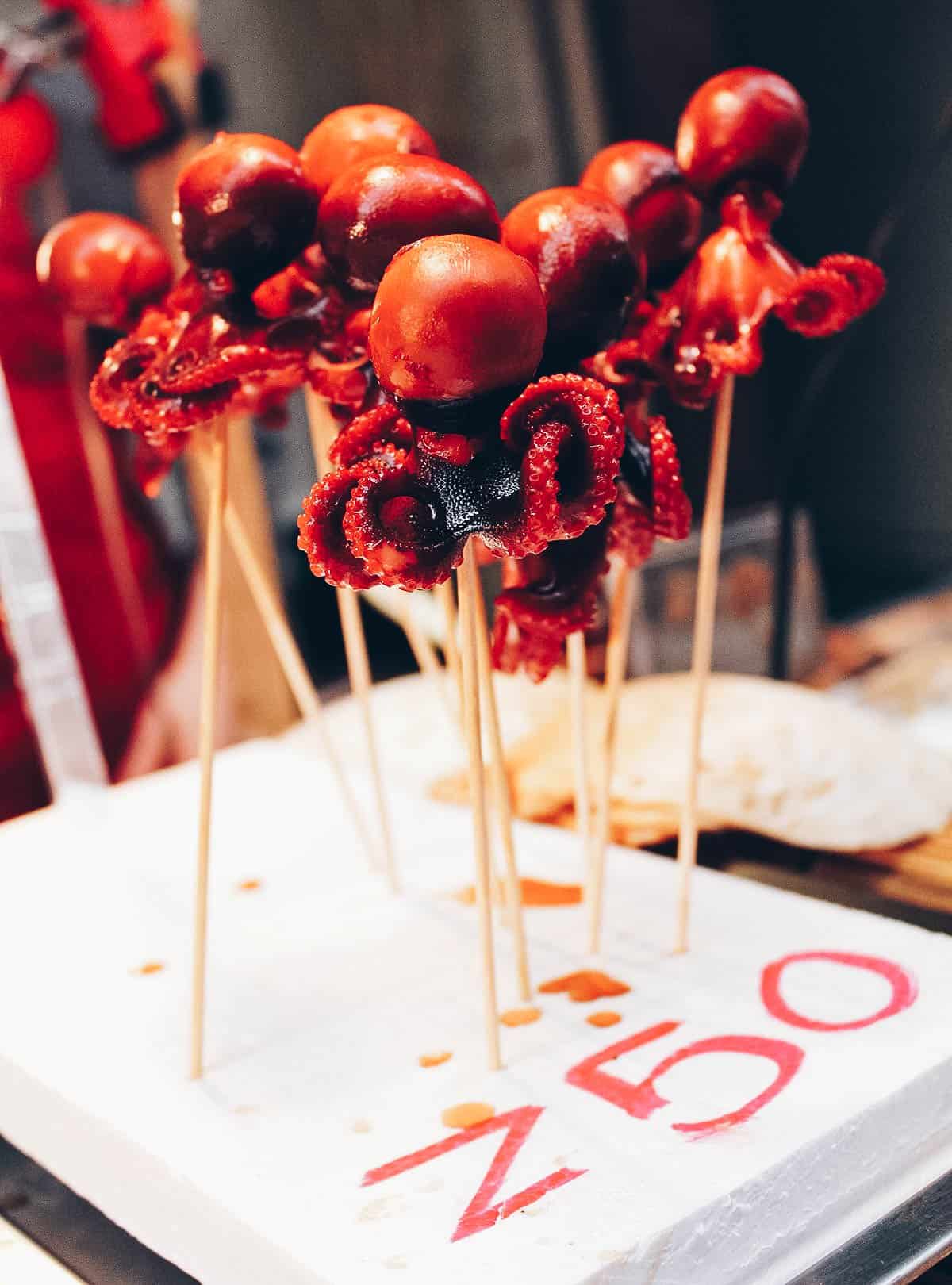 6. Grilled Scallops
Huge diver scallops the size of a baby's fist are a common sight at fresh seafood markets like Kuromon Ichiba. They're often skewered and cooked on teppanyaki grills but you can have them grilled over charcoal with butter as well. Either way, they're incredible – soft, sweet, smokey, and very juicy.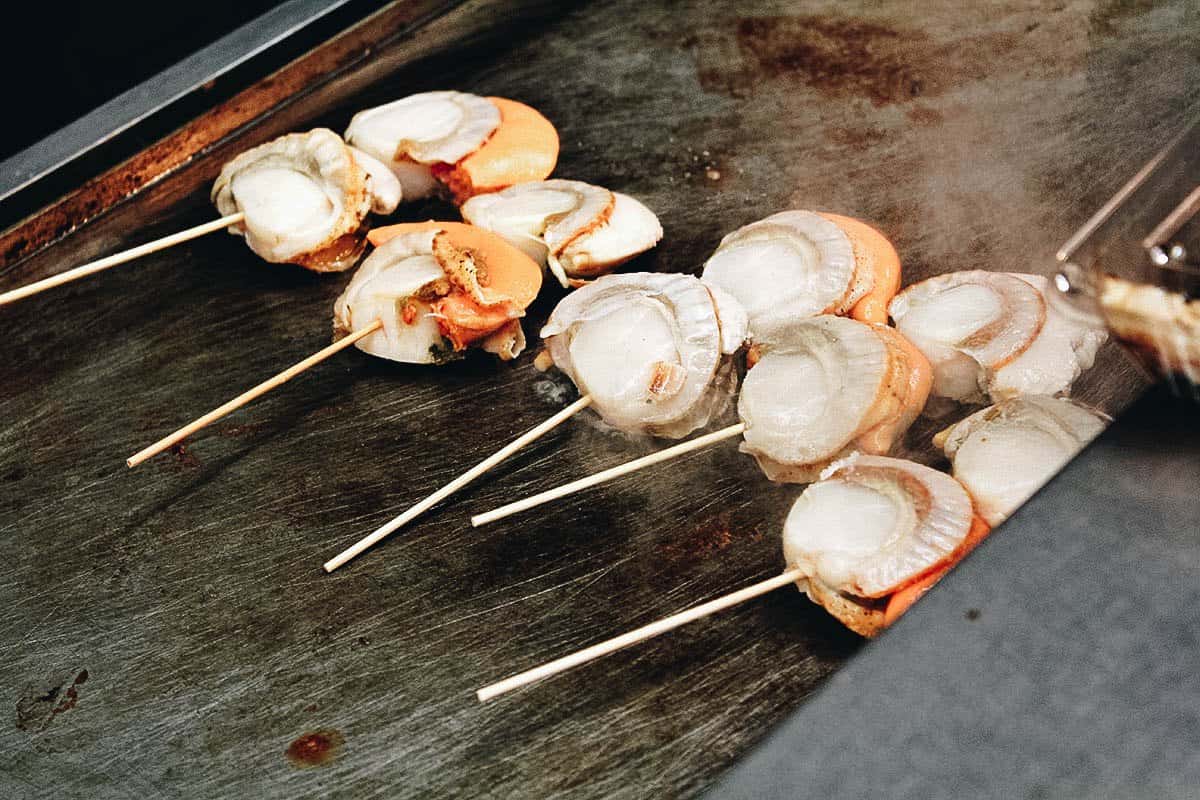 You can get a better idea of how large these scallops are in this picture. They're almost as big as Ren's palm!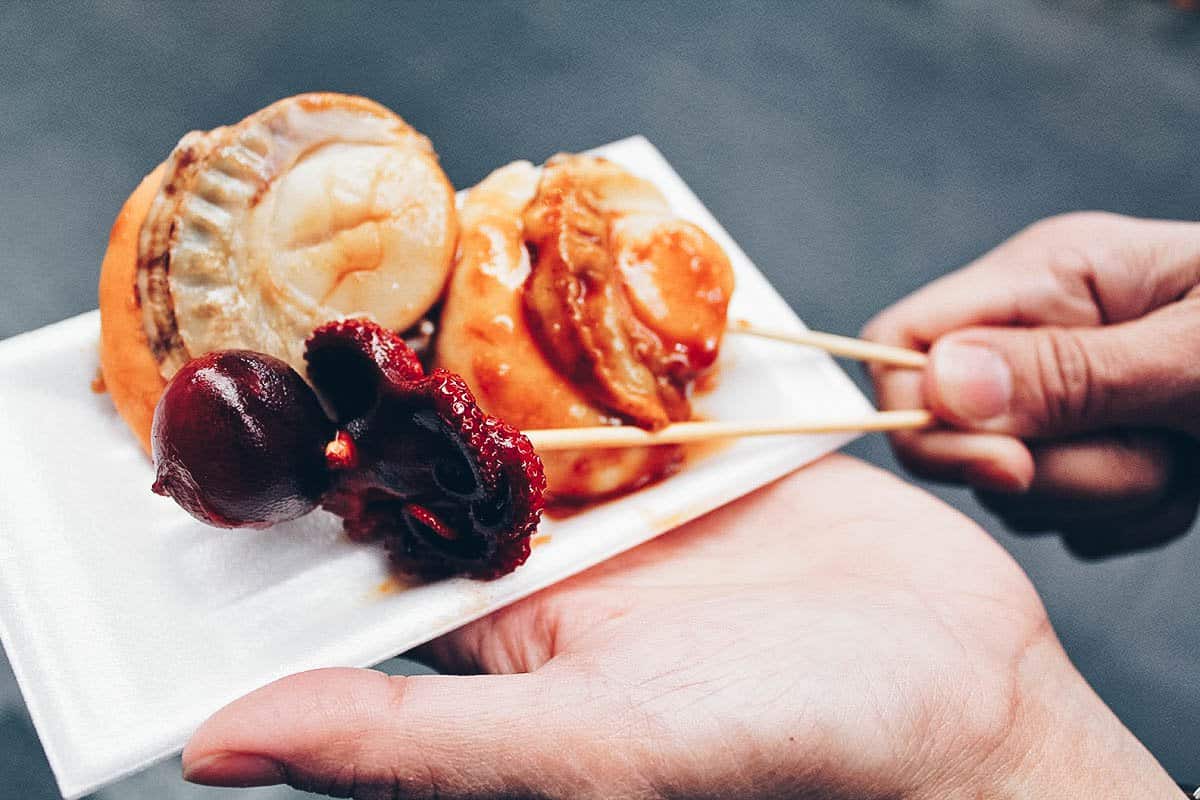 7. Tuna
The Japanese love tuna. It's one of the most highly prized fish used in sushi and sashimi so it's something you'll see often at markets like Kuromon Ichiba.
Bluefin tuna has two types of flesh – akami and toro. Cut from the dorsal part of the fish, akami is the more common type. It's lean and a deep red in color. This is probably the cut of tuna that most people are familiar with.
The more premium type is toro. It's cut from the belly of the fish and is much lighter in color.
I've been eating tuna sushi since I was a teenager but it wasn't until 2014 that I got my first taste of toro in Japan. I was blown away. The flesh is so rich and fatty that it practically dissolves in your mouth. It is unreal.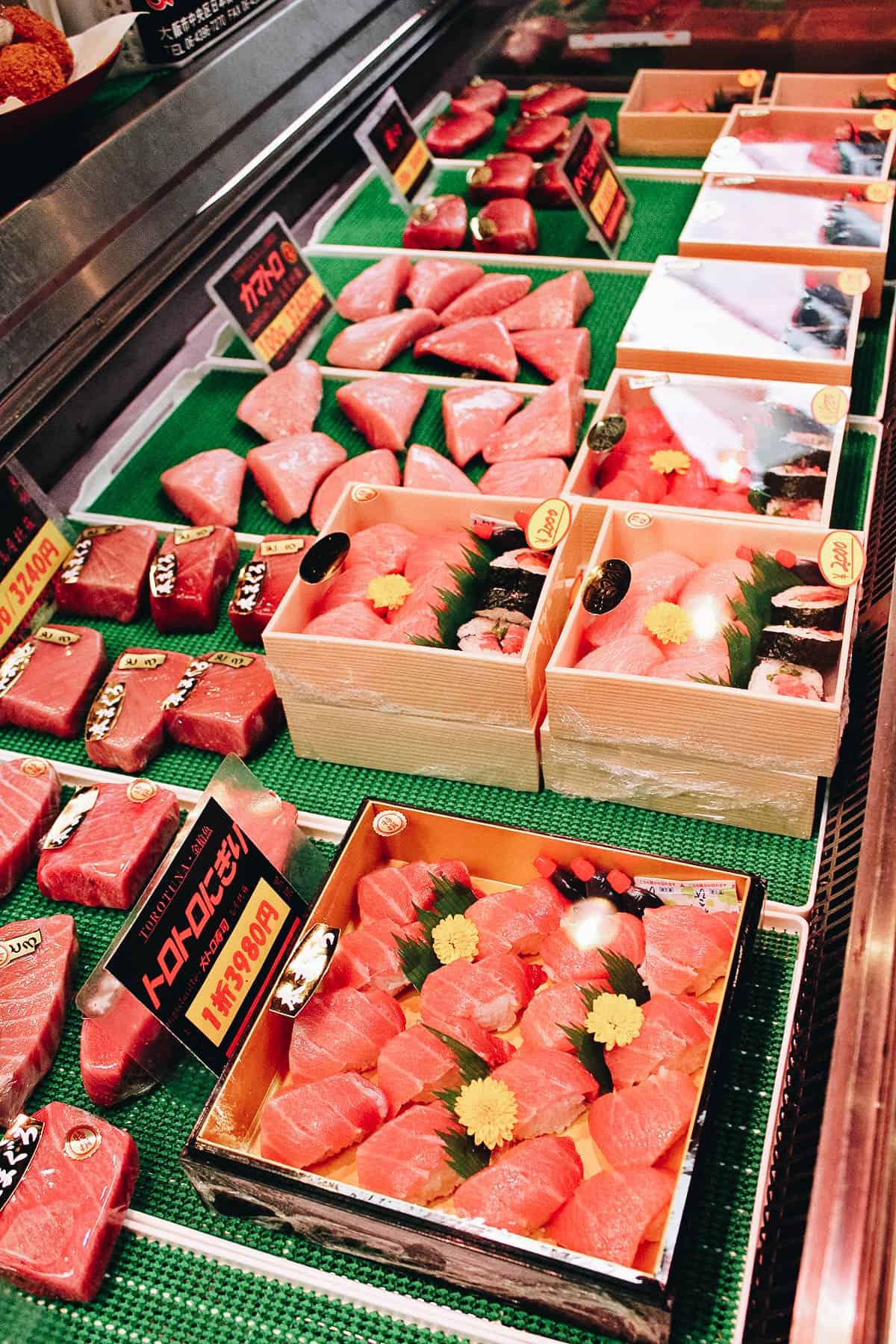 Here's a picture of a toro sushi stand at Kuromon Market. Do you notice that there seems to be two types of slightly different-colored fish on the customer's plate?
There are actually two types of toro – chuotoro and otoro. Chutoro is the fatty underbelly while otoro is the fattiest part of the fish found close to the head. That's the most premium part and is the lightest in color.
Toro is something you need to try at Kuromon Market, or anywhere else in Japan. Sushi doesn't get any better than this.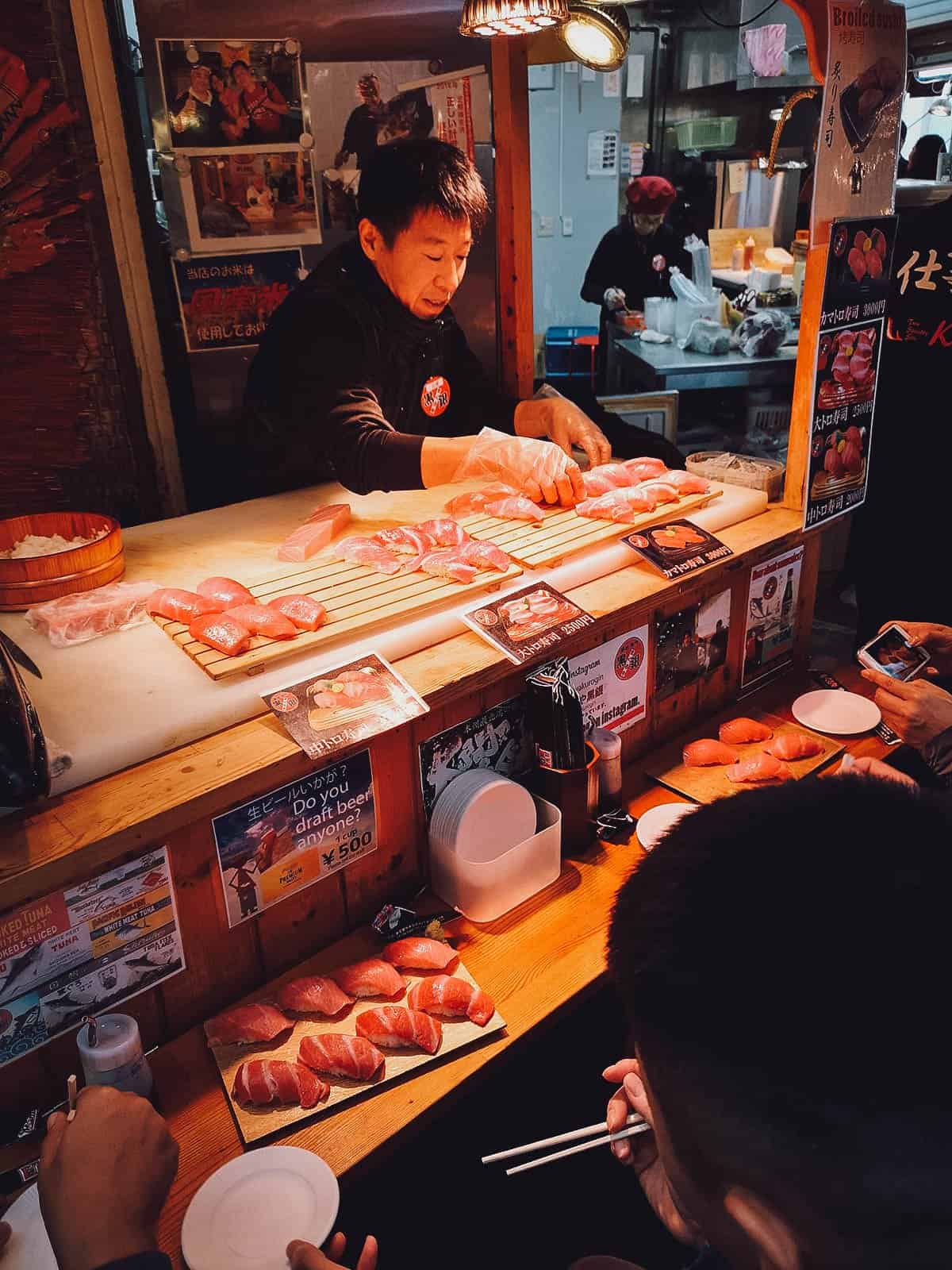 Can you tell what these are? They're maguro kama, or grilled tuna jaws. These were delicious as well but I much prefer tuna when raw.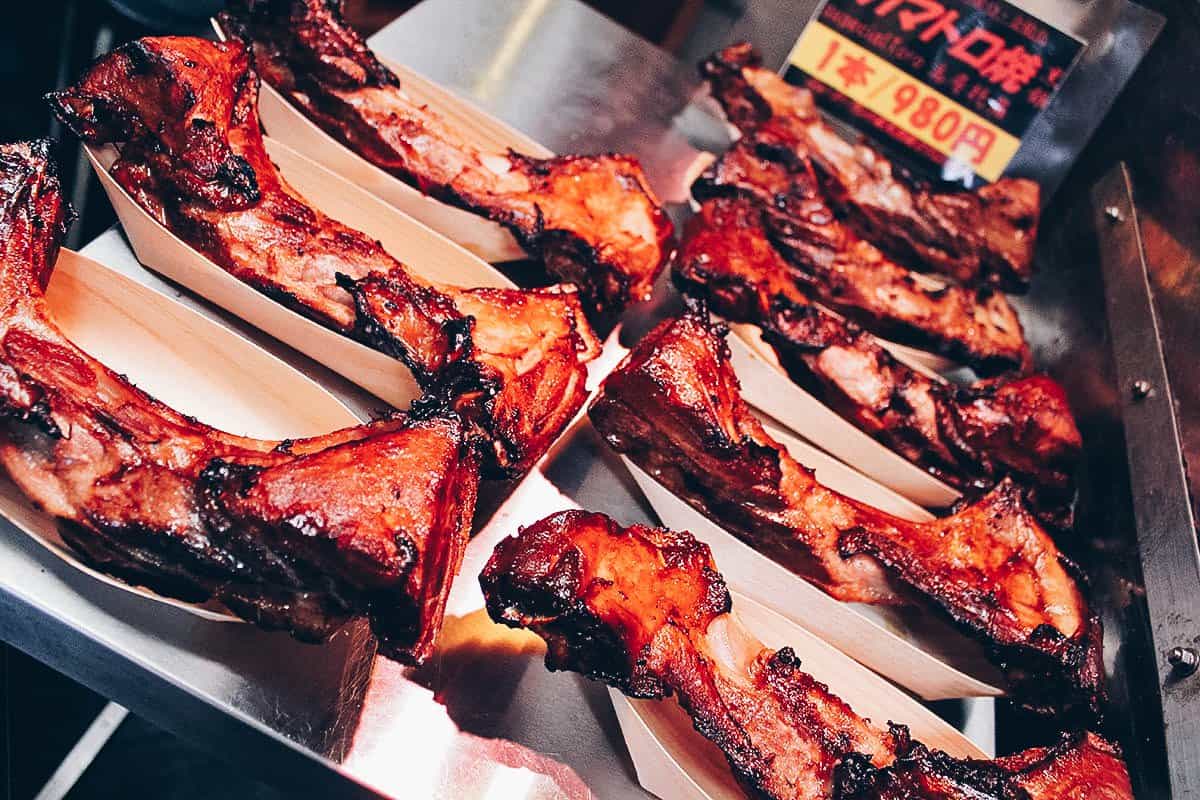 8. Takoyaki
Takoyaki and okonomiyaki are the two dishes that are most representative of Osaka. They're classic Japanese dishes that you can have anywhere in Osaka, especially takoyaki since it can be easily sold as street food.
Takoyaki is a ball-shaped snack made from wheat flour batter. It's filled with diced octopus, tempura scraps, pickled ginger, and green onion, then topped with a dark takoyaki sauce. They're often topped with Japanese mayo, green laver, and bonito flakes as well.
Takoyaki is sweet, savory, and very soft – almost runny in consistency in the middle. It's tasty and an easy snack to have on the go. If you're visiting Osaka for the first time, then you need to try takoyaki.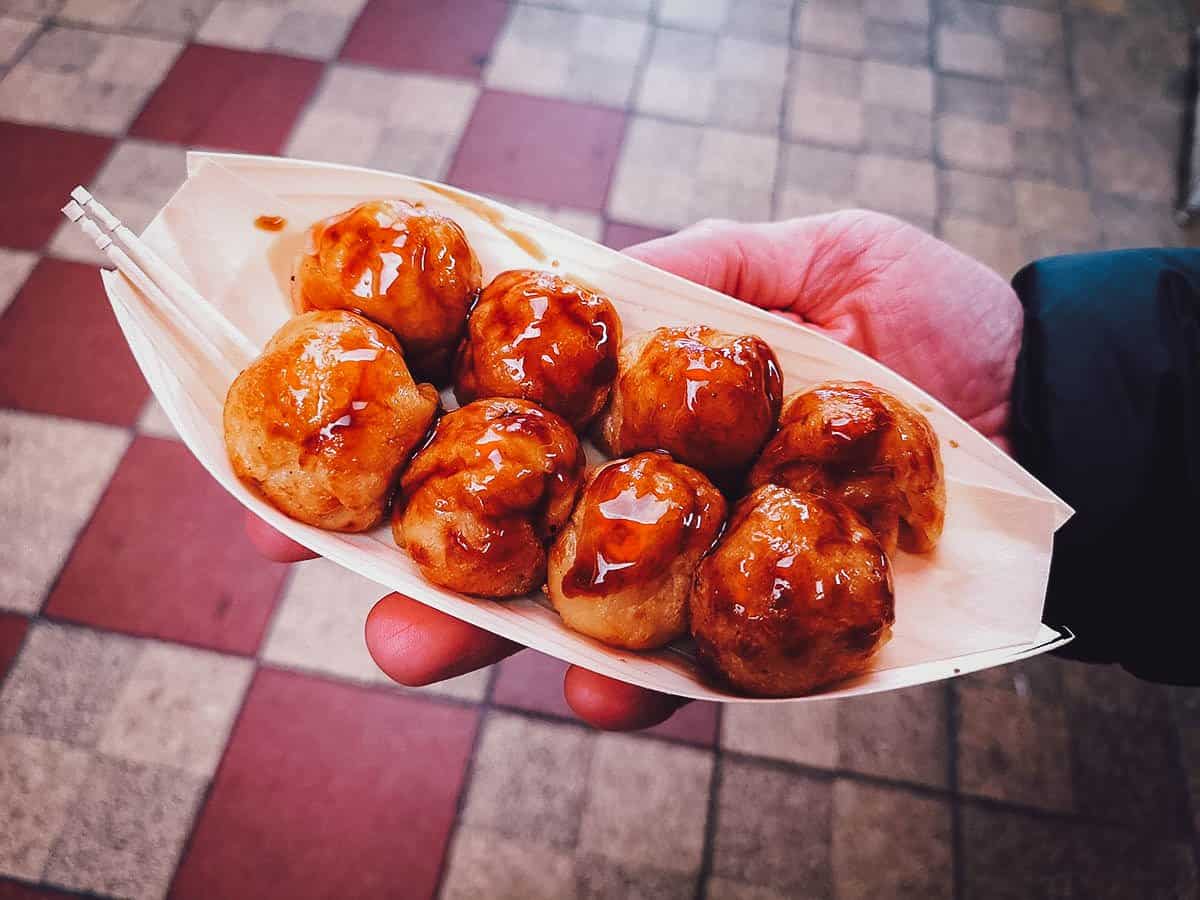 9. Wagyu
Wagyu is amazing. It refers to beef produced from any of the four breeds of Japanese cattle. Opinions may vary but the best brands – the ones genetically predisposed to intense marbling, are said to be from the Kobe – Matsusaka, and Saga regions of Japan.
We've had Kobe and Saga beef and both were outstanding, but to be honest, I haven't met a wagyu in Japan that I didn't like.
Every wagyu I've had in Japan has been delicious so I suggest trying it no matter where it's from. At markets like Kuromon Ichiba, it's often skewered and cooked on teppanyaki grills.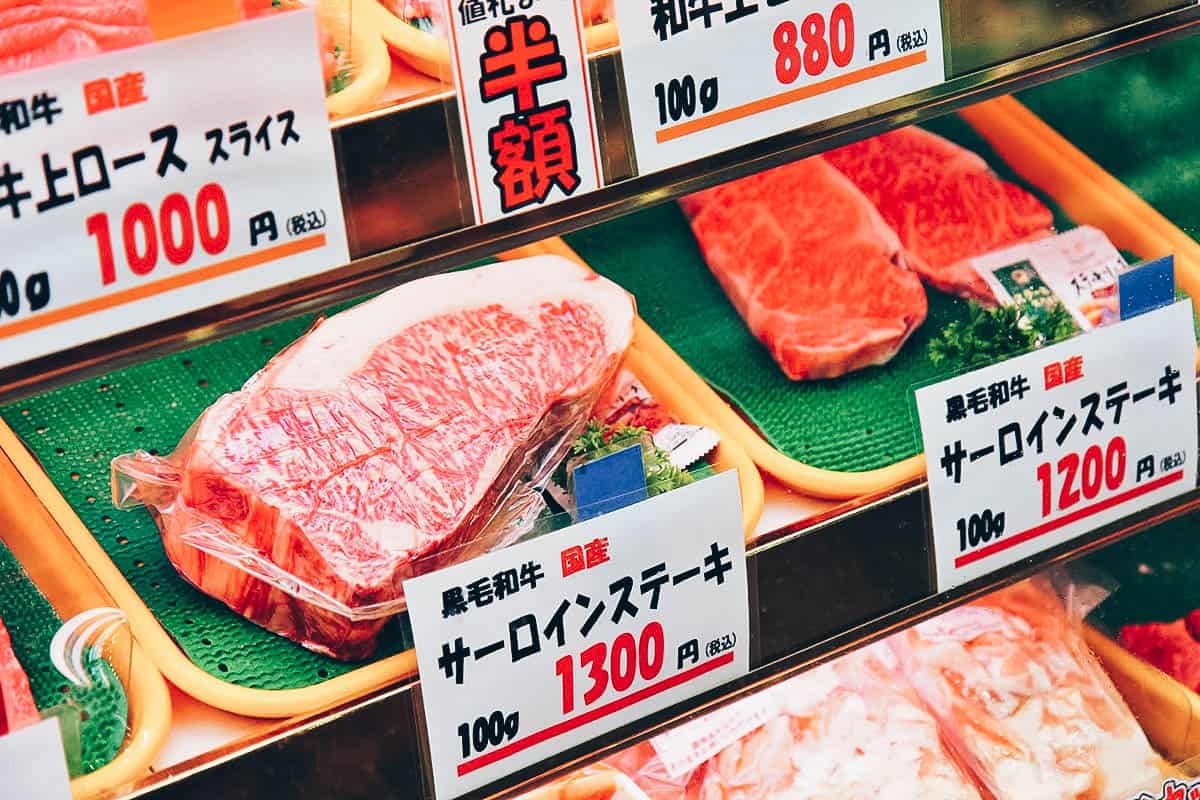 Picture borrowed from whereisfatboy.blogspot.com
10. Tsukemen
Aside from seafood and street food stalls, there are a few restaurants at Kuromon Market as well. If you're in the mood for ramen, then you may want to try the tsukemen at Niboshi Ramen Tamagoro Kuromon.
Tsukemen is a deconstructed type of ramen where the noodles and broth are served separately. To eat, you dip the noodles into the broth. Tsukemen broth is more intensely flavorful than a typical ramen broth, which is why diners pour dashi into the leftover broth to dilute it and drink as soup at the end of the meal. It's an interesting way of eating ramen that may be new to many foreigners.
Niboshi Ramen Tamagoro serves their ramen with a rich, deeply flavorful niboshi fish broth. It's delicious.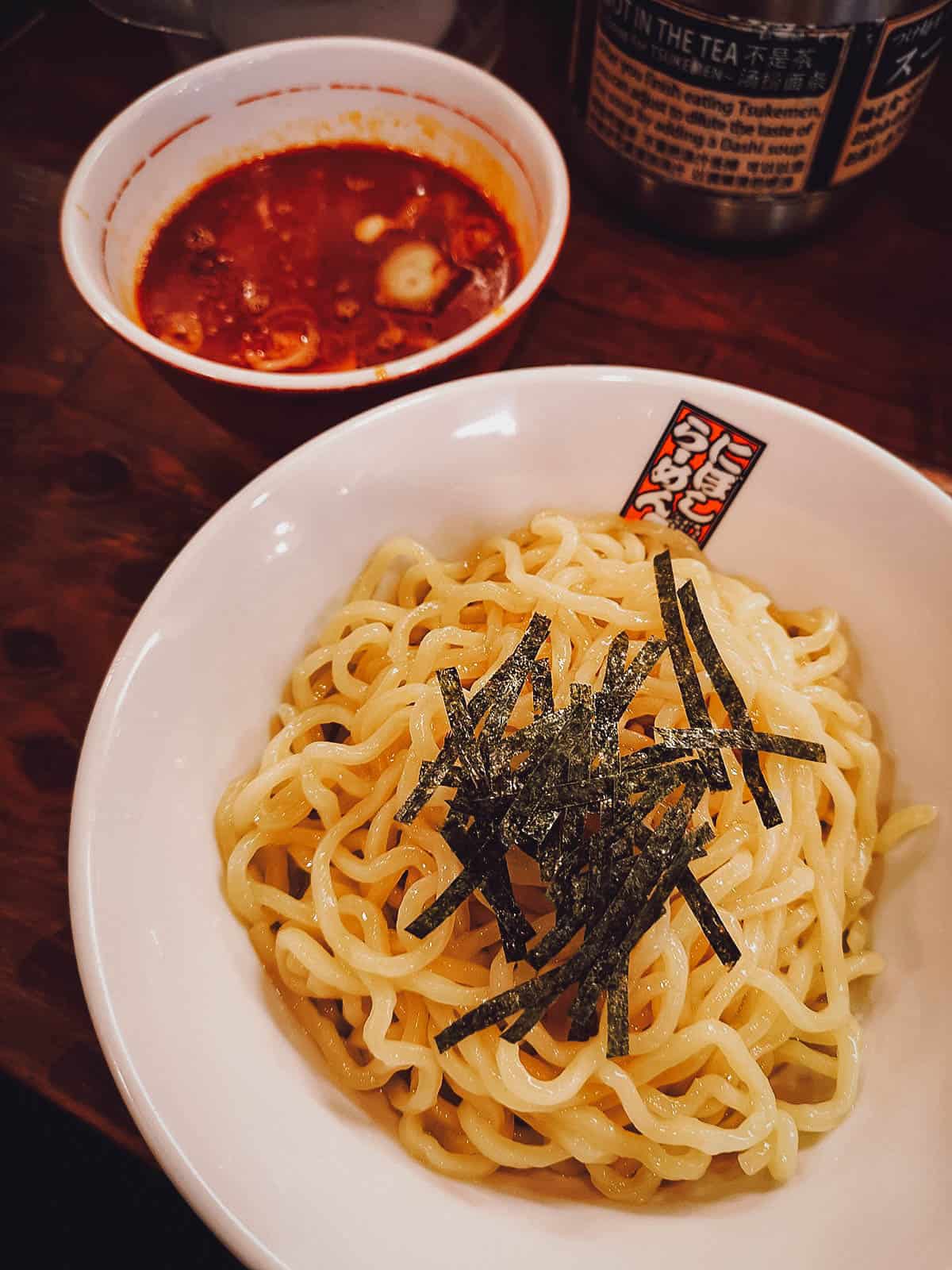 FINAL THOUGHTS ON KUROMON ICHIBA MARKET
This list of ten showcases our favorites but there are many more delicious things to eat at Kuromon Market. This guide gives you an idea of what to expect but half the fun is just going and pointing to whatever dish catches your eye. Being the go-to market for many restaurants in Osaka, Kuromon Market sells food of the highest quality so you know you'll be getting something delicious no matter what you choose.
Thanks for reading guys and I hope this article has gotten you even more excited to visit Kuromon Market. As described, the market has surged in popularity in recent years so it's best to go early in the morning, probably before 10AM. Enjoy!
Kuromon Ichiba Market
Nipponbashi, Chuo-ku, Osaka, Osaka Prefecture 542-0073, Japan
Website: kuromon.com
Operating Hours: 9AM – Late evening (varies from shop to shop)
HOW TO GET THERE:
Kuromon Market is about a 10-15 minute walk from the Shinsaibashi-Dotonbori area. You can also take the subway and get off at the Nipponbashi station. CLICK HERE for more information.
Disclosure
Some of the links in this Kuromon Market guide are affiliate links. We'll get a small commission if you make a purchase at no additional cost to you. As always, we only recommend products and services that we use ourselves and firmly believe in. We really appreciate your support as it helps us make more of these free travel guides. Arigato gozaimasu!