I love Yossou. Places like this are what we enjoy most about travel.
It's important for us to find the best places to eat whenever we travel. And by "best places", I'm not talking about the trendiest or most expensive. I'm talking about places that have withstood the test of time and been around for decades. Many of them are family-run restaurants. Handed down from generation to generation, they usually specialize in just one or two Japanese dishes.
It's amazing enough to find places like that that have been around for 30, 40, even 50 years. But when I go to a restaurant like Yossou, which has been setting the standard for chawanmushi in Nagasaki for over 150 years, my level of excitement takes on a whole different level.
Some of these places can be hard to find if you don't know any locals. But not Yossou. Popular with both locals and tourists alike, it's a Certificate of Excellence awardee and the number one rated restaurant on TripAdvisor. If you like chawanmushi, then you need to eat here.
Best Chawanmushi in Nagasaki?
Yossou is often touted as the best place for chawanmushi in Nagasaki. It's located in Kankodori Shopping Arcade just off the main street. It can be a little hard to spot so look out for this building with all the red hanging lanterns.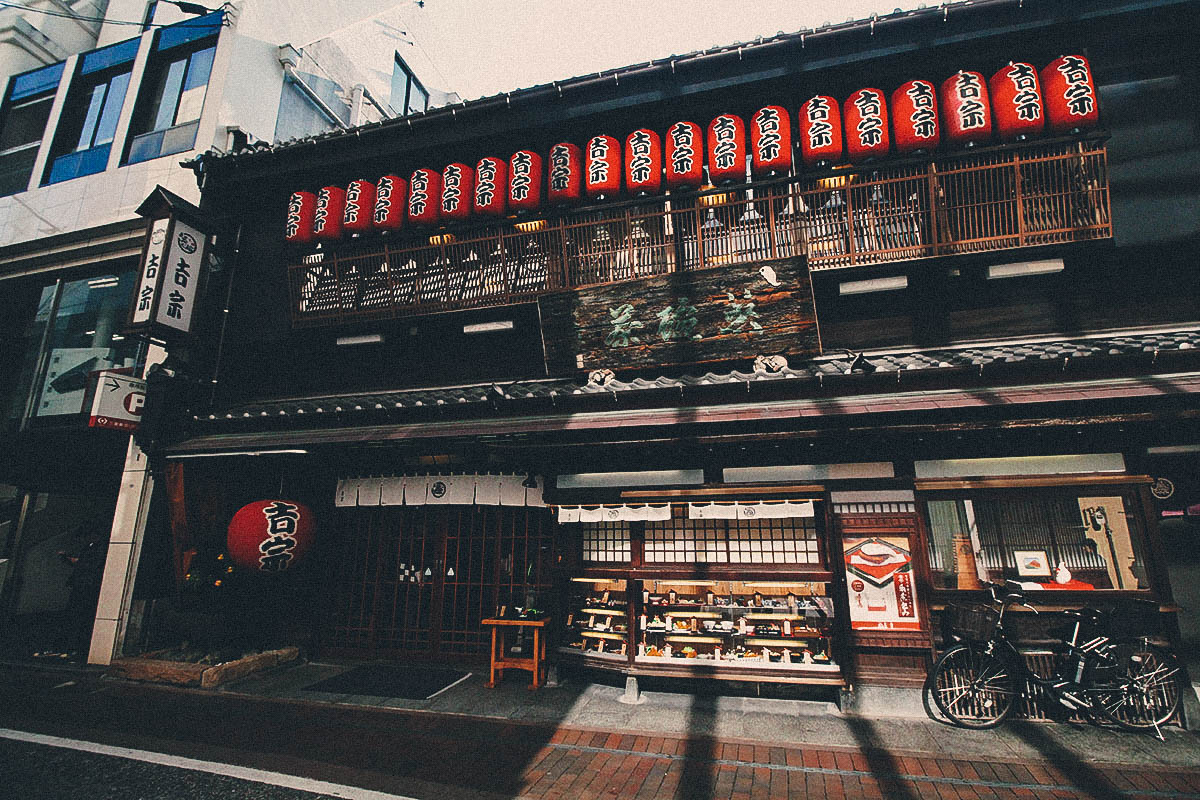 Yossou is popular. I've read that it can get pretty crowded so unless you have a reservation, it's best to go during off-hours. We went around 4PM and didn't have to wait for a table. We were seated on the first floor at a regular table but I read they have traditional tatami mat seating upstairs. You'll need to remove your shoes though.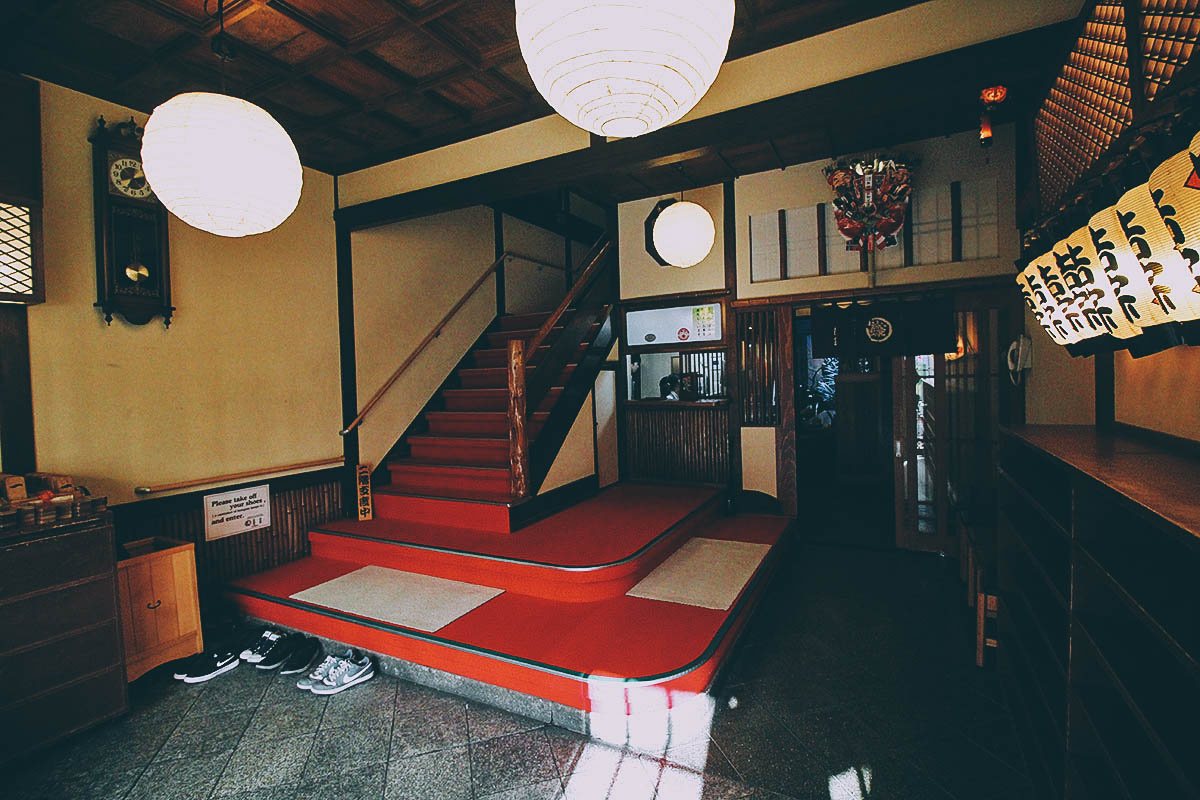 The restaurant is big and well-decorated. On the first floor is this indoor Japanese garden with organic sculpture.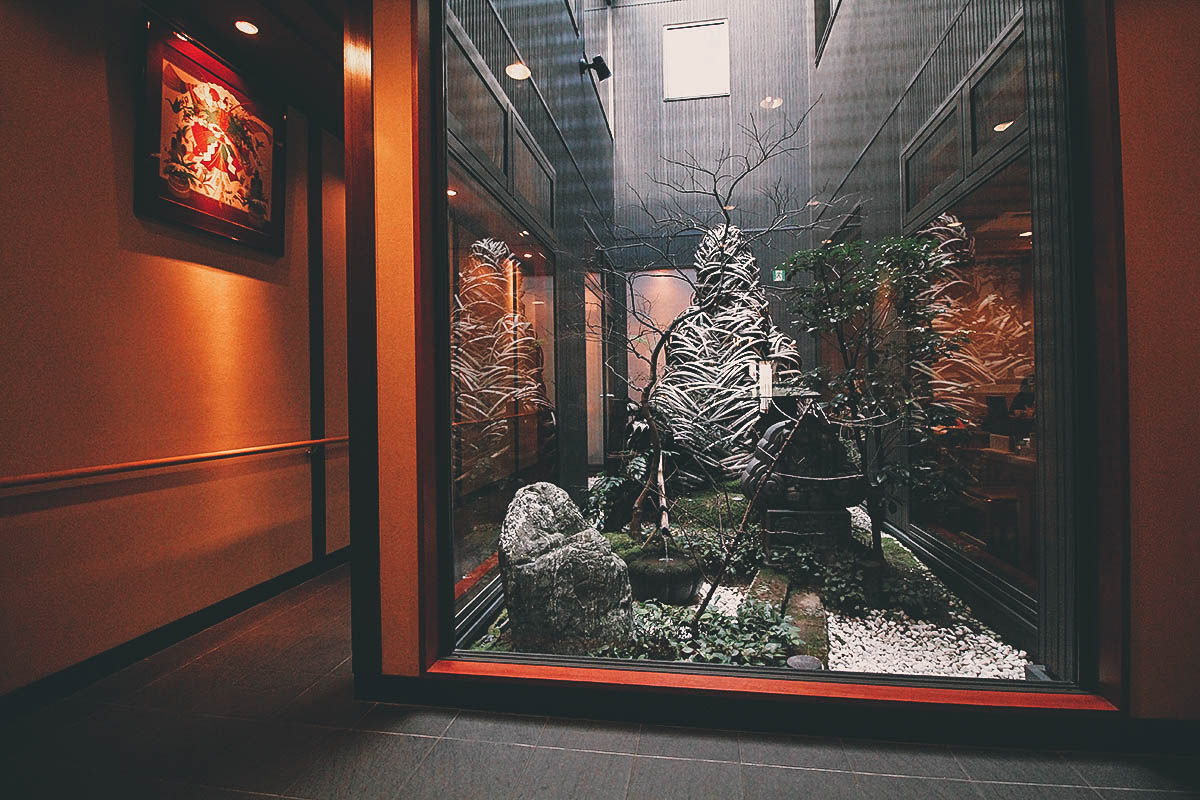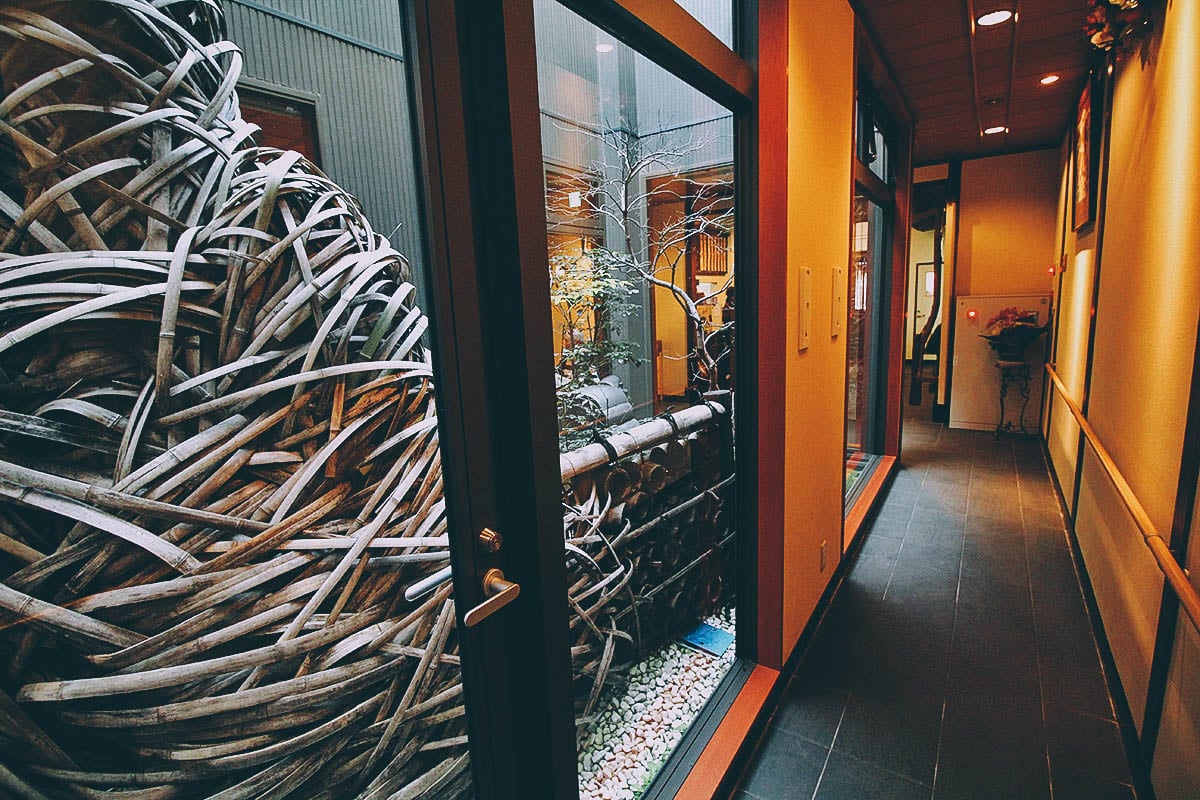 Wondering what that funky pink and yellow dish is? No, it isn't Lady Gaga's breakfast. It's mushizushi, or "steamed sushi". Sitting on a bed of rice, the yellow part is shredded egg and the pink is fish floss. I'm not sure what the brown part is but it's probably another type of fish.
There isn't much information online about mushizushi but I read it's a regional dish native to Osaka and Kyoto. It's like a steamed version of chirashizushi. The Kansai version looks much different to this one though so this may be Yossou's take on it. Very interesting dish and probably not something you can find in many parts of Japan.
Ren ordered this chawanmushi and mushizushi set meal for JPY 1,350. Both are specialties at Yossou so if you're unsure of what to get, then this is a good choice. More on Yossou's signature chawanmushi below.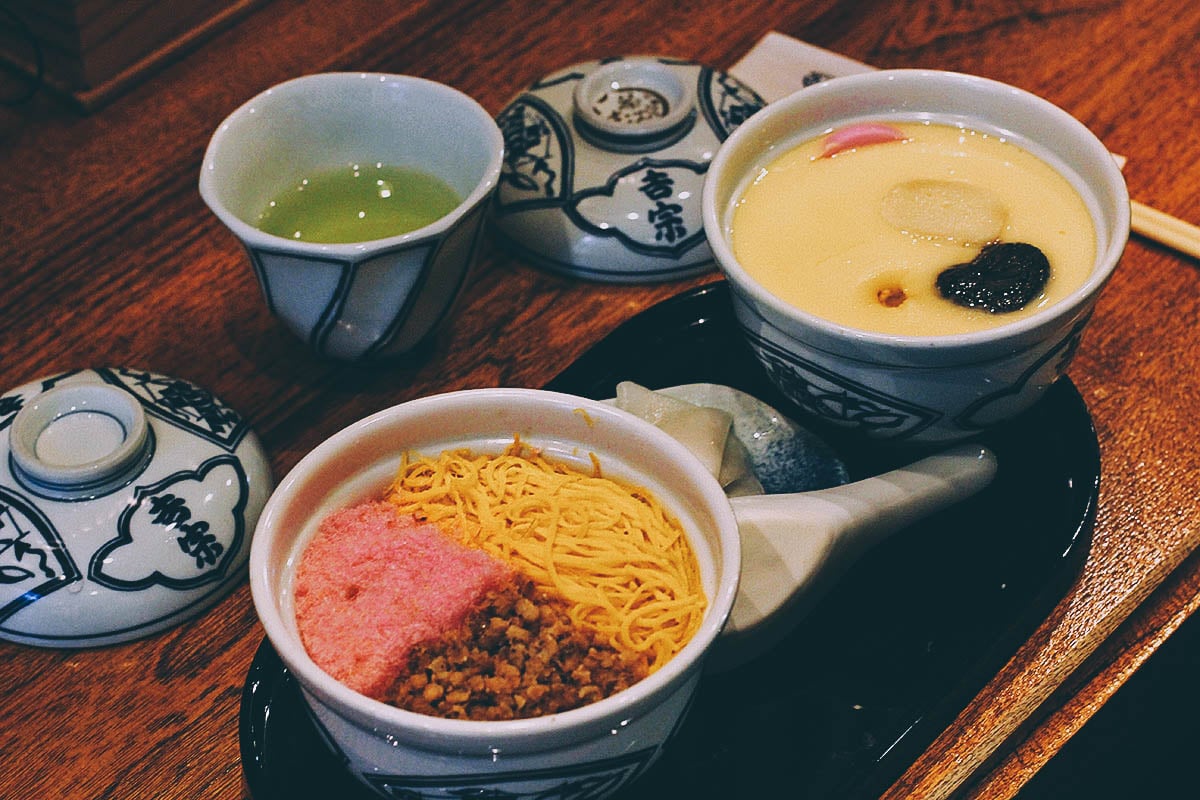 I ordered this special for JPY 2,000 (?) which came with kaki furai (deep-fried oysters) and a bunch of sides. The kaki furai was delicious!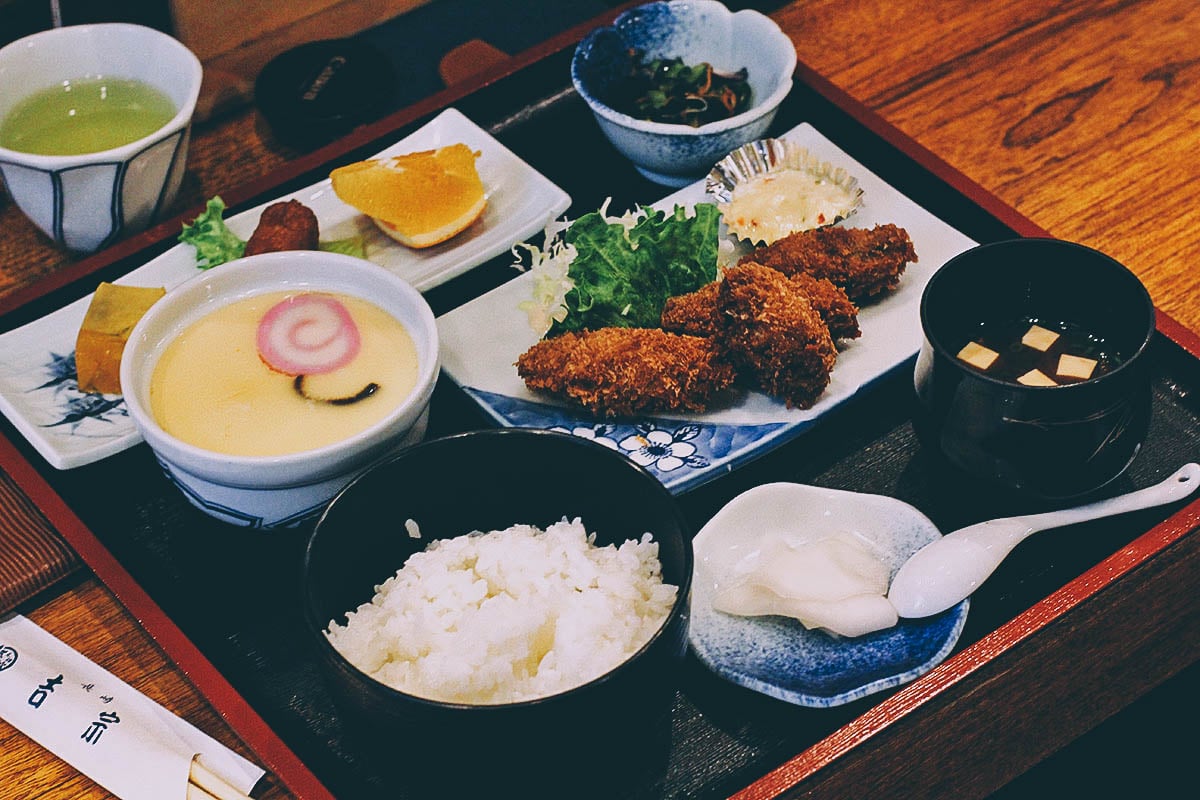 This is what we came here for – Yossou's famous chawanmushi. If you've never had it before, chawanmushi is a savory steamed custard dish usually served in a teacup and eaten with a spoon. I've only had the hot version of it but it can apparently be served hot or cold, depending on the season.
Though the exact origins of chawanmushi are unknown, many believe it was invented right here in Nagasaki as a component of larger shippoku banquet meals. Open since 1866, Yossou is credited as being the very first chawanmushi specialty restaurant in Japan. See why I was so excited to come here?
They make their signature chawanmushi with nine specific ingredients – white fish, chicken, shiitake mushrooms, kikurage mushrooms, bamboo shoots, ginkgo, kamaboko (fish paste), wheat powder, and anago (grilled conger eel). Delicious!

Filipinos will be pleased to know that Chef Sandy Daza featured Yossou on his TV show FoodPrints as well. And as you'd expect, he loved the chawanmushi. 😉
We ate at an unagi specialty restaurant called Izumiya right after so we couldn't order too much here. But if you're looking for other dishes to try, then you can go for their braised pork belly as well. Yossou is known for it too and based on people's reviews, it's delicious.
If you're in a big enough group or are pretty hungry, then you may be interested in their shippoku as well. As mentioned above, shippoku are banquet-type meals consisting of Japanese, Chinese, and Western dishes served on a round table. It's a regional specialty of Nagasaki and something you shouldn't miss.
Yossou, Nagasaki, Japan
8-9 Hamamachi, Nagasaki 850-0853, Nagasaki Prefecture
Tel: +81 95-821-0001
Fax: +81-95-821-9967
Operating Hours: Mon-Sun, 11AM-9PM
Expect to pay: Between JPY 1,500-2,500 per set meal
HOW TO GET THERE:
Take the tram to Kankodori station. Enter the Kankodori Shopping Arcade. Walk straight then make a right after the second major cross street. Yossou will be on your right.
Disclosure
The TripAdvisor links in this post are affiliate links, meaning we'll get a small commission if you make a purchase or reservation at NO extra cost to you. We really appreciate your support as this helps us keep this website going. Thank you!
For travel tips to Nagasaki, check out our First-Timer's Travel Guide to Nagasaki, Japan