Japanese food is delicious no matter where you go in Japan. But some destinations are better known for their regional food than others. Hiroshima is one of those destinations.
When I went on a food tour in Kyoto, my guide Syouri told me that Hiroshima is one of three cities that Japanese people go to when they travel for food. The other two are Nagoya and Fukuoka. Spend a few days in Hiroshima and you'll see what he means.
With delicious Hiroshima food favorites like okonomiyaki, anago meshi, and the juiciest and plumpest oysters tempting you at every turn, it isn't hard to see why Hiroshima is a preferred food destination for many Japanese.
On my most recent trip to Japan, I spent a month eating my way from Tokyo to Fukuoka. The cuisine was terrific everywhere but the food in Hiroshima was definitely one of the most memorable.
If you're exploring this part of Japan and looking for the best food in Hiroshima, then listed below are eight of the best restaurants in Hiroshima and Miyajima Island.
FOOD IN HIROSHIMA QUICK LINKS
To help you plan your trip to Hiroshima, we've compiled links to popular hotels, tours, and other activities here.
HOTELS
Top-rated hotels in downtown Hiroshima, one of the best areas to stay for first-time visitors to the city.
TOURS
OTHER SERVICES
HIROSHIMA TRAVEL GUIDE
If you're planning a trip to Hiroshima, then be sure to check out our detailed Hiroshima travel guide. It'll have all the information you need – like where to stay, which attractions to visit, how to get around, etc. – to help you plan your trip.
Save This on Pinterest!
No time to read this article now on the best restaurants in Hiroshima? Click on the save button and pin it for later!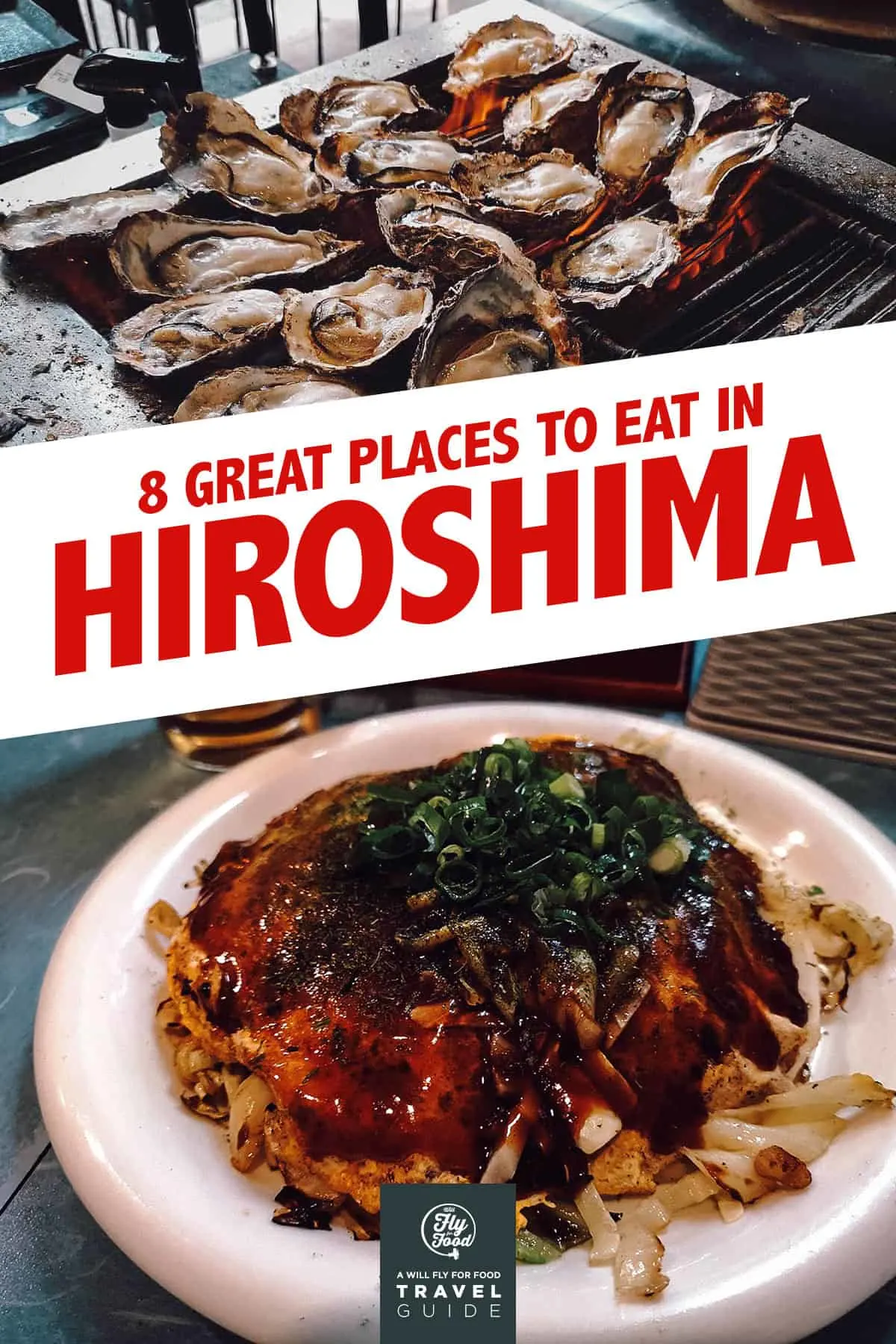 THE BEST PLACES TO EAT IN HIROSHIMA & MIYAJIMA ISLAND
Most people who visit Hiroshima will split their time between the city and Miyajima Island. Miyajima is a small island located about an hour south of Hiroshima City.
Miyajima is said to be home to some of the region's best oysters so I've divided this guide into two sections – the first half for restaurants in Hiroshima and the next for Miyajima Island.
RESTAURANTS IN HIROSHIMA
1. Nagata-ya
If you're heard of okonomiyaki, a specialty food of Osaka, then you may know that Hiroshima has its own version as well. It's a dish that's as closely associated with Hiroshima as it is with Osaka.
There are differences between Osaka and Hiroshima okonomiyakis but at its core, it's a Japanese savory-sweet pancake made with wheat flour batter mixed with eggs, grated yam, shredded cabbage, and any number of supplemental ingredients.
Okonomiyaki is a Hiroshima food favorite so it was the very first thing I wanted to have in the city. My research for the best Hiroshima okonomiyaki led me to Nagata-ya, which is conveniently located just across a pedestrian bridge from Peace Memorial Park.
It was my first trying Hiroshima okonomiyaki so I went with Nagata-ya's original. It's made with pork, squid, shrimp, squid, and soba or udon noodles, which is then topped with a mound of chopped green onions and a raw egg.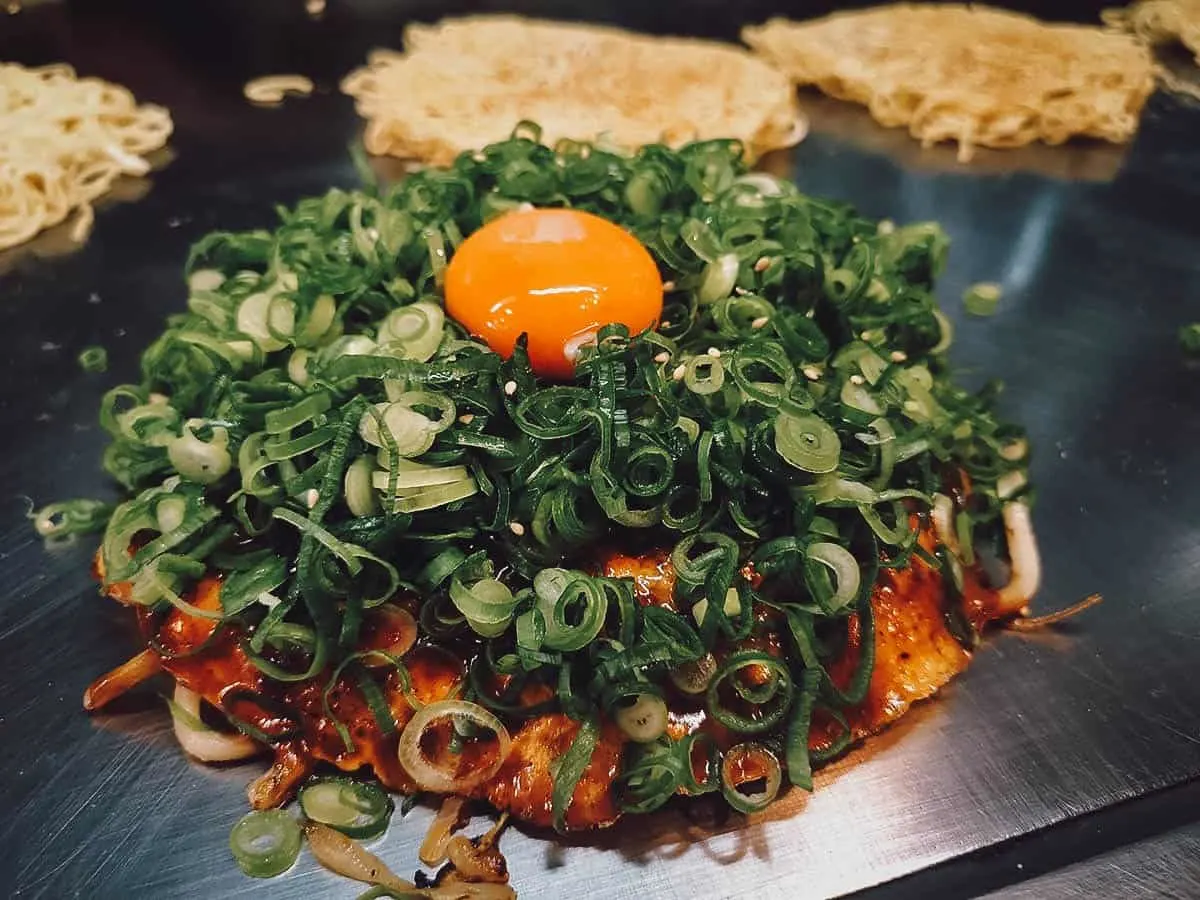 Okonomiyaki is cooked on teppanyaki grills, often in front of you. I was alone so I was seated at the counter in front of a giant grill.
Can you tell from looking at the picture below what the difference is between Osaka and Hiroshima okonomiyakis? The clue is in the layering.
In Osaka, the fillings are mixed into the batter before being cooked on the grill. But in Hiroshima, the ingredients are layered one at a time rather than mixed.
They start with a thin layer of batter then lay each ingredient one on top of the other. The order varies from chef to chef but the batter is typically followed by cabbage, then pork, then by the optional ingredients like seafood, noodles, and green onion.
As you can see below, they use a lot of cabbage, typically three to four times more than in Osaka-style okonomiyakis. The cabbage is piled high before being flattened by the cook.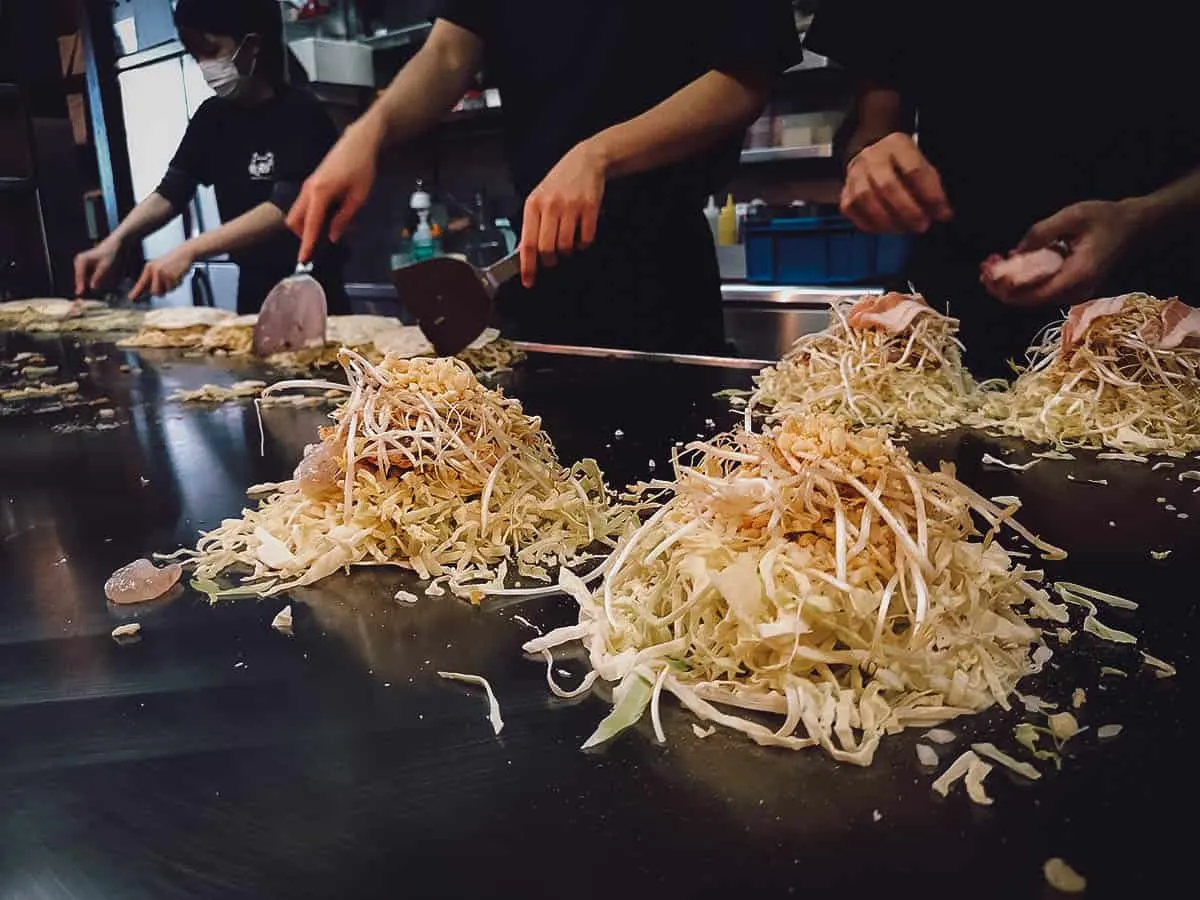 Nagata-ya is one of the best restaurants in Hiroshima for okonomiyaki. It's a great place to go after visiting Hiroshima Peace Memorial Museum. They're a TripAdvisor Certificate of Excellence awardee with a near-perfect 4.5-star rating and over a thousand reviews.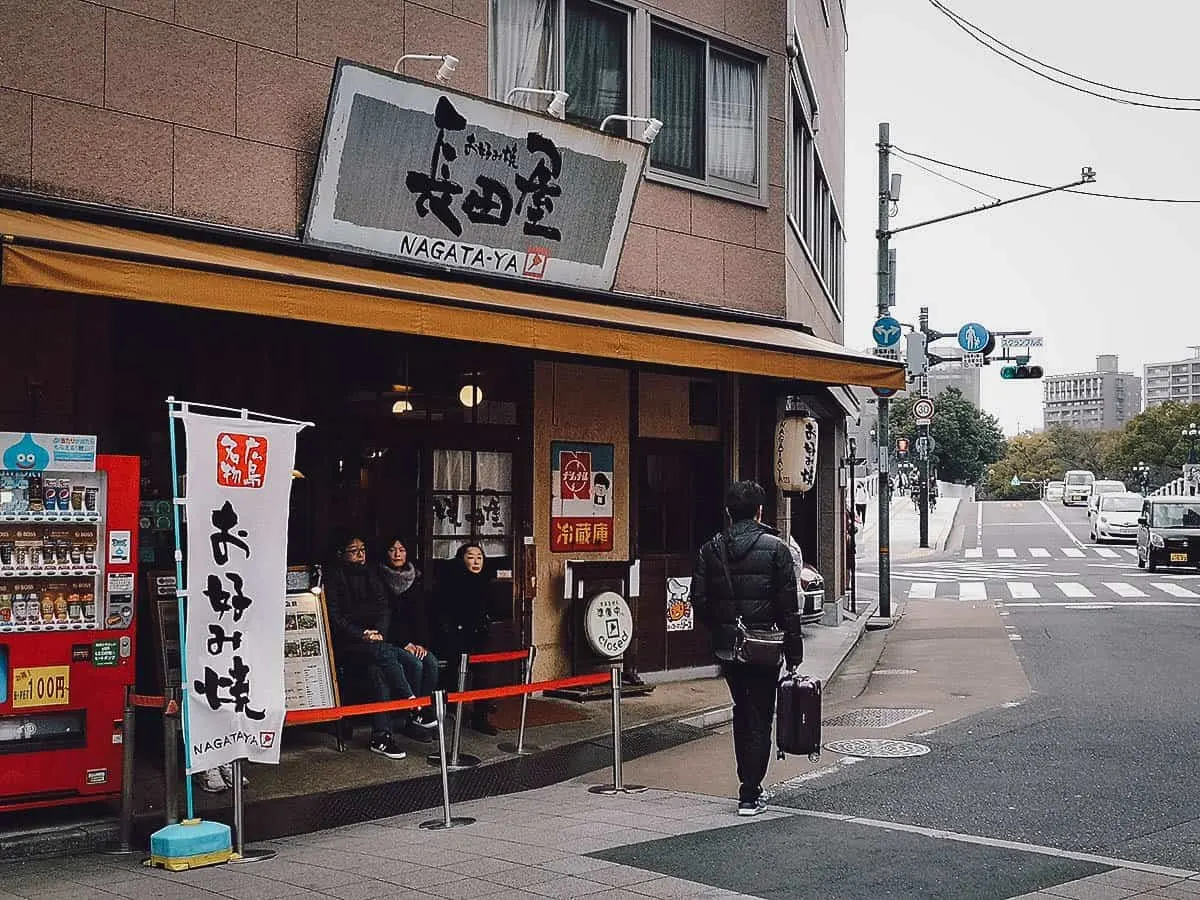 Nagata-ya
Address: Japan, 〒730-0051 Hiroshima, Naka Ward, Otemachi, 1 Chome−7−19 重石ビル 1F
Operating Hours: 11AM-8:30PM, daily
What to Order: Okonomiyaki
Expect to Pay: About JPY 1,200 per okonomiyaki
2. Ekohiiki
Like okonomiyaki, Hiroshima oysters are a beloved delicacy. They've been cultivated in Hiroshima for almost 500 years with the region accounting for over two-thirds of oyster production in Japan.
You can't appreciate their size in the picture below but I'll talk about them in more detail in the Miyajima section of this Hiroshima food guide. Hiroshima oysters are fairly large, about the size of a baby's fist.
There are plenty of great oyster restaurants in Hiroshima. My research led me to Ekohiiki which is conveniently located just a few doors away from Nagata-ya.
Although they can be eaten raw, Hiroshima oysters are more frequently served cooked. They're often grilled, steamed, deep-fried, smoked, or pan-fried. I had this deep-fried oyster set (kaki fry) which is one of the classic way of enjoying oysters in Hiroshima.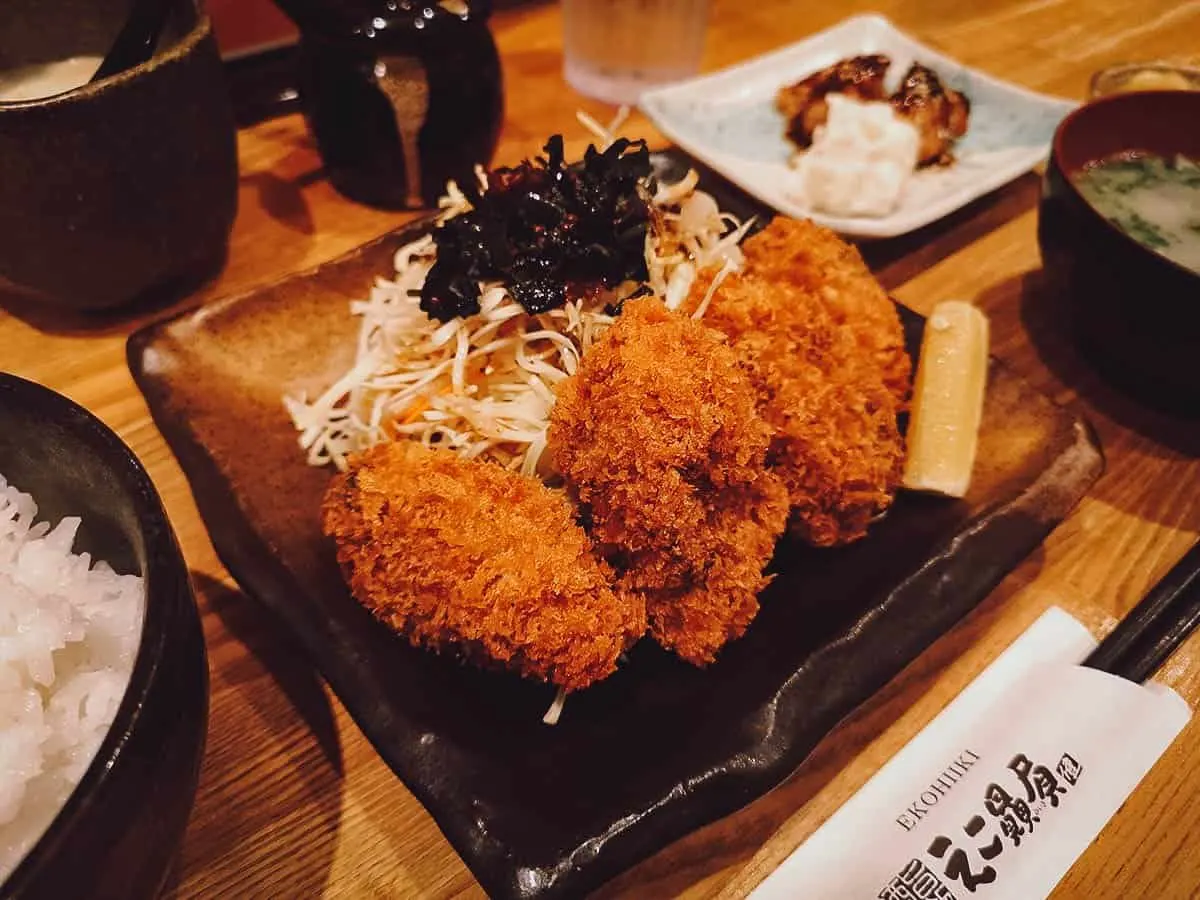 I love taking that first bite of kaki fry. Coated in crunchy panko breadcrumbs, the oysters are so plump they explode with juicy briny flavor in your mouth.
I've had Hiroshima oysters in Japanese restaurants before but I believe this was my first time to try them in Japan. Ekohiiki serves their deep-fried oysters with a creamy tartar-like sauce and a wedge of lemon. They're absolutely delicious.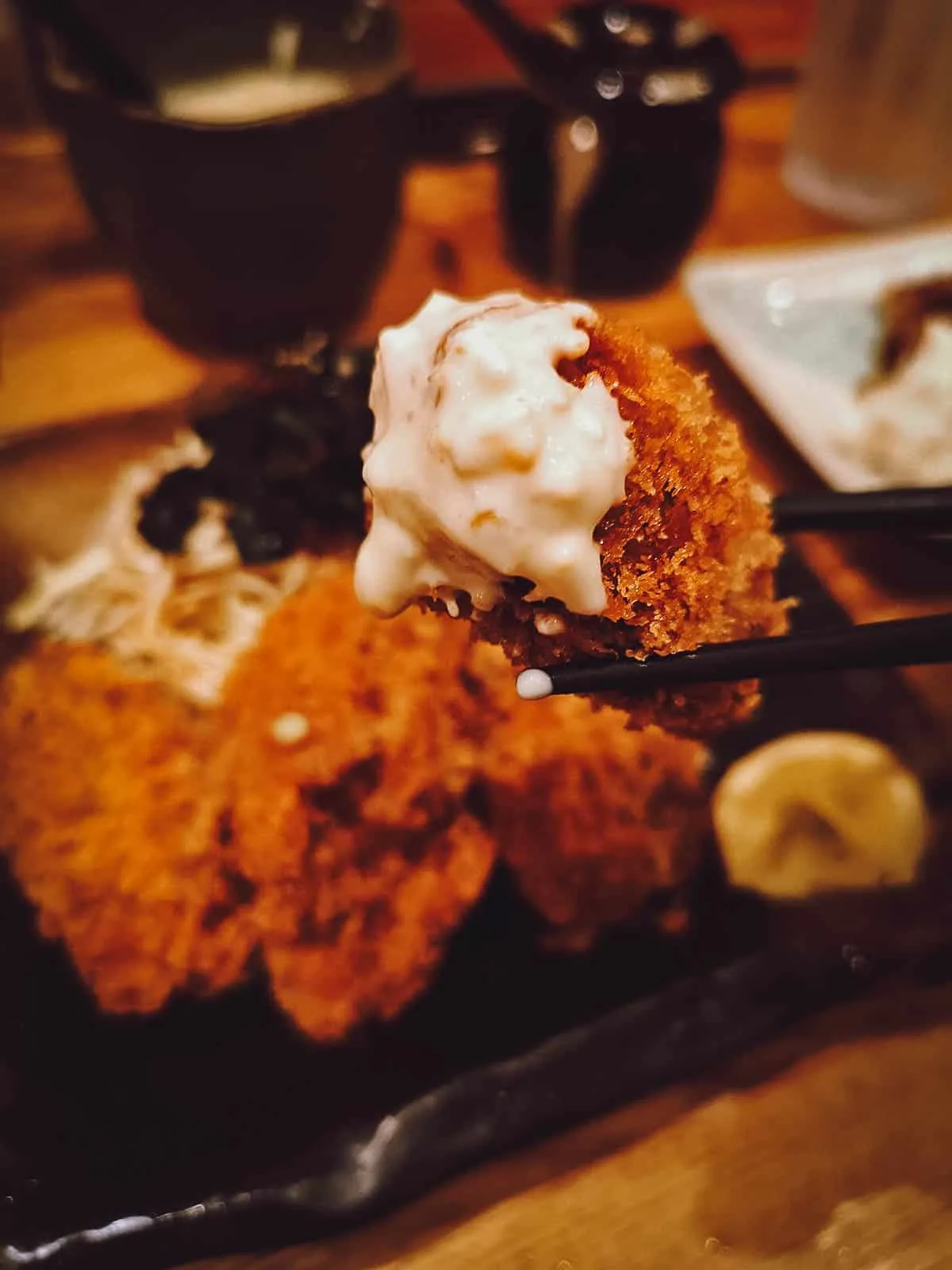 As described, Ekohiiki is located just a few doors down from Nagata-ya. Like Nagata-ya, they're a TripAdvisor Certificate of Excellence awardee with a stellar 4.5-star rating.
If you can't visit Miyajima Island, then Ekohiiki is one of the best Hiroshima restaurants to go to for oysters.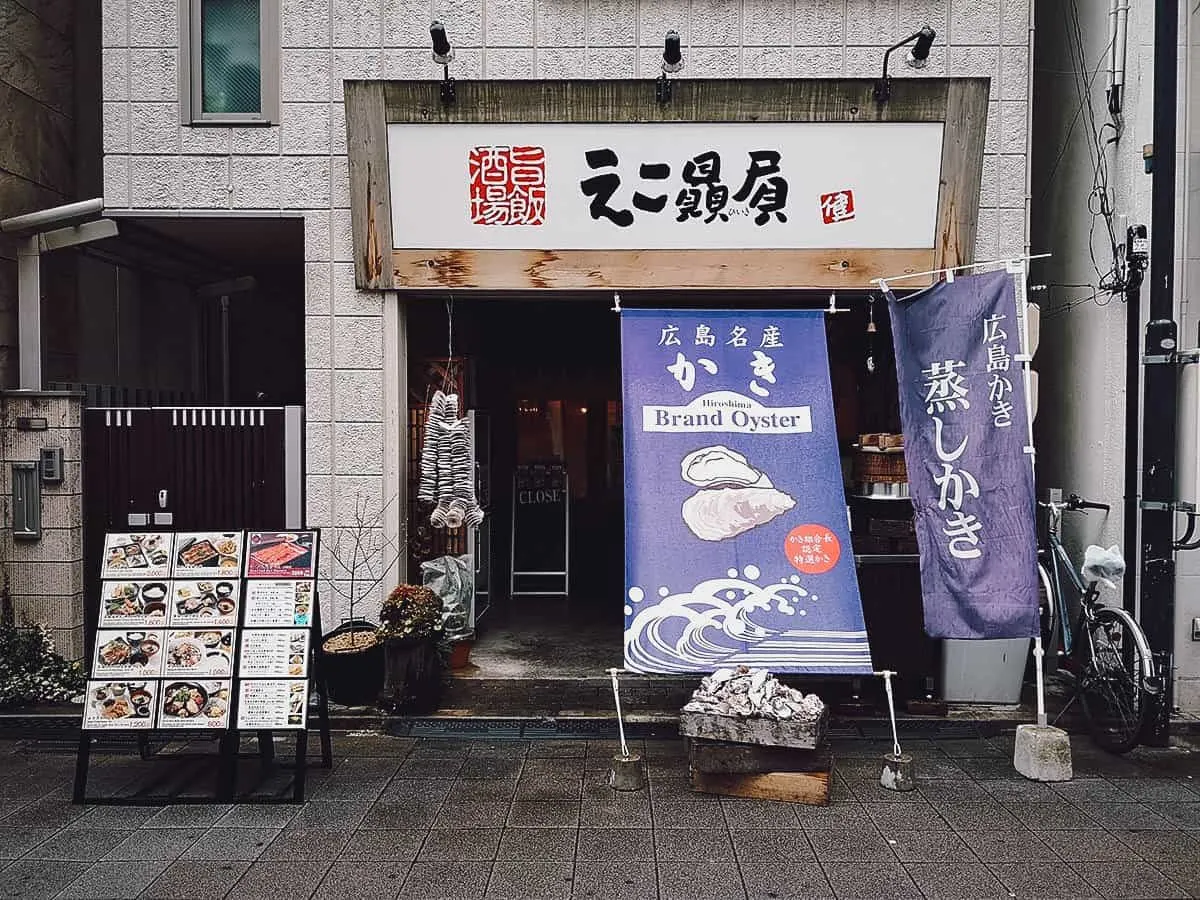 Ekohiiki
Address: 1 Chome-7-20 Otemachi, Naka Ward, Hiroshima, 730-0051, Japan
Operating Hours: 11:30AM-2PM, 5-11PM, Tue-Sun (closed Mondays)
What to Order: Oysters
Expect to Pay: About JPY 1,000 for a lunch set
3. Tsuki Akari
Tsuki Akari specializes in anago meshi, another Hiroshima food specialty of broiled conger eel served on a bed of rice.
You may be familiar with unagi donburi which is a similar dish made with unagi or freshwater eel. This version is made with anago which is the Japanese word for saltwater eel.
Compared to unagi, anago is softer in texture and glazed with a sauce that isn't as sweet as kabayaki sauce. It's more subtle in flavor and not quite as oily.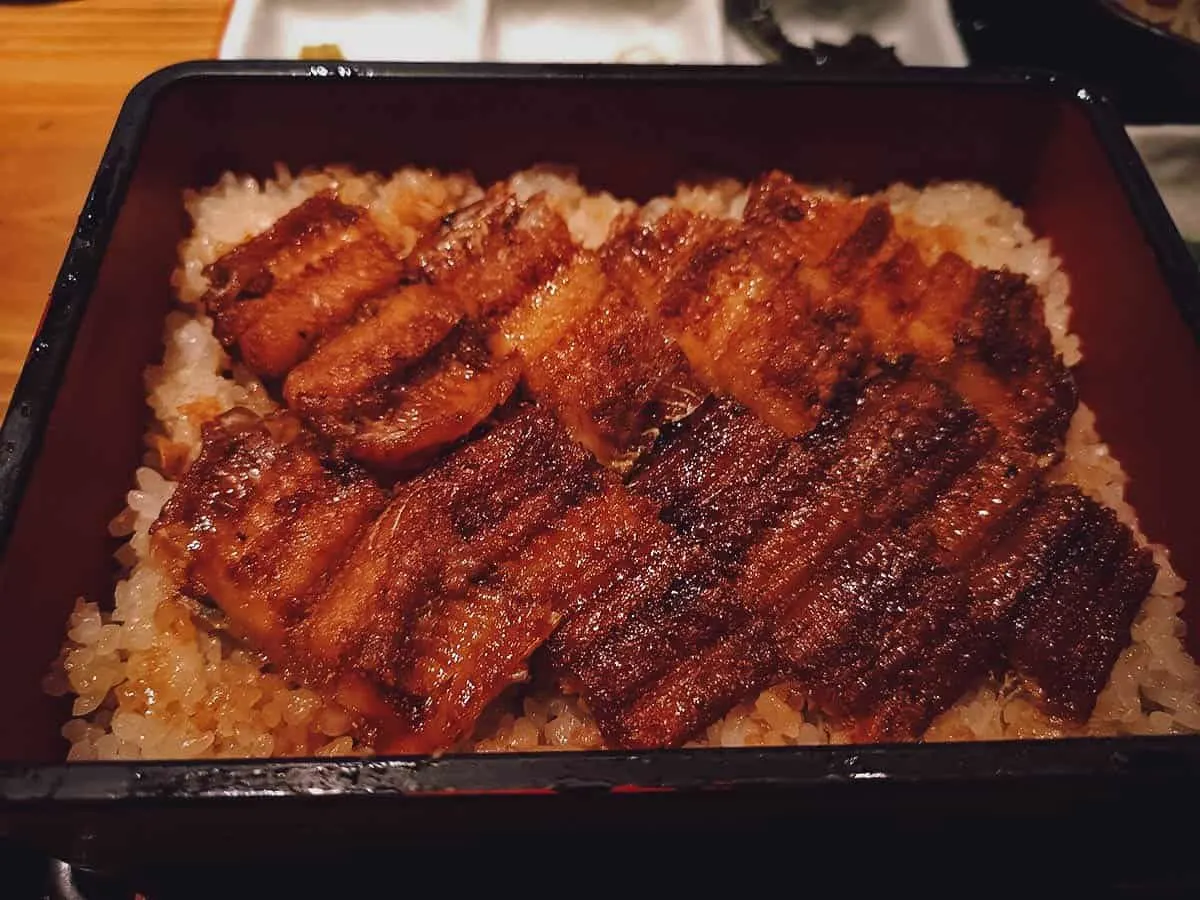 Here's a closer look at the anago. Personally, I prefer unagi but anago is delicious as well. Smokey and charred in parts, the eel is soft and lightly coated with a mildly sweet and savory glaze.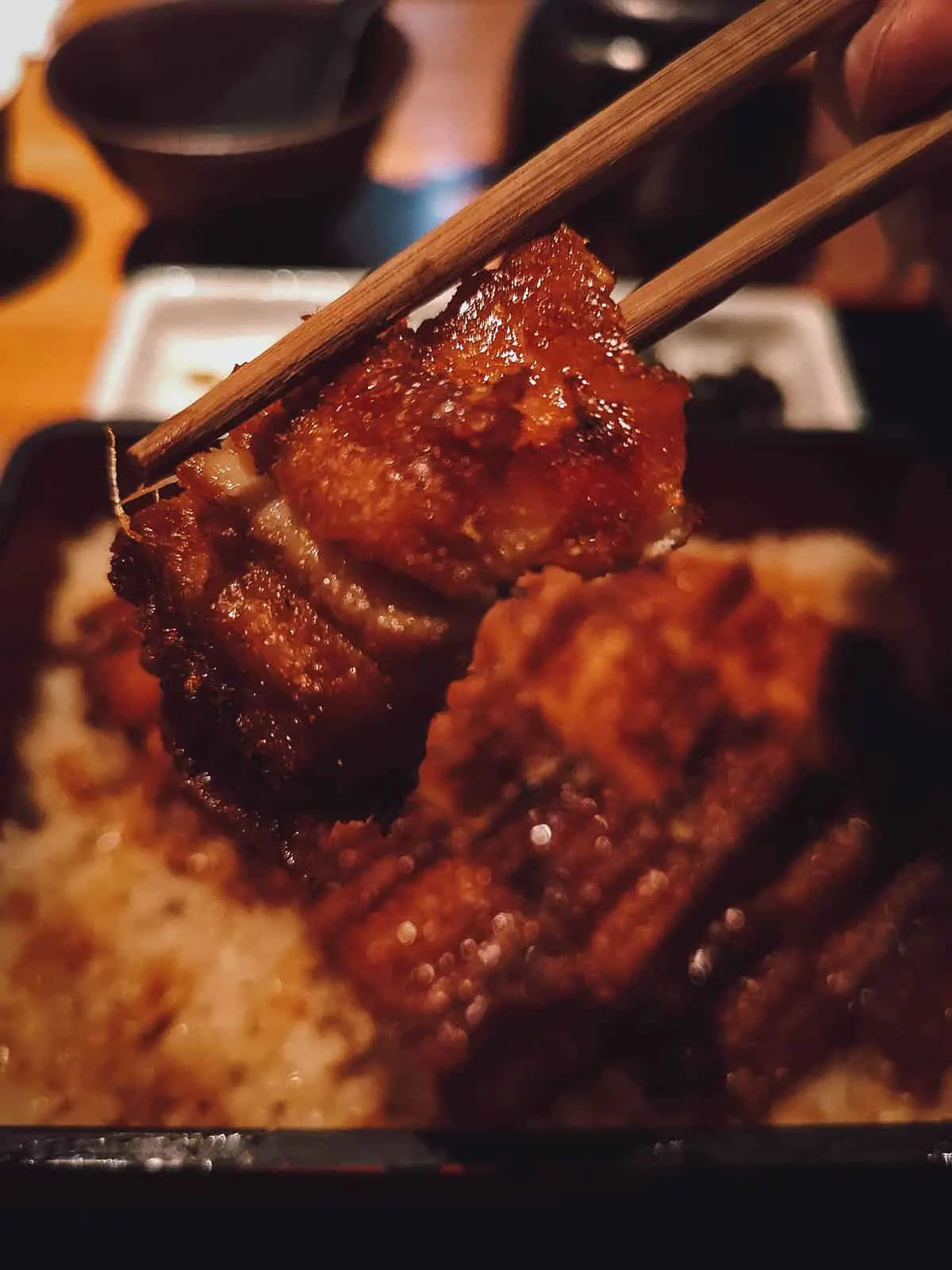 I found Tsuki Akari by sheer luck. I wanted to have anago meshi so I googled "best anago meshi in hiroshima" and one of the places that came up was Tsuki Akari.
I was already planning on having lunch at Ekohiiki so I was pleased to find that Tsuki Akari was just a few doors away. I wound up eating at both places for lunch on the same day, which is why I limited myself to just ika fry at Ekohiiki.
If you have a big appetite, then you can have the top three Hiroshima food specialties in one afternoon – okonomiyaki at Nagata-ya, oysters at Ekohiiki, and anago meshi at Tsuki Akari.
Tsuki Akari
Address: 1 Chome-8-9 Otemachi, Naka Ward, Hiroshima, 730-0051, Japan
Operating Hours: 11:30AM-2PM, 5PM-12MN, daily
What to Order: Anago meshi
Expect to Pay: Starts at JPY 1,600 for anago meshi
4. Okkundou Mazemen
This isn't a specialty food of Hiroshima but mazemen refers to a type of dry or soupless ramen. Instead of being served in a broth, the noodles are served with a shallow layer of tare or Japanese dipping sauce. It's different from tsukemen which is another form of ramen where the noodles and soup are served separately.
Okkundou's version of mazemen is made with just noodles, grilled pork, scallions, and a soft-boiled egg. You can have it with warm or cold noodles and choose your level of spiciness. I had mine warm with the shop's recommended level of heat.
You can also have your mazemen topped with additional ingredients like cabbage, natto, or cheese, but I went with a small bowl of takikomi gohan which is Japanese mixed fried rice.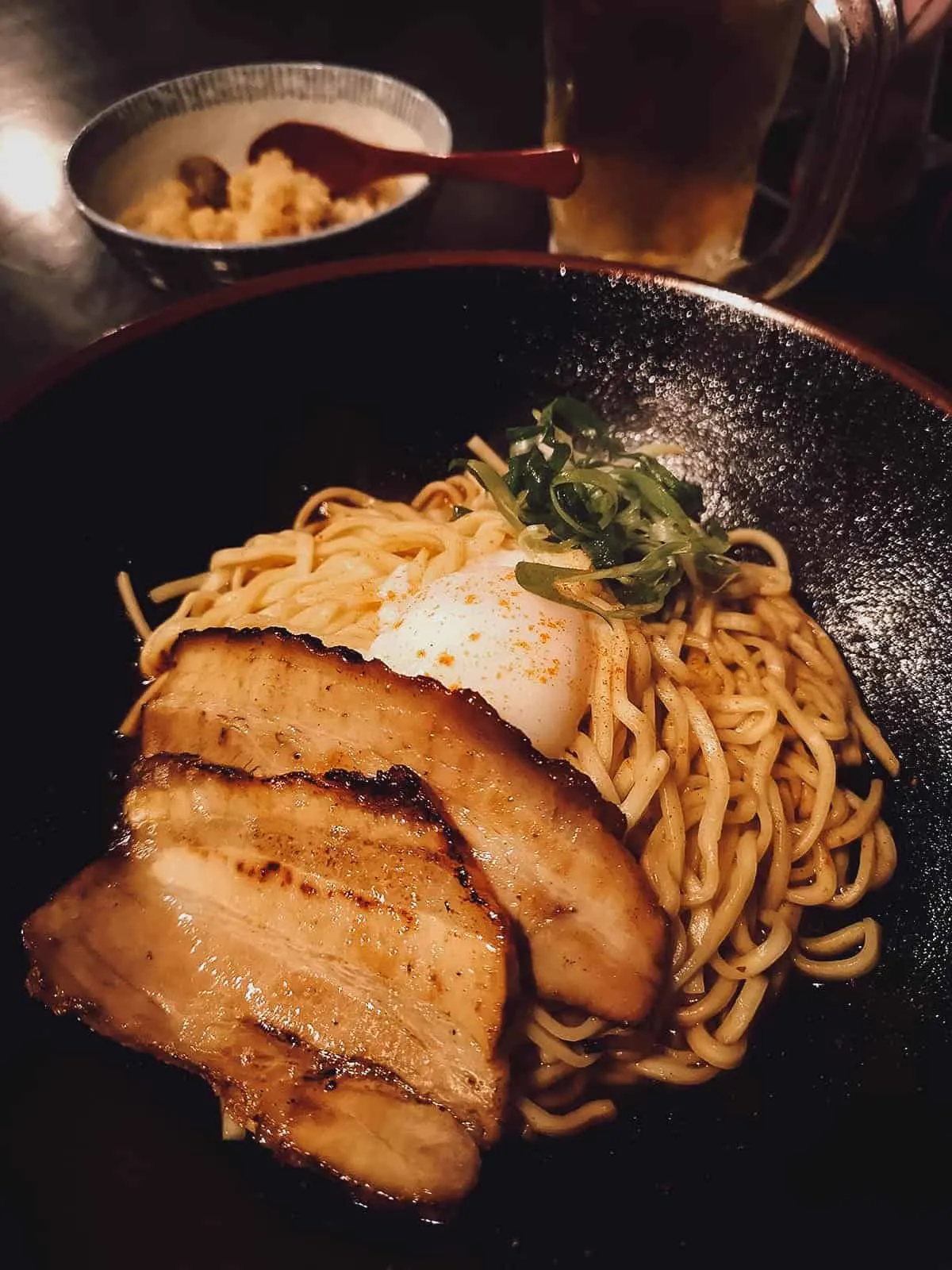 This was my first time having mazemen and I loved it. Based on what I've read, it can be made with any number of ingredients. Okkundou's mazemen is simple with just a few ingredients, but the tare is intensely flavorful and delicious.
How good does this piece of grilled pork look? Because the noodles weren't soaking up broth, they stayed perfectly chewy throughout the meal. Slurping up all the noodles leaves a shallow layer of tare which you can sop up with the fried rice. So good!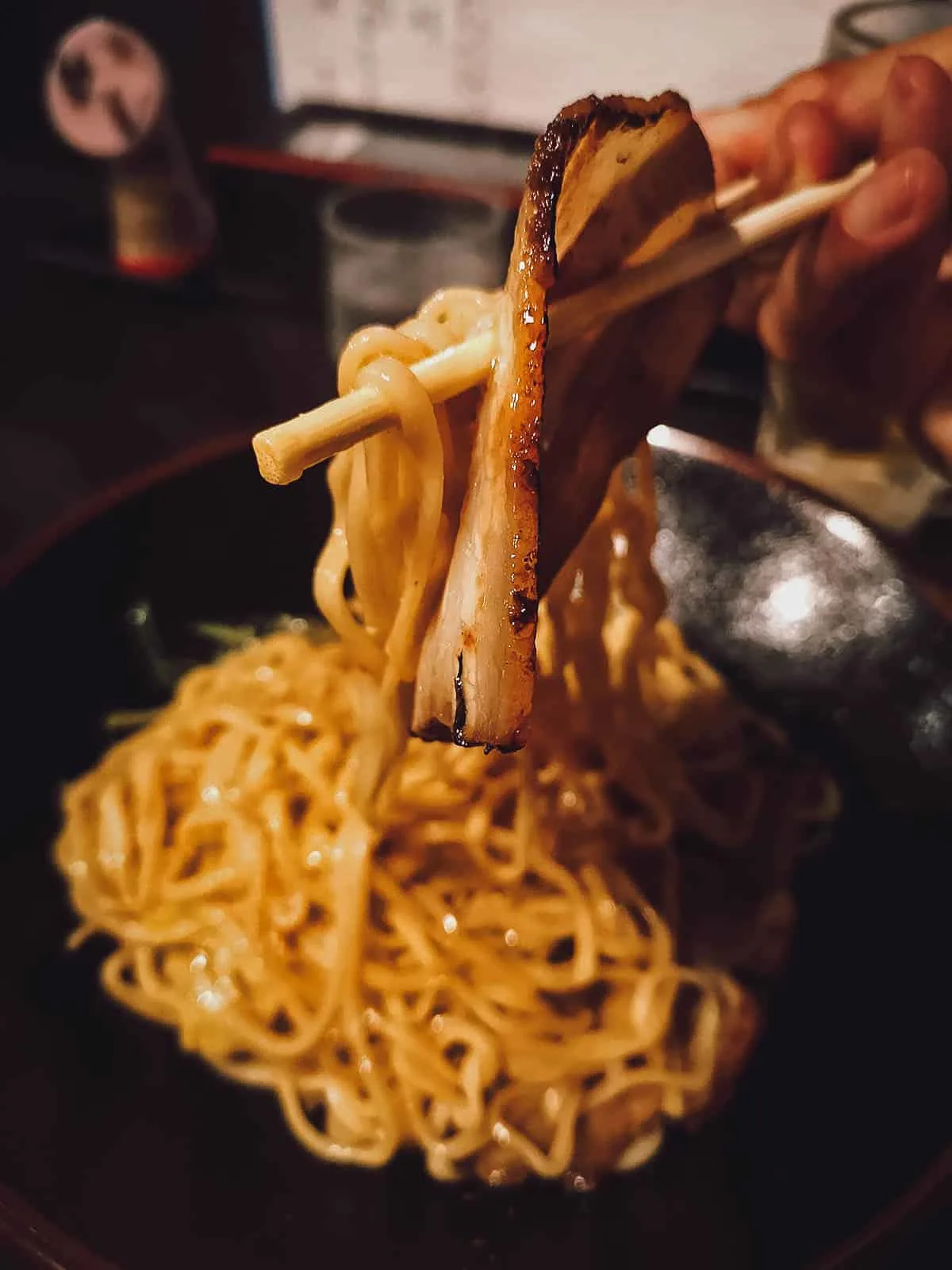 Okkundou Mazemen is located on the eastern bank of Motoyasu River, just south of Peace Boulevard. It's a TripAdvisor Certificate of Excellence awardee with an impressive 4.5-star rating.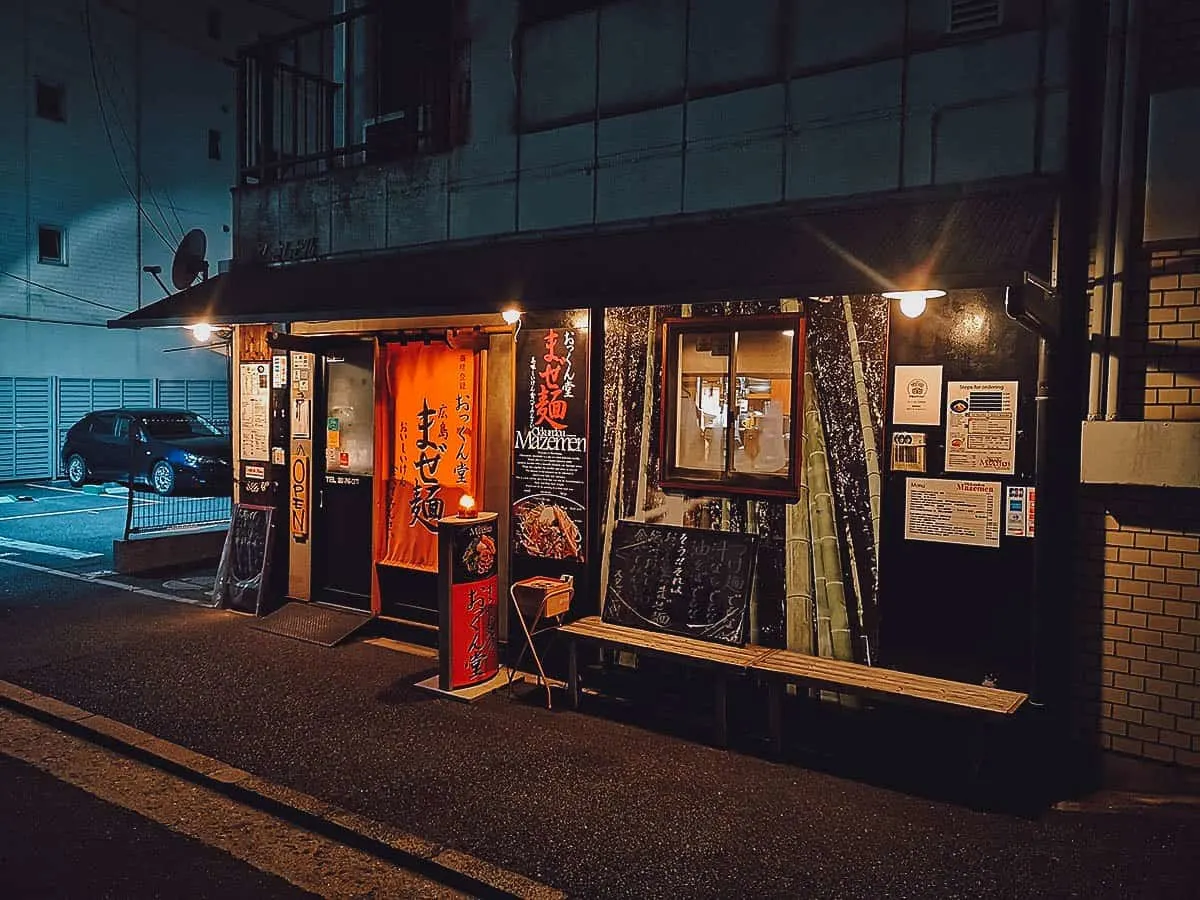 Okkundou Mazemen
Address: 3 Chome-3-3 Otemachi, Naka Ward, Hiroshima, 730-0051, Japan
Operating Hours: 11AM-11PM, daily
What to Order: Mazemen
Expect to Pay: About JPY 550-1,090 per bowl of mazemen
RESTAURANTS ON MIYAJIMA ISLAND
5. Kakiya
I don't remember the source but Miyajima Island was described as having some of the best oysters in Hiroshima, which makes sense considering it's an island in Hiroshima Bay.
My research for the best oysters in Miyajima led me to two places – Kakiya and Yakigaki No Hayashi. I went with the former and ordered the Kakiya set which came with several oyster dishes.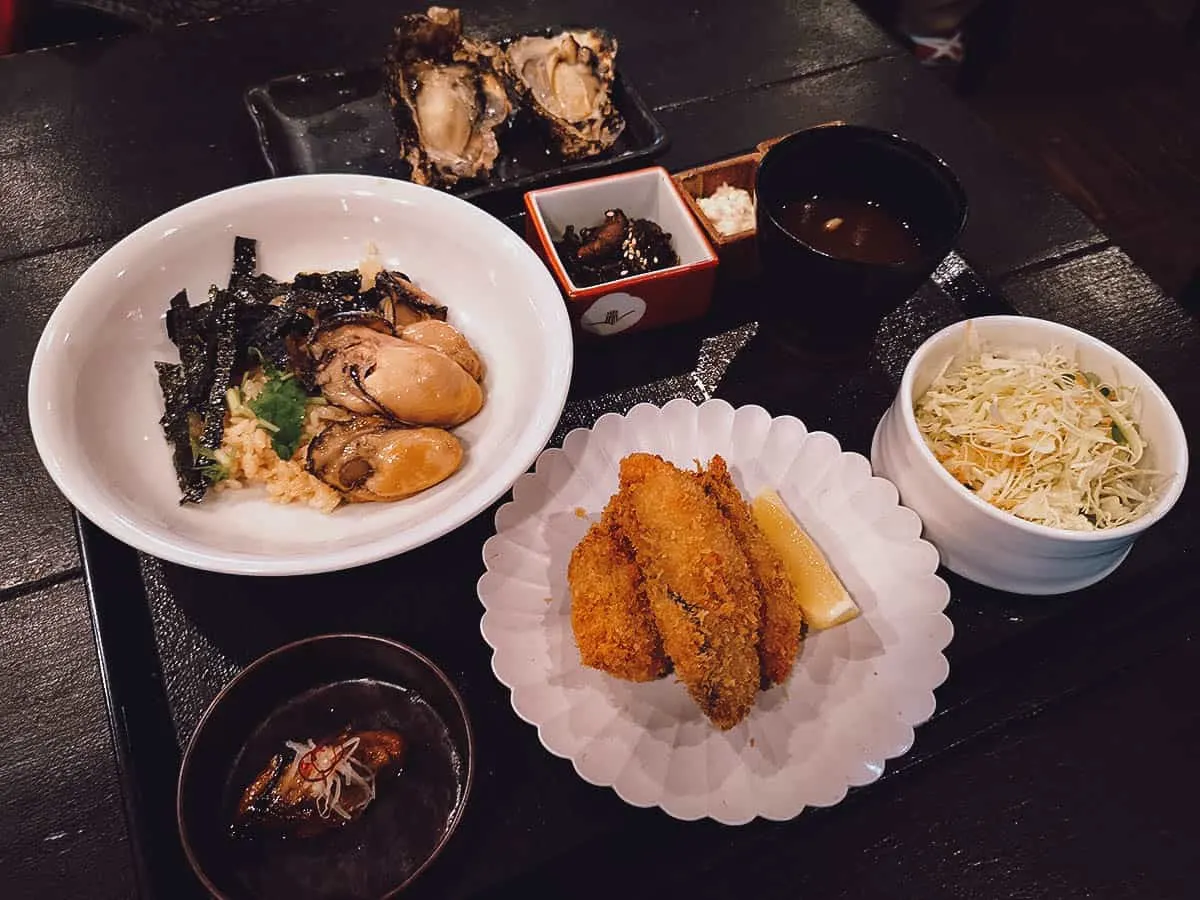 If I remember correctly, the Kakiya set had deep-fried breaded oysters, grilled oysters, smoked oysters, oyster miso soup, pickled oysters, and kaki meshi. Kaki meshi is made with oysters cooked in soy sauce and topped over rice steamed in oyster broth.
This was a fantastic set and one of the best meals I had in Japan. If you're willing to spend a little more on food in Hiroshima, then you may want to get one of these oyster sets.
Having all these dishes with different tastes and textures is the best way of experiencing Hiroshima oysters. It didn't come with this particular set but for the full experience, I suggest ordering a pair of fresh oysters as well.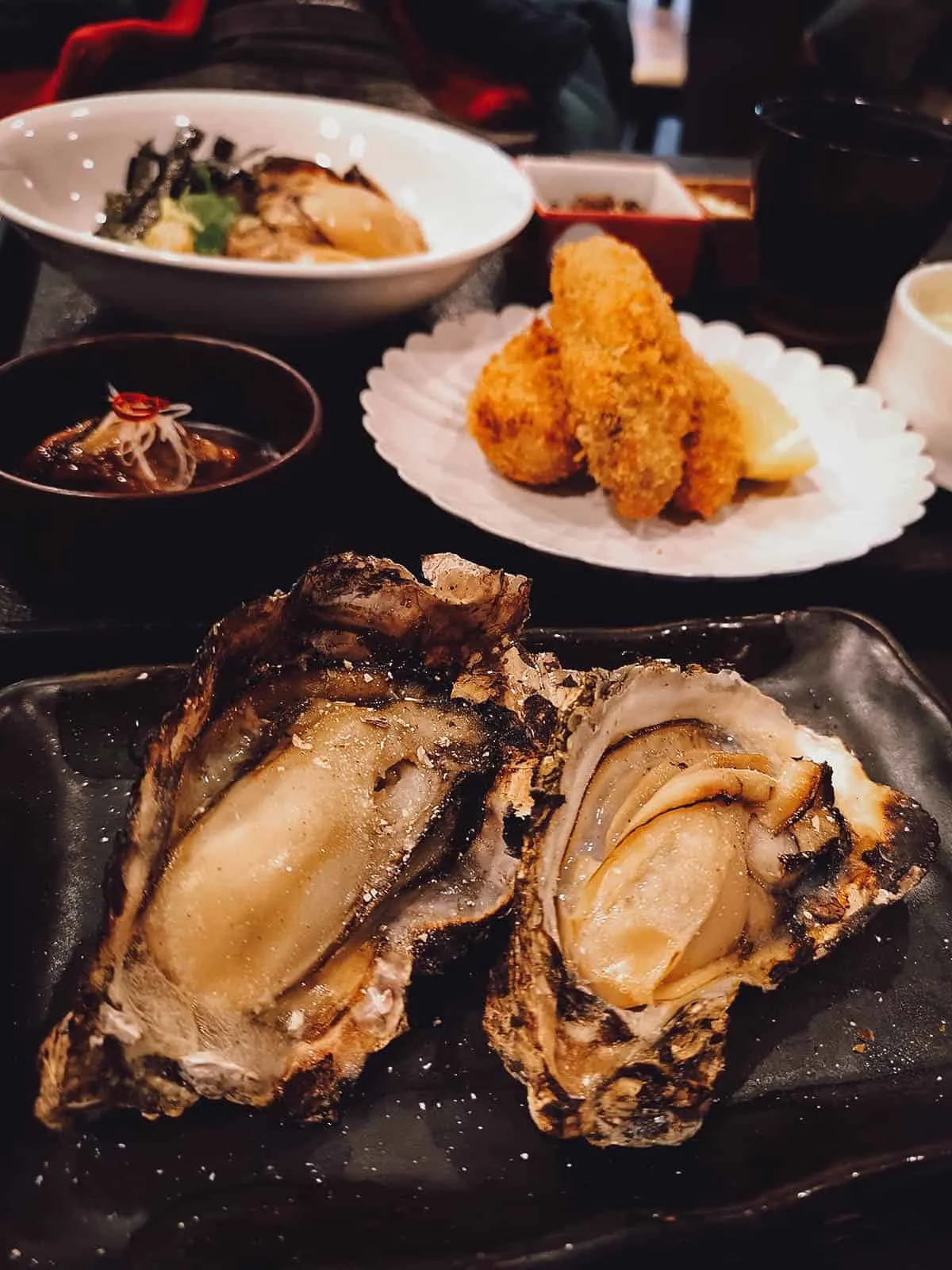 As described, oysters have been cultivated in Hiroshima for nearly 500 years. Based on what I've read, their larger than average size can be attributed to a combination of geographical features and cultivation methods.
Oysters in the region are cultivated in Hiroshima Bay. Thousands of oyster-laden rafts or ikada are positioned in the shallow waters of the bay which receives a constant stream of nutrients flowing from multiple rivers.
Hiroshima oysters are allowed to feed on a steady supply of plankton before being harvested at one-and-a-half to two years old, to give them more time to grow. This is in contrast to the usual practice of harvesting oysters at just one year of age.
I was in Hiroshima in January which is one of the best months to have oysters. They're at their most plump in January and February, and from March to April. I didn't have it but the most special versions of okonomiyaki were made with four hefty pieces of Hiroshima oyster.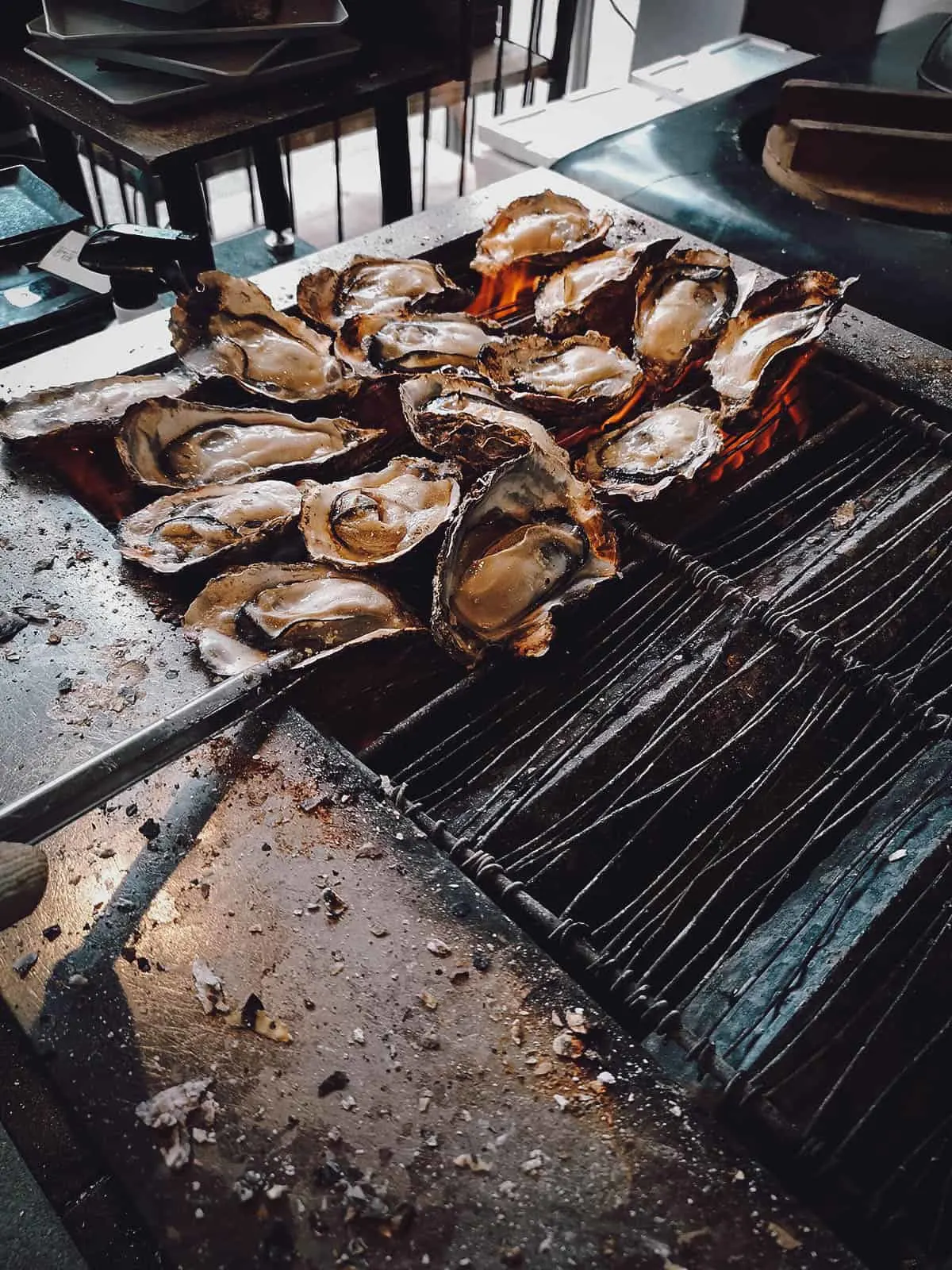 Kakiya is located in the busy commercial area of Miyajima. Like most restaurants on this list, they're a TripAdvisor Certificate of Excellence awardee with a near-perfect 4.5-star rating.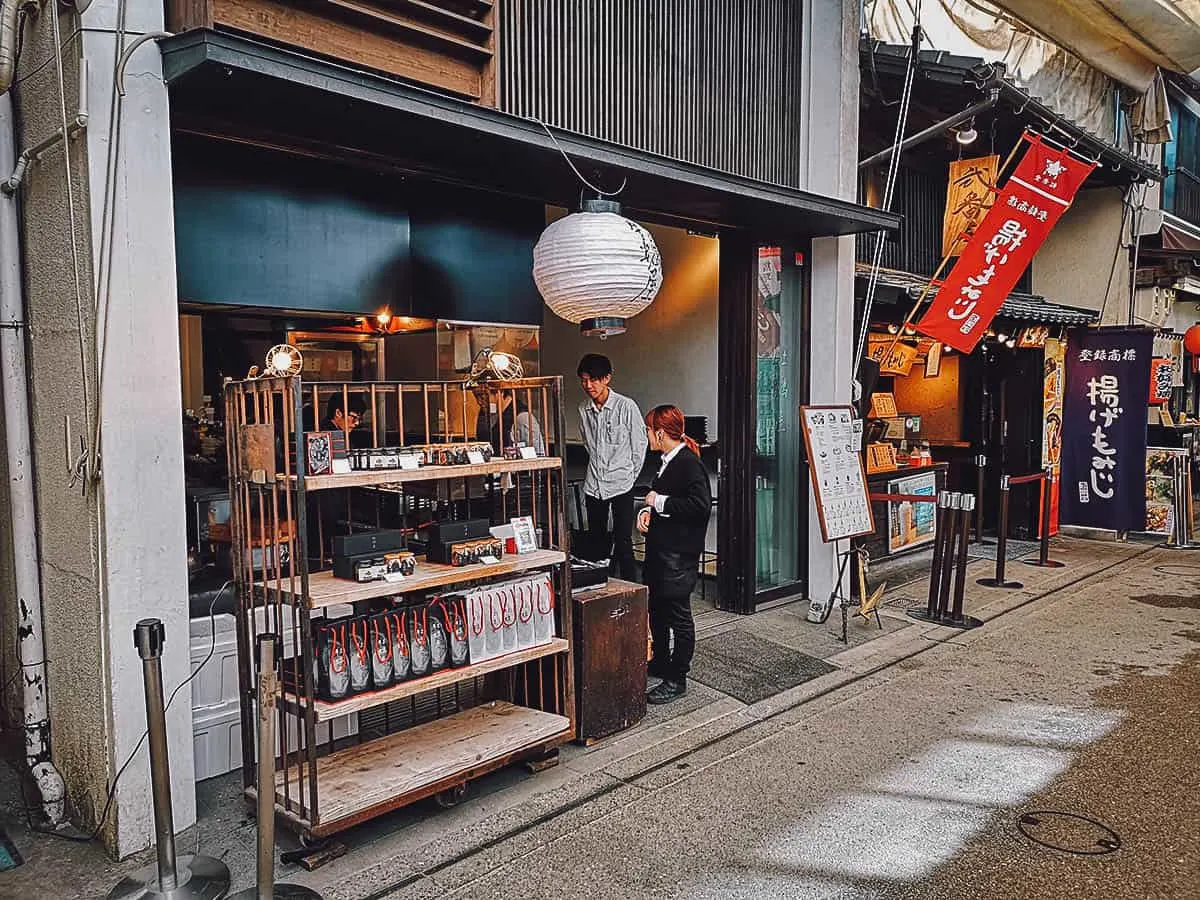 Kakiya
Address: 539 Miyajimacho, Hatsukaichi, Hiroshima 739-0588, Japan
Operating Hours: 10AM-6PM, daily
What to Order: Oysters
Expect to Pay: About JPY 2,150 for the Kakiya set
6. Yakigaki No Hayashi
A couple of doors away from Kakiya is Yakigaki No Hayashi, another restaurant known for serving great oysters in Miyajima. I was deliberating between the two restaurants and ultimately went with Kakiya based on their cheaper oyster set.
Yakigaki No Hayashi's sets are more expensive but they do offer them with raw oysters. Some have anago meshi as well so be sure to look at both restaurants' menus before making a decision.
Yakigaki No Hayashi is another Certificate of Excellence awardee with a superb 4.5-star rating on Tripadvisor.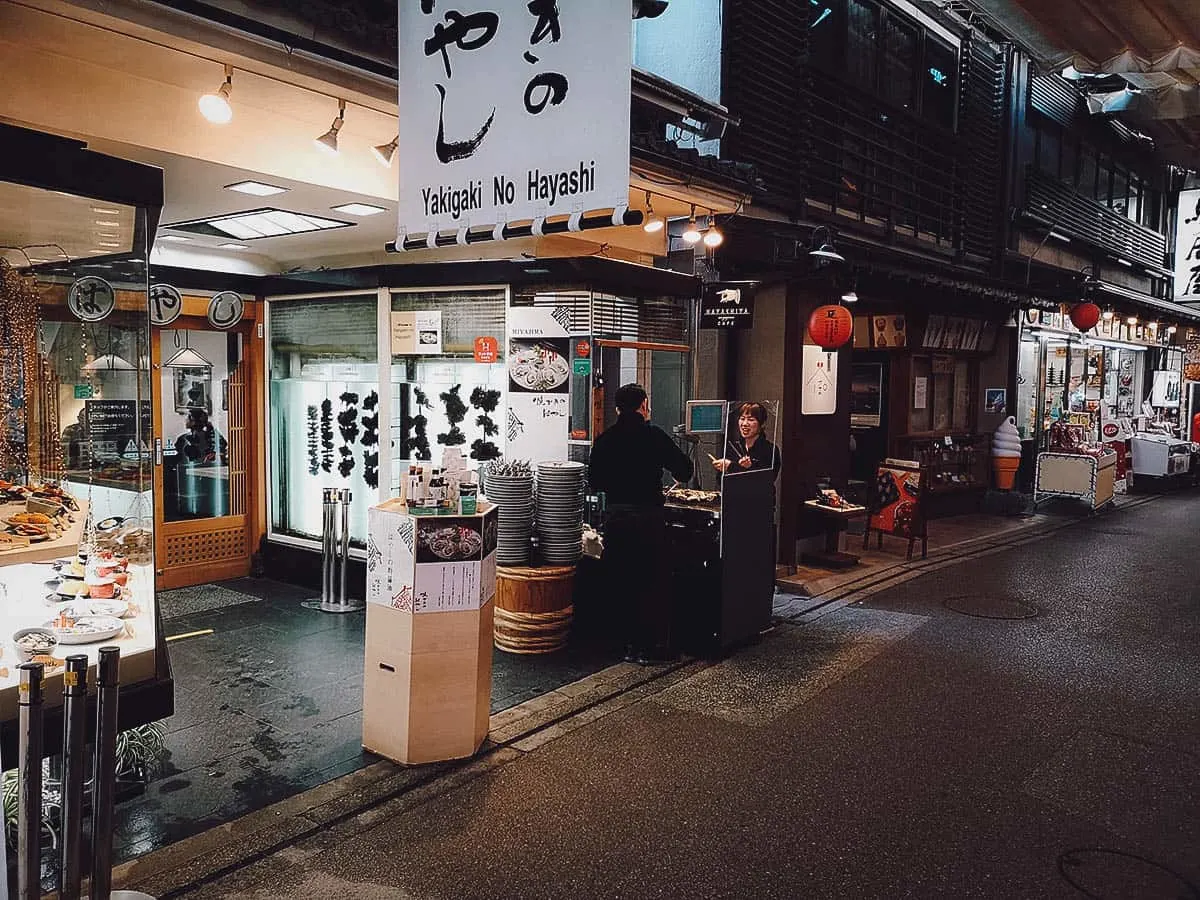 Yakigaki No Hayashi
Address: 505-1 Miyajimacho, Hatsukaichi, Hiroshima 739-0588, Japan
Operating Hours: 10:30AM-4:30PM, Thurs-Tues (closed Wednesdays)
What to Order: Oysters
Expect to Pay: About JPY 3,000 for the oyster set
7. Momijido
Momiji manju is a specialty food of Miyajima Island. It's a type of manju or Japanese confection made with buckwheat and rice powder that's filled with a sweet paste, typically azuki or red bean paste.
You can't tell from this picture but momiji manju is shaped like a Japanese maple leaf. What you're looking at below is age-momiji manju, a version that's battered and deep-fried and served on a stick. It's incredibly delicious – crispy on the outside but soft and warm on the inside.
I had the traditional version made with azuki bean paste, but momiji manju can be made with a variety of fillings like matcha, cheese, custard, and chocolate.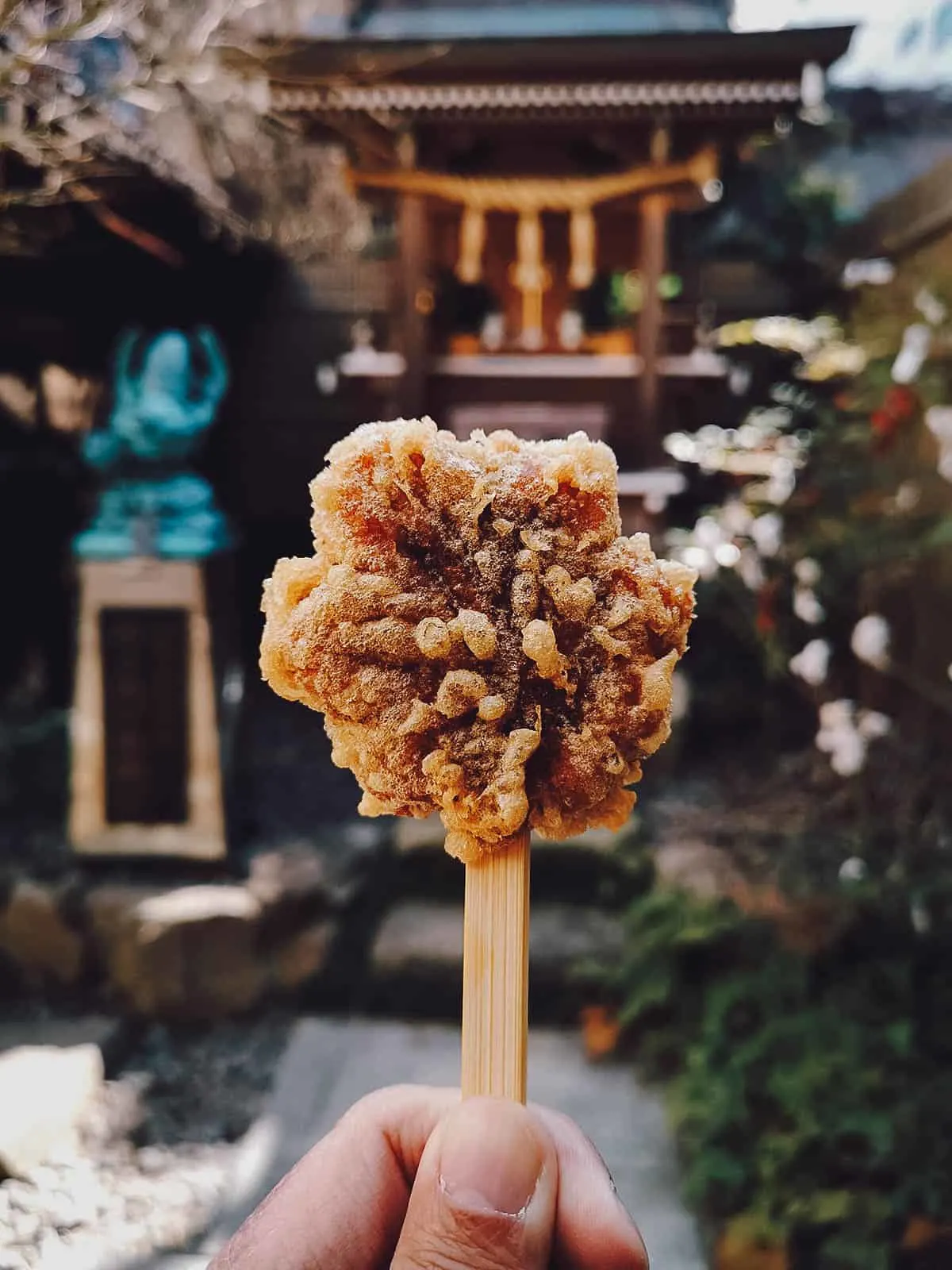 Momijido is located right next to Kakiya so you can enjoy an age-momiji manju after a lunch of Hiroshima oysters. Yum.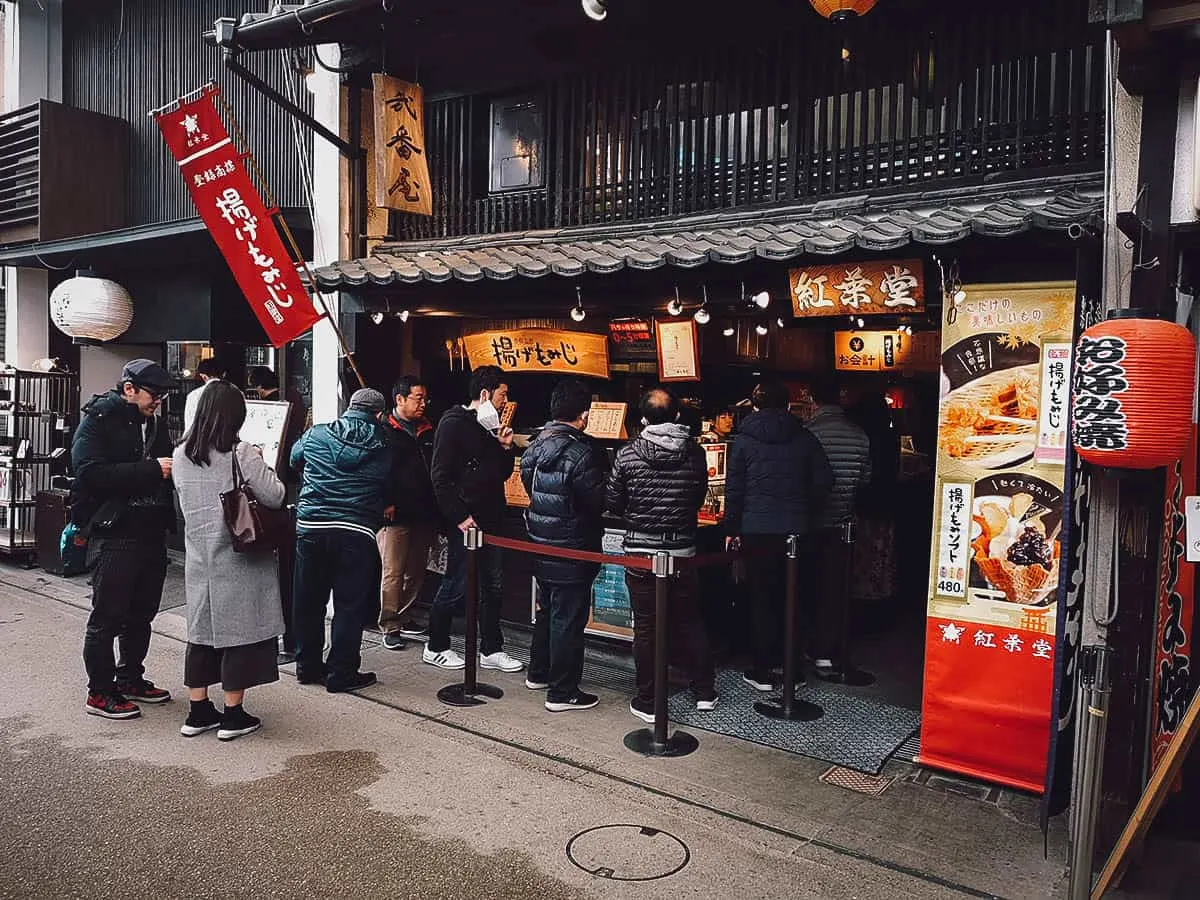 Momijido
Address: 512-1 Miyajimacho, Hatsukaichi, Hiroshima 739-0588, Japan
Operating Hours: 9AM-5:30PM, daily
What to Order: Momiji manju
Expect to Pay: About JPY 190 per stick of age-momiji manju
8. Okonomiyaki Kishibe
After spending the afternoon hiking on Mt. Misen, I was famished and desperately wanted to eat okonomiyaki. I couldn't think of a more filling meal to replace all those lost calories than Hiroshima okonomiyaki, so I made a beeline from the end of the hiking trail to Okonomiyaki Kishibe.
I ordered their most loaded okonomiyaki made with squid, shrimp, ikaten (crumbled squid cracker), pork, egg, green onion, and either soba or udon. I could have eaten the whole restaurant at this point so I went with the thicker udon.
Kishibe looks more like a home-based restaurant so their okonomiyaki wasn't quite as pretty or refined as Nagata-ya's, but it was very tasty and it hit the spot.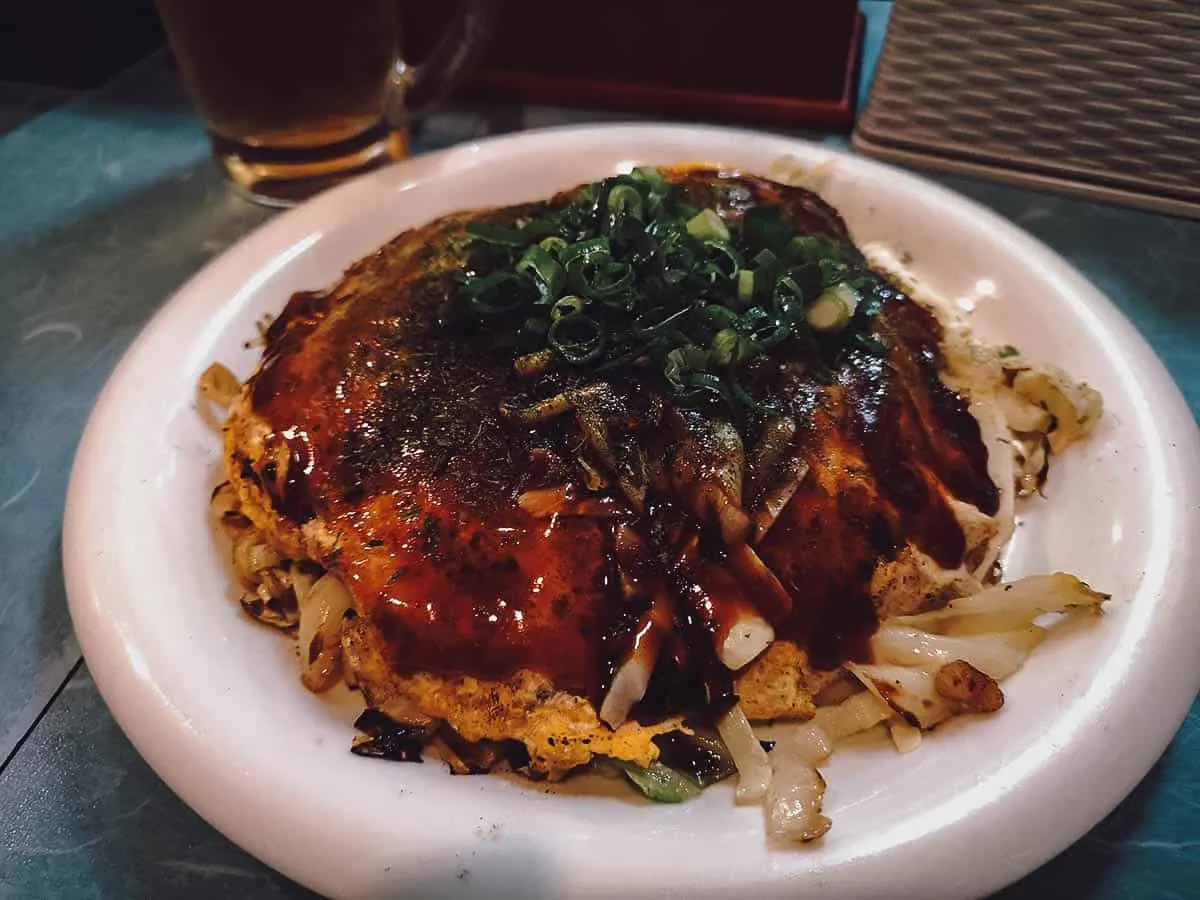 Like the majority of restaurants in this Hiroshima food guide, Okonomiyaki Kishibe is a Certificate of Excellence awardee with a 4.5-star rating on TripAdvisor.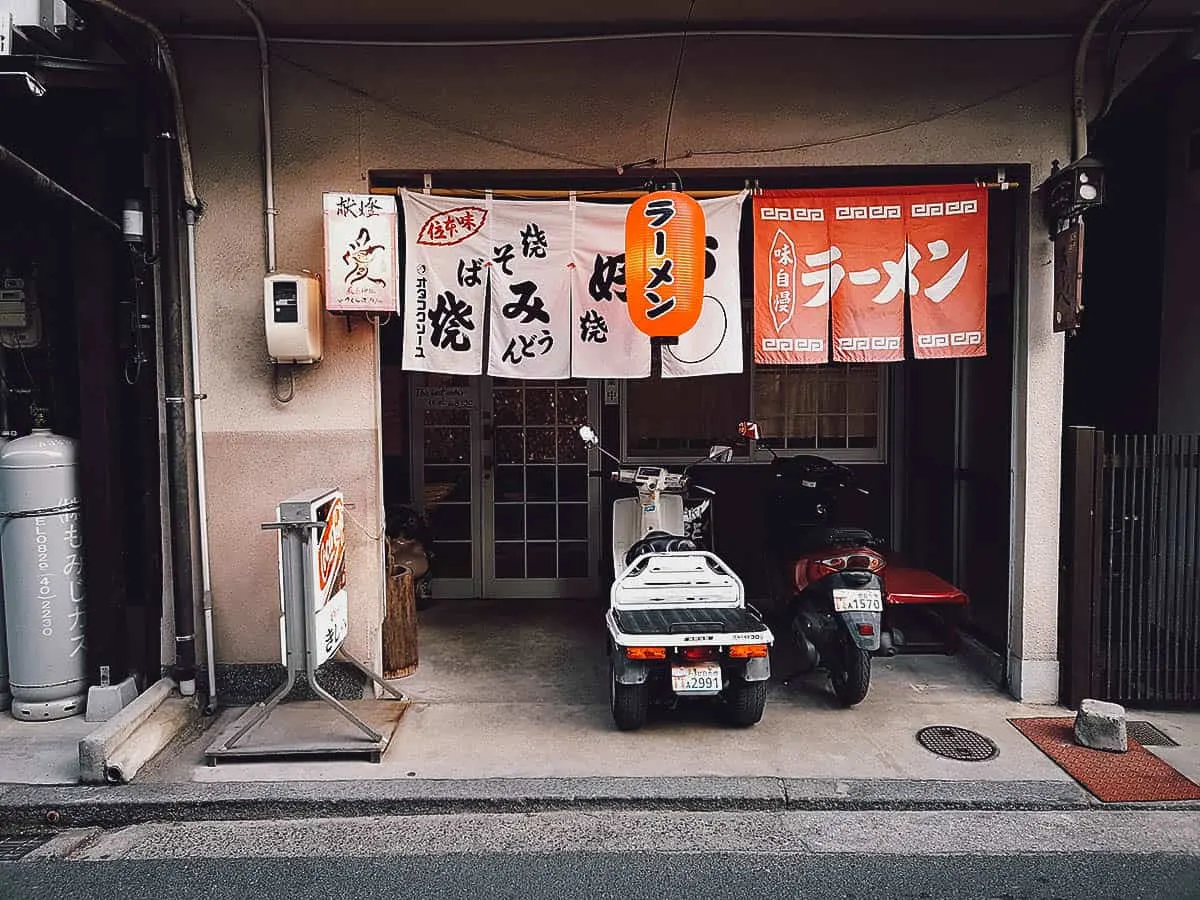 Okonomiyaki Kishibe
Address: 483-2 Miyajimacho, Hatsukaichi, Hiroshima 739-0588, Japan
Operating Hours: 5-9PM, Mon-Wed / 11AM-2PM, 5-9PM, Sat-Sun (closed Thurs-Fri)
What to Order: Okonomiyaki
Expect to Pay: About JPY 1,200 per okonomiyaki
HIROSHIMA FOOD TOURS
No one knows the food in Hiroshima better than a local, so what better way to experience Hiroshima's regional Japanese cuisine than by going on a food tour? A knowledgeable local will take you to Hiroshima's best restaurants and explain all the dishes to you in more detail.
We've been on food tours in Tokyo and Kyoto and enjoyed them both. Check out Get Your Guide and byFood for a list of food and drinking tours in Hiroshima.
LOCATION MAP
To help you find these Hiroshima restaurants, I've pinned them all on an interactive map. Click on the link to open the map in a new window.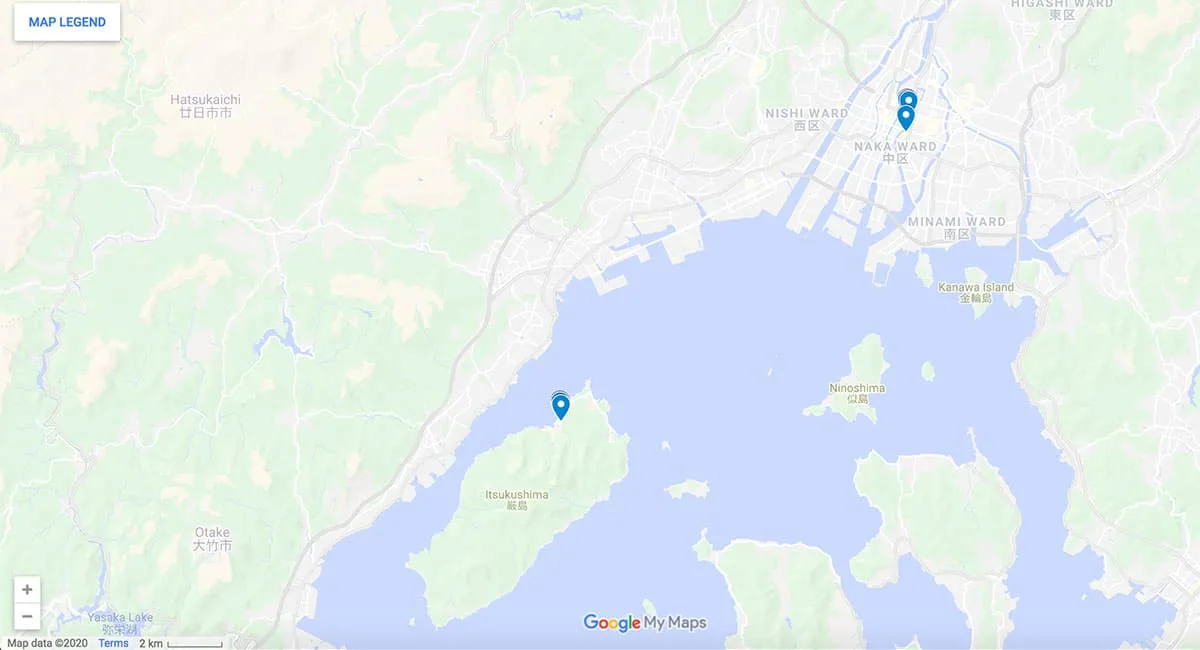 FINAL THOUGHTS ON THE FOOD IN HIROSHIMA
As a city, I didn't think I'd enjoy Hiroshima as much, but I did, and much of that had to do with the food. Compared to bigger cities like Tokyo, Osaka, or Kyoto, there aren't as many things to do in Hiroshima but it's a peaceful and laid back city that serves fantastic food.
Before my month-long trip, I showed my itinerary to a fellow travel blogger who travels to Japan often and he recommended I skip Hiroshima. I obviously didn't listen which was a good decision.
As Syouri said, Hiroshima is one of the most popular food destinations for local Japanese. If you travel for food like we do, then you shouldn't skip it either.
Disclosure
Some of the links in this Hiroshima food guide are affiliate links, meaning we'll make a small commission if you make a booking at no added cost to you. We only recommend products and services that we use ourselves and firmly believe in. We really appreciate your support as this helps us make more of these free travel guides. Arigato gozaimasu!