Gion has two faces – the modern and the traditional. Modern Gion is a popular and welcoming tourist hub but the traditional side is far more mysterious.
Gion refers to Kyoto's iconic geisha district. It's one of the city's most atmospheric neighborhoods, its traditional areas characterized by row upon row of wooden machiya houses with slatted sliding doors and bamboo inuyarai.
To the average non-Japanese, machiya are elegant and alluring and typify traditional Japan, but they can also be a little intimidating. Uninviting even.
Signs are small and often unnoticeable so from the outside, they look like exclusive Japanese-only ochaya or private homes. From what I understand, many of these machiya houses have been converted into restaurants and informal teahouses. But unless you can read kanji, it's hard to know which is which.
"Will I be welcome here? Can I just walk in unannounced and sit down? Custom and courtesy are so important in Japan. I'm afraid of committing a faux pas and embarrassing myself."
On my own, I may have let my fears get the better of me but thankfully, I had a local leading the way.
Save This on Pinterest!
No time to read about this Kyoto food tour now? Click on the save button and pin it for later!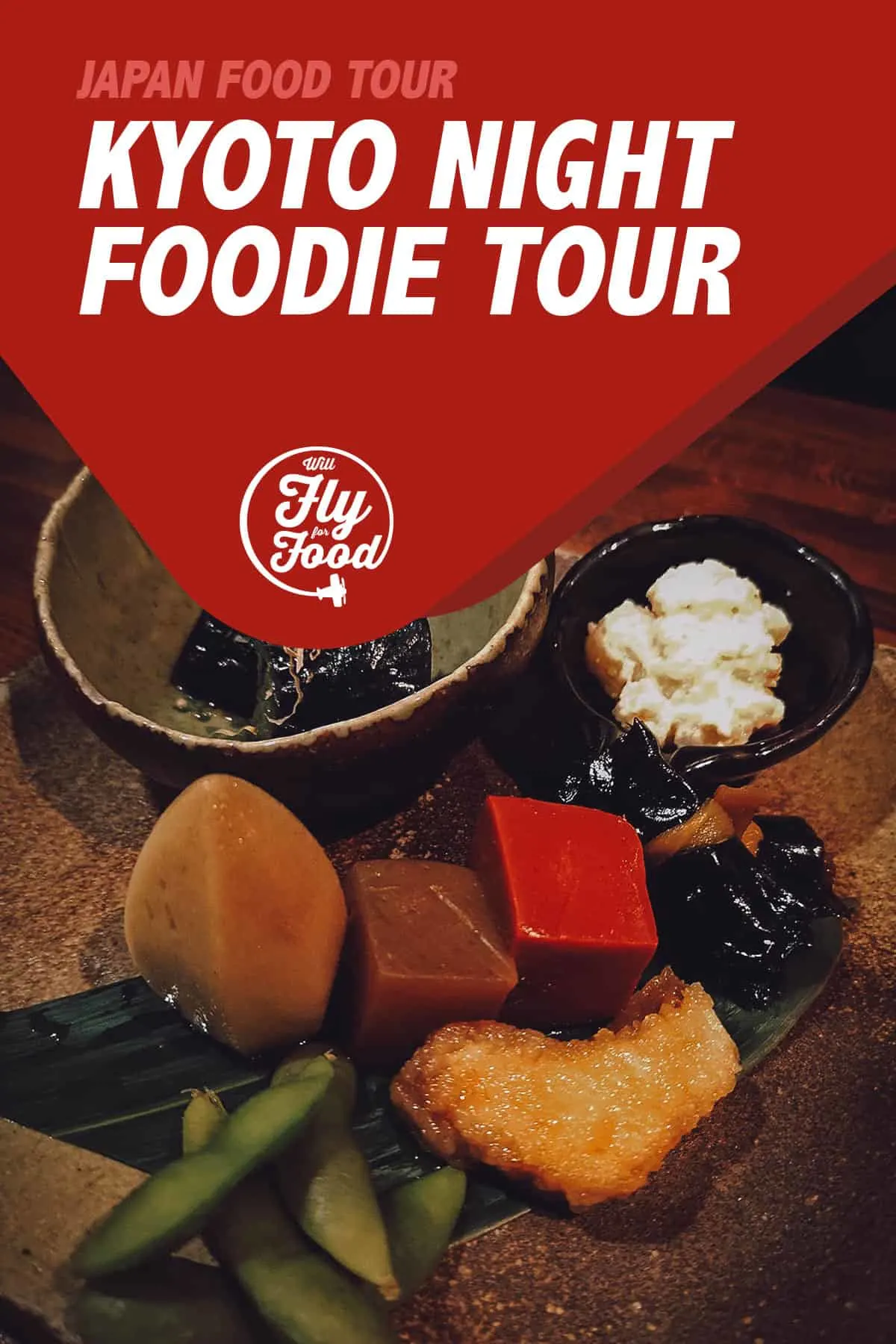 WHAT IS MAGICAL TRIP?
Magical Trip is a Japanese tour company that offers small local-led tours in different cities around Japan like Kyoto, Osaka, Tokyo, and Hiroshima.
We gravitate towards anything related to food but Magical Trip offers a colorful variety of tours in Japan. In Kyoto, they offer bike tours, photography walks, tea ceremony experiences, and sake tasting tours.
All of Magical Trip's tours are small and led by locals so they're intimate and more personal in feel. When you're on it, it doesn't feel like you're on a tour at all. It feels like you're being shown around town by a friend which is part of the reason why it's so enjoyable.
This personal approach has proven to be successful for Magical Trip. As of this writing, they have a perfect 5-star rating on TripAdvisor with over 1,400 reviews.
If you're traveling to Kyoto and want to explore the city with a local, then I suggest checking out Magical Trip.
WHAT IS GION?
Gion is the most famous geisha district in Kyoto. Developed sometime between the 15th and 17th centuries, it was originally built to accommodate the needs of visitors to Yasaka Shrine before evolving into one of the most exclusive geisha districts in Japan.
Gion is comprised of two hanamachi or geisha districts – Gion Kobu and Gion Hanamachi. Gion Kobu is Kyoto's largest geisha district and includes Hanamikoji Street which is one of the most popular tourist areas in the city.
Gion Kobu has the highest number of geishas so it isn't uncommon to find them walking from ochaya to ochaya. In fact, my guide Syouri spotted a geiko and maiko on our way to our first stop. Geiko is the Kyoto term for geisha and means "a woman of art" while maiko refers to a geiko's apprentice.
I'm not sure where one neighborhood stops and the other starts but I believe this Kyoto Night Foodie Tour takes you to establishments in both geisha districts.
KYOTO NIGHT FOODIE TOUR
This Magical Trip tour takes you to three restaurants and bars in the Gion district. It's a 3-hour tour that costs USD 99 per person, inclusive of all food and drink.
After meeting up with my guide Syouri, we proceeded to our first stop on the tour, a restaurant along one of the most traditional streets in the Gion district.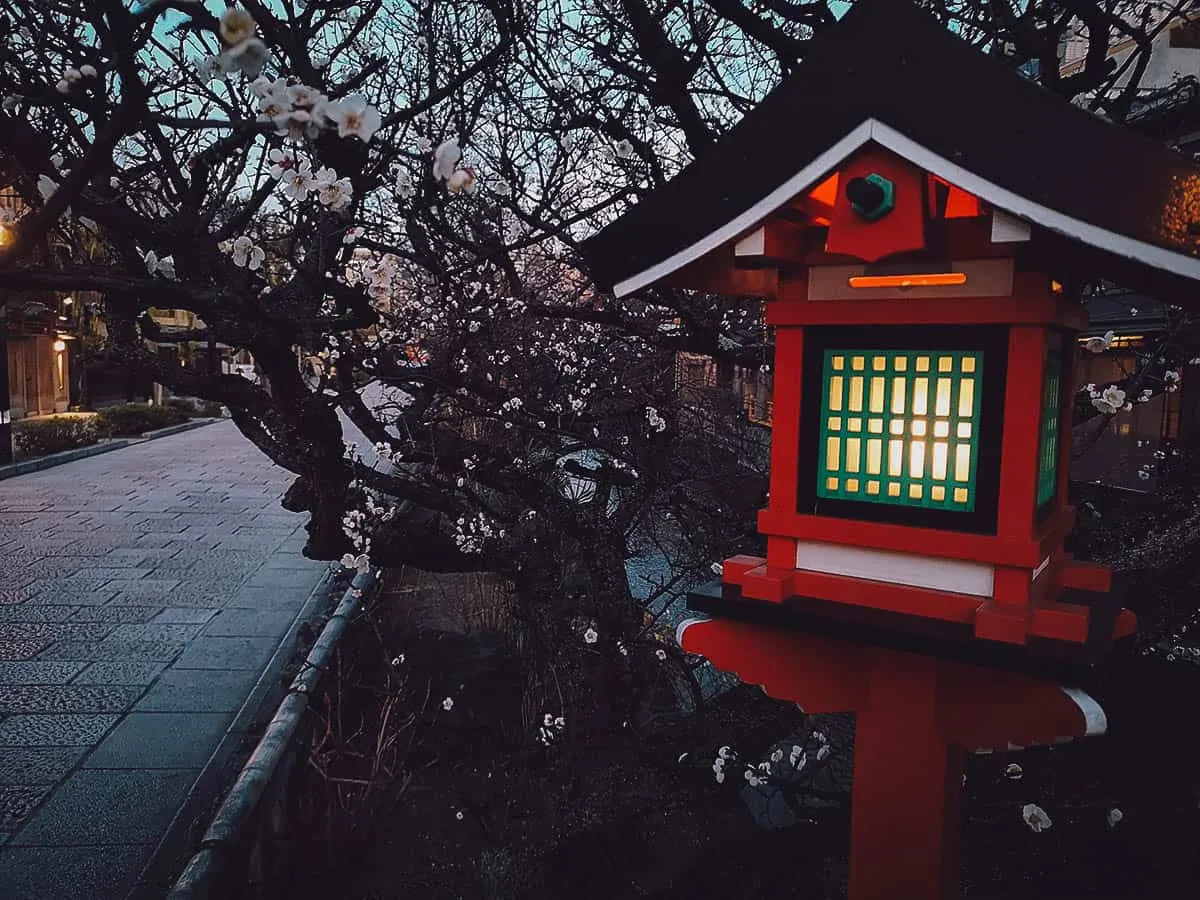 FIRST STOP: Kyoto Cuisine
Our first stop on the tour was this restaurant located in a much quieter part of Gion. Areas like Hanamikoji Street are almost always crowded with people but this corner of the district was practically deserted. It was devoid of tourists which is always a welcome sign for people looking for more authentic experiences in Japan.
As you can see, it isn't the most inviting venue for people who don't speak the language. Unlike more modern restaurants in touristy areas, it isn't the type of place that screams "come inside!" There are no signs in English and every establishment on this street looks like this.
Not knowing what to expect, I never would have walked into a place like this on my own so I was grateful to have Syouri with me.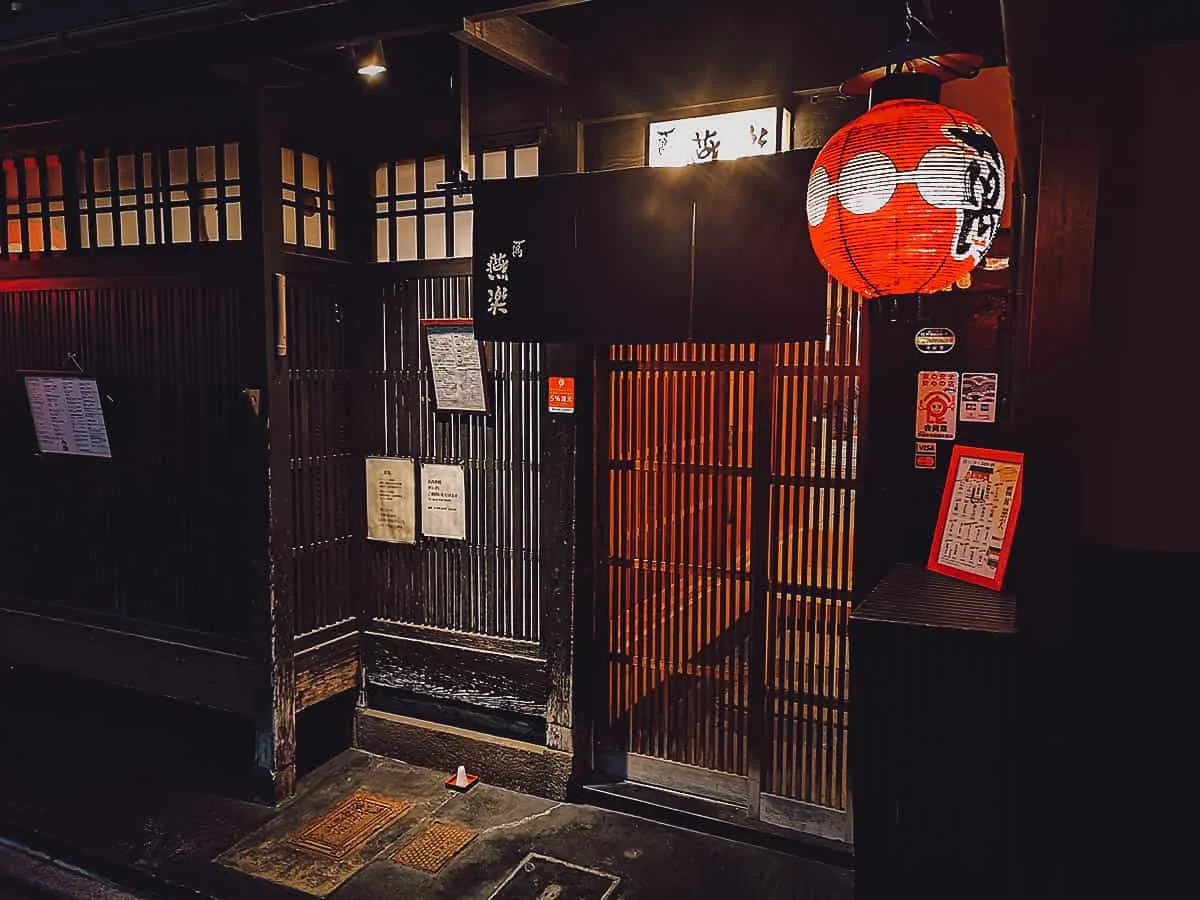 You'll have your choice of two dishes and one drink at this restaurant. They offer more common dishes like salmon sashimi and chicken karaage but I wanted to have the most traditional Kyoto food experience so I had Syouri choose for me.
Pictured in the foreground is nama-fu no dengaku which is skewered and grilled gluten cake topped with a delicious miso paste. It's a traditional vegetarian dish made with glutinous rice flour so it has a chewy mochi-like texture. From what I understand, it isn't an easy dish to find outside of Kyoto.

Syouri ordered this bowl of raw yuba for himself but he was kind enough to share it with me so I could try it. Yuba refers to the thin sheet of skin or film that forms on the surface of soy milk that's being boiled. It's another dish that's largely associated with Kyoto.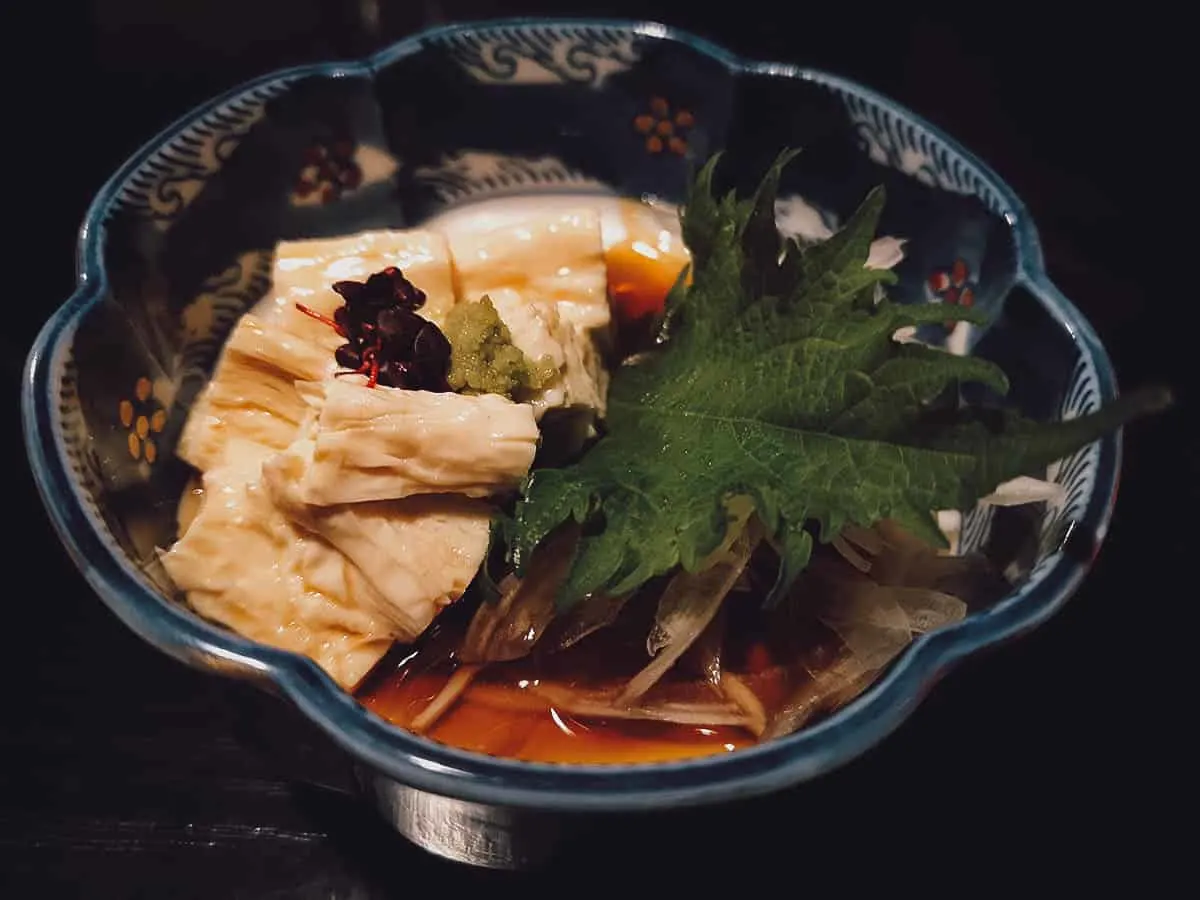 This collection of small dishes is called obanzai. It refers to a traditional style of Kyoto cuisine that consists mainly of locally produced seasonal vegetables and seafood. Dishes are simply prepared and often consist of scrap ingredients that would otherwise go to waste.
I washed everything down with an ice cold draft beer but other drink choices include sake, shochu, high ball, or plum wine. If you don't drink alcohol, then you can ask for soda.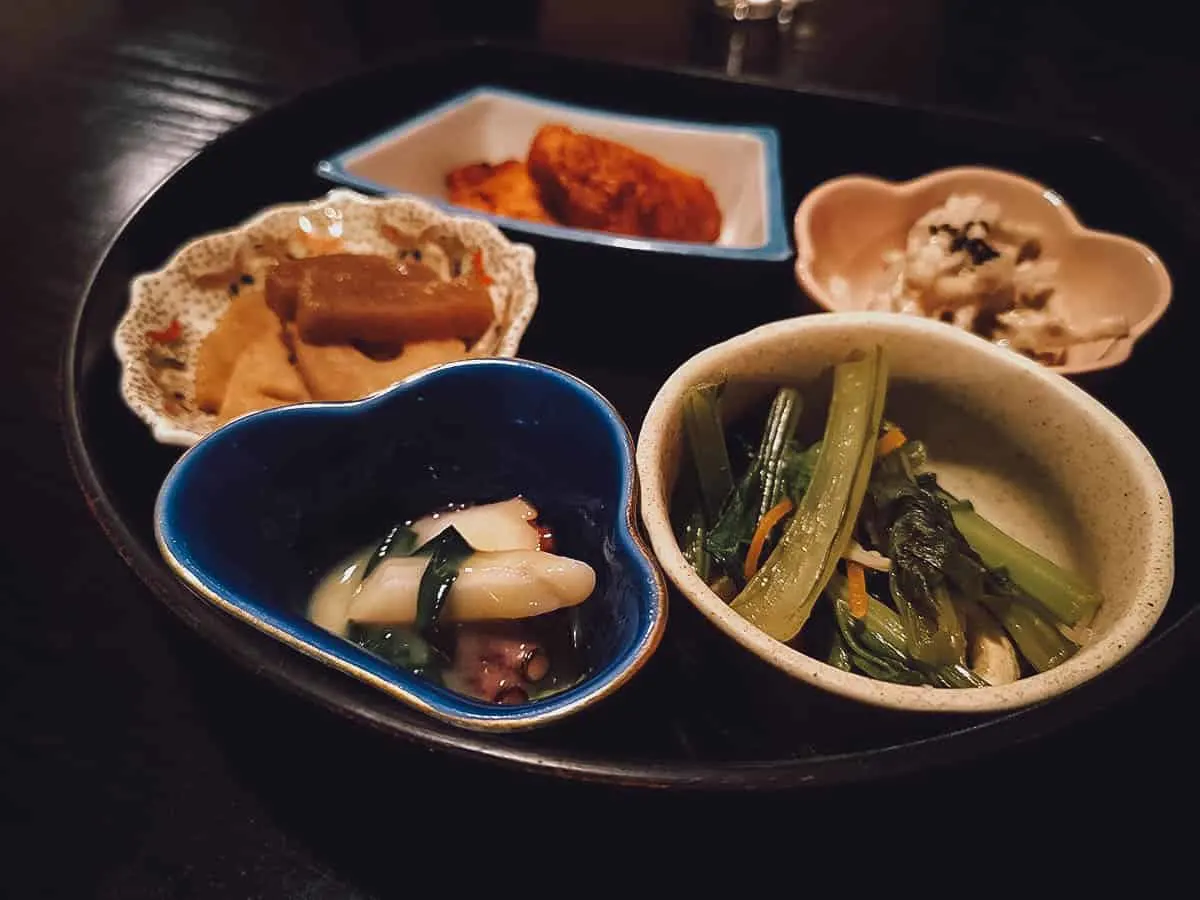 Pontocho Alley
After eating the last bits of obanzai, Syouri walked me through Pontocho Alley en route to our next stop. Pontocho is another geisha district that runs parallel to the Kamo River.
Pontocho is one of my favorite areas in Kyoto. Stretching for about 700 meters, it's an intriguing pedestrian alleyway filled on either side with restaurants and izakayas ranging from the moderately priced to the highly exclusive.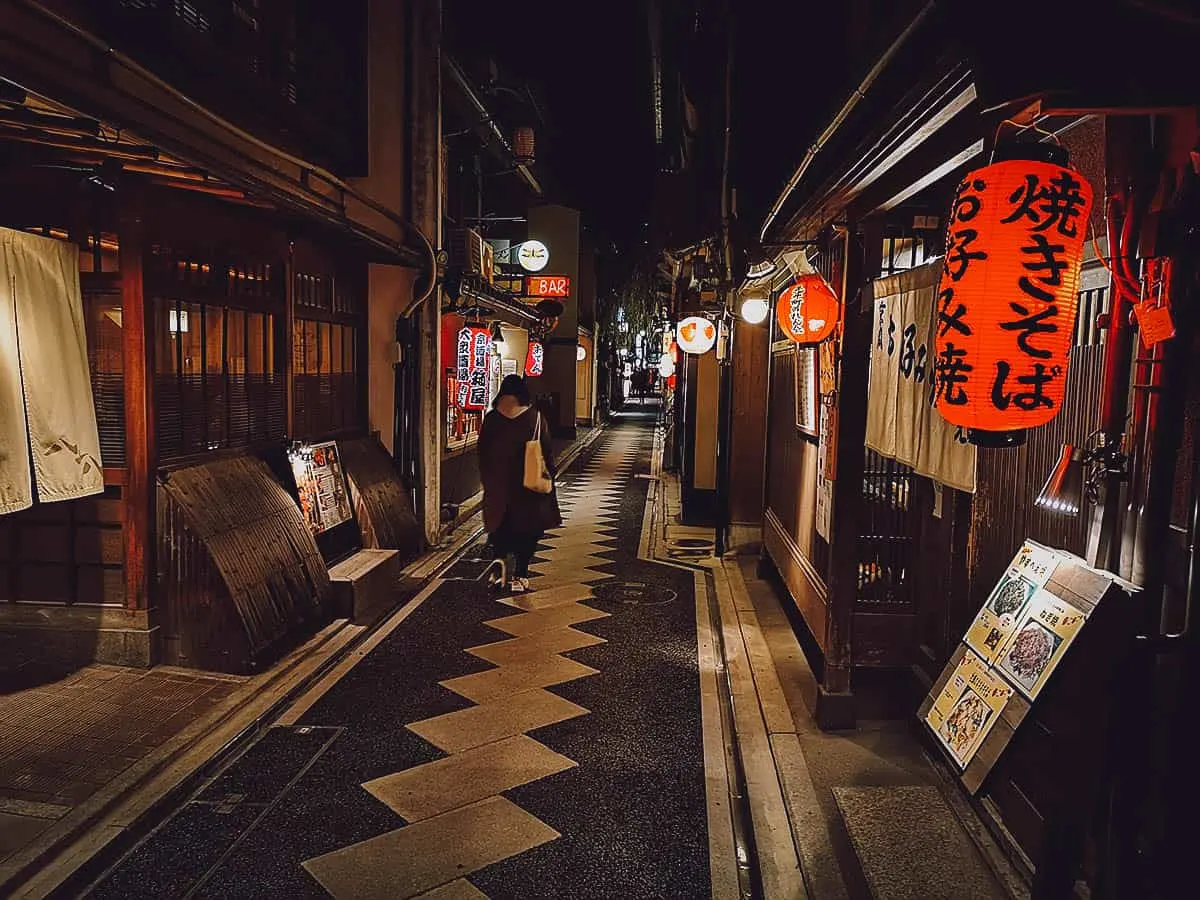 Pontocho is lovely during the day but it takes on an otherworldly character at night. Established in the 17th century, it looks like a scene straight from a Japanese period film.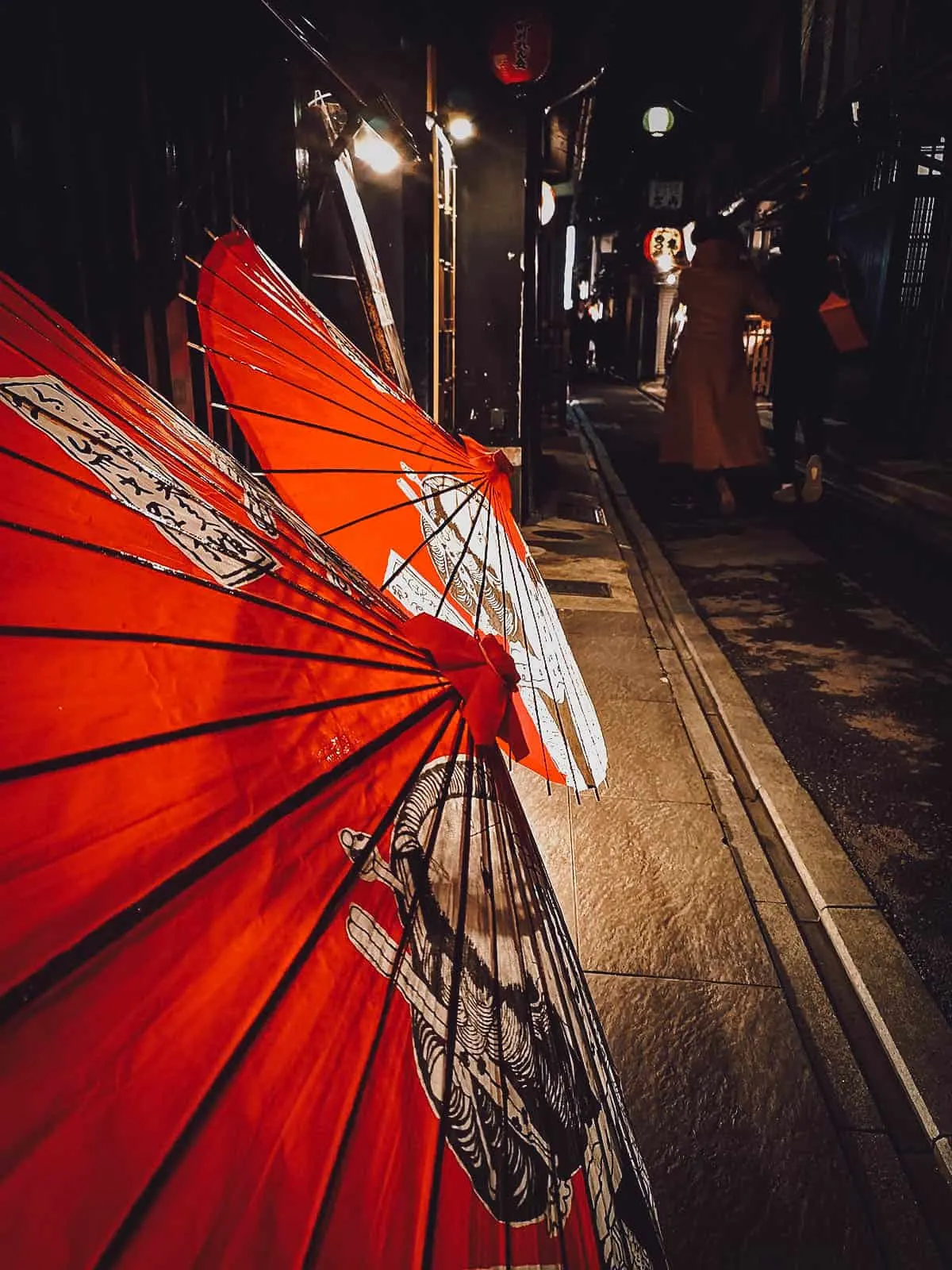 We haven't eaten at any establishments in Pontocho Alley but we'll be sure to explore it on our next trip to Kyoto. I imagine it's a great place to find good Japanese food and drinks.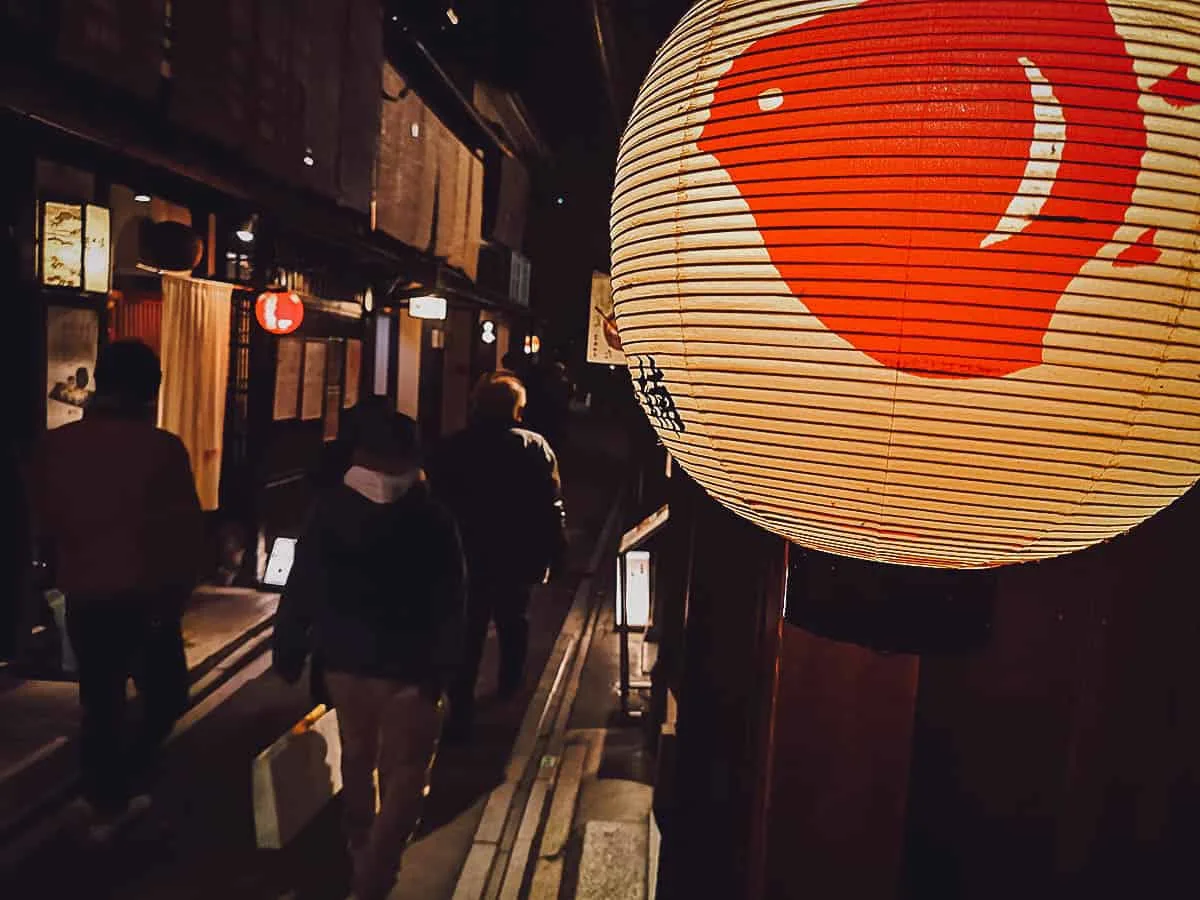 SECOND STOP: Flights of Sake and Sake Kasu Ramen
For our next stop, Syouri took me to this izakaya that felt a bit more modern than the first. I think that was part of the tour's progression. We started at the most traditional space and ate and drank our way to the most modern.
I had a choice between two sets at this restaurant. The first set was similar to the first stop – a choice of two dishes and a drink. The second set consisted of a flight of sake and a trio of small izakaya dishes.
As before, I asked Syouri to choose for us. He went with Set B for me and Set A for him, both of which we shared. Pictured below is a flight with three types of sake – daiginjo, junmai, and nigorizake.
If you'd like to learn more about sake, Magical Trip offers a sake brewery and tasting tour in Kyoto's Fushimi district. Fushimi is the second largest sake brewing district in Japan, behind only Nada in Kobe.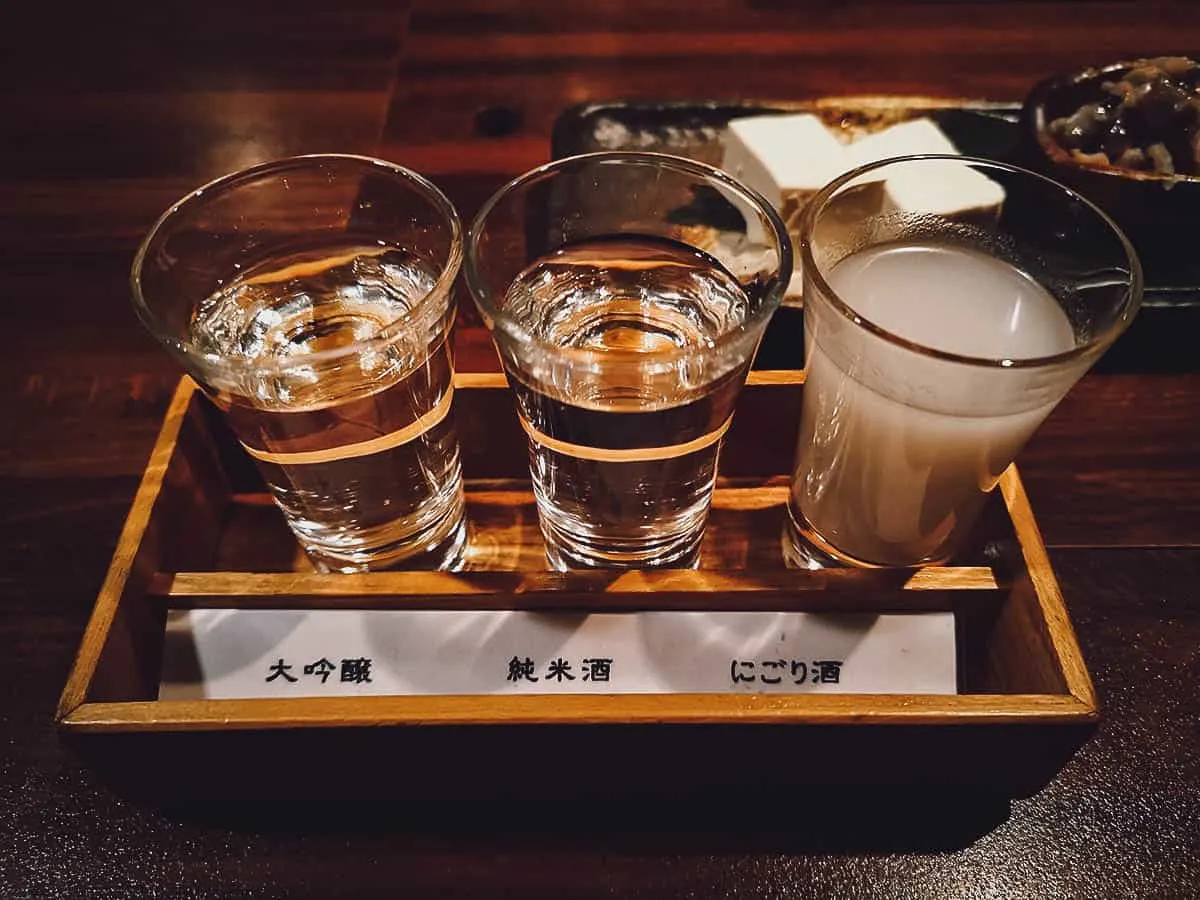 This is the trio of dishes that came with my flight of sake. Pictured from top to bottom are blocks of yuba, raw octopus with wasabi, and ume kurage which is an interesting dish of shark gristle with Japanese plum.
The ume kurage was served cold and had a crunchy snappy texture similar to the fresh jellyfish salad served at Chinese dim sum restaurants. It was delicious and one of the most memorable dishes from the tour.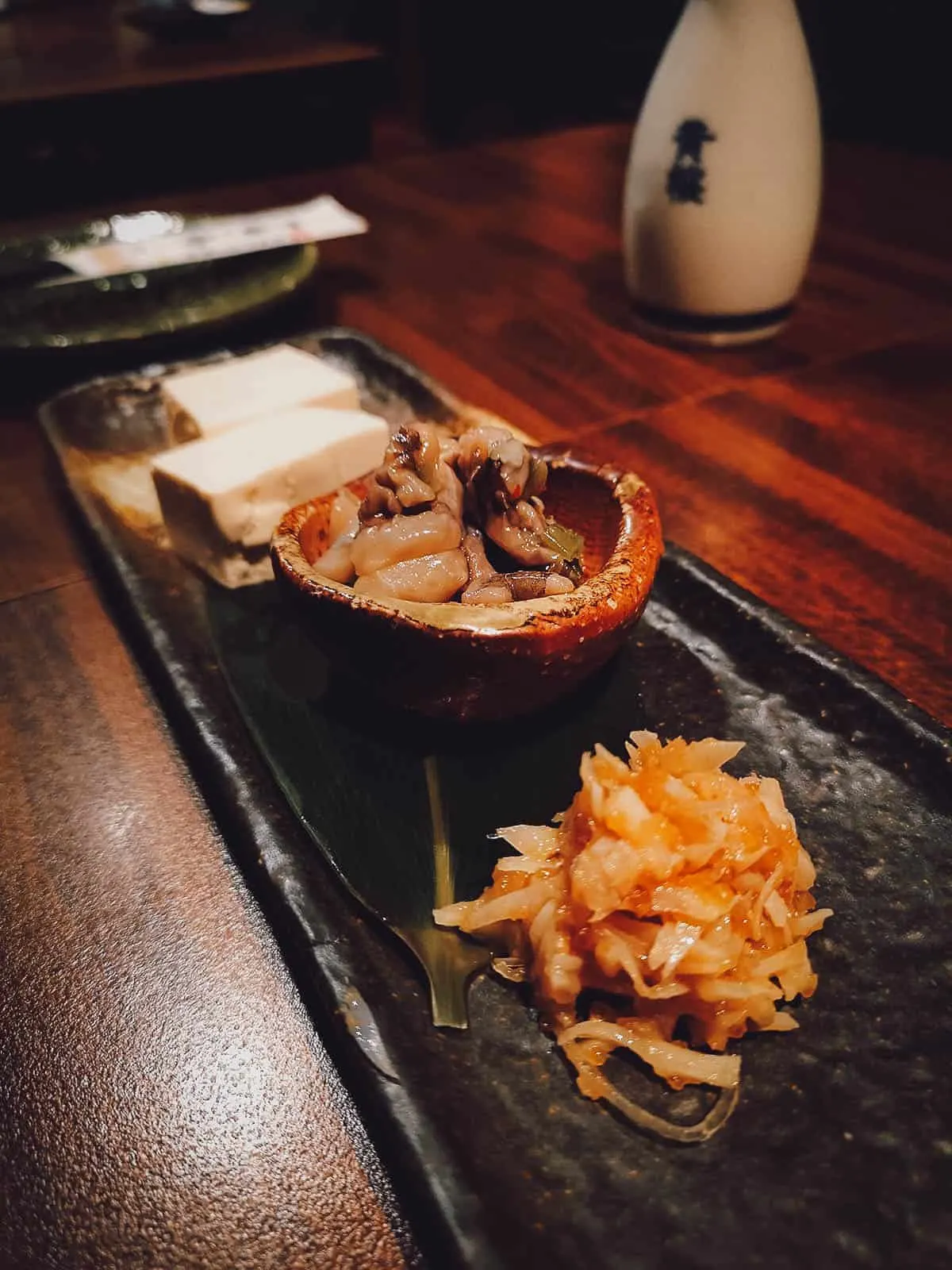 Pictured below is another obanzai platter made with seasonal Kyoto vegetables like edamame and konjac cooked with dashi. Also known as konjaku, konjac is a type of tuber often used in Japanese oden.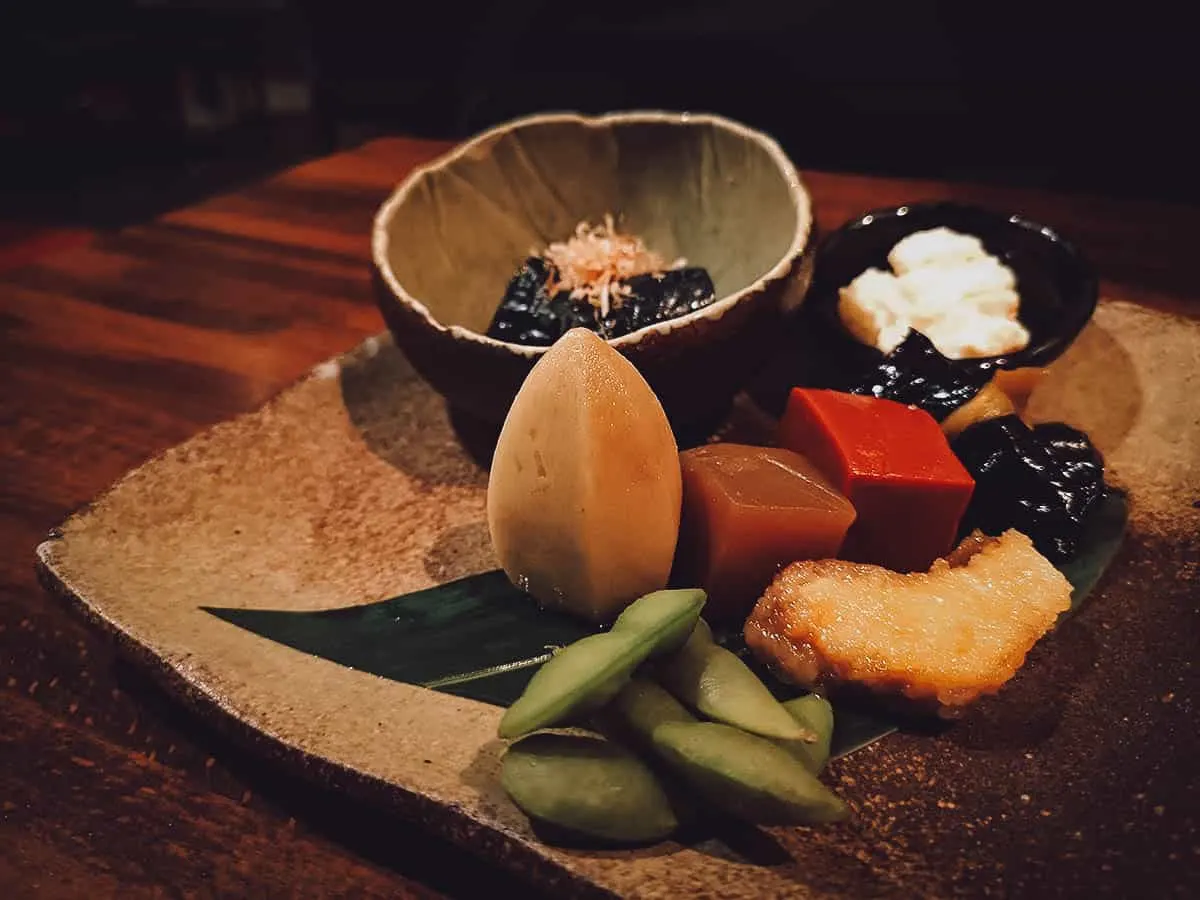 If you're a fan of sake and ramen, then you may want to try this interesting dish called sake kasu ramen. It's a less common type of ramen that's made from sake kasu or the lees (residual yeast) left over from the sake production process.
Sake kasu contains about 8% alcohol and is used in many other Japanese dishes like soup, preserved vegetables, and fermented dry sausage.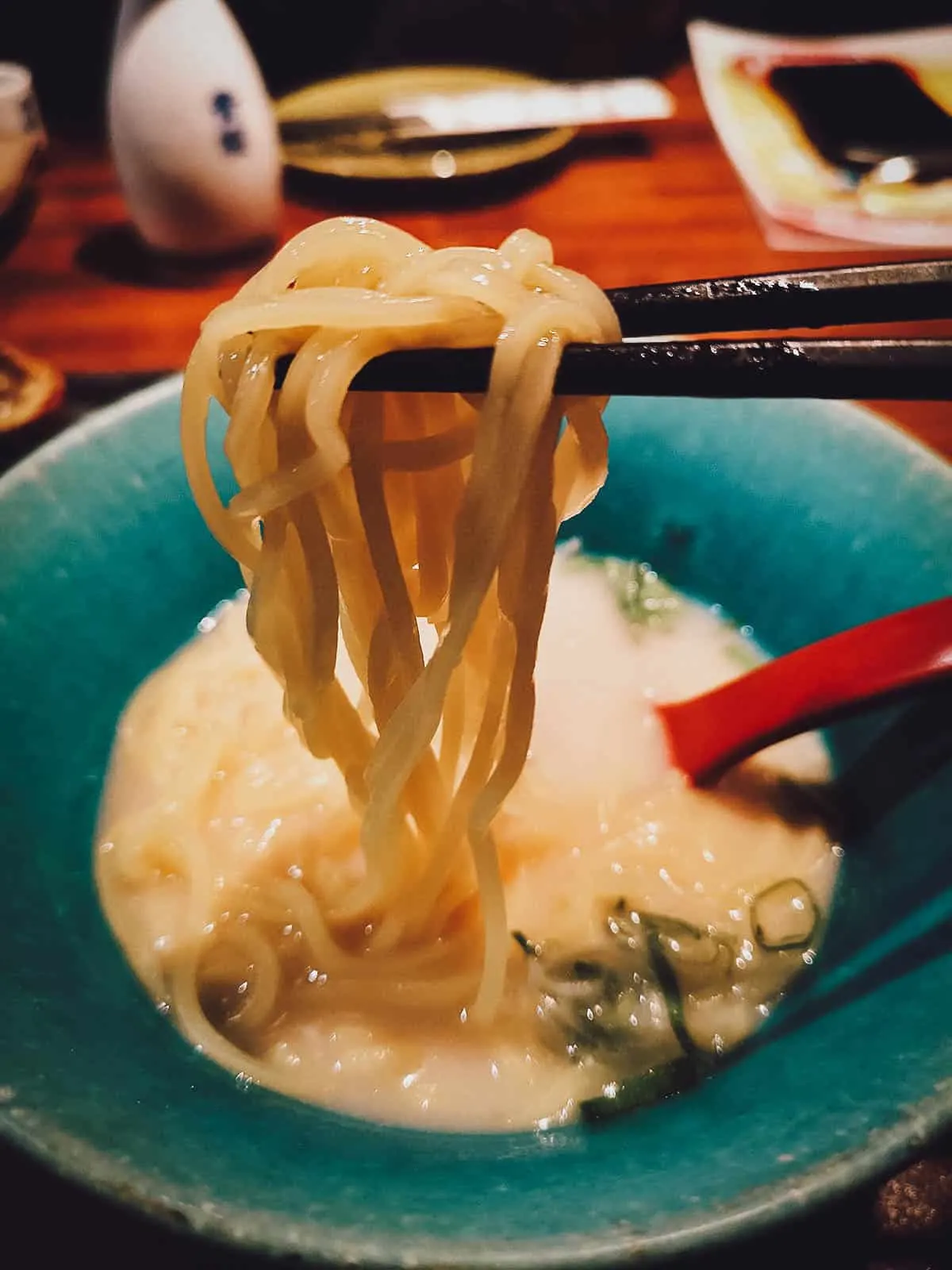 THIRD STOP: Pairing Sake with Gari
For our third and final stop, Syouri took me to the most modern establishment on the tour – a bright and contemporary sake bar that looks like it belonged in Santa Monica and not Kyoto.
You could choose between a flight of sake or other alcoholic drinks like beer, whisky, highball, or shochu. Of course, Syouri and I both went with the flights of sake.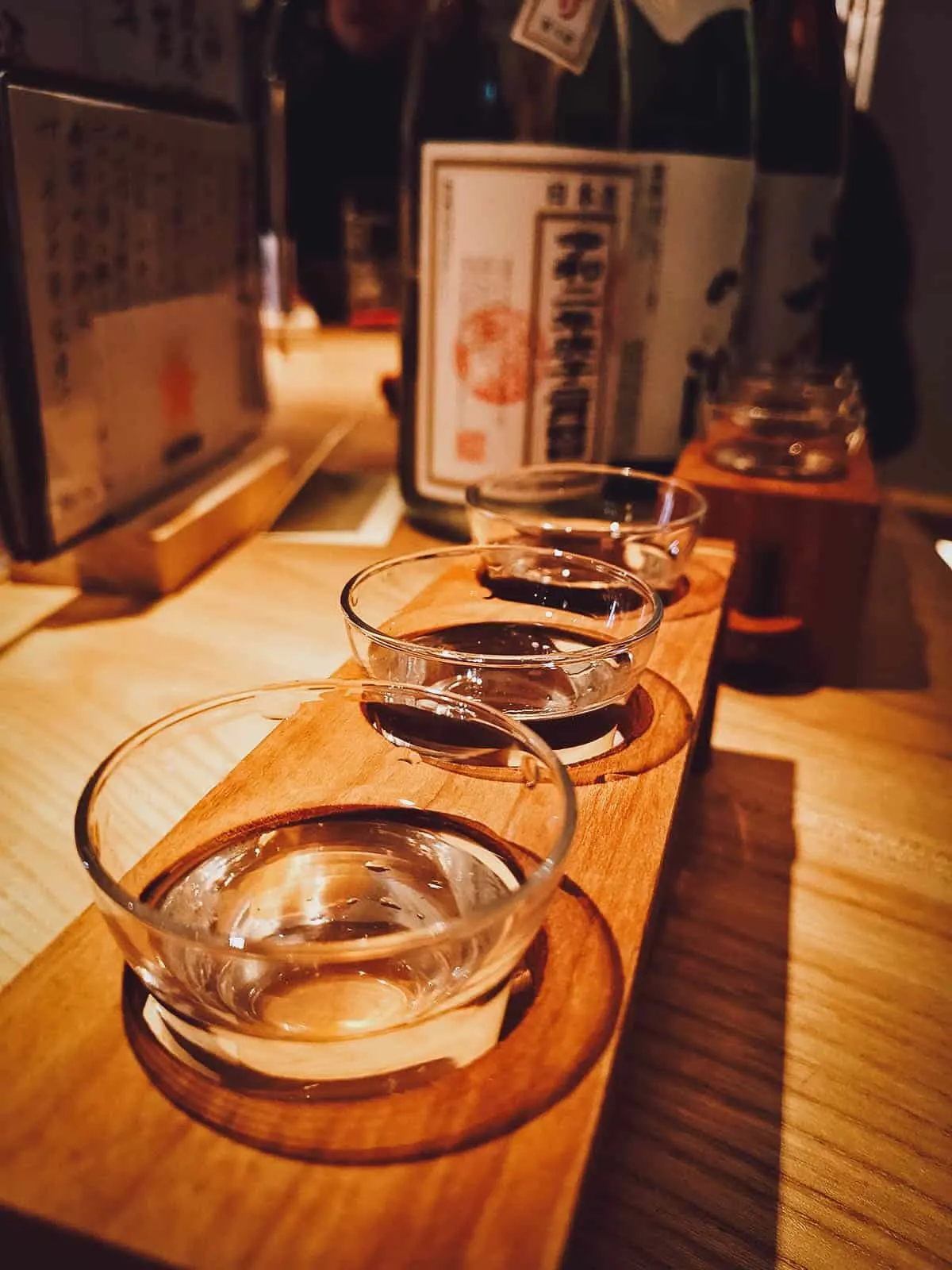 Syouri knows his way around sake so he was explaining to me the different types served to us.
I know next to nothing about sake but I developed a taste and sincere appreciation for it on this trip. Like wine, it becomes a completely different experience when paired with the right types of food. Junmai and nigorizake are my favorites.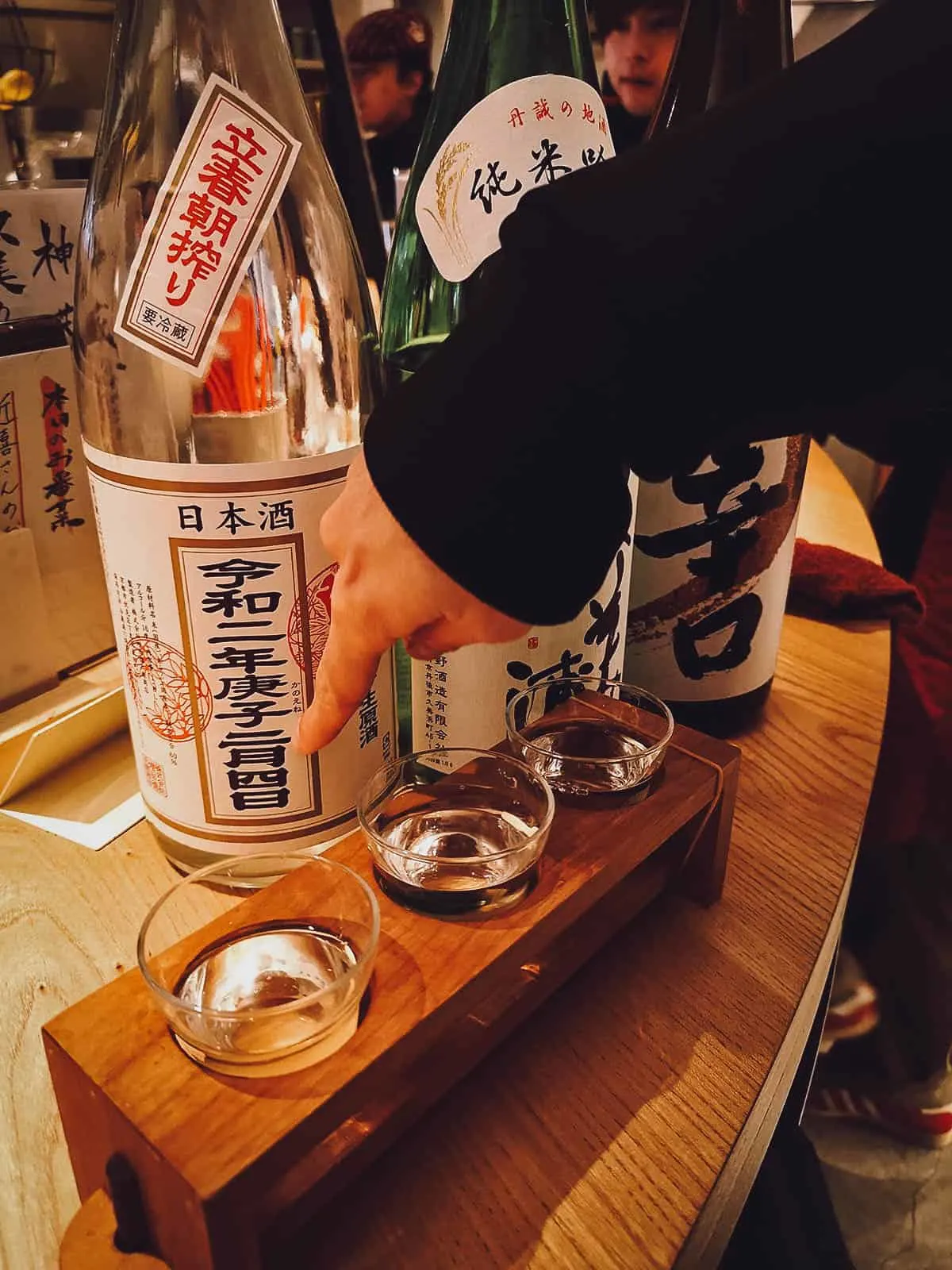 Speaking of sake pairing, Syouri told me that this is the only bar he knows of that offers gari or pickled ginger to enjoy with your sake. It's an interesting combination that helps cleanse the palate between sips.
Only drinks are included at this final stop but if you're still hungry, then you're welcome to order a la carte from their menu. No need for me as I was completely stuffed at this point.
Like old friends, Syouri and I stood at the bar sippping our glasses of sake whilst carrying on a night-long conversation about motsu tsukemen, pork sisig, and our mutual love for all things delicious. Kanpai!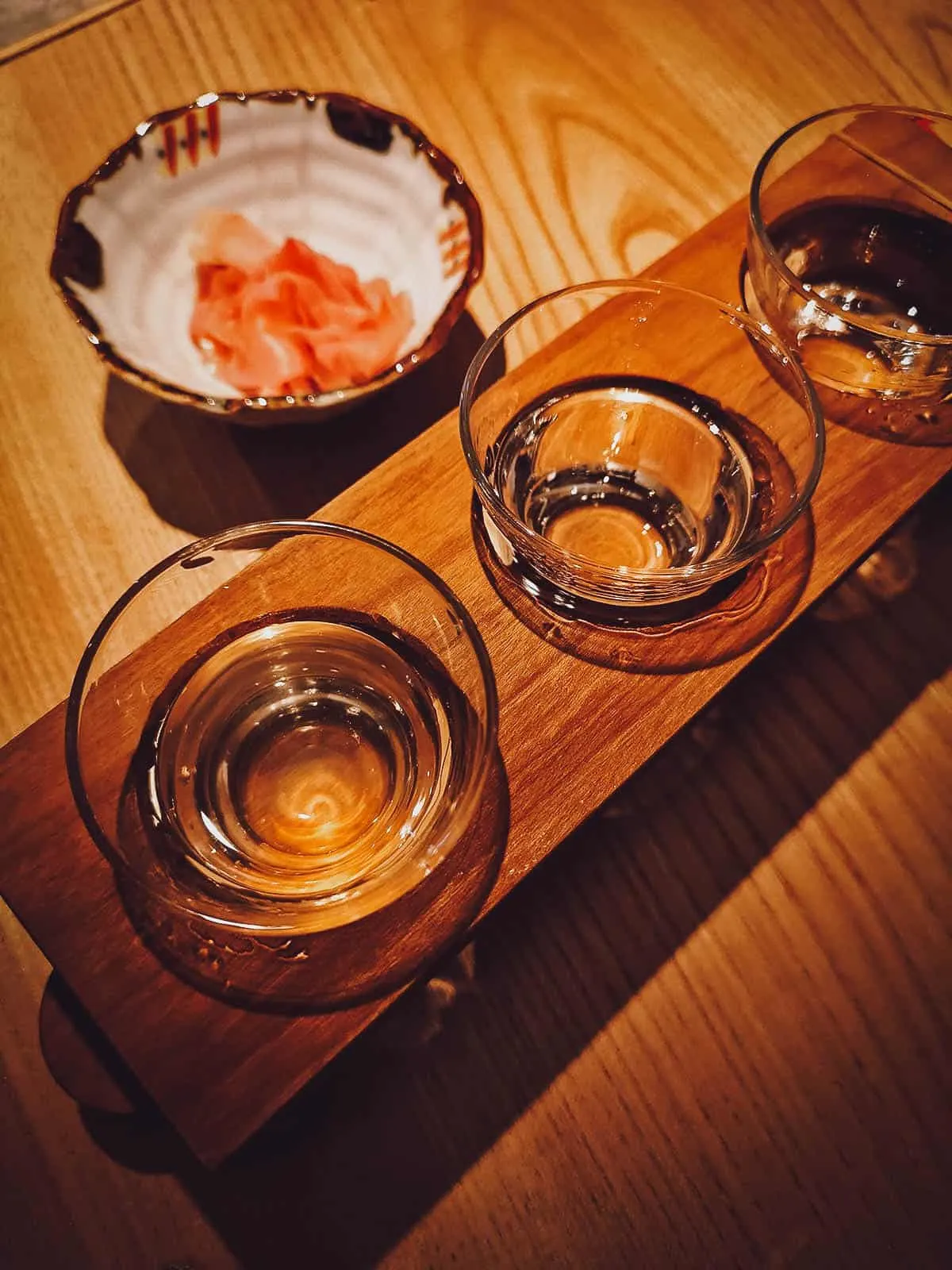 FINAL THOUGHTS ON THIS KYOTO FOOD TOUR
The Gion district is one of the most fascinating neighborhoods in Kyoto. It's alluring in its secrecy with its geisha culture being a mystery to many foreigners, including myself.
A good portion of the Gion district is accessible to foreigners but some of its most traditional quarters seem less so, at least to an outsider like me. If you can't speak the language and don't know where you're going, then it can be intimidating.
In spite of my curiosity and hunger for authentic experiences, I wouldn't have been comfortable entering some of these establishments on my own. Thanks to Syouri, I was able to experience a side of Gion that I may have missed otherwise.
Local insight is invaluable so having a local like Syouri show you around can make the travel experience so much more meaningful, especially in a country as culturally unique as Japan.
If you're traveling to Kyoto and are interested in doing this same tour, then you can book it through Magical Trip. As described, they offer a variety of experiences so be sure to check their website for other interesting tours in Kyoto.
Disclosure
We're Magical Trip affiliates and were given a free food tour in exchange for an honest account of the experience. As always, all thoughts, words, and opinions expressed in this post are mine and mine alone.
Some of the links in this Kyoto food tour article are affiliate links, meaning we'll earn a small commission if you make a purchase at no added cost to you. We only recommend products and services that we use ourselves and firmly believe in. We really appreciate your support as this helps us make more of these free travel guides. Thank you!