How much do you know about Portuguese food?
We had been planning on eating our way through Portugal for many years but to be honest, outside of pastel de nata, bacalhau, and port wine, we really didn't know that much about Portuguese cuisine.
Compared to Spanish cuisine which we're very familiar with, traditional Portuguese food was largely a mystery to us. But we had heard many good things about it over the years – from friends, acquaintances, social media, and television shows – inevitably putting a trip to Portugal high on our list of priorities.
When it came time for us to finally visit Lisbon and Porto, we started devouring Portuguese travel food shows and the more we watched, the more determined we became to find the best food in Portugal.
What we learned was interesting. Portuguese dishes like tripas, cozido, and arroz de sarrabulho told us that a lot of Portuguese food was rustic and hearty fare, the kind of food that we ourselves grew up eating and enjoyed. Perhaps Portuguese food wouldn't be so unfamiliar after all.
If you're visiting Porto or Lisbon and wondering what to eat in Portugal, then this article will lead you to 25 of the best Portuguese dishes in the country.
PORTUGUESE FOOD QUICK LINKS
If you're planning a trip to Portugal and want to really dig into the cuisine, then you may be interested in going on a food tour or taking a Portuguese cooking class.
TOURS
Save This on Pinterest!
No time to read this Portuguese food guide now? Click on the save button and pin it for later!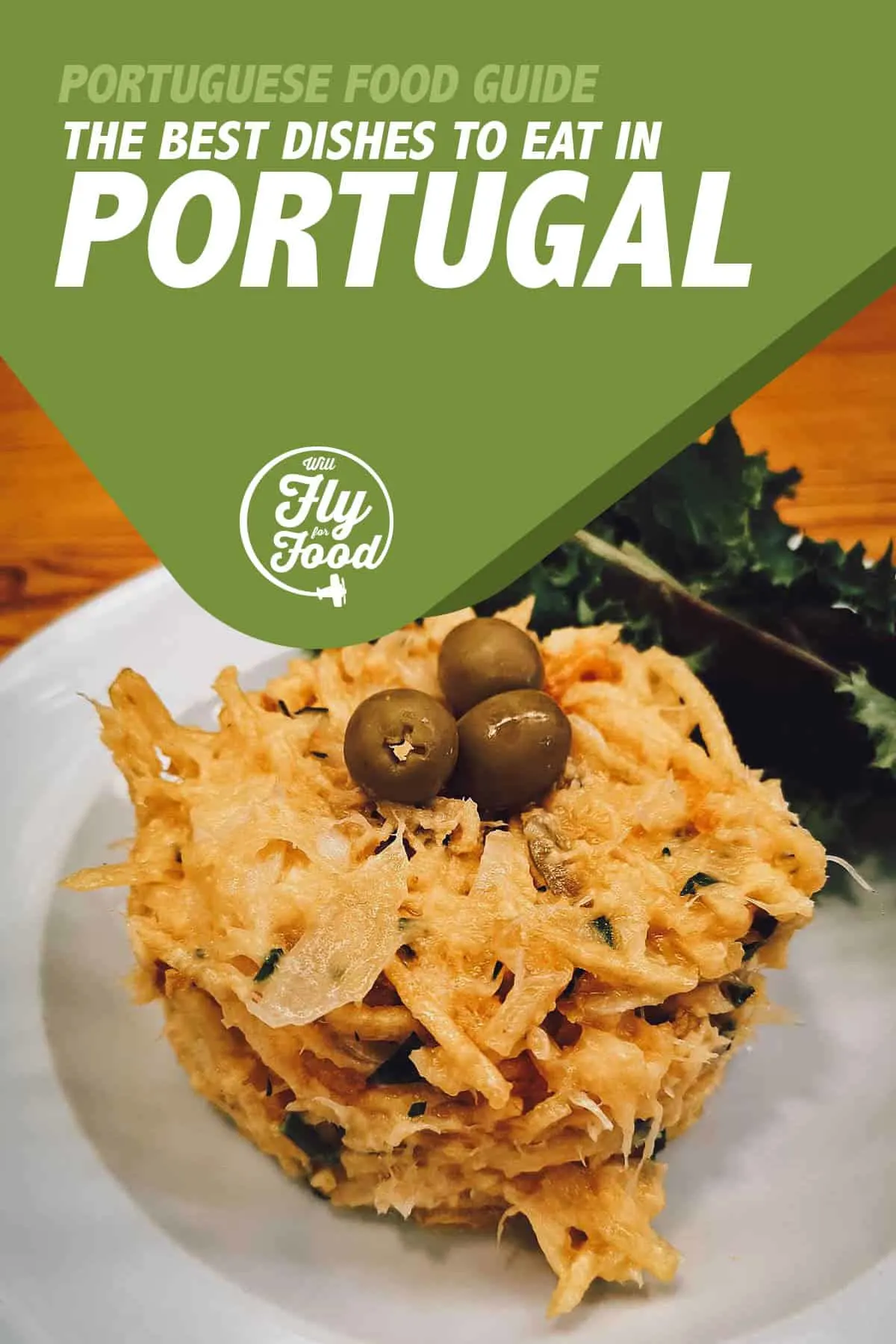 WHAT IS TRADITIONAL PORTUGUESE FOOD?
As described, hearty Portuguese dishes made with meat, seafood, legumes, and vegetables favor heavily in the local cuisine. It's a Mediterranean-based cuisine that makes use of a wide variety of spices, many of which came from Portugal's former colonies.
Some of the more prominent spices used in Portuguese cuisine include piri-piri, paprika, clove, allspice, and cumin. Garlic and onions are also widely used as are herbs like bay leaf, oregano, rosemary, and coriander. I was surprised to read that Portugal is the only European country that uses cilantro as a fresh herb, but this has since been contested by a couple readers of this blog.
Olive oil is used as a base in many Portuguese dishes, either for cooking or for flavoring meals. Bread is a staple at the Portuguese dinner table while wine is the traditional Portuguese drink.
According to the Taste Porto website, if you were to represent Portuguese food with just one dish, then that dish would have to be cozido a portuguesa. It's a type of Portuguese boiled meal made with a wide variety of meats, smoked sausages, vegetables, and spices.
THE BEST PORTUGUESE DISHES
To help organize this guide, I've arranged the Portuguese dishes by category. Click on a link to jump to any section.
PORTUGUESE SOUPS / SIDES
1. Caldo Verde
Caldo verde is one of the most popular soups in Portuguese cuisine. It originated from the Minho province in northern Portugal but is now consumed throughout the country.
Caldo verde is traditionally made with potatoes, chorizo (or linguica), kale (or other leafy greens like collard greens), and olive oil and is often served with broa for dipping in the soup. Broa is a type of corn and rye bread traditionally made in Portugal.
Caldo verde is an important dish in Portuguese culture and commonly served at gatherings to celebrate events like birthdays and weddings.
"Caldo Verde" by Michael, used under CC BY 2.0 / Processed in Photoshop and Lightroom
2. Açorda
Açorda is a Portuguese soup/stew made with bread soaked in broth, coriander, garlic, olive oil, and a poached egg. It can be made with other ingredients as well like bacalhau or shrimp.
There are two basic types of açorda in Portugal – Lisbon açorda and Alentejo açorda. The former is made with papo seco bread while the latter is made with leftover sopas (local Alentejano bread). If I understand correctly, this classic Portuguese soup is originally from the Alentejo region but like caldo verde, it's become one of the most popular soups in Portugal. It's a hearty and filling soup that's almost a meal in itself.
We had this tasty bowl of açorda a alentejana with glasses of vinho verde (Portuguese wine from Minho province) at the popular Casa da India restaurant in Lisbon.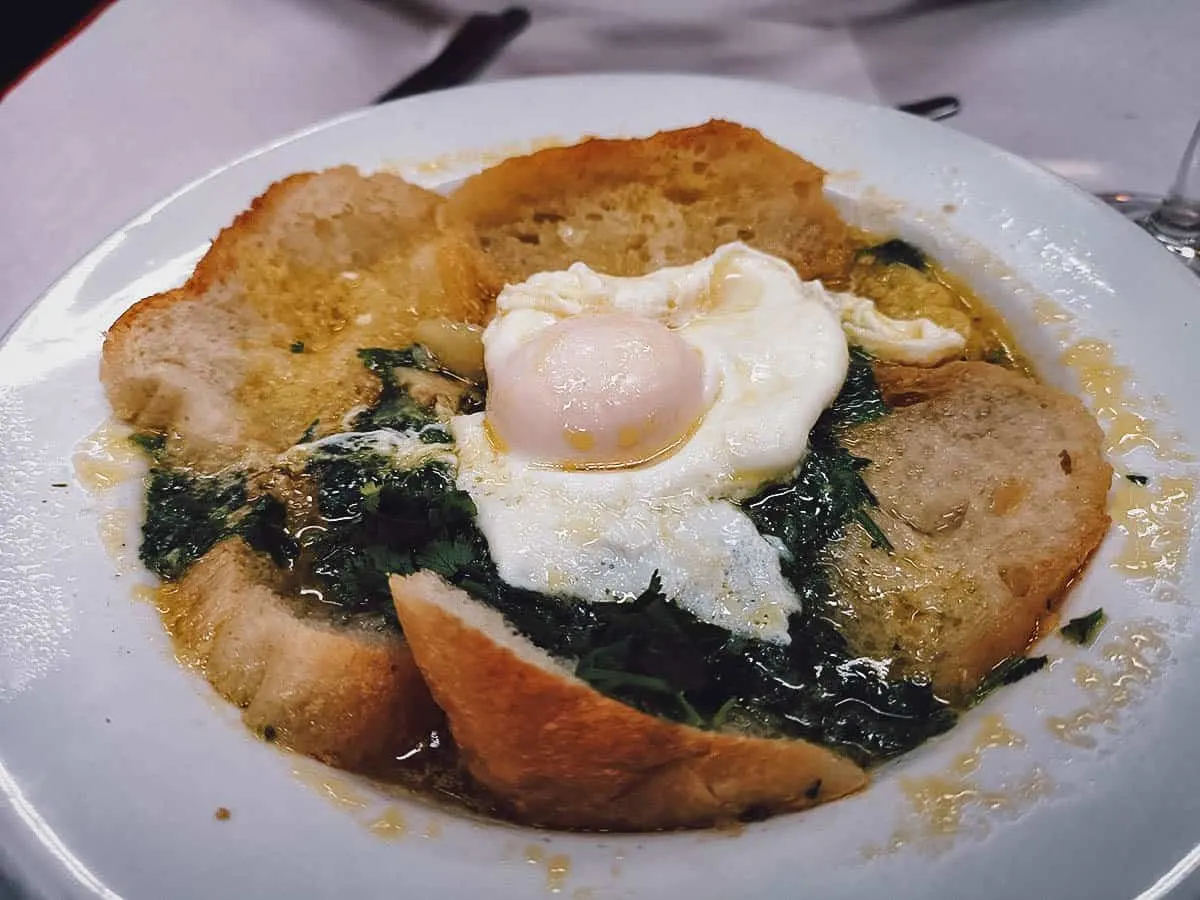 3. Torricado
Torricado refers to a Portuguese regional dish of charcoal-toasted bread from the Ribatejo province in central Portugal. Slices of bread are toasted over charcoal and soaked in olive oil before being brushed with garlic and salt.
Torricado can be served on its own, mainly as a side dish, but it can also be topped with any number of ingredients like bacalhau, sardines, and pork.
It started off as rural worker food, as an inexpensive and easy way for laborers to have lunch while working in the fields. Today, it's usually served at family and social gatherings.
I had these fancier versions of Portuguese torricado at the lovely Taberna Folias de Baco restaurant in Porto.
4. Croquettes
Croquettes are a popular snack or side dish and one of the best things you can eat in Portugal. Portuguese croquettes can be filled with any number of ingredients but the most traditional version is the croquete de carne or Portuguese beef croquette.
Pictured below are the Portuguese croquettes I had at the popular Time Out Market in Lisbon. The croquette on the left is made with beef and pork while the one on the right is made with cuttlefish cooked in its own ink.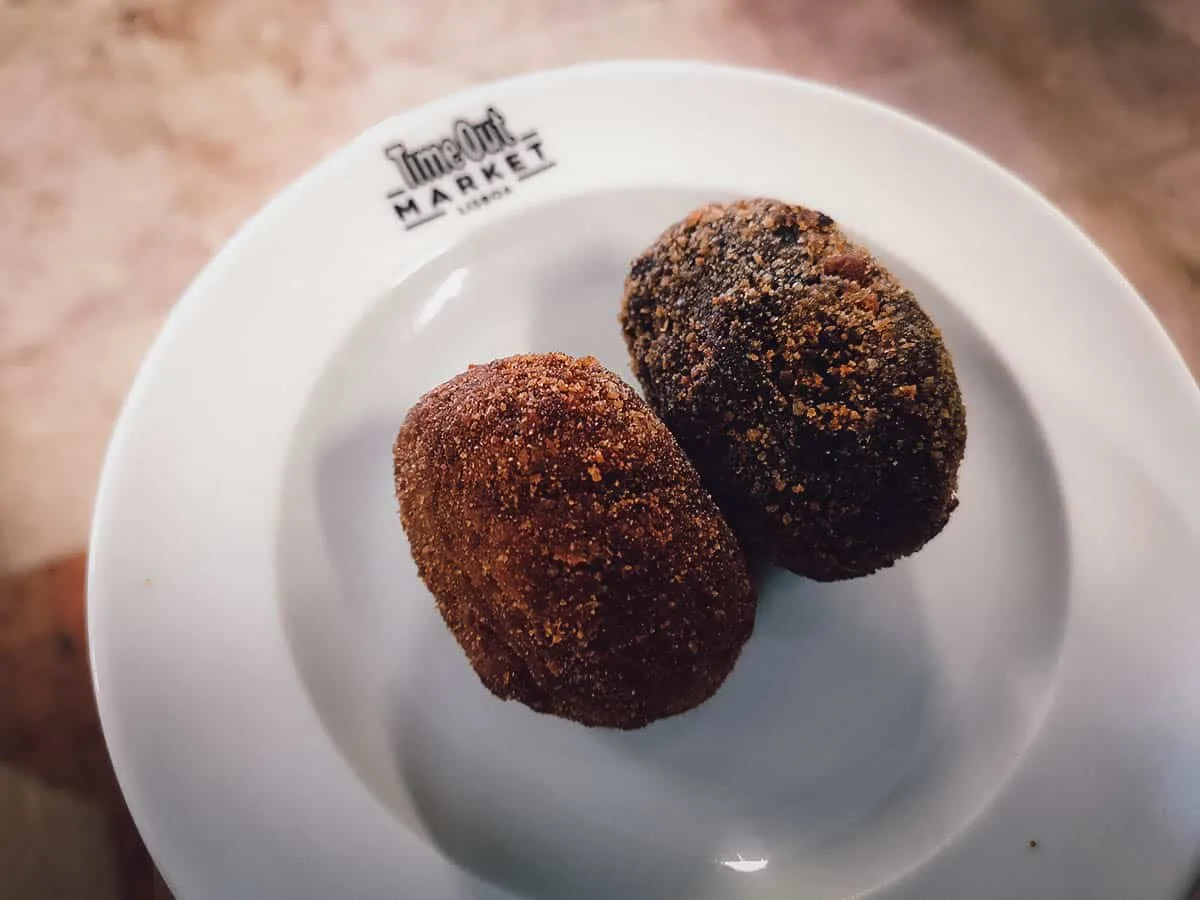 This is what the inside of a Portuguese croquete de carne looks like. The meat has a shredded consistency, like ragout. Another must-try Portuguese croquette is pastéis de bacalhau or salt cod fritters.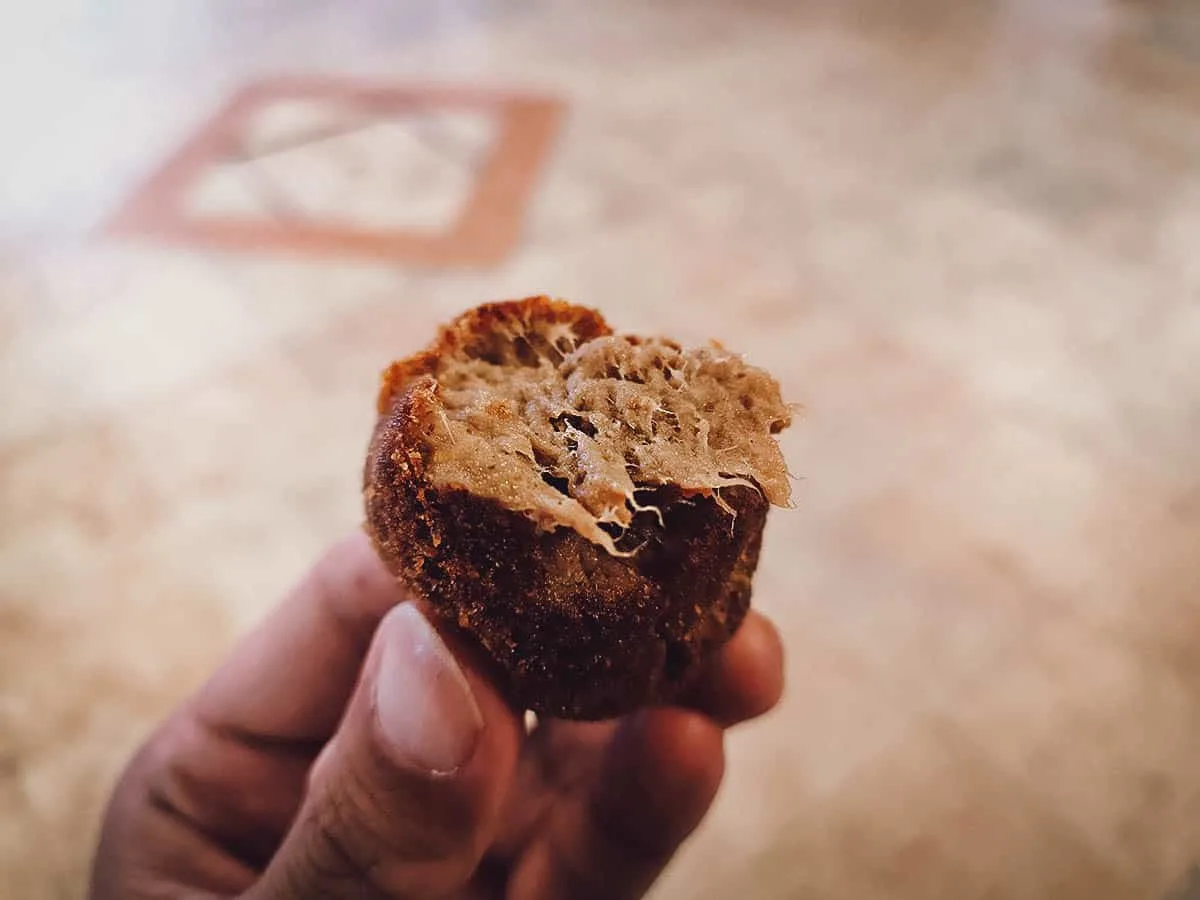 PORTUGUESE SANDWICHES
5. Francesinha
If you were to have just one dish in Porto, then it should definitely be the francesinha. It's arguably the most important dish in Porto regional cuisine.
A francesinha is a sauce-covered Portuguese sandwich made with bread, linguica (Portuguese sausage), ham, and steak or roast beef. It's covered with melted cheese and topped with a fried egg before being drenched in a thick beer and tomato sauce. If that doesn't sound filling enough, it's typically served with a generous helping of french fries.
The word francesinha literally means "little French woman" or "frenchie" in Portuguese. It was inspired by the French croque-monsieur and adapted to the Portuguese palate. Today, it's a dish that's become synonymous with Porto.
The francesinha is such an important Porto dish that everyone has an opinion on who serves the best. Check out our Porto food guide for suggestions on where to try this monster of a sandwich in Porto.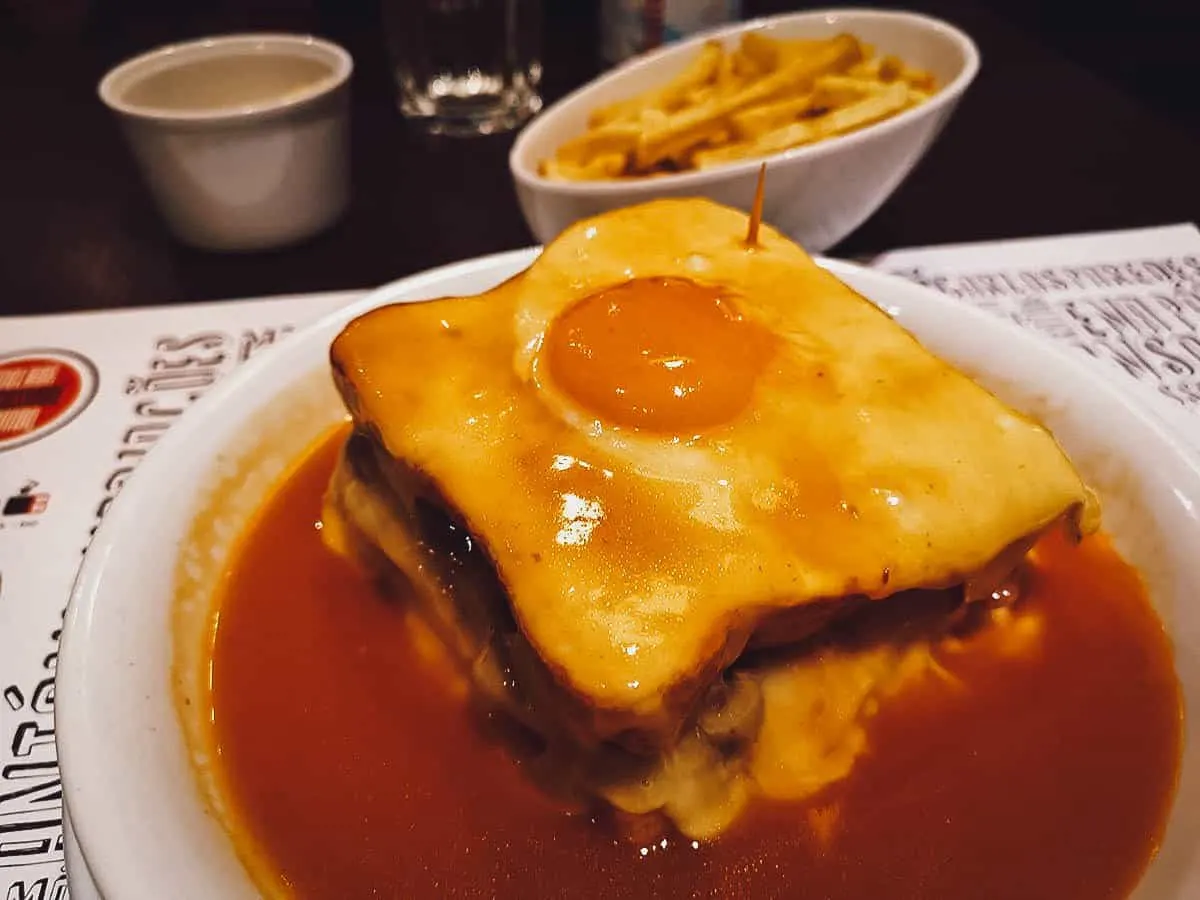 6. Cachorrinhos
The cachorrinho is like a type of Portuguese hot dog, but much better. It's essentially a Portuguese sandwich made with crusty bread, sausage, and cheese brushed with a spicy sauce.
As you can see below, the cachorrinho is sliced into bite-sized pieces for easy eating. It's delicious and goes amazingly well with ice-cold Portuguese beer.
We had these cachorrinhos at the popular Gazela Cachorrinhos da Batalha in Porto. They've been making cachorrinhos for over fifty years and sell over 300 of these tasty Portuguese sandwiches a day.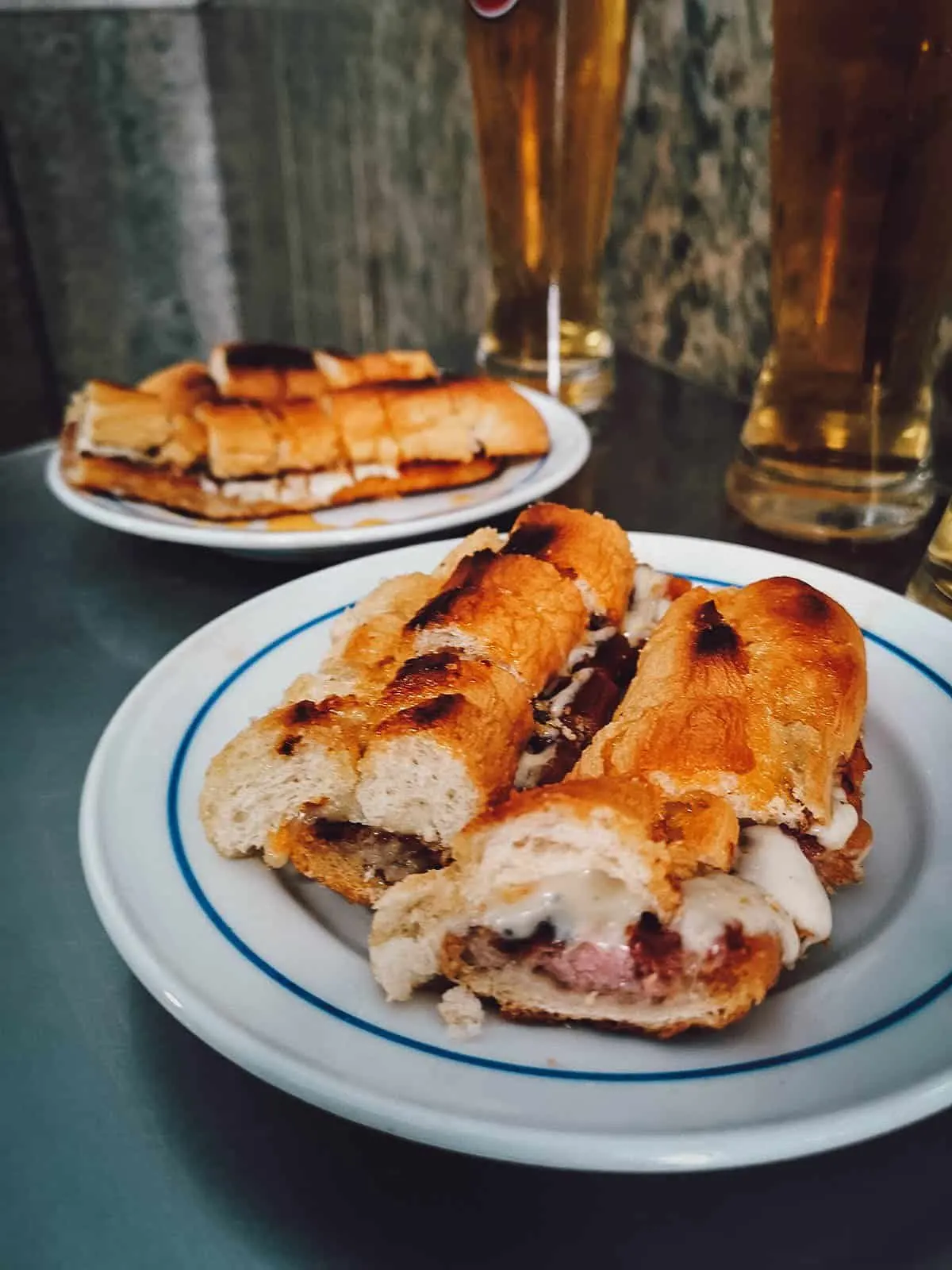 7. Prego
Prego is one of my favorite Portuguese dishes. It's a type of Portuguese sandwich made with grilled beef brushed with a garlicky marinade and served in a crusty papo seco or Portuguese bread roll.
Depending on the restaurant, prego can be topped with additional ingredients but the traditional version made with just grilled beef and garlic marinade is the best. It's absolutely delicious and in my opinion, one of the best things you can eat in Portugal.
Interestingly, prego in Portuguese means "nail". It's in reference to how garlic flavor is hammered into the beef. Chopped garlic is placed on top of the beef and "nailed" into the meat using a tenderizing mallet.
Oddly enough, the prego is enjoyed as much for "dessert" as it is as a snack. As strange as that sounds, it's often the last thing Portuguese people eat after eating seafood at a cervejaria. Reasons are unclear but some believe it's to help fill up after an expensive but less filling seafood meal.
I had this fantastic prego sandwich at Pregar in Porto. Check out how thick and juicy that steak looks! They serve it with their own housemade mustard.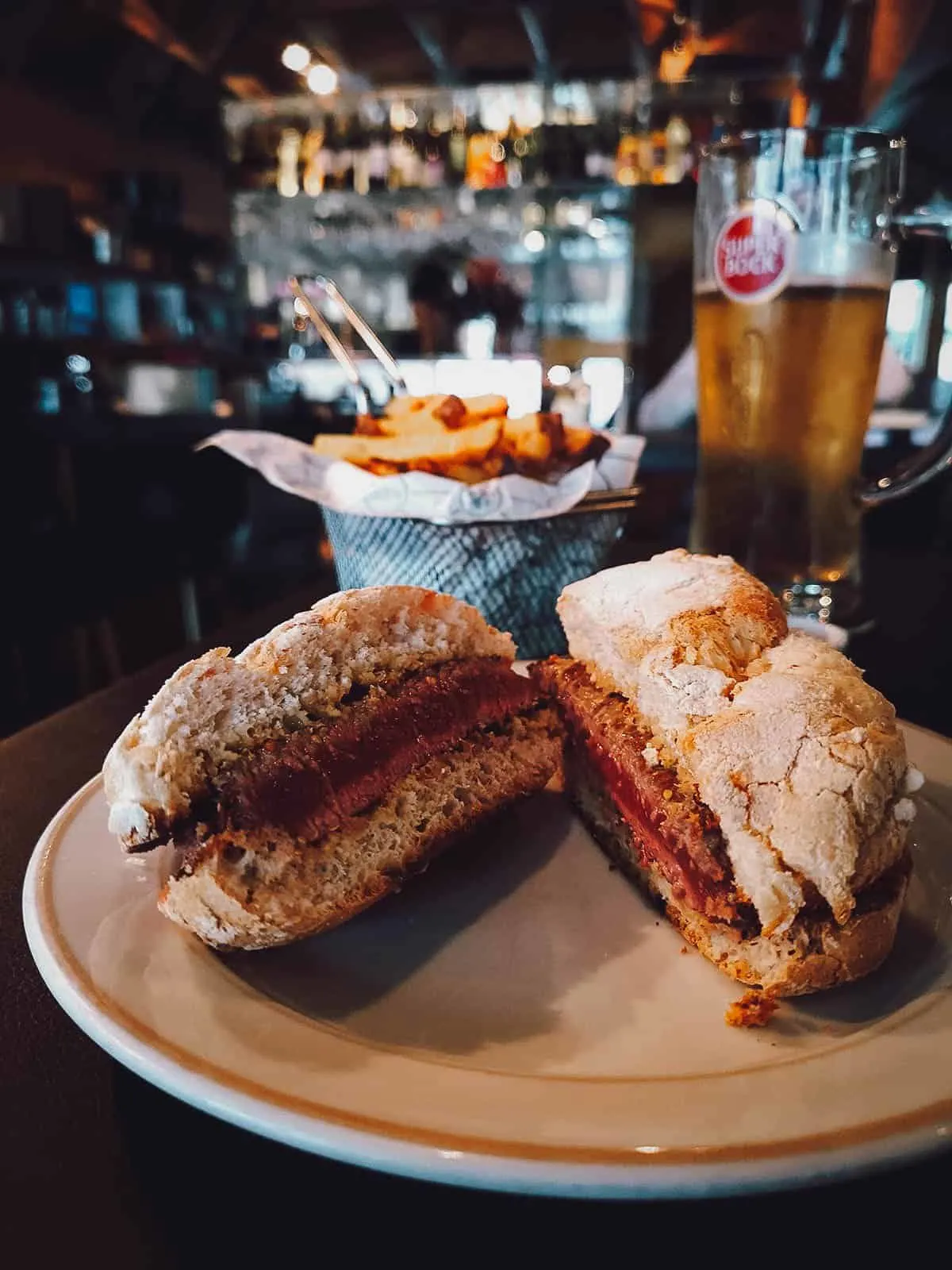 8. Bifana
Like the prego, the bifana is one of the most popular sandwiches in Portugal. It's also made on a papo seco bread roll but instead of grilled beef, it's made with thinly-sliced marinated pork cutlets.
At its most basic, traditional bifana sandwiches are made with pork, garlic, paprika, and white wine but everyone has their own spin on this classic Portuguese dish. Some Portuguese restaurants will serve it topped with additional ingredients like tomatoes, bell peppers, onions, cheese, and a fried egg.
Bifana pork sandwiches can be enjoyed anywhere in Portugal, though many locals will say that the best bifana comes from Lisbon. It's believed to have originated from the town of Vendas Novas in the Alentejo region.
The bifana is such a popular Portuguese sandwich that local McDonald's serve their own version called, you guessed it, the McBifana.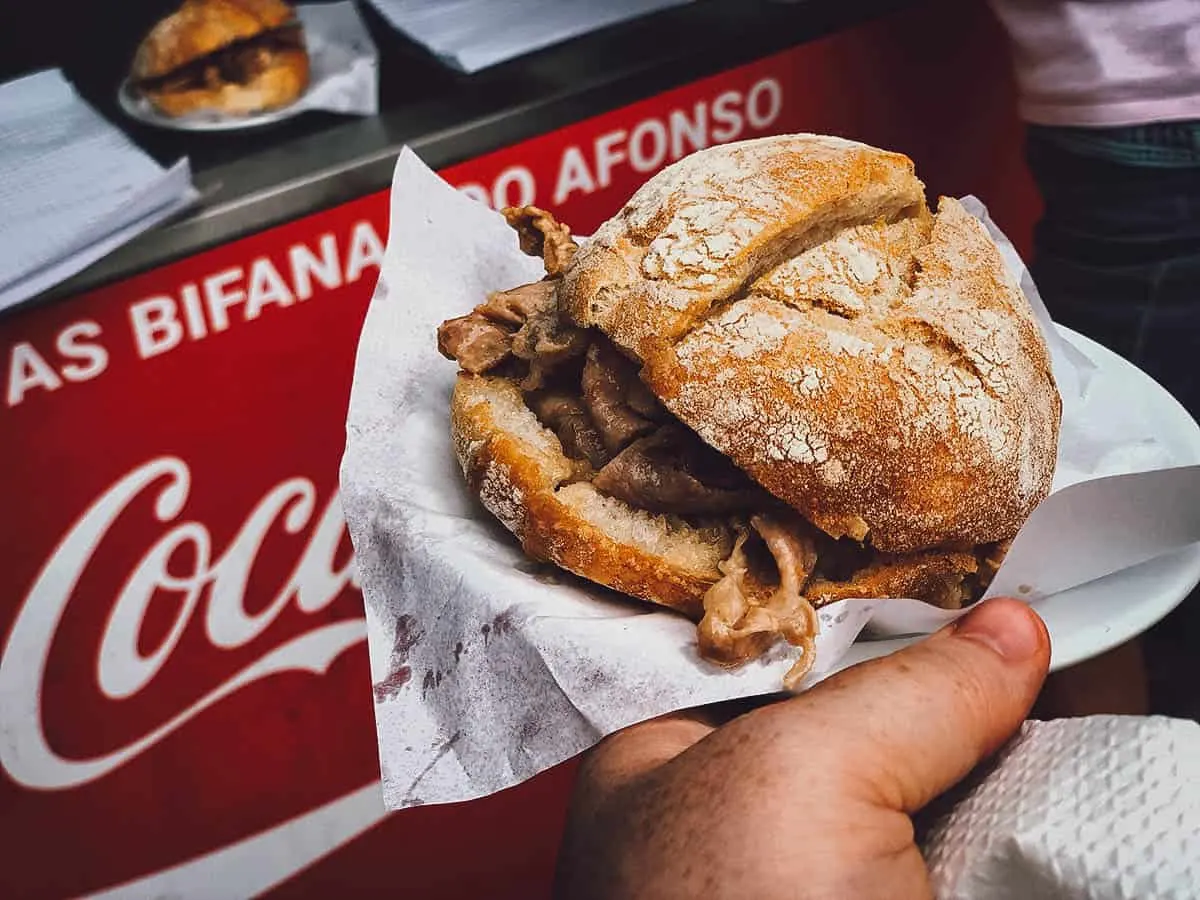 "Delicious Bifana Sandwich, As Bifana do Afonso" by Sonse, used under CC BY 2.0 / Processed in Photoshop and Lightroom
PORTUGUESE SEAFOOD DISHES
9. Bacalhau
Together with pastel de nata, bacalhau is perhaps the most well-known dish in Portuguese cuisine. It's a Portuguese national dish and far and away the most commonly eaten type of fish in Portugal.
Bacalhau is the Portuguese word for cod, but in a culinary context, it refers specifically to dried and salted cod. It's been produced for over 500 years as a means of preserving cod before the invention of refrigeration. Drying and salting the cod not only preserves its nutrients, but it also enhances its flavor.
Bacalhau is a key part of the Portuguese culinary heritage. It's often present at social gatherings and in some parts of Portugal, it's served as part of the traditional Christmas Eve meal. It's become popular in other Roman Catholic countries as well as a Lenten dish.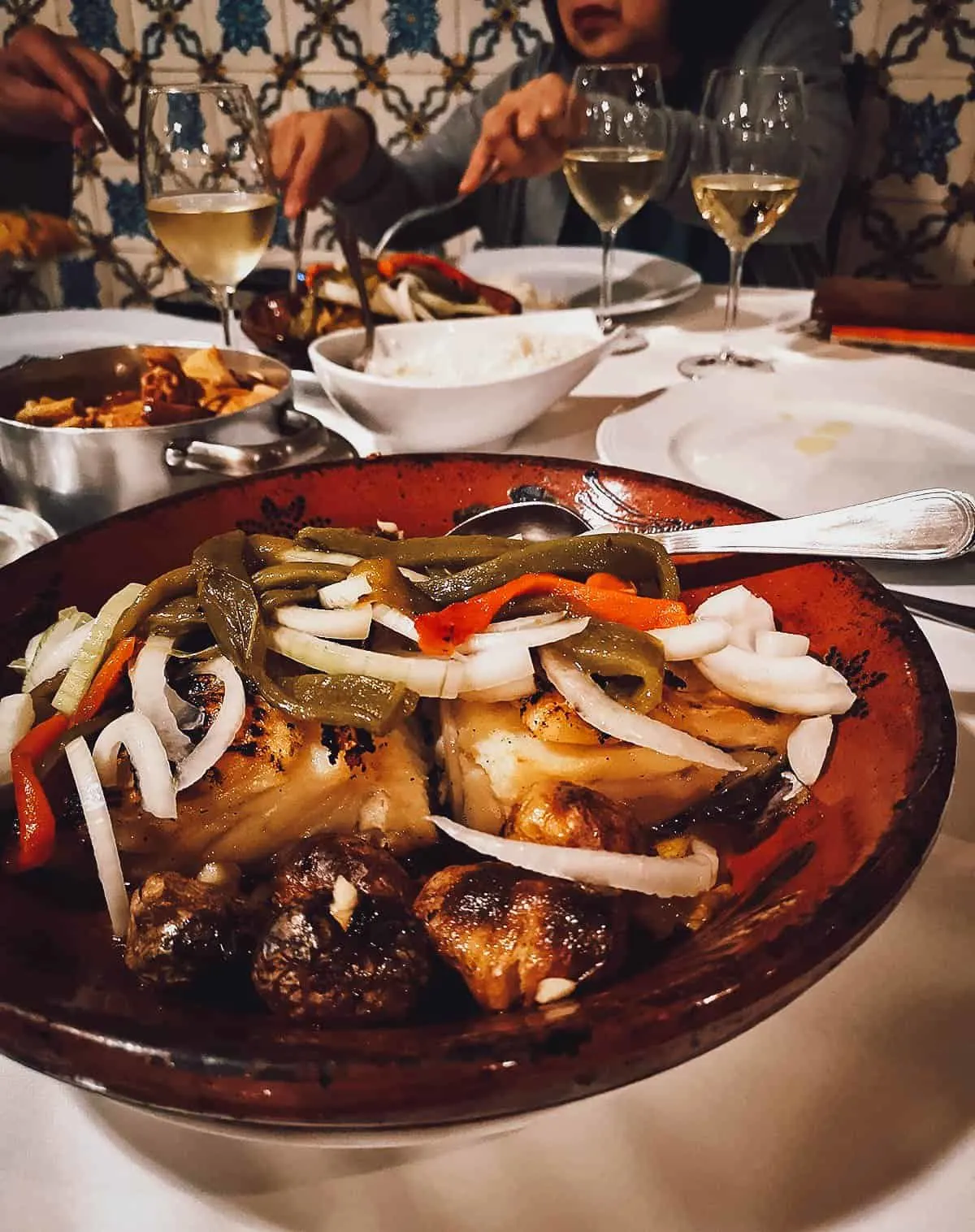 It's said that there are over a thousand recipes for bacalhau in Portugal. Among the dishes I've tried, my personal favorite is bacalhau a bras. I enjoyed the one below with some vinho verde (Portuguese wine) at the Miguel Castro e Silva stall at Lisbon's Time Out Market.
Bacalhau a bras refers to a Portuguese dish made with shreds of salt cod, onions, and hand-cut french fries cooked with scrambled eggs. It's creamy and delicious and one of the best Portuguese dishes we had on our trip.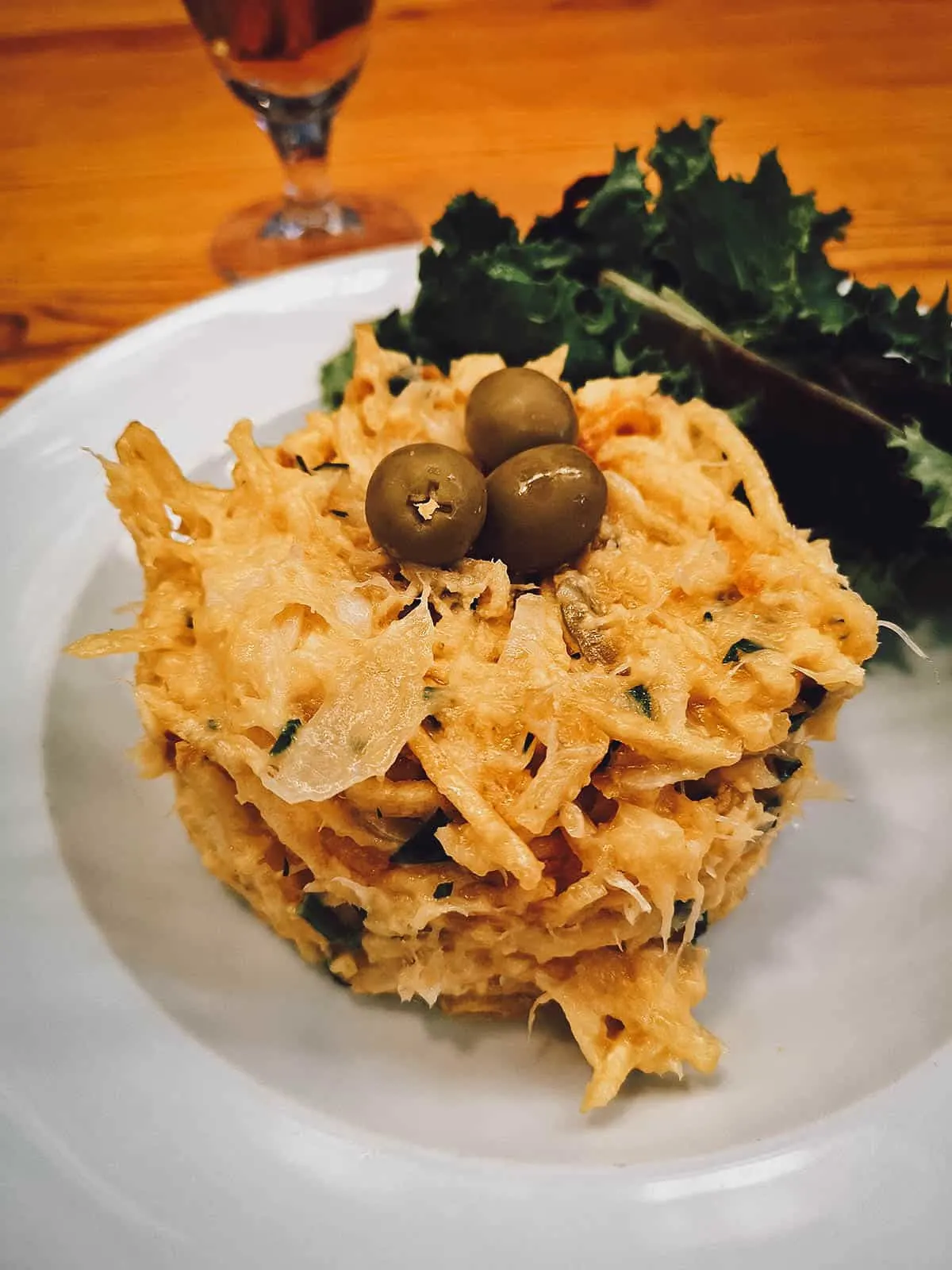 10. Polvo a Lagareiro
Portugal is bordered by the Atlantic Ocean so it's only natural for seafood to figure prominently in the Portuguese diet. Aside from bacalhau and cataplana de marisco, one of the most popular Portuguese seafood dishes is polvo a lagareiro.
This Portuguese seafood dish is made with boiled and roasted octopus served with "punched potatoes", coriander, garlic, and a generous amount of olive oil.
"Punched potatoes" is the literal translation of batatas a murro which refers to how the potatoes are lightly crushed open to allow the seasonings to seep through.
Polvo à lagareiro literally means "octopus in the lagareiro-style" and is a variation of the more common recipe bacalhau a lagareiro made with salt cod.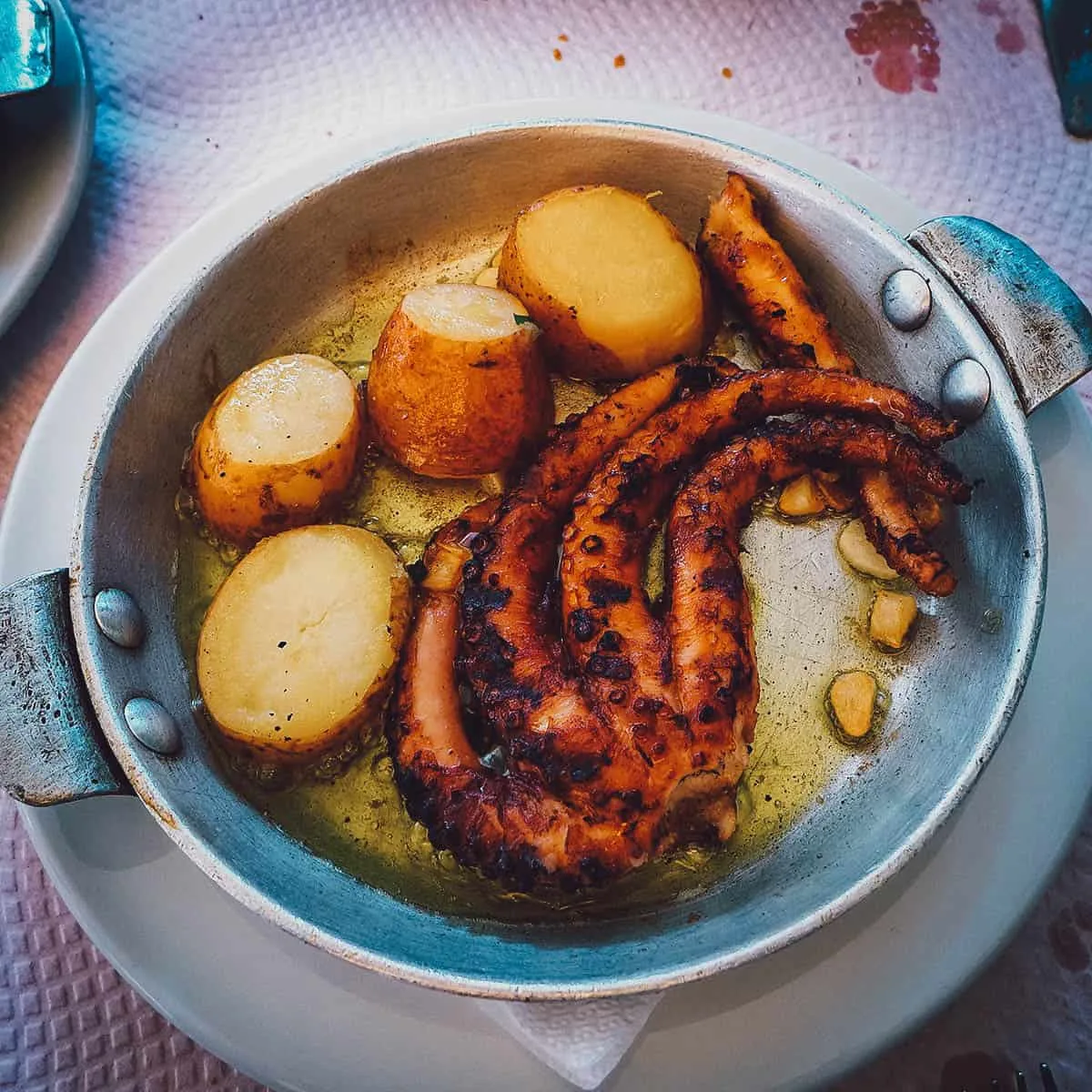 "Polvo à Lagareiro" by Scott Dexter, used under CC BY-SA 2.0 / Processed in Photoshop and Lightroom
11. Sardinhas Assadas
Along with bacalhau and octopus, another popular seafood in Portugal is the humble sardine. It's used in many traditional Portuguese dishes, none more popular perhaps than sardinhas assadas.
Sardinhas assadas refers to a simple but comforting dish of freshly grilled sardines that originated in the Lisbon and Vale do Tejo regions. Sardines are roasted whole over an open fire and seasoned with coarse sea salt. It's a popular summertime festival food in Portugal that's best enjoyed from June till August.
Grilled sardines have been celebrated in Portuguese festivals for centuries, the most notable event being the annual Feast of St. Anthony or the Sardine Festival in Lisbon. For two days in June, the streets of Lisbon are imbued with the heavenly smells of freshly grilled sardines.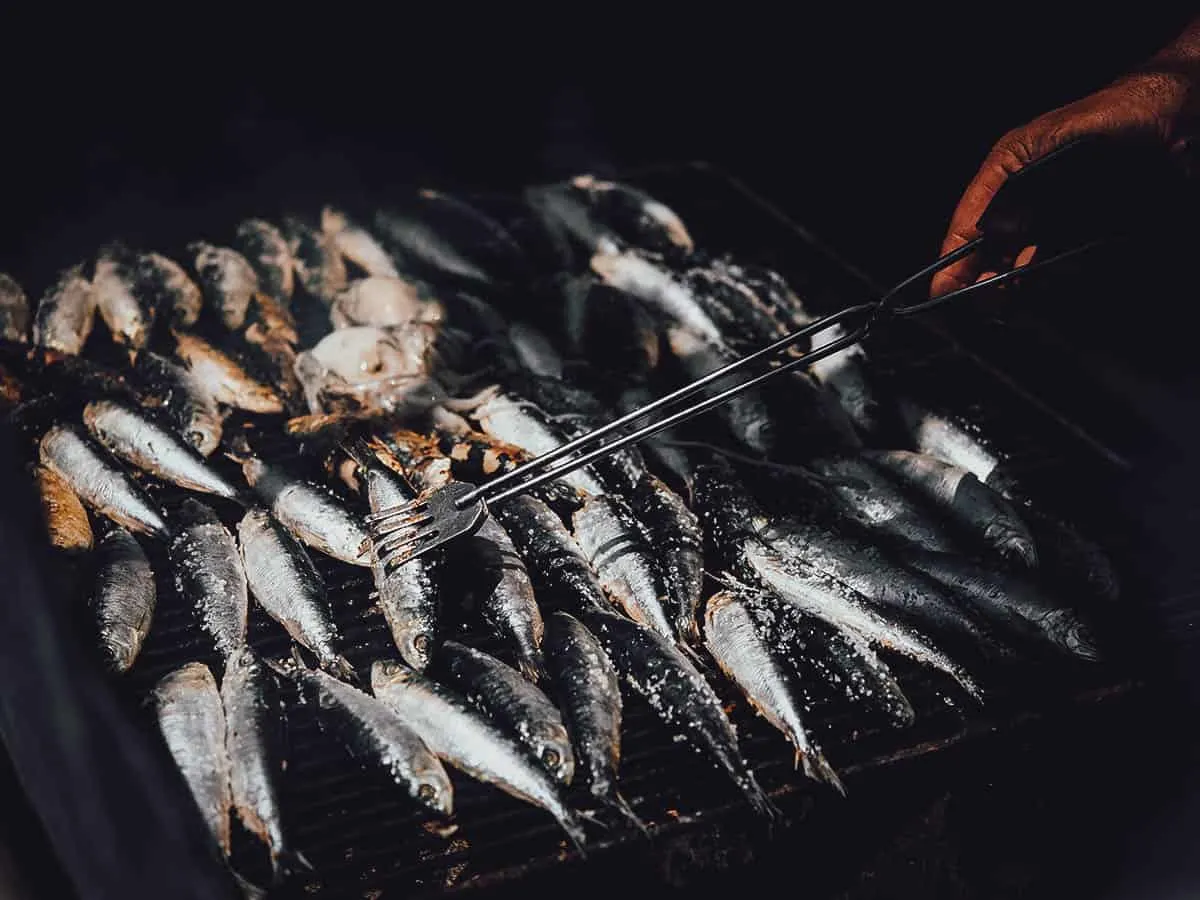 Photo by Yulia Grigoryeva via Shutterstock
12. Ameijoas a Bulhao Pato
Ameijoas a bulhao pato refers to a dish of clams made with olive oil, white wine, garlic, bay leaves, and cilantro. It's a Lisbon food favorite often enjoyed as an appetizer with bread at many Portuguese seafood restaurants in the capital.
Ameijoas a bulhao pato is named after 19th-century Lisbon poet Raimundo Antonio de Bulhao Pato, a well-known Portuguese gastronomist who often mentioned the dish in his writings.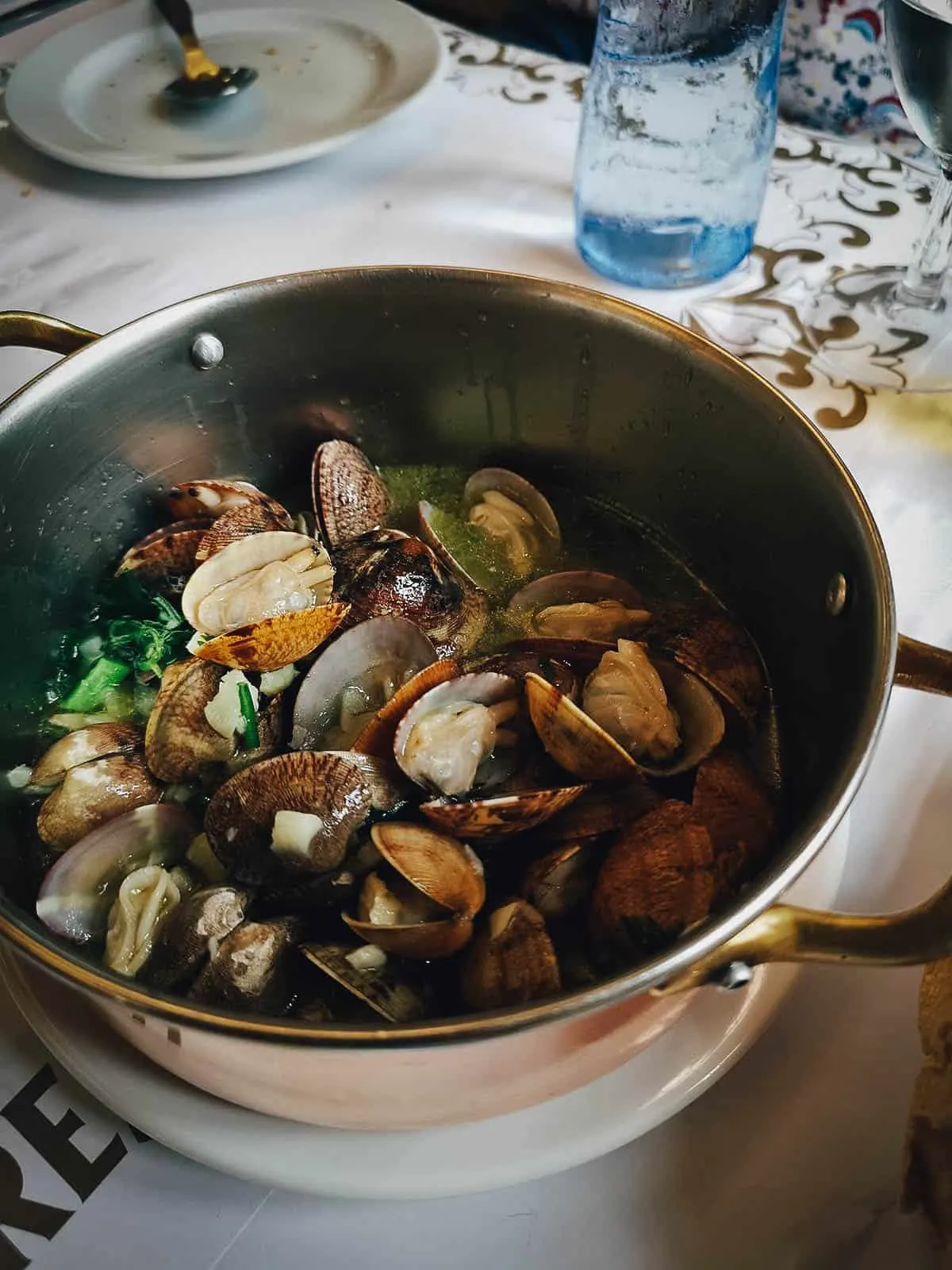 13. Arroz de Tamboril
Arroz de tamboril refers to Portuguese monkfish stew with rice. It's a classic Portuguese dish made with monkfish and rice and a host of other ingredients like tomato sauce, bell pepper, onion, garlic, chili, and coriander.
Monkfish is delicious. It's a type of anglerfish found in the Atlantic and Indian oceans. It isn't the prettiest fish to look at but what it lacks in good looks it more than makes up for in its superb taste and texture. Monkfish flesh is firm and meaty and closer in texture to lobster than to most fish. I loved it.
We had this delicious arroz de tamboril with a bottle of vinho verde (Portuguese wine) at the beautiful and unique Ponto Final restaurant in Almada.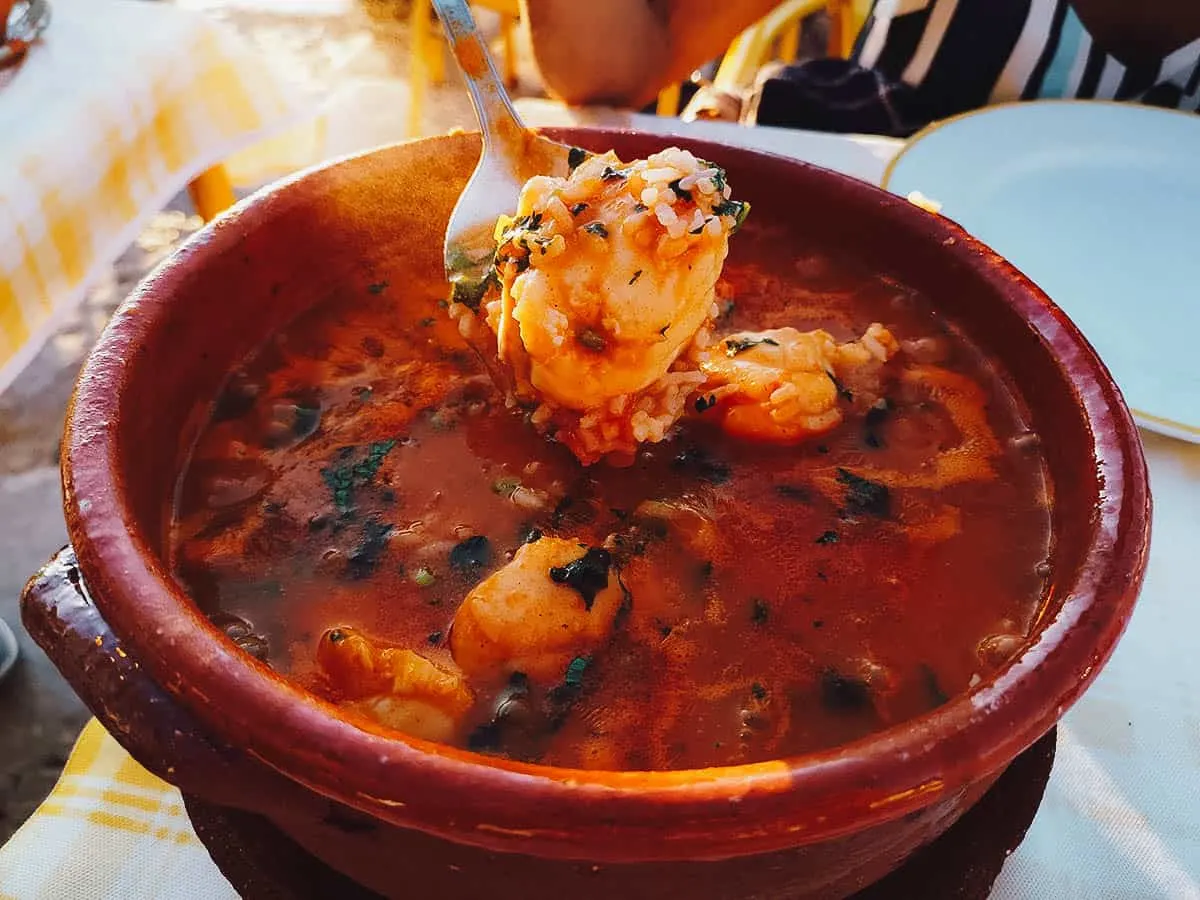 14. Sapateira Recheada
If you like crab, then you're going to love sapateira recheada. It refers to a Lisbon food favorite of stone crab stuffed with a mixture of crab meat and roe, shallots, egg, capers, beer, mayonnaise, mustard, and paprika.
The mixture is served in the crab shell together with the boiled crab legs and claws. To eat, you spoon the creamy mixture onto crackers or soft rolls of Portuguese bread. It's so unbelievably good.
We had this sapateira recheada at the legendary Cervejaria Ramiro restaurant in Lisbon. It was absolutely delicious and one of the best dishes we had in Portugal.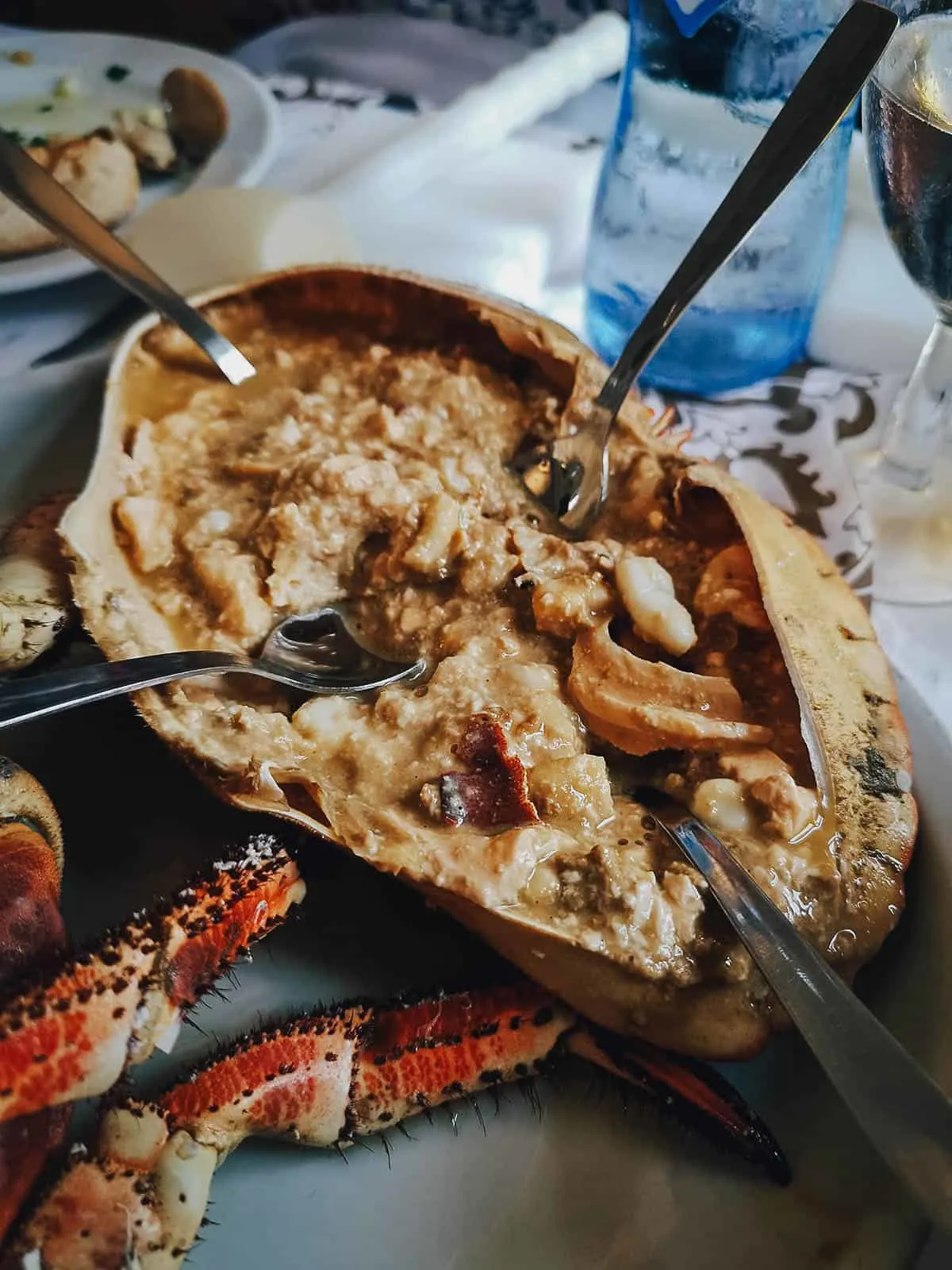 15. Percebes
Percebes was one of the dishes I was most excited to try in Lisbon. It refers to a seafood dish of boiled gooseneck barnacles also known as "Lucifer's Fingers".
Percebes gets its devilish nickname from its appearance and the fact that these barnacles are notoriously difficult to harvest. They grow on craggy rocks in the ocean's intertidal zone where crashing waves feed them a steady diet of plankton. They're impossible to farm so percebes divers have to venture into these treacherous waters to harvest them.
Percebes may be difficult to harvest but they're easy to prepare. They're boiled in seawater and served as is. To eat, you squeeze the bottom so the flesh pops out from the top. They taste like the ocean and have a meaty texture similar to sea snails, but firmer.
Percebes are common in Vila do Bispo in southern Portugal and Santiago de Compostela in Spain, but they're readily available at many seafood restaurants in Lisbon. We had them a few times in Portugal and Spain but the best were these huge specimens from Cervejaria Ramiro.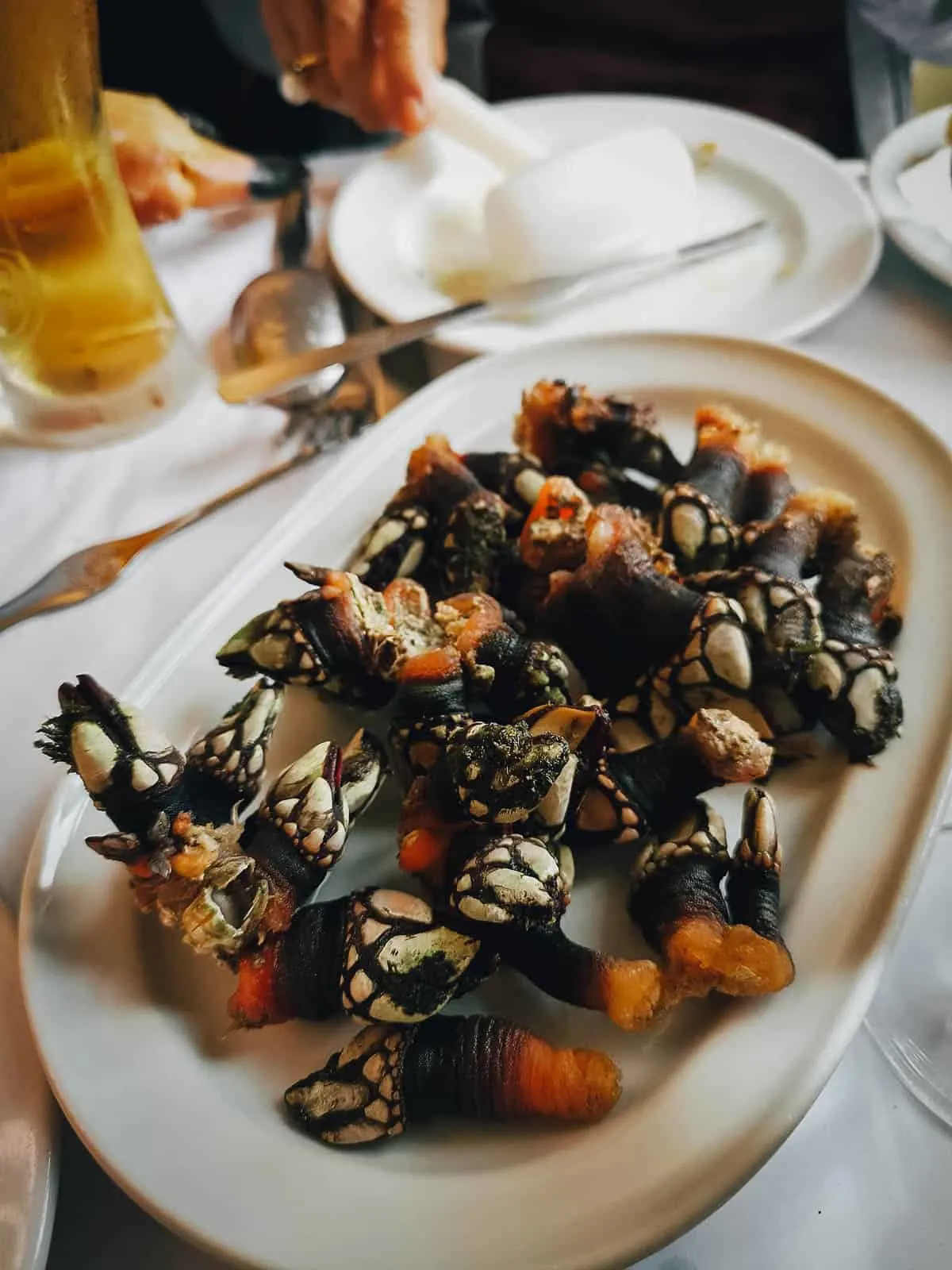 16. Conservas
Conservas refers to different types of canned seafood popular in Portugal and Spain. It's an iconic part of the Portuguese culinary heritage and perhaps the best souvenir food item you can bring back from Portugal.
Various types of seafood like cod, mussels, octopus, squid, and razor clams are canned as a means of food preparation and conservation. Like any canned food, seafood is first lightly steamed or fried before being canned in boiling water baths.
Where the Iberian method for canning seafood shines is in its liquido de cobertura. This is the liquid added to the can to protect the seafood from drying out. Depending on the seafood, different approaches are employed to highlight its flavor and texture.
Packaged in brightly decorated tins, Portuguese canned seafood is considered a delicacy and can be found at shops dedicated to conservas. These tins were from one of Lisbon's most famous conserva shops – Conserveira de Lisboa.
These are relatively plain but some conservas come in the most intricately decorated tins. They're stunning and make for great gifts or Portuguese souvenirs.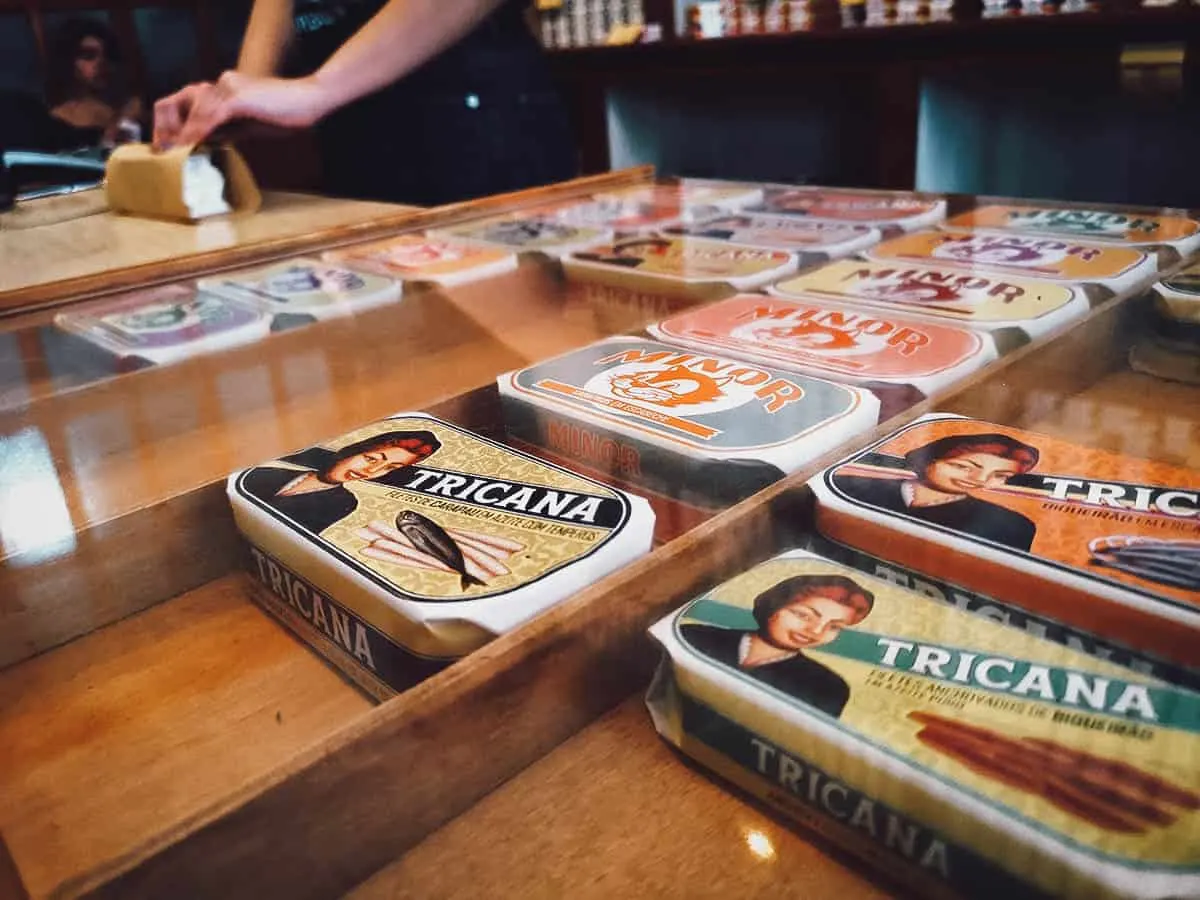 Pictured below is a tin of pota de caldeirada or Portuguese squid stew. It was incredible with vinho verde (Portuguese wine) and tasted so much better than how you'd expect canned seafood to taste.
I read that the best Portuguese conserva makers can their seafood no later than the day after it was caught. This is to preserve the seafood's freshness and flavor for as long as possible.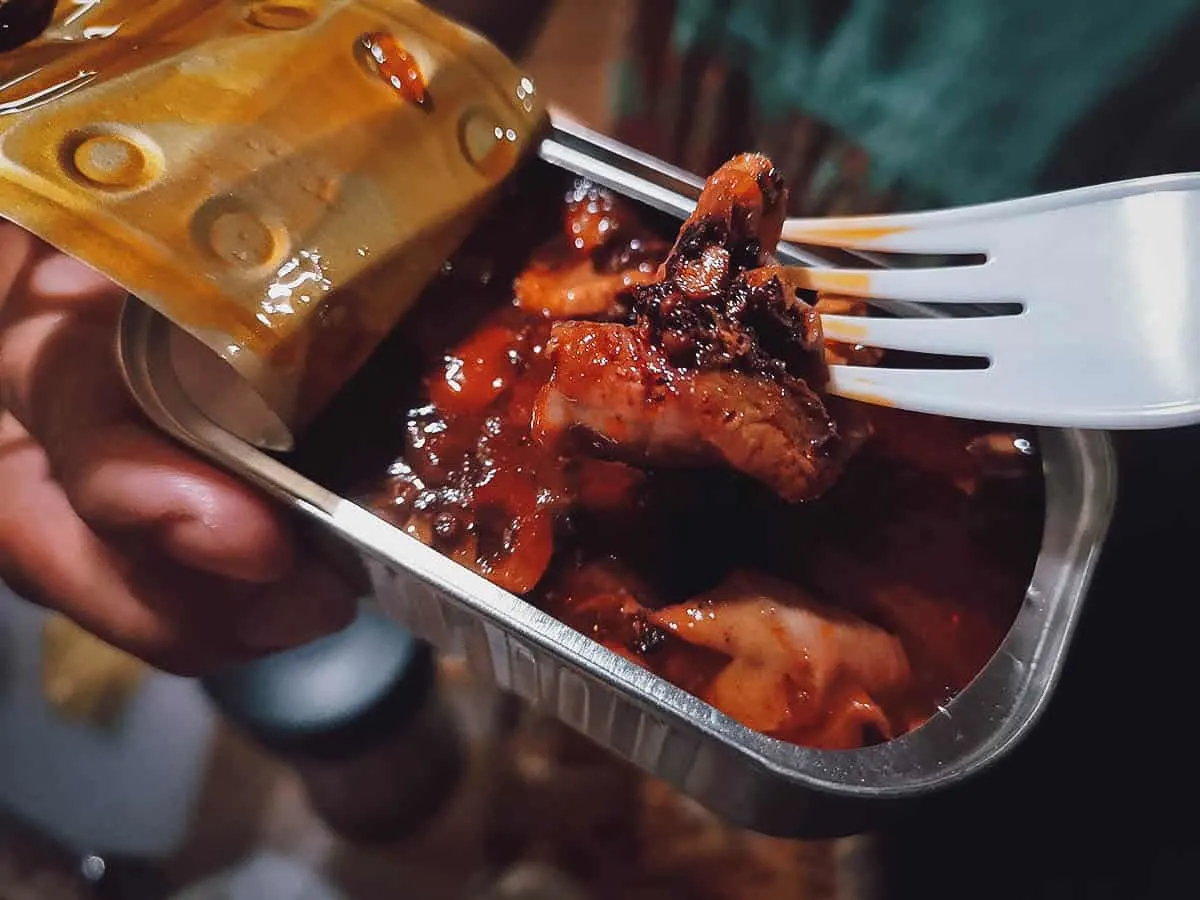 PORTUGUESE MEAT DISHES
17. Alheira
Alheira refers to a type of Portuguese smoked sausage made with bread and different types of meat like pork, chicken, duck, or veal. It gets its name from alho, meaning garlic, though not all present-day alheiras are made with garlic.
Interestingly, alheiras were invented in the late 15th century by Portuguese Jews who were given a choice to either convert to Christianity or be expelled from Portugal. "Converts" who secretly retained their beliefs continued to abstain from eating pork.
At the time, it was customary for people to hang sausages traditionally made with pork in their fumeiros or smokehouses. To avoid suspicion, Portuguese Jews started making sausages with other meats like poultry and game which they mixed with bread for texture.
Alheiras were traditionally grilled or roasted and served with boiled vegetables but these days, you'll often find them served with french fries and a fried egg. I had these tasty alheiras at Taberna Folias de Baco in Porto.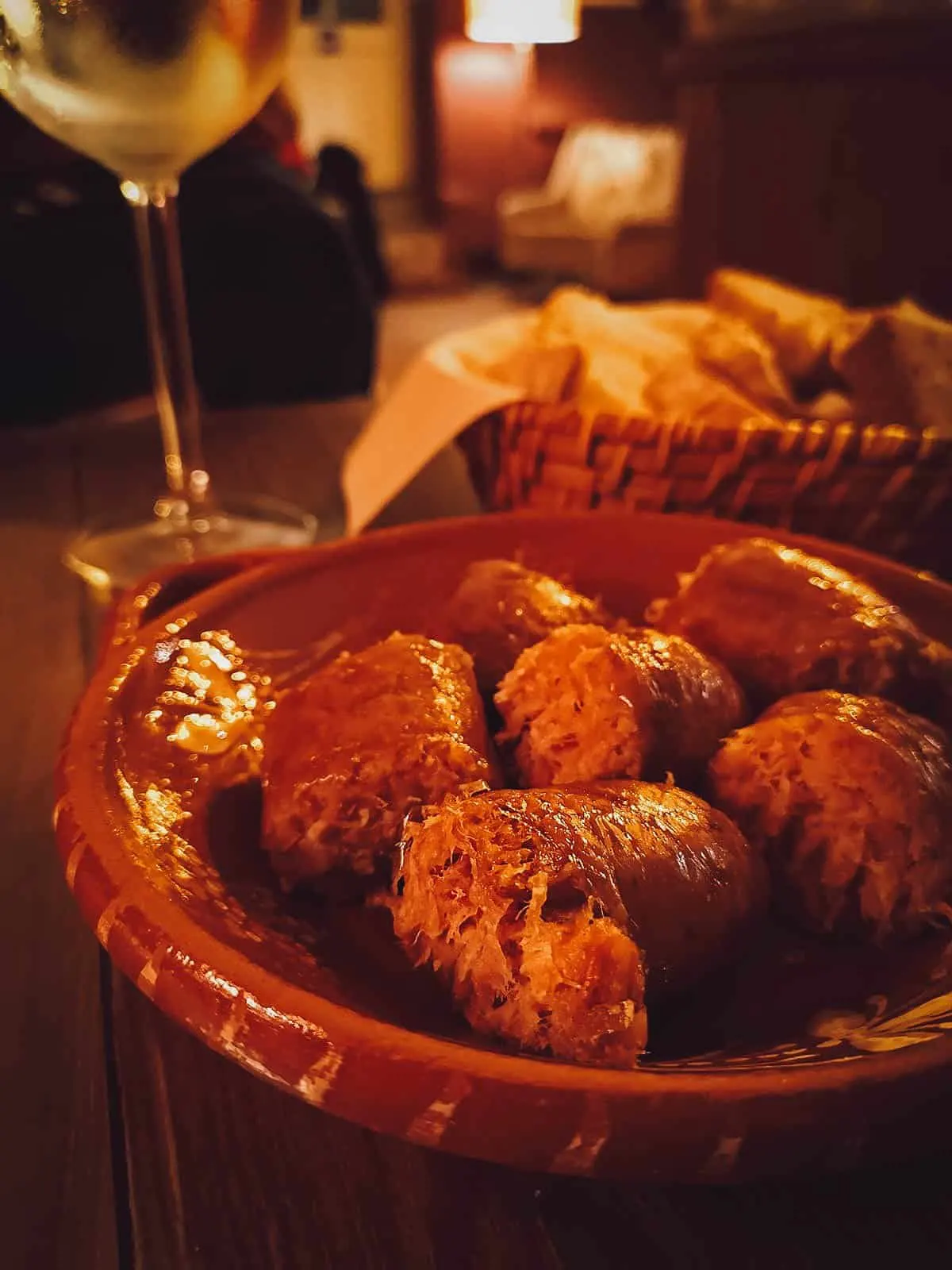 18. Porco Preto
Porco preto refers to the Iberian black pig. If you're familiar with Spanish cuisine, then you may know them as Iberico pigs. Porco preto refers to the same breed of Iberian black pig that produces one of the best and most expensive types of cured ham in the world.
Many people know about Spanish jamon iberico but Portugal has the same black pigs that produce this sought-after ham. They roam freely in the oak forests of the Alentejo region and fatten up on a diet comprised almost entirely of acorns. This is what gives the dry-cured ham its signature taste.
Like jamon iberico de bellota, ham made from porco preto practically melts in your mouth. It's intensely flavorful – smooth, rich, savory-sweet, and just a little bit nutty. Porco preto is absolutely delicious and something you need to try either in Portugal or in Spain.
Aside from the cuts used for ham and chorizos, porco preto is also used in many Portuguese dishes like cachacos, plumas de porco preto, and secretos.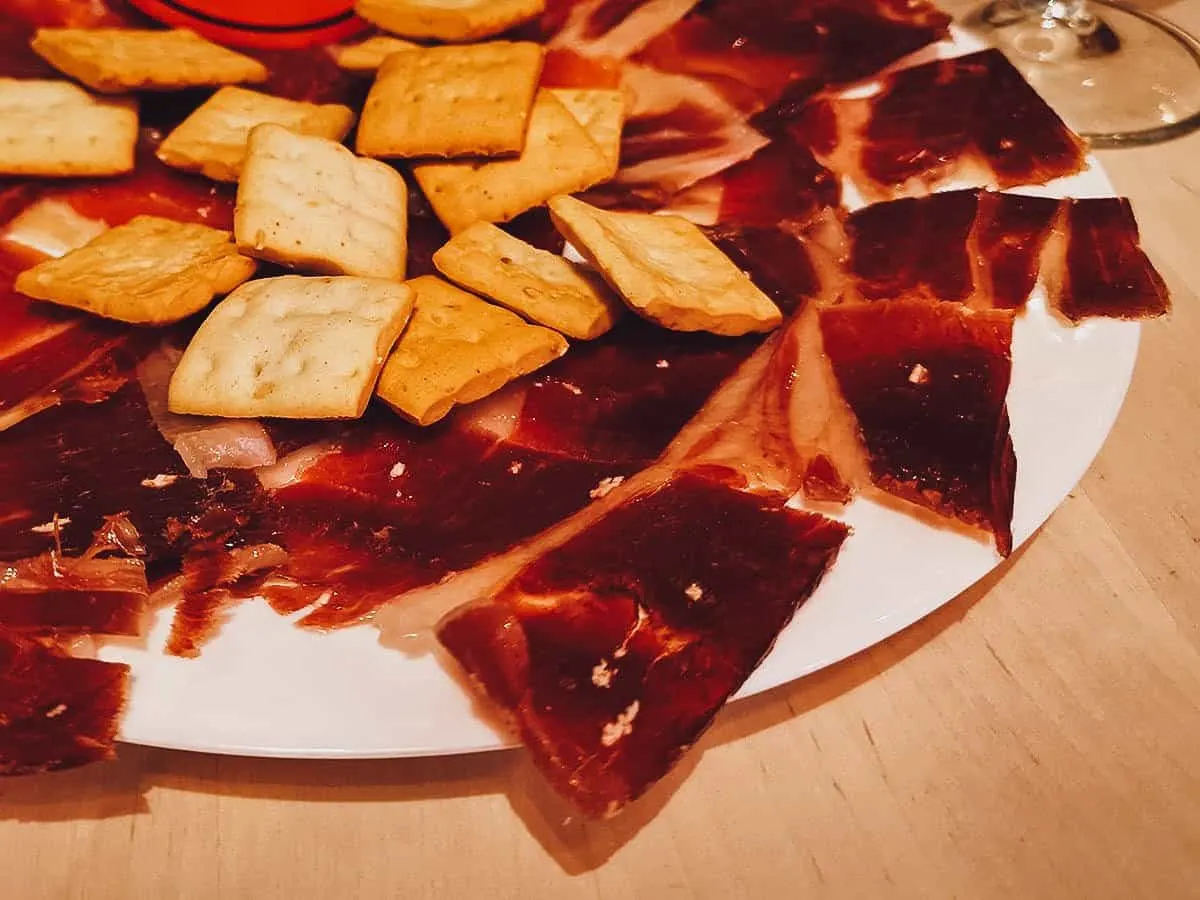 19. Cozido à Portuguesa
As described, some locals feel that the cozido à portuguesa is the one dish that best represents Portuguese cuisine. One look and it's easy to see why.
Cozido refers to a classic Portuguese boiled meal. Cozido à portuguesa is a type of cozido made with a plethora of meats (chicken, pork, beef), smoked sausages (chourico, morcela), vegetables (cabbage, beans, potatoes), and other ingredients. Traditionally, most of the flavor comes from the boiled meats and vegetables but some recipes may include red pepper paste, white pepper, and cinnamon.
As you can tell from the picture below, cozido à portuguesa is a substantial Portuguese meal. Like tripas and arroz de tamboril, it's hearty and rustic food that's meant to be shared, which pretty much describes what traditional Portuguese food is like.
20. Tripas a Moda do Porto
Tripas a moda do Porto refers to a type of Portuguese tripe stew specific to Porto. Like cozido à portuguesa, it's made with a multitude of meats like tripe, sausages (including blood sausage), ham, veal shank, and chicken. The meats are stewed in a pot with white navy beans and vegetables like carrots and onions.
Tripas a moda do porto is often described as a testament to the generosity of the people of Porto. According to legend, when Henry the Navigator was preparing his ships to conquer Ceuta in 1415, he asked the citizens of Porto to donate supplies to stock the Portuguese navy.
As the story goes, the people donated so much that they were left with little more than tripe. They then used the tripe to create the recipe for tripas a moda do Porto, which earned them the nickname tripeiros or "tripe eaters".
Like caldo verde and cozido, tripas a moda do Porto is a hearty dish that does well in representing traditional Portuguese cuisine. Upon the recommendation of our Uber driver, we had it at the popular Restaurante Abadia do Porto.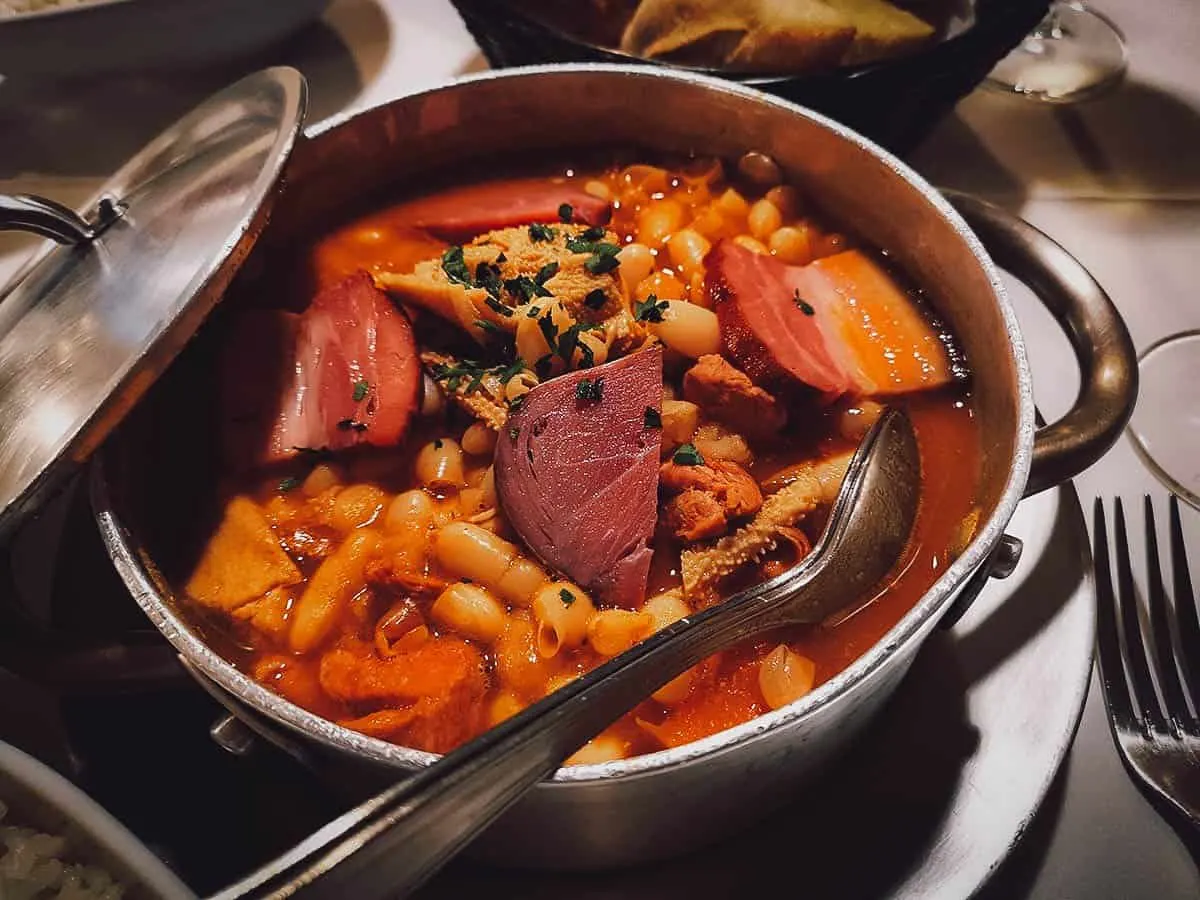 21. Rojoes
Rojoes is a Portuguese pork dish that's originally from the Minho region in northern Portugal. It consists of small chunks of lean pork marinated in a mixture of white wine, citrus juice, cumin, garlic, and bay leaf. It's cooked on a stove and browned till tender.
Traditionally, rojoes is made with roasted chestnuts, blood cakes, tripe, pork liver, and boiled blood. It's typically served with fried potatoes though it can be eaten with arroz de sarrabulho – a Portuguese dish made with rice served with some pork blood and bits of meat.
Upon the recommendation of our AirBnB host, we had this rojoes with other Portuguese dishes like caldo verde and arroz de tamboril at Adega Vila Mea in Porto.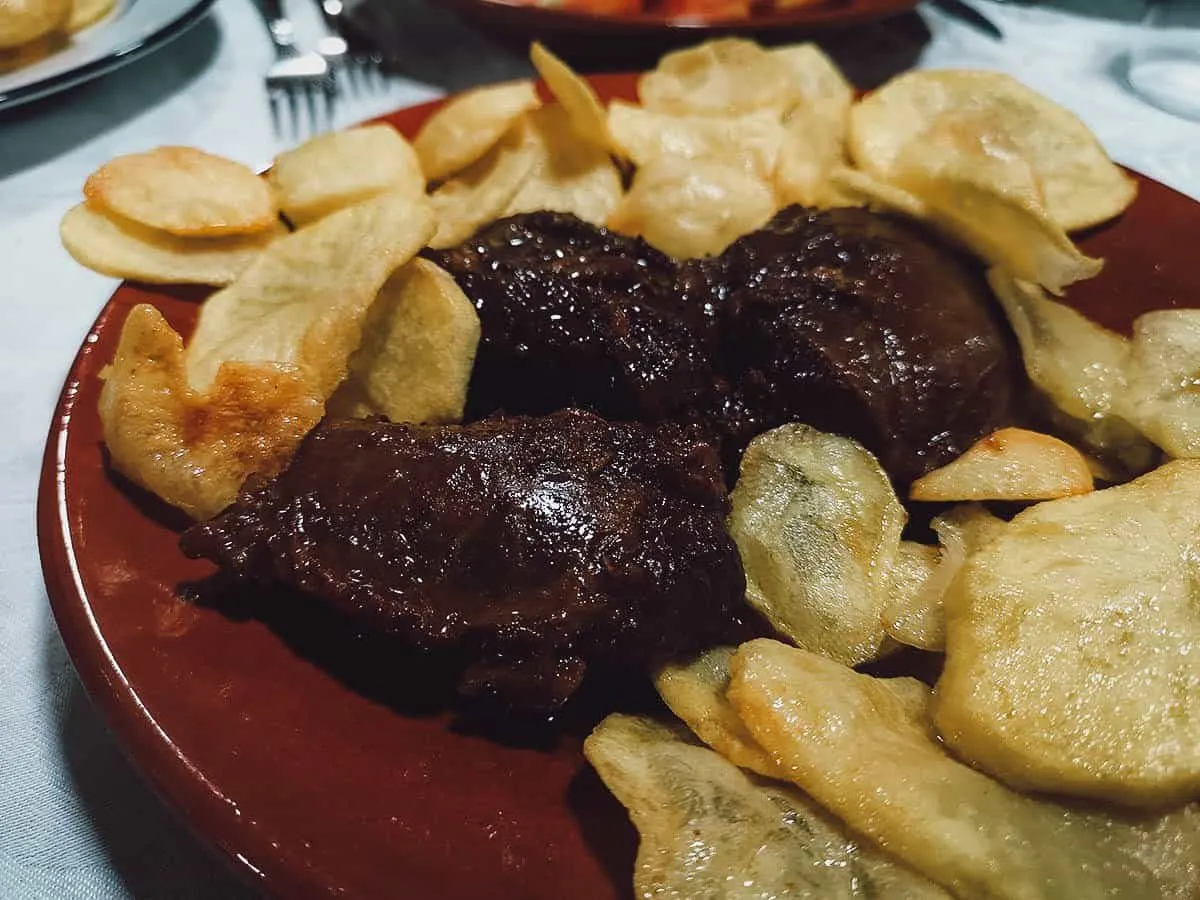 22. Frango no Churrasco com Piri-Piri (Portuguese Piri-Piri Chicken)
Frango no churrasco com piri-piri – or piri-piri chicken for short – is one of the most popular Portuguese dishes. It refers to grilled butterflied chicken marinated in garlic, olive oil, lemon juice, white wine, paprika, and piri-piri. You can find piri-piri chicken at Portuguese grill houses or churrasqueiras.
Grilled chicken has been a staple Portuguese dish for centuries but it wasn't until the Age of Discovery (15th-17th centuries) that Portuguese explorers discovered the chili pepper known as piri-piri. They brought it back from coastal Africa and it's now become a staple in many Portuguese recipes like piri-piri chicken.
Piri-piri comes from the African word for "pepper". Also known as the "African Devil", it's a flavorful medium-hot pepper with a spice level similar to the cayenne pepper.
In the case of piri-piri chicken, just a small amount of the pepper is added to the marinade to give the dish its unique flavor.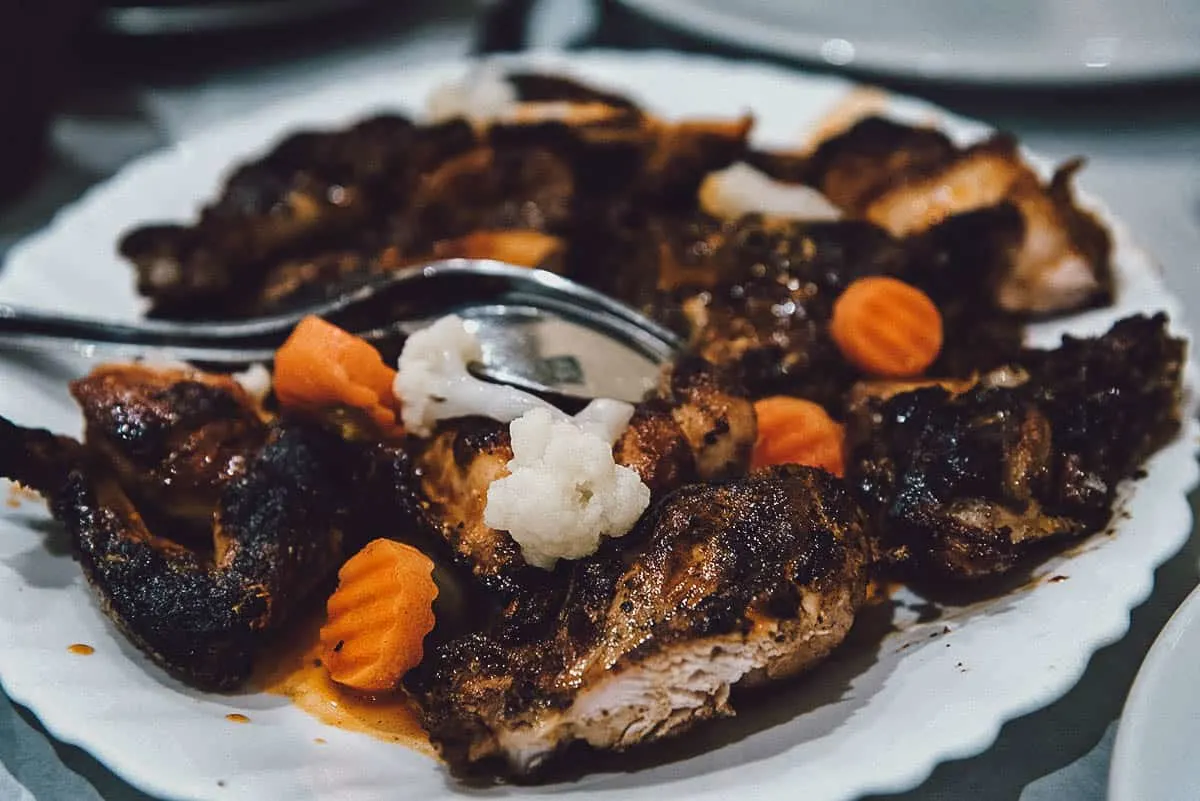 "Piri-piri chicken" by Scott Dexter, used under CC BY-SA 2.0 / Processed in Photoshop and Lightroom
PORTUGUESE DESSERTS / DRINKS
You've probably heard of pastéis de nata, but what other Portuguese desserts do you know? There's no doubt you'll be having many pastéis de nata custard tarts in Portugal, but be sure to check out our article on traditional Portuguese desserts for more sweets like arroz doce (Portuguese rice pudding), pão de deus (Portuguese sweet bread), and queijada (Portuguese cheese pastry).
23. Pastel de Nata
The pastel de nata or Portuguese egg tart is far and away the most famous pastry in Portugal. It's popular in parts of Western Europe, Asia, and in the former Portuguese colonies of Macau and Brazil.
The pastel de nata refers to egg tarts invented in the 17th century by monks at the Jeronimos Monastery in Lisbon. At the time, egg whites were used to starch clothing which left the monks with a surplus of egg yolks to be used in cakes and pastries. One of the pastries they invented was the pastel de nata.
You can have pastel de nata anywhere in Portugal, but the most famous Portuguese custard tarts are from Pasteis de Belem in Lisbon. It's home to the original Jeronimos Monastery recipe for these delicious egg tarts, a Portuguese recipe that's remains unchanged even after 180 years.
We had pasteis de nata (plural for pastel de nata) at many pastelerias in Porto and Lisbon but Pasteis de Belem was one of the best. They make their egg tarts with an ultra crisp but delicate crust that's different from the rest. The pastel de nata from the Manteigaria chain is excellent as well.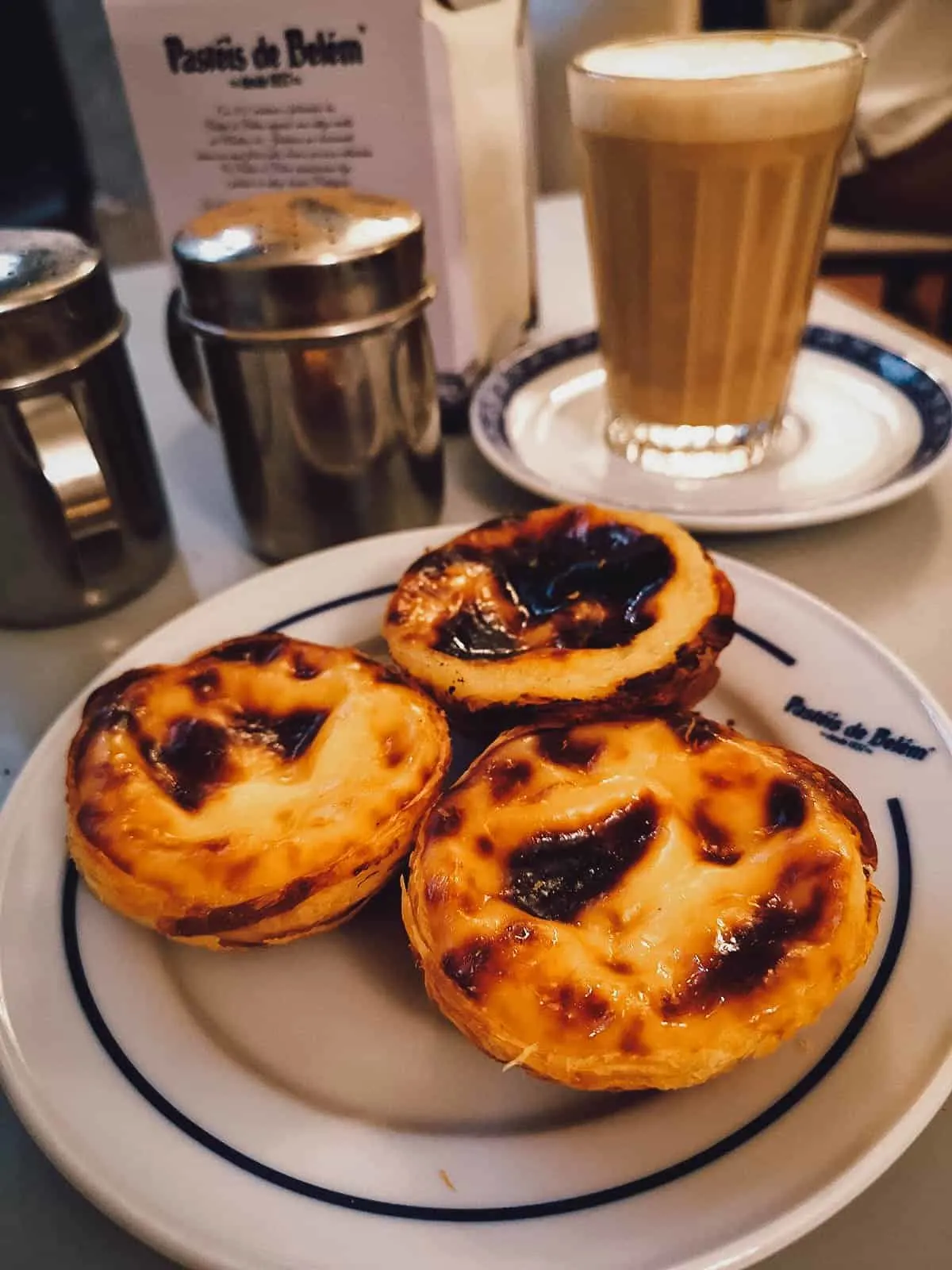 24. Ginjinha
Ginjinha (or ginja for short) is a sour cherry liqueur made by infusing with ginja berries in alcohol with sugar and other ingredients. It was invented in Lisbon and typically served in a small glass or an edible chocolate cup, often with a piece of cherry in the bottom.
You can find ginjinha everywhere in Lisbon. I got lost in the Alfama district one afternoon and came across a residential area with people selling homemade ginja outside their doors. It's a delicious liqueur that's great to have after a satisfying Portuguese meal.
We had these shots of ginjinha in chocolate cups at the Ginginha do Carmo shop near Rossio railway station.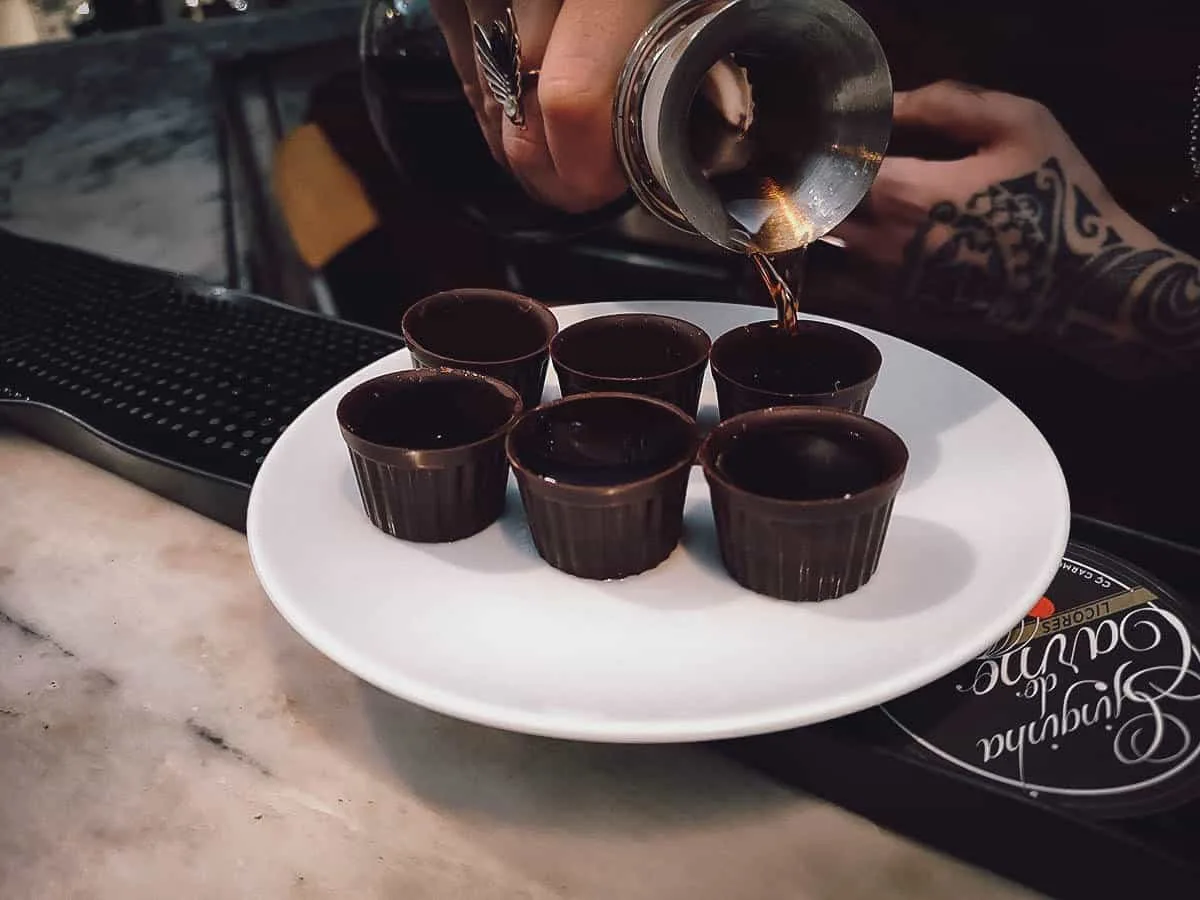 25. Port Wine
Port wine – or simply port – is one of Portugal's most famous exports. It refers to a Portuguese fortified wine produced exclusively from grapes grown in the Douro Valley in northern Portugal.
Port is made by adding brandy to the wine as it ferments, giving it its characteristic sweetness. It's typically made from red grapes and served at the end of meals as a dessert wine, though some styles like white port can be served as an aperitif.
Port is a Protected Designation of Origin (PDO) wine, meaning it needs to be produced in Portugal from grapes grown in the Douro Valley to carry the "port" label.
Although port is produced in the Douro Valley, it gets its name from the city of Porto because this is where it's aged in casks or vats before being blended, bottled, and exported.
Going port wine tasting is one of the best things you can do in Porto. I went to Taylor's Port winery which is one of the oldest and largest wineries in Vila Nova de Gaia. They offer self-guided audio tours with two wine tastings at the end.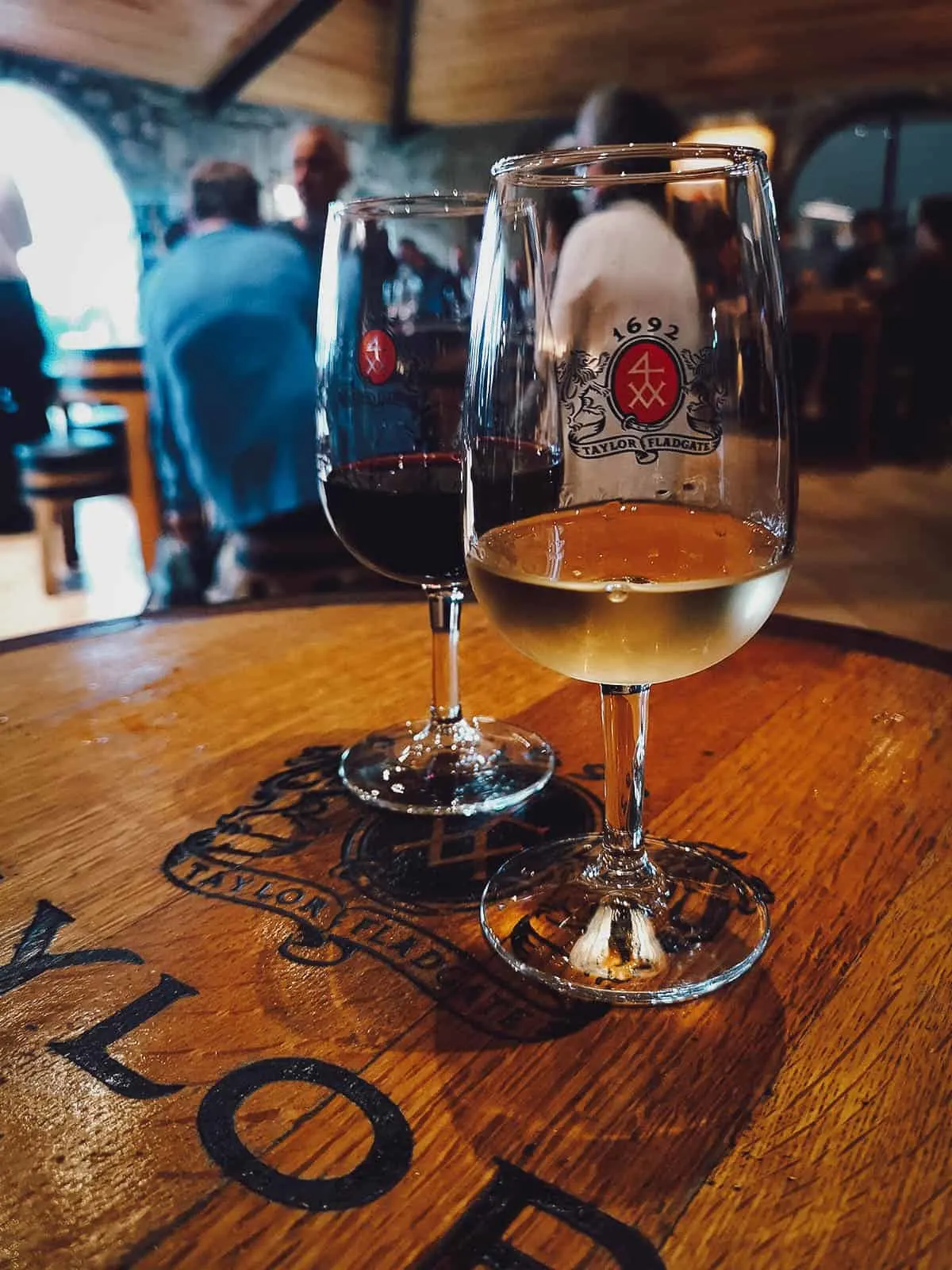 PORTUGUESE FOOD TOURS
No one knows Portuguese food better than a local so what better way to experience Portugal's cuisine than by going on a food tour? It's fun finding local Portuguese restaurants on your own but when you're pressed for time, going on a food tour with a knowledgeable guide is one of the best and easiest ways to explore the local cuisine. Check out Get Your Guide for a list of food and drinking tours in Lisbon, Porto, and other cities throughout Portugal.
PORTUGUESE COOKING CLASSES
Aside from food tours, taking cooking classes is one of our favorite things to do on trips. The way I see it, it's one of the best ways to learn about the local cuisine. Eating pastel de nata is one thing but learning how to make it is another. Handling the ingredients and learning the methods will give you a much better understanding of Portuguese food.
If you're visiting Portugal and want to learn how to make Portuguese food, then check out Cookly for a list of cooking classes in Porto and Lisbon.
FINAL THOUGHTS ON THE FOOD IN PORTUGAL
We have a much better understanding of Portuguese food now but as always, we're hardly experts. This list of 25 only begins to scratch the surface of what Portuguese cuisine has to offer. It's something we intend to build upon and improve with each return visit to Portugal. Some interesting dishes we haven't tried yet include peixinhos da horta (deep-fried Portuguese green beans) and cataplana de marisco (Portuguese seafood stew).
Being the large cosmopolitan cities that they are, Porto and Lisbon were the perfect places to become acquainted with Portuguese food. They provided choice, diversity, and convenience but based on what I've read, they may not offer the most authentic examples of Portuguese cuisine.
According to one local, Portuguese food in big cities tends to be "tourist adapted". If you want the real thing, then you need to go as far away from the big cities as possible and head to the interior of the country.
Alentejo, Tras-os-montes, and Serra da Estrela seem to offer the best food in Portugal. In his words:
"I promise if you get a bite of real Portuguese food, made by people [who've been doing it for a living for 30 or more years], it will be nothing like you have ever tasted before."
We look forward to it. Bom apetite!
Disclosure
Some of the links in this article on Portuguese food are affiliate links, meaning we'll get a small commission if we make a sale at no added expense to you. We only recommend products and services that we use ourselves and firmly believe in. We really appreciate your support as this helps us make more of these free travel guides. Thank you!