UPDATE (10 December 2019): We attended the 2017 Sapporo Snow Festival. The 2020 festival will be from 31 January till 11 February 2020. You can refer to the Sapporo Snow Festival website for details.
Have you ever tried building a snowman? It's not as easy as it looks. They make it seem easy on cartoon strips but it really isn't. The few times I tried to do it as a kid, those perfectly round and immaculately white spheres of snow ended up looking like misshapen, dirty blobs speckled with mud and twigs. Not the most inspiring sight. 😆
It takes effort to build a decent-looking snowman, which is what makes the snow sculptures at the Sapporo Snow Festival that much more impressive. It's held every year in early February and features creations just a few feet tall to actual-sized architectural structures. It's an impressive display.
Elaborate, perfectly shaped, and impeccably white, these are the snowmen of my cartoon dreams.
Odori Park
The 68th Sapporo Snow Festival was held from 6-12 February 2017. It's comprised of three sites – Odori Park, Susukino, and Tsudome. The Odori site is the main site of the festival and the biggest of the three. There you'll find snow sculptures both small and massive throughout the 1.5 km long park.
At one end of the park is one Sapporo's most recognized landmarks – the Sapporo TV Tower. I didn't do it but I've read that climbing up to the top view deck gives you great views of the whole park. Tickets cost JPY 720 and you can purchase them at the tower or in advance through Klook.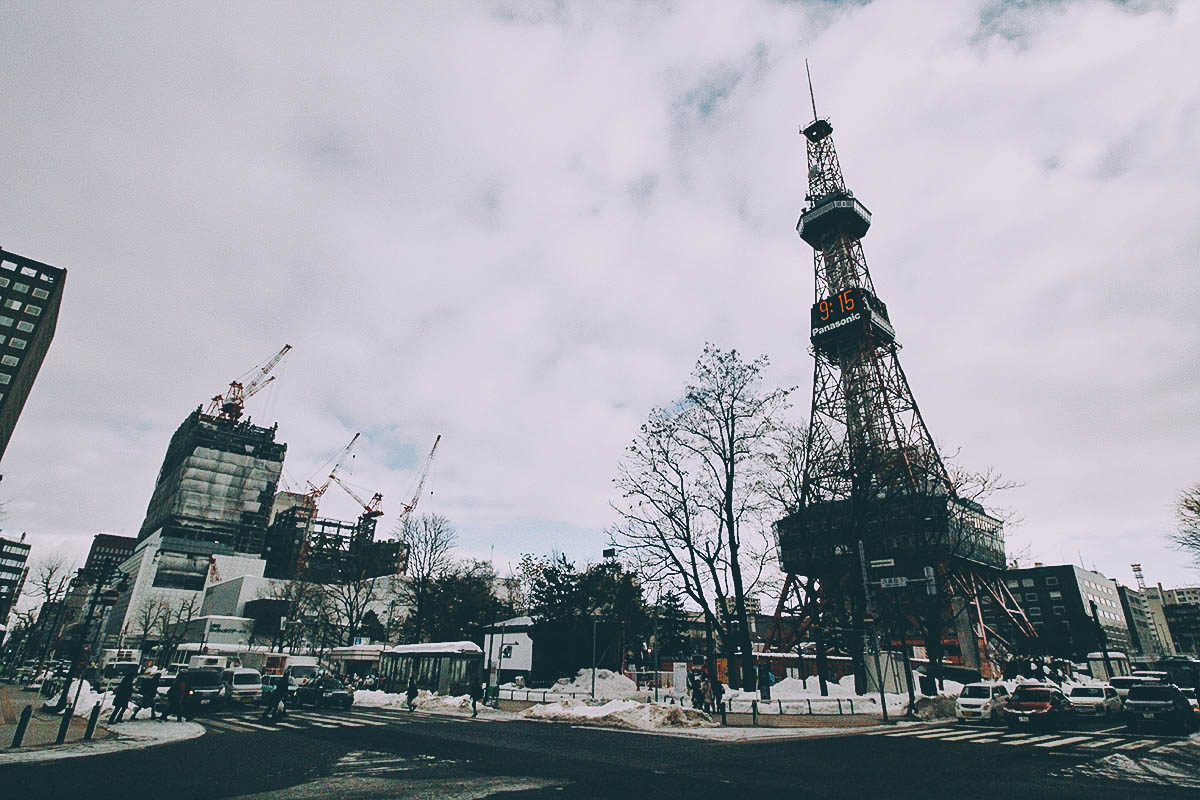 Cutesy snow sculptures. I'm not sure if many of the sculptures here were just random characters or if they're sculptures of famous anime characters. Anyone recognize these two?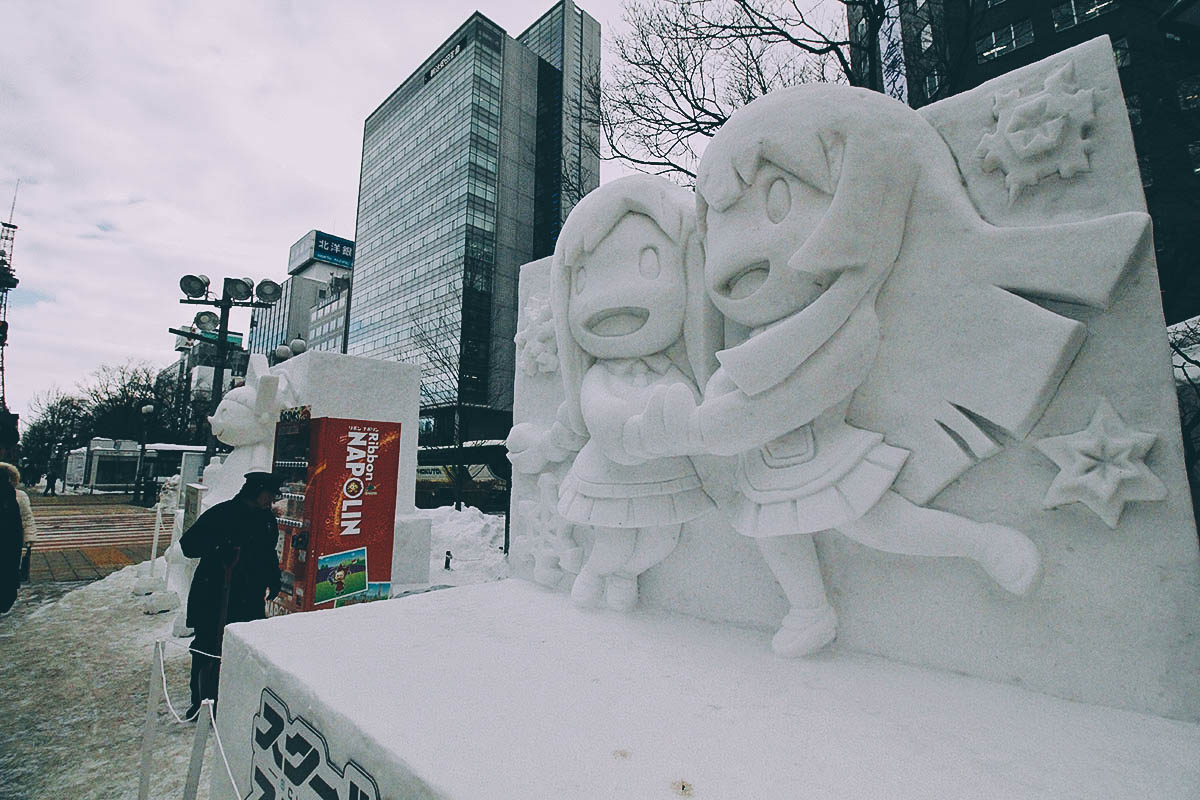 This one was huge – about the size of a movie theater screen – and it was used as a projector screen to show videos at night. You'll see what I mean later in this post.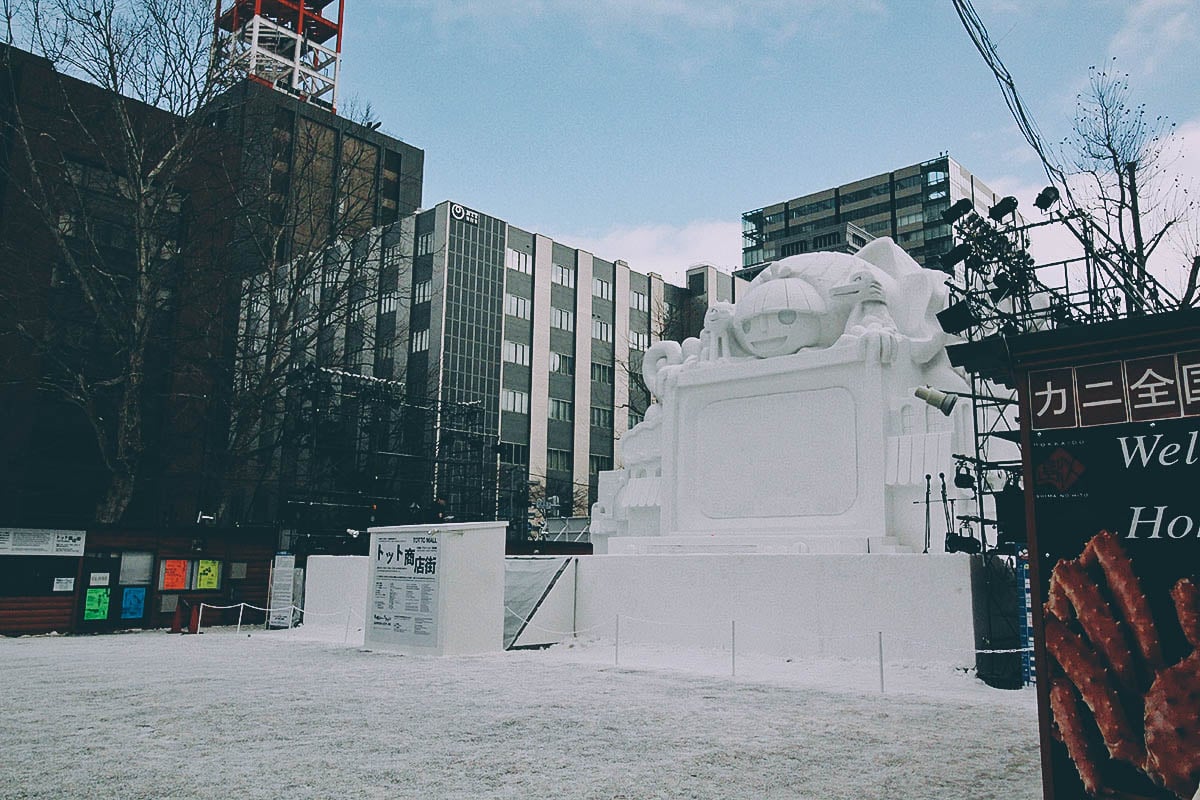 Massive ice sculpture. This one was used as a performance stage. There were two types of sculptures at the festival – snow and ice. The snow sculptures for me were more attractive.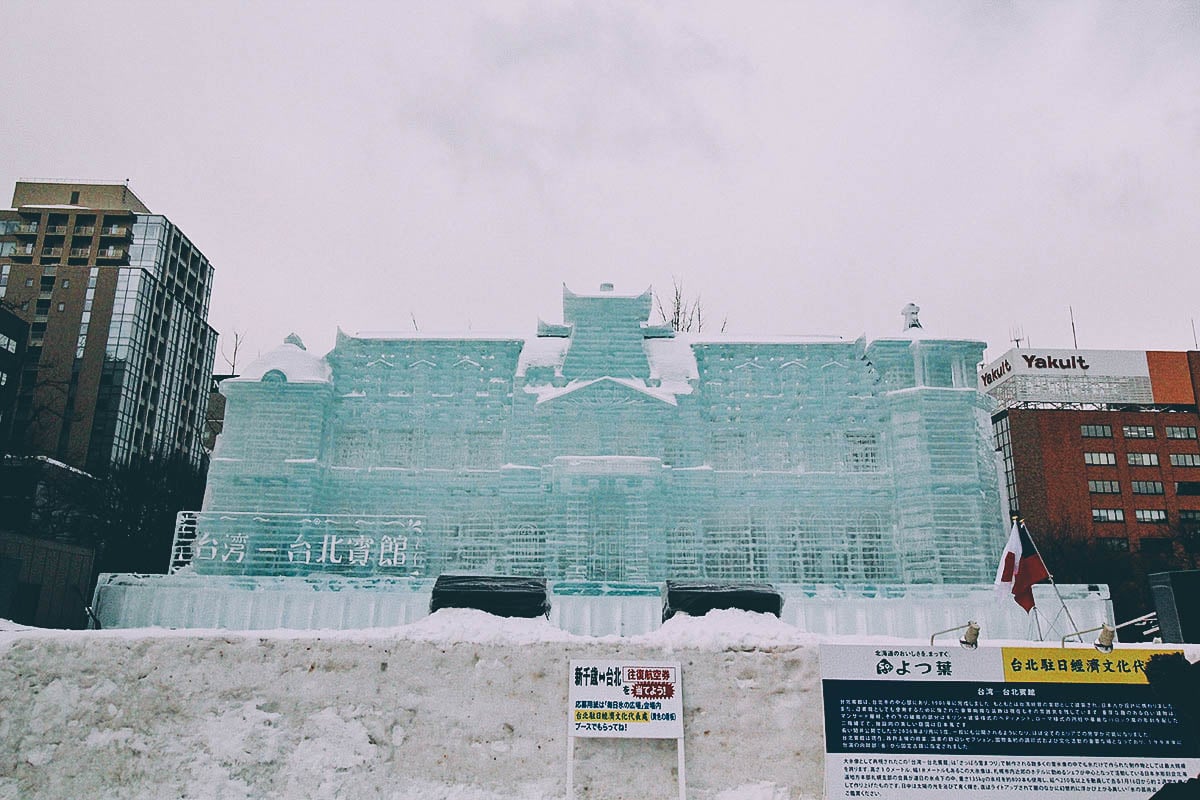 Paris represent! This Arc de Triomphe reproduction was impressive. It was well-detailed and featured lots of intricate carvings.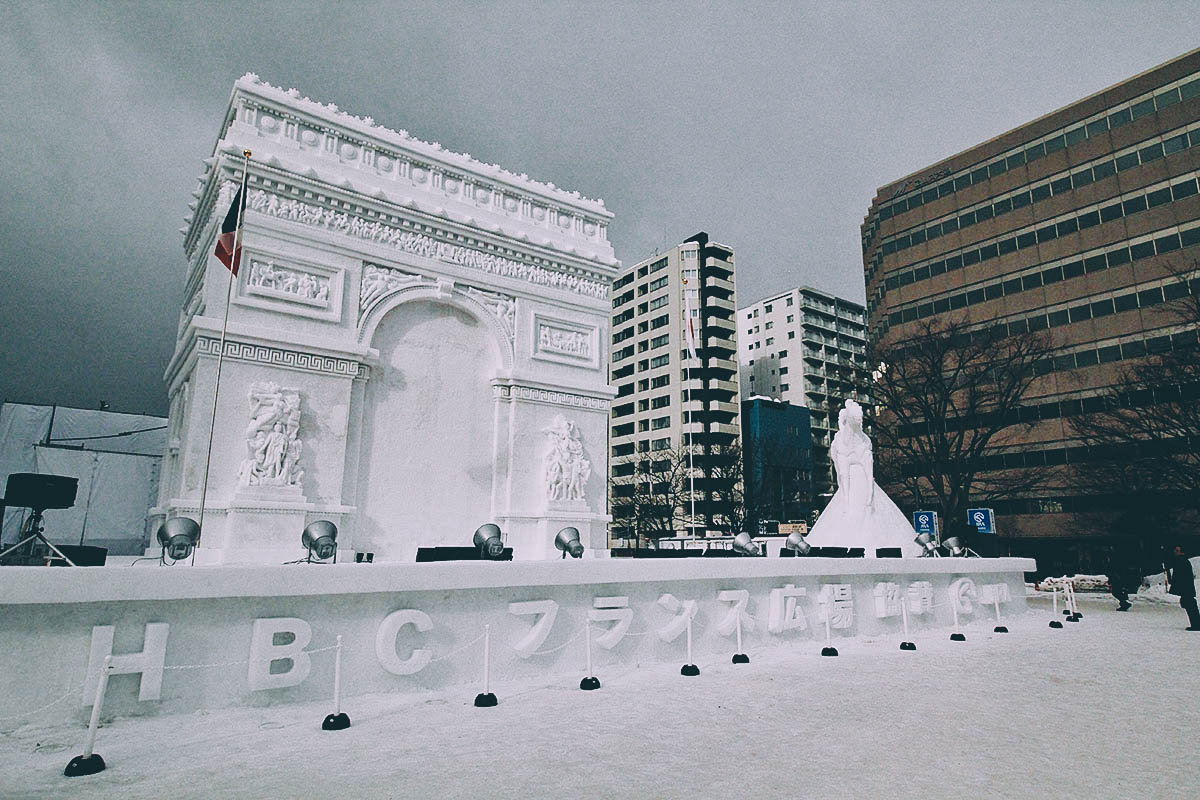 Life-sized sculpture of a palace. Wait until you see it lit up at night.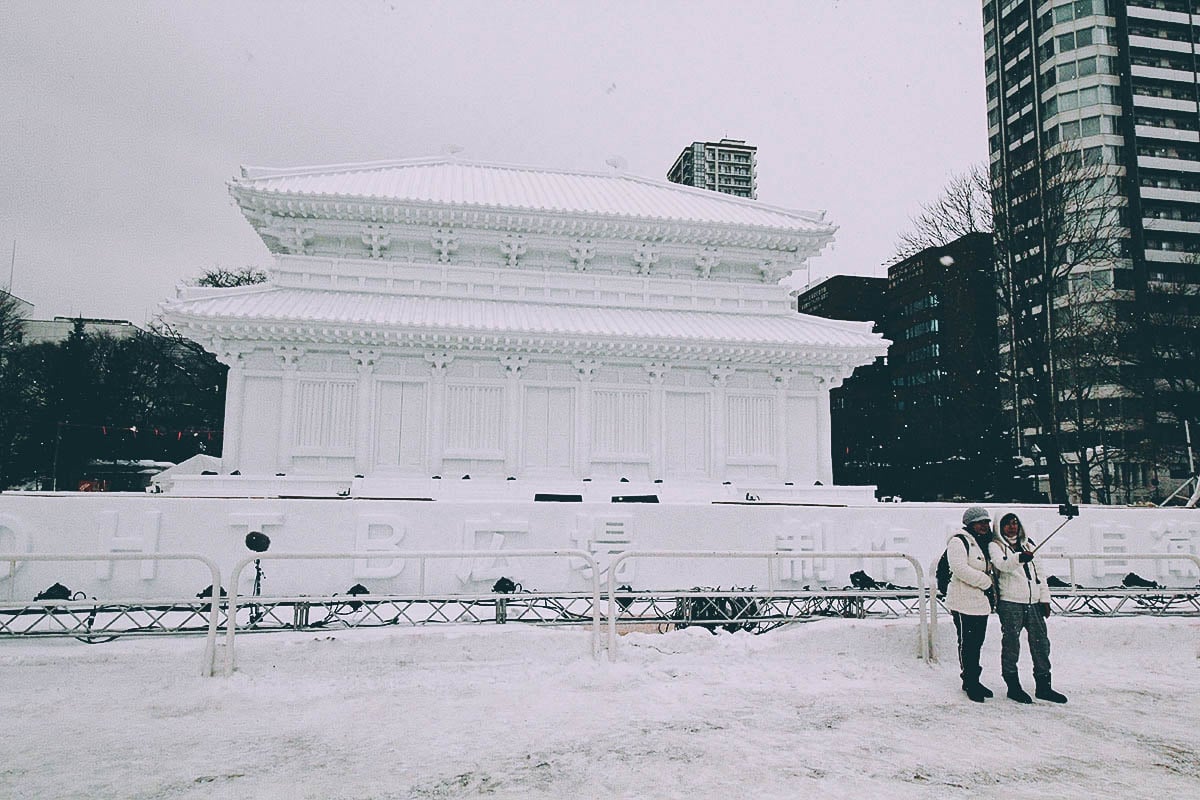 This was one of the biggest and most impressive snow sculptures at the festival. It depicts a scene from the iconic Final Fantasy video game series.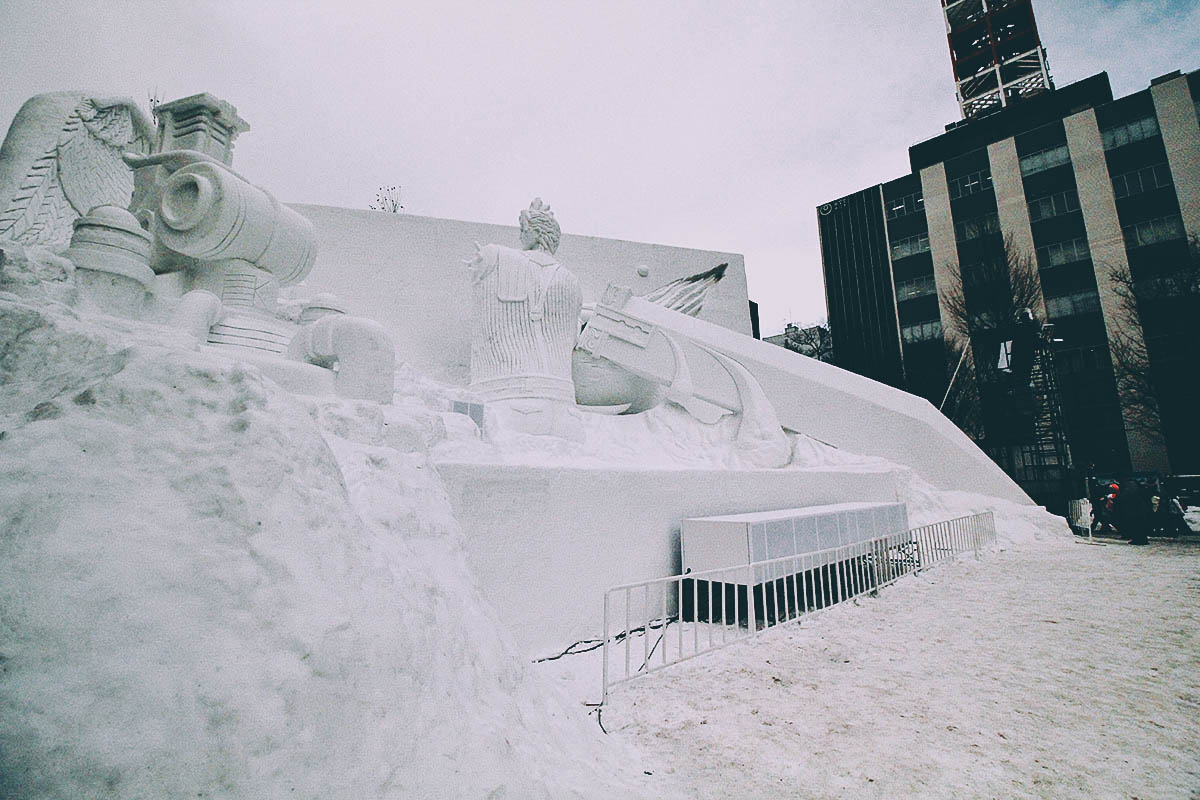 The festival organizers even provided these walled off ice rooms for smokers. 😉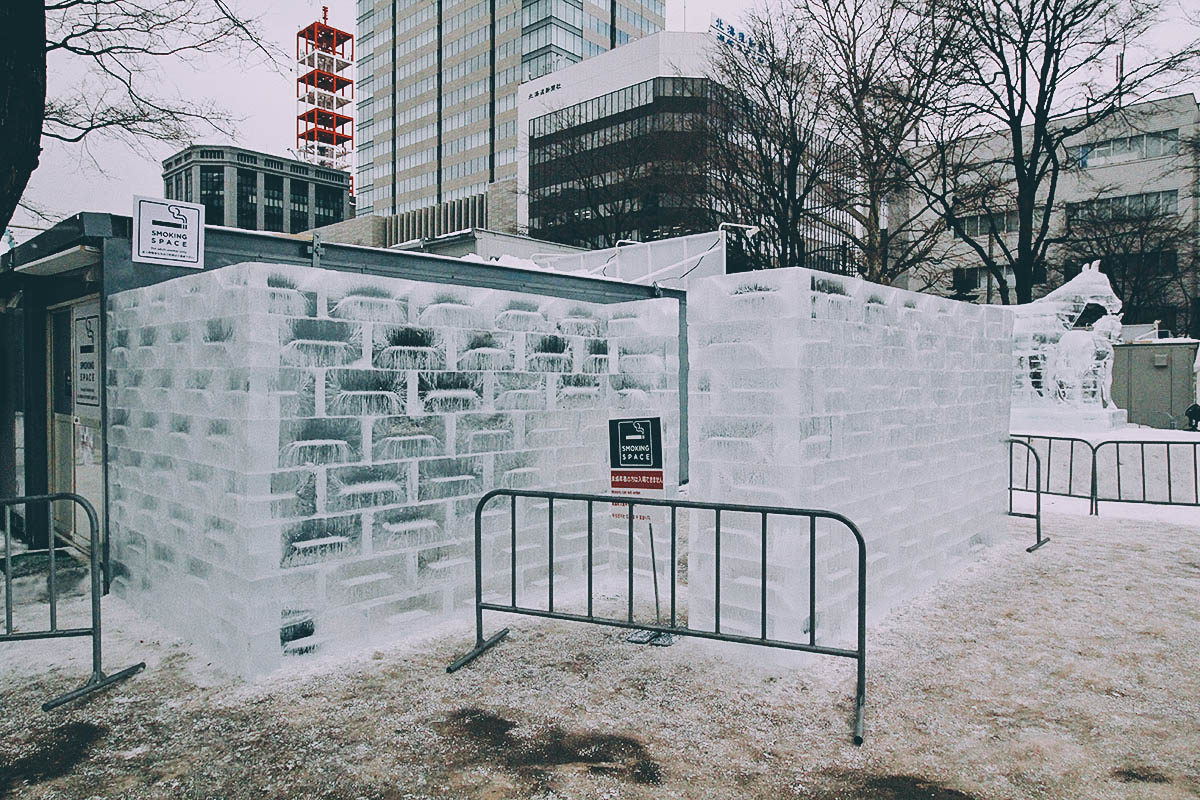 These looked like they were definitely based off actual anime characters. I was too old to recognize any of them though. 😆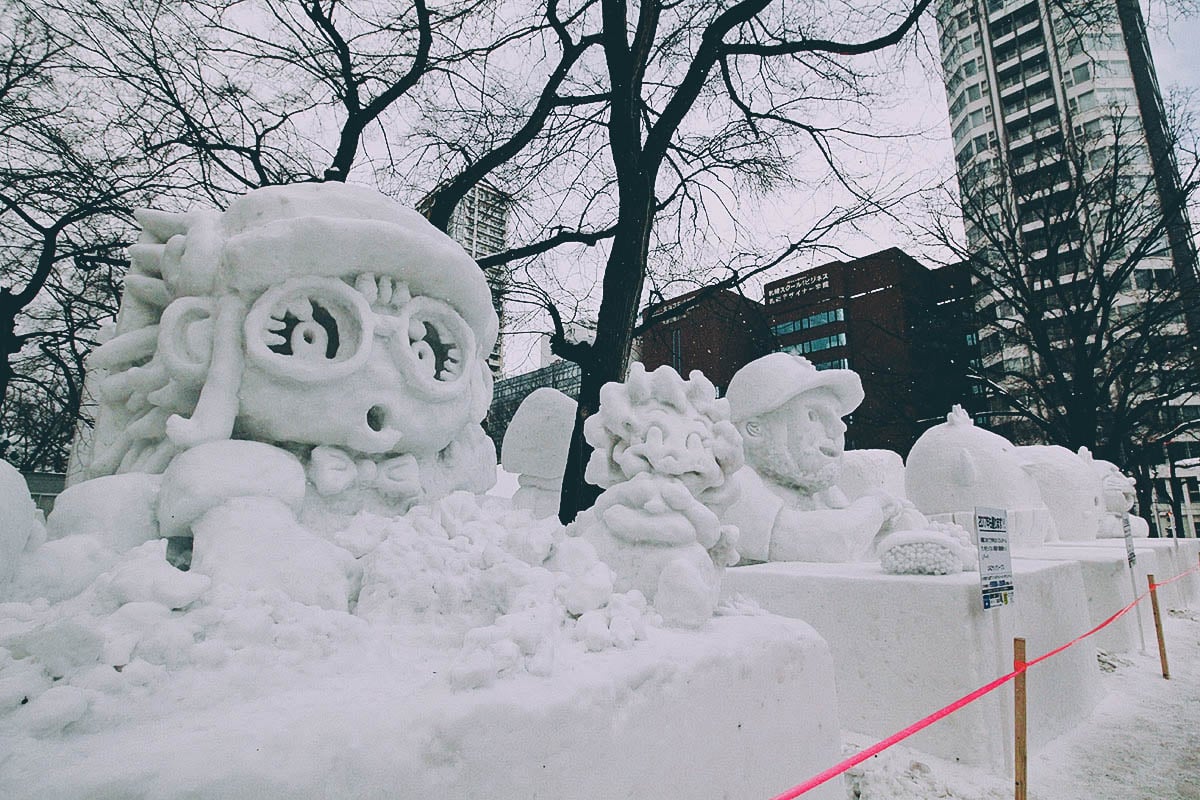 This dude practically owned social media in 2016 so it's no surprise he was by far the most popular guy at the festival! This was one of four PPAP-themed sculptures at Odori Park.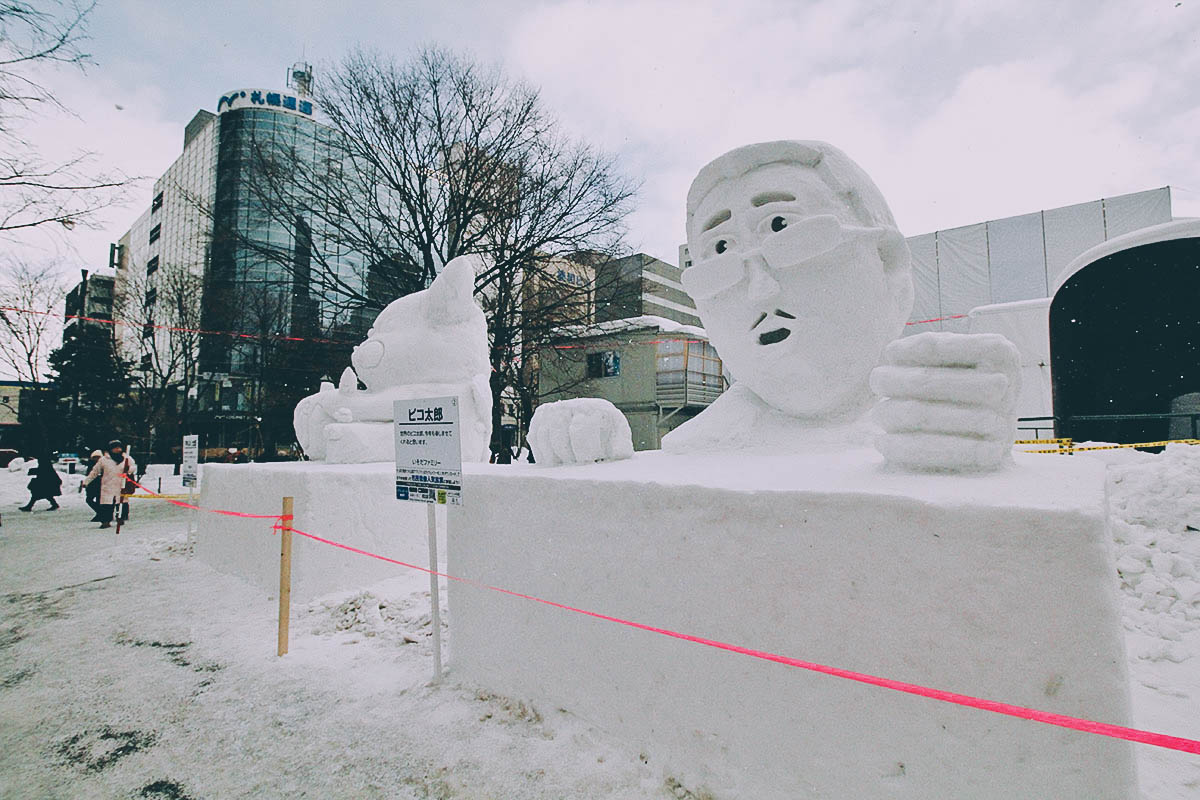 This was the best one! It looked just like him. Everyone wanted to get a picture with Pikotaro so I had to wait a long time to get a clean shot. Someone played the song on his smartphone while I was standing there and it was pretty hard not to dance to it. "I have a pen, I have an apple…ugh!"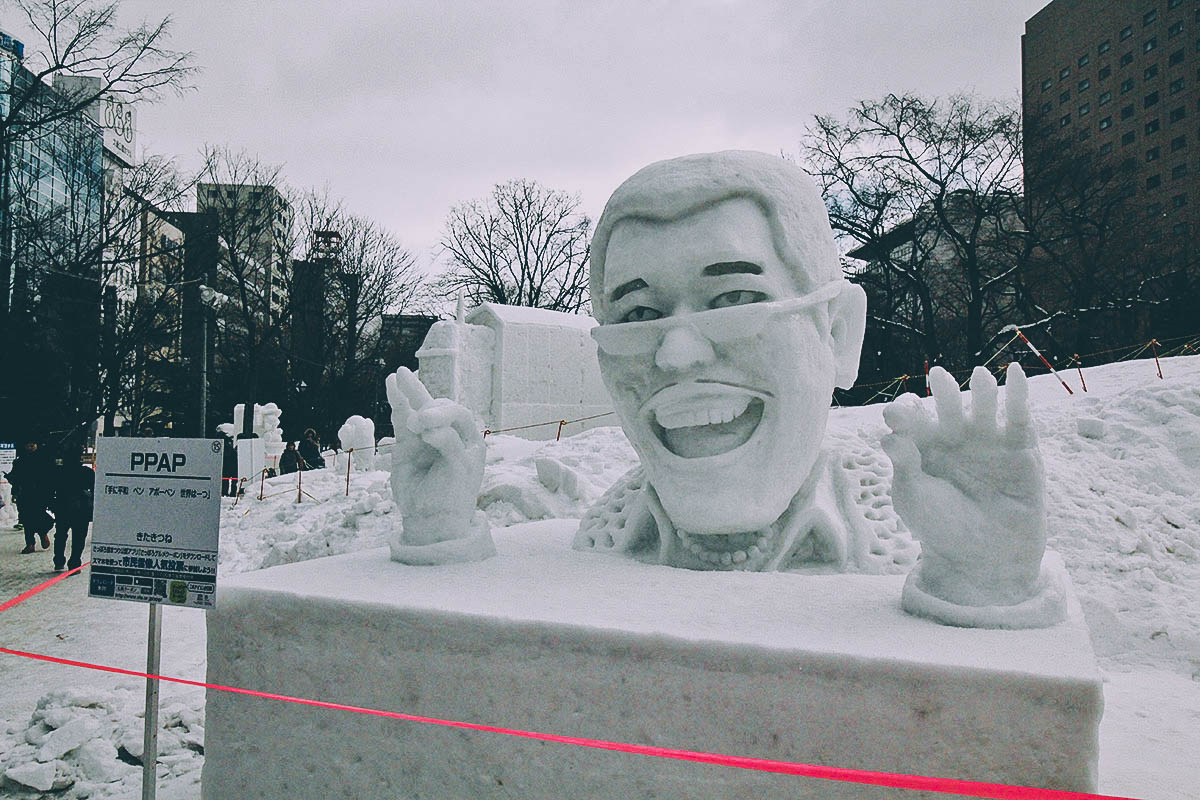 It's interesting to learn that the festival began as a one-day event way back in 1950 when six local high school students built six snow statues in Odori Park. Today, it's become an annual event attracting over 2 million visitors every year. The Sapporo Snow Festival is just one of many interesting festivals in Japan.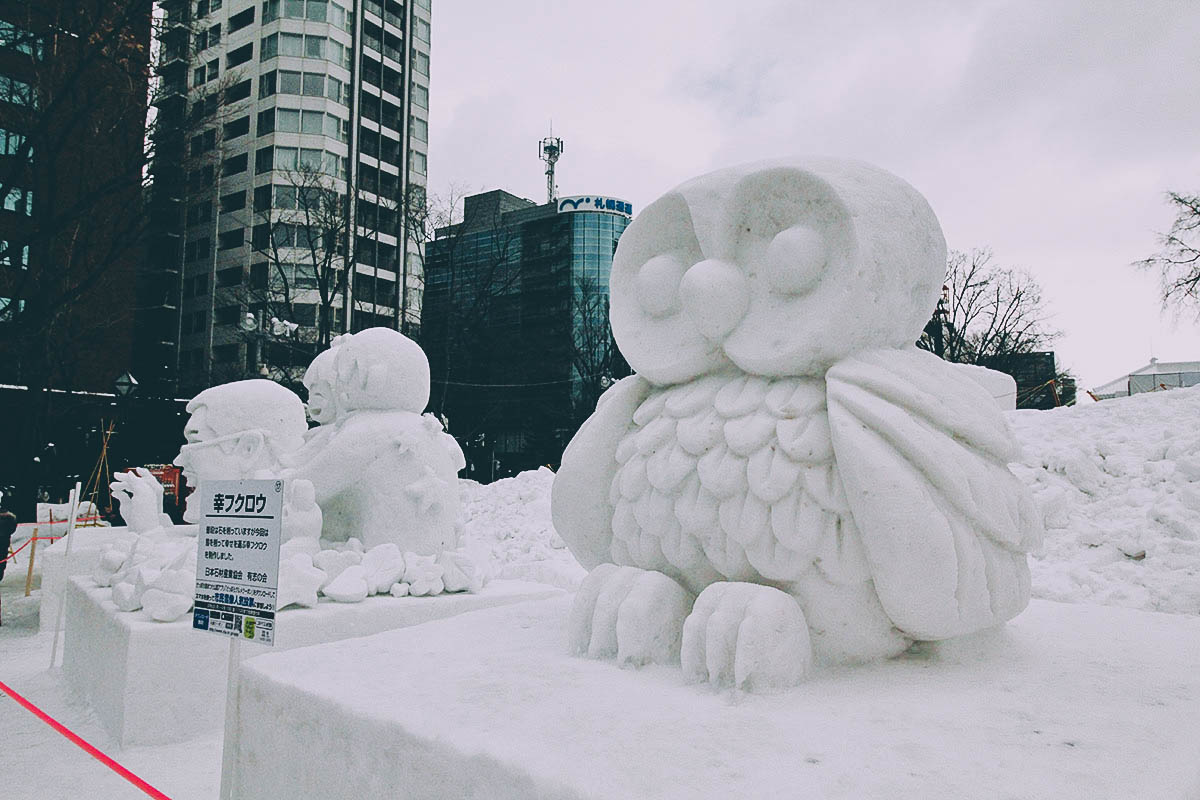 POTUS sticking it to the Big Apple. Ugh! His hands are yuuuuge!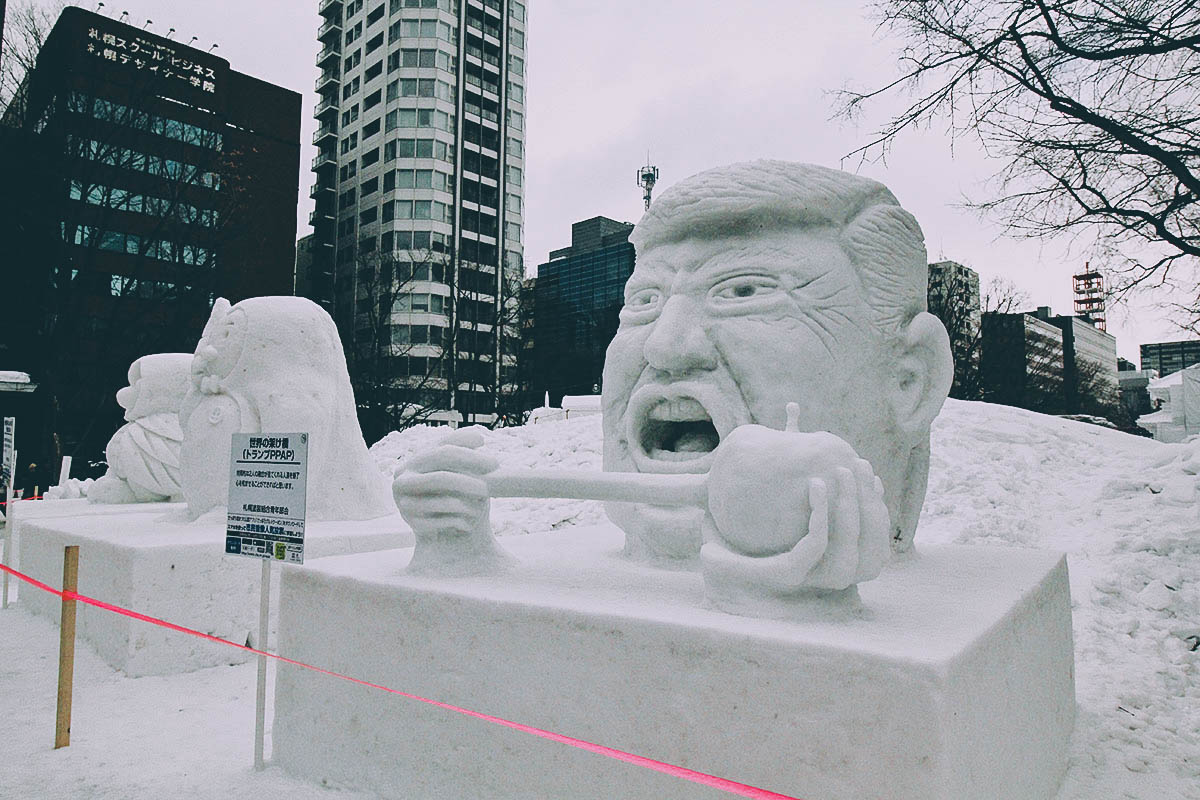 Giant "pen-pineapple-apple-pen!" 😆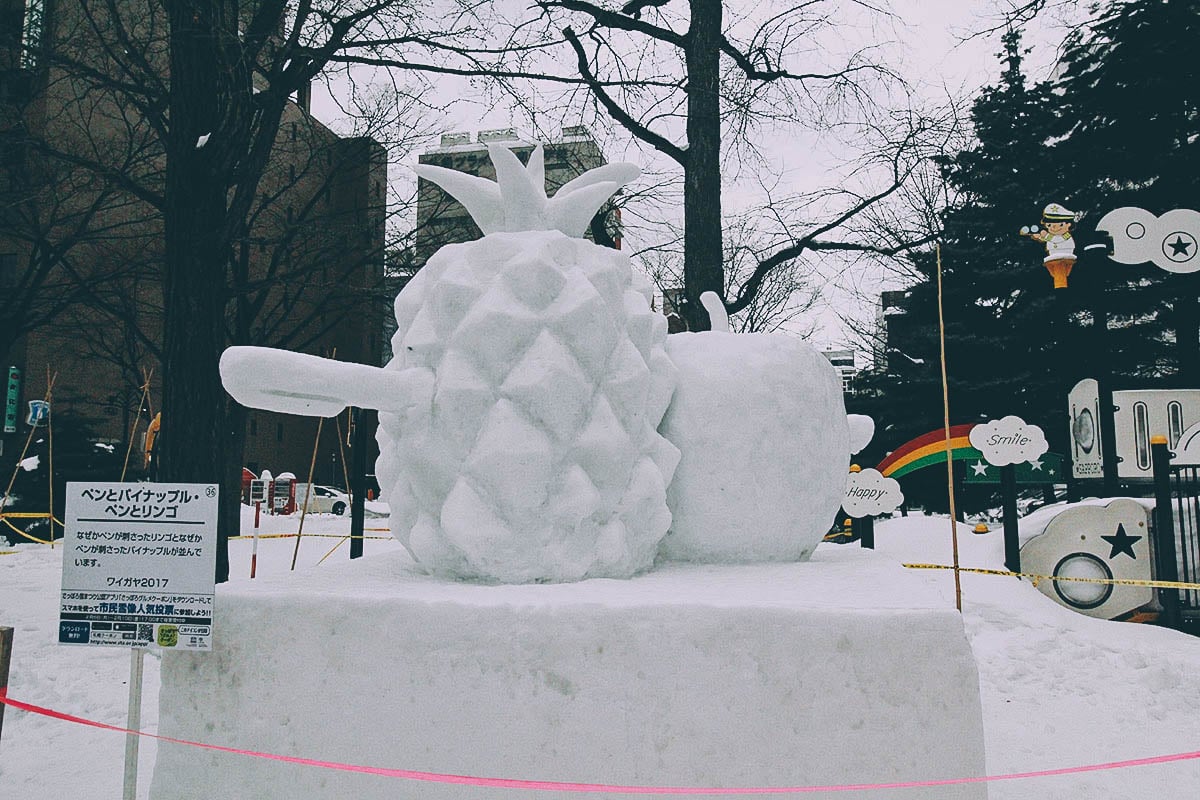 I think the one on the right was Super Mario.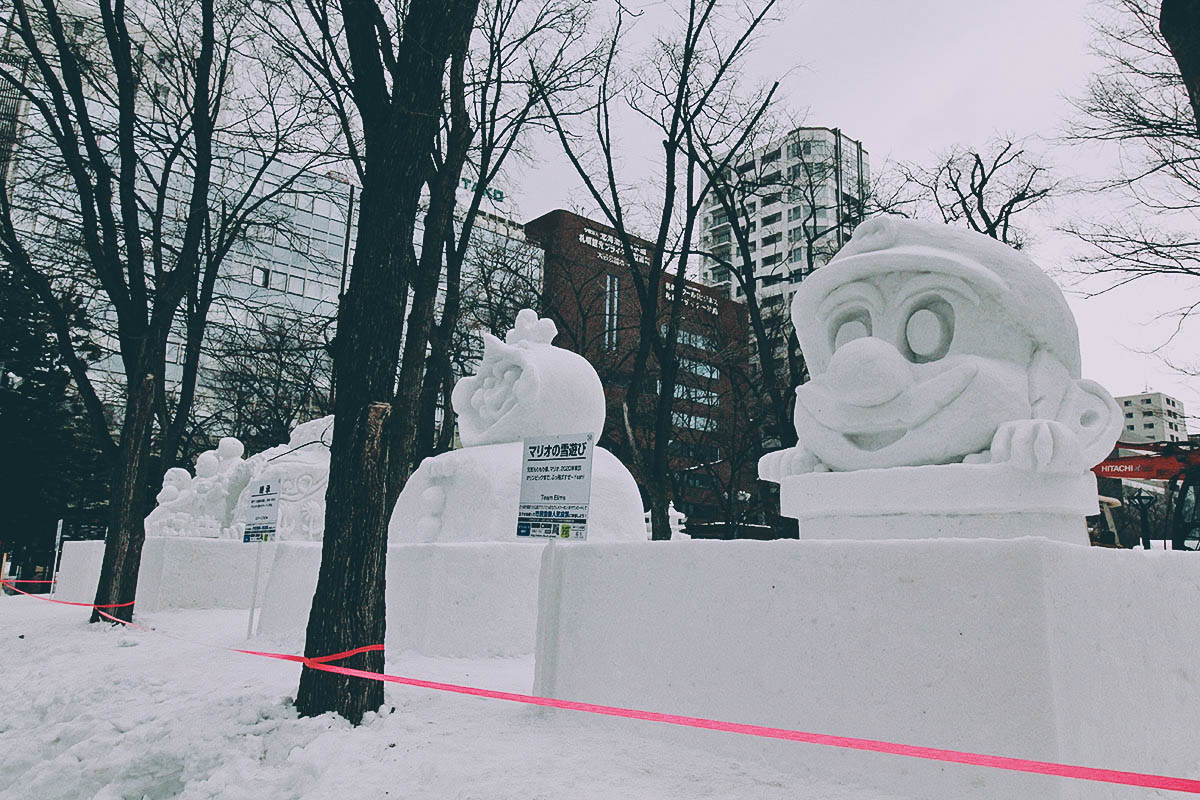 Giant Nissin Cup Noodles snow slide for the wee ones.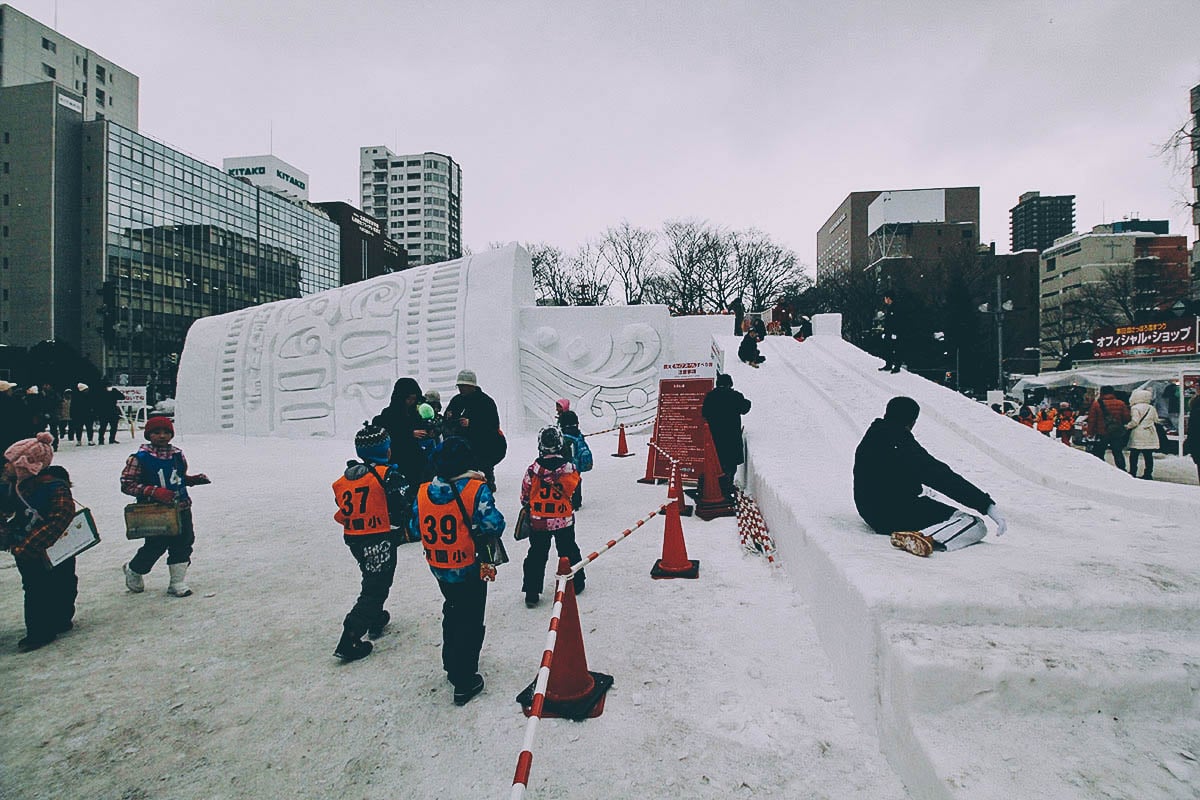 This was another of the park's centerpiece sculptures and my favorite of them all. Pretty cool huh? As you can see, it's huge!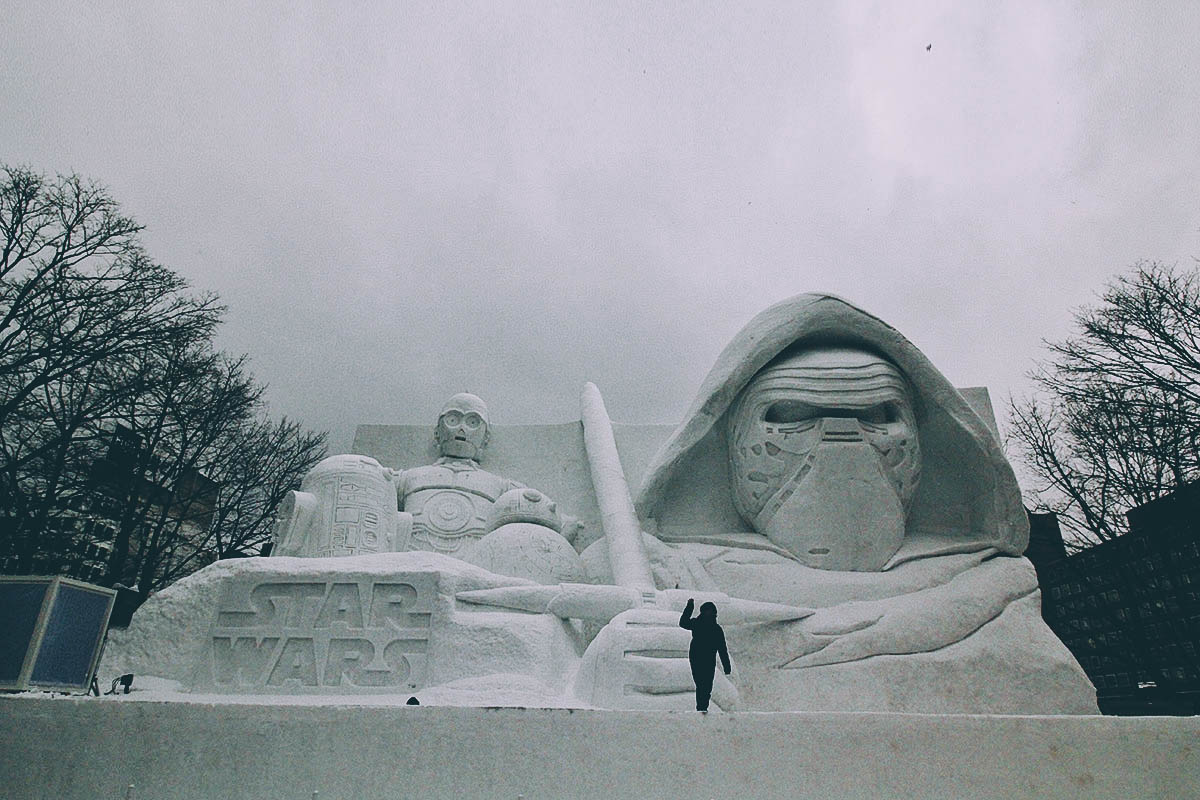 This was pretty cool. Skiers and snowboarders would jump and do tricks to entertain the crowd.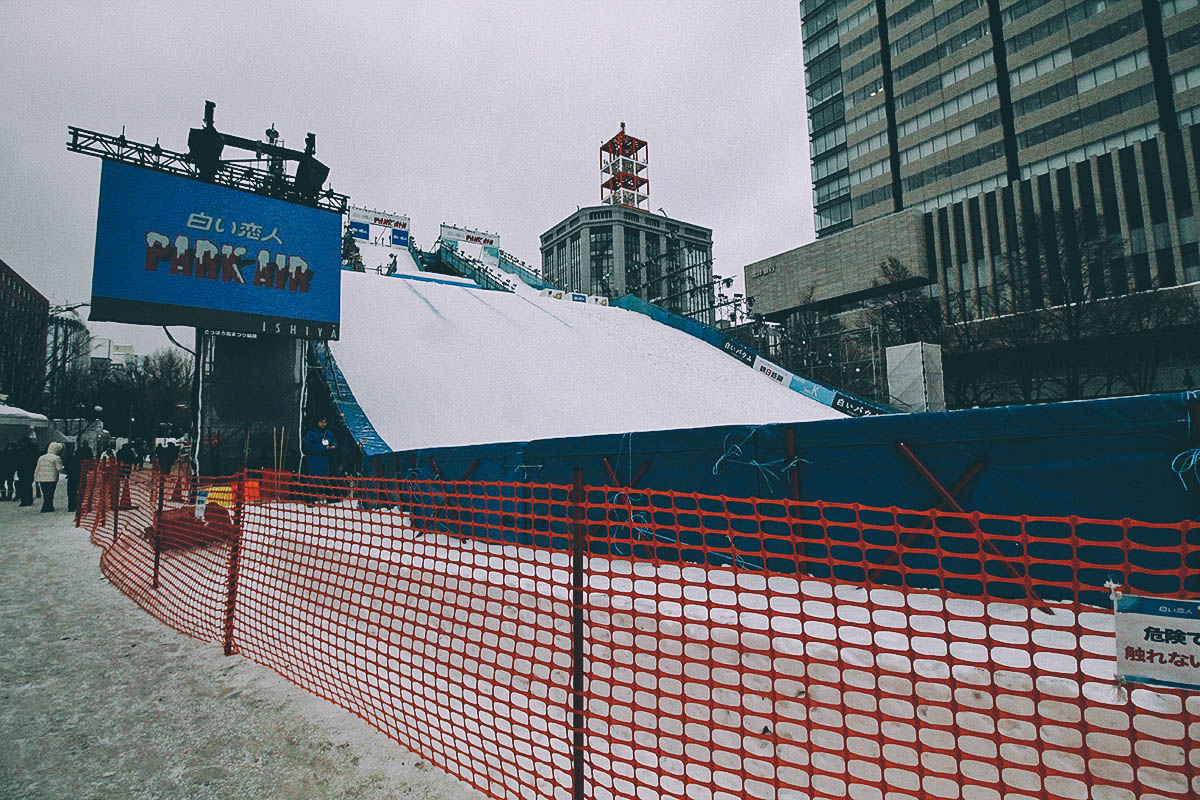 There's one right now in mid-somersault.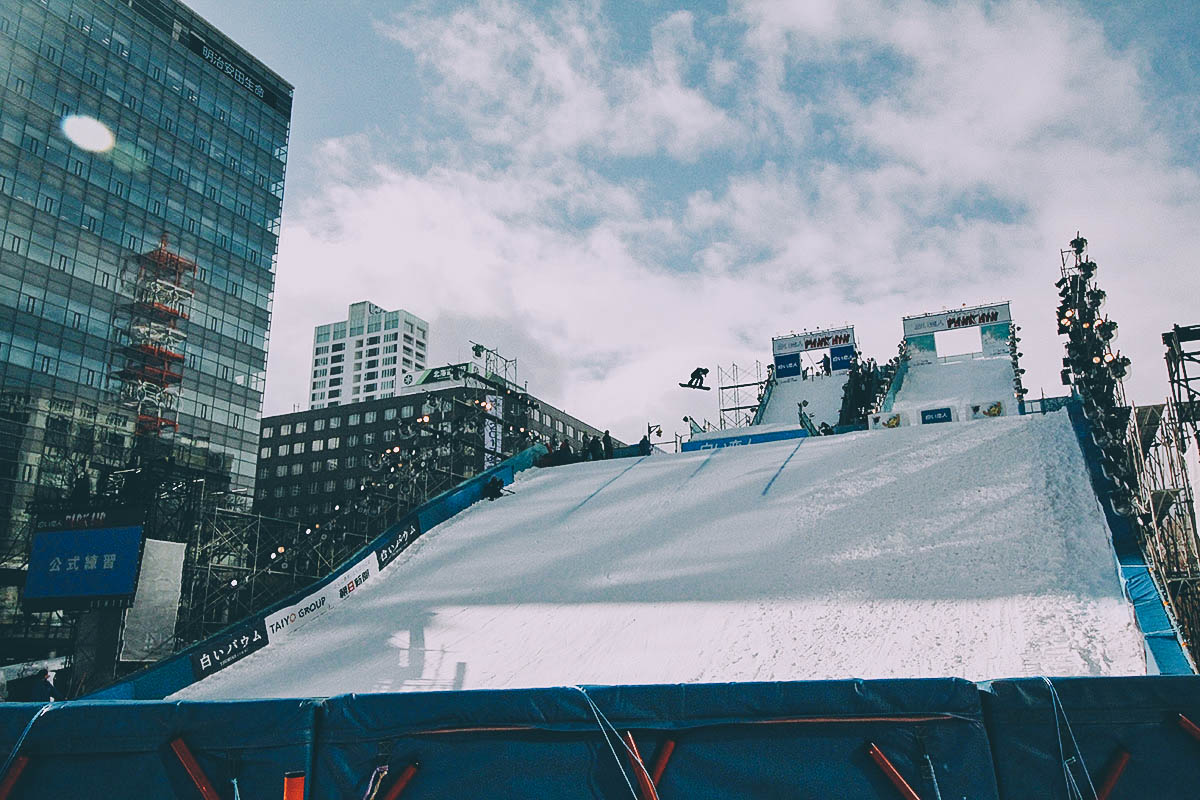 All throughout the park were these street food stands selling all kinds of delicious-looking Japanese food like ramen, lamb, yakitori, potatoes, corn, and seafood.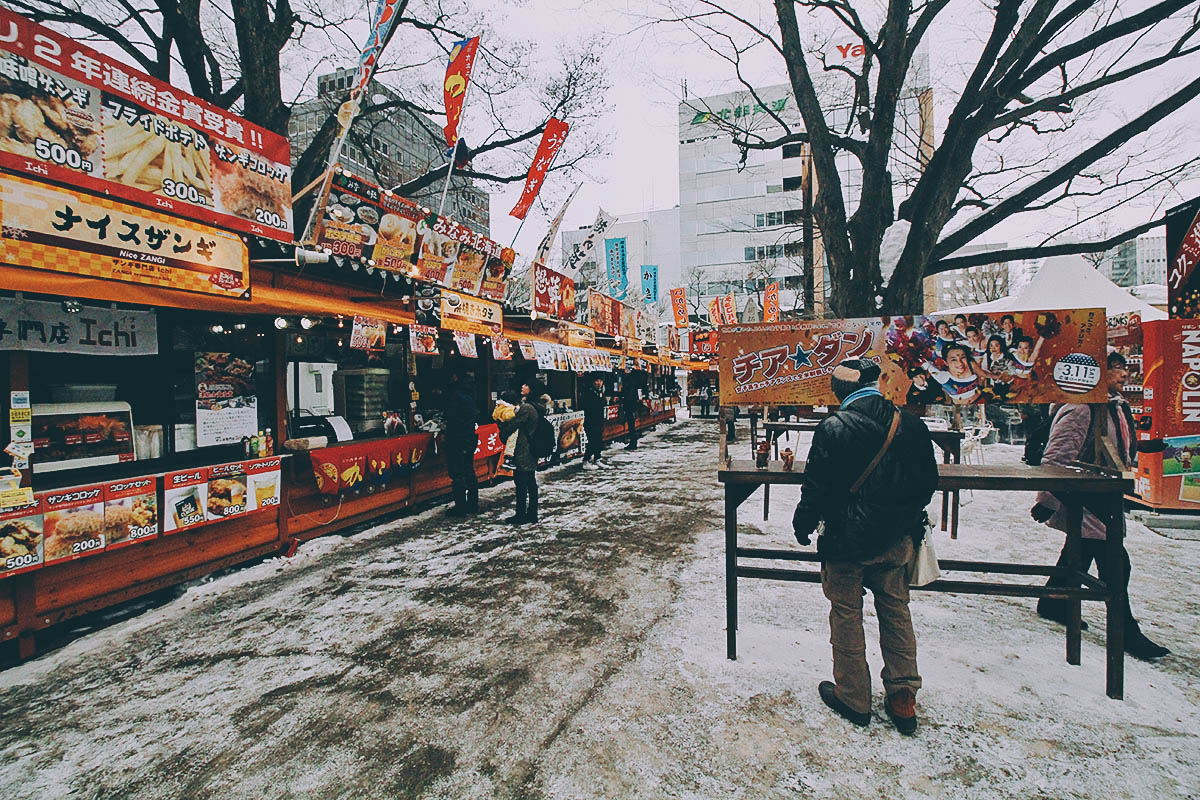 Check out the size of those crab legs! 😯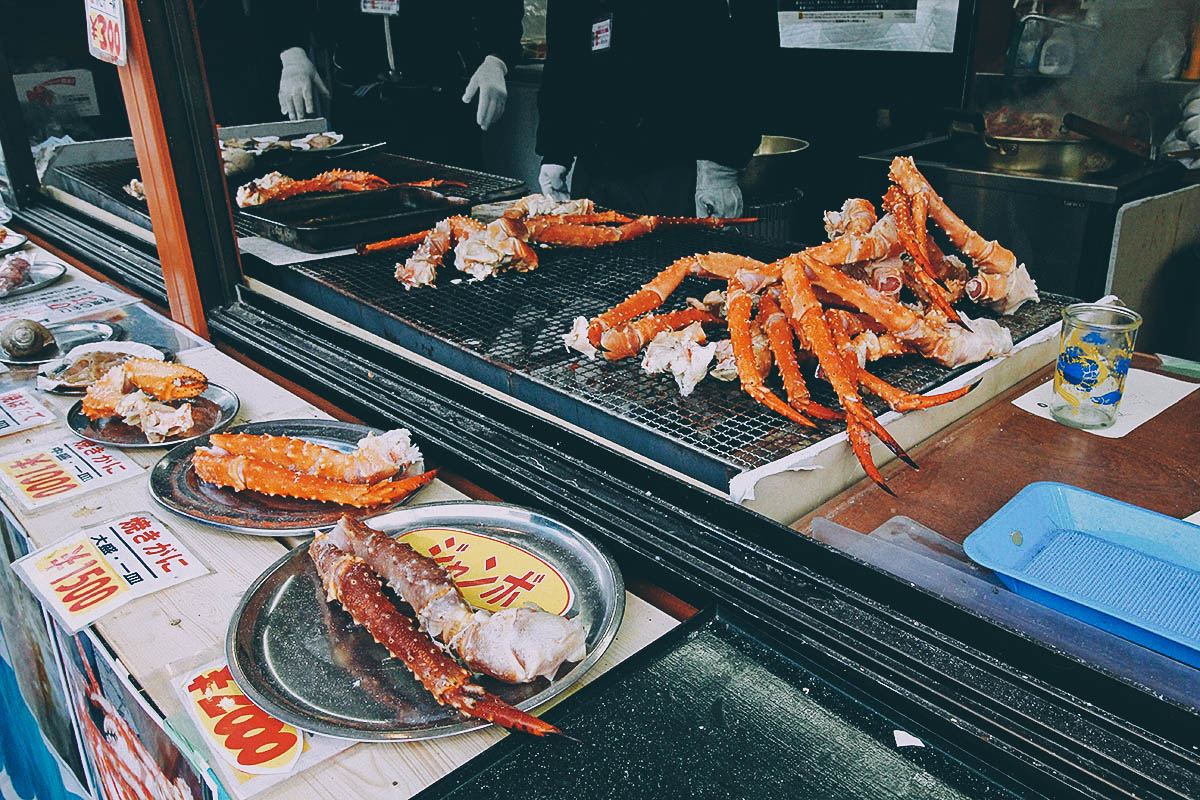 I agree Mr. Mushroom Hunter, no mush no life indeed! 😆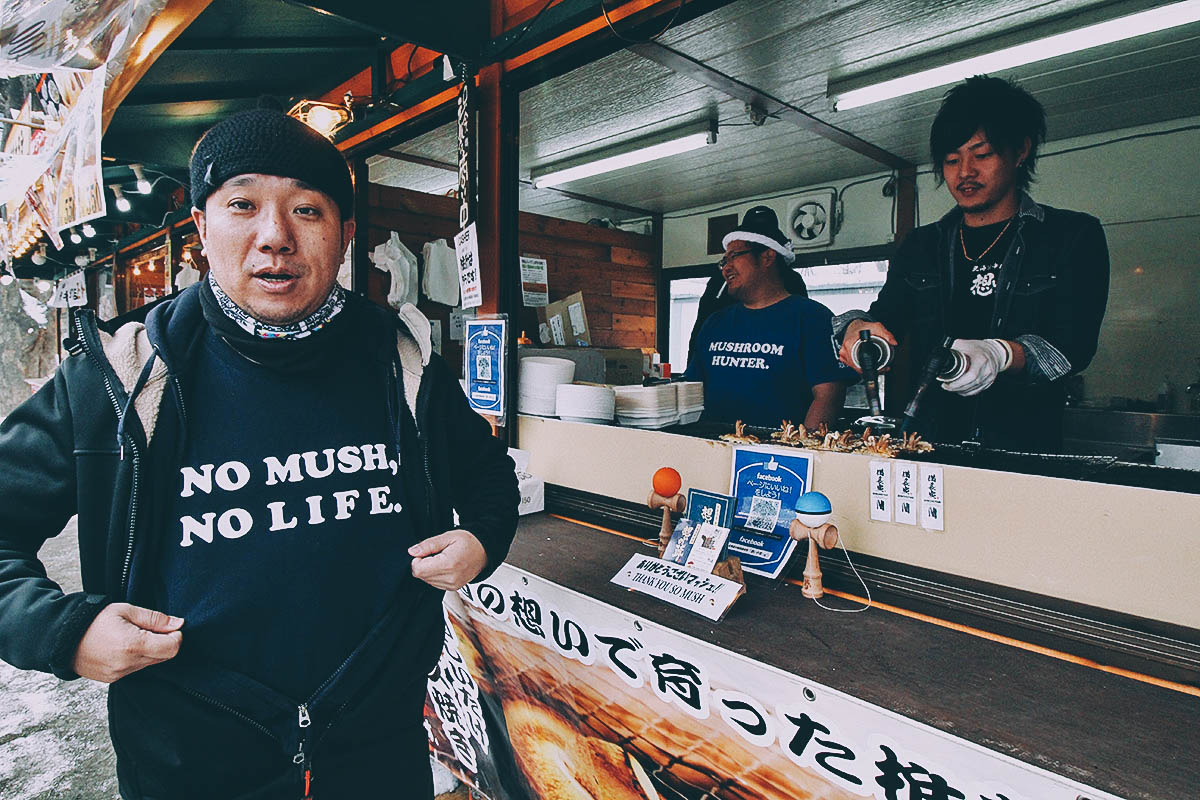 They light up the park until 10PM so you should come back after sundown to revisit all the sculptures. It's interesting to see them lit up at night, though the park does get more crowded after dark.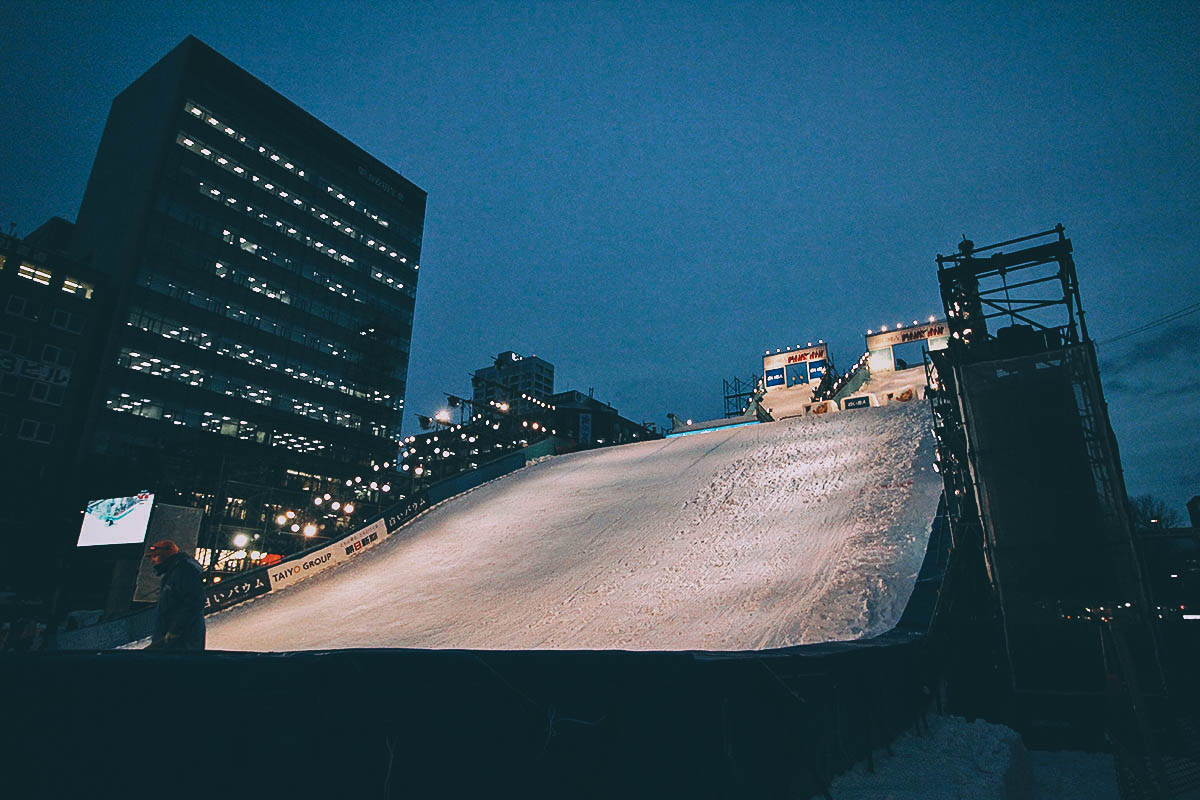 The Japanese street food stands look even more attractive at night.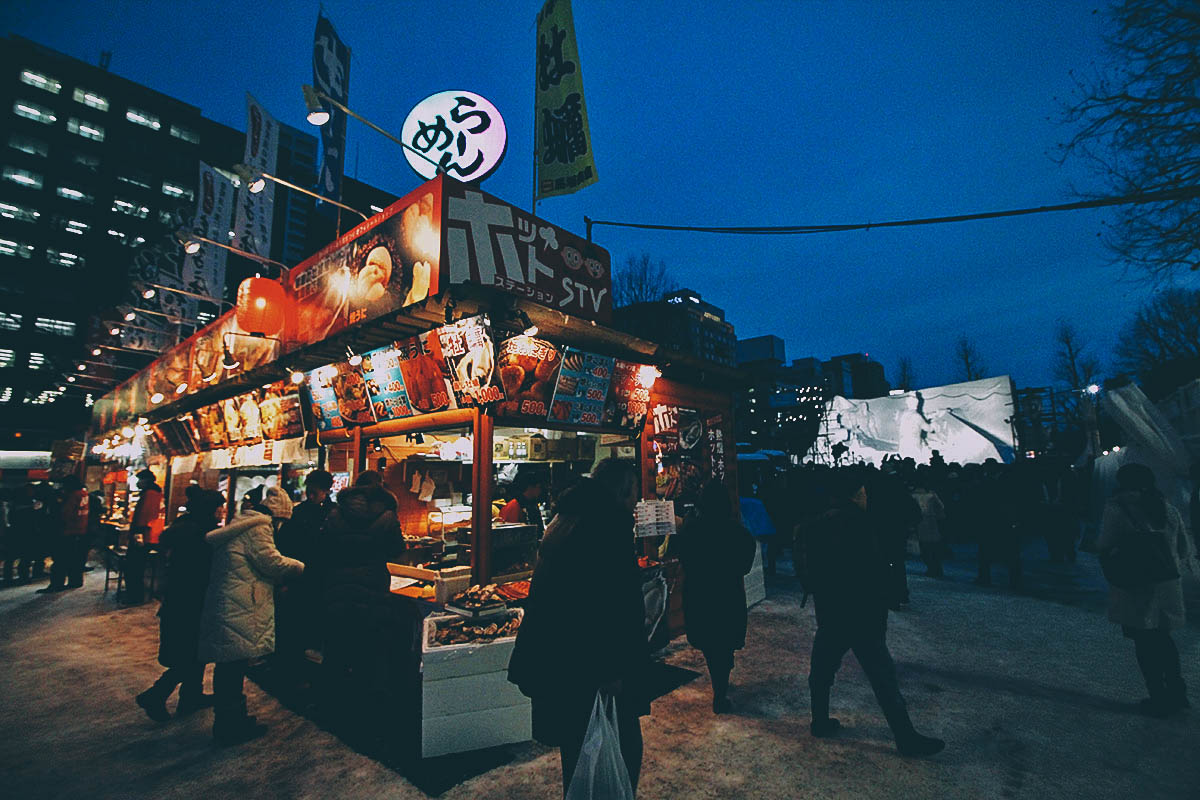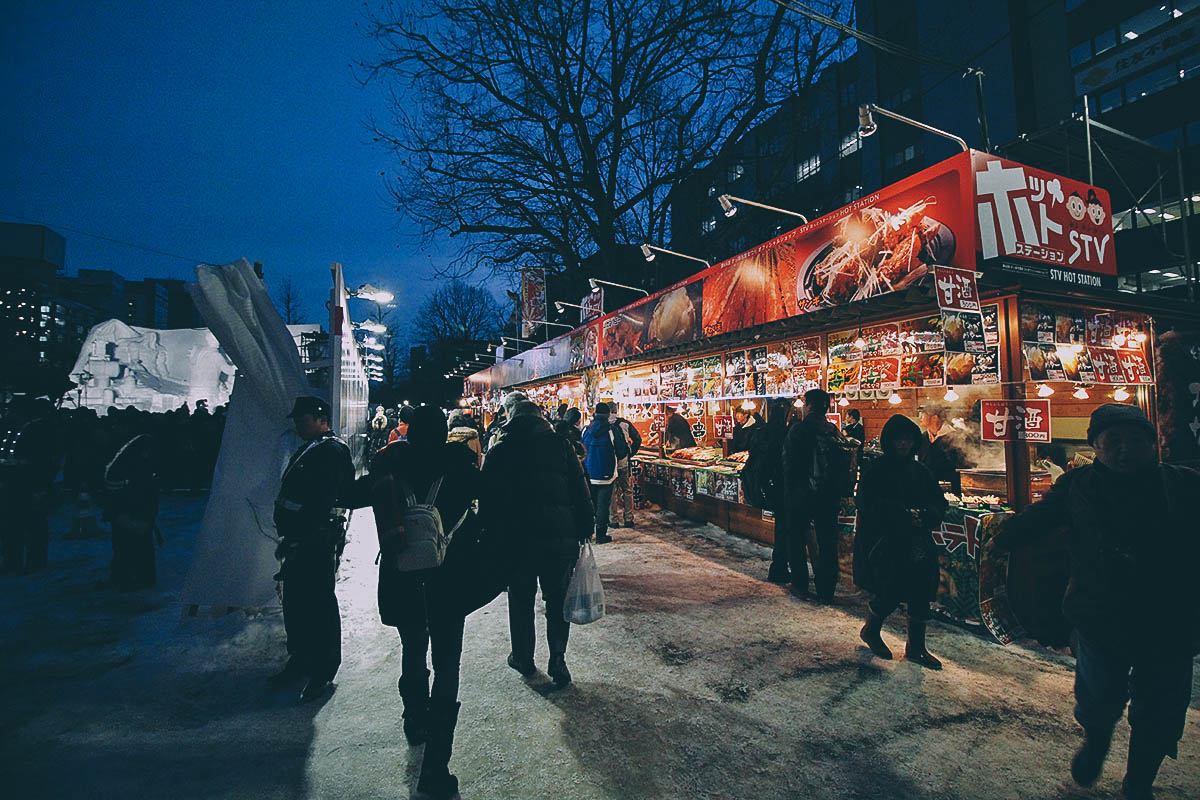 Here's the Final Fantasy sculpture again all lit up. That sword alone is massive!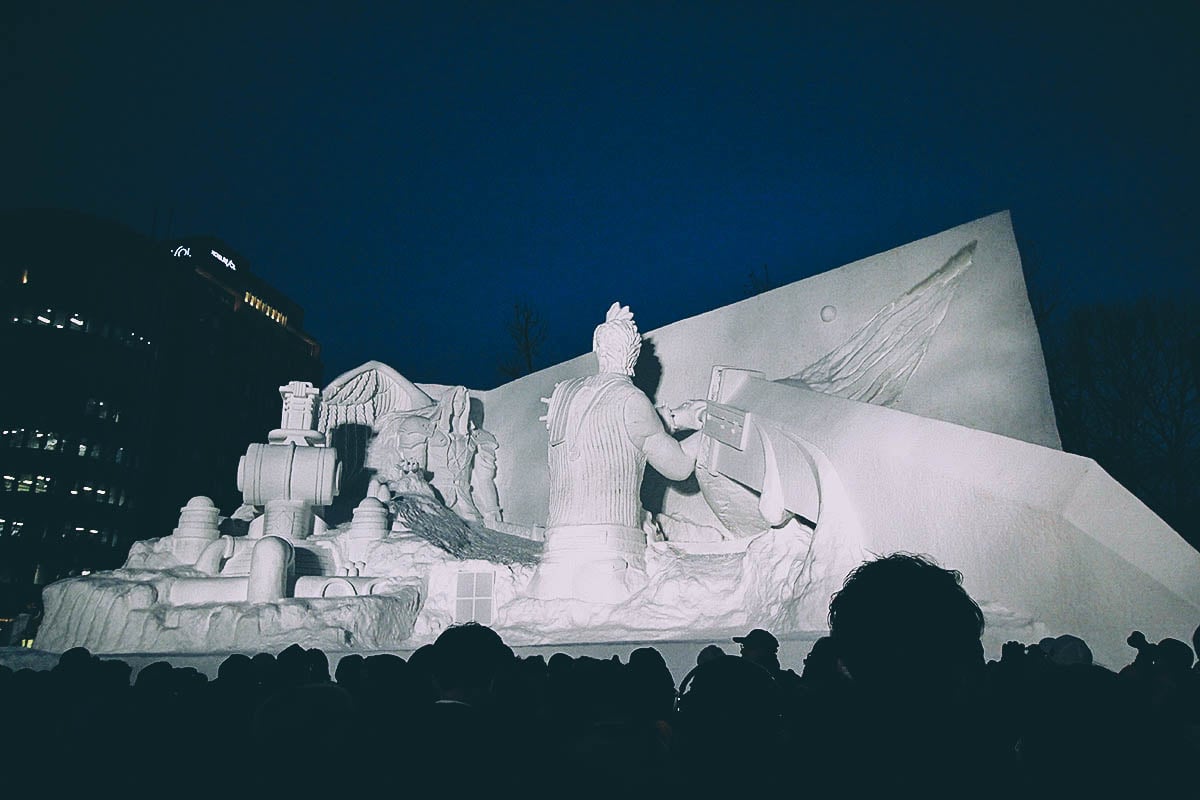 Here's that snow sculpture / projector screen I was telling you about earlier.

Here's the palace again. Pretty cool how they got it to look like it has color at night.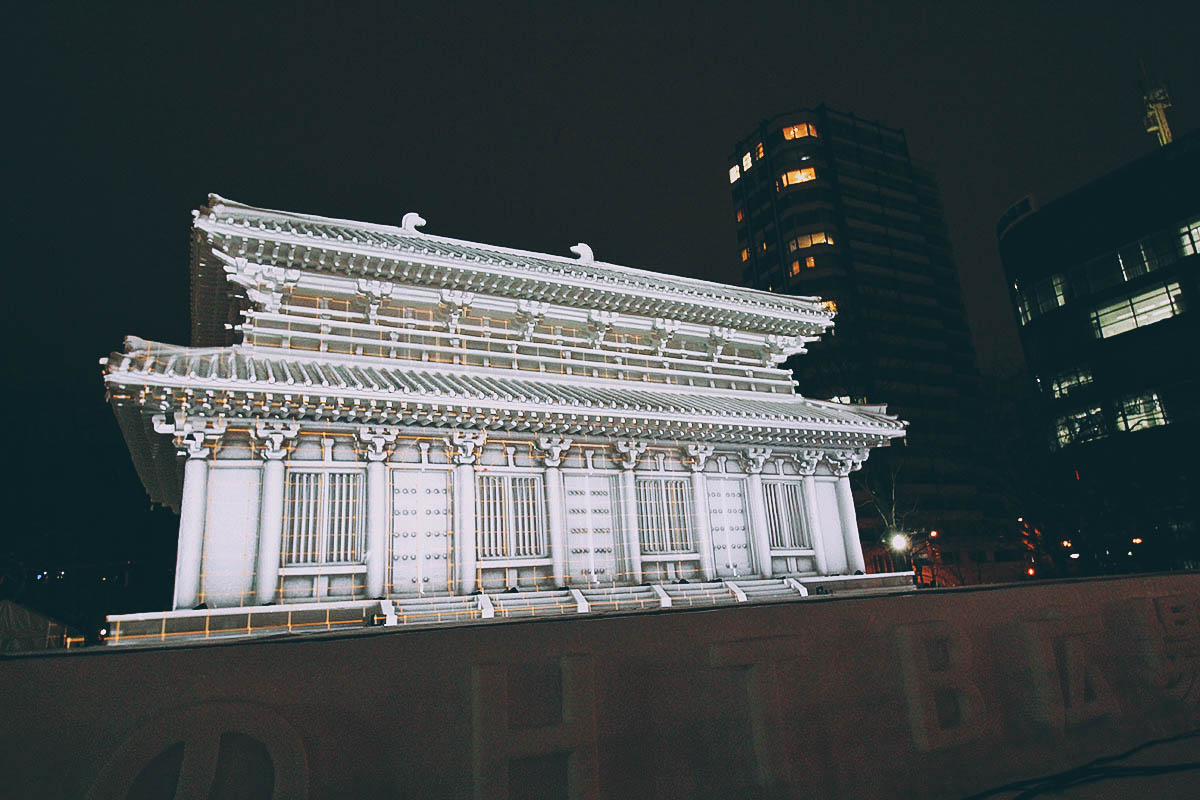 Susukino
Susukino is the other site in downtown Sapporo and just a subway stop away from Odori. It isn't that far so you can walk here from Odori if you like. They have underground walkways in case its too cold to walk outside.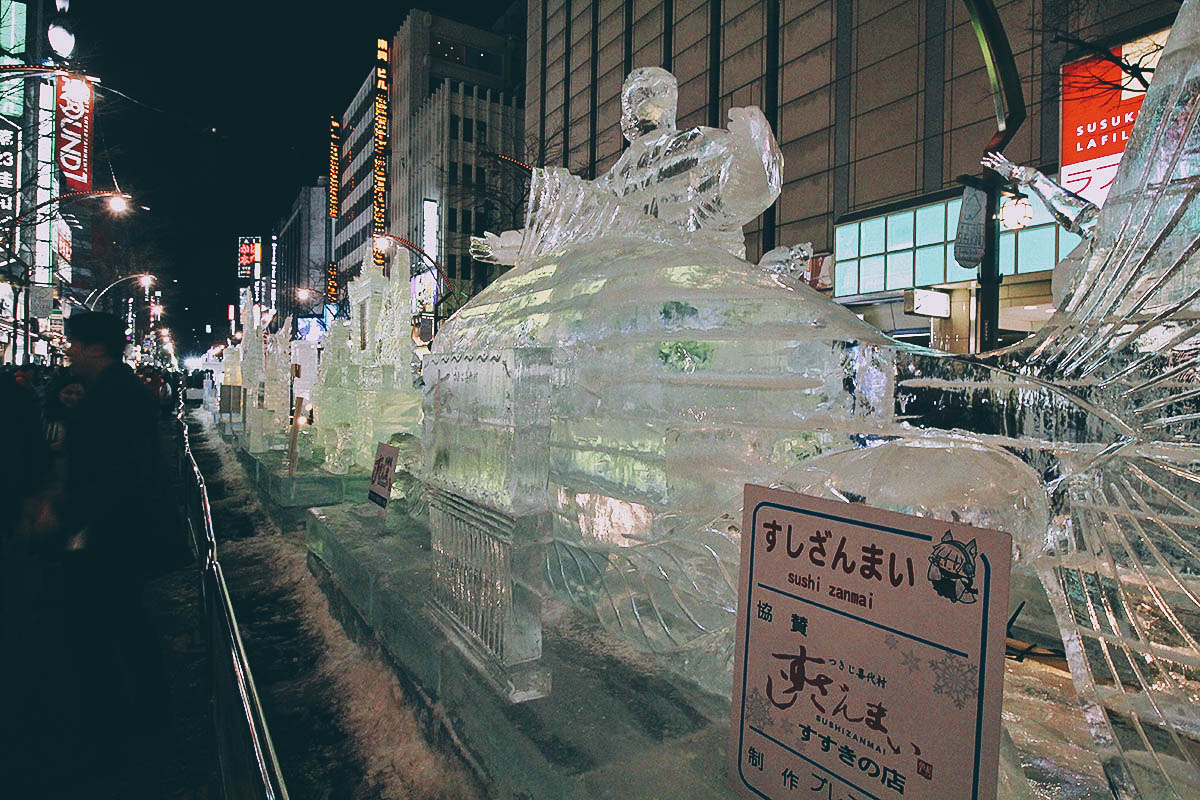 The Susukino site isn't that big and features all ice sculptures. They're lit up until 11PM every night (10PM on the festival's final night).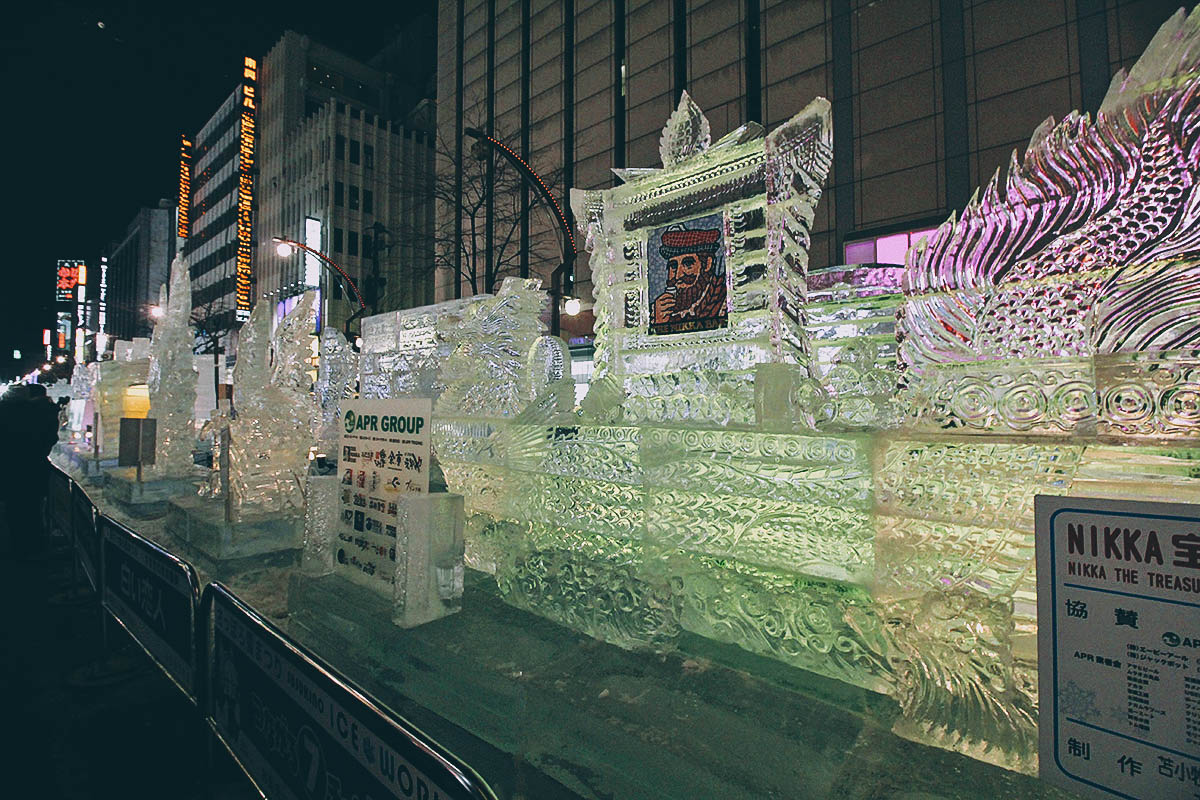 Detail of a salmon head. They would carve some of these sculptures on the spot using chainsaws.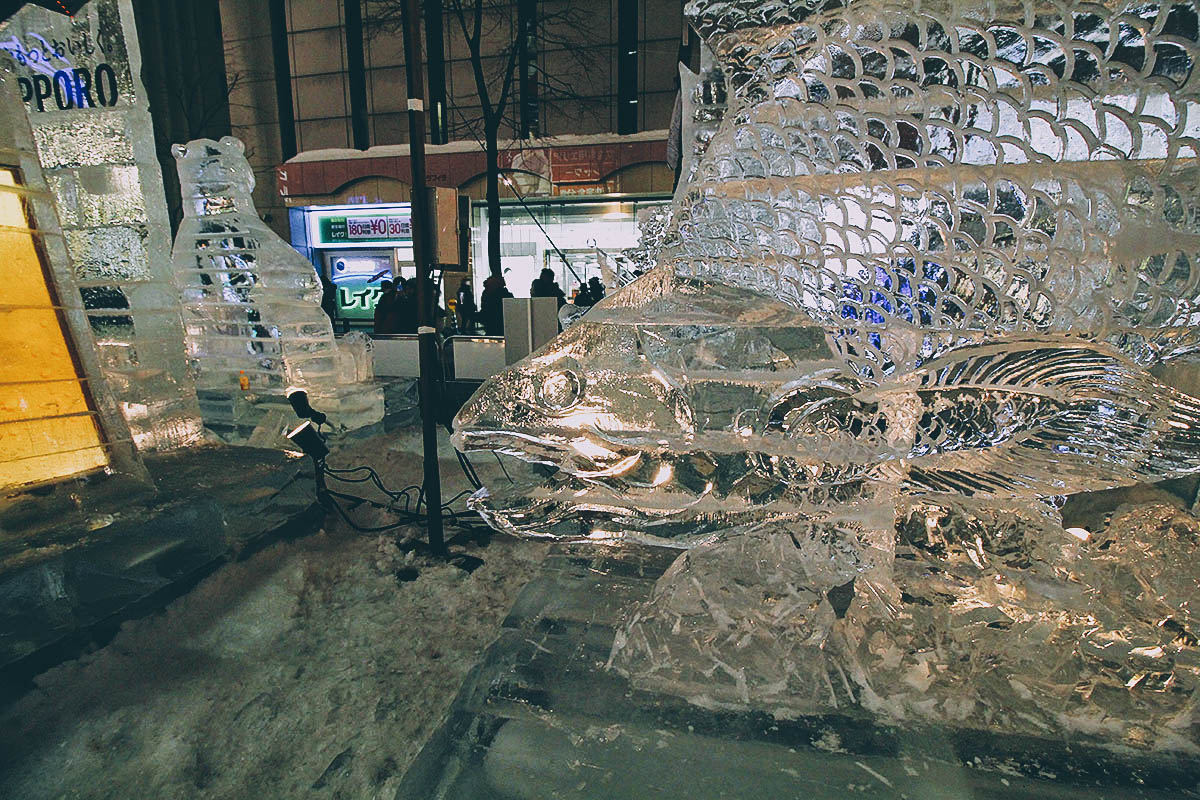 Not surprised this was one of the more popular ones at Susukino. 😆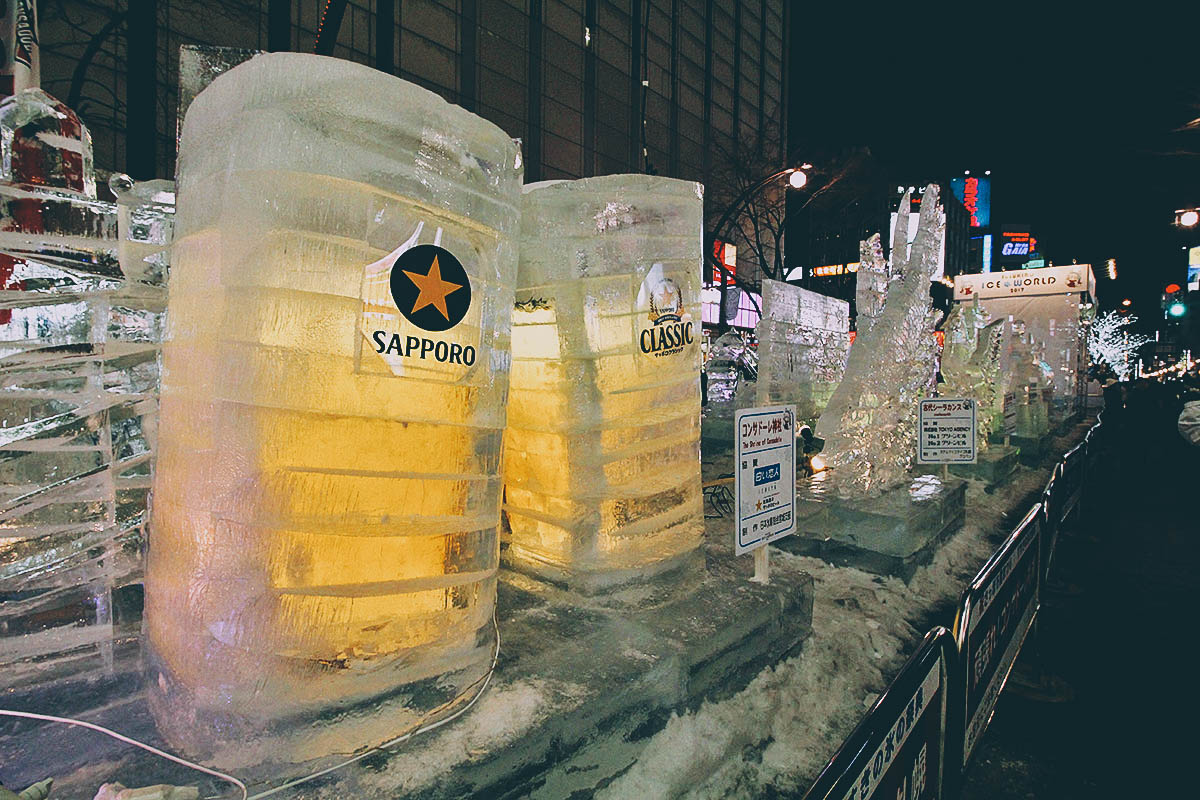 The Susukino area is where many of the best restaurants are so you'll probably find yourself in the area often.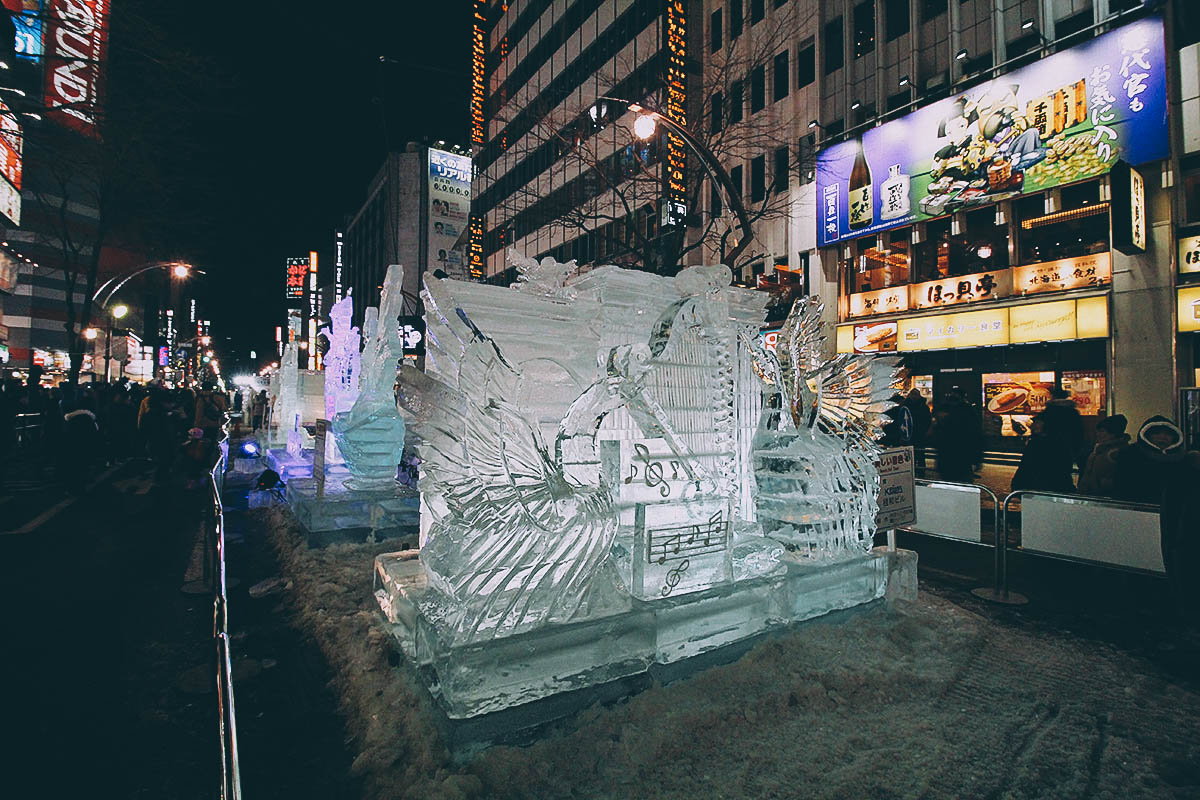 This beta fish was pretty awesome.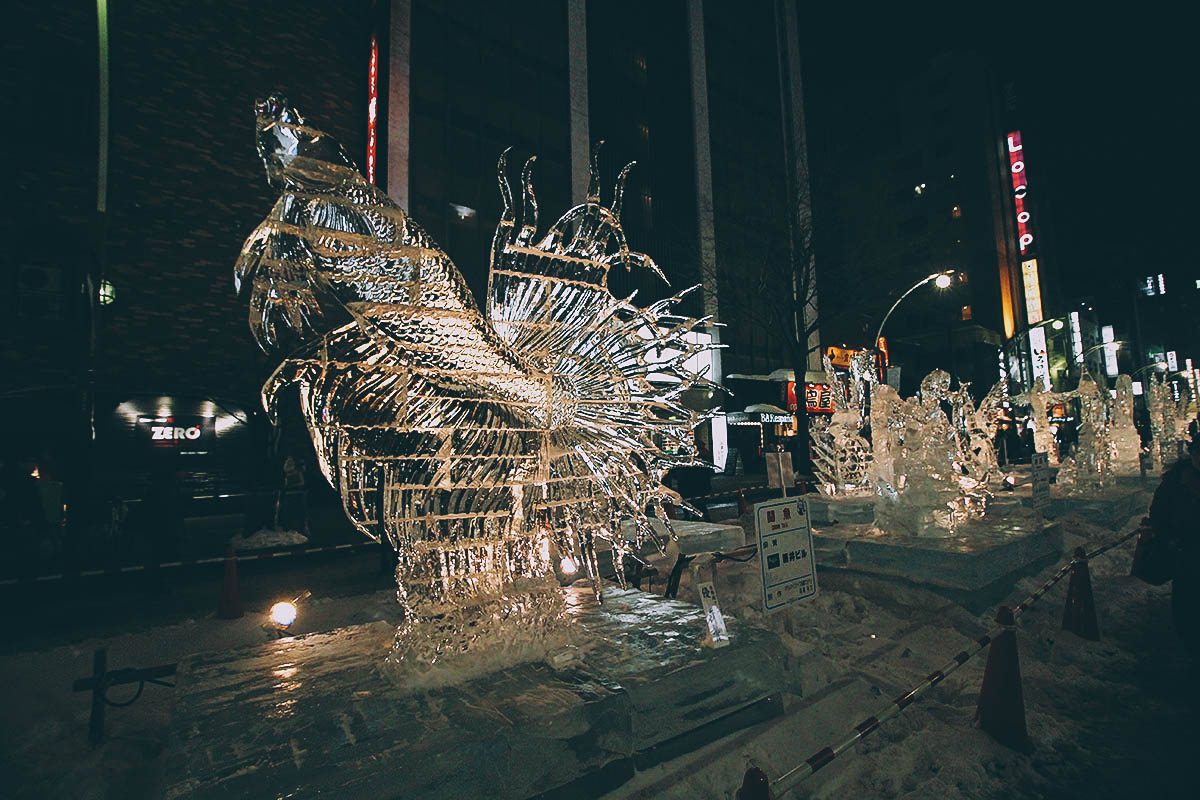 Tsudome
The Tsudome site is located less than an hour away from downtown Sapporo by public transportation. Of the three, it's the most family-oriented site with fewer sculptures and plenty of slides. Unlike the Odori and Susukino sites which are held for just a week, the Tsudome site opens earlier and stays open for almost two weeks. This year, it was open from 1-12 February 2017.
Here's a big beckoning cat inviting tourists to ride a slide.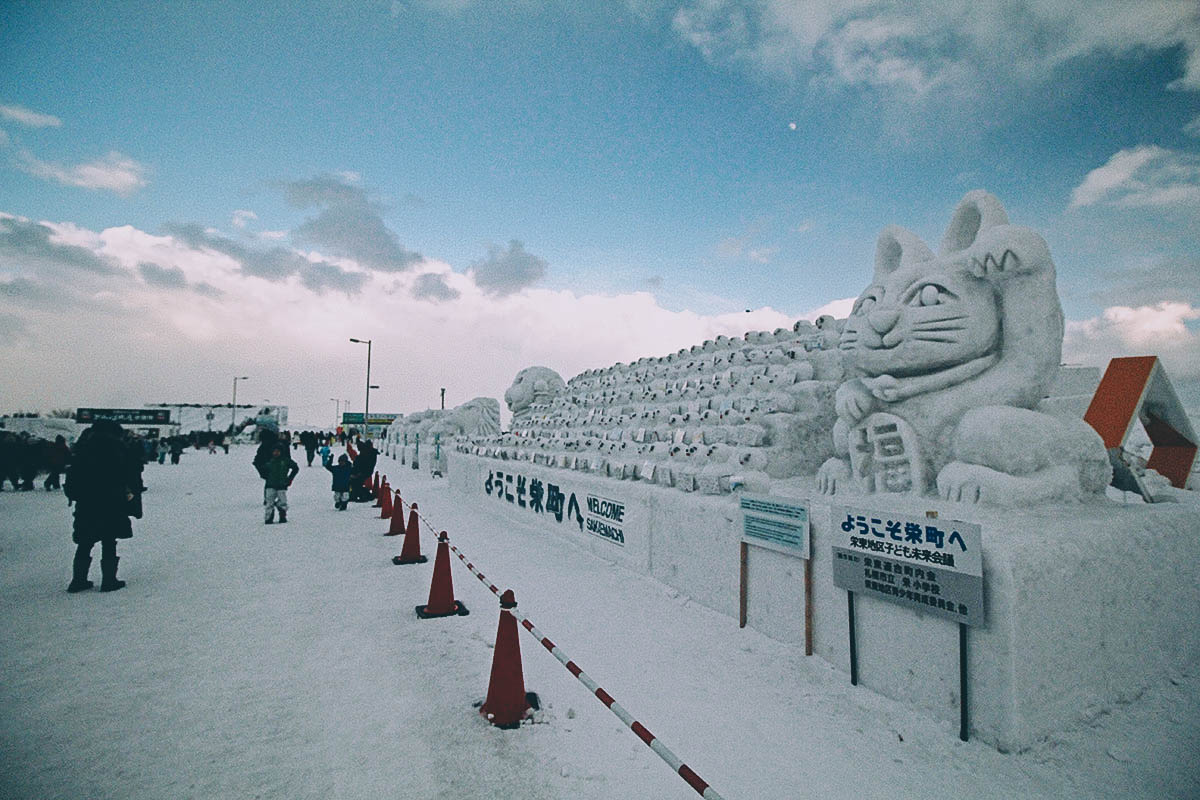 As described, the site's biggest draw are these snow slides. They had them in different sizes for kids of all ages, even adults. The lines would get pretty long but they did move quickly.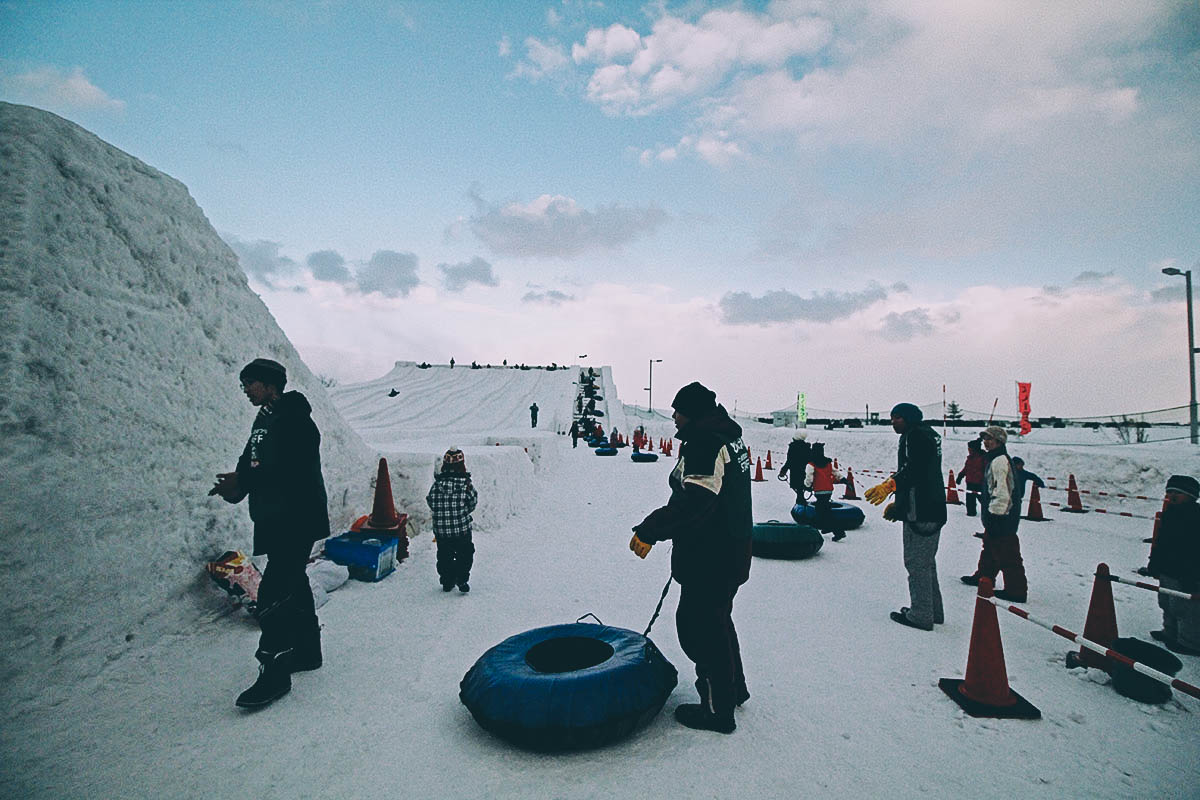 The Tsudome site was beautiful but a lot colder than downtown Sapporo. With no buildings to block the wind, it would get way too cold to just stand around.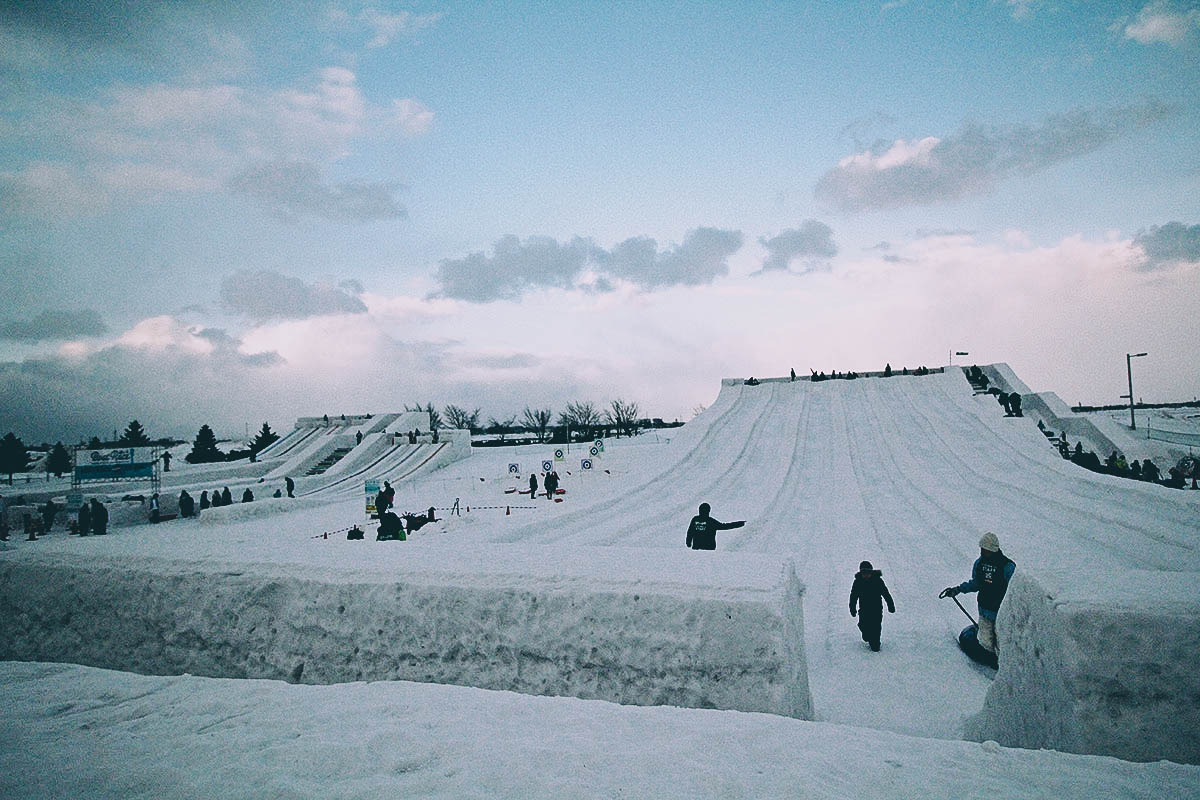 On another part of the site was a maze filled with all these tiny miniature snowmen. I felt like I was in a Calvin and Hobbes cartoon strip! 😆 My favorite was the Gulliver's Travels scene. Remember that one?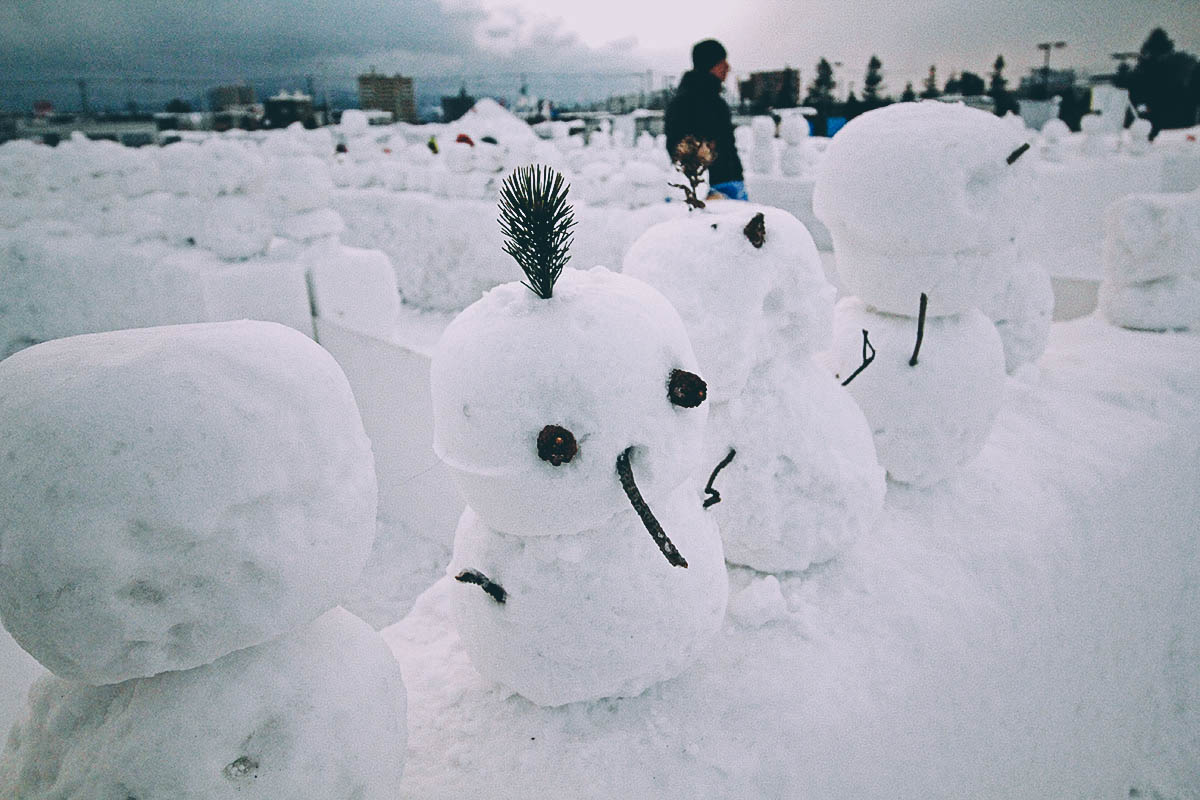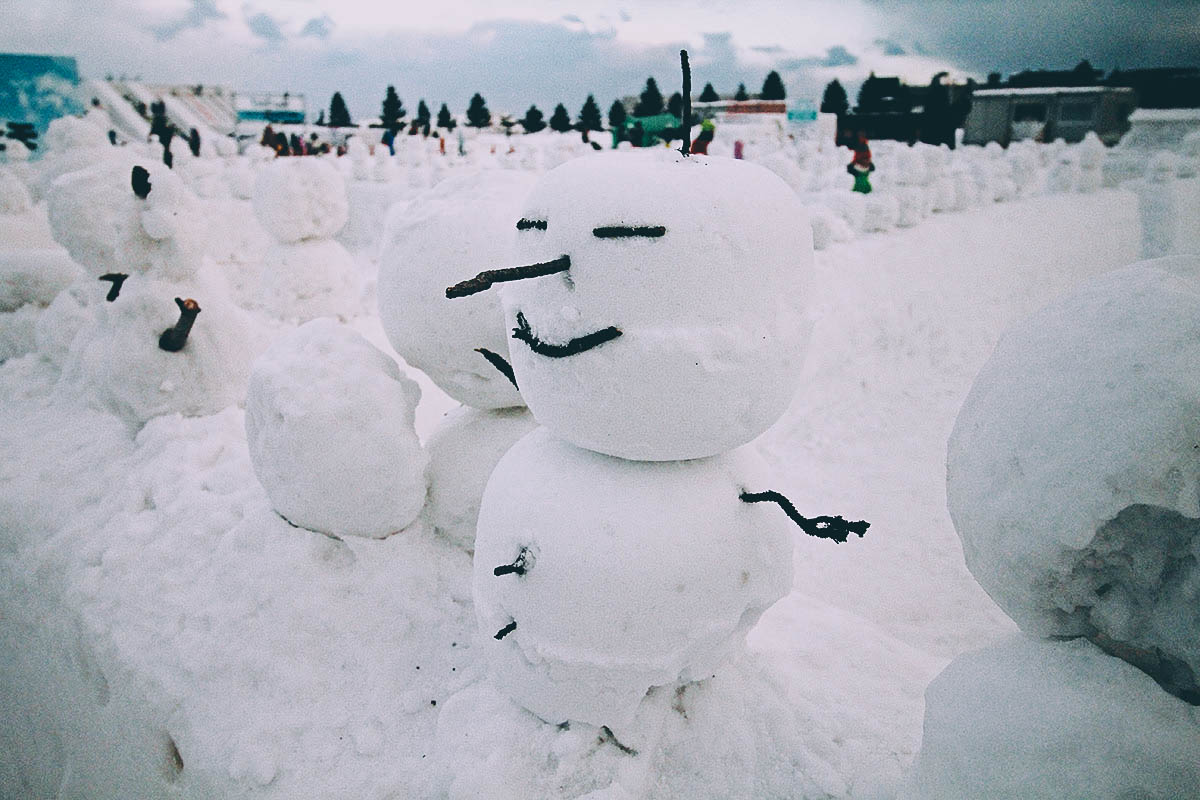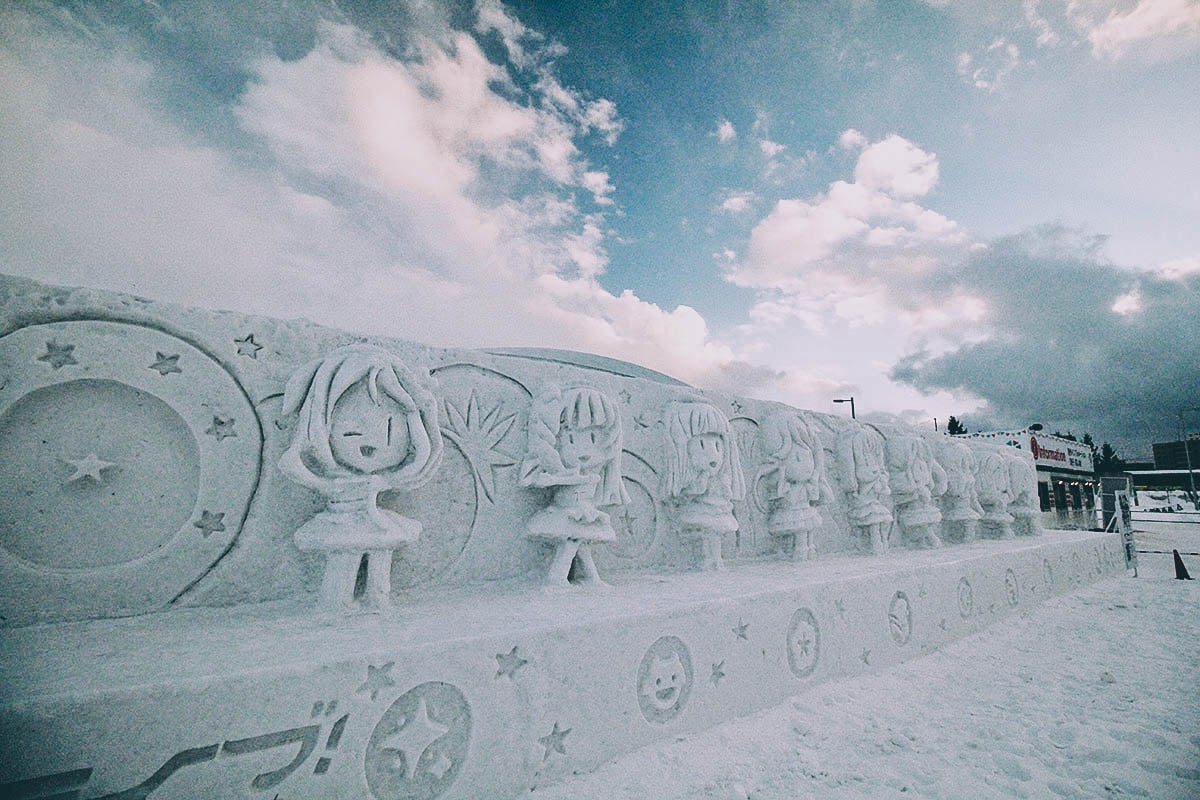 Tiny slides for the wee ones. The Tsudome site is located right by the Sapporo Community Dome.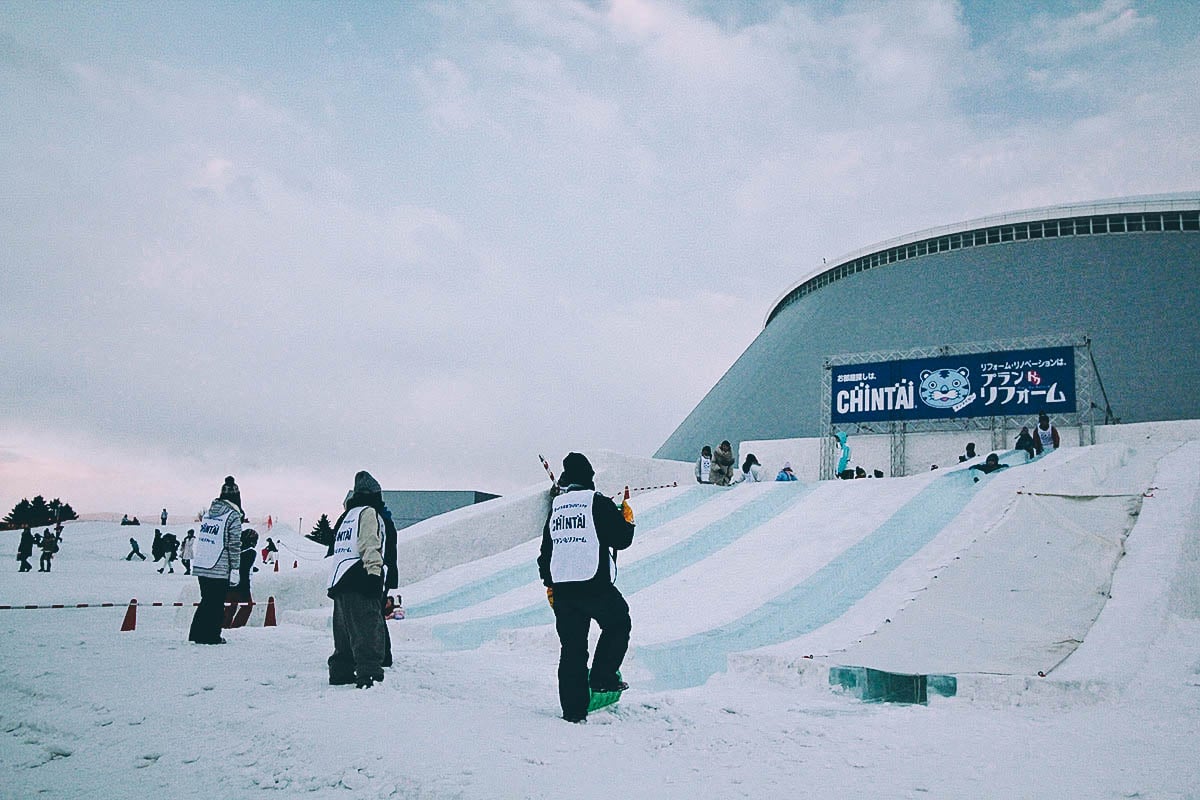 Inside the dome. Here you can warm up and get a bite to eat.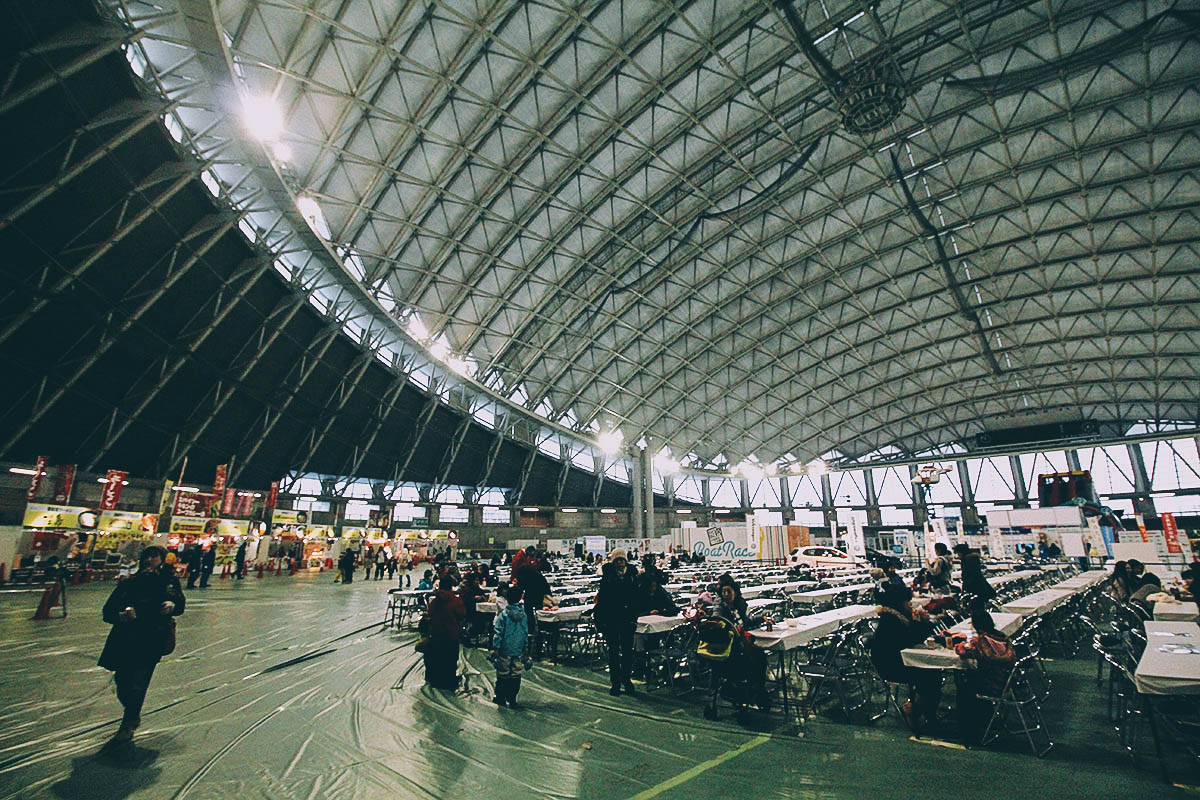 They had big inflatable playgrounds for kids too. Unlike the Odori and Susukino sites, the Tsudome site is only open from 9AM-5PM, which makes sense. You'd probably turn into a popsicle out here at night. 😆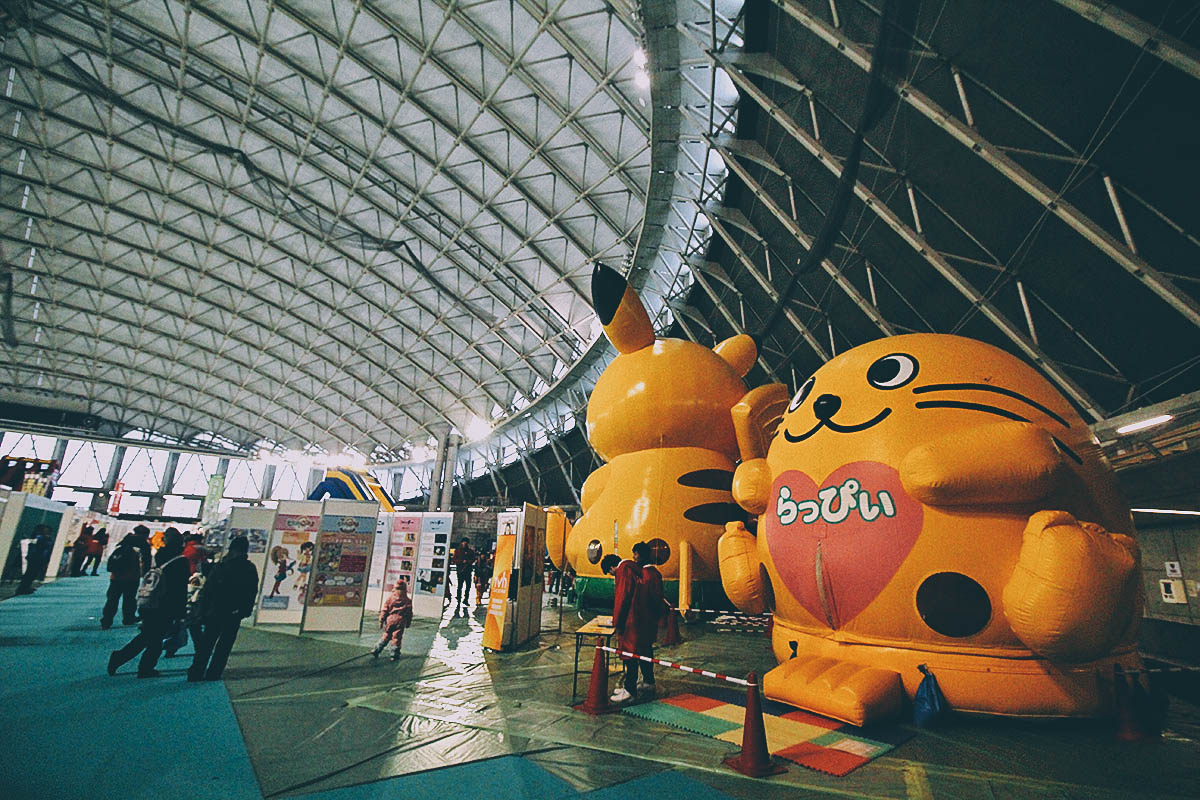 The week of the snow festival is one of the busiest in Sapporo so if you'd like to attend, then it's best you start planning months in advance.
I was surprised to check the snow festival's official website and find that they already have the dates set for the 2018 event. It looks like it'll be held on the exact same dates as the 2017 festival – February 6-12, 2018 (Tue-Mon) for Odori and Susukino and February 1-12, 2018 (Thurs-Mon) for Tsudome.
However, there's a footnote stating that "currently the information is from last time" so I believe these dates may be tentative. If I remember correctly, it wasn't until around mid-year that the dates for the 2017 festival were confirmed. It's important to plan early but be sure to confirm the dates before booking anything.
We made our booking in early September 2016 for the 2017 festival. Even with five months left till the festival, hotel prices around Odori Park, which is the most convenient place to stay, were already pretty high. You can try your luck on Booking.com or Agoda.
If you book early enough, then maybe you'll get a good rate. But if not, then another option would be AirBnB, which is what we did. We found a nice Japanese-style room in the suburbs for USD 95 a night for three people. That's more than what we usually pay for accommodations but trust me, that's a pretty good rate for the week of the festival.
Sapporo Snow Festival, Hokkaido, Japan
Website: snowfes.com
Admission: FREE
HOW TO GET THERE:
Odori site: Take the subway to Odori station. Take any exit to the park.
Susukino site: Take the subway to Susukino station. Exit the station and you'll find the ice sculptures along the main street of the Susukino entertainment district.
Tsudome site: Take the subway to Sakaemachi station (JPY 250). It's about a 15-minute walk to the Tsudome site from there. Alternatively, you can take a shuttle bus from exit 2 of Sakaemachi station (JPY 100). You'll see people holding up signs to the Tsudome site shuttle bus.
For more travel tips to Sapporo in winter, check out our Sapporo Winter Travel Guide.