Of all the things we ate on our recent trip to Japan, the one dish I would most love to eat again, is motsunabe. A specialty of Fukuoka prefecture, motsunabe is a hot pot stew made with beef or pork offal.
We're Filipino and enjoy eating offal so we took an instant liking to this interesting Japanese dish. Cooked in a shallow pot on your table, innards like beef intestines and tripe are allowed to simmer in a soup base seasoned with soy sauce, garlic, and chili pepper.
Other ingredients like cabbage, garlic chives, and champon noodles are later added to complete the dish, which you can then enjoy with a steamy bowl of Japanese white rice. It's to die for.
If you're visiting Fukuoka and don't shy away from offal, then you absolutely must try this dish.
Best Motsunabe in Fukuoka?
As described, motsunabe is a Fukuoka specialty so there are many restaurants in town that serve it. I did my research and Hakata Motsunabe Yamanaka is said to be one of the best. They have two branches – one in Akasaka and another in Mukaino. The Akasaka branch occupies a small building but the restaurant itself is located on the second floor so it's a little hard to spot. Just look for the sign below.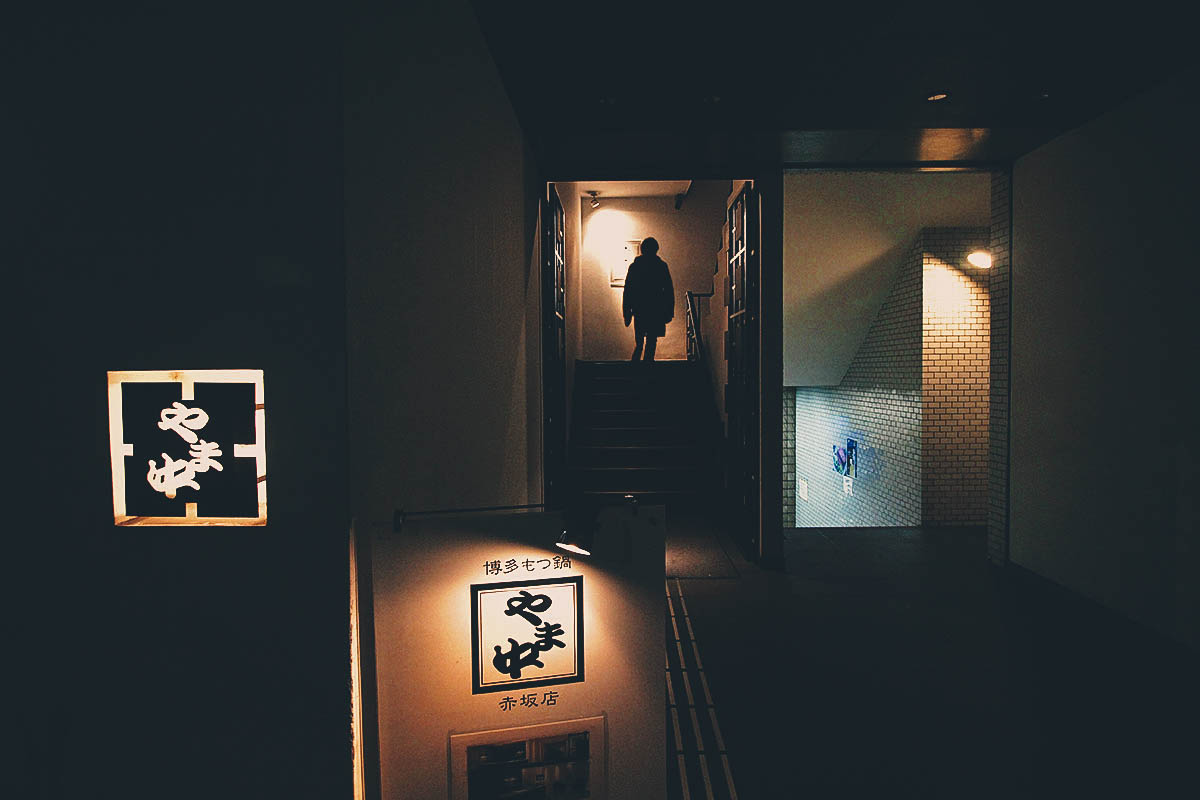 It's funny. Many reviewers were intimidated at first by the restaurant because it looks so swanky, but prices are surprisingly reasonable. I read that motsunabe isn't an expensive dish hence its popularity in Fukuoka. At Hakata Motsunabe Yamanaka, an order for two will run you JPY 3,200.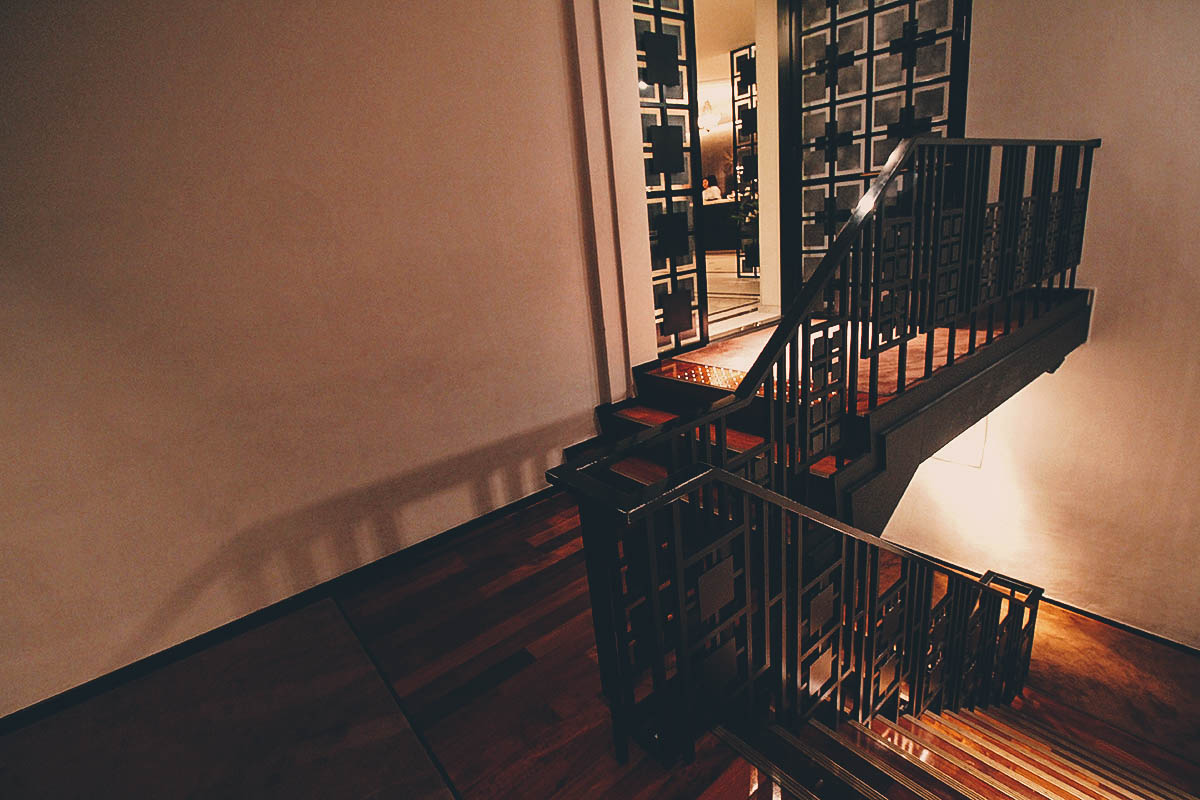 See what I mean? The reception area looks like the lobby of a hotel. The restaurant is surprisingly big too, occupying the entire second floor. I can understand why travelers would be intimidated by a place like this in Japan. Some people probably thought they'd have to mortgage their house to eat here! 😆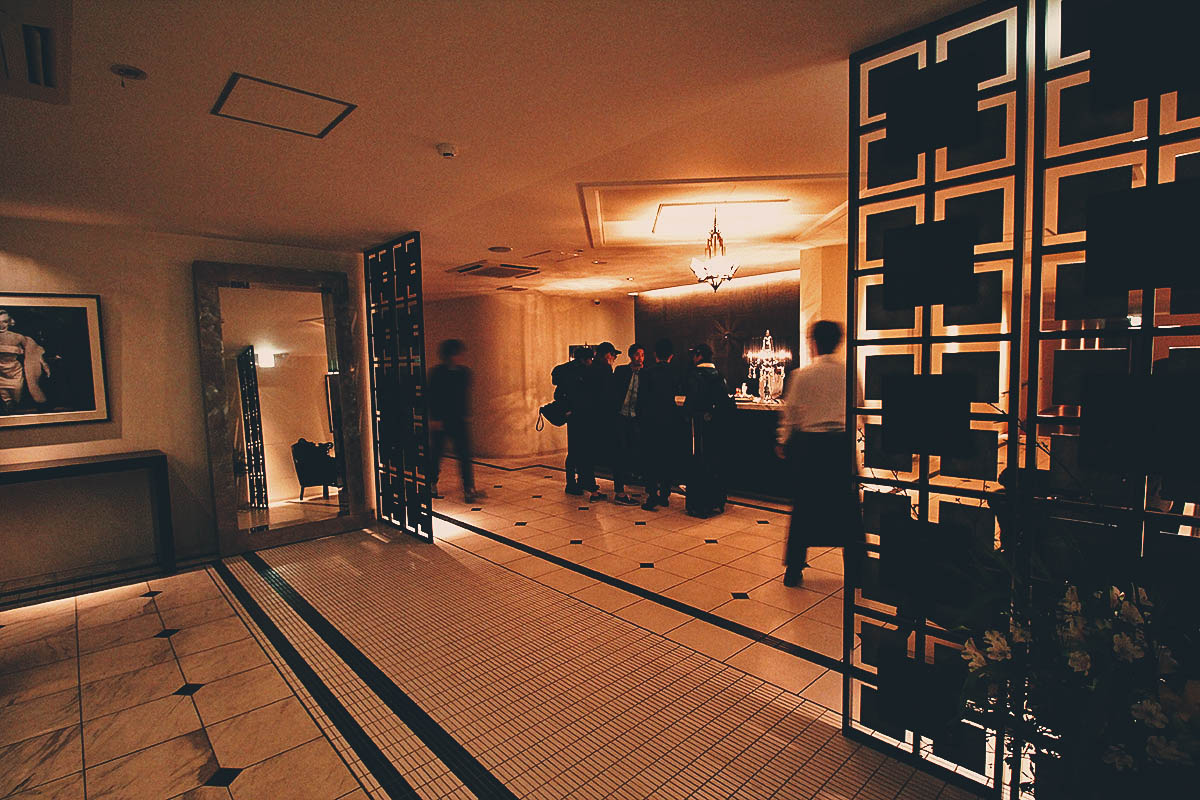 We started off with this small plate of edamame for JPY 500.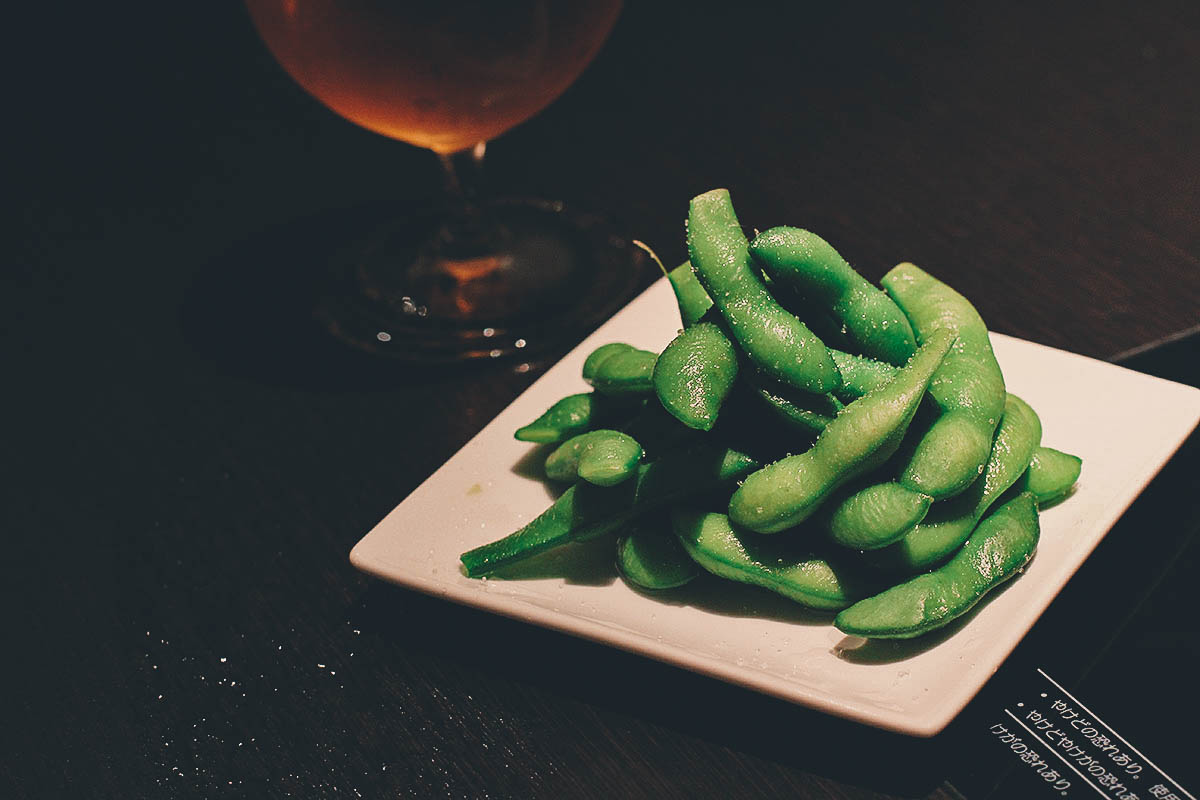 This was amazingly good. Offered as a side for JPY 1,000, this serving of beef cheek was one of the most tender cuts of beef we have ever tasted. It practically melted in your mouth! If you eat at Hakata Motsunabe Yamanaka, then you have to get this.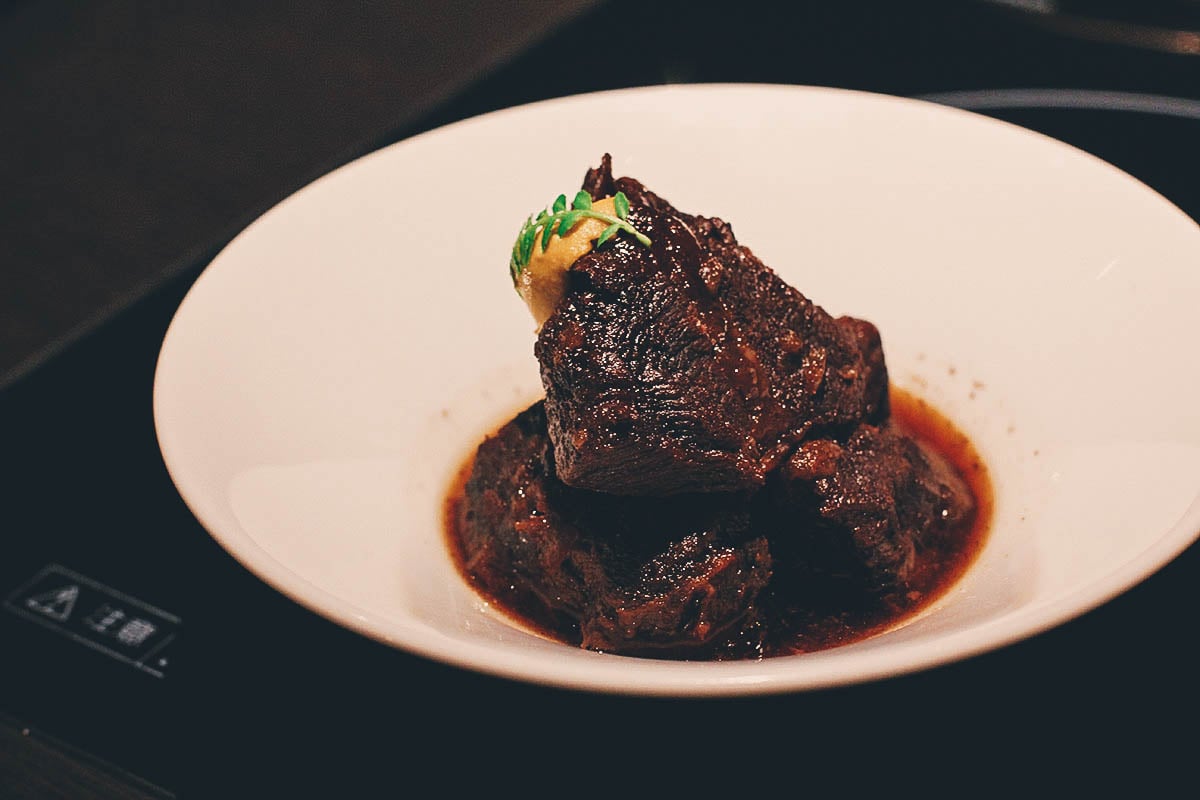 As previously mentioned, one order of motsunabe costs JPY 1,600 per person and you'll need to get at least 2 orders. You can get additional sides as well like mochi, champon noodles, egg, or more offal.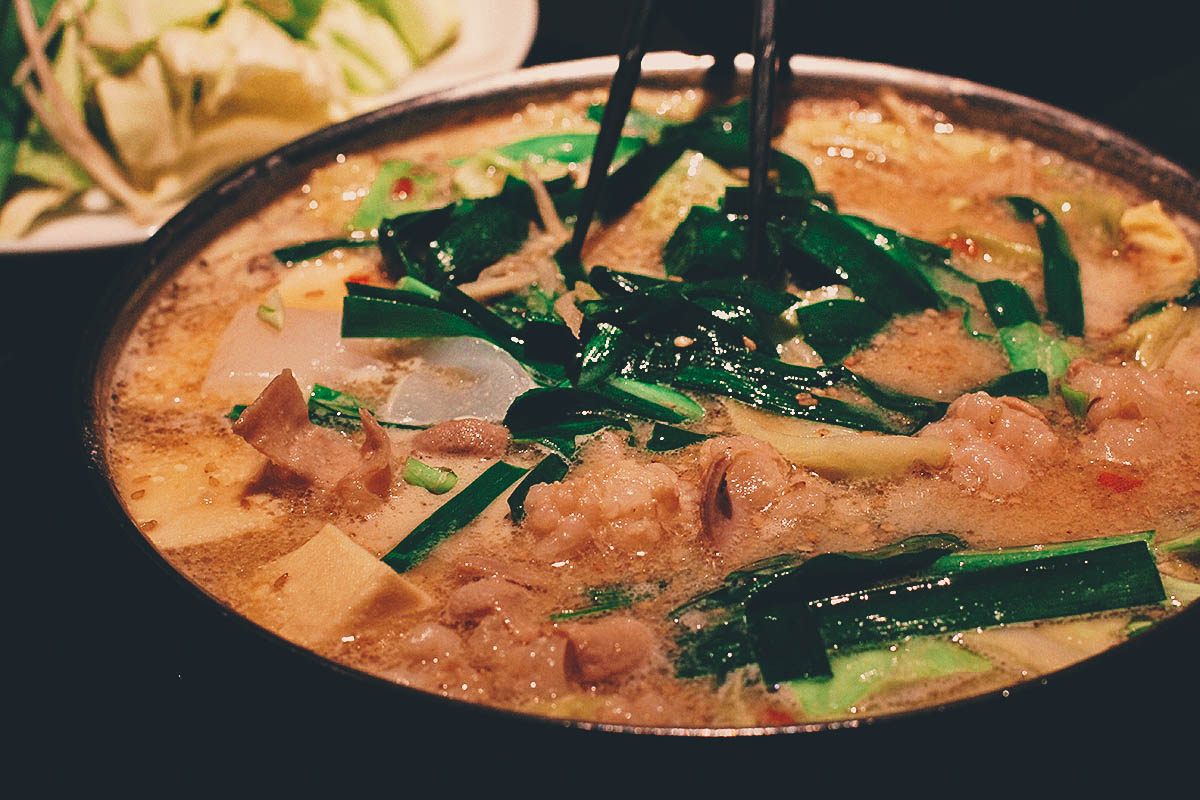 My mouth is watering right now just looking at this. I remember the taste well. The beef intestine has a soft and gummy texture characteristic to offal. It might be too fatty and unctuous on its own but its perfect when tempered with the sticky Japanese white rice.
The broth is savory and a little sweet, probably from mirin. We ordered two types of kimchi as well and the combination of the offal, kimchi, rice, chives, and other vegetables was unbelievable. I couldn't stop eating it!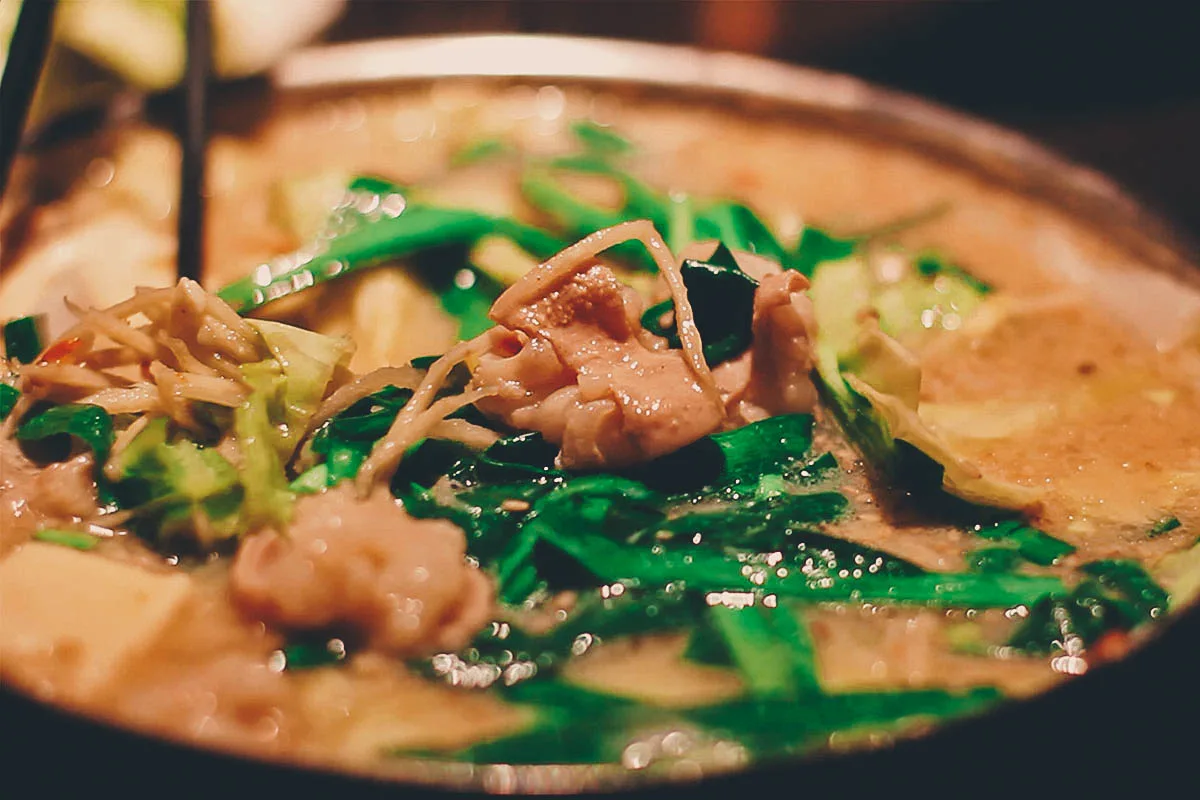 I was telling Ren just now that one of the reasons why I probably miss this dish so much is because I can't have it. Unlike sushi, ramen, tempura, or yakiniku which are widely available outside of Japan, there are no motsunabe restaurants in the Philippines as far as I know. It isn't even available throughout Japan. I can't just go out and get this whenever I want so the next time I'll probably have it again is on our next trip to Fukuoka. Bummer.
If you're like us and get excited over more obscure regional dishes when traveling, then you're going to love motsunabe. It is made with innards so it may not be for everyone. But if you like offal, or are willing to try it, then there's plenty to be excited about with this dish.
Hakata Motsunabe Yamanaka Akasakaten, Fukuoka, Japan
Japan, 〒810-0042 Fukuoka Prefecture, Fukuoka, Chuo Ward, Akasaka, 1 Chome−9−1
Tel: +81 92-716-2263
Website: motsunabe-yamanaka.com
Operating Hours: Thurs-Tues, 5-11:30PM
What we paid: Around JPY 3,600 each with drinks
HOW TO GET THERE:
Take the subway to Akasaka station. Walk south on Taisho-dori street. Hakata Motsunabe Yamanaka Akasakaten will be on your right before the stoplight and intersection.