When I was doing research for this trip, one thing struck me as odd about Nagasaki's regional Japanese cuisine. It seemed to have so many influences. It wasn't something I had encountered anywhere else in the country.
For example, castella cake, which is one of Nagasaki's signature food items, is a Portuguese dish in origin. Shippoku, another of its core dining experiences, is a banquet-style meal consisting of Japanese, Chinese, and Western dishes. Go an hour north to Sasebo and you'll find a Japanese-style hamburger called the Sasebo Burger. And then there's toruko raisu. It translates to "Turkish rice" and is a bizarre mashup of pilaf rice and spaghetti topped with a pork cutlet drenched in sauce!
Nagasaki was a prominent port city throughout much of its history so there were many factors that contributed to it's diverse cuisine. Regarded as one of the most unique in Japan, it offers plenty of interesting dishes, perhaps none more famous than the Chinese-Japanese noodle soup called champon.
Best Champon in Nagasaki?
I searched for the best places to have champon and Horaiken Bekkan was one of the restaurants that came up. It looks like a Chinese palace further down the hill from the Atomic Bomb Museum. Though Shikairō is credited as the restaurant that invented champon, we needed to find a place close to the museum so we decided on Horaiken Bekkan. The restaurant is big but it was busy at the time so we had to wait over half an hour to be seated for lunch.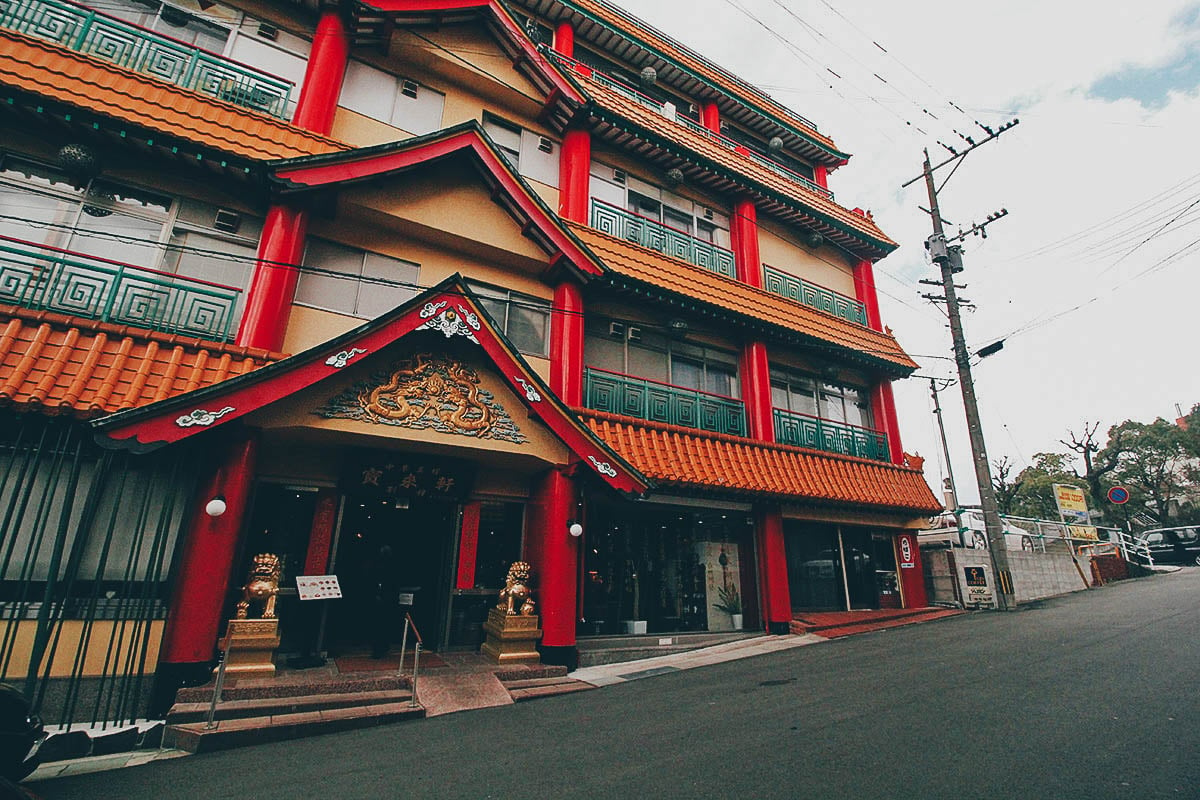 Champon is a Chinese noodle dish that originated here in Nagasaki. It's made by frying pork, seafood, and vegetables with lard, then adding a soup made with chicken and pig bones. The champon ramen noodles are the last to go in the pan before the entire thing is brought to a boil.
As mentioned above, champon was first served in Nagasaki at Shikairō. According to the restaurant, it was based on a Fujian dish called tonniishiimen and was created to provide a cheap, filling meal for Chinese students attending school in Nagasaki. Today, there are a few varieties of champon in Japan though this Nagasaki version is the most well-known.
Here's my bowl of champon noodle soup. At Horaiken Bekkan, you can get a full order for JPY 864 or a half order for JPY 701. This is a full order.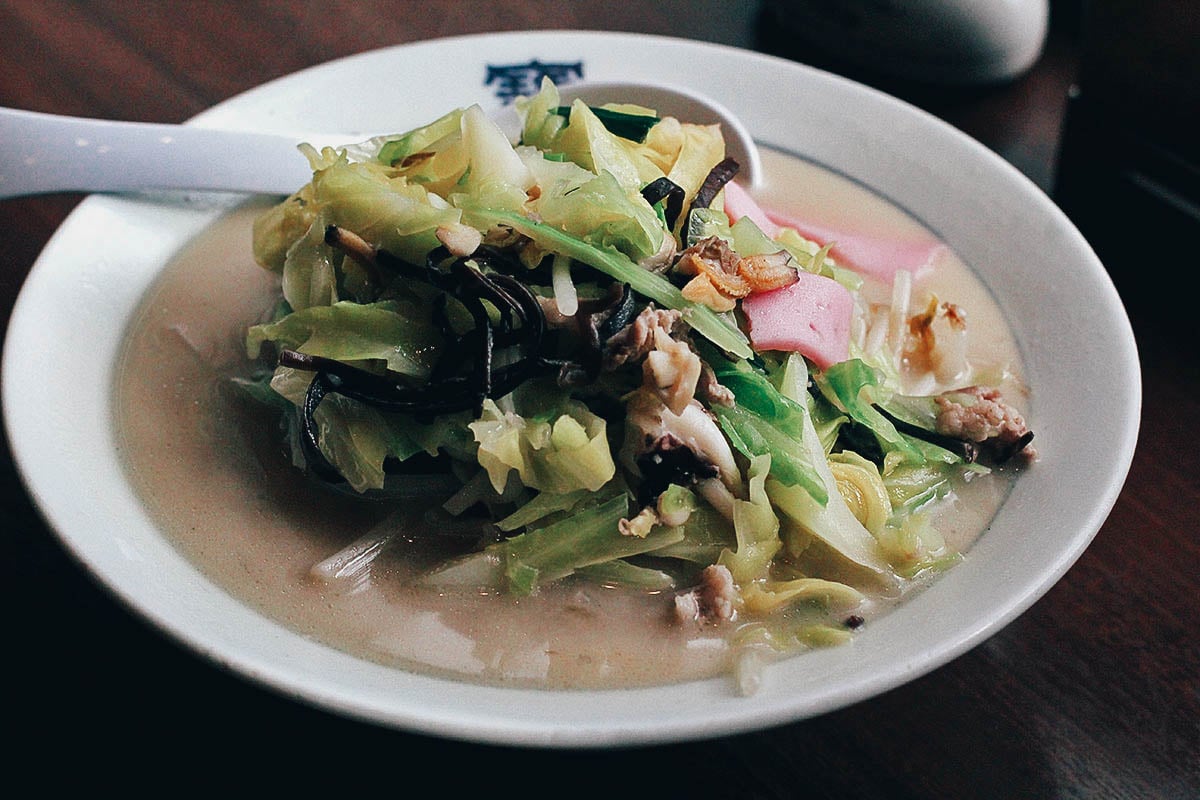 You can also get a "dried" version without soup. The champon noodles are deep-fried so they're nice and crisp. Prices for the full and half bowls are the same as the soup version.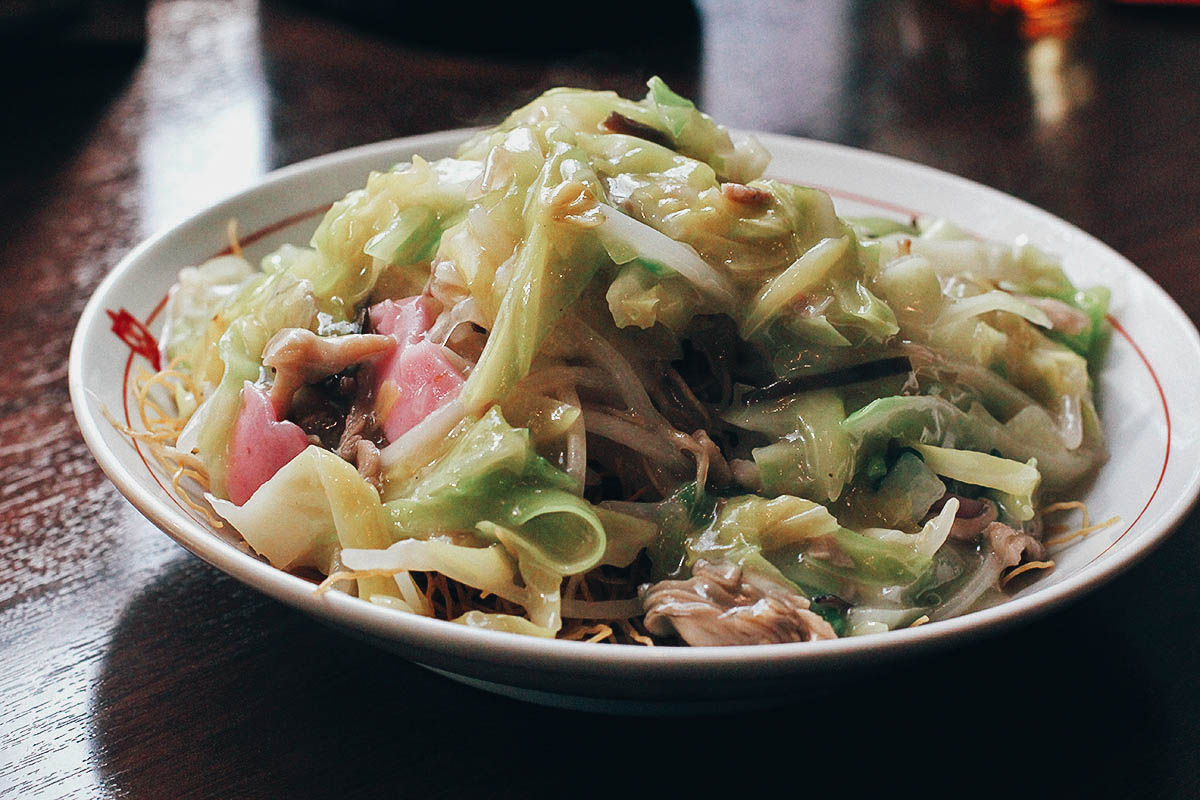 There's a clam peeking out from the broth. Champon reminded us of chop suey. I looked it up and as it turns out, the meaning of the word champon is "to mix a variety of things." Like chop suey indeed.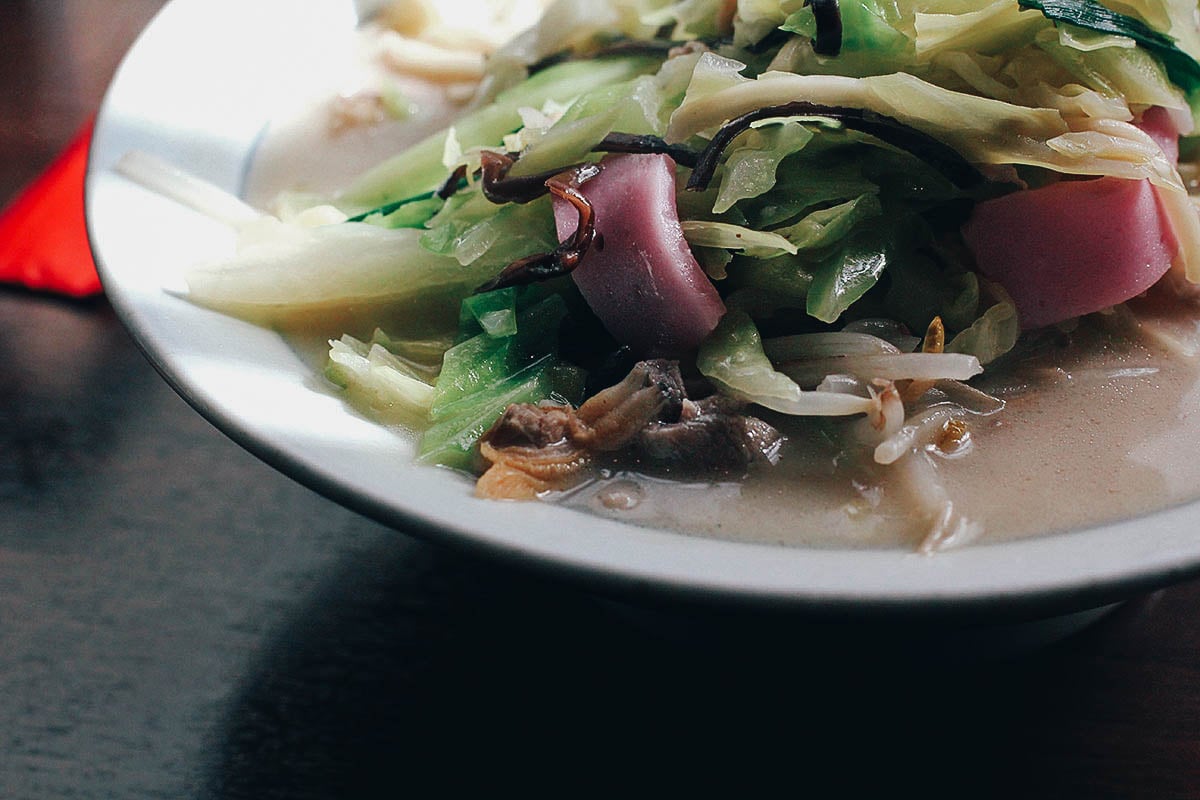 We both enjoyed the champon but it wasn't our favorite meal in Japan. It tasted more Chinese than Japanese, which is what we expected. The locals seem to really enjoy it though. The restaurant was packed and we were the only non-Japanese customers at the time. We looked at what people were eating and many were having the soup version of the champon. Some were even eating it with plates of fried rice!
When I was looking up Nagasaki restaurants, it seemed most of the good places were located further south of the city, around Dejima Wharf or Chinatown. Horaiken Bekkan was one of the few recommended restaurants in this area. It's a TripAdvisor Certificate of Excellence awardee with a near perfect rating of 4.5 stars. Sure, it would have been nice to go to Shikairō, but if you're looking for a good place to eat near the Atomic Bomb Museum, then Horaiken Bekkan is an excellent alternative.
Horaiken Bekkan, Nagasaki, Japan
5-23 Hiranomachi, Nagasaki 852-8117, Nagasaki Prefecture
Tel: +81 95-846-2277
Website: horaiken-bekkan.jp
Operating Hours: Mon-Sun, 11:30AM-3PM / 5-9PM
What we paid: JPY 864 per full order of champon
HOW TO GET THERE:
Take the tram to Hamaguchimachi station. Follow the signs to the Atomic Bomb Museum. Horaiken Bekkan will be near the top of the hill. CLICK HERE to see its exact location on a map.
Disclosure
The TripAdvisor links in this post are affiliate links, meaning we'll get a small commission if you make a purchase or reservation at NO extra cost to you. We really appreciate your support as this helps us keep this website going. Thank you!
For travel tips to Nagasaki, check out our First-Timer's Travel Guide to Nagasaki, Japan