There are many interesting neighborhoods in Tokyo, but for us, the best is Shinjuku. It's got everything – lights, entertainment, shopping. Most important of all, it's got food. Lots of Japanese food. There are so many interesting restaurants in Shinjuku.
If you travel for food like we do, then you could realistically never leave Shinjuku and still have an amazing time in Tokyo.
We love doing food research and finding Tokyo's best restaurants on our own, but we also enjoy going on food tours. It's a great way of discovering hidden gems that don't always show up on Google searches.
In Tokyo, we went on a food tour that took us to some great spots in Shinjuku. We had sushi, yakiniku, and gelato. We walked through Piss Alley and explored Golden Gai. We even said hello to Godzilla.
If you'd like to go on a fun food tour in Tokyo, then you may want to check out this night food tour in Shinjuku with Magical Trip.
Save This on Pinterest!
No time to read about this Tokyo food tour now? Click on the red save button and pin it for later!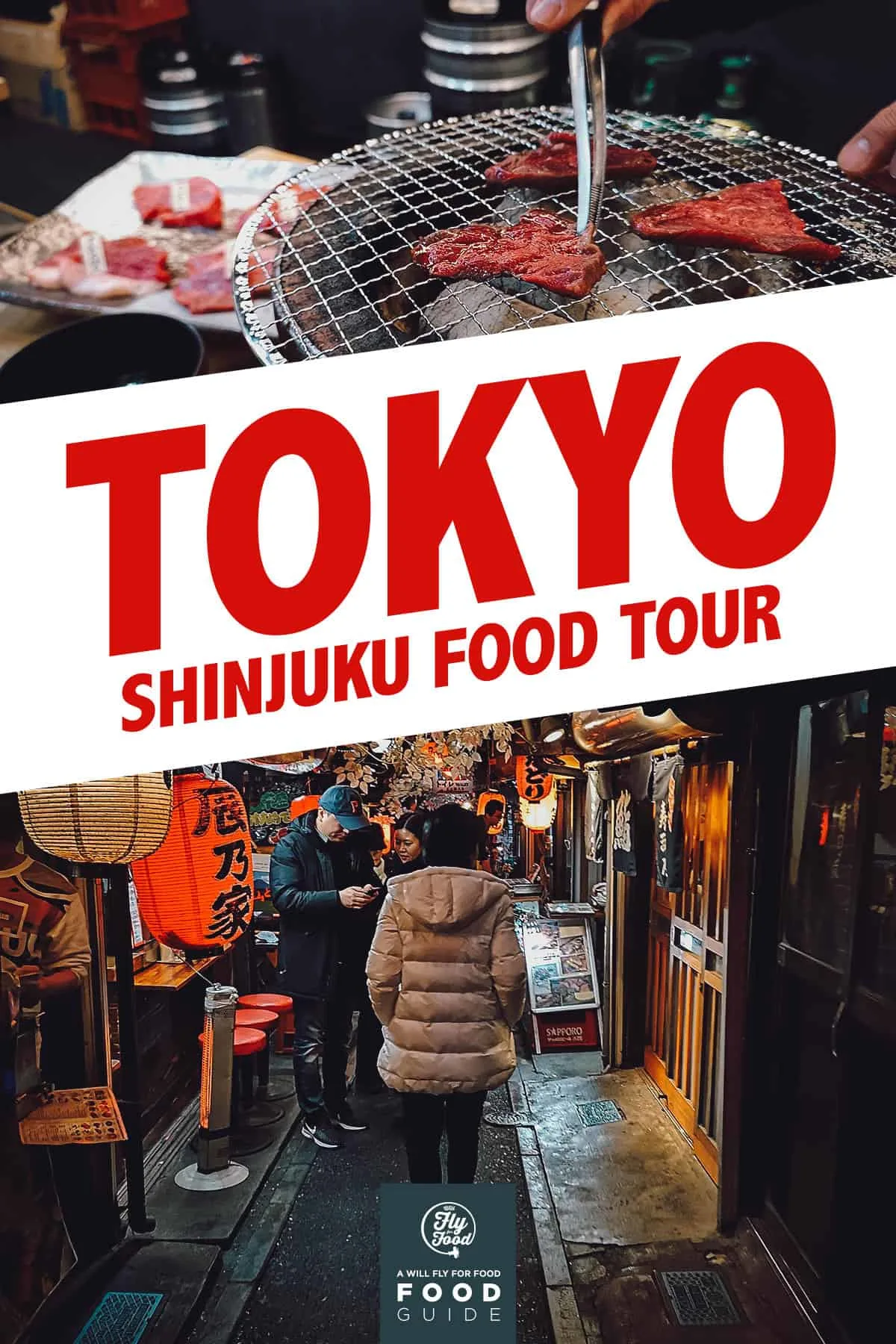 WHAT IS MAGICAL TRIP?
Magical Trip is a boutique tour provider based in Japan. They lead small local-led tours in different cities around Japan, most notably in Tokyo, Kyoto, Osaka, and Hiroshima.
We're partial to their food tours but Magical Trip offers a wide variety of tours in Japan. In Tokyo, they offer fun experiences like biking tours, sumo tours, samurai experiences, and karaoke nights. They even have a Tokyo drift tour and an anime tour in Akihabara!
Being a Japanese tour company, they understand the culture very well and offer tours that represent both the traditional and quirky sides of Japanese culture. All their tours are small and led by a local so they're more intimate and personal, which is one of the things we enjoyed most about it.
In fact, it didn't feel like we were on a tour at all. It felt like we were visiting a friend in Tokyo, enjoying their company and catching up over sushi and mugs of draft beer.
This personal approach is perhaps what makes Magical Trip so popular. As of this writing, they have a perfect 5-star rating on TripAdvisor with almost 1,400 reviews.
TOKYO NIGHT FOODIE TOUR IN SHINJUKU
You'll make three food stops on this Tokyo food tour. You'll meet your guide in Shinjuku and proceed to a sushi restaurant. You'll have your choice of sushi set and a drink. You'll then proceed to a yakiniku restaurant where you can choose between three dinner sets and another drink. For your third and last stop, you can choose between either gelato or takoyaki.
Along the way, your guide will take you to key spots in Shinjuku like Omoide Yokocho (Piss Alley), Golden Gai, and the Godzilla head. The entire tour lasts about three hours.
This Tokyo night food tour in Shinjuku costs USD 99 per person and includes all food and drink. You can book it directly on magical-trip.com.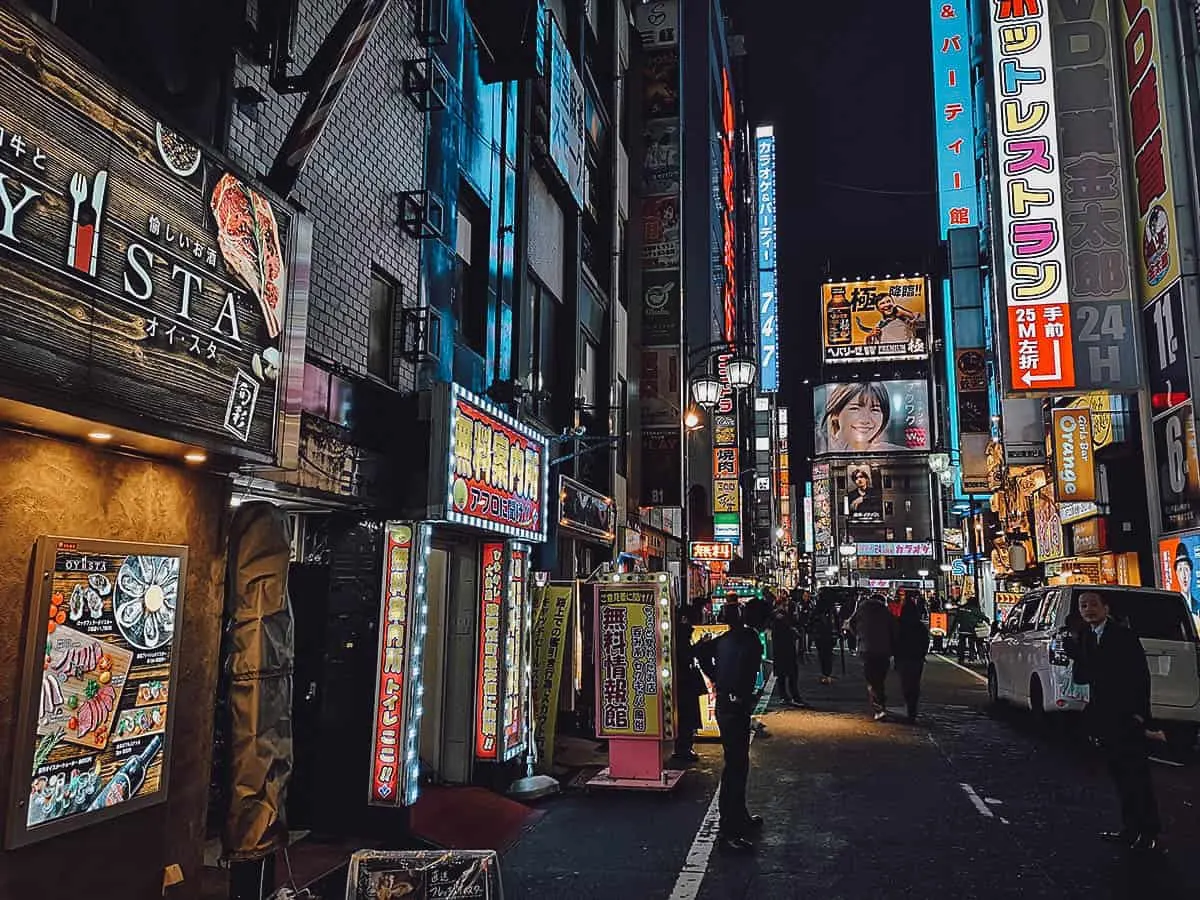 Sushi
After meeting up with our guide Nori, he took us to this sushi restaurant at the basement of a subway station.
While it may seem odd to some foreigners to dine at a restaurant in a subway station, it isn't uncommon in Japan. In fact, you'll find many great restaurants inside subway stations.
Pictured below is the Magical Trip menu. You can choose between the vegetarian and non-vegetarian sets. We all had the non-vegetarian set which comes with seven pieces of nigiri sushi and two rainbow rolls.
You'll have your choice of alcoholic drink but if you'd prefer to have something non-alcoholic, then you can have soft drinks as well.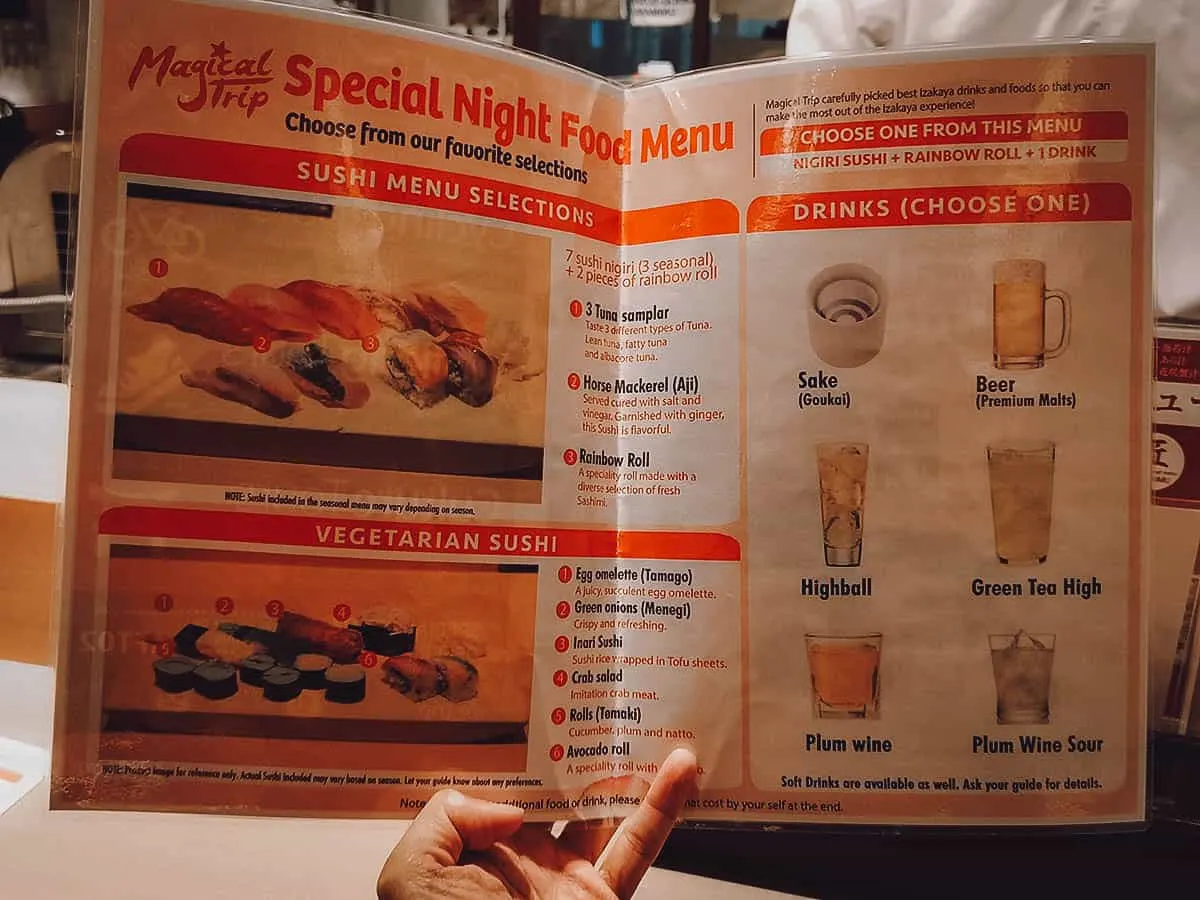 This was my beautiful and delicious sushi set. According to the menu, the top five pieces of nigiri sushi are standard while the bottom two are seasonal.
Your guide will teach you the proper way of eating sushi in Japan. You can eat them using your chopsticks or your hands.
Outside of Japan, many people are accustomed to mixing the wasabi and soy sauce but this is incorrect. The proper way is to smear a bit of wasabi onto the fish. You then dip the piece of sushi into the soy sauce, fish side first.
You do this so as not to imbue the rice with soy sauce. Adding too much soy sauce will mask the natural taste of the fish and make it too salty.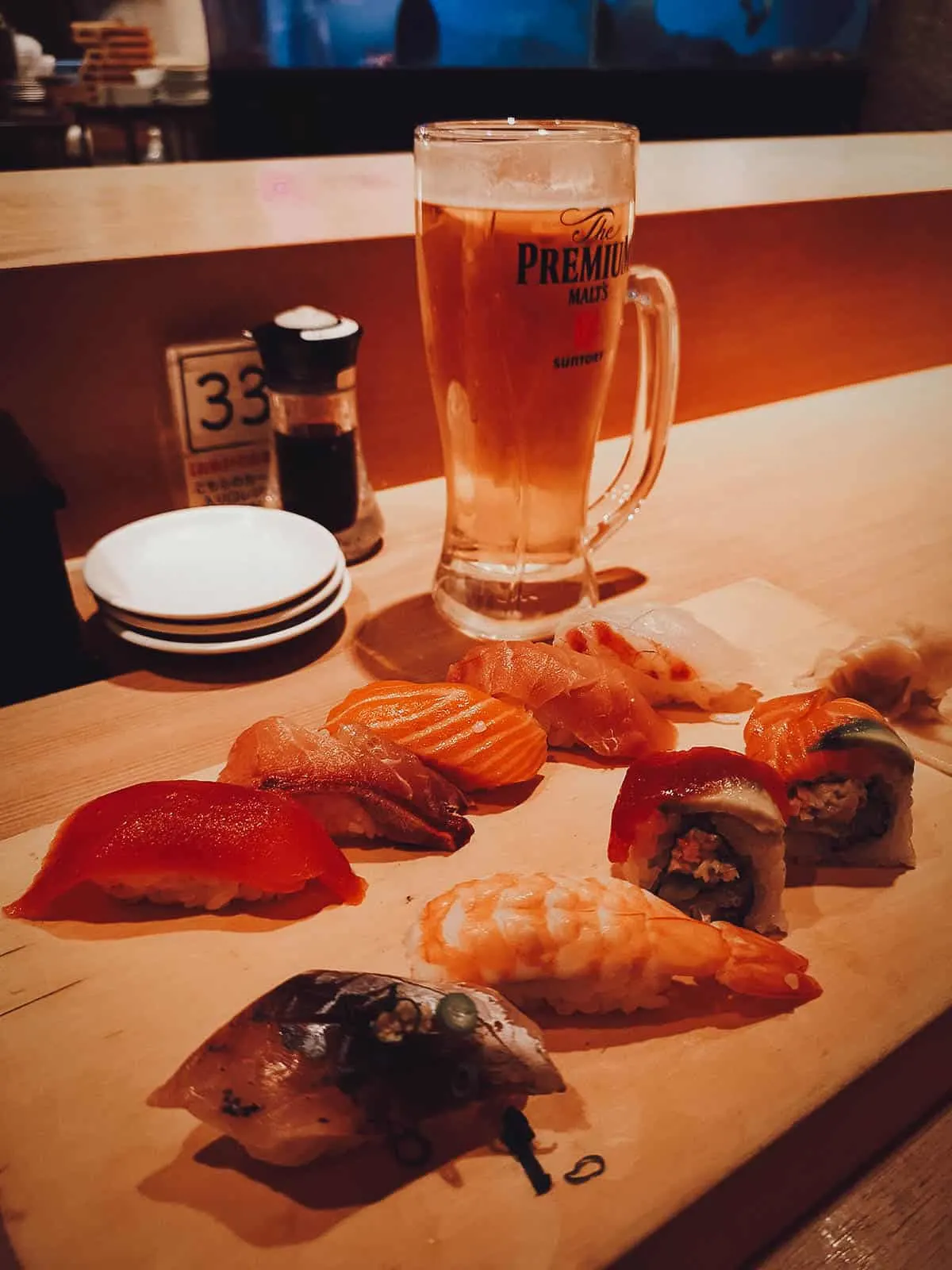 Omoide Yokocho (Piss Alley)
After polishing off our sushi, Nori took us to Omoide Yokocho en route to our next food stop on the tour.
Omoide Yokocho is a narrow alleyway with around sixty tiny bars and restaurants. It's a famous watering hole located just outside Shinjuku station.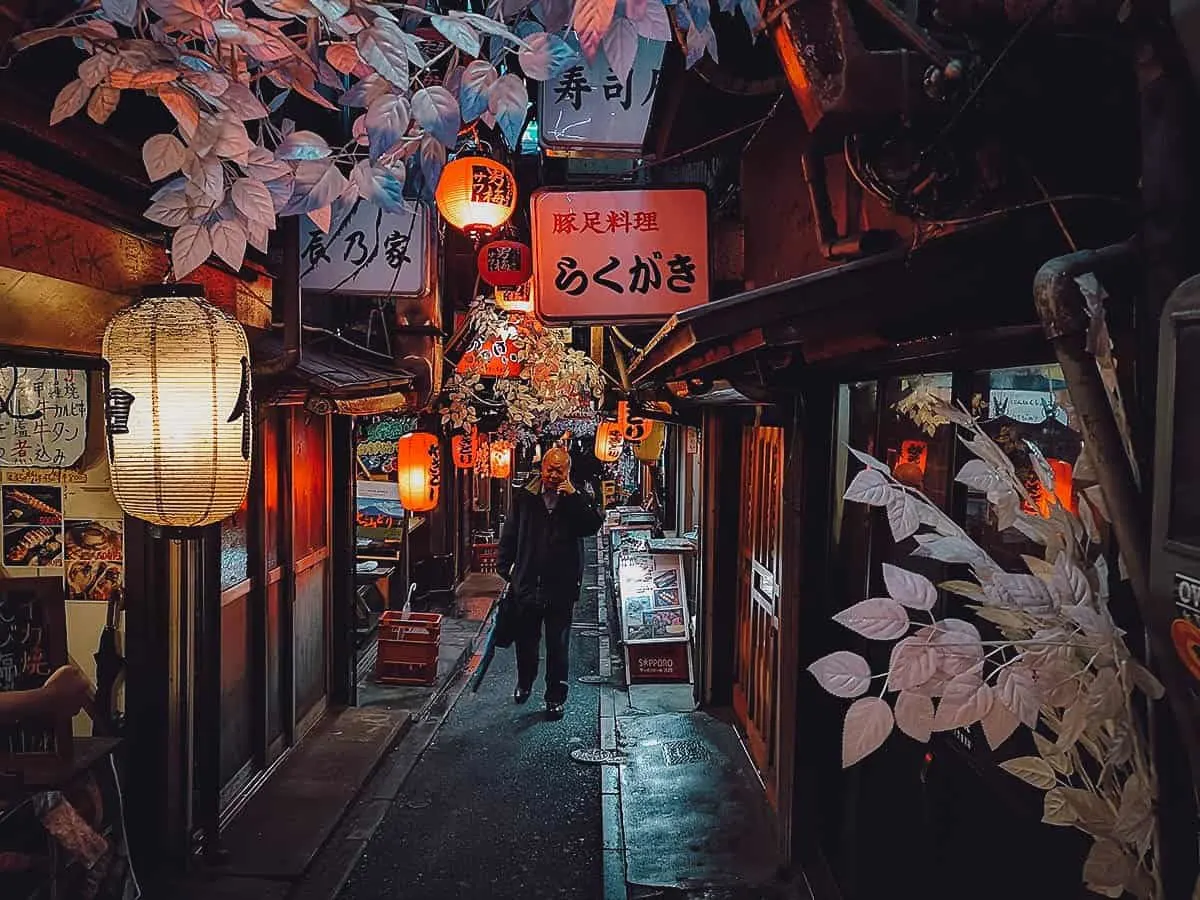 Omoide Yokocho literally means "memory lane", but it's often referred to as Piss Alley.
When it first opened as a black market in the late 1940s, the strip was known for its establishments selling cheap drinks and yakitori. At the time, there weren't any public restrooms so drunk patrons would relieve themselves right on the street.
Today, Omoide Yokocho is a popular tourist spot with many izakayas (Japanese bars) selling yakitori and nikomi, a type of beef tendon stew.
One of the most famous izakayas is called Asadachi, which means "morning wood". They specialize in fried frogs and salamanders and aphrodisiacs like bull penis to go with your beer.

Yakiniku
Our second stop on this Tokyo food tour was this yakiniku restaurant offering wagyu beef sets. They have three sets for you to choose from – a wagyu set, a pork and chicken set, and a vegetarian set. We all went with the wagyu beef sets.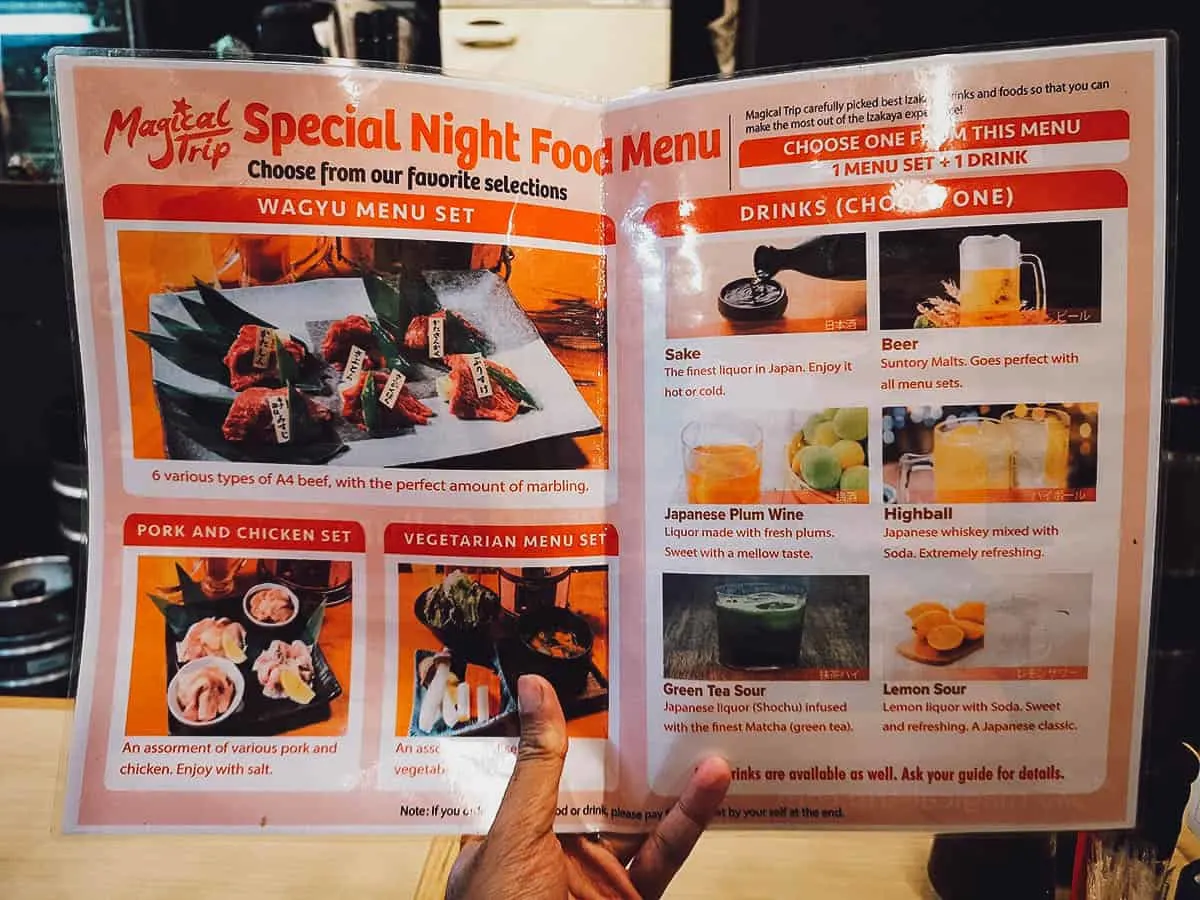 Here's Nori proudly showing off the six different cuts of wagyu beef from our sets. I don't know what type of beef they were but they were delicious. They were soft, smokey, and very juicy.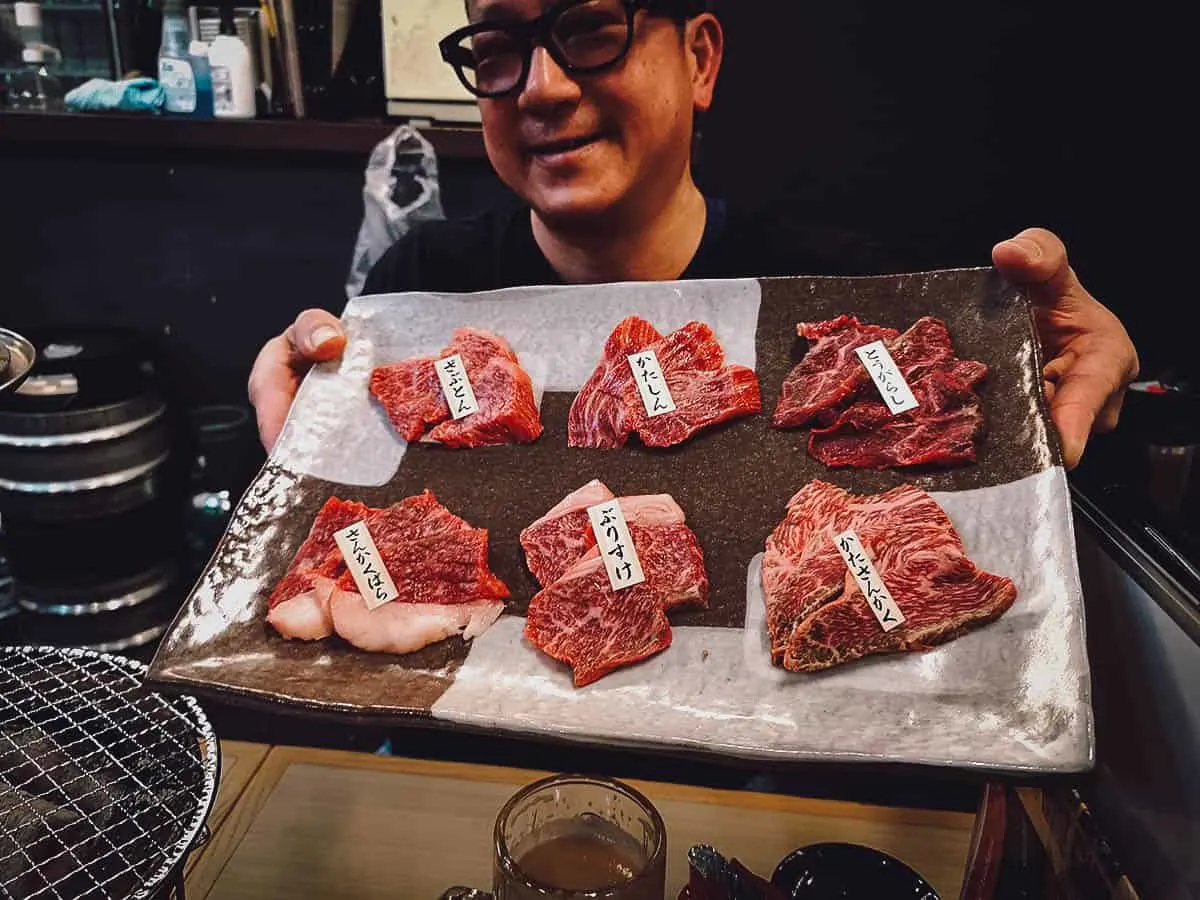 The term yakiniku refers to the Japanese way of grilling meat and vegetables on small tabletop grills. We've had yakiniku cooked over electric and gas grills, but the best results come from charcoal grills. They impart a smokiness to the meat that you just don't get with electric or gas grills.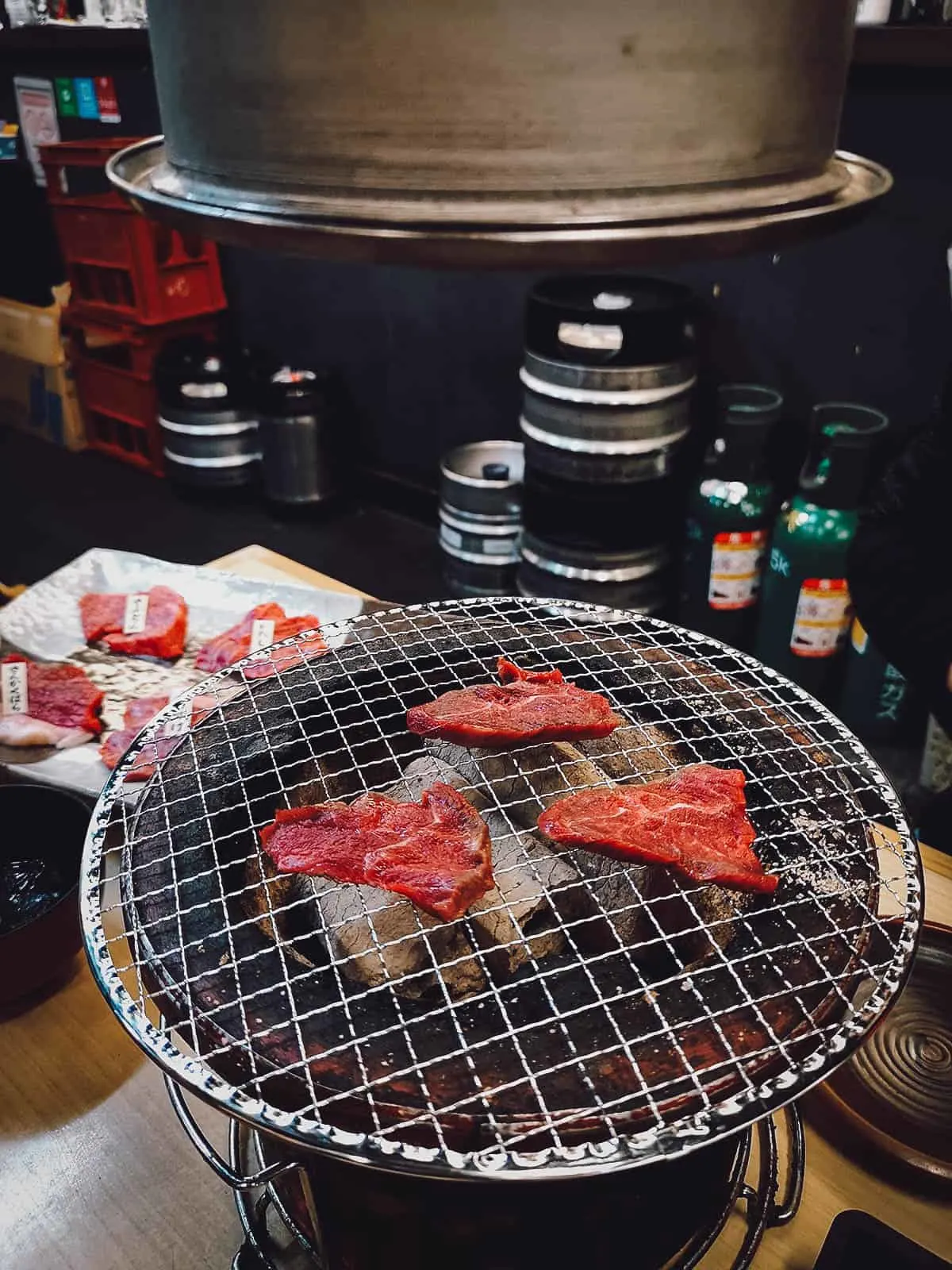 Though yakiniku is a Japanese term, it's interesting to note that this style of cooking may have Korean roots. Some believe that it's a variant of Korean bulgogi or galbi that was adapted to suit the Japanese palate. The fact that yakiniku became prevalent in Japan after World War II seems to support this theory.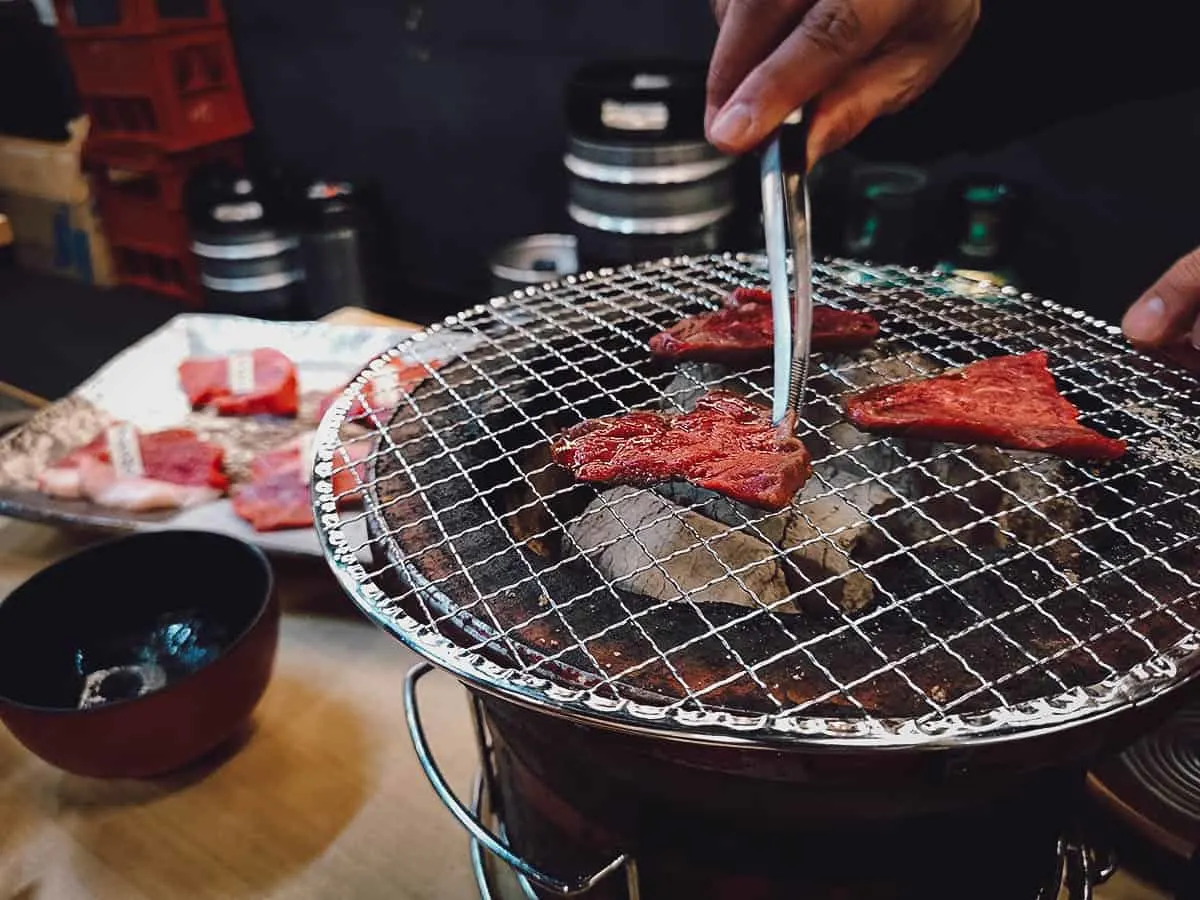 How delicious does that look? Nori did all the grilling for us and he cooked every piece of meat to perfection. They were so juicy!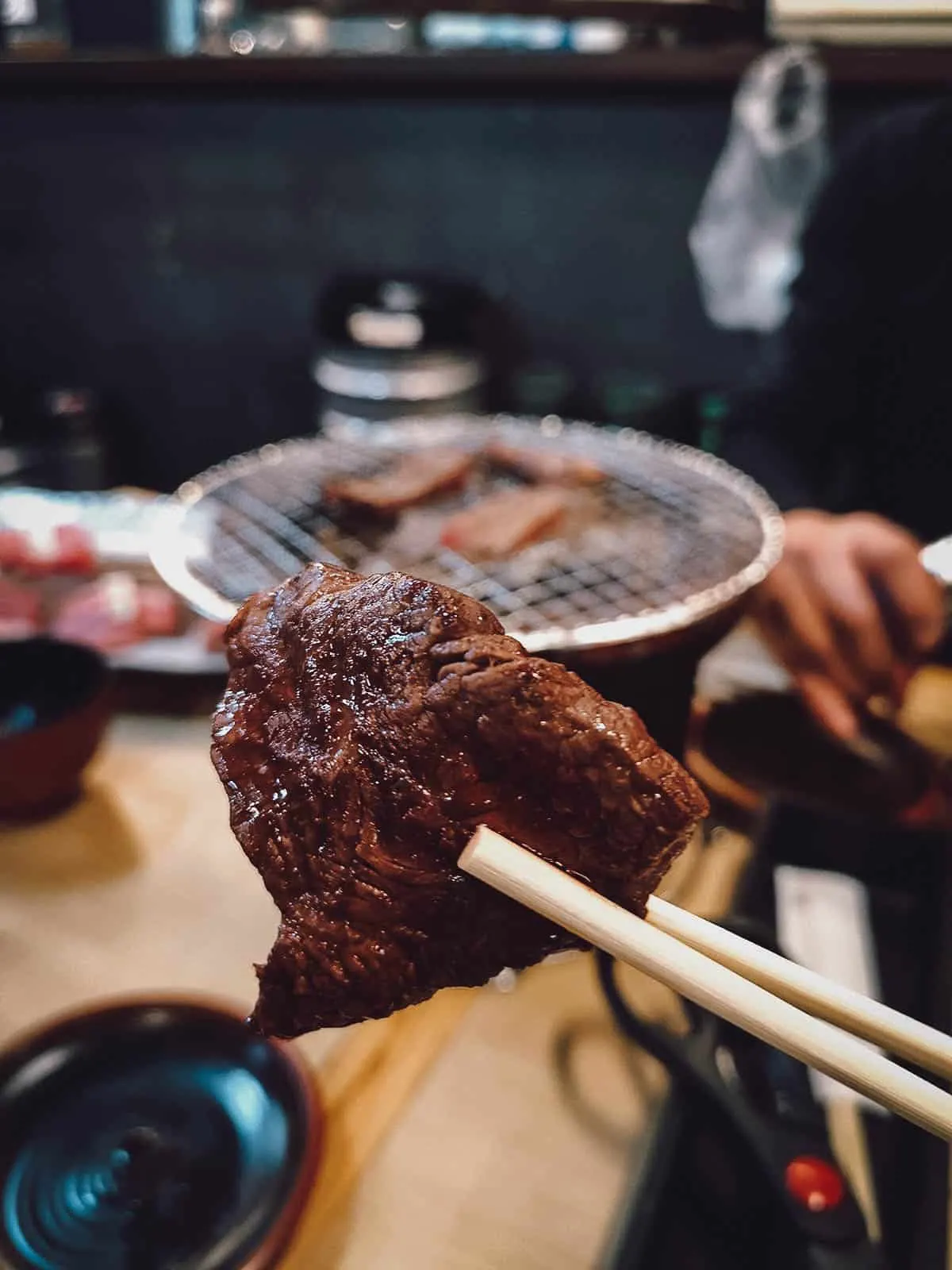 The fat dripping down from the meat would sometimes cause flare ups so Nori would stick ice cubes onto the grill to extinguish the flames. So that's the trick!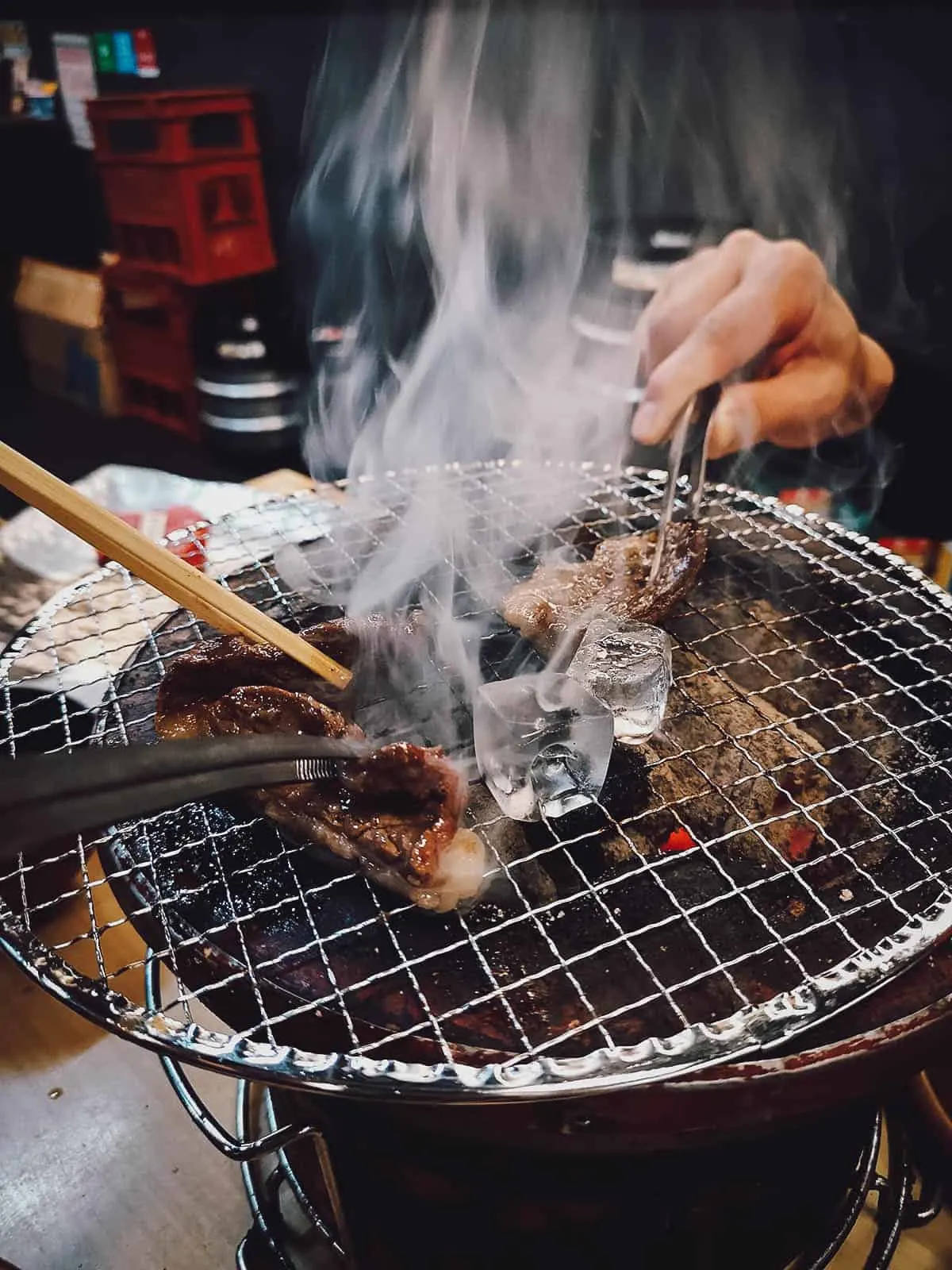 Nori saved the best cut for last. If I remember correctly, this was a cut of rump steak. Absolutely delicious.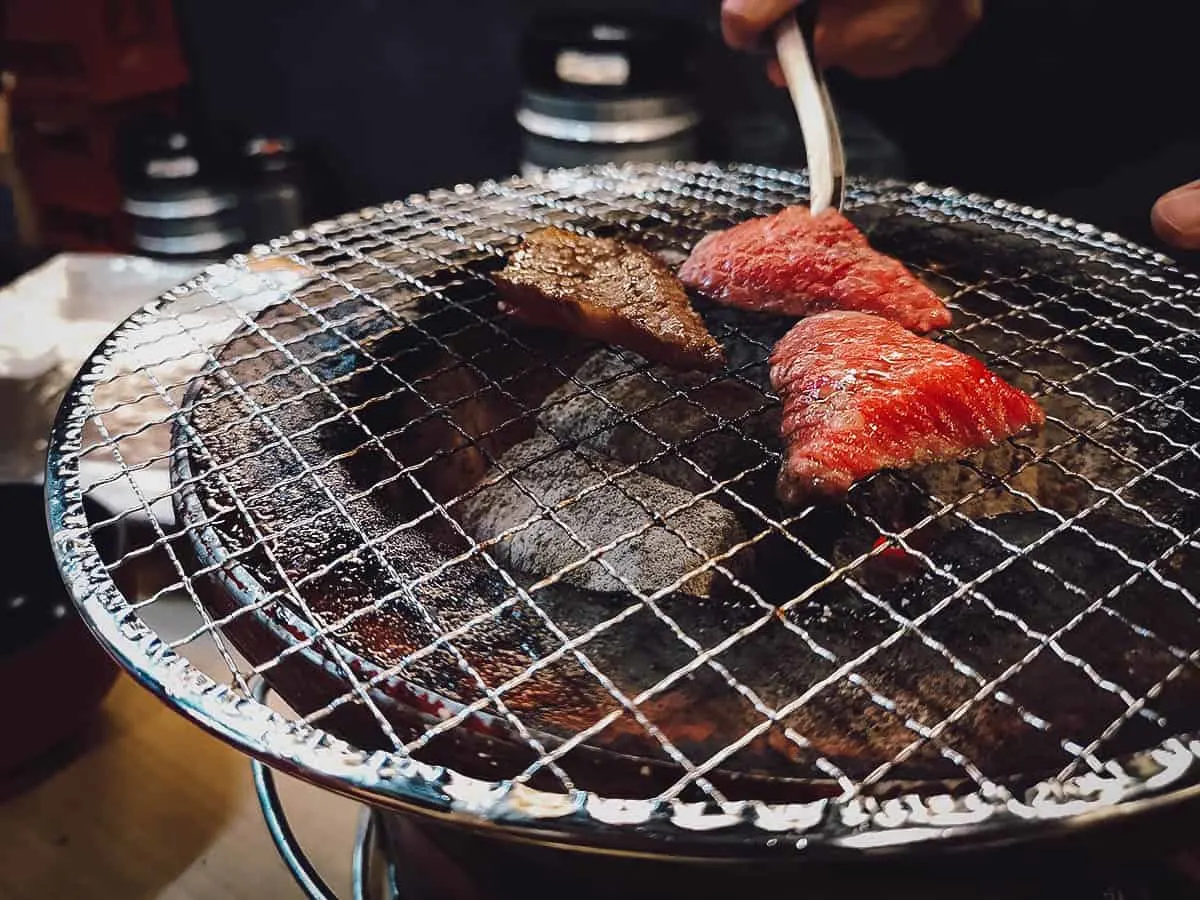 Godzilla Head
Can you spot the big lizard in this picture? This giant Godzilla head is a landmark and tourist attraction in Kabukicho, the entertainment and red light district of Shinjuku. We walked through here en route to the last food stop on our Tokyo food tour.
This Godzilla head weighs eighty tons and can sometimes be seen with fiery red eyes and smoke spewing out of its mouth.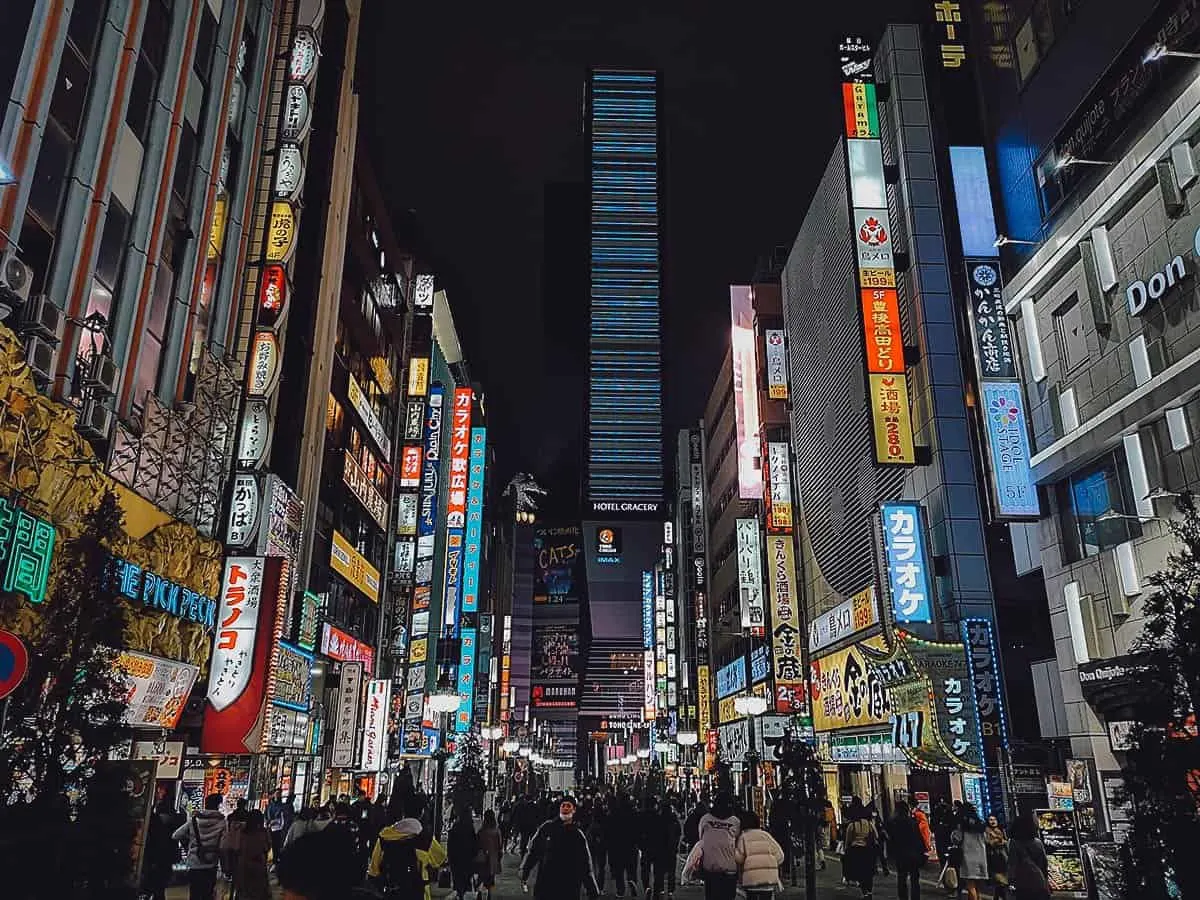 Gelato or Okonomiyaki
For your third and final food stop, your guide will give you a choice between gelato or takoyaki. We've had takoyaki many times in Osaka so we went with gelato.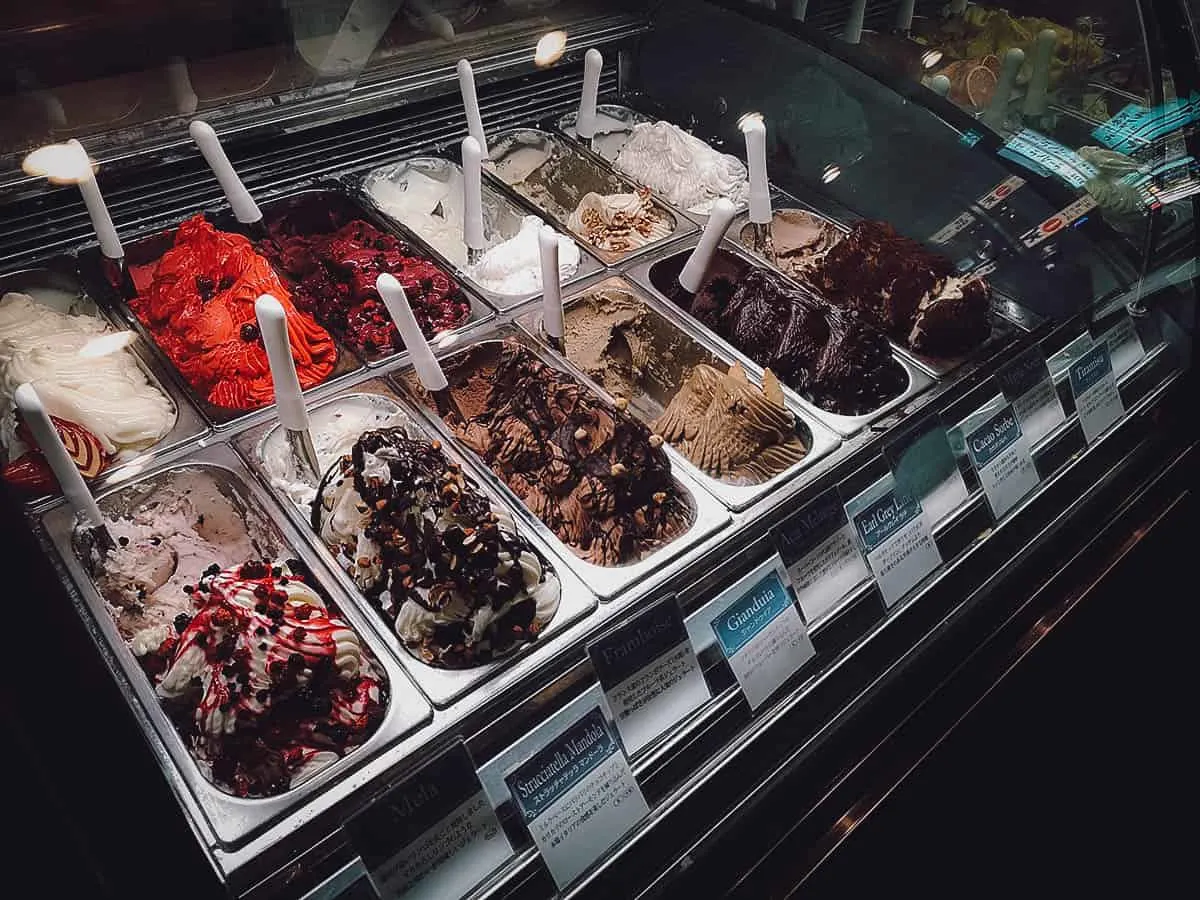 You can choose two flavors. I had tiramisu and pistachio while Ren went with the dark chocolate and strawberry. Every flavor was excellent – creamy, rich, and deliciously thick.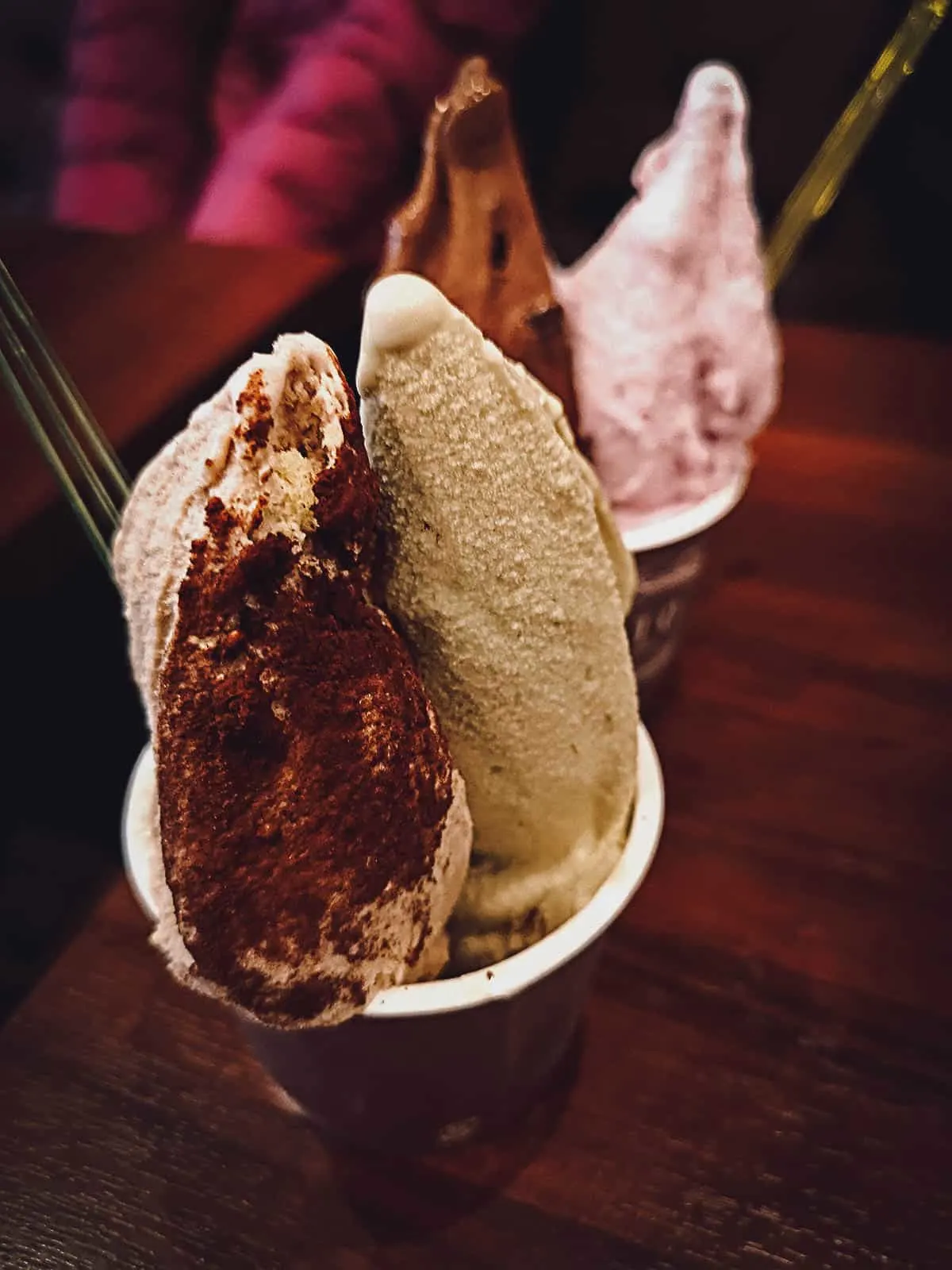 Golden Gai
Before parting, Nori took us to another famous Shinjuku attraction – Golden Gai.
Golden Gai is an area in Kabukicho comprised of a network of six narrow alleyways with over 200 tiny bars, izakayas, clubs, and restaurants. It's a fascinating area with loads of personality.
According to Nori, it's a favorite meeting place for Tokyo's creatives like musicians, artists, writers, and actors.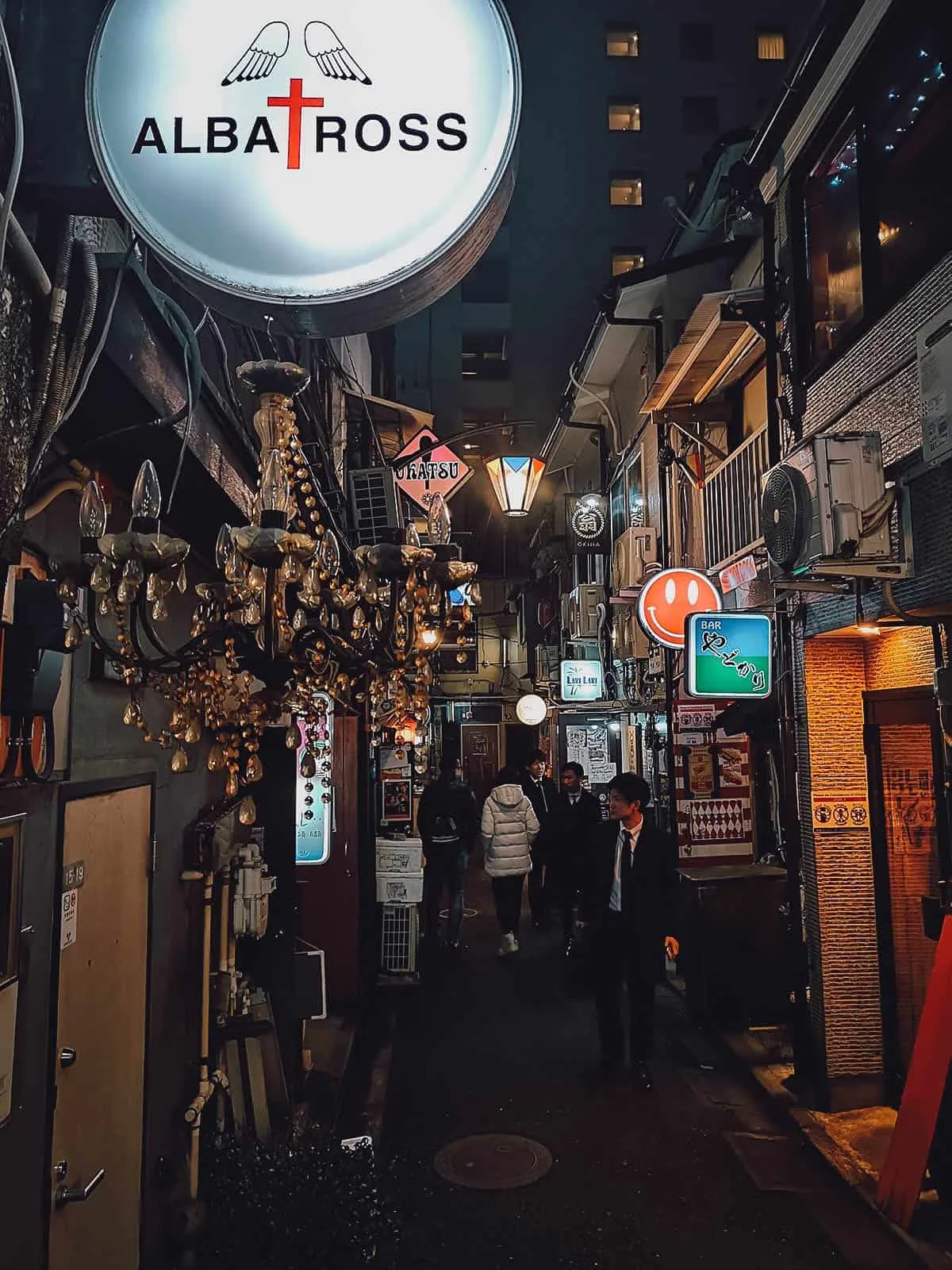 Aside from its plethora of interesting bars, Golden Gai is noted for its architectural significance. It provides a view into the relatively recent past of Tokyo, when many parts of the city looked like this – entire neighborhoods comprised of narrow alleyways and tiny two-story buildings.
If you enjoy going bar hopping, then you're going to love Golden Gai. It was one of the coolest areas we visited in Tokyo.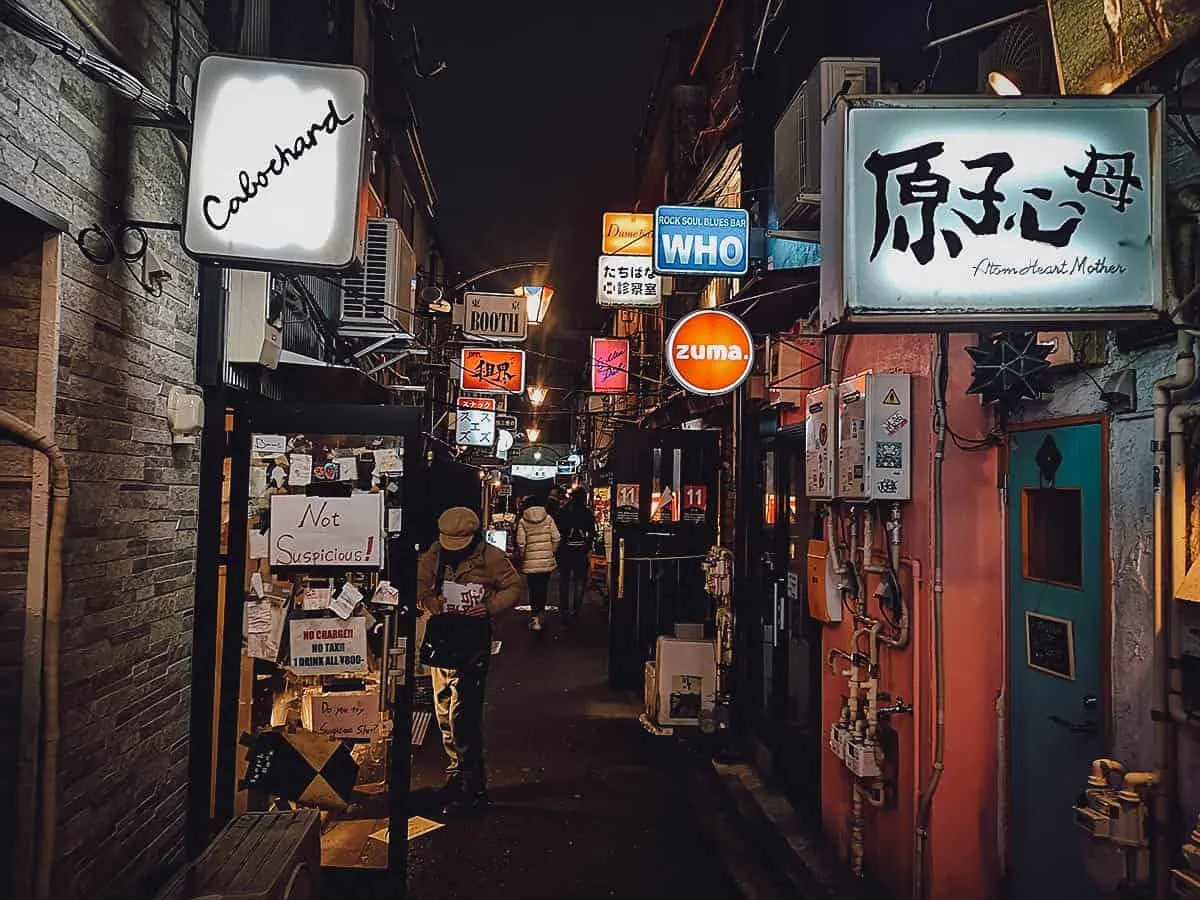 FINAL THOUGHTS ON THIS TOKYO FOOD TOUR
Here's a parting shot of us with Nori. We had a lot of fun on this food tour. Nori's originally from Kobe but he's been living in Tokyo for over twenty years. For a time, he went to art school in San Francisco which was a common thread between us.
Nori is a great guy who speaks perfect English so it was easy to converse with him. I went on a Magical trip food tour in Kyoto a couple of weeks after this and my guide spoke perfect English as well. I think English fluency, not just proficiency, is something you can expect from all of Magical Trip's guides.
We're happy to recommend this Tokyo food tour in Shinjuku but as described, Magical Trip has a perfect 5-star rating on TripAdvisor so you really can't go wrong with any of their tours. Just find one that suits you.
If you'd like to book this Tokyo food tour, the you can do so on Magical Trip. Thanks for reading guys and have an amazing time eating your way through Shinjuku!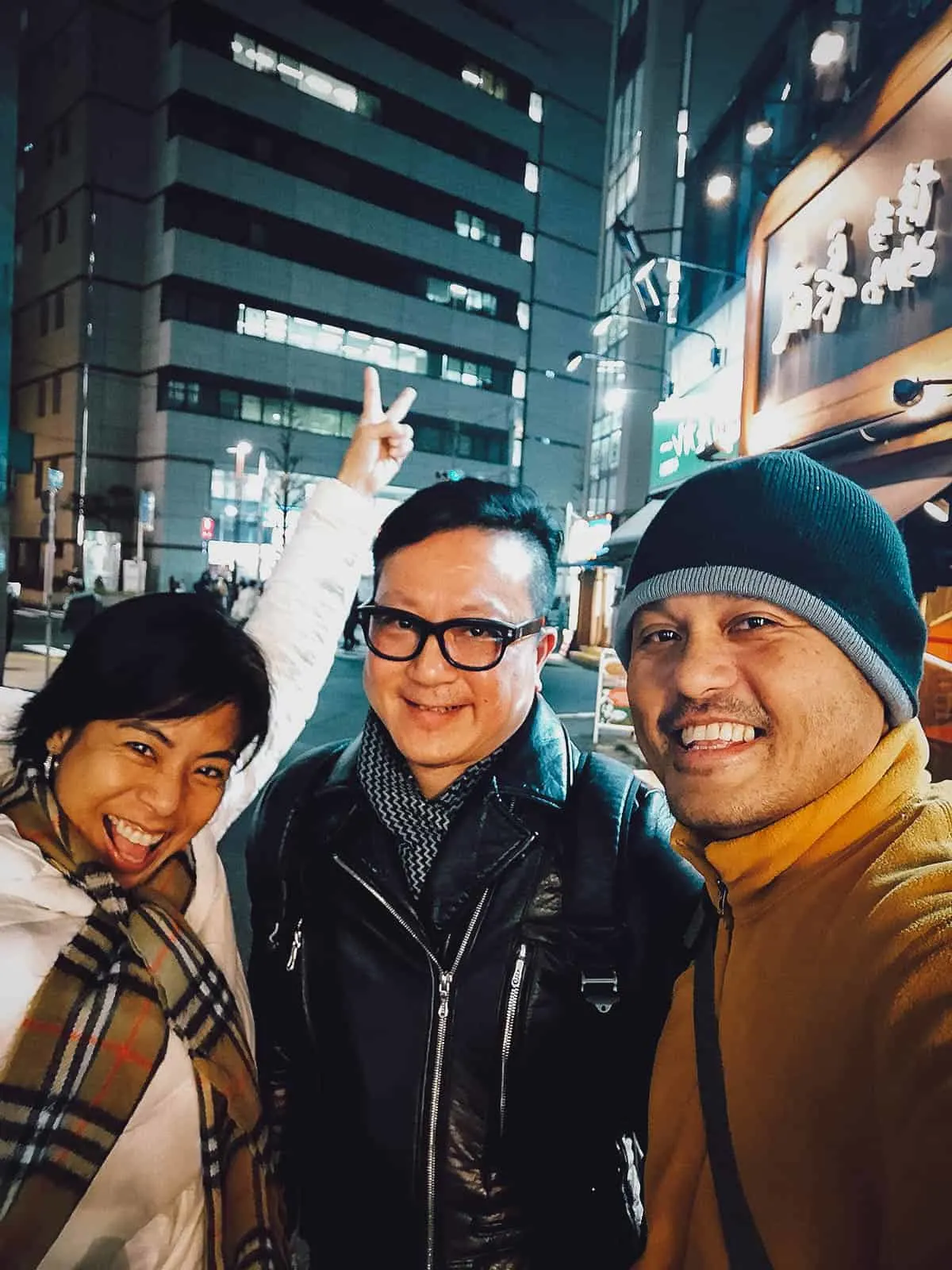 Disclosure
We're Magical Trip affiliates and were given a free food tour in exchange for an honest account of the experience. As always, all thoughts, words, and opinions expressed in this post are mine and mine alone.
Some of the links in this guide are affiliate links, meaning we'll earn a small commission if you make a purchase at no added cost to you. We only recommend products and services that we use ourselves and firmly believe in. We really appreciate your support as this helps us make more of these free travel guides. Thank you!