If there's one thing I could do over from our recent trip to Japan, it would be to spend more time here in Yufuin. We stayed just one night in February and it was too short to appreciate a place with as much charm as Yufuin.
Yufuin is a small onsen community in Oita prefecture, just ten kilometers inland from Beppu, a much larger and more developed onsen city. Surrounded by mountains, there are no tall buildings here. Instead, it has a wealth of boutiques, cafes, and art museums in a laid back, idyllic atmosphere. Apart from bathing in its hot springs, travelers come to Yufuin to aimlessly stroll about, perusing its many artisanal curiosities and enjoying the town's relaxing vibe.
That's exactly what we did in the half day we got to spend in Yufuin. The thing is, we enjoyed it so much I wish we had time to do more of it.
Where to Stay: Ryokan Kotonokashin
Yufuin is a popular onsen town so there are plenty of ryokans and hotels to choose from. We stayed at Ryokan Kotonokashin, a lovely ryokan with two kashikiri or private onsen baths. If you'd like to soak with your significant other and/or have a tattoo, then a private hot spring bath is the way to go. We booked through Agoda and paid USD 96.45 to stay a night here in February 2017 without breakfast. You can check out my post on Ryokan Kotonokashin for more pictures and booking information.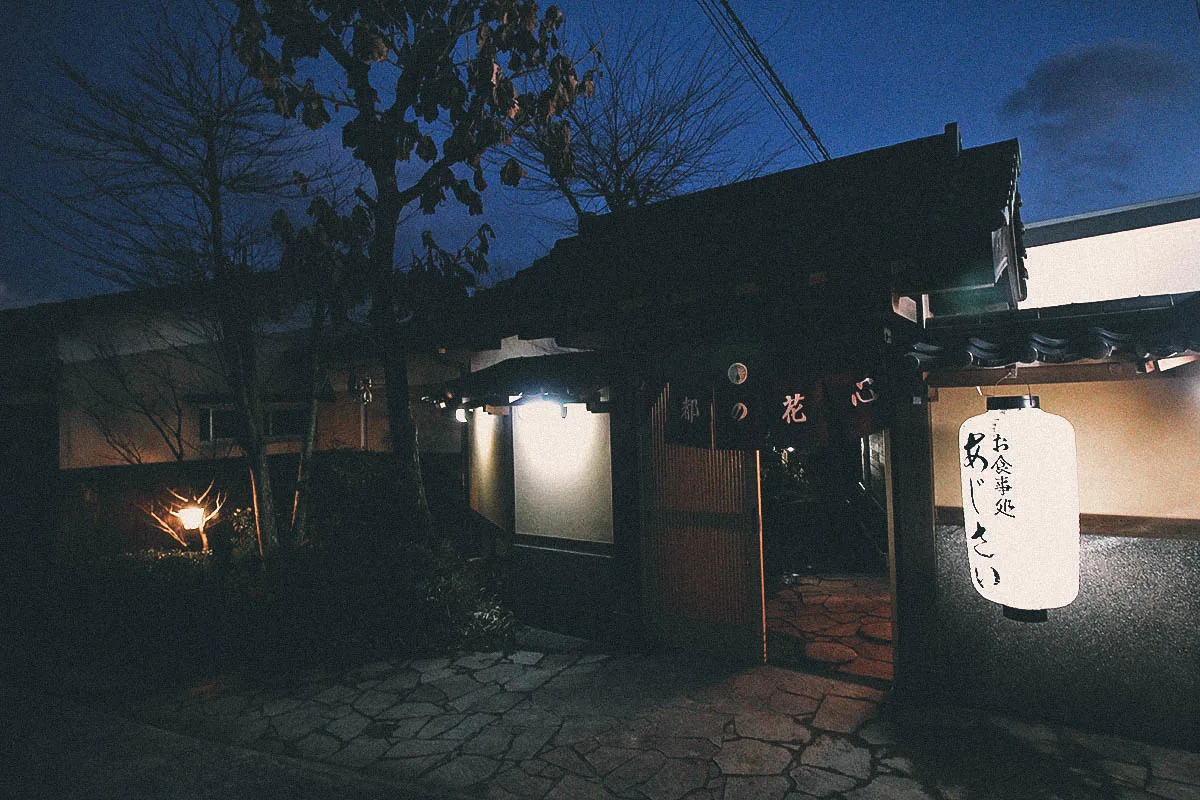 Yunotsubo Kaido Shopping Street
Soon as we checked in to our ryokan, we went out to do some exploring. We cut through this street to get to Yunotsubo Kaido, which is the main strip here in Yufuin. Yufuin is a small town with just two or three major streets.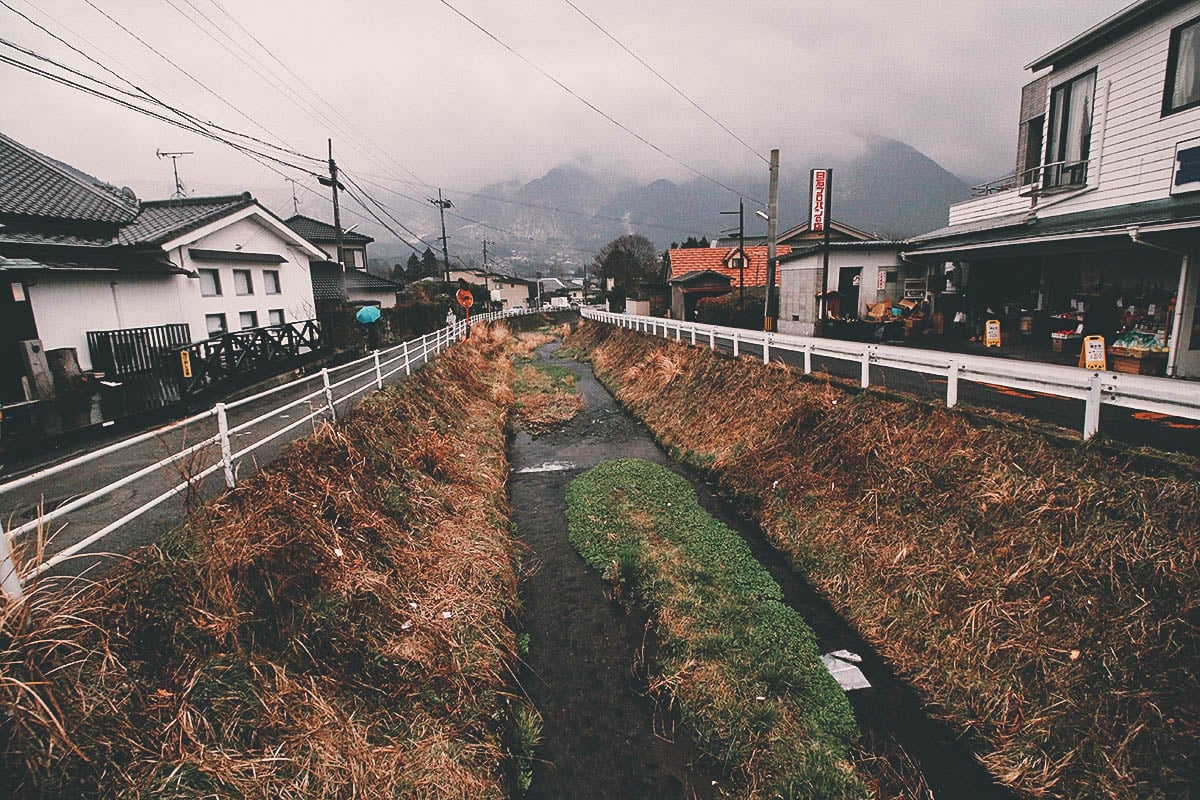 Yunotsubo Kaido is a long street with boutiques, cafes, and food stands on either side. This place is rife with charm.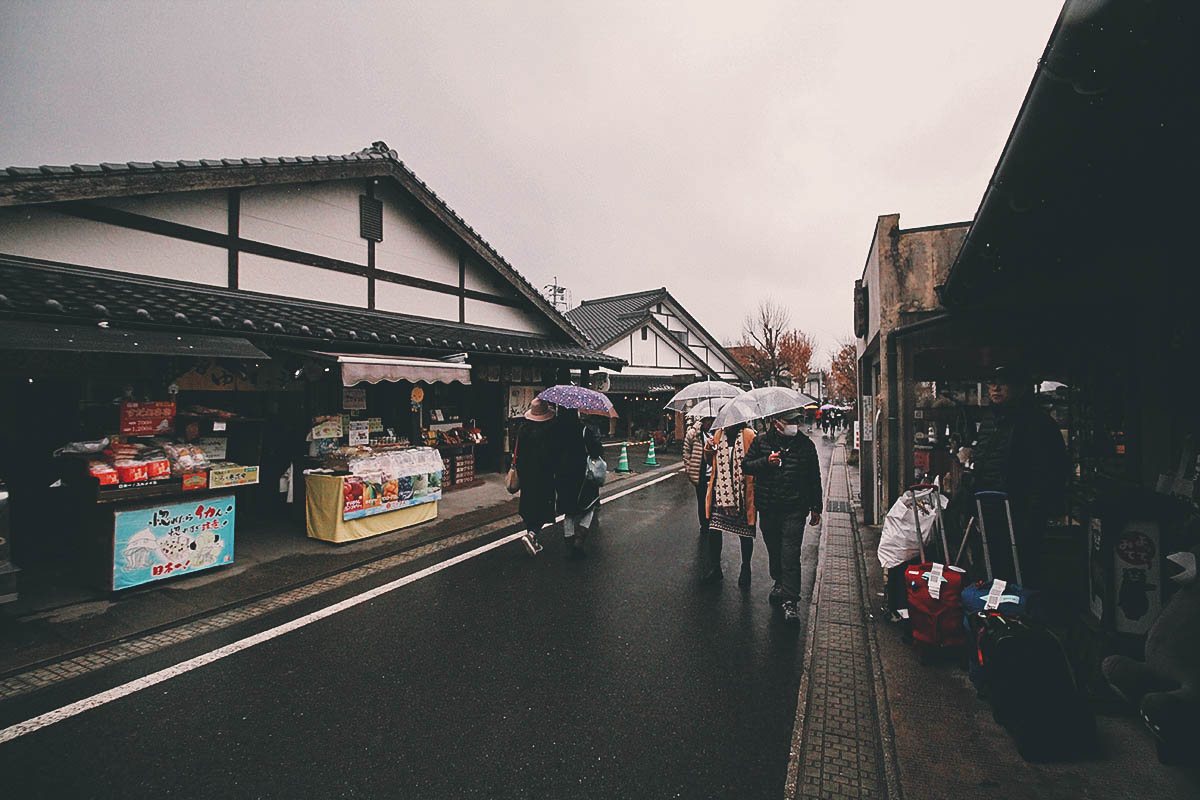 A Snoopy matcha stand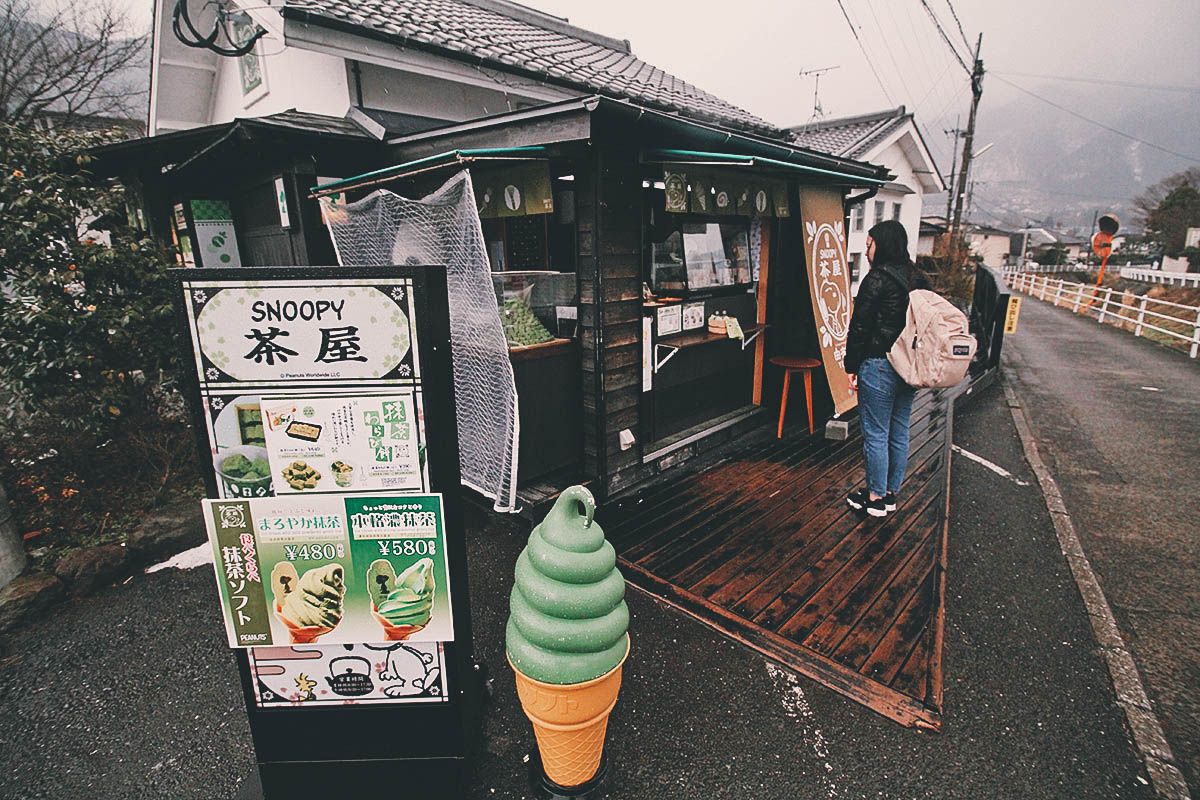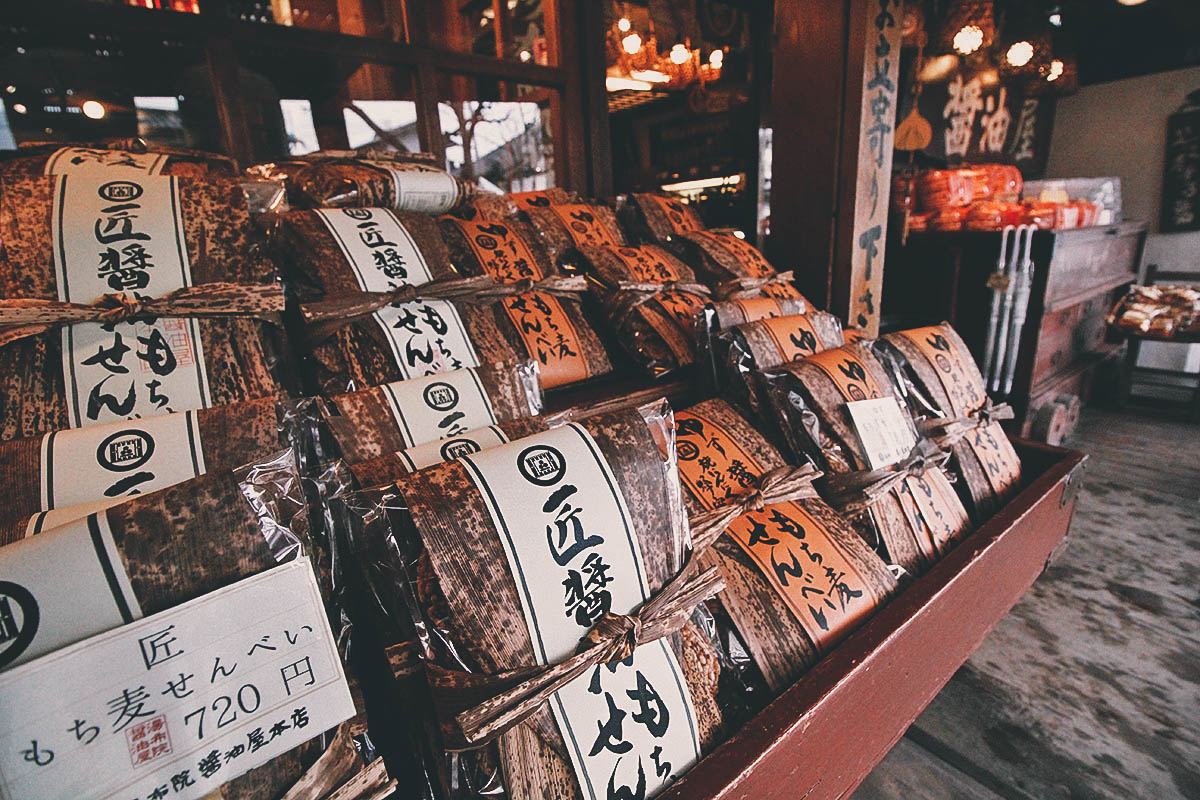 It was drizzling that afternoon so there's Reneelicious withh a parasol. The town is charming enough as it is but it was misty when we were there too, making it even more enchanting. Based on what I've read online, it seems to be misty a lot in Yufuin. I don't mind.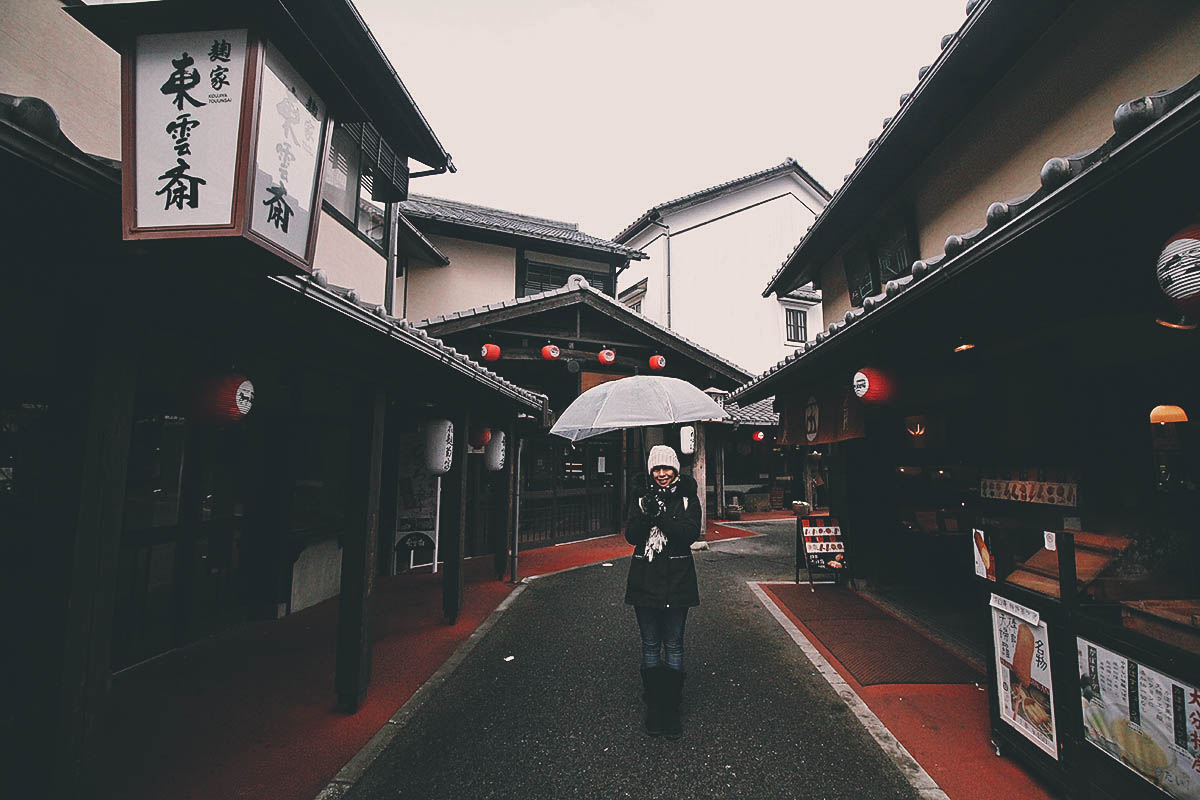 Many shops here sell sweets and dairy products. This place was selling all kinds of delicious-looking cheese pastries and desserts.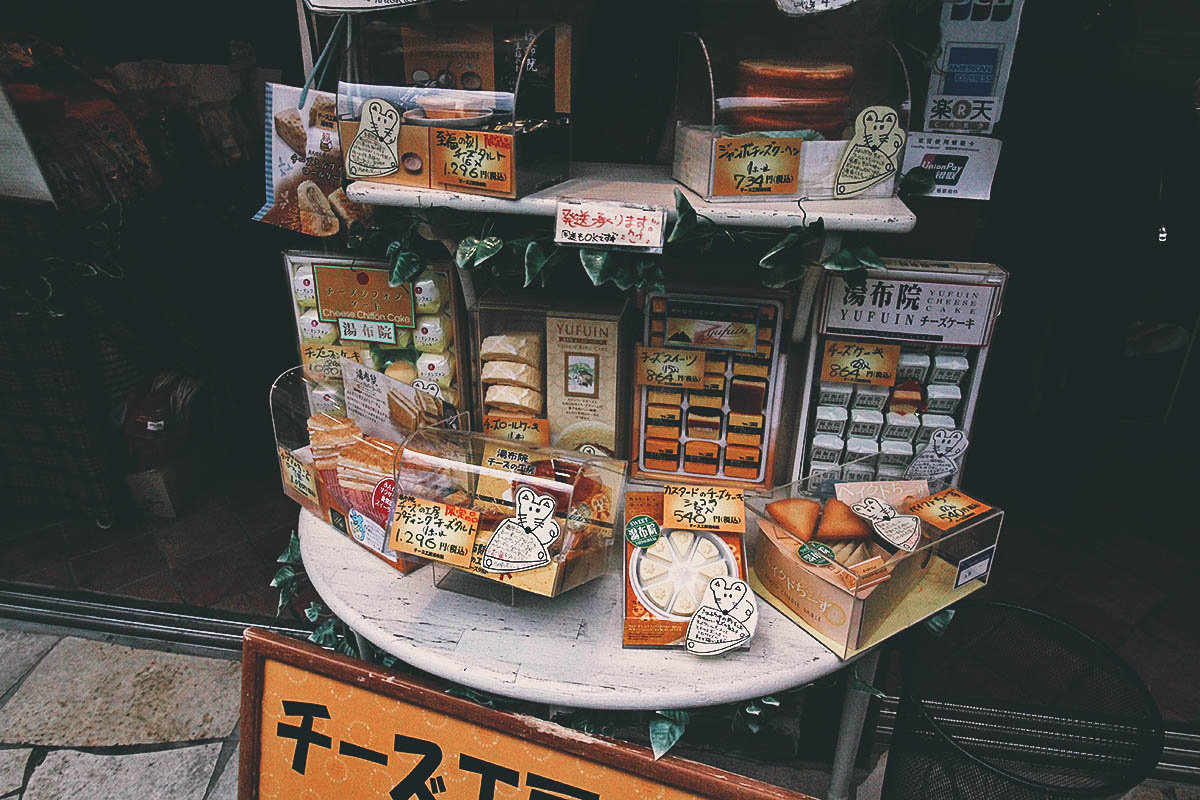 In this beautiful building was a store selling handcrafted goods.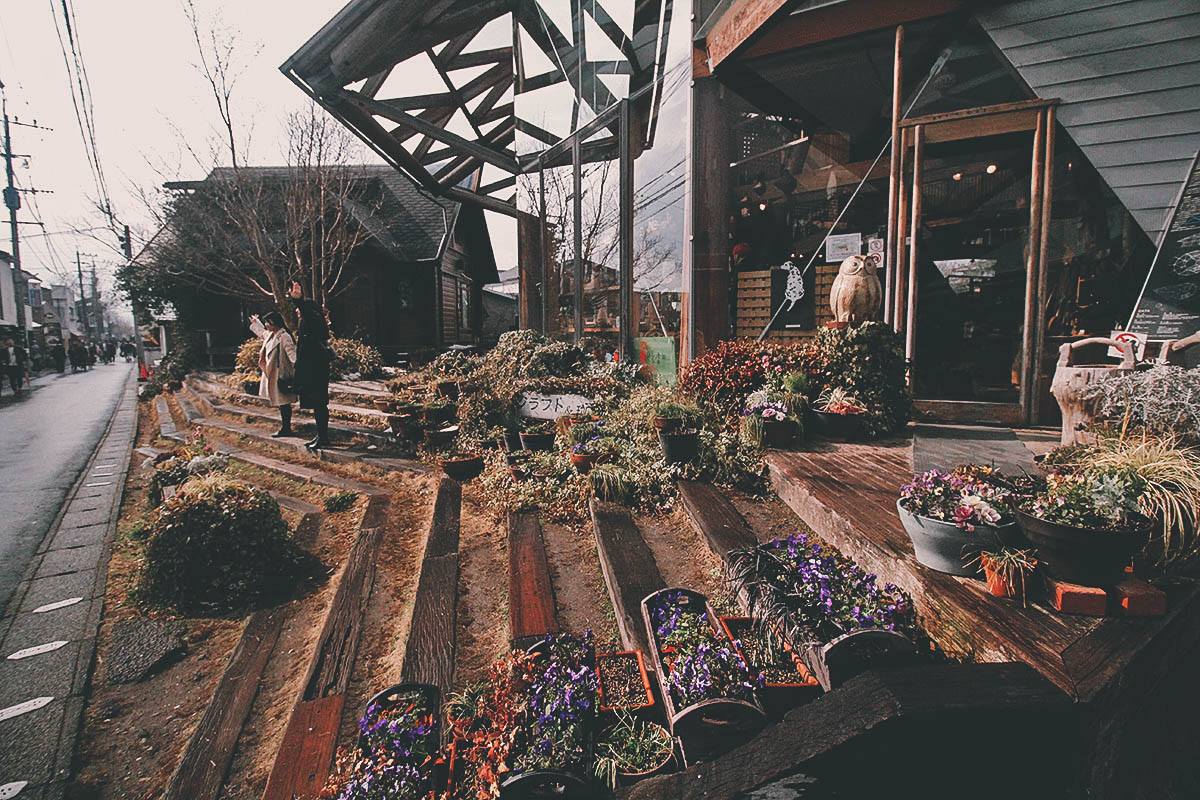 You can't get fresher OJ than that!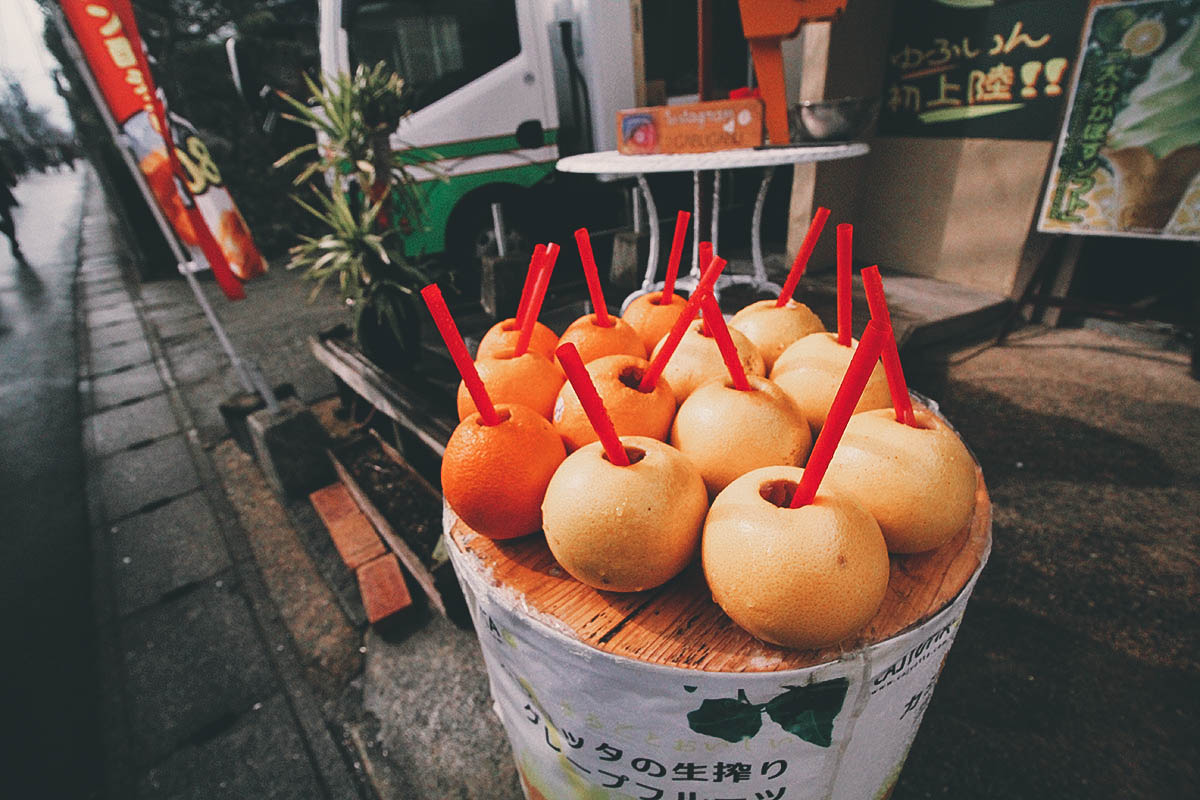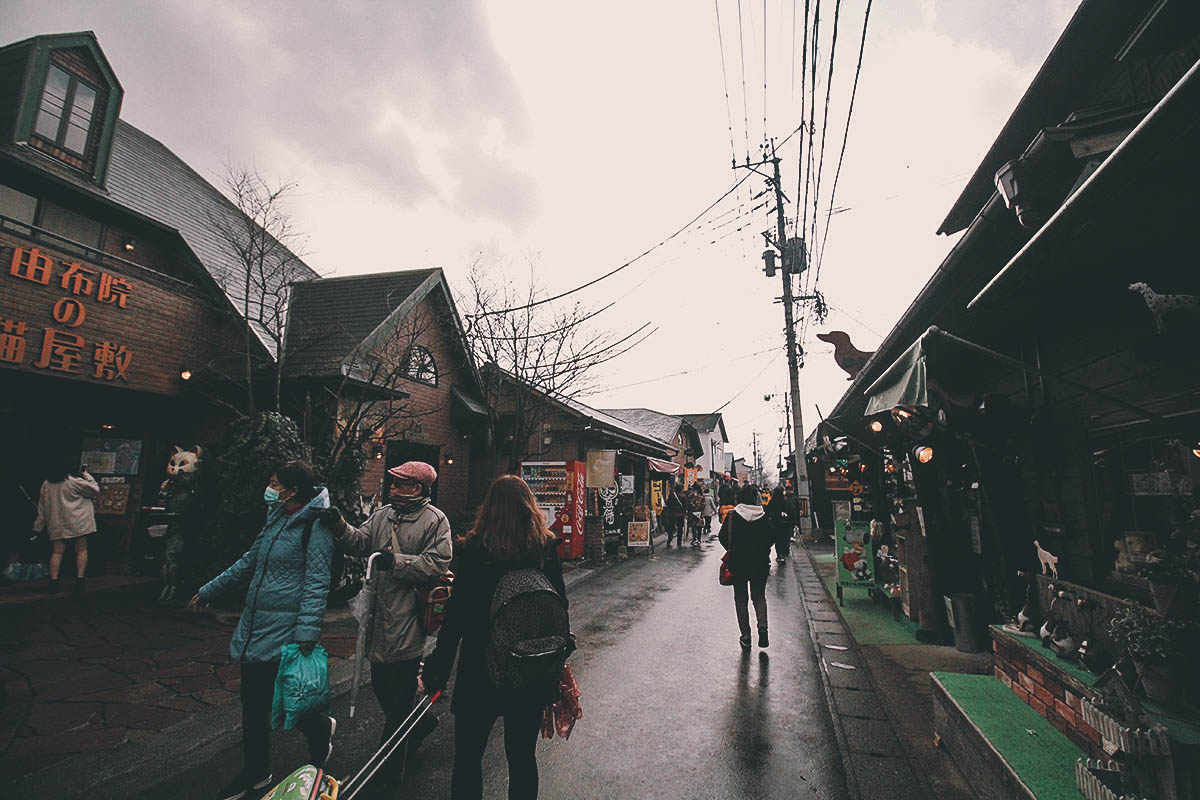 We don't usually bother with shops when traveling but many of the stores in town were so interesting. They felt like artisanal boutiques that sold one-of-a-kind gift items. This shop, as you can probably tell from the signs, carried unique pet-inspired products.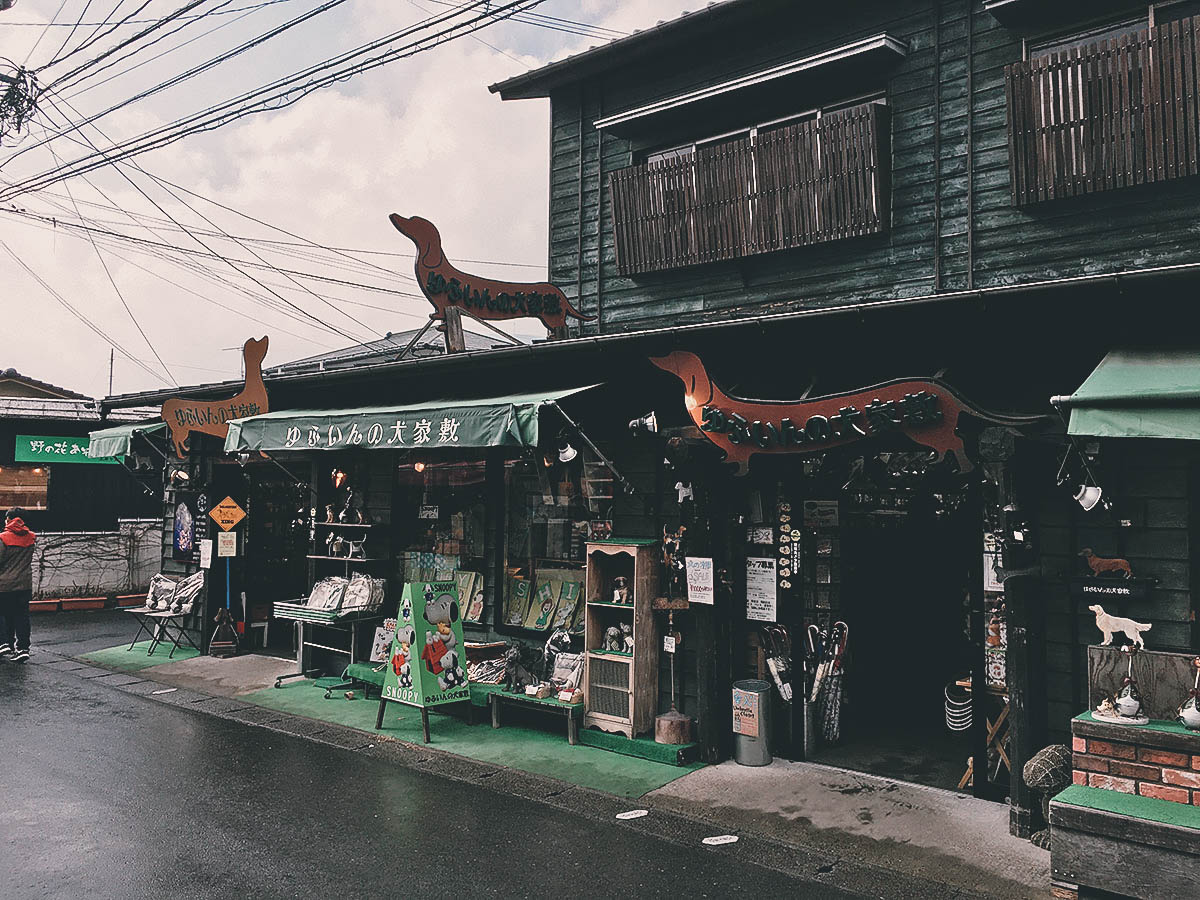 Like these lamps shaped like dogs wearing vests. Cute right?

Nothing much to see here, just a teddy bear driving a tiny yellow car.

Yufuin is located on a flat river basin surrounded by mountains, most notable of which is the twin-peaked Mt. Yufu. Being an onsen town, you could see steam clouds rising from hot spring sources in the mountains. It was a beautiful sight.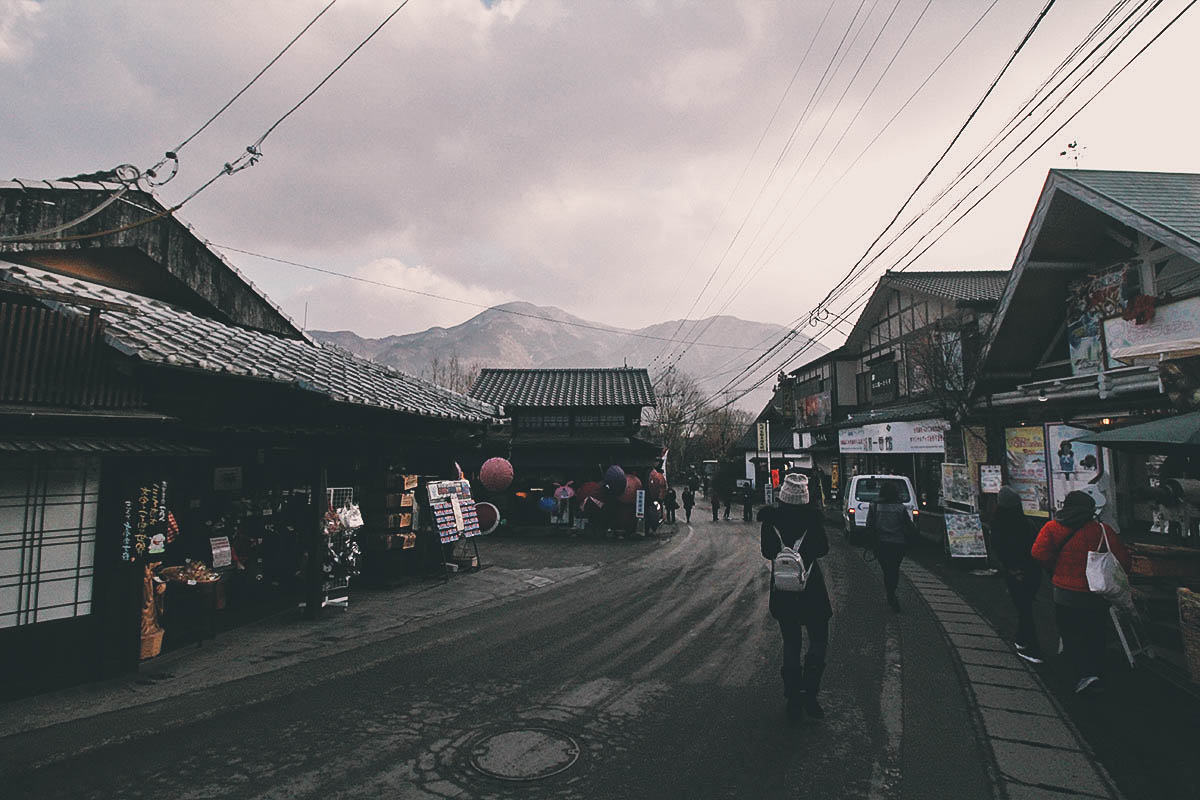 There are no tall buildings in Yufuin to obstruct your view. Just traditional Japanese houses and snow-capped mountains all around. ♥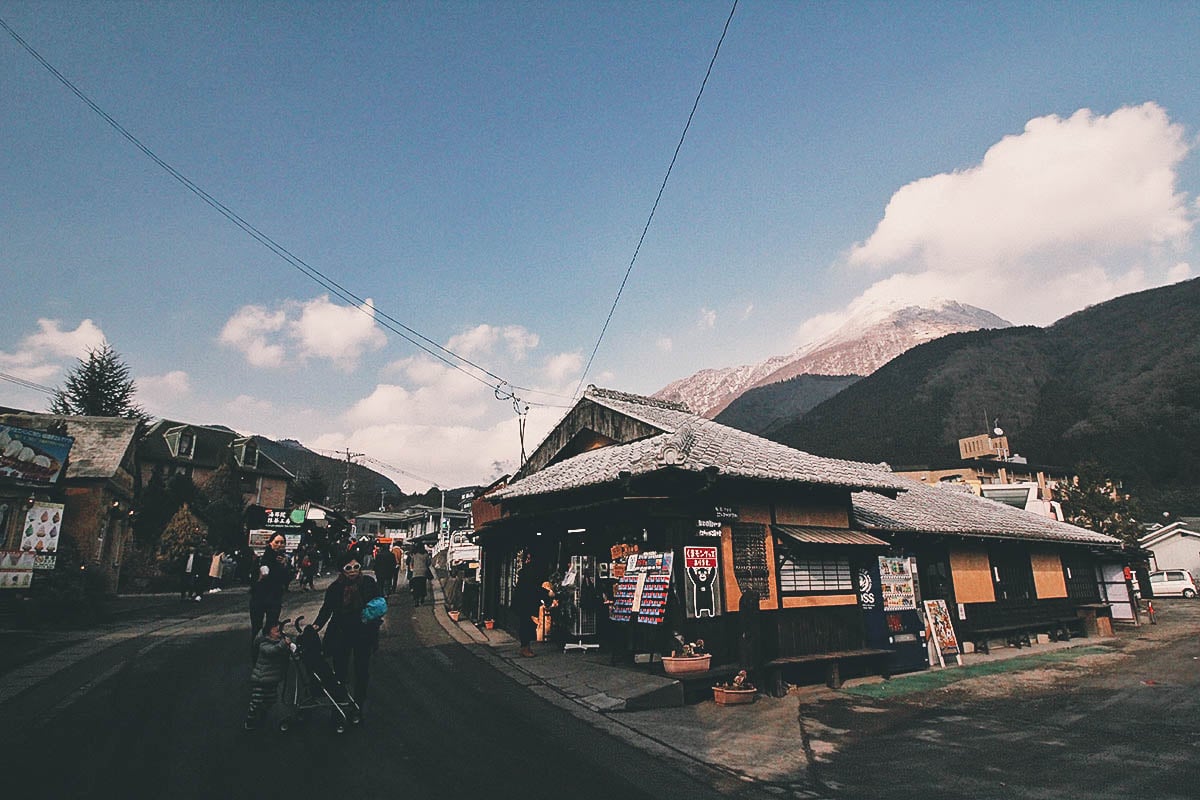 We didn't have much time in Yufuin so we quickly breezed through everything. If I could do it over again, we would stay two nights. That would give us enough time to explore the area and check out interesting spots like this samurai museum.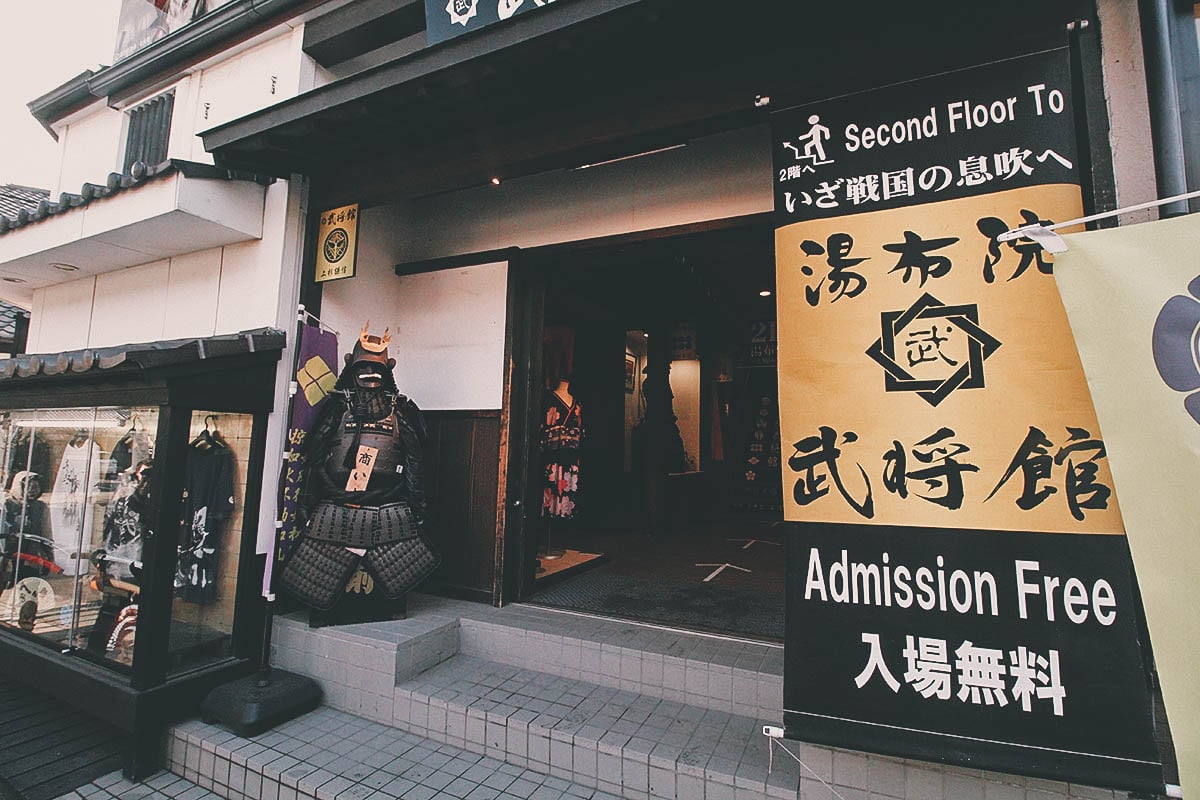 This looked really cool too. We didn't have time to go in but I think it was a museum for vintage paraphernalia. I would have loved to spend a couple of hours here!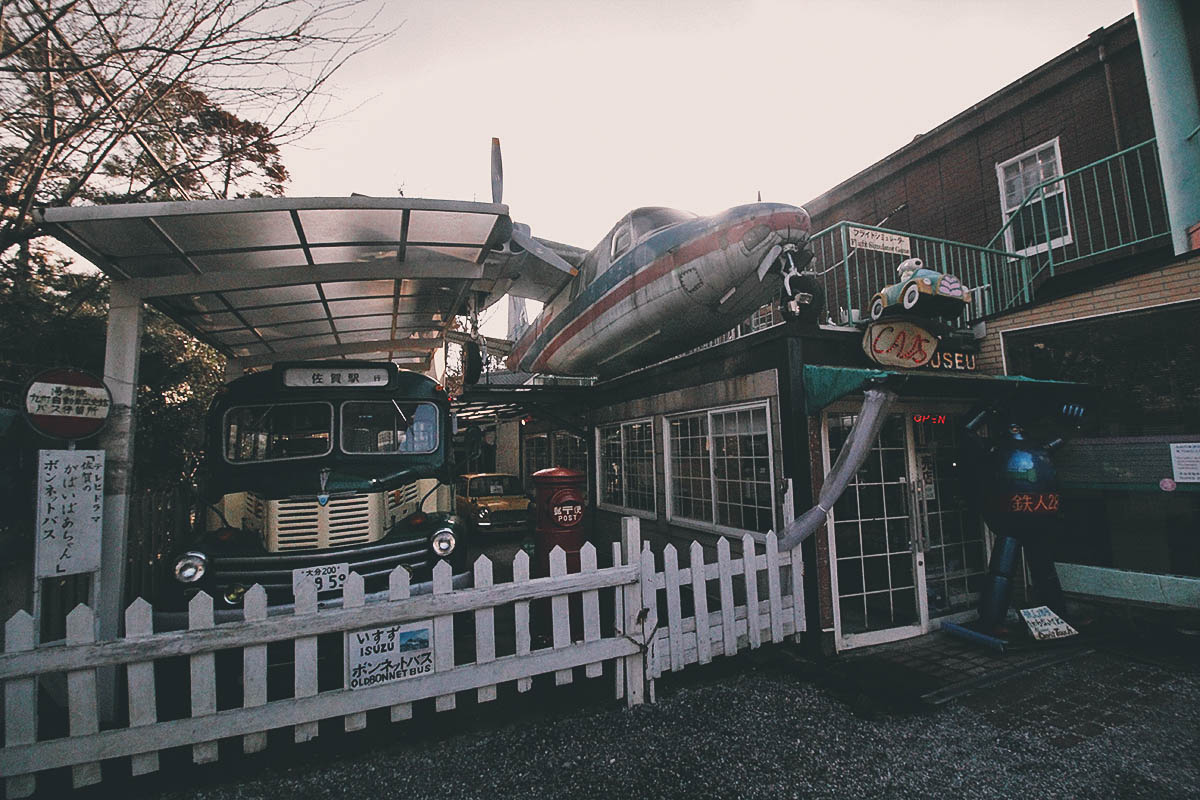 Cups made with ♥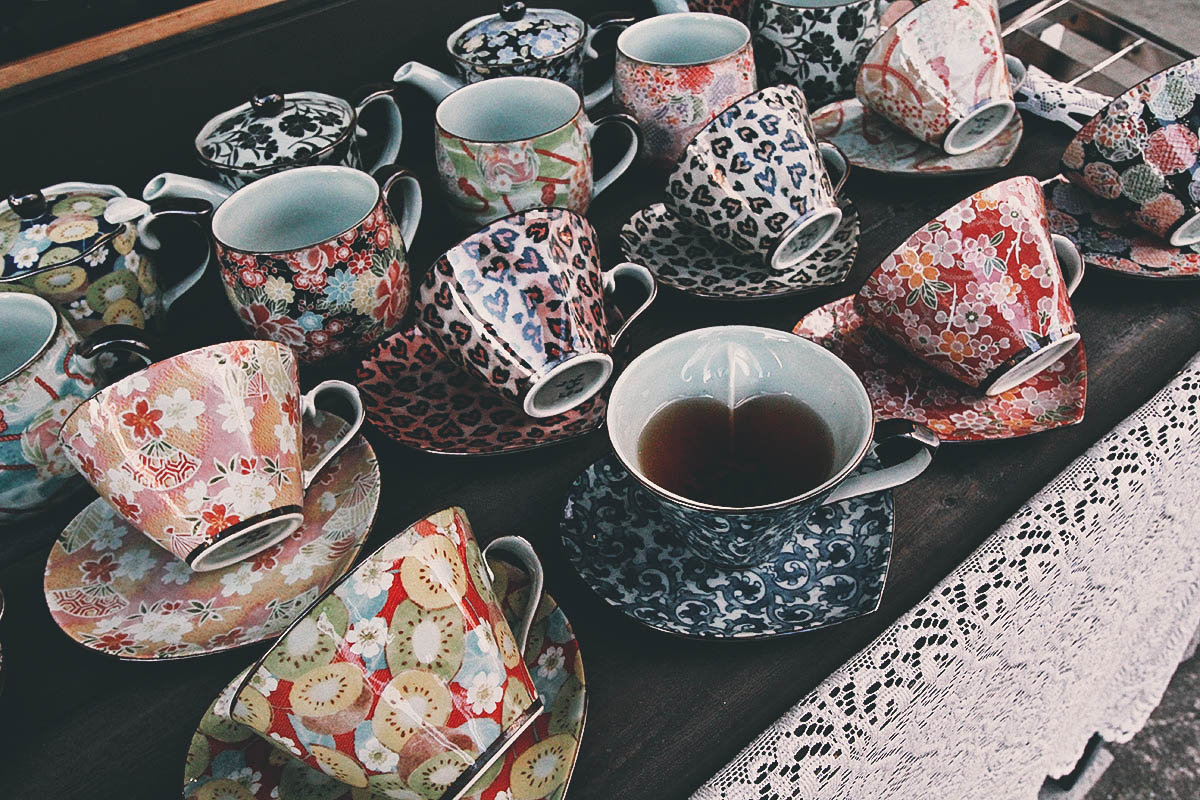 Doesn't this shop look cute? It was closed at the time but I think they sold handcarved wooden toys.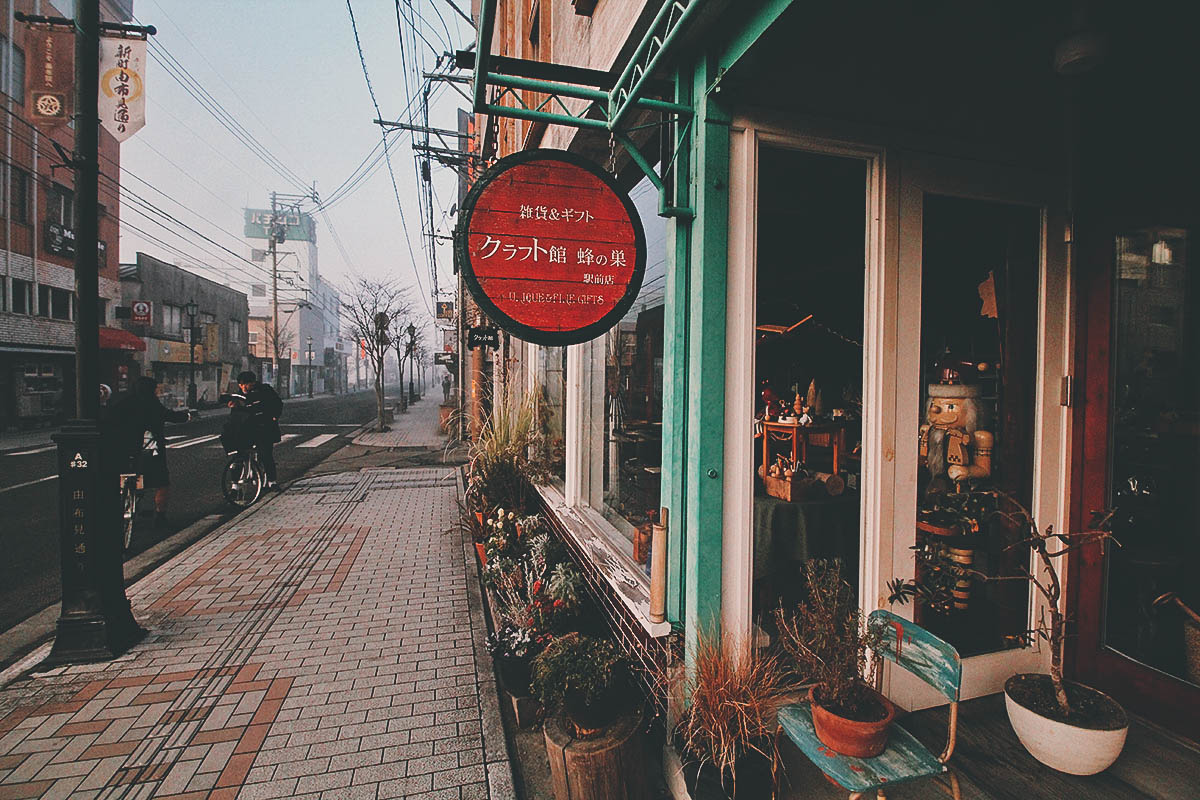 The light rain made it harder to take photos but it did make for a magical atmosphere.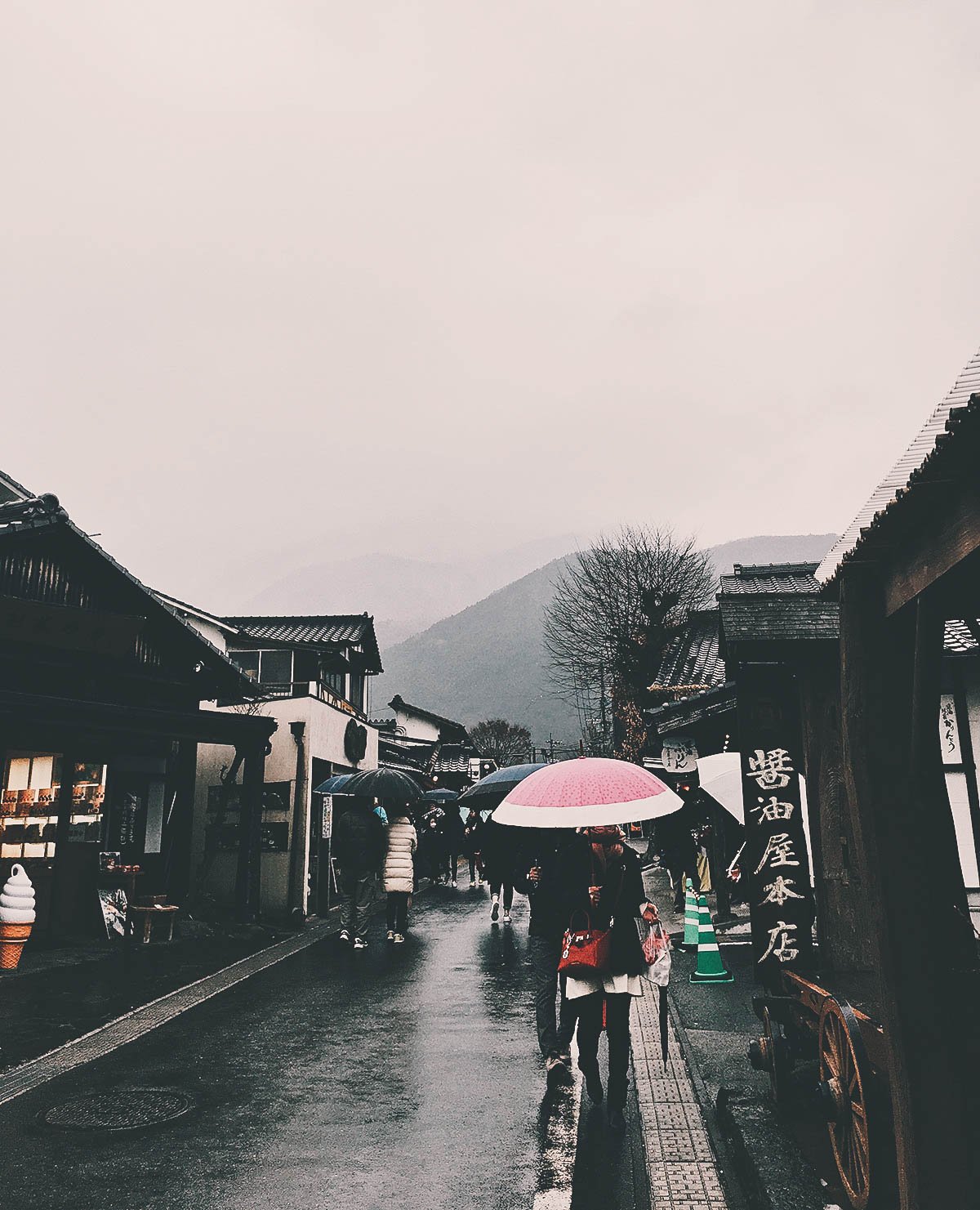 Yufuin Floral Village
In the middle of town is this magical little enclave called Yufuin Floral Village. It has a cat cafe and petting zoo and appears to have been inspired by Alice in Wonderland.

Yufuin Floral Village looks straight out of a fairy tale.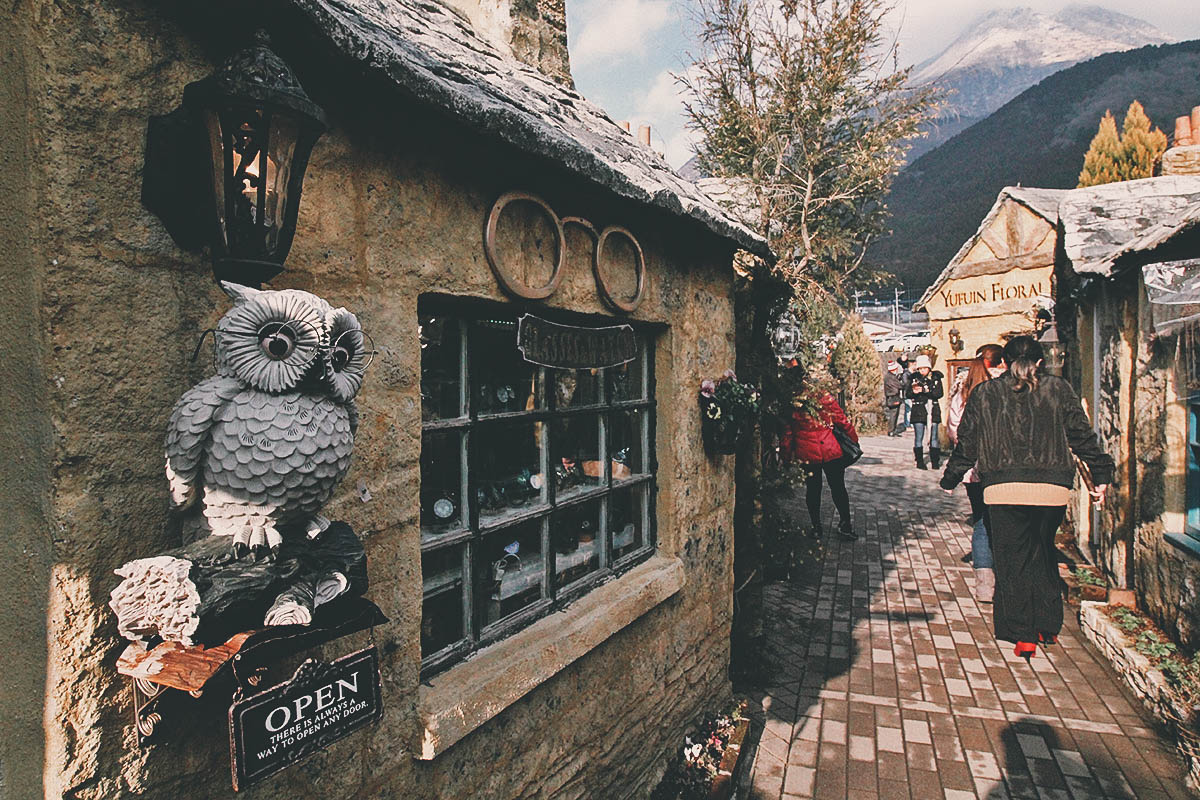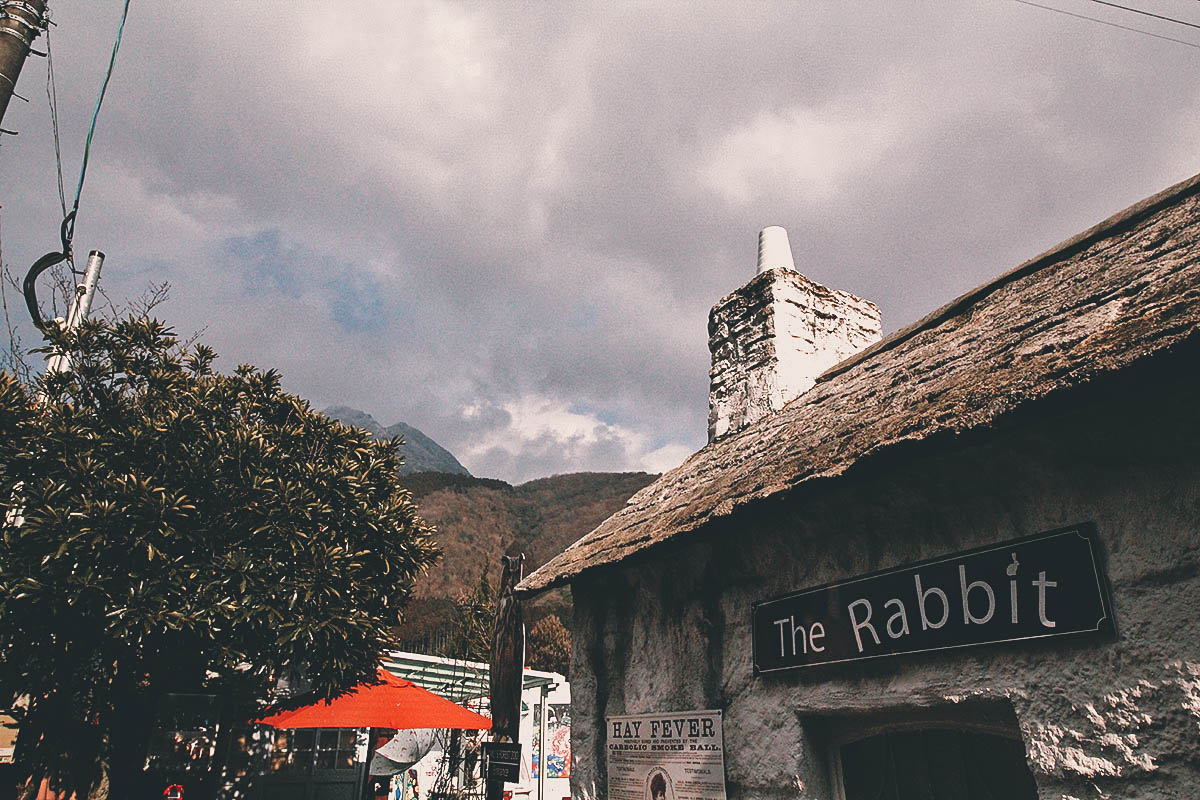 As described, Yufuin is an onsen town so there are many hot spring resorts here. You'll find these hot foot baths as well. I don't remember if this was free or not but you can take off your shoes and soak your feet in the mineral-rich hot spring water.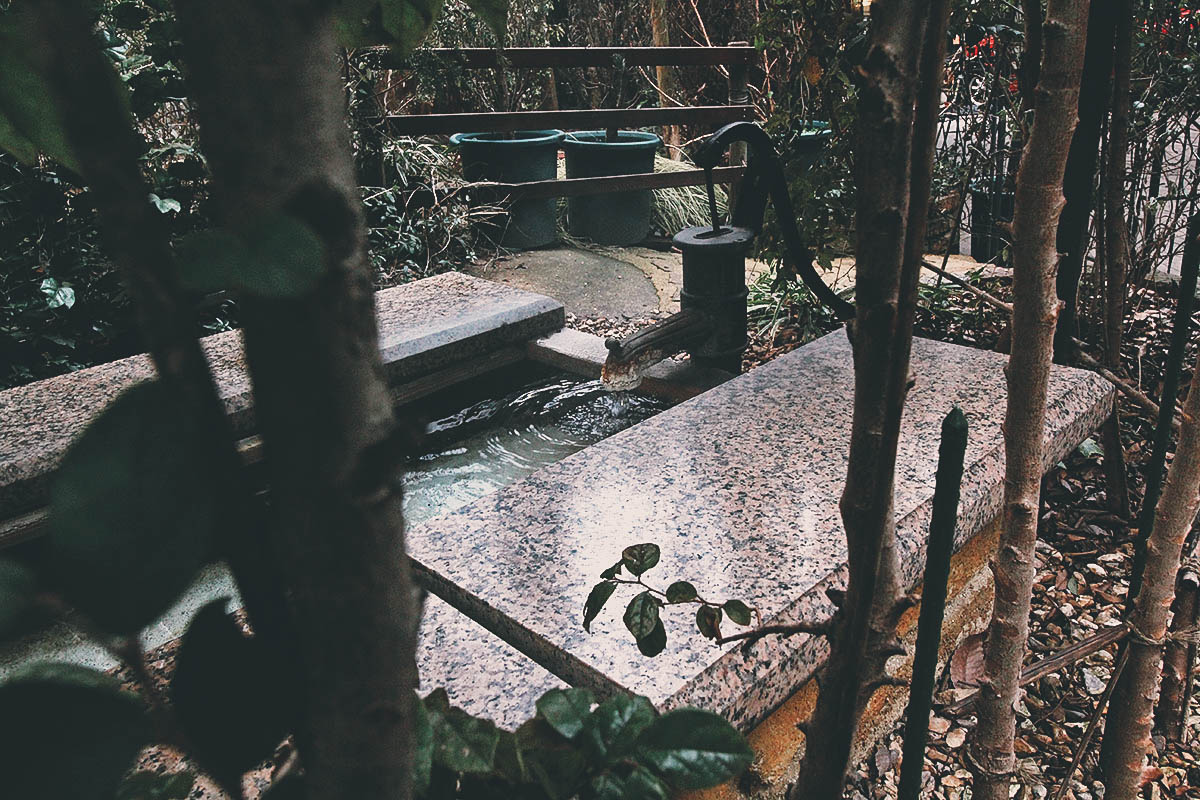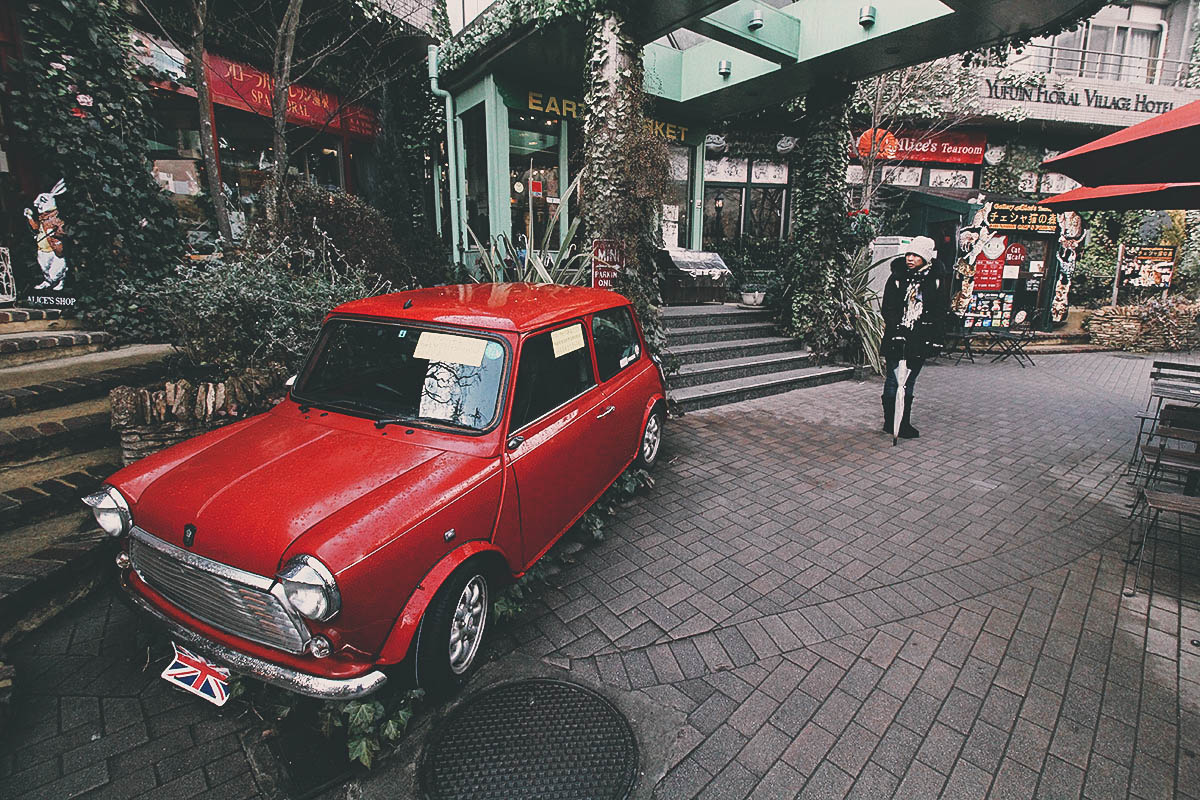 I told you this place was inspired by Alice in Wonderland. We stopped at this cat cafe to warm up with coffee and play with some beautiful felines.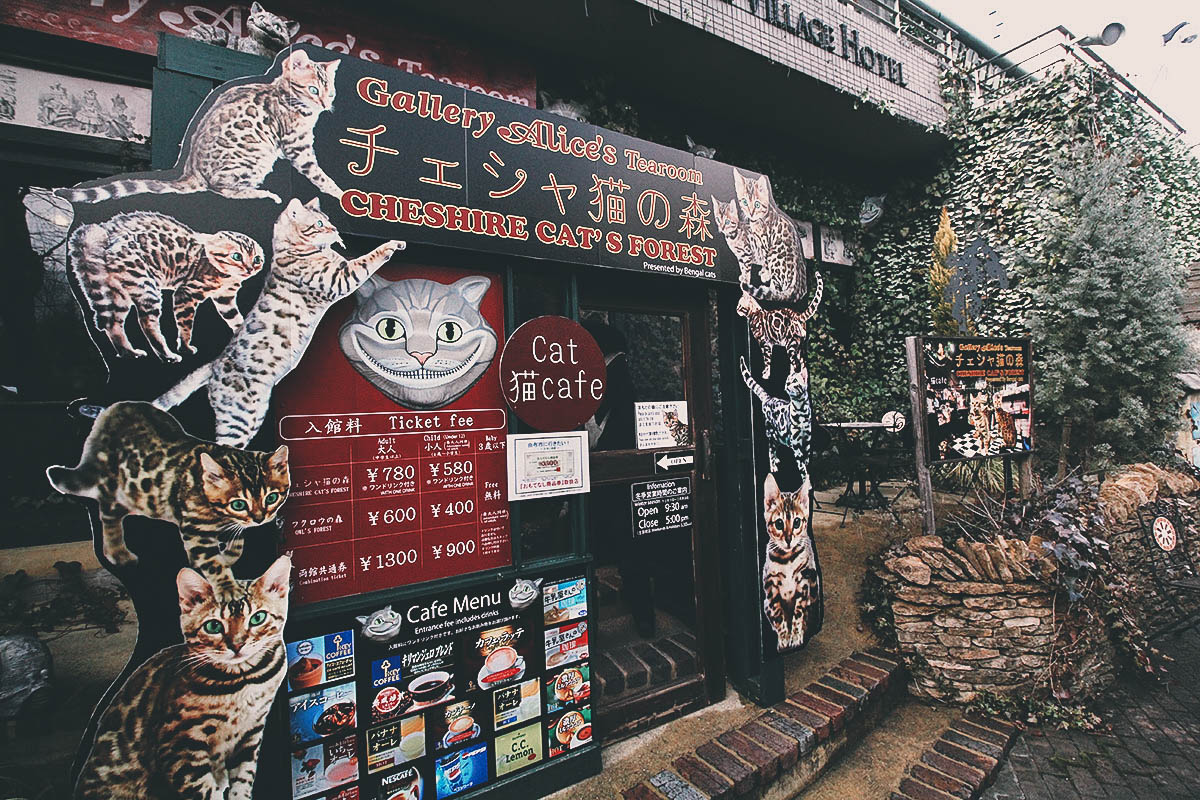 Isn't this place cool? For JPY 780, you can get a drink and play with pussies all day.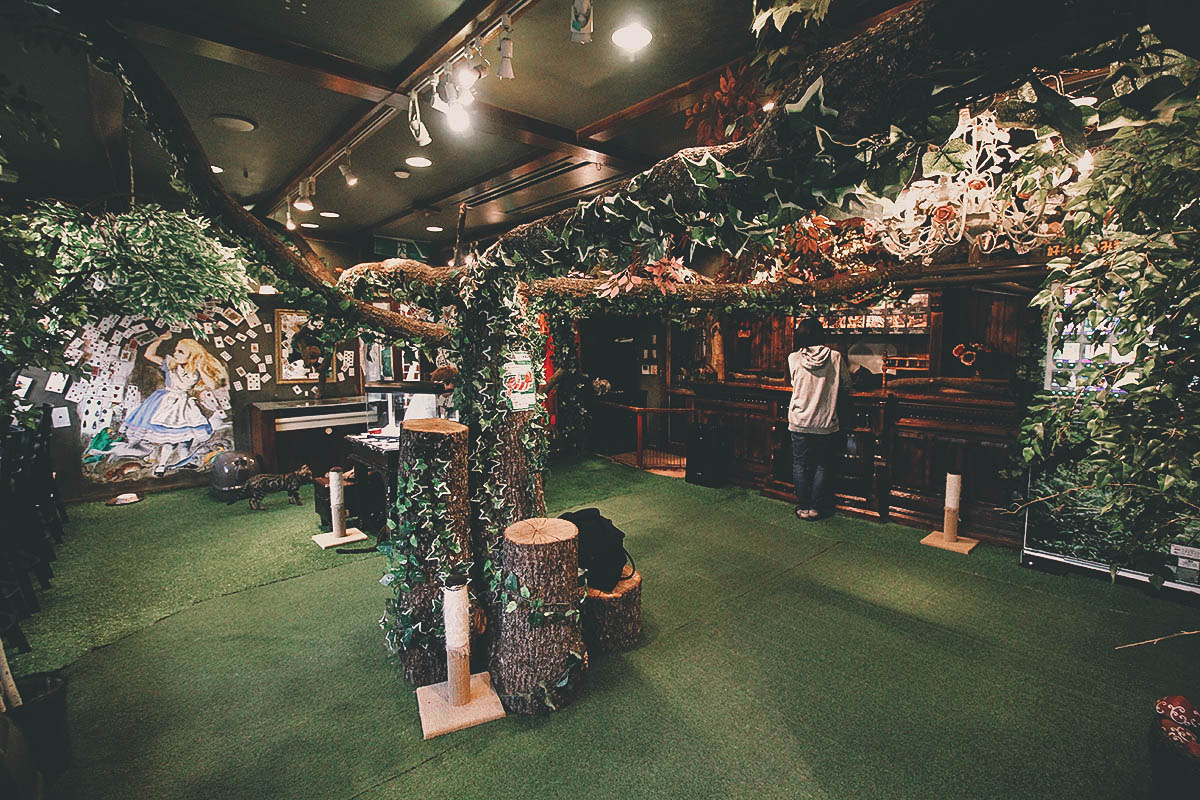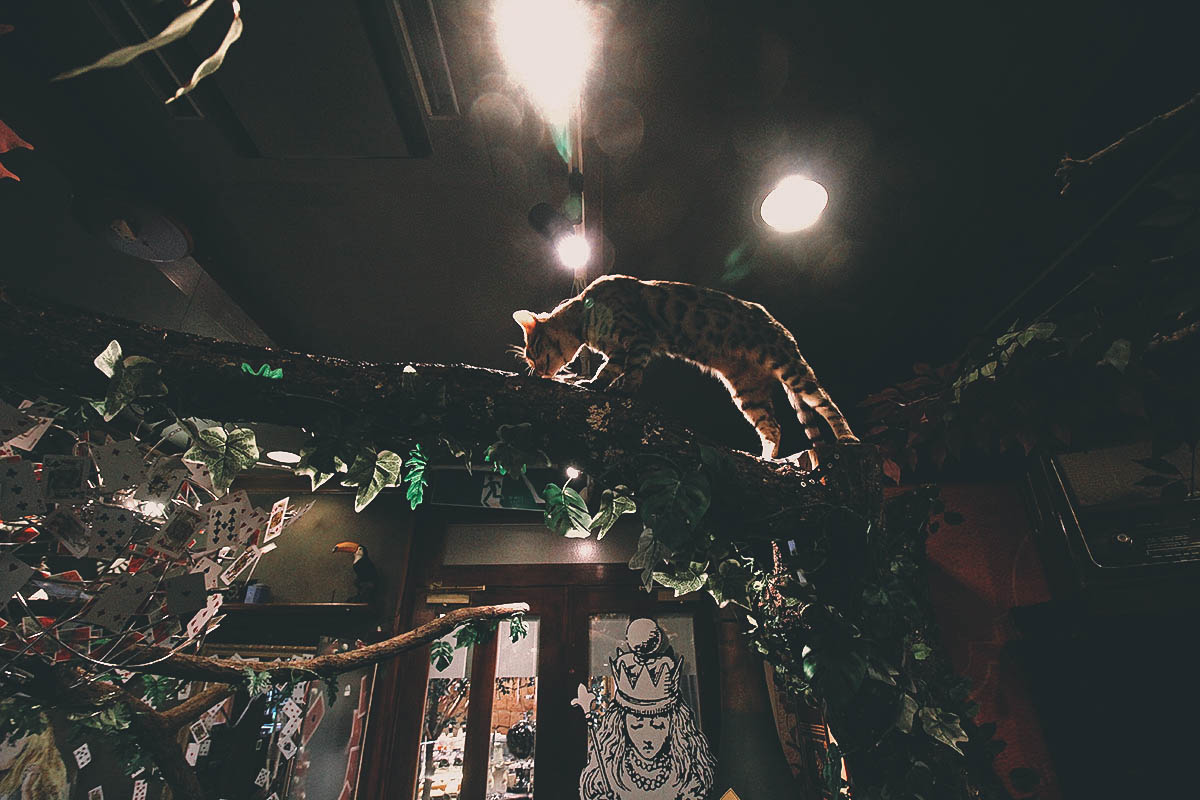 I don't know much about cats but the ones they had here were stunning. I think they're Bengal cats? They look like little ocelots or bobcats. Gorgeous!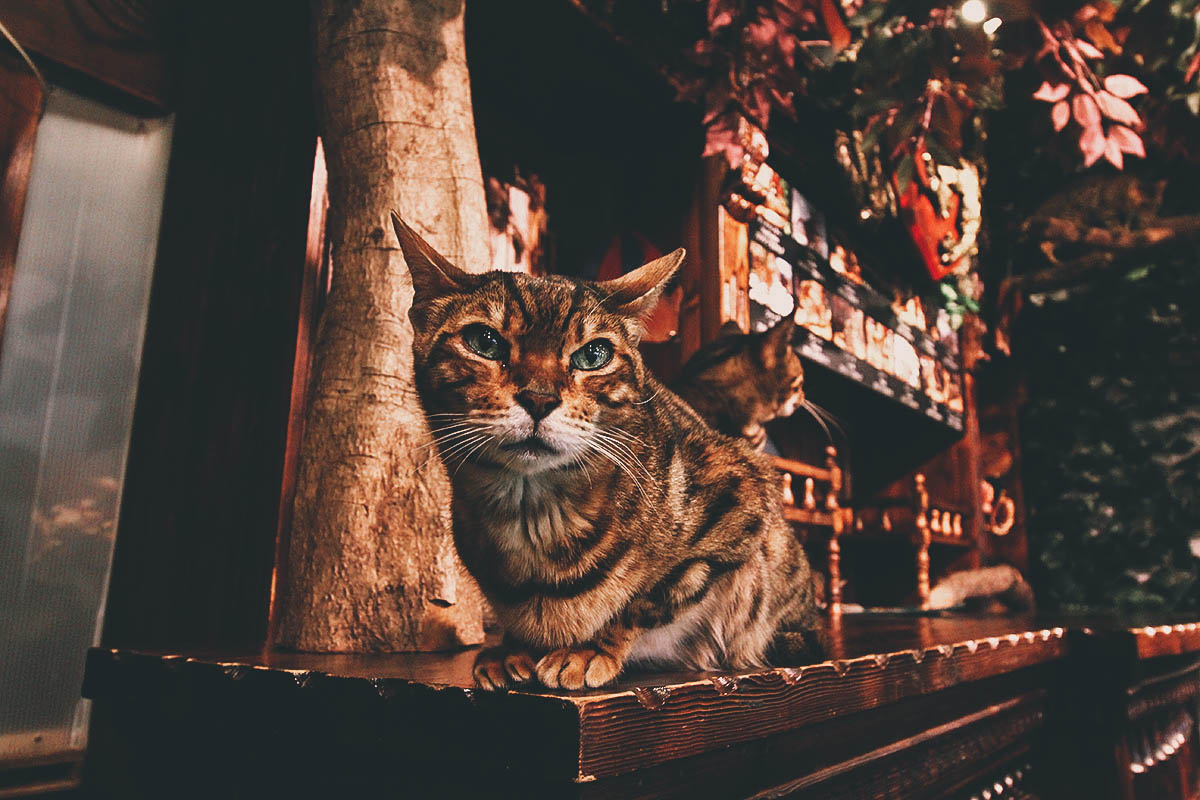 You can have your pick of beverage from this machine.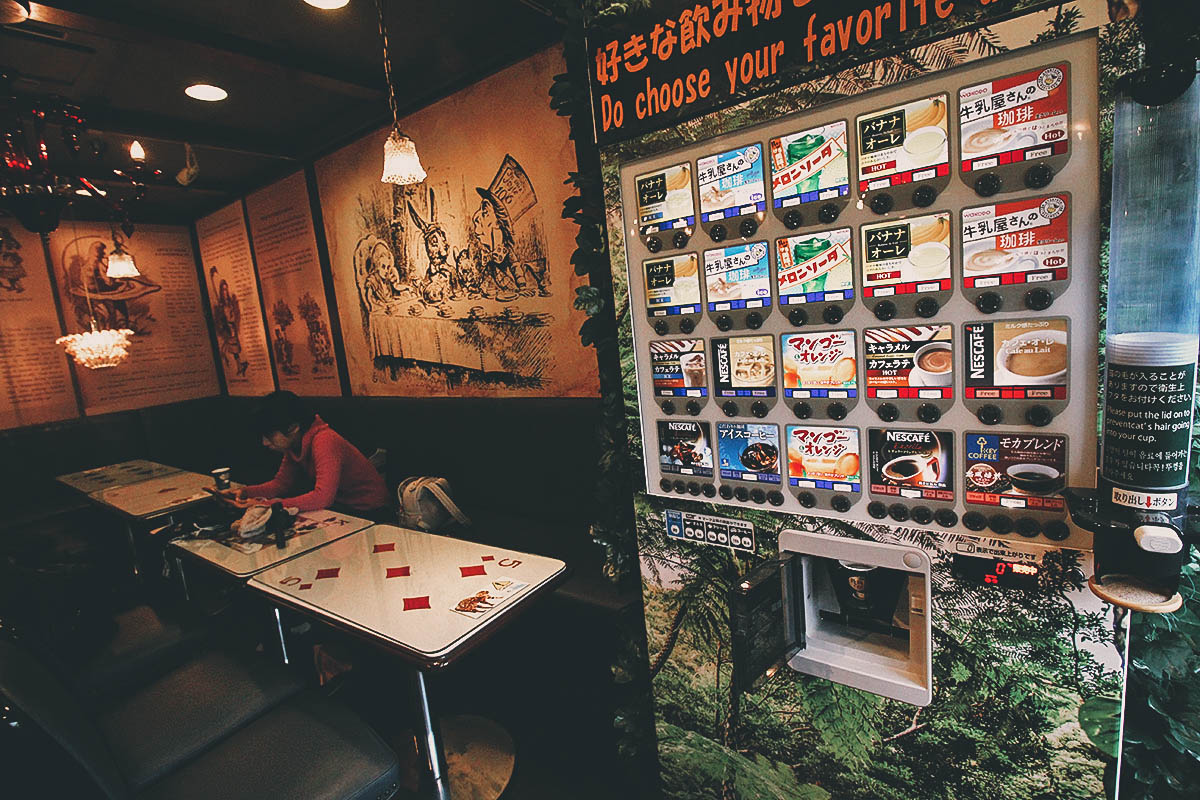 Most of the cats at the cafe were chestnut-colored, except for this little fella. He or she was more silvery white with stripes, like an albino tiger.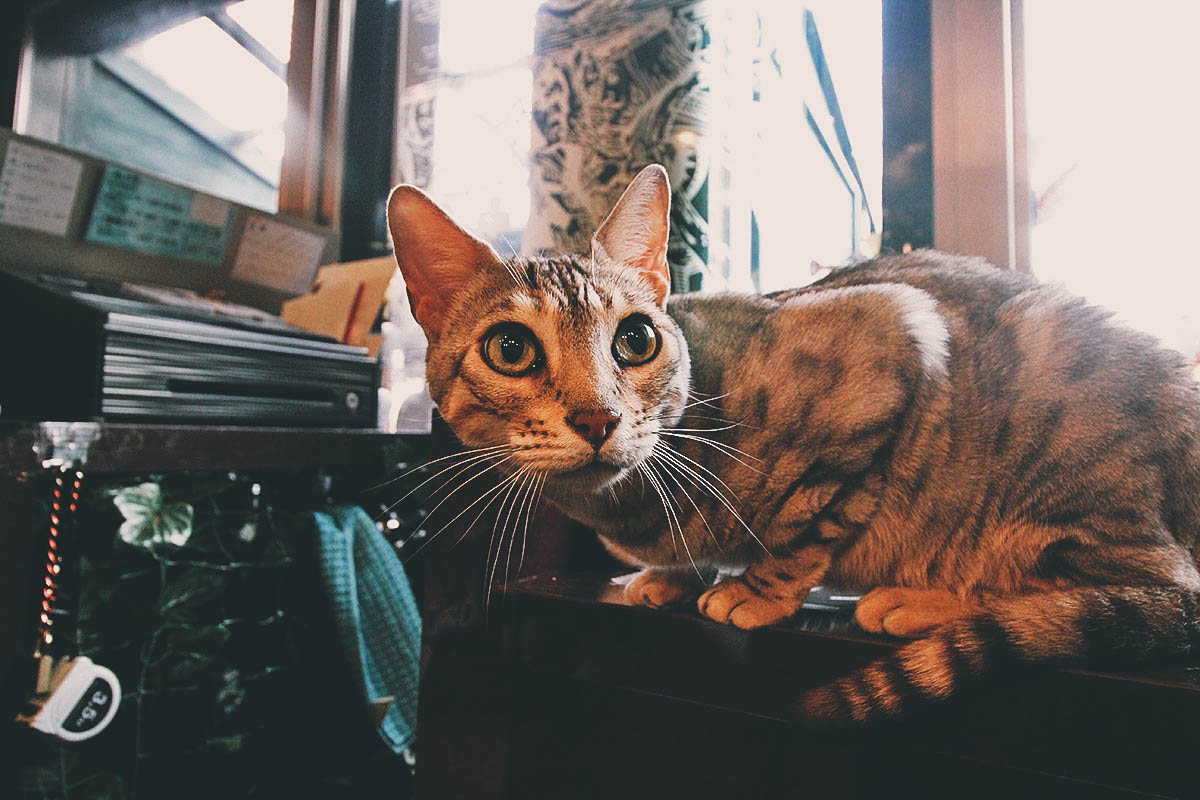 They had hedgehogs here too! I didn't see anyone taking them out so I'm not sure if you can play with them.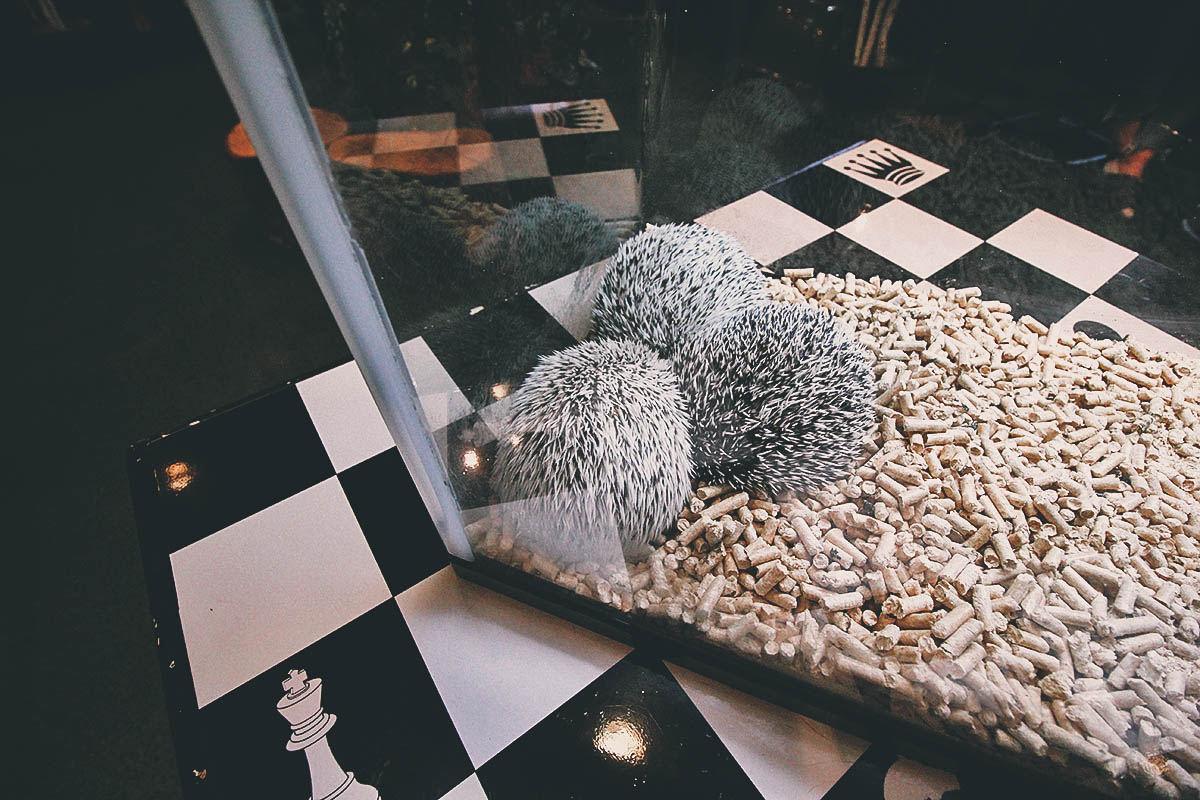 Aside from the cat cafe, there's a petting zoo and an an owl forest here as well.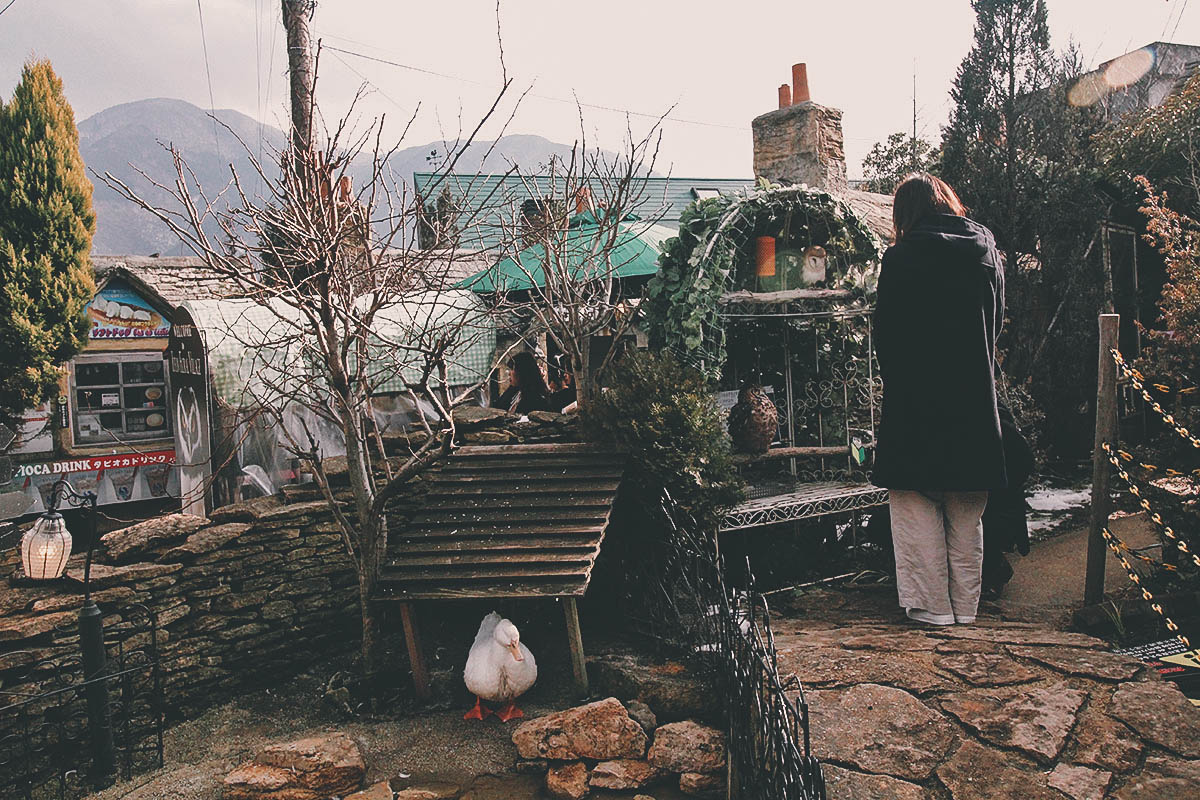 I'm not sure how I feel about these owl cafes/zoos. Exploding in popularity since the Harry Potter movies, you can pay a fee to interact with owls. As far as I know, all owls are nocturnal so I don't know how much of an effect these human interactions have on them. I'm assuming it can't be too good so as tempting as it is, we choose to stay away.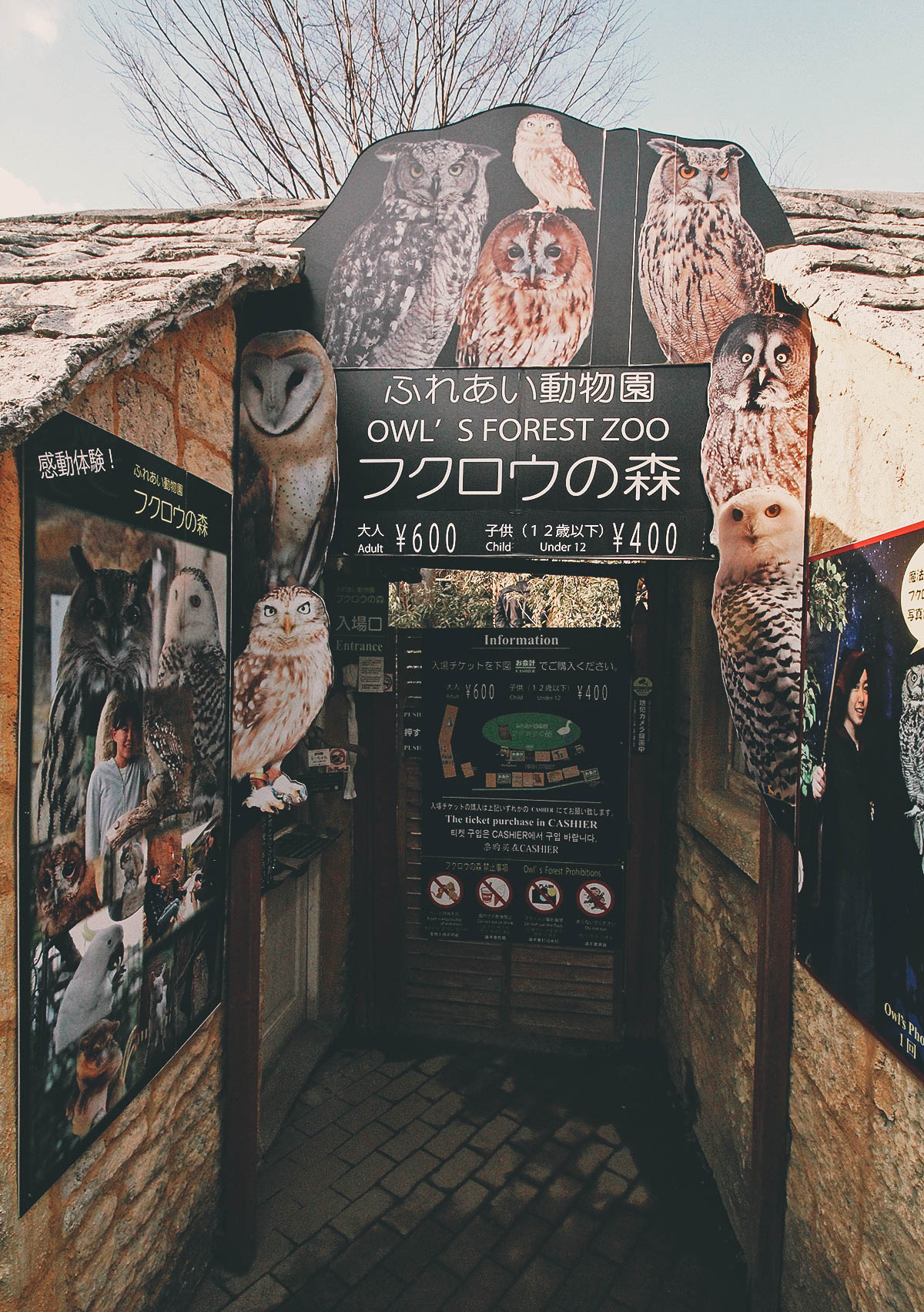 Squirrels and farm animals though are a different story. For JPY 100, you can buy these little globes of food that you can feed to the little critters.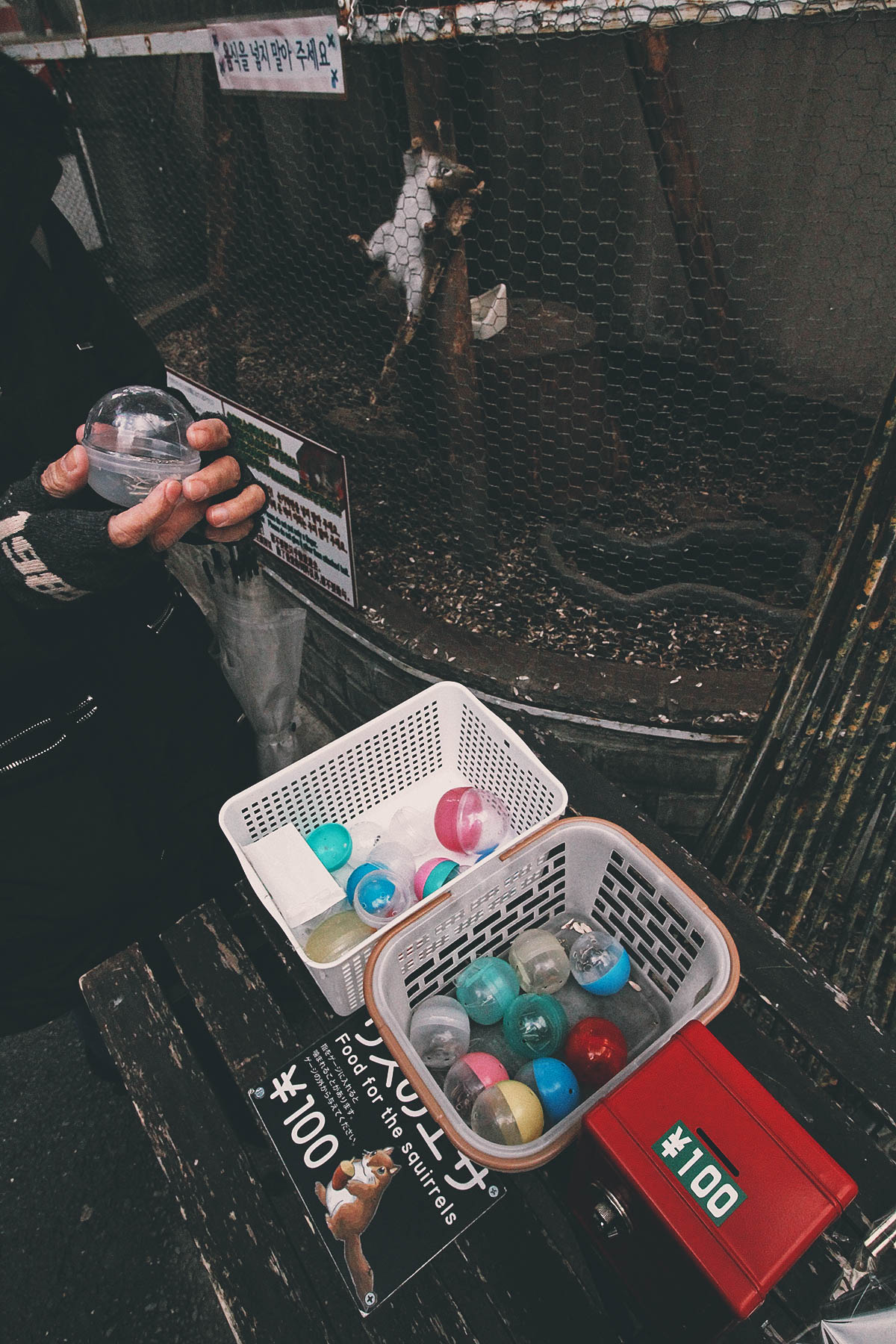 Cute litte wabbits. ♥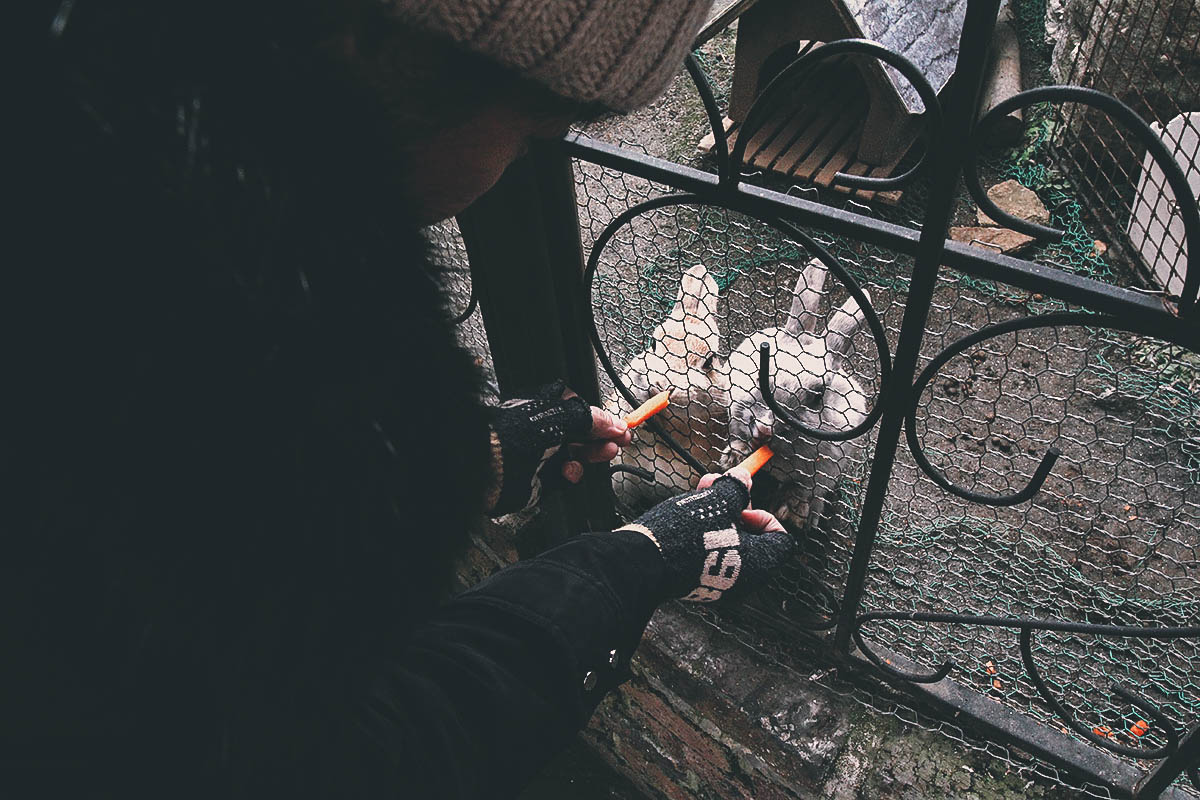 Yufuin Floral Village is a magical place. If you're quiet enough and approach slowly, then a faerie may just let you take her picture.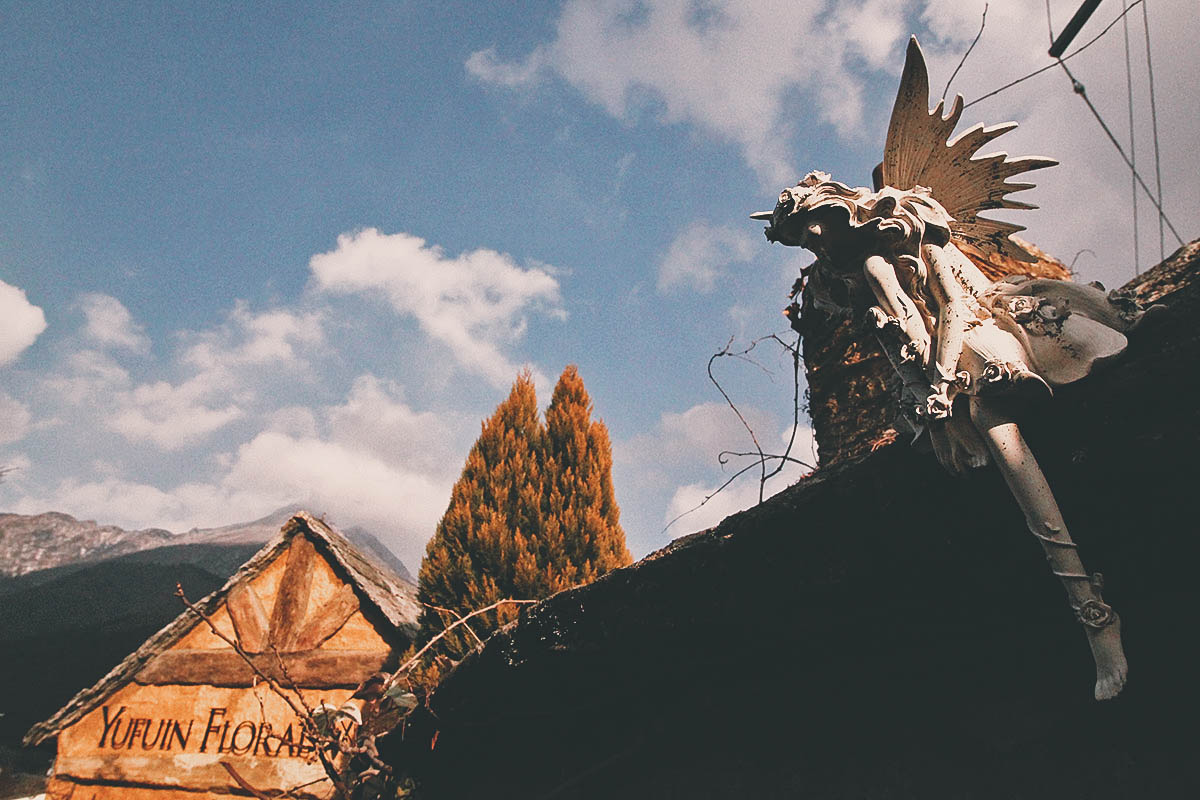 Lake Kinrinko
One of Yufuin's most popular landmarks is Lake Kinrinko. It's located at the end of Yunotsubo Kaido so you can continue there after exploring the shops.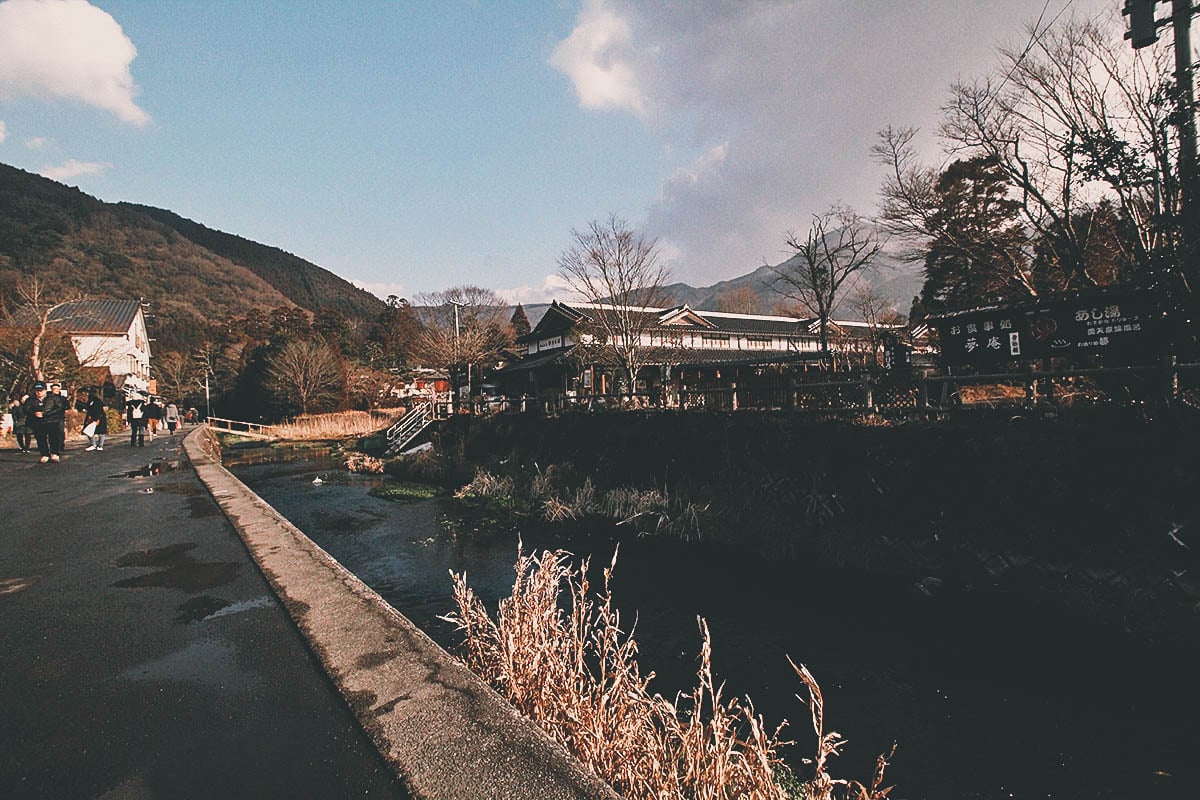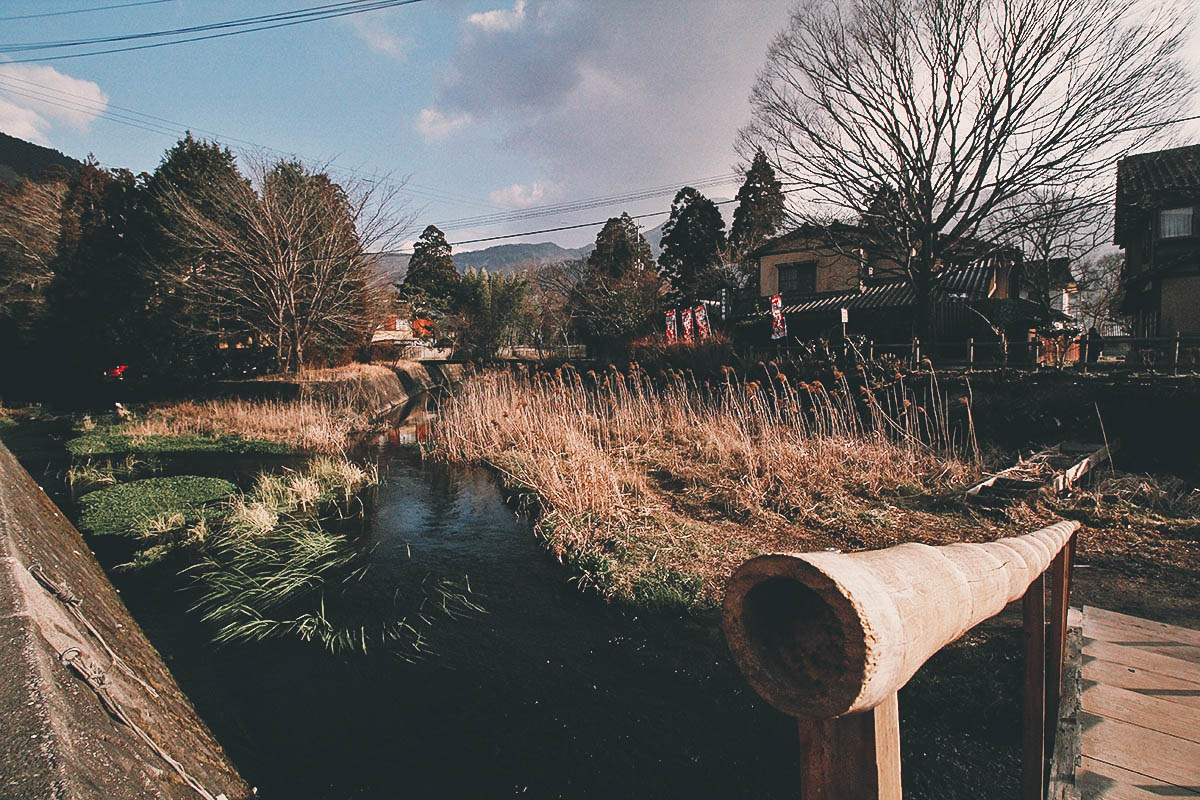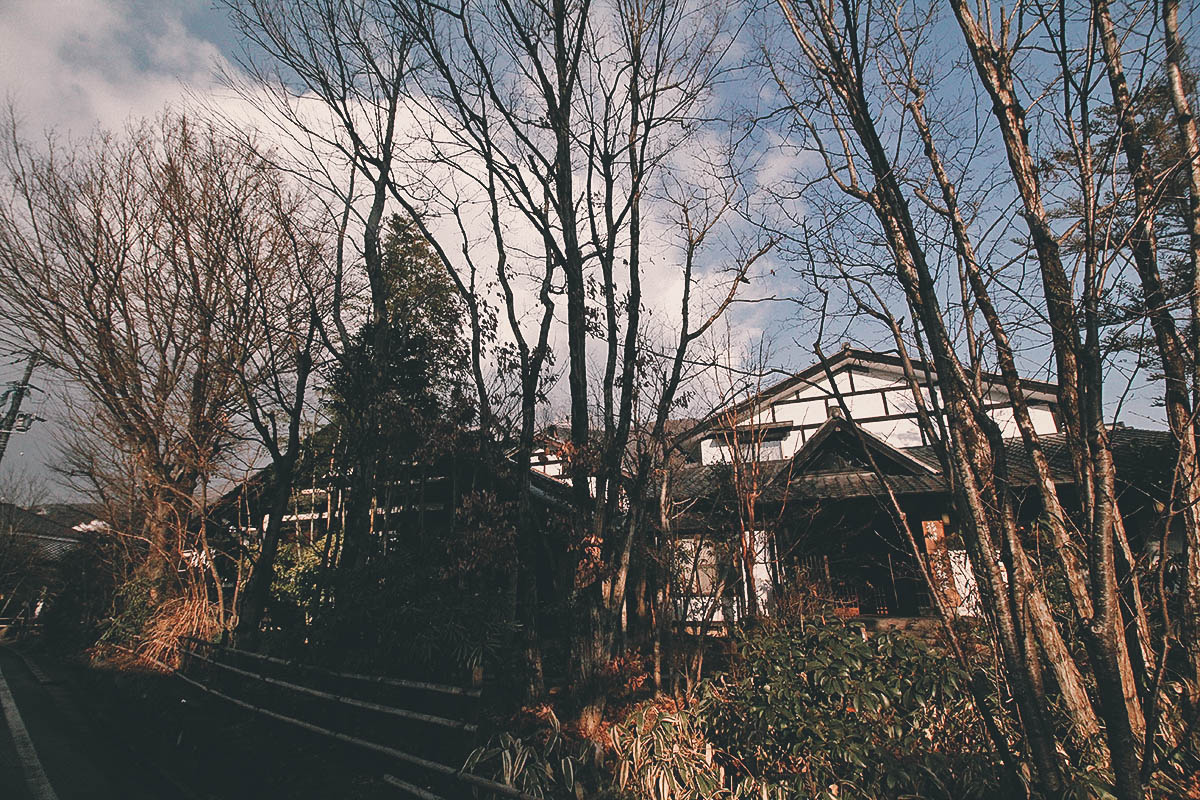 Such a lovely atmosphere here. I think many of these buildings were ryokans.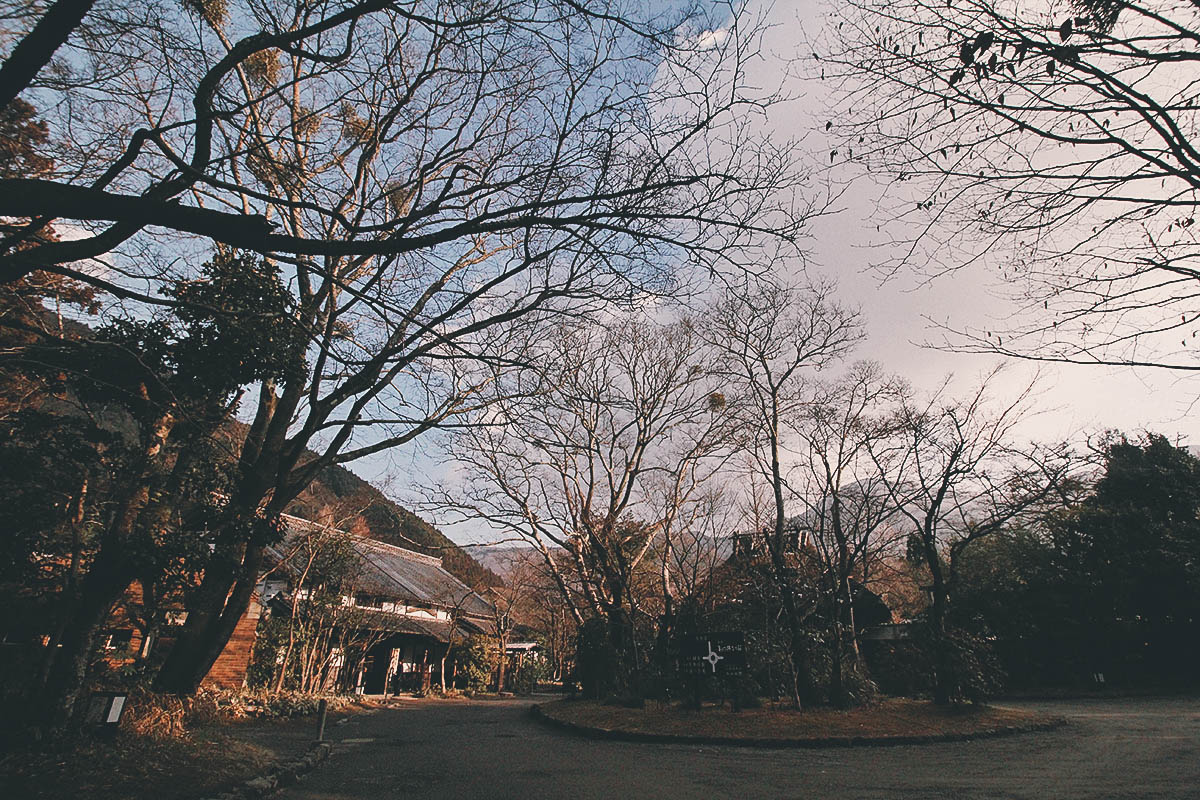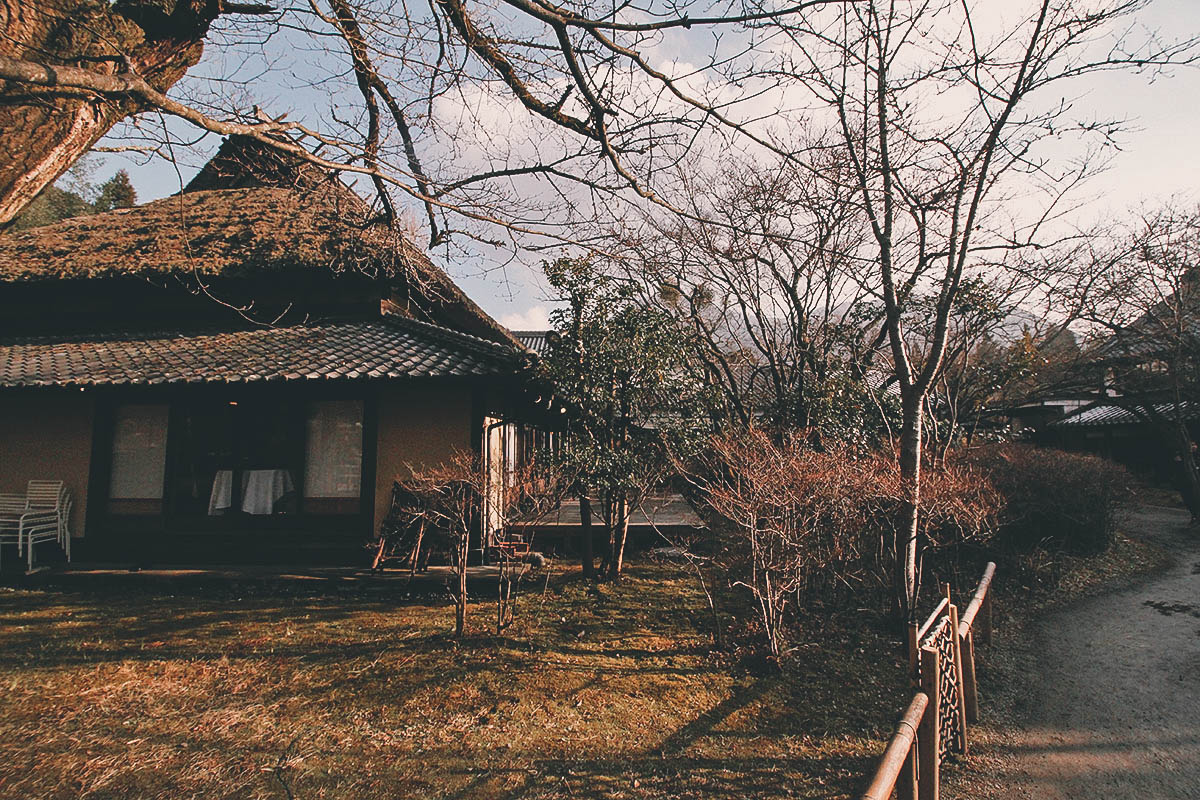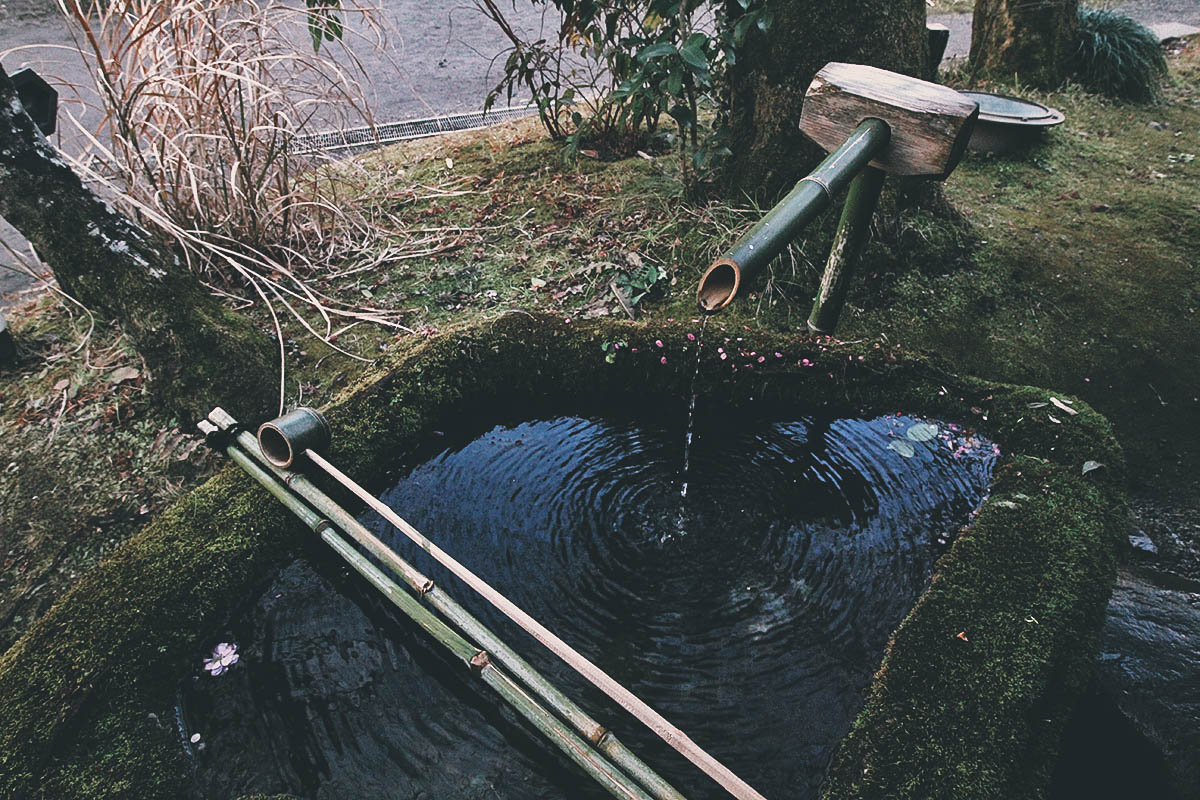 Here's Lake Kinrinko. Around the lake are walking paths and a few small shops and cafes. There's a small shrine located at the lake's southern end as well. If you'd like to soak in an onsen, then there's a public hot spring here called Shitanyu which foreigners can use for JPY 200.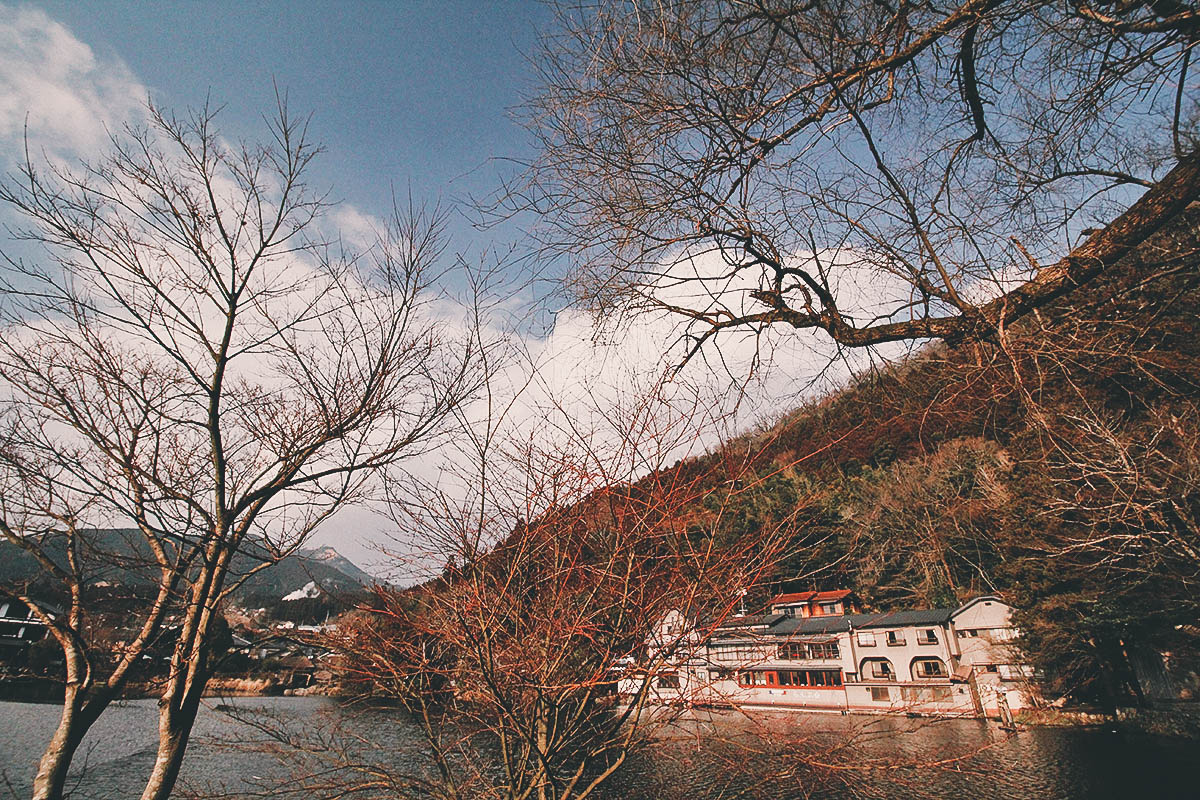 That building is in every picture of Lake Kinrinko but I don't know what it is. See the shrine to the right of it?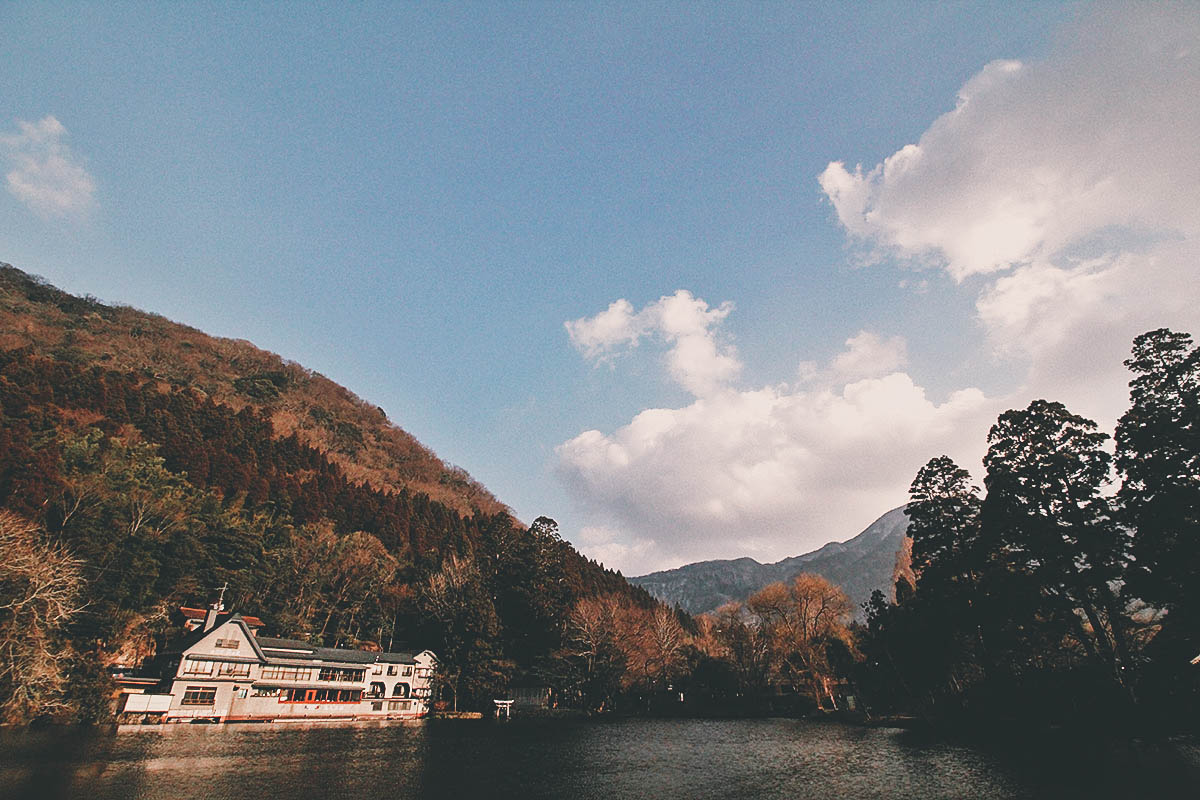 Where to Eat
It was already past noon when we arrived in Yufuin from Nagasaki, so we were pretty famished by the time we got to Yunotsubo Kaido. Japanese food was the only thing on our minds at that point so we walked around looking for the best places to eat. It wasn't hard. We just had to look for the stalls with the long lines.
Bakudan Yaki Hompo Oita Yufuin Restaurant
We were looking for a famous croquette stand when we came across this place. People were lining up for their bakudan-yaki which is like a giant takoyaki ball without octopus. They're typically 8 cm in diameter and are filled with all sorts of ingredients like shrimp, squid, corn, cabbage, and mushroom. The name bakudan-yaki translates to "grilled or fried bomb".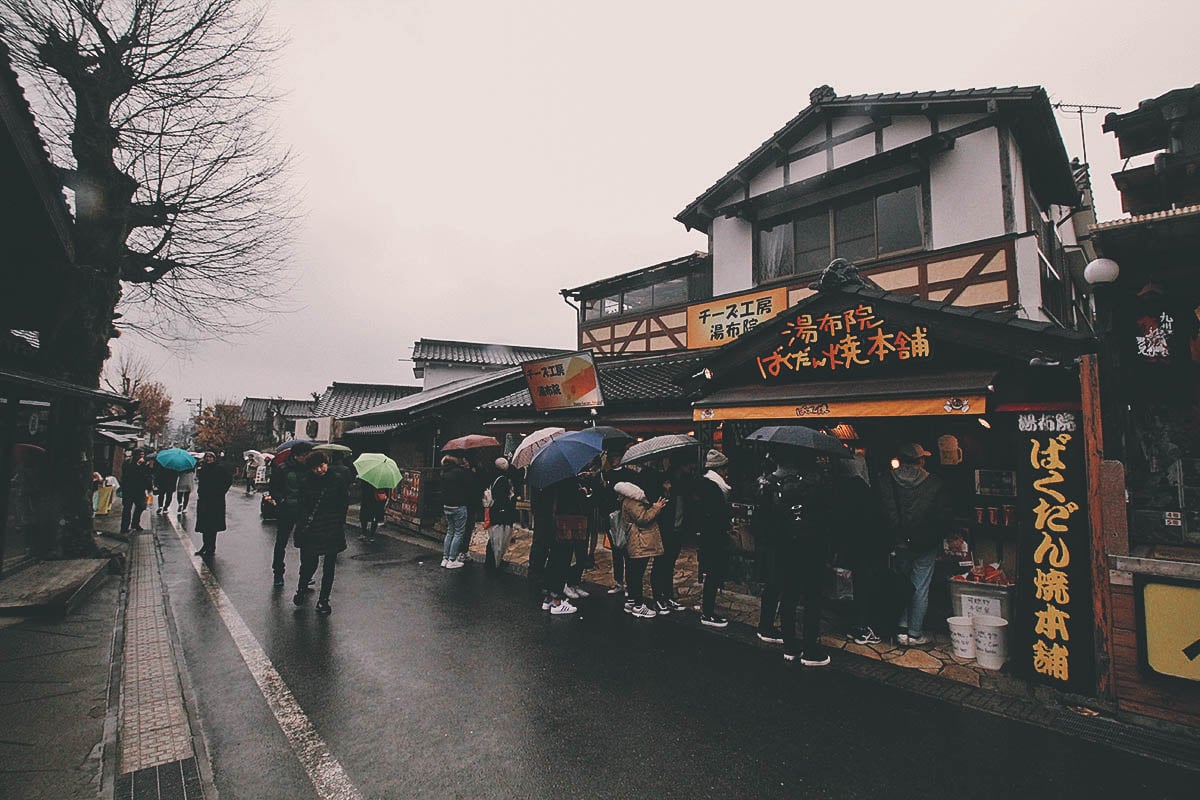 They offer many types of bakudan-yaki here, ranging between JPY 370-490 each.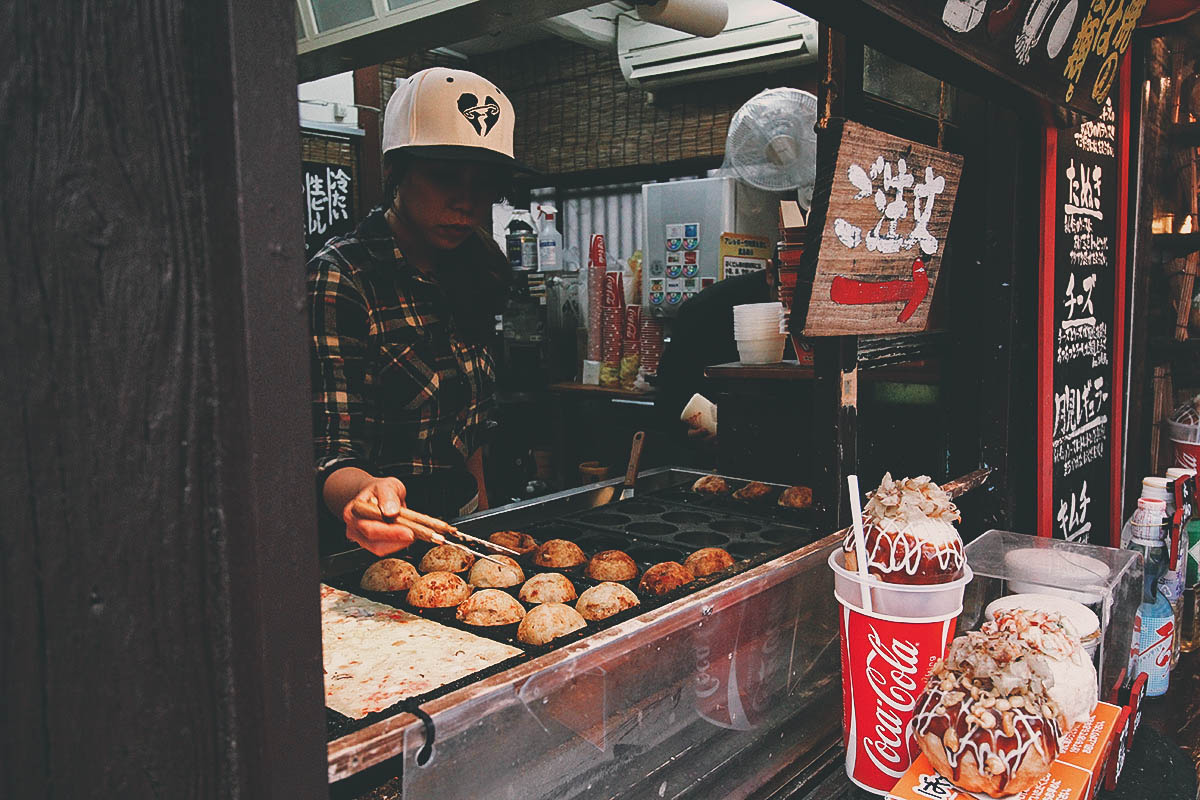 I don't remember what kind we got but it was delicious. Topped with bonito flakes, it really was like eating a giant takoyaki ball. I didn't realize it at the time but Bakudan-yaki Honpo is a popular bakudan-yaki chain with branches throughout the country.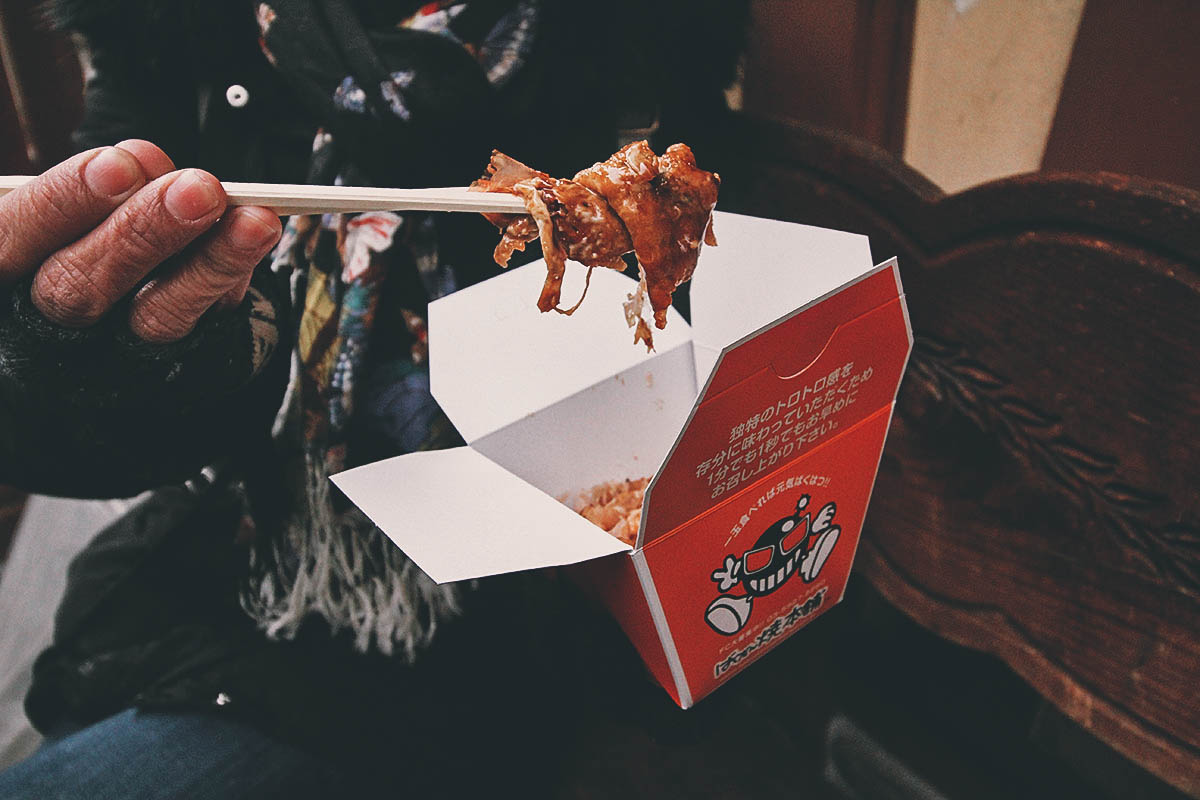 Yufuin Kinsho Croquettes Restaurant
This was the croquette restaurant we were looking for. I had read it was popular so we made sure to look for it. As you can see, there was a long line of people waiting here as well.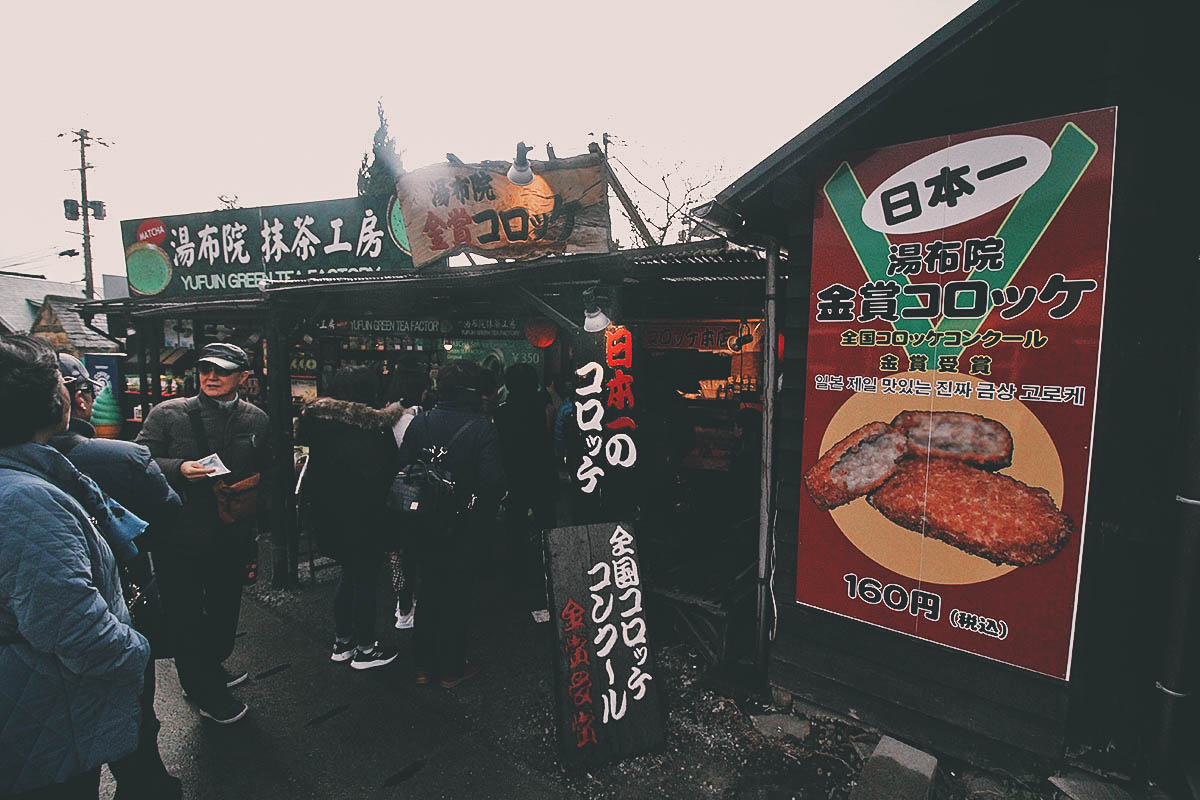 They have many different types of korokke or Japanese croquettes, each around JPY 180 if I remember correctly.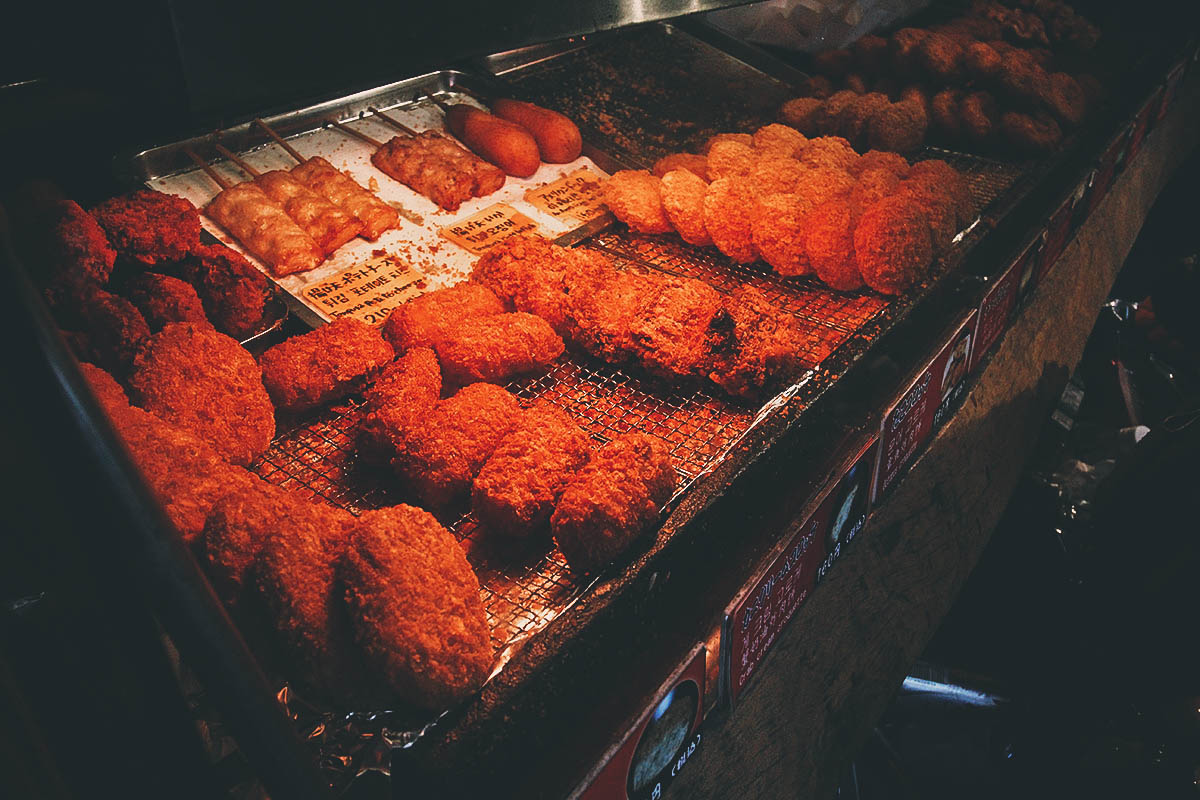 This one had octopus or squid I think. It was really good.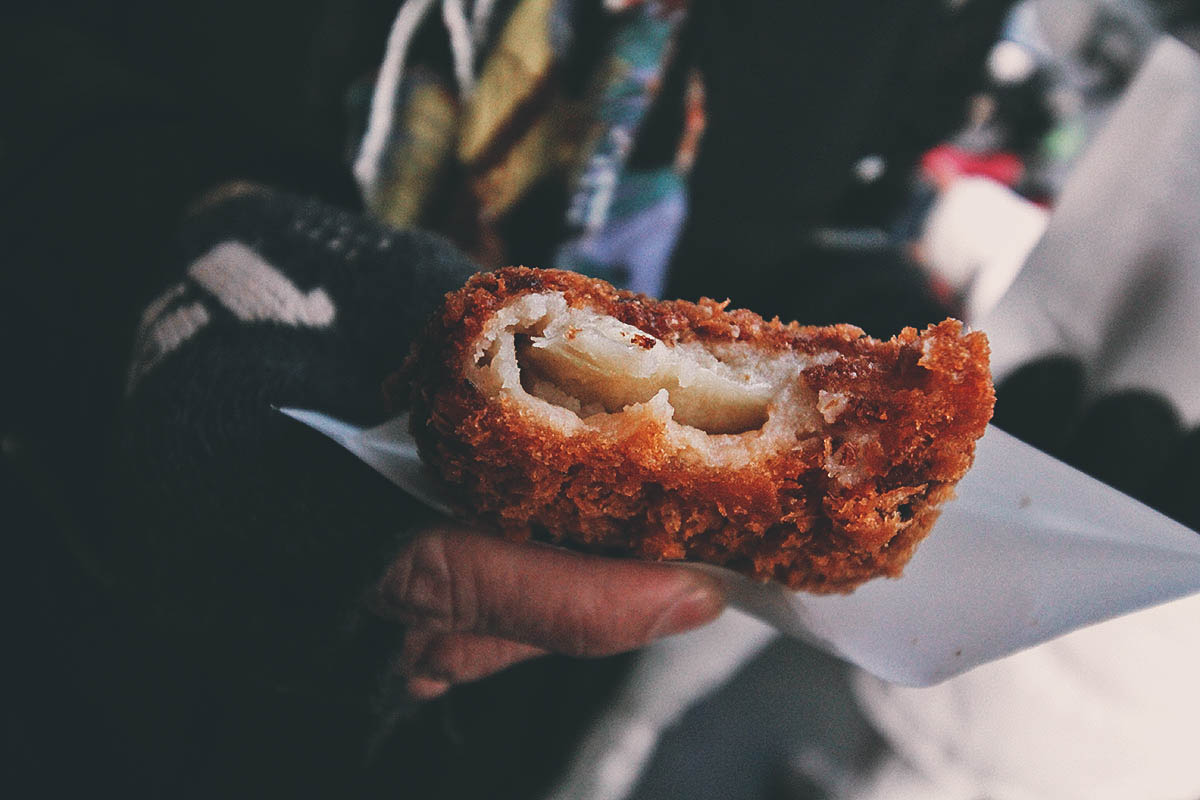 This one had crab. It was good too but not as good as the other one. Korokke is coated with panko breadcrumbs so they're super crispy.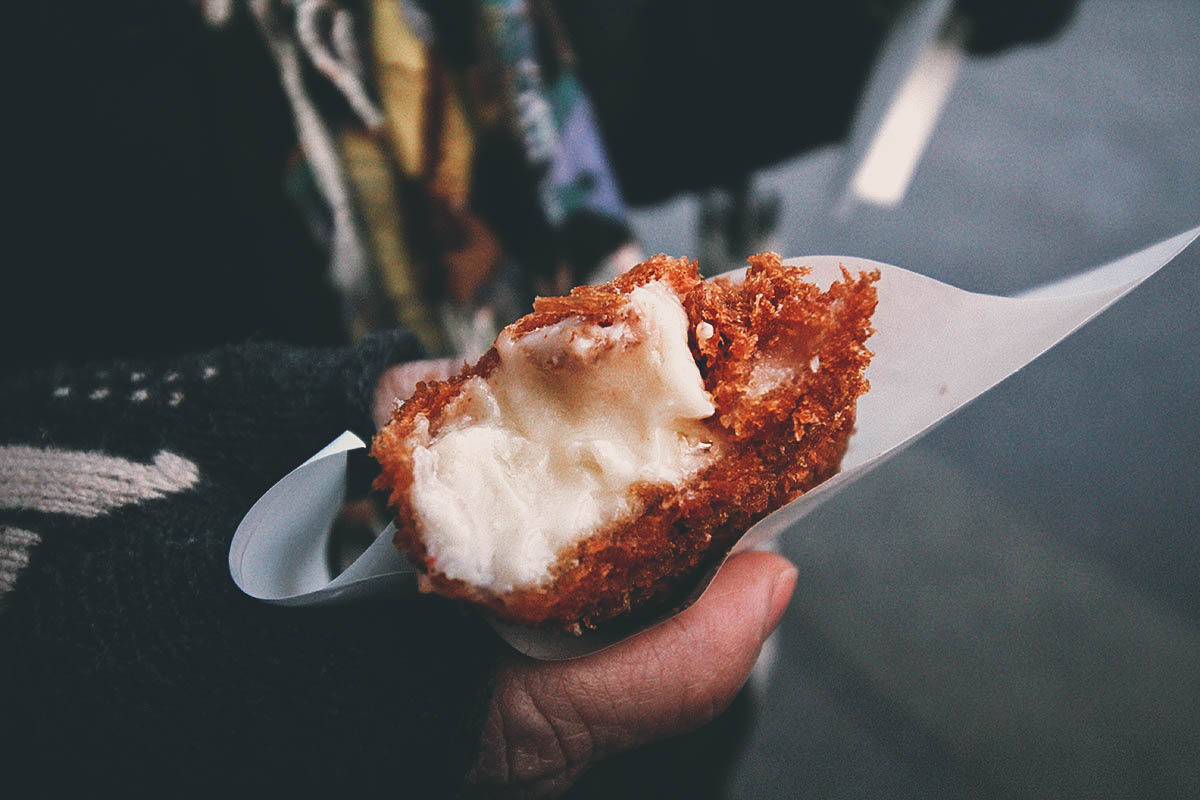 Yufumabushi Shin Ekimae
This was where we had dinner. Yufumabushi Shin Ekimae is a mabushi specialty restaurant located close to the train and bus stations.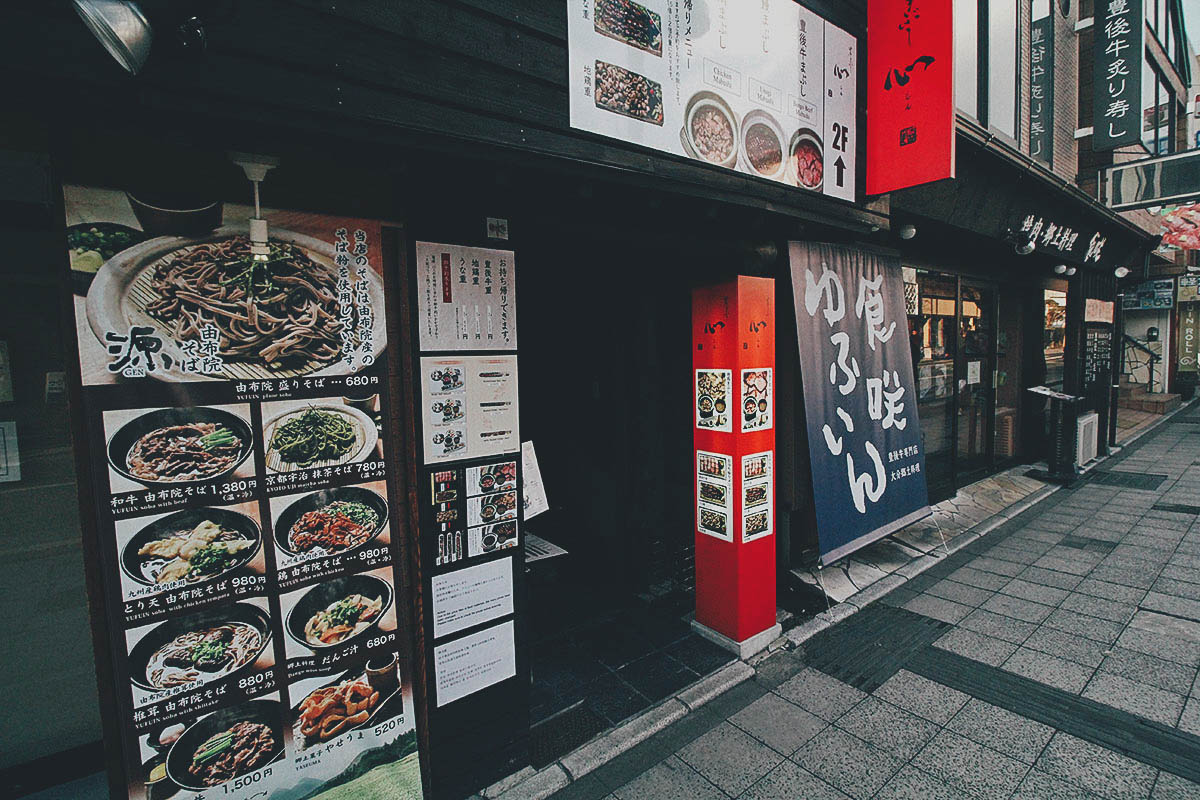 Hitsumabushi is an eel dish that's a specialty of Nagoya in Aichi. It entails eating eel in three different ways. If you love eel like we do, then you have to try this. It's so good. You can check out my post on Yufumabushi Shin Ekimae for more pictures and information.

Along Yunotsubo Kaido, a lady was shredding squid with a machine and packing them into bags. I love squid so we picked up a pack to munch on while walking around. It was delicious.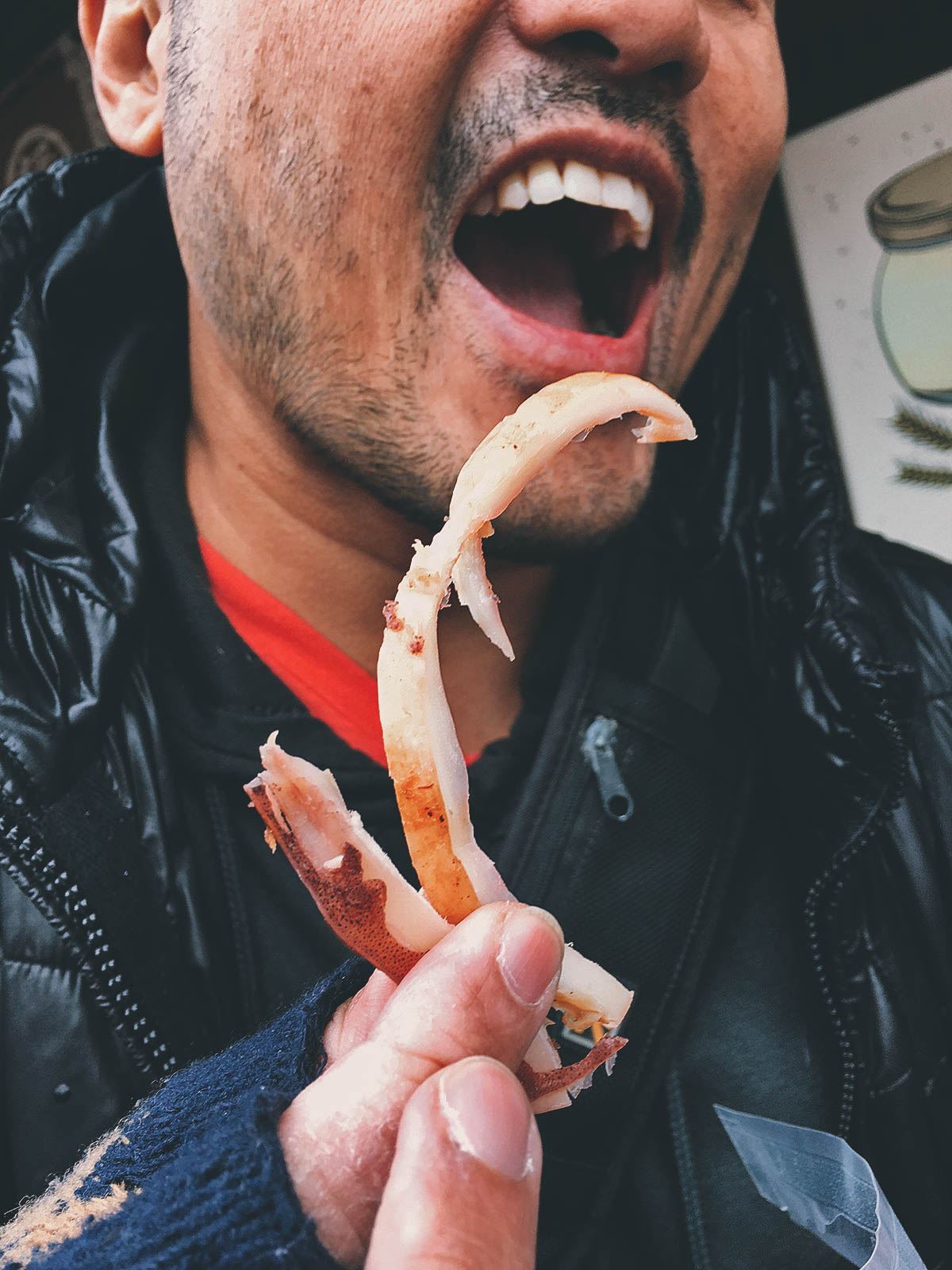 We didn't try it but this honey shop was super popular too. People were lining up for their honey soft serve ice cream.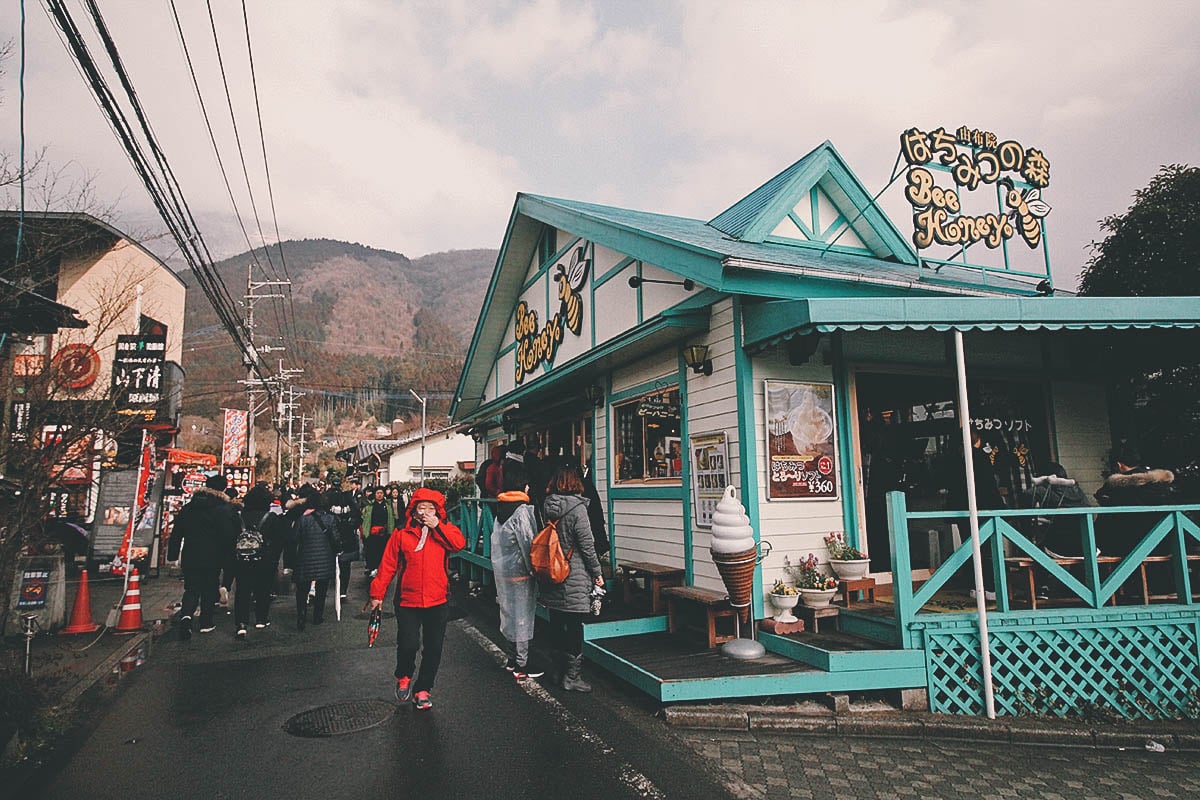 Onsen
People go to Yufuin mainly to soak in an onsen. This was one of two private hot spring baths at Ryokan Kotonokashin. It's beautiful right? The other one was made with concrete and tile so we chose this one. For just JPY 150 each, you can have up to three one-hour sessions in their onsens. This was our first onsen experience and we fell in love with it, so much so that I think we'll be looking for it on every winter trip to Japan. Soaking in an onsen just makes you feel so amazingly good after. You can refer to my post on Ryokan Kotonokashin for more information.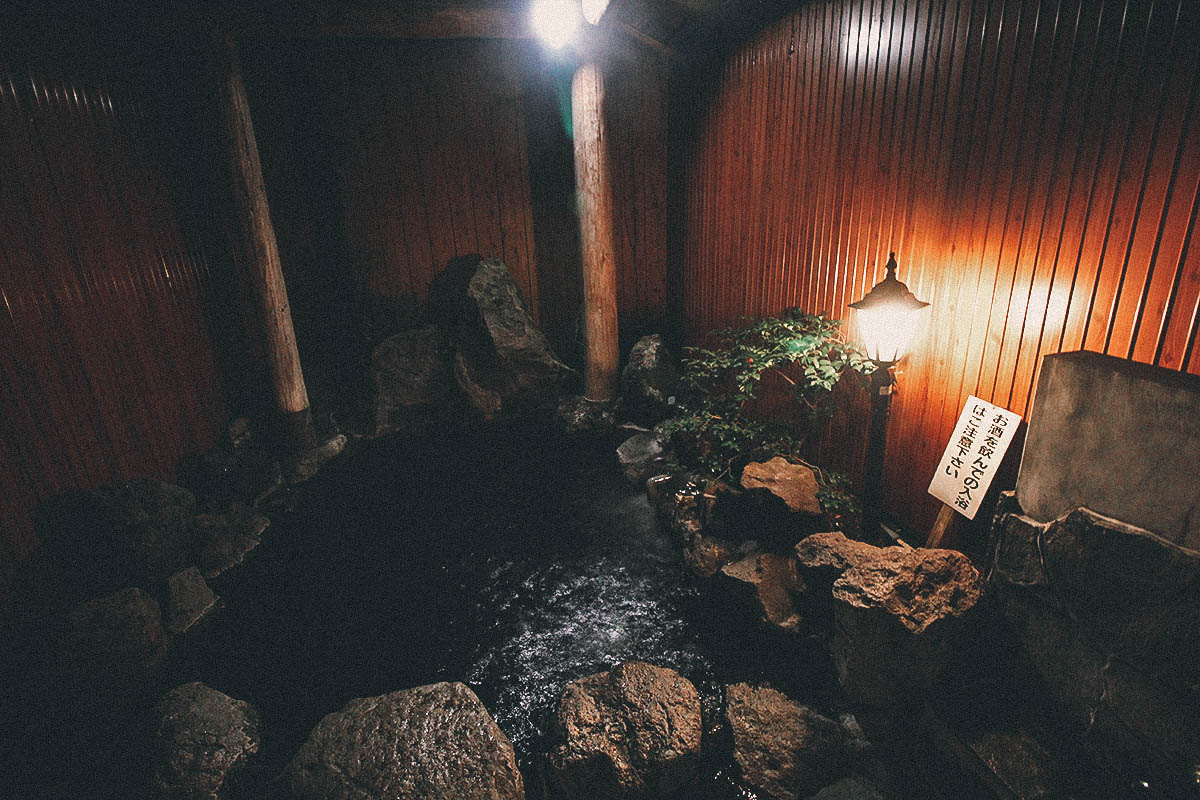 As described, an overnight stay wasn't enough to fully appreciate Yufuin, especially since we arrived a little past noon. If we could do it over, we would stay for two nights. That would have given us enough time to really explore the place. I would have loved to spend more time in the shops and check out the museums as well. From what I understand, there's a Marc Chagall museum here along with a few other art galleries. I don't know how its art community came to be but the place reminded me of a Japanese version of Carmel in California. It has the same vibe.
Being an onsen town, Yufuin is known for its hot springs but it has so much more to offer than that. If you ever find yourself exploring Kyushu, then I suggest spending a couple of days here. You'll love it. ♥
People doing a multi-city tour of Kyushu may find our 6D/5N Northern Kyushu itinerary useful. You can download a copy of it in editable Word format from our EAT-ineraries page. It covers Fukuoka, Nagasaki, Yufuin, and Kurokawa Onsen.
HOW TO GET THERE:
Assuming you're already in Kyushu, then you can get to Yufuin by train or by highway bus.
BY TRAIN: You can check Hyperdia to learn how to get to Yufuin by train from wherever you are. Just enter "YUFUIN" as the destination.
BY BUS: You can refer to the Kyushu Highway Bus reservation site to learn how to get to Yufuin by highway bus. Just select "Oita" as the arrival prefecture. In our case, we were coming from Nagasaki so the trip took about 3 hours and cost JPY 4,110. Our bus didn't take us to Yufuin directly but dropped us off at Yufuin Interchange which is about a 10-minute cab ride from town. If you're on the Kyushu Highway Bus reservation site and can't find "Yufuin" as an arrival bus stop, then be sure to select "Yufuin Interchange". It'll drop you off near a highway rest stop where you can call a cab to take you into Yufuin town.
It's important to keep in mind that highway buses in Japan require advanced reservations, so I suggest purchasing a ticket from the Kyushu Highway Bus reservation site to guarantee yourself a seat. You can reserve as early as 30 days before your trip. Be sure to bring the ticket printout with you as you won't be allowed to board without it.