Aside from pastel de nata, how many Portuguese desserts can you name? One? Two? None?
Many Portuguese sweets are unknown to foreigners, which is a shame because to me, it's one of the best parts about Portuguese cuisine. Open up a Portuguese dessert menu and I guarantee you'll be thrilled with all the delicious local desserts not named "pastel de nata".
Don't get me wrong, pastel de nata is an absurdly delicious Portuguese dessert and one of the best things you'll eat in Portugal, but its popularity overshadows lesser known but equally noteworthy Portuguese sweets like queijada, pão de ló, and pudim abade de priscos.
I don't remember where I read it but apparently, some locals can be miffed by the popularity of their most iconic dessert, only because it's sometimes the only Portuguese dessert many tourists will try. How about showing love to the rest of our desserts?!
To help appease the locals, we've put together this list of the most delicious Portuguese desserts for you to try on your next trip to Lisbon and Porto.
PORTUGUESE DESSERT QUICK LINKS
If you're planning a trip to Portugal and want to really dig into the cuisine, then you may be interested in going on a food tour or taking a cooking class.
TOURS
Save This on Pinterest!
No time to read this article on Portuguese desserts? Click on the save button and pin it for later!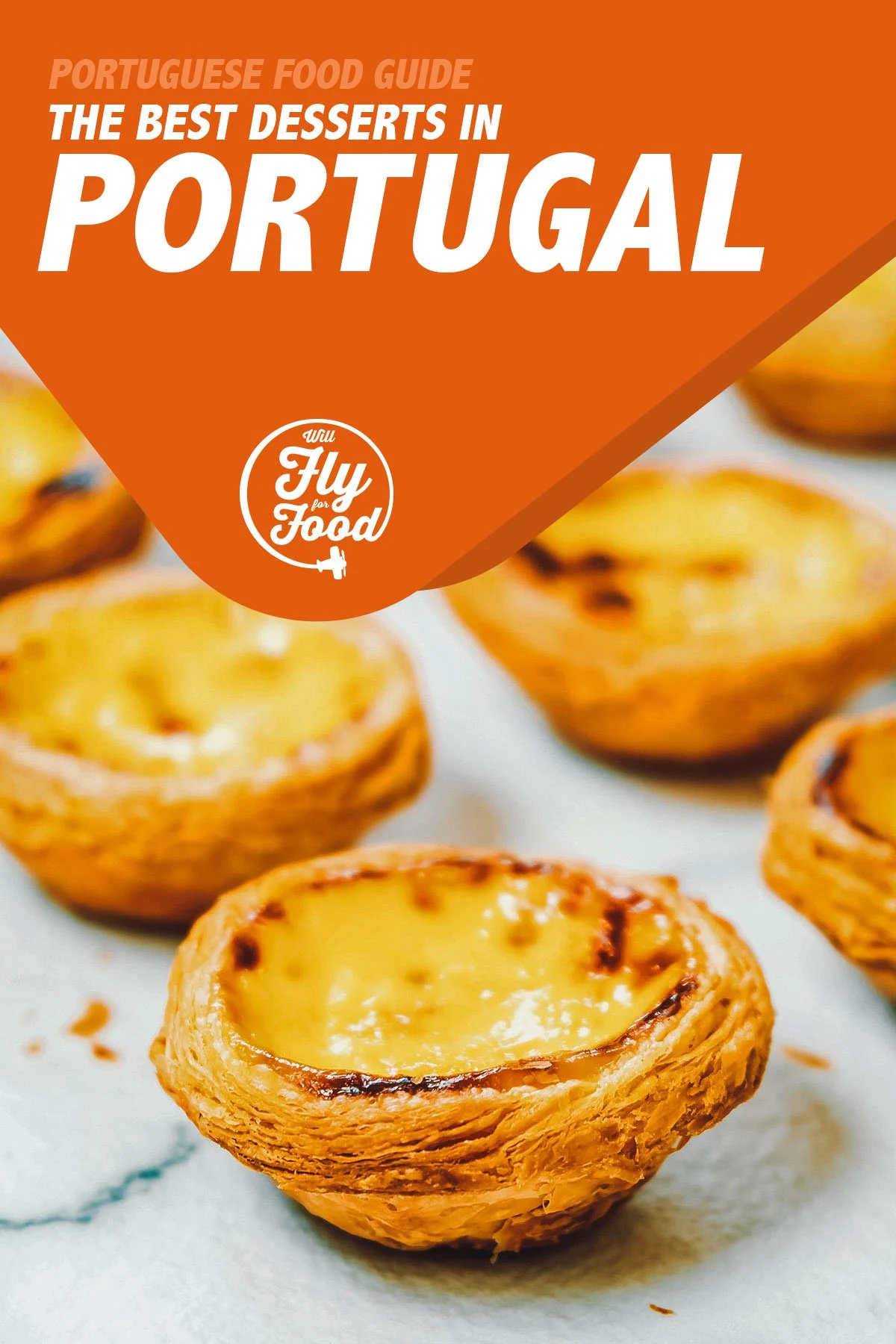 Photo by mrsiraphol
THE BEST PORTUGUESE DESSERTS
1. Pastel de Nata
Ask anyone who's been to Portugal – "What dessert is Portugal famous for?" – and 10 times out of 10, they'll say pastel de nata! It's the most internationally well-known Portuguese dessert and the perfect way to start this list.
Pastel de nata refers to a Portuguese egg tart pastry that was invented in the 17th century by monks residing at the Jeronimos Monastery in Lisbon. At the time, egg whites were used to starch clothing, leaving them with a surplus of leftover egg yolks. The leftover egg yolk was used to bake Portuguese pastries and cakes, one of them being pastel de nata.
Pasteis de nata are widely available throughout Portugal but the most famous place to have it is at Pasteis de Belem in Lisbon. They make their custard tarts with the original Jeronimos Monastery recipe that's remained unchanged for over 180 years! We had pasteis de nata everyday in Portugal and in my opinion, not only is the pastel de nata at Pasteis de Belem the most famous version of this iconic Portuguese dessert, but it's also the most delicious.
The Manteigaria chain makes great pastel de nata as well. They have outlets in Porto and Lisbon, including one at the famous Time Out Market in Lisbon's Cais do Sodre district. Outside of Portugal, pastel de nata is popular in Western Europe, Asia, and in the former Portuguese colonies of Brazil and Macau.
It's helpful to remember that the singular form of this classic Portuguese dessert is pastel de nata, while the plural is pasteis de nata. When served warm with a hot cup of coffee, it's impossible for you NOT to have pasteis de nata. You seriously can't eat just one!
For many tourists, this incredibly delicious egg tart is easily their favorite Portuguese dessert.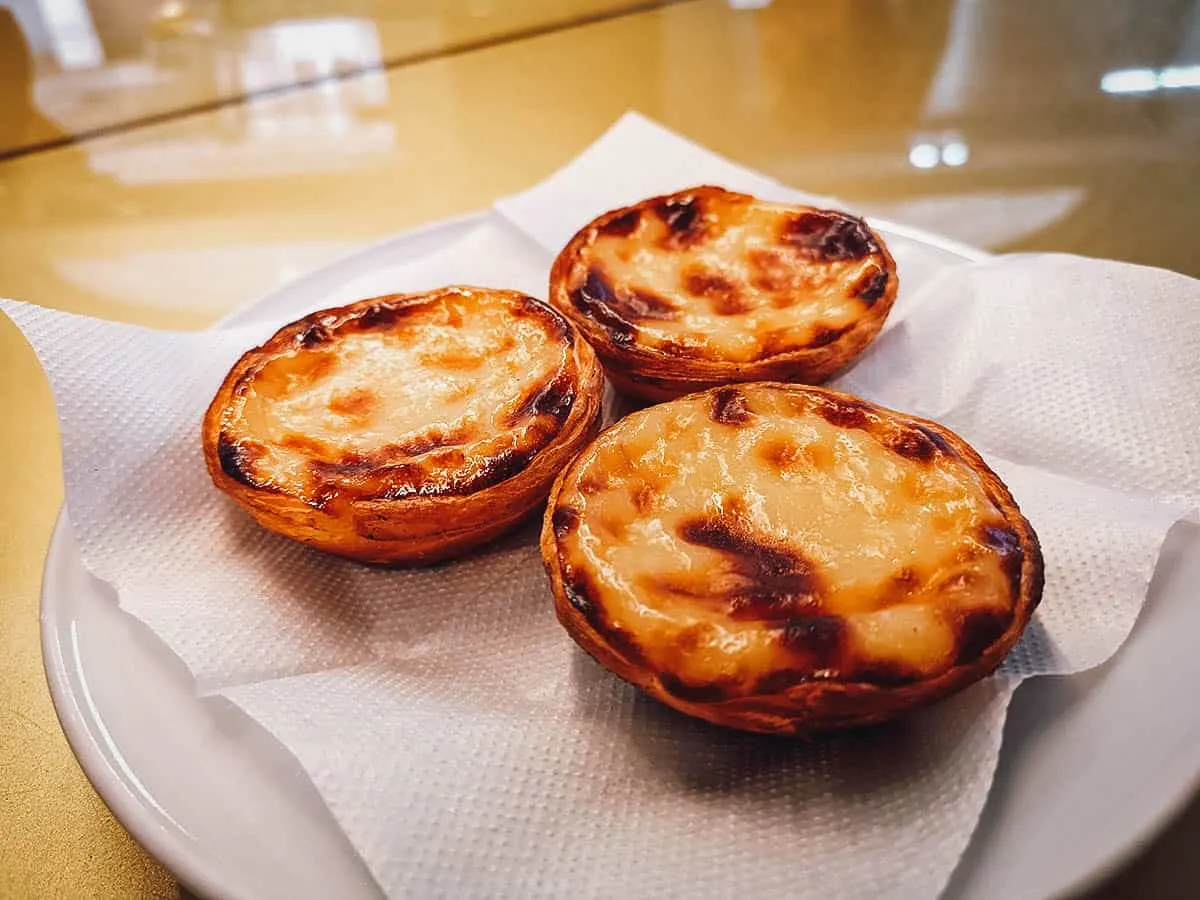 2. Arroz Doce
Arroz doce literally means "sweet rice" and refers to a popular Portuguese dessert of rice pudding. It's one of the most famous Portuguese desserts and a comforting dish that many locals grew up eating.
Portuguese rice pudding is made with short-grain rice slowly cooked with egg yolks, milk (or condensed milk), sugar, cinnamon, and lemon peel. It's a creamy and lemon-y dessert that can be served warm, chilled, or at room temperature.
You can find Portuguese rice pudding pretty much anywhere in Portugal. It's served at cafes, restaurants, and often made at home. It's a tasty dessert and one of the most popular to make around Christmas time. You'll also find it at many Portuguese celebrations and family gatherings.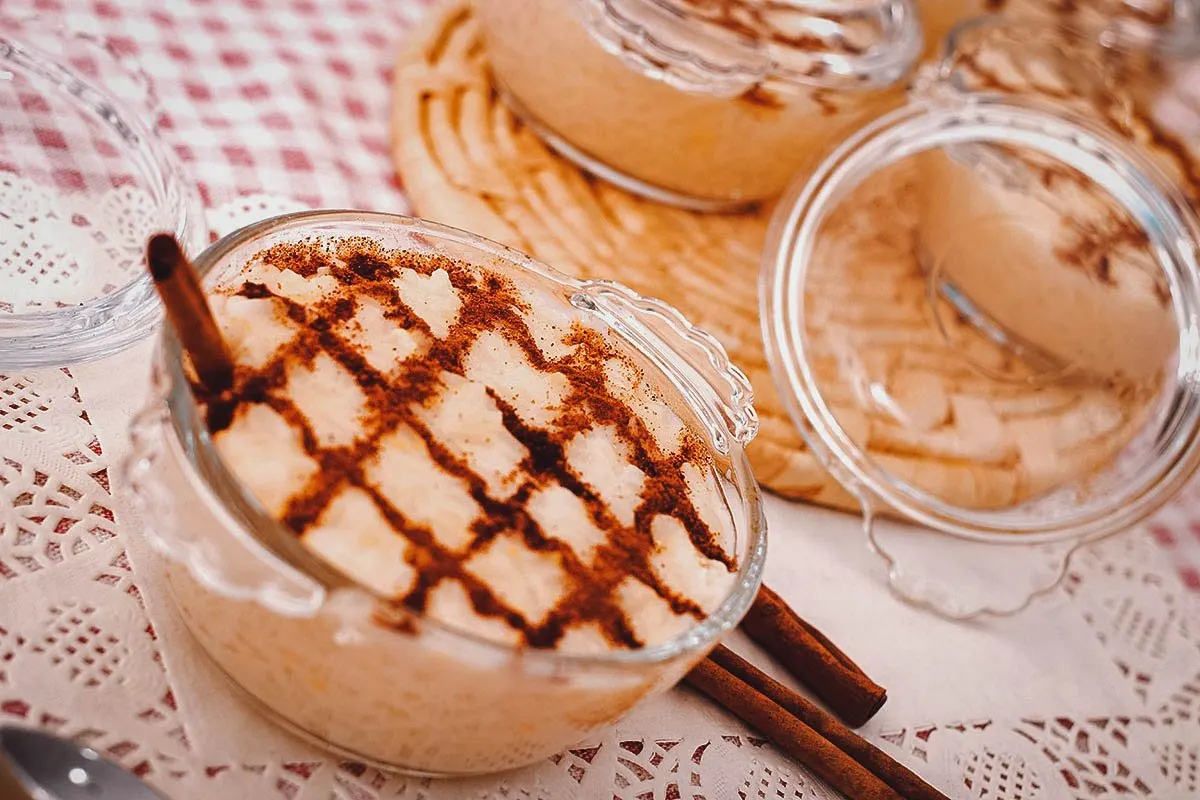 Photo by membio
3. Aletria
If this next Portuguese dessert looks very similar to arroz doce, it's because it is. It's made with virtually the same set of ingredients as Portuguese rice pudding, but instead of short-grain rice, it's made with fine egg noodles or vermicelli.
Aletria is made with egg noodles slowly cooked in boiling milk with sugar, cinnamon, and lemon peel. When cooked, the noodles are mixed with the yolks and placed in a flat baking pan before being dusted and served with cinnamon, usually in a criss-cross pattern.
Like arroz doce, aletria is one of the most famous Portuguese desserts served over Christmas and at other holidays and celebrations.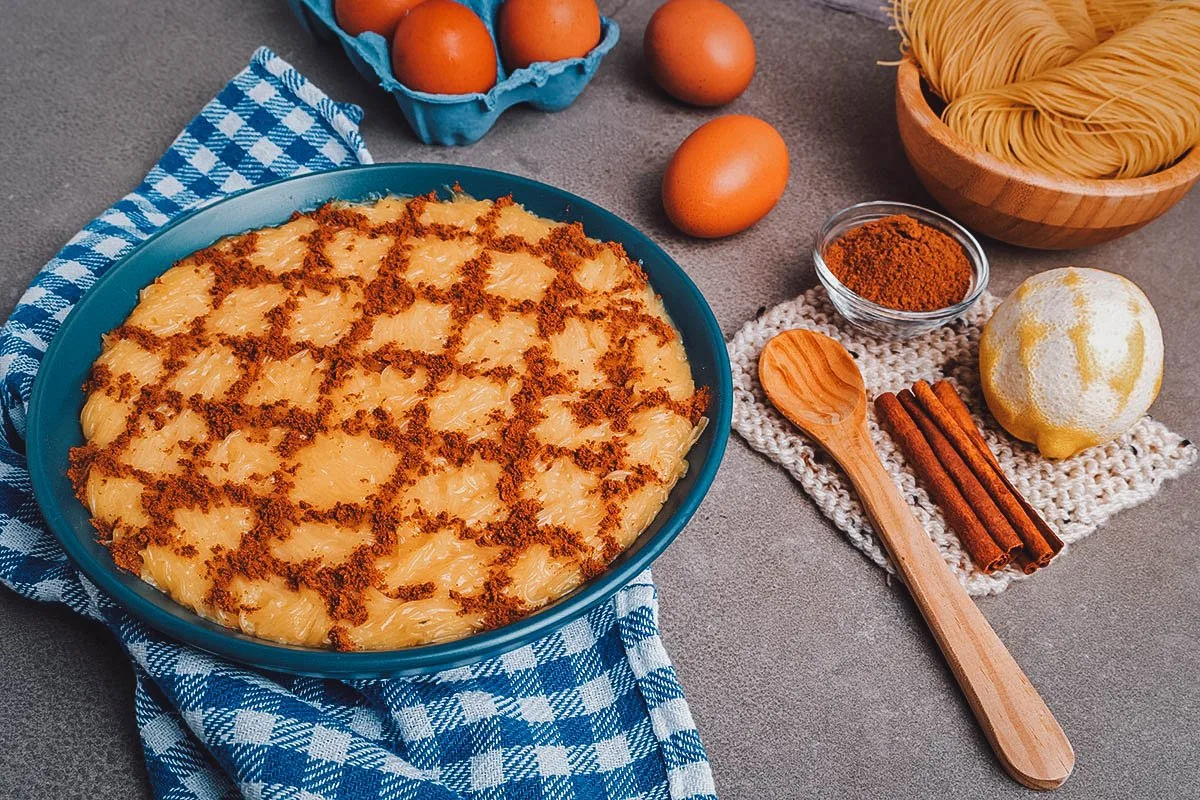 Photo by AnaMOMarques
4. Rabanadas
If you're a fan of breakfast dishes, then you're going to love rabanadas. They're the Portuguese version of french toast, and in the opinion of many locals, they're even better.
Unlike American-style french toast that's typically eaten only for breakfast, rabanadas are just as commonly eaten for dessert in Portugal. Similar to Spanish torrijas, they're often enjoyed with a glass of port and are one of the most popular desserts served around the Christmas season. In the same way that many Portuguese people can't imagine Christmas without bacalhau, they can't imagine it without rabanadas either.
Another key difference between Portuguese-style french toast and the American version is that rabanadas are typically made with crusty bread. This gives them a crispier exterior and a soft, custard-like interior. The bread is soaked in an egg and milk mixture and fried to a golden brown before being dusted with sugar and cinnamon.
Photo by bisagraph.gmail.com
5. Pudim Abade de Priscos
As you can probably tell just from looking at it, pudim abade de priscos is the Portuguese version of flan or creme caramel. It was invented in the 19th century by Father Manuel Joaquim Machado Rebelo – the Abbot of Priscos – hence the name.
There are many egg-heavy Portuguese desserts but pudim abade de priscos may take the cake. It's made with bacon, port wine, and a total of fifteen egg yolks! This rich and decadent Portuguese egg pudding may not be the healthiest dessert on this list but it's certainly one of the most delicious.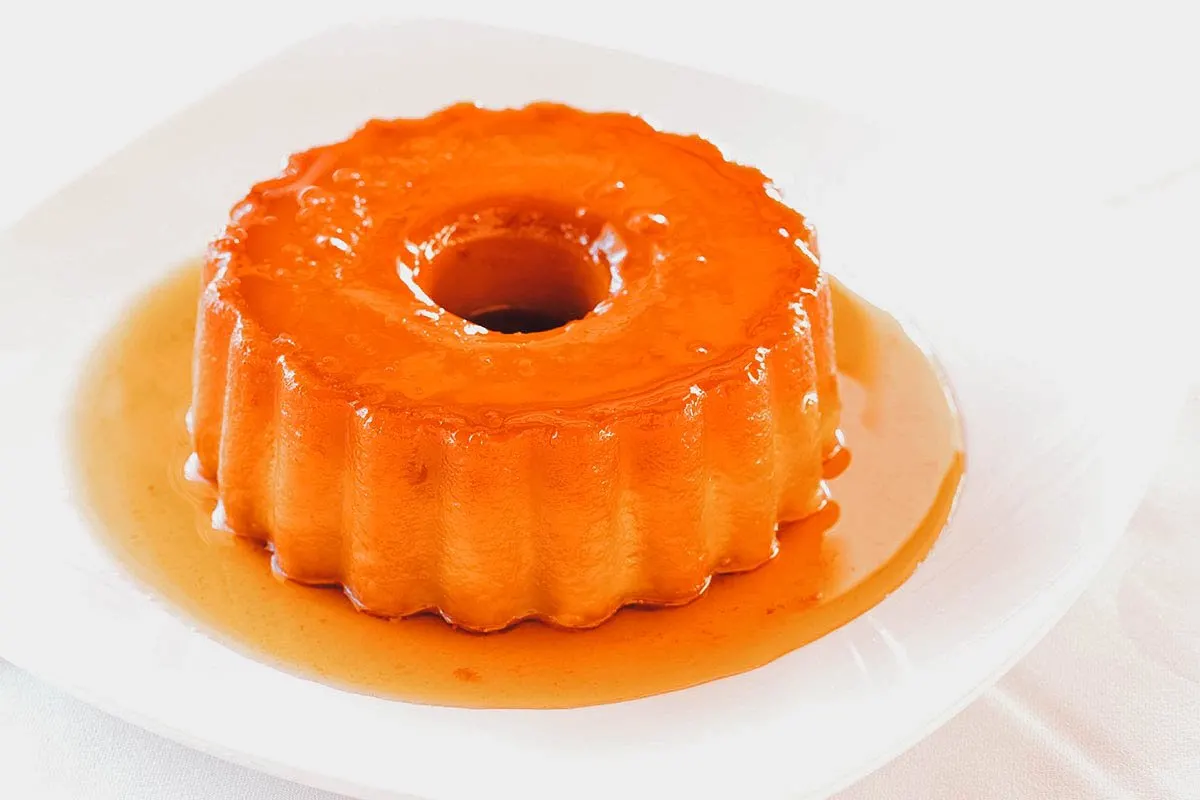 Photo by bisagraph.gmail.com
6. Leite de Creme
If pudim abade de priscos looks appealing to you, then you'll probably want to sink your teeth into leite creme as well. It refers to the Portuguese version of crème brûlée made with milk, egg yolks, sugar, corn starch, cinnamon, and lemon zest. Leite creme differs from crème brûlée in that it's cooked on a stove top instead of baked.
Like classic French crème brûlée, leite creme is poured into ramekins and sprinkled with sugar before being browned with a blowtorch. It's a rich and creamy dessert that you'll surely have more than once in Portugal.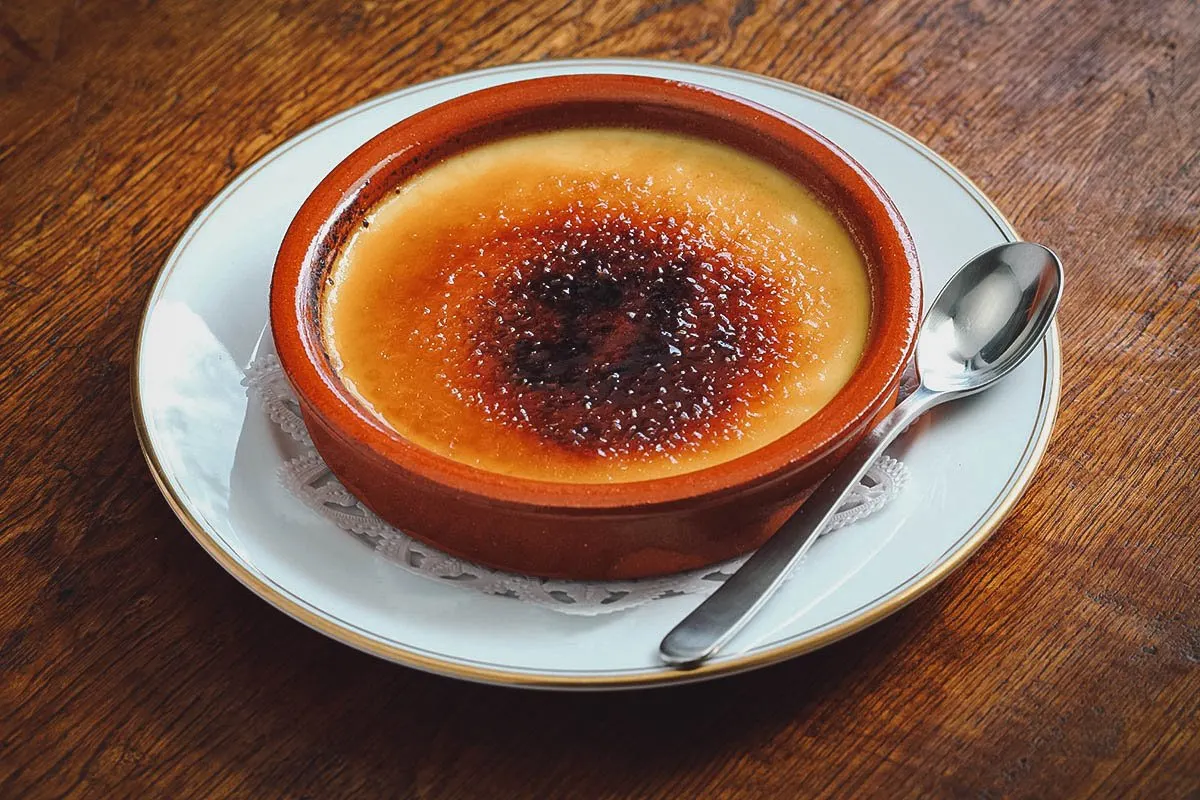 Photo by asimojet
7. Dom Rodrigo
Wrapped in colorful foil shaped like a pyramid, this next dessert looks like a dish fit for a nobleman. Dom Rodrigo is a traditional Portuguese dessert made with egg yolks, ground almonds, cinnamon, sugar, and fios de ovos (thin egg yolk strands boiled in sugar syrup). It's traditionally associated with the Algarve region where it's been made since the 18th century.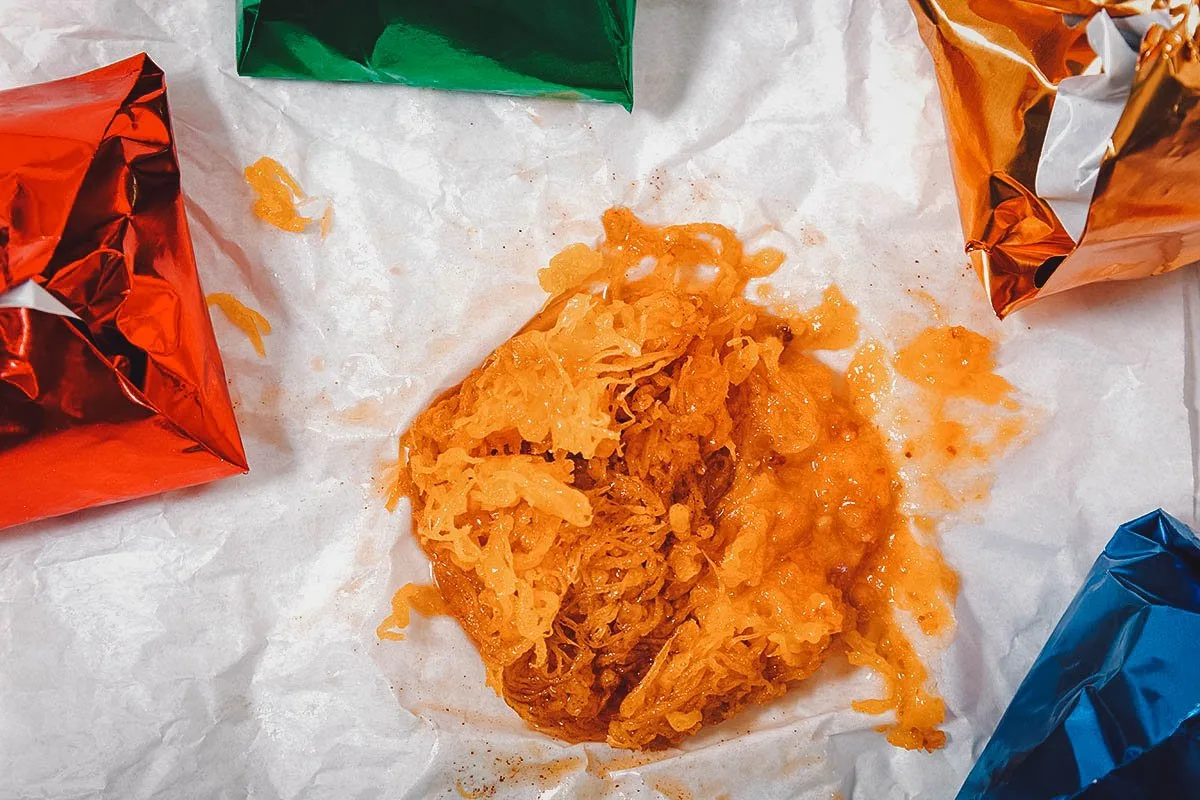 Photo by membio
8. Pão de Deus
Pão de deus literally means "bread of god" and refers to a traditional Portuguese dessert consisting of a soft brioche bun topped with a desiccated coconut crust and powdered sugar. It's typically flavored with lemon zest, vanilla, or rum and baked till the topping turns golden and crispy.
These Portuguese pastries are often eaten for breakfast throughout the year, though they're traditionally associated with All Saints' Day and the Portuguese custom known as Pão-por-Deus. Similar to the American tradition of trick-or-treat, Portuguese children up to the age of 10 would go door to door and say "Pão-por-Deus" in exchange for small gifts like bread, chocolates, candied fruits, and other Portuguese sweets.
Interestingly, this now innocent tradition was born out of necessity, after an earthquake caused a great deal of destruction in Lisbon on November 1, 1755. On the first year of the earthquake's anniversary, people suffering from the effects of the tragedy went door to door saying "Pão-por-Deus" as a way of seeking alms.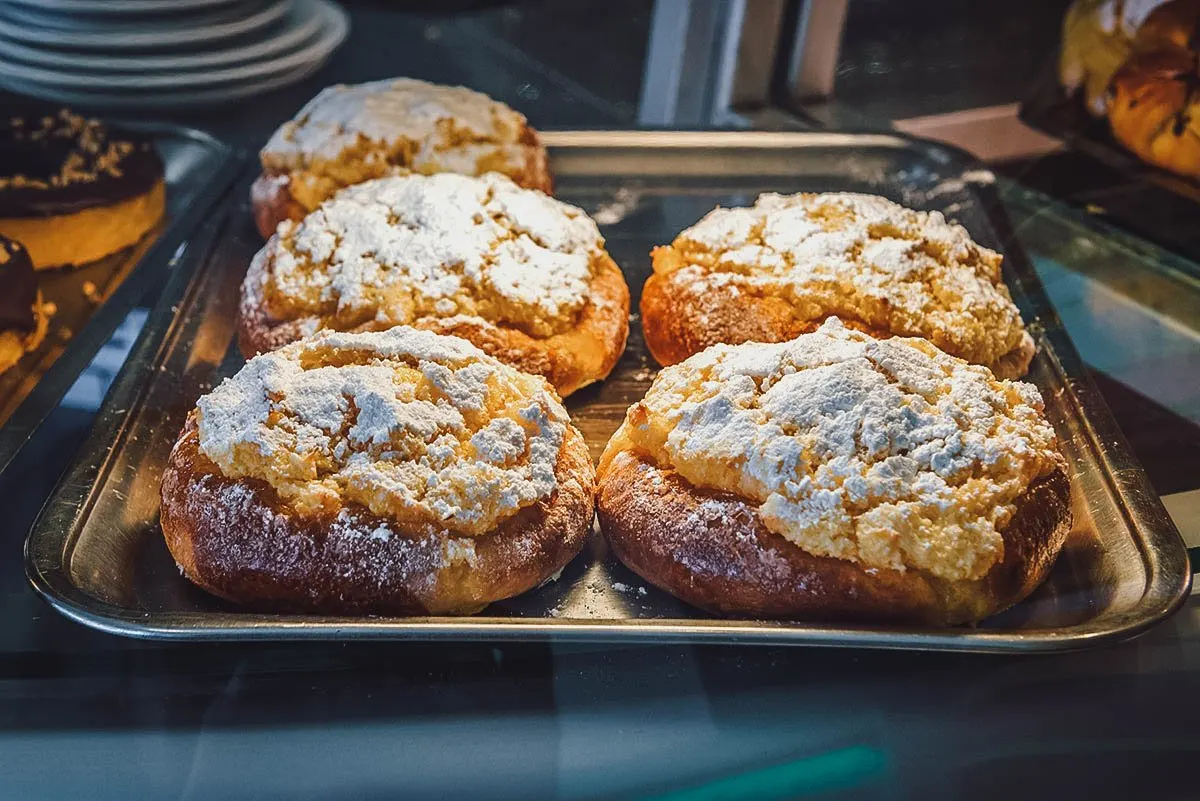 Photo by fotokon
9. Travesseiros (Famous Puff Pastry from Sintra!)
Like pastel de nata, travesseiros is one of the most famous Portuguese desserts on this list. A signature dessert of Sintra, it refers to a crispy Portuguese puff pastry lightly dusted with powdered sugar and filled with a rich egg cream made with almonds and egg yolks.
Travesseiro literally means "pillow" or "cushion" in Portuguese and is in reference to the airy texture of this popular puff pastry. It's made and sold at Piriquita, the same pastry shop that invented this Portuguese pastry in the 1940s. Like the pasteis de nata at Pasteis de Belem, the recipe for travesseiros is one of those closely-guarded Portuguese recipes that will perhaps forever remain a secret.
Travesseiros are so popular that no trip to Sintra can ever be complete without enjoying one (or two) of these delicious Portuguese pastries at Piriquita. Open since 1862, this pastry shop offers many Portuguese sweets so I suggest going to Sintra early and sampling a few. Other than this travesseiro, I also had a pastel de nata and a queijada to go with my coffee. Delicious!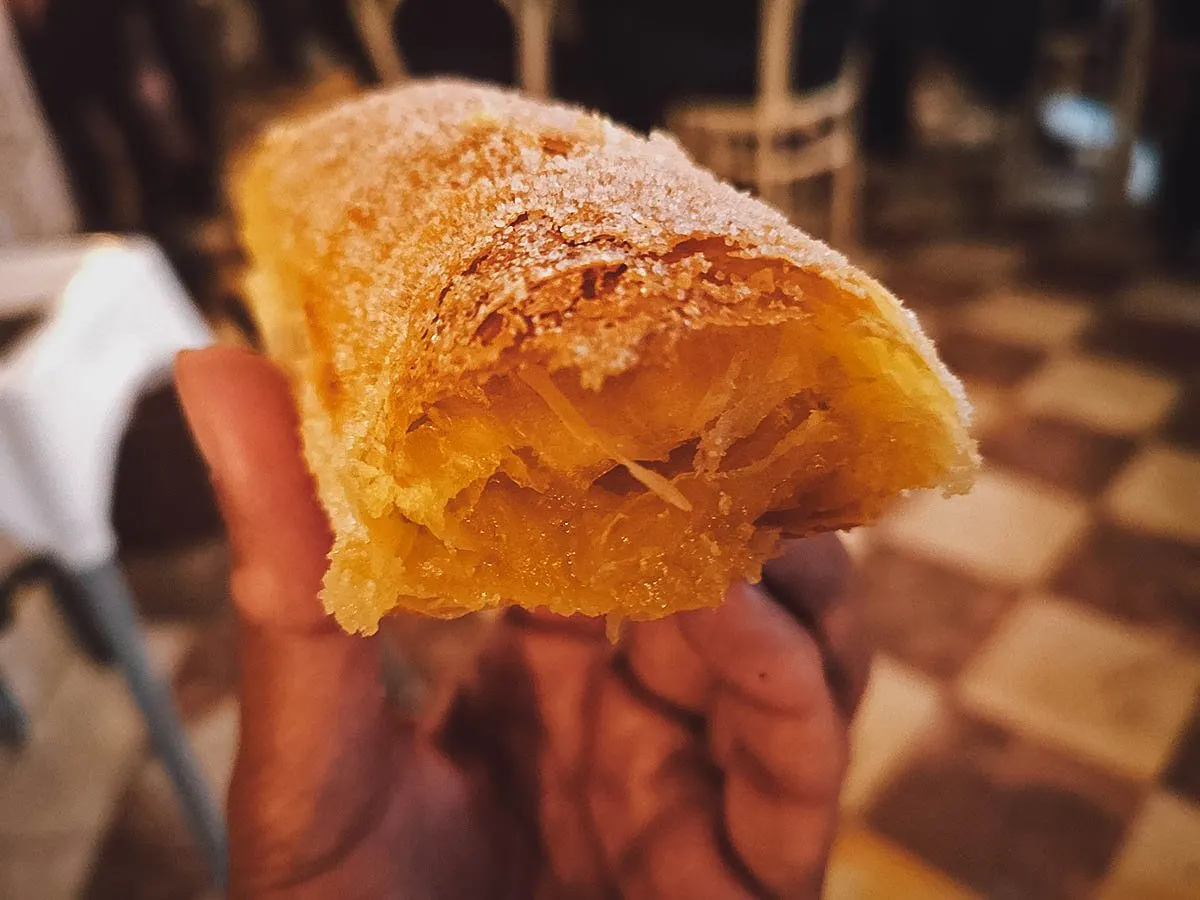 10. Pastel de Feijão
Pastel de feijão refers to a crispy Portuguese pastry made with a creamy filling of white beans and ground almonds. It's a signature pastry of Torres Vedras and is another example of those old Portuguese recipes that remain a closely-guarded secret.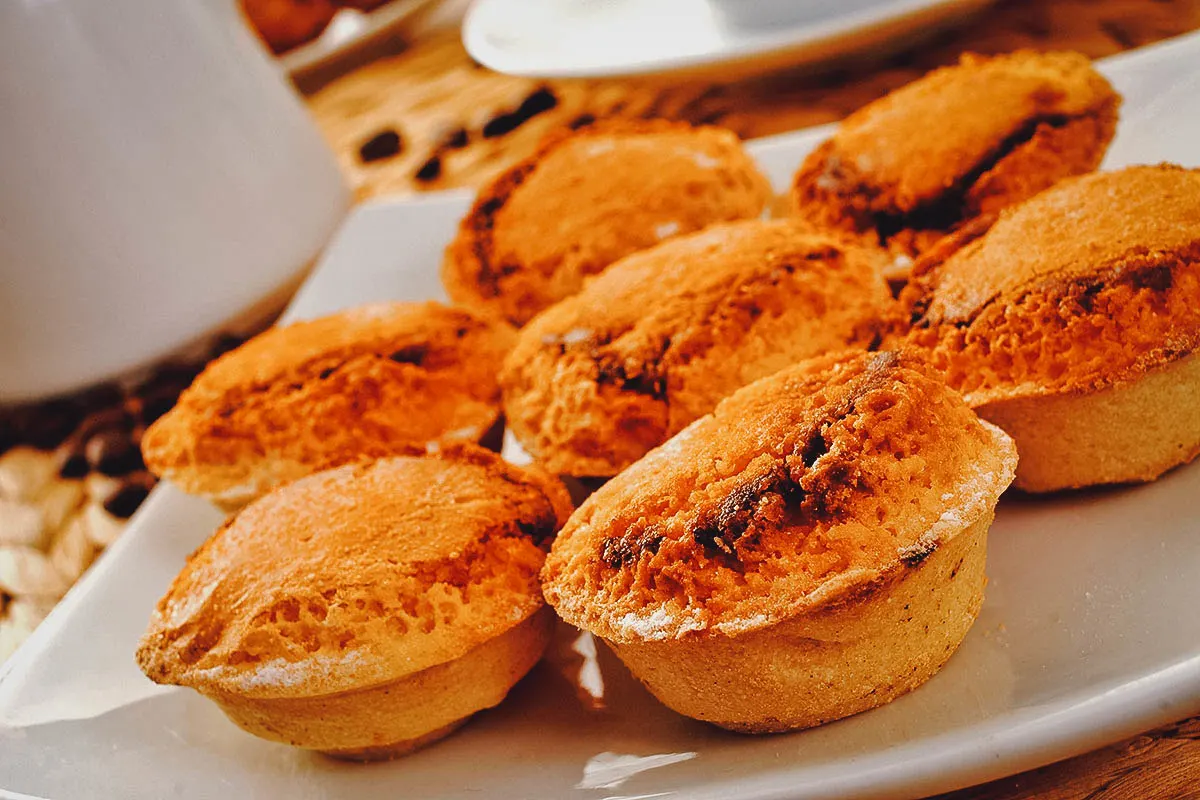 Photo by nito103
11. Bolo de Arroz
As its name suggests, bolo de arroz is a Portuguese rice cake or muffin made with rice flour, lemon zest, eggs, milk, and sugar. Buttery, a little lemon-y, and with a soft crumbly texture similar to sweet cornbread, it's a common sight at pastry shops and often enjoyed for breakfast in Portugal.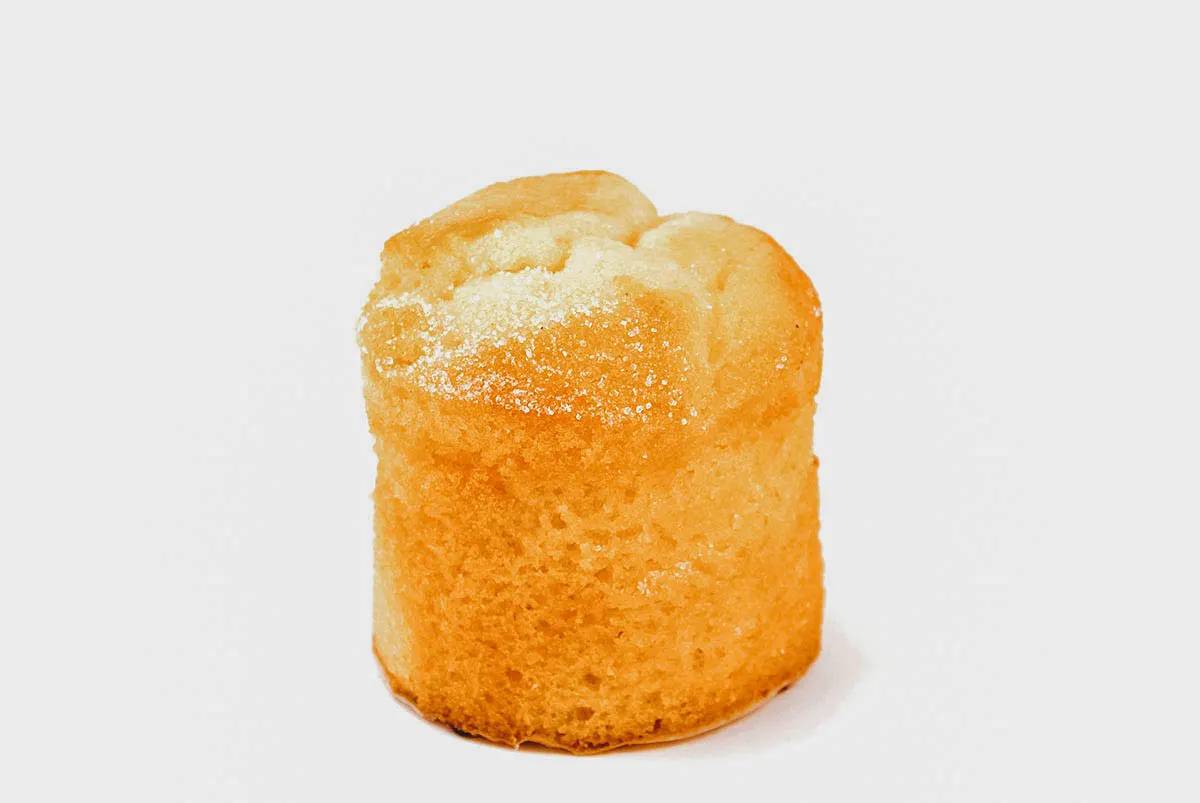 Photo by luissantos84
12. Queijada
Like travesseiros, queijada is one of the most famous Portuguese desserts associated with Sintra. It refers to a small pastry made with queijo (cheese), milk, flour, eggs, and powdered sugar. It's originally from Sintra though it's become widely available at pastry shops throughout Portugal. As described, I enjoyed this tasty dessert with coffee at the Piriquita pastry shop in Sintra.
Queijadas are traditionally made with cheese though many variations exist today flavored with different ingredients like coconut (queijadas de coco) and oranges (queijadas de laranja).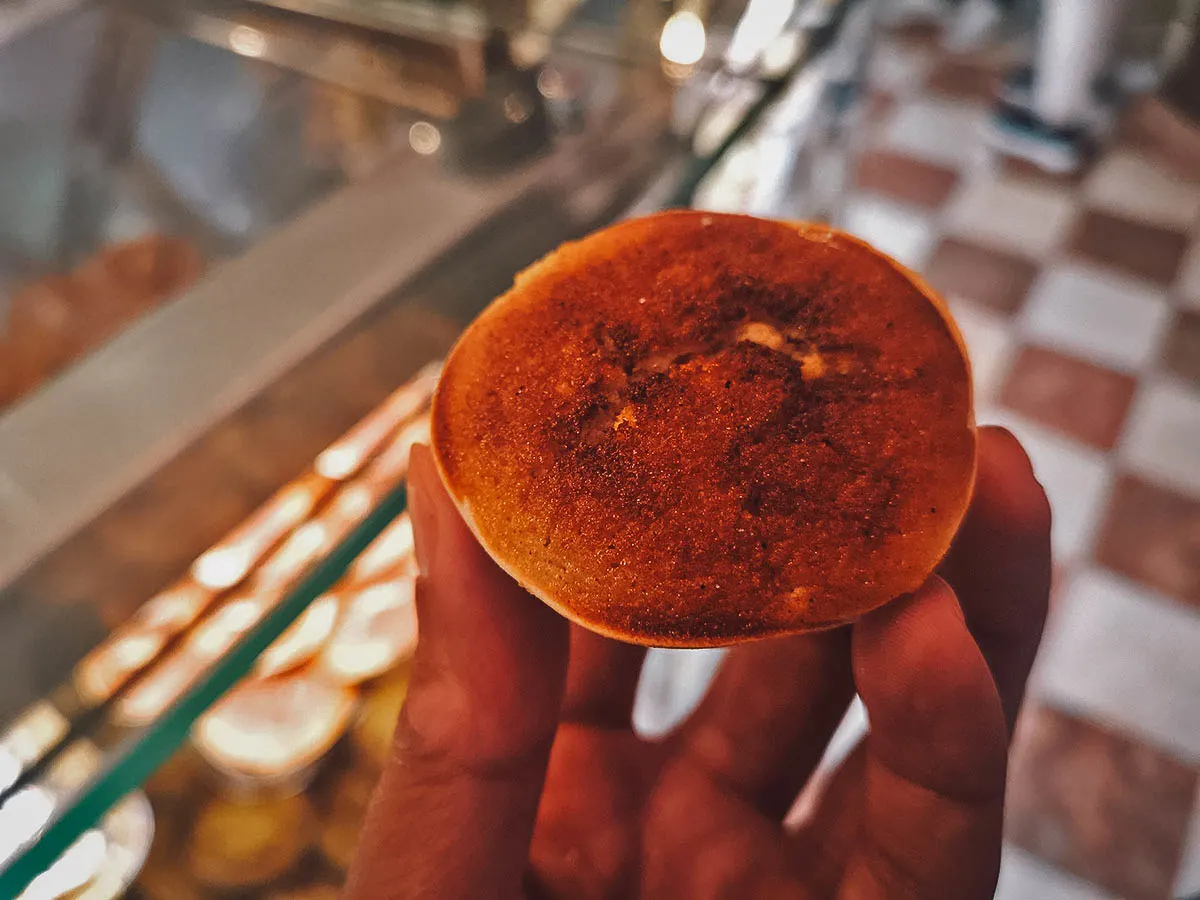 13. Broa de Mel
Broa de mel refers to a type of Portuguese cookie made with sugar cane honey (molasses) from Madeira as its key ingredient. They're usually made with olive oil instead of butter and a host of sweet spices like cinnamon, cloves, nutmeg, fennel, or anise. They can be made in different shapes and sizes and are traditionally prepared to celebrate holidays like Christmas, Easter, and All Saints' Day.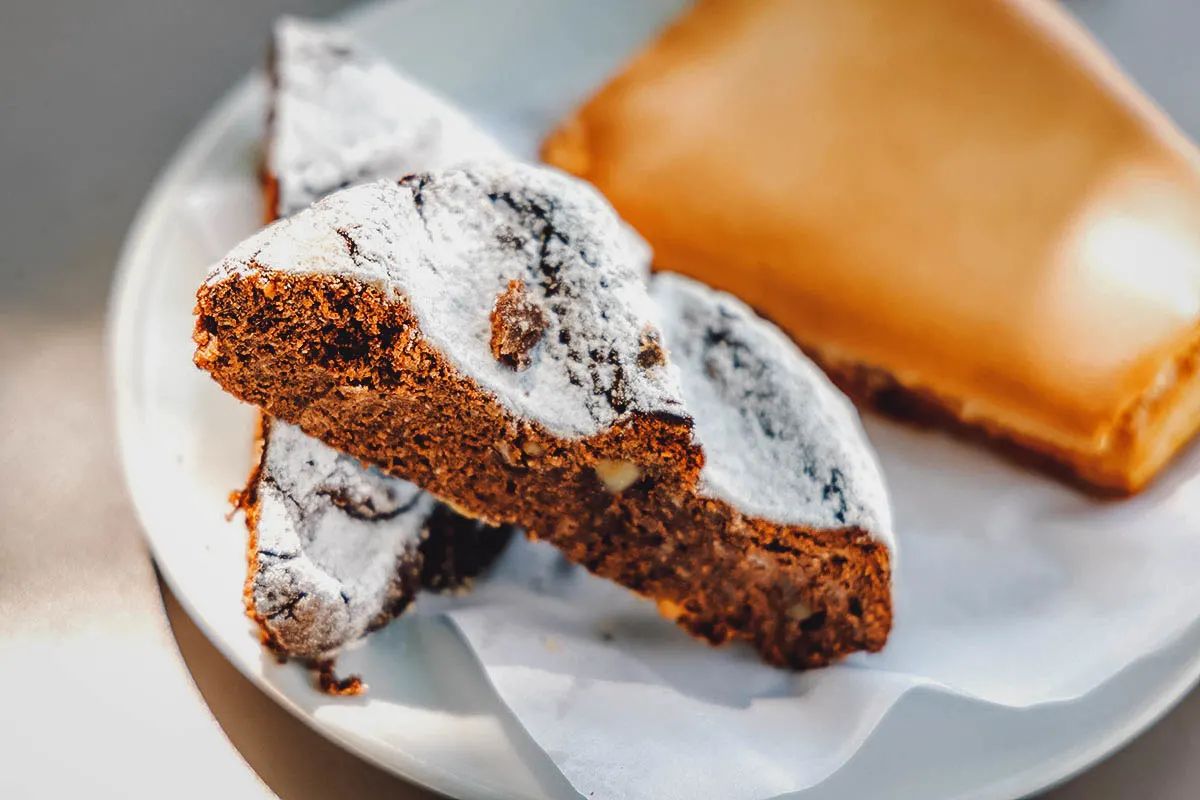 Photo by eunikas
14. Salame de Chocolate
This next Portuguese dessert may share the same name as a popular cured pork sausage, but it's got nothing to do with meat. Shaped in the form of a long cylinder, salame de chocolate refers to a no-bake Italian and Portuguese dessert made with dark chocolate, Maria biscuits (or Marie biscuits), eggs, butter, and port wine.
Depending on the person making it, salame de chocolate can be made with additional ingredients like chopped nuts and dried fruits. After setting, it's dusted with powdered sugar and then sliced across into discs before serving. When sliced, it really does look like a meat sausage with the lighter bits of cookie against the dark chocolate resembling flecks of fat in salami.
Rich and intensely chocolatey, salame de chocolate is one of the most beloved Portuguese sweets. For many locals, it's right up there with pasteis de nata.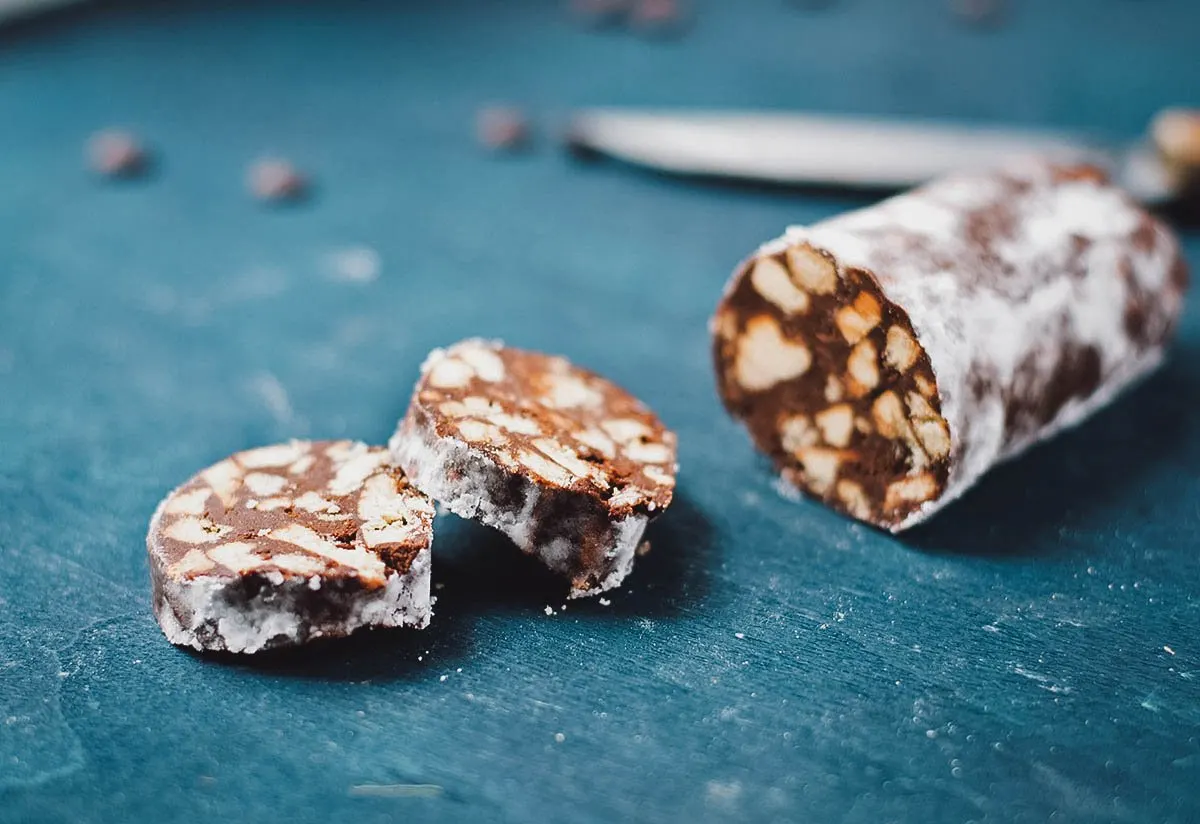 Photo by elenademyanko
15. Jesuíta
As you can probably surmise from its name, jesuíta is one of the many Portuguese desserts invented at a convent or monastery. Known as doces conventuais or "convent sweets", jesuíta refers to a triangular puff pastry filled with egg yolk cream.
The jesuíta originated from the town of Santo Tirso in northern Portugal. No one really knows why it's called jesuíta but it's shape and color are said to resemble the habits of Jesuit priests, hence the name. Jesuítas combine puff pastry with egg yolk cream and can be topped with either meringue or flaked almonds and powdered sugar.
Like pasteis de nata, the jesuíta was born from having a surplus of yolks. Nuns and monks would starch their clothing with egg whites, leaving them with leftover egg yolks which they used to make delicious local desserts like jesuíta.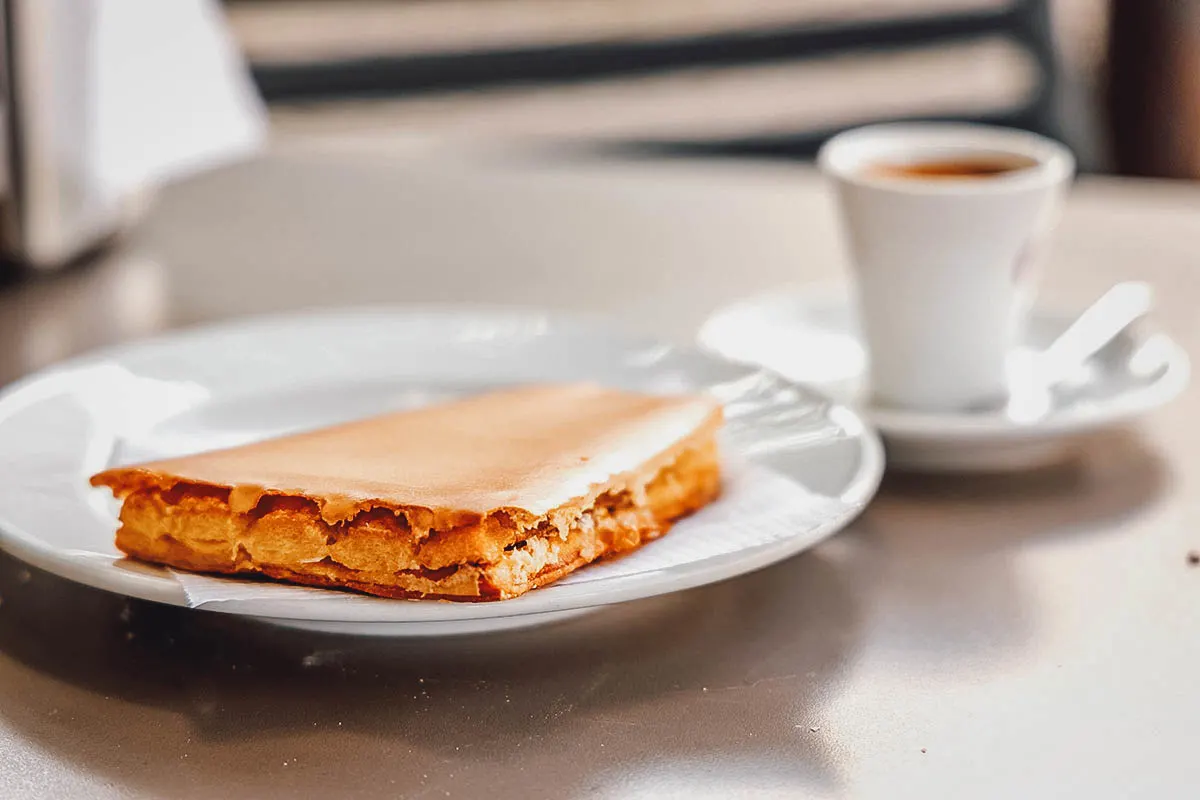 Photo by eunikas
16. Ovos Moles de Aveiro
Ovos moles de Aveiro (or simply ovos moles) are Portuguese sweets made with a paper-thin wafer filled with a creamy mixture of sugar syrup and egg yolks. A specialty of Aveiro, ovos moles means "soft eggs" and is another popular example of convent sweets in Portugal.
According to legend, these delicious egg-heavy Portuguese desserts were invented by a nun at the Convento de Jesus. She was ordered to fast but was too hungry to do it, so she combined leftover yolks with sugar syrup and hid them in the dough that was used for communion wafers.
No one knows if that origin story is really true, but the ovos moles of today are typically shaped like fish, seashells, or barrels, all of which are symbols of the coastal town of Aveiro. They enjoy the distinction of being the first Portuguese convent sweet to be granted Protected Geographical Indication (PDI) status by the European Union.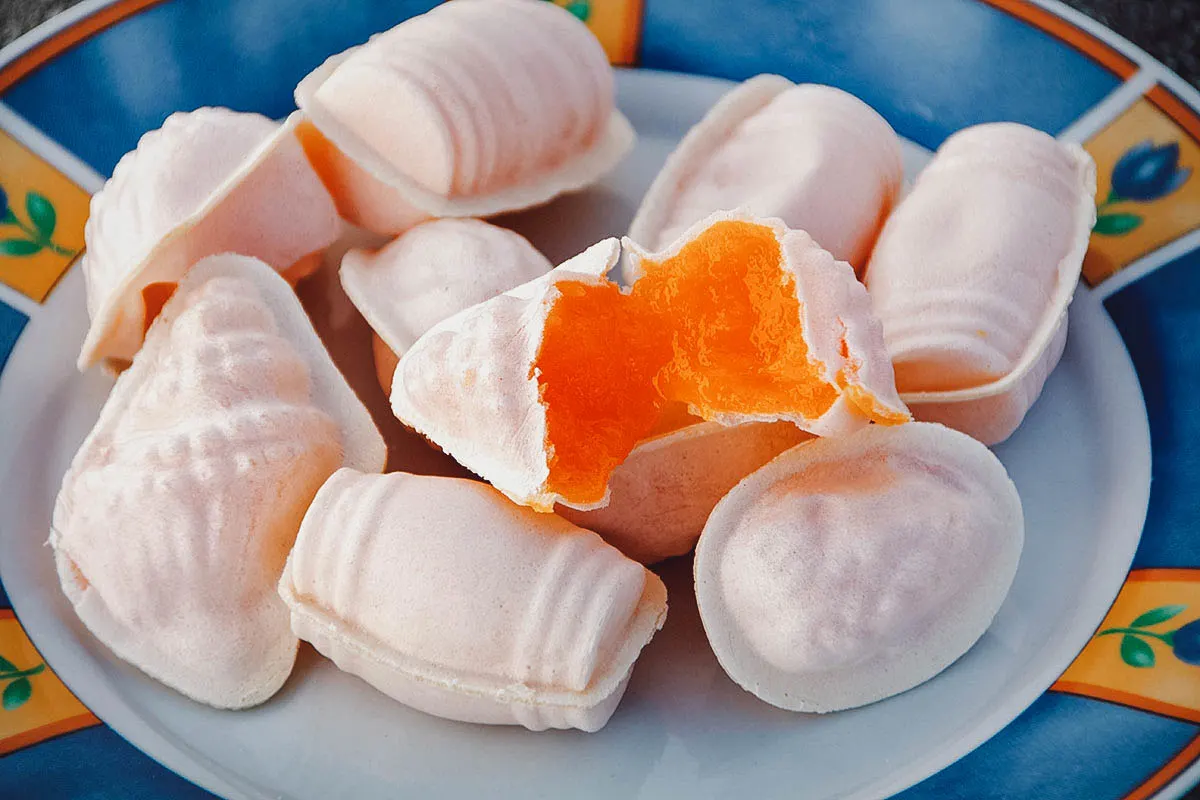 Photo by membio
17. Suspiros
Many Portuguese desserts are made with the yolk as the star ingredient so it's nice to see egg whites taking the spotlight in this one. Suspiros are Portuguese meringue cookies made with egg whites and sugar. Depending on who's making it, they can contain additional ingredients as well like vanilla, peppermint, nuts, and chocolate chips.
Suspiros are often served at weddings and holiday celebrations like Christmas and Easter. Unlike you're typical dainty meringue cookie, suspiros are the supersized version and can be as big as a hamburger bun.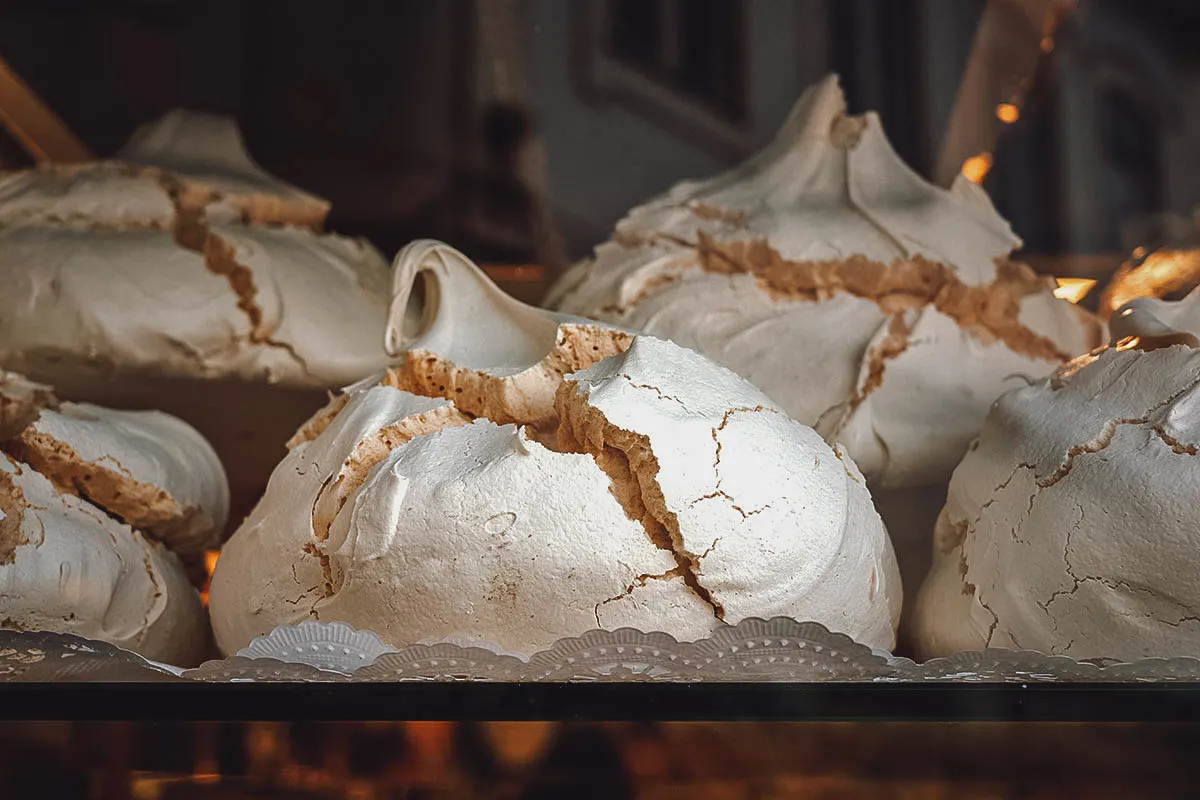 Photo by steveheap
18. Bola de Berlim
Bola de berlim refers to Portuguese doughnuts. Meaning "Berlin ball", they're the Portuguese equivalent to the Berliner, a German hole-less filled doughnut popular in many countries throughout the Balkans and Europe like Croatia, Bosnia and Herzegovina, Serbia, Slovenia, and Albania.
Unlike the German original, these Portuguese doughnuts are sliced in half and rolled in sugar before being filled with a creamy egg-based custard called creme pasteleiro (literally "confectioner's cream"). Bola de berlim can be found at pastry shops throughout Portugal and are surprisingly popular along the Portuguese coast.
You don't usually associate doughnuts with sand and surf, but vendors would comb the beaches in the summer carrying containers filled with these delicious Portuguese pastries. "Bolaaaaa de berliiiiiiiim!"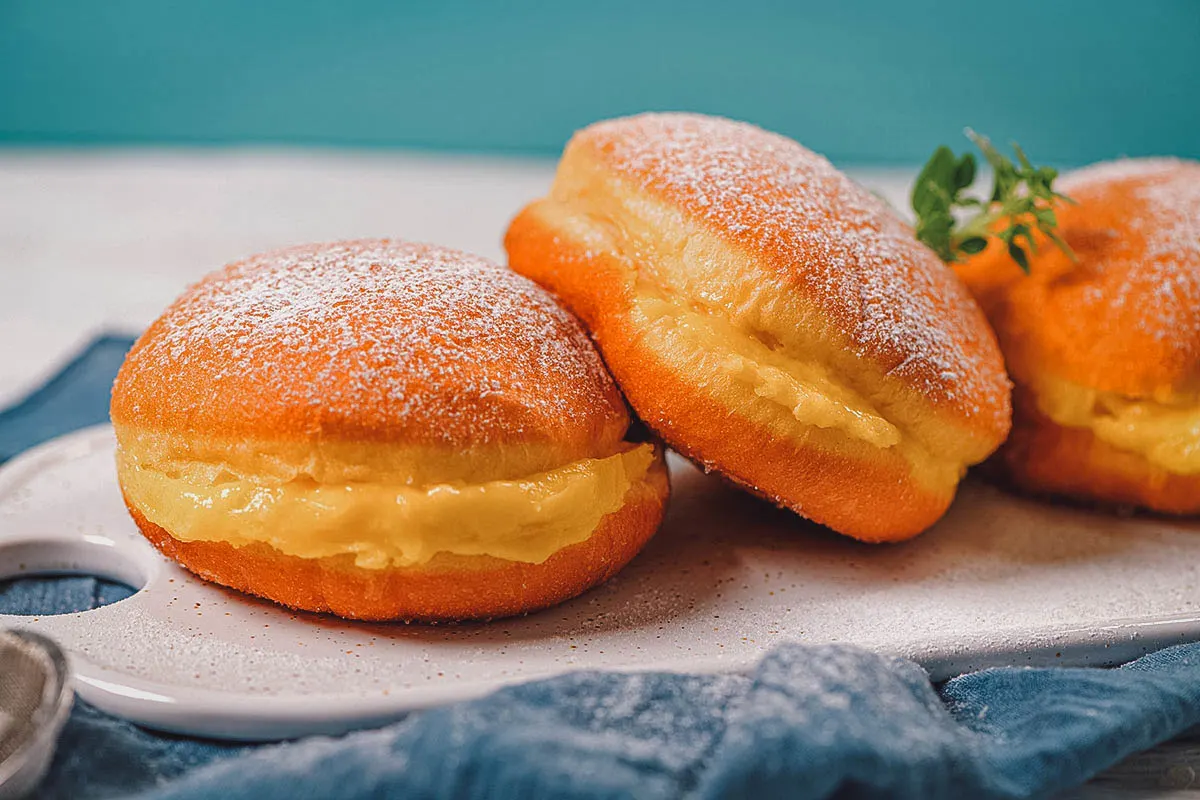 Photo by homydesign
Bola de berlim is traditionally filled with egg custard but these days, many variations can be found made with other ingredients like Nutella, dulce de leche, and jam.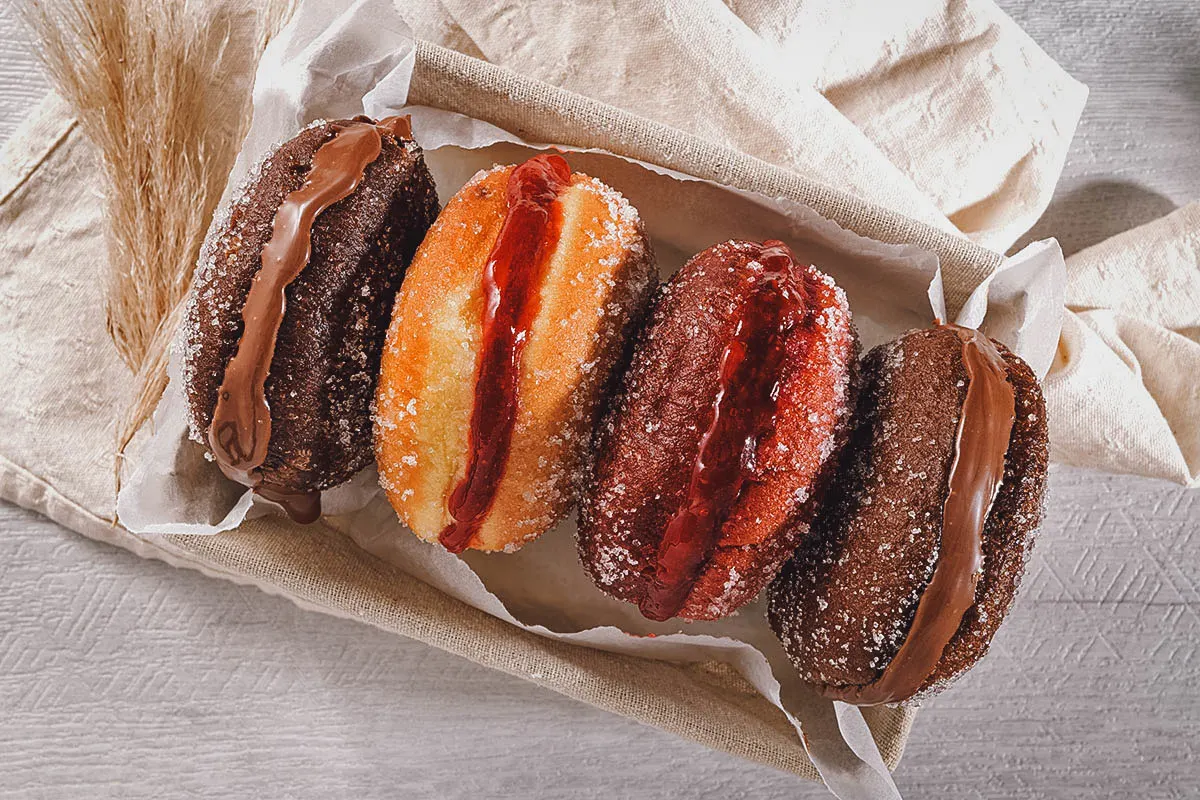 Photo by homydesign
19. Pão de Ló
Take a bite of this delicious Portuguese cake and it may quickly become one of your favorite Portuguese desserts. Pão de ló refers to Portuguese sponge cake and could very well be the most popular cake in the country.
There are several versions of pão de ló in Portugal like pão de ló de ovar, pão de ló de alfeizerão, and pão de ló de margaride . They vary in supplemental ingredients and baking time but they're all made with the same three-ingredient base – eggs, sugar, and flour. Sponge cake is a common sight at food fairs and is one of the most widely consumed Portuguese desserts in the country.
One of the most popular types of Portuguese sponge cake is pão de ló de ovar. Originally from the city of Ovar in northern Portugal, it's another example of a convent sweet that was invented by Portuguese nuns in the late 18th century.
This tasty sponge cake dates back to 1781 and is said to have been given to priests who transported the wooden framework carrying religious statues during the Holy Week procession.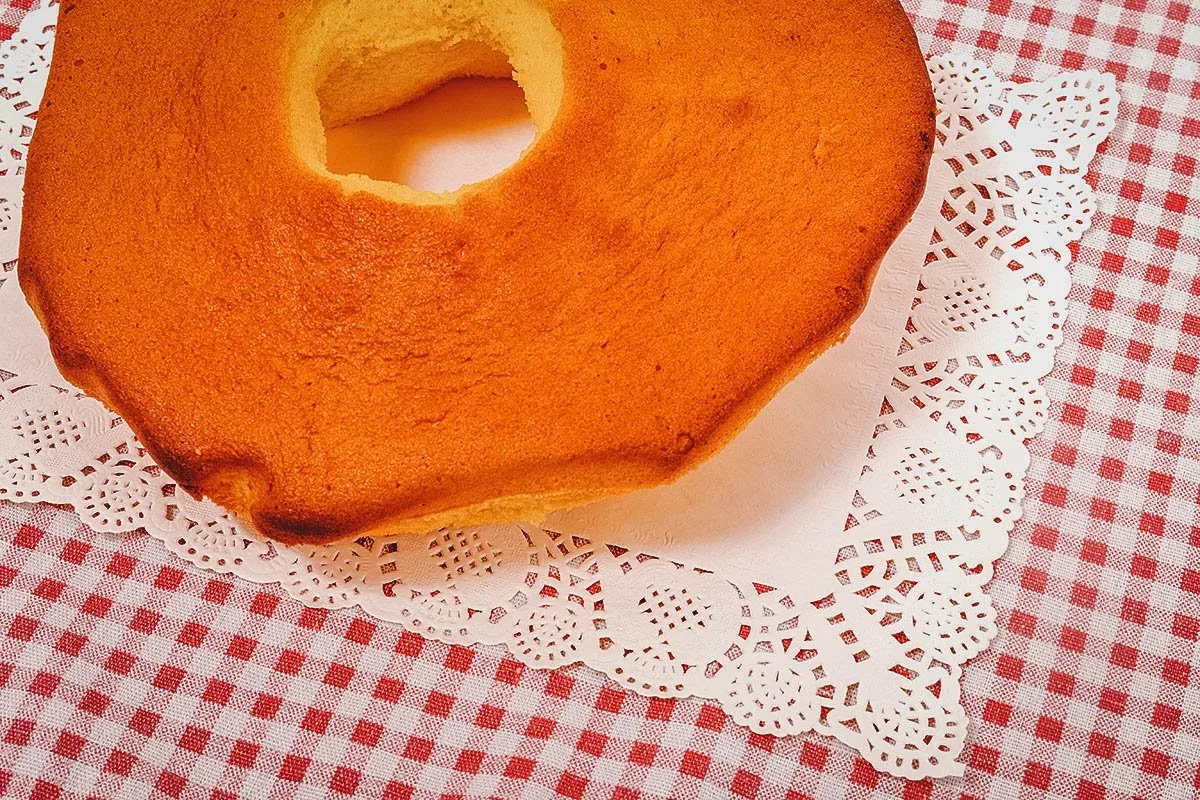 Photo by membio
20. Bolo do Mel
Bolo de mel literally means "honey cake" and refers to a traditional Portuguese cake from the Madeira Islands. One of Madeira's oldest Portuguese recipes, it dates back hundreds of years and is traditionally made with sugar cane honey (molasses) as its key ingredient.
Bolo de mel was invented sometime in the 15th century by nuns from the Convent of Santa Clara in Funchal. It's traditionally prepared over Christmas and typically contains almonds and walnuts and a host of spices like cinnamon, clove, anise, black pepper, and allspice.
Modern versions are commonly made with honey but the most traditional cakes are still made with molasses. They're usually darker in color and have a spongy, sticky texture similar to a soft cookie.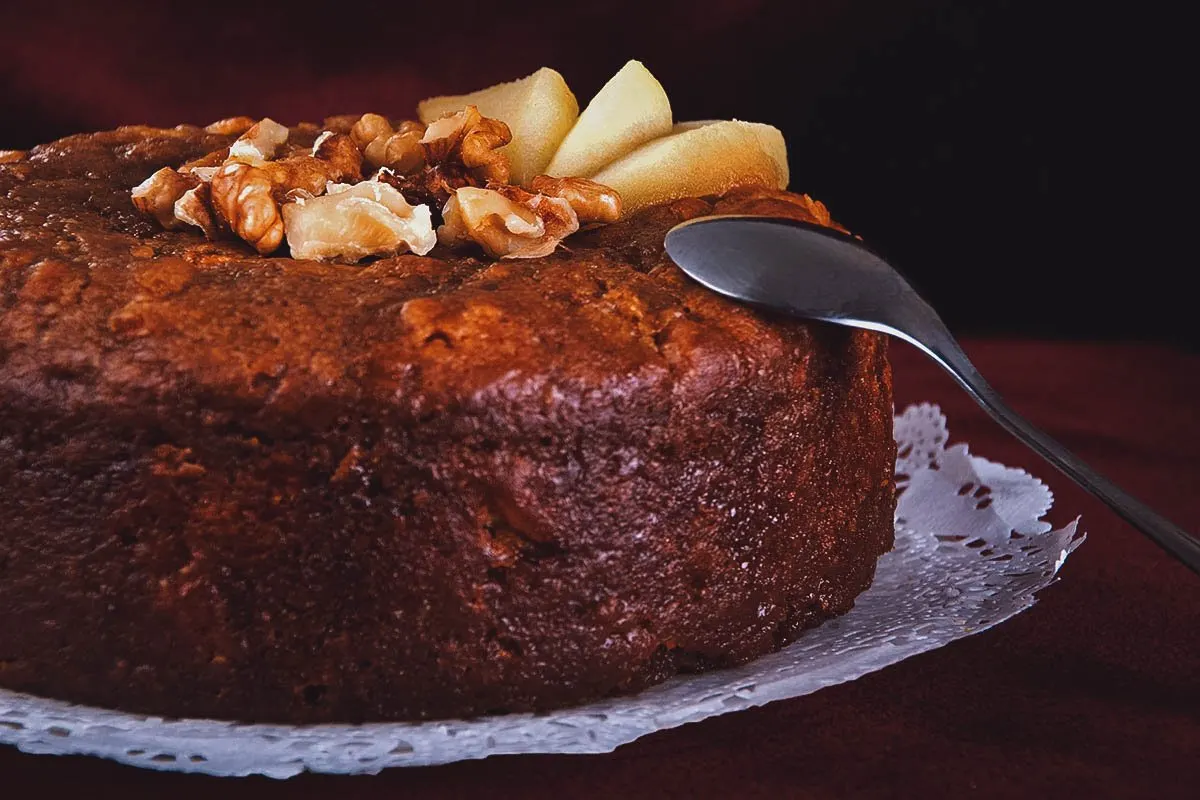 Photo by pxhidalgo
21. Bolo Rei
Bolo rei is the undisputed king of Portuguese cakes. Its name literally means "king cake" and refers to a traditional Portuguese cake or sweet bread traditionally served around Christmas and on King's Day (Dia de Reis, January 6).
Portuguese king cake is made from a soft dough infused with raisins, nuts, and crystallized fruit. It's round with a hole in the middle and adorned with nuts and crystallized fruit so it resembles a crown. Interestingly, inside the cake is a lone fava bean and a coin or trinket. This tradition stems from the legend of the three kings' arrival in Jerusalem to meet the baby Jesus.
According to the story, the three kings couldn't agree on who would give their gift to Jesus first so they asked a baker to make a cake with a single bean inside it. Whoever got the slice with the bean inside it would give their gift first.
Today, whoever gets the slice with the bean is expected to buy next year's bolo rei, while the person lucky enough to get the slice with the coin or trinket would be blessed with good fortune. As delicious as this cake is, I think everyone's a winner.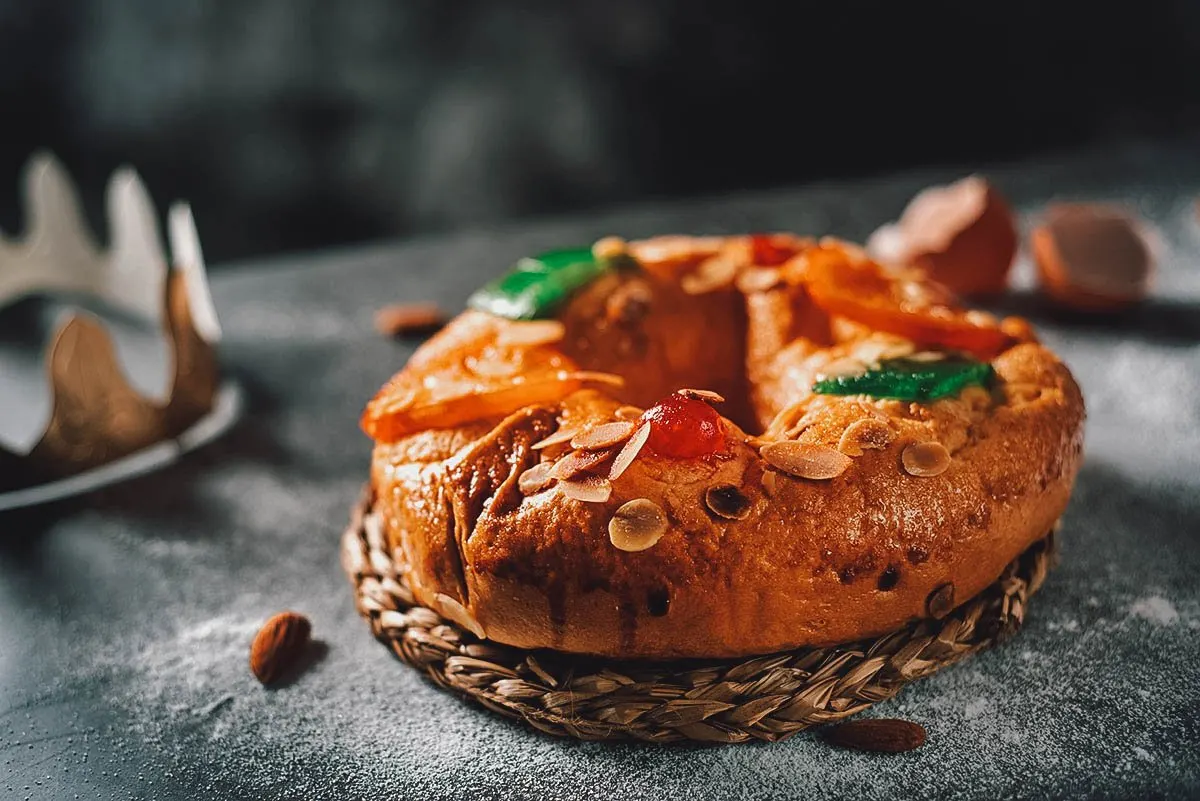 Photo by nito103
22. Bolo de Bolacha
Bolo de bolacha literally means "biscuit cake" and refers to a type of Portuguese no-bake cake made with Maria biscuits. It's made with Maria biscuits soaked in coffee and layered with a simple butter cream. After assembling the layers, the cake is refrigerated for a few hours (or overnight) before serving.
Bolo de bolacha is a popular Portuguese dessert beloved by many locals. When made with chocolate mousse (pictured below), it becomes known as bolo de bolacha com mousse de chocolate.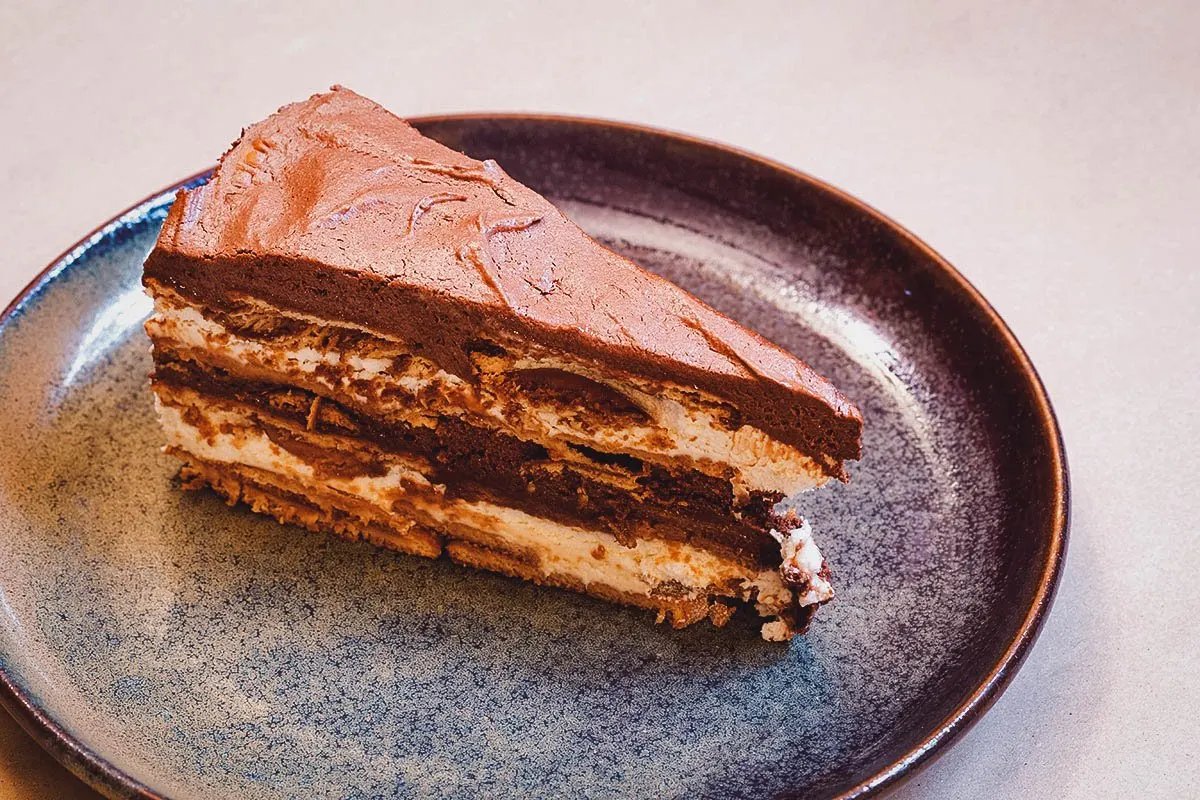 Photo by bisagraph.gmail.com
23. Folar de Pascoa
Folar de pascoa refers to Portuguese Easter bread, a type of Portuguese sweet bread made with a hard-boiled egg in the middle to represent the rebirth and resurrection of Jesus Christ. Recipes vary but it's typically made with flour, eggs, milk, margarine, sugar, and spices like cinnamon, anise, and lemon zest.
The folar de pascoa pictured below is made with a singular egg, but this Portuguese Easter bread is often made with four eggs and adorned with a cross-like pattern on top to represent the crucifixion of Christ.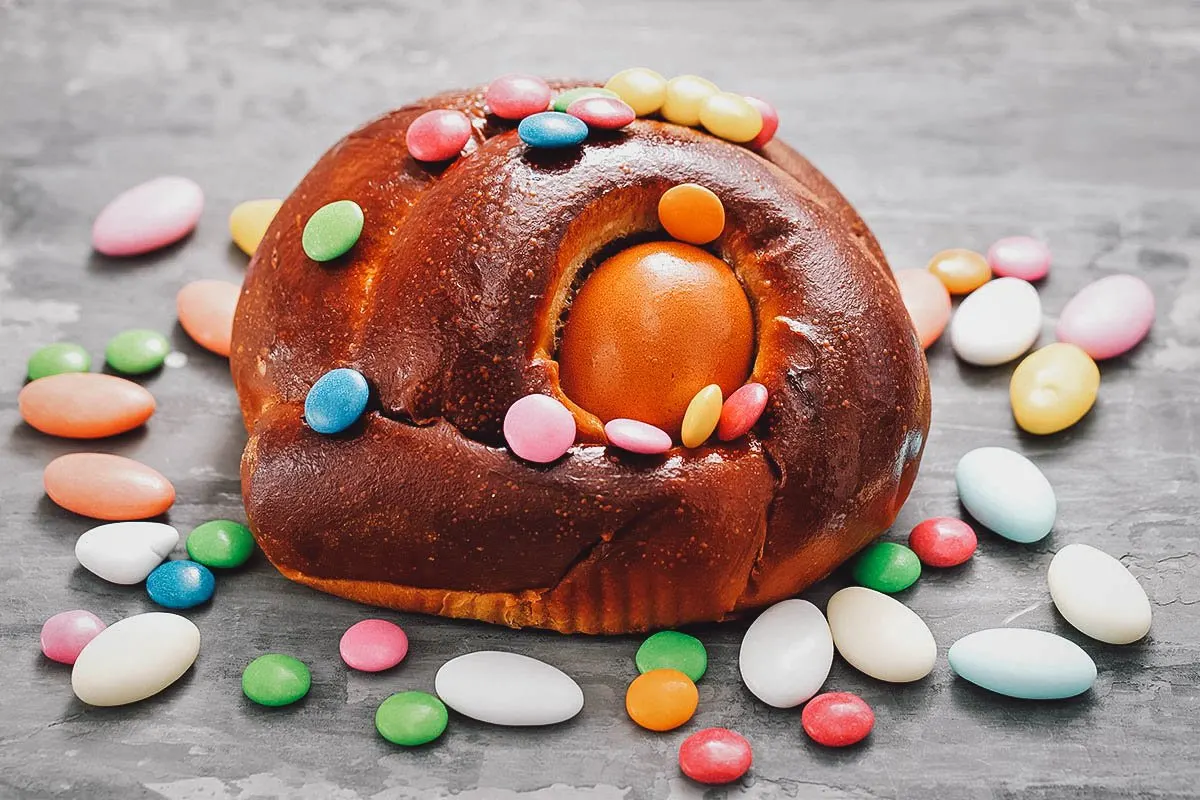 Photo by nataliamylova
24. Ginjinha
Ginjinha or simply ginja isn't exactly a dessert, but a Portuguese dessert liqueur. It's made by infusing ginja berries (sour cherry) in alcohol and then adding sugar and other ingredients like cinnamon and clove. It was invented in Lisbon and traditionally served in a small glass or an edible chocolate cup, often with a piece of sour cherry at the bottom.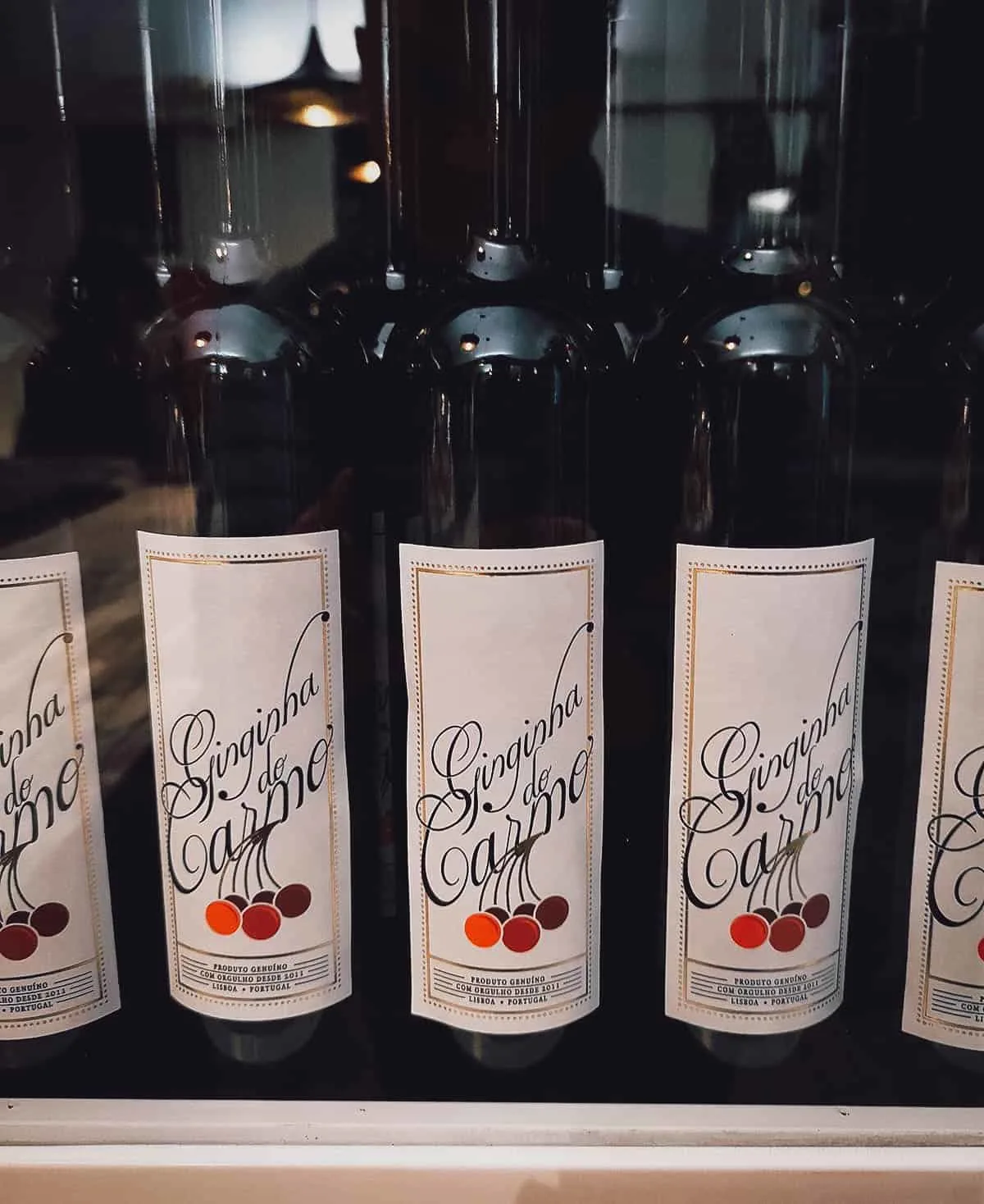 You can find ginja served everywhere in Lisbon. One of the places we had it was at the Ginginha do Carmo shop near Rossio railway station. It's delicious any which way but we loved having it in the chocolate cup. The combination of the chocolate with the sour cherry liqueur is just perfect.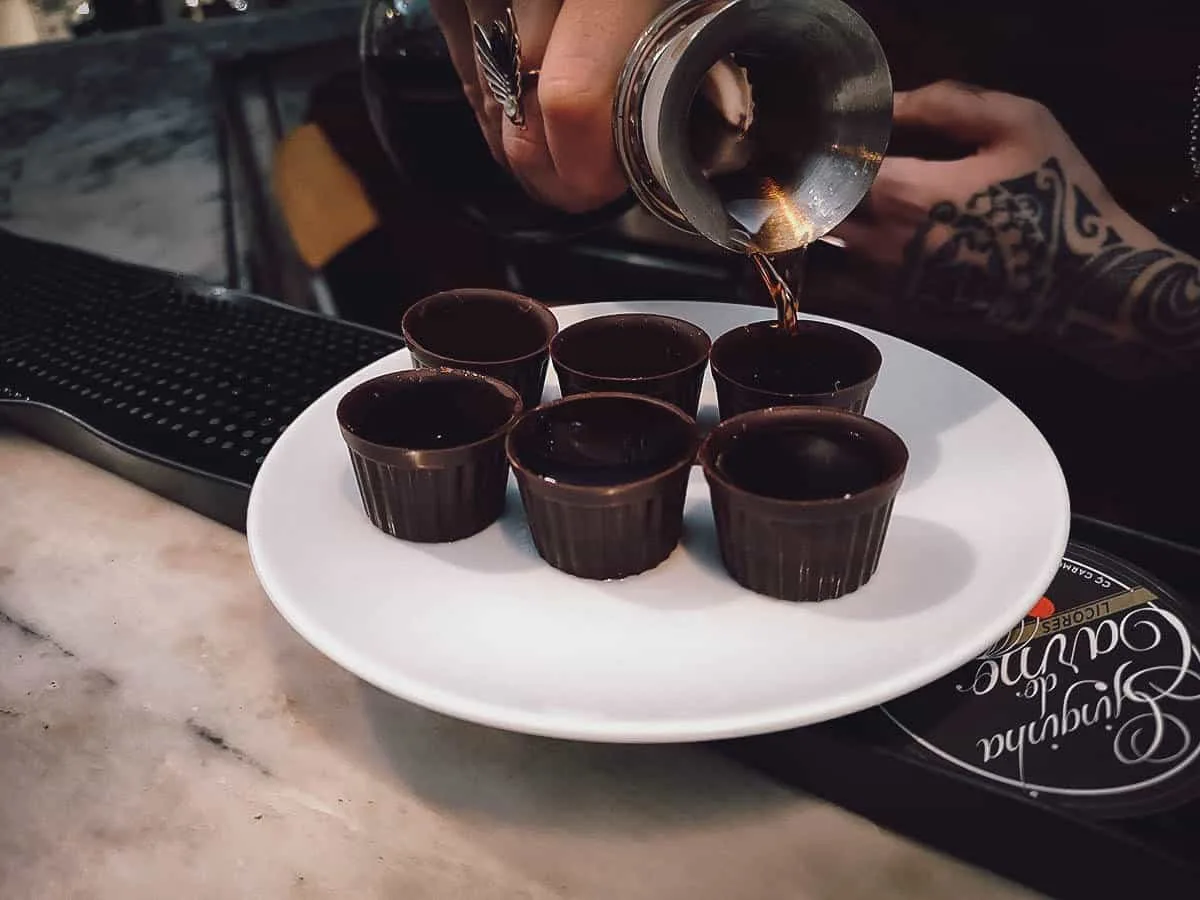 25. Port Wine
Port wine (or simply port) may not be a traditional Portuguese dessert but it's known for being one of Portugal's most famous exports. Traditionally enjoyed as a dessert wine, it refers to a Portuguese fortified wine produced exclusively from grapes grown in northern Portugal's Douro Valley.
Port is made by adding brandy to the wine as it ferments which is what gives the wine its characteristic sweetness. It's usually made from red grapes though it can also be made in dry, semi-dry, and white varieties. Port is typically enjoyed as an aperitif or at the end of meals with cheese, nuts, and chocolate.
Port is a Protected Designation of Origin (PDO) wine and something that you need to have while in Porto. There are many wineries in Vila Nova de Gaia but one of the oldest and most respected is Taylor's Port Winery. They offer self-guided audio tours that come with two wine tastings at the end.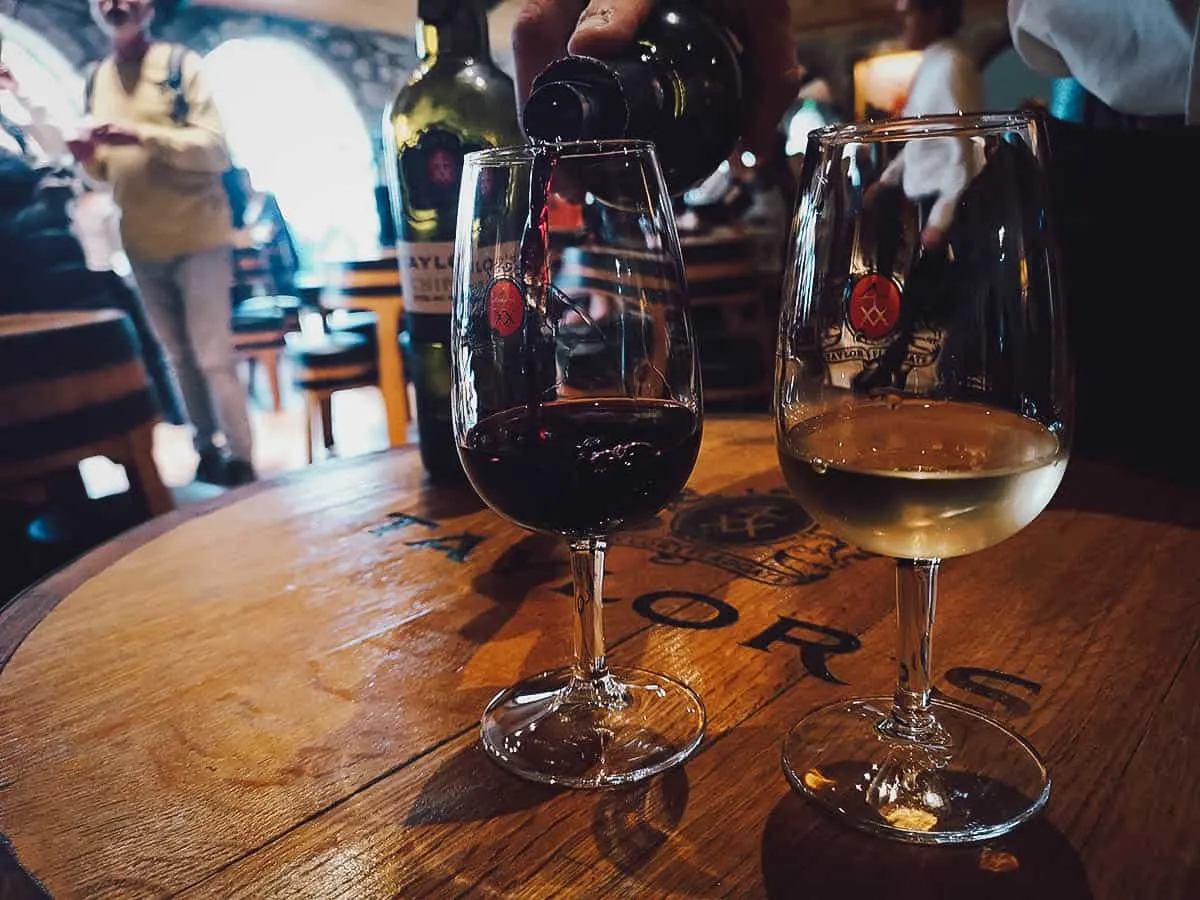 PORTUGUESE FOOD TOURS
Exploring the local cuisine is easy enough to do on your own, but if you really want to learn about Portuguese cuisine (and Portuguese desserts), then you may be interested in joining a food tour. Not only will a food-obsessed guide take you to Lisbon and Porto's best markets and restaurants, but they'll be able to explain all the Portuguese dishes to you in more detail as well.
Check out Get Your Guide for a list of Portuguese food tours in Lisbon, Porto, and in other destinations throughout Portugal.
PORTUGUESE COOKING CLASSES
It's one thing to eat pastéis de nata, but it's another thing to actually make them yourself. In my opinion, there's no better way to learn about a foreign cuisine than by taking a cooking class. It's like looking under the cuisine's hood. Check out Cookly for a list of Portuguese cooking classes in Porto, Lisbon, and other cities throughout the country.
FINAL THOUGHTS ON PORTUGUESE DESSERTS
There are enough Portuguese desserts on this list to tickle your sweet tooth but it's hardly an exhaustive list. Popular Portuguese deserts like toucinho do céu (Portuguese almond cake) and bolo de chocolate (Portuguese chocolate cake) are conspicuously absent but they'll surely make it to this list sooner than later.
We absolutely loved Lisbon and Porto and will definitely make our way back to Portugal in the not too distant future. Portuguese dishes like bacalhau, prego, tripas, and cozido are delicious but in my opinion, Portuguese desserts are even better. Bom apetite!
Disclosure
Some of the links in this article on Portuguese desserts are affiliate links, meaning we'll get a small commission if we make a sale at no added expense to you. We only recommend products and services that we use ourselves and firmly believe in. We really appreciate your support as this helps us make more of these free travel guides. Thank you!
Stock images via Depositphotos.