Otaru is lovely. Spend a few hours there and you'll understand its appeal. Unlike Sapporo which is a busy metropolis, Otaru is a small port city known for its well-preserved canal and heritage buildings.
Less than an hour away by JR train, Otaru's charm and proximity make it a must for first-time visitors to Sapporo. In fact, google "things to do in sapporo" and you'll find many articles telling you why you should spend a day in Otaru. This is the case year-round but I believe it's especially true in winter.
If you're in town for the Sapporo Snow Festival, then you'll be happy to know that Otaru holds its own event called the Snow Light Path Festival (Otaru Yuki Akari no Michi) during the same stretch in February. It may not be as grand as the Sapporo Snow Festival but it has a charm all its own and is definitely worth your time.
Sankaku Market
As described, Otaru is a port city so some of the best and freshest seafood in Hokkaido can be found here. Sankaku Market is located just outside the train station to your left. If you arrive in Otaru before noon, then this is a great place to have a seafood lunch.

Sankaku Market is a long, one-lane market with fresh seafood stalls on one side and restaurants on the other.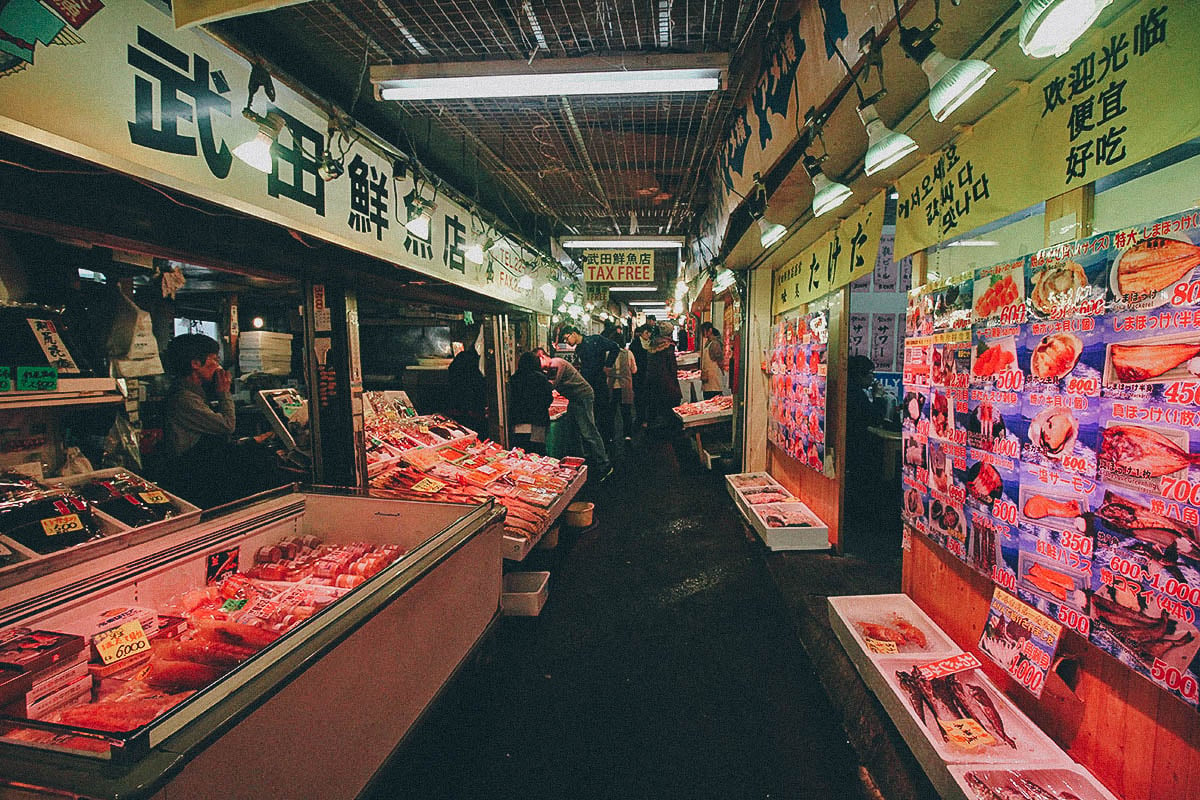 Unlike Nijo Market in Sapporo where all the crabs are already dead, most of the crabs for sale here are kept alive in tanks. Here's a tank overflowing with king crabs. Hokkaido is known for having some of the best crab in all of Japan, especially in winter.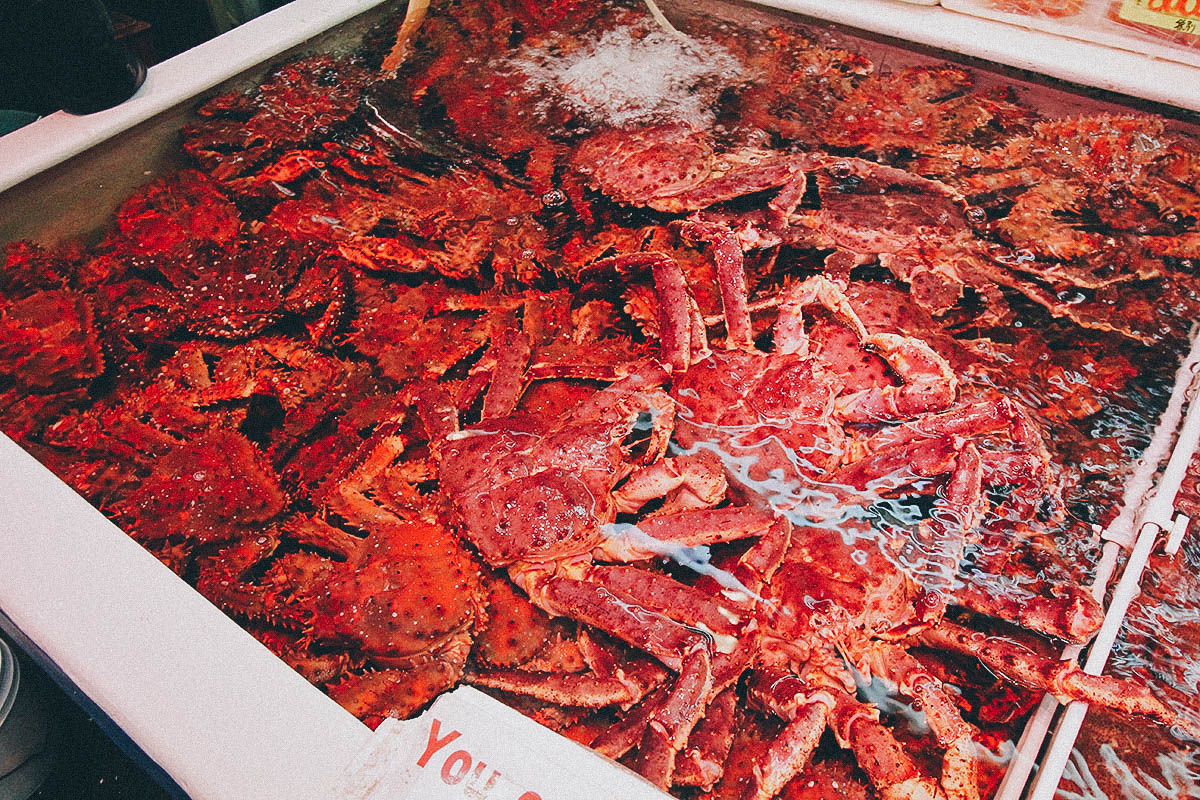 We tried two types of crab at Hokkaido Kani Syougun in Sapporo – snow crab and king crab. Snow crab is delicious but the king definitely deserves its crown. It's so succulent and sweet, even more so than the snow.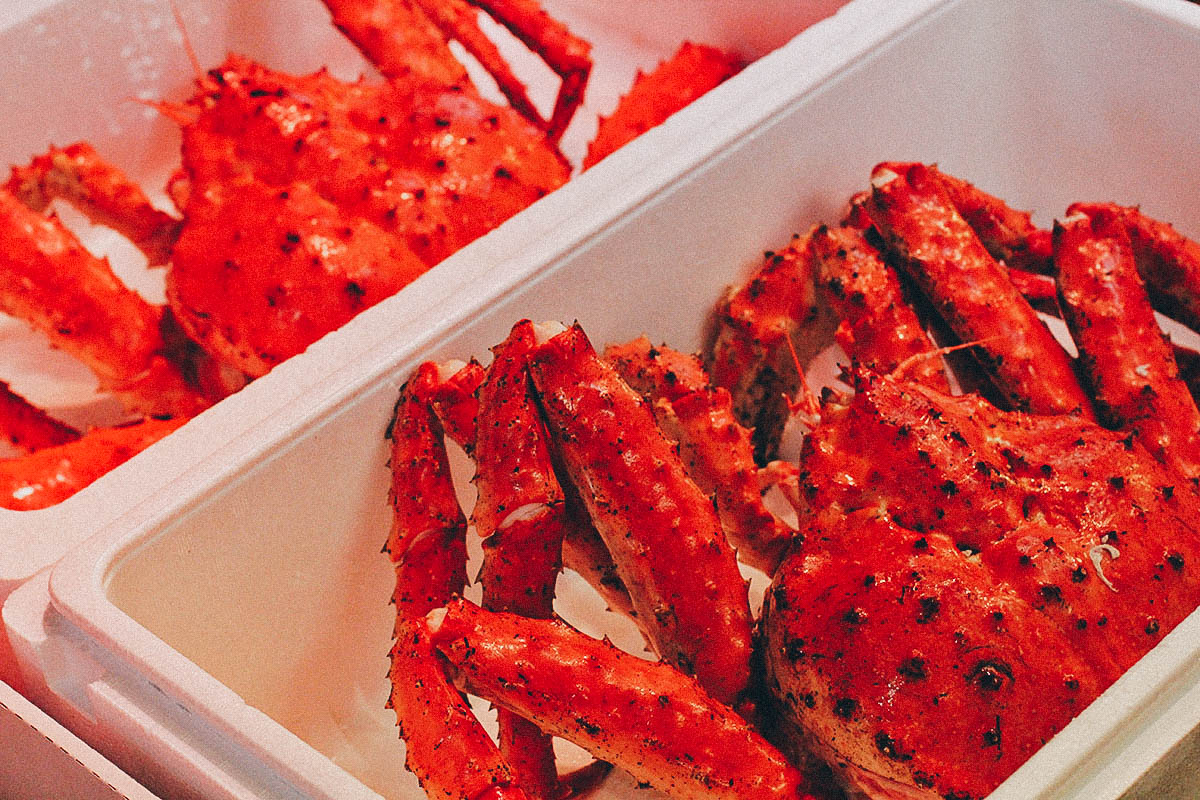 Hairy crab is another popular type of crab in Hokkaido. We didn't try it but I've heard it isn't nearly as meaty as king or snow. Instead, it's known for being chock-full of rich crab roe.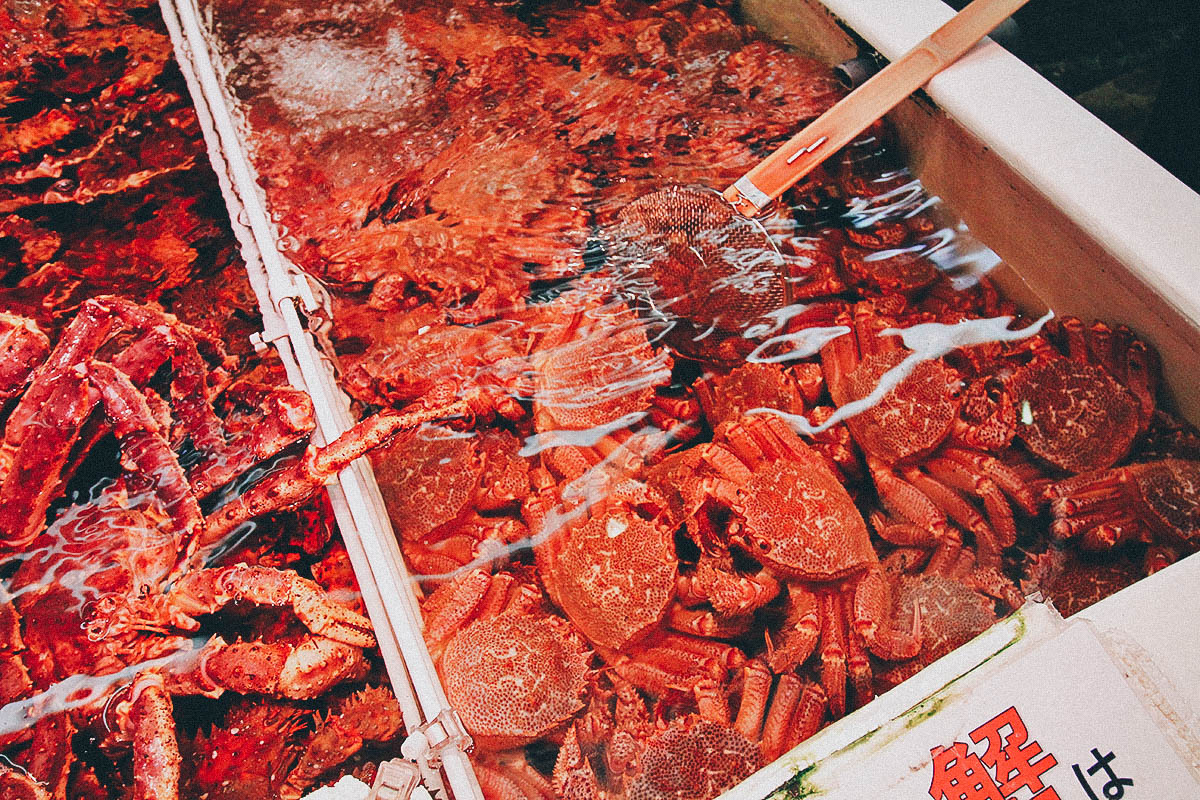 As far as I know, Hokkaido is known mainly for four types of crab – king, snow, hairy, and this thorny crab. We didn't try thorny crab so I don't know what it's like.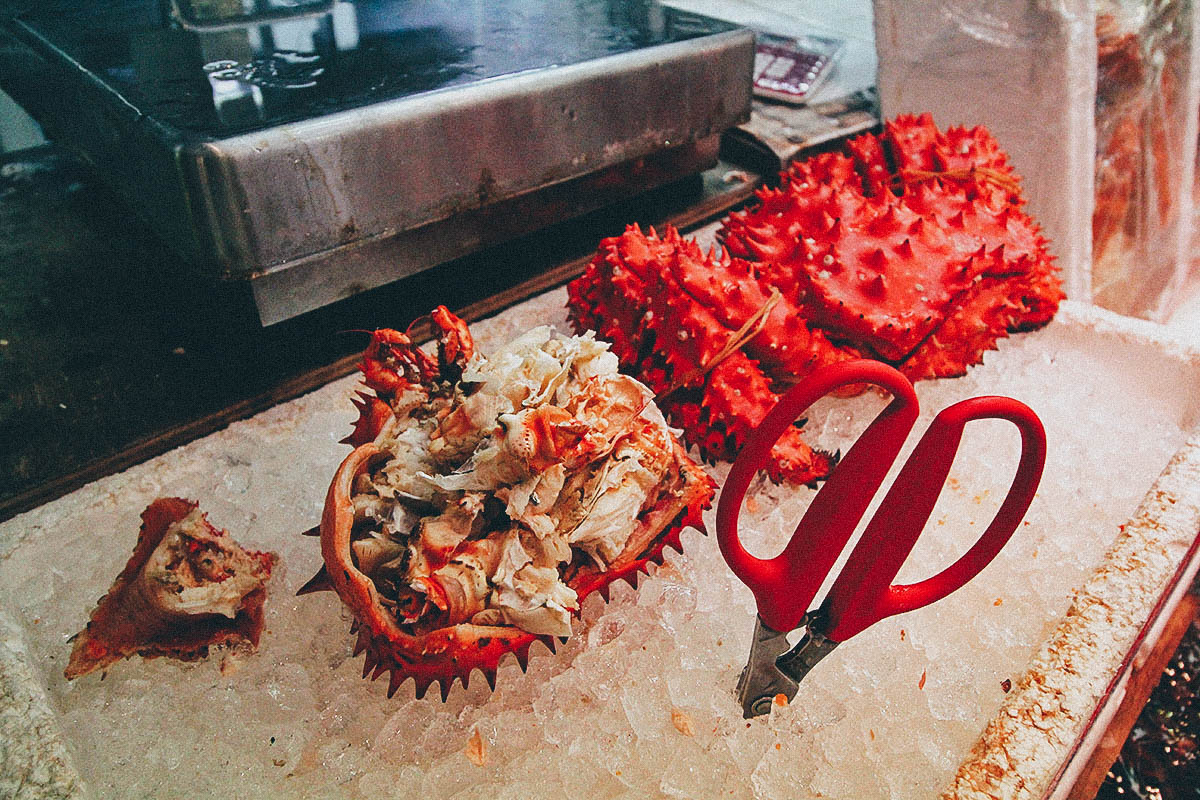 Crates of live oyster, clam, and scallop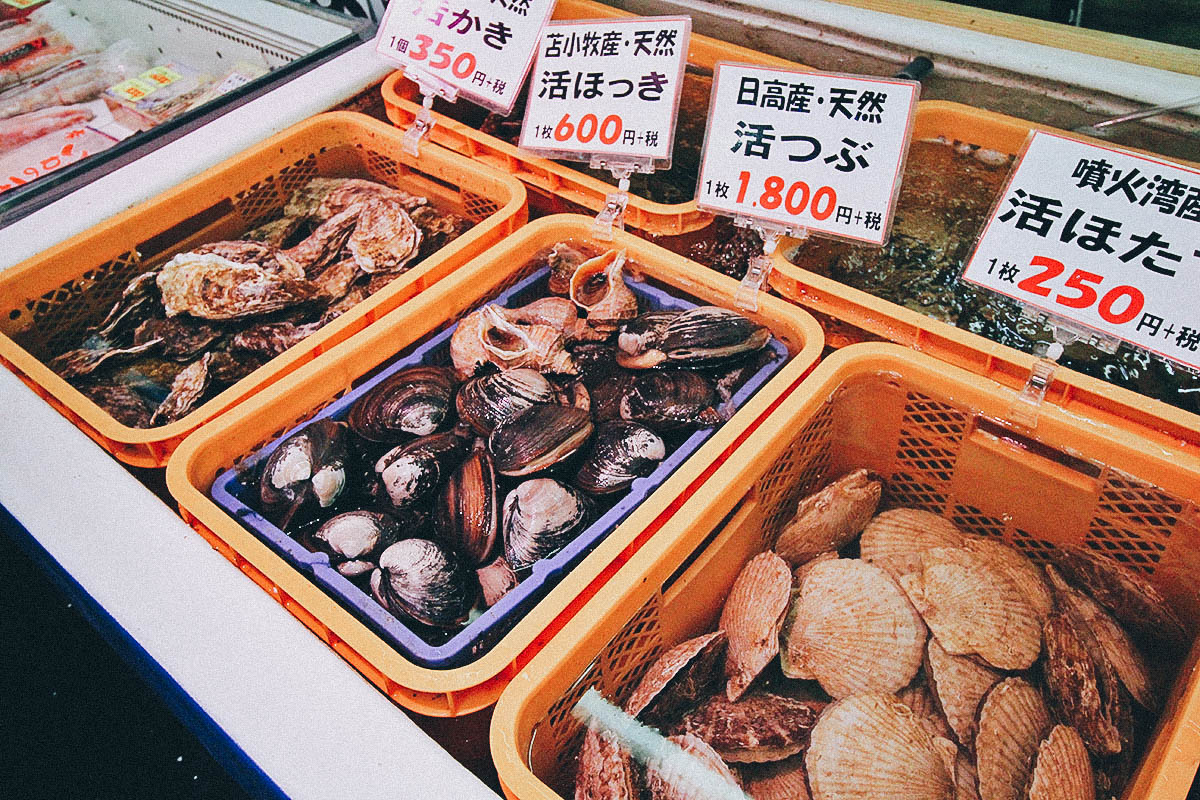 Look at all that beautiful uni (sea urchin)! Check out the size of those scallops too. 😯 On the far end of the display are jars of ikura (salmon roe).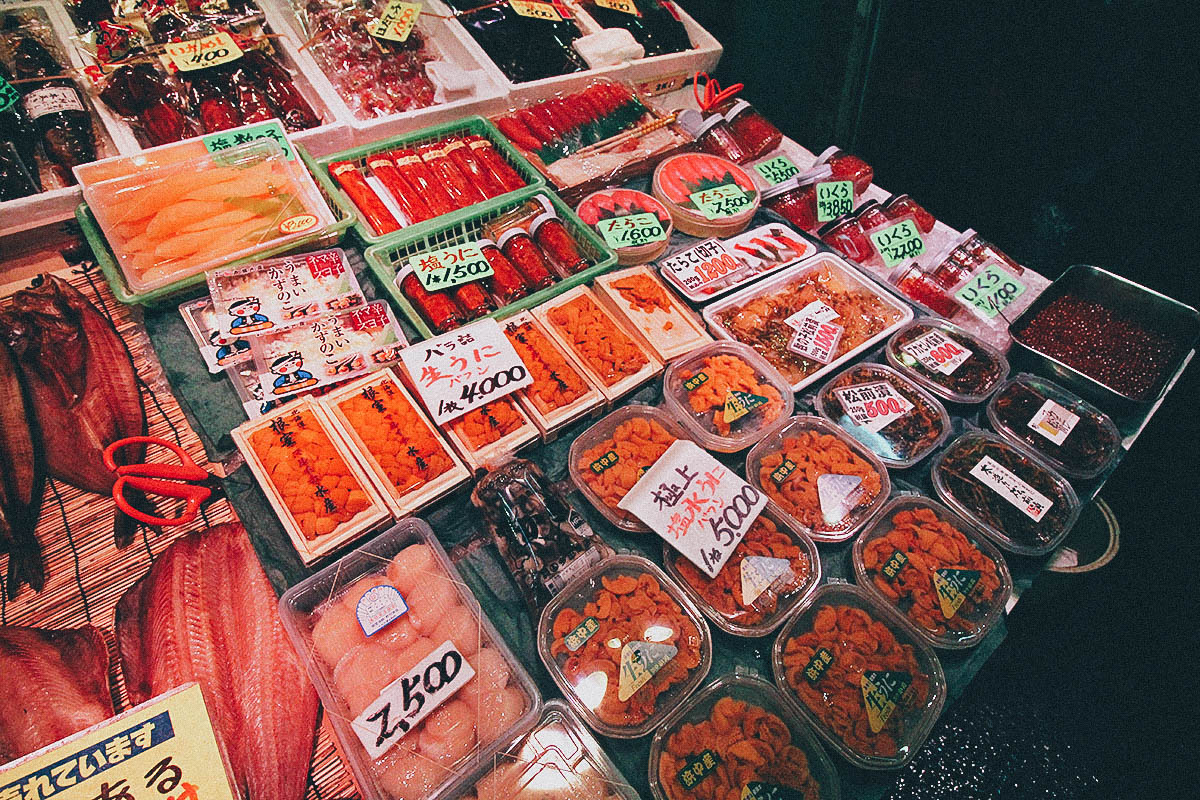 There are many restaurants here but one of the most popular is Takinami Shokudo. Ren's cousin Brooke is a commercial pilot who frequently flies to Sapporo and this place was recommended to her by locals.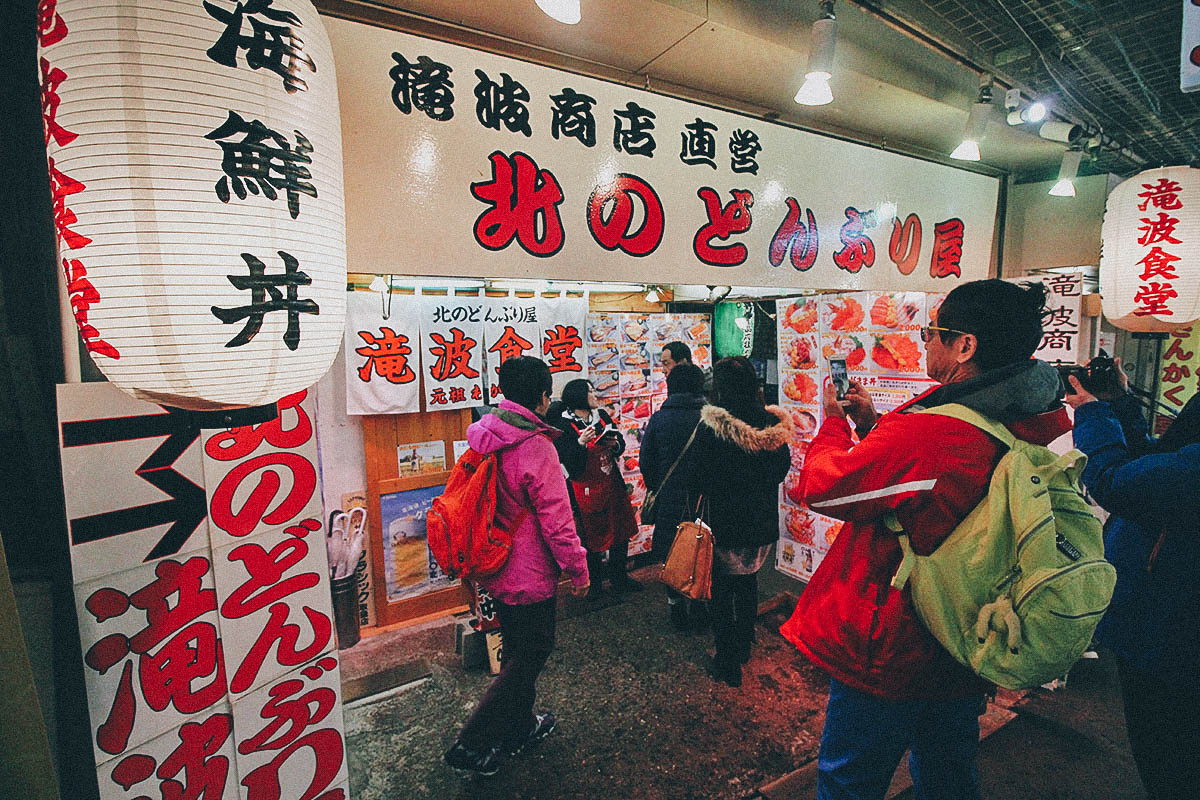 They're known for these overflowing bowls of kaisendon. Isn't it marvelous? You can see more pictures in my post about Takinami Shokudo.

After that incredible lunch, we make our way to Otaru Canal and Sakaimachi Street via the Temiyasen Kaijo area. Along with the canal (Unga Kaijo), this is one of two sites where they set up snow lanterns during the Otaru Snow Light Path Festival. It looks nice now but wait until you see it at night.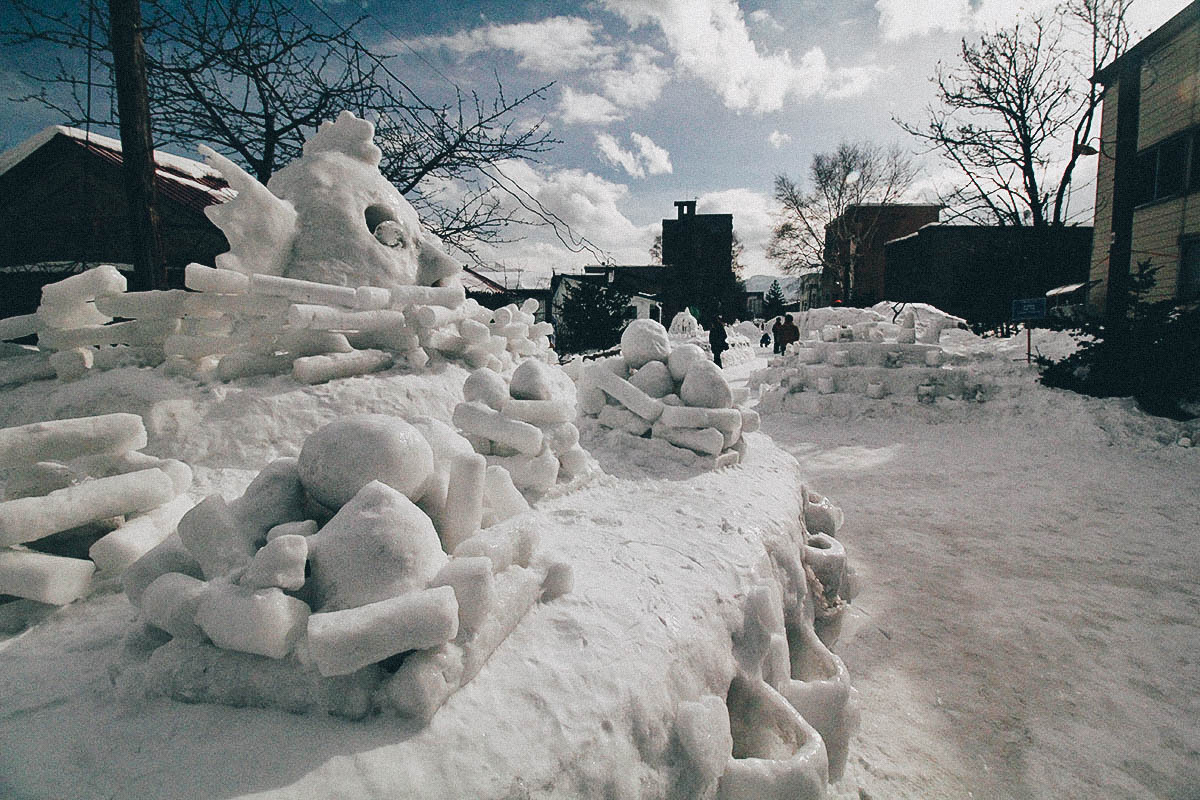 You'll see these guys pulling rickshaws throughout the city. We didn't do it but if you're into this sort of thing, then it may be a good way of seeing Otaru. You can purchase vouchers for these Otaru rickshaw tours on Klook.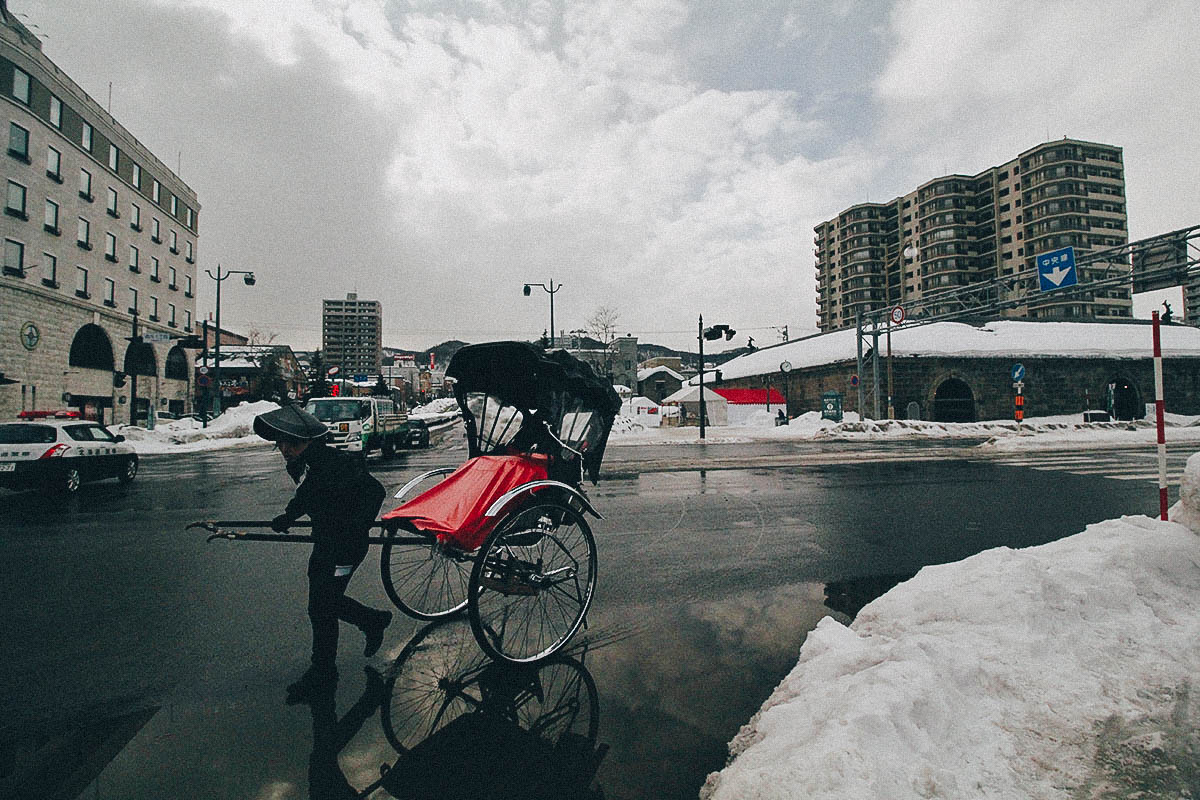 Waiting to cross the street to the canal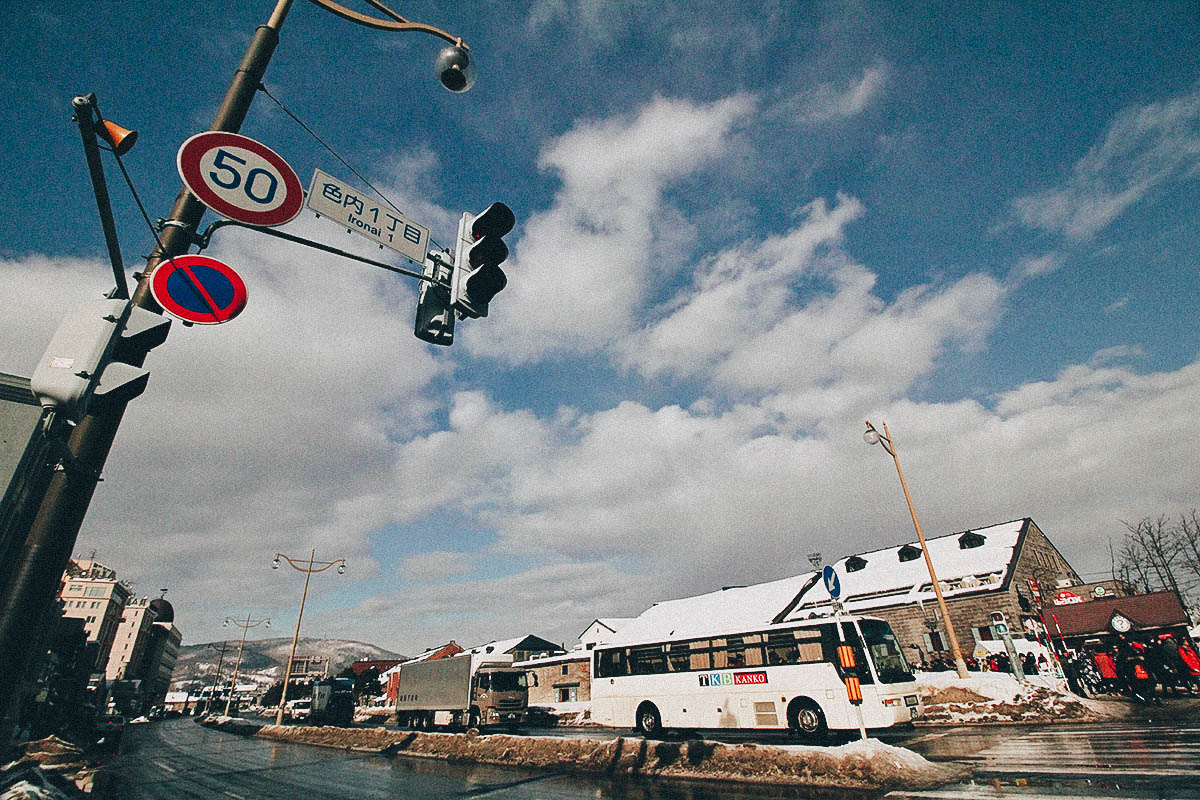 Otaru Canal
Otaru Canal is the city's most well-known attraction. It's a tourist attraction now but it used to be an important part of the city's port system. Cargo would be unloaded from large ships onto smaller vessels which would then transport the goods to these warehouses along the canal. The canal eventually became obsolete with the construction of modern dock facilities.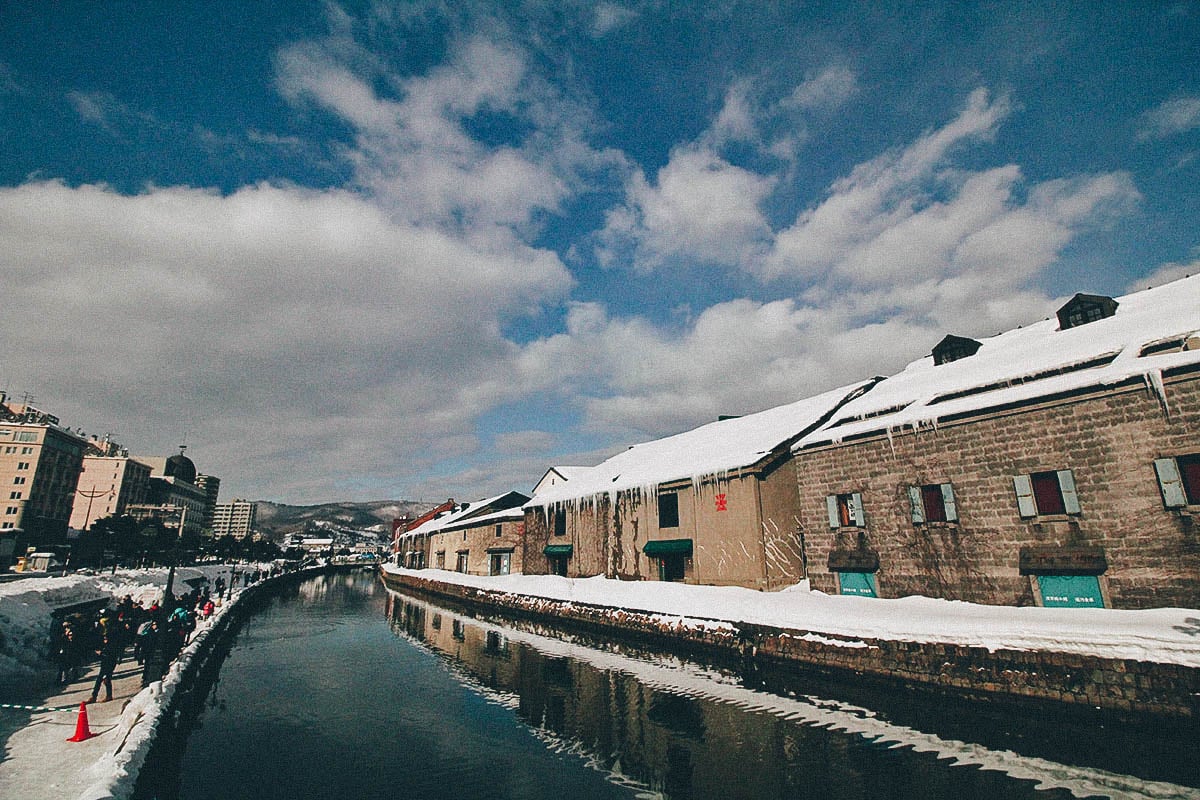 Today, those warehouses on the other side are occupied by restaurants, shops, and museums. The canal looks lovely by day but it turns into a magical sight at night.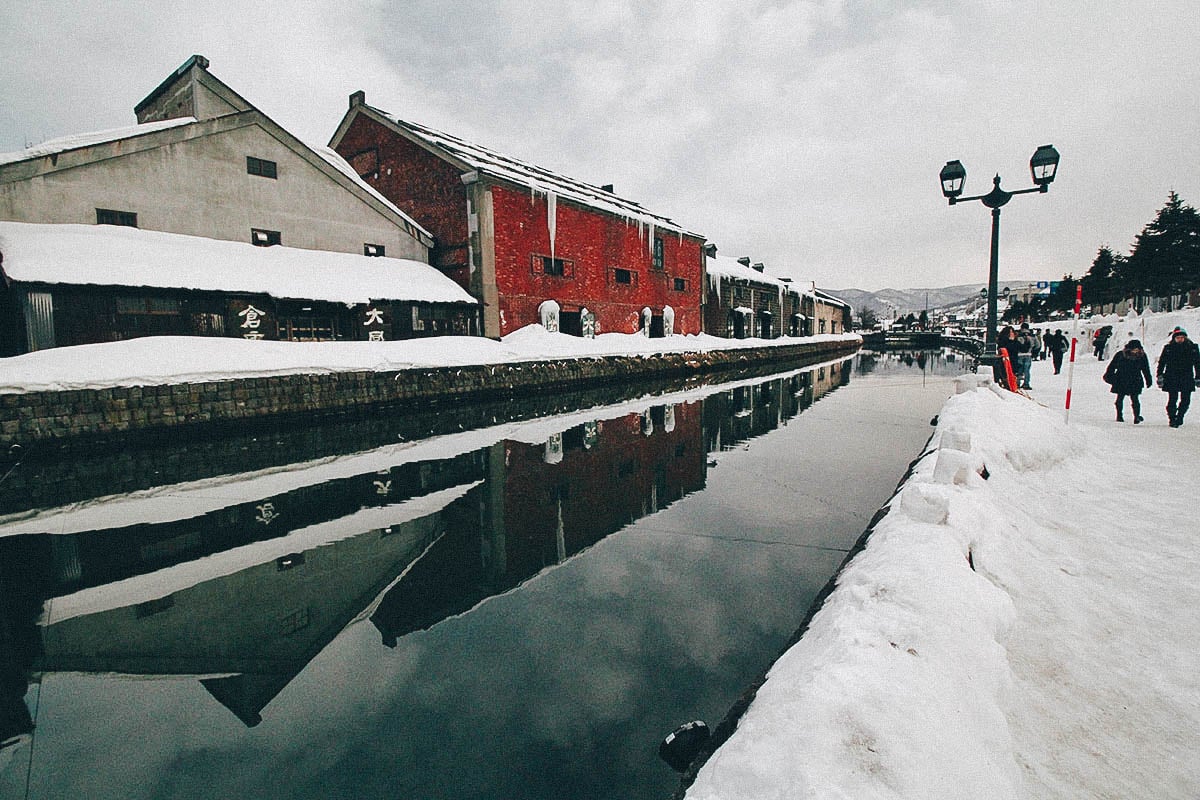 I'm not sure how much it costs but you can take boat tours of the canal.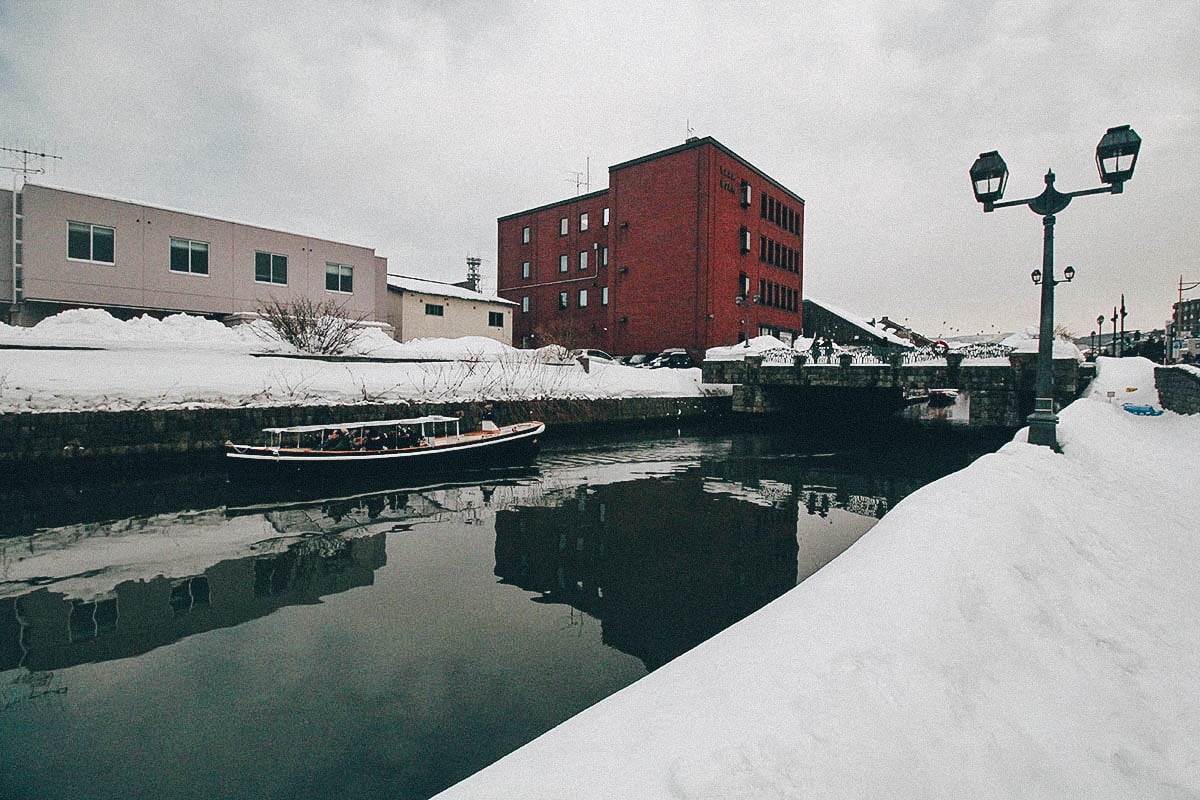 We crossed the bridge to the other side of the canal to check out the shops and restaurants.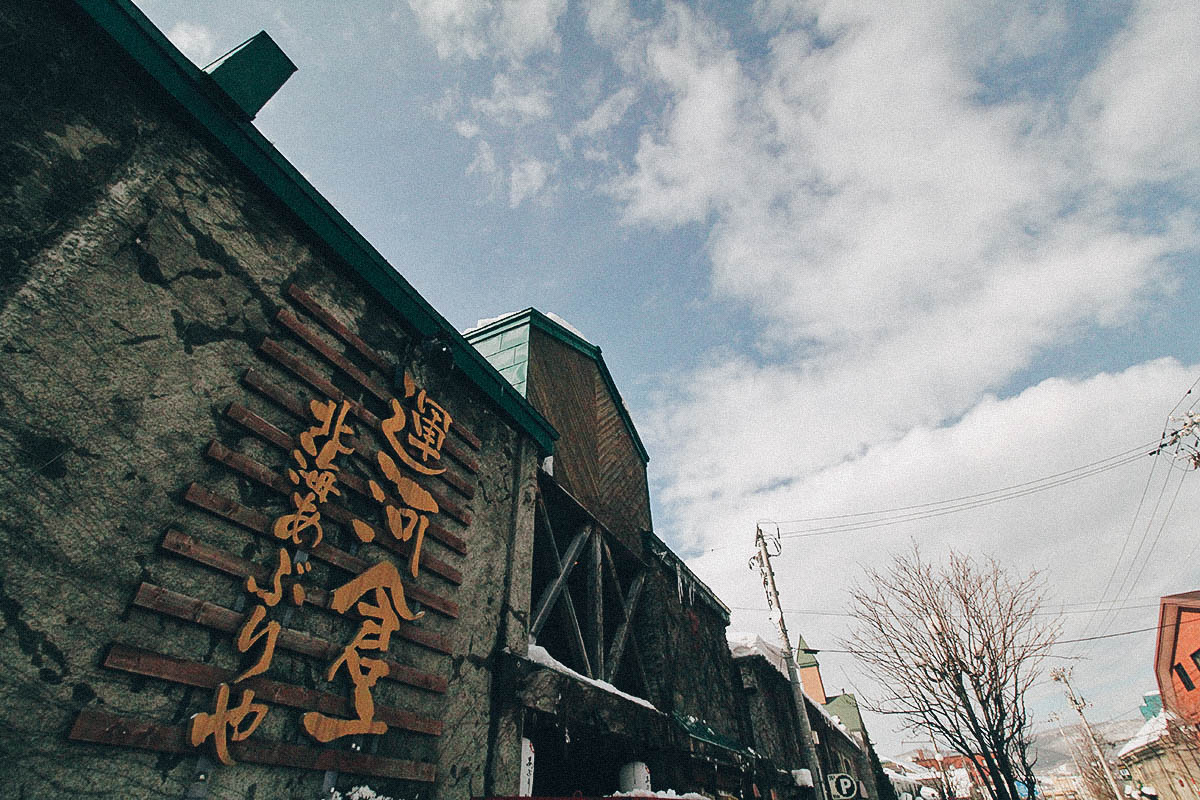 Of all the places here, it's no surprise we chose to stop here at the Otaru Beer Brewery. 😉

I always get a little emotional at breweries. 😆 I really enjoyed the atmosphere of this place. We stayed and had a drink here before moving on to Sakaimachi Street.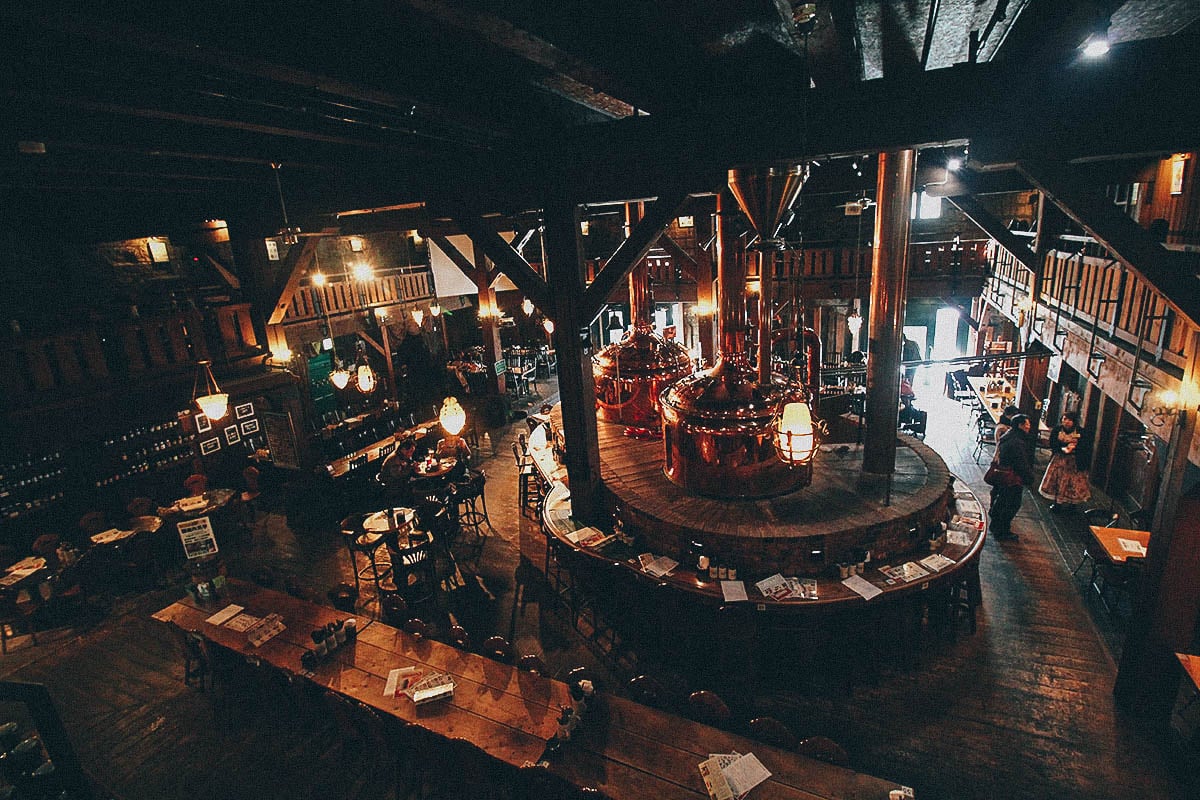 Sakaimachi Street
A short walk from the canal is Sakaimachi Street, a charming merchant street filled with shops, boutiques, cafes, and restaurants.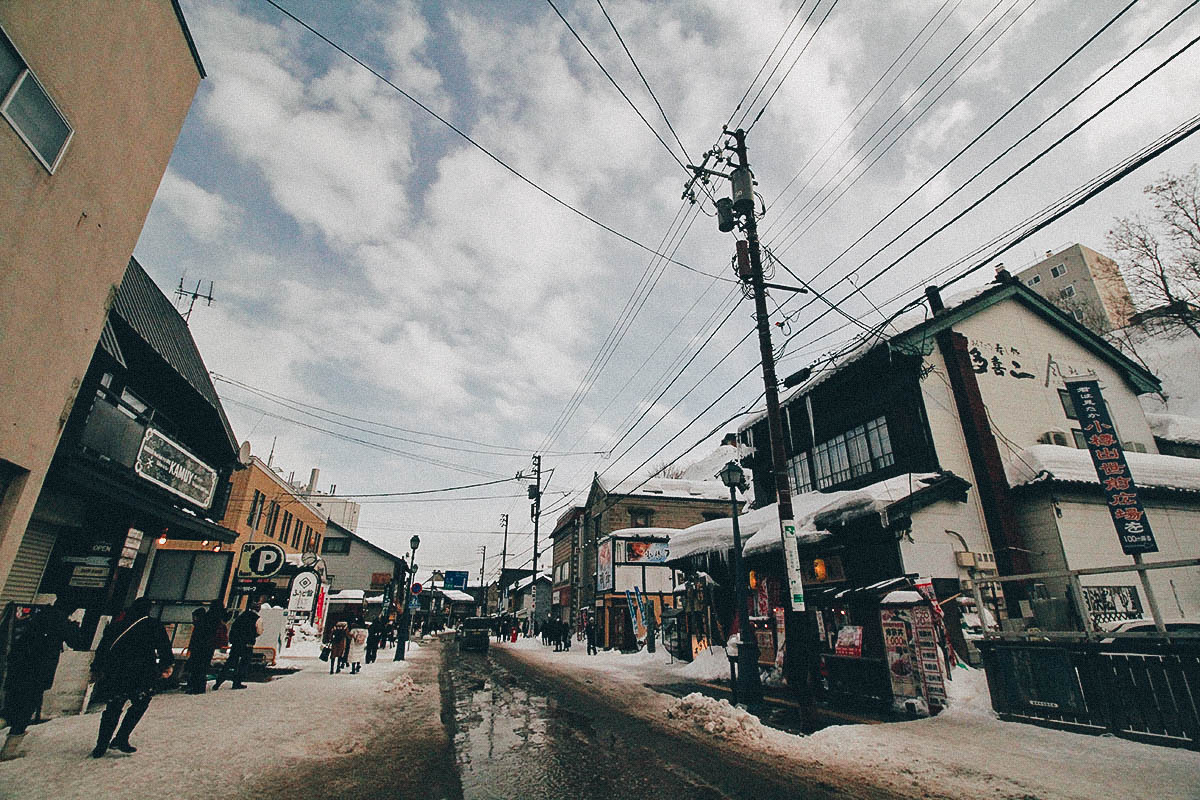 Otaru thrived as a port city in the late 1800s and early 1900s. Trading and shipping companies would construct Western-style buildings to house their offices on Sakaimachi Street. Today, many are well-preserved and have been converted into commercial spaces and museums.
Interestingly, there are many glass shops on this street as well. There are even glass workshops and a museum showcasing Venetian glass! I didn't know what to make of it at first but as it turns out, the Otaru glass industry is linked to its history as a prominent port city.
Buoys used to be made of glass and with the decline of the herring fishing industry in the 1950s, glass makers shifted their focus to the production of refined glassware instead. How interesting!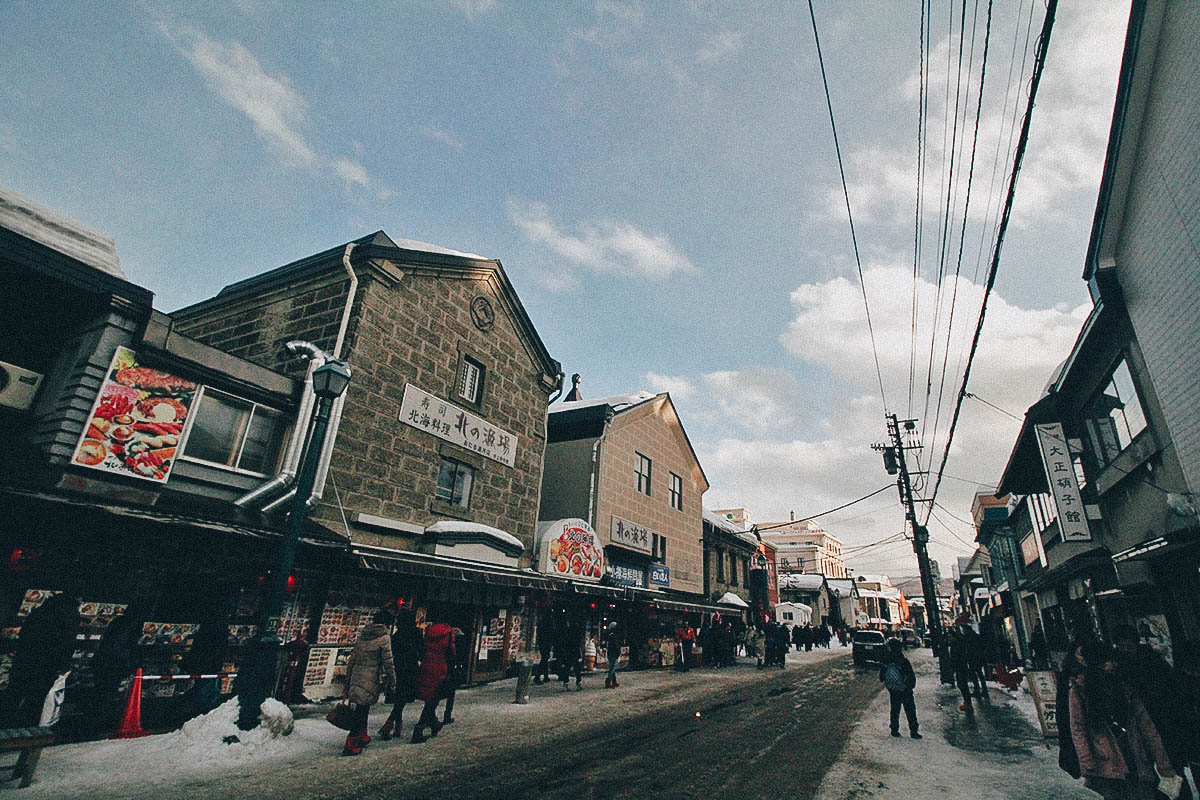 I was having fun taking pictures of the buildings and shops when those things protruding from the snow caught my attention. Can you see them there on the hill, just past the buildings?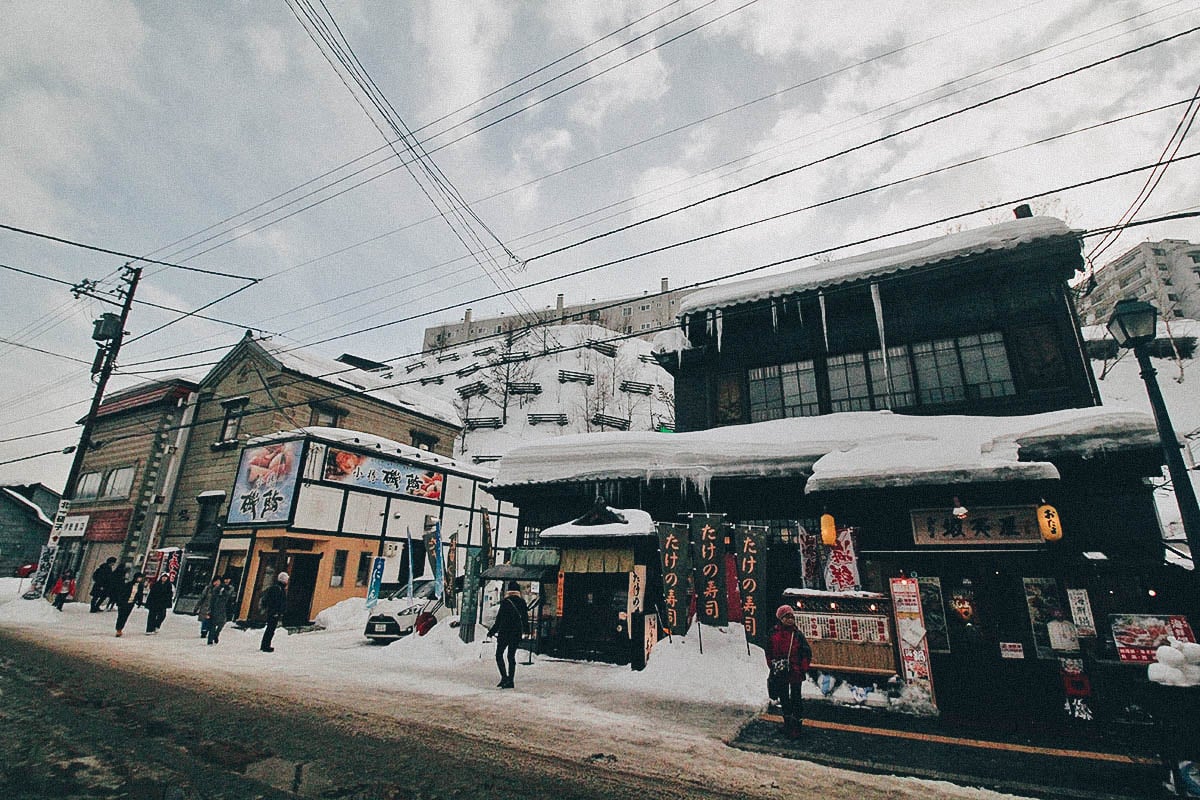 I walked closer to get a better look. I'm not sure but I think they're used to catch snow sliding off the hills to prevent an avalanche. What do you think?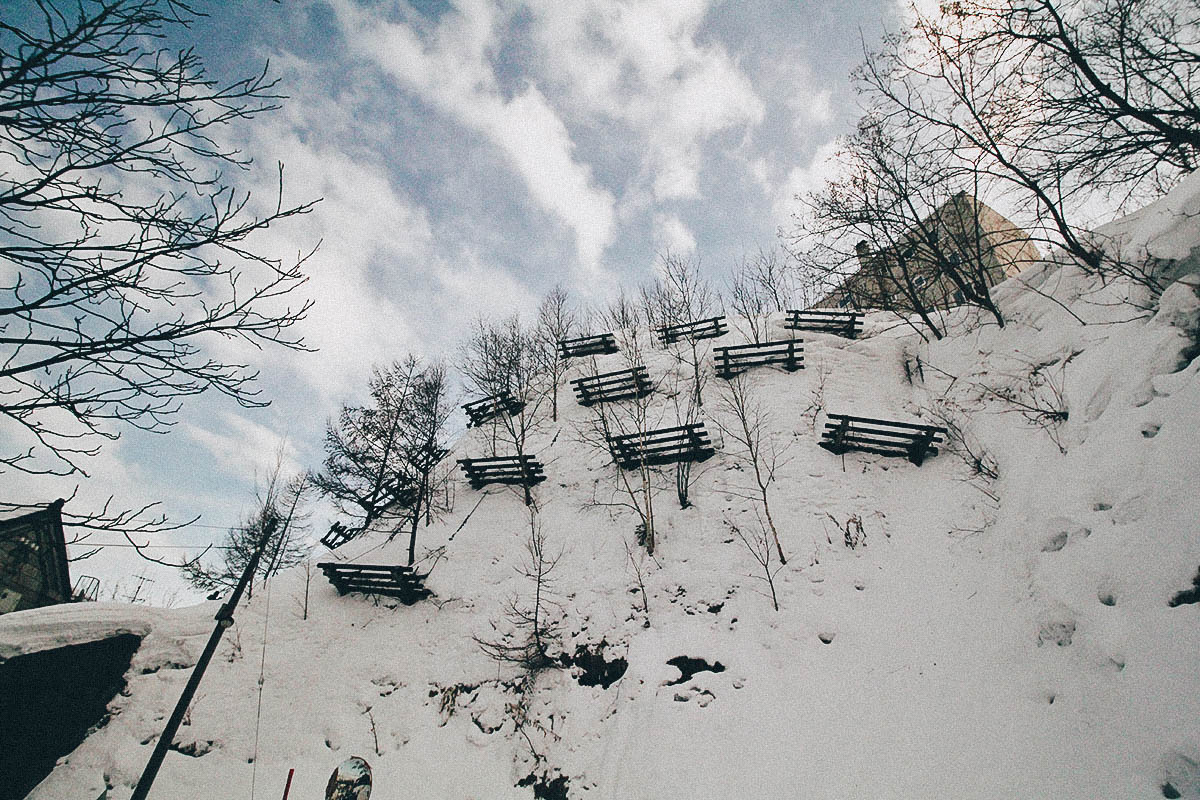 Investigating those shelf-like structures took me on this lovely snow-covered path up a hill. Can you see the water?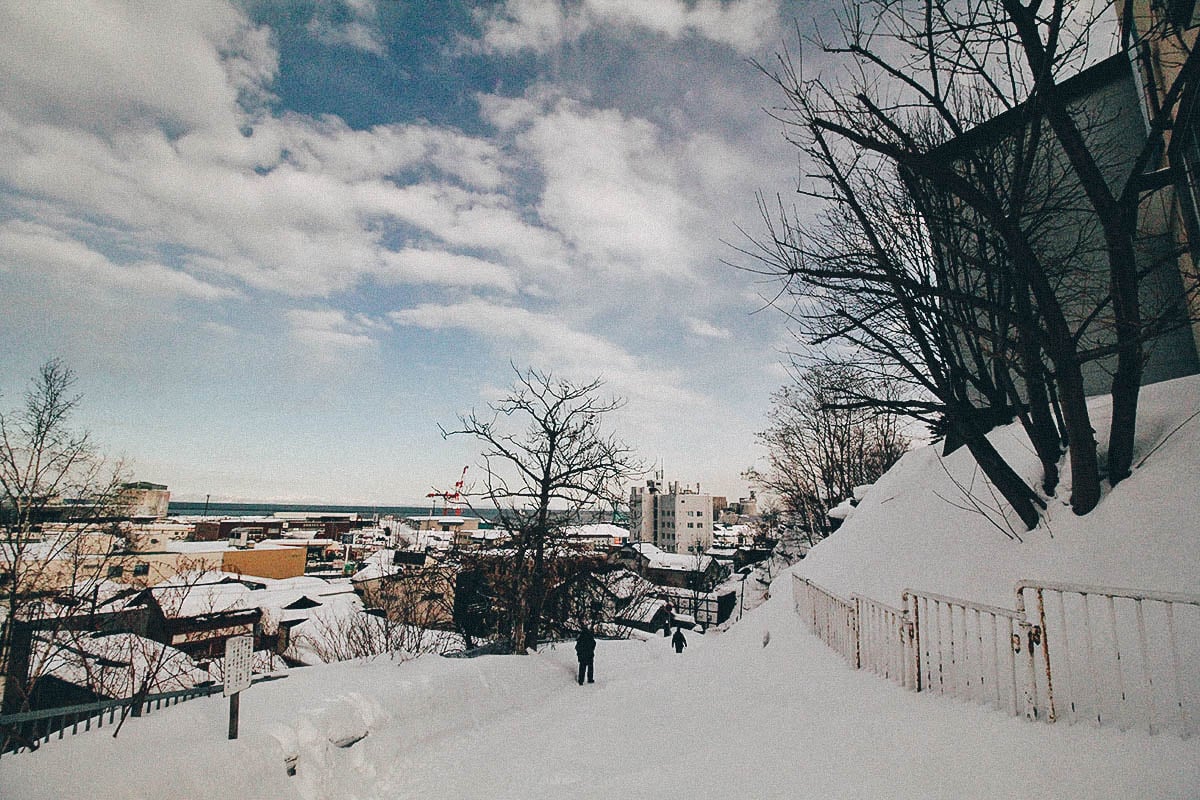 The landscape looks magical blanketed in snow like this. Sapporo is one of the snowiest cities in the world, receiving an average of 597 cm of snowfall per year. I'm sure Otaru gets about the same.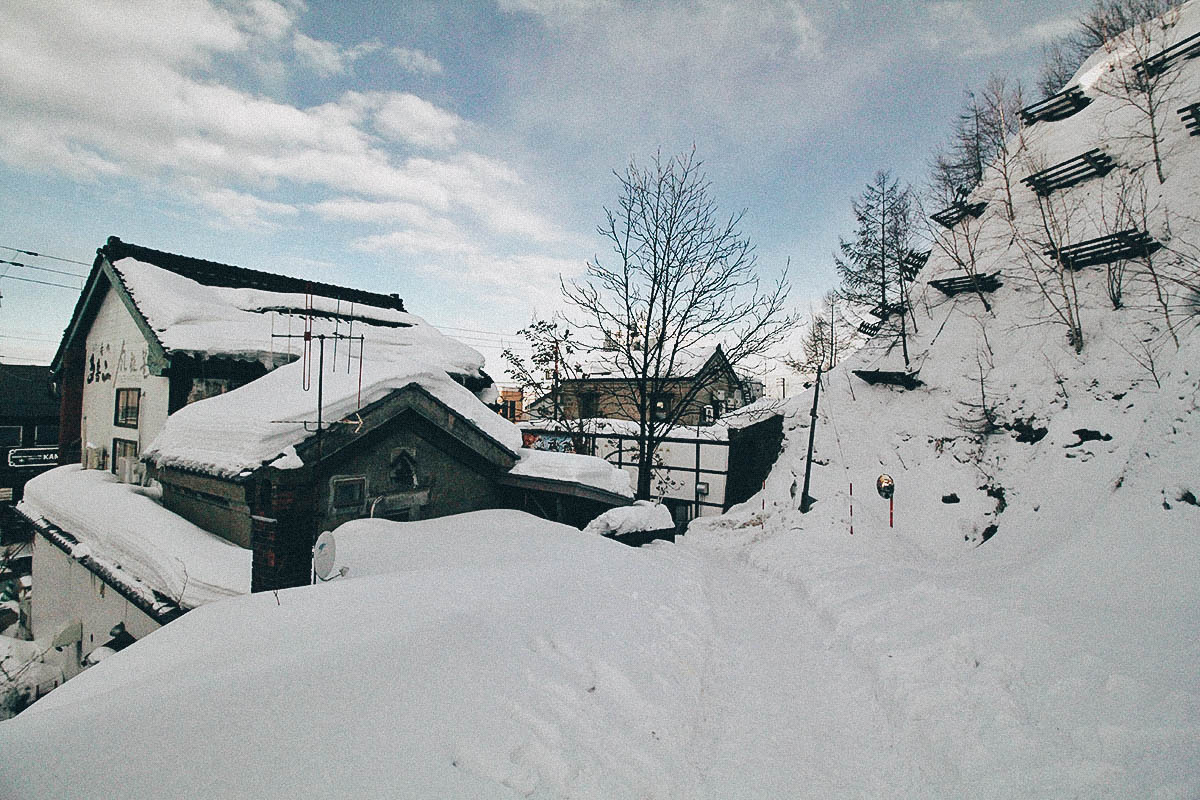 Otaru and Hokkaido in general is known for its dairy industry. On Sakaimachi Street you'll find many dairy and sweet shops like Royce and this Kitakaro.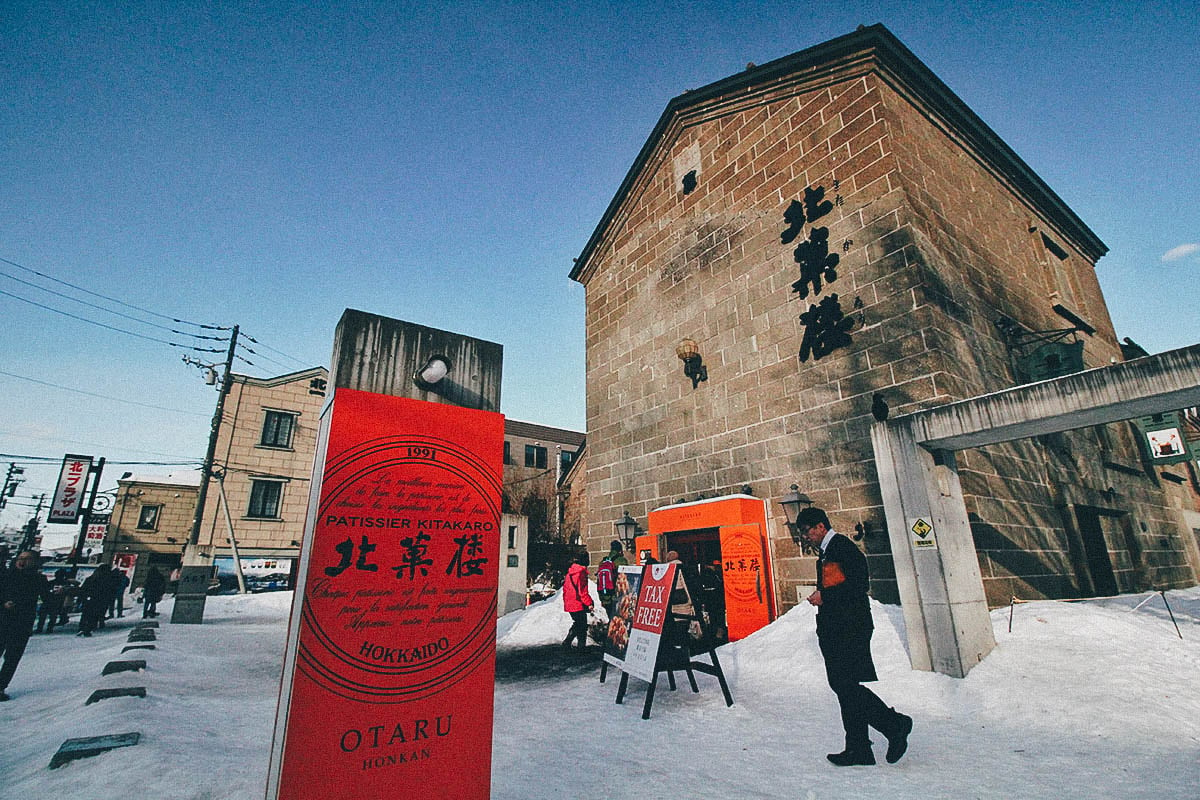 None seem to be as popular as LeTao though. "Double Fromage". Remember those words.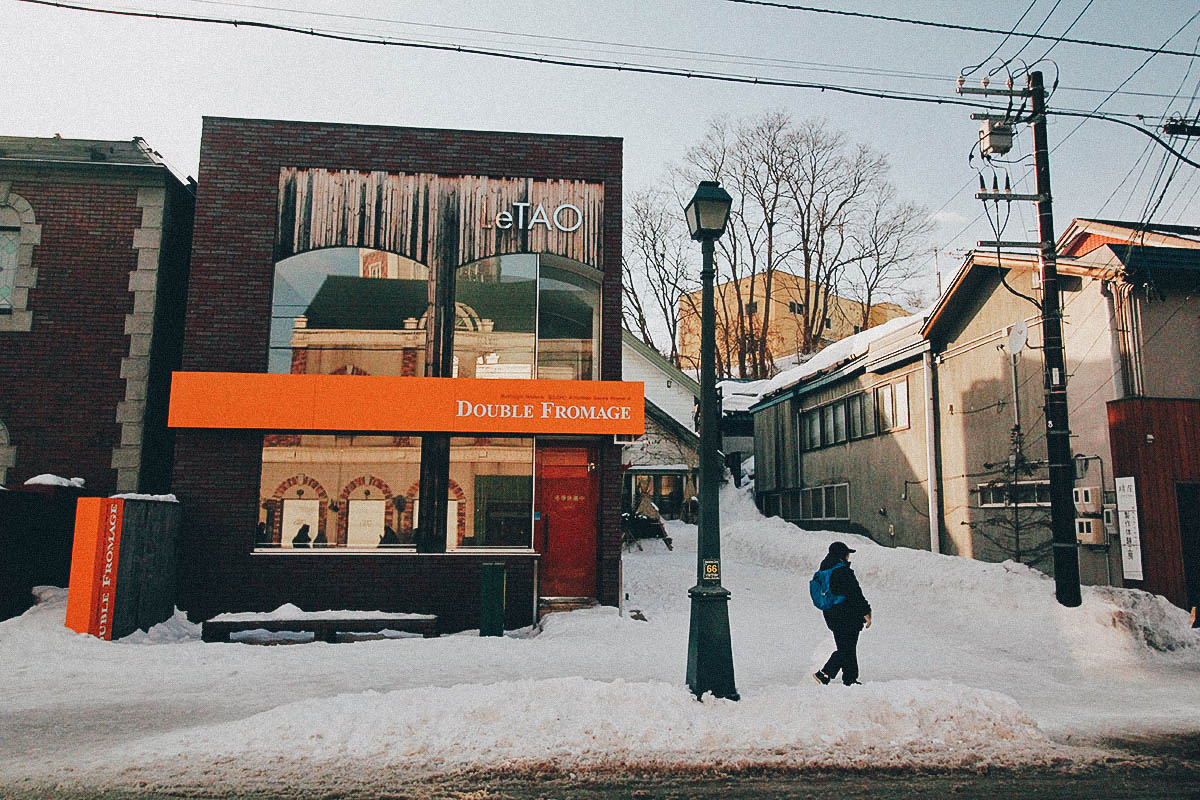 LeTao is headquartered in Otaru so you'll find many branches here.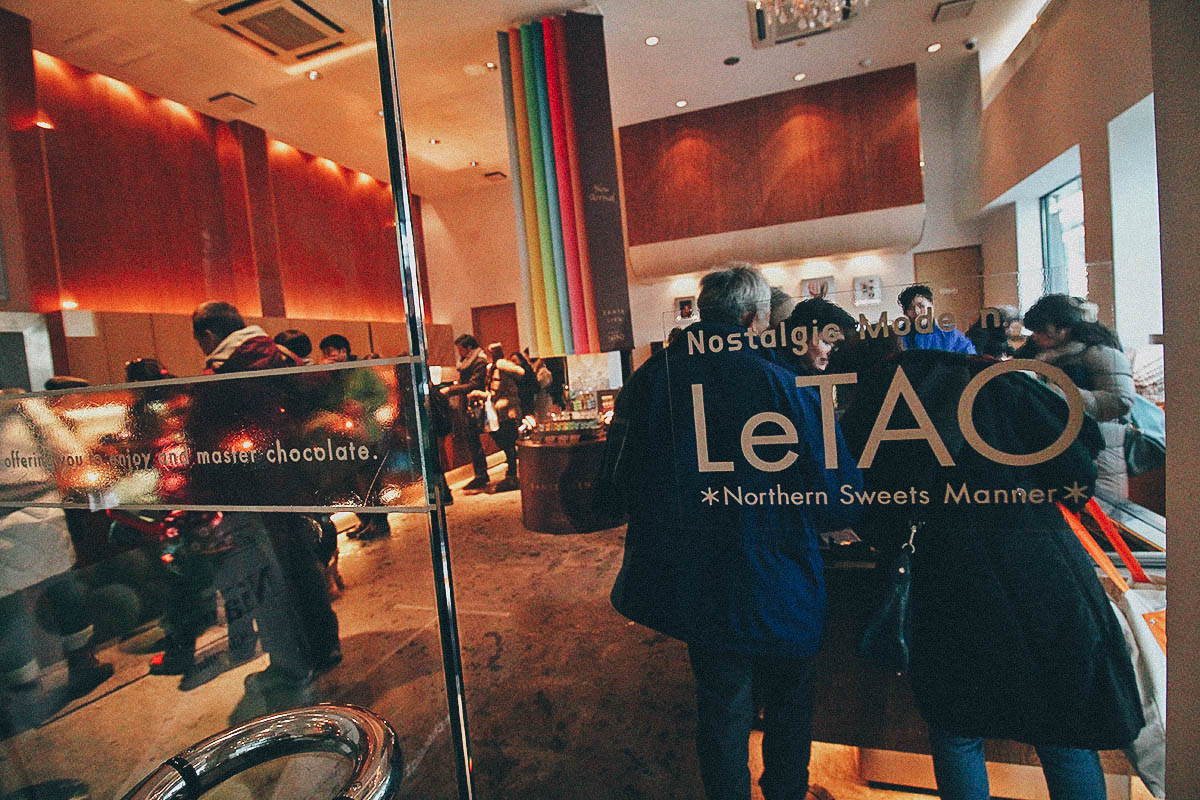 LeTao dairy products are incredibly popular so most shops get crowded like this, especially during peak seasons like the Sapporo Snow Festival.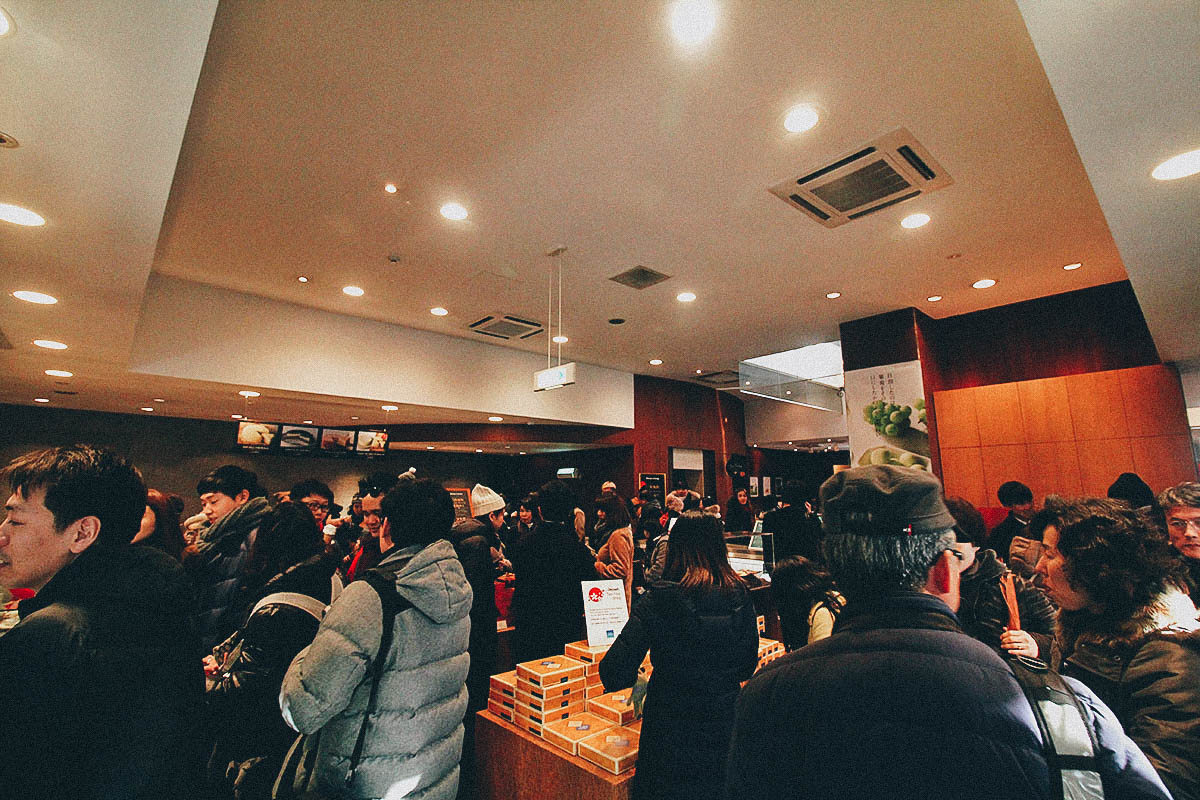 If you have a sweet tooth or love dairy, then you'll go crazy here. Hokkaido dairy is unbelievably creamy and delicious.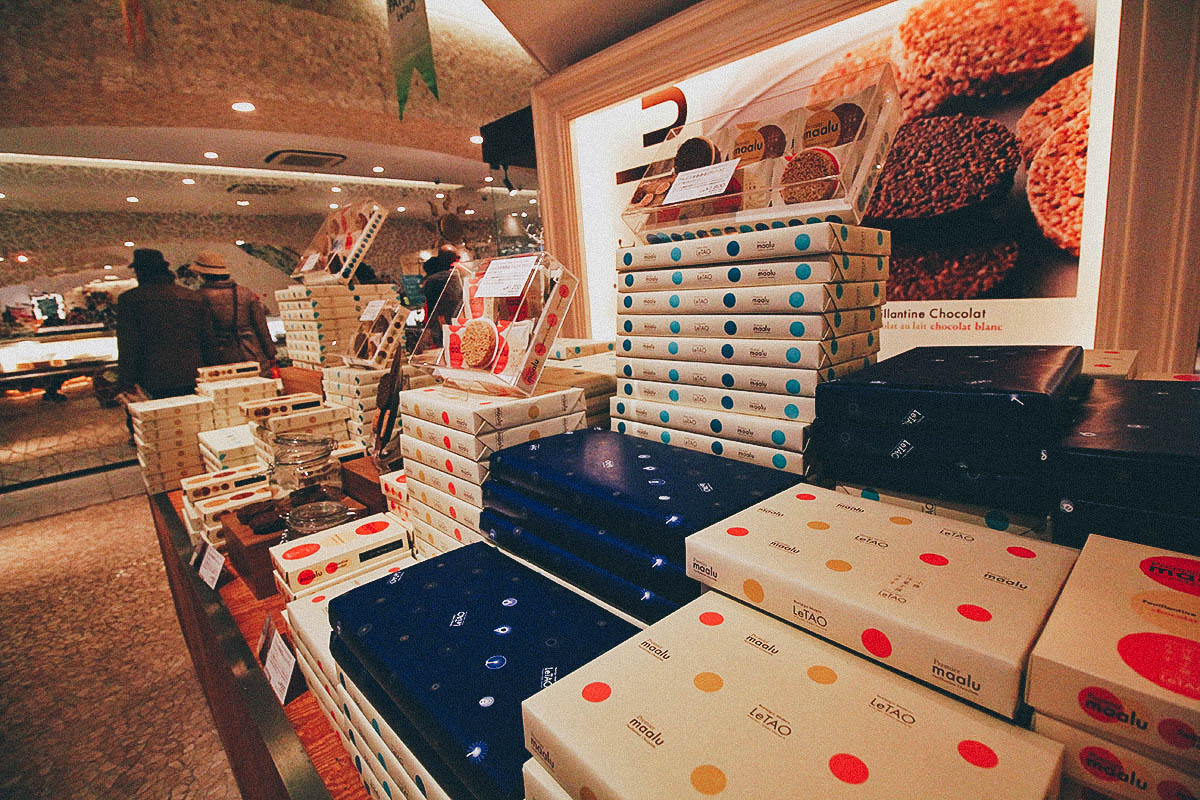 You can buy all sorts of goodies here like biscuits, ice cream, pudding, chocolates, pastries, and cakes. All kinds of stuff!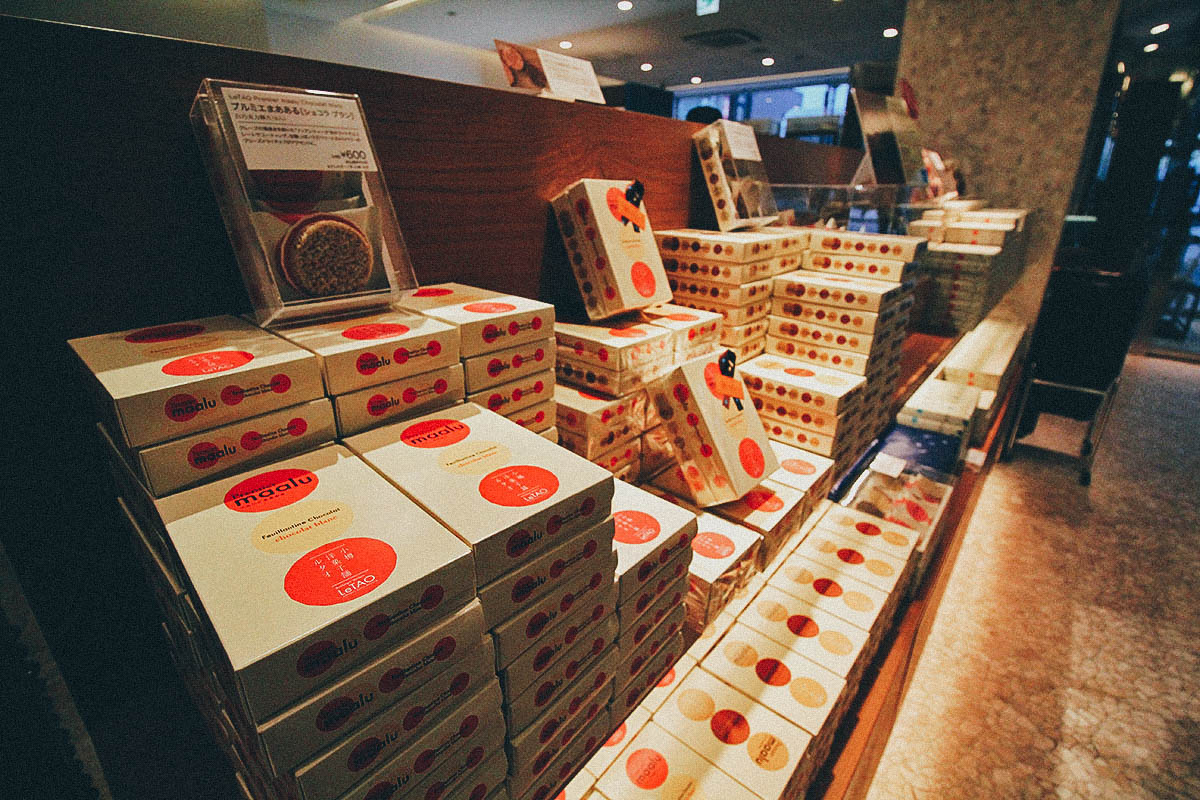 I think these were biscuits made with honey. Like Costco, there are LeTao employees passing out free samples for many of their products. I suggest trying the cheese biscuits. They're heavenly.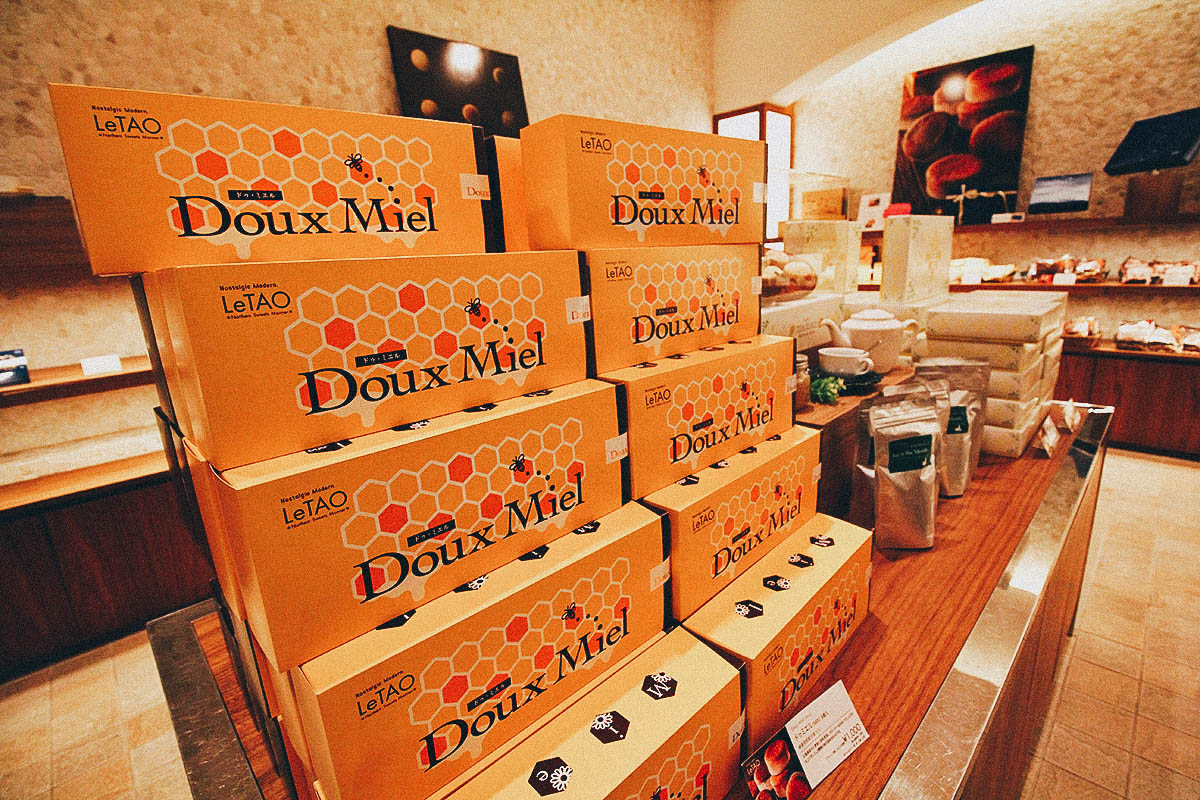 Cheese pudding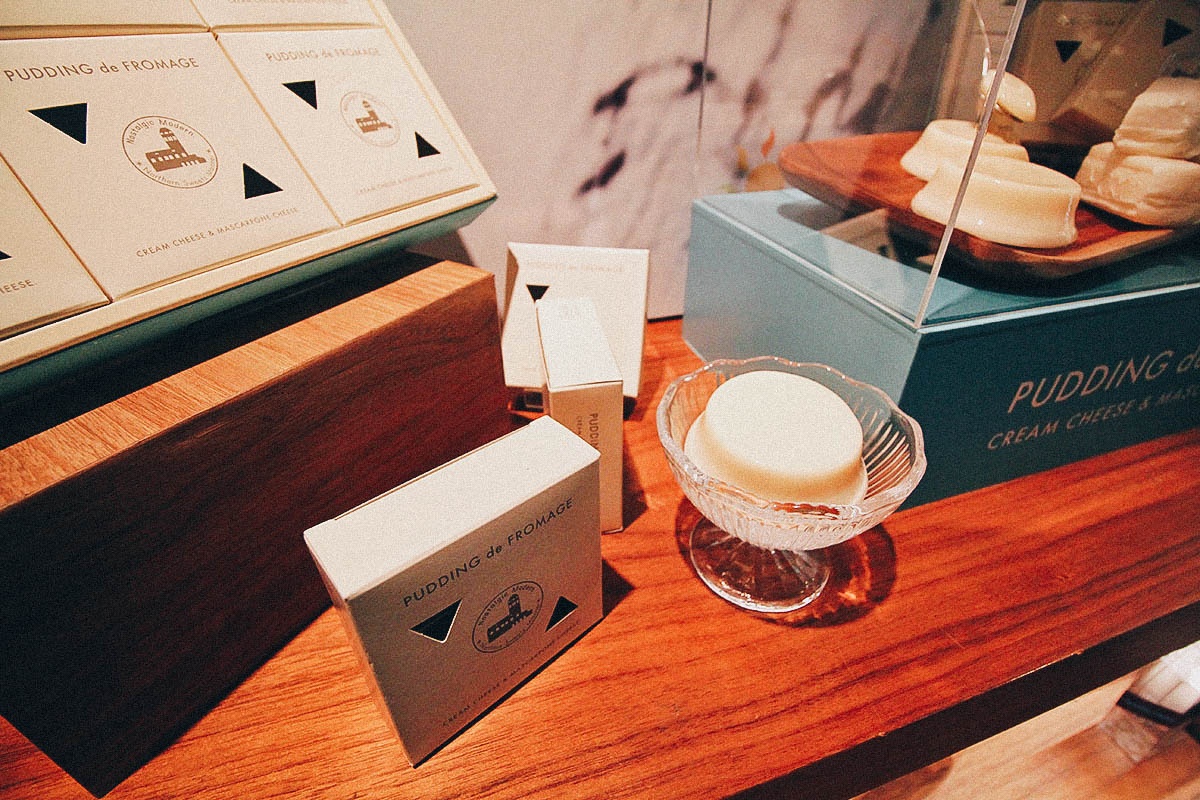 There are many delicious things at LeTao, but perhaps none are as sought after as their double fromage cheesecakes. These things are so frikking good. The usual flavors are double fromage and double chocolate but they also had a limited edition strawberry at the time. We brought home four of these beauties for JPY 1,600 apiece. ♥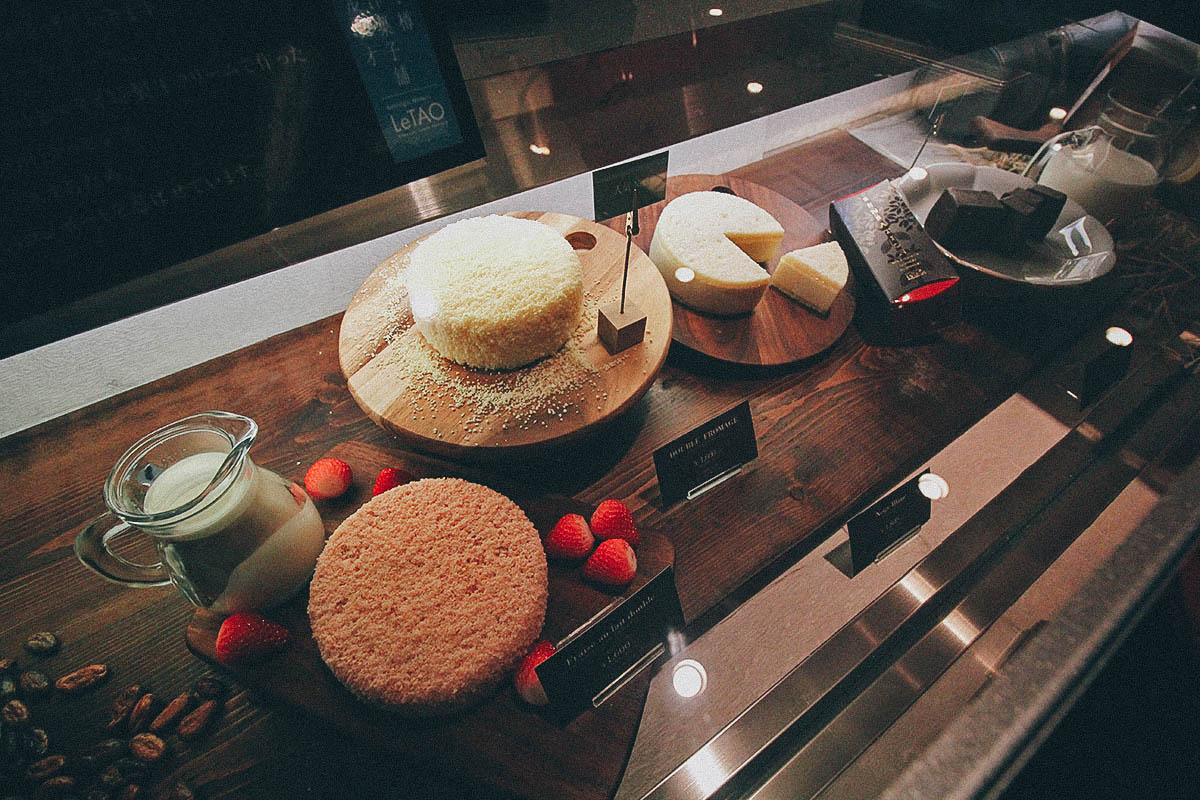 I love cheesecakes but this was unlike any I've ever had. It's rich and creamy and has a consistency somewhere between a baked and a chilled cheesecake. The moment you put it in your mouth, it would turn into a pool of milk and cheese. They're so damn good. It isn't that big so JPY 1,600 per cheesecake is a little pricey, but it's worth it. You have to try it.

There was a cafe on the second floor so we stopped for coffee and this delicious strawberry ice cream cake thing from heaven. ♥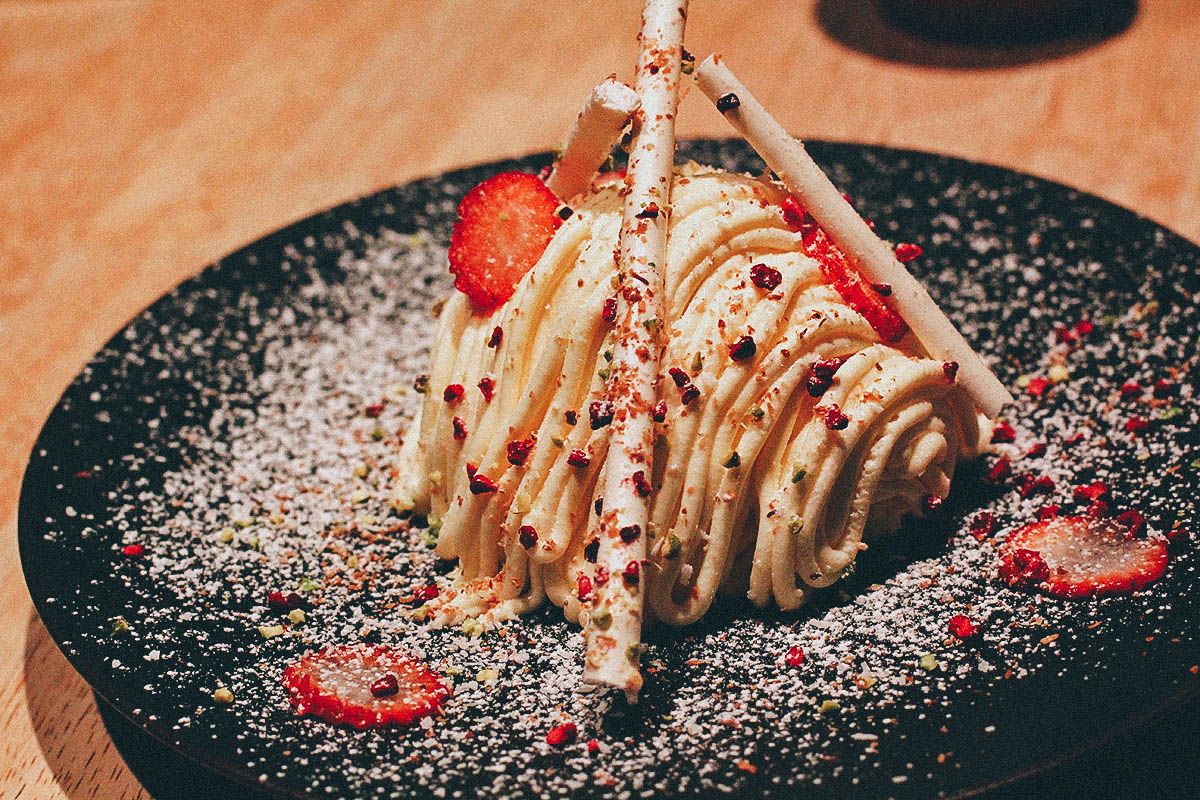 Hokkaido is known for its soft serve ice cream (referred to as "soft cream") so you can't leave without trying it, even if it is the height of winter. We had it at a Kitakaro in Sapporo, which was pretty good, but the soft cream at LeTao was even better. Here we are trying the milk, cheese, and milk with cheese. All were fantabulously creamy and delicious.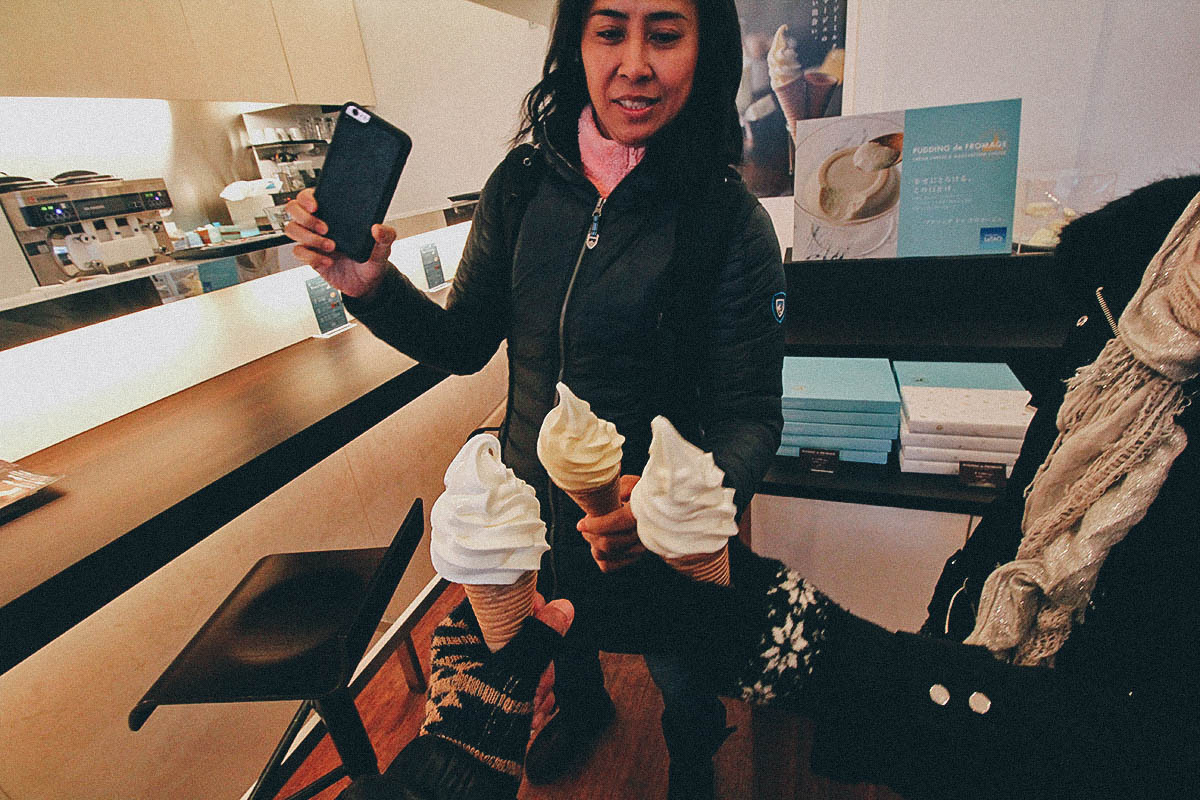 Like everything else in Otaru, Sakaimachi Street is even prettier at night.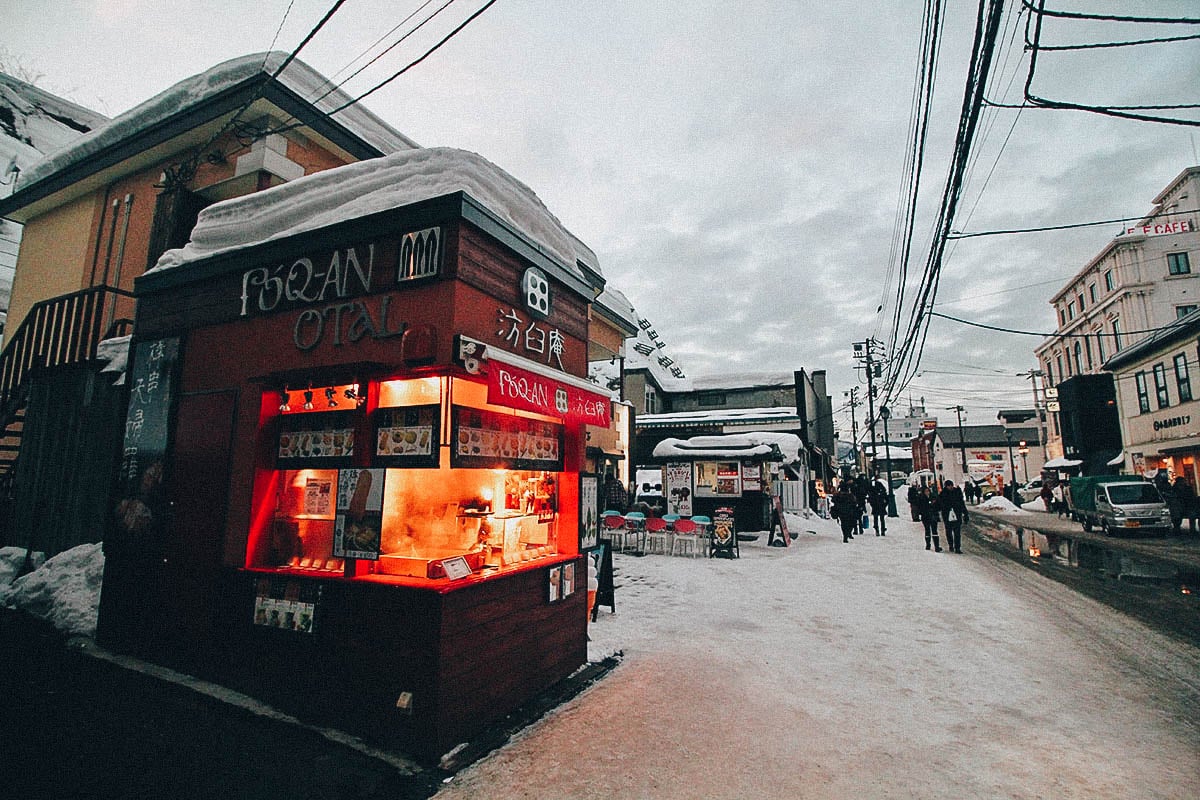 Can you guess what they sell at this little green shop? Incredible Hulk figurines. Nope, matcha. Lots of it.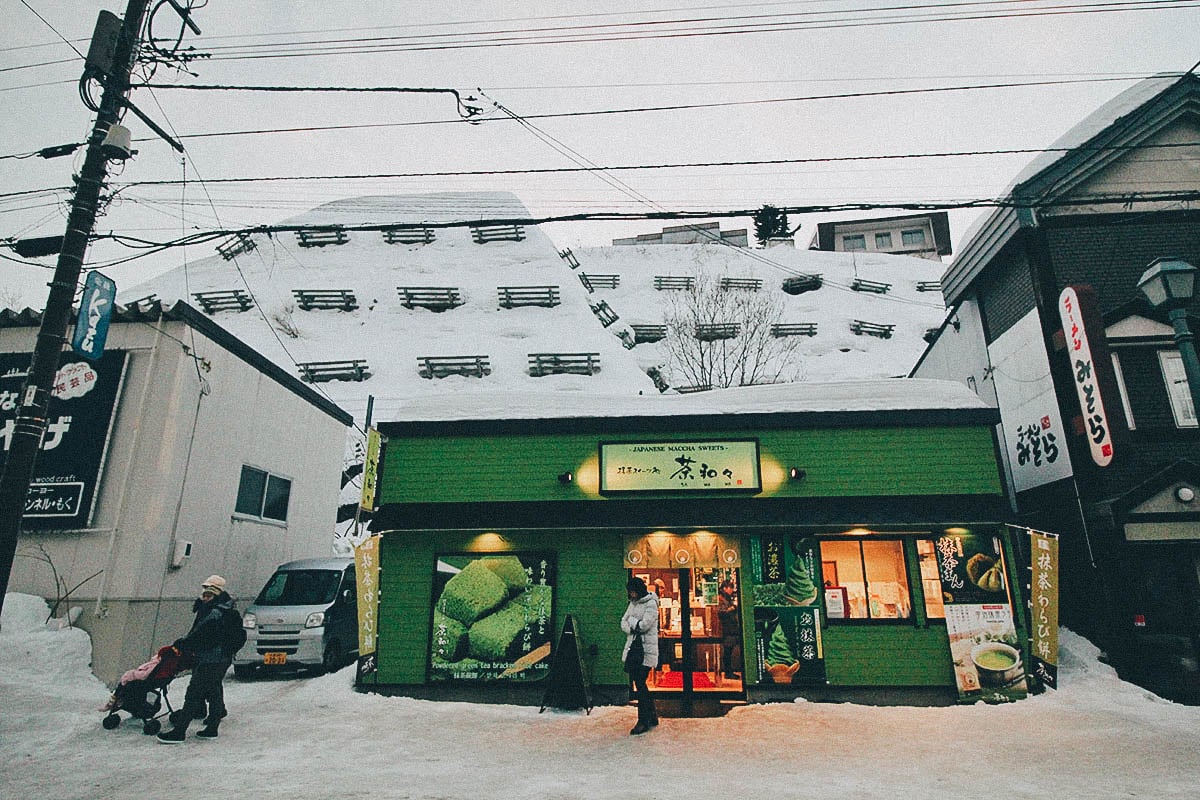 It's getting dark so we start making our way back to the canal.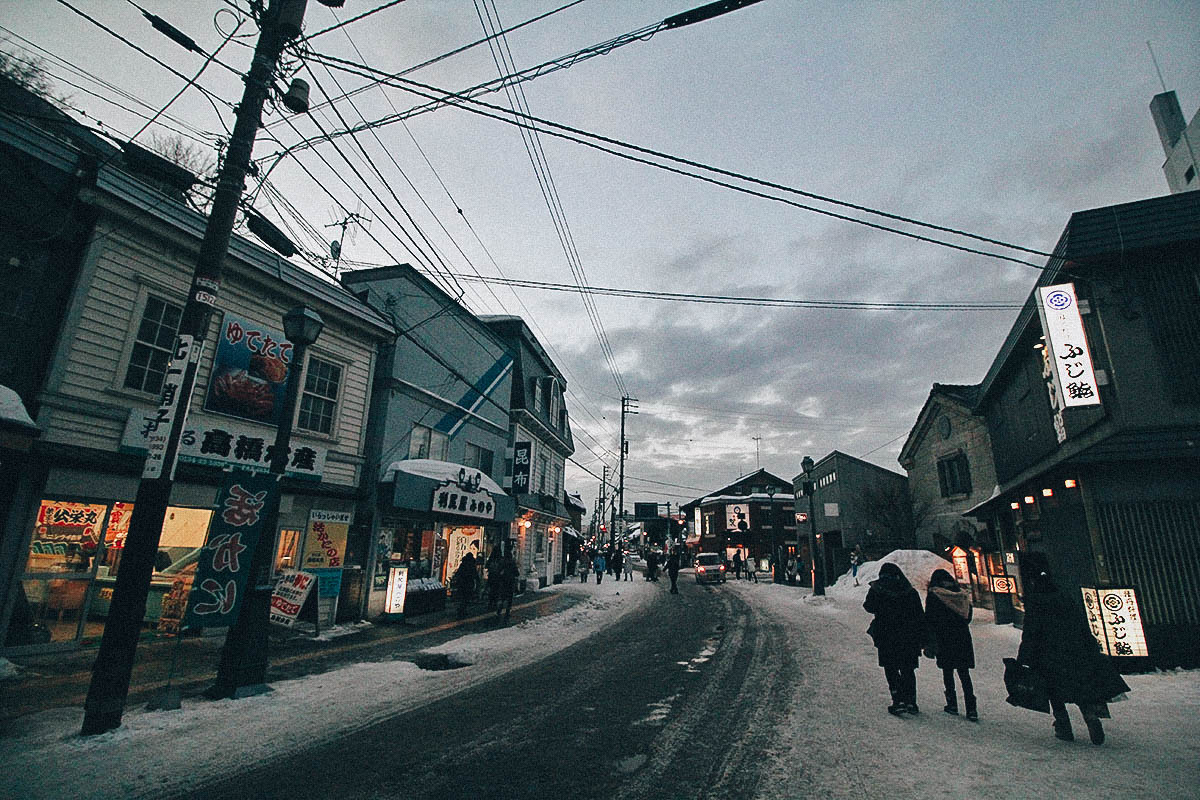 The darker it becomes, the prettier it gets. As they say, beauty is just a light switch away.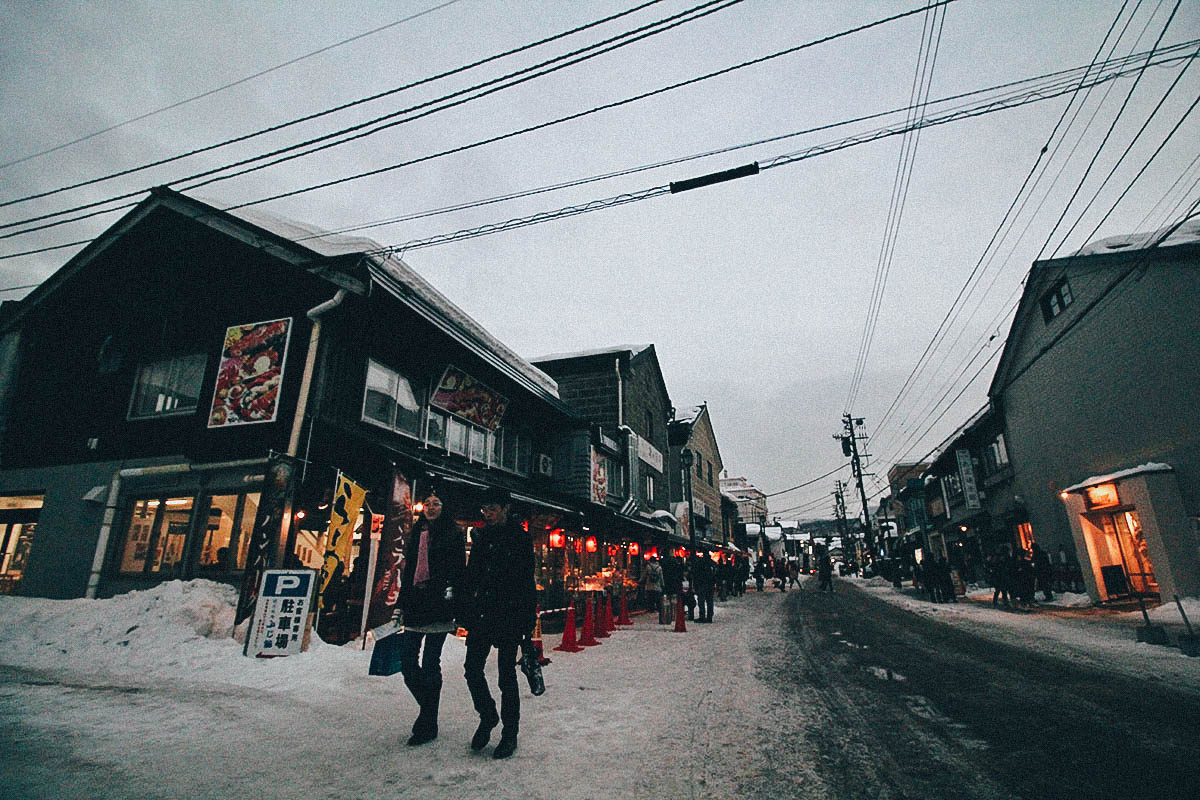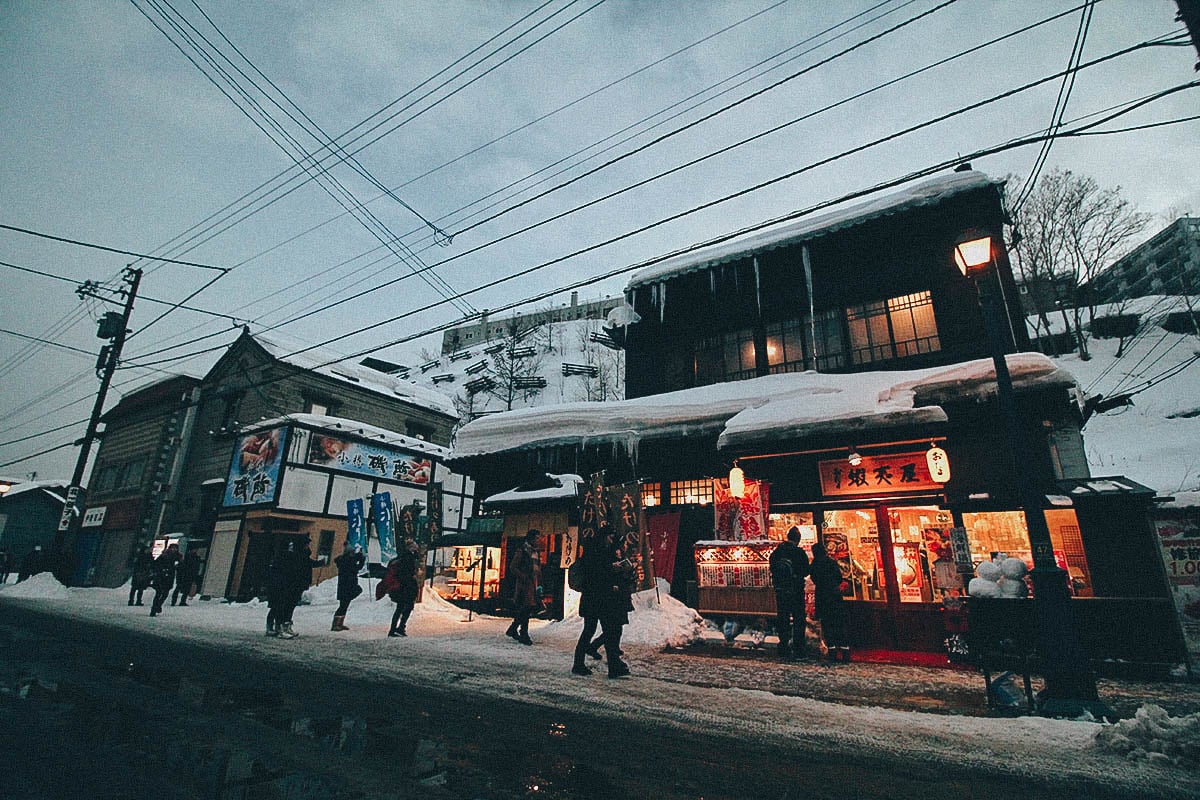 Isn't this lovely? Minus the kanji, you'd think you were in Europe not Japan.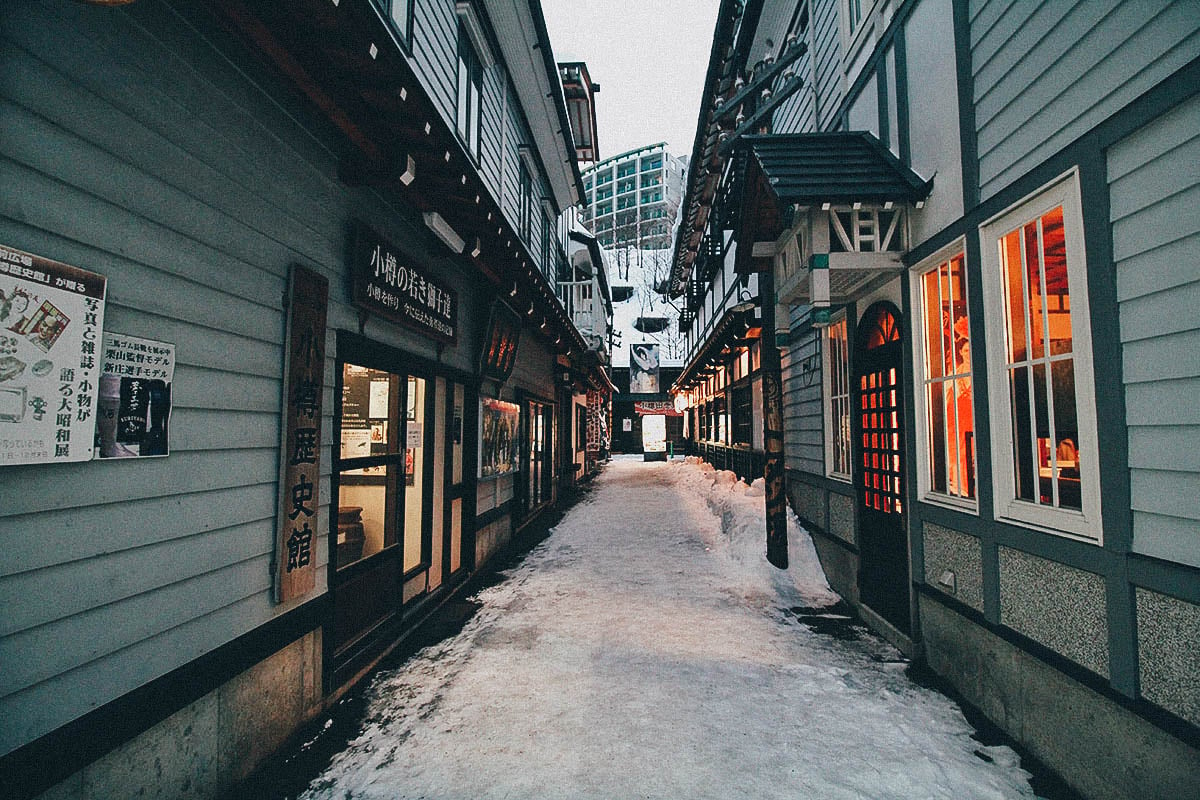 Otaru Snow Light Path Festival
Unga Kaijo
From 5-9PM during the festival, you'll find these lanterns made of snow along the canal and in other parts of the city. They pack snow and a little water on the insides of a bucket and dump it out to create these hollow snow lanterns with candles inside. You'll see more of them below.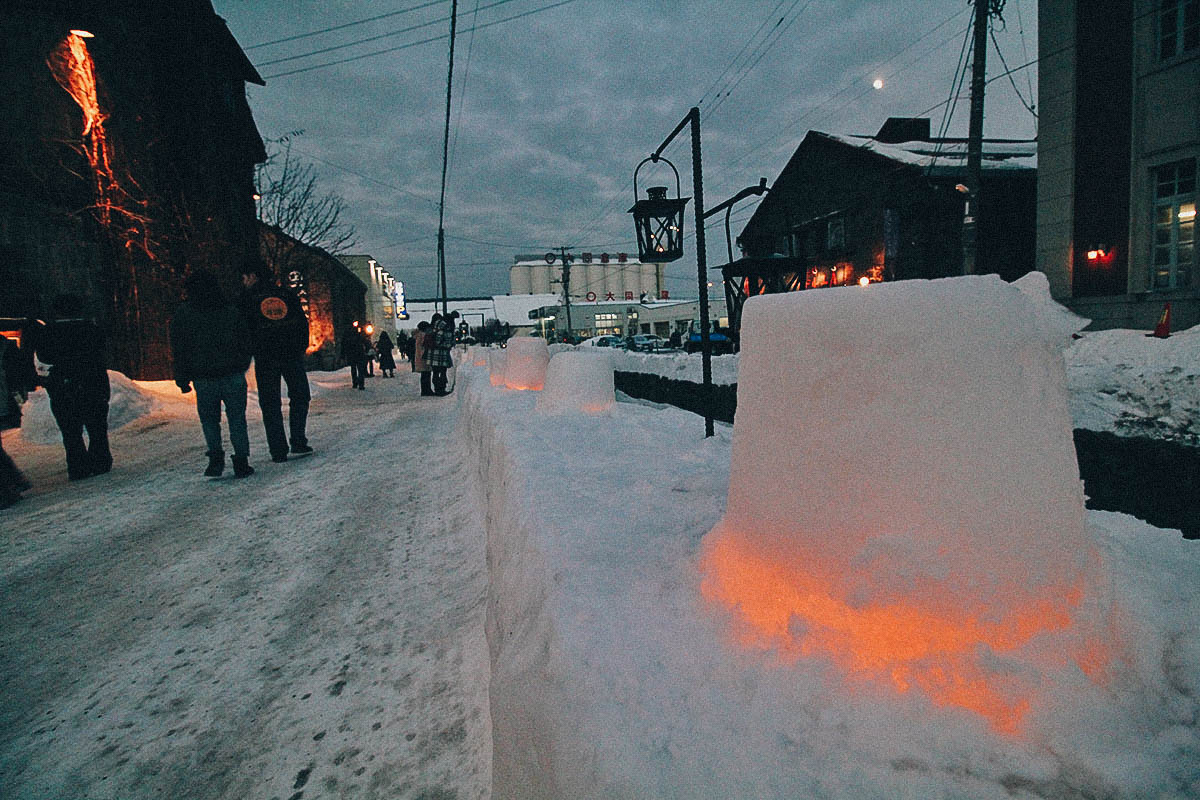 Isn't it beautiful? On top of snow lanterns on either side of the path, they float candles in small buoys on the water as well. The Otaru Snow Light Path Festival is held every February and lasts for ten days.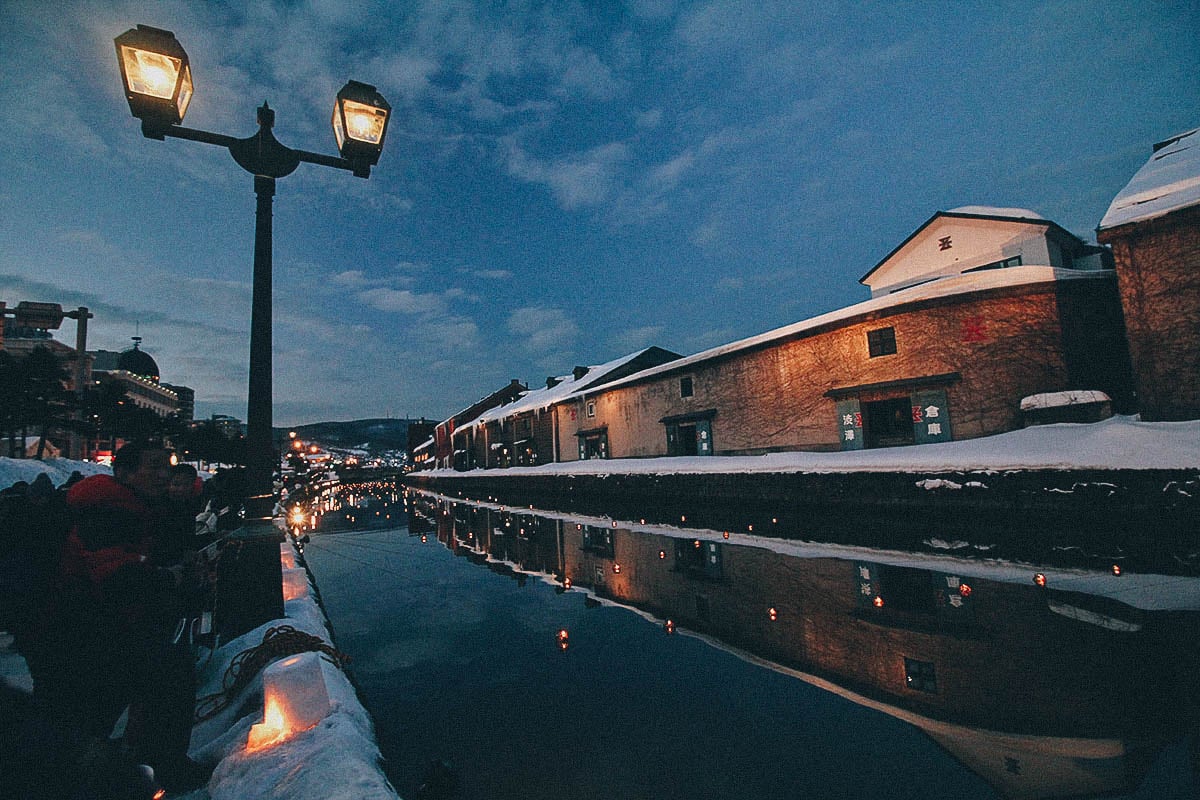 A better look at the snow lanterns. They're fragile and melt from the heat of the candles so festival workers are constantly making new ones.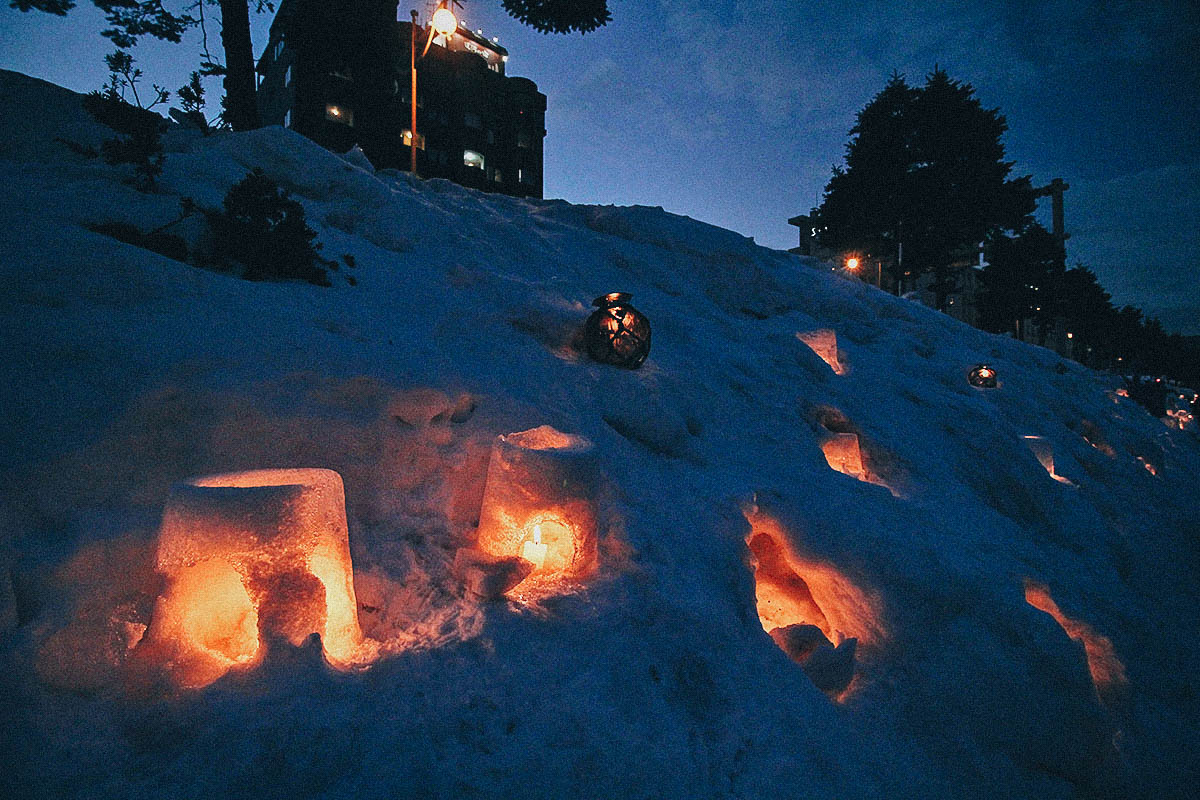 The crowds are thick by the main bridge but they do thin out the farther along the path you go. I suggest doing that because it's impossible to get a shot of the scene without having someone's big head in the frame.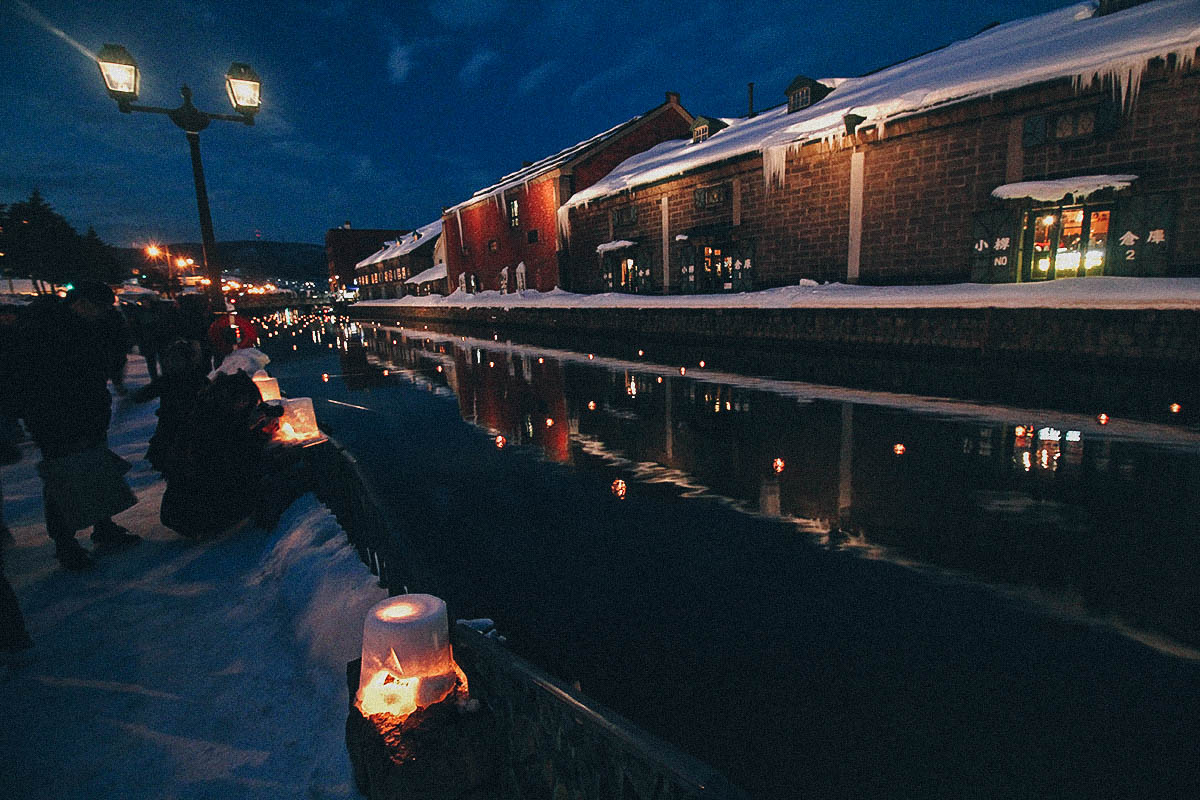 These lanterns are made of ice so they're sturdier. People would stand behind them and have their pictures taken from the front.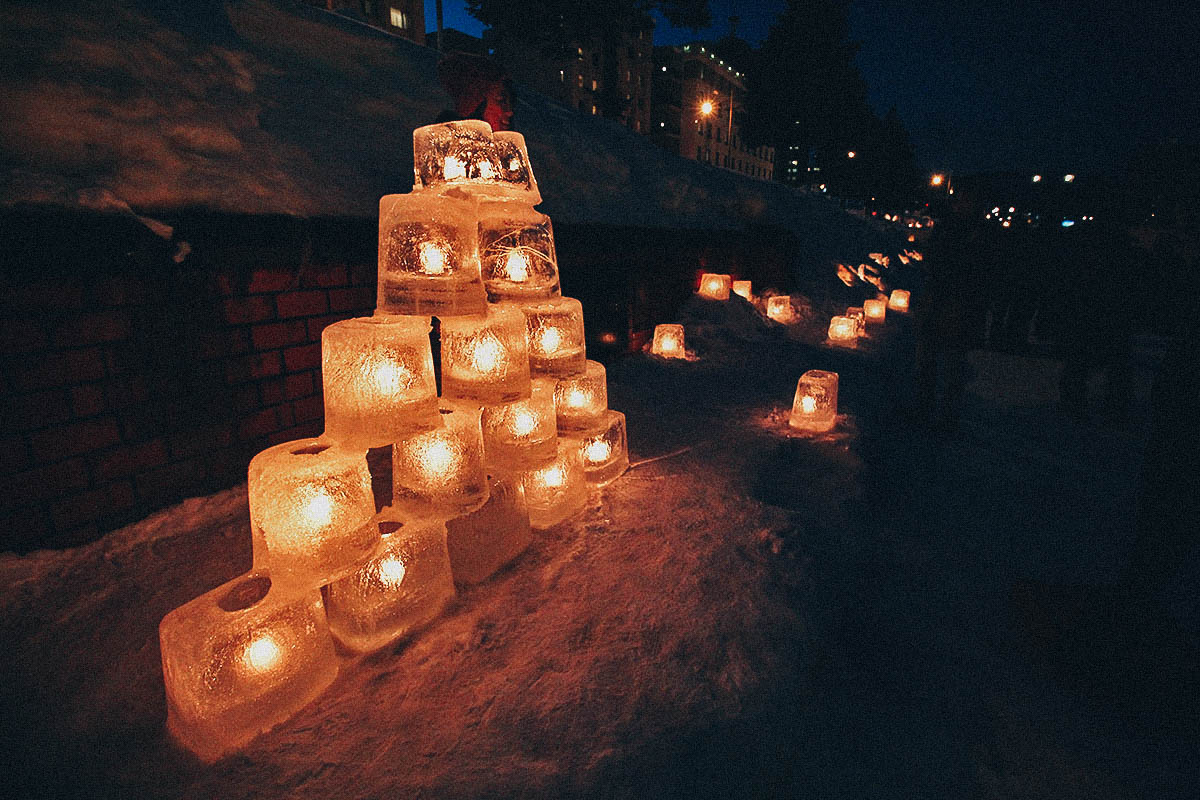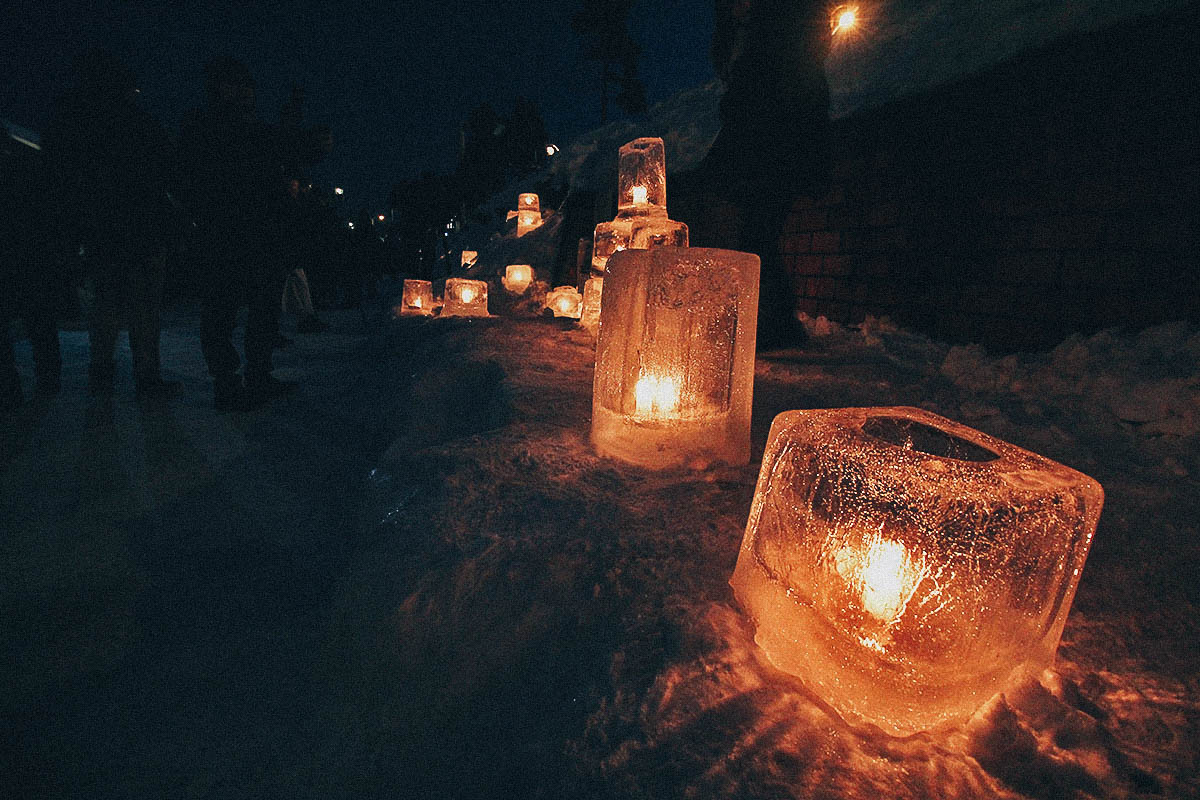 Lights lights everywhere. ♥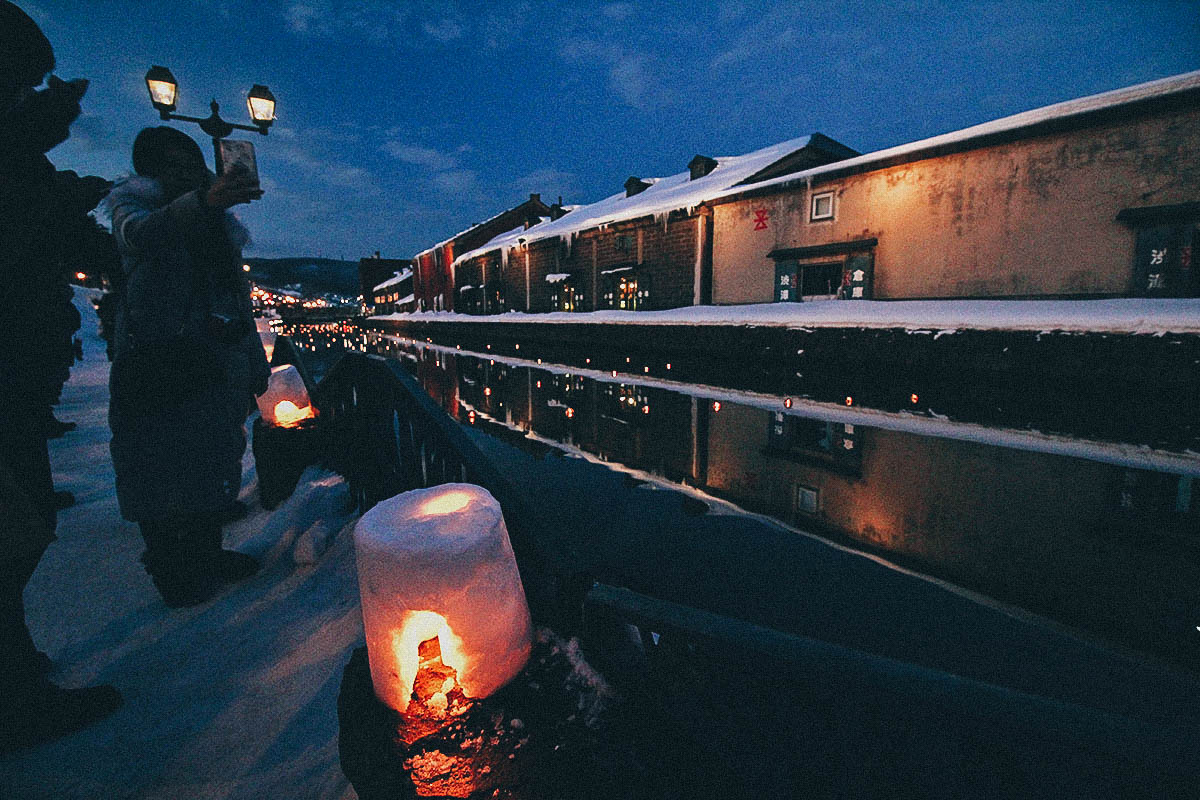 These were pretty. I think they were holly berries encased in blocks of ice and lit up from behind with candles. I forgot to back up and take a picture of the whole structure but they had a lot of them embedded in snow walls along the path. You'll see them in a video I'll be putting up soon.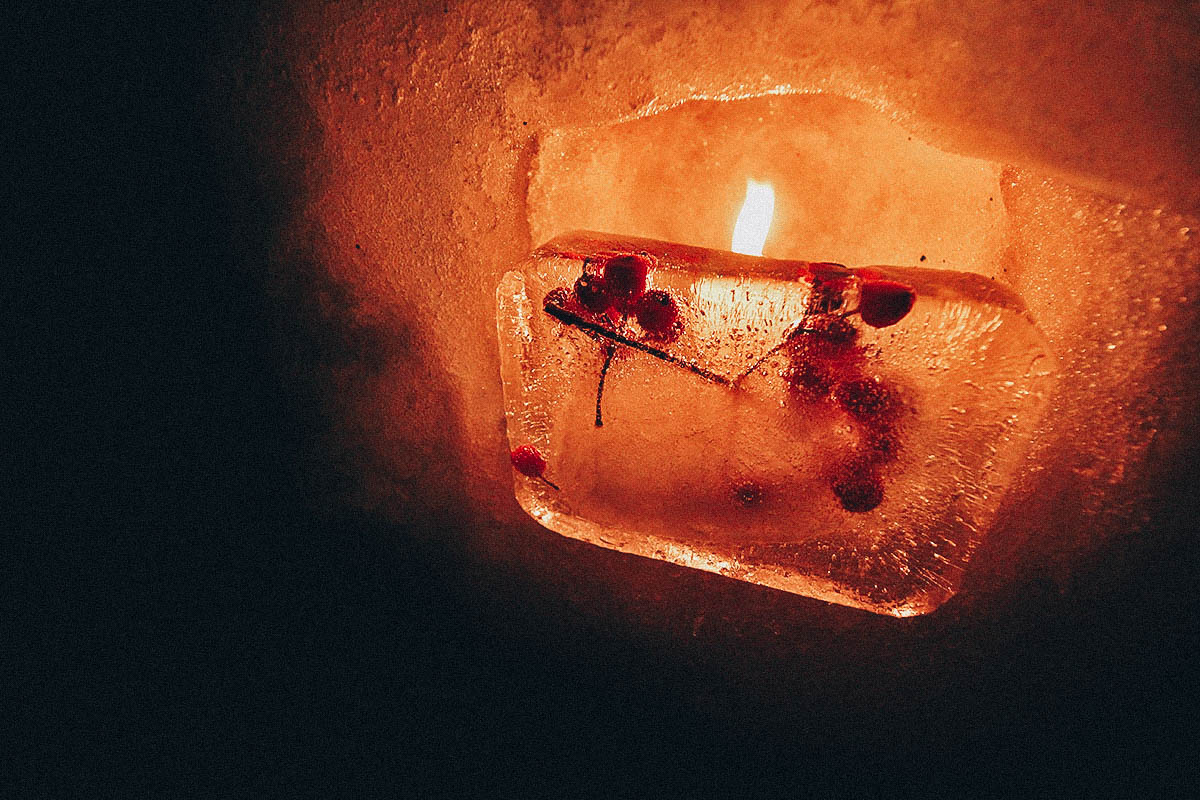 This was taken from another bridge farther down the path. It was a lot more pleasant here with fewer tourists.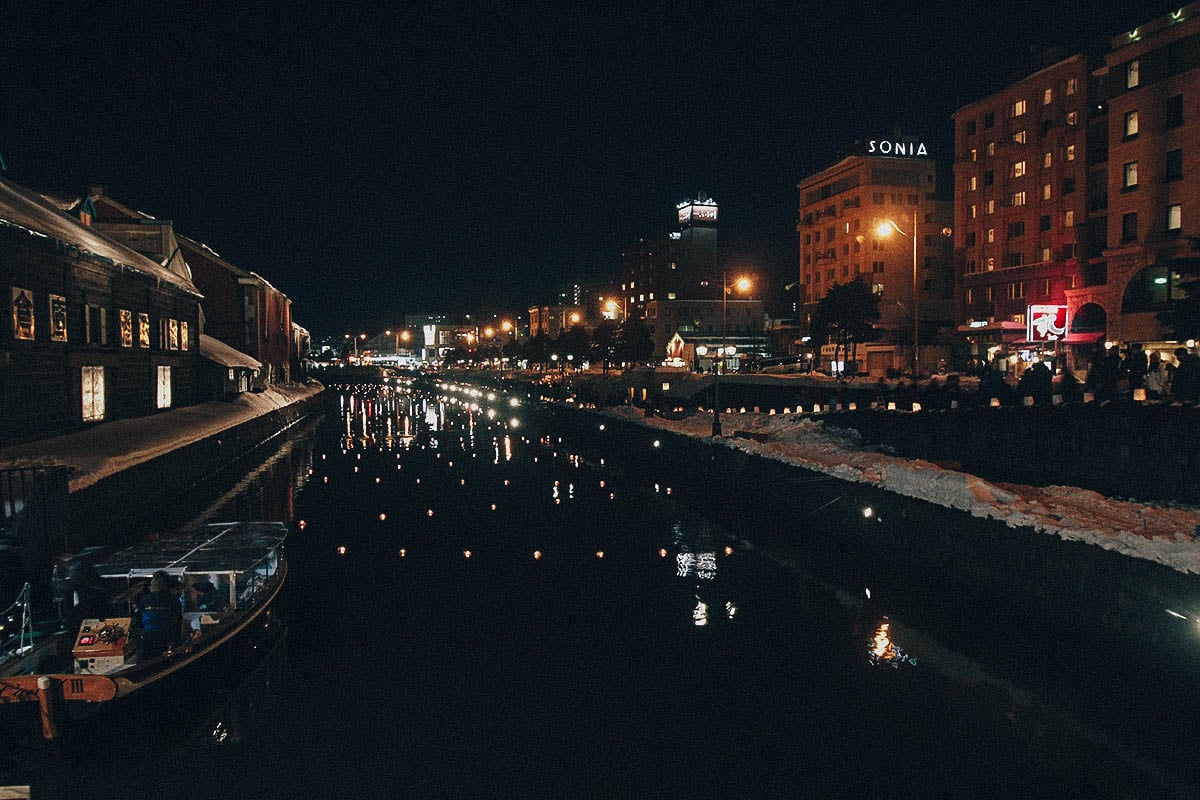 Temiyasen Kaijo
We walked through the Temiyasen Kaijo area on the way back to Otaru station. Here you'll find a half kilometer stretch of illuminated snow sculptures along an old railway line. Aren't they fun? This one reminded me of those green martian dolls in Toy Story. "The claw! I have been chosen!" 😆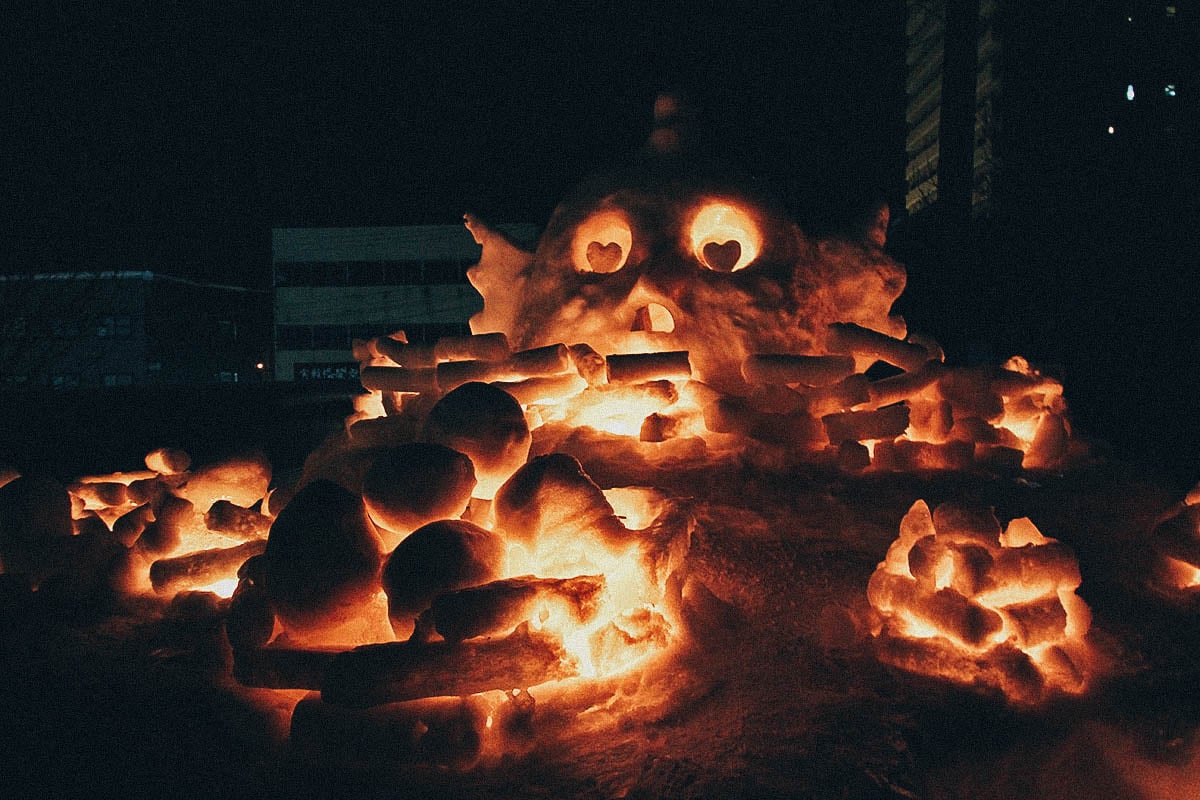 Unlike the canal area, they had more elaborate snow sculptures here. I didn't take a lot of pictures but I did walk through the path with my GoPro so you'll see the sculptures in my video.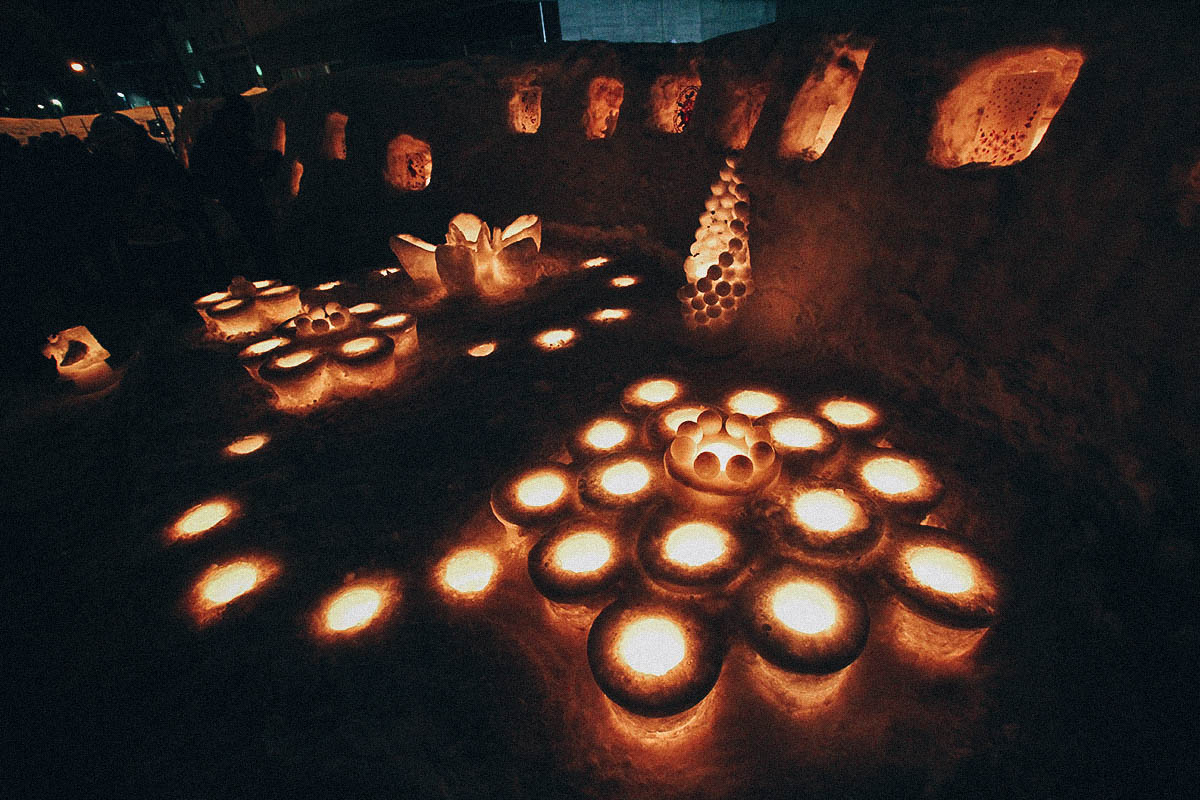 As described up top, Otaru is less than an hour away from Sapporo by JR train. According to Hyperdia, it's exactly 32 minutes from Sapporo station. If you have enough time, then I strongly suggest you spend a whole day here. The Snow Light Path Festival is a bonus in winter but Otaru is lovely any time of the year. I've read that renting bikes is a great way to see the city in warmer months. If you love seafood and dairy products, then don't even deliberate. Just go.
We didn't have time but another popular destination paired with a trip to Otaru is Nikka Whisky Distillery. It's one of Japan's top whisky makers and just three stops away in Yoichi on the same JR line. We tried to go but trains don't run that frequently so our timing was off.
But if you leave Sapporo early enough and familiarize yourself with the train schedule, then a side trip to Nikka from Otaru is doable. I suggest having an early lunch at Sankaku Market, get back on the train to Yoichi and Nikka, then come back to Otaru to explore the canal area and Sakaimachi Street before heading back to Sapporo.
For more travel tips to Sapporo in winter, check out our Sapporo Winter Travel Guide.