I will never forget that smell. When I close my eyes and think back to that day, I can still smell it. It will never leave me.
Seventeen years ago, I visited the Sierra Nevada Brewery in Chico, California with my friends Richard and Kathleen. They went to the place a few weeks before then and had raved about how good the beer was. They said it tasted so much better fresh. Sierra Nevada Pale Ale was my favorite beer at the time so I was eager to try it at the source. Richard parked his car at the brewery's parking lot and as soon as I stepped out, that's when the smell hit me.
"What's that smell?" I asked Richard, wide-eyed with excitement.
"Oh that's the smell of the hops roasting mate."
I couldn't believe it. I had never smelled anything like that in my life. It smelled sweet, syrupy, and full-bodied. Like burnt caramel, except darker. And richer. I was so taken by that smell I wanted to dunk my head in whatever vat was producing that godly aroma. It smelled like heaven on earth and it's a smell I've associated ever since with breweries and the beer-making process.
And true enough, the beer was incredible. Fresh off the tap, it was clean and crisp, more refreshing than any beer you can ever drink from a bottle. I still remember what I had for lunch that day too – beer-battered fish and chips. As you'd expect, it tasted amazing with the beer.
I know this has little to do with the Sapporo Beer Museum. It's just that I haven't visited a brewery since then so the thought of catching that smell again here brings back many hop-py memories. 😛
Freshly Brewed Beer and Jingisukan at Sapporo Beer Museum
The red brick of the Sapporo Beer Museum is a striking sight, especially in winter when it's framed against the whiteness of the snow. Sapporo is one of the oldest beer brands in Japan and has been brewing here in Hokkaido since 1877.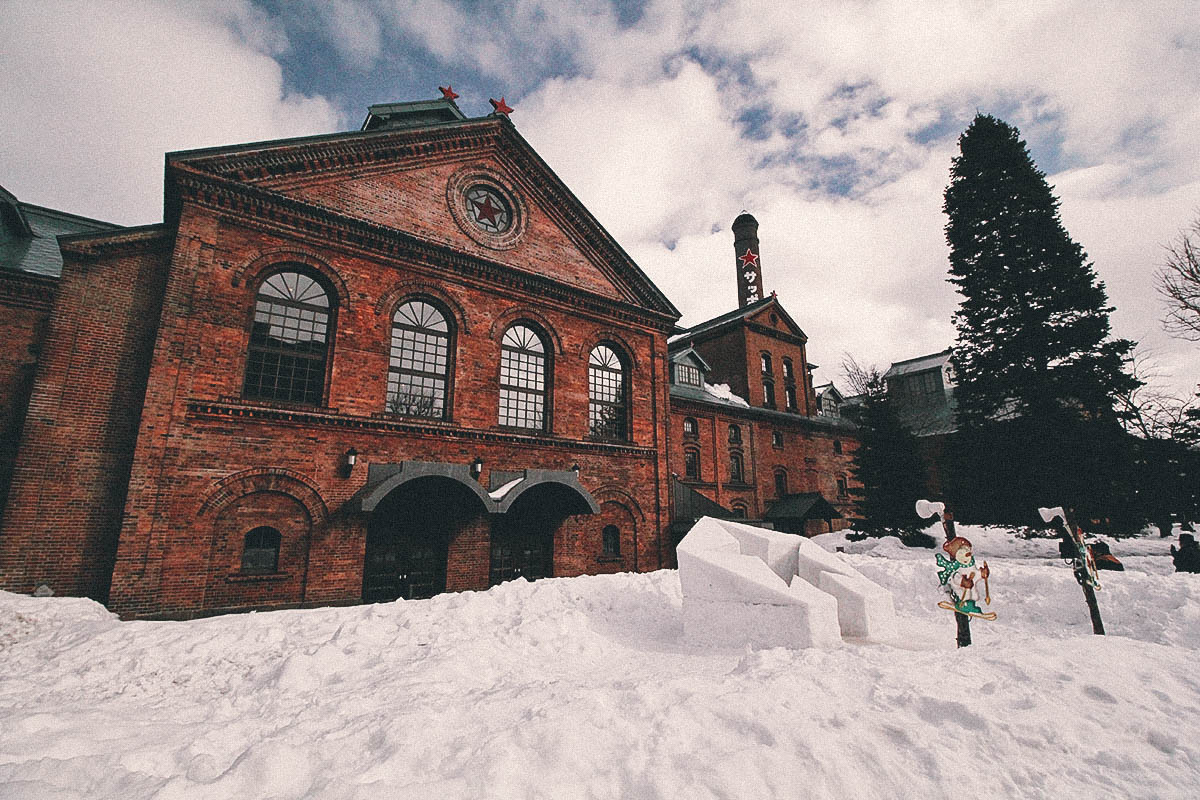 The entire place has an industrial feel to it. Beer started brewing here in 1877 but it wasn't until 1987 when this museum was opened. Unless I'm mistaken, it's the first and only beer museum in Japan.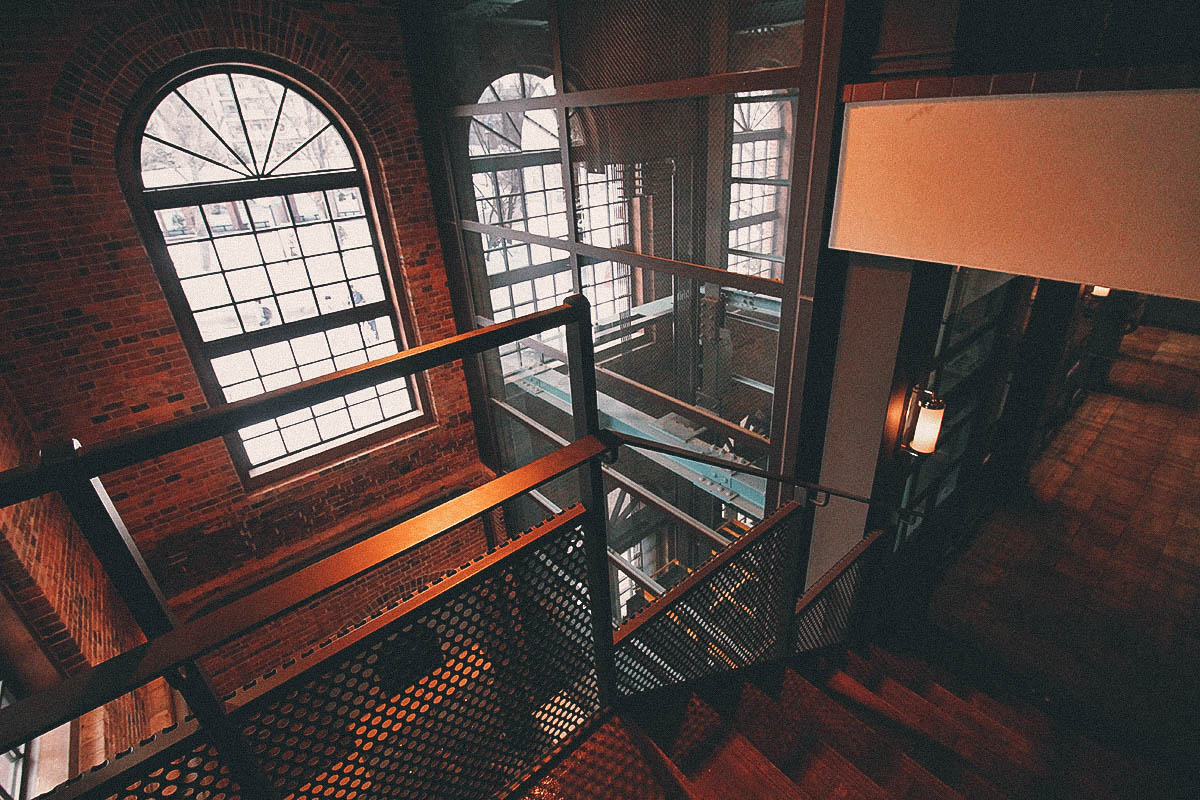 This giant beer brewing vat is the centerpiece of the museum. It is massive! Most people explore on their own but you can go on a guided tour of the museum for JPY 500. I believe it's in Japanese only though.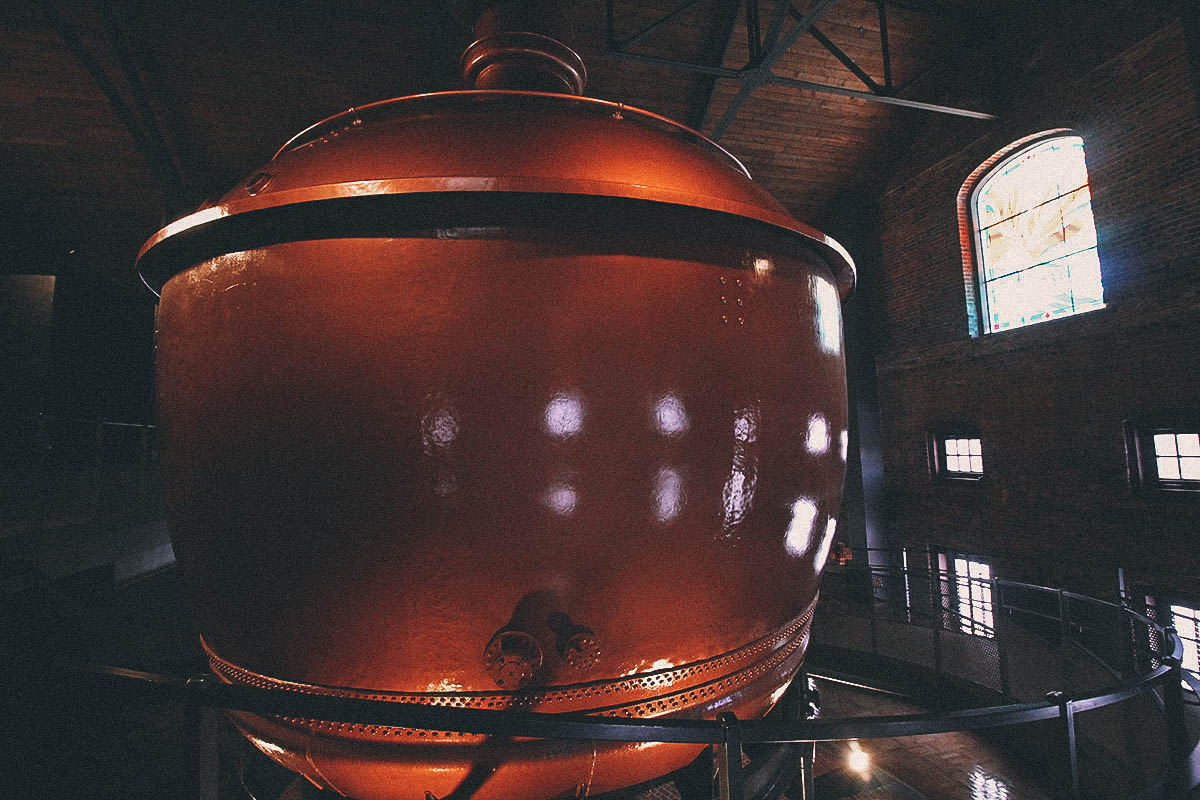 You take the elevator or stairs to the second floor then make your way down and around the vat to the first. There you'll find a few exhibits detailing the history of the brewery.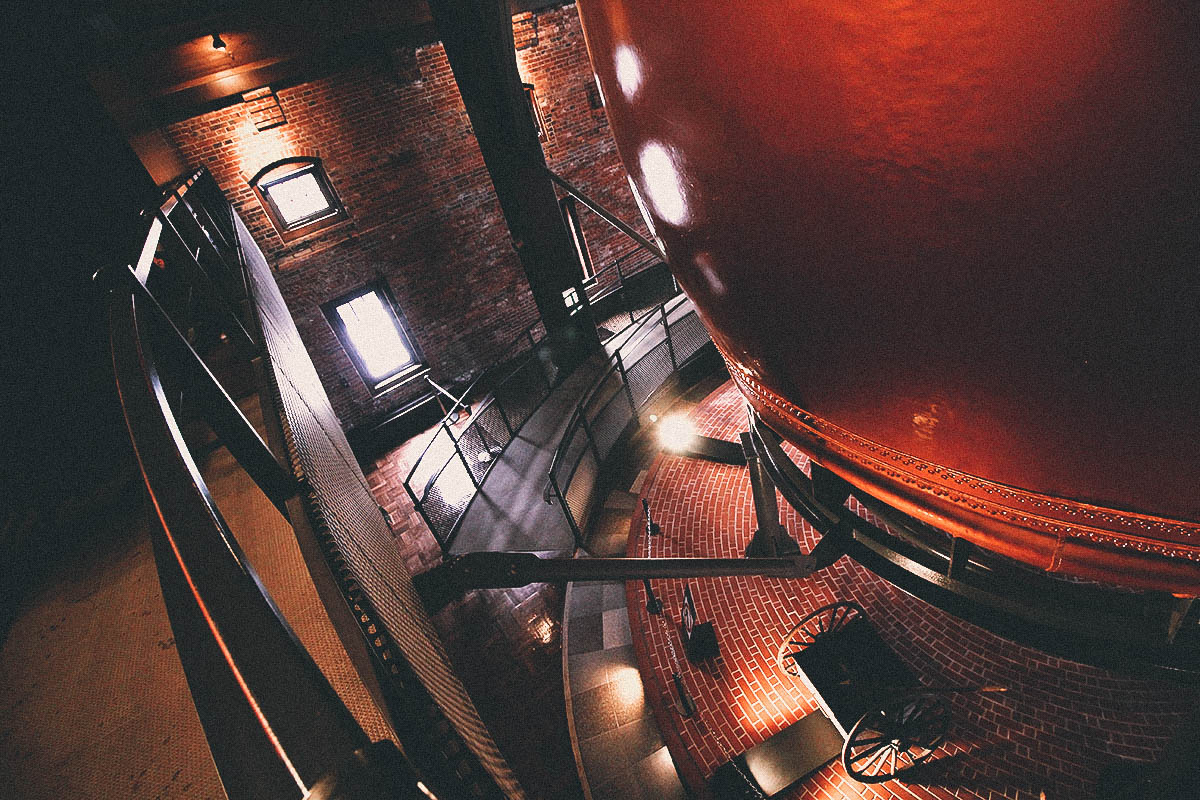 Not sure what this apparatus was. A beer pump maybe? There aren't many exhibits here so you can go through everything in half an hour or less.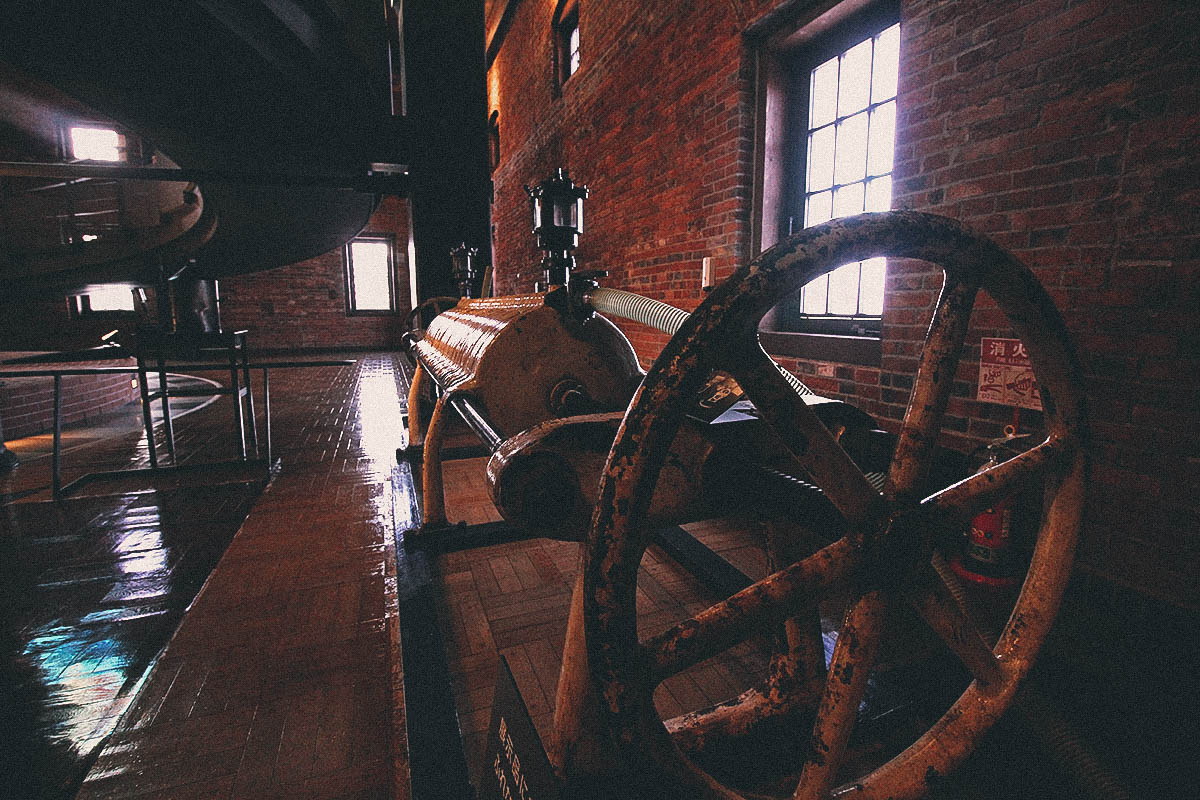 This, for us, was the real attraction here. 😉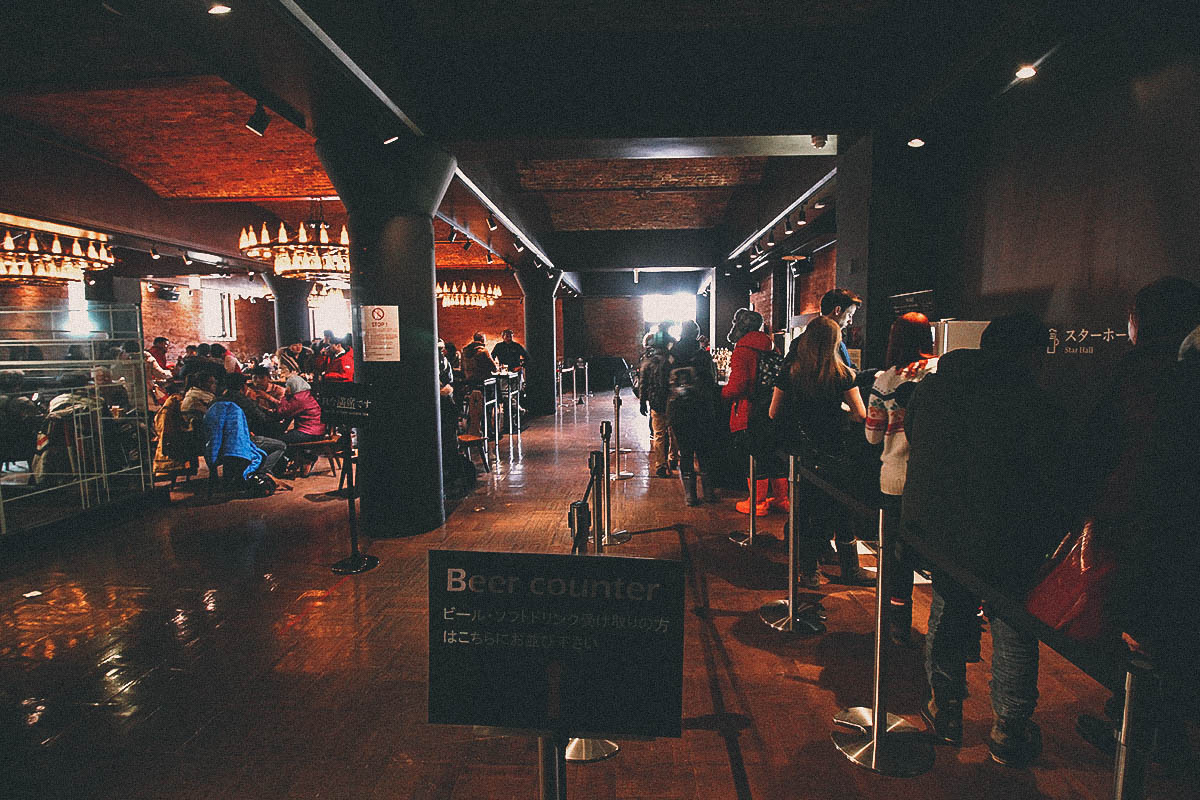 People line up to get a stub from this vending machine. I don't remember all the available choices but the most popular is a tasting set of three beers for JPY 600.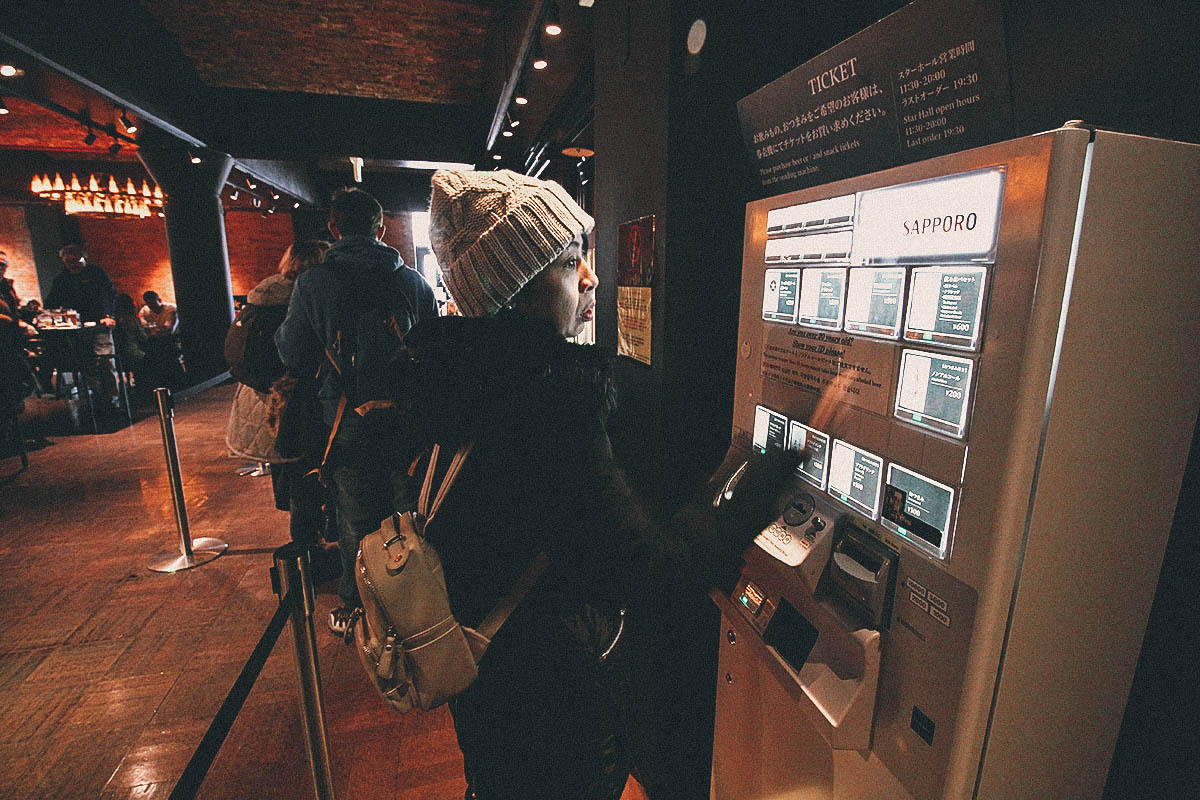 You hand over your stub to the Sapporo Beer angels who then pour your drinks. They give you a pack of mixed nuts to eat with your beers as well.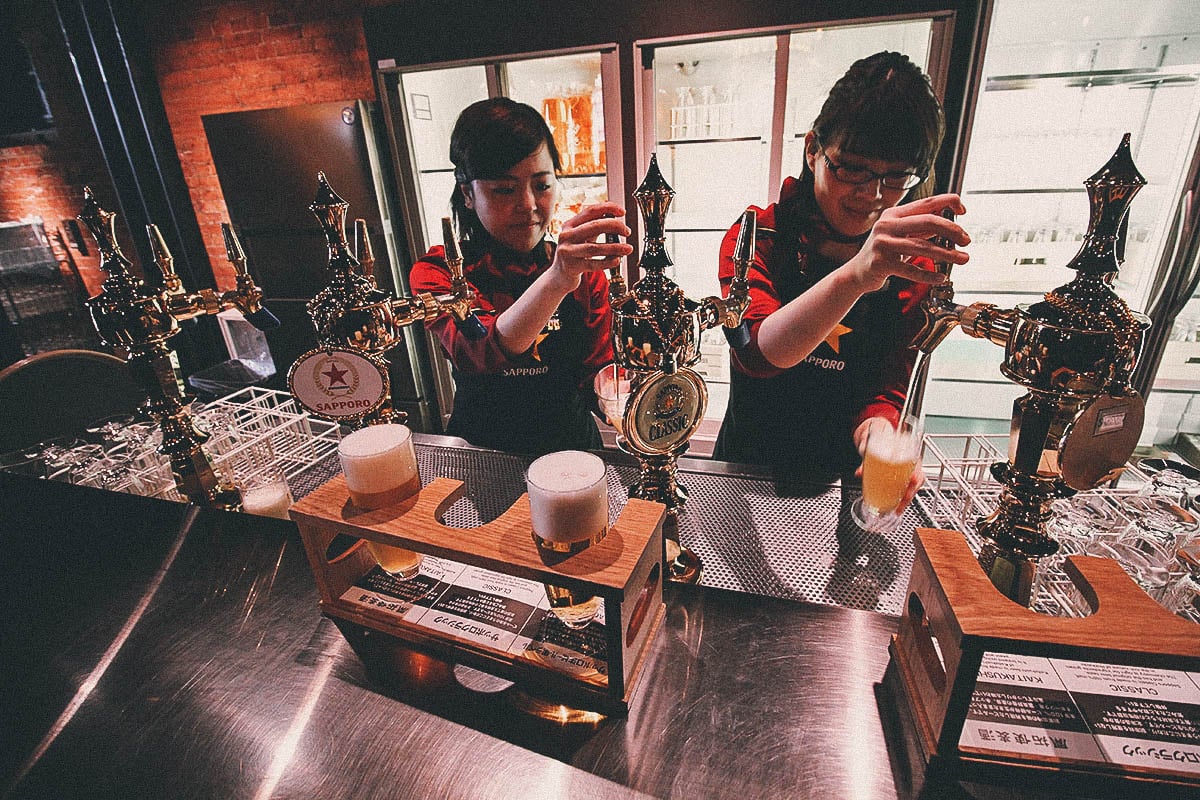 That face you make when you're given three different kinds of beer to taste. Seriously folks, you can't fake this shit. I was so damn happy. 😆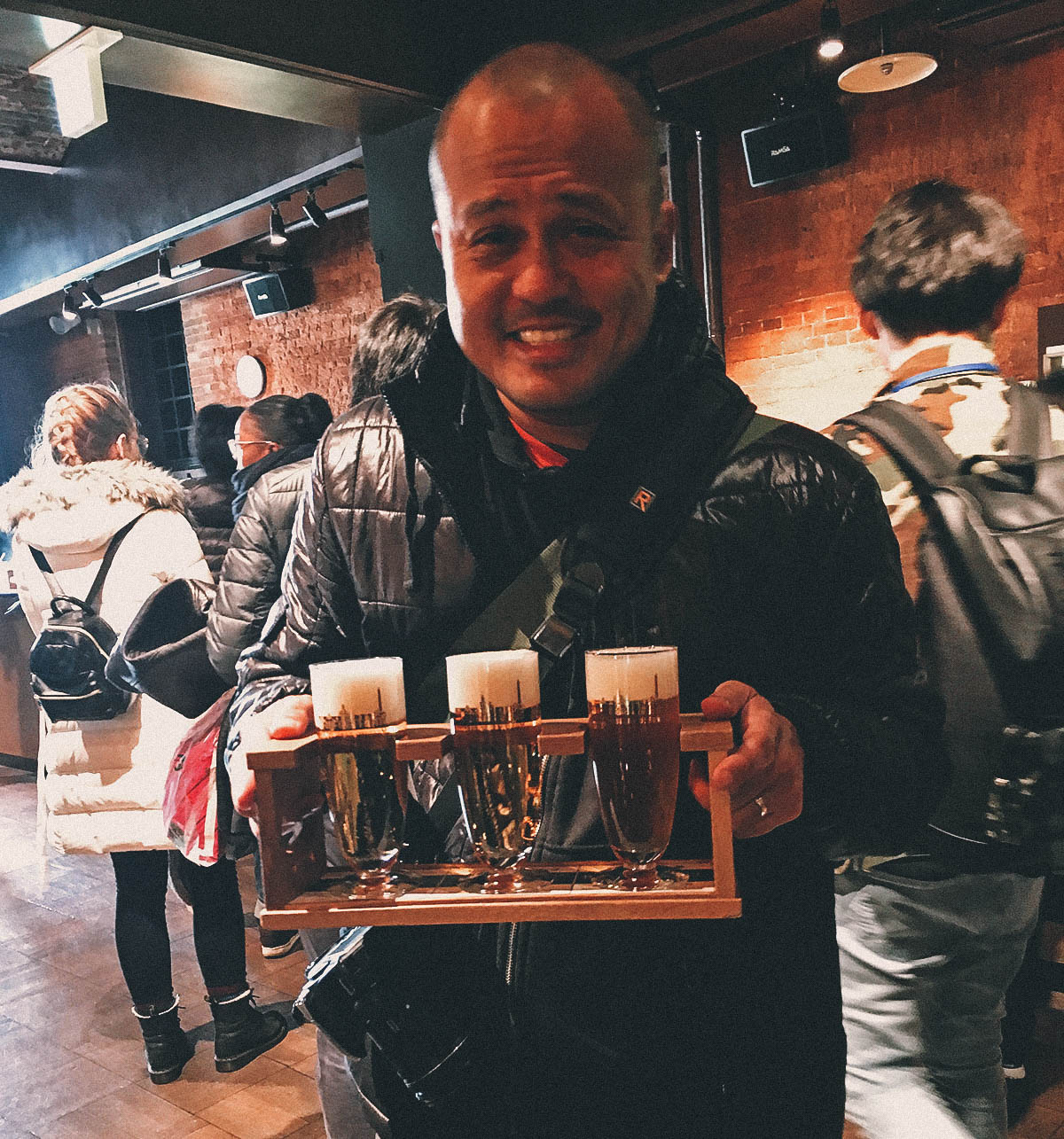 This trio consists of Black Label, Classic, and Kaitakushi beers. Picking my favorite would be like choosing between my children. I can't. ♥ ♥ ♥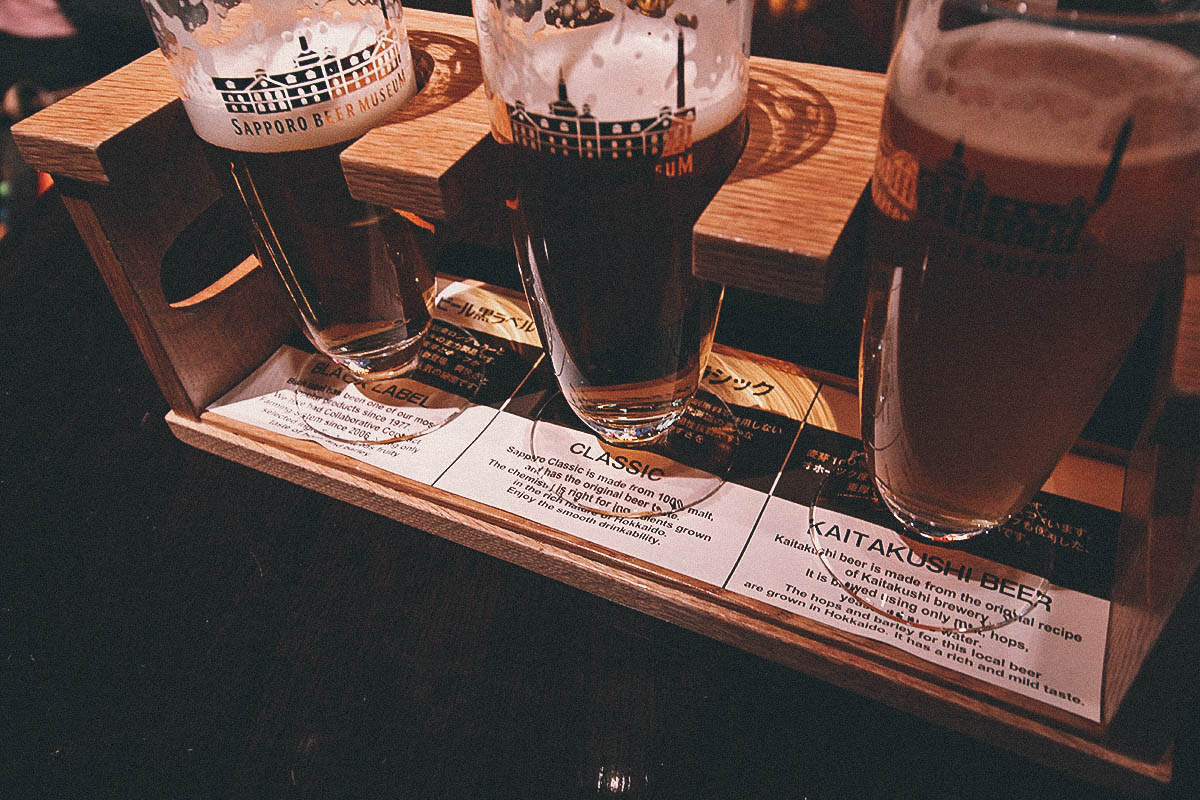 After drinking our trio of beers, it was time to move to the next building for another sought after attraction at the museum – jingisukan or Genghis Khan. More on that below.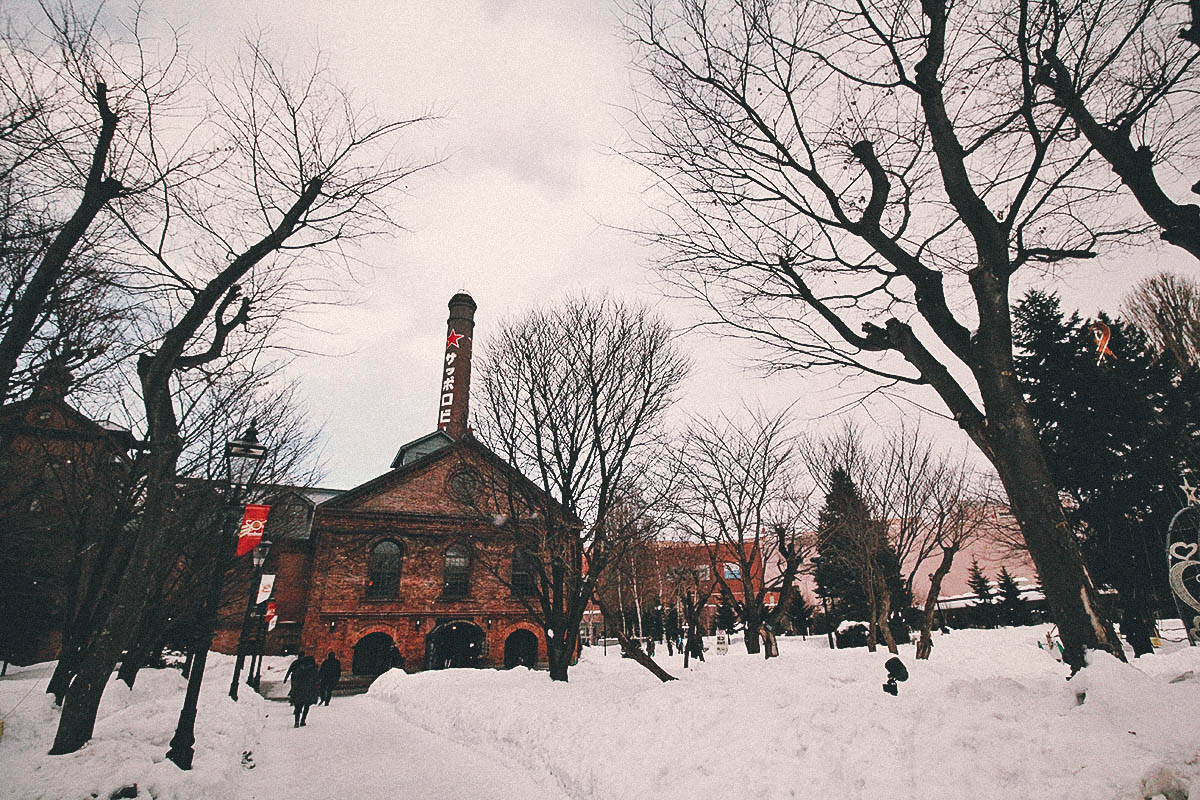 There are many dining halls here but we were led to Kessel Hall which I think is the main dining hall at the museum. I believe there are five total.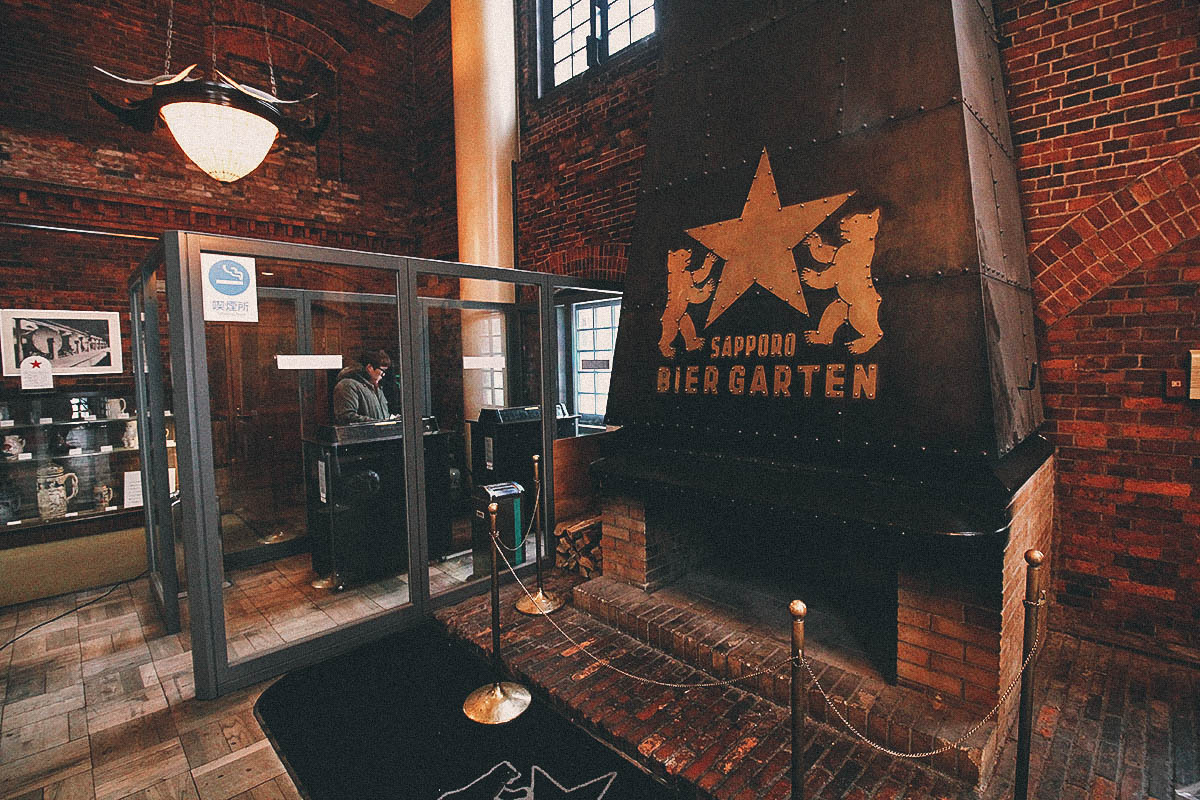 Nearly every major attraction in Japan is represented by some cute mascot. Here, it's this beer-guzzling bear. Up the stairs we went to have lunch at Kessel Hall.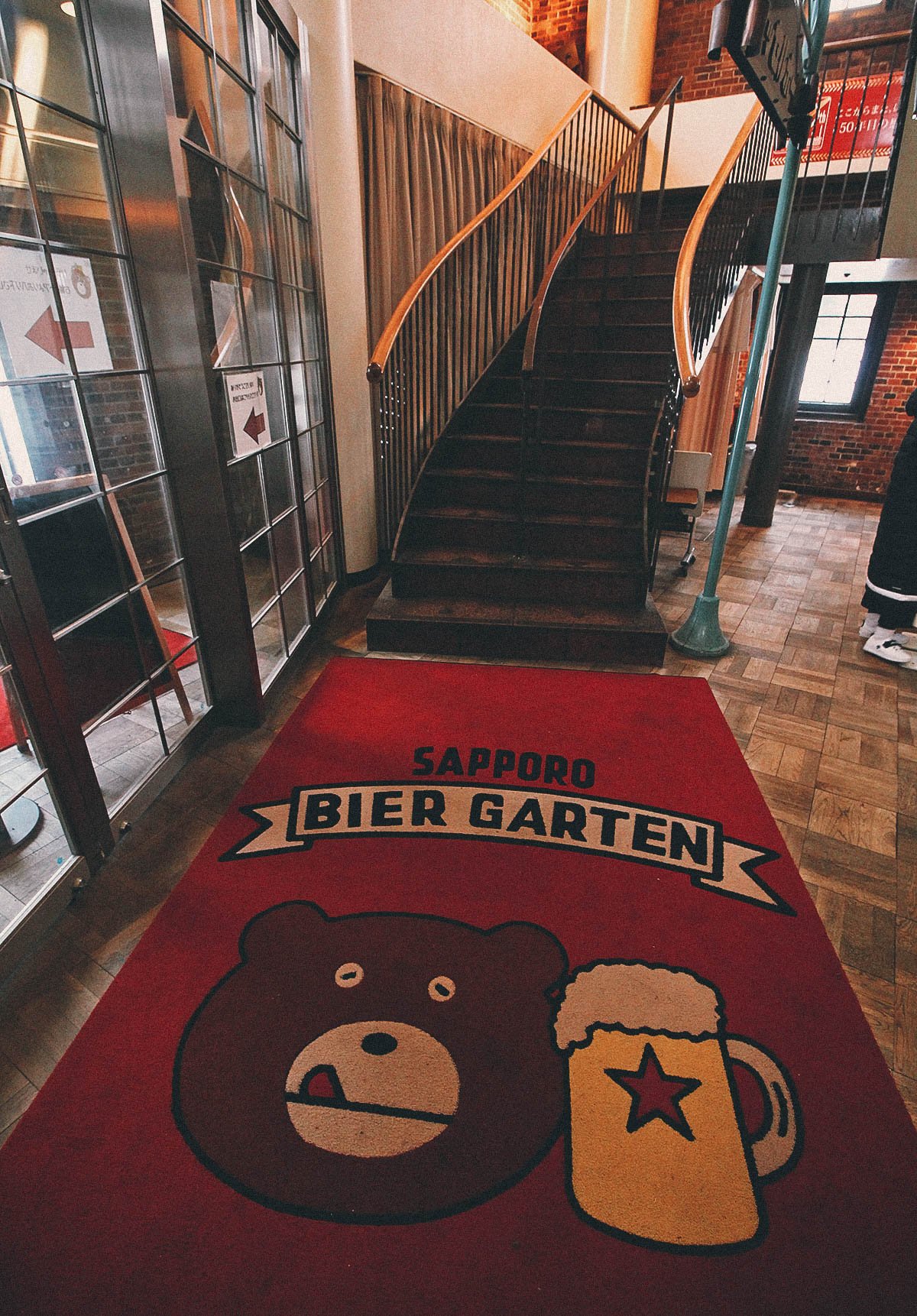 This giant beer-brewing cauldron (or kessel) is the centerpiece of Kessel Hall. It's been here since 1912 and looks pretty darn cool I must say.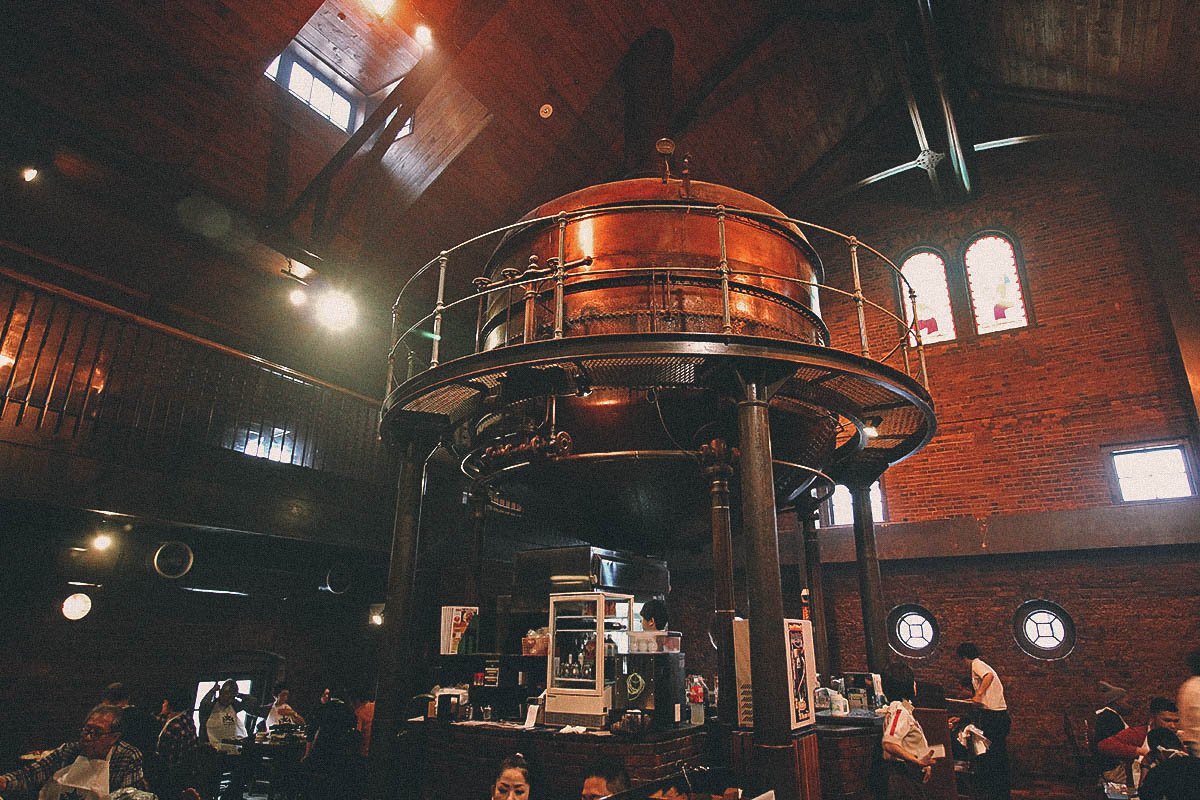 This place is huge, but don't let its size make you complacent about making reservations. Sapporo Beer Museum is one of the most popular places to eat in Sapporo. Every dining hall gets packed with tourists, especially during peak seasons like the Sapporo Snow Festival, so it's highly recommended you make reservations. We didn't, but we were lucky enough to get a table after about an hour's wait.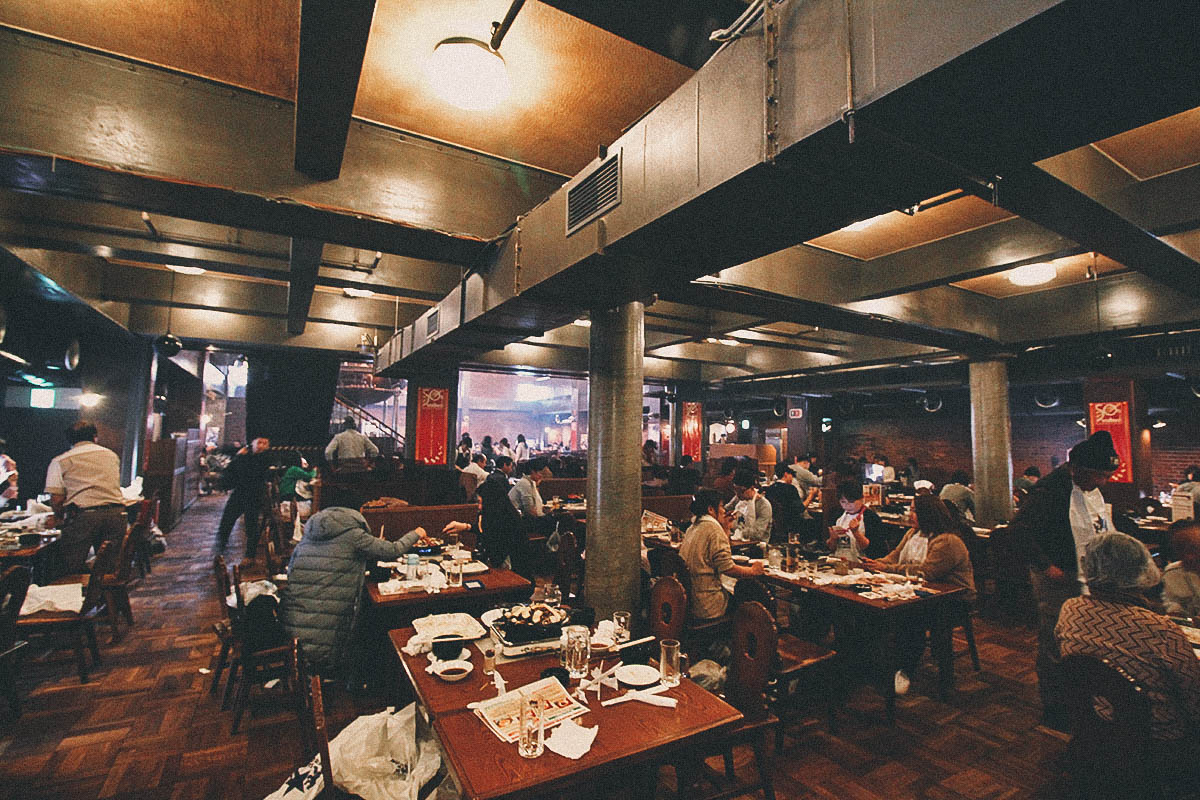 Behold! Hokkaido's famed jingisukan (pronounced jing-giss khan) or Genghis Khan. This signature Hokkaido Japanese dish is rumored to have gotten its name in prewar Japan, when lamb was believed to be the meat of choice among soldiers in Mongolia.
The meat is grilled on a dome-shaped metal skillet which is meant to represent the soldiers' helmets which they allegedly used to cook their food. Here we are starting with a a cube of fat to grease and impart flavor to the skillet.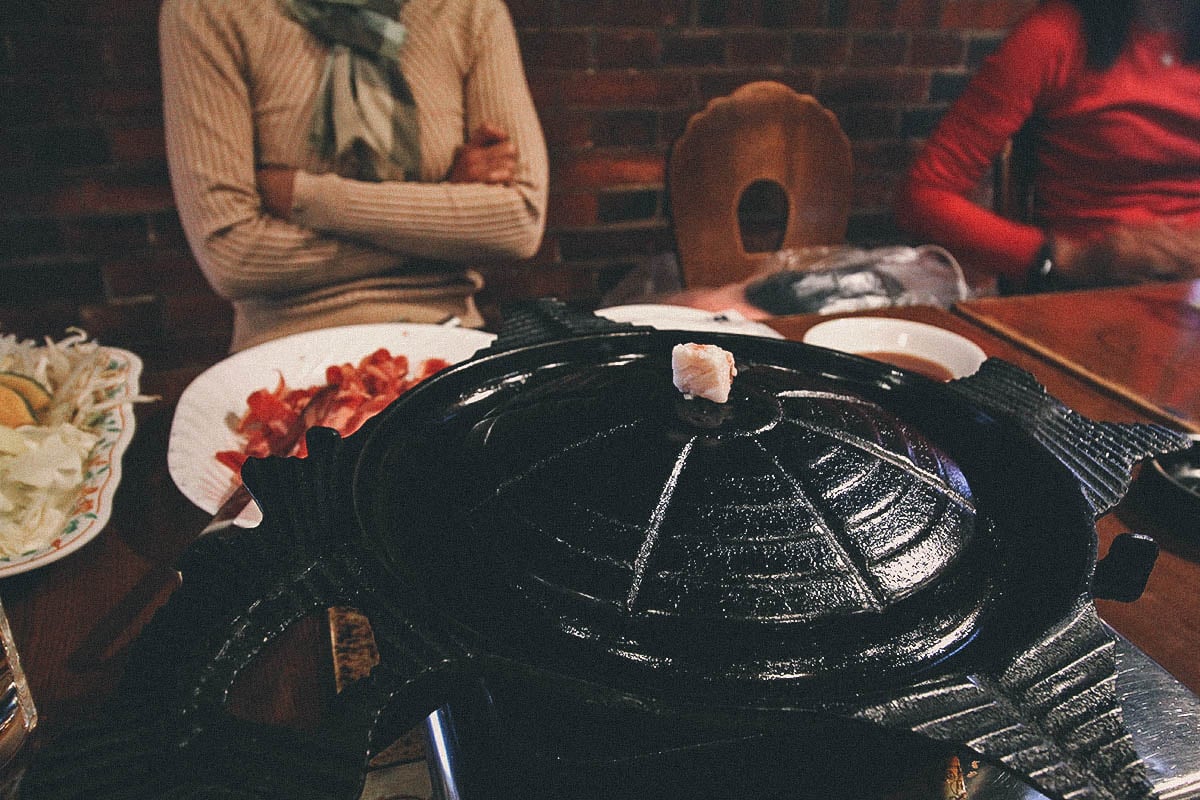 Sapporo Beer Museum is popular for its all you can eat and drink specials. You can have all the jingisukan you want for JPY 3,132 per person, JPY 4,212 if you want unlimited drinks to go with it. Aside from jingisukan, they also serve crab and sushi here.
If you have the appetite, then you can get unlimited jingisukan, king crab, snow crab, and sushi for JPY 5,680 per person, JPY 6,980 with unlimited drinks. You can purchase vouchers to the lamb and crab buffet in advance through Klook.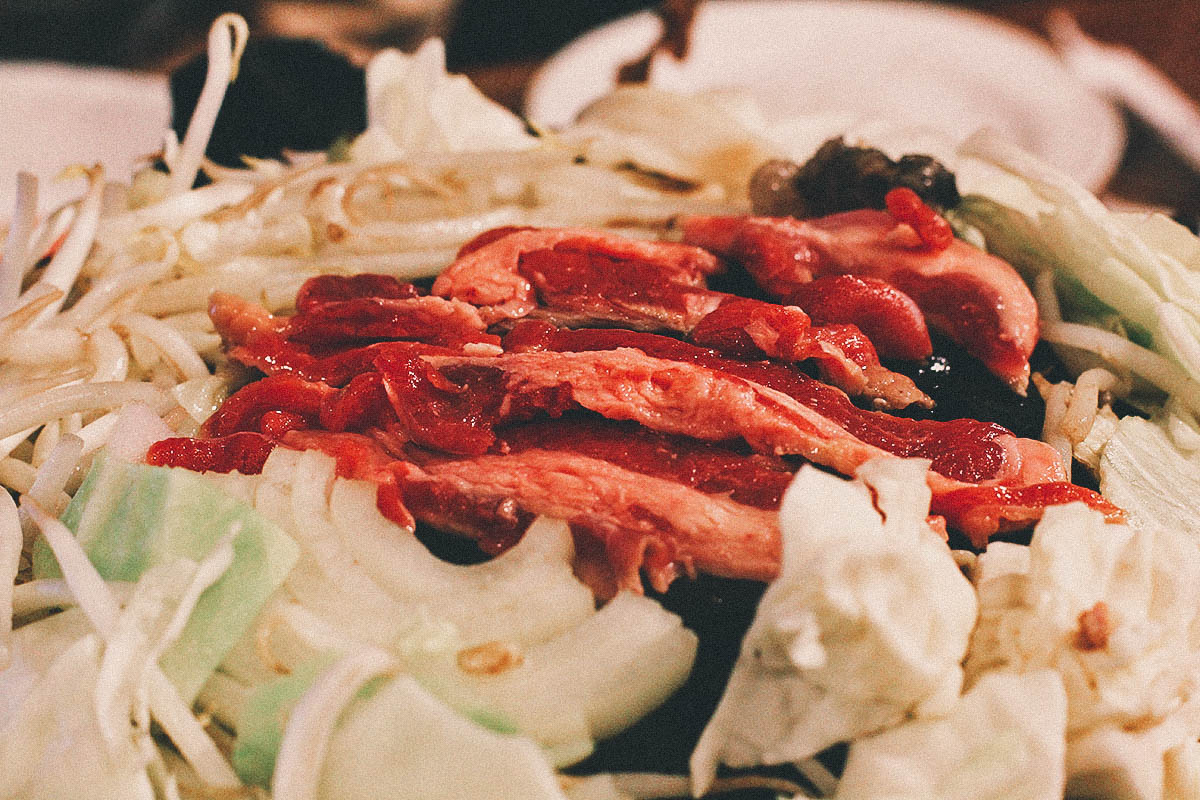 We didn't want the all-you-can-eat specials so we went with single serving orders instead. One order of jingisukan with vegetables goes for JPY 1,922 per person while an all-meat order is priced at JPY 1,512. One order of each was enough for Ren and myself. Once the meat is cooked, you dip it in their special sauce and eat with rice. It was so damn good!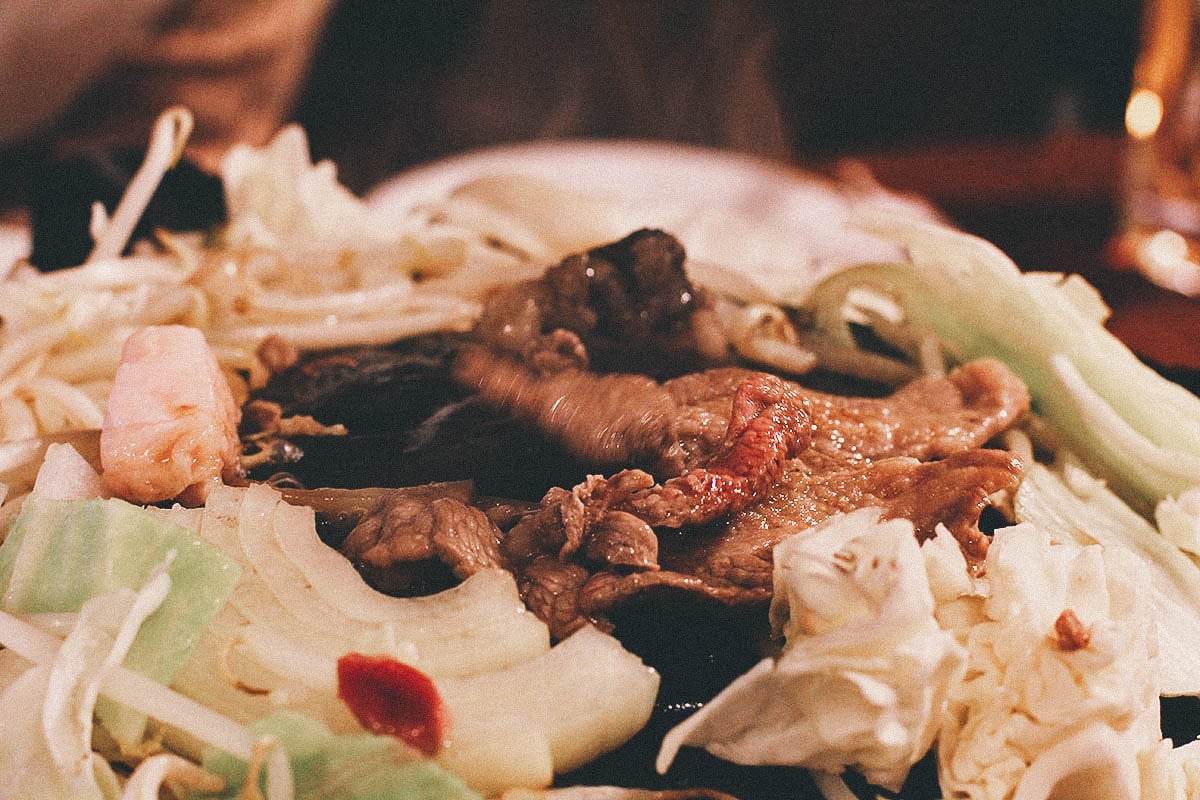 Being beer lovers, we obviously had to order more to go with our meal. These medium-sized mugs contain 820 ml of golden goodness for JPY 907 each. It also comes in 300 ml (JPY 442), 500 ml (JPY 572), and 1,000 ml (JPY 1,134) sizes. Kampai!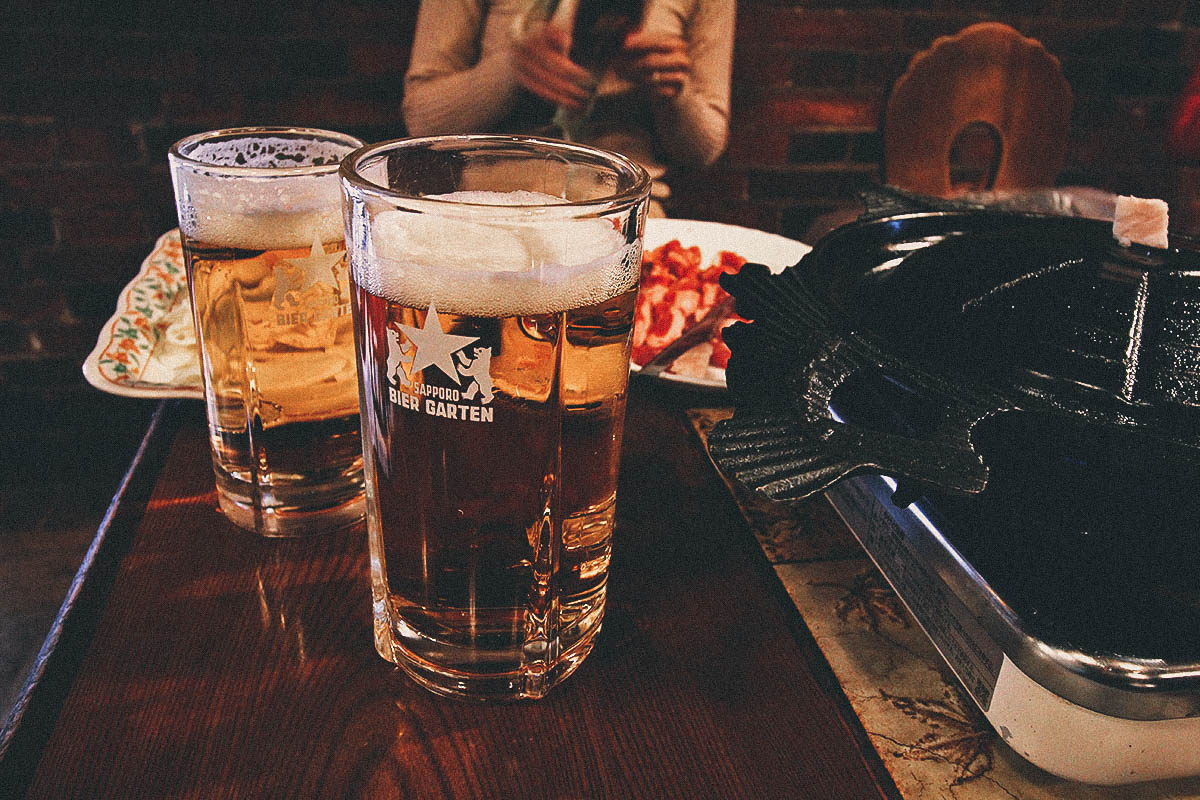 Sadly, I didn't find that heavenly smell here but it didn't matter. The smell of grilled lamb permeating the entire dining hall gave me something new to remember.
The museum itself is small and not terribly interesting, but that didn't matter either. The beer and the food are the real draws here. If you like beer or lamb, then a visit to Sapporo Beer Museum is a must. As advised, the place is hugely popular so it's a good idea to make reservations, especially during peak season. You can find the restaurant's contact details below.
We enjoyed jingisukan so much that we decided to have it a second time at a different restaurant. Trust us, if you like lamb, then you'll want this more than once. At Sapporo Beer Museum, they serve jingisukan over a gas stove but we wanted to try it over coals as well. Grilling over coals imparts a certain flavor that you cant get with gas or electric burners. We found a little place in Susukino that served jingisukan over coals called ホルモン食堂 4条店. As expected, it was even better.
Sapporo Beer Museum, Sapporo, Japan
9-2-10, Kita7Jo, Higashi-ku, Sapporo, Hokkaido, 065-0007
Tel: +81 12-015-0550 (reservations)
Website: sapporo-bier-garten.jp
Email: [email protected]
Operating Hours: Tues-Sun, 11:30AM-8PM, Closed Mondays
What we paid: Around JPY 5,000 for two with drinks
HOW TO GET THERE:
The Sapporo Beer Museum can be accessed by the "Loop 88 Factory Line" bus which stops at Odori station and in front of Seibu department store near Sapporo station (JPY 210 yen, every 20 minutes). If you prefer to walk, the museum is about 30 minutes from Sapporo station and 15 minutes from Higashikuyakusho Mae station. You can check Google Maps for the museum's exact location.
For more travel tips to Sapporo in winter, check out our Sapporo Winter Travel Guide.