It was the last leg of our trip. It was our fifth prefecture in two weeks in Japan so we should have been exhausted at that point. In fact, we were. It was a tiring but fun two weeks of non-stop movement, filled with days of adventure that would start early in the morning to catch highway buses from one prefecture to the next. Traversing that mountain pass from Oita to Kumamoto, I should been sleeping on that bus but I couldn't. The scenery outside was just too beautiful to miss.
It was mid-February when we found ourselves staring through the windows of that bus, taking in the scenery of snow-covered pine trees on either side of a meandering mountain road. Coming from Yufuin, we were making our way up that pass towards Kurokawa Onsen, an idyllic hot spring town tucked away in the mountains of Kumamoto. It would be the final stop of our two-week trip to Japan, and based on what I had read, it would also be the most beautiful.
I didn't want to miss a thing.
GUIDE TABLE OF CONTENTS
TRAVEL RESTRICTIONS
Because of the current global situation, travel guidelines change frequently. Our friends at SafetyWing created a website that lists detailed information on travel restrictions around the globe.
Before doing any serious travel planning, be sure to check the Flatten the Curve website for information on travel restrictions to Japan.
WHAT IS KUROKAWA ONSEN?
Kurokawa Onsen is a hot spring town high up in the mountains of Kumamoto prefecture in Kyushu. Onsen towns have a large concentration of resorts offering hot spring baths with water rich in sulphur and sodium chloride. Soaking in an onsen is believed to heal aches and pains and help with conditions such as diabetes, hypertension, and rheumatism. Available in many forms, onsens can be outdoor or indoor, communal or private, even mixed gender or same sex.
Japan sits in a volcanically active area so there are thousands of these onsen towns scattered throughout the country. The island of Kyushu is known for being one of the best onsen areas in Japan, with Kurokawa Onsen perhaps being the best of the bunch. Set in a forested valley with a river running through it, Kurokawa Onsen is widely considered to be one the most scenic onsen towns in Japan.
BEST TIME TO VISIT
You'd think that soaking in hot water is strictly a winter activity but it isn't. Regardless of the season, the Japanese visit onsens for their detoxifying and healing effects, making it a popular year-round affair.
With that said, there's no denying that onsens are best enjoyed during the colder months. Soaking in an onsen has such a warming effect on your body that you feel almost impervious to the cold. Kurokawa Onsen is beautiful any time of the year, but for that reason, I suggest visiting in winter if you can.
HOW TO GET THERE
Tucked away in the mountains of Kumamoto, the only way to get to Kurokawa Onsen is by highway bus. If you're already on the island of Kyushu, then you can take a direct bus to Kurokawa Onsen from Fukuoka, Kumamoto, Yufuin, or Beppu.
FROM FUKUOKA: You can catch a bus to Kurokawa Onsen from Fukuoka International Airport or Hakata Bus Terminal. The one-way fare is JPY 3,090 and the trip takes about 2.5 hours. There are four departures each day and you can purchase bus tickets from the Kyushu Highway Bus reservation site as early as 30 days prior to your trip. Select "Fukuoka" under Departure prefectures and choose "Kumamoto" under Arrival prefectures. Choose "Fukuoka/Fukuoka Airport – Kurokawa Onsen" for the Route name. Select your Boarding bus stop and pick "Kurokawa Onsen Spa" as the Arrival bus stop. Choose your Departure date then click Search to see all the departure times.
FROM KUMAMOTO: You can catch a bus from Kumamoto Station to Kurokawa Onsen. It takes just under 3 hours each way and it departs twice a day – at 8:04AM and 12:15PM. The one-way fare is JPY 2,500 and you can purchase bus tickets from the Japan Bus Online website as early as 30 days before your trip. Select your Departure bus stop then choose "Kurokawa Spa" as the Arrival stop.
FROM YUFUIN: You can catch a bus from Yufuin Station Bus Center to Kurokawa Onsen, which is what we did. It leaves twice a day – at 9AM and 2:50PM – and the ride takes about 1.5 hrs. The fare is JPY 2,000 each way and you can purchase bus tickets from the Japan Bus Online website as early as 30 days before your trip. Select "Yufuin Station Bus Center" as the Departure bus stop then choose "Kurokawa Spa" as the Arrival stop.
FROM BEPPU: You can catch a bus from Beppu Station to Kurokawa Onsen. It leaves just once a day – at 8:09AM – and the ride takes about 2.5 hrs. The fare is JPY 3,000 each way and you can purchase bus tickets from the Japan Bus Online website as early as 30 days before your trip. Select "Beppu Station Honmachi" as the Departure bus stop then choose "Kurokawa Spa" as the Arrival stop.
It's important to note that highway buses in Japan require advanced reservations. You're not guaranteed a seat without it so I suggest purchasing your bus tickets as early as possible. We were on a tight schedule in Kyushu so we couldn't afford to be denied seating on any of our buses. We took four highway buses so I made sure to purchase advanced tickets for every leg.
Once you've made payment, you'll receive an email confirmation for your reservation. Just print it out and show it to the bus driver when boarding and disembarking the bus. Be sure not to lose it as you won't be allowed to board without it.
HOW LONG TO STAY
Kurokawa Onsen is a small town so an overnight stay is enough. Just be sure to arrive as early as possible to give yourself enough time to go onsen-hopping and enjoy the town's relaxing atmosphere.
HOW MUCH MONEY TO BRING
Assuming you've already taken care of your accommodations and transportation, your only other expenses will be on food and onsen fees. On average, you can expect to pay between JPY 1,500-2,000 per meal with drinks. Ryokans will charge you JPY 500 each to soak in their onsen. If you're interested in going onsen-hopping, then the tegata or 3-onsen pass will run you JPY 1,300. There are a few shops and boutiques in town as well but people don't really come here to shop.
WHERE TO EXCHANGE CURRENCY
There are no banks, ATMs, or currency exchange offices in Kurokawa Onsen so be sure to bring enough yen with you. As described above, Japan is mostly a cash society so don't rely on credit cards. Instead, exchange your currency or withdraw enough yen before getting on that bus bound for Kurokawa Onsen.
WHERE TO STAY: Senomotokan Yumerindo
If you're spending the night in Kurokawa Onsen, then chances are you'll be staying at a ryokan or traditional Japanese inn. At the time of this writing, I believe there are just under thirty ryokans in Kurokawa Onsen, all of which have their own hot spring baths. Ryokans are typically more expensive than Western-style hotels. I did a dummy booking and most are over USD 200 a night. We got a good deal at Senomotokan Yumerindo for just under USD 120 a night in February 2017. It's a beautiful ryokan by the river with open air baths, indoor baths, and private kashikiri baths for couples and families. You can check our my post on Senomotokan Yumerindo in Kurokawa Onsen for more pictures and information.
WHAT TO DO
People who go to Kurokawa Onsen have one thing on their minds, and that's to soak in a hot spring bath. That's pretty much why people come here. If you're staying the night, then chances are you'll be using the onsen at your ryokan. If you're looking to bathe at more than one onsen, then it's a good idea to purchase a wooden pass or tegata from the tourist information center. Available for JPY 1,300, it'll give you access to up to three different onsens of your choice. Alternatively, you can pay JPY 500 per onsen. You can follow this link for more information including a list of public outdoor baths in Kurokawa Onsen.
In addition to these ryokan onsens, there are also two unmanned public bath houses in Kurokawa Onsen. The Jizoyu public bath house has gender-separated baths for JPY 200 yen per person, while the Anayu public bath house has a mixed bath for JPY 100 yen each.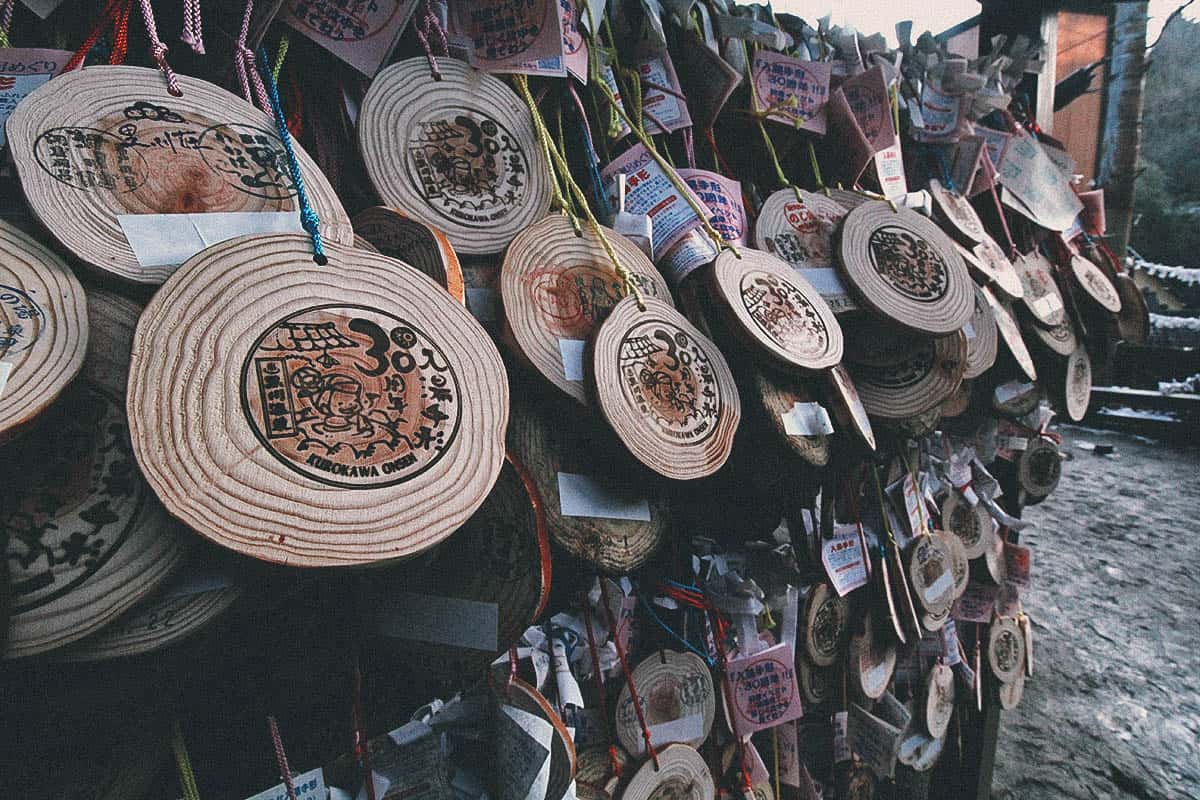 JAPANESE FOOD GUIDE
I LOVE Japanese food. It's my favorite cuisine in the world and a major reason why we love visiting this country. If you like Japanese food as much as we do, then I suggest checking out our article on the best dishes to eat in Japan. It covers many popular dishes as well as regional specialties by prefecture, including Kumamoto.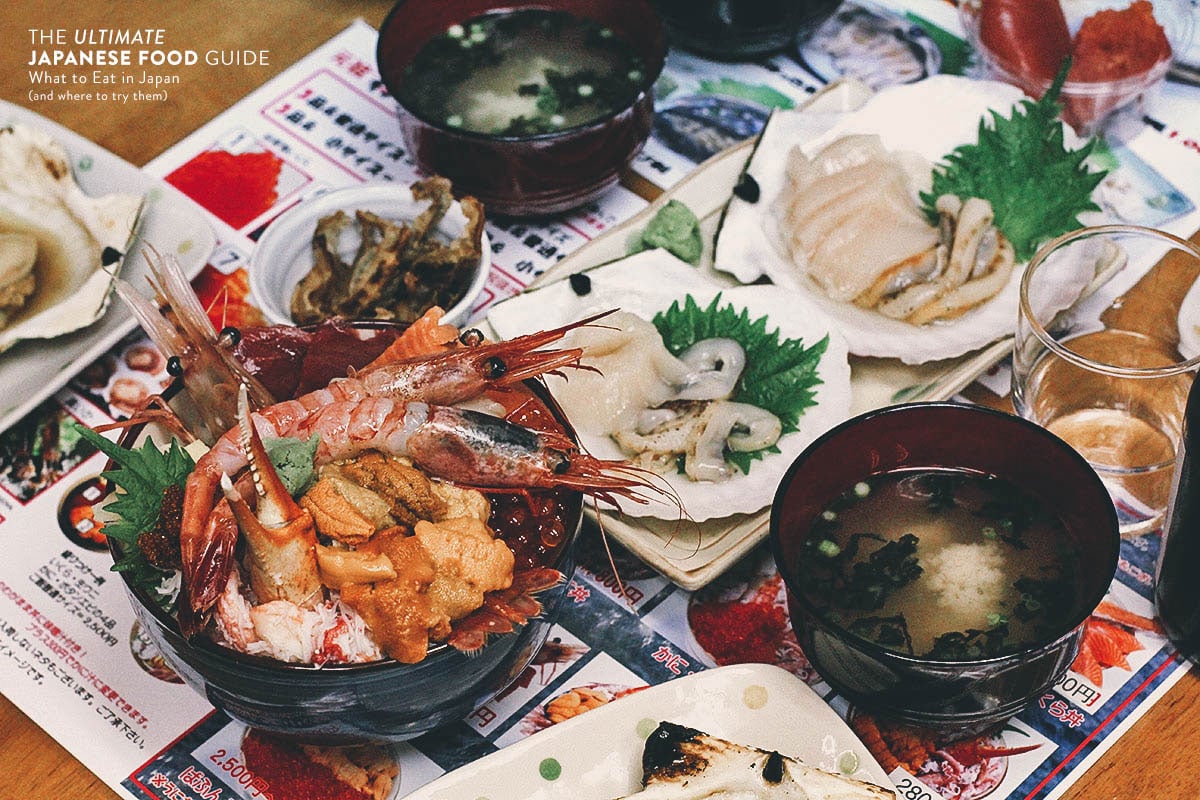 WHERE TO EAT
1. Ufufu
We had our last meal here after two weeks in Japan, and it turned out to be one of our best. They serve really good yakiniku and yakitori, both of which go great with beer. Kumamoto is known for farming horses for food so many restaurants in Kurokawa Onsen serve horse meat, including Ufufu. We had the basashi or horse meat sashimi here. It was delicious.
2. Iromomiji
Iromomiji serves good soba so if you're in the mood for Japanese buckwheat noodles, then this is the place to go. I'm not much of a noodle person but I love zaru (cold) soba. They're only open for lunch and are located at the far end of Kurokawa Onsen but they're well worth the trek. Aside from soba, they serve other things too like basashi, Aso Beef, and tempura. Everything we had was delicious.
3. Warokuya
Based on their TripAdvisor reviews, this place is known for two things – Roasted Aso Beef and what the owner claims to be the best fried chicken in the world. Unfortunately, they were out of the beef but we did have the chicken karaage. It was damn good. Whether or not it's the best fried chicken you've ever tasted is something you need to find out for yourself.
4. Patisserie Roku
These crusty mounds of goodness are the best cream puffs I have ever had in my life. They're big, about the size of softballs, and are overflowing with rich vanilla cream inside a crisp choux pastry shell. Patisserie Roku is the number one rated Minamioguni-machi restaurant on TripAdvisor and I suspect it has a lot to do with these cream puffs. We had them twice in the short time we were at Kurokawa Onsen. But even that wasn't enough so we brought home two more!
TRAVEL TIPS
1. Plan your Trip with Sygic Travel or ViaHero
SYGIC TRAVEL: If you like planning every detail of your trips, then you'll find Sygic Travel useful. I've been using this free trip planning app for many years now. It allows me to pin all points of interest on a map – like hotels, restaurants, and tourist attractions – then grouping them by day to come up with the most efficient itinerary possible. It's available for free on iOS and Android.
VIAHERO: If you don't have time to create a detailed itinerary, then you can have a destination expert do it for you. ViaHero is a travel planning service that links travelers with local experts to create custom itineraries to many countries around the world, including Japan. If you'd like to try them out, then you can get a 5% discount on their services if you use our link.
2. Rent A Pocket Wifi Device
Being able to connect to the internet is a necessity these days. Not having a solid internet connection can be crippling, especially when you're on a trip. You'll need it to navigate, to do research, to convert currencies, and to connect to social media. I find it even more necessary in Japan because of the language barrier.
You can get wifi access in Japan by buying a sim card or renting a pocket wifi device. I find pocket wifi devices to be simpler so I prefer that in spite of the added cost, but the choice is yours. Click on the links to buy a 4G sim card or rent a pocket wifi device through Klook (7GB data | Unlimited data) or Get Your Guide. It's a good idea to reserve it at least a week before your trip.
3. Buy Highway Bus Tickets in Advance
As advised earlier in this guide, it's wise to make advanced reservations for highway buses in Japan. If you don't, then you risk not being able to board a packed bus. If you're on a tight schedule like we were, then being denied boarding could throw your entire trip off. We got around Northern Kyushu exclusively by bus and I bought advanced tickets for every leg of our trip. The earliest you can buy highway bus tickets is 30 days before your trip. Depending on where you're coming from, you can refer to the HOW TO GET THERE section of this guide to purchase bus tickets online.
4. Cover up That Tattoo & Observe Proper Onsen Etiquette
Tattoos are taboo in Japan because they're associated with the Yakuza, or Japanese mafia. Few public onsens will allow you to bathe with visible tattoos, especially large ones. If you can't cover it up with a bandage, then look for an onsen that either allows people with tattoos, which aren't as common, or has kashikiri or private hot spring baths. I have a large armband tattoo so I brought bandages in case I needed to wrap it up. Luckily, Yumerindo has private onsens for couple or families so that's what we used.
Here's a picture of the private onsen we used at Yumerindo. You have to reserve a time slot in advance. At many private onsens, you can only soak for up to one hour so it's important to be mindful of the time. Whether you use a public or private onsen, it's vital to read up on proper onsen etiquette before going. This is Japan so there are rules which every visitor is expected to follow. You can check this link to read up on onsen etiquette.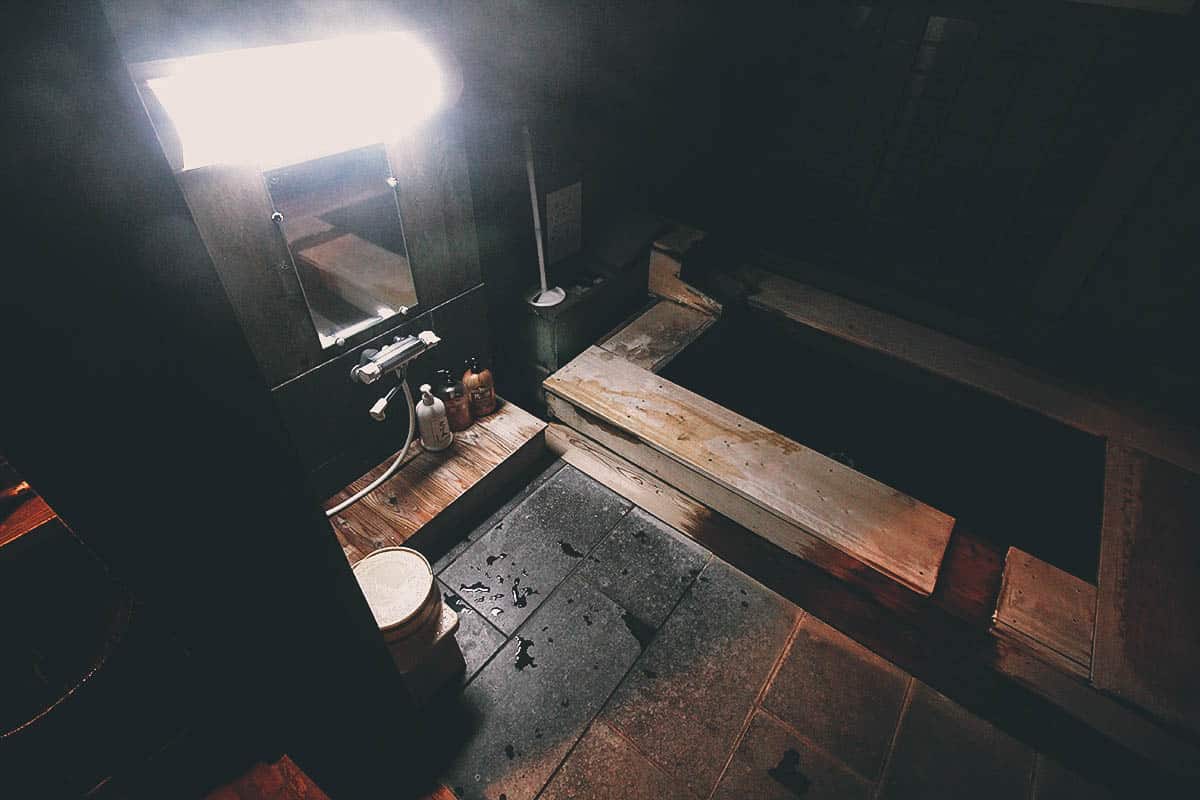 5. Eat Dinner Early or Go Hungry
Your ryokan will probably warn you about this but Kurokawa Onsen goes to bed early. Most restaurants and shops close by 6PM. If I remember correctly, only 2 or 3 restaurants still serve food after 6PM. I suggest having an early dinner, maybe around 5PM, then buying snacks at the small grocery store in town in case you get hungry later in the evening.
6. Get Travel Insurance
Getting travel insurance is something we decide on a case to case basis. We got it for this trip to Japan because we spent the first week skiing and snowmobile riding in Sapporo. But had we spent the entire time just eating and shopping, and not doing anything physical, then we probably wouldn't have gotten it.
We buy insurance from World Nomads or SafetyWing. They're both leading travel medical insurance providers used by many digital nomads. Check out my article on why we buy travel insurance for more information. You can follow the links to get a free quote from World Nomads or SafetyWing.
7. Bring the Right Power Adapter
Japan has Type A or Type B electrical outlets so be sure to bring the right power adapters for your devices. Electrical voltage is 100V and the standard frequency is 50/60Hz.
8. Learn Basic Japanese Etiquette
Japan isn't like your country. It's arguably one of the most unique cultures in the world, with its own set of unwritten and often quirky rules of etiquette. If you don't want to be perceived as a stupid gaijin (foreigner), then it's a good idea to familiarize yourself with the basics. Check out this good overview on Japanese etiquette for travelers.
VISA INFORMATION (for Filipinos)
Philippine passport holders need to secure a tourist visa to Japan. Your application will be coursed through a travel agency so you don't have to go to the Embassy of Japan. I applied through Reli Tours & Travel and at the time, they were charging PHP 950 if you're applying as a tourist, and PHP 2,000 if you'll be visiting friends or relatives.
Check out my post on how to apply for a Japan tourist visa for a step-by-step process and a list of accredited agencies.
Have fun!
I'm not an expert on Kurokawa Onsen but I hope you found this post useful. I'm only sharing some of the things I learned from our trip. If you're doing a multi-city tour of Kyushu, then our 6D/5N Northern Kyushu itinerary may be useful to you. You can download a copy of it in editable Word format from our EAT-ineraries page. It covers Fukuoka, Nagasaki, Yufuin, and Kurokawa Onsen.
If you have any suggestions or simply want to share your own Kurokawa Onsen experience, then please feel free to do so in the comments section below. You're welcome to join our Facebook Travel Group as well.
Thanks for stopping by and enjoy the hot springs in Kurokawa Onsen!
Disclosure
Some of the links in this guide are affiliate links, meaning we'll get a small commission if you make a purchase at no additional cost to you. We only recommend products and services that we use ourselves and firmly believe in. We really appreciate your support as this helps us make more of these free travel guides. Thank you!